The perfect first-timer's itinerary to Japan.
Tokyo, Kyoto, Osaka Nara may be deemed touristy but there's a good reason why they're so popular.
Tokyo is an incredible mish-mash of weird and wonderful, with many quirky things to do.
Then there's Osaka — a foodie's paradise, also a broke student's paradise because you need not splurge to find a good meal!
And finally, Kyoto, a city that preserves culture so well — need we say more?
Budget Breakdown for 10D9N trip
Transport: S$449.75 (excld. flight)
Accommodation: S$261.21
Activities: $149
Food: $218.06
TOTAL: $1,078.03
Click here for the detailed breakdown of trip expenses.
Check Flight Prices to Tokyo
Can't see the widget above? Check flight prices from Singapore to Tokyo here instead!
Pre-trip Essentials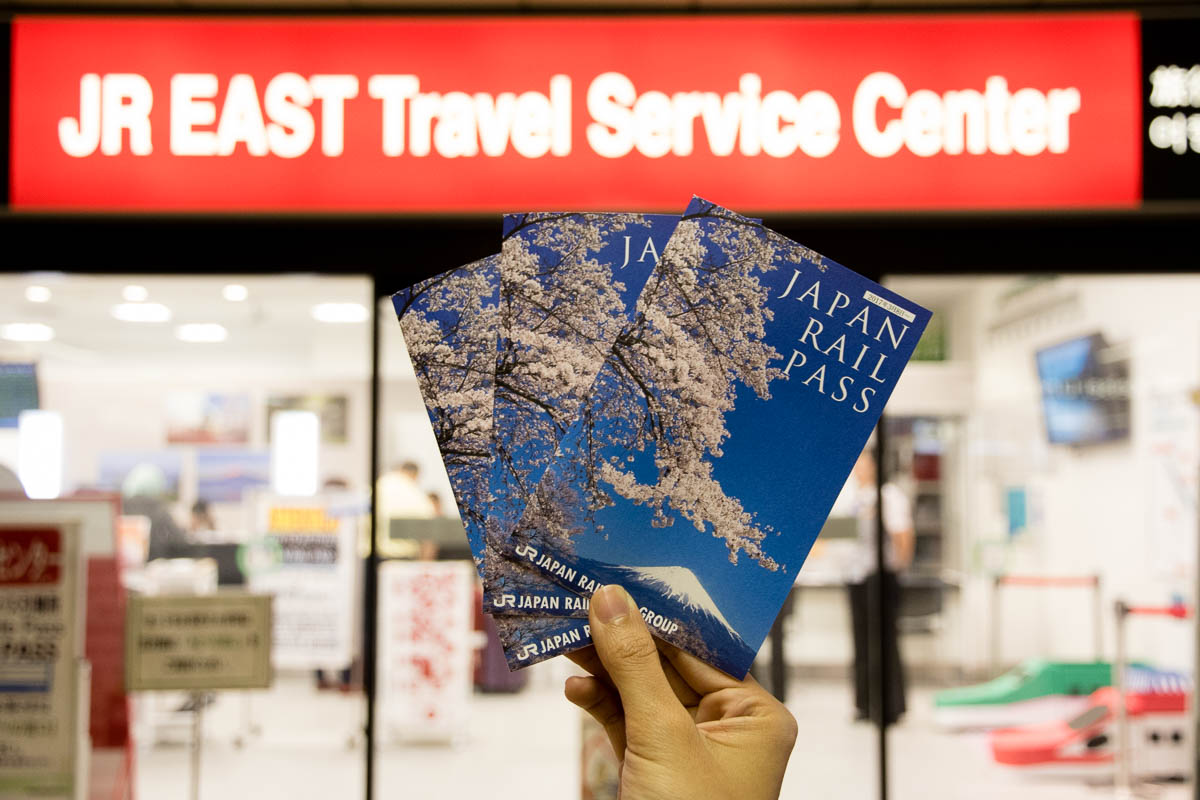 Since we're covering both the Kanto (Toyko) and Kansai (Osaka) prefectures, a 7-day Whole Japan JR Pass is well-worth the money. Order them at least a week before you arrive in Japan. This pass from Klook even comes with a Free SIM card!
Read also: The 9-Step JR Pass Guide to travelling Japan like a pro
Day 1: The First 24-Hours in Tokyo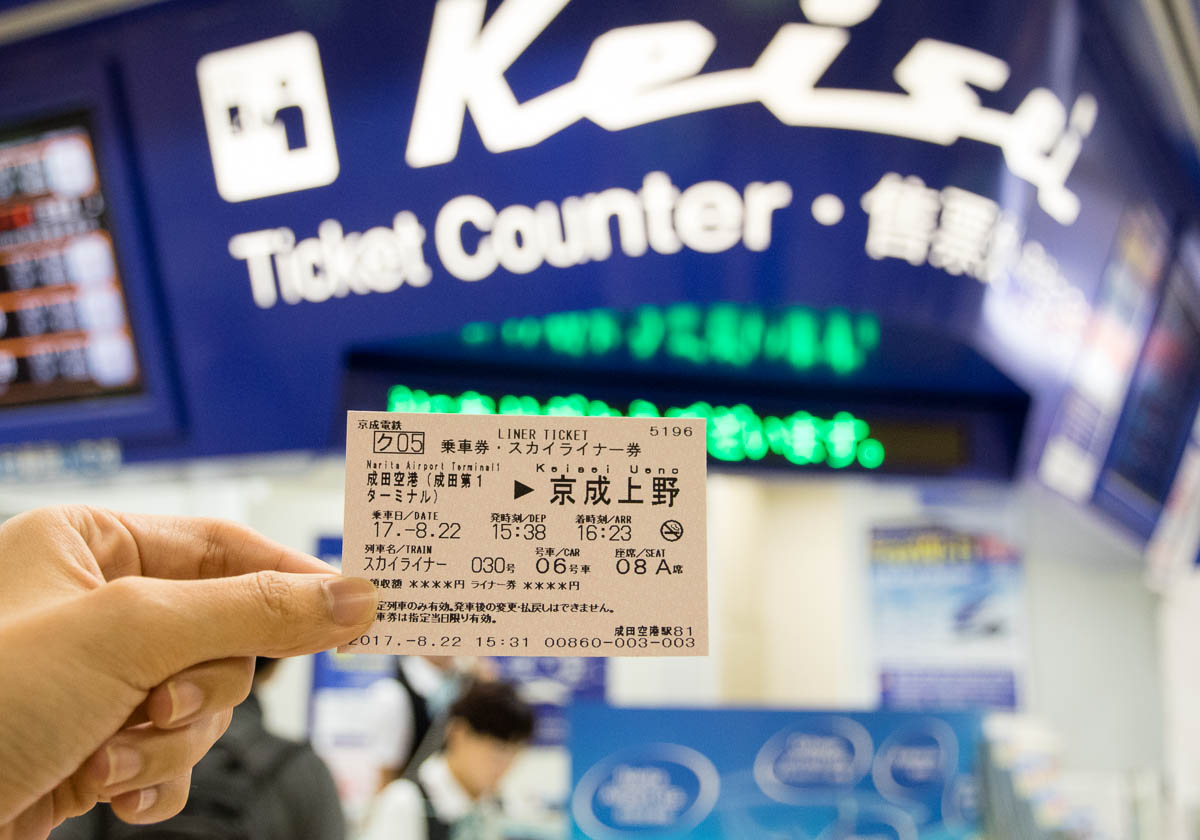 From Narita Airport to Tokyo: The Tokyo Skyliner brings you to Ueno station in just 41minutes. Since we'll be in Tokyo for a few days, it's better to activate the JR Pass later and instead, use our pre-ordered Tokyo Skyliner tickets.
Getting Around in Tokyo: Tokyo Subway Ticket (24hr, 48hr, 72hr) — purchase online and collect from Narita Airport.
Tokyo is bustling with things to do from as early as 5am till midnight. If we had the chance, we could easily spend an entire week in Tokyo itself. If time isn't on your side, here are our top picks for 24 hours in the city.
Tsukiji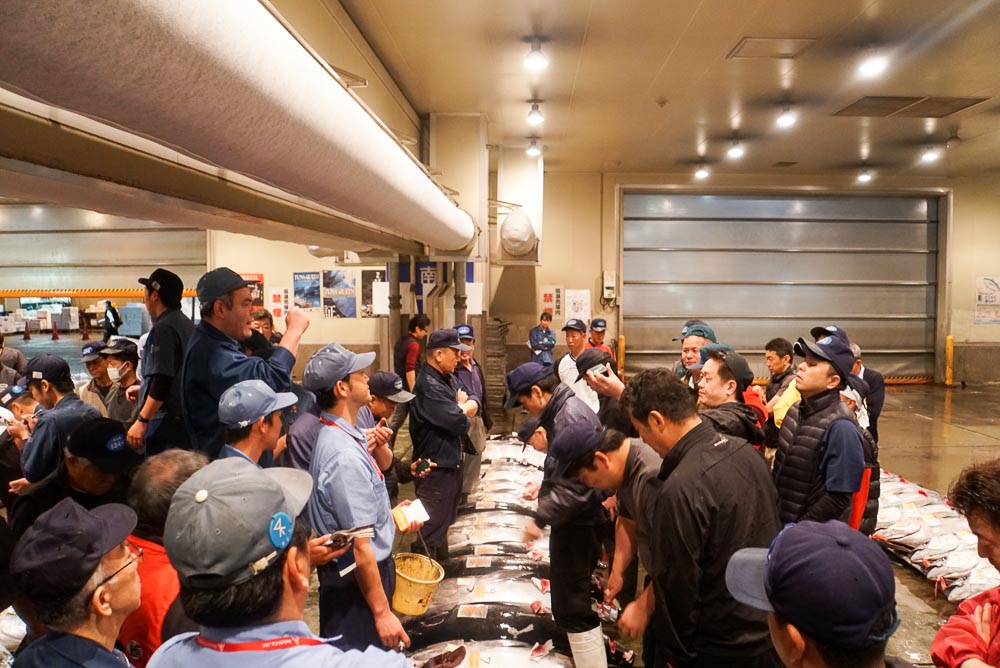 *2019 Update: The inner Tsukiji market where the Tuna Auctions were held have now shifted to Toyosu Market but the outer market where all the restaurants with the freshest seafood can still be found at the Tsukiji outer market.
5AM Tuna Auctioning — Extremely popular amongst travellers, get there as early 3AM to reserve a spot. But since you'll be visiting Osaka too, save your early mornings for the Osaka Fish Market instead. No reservations required there!
*2019: Update: Tuna viewing at Toyosu Market's lower observation deck require advance reservations.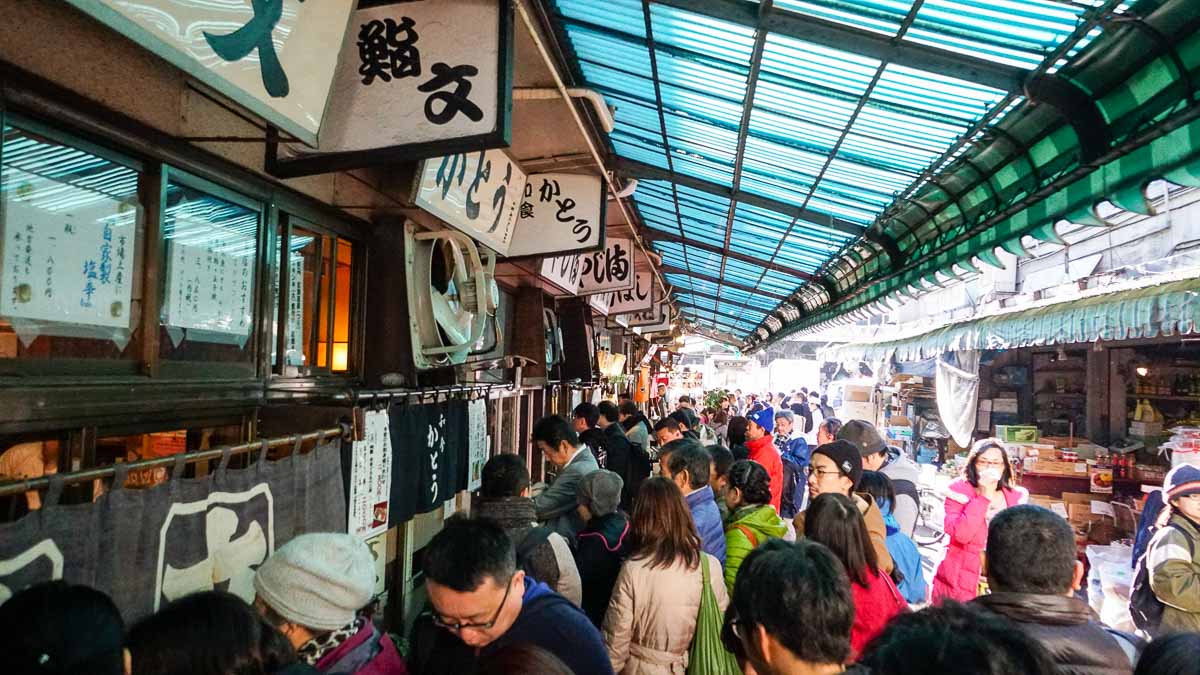 Tuna auctioning aside, another great reason to get up early is for Sushi Dai — a really famous Omakase place with queues starting as early as 3am. We haven't tried so if you do, let us know how if it's worth the hype!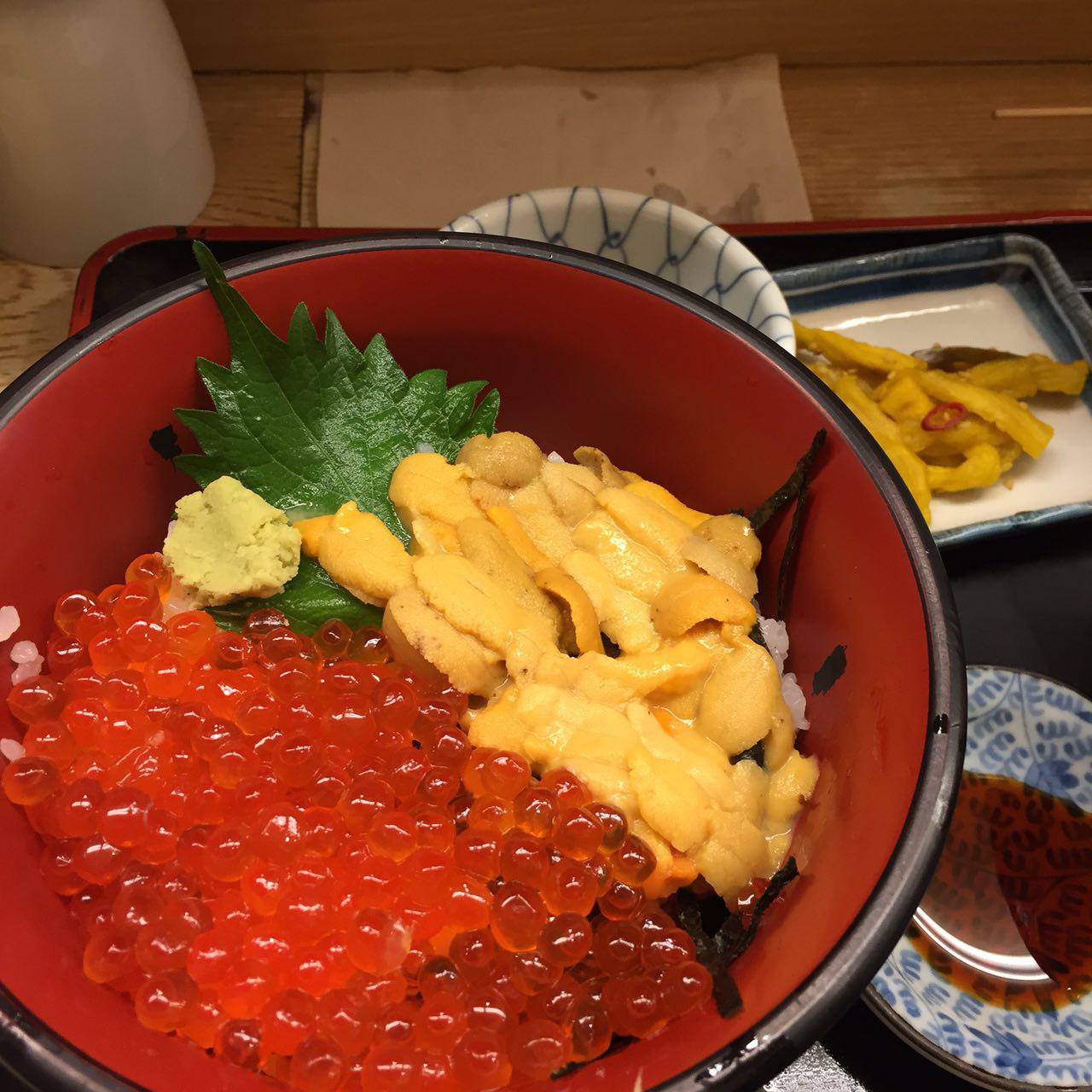 For us late risers, Tsukiji still has a lot to feast on! One of our favourite stores for a classic bowl of Kaisen Don is Nakaya 仲家. They're especially known for having uni (sea urchin) on their menu at affordable prices.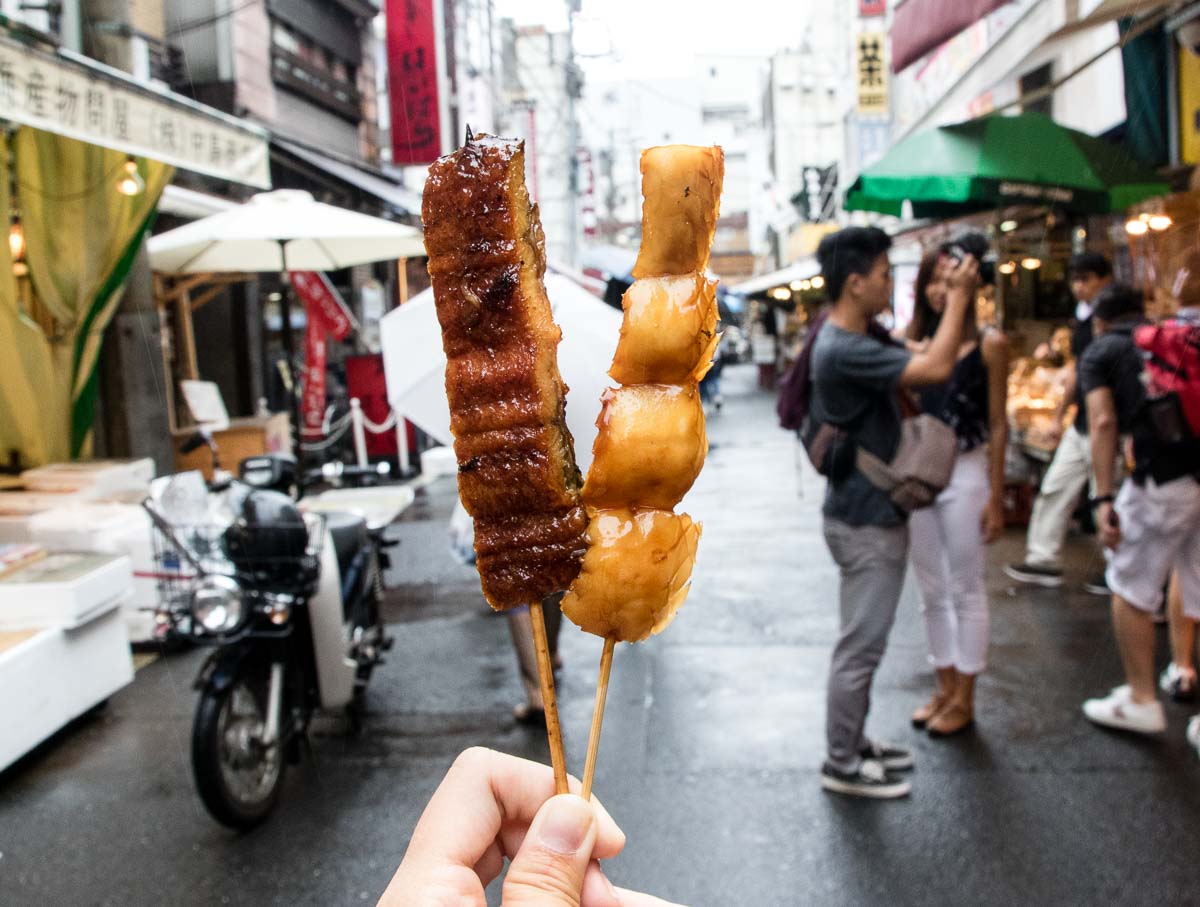 If there's a queue at Nakaya, get a friend to save your spot in the queue (or vice versa) while you venture out to buy skewers around the outer market. Must-trys are the tamago on a stick (¥300) from Tsukiji Yamacho 築地山長 — served with a dash of radish on top — and the unagi skewers (¥200) from Nisshin Tasuke.
Asakusa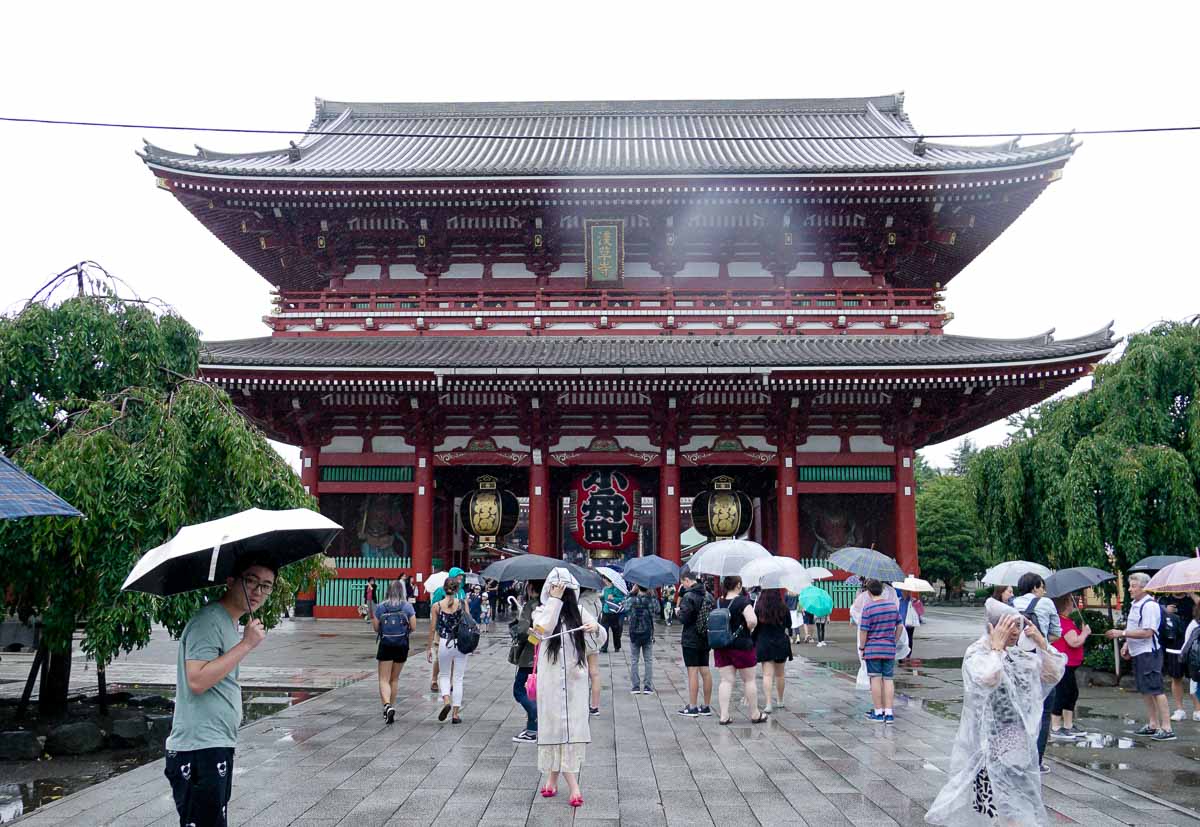 Sensoji Temple — built in the 7th century, this is one of the oldest Buddhist temples in Japan. Get your fortune reading (Omikuji おみくじ) for ¥100. Just drop your coin in and grab one of the metal containers containing wooden sticks with numbers on it. and shake the metal container containing until one wooden stick escapes. Your fortune can be found in the drawer that has the same number as the one on your stick. English versions are available although quite poorly translated. If you receive a bad reading, tie it up on the metal stands to "leave the bad luck behind".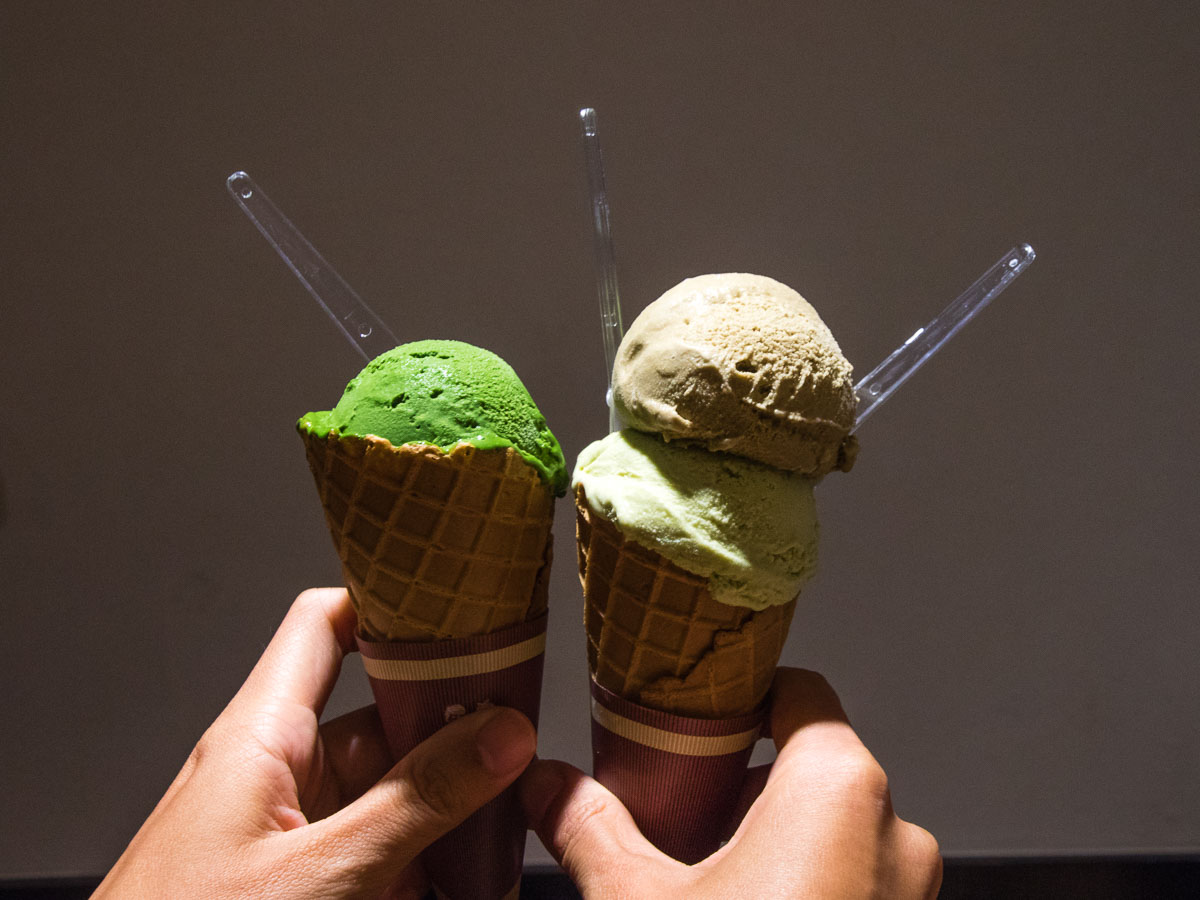 Asakusa Suzukien — serves match gelatos that comes with seven levels. The level 7 matcha (¥580 for a single scoop) is pretty intense and only recommended if you really appreciate the bitterness of matcha. If not, the recommended levels are 5 & 6. My personal favourites were the Genmaicha and Hojicha ice cream (¥470 for double scoop).
Shinjuku
Tokyo Metropolitan Government building — catch a birds-eye view of the city for free. On clearer days, you might even spot a silhouette of Mt. Fuji.
Unatoto — For lunch, grab a bowl of quality unagi on rice (from ¥500) at this small store tucked in the ground floor of the Shinjuku Centre Building. Unagi is usually quite expensive so this is quite value for money!
Harajuku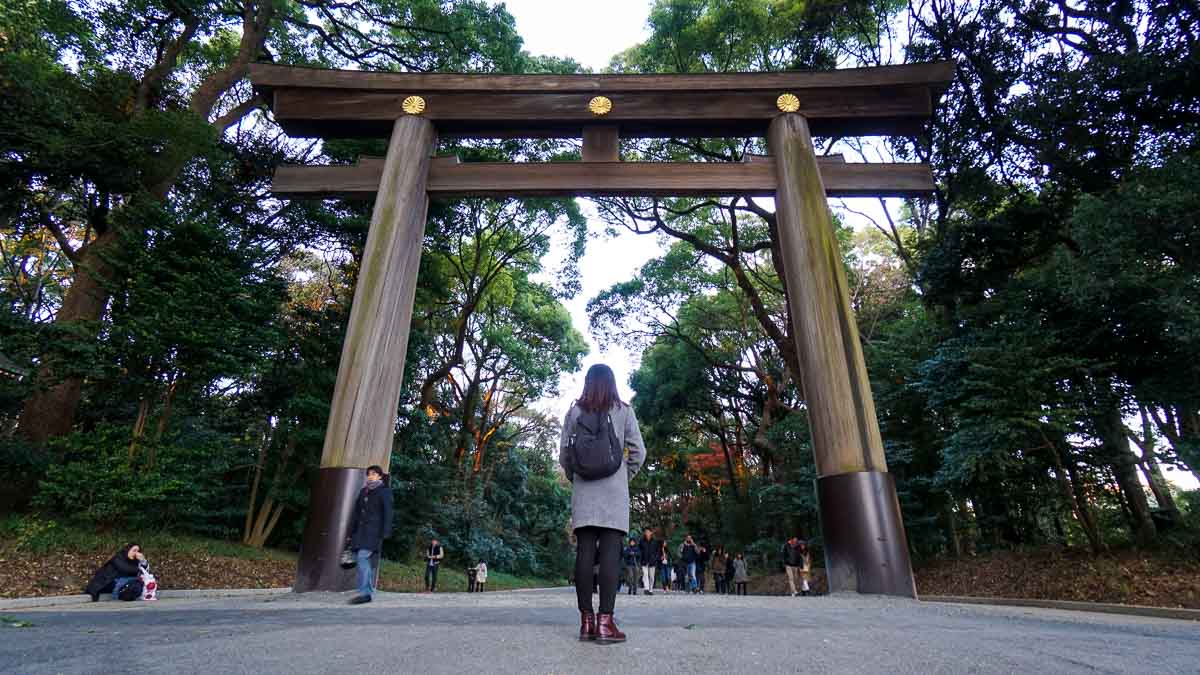 Meiji Jingu Shrine — this 90 year old shinto shrine is one of the most famous in Tokyo. Find shade from the afternoon sun by taking a stroll through the lush forest that surrounds it.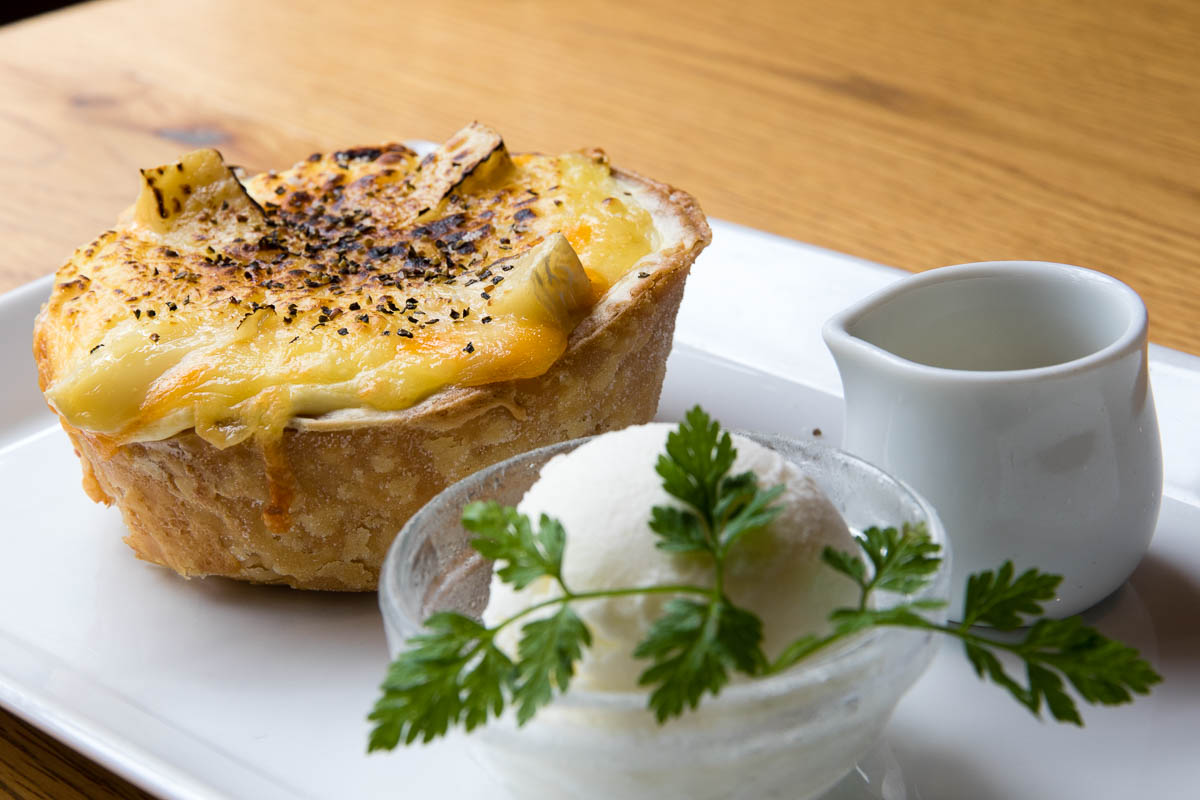 Feeling a little peckish, grab a snack from Gindaco Takoyaki (¥650) or the Pablo Premium Cafe — cheese lovers should try the Omotesando exclusive 4 cheese tart (¥950).
Kurand Sake Market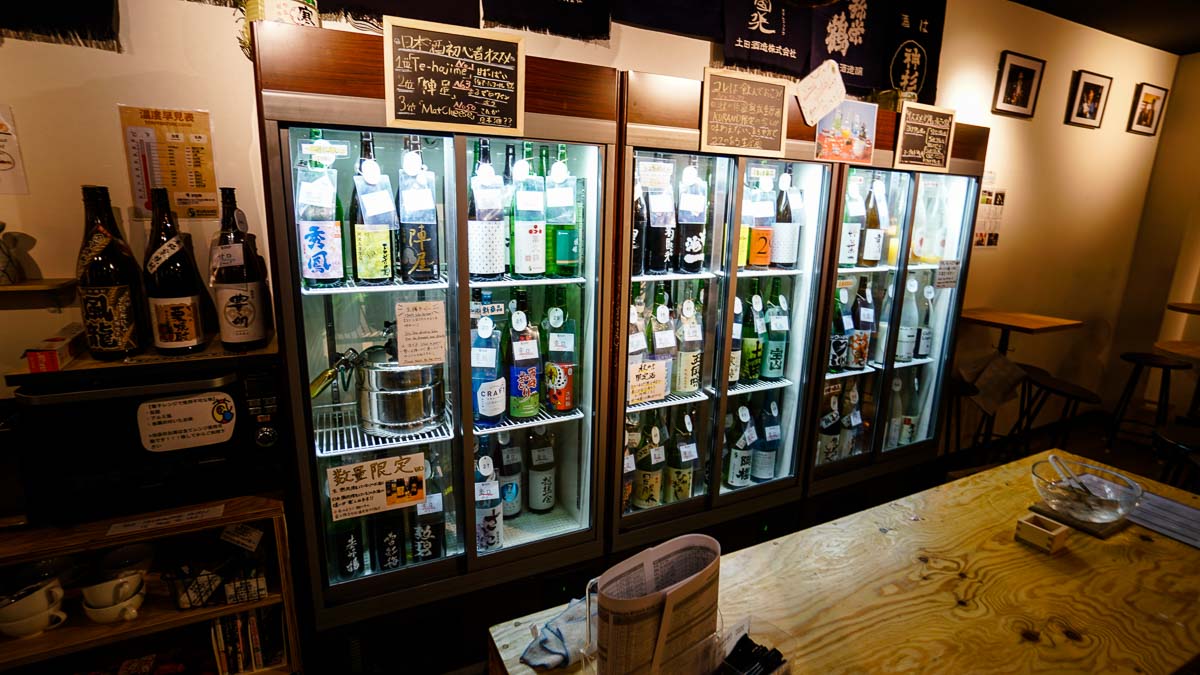 Kurand Sake market — this "drink all you can" sake buffet bar is the best place to end the day. For ~S$40, you'll have unlimited access to more than 100 over different types of sake flavours. Whether you love interesting flavours like milk, mango or the clean crisp taste of draft sake, they probably have it. There are 4 outlets (Shibuya, Shinjuku, Ikebukuro and Ueno)
*Pro-tip: Bring takeaway dinner and arrive at 5PM to maximise your time at the sake bar! (Outside food is allowed)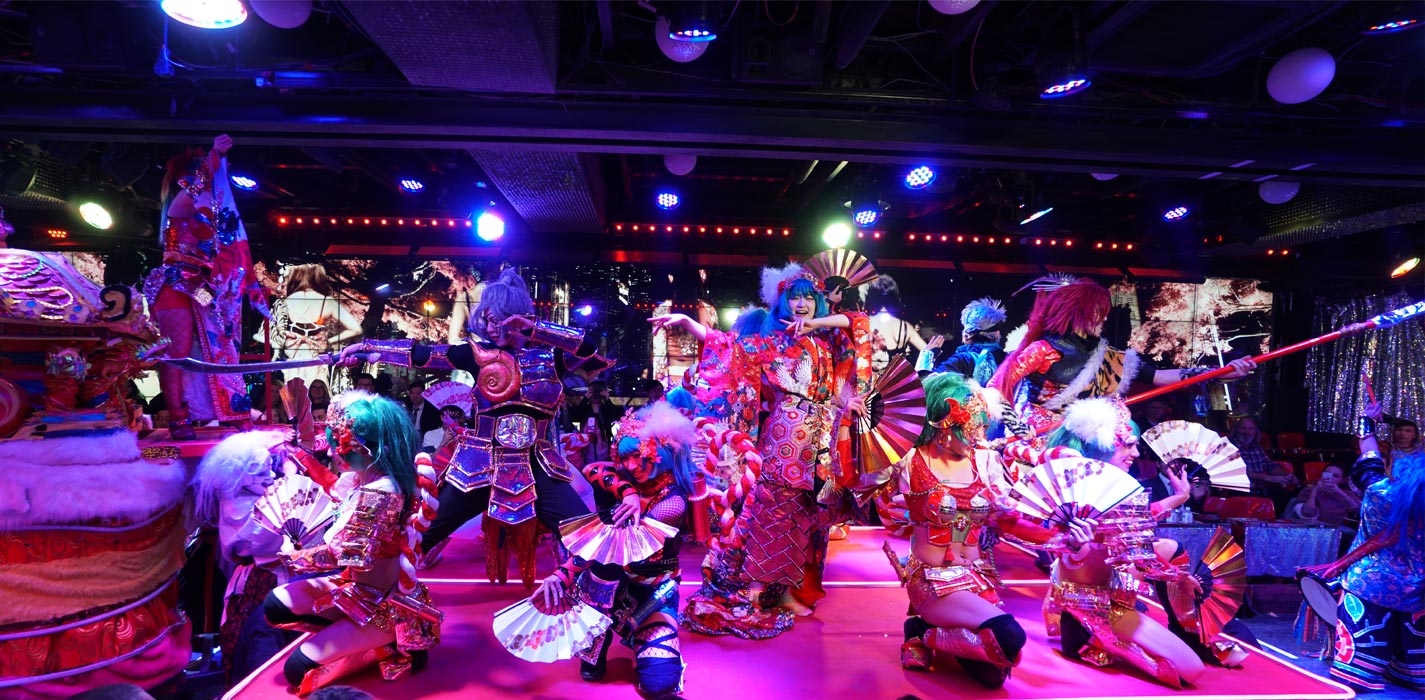 If you have more days to spare, check out all the other quirky things to do in Tokyo! From Robots dancing to go-karting on the streets, our Tokyo guide will keep you busy for at least three days.
For foodies looking to tick off all the famous food and restaurants in Tokyo, we have you covered too!
Day 2: Tokyo Disneyland or Disneysea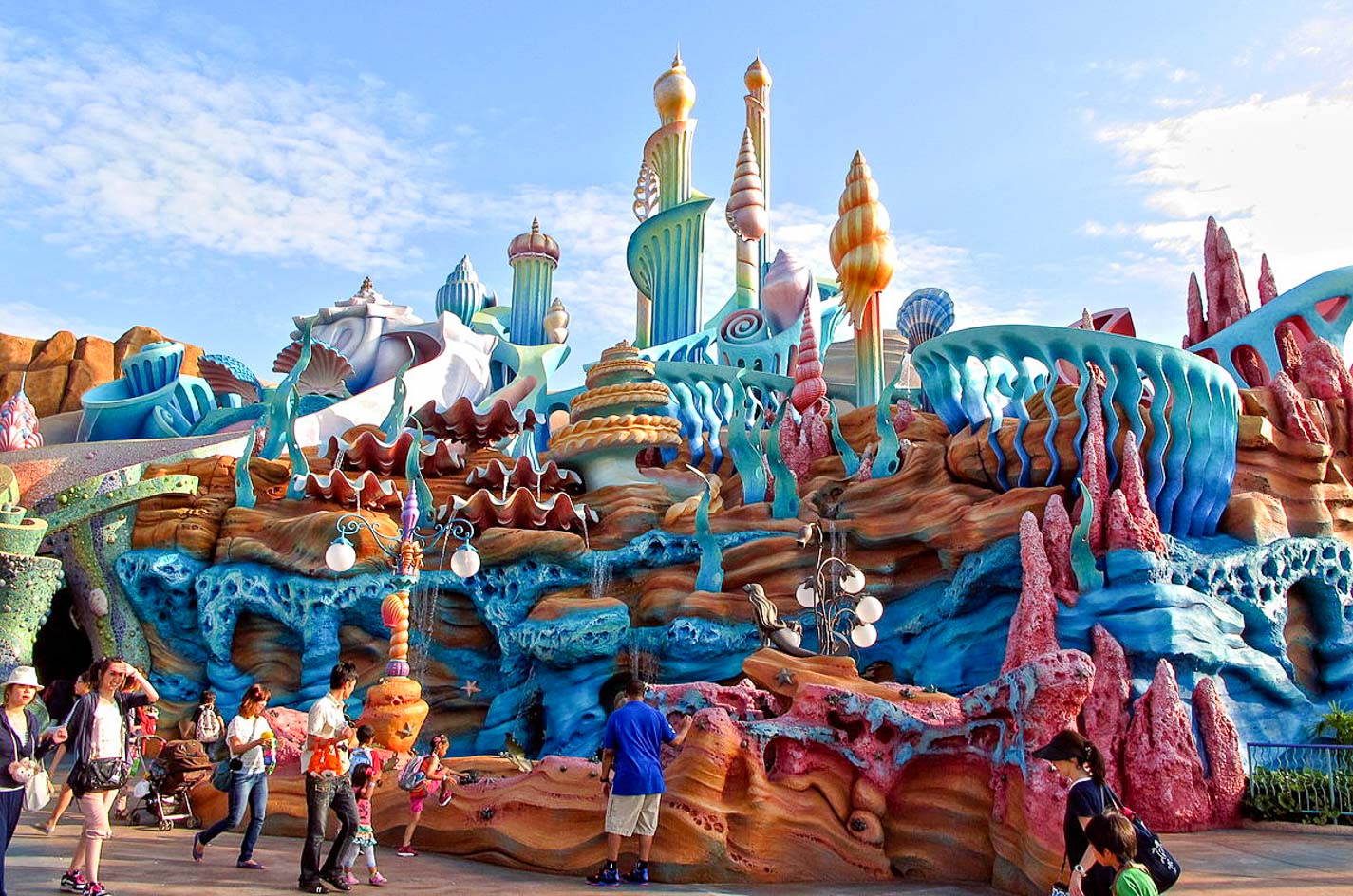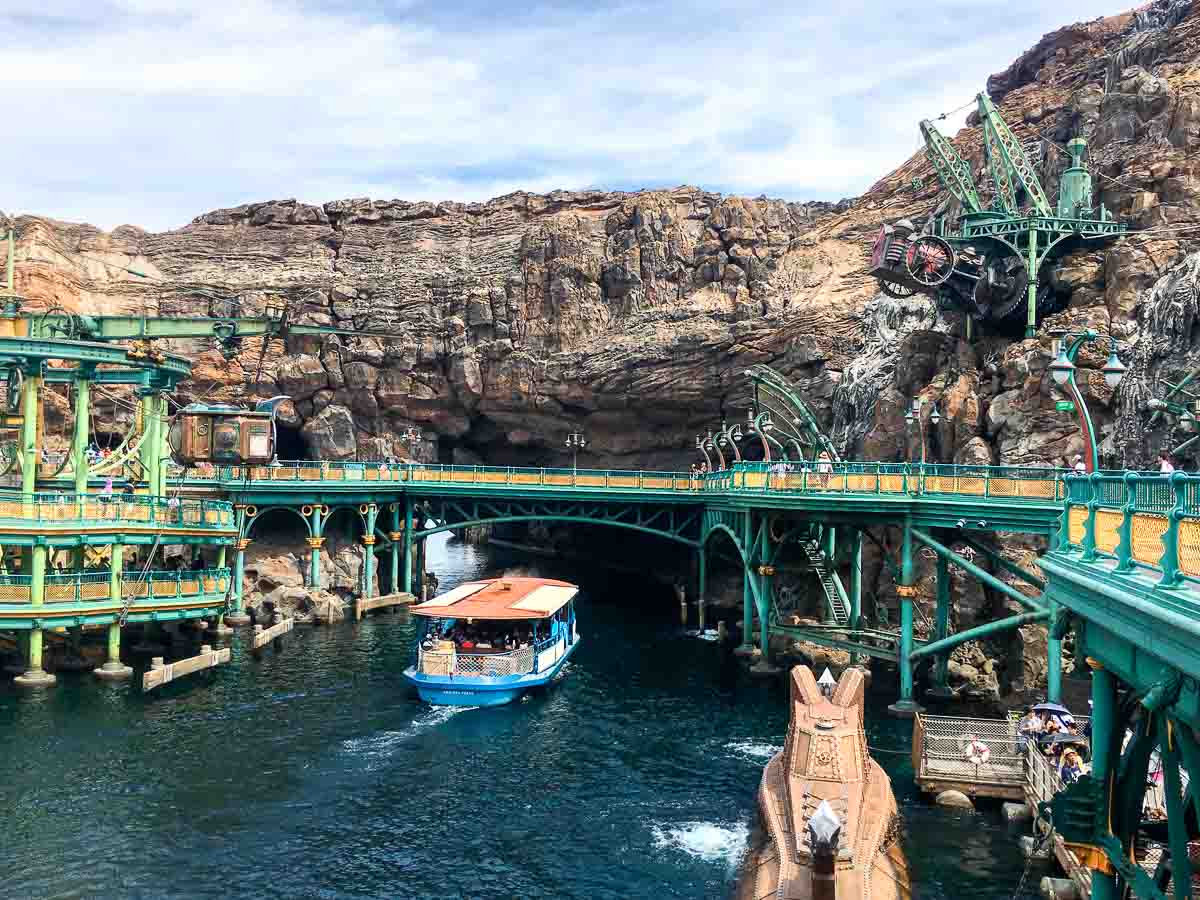 For the Disney fans, Tokyo's Disneyland/sea is a must!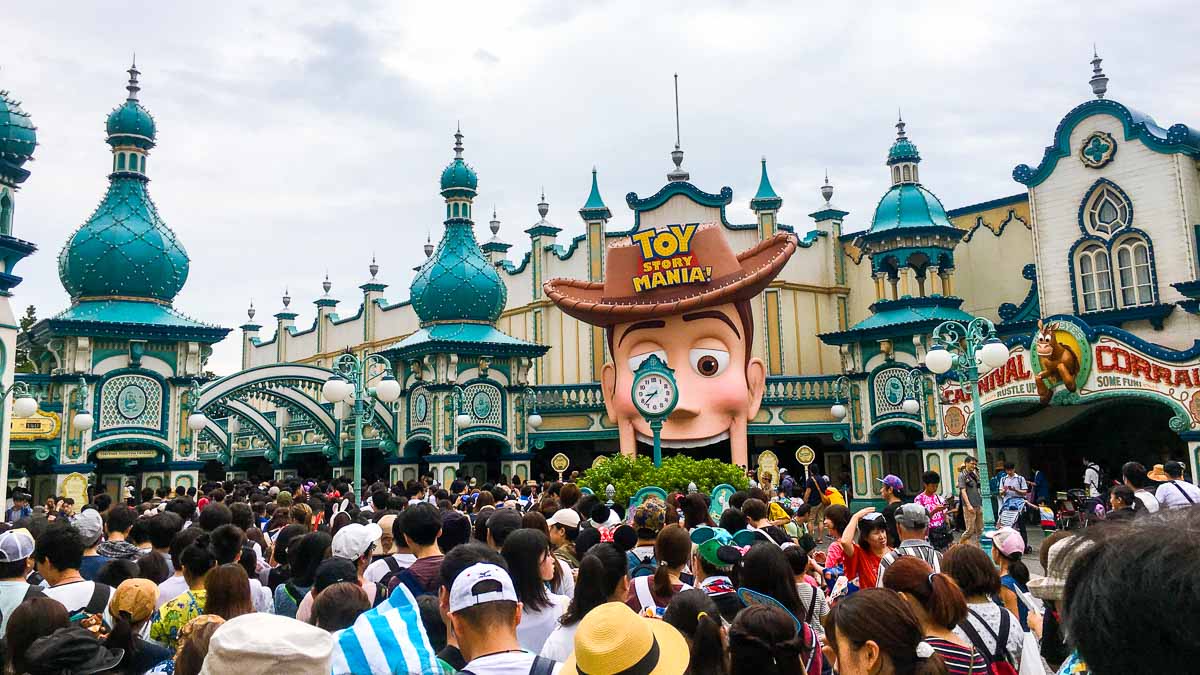 Arriving an hour before the park opens isn't uncommon either and will give you a good headstart to your favourite Fast Passes. Find out more about Fast Passes, days to avoid, and other helpful tips from our Tokyo Disneyland and Disneysea guide.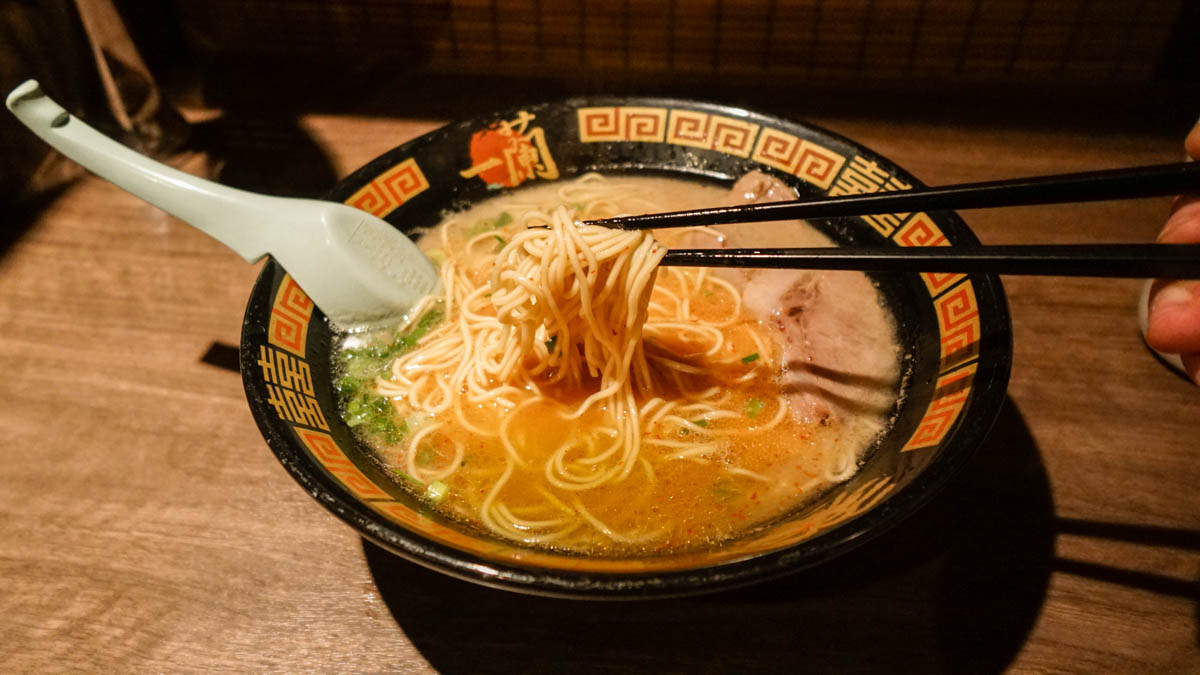 Chances are, you'll be staying there past the night parade (usually around 8:30PM). If you find yourself hungry after returning back to the city, have a nice, warm and savoury bowl of ramen at Ichiran 一蘭 (most outlets open 24 hours or past midnight).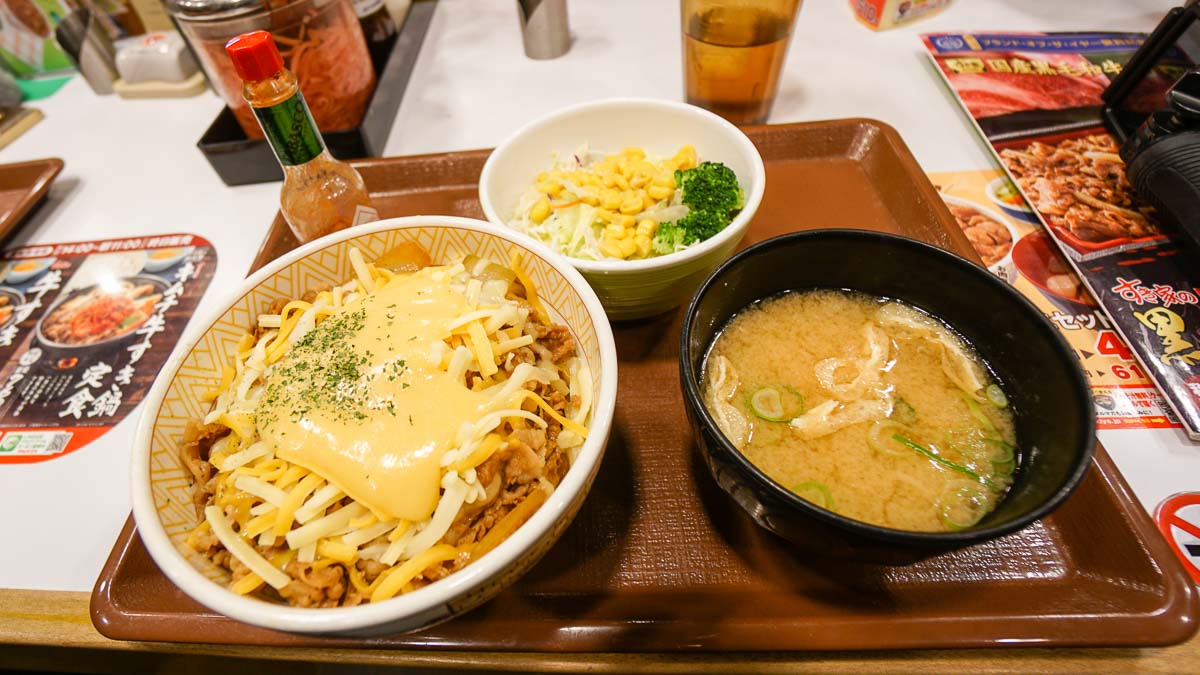 We also love the cheese gyu-don from Sukiya すき家 — most outlets either open 24 hours or past midnight.
For adrenaline lovers, head to Fuji Q Highland instead! Check out our Fuji Q Highland guide for more info.
Day 3: Hakone via Odawara
From Tokyo to Hakone: From Shinjuku station, activate your Hakone Free Pass at the manned gantries. Take the train to Odawara before changing to another line (also covered by the pass) to Hakone Yumoto Station.
Getting Around in Hakone: Hakone Free Pass 2D/3D — unlimited rides on all the main transports in Hakone. Includes the ride from Shinjuku to Hakone Yumoto.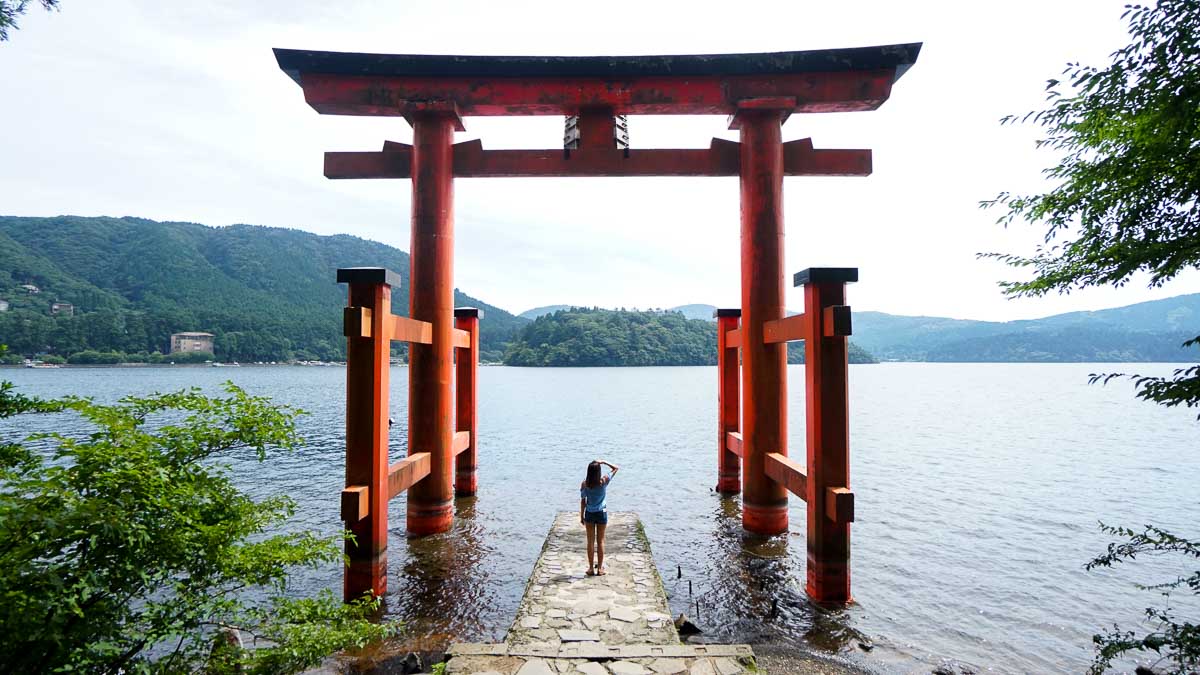 Hakone Torii Gate — There are lots of Torii gates around Hakone but the most famous is the one seen on the edge of Lake Ashinoko. You can view it from two vantage points, on land and from a boat on the lake itself.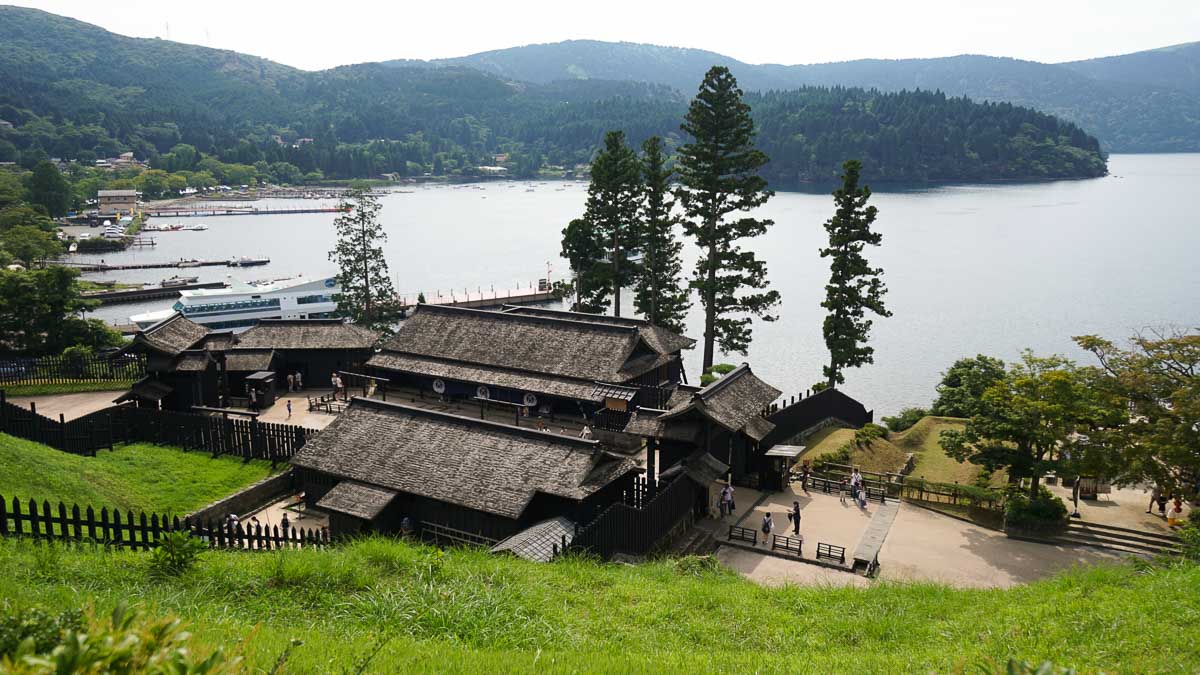 Hakone Old Checkpoint — In the olden days, there was a popular route people would use to walk from Kyoto to Tokyo and Hakone was the last checkpoint before people could reach their destination. This section has been entirely remodelled but does a pretty good job at setting the scene for the Edo period.
Cedar Avenue — One of the best preserved sections of the Old Tokaido route is this scenic path, neatly lined with Cedar trees.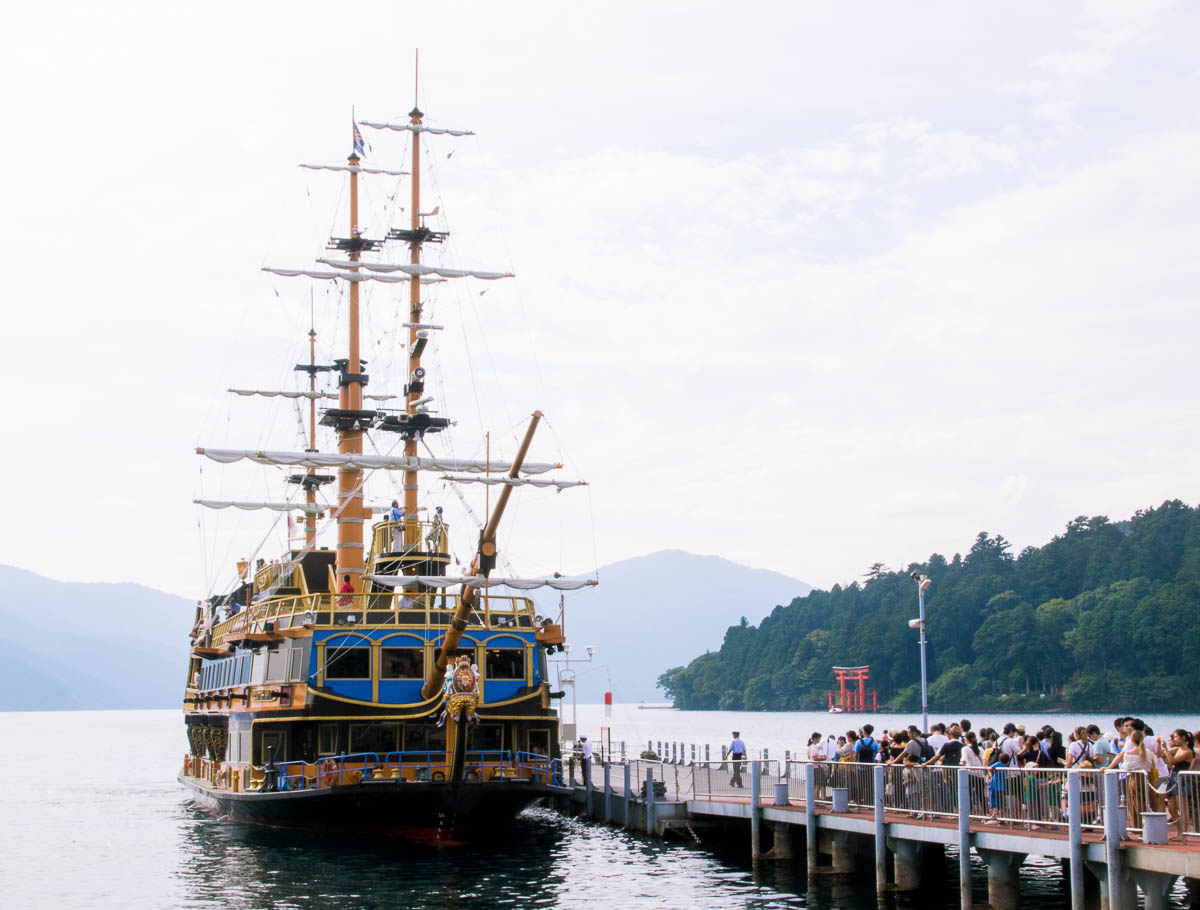 Lake Ashinoko — known for its view of the red torii gate as well as Mount Fuji, this iconic lake is the heart alone. You can explore it on a rented kayak, a swan paddle boat or a ride on the double deck pirate-themed ship (free for Hakone Free Pass holders).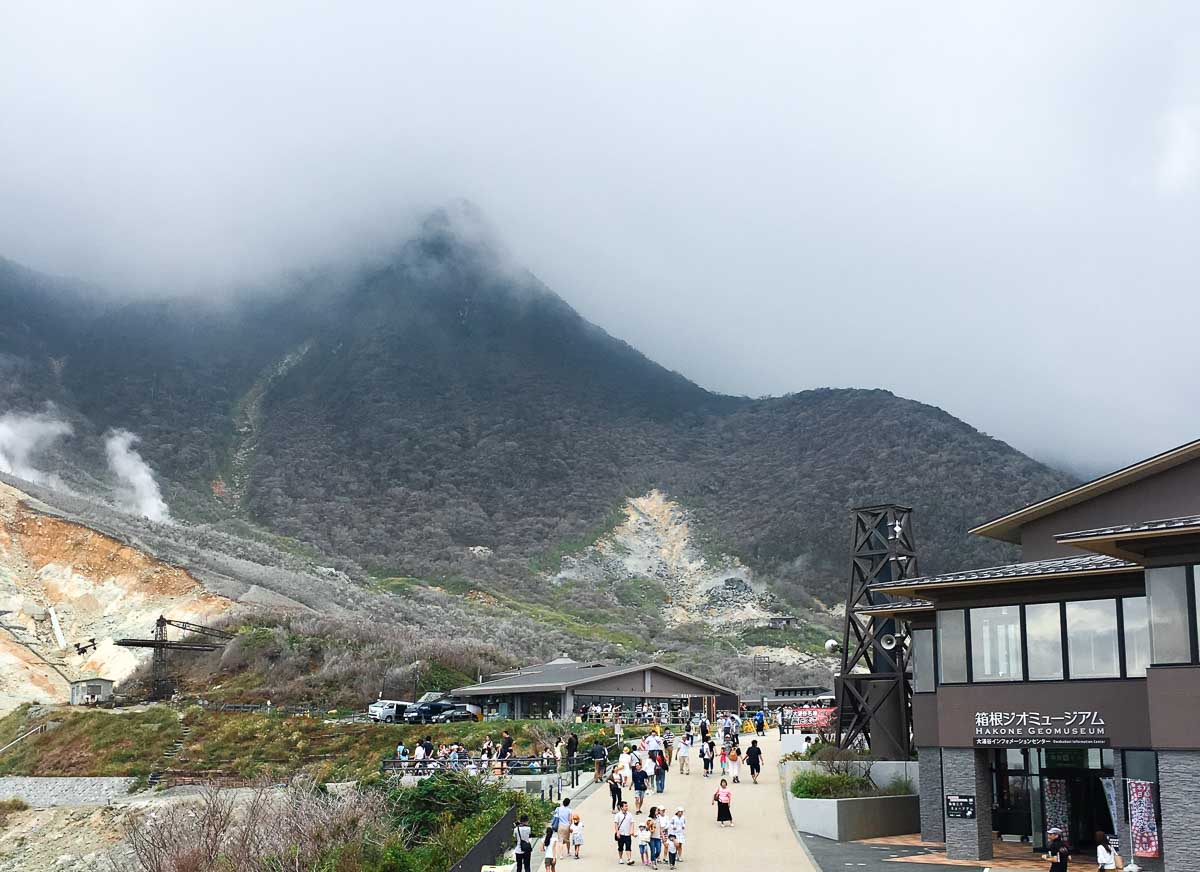 Owakudani — A picturesque volcanic valley that's famous for its tasty black eggs which were boiled in sulphurous water.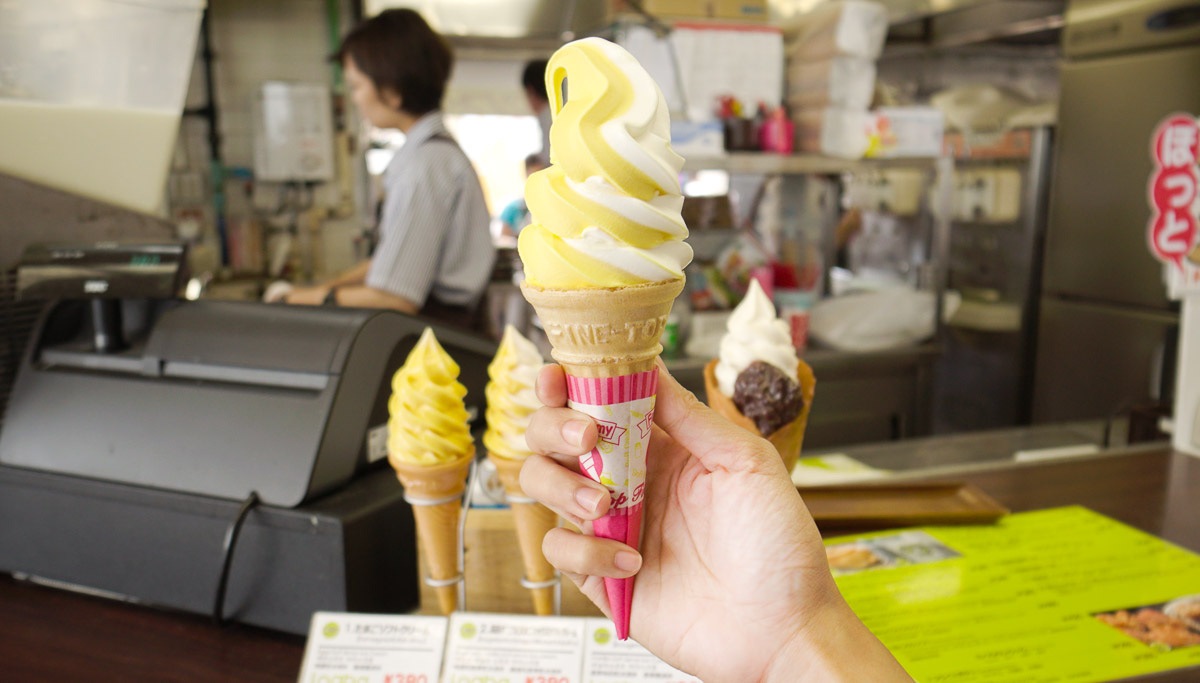 Also try their tamago flavoured ice cream (¥350) which was absolutely delicious and Oden which is perfect on chilly days.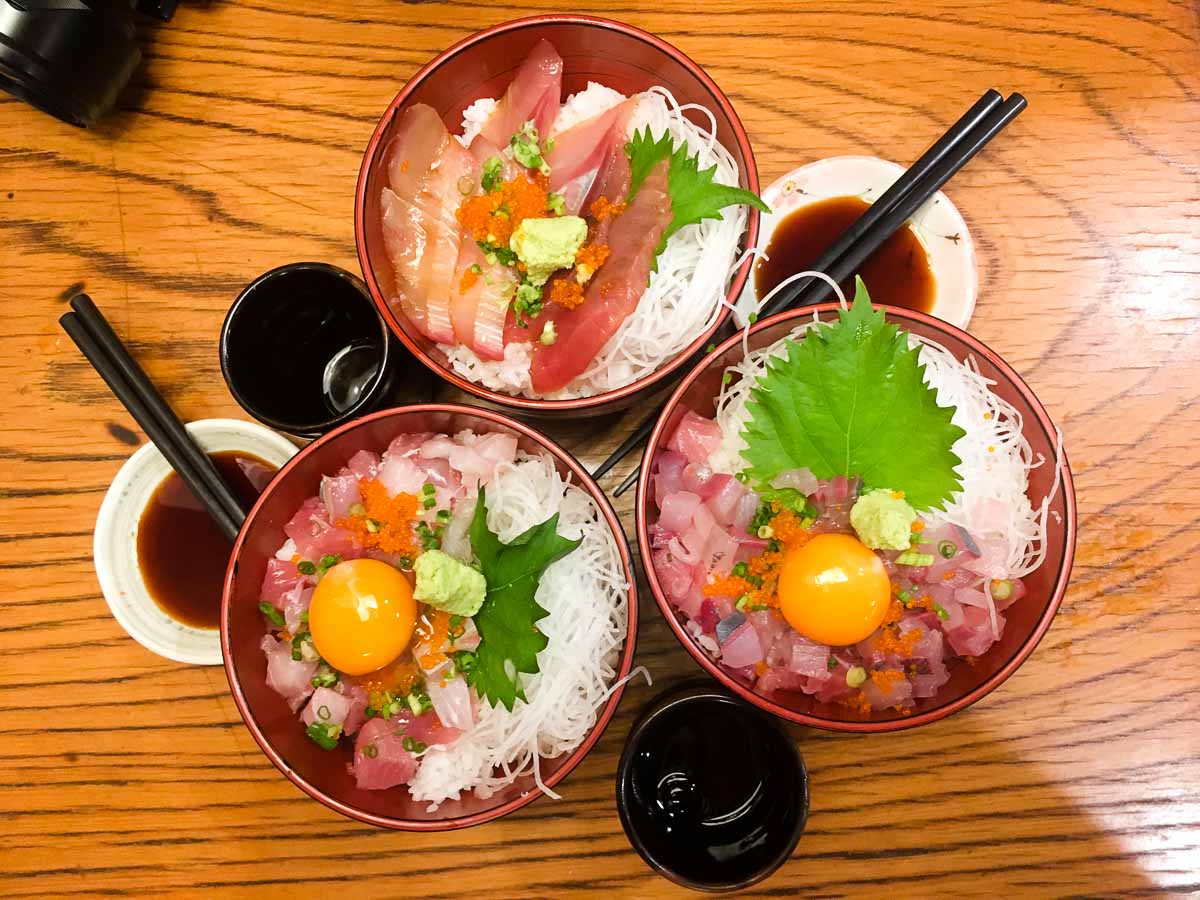 Odawara Kashiden 小田原鱼河岸でん — Before returning to Tokyo, have dinner at this Michelin Guide Chirashi place which serves very value for money bowls of Chirashi (~¥1200 – 1900). Turned out to be one of our favourite Chirashi bowls on the trip.
*Pro-tip: Ask for a bowl of Miso soup for ¥100 — comes in a medium sized bowl with a piece of fish in each and with a strong dashi taste. Great value for just ¥100!
Read more: Hakone Travel Guide — The Most Scenic Day Trip From Tokyo
Day 4: Kamakura and Yokohama
JR Pass: Get your JR Pass activated by walking through the manned counters at any JR station. You will receive a stamp that states the start and end dates of the JR Pass. For subsequent entries, just flash the back of the pass to a station staff when entering the gantries.
For more information on how to use and plan your trip with the JR Pass, check out our comprehensive JR Pass Guide.
Kamakura and Yokohama is just an hour away from Tokyo. 2 ways to explore:
1) Bring your bags along and leave them at the respective JR station lockers (¥300 – 500) while exploring the cities. Spend the night in Nagoya (mid way between Tokyo and Osaka)
2) Leave your bags in Tokyo and take a day trip out
Kamakura
From Tokyo to Kamakura: Use the JR pass to ride on the JR Yokosuka line to Kamakura (slightly under an hour)
Filled with lots of temple, shrines, and scenic trekking paths ranging from two to six hours, Kamakura is a nice relaxing contrast from Tokyo. You'll find many locals from Tokyo taking a day trip here during the weekends so pick a weekday to avoid the crowds.
Kencho-ji (¥300) — Japan's oldest monastery that's still active today. In fact if you're around on a Friday or Saturday, you can even join the beginner friendly Zazen (meditation) sessions held from 5:30PM – 6:30PM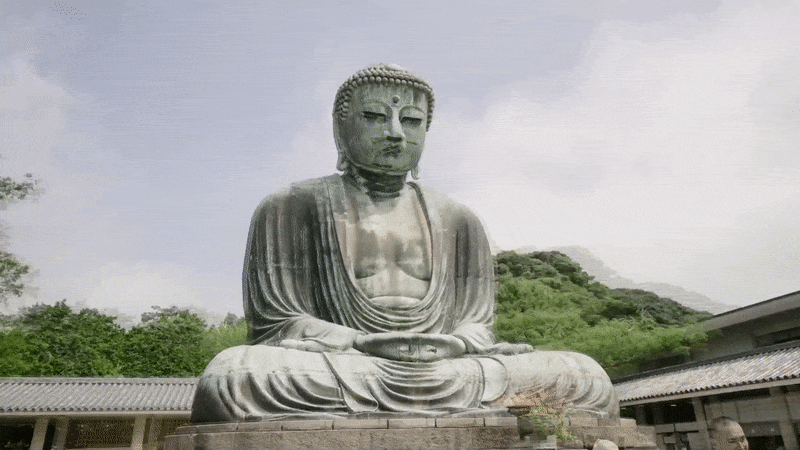 Great Buddha Statue (¥200 entrance fee) — The other icon of Kamakura is this 13.35m tall Buddha Statue. From Kamakura station, either take a 20 minute walk take the Enoden train (¥190 one way).
Hokokuji Temple (¥200) — Escape the summer heat at this temple, famous for its own bamboo groove with over 2000 stalks lining a narrow pathway to a tea house.
Bonzo Kamakura — For lunch, have handmade soba noodles at the Michelin Guide before leaving for Yokohama.
Yokohama
From Kamakura to Yokohama: Use the JR Pass an take the JR Yokosuka line to Yokohama (25 minutes).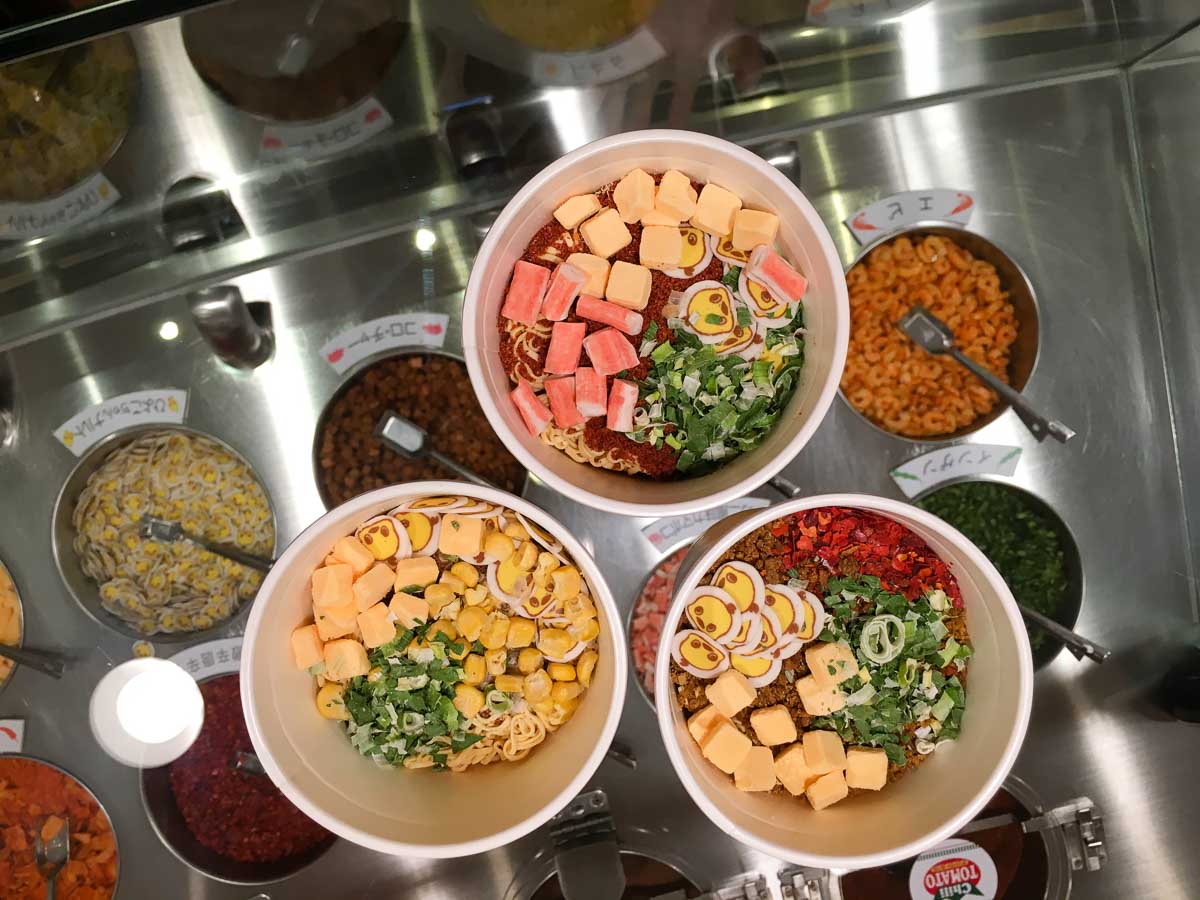 Cup Noodle Museum (¥500) — pick your own ingredients and design your own cup noodle for ¥300. It's quite similar to the Momofuku Ando Instant Ramen Museum in Osaka but a lot bigger and has a slightly different video shown in their mini cinema explaining the history behind the creator, Momofukuando.
Yokohama World Porter's mall — If you skipped on lunch at Kamakura, this is a great place for more budget friendly options — there's a food court, a Gindaco Takoyaki store, and even melon pan (although I suspect the best is still found in Osaka's Dotonbori).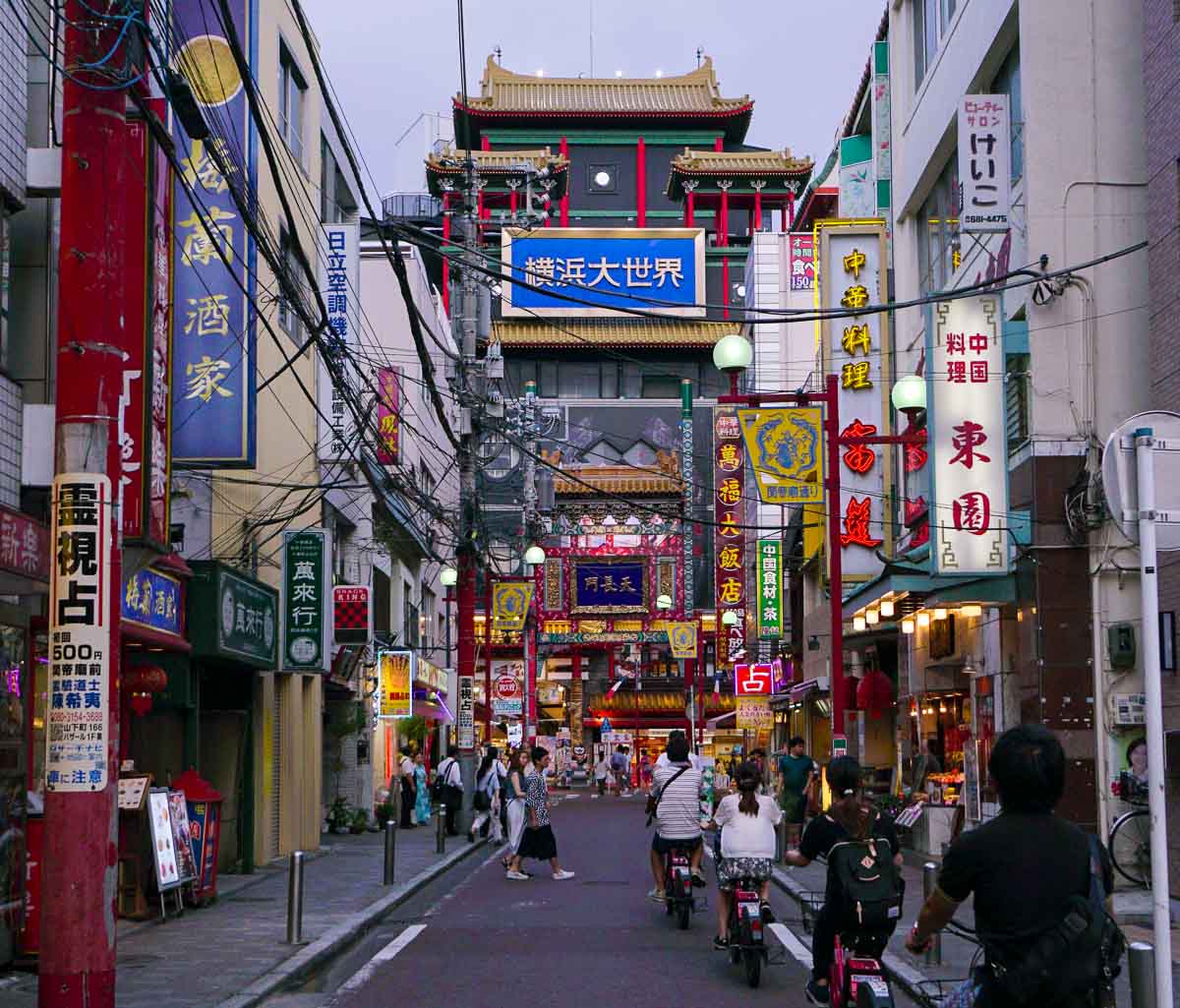 Yokohama Chinatown — One of the largest Chinatown in the world with over 200 Chinese-themed restaurants and shops. If you understand Mandarin, you could also get a palm reading done here as most of them speak Chinese.
Day 5: Nagoya
From Toyko or Shin-Yokohama to Nagoya: Reserve seats for a Hikari train to Nagoya with your JR Pass (105mins)
Getting around Nagoya: Purchase a 1 Day Nagoya Subway (¥740) or the Donichi Eco Kippu (¥600 — discounted ticket which covers both trains and buses; available on Weekends, public holidays and the 8th of each month)
Tucked right between Tokyo and Osaka, this charming city is just as modern as it's neighbours but takes on a more laid back pace of life. It's home to the Shinkansen Museum (SCMaglev) and Toyota Factories and great as a base for day trips to Nagashima Resort which has a roller coaster park, and a famous outdoor onsen. With just a day to spare, here are the Nagoya essentials that can be found in the heart of Nagoya.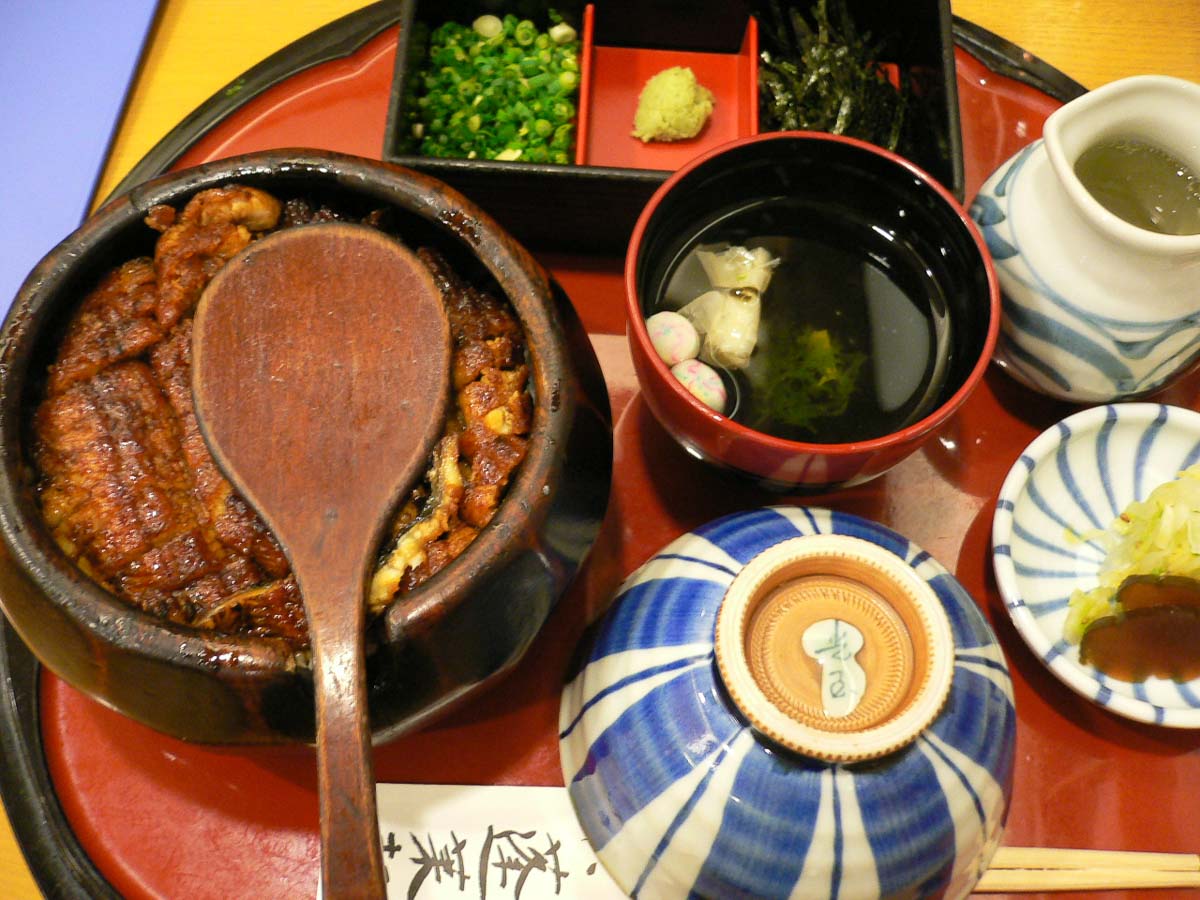 Hitsumabushi (Nagoya's specialty) — Grilled eel on rice but eaten a little differently than the regular Unagi don. The dish is split into 4 portions: first section to be eaten on its own, 2nd to be mixed with wasabi and other condiments, 3rd with dashi broth or green tea and lastly, a repeat of your favourite style.
Eel isn't cheap and being the city's delicacy, you can expect a bowl of Hitsumbushi to cost at least ¥3000 except for a store we found located at the basement of the Shirakawa Sakae Gas Building which sells a bowl for ¥2450.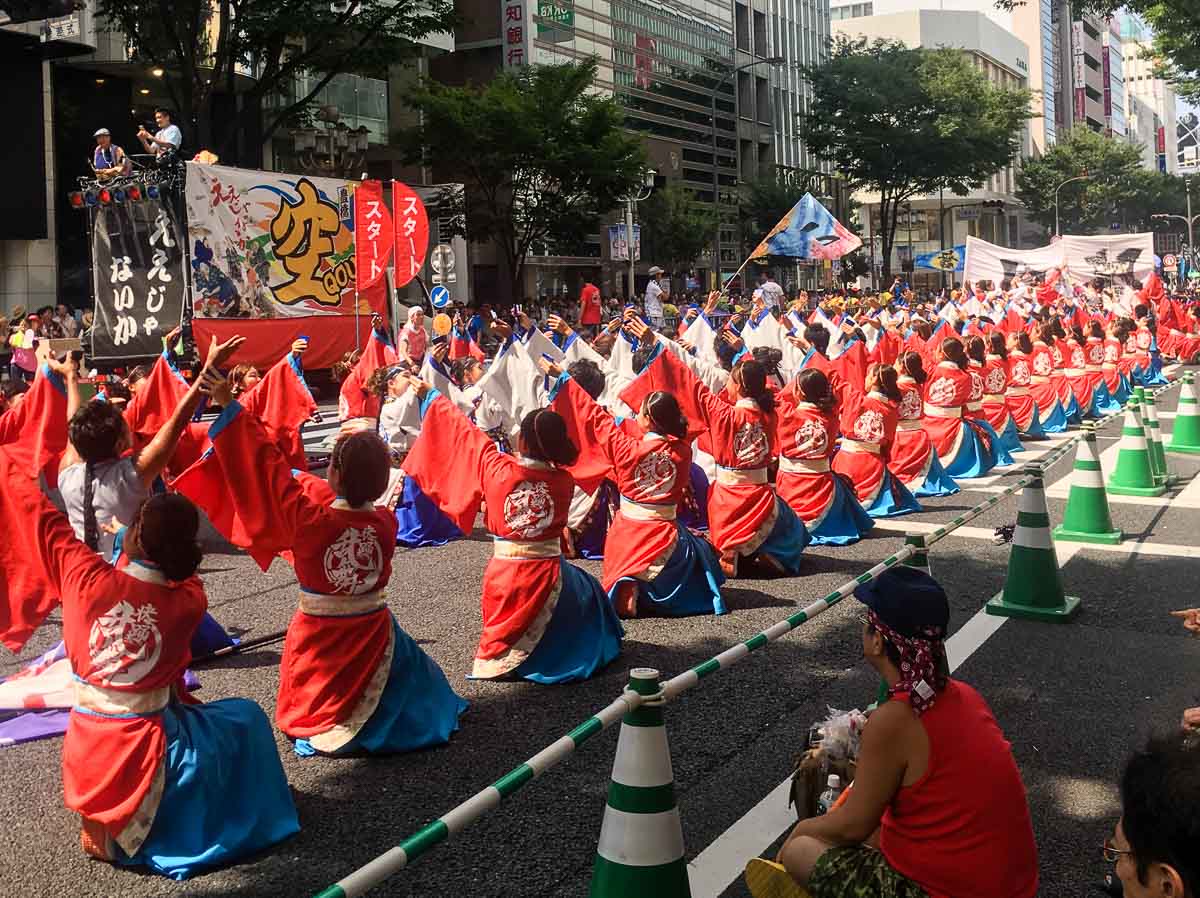 Unfortunately we were there on a weekend and during the Nippon Domannaka Matsuri — one of Japan's largest dance festival held annually at 20 different venues across Nagoya. By the time we arrived at 12pm, they were sold out for the day. Do come early to get your name on the list if you're here during the weekends.
If you're craving for something sweet, there's also a famous soufflé pancake shop in the same building next to the Hitsumabushi restaurant. You'll be able to see the chefs flipping the fluffy pancakes through the clear glass windows in front of the kitchen.
To be fair, the dance festival added a very cheerful vibe to the whole city where we could view the performances for free at the parks and the streets (which were closed for the weekend). Each dancer had so much enthusiasm in their eyes while performing, we couldn't help but had our eyes peeled for at least 3 performances.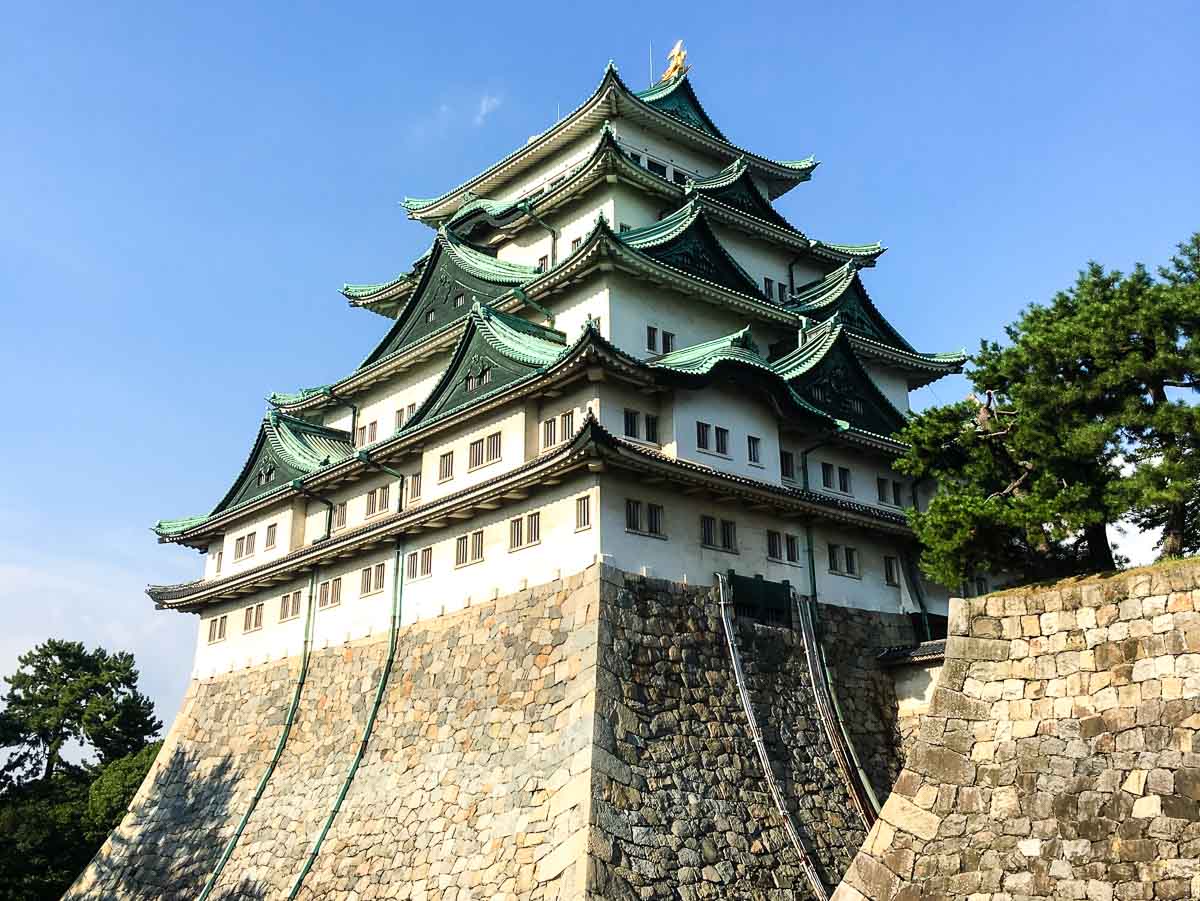 Nagoya jo (¥500) — one of the 3 most famous castles in Japan. Apart from accessing the main castle keep, the ¥500 entrance fee also includes access to the reconstructed palace which served as the residence to the royal family. It was entirely reconstructed with replicas of the intricate art work adorning each of the sliding doors.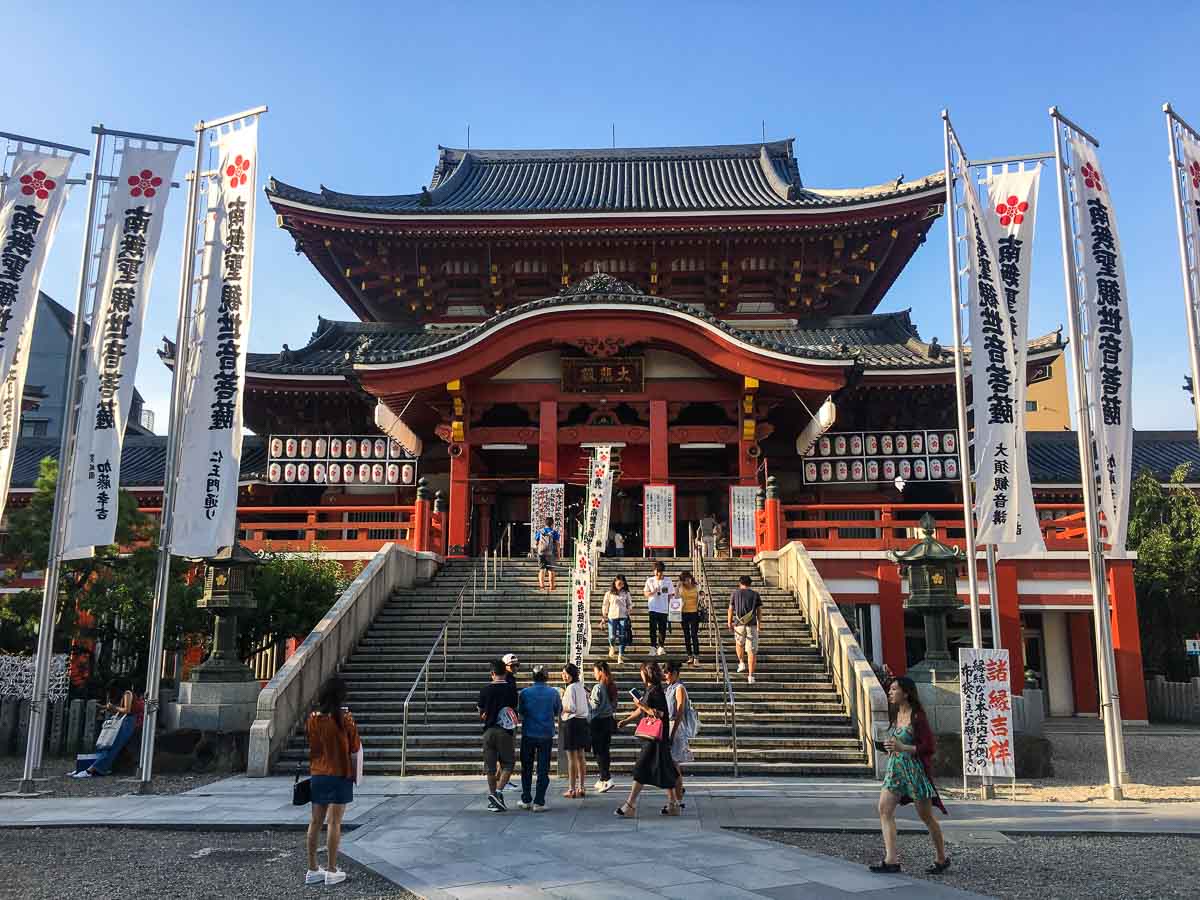 Osu Kanon — an iconic Buddhist temple in Nagoya that dates back to the 14th century. Next to the temple is the Osu shopping district where you can find cafes, street snacks as well as vintage stores.
From Nagoya to Kyoto: Before night falls, take the JR Hikari train to Kyoto (52 minutes). Reservation needed.
If you'd like a little more time in the city, stay the night at Nagoya Hostel Nishiasahi and leave for Kyoto the next morning instead.

Day 6: Kyoto
Getting around in Kyoto: Hire a bicycle from J-Cycle (¥800 from 10 – 6pm)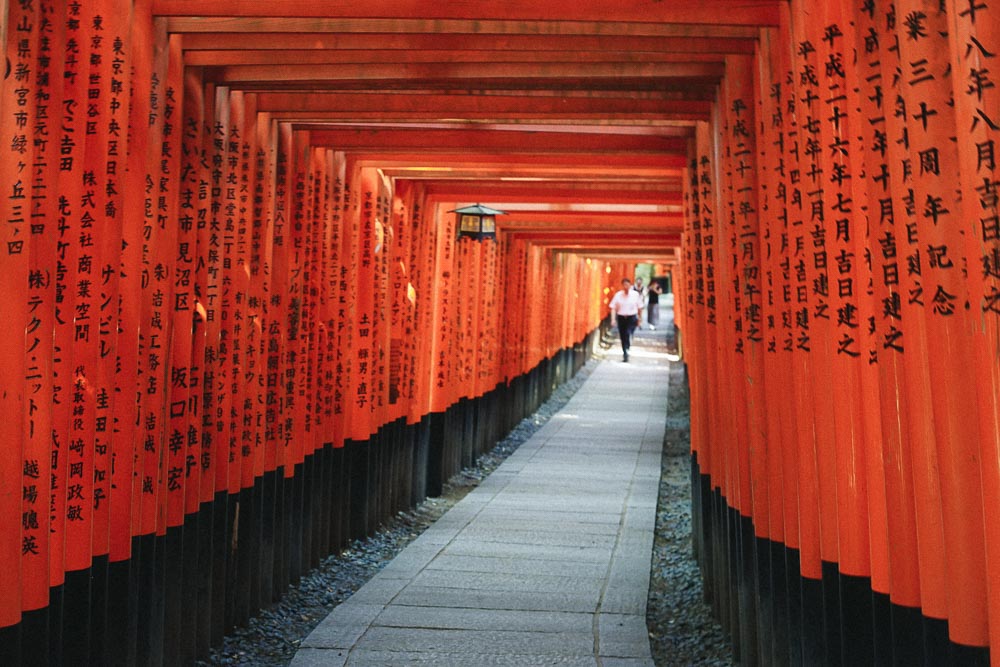 Fushimi Inari Shrine — One of the most photographed places in Kyoto is definitely this. Come early to enjoy the cool air and even take on one of the hikes to the top.
Temple hopping on a bicycle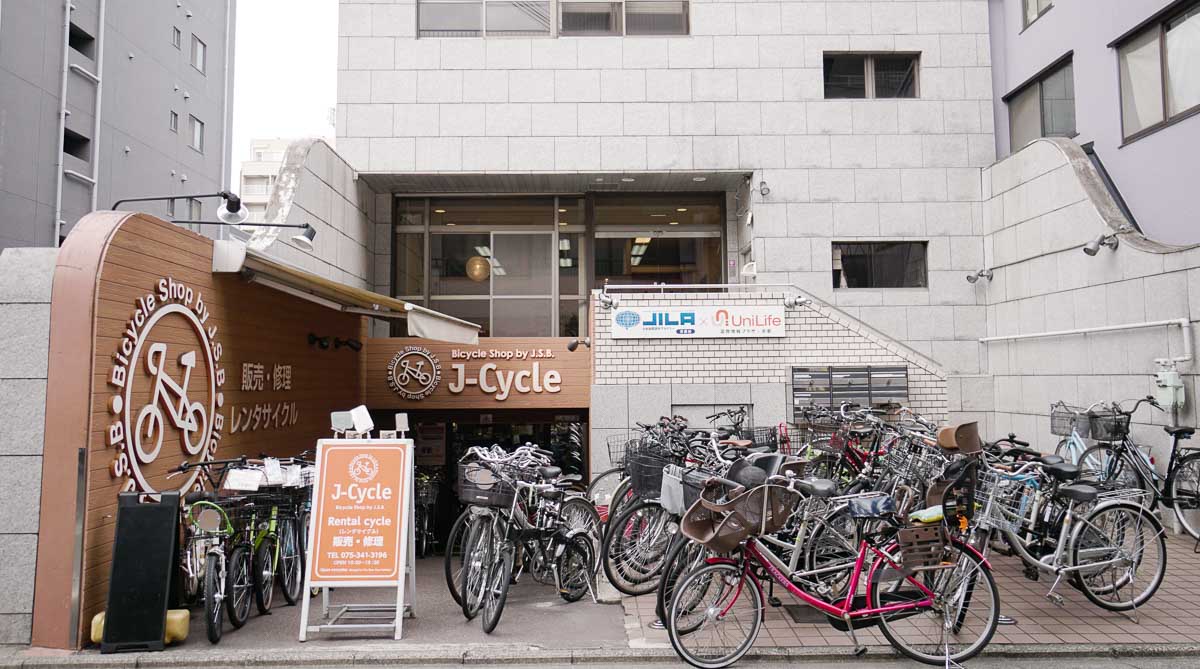 J-Cycle — Rent a bicycle once the bike shop opens at 10am to explore the nearby shrines and temples around the Higayashi District. The law here for parking bicycles is pretty strict so make sure you park at the designated areas or risk having it taken away by the authorities. Some will require a bicycle day pass which allows you to park the bicycle at a couple of the other parking areas.
Recommended Cycling Route: J-Cycle – Imperial Palace – Philosopher's Path – Nanzenji (Free Parking) – Gion Area – Kiyomizudera (Park at Kodaiji) – J Cycle (Approx. 1.5hrs cycling time)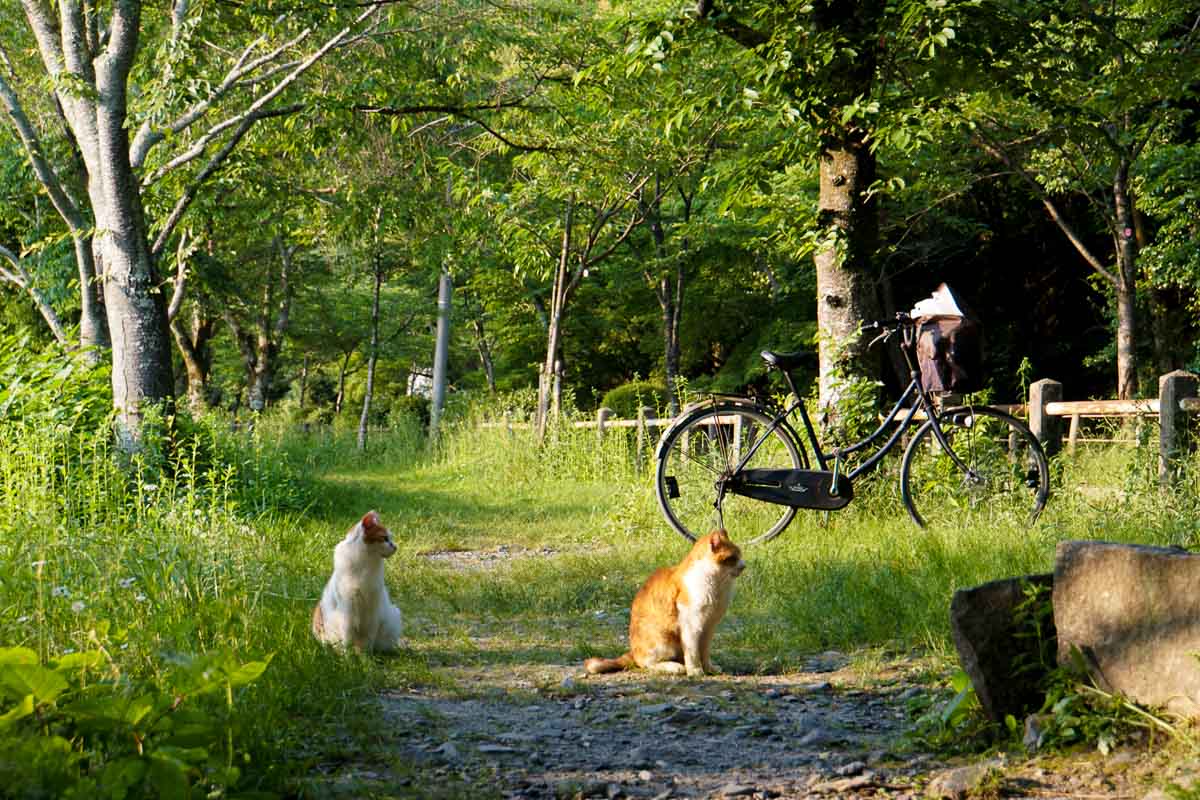 Philosopher's Path — a pleasant stone path lined with sakura trees and roaming cats.
Nanzenji — One of the most important Zen temples in Japan containing multiple subtemples in the large complex.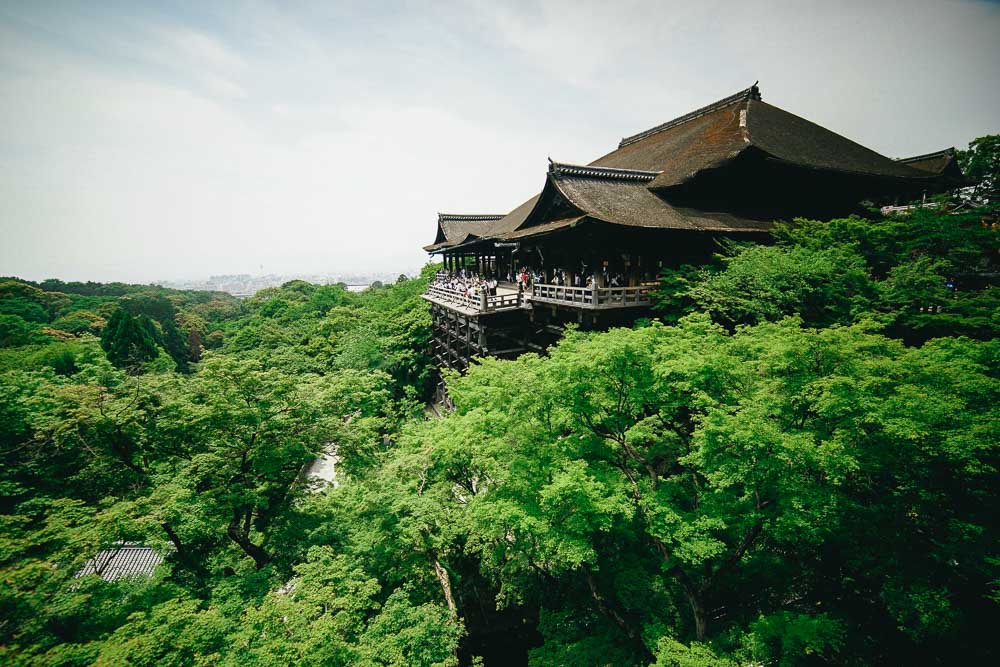 Kiyomizu-dera — on the list of UNESCO World Heritage site, famous for it's 13m high wooden stage perched on the hillside.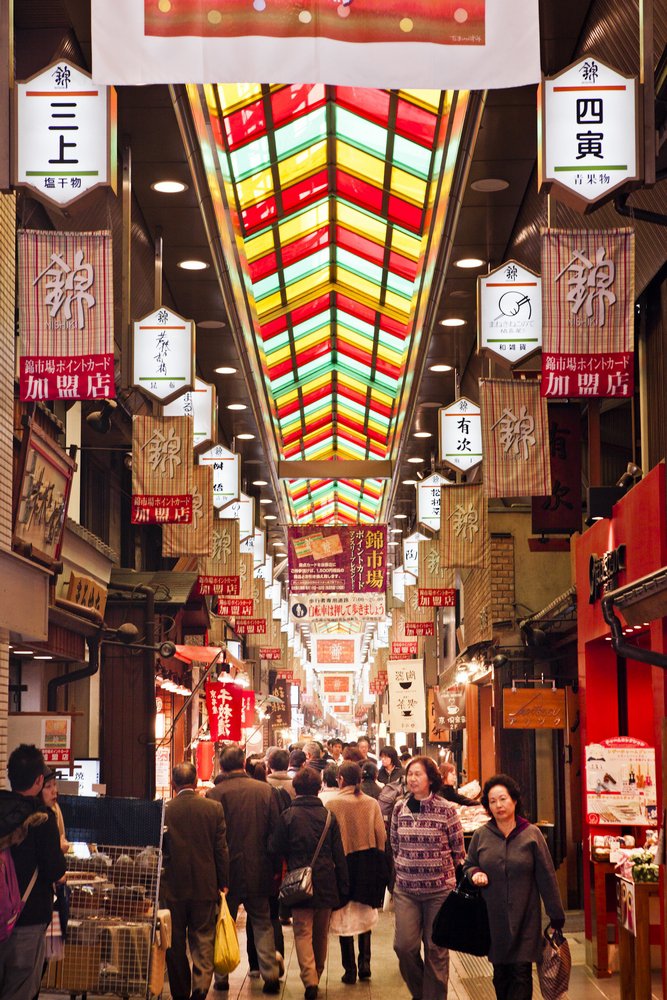 Nishiki Market — Nishiki market closes at 6pm so return your bicycles and have an early dinner here. Have your fill of matcha snacks, grilled skewers and large oysters.
Read more at 16 Foods you must not miss in Osaka and Kyoto.
Day 7:
Arashiyama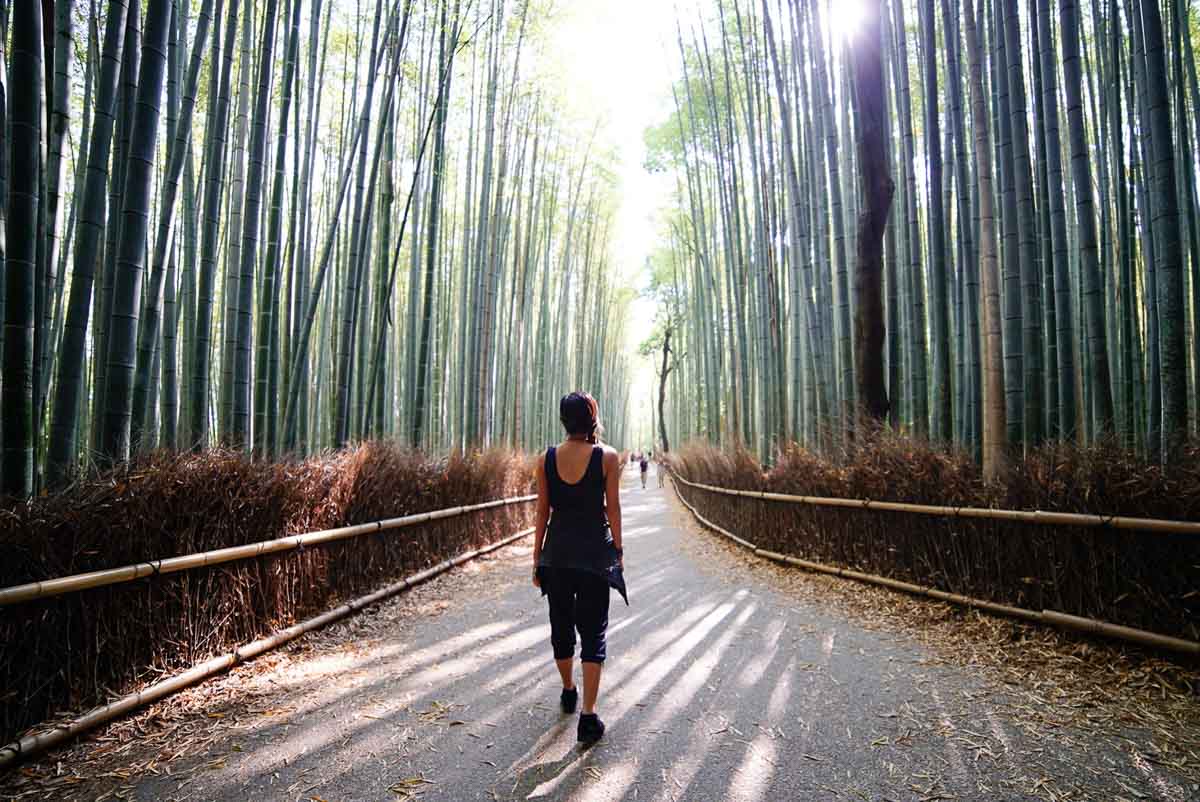 Start the day as early as first light! We've seen the place get crowded as early as 9am when the tour buses start arriving and the atmosphere is quite drastically different. Walk through the thick forest of bamboo stalks which and make a stop at the various gardens around the Arashiyama area. Each garden costs around ¥300 to enter.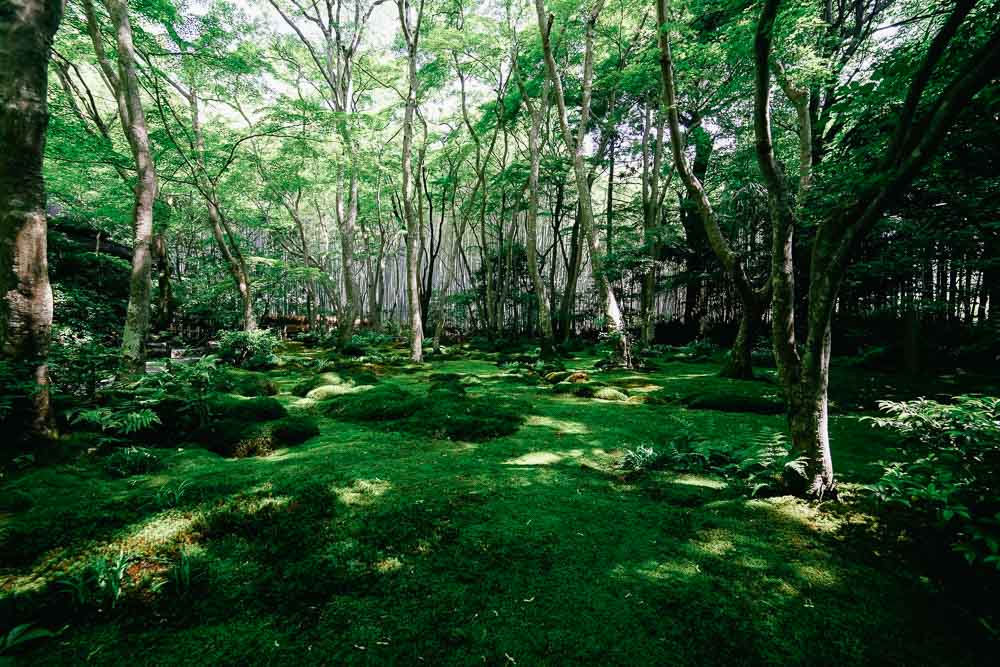 Day 8: Kyoto — Nara — Osaka
From Kyoto to Nara: Catch the JR Special Rapid Service which arrives in Nara in 45 minutes. No reservations needed for this train.
Getting around in Nara: Nara is pretty small and it's attractions aren't too far away to cover by foot although it's also very bicycle friendly. Rent bicycles for ¥700 until sunset. You can leave your luggage at the JR Station lockers for ¥300-500 depending on the size of locker.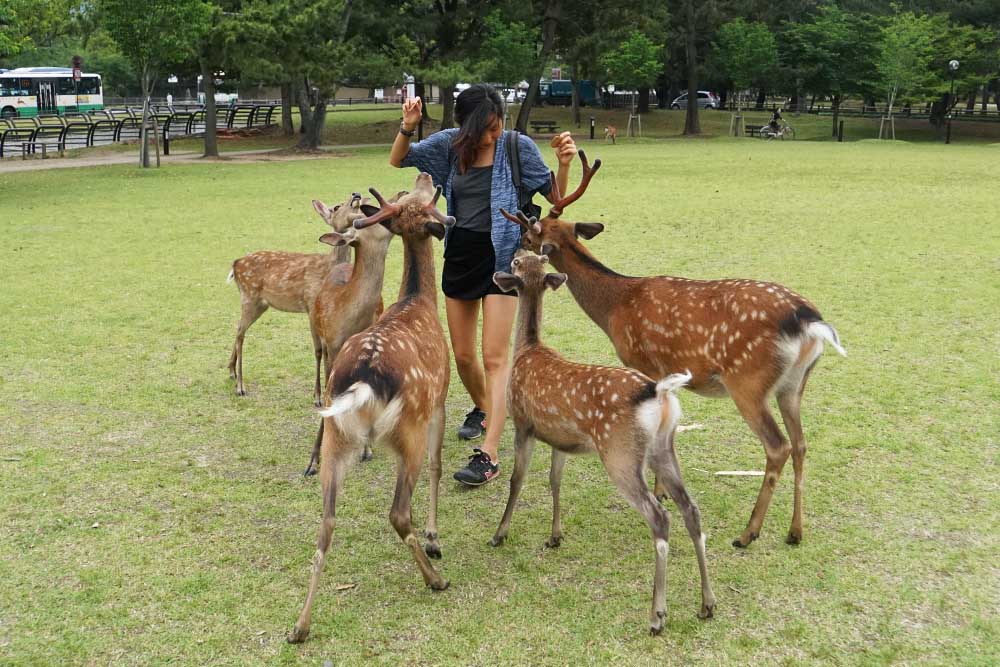 Deer Park — To be honest, there's no need to stop by the deer park as the deers can be found everywhere and are free to roam even on the temple grounds. Buy a stack of biscuits for ¥150 which the deers will bow to you just be fed which is absolutely adorable although, be careful of your JR Pass as they will happily gobble that up too.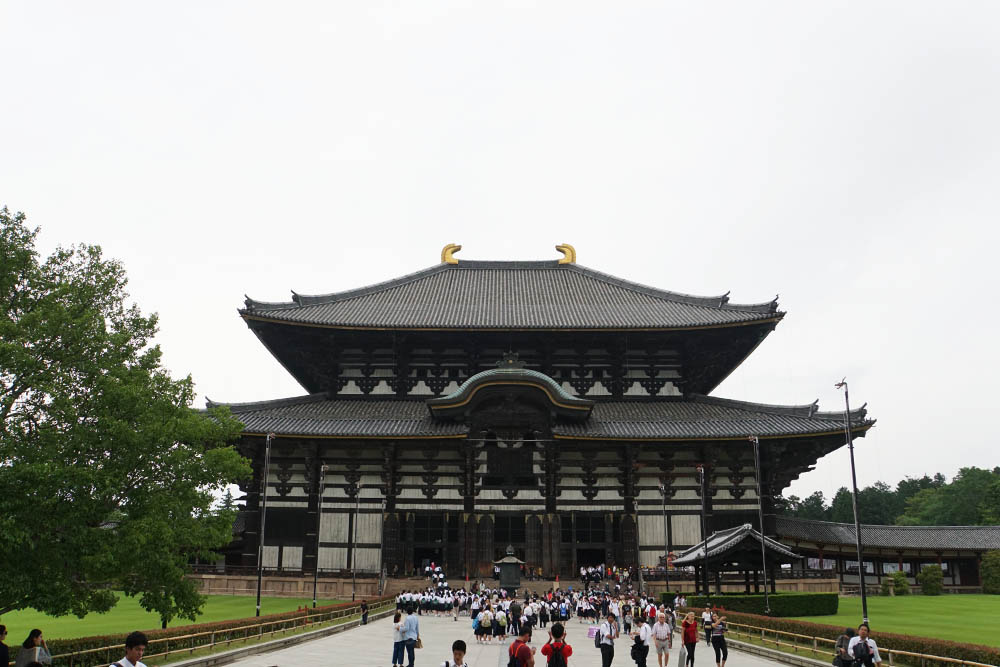 Todai-ji (¥500) — Houses the a large Buddha statue and is possibly one of the largest wooden structures in the world. Though be warned, this is a famous sight for school excursions so Nara could in fact be better visited over the weekends.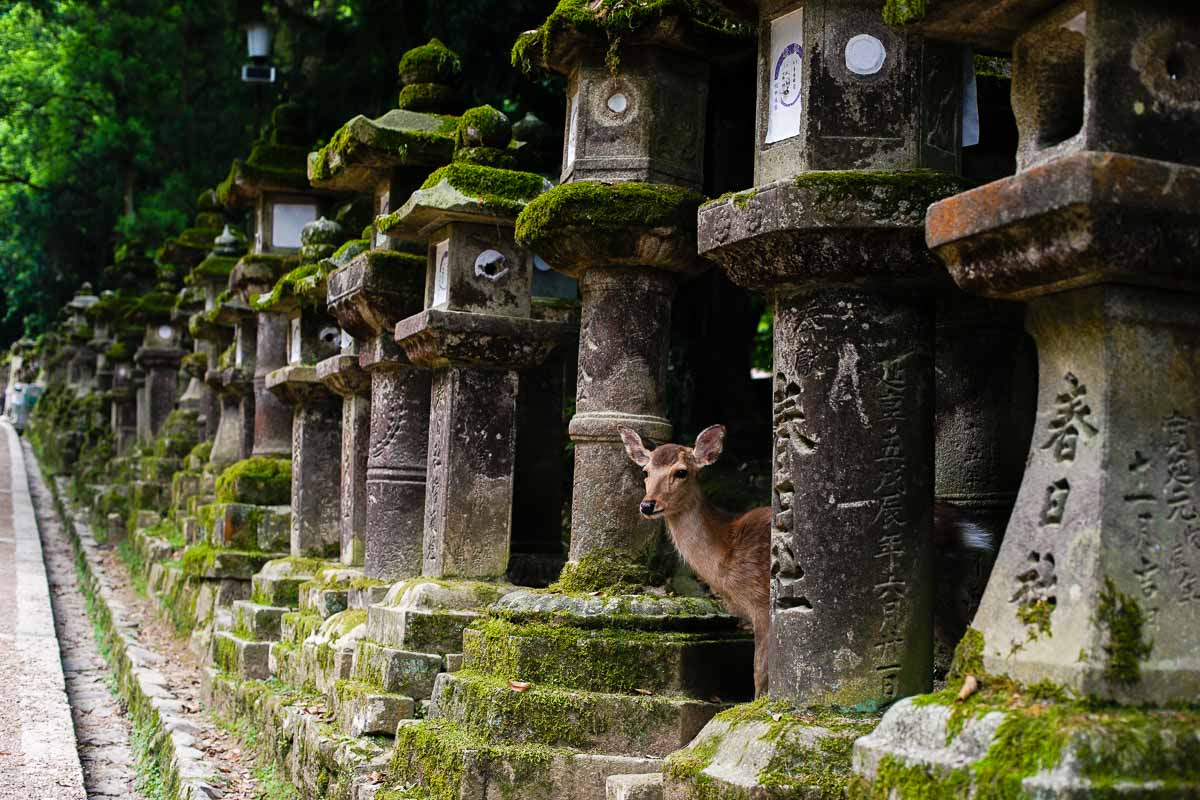 Kasuga Taisha (free) — Leading up to the shrine is a pathway lined with hundreds of lanterns where deers like to hide. They'll happily trot out for a biscuit if you have one for them.
From Nara to Osaka: Once you're done with Nara, collect your luggage from the lockers and take the JR Yamatoji Rapid Service to Osaka (Slightly under an hour). No reservations needed.
Day 9: Osaka
Getting around Osaka: If it's your first time in Osaka, purchase an Osaka Amazing Pass which gives you free access to over 30 paid attractions and covers all your subway rides the day. Check out our previous Osaka itinerary which utilised the Osaka Amazing Pass over 2 days.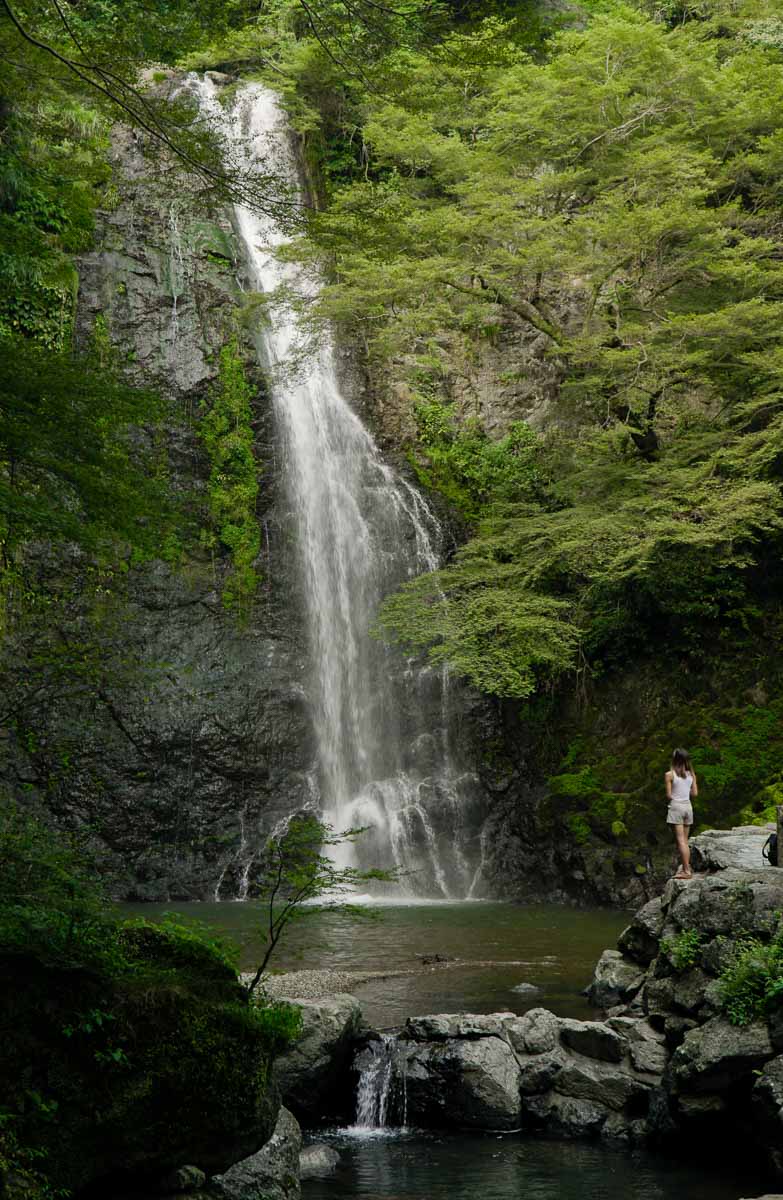 Minoo Park — If you're looking to escape the city life for a bit, take a quick train ride out to Minoo Park. It's an easy 2.4km walk with a gorgeous waterfall to chill by.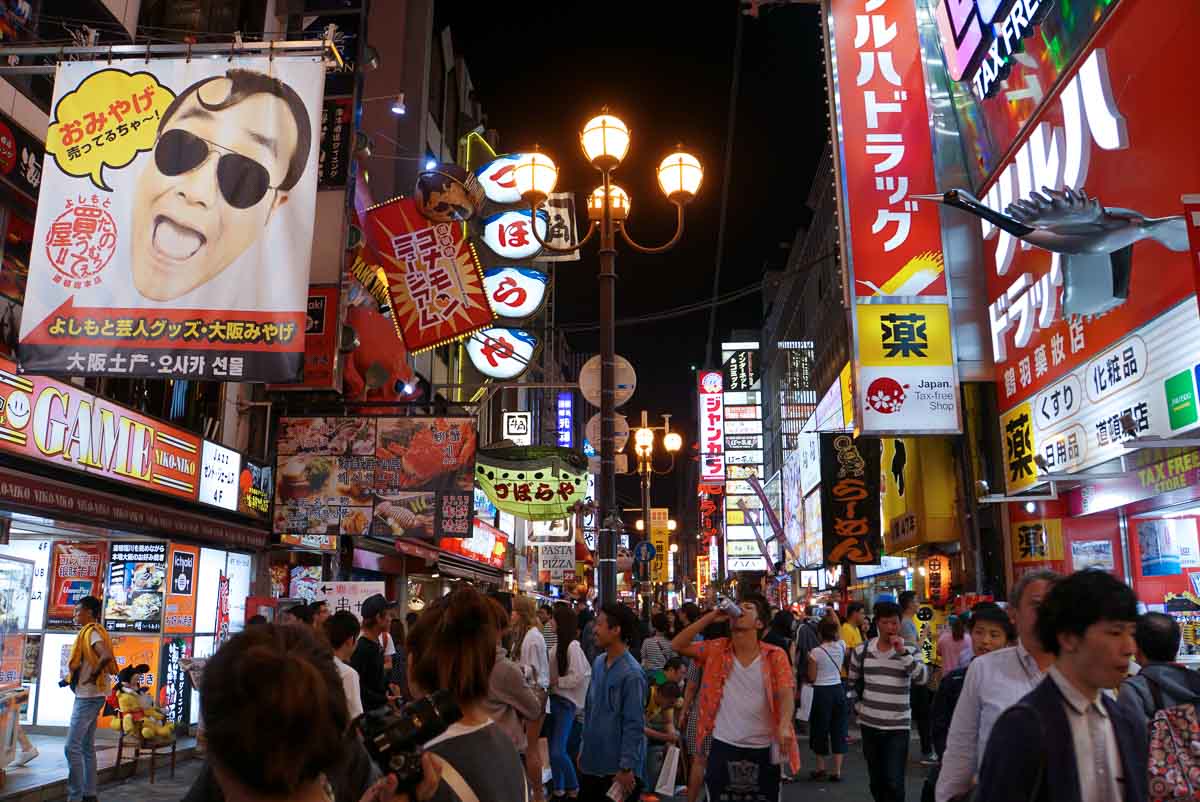 Dotonbori — No matter how many times we've visited Osaka, I still find myself amazed at this street. Not just the food but the streets filled with neon lights, giant pufferfish and moving crabs kind of make you feel like you're on an acid trip.
Our favourite food picks here are the Creo-ru takoyaki, the Kin-ryu ramen (chinese style ramen with free flow kimchi and leek), and to finish off with one of the best melon pans in Japan.
Day 10: Osaka — Tokyo — Catch Flight home
From Osaka to Tokyo: Take the Sunrise Izumo overnight train which leaves Osaka Station at 00:34 (Reserve tickets early!) and arrive in Tokyo at 07:08.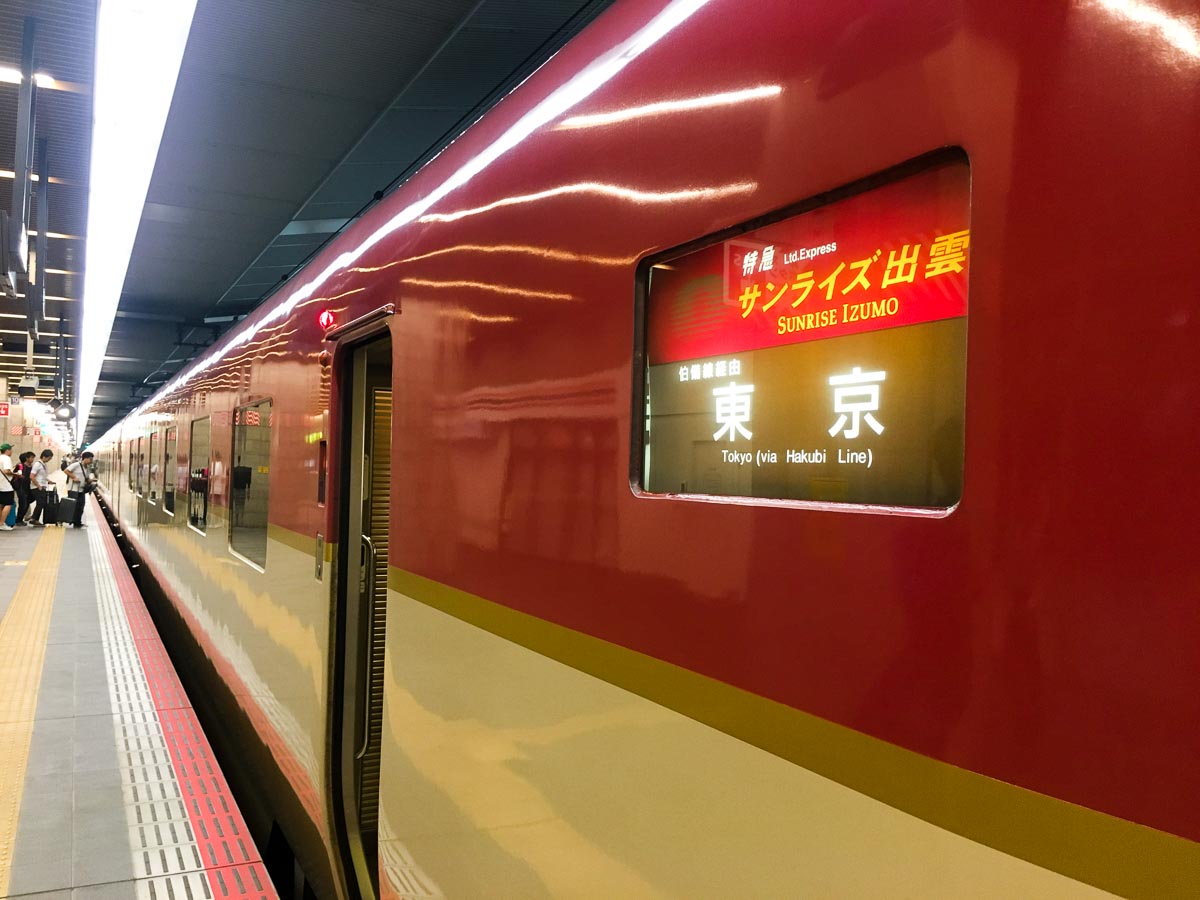 Sunrise Izumo: The train has private bedrooms which you can pay a top up fee but the Nobi Nobi seats (below) are free for JR pass holders. These are a little more comfortable than coach seats as you get to lie down fully and there are partitions that give you enough privacy.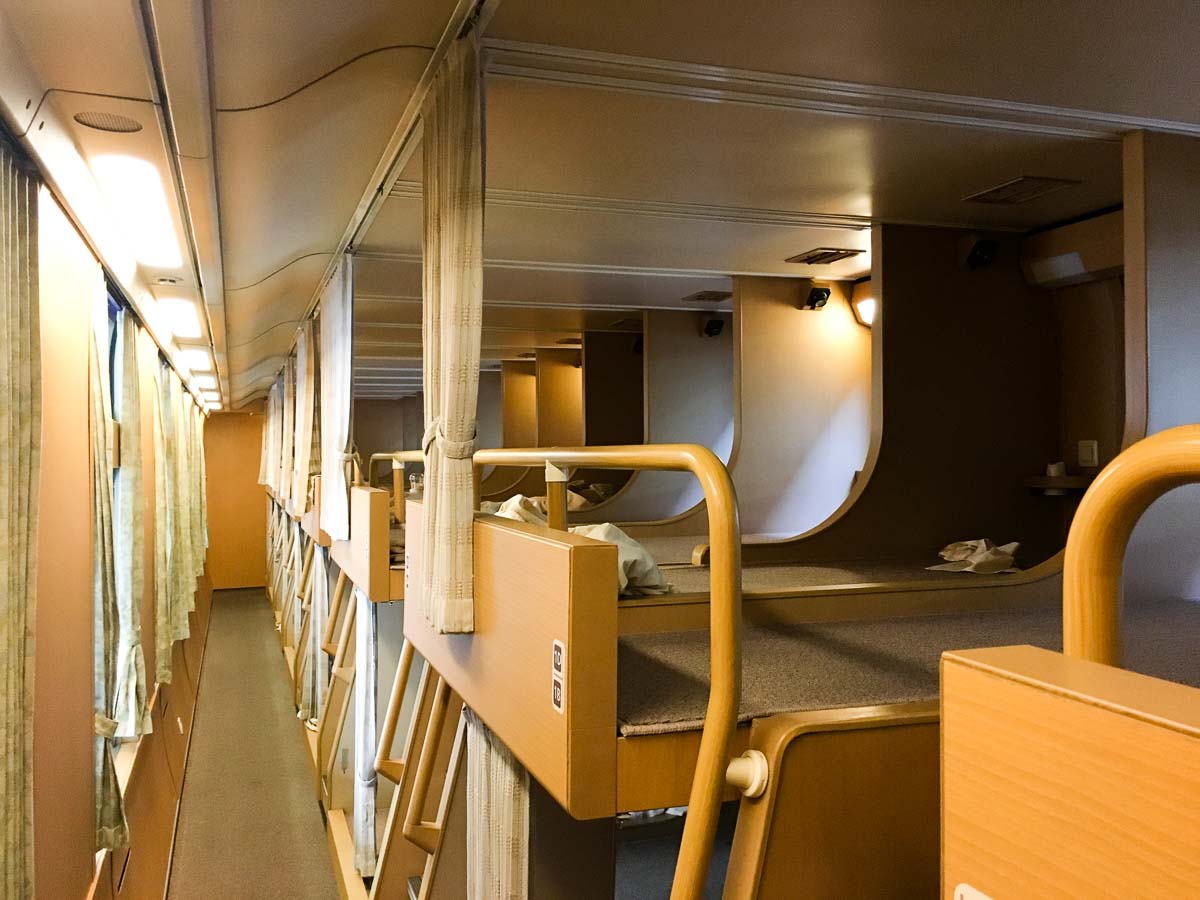 We're huge fans of taking overnight transport as it saves the time travelling (while you sleep). What's more, you save a night of accommodation covered by the JR pass! Double-win.
Though, another highlight of this train is that it rides past Mount Fuji at sunrise around 5am so set your alarms if you want to catch this sight.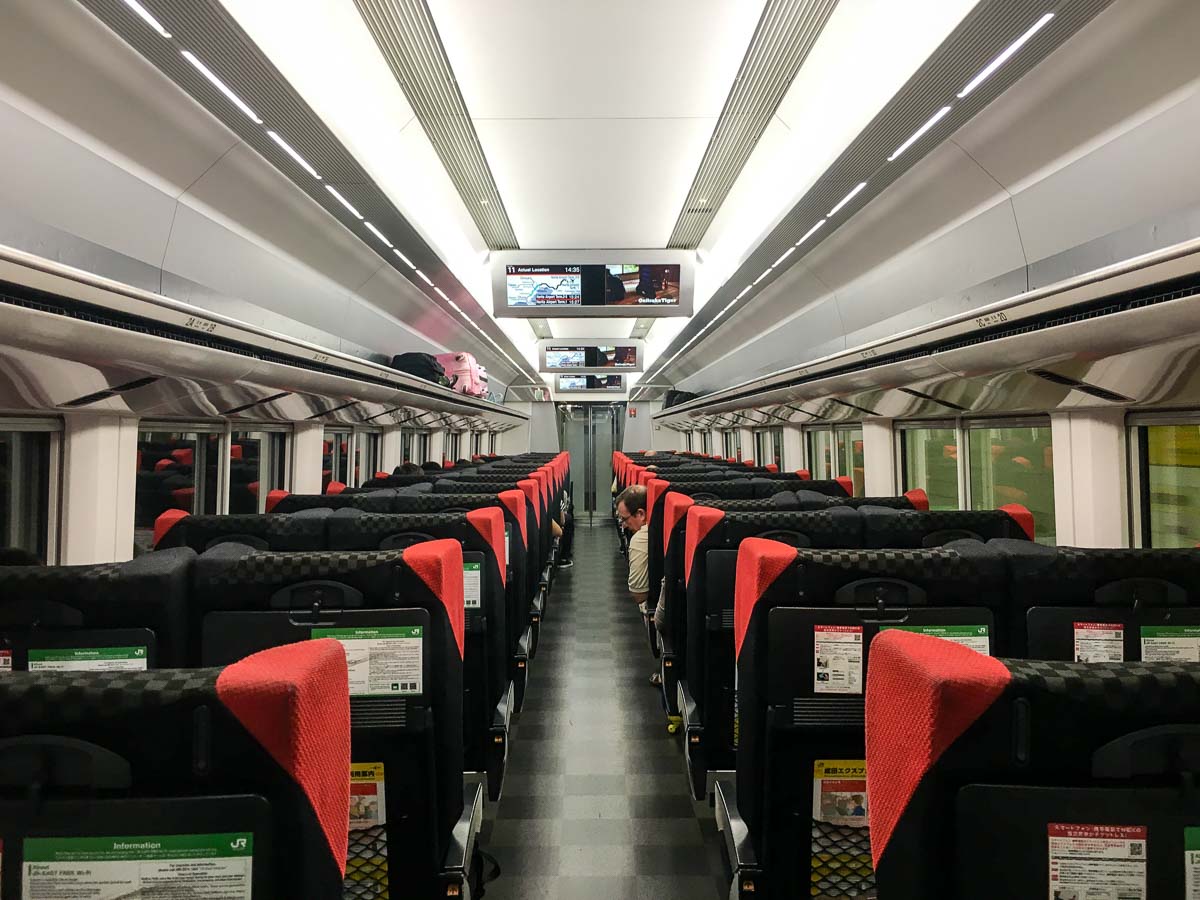 Back in Tokyo, if you have extra time to spare before catching your flight home, leave your luggage at Tokyo station so you can collect them before taking the Narita Express (JR train) to the airport.
---
Accommodation
Tokyo: Wise Owl Hostel
Even on our previous trip, Wise Owl hostel has been a favourite for it's ultra comfortable beds (all Simmons btw!) and of excellent location! You can read our full review of Wise Owl Hostel here. But they also recently opened a new outlet near Shibuya in a quiet neighbourhood that's also within walking distance to a street full of small cosy pubs and izakayas. A great option if you have more time to chill in Tokyo. If you're headed to the airport the next day, the Tokyo outlet has the perfect location — right next to Hachabori station which is just 1 stop from Tokyo main station.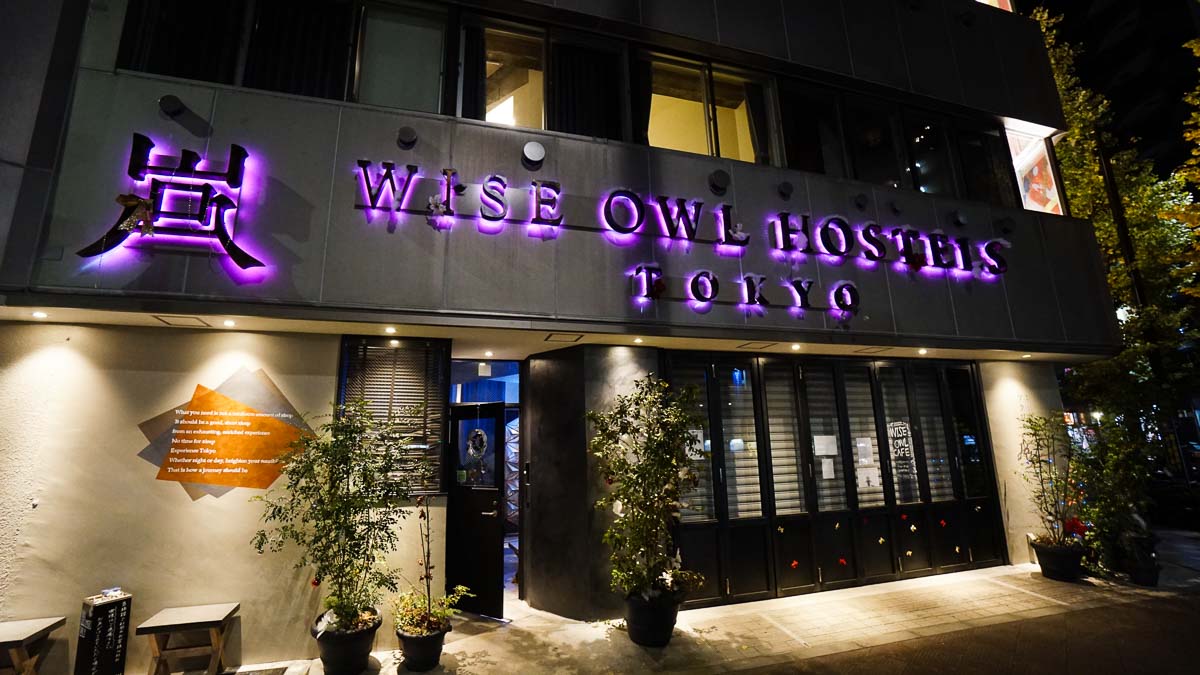 Tokyo Outlet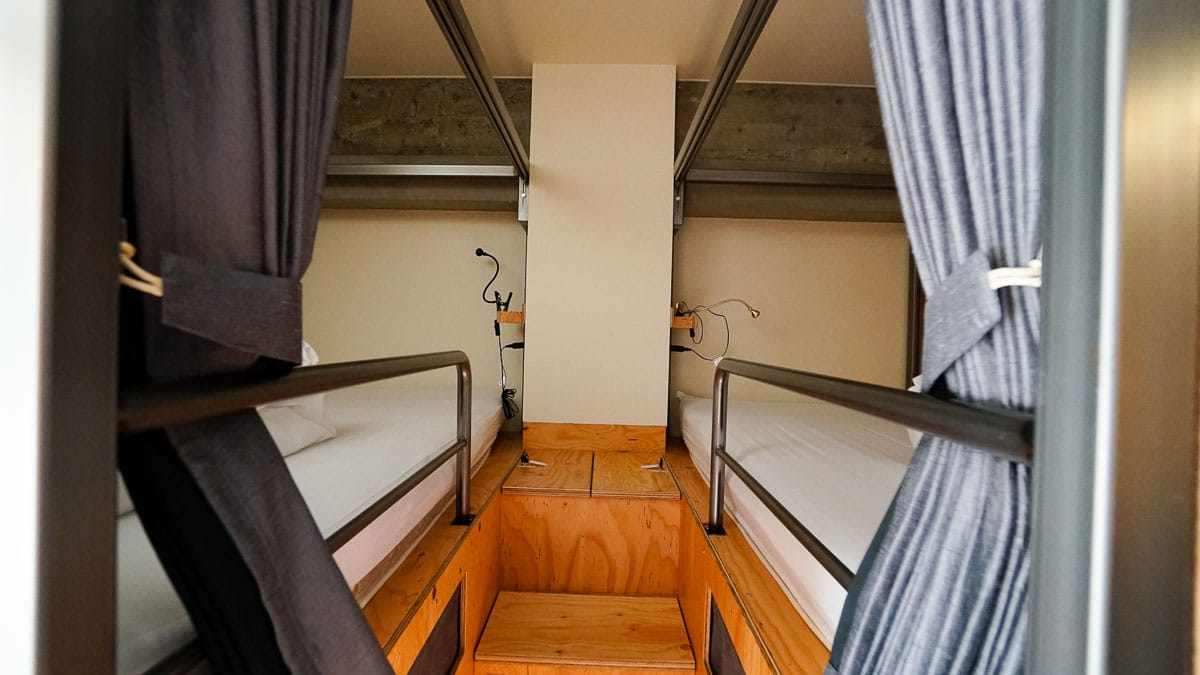 Address: 3 Chome-22-9 Hatchobori, 中央区 Tokyo 104-0032, Japan
Cost: ¥2600 (Seasonal rates)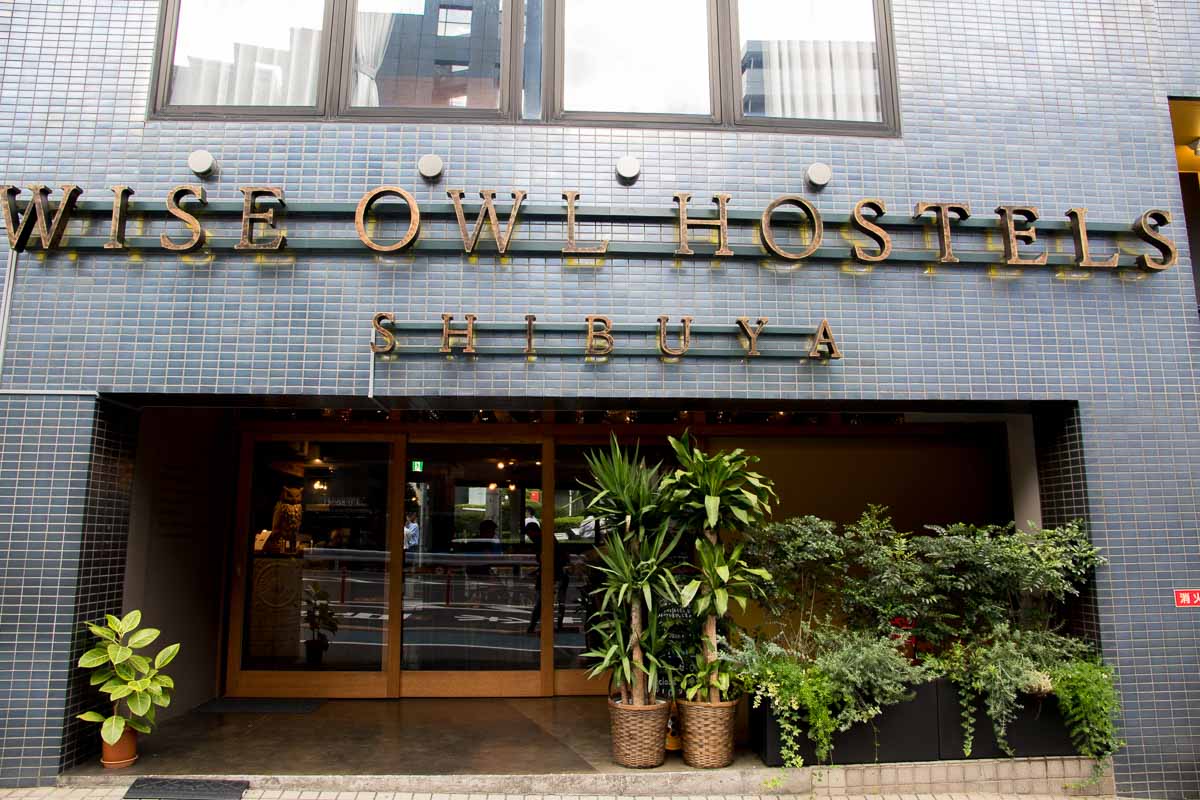 Shibuya Outlet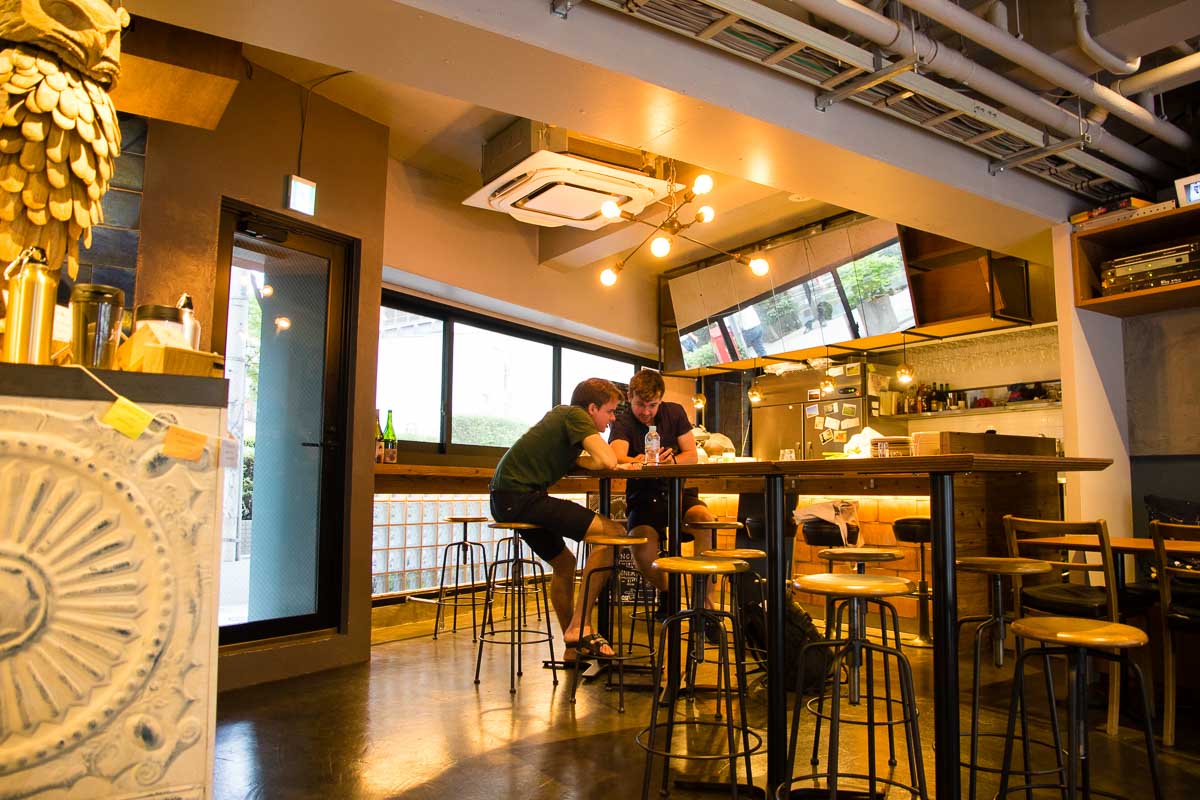 Address: 4 Chome-9-10 Aobadai, Meguro, Tokyo 153-0042, Japan
Cost for dorm bed: ¥2500 – 3600 (Seasonal rates. Check the Wise Owl Hostel Website for the best rates)
Odawara (Hakone): Plum Hostel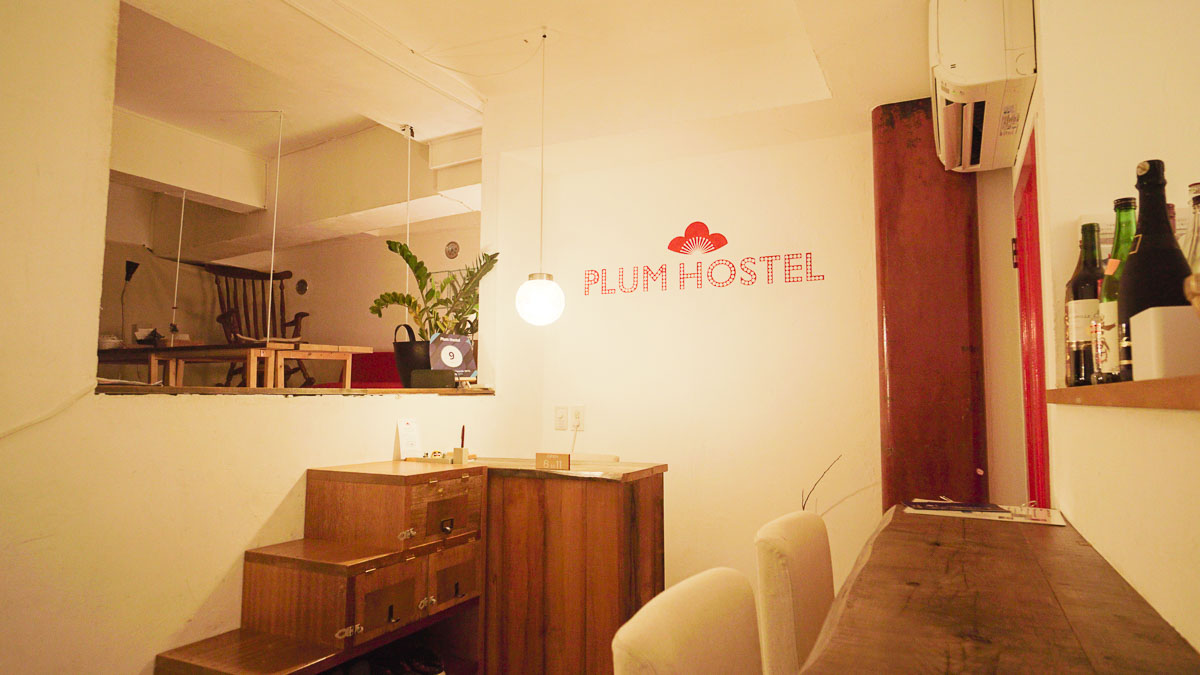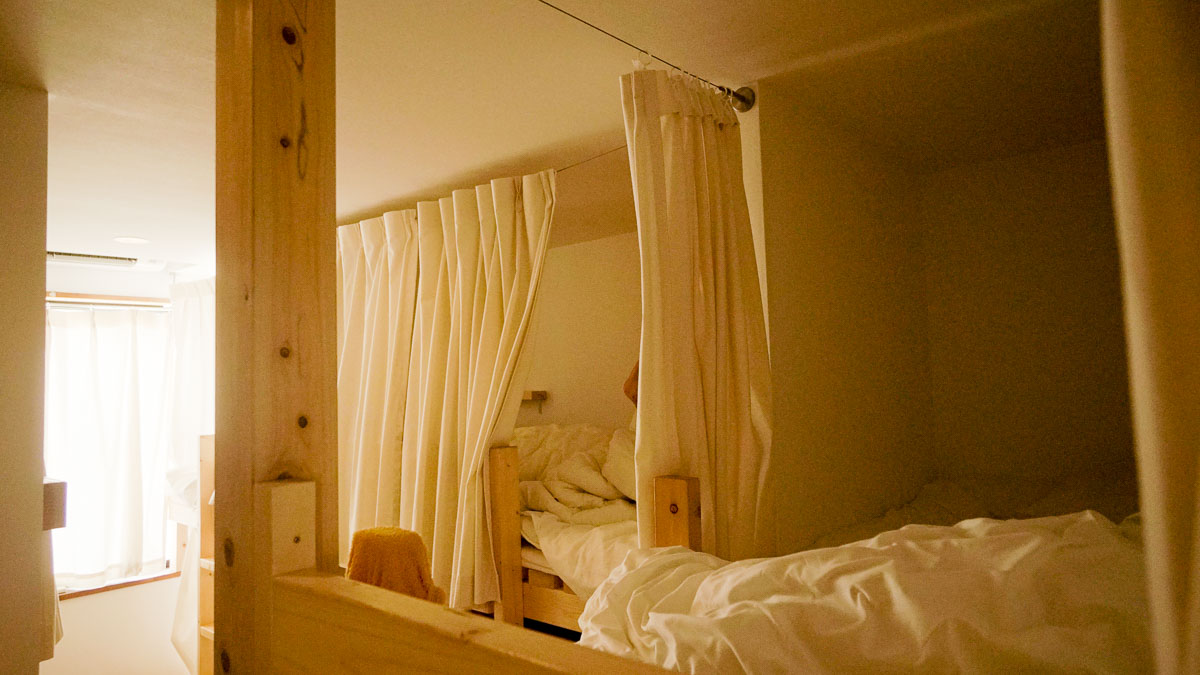 Address: Japan, 〒2500011 神奈川県小田原市 栄町3-4-17 相湘11栄町ビル 2F-B
Cost:¥2,125
Nagoya: Nagoya Hostel Nishiasahi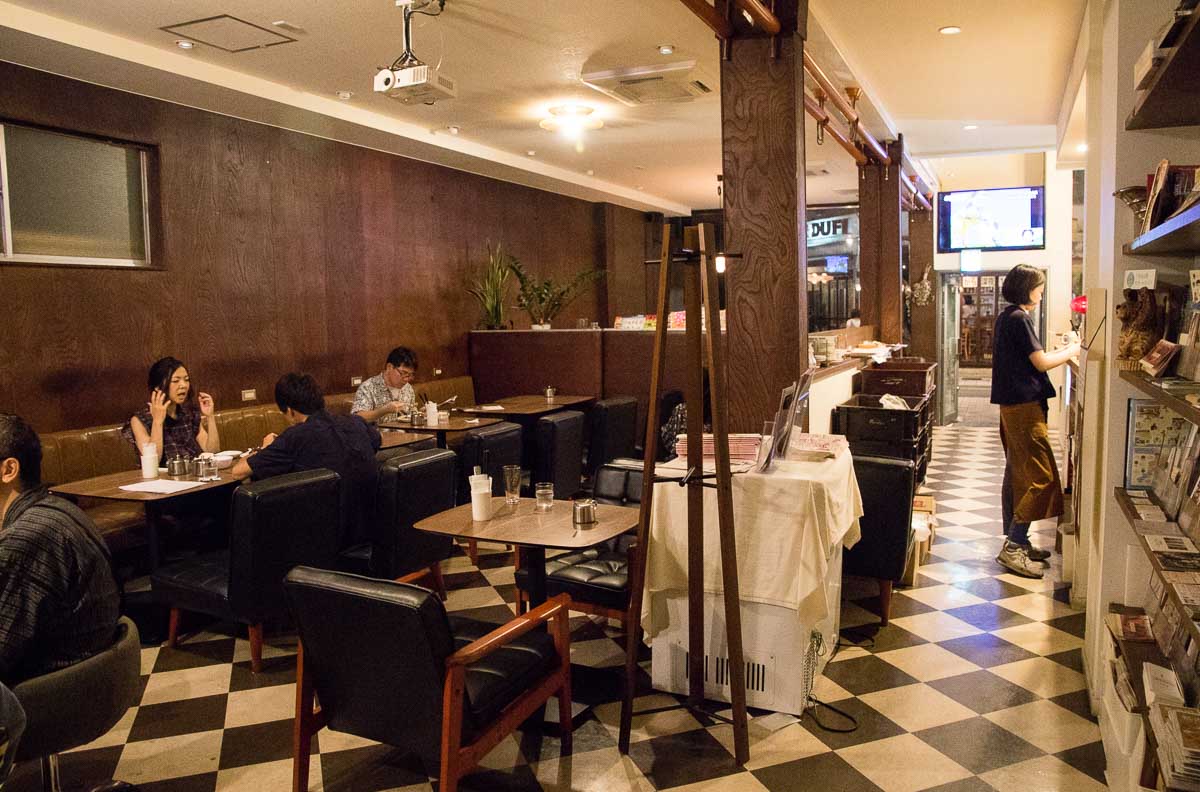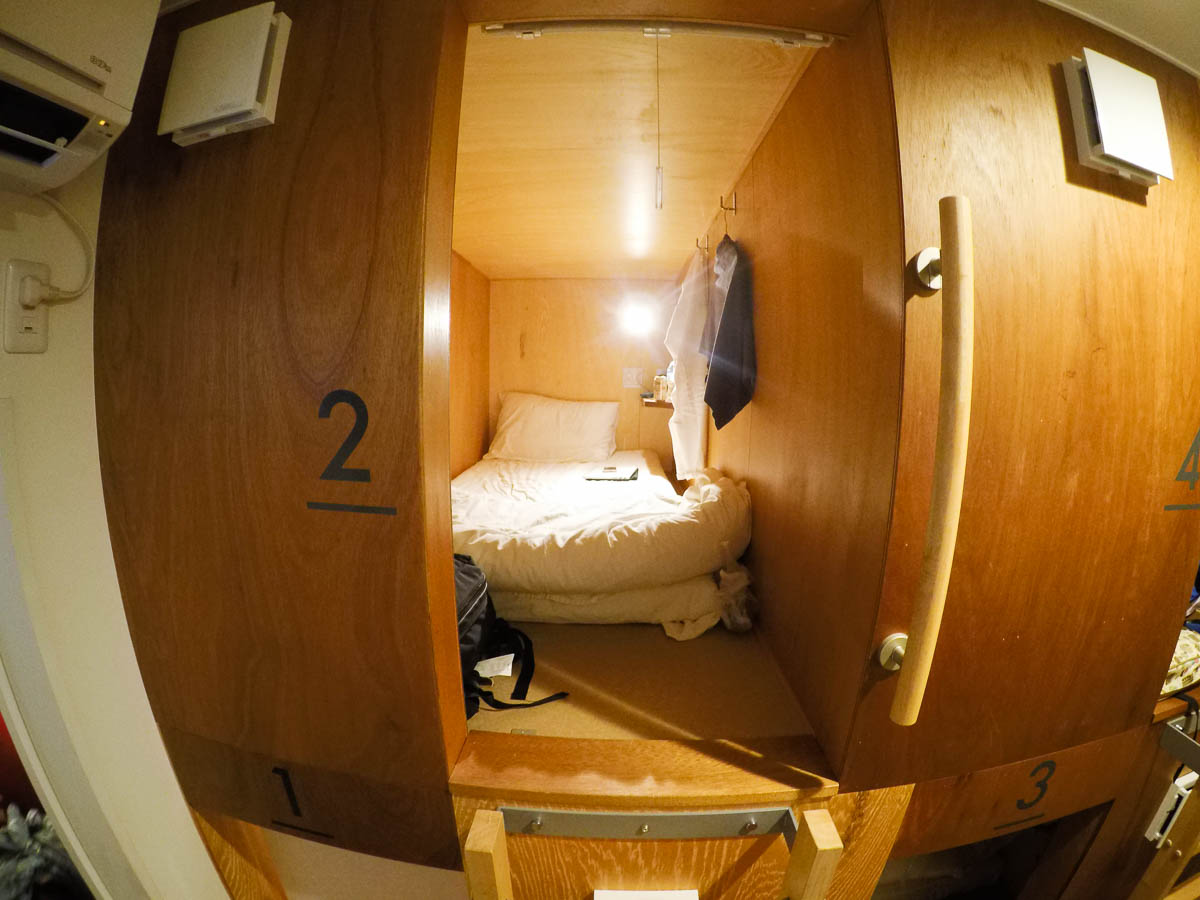 First started as a restaurant and bar, Nishiasashi extended its 2nd floor into cosy living space for its guests. The capsule style beds were super spacious (enough to fit your backpack), perfect for a stopover on the way from Tokyo to Osaka.
Address: 1 Chome-6-13 Nagono, Nishi Ward, Nagoya, Aichi Prefecture 451-0042, Japan
Cost:¥3,000 (Capsule style dorm beds)
Kyoto: Centurion Cabin & Spa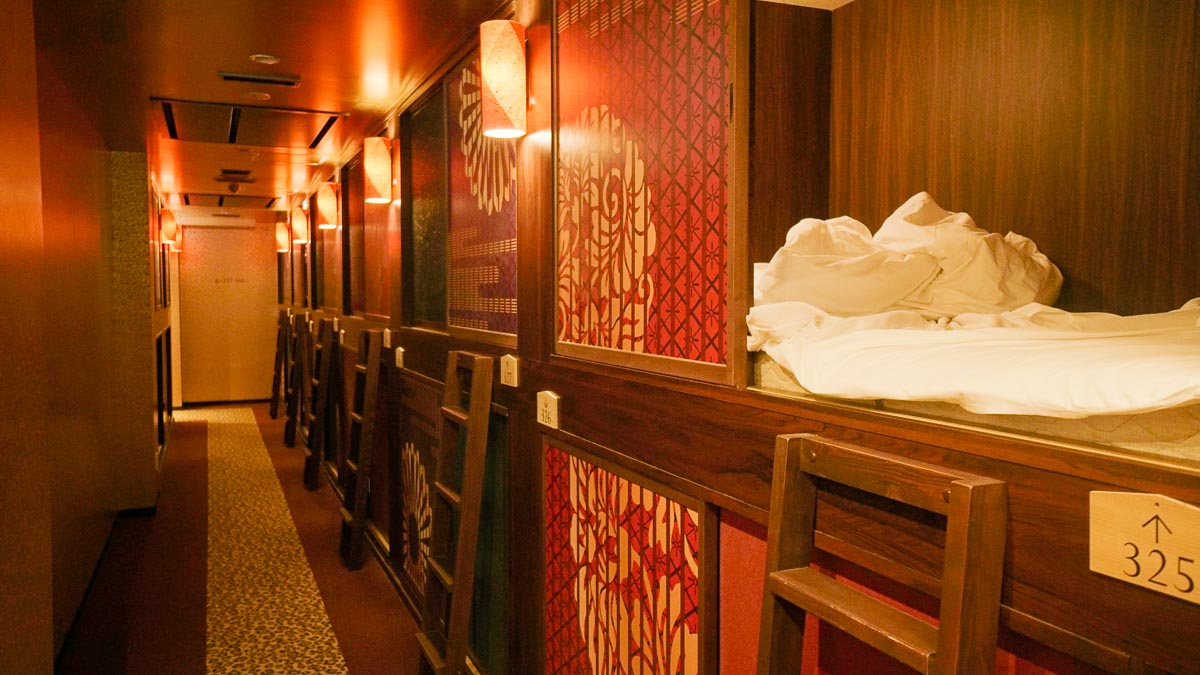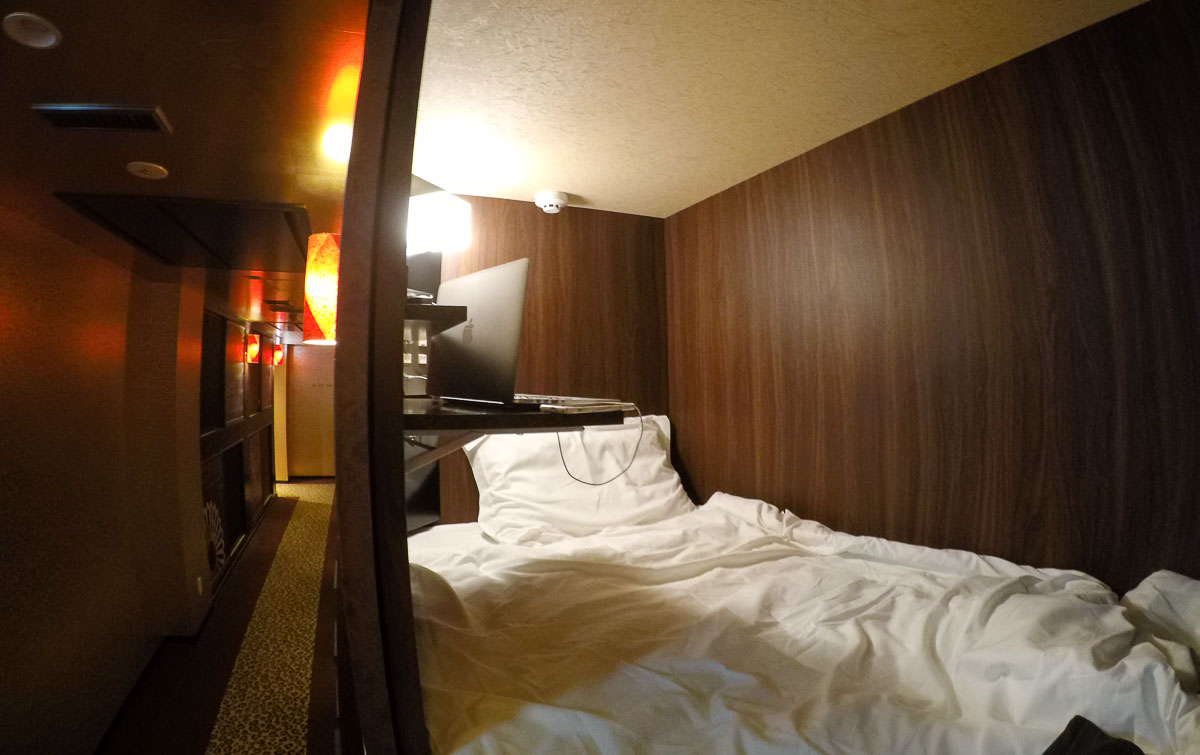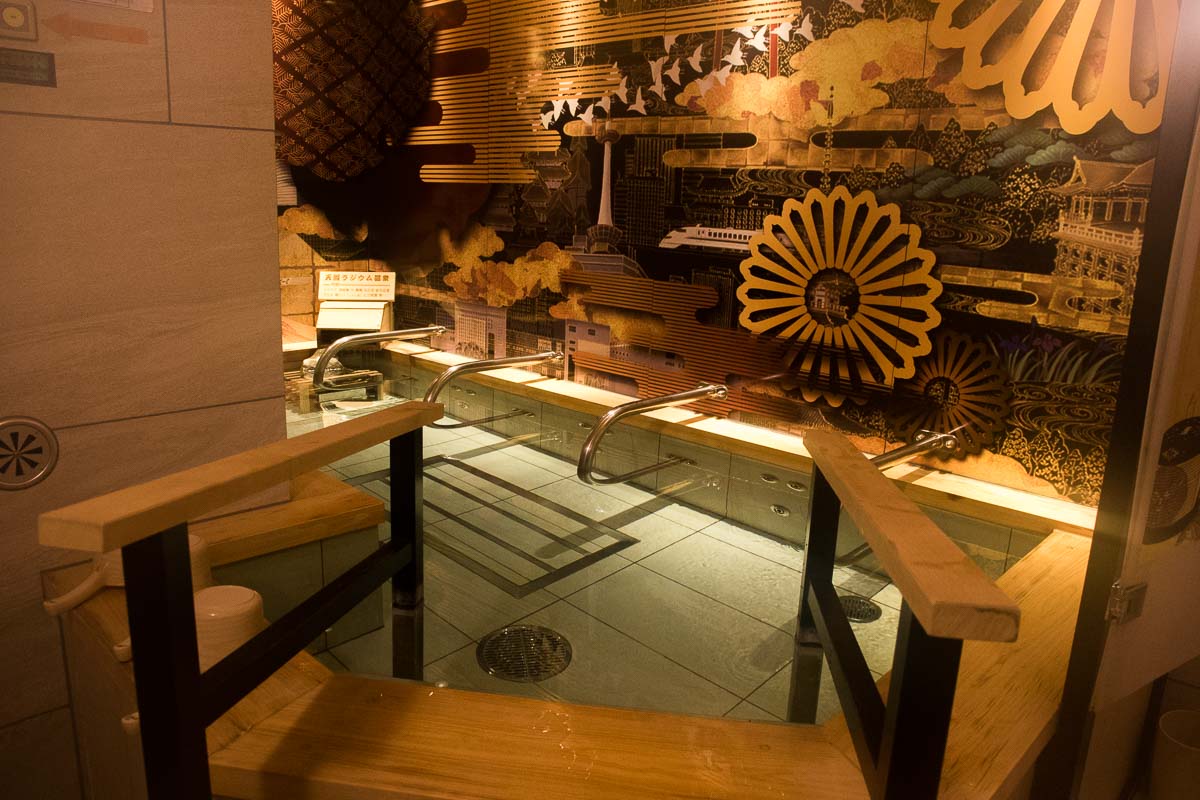 One of our favourite accommodations on this trip which matched just about everything a traveller could ask for. Centurion Cabin & Spa is located right outside the subway station (Shijo Station) with stylish rooms and even a jacuzzi in the bathroom — and is one of the cheaper accommodations on the trip to boot!
Address: Japan, 〒600-8441 Kyoto Prefecture, Kyoto, Shimogyo Ward, 四条通高倉西入立売西町68-2
Cost:¥2,125 (Capsule beds)
Osaka: Ark Hostel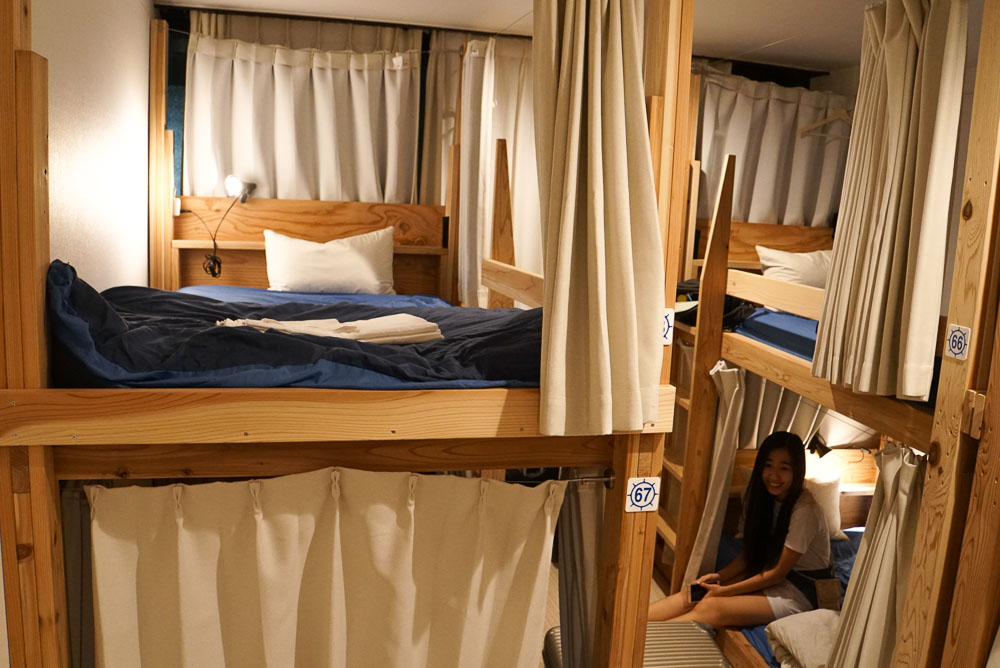 Address: 1 Chome-15-11 Edobori, Nishi Ward, 大阪市西区 Osaka Prefecture 550-0002, Japan
Cost: ¥2,900/night for a dorm bed
For more budget accommodation options in Osaka check out 9 Budget Accommodations in Osaka Under $50
Extra Pro-tips
1) Book your JR Pass, Disneyland tickets and transport passes before arriving in Japan — we got all these from Klook about a week before our trip!
2) Plan to visit theme parks outside of your JR Pass dates — Visiting USJ in Osaka or Disneyland/Disneysea in Tokyo (or both)? Since theme parks take up an entire day, you'd be wasting an entire day off the JR Pass.
3) Visit Nagoya during the weekends — while we rarely recommend visiting places during the weekends, Nagoya is more alive over these days of the week. If you're lucky you might even get to catch a festival like the Domatsuri we caught at the end of August. On top of that you'd also get to enjoy the discounted 1 day pass (Donichi Eco Kippu) which covers both bus and subway for ¥600 instead of the regular subway-only pass which costs ¥740.
4) Visit Nara during the weekends — surprise, surprise once again. Reason being, the Todai-ji is a common site for school excursions which typically happen on weekdays. You might be better off dealing with other travellers than an entire school of children.
5) JR Pass Train Reservations — The Whole Japan JR Pass includes seat reservations which are especially useful for long distance rides e.g. Tokyo to Nagoya/ Nagoya to Kyoto. Most train reservations can be made on the day itself except for the Sunrise Izumo (from Osaka back to Tokyo) — refer to next point. Breakdown of trains here (2nd tab below).
6) Make reservations for the Sunrise Izumo once you arrive in Japan — one way to maximise the value of the JR pass is to take a round trip from Tokyo to Osaka. On top of that, score a night of free accommodation on the Sunrise Izumo (a 7 hour ride from Osaka to Tokyo). Though, these run out pretty quickly so book them as soon as you can.
7) Book your flights six weeks in advance for the best prices — secure your flights while they're still cheap! Check prices here:
If you can't see the widget above, check prices out here instead.
Hope you found our Japan Budget Guide useful. Let us know in the comments below if you have any other recommendations!
---
This post was brought to you by Klook.
For more travel visuals, follow us on IG @TheTravelIntern.