The Travel Intern (TTI) is a Content Media Agency and Travel Publisher specialising in viral and effective travel marketing. We offer partners unique one-stop digital solutions that covers:
Conceptualisation — Production — Distribution.
We create content that's for travellers by travellers, and aim to bridge the gap between travel brands and consumers. Made up of a community of storytellers and explorers, we hope to inspire others to travel better, smarter, and braver.
Other than reaching over 2.1M people every month across our website, Facebook, Instagram, YouTube, and Telegram, here are other reasons why we should work together!
Our audience loves travel. You will reach a targeted audience between 18-35yrs with a high affinity towards travel
We drive long term value through SEO and regular reposts of evergreen content. Most of our posts rank for the keywords we aim for
We understand travel. The team is made up of travellers who know the joys and pains of travel inside out. We actually travel to create content
We have a proven track record with results. Just check out some of our partners below! Case studies available upon request.
We are personal, and honestly just nice creative people who enjoy travelling and telling stories. We see every partnership as a long term relationship, and would love to grow together with you.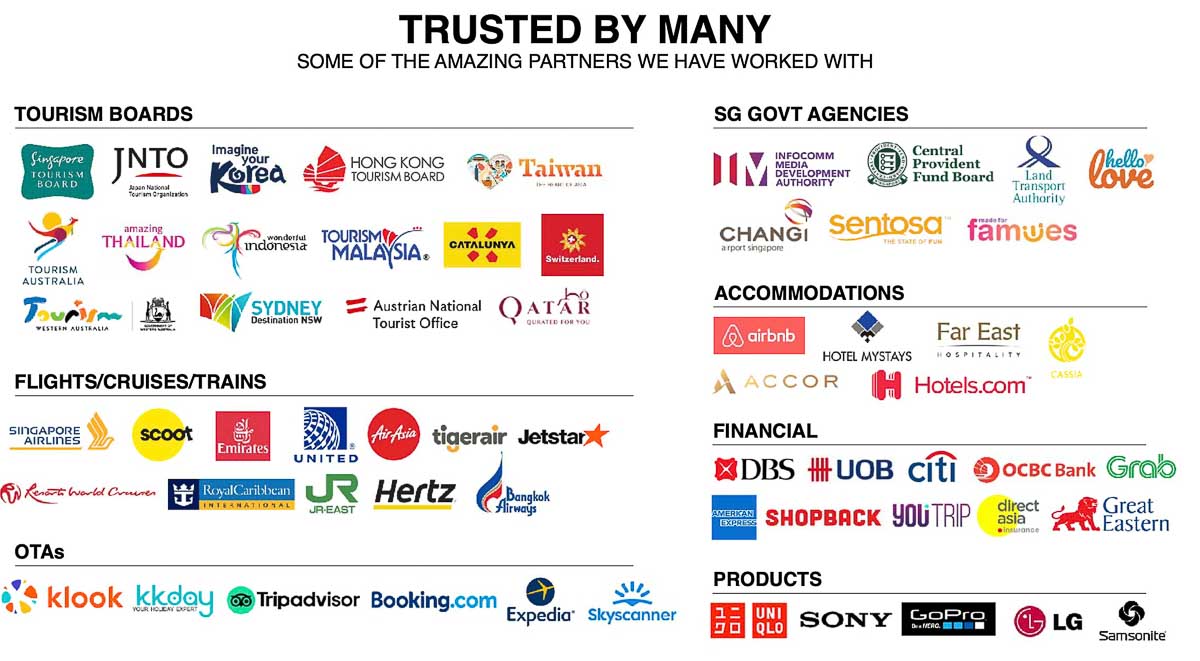 Some of our Media Publisher services include:
Advertorials
Feature Videos
Social Media Posts
Travel Talks/Workshops/Events
Native/Display Advertising
We also provide Content Marketing services like:
Editorial Production (white-label)
Video Production (white-label)
Photography (white-label)
Stock Travel Videos & Photography
Content Marketing Talks/Workshops
Event Spotlight
Do drop us a mail at [email protected] for our detailed partnership deck that includes our full range of services, audience profile, case studies, and rates.