Promo: Get 5% off your accommodations in Hokkaido using <TTI5> under coupon code!
When visiting Hokkaido, most people begin their journey in Sapporo, a modern city with enough attractions to keep you occupied for a couple of days. As part of our 8-day Hokkaido road trip, we thought Sapporo deserved a post on its own. Here's our ultimate Sapporo city guide, so you never run out of things to do in the gateway to Hokkaido.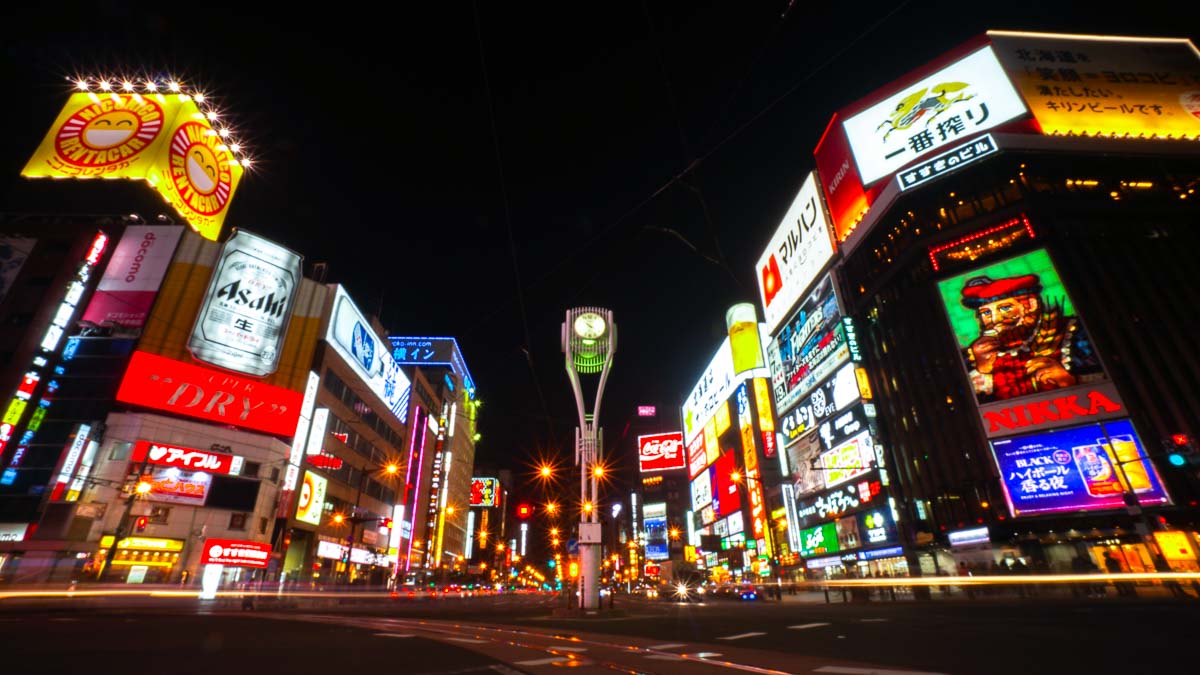 Pre-trip Essentials:
4G SIM Card: Stay connected by pre-booking your SIM card and collecting it at Narita airport upon arrival. SIM Card packages range from 1GB to unlimited use, valid from 6 to 8 days with prices starting from ~S$12. Definitely cheaper than getting them direct from the airport counter.
Accommodation: Being a city, you'll want to have your accommodation relatively near a train station. We booked ourselves 2 nights at the HOTEL MYSTAYS Sapporo Nakajima Park which is just 350m away from Horohirabashi subway station and 4 stops from the Sapporo station. More on this place later!
*Pro-tip: Get 5% off your accommodation at HOTEL MYSTAYS Sapporo Nakajima Park by using <TTI5> under coupon code or booking through the link here! 🙂
Getting around Sapporo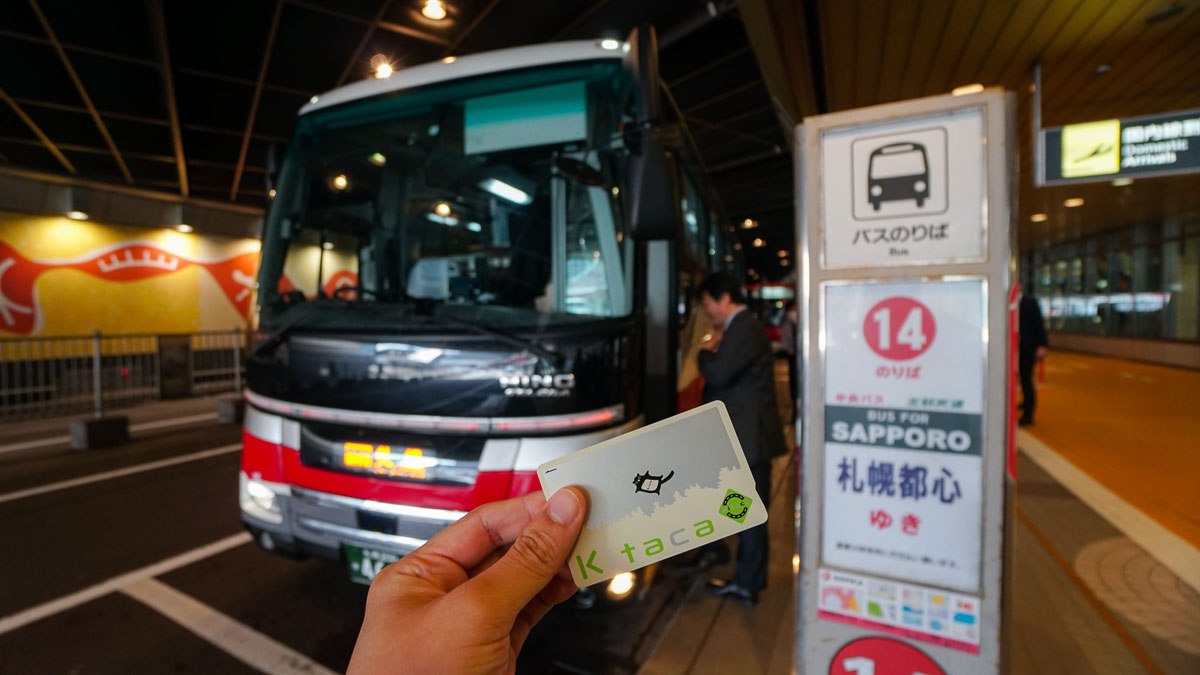 JR Hokkaido IC card: Get around Sapporo with a JR Hokkaido IC card (¥2507) which makes travelling by public transport a breeze. The card can be used in other parts of Japan too — just look for IC marked rail and bus services. Pre-book and pick up your card from New Chitose airport or at Sapporo TV Tower.
Subway pass: Planning to hit up multiple attractions in a day? Consider getting a one-day subway pass, which costs ¥830 on weekdays and ¥520 on weekends. Each subway ride costs at least ¥200, so a total of five rides (or 3 on weekends) with the subway pass would make your money's worth.
Best things to do in Sapporo
1) Go up Sapporo TV Tower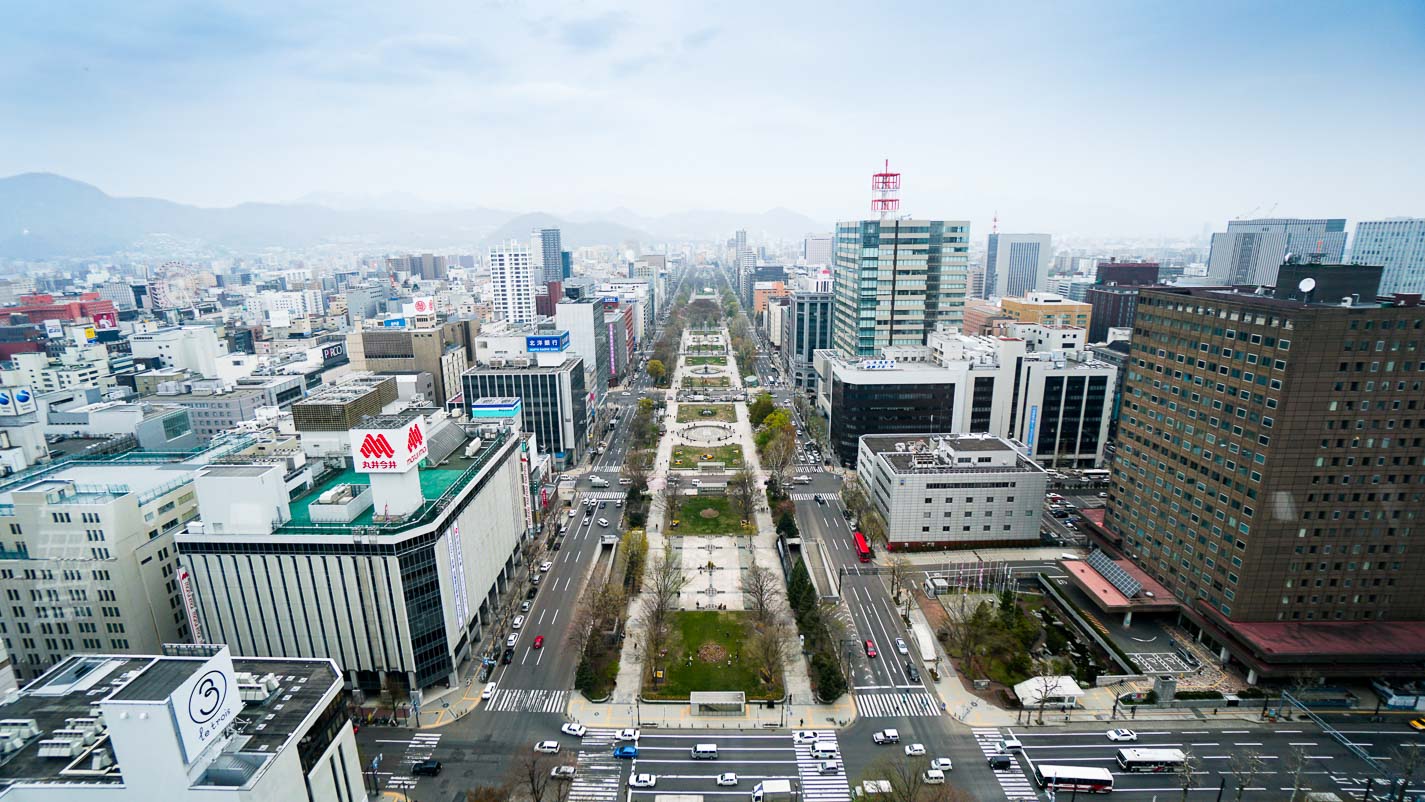 Take the minute-long elevator ride to the observation deck of Sapporo TV Tower for a 360-degree view of Sapporo. On a clear day, you can see as far as the Sea of Japan and ski resort Ishikari Heigen. We recommend visiting just before sunset to catch the city in both daylight and nightfall.
Cost: ¥720 (or ~S$8 via Klook)
Opening Hours: 9AM – 10PM
How to get there: 5-minute walk from Odori station
2) Explore Odori Park and its surrounding attractions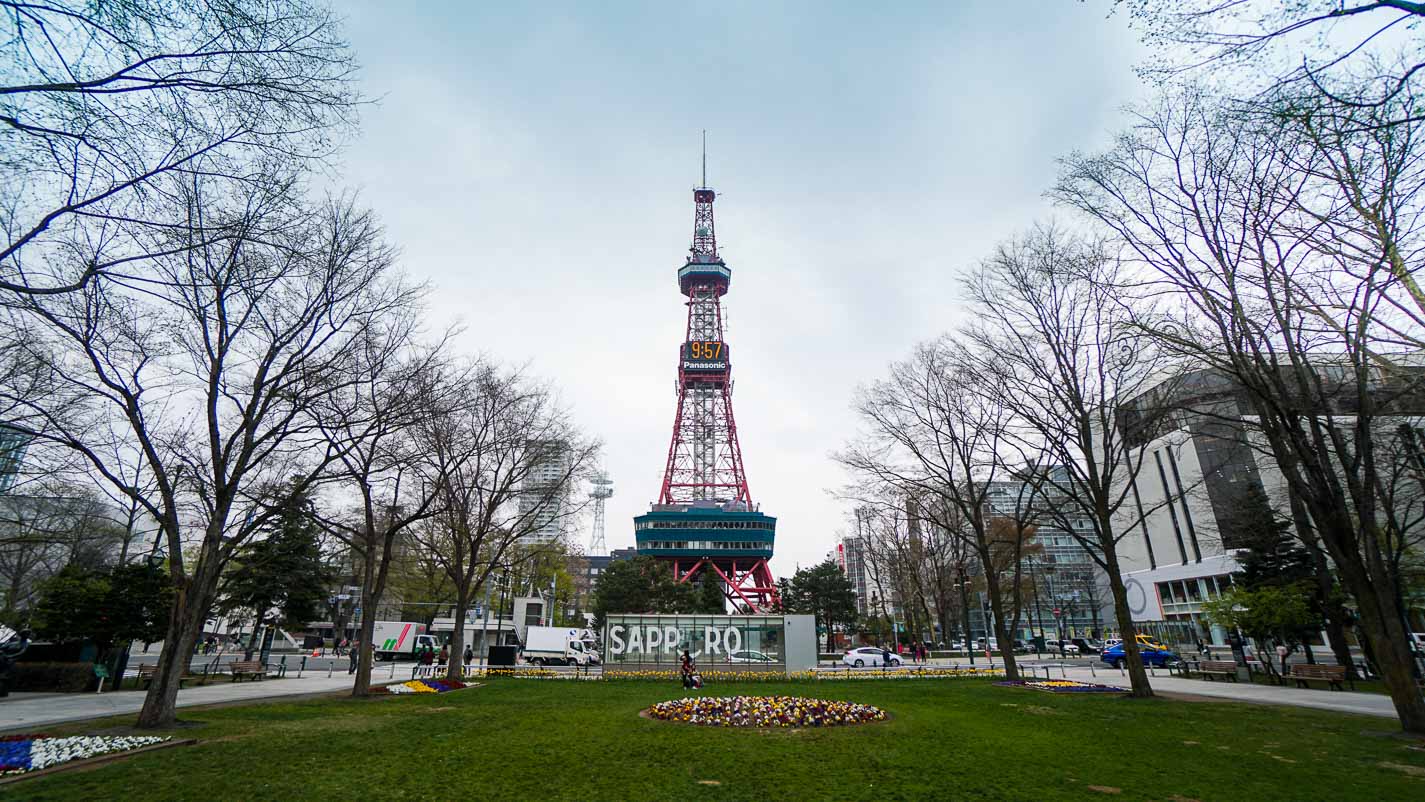 Sapporo TV Tower overlooks vibrant Odori Park, which makes for a relaxing stroll once you've returned to the ground. The 1.5km-long park cuts through the city, so you can pop in and out of malls, cafes and convenience stores for a snack.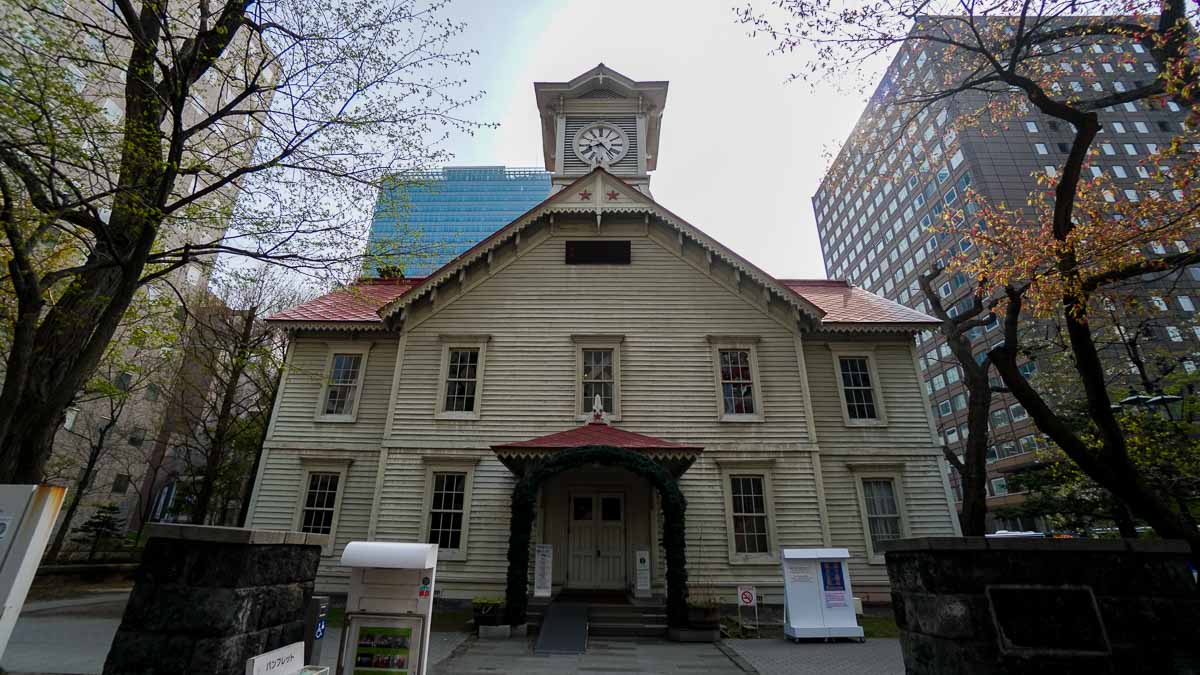 Alternatively, take short detours to check out some of Sapporo's other iconic sights, which are about 8-10 minutes away on foot. Built in 1878, the Sapporo Clock Tower (¥200) is a two-storey building that looks positively quaint among the city's glass-and-steel facades. Cross the street for a sweet photo spot outside Tony Roma's.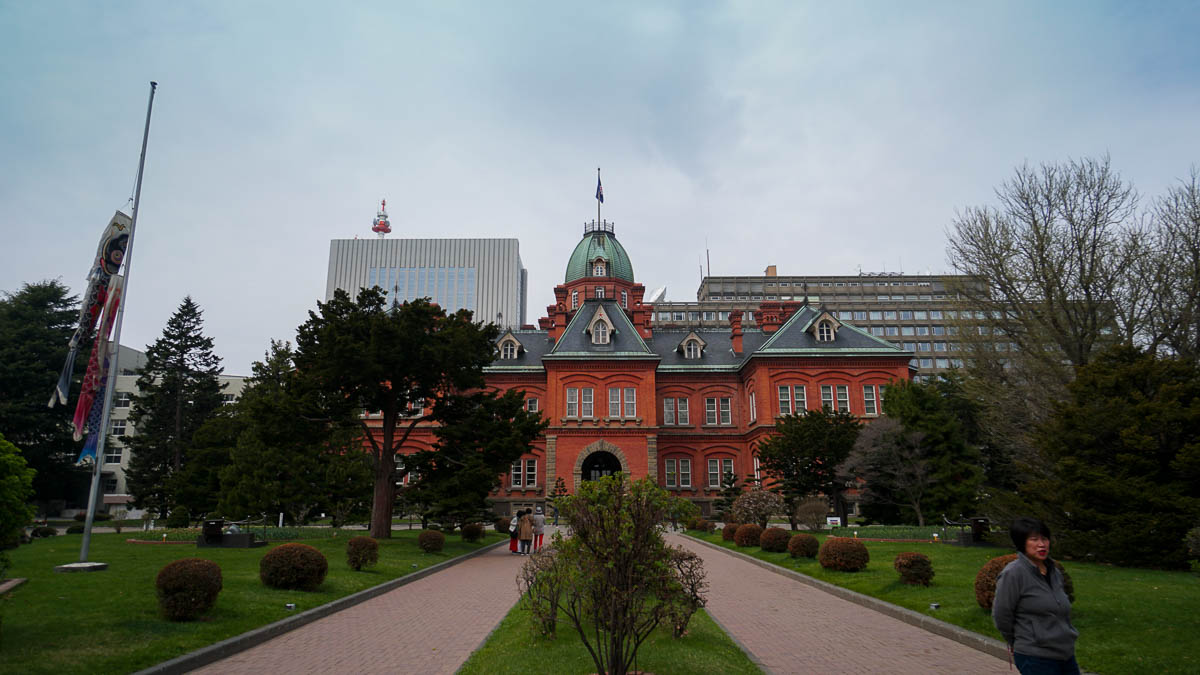 The Old Hokkaido Government Building nearby is more stately and impressive. It's also known as Akarenga, or red brick building — in fact, 2.5 million red bricks were used in the construction of this neo-baroque structure. The surrounding lawn and gardens are well manicured, with blooming magnolias and cherry blossom trees in spring. Admission is free.
3) Sip on Sapporo's most famous export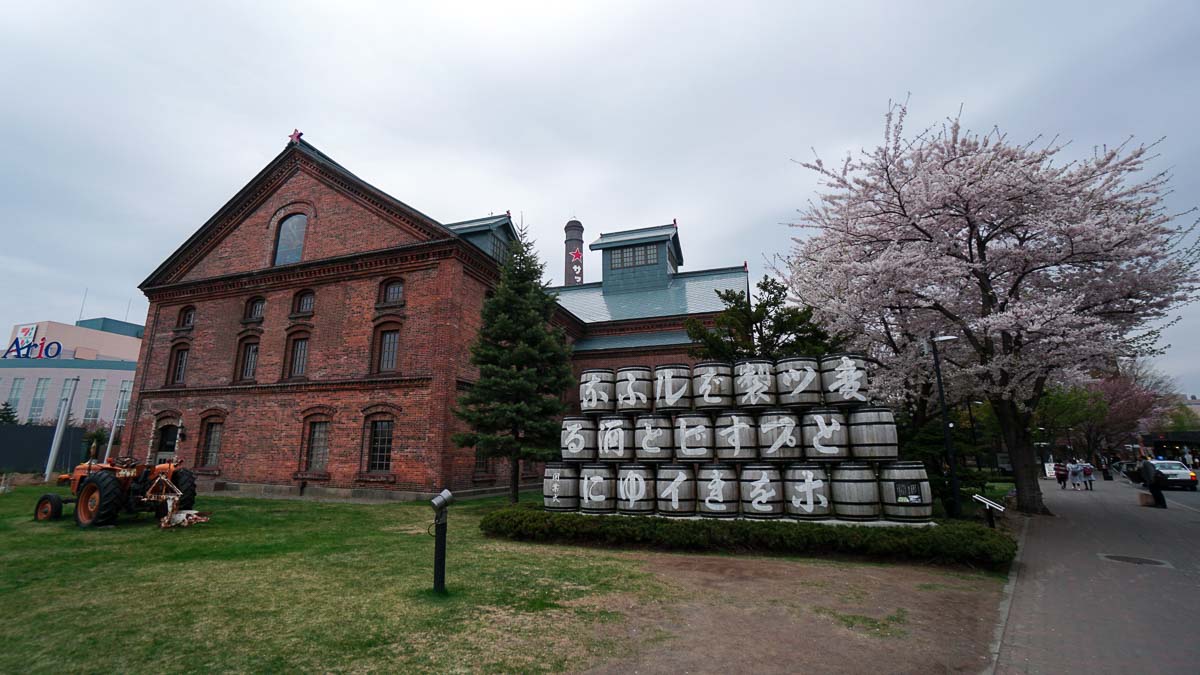 You can't come to Sapporo and not have its beer — and what better place to sample the famous brew than at Sapporo Beer Museum, where you can learn about your favourite drink in an, ahem, educational setting.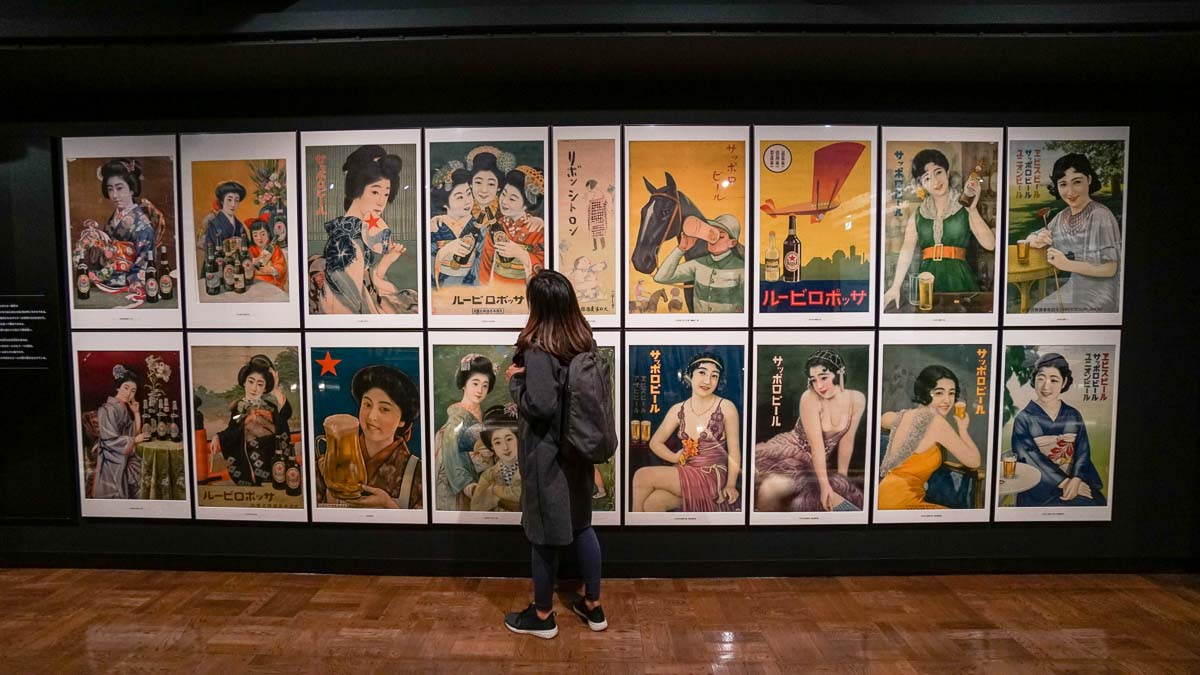 Guides lead premium tours (¥500) which include samples of two beers, but we recommend a free, self-guided tour instead. Exhibits about the history and founders of Sapporo Beer are informative and come with English explanations. Finish off with a flight of three beers (¥600) and a BBQ and snow crab buffet meal at one of the adjoining restaurants.
Entrance Fee: Free
Opening Hours: 11AM – 8PM
How to get there: 10-minute walk from Higashi-ku station
4) Jingu Shrine in Maruyama Park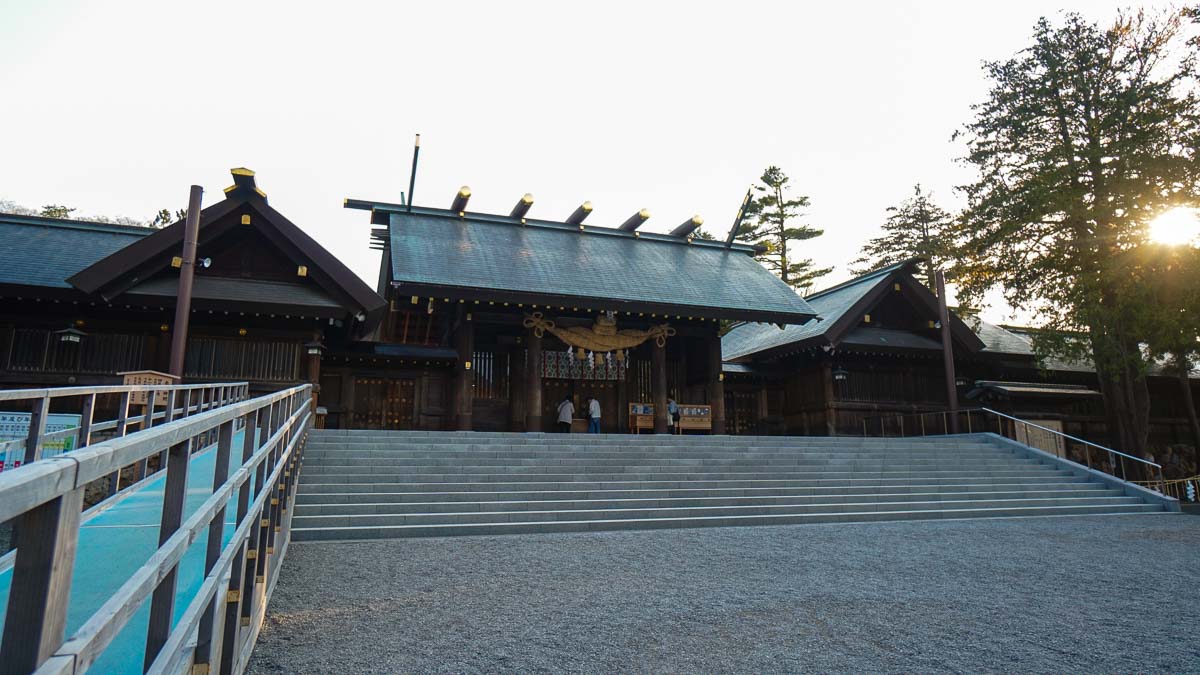 Jingu Shrine is the largest Shinto shrine in Hokkaido, and isn't just spiritual — it's scenic too, with cherry blossoms lining the main walkway to the temple in May.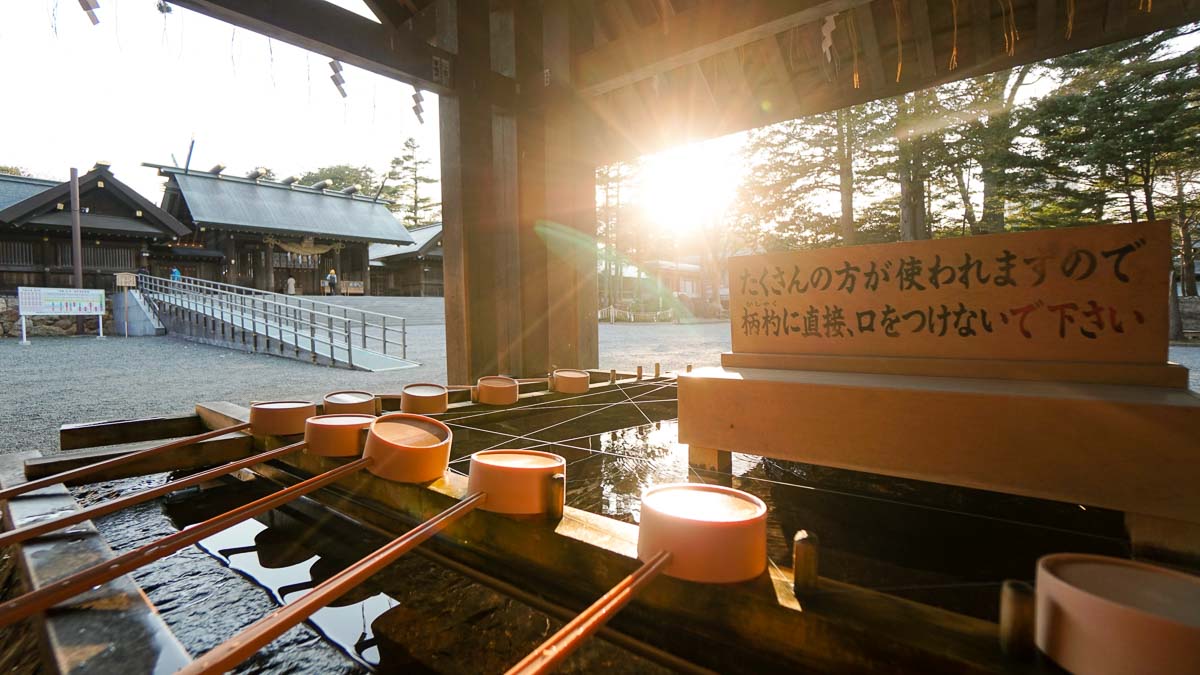 The shrine is located within Maruyama Park, a sprawling compound that also houses the Maruyama Zoo and Maruyama Baseball Stadium.
Entrance Fee: Free
Opening Hours: Park is open 24hr; Jingu Shrine opens 9AM – 4PM (Last entry at 3:30PM)
How to get there: 15-minute walk from Maruyama-Koen station
5) Shiroi Koibito Park (White Lover Park)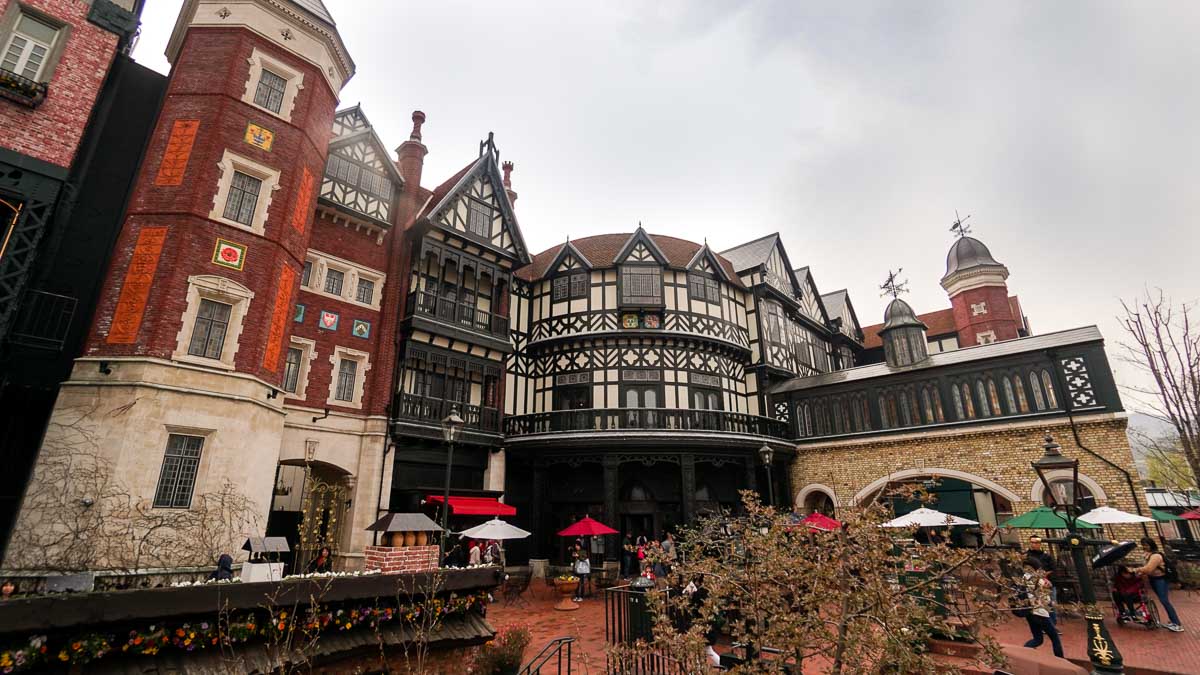 This theme park pays tribute to one of Japan's best-loved souvenirs, the white chocolate sandwich cookie known as Shiroi Koibito. Snap a photo (or five) at the kitsch, cutesy outdoor area, then head into the Tudor-styled buildings to find out how the cookies are made.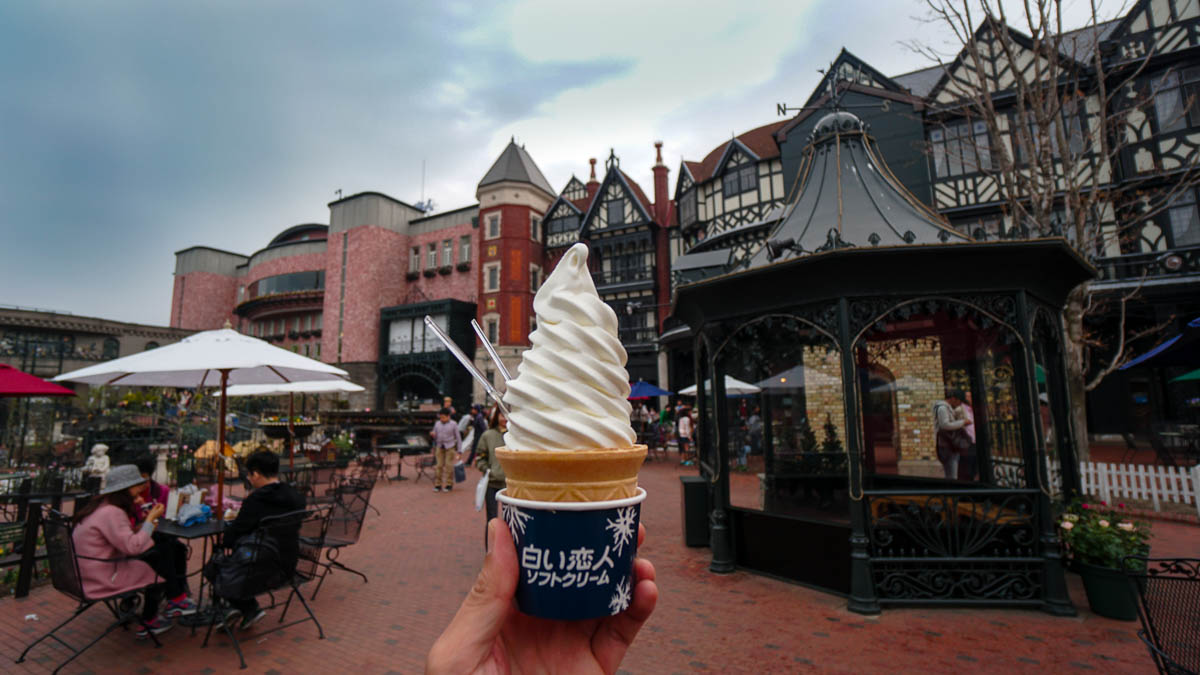 The production line is closed to the public until May 2019, but on the upside, admission (usually ¥600) is free! Interactive exhibits depict the history of chocolates and explain how the cookies are made, and you can also sign up for a course (from ¥972) to decorate (and take home) your own creations.
Cost: Free
Opening Hours: 9AM – 7PM
How to get there: 10-minute walk from Miyanosawa station
Day trips from Sapporo
1) Moerenuma Park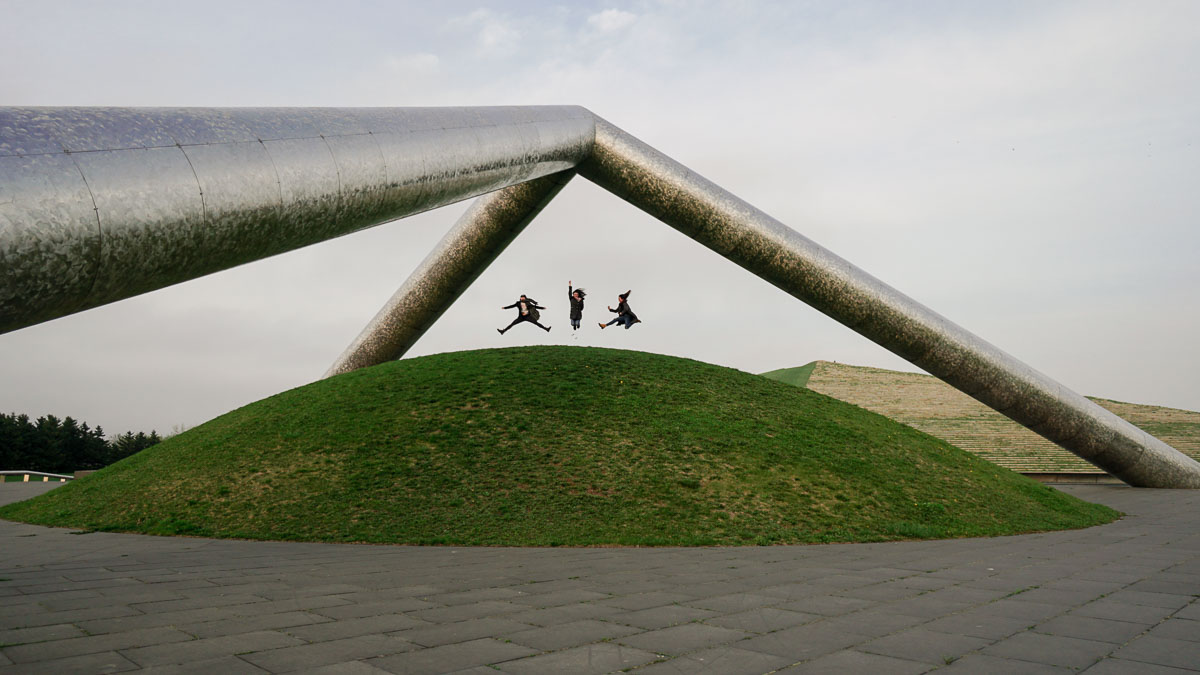 You can easily spend half a day at lush Moerenuma Park, which was once a waste disposal centre. Today there's no sign of it's trashy past in green lung located about 45 minutes from downtown Sapporo. Rent a bicycle to explore the 189-hectare park, a modern playground for both adults and children.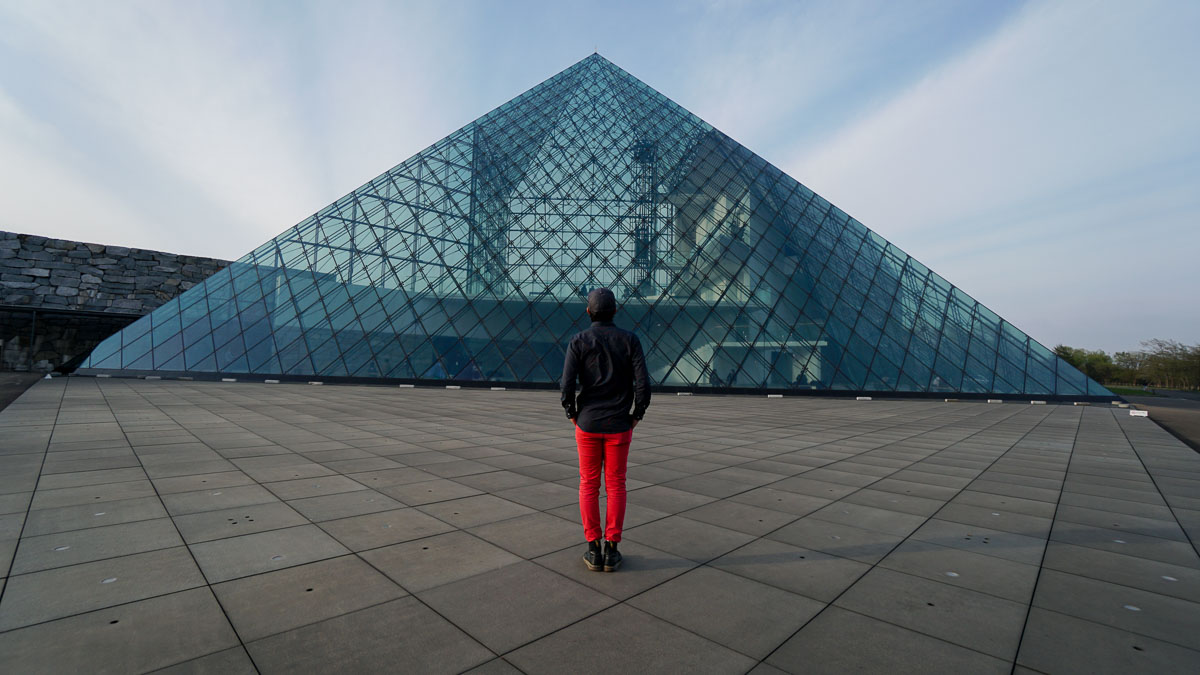 Highlights include dome-like Mt Moere which can be climbed from three different directions, a sleek Glass Pyramid and even a man-made beach paved with coral that's only open in summer.
Cost: Free; bicycle rental ¥100 per hour
Opening Hours: Park is open 24h; Bicycle rental 9AM – 4PM (Bikes must be returned by 5PM)
How to get there: Take bus 69 or 79 from Kanjodori-Higashi subway station and alight at Moerunuma-koen Higshiguchi (East entrance). The ride takes about 25 minutes.
2) Historical Village of Hokkaido (Kaitaku-no Mura)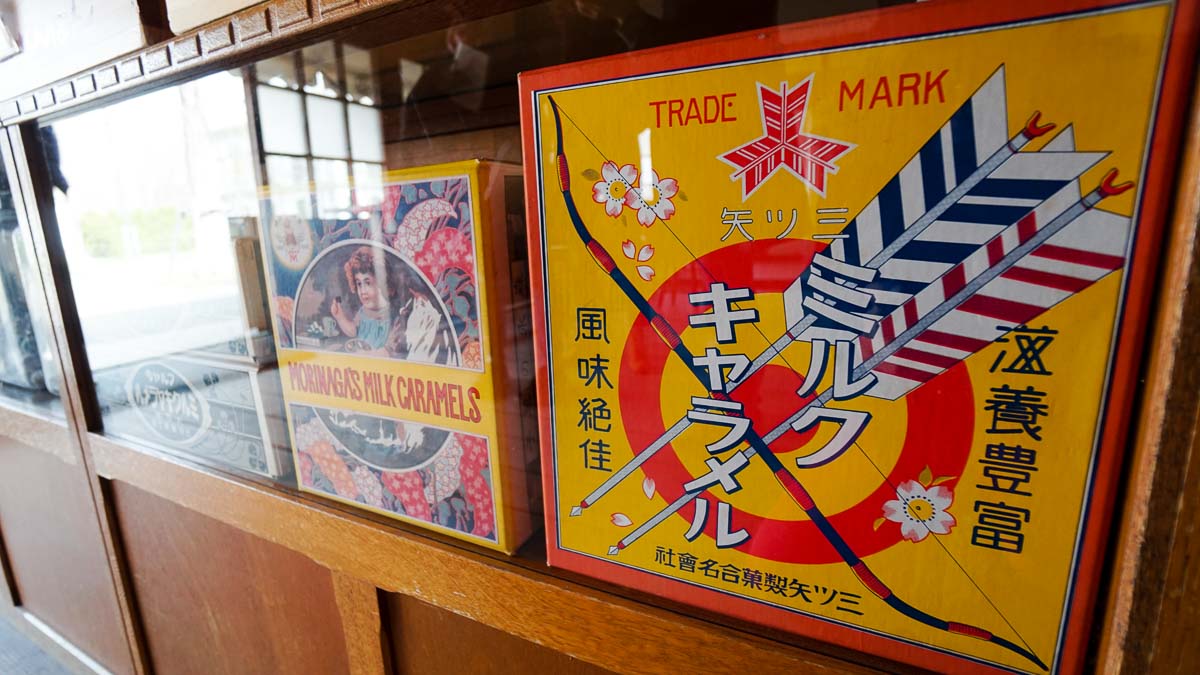 History comes to life at the Hokkaido Historical Village, an outdoor museum of relocated and restored buildings that represent life in Hokkaido from 1868 to the 1920s. Peer into businesses such as an old soba shop, travellers inn and candy store, all recreated in great detail.
The village is spread out over 54-hectares — to cover it more quickly, hop on a horse and cart ride (¥250) down the village's main thoroughfare.
Entrance Fee: ¥800
Opening Hours: October to April, 9AM – 4:30PM (Last entry at 4PM). May to September, 9AM – 5PM (Last entry at 4:30PM)
How to get there: Take the JR Hakodate line to Shinrinkoen station, then take bus 新22(bus stop name: 開拓の村行) to 開拓の村.
3) Noboribetsu Onsen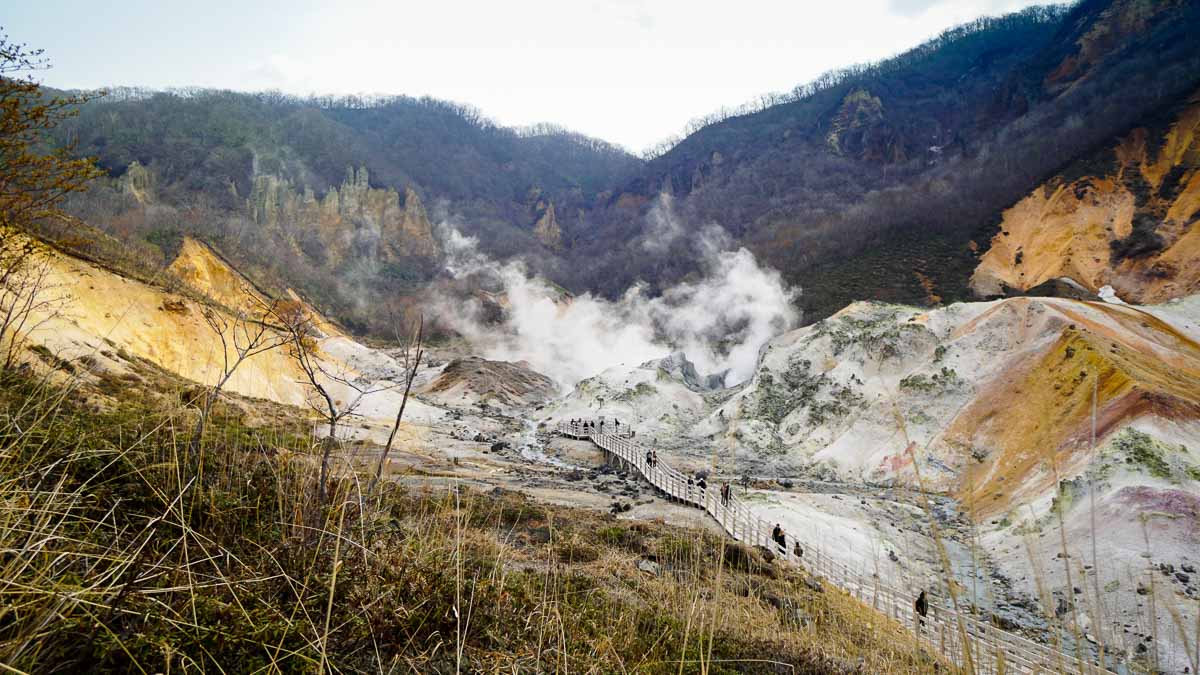 Need a break from the city? Retreat to peaceful Noboribetsu, an area known for its hot springs and onsens. Steam erupts from the earth at photogenic Jigokudani, where easy walking trails lead you amidst the craters and sulphuric plumes.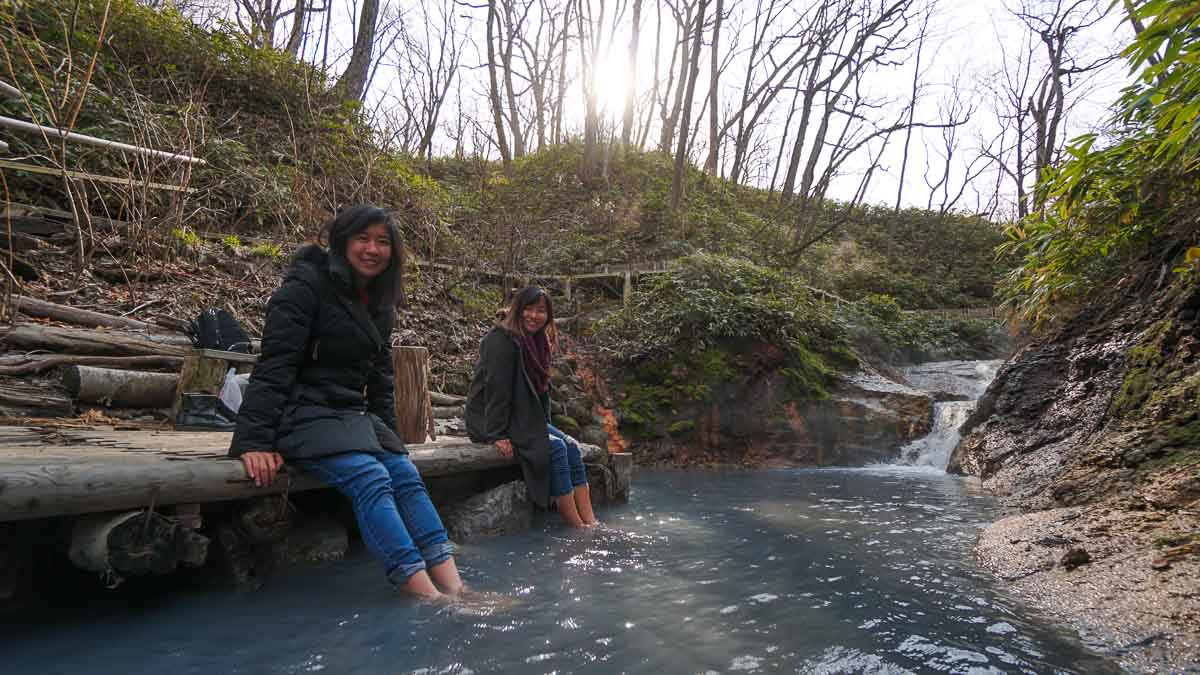 Afterwards, refresh tired feet with a refreshing soak in the pleasantly warm Oyunuma foot onsen.
How to get there: There are multiple ways to reach Noboribetsu, depending on your schedule and budget. Limited express trains between Sapporo and Noboribetsu take about an hour and cost ¥4000 (one way). Alternatively, a 100-minute bus ride operated by Donan Bus costs ¥1950 (one way). From Noboribetsu station, local buses connect to Jigokudani and Oyunuma foot onsen.
4) Otaru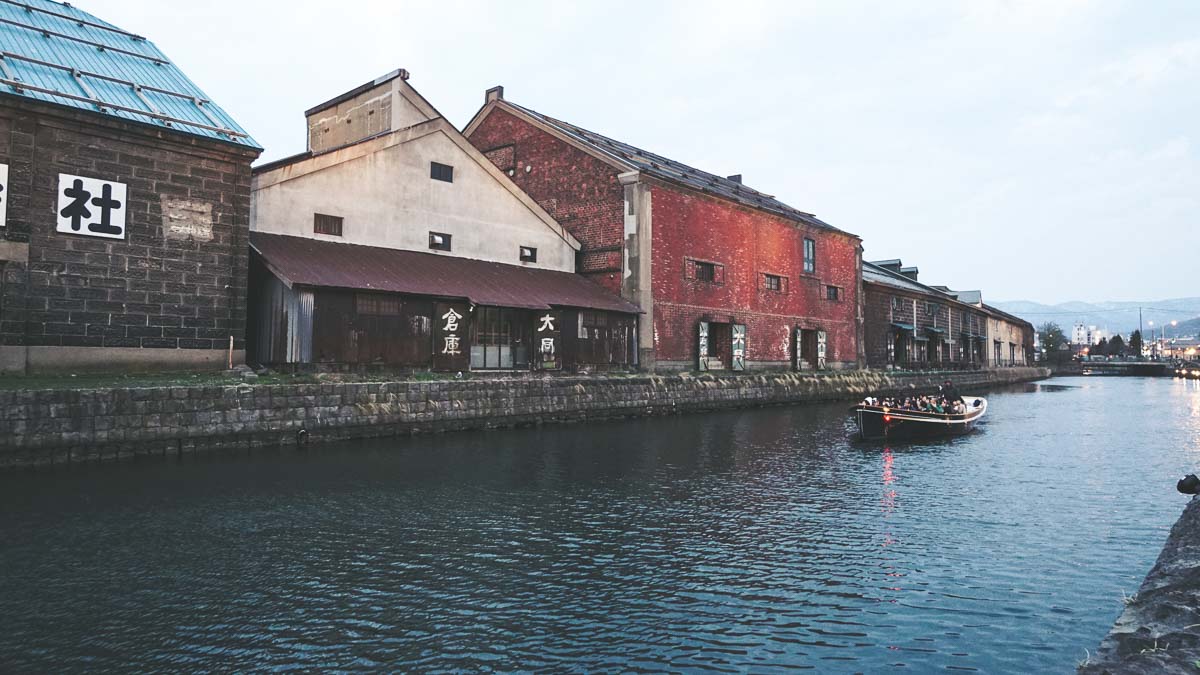 At just 40 minutes from downtown Sapporo, the small port town of Otaru is an easy hop away, with more than enough to keep you occupied during a day trip. Explore the picturesque canal district by foot or boat, and check out multiple shops selling music boxes and glass trinkets which Otaru is known for.
How to get there: Multiple trains per hour run between Sapporo and Otaru along the the JR Hakodate Main Line. The one way trip costs ¥640 and takes 30 minutes by rapid train or 45 minutes by local train.
For more things to do in Noboribetsu, Otaru and the rest of Hokkaido, check out our 8d Road Trip Around Hokkaido.
Best things to eat (and drink) in Sapporo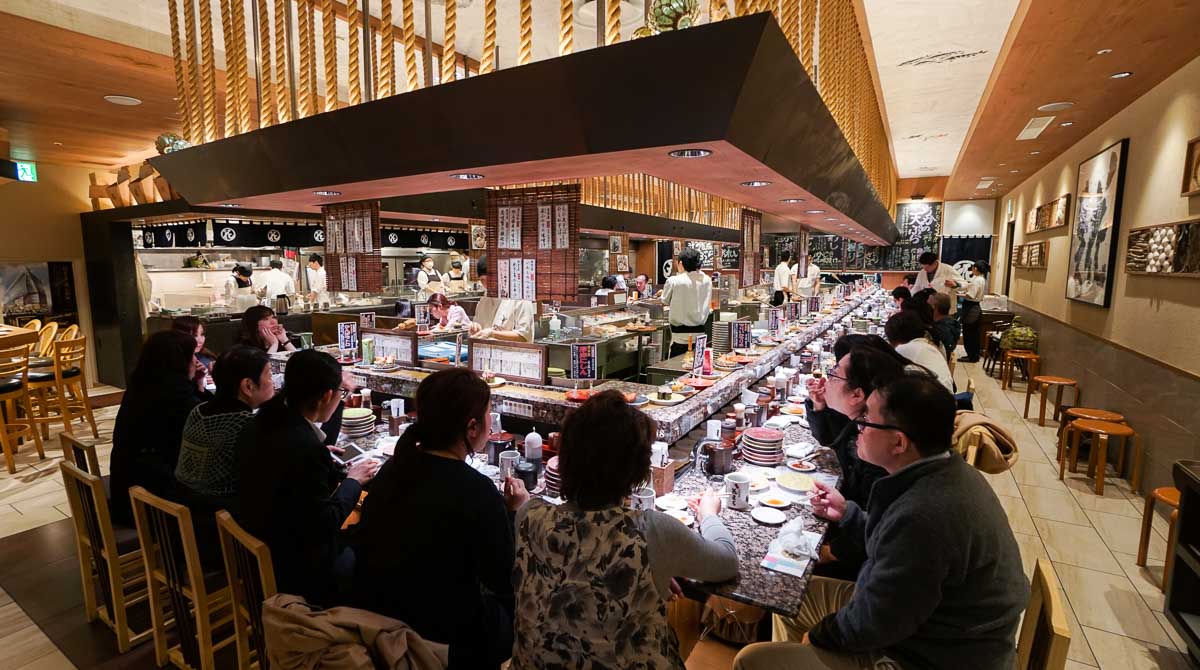 Tuck into cheap and tasty sushi at Nemuro Hanamaru, where you can grab sushi off a conveyor belt or have it made to order. The tourist-friendly spot comes with an extensive English menu, including an etiquette guide on how to mix green tea from powder, and the correct way to season your sushi with soy and wasabi.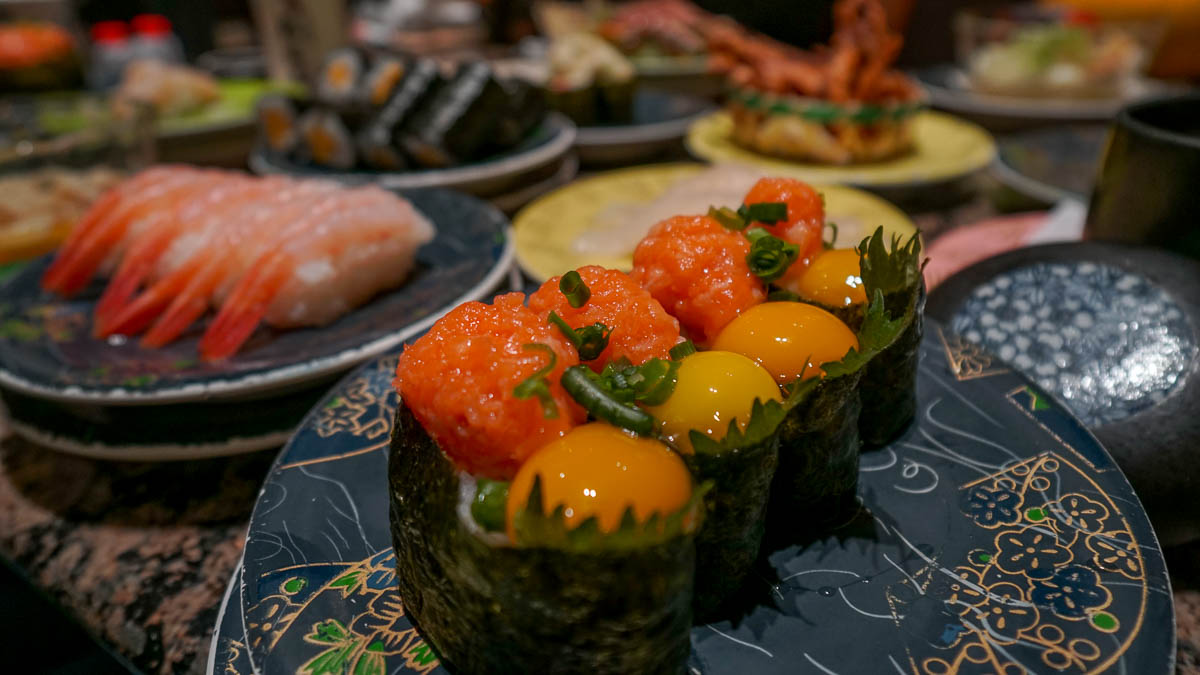 Everything on the conveyor belt glistens tantalisingly, but we recommend the minced fatty salmon belly with a raw, wobbly quail's egg (¥140), aburi salmon belly (¥280) and scallop sushi that's fresh, sweet and thickly sliced (¥453). Our generous meal for four sets us back at ¥1375 each (~S$17/pax).
Cost: From ¥140 per serving; budget about ¥1400 per person for a hearty meal
Opening Hours: 11AM – 11PM
Address: Japan, 〒060-0005 Hokkaidō, Sapporo-shi, Chūō-ku, Kita 5 Jōnishi, 2 Chome, ステラプレイス. Hanamaru Sushi is located within Sapporo Stellar Place, one of the many malls connected to Sapporo JR station.
*Pro-tip: Hanamaru sushi is perennially crowded, so dine during off-peak hours for a shorter queue. We arrived at 3pm and waited 15 minutes for a table for four.
2) Kinotoya Bake cheese tarts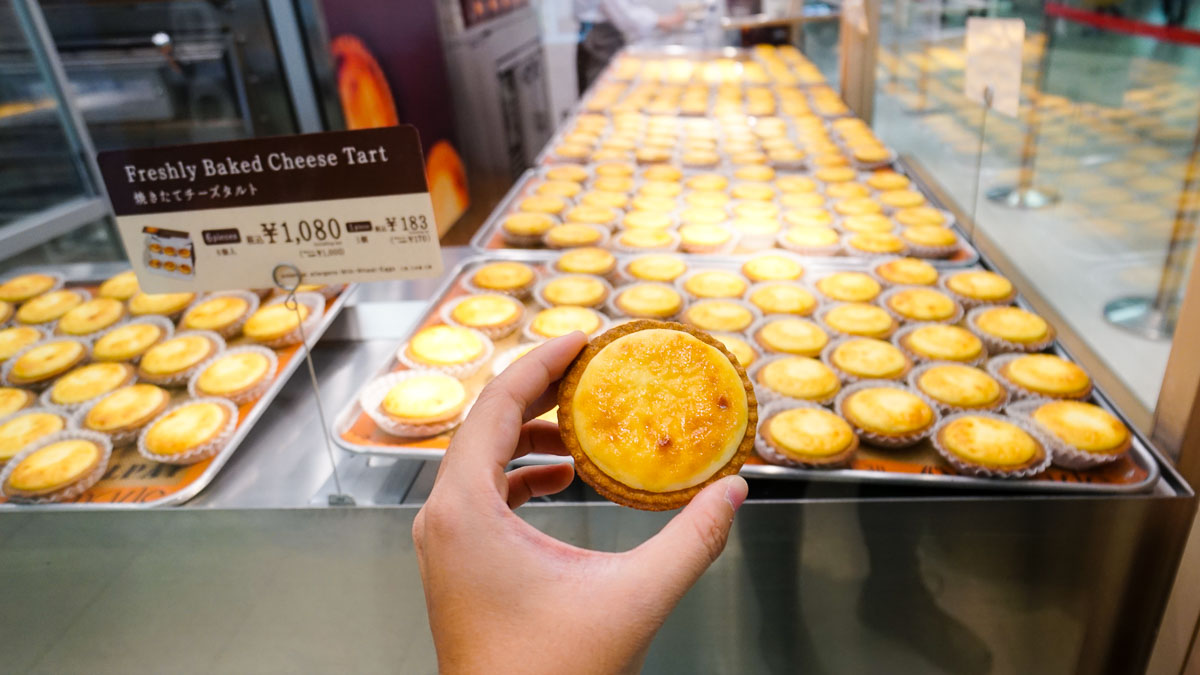 Pick up a one (or a few!) of these famous tarts, with mild, oozy cheese set in the centre of crumbly, fragrant pastry. For more variety, Kinotoya Cake shop is located just one floor below at the Daimaru basement food hall and sells a variety of cakes and pastries in addition to the original tart.
Cost: ¥183 per tart or ¥1080 for six
Opening Hours: 10AM – 8PM
Address: 3 Chome Minami 1 Jonishi, Chuo, Sapporo, Hokkaido 060-0061, Japan. Look for the East exit at JR Sapporo station.
3) King crabs and lamb BBQ at Sapporo Bier Garten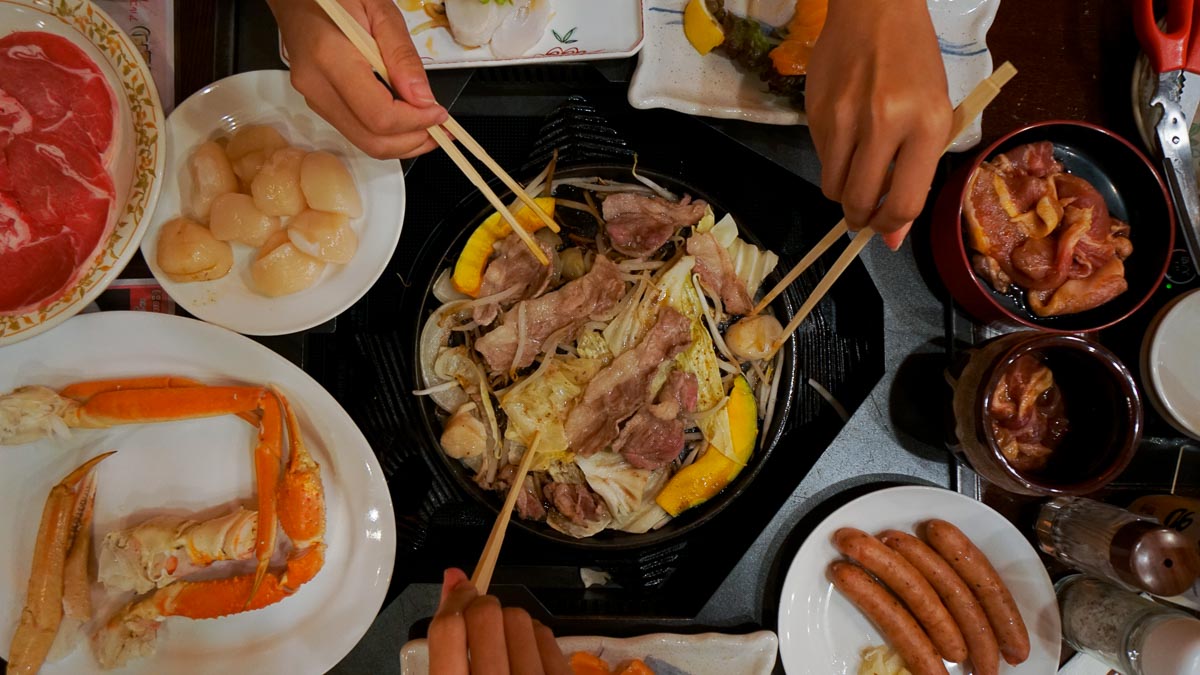 If you only splurge on one meal in Sapporo, this is it. Get your hands dirty with a buffet featuring snow and king crabs and a traditional Genghis Khan hotplate featuring lamb, chicken and pork.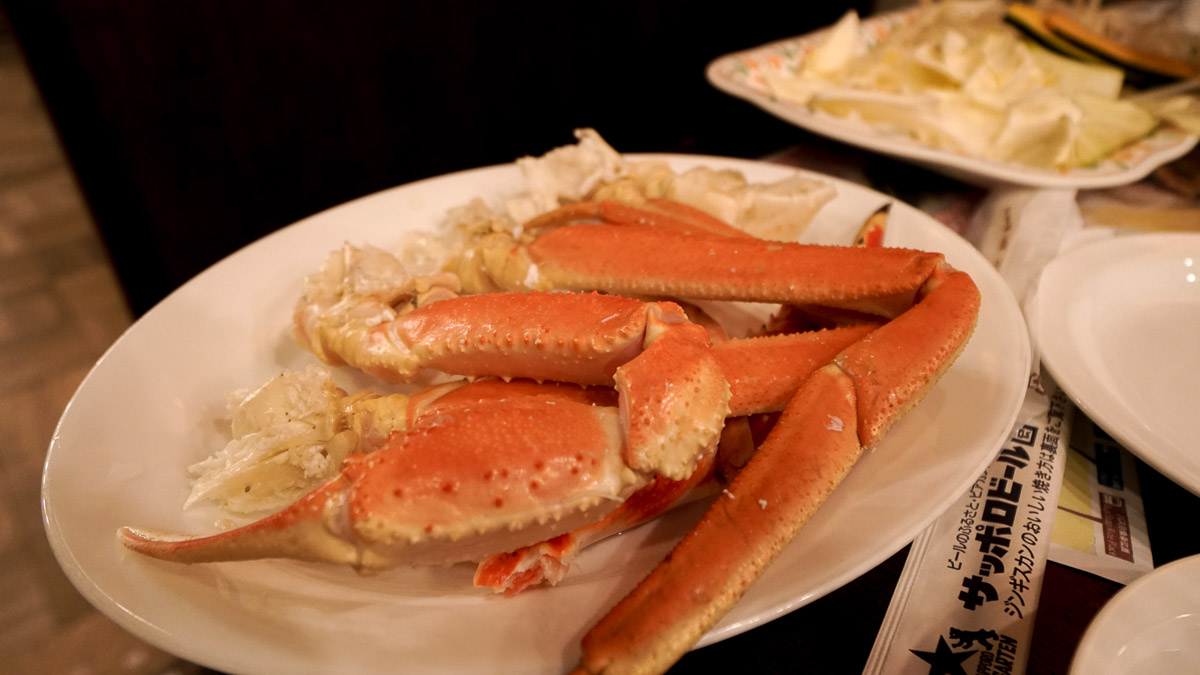 The menu also includes seafood such as scallops, salmon and squid, but we say save your stomach space for the crab. It's chunky, sweet and well worth the indulgence.
Cost: ¥5680 for a crab and BBQ buffet. For more price options including a drinks buffet, check out the Sapporo Bier Garten menu.
Opening Hours: 11:30AM – 10PM
Address: 9-2-10, Kita7Jo, Higashi-ku, Sapporo, Hokkaido, 065-0007
*Pro-tip: The buffets fill up fast, so call 0120-150-550 at least a day in advance to make reservations for your preferred time slot or make your booking online via Klook.
4) Miso Ramen at Ramen Shingen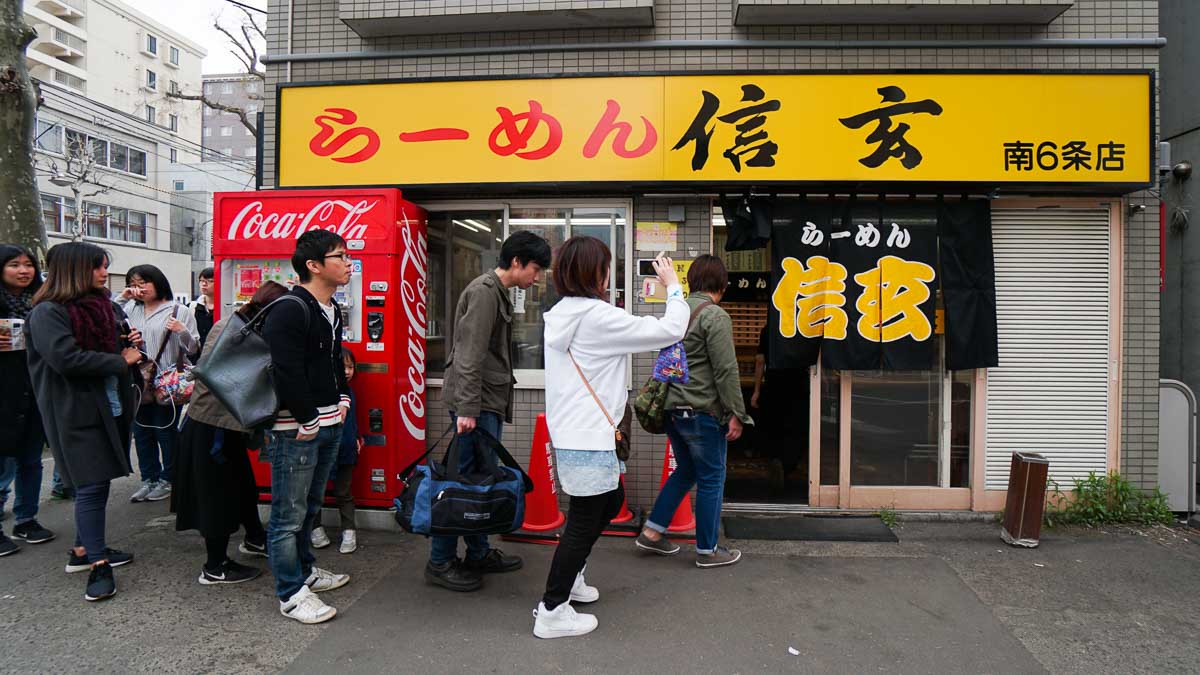 Come early for this tiny ramen stall that draws long queues throughout the day. The no-frills 15-seater joint serves up hulking bowls of miso-based ramen — regular servings are easily double the size of what you might find elsewhere.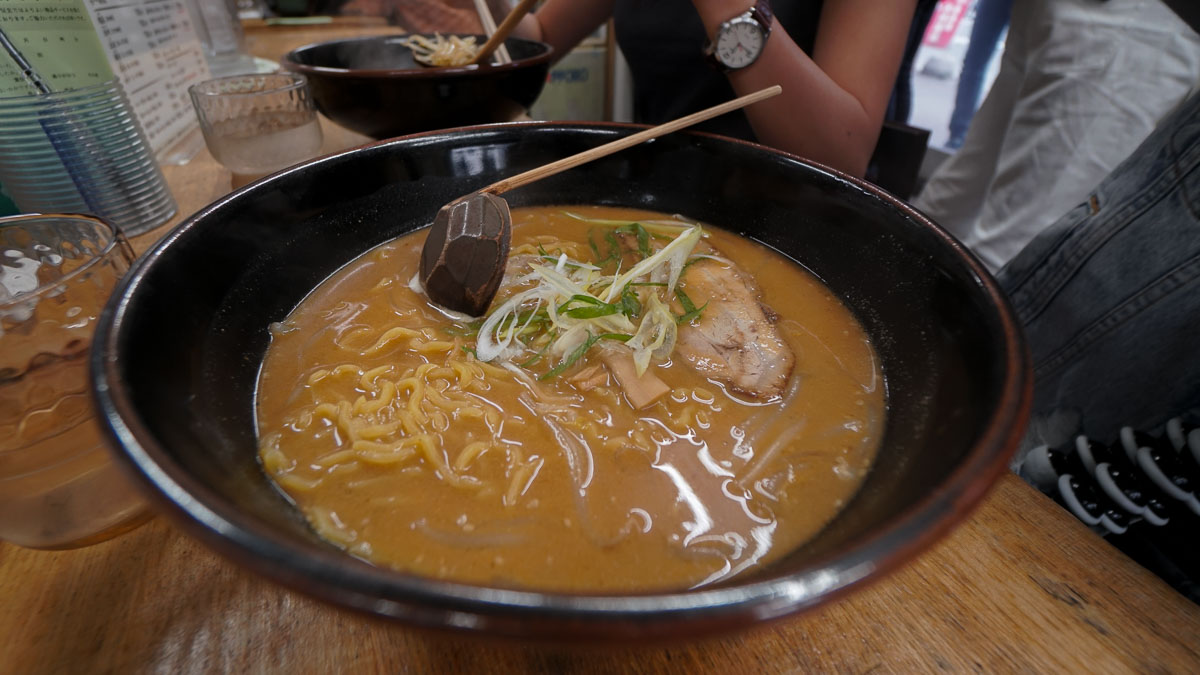 Small eaters can consider sizing down to a half-sized ramen, which is still a substantial portion.
Cost: ¥540 for a half-size ramen, ¥760 for a regular serving
Opening Hours: 11:30AM – 1AM
Address: 8丁目-8-2 Minami 6 Jōnishi, Chūō-ku, Sapporo-shi, Hokkaidō 064-0806, Japan
*Pro-tip: Needless to say, come early. We arrived at 11:15AM and there were five people in the queue ahead of us.
5) Drinks with bartending performance at Flair Bar Es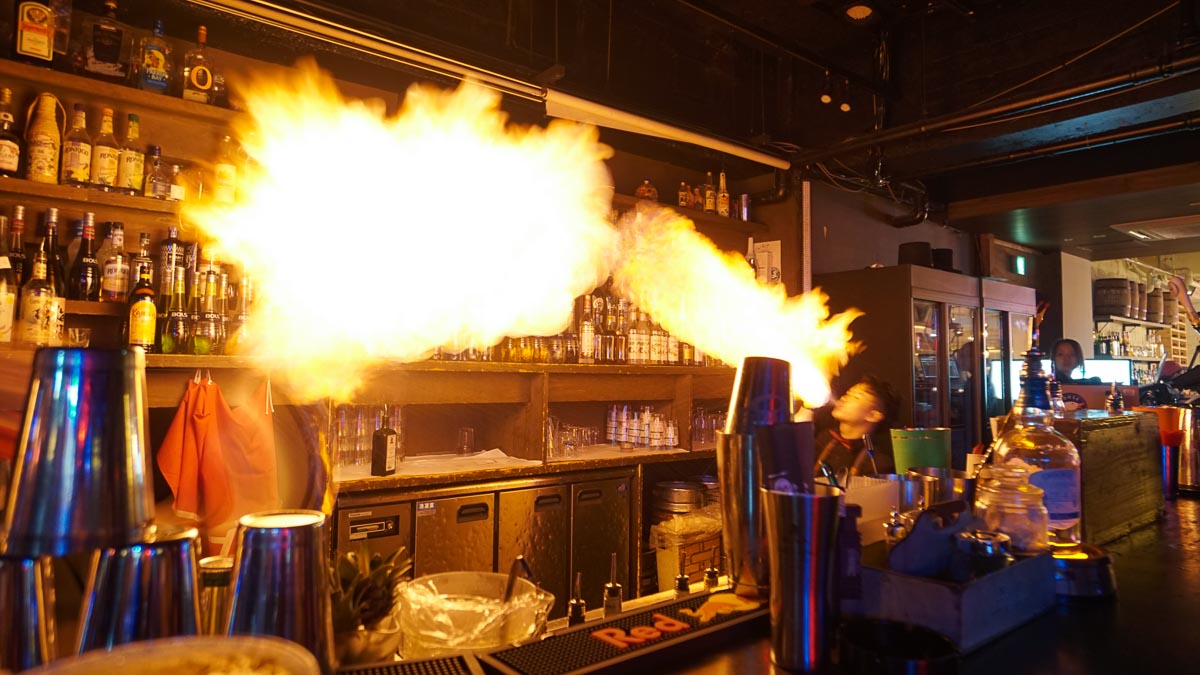 Located in the heart of Susukino entertainment district, Flair Bar Es is part watering joint, part after dinner show. Bartenders juggle bottles, breathe fire and serve refreshing cocktails such as a fruity yet strong pineapple daiquiri (¥750) and a dainty floral lavender highball (¥550).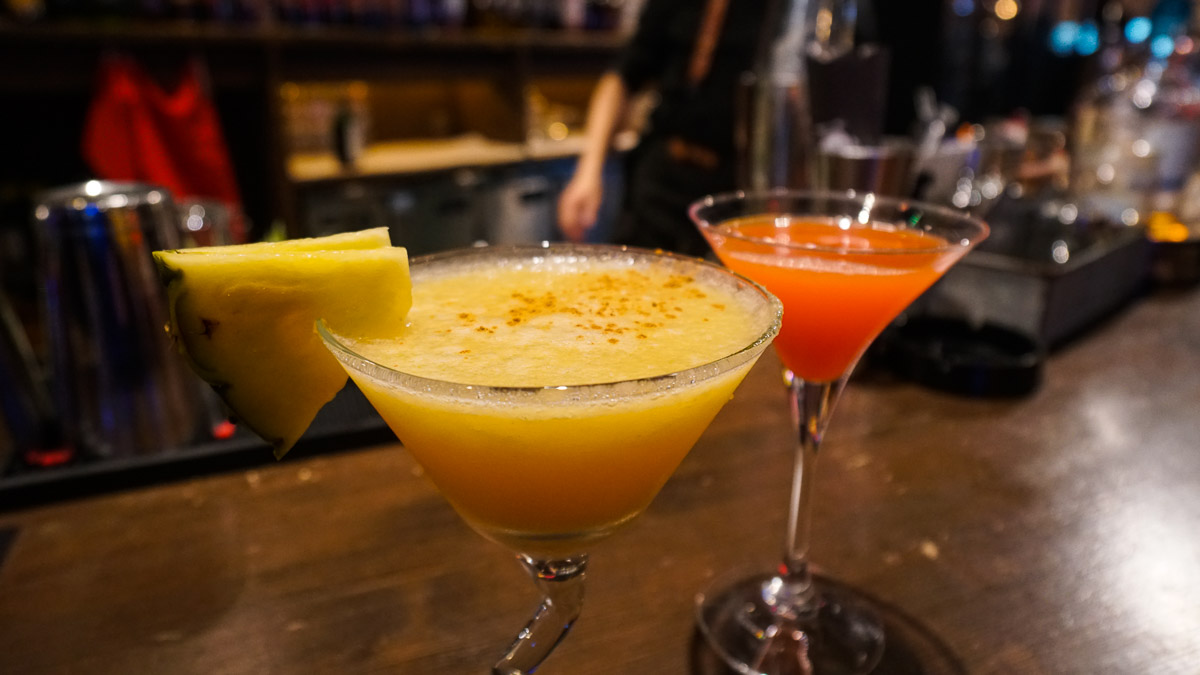 Performances run at 7:30PM and 10:30PM nightly, but if you arrive in between, ask nicely and the bartender may oblige with a mini performance when pouring your drink.
Cost: ¥550 to ¥750 for drinks (excl. ¥300 cover charge per pax)
Opening Hours: 6PM – 2AM
Address: 4 Chome-16 Minami 4 Jōnishi, Chūō-ku, Sapporo-shi, Hokkaidō 064-0804, Japan
*Pro-tip: Seats at the bar are the best for photos, while seats near the windows offer an impressive night view of Susukino street.
6) Japanese soup curry at Suage Curry Soup And Dining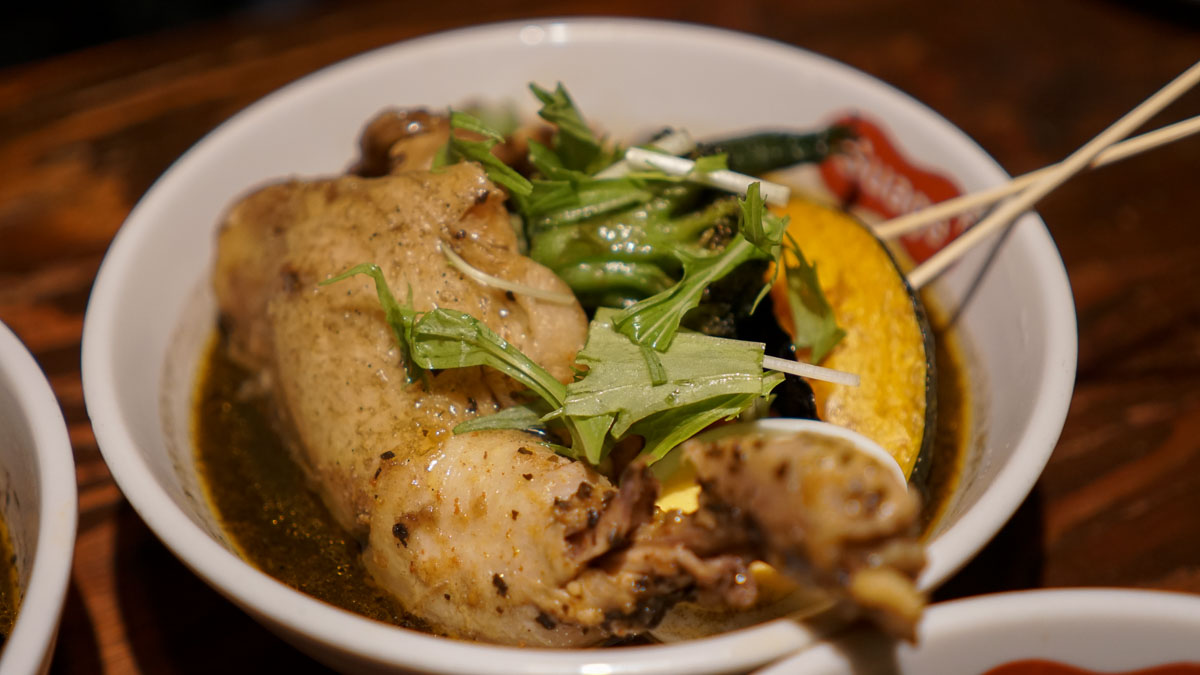 Japanese soup curry gets an inventive spin at Suage Soup Curry and Dining, which offers a squid-ink rendition of the popular dish. Meals are highly customisable — choose from a variety of toppings including oysters, Hokkaido fried chicken and Furano pork. Then pick your amount of heat (we went for the spiciest level and found it both manageable and tasty), add veggies, and decide how much rice you need to go with your curry.
Cost: ¥980 to ¥1150 for mains
Opening Hours: 11:30AM – 10:30PM
Address: Japan, 〒064-0804 Hokkaidō, Sapporo-shi, Chūō-ku, 南4西5 都志松ビル
7) Singapore-style Kopitiam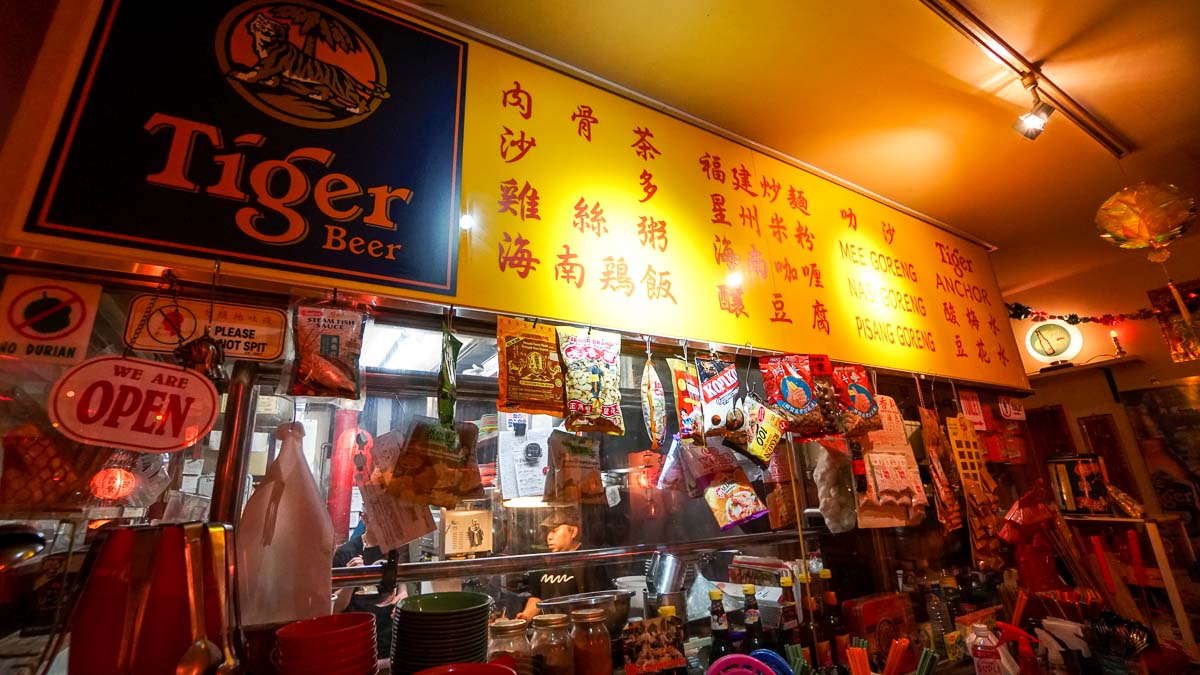 We'll be honest — we visited the Singapore-style Kopitiam out of sheer curiosity, rather than any desire to eat hawker food. Would Sapporo's rendition of our well-loved cuisine be any good? And what would the locals make of our favourite foods?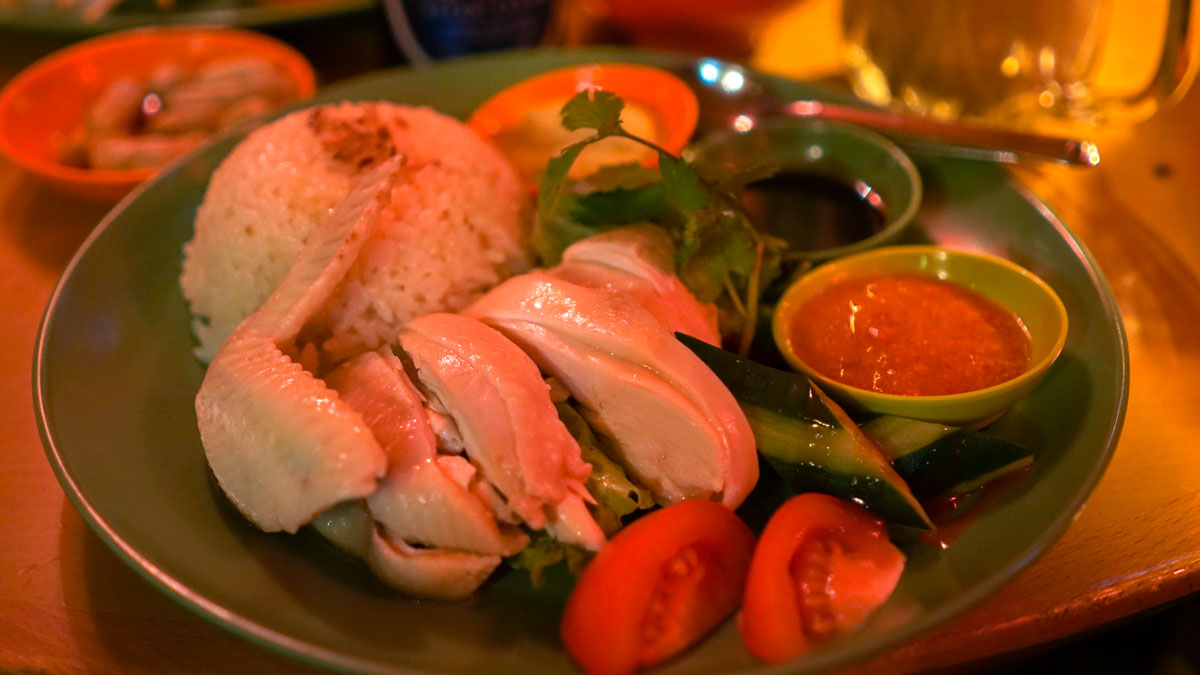 The decor in this bar-cum-restaurant is on point, right down to waitresses in Tiger Beer tees and aprons, and coffee-shop cutlery on each table. The raucous all-Japanese crowd (on a weeknight, too) seemed to love it.
The food, however, can't compare to what we get at home — chicken rice lacked a pandan aroma, and bak kut teh was a confusing mix of herbal and peppery. Come without expectations, enjoy the atmosphere, and you won't leave disappointed.
Cost: ¥820 to ¥1500 for mains
Opening Hours: 6PM – 2AM
Address: Japan, 〒060-0063 Hokkaidō, Sapporo-shi, Chūō-ku, Minami 3 Jōnishi, 7 Chome−5 (狸小路7丁目)
8) Kaisendon from Sapporo central wholesale market (Jyogai Ichiba)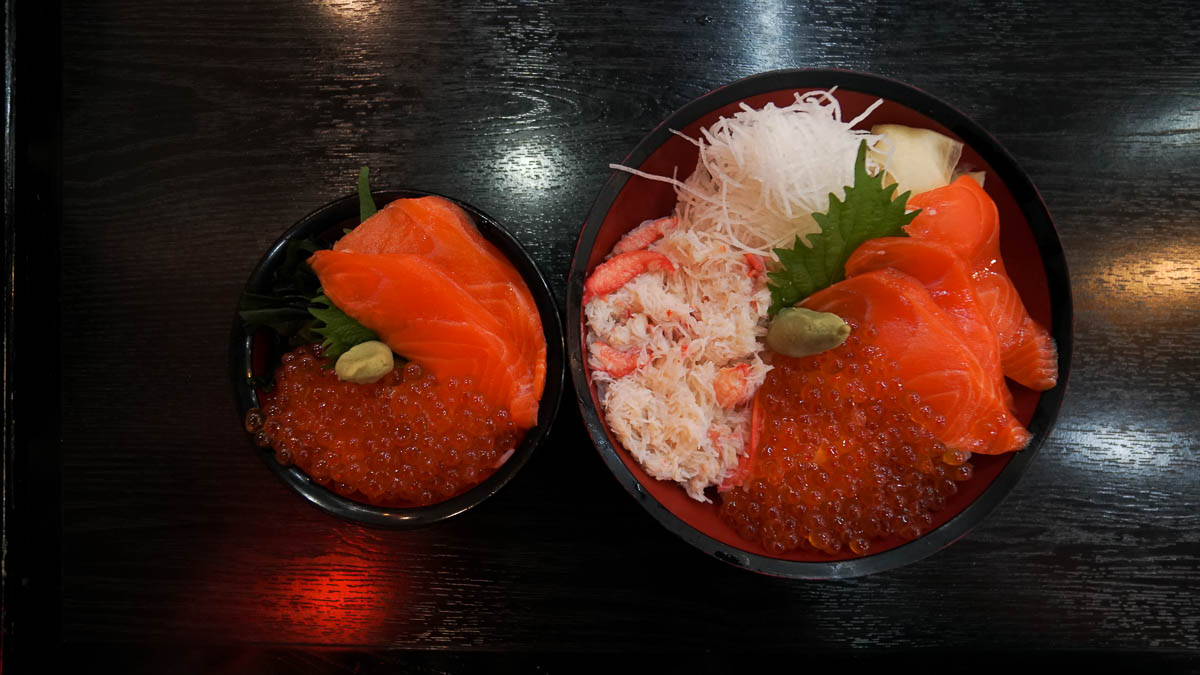 For glistening bowls of sashimi on rice, head to Sapporo outside market, located just next to Sapporo central wholesale market.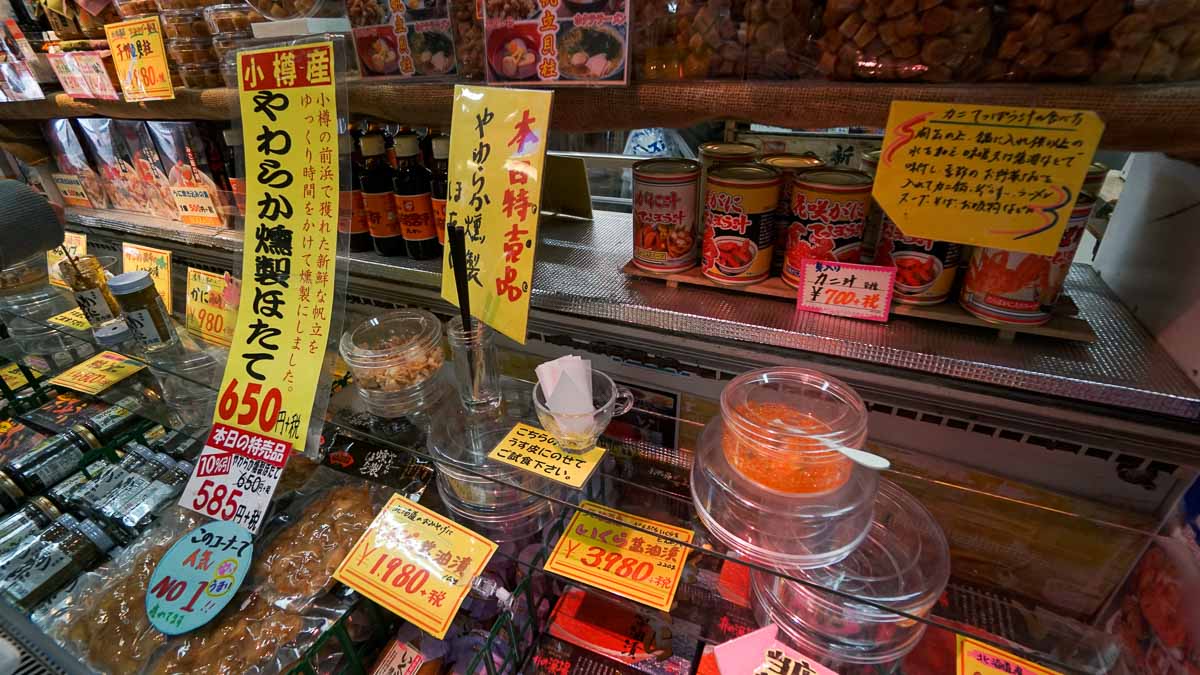 Shops sell produce such as ikura (salmon roe), mentaiko (salted pollock roe) and dried cuttlefish, and many offer samples to graze on as you browse. Most shops have a sit-down restaurant and a menu of raw and cooked dishes. Chirashi bowls start from about ¥1580, but if you're on a budget, a mini bowl (diameter 10.5cm, pictured above) will only set you back ¥980.
Cost: ¥980 for a mini bowl, ¥1580 to ¥4000 for regular sized bowls
Opening Hours: 7AM – 3PM
Address: Japan, 〒060-0011 Hokkaidō, Sapporo-shi, Chūō-ku, Kita 11 Jōnishi, 22丁目4-1
9) Sapporo's Best Gyoza Joint at Chao Chao Gyoza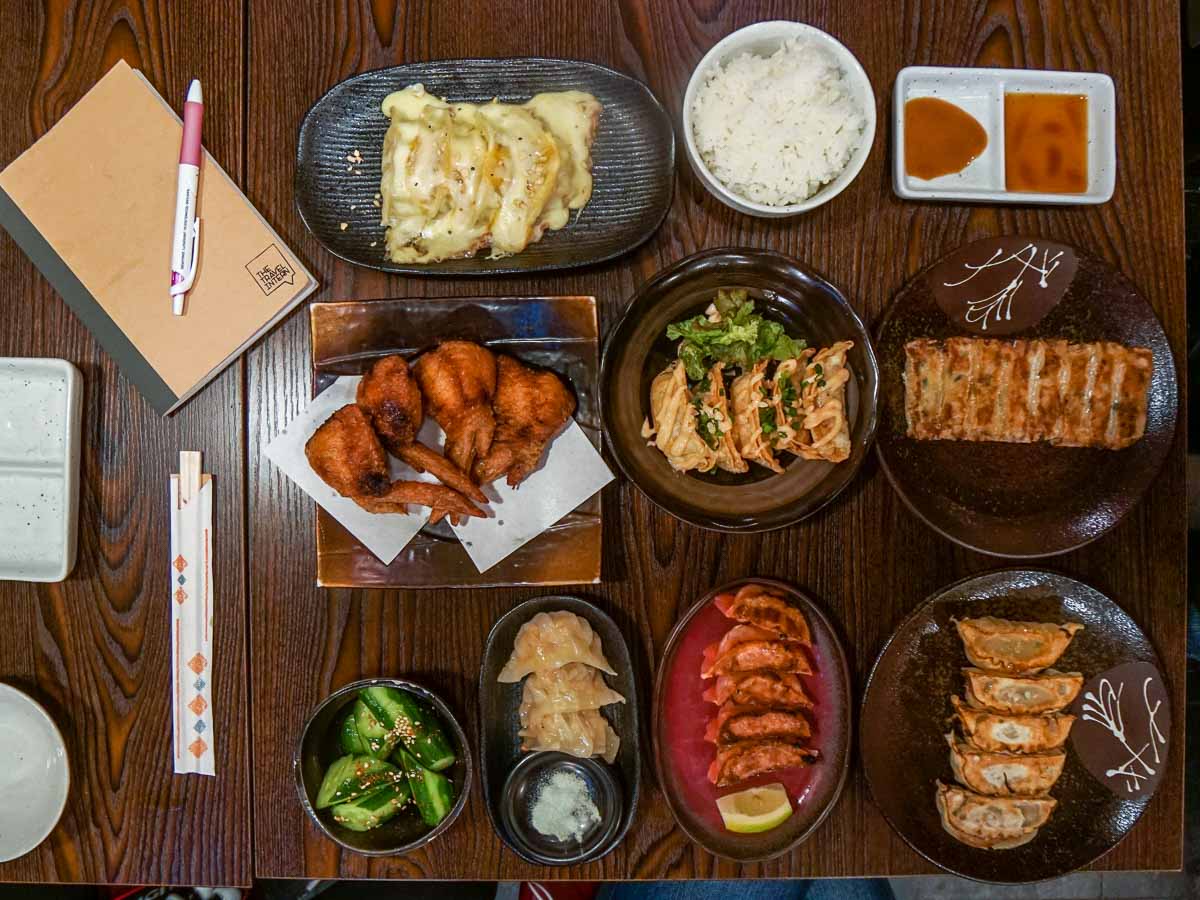 Come in a group to sample the assortment of gyoza flavours available at ChaoChao Gyoza, including curry, mentaiko, egg and cheese and garlic.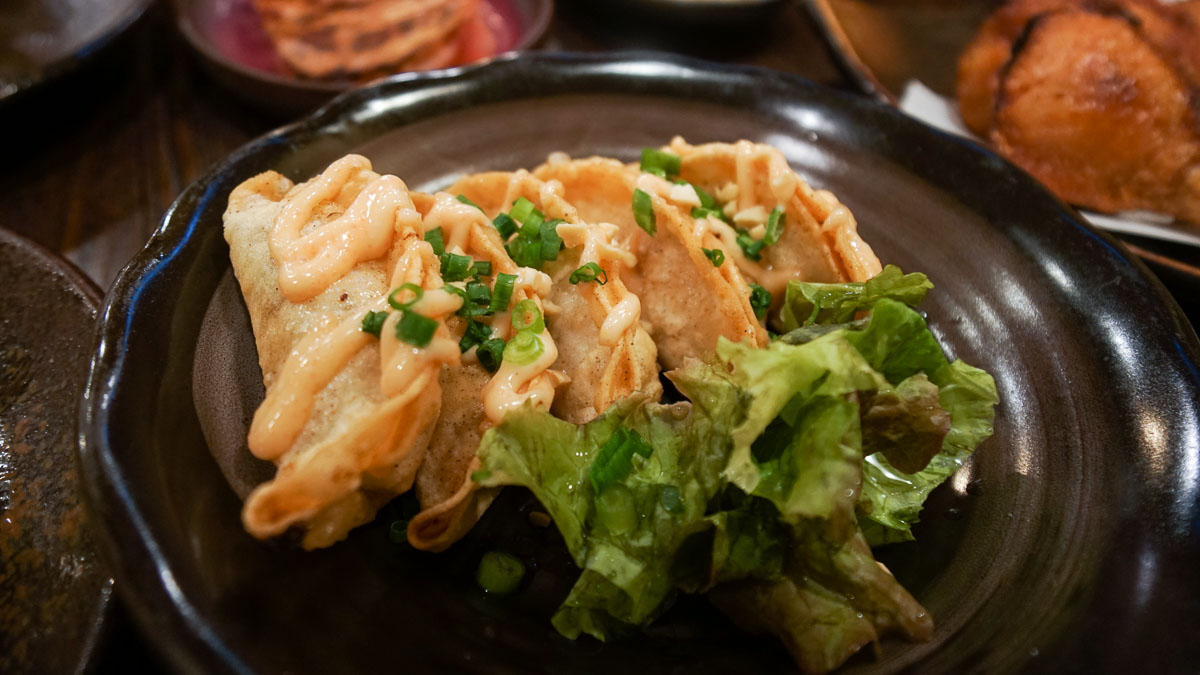 We didn't think fried chicken could get any better, but they even serve chicken wings stuffed with gyoza fillings! A total of 25 varieties are available — eat them plain or dipped in sauces such as vinegar soy and miso.
Cost: From ¥300 for a serving of three gyozas
Opening Hours: 11:30AM – 2PM, 5PM – 2AM
Address: 2 Chome-38 Kita 2 Jōnishi, Chūō-ku, Sapporo-shi, Hokkaidō 060-0002, Japan
Accommodation
HOTEL MYSTAYS Sapporo Nakajima Park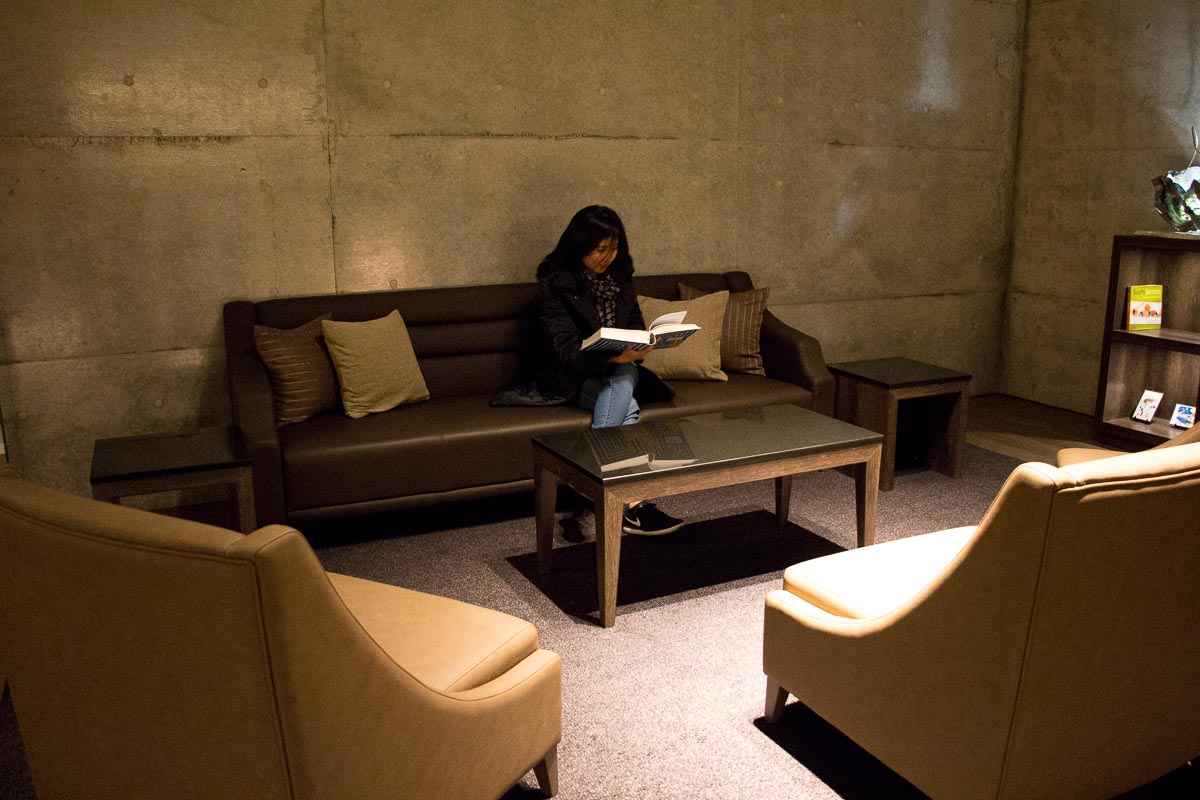 There are multiple MYSTAYS branches located across Sapporo (and the rest of Japan), but we like HOTEL MYSTAYS Sapporo Nakajima Park for its peaceful environment, expansive lobby and even a selection of coffee table books for browsing. It's located just 350m away from Horohirabashi subway station and room rates begin at ¥5093 for a Standard Double.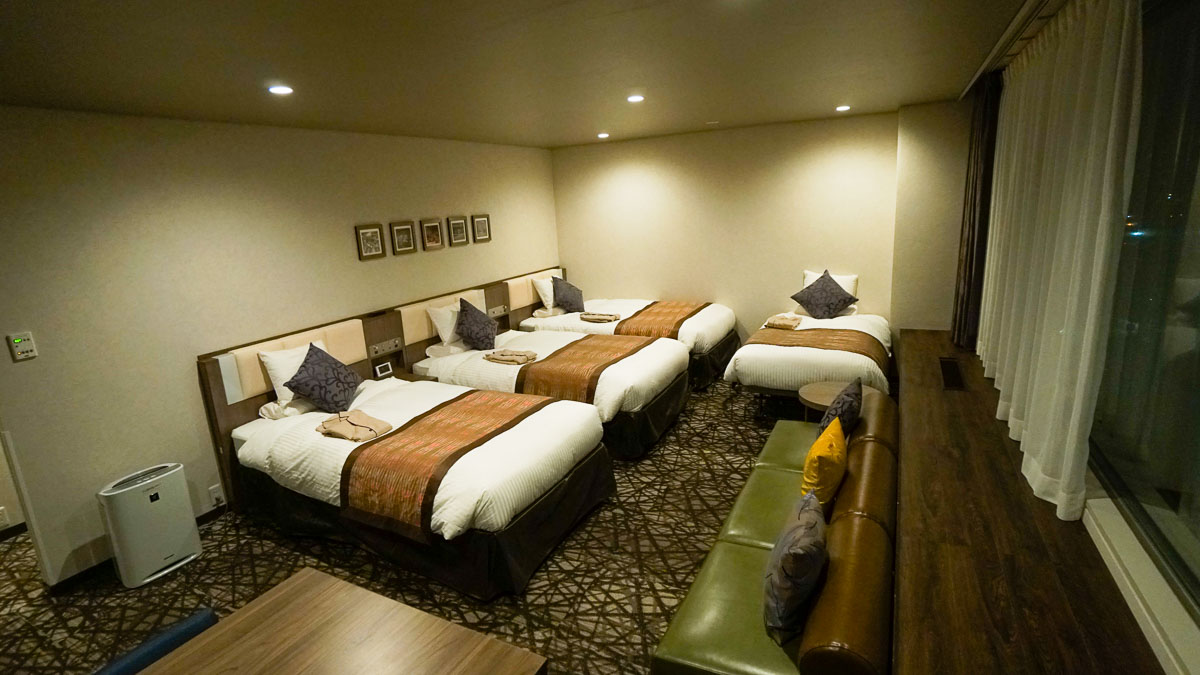 Selected rooms overlook the park, such as our large Deluxe Family Room with wall-to-wall bay windows and a view of cherry blossom trees coming into bloom.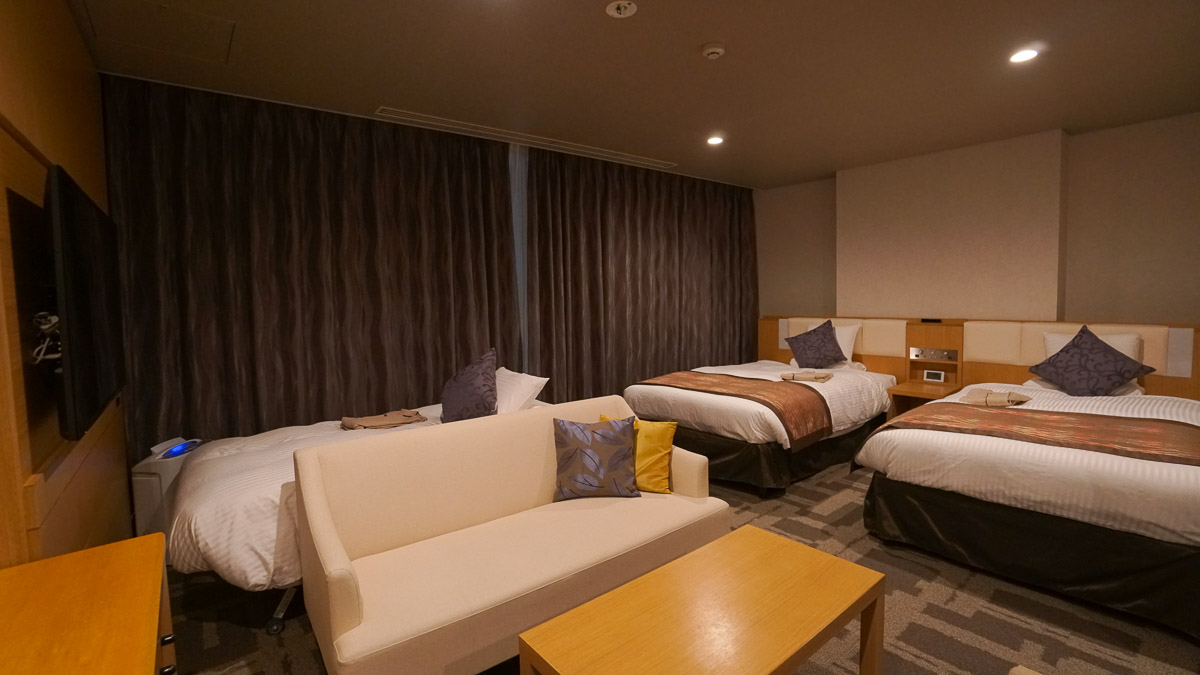 Other rooms are just as spacious. The Superior Twin comes with a large bathroom, couch and coffee table — perfect for late-night sake sessions.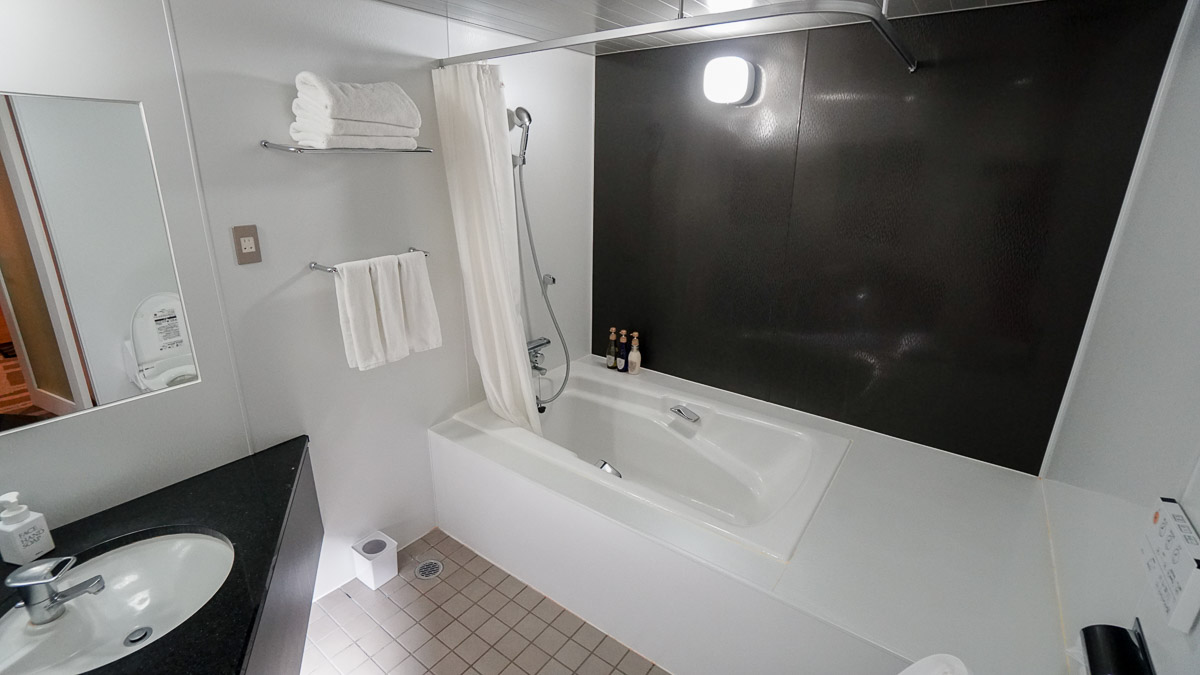 Booking a MYSTAYS hotel also meant we barely had to unpack our suitcases. The hotel provides a set of pyjamas for each guests, and a full range of toiletries including makeup remover, facial cleanser, toner and moisturiser. There was even a range of men's facial products too. Guests help themselves from a chest in the lobby, so there's no need to feel paiseh about asking for extras. Just don't tapao all the skincare home!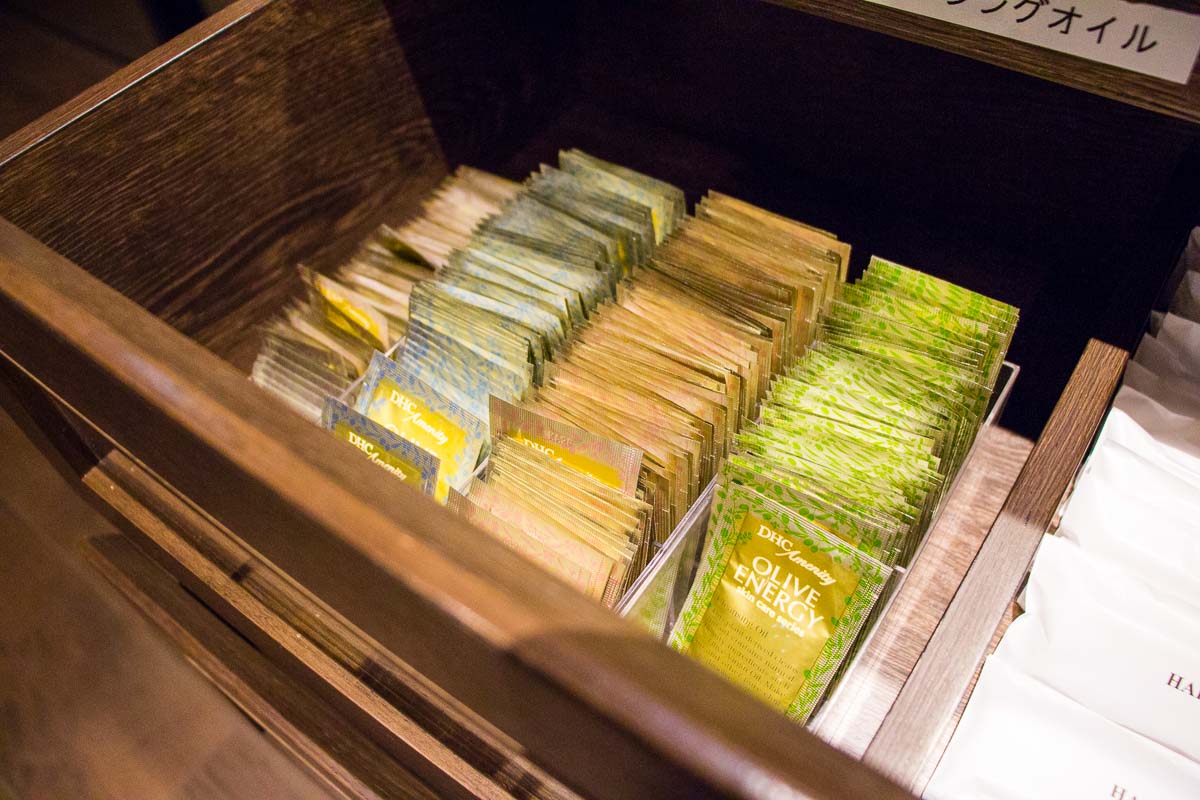 There are 86 MYSTAYS hotels in 19 cities across Japan, which you can use as a base to explore popular destinations such as scenic Hokkaido, or the underrated Chiba area. No matter where you go in Japan, a good night's rest is never too far away.
Address: 1-20 Nishi 1-chome, Minami 14-jo, Chuo-ku, Sapporo-shi, Hokkaido 064-0914 Japan

Booking a night or 2 at the HOTEL MYSTAYS Sapporo Nakajima Park? Key in <TTI5> under coupon code to enjoy 5% off your stay 🙂
Flights to Sapporo
The nearest airport to Sapporo city is New Chitose Airport. Check flight prices for your dates of travel here:
Can't see the widget above? Check out flight prices from Singapore to Sapporo here!
---
This post was brought to you by MYSTAYS Hotel.
Like what you see? Follow us on Facebook, Instagram, and YouTube for more travel updates!