Chase the autumn colours on Kyushu's scenic retro trains from Fukuoka to Kagoshima, where we ate at traditional roadside 'yatai' stalls, had unique sauna episodes under volcanic sand, and tried custard pudding made in… "hell".
Japan may scream TOKYO but if you're looking for food and experiences authentically Japanese sans the crowds of Tokyo, Kyushu is a great introductory destination into Japan.
This Kyushu itinerary brings you Southwest of Japan's main island during the beautiful season of autumn!
Pre-trip Essentials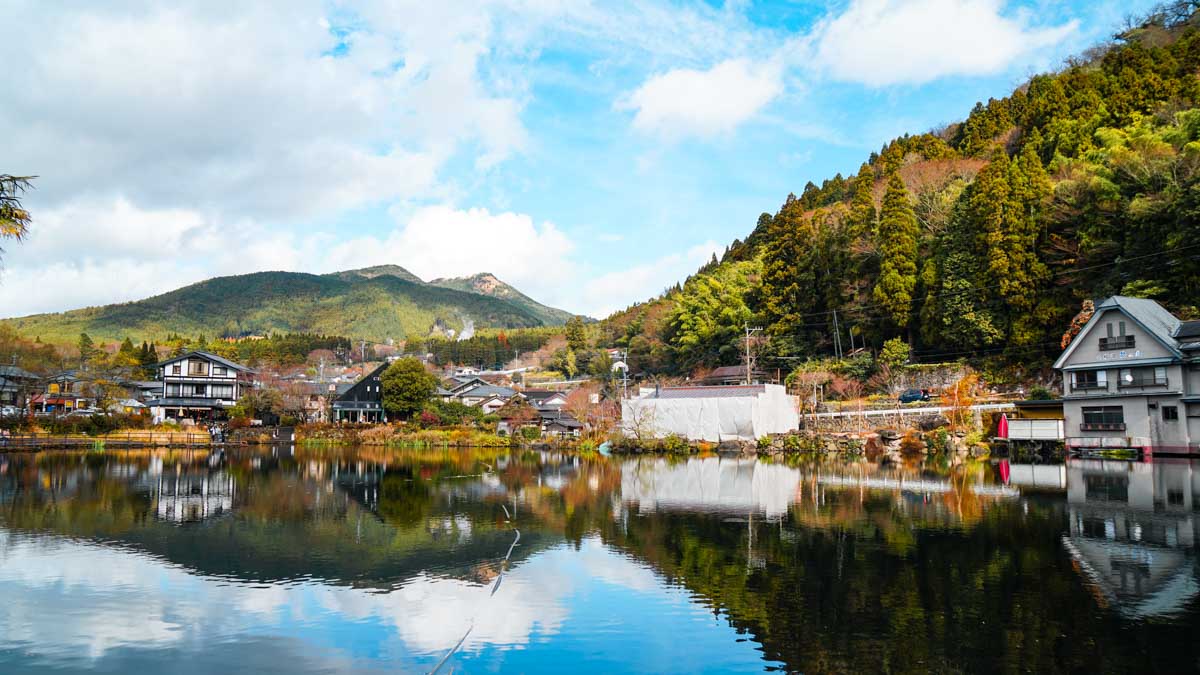 Getting around: IC cards (Suica, Pasmo or Icoca card) for intercity-transportation. JR Kyushu Pass for interstate travels all around Kyushu. Download mobile app Japan Travel for updated train schedules and route plans.
Staying connected: Get a pocket WiFi device (from S$5/day) if you're travelling in a group of 3–5 pax. Alternatively, pre-paid travellers' SIM cards are available from Fukuoka International Airport.
Read also: 7-Day Tokyo & Mt. Fuji Itinerary
Day 1: Fukuoka (Hakata)
Kushida Shrine (櫛田神社)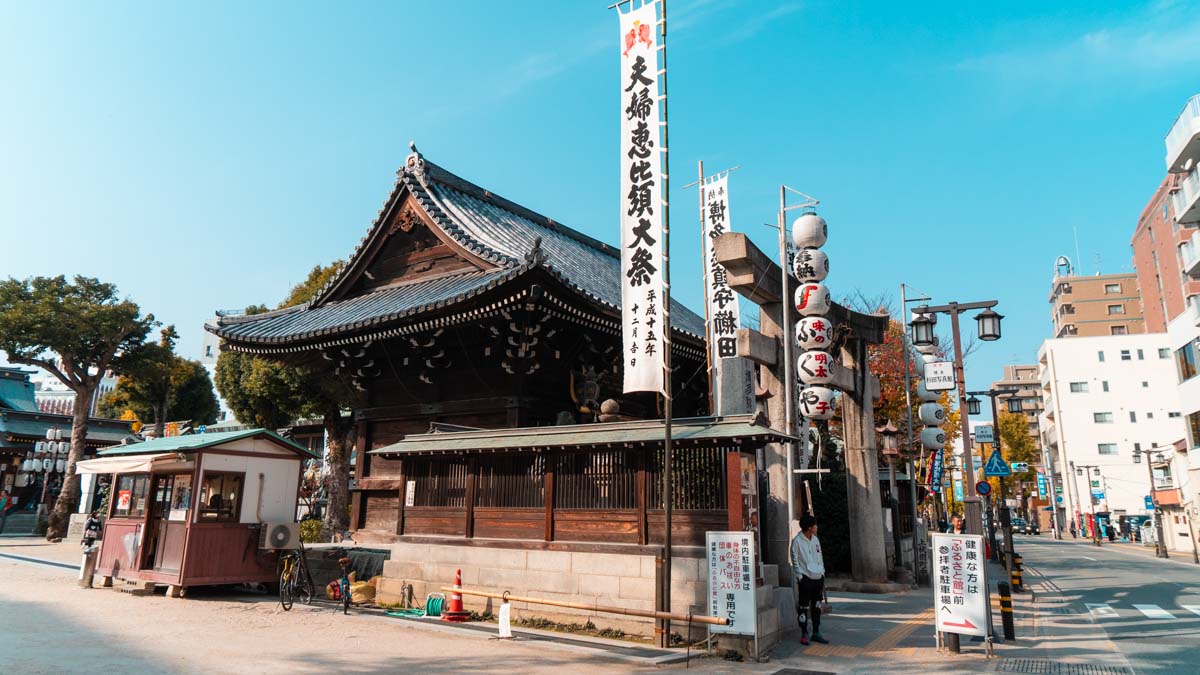 Seen as a guardian temple of Hakata ward, Kushida Shrine is the oldest and most important shrine of the area, five minutes from Gion subway station.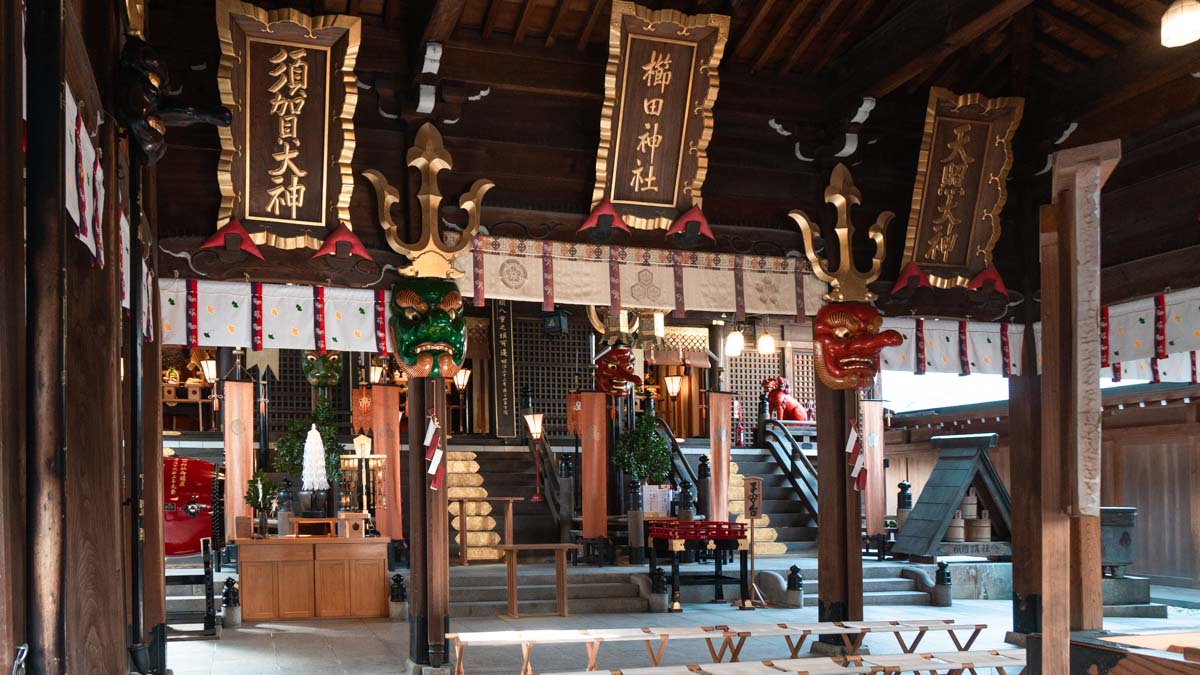 This shrine comes alive in the summer with the impressive Hakata Gion Yamakasa festival when giant decorative floats make their way across the city starting from the shrine.
During the autumn months, another impressive giant takes the centrestage: a millennia-old Gingko tree symbolising longevity turning a vibrant yellow.
Entrance Fee: Free
Opening Hours: 4AM – 10PM
Address: 1-41 Kamikawabatamachi, Hakata, Fukuoka-shi, Fukuoka-ken
Lunch at Fukuei Kumiai (福榮組合)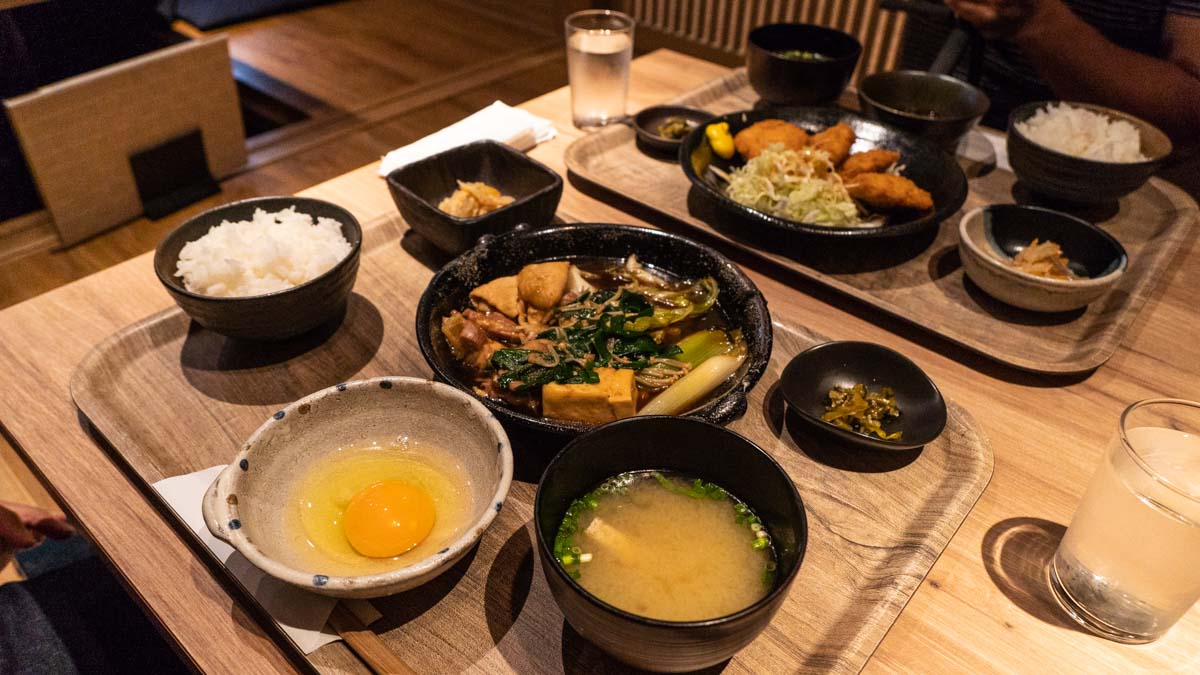 Of Fukuoka's many unique localised cuisines, one must-try is the "jidori", a poultry breed exclusive to the prefecture that's known for its robust flavour. Don't be surprised if you see "raw chicken" on menus in Fukuoka, because jidori chickens are said to be clean enough to be eaten sashimi-style.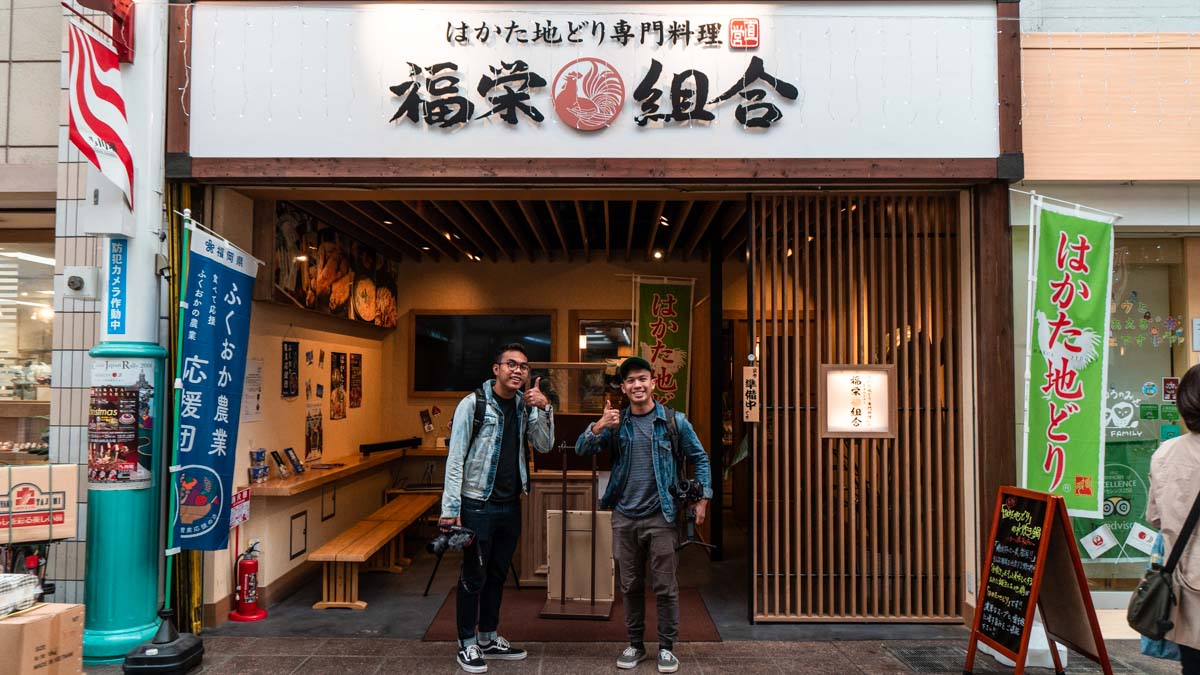 Even if you're not adventurous enough to try raw chicken, you can get cooked jidori chicken at Fukuei Kumiai either deep fried, grilled, or braised in vinegar.
Cost: From ¥830 (lunch set)
Opening Hours: 11:30AM – 3PM, 5PM – 11PM. Closed on Sundays.
Address: 4-210 Kamikawabatamachi, Hakata Ward, Fukuoka, Fukuoka Prefecture 812-0026, Japan (Within Kawabata Shopping Street).
Canal City Hakata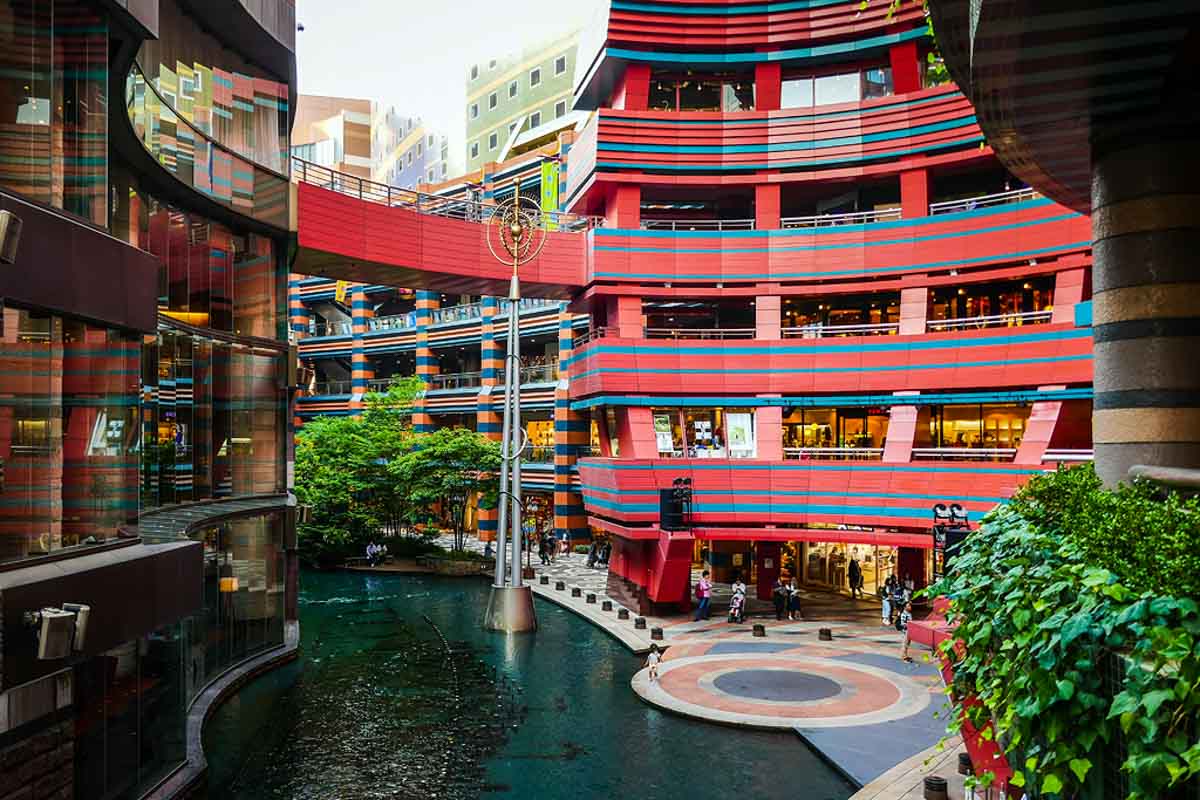 Built around an artificial canal, Canal City Hakata is a mall so big that locals call it "a city within a city". With over 250 shops and dining spaces, Canal City Hakata is every shopaholic's haven and also the to-go for Fukuoka specialties.
Opening Hours: 10AM – 11PM. Retail shops close by 9PM.
Address: 1-2, Sumiyoshi, Hakata-ku, Fukuoka-shi, Fukuoka Prefecture 812-0018
Fukuoka Zoo & Botanical Garden (福岡市動植物園)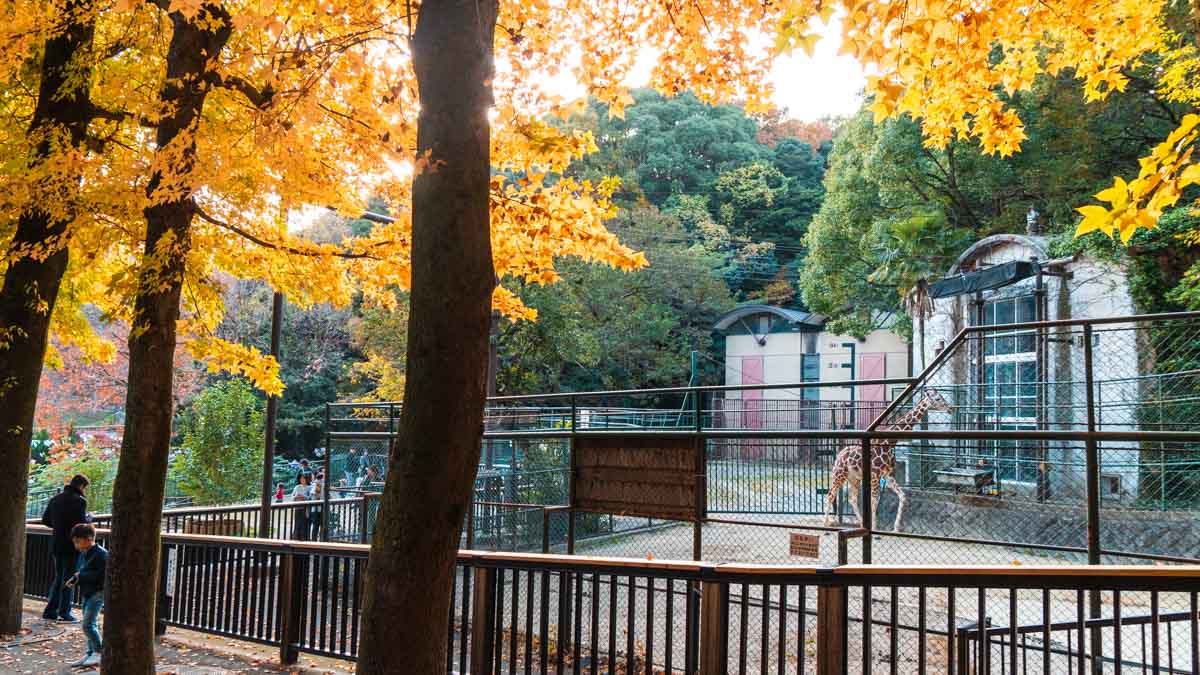 Yes, we get it, zoos are basic. The Fukuoka City Zoo & Botanical Garden is, however, a nice getaway from the bustling city. Established in 1953, the Fukuoka Zoo is not the most impressive animal sanctuary out there, but it houses a modest collection of animals from macaques to giraffes and tigers.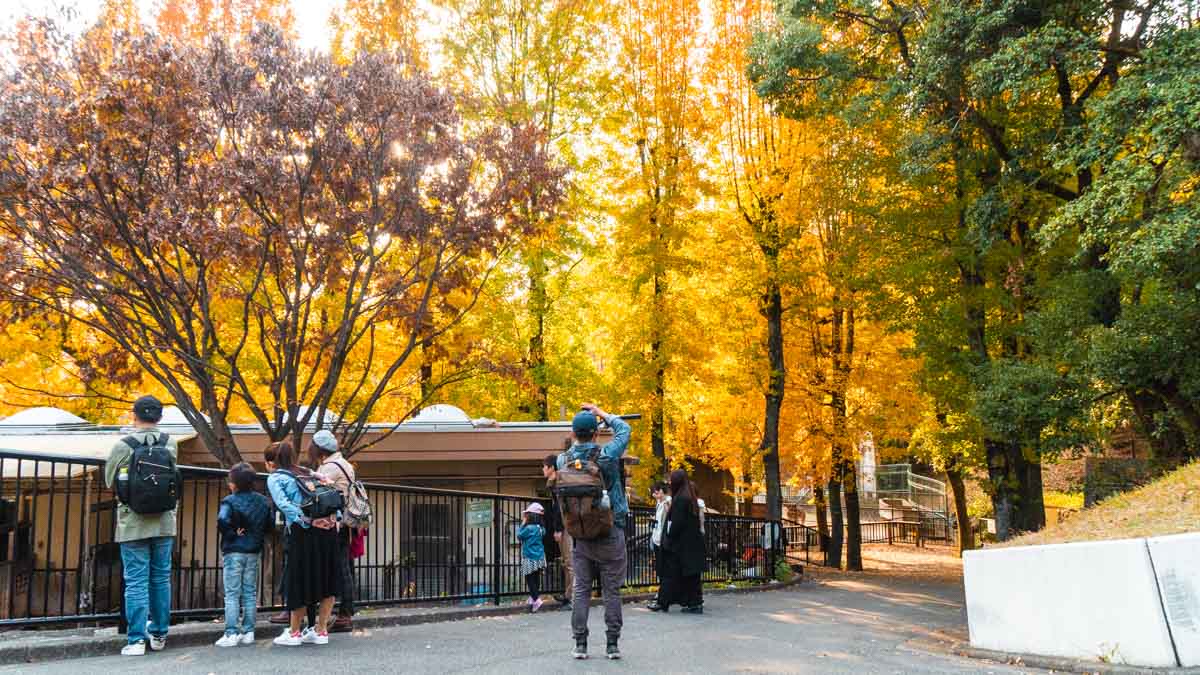 Adjacent to the zoo is the botanical garden that has 2,600 kinds of plants. If you're like us chasing autumn colours in Kyushu, the Fukuoka Zoo & Botanical Garden is a must-visit! At ¥600 for entry to both the zoo and garden, it's a great bargain for Japanese standards!
Entrance Fee: ¥600
Opening Hours: 9AM – 5PM. Closed on Mondays.
Address: 810-0037 Fukuoka-ken, Fukuoka-shi, Chūō-ku, Minamikōen
Dinner at Ichiran Ramen (一蘭)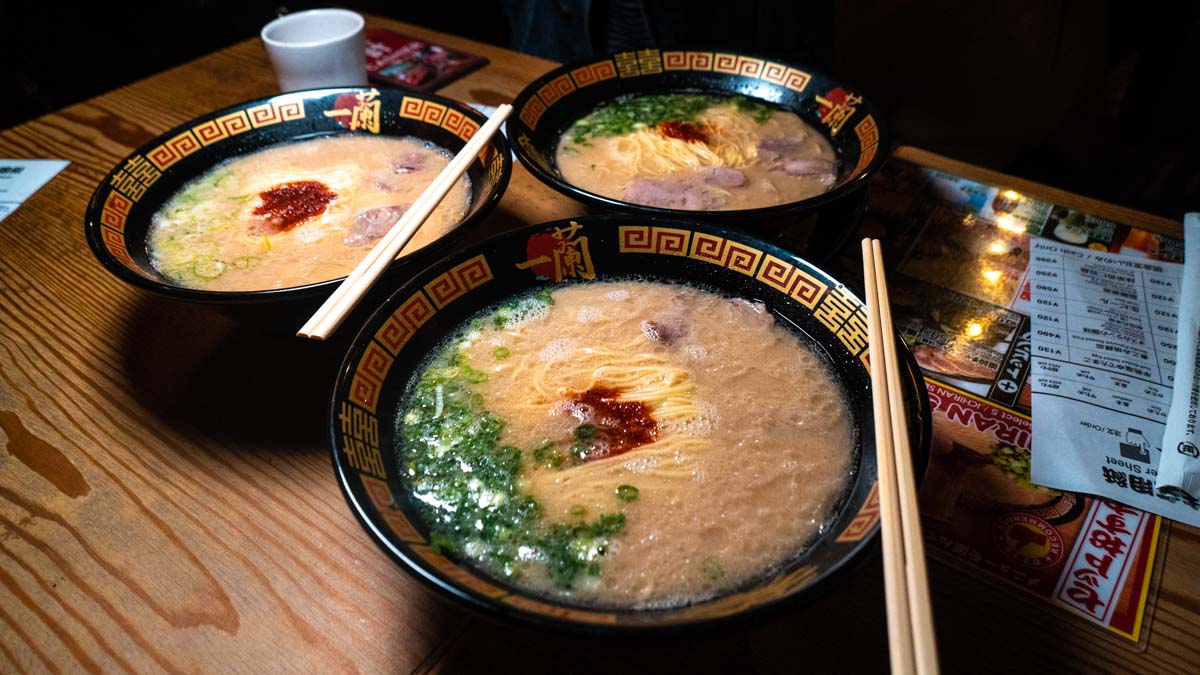 Many may know Ichiran as the popular "anti-social" ramen restaurant thanks to its signature reclusive booths, but back in the 1960s it was more known as a humble ramen stall in Fukuoka.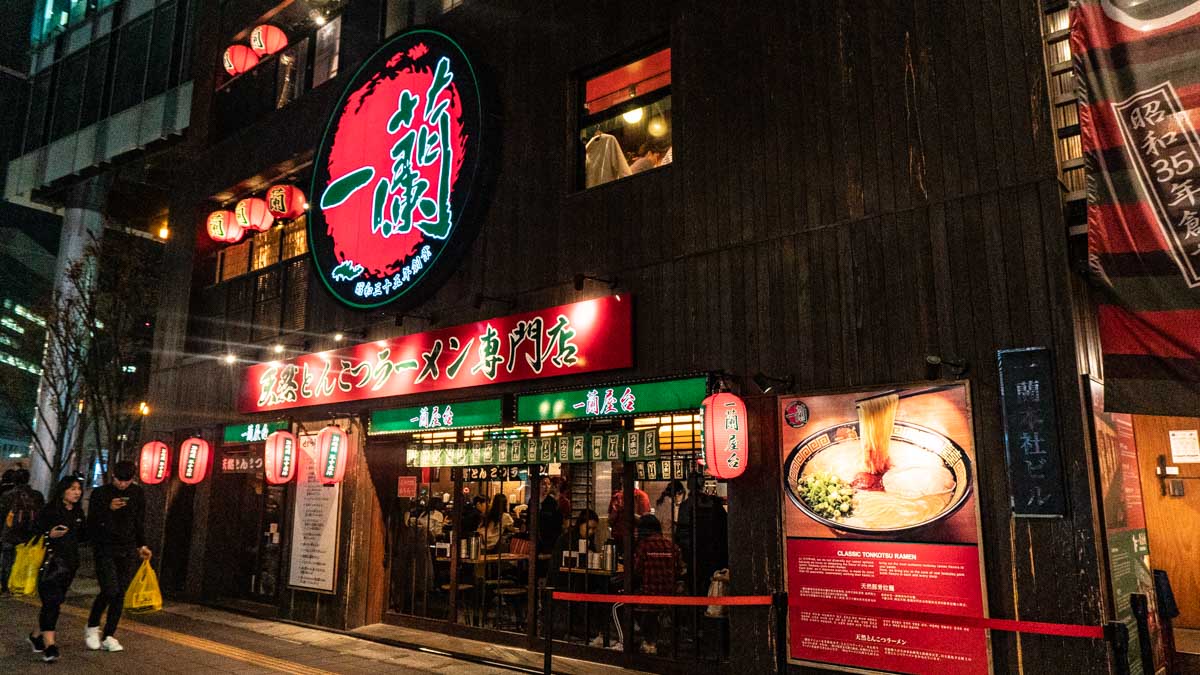 Which is why in its hometown stands the Fukuoka concept store, where besides single dining booths, you can also choose to dine "yatai" style. That means "shop stand (屋台)", referring to a small, mobile roadside food stand commonplace in Fukuoka.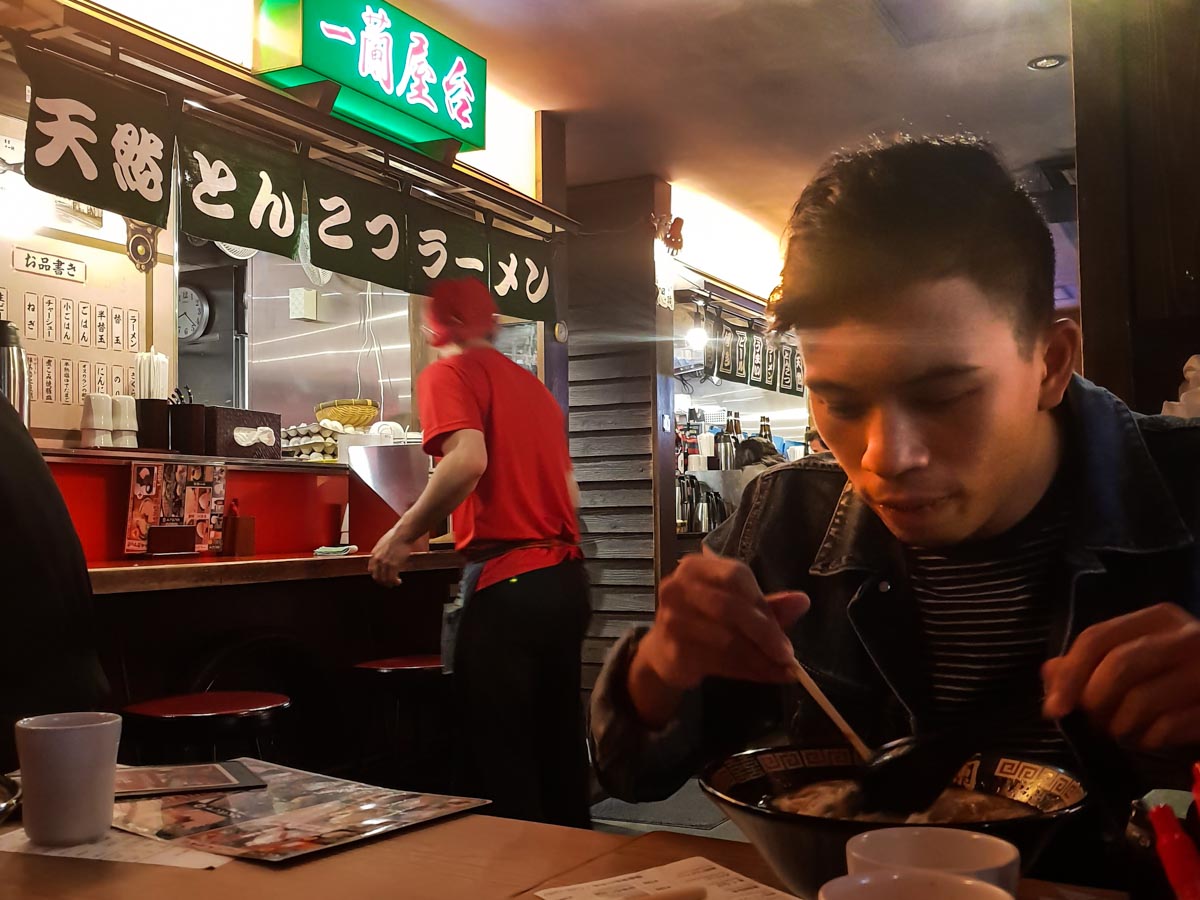 Price: From ¥890
Opening Hours: 24/7
Address: 810-0801, 5-3-2 Nakasu Hakata-ku Fukuoka-shi Fukuoka-ken
Check-in at HOTELS MYSTAYS Fukuoka Tenjin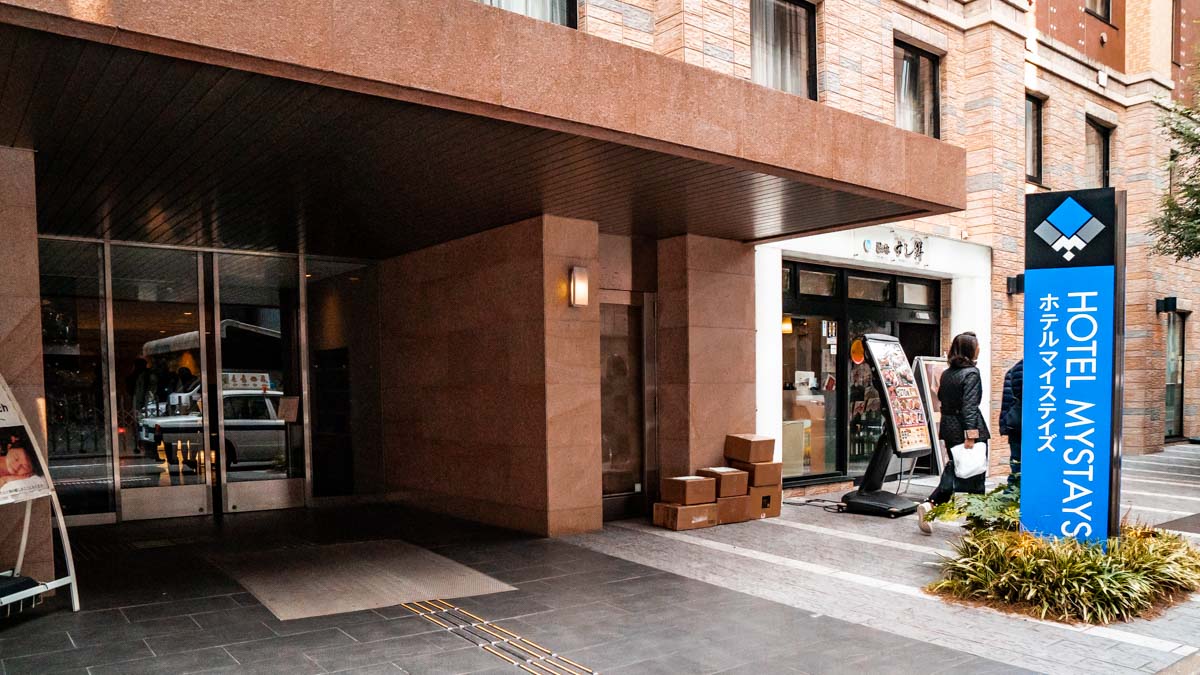 The downtown area of Tenjin (天神) is a good place to base in when travelling around Fukuoka city, and there's everything within walking distance of HOTELS MYSTAYS Fukuoka Tenjin, be it retail shopping, food or necessities.
Look no further than the hotel's main entrance for authentic cuisine to start your day too — the in-house restaurant sells breakfast sets at only at ¥1,300/guest.
Rates: From ¥7,200/night
Address: 3 Chome-5-7 Tenjin, Chūō-ku, Fukuoka-shi, Fukuoka-ken 810-0001, Japan
Day 2: Fukuoka (Hakata) to Kitakyushu (Kokura)
After a hearty breakfast at HOTELS MYSTAYS Tenjin, we headed to Kitakyushu (北九州), 16 minutes away via the Shinkansen Nozomi 44. Do note that shinkansen rides between Hakata and Kokura are not covered by the JR Pass, so separate tickets will be needed.
If you don't mind a longer ride (~40-50mins), there are express trains (slower than shinkansen) that run between Hakata and Kokura that's covered by the All Kyushu JR Pass.
Shimonoseki (下関市)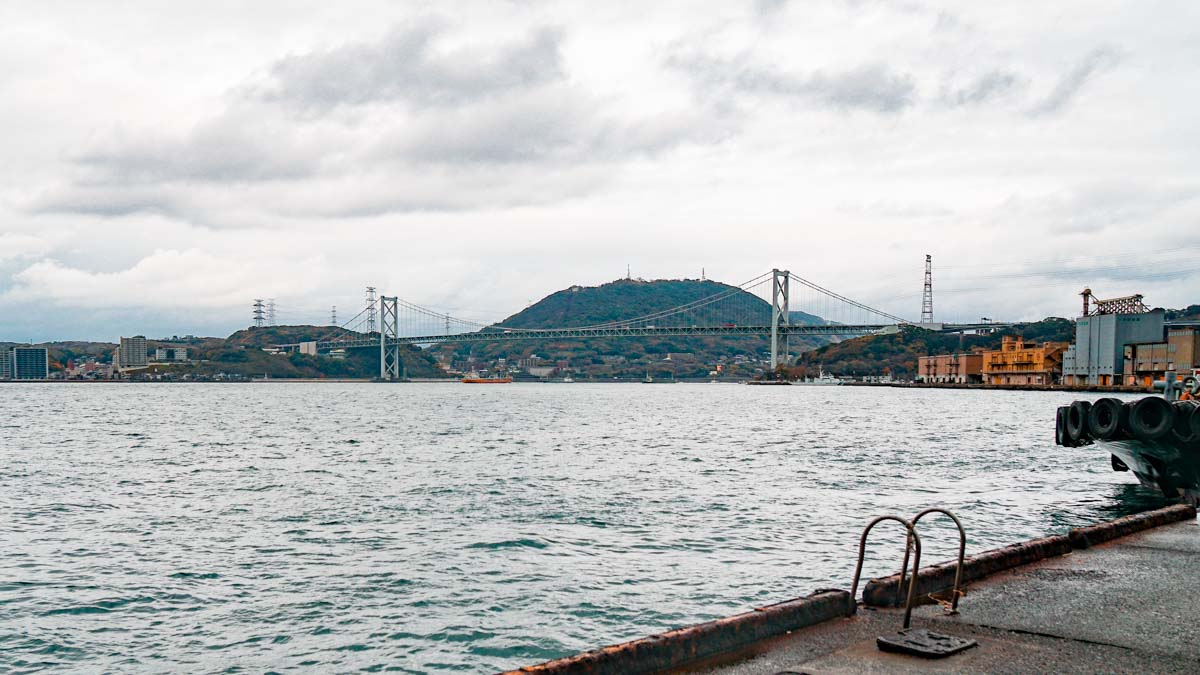 At Kitakyushu, we hopped onto another train to Shimonoseki, the port city best known for its export of the notoriously poisonous pufferfish delicacy, fugu. Overlooking the Kanmon Bridge (関門橋) is the Karato Market (唐戸市場).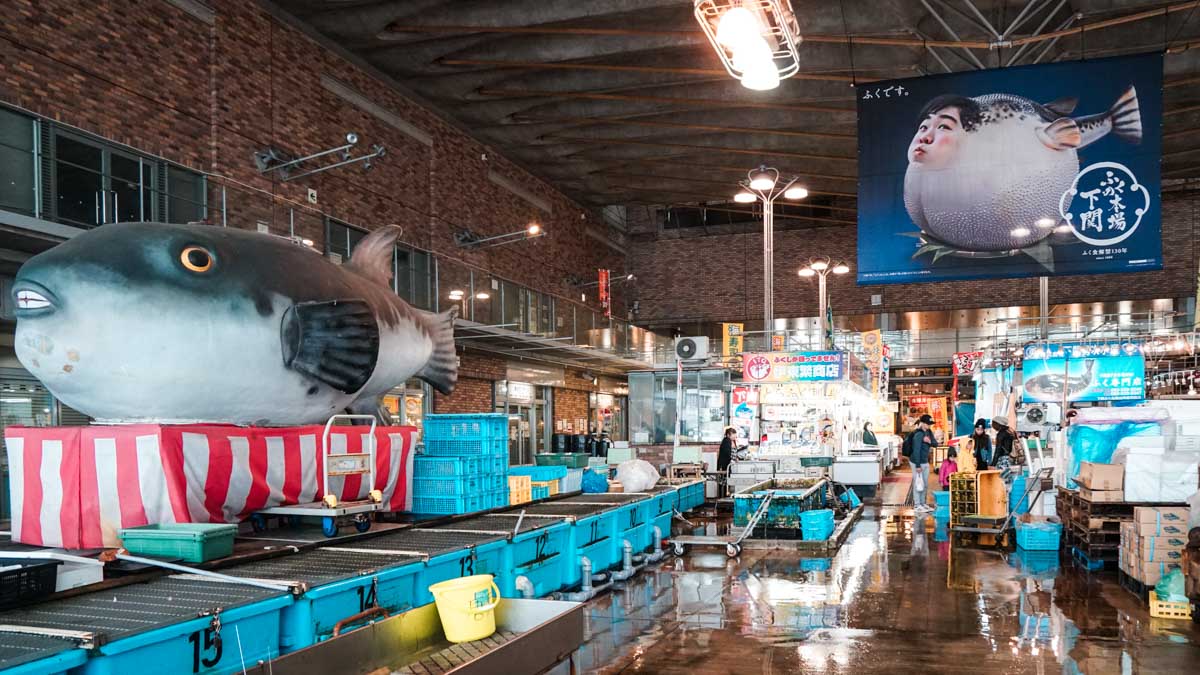 We had lunch in Fukunoseki (ふくの関) that's within the Kamon Wharf. The fugu supply is fresh there, so there's no better place to try it!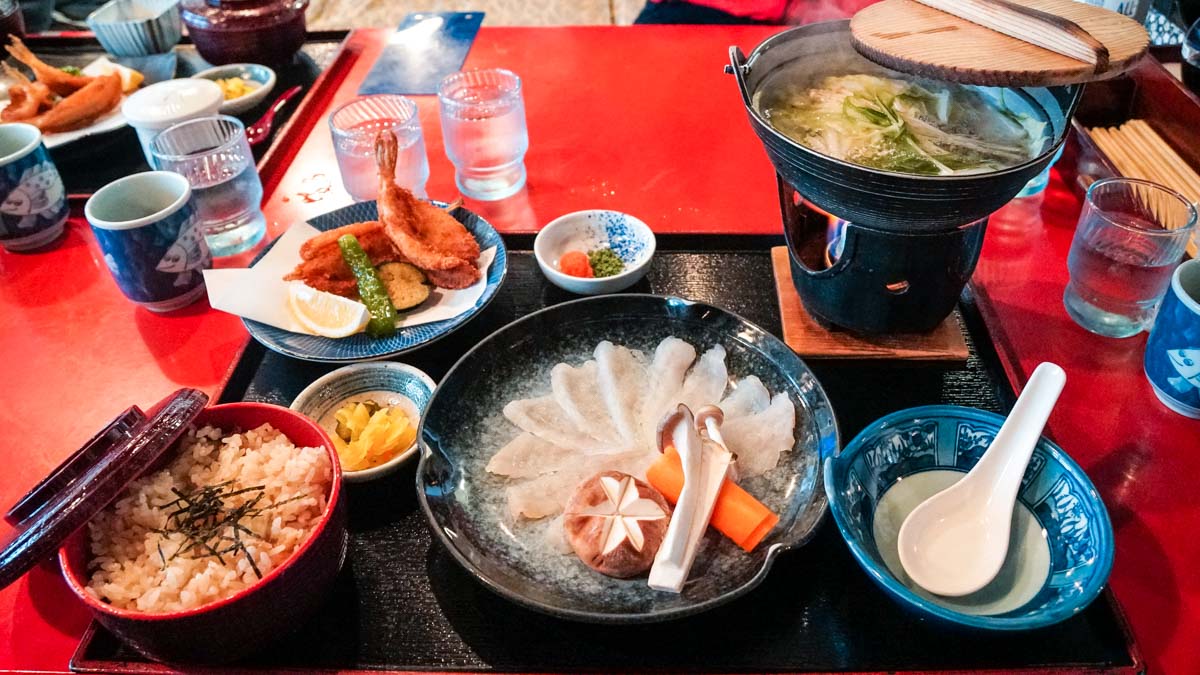 There are several ways one can get to Shimonoseki from Kitakyushu — by car, train, or ferry (¥400).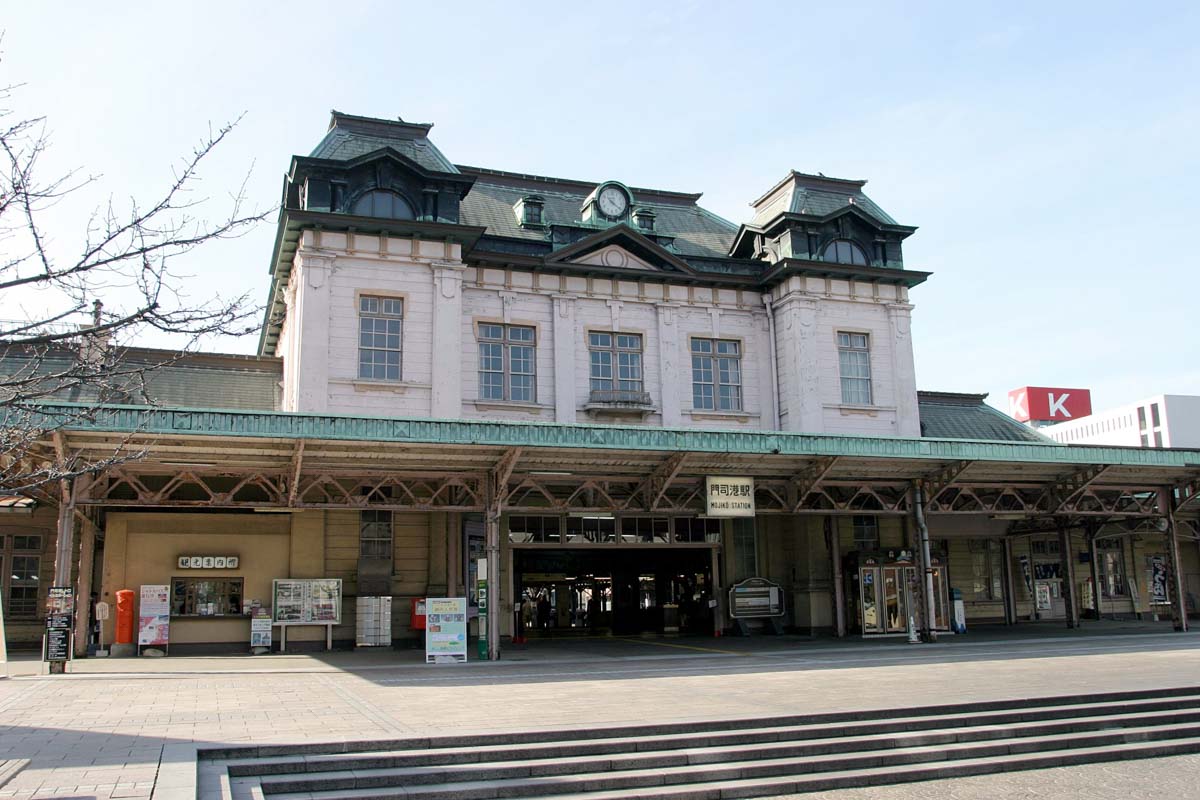 A short walk away from the ferry terminal is the Mojikō Station (門司港駅), the oldest station on the Kagoshima Line built in 1914. Today, the vintage Neo-Renaissance building is an attraction itself. From there, we took a train back to Kitakyushu (Kokura).
Kokura Castle (小倉城)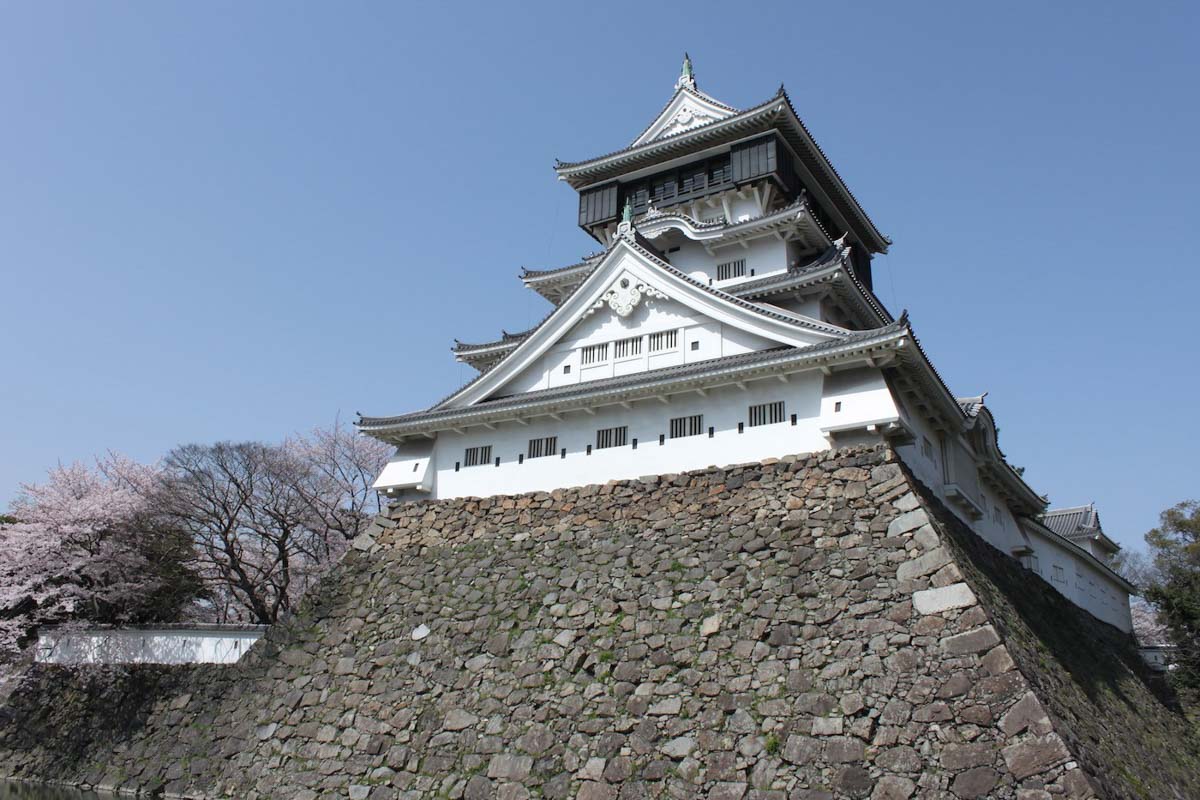 The only castle left standing in Fukuoka Prefecture is the Kokura Castle, so if you're not venturing beyond north Kyushu, the only chance of seeing an ancient Japanese castle is in Kitakyushu.
Entrance Fee: ¥300
Opening Hours: 9AM – 6PM
Address: 2-1 Jōnai, Kokurakita-ku, Kitakyūshū-shi, Fukuoka-ken 803-0813, Japan
Dinner at Otokomeshi Onnameshi (男飯 女飯)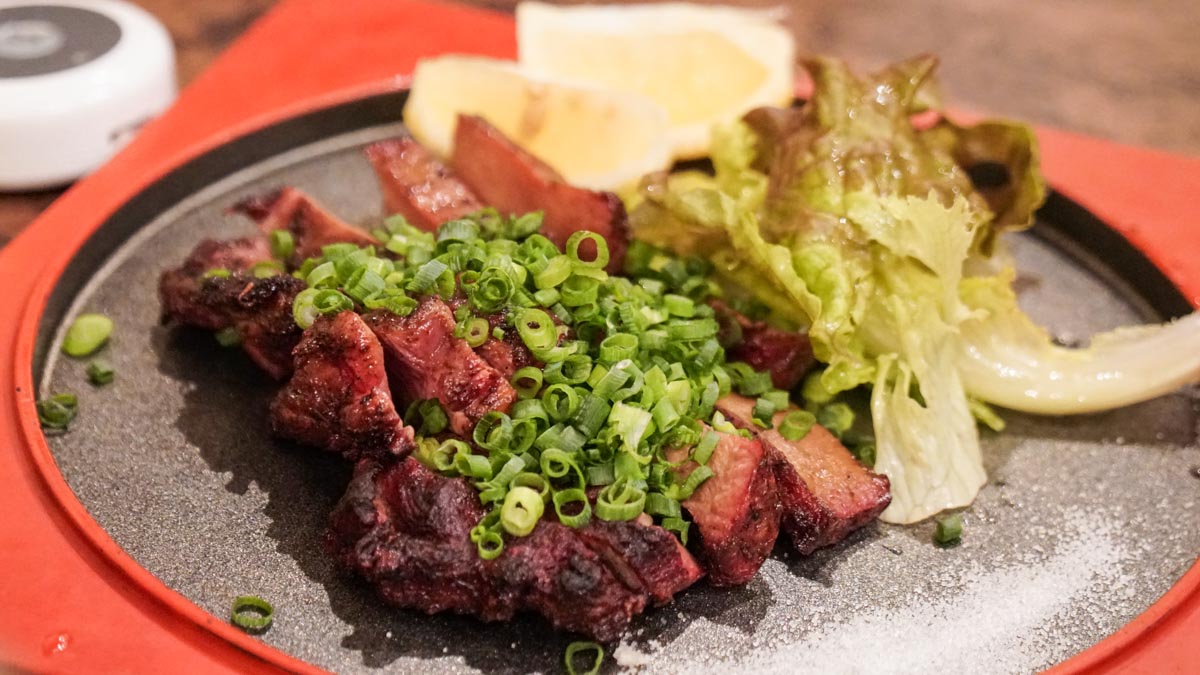 The Uomachi area around Kokura station is lined with eateries but we recommend Otokomeshi Onnameshi (男飯 女飯) if you're looking for an authentic yet affordable option. Almost every dish costs only ¥390, and this restaurant prides itself in providing affordable meals for the masses even if it means getting a negative profit at the end of the day.
Cost: ¥390 (small dish), ¥780 (big dish)
Opening Hours: 5:30PM – 1AM
Address: 2 Chome-3 Uomachi, Kokurakita-ku, Kitakyūshū-shi, Fukuoka-ken 802-0006, Japan
Check-in to ART HOTEL Kokura New Tagawa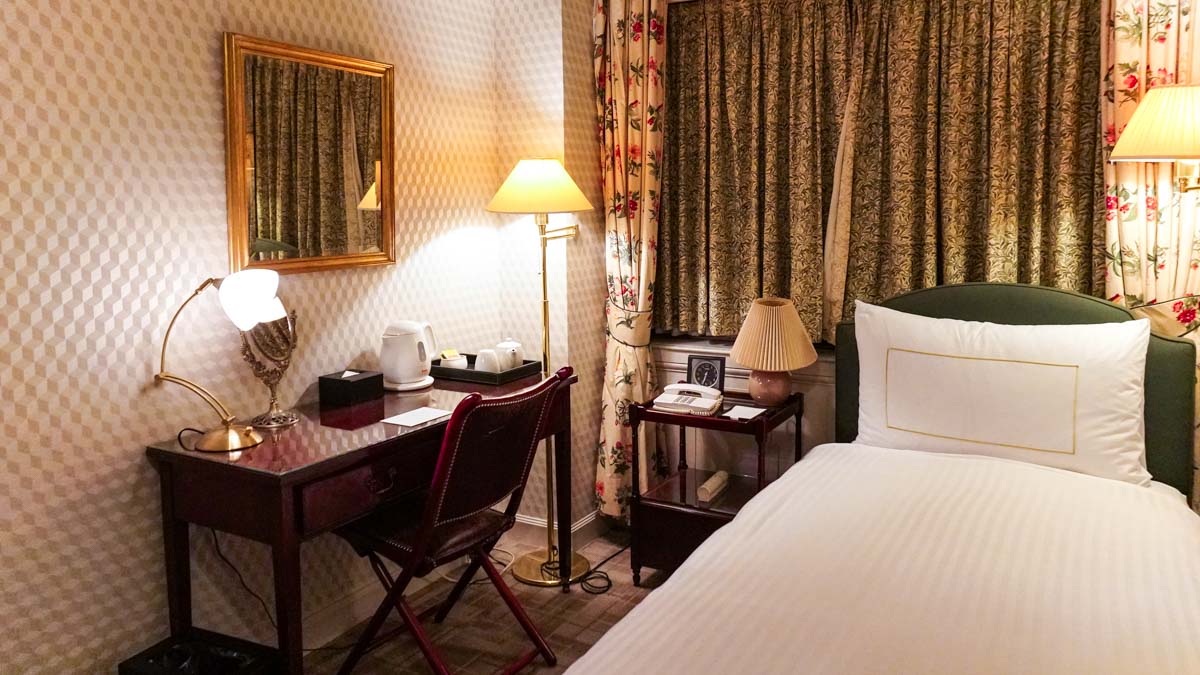 We checked in to ART HOTEL Kokura New Tagawa in Kitakyushu, a newly re-branded hotel that has rooms in both Western and oriental Japanese styles.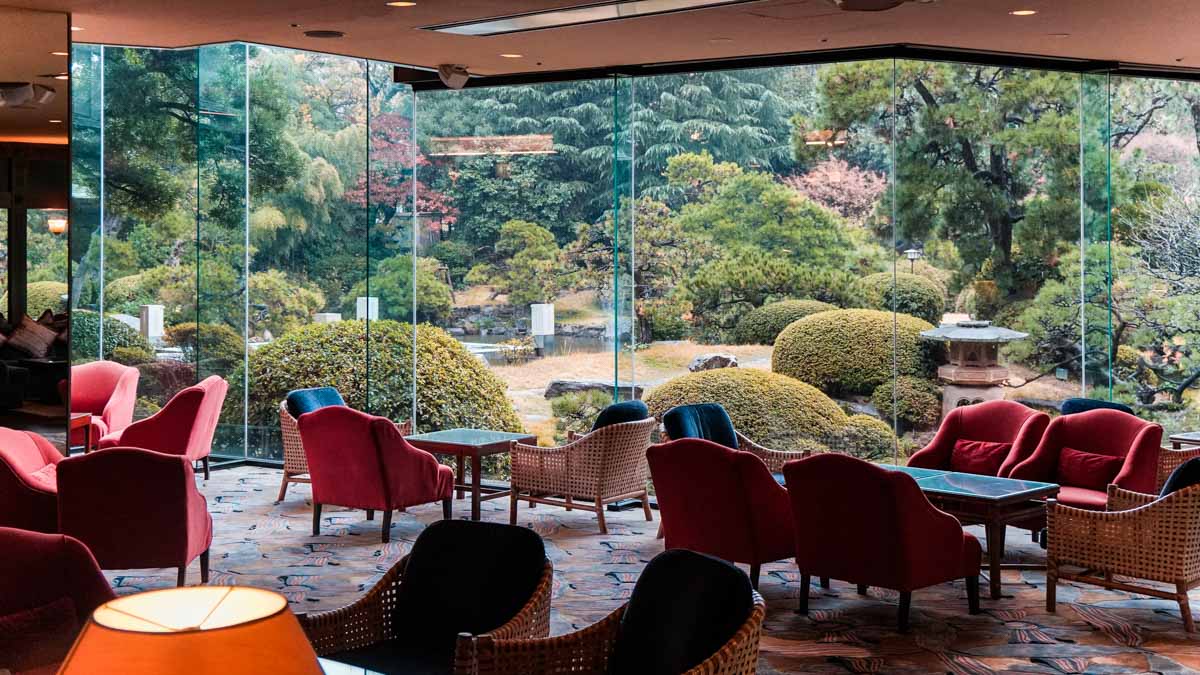 This hotel is also a favourite among locals for weddings and banquets, thanks to its historic architecture and Japanese gardens built during the Meiji Era.
Rates: From ¥6,900/night
Address: 3-46 Furusemba-machi, 3 Furusenbamachi, Kokurakita-ku, Kitakyūshū-shi, Fukuoka-ken 802-0082, Japan
Day 3: Kitakyushu – Yufuin – Beppu
Tanga Ichiba Market (旦過市場) at Kokura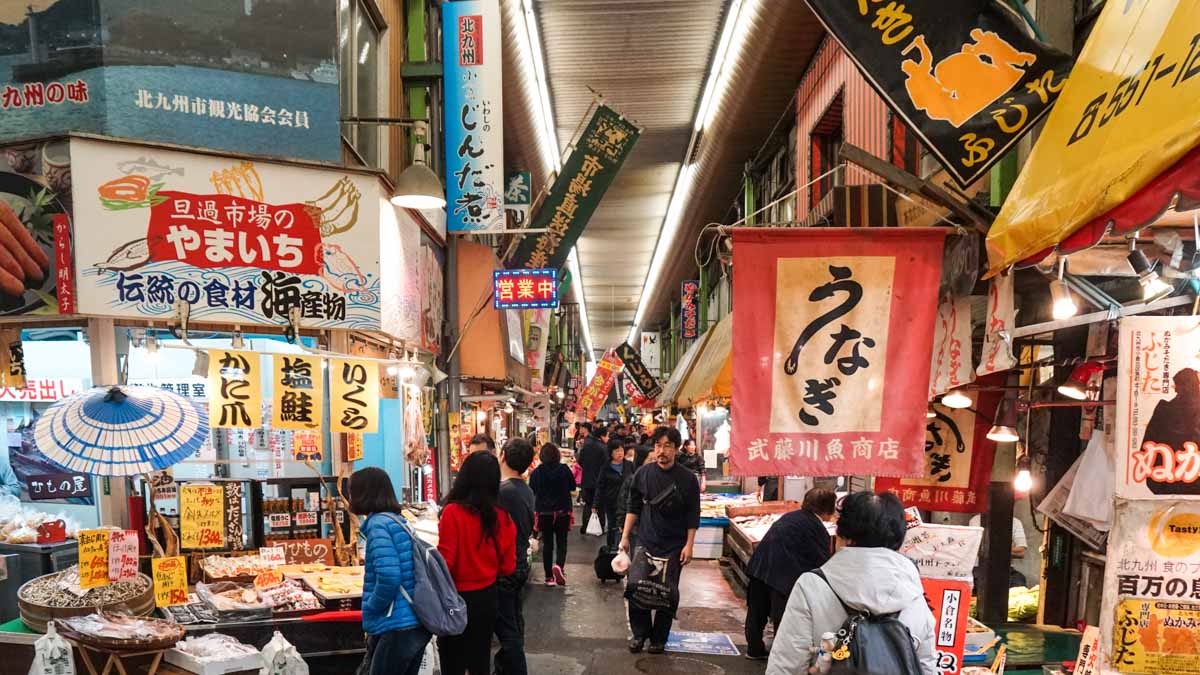 Most Kitakyushu residents do their daily grocery shopping at Tanga Ichiba Market, but this narrow little street is also loved by visitors scouring for affordable local delights. Expect to find Kitakyushu specialties such as karashi mentaiko (辛子明太子, spicy salted roe) and nukadaki (ぬか炊き, fish simmered in miso).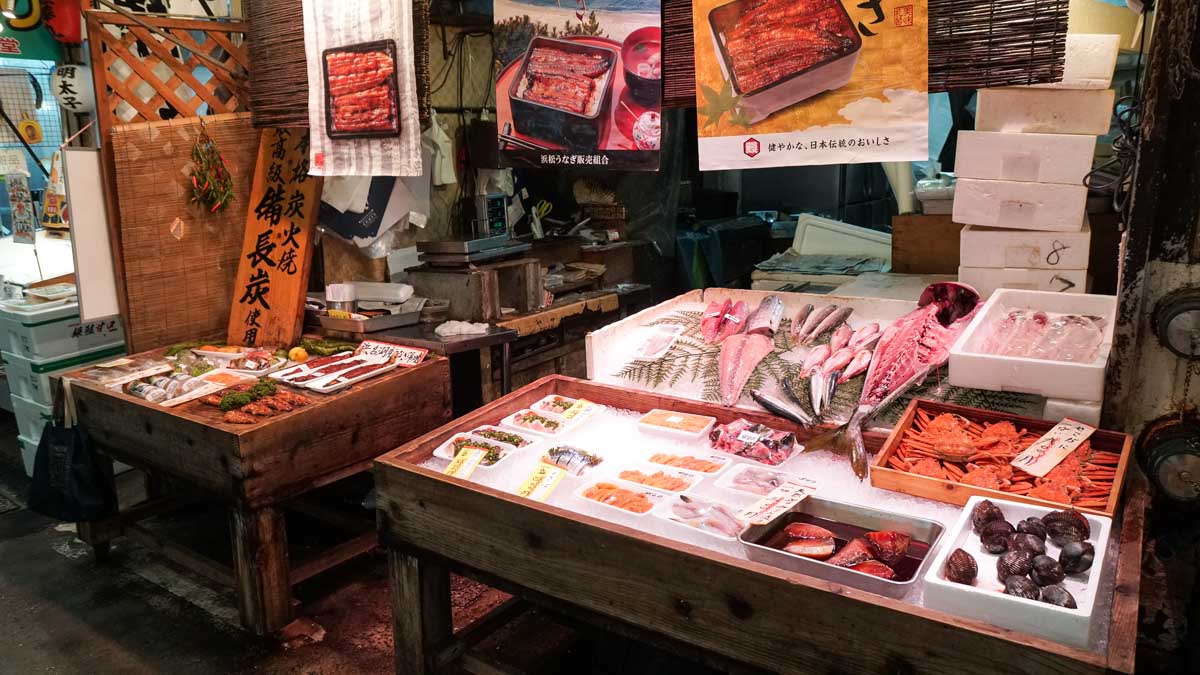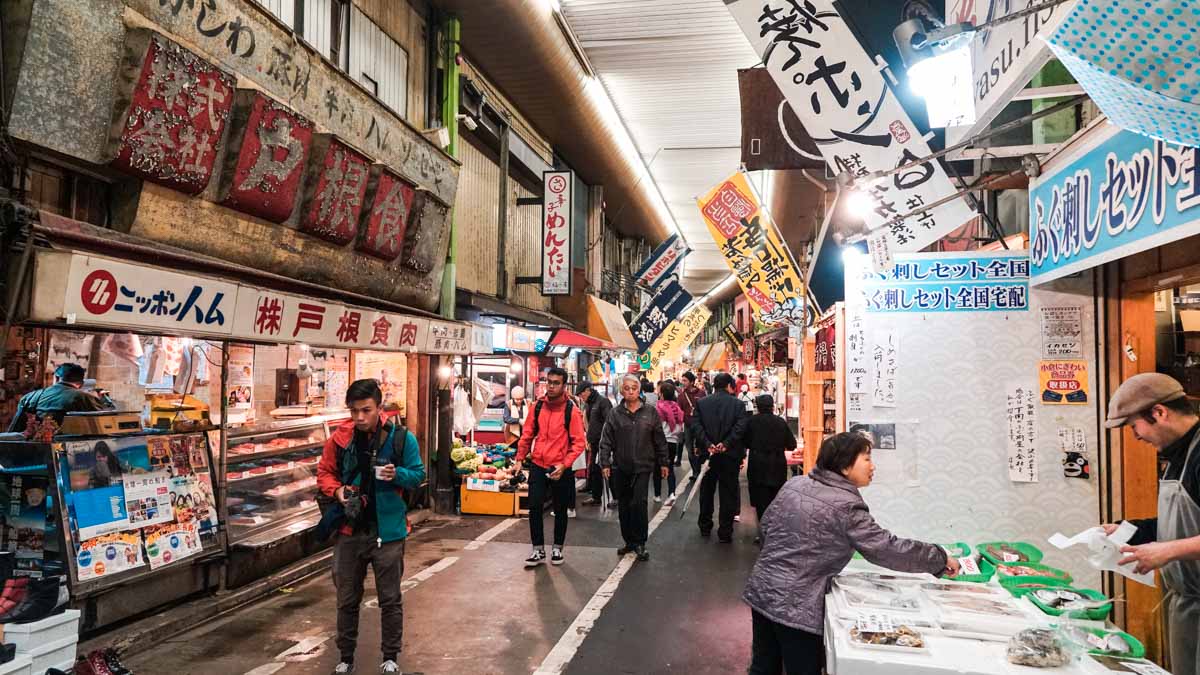 Opening Hours: 10AM – 6PM
Address: 4-2-18 Uomachi, Kokurakita Ward, Kitakyushu, Fukuoka Prefecture 802-0006, Japan
Yufuin (由布院)
From Kitakyushu, we proceeded to the quaint town of Yufuin through the Ltd Exp Sonic 33 train via Oita. Yufuin is a popular hot spring resort surrounded by Mount Yufu. The main street is lined with cafes, boutiques and small museums.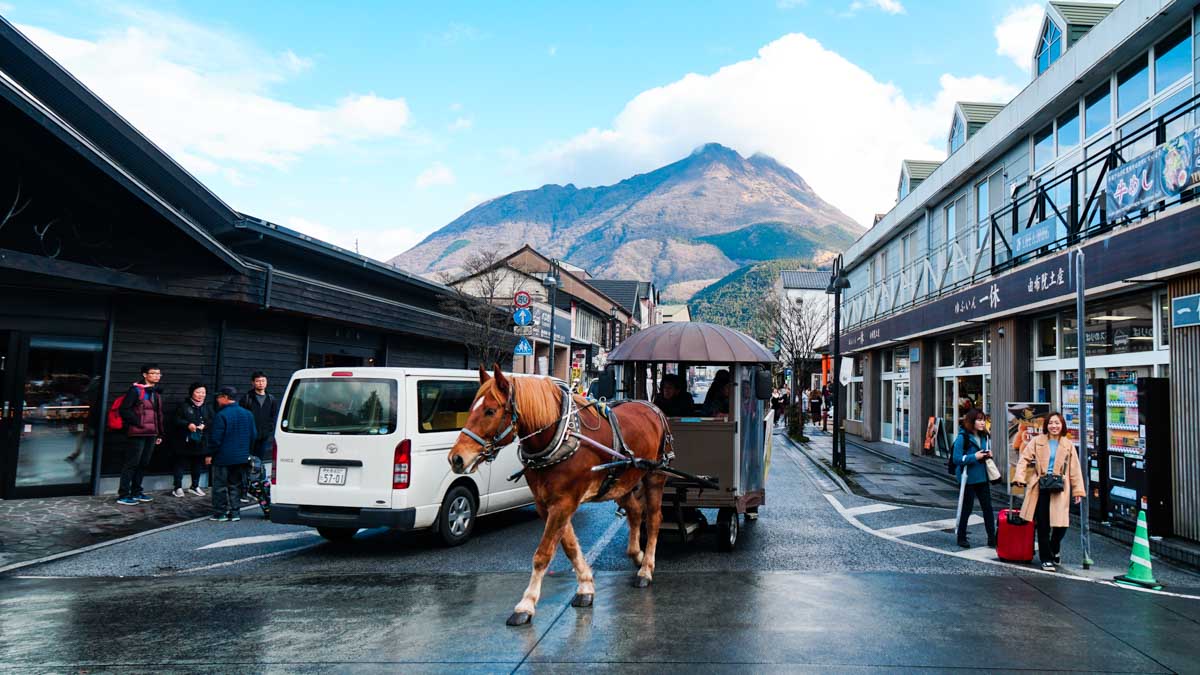 Kinrinko Lake (金鱗湖)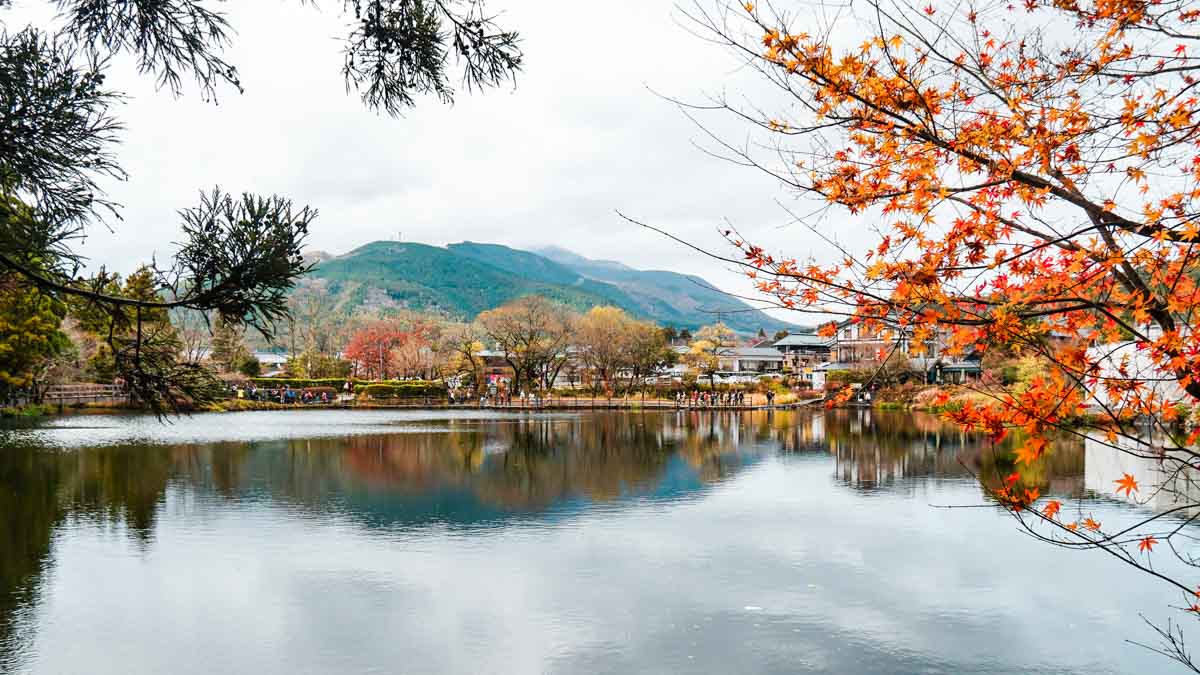 A short cab ride from the Yufuin station is Kinrinko Lake, also known as the "Golden Fish Scales Lake". The lake is the most spectacular in the early mornings when mist clouds over the surface of the lake due to the hot spring and regular spring water from the bottom of the lake mixing. The maple trees were beautiful in orange and red when we visited in autumn.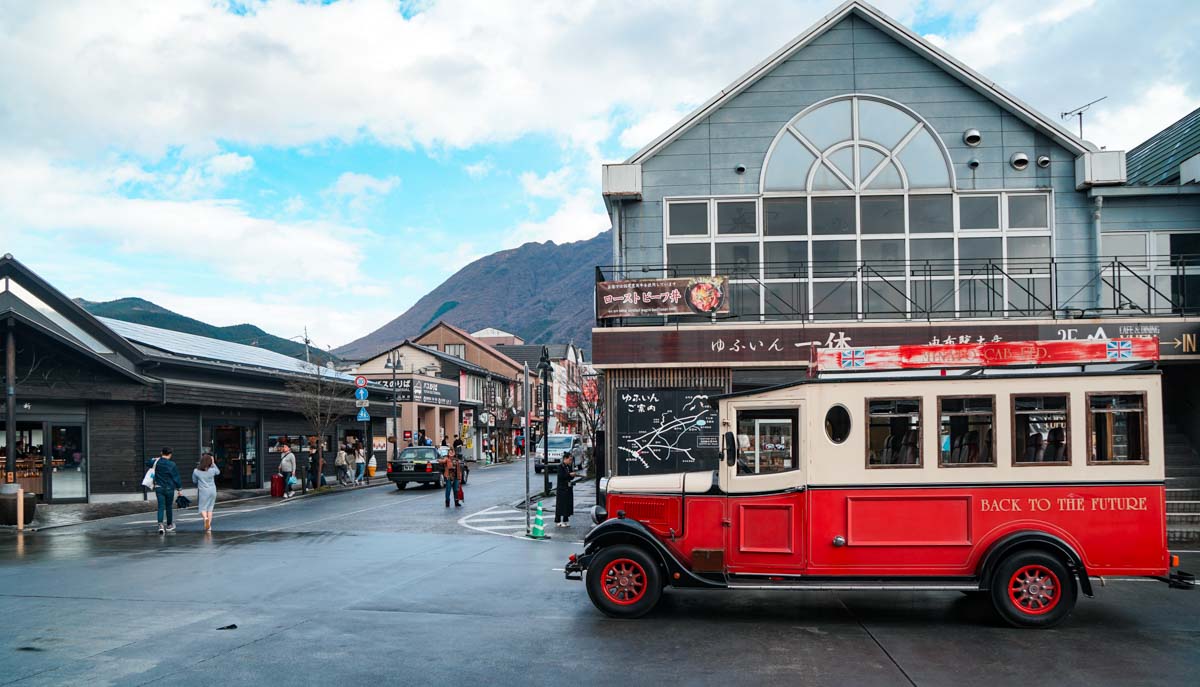 Yufuin may be a small town in comparison to bigger hot spring resort towns such as Beppu, but if you're thinking to explore Yufuin by walking, it could take you up to a day.
There are alternative ways to exploring Yufuin, like renting bicycles, on a horse carriage, or on a sightseeing bus. Do check for the availability of those transport choices at the tourist information centre (YUFUiNFO) located next to the train station upon arrival!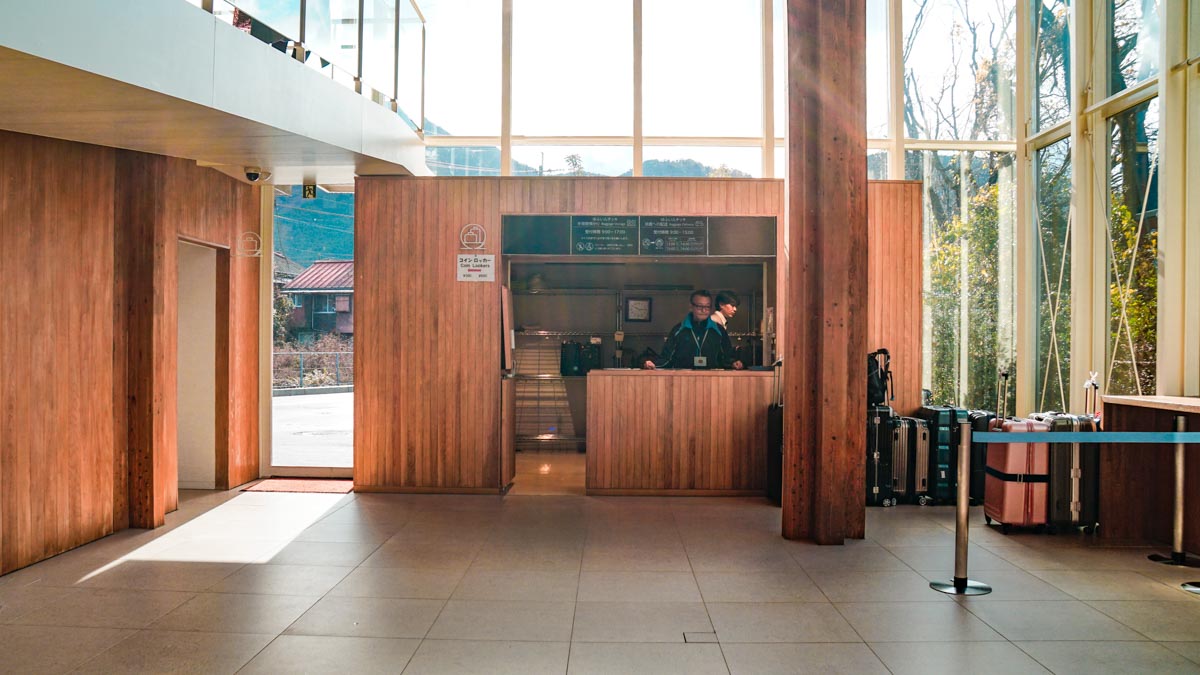 *Pro-tip: You can deposit your baggage at the YUFUiNFO Centre from ¥300 between 9AM – 5PM.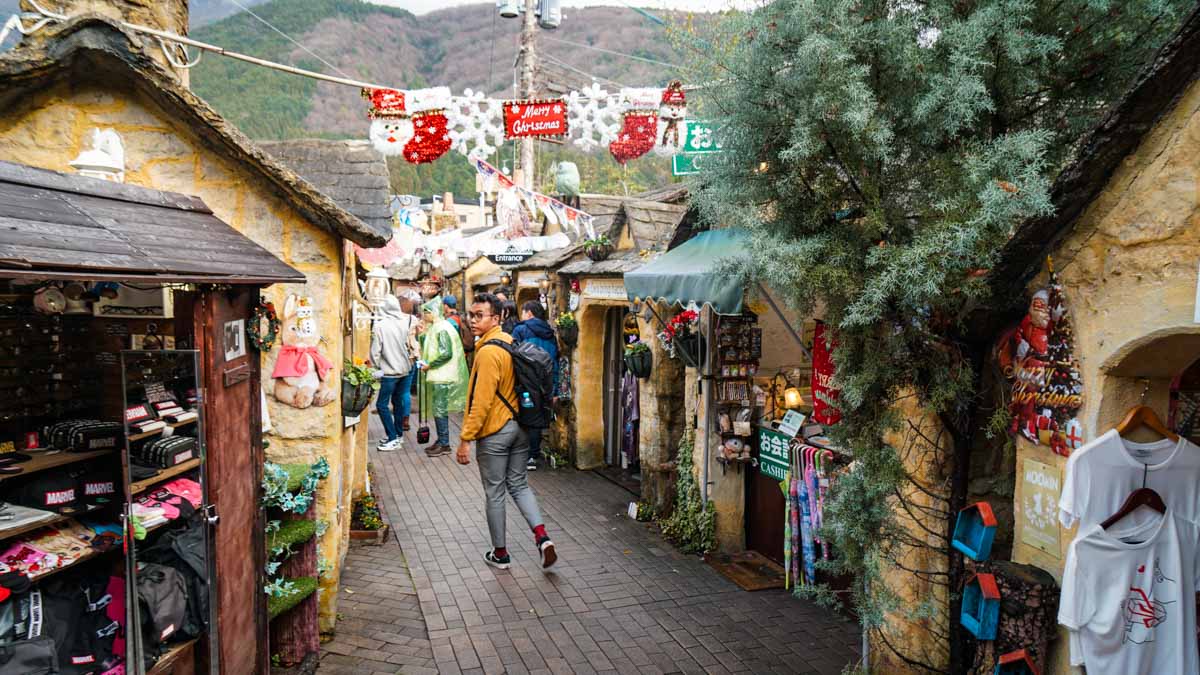 One of the most photographed places in Yufuin is the Yufuin Floral Village that's inspired by south-central England's Cotswolds.
Address: 1503-3 Kawakami Yufuincho, Yufu 879-5102, Oita Prefecture
Opening Hours: 9:30AM – 5:30PM
Onwards to Beppu (別府市)
There's no better place to experience hot springs and onsens than in Beppu, the "home of hot springs".
Check-in to Beppu Kamenoi Hotel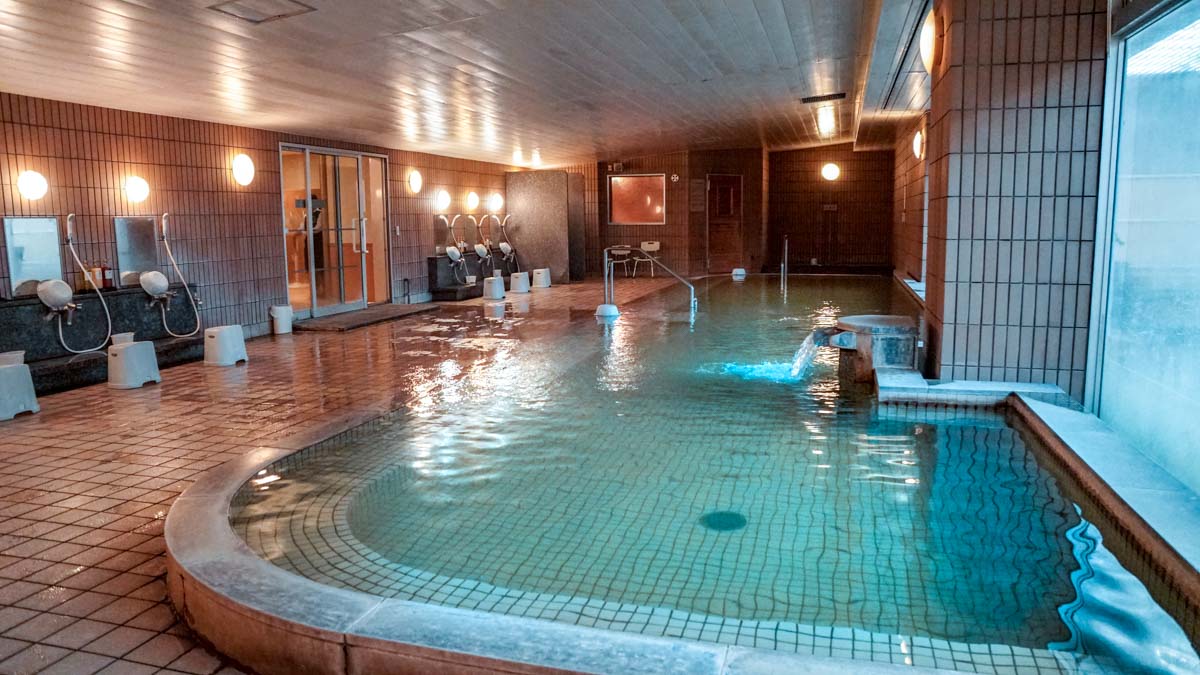 Almost every hotel in Beppu has onsen facilities, and we stayed at Beppu Kamenoi Hotel that's within walking distance from Beppu train station.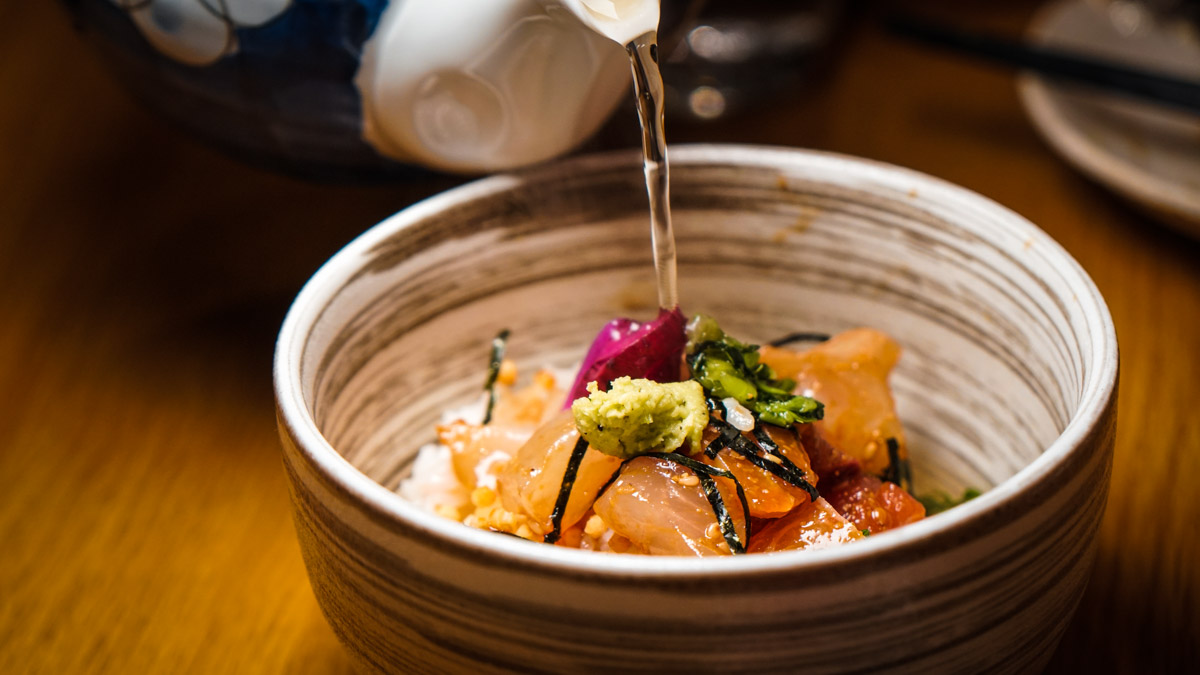 There's also an in-house restaurant that serves up delicious Toriten (Oita-style fried chicken) and Ochakuze (hot green tea over rice, seaweed, vegetables and tofu).
Rates: From ¥4,300/night
Address: 5-17 Chūōmachi, Beppu-shi, Ōita-ken 874-0936, Japan
Day 4: Beppu – Kagoshima (via Kokura & Kumamoto)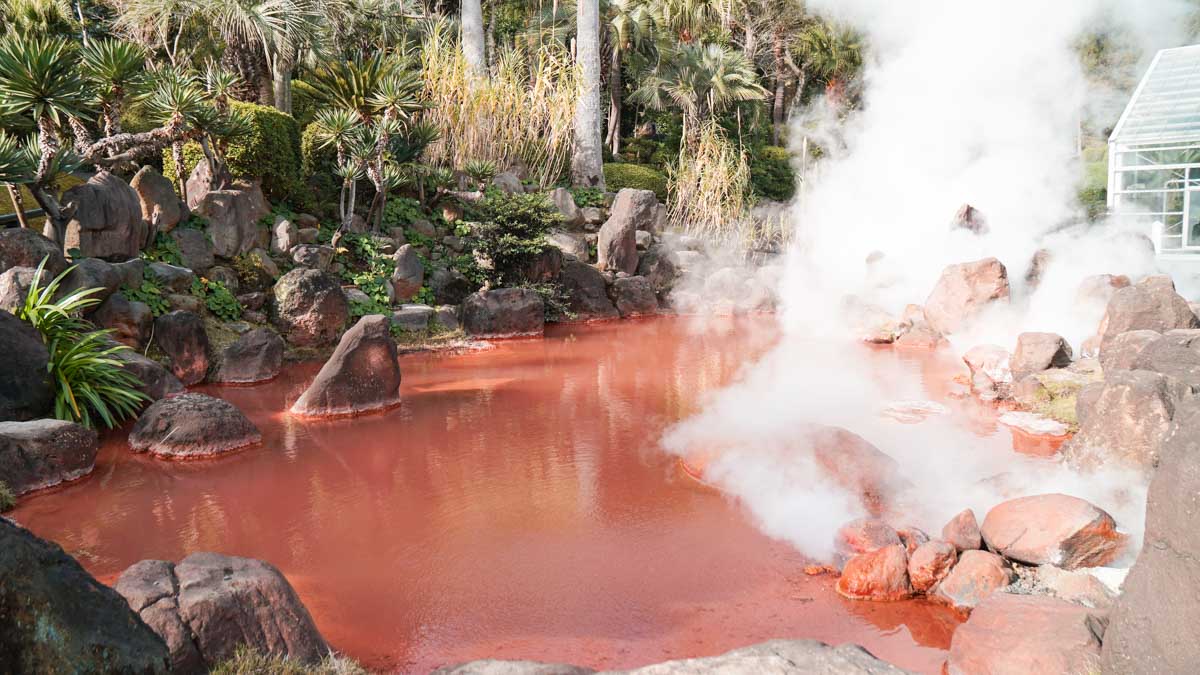 The most famous attraction in Beppu is undeniably the "Hells of Beppu" — natural hot springs found around the Kanawa and Shibaseki districts.
There are eight hot springs in all, but they're not in the same place. We recommend just getting a ticket to the Umi Jigoku compound which contains three of the eight hot springs, including the red "Blood Pond Hell (赤池)" and cobalt blue "Sea Hell (海地獄)", which are the most visually impressive of the lot.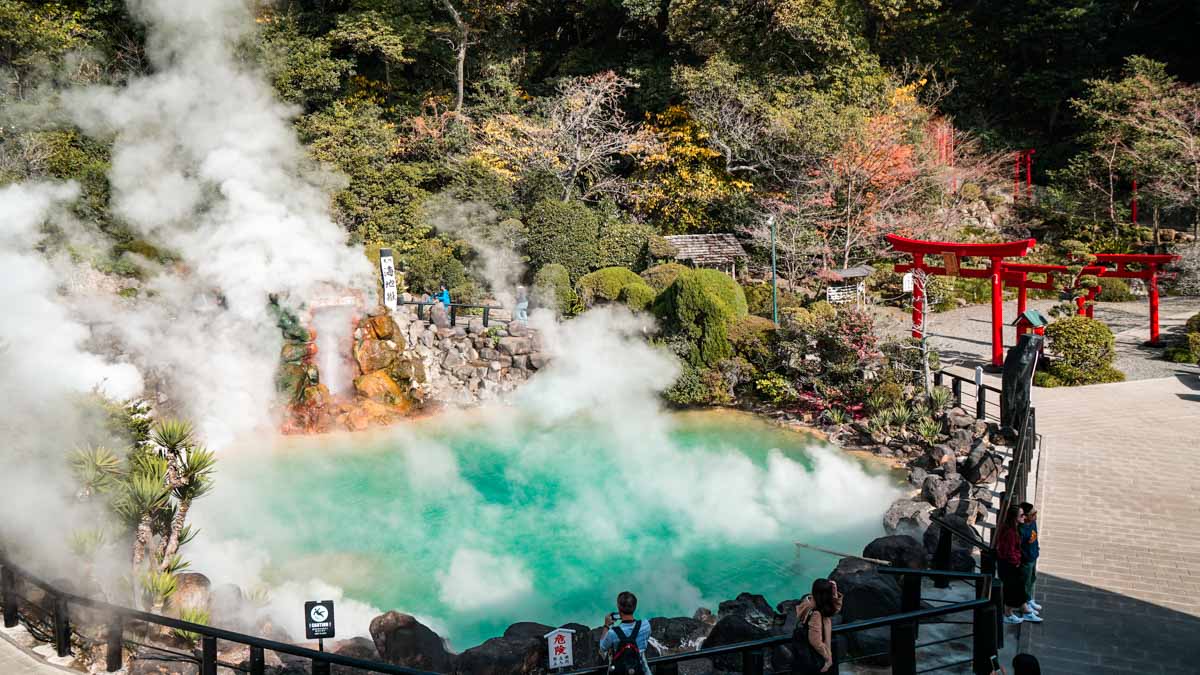 These hot springs are disappointingly thankfully only for viewing and not dipping as they range from 78–98°C. Besides taking out-of-the-world pictures, another way to feel more involved is to buy the hell-steamed custard pudding.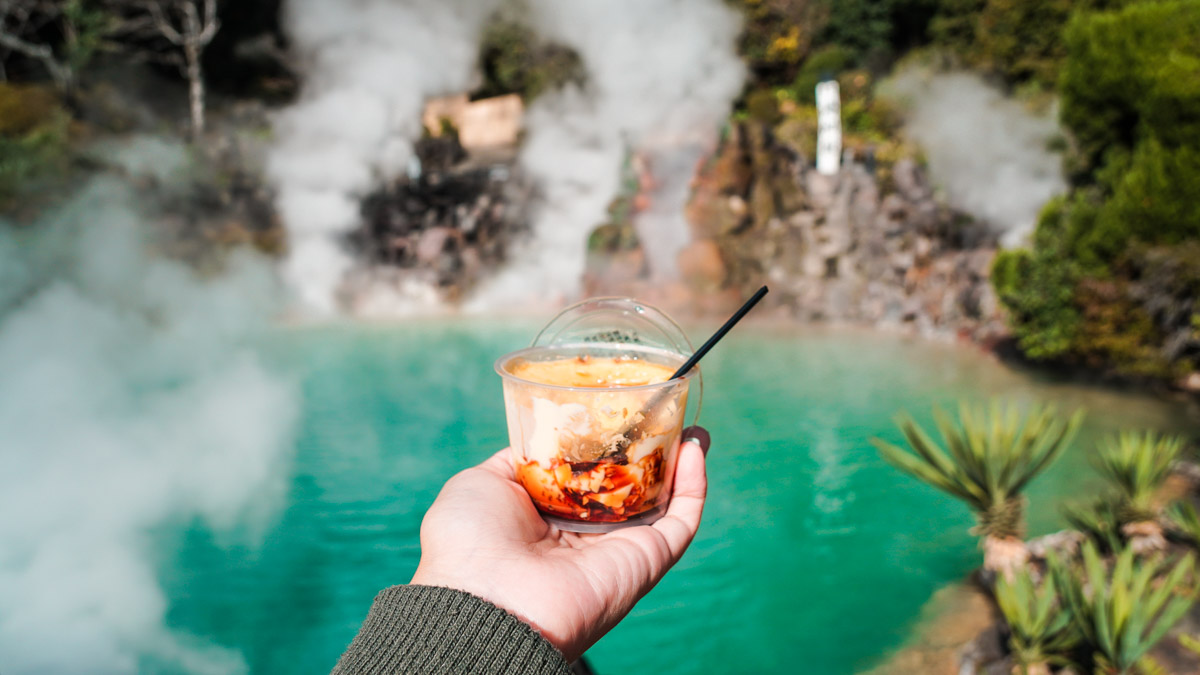 So please, when in Beppu, go to hells.
Entrance Fee: ¥400 (Umi Jigoku only)
Opening Hours: 8AM – 5PM
Address: 559-1 Kannawa, Beppu, Ōita Prefecture 874-0000, Japan
Beppu Sand Bath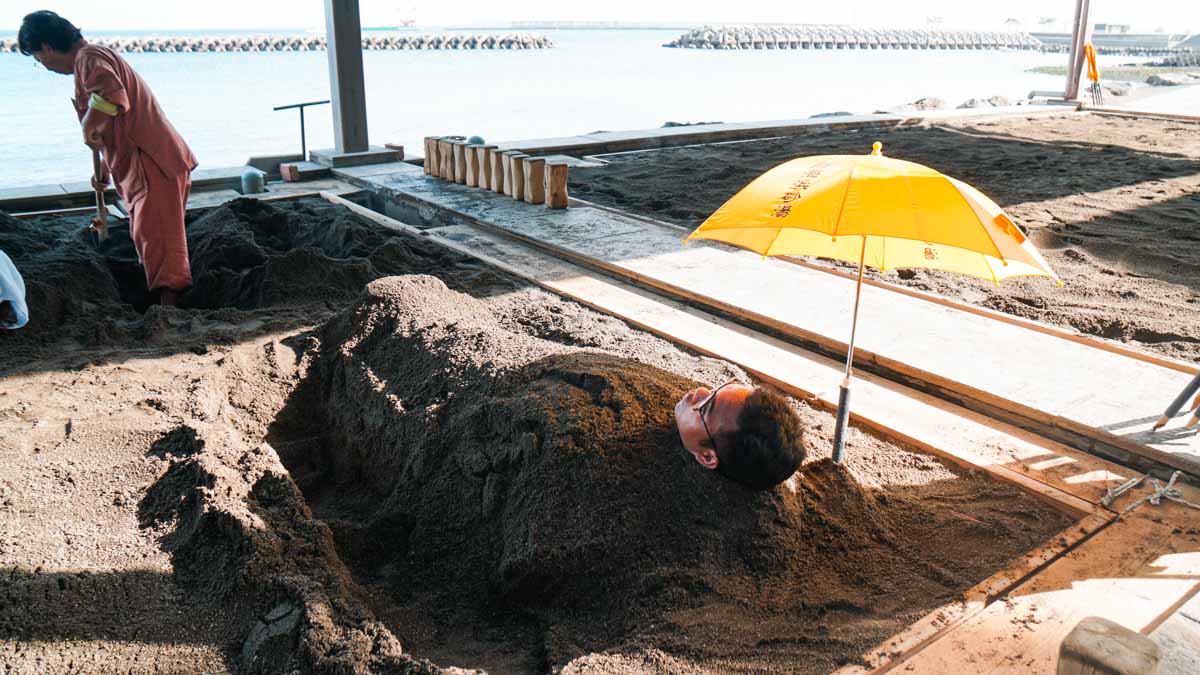 Being buried is a scary yet oddly therapeutic experience. Before this turns morbid, I'm really just referring to the sand bath experience in Beppu. The naturally heated volcanic sand supposedly alleviates body aches and improves blood circulation. If you're claustrophobic, the anxiety you get beneath the sand is real, but soon you'll find yourself relaxing under the weight of the sand instead.
Entrance Fee: ¥1,030
Opening Hours: 9AM – 5PM. Closed fourth Wednesday every month.
Address: 9 Shoningahamacho, Beppu, Ōita Prefecture 874-0023, Japan
*Pro-tip: Bring your own towel and save ¥350 from buying new towels at the sand bath.
Scenic train rides to Kagoshima (via Kumamoto)
After filling our tum-tums at Mekiki-no Ginji, we hopped onto an express train towards Kokura where we made another transfer towards Kagoshima (鹿児島) at Kumamoto.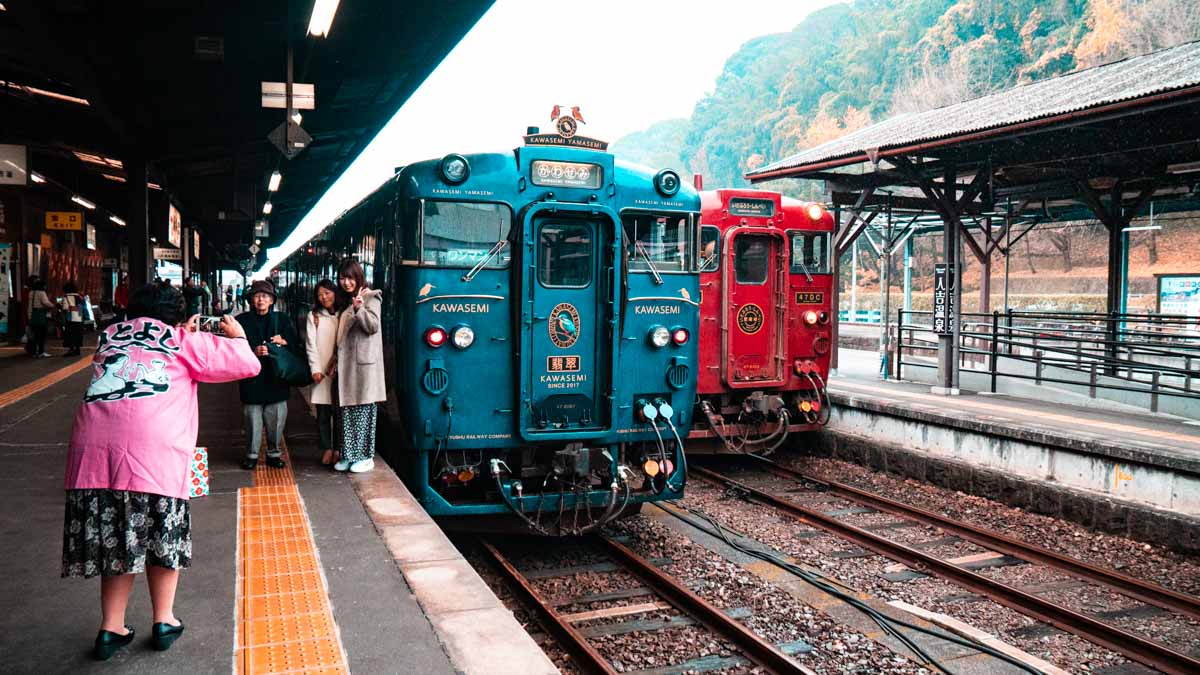 For the southwards route, we took three nostalgic scenic trains:
1. Kawasemi (Kumamoto to Hitoyoshi)
2. Isaburo Shinpei (Hitoyoshi to Yoshimatsu)
3. Hayato no Kaze (Yoshimatsu to Kagoshima-chuo)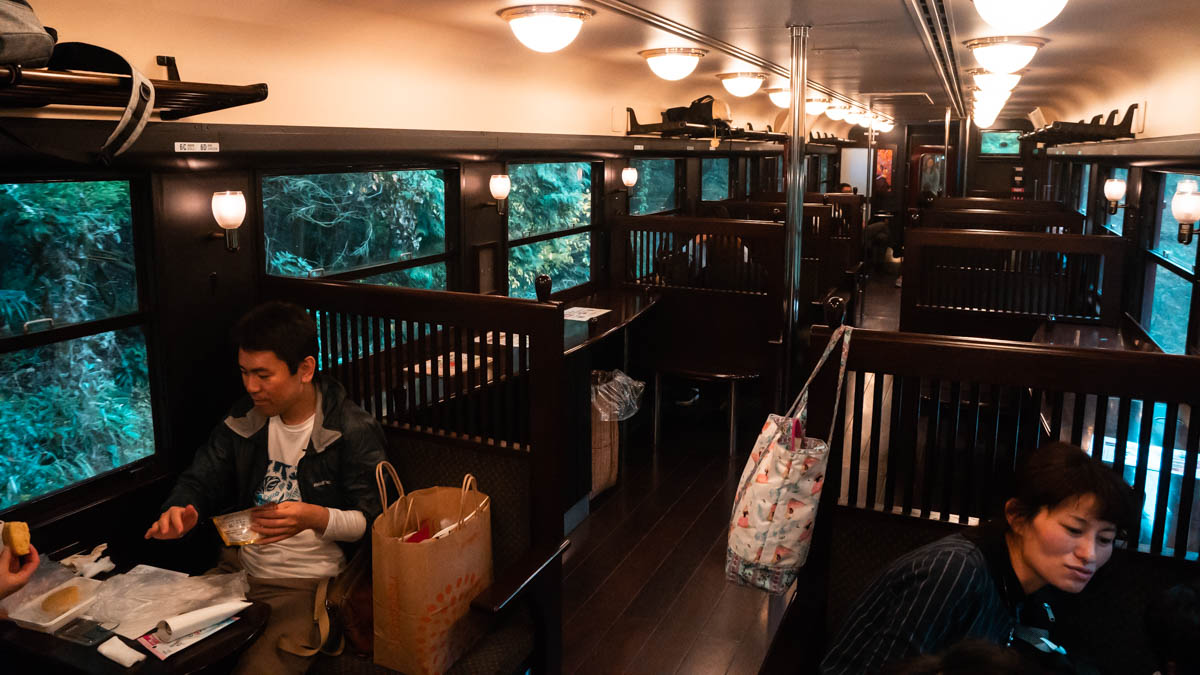 All three trains require prior seat reservation with the JR Pass, and they're very limited so make your reservations early! The train masters will make stops at a couple of smaller stations in between for passengers to get off for photo opportunities. One such stop is the Masaki Station (真幸駅) that was built in 1911.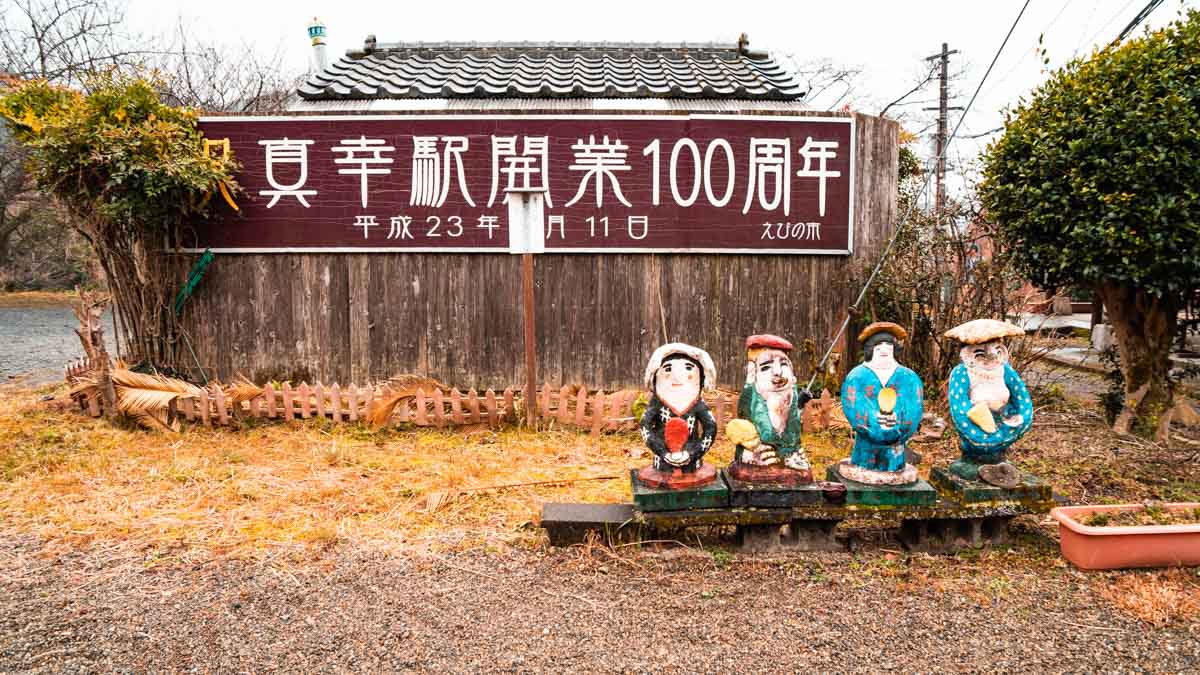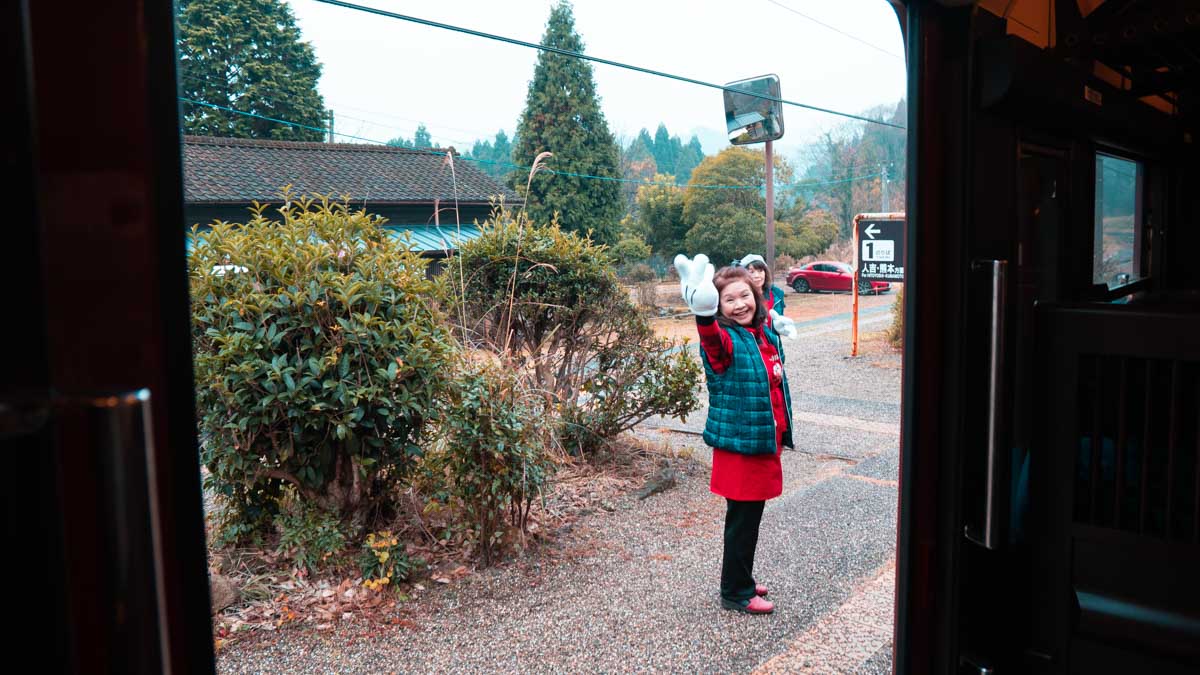 Check-in to HOTEL MYSTAYS Kagoshima Tenmonkan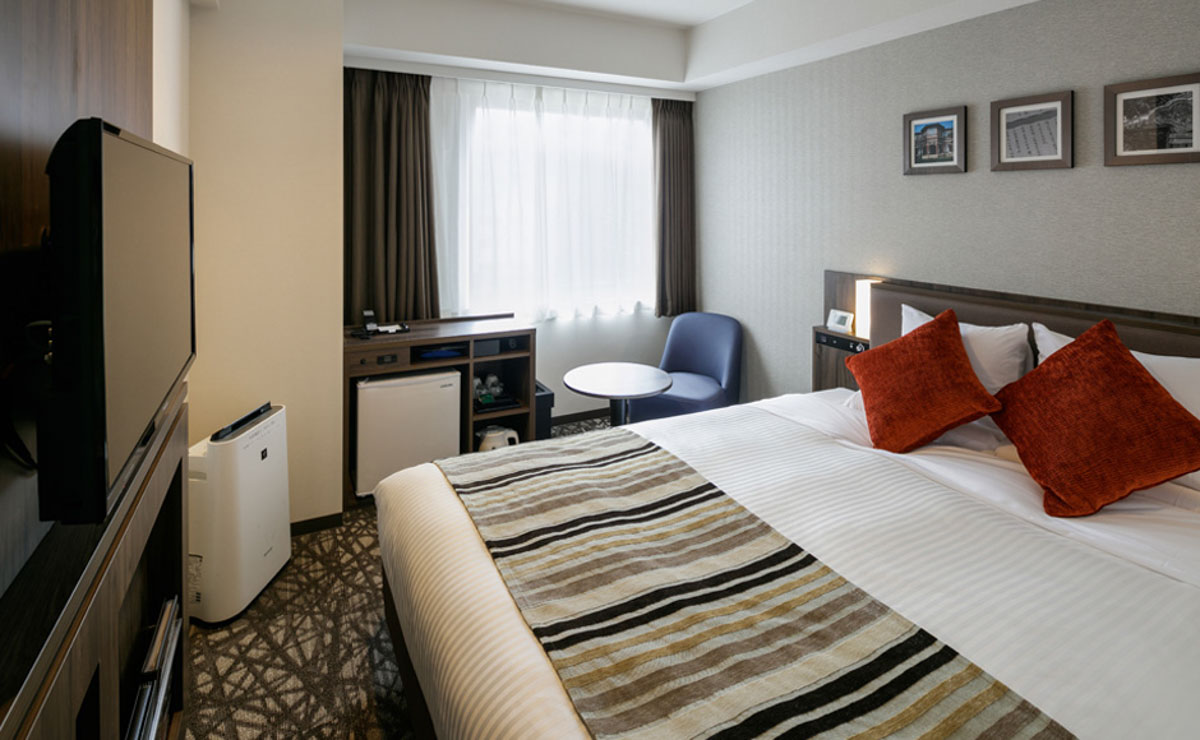 The train rides took up the whole day, and once we reached Kagoshima, we checked into our accommodation HOTEL MYSTAYS Kagoshima Tenmonkan for the night. Situated in the bustling Tenmonkan area within Kagoshima, we had quick access to many eateries, drugstores and souvenir shops around the hotel. Convenient!
If you're not too sure where to start for your gastronomic adventure around HOTEL MYSTAYS Kagoshima Tenmonkan, let us recommend to you Shirokuma shave ice dessert,  — the birthplace of shaved iced desserts in Japan, which is located a mere 5-min walk away from the hotel. Another must-eat is the Kagoshima Kurobuta (black pork), one of the best-known black pork in the world, and in HOTEL MYSTAYS Kagoshima Tenmonkan, kurobuta shabu shabu is available at the hotel's morning buffet spread.
Rates: From ¥4,000/night
Address: 2-7 Yamanokuchi-cho, Kagoshima-shi, Kagoshima, 892-0844 Japan
Day 5: Kagoshima
Sengan-en Garden (仙巌園)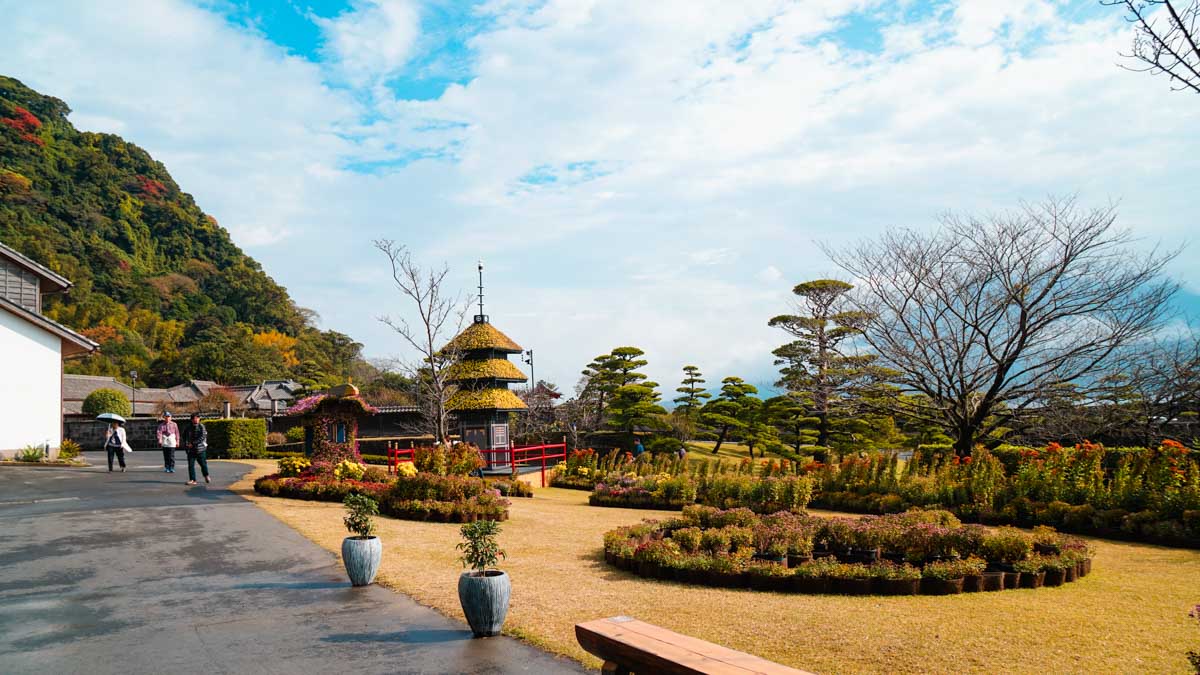 Sengan-en is a Japanese-style landscape garden built in 1658 by the powerful and influential Shimadzu Clan that ruled the Kagoshima area during the Edo Period. The Shimadzus are still highly respected by the Japanese today for bringing western science and technology to Japan.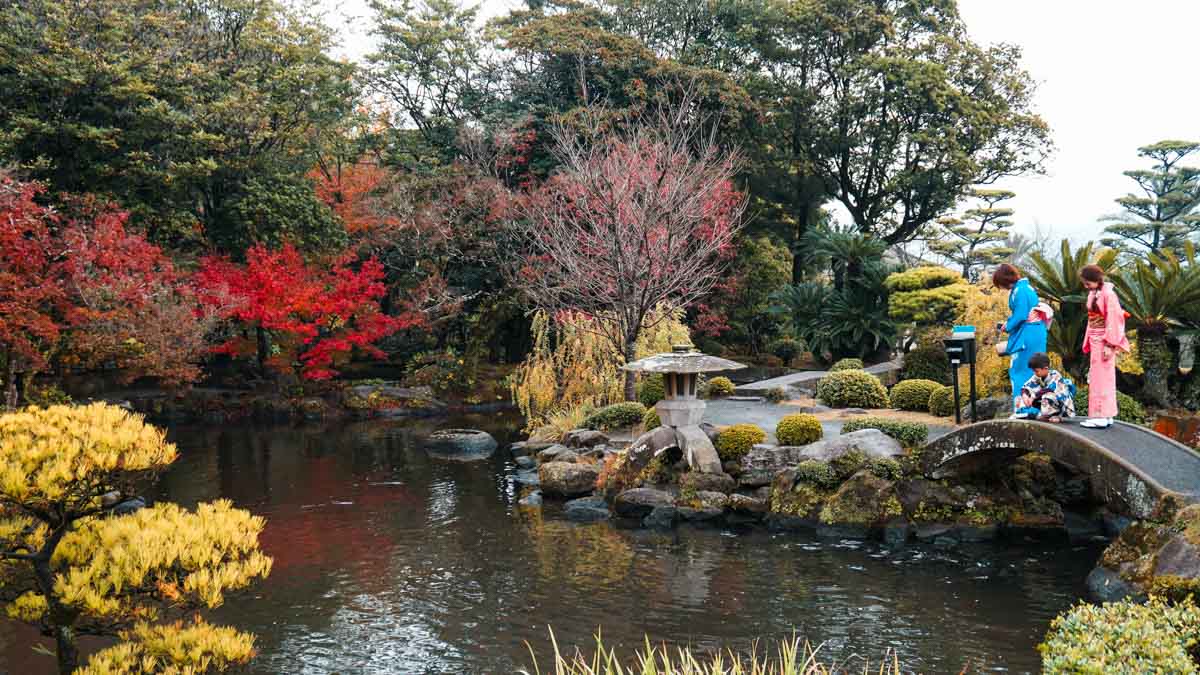 The autumn foliage was in pretty shades of red, yellow, orange and brown when we visited. On a clear day, you can even see the majestic Mt. Sakurajima volcano across the bay!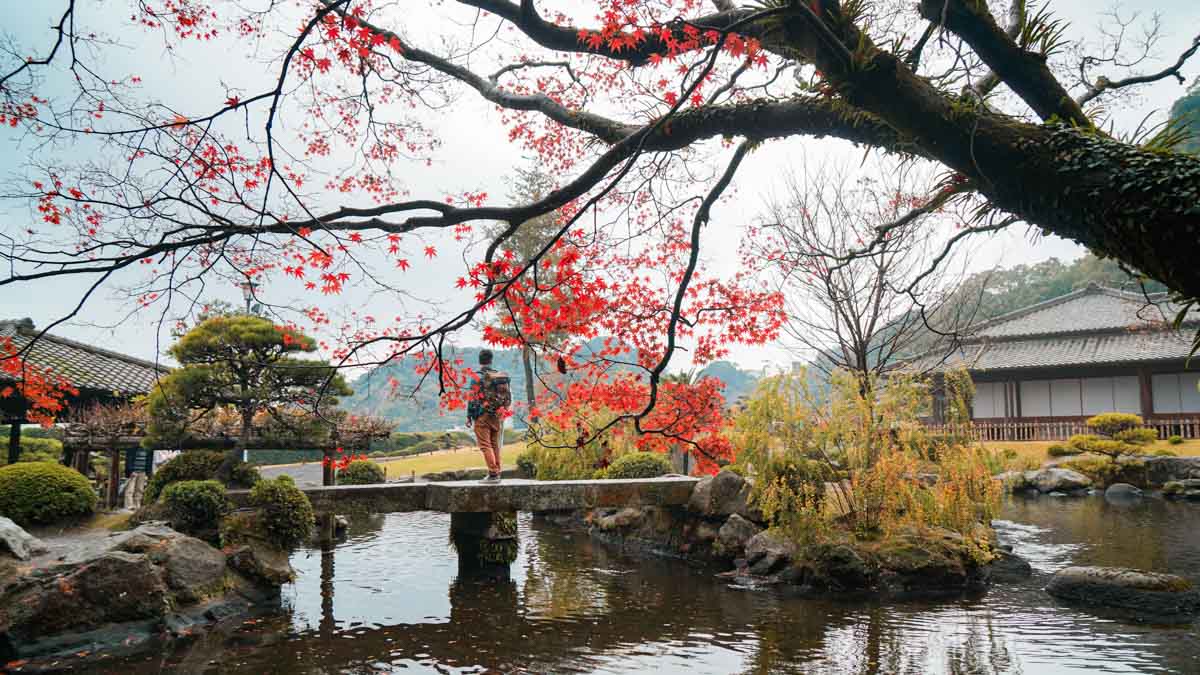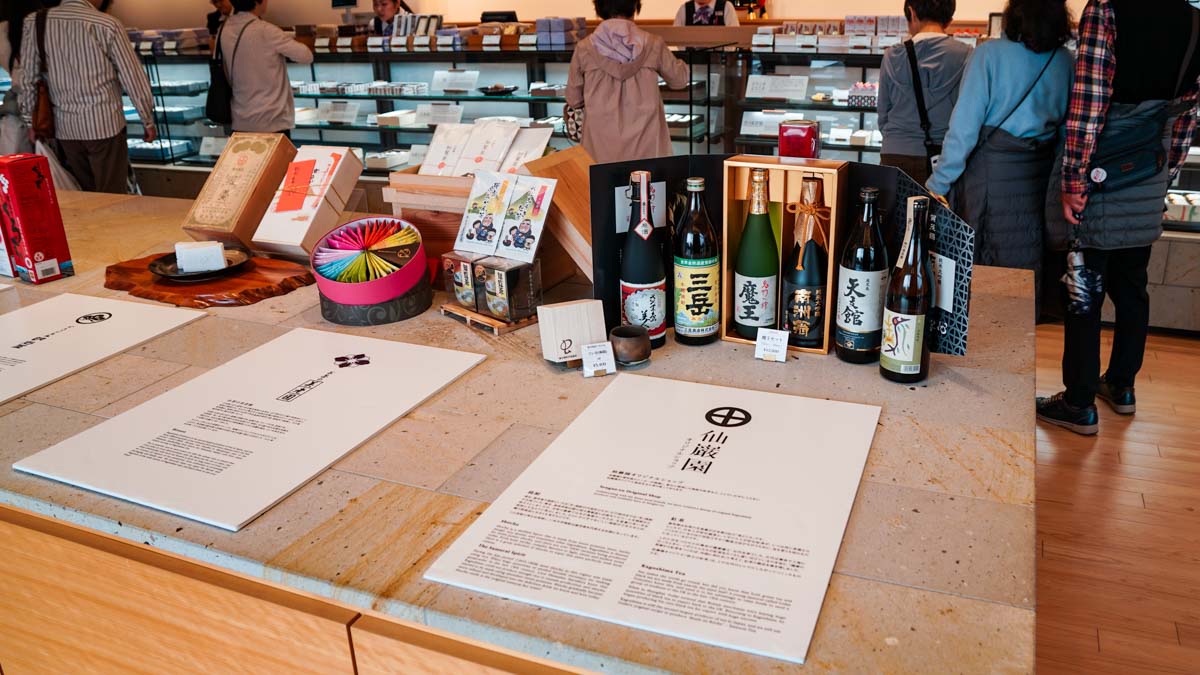 Sengan-en's gift shop also sells exclusive Kagoshima-produced snacks and food products from hard liquor Shochu to fruity gummies made from locally-sourced ingredients.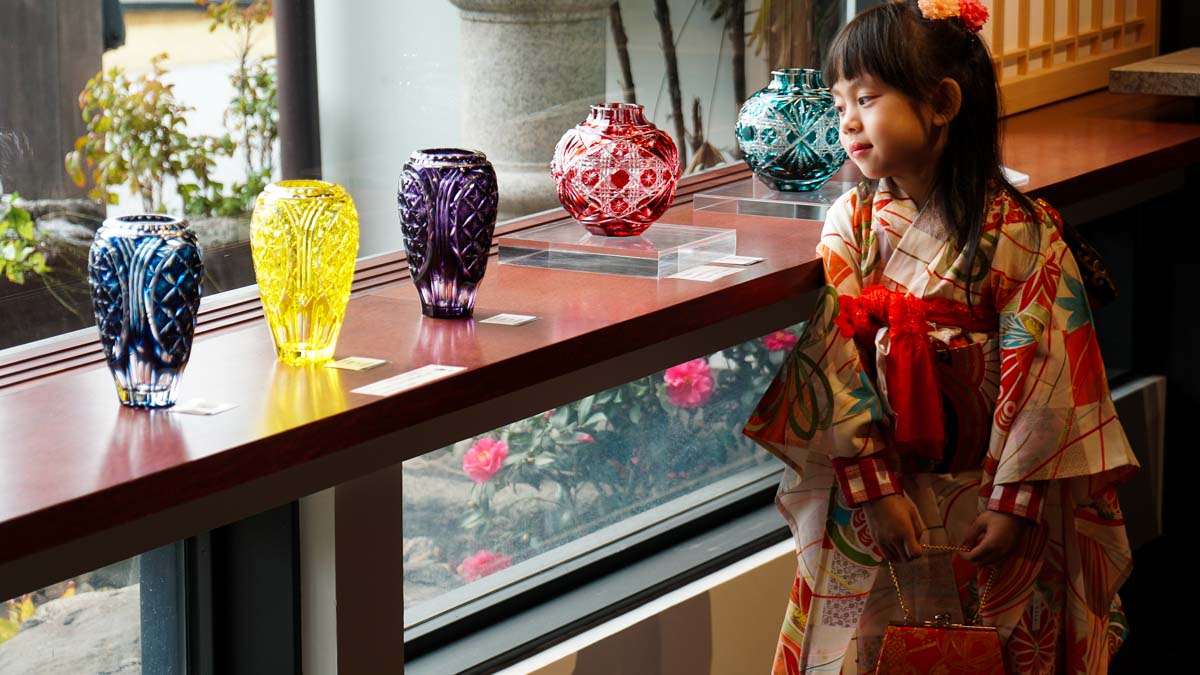 There's also a glassware gallery and shop that showcases the Satsuma Kiriko cut glass that was first created in Kagoshima during the Edo period.
Entrance Fee: ¥1,300 (entry to garden, museum and house)
Opening Hours: 8:30AM – 5:30PM
Address: 9700-1 Yoshino-cho, Kagoshima City, Kagoshima 892-0871
Lunch at Sengan-en Matcha Cafe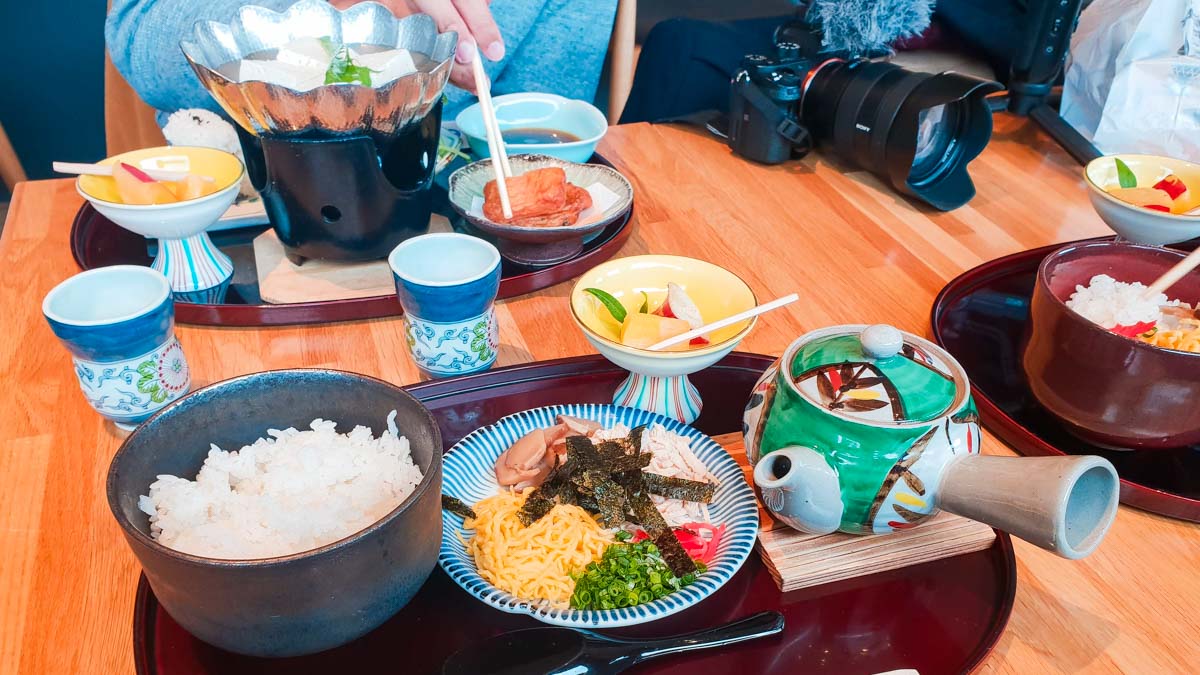 Within Sengan-en is a Muji-esque cafe serving all things matcha from parfaits to affogato. From 11AM – 3PM the cafe serves two lunch sets (¥1,300) — Keihan (chicken rice), and Yudofu (tofu soup). Each is limited to 15 sets per day, so get there early for a taste!
Opening Hours: 9AM – 5PM
Dinner at Shabu Zen (しゃぶ禅)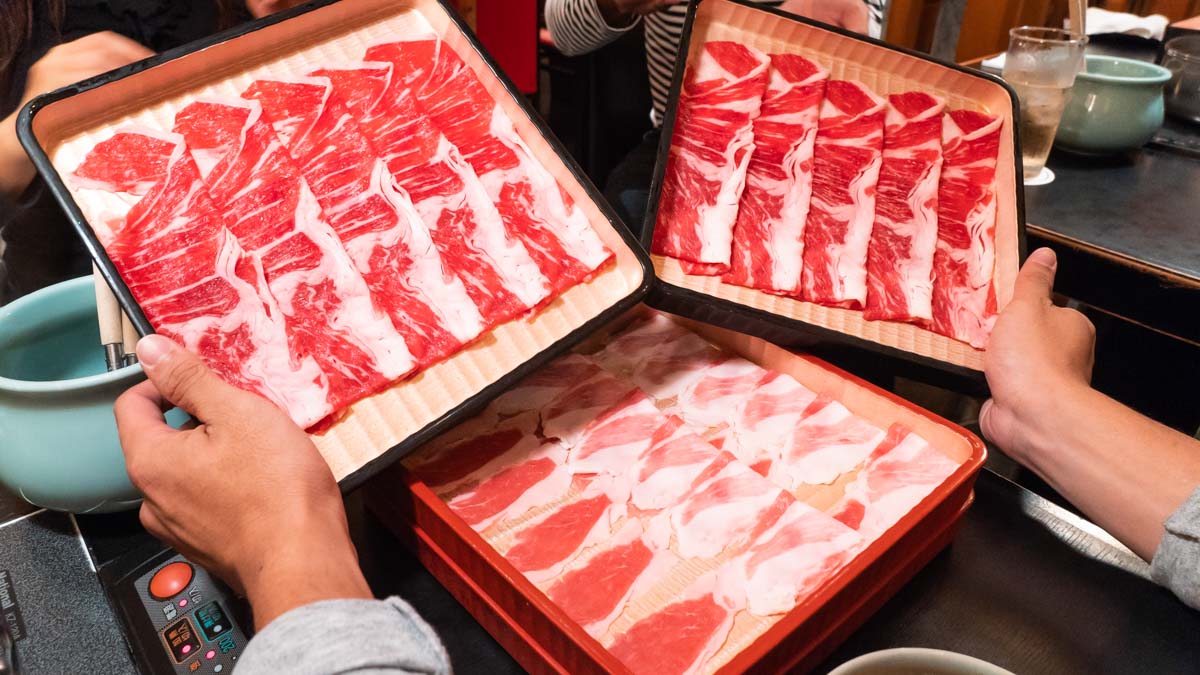 Besides seafood, another must-try in Kagoshima is their local black pork (Kagoshima Kurobuta), best eaten shabu shabu style. We had our share of shabu goodness at Shabu Zen, offering both à la carte and buffet options. The all-you-can-eat shabu-shabu starts from ¥3,000/pax.
Opening Hours: 5PM – 11PM. Closes 10PM on Sundays.
Address: CUBE Building 2F 5-10 Higashi Chisoishi-cho, Kagoshima-shi, Kagoshima-ken
Day 6: Kagoshima – Fukuoka
On our last day in Kyushu, we travelled northwards back to Fukuoka. The shinkansen will take you back from Kagoshima-chuo to Hakata in 1.5 hours.
Ohori Park (大濠公園)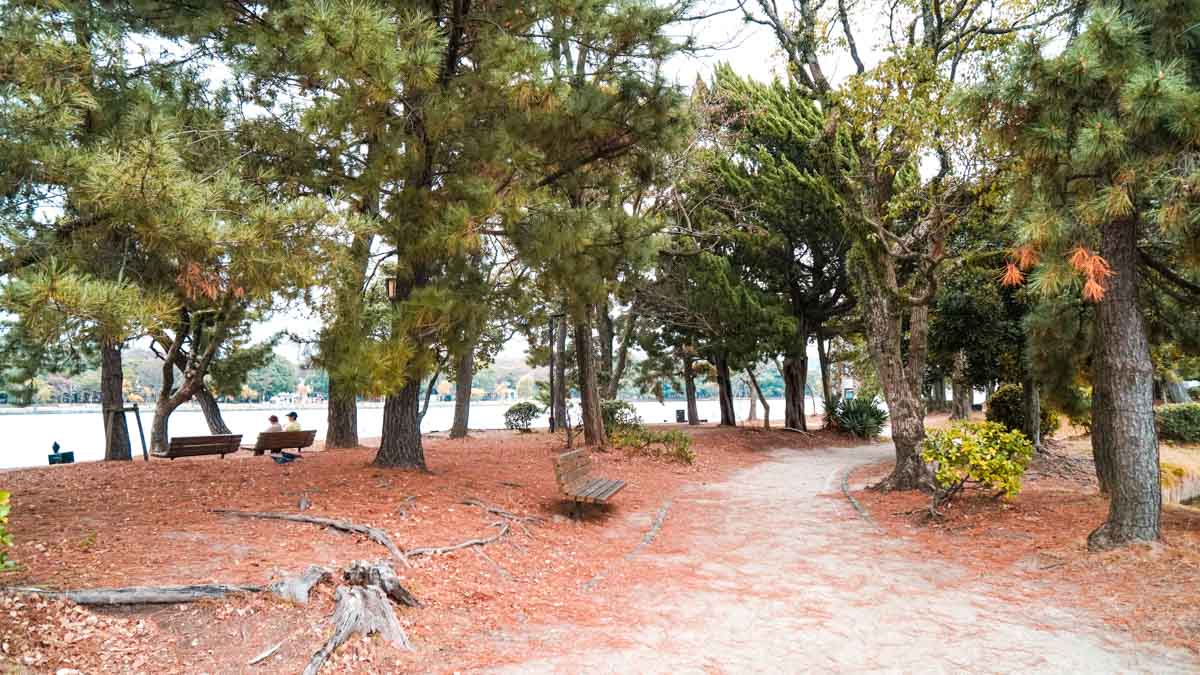 Entrance Fee: Free
Location: 1-8 Ōhorikōen, Chūō-ku, Fukuoka-shi, Fukuoka-ken 810-0051, Japan
Read also: 8-Day Hokkaido Spring Itinerary
The Ruins of Fukuoka Castle (福岡城跡)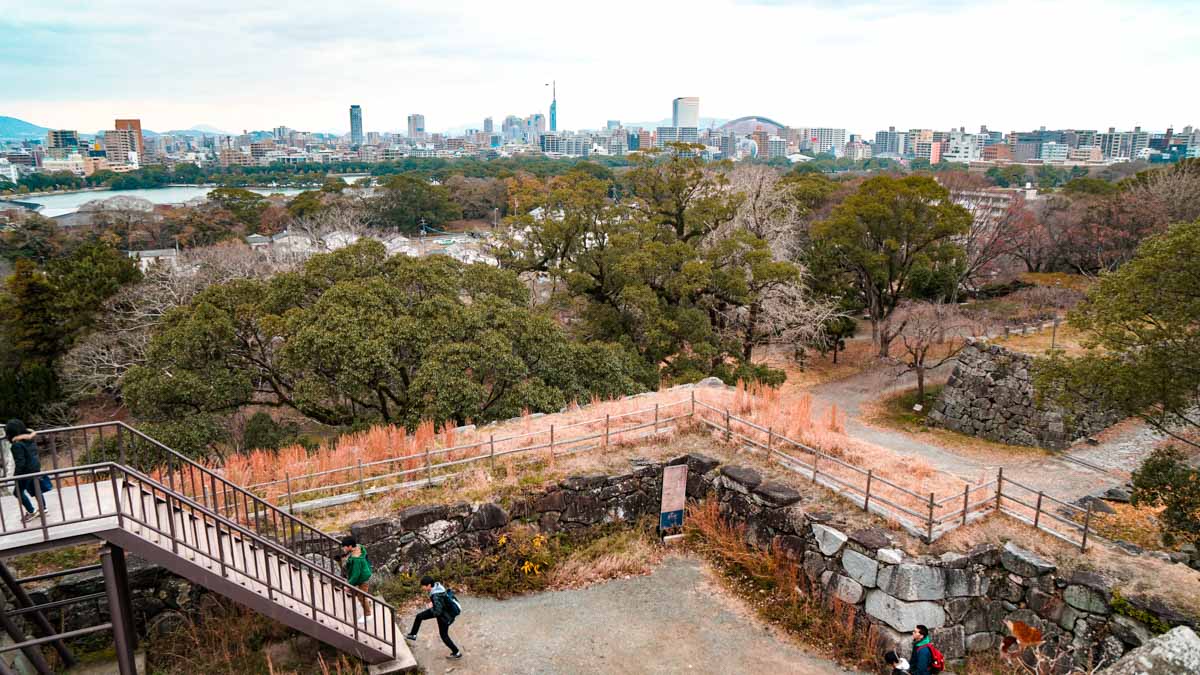 Walking distance from Ohori Park, what's left of the once-great Fukuoka Castle is only a few ruined walls, though it's nonetheless a great lookout point for a panoramic view of Fukuoka city.
Lunch at Tori Mabushi (とりまぶし)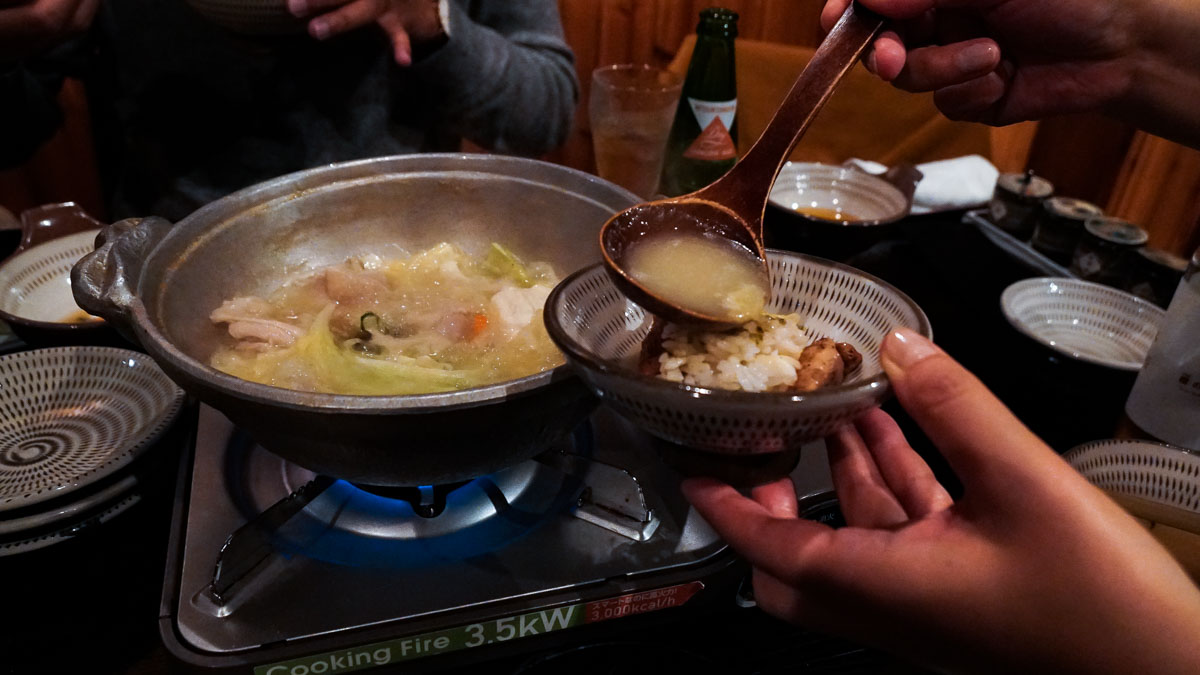 The most challenging part to this dinner is successfully reserving a table beforehand because this restaurant is hugely popular among locals as well. (Tel: 092-260-7273)
The second-most challenging part is learning the proper way of eating Tori Mabushi, a Fukuoka grilled chicken with chicken broth.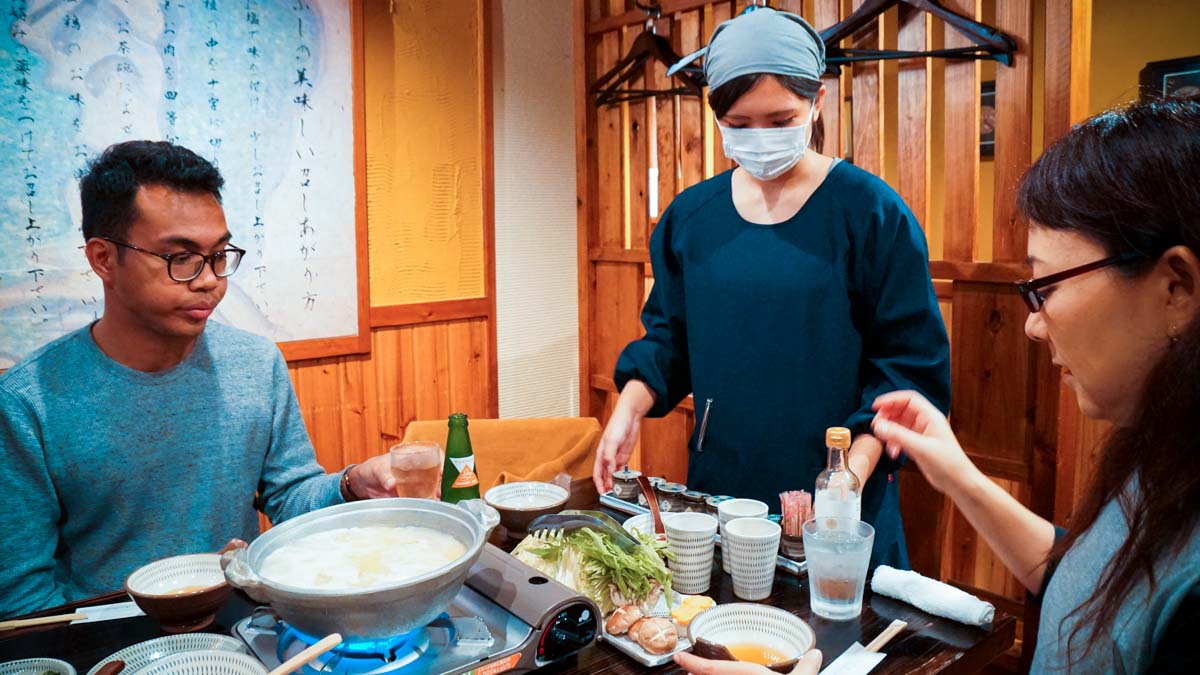 Here are the steps to eating tori mabushi (which the staff will gladly show you to properly enjoy the dish):
Eat 1/3 of the bowl of grilled chicken and rice as it is served.
Eat the next 1/3 with added condiments such as kombu (dried kelp) and yuzukoshō (yuzu pepper).
Finish the last 1/3 by mixing chicken broth into the rice.
All that effort was not for nought though — if there's only one restaurant worth a repeat visit among the plethora of eateries in Fukuoka, it's Tori Mabushi.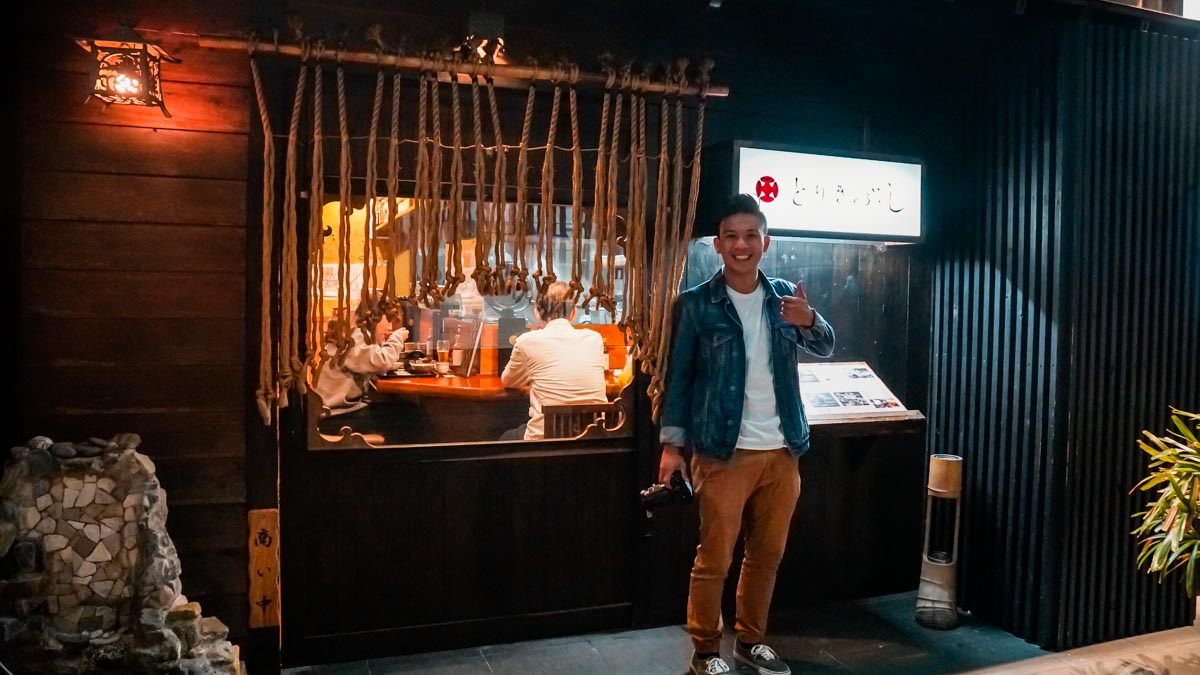 Cost: ~¥2,000/pax
Opening Hours: 11AM – 11PM
Address: Fukuoka Prefecture Fukuoka City 5-3-18 Nakasu, Hakata-ku Tm-16 Building 1F
Tōchō-ji (

東長寺

)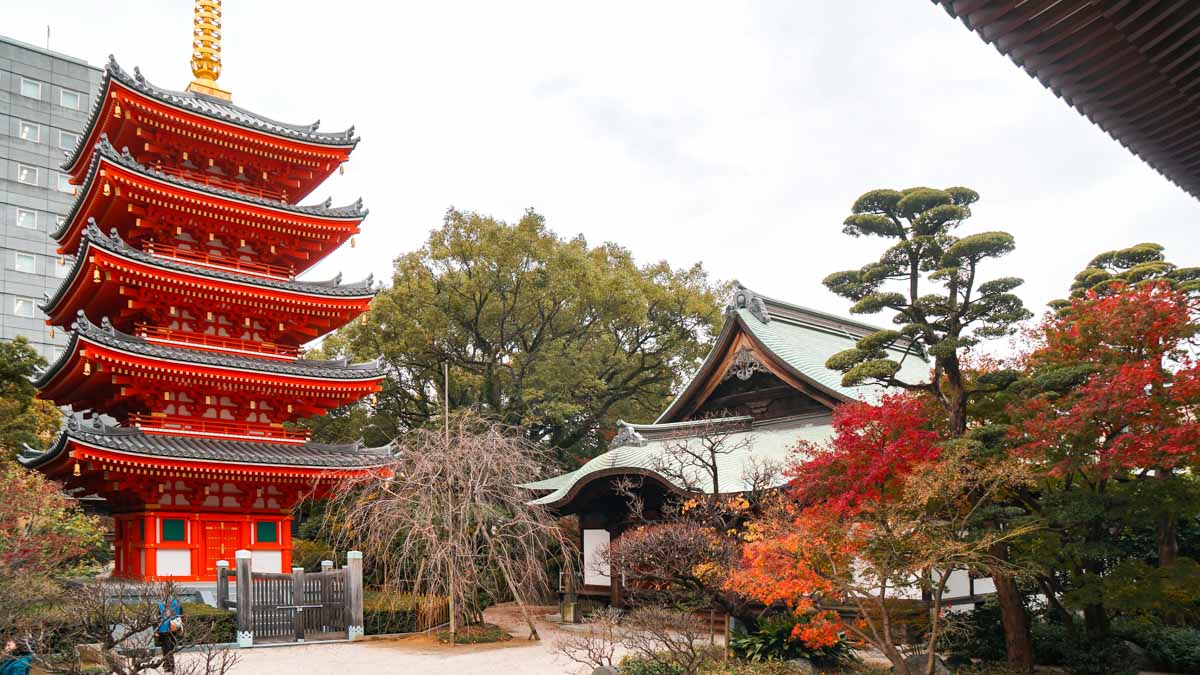 Housing the largest wooden seated Buddha statue in Japan is the Tochoji Temple. You may also recognise the red pagoda next to the main hall of the temple. Conveniently situated a few minutes' walk from Gion subway station, Tochoji Temple is not only for devout Buddhists but anyone.
Entrance Fee: Free
Opening Hours: 9AM – 5PM
Address: 2-4, Gokusho-machi, Hakata-ku, Fukuoka
Dinner at a Yatai 
One has not been to Fukuoka if they've not eaten at a yatai in Fukuoka. A dying trade, yatai are essentially roadside food stalls selling local delights like ramen, sukiyaki and oden. While roadside stalls are still a common sight in many Asian countries, they're practically unheard of in Japan and can only be found in Fukuoka.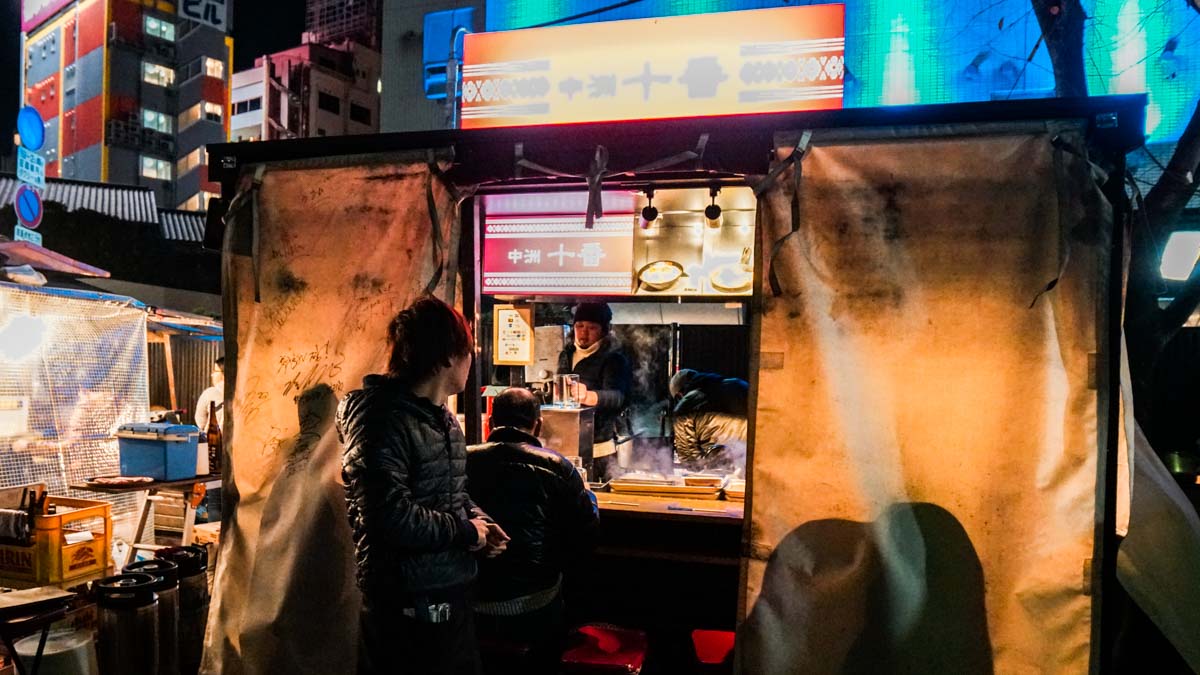 We had our dinner with other locals and curious foreigners alike, taking in the tastes and experiences of a soon-to-be-gone part of Fukuoka culture and tradition.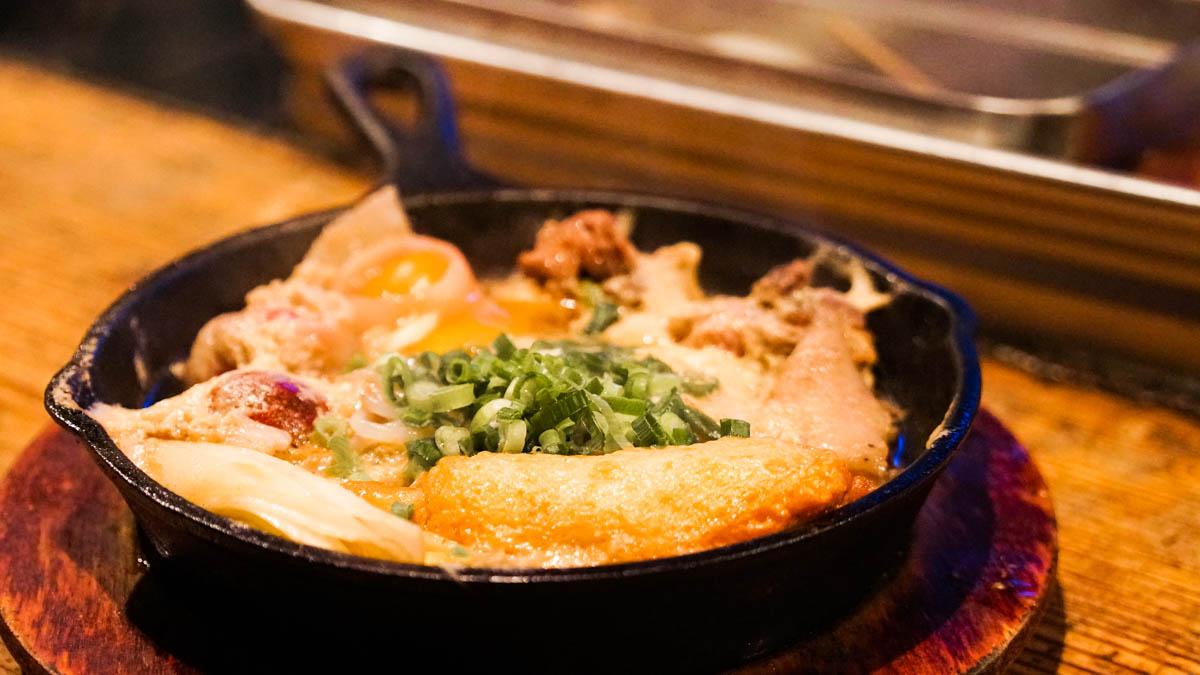 Honestly, the sukiyaki is nothing special, but it's the experience of eating piping hot food by the streets with a dozen other hungry diners huddled under a small tent that made it interesting for us.
Opening Hours: 6PM till late
How to get there: Yatai stalls can be found in Tenjin, Nakasu, and Nagahama areas of Fukuoka
Accommodation in Kyushu
Cities in Kyushu are easily an hour or two apart so we based ourselves in four hotels during this six-day trip. With HOTEL MYSTAYS' no-frills accommodation options at Kyushu's major cities, we were able to travel around and explore Kyushu without much hassle.
What we loved about all four hotels was their relatively central location that's always walking distance to a train station, with ample shops nearby to purchase any essentials we need/forgot to bring. Here are the hotels we stayed at in our Kyushu itinerary:
Fukuoka — HOTEL MYSTAYS Fukuoka Tenjin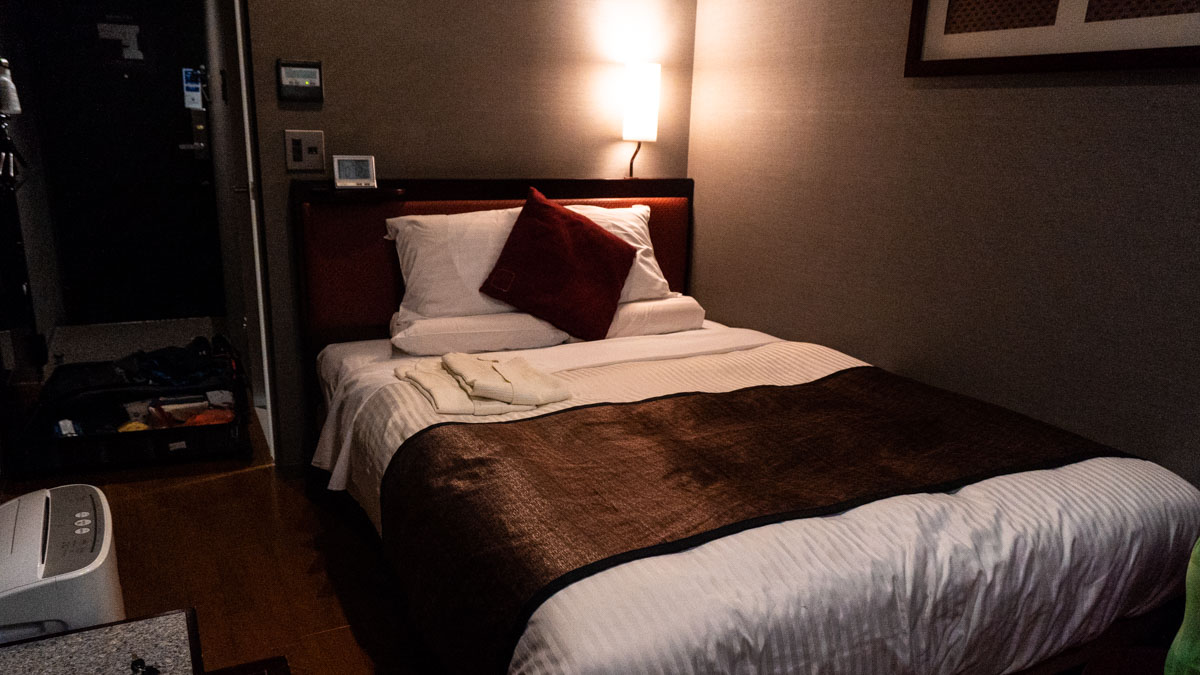 Located in a prime location yet not directly at the heart of Tenjin, HOTEL MYSTAYS Fukuoka Tenjin is close to convenience stores and Tenjin station but still provides a quiet environment. Rooms are adequately furnished for its cosy size, and if you need additional amenities like toiletries or laundry bags, you can help yourself at the lobby.
Rates: From ¥7,200/night
Address: 3 Chome-5-7 Tenjin, Chūō-ku, Fukuoka-shi, Fukuoka-ken 810-0001, Japan
How to get there: Walk 5 mins from Tenjin subway station (Kuko Line)
Kitakyushu — ART HOTEL Kokura New Tagawa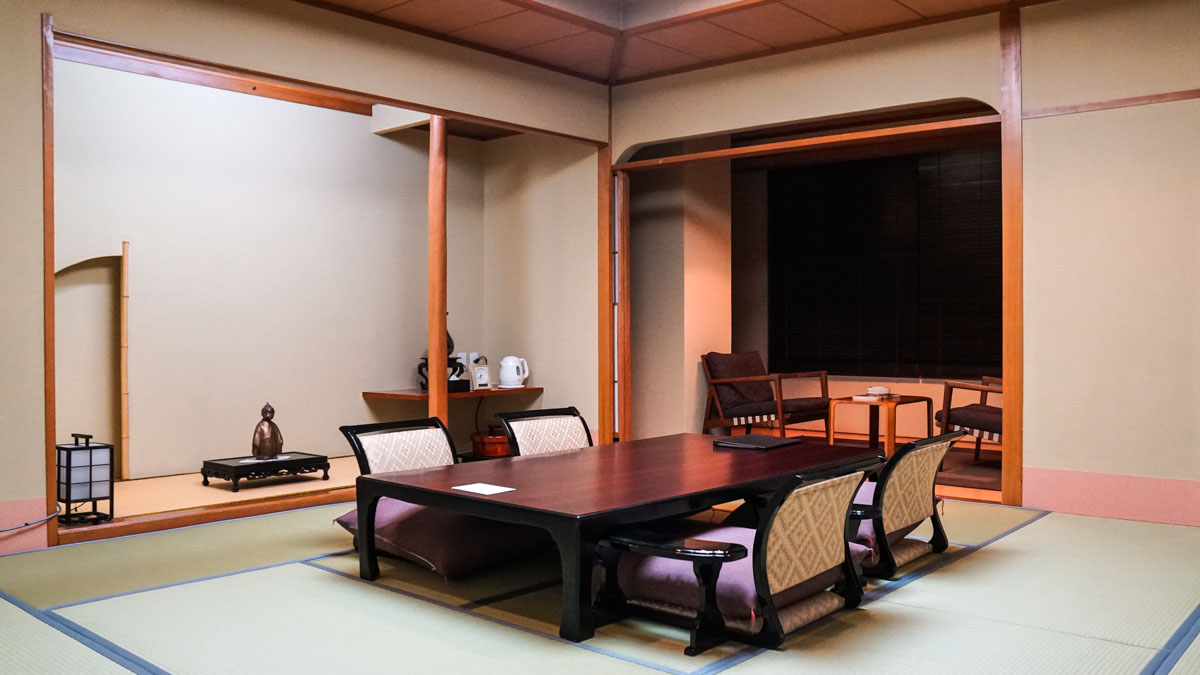 ART HOTEL Kokura New Tagawa is considerably no-frills in terms of amenities, but it makes up for it with its spaciousness and aesthetics. In fact, this hotel is straight up classy with a tinge of luxury.
There are themed rooms in either Japanese or Western furnishing, and also has a century-old Japanese garden within its compound that's a popular setting for Japanese weddings.
Cost: From ¥6,900/night
Address: 3-46 Furusemba-machi, 3 Furusenbamachi, Kokurakita-ku, Kitakyūshū-shi, Fukuoka-ken 802-0082, Japan
How to get there: Walk 12 mins from Kokura Station
Beppu — Beppu Kamenoi Hotel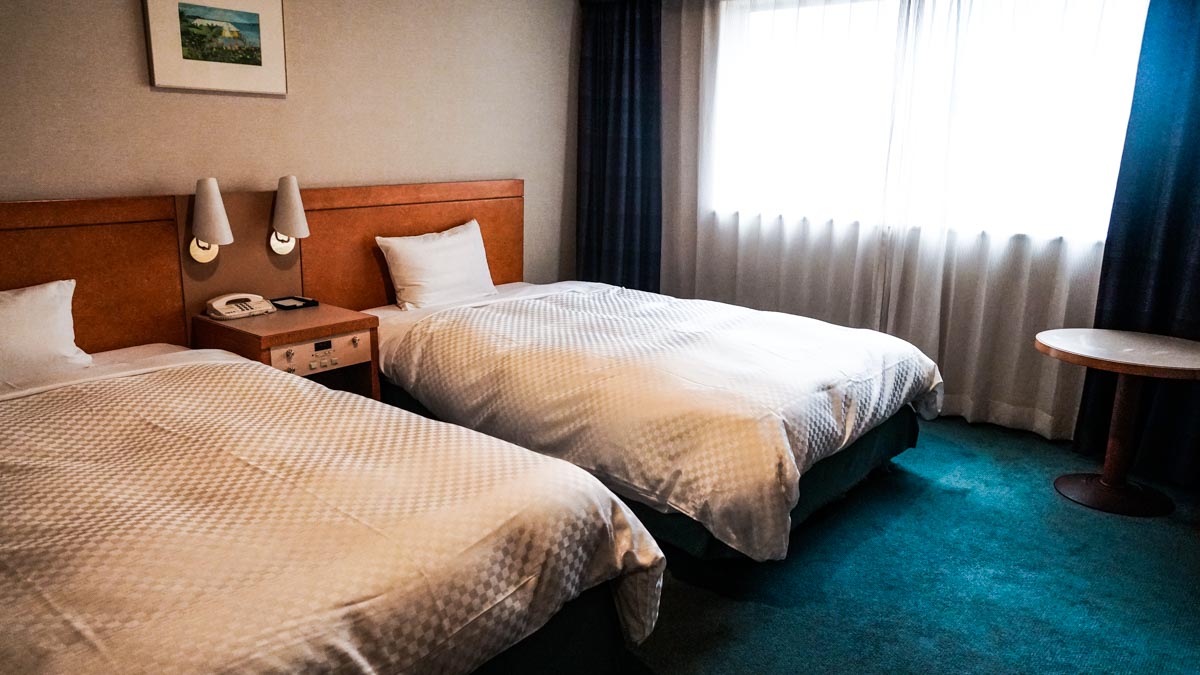 The most spacious hotel of the lot, Beppu Kamenoi Hotel is only a stone's throw away from Beppu station with its own in-house onsen and a level with an arcade and candy store that they call a "kids' zone". For its convenient location and spaciousness at these rates, we'd say this one is the most value for money of the four.
Rates: From ¥4,300/night
Address: 5-17 Chūōmachi, Beppu-shi, Ōita-ken 874-0936, Japan
How to get there: Walk 6 mins from Beppu station
Kagoshima — HOTEL MYSTAYS Kagoshima Tenmonkan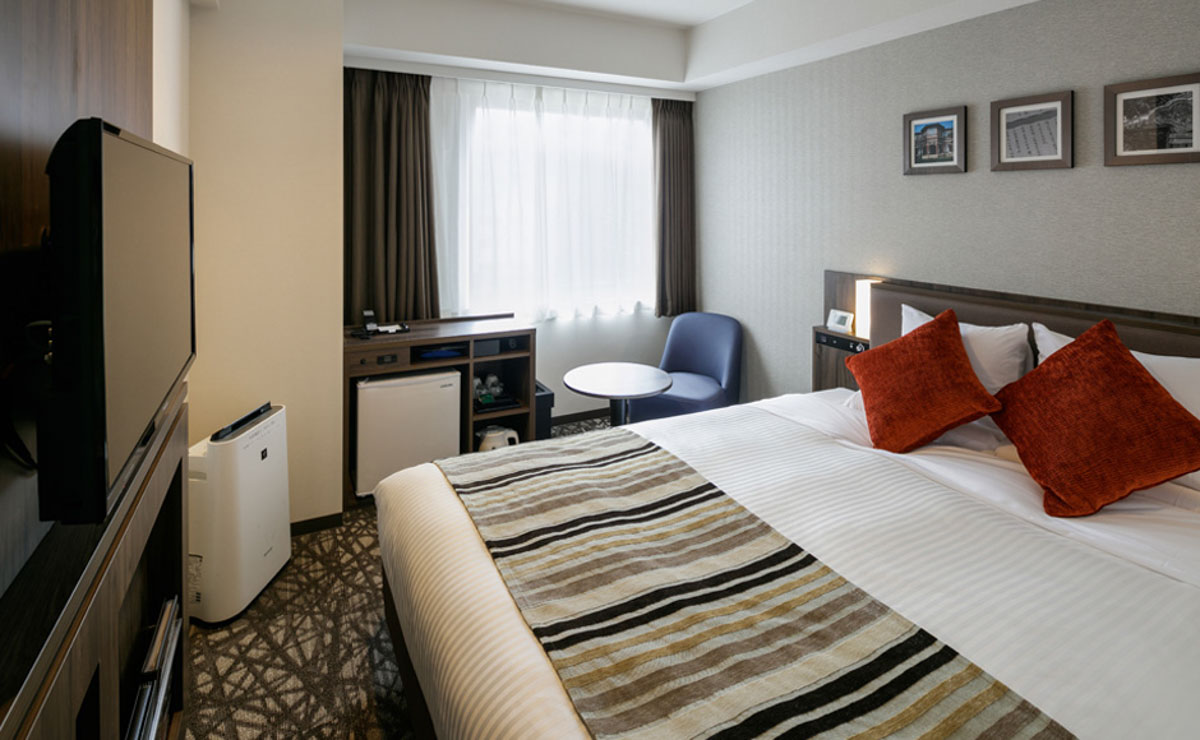 This hotel's close proximity to the Tenmonkan area is a huge plus as that also means an abundance of restaurants and bars around! My favourite part of the hotel is the 24-hour convenience store next to the hotel lobby so I'll never go hungry during my stay, not even in the wee hours of the morning. There is also coin laundry located on the 7F of the hotel.
Rates: From ¥4,000/night
Address: 2-7 Yamanokuchi-cho, Kagoshima-shi, Kagoshima, 892-0844 Japan
How to get there: Walk 15 mins from Kagoshima-chuo station, or 1 min from Takamibaba City tram station.
What is your favourite season to visit Japan? Let us know in the comment section below!
---
This post was brought to you by HOTEL MYSTAYS.
Follow us on Instagram, YouTube, and Facebook for more travel inspiration!
View this post on Instagram