Feast on Hokkaido's best cuisine in Sapporo, drive out of the city through breath-taking terrains, and taste some of Japan's freshest seafood on this 8 day road trip through the best of Hokkaido — all under S$1k!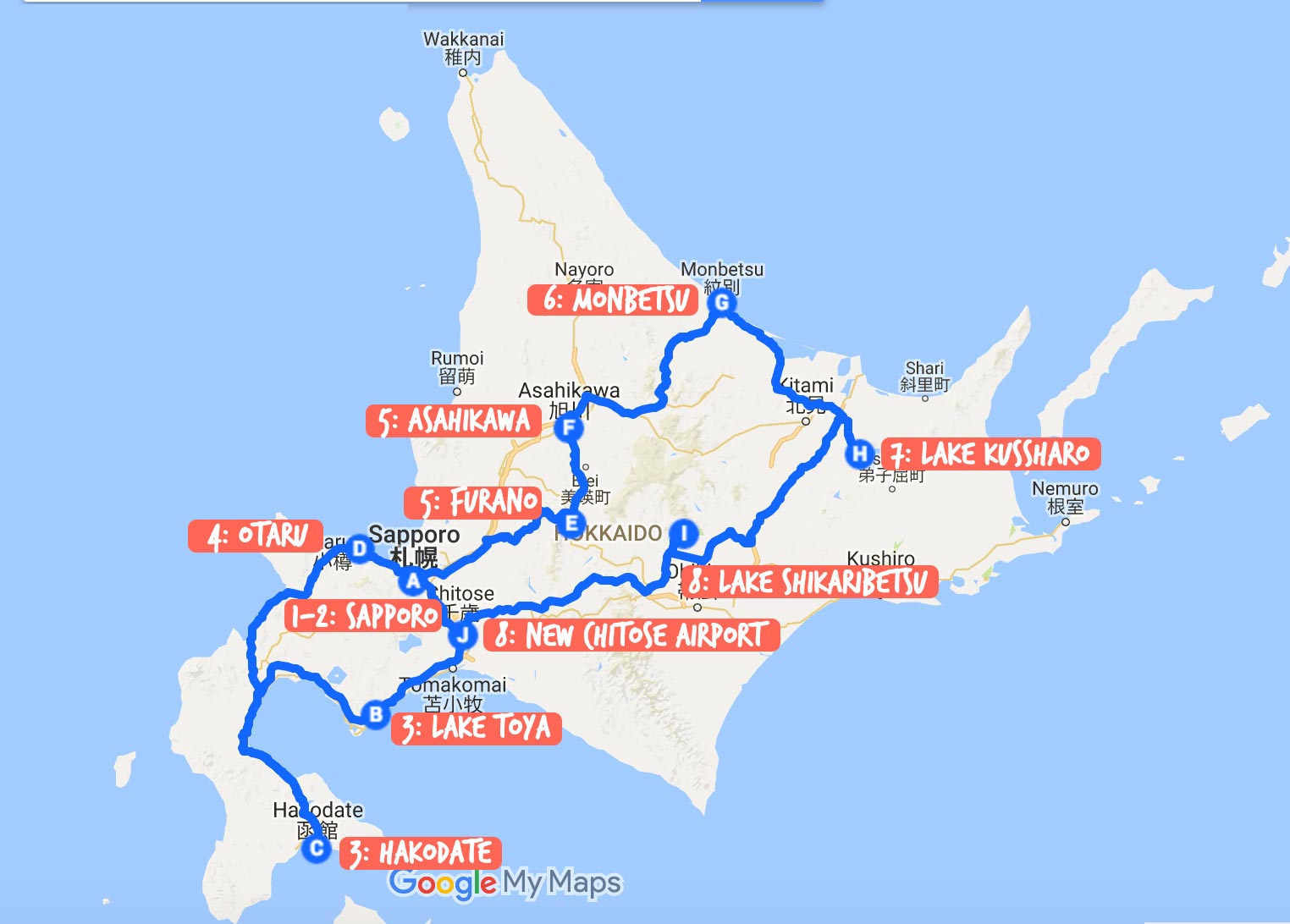 Planning a road trip in Hokkaido ain't easy because there's just SO MUCH to explore! Ski on powdery slopes in winter, hop around some of the most impressive flower fields in spring and try some of the best produce this region has to offer! If you're up for an adventure in Hokkaido, here's how you can experience them all under a S$1k budget (excld. flights)!
8D Budget Breakdown:
Accommodation: S$320.67
Food: S$349.26
Activities: S$53.48
Transport: S$188.84

TOTAL: S$912.24
Click here for detailed breakdown
*Note that this budget is for 4 pax which is the most economical for road trips especially when it comes to splitting the cost for bigger ticket items like car rental and the Hokkaido Expressway Pass. This figure might cost slightly more for 2-3 pax.
Check Flights to Hokkaido
Flight prices are not included in the budget due to seasonal fluctuations. To check the prices of flights for your specific dates of travel, use this widget below:
If you can't see the widget above, click here to check flights from Singapore to Hokkaido instead!
Pre-trip Essentials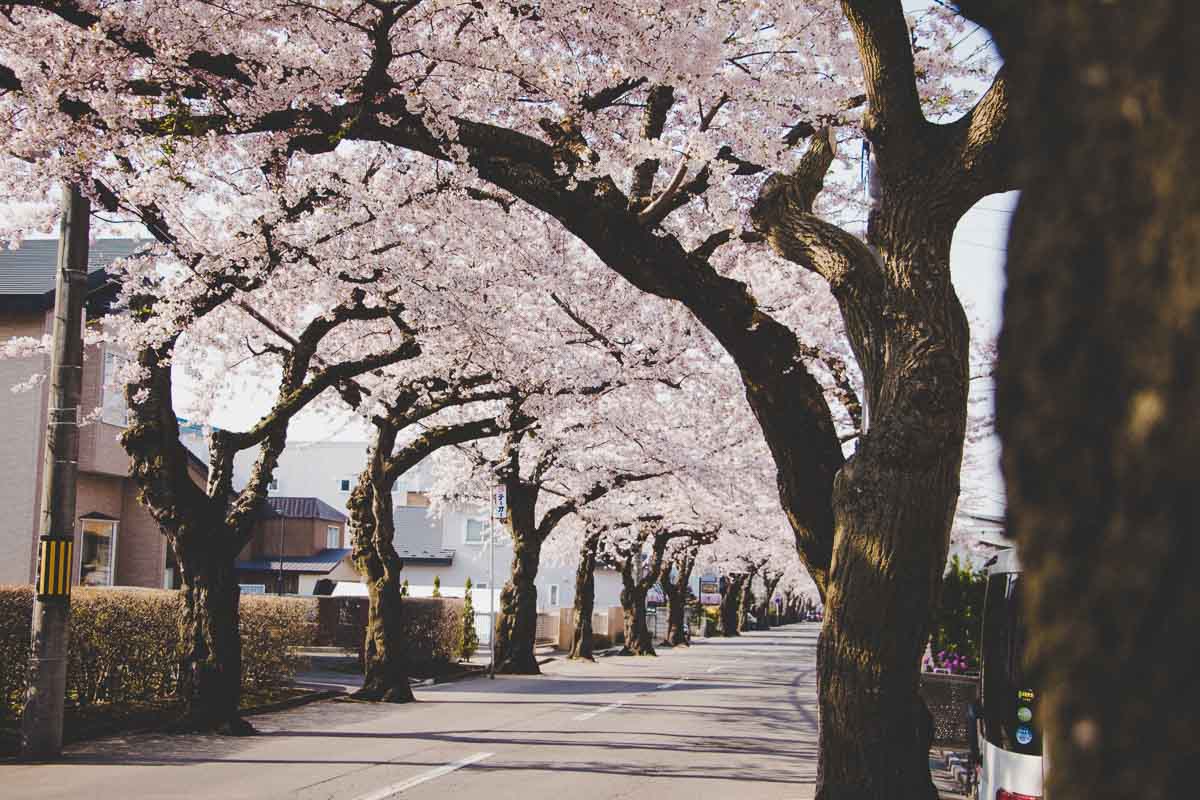 3G Connectivity: Depending on the number of people on the trip, you can either get a SIM card (comes in 1GB, 3GB or unlimited) for ~S$13/26/40 or a WiFi device for ~S$3/day (connects up to 4 devices). The great thing about the latter is you can collect the device in SG and be connected once you land. For the WiFi device, an extra day before and after is included for collection/pickup so you only need to pay for the days you'll be travelling.
JR Hokkaido Kitaka IC Card: For seamless travel on public transport, get a rechargeable card (IC Card) that can be used on all public transports including JR trains, the subway and buses including the Airport Limousine bus. If you have IC cards from other regions, like Tokyo (SUICA), Osaka (ICOCA), these can be used in Hokkaido too. If not, you can pre-purchase it online (preloaded with ¥1500) or get it at the station.
Car rental: Once you've had enough of the city, the best way to explore the other sights of Hokkaido is by driving. Japanese car rental sites can be a bit confusing so we rented ours through Klook (~S$70/day). Do note that the price does not include options like collision damage insurance (¥648/day), the Hokkaido Expressway Pass (HEP) and rental of the ETC card (¥324).

Day 1: Sapporo City
Accommodation: HOTEL MYSTAYS Sapporo Nakajima Park — located just a 3 minute walk from Horohira Bashi Subway station.
Airport to Sapporo: The most direct route to the hotel is via the Airport limousine bus 14 to Nakajima at ¥1030. The bus leaves once an hour and the ride is about 1hr 9mins. Alternatively, the JR Airport Rail leaves about 3 times an hour and only takes 37mins ¥1070 (without reservation).
Getting Around Sapporo: The key sights within the city are within walking distance. For the subway you can use the Kitaka IC card or the 1-day unlimited subway pass for ¥830 (¥520 on weekends and public holidays).
Read Also: The Ultimate Sapporo City Guide: Top Things To Do In The Gateway To Hokkaido
Lunch at Nemuro Hanamaru sushi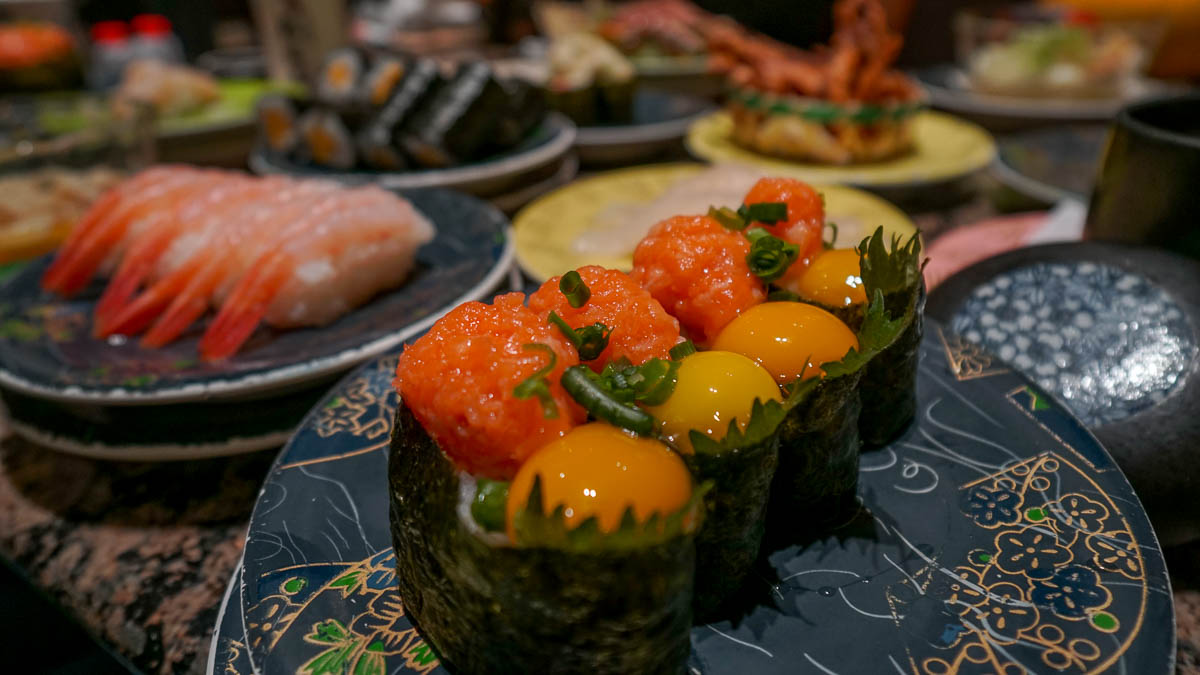 Located within the JR Sapporo station, this is perhaps one of the best places to start your trip in Hokkaido! A popular conveyor belt sushi place with quality cuts yet affordable plates ranging from ¥140 – 453, don't be surprised to find a queue as long as 90 minutes! We arrived around 3PM and only had to wait for about 10 minutes, so do try to avoid the peak meal times.
Cost: From ¥1,200/pax (S$15)
Opening hours: 11am – 11pm
Address: JR Stellar Place Level 6 ステラプレイス, 2 Chome Kita 5 Jōnishi, Chūō-ku, Sapporo-shi, Hokkaidō 060-0005, Japan
*Pro-tip: Grab some tasty baked cheese tarts from Kinotoya Bake while you're at the station (located at the JR Station East Exit).
Check in at HOTEL MYSTAYS Sapporo Nakajima Park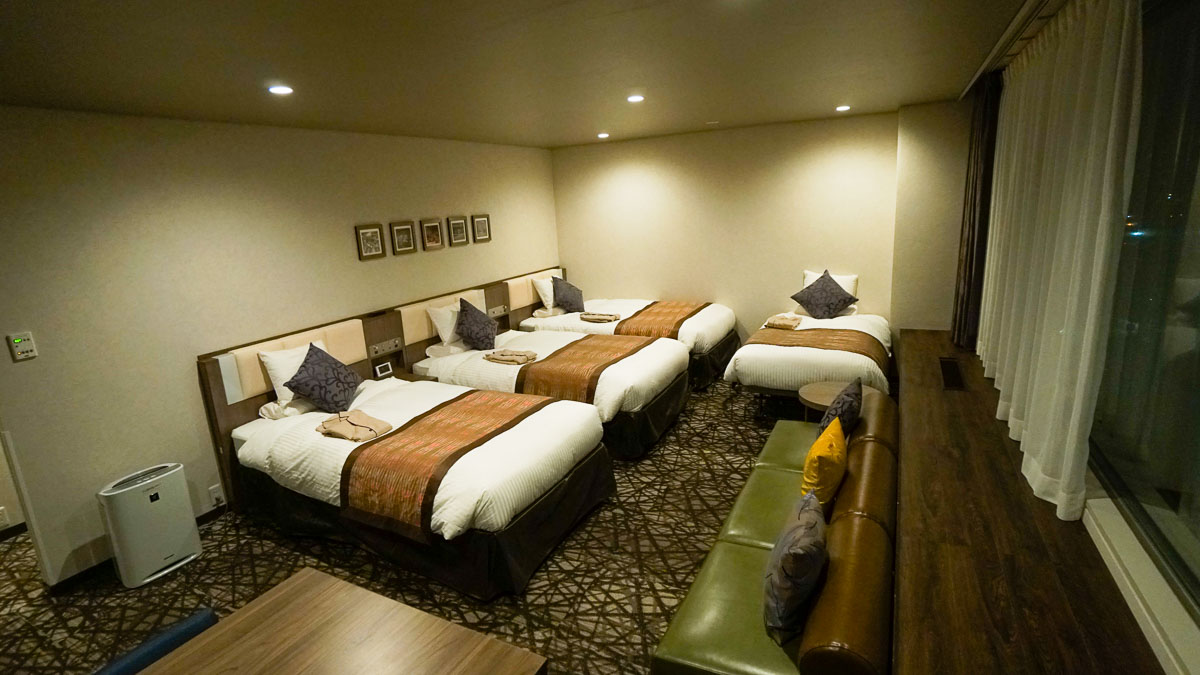 Our cosy abode for the next 2 nights in Sapporo city was at HOTEL MYSTAYS Sapporo Nakajima Park located right outside Nakajima park. Our room had a full view of the park where you can see locals jogging as early as 5am. If you're here around mid June, you'll also get to catch the 100-Year-Old Hokkaido Shrine Festival held in this park.
We got the Deluxe Family Room (¥7,407) which could fit the 4 of us comfortably but there are comfortable rooms for 2 as low as ¥4,722!
Cost: From ¥1900/pax (S$23)
Address: 1 Chome Minami 14 Jonishi, Chuo, 札幌市中央区 Hokkaido 064-0914, Japan
How to get there: 3-minute walk to Horohira Bashi Subway station
*Pro-tip: Get 5% off your accommodation booking at HOTEL MYSTAYS Sapporo Nakajima Park by using <TTI5> under coupon code or booking through the link here! 🙂
Sapporo TV Tower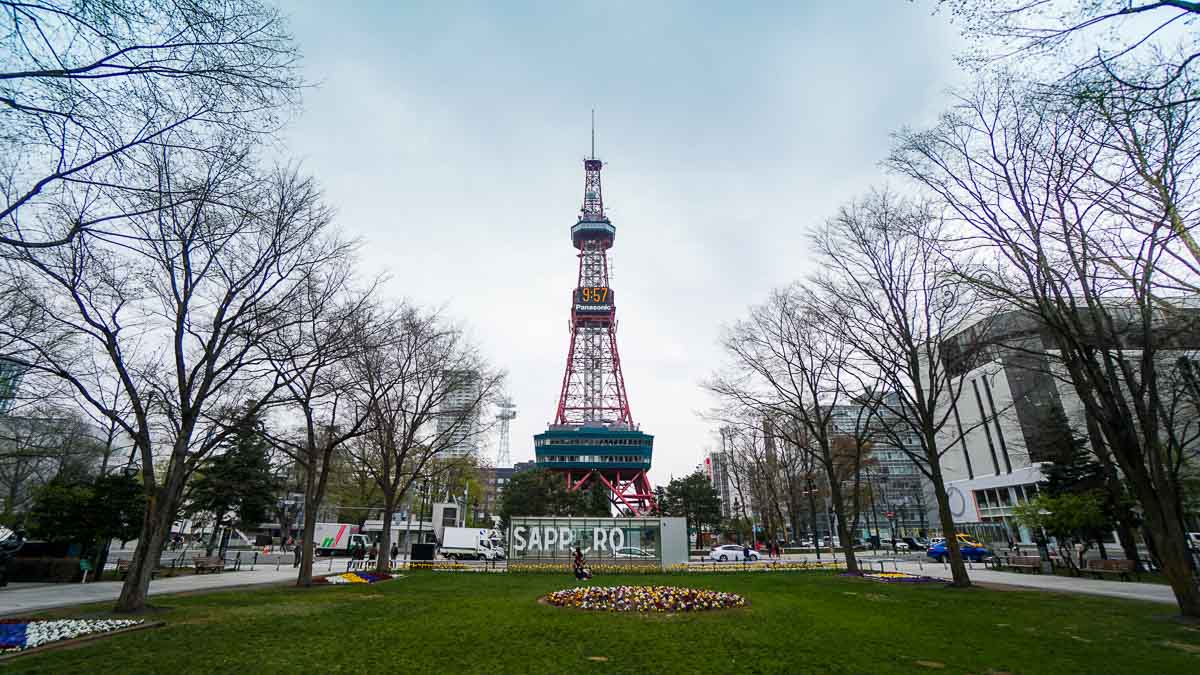 Located at the edge of Odori park is an unmissable structure with a giant LED clock on its front. Measuring at 147m, it's the 2nd tallest tower after the Tokyo Tower. Head up to the tower's observatory for a 360° panoramic view of the city.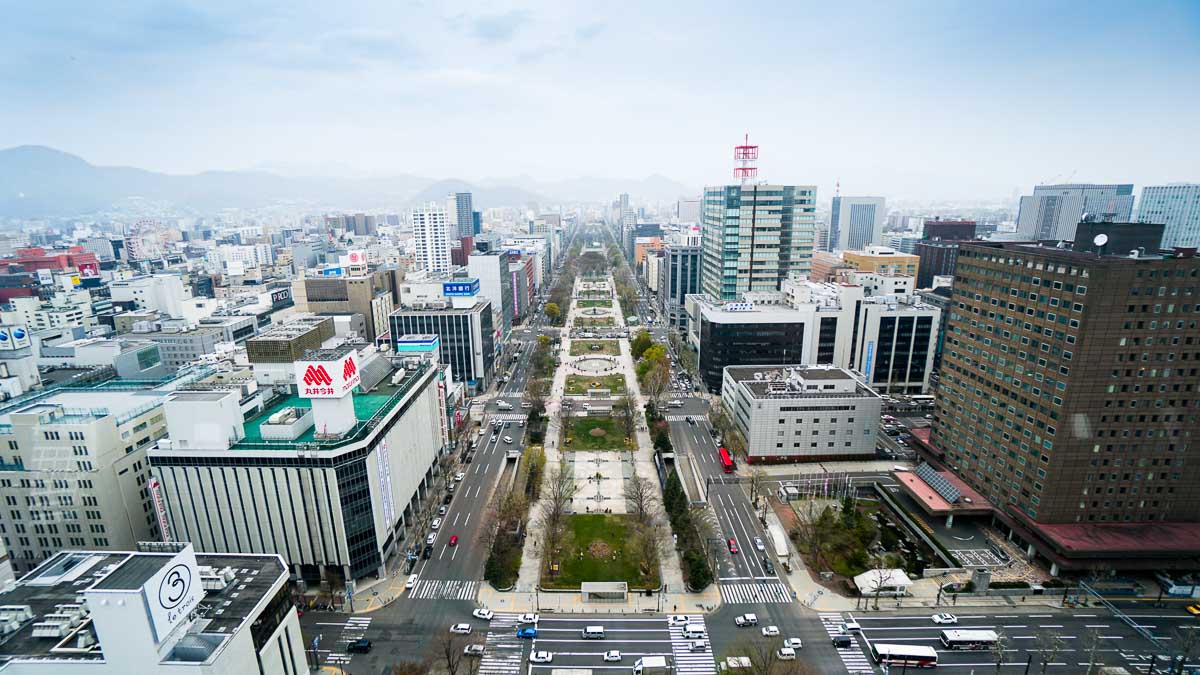 My favourite is the side of Odori park but you can also catch sight of famous attractions like Mount Moiwa, the Sapporo Dome and even the Sapporo beer museum!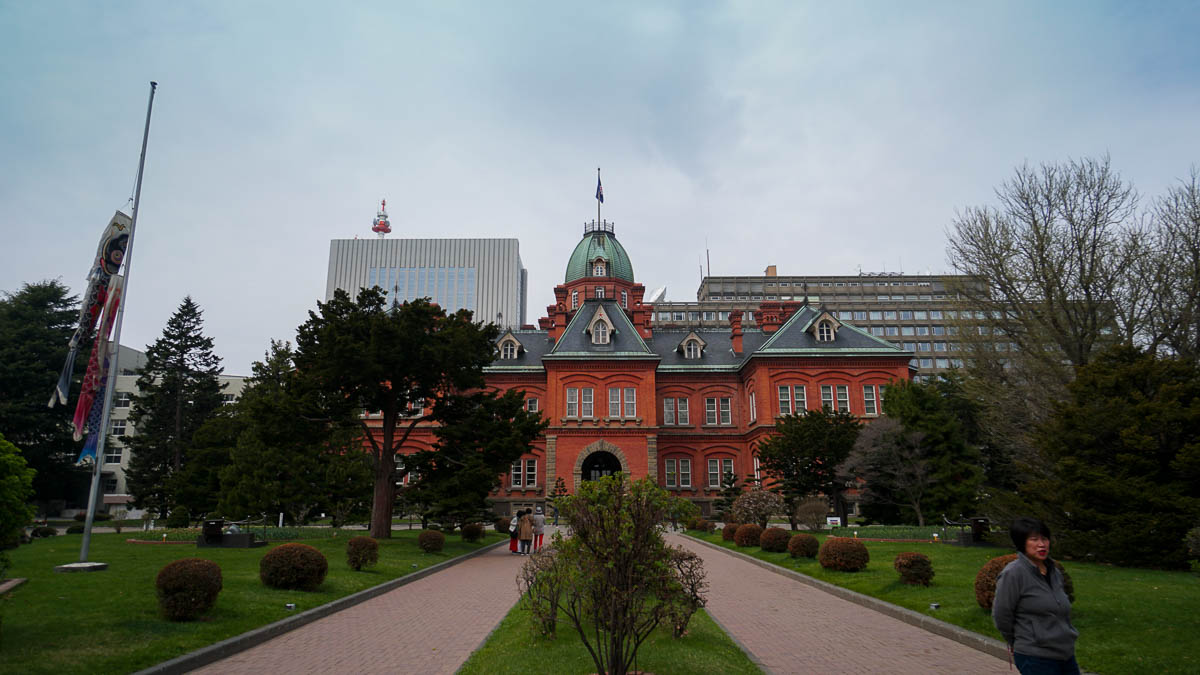 If you have time, check out the other historical building in the area like Akarenga Government Building (Red Brick) and the Sapporo Clock Tower. More sights around Sapporo in this comprehensive Sapporo City Guide!
Entrance Fee: ¥720 (~S$8 on Klook)
Opening Hours: 9AM – 10PM
How to get there: 5-minute walk from the Sapporo Municipal Subway Odori Station (Exit 27) OR 15minute walk from JR Sapporo Station (South Exit)
Suage Soup Curry For Dinner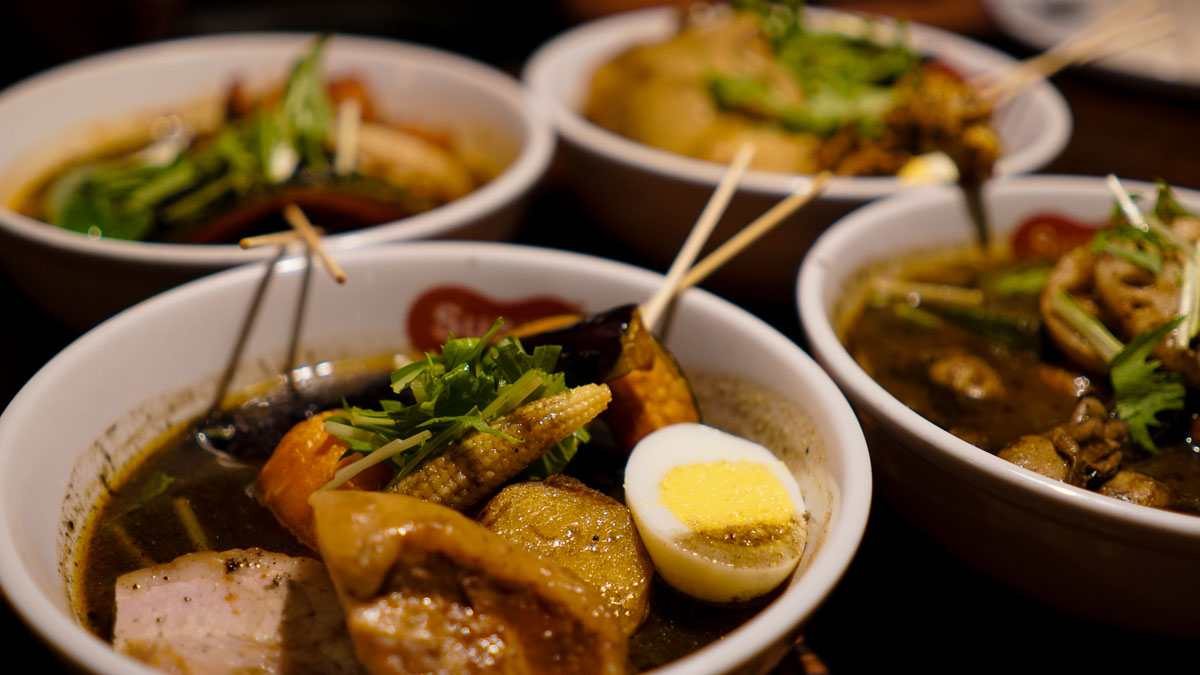 The curry found in Hokkaido is quite different from the usual Japanese curries you find in places like Coco Ichibanya. As the name suggests, the soup curries have a lot more of a soup-like consistency and are more savoury than sweet which I personally prefer. On the second floor of a building in the Susukino district, Suage Curry Soup and Dining is often spotted with snaking queues down the stairs during dinner — the queues does move quite quickly!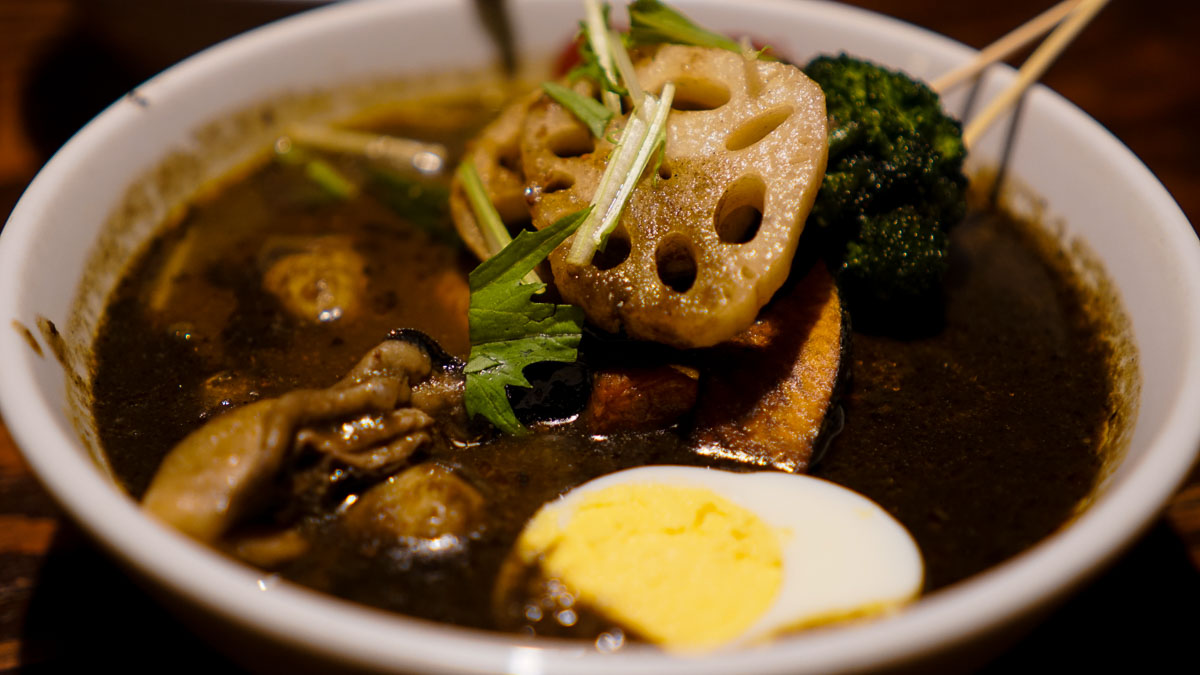 The specialty here is the option to add squid ink to your curry which gives it a nice twist. There's also the option for add ons like cheese or egg and the choice of 5 spiciness levels (1 being not spicy at all to 5 "super spicy"). The super spicy isn't that spicy so if you're a regular chilli padi eater, just go for level 5.
Cost: Curries from ¥980 (~S$12)
Opening Hours: 11:30PM – 10:30PM
Address: 5-chome Minami 4jo Nishi, Chuo-ku | 2nd Floor, Sapporo 064-0804, Hokkaido
Drinks at Susukino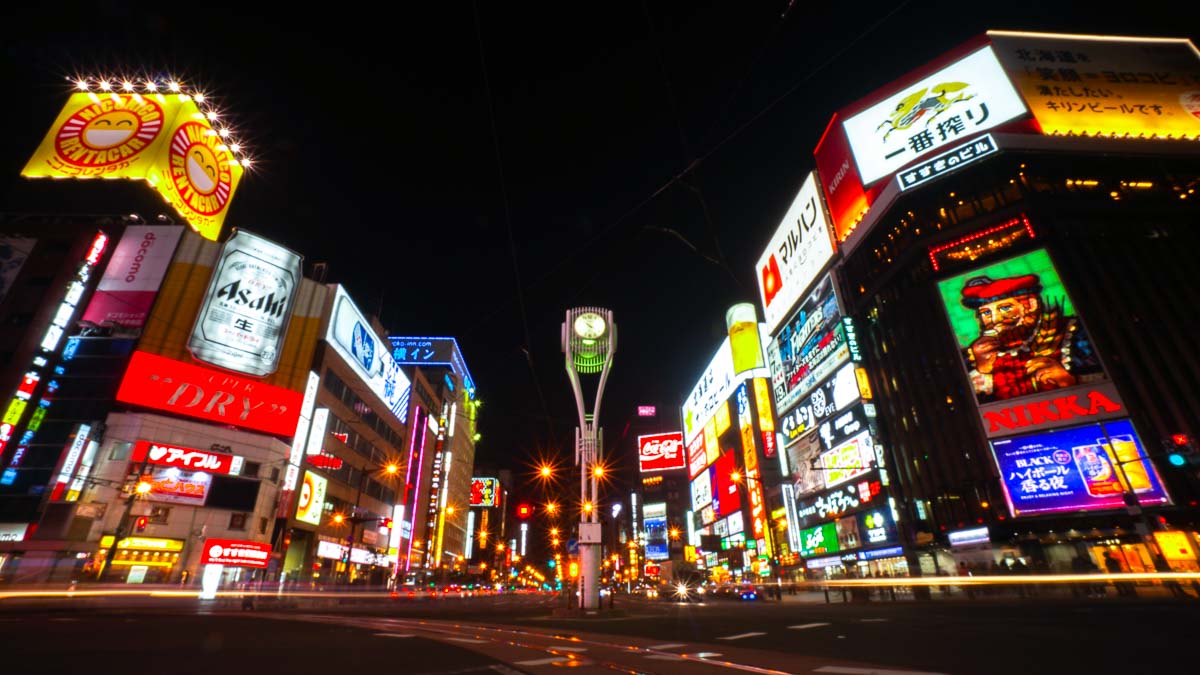 Susukino can be described to be the Dotonbori of Osaka — neon-lit buildings with giant beers signs competing for your attention and streets where pedestrians from all sides cross at once. Susukino is also where all the famous bars are at. We checked out Flair Bar ES which overlooks Susukino street. The bar is also famous for it's exciting bartending show which happens twice a night at 7:30PM and 10:30PM. Expect fast paced choreography, liquor bottles on the verge of smashing and a bit of fire.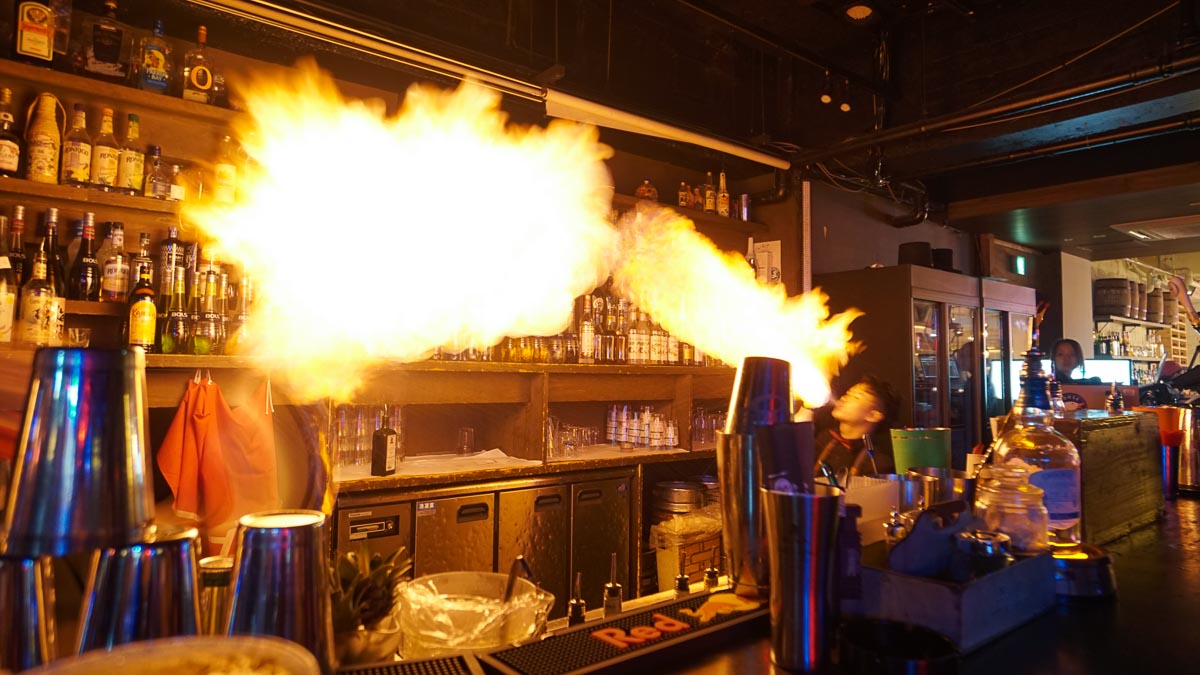 Flair Bar ES
Cover Charge: ¥300/pax (drinks from ¥550)
Opening Hours: 6PM – 2AM
Address: 4 Chome-16 Minami 4 Jonishi, Chuo, Sapporo, Hokkaido 064-0804, Japan
*Pro-tip: Walk up to the bar and make a booking before dinner. The bar happens to be only 5 minutes from Suage Soup Curry.
Day 2: Sapporo
Brunch at Ramen Shingen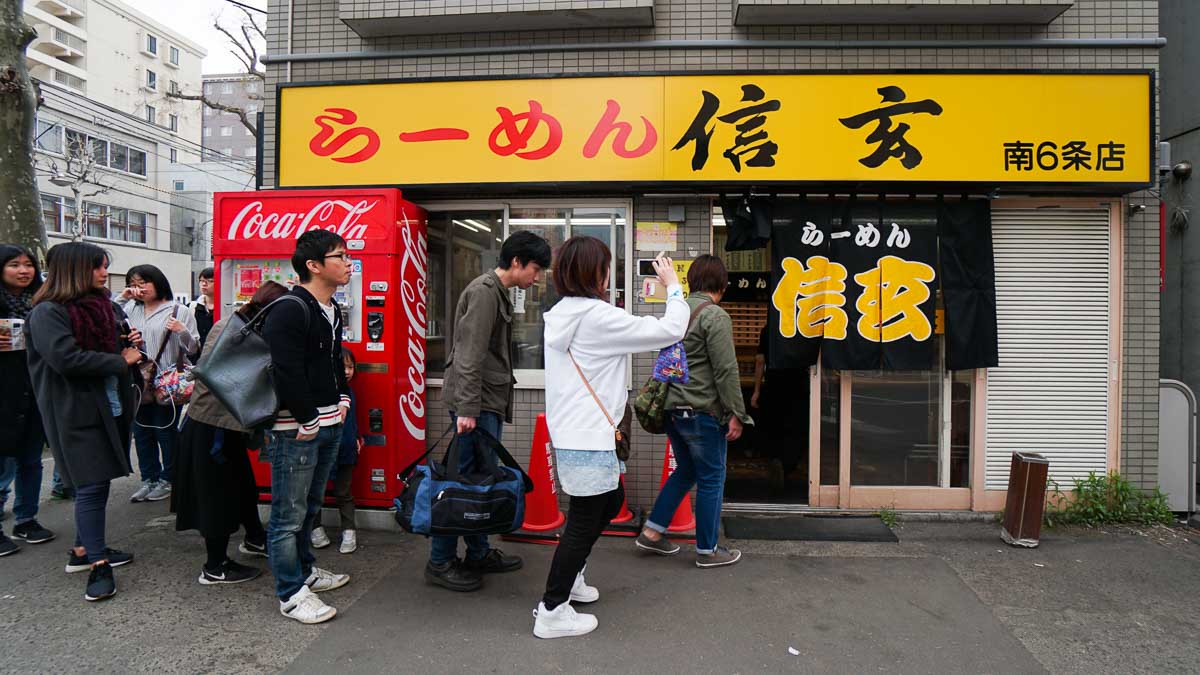 Miso-broth ramen is Sapporo's specialty and this small 15-seater store has obviously done something right. Arrive at 11:30AM (when the store opens) and you'll already see a queue of 20–30 people. We arrived around 11 and was one of the last of the first batch to enter so do come early as 90-minute queues here aren't uncommon!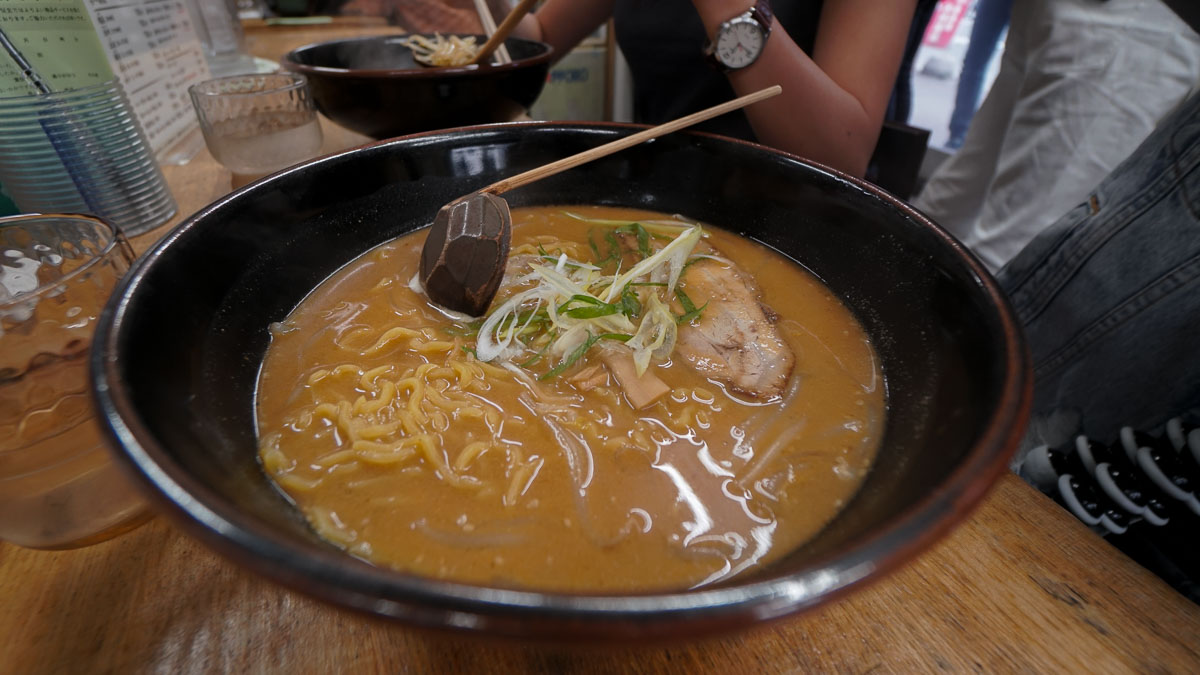 The menu is entirely in Japanese but the first on the menu is spicy miso which was what we ended up having and I can almost say this is one of the best bowls of ramen I've ever had! The noodles have a nice springy texture and the broth is the sort you'll want to finish every bit of.
The portion for their regular bowls (¥760) are pretty big so if you're a small eater, you can opt for the half portion (¥540). The fried rice (¥300) is a great side too to have if you still have stomach for it!
Cost: From ¥540 (~S$7.50)
Opening Hours: 11:30AM – 1AM
Address: 8丁目-8-2 Minami 6 Jonishi, Chuo, Sapporo, Hokkaido 064-0806, Japan
How to get there: 3-minute walk from Higashionganji-Mae Station
Shiroi Koibito Park (White Lover Park)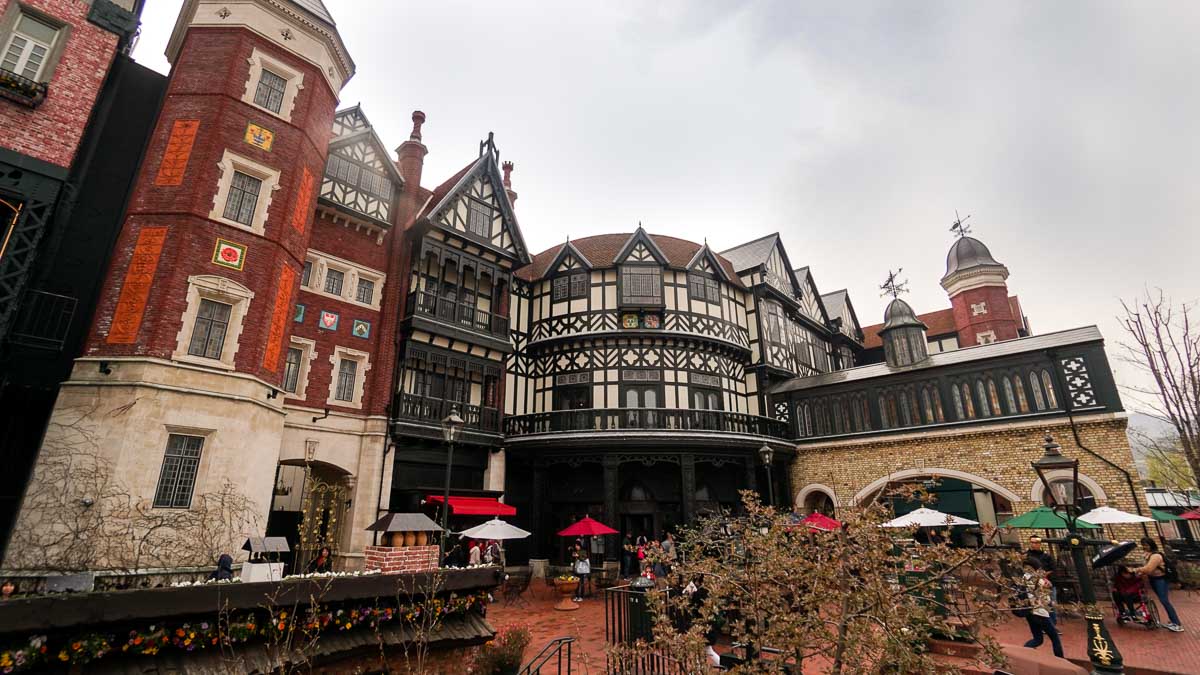 This fairytale themed park 30 minutes from Odori station is created around one of Japan's most famous white chocolate snack 白い恋人 (Shiroi Koibito). Walk into an enchanted park with happy music on the speakers, colourful flowers all around and bubbles occasionally filling up the space.
For only an extra ¥540, this is the only place you can customise the tin of the biscuits with your favourite photo — available for both the 36 and 54 piece tins. You can take your photo there or bring along one from home. Great as gifts to your sweet toothed friends.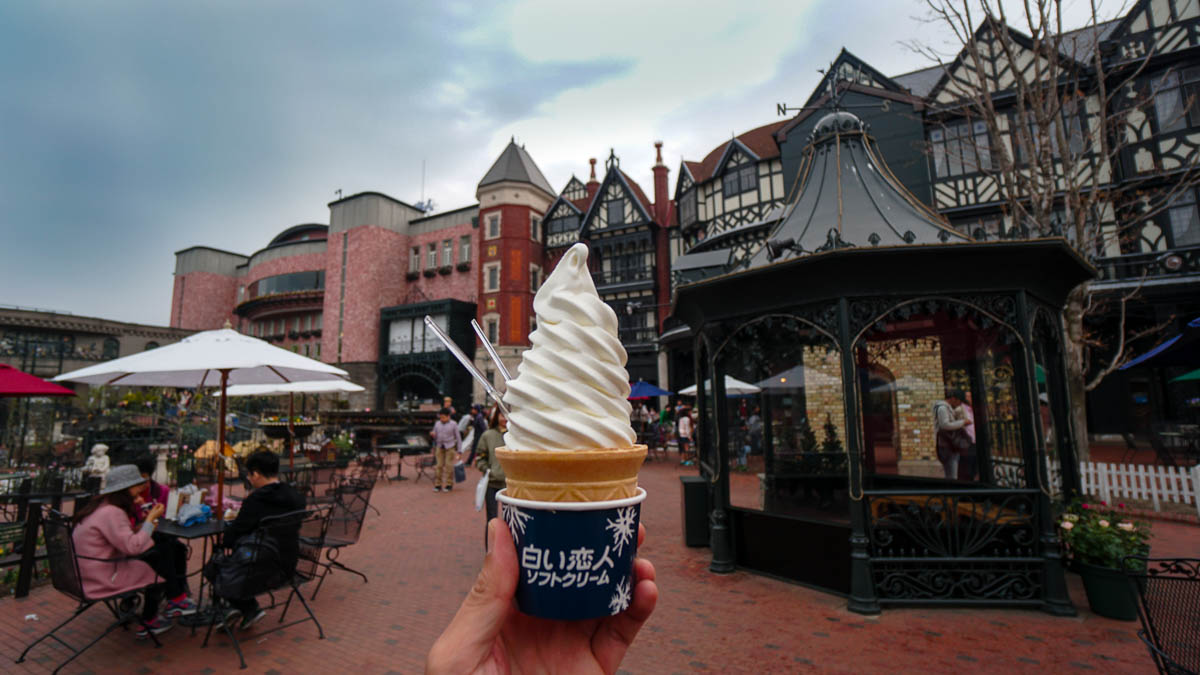 There used to be a factory tour to observe how the biscuits are made but that's under renovation until May 2019. Until then, enjoy free entry to the park! Check out the cafe for other popular sweets, join a cookie making class (¥972 – ¥1296) or enjoy the scenery with a Shiroi Koibito flavoured soft serve (¥300/450) — one of my favourite soft serves ever in Japan (and that's a lot given how good soft serves are around the country)!
Entrance Fee: ¥600 but free until May 2019 due to the construction of the factory area
Opening Hours: 9AM – 6PM
Address: 2 Chome-13-30 Miyanosawa 2 Jo, Nishi Ward, Sapporo, Hokkaido 063-0052, Japan
Sapporo Beer Museum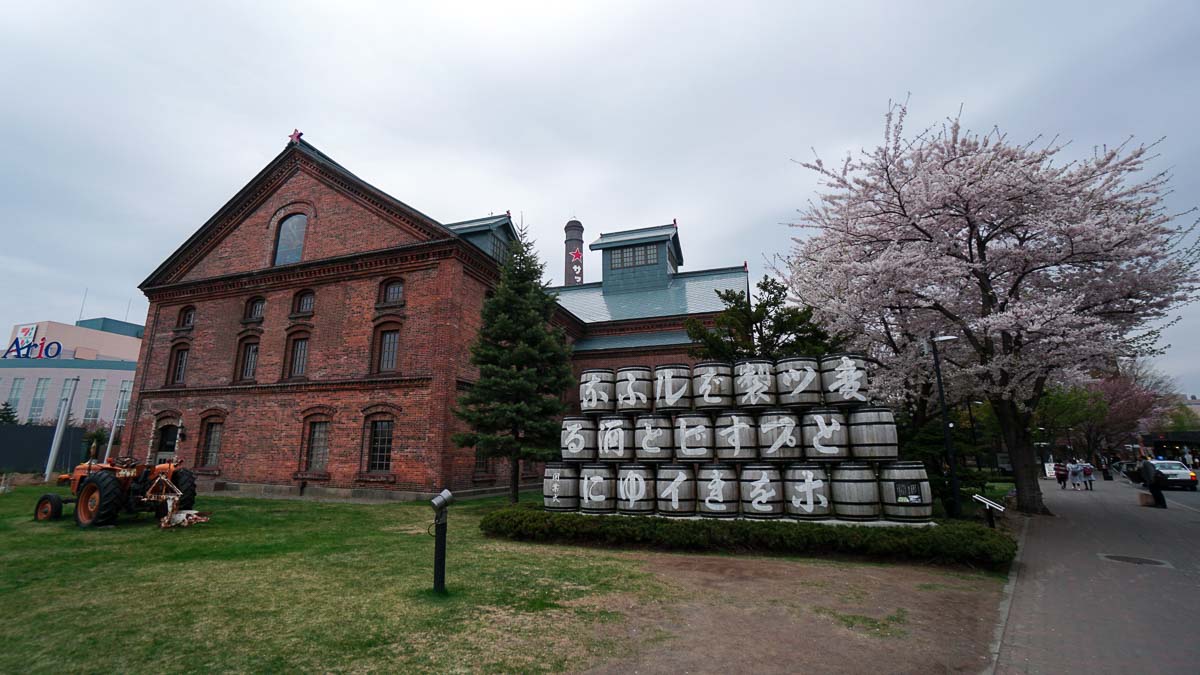 Open since 1987, this is the only beer museum in Japan. There's a free tour on the 3rd floor of the building where you can read through 12 stations explaining how the beer ended up being manufactured in Hokkaido. The explanations come in English, Korean and Chinese and have pretty interesting facts to uncover. The premium tour (¥500) includes 2 beers to taste but is only in Japanese.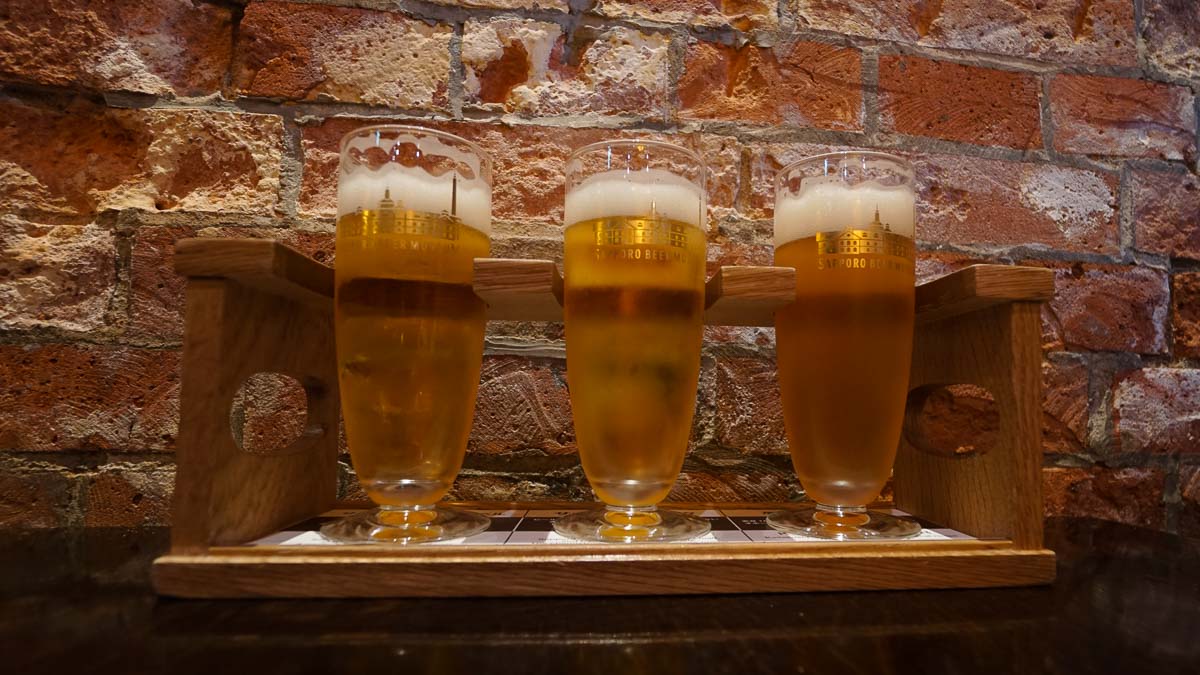 If you went on the free tour, fret not about the beer since you'll end up in the Star Hall on level 1 where you can purchase beer tasting vouchers from the vending machine. We got the ¥600 taster set which comes with the Sapporo Classic, Sapporo Black Label and a special Kaitakushi edition made from the original recipe.
Entrance Fee: Free or ¥500 for the premium tour
Opening Hours: 11AM – 8PM daily (last entry at 7:30PM)
How to get there: 10-minute walk from Higashikuyakusho-Mae station. From Sapporo station, there are 2 shuttle buses (¥210) that drops directly at the Beer Museum (North Exit Bus Stop 2, Line Number 188 or South Exit Loop Line no.88)
Sapporo Bier Garten (Beer Garden)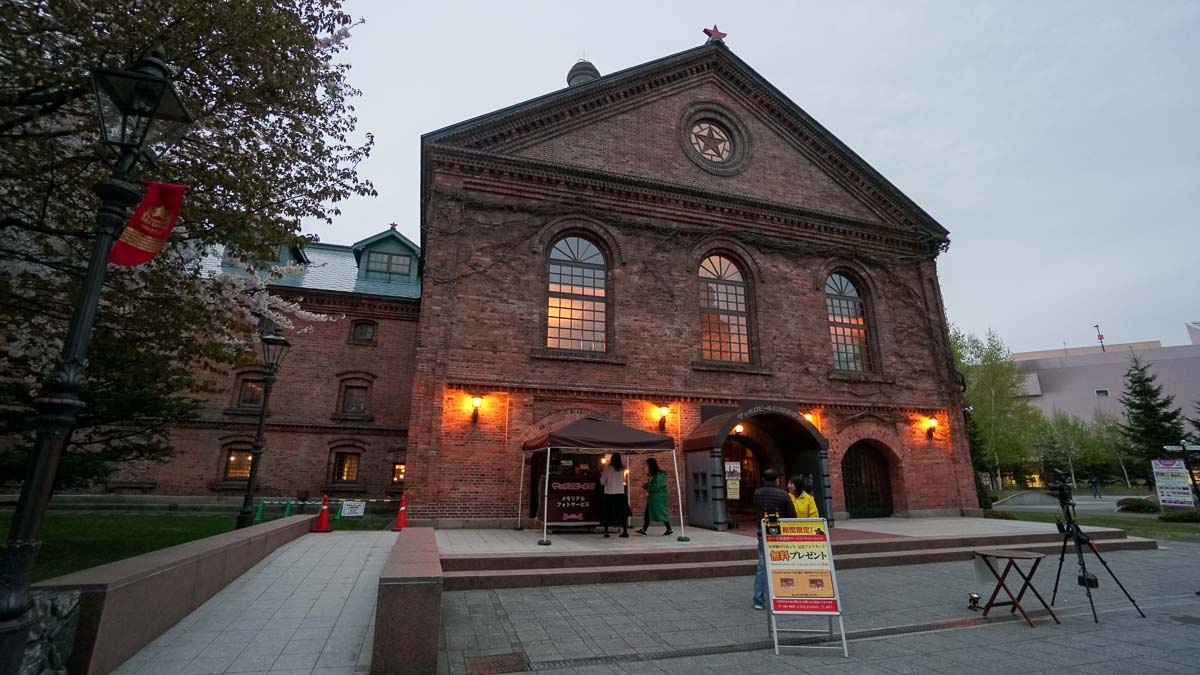 The last Hokkaido signature dish to try on your final night in Hokkaido is "Genghis Khan". I'm not entirely sure of how it got its name but it's actually a lot like a thai-style mookata except the ingredients definitely a lot fresher!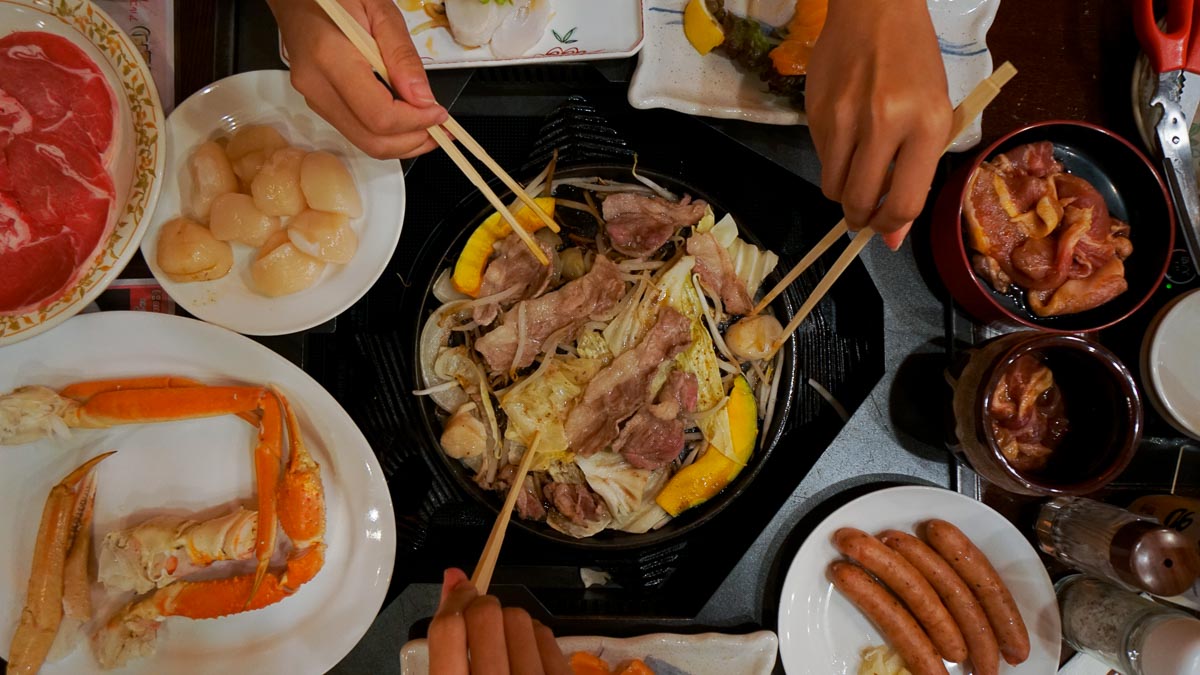 Located right next to the museum, the Bier Garten has a 100-minute all you can eat buffet for ¥5680 or ¥6980 (incld. free flow beer). The buffet includes a good spread of meats including Genghis Khan style lamb, sushi, and snow crabs!!! If there's only one meal to splurge on in Hokkaido, this is our recommendation.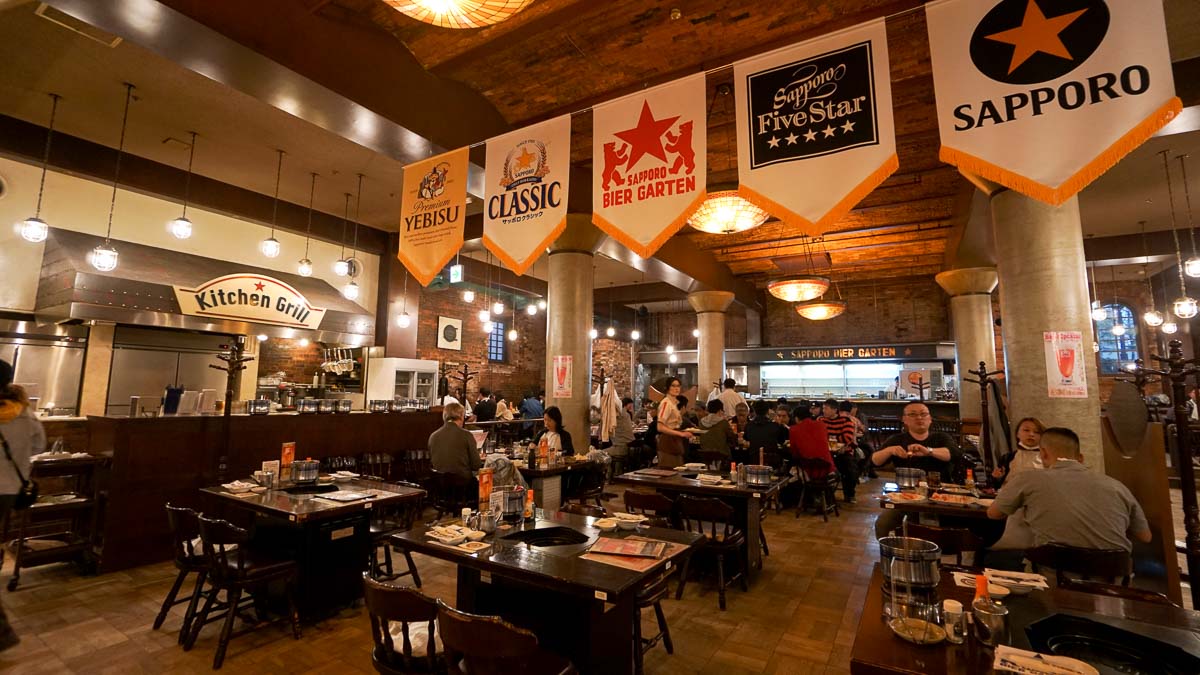 You can reserve by calling them at 0120-150-550 at least a day before or get your reserved slot via Klook! If you failed to reserve, you can still leave your name at the reservation counter at the Beer Museum but the wait time might go up to 2 hours.
Cost: ¥6980 for the all inclusive buffet (~S$85 on Klook including reservations)
Opening Hours: 11:30AM – 10PM (Last order at 9:30PM)
For more things to do in Sapporo, check out our extensive Sapporo City Guide.
Day 3: Hakodate via Lake Toya/Noribetsu
Accommodation: Hakodate Kokkusai Hotel — located conveniently between the Hakodate Asaichi (Morning Market) and the Kanemori Red Brick Warehouse.
Car Pick up: We left at sunrise on day 3 so we picked up the car the day before. If you plan to leave later, the car rental shop opens at 8AM and can be collected just a short 6-minute walk from the JR Sapporo station.
*Pro-tip: For getting around with the in-car GPS, just key in the Map Code or phone number (found on google maps).
Jigokudani Hell Valley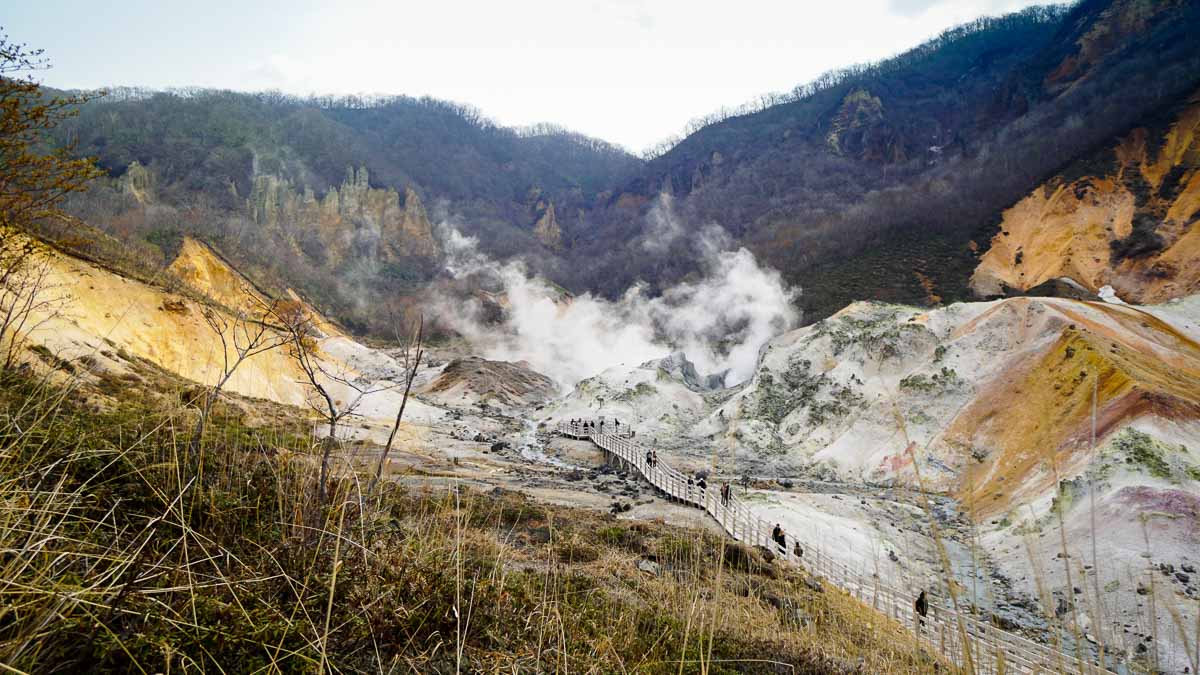 Not to be confused with the Jigokudani Snow Monkey Park in Nagano, this Hell Valley located in Noboribetsu is a 1.5 – 2.5 hour drive from Sapporo. From here, there are various easy well paved walking trails ranging from 5 – 20 minutes. Parking here is ¥500.
Map Code: 603 288 368*85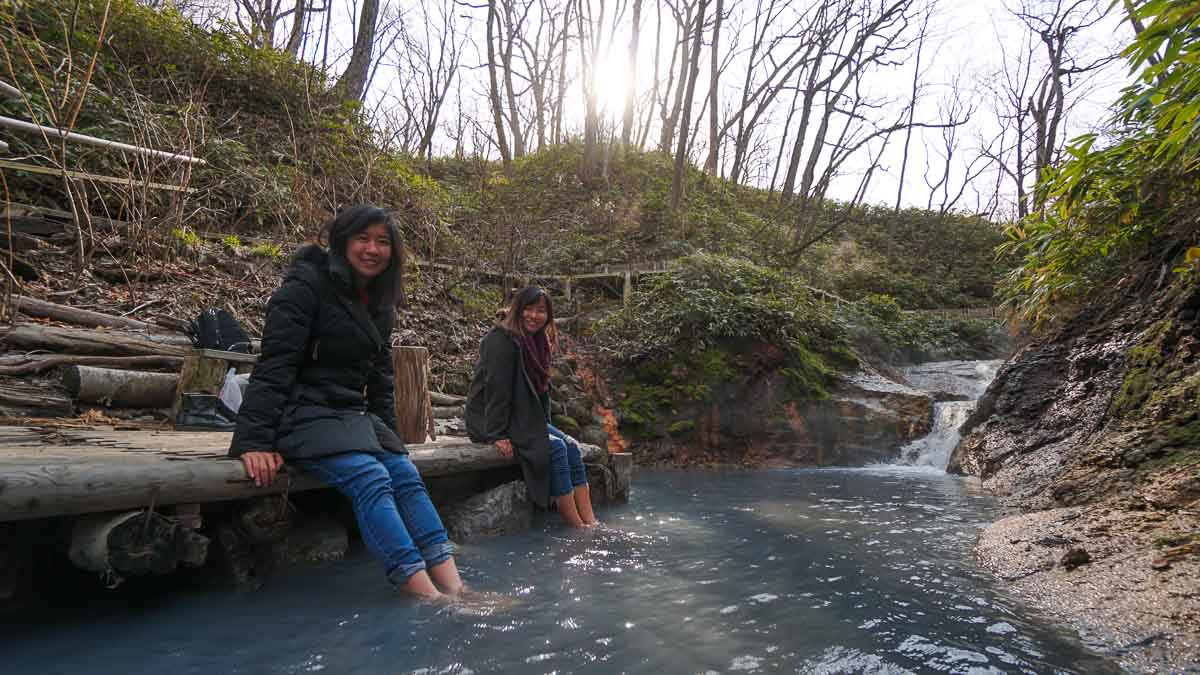 Alternatively, you can park at the Oyunuma Brook Natural Footabath carpark, get your feet soaked before following a 1.2km walking path to Jigokudani. This parking lot is free and can be identified with 2 tall blue statues called the Welcome Demons. From this spot, it's only a 5 minute walk to the natural hot spring river.
Entrance Fee: Free
Map Code: 603 287 856*36 (Oyunuma Footbath Parking)
Lake Toya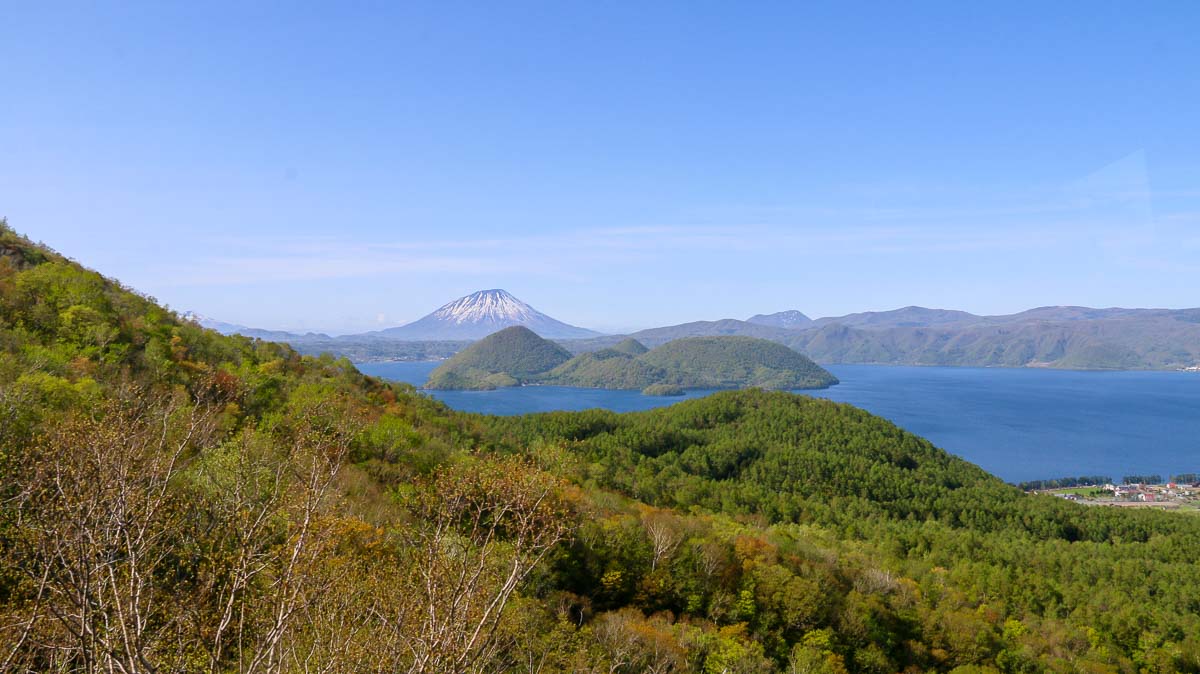 A 40-minute/70-minute drive (with toll/without toll) from Noboribetsu is a famous caldera, Lake Toya. The best view of the caldera is from the top of Mount Usu via the Usuzan Ropeway (¥1600) which leaves every 15 minutes.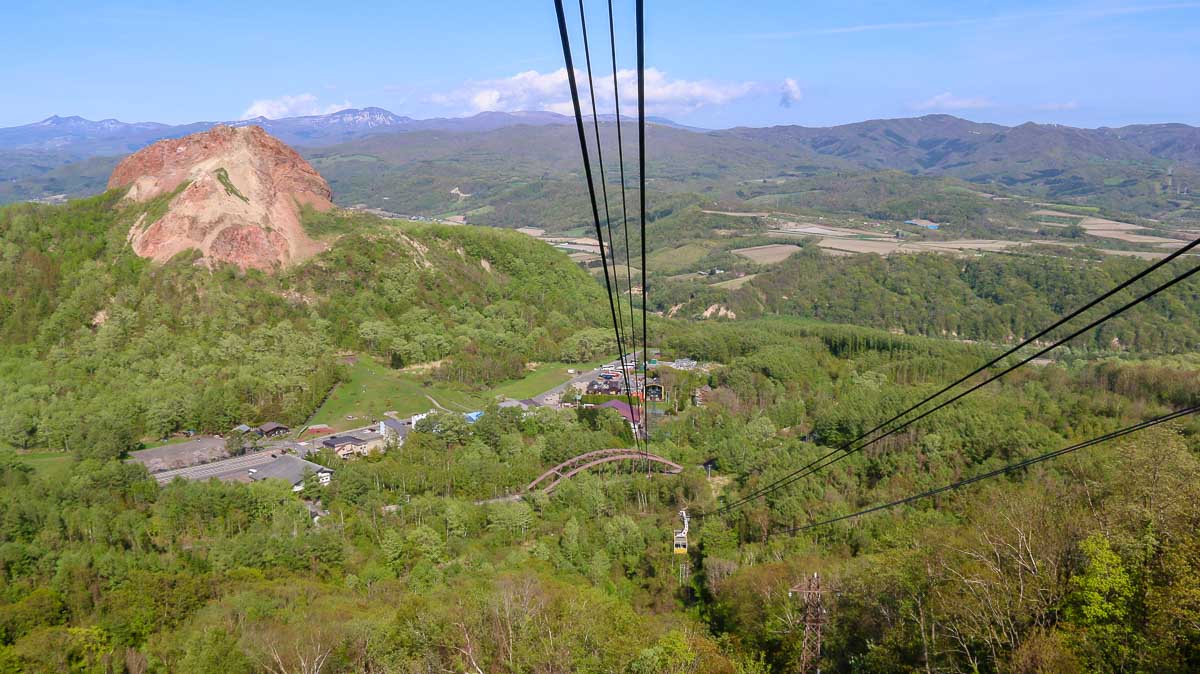 Though, it's really only worth the trip if the weather is sunny. If it's cloudy, give it a miss.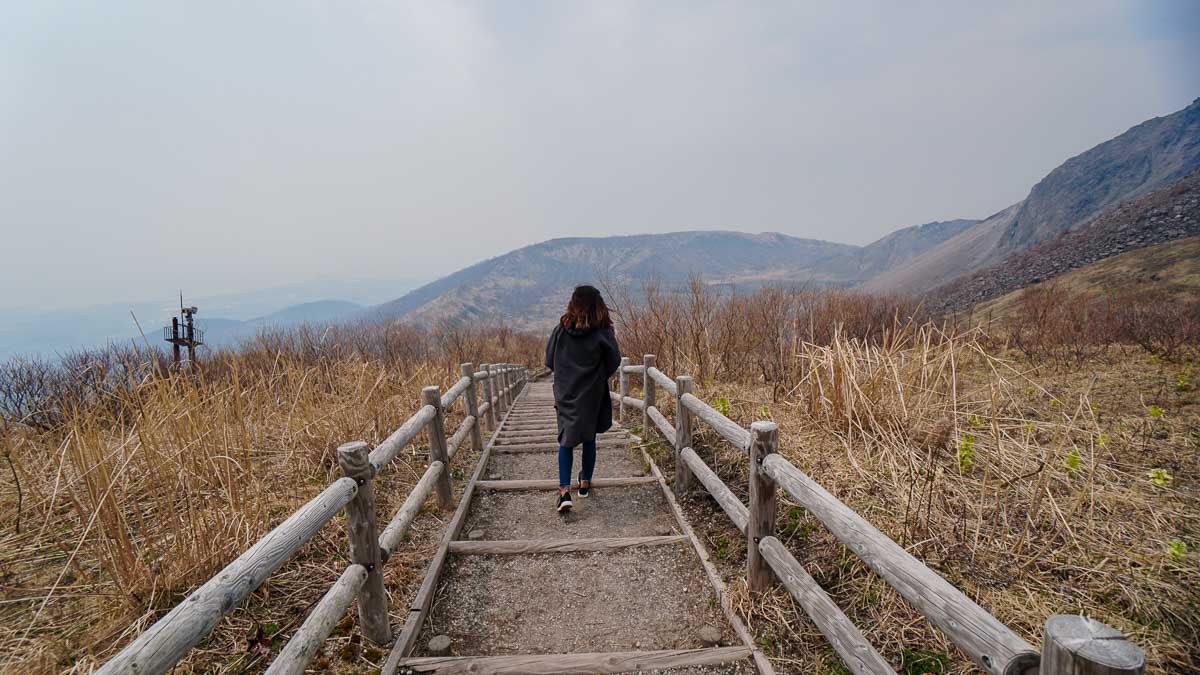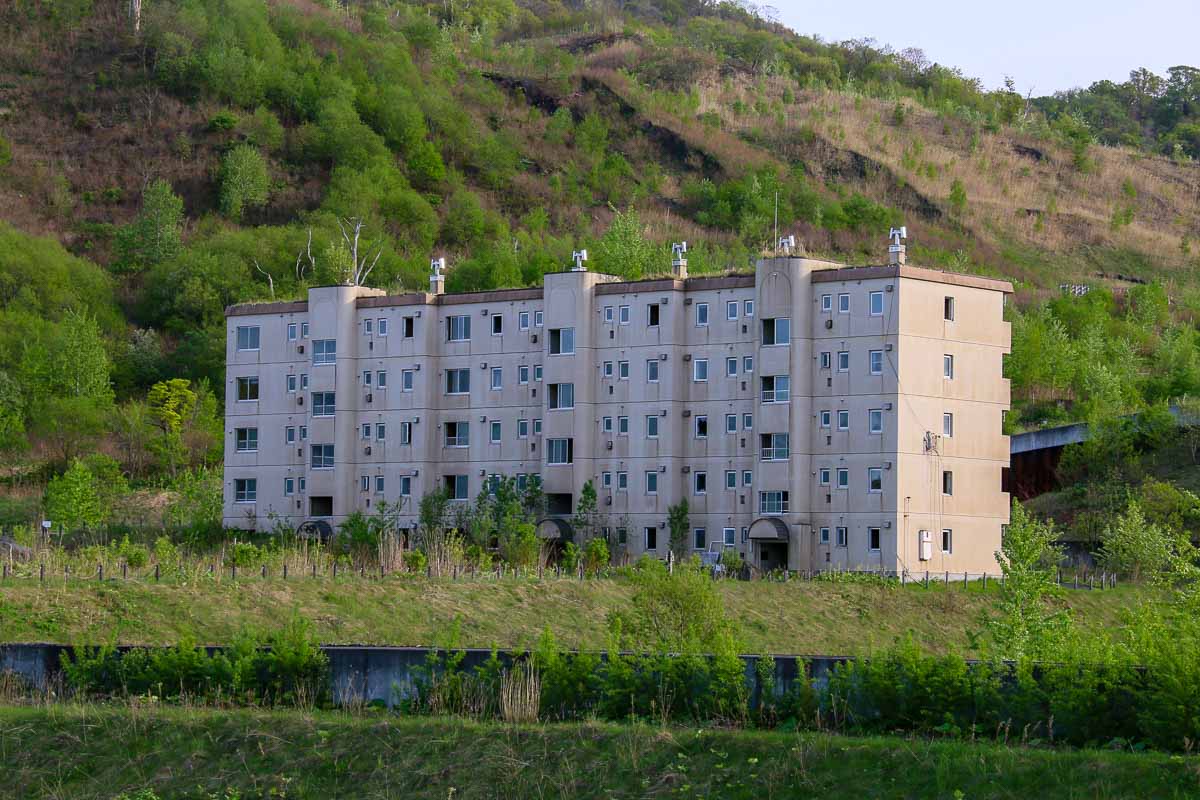 There are various walking trails like the Kompirayama and Nishiyama Crater Walking Trail. On these trails, you can walk through some abandoned buildings damaged by the last eruption in 2000. Start from the visitor centre to grab some maps and be pointed to the start of the trail. Entrance to these trails are free.
Usuzan Ropeway
Cost: ¥1600 (~S$17.50 via Klook) ; ¥500 for Parking
Map Code: 321 433 350*55
Lunch at Toya Marche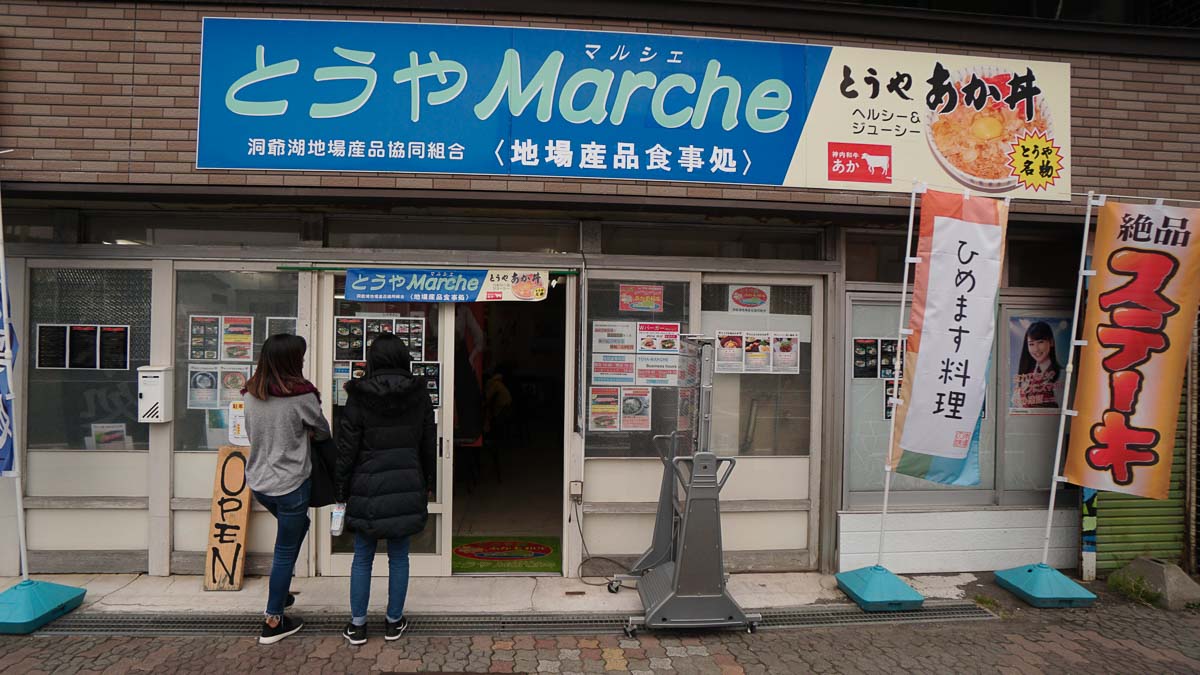 Toya Marche's food isn't life changing but the set meals are very reasonably priced compared to many of the overpriced eateries along the lake. Their specialty is in their beef dishes like Wagyu Miso Soup (¥650 comes with rice and salad) and the Toya Beef Gyudon ¥810, all turned out beyond satisfactory.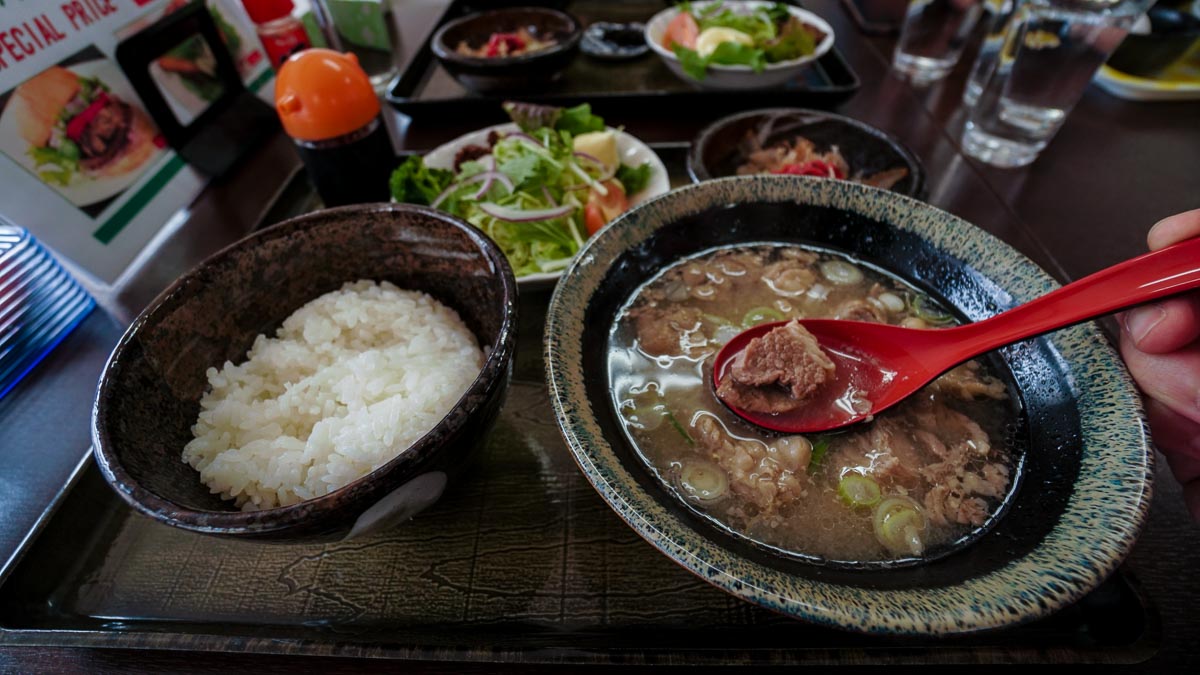 Cost: From ¥650 (~S$8)
Opening Hours: 9AM – 6:30PM daily
Map Code: 321 518 499*03
Drive From Lake Toya to Hakodate
With toll: 2.5 hours
Without toll: 3 hours
Goryokaku Park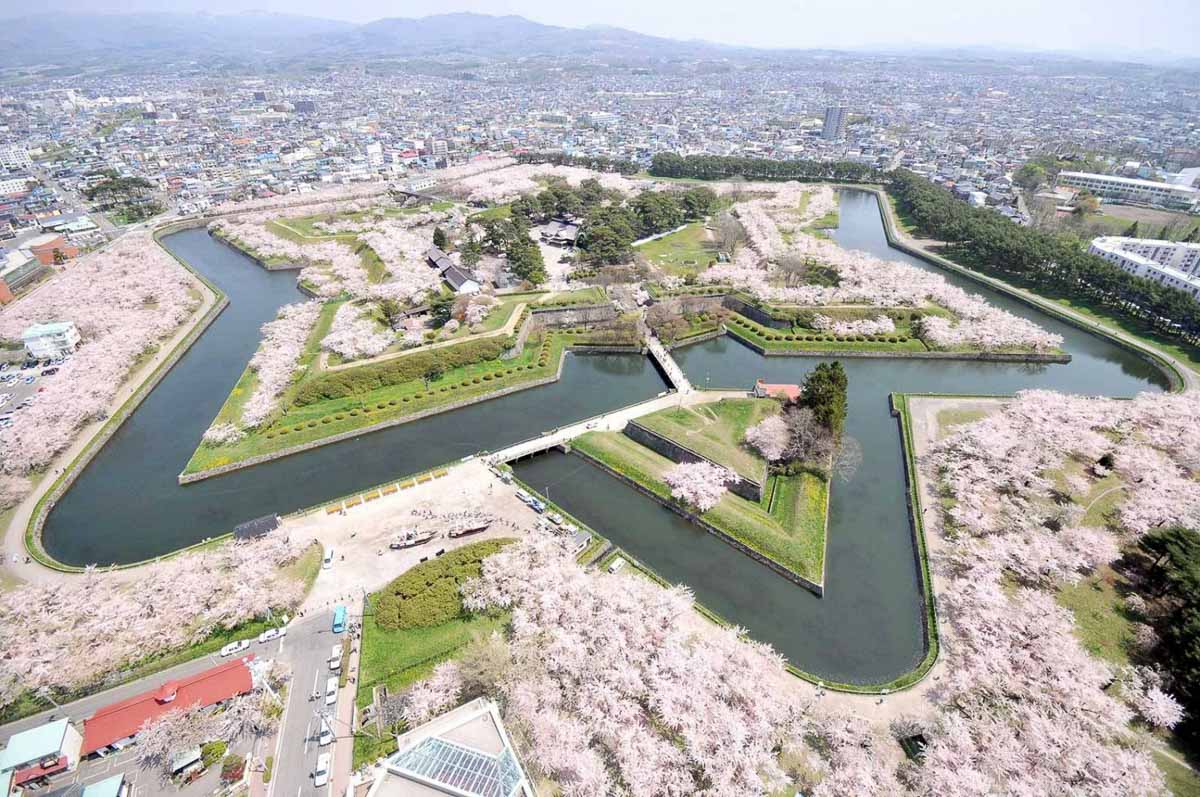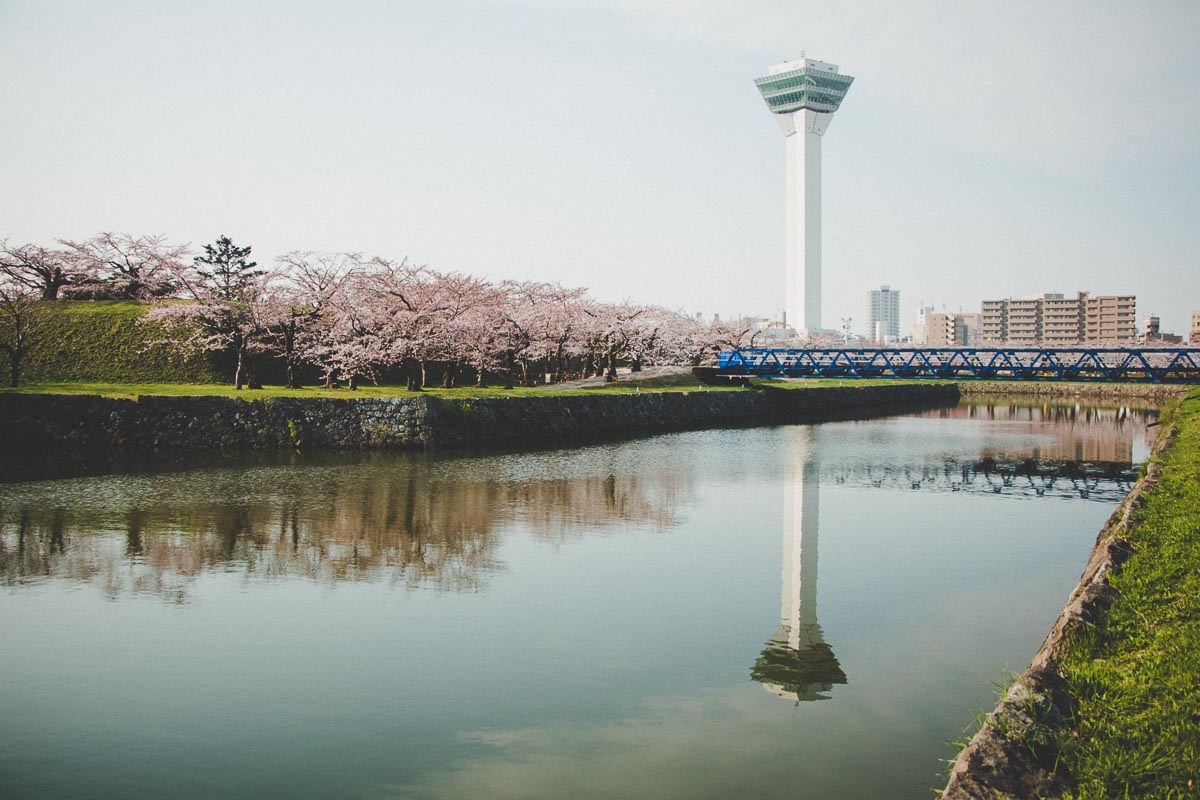 The star shaped fort surrounding the park is often the icon that comes to mind when you think of Hakodate but because of the huge area, the shape can only be seen from the top of the 107m Goryokaku Tower observatory (¥720). But don't forget to check out the park itself! It's a popular spot during the Hanami period and you can spot locals arriving for a jog as early as 5am!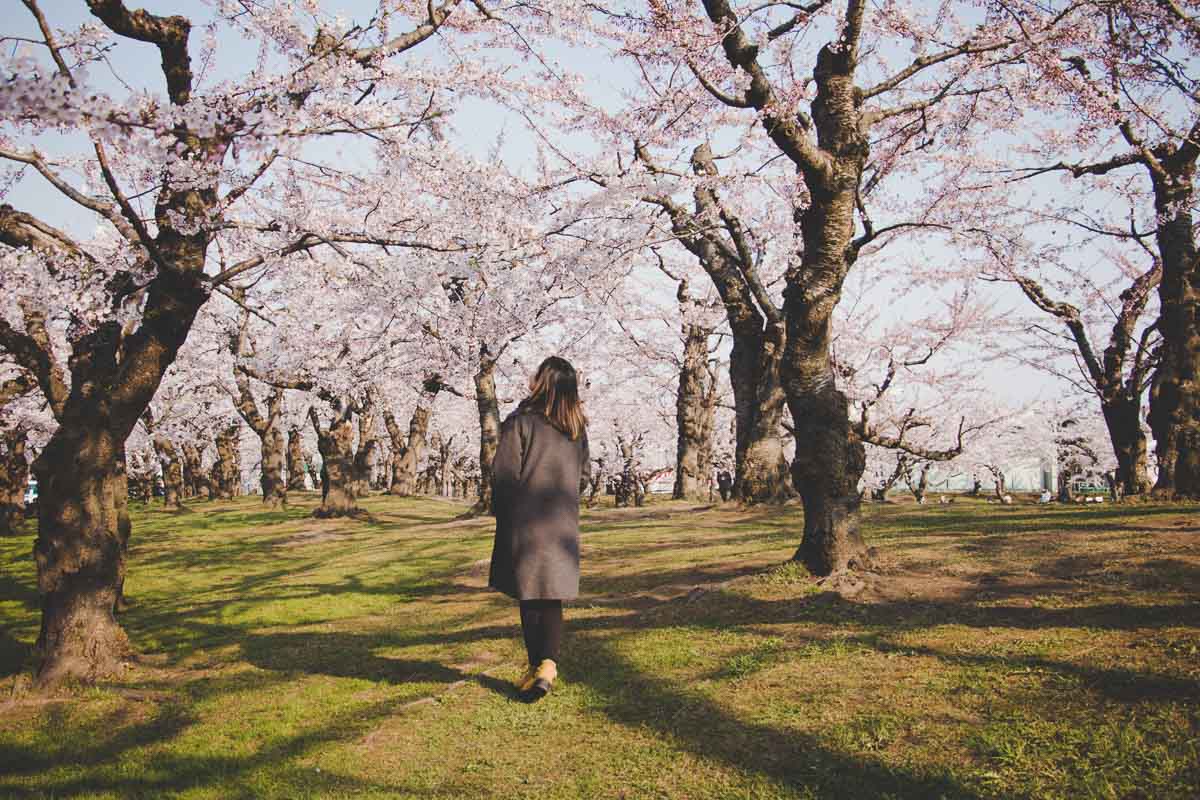 Entrance Fee: Free for the park; ¥720 for the observatory
Opening Hours: 5AM – 7PM for the park; 8AM – 7PM for the observatory (opens one hour later and closes one hour earlier from April – October)
Map Code: 86 165 294*14 (Nearest Carpark)
Dinner at Unagidokoro Takahashi (うなぎ処 高はし)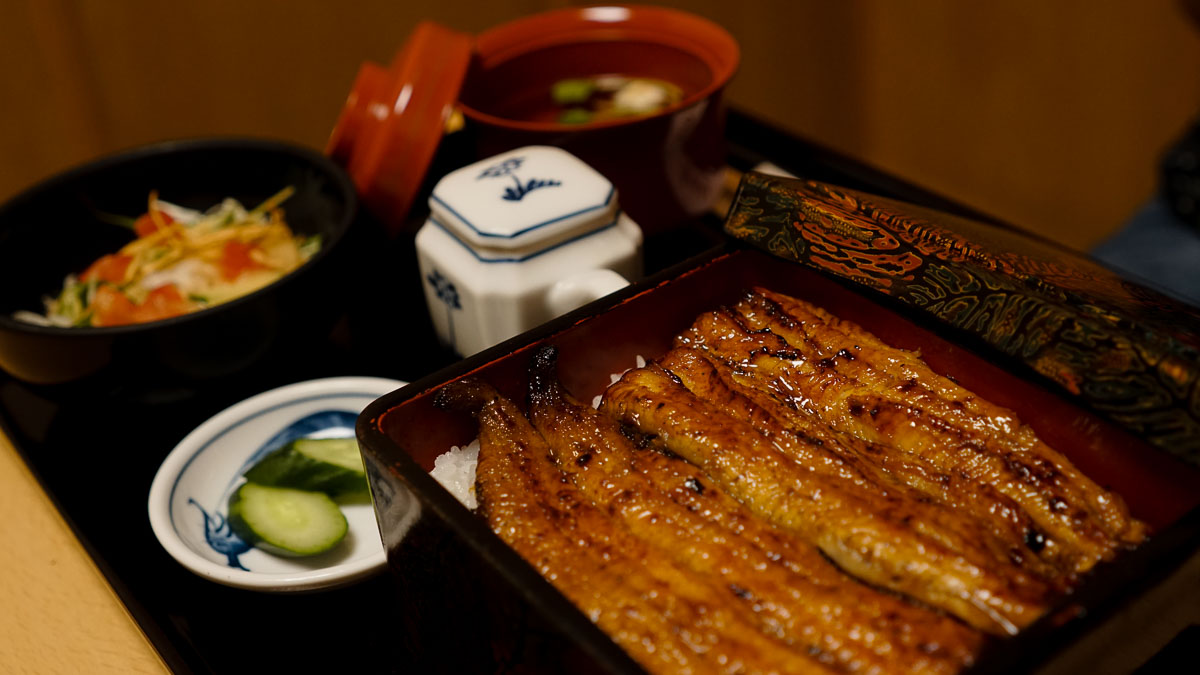 Located just a street from the Goryokaku park is a gem for Unagi lovers who don't want to spend a bomb. There's no english menu here but the staff are incredibly patient although we still couldn't figure out the difference amongst the few that had pictures. Regardless, the meal was delicious and well worth the price! Unagi sets range from ¥2,060 for the regular, ¥2,780 for the medium and ¥3,900 for the large which can be shared amongst 2. If you're here over lunch, grab hold of their limited lunch sets that go at just ¥1,230.
Cost: From ¥2060 (~S$25) for dinner
Opening Hours: 11:30AM – 2:30PM; 5PM – 9:30PM (Closed on Tuesdays)
Map Code: 86 165 624*63
Daimon Yokocho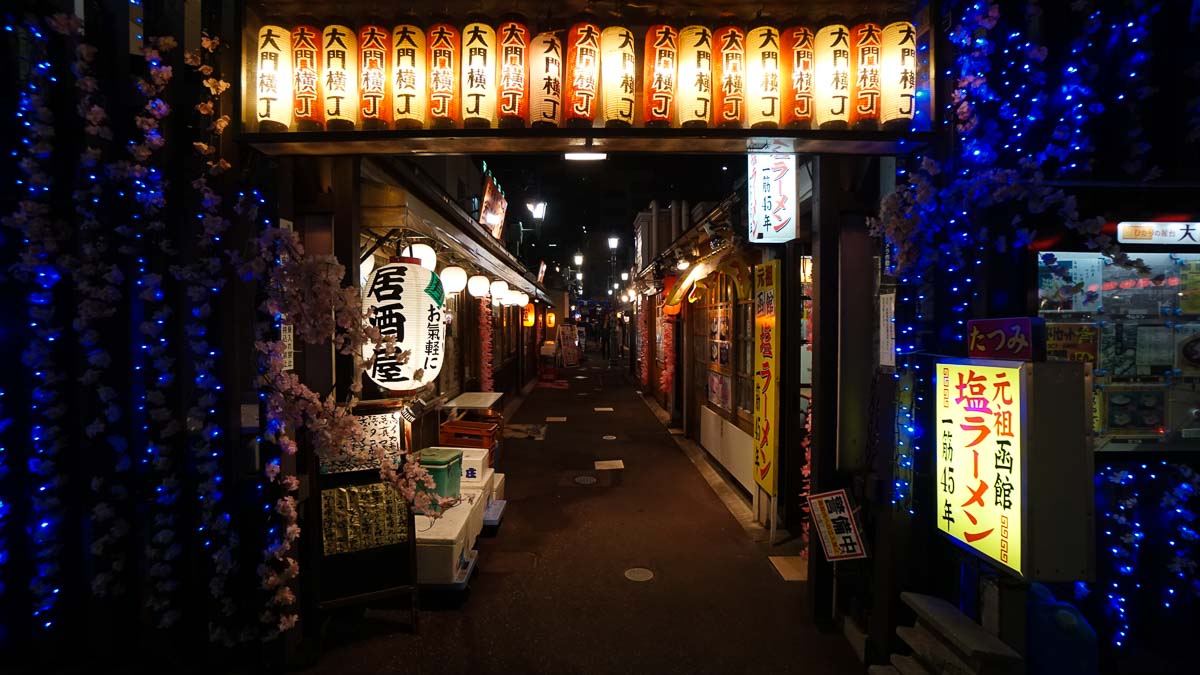 Lined with more than 20 over small eateries and bars, this is a great alternative for dinner or post dinner snacks and drinks. Each eatery only fits an average of 5-15 pax but you can find a variety of food including Genghis Khan, Chirashidon, seafood and even Squid ink gyozas (¥450/5pc) which were really good!
Opening Hours: 5PM – 12AM
Map Code: 86 073 393*17 (Nearest Carpark)
Check-in at Hakodate Kokusai Hotel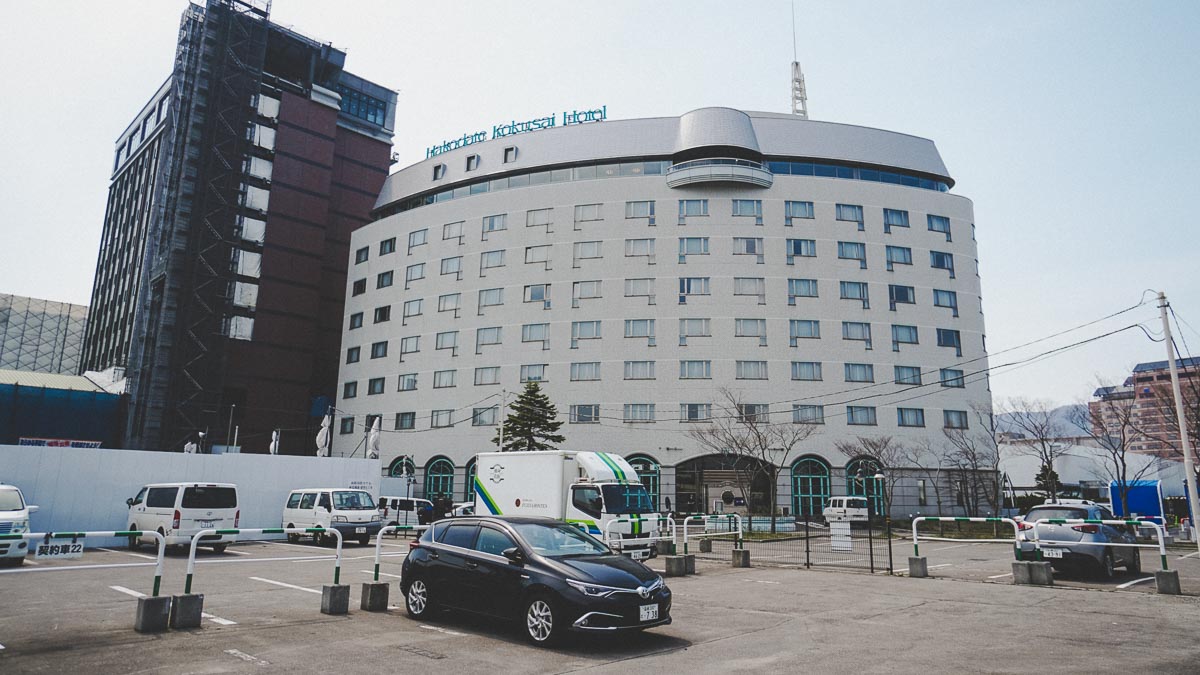 Conveniently within walking distance to both the Hakodate Asaichi morning market and the Kanemori Red Brick Warehouse, our accommodation for the night in Hakodate was at the Hakodate Kokusai Hotel — which was selected as one of the Top 100 hotels in Japan. Our favourite part though was the breakfast spread up on the SkyLounge! The spread offers a wide variety of Japanese, Western and even French cuisines all of which were incredibly fresh and delicious! Arguably one of our favourite meals in Hokkaido!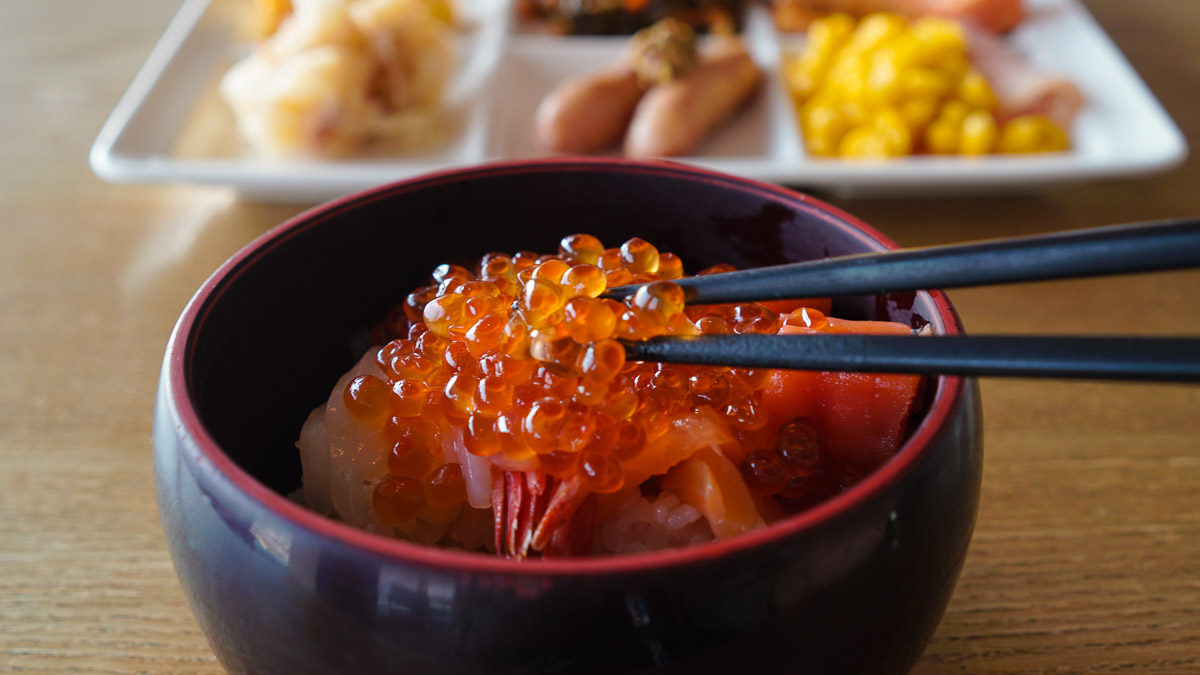 Cost: From ¥2,547/pax (~S$31) for a west semi double room
Map Code: 86 042 874*36
*Pro-tip: Being a chain under MYSTAYS, you can can enjoy 5% off this hotel booking with the coupon code <TTI5> on this booking too!
Day 4: Hakodate to Otaru
Accommodation in Otaru: Hotel Sonia Otaru — Located one street away from the famous Otaru canal. Some rooms even offer scenic views of the canal
Hakodate Asaichi (morning market)
If you didn't get breakfast from Hakodate Kokusai Hotel (you really should), the Hakodate Asaichi morning market opens as early as 5AM. Grab a fresh bowl of Kaisendon (~¥2000) or check out the indoor market for popular snacks like crab crackers, dried scallop and packed Ikura you can bring home. Look out for the seasonal fruits like the Yubari melon and light pink strawberries (which are supposed to be much sweeter but also way more expensive than the red ones).
Opening Hours: 5AM – 2PM
Map Code: 86 072 374*58
Sightsee Around Hakodate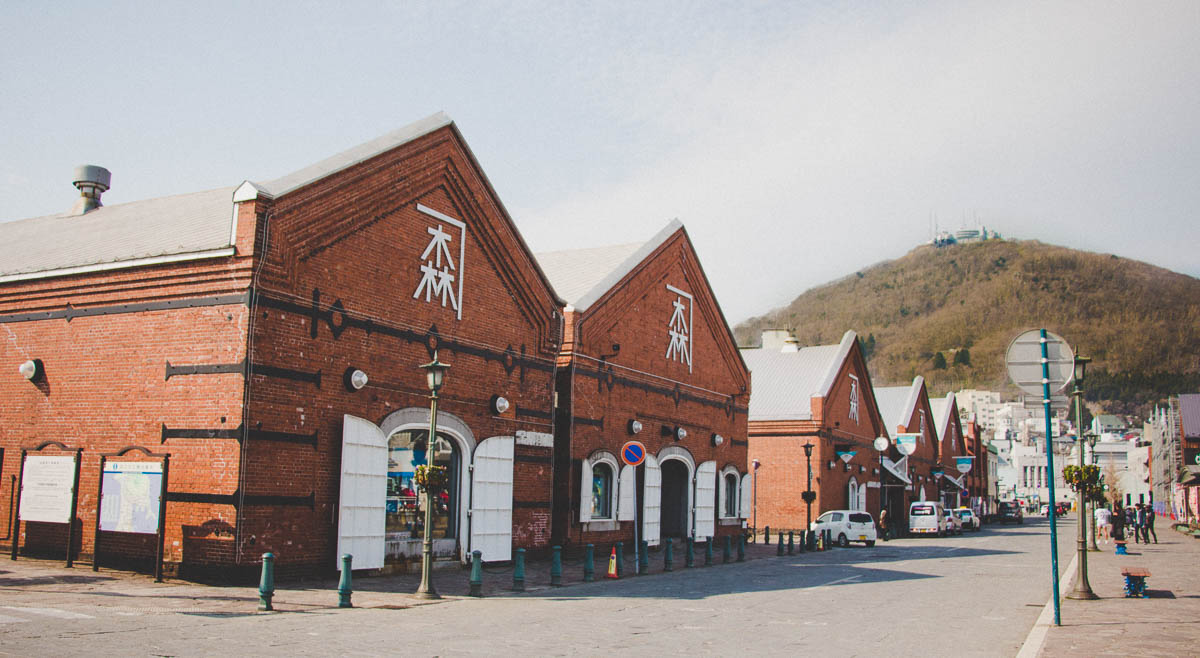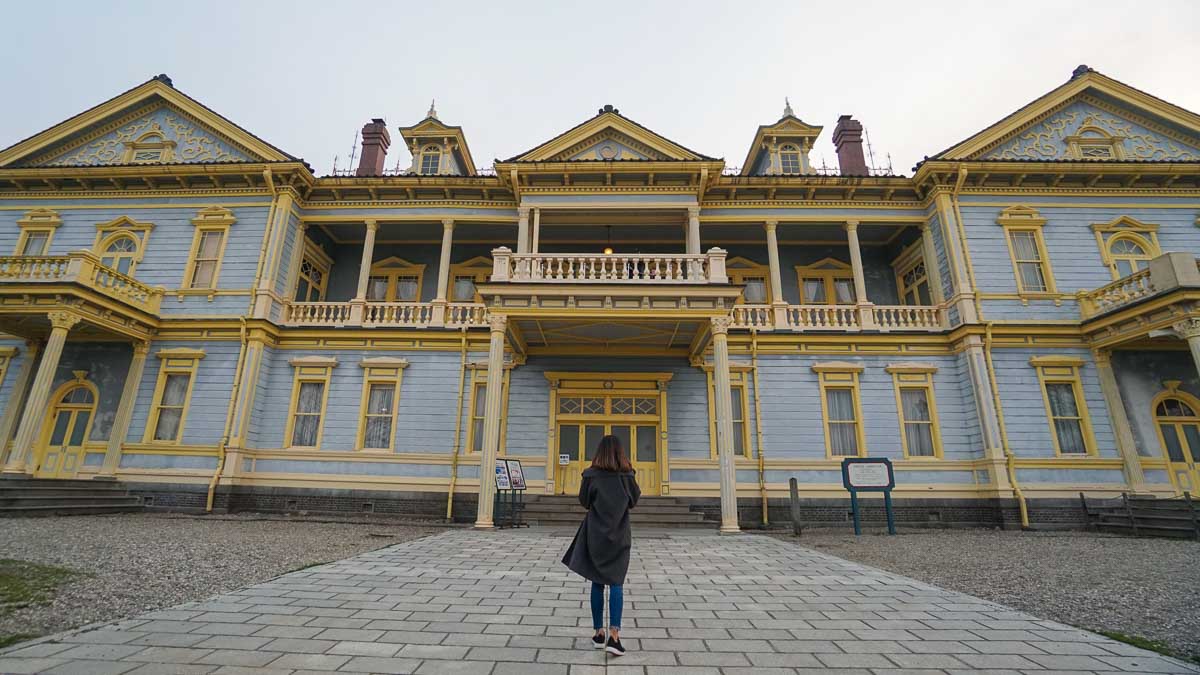 Hakodate is insanely scenic! After making a quick shopping stop at the Kanemori Redbrick warehouse (Map Code: 86 040 324*11), drive over to Motomachi park (Map Code: 86 040 561*44), take a walk around the Renaissance style Western buildings or drive through the Hachiman zaka slope (Map code: 86 040 324*11) — both great for photos.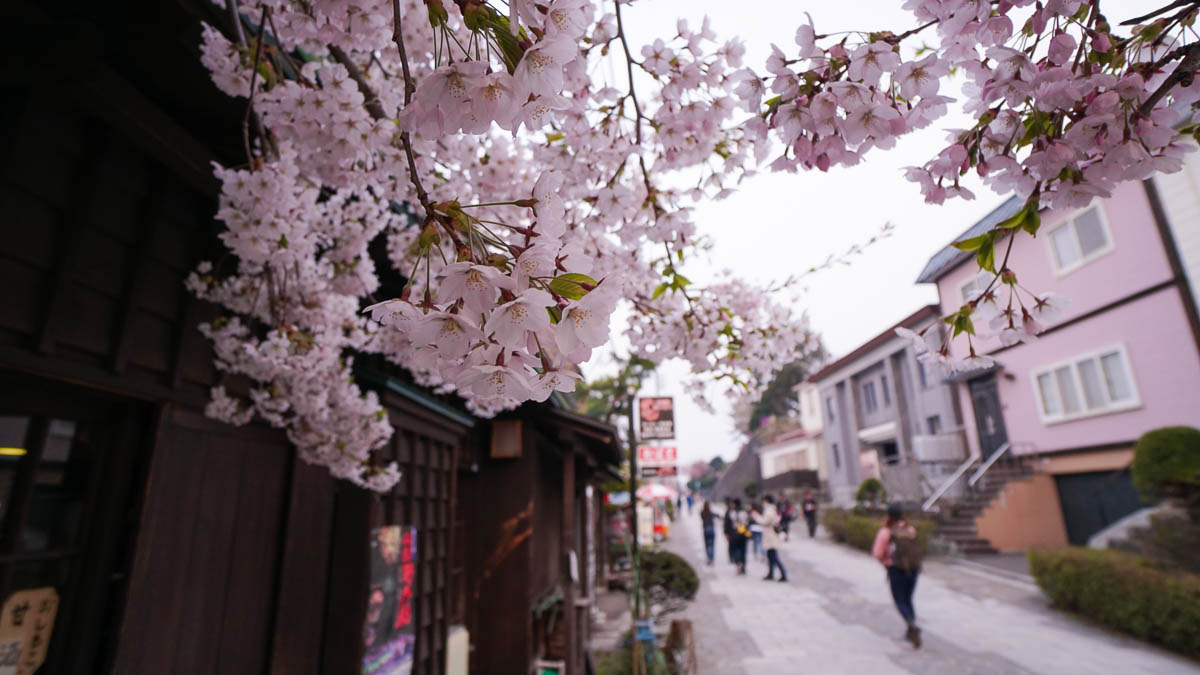 Drive From Hakodate to Otaru
With tolls: 4 hours
Without tolls: 4 hour 40 minutes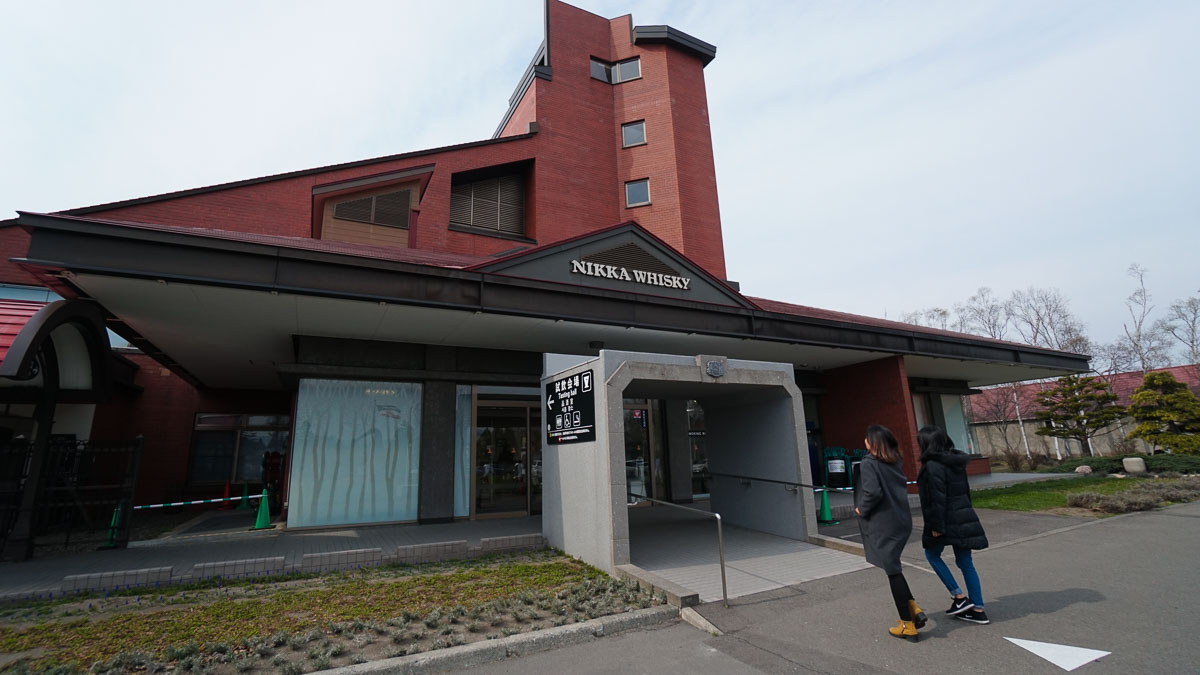 Pit stop for Whiskey Lovers: 30 minutes before reaching Otaru is the town of Yoichi where you will find Nikka Whiskey Distillery. There are tours around the distillery every 30mins but only in Japanese. If you don't understand Japanese, you can walk through the 8 different sections of exhibits on your own and end off with a free set of 3 whiskeys to taste.
Map Code: 164 635 844*63
Check-in at Hotel Sonia Otaru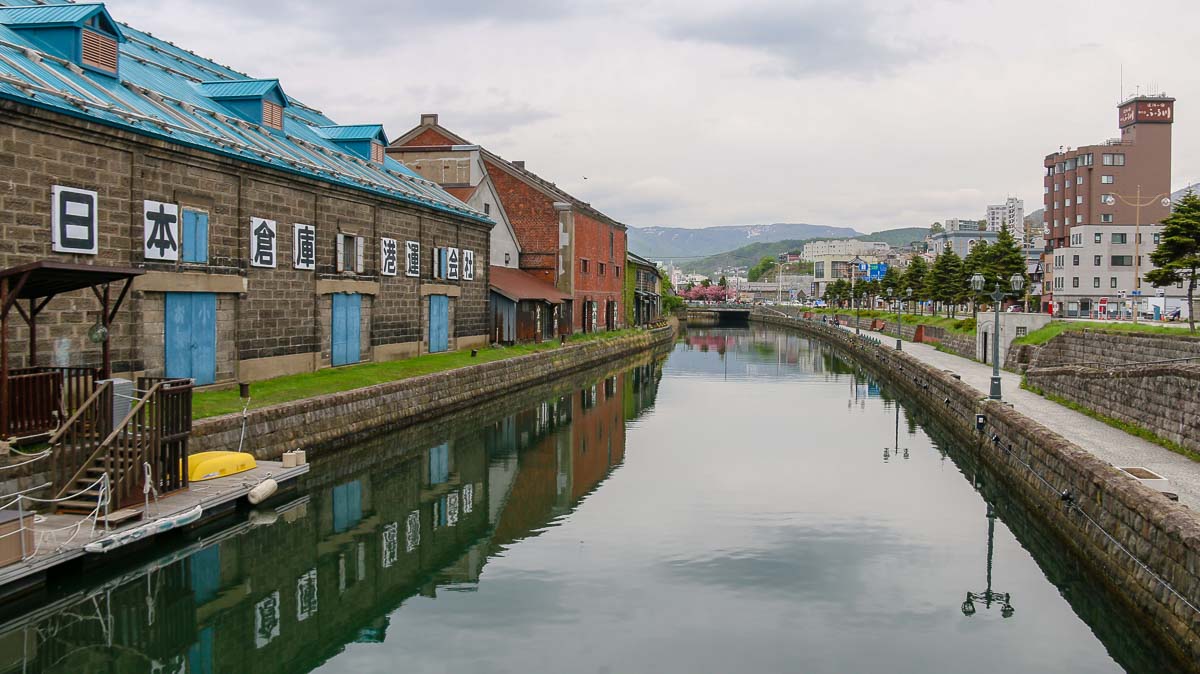 There are only 3-4 accommodations right across the famous Otaru canal offering an unobstructed view of the scenic canal — Hotel Sonia Otaru is one of them.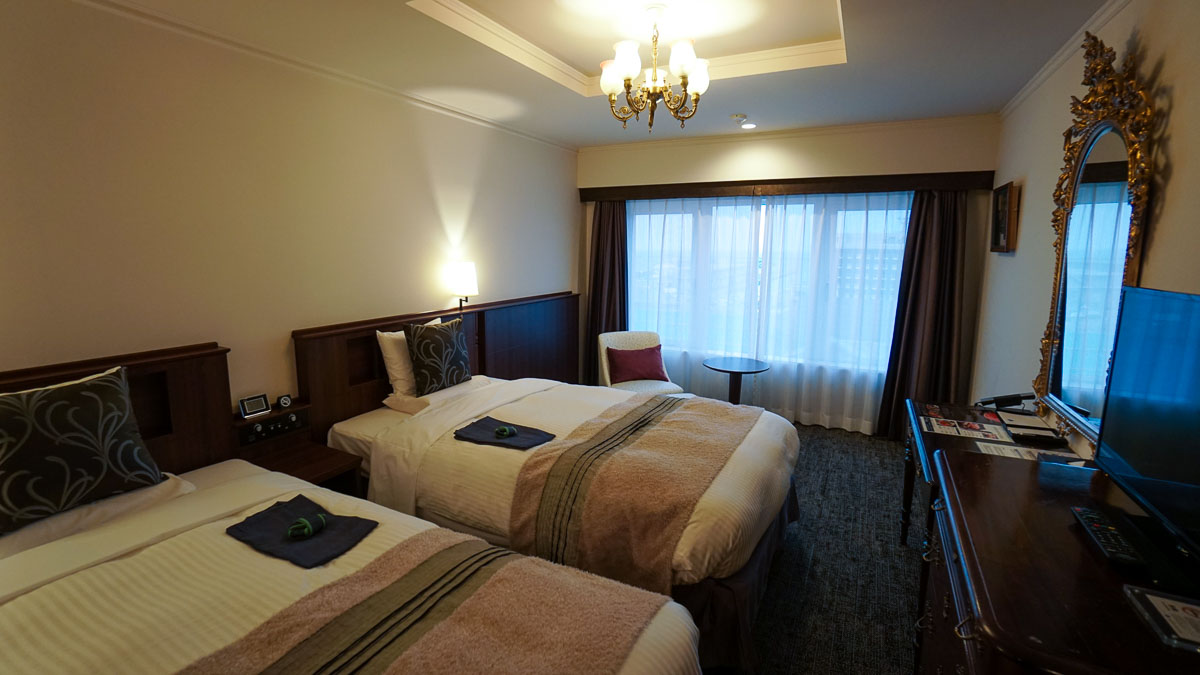 The rooms are modern, newly renovated and spacious! Other than being just a street away from the Otaru canal, the hotel is also conveniently located a 10-minute walk to the Sankaku Fish Market (小樽三角市場) and 10 minutes from the famous dessert street where you can find famous stores like LeTao and Kitakaro. Don't forget to save 5% off your booking by keying <TTI5> under coupon code!
Cost: from ¥3,769/pax (~S$46,50) for a canal view twin room
Map Code: 493 690 528*60
Dinner at Yabuhan Soba (Otaru)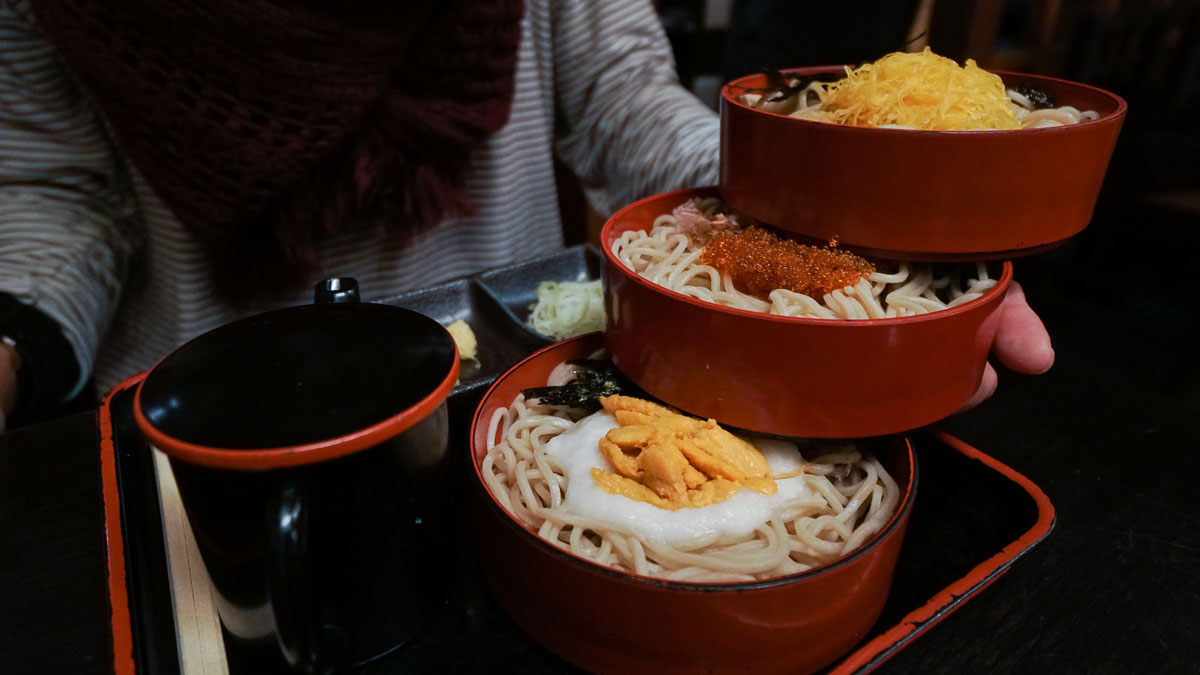 One of the best places for soba in Otaru, Yabuhan (籔半) pride themselves on quality soba grown in Hokkaido, Rankoshi (2 hours south of Otaru). The queues can be quite long and the restaurant is usually filled with locals or Japanese tourists but there are english menus available along with the history of how their soba came about.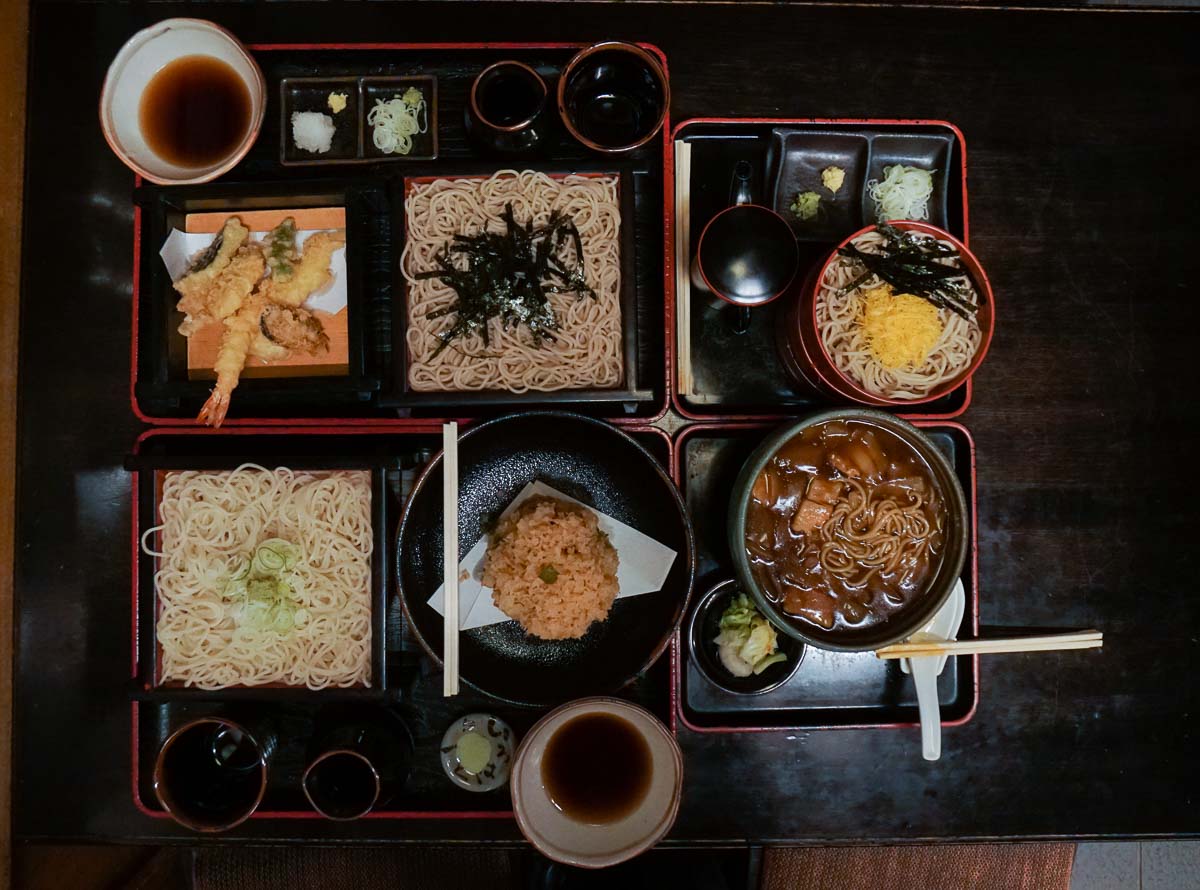 Each item on the menu comes with 2 options, the "Jimono-ko" type, a Hokkaido specialty and the "Namiko" which is mixed with imported buckwheat flour. It depends on your taste but the former has a bit more bite to it and the Namiko noodles tend to be softer.
Cost: ~¥850 – ¥1550
Opening Hours: 11AM–4PM, 5–8:30PM (closed on Tuesdays)
Map Code: 164 719 268*25
Day 5: Otaru to Asahikawa via Furano and Biei
Breakfast at Otaru Fish Market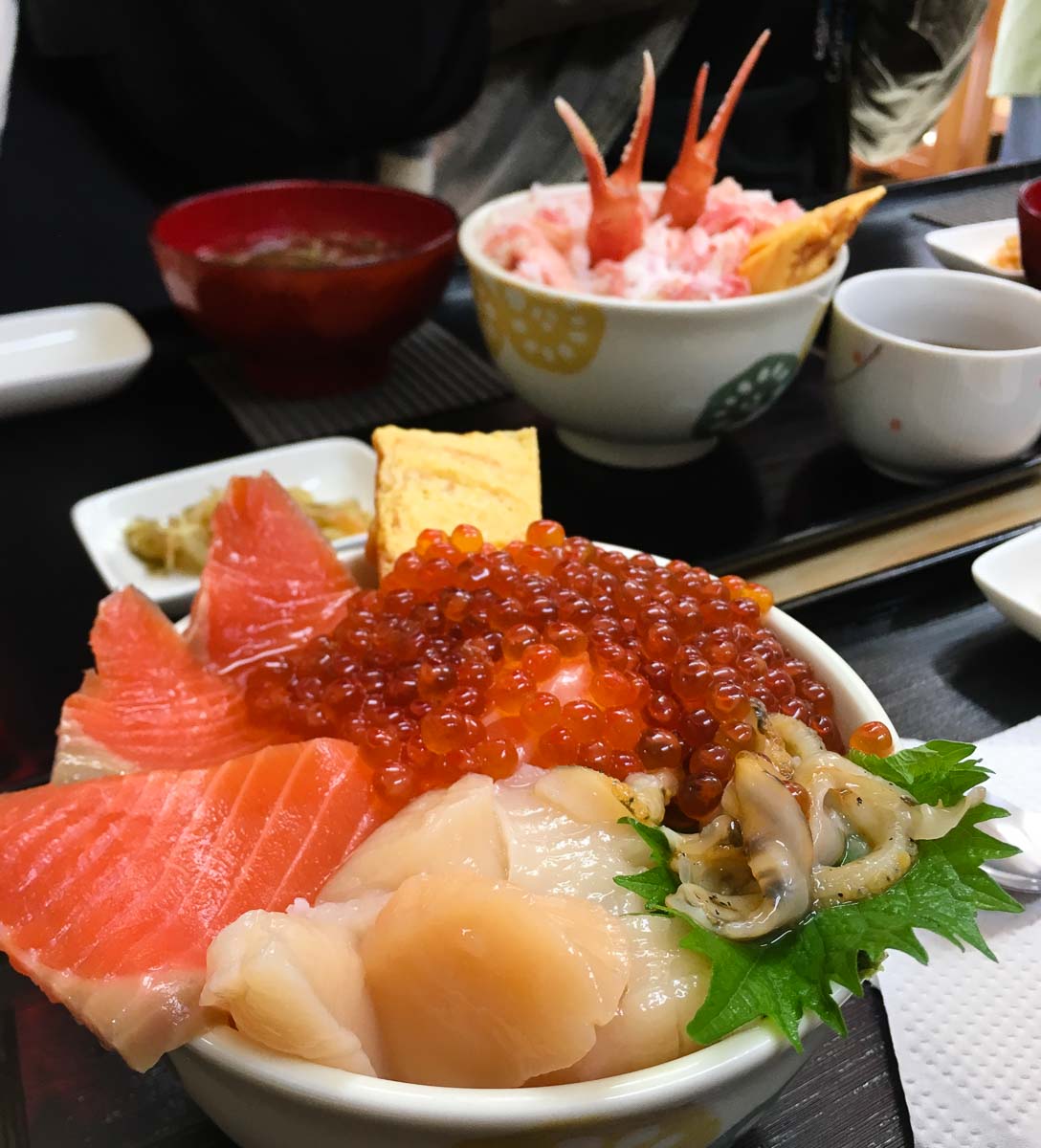 Being a port town, no trip to Otaru is complete without having your fill of fresh caught seafood on rice (kaisendon). The best place for a fresh bowl is of course the morning markets. Rinyu Asaichi (鱗友朝市) opens the earliest at 4am but there's another one just across the Otaru station called Sankaku Market (小樽三角市場) and only 10 minutes from Sonia Hotel where we're at.
*Pro-tip: If you find the kaisendon stores too crowded within the market, check out the shops right outside which are usually less crowded, slightly cheaper bowls and their fish are just as fresh!
Drive from Otaru to Furano
With tolls: 2 hours 40 minutes
Without tolls: 3 hours 15 minutes
Grab some cakes and cream puffs from LeTao and Kitakaro before hitting the road!
Stop for lunch in Furano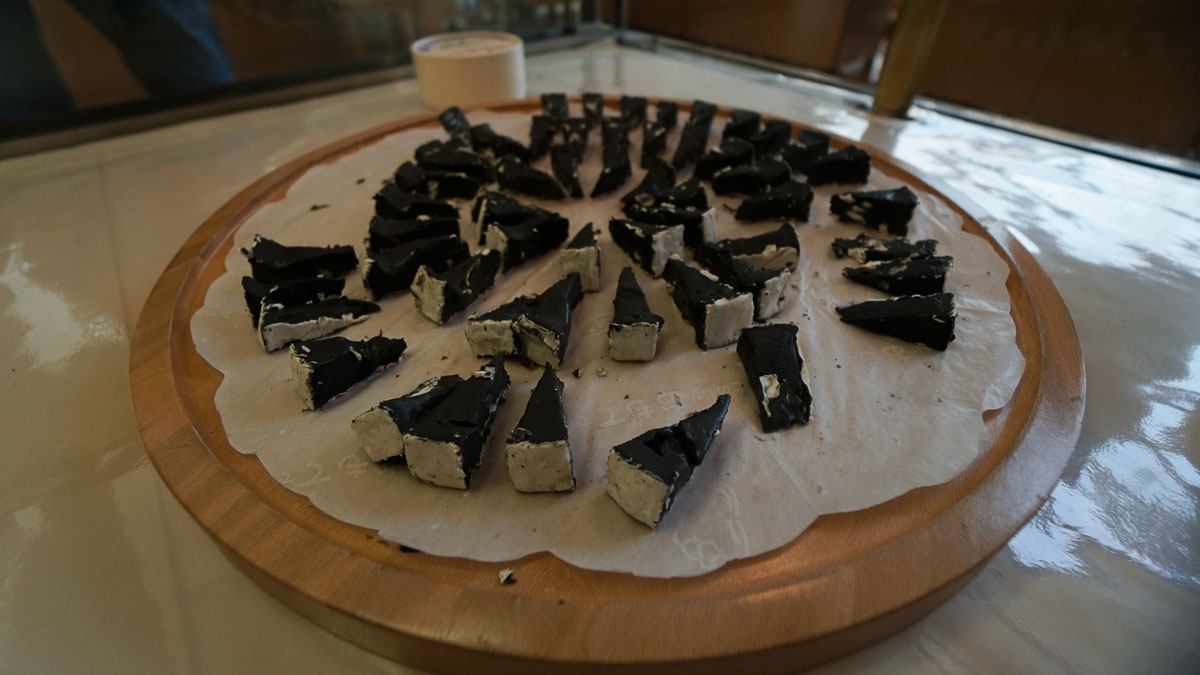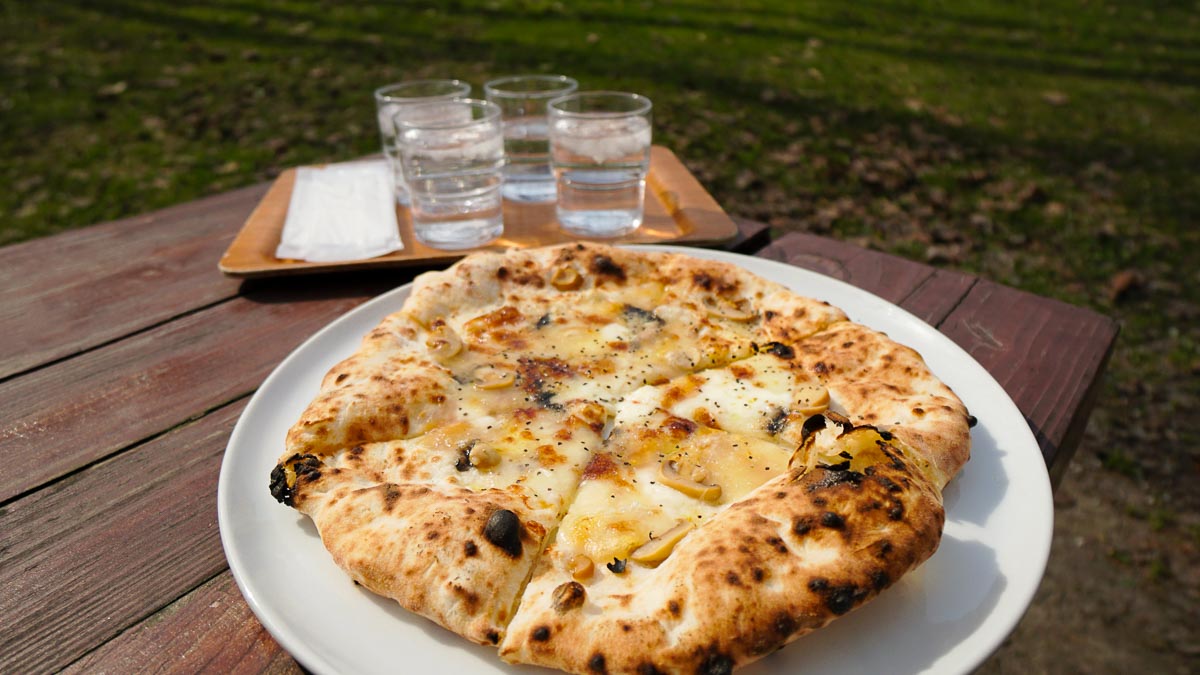 Furano cheese factory is an almost mandatory stop for cheese and ice cream lovers. Not only do you get to taste a range of cheese including squid ink and wine flavoured cheese, there's also a pizza restaurant with pretty decent pizzas (from ¥1200, feeds 2-3 pax) and more than decent ice cream!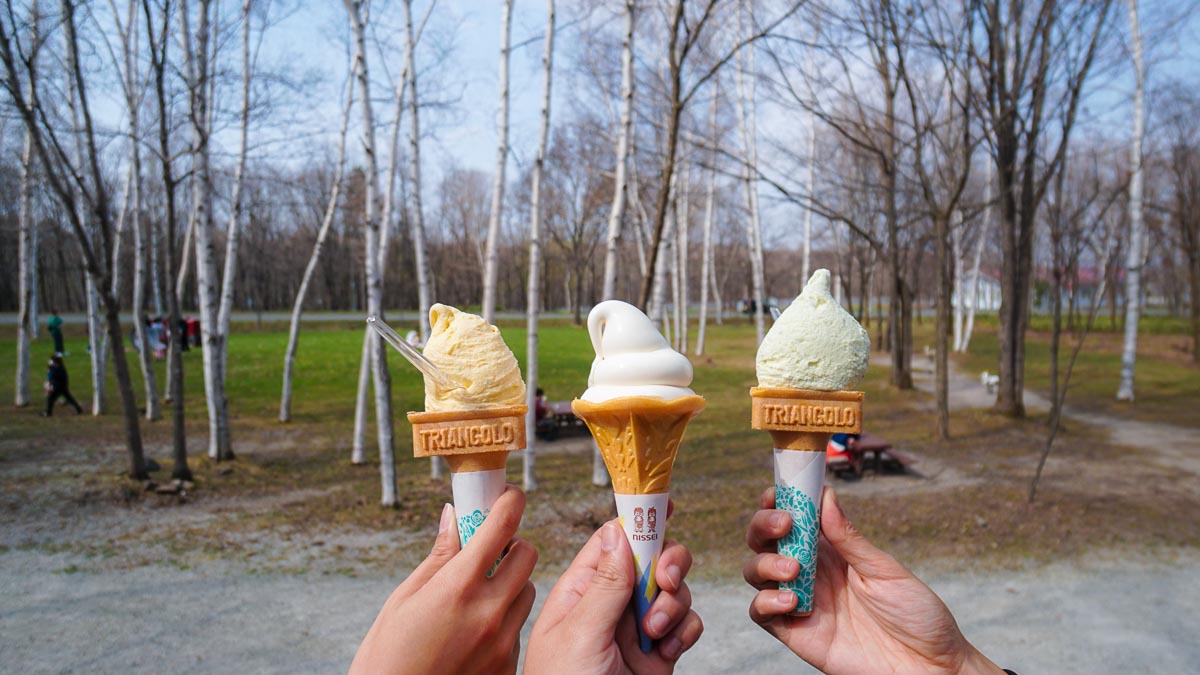 The ice cream here is made of seasonal fruits and vegetables so depending on when you're around, you might spot interesting flavours like asparagus or pumpkin (¥350). Definitely worth a try but our favourite was the classic cheese flavoured soft serve (¥400).
Map Code: 550 840 171*82
Farm Tomita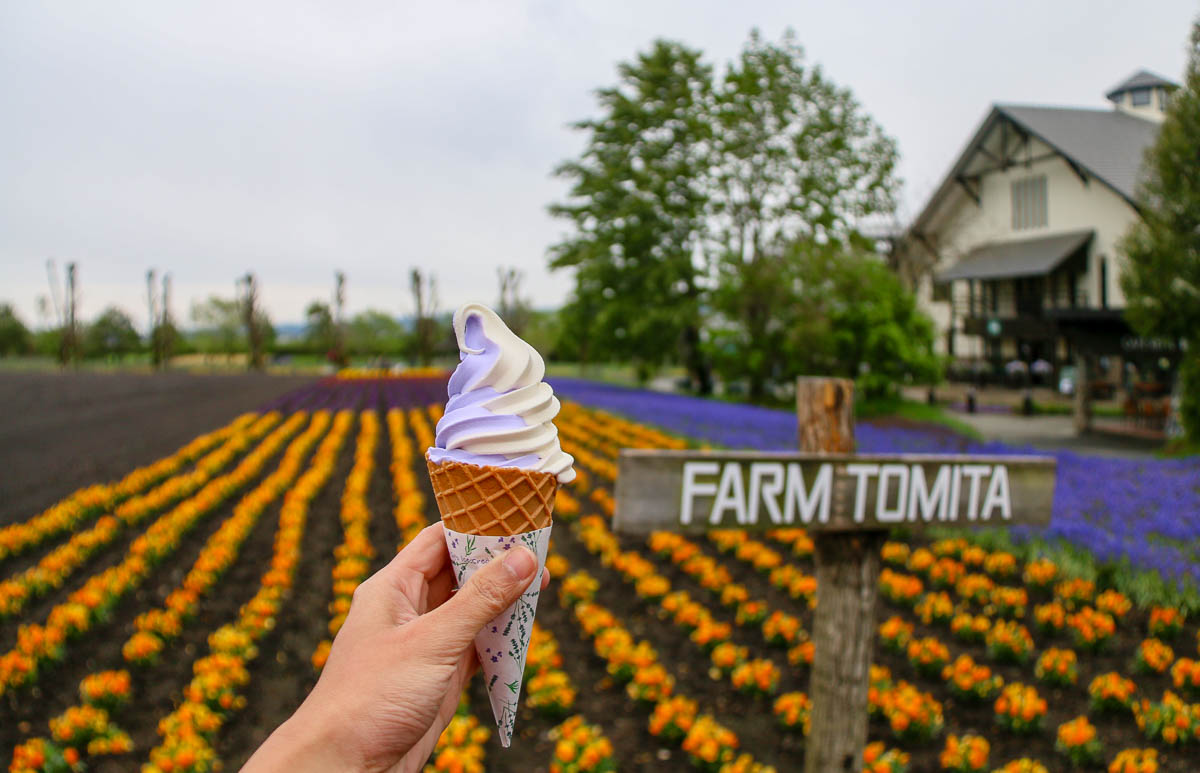 This impressive vast land located in Furano has various flowers blooming from mid May through early October every year and is absolutely free to explore! The most famous of all is their lavender fields which go into full bloom in July but were just as stunning when we saw them around May. The greenhouse also has lavenders that bloom all year round, even through winters! Don't forget to stop by the cafe for a lavender ice cream and lavender coffee.
Entrance Fee: Free
Map Code: 349 276 804*00
Sightseeing in Biei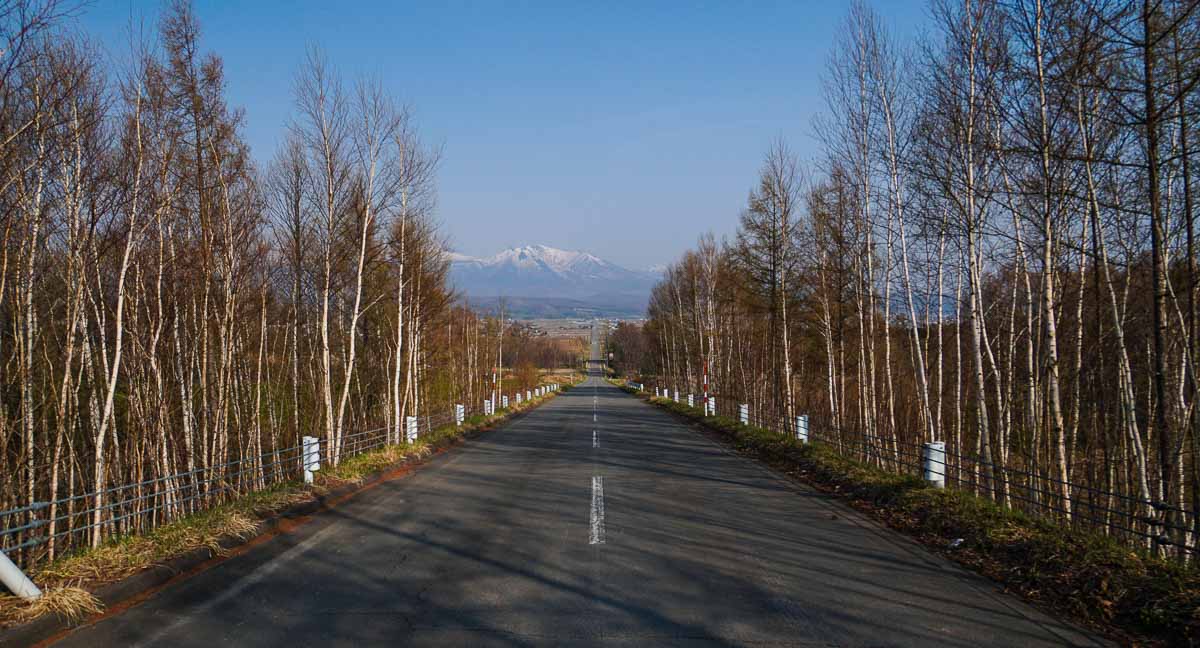 30 minutes from Furano will bring you to a small town in Biei — famous for the scenic landscapes that make all the long hours of driving in Hokkaido worth its run.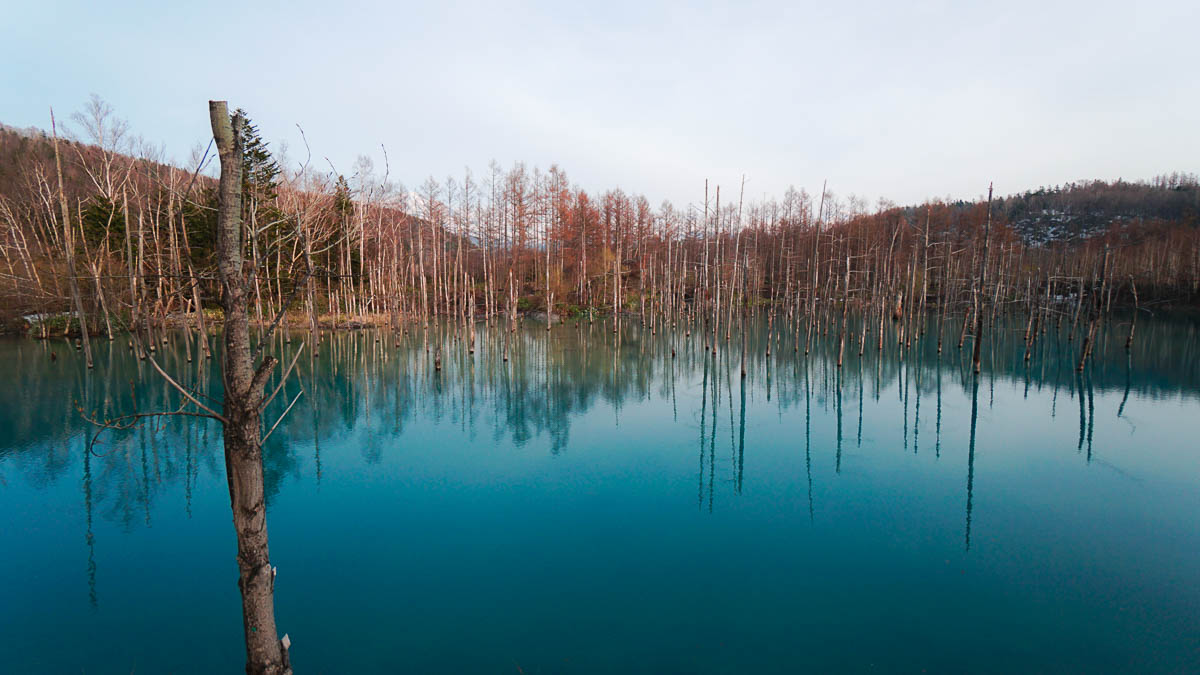 If you're a Mac user, stop by the Shirogane blue pond to see your desktop wallpaper (Lion OSx) come to live. It may not be the same shade of blue depending on the amount of sunlight (and weather over the last 3 days) but still really pretty nonetheless.
Map Code: 349 569 814*88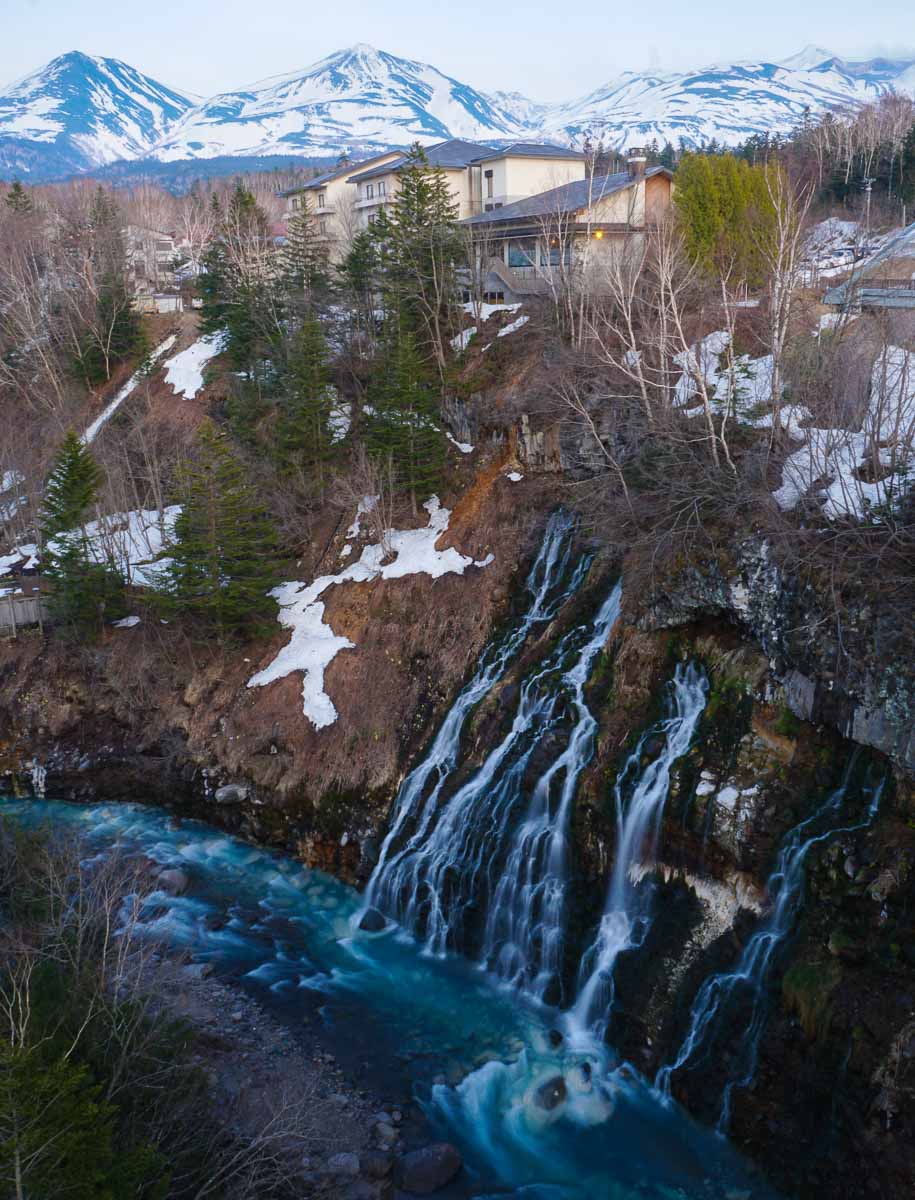 Just a 5-minute drive from the Blue Pond is an easily accessible but scenic waterfall: Shirahige waterfall. You can park pretty close by and the view point is from the top of a bridge.
Map Code: 796 182 575*30
Dinner at Asahikawa Ramen Village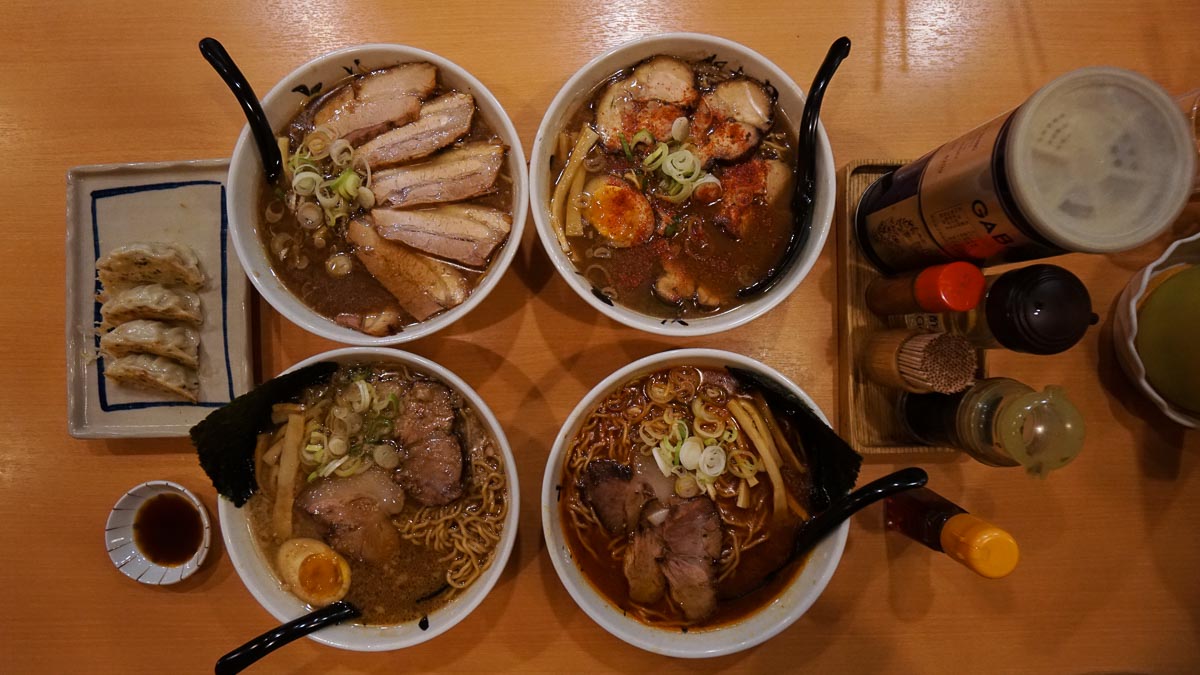 Ramen lovers, this is the place to be in Asaihikawa. Here you'll find 8 famous ramen stores in Asahikawa clustered together. We popped by one of the only stores that was left open and ended up in Ittetsu-an (いってつ庵) which comes with a fairly english-friendly menu ranging from ¥700 – ¥1,100. Each ramen has the option of Shoyu, Shio or Miso broth but we recommend getting Shoyu since it's a specialty of Asahikawa! (Miso in Sapporo, Shio in Hakodate).
Cost: Ramen from ¥700
Opening Hours: 11AM – 8PM
Map Code: 79 410 454*44
Check in at Art Hotel Asahikawa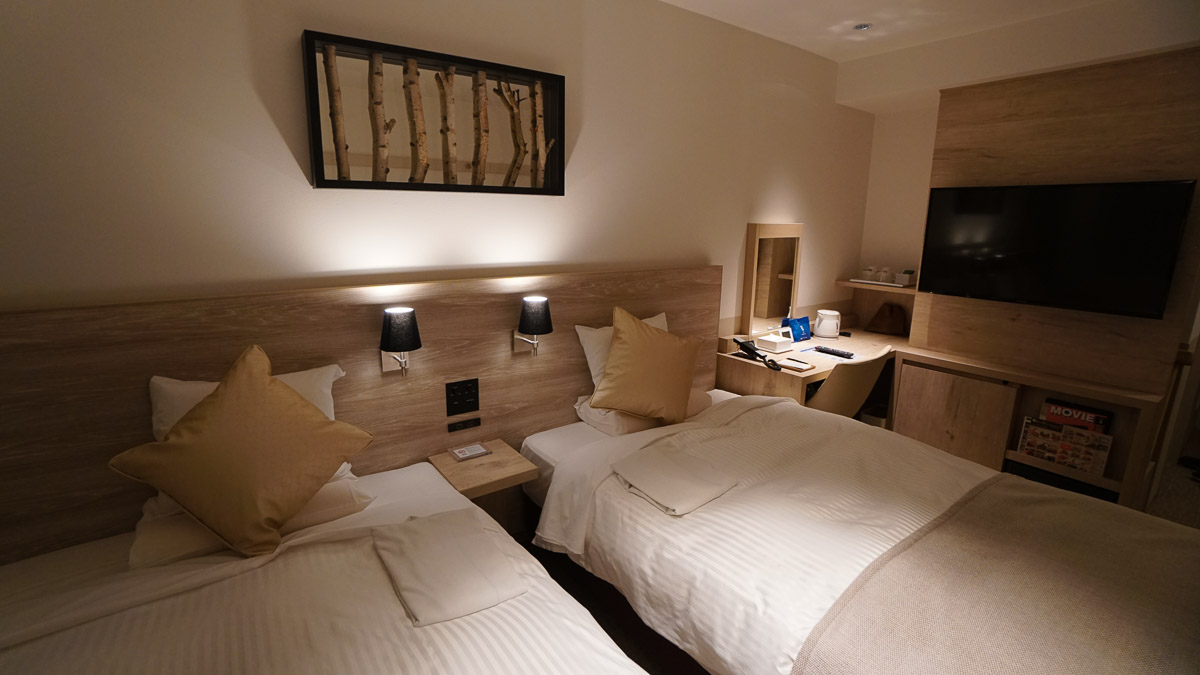 Located just 12 minutes from the Asahikawa station and a 5-minute walk from the Tokiwa Park, we loved Art Hotel Asahikawa for its cosy, Scandinavian design. If it's available, you could try booking one of their 6 Japanese-style tatami rooms that fit up to 4 people. The hotel also its own Onsen and spa at the basement (at additional cost).
Cost: From ¥4,950/pax for a standard twin room (Key in <TTI5> to enjoy 5% off your booking at Art Hotel Asahikawa)
Address: 79 373 382*55
Day 6: Drive towards Monbetsu
Accommodation:
Monbetsu Prince Hotel — includes free access to their public Onsen in the basement of the building.
Hokkaido Ice Pavilion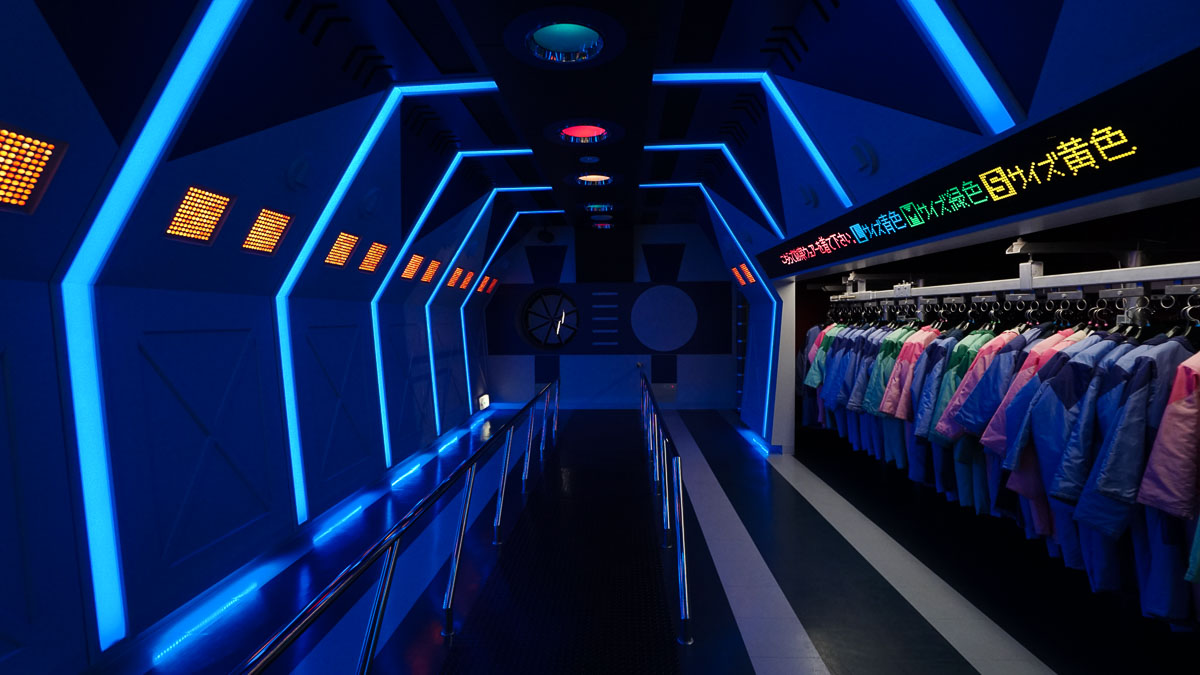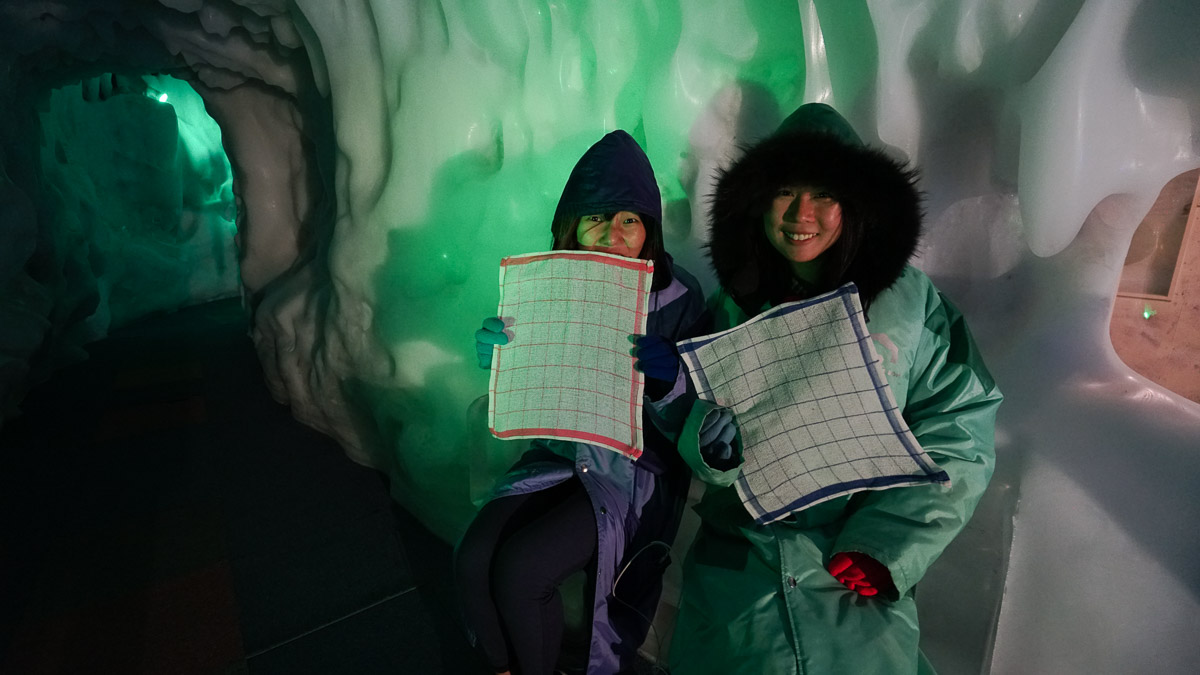 Located in the town of Kamikawa (1 hour from Asahikawa) is one of the coldest place in Hokkaido; regardless of season! The Hokkaido Ice Pavillion tries to recreate a -41°C experience which is apparently Japan's lowest record ever. Jackets are provided although it's not very warm so do come prepared with sufficient clothing if you're not very resistant to the cold!
Entrance Fees: ¥1080
Opening Hours: 8:30AM – 5PM daily
Map Code: 623 630 207*11
Drive to Monbetsu
The drive is approximately 1 hour 45 minutes since there are no toll roads between these 2 places. We didn't spot any interesting food stops so we grabbed some from the convenience stores to eat on the go.
Hill of Pink Flowers at the Takinoue Park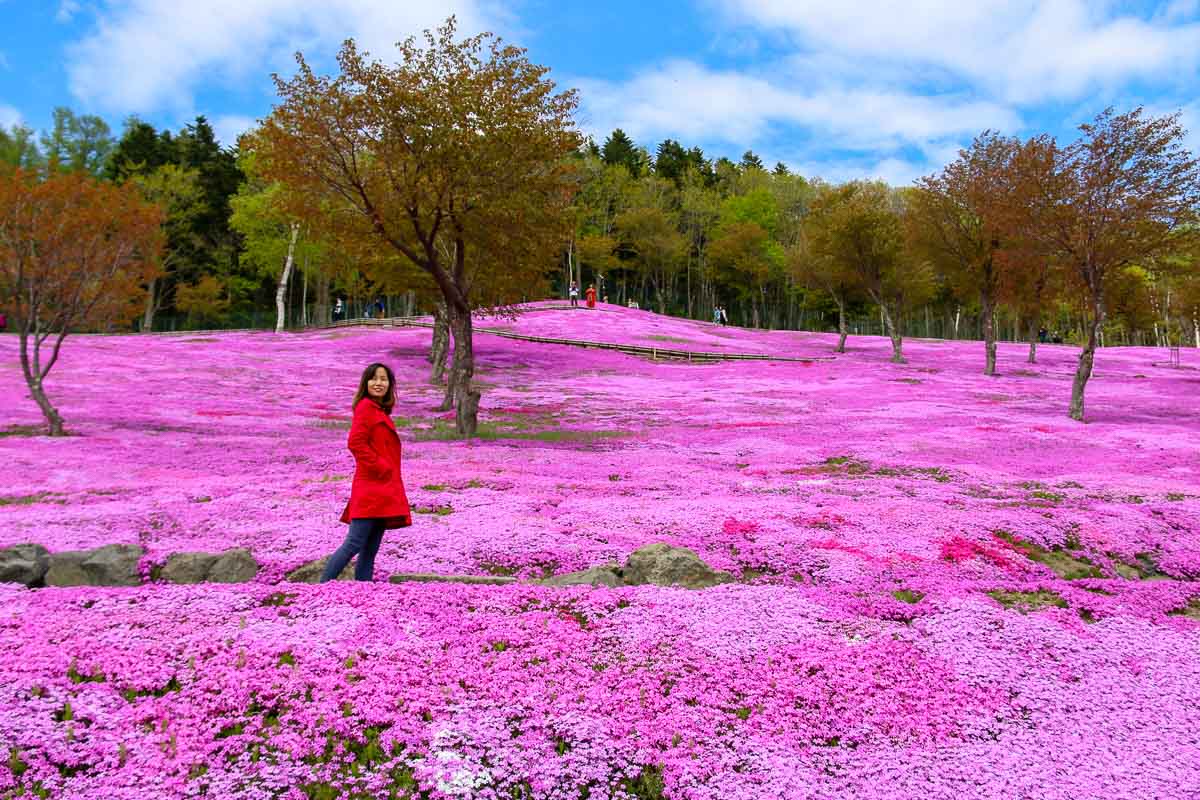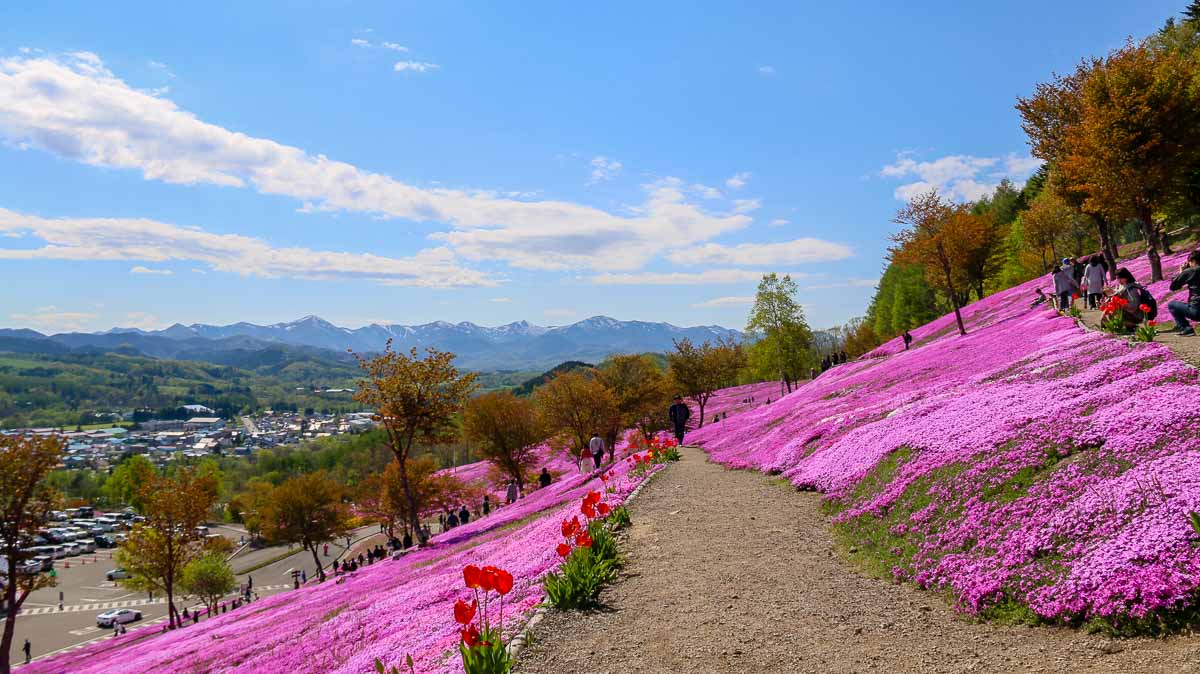 Around mid May to end of June, this 100,000 square metres of vivid pink flowers on the hill of Takinoue Park is unmissable. Located between Asahikawa and Monbetsu, this is definitely worth a pitstop!
Entrance Fee: ¥500
Map Code: 570 699 407*11
Seal watching at the Okhotsk Tokkari Centre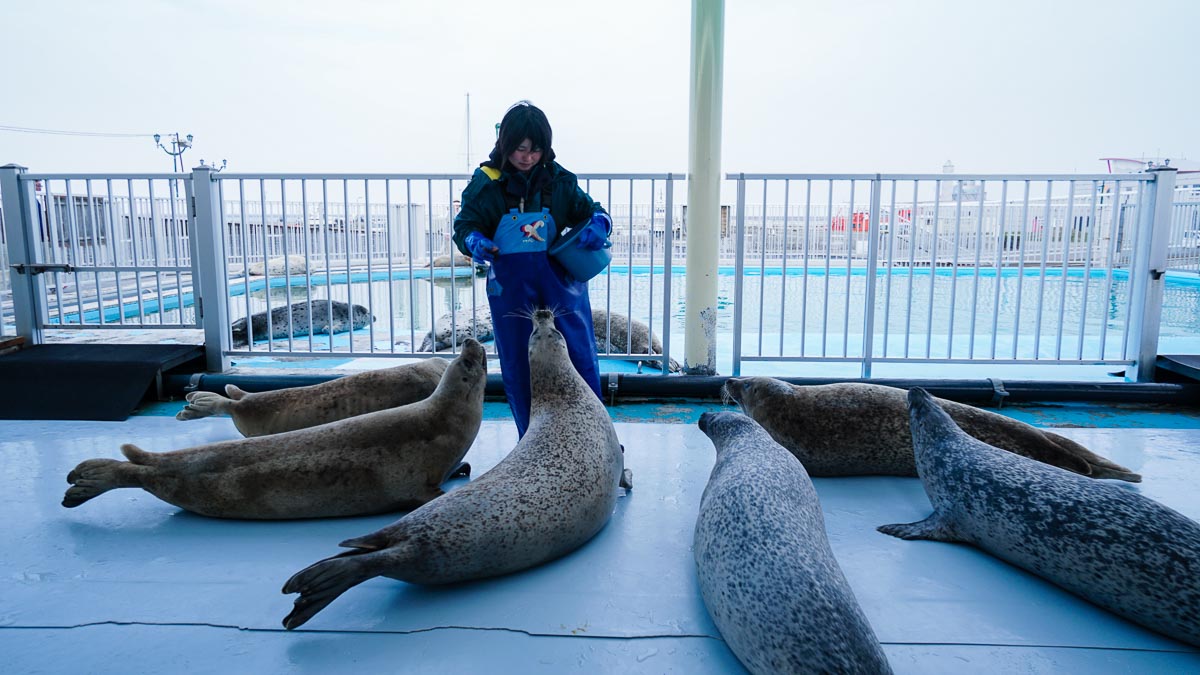 More than just a zoo-like enclosure, the Okhotsk Tokkari centre serves as a conservation centre for treating earless seals (Tokkari in the Ainu language). 5 times daily, there's an interactive feeding show where you get to see them perform simple tricks and a photo opportunity with these playful furry seals.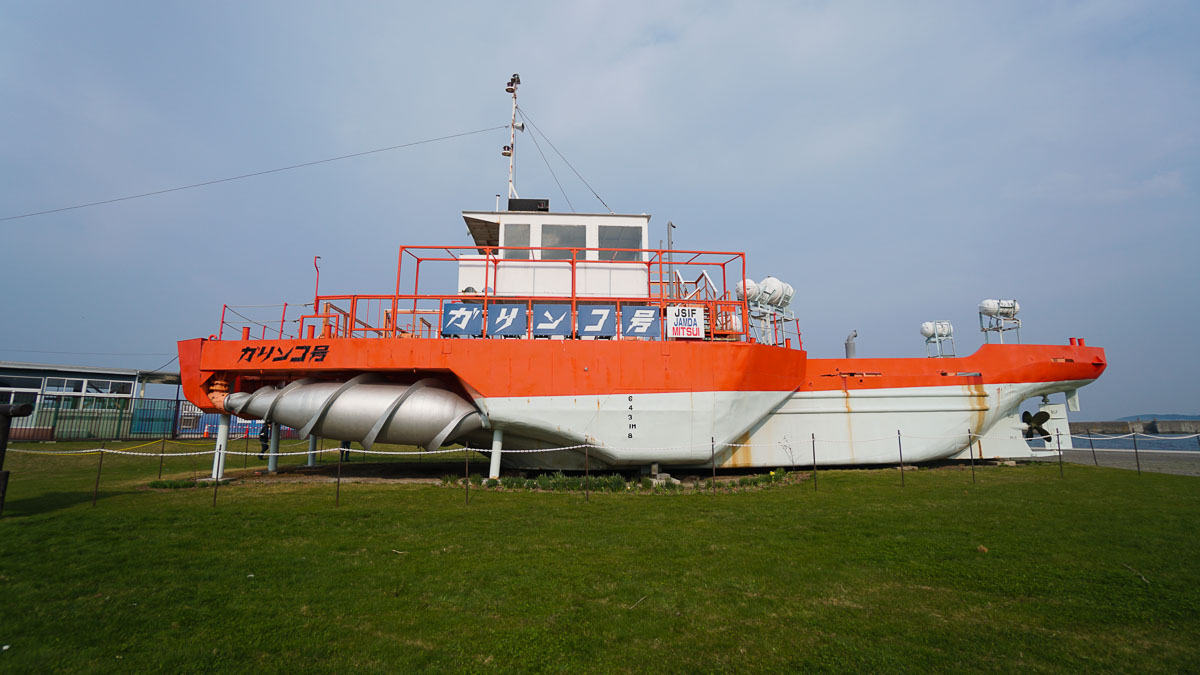 In the winter months from January to March, there are ice breaker cruises that leave 7 times a day from sunrise to sunset. These ships are designed to drill through the ice caps.
Entrance Fee: ¥200 (enter by dropping ¥100 coins into the unmanned gantry. There's also a machine that changes ¥1000 notes into coins)
Opening Hours: 10AM – 5PM daily
Daily Shows: 10:30AM, 11:30AM, 1:30PM, 2:30PM, 3PM
Map Code: 801 585 698*85
Dinner at Marutomi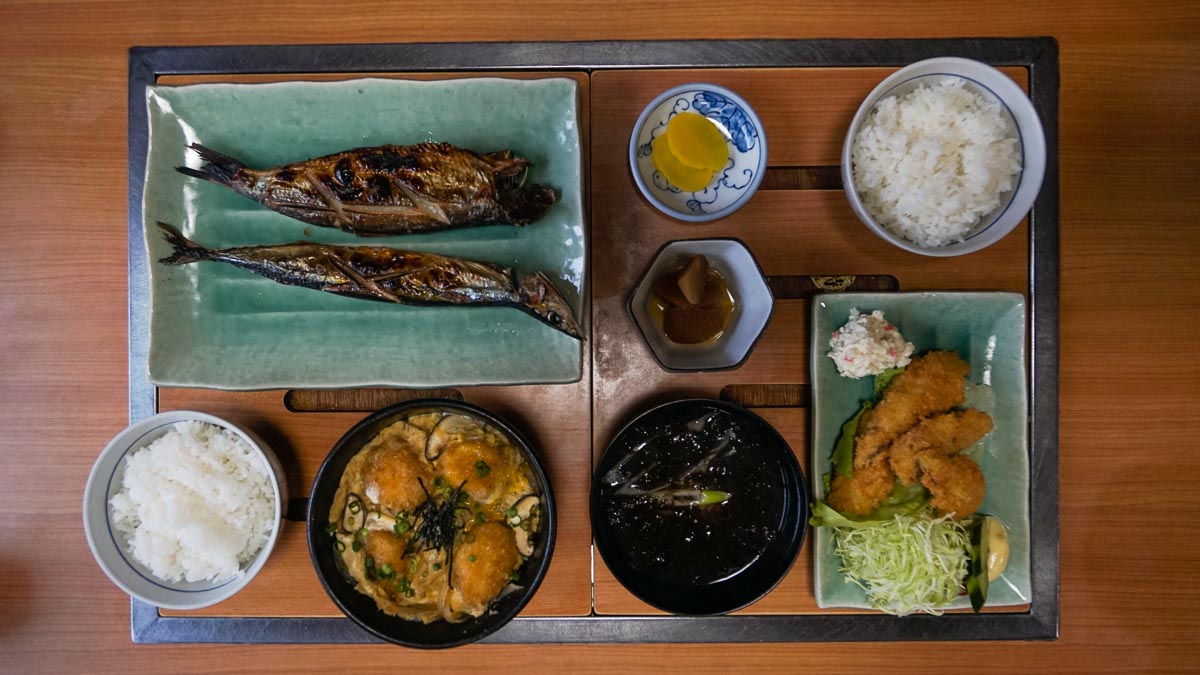 For dinner, there are lots of small eateries around the Minatocho area but we picked Marutomi because it looked cosy and the menu was affordable. But the food turned out better than expected!
Cost: Dinner sets from ¥950 – ¥1600
Opening Hours: 11:30AM – 2PM ; 5PM – 9:30PM
Map Code: 401 358 844*41
Day 7: Drive to Lake Kussharo
Accommodation near Lake Kussharo: Yado Hanafurari — cosy lodge with Japanese style tatami rooms and 4 adorable Labrador retrievers!
Kamiyubetsu Tulip Park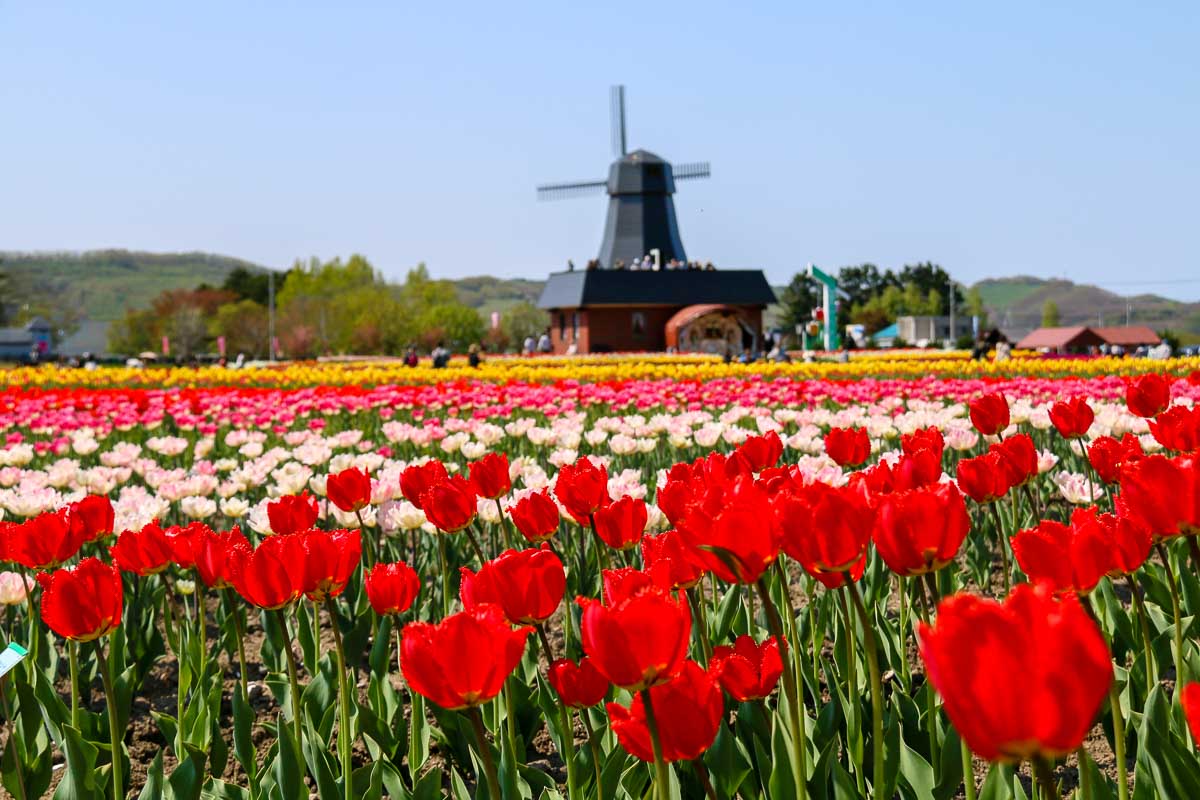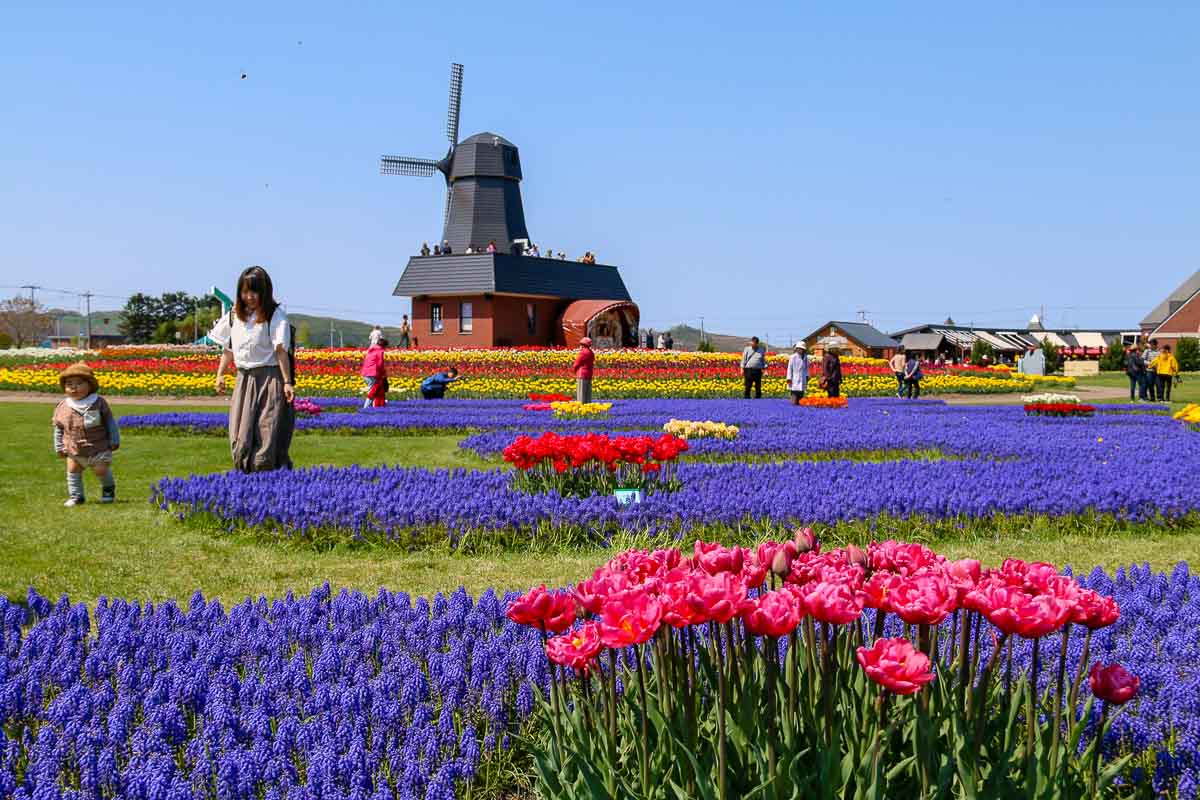 Home to an extensive field of over 200 varieties of tulips, the Kamiyubetsu Park is only open from 1st May to early June. It's pretty from just about any angle if you're lucky to catch it at full bloom! To find out if the tulips have bloomed you can check the official website for the live image replaced every day.
Opening Hours: 8AM – 6PM daily
Entrance Fee: ¥500
Lake Hop Around Kussharo and Mashu
Accommodation near Lake Shikaribetsu: Primal Stage — basic cabin that fits up to 6 people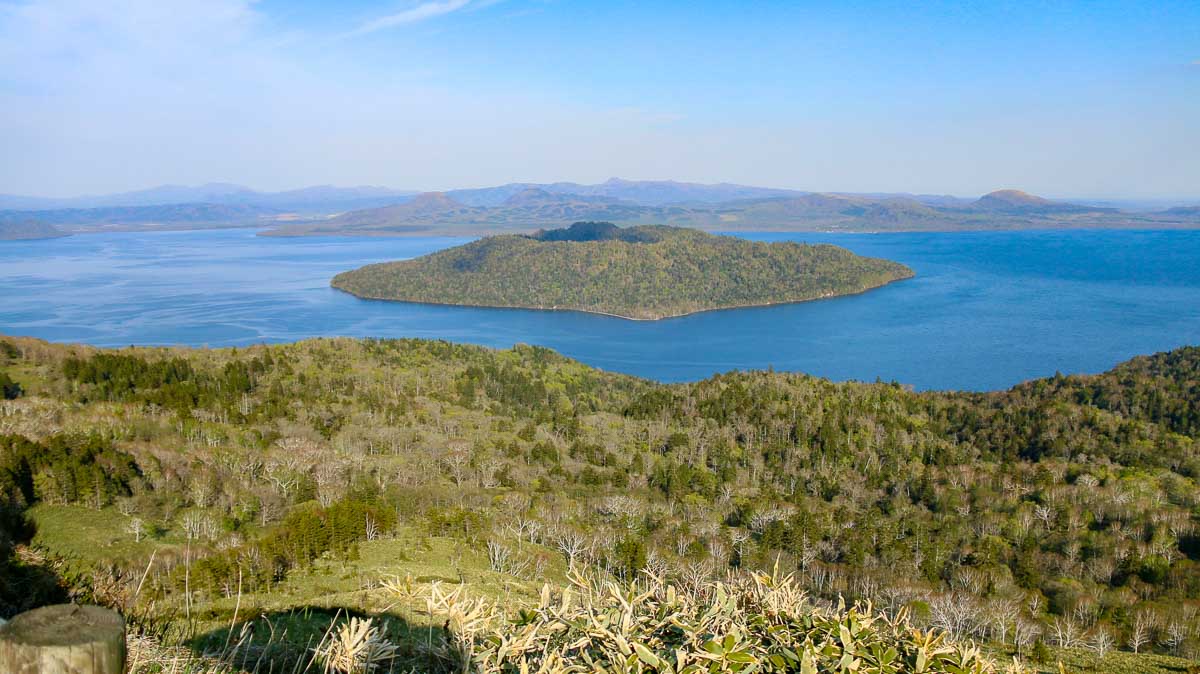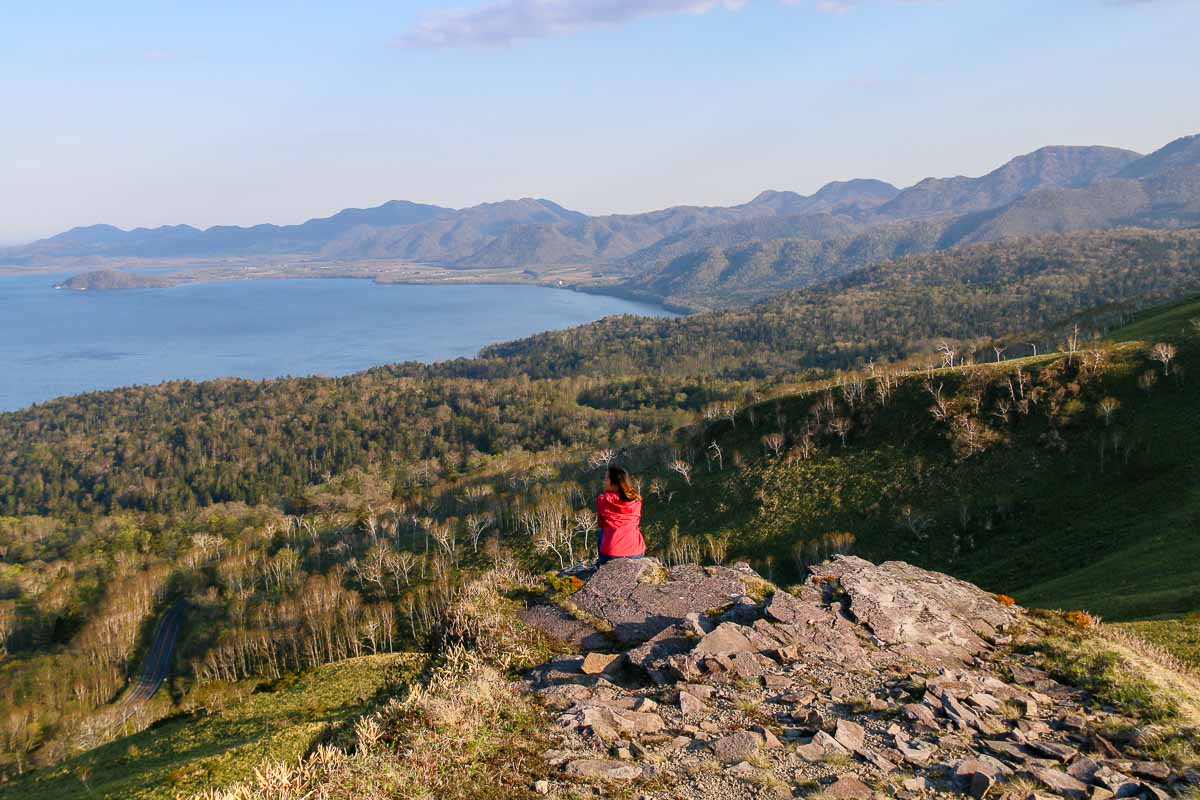 Lake Kussharo: Japan's largest caldera, the best lookout point is at the Bihoro Observatory Pass (Map Code: 638 225 129*58). If you only have time for one lake lookout, this is it. There's a flight of stairs that leads up to lookout points at 2 heights — the top is worth the climb!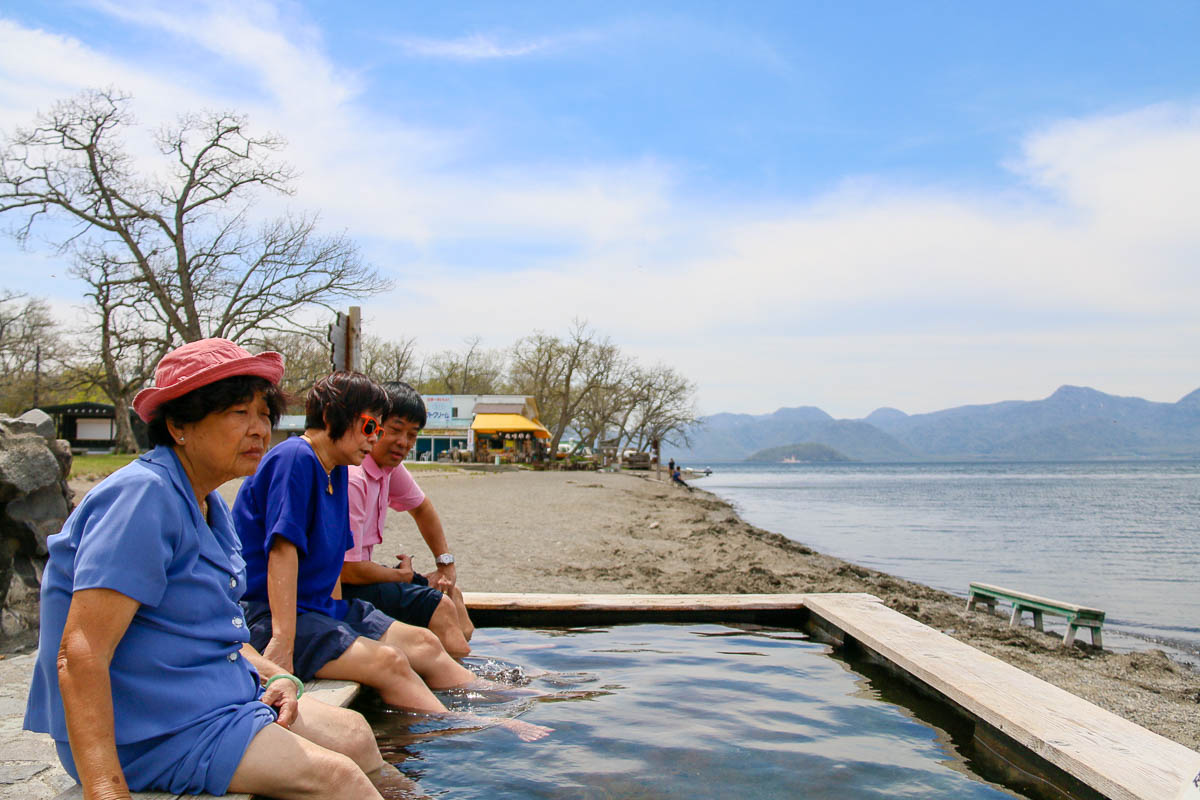 On the other side, another interesting stop is the Sunayu beach (Map Code: 638 148 651*00). You can dip your feet for free in the natural hot spring foot bath or walk down to the lake and dig your own. Dig far enough into the sand and you'll create your very own Onsen.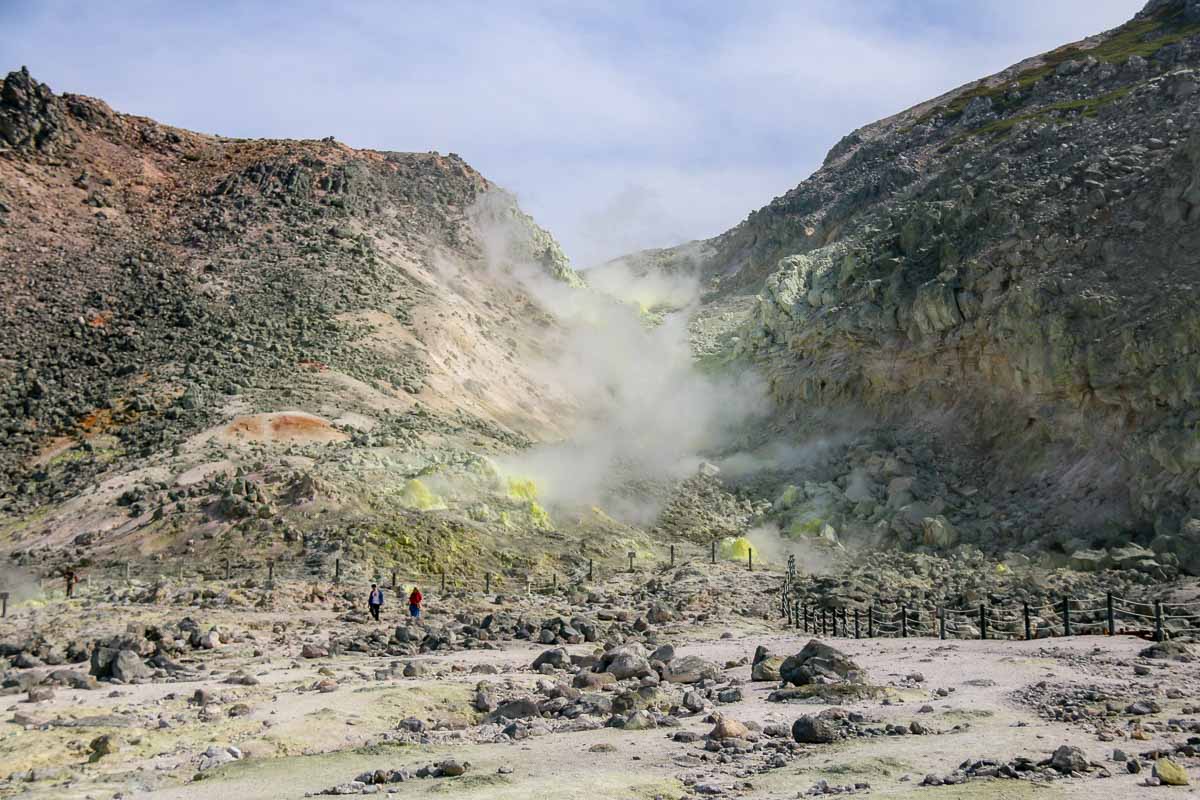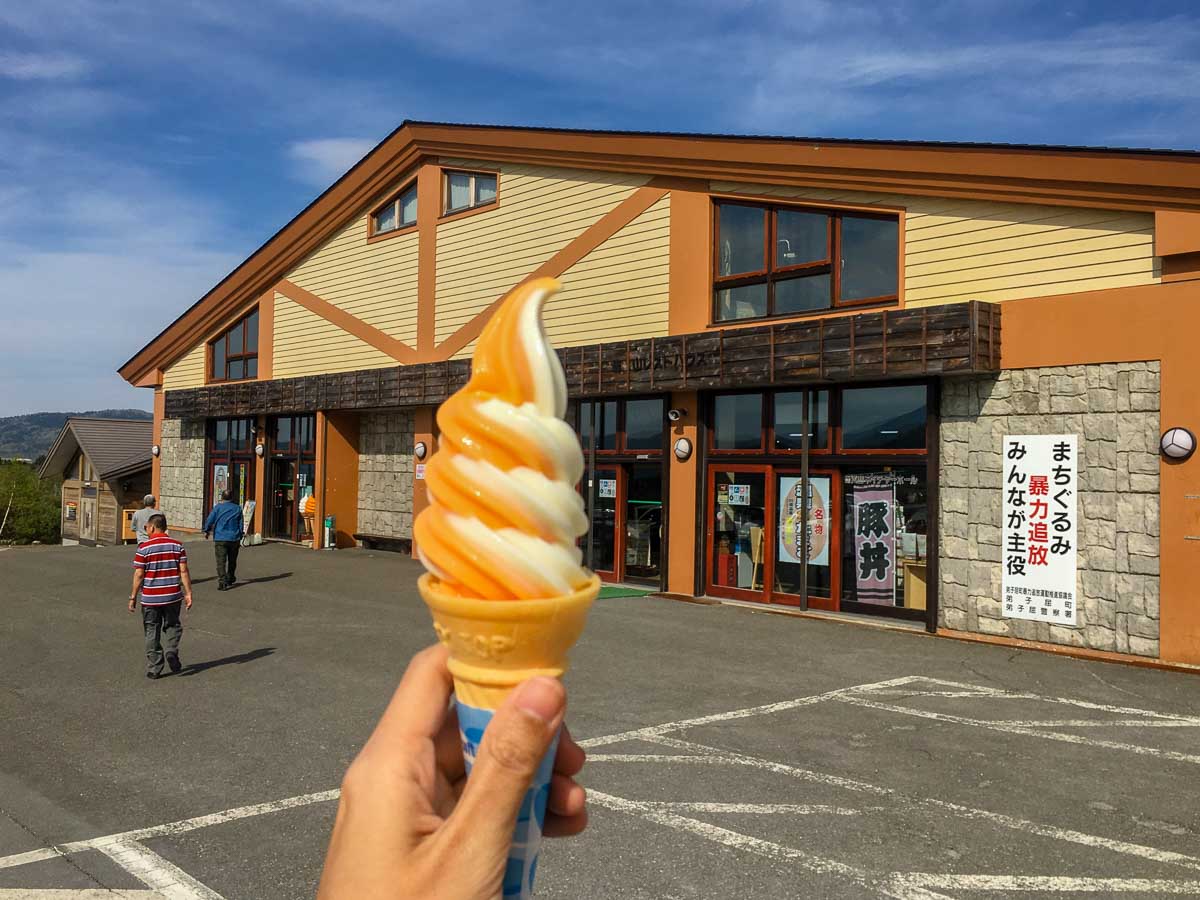 Between Sunayu and Lake Mashu, take a quick stop at Mount Iō (Map Code: 731 683 812*41) to check out the steaming sulphurous valley. It does feel like a toned down version of Noboribetsu's Jigokudani but the melon ice cream here might still be worth the pitstop!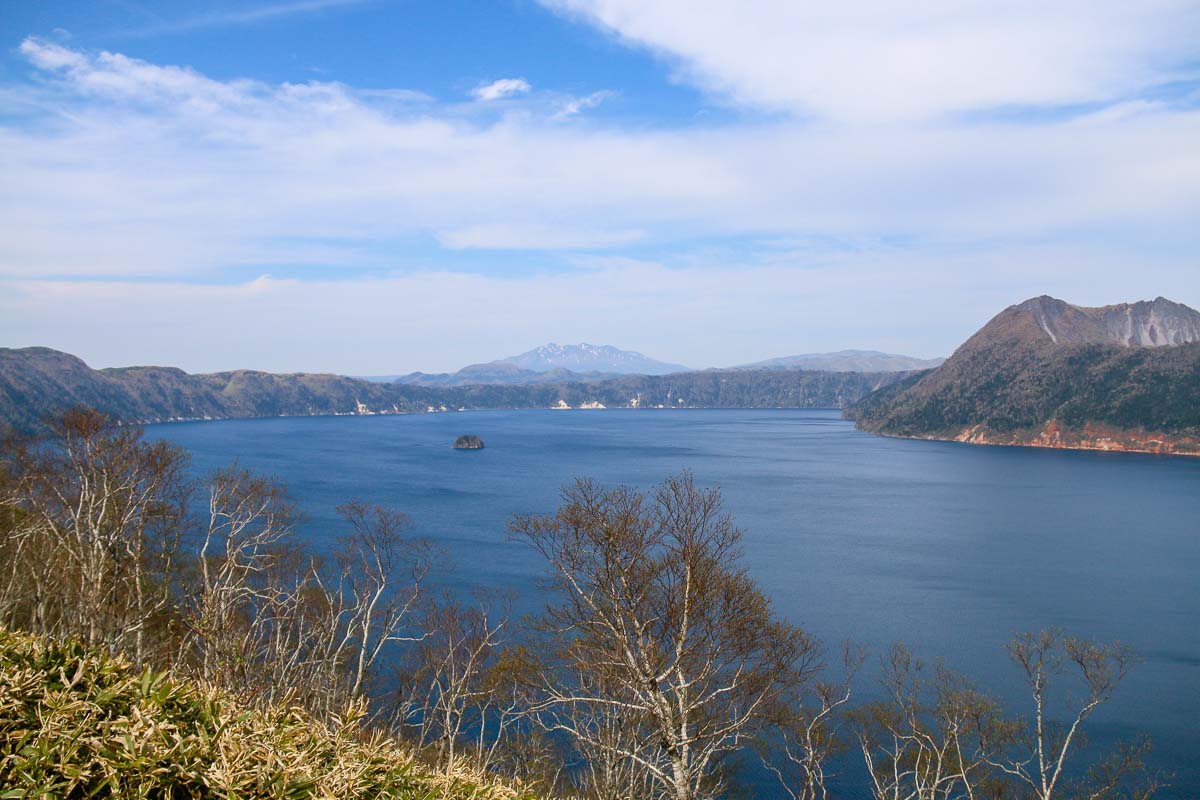 Lake Mashu: There's 3 lookout points around this lake. We only made it to the 1st observatory (Map Code: 613 781 339*63) but it can get quite crowded since tour buses tend to stop here. For lesser crowds, check out the third observatory instead (Map Code: 613 870 628*52).
Note that there's a ¥500 parking for both the Lake Mashu observatory and Mount Iō but you only need to pay once as the ticket covers both spots.
Day 8: Lake Kussharo to New Chitose Airport
With toll: 4.5 hours
Without toll: 6 hours
This day depends on the time of your flight. If you have an early morning flight, you might want to drive back to Sapporo for a night. If you have an evening flight, here's what you can check out along the way.
Lake Shikaribetsu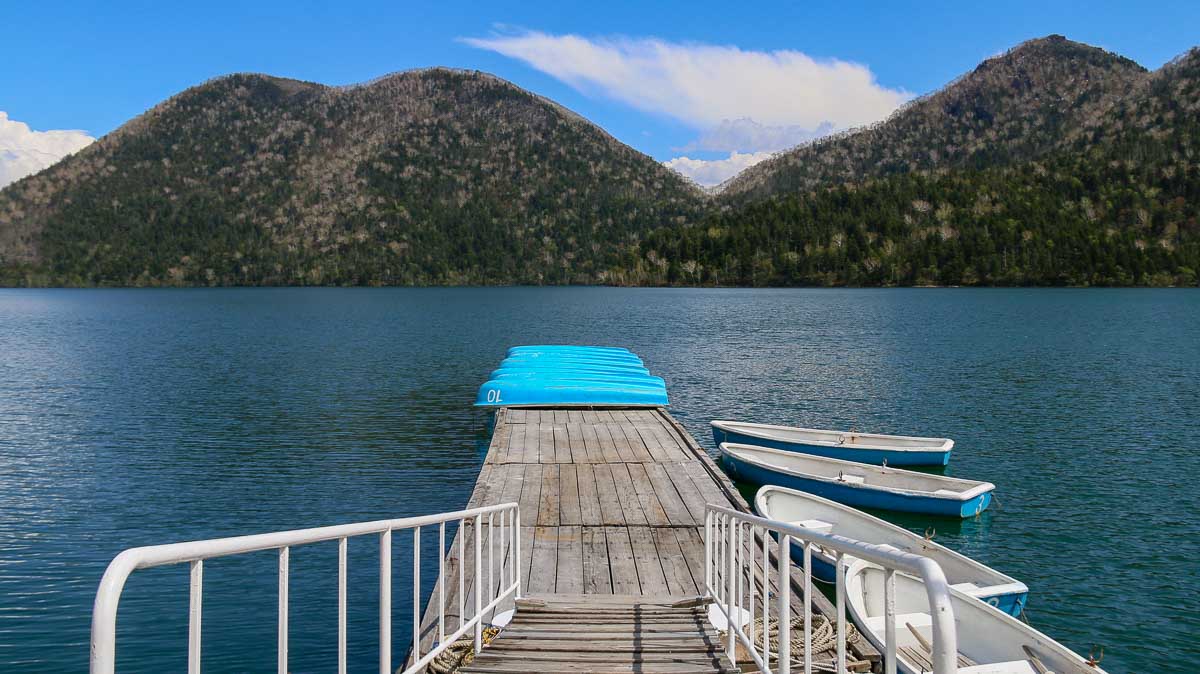 At 800m above sea level, lake Shikaribetsu is the highest lake in Japan. From December to April, the lake is usually frozen over and from January to March, you can find an igloo village which melts and gets rebuilt from scratch every year.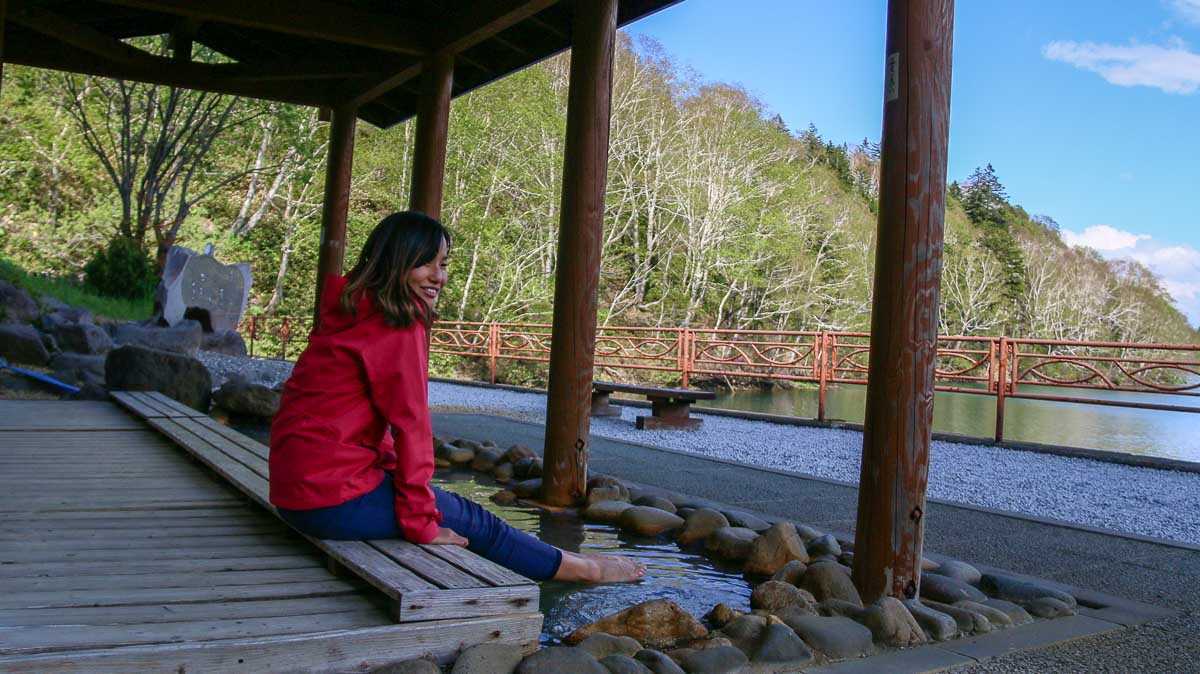 But even in summer, this lake is a worthy pit stop for it's scenic views. Pack some lunch to have a picnic or dip your feet into the free foot bath nearby before catching your flight home!
From Lake Shikaribetsu, it's a 2.5-hour drive to the airport so make sure you keep track of time!
Accommodation in Hokkaido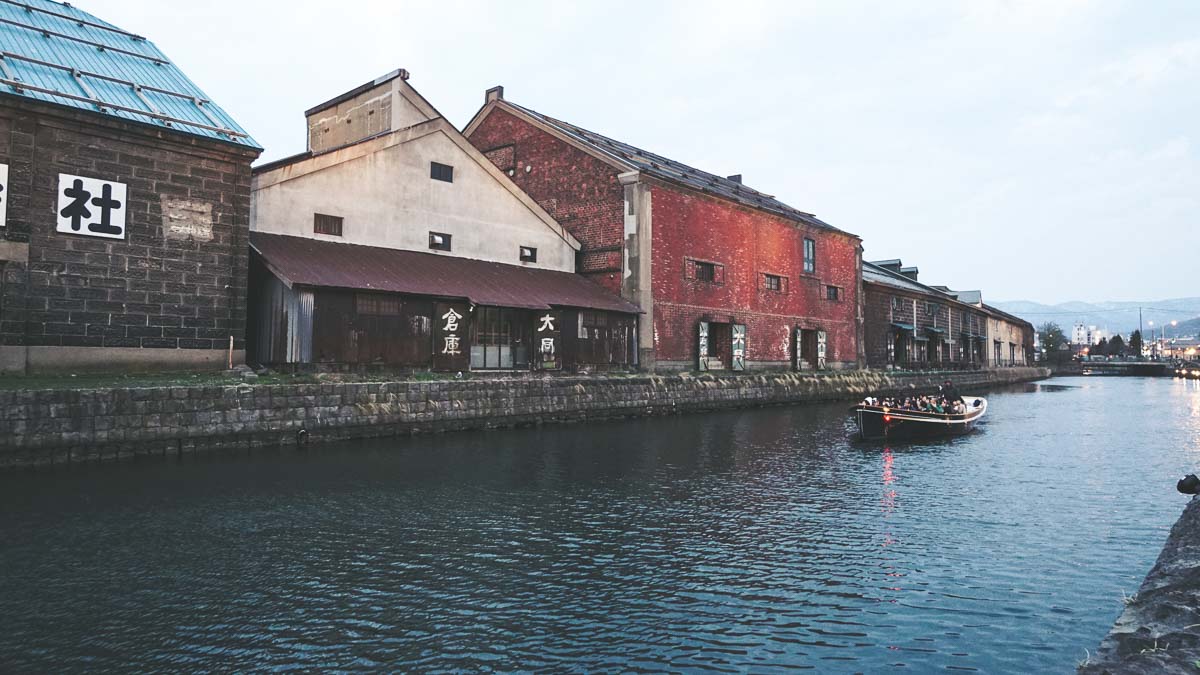 Accommodation can easily take up a huge chunk of the budget when travelling. And although we spend very few hours in one, it's always nice to return to a clean, cosy abode.
What we liked about the MYSTAYS Hotel Chain was that the chains are affordable yet don't scrimp on quality and comfort. They were often in really convenient locations too. From being just a street from the scenic Otaru Canal to being a 5-minute walk from the train station, many of our picks with MYSTAYS ended up ticking all our boxes for a good valued accommodation option.
Check Flights to Hokkaido
Ready to plan your Hokkaido road trip this spring? Check flight prices now:
If you can't see the widget above, click here to check flights from Singapore to Hokkaido instead!
Anything that we missed in this Hokkaido itinerary? Let us know in the comments!
---