Planning your Japan itinerary? Score 10.10 deals this October 2022 and redeem up to 20% upsized Cashback on your bookings — details below!
After years of seeing Mount Fuji on postcards, paintings, and every souvenir that's not anime-related, I was no longer content with gazing at Japan's icon only from a distance. It was finally time for me to climb it!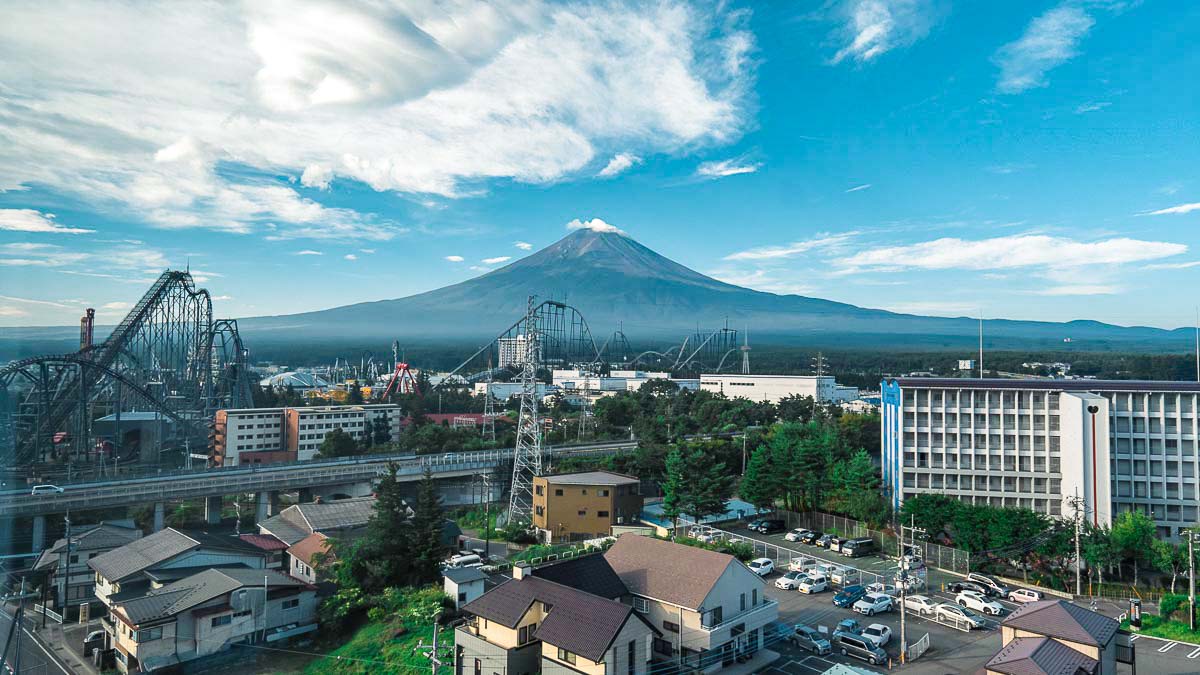 Call me cliche, but I've always wanted to catch the sunrise from the Land of the Rising Sun. And that's just the tip of the iceberg (or Mount Fuji, rather). Among the other things I wanted to do in Japan: visit the beautiful Kawaguchiko Lake, sightsee along the hippie streets of Harajuku, relax in an onsen, and feast on fresh Japanese food.
So why not experience all of that in one trip? What's more, Kawaguchiko, the area around Mount Fuji, is only two hours away from Haneda Airport, so you won't have to go out of your way to visit both Tokyo and Mount Fuji.
The hike up the summit can be completed within a day, and isn't too technical or tedious (proof: the fact that my weak ass is still alive). Check out how we prepared for the climb, and details of the experience in our Guide To Climbing Mount Fuji.
If you're planning your Japan itinerary, now's the best time to book your trip. ShopBack ShopFest is back on 10.10, and this means saving more with daily flash deals, up to 15% upsized Cashback and the chance to win exclusive prizes — more on this later!
For now, here's our seven day itinerary to exploring both Tokyo and climbing Mount Fuji — all for ~S$1.3k!
7D Budget Breakdown
Accommodation: S$544.68
Food: S$202.02
Activities: S$325.73
Transport: S$140.97

TOTAL: S$1213.40
Click here for detailed breakdown
*NOTE: This budget is based on 4 pax, where costs for big-ticket items like car rental and taxis were split among us. Therefore this figure may be slightly more for 1-3 pax travelling together
Pre-trip Essentials
Accommodation: Fuji Day 1: Fujiichikan Hut (¥6,700); Fuji Day 2 – 3: HOTEL MYSTAYS Fuji Onsen Resort (¥14,850/pax); Tokyo Day 4 – 7: MyCube by MYSTAYS Asakusa Kuramae (¥4,500)
Transport around Tokyo and Mount Fuji: In Fuji, you can get around via local buses, or if you're travelling in a group, renting a car is the best way to explore the scenic city.
In Tokyo, save the hassle of buying individual tickets and pre-order a 72-hour Unlimited Tokyo Subway Ticket (~S$14.85).
Staying connected: Pre-book and collect your 4G SIM Card at the airport. This comes with unlimited data for eight days (up to 31).
Day 1: Climb Mount Fuji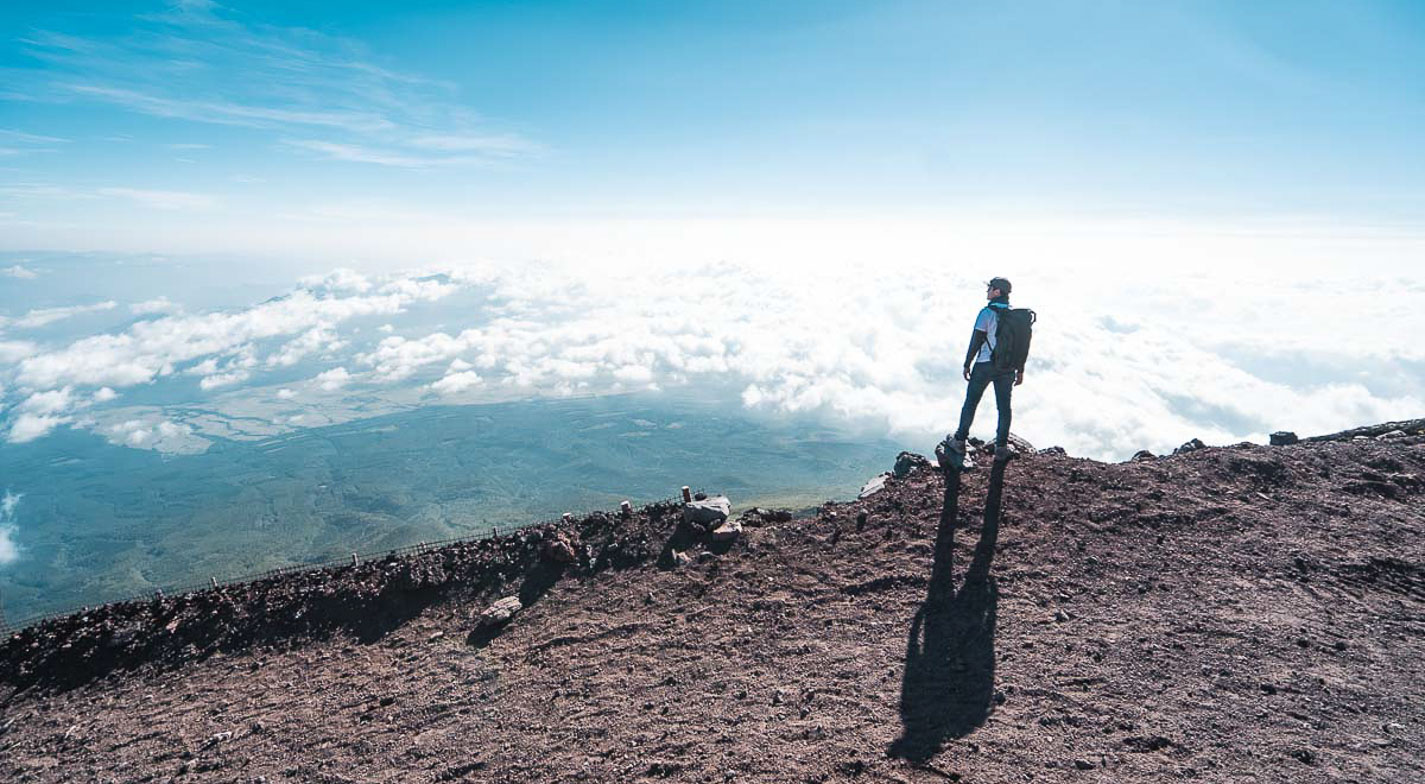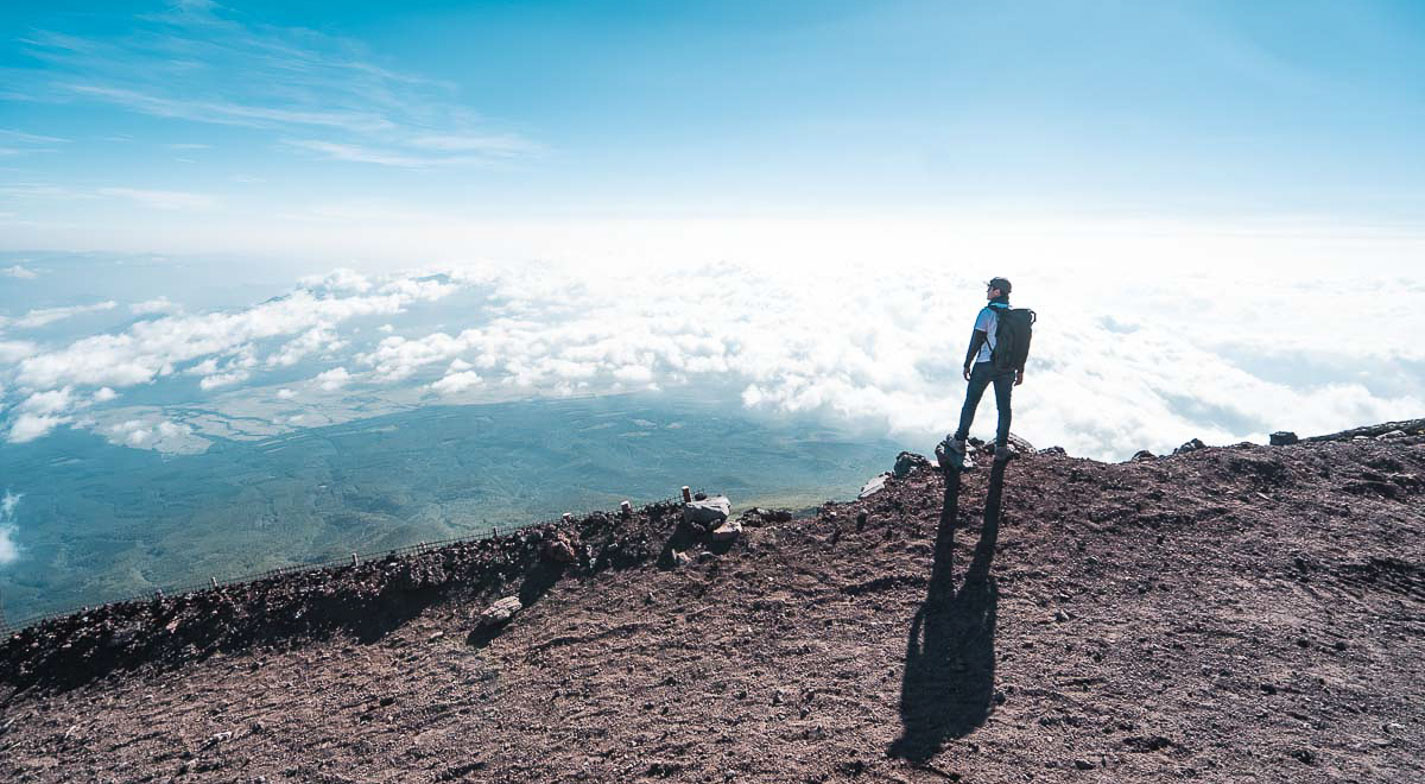 Begin on a high by summiting Mount Fuji! The mountain looms over the Fuji city area, which buzzes with infectious spiritual energy and stunning natural beauty — the perfect escape from city life.
*Pro-tip: If you're beginning your trip around Mount Fuji, have your flight arrive at Haneda Airport as they have direct express buses (¥2470) to Kawaguchiko Station.
Brunch 2400m above Sea Level at Gogoen Resthouse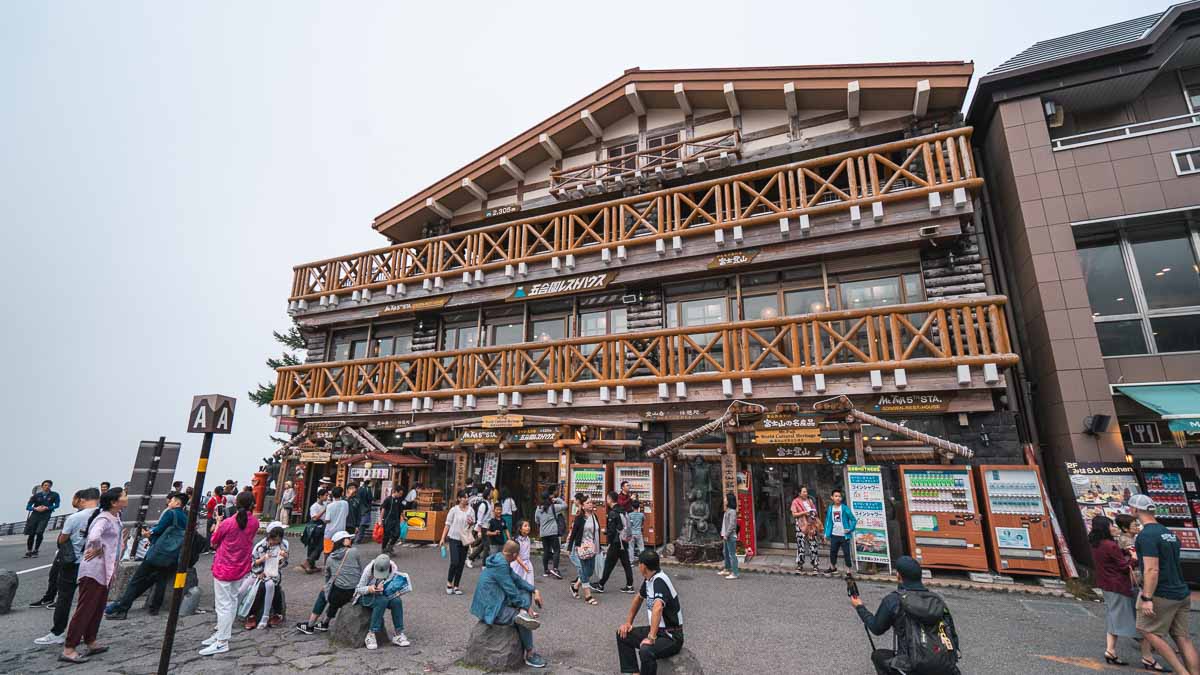 Have a meal at the 5th Station so you're fuelled up for the climb and have at least an hour to acclimatise to the altitude.
We recommend the Gogoen Resthouse, which provides energy-rich comfort food such as Pancakes (¥250), Butter Potato (¥500), and Fried Chicken (¥1,100).
Cost: ¥2,200 for one roundtrip bus ticket and ~¥1,100 for a meal.
Opening Hours: 8:30AM – 6:30PM. Food sells out around 4PM, so arrive early!
How to get there: Take a 50-minute bus ride on the Fuji Subaru Line from Kawaguchiko Station. Buses arrive every hour during climbing season (end July to end August).
Climb Mount Fuji!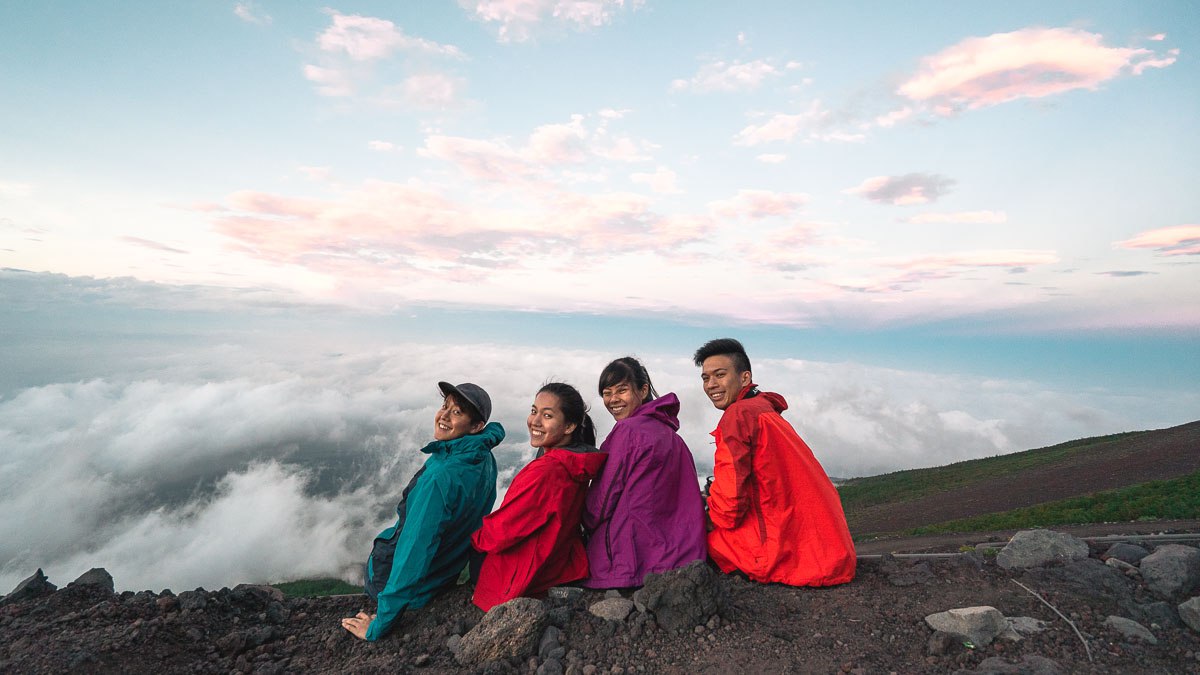 Time to go! Start climbing around 4PM so you can complete the bulk of your hike in daylight and catch the sunset.
Take scenic breaks outside mountain huts along the ascent, and keep ¥100 coins handy for toilet breaks.
Cost: ~¥200 for toilet breaks and ¥1,000 mountain climbing fee (collected at trail entrance).
Rest (High) up in a Mountain Hut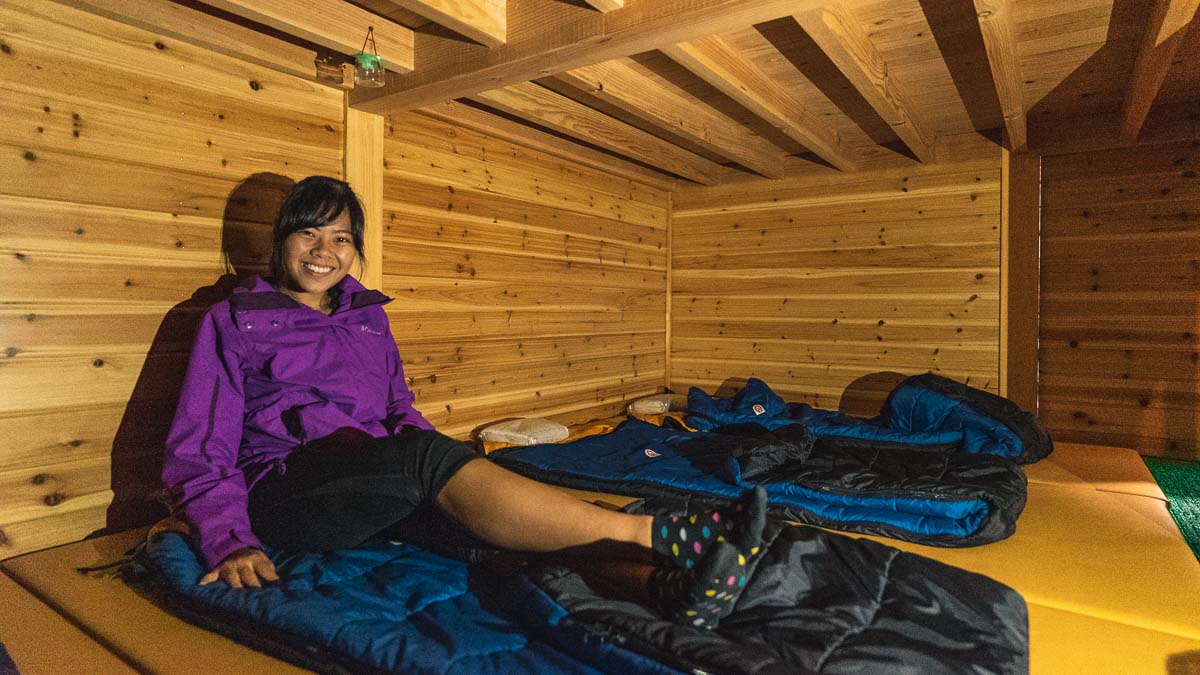 After roughly three hours of climbing, we reached Fujiichikan Hut, where we enjoyed a simple but satisfying sausage curry, and warm tea.
While you may be tempted to skimp on accommodation, we highly recommend not to as hiking nonstop overnight often leads to altitude sickness. What's more, staying in a mountain hut is an experience in itself.
Cost: ~¥6,700 inclusive of dinner and hot tea.
*Pro-Tip: Book a hut at the 7th or 8th station to cover more ground before resting, giving you a shorter summit push.
DAY 2: Relax with Warm Onsen Baths and Hot Meals
Reach the Peak of Mount Fuji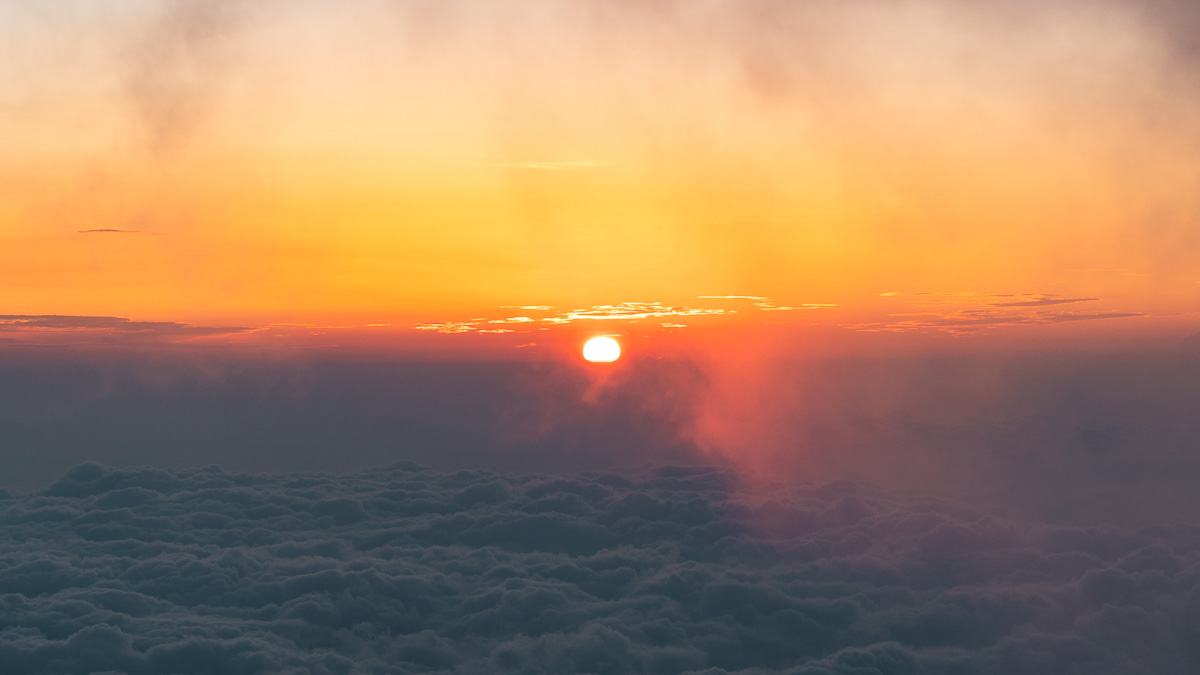 After a good nap, get ready to leave by 11:30PM. Arrive at the summit by 4:30AM to catch an unforgettable sunrise!
Cost: Blood, sweat, and tears
Lunch at Miyaki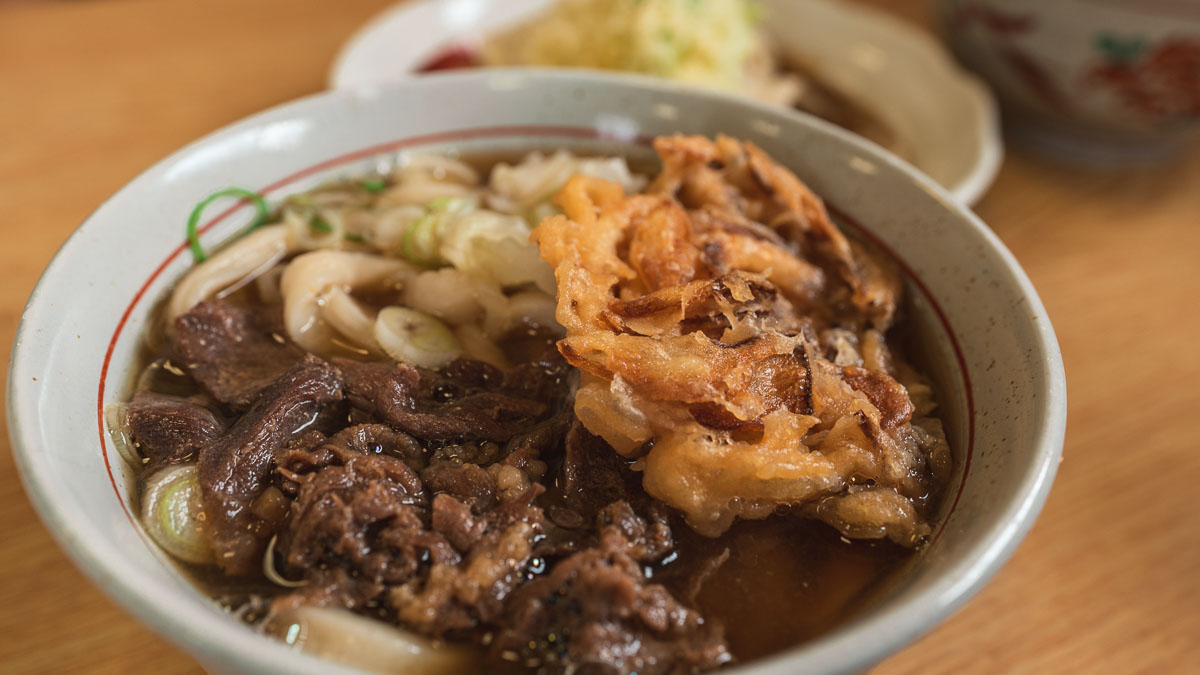 Get that heavenly post-hike meal at Miyaki, which serves Yoshida Udon, famous for thick, chewy noodles, and soup made of bonito, kelp, and dried sardines. The dish is tied inextricably to Mount Fuji's history, being a staple for locals making the tough climb.
For an authentic Yoshida Udon experience, try the Niku Bowl (¥360), which comes with horse meat that's lean and seasoned nicely — a perfect complement to the light broth!
Being a hit with locals, be prepared to wait around 15 minutes if you're there for lunch.

Cost: ~¥360
Opening Hours: 11AM – 4PM, 6PM – 11:30PM. Only 6PM – 11:30PM on Saturdays. Closed on Sundays. Go early as the noodles may sell out.
How to get there: Take the bus from the 5th Station to Kawaguchiko station, using your ¥2200 roundtrip ticket. From Kawaguchiko station, it's a ten minute walk to Miyaki, at 4 Chome-3-6 Shinnishihara, Fujiyoshida, Yamanashi Prefecture.
*Pro-tip: There's no English menu and/or pictures, so point at photos online or translate your choices with Google Translate.
Check into HOTEL MYSTAYS Fuji Onsen Resort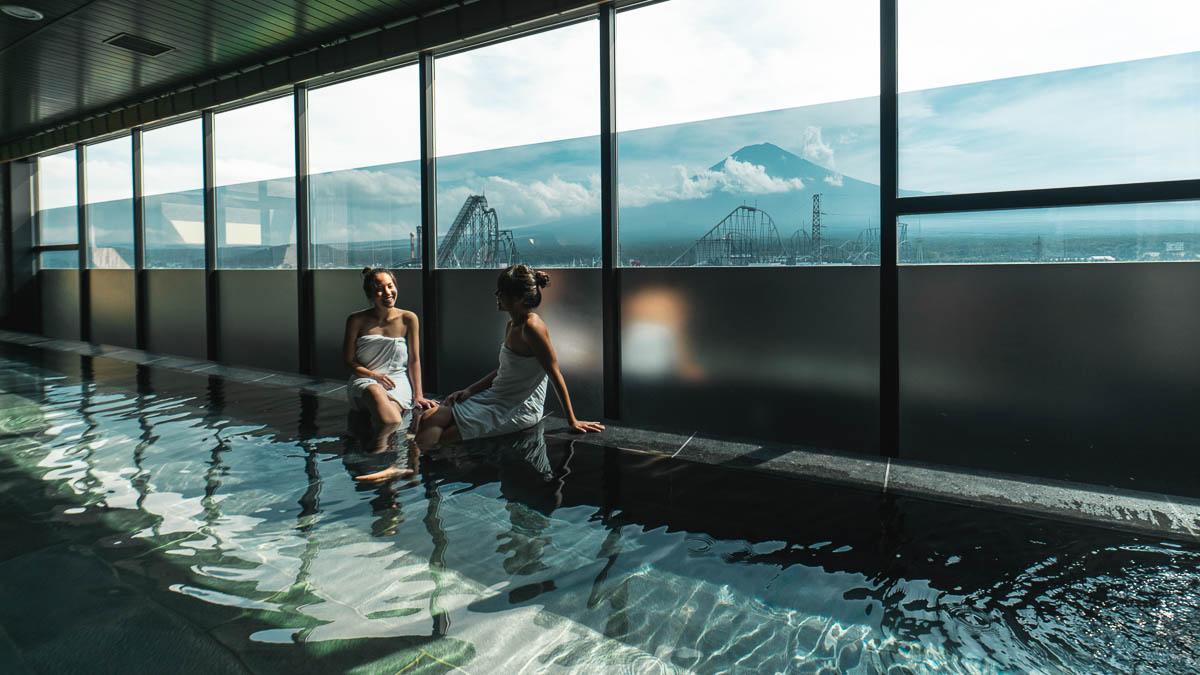 Treat yourself to affordable luxury at HOTEL MYSTAYS Fuji Onsen Resort, a boutique hotel in the heart of Fuji.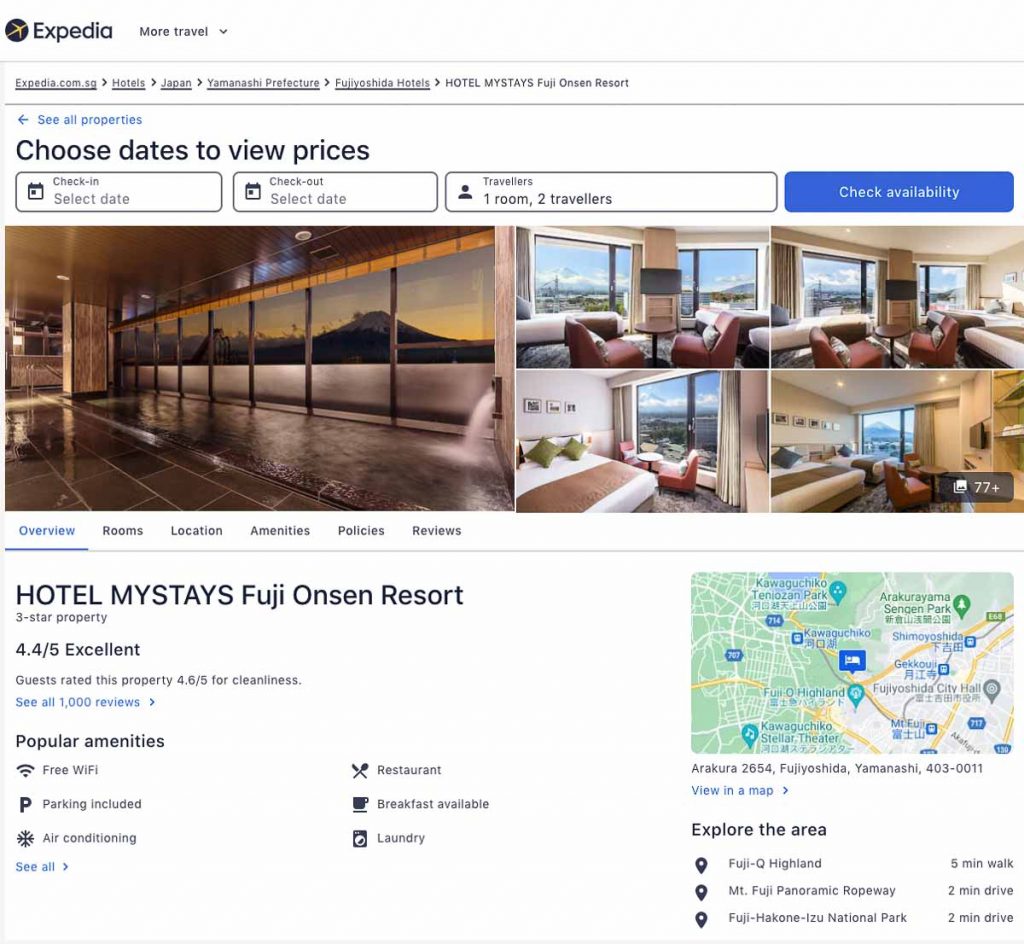 Pick up complimentary sachets of cleansers, toners, and moisturisers, and head to the in-hotel onsen. Nothing feels better than soaking your weary muscles while taking in stunning views of Mount Fuji, right after you've climbed it!
Cost: from S$99.30/ night
Opening Hours: Check in from 3PM. Onsen is open from 3PM – 1AM, and 5AM – 10AM.
Address: 2654 Arakura, Fujiyoshida-shi, Yamanashi-ken 403-0011.
Buffet Dinner at HOTEL MYSTAYS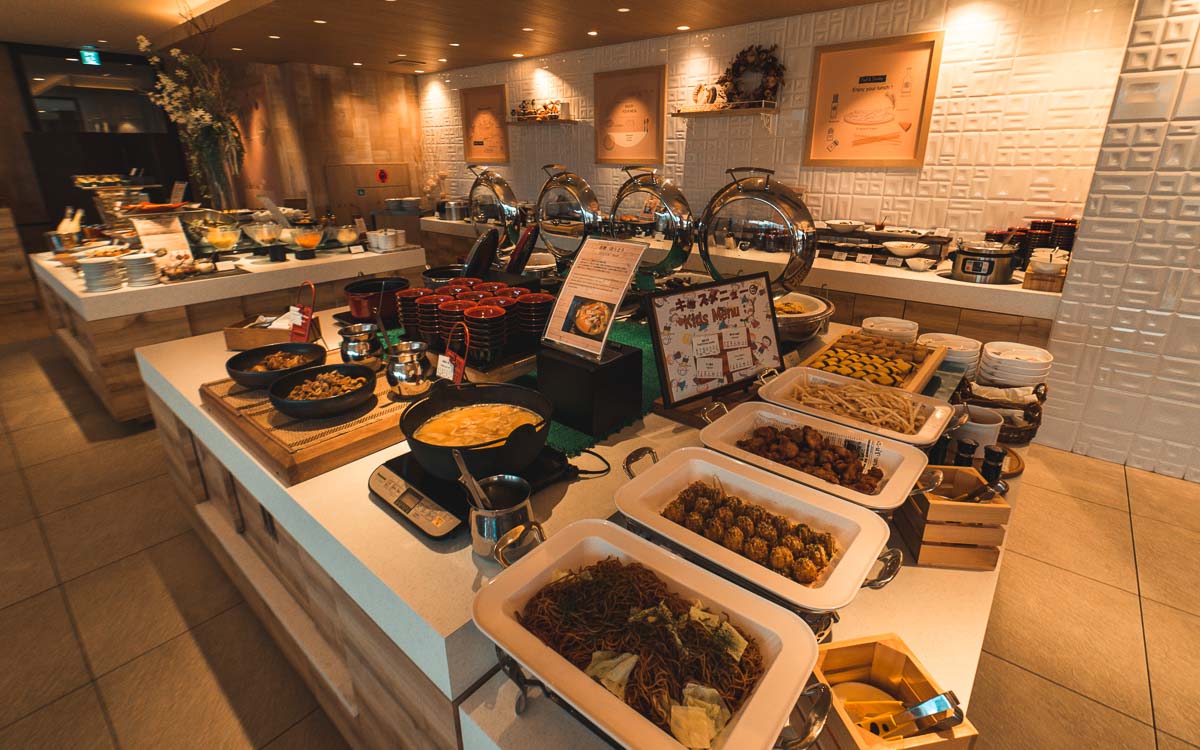 Pamper yourself with a huge buffet spread at the HOTEL MYSTAYS Chef's Recipe restaurant. Feast upon a range of international food, including Fuji specialty Houtou Fudo noodles, a chef's original Yakisoba-version of Yoshida Udon, and Western dishes like beef stew and canapés.
Cost: ~¥3,500
Opening Hours: 5:30PM – 9:30PM (Last order at 9PM)
If you're more in the mood for BBQ, feast on the Nigawai Set (¥5,650) at Yakiniku Tatsugaoka — juicy meats which are delicious even before being dipped in sauces!
Cost: ~¥1,410/pax
Opening Hours: 11:30AM – 2PM, 5PM – 10PM. Last order 30 minutes before closing.
How to get there: From HOTEL MYSTAYS Fuji Onsen Resort, walk 12 minutes to Hotel Fuji Tatsugaoka. Yakiniku Tatsugaoka is inside.
Day 3:

S

cream

Y

our

L

ungs

O

ut

at

F

uji

Q

Highland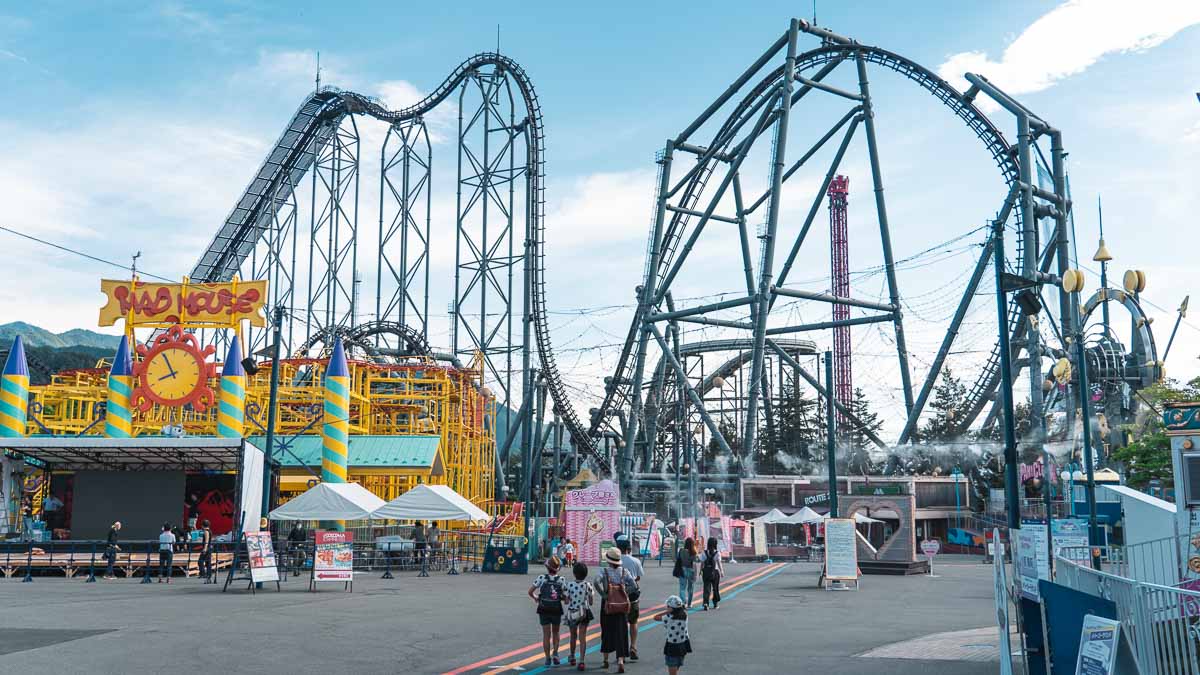 Continue your adventure on a different adrenaline rush with a trip to Fuji Q Highland.
There's Takabisha, boasting the world's steepest drop at a shocking 121 degrees. Also try Eejanaika, a 4D rollercoaster with 14 dizzying inversions, and the King of Coasters itself, Fujiyama, which lasts a whopping three and a half minutes. Read more about Fuji Q's crazy attractions in our Fuji Q Highland Guide!
The experience is extra exhilarating with amazing views of Mount Fuji during the rides — if you can keep your eyes open, that is.
For the less daring, there's also Thomas Land, dedicated to the popular children's cartoon show. Keep an eye out for Japan's very own tank engine character, Hiro!
You can also grab lunch at the one of the restaurants in Fuji Q for ~¥660 per meal.

Cost: ~S$80.15 for a Fuji-Q 1 Day Free Pass with two-way transfer from Tokyo
Opening Hours: Varies by season
How to get there: Walk ten minutes from HOTEL MYSTAYS Fuji Onsen Resort or Fujikyu Highland Station.
Throw Shurikens at Oshino Ninja Village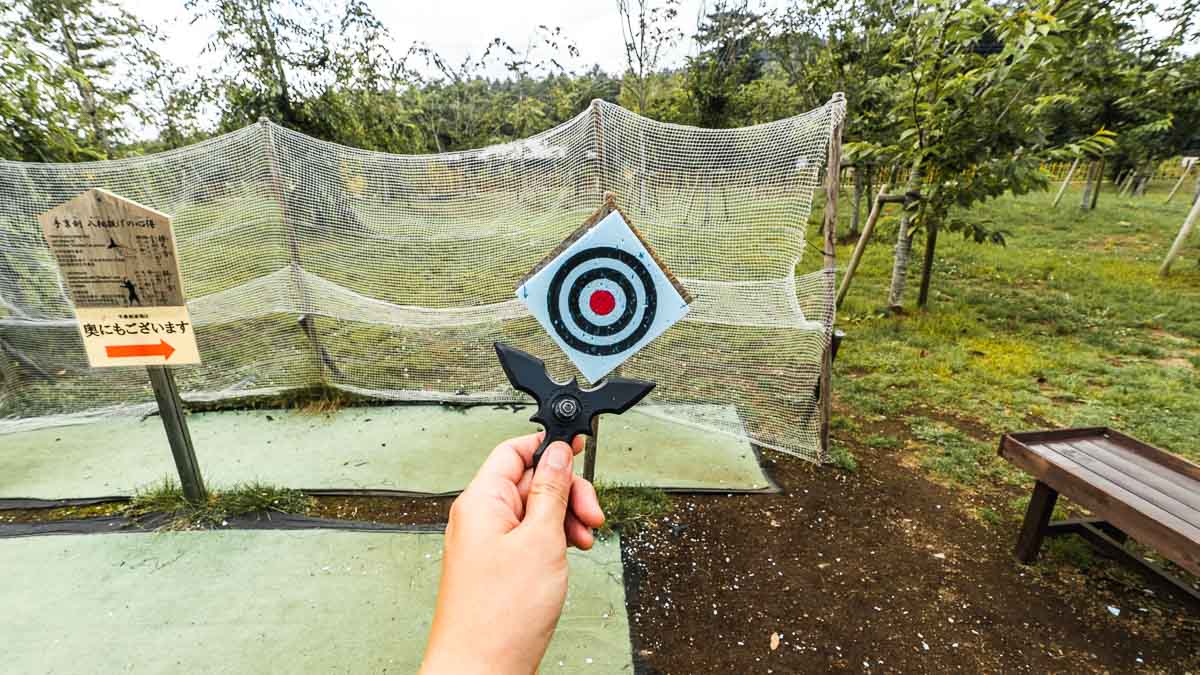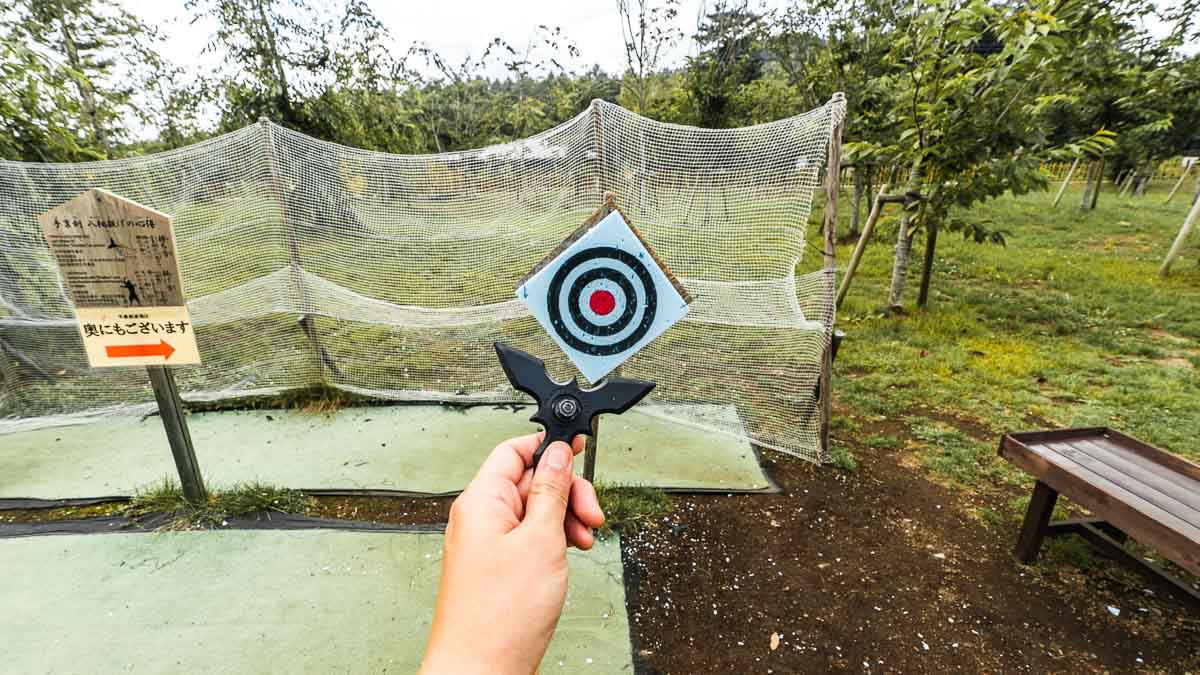 Put on your ninja gear and practice your shuriken-throwing skills at Oshino Ninja Village! Wander around the park while dressed as a ninja, try to escape from a house full of hidden passageways, and catch an action-packed ninja show.
Entrance Fee: ¥2,300 including costume rental
Opening Hours: Varies based on sales calendar (check online before going)
Address: Yubinbango 401-0511, Yamanashi Prefecture Minamitsuru-gun, Oshino-mura, Shinobugusa 2845
How to get there: Take an 18-minute bus from Kawaguchiko station to Oshino Shinobi-no-sato station.
Note: If you stay at the HOTEL MYSTAYS Fuji Onsen Resort, catch your bus from the Akasaka bus stop right outside. You'll need to flag down the bus. Ask the friendly MYSTAYS concierge for maps and bus timing schedules.
Dinner at Sushi Zen and Koshu Hoto Kosaku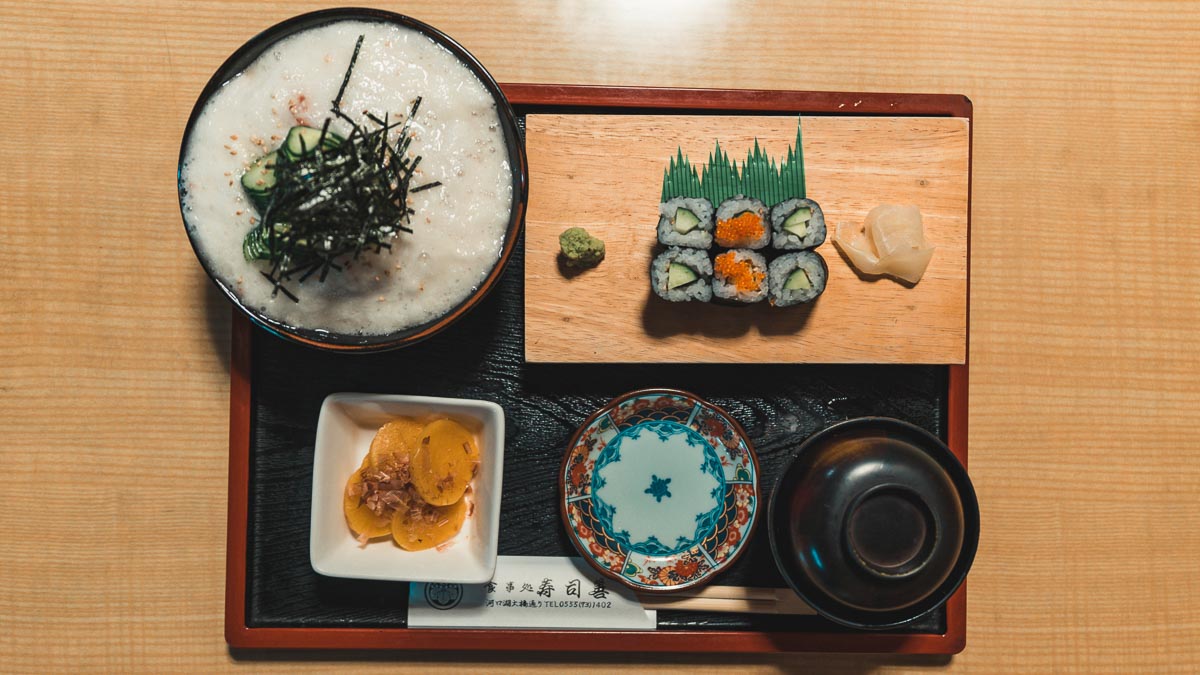 Your first stop is Sushi Zen to try the Kappa Meshi (¥1,200), a local specialty inspired by the kappa, a magical creature said to reside in Fuji. It's a refreshing dish made of tuna sashimi tucked under tororo (grated yam) seasoned with cucumber, seaweed, and sesame. The texture of tororo is interesting — stringy and gooey — so try this if you're feeling adventurous!
Cost: ~¥300/pax (one bowl shared between four). Taxi rides cost ~¥3,080 for a roundtrip (~¥770/pax).
Opening Hours: 11:30AM – 2PM; 5PM – 10PM. Closed on Wednesdays.
Address: 2466−9 Funatsu Fujikawaguchiko-machi Minamitsuru-gun (15 minutes via taxi from Oshino Ninja Village, or ten minutes via taxi from Fuji Q)
Then take a five-minute walk to Koshu Hoto Kosaku for a warm bowl of hotou fudo (~¥1,300) — a hearty Fuji dish of flat udon noodles and vegetables in miso soup.
Cost: ~¥1,300
Opening Hours: 11AM – 8PM

Day 4: Road Trip Around Fuji
Getting around Kawaguchiko and Mount Fuji is easier with a rented car. We picked our rented car from Toyota Rent A Car for 24 hours — which came up to ¥2,295/pax for the four of us including insurance. If you don't drive, you can also get around via public transport.
Enjoy

B

lueberry

S

oft Serve

at

K

awaguchiko Lake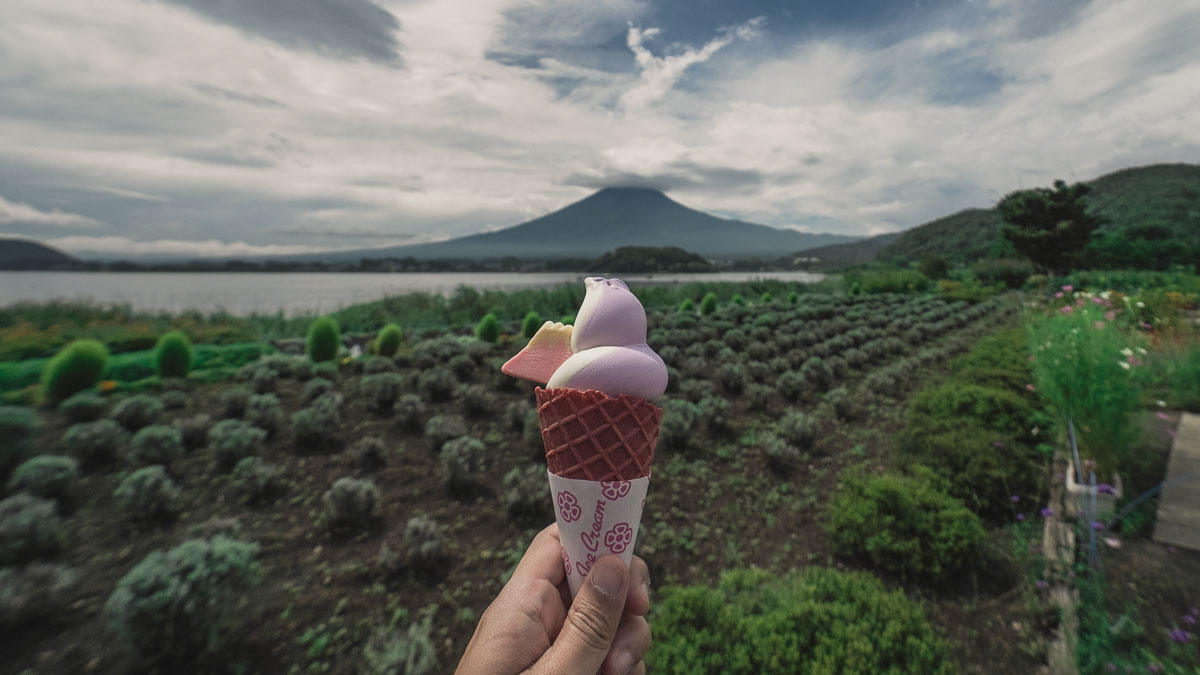 Visit the Kawaguchiko Natural Living Center to try Blueberry Soft Serve (¥500), a delicious treat that's made sweeter by views of Mount Fuji overlooking Kawaguchiko Lake.
Cost: Entrance is free; ¥500 for blueberry soft serve with Mount Fuji biscuit
Opening Hours: 10AM – 6PM
Address: 2585 Oishi, Fujikawaguchiko-machi, Minamitsuru-gun 401-0305, Yamanashi Prefecture
*Pro-Tip: You may notice multiple stores selling Blueberry Soft Serve, but the shop below serves the original famous treat, with a Mount Fuji biscuit and red velvet cone!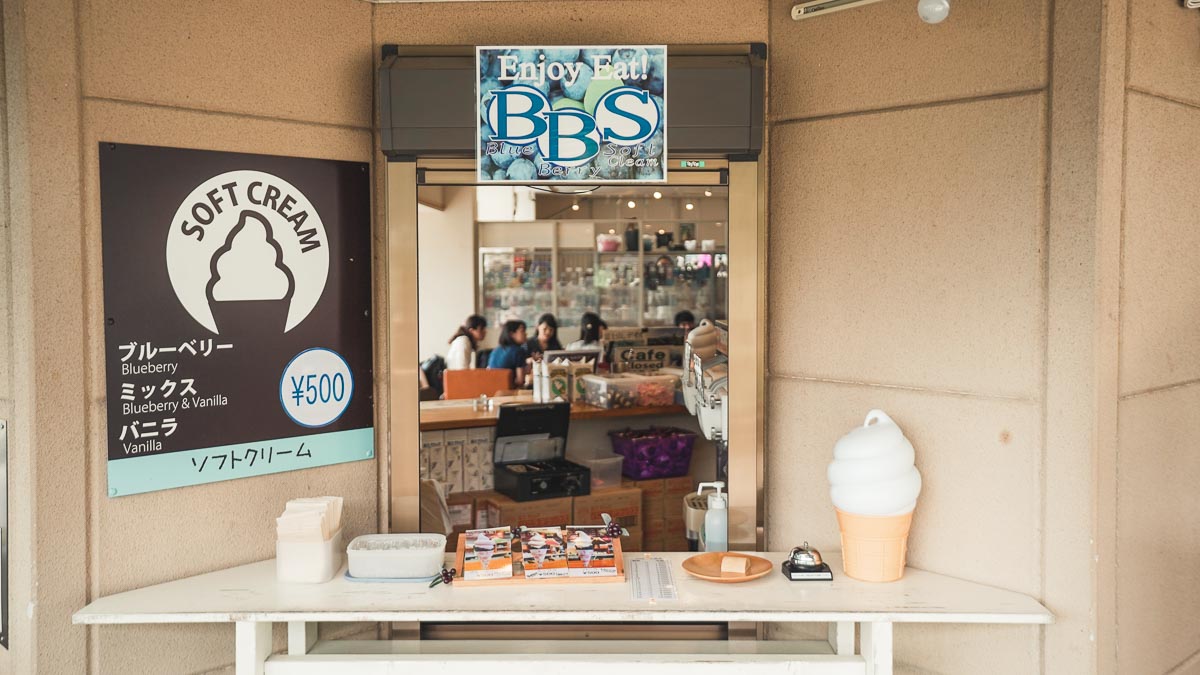 A

dmire the

V

iews

at

Chureito Pagoda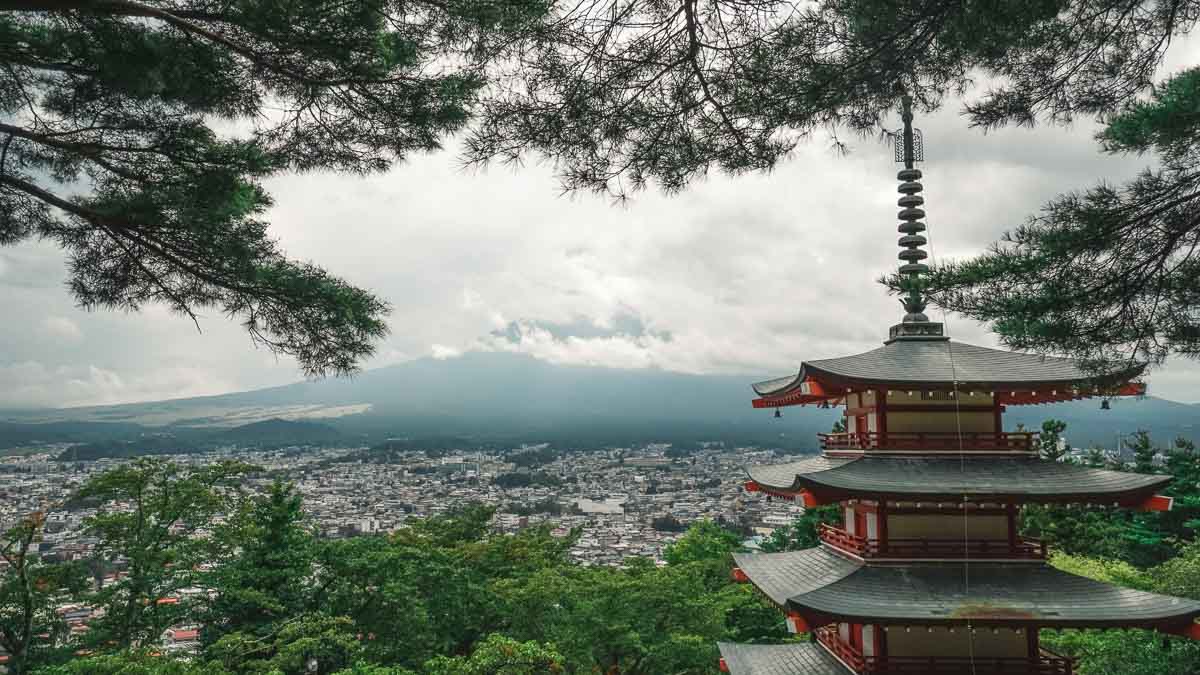 One of Fuji's most iconic attractions, Chureito Pagoda provides awe-inspiring views of the entire Fuji city. It's also good exercise — 396 steps up to the viewpoint — so you don't lose the muscle gained from conquering Mount Fuji! 😉
Entrance Fee: Free
Opening Hours: 24 hours
Address: 3353-1 Arakura, Fujiyoshida, Yamanashi Prefecture 403-0011, Japan
How to get there: For public transport, walk 10 minutes from Shimo-Yoshida Station or take the Mount Fuji World Heritage Loop Bus.
Lunch

at

Tenshoan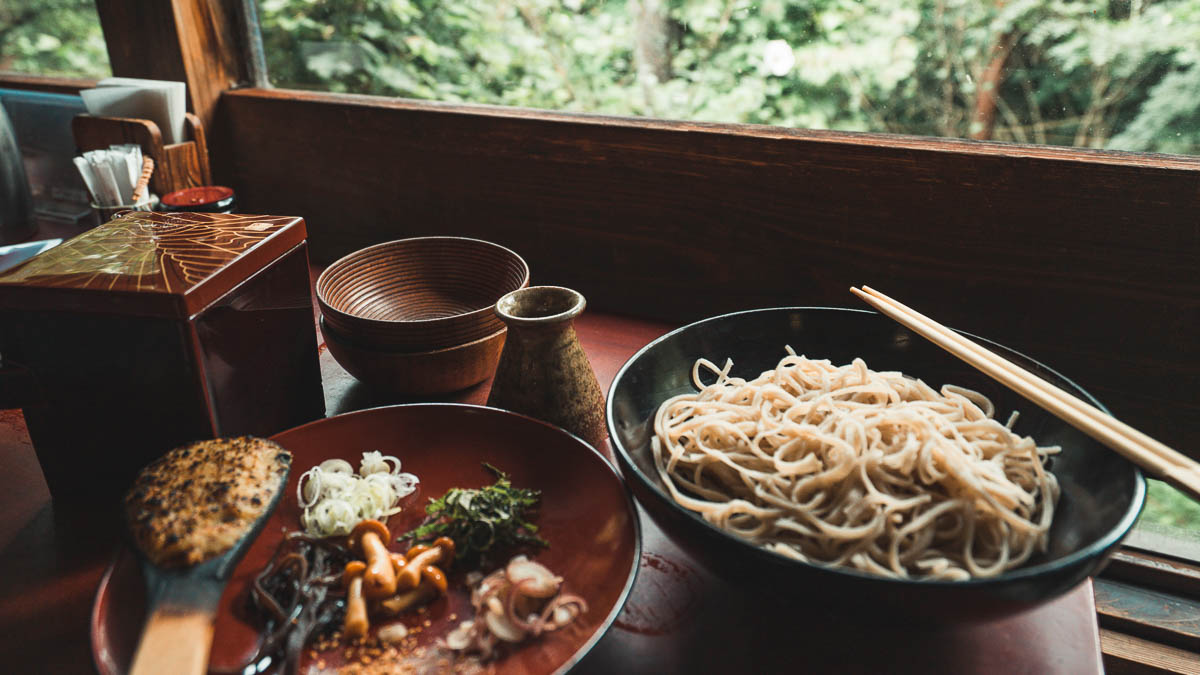 At Tenshoan, try the Bukkake Soba (¥1,350) for delicious cold noodles made with Fuji spring water and adorned with sweet miso, green perilla, welsh onion, mushrooms, and Japanese ginger.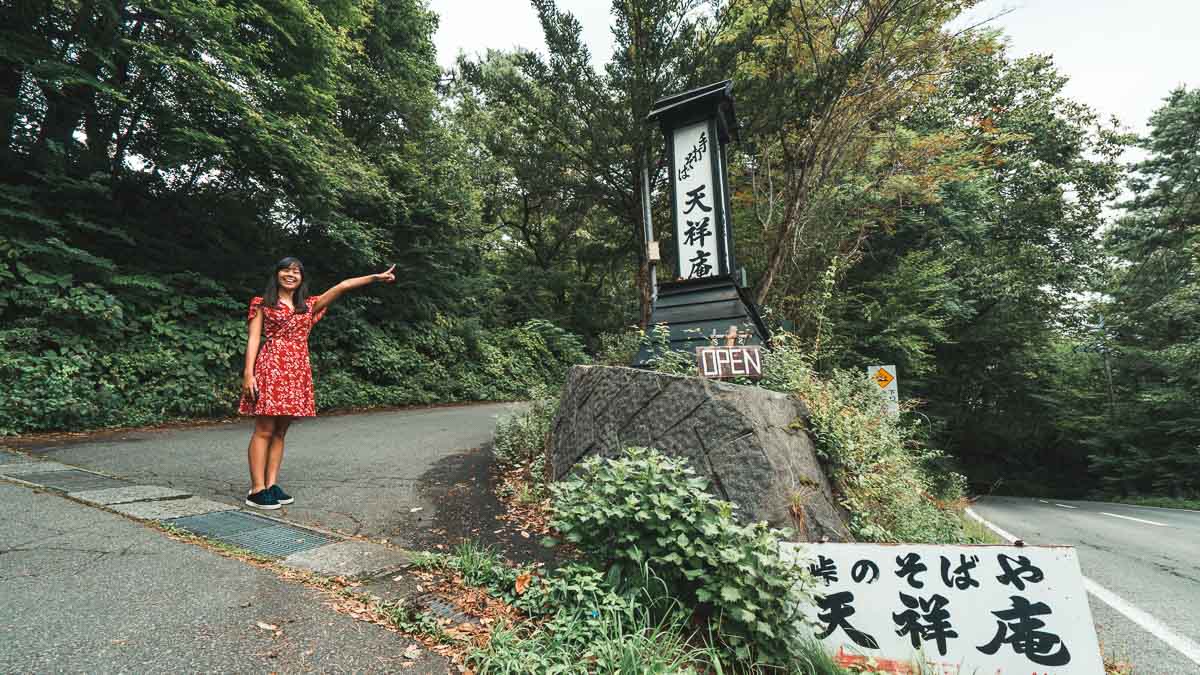 Cost: ~¥1,350
Opening Hours: 11AM – 4PM (Closed on Wednesdays)
Address: 2848-2 Shibokusa, Oshino-mura, Minamitsuru-gun 401-0511, Yamanashi Prefecture
W

ander

A

round

Oshino

H

akkai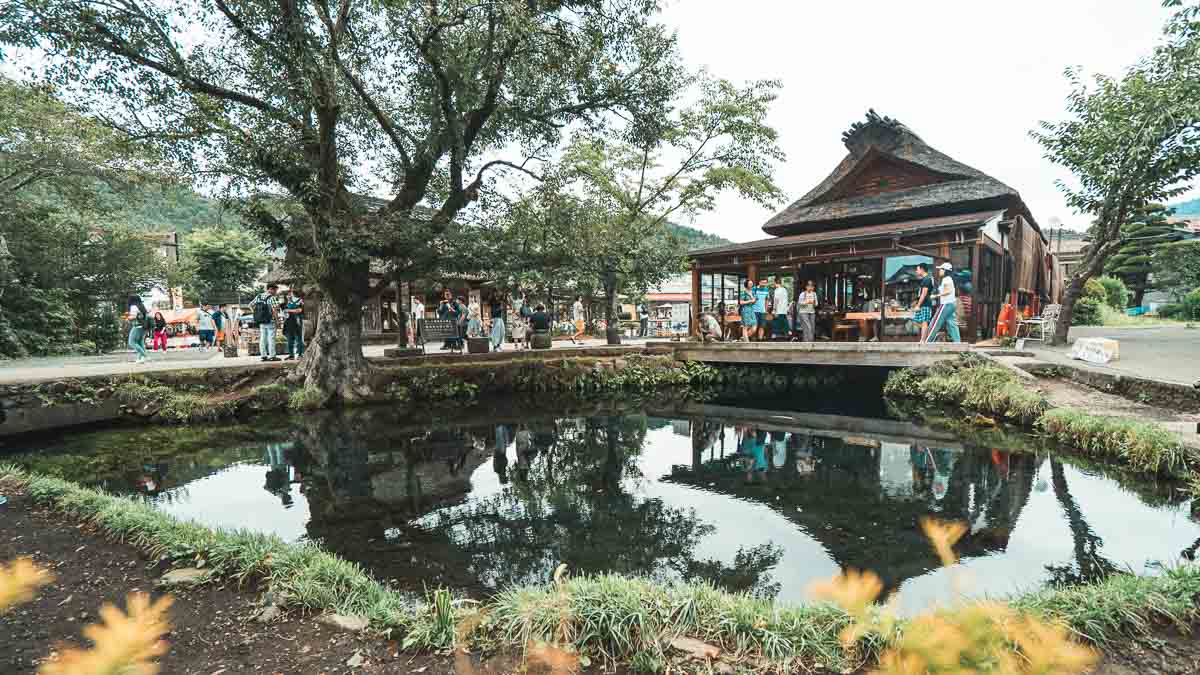 Get refreshed at Oshino Hakkai, a village peppered with ponds filled with gorgeous koi fish and ducks. Even the crowds can't take away from the serenity of the area, with its quaint huts and crystal-clear waters.
Entrance Fee: Free
Opening Hours: 24 hours
Address: Shibokusa, Oshino-mura, Minamitsuru-gun 401-0511, Yamanashi Prefecture
Explore the Mystical Aokigahara Forest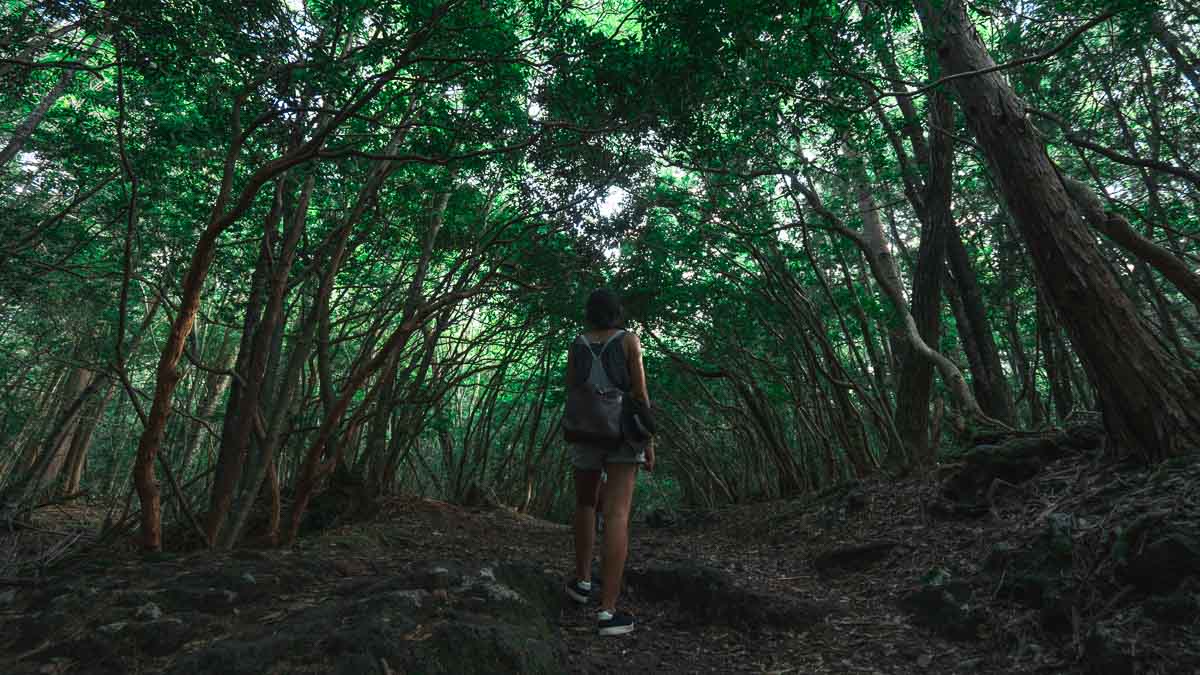 Aokigahara Forest is (in)famous for its tragic place in Japanese history, but our experience was more serene than spine-tingling. With lush green canopies letting in occasional bursts of sunlight and arched trees framing smooth pathways, the forest is great for calm reflection.
Heed the signs that warn against entering certain areas, however — those paths are blocked for good reason.
Entrance Fee: Free
Opening Hours: 24 hours, but we wouldn't recommend heading there after sunset.
How to get there: Take the pathway located near the Saiko Bat Cave. Drive there on the Chuo or Tomei expressway, or take a bus from Kawaguchiko Station.
Dinner at Tempura Restaurant Ninja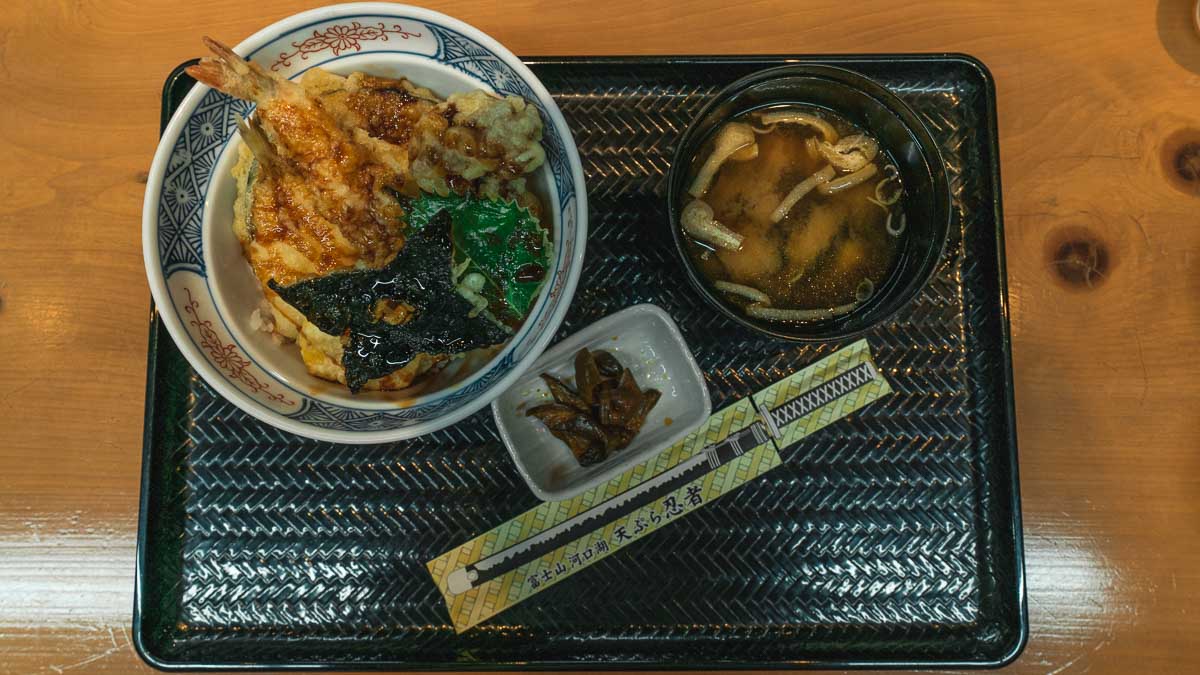 For only ~¥980, we got crispy, juicy tempura served with free-flow rice and miso soup. What's more, the food and cutlery at Tempura Restaurant Ninja were cutely themed — think shuriken-shaped tempura and chopsticks packaged like a katana!
Cost: ~¥980
Opening Hours: 10AM – 11PM
Address: 3729-1 Funatsu, Fujikawaguchiko-machi, Minamitsuru-gun 401-0301, Yamanashi Prefecture
Continue Your Adventure in Tokyo
From Fujikyu Highland Station, take the Fujikyuko Line to Otsuki Station, then transfer to the JR Chuo Line for Tokyo's Shinjuku Station (~¥1,490).
Check-in at MyCube by MYSTAYS Asakusa Kuramae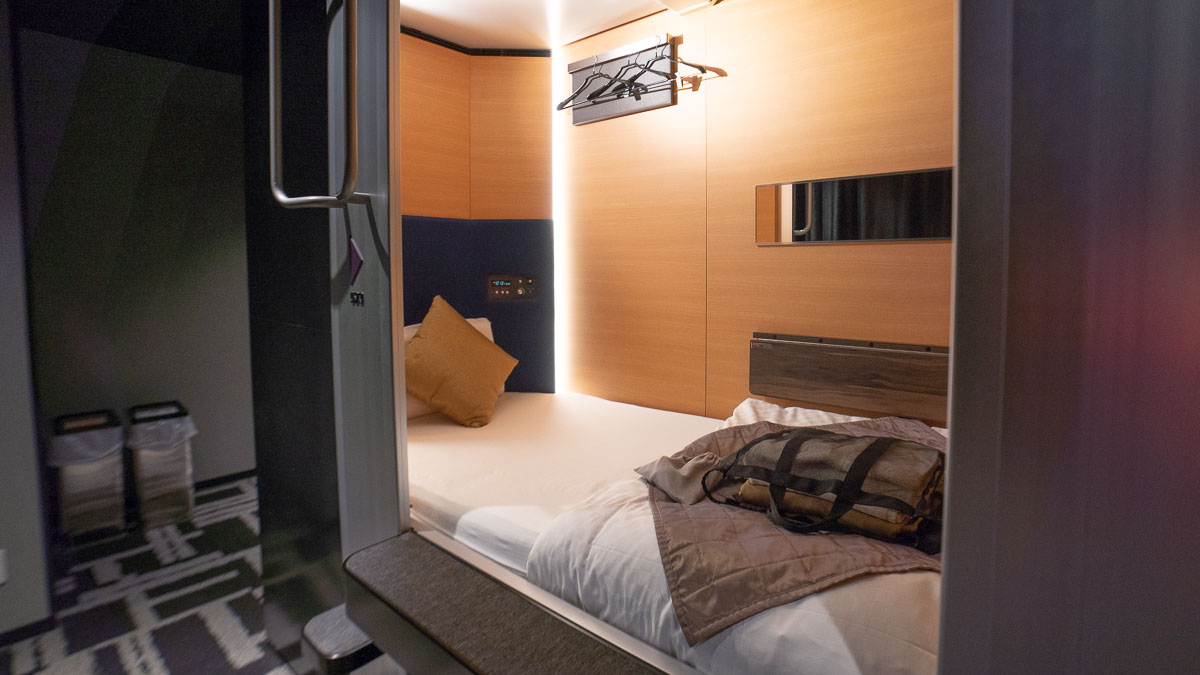 Enjoy a one-of-a-kind stay at MyCube by MYSTAYS Asakusa Kuramae, featuring 'cube rooms' equipped with a safety deposit box, small shelves, charging ports, PJs, and high-speed Wi-Fi.
It's a luxurious capsule hotel experience, with the novelty of private pods that are spacious enough to not feel claustrophobic.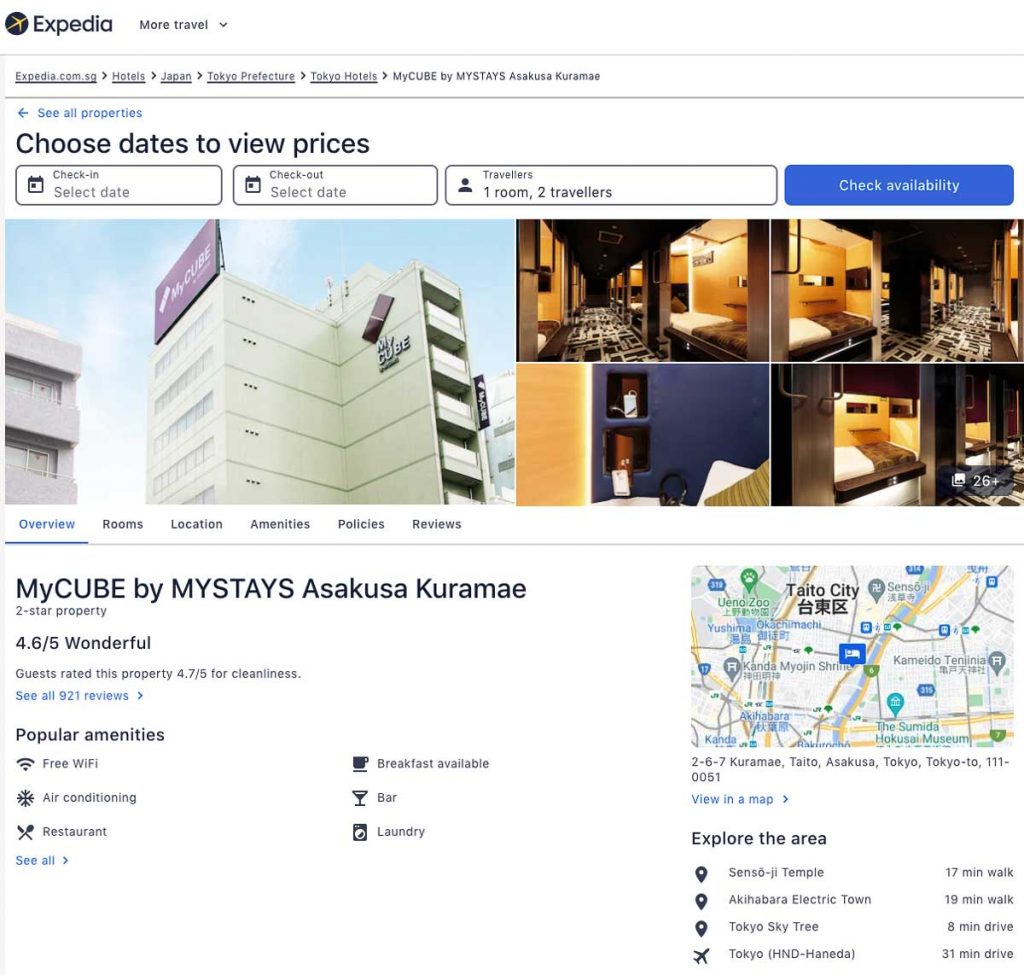 Cost: ~S$30 night
Check-in Time: from 4PM
How to get there: Walk 12 minutes from Asakusabashi Station on the Chuo-Sobu Line, or one minute from Exit A2 of Kuramae Station on the Toei Asakusa Line
Day 5: Exploring Ueno
The adventure continues in Ueno, the cultural heart of Tokyo with a lively cluster of scenic spots and nightlife.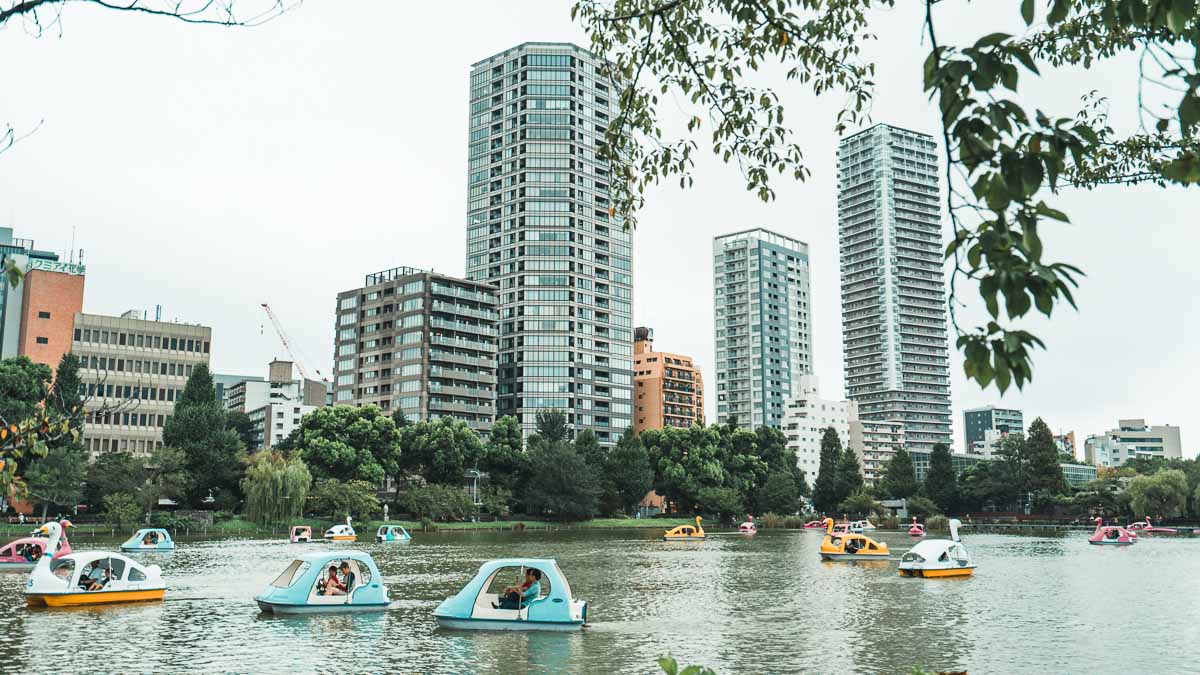 Wander around Ueno Park
Start your day at the Tokyo National Museum, featuring the nation's best collection of art and archaeological treasures, with English information for an amazing learning experience.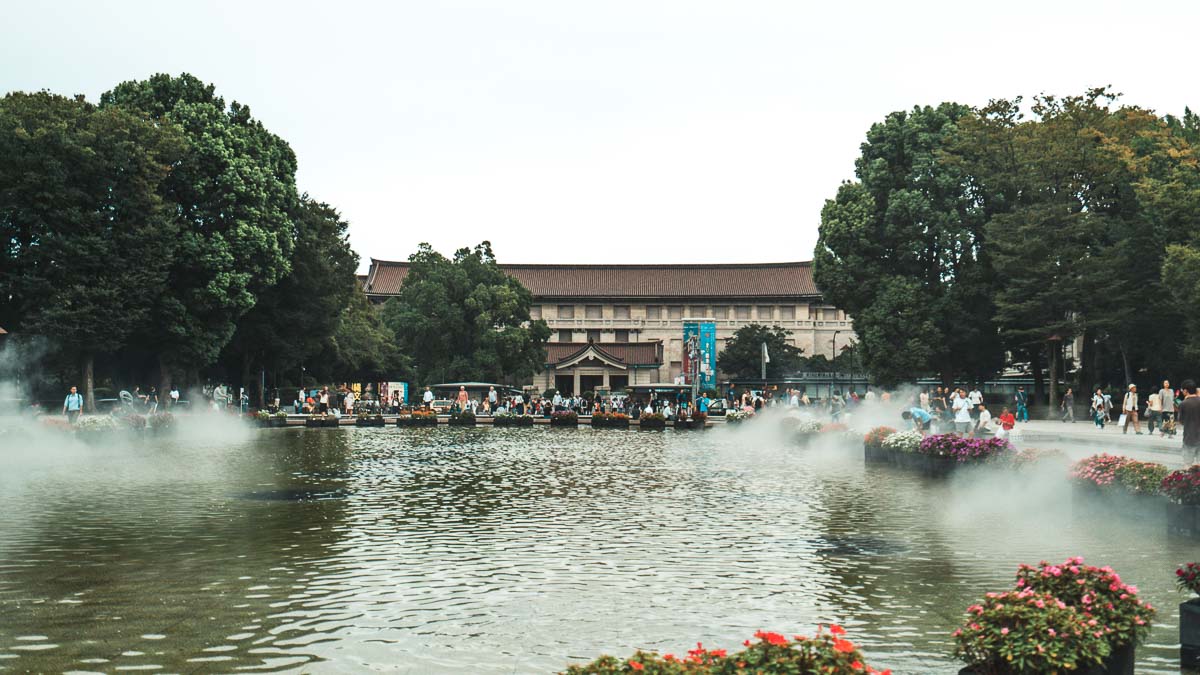 Next, visit the Ueno Toshogu Shrine, with stunning gold architecture from the Edo era. Look out for the monument holding The Flame of Hiroshima and Nagasaki, which has been burning since 1945 as a cry for peace.
Head south to the Hanazono Inari Shrine, for photos amongst the bright red torii gates, and to receive blessings in romance.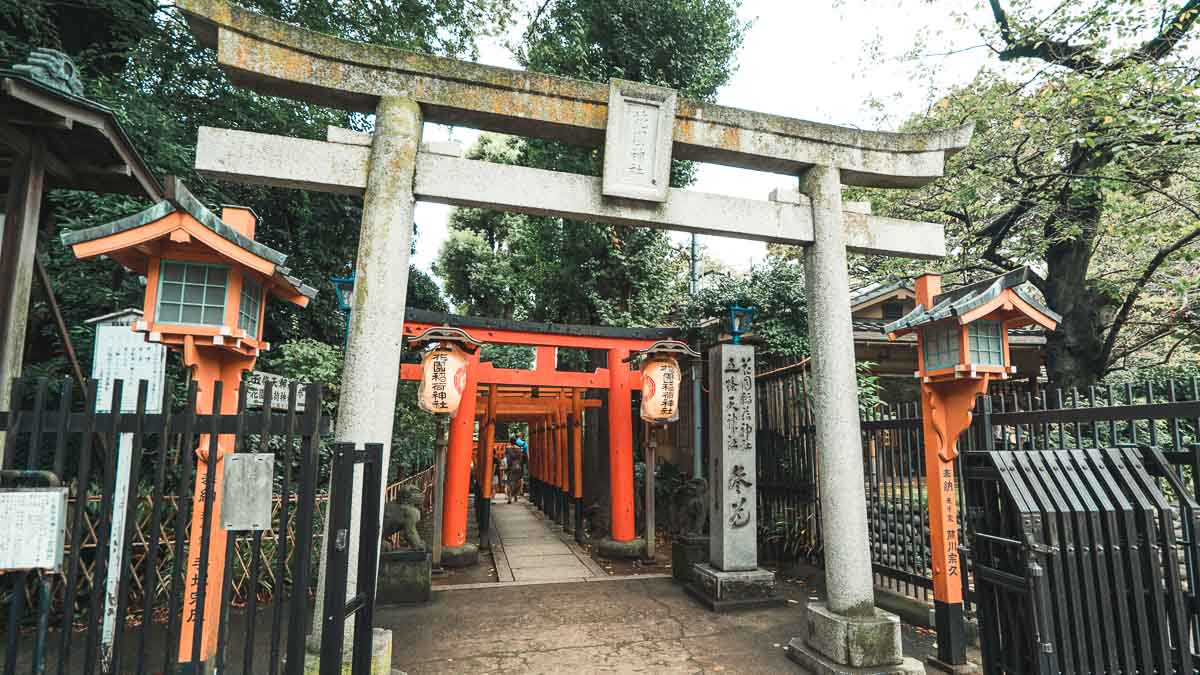 Towards the the lower end of Ueno Park, you'll find the sprawling Shinobazu Pond, packed with fragrant lotus plants, carp, birds, and turtles. In the middle sits Shinobazunoike Bentendo, a striking hexagonal temple dedicated to Benzaiten, a Buddhist goddess who grants success in arts, wealth, and knowledge.
Entrance Fee: ¥620 (Tokyo National Museum)
How to get there: Start using your Unlimited Tokyo Subway Pass to take the Chuo-Sobu Line to Akihabara Station, then transfer to the Yamanote Line for Ueno Station. Ueno Park (entrance near Tokyo National Museum) is a seven-minute walk away.
*Pro-Tip: With over 1,000 cherry trees, Ueno Park is especially gorgeous during cherry blossom season, so it's a must if you're visiting during this period!
Lunch at Ameyoko Shopping Street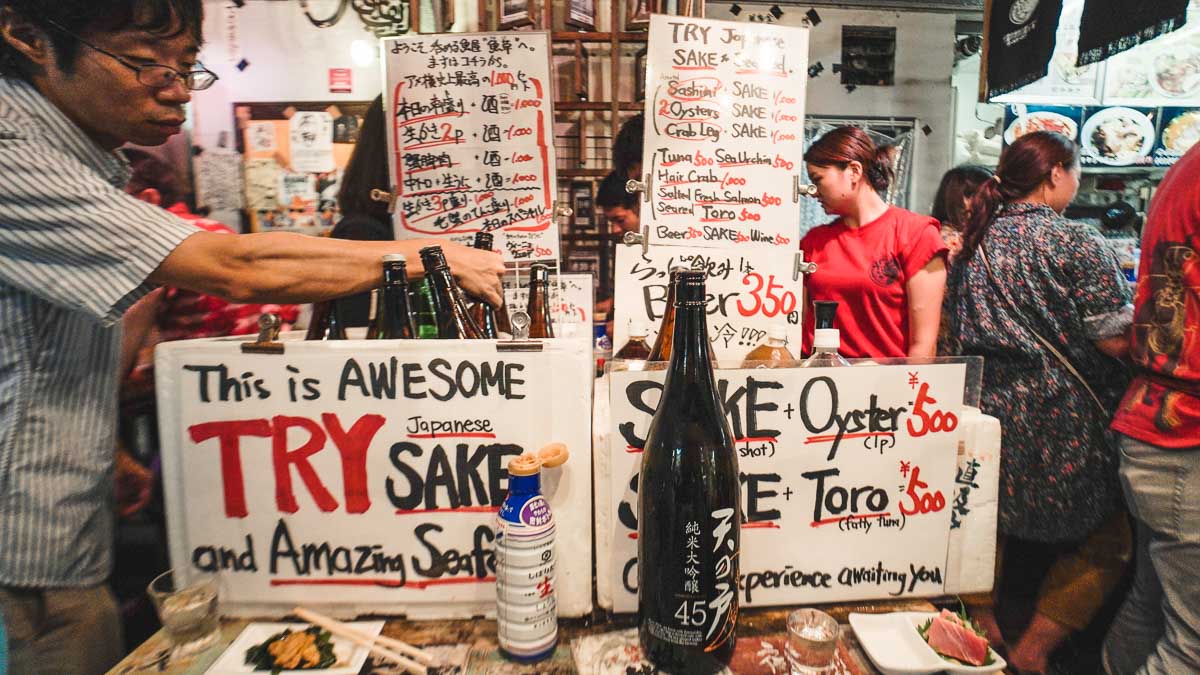 Amidst the bustle of Ameyoko Shopping Street, you'll find cheap and delicious food for only ¥500, such as toro (fatty tuna) and sake shots, and a huge portion of salmon sashimi don that can easily feed two.
At Chano Kiminoen, grab matcha soft serves at ¥250, and vanilla/mixed matcha-vanilla soft serves at ¥300 each.
Cost: ~¥500
Opening Hours: Stores typically open 10AM – 8PM (Some stores closed on selected Wednesdays)
Address: Shinobazunoike Bentendo to 6 Chome-4-9-14 Ueno, Taitō-ku, Tōkyō-to 110-0005
Go on a Blast to the Past at the Shitamachi Museum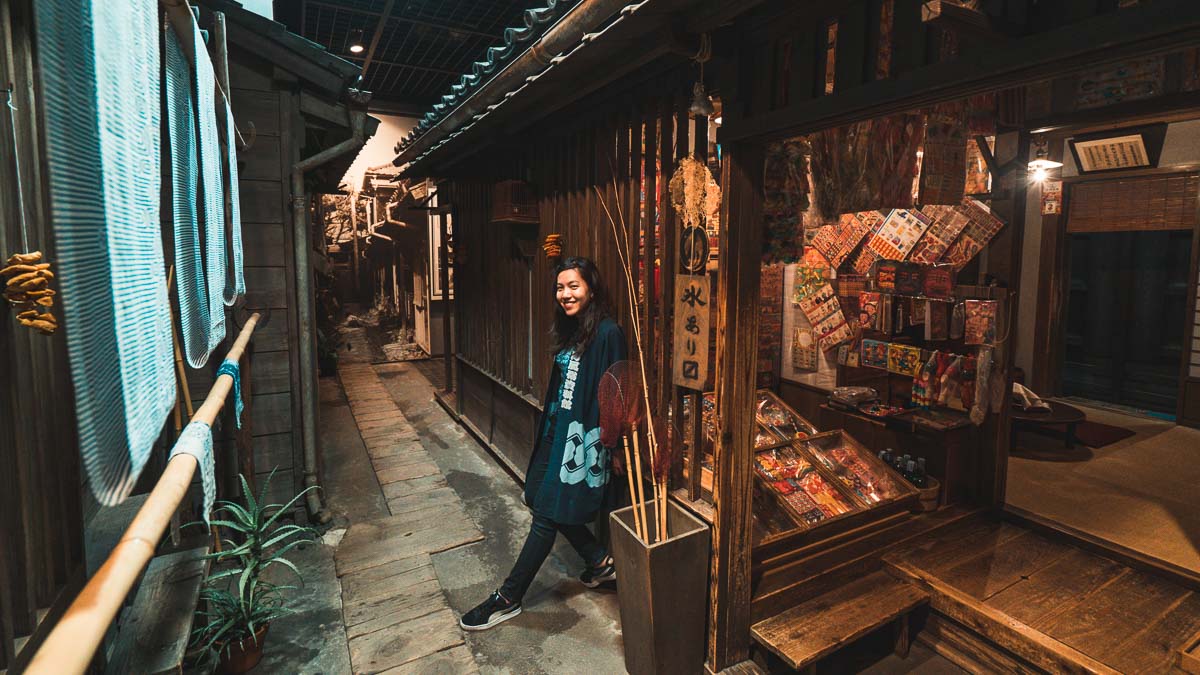 Close to the entrance of Ueno Park, you'll find the Shitamachi Museum, dedicated to preserving the lifestyle and culture of Tokyo residents from the Meiji, Taisho, and Showa eras.
Unlike other museums, you can actually walk in and interact with the displays. The highlight is definitely the old alleyway lined with shophouses, including a fully stocked mom-and-pop candy store and a coppersmith's shop.
Entrance Fee: ¥300
Opening Hours: 9:30AM – 4:30PM (Last admission 4PM). Closed on Mondays.
Address: 2-1, Ueno-koen (Ueno Park), Taito-ku, Tokyo.
Read also: The Best Day Trips From Tokyo For Food, Arts & Culture
Anmitsu Ice Cream at Mihashi Ueno Main Store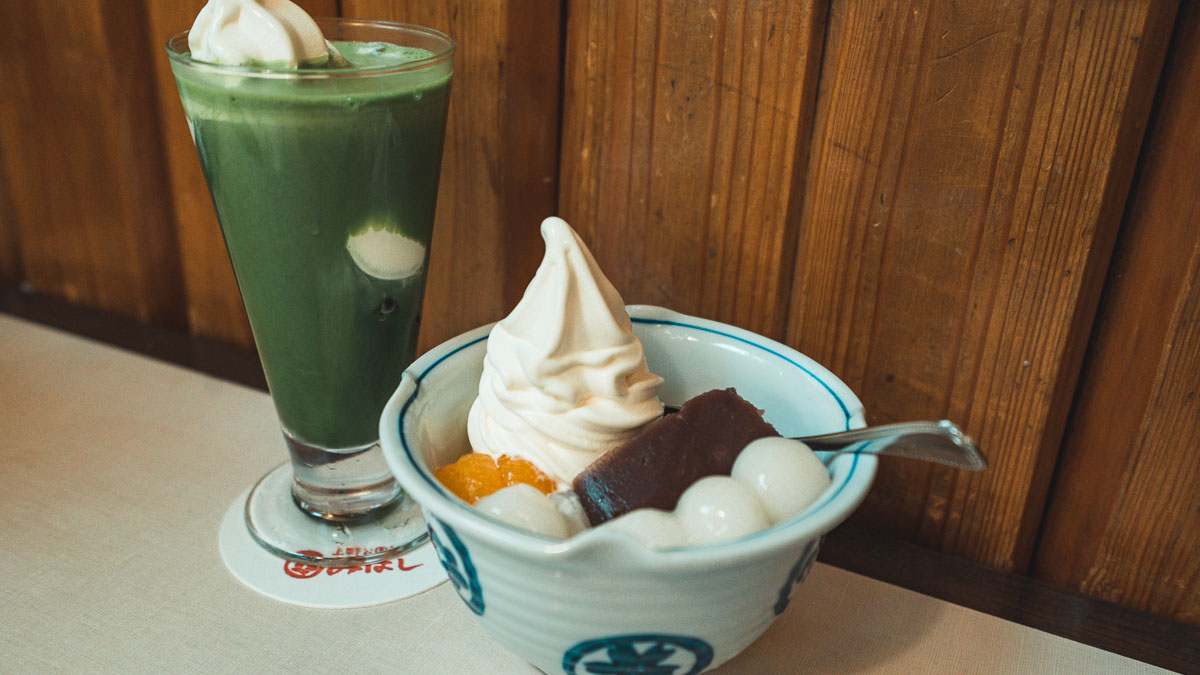 At Mihashi, just two minutes away from Shitamachi Museum, share an Anmitsu Ice Cream (¥500) — a traditional dessert with flavours that the shop calls a 'symphony', made up of vanilla ice cream, red bean paste, agar jelly, mochi, and mandarin orange slices.
Cost: ¥250/pax
Opening Hours: 10:30AM – 9:30PM
Address: 4 Chome-9-7 Ueno, Taitō, Tokyo 110-0005, Japan
C

roquette

I

t

U

p

at

M

eat

O

yama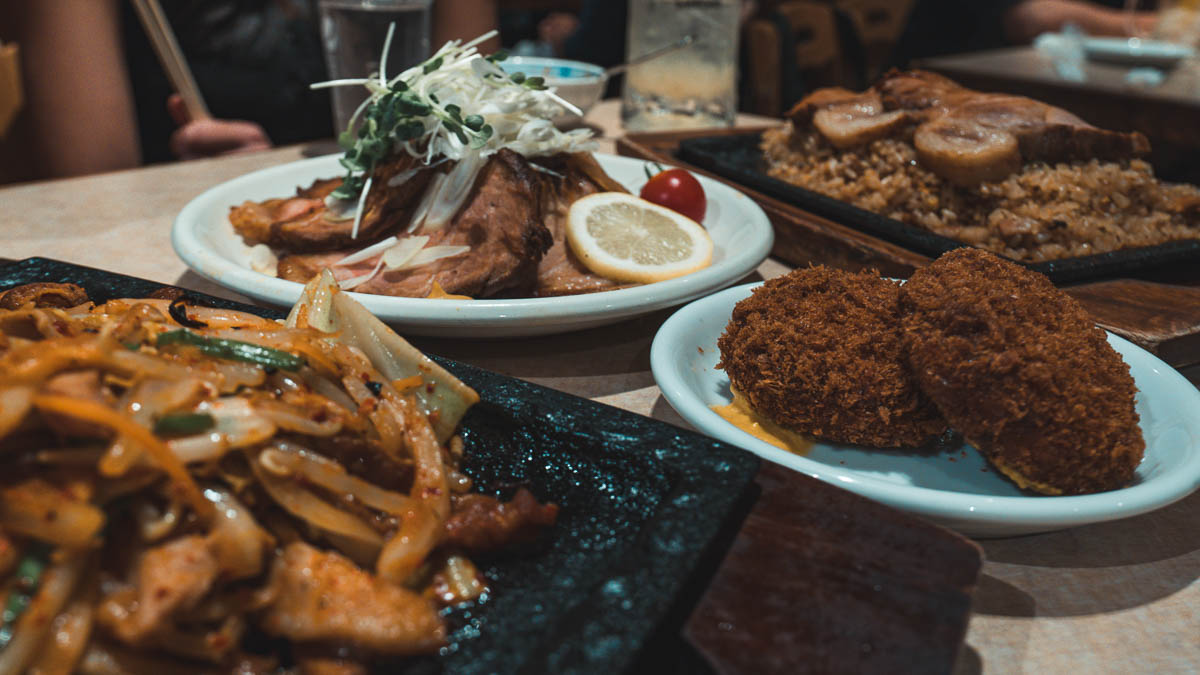 Still hungry? Meat Oyama buzzes with the sounds of diners having a good time. No wonder, with the food here being insanely delicious at amazing prices.
The croquettes (¥130), a breaded, juicy mixture of pork and beef, were quite honestly the best I've had in my life. We also shared a tasty Pork with Garlic Fried Rice (¥1,080) and Yakisoba (¥864).
Cost: ~¥620
Opening Hours: 11AM – 11PM. Closes 10PM on Sundays.
Address: 6-13-2 Ueno, Taito 110-0005, Tokyo Prefecture
H

a

v

e

C

a

n

n

e

d

F

o

o

d

a

n

d

B

e

e

r at

mr. kanso bar
Upon entering the cosy mr.kanso, you'll be greeted with stacks upon stacks of canned food — yep, this isn't your typical bar.
Get your tinned bar bites heated up and served "fresh" by the chef. While common choices like fishballs are a mere ¥350, you'll also find exotic options like seal (¥1,000). We tried the bear meat (¥1,000) which was a tad too gamey, but definitely worth checking off our bucket list!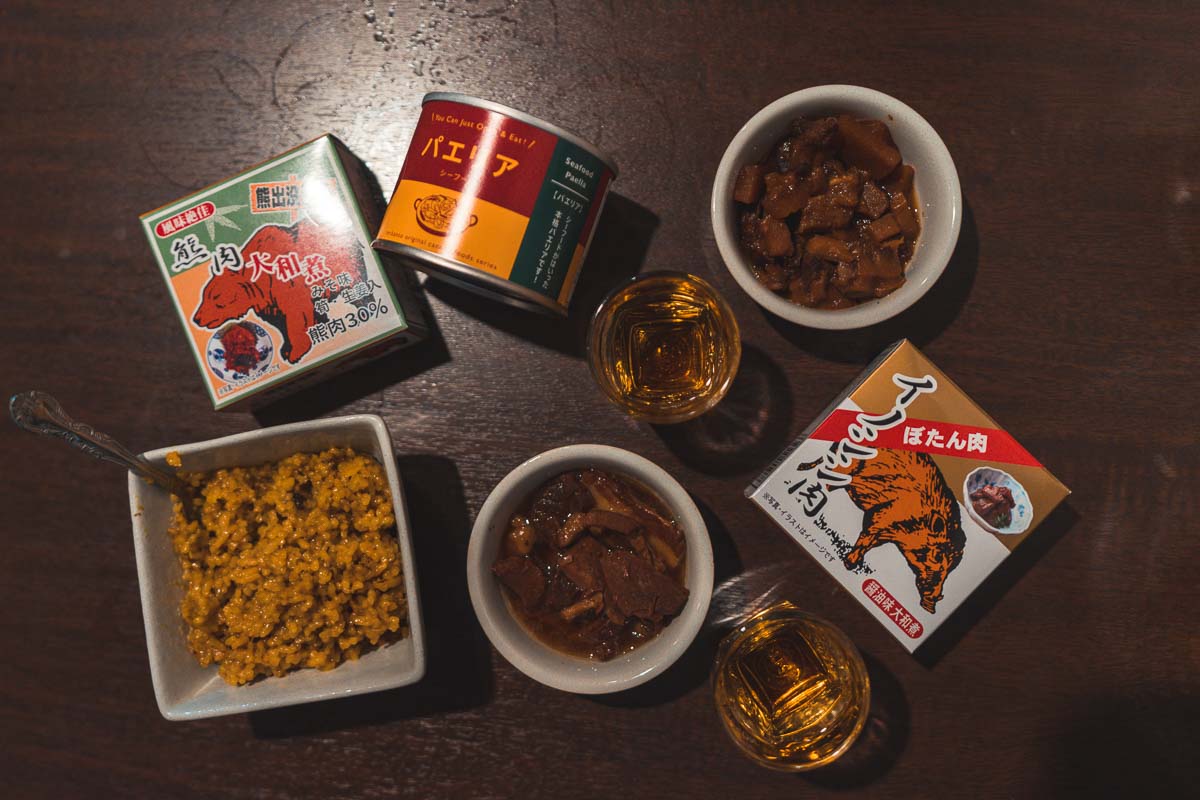 Most importantly, the alcohol: You'll find an extensive selection here, including international whiskies and cocktails with a beer base, cassis base, rum base… the list goes on. If you're more of a hophead, you'll love the dirt-cheap beers starting from ¥350 for Asahi drafts.
Cost: ¥600/pax
Opening Hours: 5PM – 1AM
Address: 6 Chome-3-7 Ueno, Taitō-ku, Tōkyō-to 110-0005, Japan
DAY 6: Exploring Asakusa
Explore one of Tokyo's most prolific sightseeing sites, home to historic streets, the Sensoji Temple, and sumos.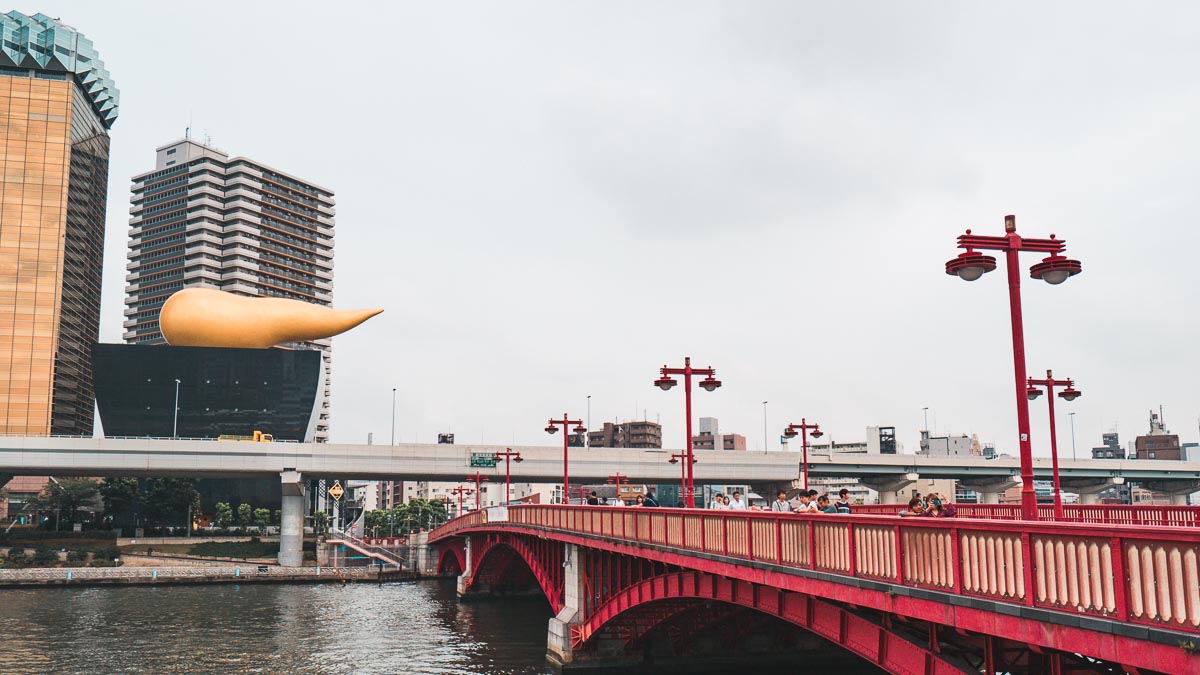 Catch Real Sumos in Training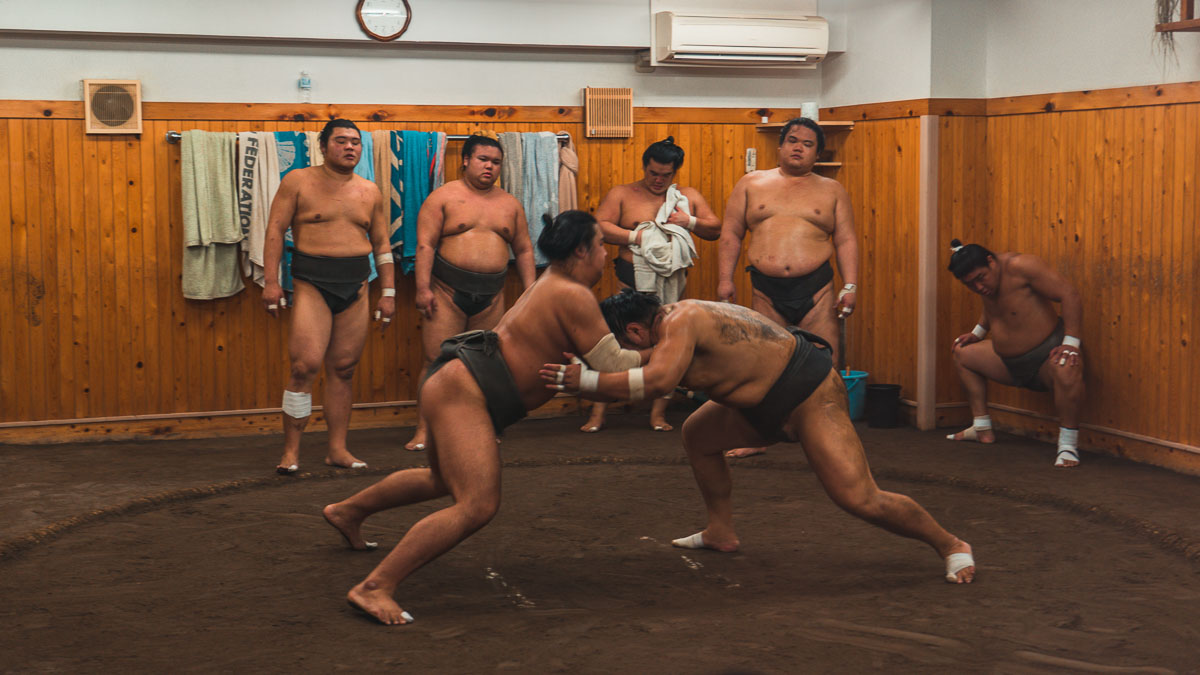 At the Arashio-Beya Sumo Stable, watch sumos at their morning practice — a free and more authentic alternative to a live show. Do refrain from making loud noises or using flash photography, as these are real champions-in-training, after all!
Entrance Fee: Free
Opening Hours: 7:30AM — ~10AM. Closed in March, July, November, and one week before competitions.
Address: 2 Chome-47-2 Nihonbashihamacho, Chūō, Tokyo 103-0007, Japan
How to get there: Take the A2 exit at Hamacho Station (Toei-Shinjuku line), and walk for seven minutes. The stable is near the Sumida Riverside Hamacho Park.
Lunch at Ramenbenkei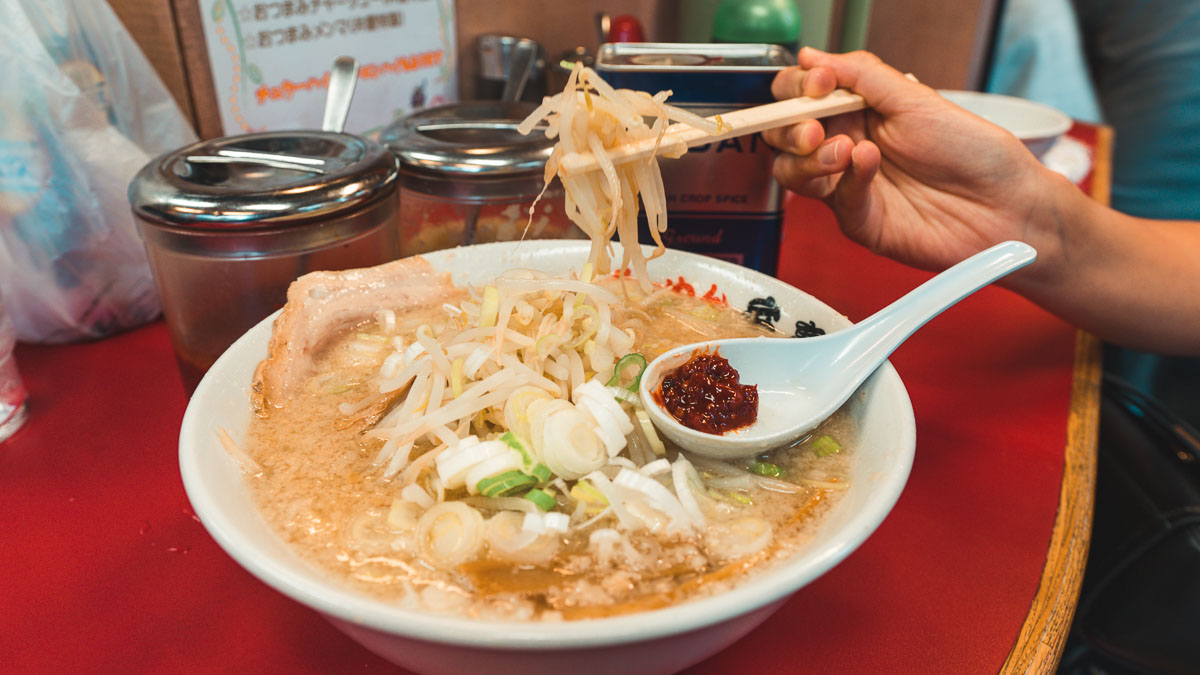 For only ¥730, enjoy a big bowl of quality ramen, filled to the brim with a soy sauce broth, chashu, and beansprouts — more than enough for two to share. Toss in chopped garlic to give your soup that extra kick!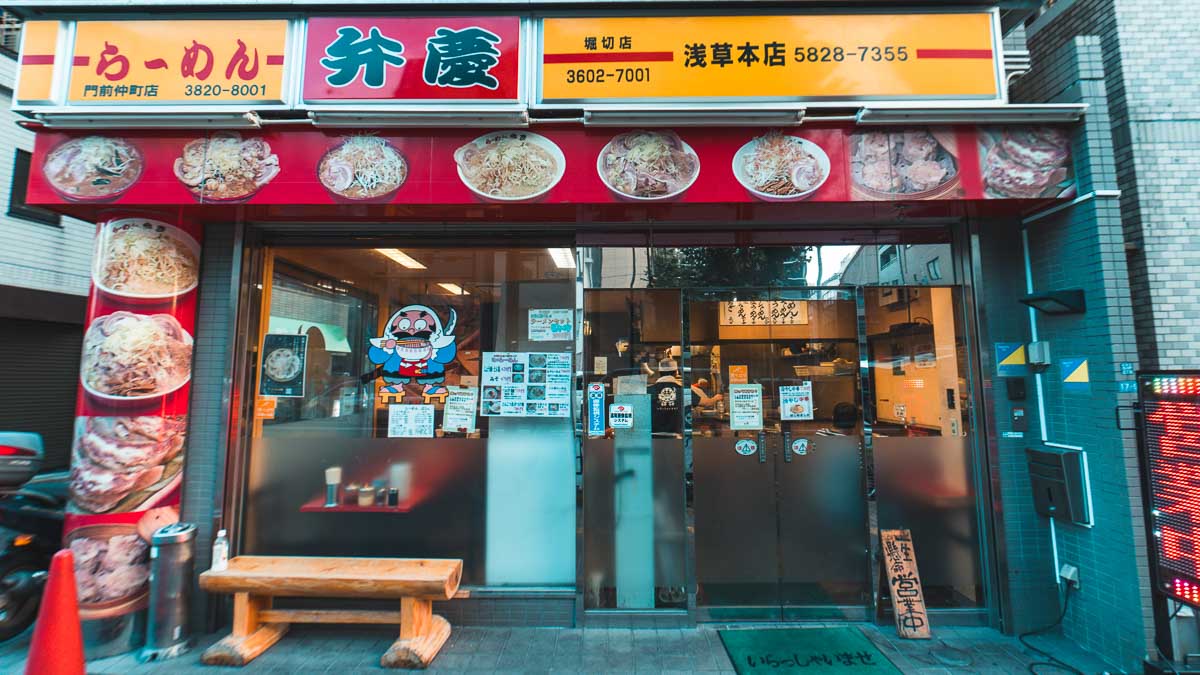 Cost: ¥365/pax
Opening Hours: 11AM – 4PM
Address: 2-17-9 Hanakawado Taito Tokyo (Near Asakusa Station)
Get Kitted up in a Kimono/Yukata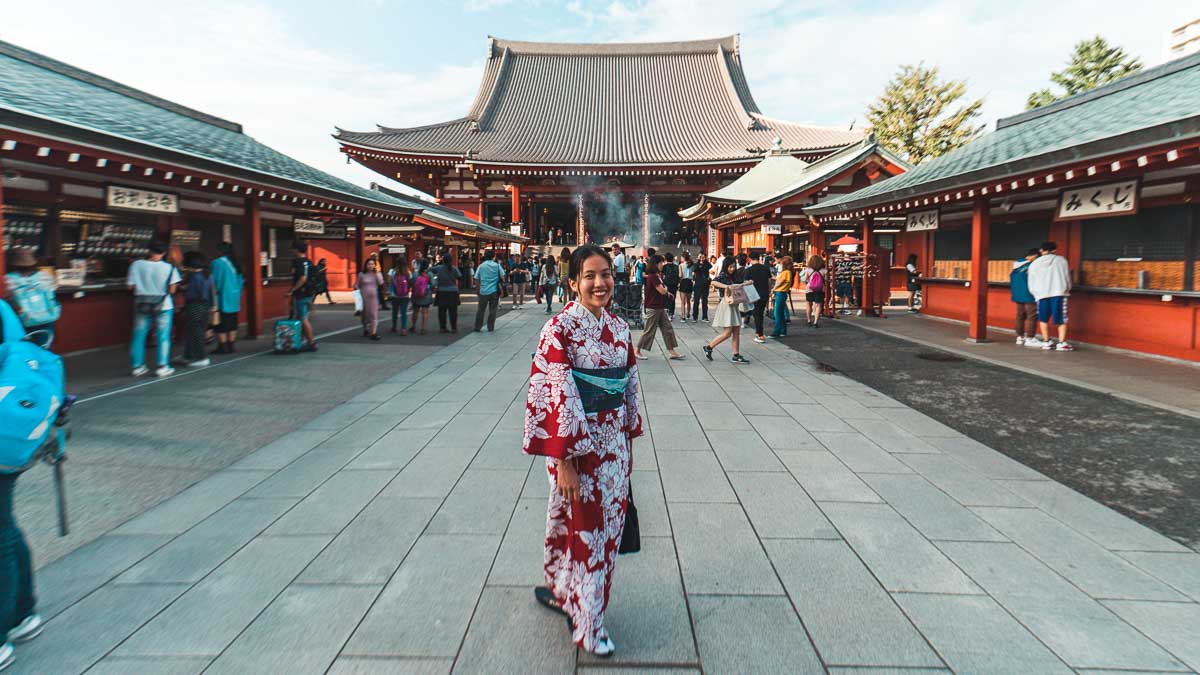 The historic streets of Asakusa make the perfect backdrop for pictures in traditional Japanese attire. Choose your perfect kimono/yukata, and get styled by the experts. You'll even get printed postcards of yourself to commemorate the experience!
Cost: ~S$43 (Kimono Experience)
Opening Hours: 9AM – 6PM (Return outfits by 4:30PM)
Address: 1-3F, NW building, 1 Chome−1−11−4, Hanakawado, Taitō-ku, Tōkyō-to
Sensoji Temple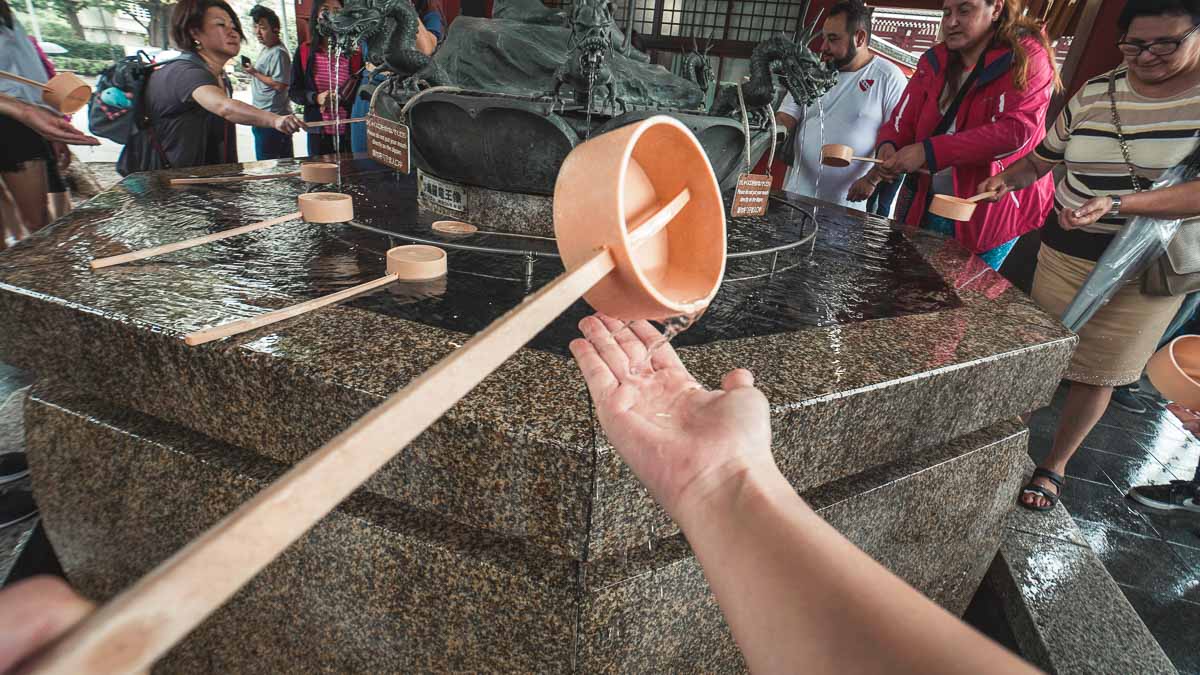 Now you're all dolled up, there's no better place to wander than at the magnificent Sensoji Temple. Tokyo's most iconic temple is massive, flanked by huge lanterns, beautiful ceiling paintings, and awe-inspiring statues of deities. Cleanse at the small stone fountain, and get your fortune reading at the shrine (¥100).
Cost: Entrance is fee; ¥100 for fortune reading
Opening Hours: Temple grounds are open 24hr. Main hall opens from 6AM – 5PM from Apr – Sep, and from 6:30AM – 5PM from Oct – Mar
How to get there: 1min walk from Asakusa Station
Try Intense Matcha Gelato at Suzukien Ice Cream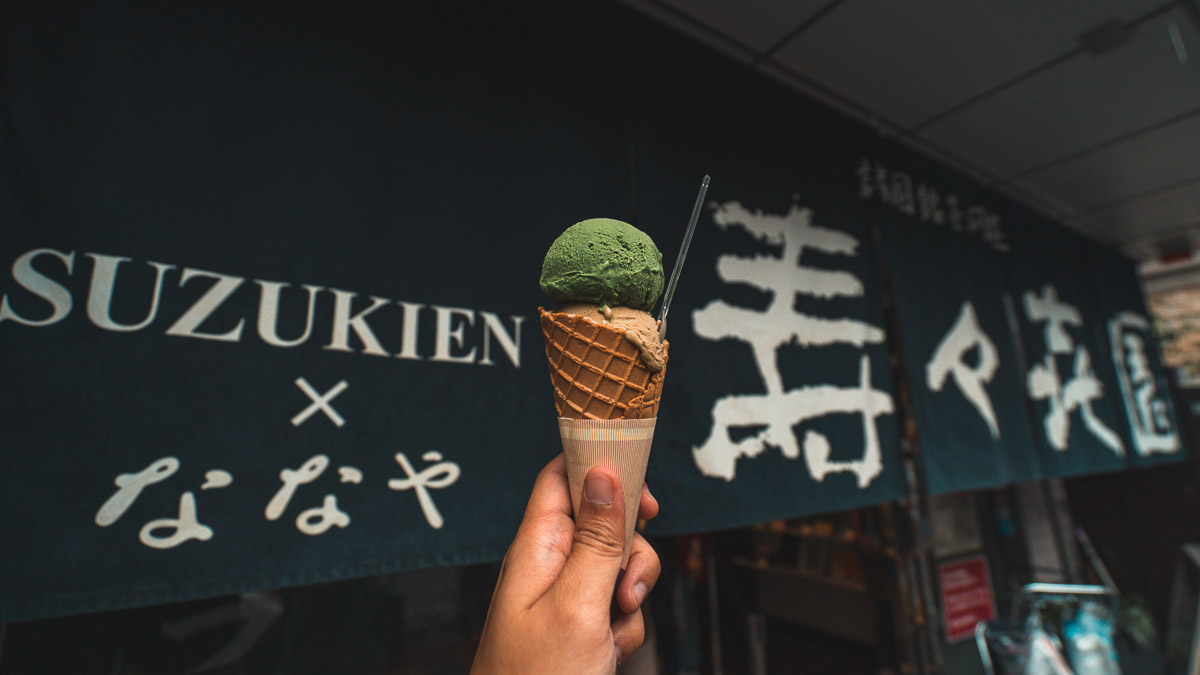 Matcha lovers, rejoice! At Suzukien Ice Cream, try up to seven levels of matcha ice cream intensity. We found the level 7 matcha (¥580) a little too intense, but really liked the Genmaicha and Hojicha double scoop (¥470).
Cost: from ¥390 per scoop
Opening hours:11AM – 4PM
How to get there: Walk three minutes from Sensoji Temple
Share a Pint at the Asahi Beer Headquarters
Take a trip to the unmissable Asahi Beer Headquarters (it's shaped like a foaming beer mug!), and have a pint fresh from the brewery. You might even get to sample some limited-edition Asahi beers!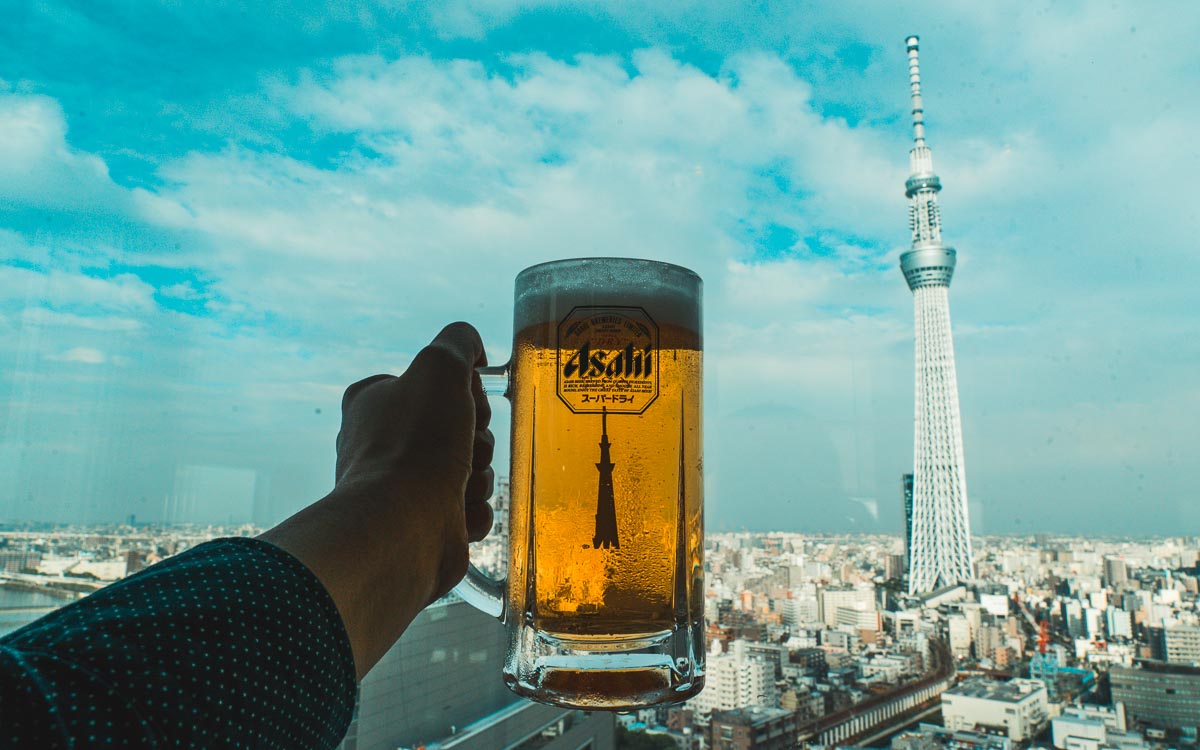 Cost: ¥900
Opening hours: 11:30AM – 10PM
How to get there: Walk twelve minutes from Suzukien Ice Cream. You can try beers on the 22nd floor
Catch the Sunset at Asakusa Tourist Culture Information Center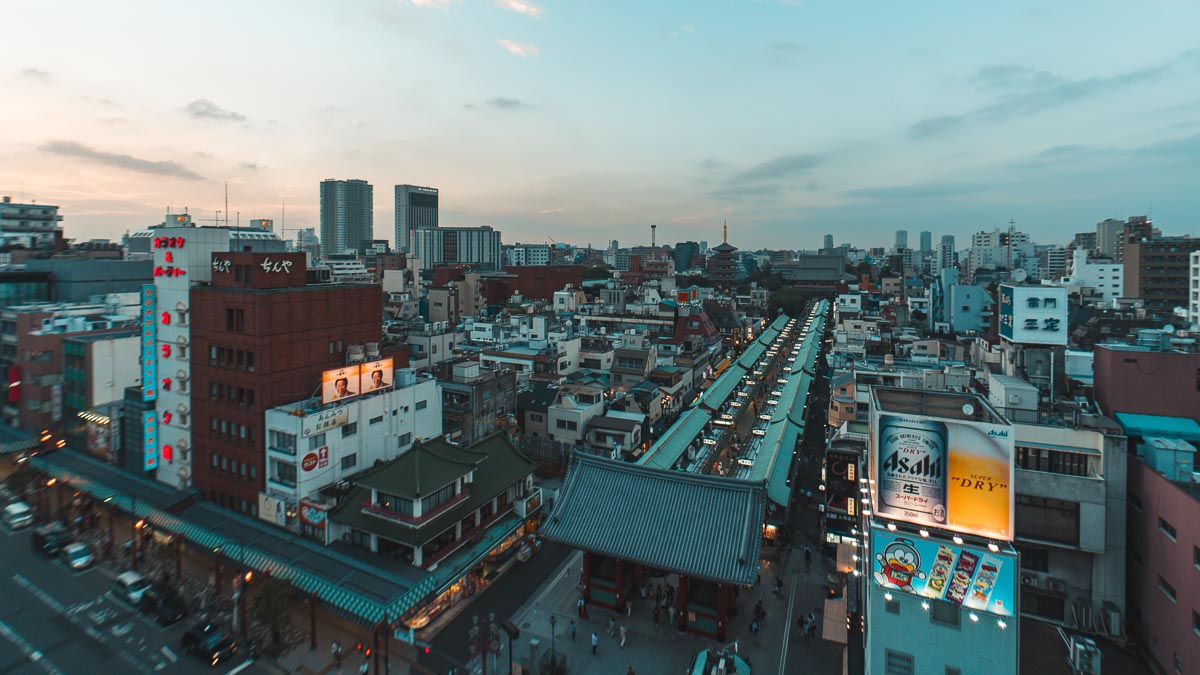 Enjoy a bird's eye view of the city by heading up to the Asakusa Tourist Culture Information Center. Best of all, it's free!
Entrance Fee: Free
Opening Hours: 9AM – 10PM (Sunset usually around 5:30PM)
How to get there: Walk five minutes from the Asahi Beer Headquarters
Feast like a Sumo with Chanko Nabe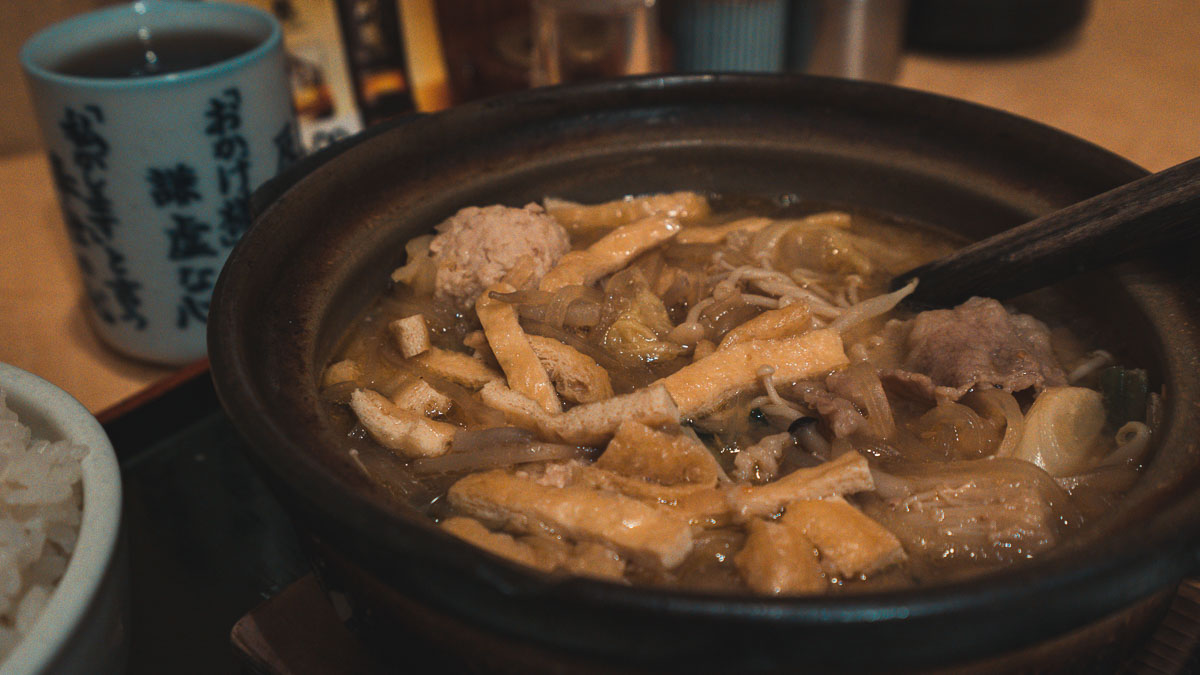 You've watched the sumos, now try eating like them! At Chanko-Beya Asakusa, you can try the one-pot stew of vegetables, meat, and fish, which is a staple of a sumo's training diet. At ¥800, the meal was more than enough to share among two!
Cost: ¥400
Opening Hours: 11:30AM – 2PM, 5PM – 10:30PM
Address: Walk one minute from Asakusa Tourist Culture Information Center
Day 7: Sightsee around Shinjuku and Shibuya
Get swept up in the bustle of downtown Tokyo with iconic cultural sights and quirky Harajuku.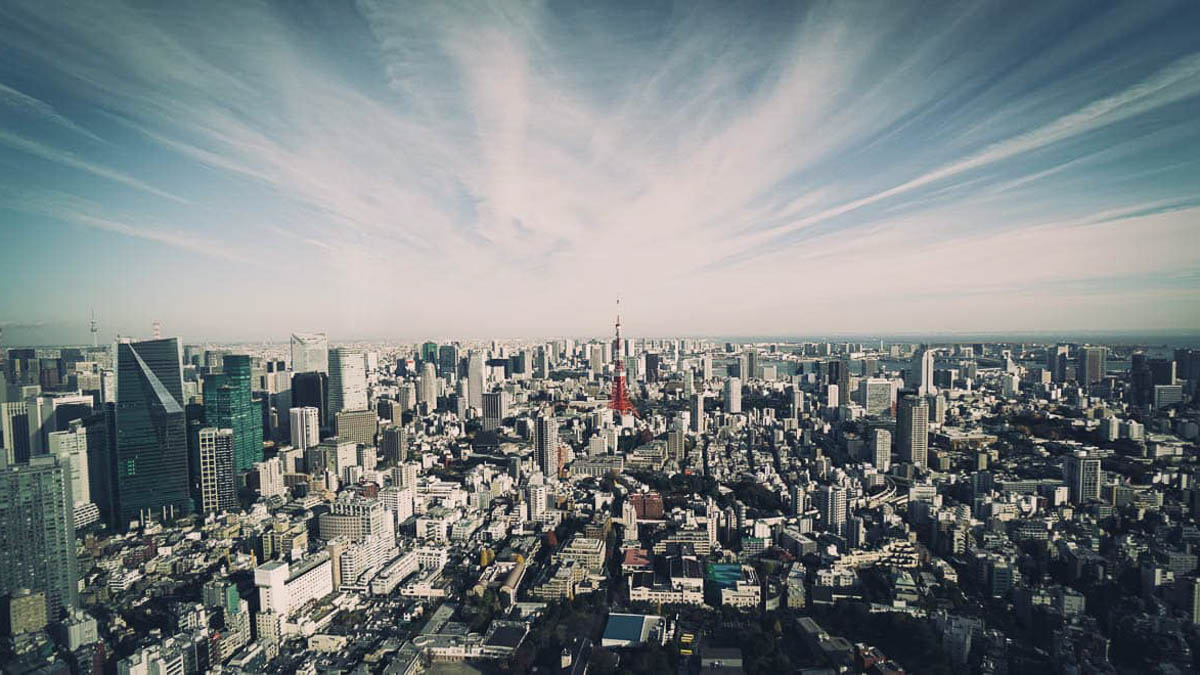 Admire the Majestic Imperial Palace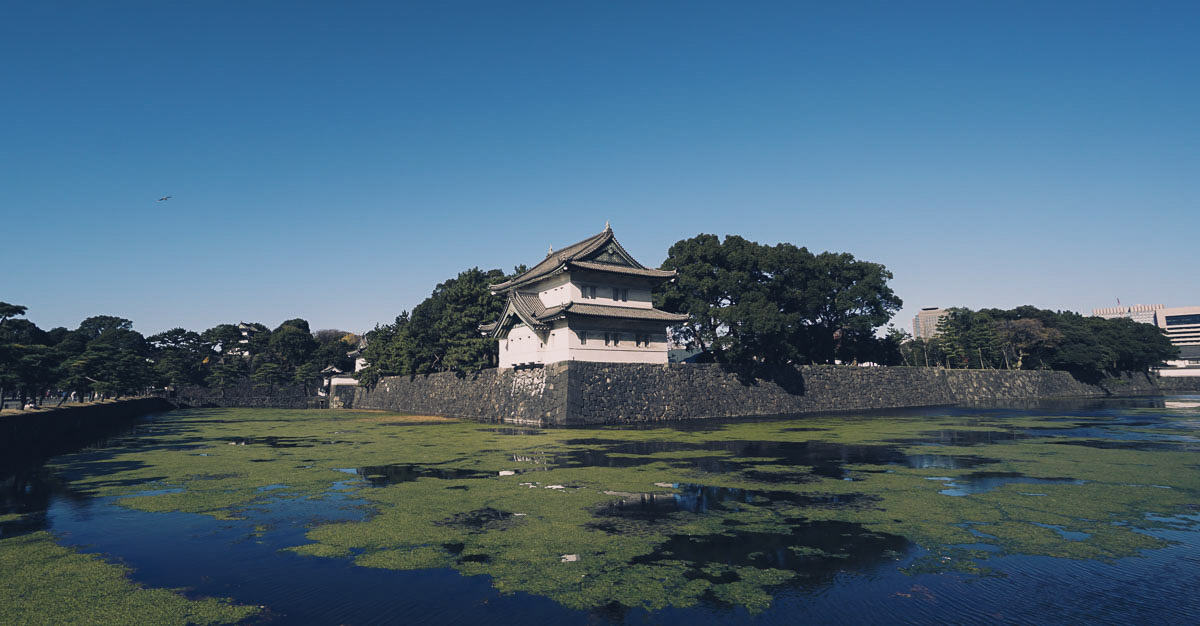 Home to Japan's beloved Imperial Family, the Imperial Palace holds an enchanting collection of galleries, castle ruins, and beautiful parks, including the breathtaking Imperial Palace East Gardens.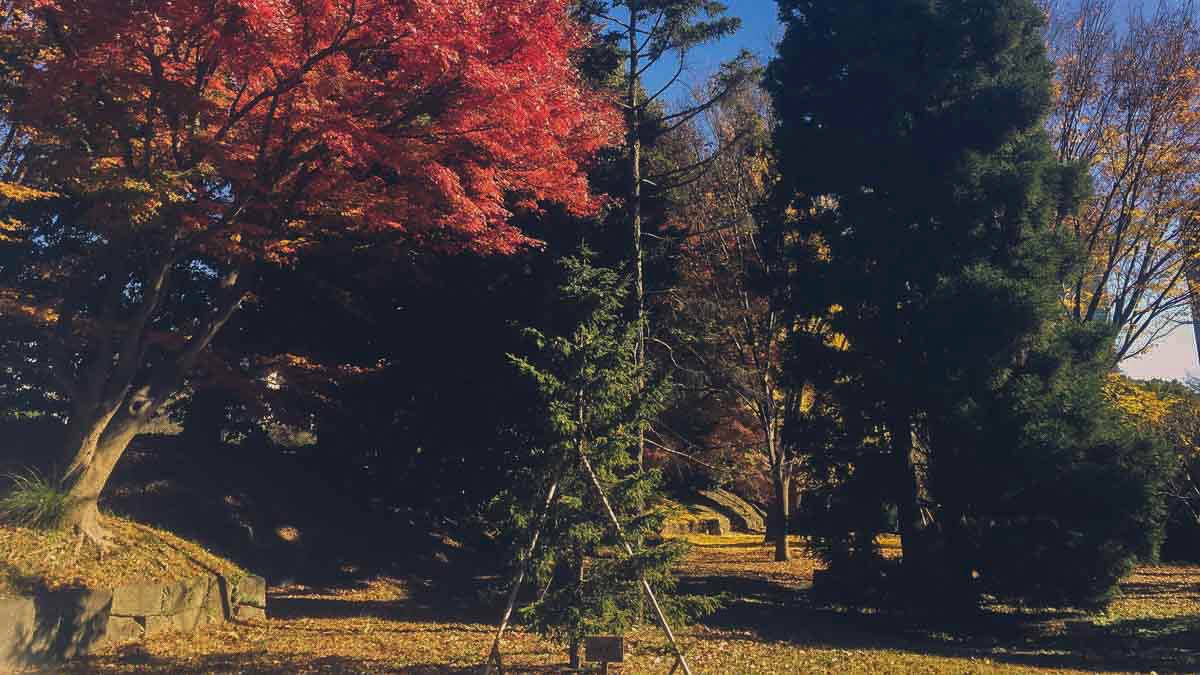 Entrance Fee: Free
Opening Hours: 9AM – 5PM. Closed on Mondays and Fridays.
Address: 1-1 Chiyoda, Chiyoda 100-8111, Tokyo Prefecture (Near Tokyo Station)
Go-Kart around Tokyo's Streets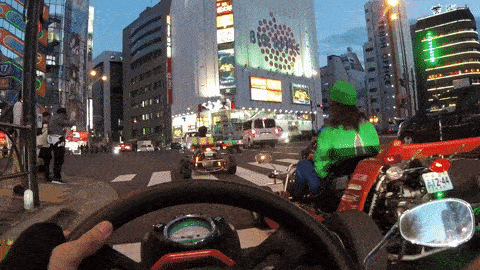 Get dressed in a colourful onesie, blast your favourite music, and hit the streets of Tokyo in a go-kart! At ¥7500 for a roughly two hour ride, MariCAR Shibuya offers a fantastic way to take in the city's sights, while you liven up the streets yourself. Book now to reserve your driver's seat!
Cost: ¥7,000 per hour
Opening Hours: 10AM – 10PM
How to get there: Walk 15 minutes to Takebashi Station, and take the Tozai Line to Kudanshita Station. Switch to the Hanzomon Line for Shibuya Station. MariCAR Shibuya is a ten minute walk away
Picnic at Yoyogi Park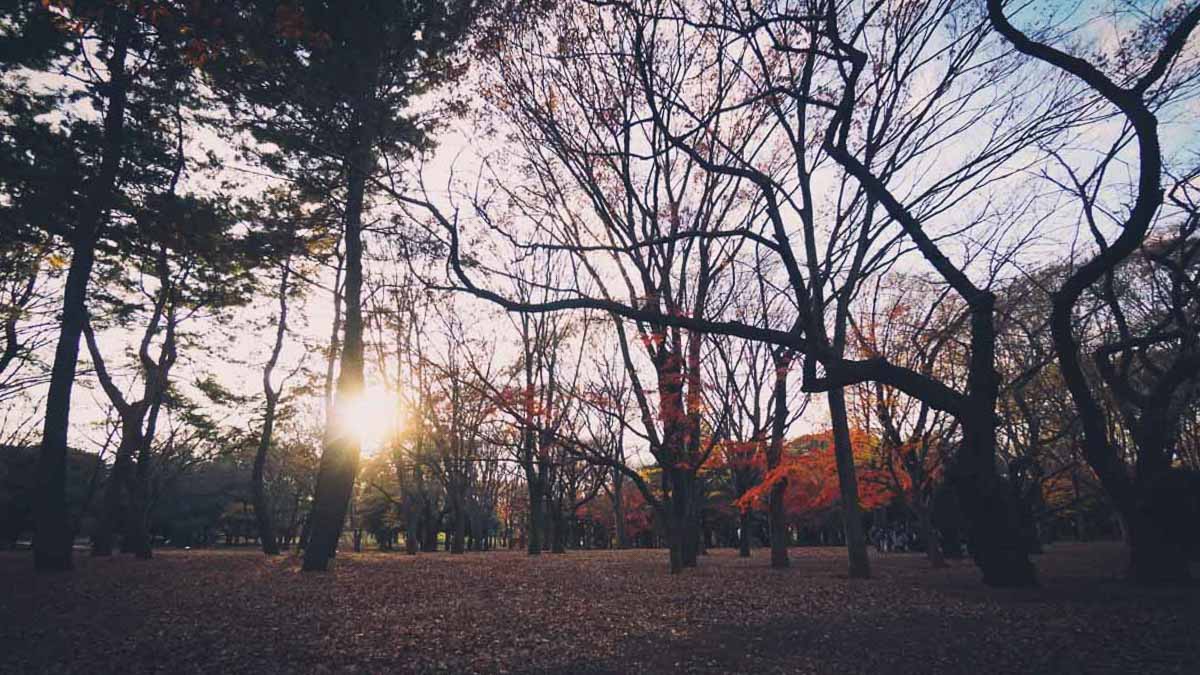 Stretch out amongst the sprawling lawns at Yoyogi Park to watch dance crews, cosplayers, and martial artists practicing their art. There are also sports facilities including a hockey field, soccer field, and cycling trail, so feel free to slot in some exercise with a view.
Before you leave, spend some time exploring the neighbouring Meiji Jingu Shrine, the most famous shinto shrine in Tokyo.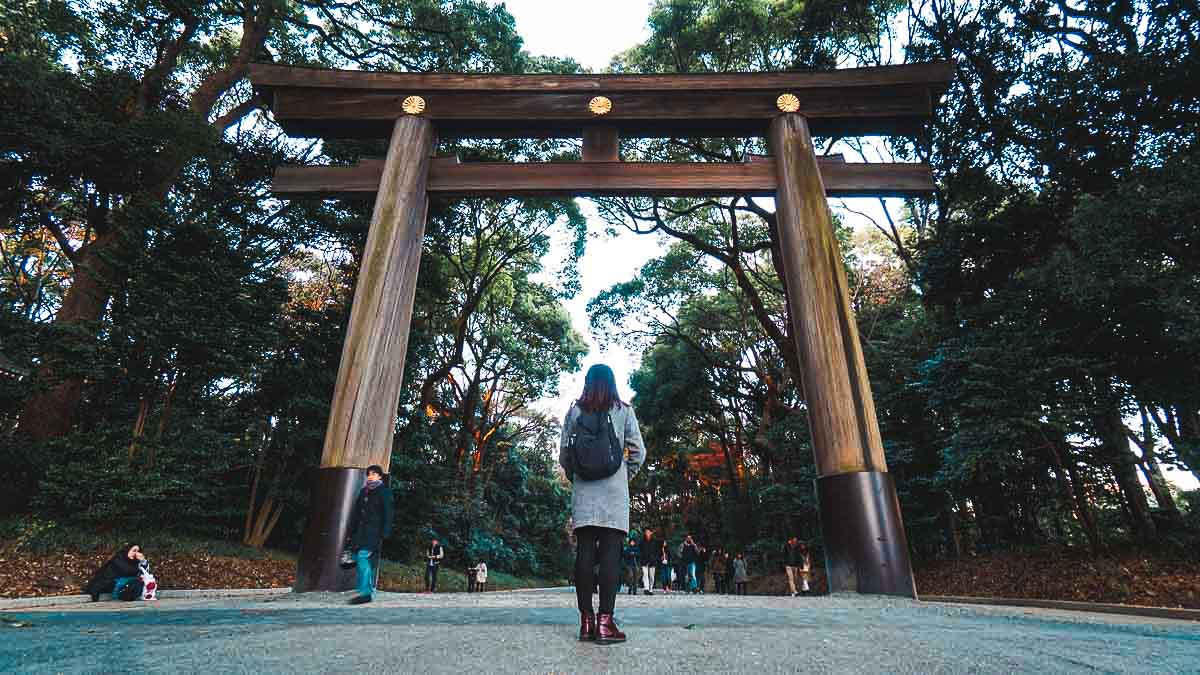 We recommend grabbing your picnic food at Gindaco Takoyaki, a ten minute walk away from Yoyogi Park. Their famous juicy, gooey octopus balls (¥550) must be tasted to be believed!
Cost: Free entry to Yoyogi Park and the Meiji Jingu Shrine. ¥550 for octopus balls from Gindaco Takoyaki
Opening Hours: Meiji Shrine opens from 5AM – 6PM; Yoyogi Park is open 24hrs. Gindaco Takoyaki is open from 11AM – 10PM
How to get there: Take a 3min ride on the Yamanote line to Harajuku Station. Yoyogi Park is just around the corner
Sightsee along Harajuku's Takeshita Street
Dose up on pop culture and people-watch to your heart's content at Harajuku's famous shopping street. Here you'll find all the edgiest (and weirdest) trends, including a mishmash of lolitas, punk-rockers, goths, and cosplayers.
Entrance Fee: Free
Opening Hours: Most shops open from 10AM – 9PM
How to get there: Walk five minutes from Meiji Jingu Shrine
Dinner at Afuri Ramen
Feast on yummy yuzu tsukemen, paired with a chicken-and-dashi sweet dipping sauce (¥1060) at Afuri Ramen. It's a refreshing change from the usual rich miso or tonkotsu flavours in Japanese broths. You'll also get to reap the health benefits of yuzu, which is packed full of Vitamin C and is even used in Japanese health baths.
Cost: ¥1060
Opening Hours: 11AM – 10PM
How to get there: A four-minute walk away from Harajuku Shopping Street
[10.10 Deals] Up to 15% Upsized Cashback on Expedia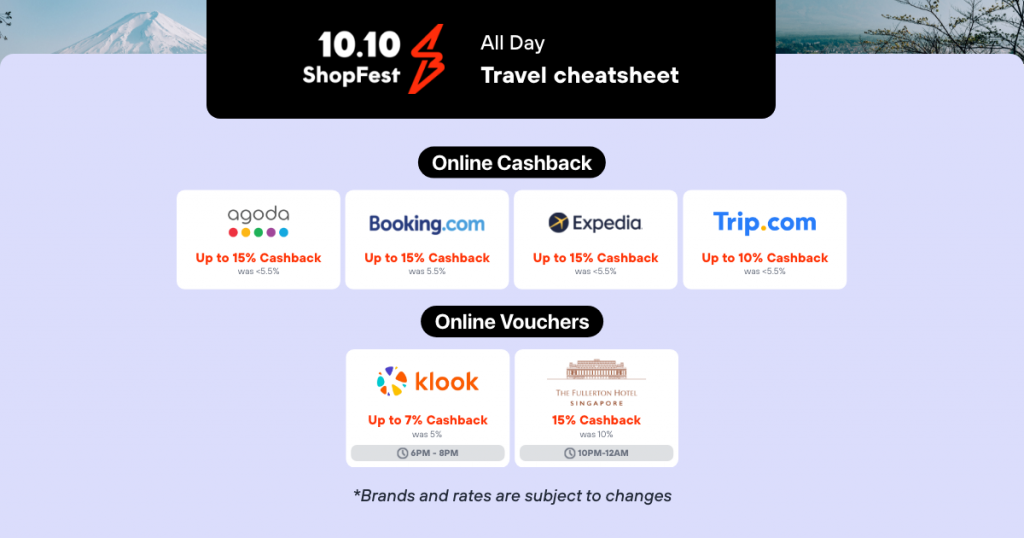 For those planning your year-end holidays, here's the most important section: Save more with ShopBack ShopFest as 10.10 is approaching!
You'll probably be booking quite a number of items for your trip, so don't let those bookings go to waste. Rack up your savings by earning up to 15% upsized Cashback on Expedia this October. Just make sure to check out with a Mastercard credit card (issued in Singapore) with promo code SBMC15.
*Mark these dates: 7th, 10th, 20th and 30th – 31st Oct — Upsized Cashbacks will be released on these dates!
Earn Exclusive Rewards as a ShopBack VVIP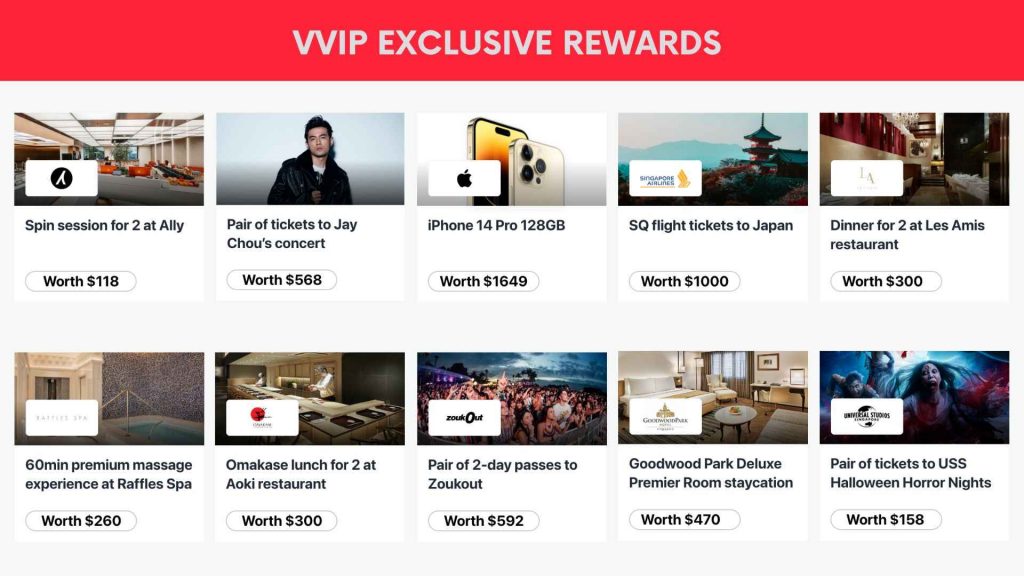 Just by shopping online on ShopBack, you're already considered a ShopBack VIP. This means upsized Cashback, promo drops, and Bonus Cashback challenges.
But to upgrade to a ShopBack VVIP for more exclusive deals and rewards, it's actually much easier than you'd think.
As a ShopBack VVIP, you'll stand to win some attractive rewards such as an iPhone 14 Pro 128GB (worth S$1649), SQ flight tickets to Japan (worth S$1000), a pair of tickets to Jay Chou's concert (worth S$568) and more.
To be a ShopBack VVIP, you'll first have to opt-in. Next, when using ShopBack online, complete two actions: make any purchase (eg. a travel booking) and buy a Voucher or use ShopBack Pay or use ShopBack Paylater.
*Note: Game Shows are held during 10.10, 11.11, Black Friday Cyber Monday (BFCM), and 12.12 ShopBack ShopFest promotions
What's your best Japan budget tip? Let us know in the comments!
---
This post was brought to you by ShopBack.

For more travel inspiration, follow us on Facebook, Instagram, and YouTube.