Could these social distancing practices become the norm?
This year has been pretty strange — from extreme toilet paper hoarding to deserted airports, 2020 is starting to look like a real-life episode of dystopian sci-fi series Black Mirror.
Social distancing, is now the new norm. For a world that's so interconnected, having to keep at least a metre apart takes some getting used to.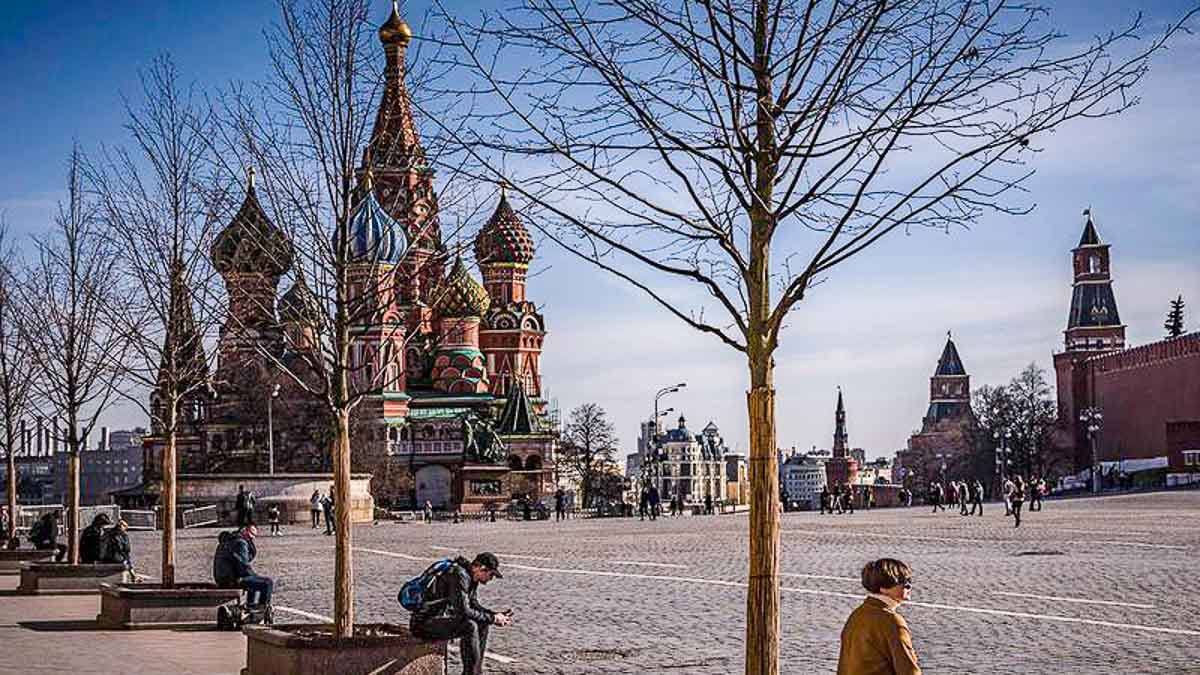 The Red Square in Moscow, Russia. Photo credit: Sergey Ponomarev, The New York Times.
But as creatures of adaptation, some of us have definitely gotten quite creative at this — you'll see what we mean 🙃
1) USA: Drive-through zoos in Texas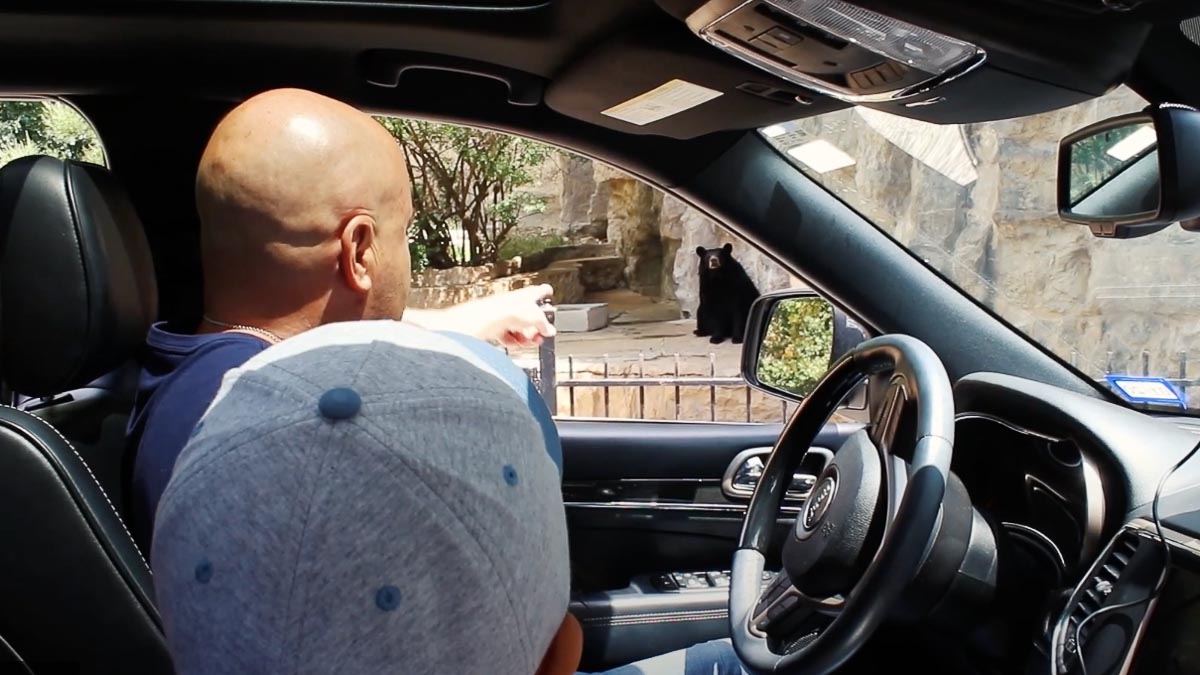 Photo credit: San Antonio Zoo
Forget fast food — you can now experience an actual zoo at this Texan drive-through! Guests at the San Antonio Zoo can enjoy the park at a "sloth-like 4mph" and see bears, reptiles, lions and more, all from the safety of their own vehicles!
The zoo initially planned to host the drive-throughs for just the first weekend of May. However, tickets sold out so fast that they ended up extending it till May 17th. San Antonio Zoo has since resumed regular operations but who knows, drive-through zoos might become a permanent highlight in the future!
2) Japan: Cuddly capybaras as dining companions in Shizuoka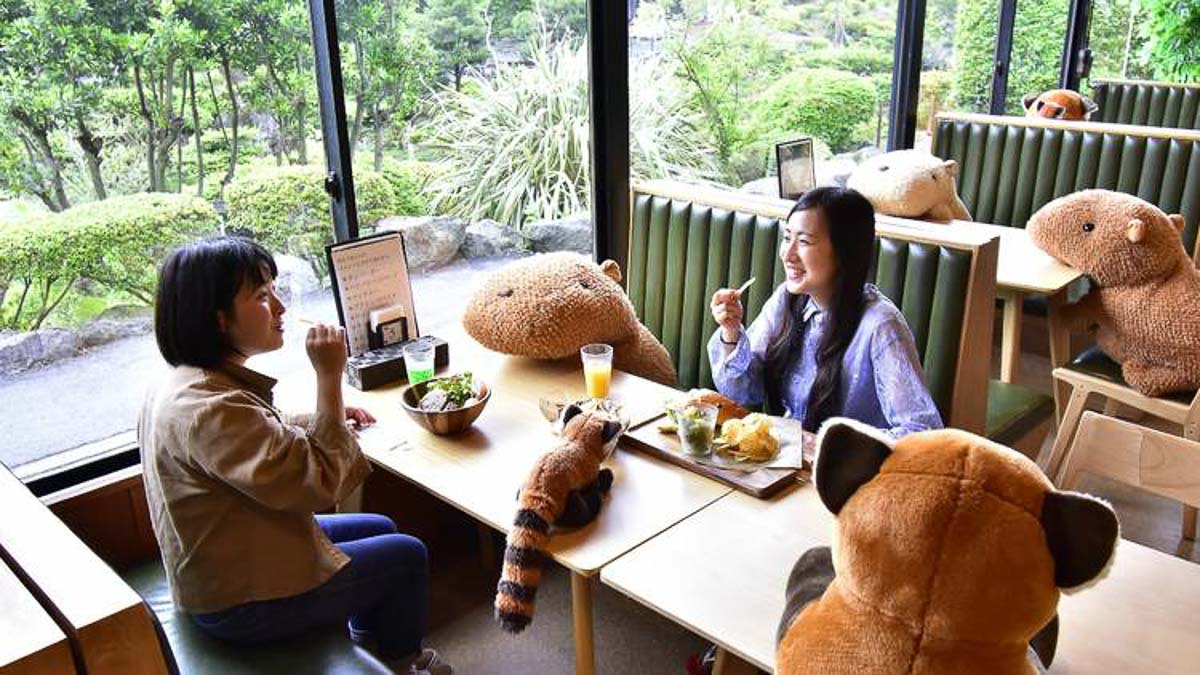 Photo credit: Izu Shabonten Zoo
Japanese love their onsens (Japanese hot spring) — but that isn't limited to just the people! Izu Shabonten Zoo's adorable capybaras get treated like royalty and enjoy an open-air onsen from November to April.
After reopening on May 16th, the zoo introduced several new social distancing measures. This includes recruiting its star residents (or rather, their fluffy stunt doubles) to double up as dining companions in its Forest Animal Restaurant.
Planning a trip to Japan after COVID-19? Check out our Japan guides and itineraries!
3) Hong Kong: 'Running cubicles' in gyms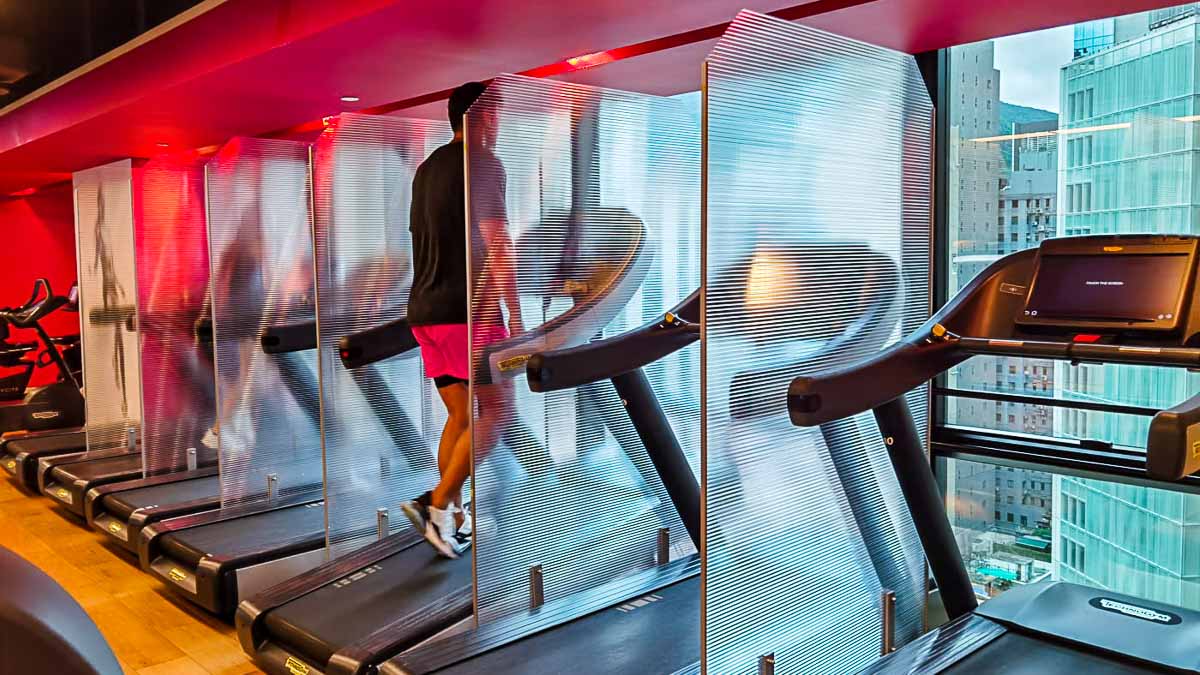 Photo credit: Pure Fitness Hong Kong
Fitness buffs returning to their sacred space (aka the gym) might notice a few changes to the layout. Pure Fitness's Quarry Bay branch reopened on May 8th with a brand new look — clear dividers separating elliptical machines and other equipment.
In a city known for high rental rates, this is one way to ensure the safety of gym-goers without greatly reducing the number of machines. I must say, I kind of dig this separation — it makes it tougher for people to judge your running pace!
Read also: 8-Minute Full-Body Workout (Perfect for travelling)
4) Netherlands: Romantic greenhouse dining in Amsterdam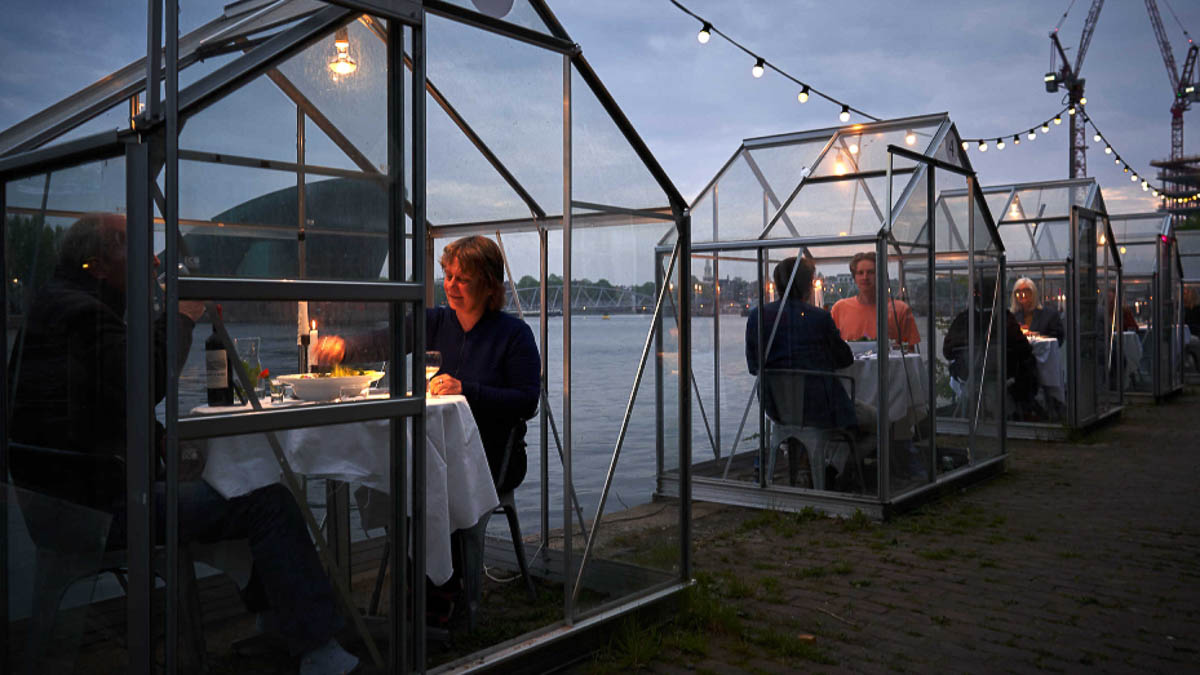 Photo credit: Willem Velthoven
Mediamatic ETEN, a vegan eatery in Amsterdam, constructed five little greenhouses for couples to enjoy dinner with a view. The project is called Serres Séparées (separate greenhouses in French) and it turns social distancing into a luxurious four-course dining experience!
Not only is contact minimised between diners, it's also limited between waiters and guests. Waiters wear face shields and gloves and serve food via a long wooden board. Reservations are open, but Serres Séparées has gotten so popular that it's fully booked till the end of July.
5) USA: "Picnic Lots" in Dolores Park, San Francisco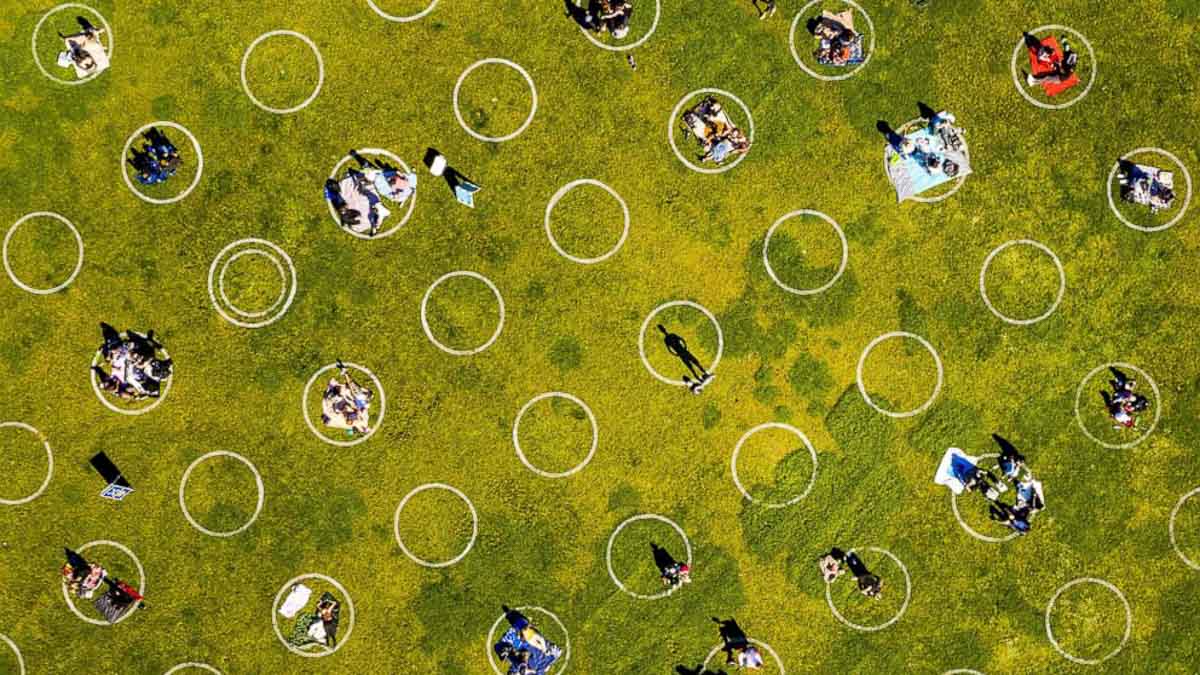 Dolores Park, San Francisco. Photo credit: Noah Berger
No, these aren't alien crop circles. These white circles were drawn up by the San Francisco Recreation & Parks Department to remind crowds to maintain distance while enjoying the highly popular Dolores Park.
These social-distance circles are around 6ft in diameter, providing plenty of space for a nice family picnic. Judging from the aerial shot of the park, it seems like this new measure is definitely working!
6) China: Artsy angel wings for students in Taiyuan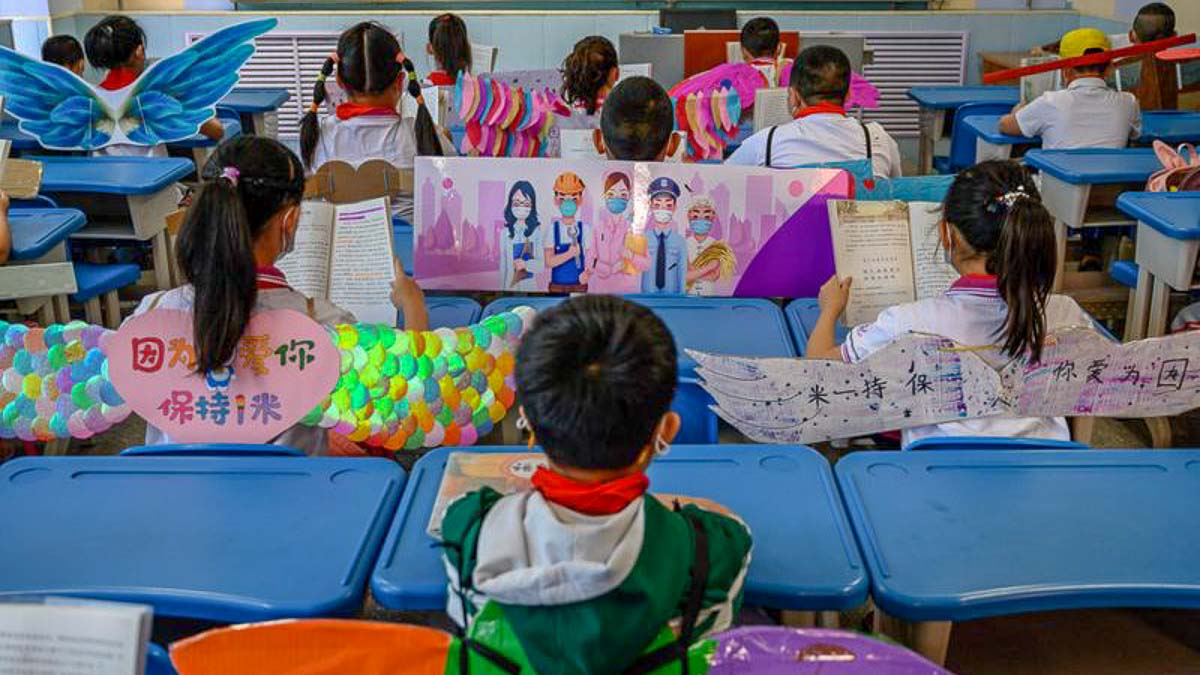 Photo credit: AFP
After months in lockdown, schools in China are reopening with a host of safety precautions. Temperature checks, getting students to sit one desk apart and wearing masks are just to name a few.
Elementary school students in the Shanxi province are returning to school with an artistic new approach — DIY wings. Obeying the rules has never looked more adorable. 😜
7) Germany: Pool noodle hats as practical accessories in Schwerin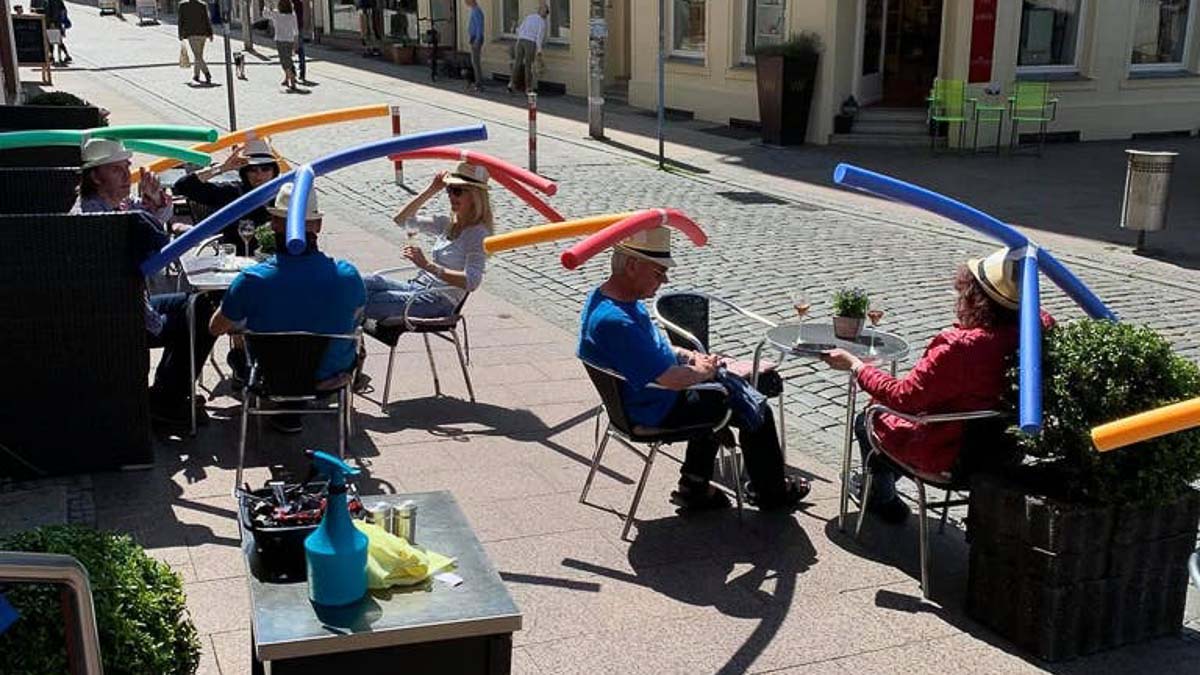 Photo credit: Cafe Rothe
Germany began easing its lockdown restrictions in late April, allowing most commercial spaces under 8,600 sq ft to reopen. Cafe Rothe in Schwerin celebrated by providing customers with pool noodle hats as a reminder to keep 6ft apart.
When owner Jaqueline Rothe shared the above photograph on Facebook, it quickly went viral. She shared that customers have found the new measure amusing and are glad to be able to enjoy dining out in the sunshine.
8) Singapore: Wedding festivities held on video call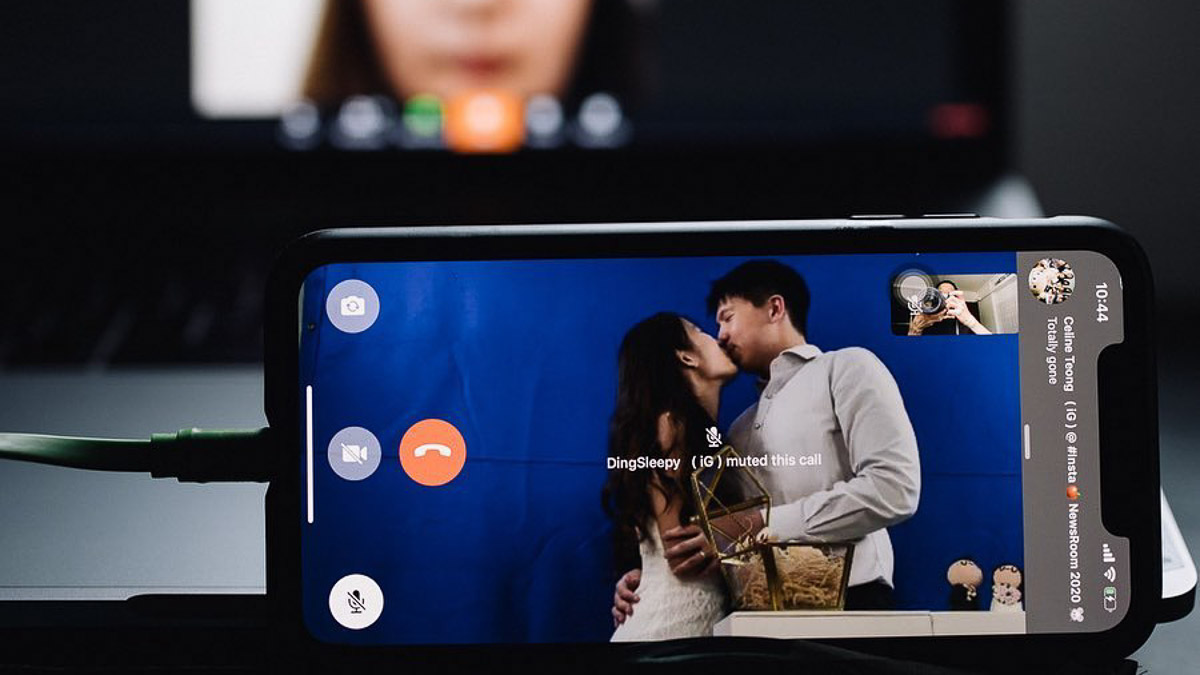 Photo credit: @dingsleepy via Instagram
Since large social gatherings have been banned during this period, couples planning to get married this year had to make adjustments to their wedding plans. When the laws were changed in Singapore to allow for online solemnisations as of May 20th, several couples jumped at the option.
Weddings in Singapore ain't cheap so this might actually be a good alternative!
9) Australia: Two-dimensional dinner company in Sydney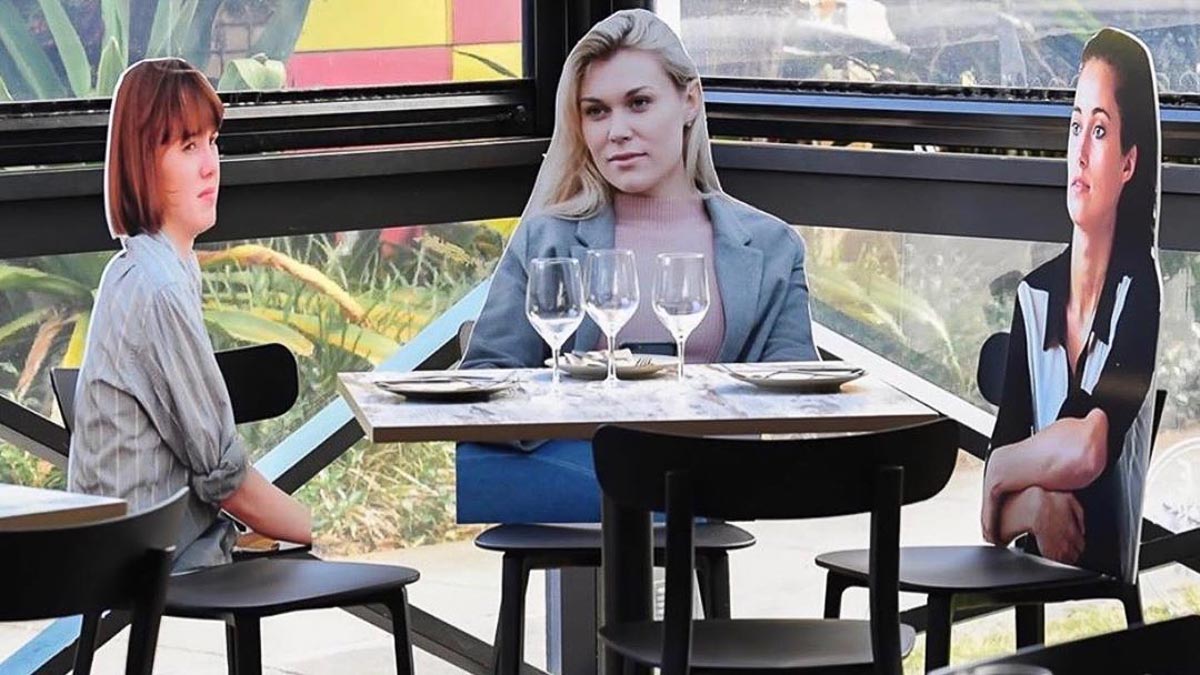 Photo credit: @five_dock_dining via Instagram
How do you fill up a restaurant that only allows a maximum of 10 diners? Five Dock Dining has cracked the code — cardboard cutouts of people and guest "chatter" broadcasted on speakers.
The inspiration behind this? Owner Frank Angeletta was worried about a largely empty dining space and wanted to recreate the atmosphere of a packed restaurant. Opening night was a success and slots were quickly booked up!
10) USA: Creepy 1940s mannequins in a restaurant in Virginia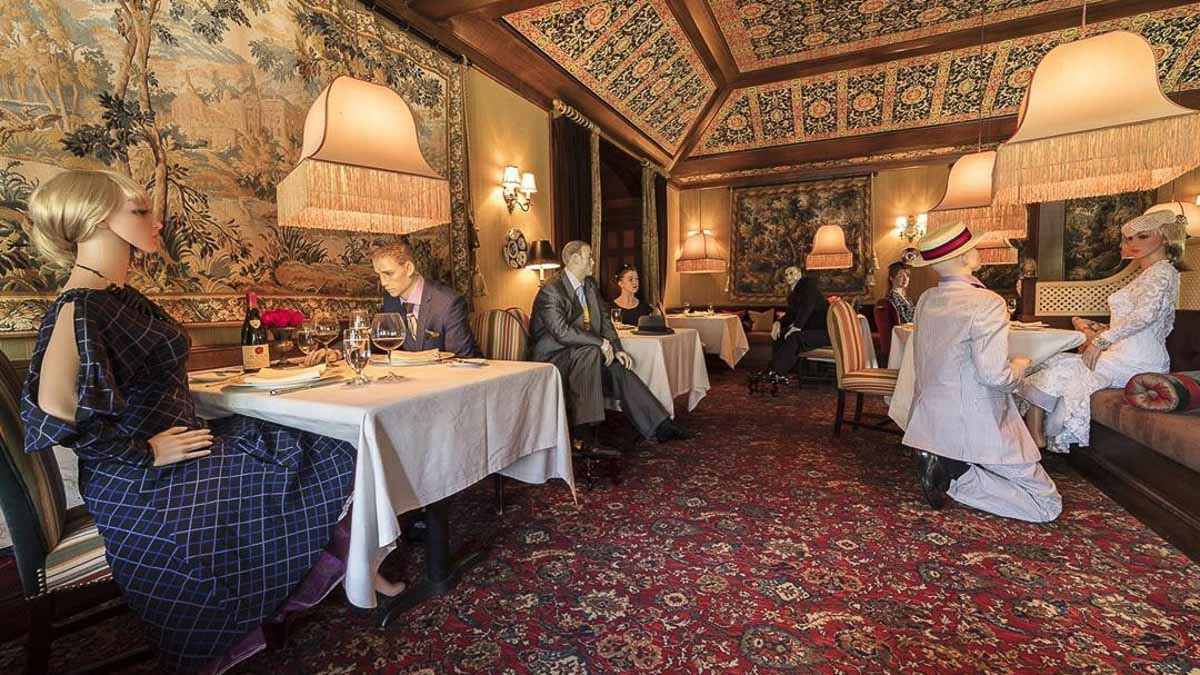 Photo credit: @innatlittlewash via Instagram
Triple Michelin-starred restaurant The Inn at Little Washington, took a different approach by using mannequins dressed in 1940s-inspired garments. Chef Patrick O'Connell, inspired by his drama background, approached Shirlington's Signature Theatre to prepare the mannequins for their May 29th reopening.
The new "customers" are a bit too spooky for my liking but I'd give props for the attention to detail. Plus the mannequins help fill up the restaurant without breaching the state's 50% capacity restrictions!
11) France: Posh plastic lampshades, the latest accessory in Paris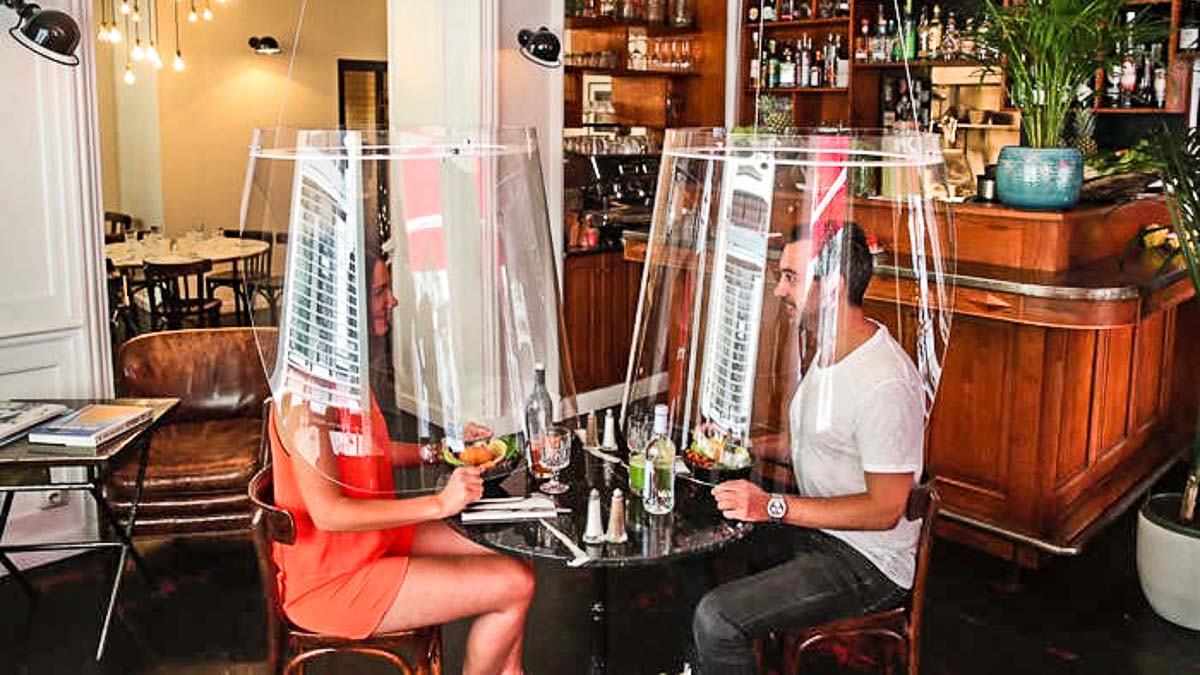 H.A.N.D Restaurant in Paris, France. Photo credit: Thibault Camus
French Designer Christophe Gernigon came up with Plex'Eat, a plastic "lampshade" that combines safety with glamour. Restaurants in France, Japan and Argentina have already expressed interest in his designs.
Familiar with the 2008 spy movie Get Smart starring Anne Hathaway and Steve Carell? I'm almost 100% sure the design inspiration was from the film's cone of silence scene.
12) Sweden: Solo dining experience in the middle of a field in Värmland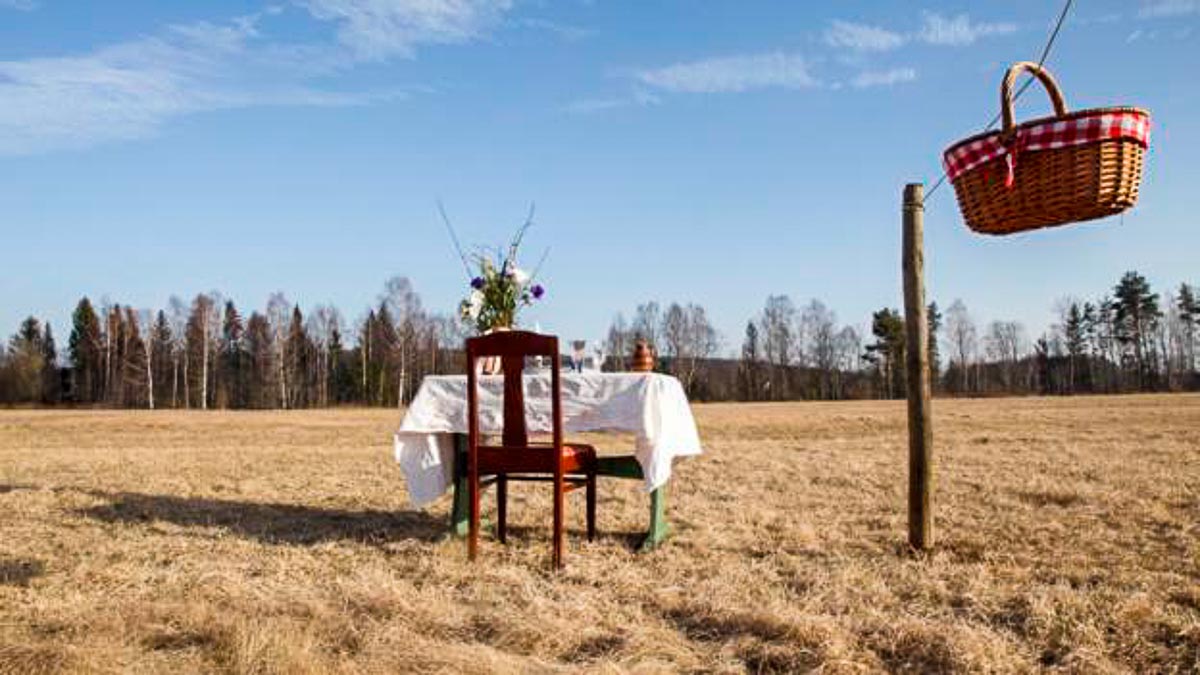 Photo credit: Bord för En
Bord för En, or Table for One serves a single customer each day, priding itself as "one of the only true COVID-19 safe restaurants in the world". The brainchild of Swedish couple Linda Karlsson and Rasmus Persson, the restaurant offers a three-course vegetarian meal under a pay-what-you-can model.
Food is delivered straight from the kitchen by a basket on a rope, essentially eliminating all human interaction. Still, it might be a nice change of scenery!
Bord för En plans to stay open till August.
13) Denmark: Drive-in music festivals in Aarhus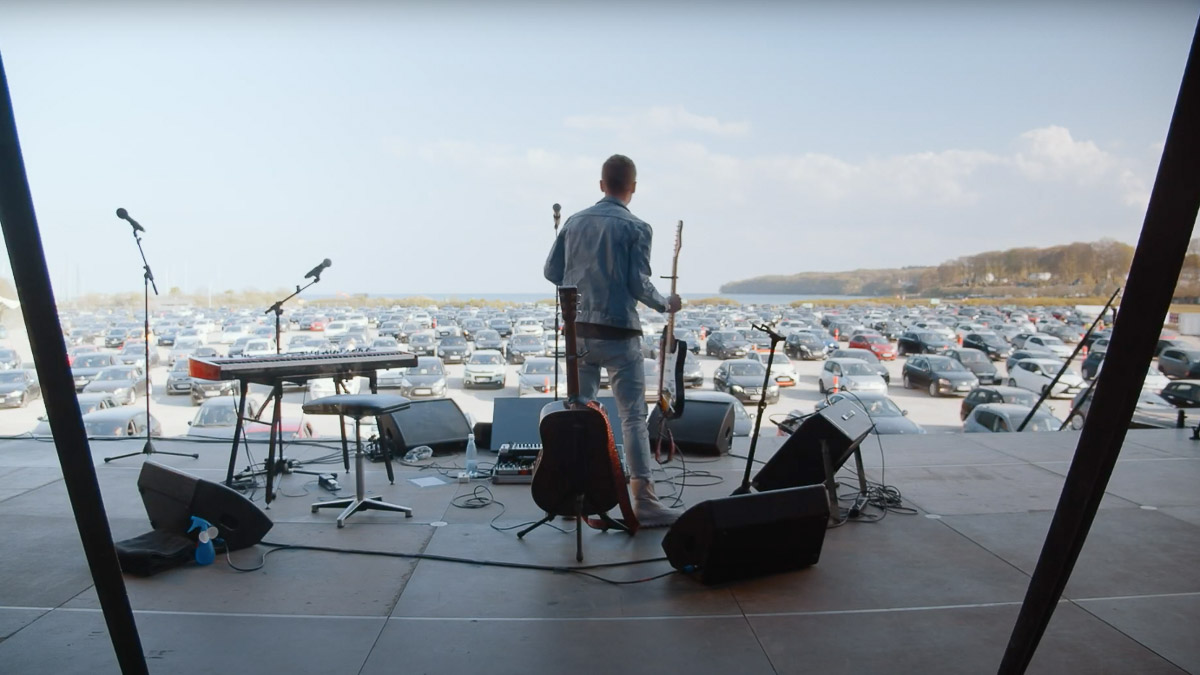 Photo credit: Mads Langer
While most artists have resorted to streaming at-home concerts online, this Danish singer-songwriter found a way to continue performing. 500 cars showed up for Mads Langer's first drive-in concert and attendees tuned their car radios to a dedicated frequency to enjoy the concert!
During the event, Langer interacted with the audience via Zoom on the huge on-stage screen. Guests were served snacks and drinks by waitstaff donning hazmat suits. The 36-year-old singer currently has plans for more drive-in concerts during the summer.
14) France: Square pens for beach-goers at La Grande-Motte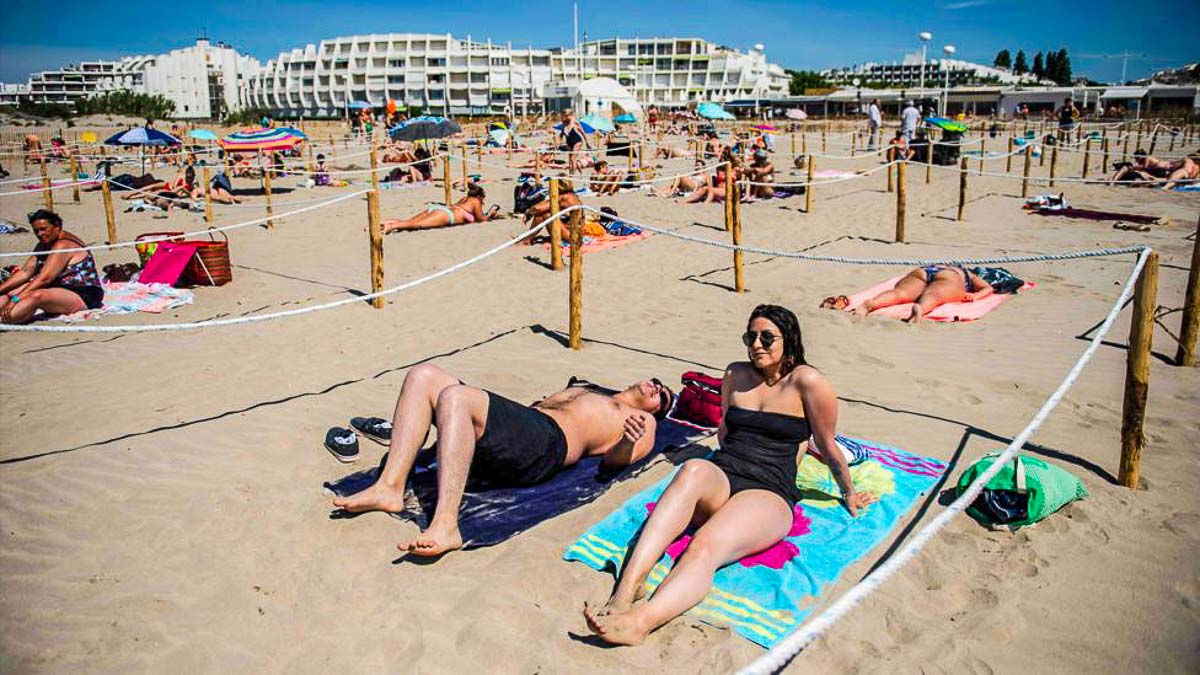 Photo credit: Getty Images
85 sq ft to be exact! Visitors to La Grande Motte beach have to reserve a three-hour slot online two days in advance and trust me, there's already a long waiting list. Despite the new restrictions, many expressed gratitude for some respite after two months of confinement.
15) Germany: Oversized crowns for Burger King patrons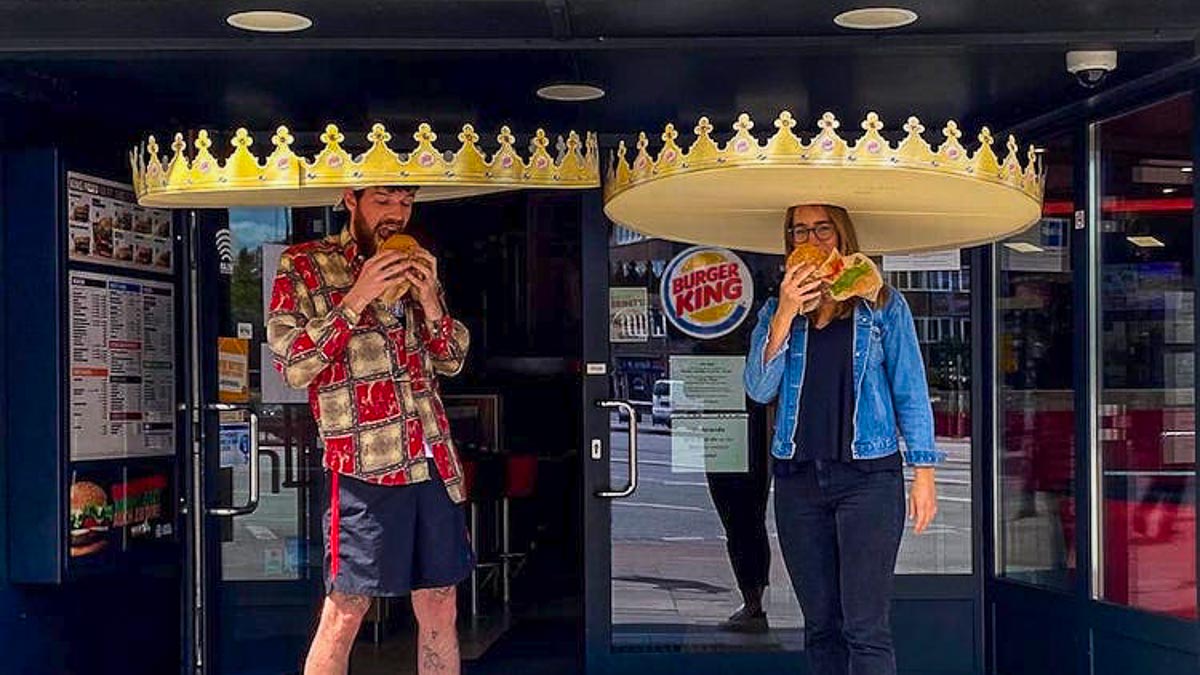 Photo credit: Burger King Germany
Burger King Germany introduced a do-it-yourself social distance crown when restaurants reopened for limited dine-in services last month. My only question: Where can I get one?
Update: Burger King Singapore is introducing social distancing crowns on June 24th! I can now get my own at one of the 45 participating outlets 😂 .
Bonus: Burger King Italy has another quirky take on social distancing — the Social Distancing Whopper. It's essentially the famous Whopper burger, but with a massive serving of onions. If the law can't enforce social distancing, maybe bad breath can.
16) USA: Tables on wheels in Maryland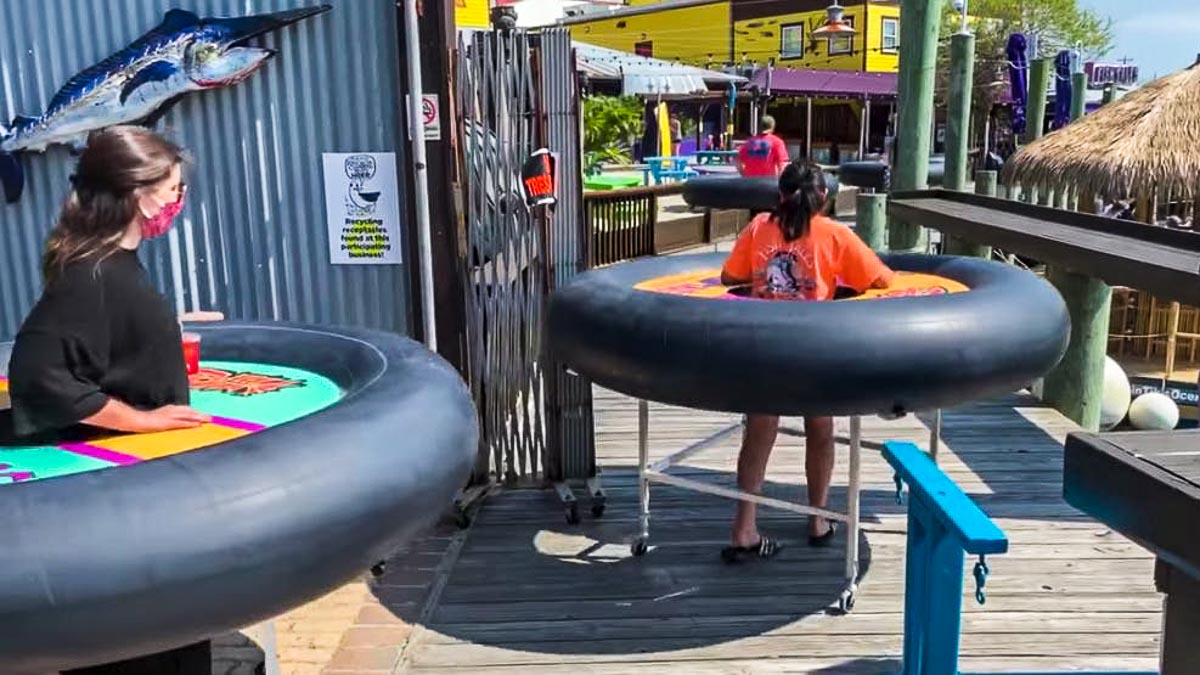 Photo credit: John Middlebrook
Fish Tales Bar & Grill in Ocean City, Maryland, rolled out 10 tubular "bumper tables" as a fun way to keep customers apart. Owner Shawn Harman said he plans to order 40 more tables to allow customers to dine in the restaurant's parking lot.
It's almost like you're dining in a bumper car — just make sure not to 'drink and drive'!
17) France: Ancient Chinese headgear in Paris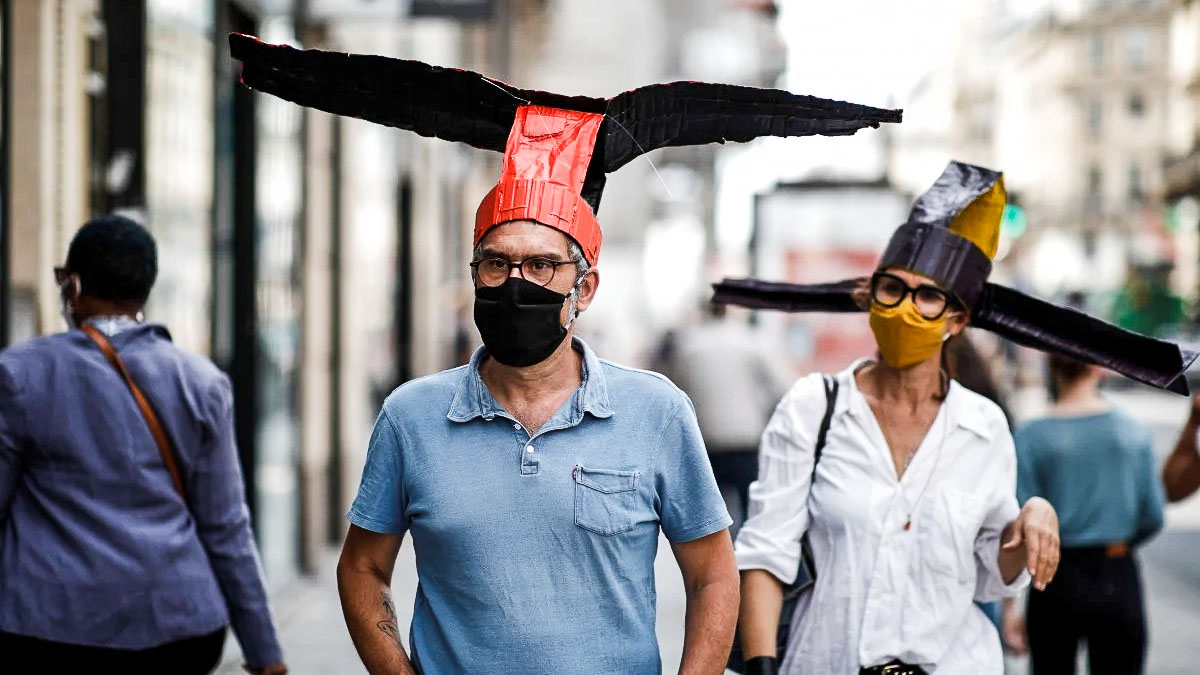 Photo credit: Reuters
An art gallery in Paris, 59 Rivoli, found a fashionable new way of enforcing social distancing — hats inspired by the headgear of Chinese emperors in the Song dynasty (960 – 1279). It's cool to see such creative cultural exchange even during a pandemic!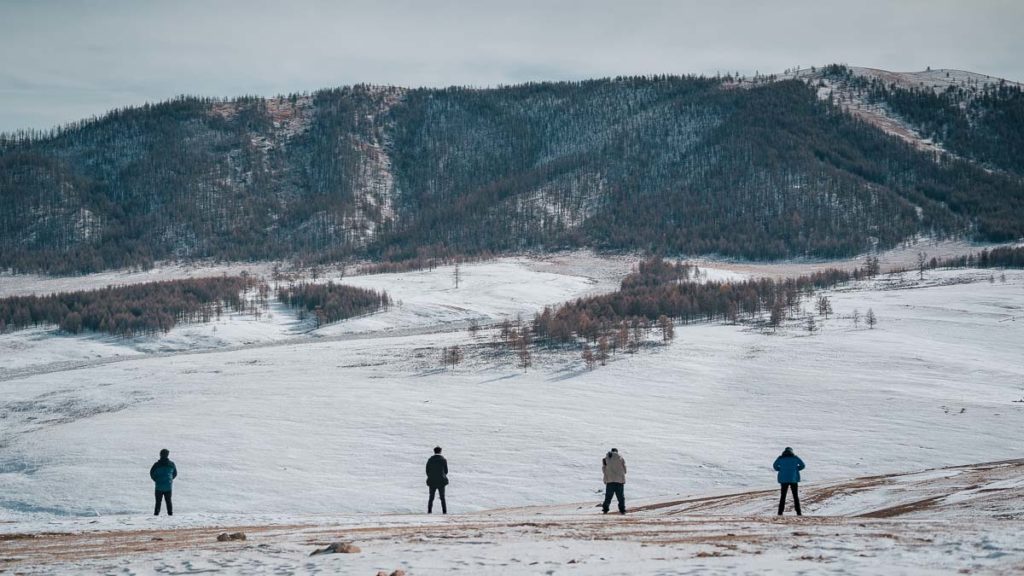 "Social distancing" during our Experiences Trip to North Mongolia last year!
For now, it looks like social distancing is here to stay. Travelling after COVID-19 will no longer be the same as airports step up safety precautions. Good news is, as infected cases go down, countries have started easing lockdown restrictions — find out which countries are safe to travel in the coming months!
Read more: Countries With Travel Discounts for when COVID-19 Gets Better
While we can't dine out or travel for now, we can use this time to get ready for our next adventure! Stay in shape with this no-equipment home workout, learn a new language using free online resources or check out some of our cool community trips to Mongolia. You'll exit lockdown ready to take on the world. 😎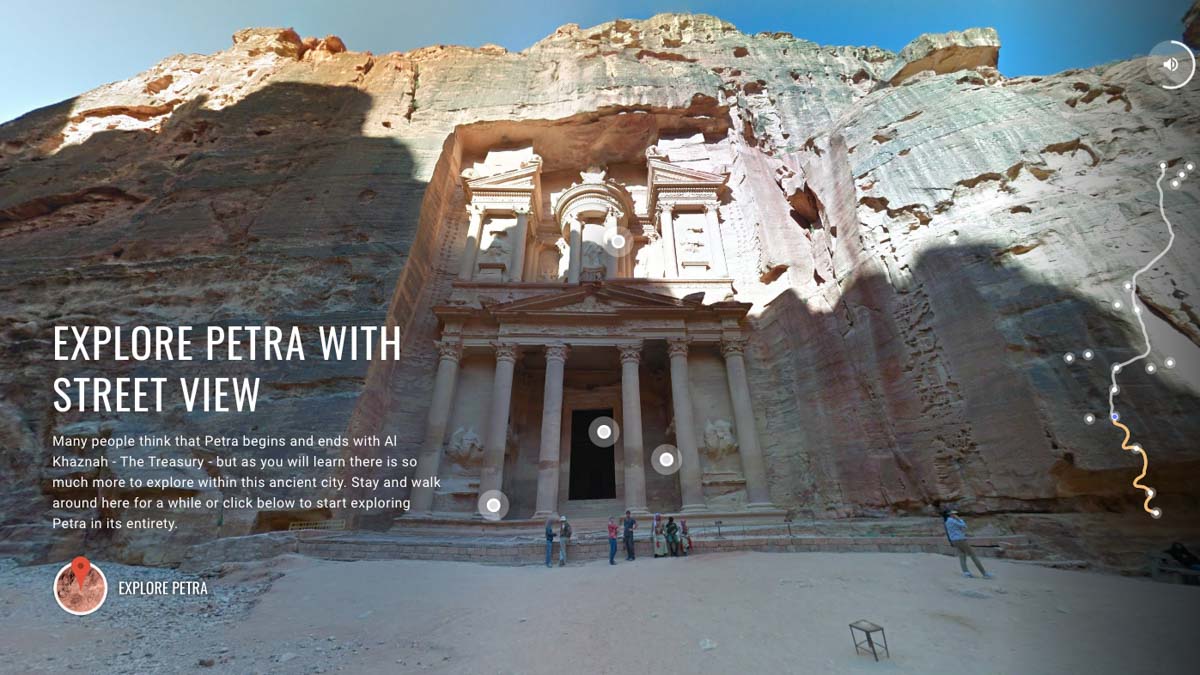 Photo credit: Google Maps
In the meantime, fuel your wanderlust by travelling virtually with our 21-day itinerary around the world or binge on some of the best travel books and shows!
Need tips on staying productive at home? Check out our Guide to Working From Home.
Featured image credit: Jon Gambrell, AP.
Facebook image credit: Noah Berger, Reuters & Thibault Camus
Which is your favourite social distancing idea? Share with us in the comments below!
---
Like what you see? Follow us on Facebook, Instagram, YouTube and Telegram for more travel inspiration!