This list makes a trip to Sentosa feel like an actual holiday!
After dealing with lockdowns and everything else in this nightmare of a year, we definitely need a good break. But thanks to COVID-19, we can't fly overseas either. If only there was a holiday island nearby…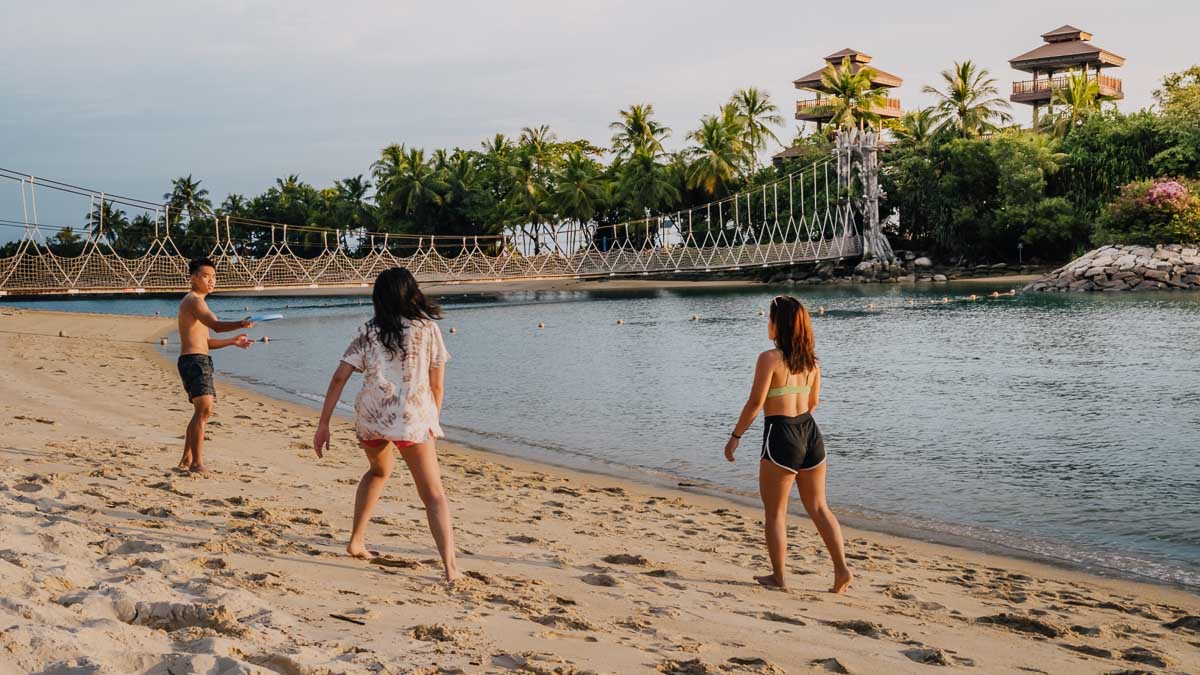 Oh, wait.
Yes, I'm talking about Sentosa. Before you click away — we tried these activities for ourselves, and they were surprisingly effective at getting us in the holiday mood! After all, you don't see white-sand beaches during your daily grind.
If you're craving adventure, challenge yourself on a floating obstacle course, go bungy jumping, or try a new water sport. Or if you need a relaxing getaway, visit some interesting museums or experience dining on a luxury yacht!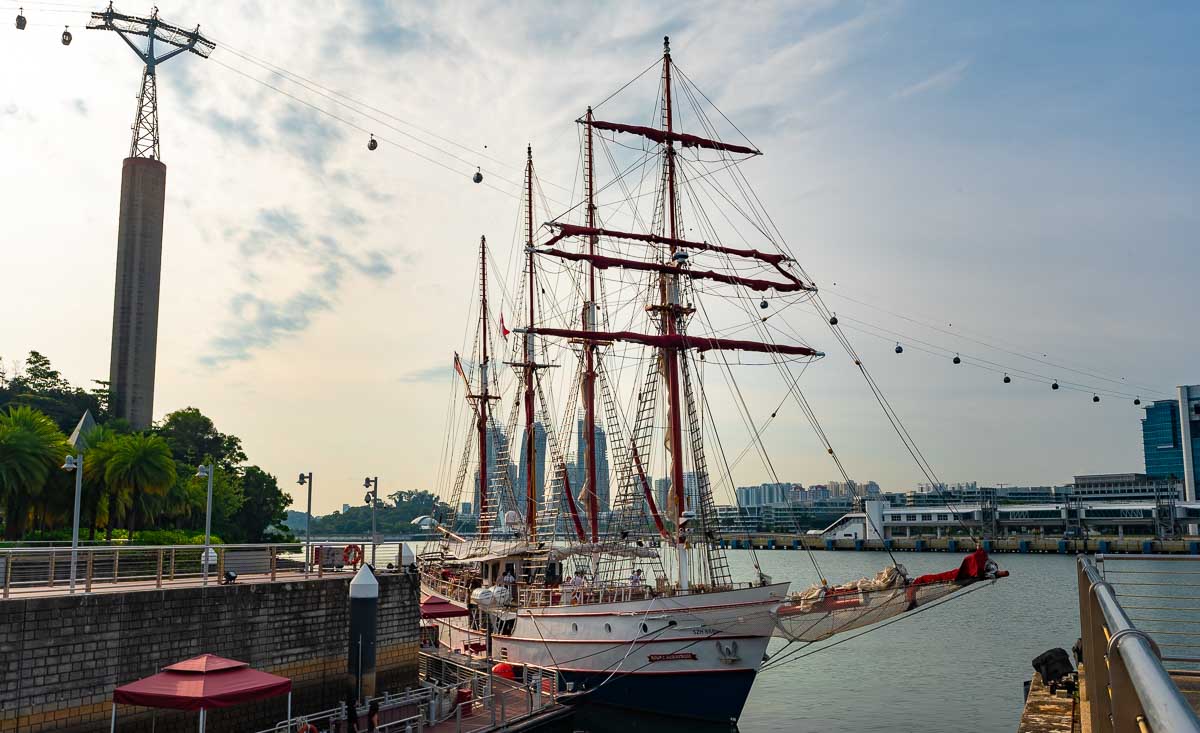 And that's not all. Read on for 12 things to do on a Sentosa staycation, i.e. your well-deserved holiday:
1) Pamper Yourself on a Royal Albatross Sunset Cruise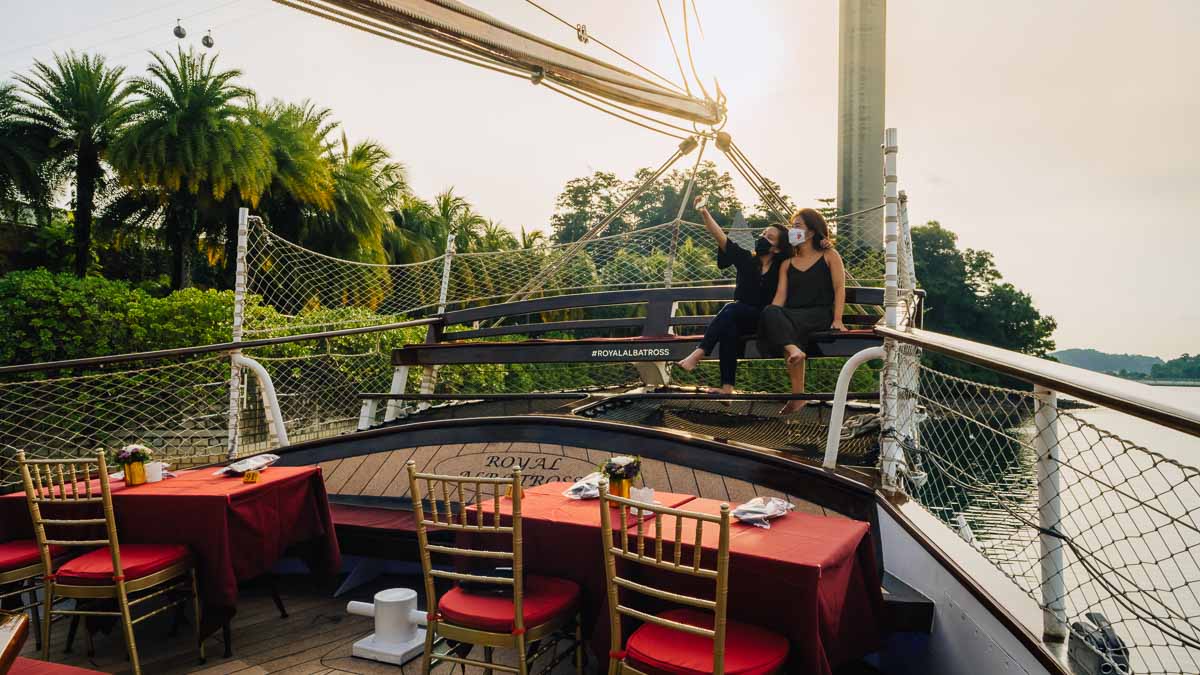 The Royal Albatross is Asia's only luxury tall ship, or in other words, what looks like a real-life pirate ship. This beautiful boat inspires romance and drama, and even appeared in Christopher Nolan's The Dark Knight.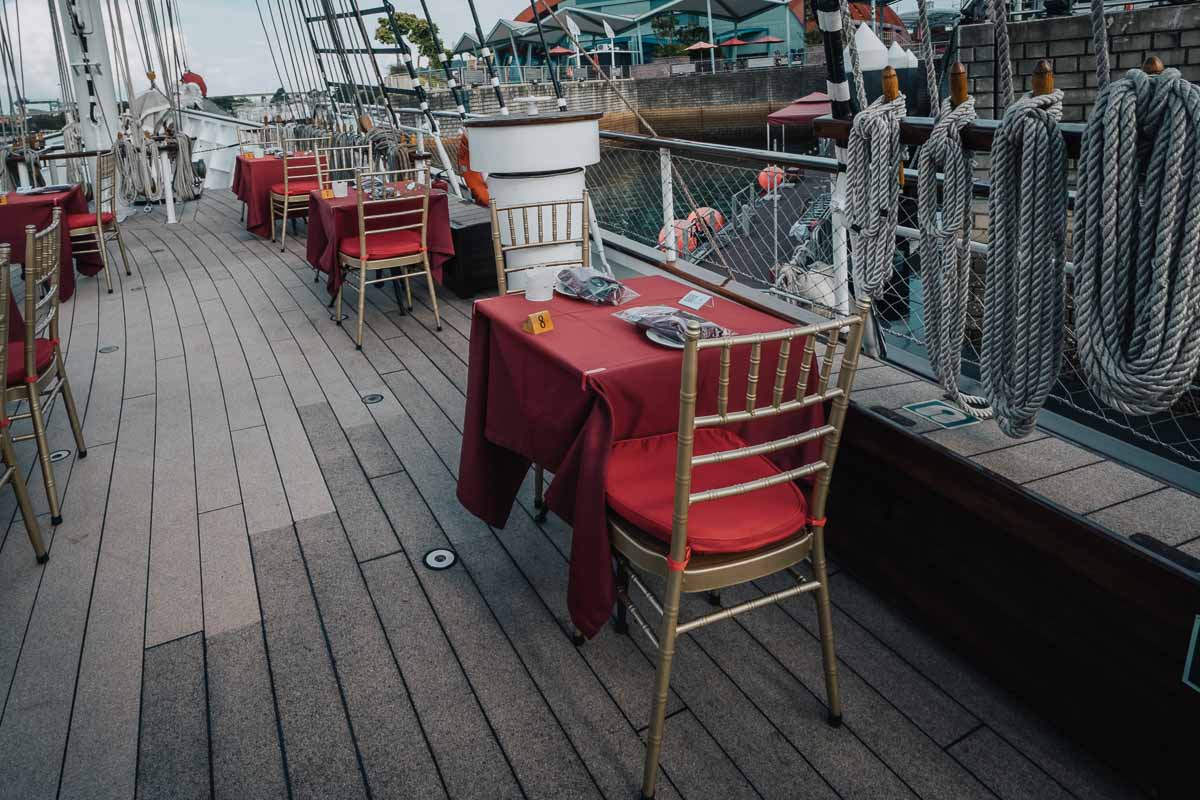 Christian Bale was sitting right here!
The thing is, you don't need to be crazy rich to sail. This luxury experience costs about the same as a two-hour economy flight. Plus, it's much more environmentally-friendly than taking a crowded flight to nowhere!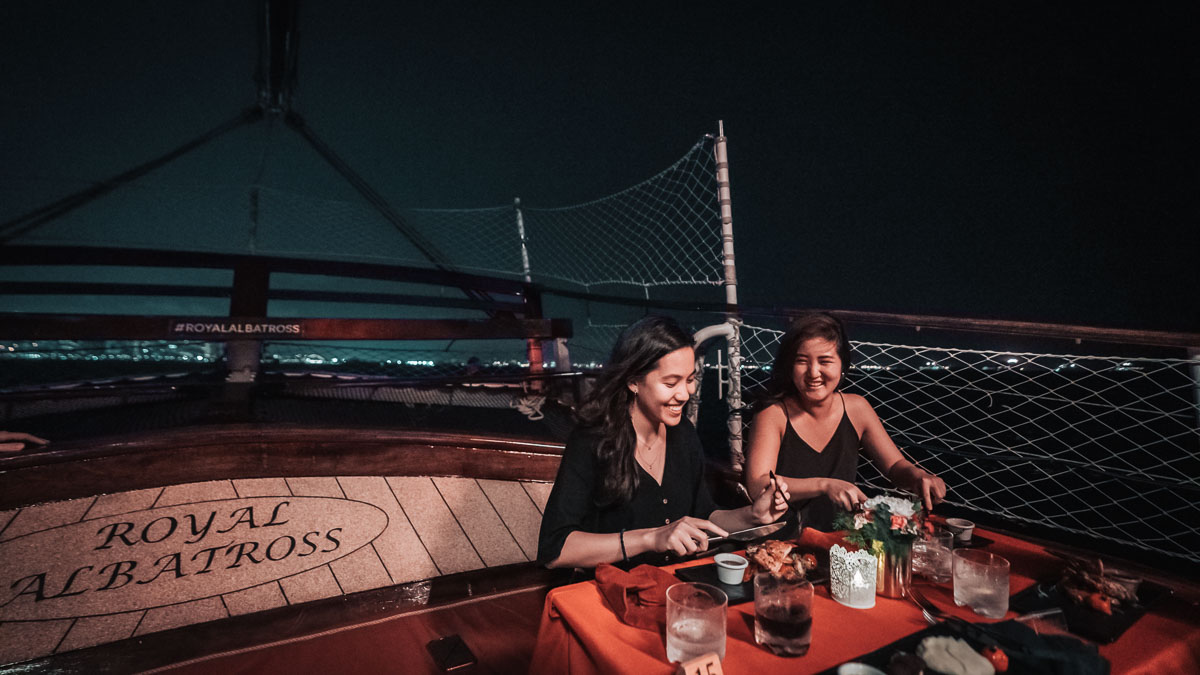 Besides admiring the ship itself, you'll also see Singapore from a new perspective. The Royal Albatross does two routes, with the Sunset cruise passing the Southern Islands, while the City Lights cruise goes around Marina Bay.
And of course, it's not the luxe life without some food — a three-course international dinner with free-flow soft drinks.
Alcoholic drinks are also available at a fee. The bar is set up like this even while sailing — that's how stable the ship is!
Cost: From S$95 per child and from S$195 per adult
Sail timings: Departure varies from 5PM – 8:30PM (sailing schedule here)
Starting point: 6min walk from Resorts World Station
*Pro-tip: Check the weather forecast before booking. While the cruise is a rain-or-shine event (with awnings functioning as a canopy during rain), the sights are of course much better when the weather is clear!
2) Get Active With Exciting Water Sports
If you miss your water adventures overseas, have your pick at Ola Beach Club.
Try Stand Up Paddleboarding (SUP) or kayaking. The Sentosa waters are great for all levels — beginners can stay by the quay for calmer waters, while regulars can head out for bigger waves. You'll learn a new skill and get closer to achieving your ideal beach bod!
On weekends, you can also try a Donut Tube or Banana Boat ride. Did you know you could do these activities in Singapore?
Cost: S$35 per hour for SUP, S$25 per hour for a single kayak and S$35 for a double kayak, S$25 for a 15min Banana Boat or Donut Tube ride
Opening hours: 11AM – 5PM. Donut Tube ride and Banana Boating only available on weekends
How to get there: 10min walk from Beach Station
3) Travel Back in Time on Sentosa's Walking Trails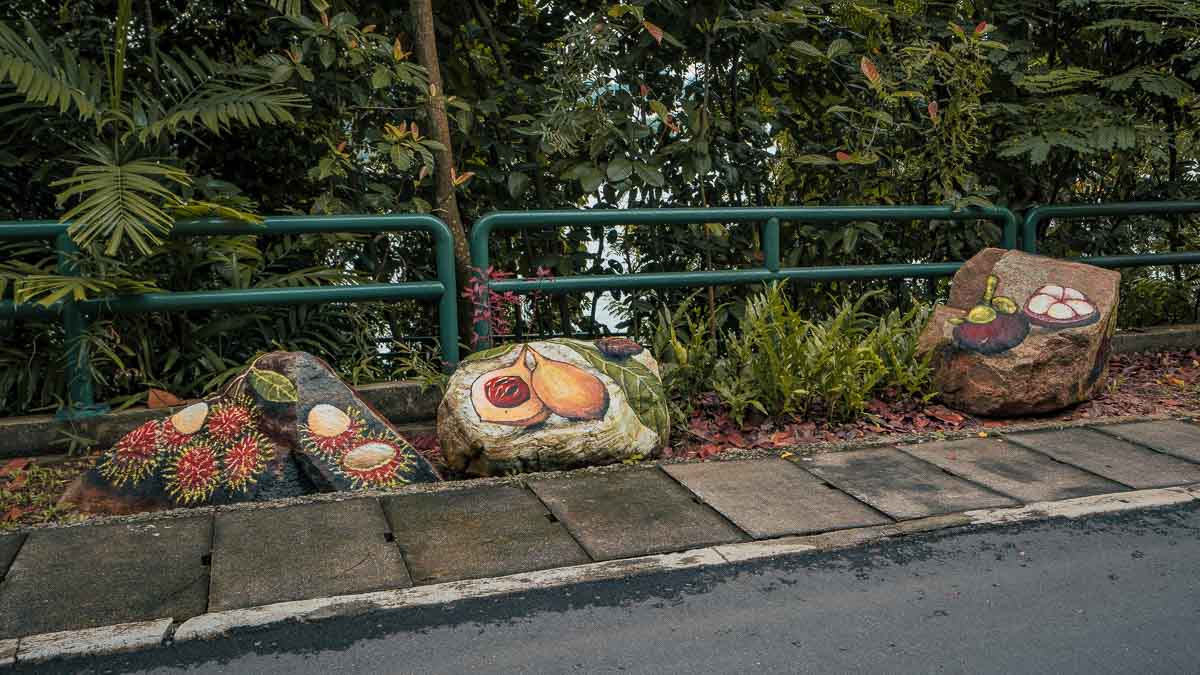 Thanks to its coastal landscapes and wartime history, trekking in Sentosa is quite a unique experience.
Sentosa has two main walking trails — Coastal and Imbiah — and they're both very beginner-friendly.
My favourite was the Coastal Trail, which brings you through Fort Siloso, a fascinating open-air historical museum. Along the path, you'll find real cannons, tunnels, and even Japanese fighter plane ruins. Not your usual hiking sights!
There are also wax figure dioramas, made with historical accuracy. Don't miss the Fire Director Tower, where British soldiers watched out for enemy ships, and of course, the iconic Surrender Chambers.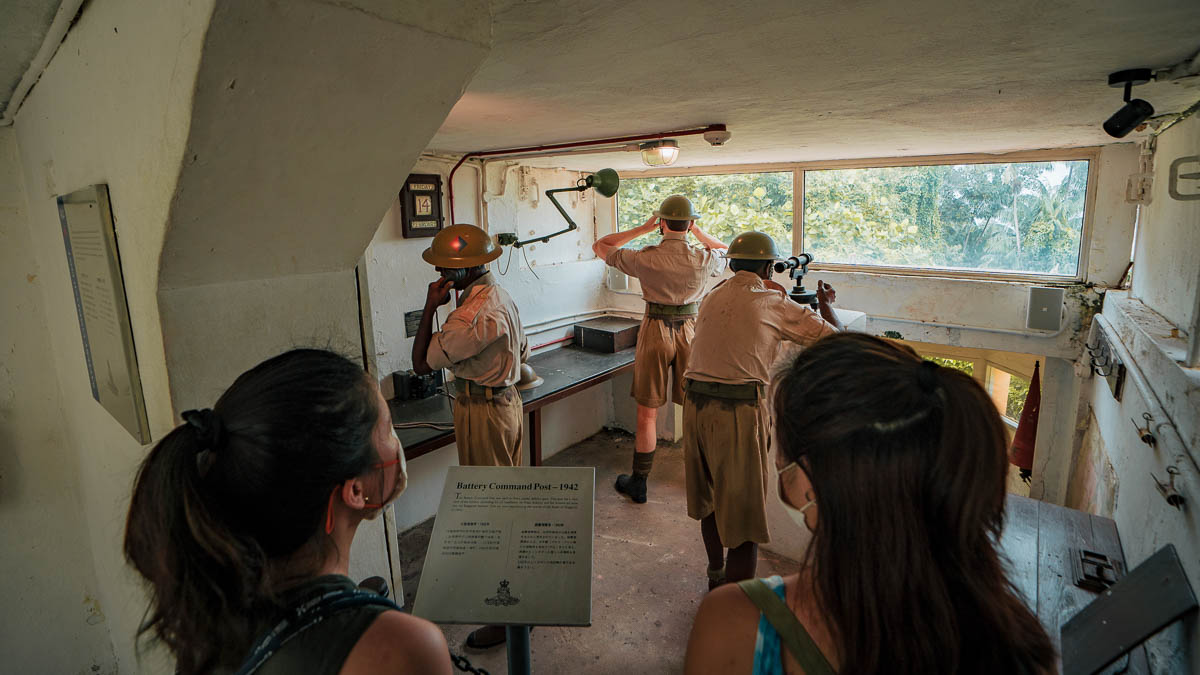 For a break, head to the indoor segments for war stories (and aircon)! Or take the lift up to the Fort Siloso Skywalk, with panoramic views of the coastline.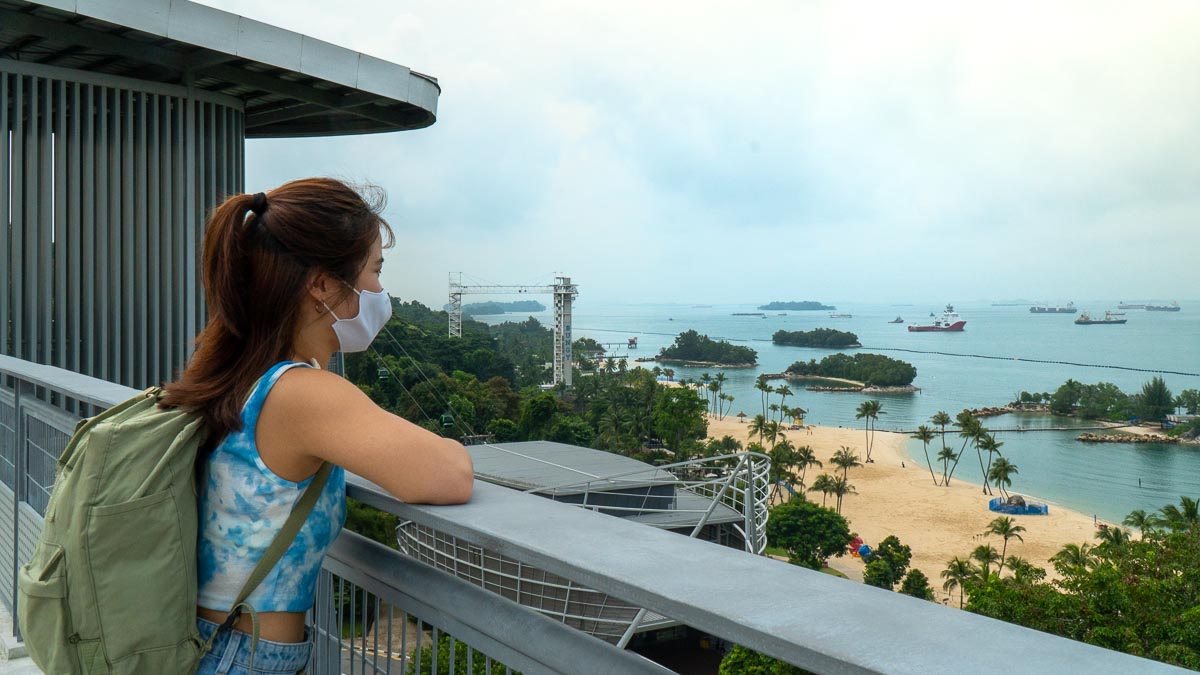 If you prefer nature and wildlife, try the Imbiah Trail. It's a pleasant stroll on a 225m-elevated boardwalk, amidst lush forest canopy.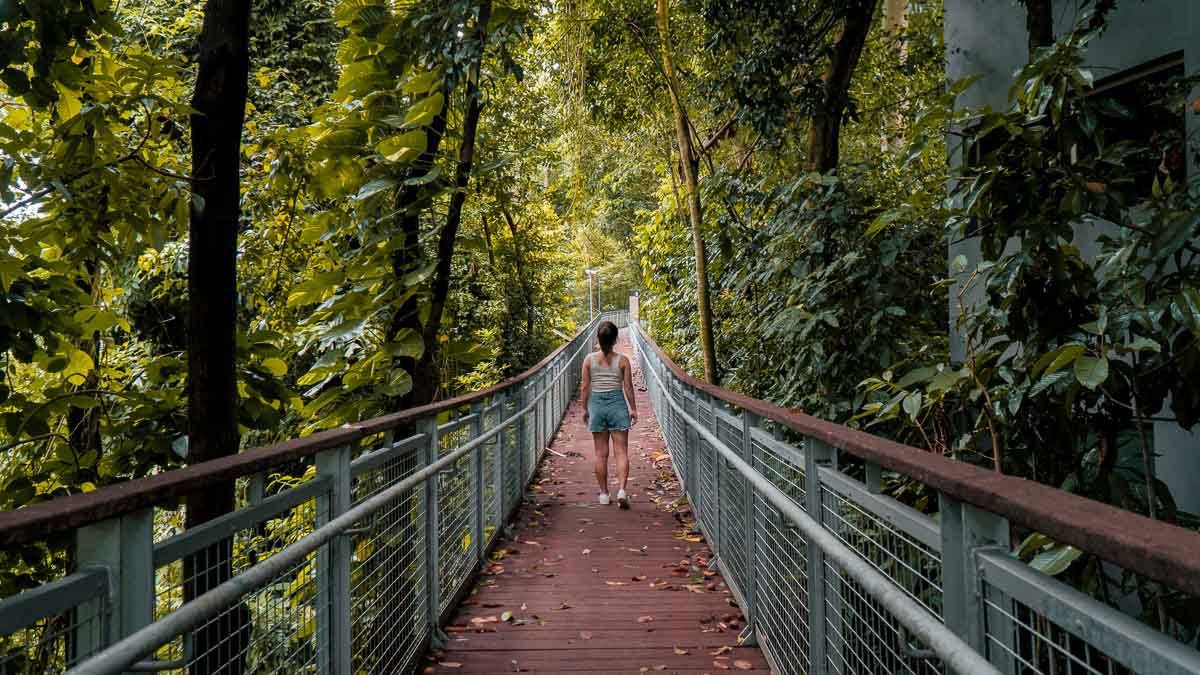 Cost: Free
Opening hours: 10AM – 6PM. Last admission for Fort Siloso and the Fort Siloso Skywalk at 5.30PM. Some sections of the Imbiah Trail are open 9AM – 5PM
How to get there: From Beach Station, take Bus A to Siloso Point for the Coastal Trail, or to Imbiah Lookout for the Imbiah Trail
4) Get Splashed at the HydroDash Aqua Park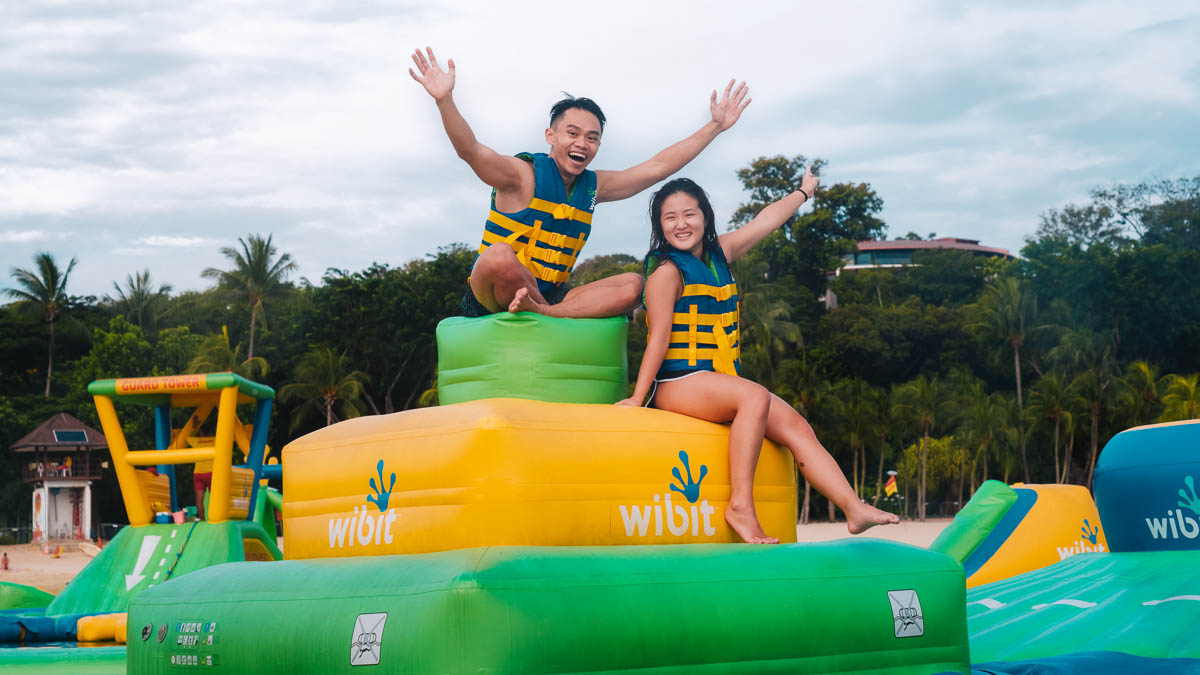 HydroDash is Singapore's very first aqua park — an inflatable obstacle course floating in the sea along Palawan Beach! It just opened earlier this year, so thank goodness we can finally try it now that circuit breaker is over.
The playground is split into two zones of different difficulty; one for younger kids and one for those aged nine and above. Each zone is filled with obstacles like steep slides and balancing platforms.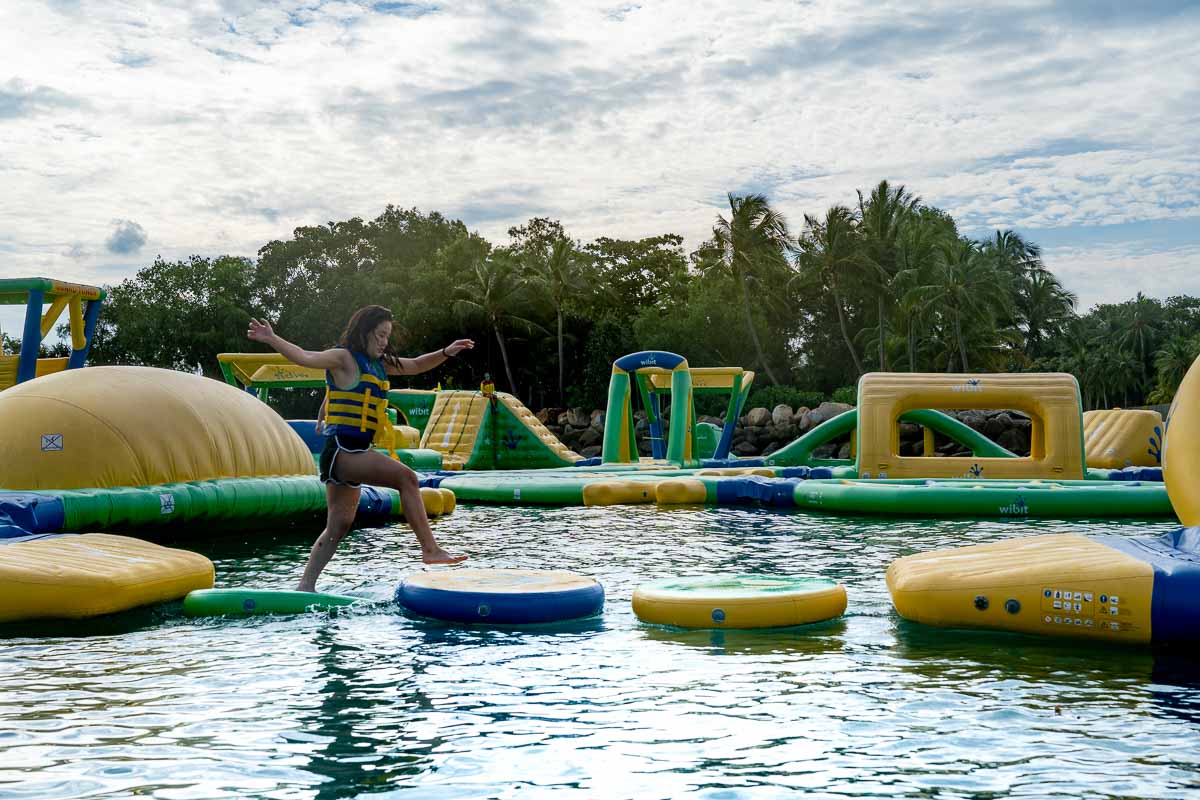 The course is so slippery that even running is a real test of balance and fitness. It turned out a lot more fun — and challenging — than we expected!
Cost: 2hr access at S$10 for 5 – 8-year-olds, and S$18 for ages 9 and above
Opening hours: 12PM – 6PM (10AM – 2PM and 3PM – 7PM for weekends) — check for updated timings
How to get there: From Beach Station, take the Beach Tram towards Tanjong Beach, and alight at the Southernmost Point stop. It's a 2min walk to Hydrodash
*Pro-tip: To maximise your full two hours, arrive 30min before your timeslot for the safety briefing and to get fitted with a buoyancy aid.
5) Meet and Greet Celebs at Madame Tussauds Singapore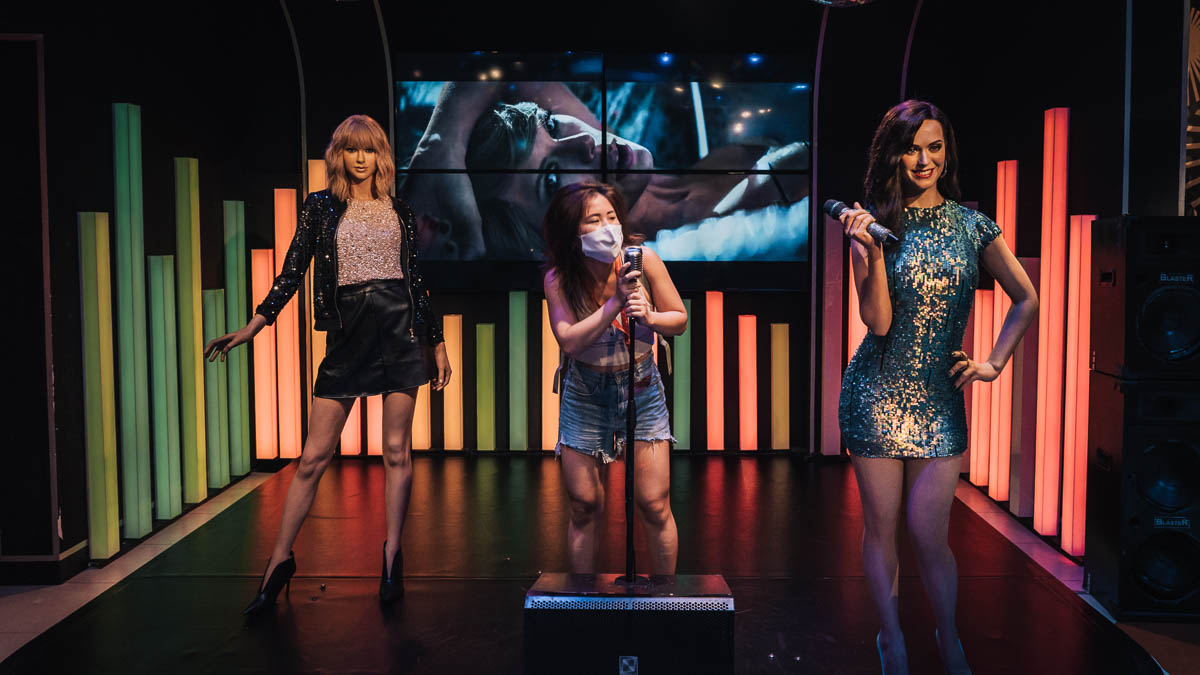 Concerts aren't happening this year, but you can still hang out with the stars! Madame Tussauds Singapore is filled with famous people, from Hollywood A-Listers to sports legends and world leaders.
The wax figures are crafted true-to-size, so prepare to be surprised.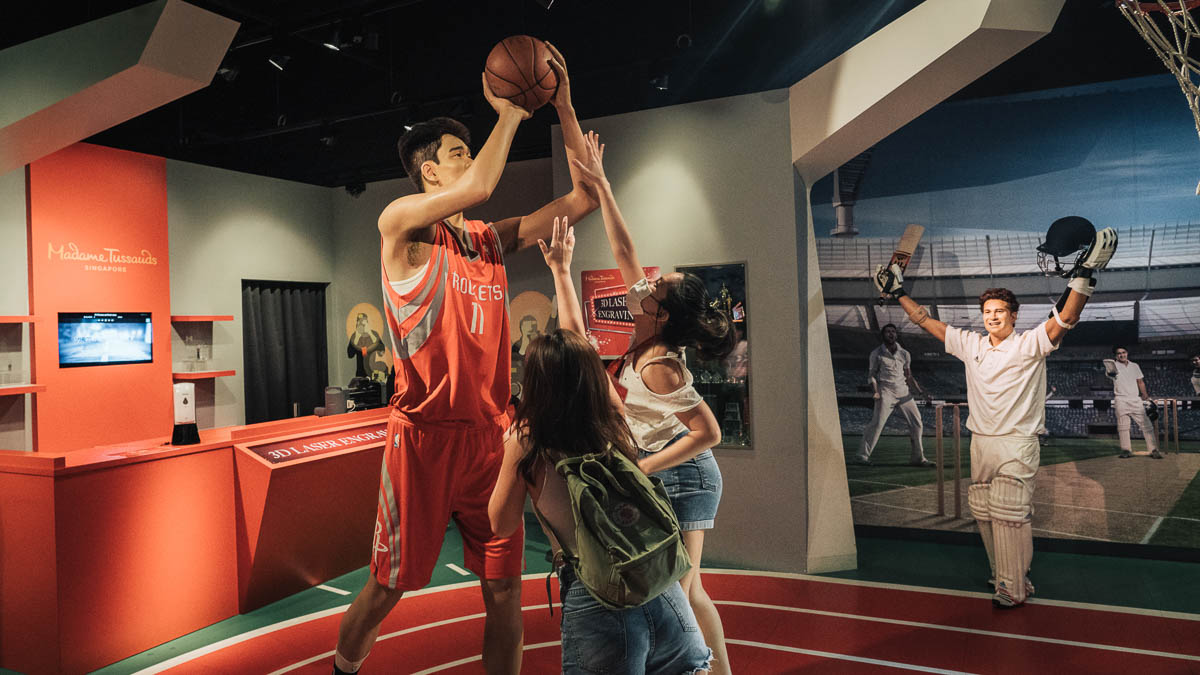 I knew Yao Ming was tall, but I wasn't prepared for this.
If you've already been to a wax museum, there's still good reason to visit this one — Madame Tussauds Singapore has unique exhibits that you won't find anywhere else.
Like the only Madame Tussauds boat ride in the world! The Spirit of Singapore Boat Ride features local icons like Goh Chok Tong and the Singapore Flyer. Look out for a surprise appearance by our favourite curly-haired contractor, PCK!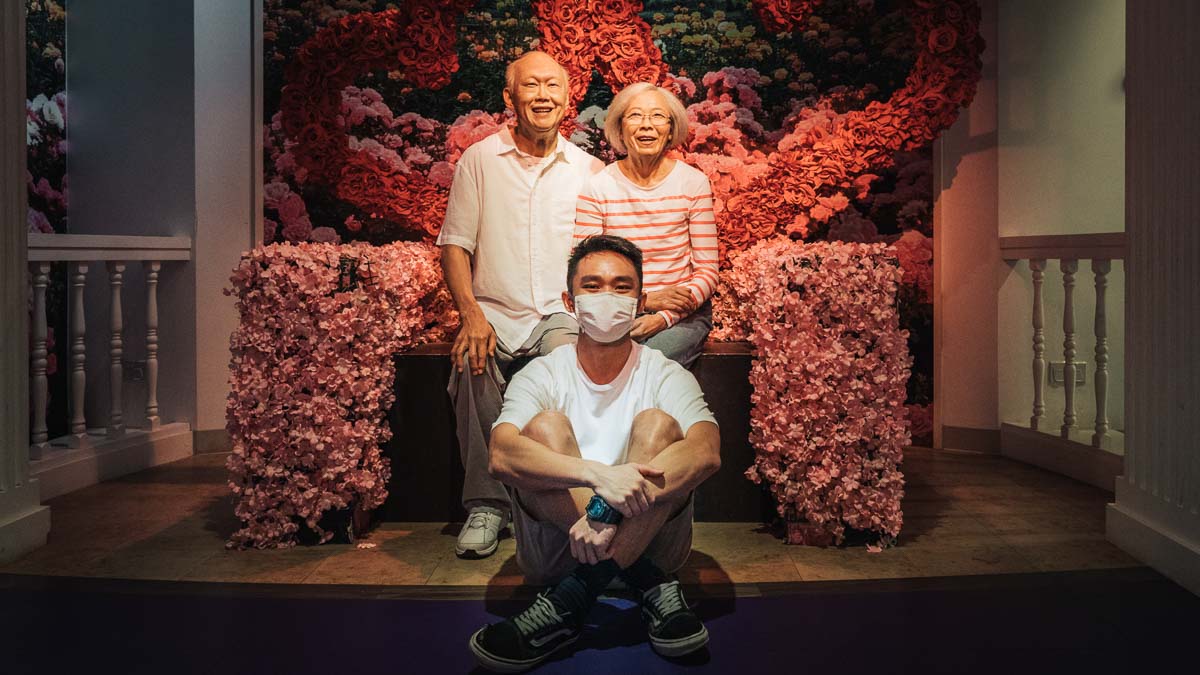 As well as SG's royal couple
There's also the Marvel 4D Experience, the only one of its kind in Asia. It's a (literal) spine-tingling adventure fighting alongside the Avengers — with the backdrop of Marina Bay Sands, no less!
Bollywood fans will have a blast at The Ultimate Film Star Experience, where you can try dancing and acting alongside India's biggest stars!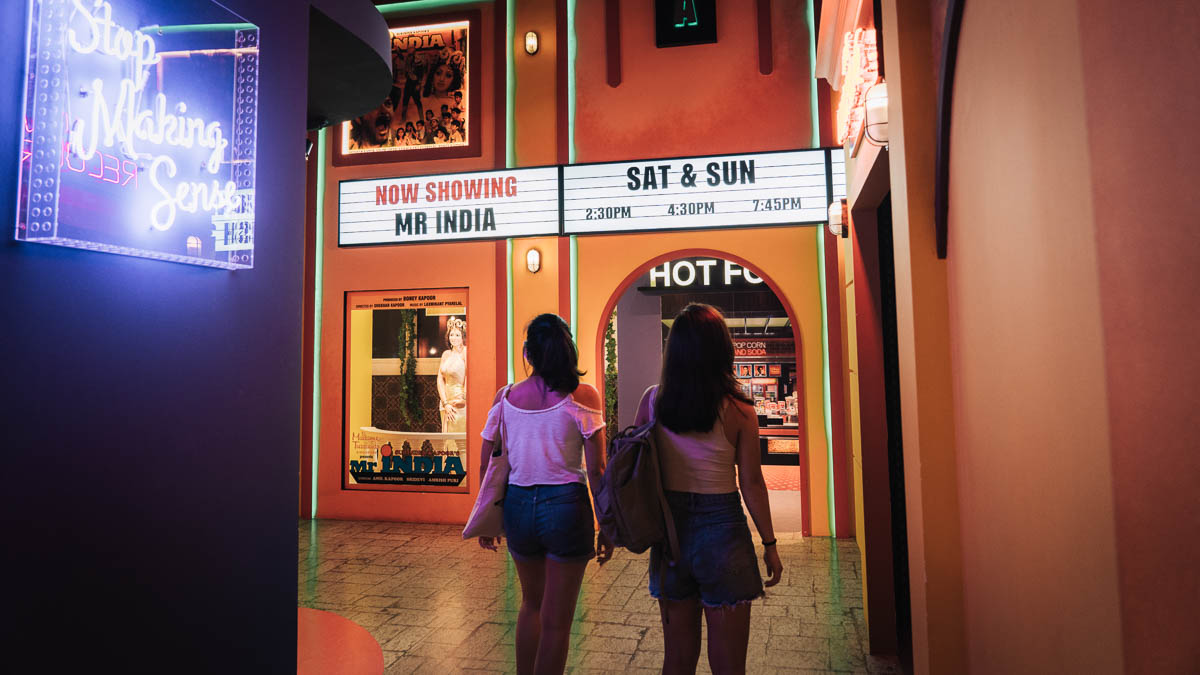 Another highlight is the VR Racing Experience, which lets you ride the circuit — while Lewis Hamilton watches! It's a good consolation since the F1 was cancelled this year.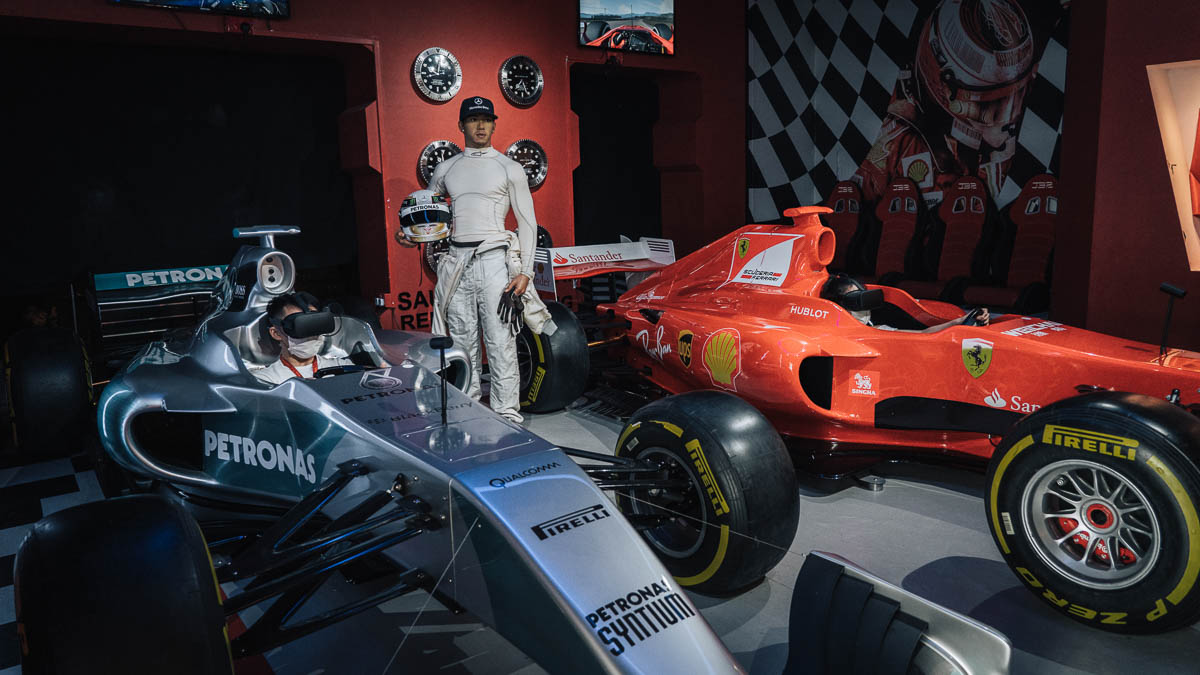 Cost: From S$38 for the VR Racing Package (includes entry to Madame Tussauds Singapore, Spirit of Singapore boat ride, Marvel 4D Cinema, and the Ultimate Film Star Experience
Opening hours: 11AM – 7PM; last admission at 6PM (closed on Tue and Wed). Check latest timings here
How to get there: 4min walk from Imbiah Station
6) Go Racing at Skyline Luge Sentosa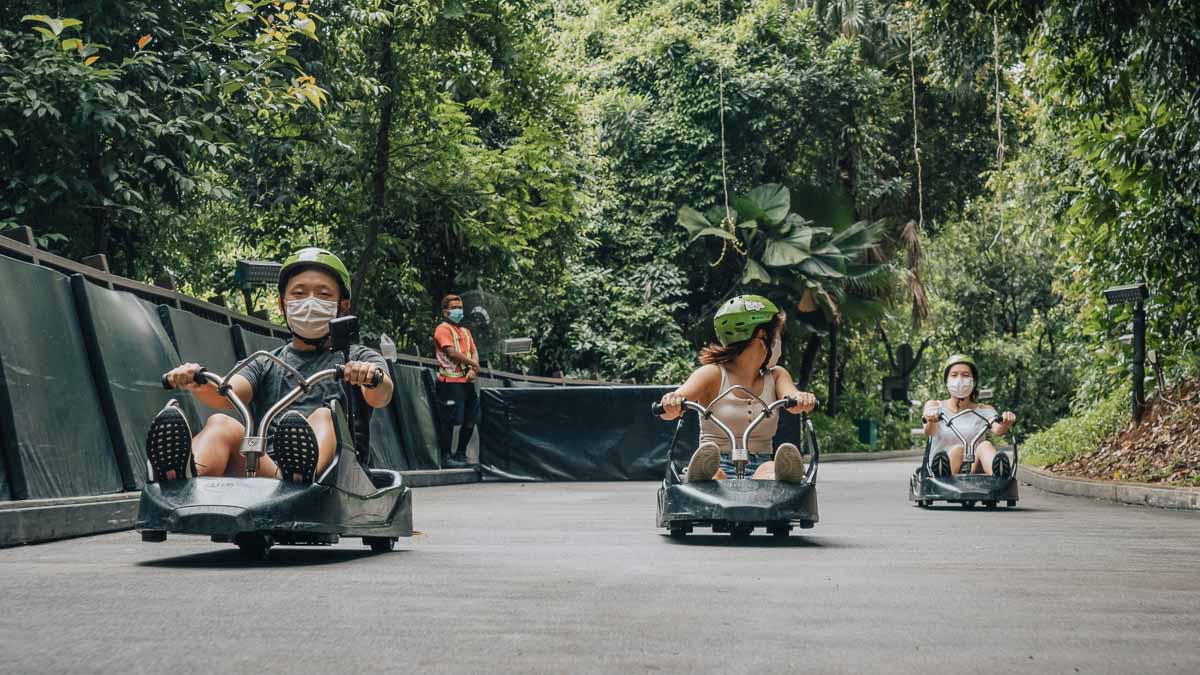 The Skyline Luge has been around for a really long time, but how many of us have actually tried it at Sentosa? This attraction combines two holiday-worthy activities — a scenic Skyride followed by a thrilling Luge race.
There are currently four tracks, so you'll get a different experience each time. We did the twisty Expedition Trail, perfect for thrill-seekers, and the Dragon Trail. The latter has dragons hidden along the route, but you'll need sharp eyes to spot them!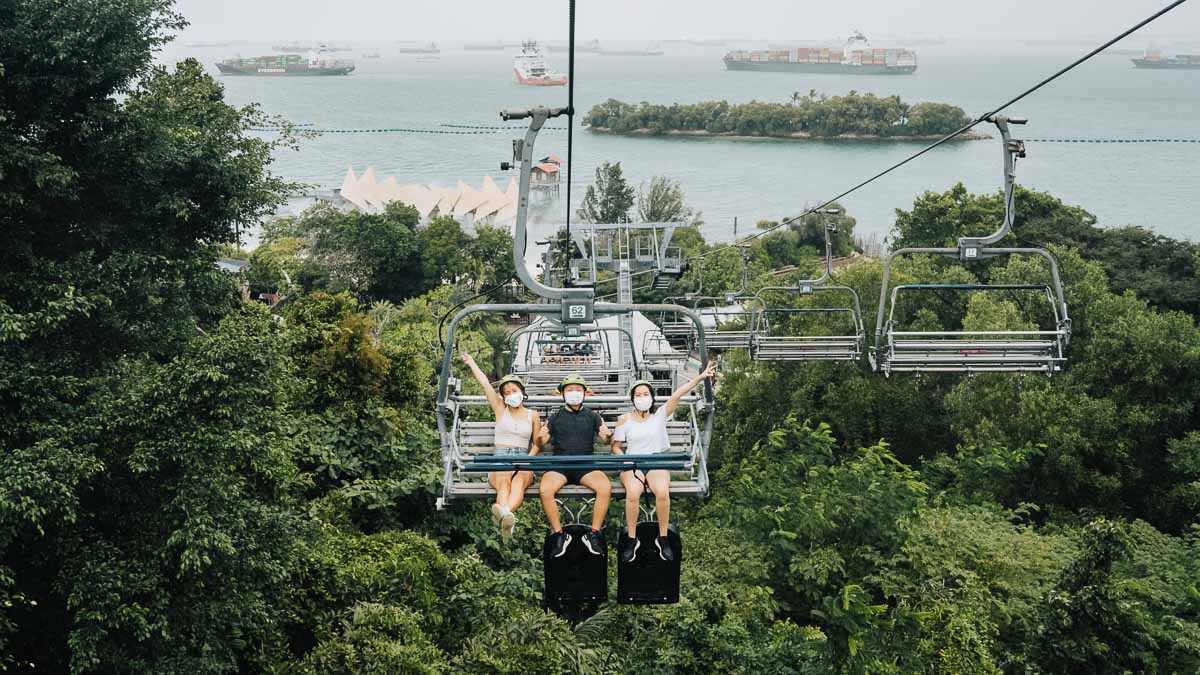 Cost: ~S$24 per person for two luge and skyrides
Opening hours: 11AM – 7:30PM (Mon, Thu, Sun), 11AM – 9:30PM (Fri – Sat; with Night Luge). Closed on Tue and Wed. Check latest timings here
How to get there: 6min walk from Imbiah Station
7) Enjoy Island Life on a Gogreen Cycle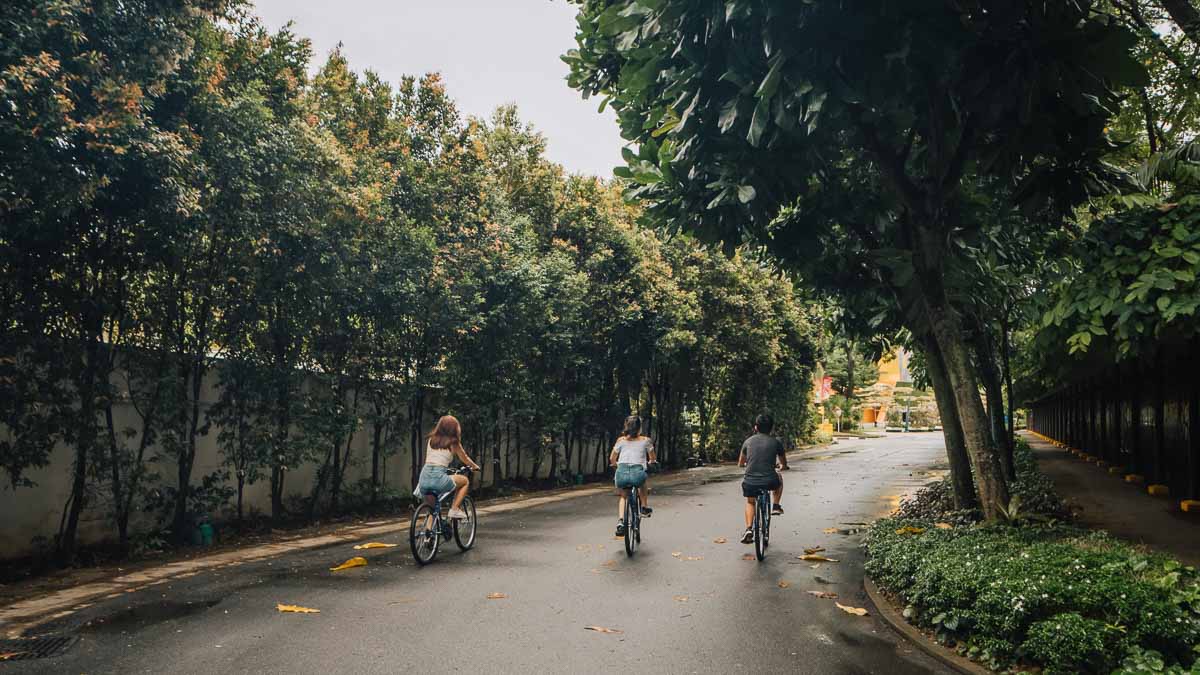 If you miss leisurely bike rides around Phuket or Bali, replicate the experience on a Gogreen Cycle!

Sentosa's roads are terrific for cycling — they're very wide and lined with beautiful, diverse landscapes. You'll see beach clubs, white-sand coasts, lush greenery, and beautiful buildings. Play some chill music, feel the fresh air, and enjoy the carefree island life!
Cost: Currently on sale at S$9.90 for 1hr (U.P.S$15) and S$14.90 for 2hrs (U.P.S$18)
Opening hours: 10AM – 6:15PM. Rentals are available for 1 – 2hrs
How to get there: 10min walk from Beach Station
8) Tick off the Bucket List at AJ Hackett Sentosa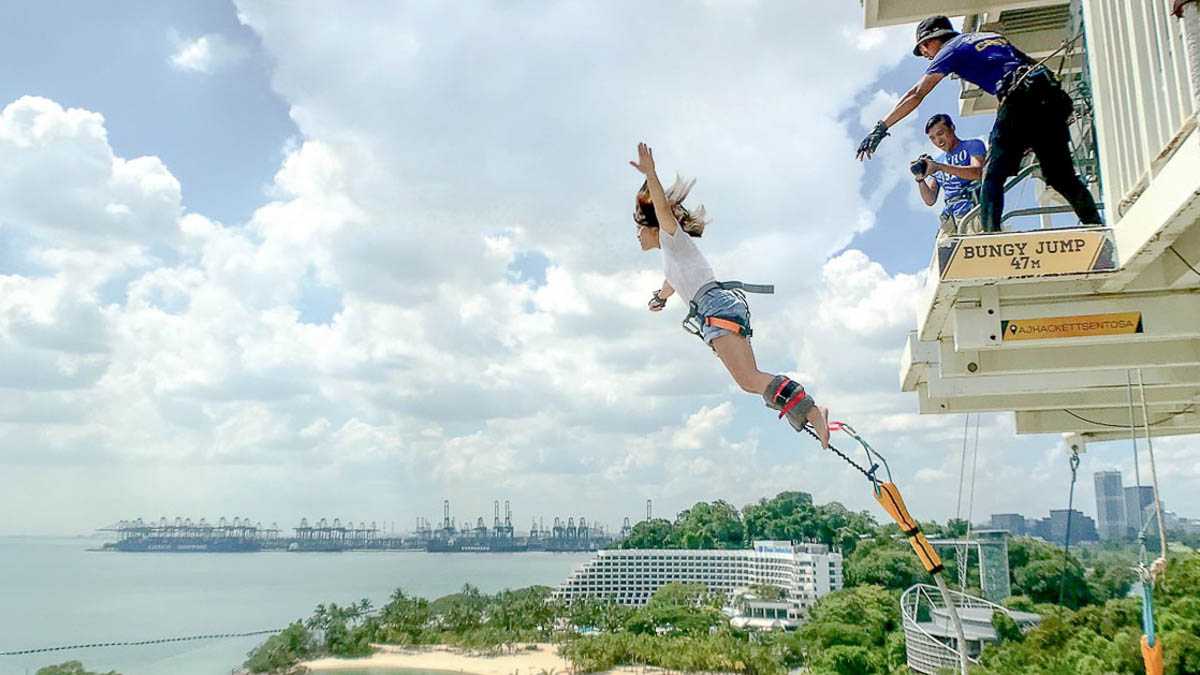 With the travel ban and circuit breaker, it's been hard to tick off the bucket list this year. So why not make up for it with a big one — a heart-stopping 47m bungy jump!
Even if you've done it before, the AJ Hackett Sentosa experience is quite different. You'll get gorgeous views of the Siloso Beach, and can even dip into the swimming pool below. If you're truly insane, you can also try bungy jumping backwards, or from a handstand!
Your jump also comes with a certificate of completion, so you'll always have at least one good memory from 2020.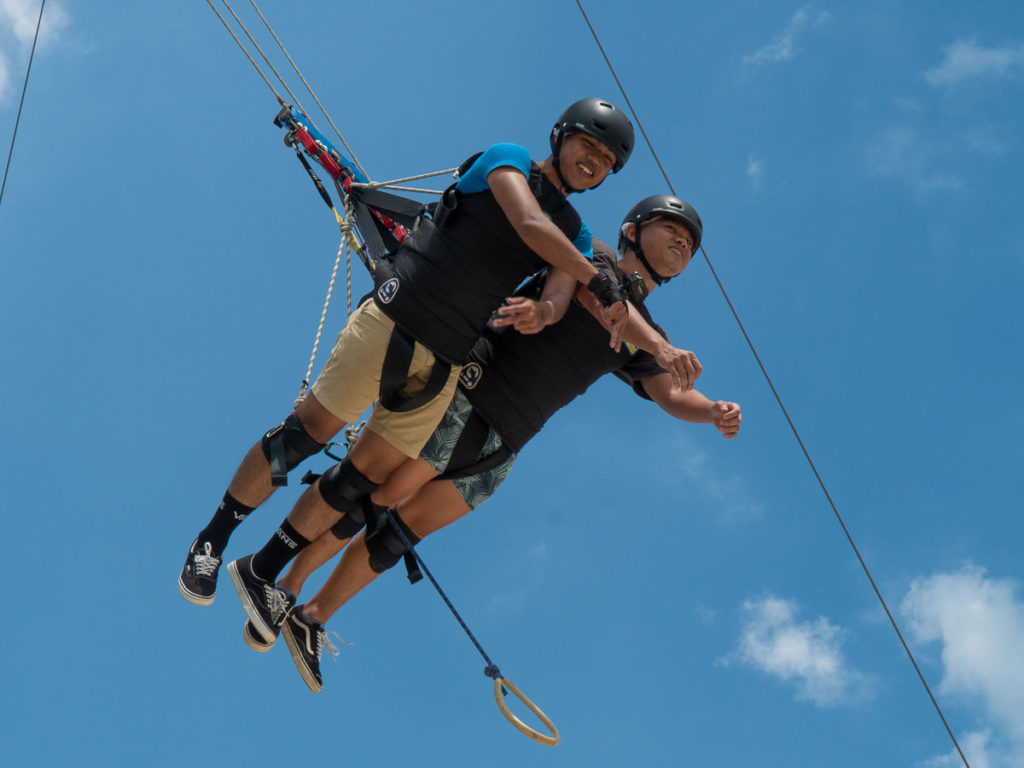 P.S. From now till 31 Oct 2020, Bungy Jumps cost just S$49 (U.PS$159)! For more thrill, get the AJ Hackett Ultimate Pack, which includes the Bungy Jump, Giant Swing, Skybridge, a free ice cream/drink and a S$5 F&B voucher for just S$99!
Cost: S$159 per jump (from S$49 promo price)
Opening hours: 12PM — 7PM (Mon, Thu, Fri), 11:30AM – 7PM (Sat – Sun, PH). Registration opens at 10AM. Check latest timings here
How to get there: Walk 15min from Beach Station. Walk 15min from Beach Station. Or take the Beach Tram to Siloso Point and walk for 4min
9) Enjoy Epic Views on the MegaZip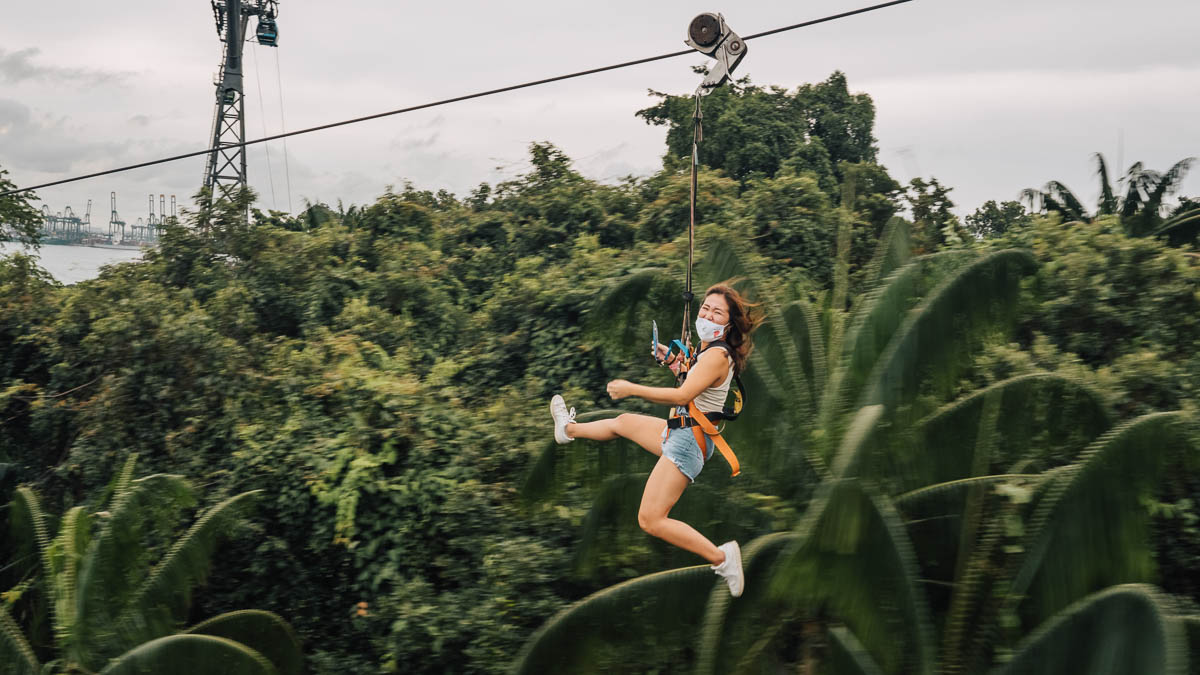 If you miss flying from place to place, there's still a way to do it. On the MegaZip, you'll soar above Sentosa at a thrilling 60km/h, from the top of Imbiah Hill down to Siloso Beach.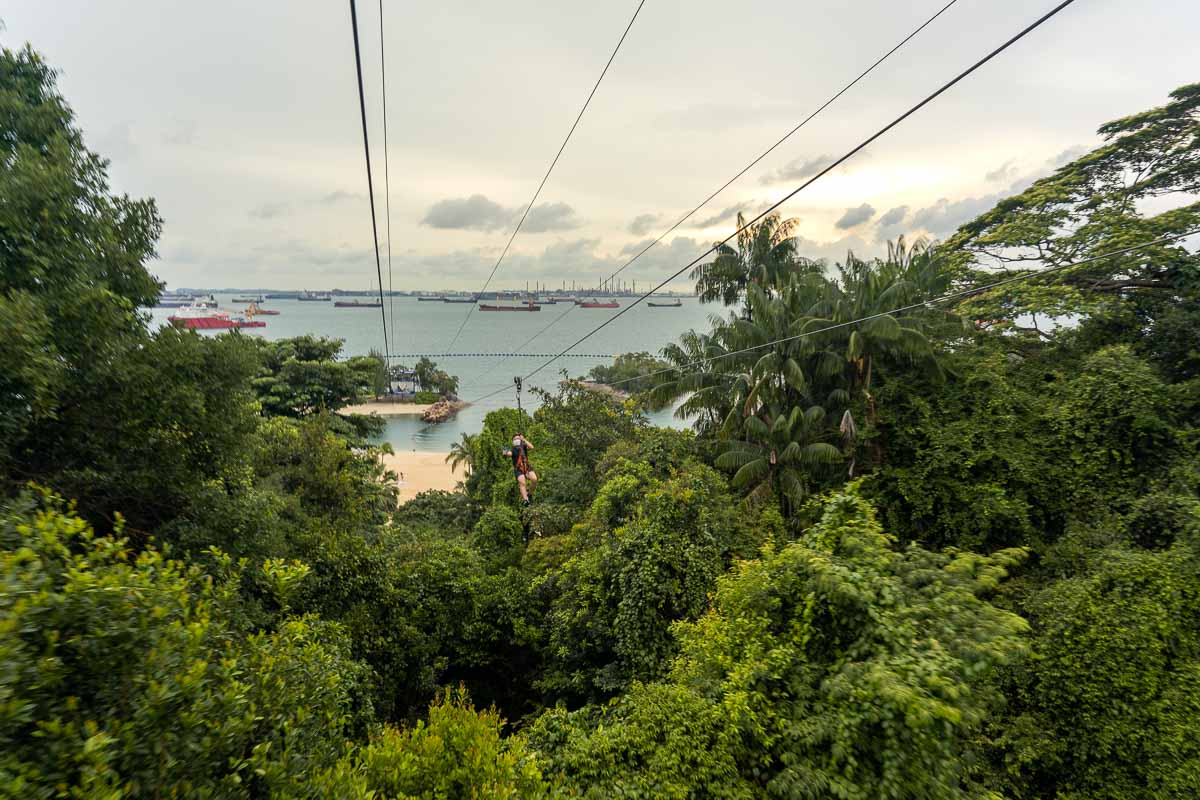 I've done this twice this year and it's still an exhilarating experience. It's scenic and a good amount of thrill, perfect for those who prefer something less extreme!
Cost: From S$55
Opening hours: 1PM – 7PM (Mon, Thu – Fri); 11AM – 7PM (Sat – Sun), closed on Tue and Wed
How to get there: 10min walk from Beach Station
10) Feast Like You're Overseas With Authentic International Cuisine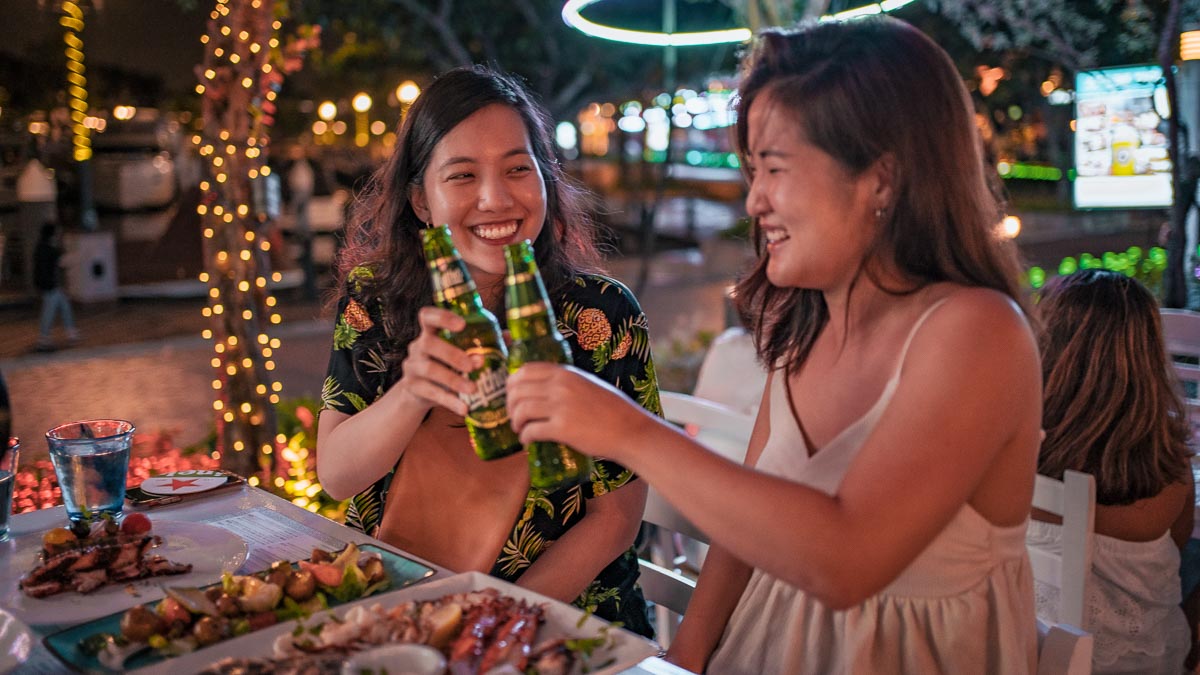 Seaside drinks at Mykonos on the Bay
Get into the holiday mood with an international feast! These restaurants serve authentic cuisines, with surroundings that make you feel like you're really out of the country. Some of our recommendations:
Hidemasa by Hide Yamamoto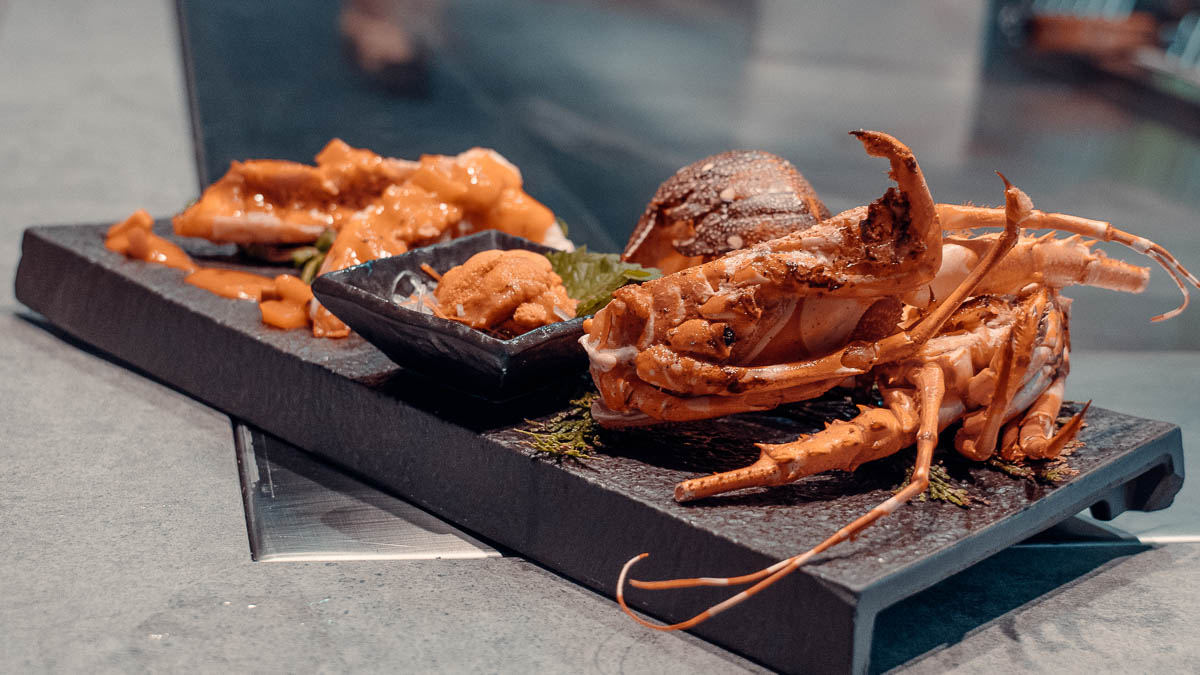 Hidemasa is a fine-dining restaurant set up by accomplished chef Hide Yamamoto. Trained in Italy and France, Chef Yamamoto specialises in fusion dishes made with premium ingredients. He's even served three US presidents, so yes, the food is good.
Hidemasa is most famous for its A5 Miyazaki beef, cooked on a teppanyaki grill. Our medium-rare sirloin was so good that I couldn't bear to finish it, and ended up savouring my piece for over twenty minutes. Even after all that time, it was still melt-in-the-mouth!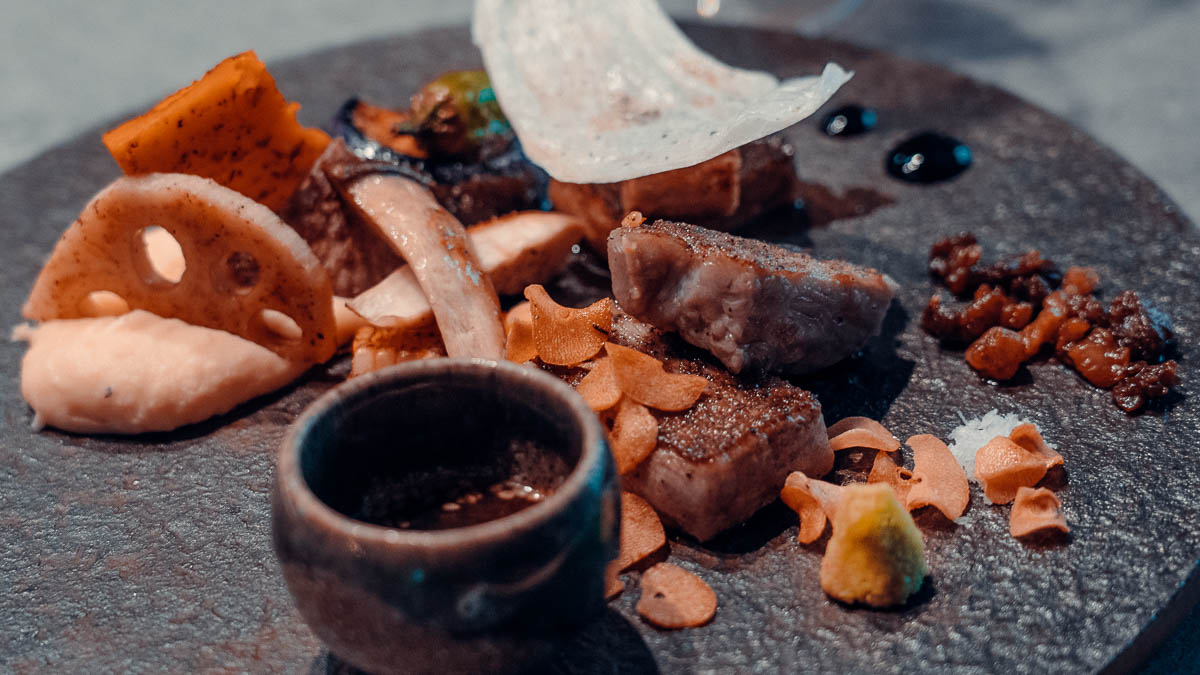 It's especially cool that we got to see the dishes being flame-grilled and plated right in front of us. The unique set up made it very different from the usual Japanese dining experience.
Fine-dining can be quite pricey, but Hidemasa's meal sets are genuinely value-for-money. Each set comes with a bottle of Hokkaido wine and five premium-quality courses, enough for two to share! These are:
1) Seasonal salad with miso dressing
2) Truffle chawanmushi, served with fresh uni, dashi, and black fungus. It's a much more upgraded (and tastier) version of the Japanese classic.
3) The S$138++ set comes with a teppanyaki-grilled lobster and a generous amount of uni. Or opt for the beef with foie gras set (S$168++) with a divine A5 Miyazaki sirloin and accompaniments like crisped beef fat and a truffle rice cracker.
4) Miso soup and Hidemasa's special garlic fried rice
5) Truffle ice cream — really light and creamy, served with cacao nibs. A must-try!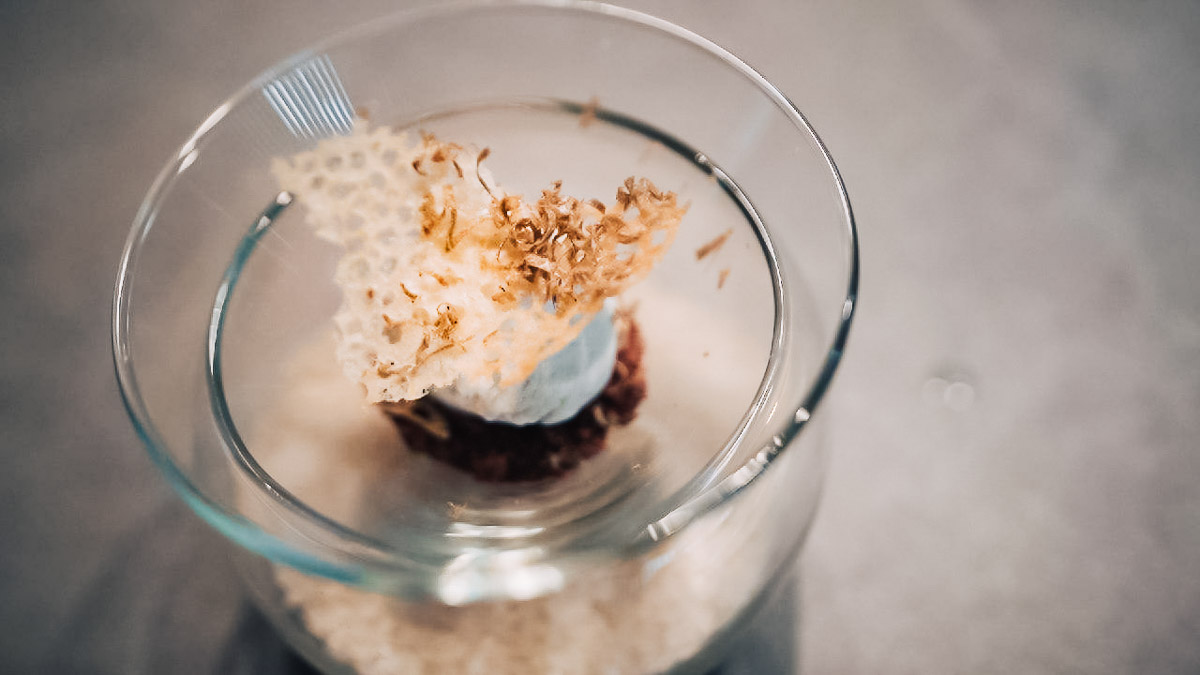 The sets are not on the menu and may end anytime, so take the chance to try these innovative dishes while you can!

If you're a truffle-lover, you can also opt for the Hidemasa signature, Young Chicken Stuffed with Soy Truffle Butter Rice, topped with a generous amount of real truffle shavings.
Cost: S$138++ for the teppanyaki lobster set, and S$168++ for the teppanyaki wagyu and foie gras set. Both sets come with a bottle of Hokkaido wine and are suitable for two pax. S$58++ for Young Chicken Stuffed with Soy Truffle Butter Rice
Opening hours: 11:30AM – 9PM (Tue – Thu, Sun), 11:30AM – 10PM (Fri – Sat). Closed on Mon. Strictly by reservations only; call 6513 6699
How to get there: 3mins walk from Imbiah Station
Trapizza
If you miss Italy, replicate those summery seaside vibes at Trapizza. This casual-dining Shangri-La restaurant serves some of the best Italian food in Singapore.
The star, of course, is their thin-crust pizzas, cooked in a special wood-fired oven. The dough is made fresh in-house and is especially chewy and flavourful. We got the Pizza Siciliana (S$28), which came piled with juicy vegetables, warm cheese, and tender meat.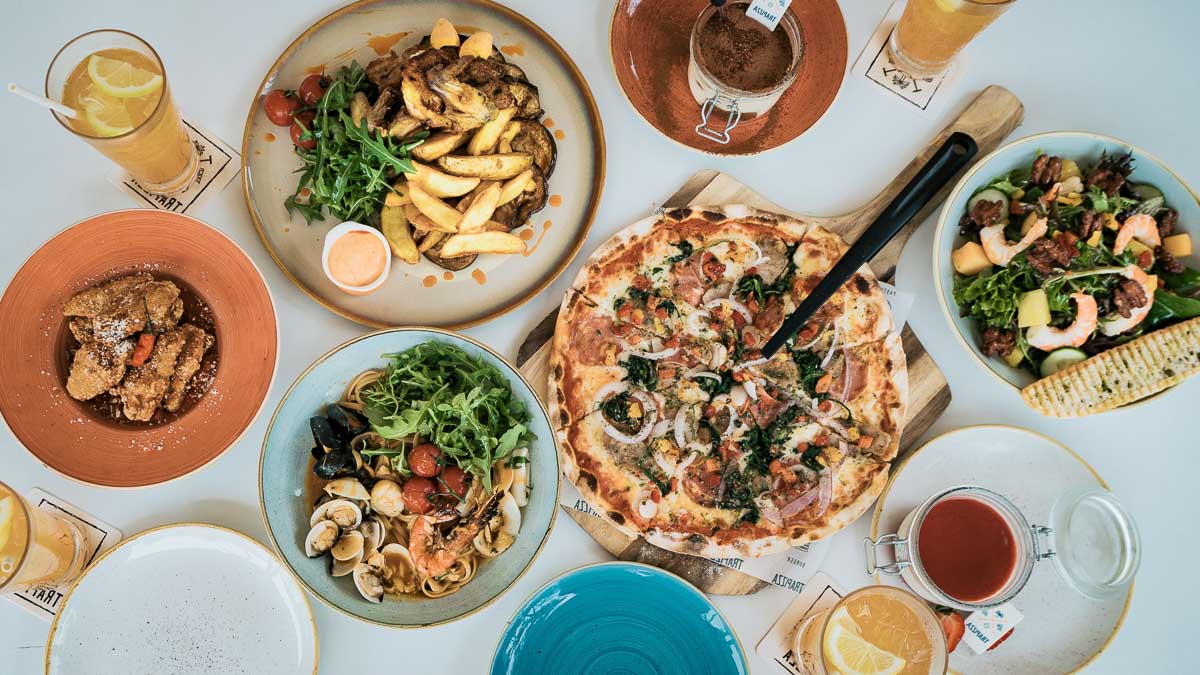 Besides its pizzas, the other mains were also delicious — would you expect anything less from a Shangri-La restaurant? The Broiled Mediterranean Spring Chicken (S$30) is great for those who want a bigger meal, while pasta-lovers should try the Trapizza Linguine (S$28). By the way, the pasta dough is also freshly-made!
Of course, you can't have an Italian feast without sides, like a refreshing Siloso Prawn Salad (S$20), and the spicy Chicken Wings alla Diavola (S$18). For dessert, the Tiramisu (S$12) is a must-try, doused in lots of booze and chocolate! Or go for the classic Panna Cotta (S$12) if you want something light.
Cost: From ~S$18 for appetisers and mains
Opening hours: 12PM – 9PM (Mon – Thu); 11AM – 10PM (Fri – Sun, PH)
How to get there: From Beach Station, take the Beach Tram headed toward Siloso Point. Alight at the Siloso Point stop and walk 3 mins to Trapizza
Gelatissimo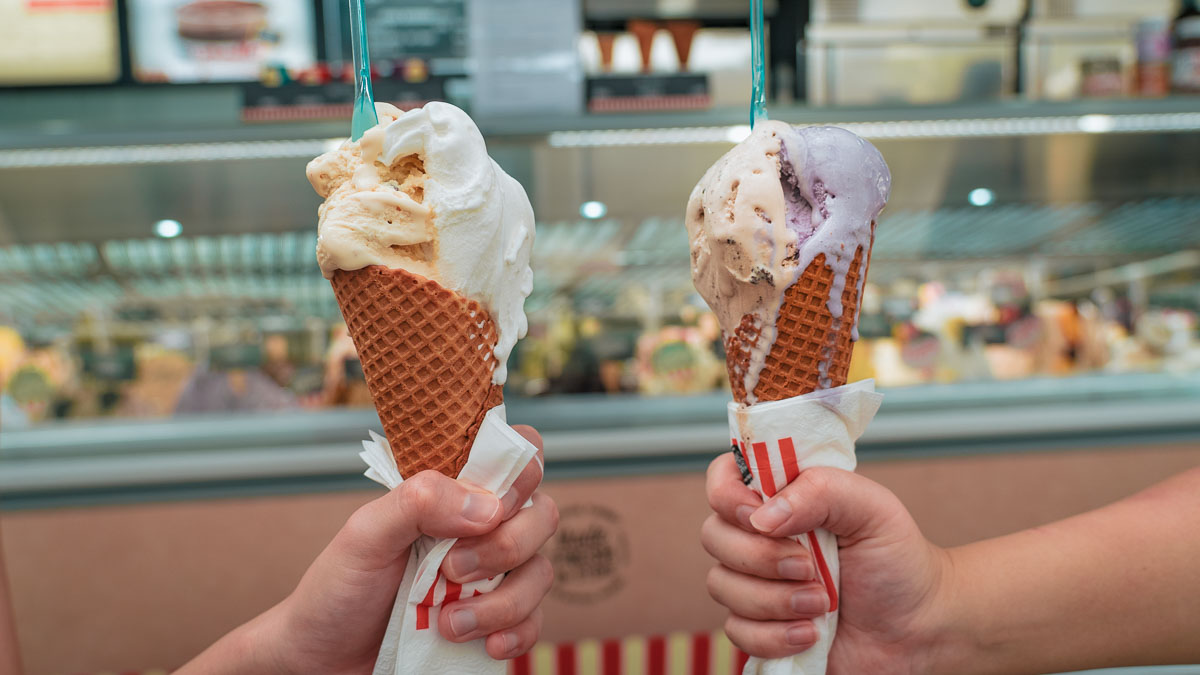 Continue your Italian escapade at this fancy gelato stand. Gelatissimo's flavours are shaped like mouthwatering, colourful mountains, piled with Oreos, syrup, and other delicious mix-ins.
There are over 30(!) flavours to choose from, from milky scoops to sorbets. If you've got a sweet tooth, you'll love bestsellers like the Cookies & Cream and Decadent Cookie Dough.
My personal fave is the Lemon Sorbet, which was tart without being too sour. We also enjoyed Ube, a limited edition yam-based gelato that was super creamy.
Cost: From S$5.90 for one flavour. Limited promo of S$5 daily deals, available from 5PM – 8PM
Opening hours: 11AM – 8:30PM
How to get there: Just outside Beach Station
Mykonos On The Bay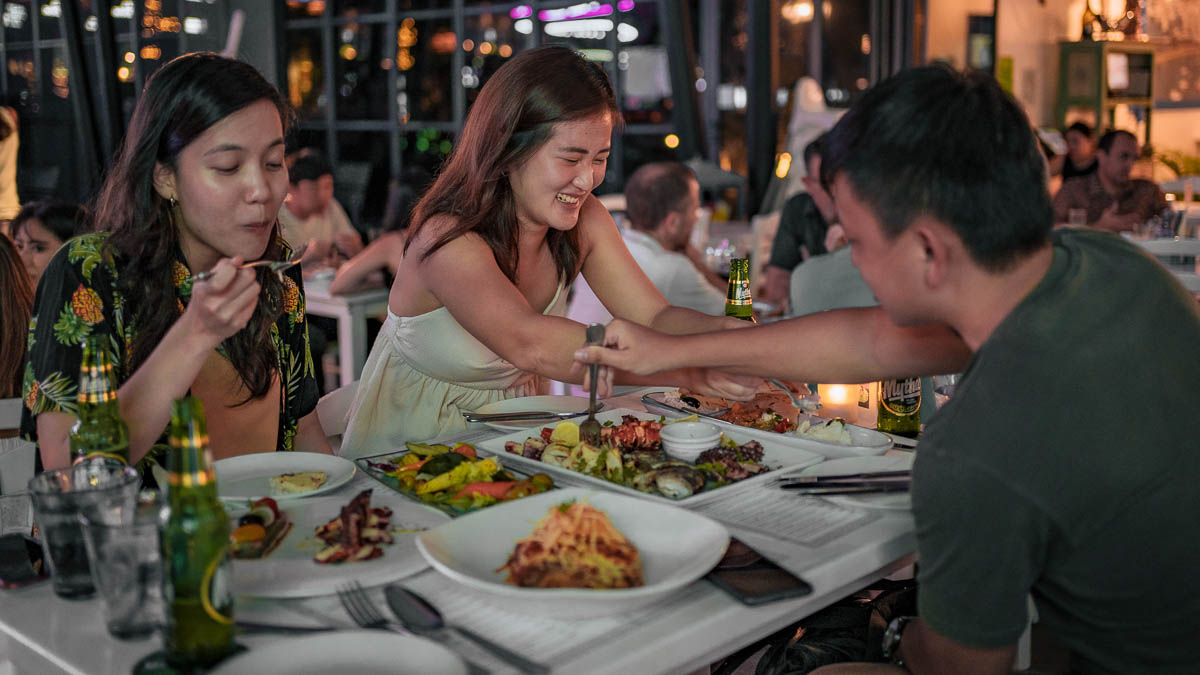 While we can't be in Greece now, we can still have a Mediterranean feast at Mykonos On The Bay. It's located in Sentosa Cove, so you can admire the yachts and enjoy the cool ocean breeze — just like a holiday in Europe!
It's a great place to try authentic Greek food too, which includes lots of fragrant herbs and fresh veggies. By the way, the Santorini-esque blue and white furniture is actually imported from Greece!
There are over 10 small bites on the menu, like the signature Htapodaki (S$26), a juicy Mediterranean octopus that's charred for extra flavour. Our favourite was the Mykonos Dip Platter (S$26), with three dips and chewy pita bread — perfect for a seaside feast.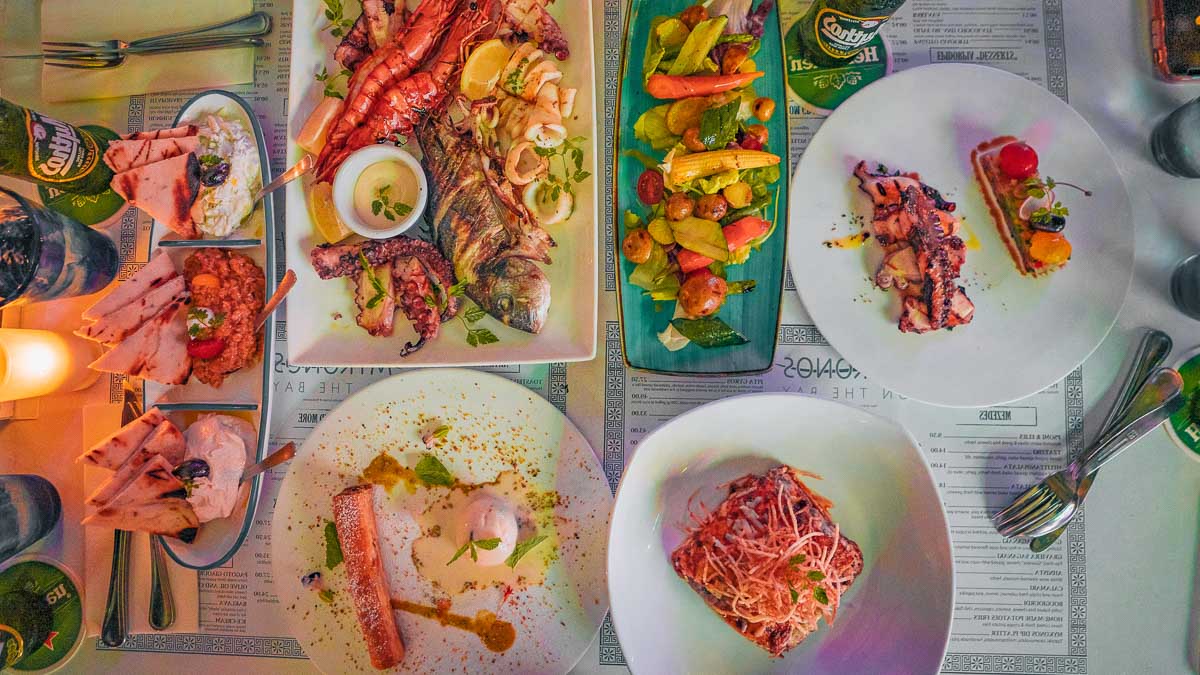 For mains, try the Seafood Mixed Grilled Platter (from S$96), which comes with a whole sea bream, king prawns, calamari, mussels, and charbroiled octopus. Or for more traditional fare, get the signature Mousaka (S$27), a hearty casserole cooked with an authentic Greek grandma's recipe.
Round off the meal with some Greek-style Baklava (S$15.90), filled with lots of pistachio. Also, don't miss out on trying the Mythos Greek Lager (S$13), which is a rare find in Singapore!
Cost: From ~S$27 for appetisers and mains
Opening hours: 12PM – 3PM, 6PM – 10:30PM (Mon – Fri); 12PM – 10:30PM (Sat, Sun, PH)
How to get there: From Beach Station, take Sentosa Bus B and alight at W Hotel/Quayside Isle. Then walk 3 mins to Mykonos On The Bay
11) Staycay at a Tropical Resort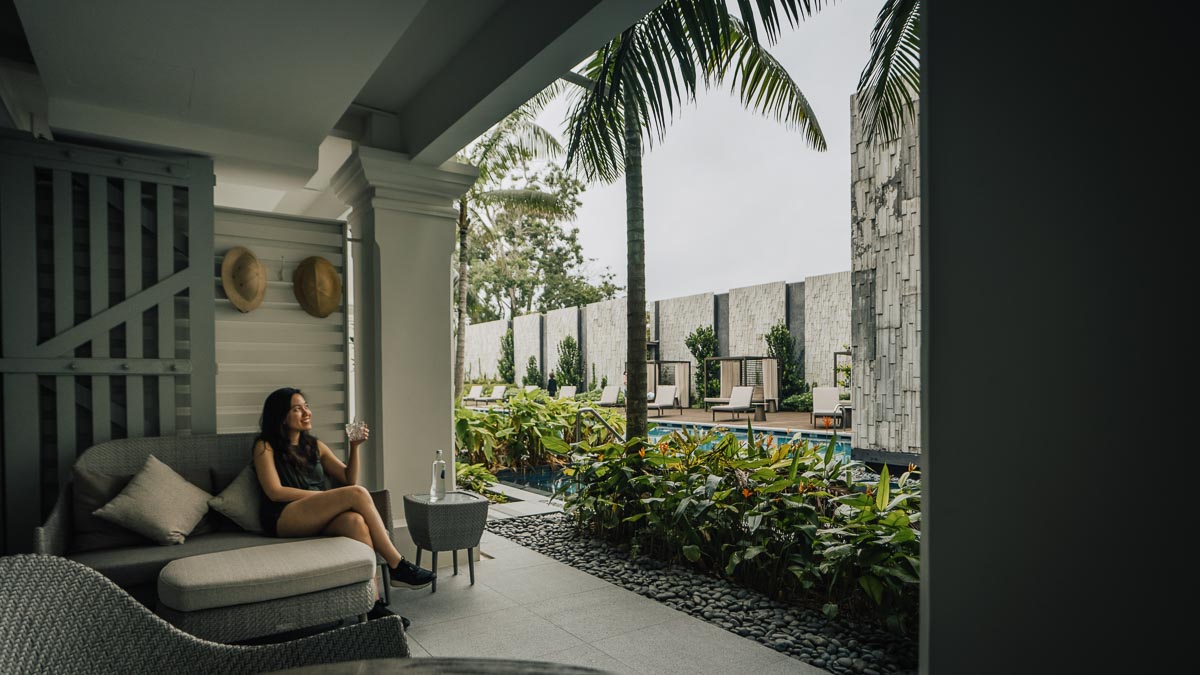 Escape the rat race at a tropical resort! From the second you step into The Barracks Hotel, you'll forget you're still in Singapore.
This gorgeous getaway is a refurbished British artillery outpost, with lots of classy antique details. From bronzed atlases to woven colonial hats, The Barracks Hotel makes you feel like you're an old-time explorer.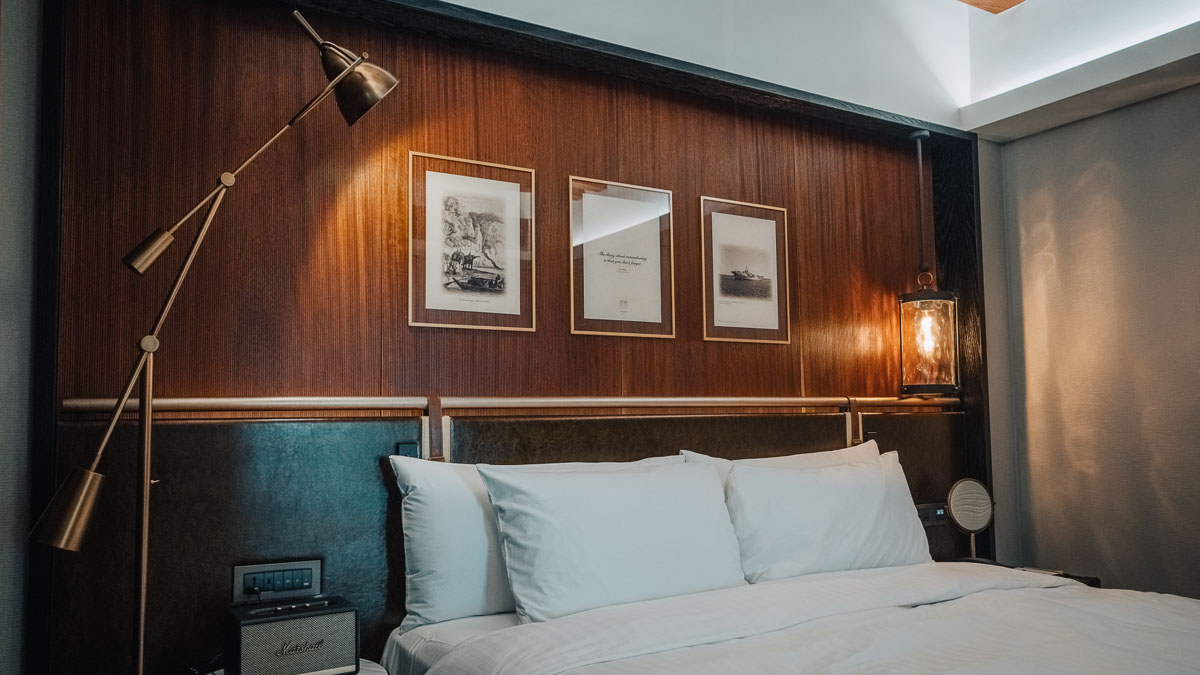 The rooms may look vintage, but they're equipped with modern technology. Each room comes with Marshall brand speakers and a TV with Smart Connectivity (i.e. you can watch Netflix)!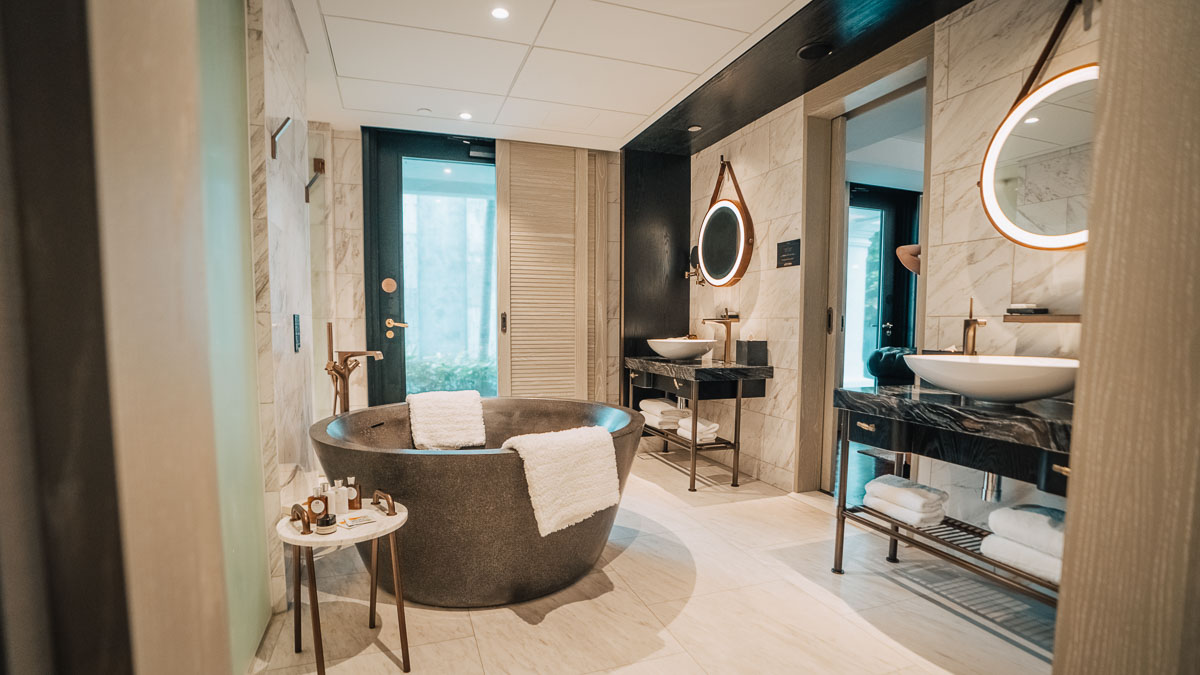 Of course, what's a luxe getaway without some spa time? The Barracks Hotel has a tub in each bathroom, accompanied by premium bath lotions.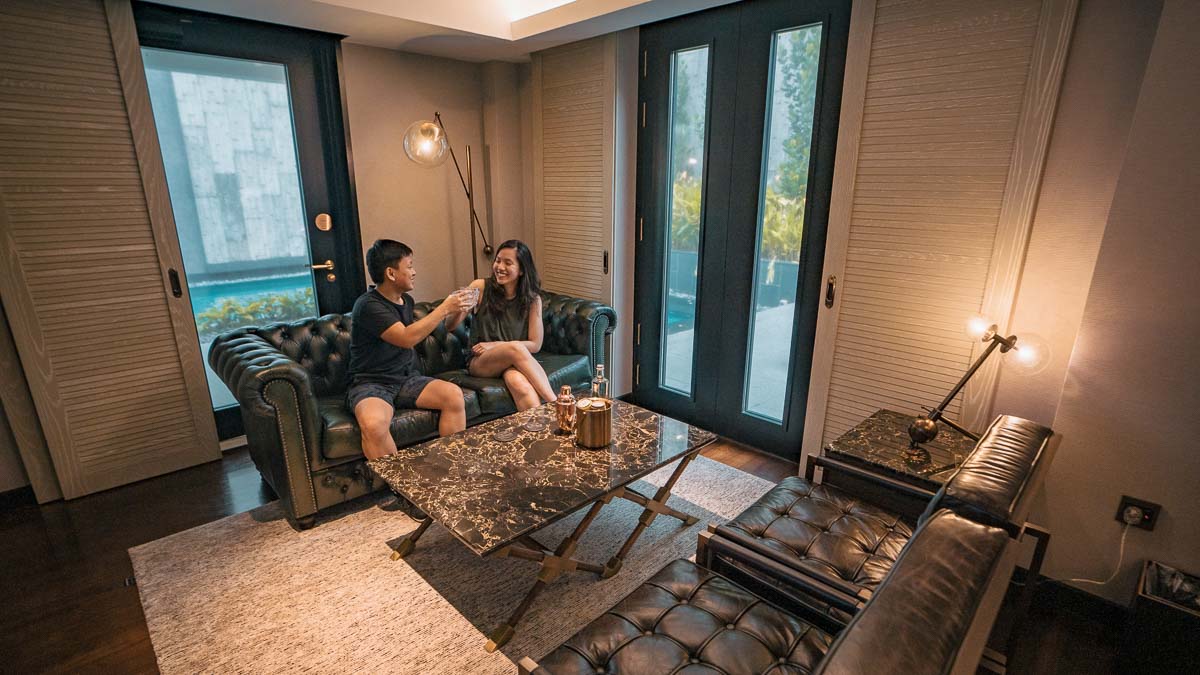 If you want to make this your big holiday of the year, pamper yourself with a Garden Suite stay. It comes with a lounge perfect for chilling and dining with drinks.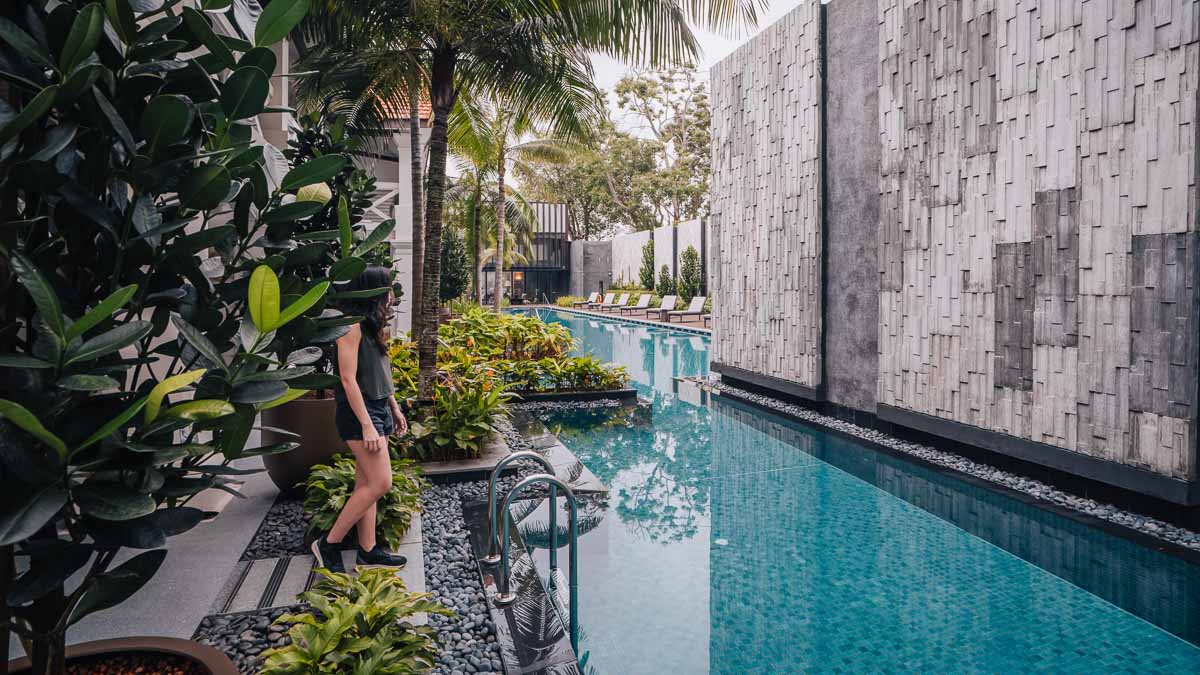 Step outside and you'll have immediate access to the pool and jacuzzis. It's like having your own private villa!
P.S. The Barracks Hotel is currently offering a Sea Breeze & Champagne Staycation package, which comes with an afternoon tea session, free-flow champagne, and a tea tailoring experience!
Cost: From ~S$680 per night
How to get there: 5min walk from Imbiah Station
12) Visit the Southernmost Point of Continental Asia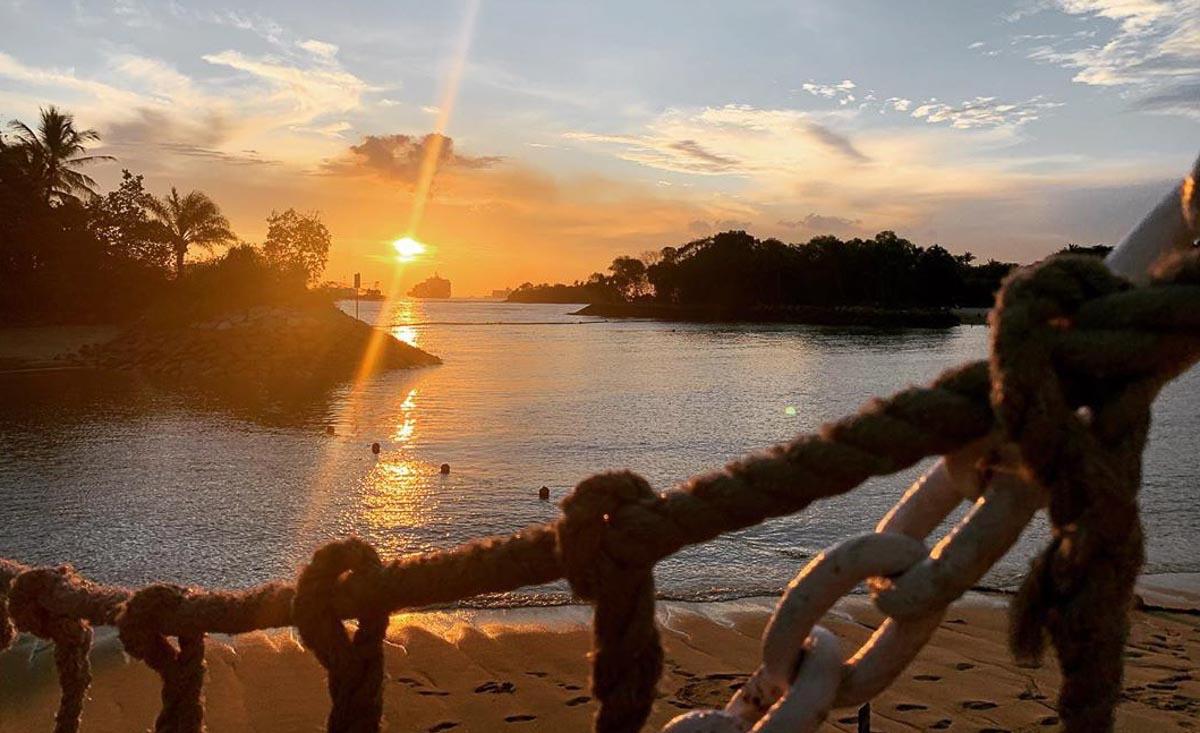 Photo credit: @zim_chen_ via Instagram
As the sun sets, head to the Southernmost Point of Continental Asia, along Palawan Beach. It sits along the South China Sea, all that's separating us from places like Taiwan, Vietnam, and Indonesia. It's been so long since we've gotten to explore these countries.
Gazing out at the South China Sea, you can't help dreaming of your next holiday.
But if you turn around…you'll see suntanned locals playing volleyball on the beach. You'll see stand up paddleboarders and a colourful water park, beautiful forest trails, relaxing villas, gorgeous places to eat… Hey, being on Sentosa is a holiday after all!
Cost: Free
Opening hours: 8AM – 7PM. Closed for maintenance till 14 Oct
How to get there: From Beach Station, take the Beach Tram headed toward Tanjong Beach. Alight at the Southernmost Point stop
Plan a Holiday With These Fun Things to Do in Sentosa
Even if you've been before, there are still lots of things for locals to enjoy in Sentosa.
What's more, you can now get a free Sentosa Fun Pass™ (2 x 10 tokens, valid till 31 Mar 2021) which you can use on Sentosa attractions and activities!
So get off the couch and treat yourself to a world-class holiday — with all that's happened this year, you definitely deserve it.
What's your favourite thing to do in Sentosa? Let us know in the comments below!
---
This post was brought to you by Sentosa™.