When people ask what my favourite country is, I often alternate between Iceland and India. When it's the former, I get nods in agreement (even if they've never visited); But when it's the latter, I usually get a bit of a frown (also, even if they've never visited).
Instead of convincing people why India really isn't as dangerous as a lot of us believe it to be, here are 10 of my favourite cities that has kept us coming back for more.
1) Hampi: India's best bouldering spot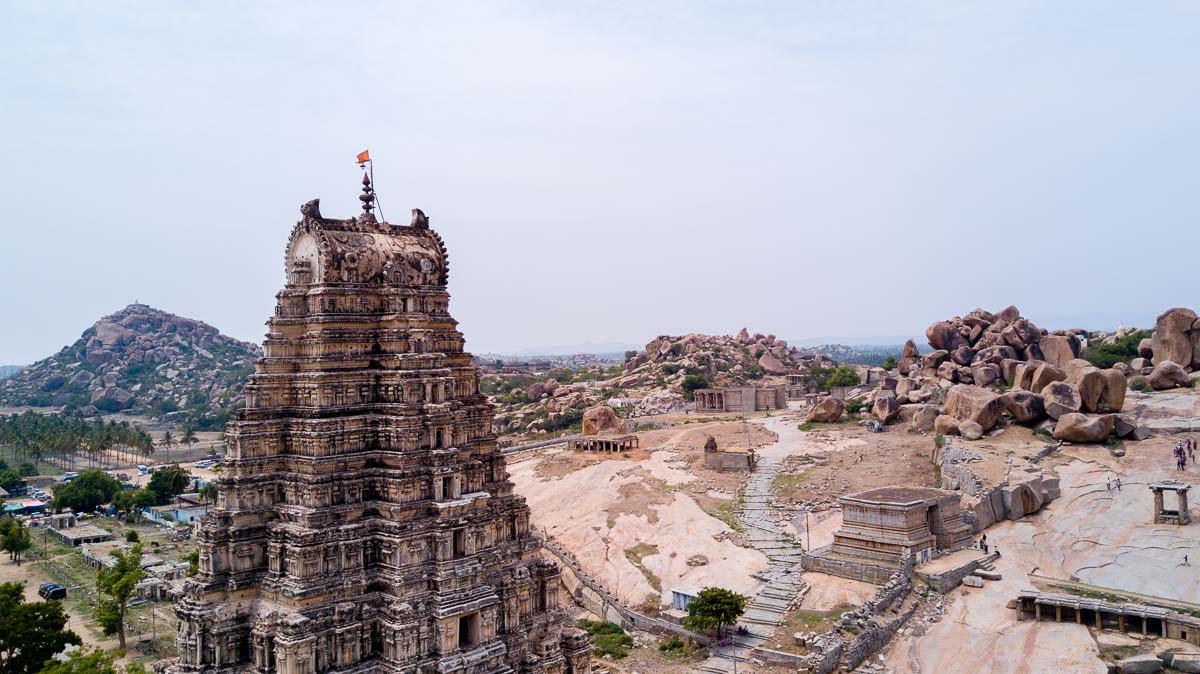 Located in the state of Karnataka, Hampi is a sleepy ancient village with giant boulders balancing precariously off each other; I'd never seen anything like Hampi. The closest thing I could associate it to was a Flinstone park extension pack. We met travellers who planned to visit for a day or two but ended up extending way past their plans and it's really no surprise when you see Hampi for yourself.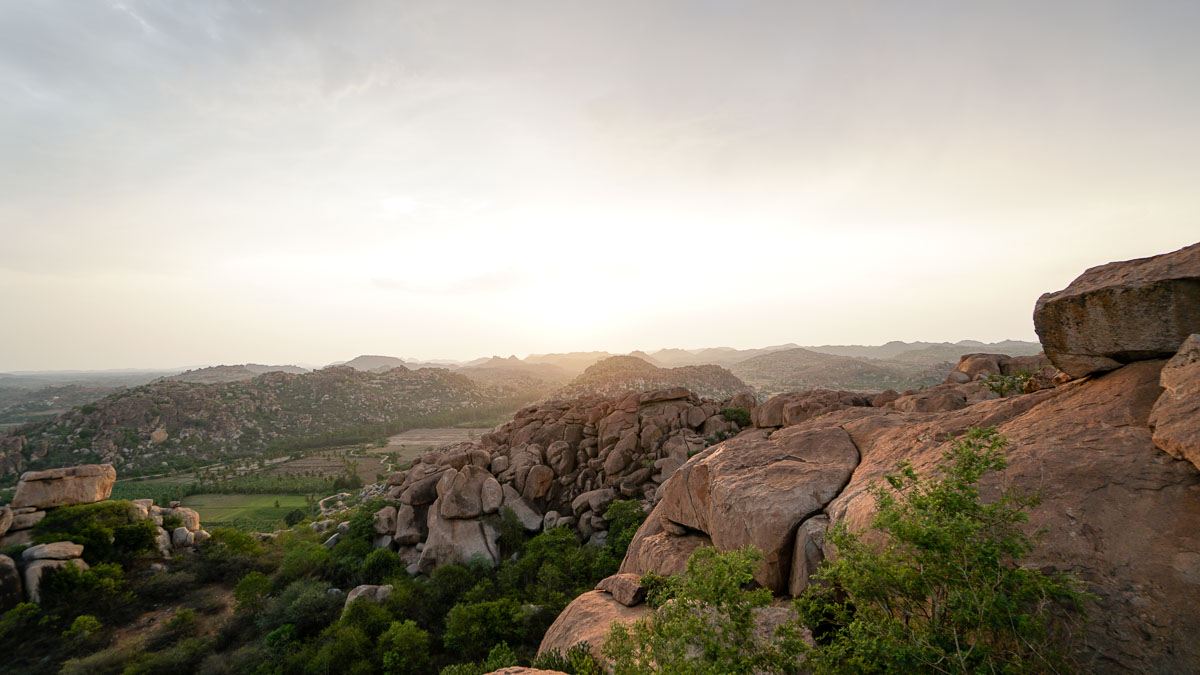 Accommodation: We stayed at the Gopi guesthouse where we met some of the nicest people running the guesthouse. Its rooftop is also the perfect vantage point for the most famous Hampi temple (Virupaksha).
Highlights of Hampi: Bouldering (One of the best bouldering spots in the entire India), explore ruins, the Virupaksha Temple, the Vitthala Temple complex, ride a coracle boat across the river, catch the sunset from Matanga Hill.
How to get there: Fly from Singapore to Bangalore, take an overnight bus to Hosapete –20 minutes away from Hampi by Auto rickshaw.
2) Agra: Home of the Taj Mahal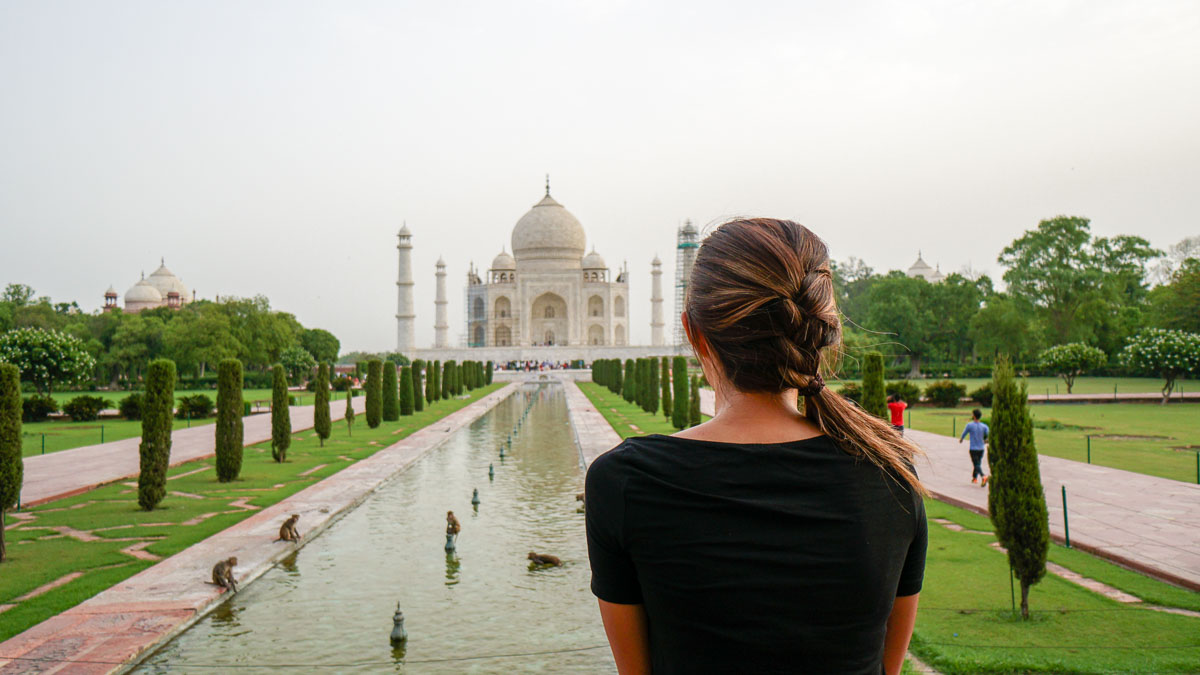 People often head to Agra on a day trip just to check out the Taj Mahal but there's a few good reasons to stay a night or two. The first is that the Taj Mahal is really the best seen in the morning just when the sun starts to rise. I've been there on 3 separate occasions and if I had to go once more, I'd still give up sleep to check it out at sunrise. Not only is it cooler (important if you're visiting from April – July), the crowds are a lot more manageable too.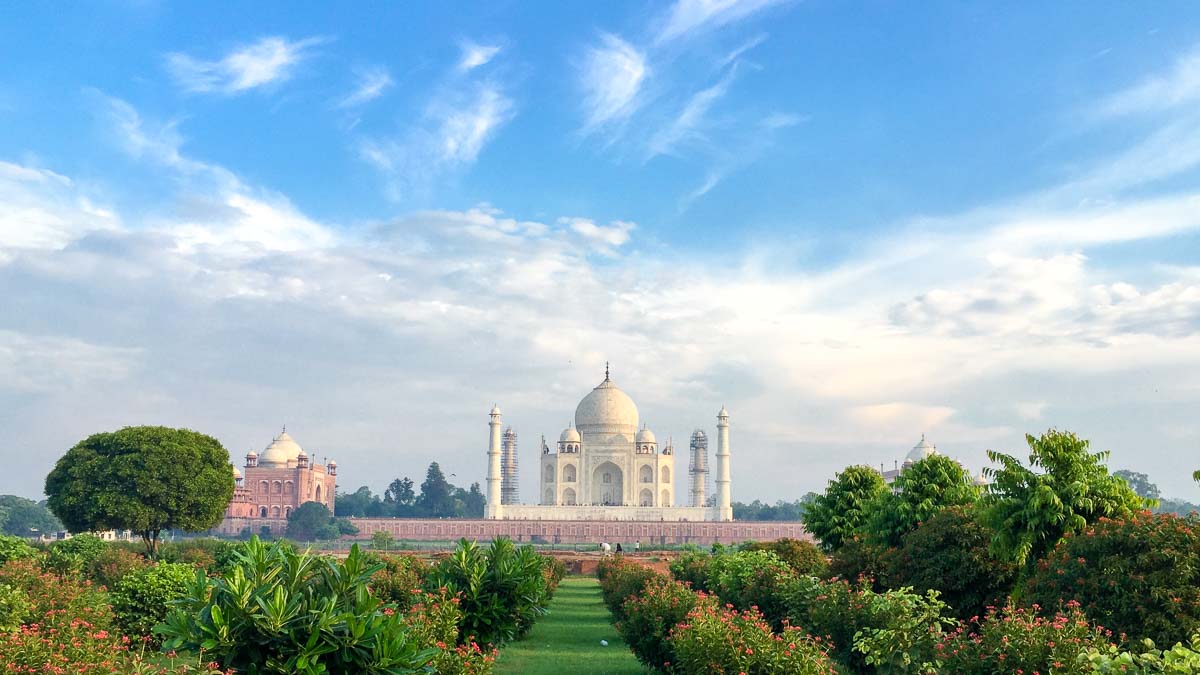 *Pro-tip: Don't forget to check out Mehtab Bagh, a garden located across the Yamuna River and offers a stunning view of the Taj Mahal from the back. Best seen just before the sunsets.
Accommodation: Zostel (10minutes walk to the Taj Mahal East Gate), Crystal Sarovar Premier (a 5 star Hotel with a view of the Taj Mahal).
Highlights of Agra: The Taj Mahal, Agra Fort, Fetephur Sikiri, Mehtab Bagh
How to get there: Fly from Singapore to Lucknow, take a train to Agra Fort station (~6hours). Train travel is pretty comfortable in India especially if you get a 2 or 3AC compartment.
If you're in Delhi and short on time, there are guided day trips you can take to visit the this wonder.
Read Also: 1 Week India Itinerary For First Timers — this covers must-visit cities like Jaipur, Agra, Varanasi and Lucknow.
3) Rishikesh: The Yoga Capital of the World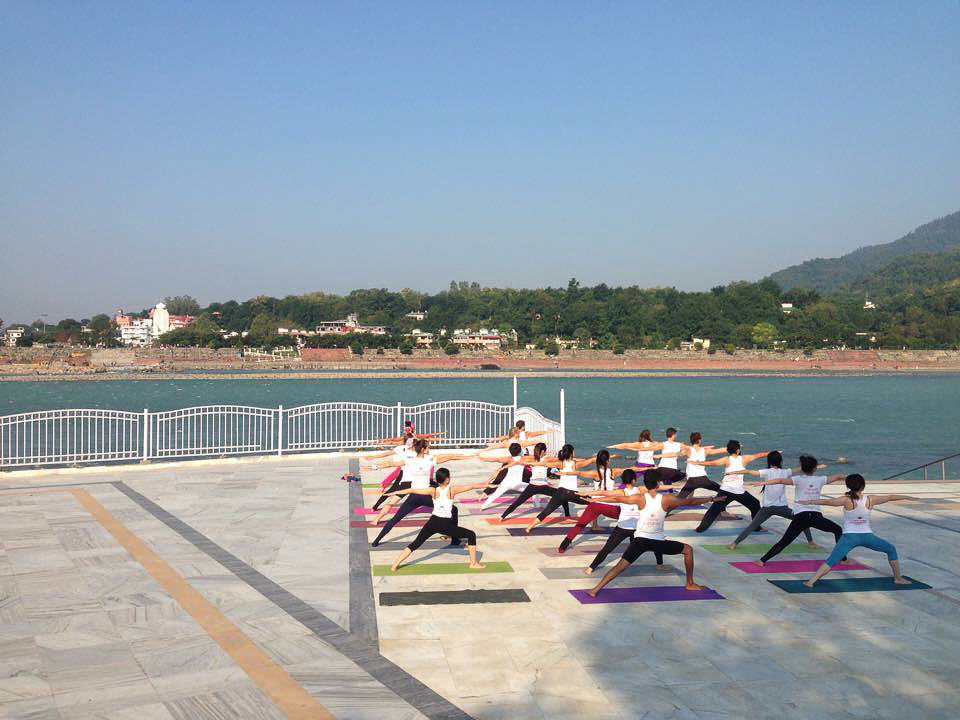 Located in the northern part of India, Rishikesh is filled with ashrams, temples as well as yoga schools. It's also where I chose to spend 3 months completing my 500 hour YTT (Yoga Teacher Training) course. #bestdecisioninlife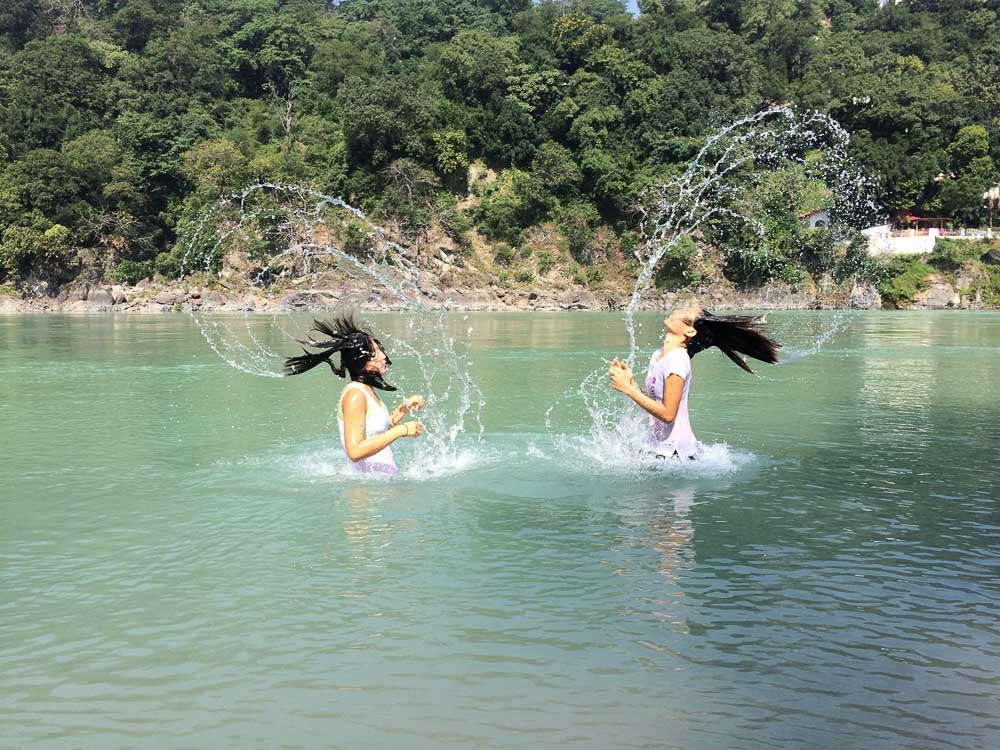 The river Ganga runs through the city and is probably one of the cleanest parts of the river. Bathing in the river is believed to wash away your sins but it was where us YTT students went to relieve our sore muscles from the intensive trainings. The water can be quite cold from November to March and did a great job at healing us through. The city is also meat, alcohol and car free on one side of the ganges river.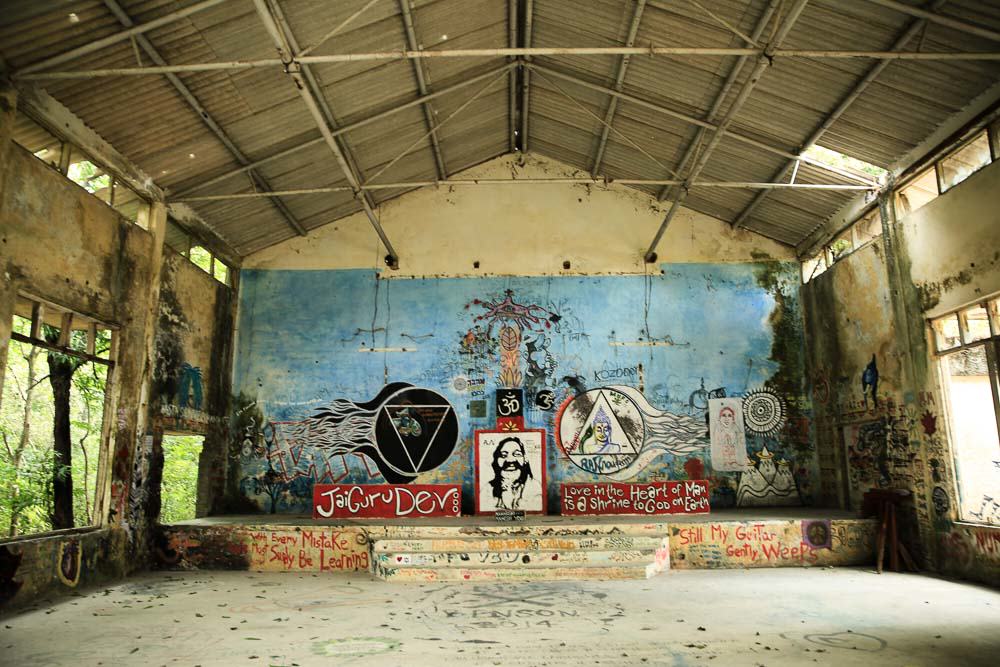 Accommodation: I personally stayed at the school but there are plenty of small cosy rooms in Ram Jhula or Luxman Jhula area for around ₹500/night (S$10).
Highlights of Rishikesh: Take up yoga classes (Or a TTC), dip in the Ganges river, visit the Beatles' Ashram ruin, shop at Tibetian outdoor shops, stock up on books.
How to get there: Fly in to Lucknow, take a 1.5 hour flight to Dehradun (1.5hours to Rishikesh by Taxi). Alternatively, fly to Delhi where there are many 8 hour buses to Rishikesh from Delhi ISBT.
Read Also: 500 hour YTT (Yoga Teacher Training) course
4) Amritsar: Home to Sikhism's holiest shrine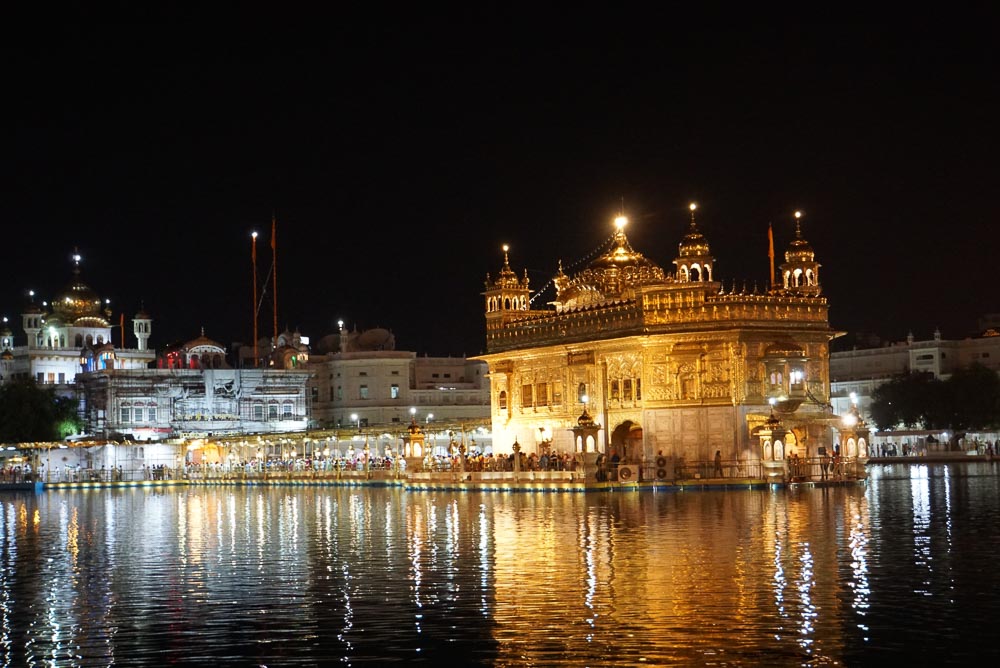 One of India's top sights, the Golden Temple in Amritsar was unlike any other temple we've seen. It wasn't just the crazy amount of gold sitting on the shrine that impressed, we were blown away by how friendly and welcoming everyone was. In our first timer's guide to India, I spoke about how it was common to be stared at in India but within these compounds, we were just another human being.
Sikh temples are known to be welcoming by nature regardless of which country or religion and the Golden Temple embodied this trait best.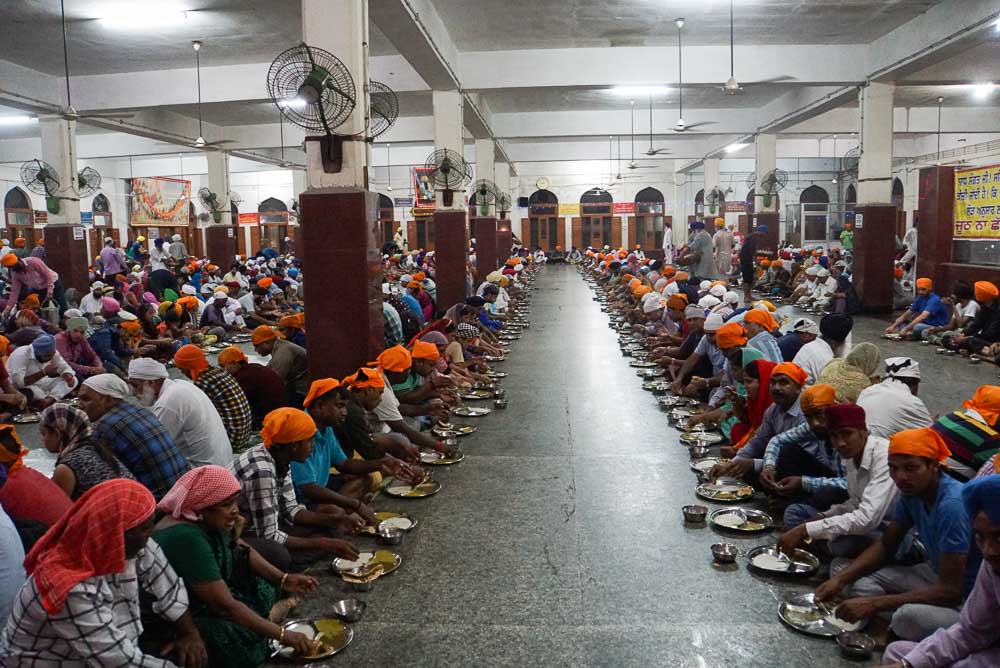 One of the most memorable experiences in Amritsar wasn't so much about how tasty the food was, but how humbling it was sitting in the communal dining hall of the Golden temple together with the locals. People of all religions and countries were equally welcomed for a free hot meal served by volunteers and the food was pretty delicious! Not to mention the amount of organisation and efficiency required to serve over 50,000 people everyday.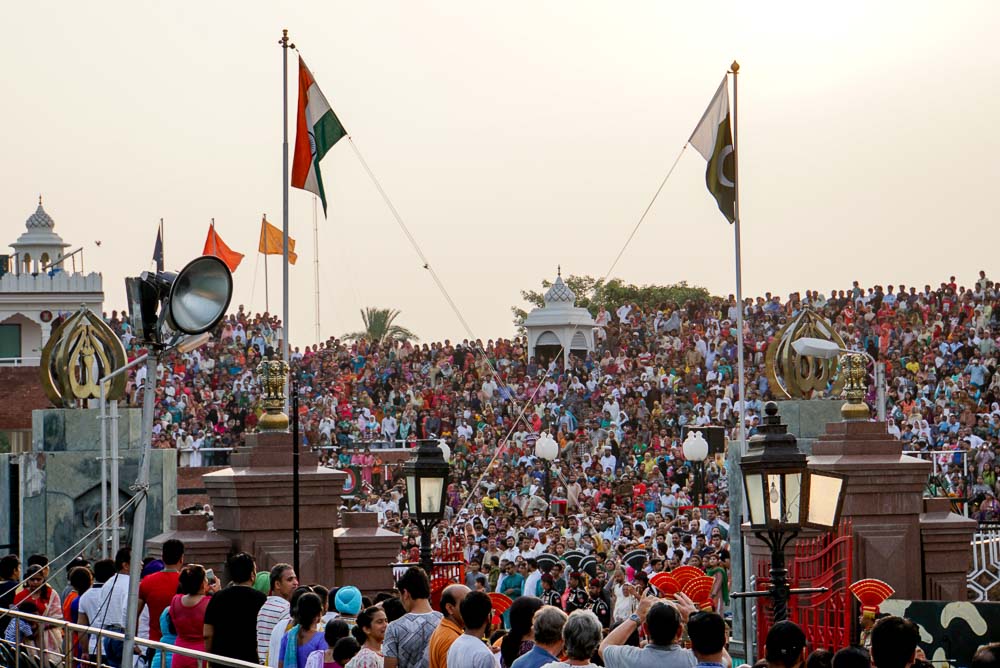 Another fun and eye opening experience was the Wagah Border ceremony — held every single day of the year at the border between India and Pakistan. I shall let you read more about that in Chong Ming's article: The Wagah Border Experience.
Accommodation: Inndia Boutique Hostel or Jugaadus Eco Hostel (Clean hostels with tours run by the hostel) Also look out for the TTI mural drawn by one of our writers Miao!
Highlights of Amritsar: Visit the Golden Temple, have a humbling meal at the temple (free), witness the Wagah Border Ceremony, experience life at a Punjabi Farm.
How to get there: Fly from Singapore to Amritsar direct via Scoot.
Read Also: Amritsar Survival Guide
5) Lucknow: The Gateway to the Heritage Arc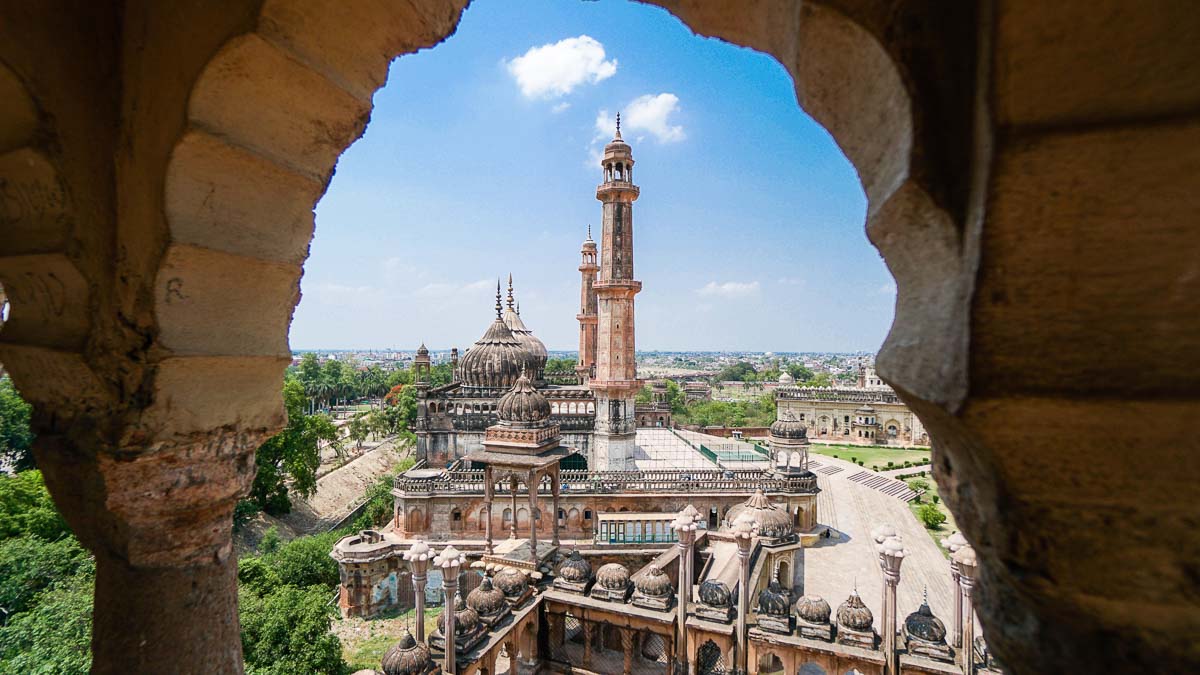 Lucknow I'd say is a far more pleasant gateway to the Northern part of India than Delhi. Located between Agra and Varanasi (both I'd highly recommend visiting), the city is still relatively untouched by tourists with pretty majestic monuments.
The most famous sight of all is the Bara Imambara, which looks impressive even from the outside. But the true highlight is the labyrinth on the top which many local guides claim to have gotten lost themselves; which I feel is a slight exaggeration but still an interesting site to explore.
If you're exploring the Old City of Chowk, don't forget to grab yourself some "melt in your mouth" Kebab from the 100 year old stall Tunday Kebab.
Highlights of Lucknow: The Residency ruins, the Labyrinth of Bara Imambara, the old city of Chowk, Tunday Kebab
How to get there: Fly direct from Singapore to Chennai Via Scoot
6) Chennai: A First Taste Of India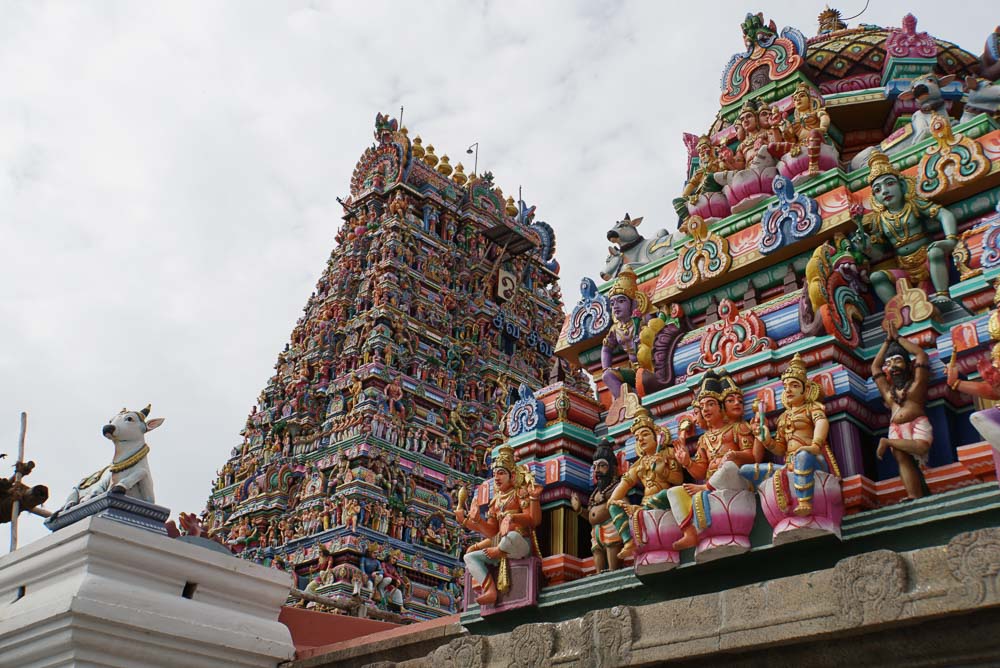 Said to be one of India's safest cities, Chennai has a calm and slow front but has many hidden gems especially when it comes to food! One of our best decisions here was signing up for a food tour with Story Trails. We met Lakshmi who was one of the most passionate tour guides I've ever seen — if she taught me the most boring subject in school, I'd probably ace it. It was that captivating. The way she described each street, it's food and the origins.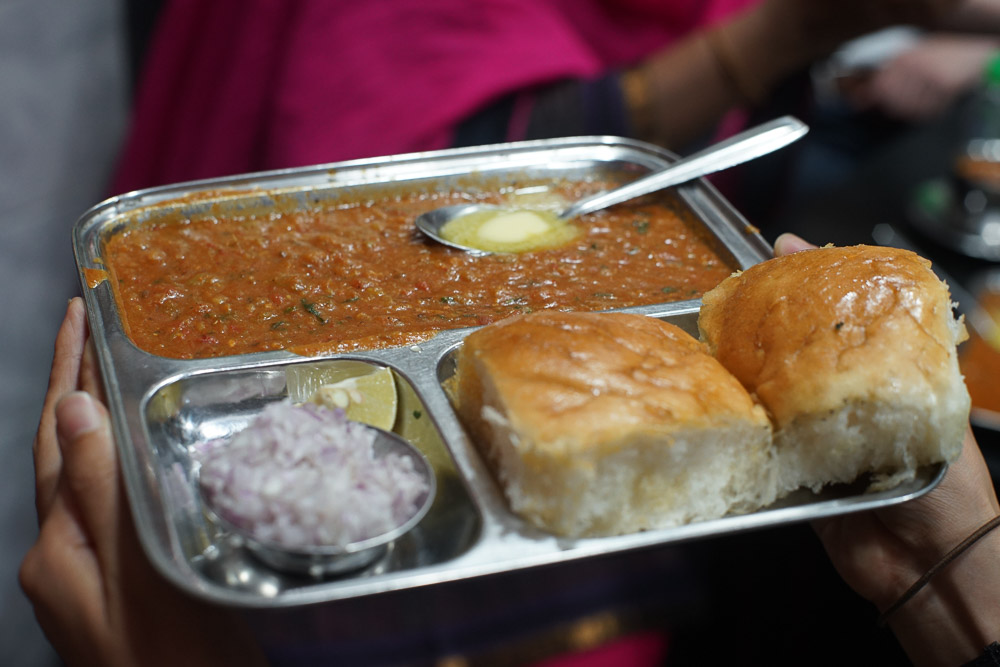 It was also through her that I met the love of my life my favourite food in India, the Pav Bhaji — fried but buttery soft buns that soak up a thick vegetable curry topped with a generous serving of onions. (Give me a moment while I salivate over this memory)
Though, not all raw onions in India are safe for foreigners stomachs so unless you're absolutely sure of the way it was washed, best to avoid.
Accommodation: Red Lolipop Hostel
Highlights of Chennai: FOOD. For other things to do, check out the Chennai Survival Guide
How to get there: Fly direct from Singapore to Chennai Via Scoot.
7) Munnar: Home to the world's highest tea plantation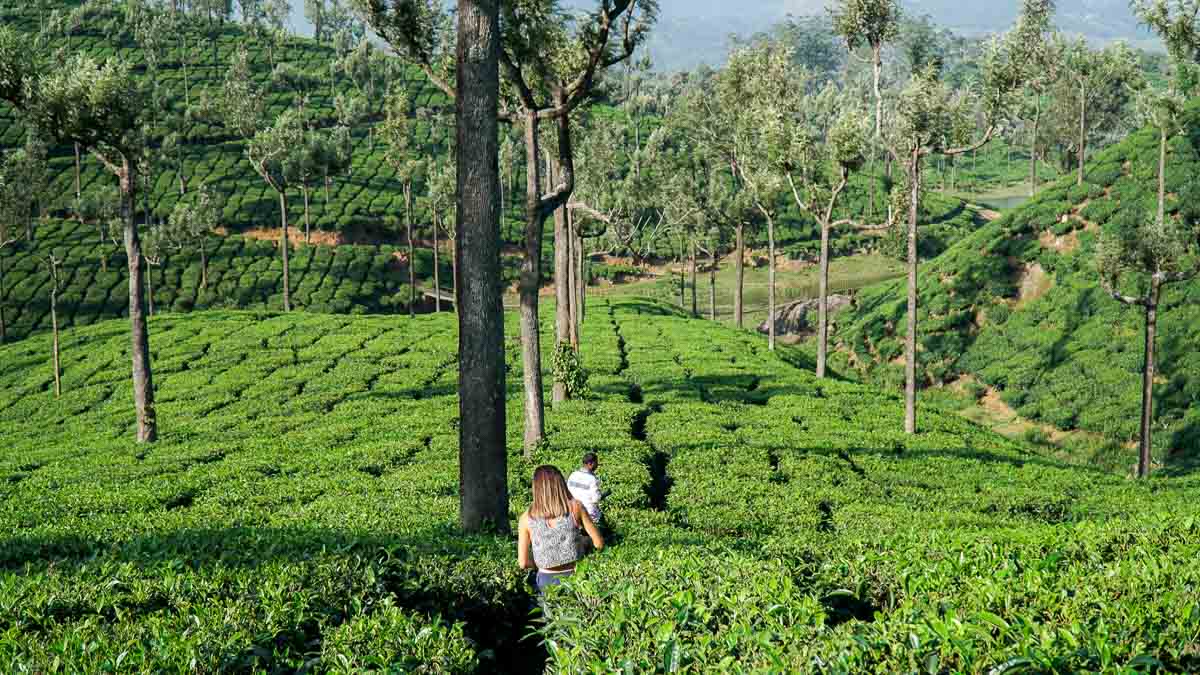 Located in the Kerala region — also known as God's Own Country — Munnar is located in the highlands with elevations ranging from 1,450m to 2,695m. Apart from being a great summer escape to cooler grounds, the incredible views of lush green rolling hills and endless tea plantations has its way of chasing all worries away.
Munnar is also home to Kolukkumalai — the world's tallest organic tea plantation. You can take on a 5 hour hike to the tea factory or book a jeep for a 45-minute ride of your life. Be sure to go at dawn to catch the sunrise!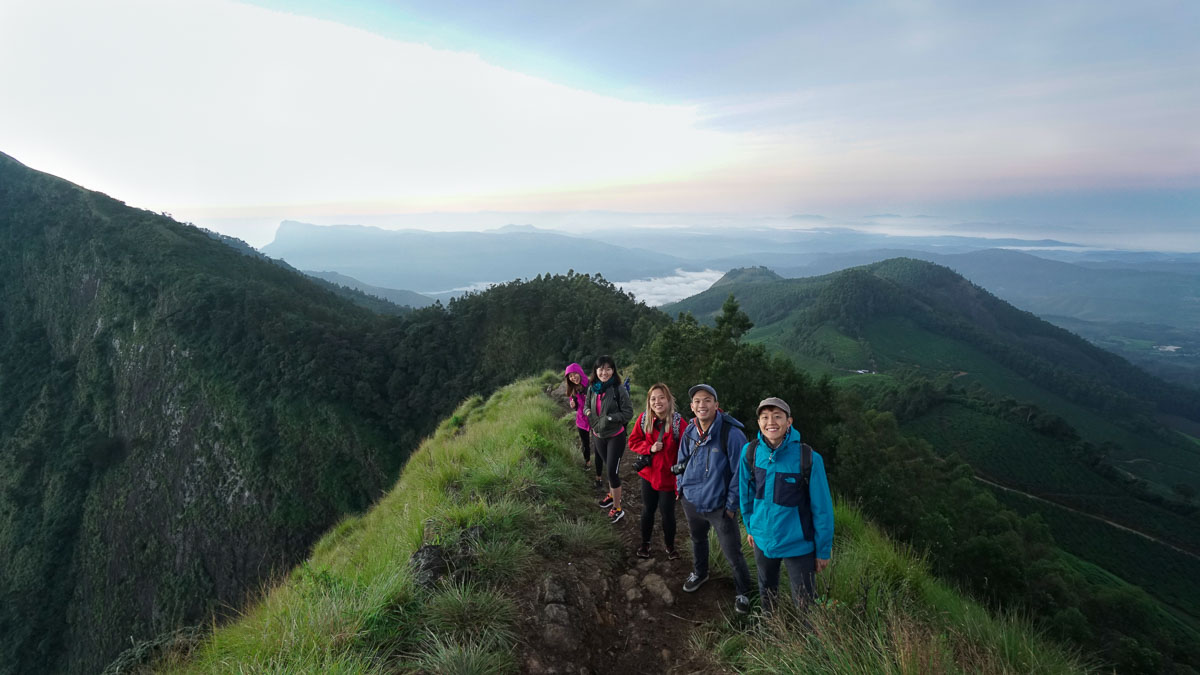 If you're ever in Kerala, make camping in Munnar the top of your to-do list. Imagine waking up to the freshest air and the sun rising over endless greens. This turned out to be one of the highlights during our 8D Kerala trip. We had our camping experience organised by Spice Trails Ecolodge who owns various accommodation options from basic tents to cosier ones with proper beds and an attached bathroom and even cute cottage houses.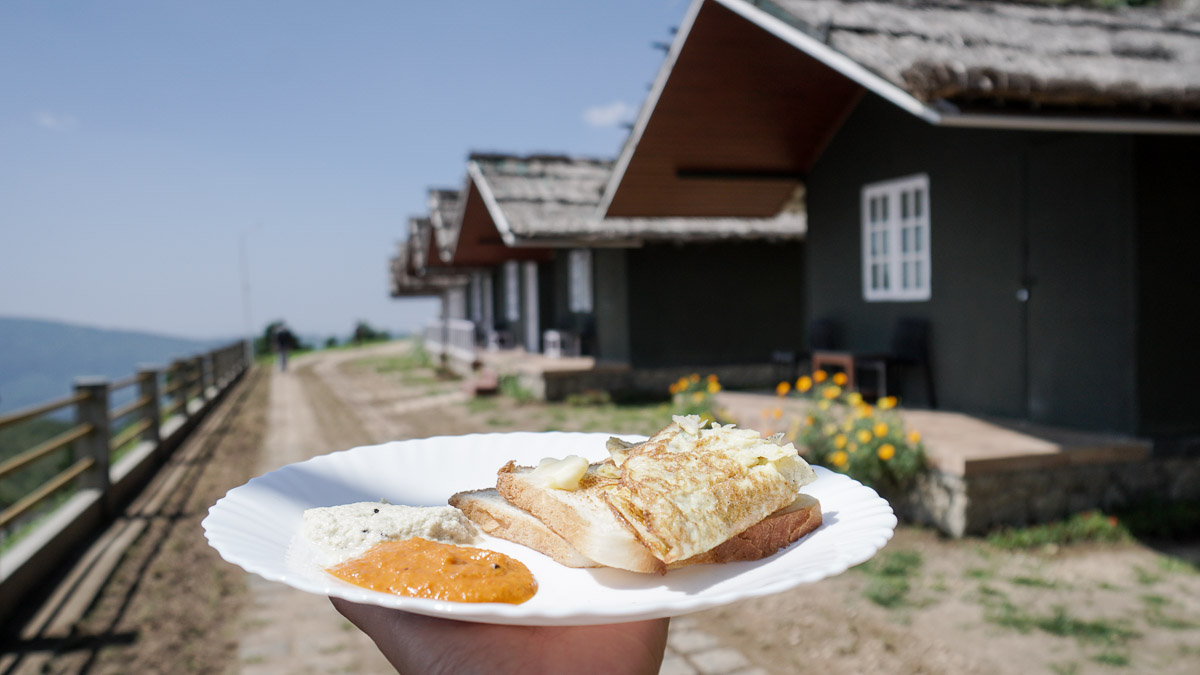 Accommodation: We stayed at Anaerangal Camp run by Spice Trails Ecolodge. Each tent accommodates 3 and comes with an attached bathroom — ₹2,500/pax for a 3 pax tent, includes meals and activities.
Email [email protected] for reservations.
Highlights of Munnar: Glamping in midst of tea plantations, trekking on the ridge line of Kolukkumalai and sipping tea from the world's tallest tea plantation.
How to get there: Fly direct from Singapore to Kochi via Scoot, take a 3 hour a/c bus from Kochi to Suryanelli. The camp will arrange for a jeep to drive you up to your accommodation.
Read also: Top 10 Things to do in Kerala
8) Jaipur: The most Instagrammable ancient city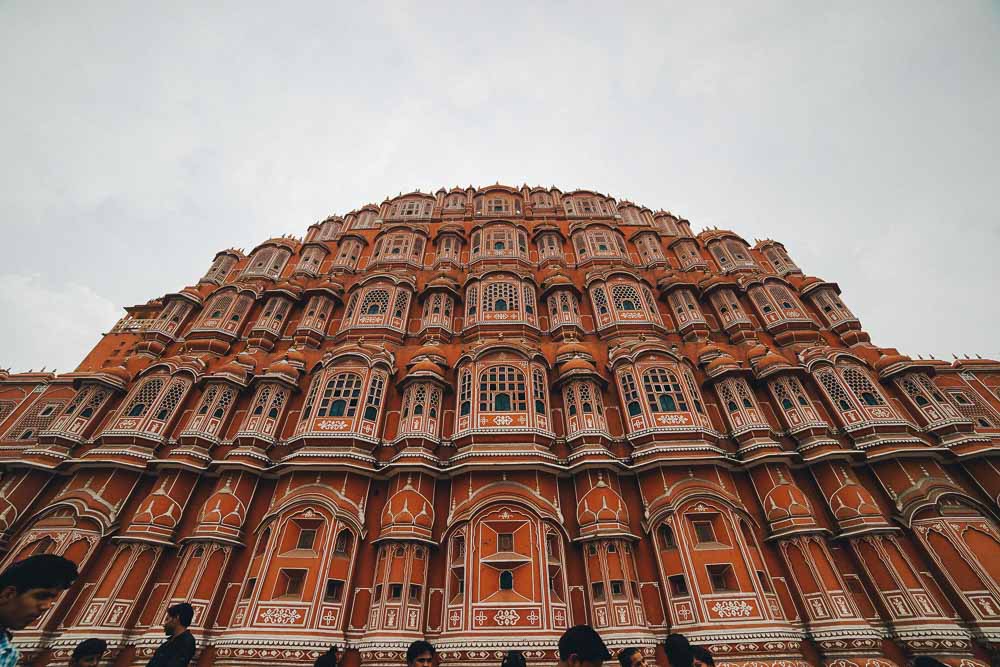 Jaipur is part of the Golden Triangle route which most first timer's to India often take. The first thing you'll notice is the uniform terracotta pink walls that line city — historically known as a colour of hospitality. Despite the chaos of eager touts and auto-rickshaws, walking into any one of the majestic ancient buildings will transport you to an entirely different world. If you're not confident of exploring Jaipur on your own, there are guided walking tours you can join.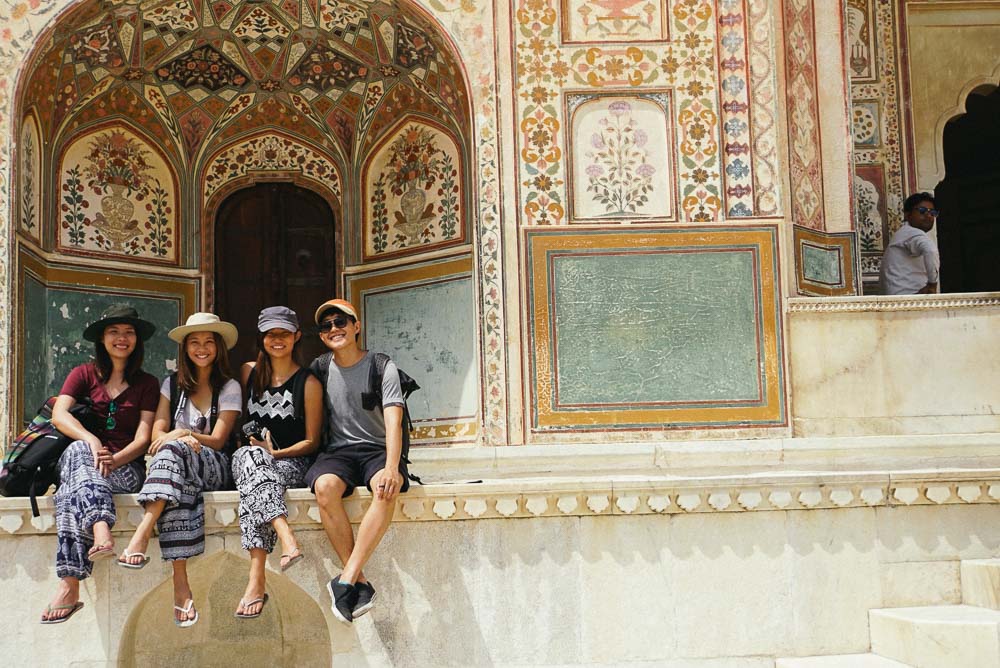 Accommodation: We stayed at Zostel which is the same as the one in Agra but much cleaner and better staffed. They also organise day trips to scenic places 1 hour out of Jaipur. Bhangarh Fort (India's most haunted place) and Chand Baoli are interesting stops worth checking out! More about those in the Jaipur Survival Guide.
Highlights of Jaipur: The colourful Amber Fort, the Hawa Mahal (often seen in postcards of India, the Jantar Mantar, Nahargarh Fort and the Galta Ji (also known as the monkey temple).
How to get there: Fly direct from Singapore to Jaipur via Scoot
9) Dharamshala: Home of the Dalai Lama
Dharamshala was just the respite we needed during one of our 2 week long trip in India. Home to the 14th Dalai Lama and Tibetan refugees, stepping into Dharamshala felt like being in an entirely different country. The air is a lot cooler and has many outdoor activities and treks for adventure travellers.
Yoga and meditation centres are abundant here but many people come to do a 2D1N trek up the Triund Hill. It's a steep but relatively easy trek and camping on the misty hills was one of our favourite memories.
Highlights of Dharamshala: Hike and camp on Triund Hill, visit the residency of the Dalai Lama
How to get there: Fly from Singapore to Amritsar and take a 7 hour bus. You should ask to stop at McLeod Ganj where most of the life is at!
10) Varanasi: The best place to end
I never truly understood how chaos could be charming until we stepped foot in Varanasi. One of the World's oldest cities dating back to the 11th century B.C., we hear that many Hindu Indians make it a point to visit at least once in their lives. "Not every person has the chance to visit", an Indian friend once shared.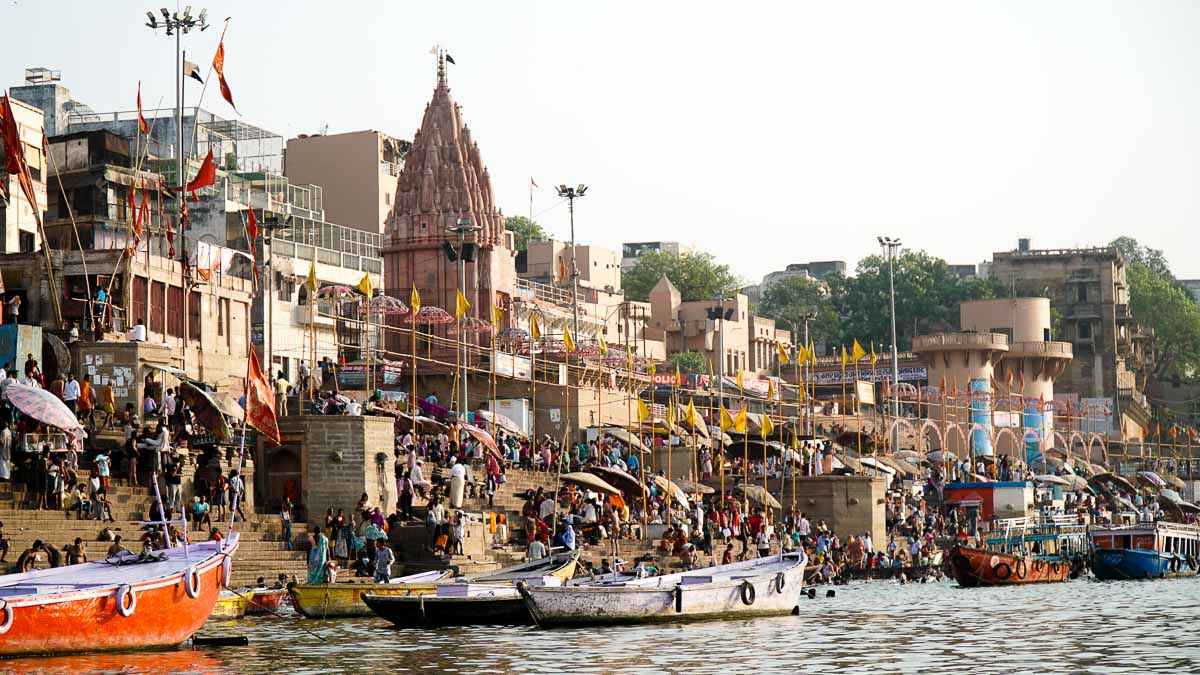 Most of the life in this city happens at the holy Ganges River, believed to wash away a lifetime of sins when bathed in it. With such significance, it's only fitting that the end of life rituals are seen here too. Death is seen in a different light in Varanasi and it's many Hindu Indian's dream to spend their last few breaths in Varanasi before being liberated from reincarnation.
For travellers, there's a lot to see and experience too. A boat ride on the Ganges at sunrise, take your pick at yoga, bollywood or meditation courses or walk down to the Manikarnika Ghat to witness the cremation ceremonies.
Accommodation: Hostelavie
Highlights in Varanasi: Boat ride down the different ghats, Ganga Aarti (Fire Ceremony) Cafe Hopping, Yoga classes, cremation ceremonies at the Manikarnika Ghat.
How to get there: Fly direct from Singapore to Lucknow via Scoot and take an 8 hour sleeper bus to Varanasi.
Embark on your Adventures in India
Scoot flies to 8 different cities in India. While they may not fly direct to some of the cities mentioned above, overnight trains and buses are pretty comfortable too. Rides longer than 6 hours means you'll save on a night of accommodation before embarking on new adventures in your new city. Don't forget to book sleeper A/C options for a comfortable ride! For more tips and answers to your most curious questions on travelling in India, check out our first timer's guide to India!
---
This post is brought to you by Scoot