Book your flight on Scoot before 5th Jan 2018 to enjoy promo fares starting from S$107 to Kochi!
The Taj Mahal, the Ganges River, Indian spices, and Yogi Haven — several things we associate with India. While these are amazing experiences in their own rights, Kerala has a whole bucket list of experiences that have entirely changed what I once thought I knew about India; an often misunderstood country.
Here are our recommended top 10 things you must do the next time you're in Kerala.
Read also: 8D Kerala Itinerary — One of the most beautiful states of India
1) Glamping Among Tea Plantations in Munnar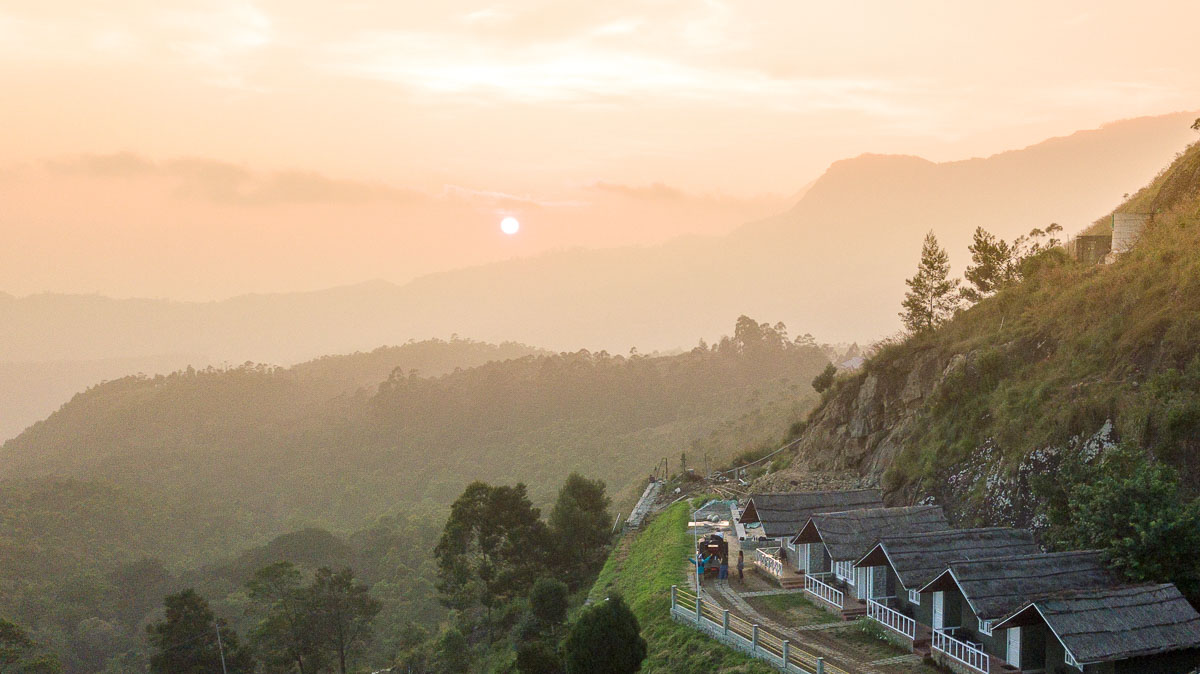 Among the tea plantations of Munnar sits a cluster of tents that welcomes travellers to be within nature, away from the hustle and bustle of city life. Just the perfect getaway from the chaotic city life of India, which can be a little overwhelming for those who are not used to seeing cars and cows share a road.
Not your typical rugged camping experience, Camp Anaerangal is actually a glamping site with tents big enough for a queen sized and single bed along with an attached bathroom (with heater!), so you get to live in comfort while being so close to nature.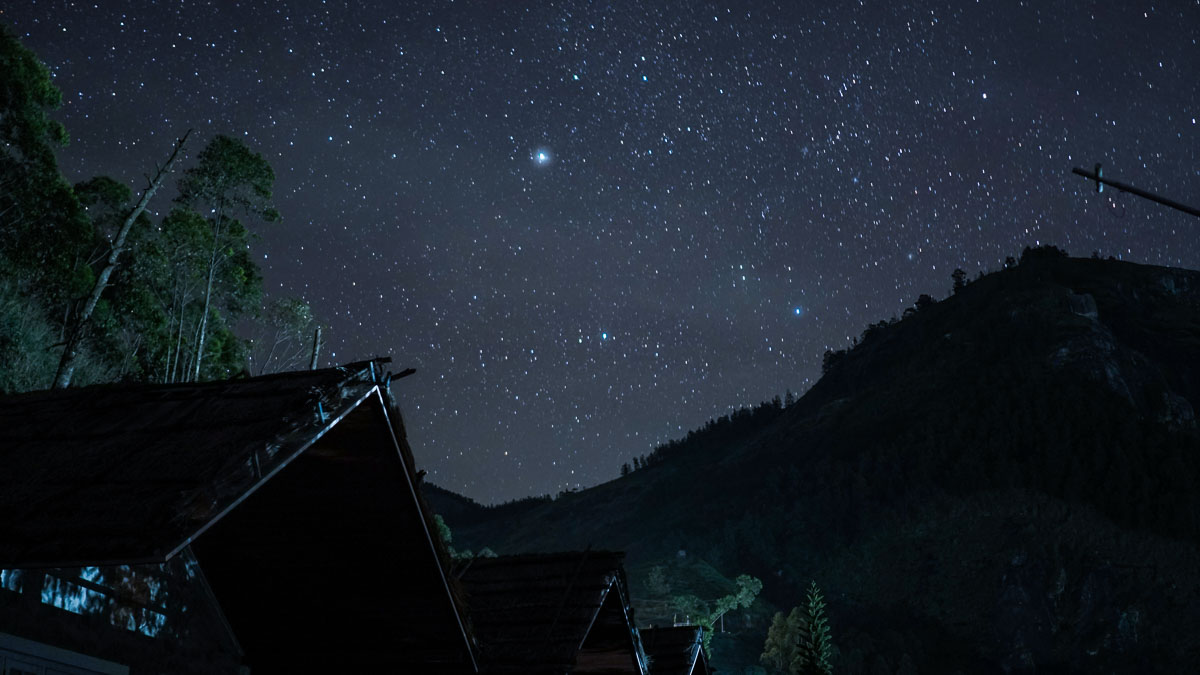 Enjoy some zen within the vast spaces of the tea plantation, and recharge while leaving all digital connections behind at Camp Anaerangal.
Anaerangal Camp
Address: Chinnakanal, Munnar, Kerala, India
Contact: +91 – 8086 694 102
Email: [email protected]
Read also: 10 Trips for a Digital Detox
2) Kayak down the backwaters of Alleppey at Sunrise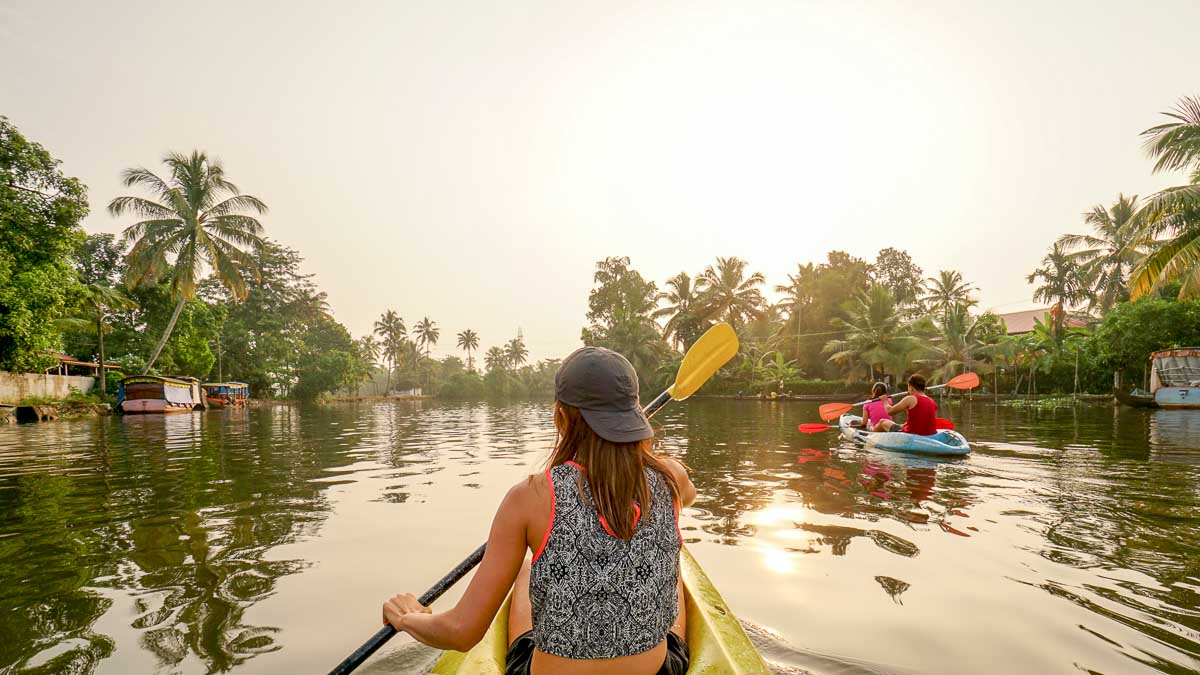 Alappuzha (a.k.a Alleppey) is often called the "Venice of the East" for her canals that connect to Kerala's famous backwaters. Instead of hopping onto a sampan and have someone row you down the backwaters, why not row yourself on a kayak? For us, that turned out to be our favourite way of exploring the beautiful backwaters of Kerala.
We booked our kayak activity from Kerala Kayaking and worked our arms and core muscles for 4 hours down the backwaters.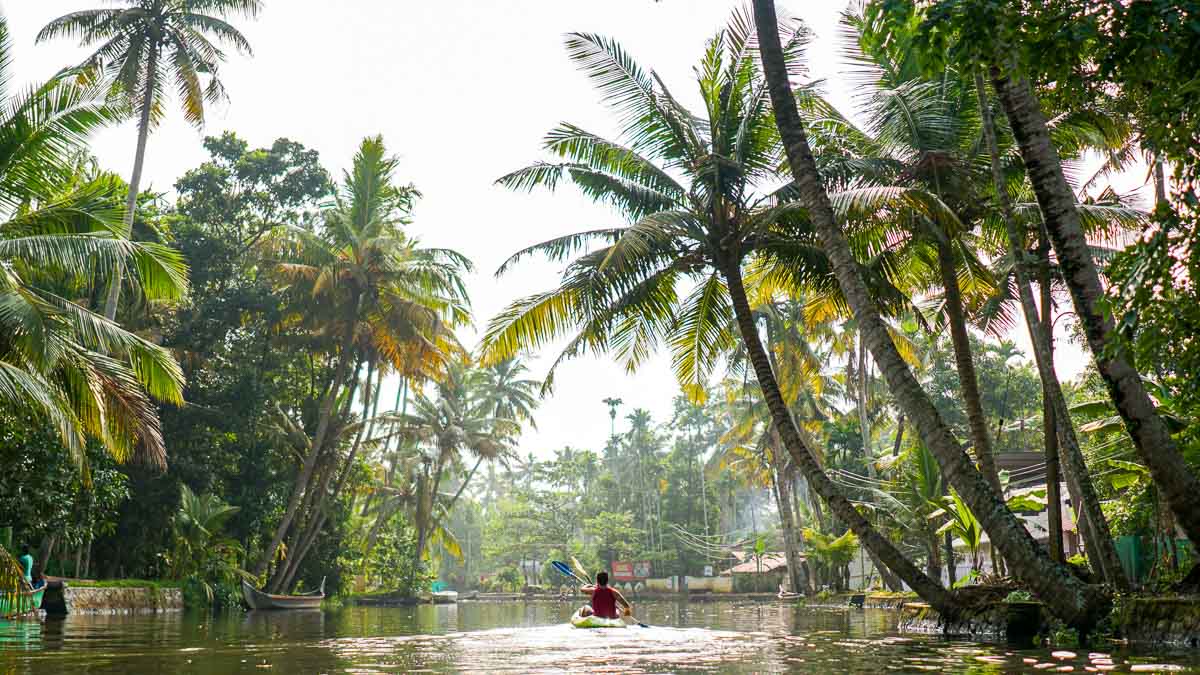 Kerala Kayaking
Cost: ₹2000/pax (incl. pickup & return)
3) Spend a night on a houseboat in Alleppey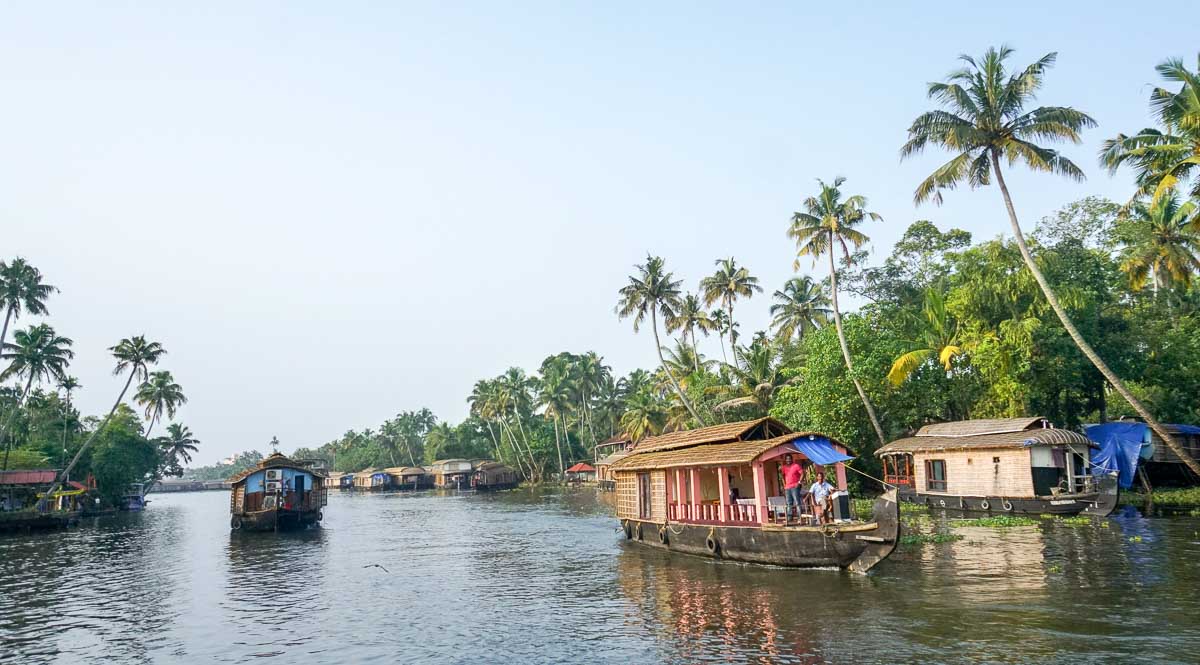 Literally as it's called, a Houseboat is a house that floats and moves on water, like a boat. What's surprising is how big these houseboats in Alleppey are. The one we rented had 4 bedrooms (each with an attached bathroom), a kitchen, and a common area that doubles as the living room.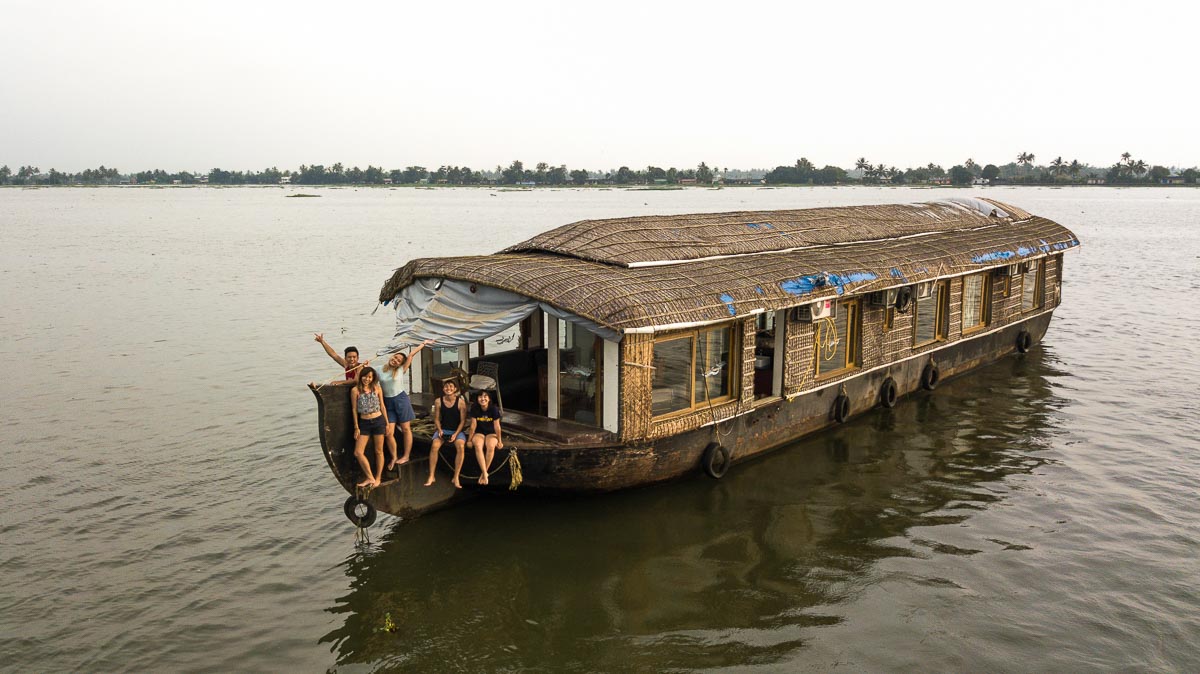 Rental rates are dependent on the number of rooms, and room types — A/C or Non-A/C. We booked ours through Aqua Serene Houseboats, but there are plenty more companies offering similar houseboat experiences at very competitive pricing. If you are travelling solo, there are also daily boat tours available.
4) Watch the Sun enter a Lion's mouth at Kolukkumalai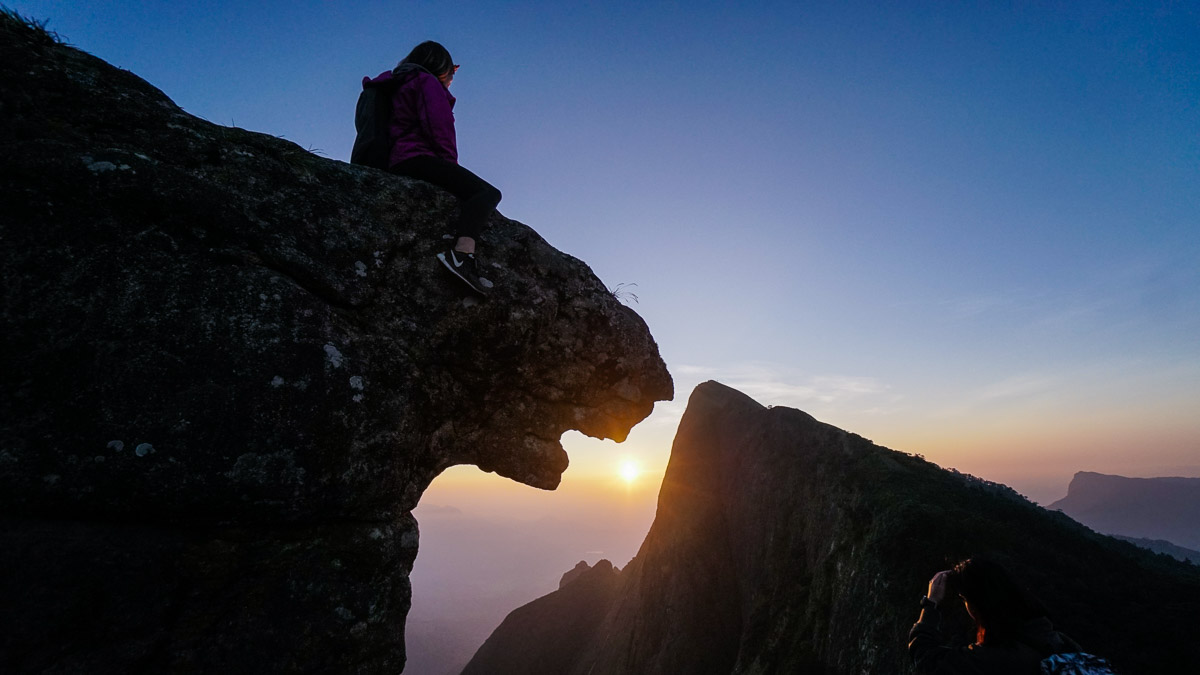 At Kolukkumalai, there's a natural rock formation the shape of a lion's head, known locally as Singamala. Catch that special moment when the rising sun enters the lion's mouth.
Kolukkumalai is also home to the highest tea plantation in the world, being at the top of the mountains at Kolukkumalai will guarantee you stunning 360° sunrise views.
If you stay at the Anaerangal Camp (mentioned in point #1), you can request for a morning hike, and a campsite staff will drive you up the mountains on a jeep.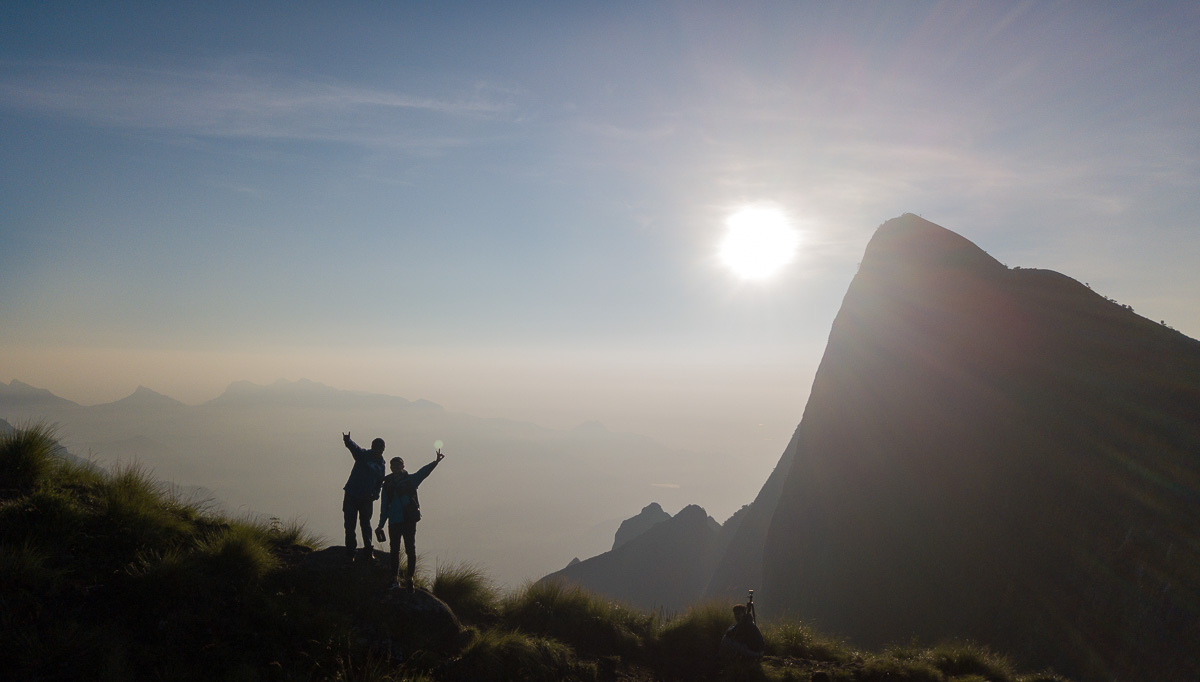 5) Drink freshly brewed tea at the world's highest organic tea plantation and factory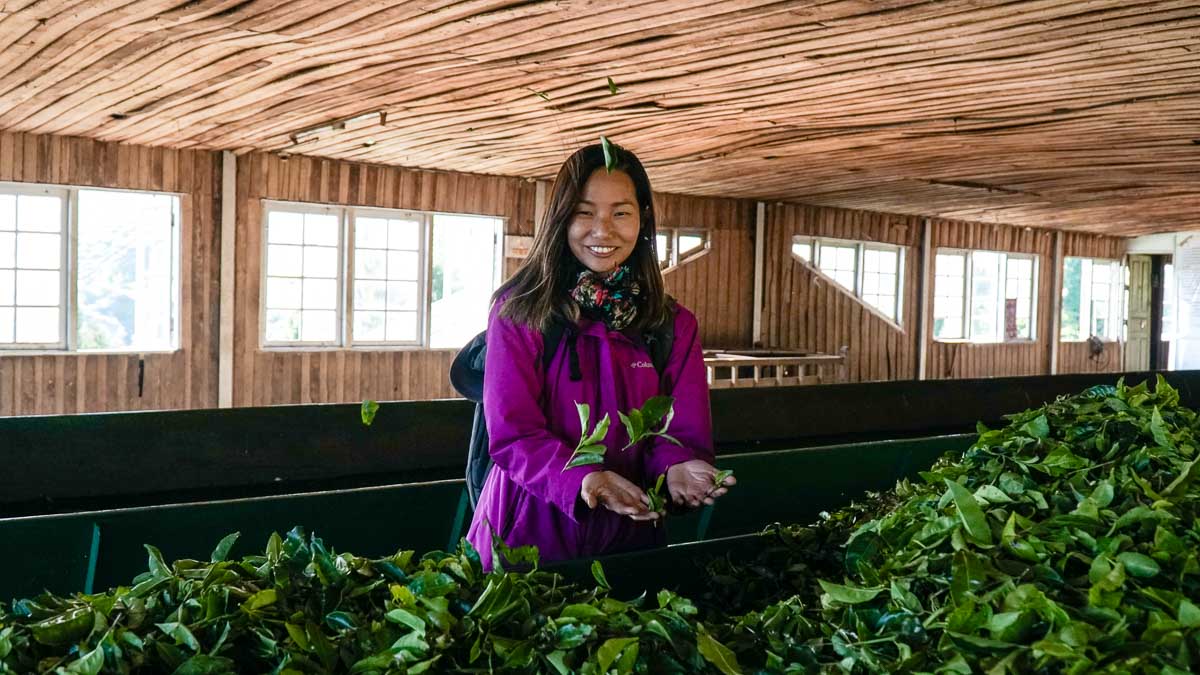 As mentioned in the above point, Kolukkumalai hosts the world's highest tea plantation at 8000ft above sea level. Due to the high altitude, tea leaves produced at Kolukkumalai is said to have a special aroma and distinct freshness to them.
Sip on a cup of freshly brewed chai while overlooking the vast green plains of tea plantation that go on forever.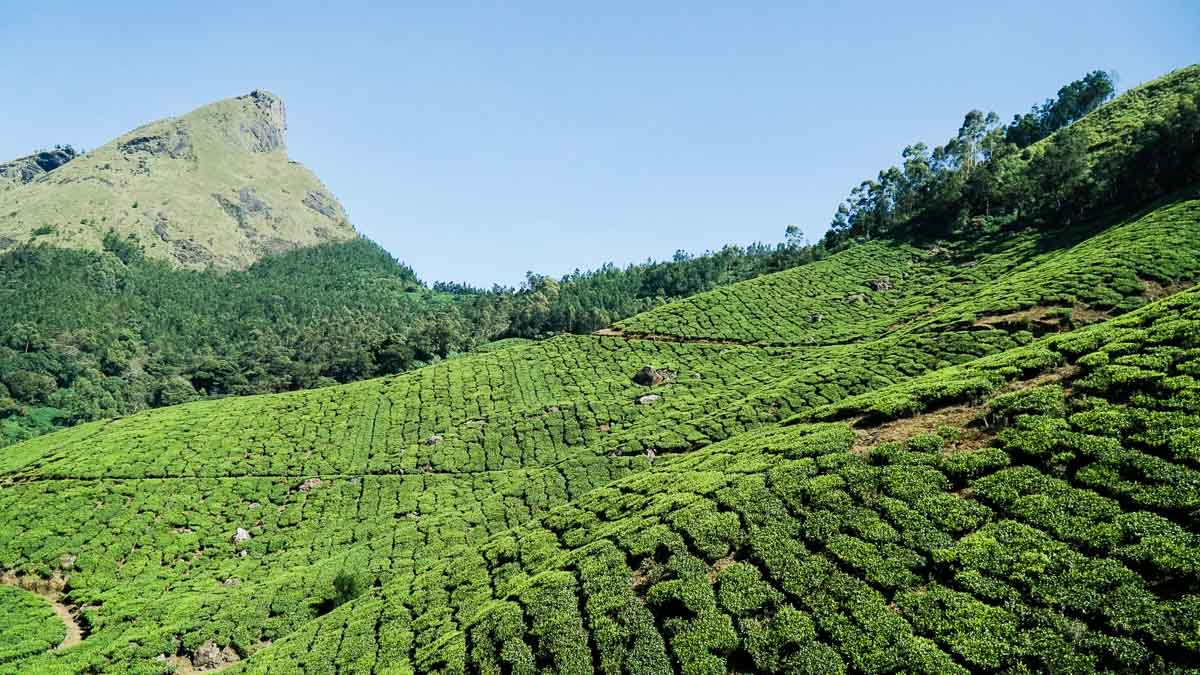 If you are staying at
Anaerangal Camp
, the jeep driver will drive you to the Kolukkumalai Tea Estate after the sunrise tour.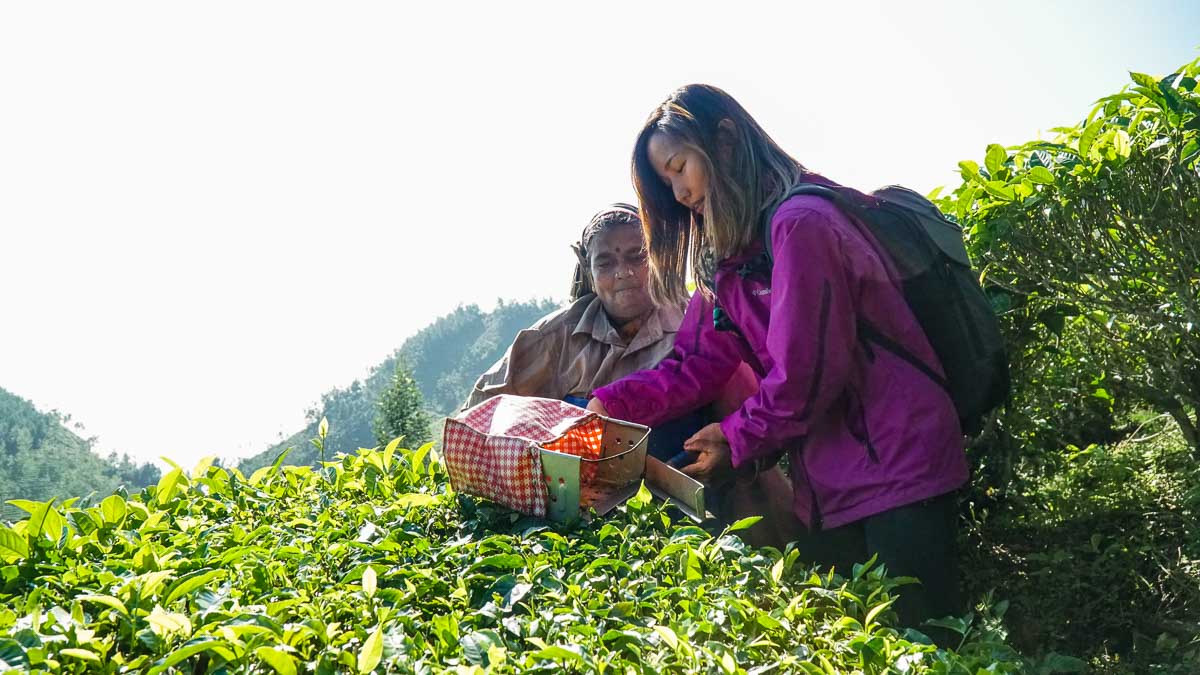 At the factory, you'll also get to see the process of tea making, from harvesting, drying, separating, to the packaging of the tea leaves.
Among the many acres of tea plantation, you'll get to see some tea ladies harvesting tea leaves. They are very friendly and would gladly let you take over the leaf-cutting for a bit.
Kolukkumalai Tea Estate
Address: No.12, East Veli Street. Bodinayakannur 625582
Opening Hours: 8AM to 6PM daily
Entrance Fee: ₹100/pax (incl. 1 cup of tea)
6) Spot animals on the river banks of Periyar Tiger Reserve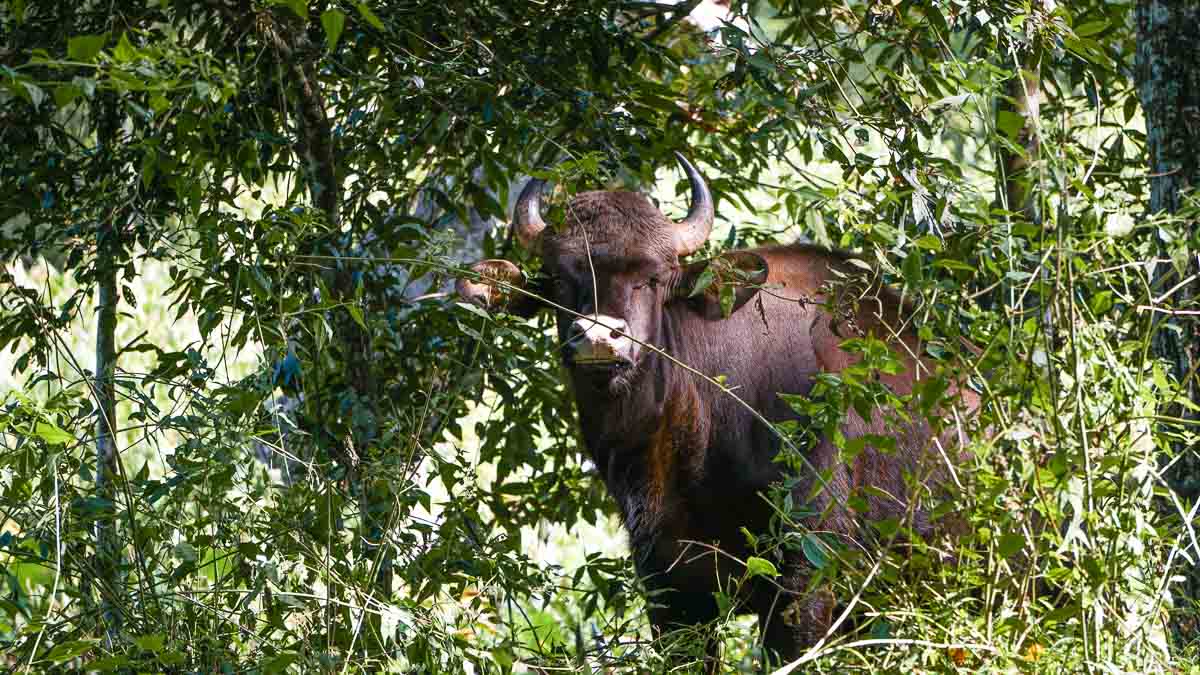 If you are one who loves flora and fauna, you'll want to visit the Periyar National Park (a.k.a Periyar Tiger Reserve). There's said to be ~40 tigers in the national park, but the last time any was spotted was around 2 years back. However, there are still elephants, bisons, deer, monkeys, otters, and many other avian species more commonly spotted within the national park.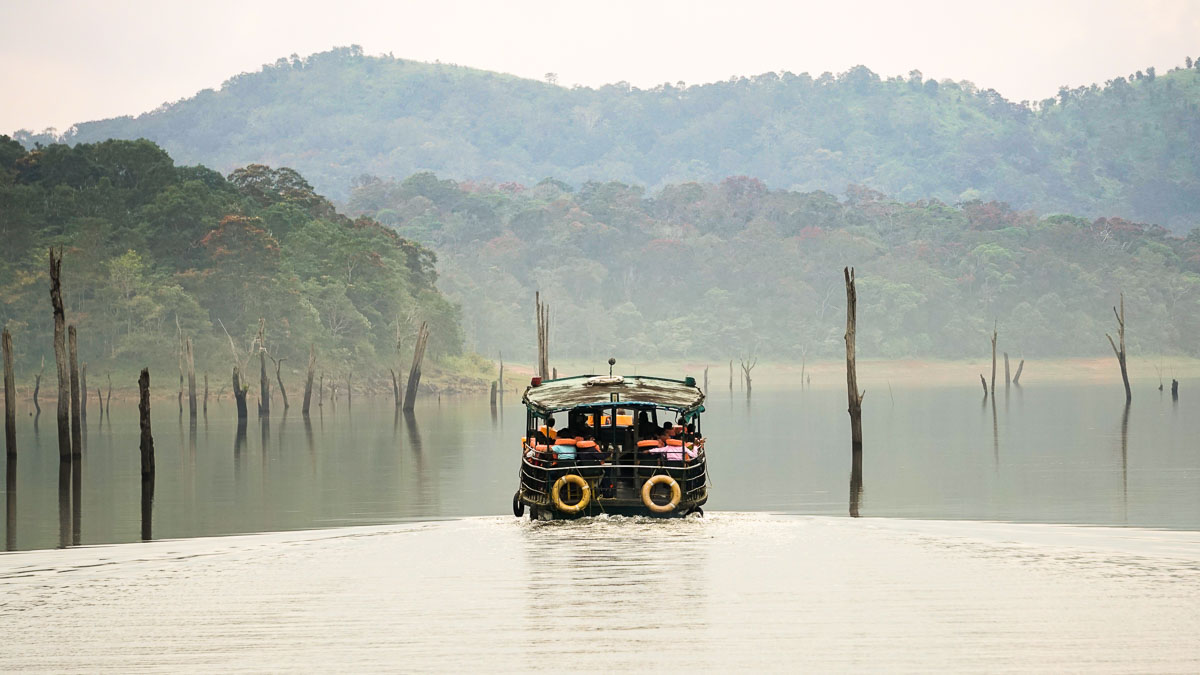 You can choose to cruise along the Periyar Lake effortlessly on a boat, but if you are more adventurous, you can also opt for hiking programmes within the national park. All programmes can be booked from the Eco Tourism office.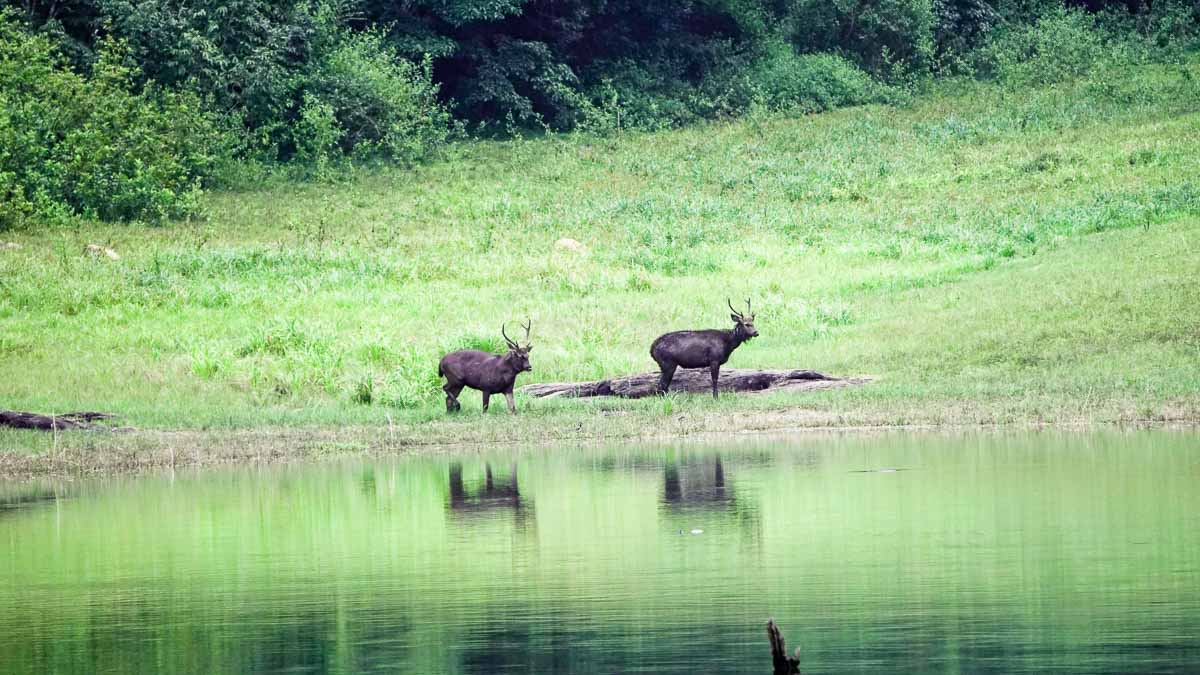 We tried bamboo rafting and boating, and we will recommend the boating experience as it's a lot cheaper, and you'll get to see more animals. If you are trekking, go for the morning session only as most animals would be sleeping as it's too warm in the late morning to afternoon.
Periyar National Park
Address: Thekaddy, Kumily, India
Opening Hours: 6AM – 7PM daily
Costs-
Entrance Fee: ₹450/pax
Bamboo Rafting: ₹1800/pax (half-day), ₹2400/pax (full-day)
Boating: ₹225/pax (+Bus ride ₹10/pax)
7) Check out India's very own Niagara Falls — Athirappilly Falls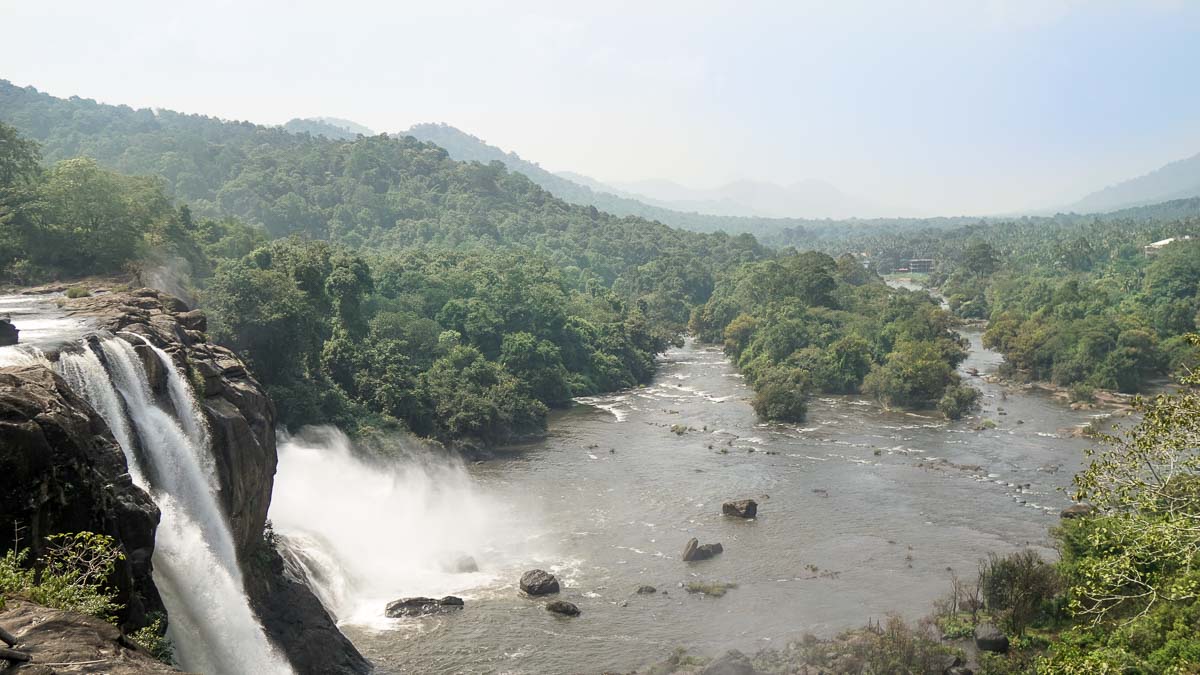 Some of the most breathtaking sights that Mother Nature offers would be her waterfalls. In Kerala, the Athirappilly Falls is the most magnificent, and is even touted as "India's Niagara Falls". The best time to visit Athirappilly would be post-monsoon when the rapids are fuller and stronger.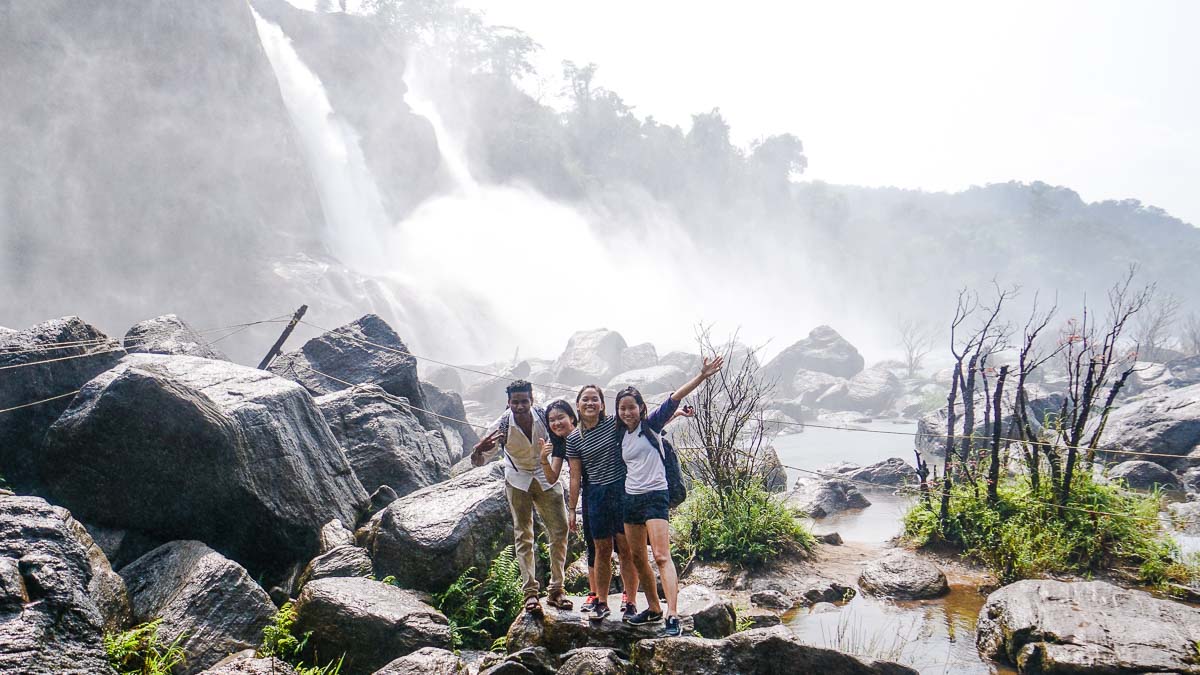 Athirappilly Falls
Address: Athirappilly, Chalakudy Taluk, Thrissur District, Kerala, India
Opening Hours: 8AM – 6PM daily
Entrance Fee: ₹30/pax
8) Watch Fishermen Operate these Giant Chinese Fishing Nets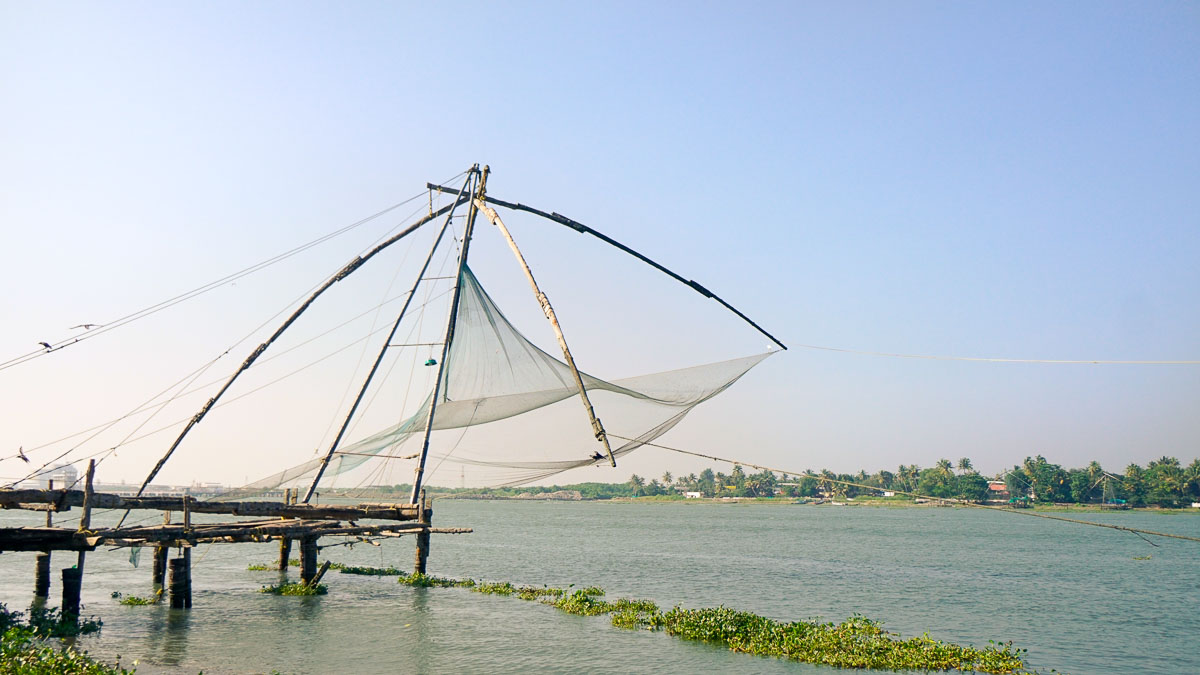 If you've googled "Kerala", you'll probably be bombarded with countless pictures of these giant weird wooden contraptions known as "Chinese fishing nets". Indeed, these wooden contraptions are iconic of Kochi — a state that's by the sea.
You might be wondering why the name "Chinese fishing nets" when it's in India. It's said that the shore-operated fish nets were introduced to India by Cheng Ho, a Chinese explorer of the Ming Dynasty.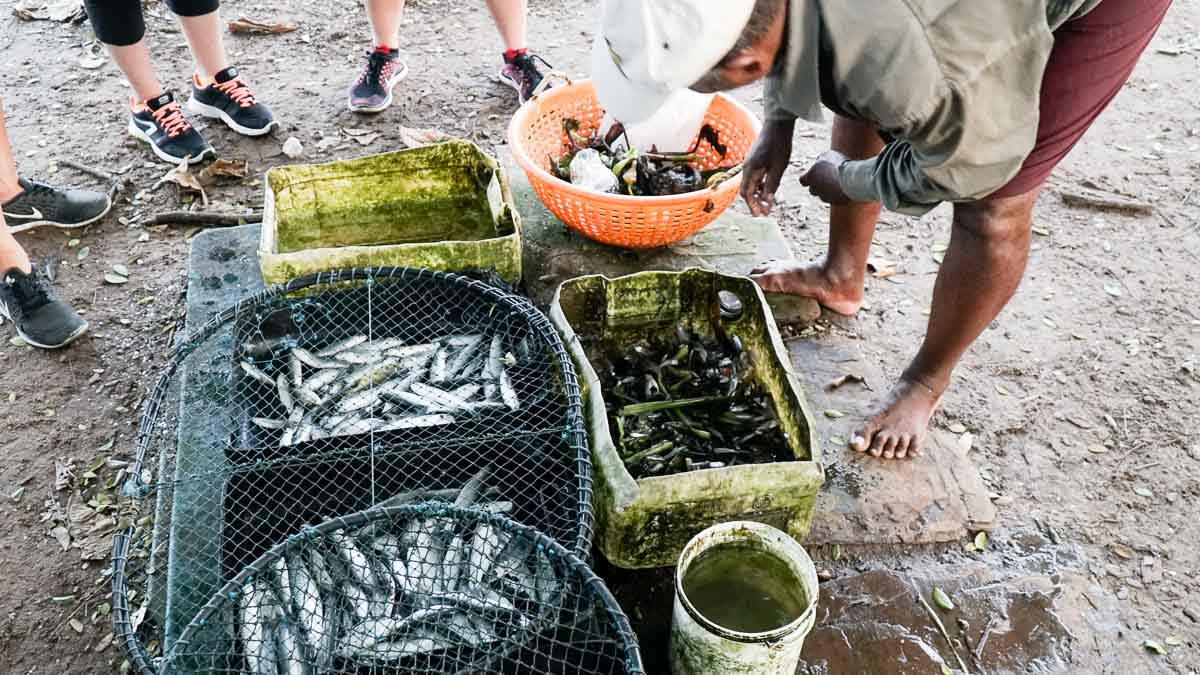 Most of the fishing action happens in the early morning at around 6AM, so do get up early to see how local fishermen pull up seafood in the freshest possible way. You can expect a good selection of fresh seafood at affordable prices at eateries in the heart of Kochi city such as Fusion Bay.
Chinese Fishing Nets
Location: Kochi Beach
Timing: Early morning around 6AM
9) Indulge in an Oil-Drip Ayurvedic Massage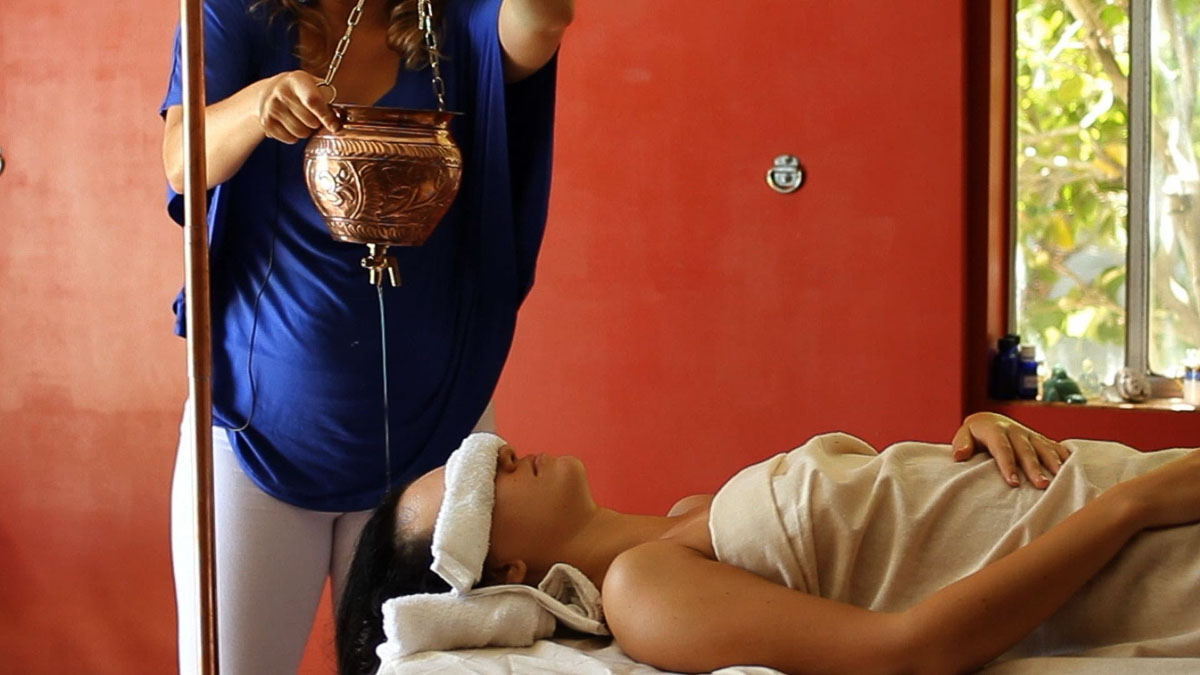 Ayurvedic treatment is one reason many Western travellers visit India, and it's said to promote health and general wellness. However, Ayurvedic massages can also be enjoyed after a long day of walking, just to soothe those tired calves or aching shoulders. Ayurvedic massages can be done in almost any city in Kerala, we tried one in Kumily and another in Alleppey (₹800/1200 for full body treatment).
Shirodhara is an Ayurvedic healing technique which involves gentle head massage and the dripping of a slow stream of warm oil onto the forehead. The therapeutic process will relax you from head to toe, leaving you rejuvenated and refreshed.
10) Learn the 9 Facial Expressions of a Kathakali Dancer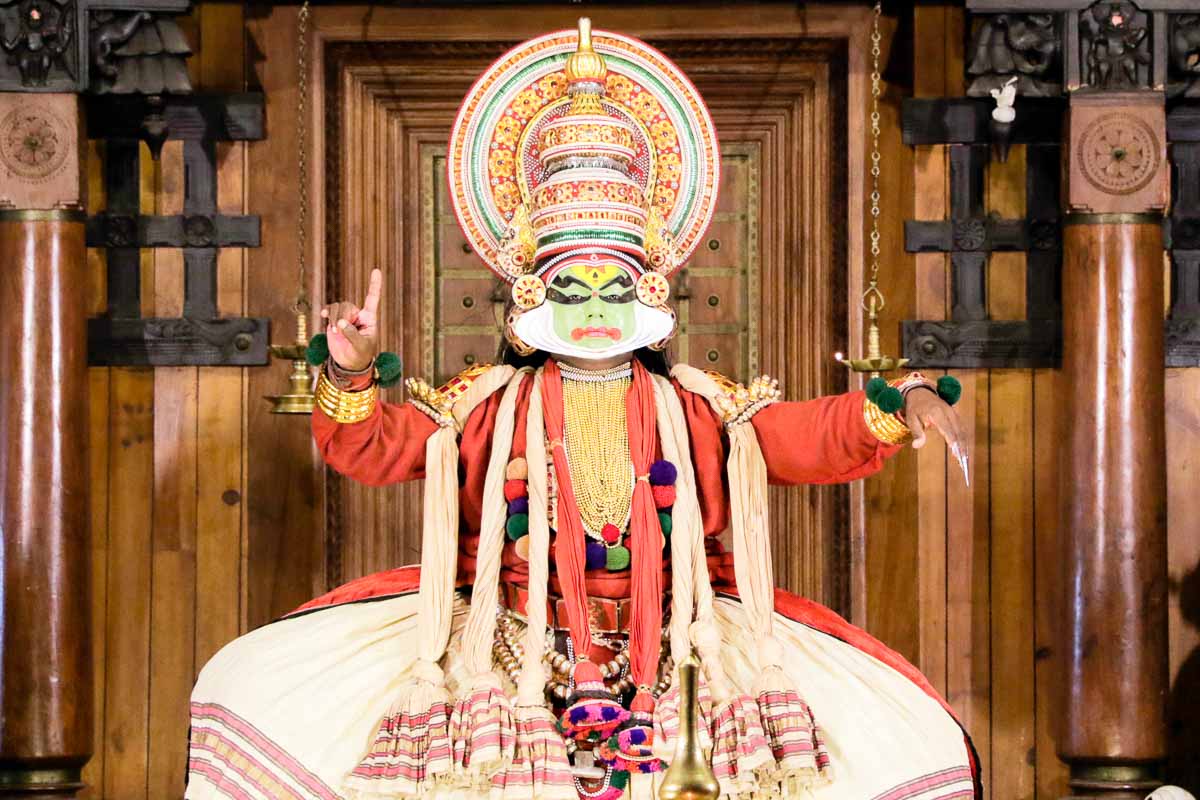 In Kerala, it's not difficult to spot posters with a green face with an exaggerated headgear. That's the iconic makeup donned by Kathakali performers. Kathakali is a form of classical Indian dance distinguished by its elaborate and colourful make-up and costumes.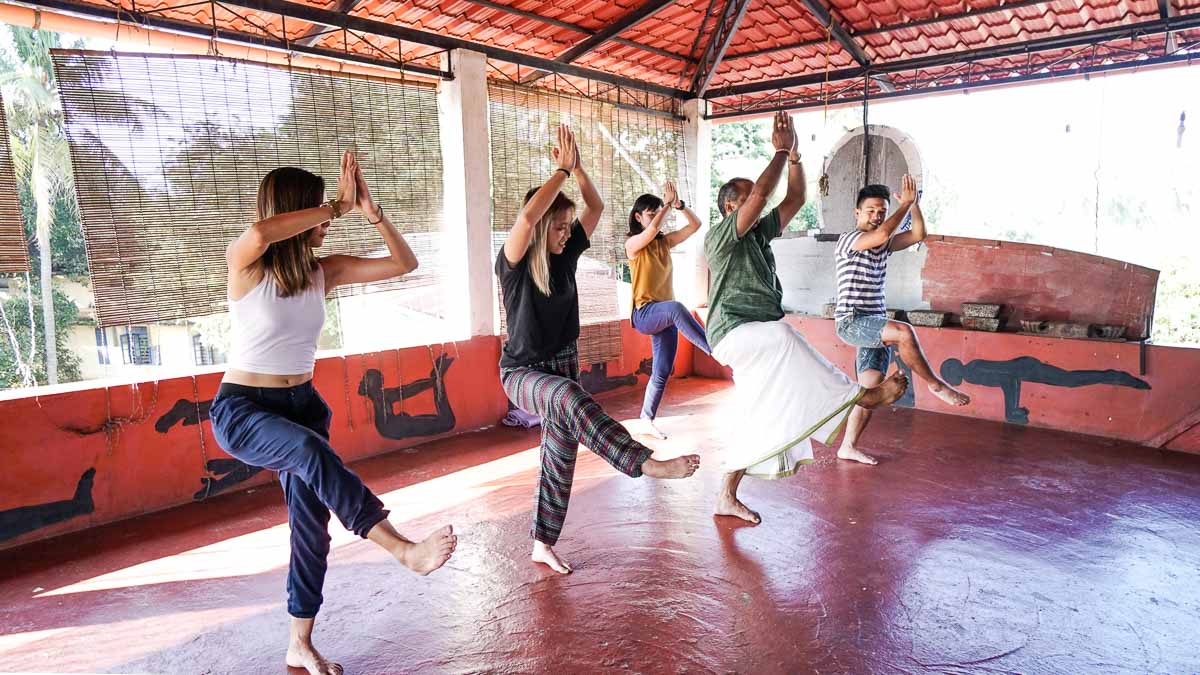 At the Kerala Kathakali Centre, you can also attend a 1-hour crash course before watching the performance. During the lesson, a veteran Kathakali performer will teach the 9 Navarasam (facial expressions) and 24 Mudras (hand gestures) used in Kathakali performances. Having attended the lesson definitely enhanced the Kathakali experience.
Kerala Kathakali Centre
Address: Near Santa Cruz Basilica, K.B. Jacob Road, Fort Kochi, Kerala 682001, India
Timings: Dance & Expression Class @4PM, Make-Up Application @ 5PM, Demonstration & Show @ 6PM
Cost: ₹500/pax (Dance & Expression Class), ₹350/pax (Show)
The above are 10 experiences that should definitely not to be missed when you're at Kerala, God's Own Country. Prior to this trip, visiting India had been on my travel bucket list for the longest time. This trip allowed me to strike that, and 10 of the above experiences, off my bucket list proudly. So if you are an adventure-loving traveller like me, be sure to include Kerala in your "must-visit" list as well 🙂
Flight promo from Singapore to Kochi
Kochi is the perfect gateway to Kerala. It's through Kochi where we got a first taste of Keralan hospitality, picked up some Kathakali dance moves and tasted the spiciest but tastiest seafood.
Scoot flies direct to Kochi from Singapore 4 times a week and if you're set to go, book your flights before 5th January 2018 to enjoy promo fares to Kochi starting at S$107!
Don't forget to pre-book your meals online (if you're FOMO) as you won't want to miss out the yummy Tom Yam Fried Rice that's so good, you'll not believe it's plane food!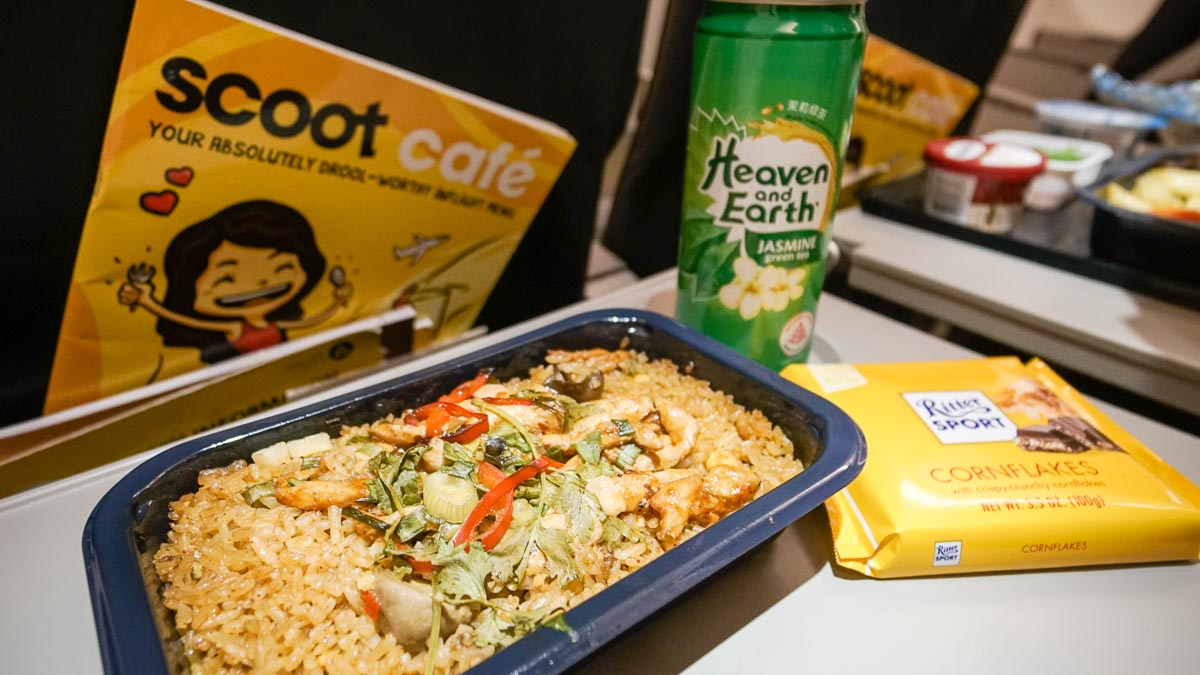 Can't get enough of India, like us? You'll be delighted to know that Scoot now flies to 8 different cities in India, such as Chennai, Amritsar, and Jaipur. Start planning your India trip now and tick these awesome experiences off your travel bucket list!
---
This post was brought to you by Scoot.
For more travel inspirations, follow us on IG @TheTravelIntern!