From a 30-inch luggage to a cabin-sized backpack. Look ma no hands!
When I travel, I like to feel secure and reassured that everything I need to live my life is readily available in my luggage. So, when I was sent on a one-month trip around Southeast Asia — covering four countries with varying temperatures — I thought to myself, "Holy shit, that's gonna be one big luggage that I'll have to pack".
Imagine my surprise when my seasoned travel mates said they'll be bringing just one backpack.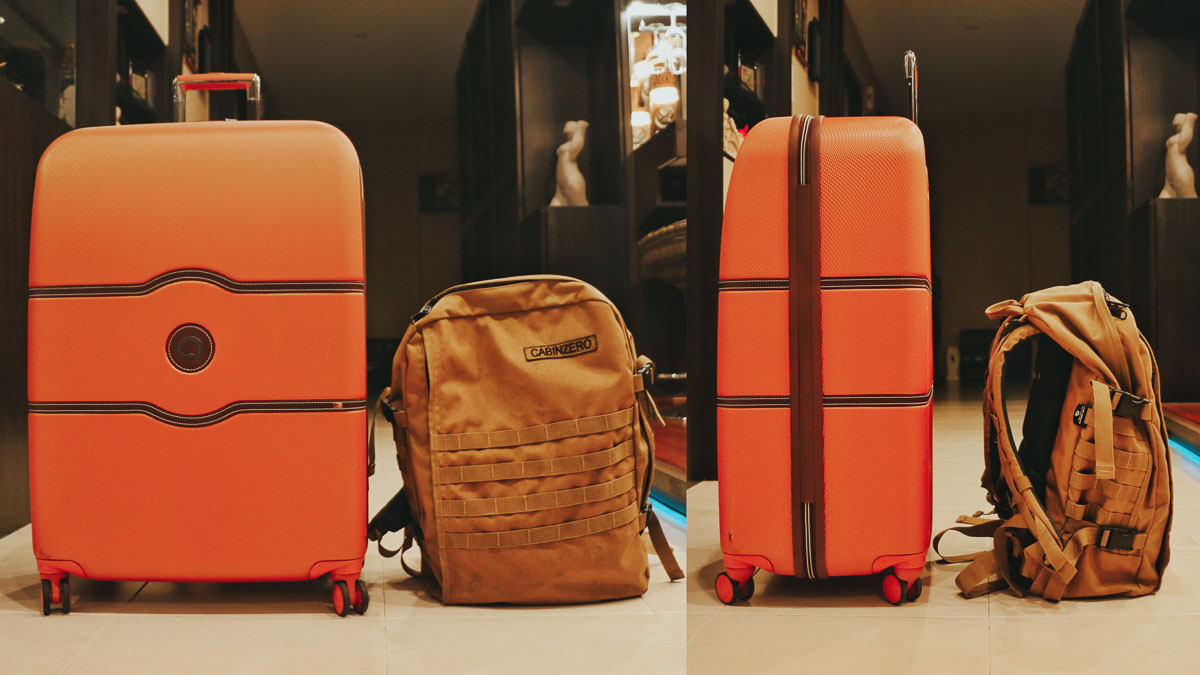 To say I struggled to pack my life in one backpack was an understatement. I scrambled online for ways on how to backpack and found myself letting go of things I previously deemed absolute essentials for travelling.
If you've read up to this point, you're probably embarking on a backpacking trip yourself and must be wondering how I did it. Here are some lessons I learnt that might come in handy if you're looking to simplify/maximise your packing process.
Clothing
1) A week's worth of clothes is more than sufficient (no matter how long the trip)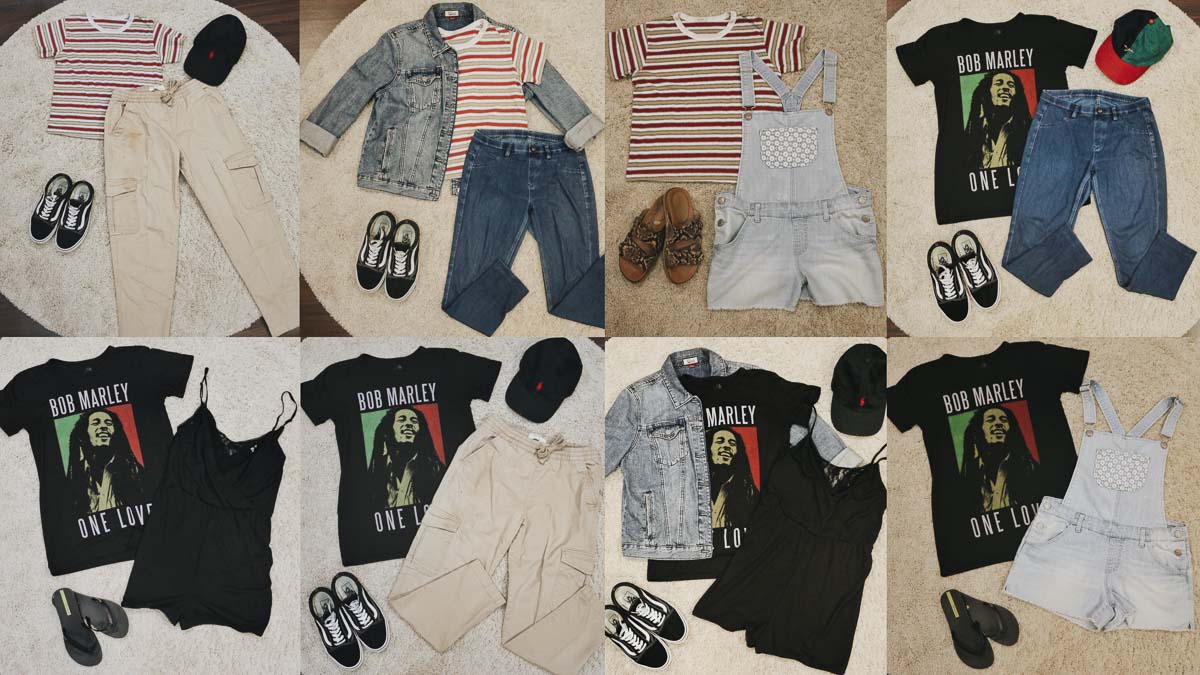 I hate to admit it, but before this trip, I used to be one of those who never liked to repeat outfits more than once on a holiday. But with what limited space I had, mixing and matching was the name of the game — I made do with seven different looks for four weeks of travel. And to my surprise, they were just enough!
Since we did laundry in every new destination, a week's worth of clothes proved adequate, especially with versatile pieces that can be matched with one another to get different outfits. Which brings me to my next point:
2) Basics can create more outfits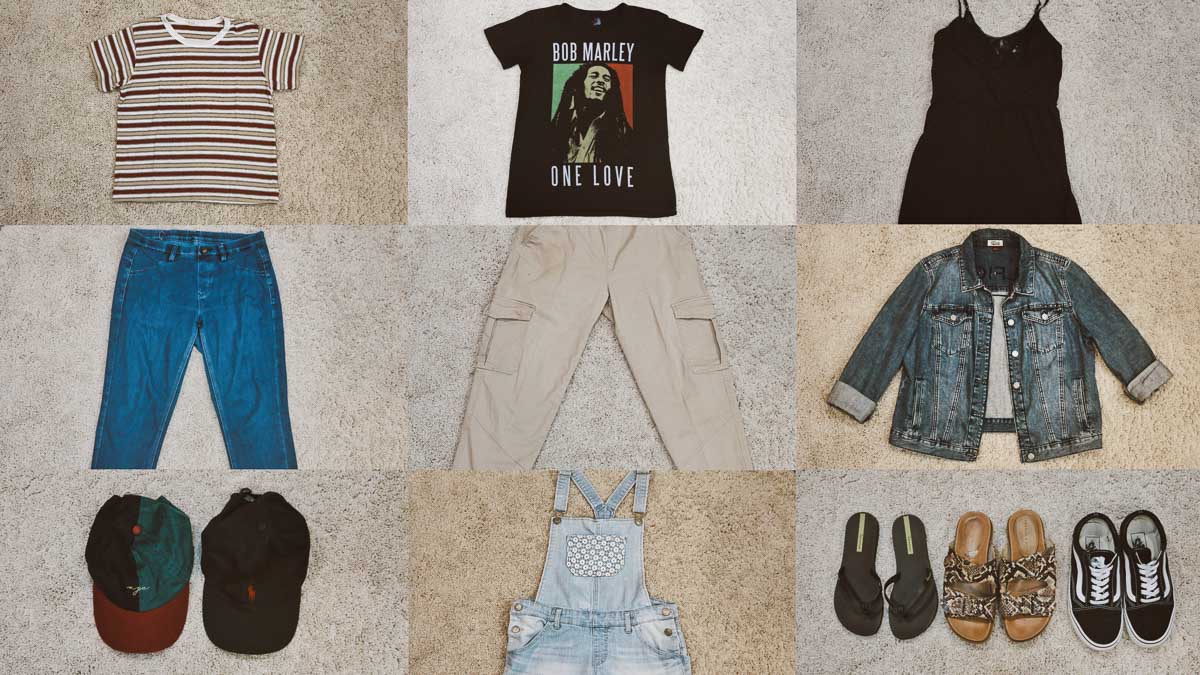 If there's a time to be basic, it's now. Solid colours are a good choice as they usually blend together well and do the job of creating more outfits. You can't really go wrong with neutral colours like black, khaki or denim, paired with the occasional colour pop here and there. Change it up with accessories like a cap.
3) Skimp on bottoms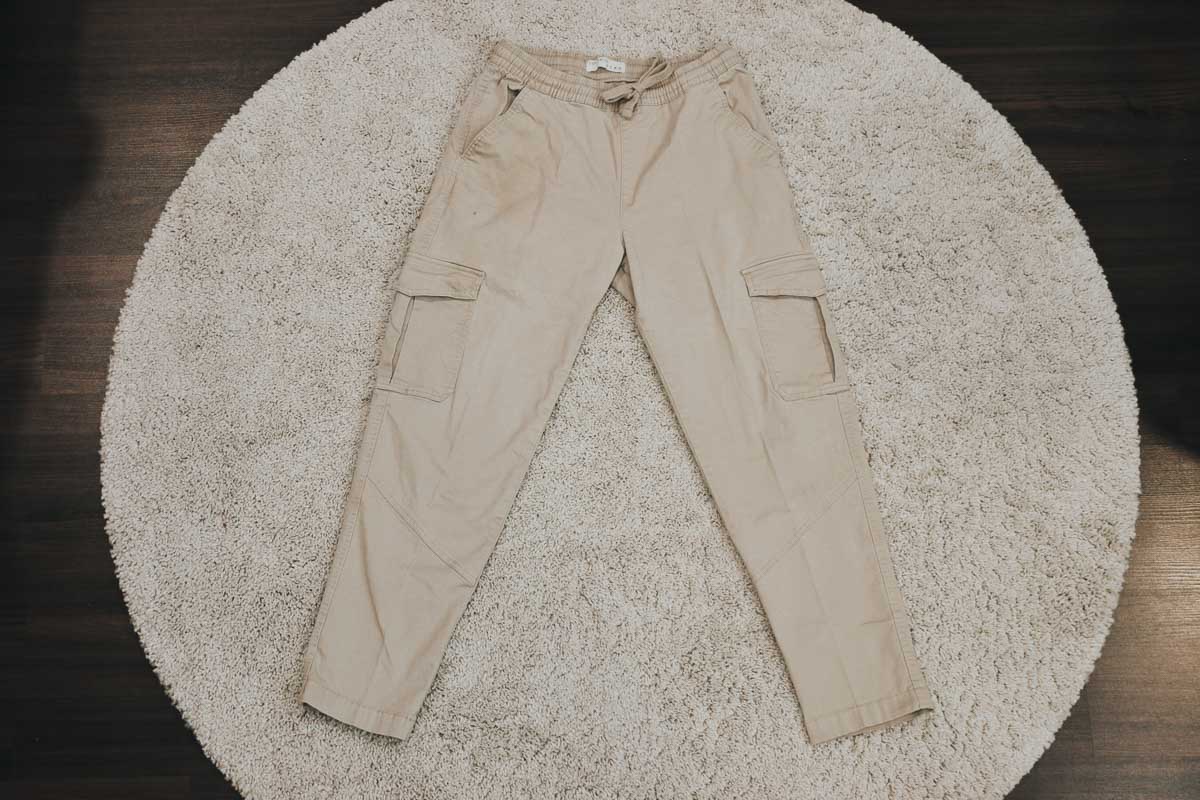 Pack more tops than bottoms. Outfits instantaneously look different when you switch out the top with something more casual or fancy. Plus, you could always reuse bottoms.
*Pro-tip: Bring at least a pair of cargo pants (they're making a fashion comeback, okay?). When styled well, the typically masculine piece could be quite a look. These pants are great because they have — wait for it — pockets, and so many of them! As a videographer, these pants are my go-to because they're really comfy and functional.
4) Eliminate air space with ziplock bags
Your clothes actually take up lots of sneaky air space in your backpack. As counter-intuitive as it might seem to the uninitiated, I saved so much space tightly sealing them up in those huge IKEA ziplock bags. They don't even cost that much! Packing cubes are great too, if you have them.
Plus, packing cubes/ziplock bags also double up as a form of organisation. You can separate your tops, bottoms, dresses, outerwear, underwear, etc. with each cube.
5) Bring a multi-purpose shawl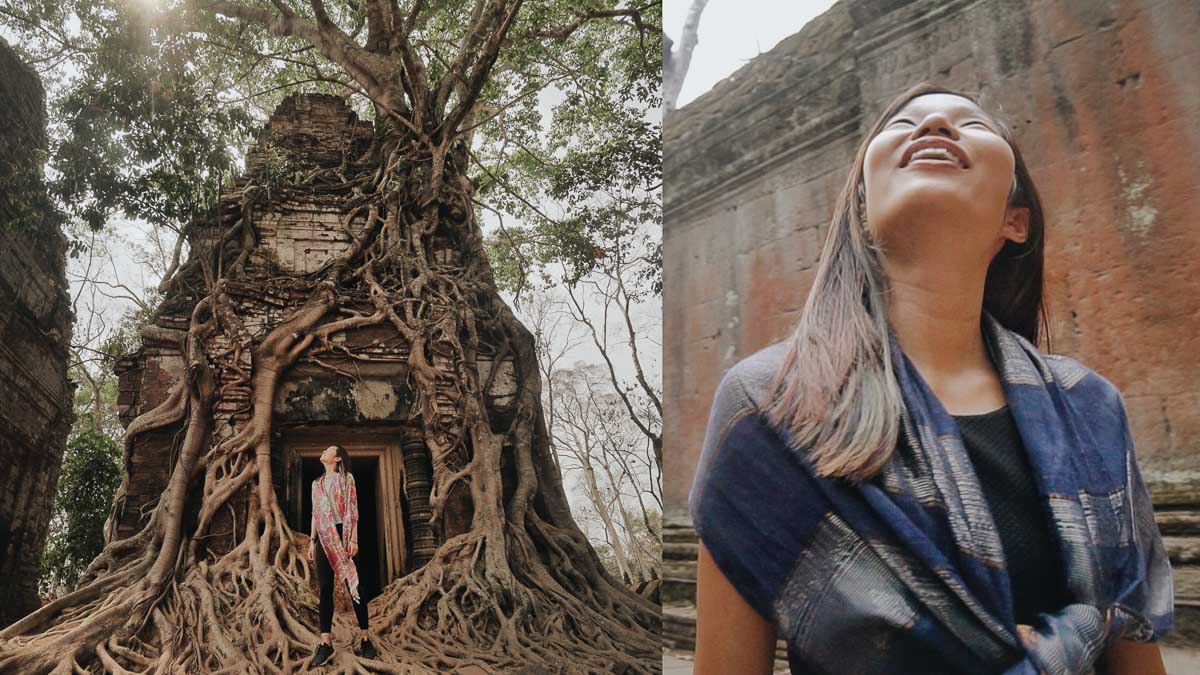 Shawls are like cotton candy. They're light, come in a plethora of colours and pack a punch with all their sweet flavours. Okay, that last bit didn't make much sense, but you get what I mean.
These items are not only totally fashionable, they also serve many practical functions — a source of warmth when you climb up Mount Sapa in Vietnam, a coverup for the beach in Koh Rong or when you visit temples in Myanmar that require you to cover up some skin.
*Pro-tip: Shawls can actually be worn in so many ways whether it'd be a top, skirt or dress.
Toiletries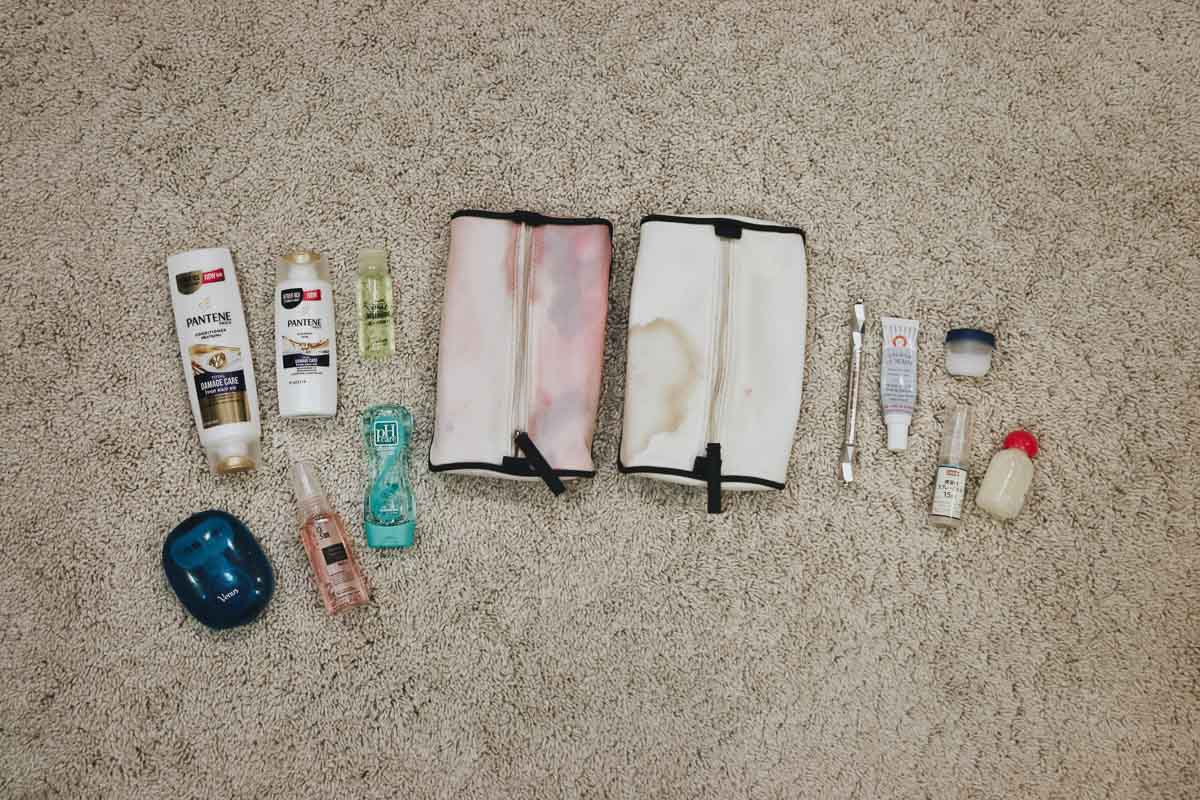 6) Multi-purpose makeup is the way to go
One of the things I used to overpack before was hands-down my makeup bag. Call me high maintenance but can you really blame a sis for wanting to look her best sometimes?
However, after re-prioritising what I brought in my backpack, I decided to downsize my beauty load by only bringing items that served more than one function. So, get creative with multi-tasking your backpacking beauty essentials:
– Use an eyebrow pencil as eyeliner
– Use bronzer as eye-shadow (perfect for a natural look!)
– Use lipstick as cream blush
– Use vaseline or pawpaw as a lip balm, cuticle cream or to mend split-ends
– Use face finishing powder as oil-absorbing dry shampoo
7) Microfibre towels will be your new best friend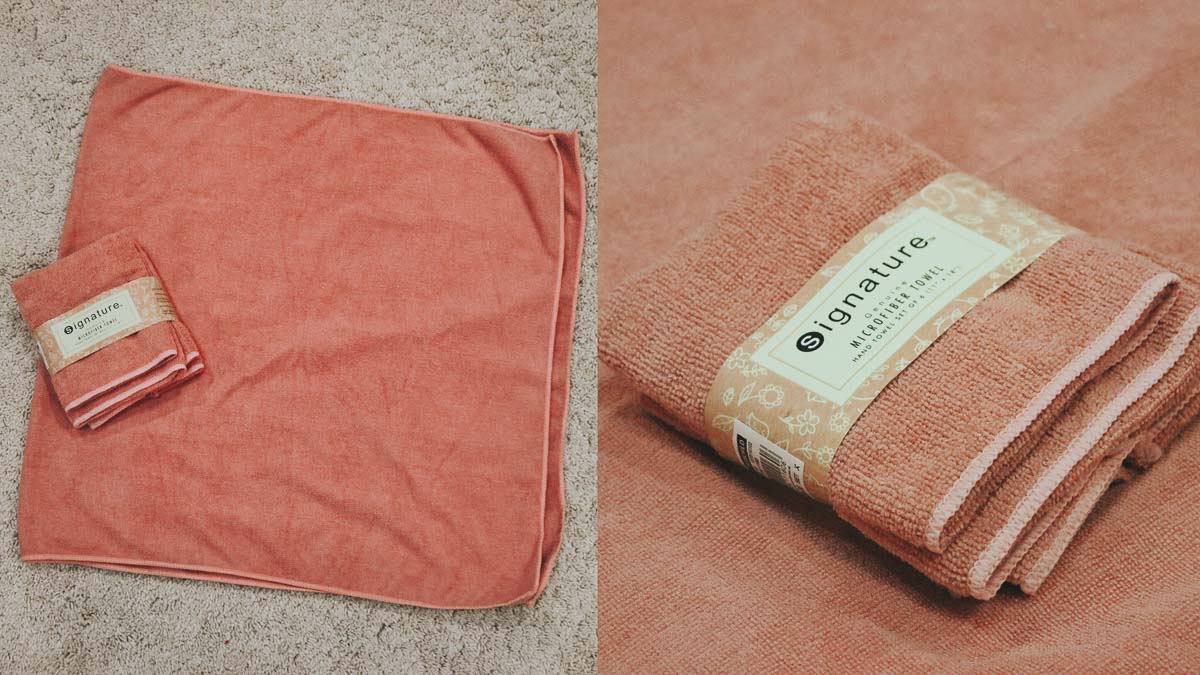 My boss was actually the one who told me this and I've never looked back since. Microfibre towels are lightweight and amazing for being able to dry up so quickly. You'll thank me later when you have to check out early in the morning and not have to add extra weight to your backpack with a soaking wet cotton towel.
8) Shampoo & conditioner bars are way more convenient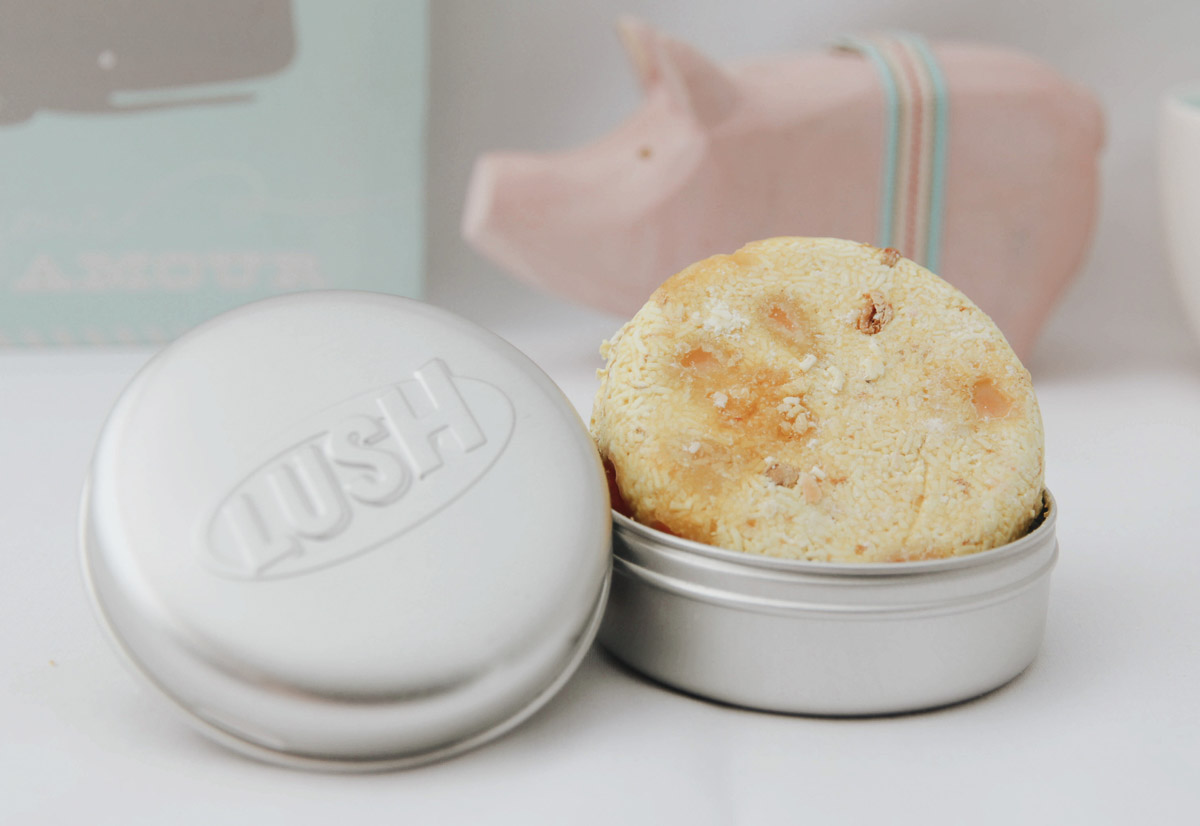 Like bar soap, but for your hair. Bar shampoos and conditioners are great since you'll never have to worry about accidental leaks in your bag, and they last way longer than travel-sized bottled ones. Lush makes some really solid bar shampoos and conditioners (pun absolutely intended).
*Pro-tip: Avoid packing cheap liquids that you can easily purchase later. Which country don't sell shampoo, you tell me?
9) Exchange your lady goods for a cuppa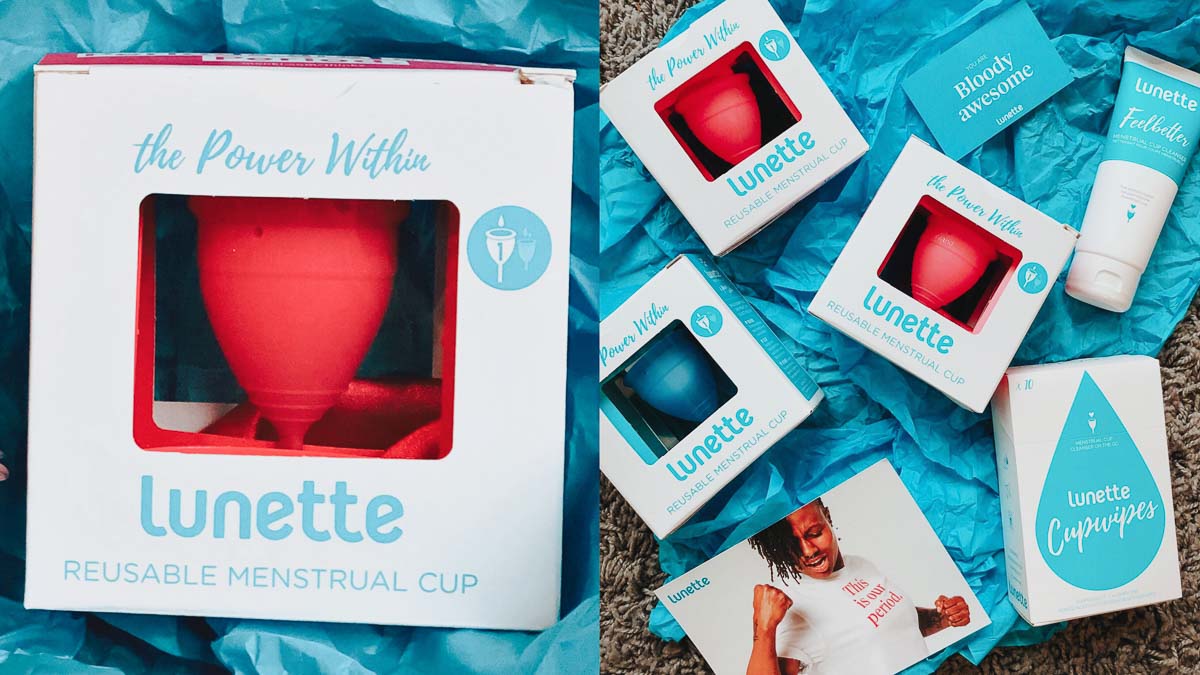 Substitute pads and tampons with a menstrual cup. From my experience, it's really hard to find tampons in any pharmacy or convenience store in Southeast Asia but more common to find pads. But bringing both pads and tampons in your backpack takes up so much space!
Thus, I'd highly recommend bringing a menstrual cup so that you don't have to cramp your style. I personally like the Lunette Cup because it's reusable, eco-friendly, cost-efficient, vegan and zero-waste. All in all, it's bloody awesome, period.
Electronics
10) Mogics Power Bagel is magical for organising your typical charging mess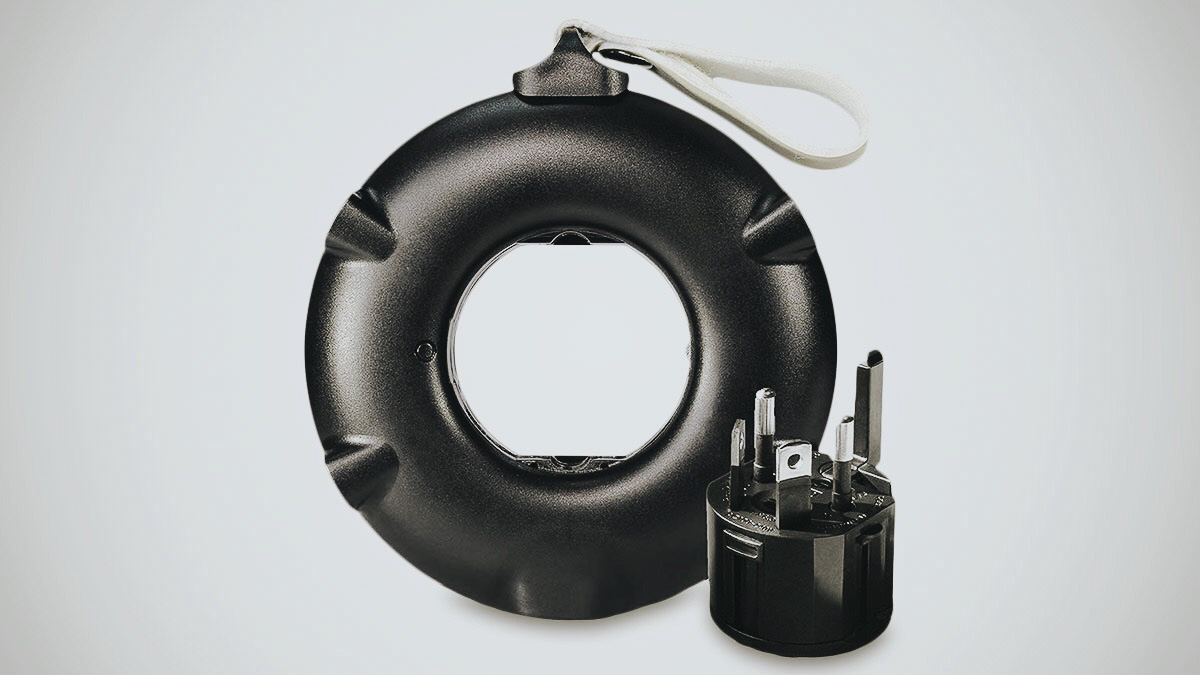 This is a must-have for travellers with lots of electronics — cameras, laptop, gimbal, drone, hair curlers, etc. — and don't want to resort to a bulky power strip. The Mogics Bagel has four universal sockets, one US socket and two USB ports, all in the size of your palm. This has been a real space-saver for us at TTI, and a worthy investment!
You can easily get one online.
Others
11) Third shoes' a charm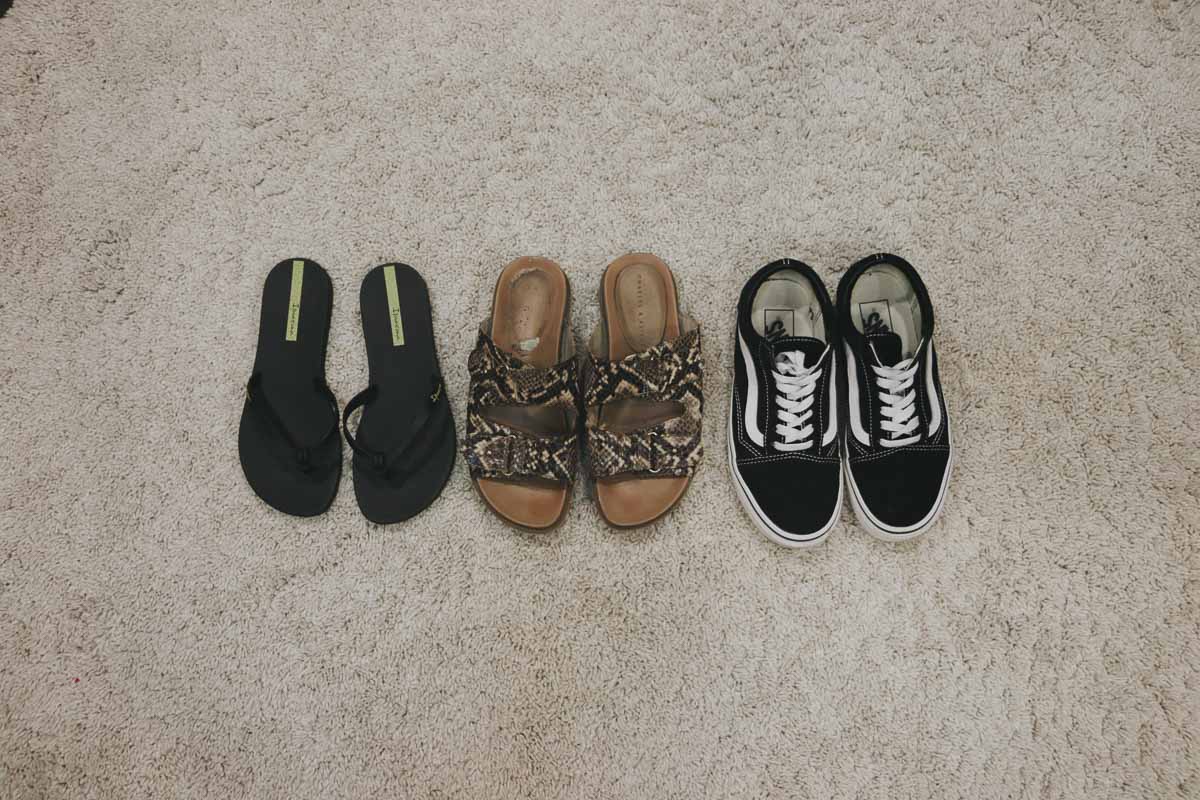 Three pairs of travel shoes is usually a good quantity to pack for any trip. The holy trinity of shoes to pack would be flip flops, nice sandals and sneakers so that you're always set for any activity on your travels.
12) Switch out bulky shoe bags for shower caps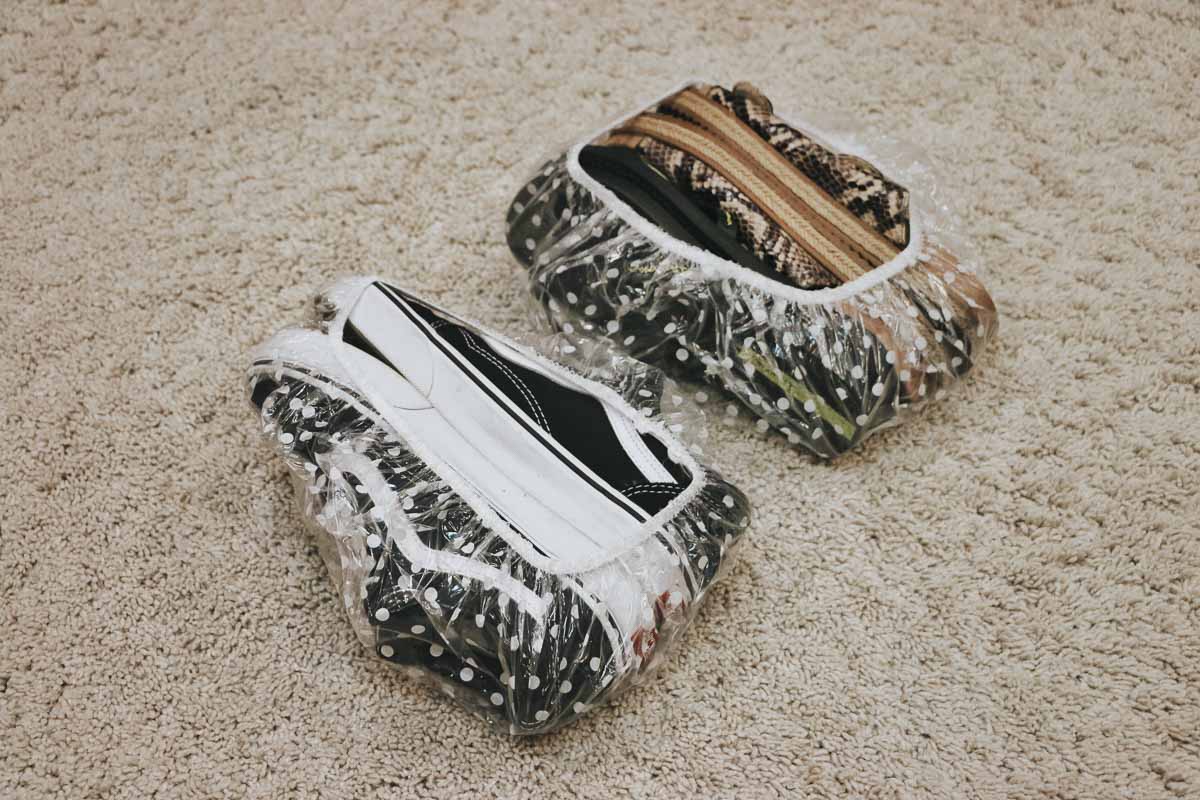 Shower caps eliminate unnecessary space that typical shoe bags occupy and don't add as much weight to your backpack. I mean, who knew shower caps could be more than just protecting your hair from water when showering, aye?
Read also: Ultimate Travel Packing List: 35 Essentials to Pack for Long-Term Travel
13) Bring an extra duffel bag for additional storage
After stuffing your backpack with all those packing cubes and shower-cap wrapped shoes, it might be filled to the brim. But you'd probably like to bring home souvenirs or do a little (harmless) shopping on your travels. The solution: a foldable tote/duffel bag. That way you can leave it in your backpack until you actually need it!
14) Remove half of the items you originally packed
When in doubt, go Marie Kondo mode and reduce the amount of stuff you'd normally pack by 50%. More often than not, we end up lugging around unnecessary weight in our backpack, like that extra piece of thick AF outerwear that you think you'll wear but actually won't. Besides, if you really need it, you can probably purchase it on the road, which brings me to my last point:
15) Pack with intention
Don't pack "just in case" or "I think I might need this" items. It helps to know that if you really need the item later into the trip, you can always buy it there. Chances are, you can live without it.
I used to get anxious at the thought of under-packing and leaving behind something important. But my first ever backpacking trip pretty much forced me to pack less but with more intention. Now, I can safely say that I can go anywhere for a longer period of time with just a backpack strapped onto me.
Know of other travel packing tips and tricks? Let us know in the comments!
---
View this post on Instagram