Chennai being the first stop of our 12-day India adventure, we expected to be greeted by the full impact of India and were ready for a real culture shock. Yet there was an odd sense of familiarity and similarity as we were turning out of the airport on the way to our hostel – and that continued through many aspects of our journey through Chennai.
As the 4th largest city in India, and the commercial soul of South India, Chennai is one of India's safest cities, and was recently included in BBC's list of Top 52 countries to live in. It is said to be a city full of old tales and modern trails. I had high expectations of the colourful city, and it sure didn't disappoint.
Here's our survival guide for Chennai, on what to do, how to get around, and most importantly – what to eat (many local finds!)
Click on the link to jump to a relevant section!
Things to do in Chennai
What to eat in Chennai
Where to stay in Chennai
Staying Connected
Getting Around in Chennai
Things to do in Chennai
1) Uncover the tales behind the rituals of Kapaleeshwarar Temple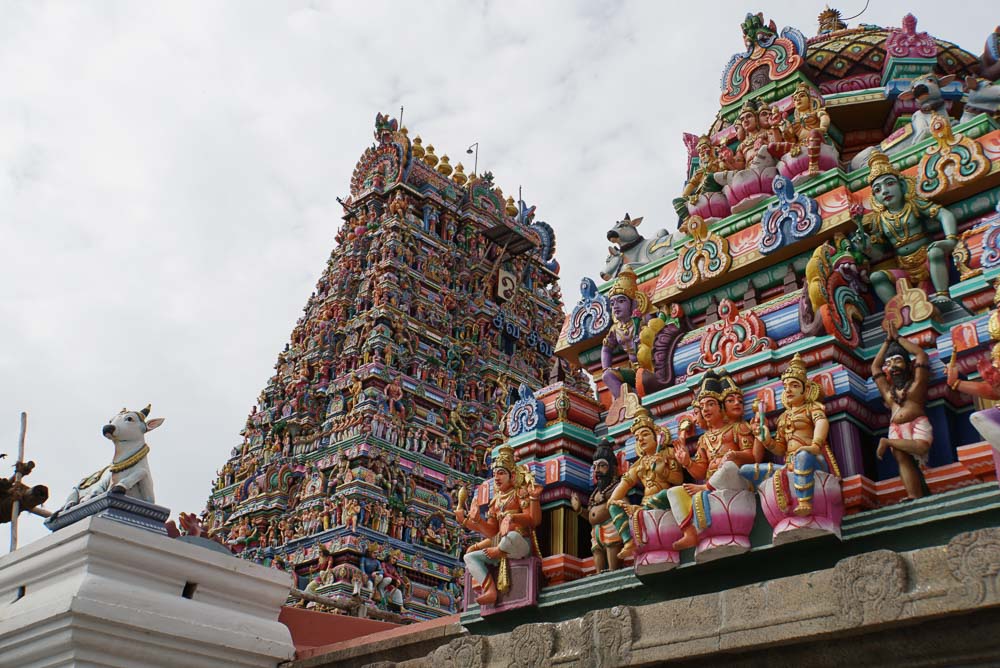 Hindus form up the bulk of Chennai's population and it is natural to see many Hindu temples across the city. Situated in Mylapore, stands the colorful 1,400-year-old Kapaleeshwar Temple, one of the oldest temples in Chennai devoted to Shiva worshippers. The name Mylapore means peacock. Legend has it that the Goddess Uma worshipped Shiva in the form of a peacock.
As a sign of respect, visitors to the temple need to remove footwear before entering the temple through the colourful gate structures known as Gopuram.
Once in the temple, there are a few ground rules to abide by:
Walk in a clockwise direction starting from the left of the temple – Hindus believe that God is always on the right side, and walking in this direction keeps him in the centre of your life. Some Hindus even worship by spinning in circles
No entry to the main shrine – Only priests can access the main shrine. All other devotees receive the energy of the god by touching the flame that the priest carries out
Silence is strictly adhered to. As with most places of worship, there is no talking near the shrine, so as not to disrupt the devotees' practice.
The temple has six daily Poojas (rituals) that the priests perform at various times between 5.30am and 10pm. Respective timings for the rituals at the Kapaleeshwarar Temple can be found online.
But the most important practice to many lies at the heart of the temple where the Wishing Tree stands. It is said that if you place a yellow thread on it, you might be able to tie down the hunk or babe of your dreams!
Cost: Free
Opening Hours: 5.00am – 12.30pm and 4.00pm – 9.30pm
Address: Vadakku Maada Veethi, Mylapore, Chennai, Tamil Nadu 600004, India
2) The Santhome Cathedral Basilica Church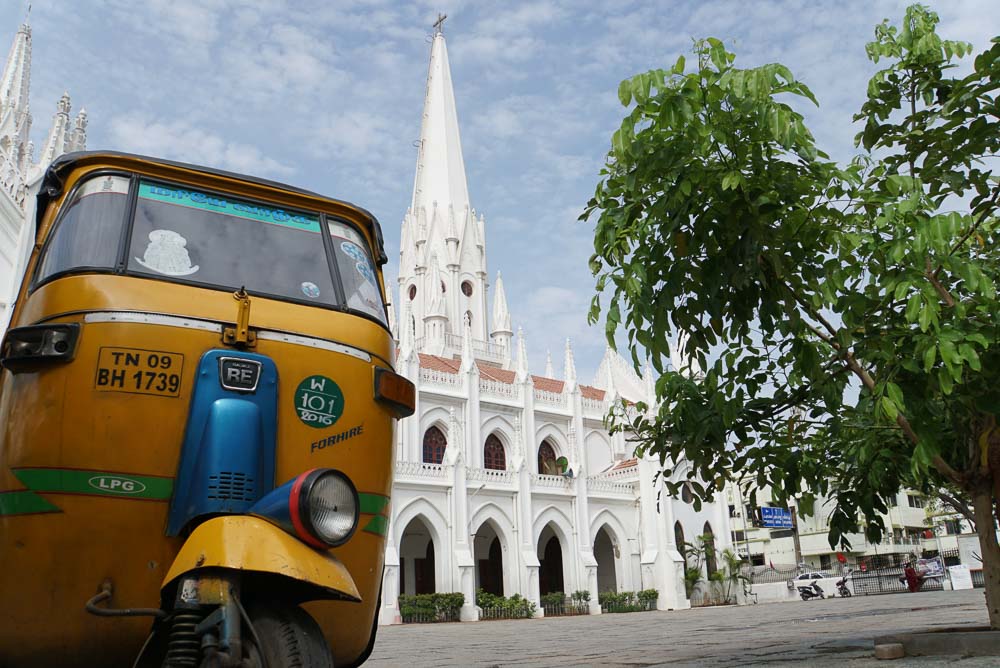 Just half a mile away from the Kapaleeshwarar Temple stands the Santhome Cathedral Basilica Church. There are only three churches built over the tomb of an Apostle of Jesus Christ — St. Peter in Vatican City, St. James in Compostila Spain, and St. Thomas in Chennai.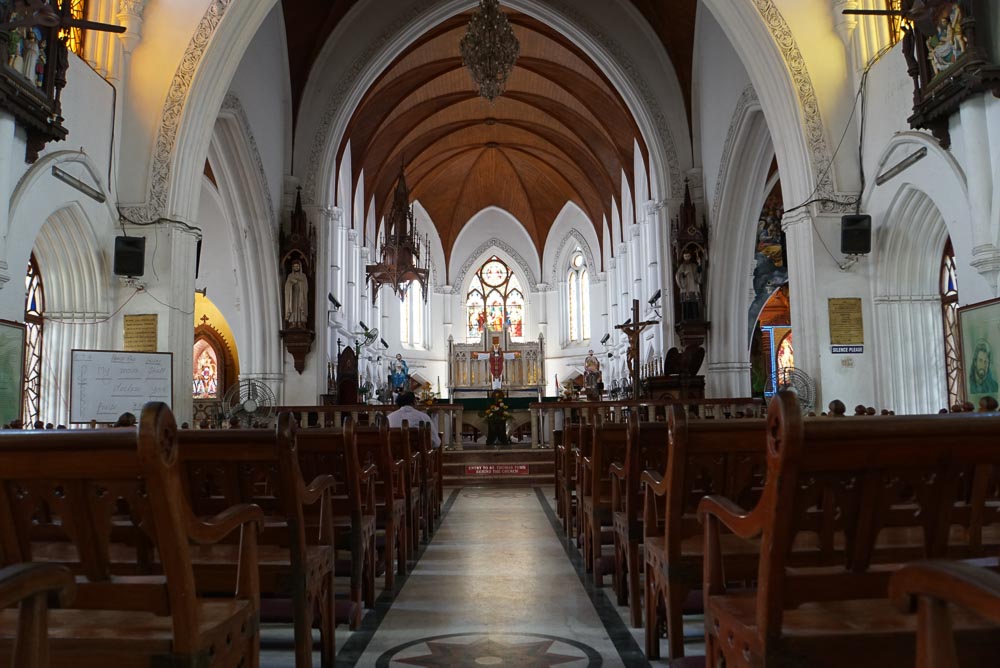 Christianity is said to have begun in India in 52AD when St. Thomas landed in Kerala and has been a key religion in India for over 2000 years. St. Thomas is reported to have visited Mylapore where he lived till his death in 76AD. At the basement of the church, you can visit the tomb of St. Thomas that contains a supposed bone fragment of St. Thomas' finger and a cross he had carved.
Interestingly enough, in true Indian fashion, the statue of Mother Mary that stands in the Portuguese church, dons a new saree every day. A true mix of religion and culture.
Chennai is oddly similar to Singapore not only in its British influence, but also its diverse mix of religion and cultures that co-exist within the city. We were lucky to be able to witness some of the interesting rituals and now understand a bit more of the history of how these religions have become so rooted in India's culture.
Cost: Free
Opening Hours: 6.00am – 8.00pm
Address: 38, Santhome High Rd, Basha Garden, Mylapore, Chennai, Tamil Nadu 600004, India
3) Visit one of South East Asia's largest Zoos

The Vandalur Zoo, a.k.a Arignar Anna Zoological Park, is India's first and largest Zoo! The zoo has multiple sections that are laid out to ensure the animals live as close to their natural environment as possible. Who needs cat cafes when you get to see the real deal in Chennai!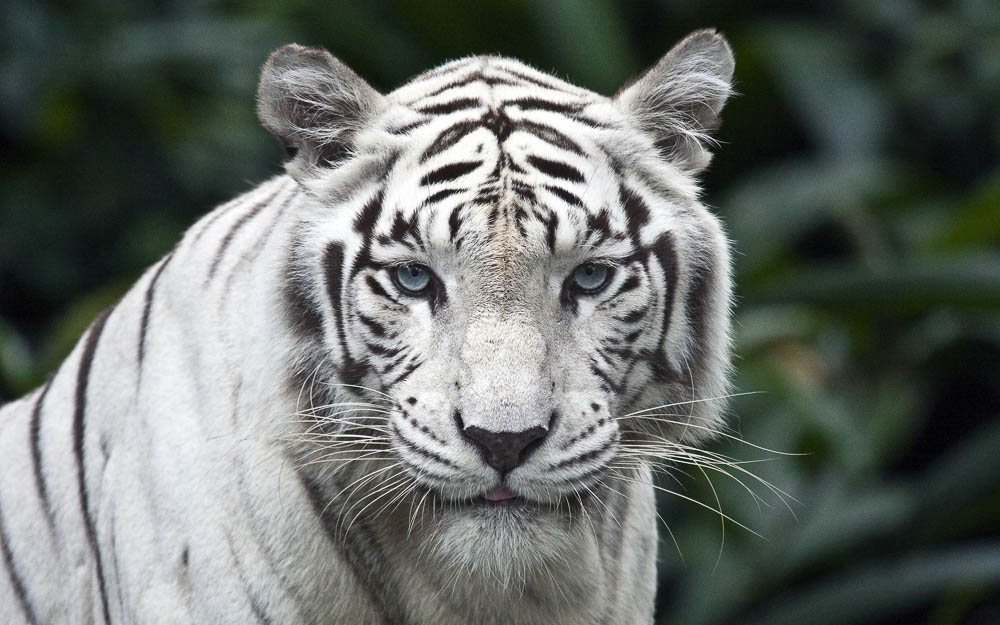 Many travel from across India to the Vandalur Zoo just to see the mystical White Tigers. They tend to sit in a really elegant manner, as if they're the Maharajahs (kings) of the zoo. If you're a cat lover, you can also get up close and personal with the other top cats at the Lion Safari where the feisty felines roam freely around a 20 hectare forested area – all from the safety of a caged bus of course. You can even visit bambi's friends at the deer safari park. There's also a chimpanzee and ostrich enclosure.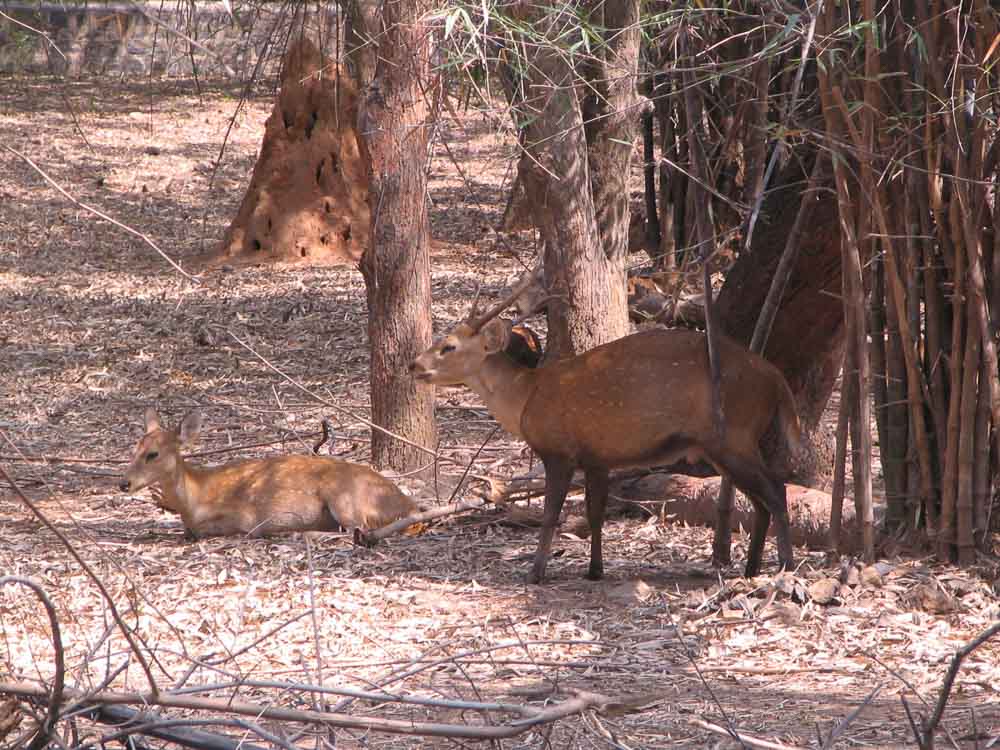 The zoo spans a 510-hectare area that takes about 4-5 hours to explore on foot! But if you're feeling a little lazy or stretched on time, the battery operated cars are a fun option at ₹330/hour. The bicycles are a much cheaper option ranging from ₹15/single bike to ₹35/tandem bike.
*Note: The zoo charges ₹25 per camera/mobile device with photo taking capabilities and ₹150 per handy/video camera – we noticed the recurring trend of being charged for recording devices at many sites
Cost: only ₹30/adult!
Opening Hours: 9.00am – 5.00pm (closed on Tuesdays)
Address: Vandalur, Chennai, Tamil Nadu 600048, India
4) Relax along the "world's second longest beach"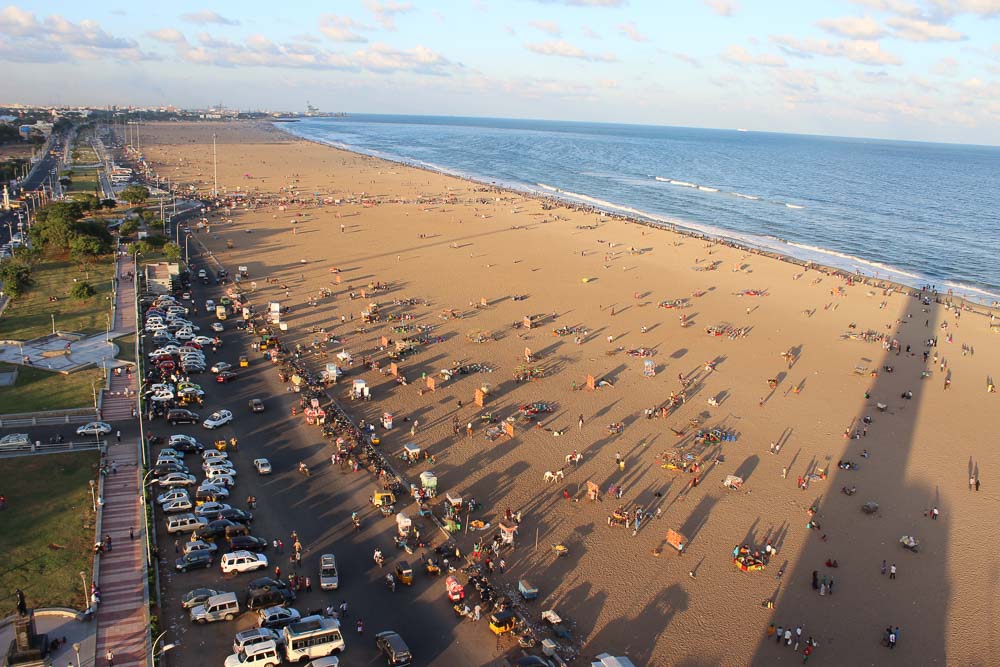 Stretching 13kilometres long, Marina Beach has been marketed so successfully as the world's second largest beach, that many have come to believe it. Regardless of its world ranking, the city's natural urban beach is a top spot for relaxation by locals and tourists.
Walking along the beach is like taking a stroll through Chennai's history. Several statues and monuments have been erected along the beach's promenade to commemorate local and national legends. Starting from the Triumph of Labour statue, you will meet the likes of Mahatma Gandhi, George Uglow Pope, and Robert Caldwell along the way. If you're in for some skating, there is a skating rink behind the Gandhi statue. While the beach is off limits for swimming, you can still dip your toes in one of the two swimming pools along the beach – the Marina pool and the Anna pool.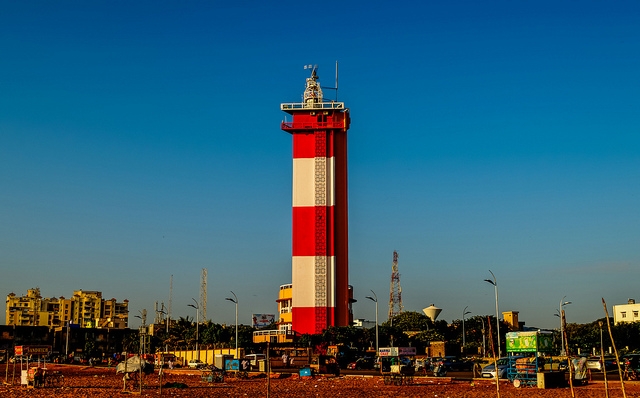 But the "top" attraction of Marina beach, is the bird's eye view of Chennai and the Bay of Bengal from the 45.72-meter-tall Lighthouse. It is one of the few lighthouses in the world and the only one in India with an elevator. The viewing gallery on the 9th floor was re-opened to the public in 2013, complete with a museum.
Cost: Access to the beach is free, but the entrance fee to the Lighthouse is ₹10
Opening Hours: 6.00am – 8.00pm
Address: 38, Santhome High Rd, Basha Garden, Mylapore, Chennai, Tamil Nadu 600004, India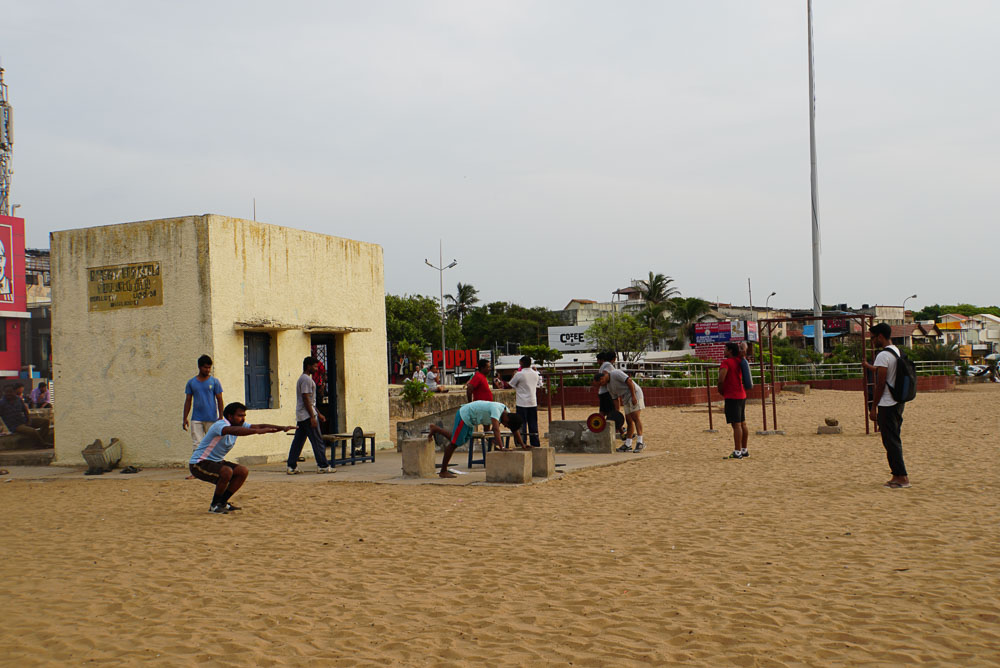 *Pro-tip: If you don't want to squeeze with the crowd for your personal sandbox, check out Elliot Beach, the quieter of the two, a beautiful place where locals were seen working out at the beach gym, playing cricket, volleyball, frisbee, and just enjoying the sunrise without the crowds.
5) Get yourself a silk saree at the T. Nagar shopping district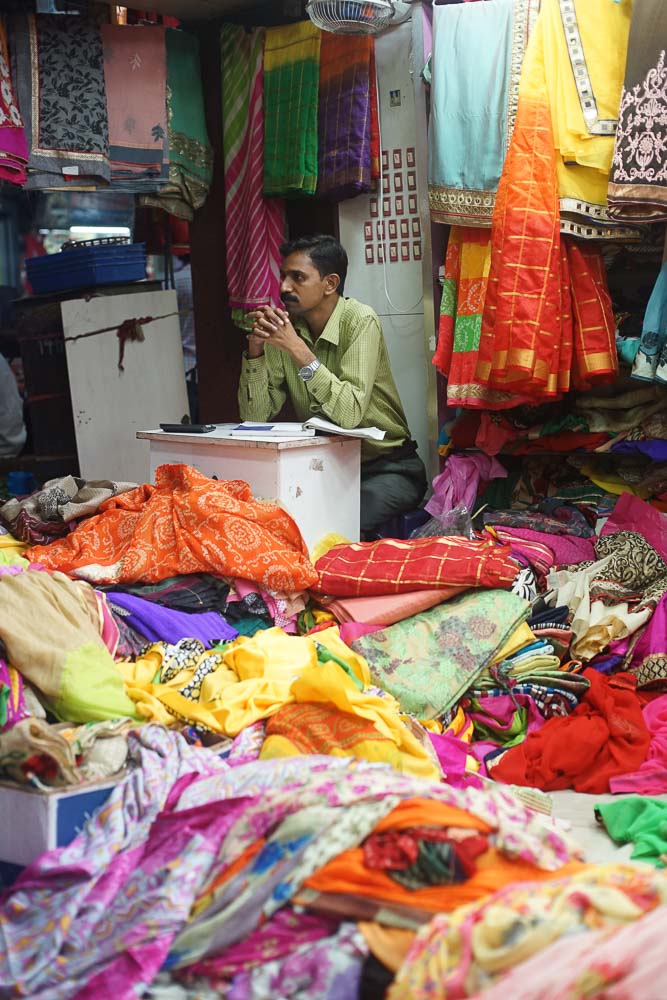 No trip is complete without a little shopping. T.Nagar is home to Pondy Bazaar, a.k.a Soundarapandia Bazaar, one of the busiest street shopping districts in India! You can spot it from the bronze statue of Justice Party politician W. P. A. Soundarapandian Nadar who stands tall at the entrance of the retail haven.
Majority of stall holders speak fluent Hindhi and English, so there's no excuse not to bargain our way to that beautiful saree. But while street stalls might seem cheaper, the larger departmental stores around the area tend to have promotions that allow you to snag branded goods at a fraction of its cost.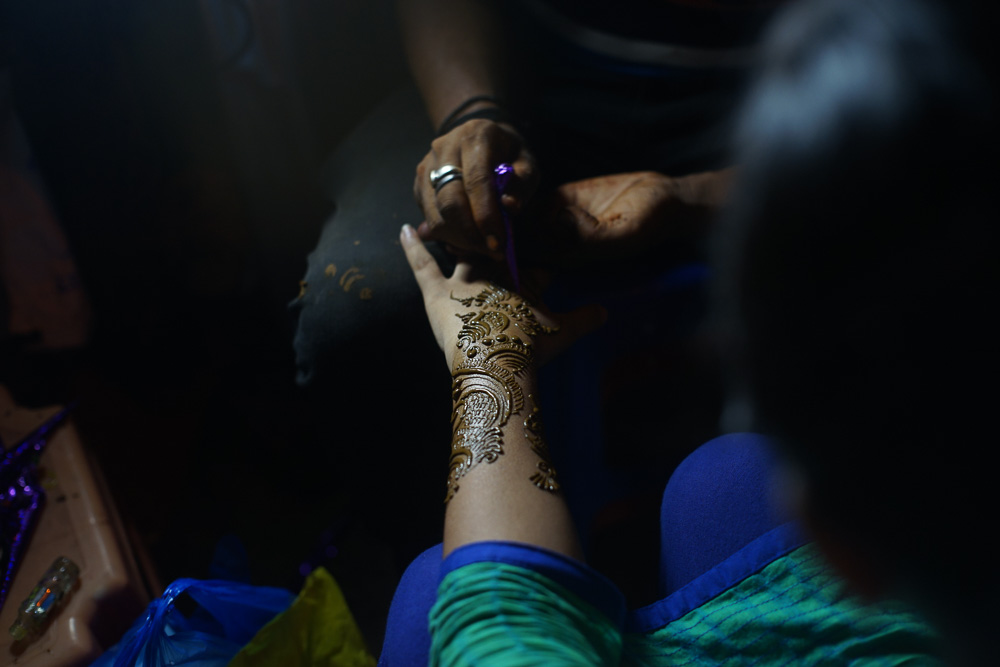 Instead of getting a tattoo, why not try out Henna while in India. Henna is made out of herbs that are used to cool the body down, especially in the summer heat. The fancy designs are also said to be used by women to attract men.
The sights and sounds of the Pondy Bazaar lay the base beats for the city's culture. Here you can find a full outfit from silk sarees, to traditional shoes, bangles and dangly earrings, and even leather bags to complete the look.
Cost: Self-controlled shopping damage
Opening Hours: 6.00am – 8.00pm
Address: 30, Sir Thyagaraya Rd, Parthasarathy, 53/6, T Nagar, Parthasarathy Puram, T Nagar, Chennai, Tamil Nadu 600017, India
*Pro-tip: While the months of November, December and January tend to be the most crowded period due to them being festival periods, that also means – SALES, DISCOUNTS! Just be extra careful of your belongings while shopping
6) Grab a local for the scoop on the full Chennai-ite life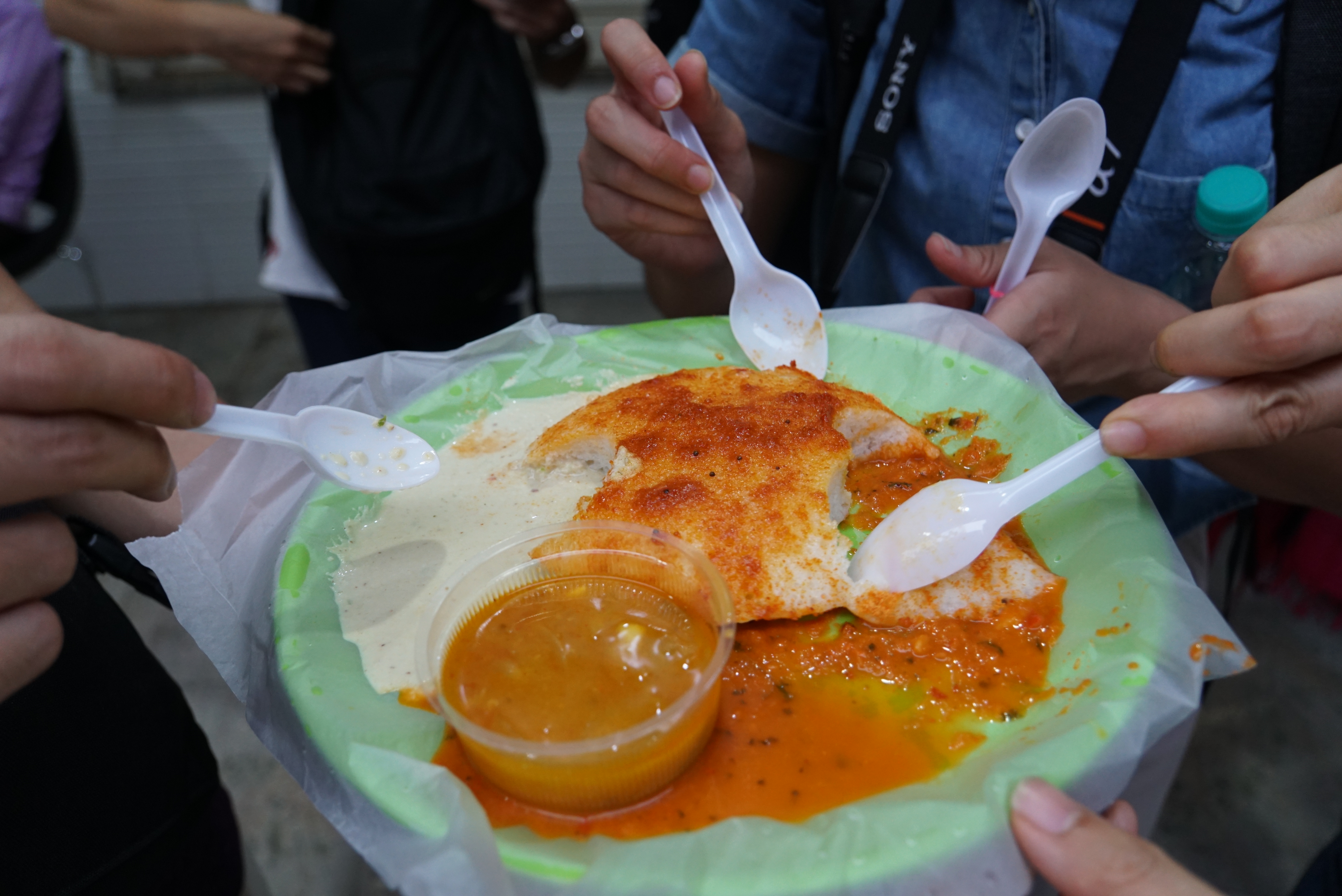 In every location we travel to, we always make it a point to mingle with the locals. That's the best way to understand the kinks of the country that would otherwise be unknown to us foreigners. But if you haven't found a local Chennai-ite to bring you around, signing up for a Story Trail is a pretty good alternative.
We met Lakshmi who introduced us to the 8th wonder of the world – Pav Bhaji, and more delicious street eats! #Funfact: A number of South Indian dishes like Pav Bhaji, Chicken Tikka, and Iddli, and from Portugese, British, and Indonesian origin.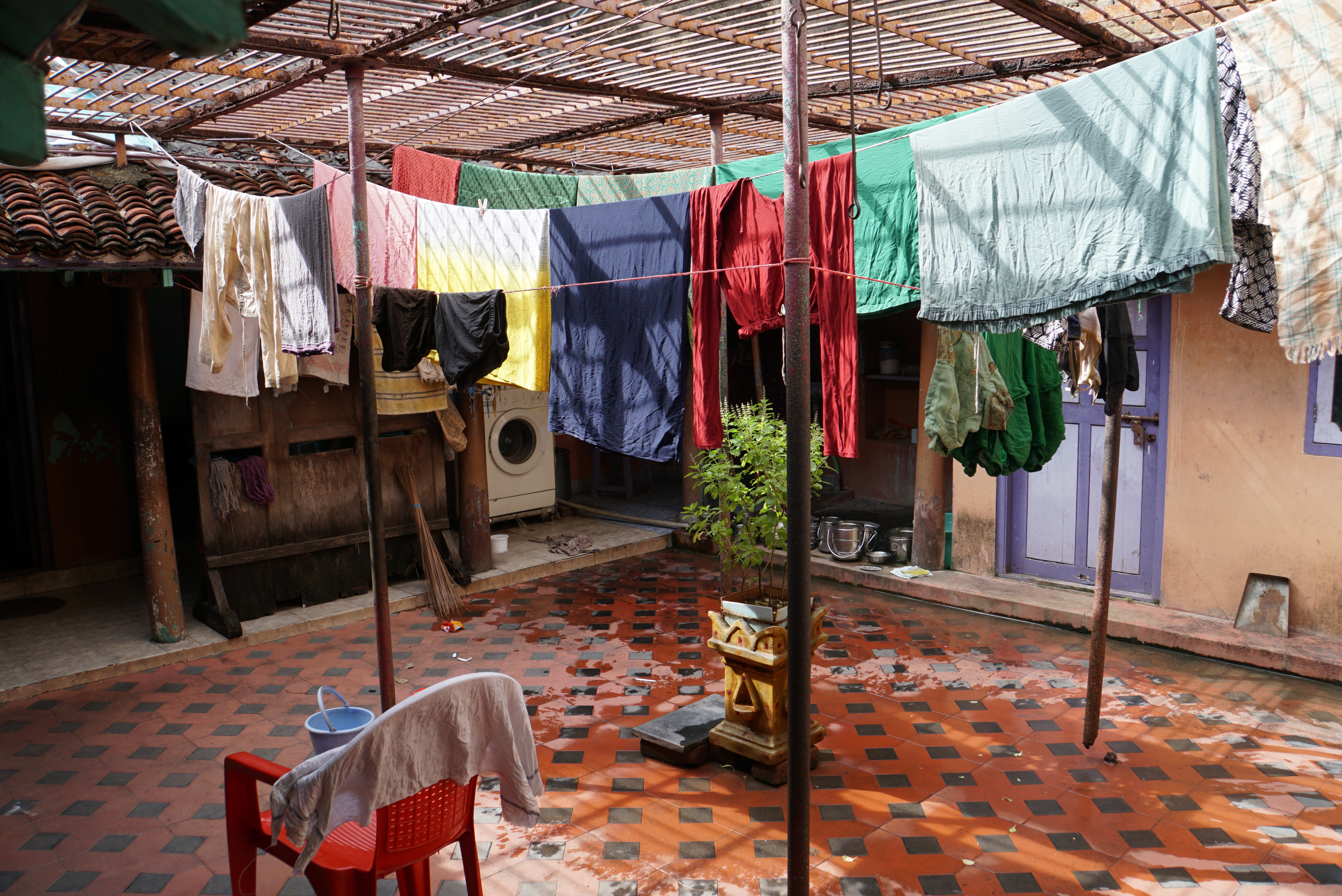 We also explored Mylapore through the Peacock Story Trailwhere we had the opportunity to visit the home of a priest of the Kapaleeshwarar Temple and also found out that there is 90 minutes everyday that no one is allowed to do any work – this is known as Rahukalam. Gonna check if there's a Singaporean version of Rahukalam we need to put into practice.
Cost: Peacock Story Trail ₹1100/pax, Food Story Trail ₹1300/pax
What to eat in Chennai
1) Pav Bhaji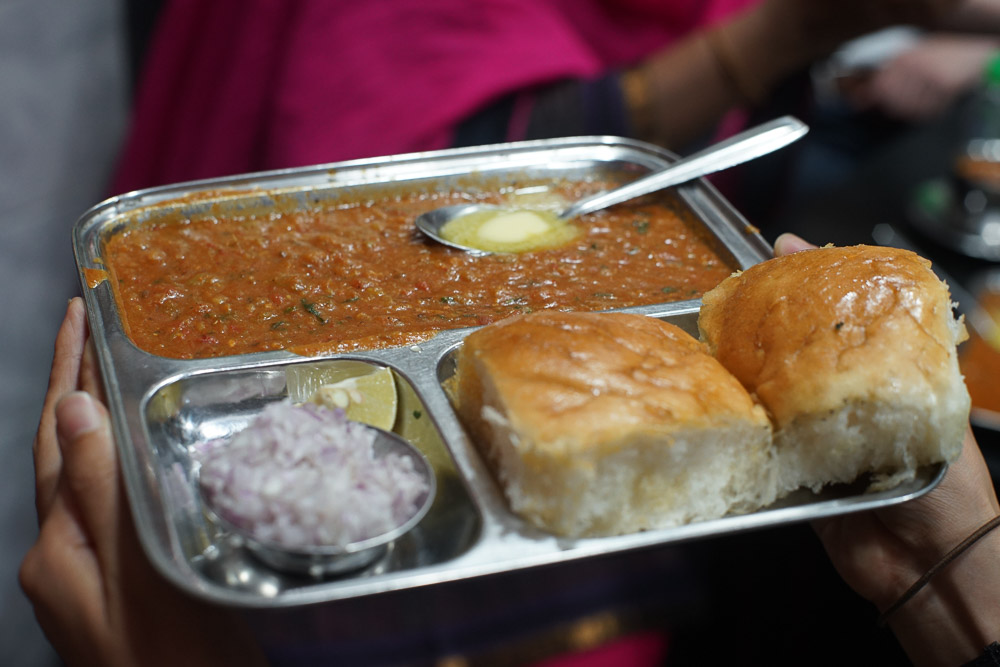 This is easily one of our favourites that got us searching for it in every other city we travelled to. "Pav" means bread, which in this case it is a fried, yet soft buttery roll that is perfect to soak up the goodness of the gravy. This gravy is known as "Bhaji" – a thick vegetable curry prepared with a dollop of butter. We were given sides of onions and lime to mix into the curry to give it that added kick! Still longing for it right now…
The best place to have it is at The Novelty Tea House – the birthplace of Pav Bhaji.
Cost: ₹135 per serving
Opening Hours: 12noon – 3.30pm and 7.00pm – 11.30pm
Address: Old No.175, New No.355, Mint Street, Park Town, Chennai, Tamil Nadu 600003, India
2) Dudhi Halwa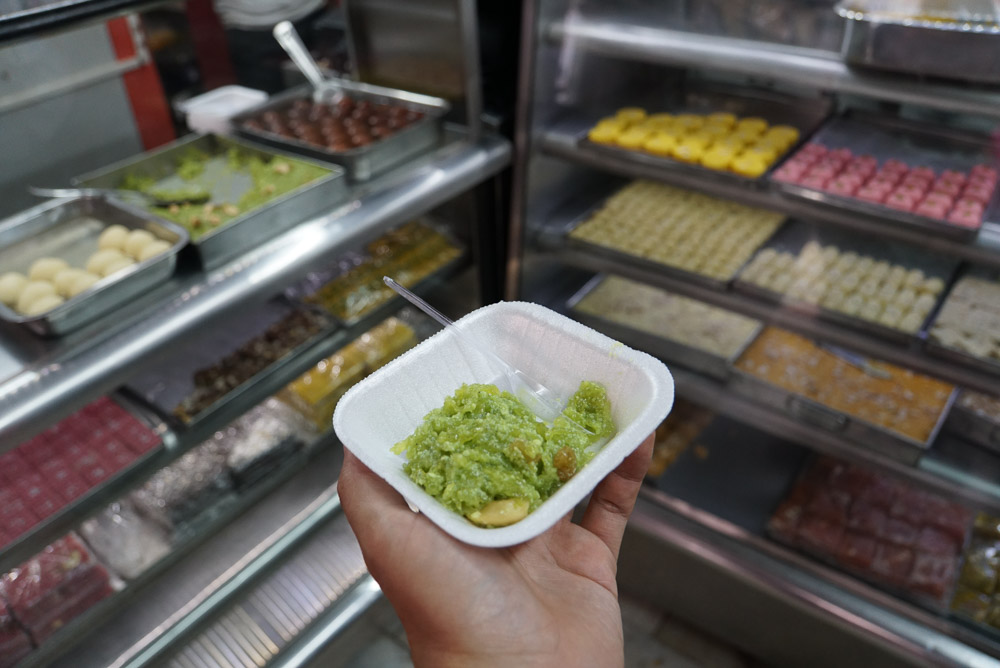 For those with a sweet tooth, this sweet mixture of mashed bottle gourd cooked with milk and seasoned with cardamom, is to die for! It tastes even better when topped off with Chakkal Para, a crispy savoury biscotti. Delish!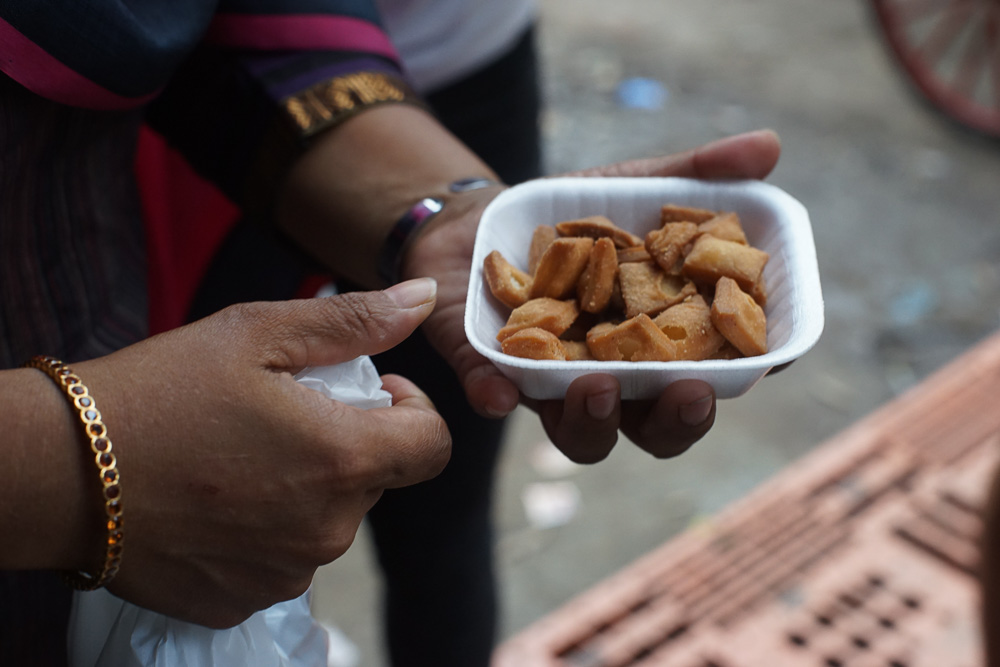 Cost: ₹80 per serving
Opening Hours: 9.00am – 9.30pm
Address: New No: 406, No: 313, Park Town, S Mint St, Sowcarpet, George Town, Chennai, Tamil Nadu 600003, India
3) Murukku sandwich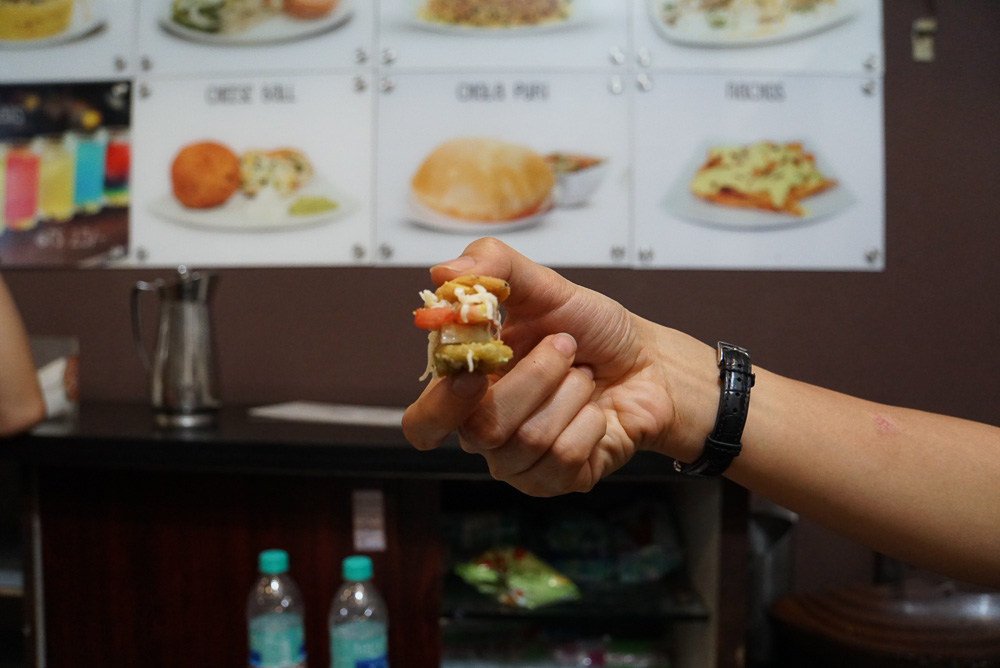 Two mini murukkus (south-indian crackers made of deep-fried grain flour) sandwiching a refreshing coriander chutney with tomatoes and cucumber. This is the latest rage in Chennai, and there are two flavors to choose from – one slightly spicy, and another with cheese.
Cost: ₹100–120 per serving
Opening Hours: 11.00am – 9.30pm
Address: 277, Mint street, Sowcarpet, Opposite Mahasakthi Hotel, Chennai, Tamil Nadu 600079, India
5) Hidden Gem: Gannal Kadai – The Window Uncle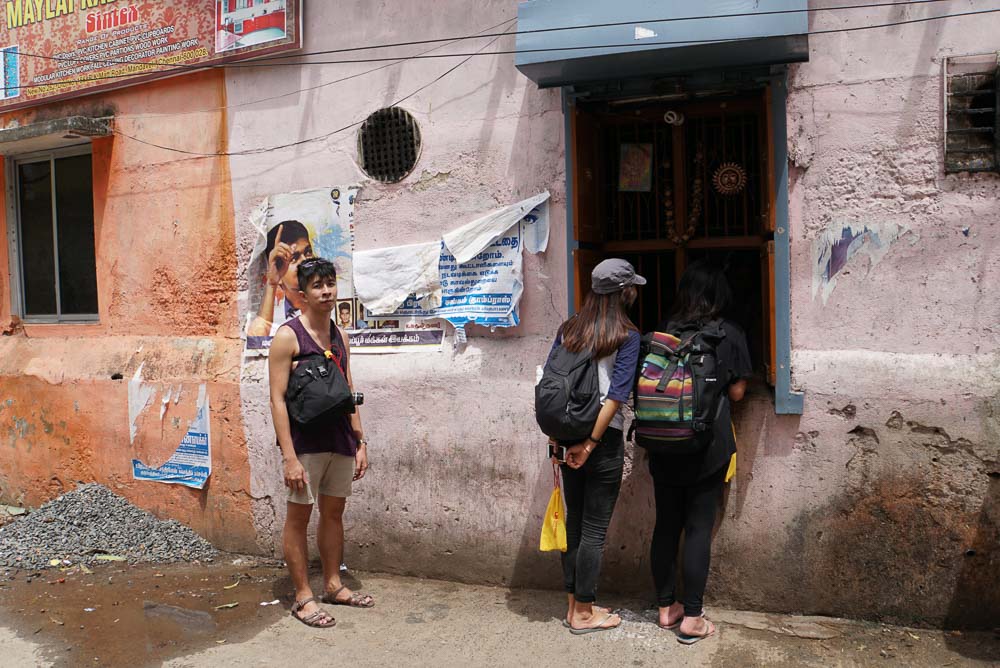 From a non-descript window at the side of his house that serves as a food counter, the friendly uncle sells rice-based delicacies such as vadai, idli, and dosai.
Unfortunately, we could not make it in time to try it. But do let us know if you do! We heard it's the best one around!
Opening Hours: Morning: 7.30am – 10am and 5.15pm – 9pm
Address: Near Vadakku Maada Veethi, Mylapore, Chennai, Tamil Nadu 600004, India
Siestas are celebrated in Chennai. Everyday, shopkeepers, staff, etc stop work for 90minutes and not do anything. This is known as Rahukalam. The period changes everyday and follows a religious calendar.
Staying connected:
If you're looking to get a data SIM card, unfortunately, the Chennai International Airport does not have a sales counter. You will have to go into the city to purchase one. Locals recommend Vodafone over AirTel due to its better reception and customer service.
A basic line with 1GB of data costs about ₹375. The application doesn't come easy.
Here's what you'll need:
Passport
Passport photo – you can take a set at a traditional photo studio for ₹100
Copy of visa
Local address
Patience: the activation can take up to 2-3 days for foreigners
*Pro-tip: Get a local to purchase the card for you. The activation time for locals is within a day.
Where to stay in Chennai
1) Red Lollipop Hostel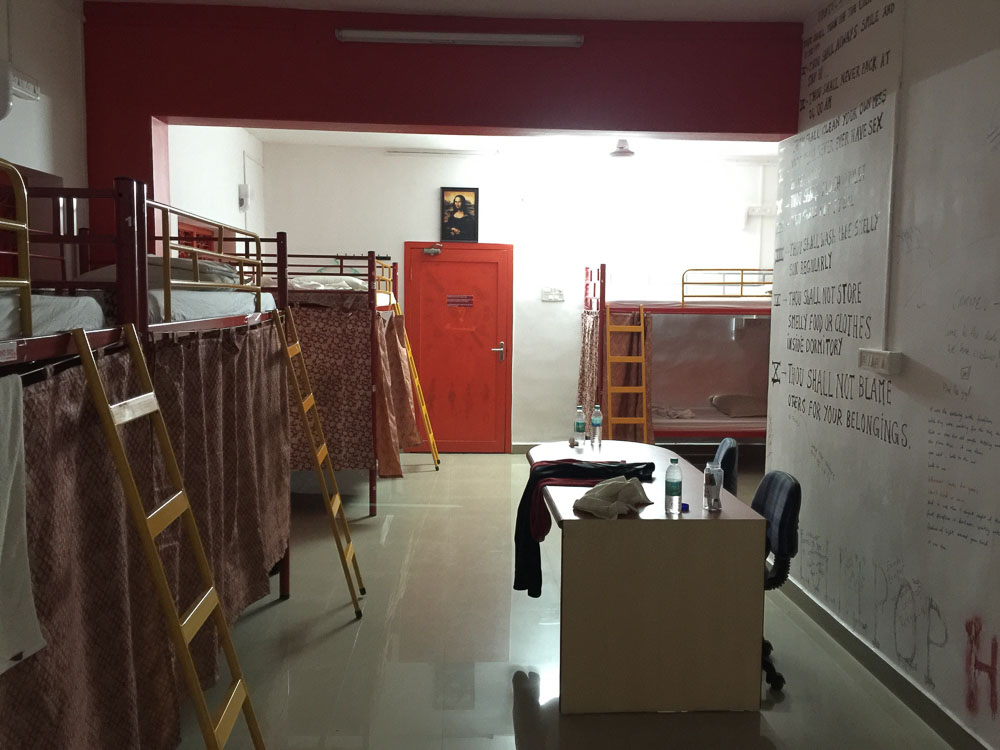 Red Lollipop Hostel is one of two hostels in Chennai. Located across the Mandavelli Bus depot and within 3kilometres to the major attractions of Chennai made it an easy choice for us.
The air-conditioned dorms are very spacious and each bed comes with two dedicated power sockets and a night light. If you plan to cook, you'd be happy to know that the kitchen is well-equipped, and you can feast with fellow backpackers in the common TV room.
The walls of the dorm added to the flavor of the hostel with travelers leaving hand-drawn quotes on the walls. We left our mark as well.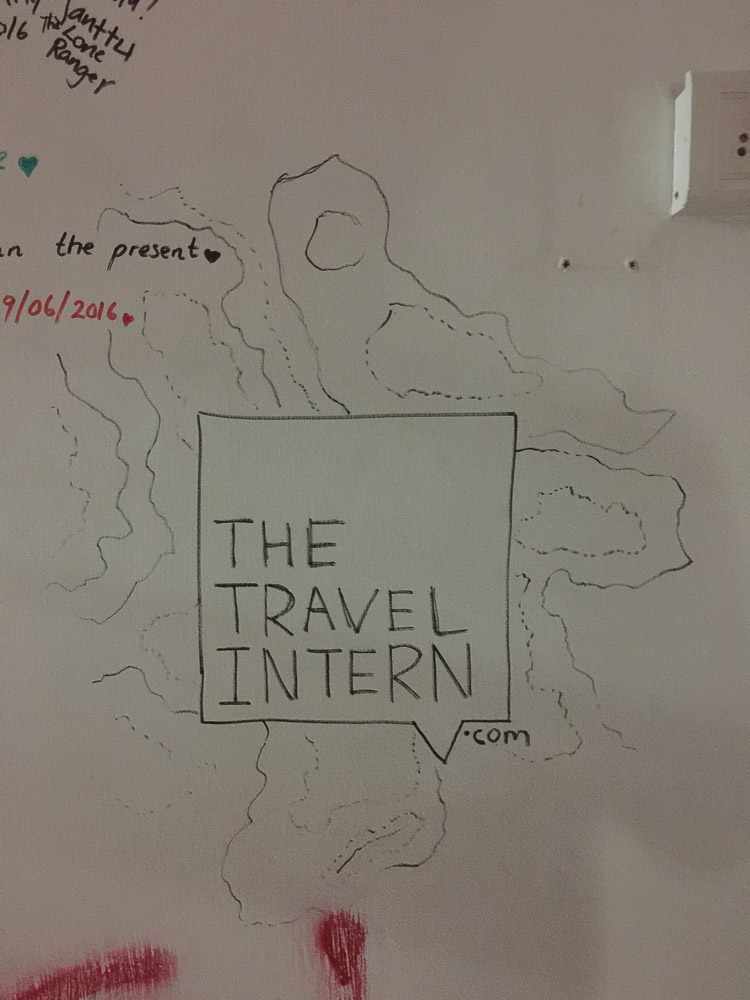 Cost: About ₹600/night in a 10 bed dorm.
Address: Door No 129/67, Ramakrishna Mutt Road, Mandavelli, Chennai, Tamil Nadu 600028, India
Getting there: It is a 20minute drive from the airport, and pickups can be arranged for ₹750
Phone: +91 44 2462 9822
Getting around in Chennai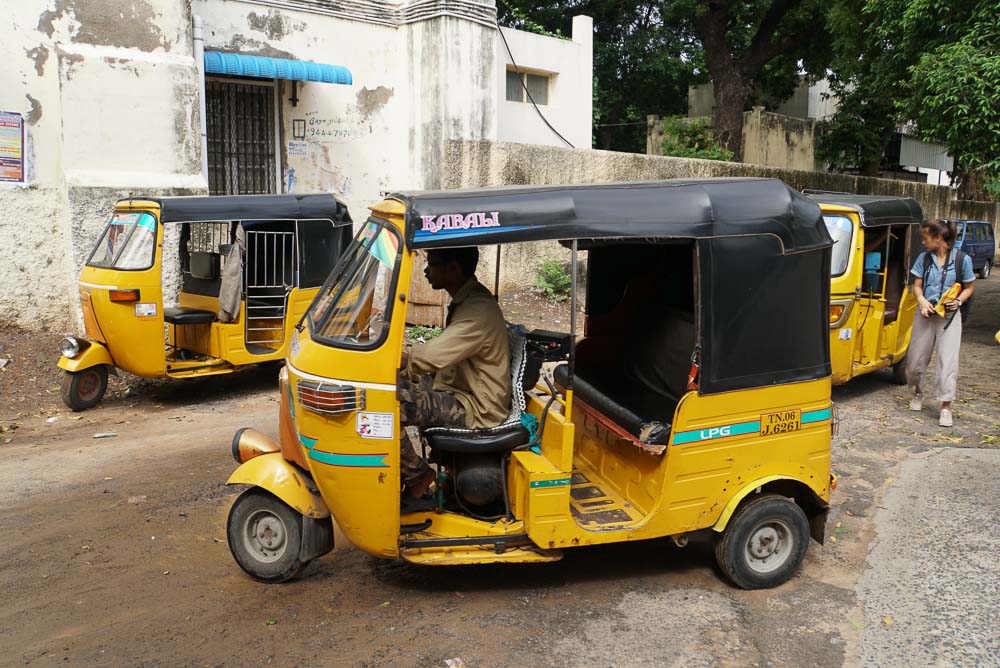 Chennai has one of India's best public transport network systems. Getting around by bus is the cheapest and most preferred mode of travel.
We, however, opted for the old school mode of transport, squeezing ourselves into the Autos for a quick way to zip around town, much like the tuks-tuks of Thailand.
However, the urbanites of Chennai prefer to rely on their apps and use Uber a lot, which is much cheaper than their local equivalent app, Ola. Worth checking it out.
Flying direct from Singapore to Chennai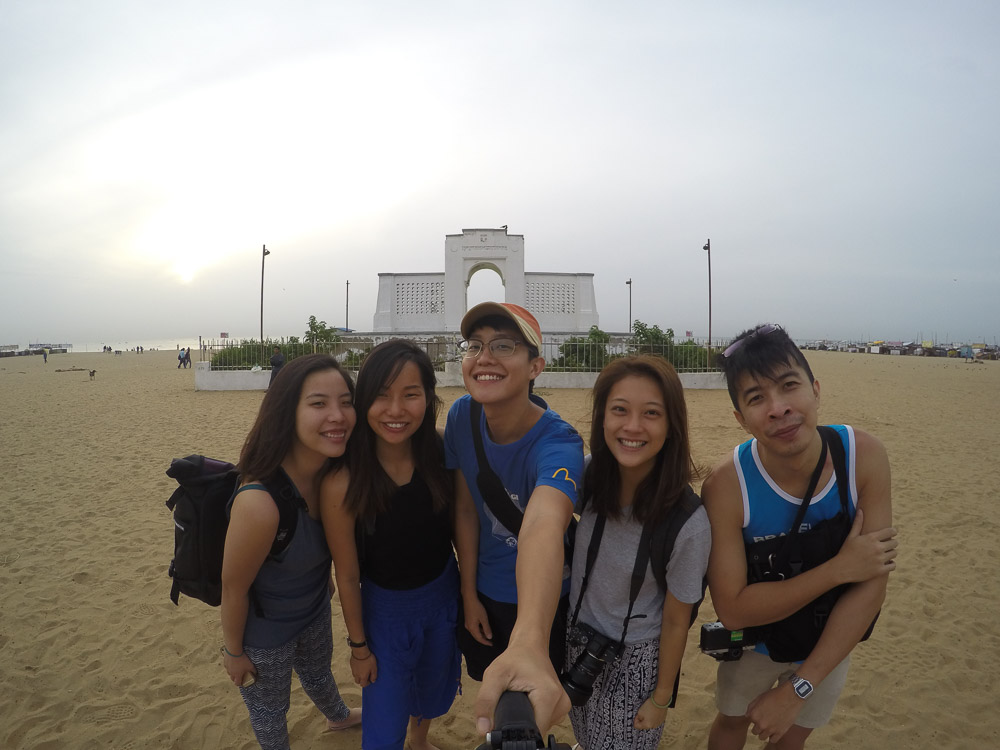 Scoot now flies direct from Singapore to Chennai daily. The flight is only about 4hours, so we had just enough time to grab a mutton briyani to whet our appetites, and snooze before we began feasting on the sights and sounds of Chennai, and India!
I need to scoot back soon to try out the rest of the amazing food in Chennai!
For more ideas on your next trip to India, check out our 12 Days in India!

Like what you're seeing? Share, like and follow more of our adventures on Facebook or Instagram! 
This post was brought to you by Scoot.