Awoken by a man towering over, in his hand a ticket printing device. I realised just about everyone else had alighted from the overnight bus, but the five of us and two french guys — the only foreigners on the bus. The bus continued winding uphill, passing through tall pine trees filtered behind the thick morning fog. The scenery was pretty incredible.
"Where you going?" the man nudged again. There was a split second of panic as we'd paid for a bus ticket from Delhi to Dharamshala. As it turned out, we'd overslept our stop.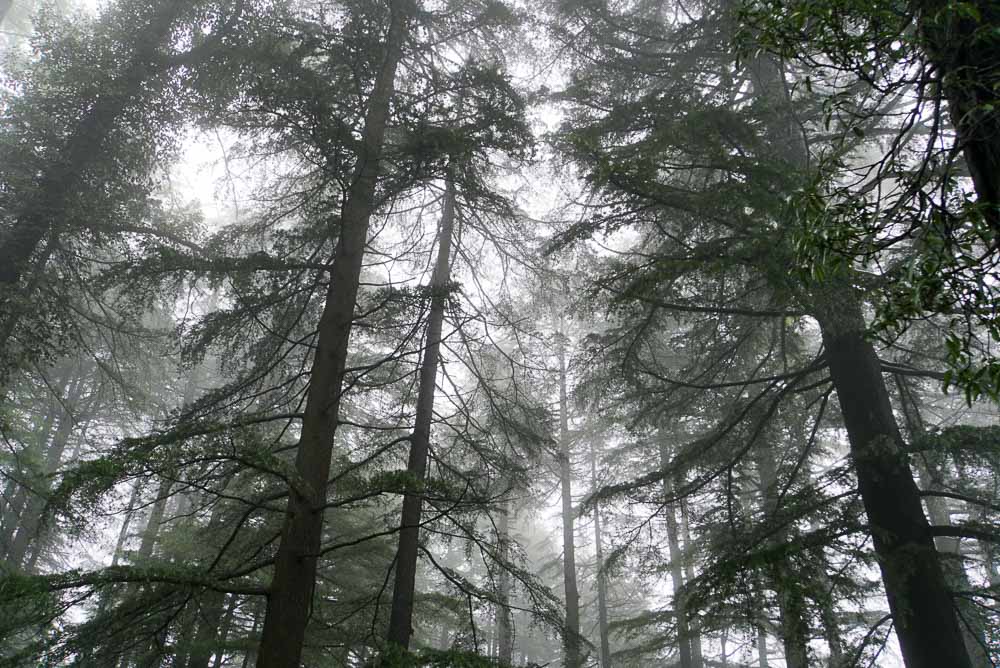 Thankfully the bus was headed towards McLeod Ganj — which was exactly where we were supposed to end up. We paid the guy ₹30 (S$0.60) each and continued staring out of the window in awe for the next 30 minutes.
*Guidebooks and internet sources say you'll need to change buses at Dharamshala to get to McLeod Ganj. But some overnight buses end at McLeod Ganj too. Check when buying the tickets from Delhi ISBT.
Arriving at 7AM, we were inevitably drawn to a Chai stall at the bus stand. It just opened and was ready to serve breakfast.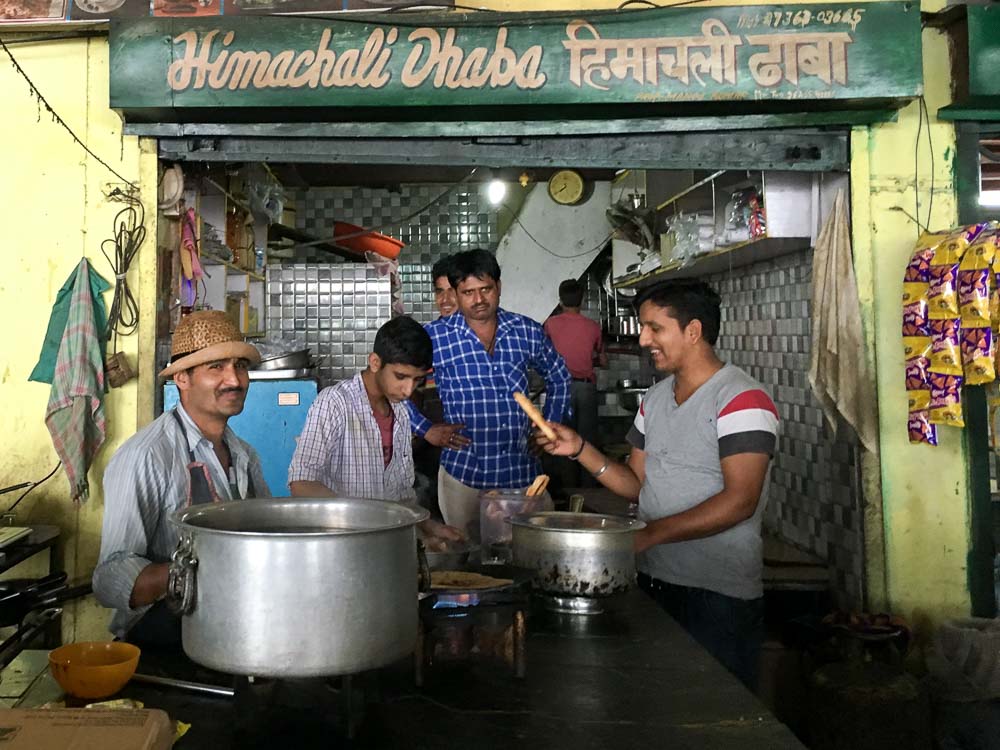 Enjoying the cool, almost mint-like air, I dreamily thought of how this would be the best part of our trip in India — a trek up the mountains, setting up bonfire, camping in pitch darkness, and possibly even snapping cool photos of star trails.
Little did we know, July is probably the worst time of the year to be on the Triund trek.
The onset of monsoon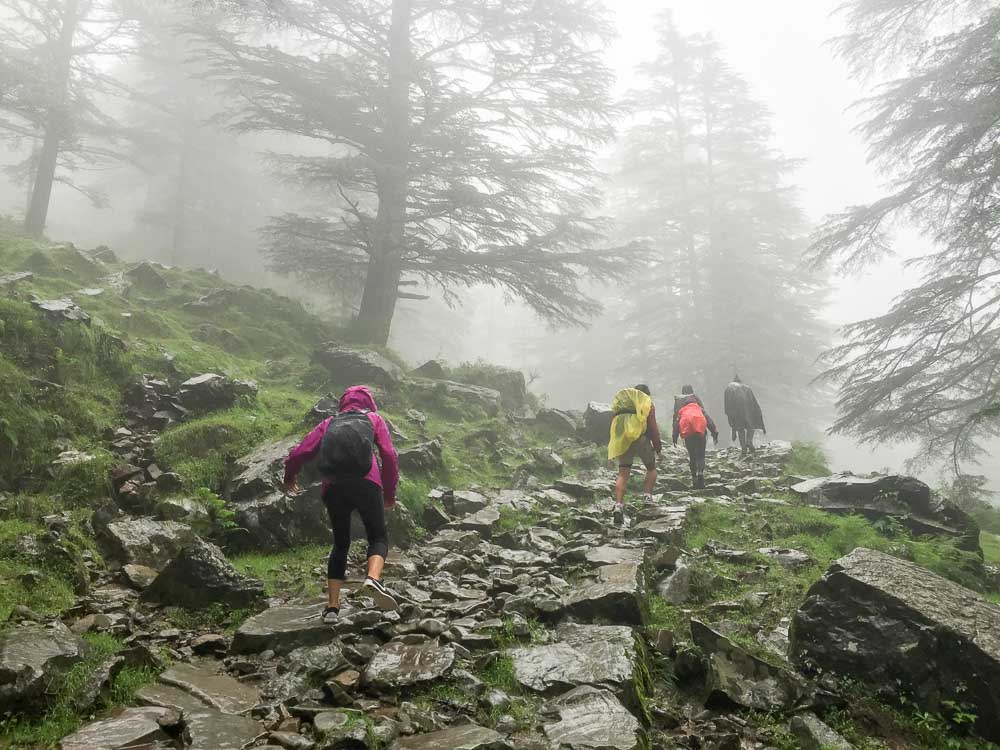 The skies finally lessened to a drizzle — after an hour of sipping warm chai, cleaning up, and packing our bags at the Shiv Shakti Guesthouse — we pulled up our hoods and started the journey.
"Most people take three to five hours to reach the flat part of the hill", shared the guide.
As determined as we were to prove our finesse, the steep ascends and increasingly thin air very quickly got us thinking otherwise. It didn't help that our only view was a thick white blanket of fog over the city. At times, we had trouble seeing each other despite being mere steps apart.
The oldest chai shop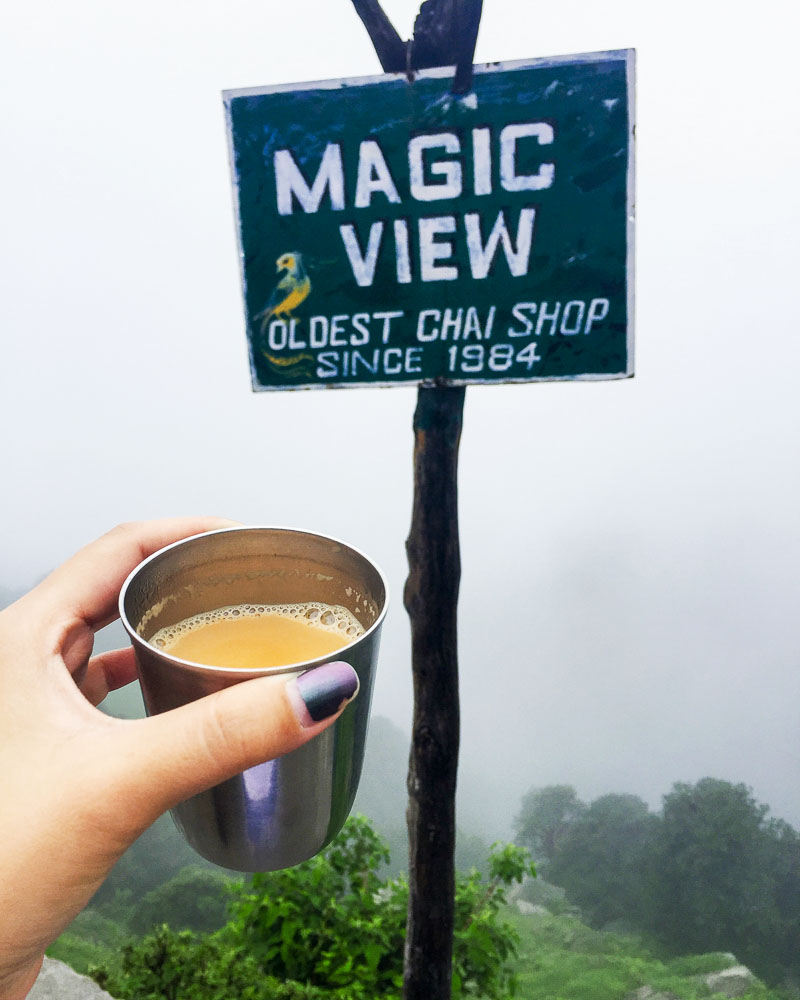 "15 more minutes and we rest", the guide cheered on, sounding like he was walking in a park. He'd been trekking the Triund for over 10 years and mentioned casually it usually took him 1.5hours to go up and down just for exercise #humblebraggingrights?
Being there right at the start of the monsoon season meant most of the snack stores including a supposedly famous Momo shop was closed. And up till this point, we were the only group hiking up — I secretly loved it.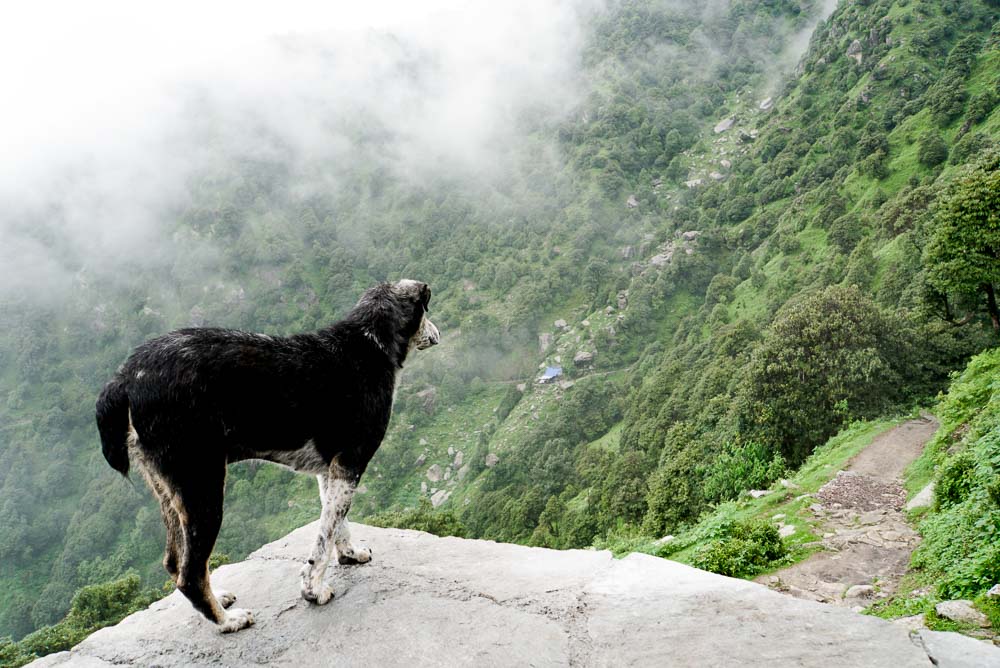 While heaving and willing ourselves to take another step further, there was a silhouette of a dog standing over the edge of a rock. Next to it, a signboard read "Magic View — Oldest Chai Shop since 1984".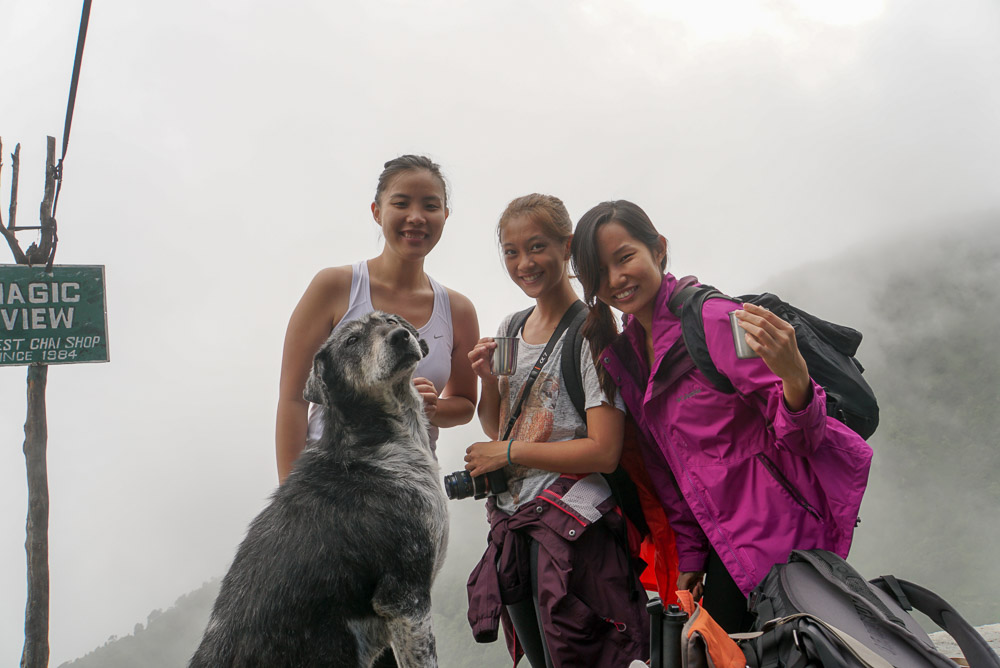 By then the rain had stopped and the fluffy white fog we'd seen all journey was starting to recede. We could only imagine how magical the view must be behind the fog.
Soon, we were served warm cups of chai from the familiar silver cups found everywhere in India. I wanted to express how it was the best chai ever but it honestly could've just been the taste of relief — standing amongst the mountains, surrounded by 50 shades of green filtered through the fog and a handsome fluffy companion — we obviously became great friends 😛
Camping in the rain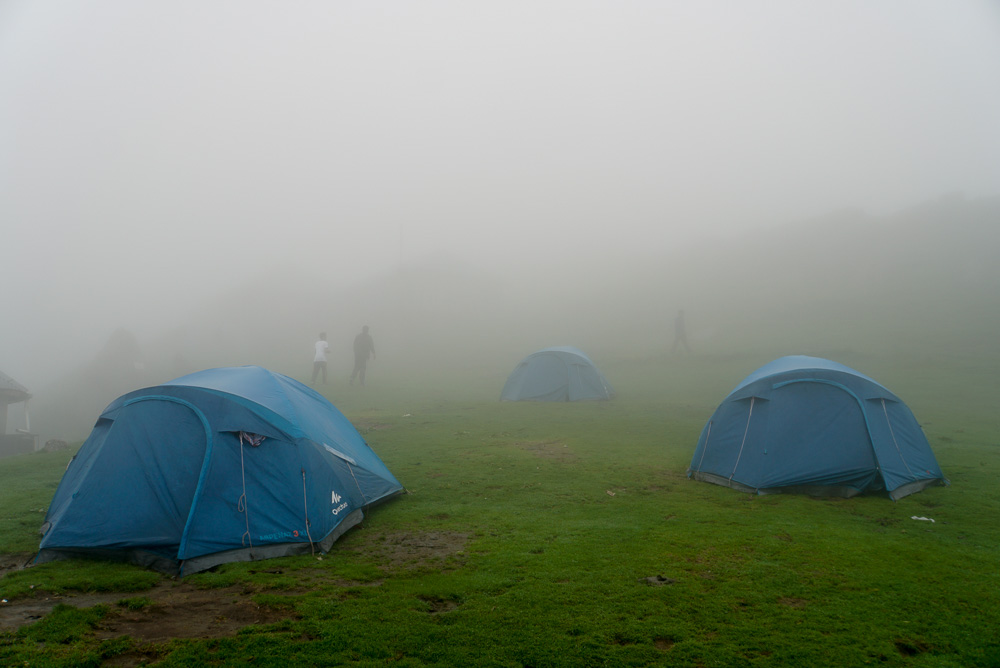 Starting our trek at 11AM, it was almost 5PM by the time we got to the top of Triund Hill. We tip-toed around, skilfully avoiding the unsuspecting patches of dungs spread out on the hill.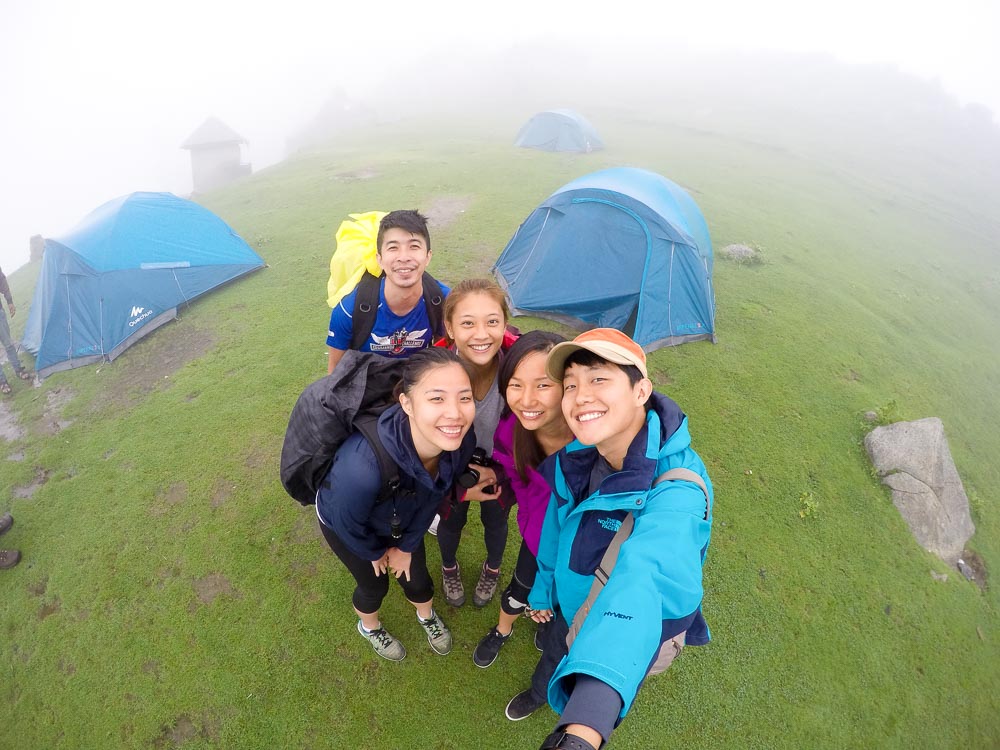 The tents were really spacious!
Once we changed into dryer clothes, the drizzle began again. "No bonfire tonight", the guide pointed at a patch of charred land not far from our tents. Everyone gathered in a tent and ended up playing cards and charades till it was dinner time.
For the first time on the trip, we weren't trying to take in everything as quickly as possible before rushing on to the next activity or location. Nor were we glued to our phones trying to keep up with the world back home. For the first time on the trip, we had the chance to travel the way we always talked about how travel should be like — slow and present.
When night finally fell, it was pitch dark outside the tent, and so was the sky. We'd given up hope of seeing a sky full of stars. Our toilet runs became an adventure — figuring what creature's silhouette was in the distance and trying to return without soiling our slippers with animal poop. The drizzle soon turned into a full-out downpour as we tucked ourselves into the warm sleeping bags.
While the ambiance sound of the rain was soothing to sleep in, I wondered if the tent would hold up till morning.
The descend — trekking beside waterfalls
I woke up to my feet wrapped in a mushy wet sleeping bag. It was only 5AM and everyone was still asleep. The rain was still going strong and the water had pooled slightly at the base of our tent.
At 9AM, the weather finally cleared enough for us to take the descent. After a warm breakfast of soupy noodles, eggs, and toast, we bid farewell to the cows and dogs who had bantered all night with the rain.
This time, the greens were a lot greener and what had been just a dry hill of rocks was now a pathway for a waterfall!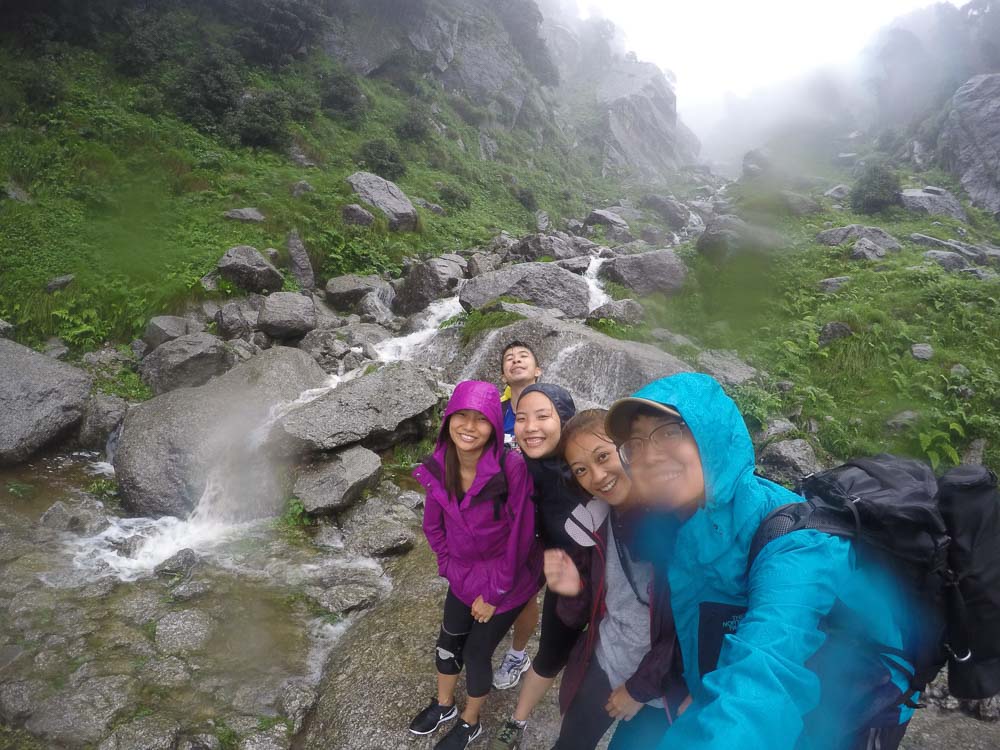 So we didn't get a bonfire, no starry sky, no spectacular sunrise, but we woke up feeling more refreshed than I had in a long time. Would we come again? Perhaps not during the monsoon. But if we turned back time and had arrived in Dharamshala for the first time, I would regardless.
---
Tips on trekking Triund
We didn't have the chance to decide which part of the year to go trekking since we only had a short amount of time in India. But if you're planning in advance, here are tips to making the best of your trip!
The best time of the year to Trek up Triund (and beyond)
The trek to Triund is closed in January and February because of heavy snowfall. The best time for the Triund trek is from April to November. Though the temperature can plunge below zero degrees anytime and snowfall may happen in March or April too, the Triund trek gives you the best experience from March onwards.
October – November: This is when the trails can get pretty crowded as the weather is just about perfect. Mostly dry, sunny weather while still being cool. Nights can be quite chilly.
January – February: Not ideal as snowfall can be heavy and the higher routes are usually closed during this time of the year
March – May: Temperatures can fall below zero and snow will still be present especially in March and April. Also a great time of the year to visit the snow line route (4D3N trek).
July – Mid Sept: We personally went in July, right at the onset of monsoon which lasts till mid-September (lucky us…). It was drizzling half the time during our ascend, the fog was really thick so there wasn't much of a view from the top. Obviously, we couldn't set up a bonfire and the sky was starless. It poured heavily through the night which actually set a nice calming ambiance, listening to the pitter-patter on the tent surface. What we got in return though, was having most of the trail to ourselves and walking beside waterfalls every few meters. If you're in town during this time anyway and are craving for a dose of nature, I'd say it's still worth giving it a go.
Other Trekking options after Triund
Triund can be typically done in a day if you're not planning to camp up in the mountains. If you have more time, there are other treks to take on with McLeod Ganj as a base.
2D1N: Triund 9km (Alt: 2482m)
4D3N: Laka Glacier and Lahesh Caves 26km (Alt: 3700m)
5D4N: Indra Hara Pass (Alt: 4320m)
Getting a guide for Triund Trek
The trek to Triund has a clear trail up so it's almost impossible to get lost if you do it on your own. However, we wanted to spend a night camping up in the mountains and decided to sign up for a guide with Him Treks. They picked us up from the bus stand, let us leave our bags at the guesthouse (only bringing a night's essentials), provided camping equipment and set up our tents and served us 2 delicious meals (vegetarian only). They offer various guided hikes from 2-6 days but the Triund Trek is only 2D1N and costs ₹1500.
Visiting Dharamshala? Check out our Dharamshala (McLeod Ganj) Survival Guide or leave us a comment below if we missed out anything you'd like to know 🙂