Be it a graduation trip or just a week long getaway with your squad, Kerala of India is the new "IT" place to explore for a full dose of culture, nature, and adventure!
A part of me always wanted to visit India — a country known for its spices, magnificent architecture, and sweltering heat. I've also seen and heard on more occasions than I can keep count that India is not exactly the safest country for females to visit. But that intensified my curiosity about this (perhaps) misunderstood country. And with this interest, I made my way to Kerala with the TTI team, and explored the state that's affectionately named "God's own country" — a name it truly lives up to.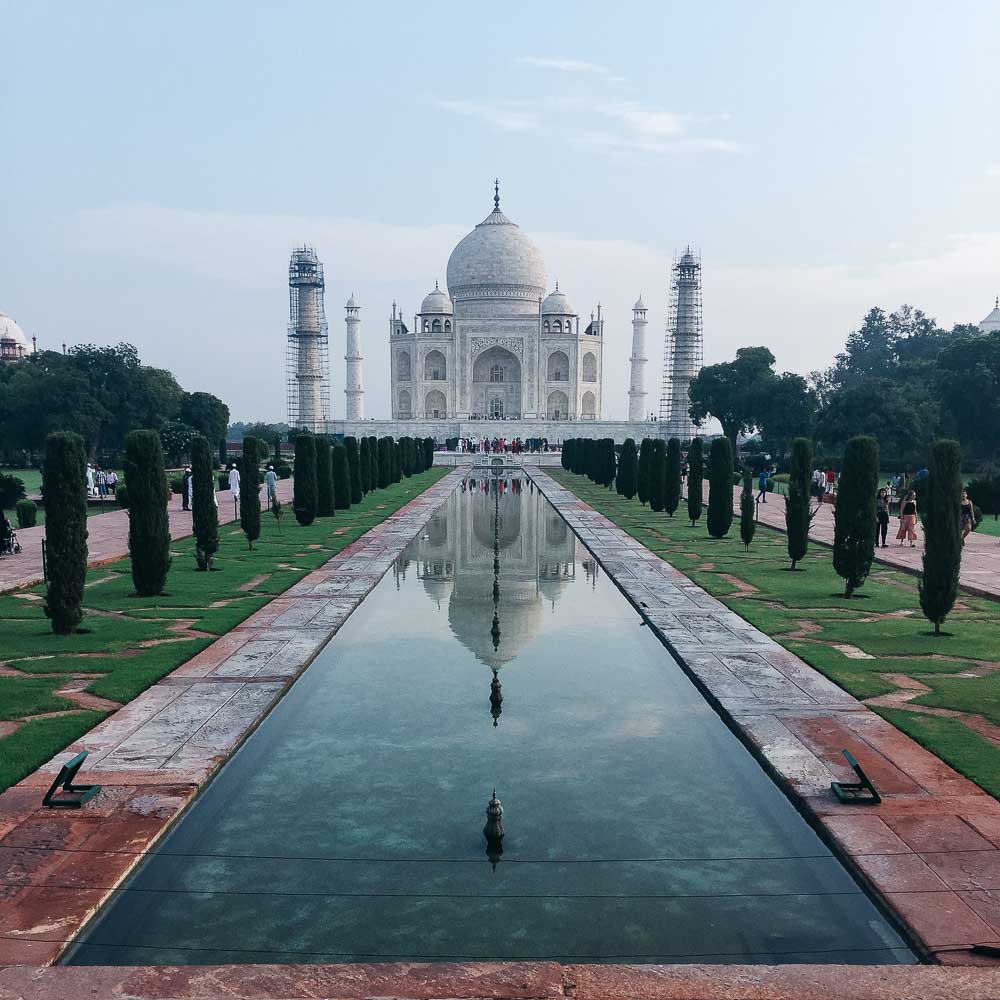 When people think of India, most would think of the Taj Mahal. While the magnificence of the Taj Mahal really is worth a once-in-your-lifetime visit, India has so much more to offer than a single building.
There's Kerala, the Indian state with the highest literacy rate, and also home to some of the most friendly locals and beautiful sights in India. This makes Kerala the perfect place to get a first taste of India.
Read Also: First Timer's Guide to India
Pre-Trip Essentials
Flight: Kochi is a 4 hour flight from Singapore. You can get direct flights from Singapore to Kochi via Scoot 4 times a week. The current sales fares starts from S$107 one-way!
Visa: Singaporeans are required to apply for Visa into India. The most fuss-free option is via the e-visa website which gets approved within 24 hours. Make sure to bring a printed copy of the approved e-visa as you will need it during immigration and during accommodation check-in.
Staying connected: e-Visa holders are entitled to a free pre-activated SIM card (₹50 talk time and 50MB data, 1-month validity).
However, there's a chance that the staff at the free sim counter (behind the immigration counters) will be away. If that happens, you can purchase SIM cards from Vodafone or Airtel just outside the baggage claim area.
SIM plans from Airtel (30-day validity):
– ₹300 for 5GB (3GB in Kochi, 2GB outside Kochi)
– ₹500 for 30GB (1GB/Day)
Getting around: A pre-paid taxi ride (1-hour) from the Cochin International Airport to Fort Kochi costs approx. ₹1300. Within the city, you can hop on auto-rickshaws for ₹50-250. Download the Ola app to check the best rates. Even if you don't even up booking from the app, it gives you some bargaining advantage.
*Accommodation options for each city are at the end of the post.
8D7N Kerala Itinerary
Day 1: A First Taste Of Kochi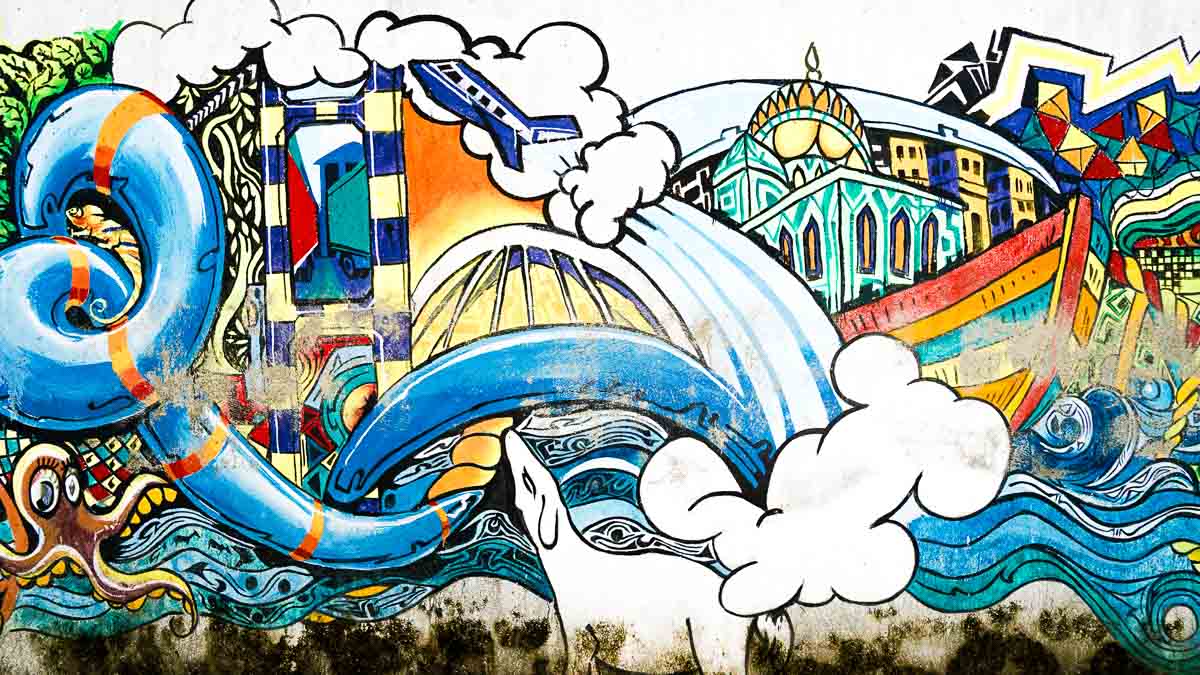 Kochi, formerly known as Cochin, is home to one of India's largest seaports and is famous for her traditional spices.
A lesser-known side to travellers, Kochi attracts travellers who are looking for something different from the typical Taj Mahal tours. The city's chill vibes is the perfect place to get a first taste of Kerala, or also known to the locals as God's own country. Its colourful street murals around Kochi adds a sense of playfulness amongst the traditional and time-worn buildings.
Fort Cochi
Santa Cruz Cathedral Basilica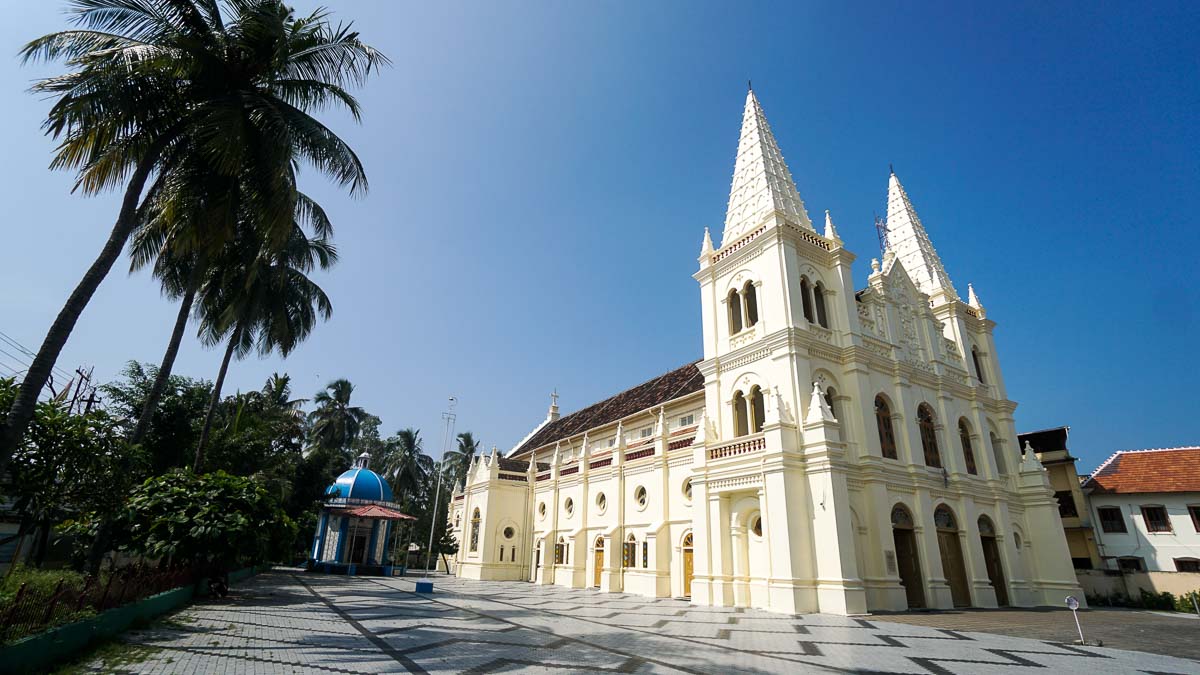 Built in 1558, the Santa Cruz Cathedral Basilica is one of the most impressive Gothic Church in India. To the uninitiated, it might seem odd that the number of churches easily outnumber Hindu temples and Muslim mosques, common to other states like Uttar Pradesh and Rajasthan. But to the Kerala local, there's really no difference. In fact, walking on the grounds of Kerala, you will notice there's hardly any animosity felt between the people of different religious groups.
Address: Santa Cruz Rd, Fort Kochi, Kochi, Kerala 682001, India
Opening Hours: 9AM – 1PM, 2:30PM – 5:30PM (Mon-Sat), 10:30AM – 1PM (Sun)
Breakfast at Kashi Art Cafe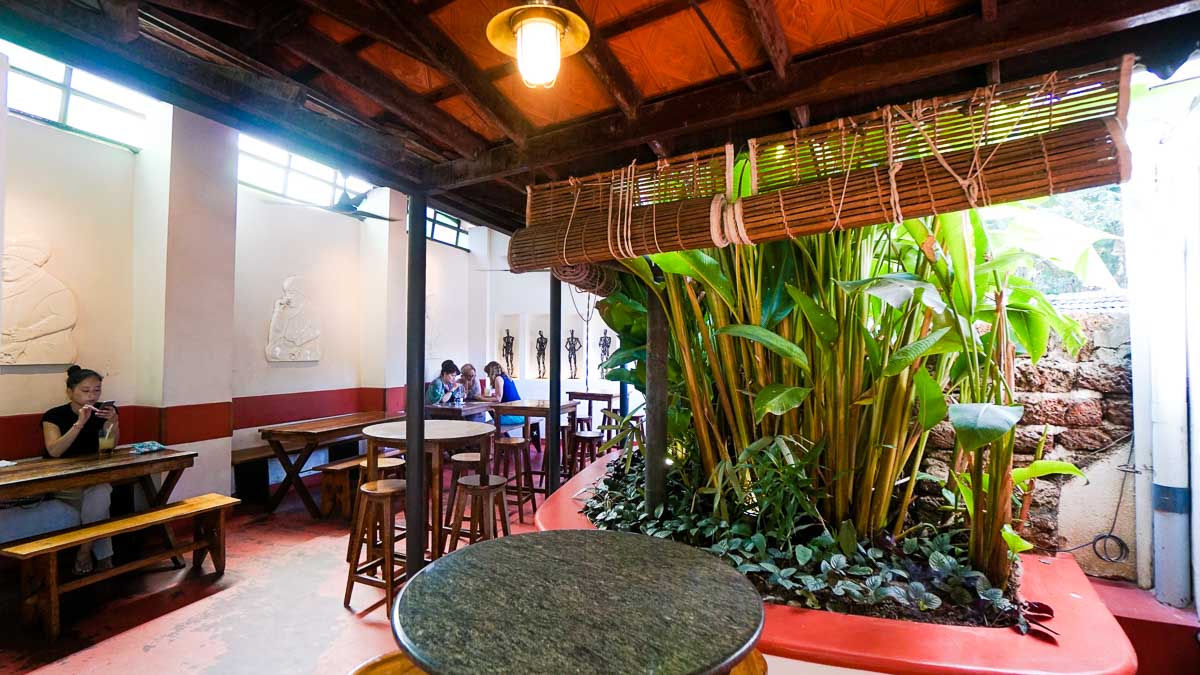 At the end of Burgher Street at Fort Kochi is a small art gallery that extends to a hidden cosy cafe at the back. Kashi Art Cafe serves continental styled breakfast like omelettes and yogurt with granola and fruits. Just to let you know, the omelette serving is super generous is would probably be enough for 2 girls with a small appetite. The masala chai here tends to be a bit on the milkier side, while the Honey Coconut Coffee is an interesting concoctionthat is surprisingly refreshing.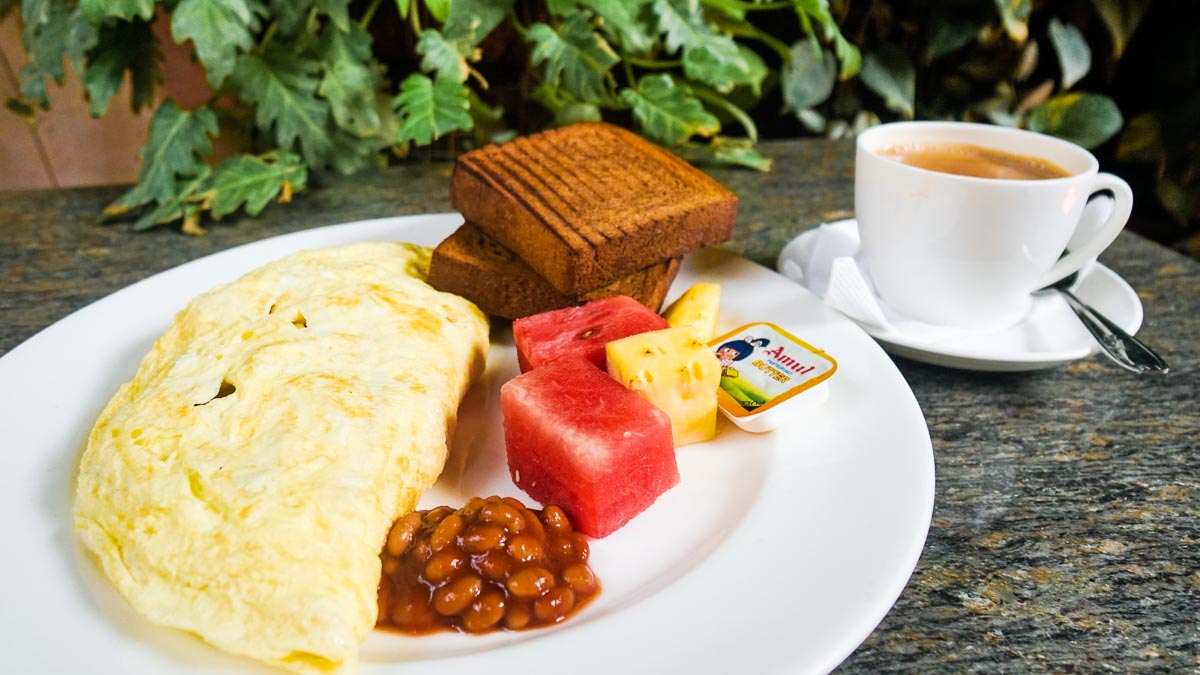 Address: Burgher Street, Fort Kochi, Kochi, Kerala 682001, India
Opening Hours: 8:30AM – 10PM daily
Cost: ~₹125-438
Mattancherry
Shop in Jew Town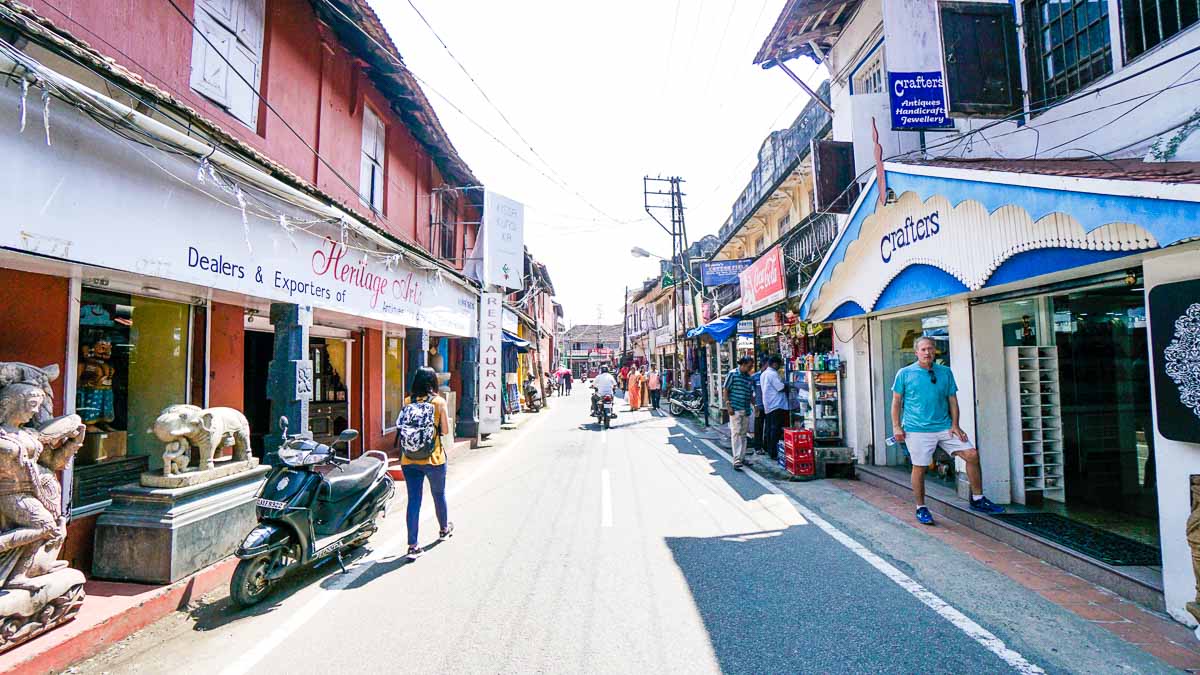 Jew Town in Mattancherry of Kochi is famous for its many craft, fabric, and antique shops. Once a Jewish settlement, Jew Town is now commercialised to cater to tourists. You can find many shops selling little trinkets, scarves, spices, and traditional Indian costumes. The few remaining Jewish icons include the Paradesi Synagogue.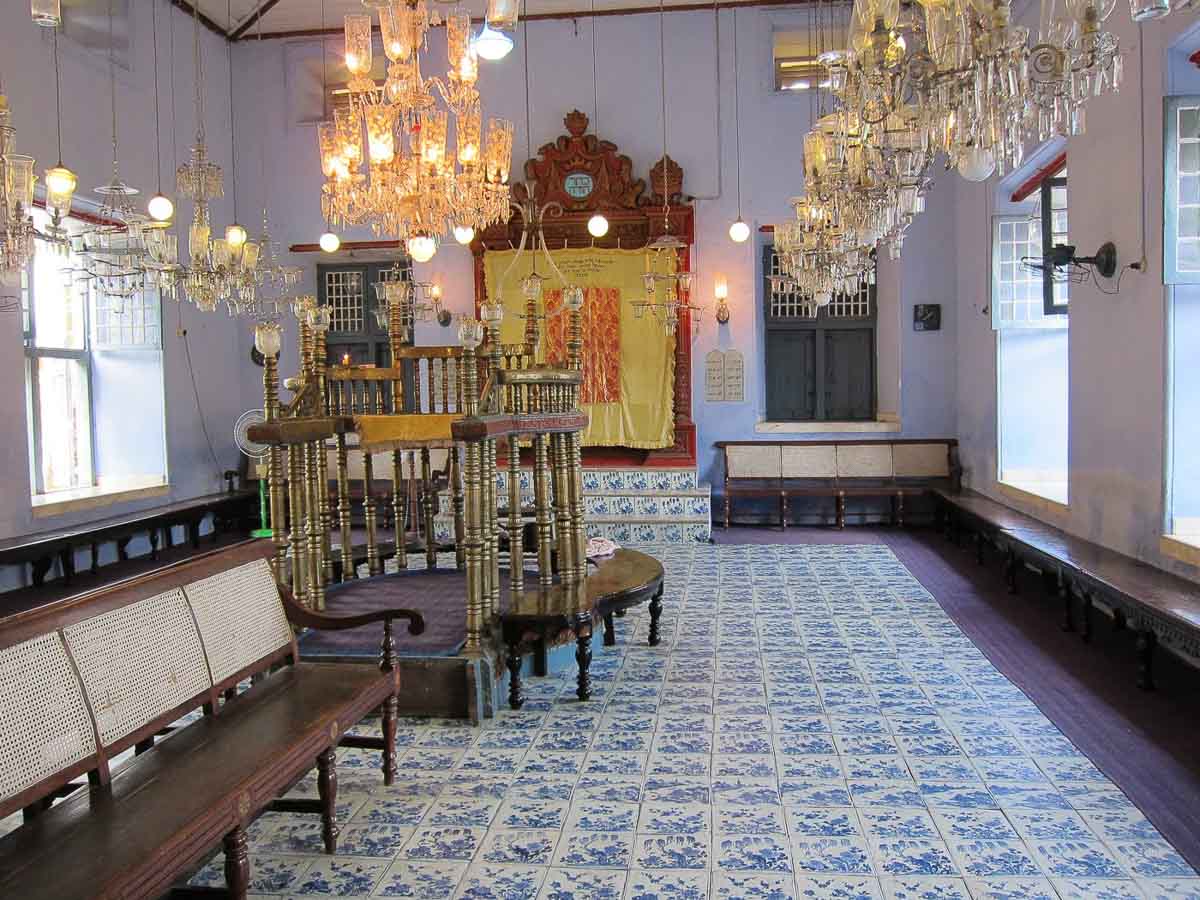 Opening Hours: 10AM – 1PM, 3PM – 5PM
Admission Fee: ₹15/pax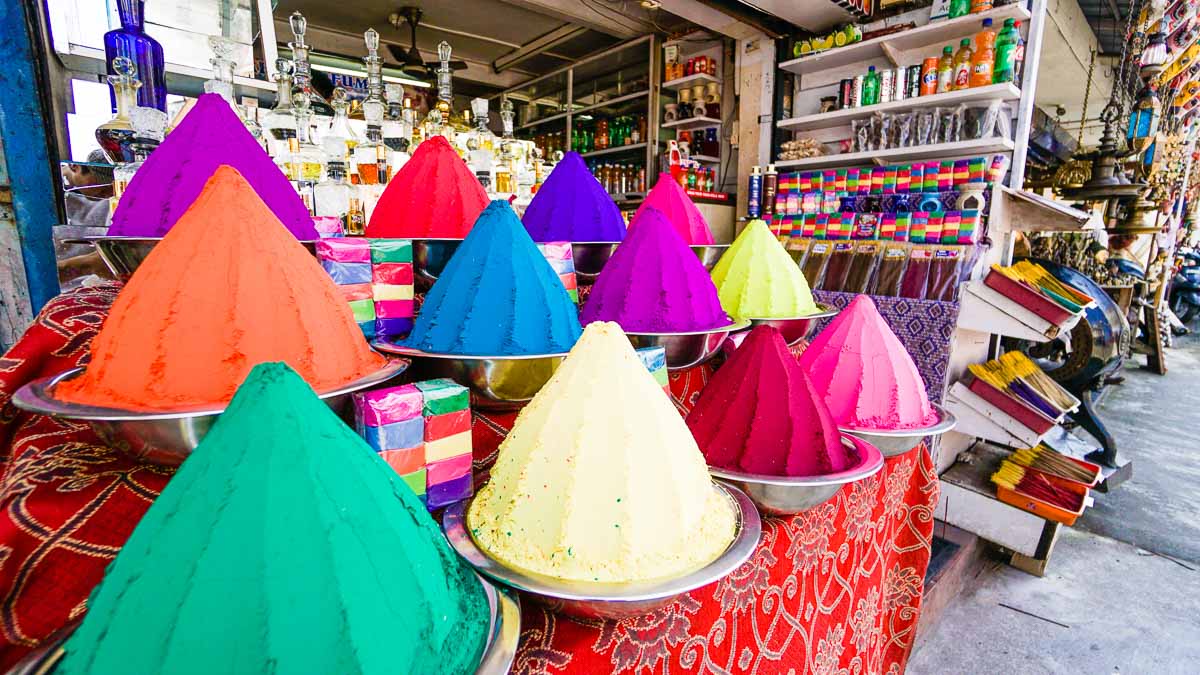 Buy some locally produced fragrance oil and scented incense home as the perfect souvenir from Kerala.
Lunch at Sri Khrishna Cafe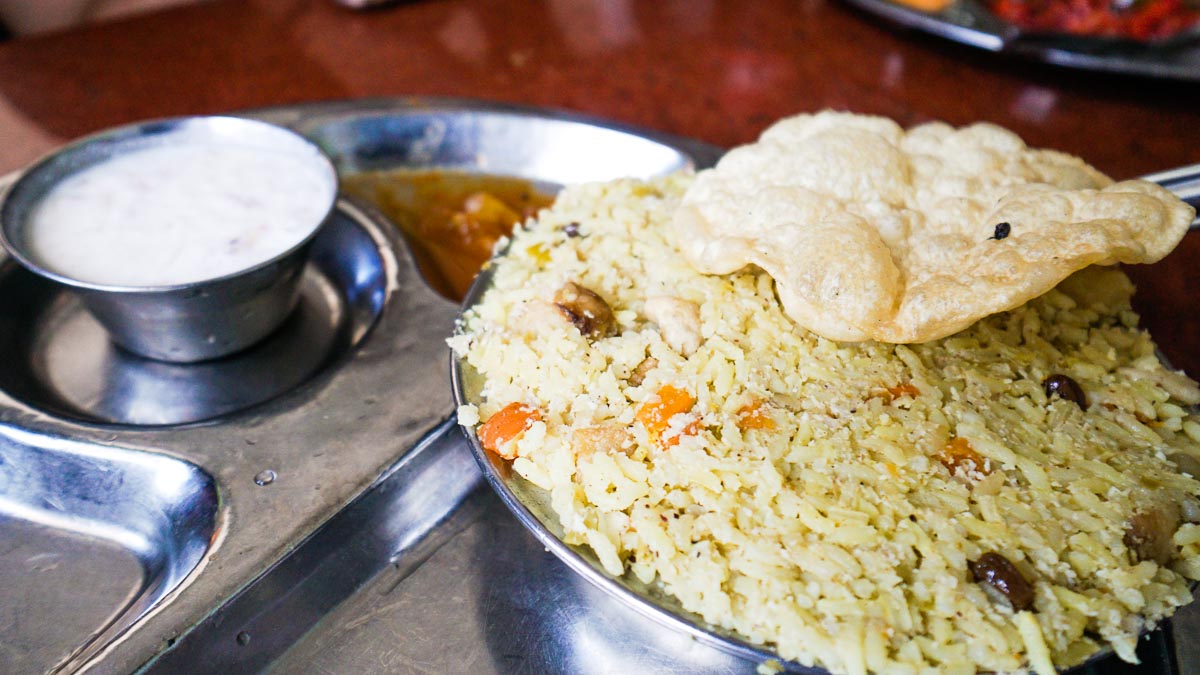 After checking out Jew Town, we headed back to Fort Kochi for lunch. We chose a simple local eatery — Sri Khrishna cafe. A complete 180° from our breakfast venue, Sri Khrishna is authentically Indian, where locals take their everyday meals. We ordered a chapati set, veg briyani, and dosa (a.k.a. thosai).
Address: Palace Rd, South Cherlai, Mattancherry, Kochi, Kerala 682002, India
Opening Hours: 8AM–2:30PM, 5:30–9:30PM daily
Cost: ~₹9-100
Pick up the Kathakali Dance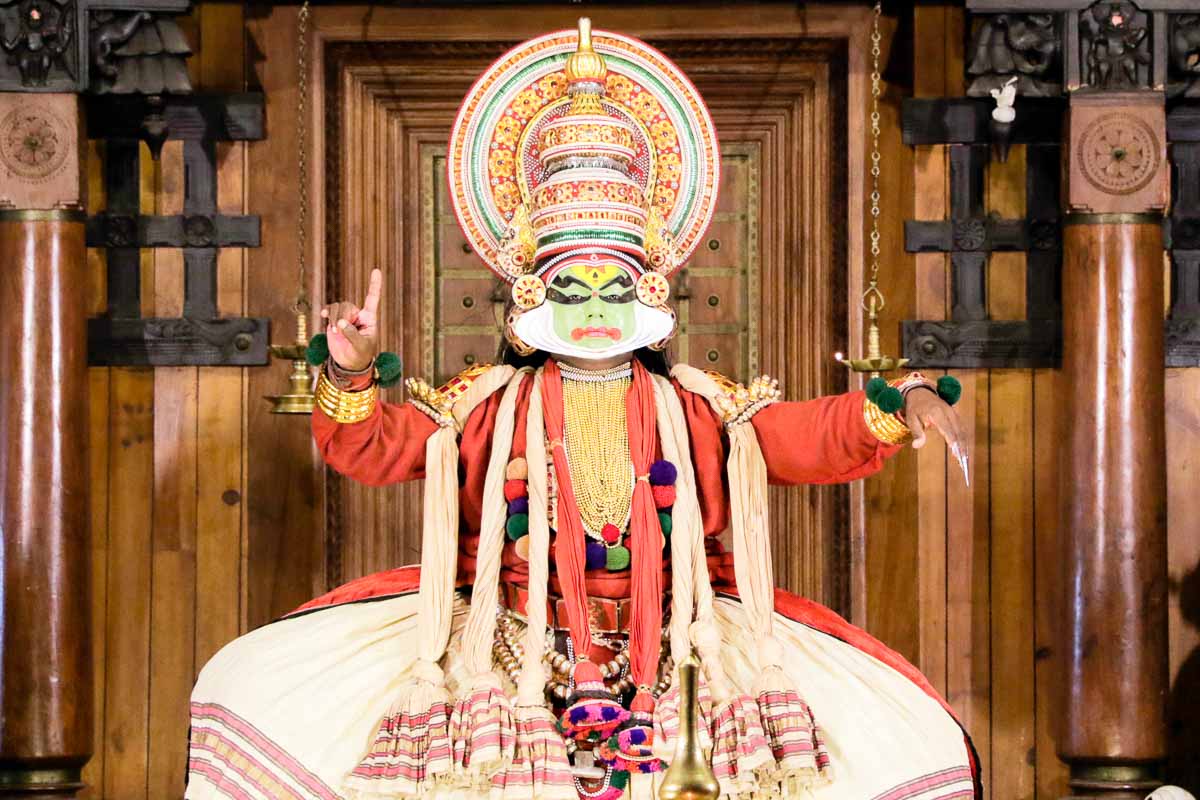 A dance and theatrical art form unique to southern India, catching a Kathakali performance in Kochi is a must. But instead of just watching the performance, we thought it'd be a good idea to ask for a crash course. For 1 hour, we got lessons from a veteran Kathakali performer who only skimmed the surface of Kathakali but left us breathless with awe and exertion.
I particularly enjoyed leanring the Mudras (hand gestures) that, albeit arbitury, conveys lots of meanings that can be understood with some creativity.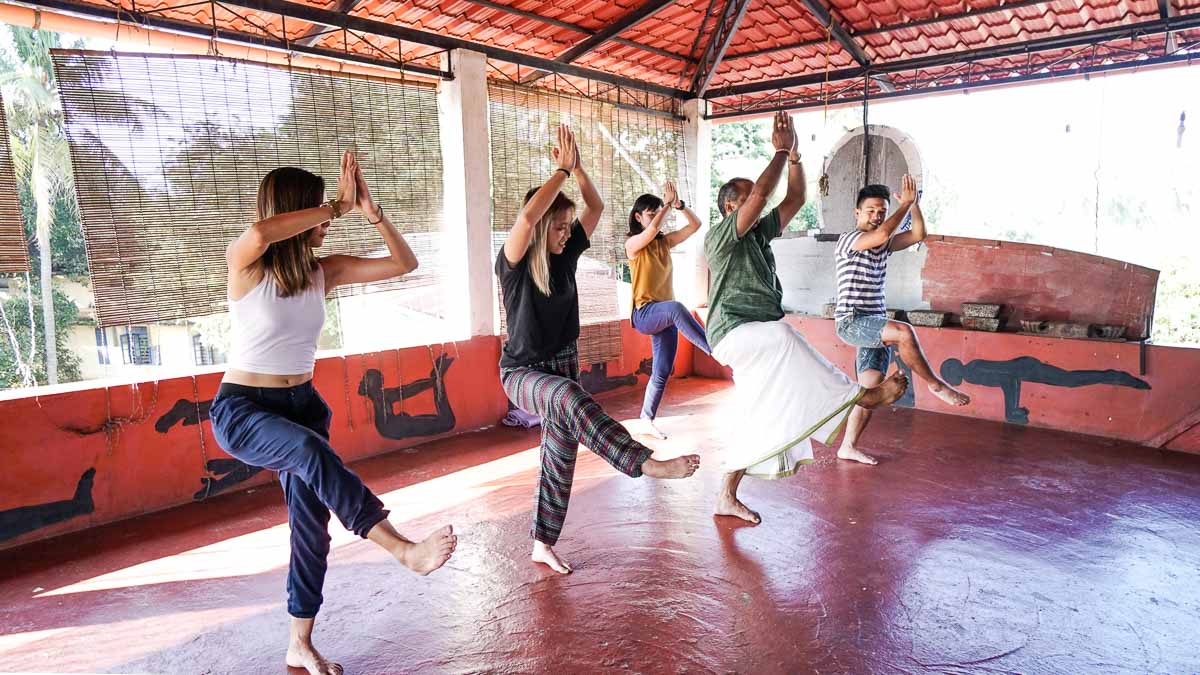 An hour flew by with us fumbling over our feet and in laughter trying to imitate the coach's exaggerated-yet-on-point facial expressions. It was definitely an enjoyable experience that made us realise how much hard work goes into delivering a perfect Kathakali performance.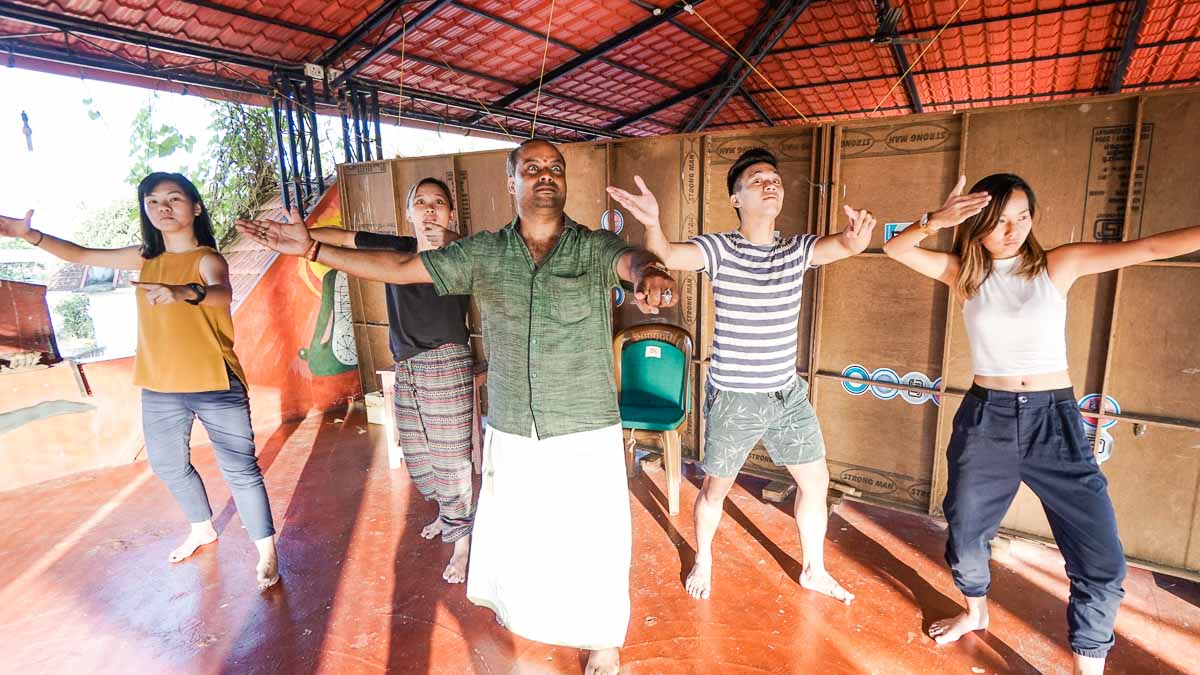 Address: Near Santa Cruz Basilica, K.B. Jacob Road, Fort Kochi, Kerala 682001, India
Showtimes: 4PM (Dance & Expressions Class), 5PM (Make-up Application), 6PM (Demonstration & Show)
Cost: ₹500/pax (Dance & Expression Class), ₹350/pax (Show)
*Protip: We highly recommend the Kathakali Dance & Expressions Class before watching the performance, as you will get a better understanding of the facial expressions and dance moves of the non-verbal Kathakali performance.
Seafood Dinner at Fusion Bay
Located just a 2-minutes walk away from the Kerala Kathakali Centre is the restaurant Fusion Bay, where we had our dinner. Fusion Bay is particularly famous for its seafood choices, which is also very reasonably priced.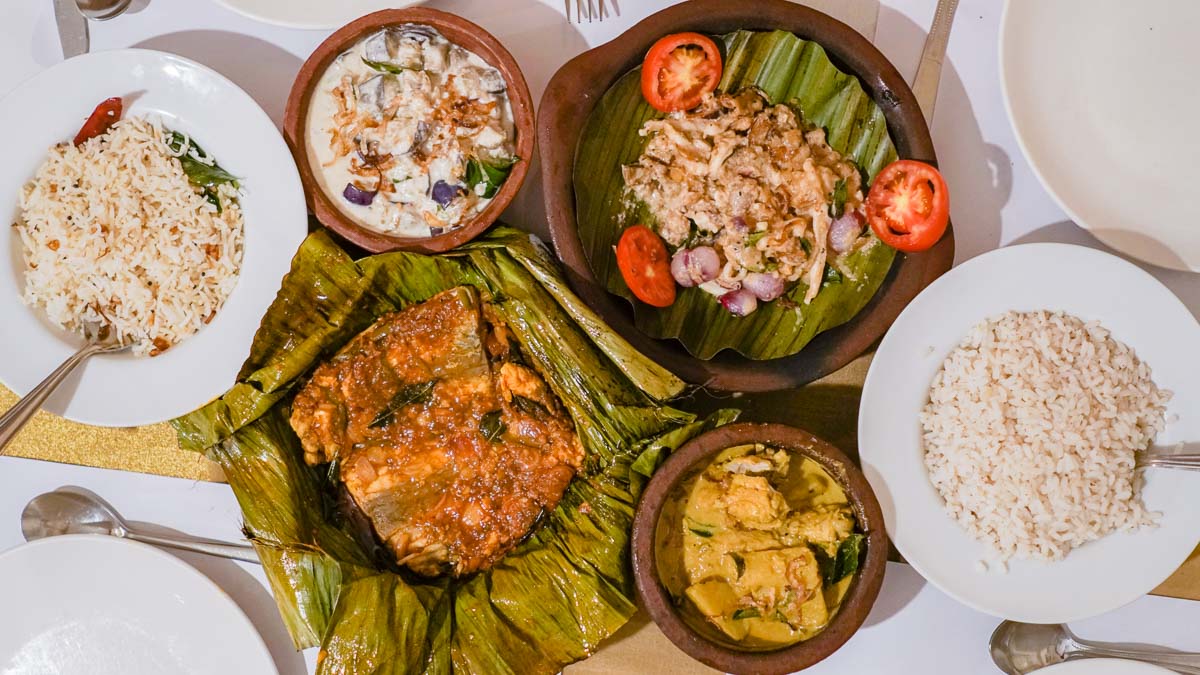 Address: Santa Cruz Basilica Junction, K.B. Jacob Rd, Kunnumupuram, Fort Kochi, Kochi, Kerala 682001, India
Opening Hours: 12PM – 3:30PM, 6:30PM – 10:30PM daily
Cost: ~₹150-1000/dish
Read also: 9 Beautiful Cities to Visit in India
Day 2: Day Trip to Athirappilly Falls
Chinese Fishing Nets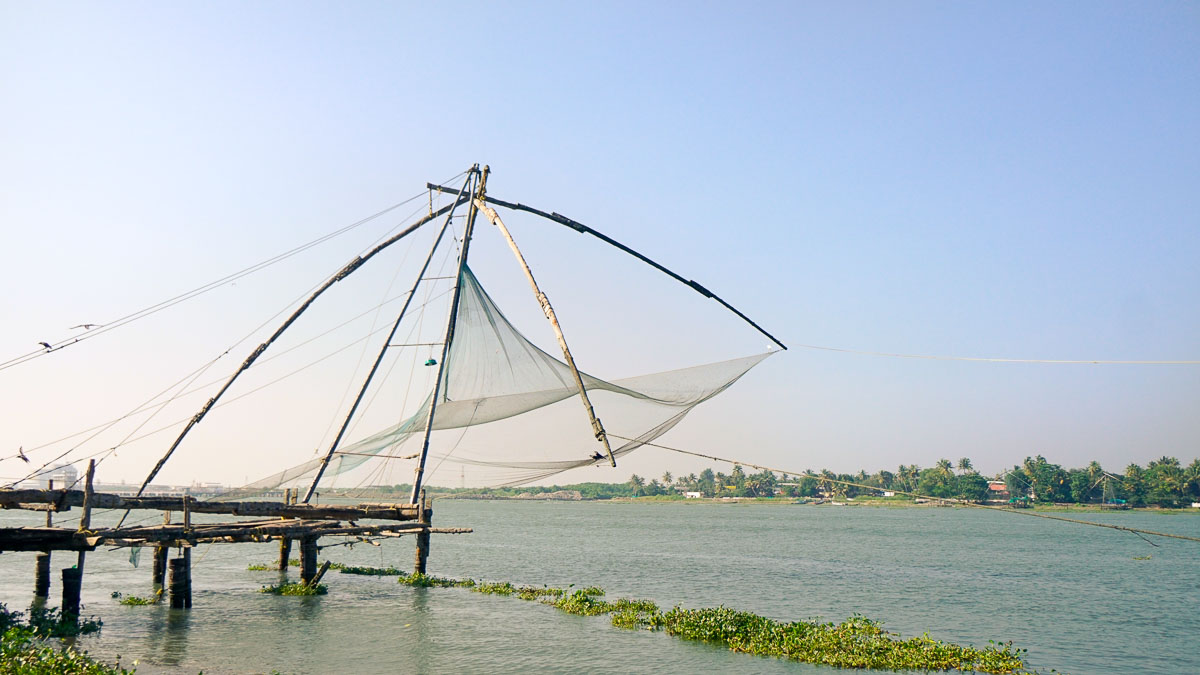 Before embarking on a day trip to Athirapilly Falls, we got up early to watch the fishermen along River Road of Fort Kochi on their daily morning routine of pulling up fishing nets. It takes 5-6 men to lift the contraption, which is descended into the sea for about 10 mins. Each time, a netful of fish and crustaceans will be caught and then sold at the local markets.
The impressive wooden lift nets line the shore of Kochi beach, and are unique to Kochi. It is also said that Cheng Ho, Ming Dynasty explorer, was the one who introduced such fishing nets from China during his expedition to Kochi, hence the name Chinese Fishing Nets.
Breakfast at Happy Camper Cafe
Run by the guys at Happy Camper Hostel, the Happy Camper Cafe serves all-day breakfast even to non-guests. We enjoyed the spinach and mushroom omelette and the Nutella french toast. The latter might be a little too indulgent to have on your own.
Address: KL Bernard Master Rd, Fort Nagar, Amaravathy, Fort Kochi, Kochi, Kerala 682001, India
Opening Hours: 8:30AM – 10PM daily
Cost: ₹100-210
Within Happy Camper hostel itself, there is also Henna drawing available from ₹150-200, depending on size.
Day Trip to Athirappilly Falls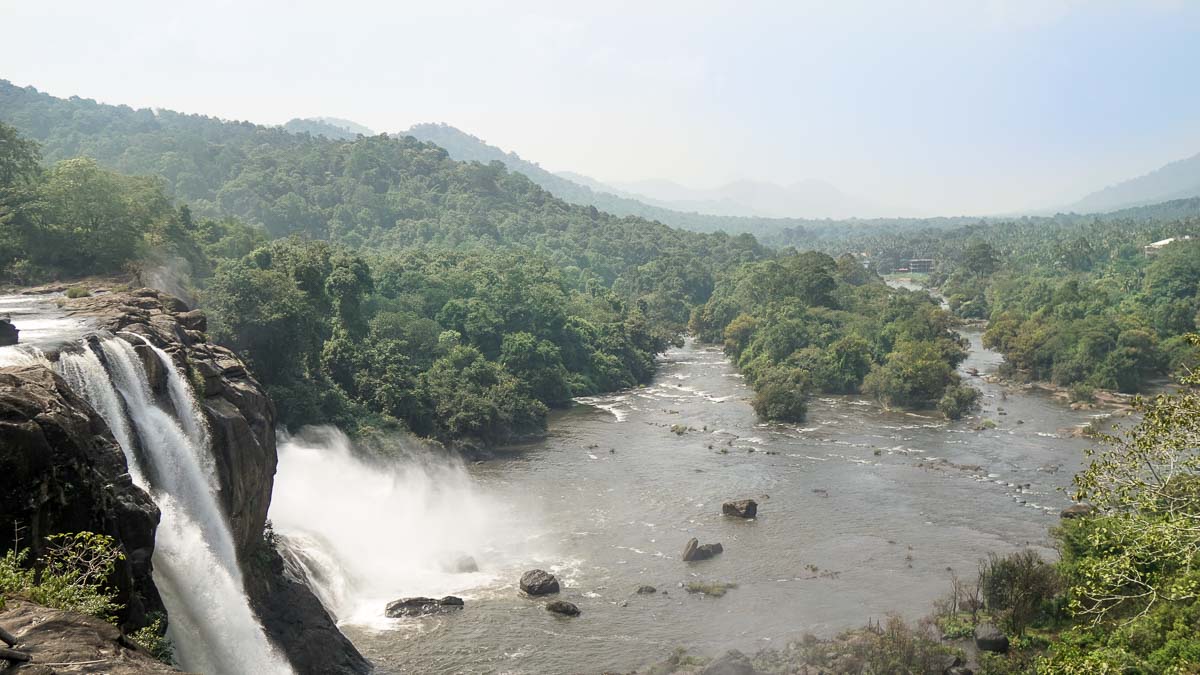 A popular day trip from Kochi is the Athirappilly Falls, also known as the Niagara Falls of India (gets more epic over the monsoon season). We got a driver arranged through the staff at Zostel for₹4500 (7 Seater car). The drive out is 2-hours long but the views along the way are superb.
From the entrance of Athirappilly, the lookout point at the top of the Fall is an easy 10-20 minute stroll. From there, there's an additional path that leads you to the base of the waterfall for even better views, but do note that you WILL get wet here.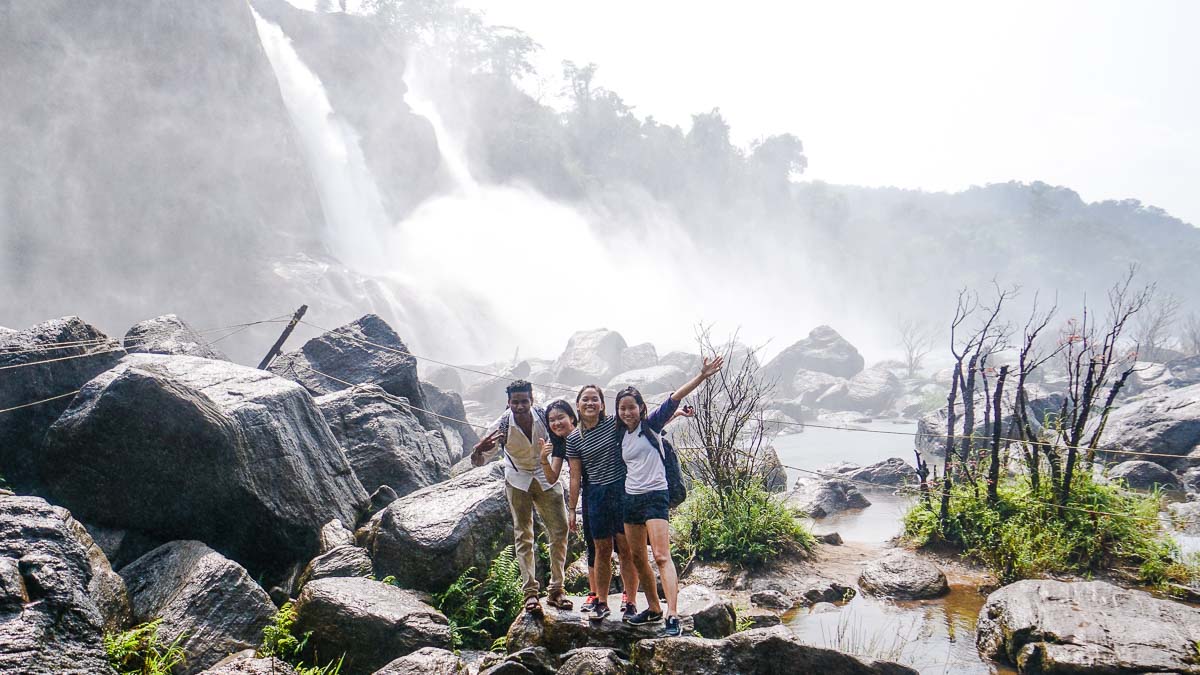 Some things to take note: There are wild monkeys that will approach you especially if you have food such as ice cream and bottled drinks on you. Plastic bags too even if there's no food in it. So stow your items, walk hands-free and you shouldn't be harassed.
The falls look the most spectacular and robust during monsoon (usually around July-September) but the path to the base will be closed because the waterfall would have filled the path entirely. Perhaps the best time to visit would be post-monsoon from September – December.
*Pro-tip: Bring along ziplock bags for your phones and cameras if you are planning to get down to the base of Athirappilly Falls!
Address: Athirappilly, Chalakudy Taluk, Thrissur District, Kerala, India
Opening Hours: 8AM – 6PM daily
Cost: ₹30/pax
A short drive away is the Thumboormuzhi River Garden, where there's a suspension bridge which our driver cheekily termed as the "Golden Gate Bridge of India". We admired the sunset against the peaceful stream.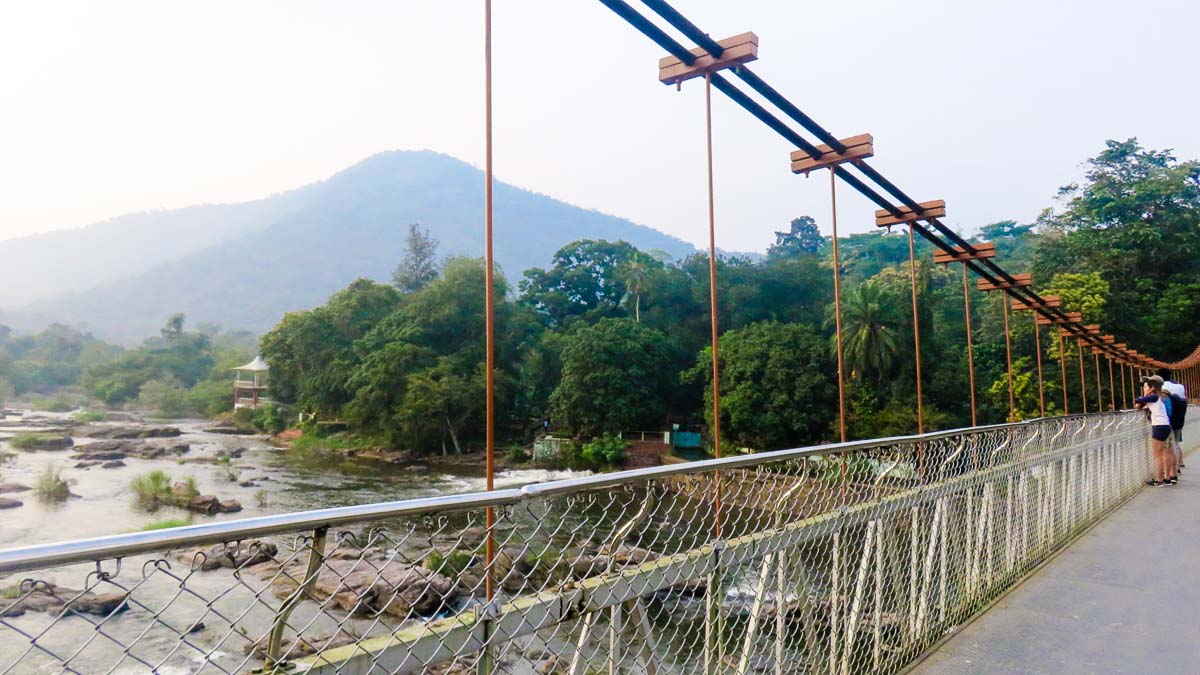 Address: Chalakudy – Anamala Road, Thrissur, Kerala 680721, India
Opening Hours: 9AM – 5PM daily
Cost: ₹15/pax + ₹25/still camera, ₹200/video camera

Day 3: Off to Munnar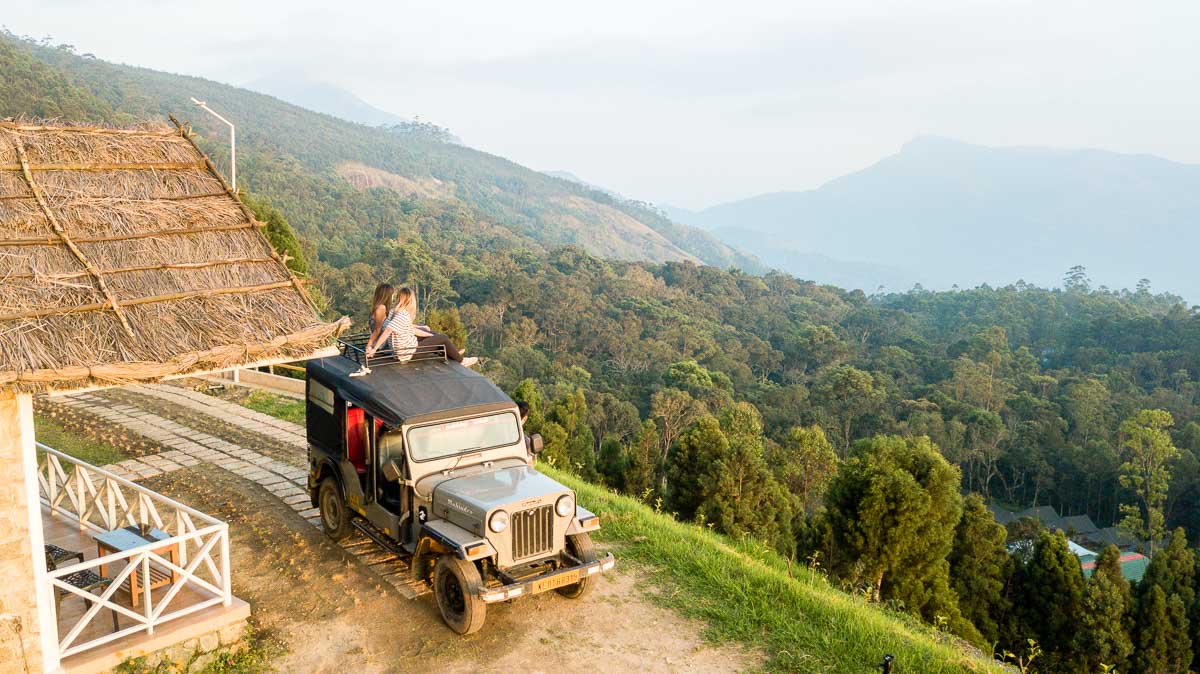 Munnar is located in the highlands and most well known for its photogenic tea plantations and a cool escape from the warm and humid southern Indian cities.
To get to Munnar, we hopped on a 4-hour bus ride from Fort Kochi to Munnar at 7:30AM. The once-daily bus service is operated by the "JNNURM" KURTC bus and costs ₹267/pax.
*Pro-tip: Get some snacks for the road a day before you head out to Munnar as shops in Kochi don't open that early.
2 hours out, there will be a short pitstop at Hotel Fort Kochi Kitchen for 10 mins where you can use the restrooms and get some snacks before continuing to Munnar.
While we were there (Nov 2017), there were major roadworks done on the highway to Munnar so we got off at Adimali, changed a bus towards Poopara, before meeting our arranged jeep driver who brought us to our final destination — Camp Anaerangal, our accommodation for the night. It's a privately-run campsite, which overlooks the breath-taking Shola grassland.
The usual way to Camp Anaerangal is to take a bus from Kochi, direct to Suryanelli where your jeep driver will meet you.
Camping in Munnar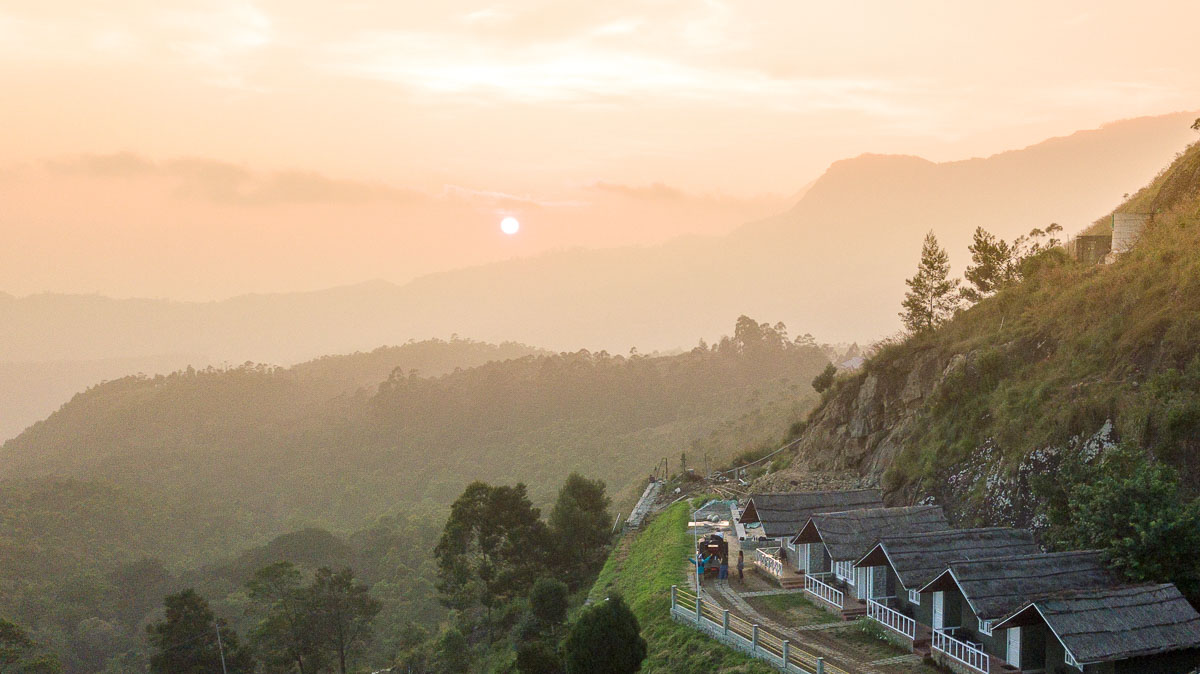 After a fairly smooth ride on the jeep through gorgeous tea plantations and never-ending hills of greens, we arrived just in time to catch the sunset just over our campsite.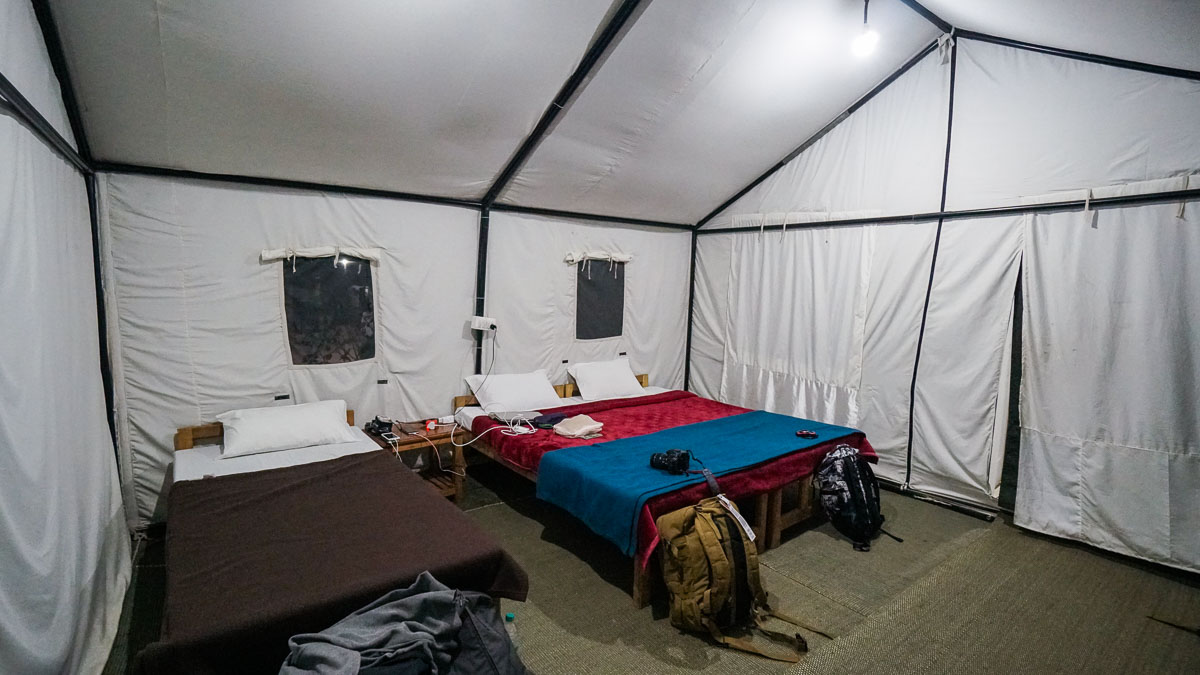 Despite being a "campsite", these cosy tents have proper beds and an attached bathroom with hot water for showering. This was a huge plus as it gets pretty cold at night (~12-15°C)
*Pro-tip: Bring along a thick jacket as it gets chilly up in the mountains.
Address: Chinnakanal, Munnar, Kerala 685618, India
Rates: From ₹5000 per night/room — Price includes all meals, trekking, and a campfire
If you're interested in booking this experience for your next trip, you can make reservations through [email protected] and let them know we sent you 🙂
Day 4: Trekking in Munnar
Sunrise Hike at Kolukkumalai

The next morning, our call time was for 4:30AM where we set off on our jeep for the sunrise tour at Kolukkumalai mountains. The extremely bumpy jeep ride lasted for slightly more than an hour, and with a short simple hike of 20 mins, we reached the Lion's Rock, a perfect spot to marvel at the pretty sunrise.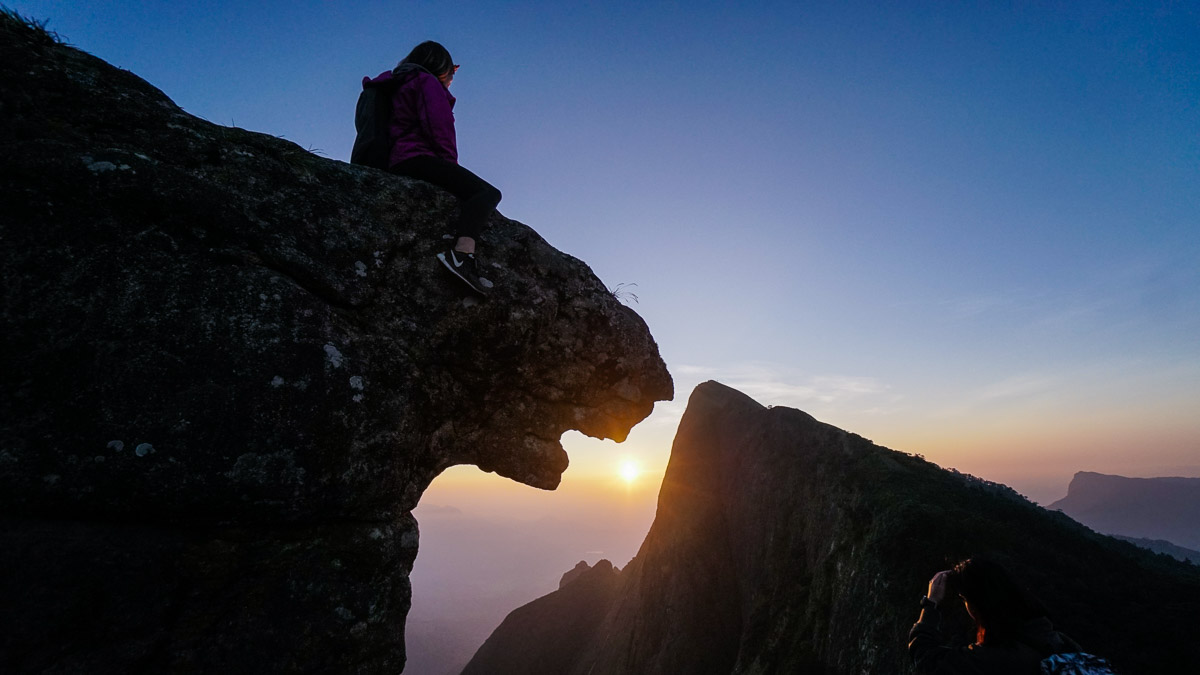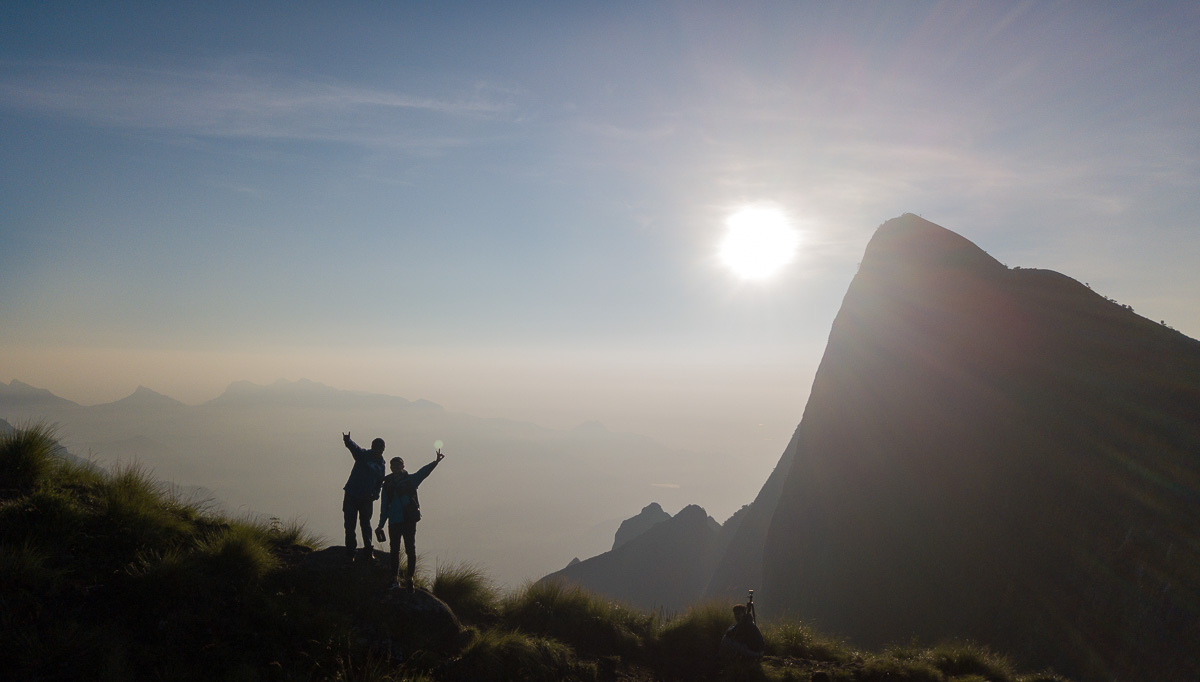 Kolukkumalai Tea Estate — Highest tea plantation in the world
After sunrise, the exciting bumpy jeep ride continues to Kolukkumalai Tea Estate — the highest tea plantation in the world at 8000ft above sea level. Enjoy a short guided tour around the tea factory, and don't forget to claim your complimentary cup of lemon or black tea before leaving.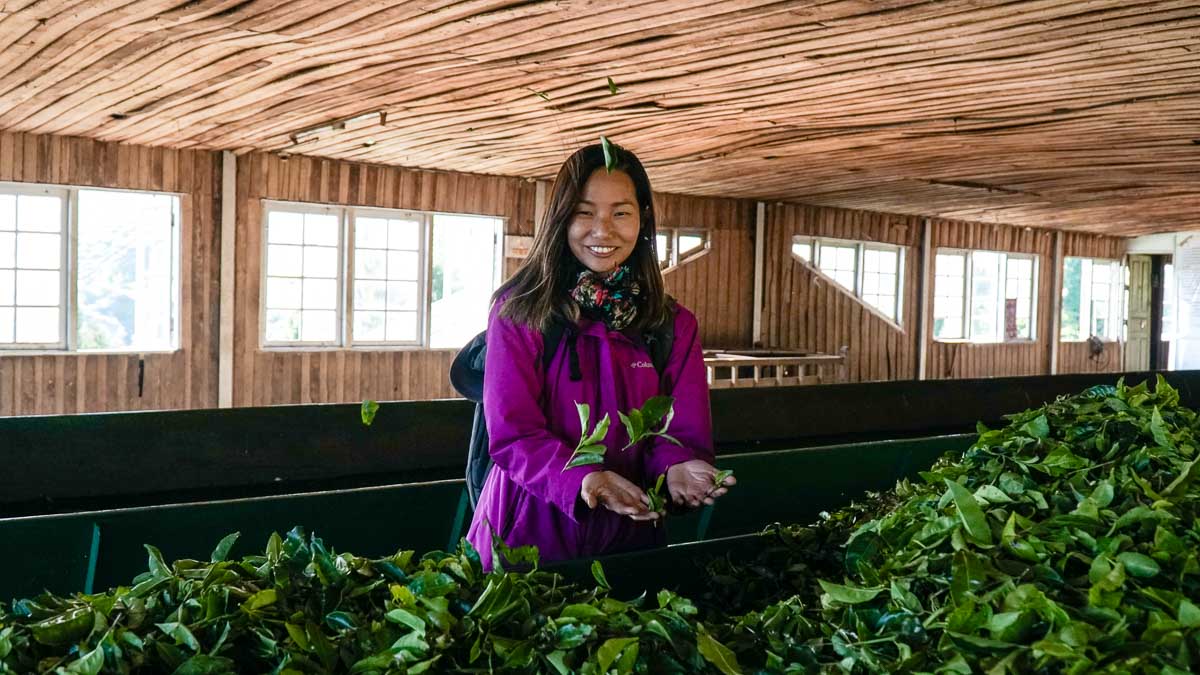 Entrance Fee: ₹100/pax (incl. 1 cup of tea)
Jeep Ride: ₹1800 (Alternatively, you could also take a 5 hour round trip hike to Kolukkumalai View Point)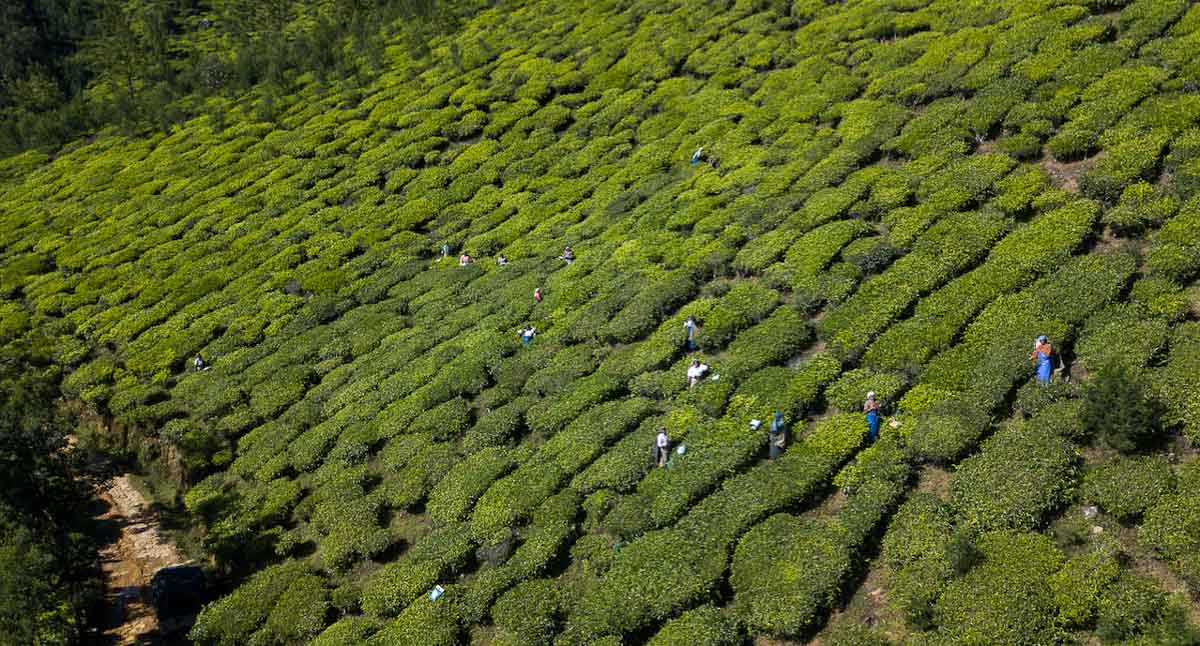 Along the way down, you might spot some ladies cutting tea leaves.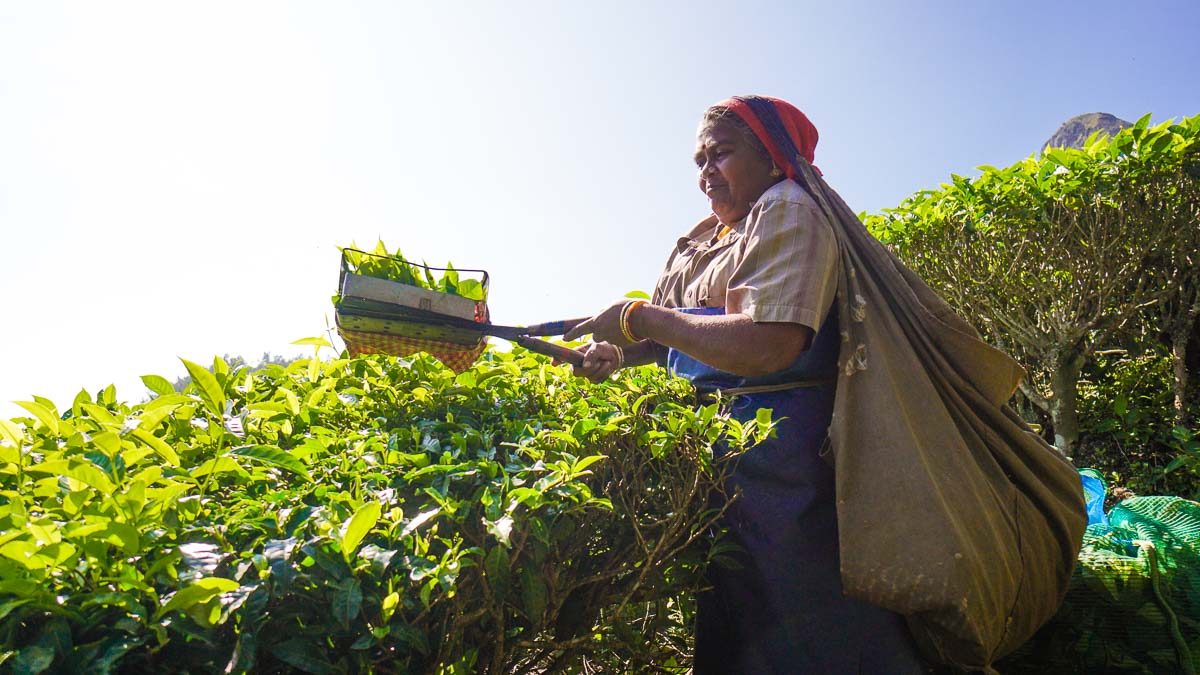 It's a tough job, carrying a huge bag full of fresh tea leaves on the head while balancing on the steep slopes, all under the scorching sun. Thank you, tea ladies!
Back at the campsite, freshly-prepared breakfast awaits before checking out.
We left Munnar and started our 4-hour bus ride towards Thekaddy (Kumily). By the time we reached Thekaddy, the sun had set. We settled dinner at the nearby Ebony's Cafe for dinner before checking in at Green View Thekaddy.
Accommodation: Green View Thekaddy
Address: Hotel Ambadi Junction, Thekaddy By Pass Road, Thekkady P.O, Kumily, Kerala 685536, India
Cost: ₹1486 for a double room (S$31)
Day 5: Periyar National Park
Accommodation: Green View OR Shola Periyar Tree House (Located within the National Park)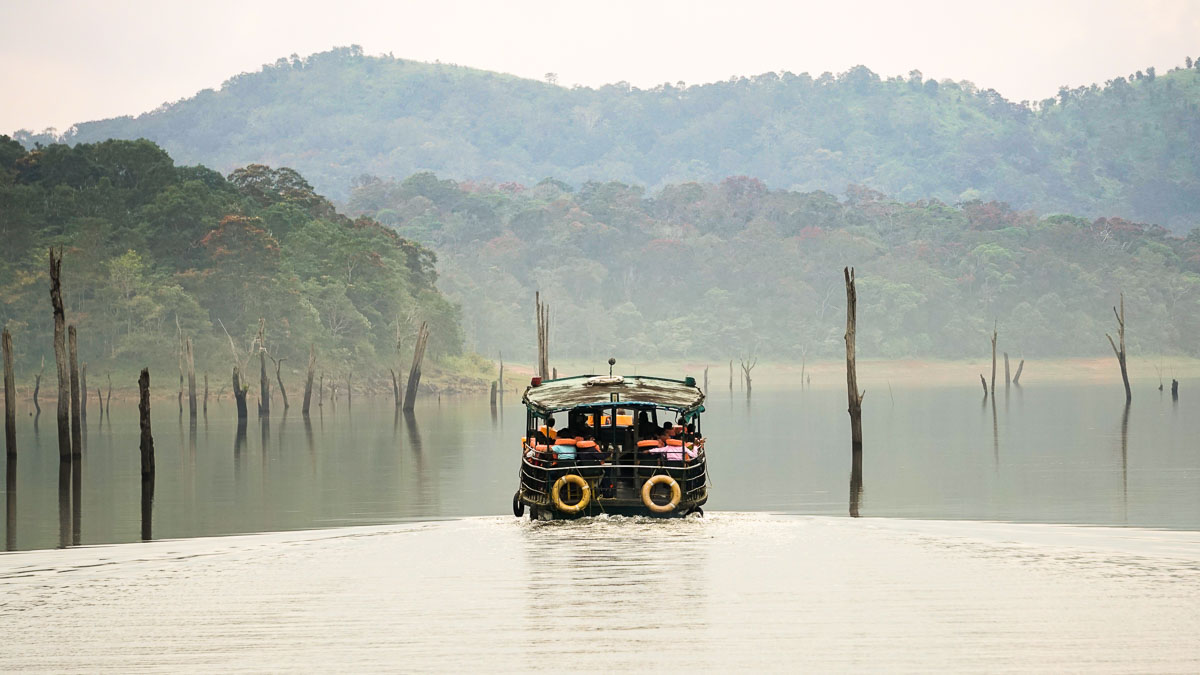 The main attraction in Thekaddy is the Periyar National Park, which to our pleasant surprise, is walkable from the Kumily bus terminus. Also within walking distance are several budget hostels, eateries, and the Eco Tourism Information Centre, where you can purchase tickets to Periyar National Park.
Bamboo Rafting on Periyar Lake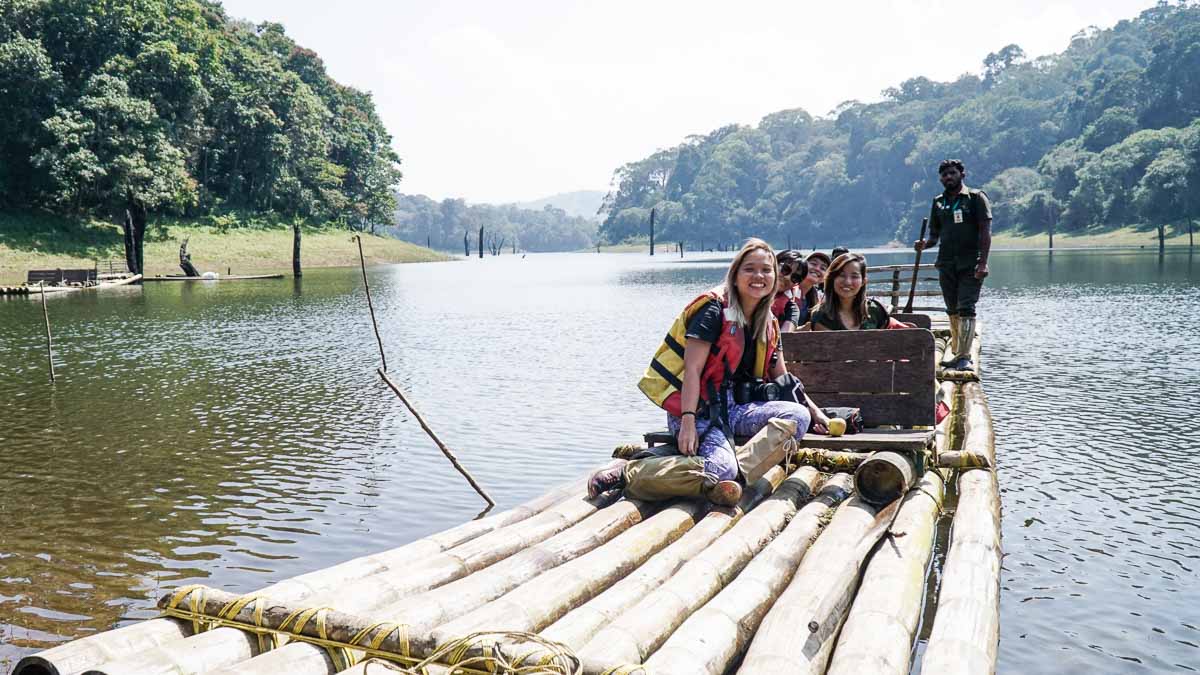 We carried hopes of seeing wild elephants (and maybe, tigers) at Periyar National Park and started our morning trek into the park at 9AM. A local guide told us last time a tiger was spotted in Periyar National Park was more than 2 years ago. Chances are low, but low chances are still chances 😉
*Pro-tip: Wear dark-coloured clothes when visiting the Periyar National Park, as we were advised that animals are wary of bright colours.
Before starting the trek to the bamboo rafting area, you'll be given leech socks as well as a packet of rice, curry, and fruits for lunch. You'll also be assigned to a park manager and an armed guide.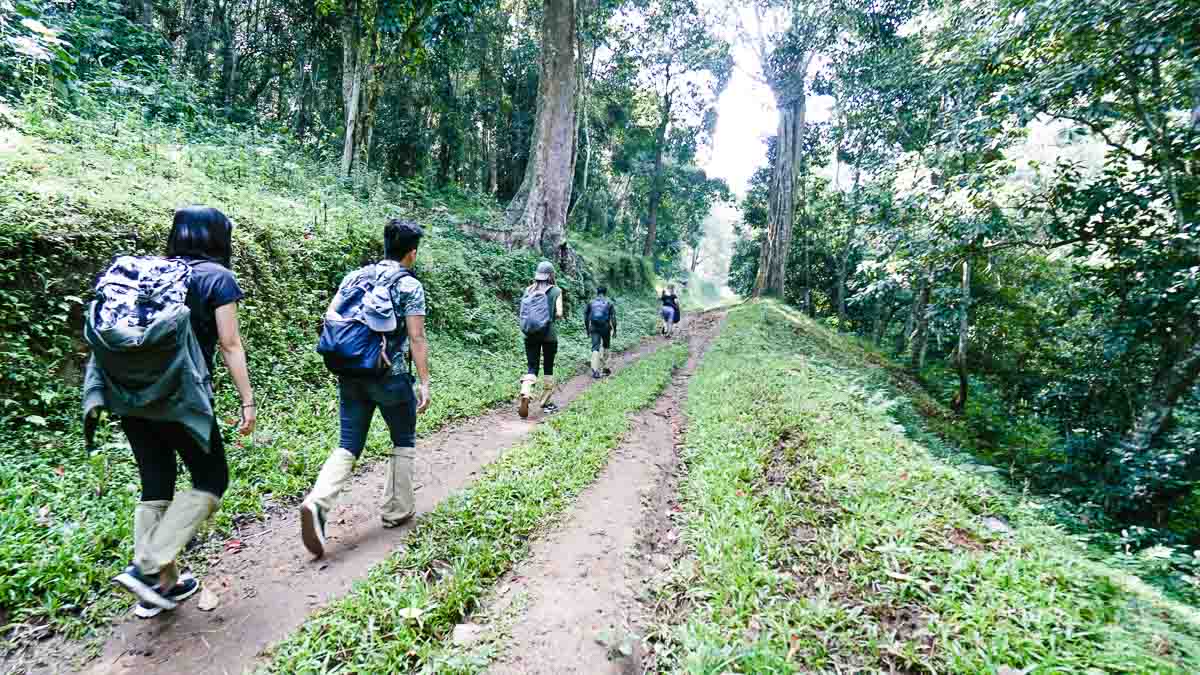 After an hour of trekking, we reached the stream's bank where we ate our lunch and proceeded to the bamboo rafts. We were informed that the months of December through April see higher sightings of elephants. Disappointingly, we did not get to see any elephants (nor tigers) although we did get to see some wild Bisons and Monkeys!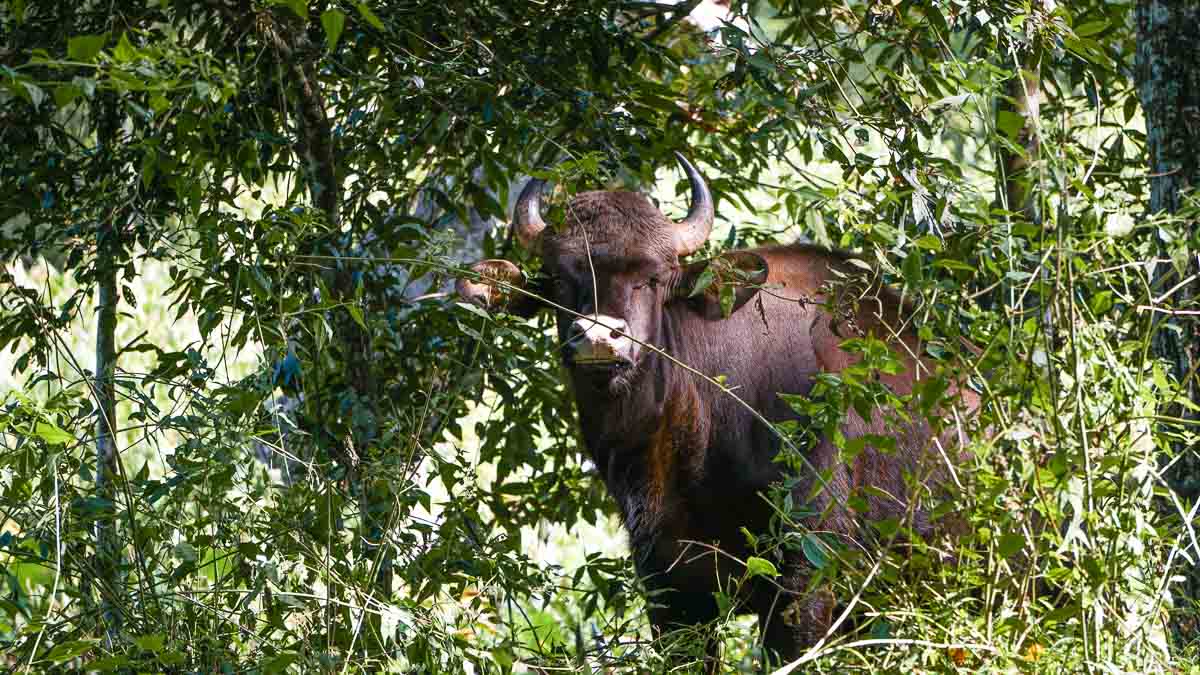 *Pro-tip: Opt for the earlier bamboo rafting session (7:30AM) as the sun can be pretty unforgiving in the late morning/early afternoon.
Boat Tour on Periyar Lake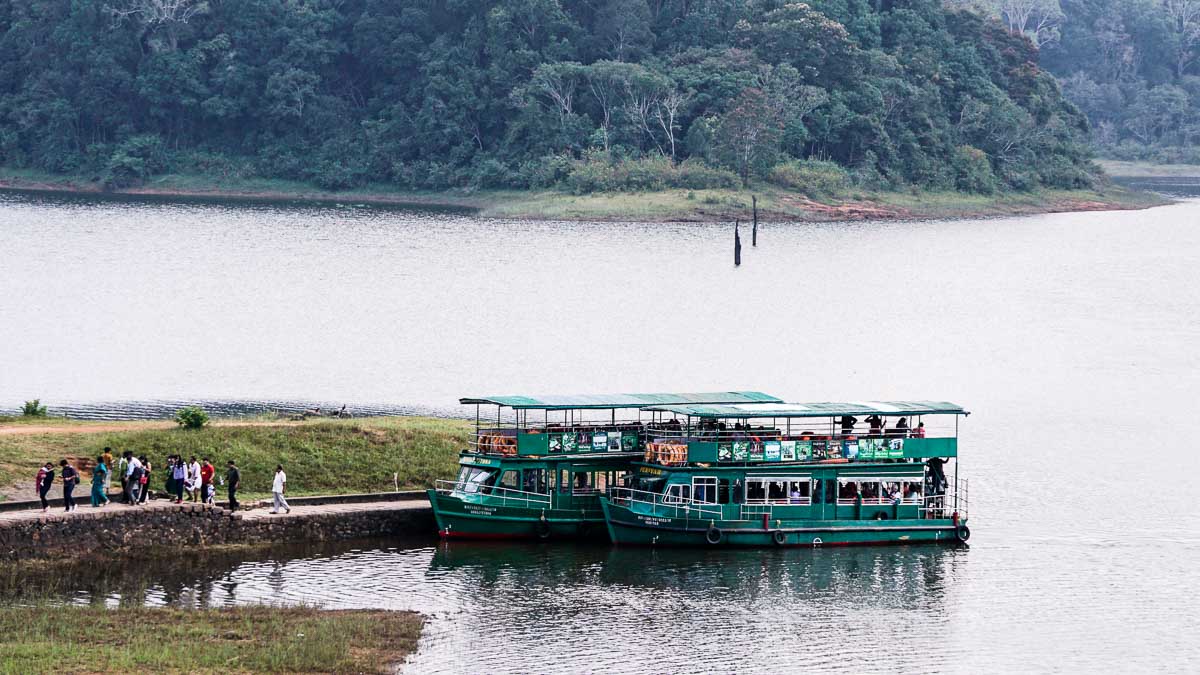 Another great way to spot wild animals in the Periyar National Park would be to take the boat ride on Periyar Lake. The 1.5-hour boat ride brings you around the National Park, and you are pretty much guaranteed to views of deer, goats, bisons, otters, and a variety of birds. You will want to be careful of your personal belongings as mischievous monkeys are known to snatch from visitors.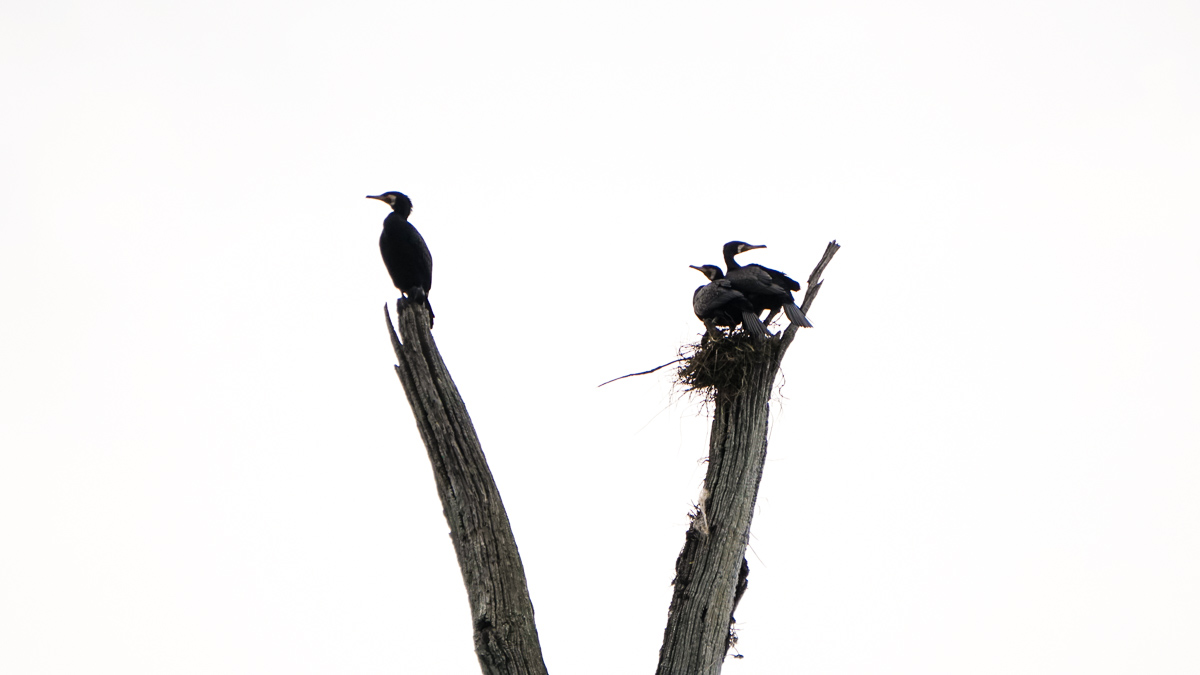 Costs at Periyar National Park
General Entrance Fee: ₹450/pax
Camera Surcharge: ₹38/camera
Bamboo Rafting: ₹1800/pax (half day- 7:30AM – 12:30PM or 9:30AM – 2:30PM, ₹2400/pax (full day- 8AM – 5PM)
Bus to Boating area: ₹20/pax (return)
Boating: ₹225/pax (7:30AM, 9:30AM, 11:30AM, 1:30PM, 3:30PM)
Dinner at Hotel Thekkady Cafe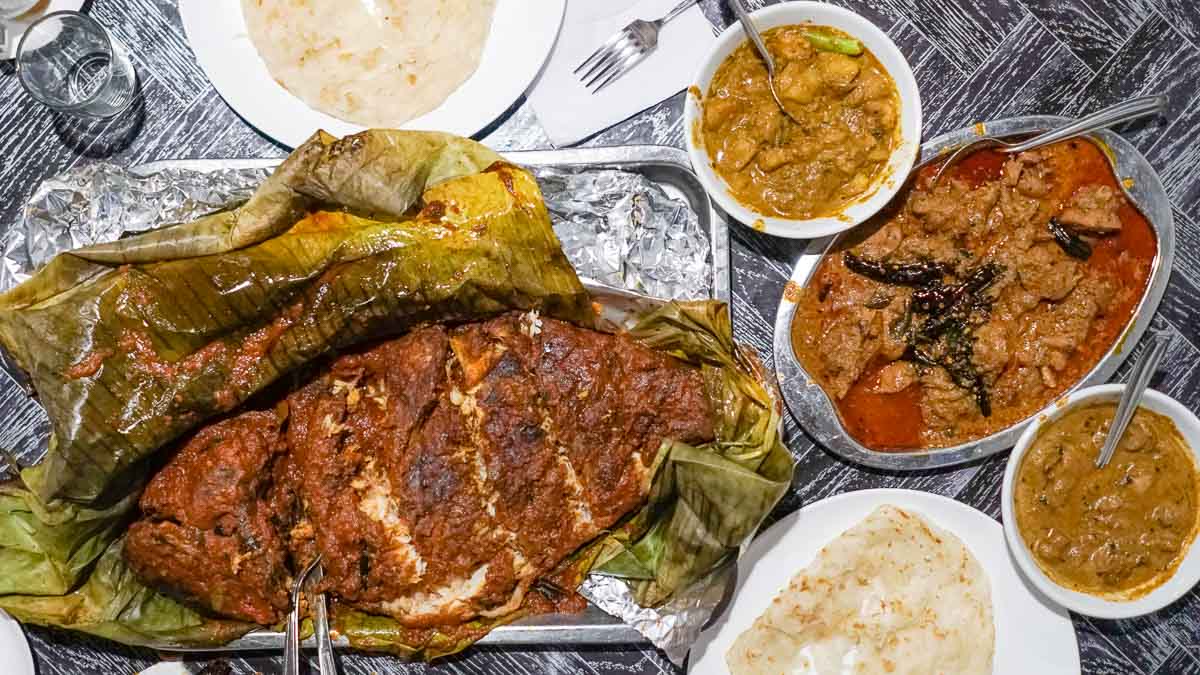 We had dinner at Hotel Thekkady Cafe, a simple eatery where locals frequent for its great variety of good food at reasonable prices. Also, look at the size of that fish!
Address: Kumily Thekkady Rd, Thekkady, Kumily, Kerala 685509, India
Opening Hours: 7AM – 9:30PM daily
Cost: ₹40-340/dish
Day 6: Alappuzha (Alleppey)
Accommodation: Artpackers.life Hostel (₹550 for a dorm bed in a/c room)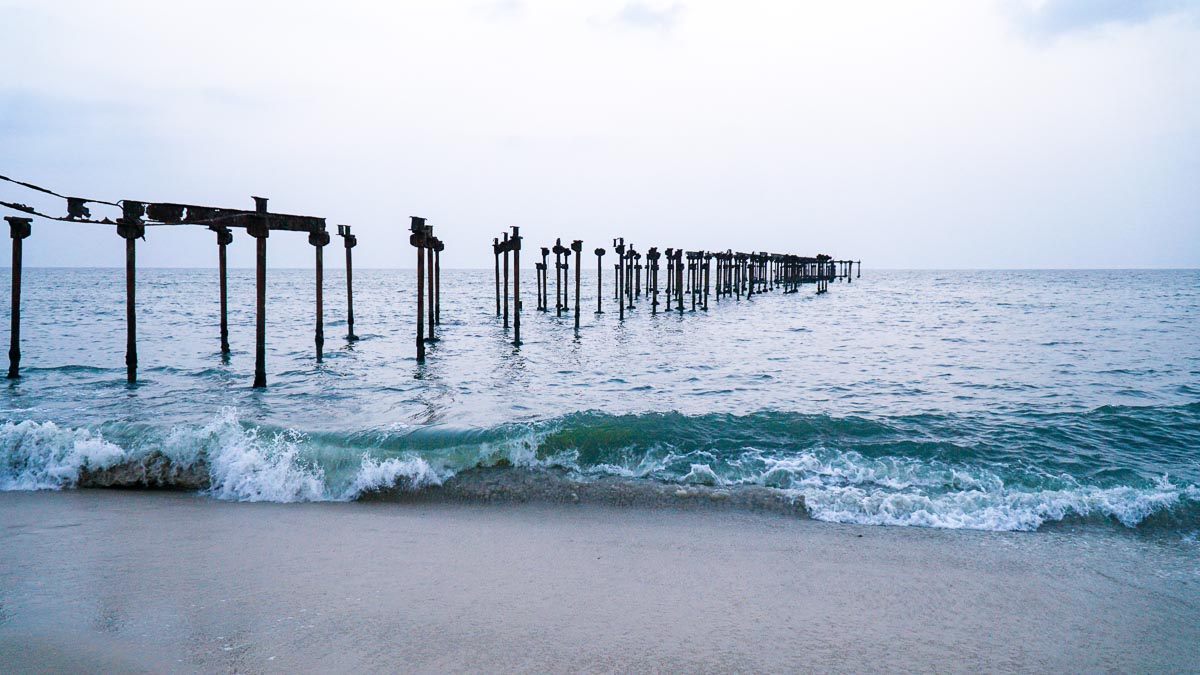 The bus from Thekkady to Alappuzha (a.k.a. Alleppey) departs at 7:20AM from the Thekkady main bus station and will reach Alappuzha in about 4 hours. Expect long stretches of windy roads for around an hour of the journey but there will be a toilet stop around 1.5 hours into the ride.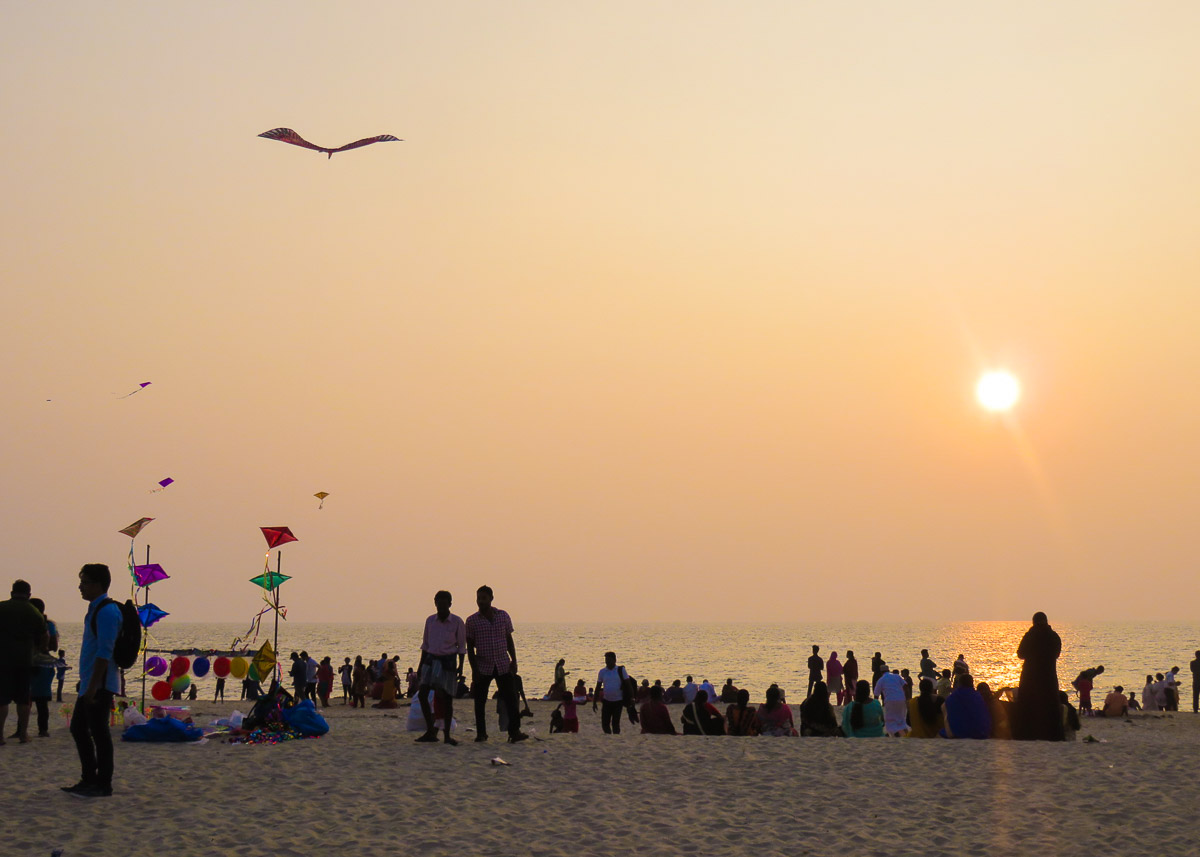 Caught the beautiful sunset at Alappuzha Beach, a great place to chill. Vendors selling kites and frisbees.
Ayurvedic Massage
Ayurvedic Therapy is one of the reasons people visit Kerala. The spas and massages are very therapeutic and rejuvenating. At Alappuzha, we tried the Ayurvedic oil-drip massage at Samanga Ayurveda Wellness Centre, and it is one of the more well-furbished massage centres we have been to in India.
Cost: ₹1200 for 60 minutes full body
Address: Near North Police Station, Coirfed Lane; Sea View Ward; Alleppey; Kerala; India
If you are looking for cheap eats in Alleppey, check out Balu's Hotel, a simple and modest vegetarian eatery. We were a group of 4 and spent a total of ₹250 (S$5) for a hearty meal of dosai and chai.
Day 7: Alleppey Backwaters
Kayak down the backwaters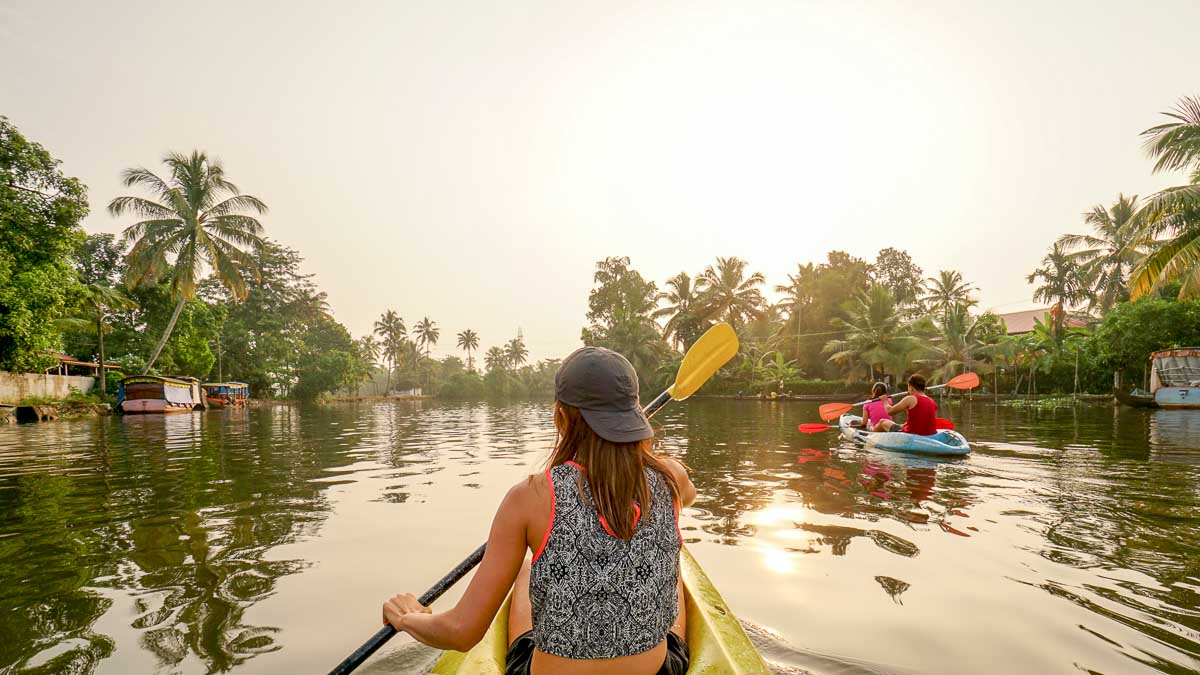 The next day, we booked a 4-hour sunrise kayaking tour with Kerala Kayaking which started at 6AM. Run solely by Samson, our guide brought us through the smaller areas where the houseboats can't access.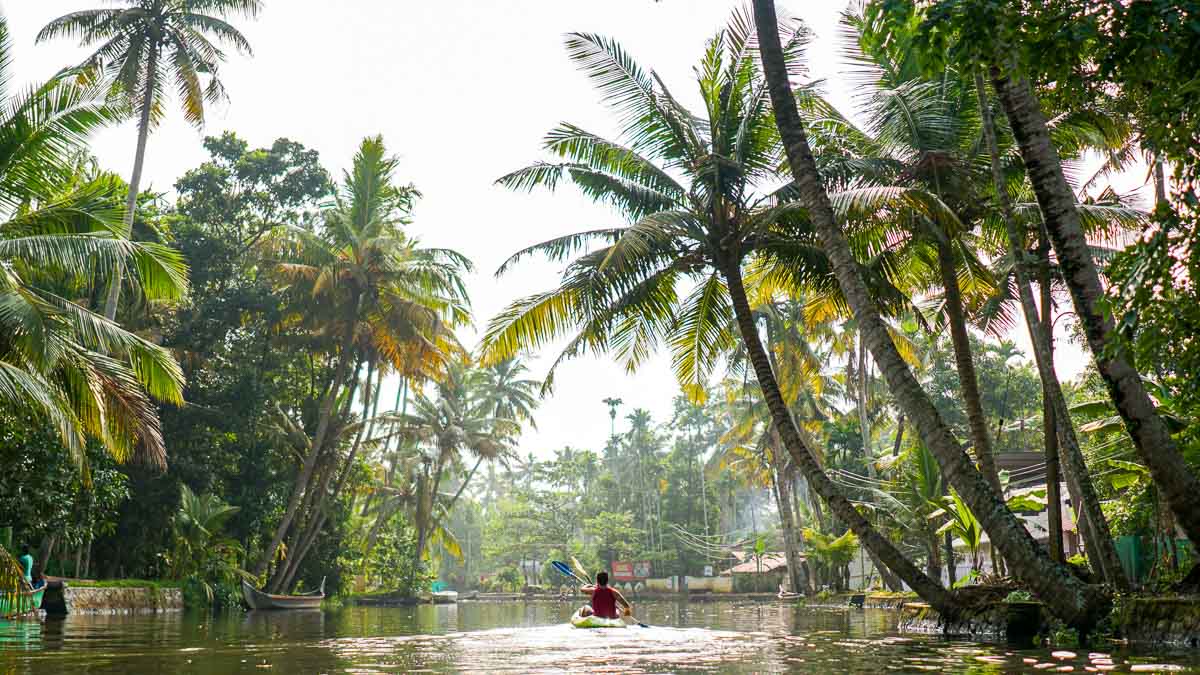 We maneuvered our way through the waterfront of people's homes and witnessed the locals' way of life. People were brushing their teeth, washing clothes, dishes and performing their morning prayers. There's a short break for breakfast before continuing with the kayak. After 4 hours, we got on a boat that ferried us back to the starting point.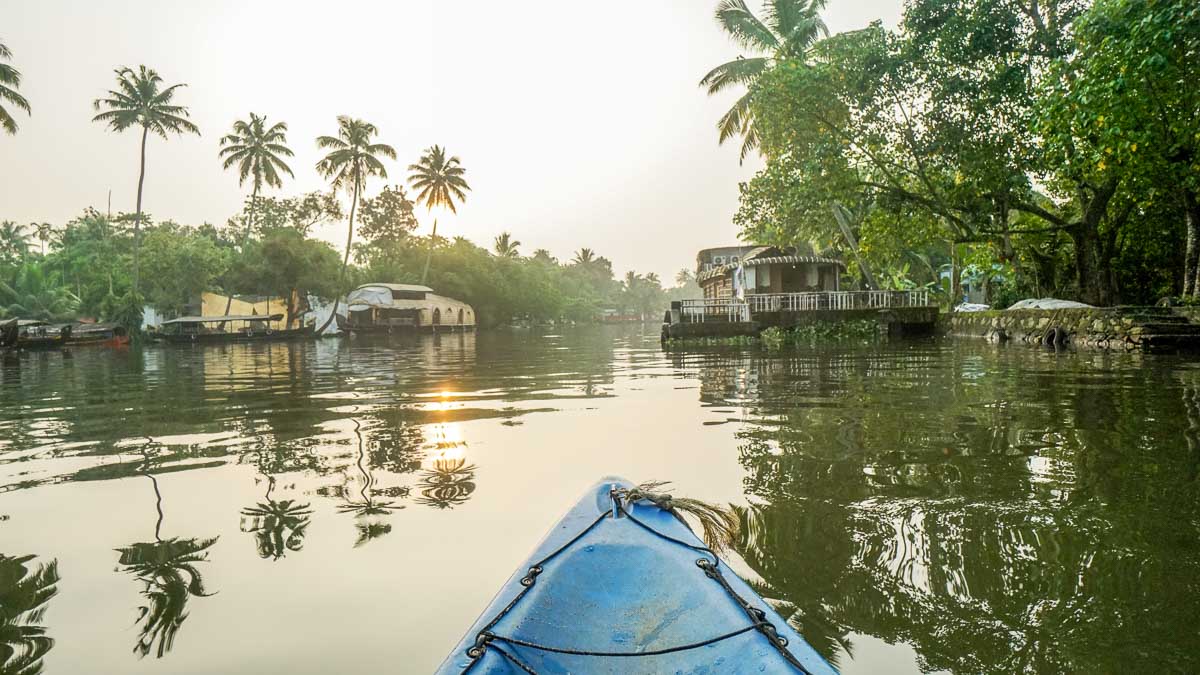 To explore Alleppey Backwaters like us, you can make an online booking with Kerala Kayaking.
Cost: ₹1500/pax (incl. pickup, breakfast, boat rental and return)
After the great morning workout, we replenished our energy at Halais Family Restuarant. Besides being an eatery, the shop also sells sweets and snacks, great as souvenirs.
Stay overnight on a Houseboat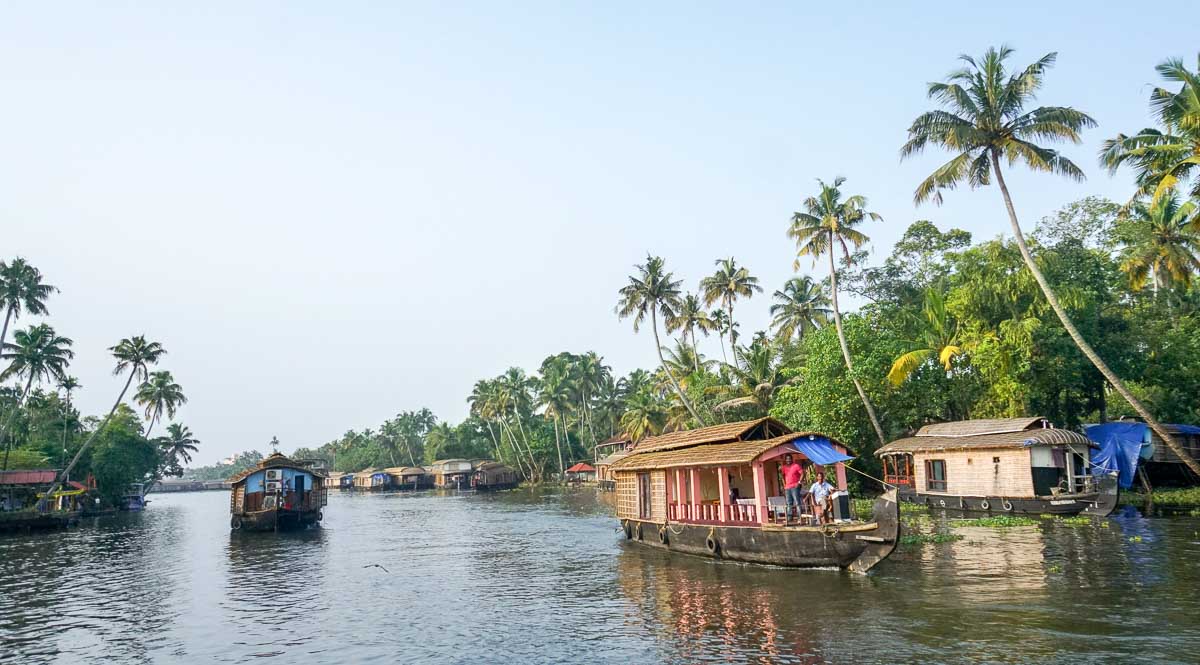 No visit to Kerala is complete without an experience on a houseboat at the Alappuzha (a.k.a. Alleppey Backwaters). For us, we opted for an overnight stay. The airconditioned houseboat we picked had 4 bedrooms, each with an attached bathroom.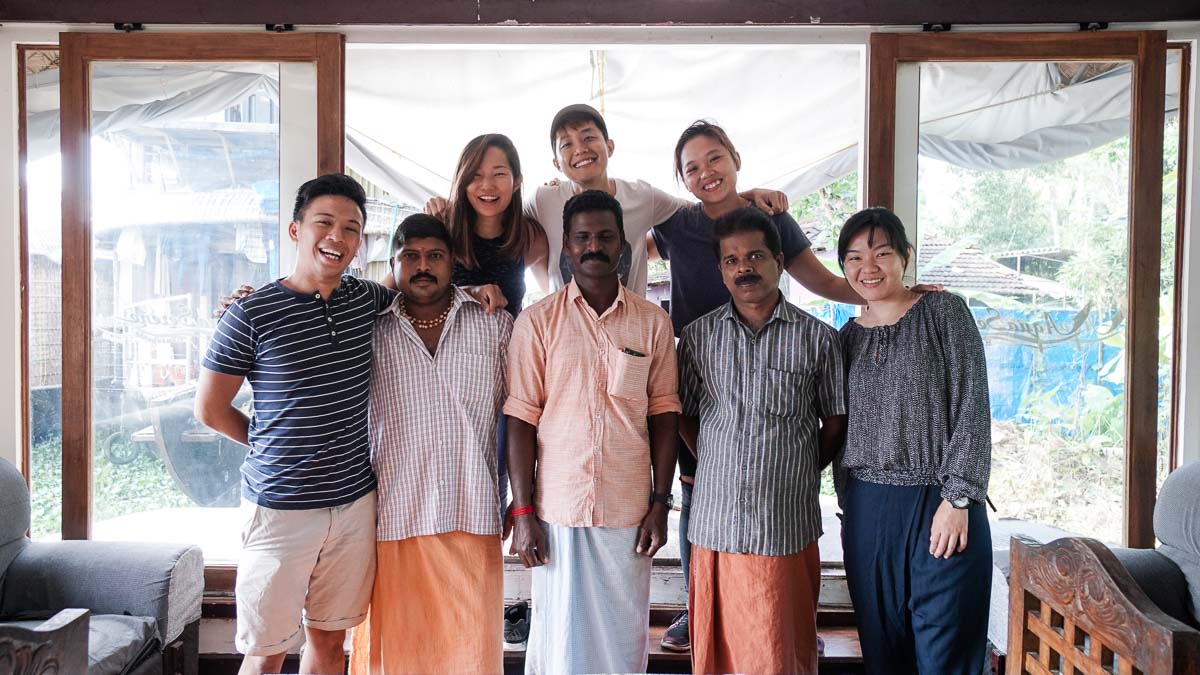 Our houseboat had 3 crewmen with us, the captain, a chef, and a manager who attended to our every need.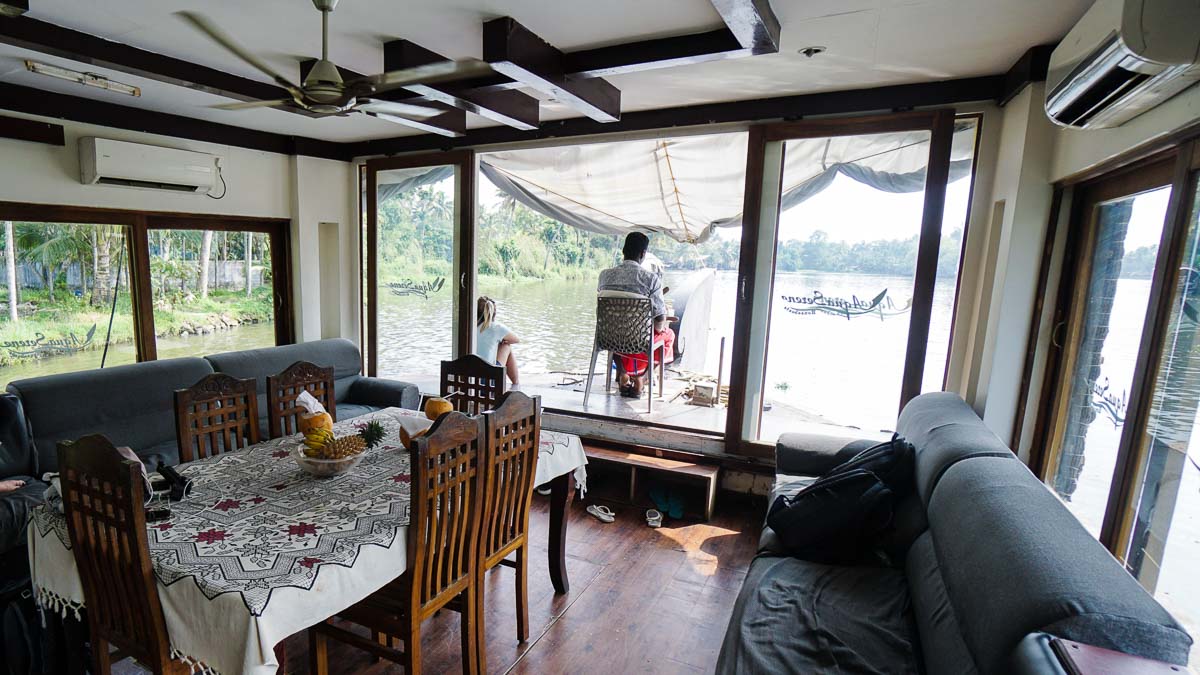 Staying on the houseboat was definitely a great opportunity to unplug, be by nature, and soaking in the breathtaking views of Alappuzha.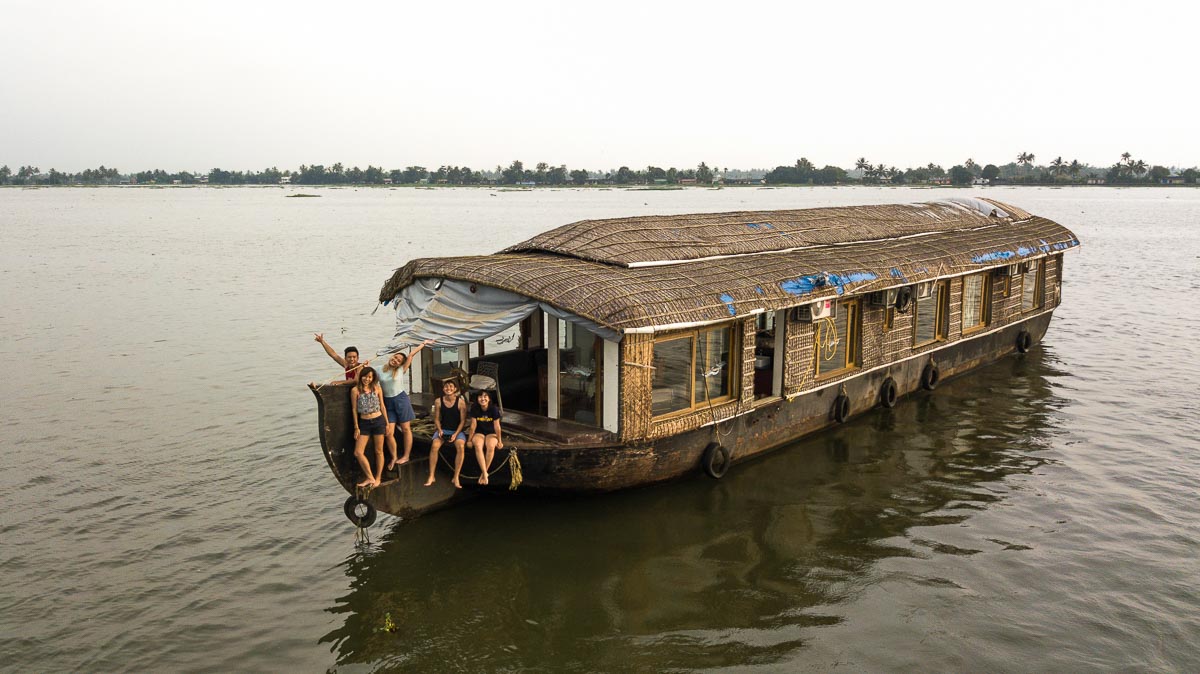 Mid-trip, the houseboat stopped by a small village where we could get off to purchase snacks and some freshly caught seafood, which our chef on-board cooked for dinner. The houseboat docks by around 5PM in the evening. Lights-out at 10PM, and it's pretty strict, as the crewmen need their sleep 🙂 Breakfast the next day will be served at 8AM before checking-out at 10AM.
Day 8: Back to Kochi + Home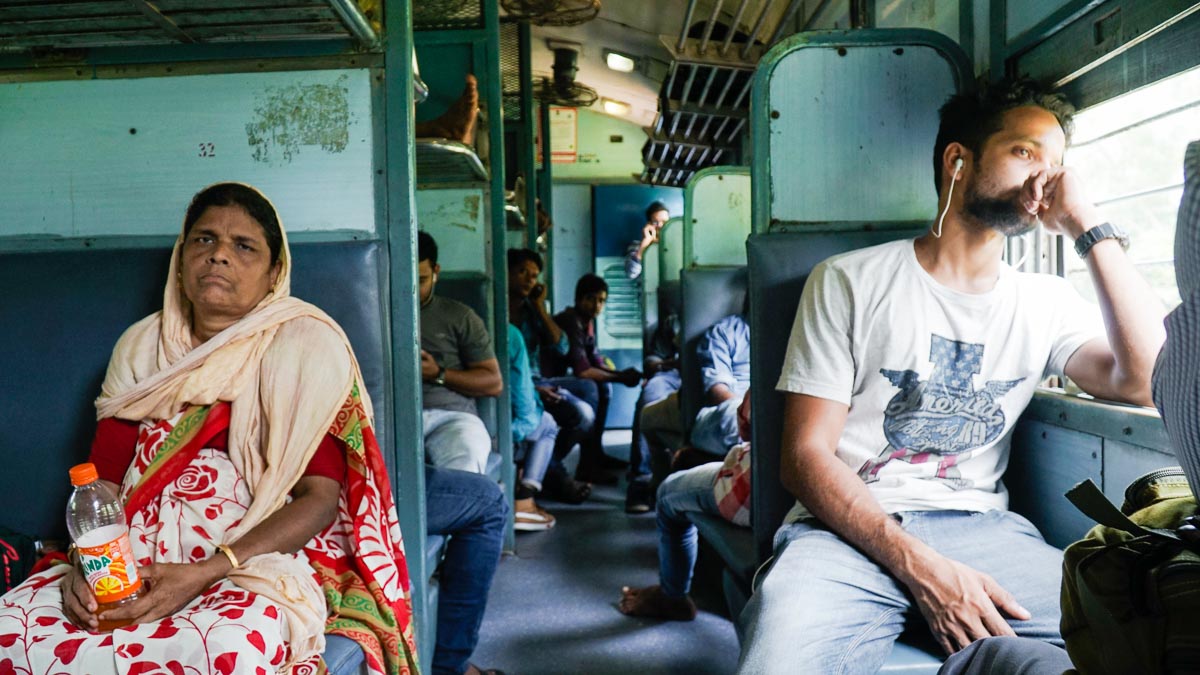 After checking out of the houseboat, we made our way to the train station to catch the Ahilyanagari Express Train back to Kochi at 11:45AM. There are various tiers from A/C to non-A/C, reserved and non-reserved seatings.
There are hourly trains that run from Alleppey to Kochi so you can book them directly from the train station counters.
Read more about booking train tickets, safety and other useful tips in our First Timer's Guide to India.
During the hour-long train ride, I reflected on the Kerala trip. In the past week, I've opened up my eyes to sights I never thought I would see. It was indeed a side of India that's lesser-known, perhaps from the lack of positive portrayal by the media.
But perhaps the most impactful of all was the warmth we experienced from the locals. Strangers who initiated curious conversations, accommodation owners and drivers who went all out to ensure our stay was a comfortable and safe one and restaurant staff who even offered us items that weren't on the menu.
Read also: 5 Lessons I Learnt Travelling in India As A Singaporean
I'm glad I made the trip that changed my thoughts about what India is like, and am proud to have walked through God's own country.
This concludes a fulfilling 8-day trip through Kerala, one where we experienced a different side of India, her immense natural beauty, and amazing adventures. We hope you will get to experience these for yourself too one day.
Flying to Kochi? Book your flights on Scoot before 5th Jan 2018 to enjoy promo fares starting from S$107!
---
Accommodation Options in Kerala
Kochi
1) Zostel Hostel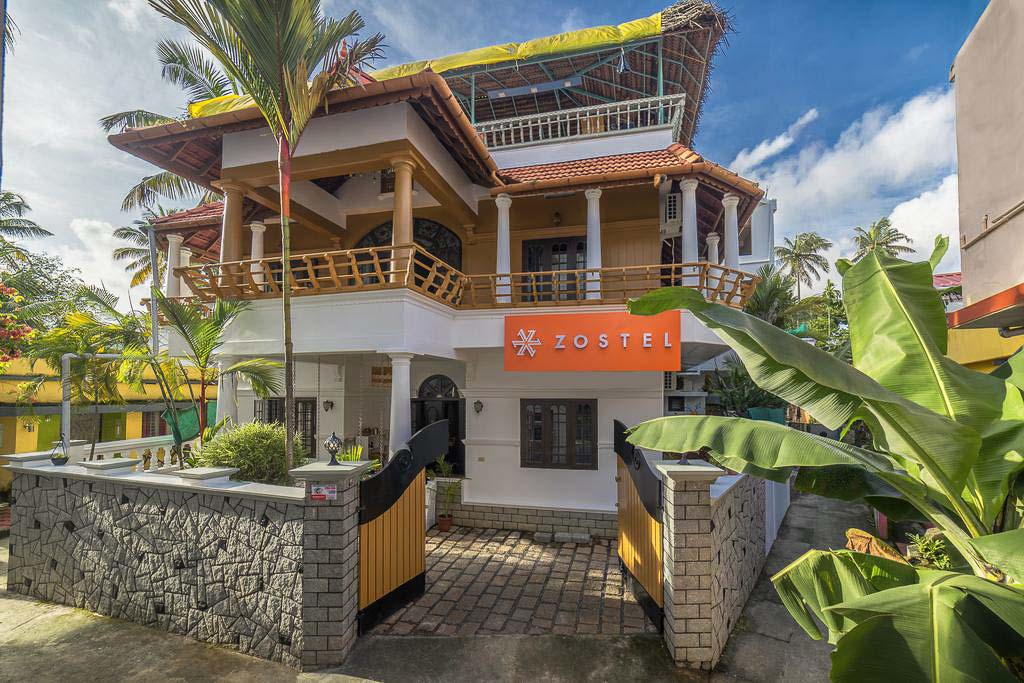 After good experiences in Zostel Jaipur and Agra, we decided to book with Zostel again in Kochi, which turned out to be a great choice. Zostel Kochi is new and clean, and run by the nicest owners Roland and Pollin which made our stay a great one.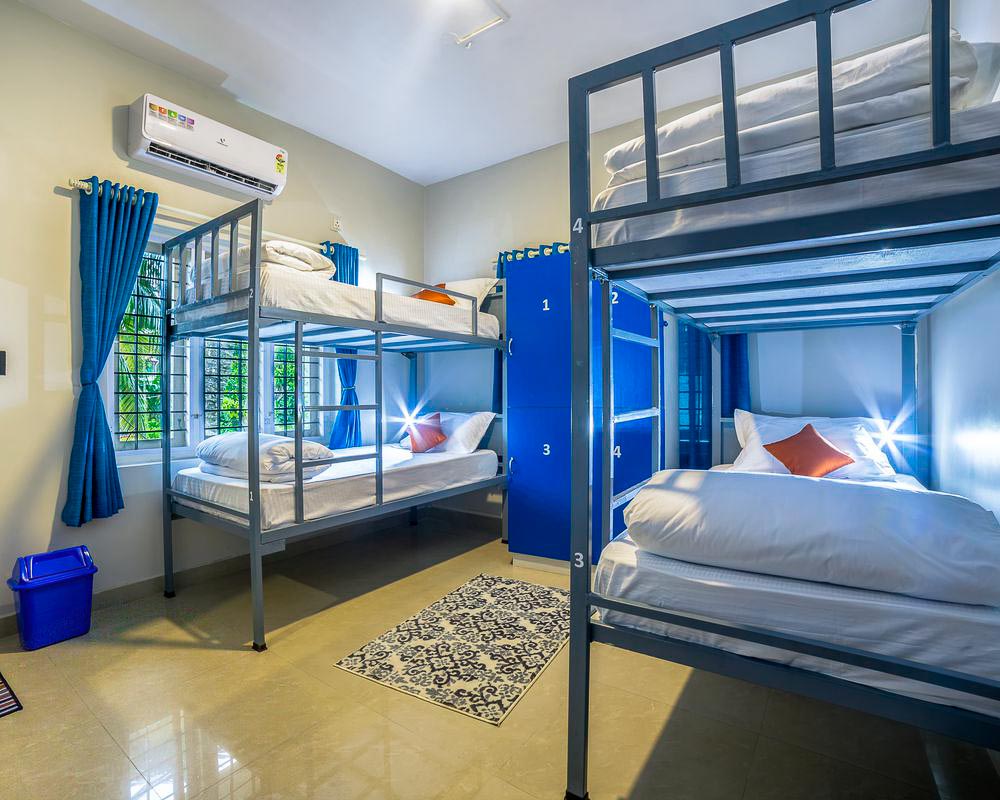 Address: 1/751A, New No. 1/2047, 1/751B, New No. 1/2048, Njaliparamby Junction, Near Police Quarters, Fort Kochi
Cost: ₹499(~S$11)/night
2) Happy Camper Hostel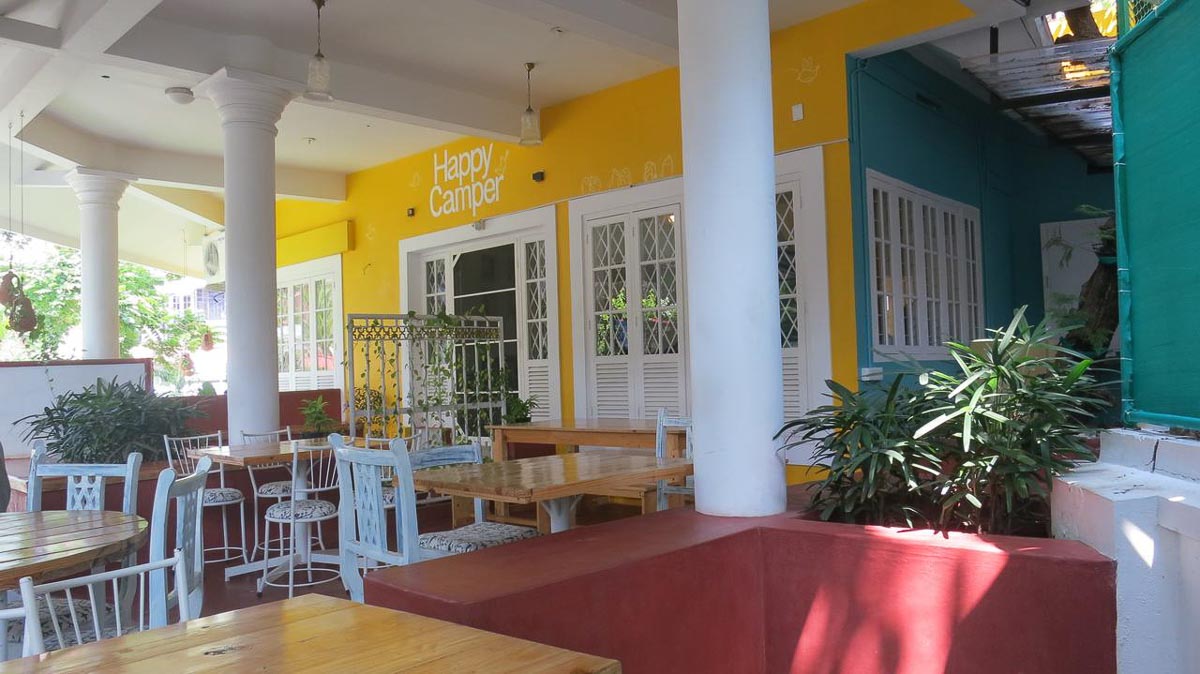 The other popular hostel in Fort Kochi is Happy Camper. We happen to chance upon the place one morning while hunting for a breakfast place. We found Little Kochi Cafe, and opened a door of surprises. The person-in-charge at Happy Camper recommended their sister brand, Spice Trails (Anaerganal Camp) to us, which was one of the highlights of our trip.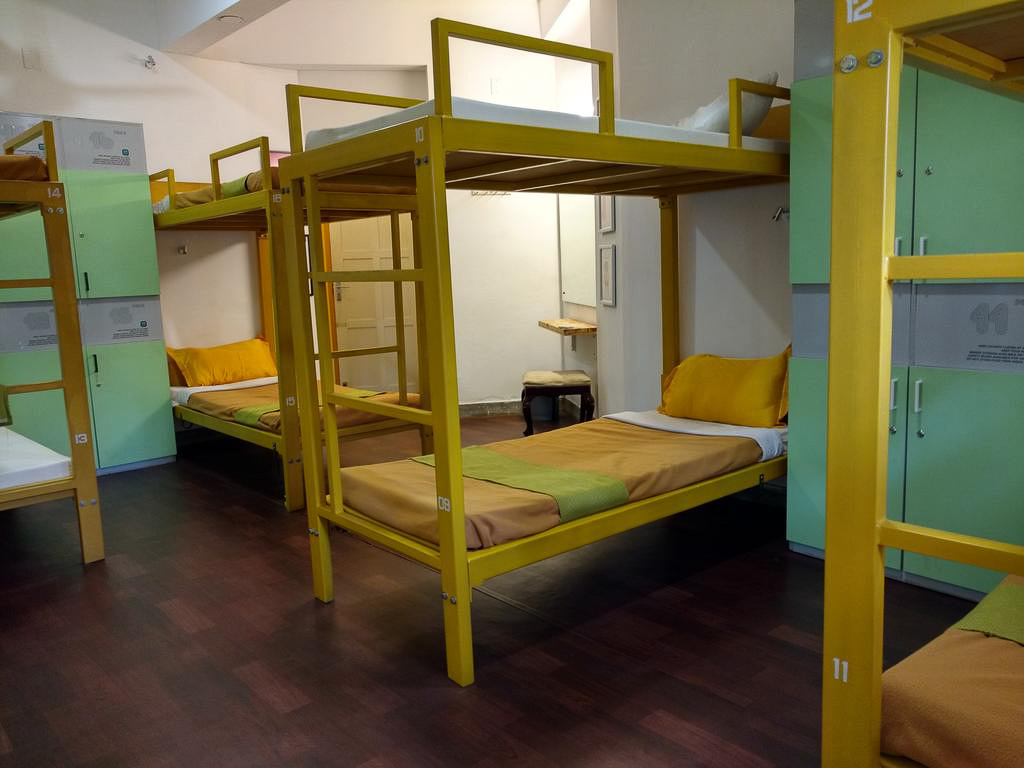 Address: Njaliparambu Junction, K.B. Jacob Road, K L Bernard Master Lane, 682001 Cochin, India
Cost: from ₹499(~S$10.50)/night
Munnar
Anaerangal Camp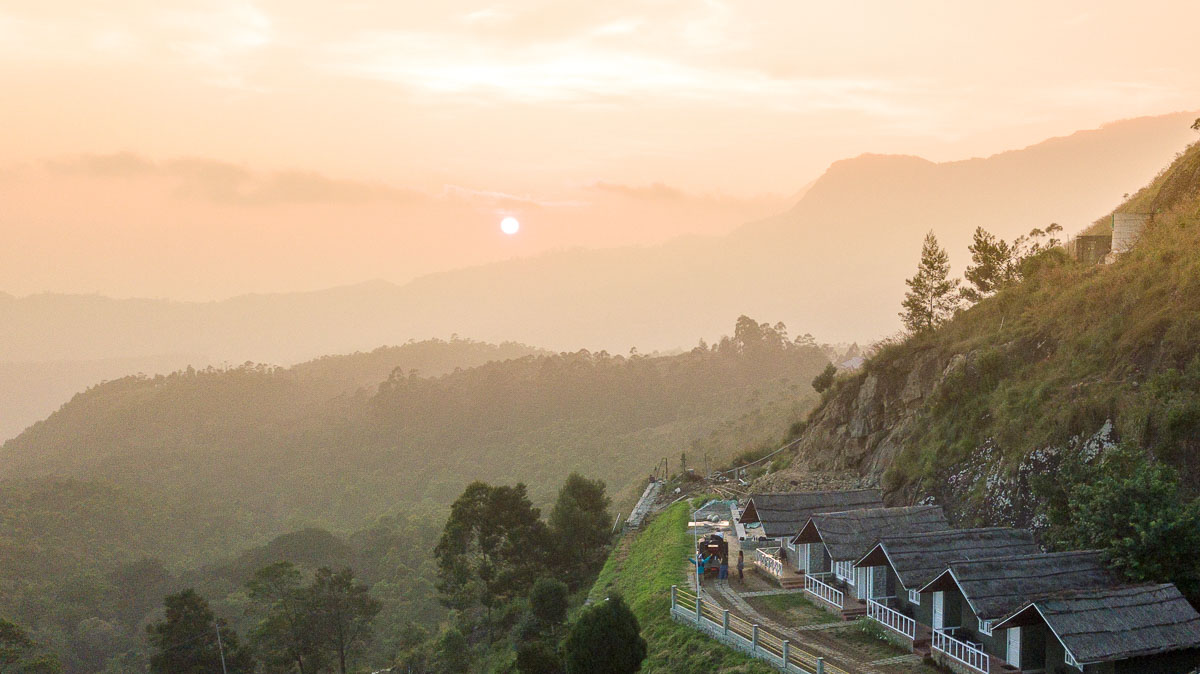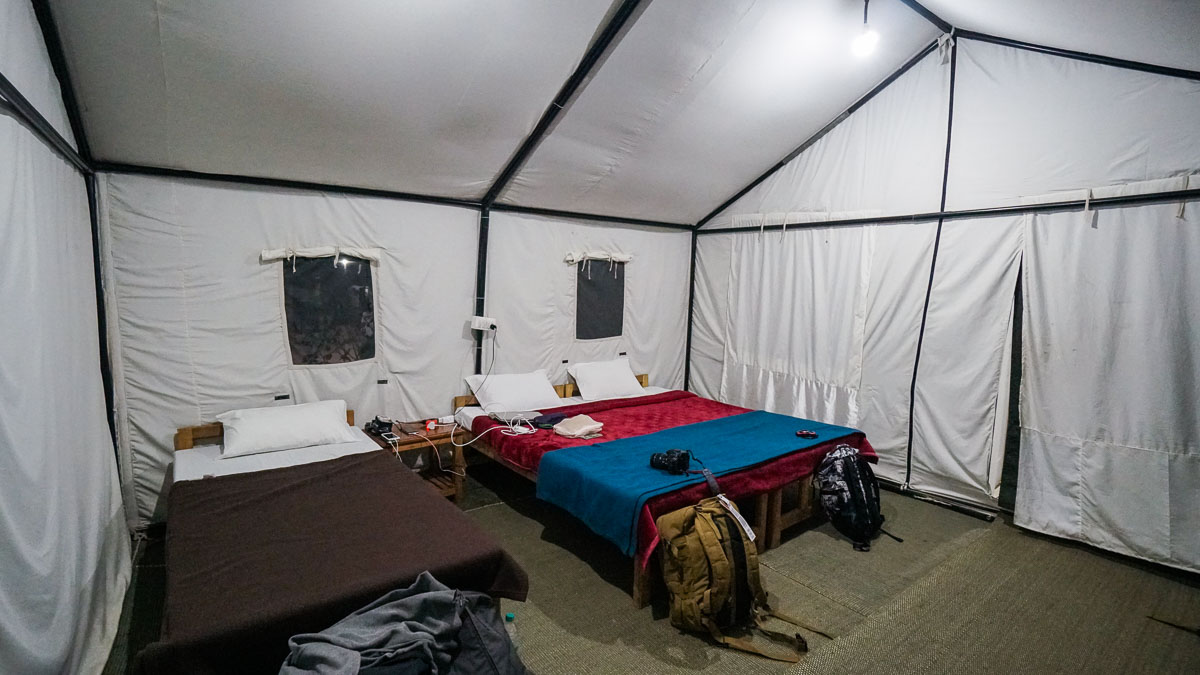 Camping in Munnar is one of the key experiences in Munnar and probably one of the best places to experience that is at Anaerangal Camp. Take in the freshest air, warm yourself by the campfire, count the stars to sleep and wake up to breathtaking sunrise views. We couldn't have asked for a better way to experience the beauty of Munnar.
The best part of staying in these cosy tents is the convenience of an attached toilet and hot showers which you will definitely be grateful for come nightfall. Warm homely meals, activities such as trekking are also included in the package.
Contact: [email protected]
Cost: ₹5000 a tent (2pax). Option to add another pax for ₹2500. includes meals, campfire, and guide for hiking)
Thekkady
1) Green View
Located 10mins away from the Kumily bus terminus is Green View, a homely lodge run by a lovely local couple who ensures that everything is well taken care of. Breakfast is also included, you'll just need to inform the landlady that you wish to take breakfast, and she'll whip up something simple yet delicious for you the next morning.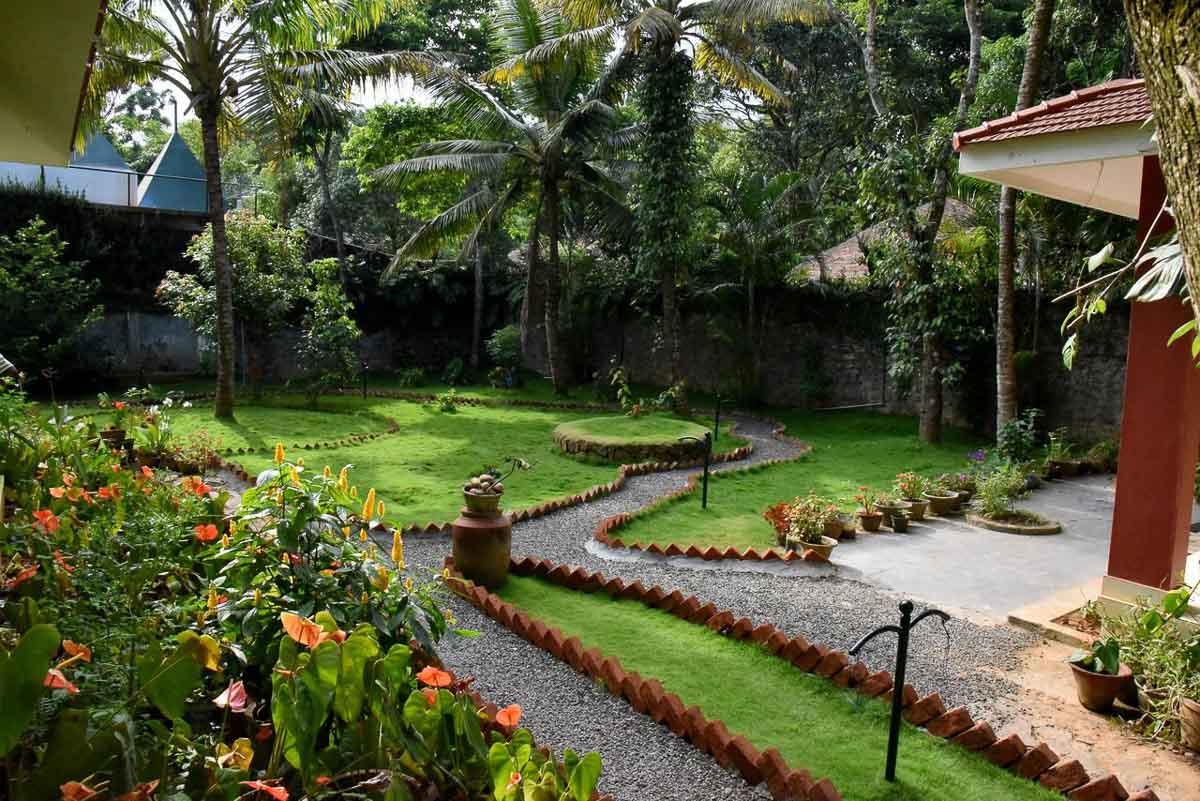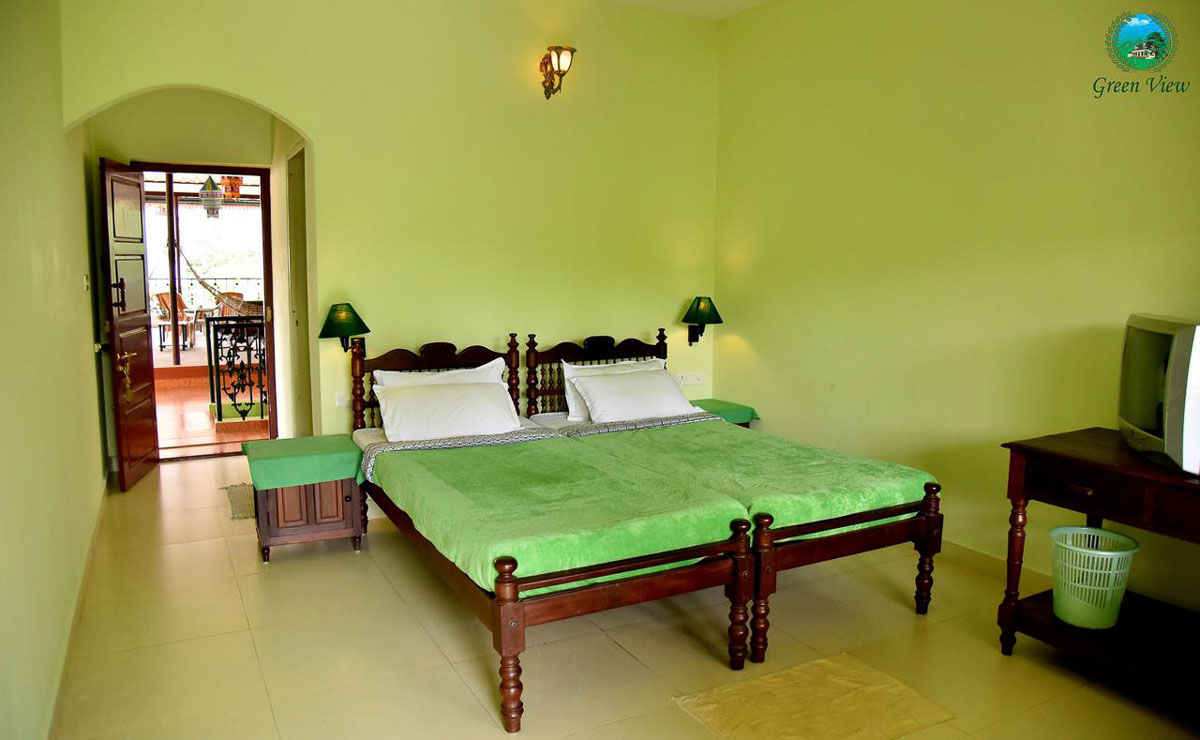 Address: By Pass Road, Thekkady P.O, Kumily, Kerala 685536, India
Cost: ~S$30 per room/night
2) Staying within Periyar National Park
Within Periyar National Park, there are also lodging options if you want to get real close to nature. The Eco-Lodge and Tree House Accommodation are some accommodation options situated within the national park itself but the latter gets booked out pretty quick on weekends.
Cost: Seasonal pricing, do check the Tourism's webpage for updated rates.
Alleppey
1) Artpackers.Life Hostel
At Alleppey, we checked in to our hostel at Artpackers.Life, which is just a stone's throw away from Alappuzha Beach. A refurbished heritage building, Artpackers.Life sits on what used to be a governmental office and a primary school. Today, it's one of the newest hostels in Alleppey and welcomes travellers and artists to hang out. If you happen to stay here during weekends, you might be in for a treat, as indie musicians are often invited to perform during those days.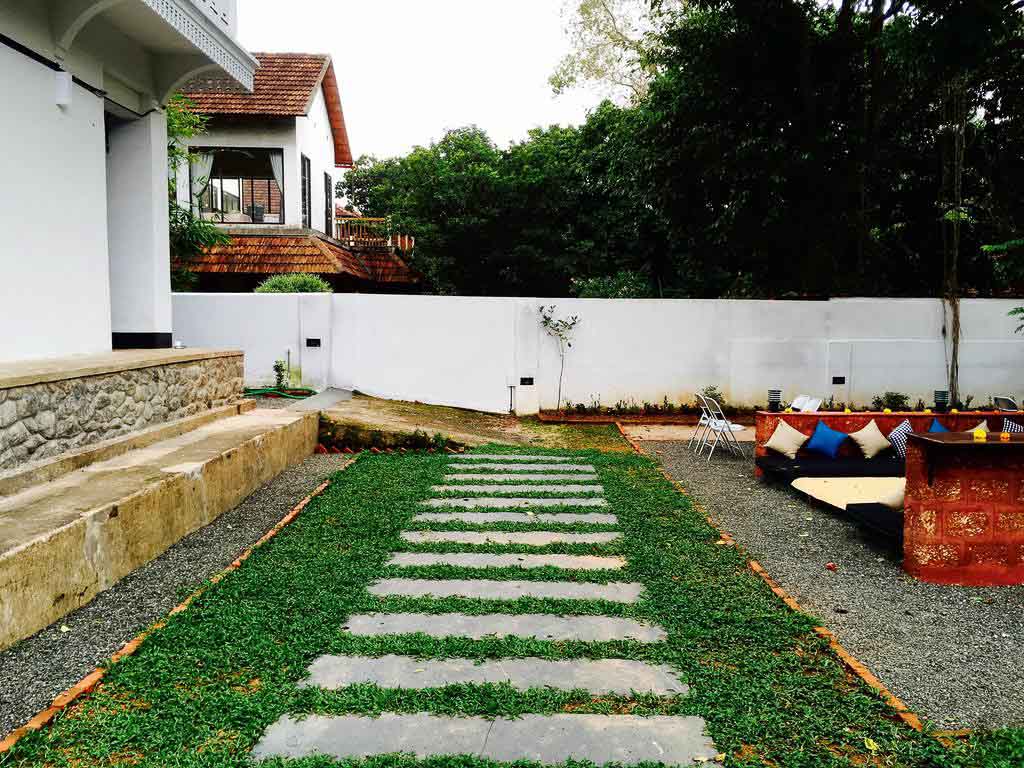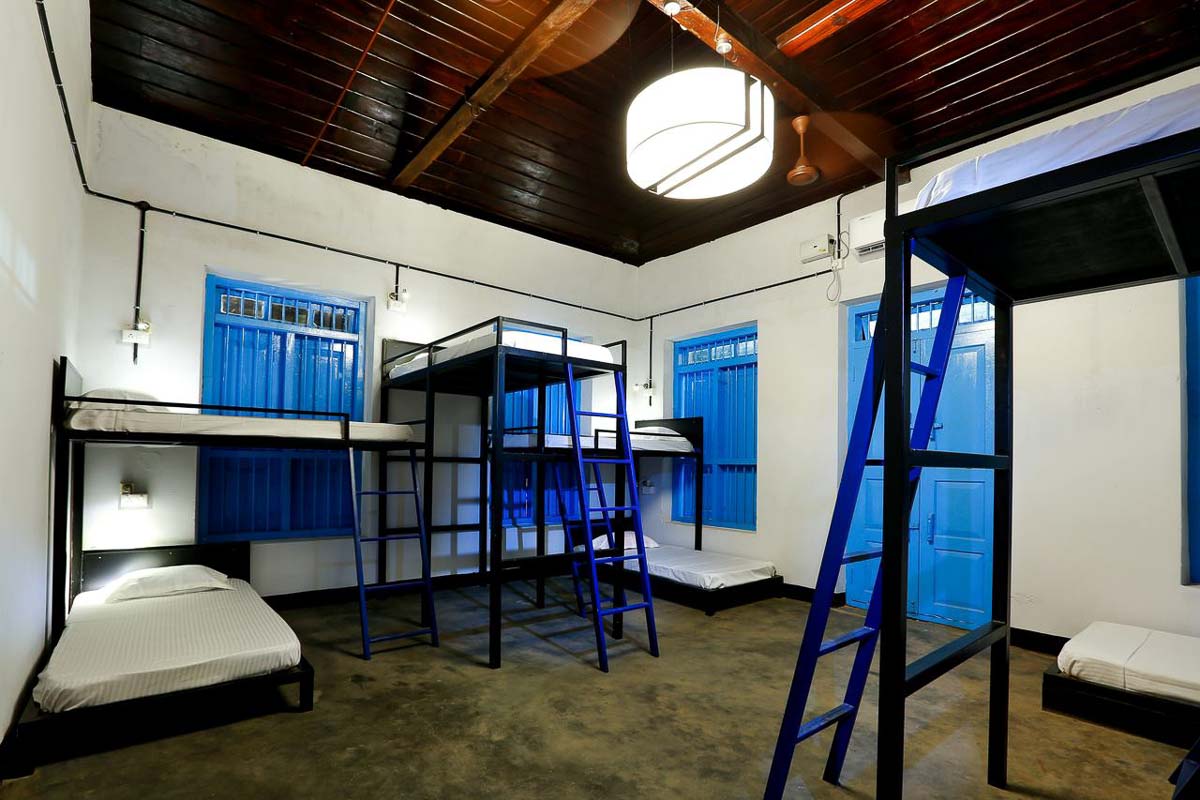 Address: Cullen Rd, Sea View Ward, Alappuzha, Kerala 688012, India
Cost: ₹500(~S$10)/night
2) Houseboat
Up your accommodation game by staying in a house that moves. A cruise would have set you back by quite a lot, but in Alleppey, such houseboats come in a reasonable price range, and is really quite an eye-opening experience.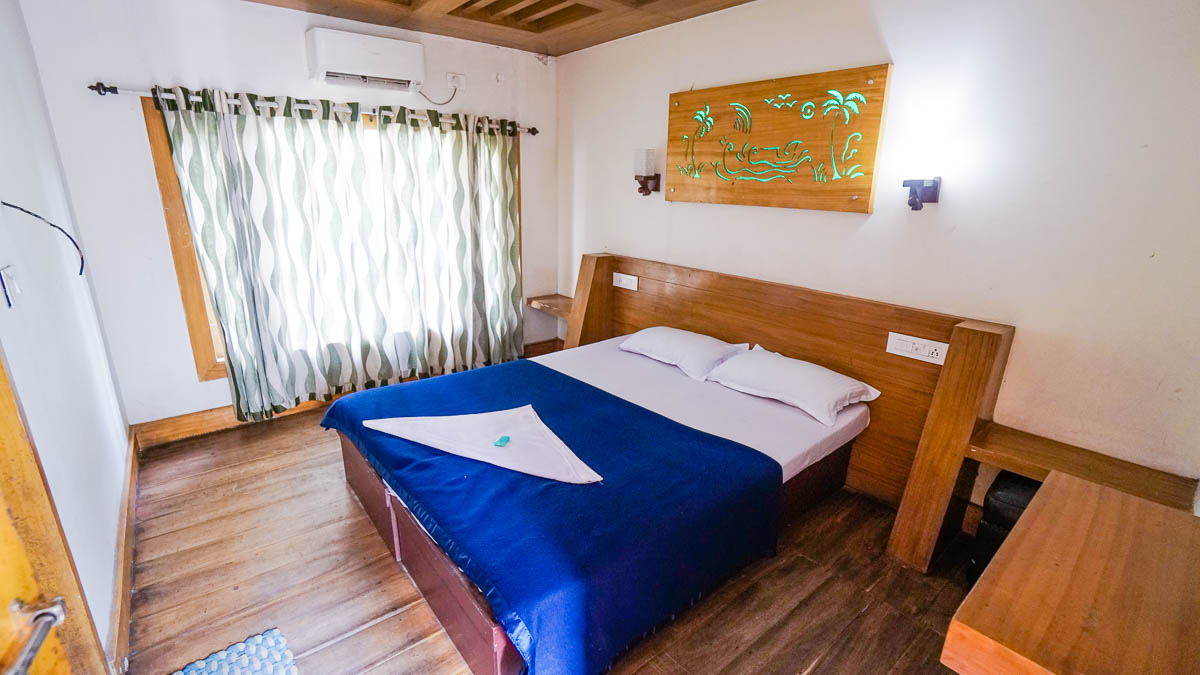 Cost: ₹9,500 – ₹15,000 depending on number of rooms (Full boarding: includes, lunch, dinner, and breakfast)
Meeting Point: Punnamada Boat Jetty
Contact: +91 87142 12484 (Occasionally replies on Whatsapp but communicates better through a phone call)
---
Direct Flight from Singapore to Kochi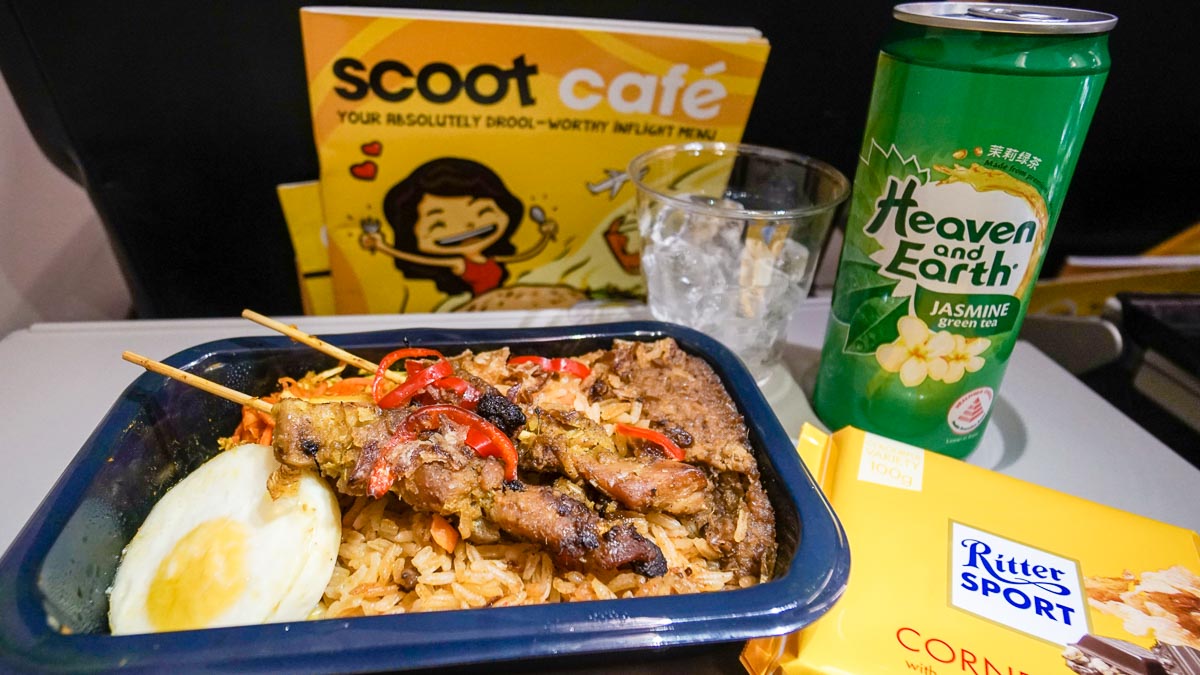 Scoot flies direct from Singapore to Kochi 4 times a week with promo fares starting from S$107 (one-way). Since it was a 4.5-hour flight we got our meals pre-ordered on board.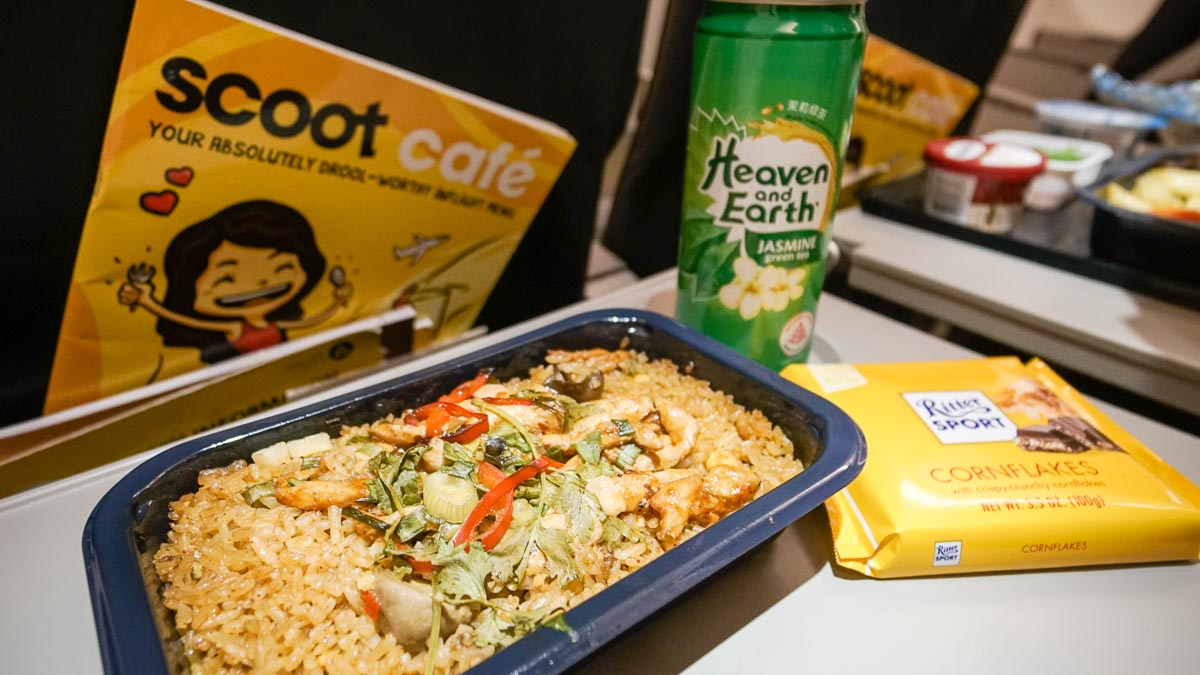 We ordered the Tom Yam Fried Rice (Pre-order combo), Signature Nasi Goreng with Chicken Satay (Premium Selection), and Braised Beef Cheek with Penne (Premium Selection) but my personal favourite had to be the Tom Yam Fried Rice — served fresh as if it had just been fried on board and the had a nice kick of spiciness to it.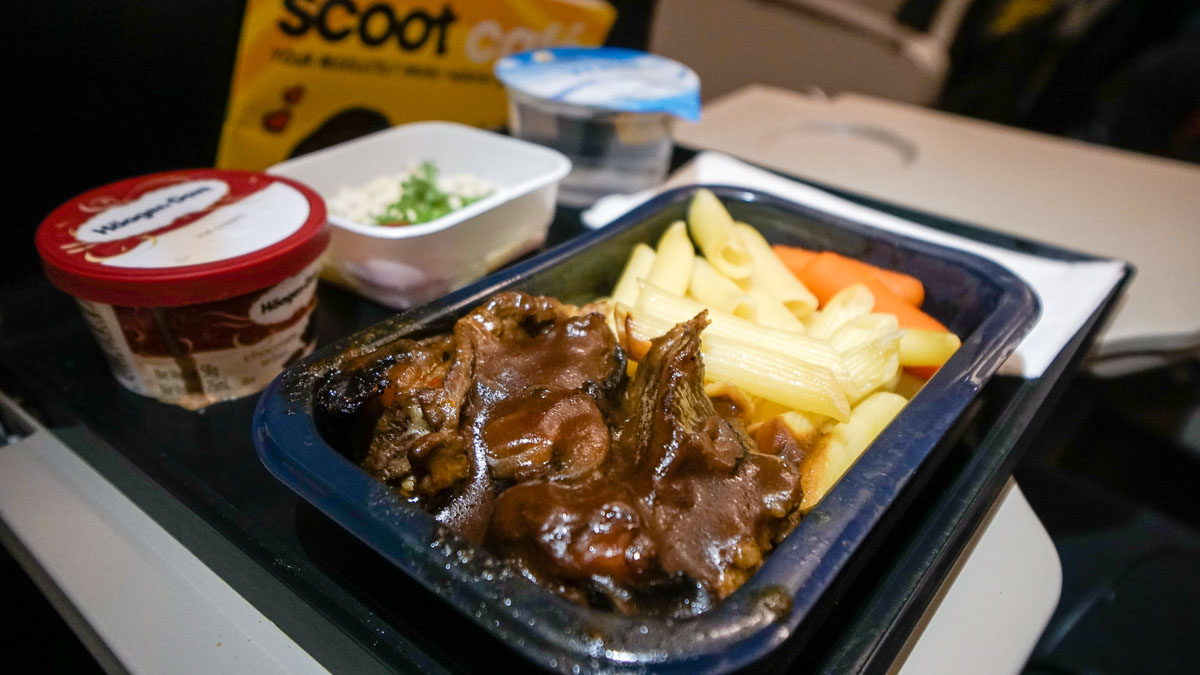 Premium Selections (S$21.99) like this Braised Beef Cheek with Penne comes with 2 sides and a drink, and are available for pre-order only. Other pre-order combos like the Tom Yum Fried Rice (S$17) comes with a can-drink (Coke or Green Tea) as well as a bar of Ritter Sport Chocolate (yummy!).
For more 1 week adventures to embark on in India, read also: 1 Week in Jaipur, Agra, Lucknow, and Varanasi
---
This post was brought to you by Scoot.