Home to the holiest Sikh shrine (the Golden Temple), you can expect to be in midst of many pilgrims from all around the world. And with sikhism's open and inclusive nature, Amritsar is the perfect place to immerse yourself in a little spiritual solace or to reflect on life.
After experiencing southern India in Chennai, being a tourist around the Golden Triangle (Jaipur, Agra, Delhi) and camping in the rain up in the Himalayas, we finally arrived at our last city before going homebound. By then, we were pretty used to experiencing how different each city was and Amritsar was similarly different from all we'd seen.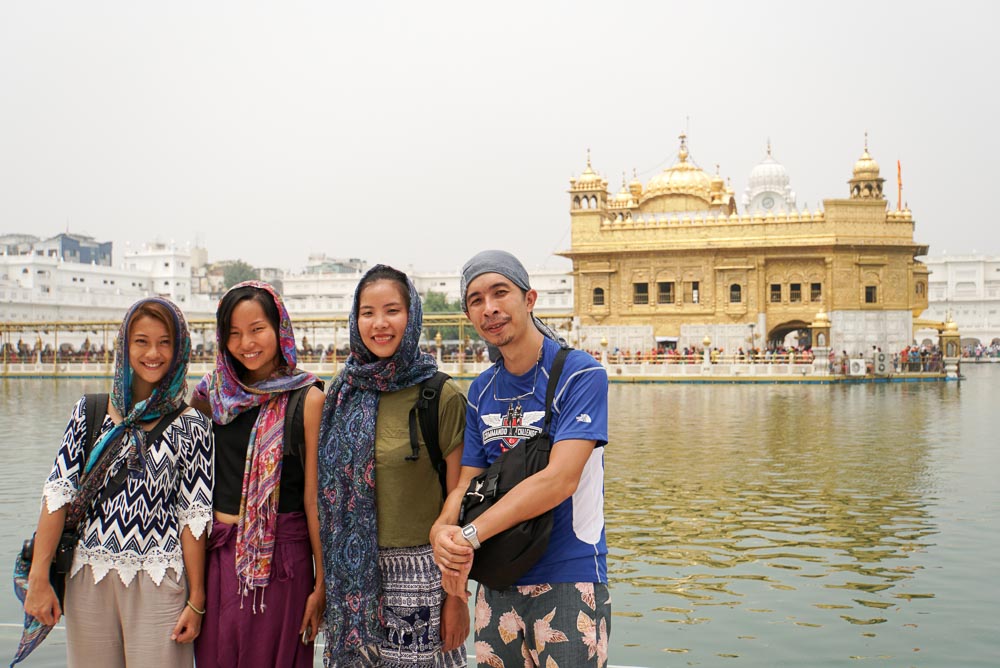 India may be all about being nudged out of your comfort zone but we very soon realised, it really isn't as bad as we once imagined. Here's a little help in getting through the little pious city of Amritsar.
Click on the link to jump to a relevant section!
Things to do in Amritsar
What to eat in Amritsar
Where to stay in Amritsar
Getting Around in Amritsar
Things to do in Amritsar
1) Soak up some peace at the Golden Temple (Harmandir Sahib)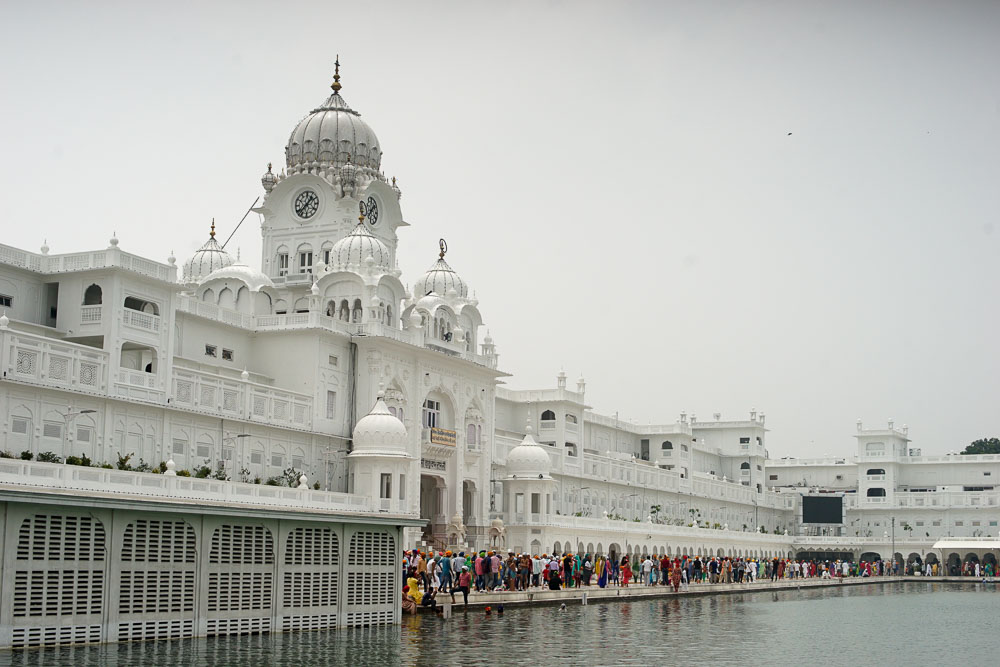 At the centre of this site you'll find a 2 storey building covered in gold, sitting in the middle of a pool of water. The water fed from the Ravi river is believed to be "immortal nectar" or "holy water" which you'll notice locals taking baths in to wash their sins. Women too have a designated indoor area connected to the water body where they can take their cleansing bath.
The uniform white marbled floor and structures surrounding the site makes it very pleasing on the eyes during a calm morning walk (although, can be quite glaring with the afternoon sun).
Best times to enjoy the peace and serenity of the temple grounds are in the early morning (even before sunrise) and in the cool evenings when the main temple lights up reflecting a nice glow in the water.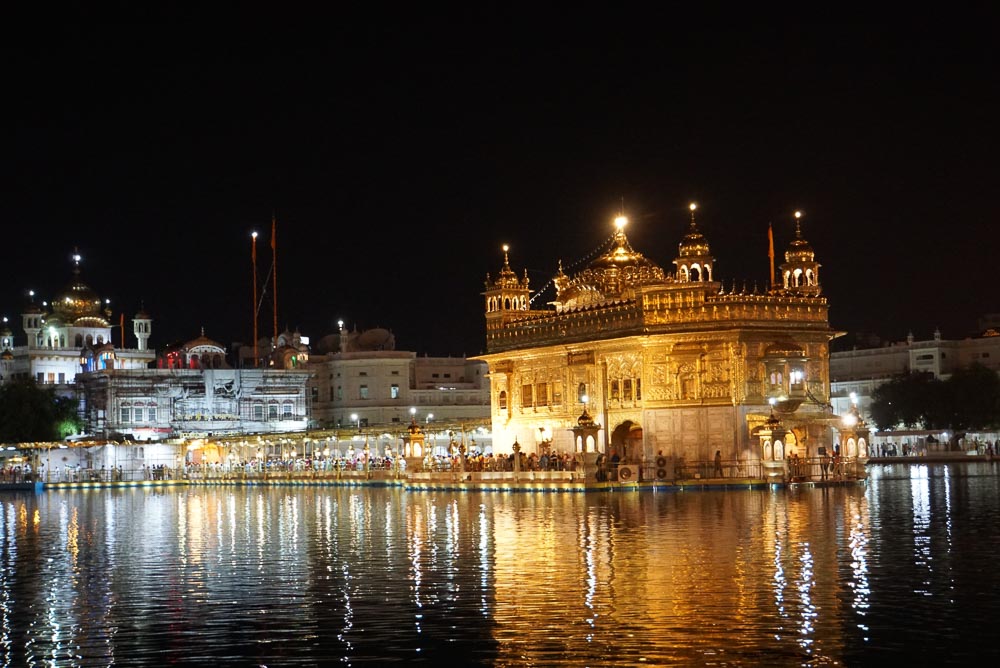 Cost: Free but accepts donations
Opening Hours: Dawn – 10pm, open everyday
Address: Golden Temple Rd, Amritsar, Punjab 143006, India
*Pro-tip: Leave your shoes at the counters outside and bring a scarf as it's mandatory to cover your head (for both men and women).
2) Reflect about how fragile life can be at the Jallianwala Bagh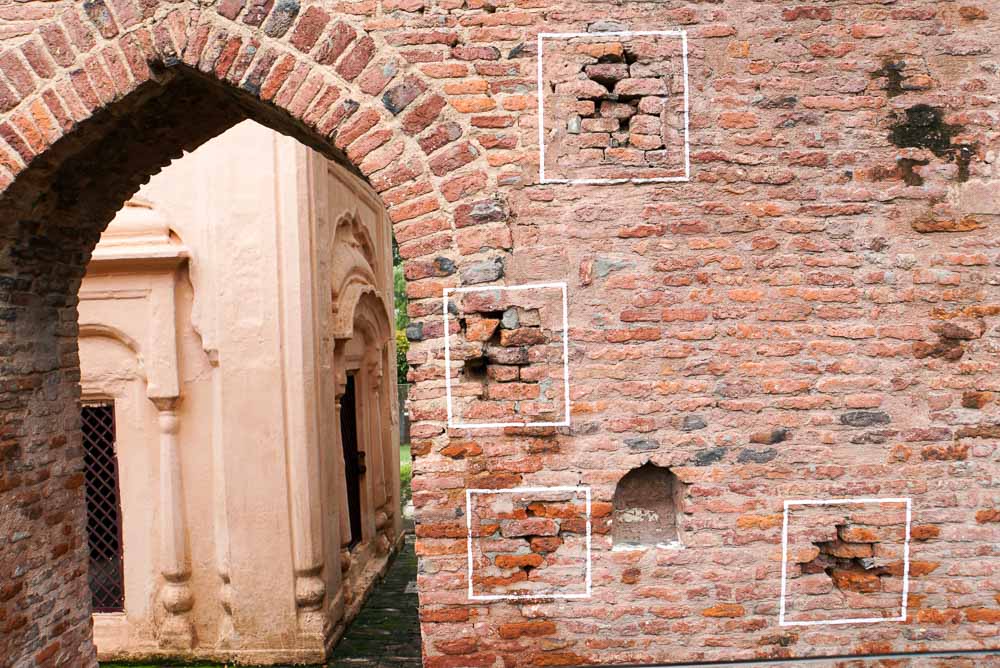 About a century ago, 5000 Indians were holding a peaceful demonstration right here in an open area surrounded by high walls when 150 British troops arrived at the scene and started to open fire at the masses. Many leapt into the well out of desperation and later died there too. Some sources point at over a thousand lives lost that day including women and children.
Today, a garden has been built in place to commemorate the innocent lives taken here. Some walls of the past still remain standing with obvious bullet holes belonging to dark times. Many locals still frequent the garden just to hang out or read up stories and fragments in the small museum on the way out.

Cost: Entry is free although there's always donation boxes around
Opening Hours: 6.30am – 7.30pm, open everyday
Located: 400m walk from the Golden Temple
3) Experience swelling local pride at the Wagah (Attari) Border Ceremony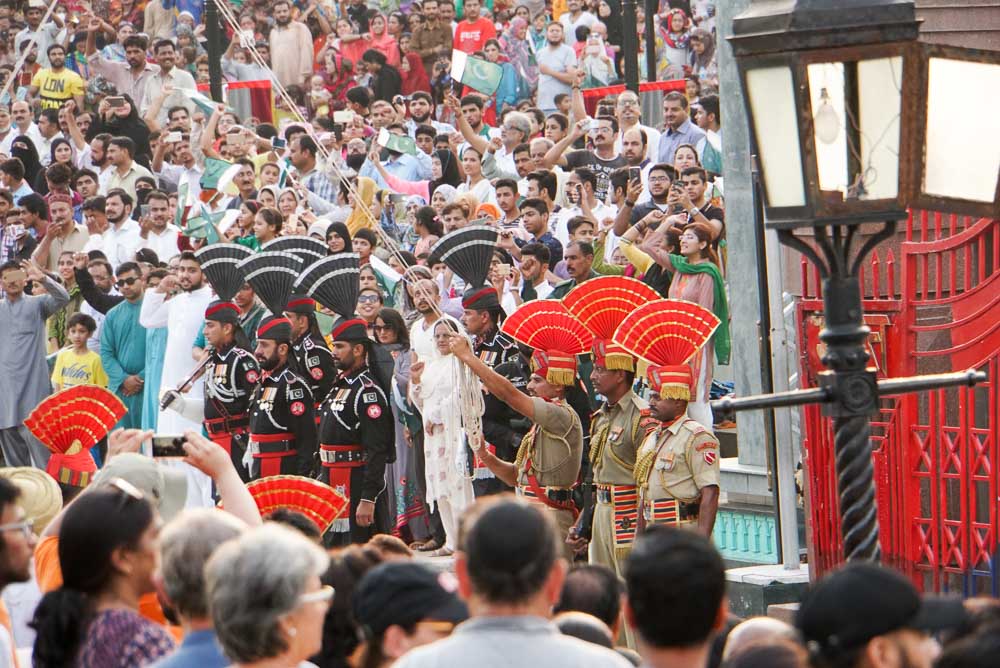 Being in the north western end of the country, Amritsar is located just beside Pakistan. While things between the 2 neighbours always had a little historical tension, masses of locals and foreigners from each side gather at the borders each day to watch the flag lowering, gate closing ceremony at the Wagah-Attari border. (Wagah belongs to Pakistan's side while Attari belongs to India's)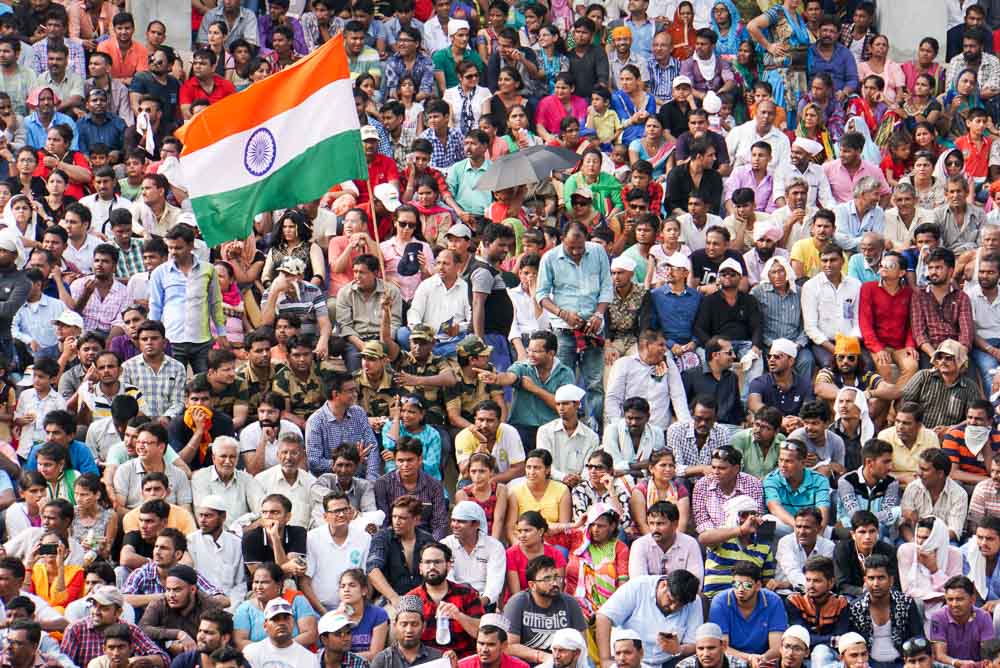 Before the guards begin, popular music blares from the speakers to warm the crowds. The audience claps, cheers, waves and dances enthusiastically in their seats while the females are invited down to bust their moves together in their very own dance party. Before long, we couldn't resist joining in the fun ourselves!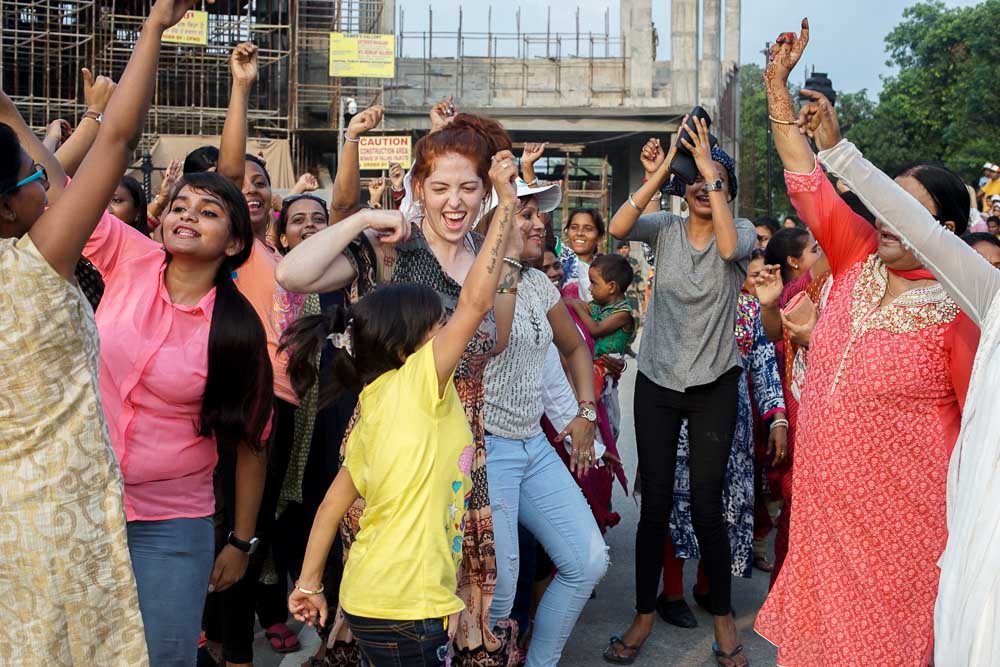 The energy and enthusiasm reminds me of National Day in Singapore, except this happens every.single.day with such vigour and pride.
The highlight of the show finally rolls out when the guards begin marching to the drum beats with exaggerated arm movements, wide strides and high kicks at degrees that knock their tall fanned hats slightly out of place. The crowds from both countries roar with cheer as the guards take turns to show their moves.
Representatives from each side then engage in a swift, strong exaggerated handshake (everything seems exaggerated), before marching to their spots to lower the flag and close the gates for the day.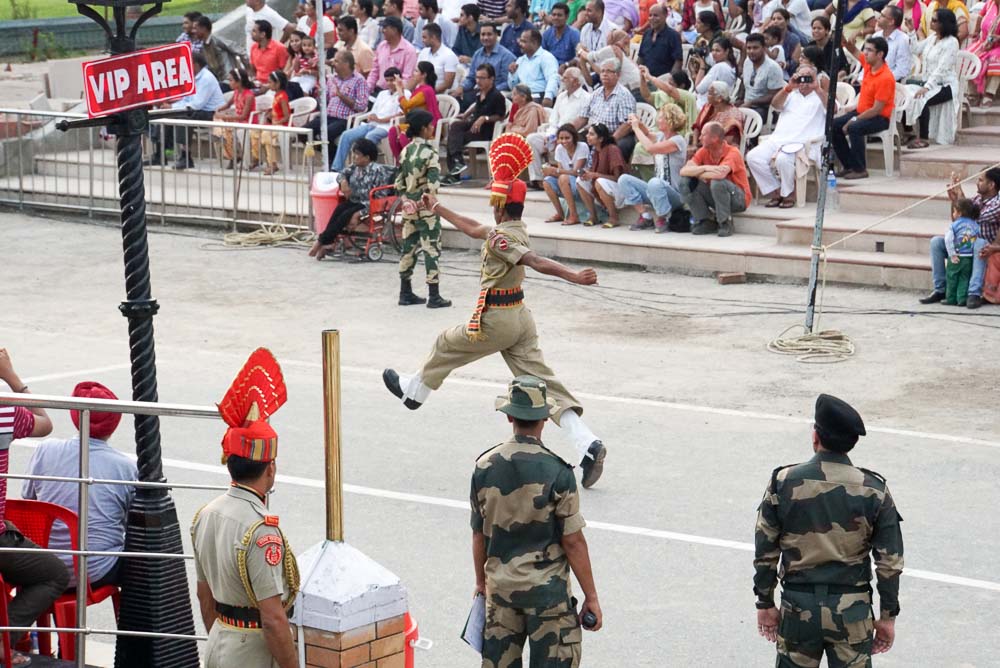 Despite being touristy as hell (even for the locals), this was unexpectedly one of my favourite experiences here in Amritsar being amidst such infectious pride, enthusiasm and cheer.
Time: Ceremony starts at sunset so it differs across seasons. Vehicles aren't allowed all the way in so it takes a 30 minute walk inclusive of security checks. Once you're able to figure out the foreigners only lane, it shouldn't take long to get through.

Getting there: Located about 35km from the Golden Temple, you can either book a shared tuktuk with the hostel or just walk around the Golden Temple and you'll find drivers calling out "Wagah Border" everywhere. The organisers usually gather a few groups of people to make up for the numbers in the vehicle. Expect to pay around ₹100/pax.
*Pro-tip: Bring your passport and leave your bags at the accommodation. Foreigners get a special lane so you won't have to squeeze with the majority crowd of locals. Bags are usually denied entry and requested to be left at a makeshift bag drop area outside.
Read more: Wagah Border Ceremony in Amritsar
4) Take a step back in time at life in a farm village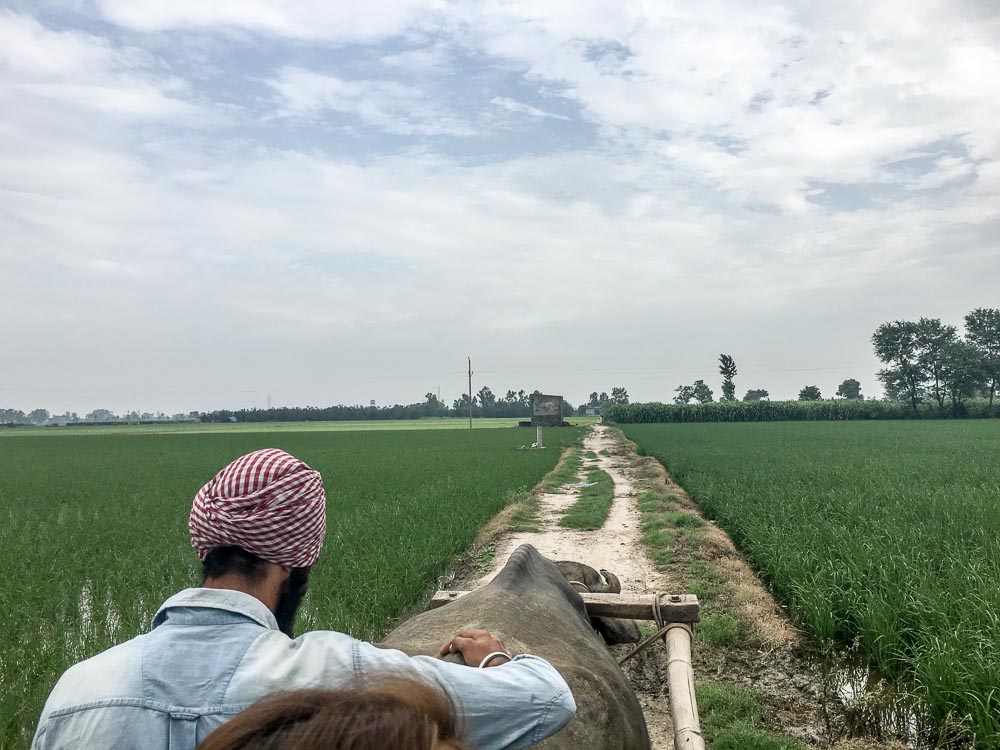 Living in a city like Singapore, we seldom come across farms and villages so we were pretty intrigued when we came across a village farm tour at the hostel.
The tuktuk leaves early around 6-7am and we get to spend a couple of hours in a Punjabi farm before being brought back around 11am.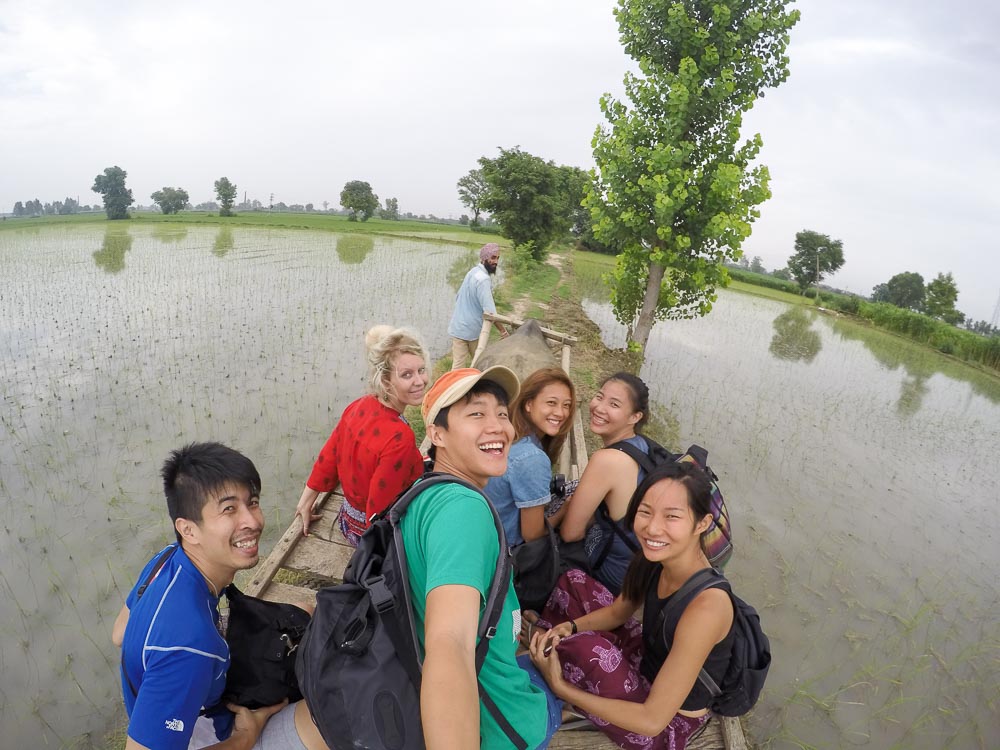 We had a go at milking the cow, harvesting and grinding up stalk for cattle feed, riding a bull out to the rice paddy fields and even visited a local elementary school (though not quite sure if the teacher appreciated our interruption).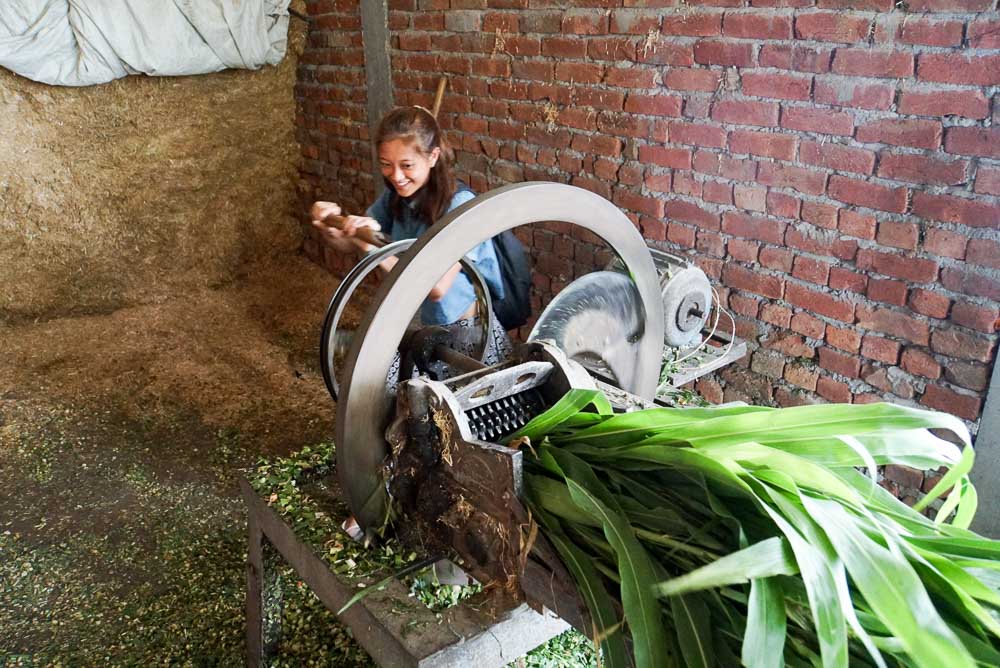 Cost: ₹500 (We booked ours through Inndia boutique hostel)
Time: Usually starts early in the morning around 6-7am or in the late afternoon around 3-4pm
Where to eat in Amritsar
1) A Free Meal at the Golden Temple's Food Kitchen

Upon entering the gates of the Golden Temple, we kept smelling food cooking up somewhere although there weren't any restaurants nearby. Later on, we learnt that the Golden Temple has one the largest communal eating halls called Guru Ka Langar. Vegetarian food is served here 24/7 to all visitors regardless of faith or background for free. A comforting option to have especially at the end of the trip and if you're running low on dough.
The place typically feeds about 40,000 people a day so there's a very orderly system in place. You line up to collect your metal plates and bowls, get directed to sit in rows while volunteers make constant rounds with a variety of items from chapatis to dahl, to rice pudding.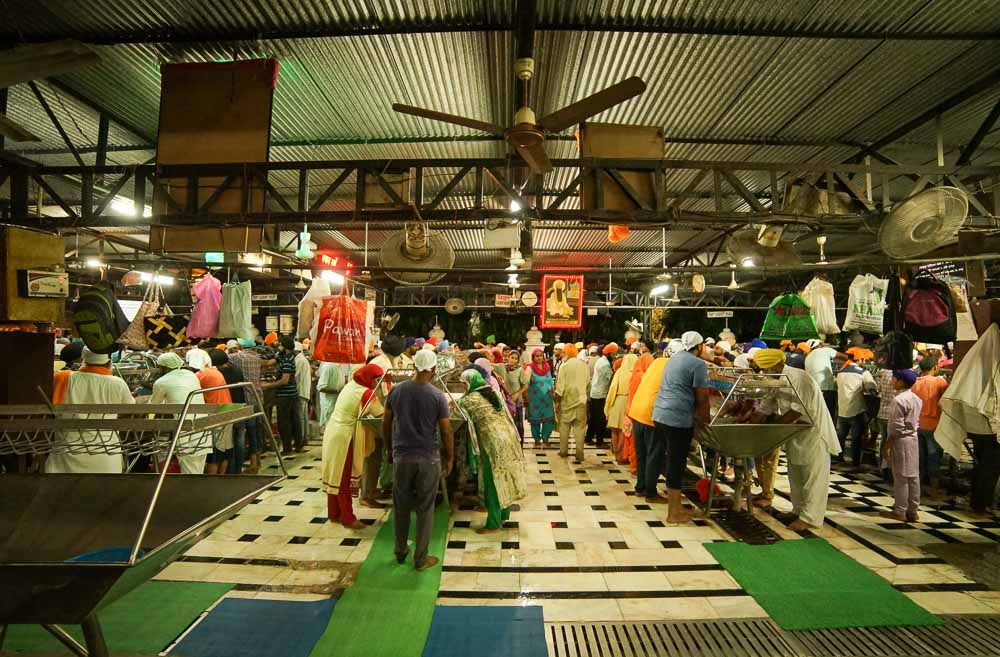 With so many people to feed, it also means there'll be many plates to wash! So lend a hand with the dishes if you have some time to spare.
Probably because of the basic necessities offered so generously at the Golden Temple, you'll notice there aren't many beggars on the streets asking you for things. And even if there are, show them to the Temple where they can find free food and shelter.
Costs: Free
Opening Hours: 24/7
Address: Golden Temple Rd, Amritsar, Punjab 143006, India
2) Brothers' Dhaba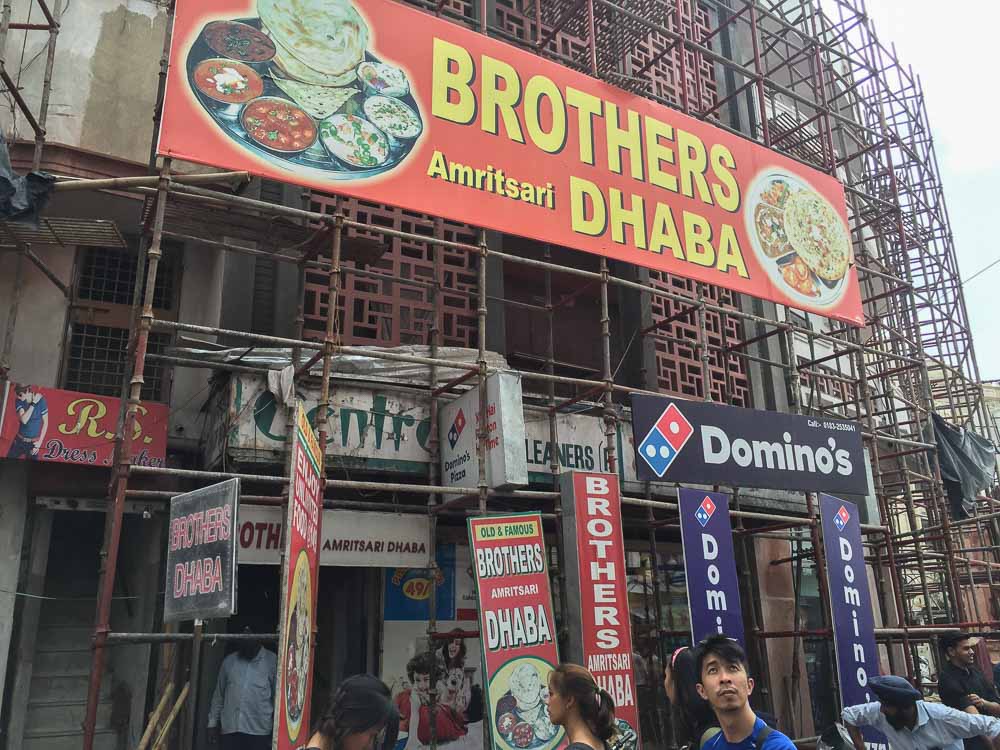 Dhabas (Snack bars) are pretty famous in Amritsar and while we didn't get to try the other recommended Dhabas like Punjab Dhaba and Kesar Da Dhaba, we managed to try Brothers' Dhaba and had one of our favourite meals in our whole trip!
It was quite hard narrowing our picks down from the extensive variety of the menu (ranging from Indian Thalis to "chinese" items). In the end we got the Chilli potato (a table's favourite), a stuffed cheese pratha, a mint pratha (which was surprisingly really good), garlic naan (we couldn't resist), some dahl makhani and aloo ghobi (potato and cauliflower mix). Not forgetting the mango lassis which might have been the best we had on the trip! Everything was so good and we only spent about S$3/pax!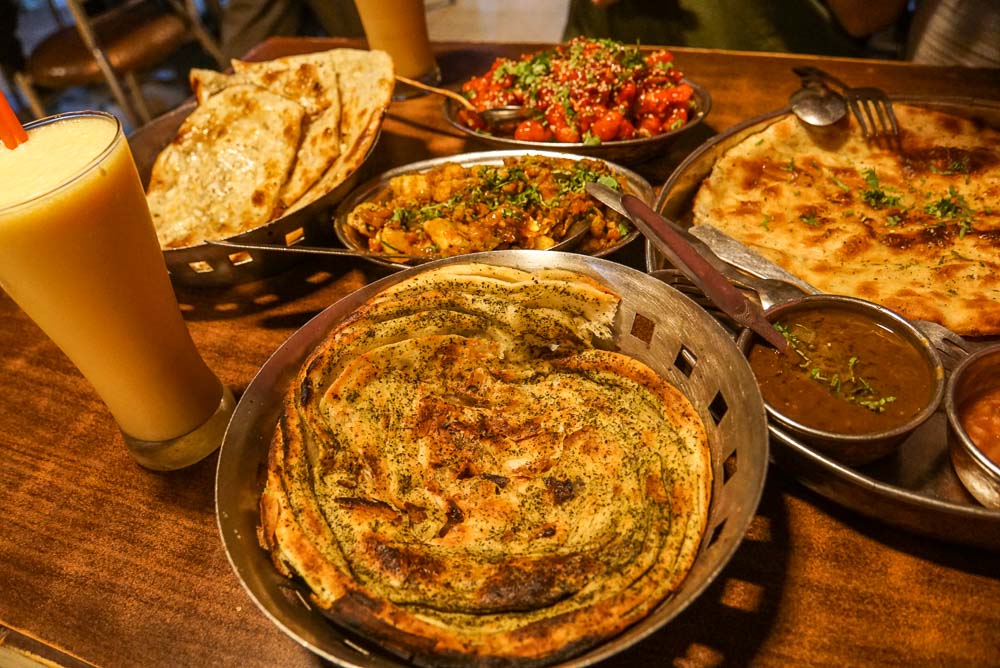 Costs: ~ ₹150/pax
Opening Hours: 8am – 11.30pm, open everyday
How to get there: About a 500m walk from the Golden Temple, look out Dominos and take the stairs up to the second floor
3) Makhan Fish Restaurant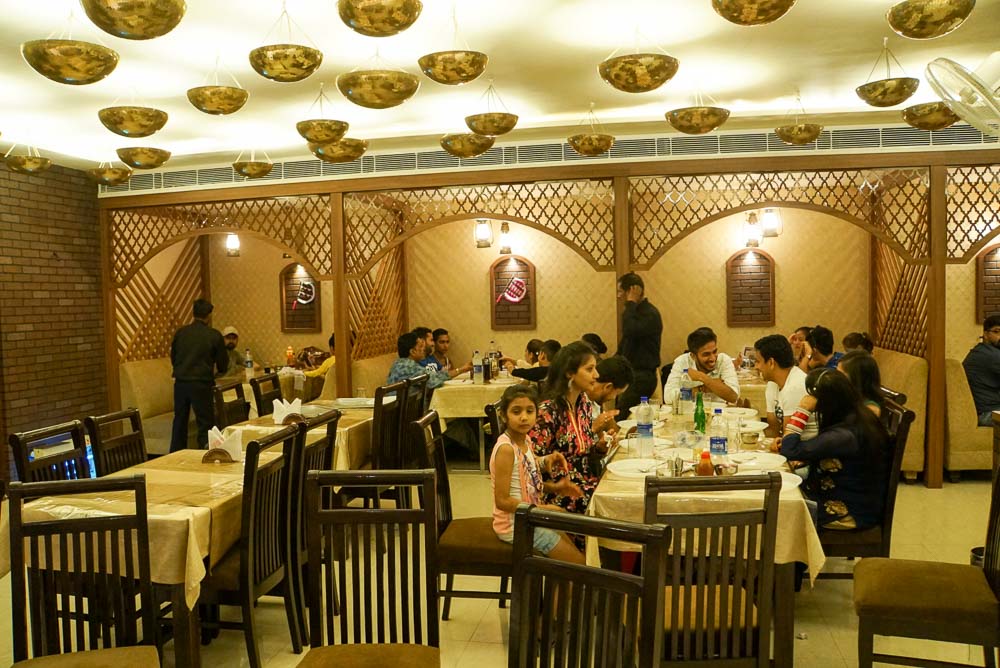 A slightly costlier option in Amritsar (~S$10), the fish dishes are apparently "world famous" here. We especially loved the Fish Tandoori Sohal which was lightly grilled and crispy on the outside and silky smooth on the inside! Great meal to end off the trip!
Cost: ~₹400/pax
Opening Hours: 12.30pm – 12am, daily
Address: 21A, Near Madan Hospital, Majitha Rd, Amritsar, Punjab 143001, India
Where to stay in Amritsar
1) Hostels
Inndia Boutique Hostel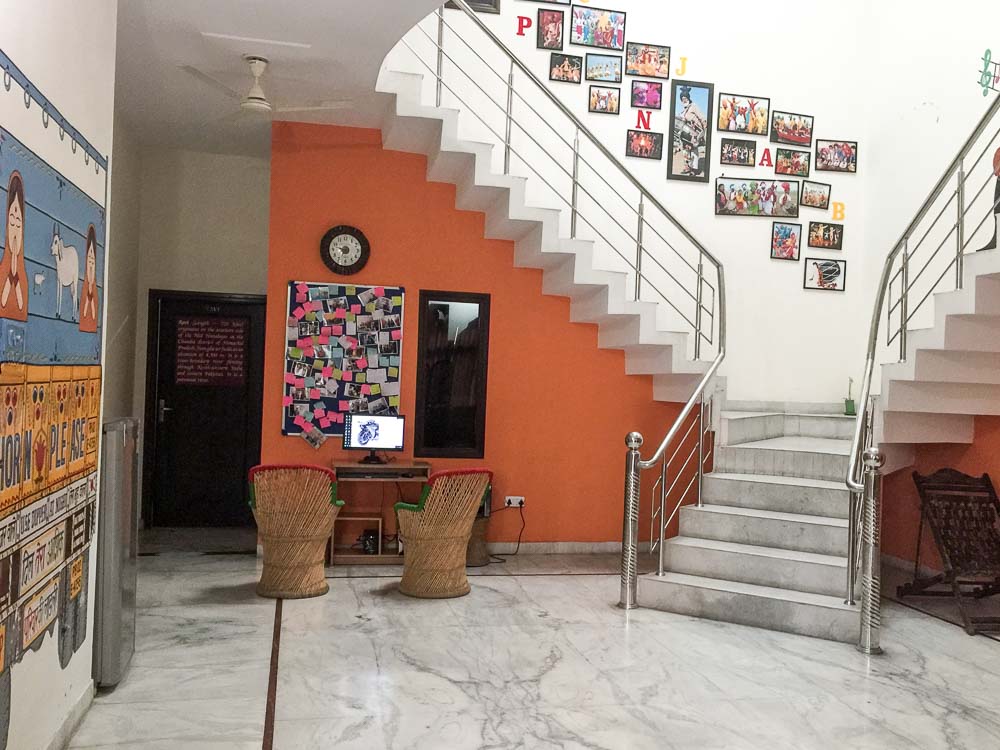 A spacious 2 storey mansion turned hostel, this was a gem to find on our last leg of the trip; almost as if walking into a friend's house. The owners speak perfect english and were really helpful with sharing or finding out information for us.
Even the 8 bed dorm was spacious, fully air-conditioned and clean. The beds were a solid wooden frame, with cosy comforters and clean sheets (something we often take for granted). Toilets were also really clean and came with hot water (often not available or spoilt in many of the places we stayed in).
The only downside is that the location is a little far from the main attractions like the Golden Temple (though only ₹100-200 by tuktuk). However, we found that the cleanliness, comfort and safety of being located inside a gated community more than makes up for the distance.
Cost: ₹400/night (in a 8 bed mixed dorm)
Address: 10 Celebration Enclave Phase – 2, Fategharh Churian Road, Near St. Jude School. Amritsar, Punjab
Phone: +91 80540 04555
Email: [email protected]
*Pro-tip: Despite the added security of being in a gated area, remain vigilant once outside the gates, especially at night. We had a really close shave of being robbed by a man on a motorbike who initially appeared really friendly. Thankfully nothing was taken from us and we since it was really late, we decided to retreat into safety.
Jugaadus Eco Hostel
Earlier in May (while we were in Japan), some of our writers took Scoot's inaugural flight to Amritsar and stayed at Jugaadus Eco Hostel. A more location-friendly option, this hostel is 1km away from the Golden Temple and Jallianwala Bagh.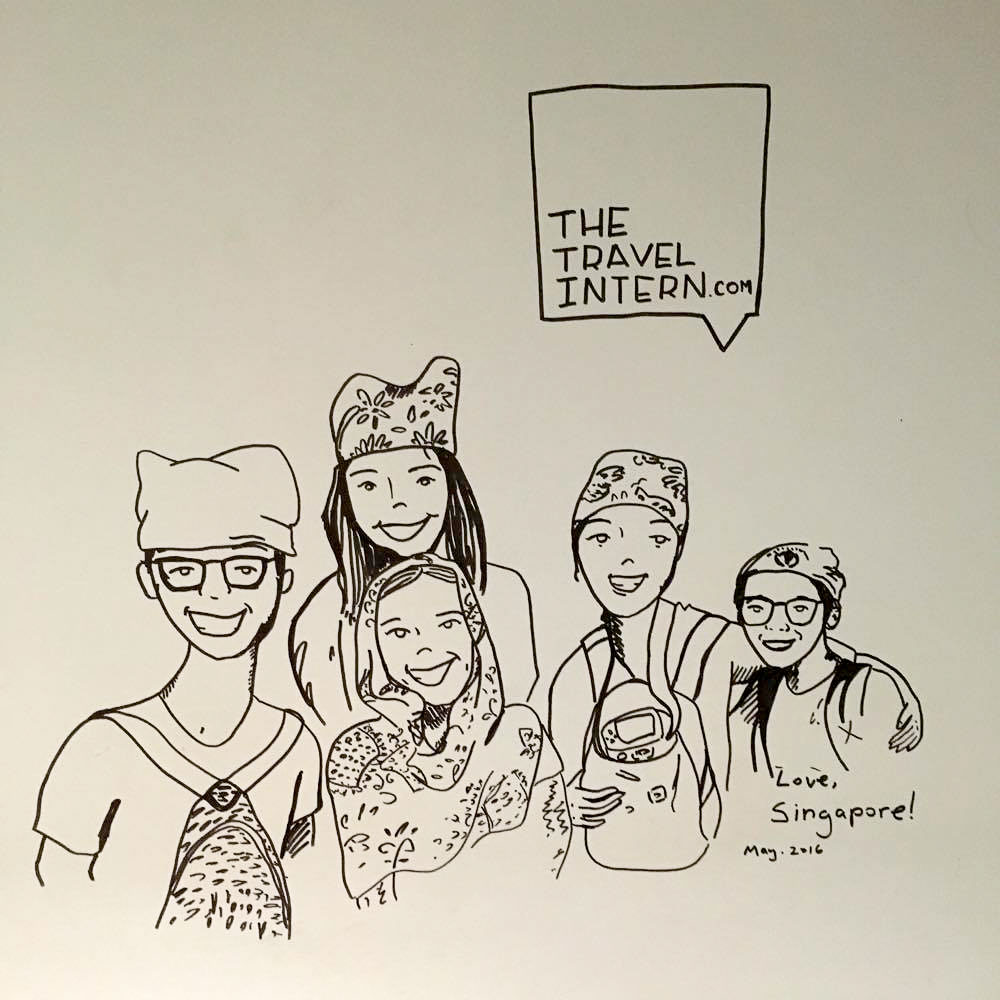 Look out for a piece of art Miao left behind in one of the 6 bed mixed dorms! Only gripe is the hot water may not work and one of the 4 bed dorms doesn't have a/c (not ideal especially in the summer months).
Cost: ₹400/night
Address: Plot No. 193, First Floor, Above Salon 16, Ajit Nagar main Road, Sultanwind Rd, Ajit Nagar, Amritsar, Punjab 143001, India
Phone: +91 85688 00020
2) Golden Temple (Guru Ram Das Niwas)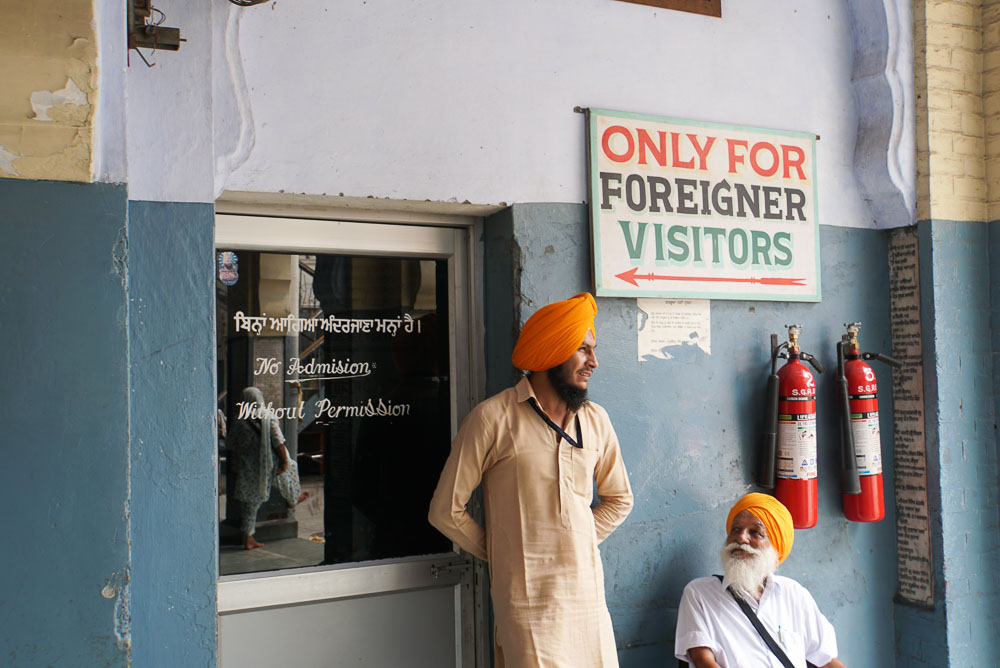 While our hostel stay at the Inndia boutique hostel was comfy, we wanted to experience something different for our second night in Amritsar and what better place than at the Golden Temple itself.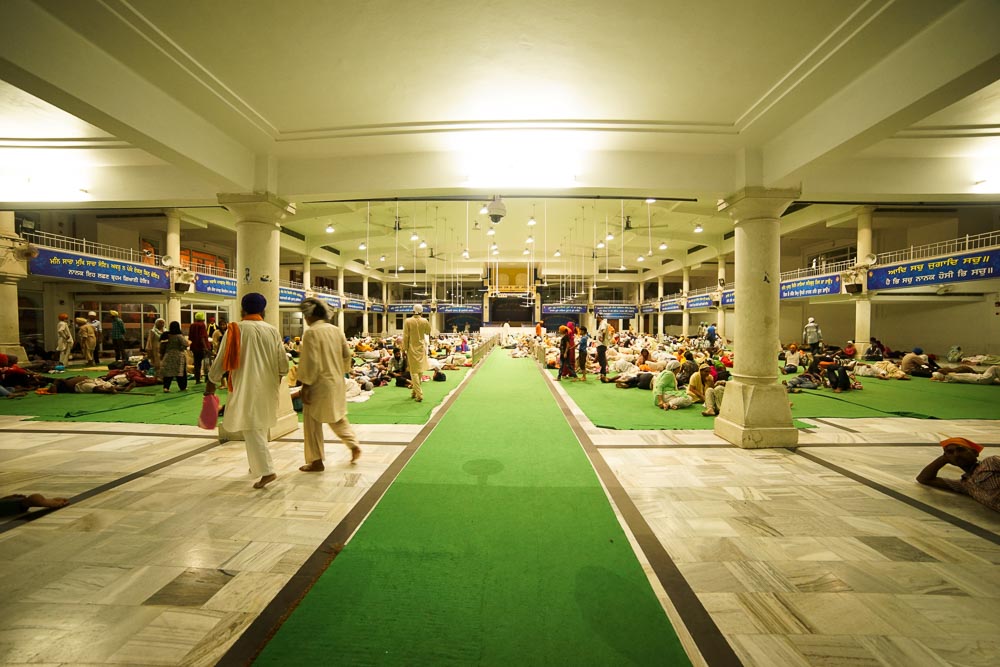 Free accommodation is available to all pilgrims and tourists located just behind the temple. You can find many locals sleeping the communal hall (picture above), but there are basic dorm rooms with lockers (bring your own lock) and a/c just for tourists.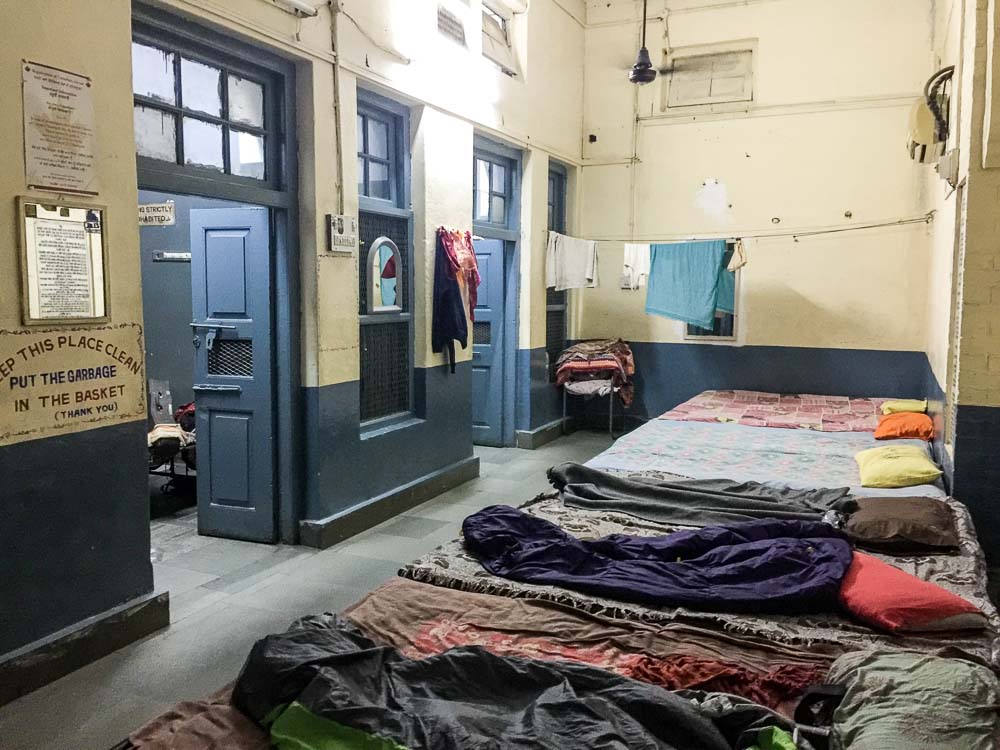 Staying on temple ground also means you get to wake up before dawn to view the temple rituals before it officially opens to the public!
Cost: Free (or offer your donations to the designated boxes at checkout)
Opening hours: 24/7
Address: Golden Temple Rd, Amritsar, Punjab 143006, India
*Pro-tip: There's no pre booking system in place so just arrive early and try your luck at bed availabilities.
Getting around in Amritsar
Most of the attractions and good food can be found within walking distance from the Golden Temple. If you're staying a little further out around Ratan Singh Chowk where Inndia Boutique hostel is, a tuktuk ride only costs ₹100-200 whether it's from the bus terminal or to the Golden Temple.
Our ride to the airport cost ₹400 (for 5 of us), and ₹120/pax on a shared vehicle of 12 to the Wagah Border (~35km from the Golden Temple).
Flying direct from Singapore to Amritsar
Other than Chennai, Scoot now flies direct to Amritsar 4 times a week!
The flight time from Amritsar to Singapore is a 5.5hour ride so we were pretty delighted to be served a hot meal of Nasi Lemak – a nice homely reminder of Singapore food.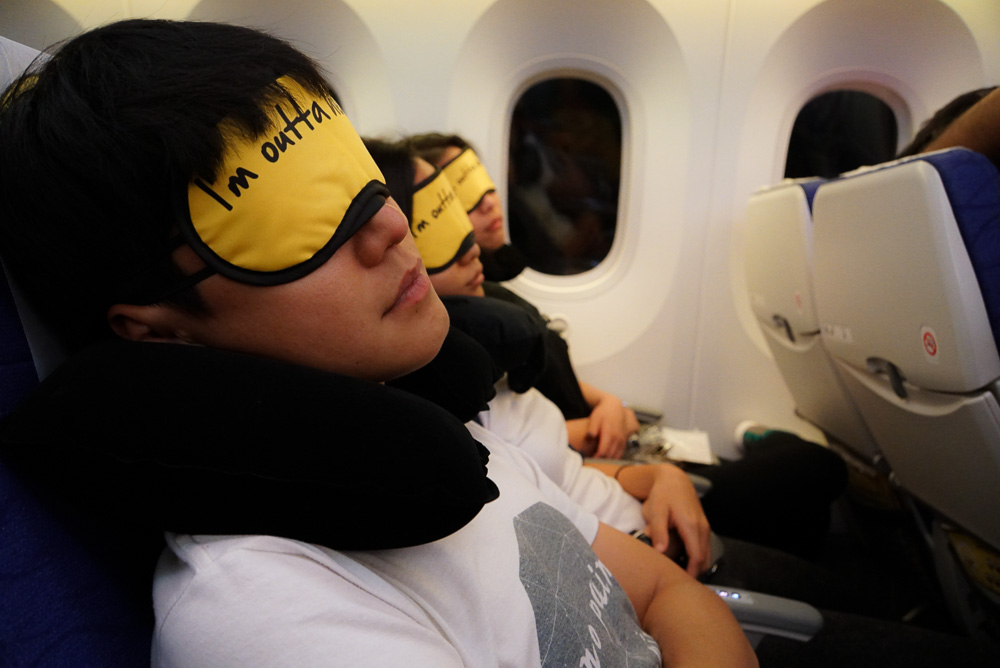 After 12 days of roughing it out a little in India, we were pretty happy to be taken home in our favourite low cost carrier plane! Once we were done with our on board meal, we donned on our snooze kits and snoozed our way home in comfort.
For more comfort, upgrade to Super seats for 30% more leg room and super stretch for 50%! Snooze kits can be purchased online for S$18 and onboard for S$25.
This post was brought to you by Scoot.
For more ideas on your next trip to India, check out our 12 Days in India!