From flipbooks to colourful designs that appear only under black light, here are the world's coolest passports.
Passports all over the world sport a similar look and it's no coincidence. In 1920, the League of Nations made an agreement to standardise all passports — each one must be of a certain size and have the same number of pages.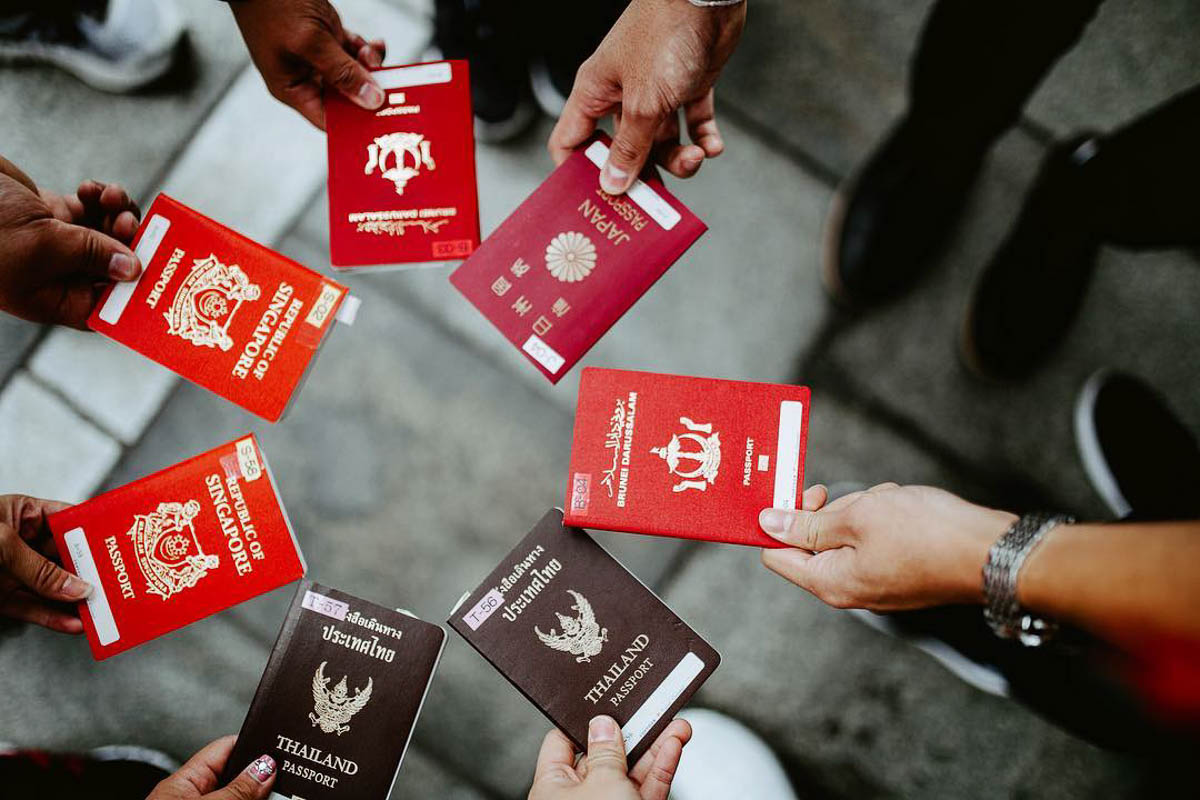 Photo credit: @pgnarisara via Instagram
But having to follow standards hasn't stopped countries from injecting their own identity! These include some features you'd be surprised to find in passports.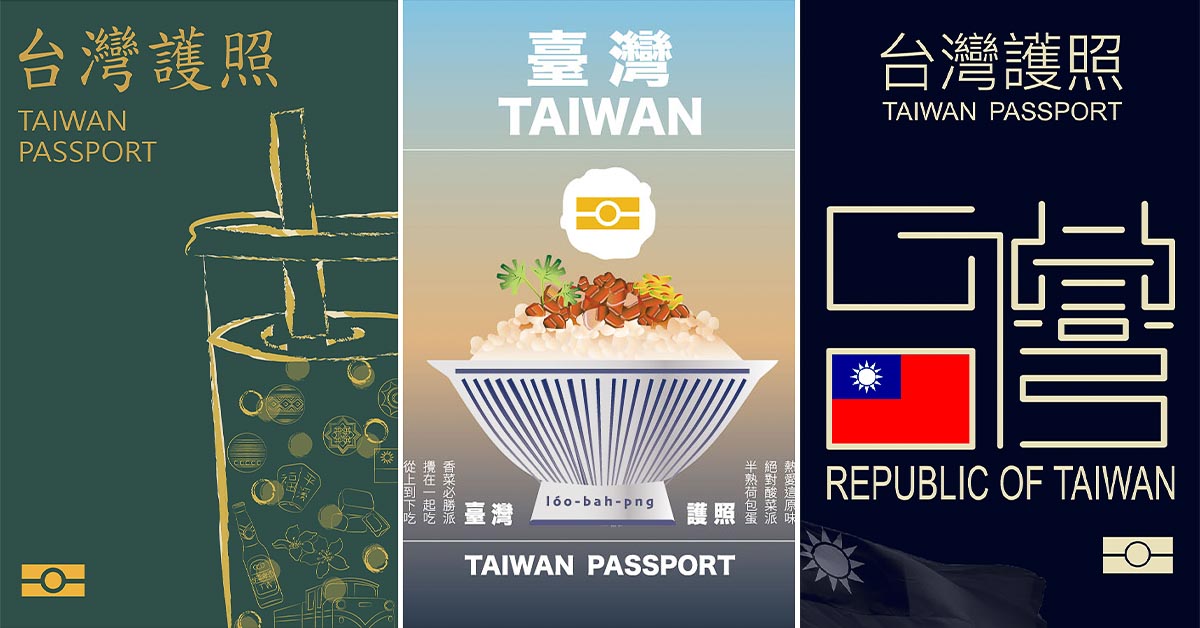 These are some of the submitted designs for Taiwan's new passport. Photo credit: New Power Party
In April 2020, a passport design contest in Taiwan raised a few eyebrows — with designs such as bubble tea, braised pork rice, and the Formosan black bear submitted by Taiwanese.
For other countries around the world, here are passports with some of the coolest features — in no particular order 🤩
1) Norway — northern lights revealed under UV light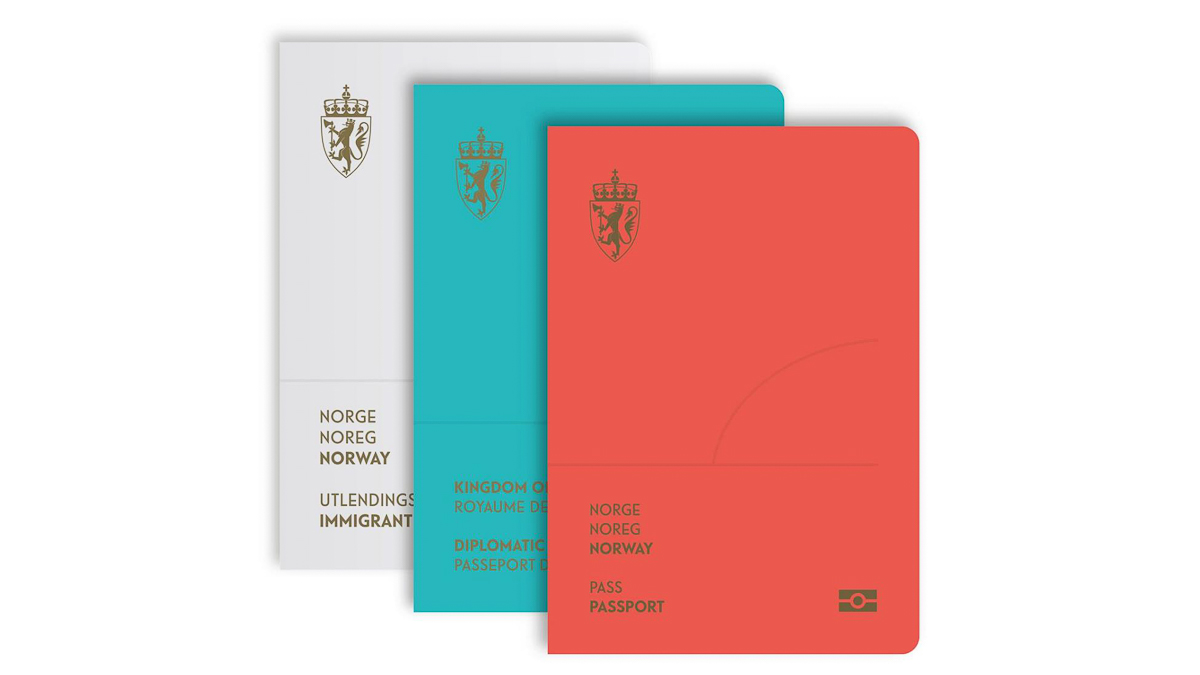 The new Norwegian passport has three colour variations — red for standard, green for diplomatic, and white for immigrant. Photo credit: Neue Design Studio
Norway's newly designed passport hasn't been introduced yet but it's already made headlines. Named "Norwegian landscapes", the award-winning design may look simple, but hides some intriguing details.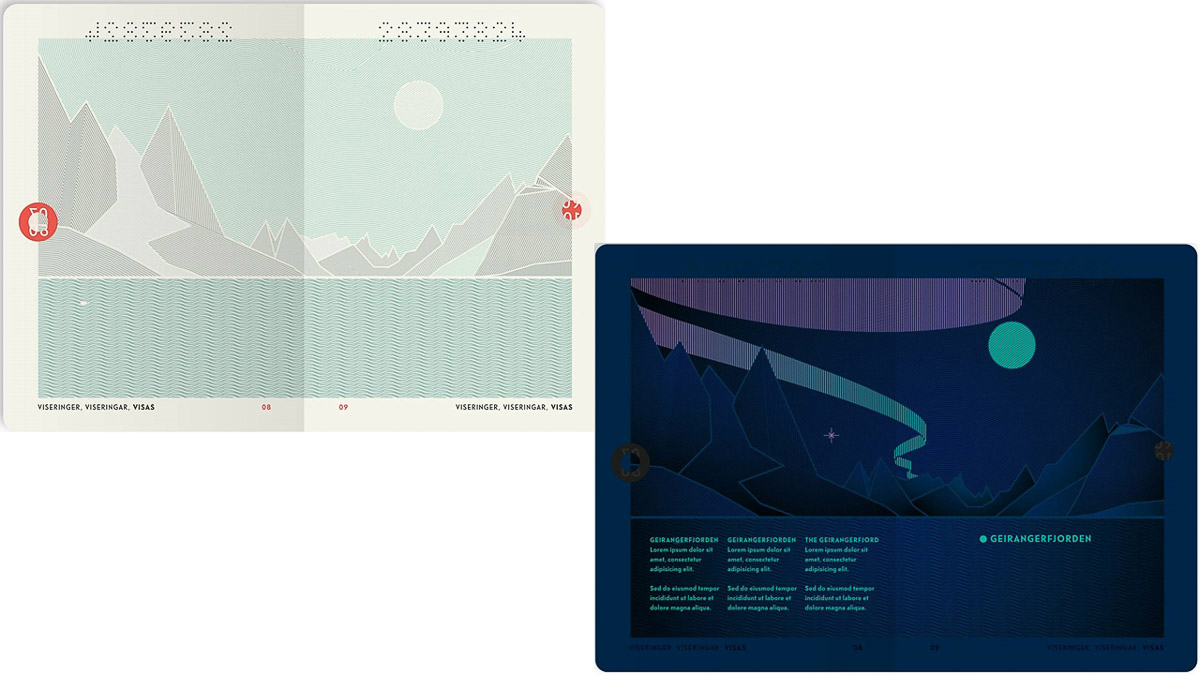 Photo credit: Neue Design Studio
Under UV light, the minimalistic landscape reveals a charming night scene — complete with the northern lights! It's a brilliant use of UV technology, and adds a spectacular touch of magic to Norway's passport.
Read more: Norway budget itineraries
2) Finland — passport turns into a flipbook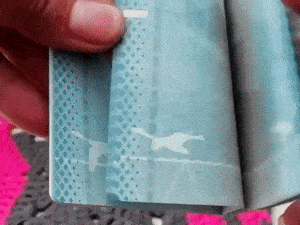 Spot the "flying" swan on the Finnish passport. Credit: @cirge
Finland's passport might look plain, but turn the pages and you'll know why it makes this list of world's coolest passports. The country earned a reputation for transforming their passports into flipbooks. It's actually a covert security feature, and you'll see a swan flying when the pages are flipped.
In the older version, the visa pages show a moose walking—or galloping—away.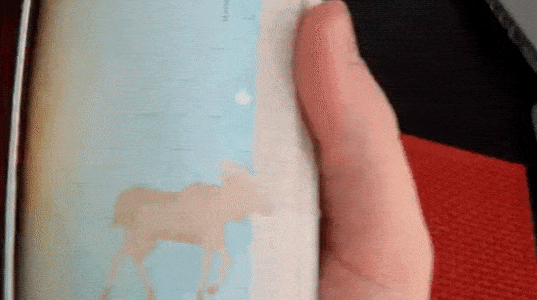 Credit: Mist3rMaul via YouTube
3) Canada — dazzling displays appear under UV light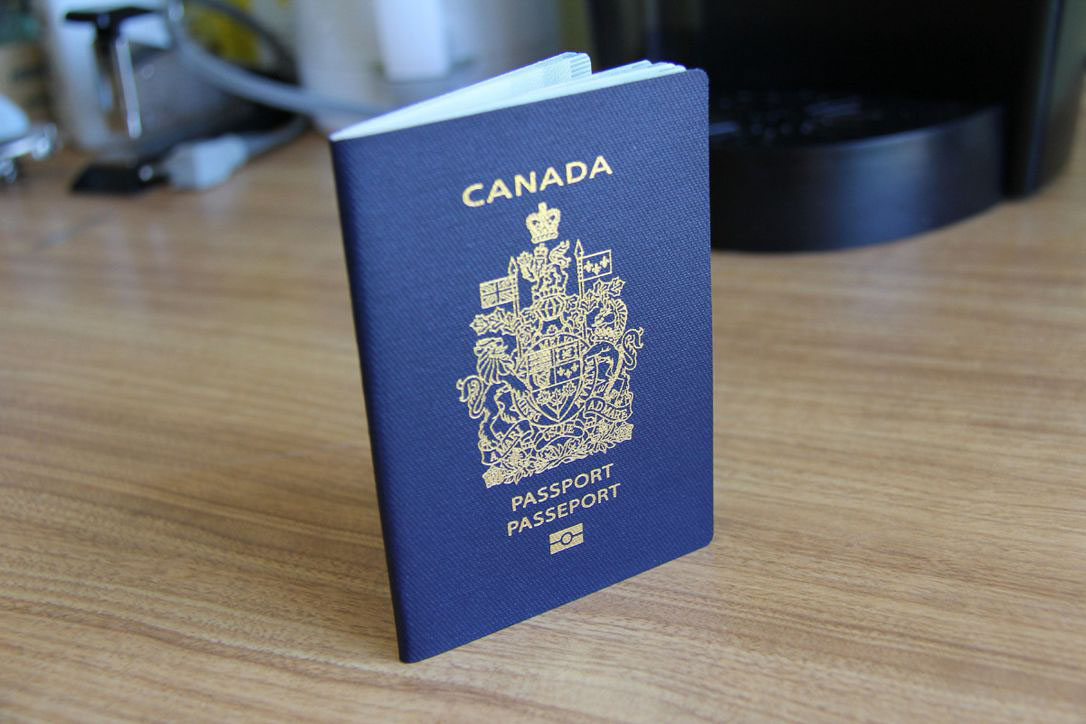 Photo credit: The Star
The Canadian passport couldn't look more ordinary at first sight. Outside, the cover shows the country's coat of arms. Inside, each visa page features Canada's landmarks, historical figures and natural wonders.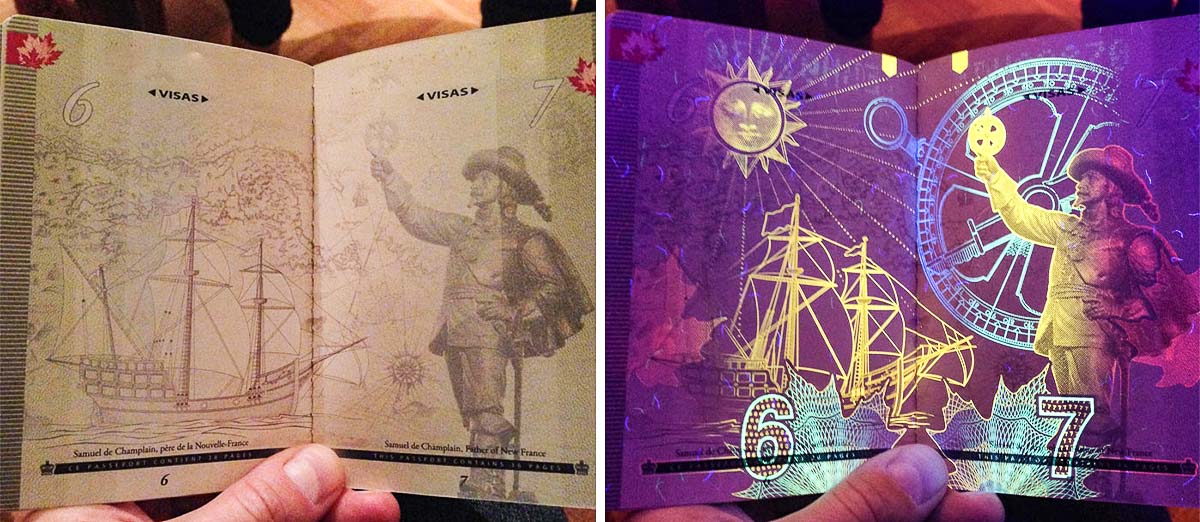 Photo credit: chachichachichicken via imgur
However, the true surprise comes when you shine UV light on the pages. The dull-coloured landmarks instantly turn into a dramatic scene of iridescence. It's an impressive burst of colours that also doubles as clever anti-fraud technology. Not only is this one of the world's coolest passports, but it might just be the most colourful too!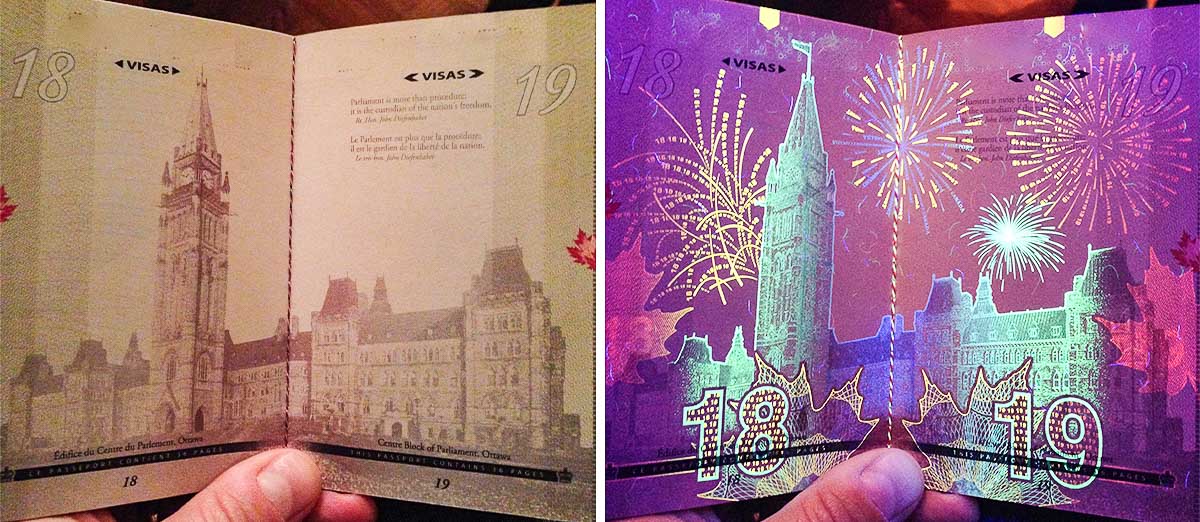 Photo credit: chachichachichicken via imgur
Fun fact: The only person in the world who does not need a passport to travel is Queen Elizabeth II.
4) Indonesia — a visual guide of local natural wonders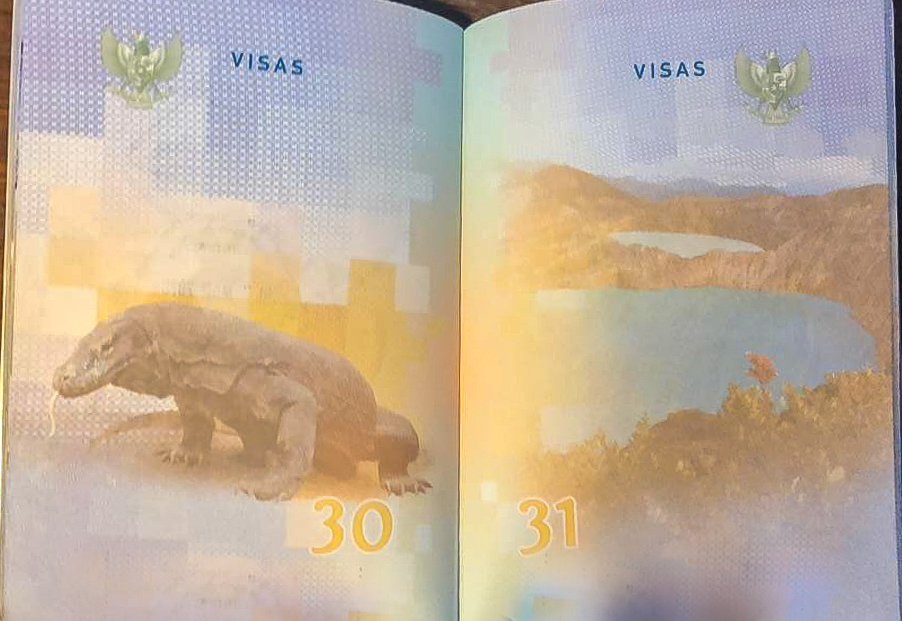 The Indonesian passport features the Komodo dragon and the crater lakes of Mt. Kelimutu. Photo credit: Dewi Arna
Most countries have images of skylines or attractions on their passports, but Indonesia went for something less typical. Open their passport and you'll be greeted with vivid images of the country's rich cultural heritage, natural wonders and wildlife.
Every page in the Indonesian passport shows something different. These include the Komodo dragon that's endemic to eastern Indonesia, the crater lakes of Mt. Kelimutu, and Javanese wayang puppet.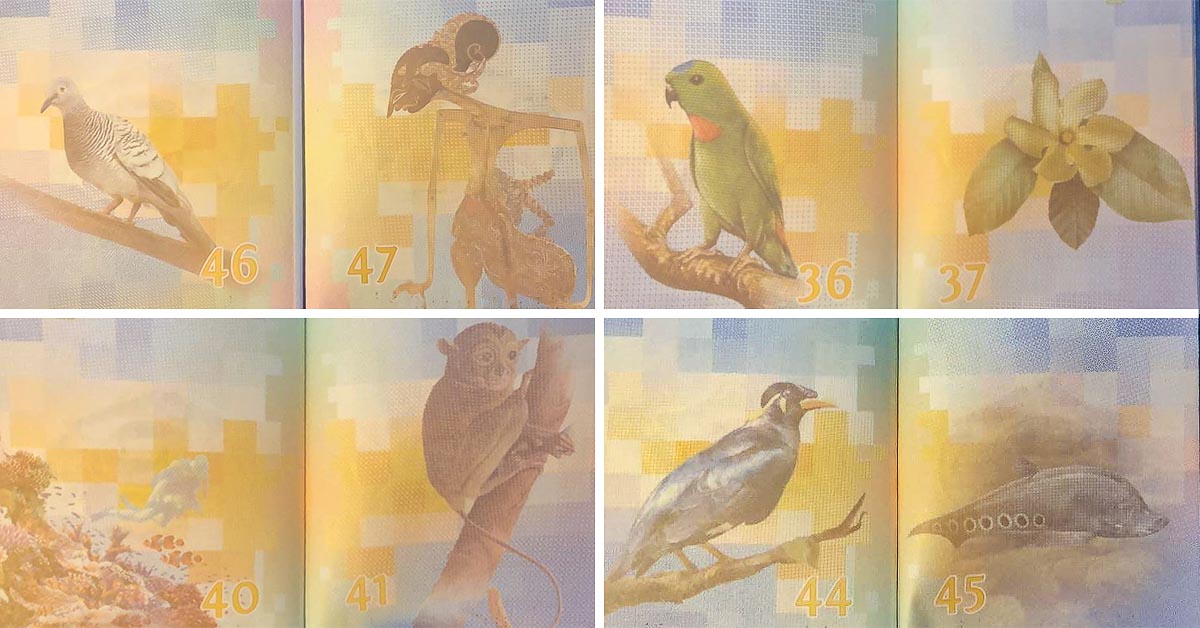 Photo credit: Dewi Arna
Besides breathtaking wildlife, fauna and flora, Indonesia also has some of the best landscapes. Check out our Indonesia guides and itineraries to find out more!
5) China — more iconic landmarks show up under UV light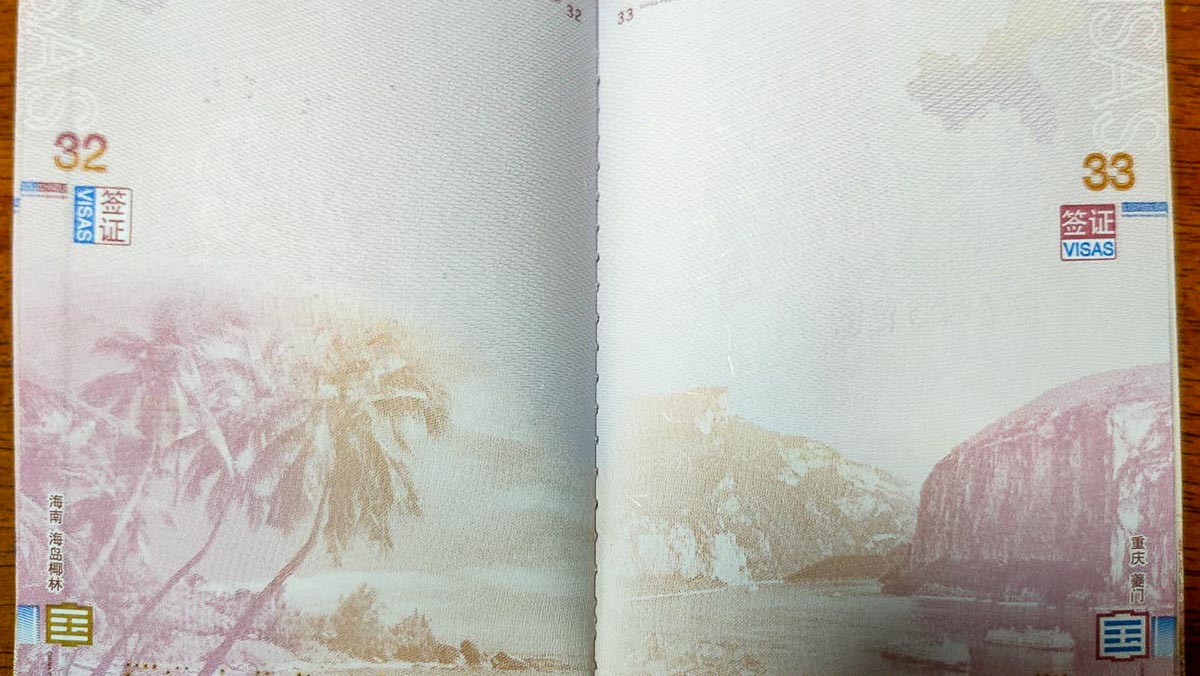 Photo credit: Rachel Huang
Like a travel handbook, China's passport is a proud product of the country's tourism ministry. Each visa page features one unique attraction from all 34 provinces and cities — or so it seems.
Flipping through the passport brings you to Beijing's Forbidden City, Shaanxi's Terracotta Army, and Hainan Island's Coconut Grove. You'll also find the Victoria Harbour of Hong Kong and Macau's Sai Van Bridge.
What's even more interesting is that Taiwan and the Sun Moon Lake are included.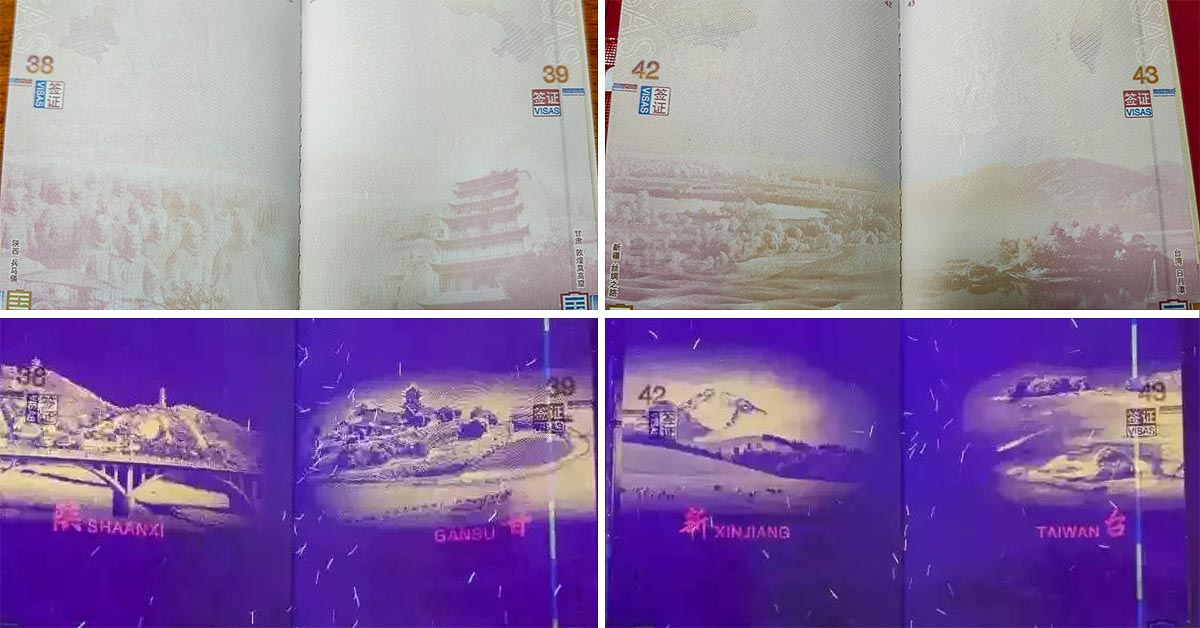 Photo credit: Rachel Huang, and sohu.com
But, it's a whole different story once you turn on the UV lights — a second landmark pops up above the first! In Shaanxi, the Pagoda Hill appears above the Terracotta Army. Meanwhile, the desserts of Xinjiang overshadows the Silk Road.
Read more: 12-Day Yunnan Itinerary: China's Best Kept Secret
6) New Zealand — has one of the world's rarest passport colours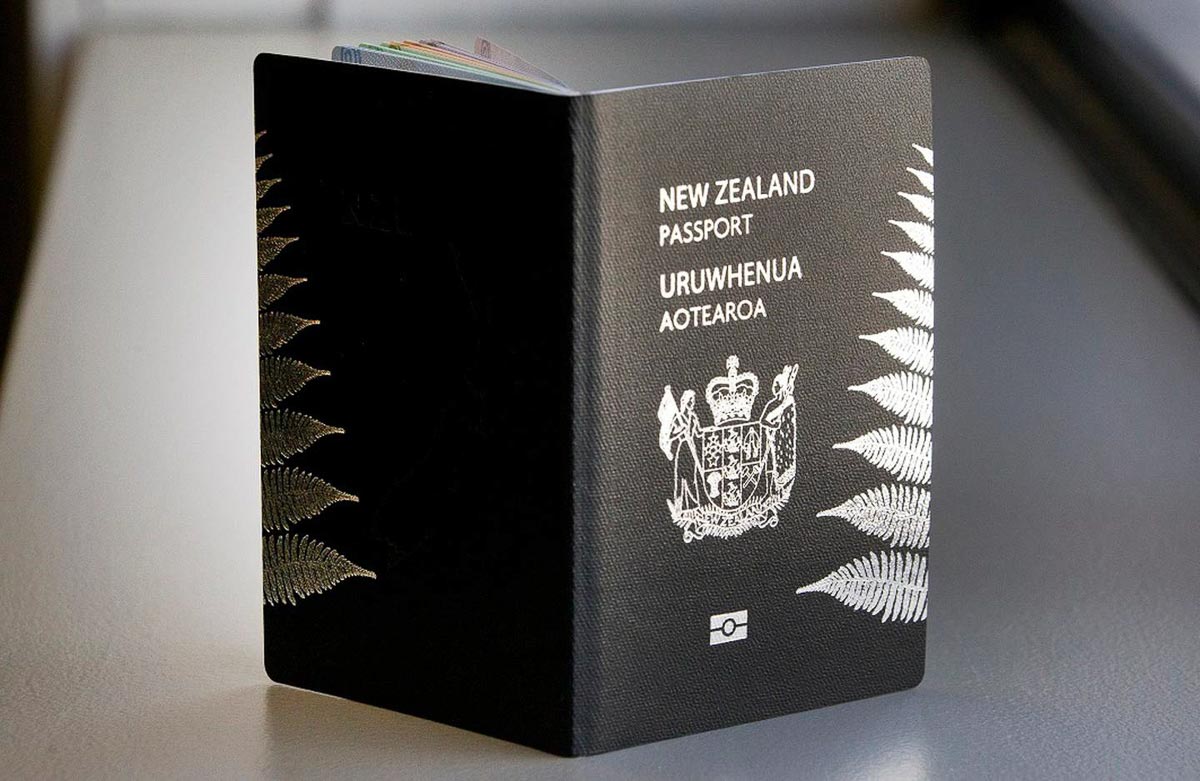 Photo credit: The New Zealand Herald
New Zealand's passport has got to be one of the most aesthetically-pleasing in the world. For one, it's black — one of the rarest passport colours (apparently, only seven countries have a black cover!). That said, black is New Zealand's national colour, so it's the obvious choice.
On top of the snazzy colour, the black cover is also decorated with silver ferns, creating an eye-popping contrast.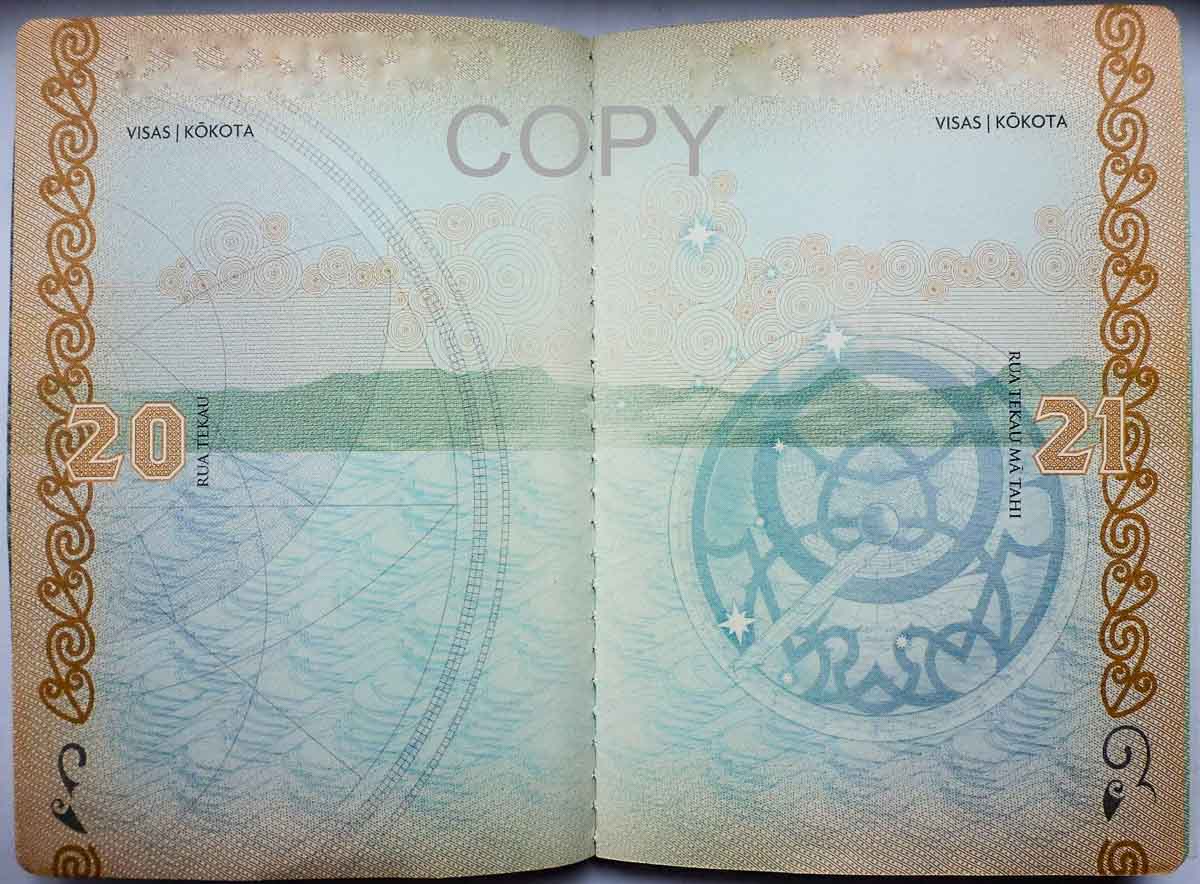 Photo credit: Feb Talk
Another interesting feature of the New Zealand passport is the overarching theme of navigation and travel in its designs. They include images of navigational tools used by New Zealand explorers through the times. For example, the picture above shows an astrolabe, an elaborate analogue instrument used to measure altitude when sailing.
Fun fact: Passports all over the world come in shades of red, blue, green, and black. Although there aren't any rules for passports to be of certain colours, countries chose among these four colours because they look official.
7) The Philippines — iconic landmarks with lyrics to the national anthem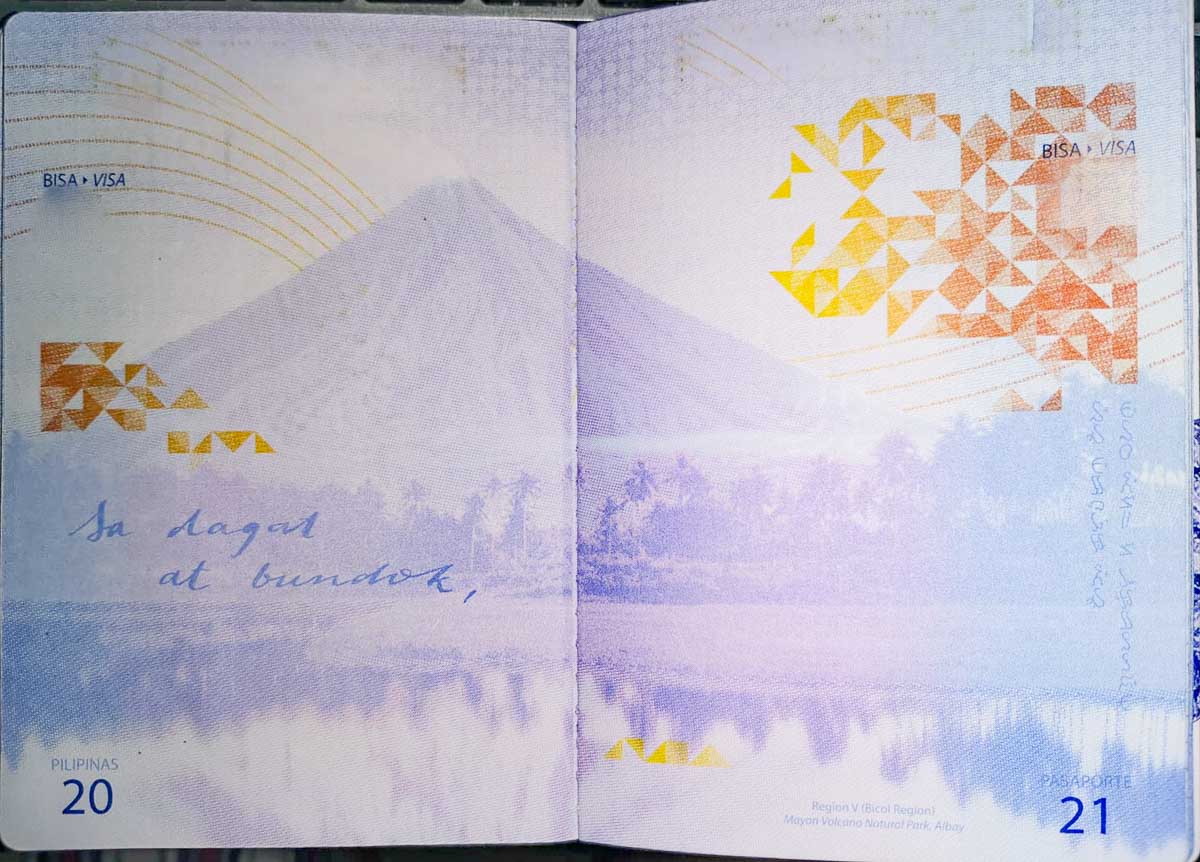 Mayon Volcano in Luzon, Philippines. Photo credit: Paulo Galgo
The Philippines passport is like a tourist guidebook that features several landmarks and wonders of the country. Some notable attractions include the Chocolate Hills of Bohol, Mayon Volcano, and Underground River of Peurto Princesa, Palawan.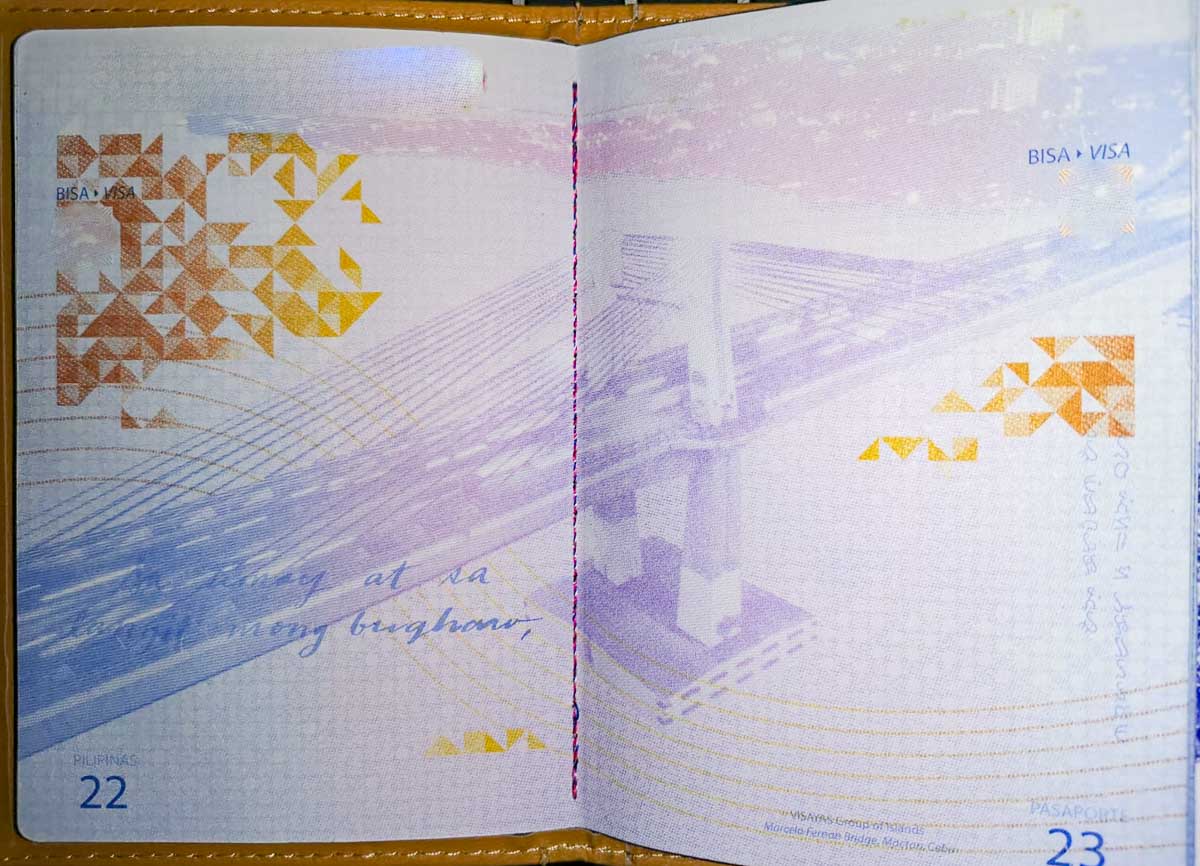 Marcelo Fernan Bridge in Cebu, Philippines. Photo credit: Paulo Galgo
But that's not all! The passport also doubles as a secret songbook. If you can read Tagalog, you'll notice that there's an accompanying sentence of the national anthem on each page.
8) Australia — 'floating' and 'sinking' kangaroos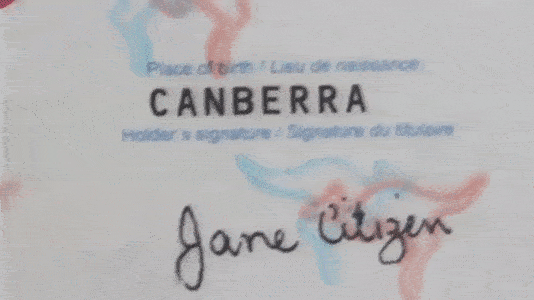 Photo credit: Department of Foreign Affairs and Trade, Australia
Australia is the first country to use Colour Floating Security technology on its passports. This ultramodern technology uses lasers to create images within the laminate of the data page — making it harder for criminals to forge.
If you hold the passport at different angles, it'll show red and blue kangaroos "floating" and "sinking".
Read more: Australia budget guides and itineraries
9) Switzerland — unconventional cover and naturally colourful pages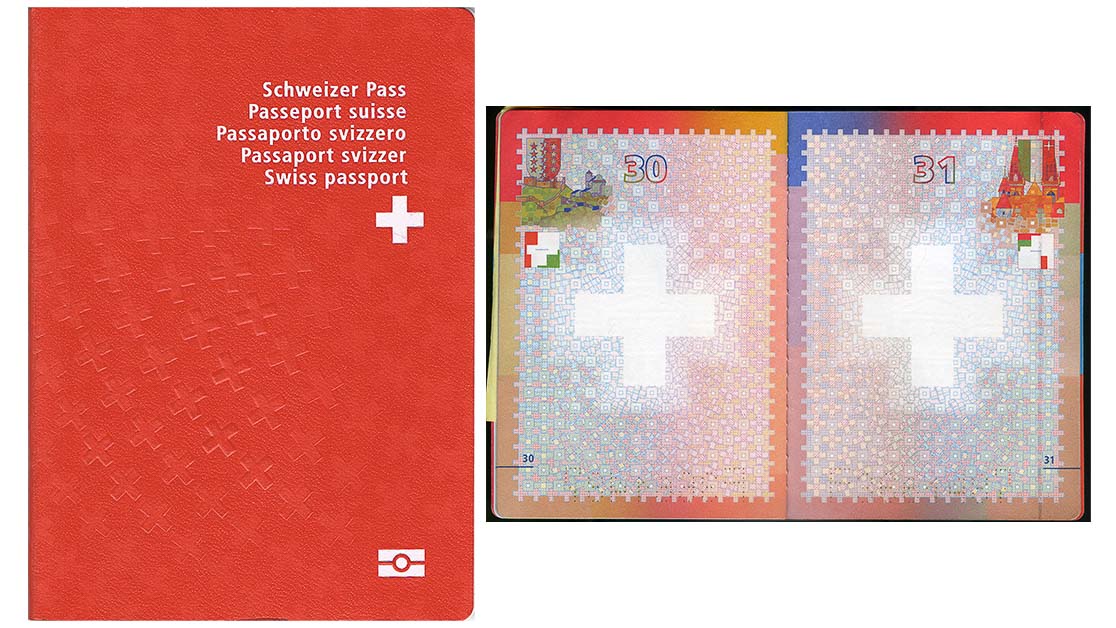 Photo credit: Forgemind ArchiMedia via Flickr
If you've ever seen a Swiss passport, you'll know why it's often praised as one of the coolest passports around.
Compared to other passport covers, the off-centre placement of the Swiss cross and texts gives it a modern, minimalist look. Next, the cover is filled with embossed mini Swiss crosses, giving it a satisfying tactile sensation.
Finally, the visa pages are printed with bright, vibrant hues. Each page also features a famous landmark from each Swiss canton at the corners.
Read more: 10-day Switzerland adventure under S$2,300 with the Swiss Travel Pass
10) Lebanon — sun and moon move across pages
Lebanon's old (left) and new passport (right). Photo credit: GraphicShop
In 2016, Lebanon's passports were given a makeover. The new minimalistic cover stands out amongst a sea of ordinary-looking passports. But, what's truly eye-catching is the specially-designed features inside the passport.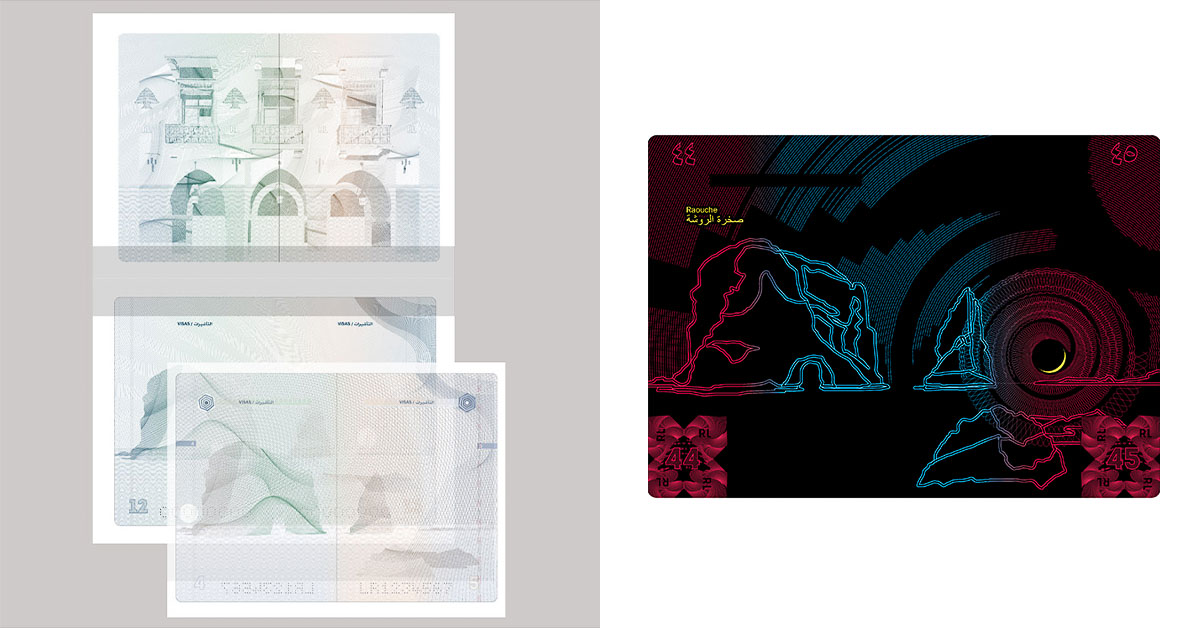 Photo credit: GraphicShop
Within the visa pages, you'll find illustrations of attractions such as the Baalbek, Byblos Castle, Jeita Grotto, and Rock of Raouche. If you flip through the pages, there's also a sun rising from the East (first page) and setting in the West (last page).
Want a night scene? Shine some UV light! The pages turn dark, and the movement and different phases of the moon can be seen in reverse.
Fun fact: Passports of some Arabic countries are opened from the left-hand side. This is because their official languages are written from right to left.
11) Hungary — reveals music scoresheet under UV light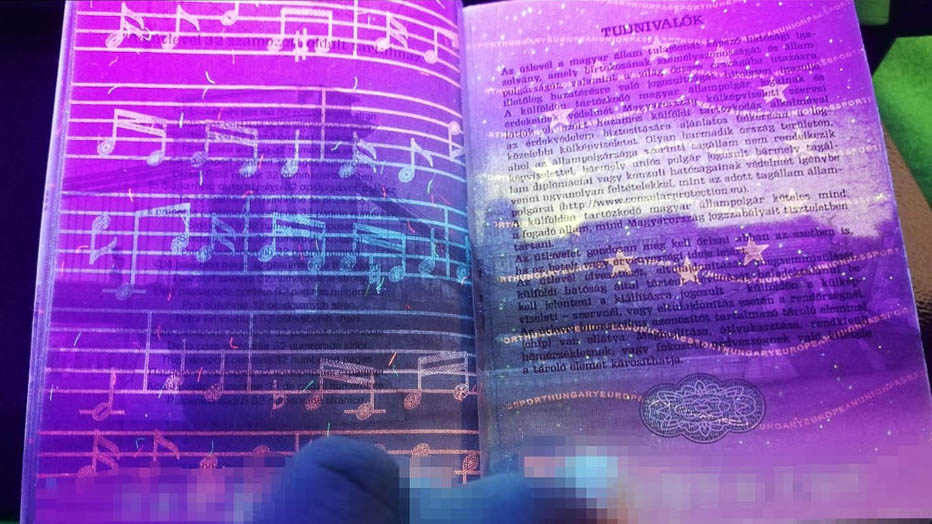 Photo credit: u/cookacka via Reddit
It's not uncommon for countries to hide holographic images in their passport as an anti-fraud measure. Norway and China hid famous attractions, while Canada's passport turns into a colourful work of art under UV light. Hungary, however, kicked it up a notch and printed an entire music score onto its passport.
Under UV light, you'll see the music score of Szózat, a Hungarian patriotic song. Needless to say, using passports to celebrate one's national culture is genius.
12) Japan — features designs by a famous artist

Photo credit: Suho.com & Wikimedia Commons
In 2020, Japan issued brand new passports featuring the artwork of ukiyo-e artist Katsushika Hokusai from the Edo-period. Each double-page spread depicts 24 designs from the "Thirty-six Views of Mount Fuji" series.

Photo credit: Asako Shimizu & Wikimedia Commons
It's said that the complicated ukiyo-e artwork makes passport forgery difficult. Plus, the designs also achieve the intent of promoting the Japanese culture ahead of the Summer Olympics.
So, the next time you're in Japan looking for the best Mount Fuji photo spot, ask the local Japanese for their passport for reference!
Planning to see Mount Fuji in the future? Here's our 7-day Tokyo & Mount Fuji itinerary.
Most unique and coolest passports in the world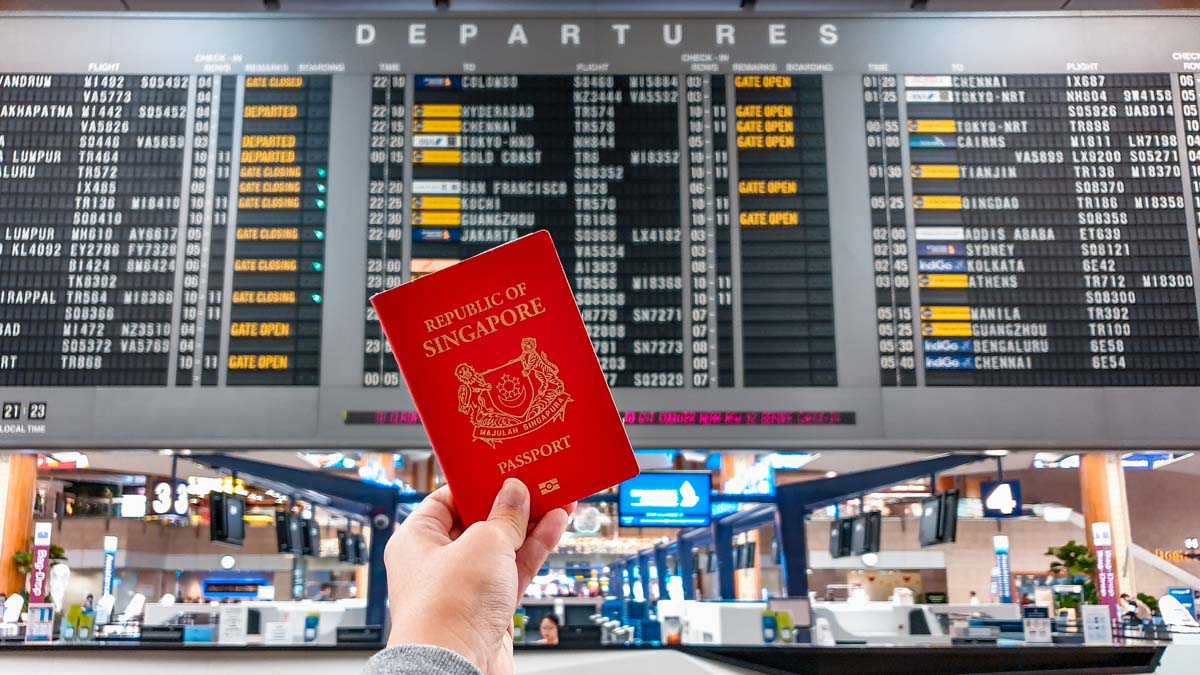 The Singapore passport may not be on our list of coolest passports, but it's still one of the world's most powerful passport!
Boba fans will be disappointed for now, as there won't be a bubble tea motif on the new Taiwanese passport. Instead, they shrank the English name of the island "Republic of China" to almost illegible, setting it apart from a Chinese passport. A daring move, we'd say, but not quite as fun 😛
Passports aren't just official travel documents — they identify who you are and are also your gateway to the world. But, the next time you travel and meet someone from these countries, ask to see their passports. Maybe you'll get some inspiration for new places to visit too!
Until we get to use our passports again, how about checking out these staycation ideas for the perfect getaway in Singapore? Or the latest deals to kickstart your next adventure!
Featured Image Credit: chachichachichicken via imgur
FB Cover Credit: Joel Carillet
Which of these passports did you think was the coolest? Share them in the comments below!
---