This China itinerary brings you a treasure trove of places to explore by rail — all the essentials to plan an epic two weeks in China!
Most people wouldn't think of going to China for a vacation — I know, because I was one of them. It's probably the "made in China" syndrome. But after two weeks of travelling from Beijing to Shanghai, Suzhou and Hangzhou, it surprised me how diverse each city was and taught me that we can't simply generalise China like that.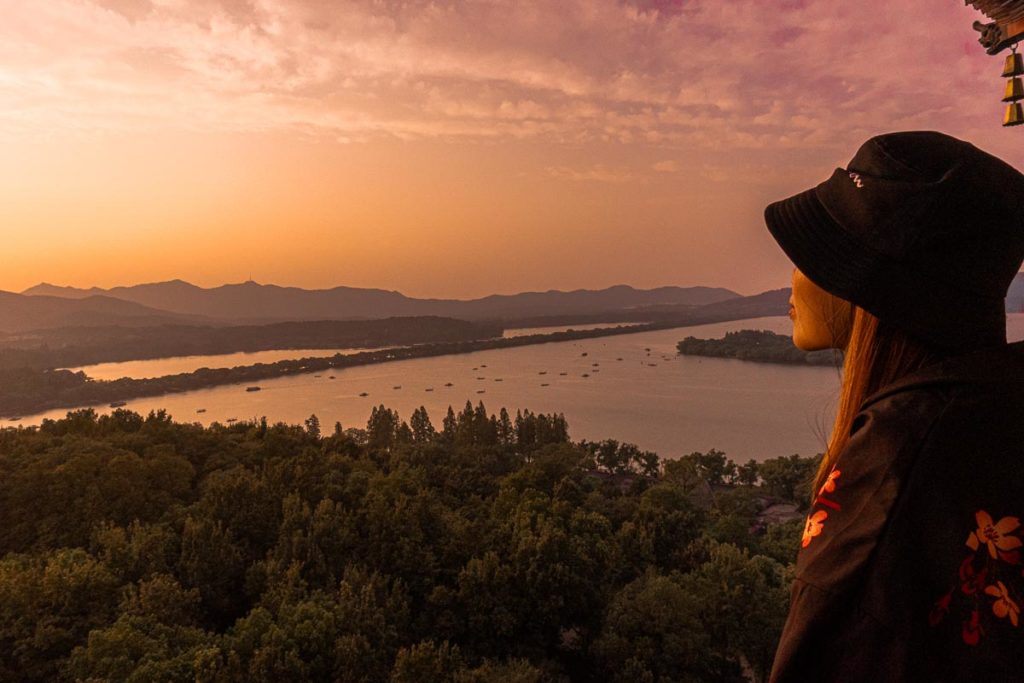 Previously, we visited the charming Wuhan, Zhangjiajie, and Changsha but this time, we sought out to explore the futuristic Shanghai and scenic Hangzhou!
With a mix of famous and hidden gems, this two-week China itinerary covering Beijing, Shanghai, Suzhou and Hangzhou will hopefully get you off the fence!
China Itinerary Map — China Rail Adventure
Pre-trip Essentials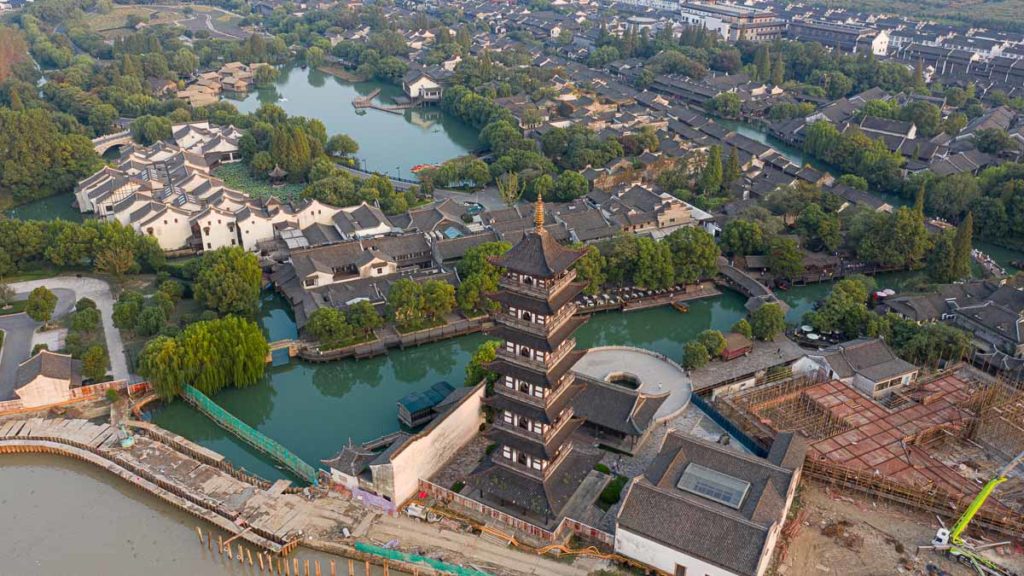 Connectivity: We pre-booked a 5GB 4G SIM card (~S$24), but not before downloading a VPN app to use international apps like Google Maps, Instagram and WhatsApp! Come prepared with at least two different VPN apps just in case one fails (true story!).
China High-Speed Rail Pass: We took China's high-speed rail to get to all four cities — getting from Beijing to Shanghai only took us about four and a half hours! More train booking tips below!
Visa: Singaporeans can enter China visa-free, but only for 15 days starting from the time of your flight (all accounted for in this China itinerary 😉).
Check Flights to Beijing
This China itinerary starts in Beijing. Check flight prices for your date of travel using this widget:
If you can't see the widget above, check flight prices form Singapore to Beijing here.
Day 1–5: Beijing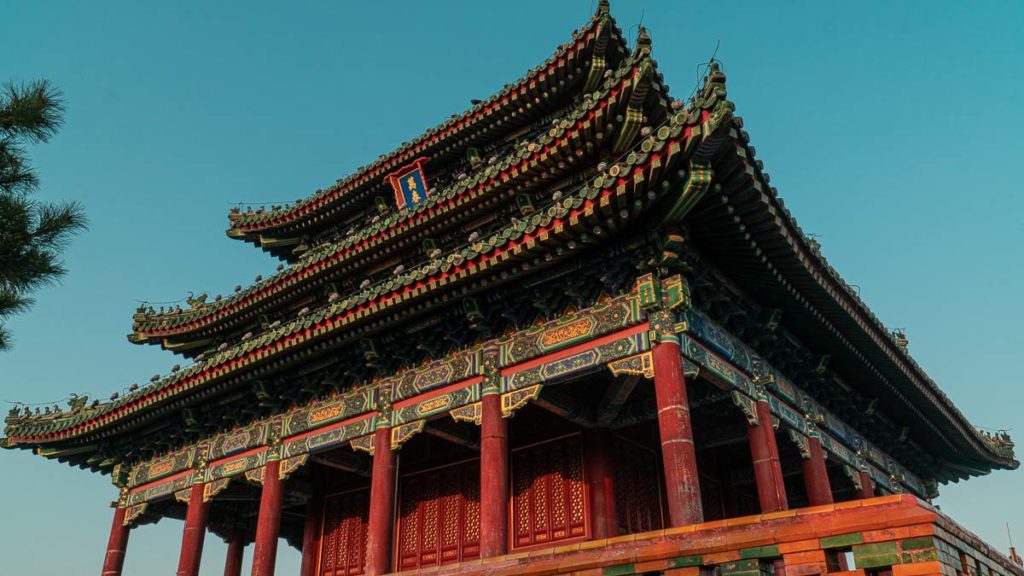 A modern city that's survived three millennia, Beijing is the epitome of where past meets present, from the ancient wonders of the Great Wall and Forbidden City to progressive art districts.
Accommodation in Beijing: Beijing Heyuan Courtyard International Hostel
Getting around Beijing: We hired a private charter for days when we had to take a day trip out to somewhere farther or for airport/railway transfers so we wouldn't waste time trying to navigate. Another convenient choice is the ride-hailing app Didi that accepts cash payment.
Day 1: Modern-day Beijing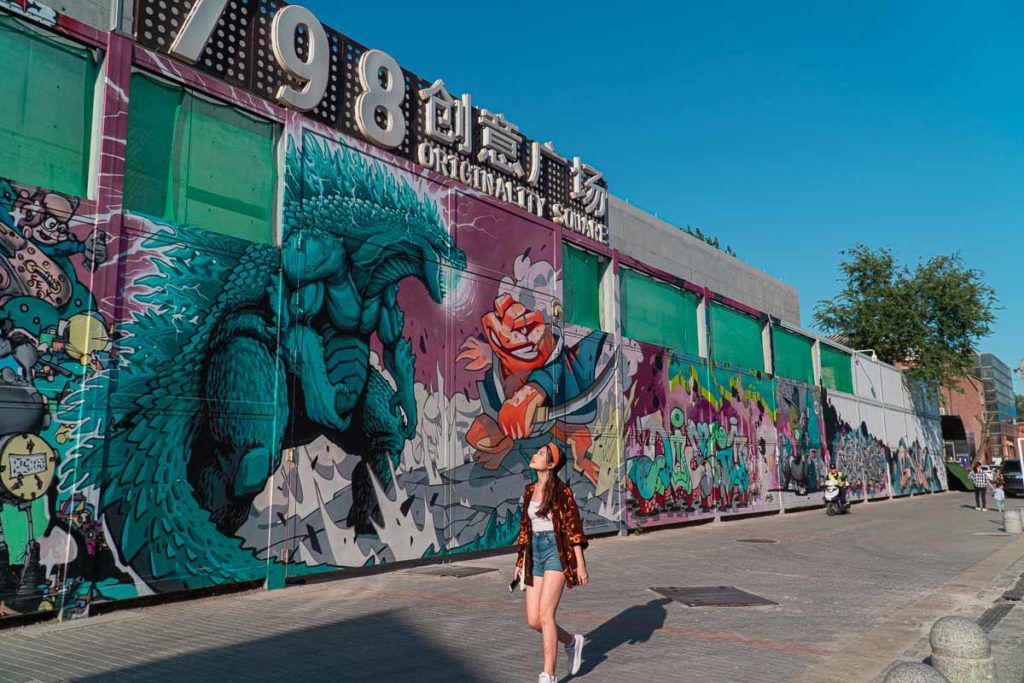 The Bauhaus-styled 798 Art District proves not everything in Beijing is centuries-old. This hotspot for modern art and design is laden with street graffiti, contemporary art museums and cafes.
Entrance Fee: Free
Opening Hours: 10AM – 6PM (Most shops and museums close on Mondays)
Address: 2 Jiuxianqiao Rd, Chaoyang Qu, Beijing Shi, China (798艺术区)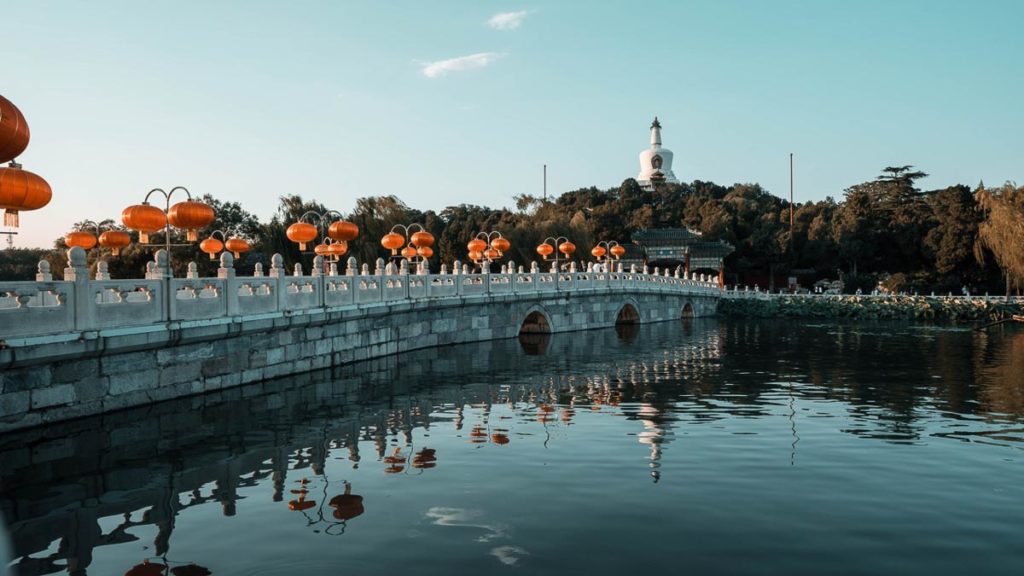 Beihai Park was once the exclusive imperial garden for the royal family but is now open to the public. It's pretty cool to see how historical monuments like the White Dagoba stands in contrast to the locals jogging, singing and dancing in the park!
Entrance Fee: Free
Opening Hours: 6:30AM – 9PM
Address: 1 Wenjin St, Xicheng, China, 100034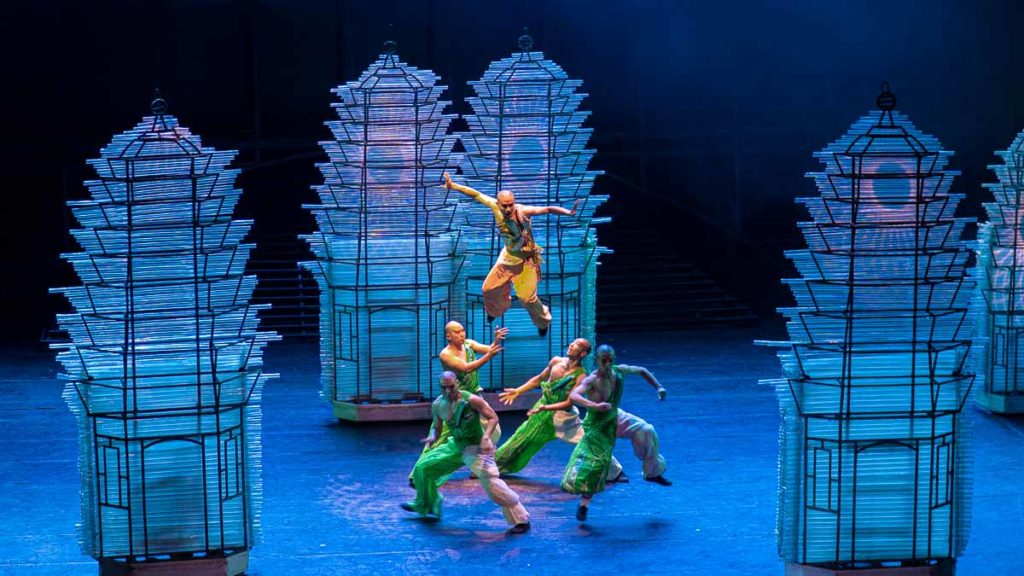 This exciting Kungfu show left our jaws hanging. With an intriguing plot and stellar stage choreography, this is a must-watch when you're in Beijing 👏🏼.
Cost: ~S$38 (Incl. free pick-up from accommodation within Beijing)
Show Hours: 6:30PM – 8:30PM
Day 2: Iconic Beijing Attractions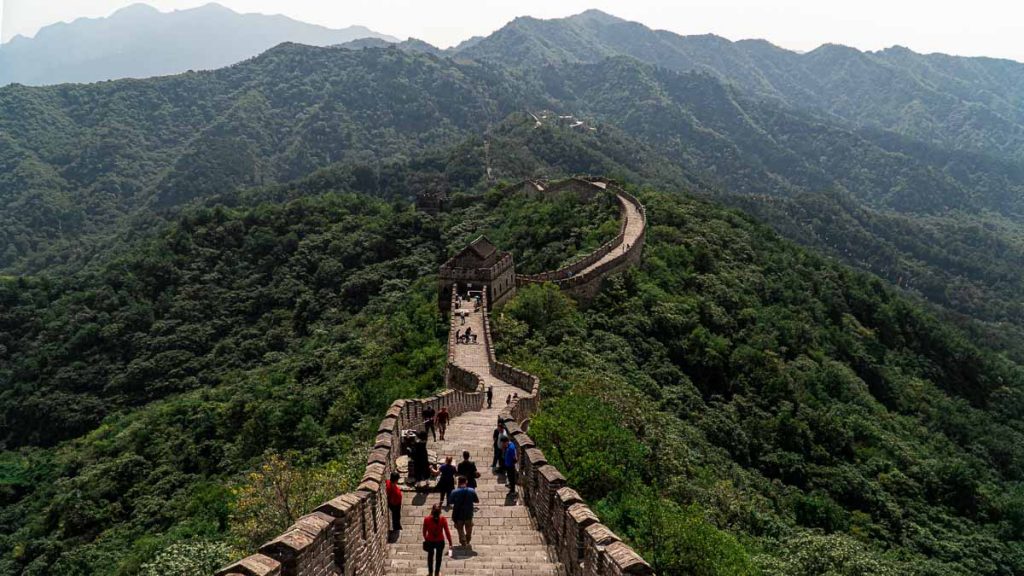 The Great Wall Of China warrants a day trip in itself. After all, it's one of the Seven Wonders of the World! What you probably didn't know is that you can luge down from Tower 6 for 100RMB after walking. Also, visit the Mutianyu section because it's less crowded than the popular Badaling section with just as good a view. Our round trip bus package (~S$60.89) included admission tickets to Mutianyu, lunch at a local restaurant and a cable car ride up. It's a pretty good package if you need a fuss-free plan!
Entrance Fee: 45RMB (~S$8.68)
Opening Hours: 7:30AM – 5PM
Address: Mutianyu Rd, Huairou, Beijing, China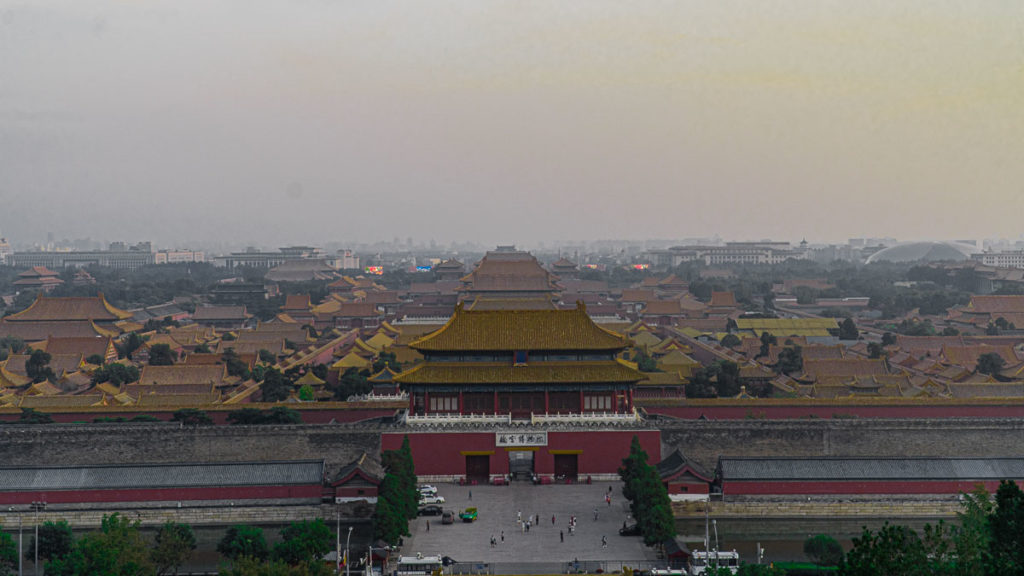 Jingshan Park was once attached to the Forbidden City as a private backyard for the emperors. Today it offers the best panoramic view of Beijing and the Forbidden City below! Come at sunset for the best view.
Entrance Fee: 2RMB
Opening Hours: 6AM – 9PM (Apr – Oct), 6:30AM – 8PM (Nov – Mar)
Address: 44 Jingshan W St, Xicheng, Beijing, China, 100009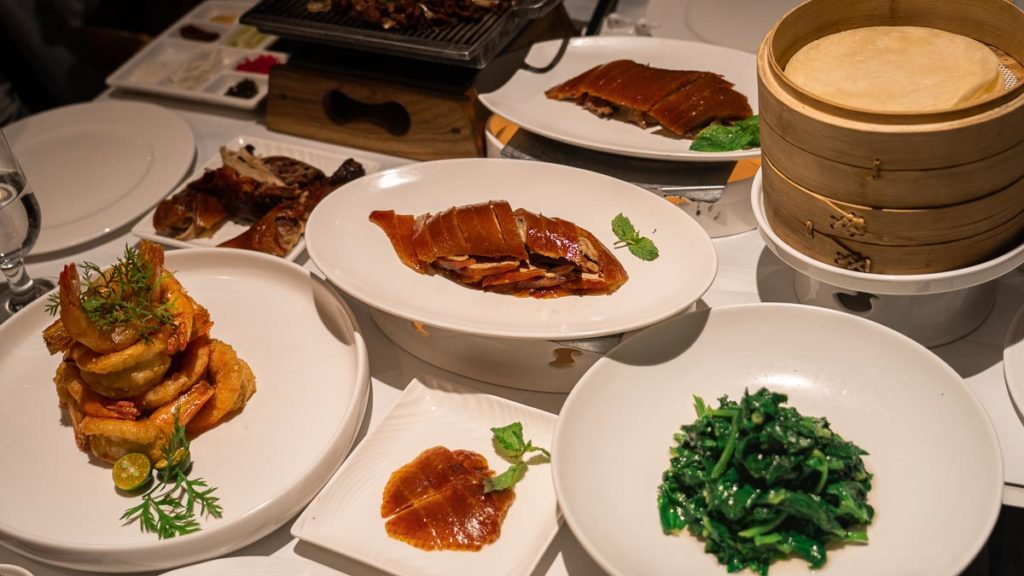 One dish you absolutely cannot miss when in Beijing is Peking Duck. There are many popular speciality restaurants but our driver recommended Si Ji Min Fu as his personal favourite. The crispy skin and tender meat were indeed worth every minute of the long queue outside! While pricier than usual, the quality is 💯.
Cost: 108RMB (~S$20.94) for half a duck and 198RMB (~S$38.39) for a whole duck
Opening Hours: 10AM – 10:30PM
Address: 1/F, Donghua Restaurant, No.32 Dengshikou West Street, Dongcheng District, Beijing, China (and various other outlets)
*Pro-tip: Allocate enough time to queue. We queued for about an hour and a half to get a table!
Day 3: Iconic Beijing Attractions (Continued)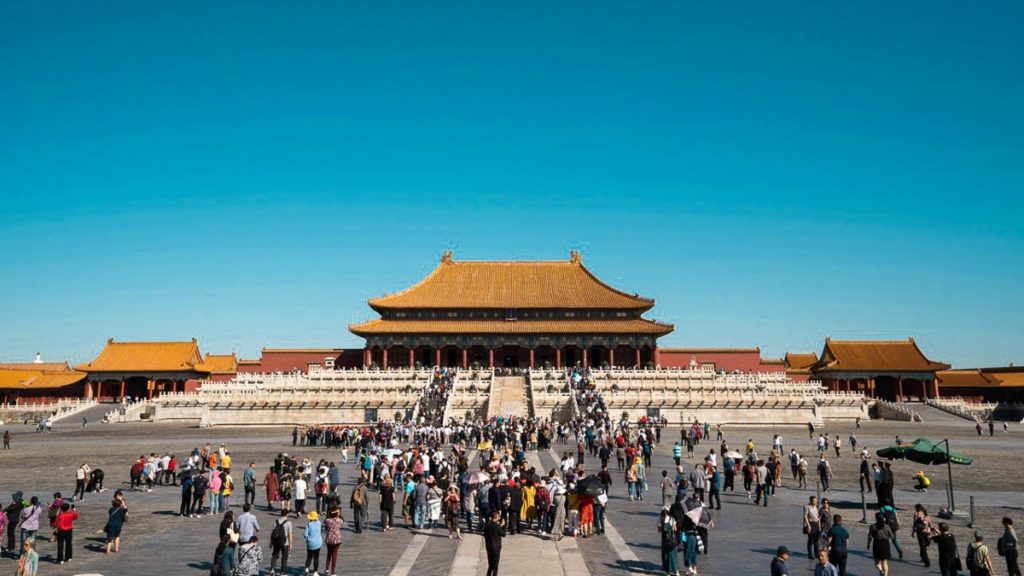 Just as iconic as The Great Wall is perhaps the Forbidden City, one of the largest palaces in the world erected in ancient China.
This former imperial residence is as large as 72 football fields and it's so easy to get lost in! We had a tour guide who helped bring us around and explain what we were seeing (more about that below).
Entrance Fee: 60RMB from Apr – Oct, 40RMB from Nov – Mar
Opening Hours: 8:30AM – 5PM, closed on Mondays
Address: 4 Jingshan Front St, Dongcheng, Beijing, China, 100009 (故宫博物院)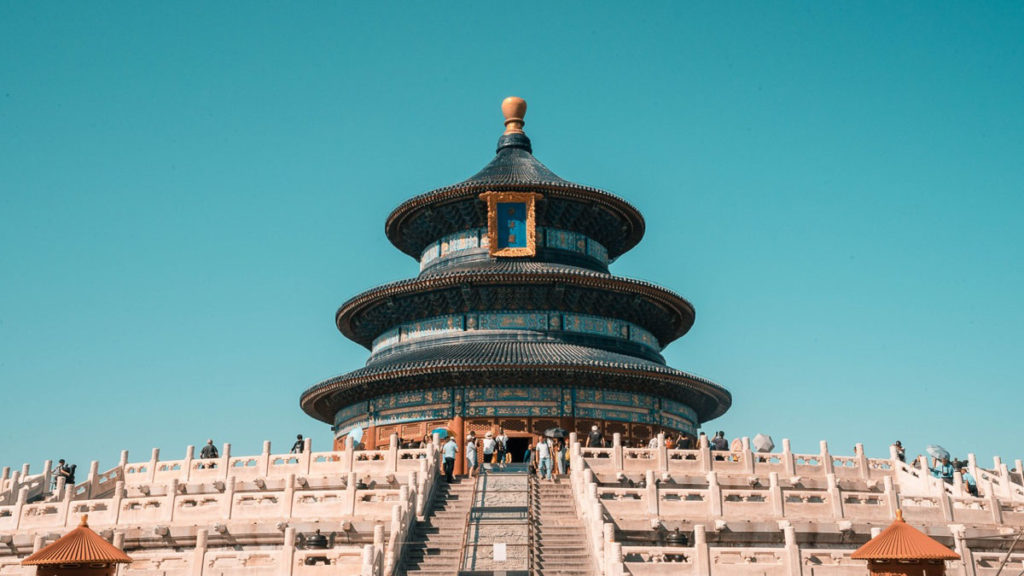 The Temple of Heaven is unlike any other Chinese temple — it was constructed entirely without any nails, and it's where 27 different emperors would come and pray for a good harvest!
Entrance Fee: 30RMB (~S$5.82)
Opening Hours: 6AM – 8PM
Address: 1 Tiantan E Rd, Dongcheng, China, 100061 (天壇)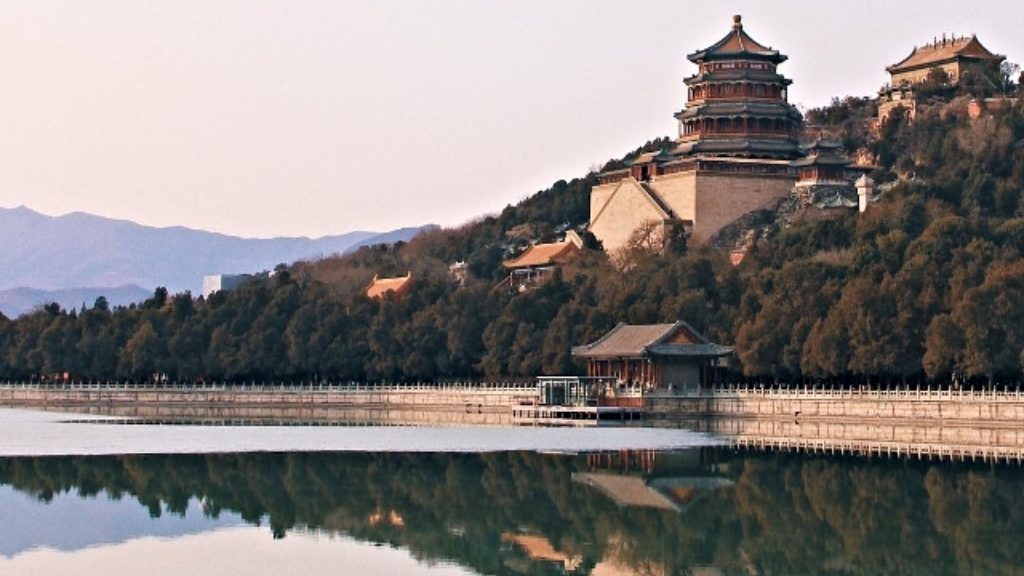 Another iconic attraction you must visit in Beijing is the Summer Palace. Known to be the largest and best-preserved amongst the four famous classical gardens of China, the entire compound is absolutely beautiful, especially during the cooler autumn months!
Entrance Fee: 20RMB (~S$3.90)
Opening Hours: 7AM – 5PM
Address: 19 Xinjiangongmen Rd, Haidian, China, 100091 (颐和园)
While you can visit all these places individually, I recommend taking the Iconic Beijing Tour (~S$152.10/pax for a group of four to six) as we did. It really helps save time to allow for more varied experiences in Beijing!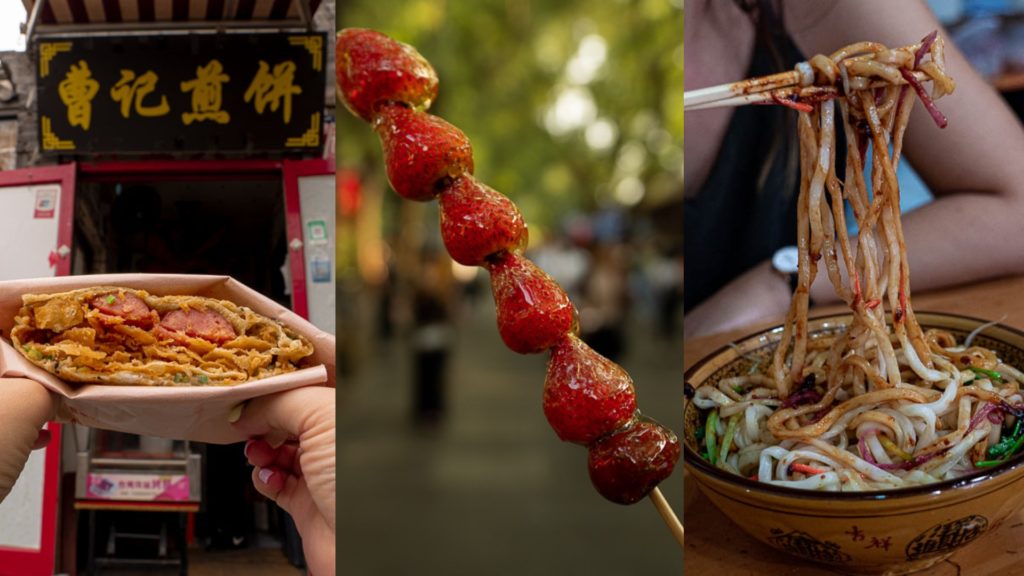 Beijing's streets are made up of alleyways called hutongs which give a really good insight into local culture. Expect food stalls lined on both sides where you can get delicious street bites for affordable prices.
If you're looking for breakfast or snacks, then head to Huguoxi Hutong or Qianmen Street. Otherwise, the lively streets of Nanluoguxiang and Houhai/Shichahai area are great places to visit at night!
Day 4: Happy Valley Amusement Park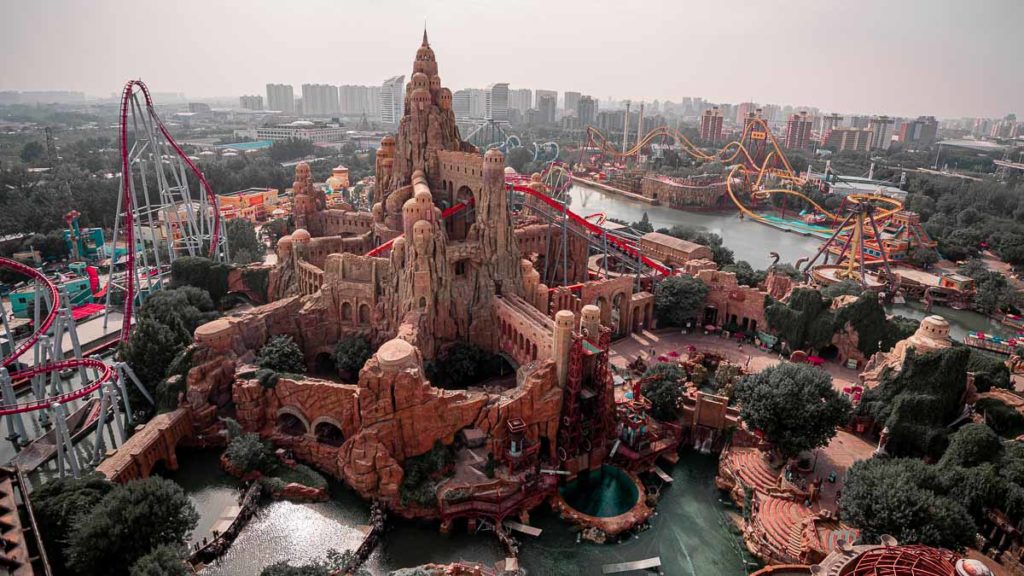 Few people actually know about the Happy Valley Amusement Park. Despite the name, this place is not your average kid-friendly zone — not with four insane rollercoasters from epic heights to 360-degree loops!
Come on a weekday for shorter queues so you can sit on all the rides — trust me, you'll want to!
Cost: 299RMB (~S$58.09)
Opening Hours: 10AM – 9PM
Address: Xiaowujibei Road, Dongsihuan, Chaoyang District, Beijing 100023, China (北京市朝阳区东四环小武基北路)
Day 5: Day Trip to Longqing Gorge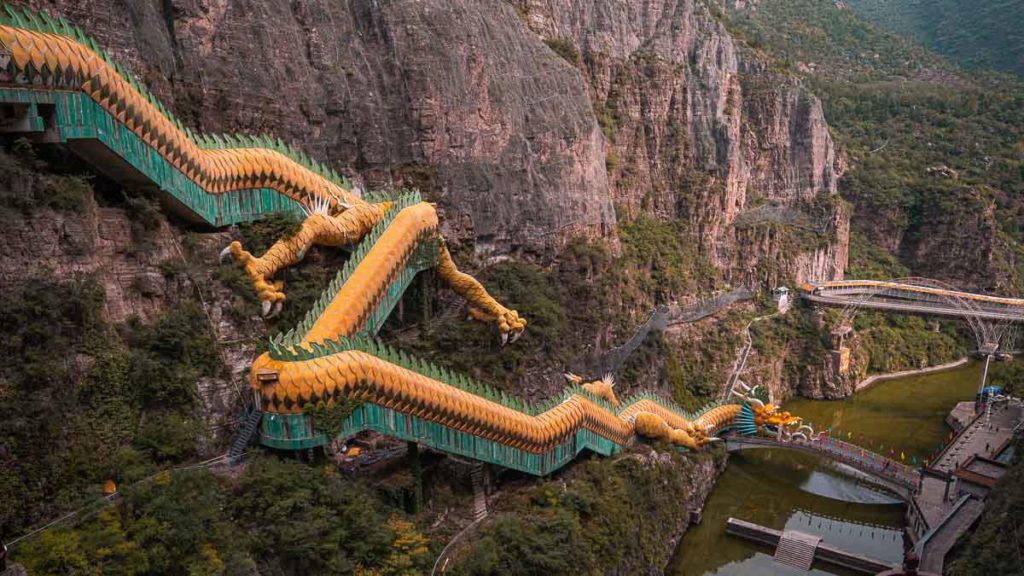 Longqing Gorge is a little farther out but definitely worth the trip — this magnificent scenic area is not only a great hiking spot, you can even partake in extreme sports like bungee jumping (260RMB) and zip-lining (50RMB).
Opt for the ticket with the open-air boat ride through limestone valleys, but give a pass on the Flowers Cave which we didn't find that interesting. If you come in the winter (Jan – Feb), the Ice Lantern Festival is said to be pretty spectacular!
Entrance Fee: 140RMB (Incl. boat ride)
Opening Hours: 7:30AM – 4:30PM
Address: Guchengcun, Jiuxianzhen, Yanqing, Beijing, China (延庆县旧县镇古城村北龙庆峡景区)
Read also: Ultimate First-Timer's Guide to China — 14 Exciting Things To Do In Beijing
Day 6–11: Shanghai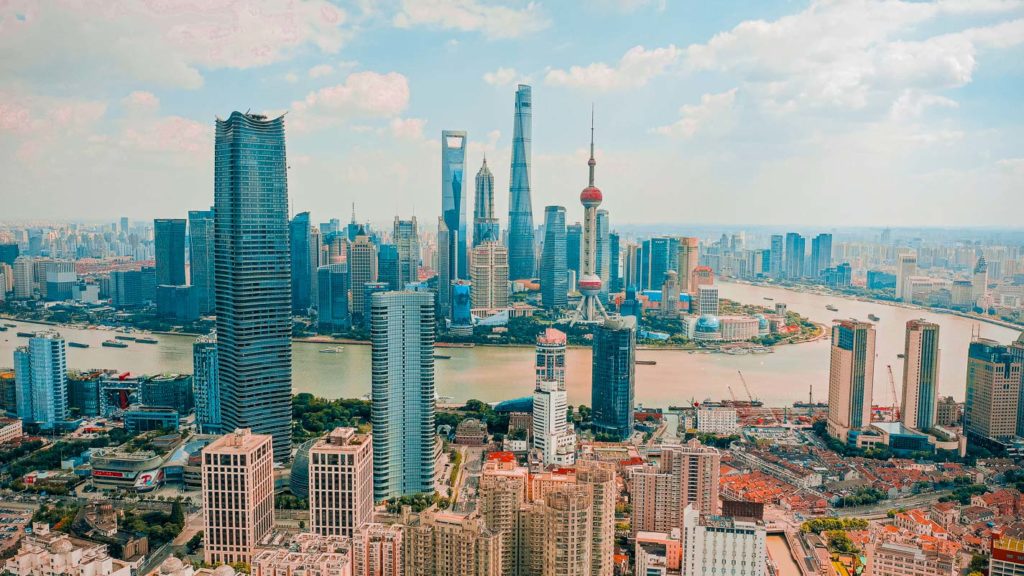 Known as the "Paris of the East", Shanghai is a global metropolitan city that never sleeps. There's always something to do around the corner!
Getting from Beijing to Shanghai: Take a 4.5-hour train ride from Shanghai South Railway Station (book tickets here).
Accommodation in Shanghai: The Phoenix Hostel
Getting around Shanghai: Public transport is efficient and easy to navigate. We travelled to Disneyland by subway and saved ourselves a good amount of money! Otherwise, for days where we wanted to head further out of the city to places like Zhujiajiao, we used Didi.
Day 6: Shanghai's Must-Sees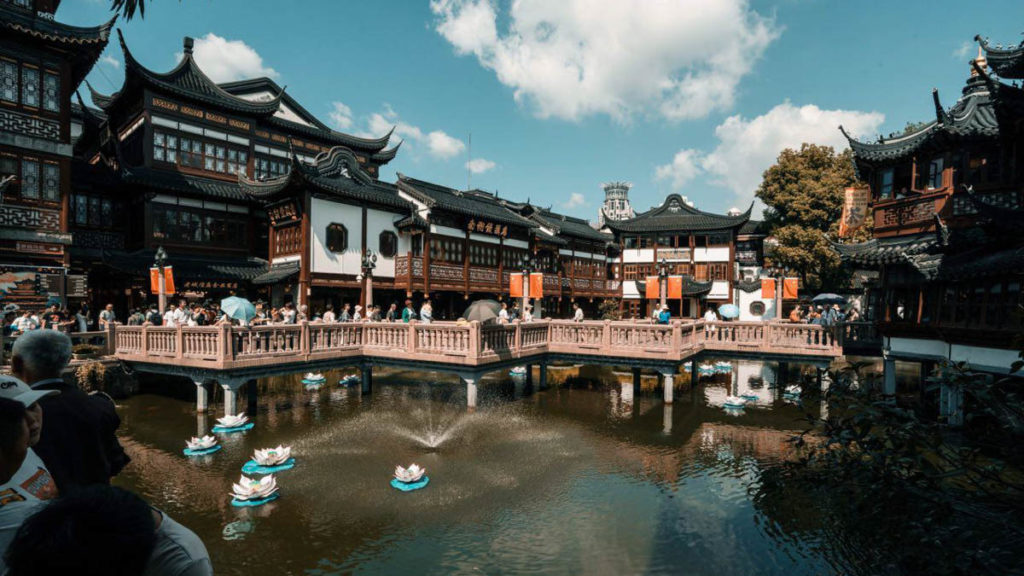 It's said that demons can't cross the Nine Bend Bridge because they can't run in zig zags.
For a modern city like Shanghai, the City God Temple and Yuyuan Garden along Chenghuangmiao Old Street give a rare peek into its historical side. Walking around both compounds and its food streets are free, but otherwise, there's a 40RMB entrance fee to actually enter each attraction.
Opening Hours: 7:30AM – 10PM
Address: Renmin Rd, Huangpu District, Shanghai, China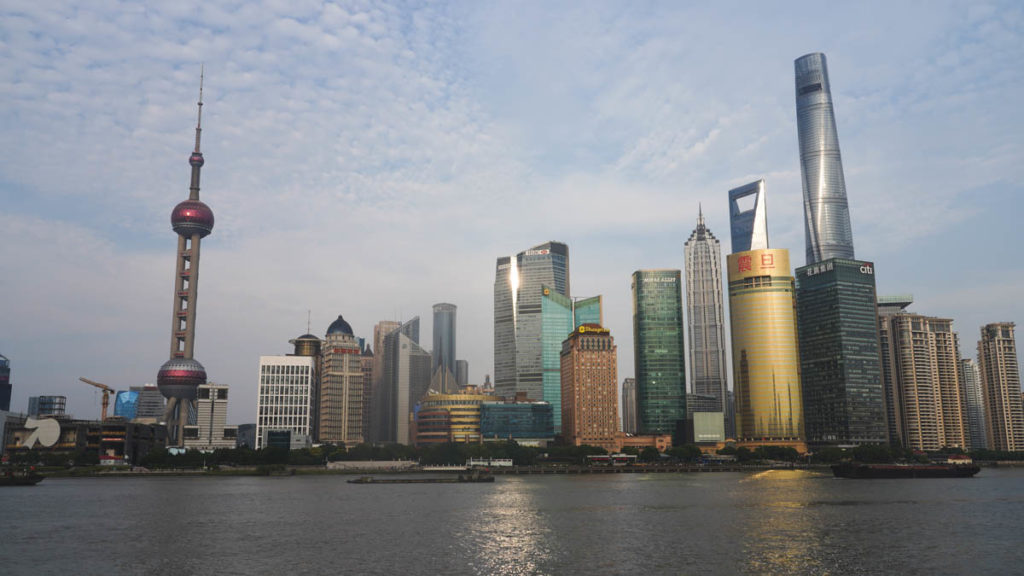 Next, fix your gaze on the famous city skyline of Shanghai at The Bund. With towering skyscrapers lining the waterfront promenade on one side, and rows of gothic baroque-esque buildings on the other, it's quite an amazing sight.
Address: Zhongshan East 1st Rd, Wai Tan, Huangpu, Shanghai, China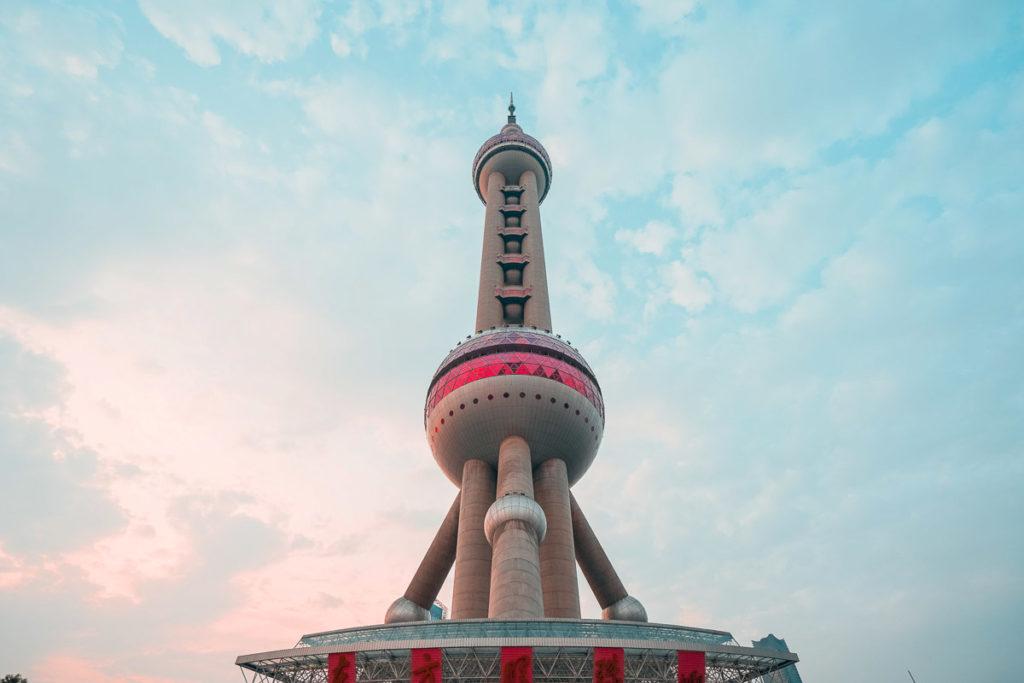 The iconic Oriental Pearl TV Tower is another worth taking a closer look, as well as the world's second-tallest building, the Shanghai Tower.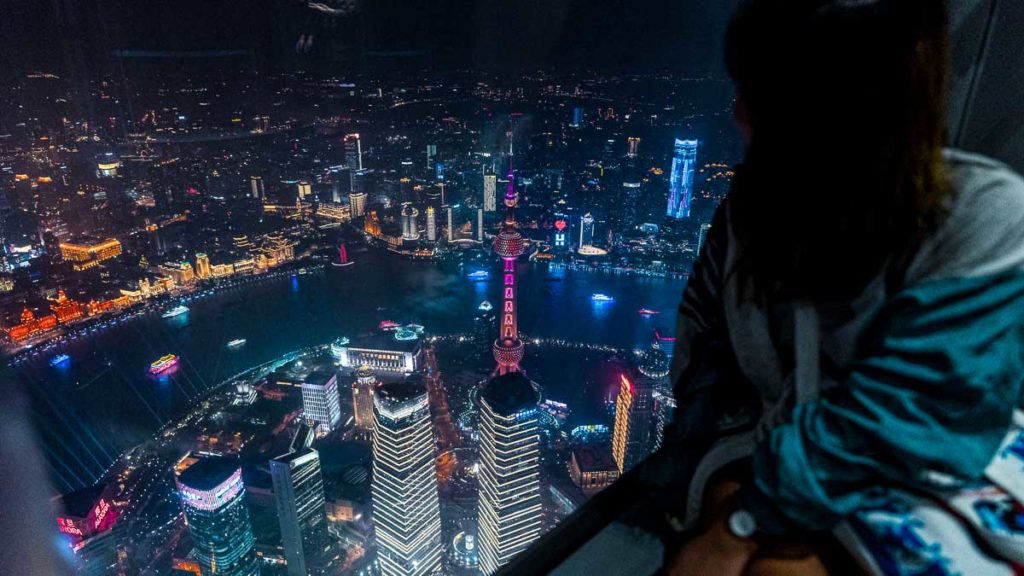 If you're one for thrills, the 259m-high clear glass walkway at the Oriental Pearl TV Tower will no doubt be fascinating to you. Alternatively, take a speedy elevator up 119 floors for sick night views! We recommend visiting either tower at sunset for that alone.
Oriental Pearl TV Tower
Entrance Fee: From ~S$38
Opening Hours: 8AM – 9:30PM
Address: Oriental Pearl, 1 Century Avenue, Pudong, Shanghai (上海浦东世纪大道1号东方明珠)
Shanghai Tower
Entrance Fee: ~S$30
Opening Hours: 8:30AM – 9:30PM (Last entry 8:30PM)
Address: 501 Yincheng Middle Road, Shanghai, China (银城中501号, 近陆家嘴环路)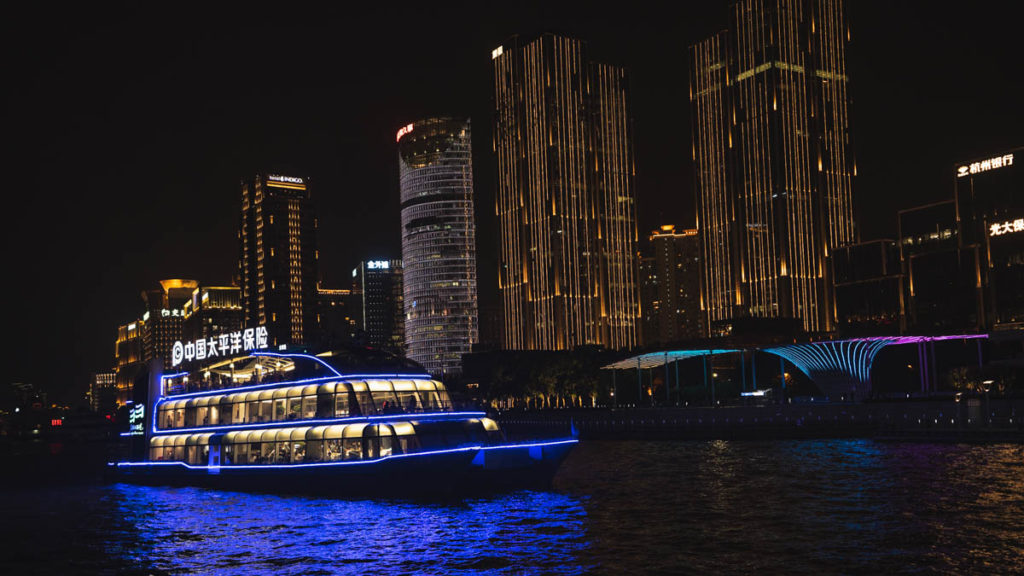 Yet another way to enjoy Shanghai's stunning night skyline — the Huangpu River Cruise that lets you cruise along the waterfront for 45 minutes.
Cost: ~S$21.70
Opening Hours: 11AM – 9:30PM
Address: 481 Zhong Shan Dong Er Lu, Shanghai, China (上海市中山东二路481号(十六铺码头一区)上海黄浦江旅游票务中心)
Day 7: Indulge In Shopping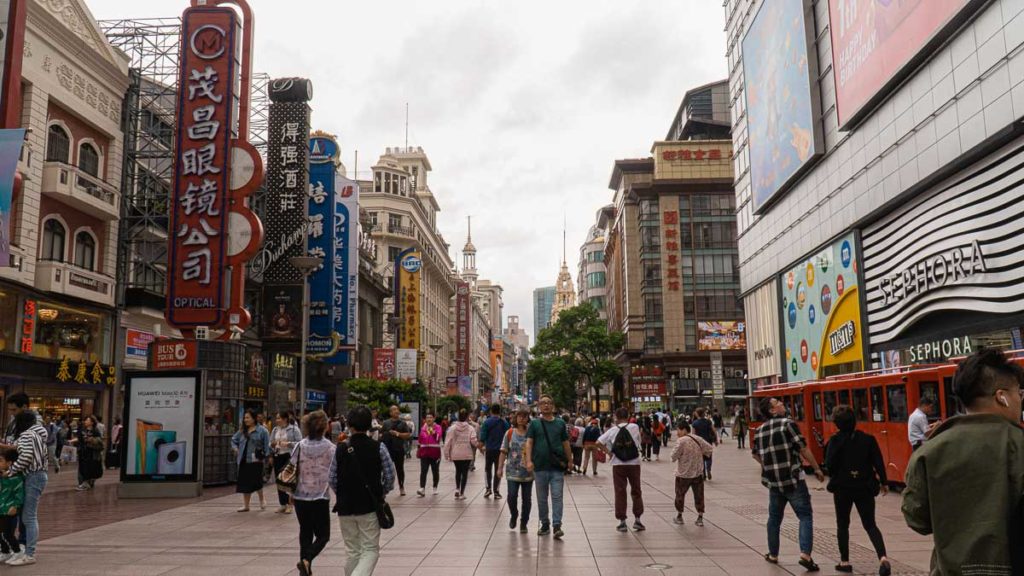 There's no doubt that Shanghai is chock full of shopping districts so take your pick— or visit them all. The popular Nanjing Pedestrian Street is 5.5km long, and home to the China's largest Starbucks.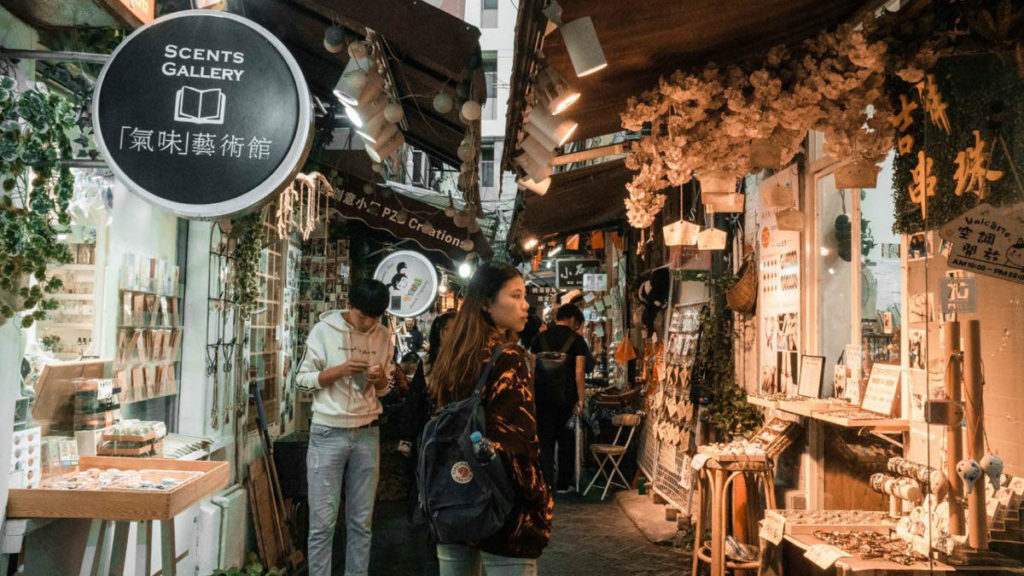 Tianzifang is another quaint and artsy area with everything from bars, cafes, craft shops, galleries, clothing shops to trinkets. If you're looking for a pair of retro Feiyue shoes, then Tianzifang is your go-to. We easily spent a good few hours here just popping in and out of random shops!
Note: I fell prey to pickpockets here 😢. Keep your valuables close to you!
Opening Hours: Most shops close by 10PM
Address: Lane 274, Taikang Road, Luwan District, Shanghai (上海市上海卢湾区泰康路田子坊, 274弄)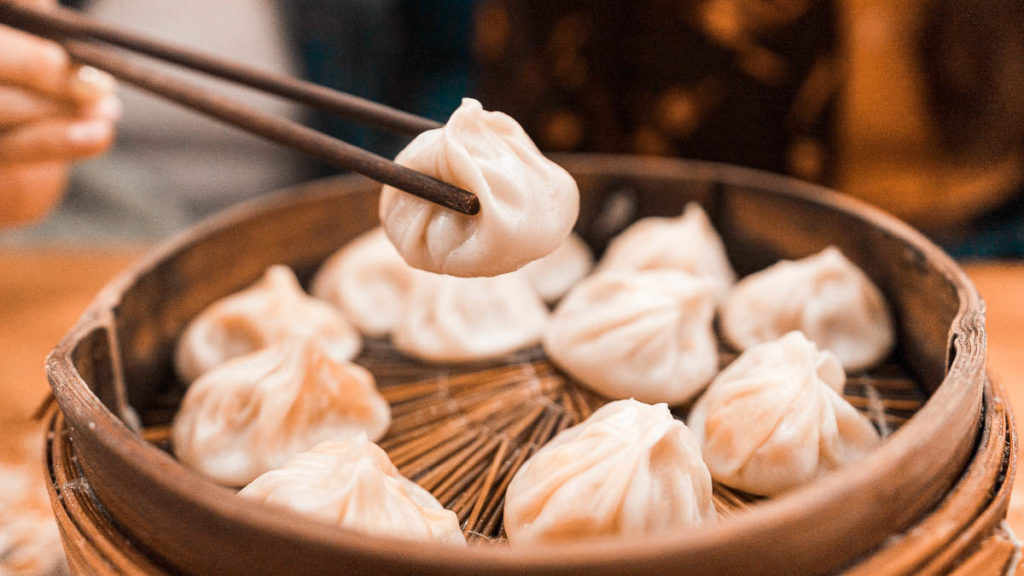 Tasting xiao long bao in Shanghai is a must. To get these delicious soup-filled crab/pork buns, check out Jia Jia Tang Bao which specialises in it.
Another famous shop, Yang's Dumplings, sells a fried version which I personally prefer. Both these shops are located along Huanghe Road Food Street with many other street eats!
Opening Hours: 6:30AM – 7:30PM
Address: 90 Huanghe Rd, Huangpu Qu, Shanghai Shi, China, 20000 (中国上海市黄浦区黄河路90号, 20000)
Day 8: Shanghai's Most Instagrammable Spots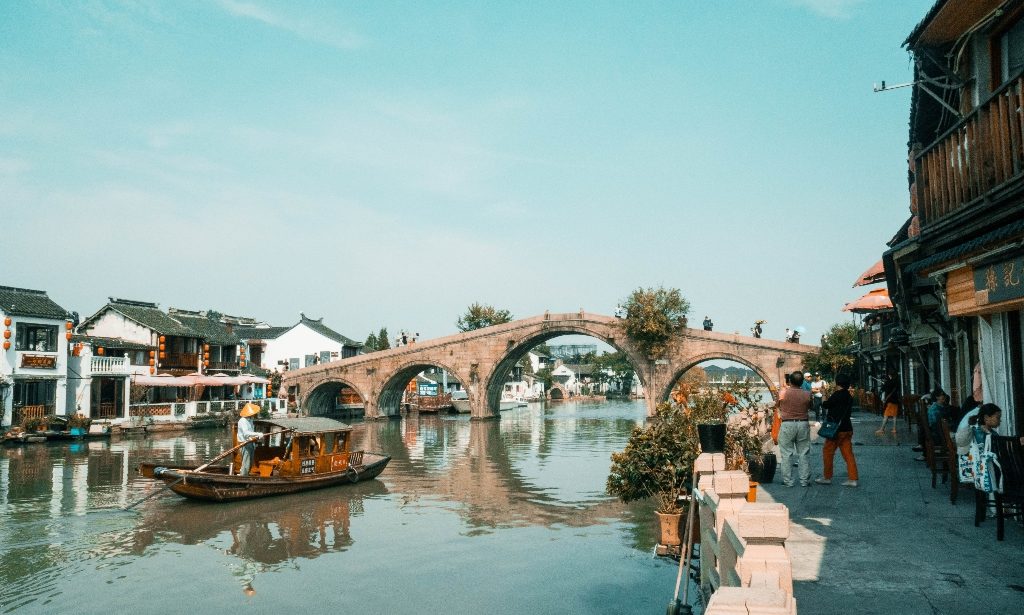 Zhujiajiao is a picturesque water town a little farther out from Shanghai (about an hour away) but I guarantee it's worth a visit. The quaint streets are peppered with local craft and food stalls while boatsmen row by the river canal peacefully. Almost like you've teleported back in time!
How to get there: We took a cab from central Shanghai for 200RMB which took an hour, but a cheaper alternative is to take the Huzhu Gaosu Kuaixian bus line from the Pu'an Road bus station near People's Square (also about an hour).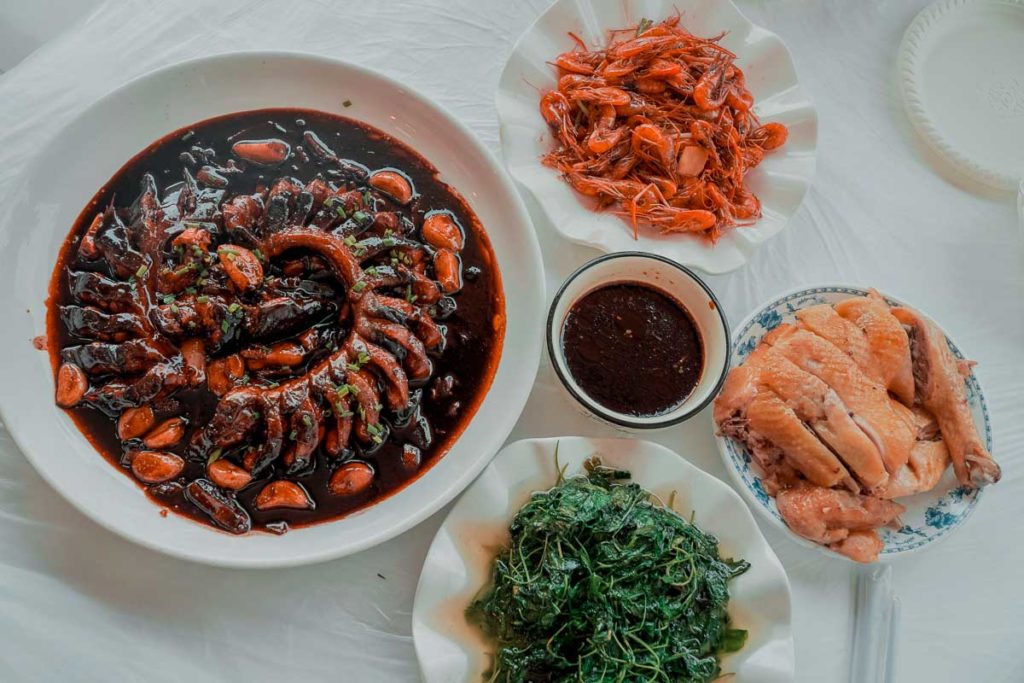 Grab an authentic Shanghai lunch at Sunji Restaurant (孫记饭店) while you're there! This local restaurant's known for its Freshwater Red-Braised Eel (80RMB) and Fried River Shrimp (55RMB).
Opening Hours: 10AM – 8:30PM
Restaurant Address: 198 Zhenbeida Jie 孫记饭店:镇北大街 198号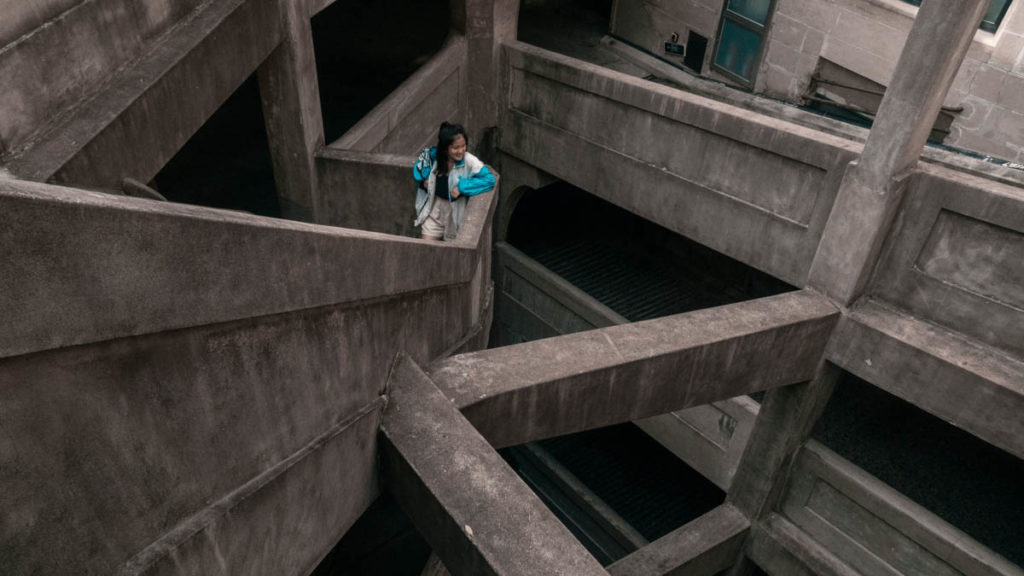 A former slaughterhouse, the 1933 Old Millfun has now transformed into a trendy enclave for art and design. This brutalist and maze-like architecture is now the last of its kind in the world, which makes for interesting photos! There are also plenty of laidback cafes here to enjoy a cuppa at.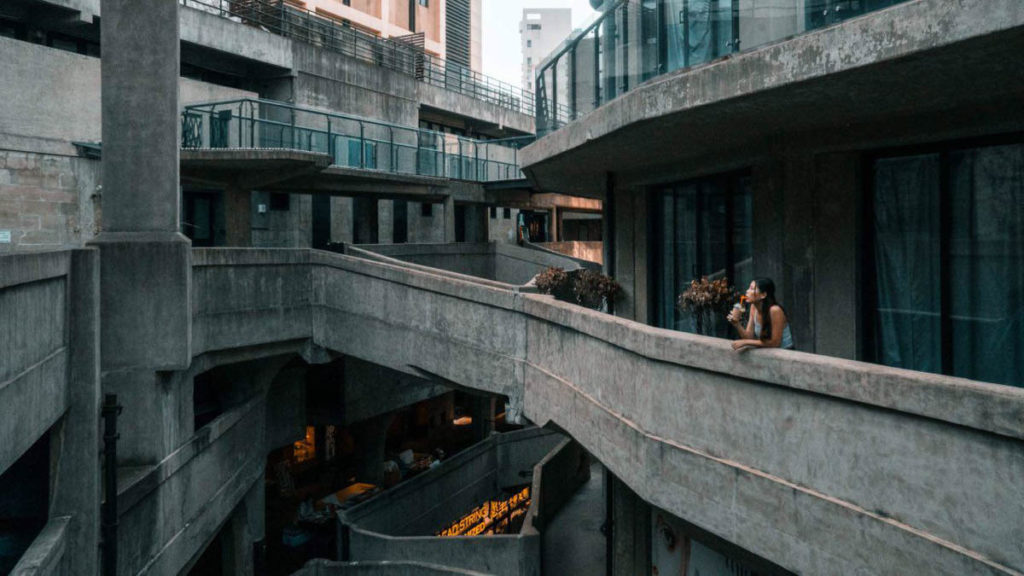 Entrance Fee: Free
Opening Hours: 9AM – 10PM
Address: 10 Shajing Rd, Hongkou Qu, Shanghai Shi, China (溧阳路611号, 近海宁路)
Day 9: Shanghai Disneyland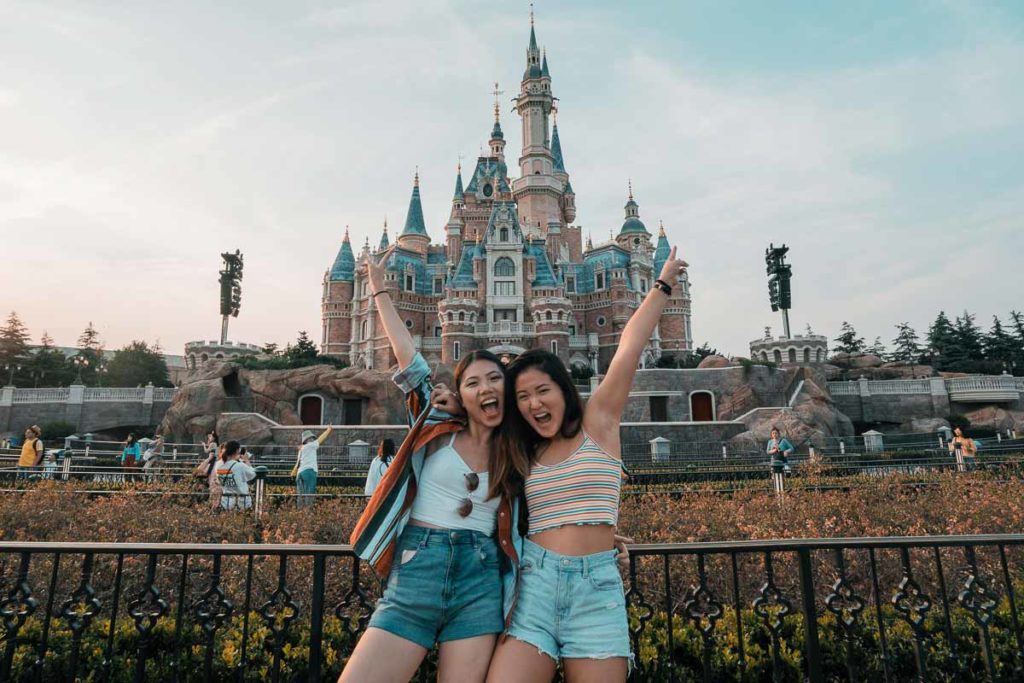 It's called "the happiest place on Earth" for a reason! This was actually my first time to the famous Disneyland and of course, I left wholly impressed. The place is pretty magical. Shanghai's Disneyland also boasts the only TRON Lightcycle Rollercoaster in the world, so you can't miss it (I'd say it was the coolest as well)!
Entrance Fee: ~S$73.39
Opening Hours: 9AM – 8PM (Mon – Thu), 9AM – 8:30PM (Fri – Sun). Check the Shanghai Disney Park Calendar as opening hours vary.
Address: China, Shanghai Shi, Pudong, 川沙新镇, Huangzhao Rd, No. 310 (中国上海市浦东黄沙路310号川沙新镇)
Read also: Ultimate Shanghai Disneyland Guide — 11 Tips & Tricks To Beat the Crowd
Day 10: Adventurous Thrills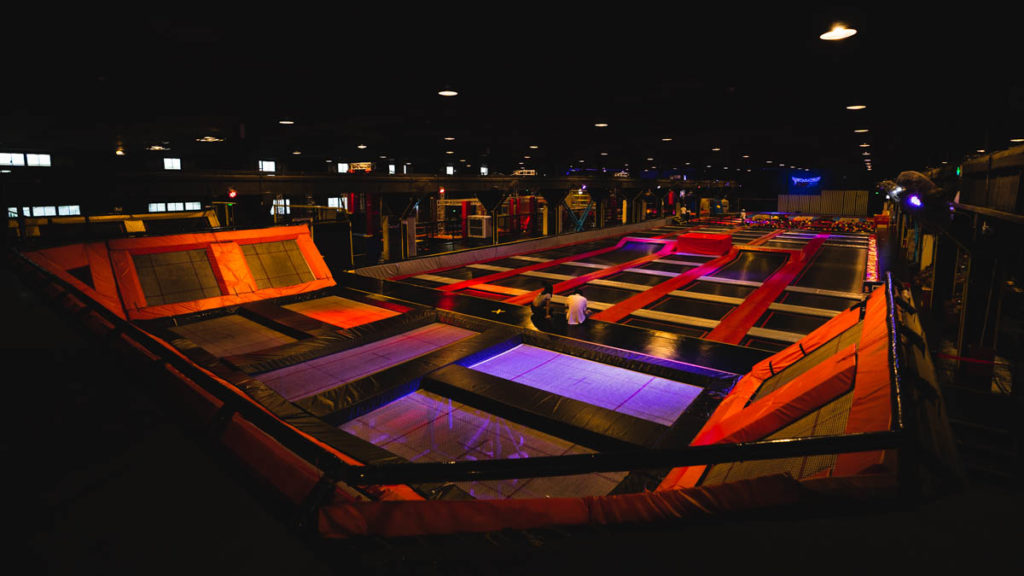 This is just HALF of the entire trampoline park!
Singapore's trampoline park has nothing on Jump360, one of China's largest trampoline parks. Here's what we mean by large: a mega slide, volleyball and basketball trampoline court, velcro wall (we had A LOT of fun with this one), parkour zone, a Ninja Warrior obstacle course, and even a zip-line — all in this 5,500 square metre space.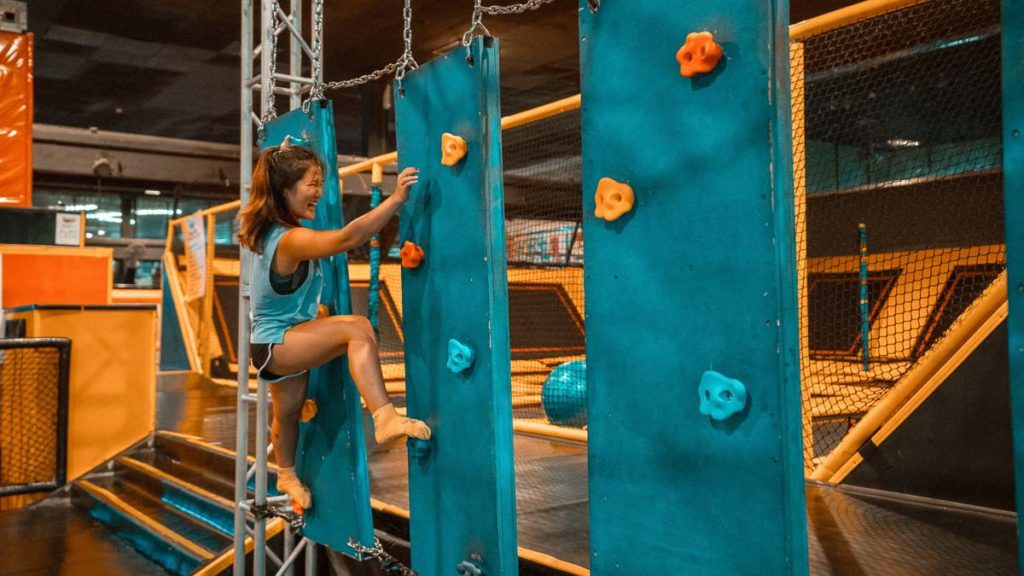 Look at our dear Kimmy working dem muscles.
Cost: From 118RMB/hour
Opening Hours: 10AM – 9PM
Address: Elite Valley, 258 Chang Jiang Lu, near Jungong Lu Baoshan district (长江路258号中成智谷4号库)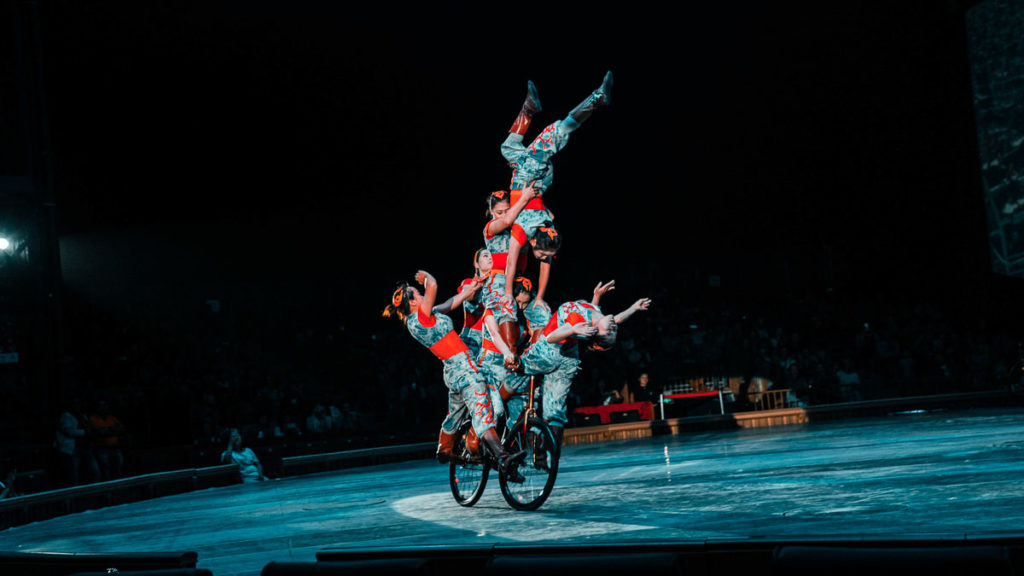 This picture alone will grab your attention. The ERA Intersection of Time Acrobatic Show was absolutely exciting to watch — every act was something different and kept us on the edge of our seats! At one point, there were even eight motorcyclists riding in one sphere 😱.
Cost: From ~S$54.29
Show Hours: 7:30PM – 9PM
Address: ERA Castle, 2801 Gong He Xin Road, Shanghai (上海市共和新路2801号ERA城堡)
*Pro-tip: Book your tickets early as slots sell out really fast!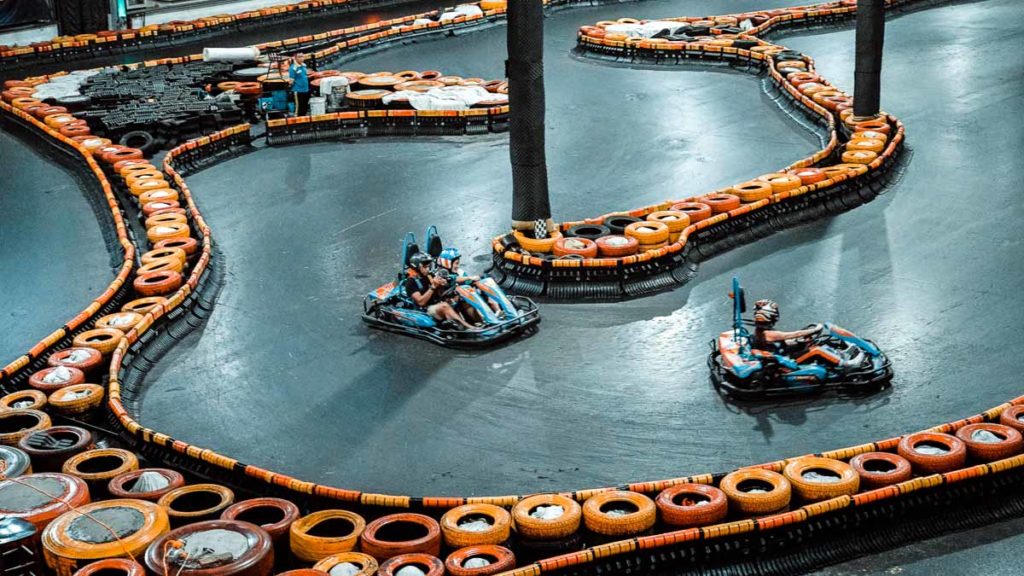 It's illegal to drink and drive but it sure ain't at the Disc Go-karting Club. Live out your drunk-driving fantasies (ahem, I mean curiosities) and have a go on the racecourse after downing a few beers. We're serious — the bar's on the second level overlooking the racecourse. I personally love the thrill of speeding precariously into bends while my sobriety wavers between logic and good old fun (PSA: do not try this at home!).
Cost: From 100RMB
Opening Hours: 1PM – 1AM
Address: 809 Zaoyang Lu, inside Changfeng Park, near Guangfu Lu (枣阳路809号, 长风公园内, 近光复路)
If you're planning a trip to Shanghai and want a more detailed guide, check out 25 Exciting Things to Do in Shanghai — First Timer's Guide From Must-Dos to Hidden Gems.
Day 11–13: Suzhou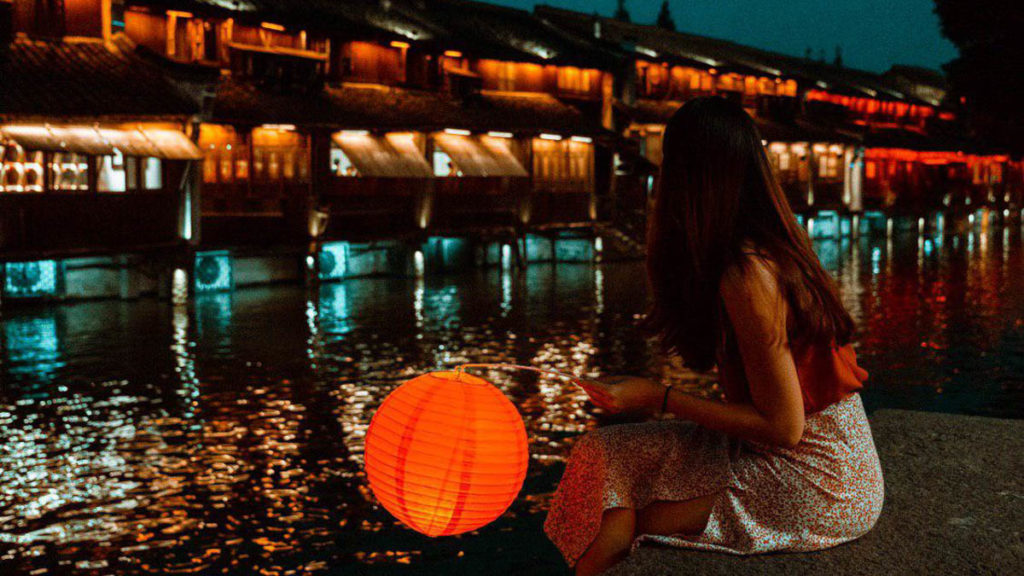 Unlike her mainstream counterparts, Suzhou's beauty lies in her quiet charm that shines once you're there. From the rustic streets of Pingjiang Lu to the insanely modern Suzhou Center Mall, there's a side of Suzhou you're bound to like.
Accommodation in Suzhou: Suzhou Blue Gate Youth Hostel
Getting from Shanghai to Suzhou: Take a one-hour train ride from Shanghai South Railway Station (book tickets here).
Day 11: Suzhou's Scenic Spots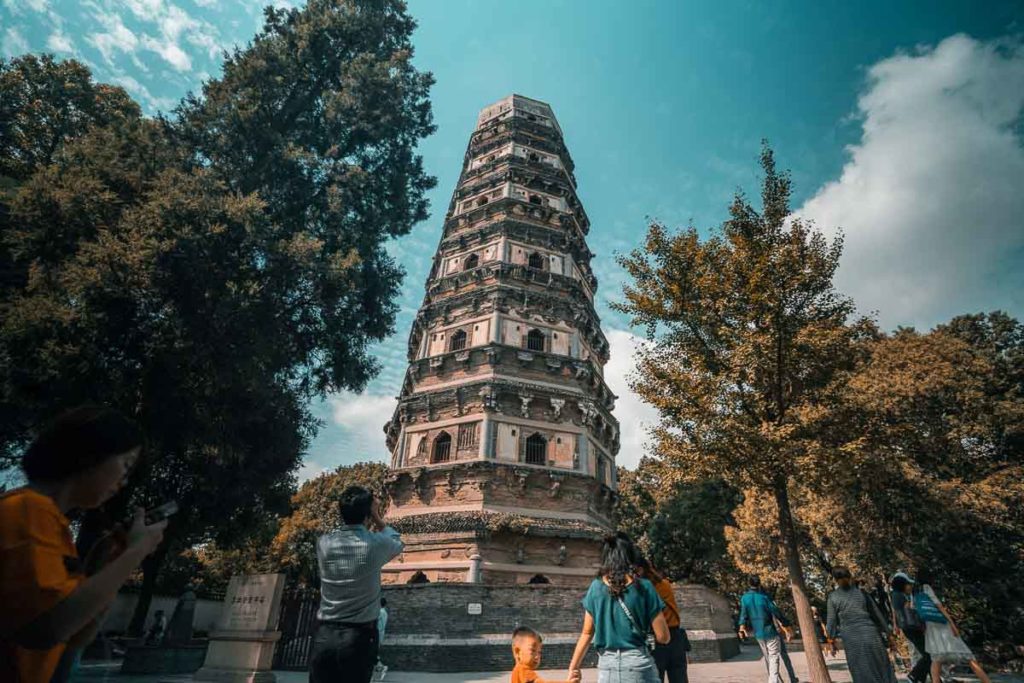 Can you tell that it is tilted?
A famous Suzhou attraction, the Tiger Hill Pagoda is often monikered the "Leaning Tower of China". For the last 1,000 years, the tower has been slowly tilting slightly off-kilter and is now about four degrees off. The surrounding park is just as intriguing with interesting legends behind the sword pool and sword testing stone (Find out for yourselves 😉).
Entrance Fee: 80RMB
Opening Hours: 7:30AM – 5:30PM
Address: Jinchang District, Suzhou City, Jiangsu Province 215008, China (江苏省苏州市金昌区215008)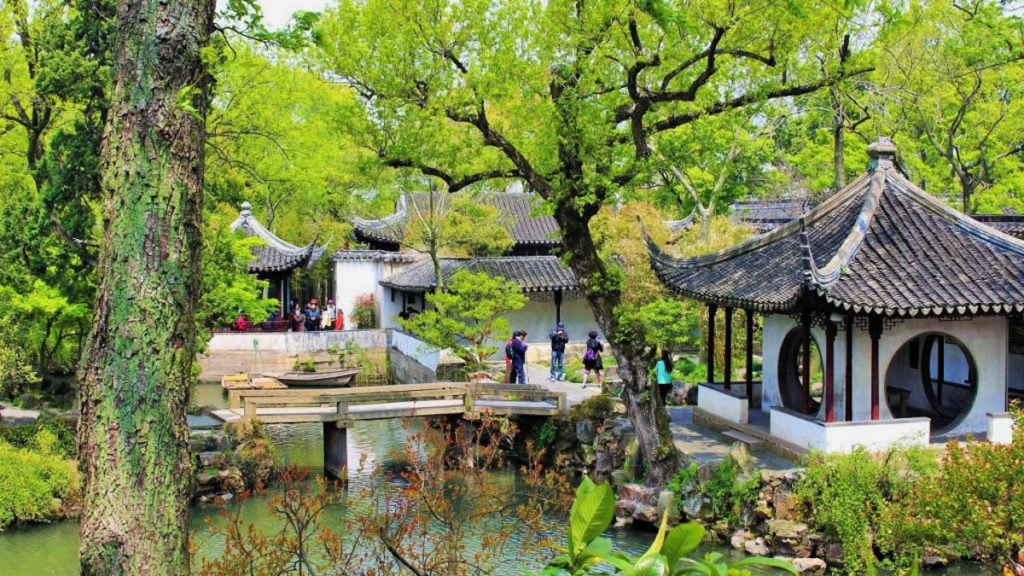 Photo credit: China Unlimited
The other must-see attractions of Suzhou are the Lingering Garden and Humble Administrator's Garden. Known to be the other two out of the four famous classical gardens of ancient China (mentioned above with the Summer Palace), their names do no justice to the beauty of their landscapes!
Lingering Garden
Entrance Fee: 55RMB
Opening Hours: 7:30AM – 5:30PM
Address: No.178 Dongbei Street Pingjiang District, Suzhou City, Jiangsu Province (江苏省苏州市平江区东北街178号)
Humble Administrator's Garden
Entrance Fee: 70RMB (16 Apr – 30 Oct), 50RMB (31 Oct – 15 Apr)
Opening Hours: 7:30AM – 5:30PM
Address: No.178 Dongbei Street Pingjiang District, Suzhou City, Jiangsu Province (江苏省苏州市平江区东北街178号)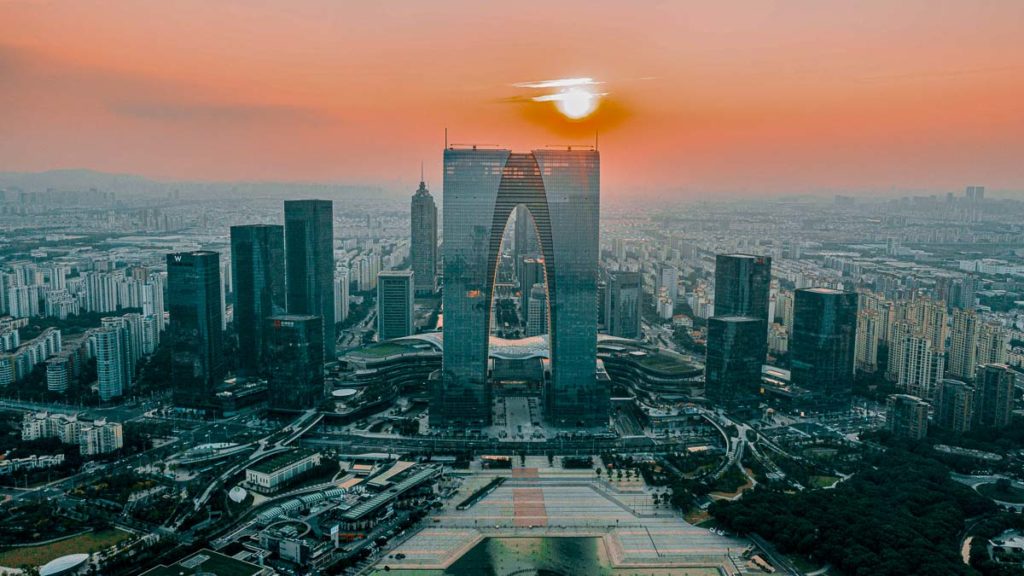 Catch the sunset by Jinji Lake, where you'll get this view of Suzhou's modern skyscrapers. If time permits, drop by the Suzhou Ferris Wheel Amusement Park (60RMB) on the east bank of the lake! The Ferris wheel offers a stellar view over the lake while the rollercoaster is a shoo-in for the thrill-seekers.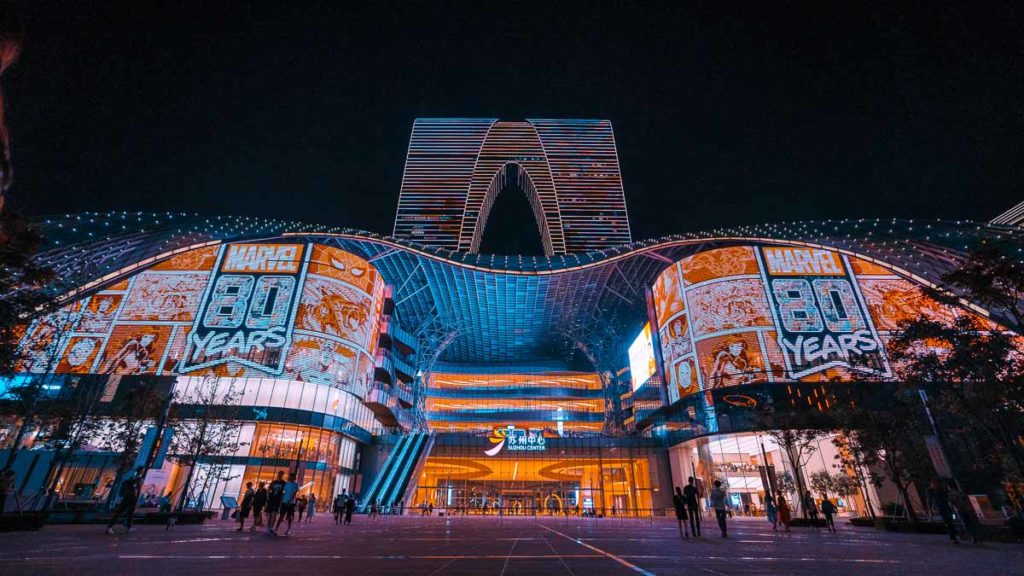 End the day at the Suzhou Center Mall, located behind the Oriental Arc (the pants-shaped building). This mall is three times the size of Ion Orchard and was given the title of "Best New Shopping Mall" just last year! Expect everything from international brands (Victoria's Secret, Apple) to insane activities like horseriding and a snow city!
Opening Hours: 7:30AM – 5:30PM
Address: No.178 West Jinji Lake CBD, Suzhou Industrial Park, China, Suzhou.
Day 12: Exploring Suzhou By Bike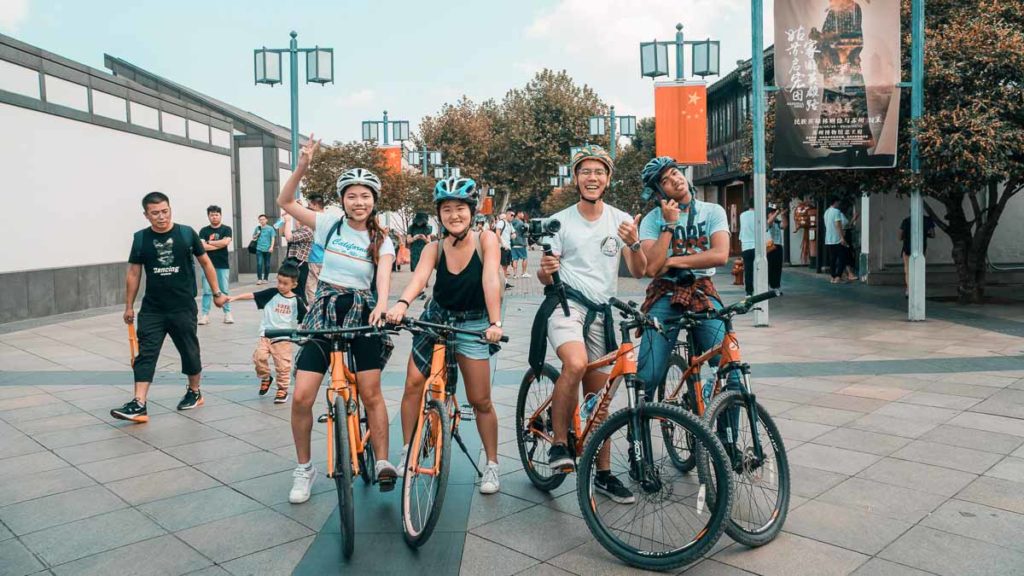 This bike tour is particularly useful for those who want to explore Suzhou without the luxury of time. Definitely a cool way to experience Suzhou's ancient streets!
The cycling route brought us to famous sights like the Suzhou museum (its architect also designed the Louvre in Paris), Pingjiang street, the Ancient City Wall, and Shantang Street.
Suzhou Highlights Half Day Biking Tour
Cost: ~S$73.30 (Incl. bikes and English-speaking guide)
Tour Hours: 9:30AM – 1PM
Address: Intersection of Shiquan Street and Fenghuang Street, Suzhou (苏州十全街凤凰街路口)
Personally, I really love the vibrant local vibe at Pingjiang Street, and would like to explore it more in my own time. From street eats to local snacks and crafts, it's a good place to soak in Suzhou's vibe.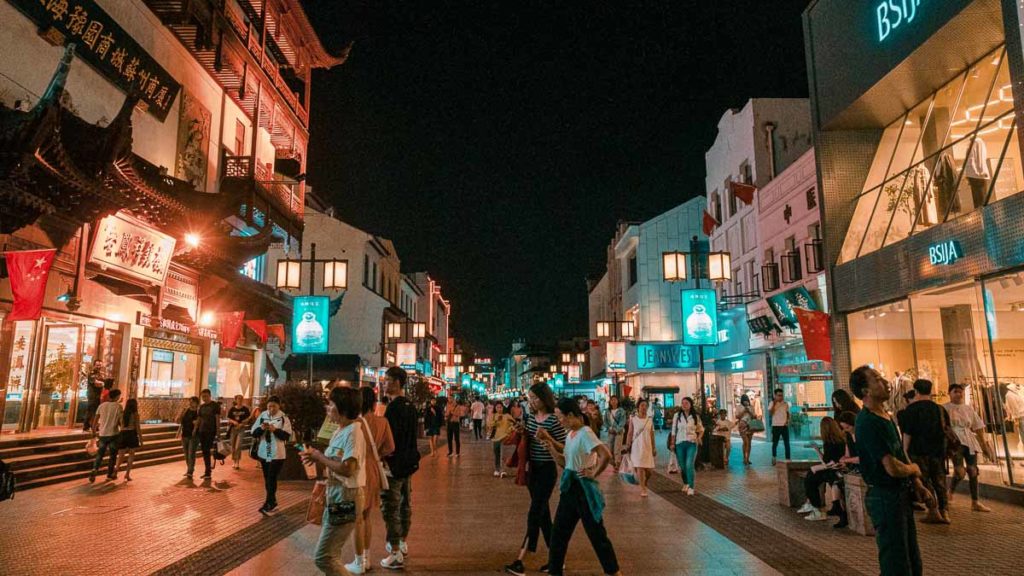 As night falls, head over to Guanqian Street just a short walk away to shop and eat around its modern malls or local shops.
Opening Hours: Most shops close by 10PM
Address: Guanqian Street, Gusu, Suzhou, Jiangsu, China (中国江苏省苏州市姑苏市观前街)
Suzhou offers lots of great tours that we couldn't join due to time constraints. But if you can afford the time, this city deserves to be properly explored.
Check out: 5D4N Suzhou and Hangzhou Itinerary — Soak In the Beauty of Tiger Hill, West Lake and More
Day 13–15: Hangzhou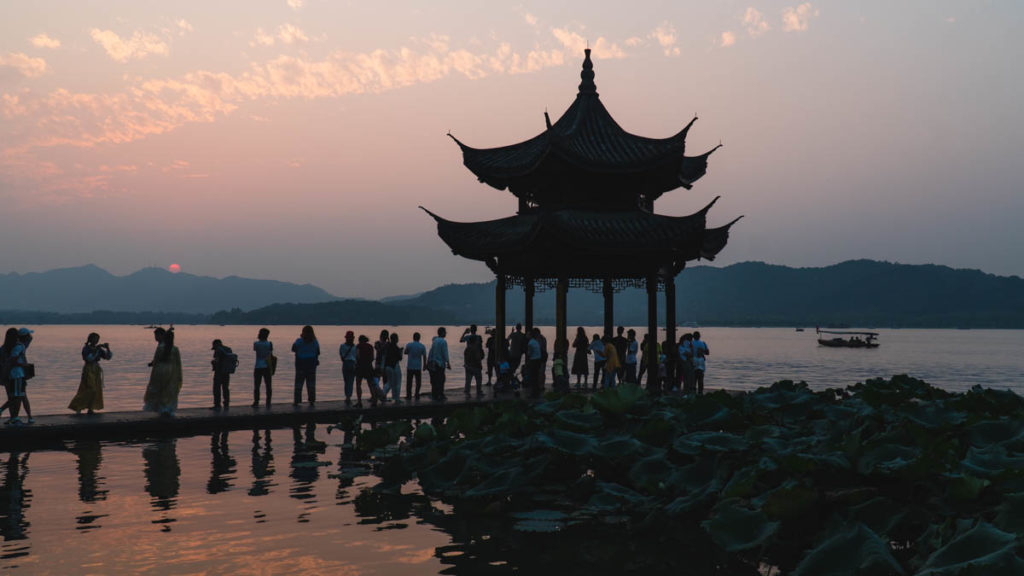 There's a Chinese saying that goes "上有天堂 下有苏杭", meaning to say there's heaven above, then there's heaven on Earth: Suzhou and Hangzhou. While both cities have their fair share of scenery, I'd argue that Hangzhou's landscape stands out a lot more than Suzhou with the West Lake alone.
Accommodation in Hangzhou: Memory Travel Hotel
Getting from Suzhou to Hangzhou: Take a train ride from Suzhou Railway Station (1.5–4 hours, book tickets here).
Day 13: The Essence Of Hangzhou
We've put two options here as they each warrant a full day's visit! We'd recommend doing both but we're running on a 15-day visa after all 😜.
Option 1: Wuzhen Water Town — You'd think by now we'd be used to ancient/water towns but Wuzhen really pleasantly surprised us! It's different from other towns because of its vast flower fields and buzzing nightlife. The ancient houses actually light up at night, and the bars and pubs blasting music really add a different dimension to the ancient buildings!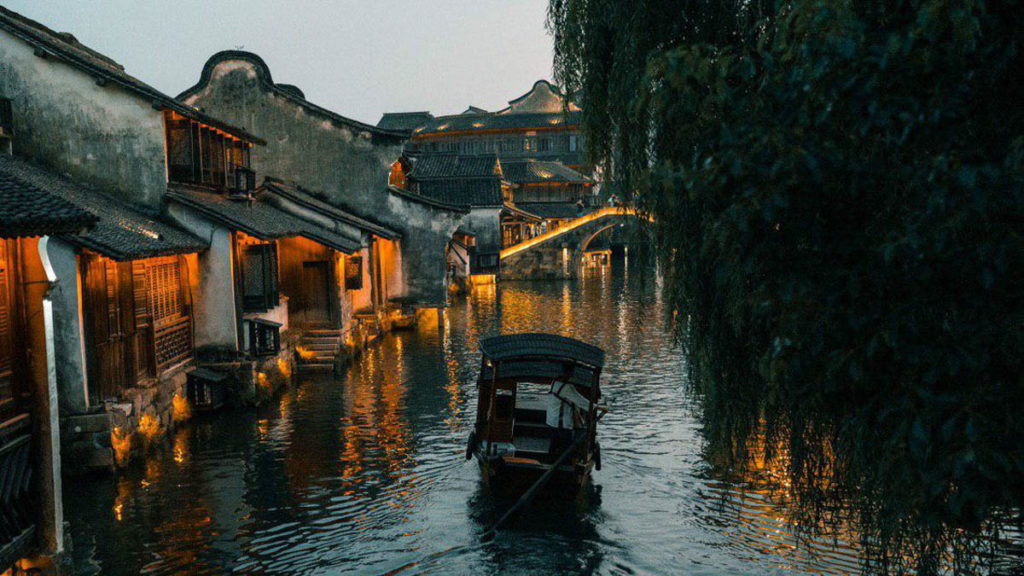 Wuzhen Old Street Full-Day Tour
Cost: ~S$90.29 (Incl. Chinese-speaking guide, transport and entrance fees)
Opening Hours: 7:20AM – 6PM (May 1 – Oct 8), 7:20AM – 5:30PM (Oct 9 – Apr 30)
Address: Wuzhen Town, Tongxiang 314500, China (桐乡市乌镇镇314500)
Option 2: Anchang Ancient Town and Yangshan Stone Quarry — Anchang, on the other hand, has a rustic and undisturbed charm to it. Opened to the public only in 2018, the town reserves its original authenticity without much gentrification. Here, you can catch more of the locals going about their daily lives and working on their craft!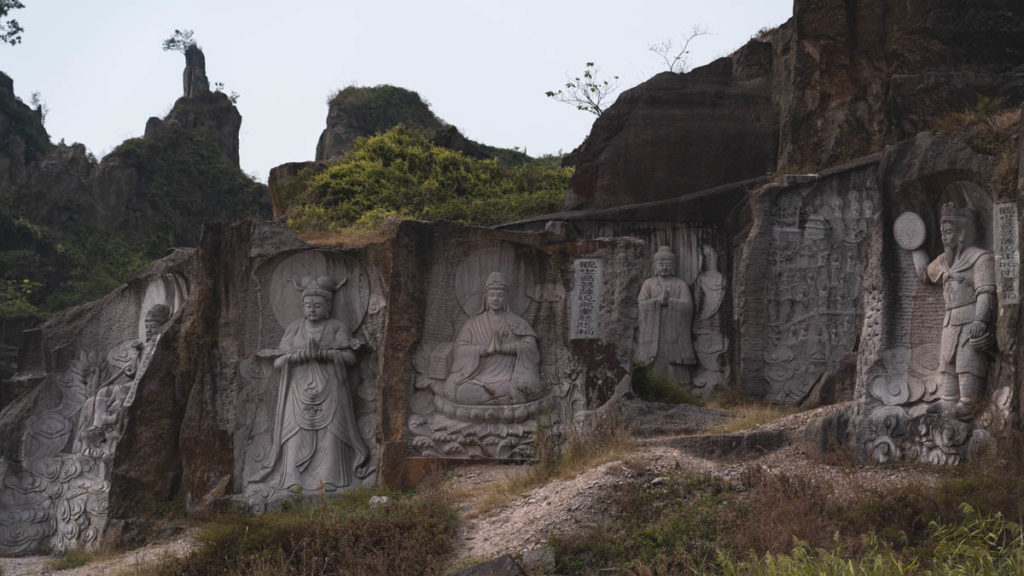 After, head to Yangshan Stone Quarry, a stone park with 88 intricate Buddha carvings. It's interesting to see how a place like this actually exists in a city!
Anchang Ancient Town And Yangshan Stone Quarry Day Tour
Cost: From ~S$75.65 (Incl. transport, lunch and a guide)
Tour Hours: 8:30AM – 4:30PM
Address: Anchang Town, Shaoxing County 312000, China (绍兴县安昌镇312000)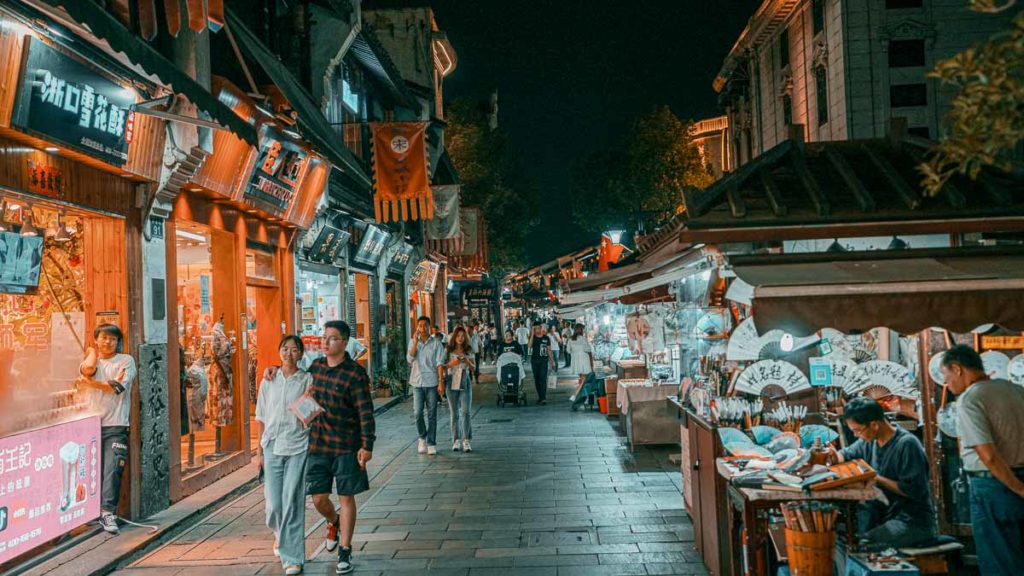 If you're in Hangzhou, you have to drop by Hefang Street. Out of all the pedestrian and food streets we've been to in China, Hefang Street easily tops the list! From the moment you arrive, you can see an abundance of vendors selling handmade crafts. Whether it's mask painting, figurine sculpting, candy making or caricature sketching, this old street's definitely got soul.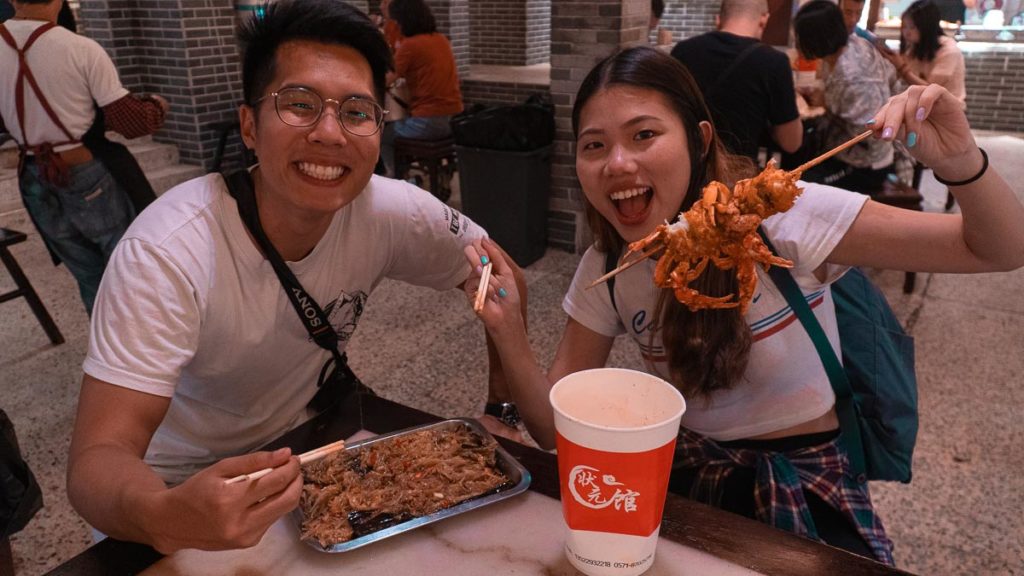 With my giant CRAB.
Besides shopping, food here is also aplenty. Whether you're looking for snacks to bring home as souvenirs, street food to curb your hunger pangs, or a proper restaurant for dinner, you can get 'em all at Hefang Street (they also sell fried scorpions so here's your chance…).
Opening Hours: Most shops close around 10PM
Address: Hefang Street, Hangzhou City, Zhejiang Province, China, 310002 (中国浙江省杭州市河坊街310002)
Day 14: Explore the Famous West Lake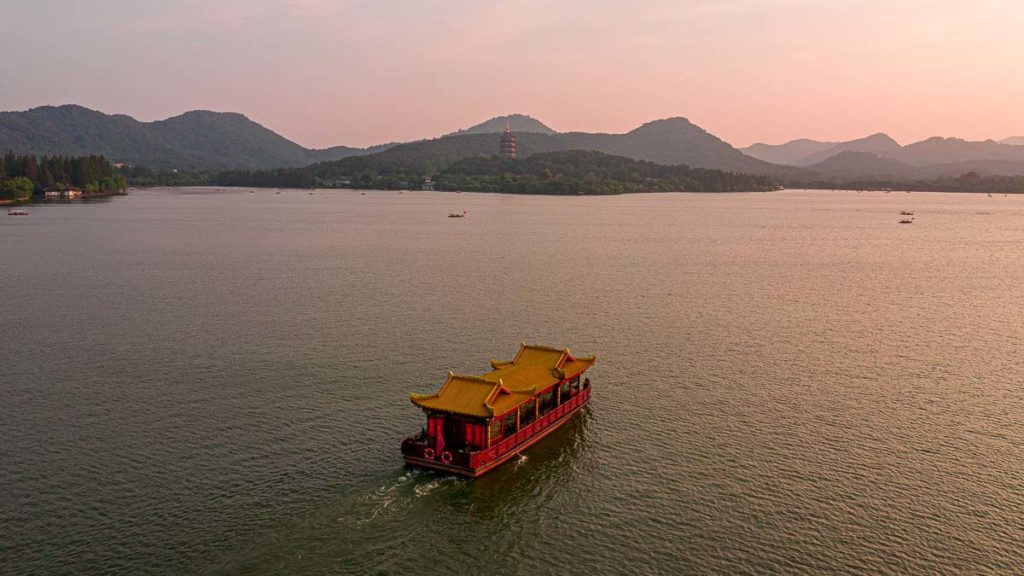 West Lake has been a popular part of Chinese culture since ancient times, and after seeing it for myself in real life, I can see why. The vast lake is truly magnificent and goes on forever. Together with the backdrop of mountains in the distance, little boats dotting the waters and the golden roof of Leifeng pagoda in the background, this is a photo opportunity you won't wanna miss.
There are a few scenic spots to hit here such as the Broken Bridge, Three Pools Mirroring the Moon, Leifeng Pagoda, and many more. We managed to tick off some of them but if you have time, I'd recommend spending a whole day at West Lake just to fully capture its beauty!
Address: West Lake, Hangzhou, 310000 China (西湖杭州310000)
Day 15: Scenic Adventures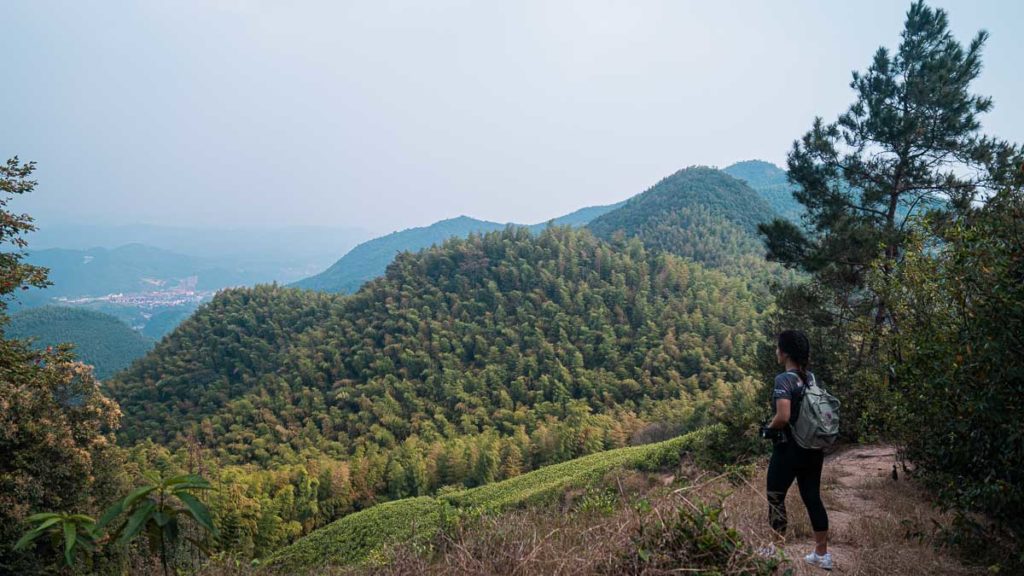 Mount Mogan, or Moganshan, has three peaks, and is a popular hiking spot for tourists with lush pine and bamboo forests. Our five-hour round trip hike was part of a day tour which came with a guide and lunch!
Mount Mogan Hiking Day Tour
Cost: From ~S$100 (Incl. round-trip transport, guide, entrance fees and lunch)
Tour Hours: 8AM – 5PM
Address: Moganshan Town, Deqing County 313200, China (中国德清县莫干山镇313200)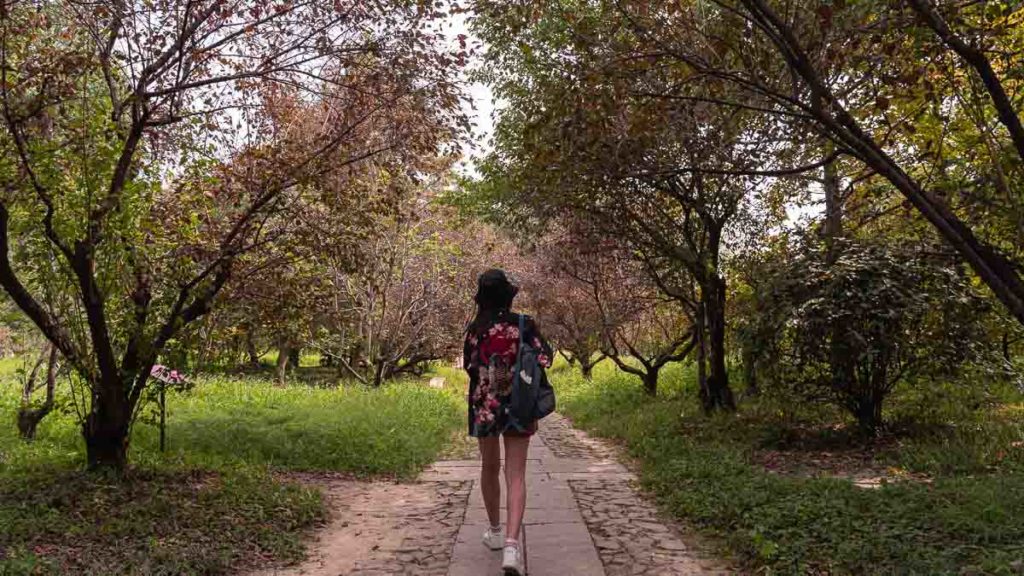 If you're not into hiking, the Xixi National Wetland Park might be more up your alley. This eco-grassland allows for plenty of wandering and exploring by boat (40RMB, ~S$7.72), with stops like Xixi's famous plum villa housing 3,000 plum trees. It's especially beautiful in the winter when the plum trees are in full bloom!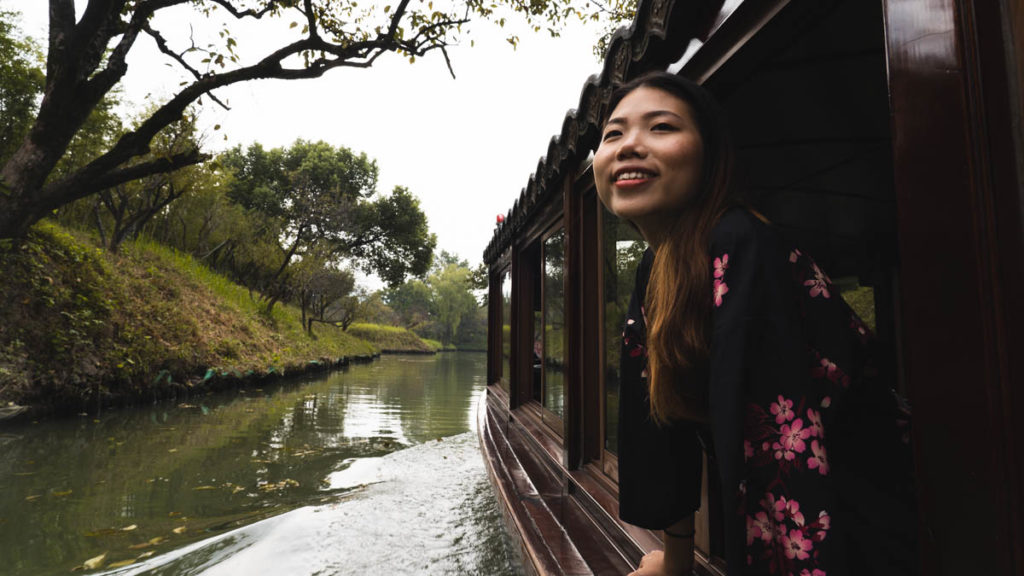 Entrance Fee: 80RMB (40RMB for students)
Opening Hours: 8AM – 5:30PM (Apr – Oct), 8:30AM – 5PM (Nov – Mar)
Address: 518 Tianmushan Road, West Lake District, Hangzhou, Zhejiang (浙江省杭州西湖区天目山路518号)
China Trip Planning Tips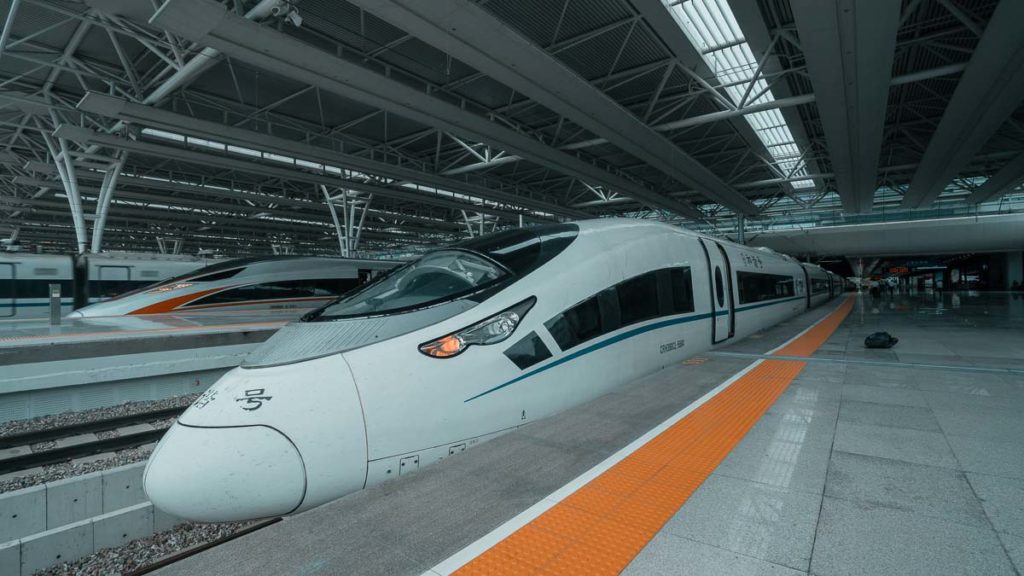 1) Take the High-Speed Rail between cities
The high-speed rail is impressively efficient in China! The journey between Beijing to Shanghai would have taken at least 12.5 hours by car but the High-Speed Rail got us there in only one and a half hours!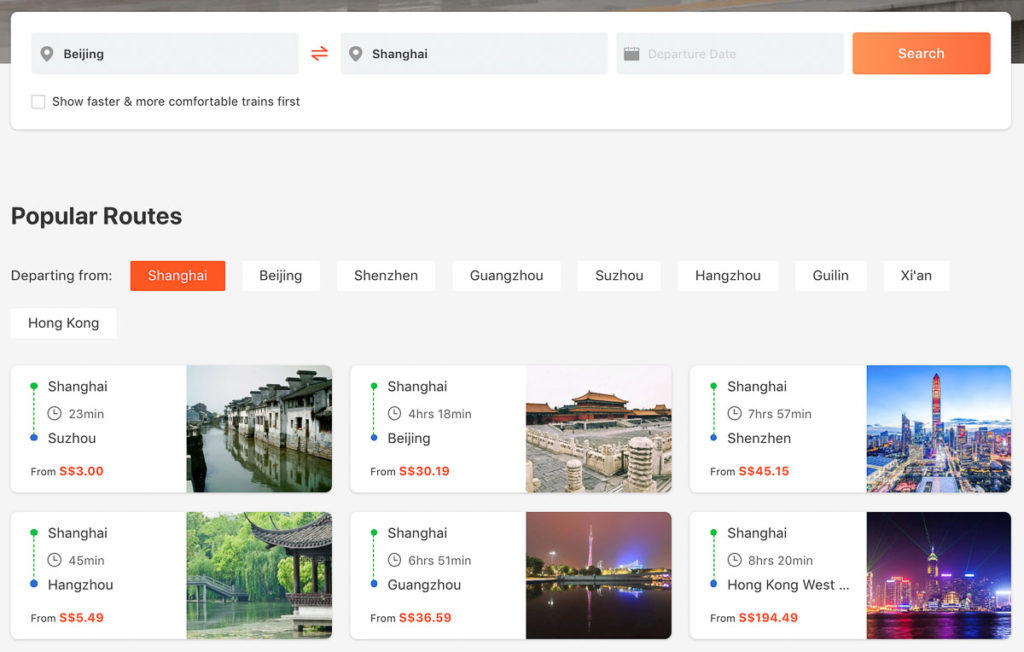 Rail tickets were super convenient to book on Klook. Just select the date and you'll see the schedule of the trains available for the day. This was a huge convenience to us since we didn't have to fuss over various Chinese sites to find out the daily train schedules.
Other than train tickets, we also got all our other travel essentials such as SIM cards, private charters as well as Disneyland tickets.
2) Pre-collect your train tickets in advance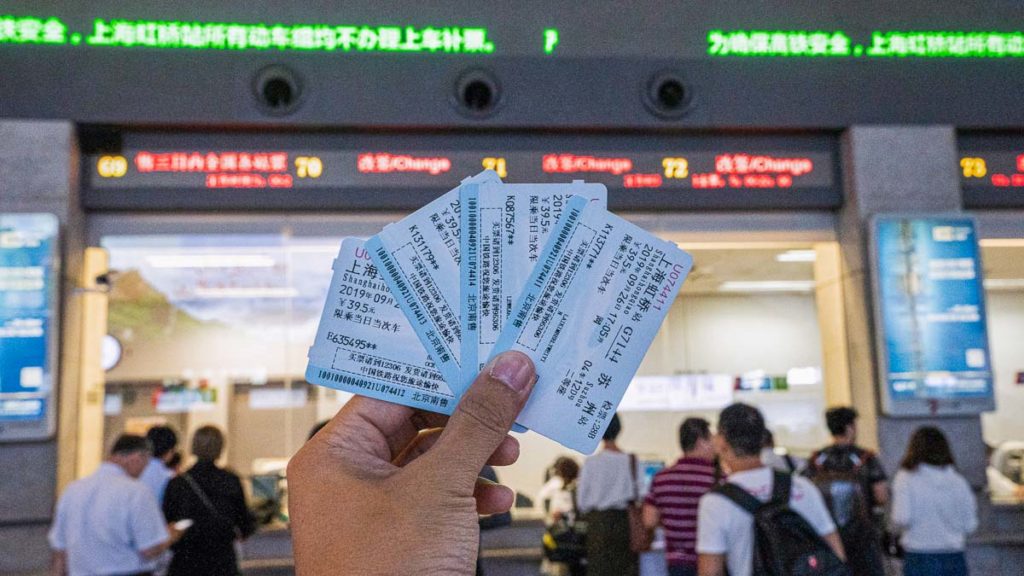 If you're using the high-speed railway system to move between cities, you can choose to collect them all in advance at your first stop (highly encouraged so you don't have to keep queuing)! Just head to the manual ticket counter and present your ticket vouchers so that they can print out your tickets.
3) Do not underestimate China's peak hour traffic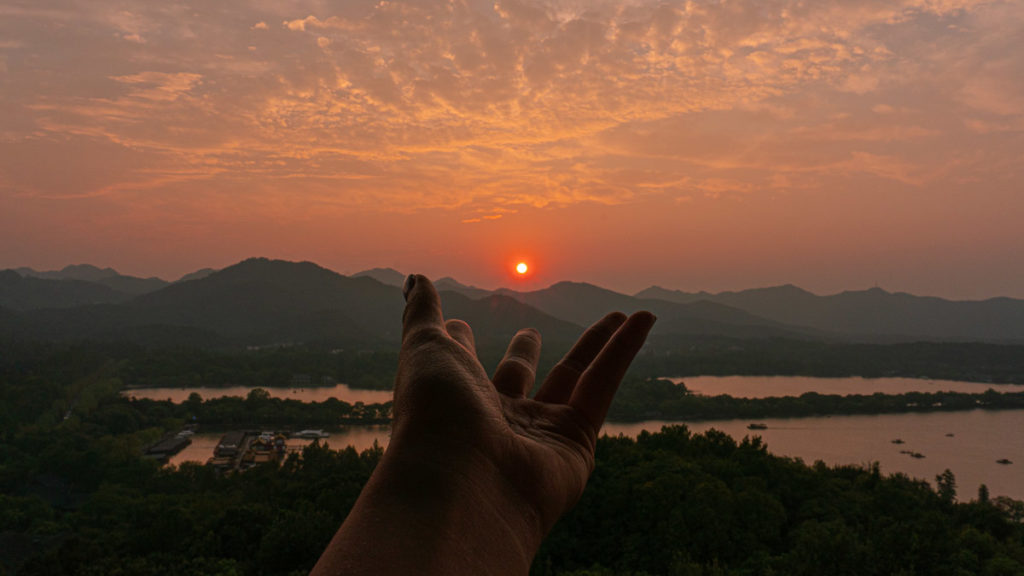 China is a densely populated country and peak hours can call for a good one or two hours' delay in your journey. Make sure you plan your itinerary well in case you face unexpected delays, especially when catching a flight or train!
4) Consider private charters and tours for ease of travel and planning
For culture-heavy cities like Beijing or Suzhou, it's better to get a tour or have a driver bring you around. You'd really want to have a guide explain heritage sites to you like the Forbidden City, otherwise, you'll just be wandering aimlessly most of the time! It also helps with travel times, especially for day trips farther out of the main cities.
Here's a list of the tours we took:
– Iconic Beijing Tour
– Suzhou Highlights Half Day Biking Tour
– Wuzhen Old Street Full-Day Tour
– Mount Mogan Hiking Day Tour
– Anchang Ancient Town and Yangshan Stone Quarry Day Tour
5) Avoid visiting China during public holidays
Avoid China's public holidays like Chinese New Year (end Jan/early Feb), Mid-Autumn Festival (Sept/Oct) and National Day (1st October) as this is when locals themselves will be returning to their hometowns, and everywhere will be severely congested — even the locals themselves warned us so!
A Change In Perspective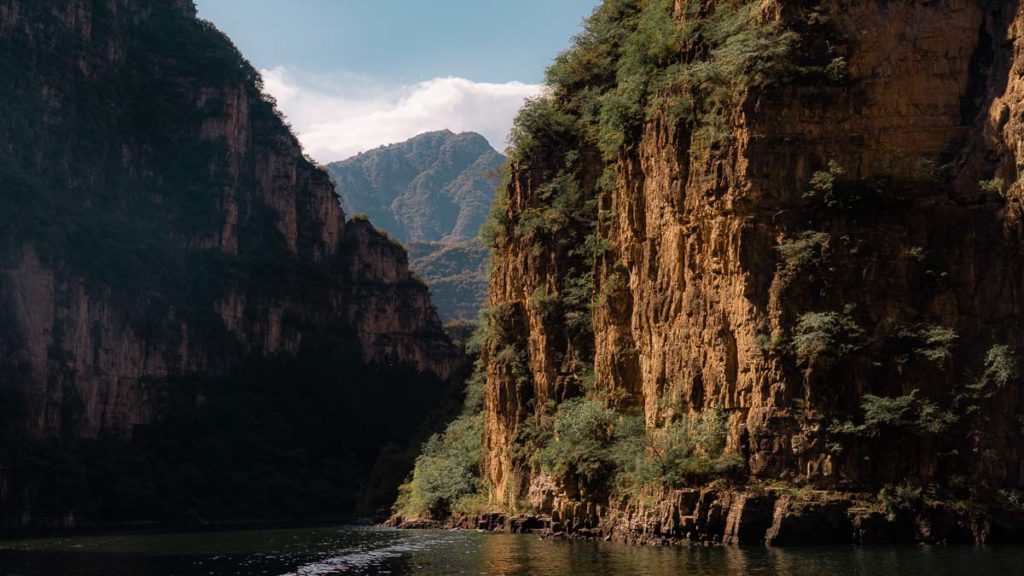 After spending two weeks in four very different cities in China, I think it's safe to say that my initial perception of it has changed drastically — for the better. I can't wait to see more of what the Middle Kingdom has to offer! It's definitely not where most millennials and young adults would typically choose for a holiday destination but I daresay it should be. Yes, the ever-popular western countries have their charms, but for an affordable yet equally exciting adventure of a lifetime? It's no doubt lesser-explored China.
In the words of Sir Richard Burton, "The gladdest moment in human life, is a departure into unknown lands." So the next time you're thinking of heading off somewhere in the world, why not consider China and her many intriguing cities?
Check Flights to Beijing
The Beijing Capital International Airport serves many major international airlines you can fly with. Check flight prices with this nifty widget:
If you can't see the widget above, click here for flight prices from Singapore to Beijing instead!
Anything we missed out in our China itinerary? Let us know in the comments!
---
This post was brought to you by Klook.
Like what you see? Follow us on Facebook, Instagram, YouTube and Telegram for more travel updates!
<br>