To all healthcare and frontline workers battling COVID-19, thank you. With love, the world.
Healthcare and frontline workers have been fiercely battling the COVID-19 pandemic since the beginning of 2020. People in hospitals, law enforcement, transport and grocery stores work hard to keep essential services running.
Needless to say, these are tireless and thankless jobs. However, individuals and organisations all over the world have been stepping up to show their support. I don't know about you, but we 100% stan this positivity!
We've rounded up some of the most heartwarming (and unique) ways the world has said "thank you". Warning: Some of these gestures might melt your heart!
Read also: What's Happening Around The World During COVID-19 — Silver Linings
1) Iconic landmarks around the world were lit up as a tribute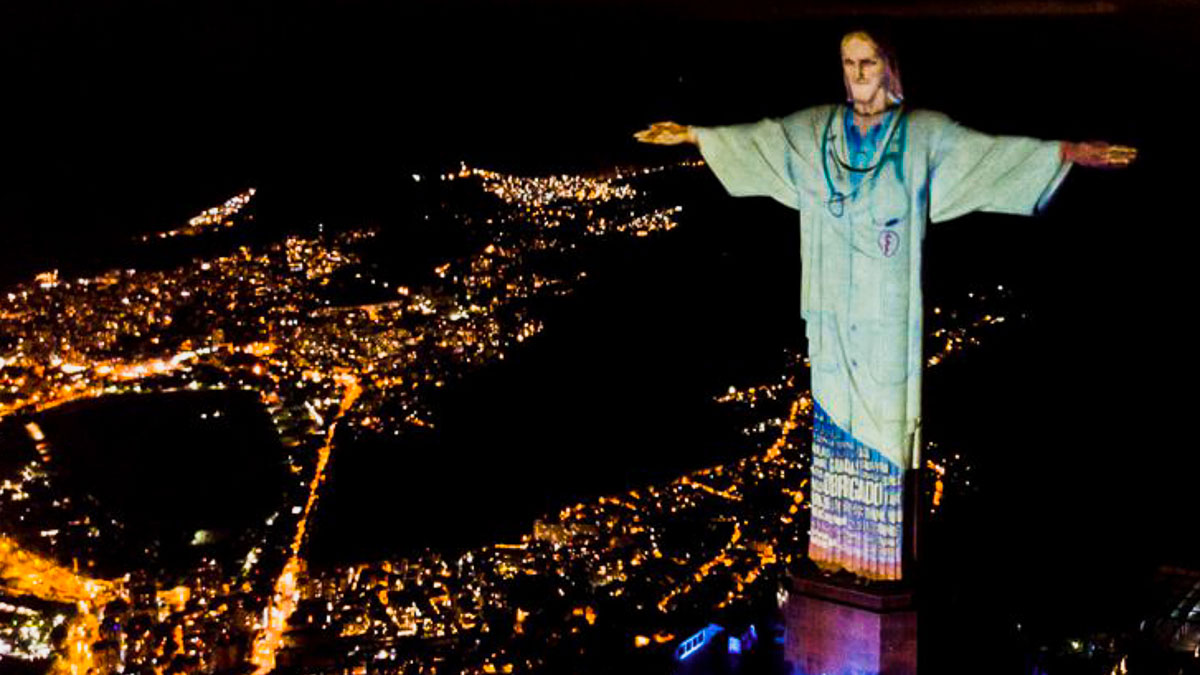 Photo credit: CNNPhilippines.com
Imagine saying "thank you", but with a famous landmark! To honour healthcare professionals and frontline workers everywhere, many countries transformed their iconic attractions into beacons of hope.
On Easter Sunday, Christ the Redeemer in Rio De Janeiro was lit up as a doctor, complete with a white coat and a stethoscope. The Burj Khalifa, London Eye, Empire State Building, and Eiffel Tower have also thanked "community heroes" through simple light displays.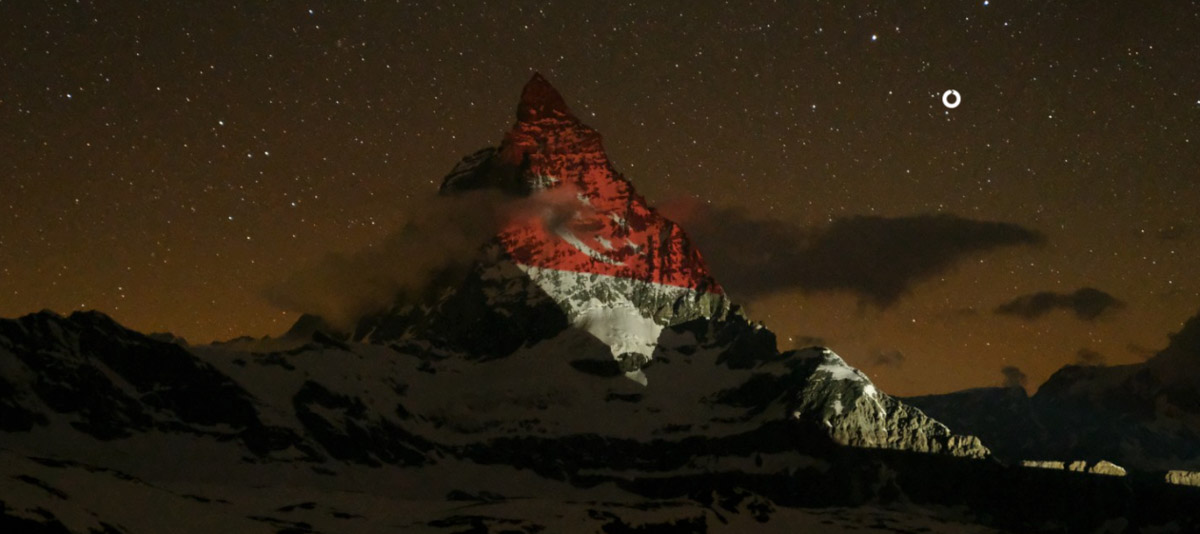 Photo credit: Zermatt.ch
Recently, Switzerland also projected countries' flags on the Matterhorn (better known as the "Toblerone Mountain"). It's a touching sign of hope during this difficult time. Plus, it's one of the neatest ways to thank frontliners fighting the COVID-19 crisis!
2) Google's special banners
Thank you: Farmworkers and farmers. Photo credit: GoogleDoodles via Tenor
Throughout April, Google dedicated a series of Doodles to honour frontline workers. The Doodles recognise everyone involved, from hospital staff to the lesser-known workers in the education and sanitation industries. Thanks for looking out for the little guys, G.
3) Residents cheered from their homes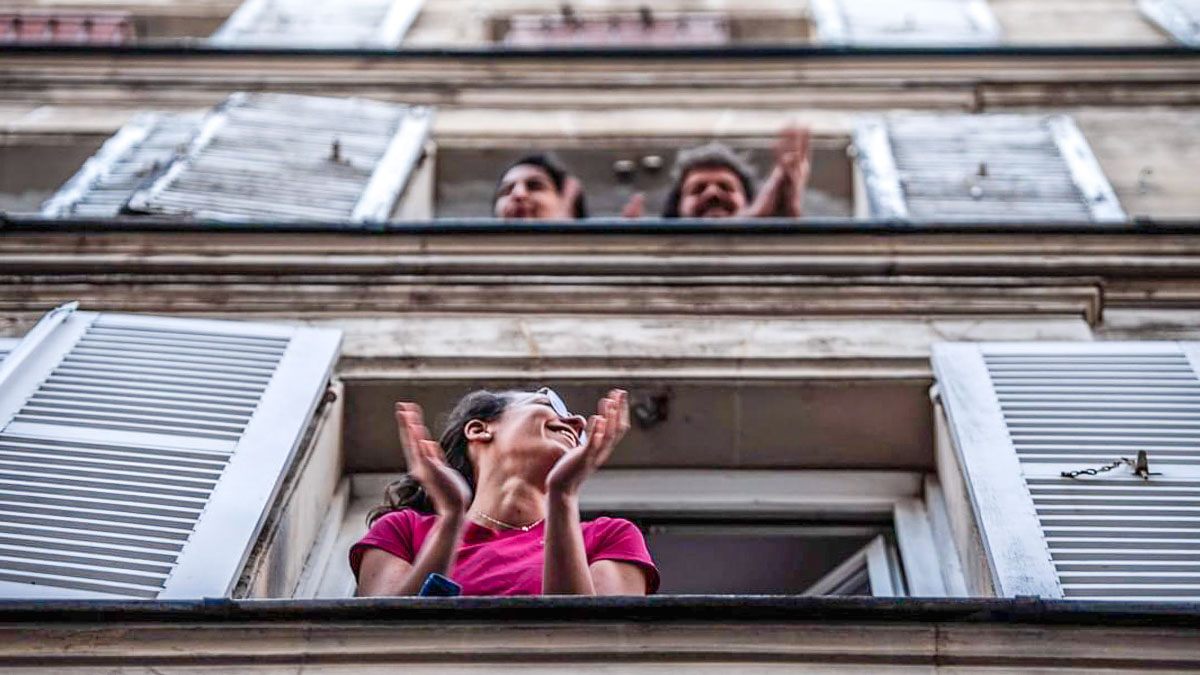 Photo credit: @financialtimes via Instagram
Sometimes, the smallest actions can make the biggest impact. In January, quarantined residents in Wuhan showed support for essential workers by cheering from their homes.
Within months, the movement spread across the world like wildlife. People across the US, Europe and Asia were clapping and cheering together to thank frontline workers for their efforts. (Even Singapore got in on the action.) It's a touching display of love and appreciation, and all while we stay safe at home!
4) This breathtaking drone display in China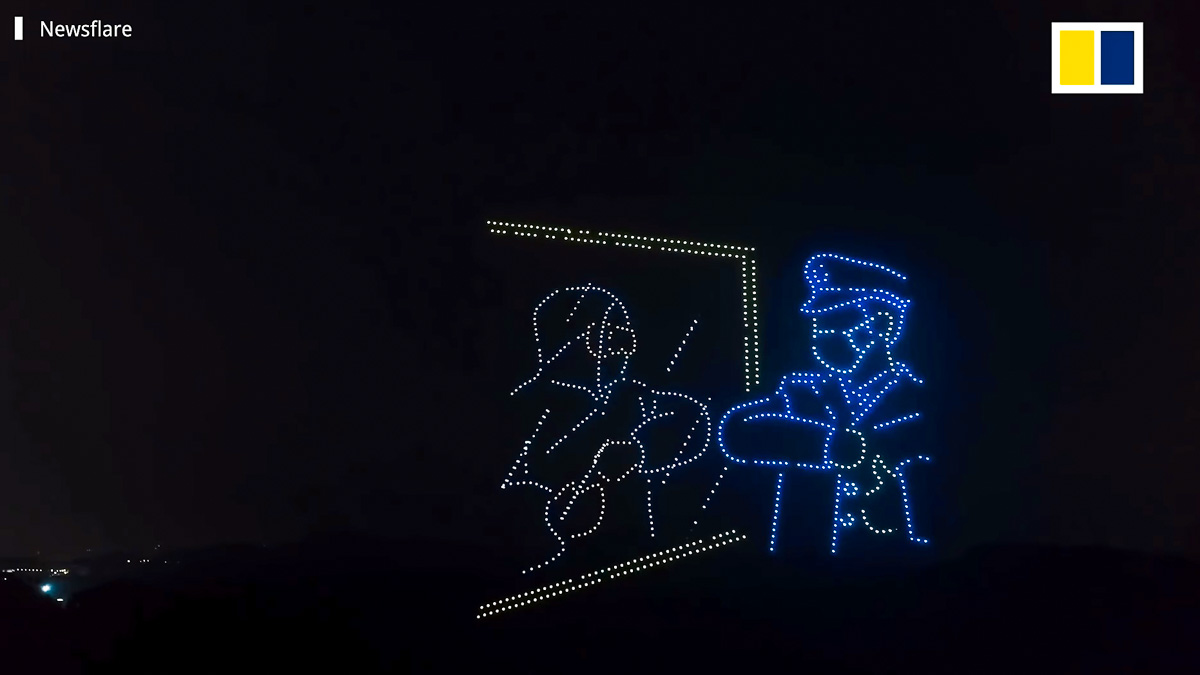 Photo credit: South China Morning Post
While landmarks around the world lit up, China paid tribute by using drones — 1,000 to be exact! In a jaw-dropping display, the drones put on a light show to thank essential workers, as well as celebrate the end of the lockdown in Wuhan.
Considering these drones were once used to scold people to go home, it's nice knowing that this technology is now being used for inspiration. 😅
5) The Netherlands hosted spectacular light shows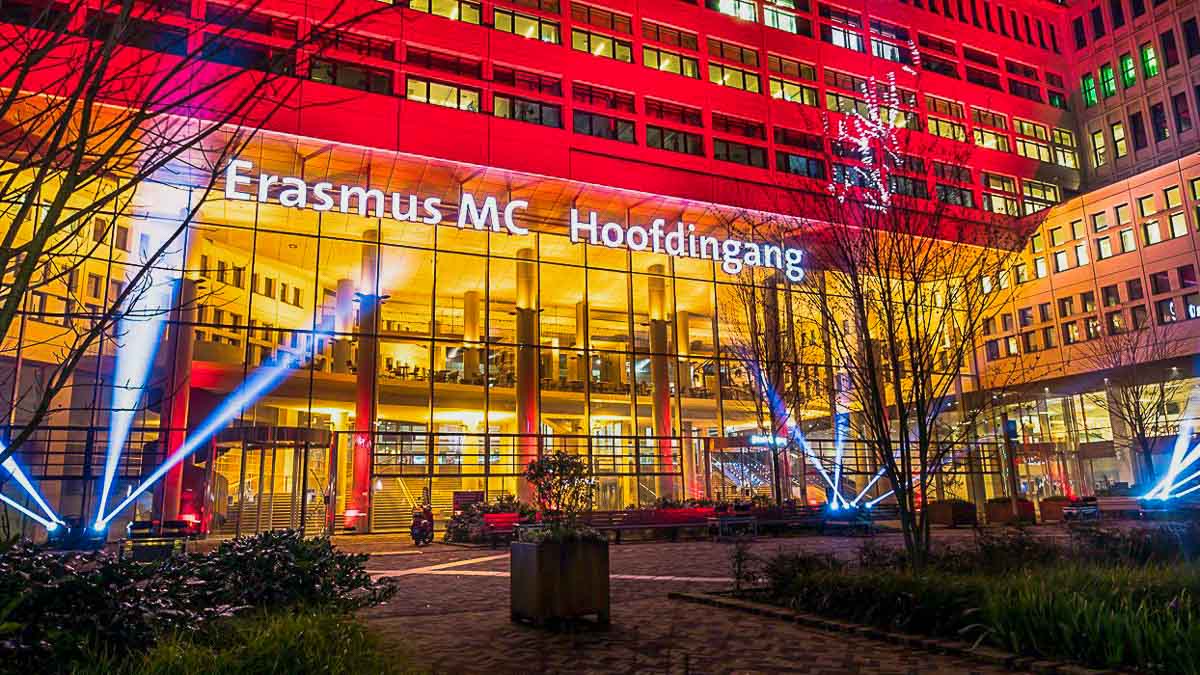 Photo credit: Charles Batenburg (@CB_Images) via Twitter
Who would've guessed that partying could be used as an epic way to celebrate healthcare and frontline workers?
Dubbed #LightTheSky, Dutch event companies worked together to shine bright lights all over the Netherlands. One company decked out a Rotterdam hospital in bright lights. Elsewhere, another audiovisual company threw a "party" right outside a stadium with lights, music, and a message: "Spread music, not #corona". Hear, hear!
6) This man who gave a literal "THANK YOU"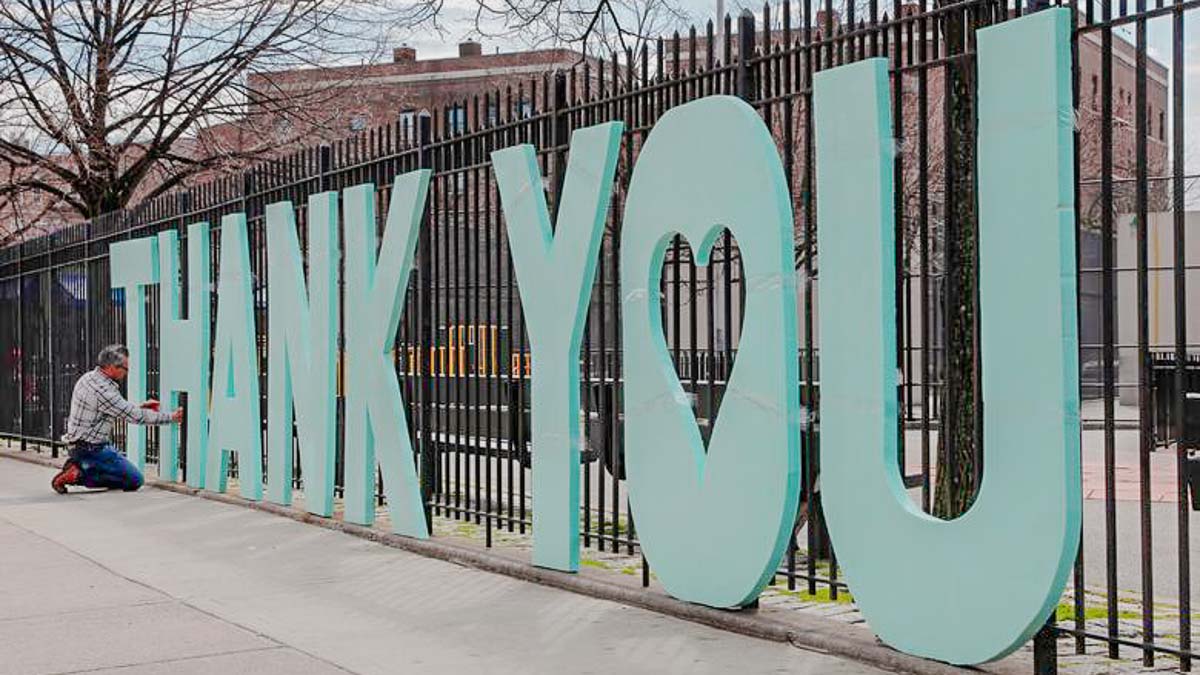 Photo credit: UK.Reuters.com
Nothing says "thank you" better than, well… a literal "THANK YOU". To encourage healthcare workers, artist Scott LoBaido built a huge THANK YOU sign outside the Elmhurst Hospital in New York City. It reportedly moved the staff, who've walked out with big smiles or tears in their eyes. Aww.
7) Singaporeans drew letters and artwork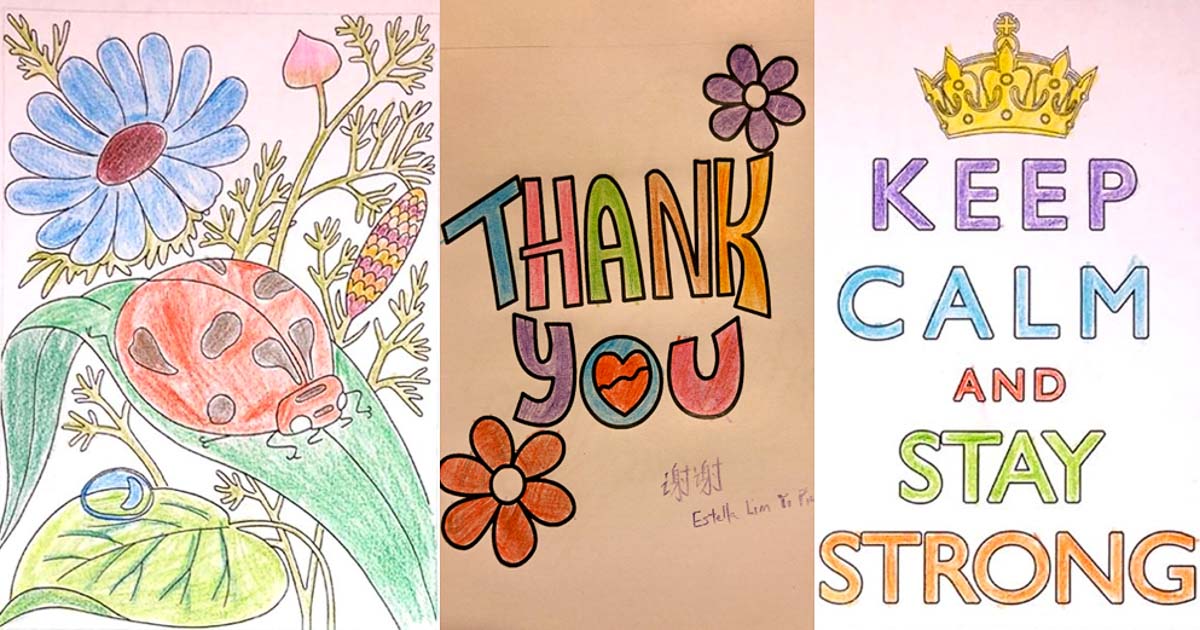 Photo credit: Mothership.sg
Showing support comes in many different ways. For Singapore, it pops up in the form of cheers, "Home" sing-a-longs, and heartfelt messages and art.
After the COVID-19 outbreak started, initiatives such as #SGartforHCW and cheerforthem.sg have encouraged people to show their appreciation through art. Many Singaporeans have since submitted messages and drawings thanking frontline workers. While most can be viewed online, cheerforthem.sg hopes to attach these pieces to balloons and send them to hospitals, clinics and supermarkets. #GoingAboveandBeyond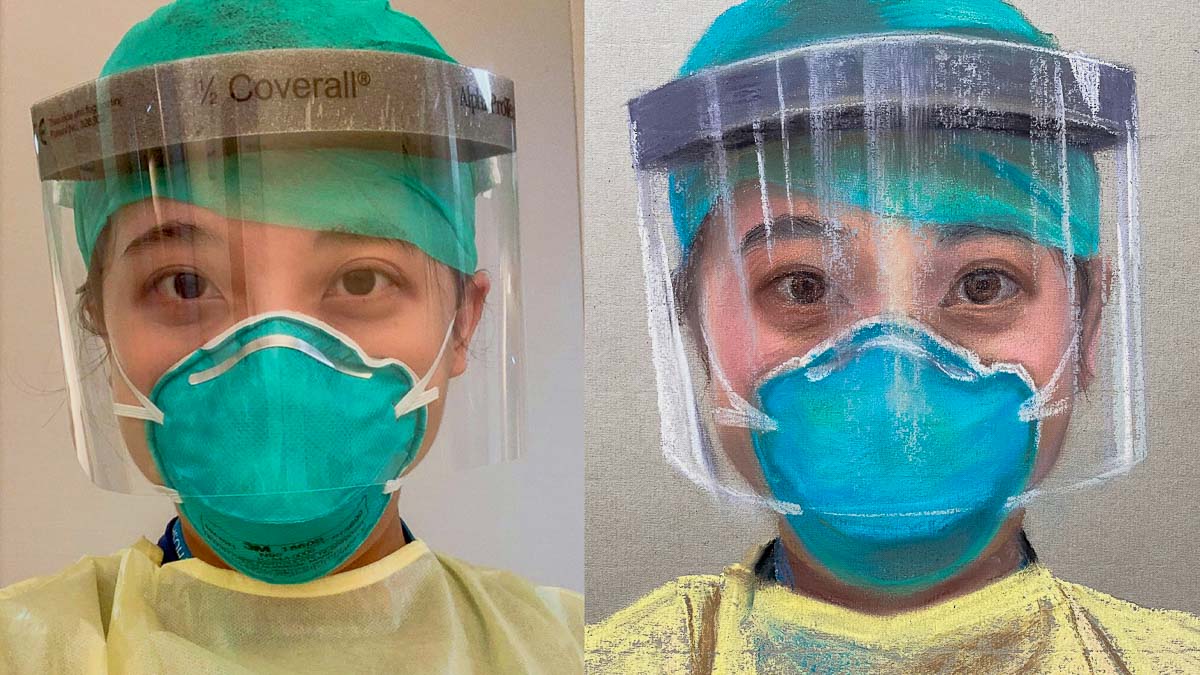 Photo credit: Tang Yaling/Art Remnant via Facebook
Some even took a step further with their drawings. Inspired by a friend's mother who's a nurse, Tang Yaling drew realistic portraits of healthcare workers to show her support. You can watch her live drawings here.
8) Musicians put on a kickass concert (at home, of course)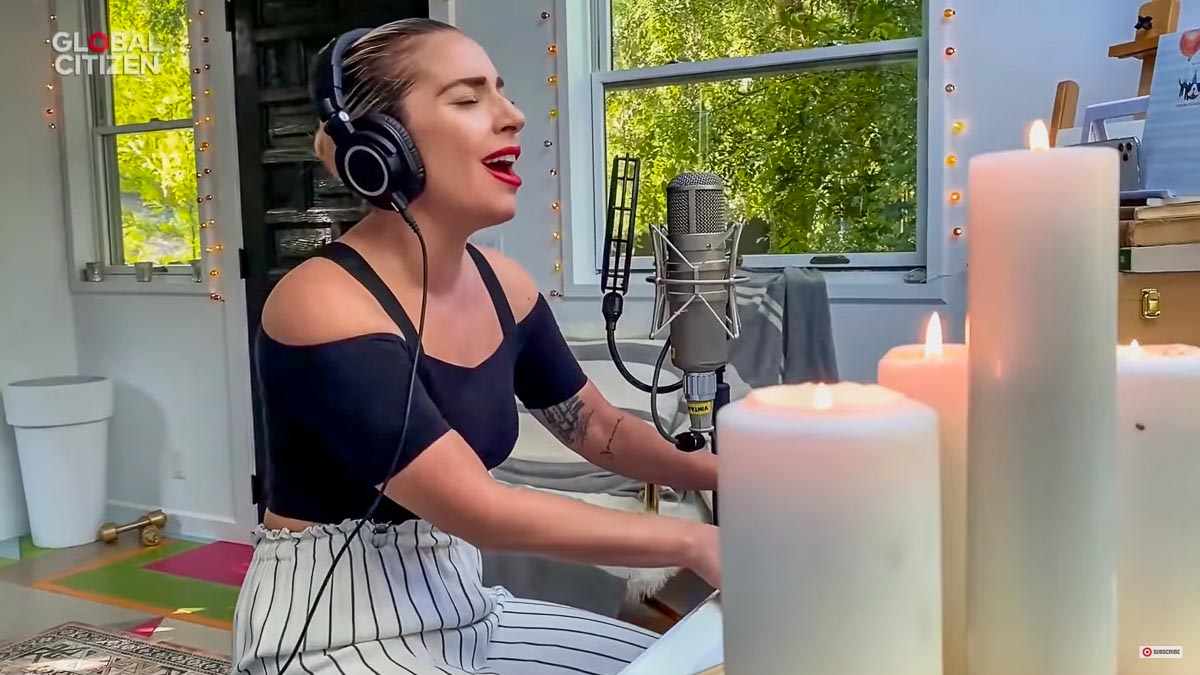 Lady Gaga performed "Smile" during the concert. Photo credit: Global Citizen via YouTube
Because of COVID-19, physical concerts are a thing of the past (for now, at least). But thanks to WHO and Global Citizen, we can party via virtual concerts!
The One World: Together at Home initiative was created to celebrate frontline workers around the world. Homebound musicians like Lady Gaga, Elton John and The Rolling Stones performed songs, as well as reassured fans that they're not alone in this strange time. Even prominent figures like Michelle Obama and Oprah Winfrey made appearances to give thanks.
You can watch the full event here.
9) McDonald's distributed free meals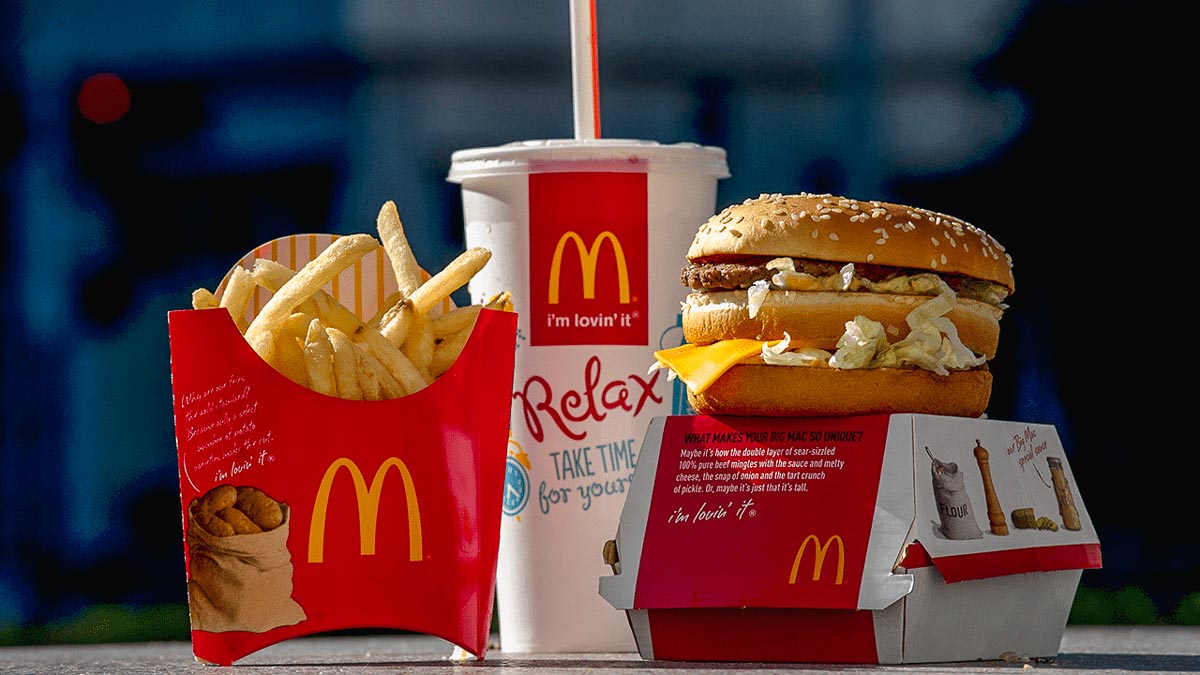 Photo credit: Bloomberg.com
They may have temporarily closed down on our shores, but we're lovin' how McDonald's did good work in the US. For two weeks, the fast-food giant provided 10 million free "Thank You Meals" to first responders as tokens of appreciation.
In case you're wondering, these exclusive Happy Meals also came with a very special something — no, not toys, but dedicated thank you notes! 💌
10) An Australian Telco waived COVID-19 healthcare workers' phone bills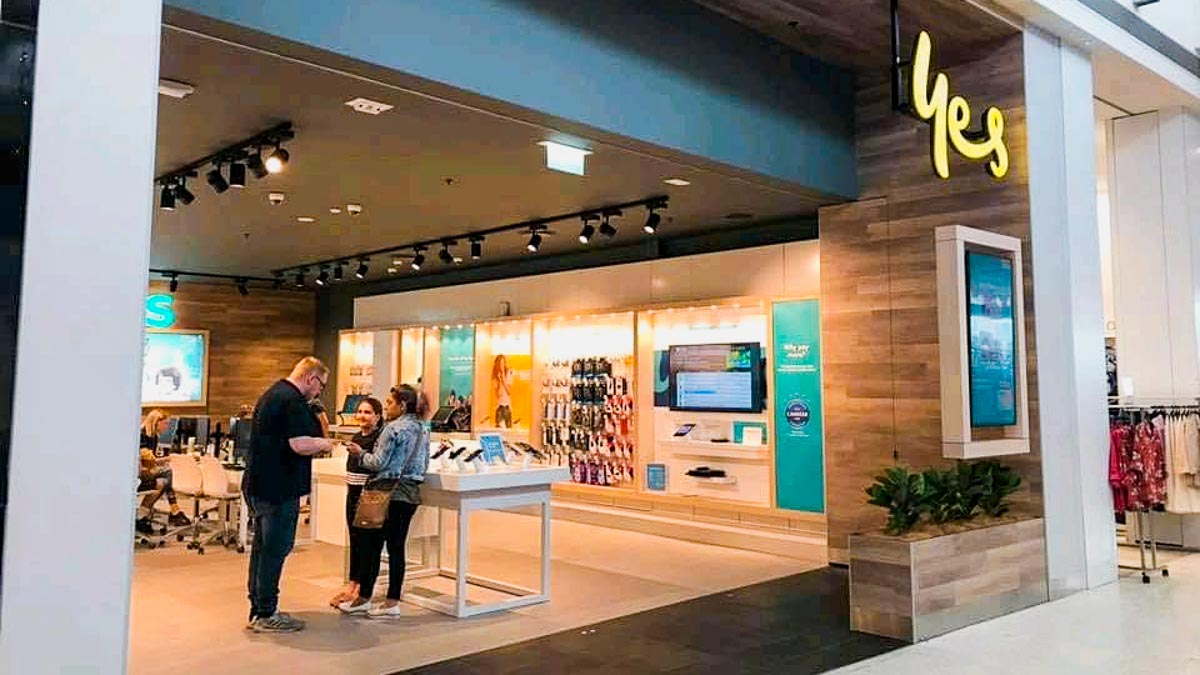 Photo credit: @mooneeponds3039 via Instagram
When it comes to companies, it's not just free meals and massive dedications. In April, Australian Telco Optus thanked "heroic health workers" by waiving their mobile phone bills. And it's not just for a month, BTW, but three!
11) This family farm donated over 100,000 flowers to hospitals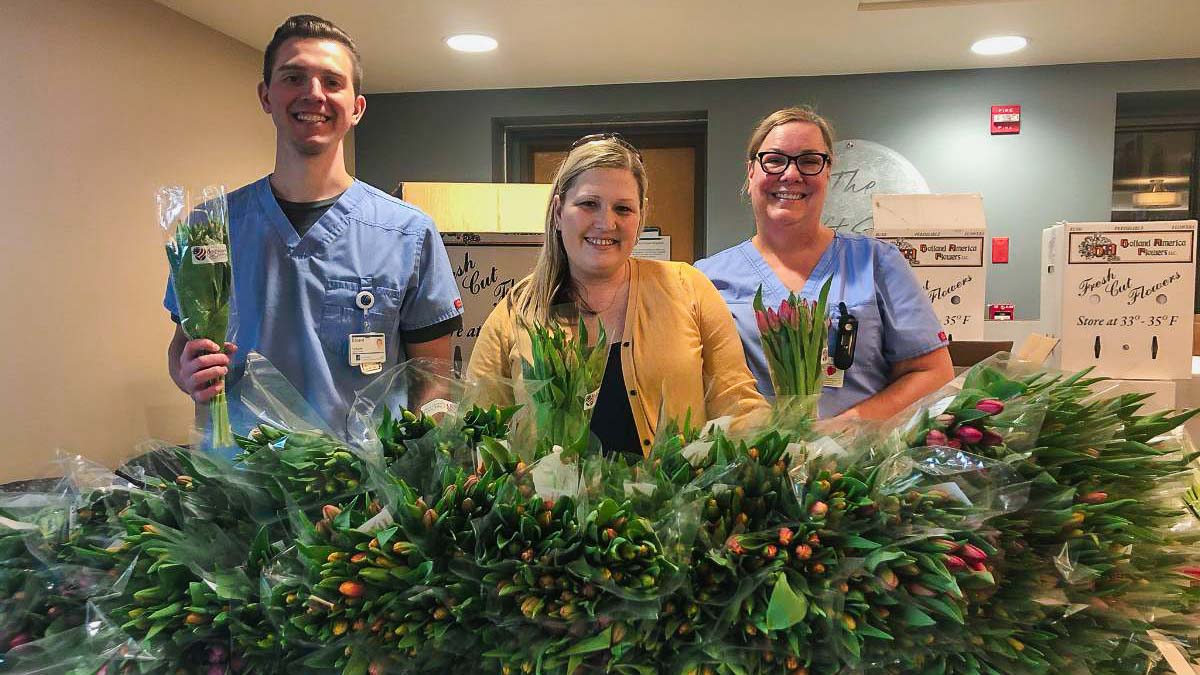 Photo credit: PeaceHealth Southwest Medical Center via Facebook
Some people say "thank you", while others say it with flowers. This family-owned bulb farm, though, said it with over 100,000 tulips! 🌷
Instead of letting the flowers go to waste after a cancelled event, owner Benno Dobbe decided to brighten up the lives of hardworking health workers. To him, the flowers will keep people in a good mood, especially in stressful environments. In all, over 7,000 bouquets were donated to hospitals and care facilities in California and Washington.
12) Olympic athletes created touching videos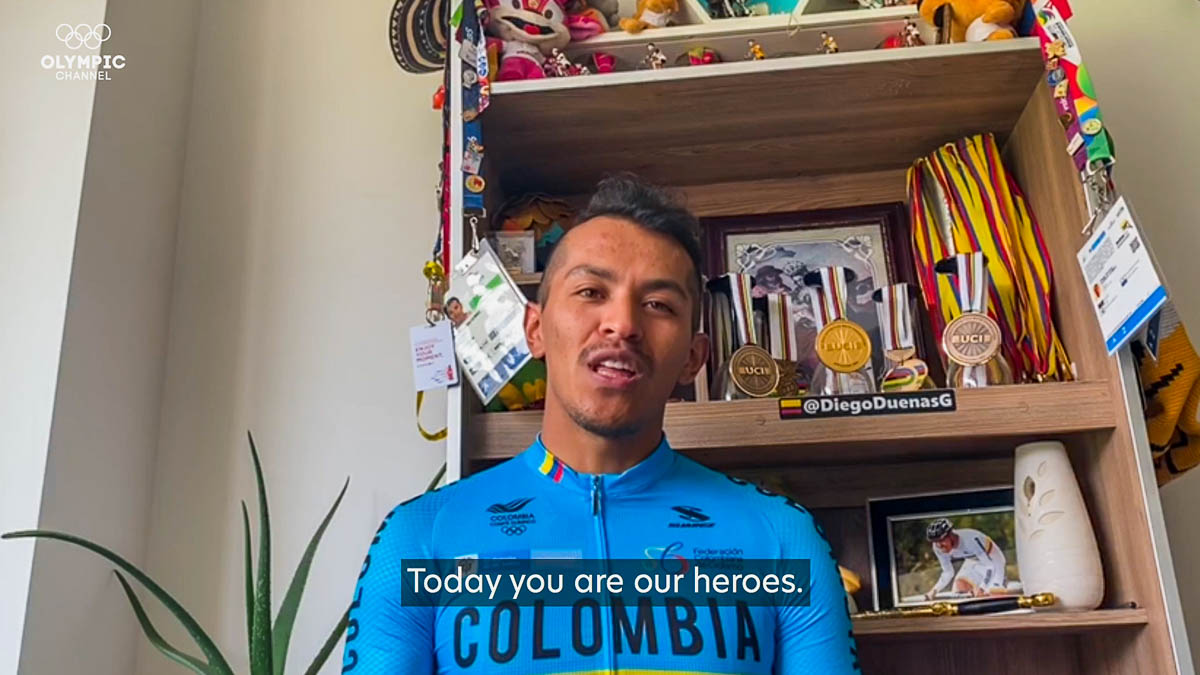 Paralympic cyclist Diego Duenas gives his thanks. Photo credit: Tokyo2020.org
Due to the COVID-19 pandemic, the Tokyo 2020 Olympics has been postponed to 2021. While it's unfortunate for the athletes who've been training hard, they didn't let this setback wear them down.
Instead, athletes and Para-athletes banded together to create "thank you" videos to frontline workers. It's a touching gesture that just goes to show: We're all united in this crisis.
13) Hollywood's onscreen 'healthcare workers' sent a heartfelt message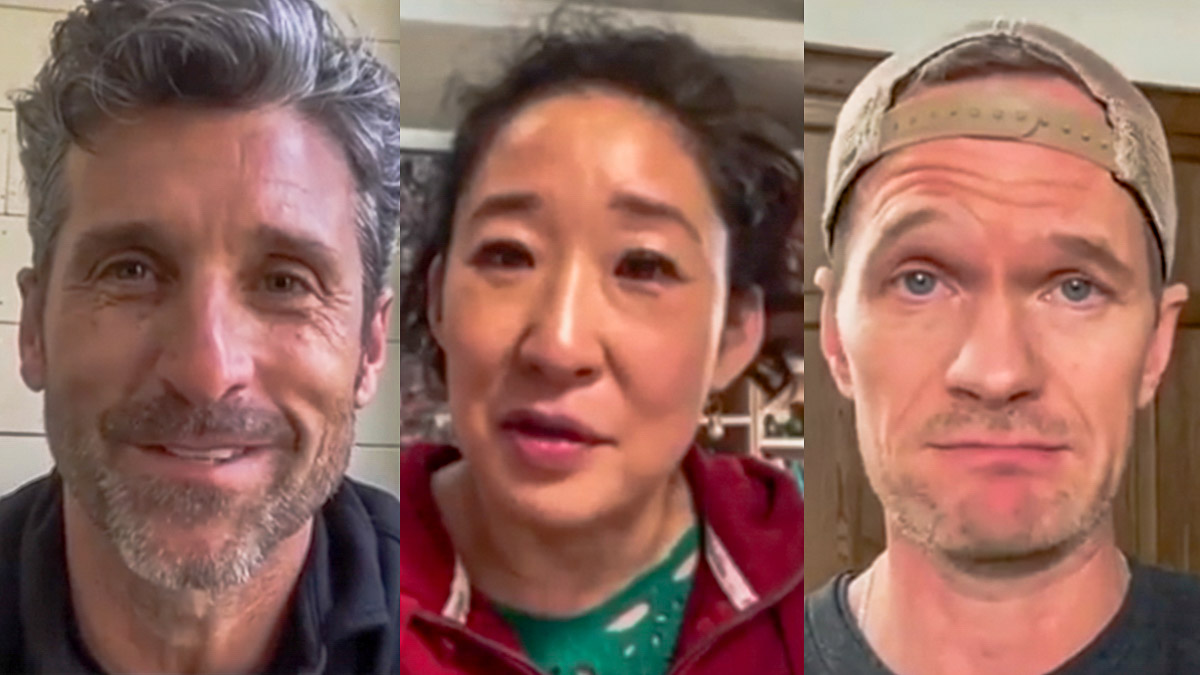 "If you want to recruit the 'fake' doctors, we're ready. We can help hand you… stuff." Photo credit: @oliviawilde via Instagram
Throughout the COVID-19 outbreak, "thank yous" are pouring in from everywhere — including the 'fake' healthcare workers themselves! Actors and actresses from renowned medical drama took to Instagram to thank the real-life "healthcare superheroes".
The compilation video featured many lighthearted messages from celebrities like Olivia Wilde, Sandra Oh, and Neil Patrick Harris. If you're a big fan and would like to support them, consider donating to #FirstRespondersFirst.
14) The Queen thanked essential workers in a public address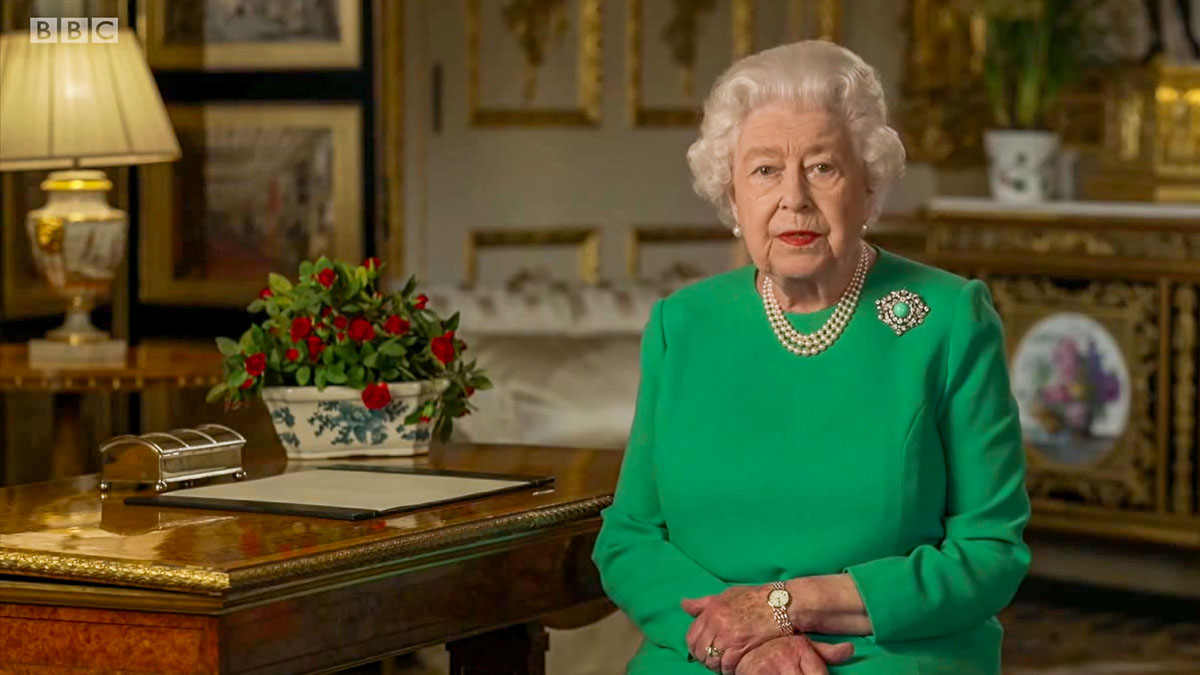 Photo credit: BBC via YouTube
Amidst shutdowns and growing anxieties, the Queen decided to give a rare address to the UK before Easter. She gave thanks NHS (National Health Service) and essential workers, before spurring the nation to "remain united and resolute" to overcome the virus.
If you're wondering why this is a big deal, here's why: This is only the fifth time the Queen has delivered such a speech, since reigning in 1952. (Here're the other four times.) TL;DR: COVID-19 is the worst, and you can bet your ass that the Queen will be there for her people.
15) Disneylands around the world made Magic Moments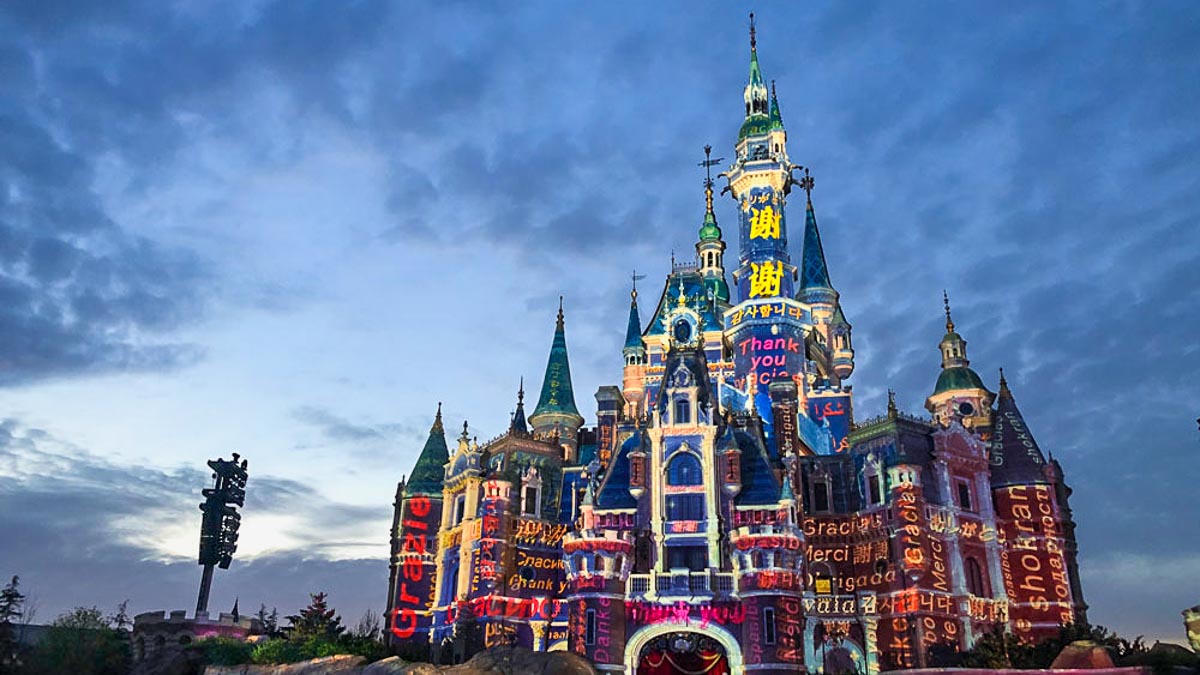 Photo credit: Disneyparks.disney.go.com
Disneyland parks may be closed, but that hasn't stopped #DisneyMagicMoments from happening! Through different ways, staff and cast members gave thanks to healthcare workers worldwide.
For example, at Shanghai Disney Resort, the Enchanted Storybook Castle was lit up with "thank you" in multiple languages. Over in Paris, "merci" was spelt out in flowers in front of Sleeping Beauty Castle.
16) Award-winning singers made dedicated songs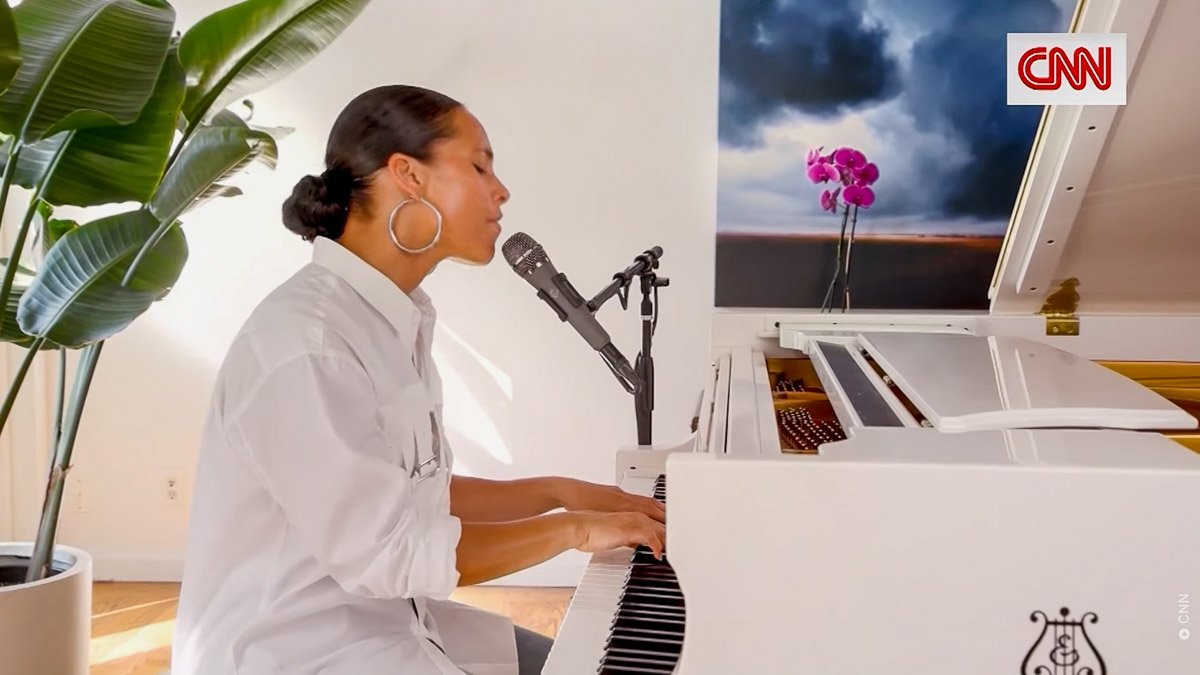 Photo credit: Edition.cnn.com
Sound on for this one! While other celebrities threw a raving concert, a couple of singers took a more intimate route to honour COVID-19 essential workers.
Country singer Shania Twain sang a short but sweet tune thanking healthcare workers for their selflessness. Meanwhile, Alicia Keys dropped a new, powerful song titled "Good Job". Her calming voice, coupled with images and videos of frontline workers, is enough to move the hardest of hearts — prepare the tissues!
17) A police squad formed a heart with their cars outside a hospital
Photo credit: Fort Myers Police Department via Facebook
Just when you think the world has covered every possible way to say "thank you", the Florida Police proves us wrong. Because why the hell not?
Using 14 police cruisers, the squad formed a heart shape in the Lee Memorial Hospital parking lot. They also made sure to finish their masterpiece right before a shift change, so that many medical workers could see it.
18) Banksy created new artwork to pay tribute to NHS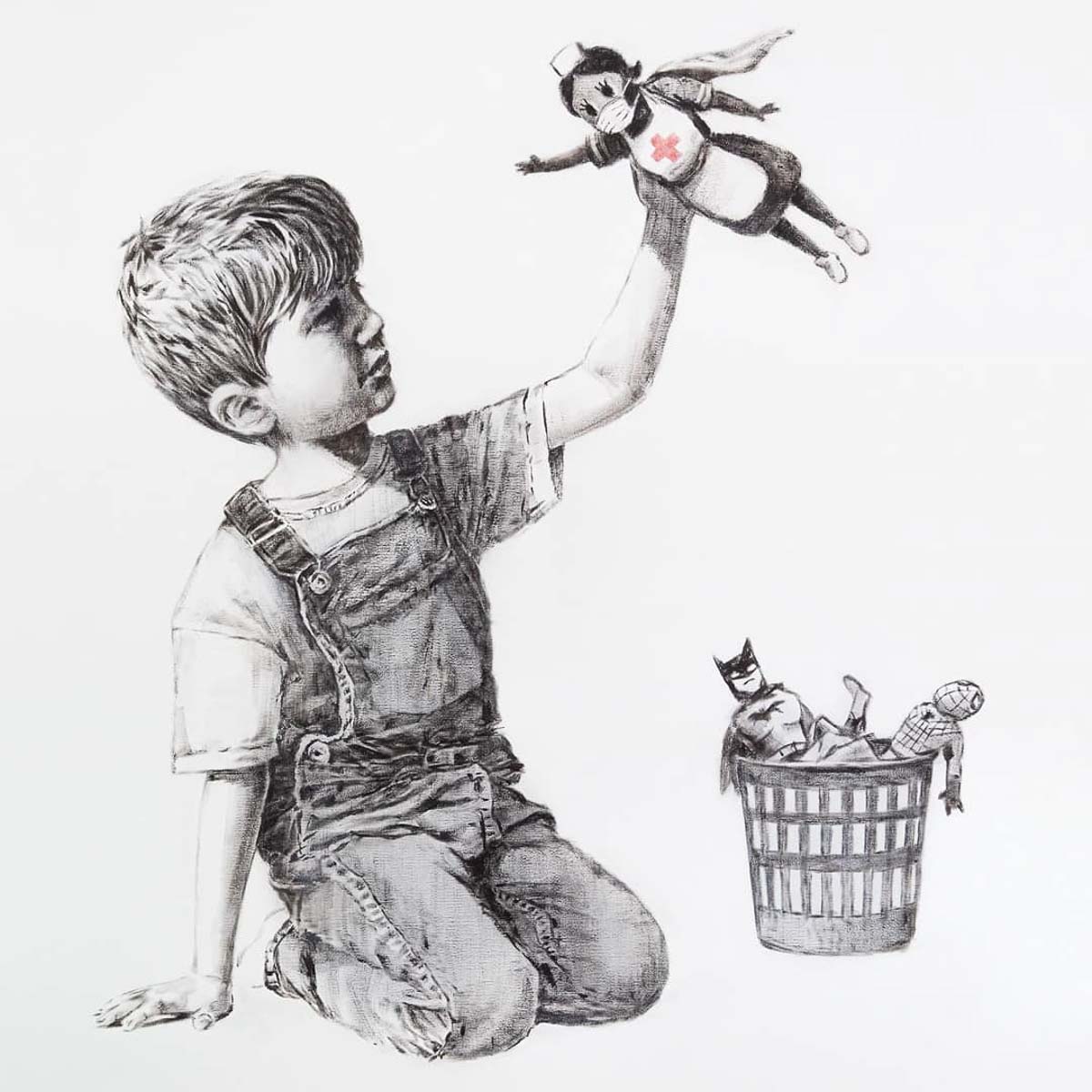 Game Changer. Photo credit: @Banksy via Instagram
If things weren't heartwarming enough, even Banksy had to give his thanks. The reclusive artist recently unveiled a new artwork to honour the frontline medical staff working in the NHS.
The monochrome painting shows a boy playing with a nurse figurine (complete with a cape!), while his Batman and Superman action figures are thrashed in a bin. I guess we all have a new superhero now.
19) A Maldives private island resort gave thanks in coral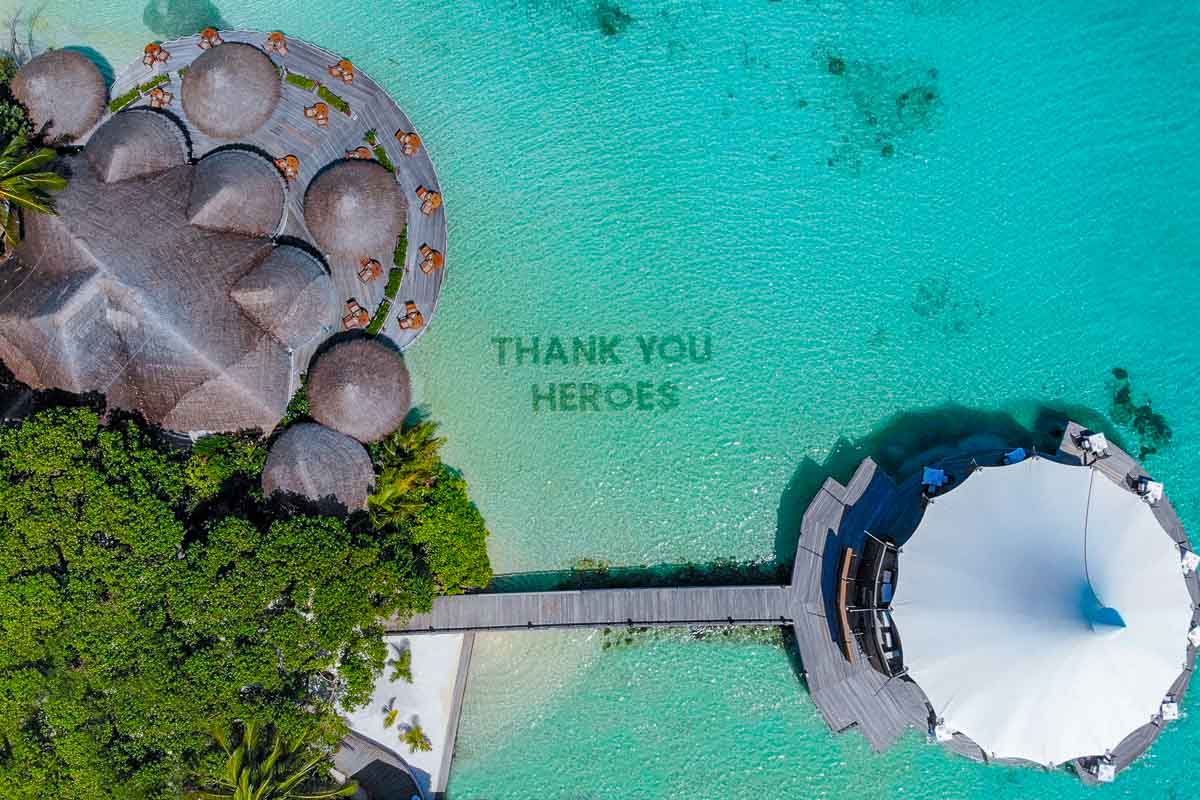 Photo credit: Baros Maldives
Now here's an ingenious (and permanent way) to say thanks! Baros Maldives, a private island resort, managed to grow a giant "thank you" sign using coral. They did this by harvesting pieces of living coral that have broken off from surrounding reefs.
If that's not sweet enough, the resort also offers extra perks to healthcare workers who stay with them. These include free Champagne, massages, and meals on the beach.
How can we help or give thanks to COVID-19 healthcare and frontline workers?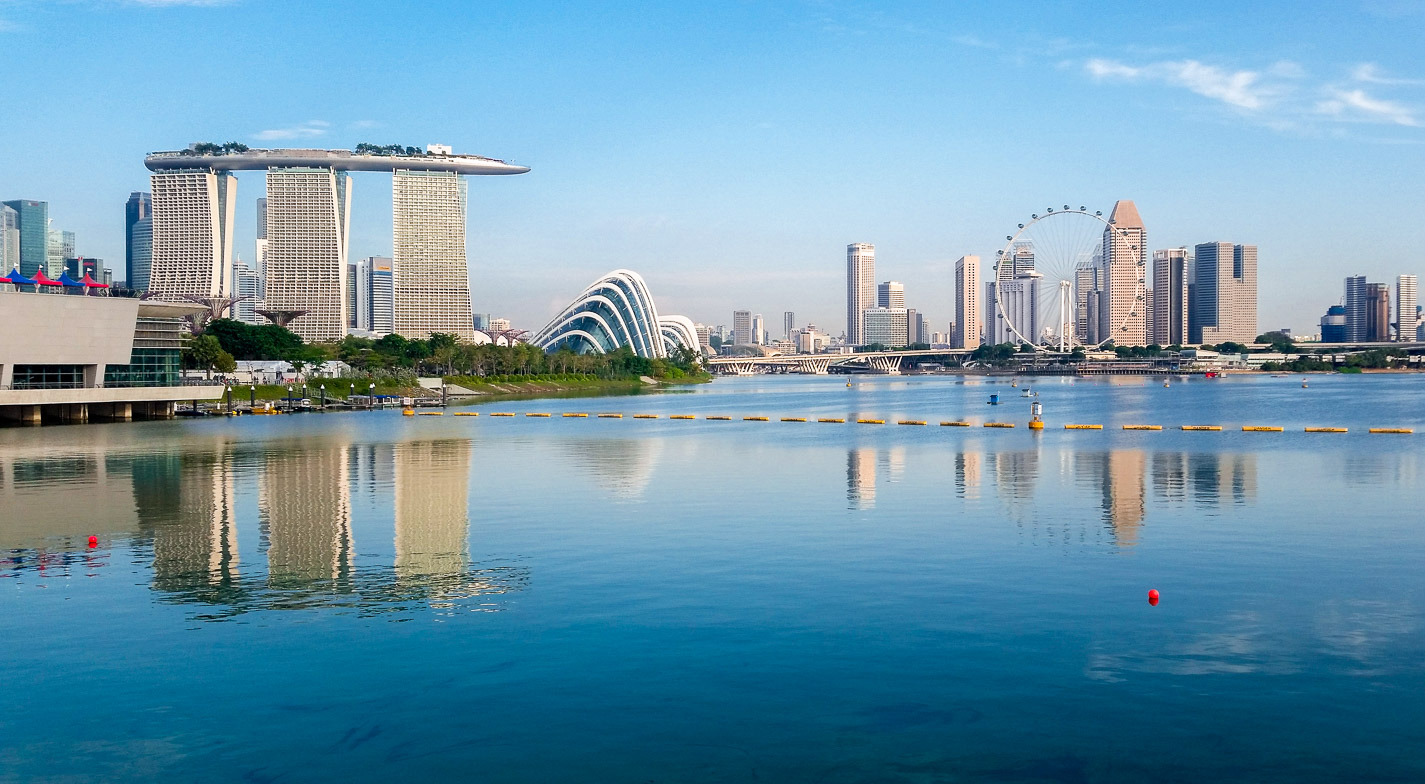 All over the world, we've seen how people have honoured those working tirelessly to fight the pandemic. If you're inspired to do something, we've listed five simple ways you can give thanks to our essential workers. (Huge monuments and police cars not included — but hey, if you've got them, use them! :p)
1) Sponsor a meal
If food is your love language, show your support by belanja-ing (Malay for 'to give a treat') healthcare workers with a meal! Sign up under WhyQ or OurTreat to do so. The latter also works with Singaporean restaurants, so you'd be supporting two local heroes ✌
For other initiatives that sponsor meals, check out Belanja Eat.
2) Donate
For those who can afford to give, you can donate funds or items to vulnerable groups during this challenging period. There're many people that can benefit from your generosity, including migrant workers and underprivileged families.
Even giving an extra tip to food delivery drivers can go a long way too 💪
3) Make art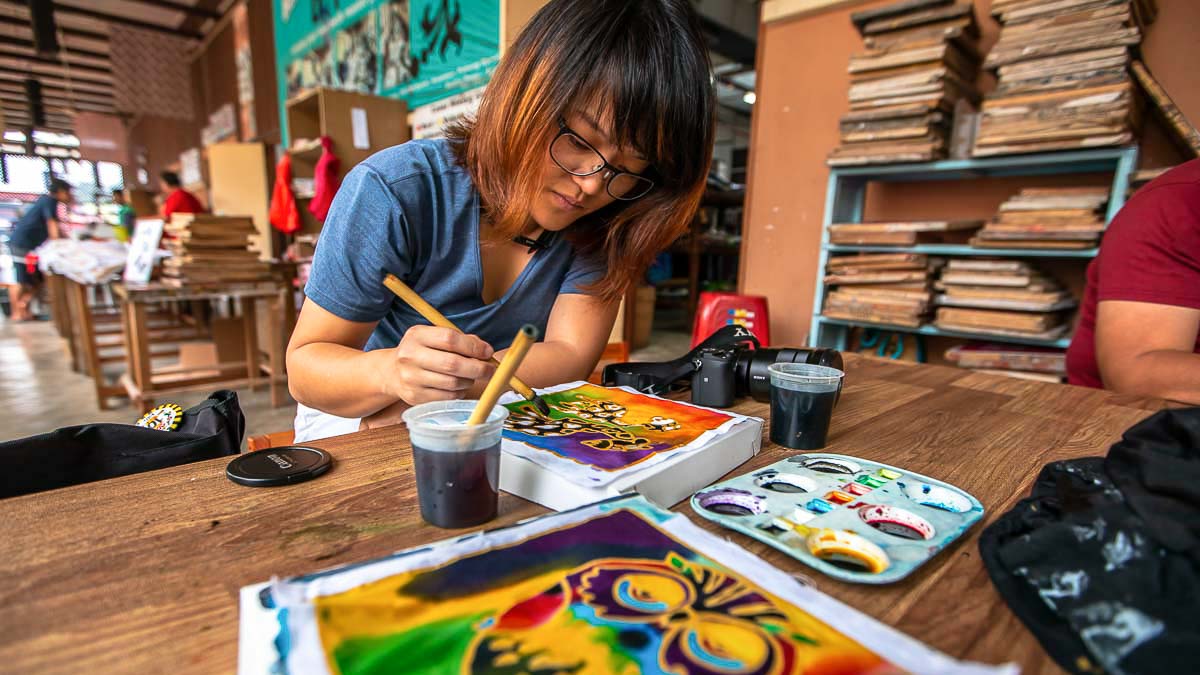 If money is tight, why not do a simple drawing to thank frontline workers? Art therapy is a great way to cure circuit breaker blues and show your appreciation! Contribute your artworks to #SGartforHCW or cheerforthem.sg, which will relay them to the hospitals and other essential services.
4) Volunteer
Whether it's donating blood or making phone calls to the elderly, there're many charities that could use an extra hand.
5) Stay Home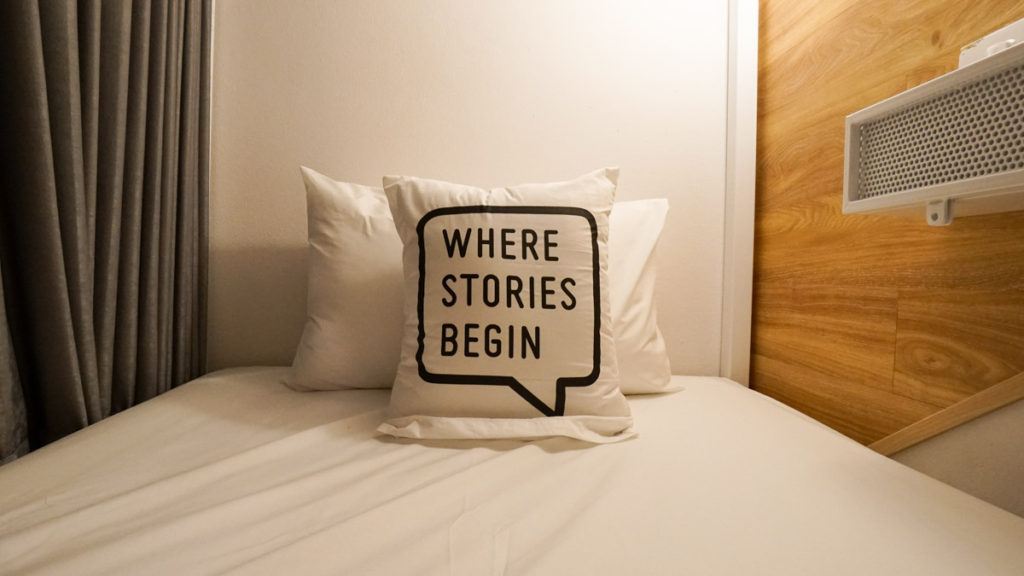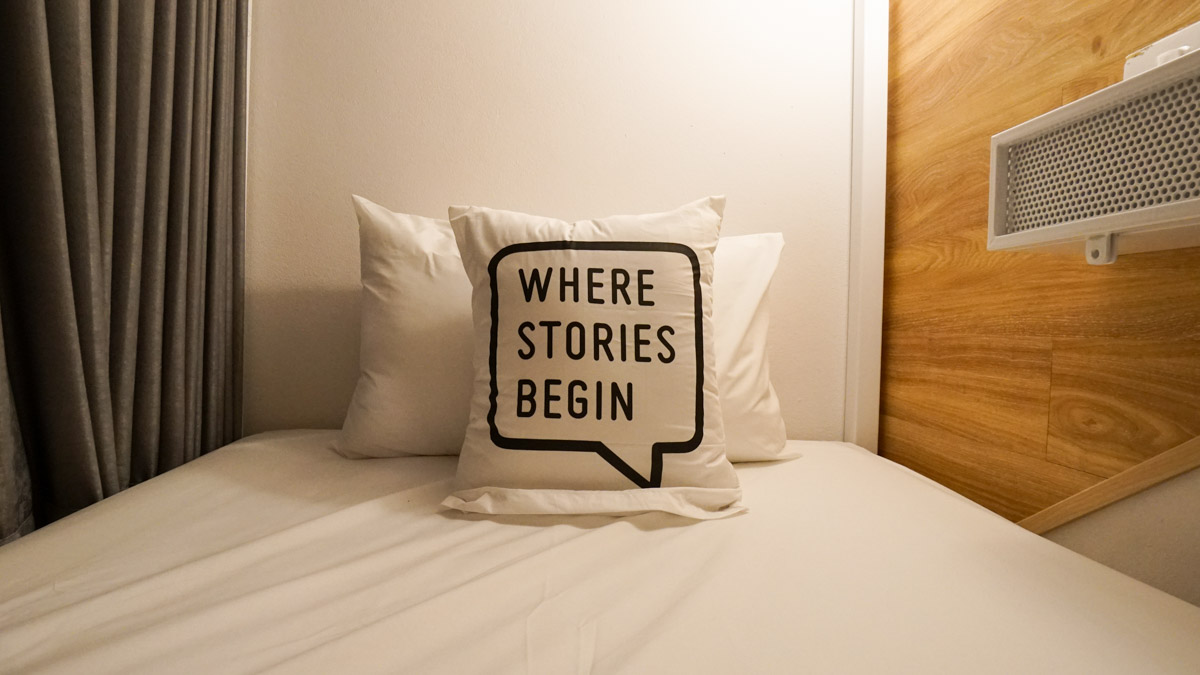 You've probably heard this a million times but this is truly the easiest and most effective way to prevent a wider spread of the virus. If these healthcare workers are staying at work for us, the least we could do is #stayhome for them. When you have to step out, remember to wear a mask!
If boredom has got you feeling restless and frustrated, why not (a) learn a new language, (b) indulge in a good book, (c) travel virtually, or (d) hang out with us online!
What other interesting ways have you seen the world thank COVID-19 healthcare and frontline workers? Share the love in the comments below!
---
Like what you see? Follow us on Facebook, Instagram, YouTube and Telegram for more travel updates!