Some say horoscopes affect personality type, creative expression, and even preferences when it comes to holidays. Let's see if we can nail your ideal holiday type.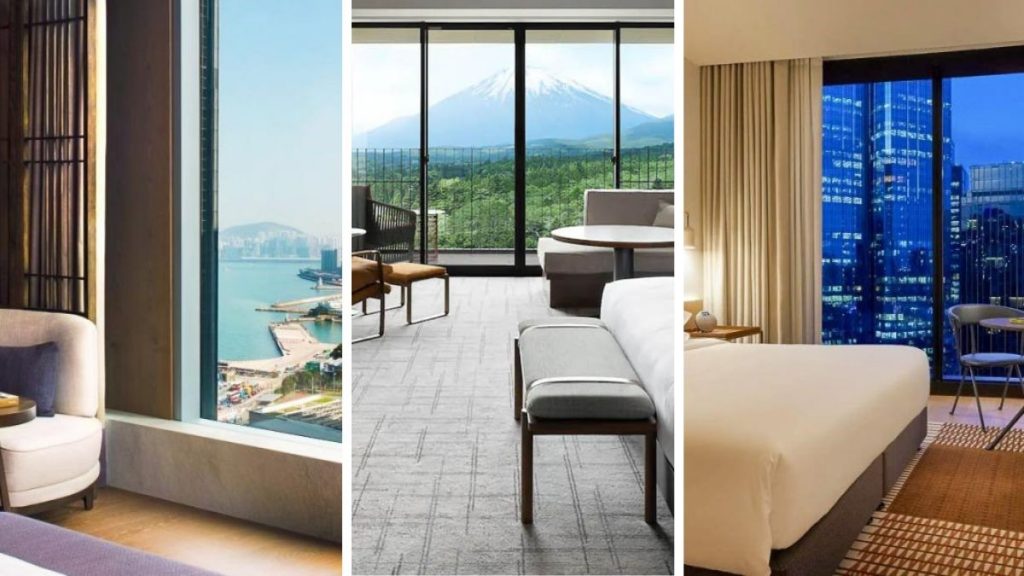 Sceptic or not when it comes to horoscopes, a luxurious getaway is always welcome. Based on what we know of each horoscope's personality, let's see if we can nail your ideal getaway, along with carefully selected hotel pairings that will elevate your vacation experience!
*Pro-tip: For American Express® Card Members, make the most of the Go With Amex promotion happening from now till 30 September 2023. Get up to S$495 statement credits when you book a room at participating hotels!
Jump to Your Horoscope: Aries | Taurus | Gemini | Cancer | Leo | Virgo | Libra | Scorpio | Sagittarius | Capricorn | Aquarius | Pisces
Aries — A Thrill-seeker's Trip to Queenstown, NZ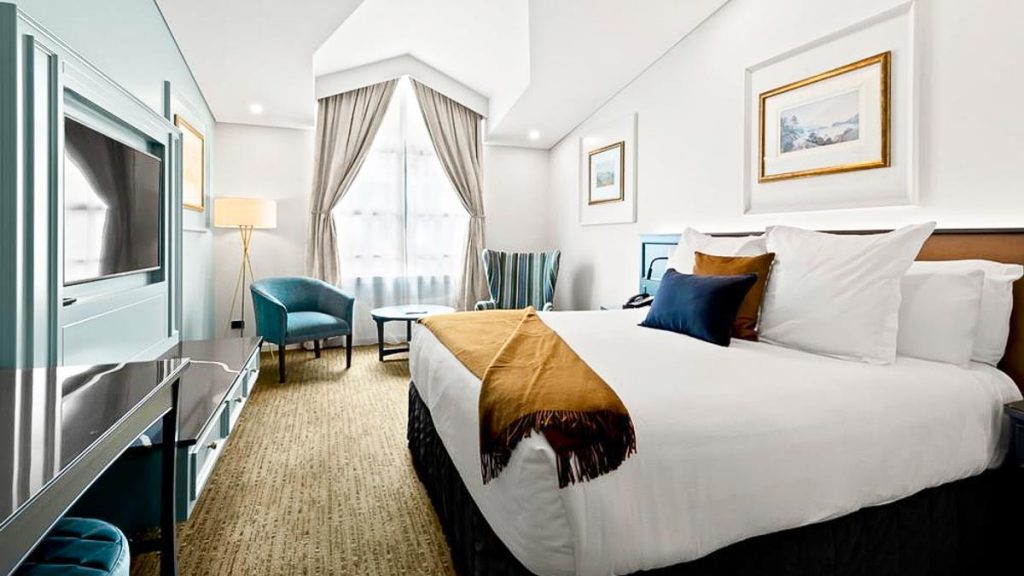 Deluxe Room at Millennium Hotel Queenstown. Photo credit: Millennium Hotels
For the fiery Aries, a getaway in Queenstown, New Zealand is an adventure-filled dream come true. Known as the "Adventure Capital of the World," Queenstown offers a plethora of thrilling activities that perfectly align with Aries' adventurous spirit. From riding a skyline gondola up to Bob's Peak, to tandem skydiving over Lake Wakatipu, this picturesque destination ignites the fire within every Aries.
When it comes to accommodation, Millennium Hotel Queenstown offers the ideal blend of comfort and sophistication.
With its panoramic mountain views, convenient location and luxurious amenities, the Aries traveller can indulge in a well-deserved retreat after a day filled with thrilling escapades. Whether it's savouring gourmet cuisine at the hotel's Observatory Restaurant or relaxing in the serene spa. The Millennium Hotel Queenstown provides the perfect base for an Aries to recharge and conquer the next adventure that awaits in this dynamic corner of New Zealand.
Cost: From ~S$333/night
Address: Millennium Hotel Queenstown, 32 Frankton Road, Queenstown 9300, New Zealand
Taurus — An Indulgent Getaway in Singapore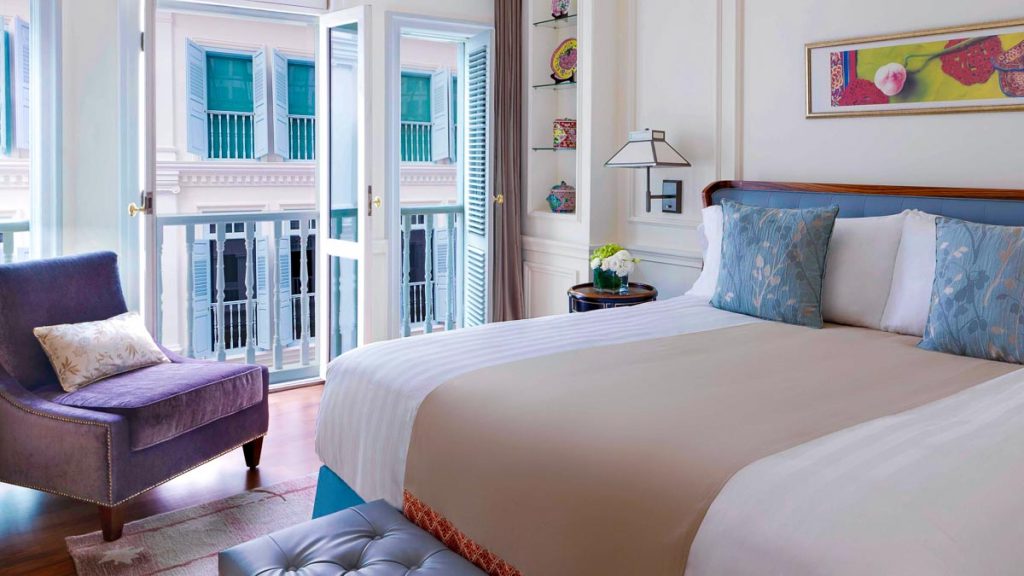 King Heritage Wing Room. Photo credit: InterContinental Singapore
The grounded Taurus often finds contentment in the finer things in life, particularly good culinary experiences. From indulging in world-class cuisine at hawker centres to exploring vibrant neighbourhoods like Chinatown and Little India, there's no better place to explore gastronomic and cultural delights than Singapore.
As a Taurus appreciates comfort and elegance, the InterContinental Singapore provides a luxurious retreat amidst the bustling cityscape. Known for its sophisticated design, hospitality, and top-notch amenities, this hotel caters to a Taurus' desire for indulgence and relaxation.
Whether it's unwinding in The Club InterContinental, savouring delectable cocktails, or simply enjoying the panoramic views from the rooftop pool, Intercontinental Singapore ensures a memorable staycation experience for the Taurus, offering a perfect blend of familiarity and luxury within their own vibrant city.
Cost: From ~S$517/night
Address: InterContinental Singapore, 80 Middle Rd, InterContinental Singapore, Singapore 188966
Gemini — Best of Adventure & Comfort in Auckland, NZ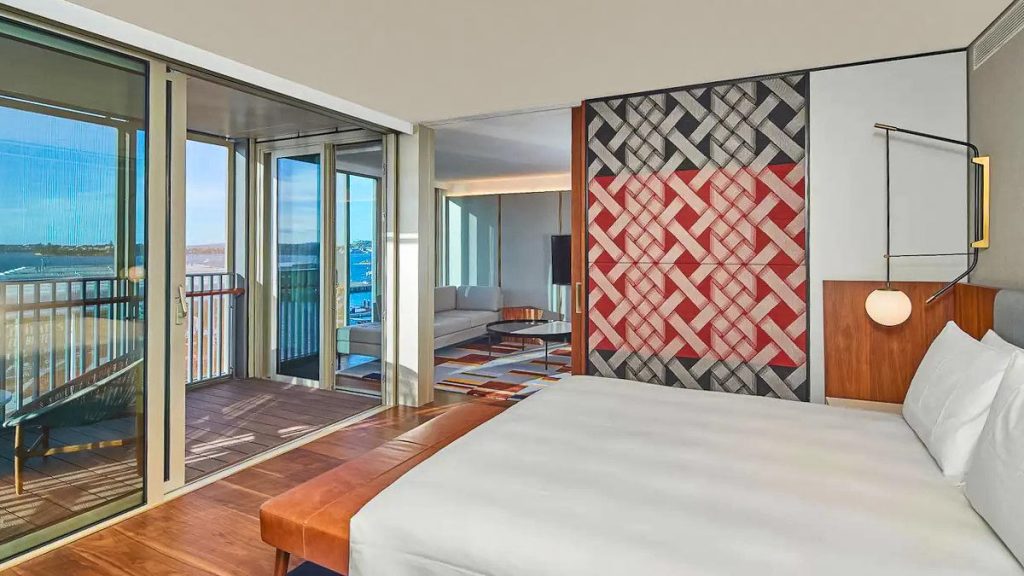 Park Suite Bedroom at Park Hyatt Auckland. Photo credit: World of Hyatt
For the curious and versatile Gemini, a getaway in Auckland, New Zealand offers an abundance of experiences to satiate their multifaceted nature. With its vibrant cultural scene, diverse neighbourhoods, and natural beauty.
Up for some local arts and culture? Check out the Auckland Museum and rooftop breweries. Or change up the pace and experience dining on board a harbour cruise, where you can savour a glass of wine while surrounded by the stunning waterfront vistas.
The Park Hyatt Auckland, nestled in the heart of the city's waterfront, provides Geminis with a sophisticated sanctuary where they can unwind and recharge. With its breathtaking harbour views, the hotel offers a haven for Geminis seeking a good mix of relaxation and excitement. Relax by the infinity pool, or explore the nearby attractions mentioned above. Geminis will find themselves at the epicentre of Auckland's vibrant energy, satisfying their insatiable thirst for exploration and connection.
Cost: From ~S$450/night
Address: Park Hyatt Auckland, 99 Halsey Street, Auckland, New Zealand, 1010
Read also: Planning a New Zealand Road Trip — 30 Most Frequently Asked Questions
Cancer — Relaxing Retreat in NZ's Bay of Islands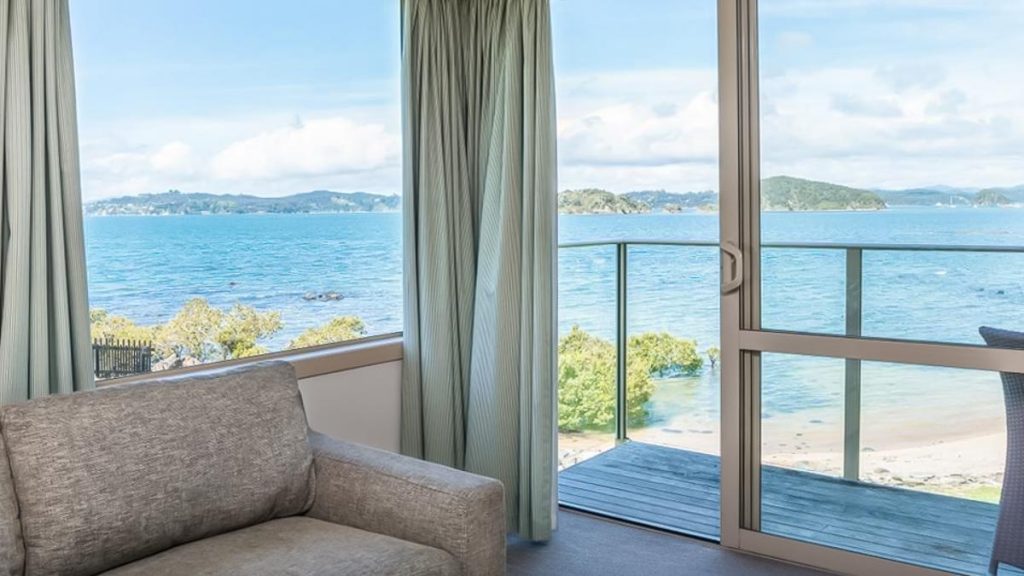 Junior Suite at Copthorne Hotel and Resort Bay of Islands. Photo credit: Millennium Hotels
What better way for a water sign to recharge than to soak in the coastal serenity while exploring all that nature has to offer at New Zealand's Bay of Islands. Solitude doesn't mean there's a lack of things to do for the nurturing and sentimental Cancer. Go snorkelling and diving to explore a shipwreck, paddle board along the coast, or take a cruise to the famous Hole in the Rock. Back on land, visit the Kawiti Caves and its mesmerising glow worms, or see New Zealand's mighty Kauri trees in the Waipoua Forest.
A true Cancer also enjoys immersing in history and culture. So visit two of New Zealand's oldest buildings — The Stone Store and Kemp House — just a 30-minute drive from here. Get to know true New Zealand culture through food. Have dinner at the Copthorne Hotel and Resort Bay of Islands' in-house restaurant — Jimmy Cook's Kiwi Kitchen — where they serve delectable local cuisine.
And since you're already looking this place up, book yourself a Junior Suite there. The resort has pretty epic views of the Pacific Ocean!
Cost: From ~S$257/night
Address: Copthorne Hotel & Resort Bay of Island, 1 Tau Henare Drive, Paihia 0200, New Zealand
Leo — City Lights and Amazing Sights in Hong Kong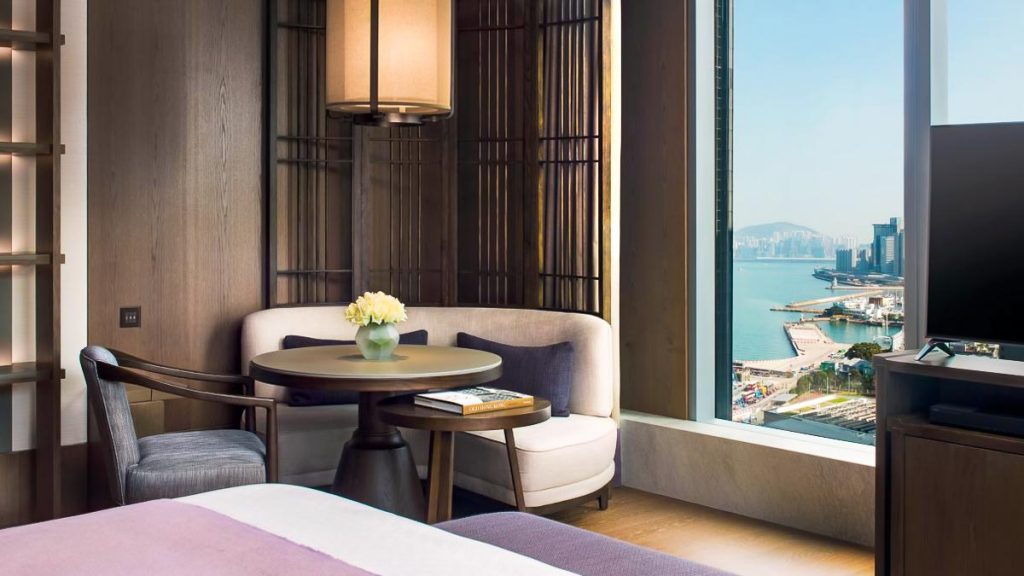 Photo credit: Marriott Hotels
Leos thrive in the limelight, and the vibrant metropolis of Hong Kong is the perfect destination to have your senses dazzled.
From luxury shopping and exquisite dining to captivating nightlife and awe-inspiring city views, Hong Kong offers a myriad of experiences that resonate with your desire for grandeur and excitement.
Whether it's architecture, street art, or the picturesque outdoors, Hong Kong has an Instagrammable corner not far away.
If you're a Leo that's into cafe and bar hopping, seek out % Arabica or Elephant Grounds — they're known for their unique aesthetics and specialty coffees. Or enjoy panoramic city views and a sophisticated atmosphere from Sevva rooftop bar.
To elevate your stay, what better place to call home here than at St. Regis, Hong Kong. As soon as you step foot into this indulgent abode, you'll be greeted by the impeccable service and attention to detail that defines the St. Regis brand. Not to mention the rooms that give a modern twist to traditional Chinese architecture.
No stay at the St. Regis would be complete without indulging your taste buds in the hotel's Michelin-starred restaurants. Dine at L'Envol — the hotel's on-site French restaurant that's decked in white and gold marble. Leos, can I get an oui oui?
Cost: From ~S$800/night
Address: St. Regis Hong Kong, One Harbour Drive, Wan Chai, Hong Kong, China
Virgo — An Arts & Culture Escapade in Singapore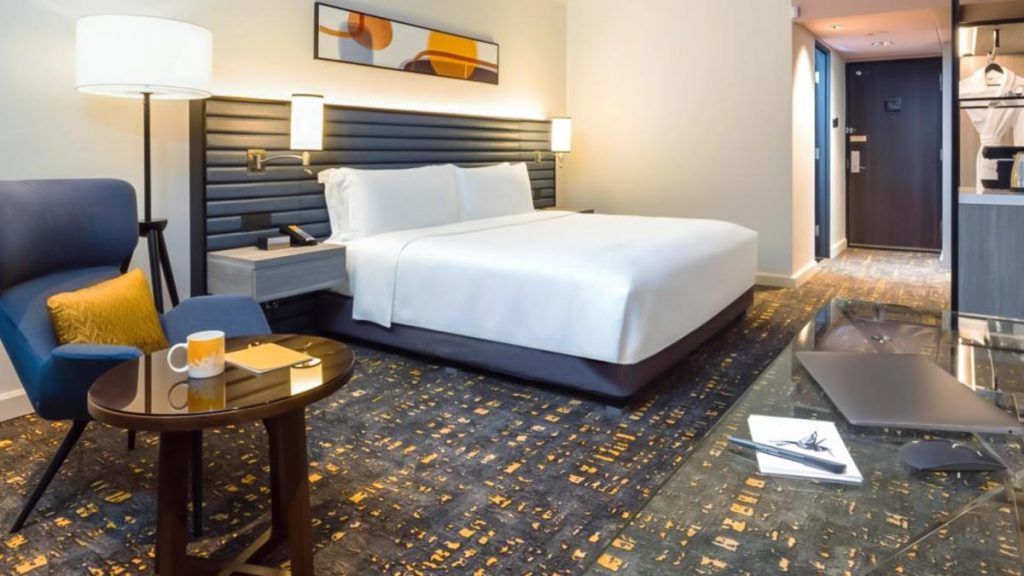 Deluxe Room with Club Access. Photo credit: voco Orchard Singapore
For the meticulous and practical Virgos, let's be frank, it's hard to hit the mark with you and you're usually busy working even while on a trip. But when you do have downtime, you like to immerse yourself in cultural and arts exploration. So the next time you're in Singapore for a work trip, turn it into a mini getaway. Visit the National Gallery Singapore, experience traditional performances at the Esplanade, and catch an immersive exhibition at the ArtScience Museum.
When it comes to accommodation, the voco Orchard Singapore hotel embodies the qualities that Virgos hold dear. With its elegant design, attention to detail, and exceptional service, this hotel caters to your need for practicality and efficiency.
After a day of exploring, unwind in the comfort of well-appointed rooms and thoughtfully curated amenities. Enjoy some much needed me-time at the serene Club Lounge, or treat yourself to al fresco rooftop dining at il Cielo.
Cost: From ~S$470/night
Address: voco Orchard, 581 Orchard Rd, Singapore 238883
Read also: Ultimate Singapore Travel Guide — Insider Tips & Everything You Need To Know (Lah!)
Libra — Epic Views of Mount Fuji in Japan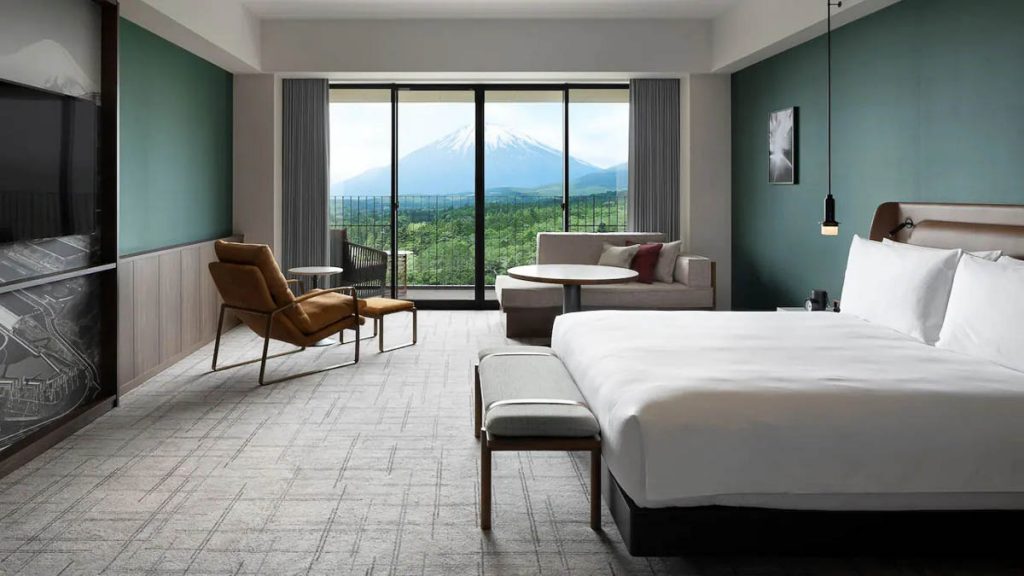 Deluxe Room at Fuji Speedway Hotel. Photo credit: World of Hyatt
Libras, there's nothing quite like the perfect combination of "nature," "spa," and "getaway" to instantly uplift your mood. And when it comes to luxury getaways, Japan should be at the top of your list. Just imagine yourself indulging in a tranquil onsen, with the majestic Mount Fuji serving as a breathtaking backdrop.
Libras, known for their appreciation of art and aesthetics will be enchanted by the natural beauty surrounding the Fuji Speedway Hotel. Located at the foothills of Mount Fuji, the majestic presence of Japan's iconic peak sets the stage for a breathtaking backdrop.
*Fun fact: The hotel is adjacent to a Fuji Speedway Racing Track but hotel guests get to enter the track on non-race days — a pretty cool perk!
Achieve that inner Libra balance from within with the hotel's fitness centre (that has a racing simulator!) and the on-site spa — the Fuji Omika Onsen. Even the onsen offers an unblocked view of Mount Fuji! Complete the stay with a visit to the hotel's four dining options. I personally recommend TROFEO Lounge for its breathtaking views.
Cost: From ~S$394/night
Address: Fuji Speedway Hotel, 645 Omika, Oyama, Sunto District, Shizuoka 410-1308, Japan
Scorpio — Bondi Beach is Calling from Sydney, Australia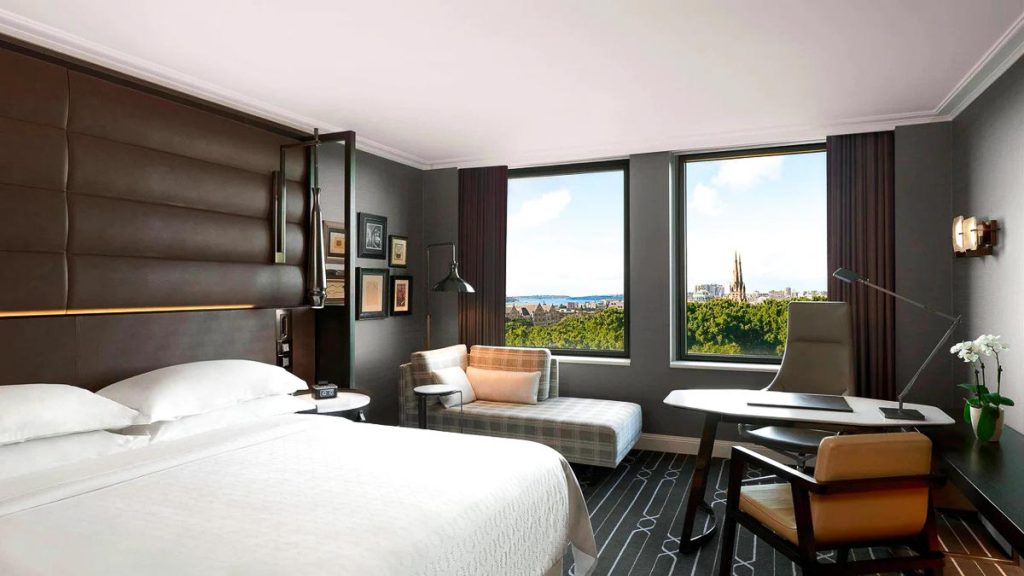 Hyde Park View Room at Sheraton Grand. Photo credit: Marriott Hotels
A happy Scorpio is one who surfs in the morning and goes to a musical theatre show in the evening. So how does Bondi Beach by day and the Sydney Opera House by night sound? If you're hoping for something lesser-known, start the day with a sunrise kayak tour over Sydney Harbour's waters before exploring hidden gems like Sydney's Bus Museum.
Whichever you choose, Sheraton Grand Sydney Hyde Park is the perfect place to rest in between your adventures. It's at most a 15-minute drive away from all of these activities and attractions. A dream beach luxury getaway filled with sun, sea, music, and arts? Check!
Craving more water? Get in the hotel's heated rooftop pool that opens from 6AM to 9PM! Or head to the on-site spa that offers a bird's eye view of Hyde Park. Remember to grab a glass of Australian wine from the Conservatory Bar before you leave!
Cost: From ~S$261/night
Address: Sheraton Grand Sydney Hyde Park, 161 Elizabeth Street, Sydney, New South Wales 2000, Australia
Sagittarius — Non-stop Fun in The Epicentre of Melbourne, Australia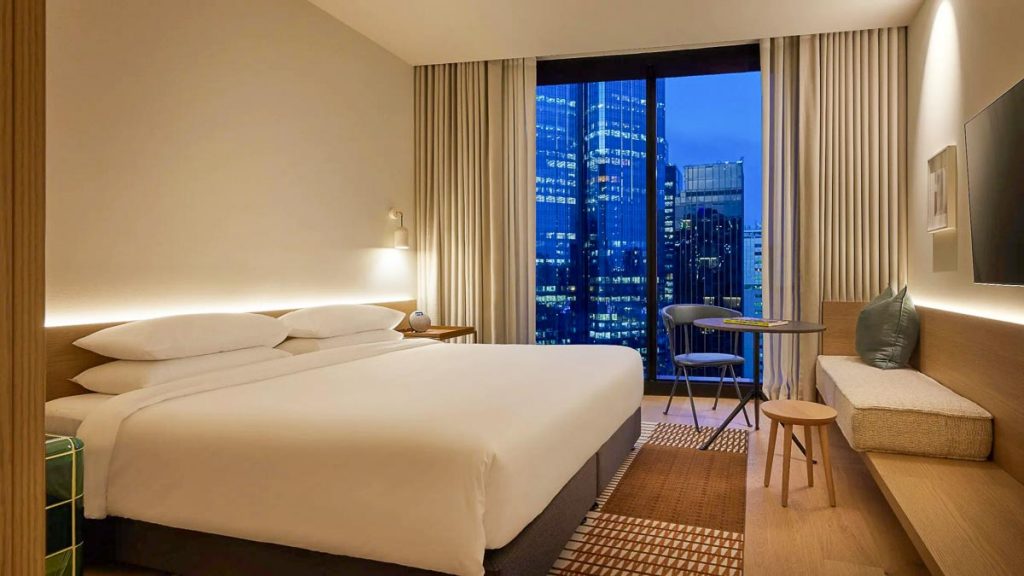 Photo credit: World of Hyatt
Sagittarius, if you were a colour, you'd be yellow. Optimistic and usually the life of the party, you like your trips to be dynamic with a tinge of quiet relaxation sprinkled in. Your next luxury getaway location? Melbourne. Relish the vibrant diverse scene in Melbourne through food and culture while enjoying snippets of quiet time as you explore the city's hidden laneways like Hosier Lane.
And if you were a hotel, you'd be Hyatt Centric Melbourne. Situated in the heart of the city, it's a prime location to call home as you uncover Melbourne's hidden gems during the day and go bar-hopping at night.
You don't have to go far to catch an epic yellow sunrise either. The Langlands Restaurant and Bar on the hotel's 25th floor has floor-to-ceiling windows that allow an unblocked view of the city skyline. Go on, enjoy the sunrise with your morning cuppa and a hearty breakfast prepared with the freshest local ingredients.
Cost: From ~S$195/night
Address: Hyatt Centric Melbourne, 25 Downie St, Melbourne Victoria 3000, Australia
Capricorn — Fuss-free R&R in Central Singapore
Photo credit: Pan Pacific
Capricorns have a goal-oriented mindset and appreciate structure. Their vacay itineraries tend to be meticulously planned out and are usually found in the city.
Your next luxurious getaway has got to be in Singapore — from visiting attractions like the Singapore Flyer to hanging out at Marina Bay Sands' infinity pool, you'll love what this city-state has to offer.
Chuck aside that exhaustive itinerary and immerse yourself in a fuss-free getaway at Pan Pacific Singapore. It's about a 15-minute car ride from Changi Airport and connected to these main Singapore attractions either by foot or via City Hall MRT Station.
It's got everything you need within itself too. Get an award-winning Hot Stone Massage at the hotel's St. Gregory Spa and top off the R&R with a culinary experience. Don't leave before you drop by Rang Mahal — a Michelin Plate Award Winner serving delectable Indian cuisine.
Cost: From ~S$442/night
Address: Pan Pacific Singapore, 7 Raffles Blvd, Singapore 039595
Aquarius — Eco-conscious Tourism in Singapore's Garden City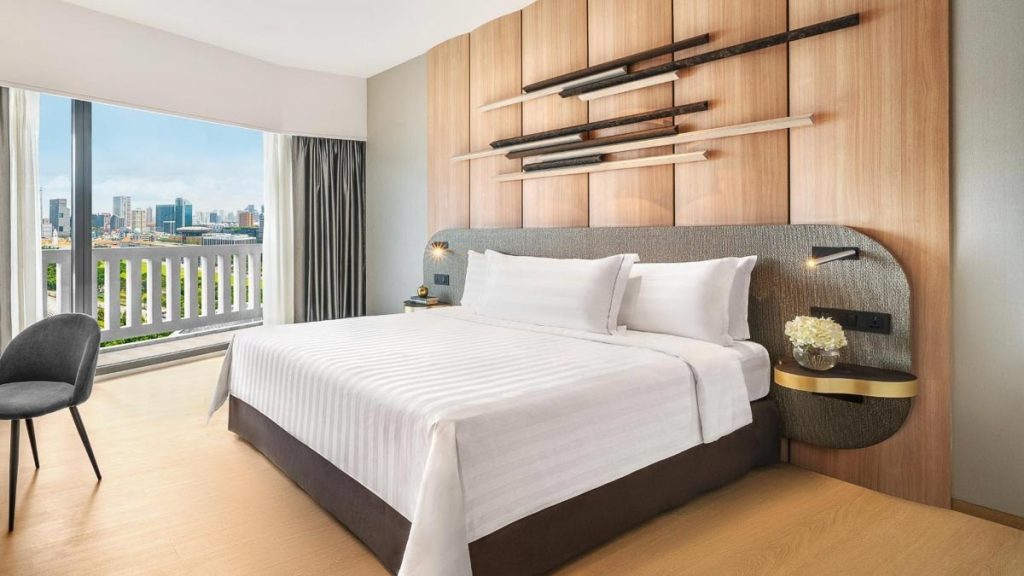 Photo credit: Pan Pacific
Aquarius signs think about sustainability in everything they do, even while on holiday. Also known as the Garden City, your next luxury getaway is in Singapore — one of the greenest cities in the world. Spend time in the greenery and explore Gardens by the Bay, The Singapore Botanic Gardens — a UNESCO World Heritage Site — and the renowned National Orchid Garden.
Your luxury stay will be equally 'green'. Live in PARKROYAL COLLECTION Marina Bay, Singapore's First 'Garden-in-a-Hotel'. With energy-saving measures like solar panels that power the lifts and efforts to eliminate the use of 360,000 plastic bottles annually, luxury never felt this guilt-free.
Even the urban rooftop farm contributes to the hotel's farm-to-table efforts. So you're probably one of the very few people to actually consume Singapore-grown produce when dining in one of the many in-house restaurants and bars.
Cost: From ~S$413/night
Address: PARKROYAL COLLECTION Marina Bay, 6 Raffles Blvd, Singapore 039594
Pisces — A Stylish Harbourside Getaway in Hong Kong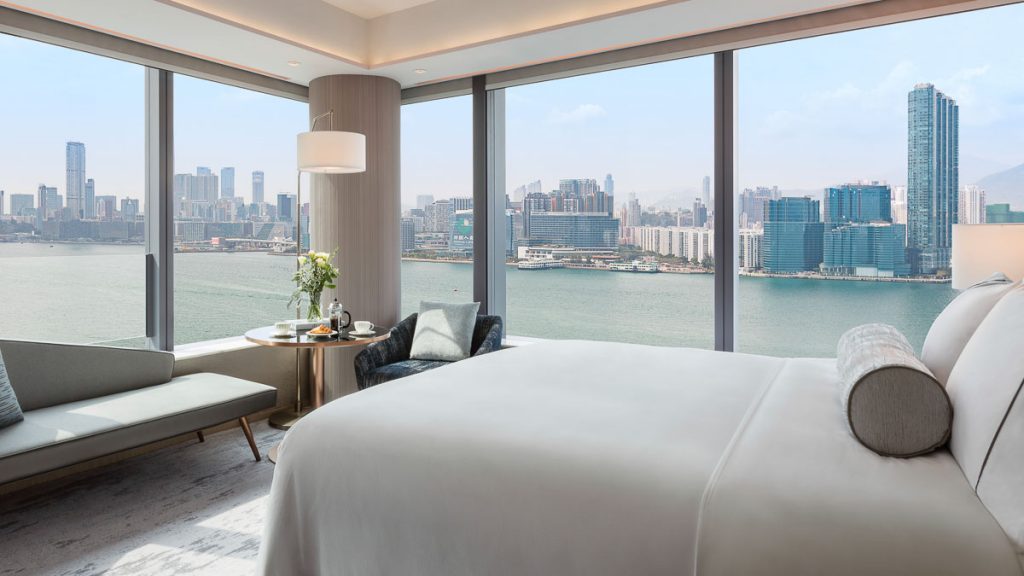 Photo credit: World of Hyatt
Pisces — Hong Kong should be on your list of luxury getaways. Venture on a vacay that'll allow you to explore your inner world, both creatively and spiritually. Hunt down Hong Kong's many art galleries or go club hopping and discover Hong Kong's vibrant nightlife.
*Pro-tip: Check out Dragonfly, a club in Tai Kwun that looks like the crossover of an art scene and a bar — something right up your alley.
Your hotel of choice? Hyatt Centric Victoria Harbour Hong Kong. Even if you decide to spend a reflective day in, allow your sense of wonder to flow as you look over the iconic harbour while having a meal from one of the hotel's two in-house restaurants.
Cost: From ~S$233/night
Address: Hyatt Centric Victoria Harbour Hong Kong, 1 North Point Estate Ln, North Point, Hong Kong
Get up to S$495 statement credits on your next luxury getaway
Did you find ideas for your next getaway? If this has inspired you to indulge yourself a little, here's a little something to sweeten the deal!
From now till 30 September 2023, book any of the hotels mentioned above with your American Express® Card and get up to S$495 statement credits. Remember to save the offers to your card before you complete a transaction at the participating hotels in order to receive statement credits. Find out more.
*Pro-tip: You can also collect statement credits from the many spas and restaurants mentioned in this article affiliated with the respective hotels!
Here are more ideas to plan your much-needed getaway, including this cool video by Lennard Yeong (@lennardy) in partnership with American Express and World of Hyatt.
Read more:
– Long Weekend Getaways — 9 Lesser-Known Destinations With Under 8-Hour Flight Time from Singapore
– How to Plan Your Next Epic Adventure Based on Your Horoscope
– 5 Epic Getaways From Singapore with Flights Under S$500
Did we hit the mark with the horoscopes? Let us know your thoughts in the comments below!
---
This post was brought to you by American Express.