These onsen resorts in Japan provide the full package beyond just soaking in hot springs and sleeping in traditional ryokans.
I've been to Japan over 10 times now, and what keeps me going back is the chance to explore many other cities besides just Tokyo. And because I'm more of a chill kinda guy when it comes to holidays, I'm always sussing out hot spring experiences where I can really relax at — none of which actually exist in Tokyo!
There are pockets of small onsen joints here and there in Tokyo, and there's also the mega touristy Oedo Onsen Monogatari at Odaiba (I would actually recommend this for first-time onsen-goers though), but nothing quite beats the experience of going to an actual onsen town in the boonies and soaking in natural hot springs surrounded by nature.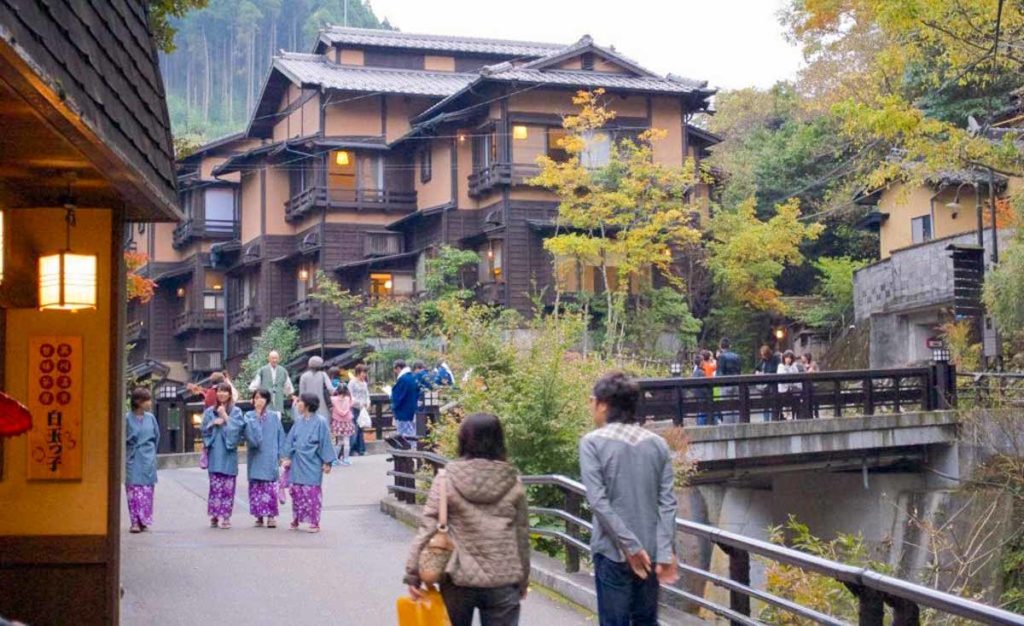 A common scene in an onsen resort — surrounded by lush nature with sojourners leisurely strolling in their comfy yukatas! Photo credit: Japaninsides.com
Plus, it's no surprise that you'll end up walking a lot when you're in Japan, which'll make you want to soak your tired feet and muscles in the hot, steaming baths every night. Especially during the colder seasons!
If you're interested in getting the full, authentic onsen experience the next time you're in Japan, here are 11 relaxing hot spring resorts away from the bustling city that might even make you feel like you're in Spirited Away!
Read also: Singaporeans Share Awkward First-Time Japanese Onsen Stories
1) Beppu Onsen (Kyushu)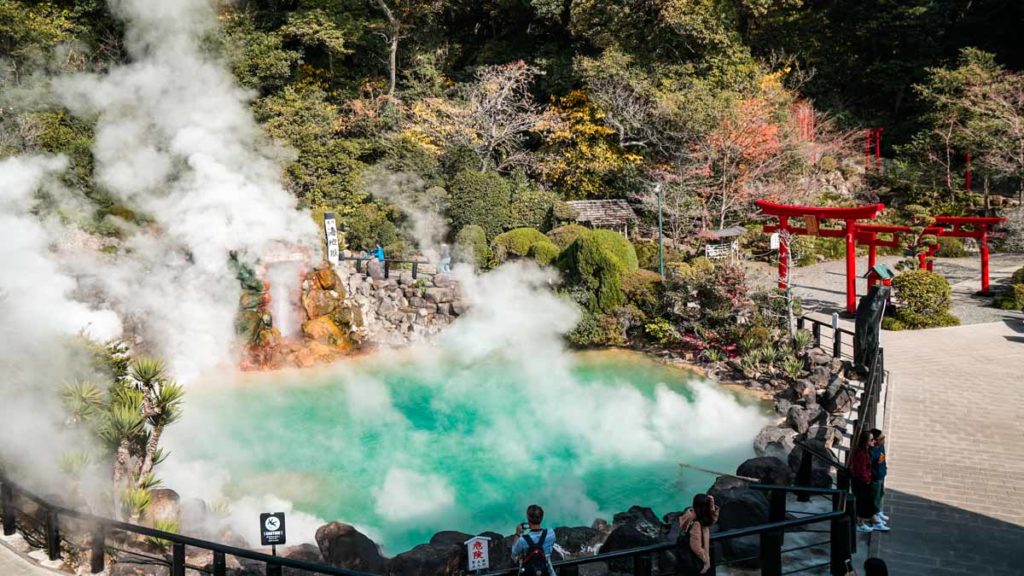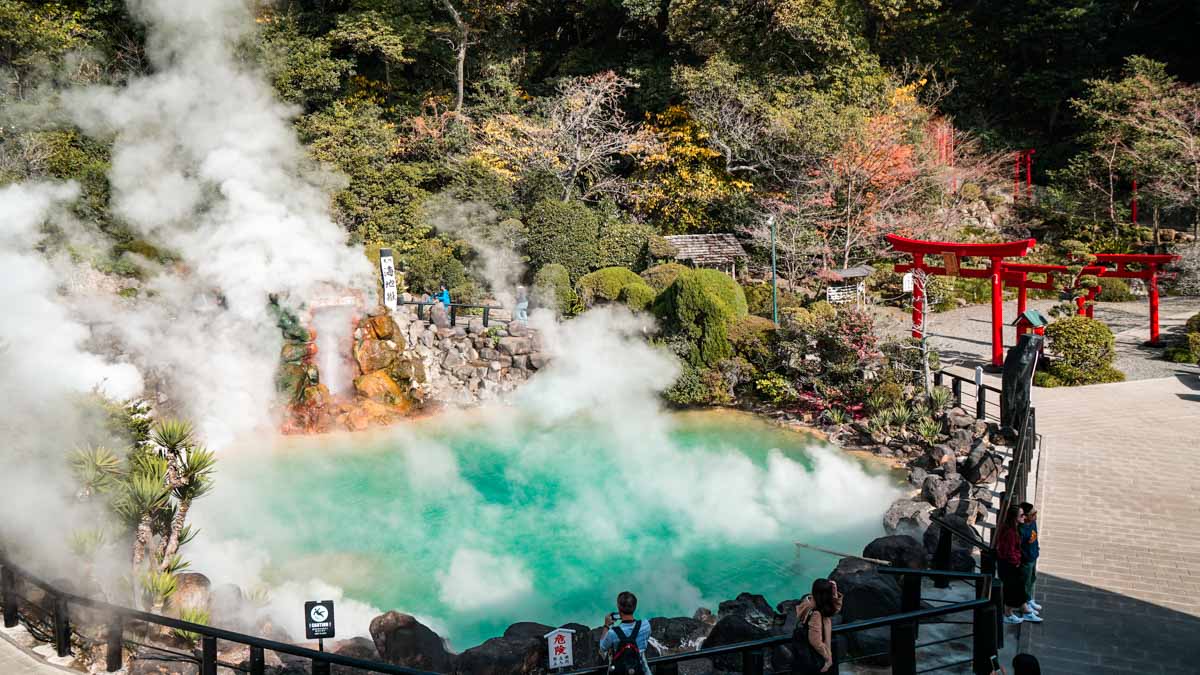 Kyushu happens to have the most number of hot springs in Japan, and Beppu Onsen is easily the mother of all hot spring resorts — because it's literally the world's largest one. Onsen addicts will be thrilled to know that Beppu Onsen has eight onsen "villages" for you to hop around!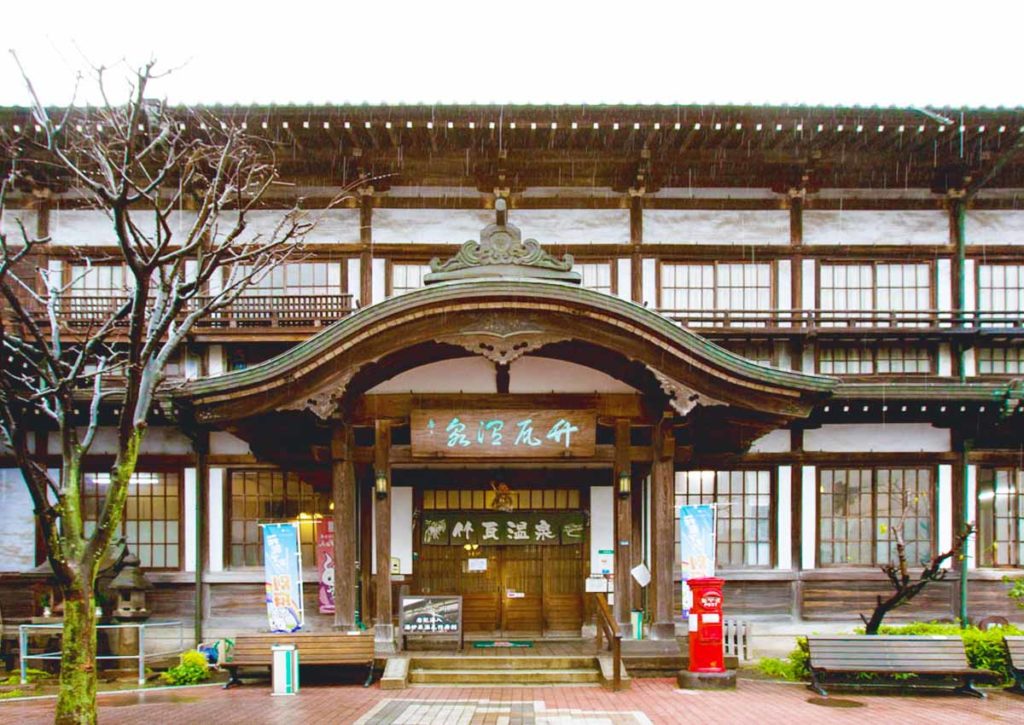 Takegawara Onsen is among some of Beppu's most famous public baths. Photo credit: Enjoyonsen.city.beppu.oita.jp
Beppu Onsen is unique for its sand bath experience where you get to bury yourself in naturally heated volcanic sand, but what's also popular is visiting the "Hells of Beppu", with pools that range from 78–98°C (and are hence only suitable for viewing, not dipping!).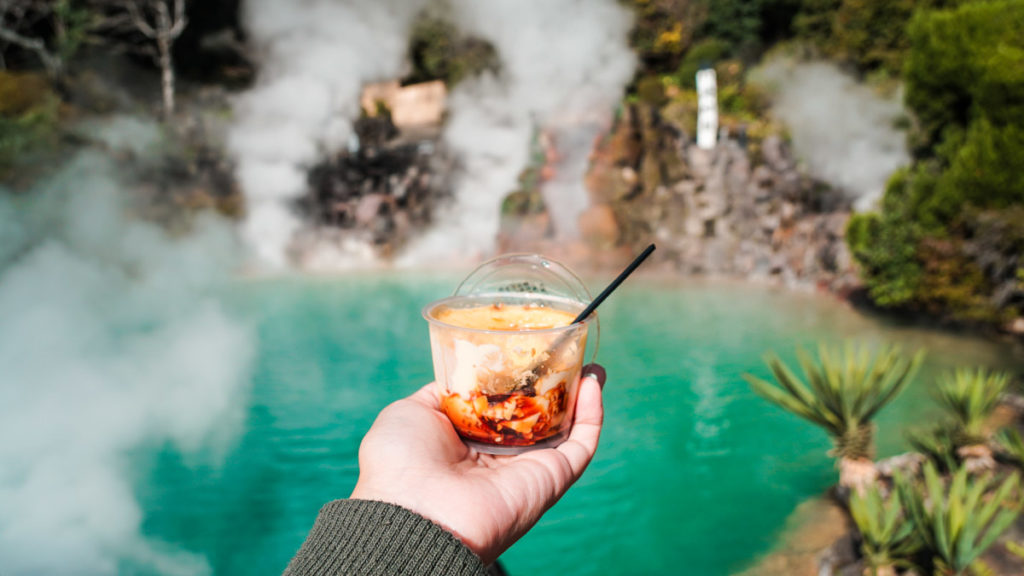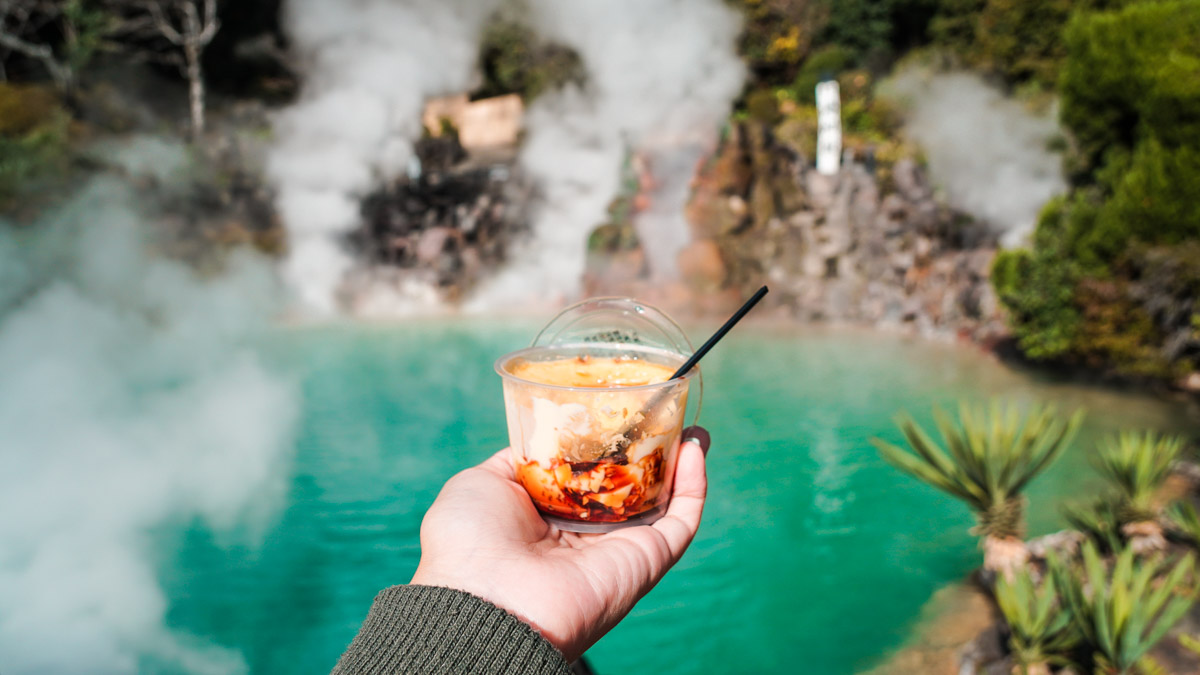 You can even try custard pudding that's steamed by the hot springs!
Recommended hotels in Beppu Onsen: Nishitetsu Resort Inn, Yamada Bessou, Beppu Kamenoi Hotel, Suginoi Hotel
Read also: 6-Day Kyushu Itinerary — Chasing Autumn in a Quieter Side of Japan (Fukuoka, Kagoshima, Beppu)
2) Dogo Onsen (Ehime)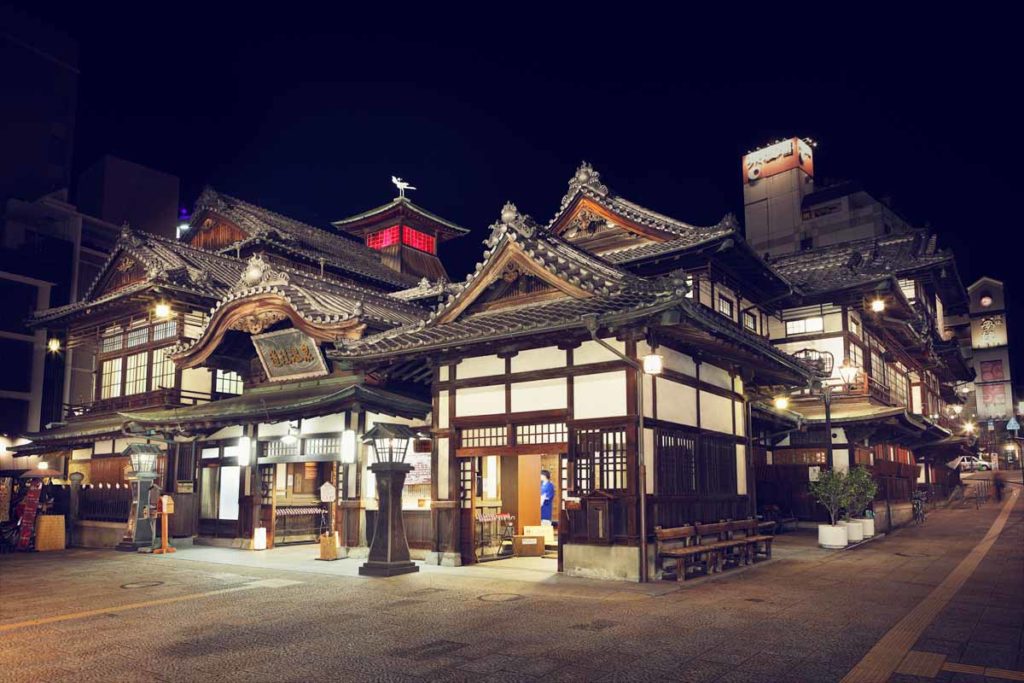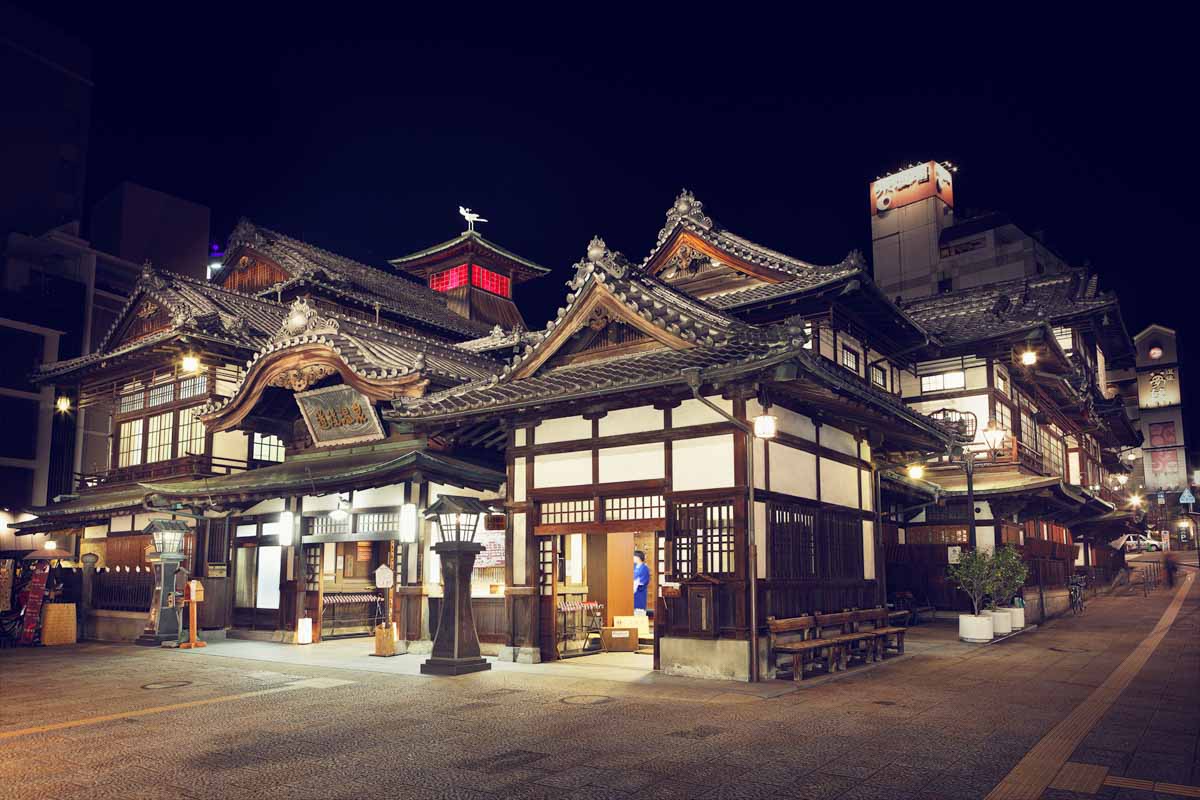 Photo credit: Dogo.jp
The onsen/ryokan experience doesn't get any more traditional than this. Dogo Onsen is Japan's oldest onsen town, with the over-120-year-old main bathhouse (Dogo Onsen Honkan) being the most famous!
Unfortunately renovation works are ongoing till 2026 (only in the main bathhouse — you can still visit other onsens in the area), with only the public baths on the first floor open to visitors (tattoos are allowed). The snaking stairways, corridors and rooms are supposedly the inspiration behind Spirited Away!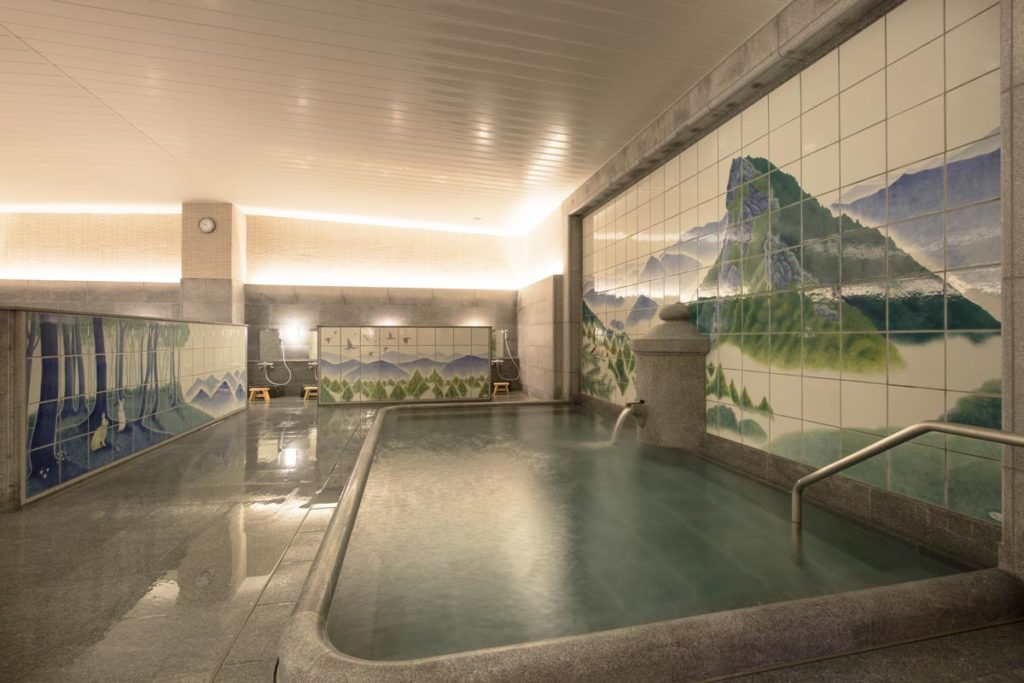 One of the two public bathhouses still open in Dogo Onsen Honkan while much of the building undergoes renovation. Photo credit: Dogo.jp
You can still stay in the area's many hotels and inns nonetheless, which will supply you with resplendent yukatas to stroll about the town. Shop along the many arcades, have a taste of the local sea bream specialty with rice, taimeshi, and rest your feet in the footbath at the Karakuri Clock with half-hourly performances.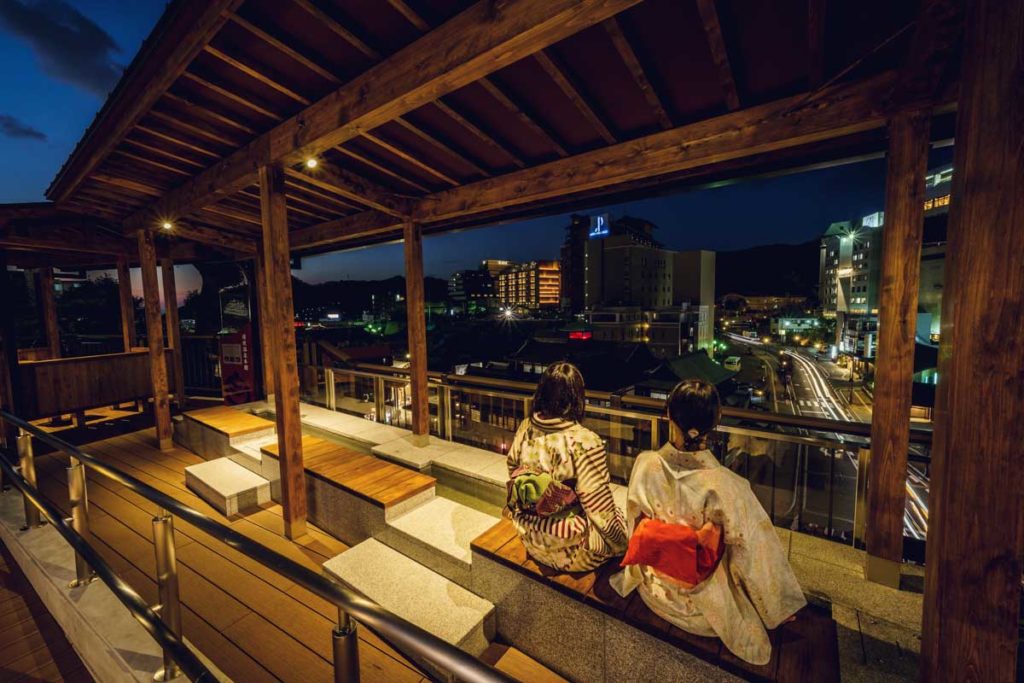 Photo credit: Dogo.jp
Recommended hotels in Dogo Onsen: Dogoya, Yamatoya Honten, Hotel Patio Dogo
Read also: 15 Unique Experiences in Shikoku — The Laidback Island of Japan Undiscovered By Most Tourists
3) Ginzan Onsen (Yamagata)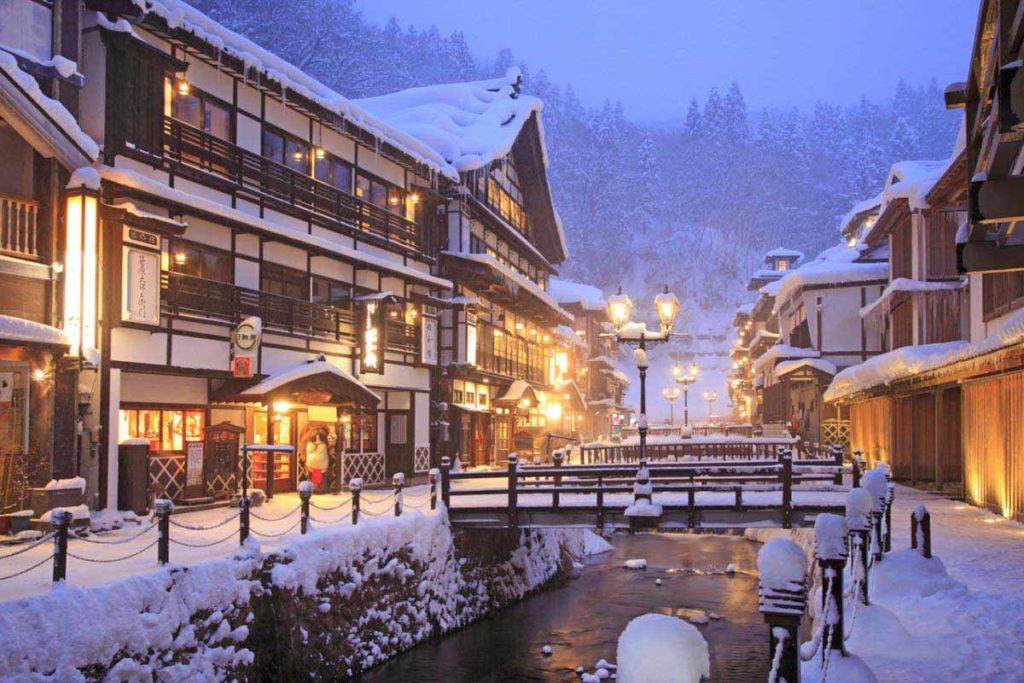 Photo credit: Zekkeijapan.com
Ginzan Onsen, located in the mountains of Yamagata, is truly a beaut when it snows in the winter. A central river is flanked by two rows of traditional-styled ryokans made of wood and white plaster, which light up at night with gas lamps. Add that to the town being a no-car zone and you'll feel like you're transported back to the Taisho period.
The town also features a free, public footbath, as well as several cafes and restaurants that you can chill at throughout the day. For a little physical activity, you can take a short trail at the back of the town that leads to the 22m-tall Shirogane waterfall, as well as a former silver mine that used to support the town.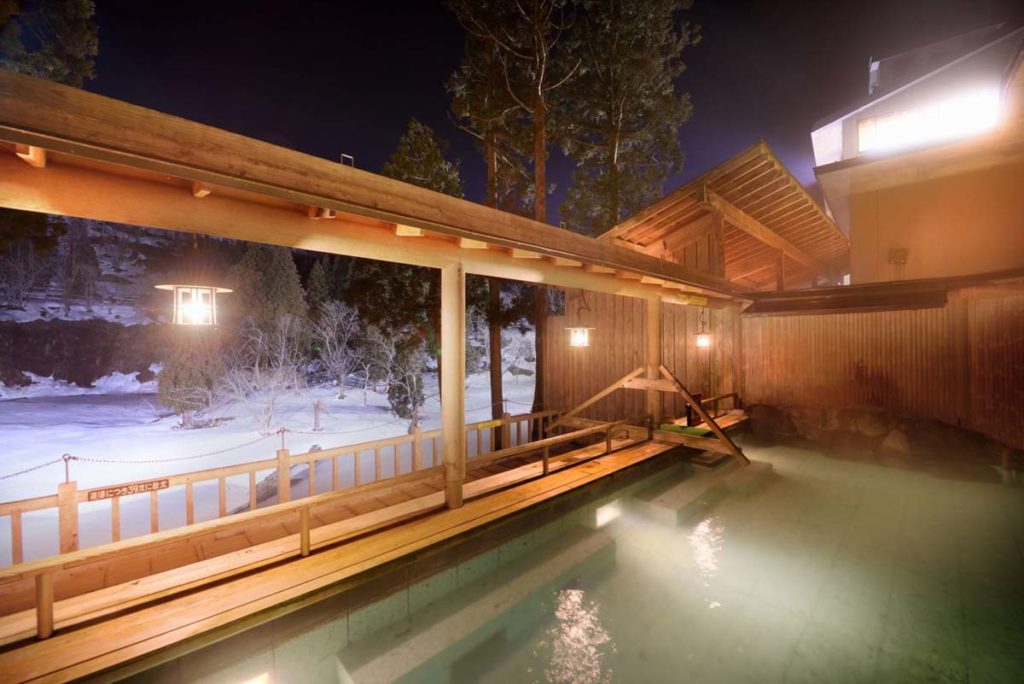 Outdoor bath in Ginzanso Ryokan. Photo credit: Booking.com
You can get from Tokyo to Yamagata conveniently via a direct JR Shinkansen train (the two-hour ride is covered by the JR Pass!) followed by a shuttle bus, though it would be a better pitstop when you're exploring the Tohoku region in general.
Recommended hotels in Ginzan Onsen: Ginzanso, Kosekiya, Matsumoto Ryokan
Read also: Yamagata Guide — Japan's Secret Winter Wonderland
4) Zao Onsen (Yamagata)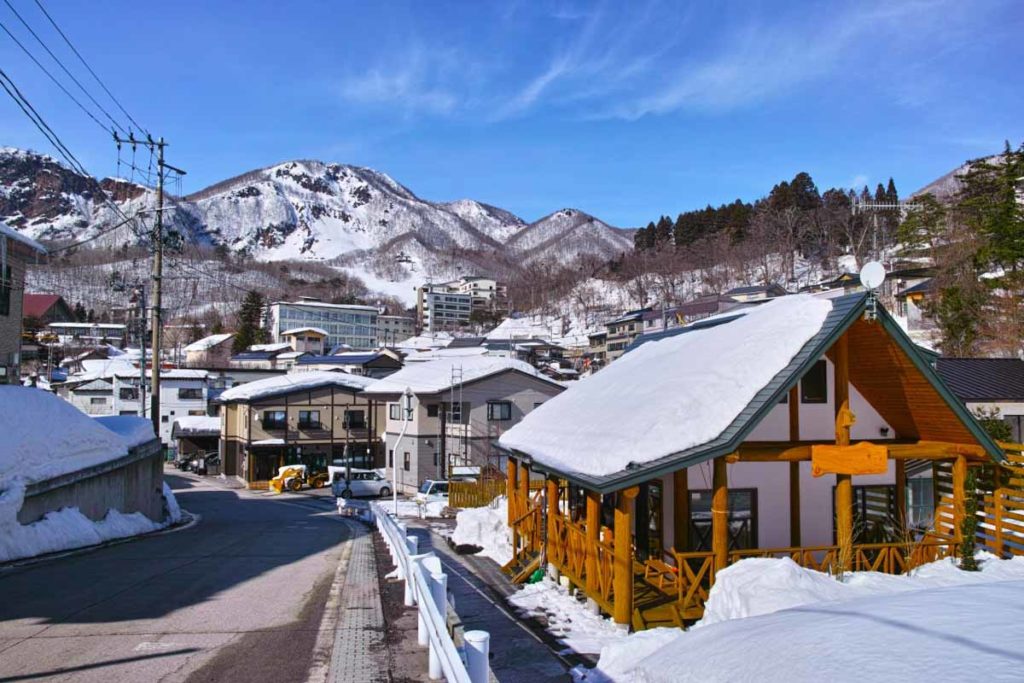 Photo credit: Tohokukanko.jp
A bigger hot spring town than Ginzan Onsen, Zao Onsen located up in Mount Zao is also a famous ski spot — so definitely stay here during the winter! Nothing better than spending the day conquering the slopes, and then resting the sore muscles away in the baths. It also helps that Zao's hot springs are highly acidic in nature, which is better for soothing muscle aches (and also good for the skin). Serendipitous!
If you do end up visiting during non-winter months though, check out the town's most famous outdoor hot spring nestled in a forested area — the Zao Dai-Rotemburo (it's closed in the winter). I was there a few years back and the outdoor bath is huge!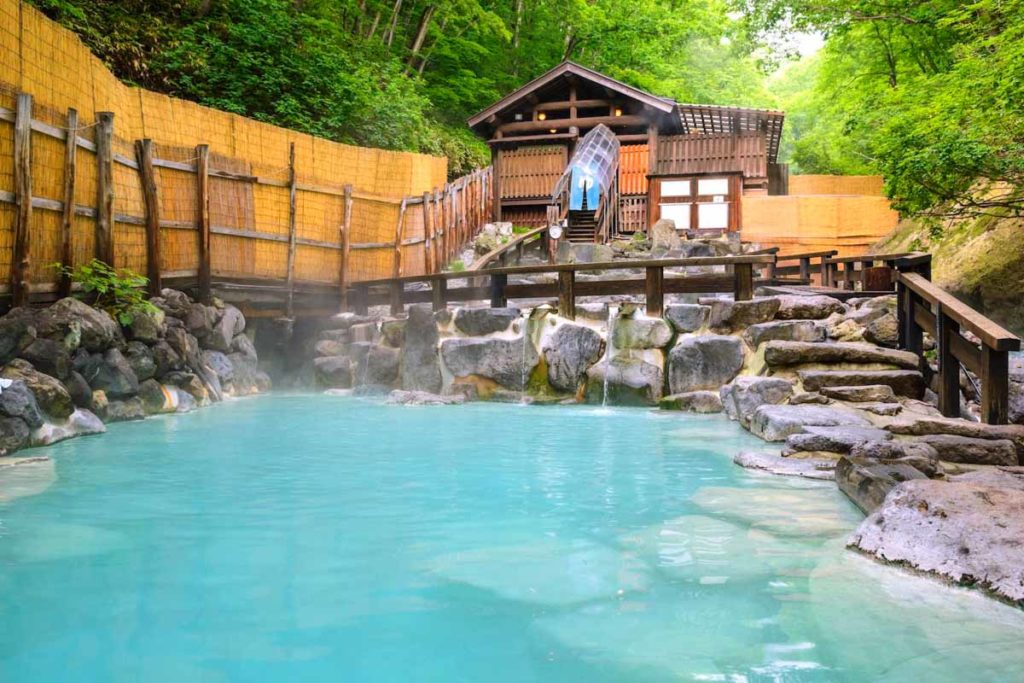 The Zao Dai-Rotemburo outdoor hot spring. Photo credit: Tabi-mag.jp
Recommended hotels in Zao Onsen: Itoya, Forest Inn Sangoro, Oomiya Ryokan, Takamiya Ryokan Sou
5) Kusatsu Onsen (Gunma)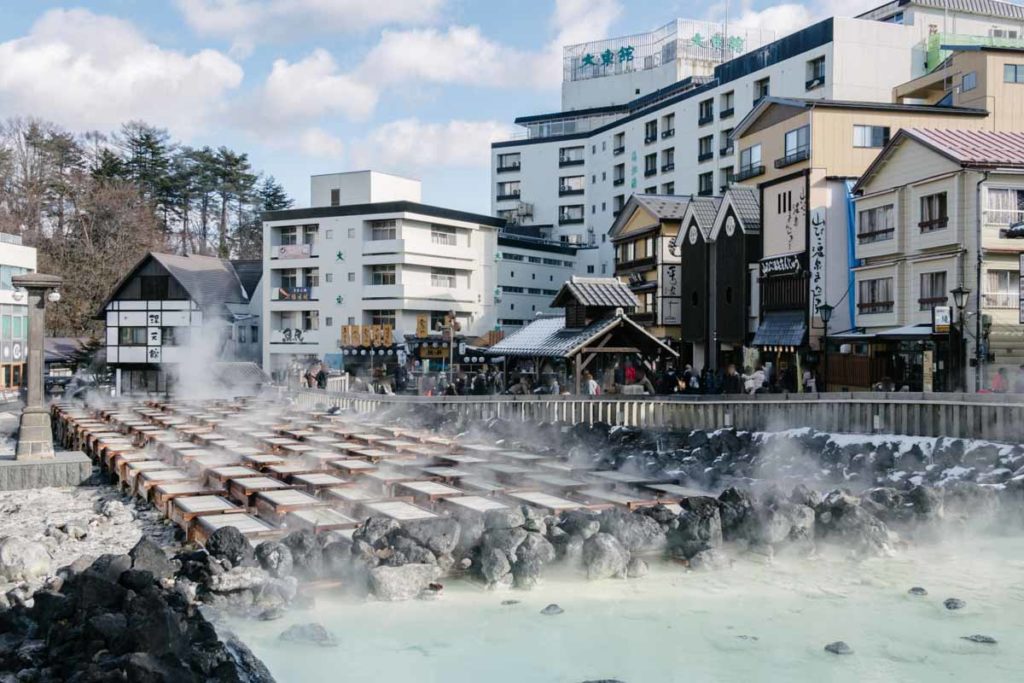 Photo credit: Jw-webmagazine.com
Gunma Prefecture is home to over 200 hot springs, many of which have actually won awards! Kusatsu Onsen is probably the most unique of the lot, with its iconic yubatake taking centre stage in the middle of the town.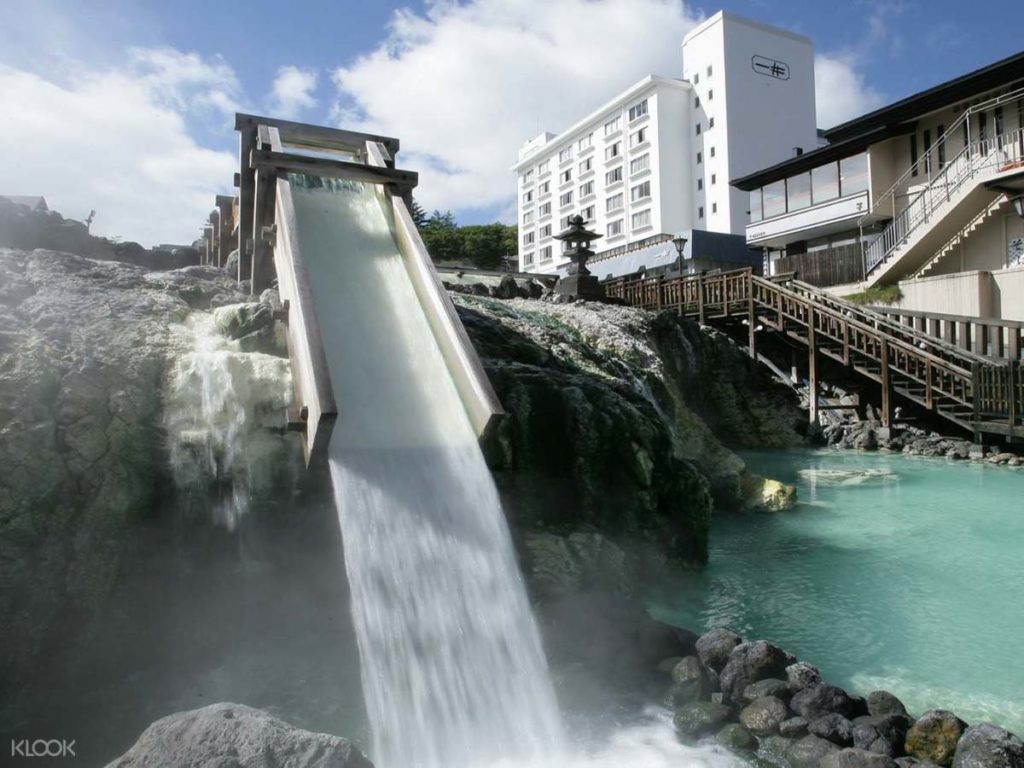 Photo credit: Klook
It's basically a huge chute spilling out hot water into a central reservoir (in order to cool the water down to a "soakable" temperature), before flowing into the many hot springs around the town. It looks even more amazing at night when it's lit up, so Kusatsu Onsen is definitely not a day trip kinda thing (shuttle buses leave way too early)!
Recommended hotels in Kusatsu Onsen: Guesthouse Kusatsu Kotodama, Yubatake Souan, Hotel Takamatsu, Kusatsu Onsen Hotel Resort
Read also: Beyond Tokyo: 5 Places Accessible from Narita Airport You Must Visit — Gunma, Tochigi, Ibaraki, Chiba, Nagano
6) Kinugawa Onsen (Tochigi)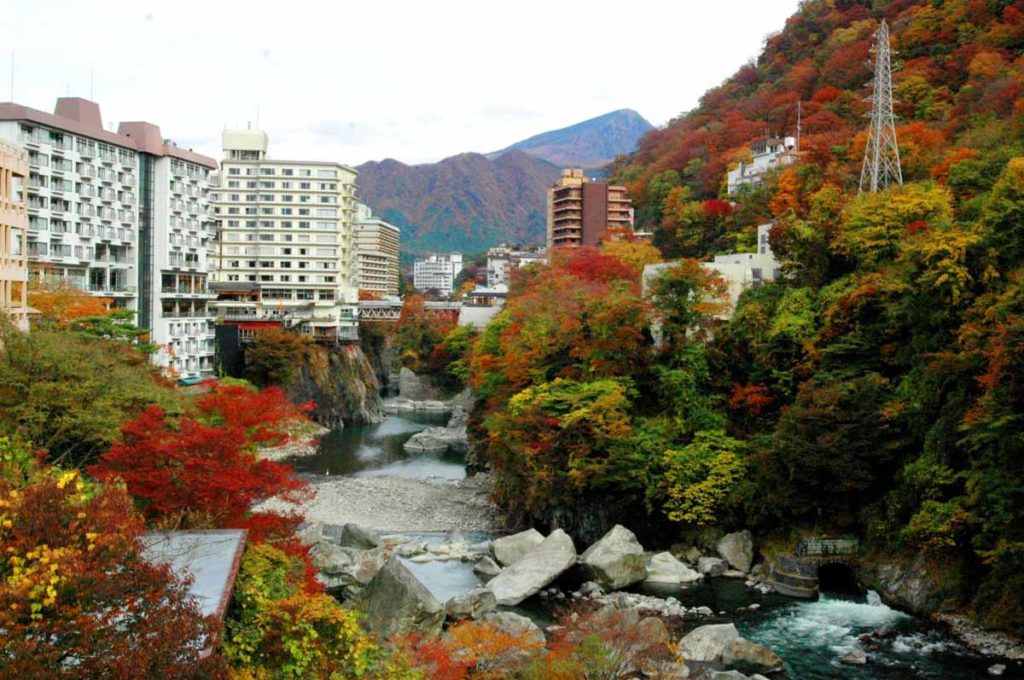 Photo credit: Jw-webmagazine.com
Here's another onsen town worth staying at if you plan to ski in Nikko during the winter. Tons of ryokans line the Kinugawa River, and even during non-winter months there's lots to do from nature trails to visiting the Tobu World Square, a museum boasting 1/25-scaled replicas of over 100 famous buildings from the Great Pyramids to the Roman Colosseum!
Recommended hotels in Kinugawa Onsen: Kinugawa Onsen Hotel, Hotel Sunshine Kinugawa, Kinugawa Plaza Hotel
Read also: An Introduction to Nikko, Utsunomiya and Beyond — 7 Reasons Why Tochigi Needs to Be in Your Tokyo Itinerary
7) Hakone Onsen (Kanagawa)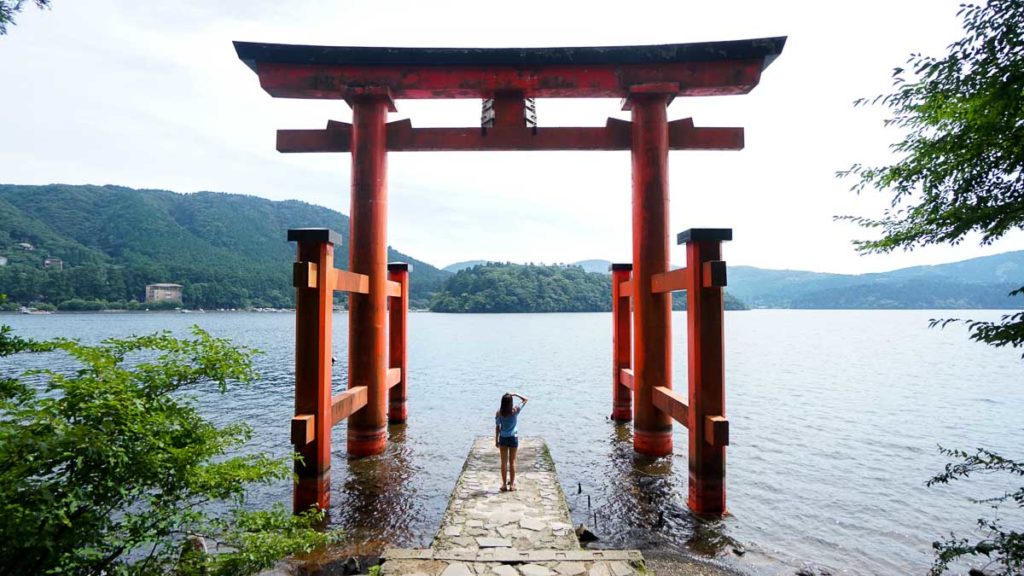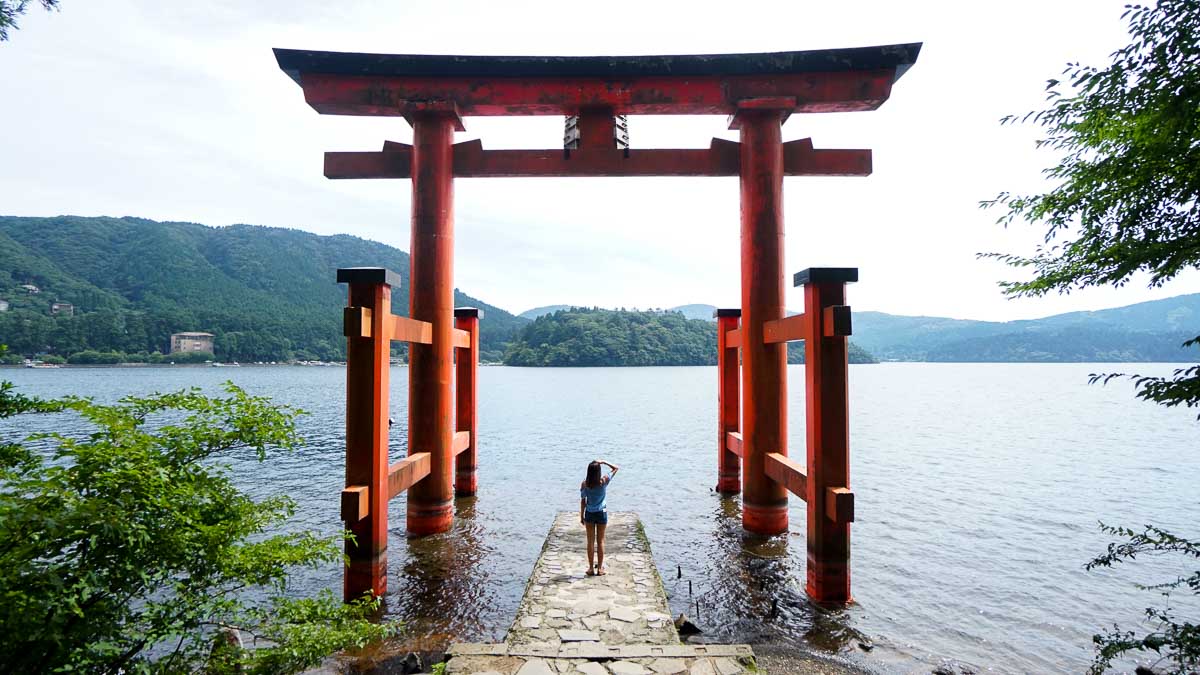 Hakone is no stranger to seasoned Japan travellers as arguably the most popular day trip destination from Tokyo. But besides the famous floating torii gate, ropeway and Lake Ashinoko, locals also flock here over the weekends to soak in the many hot springs around!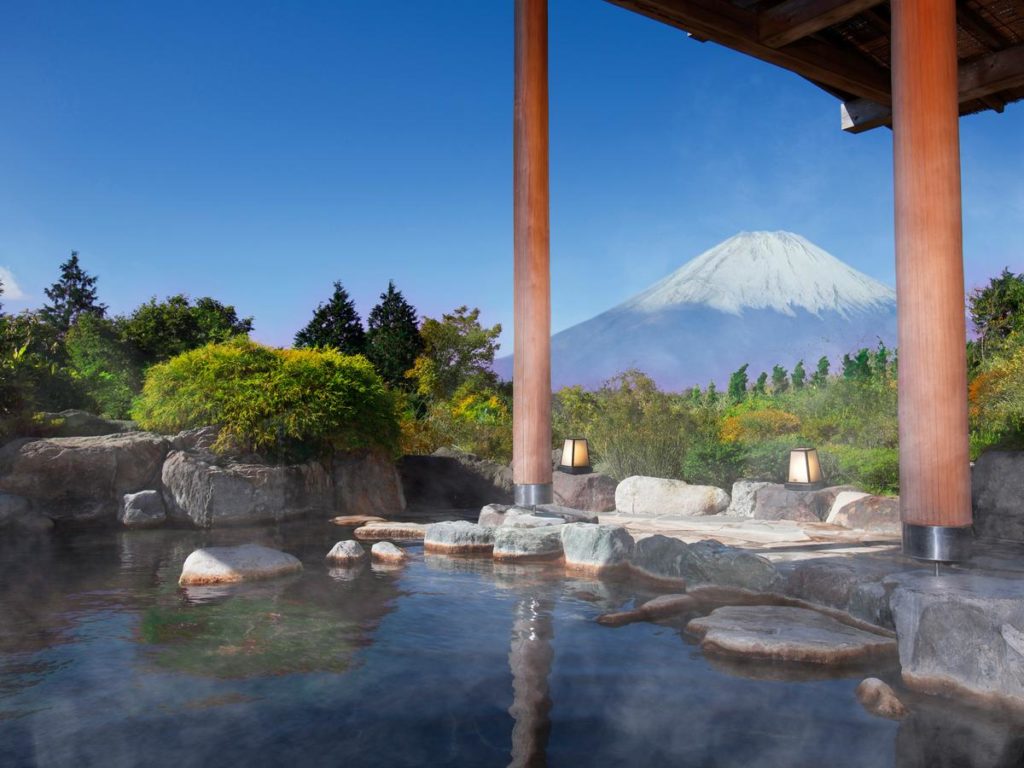 You can even get a view of Mount Fuji from the hot springs at Hotel Green Plaza Hakone. Photo credit: Booking.com
Tenzan and Hakone Kamon boast some of Hakone's longstanding, traditional outdoor baths, but another you might want to experience is the one at Kowakien Yunessun. I don't know how best to explain it, so I'll let the next few pictures explain why: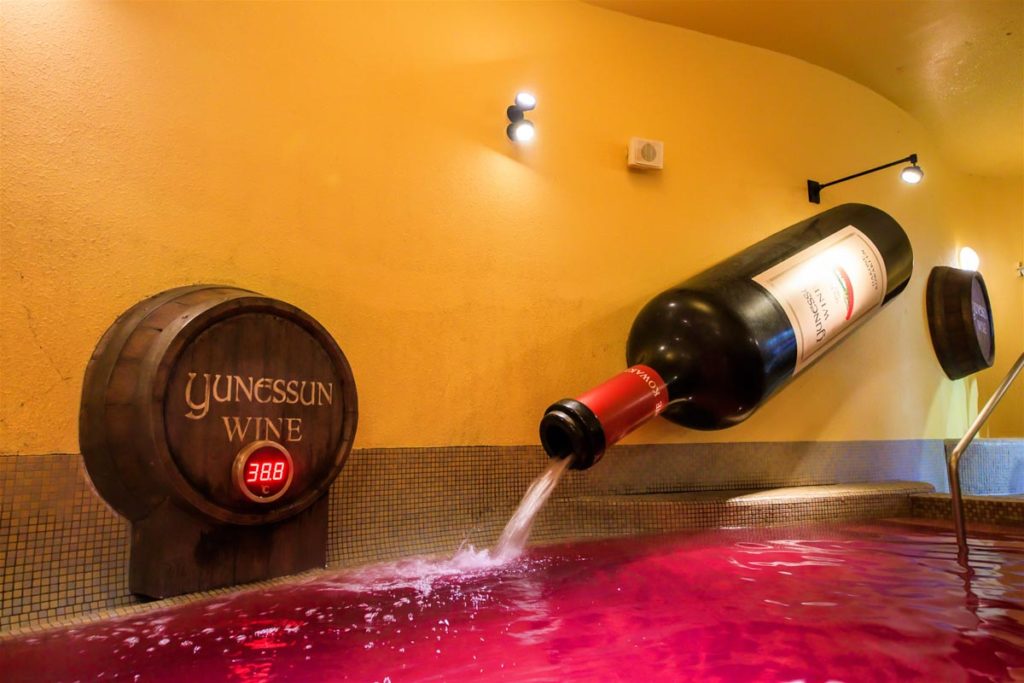 Because you can take a soak in "wine". Photo credit: Kowakien Yunessun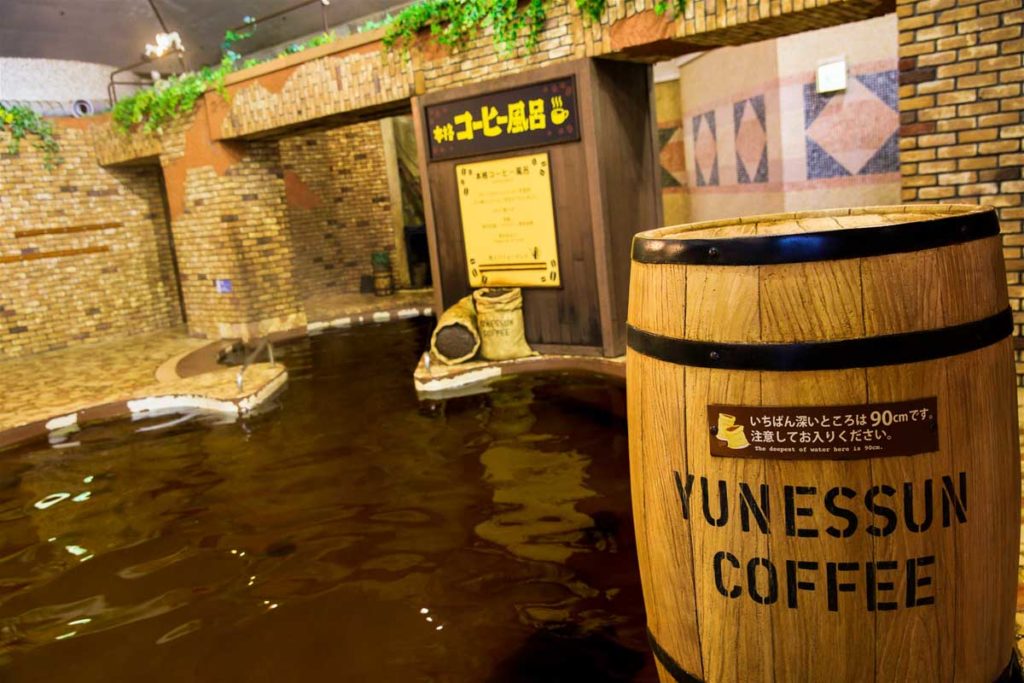 …or absorb a good dose of caffeine in this coffee hot spring. 'Nuff said. Photo credit: Kowakien Yunessun
Recommended hotels in Hakone Onsen: Hakone no Mori Okada, Yumoto Fujiya Hotel, Hakone Kamon, Hotel Green Plaza Hakone
Read also: Top 10 Places You Should Visit in Hakone — A Scenic Retreat From Tokyo Worth More Than A Day Trip
8) Noboribetsu Onsen (Hokkaido)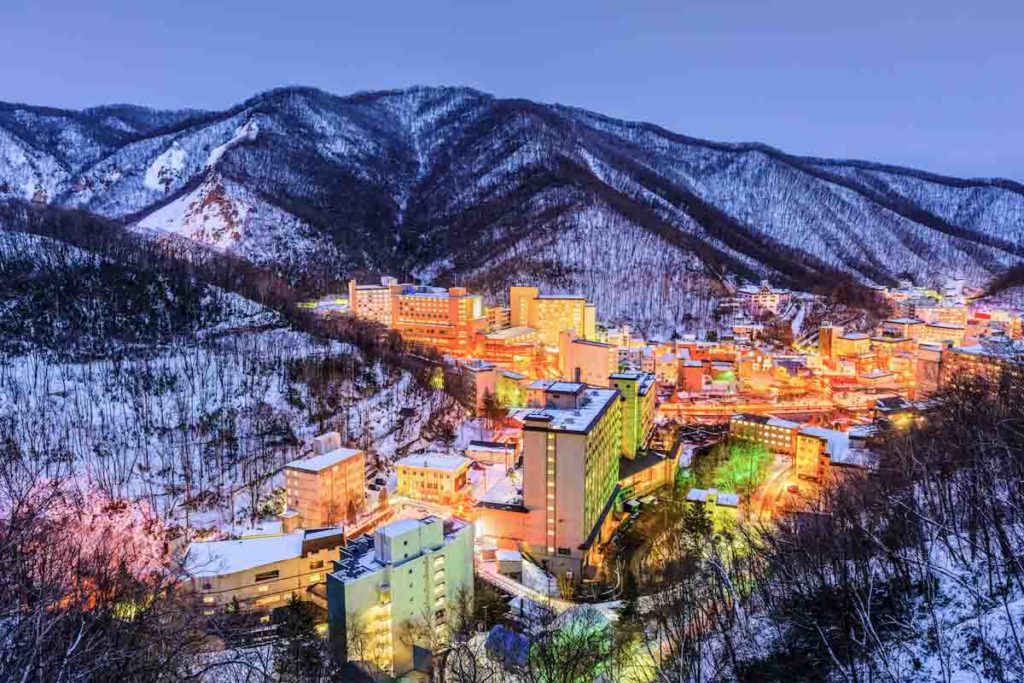 Photo credit: Onsenbu.net
You're probably acquainted with Hokkaido's famous Noboribetsu Jigokudani, or Hell Valley, with its stunning landscapes (but repulsive sulphuric odour). Thankfully nearby lies the Noboribetsu Onsen resort that boasts 11 waters you can actually dip in, each with different properties!
Public baths go as low as 420yen per entry (at Sagiriyu Public Bath), so even if you're not staying at a ryokan in the town itself with their own private hot spring facilities, you can still make a day trip and get to soak.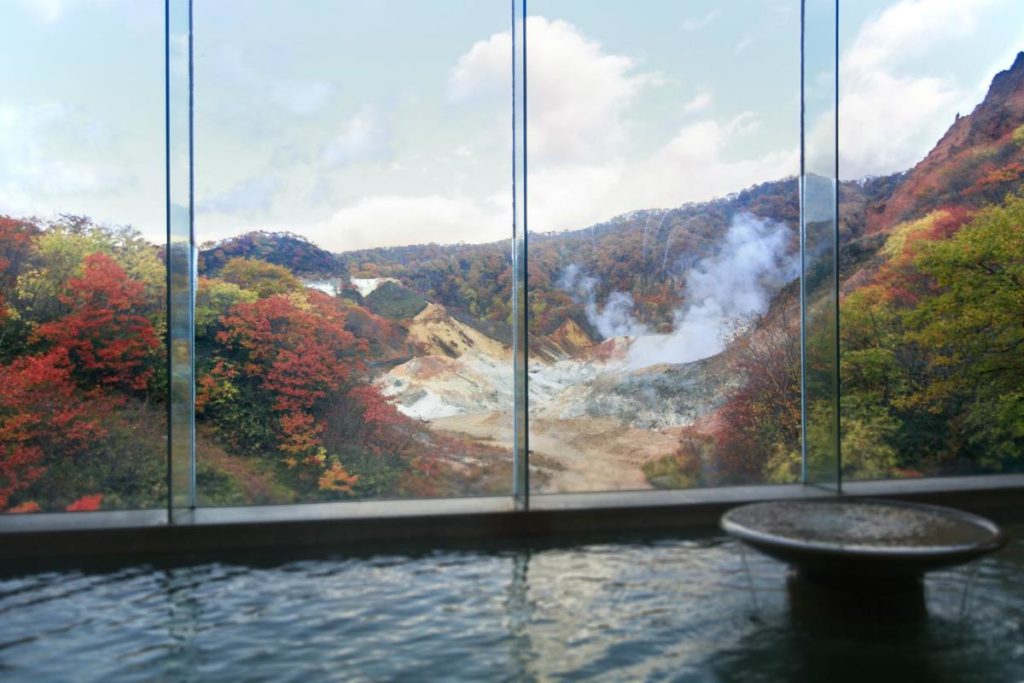 View of the Noboribetsu Hell Valley from the onsen at Dai-ichi Takimotokan. Photo credit: Booking.com
There are also restaurants (try Noboribetsu's fresh seafood!), shopping arcades and souvenir stores around the onsen town, so there's lots to do besides donning on your yukatas and soaking in the hot springs!
Recommended hotels in Noboribetsu Onsen: Dai-ichi Takimotokan, Noboribetsu Grand Hotel, Ryotei Hanayura, Noboribetsu Manseikaku
9) Shima Onsen (Gunma)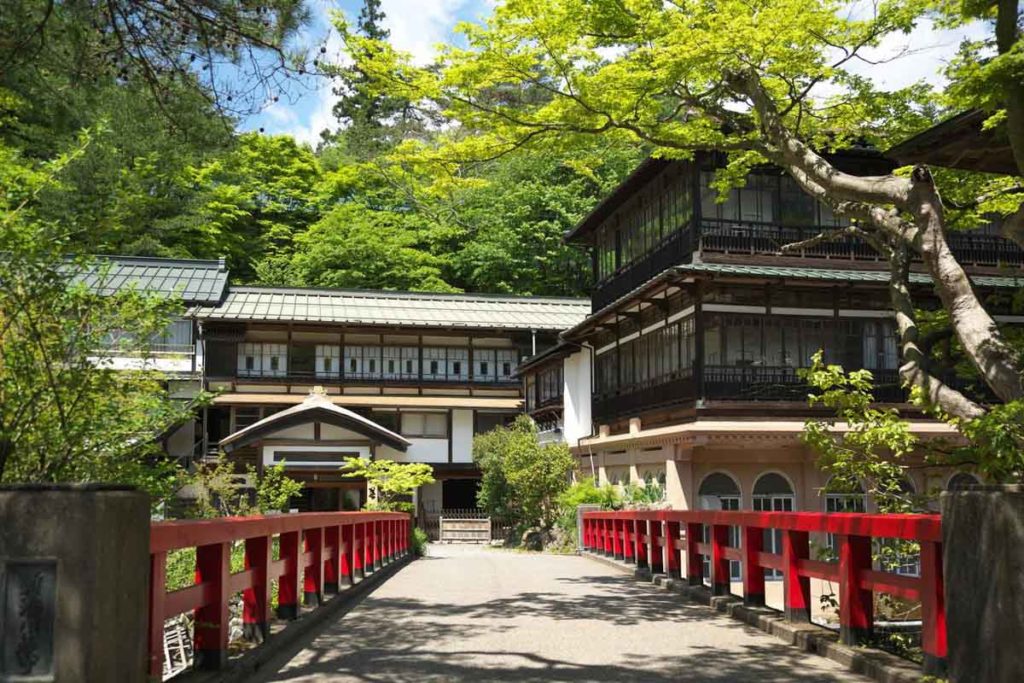 Photo credit: Booking.com
This longstanding onsen town is one of Japan's oldest, and the exterior of one of its ryokans, the Sekizenkan Ryokan, has also been argued to be the true inspiration for Spirited Away!

Some people have even sworn that Shima Onsen offers a better experience than its much more unabashed and flashy Kusatsu Onsen (#5). Shima Onsen does seem like the underdog because it prides itself as not being as gentrified for tourists, and maintains a small-town atmosphere.
That doesn't mean there's any less to do, though. There's still plenty of shopping, eating, and during the warmer months, canoeing.
Recommended hotels in Shima Onsen: Sekizenkan, Kashiwaya Ryokan (tattoo-friendly), Shima Yamaguchikan
10) Shirahone Onsen (Nagano)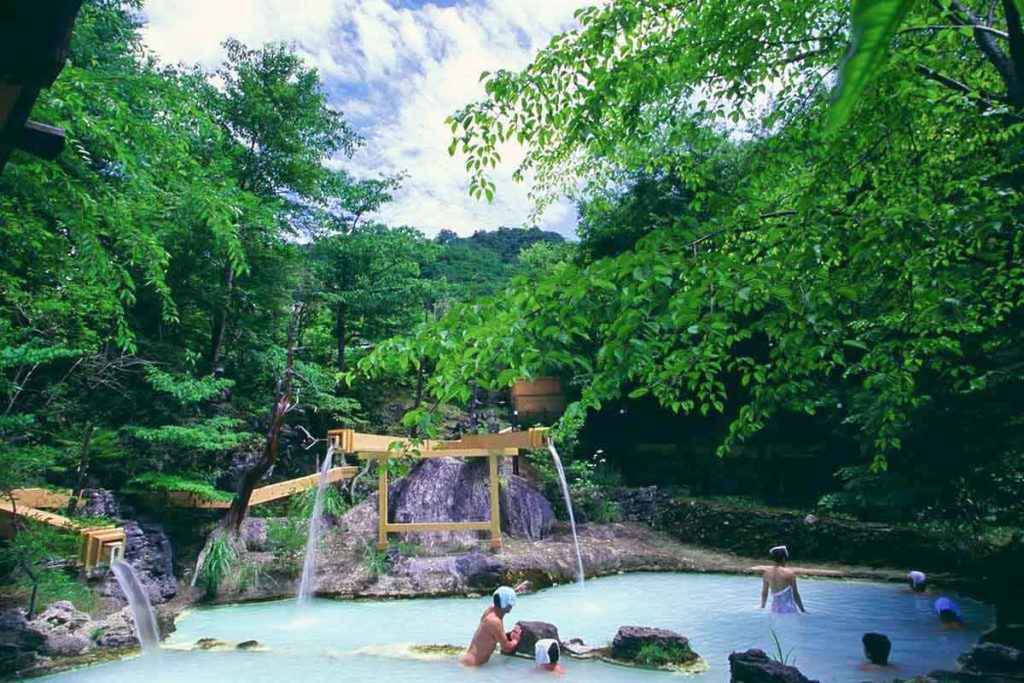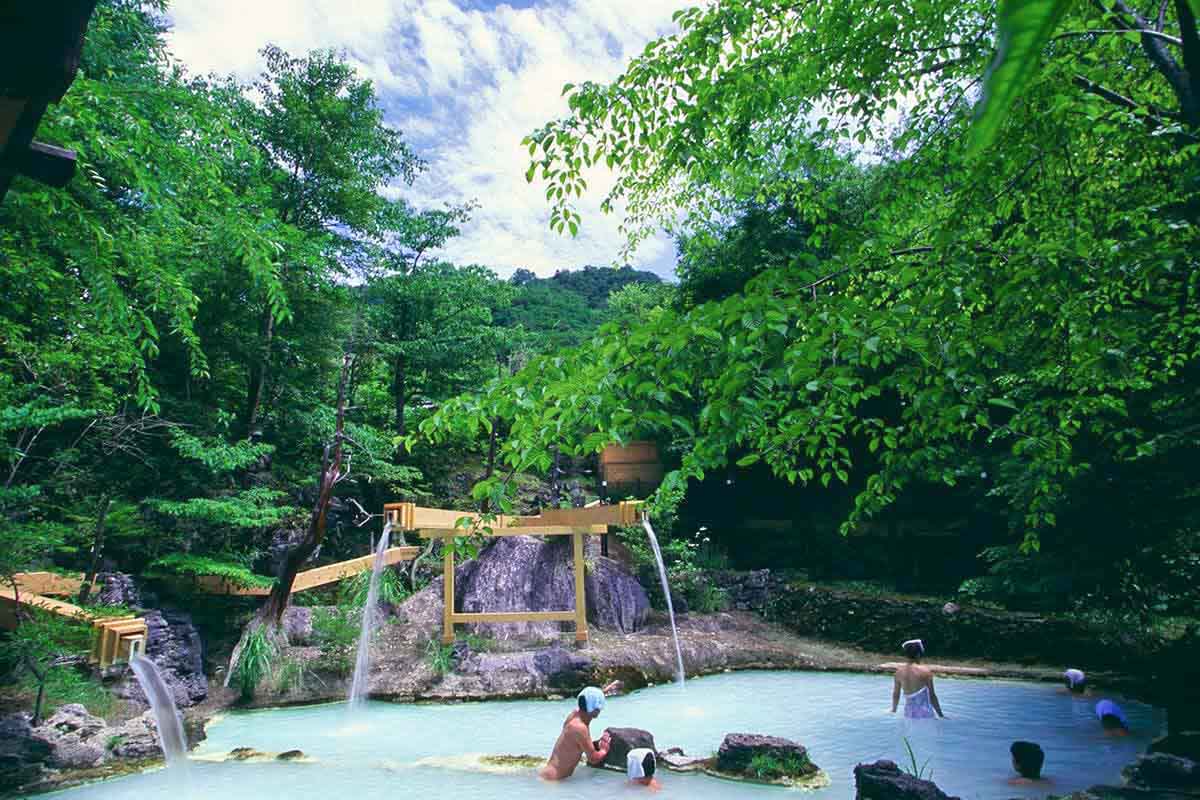 Photo credit: Matcha-jp.com
Located in the Japanese alps, there are tons of hot springs and ryokans to stay at in Shirahone Onsen, some of which you can even visit as a day trip if you're staying in Matsumoto instead.
Shirahone Onsen's Awa no Yu is the town's most popular ryokan and hot spring, thanks to its iconic milky-white bath (all natural!). It's a mixed-gender bath, which makes it good for couples and families — the water is opaque, so you won't be seeing… much. The ryokan is hugely popular, so you'd want to book it early (though non-visitors can dip in the pool from 10:30PM to 2PM).
Recommended hotels in Shirahone Onsen: Awa no Yu, Shirahone Onsen Yumoto Saito Ryokan, Tsuruya Ryokan
Read also: 6D5N Nagano Itinerary — The Romantic Getaway 3 Hours from Tokyo
11) Kinosaki Onsen (Hyogo)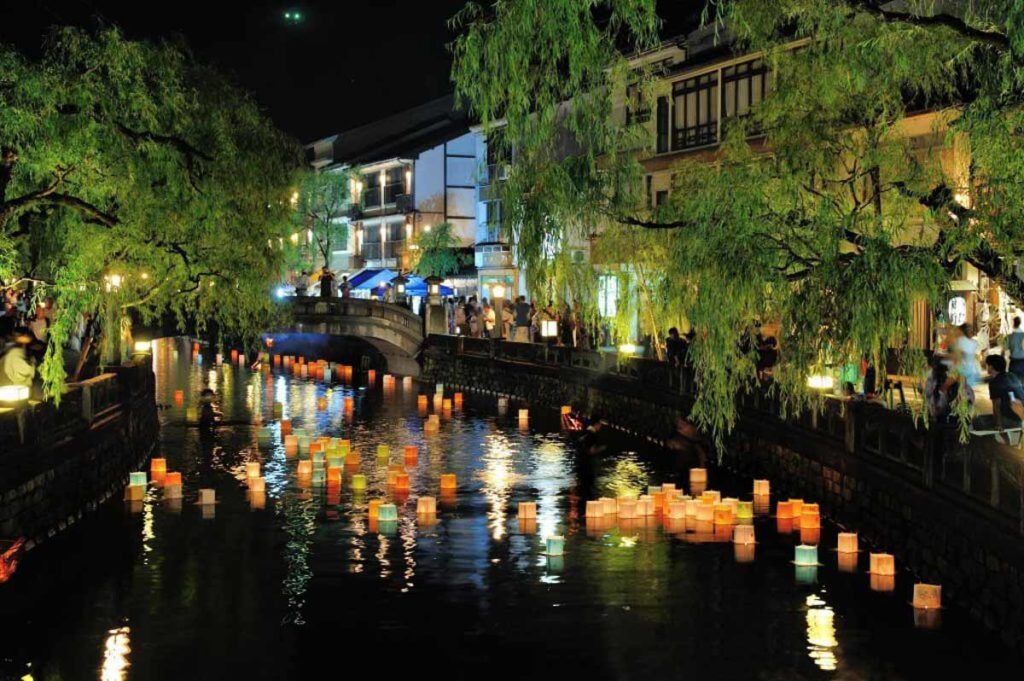 Photo credit: Visitkinosaki.com
Interestingly, all the public baths in the Kinosaki Onsen town are tattoo-friendly — yay! It's also closer to the Kansai region (Osaka, Kyoto, Kobe), unlike the previous few which are closer to Tokyo. You'll see everyone in this town donning their yukata and hopping between the seven public baths in the area — as long as you have a reservation in any hotel there, you're entitled to a "yumepa" that grants you unlimited access to all of 'em!
Depending on the season, don't miss the onsen festival with a whole host of activities in the spring when cherry blossoms bloom, as well as the summer Furusato Festival with fireworks at night!
Recommended hotels in Kinosaki Onsen: Nishimuraya Honkan, Morizuya, Hanakouji Saigetsu, Tsukimotoya Ryokan
And that's just the tip of the iceberg! The hot spring culture has always been strongly associated with Japan and its people, who still frequent onsens as a means of socialising or escaping the stresses of the city. If you ask me, the first time you do it can be embarrassing but once you get past that wall, you'll realise why this distinctly Japanese experience is worth the effort.
If you're planning to switch it up for your next Japan trip and take it slow in an onsen resort, you'll want to book your flights and accommodations early because even the locals will be competing for a spot! Check flight prices with this handy widget:
If you can't see the widget above, click here instead to check flights from Singapore to Japan.
Read also: 10-Day Japan Itinerary from Tokyo to Osaka
Featured image credit: Zekkeijapan.com
Are there any other onsen resort towns you've experienced in Japan and love? Tell us all about it in the comments!
---