Not sure where to go in Japan besides Tokyo? Visit these five prefectures instead, from Gunma's award-winning onsens to Nikko's grand shrines.
If you've been to Japan, you've probably been to Kanto — because that's where Tokyo is in. At some point (maybe after your first Japan trip), you'll probably (or definitely) want to experience some of the other 46 prefectures.
But most visitors usually just hop on a shinkansen straight out to either Osaka or Kyoto, completely missing out on other gems that are way nearer! In fact, the five prefectures in this article aren't far from Narita Airport at all.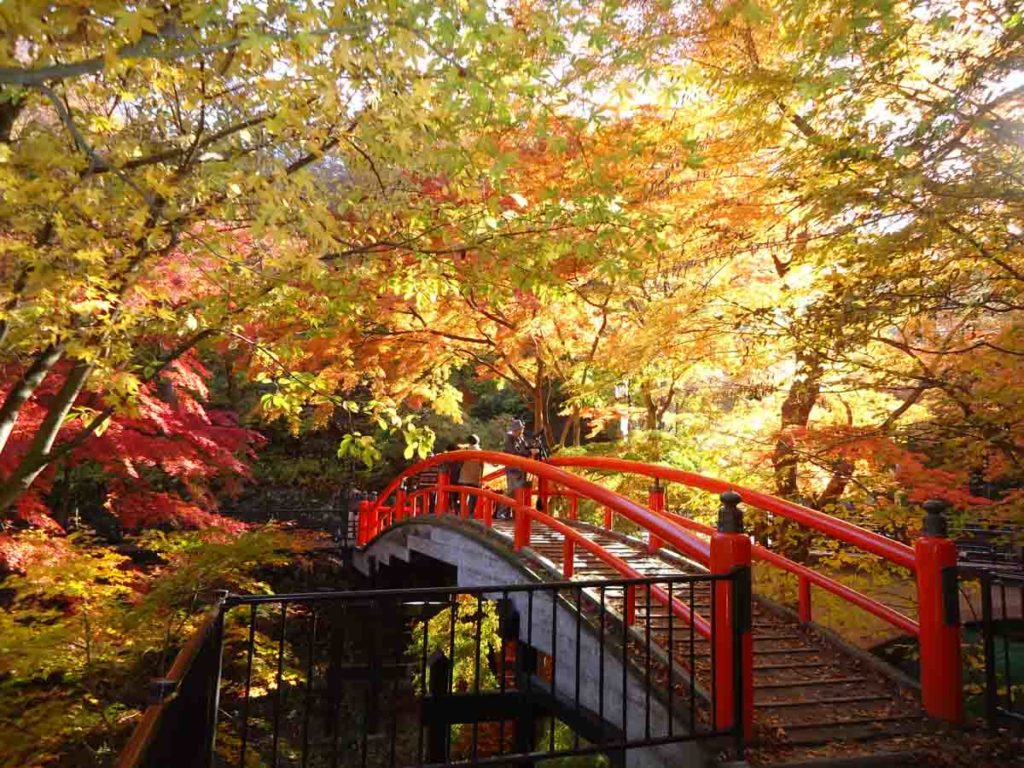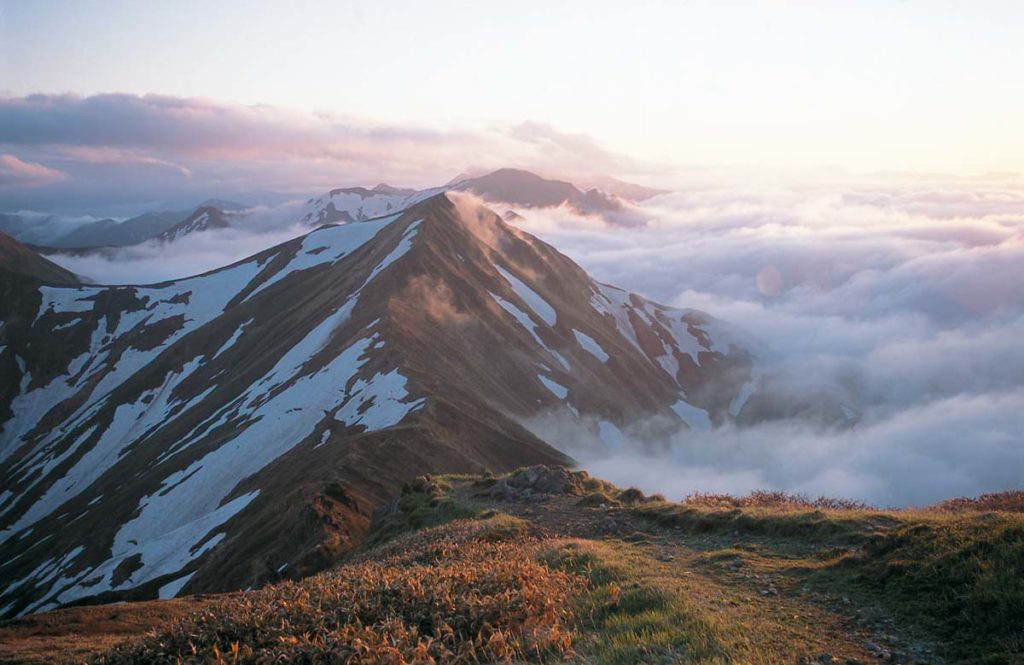 For one, there's the mountainous regions of Gunma prefecture just an hour from Tokyo (two hours from Narita). The winter is perfect for a place like Tochigi, just one hour by train from Tokyo (two hours from Narita) — frozen waterfalls, winter illuminations, and a host of winter festivals! Even nearer? There's Chiba prefecture where Disneyland is, but also has a charming countryside (and delicious unagi!).
But hey, I'm not gonna give away all the spoilers now — if you've already been to Tokyo, here are other cities within Kanto you should visit the next time you fly to Narita Airport.
P.S. Singapore Airlines flies twice daily to Narita Airport!
1) Gunma — Home of Japan's Best Onsens
Hours from Tokyo: 1 (to Takasaki Station)
Getting from Tokyo to Gunma: Take the Joetsu or Hokuriku Shinkansen from Tokyo Station to Takasaki Station.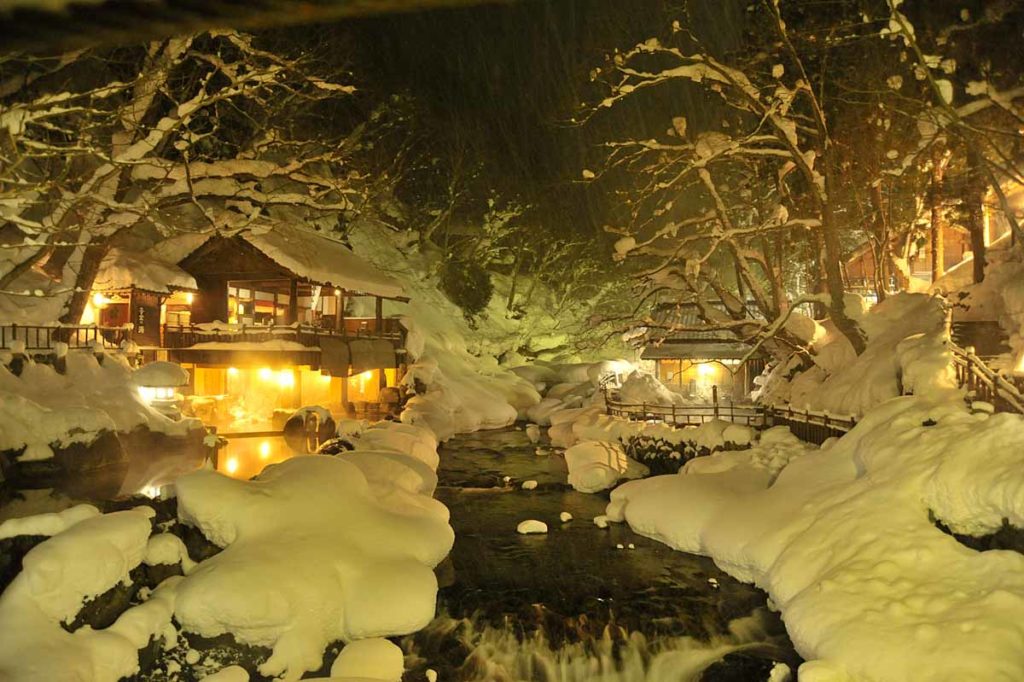 Minakami (Takaragawa) Onsen. Photo credit: Gunma Prefectural Government
Being half a mountainous region, Gunma prefecture is blessed with some of Japan's best onsens — in fact, there are over 200 of them (they've even won awards on top onsen lists!).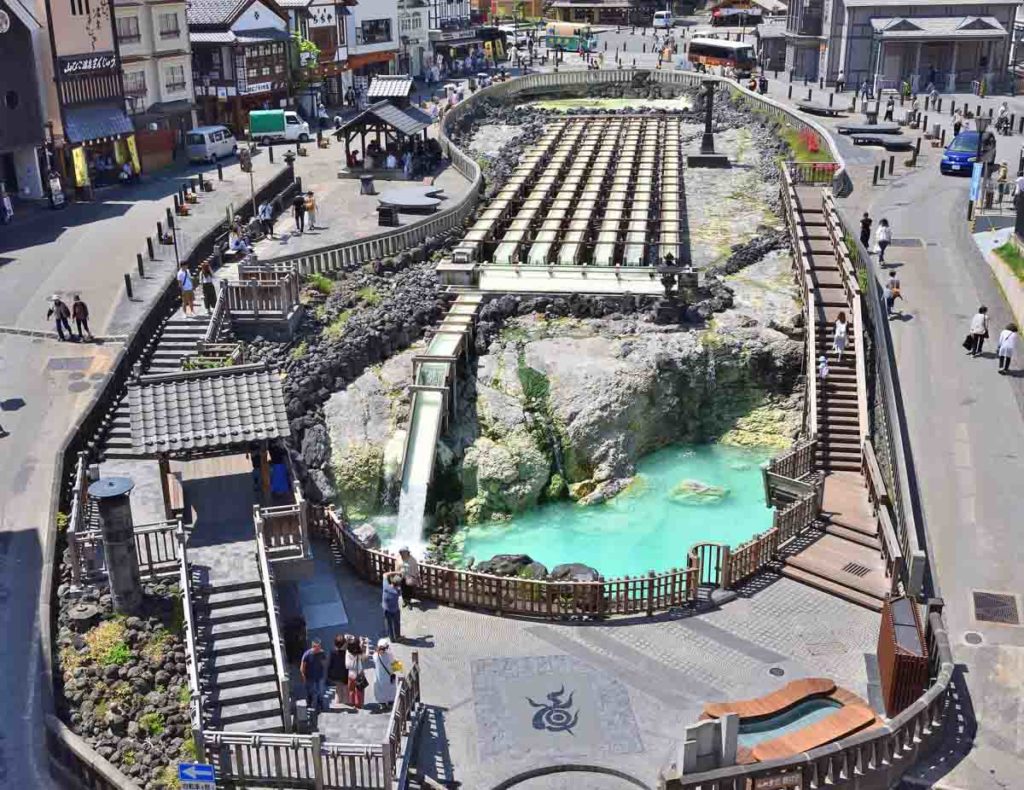 Kusatsu Onsen. Photo credit: Gunma Prefectural Government
See: Winter Illumination of One Million LED Lamps at Gunma Flower Park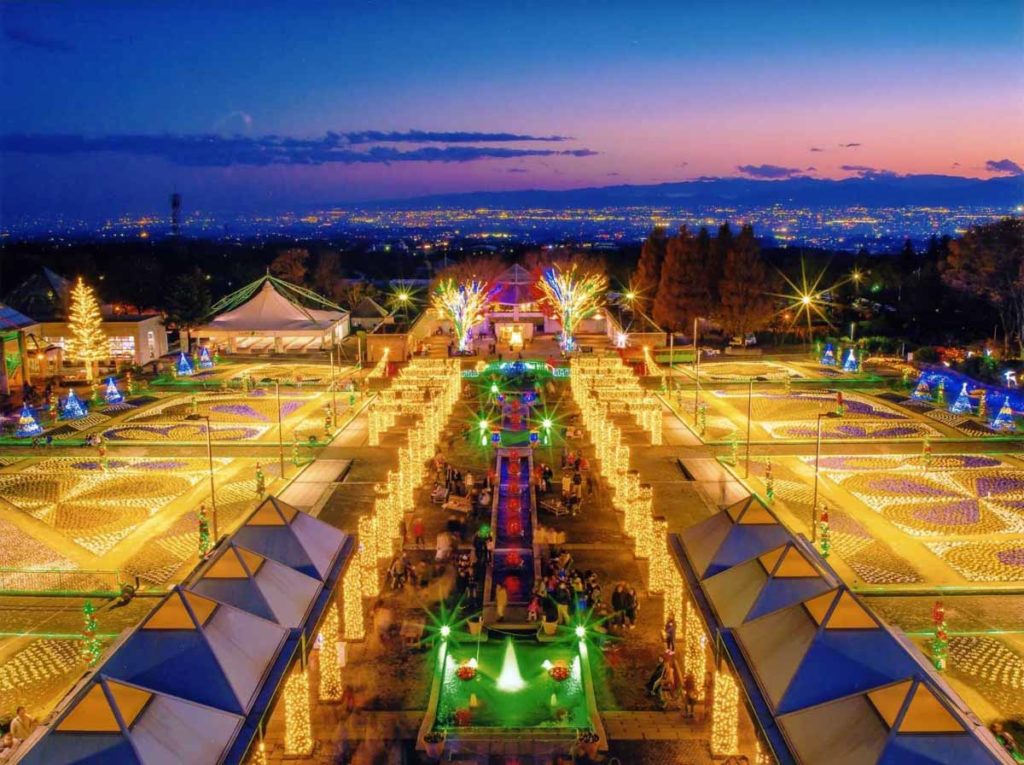 Winter illumination at the KANEKO SEEDS Gunma Flower Park. Photo credit: Gunma Prefectural Government
Japan never disappoints with its festivities, and winter illumination festivals are no exception. The KANEKO SEEDS Gunma Flower Park gets bedazzled by a million LED lights every winter from November to January, with last year's event being fairy-themed. If you're lucky, you might even catch the fireworks display event (it was on 24 November last year)!
Explore: Onsen Galore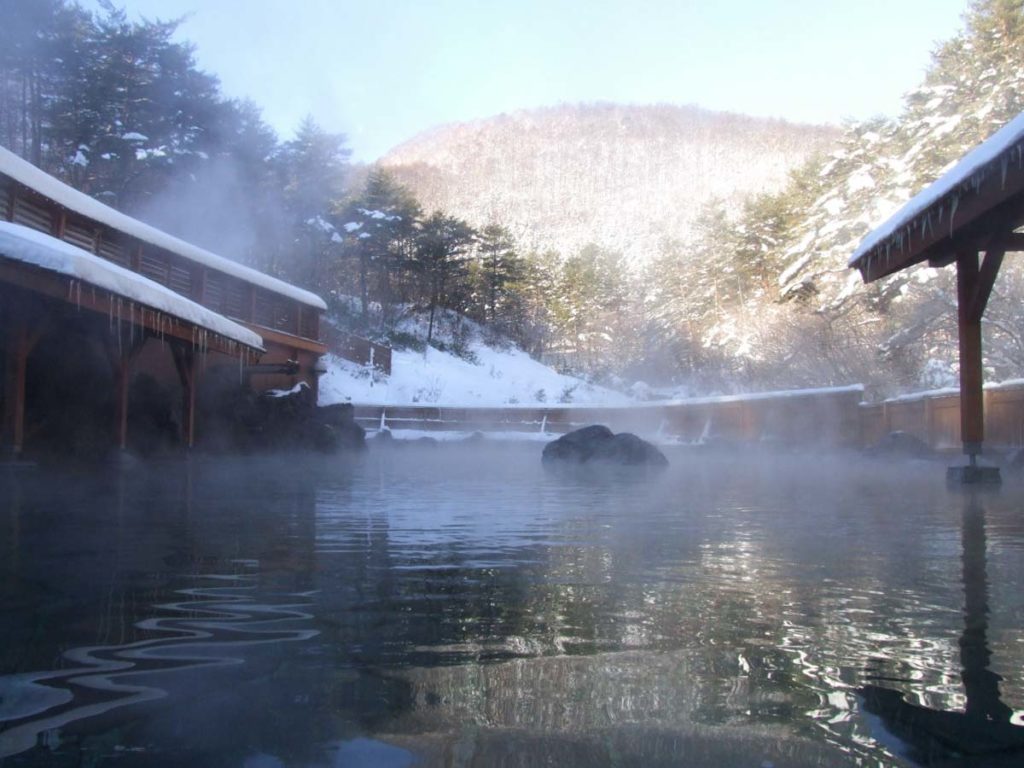 Kusatsu Onsen. Photo credit: JNTO
Good, natural outdoor onsens are basically non-existent in Tokyo. Thankfully, Gunma is only a short train ride away and onsen villages are aplenty there. In fact, it's home to some of Japan's best!
Kusatsu Onsen (pictured above) is dubbed one of Japan's top three onsens, and even spent 16 consecutive years atop the Top 100 Onsen of Japan list (it's a real list).
There's also the Ikaho Onsen (right in the middle of a forest) and the Minakami Onsen Area (that has 18 onsens in itself. Knock yourselves out!). Since they're onsen towns, you can also opt to stay overnight in any of the onsen's attached inns.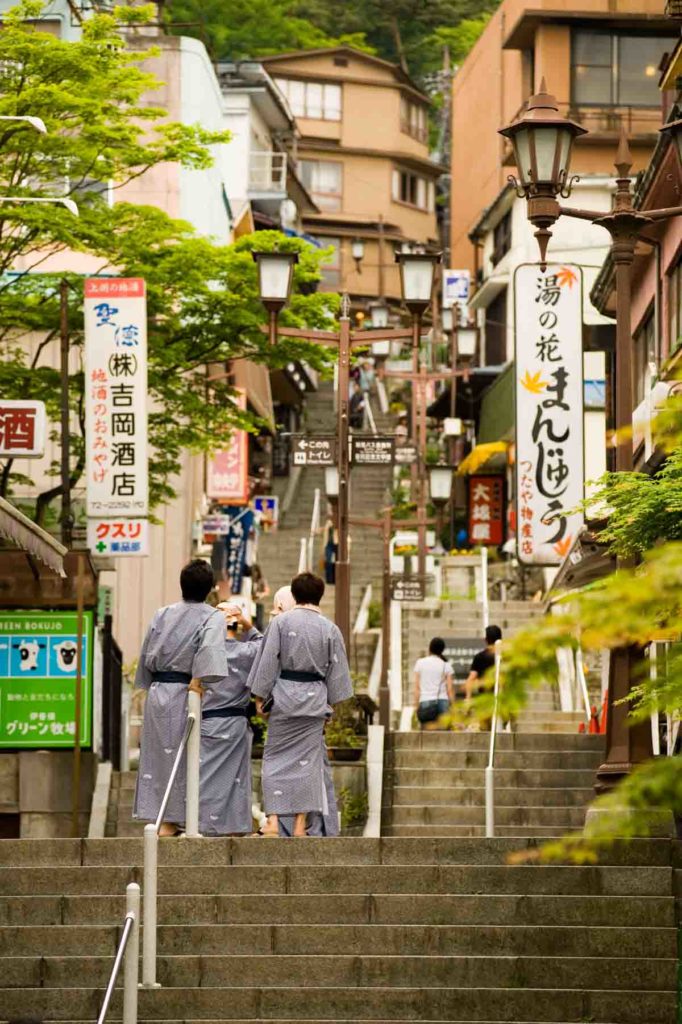 Ikaho Onsen. Photo credit: Gunma Prefectural Government
Eat: Okkirikomi — Japan's Answer to Mee Hoon Kueh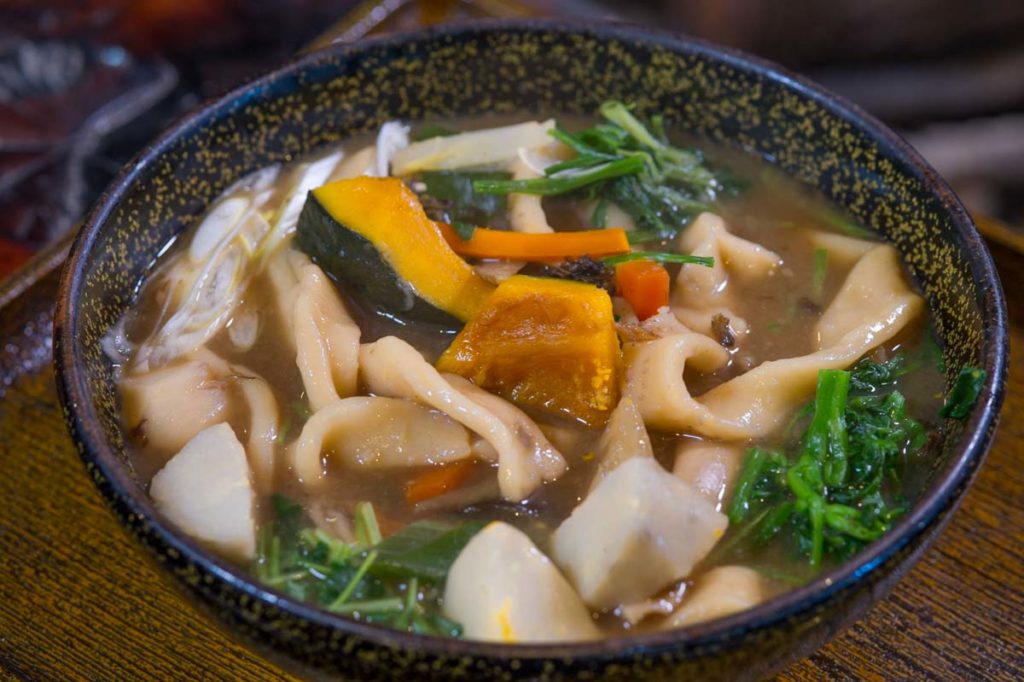 Okkirikomi noodles in Gunma. Photo credit: JNTO
This stew is perfect especially during the colder seasons! Just like Singapore's mee hoon kueh, Gunma's okkirikomi noodles are wide and flat, and cooked in a miso-based soup (or soy sauce) with seasonal vegetables and mushrooms.
It appears a little bit like houtou noodles that you'd find around Kawaguchiko/Kofu in Yamanashi, but they use different ingredients since both dishes use vegetables from their respective regions.
Do: Paint Your Own Daruma Doll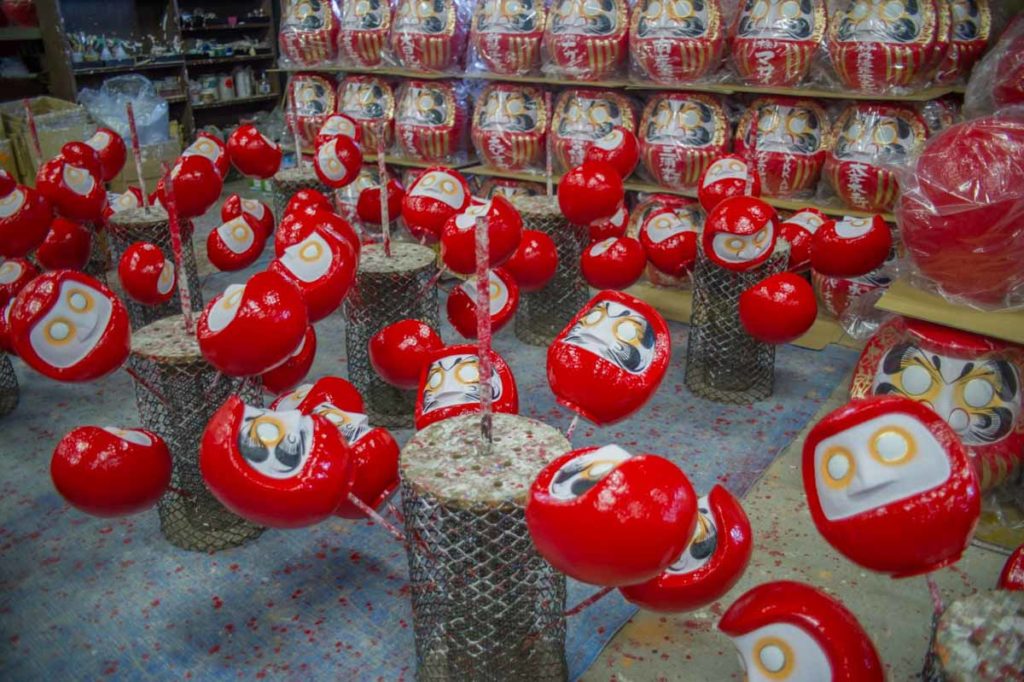 Daruma dolls in Takasaki. Photo credit: Gunma Prefectural Government/JNTO
Guess what? The famous daruma dolls are mostly produced in Gunma prefecture, in Takasaki city! The fortune dolls' unique looks stem from symbols of longevity and good luck, such as the crane seen around the eyebrows, and turtles seen in the moustache.
Join a daruma painting workshop to bring home your own doll! Paint your own 12cm-tall doll for ¥800 at Daimonya in Takasaki.
2) Tochigi — Home of Strawberries and Gyozas
Hours from Tokyo: 1
Getting from Tokyo to Tochigi: Take the JR Tohoku Shinkansen from Tokyo Station to Utsunomiya Station (Tochigi).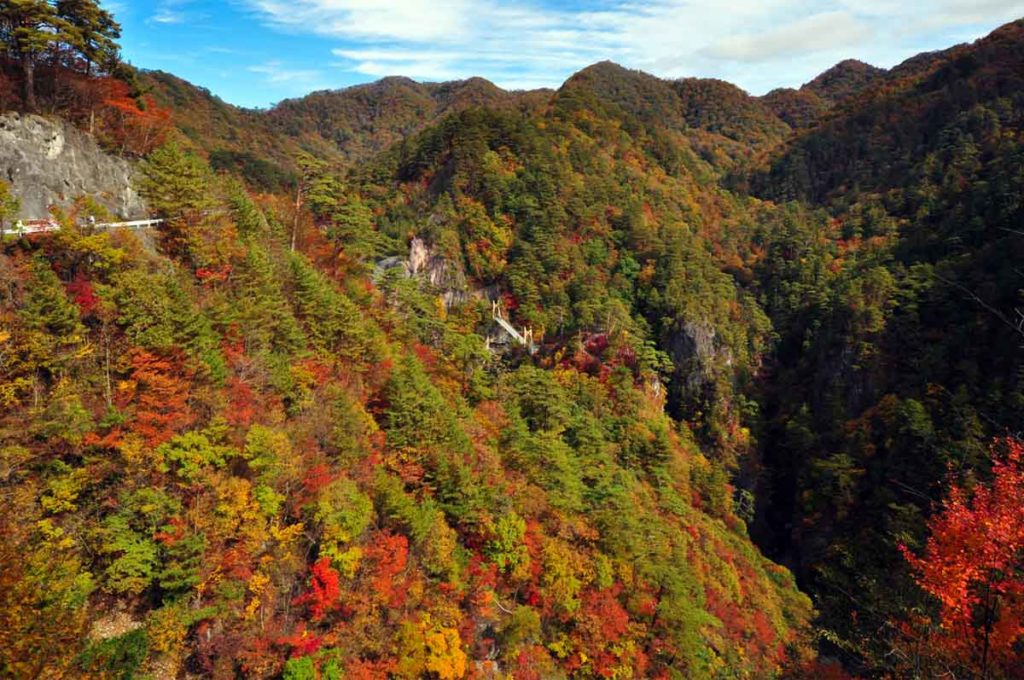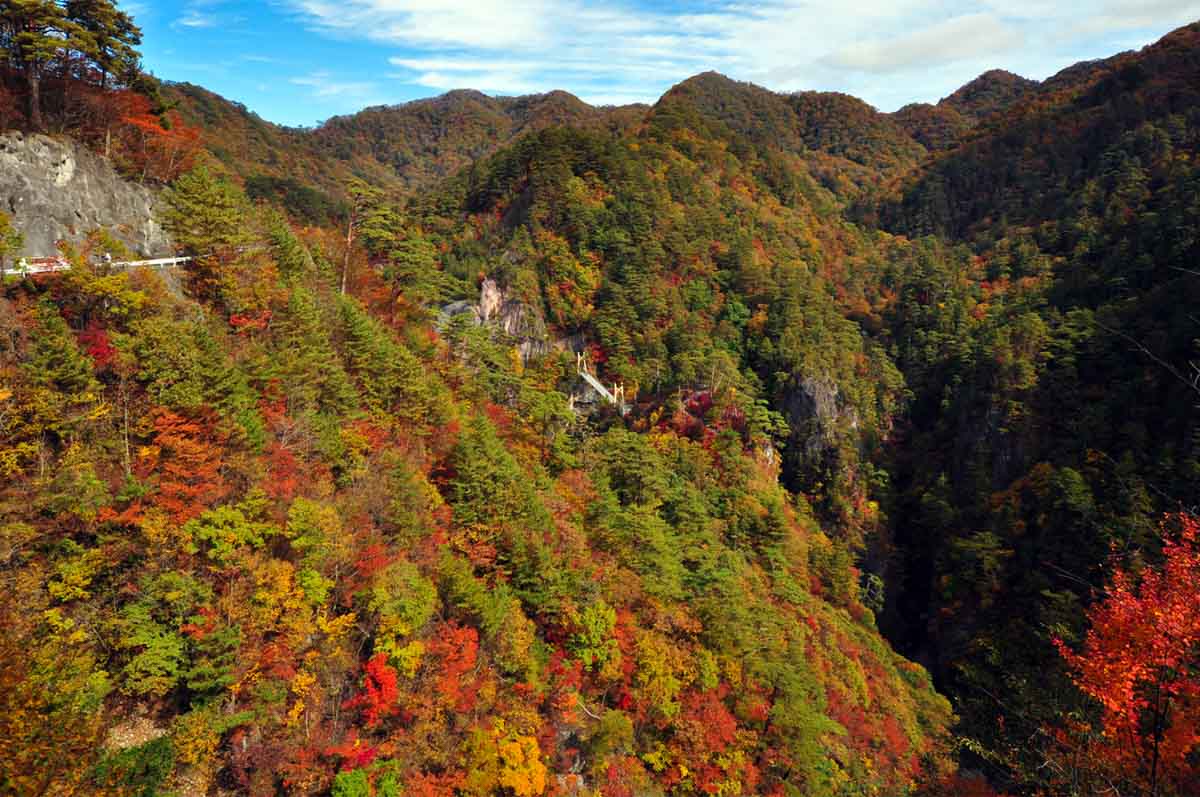 Setoaikyo Canyon in Nikko in the autumn. Photo credit: Tochigiji.or.jp
Tochigi is one of the nearest nature getaways from Tokyo, if you're talking about someplace that isn't overly touristy. This prefecture is famous for its strawberries, gyoza, alpacas (yes), and the Nikko National Park that spans over three prefectures.
See: Frozen Waterfalls, Winter Illuminations and Snow Festivals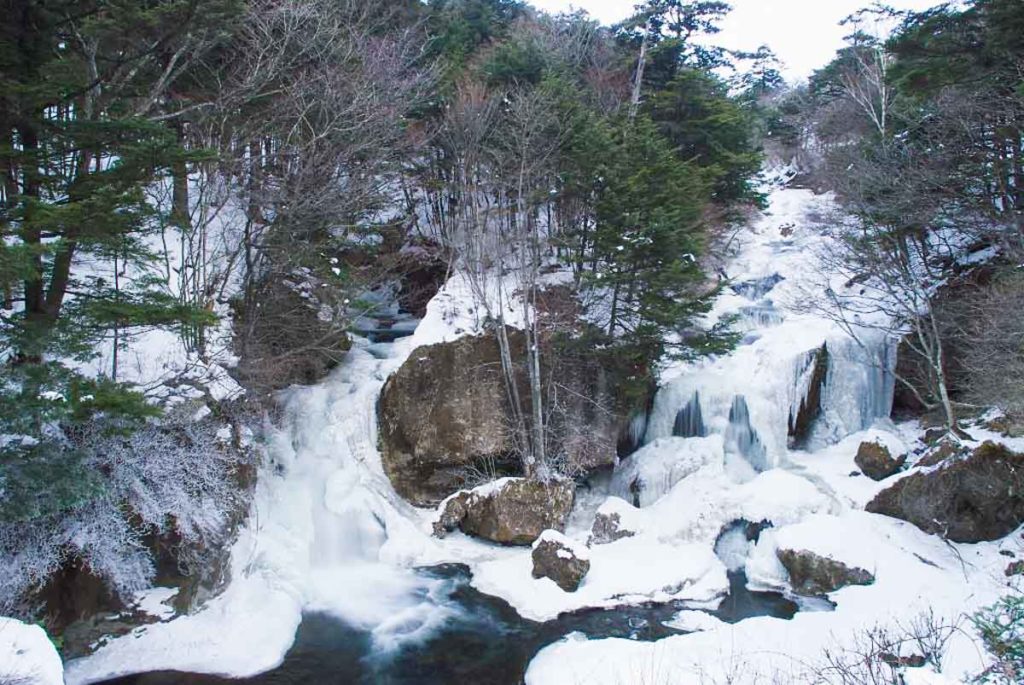 The Ryuzu Falls during the winter in Tochigi. Photo credit: Bandou348.web.fc2.com
Spending the winter in Tochigi is a dream. There are famous skiing spots around Nikko, but there are also a ton of other things to do!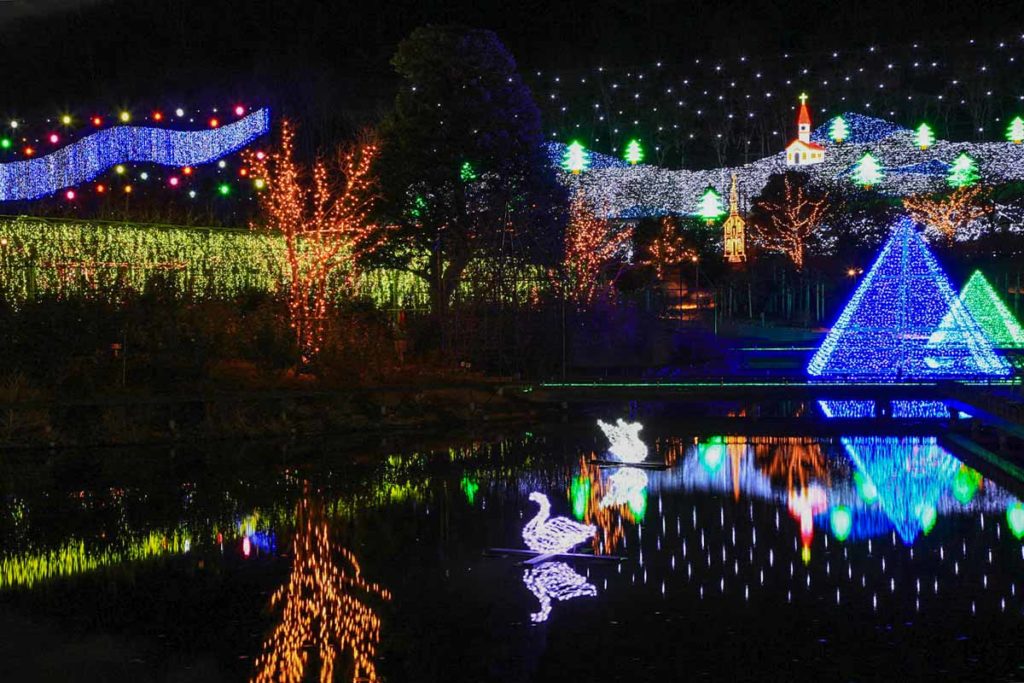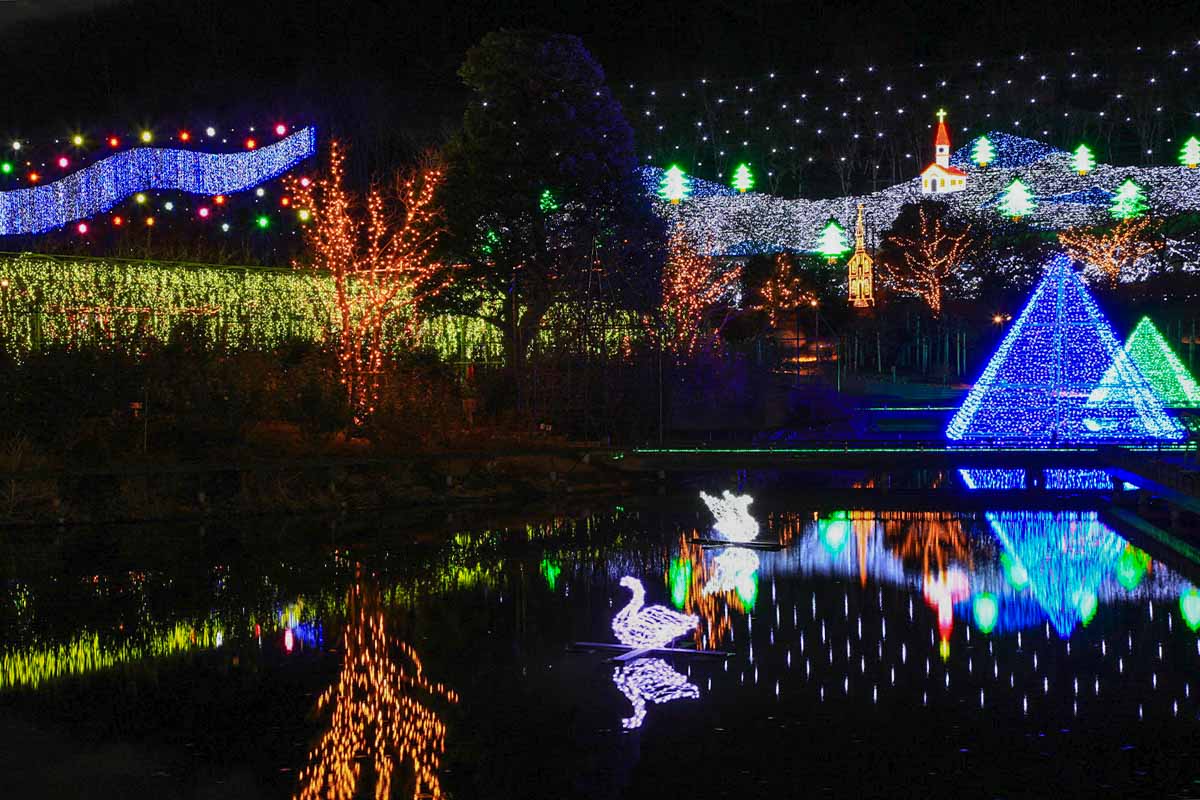 Winter illuminations at the Ashikaga Flower Park. Photo credit: Tochigiji.or.jp
Marvel at frozen waterfalls (pictured above), catch winter illuminations at Ashikaga Flower Park, and experience the winter traditions of Northern Japan at the Yunishigawa Onsen Kamakura Snow Festival, with picturesque snow huts right in the middle of an onsen town!
Explore: World Heritage Shrines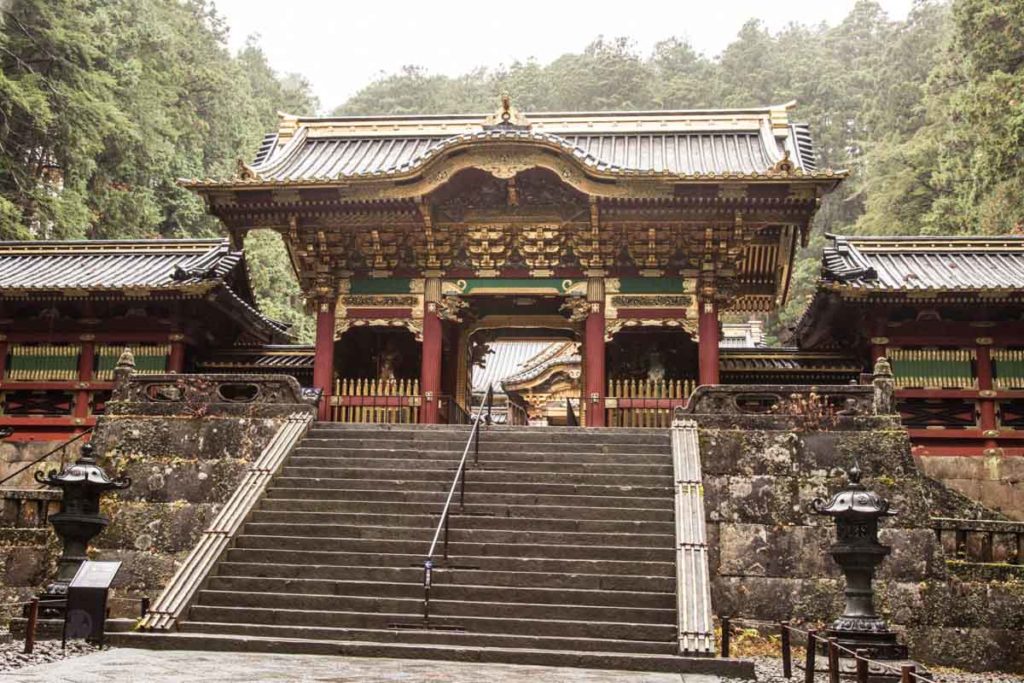 The Nikko Tosho-gu Shrine. Photo credit: JNTO
The Nikko Tosho-gu is a Shinto shrine of great symbolism — it houses the remains of Tokugawa Ieyasu, the first ruler of the Tokugawa shogunate. This is perhaps best signified by the elaborately decorated yomeimon gate that greets you, with other landmarks like a five-storey pagoda.
If you're there for the spring season, catch archers shooting arrows on horsebacks and samurai marching down the shrine at the Nikko Tosho-gu Shrine Annual Grand Spring Festival!
Getting from Tokyo to Nikko: From Asakusa Station or Shinjuku Station (in Tokyo), take the Tobu Railway Line for 2 hours on the Limited Express (特急) train to Nikko or Kinugawa-onsen.
Eat: Unique Gyozas and Native Strawberries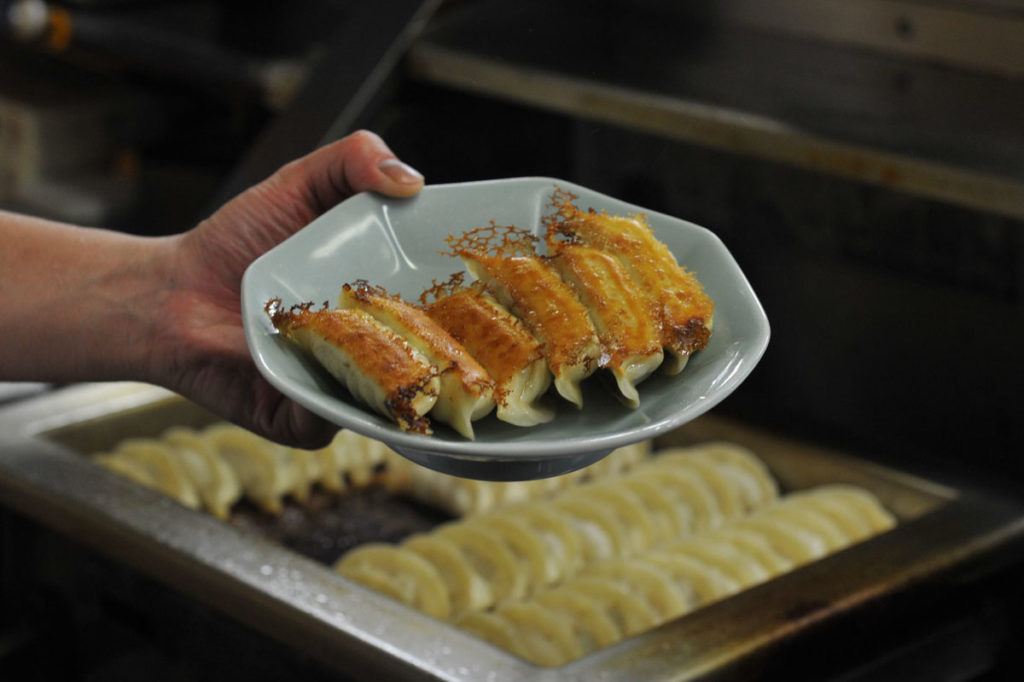 Unique gyoza found in Tochigi. Photo credit: JNTO
You won't even need to travel far out into Tochigi to get a taste of their local specialty. Right at the JR Utsunomiya Station itself sits Utsunomiya Gyozakan that boasts 12 different kinds of gyoza, from standard pork ones to garlic, mushroom, cheese and even chilli ones!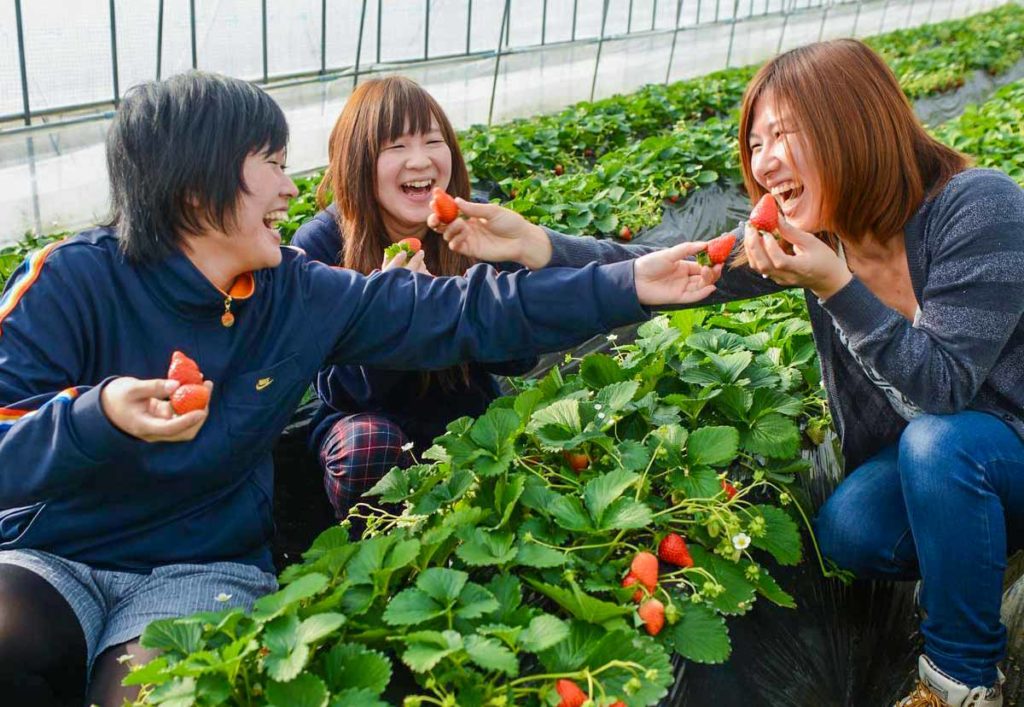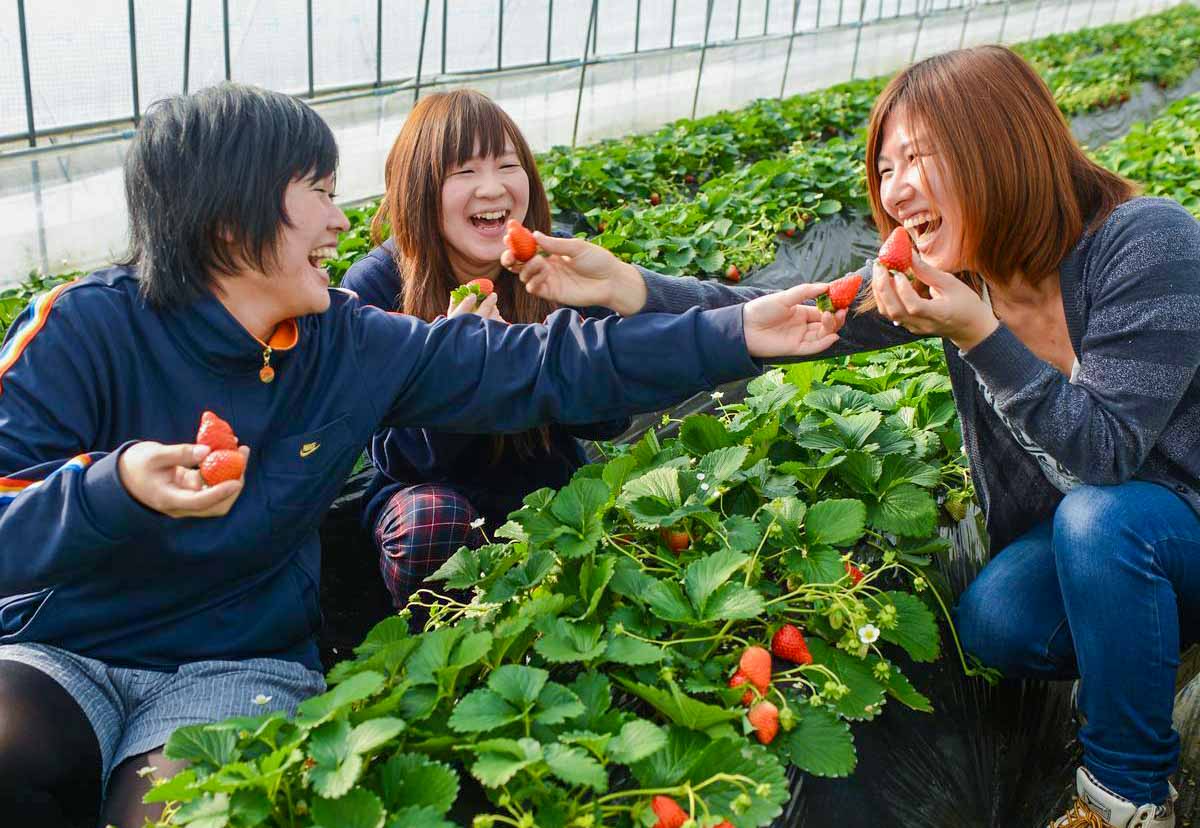 All-you-can-eat strawberry buffets in Tochigi. Photo credit: Tochigiji.or.jp
Tochigi is also most famous for its tochiotome strawberries that are distributed all over Japan — they harvest so many that they literally open up their greenhouses for tourists to eat all they want and knock themselves out. Super plump, super sweet, and you get eat 'em all for a flat price at strawberry farms like Yoshimura Strawberry Park (¥1,600 in December!).
*17th Oct 2019: Many of Tochigi's Strawberry farms have been seriously affected by Typhoon Hagibis so the All-you-can-eat buffets might be closed for the season.
Read also: 7 Reasons Why Tochigi Needs to Be in Your Tokyo Itinerary — Introduction to Nikko, Utsunomiya and Beyond
3) Ibaraki — Paradise for Park Lovers
Hours from Tokyo: 1.5
Getting from Tokyo to Ibaraki: From Tokyo Station, take the Limited Express Tokiwa or Hitachi train to Mito (Ibaraki) Station.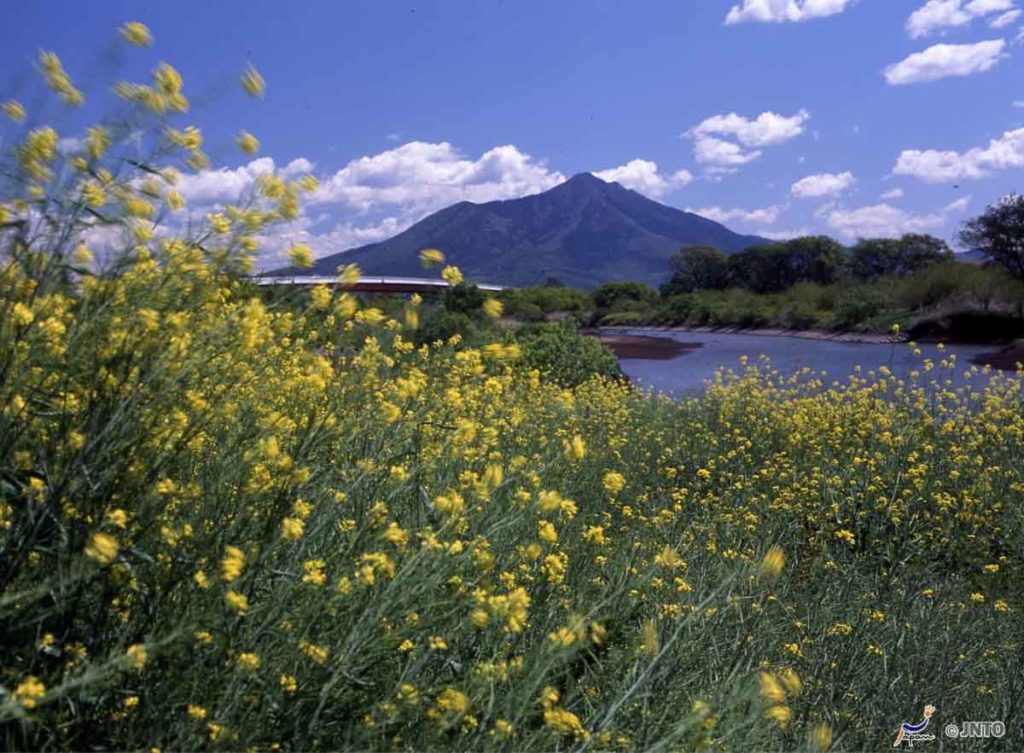 Mount Tsukuba in Ibaraki. Photo credit: Ibaraki Prefecture/JNTO
The horticulture, nature and heritage you'll find in Ibaraki are some of Japan's best.
See: Sprawling Flowers at Hitachi Seaside Park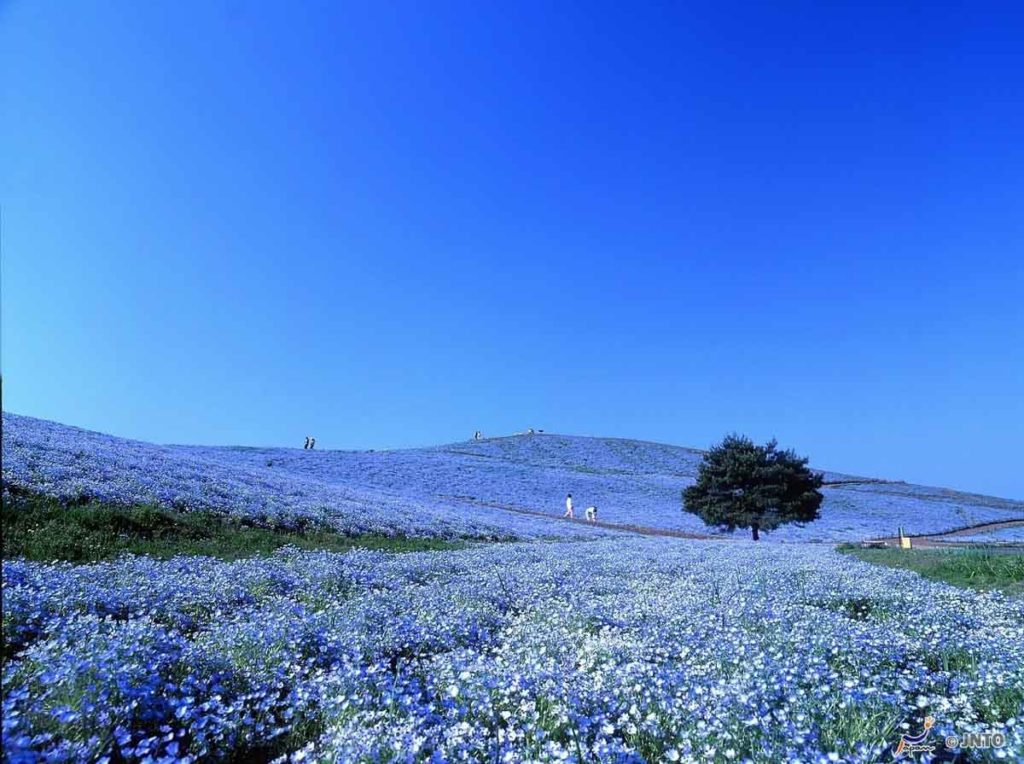 Blue nemophila flowers in the spring. Photo credit: Hitachi Seaside Park Office/JNTO
Easily Ibaraki's best attraction, you can't miss this if you're ever in the prefecture. The scenery at Hitachi Seaside Park is constantly changing throughout the year, from blue nemophila flowers in the spring (above) to kochia flowers in the autumn (below).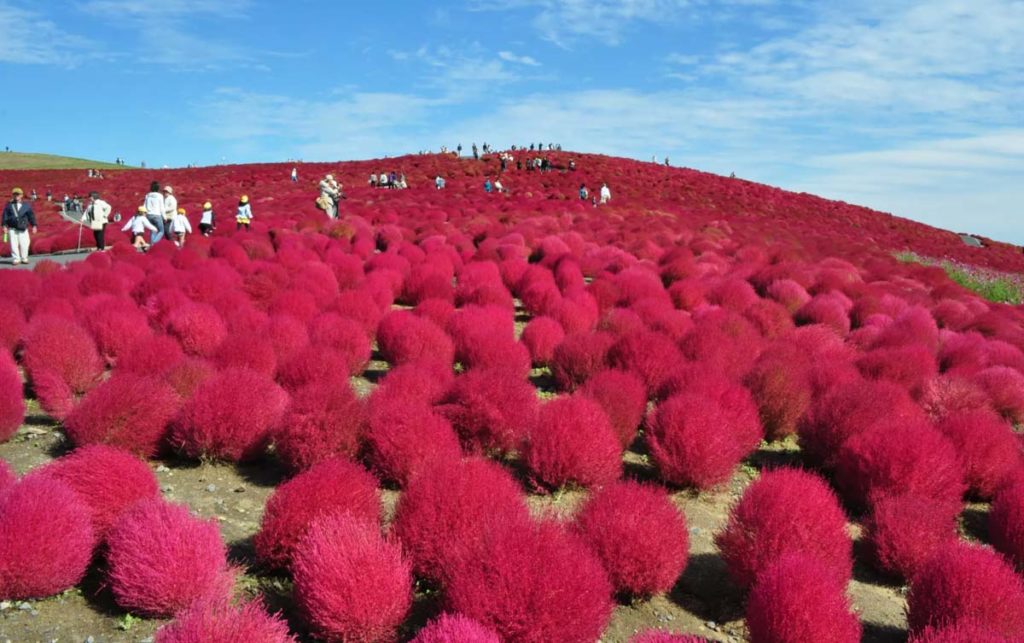 Kochia flowers in the autumn. Photo credit: JNTO
The entire park is 200 hectares wide, you could either walk, rent a bike, or take the hop-on-hop-off tram called the Seaside Train, that takes you around the park in 35 minutes.
Eat: Anko Nabe (Fish Hotpot) — An Ibaraki Specialty
Anko Nabe. Photo credit: JNTO
Winters in Ibaraki are spent warming up over a bowl of hearty, fish hotpot called anko nabe. This Ibaraki specialty uses anko fish, which is like an anglerfish/monkfish cooked with cabbage, tofu, mushroom and other vegetables. The monkfish is caught close to the Ibaraki shoreline, so this is the freshest you can possibly get!
Do: Walk (or Bungy Jump) Along Japan's Second-longest Suspension Bridge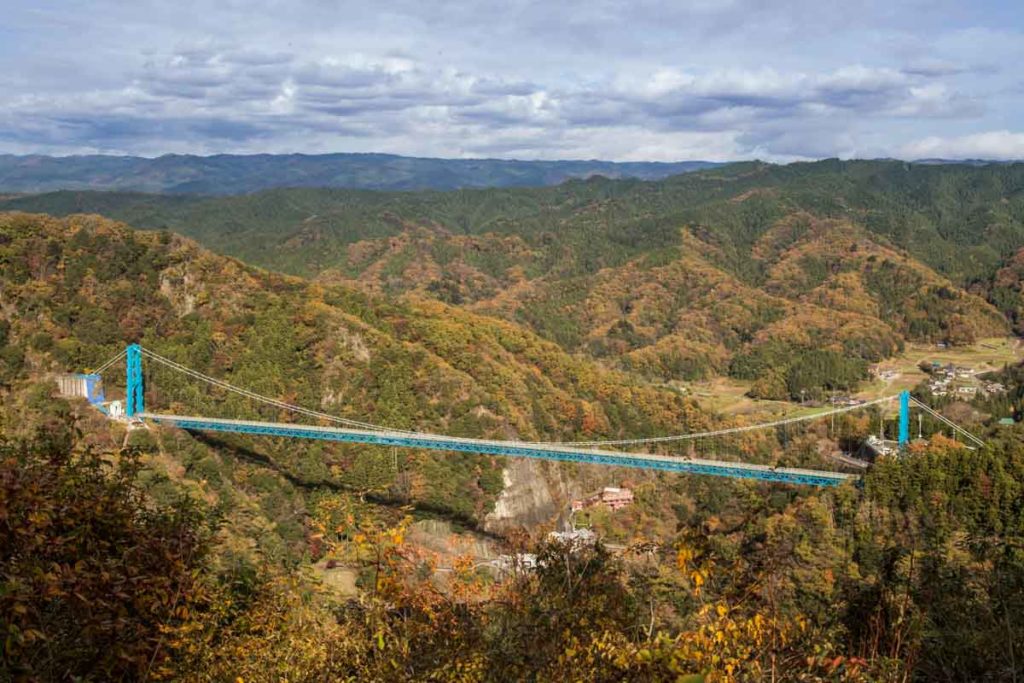 The Ryujin Suspension Bridge. Photo credit: JNTO
The Ryujin Suspension Bridge, at 375m is the longest on Japan's main island after Shizuoka's Mishima Skywalk, and overlooks the Ryujin Gorge 100m below.
As a cute little touch, the iconic blue bridge's walls are decorated with dragons! But what's perhaps even better is the fantastic autumn foliage colours surrounding you during the season.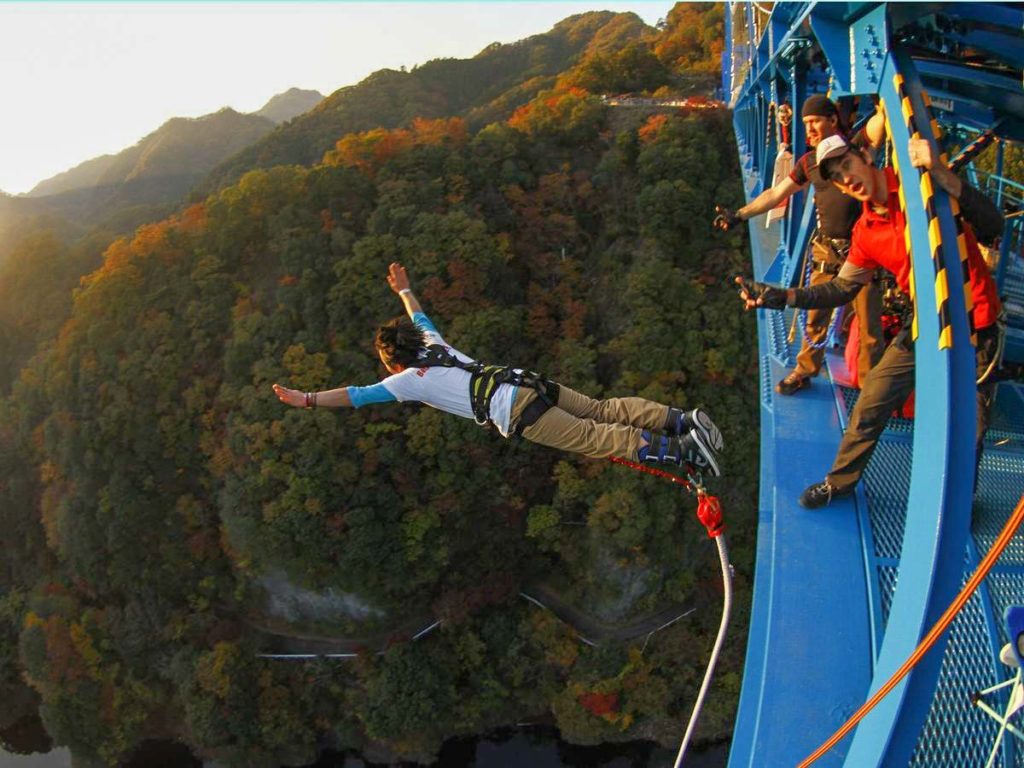 Bungy jumping down the Ryujin Suspension Bridge. Photo credit: Sotoasobi.net
If soaking in the sights is too meh for you, get all extreme and bungy jump down into the gorge instead — it's the tallest bungy jump in Japan!
4) Chiba — Zen Experiences Right Beside Tokyo
Hours from Tokyo: 1 (but slightly less than 1 hour from Narita Airport!)
Getting from Tokyo to Chiba: Take the Chuo-Sobu Line from Tokyo/Akihabara Station to Chiba Station.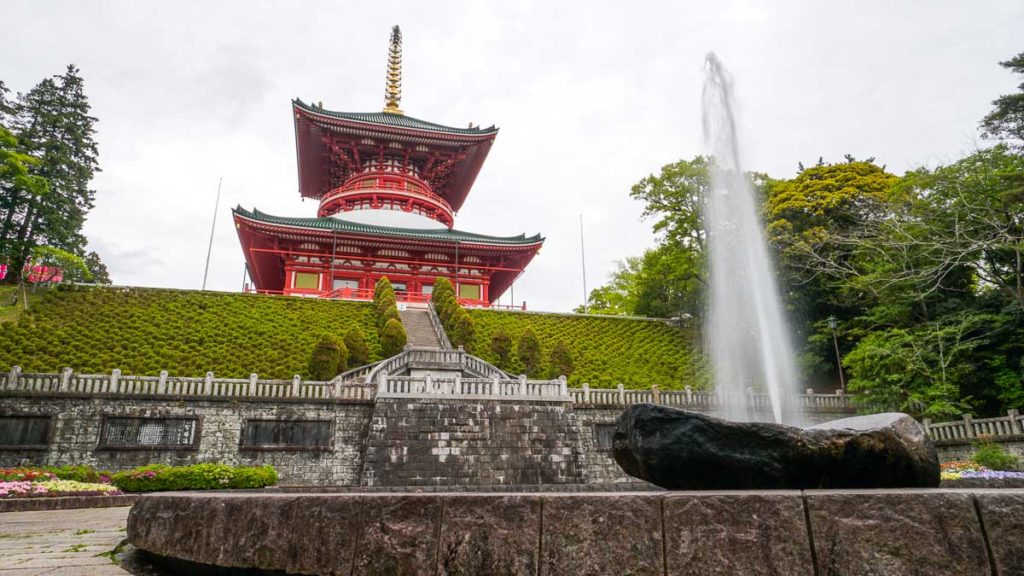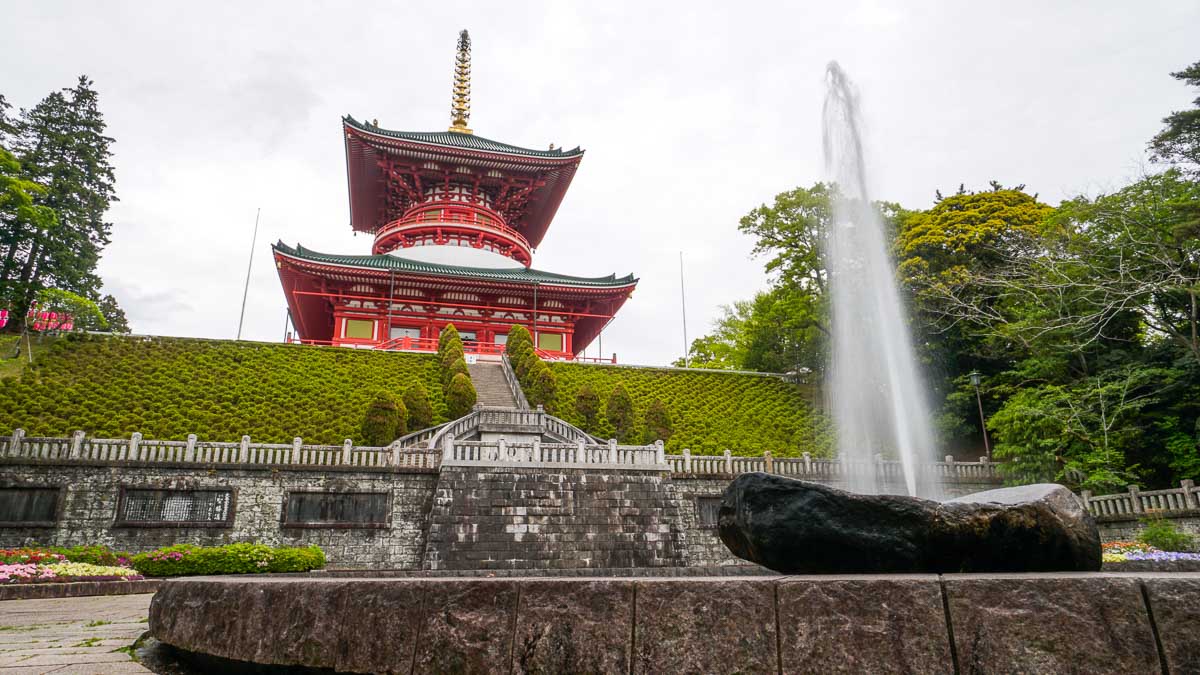 You've probably been to Tokyo Disneyland that's in Chiba itself, but why not extend your stay and travel around the area's picturesque nature and less touristy side?
See: Shingon Priests Performing Fire Rituals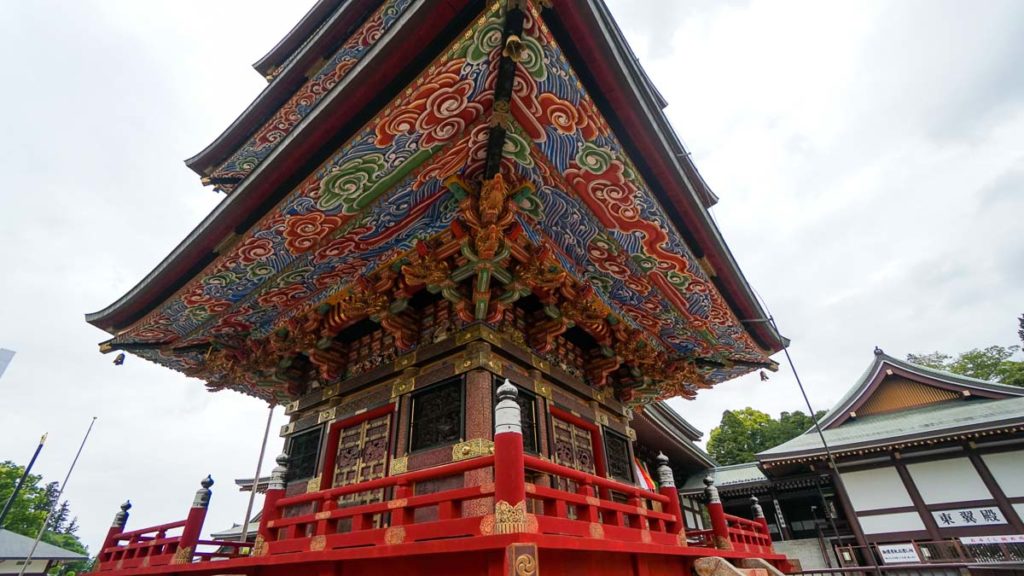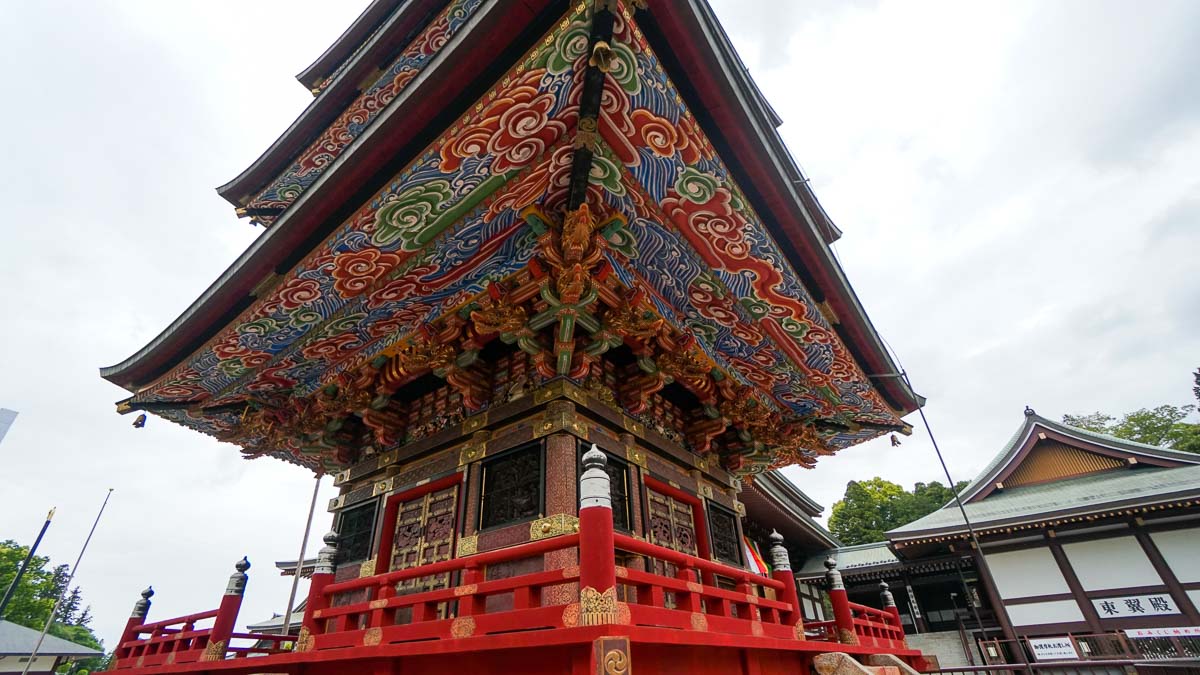 The Naritasan Shinshoji Temple is arguably most famous for its daily Goma Fire Ritual, which lasts 20 to 30 minutes calling upon the God of Fire to grant worshipper's wishes.
Performed several times every day, visitors get to witness Shingon priests burning wooden Goma sticks amidst chanting and drumbeats.
Eat: Narita's Oldest Eel Restaurant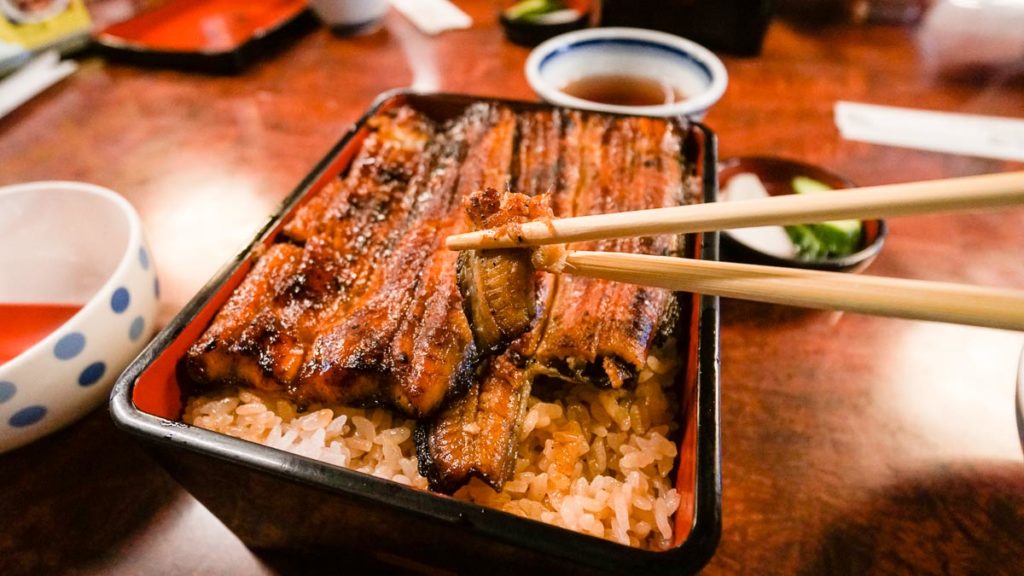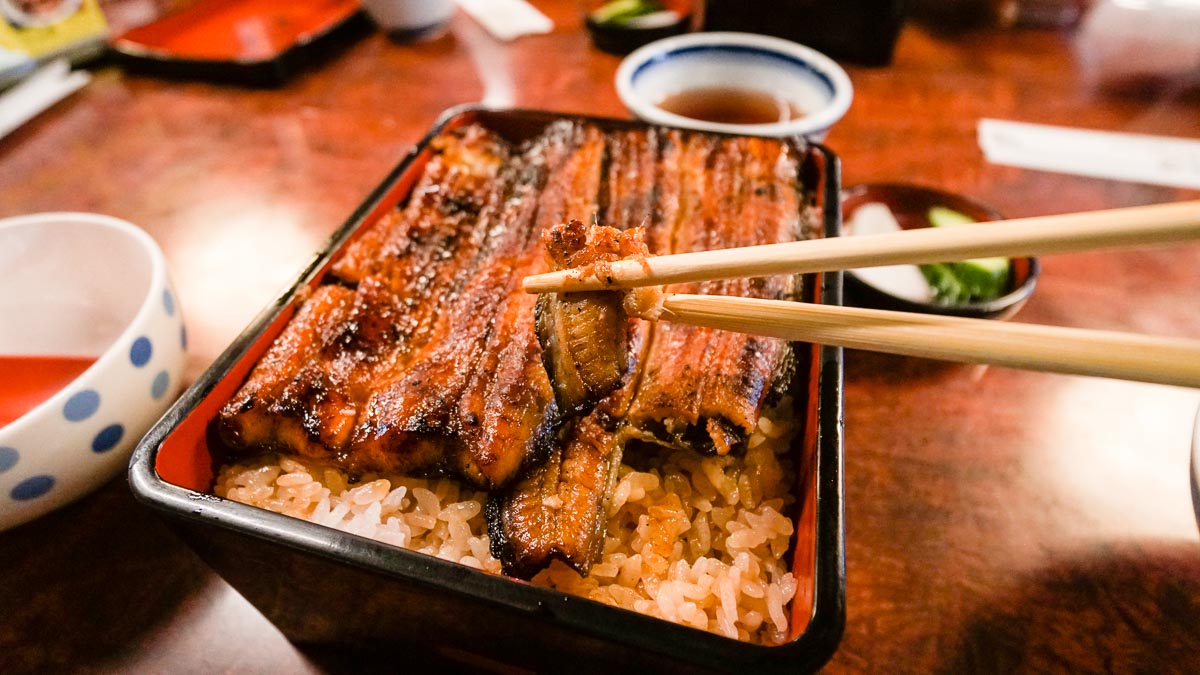 You'll be missing out if you don't splurge on a meal like this in Japan. Kawatoyo has been in business since 1910, and draws a queue all day long (but it's well worth it!). If you're not able to ball on the extra large ¥5,000 bowl, you can always share a large portion (¥3,600) and top up ¥150 to upsize your rice.
Get ground floor seats for the best view — you'll get to see staff slicing and grilling up the unagi, though if you're not interested in smelling like smoke you can always sit on the second floor with comfy tatami mats.
*Pro-tip: Take a queue number at the entrance — waiting times can range from 30 minutes to an hour on weekends.
Read also: Ultimate Narita Travel Guide — Best Things To Do In The Chiba Region During Your Tokyo Layover
Do: Glamping in the Countryside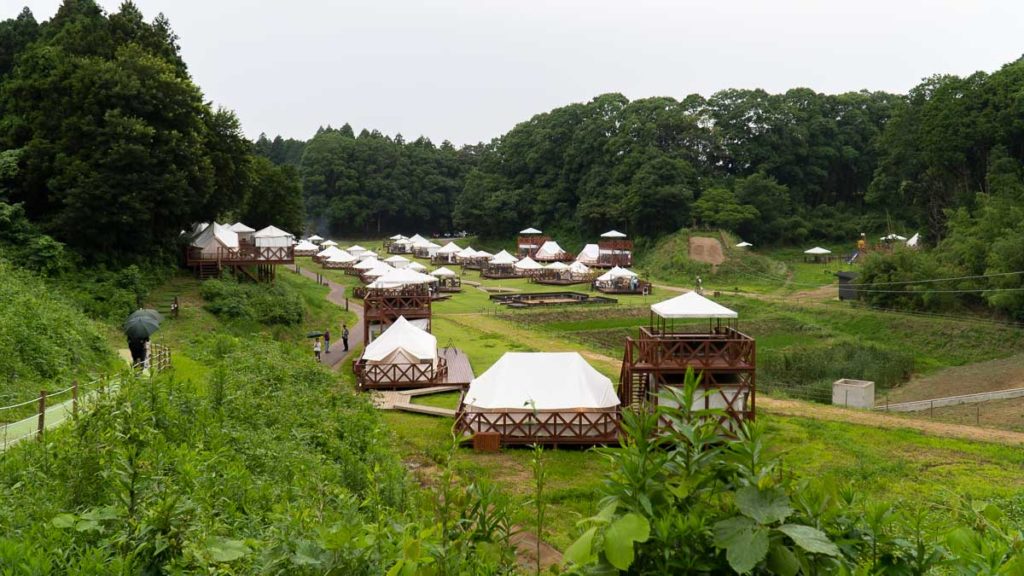 You don't need to stray so far from Tokyo to get a peaceful, countryside experience. Glamp out in luxurious tents (or private cottages for bigger groups), indulge in on-site barbecues and soak in onsens in the very same area!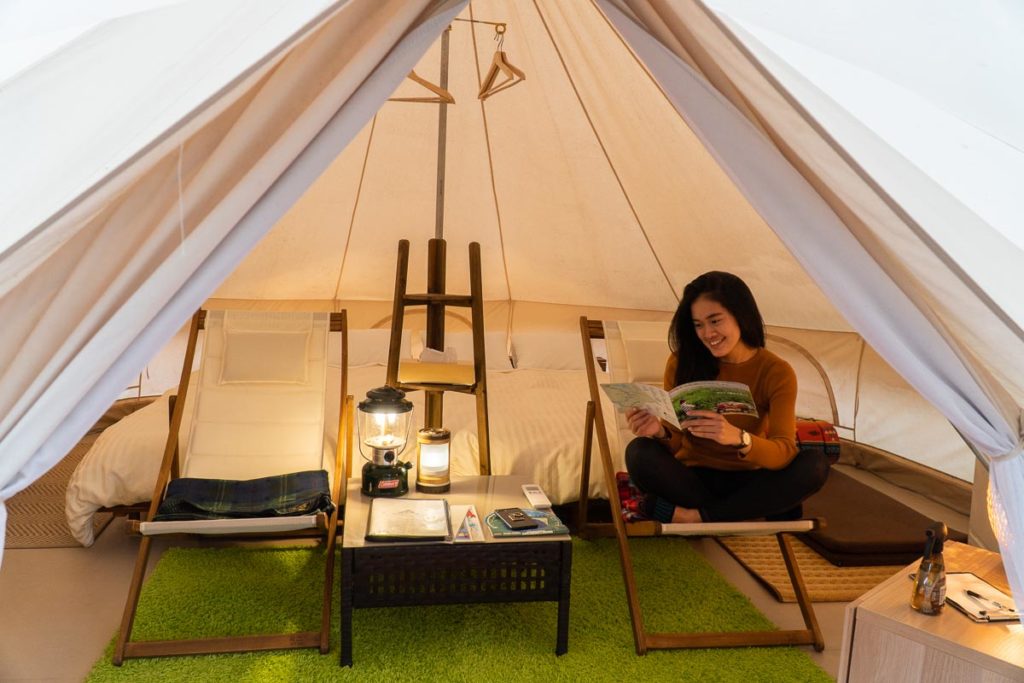 The Farm offers a package that provides a private cottage (two pax) with onsen and vegetable harvesting experiences included (meals not included, though — there's an on-site restaurant, or sign up for the barbecue lunch sets).
Read also: 4D3N Chiba Itinerary — Road Trip of Zen Experiences Beyond Tokyo Disneyland!
5) Nagano — Gateway to the Japanese Alps
Hours from Tokyo: 2
Getting from Tokyo to Nagano: Take the Hokuriku Shinkansen from Tokyo Station.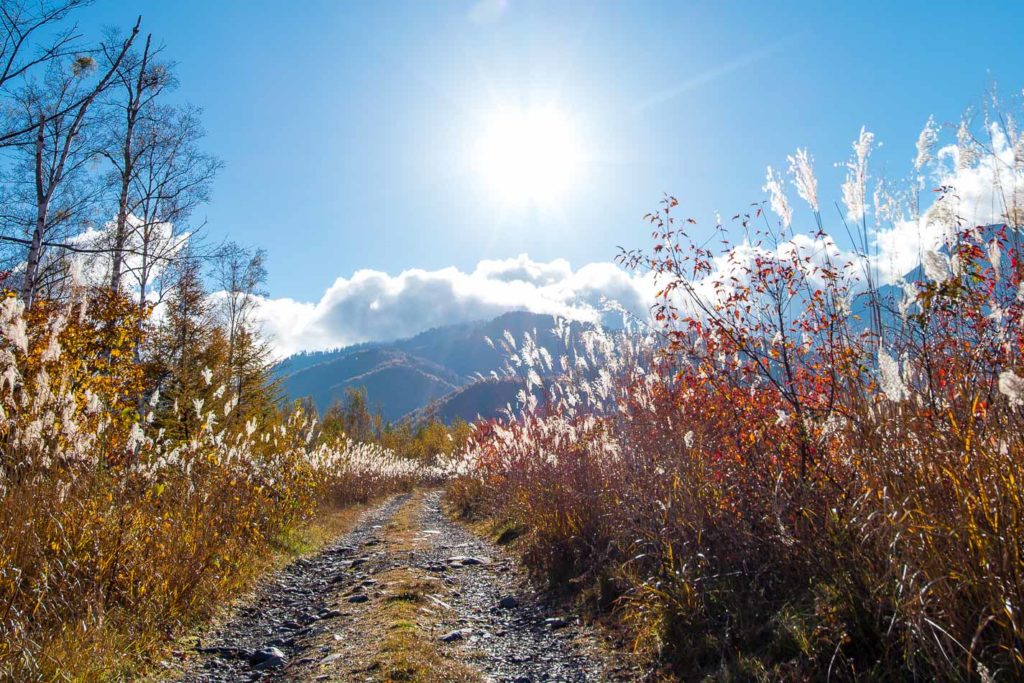 Nagano may not technically be part of Japan's Kanto region, but labels are labels, right? Nagano is easily accessible from Tokyo (just two hours by shinkansen), and outside of popular skiing spots which only make up a small part of Nagano, the rest of the prefecture is still largely untouched by tourism.
Read also: 6D5N Nagano Itinerary — The Romantic Getaway 3 Hours from Tokyo
See: Snow Monkeys Soaking in an Onsen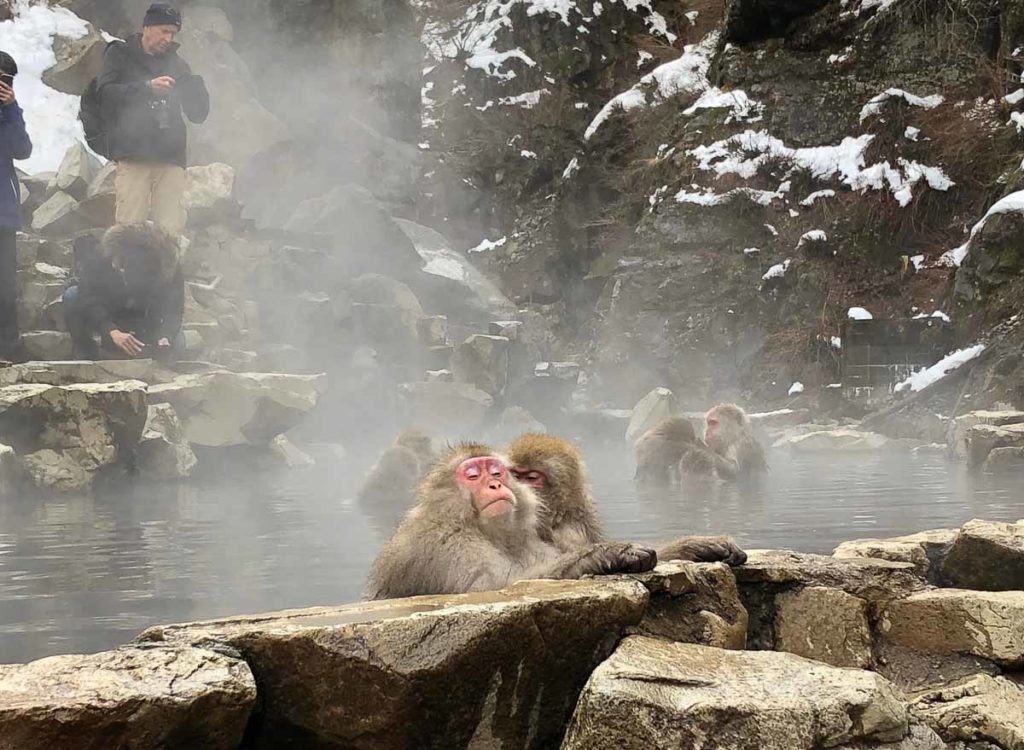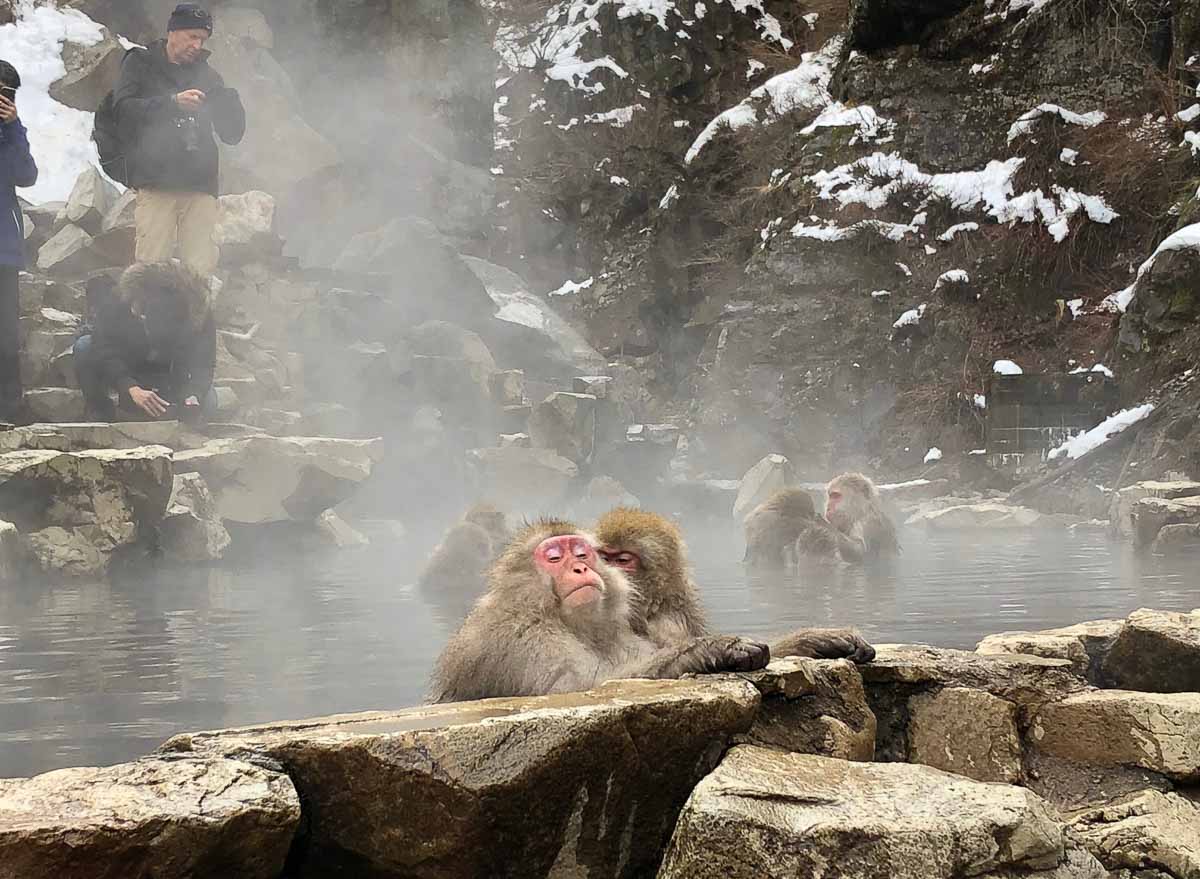 Sorry folks, the onsens at the Jigokudani Snow Monkey Park are reserved for the resident monkeys only. But it's still a pretty cool sight to see wild monkeys totally chilling out instead of stealing your belongings!
If you're interested in having a dip yourselves, there are onsens nearby like the Kaede no Yu, Shibu Oyu and Wakuwaku no Yu.
Read also: 8D Japan Winter Itinerary Under S$1.2k — Fox Village, Snow Monkey Park, Gassho Houses
Explore: Zenkoji Temple — Home to Japan's First Buddha Statue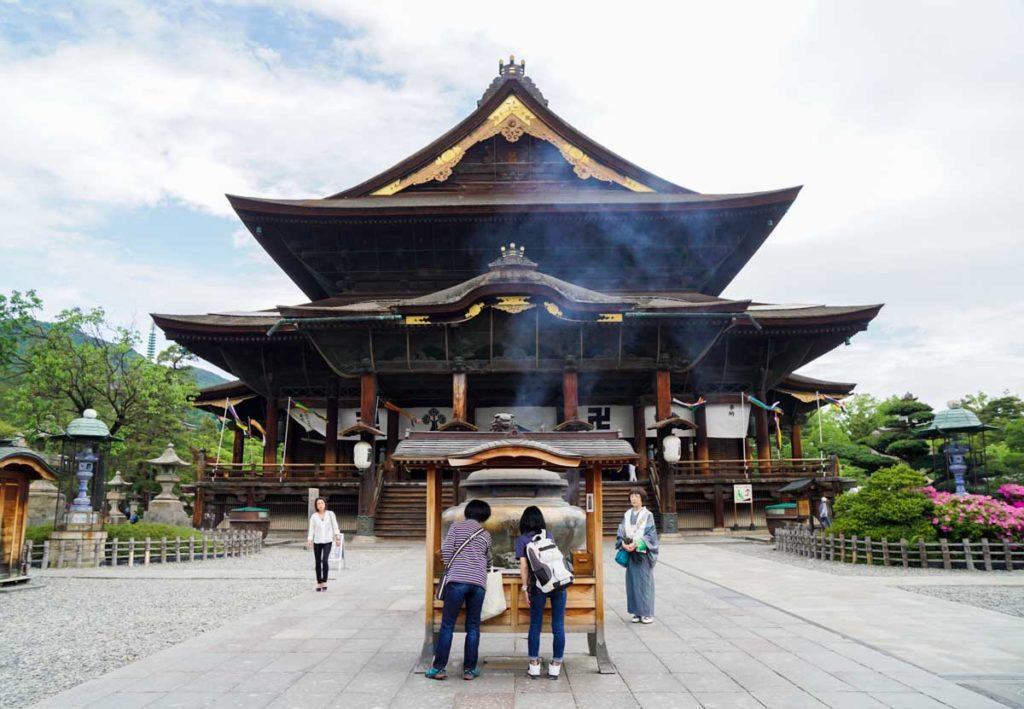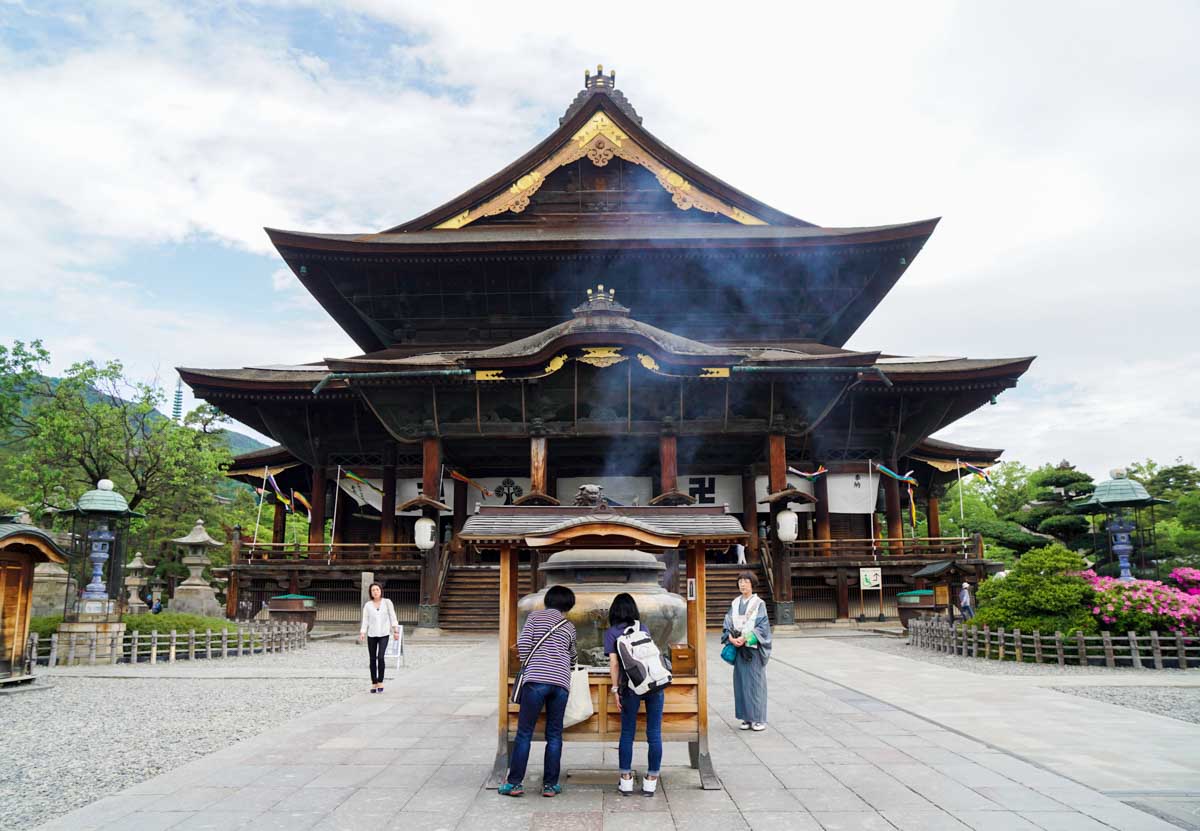 Nagano city's Zenkoji Temple once housed the first Buddha statue in Japan, though it's not something you can easily see anymore. A replica gets shown once every six years instead in a ceremony called gokaicho, and the next one happens in 2021.
What you can actually do around though: shop for souvenirs, talismans and snacks along the way to the main hall, and do not miss out heading into the inner sanctuary where a stairwell leads to a pitch-black tunnel running under the temple altar — feel your way through and try to touch the "key to paradise"!
Extra tip: along the street that leads up to the temple sits one of Japan's most famous shops for shichimi togarashi, a chilli blend of seven spices!
Read also: 13 Reasons To Visit Nagano Even When It's Not Winter Ski Season
Eat: Shinshu Soba (Or Make Your Own)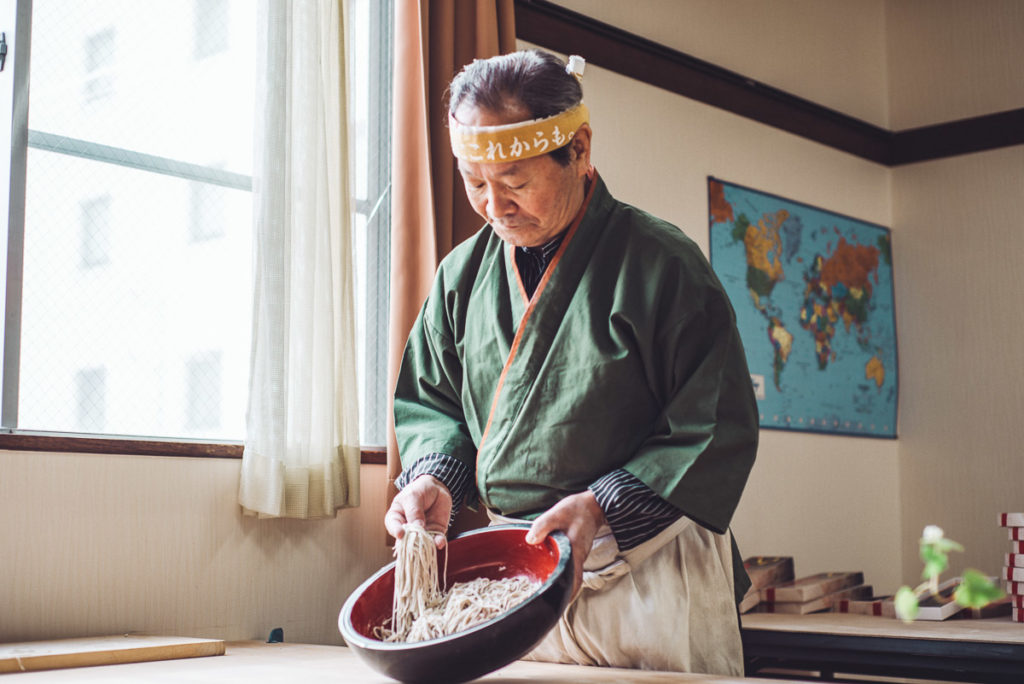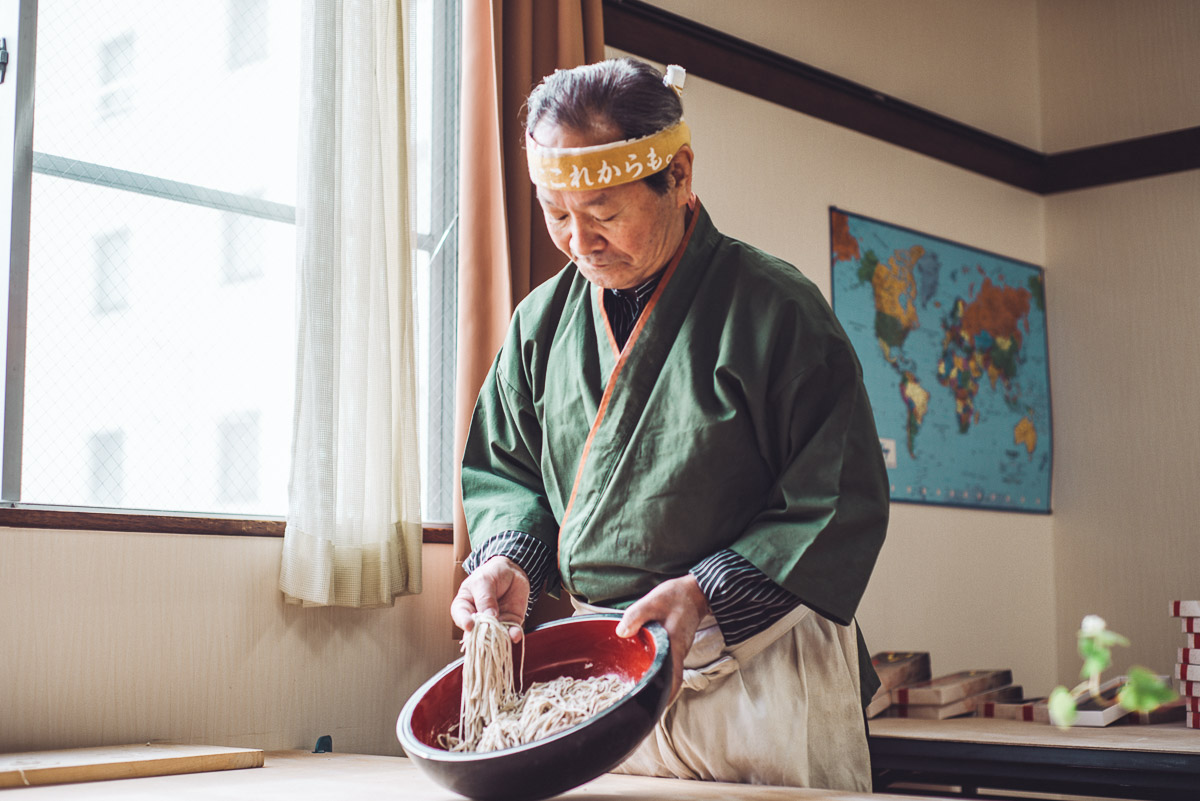 Nagano is also proud of its Shinshu soba, one of Japan's "big 3" sobas. They're springier in texture, and characteristically sold in five to six little bundles on a round basket. You can find soba restaurants around the Zenkoji Temple area (mentioned above) as well!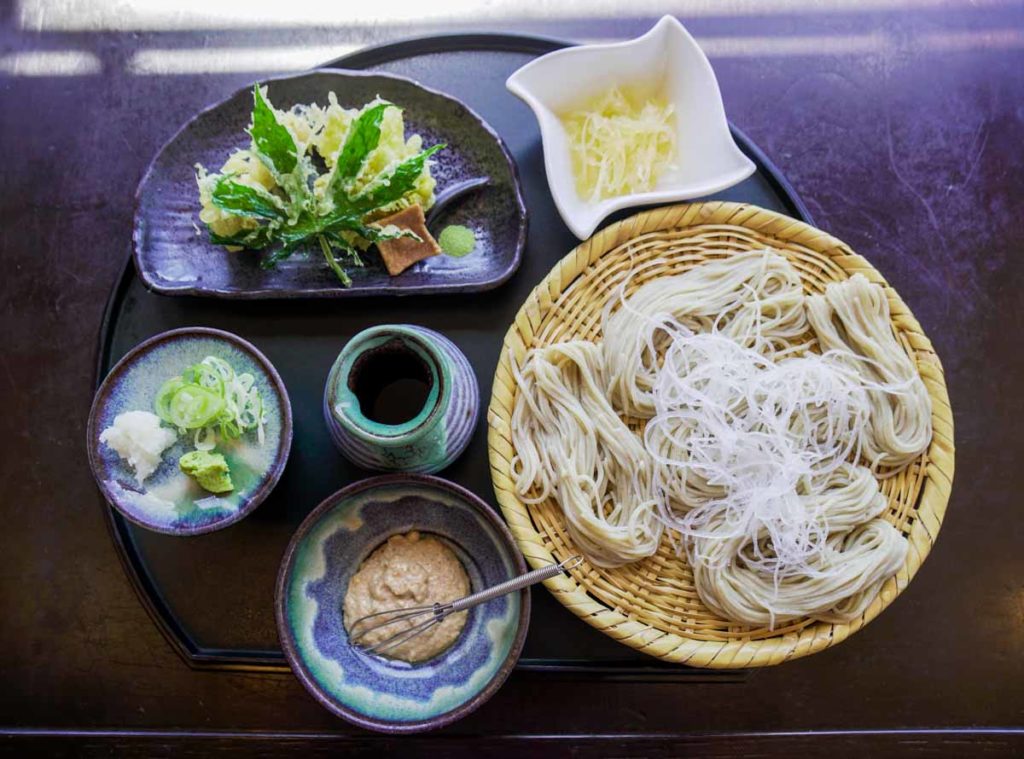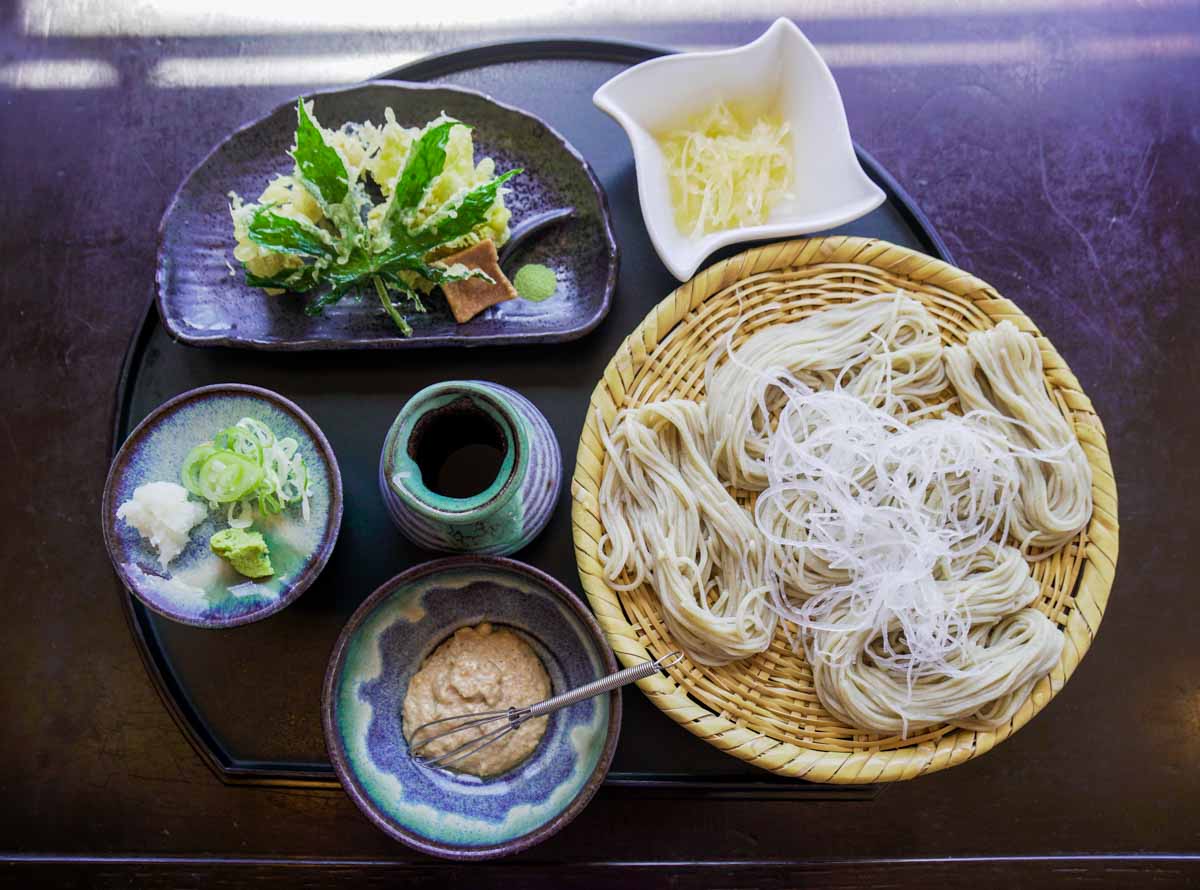 Get the full experience of making your own soba in Matsumoto city at Takagi!
Read also: Nagano Guide — Gateway to the Japanese Alps
Gateway to the Hidden Gems of the Kanto Region
Kegon falls in Tochigi. Photo credit: Yasufumi Nishi/JNTO
For seasoned Japan travellers, it's almost intuitive to head directly to and explore Tokyo right after landing in Narita International Airport. But for those craving a change of scenery without straying too far, these five other prefectures are perfect for any season of the year.
They're all reasonably close by Narita Airport (there's a reason why Chiba is a popular layover sightseeing spot), and even if you'd still like to drop by Tokyo, it won't take you more than three hours to reach any of the five places.
Fly in Comfort to Tokyo on Singapore Airlines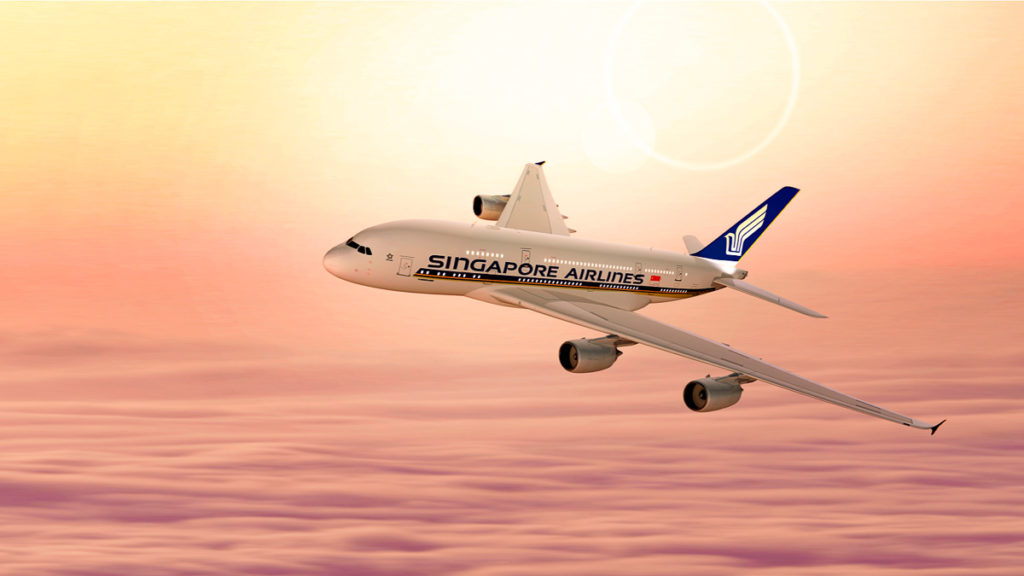 Photo credit: Singapore Airlines
With Narita Airport being approximately seven hours from home, I always opt for the award-winning flight experience on Singapore Airlines, which flies non-stop to Narita twice daily!
Awarded Best Airline in the World at the TripAdvisor Travellers' Choice 2019 Awards, you'll be in for a world-class experience.

Singapore Airlines also offers over 1,800 in-flight entertainment options via KrisWorld, so if you're the sort who can't get proper shut-eye, there won't be a lack of entertainment from hit blockbuster movies to exciting games!
Featured Image Credit (Top Image): JNTO
Any other suggestions of where to go in Japan? Let us know in the comments!
---
This post was brought to you by Singapore Airlines in collaboration with Japan National Tourism Organization Singapore.