Most Singapore itineraries are by travellers, but what better way to see the island than with one created by locals 😉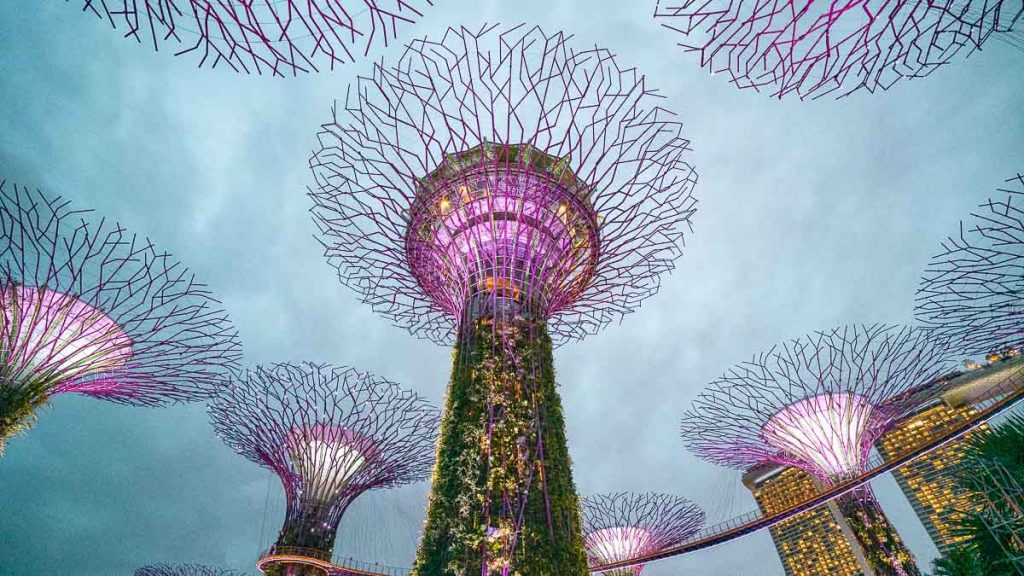 Over the years, a couple of exchange friends have visited Singapore and I've always struggled with what to show them. Most are here just for a few days, so they typically ask to see "the big fake trees" or "where the Crazy Rich Asians ate".
I oblige — they came for these tourist attractions anyway.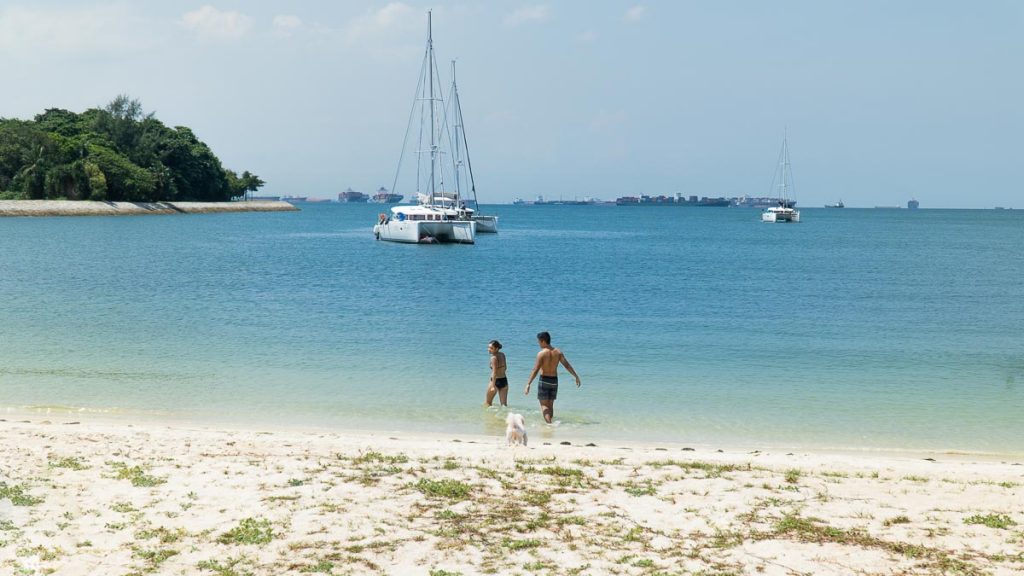 But COVID-19 has forced us to dig deeper for new things to do in Singapore and I've got to say, we've had some pretty cool adventures in the past year — which is what inspired this Singapore itinerary.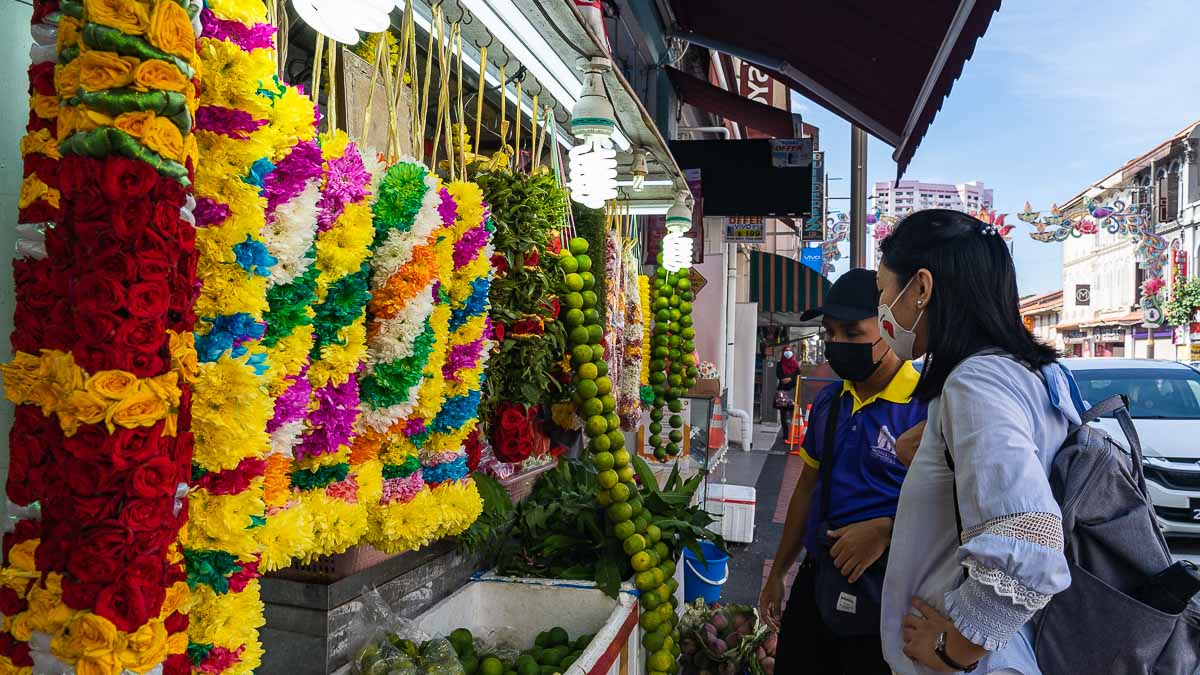 Three days is fine if you're just looking to see the shiniest bits of Singapore. But if you're hoping to truly experience what this vibrant island city has to offer, we'd recommend forking out at least five days.
Read also: Post COVID-19 Travel — 50 Reasons to Visit Singapore
Singapore Itinerary Overview
Jump to the relevant section below:
Day 0: Changi Airport
Day 1: Bay Area | Museum-hopping | Lau Pa Sat | Gardens by the Bay
Day 2: Botanic Gardens | East Coast Park | OR | Kranji Countryside | Night Safari
Day 3: Chinatown | Little India | Kampong Gelam | Orchard Road
Day 4: Pulau Ubin OR Southern Islands
Day 5: Thrilling activities in Sentosa | Chill activities in Sentosa
Getting Around Singapore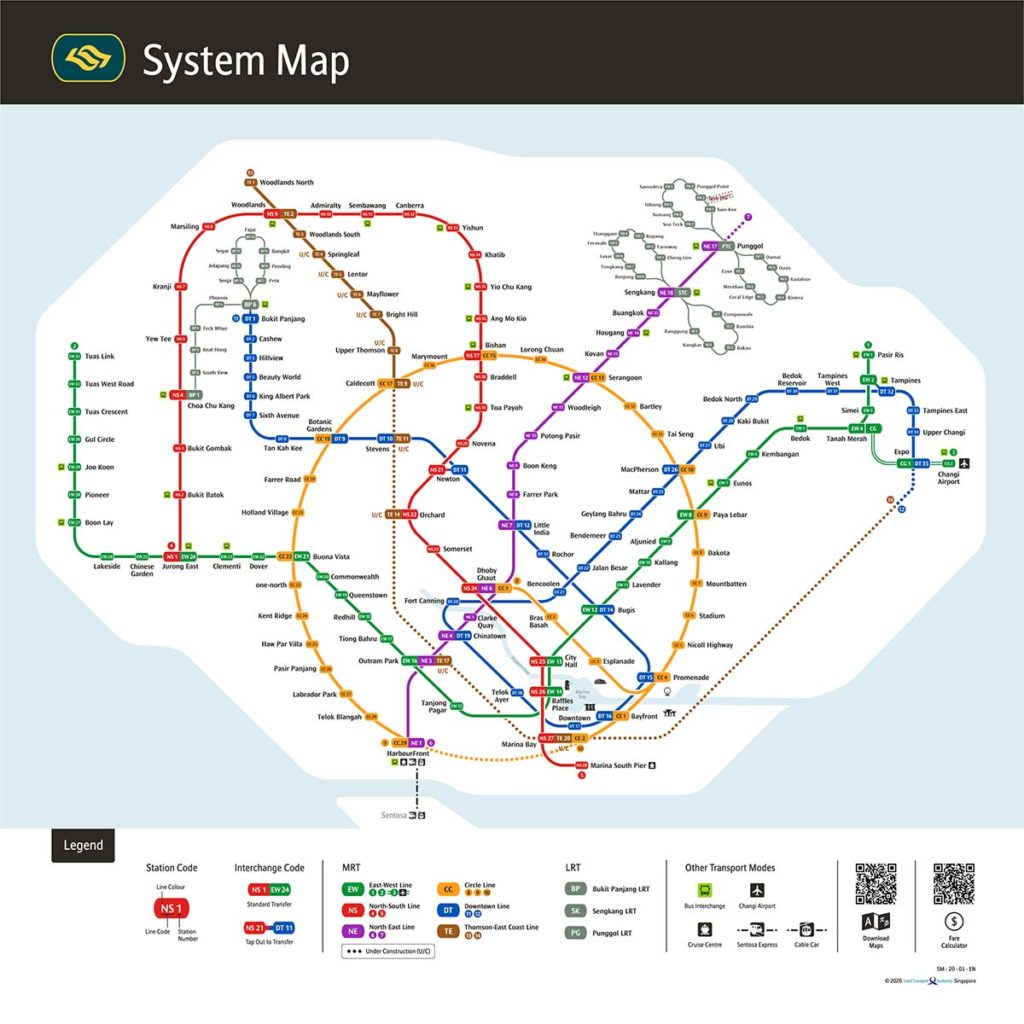 Photo credit: Land Transport Authority
Public transport: Singapore's public transport is efficient and easy to navigate. Announcements are made in four different languages — English, Mandarin, Malay and Tamil. Grab a Singapore Tourist Pass for unlimited rides on trains and buses. It comes in one, two or three days (from S$20, incl. S$10 refundable deposit)
Taxi: Taxis in Singapore are metered, with flag-down fares starting at S$3. Car booking apps like Grab, Gojek or Comfortdelgro are available too
Car rental: Cars rentals start at ~S$40/day. Alternatively, there are car-sharing options that charge by the minute
Read also: The Great Singapore Road Trip — 5 Fun Routes to Check off Your Bucket List
Day 0 (Arrival Day): Explore the World's Best Airport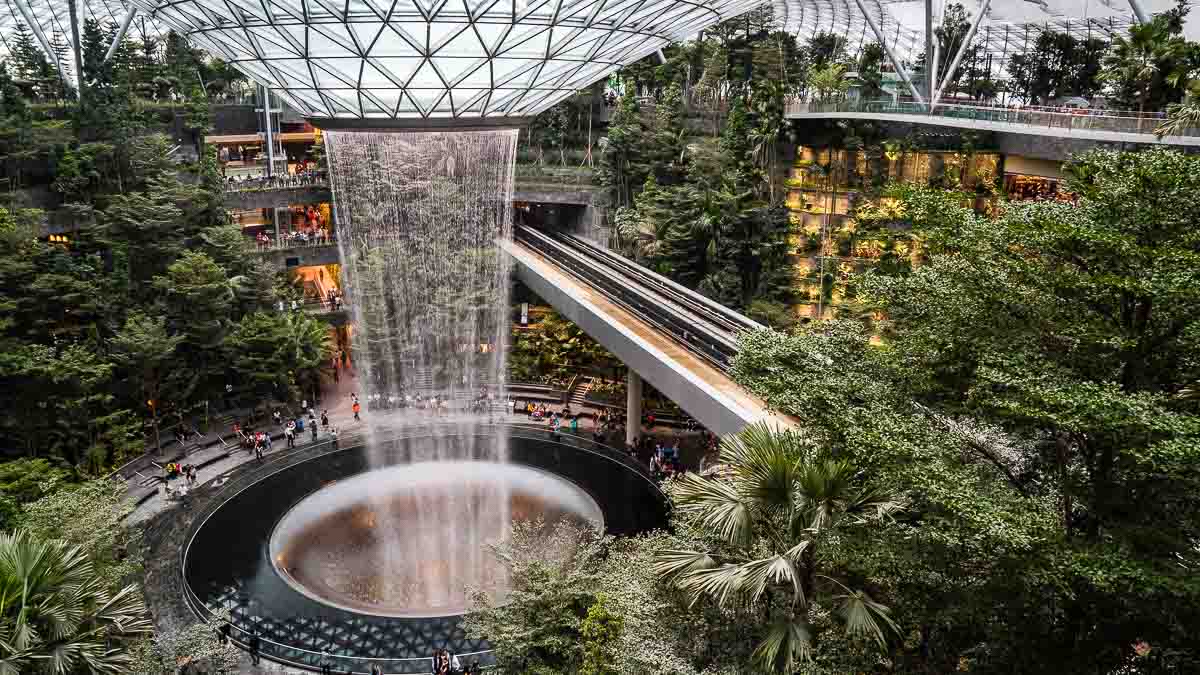 What other airport houses the world's tallest indoor waterfall?
More than just a transit, Changi Airport is an attraction on its own. I mean, it isn't named the world's best airport for eight years straight for nothing.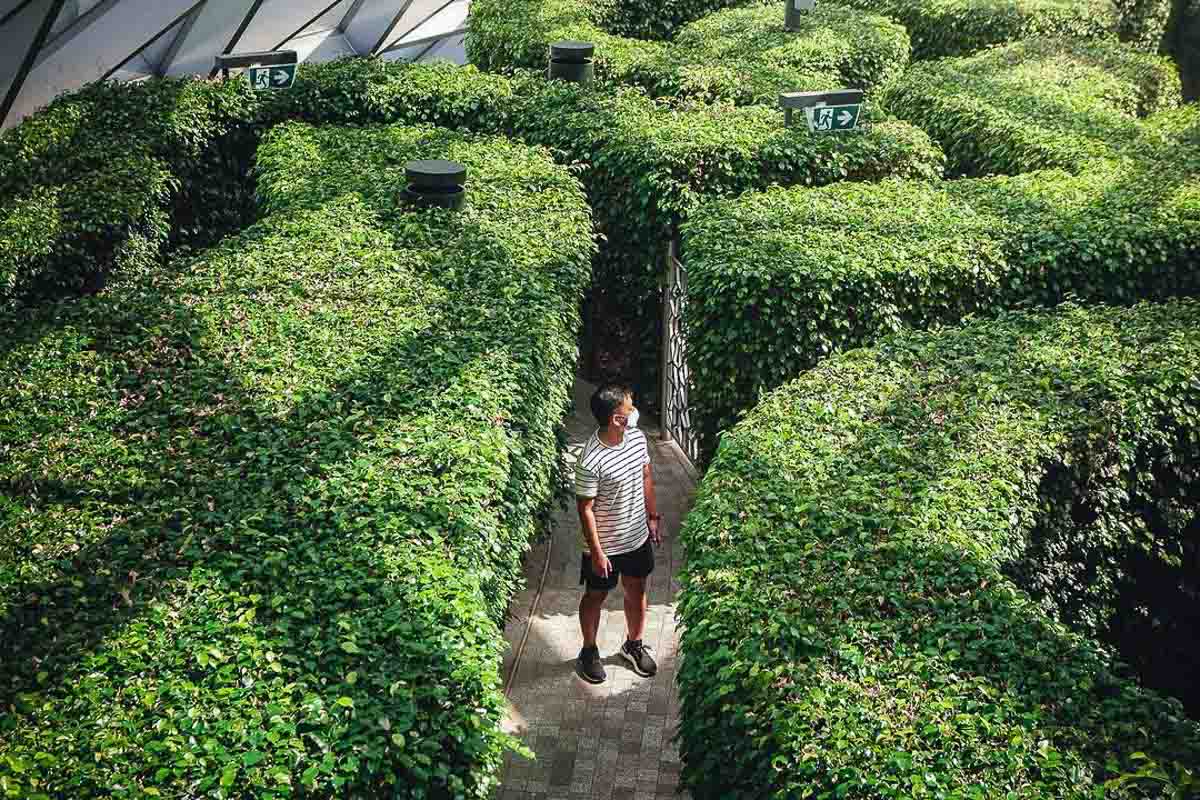 Besides the seven-storey HSBC Rain Vortex, check out the Canopy Park found on the topmost level of Jewel. There are mazes, bouncing nets (suspended 25m above the ground!) and a Canopy Bridge with sweeping views of the airport.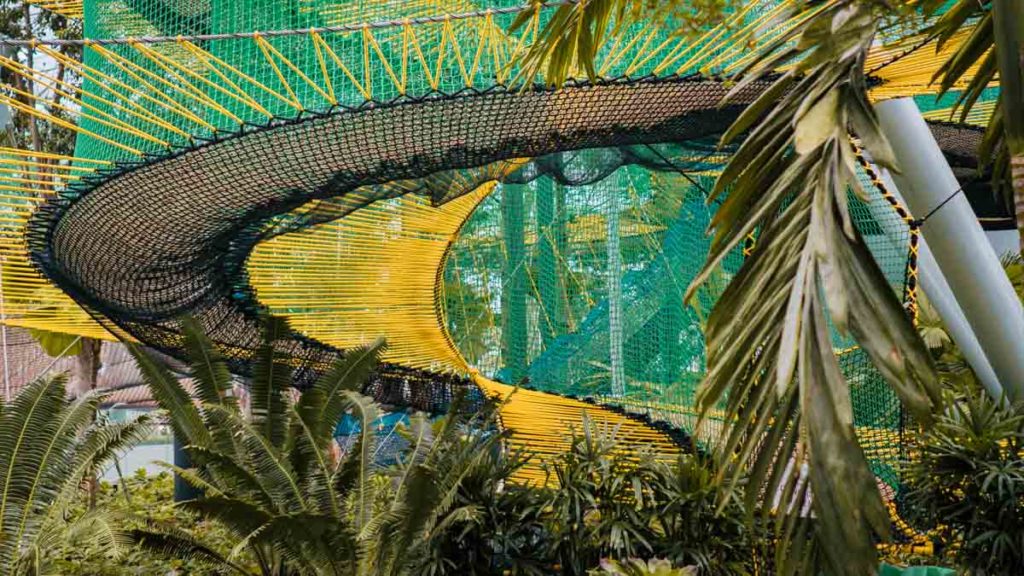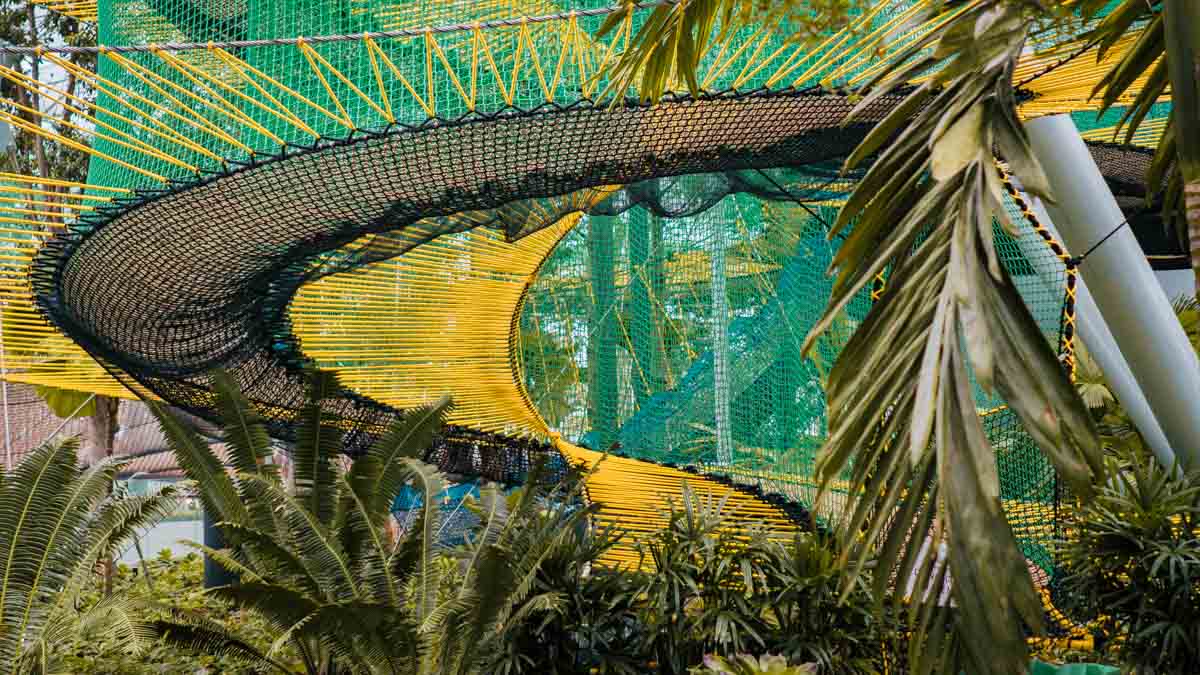 *Pro-tip: There's baggage storage available at level 1 for a fee. Alternatively, explore the rest of Changi Airport on your last day after checking in your luggage.
Read more: Everything You Need To Know About Jewel Changi Airport
Day 1: Singapore's Most Iconic Attractions
Walk Around the Bay Area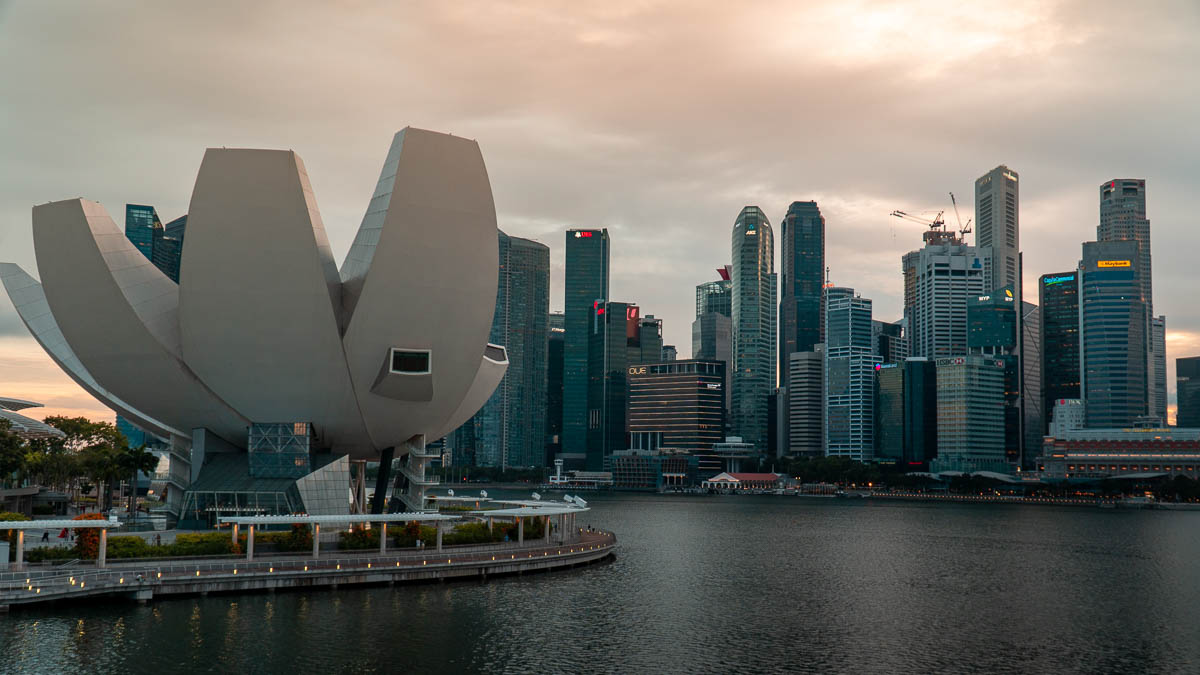 No Singapore itinerary is complete without a trip to see our iconic skyline. There's a lot to take in, like the Merlion, Helix Bridge, Esplanade and Marina Bay Waterfront Promenade.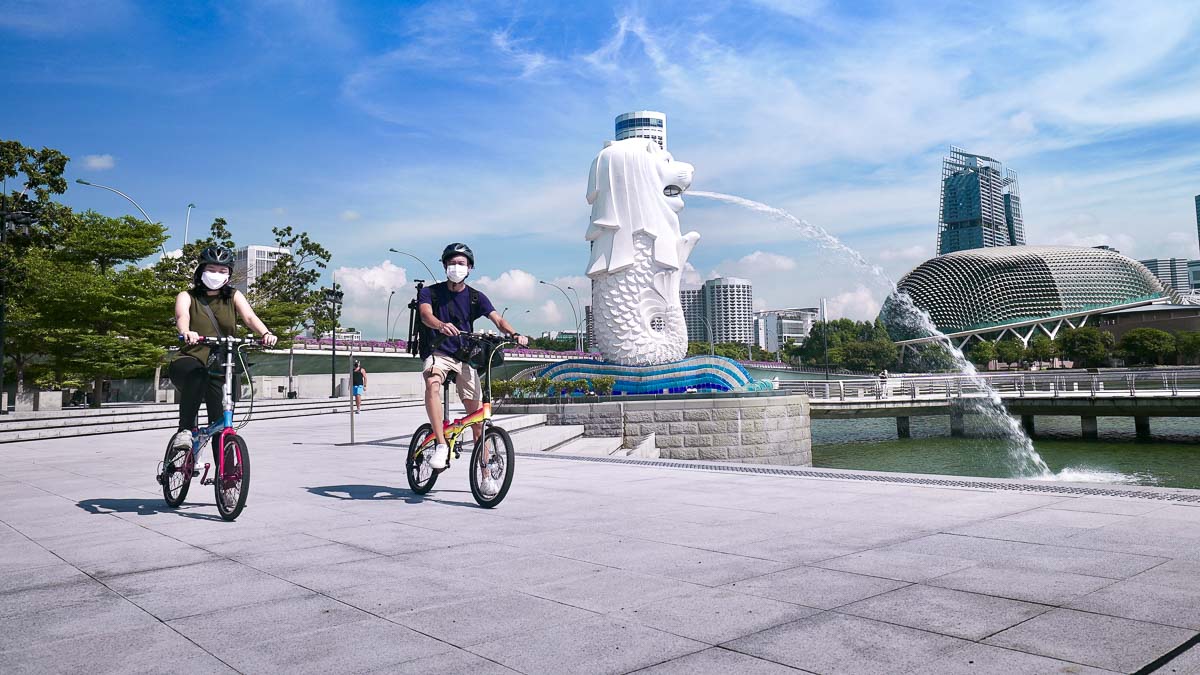 *Pro-tip: The best photo spots at Marina Bay are at the Esplanade Bridge and Theatres on the Bay!
How to get there: Take the MRT to Bayfront (CCL/DTL) to start from Marina Bay Sands, or Esplanade (CCL) to start from the Esplanade
Museum-hopping
Option 1: National Gallery Singapore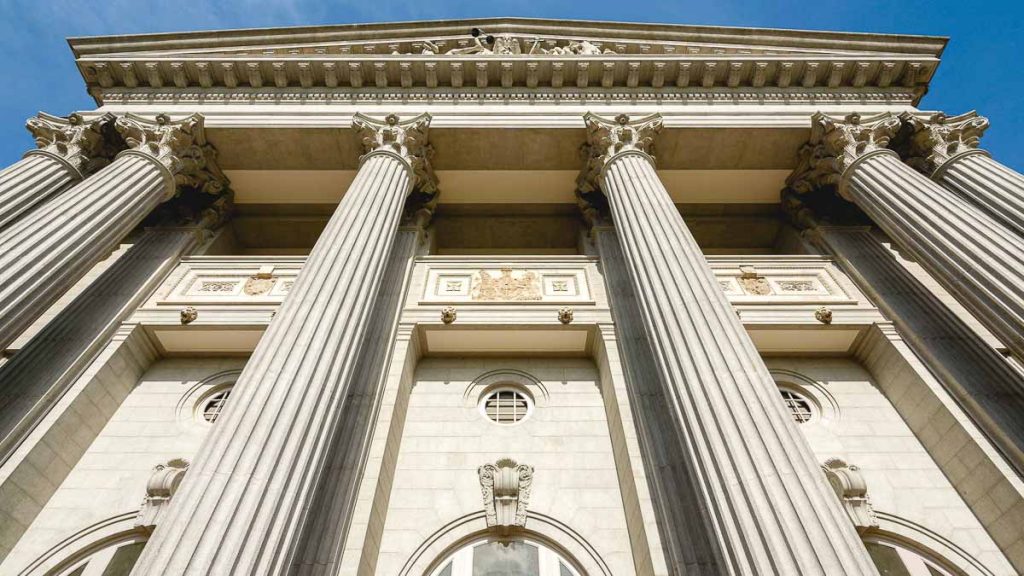 Photo credit: Darren Soh
The National Gallery houses the largest public collection of Southern Asia modern art.
Even if you're not the biggest fan of art, the building is worth checking out. Housed in the former Supreme Court and City Hall, the design integrates modern elements to the original colonial structure.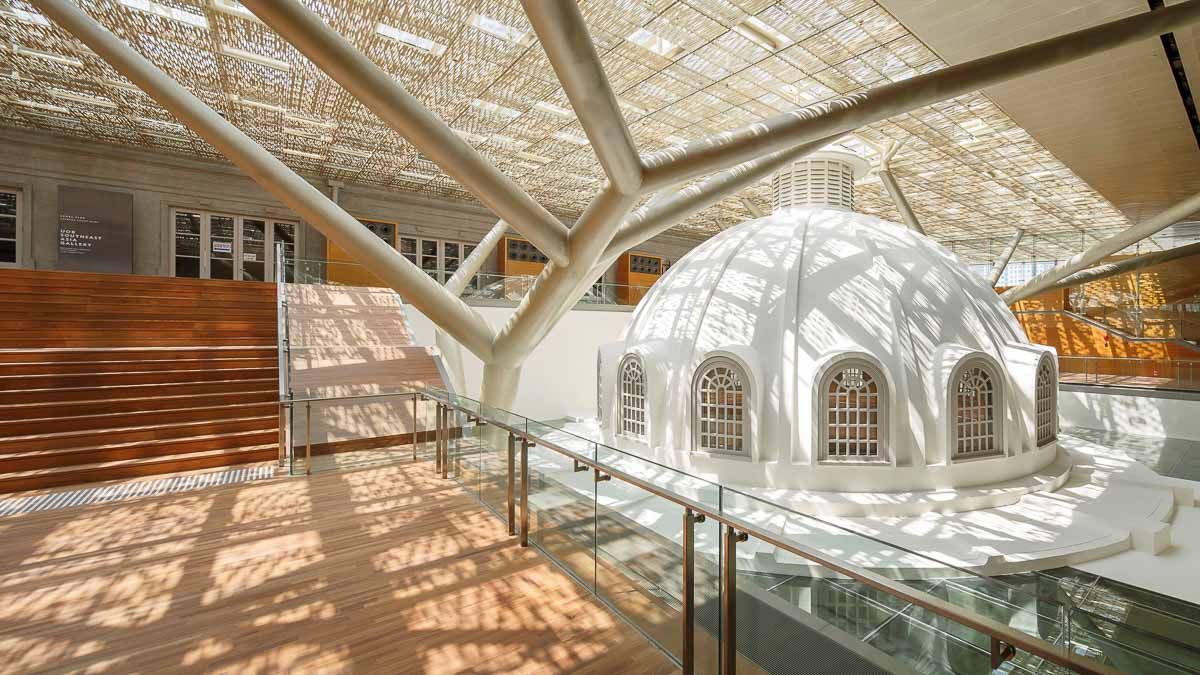 Photo credit: Darren Soh
Fun fact: The signing of the Japanese surrender document on 12 Sep 1945 and swearing-in of Singapore's first Prime Minister on 5 Jun 1959 both took place in City Hall!
Entrance fee: S$20
Opening hours: 10AM – 7PM (Last entry at 6:30PM)
How to get there: 5min walk from City Hall MRT (EWL), exit B
Option 2: ArtScience Museum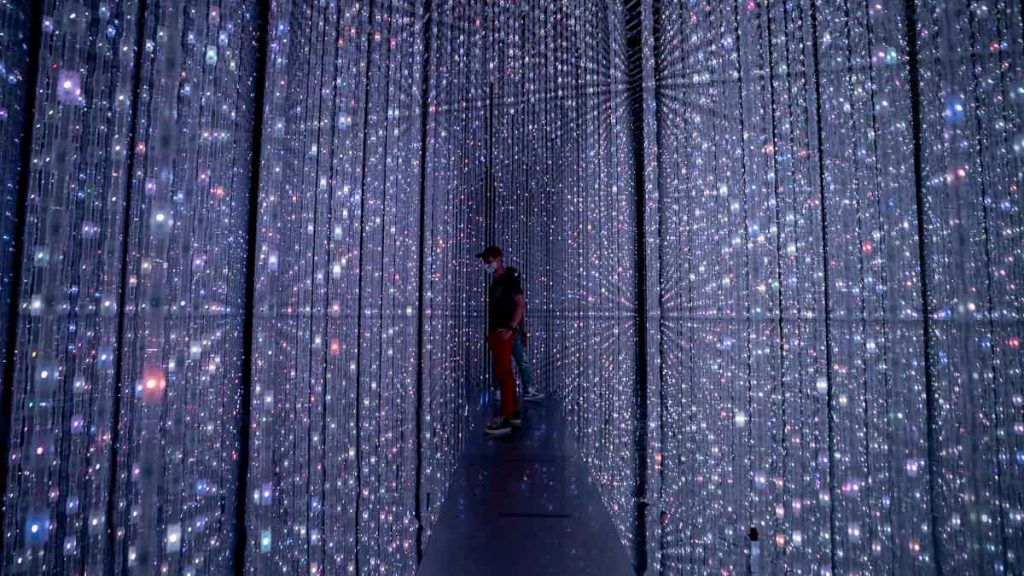 From the outside, the ArtScience Museum looks like a giant lotus or an alien spaceship. It's actually a futuristic museum that celebrates art, science, and technology. The exhibits are rotated regularly, so there's always something new to look forward to!
Entrance fee: Varies
Opening hours: 10AM – 7PM (last entry at 6PM)
How to get there: 7min walk from Bayfront MRT (CCL/DTL), exit D
Lunch at Lau Pa Sat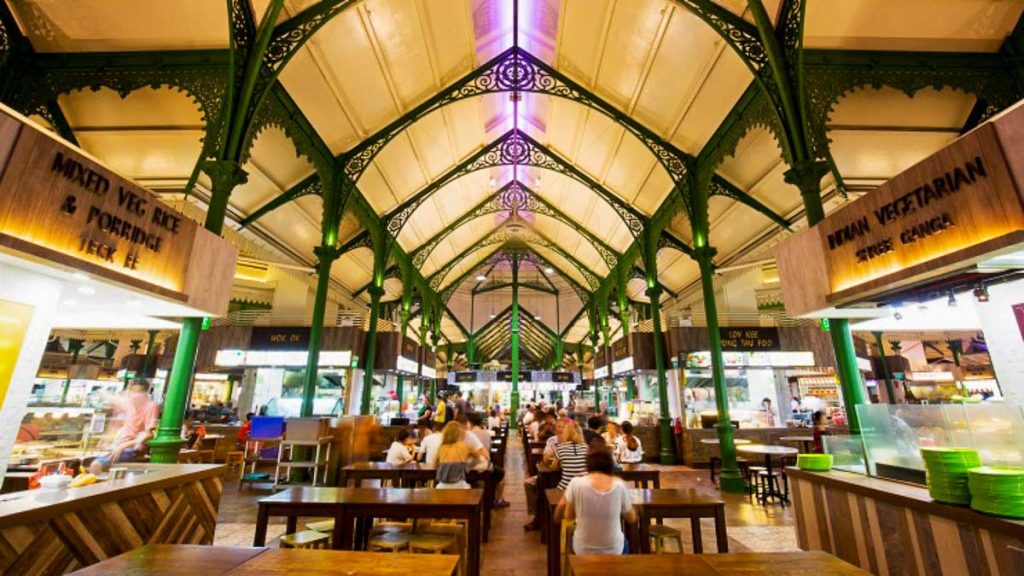 Photo credit: Visit Singapore
Located right in the heart of Singapore's central business district, Lau Pa Sat is a restored market that's been around since the Sir Stamford Raffles era.
This national monument is a perfect example of our city's blend of cultures — yummy hawker fare housed in a European cast-iron structure. Pick from a variety of Singaporean favourites, like satay (grilled meat dipped in peanut sauce), chicken rice and barbequed seafood.
Opening hours: 7AM – 2AM
How to get there: 3min walk from Telok Ayer MRT (DTL), exit A
Explore Gardens by the Bay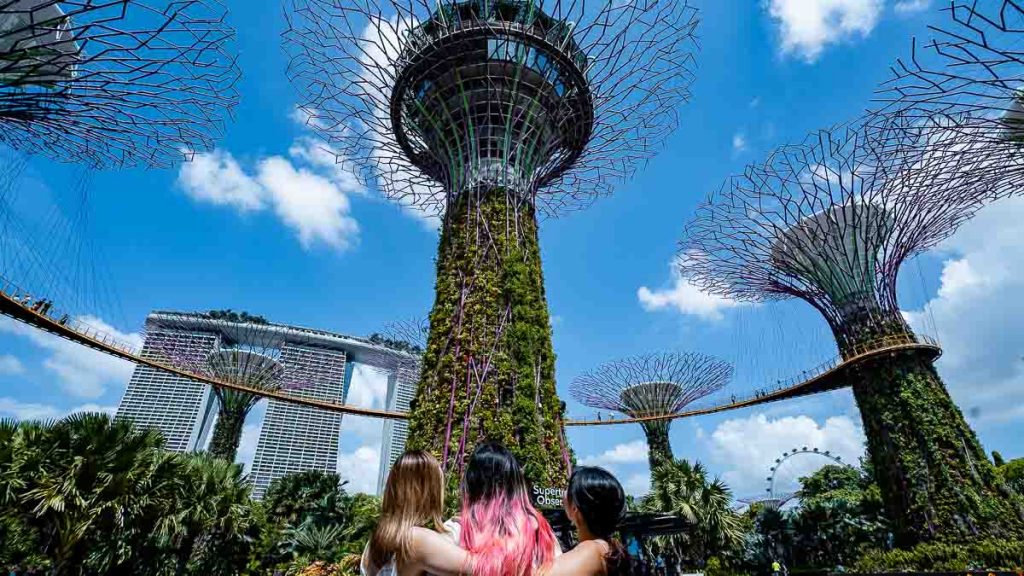 Alright, Gardens by the Bay is pretty spectacular. Even as a local who's been there several times, I still find myself in awe when I visit.
You've got 18 massive supertrees that look like something out of Avatar, the largest of which is 16-storeys tall. Beyond just architectural marvels, these supertrees are actually vertical gardens home to over 162,900 plants!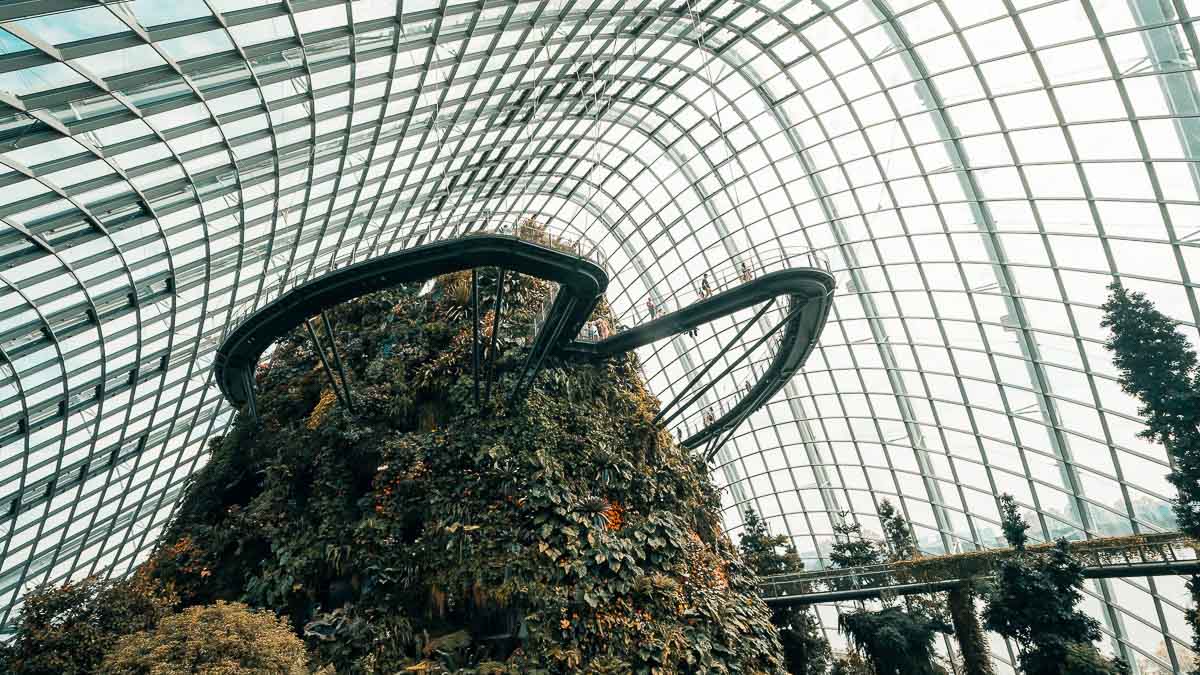 Gardens by the Bay also houses two beautiful glass greenhouses. Cloud Forest features plants found at around 2,000m above sea level, plus one of the world's largest indoor waterfalls. The Flower Dome is all about flowers from different habitats — like African Baobabs and Italian Cypresses!
*Pro-tip: Be sure to catch Garden Rhapsody to see the supertrees transform in a stunning light and sound show! This happens daily at 7:45PM and 8:45PM and admission is free.
Entrance fee: Free (Supertrees), S$28 for Flower Dome and Cloud Forest
Opening hours: 5AM – 2AM daily, 9AM – 9PM for Cloud Forest and Flower Dome
How to get there: 2min walk from Bayfront MRT (CCL/DTL), exit B
Take in Singapore's iconic skyline at night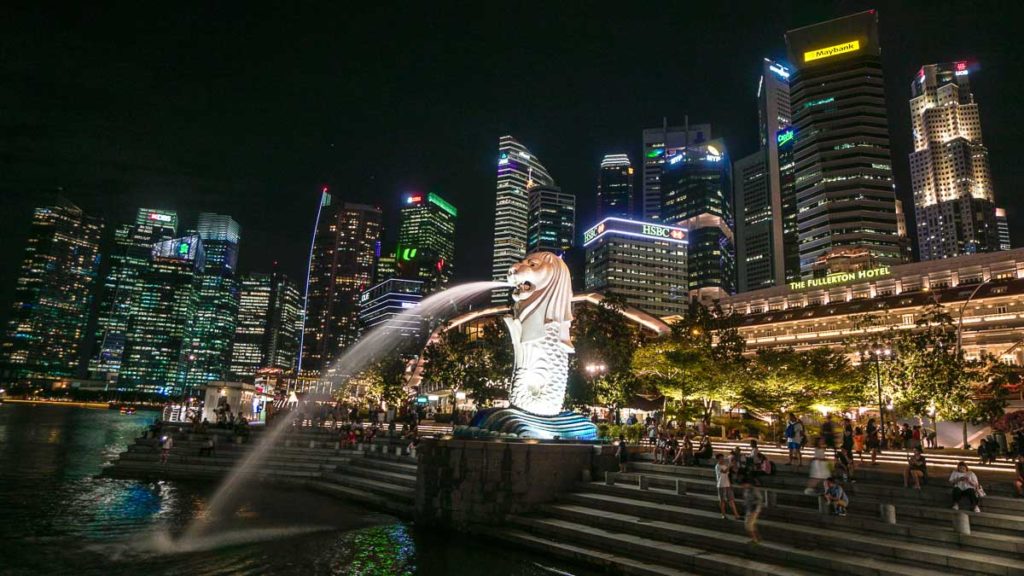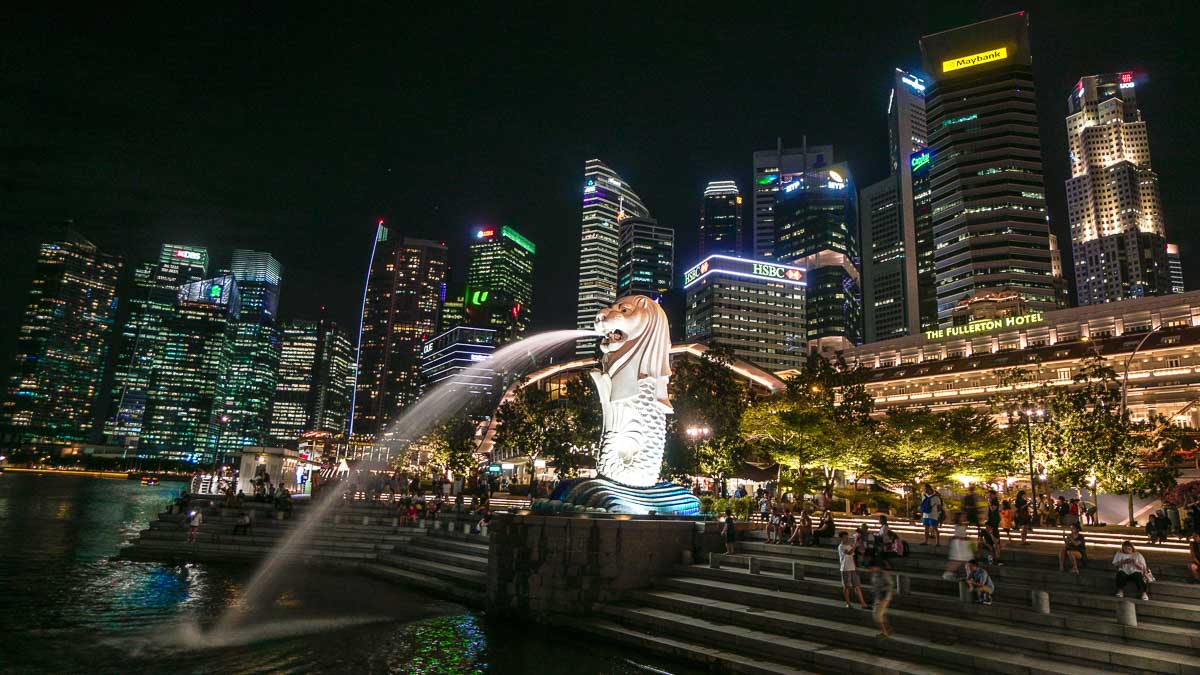 Singapore's skyline gives off a different vibe at night — bustling, yet calming. Catch Spectra, a 15-minute light and water show that happens daily in front of Marina Bay Sands.
To experience the local art scene, head to Theatres on the Bay for free performances by up-and-coming artists.
Note: Theatres on the Bay's live performances and Marina Bay Sand's Spectra are currently suspended due to COVID-19 restrictions.
Day 2: "Escape" the City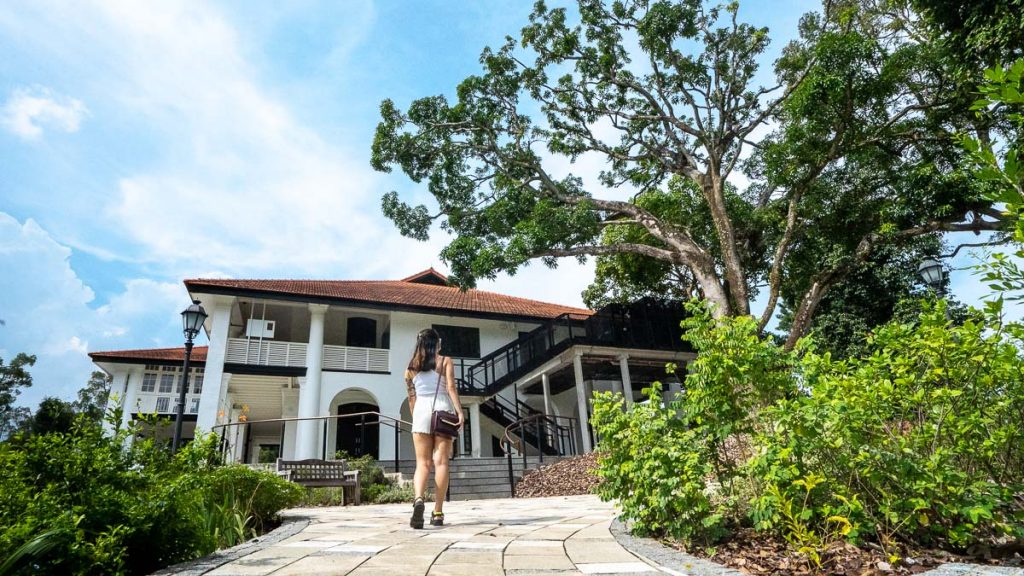 Now that you've seen Singapore's glitzy side, it's time to experience a slower pace of life.
Option 1: Picnic at Botanic Gardens and cycle at East Coast Park
Singapore Botanic Gardens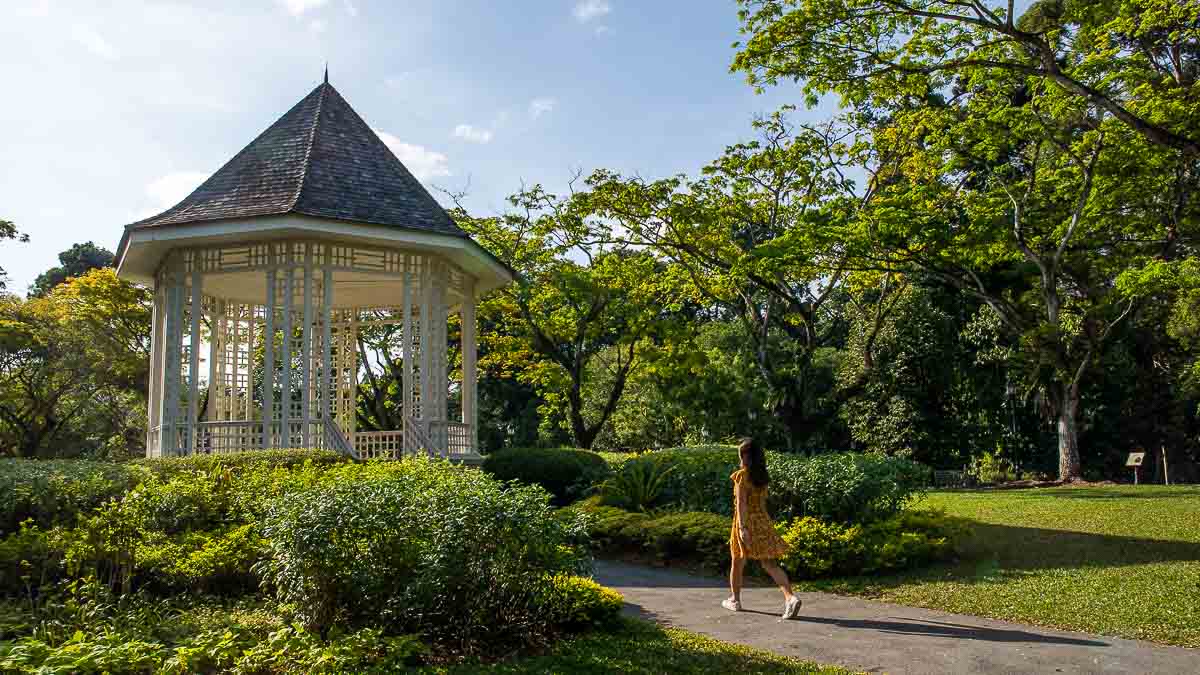 The 162-year-old Singapore Botanic Gardens is the first and only tropical botanic garden to make it onto the UNESCO World Heritage List. It's roughly the size of 100 football fields, so there's plenty to see.
There are large open lawns for picnics and tons of Instagrammable spots, like the Bandstand Gazebo (pictured above) and Swan Lake.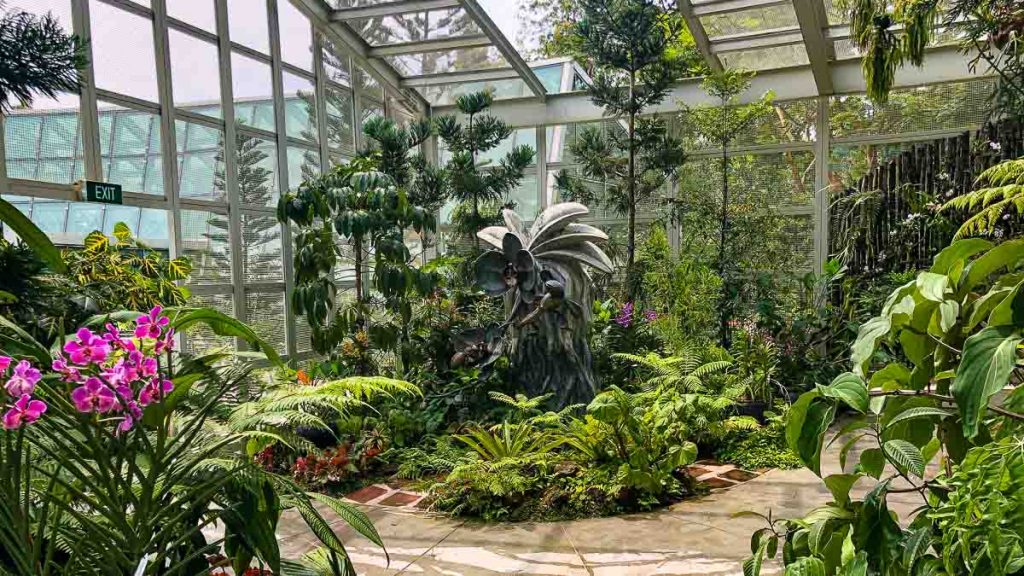 The National Orchid Garden was also fully revamped just this year, featuring over 1000 orchid species. The star here is the Sembcorp Cool House, inspired by a high elevation montane forest.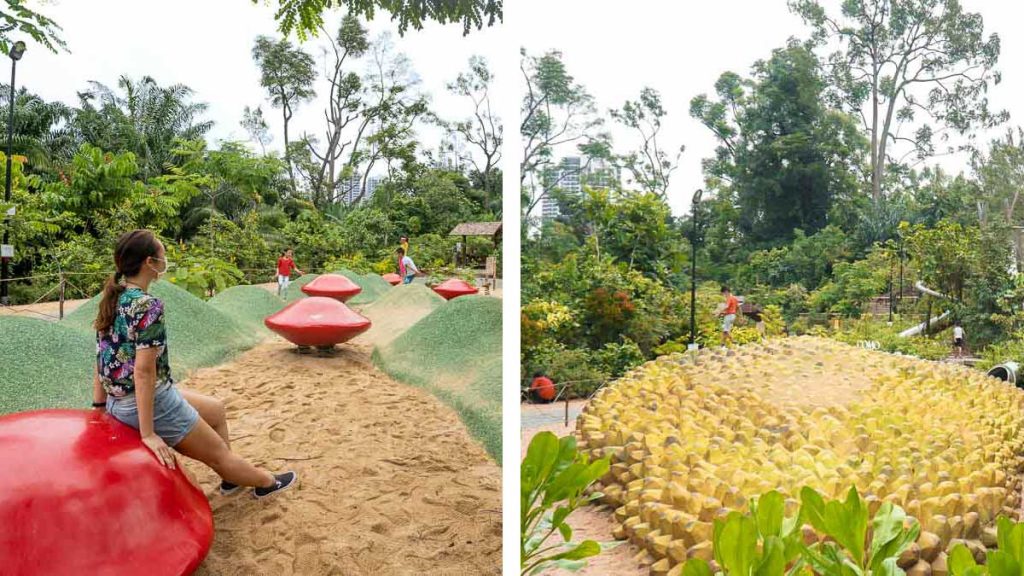 Botanic Garden's latest upgrade also includes the Gallop Extension. Highlights include the Botanical Art Gallery (free entry), a colonial-era house from the 1800s, and the COMO Adventure Grove — a nature-inspired playground.
*Pro-tip: The Botanic Gardens area features numerous popular cafes. Pick one for lunch or pack a lunch and picnic in the gardens.
Entrance fee: Free, S$15 for entrance to the National Orchid Garden
Opening hours: 5AM – 12AM
How to get there: Botanic Gardens is located right at the exit of Botanic Gardens MRT (CCL/DTL)
Read also: Singapore Botanic Gardens' New Gallop Extension — IG-Worthy Art Galleries in British Colonial Houses, a New Hiking Trail and Playground
East Coast Park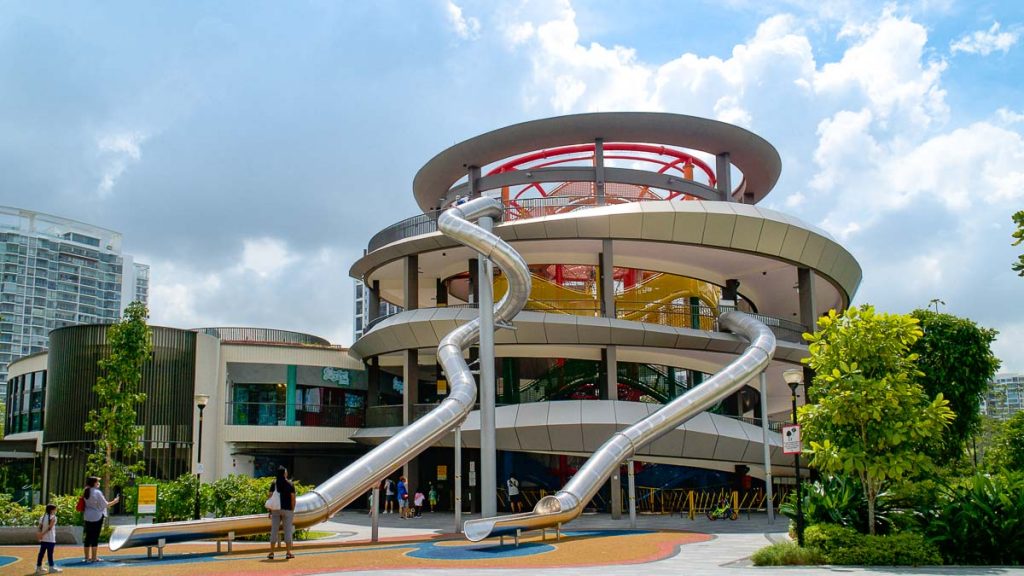 East Coast Park has beaches stretching over 15km, a brand-new Coastal PlayGrove playground, and a wakeboarding park — so it's no surprise locals flock here on weekends.
*Pro-tip: Avoid the crowds by coming on weekdays!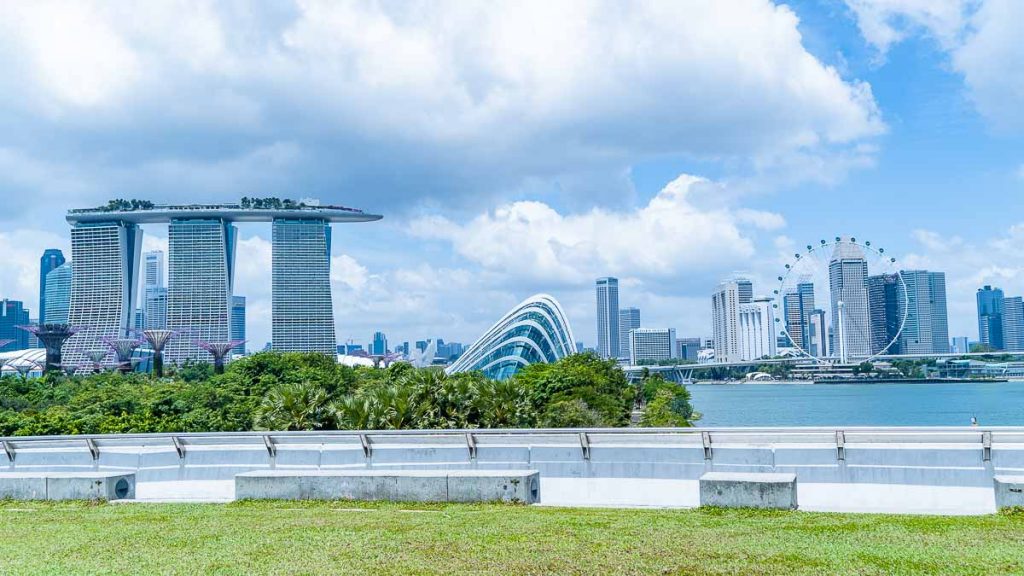 Check out the view from Marina Barrage. It's a popular place for picnics and kite-flying.
A popular cycling route is to start at East Coast Park and end at Marina Bay. It's a scenic stretch between East Coast Park and Marina Barrage, with panoramic views of Gardens by the Bay and the Singapore Flyer. Bike rental starts from S$8/hr.
East Coast Park
Entrance fee: Free
Opening hours: 24 hours
How to get there: From Paya Lebar MRT (CCL/EWL), it is a ~10min taxi ride to GoCyling Bike Rental at East Coast Park
Option 2: Farm-hop around Kranji and enjoy wildlife at the Night Safari
Singapore isn't just tall buildings and busy streets. Over in the northwest of the island lies rustic countryside with vegetable gardens, goat and frog farms! The best part is, entry to these farms are free 🥳
How to get there From Kranji MRT (NSL), it is a 13min taxi ride to Bollywood Veggies. The rest of the farms are ~2km from one another
Bollywood Veggies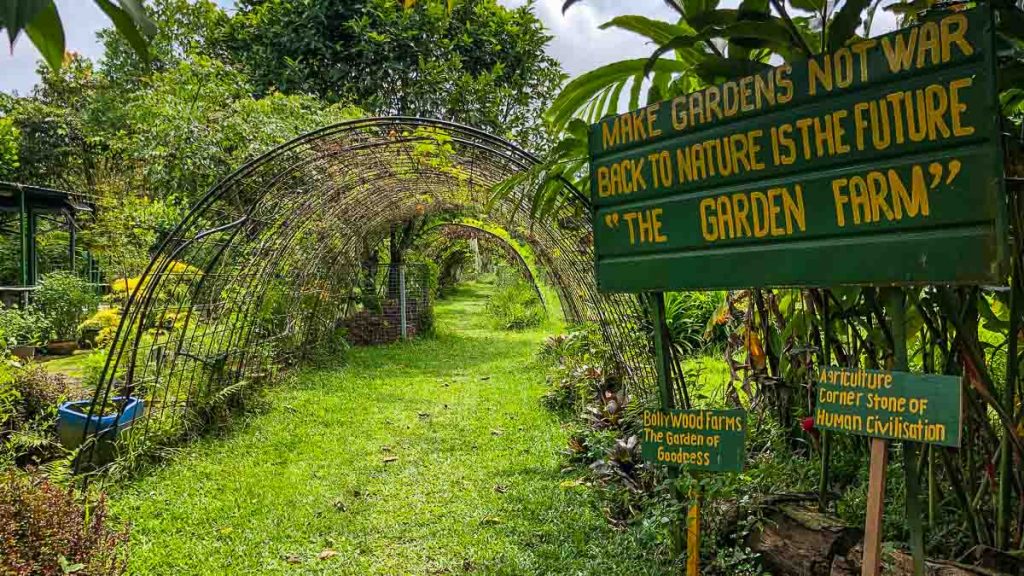 Bollywood Veggies is an iconic Singapore farm. Affectionately called "Paradise on Earth", this veggie farm has a laidback, hipster vibe with quirky signs that add to its charm.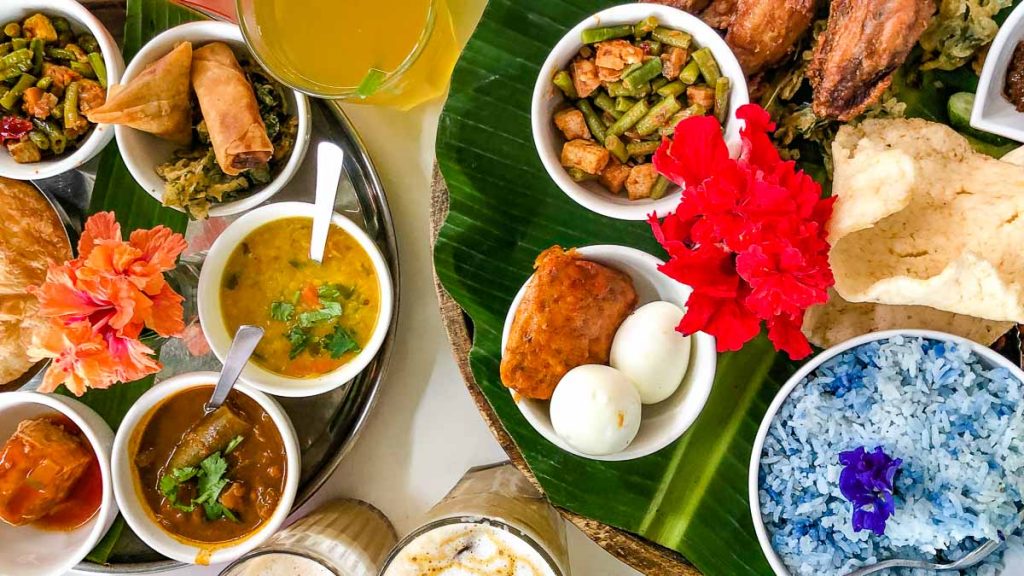 For lunch, drop by the in-house Poison Ivy Bistro, which serves hearty farm-to-table food. The menu changes depending on the available produce, but their famous Nasi Lemak Platter with blue pea rice and sambal goreng (from S$12) is a crowd favourite.
Entrance fee: Free
Opening hours: 7AM – 5PM (Thu – Fri), 7AM – 7PM (Sat – Sun), Closed on Mon – Wed except for PH
Hay Dairies Goat Farm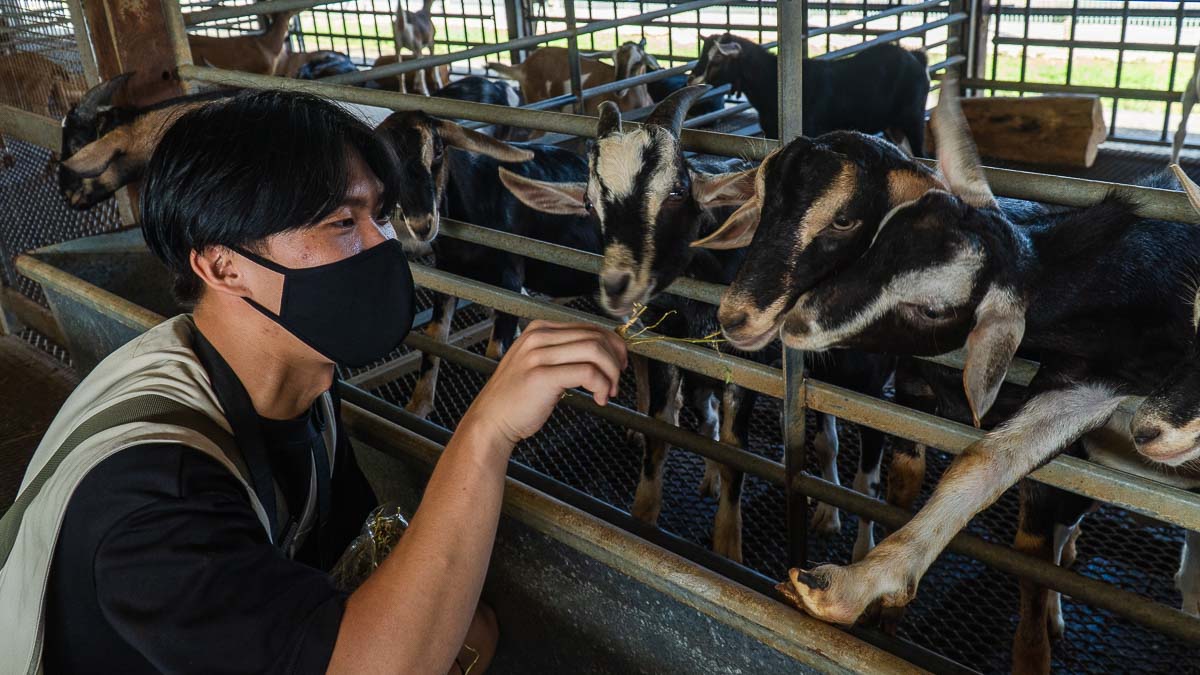 A 27-minute walk from Bollywood Veggies lies Hay Dairies, Singapore's only goat farm. Open since 1988, it produces nutritious goat milk which you can find in several supermarkets.
View the daily milking process (9AM – 10:30AM) or pick up a bag of alfalfa hay (S$3/bag) to feed the goats. End your trip by trying goat's milk — available in original and chocolate flavours.
Entrance fee: Free
Opening hours: 9AM – 4PM (Daily, closed on Tue)
Jurong Frog Farm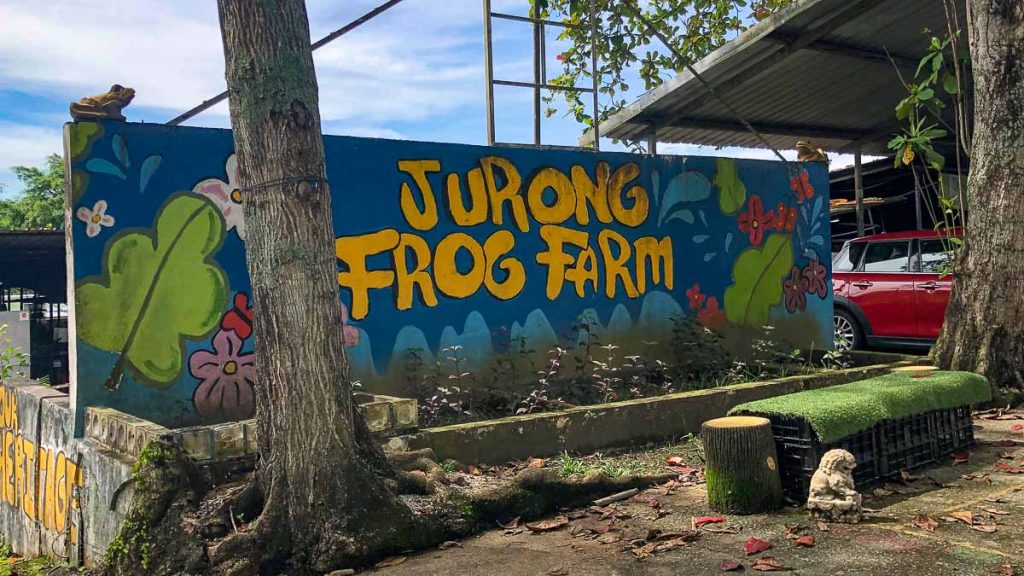 Hop over to Jurong Frog Farm to learn about bullfrogs — 18 minutes away from Hay Dairies on foot. There are numerous activities here like frog catching (S$10) and feeding (S$2/bag). Be sure to try the deep-fried cajun frog meat (S$15)!
Entrance fee: Free
Opening hours: 9AM – 5:30PM (Sat and Sun, PH)
*Pro-tip: Kranji has beautiful nature spots like Sungei Buloh Wetland Reserve (for wildlife sightings and coastal views) and Kranji Marshes (for a short hike). You could visit a park and a couple of farms, or wake up earlier to catch the sunrise at Sungei Buloh!
Night Safari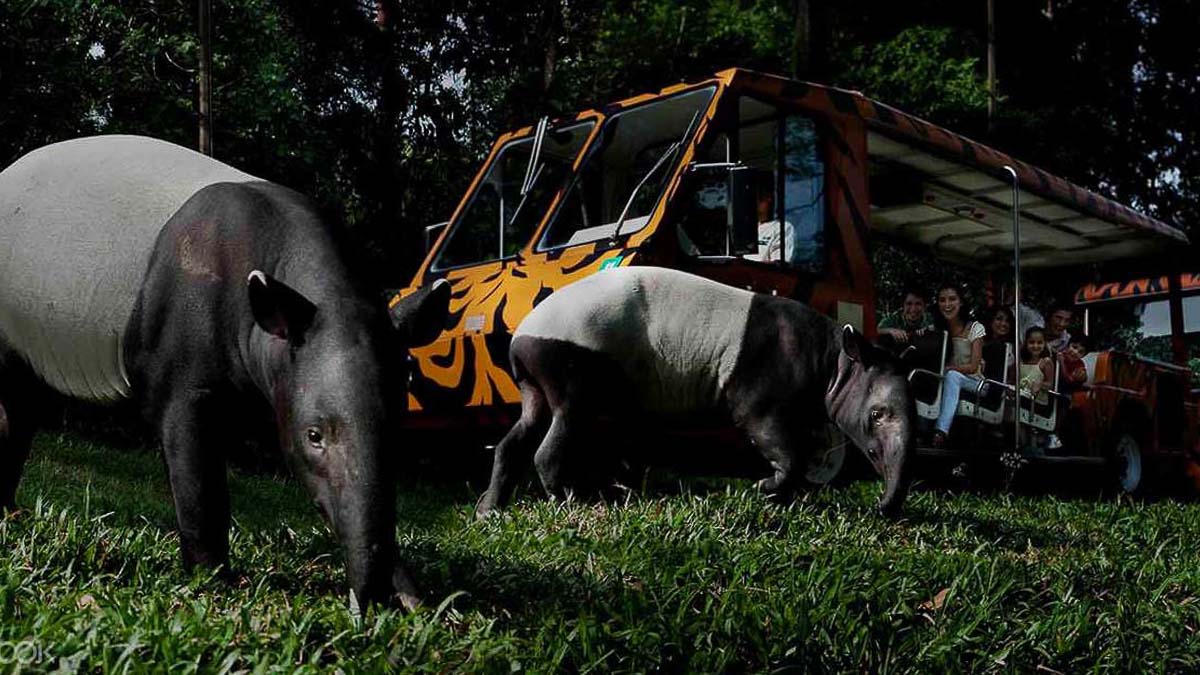 Photo credit: Night Safari
The Night Safari is the world's first nocturnal wildlife park. It's home to almost 100 species, 41% of which are threatened. Spot Malayan tigers, Sunda pangolins and Asian elephants roaming about!
Entrance fee: S$55
Opening hours: 7:15PM – 12AM (Last entry at 11:15PM)
How to get there: From Khatib MRT (NSL), take the Mandai Khatib Shuttle (S$1, check timings). Alternatively, it's a 20min taxi ride from Jurong Frog Farm
Day 3: Discover Singapore's Cultural Heritage
Chinatown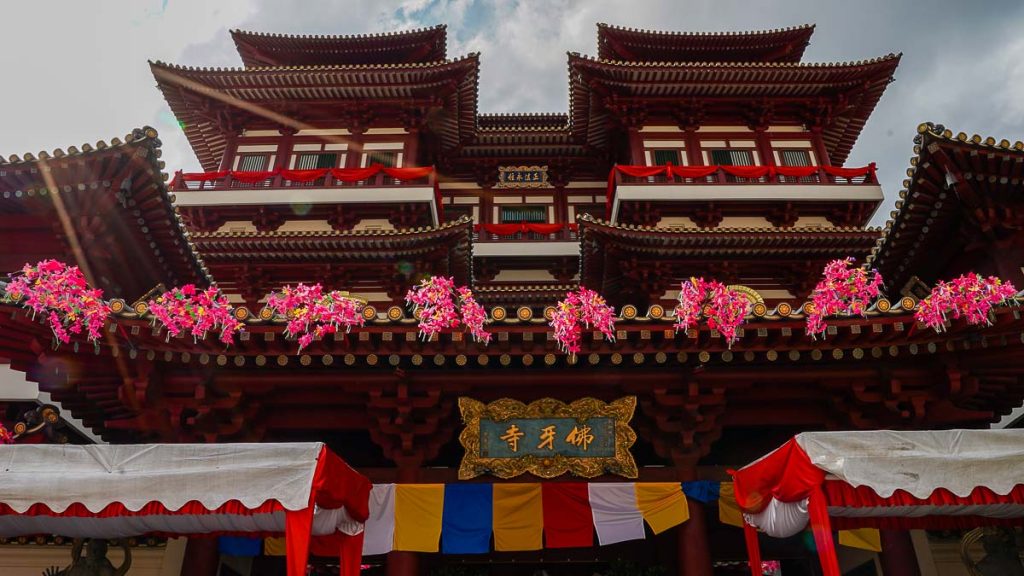 The famous Buddha Tooth Relic Temple.
Chinatown is a favourite among both locals and tourists. Here you'll find a Buddhist temple, a mosque and a Hindu temple — all within walking distance from each other!
Start with breakfast at Chinatown Complex, Singapore's largest hawker centre with over 260 food stalls. Try the world's cheapest Michelin Star meal — Hawker Chan's (#02-126) soya sauce chicken rice. The queues tend to be long, but it's definitely worth the wait.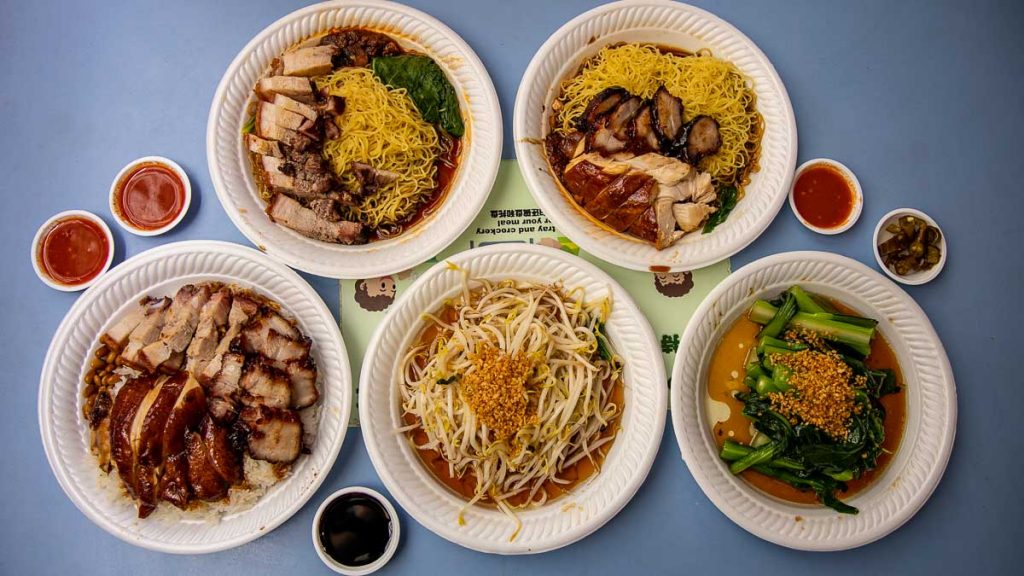 Other must-try stalls include Old Amoy Chendol (#02-008), Jin Ji Teochew Braised Duck and Kway Chap (#02-156) and Xiu Ji Ikan Bilis Yong Tau Fu (#02-88).
*Pro-tip: Order several dishes to share! That way, you can try a bit of everything. 😉
Read also: Ultimate Singapore Food Guide — 54 Local-Approved Things to Eat in Singapore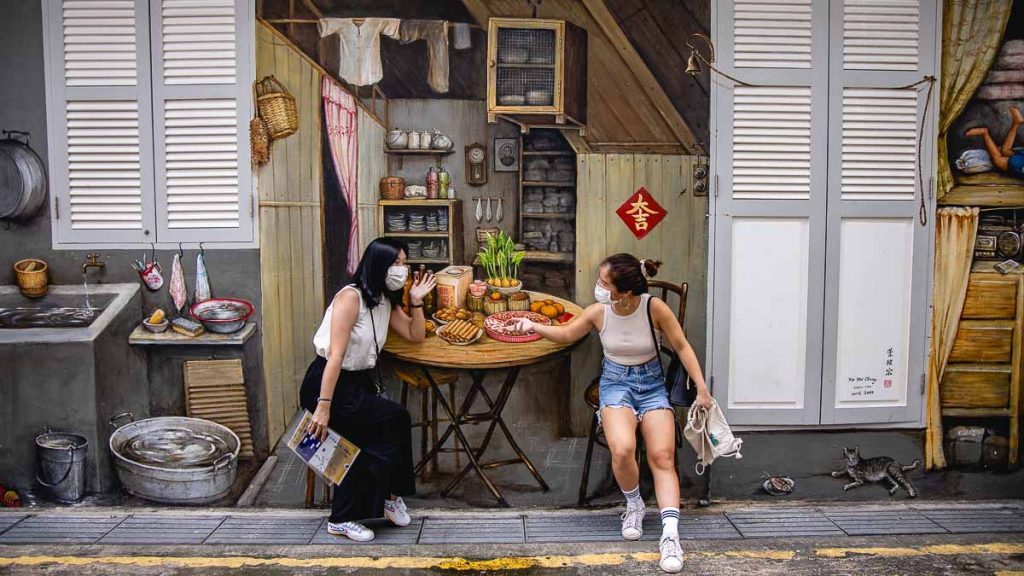 After that, stroll along Chinatown's historic streets and spot fun street art, old shophouses and other cultural landmarks.
How to get there: 4min walk from Chinatown MRT (NEL/DTL), exit A to Chinatown Complex. The rest of the attractions are within walking distance in the same area
Little India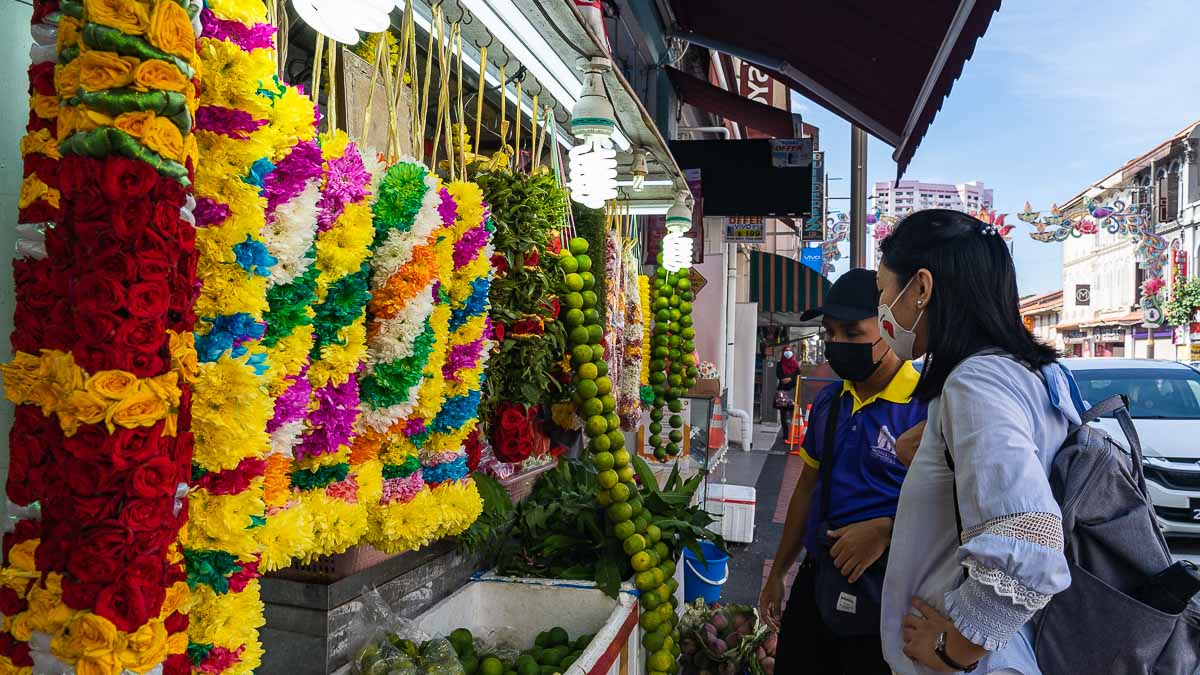 In the 1840s, Little India housed a racecourse popular among Europeans. Today, it's a vibrant district filled with North and South Indian eateries, roadside stalls selling saris and handicrafts, plus historic buildings.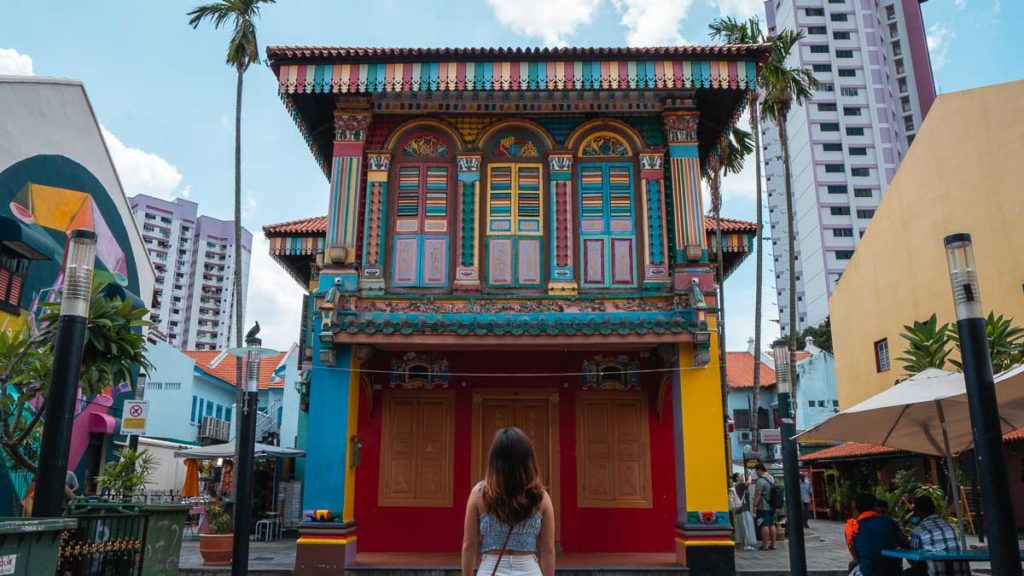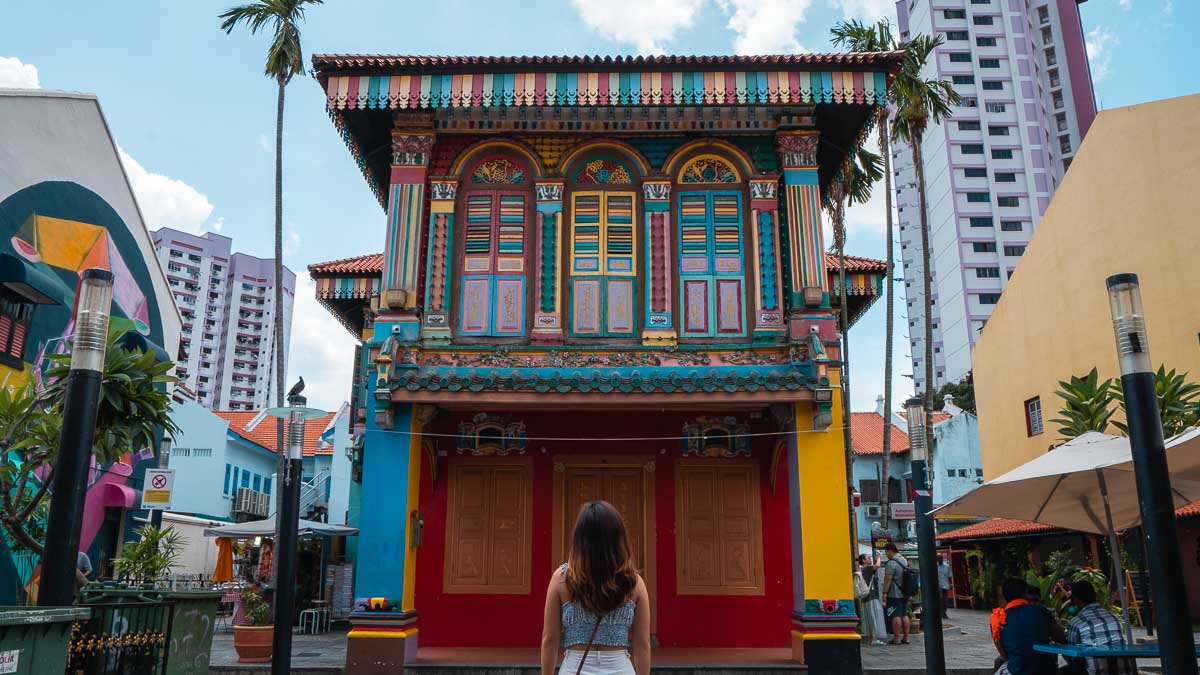 Visit the 24-hour Mustafa Centre, pose for pictures at the colourful House of Tan Teng Niah and pick up souvenirs at the Little India Arcade.
For lunch, head to Tekka Centre. Recommended dishes include mutton briyani from Allauddin's Briyani (#01-232), masala dosai from Annal Dosai (#01-244) and braised duck rice from Heng Gi Goose and Duck Rice (#01-335).
How to get there: 3min walk from Little India MRT (NEL/DTL), exit C to Tekka Market
Kampong Gelam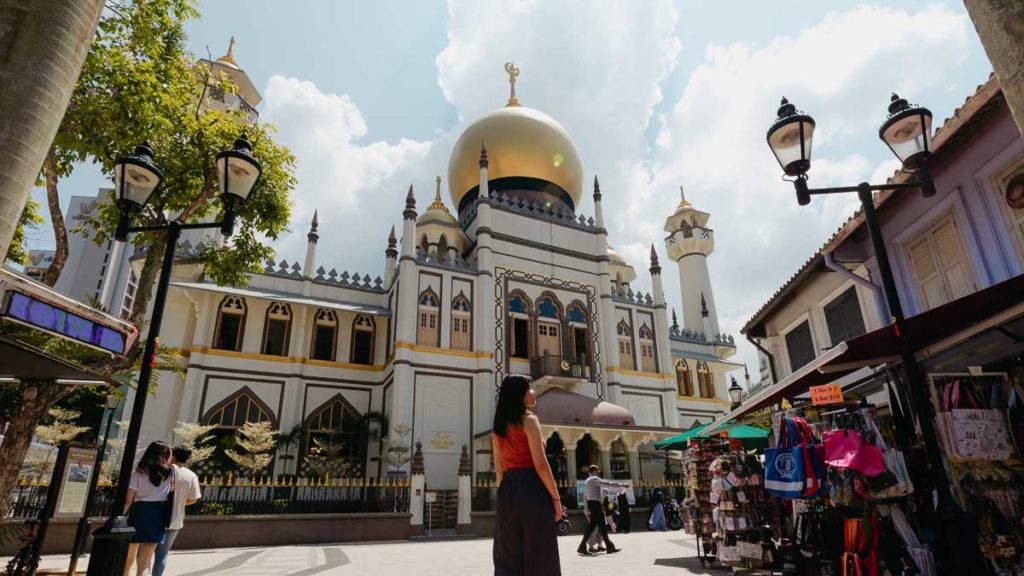 Kampong Gelam is Singapore's oldest urban quarter, occupied by Malay and Arab communities during the colonial era. The most prominent landmark is the Sultan Mosque, built in 1824 for Singapore's first sultan.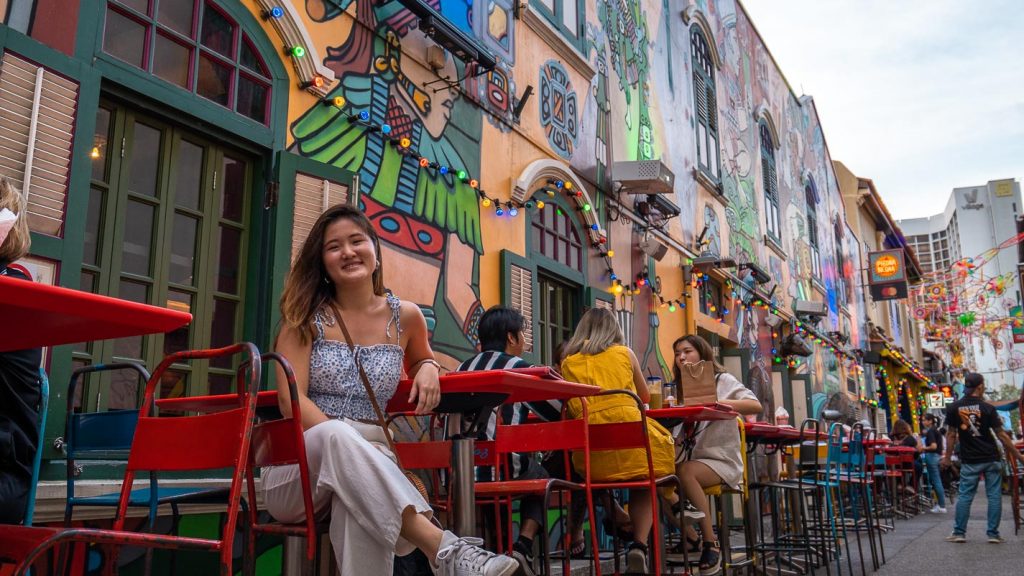 Drop by the hipster Haji Lane for fun murals and shops, plus bustling restaurants serving international cuisine like Mexican burritos!
How to get there: 5min walk from Bugis MRT (DTL/EWL), exit D to the Sultan Mosque. Haji Lane is just a 2min walk away from there
Orchard Road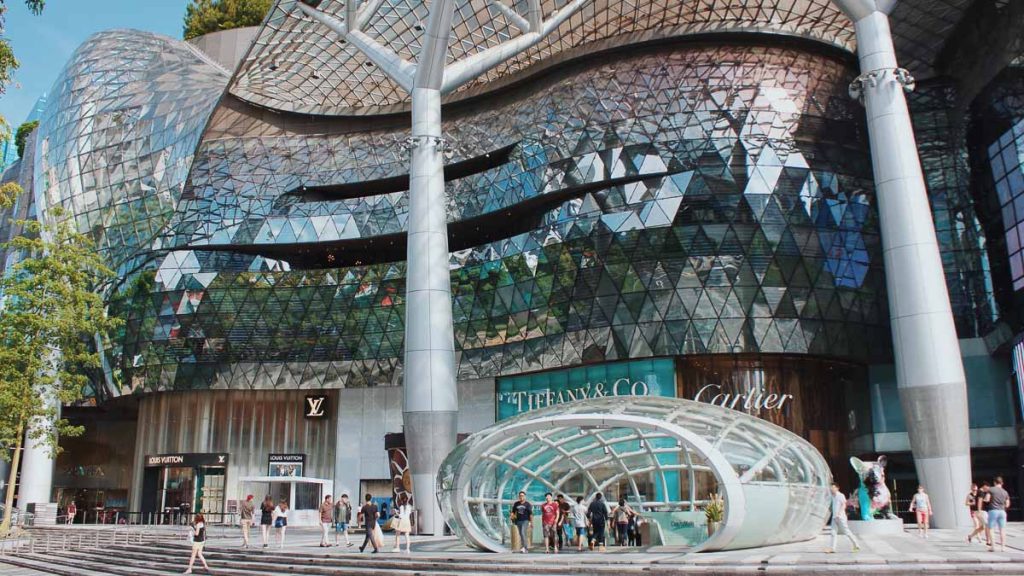 Photo credit: @k8_iv via Unsplash
New York has Times Square, we have Orchard Road. Picture dozens of megamalls all lined up on one street — truly a shopaholic's paradise.
You could easily spend hours just at Takashimaya, ION Orchard and [email protected]. But even if you're not much of a shopper, Orchard Road is great for dining and walking around.
*Pro-tip: Spend a minimum of S$50 at ION Orchard and gain free entry to ION Sky, a viewing gallery on the 55th floor!
How to get there: Take the MRT to Somerset (NSL). The exit leads to 3 malls — [email protected], Orchard Central and Orchard Gateway
Day 4: Day-trip to Singapore's offshore islands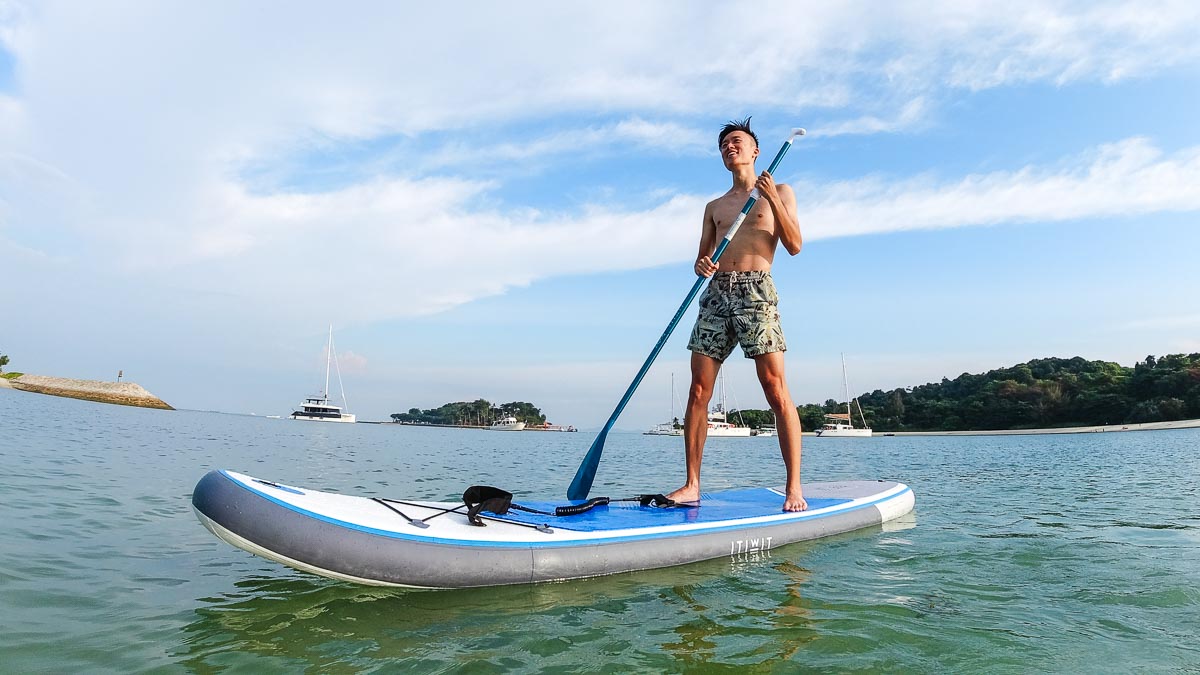 Did you know that Singapore is made up of not one, but 64 islands? Tourists typically don't include island-hopping in their Singapore itinerary, but our offshore islands are worth a visit.
Option 1: Pulau Ubin for the adventurous
For those craving nature, Pulau Ubin is the place to be — and it only costs S$4/pax to get there via a 15-minute bumboat! Unlike the towering skyscrapers of the mainland, the only semblance of a town is at the jetty — the rest is generally untouched.
*Pro-tip: Rent a bike from the main village (S$6 for the entire day) as there's quite a lot to cover on foot.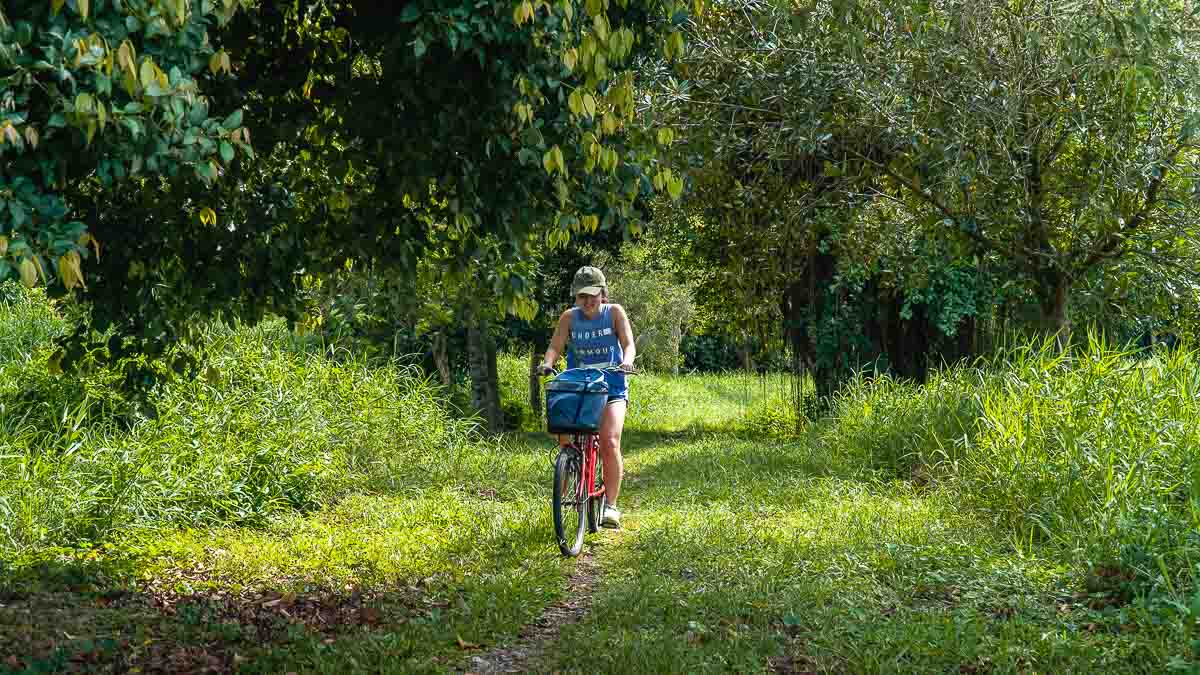 Over on the west side of Pulau Ubin lies Ketam Mountain Bike Park. It's the first bike park in Singapore that meets international biking standards. Along the way, be sure to stop for a short hike up Puaka Hill and enjoy stunning views of the Ubin Granite Quarry.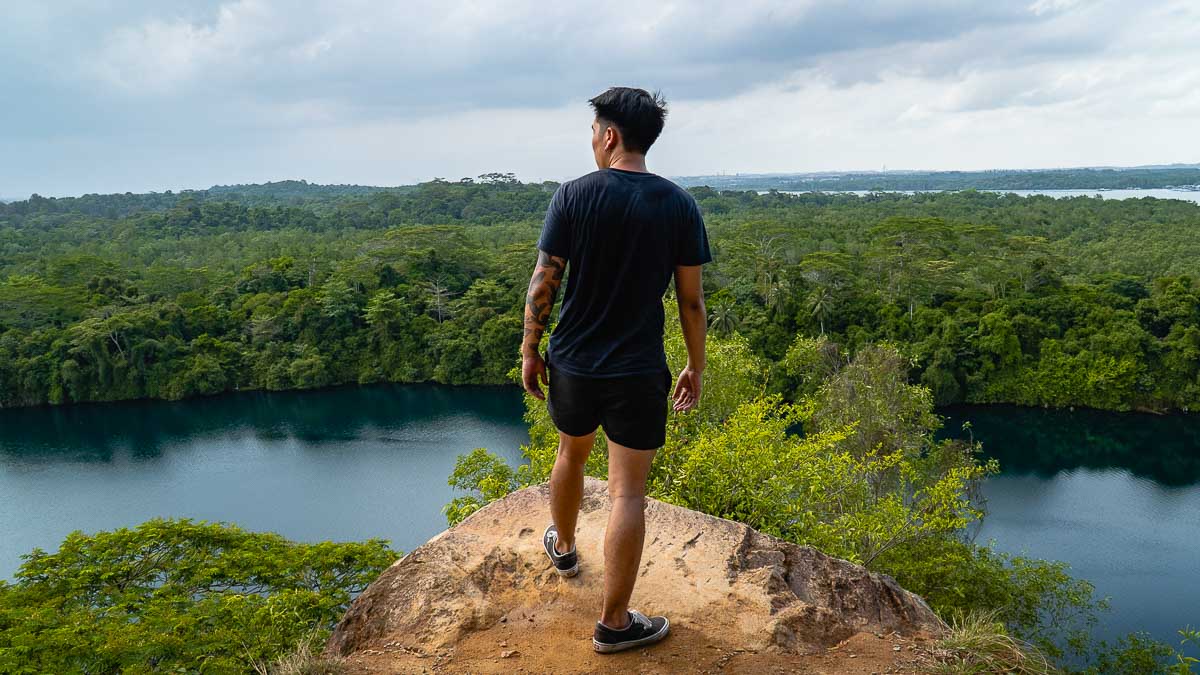 Then there's Chek Jawa, which is one of Singapore's richest ecosystems. Wild boars, monitor lizards and crabs are some common critters here. Hop off your bike, stroll along coastal boardwalks and climb the 20-metre tall Jejawi Tower!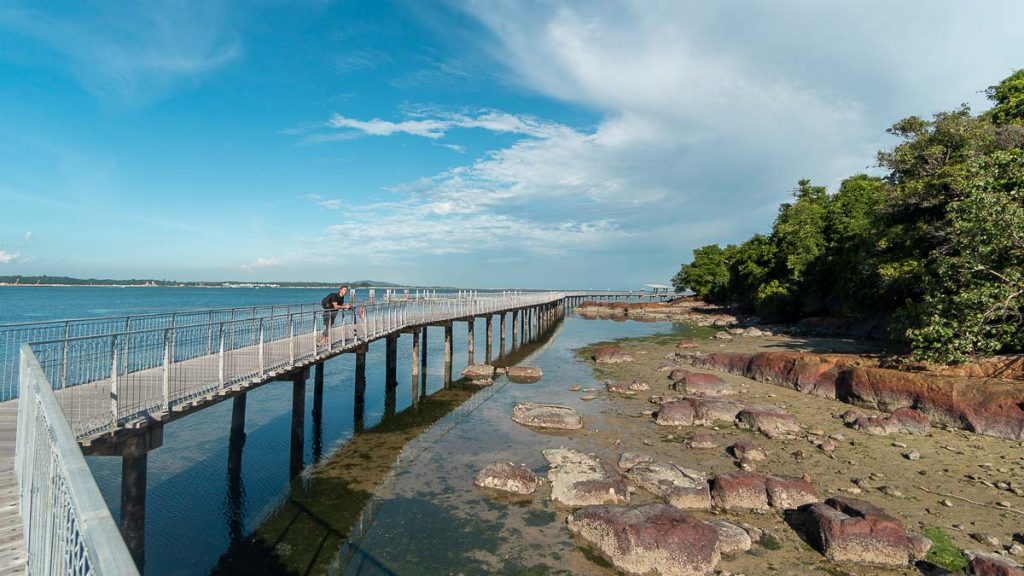 There are only four restaurants on the island, located near the jetty. We'd suggest having full breakfast at the nearby Changi Village Hawker Centre before boarding the boat to Ubin.
Read more: Cycling on Pulau Ubin — A Scenic 9-Hour Route Around The Island's Best Sights
Entrance fee: Free entry (S$4/pax for a bumboat ride)
How to get there: From Pasir Ris MRT (EWL), it is a 15min taxi ride or 27min bus ride (bus 109) to Changi Point Ferry Terminal
Option 2: Chill day on Southern Islands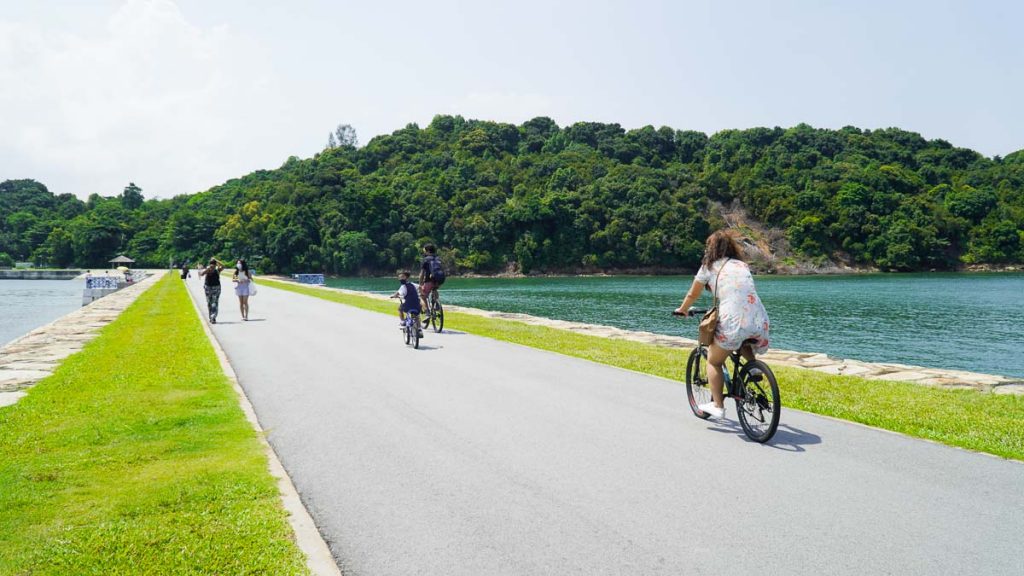 The Southern Islands is made up of eight islands, of which five are accessible by the public via a ferry (S$13.59/pax). This includes stops at St John's Island (connected to Lazarus Island) and Kusu Island.
St John's Island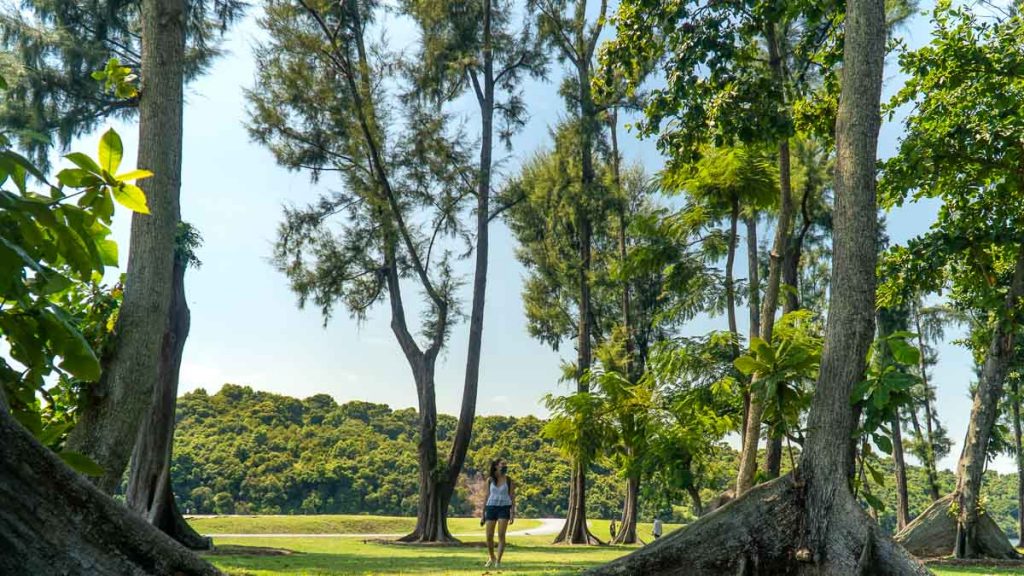 Upon arrival at St John's Island, you're greeted by inviting blue waters and tall swaying trees. Despite the island's grim past as a quarantine centre, it's now a popular weekend retreat. Enjoy a leisurely stroll, go snorkelling or stay overnight at St John's Island Lodges.
Lazarus Island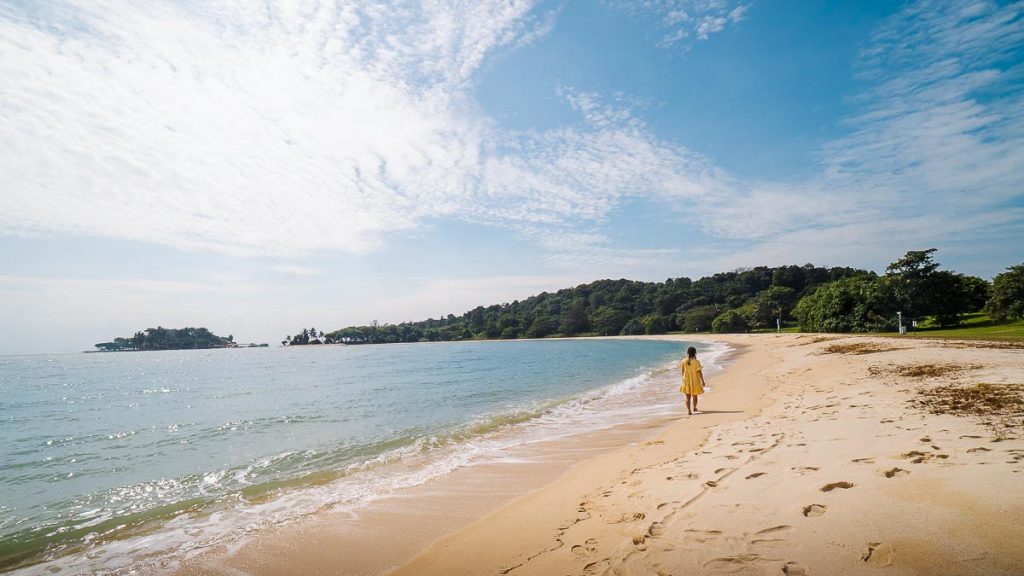 Lazarus Island is the most popular of Singapore's Southern Islands and the picture above is the main reason why. This island has a gorgeous white sand beach that could easily pass as resorts in Thailand or the Philippines.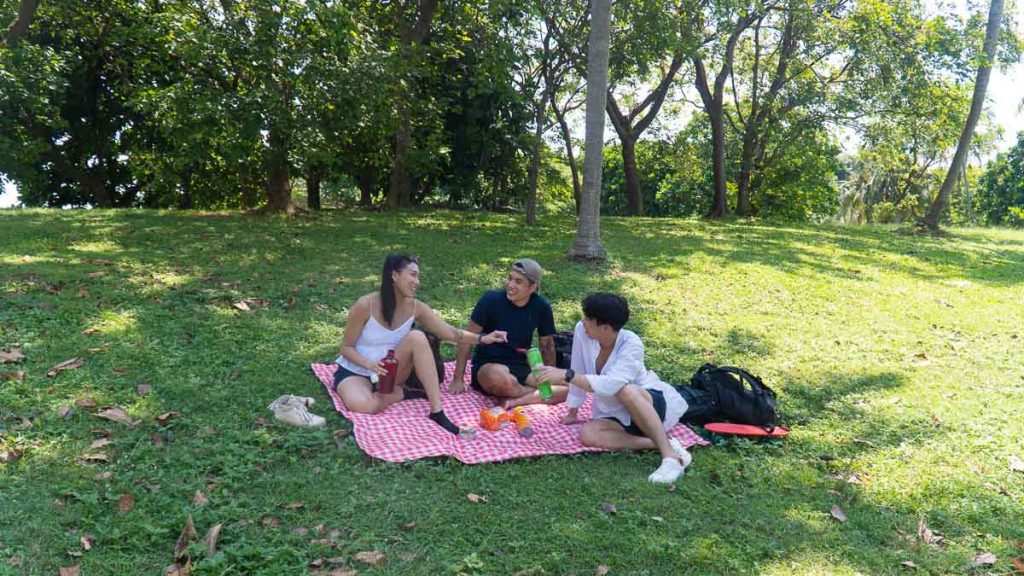 A 20-minute walk from St John's Island via a causeway, Lazarus is the perfect place for picnicking, tanning and swimming.
*Pro-tip: Pack lunch because there aren't any food and drink stores here!
Kusu Island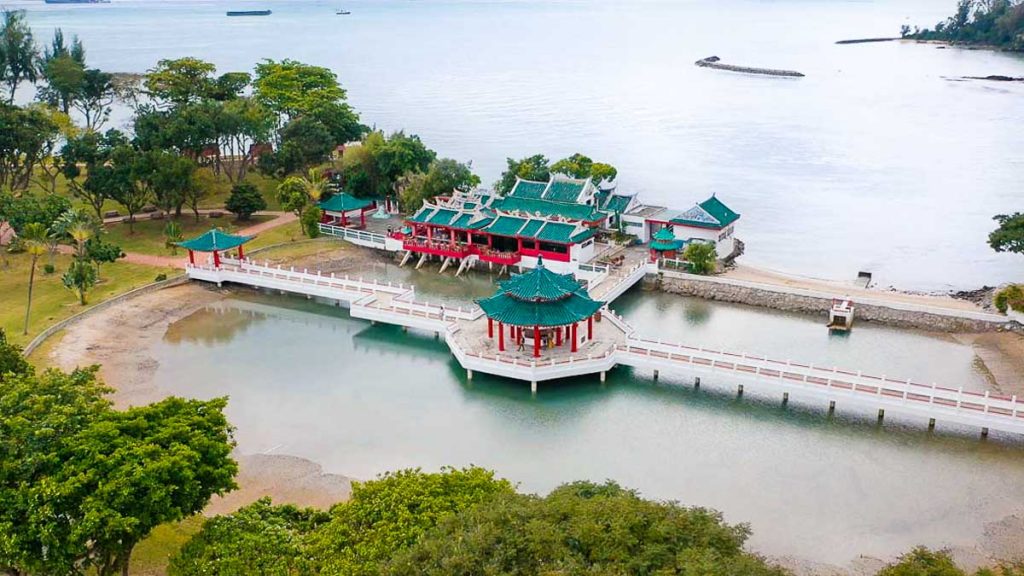 Lastly, there's Kusu Island. It's much smaller than St John's and Lazarus, but offers a unique cultural experience with its collection of shrines and temples.
Kusu Island is also a fishing hot spot, with groupers and silver moonies commonly spotted. Oh, and you'll find plenty of adorable tortoises residing there. Kusu means tortoise in Hokkien, after all!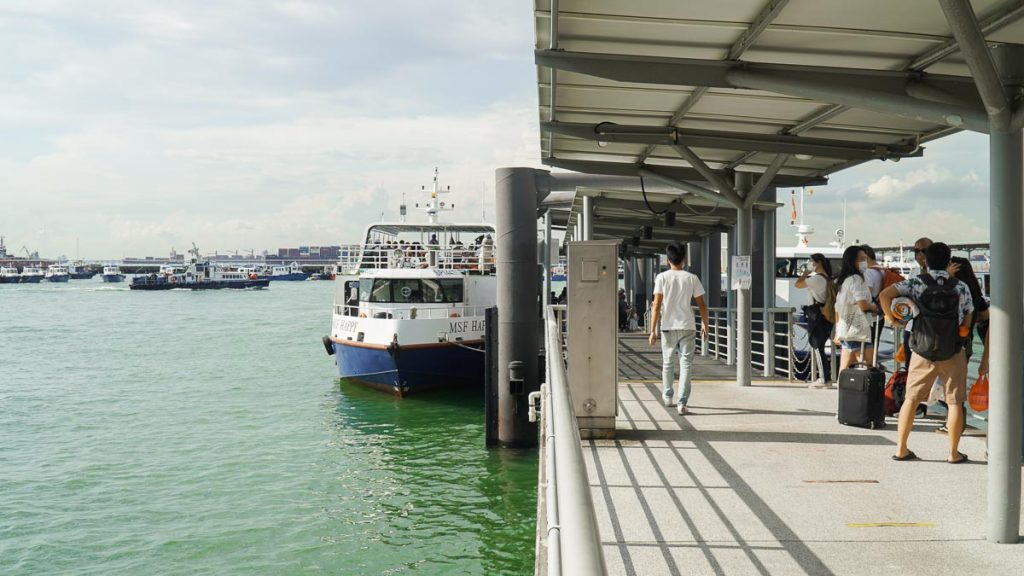 *Pro-tip: If you'd like to squeeze all three islands into your Singapore itinerary, we'd recommend visiting Kusu Island first as it only takes around an hour to explore. Then you can spend the rest of your day relaxing at St John's and Lazarus Islands.
Read more: Singapore Southern Islands Guide — Island Hopping Around Lazarus, St John's, Kusu and Sisters' Island
Entrance fee: Free entry (S$4/pax for a bumboat ride)
How to get there: Take the MRT to Marina South Pier (NSL). Marina South Pier Ferry Terminal is at the entrance of exit B
Day 5: Enjoy a full day of excitement at Sentosa, Singapore's island of fun
There's so much to do at Sentosa for those seeking thrill and those hoping to chill — more than enough to fill an entire week!
Entrance fee: Free
How to get there: From Harbourfront MRT (CCL/NEL), walk to the Sentosa Express station on Vivocity Level 3. It costs S$4/pax to take the Sentosa Express into Sentosa (free admission till 30 Sep 2021). Alternatively, you could walk in via the Sentosa Boardwalk — free entry!
Thrilling Activities at Sentosa
AJ Hackett Sentosa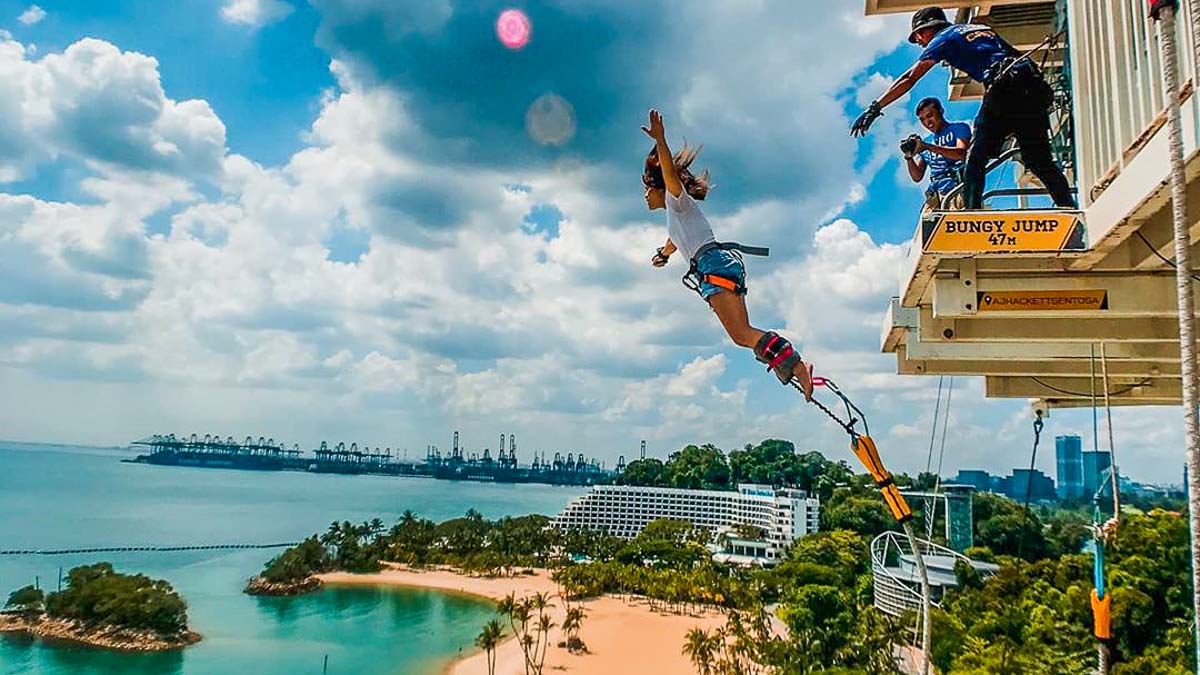 Tick bungy jumping off your bucket list at AJ Hackett Sentosa! You've got stunning views of Siloso Beach as you take the plunge from a height of 47m. You can even request how much of your body you'd like touch the swimming pool at the bottom.
Cost: S$99 per jump
Opening hours: 12:30PM – 7PM (Mon – Fri), 11:30AM – 7PM (Sat – Sun)
Skyline Luge Sentosa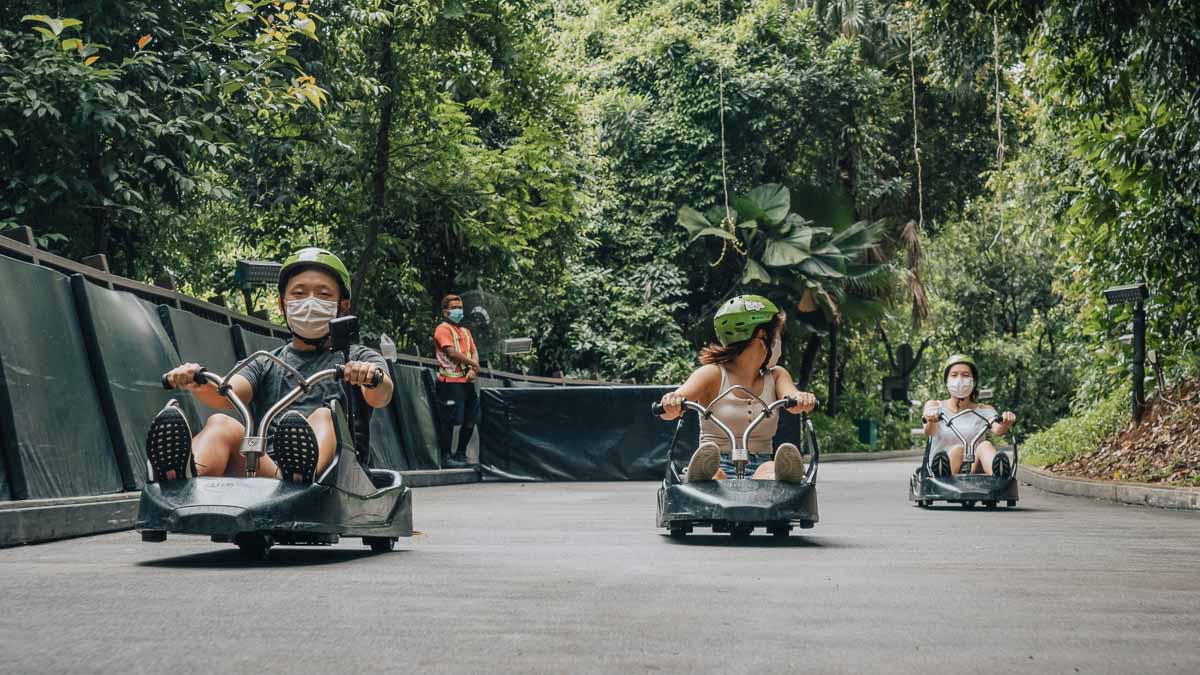 The Skyline Luge is a classic. It starts with a scenic skyride from Siloso Beach followed by a thrilling luge experience. There are four distinct tracks to choose from and our pick is the 688-metre long Dragon Trail — the longest of the lot!
Cost: From S$23 for two luge and skyrides
Opening hours: 11AM – 7:30PM (Mon – Thu), 11AM – 9PM (Fri), 10AM – 9PM (Sat), 10AM – 7:30PM (Sun)
Hydrodash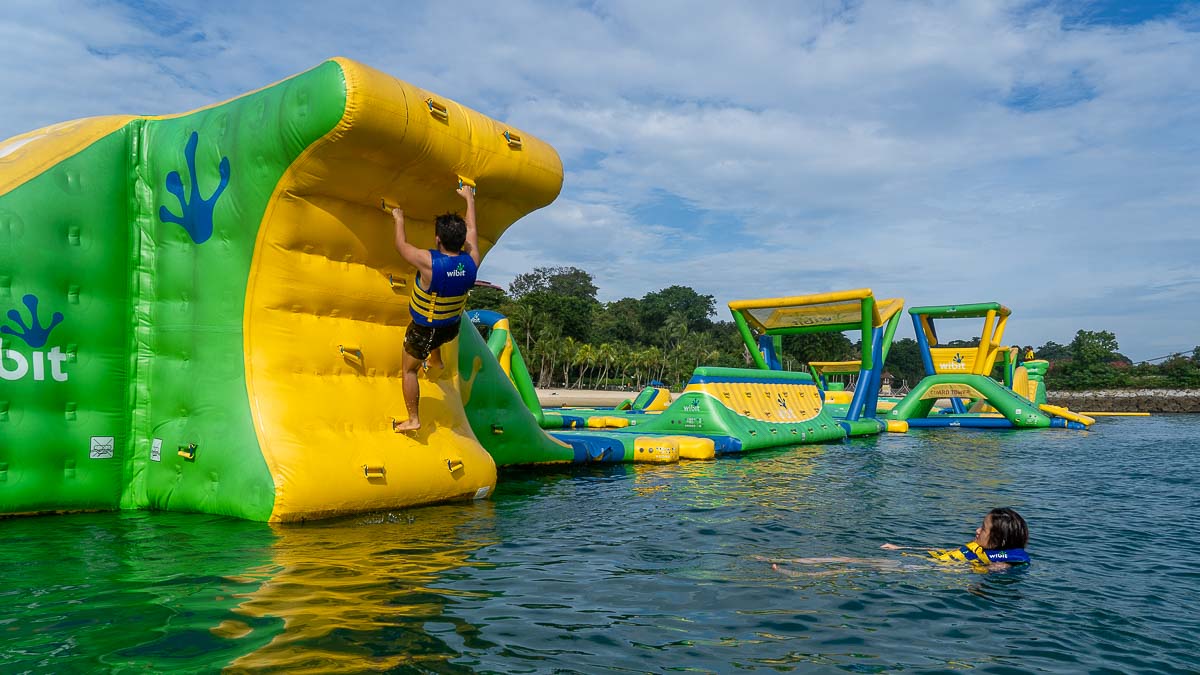 Located at Palawan Beach, HydroDash is Singapore's very first aqua park — opened just this year! The Wipe Out-like obstacle course is split into two zones of different difficulty; one for younger kids and one for those aged nine and above.
Cost: S$18 for one hour
Opening hours: 11AM – 6PM (Mon – Fri), 10AM – 7PM (Sat and PH), 10AM – 6PM (Sun)
Chill Activities at Sentosa
Relax at Sentosa's Pristine Beaches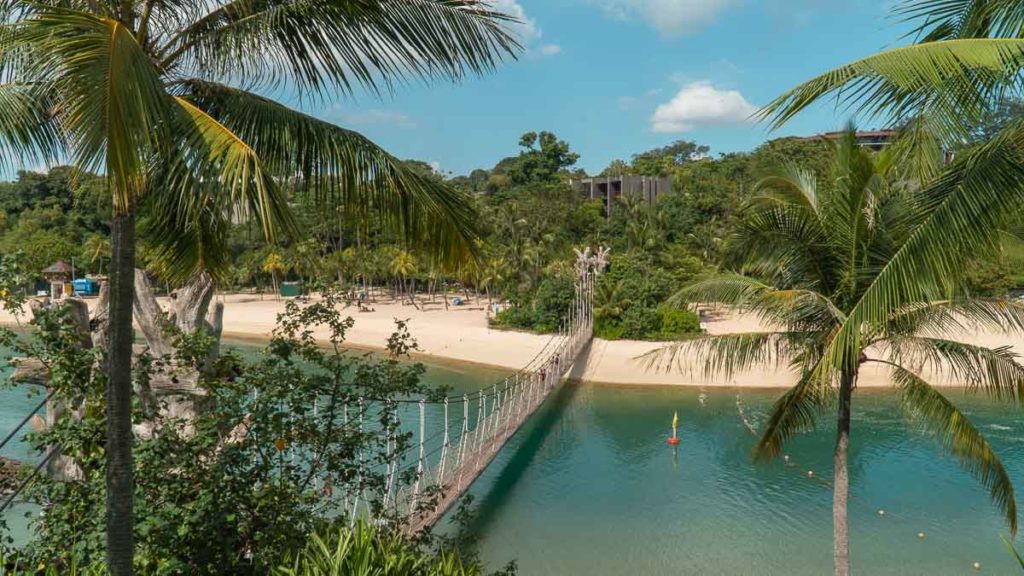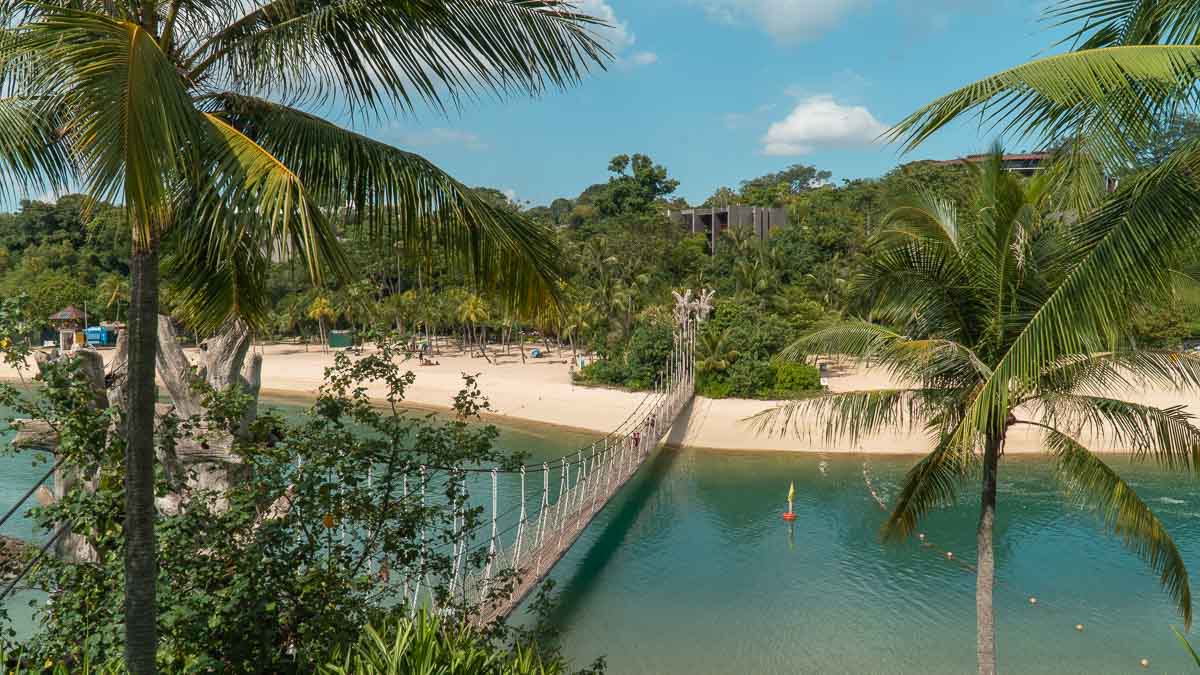 Sentosa's beautiful beaches are the main reason why locals flock here to destress. There are three beaches — Siloso, Palawan and Tanjong — and white sand, swaying palm trees and blue waters await at each one.
*Pro-tip: Bring a frisbee or volleyball! There are free beach courts available for use.
Entrance fee: Free
Opening hours: 8AM – 7PM (Currently bookings are required on weekends and PH)
Hike Sentosa's Unique Walking Trails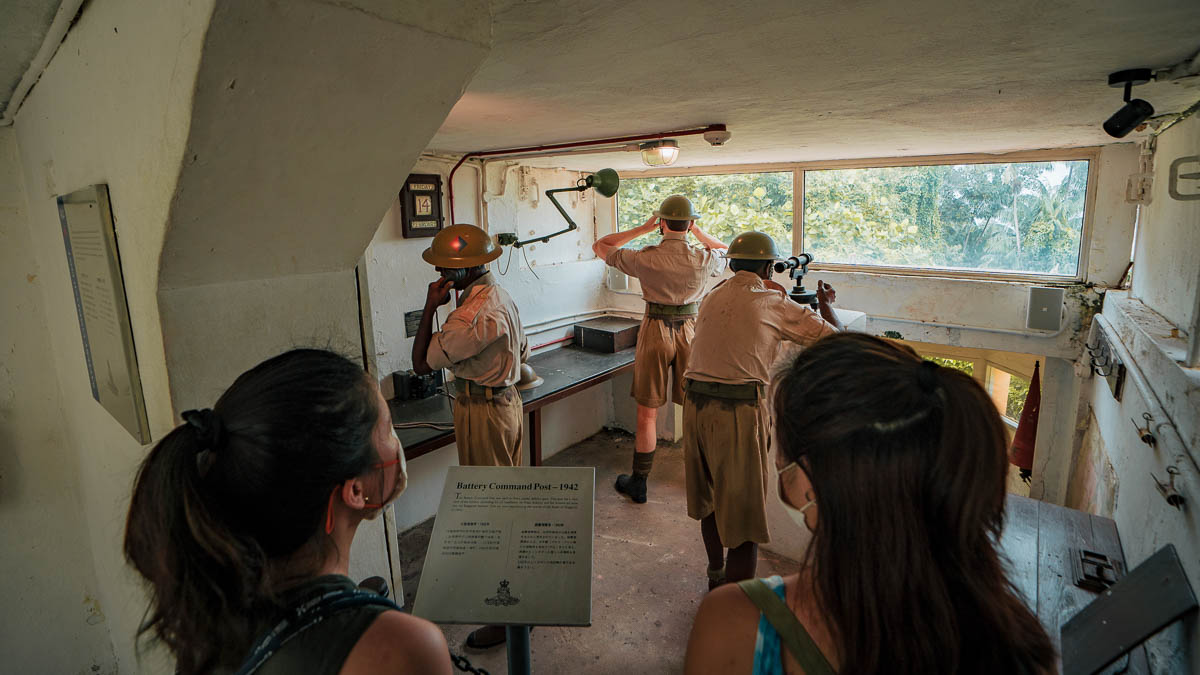 Perhaps the most underrated activity in Sentosa is hiking. Which is a waste, because Sentosa's walking trails are pretty special!
There's the Coastal Trail, perfect for history buffs and explorers. The route features Fort Siloso, an open-air museum with real cannons and military structure remains from World War II. If you'd prefer a classic nature walk, opt for the Imbiah Trail.
Entrance fee: Free
Opening hours: 10AM – 6PM
Madame Tussauds Singapore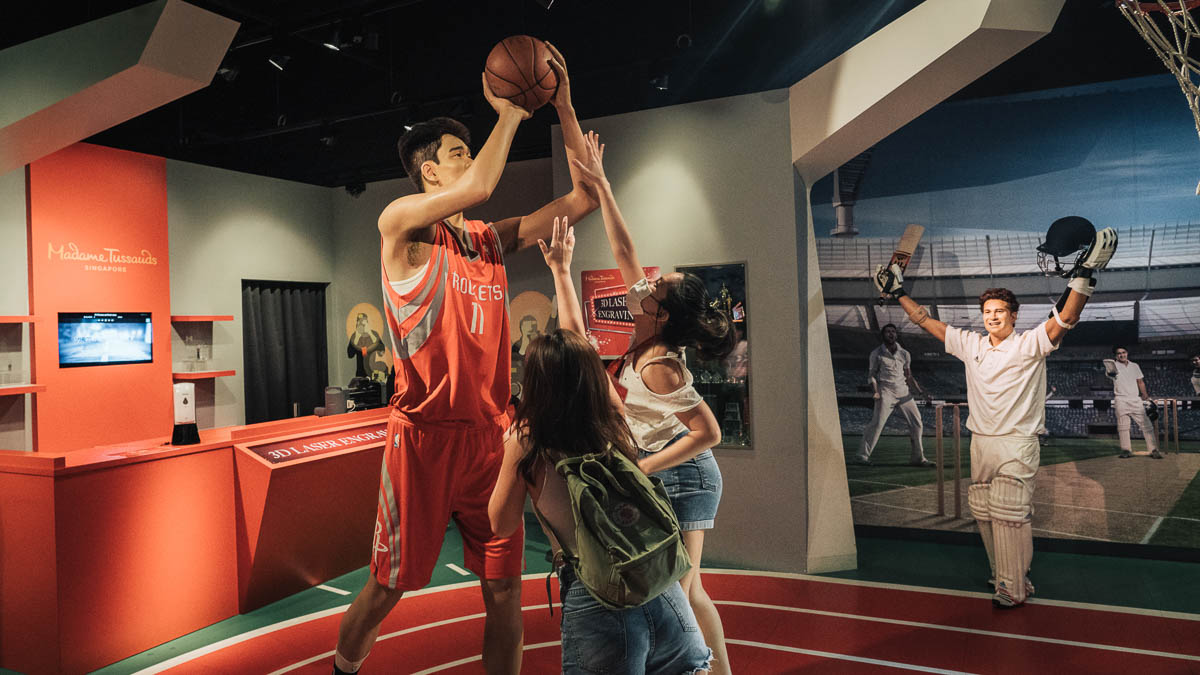 Did you know that every Madame Tussauds is different? Singapore's version features the only Madame Tussauds boat ride in the world and a Marvel 4D Experience — the only of its kind in Asia.
Of course, the main reason to visit is the life-sized wax figures of celebrities, athletes, and world leaders! Good to know that I'm at eye-level with Yao Ming's belly button.
Cost: S$30 when you book online
Opening hours: Generally 10AM – 6PM (Thu – Mon), closed on Tue – Wed. Check here for the latest timings
Read our Sentosa Guide for other fun activities at Singapore's state of fun!
Where to Stay in Singapore
Hostels — From S$20/night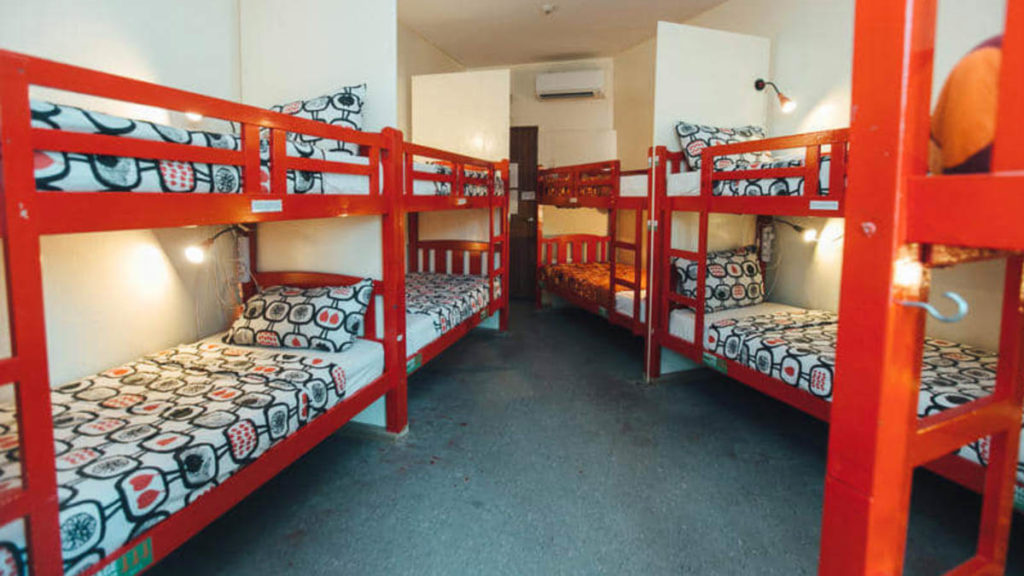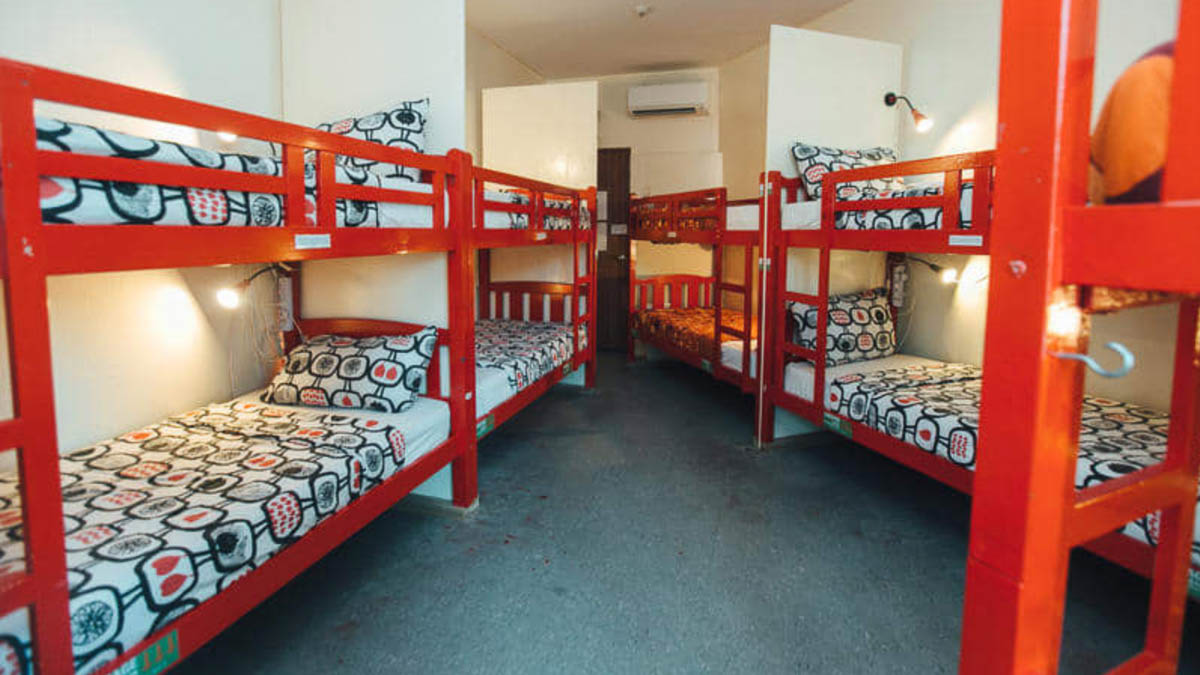 Photo credit: Hostel World
Beyond offering affordable accommodation, hostels are great places to get to know other backpackers. There are numerous hostel options located in the central areas of Chinatown, Farrer Park and Jalan Besar.
Read more: 10 Cheap and Affordable Hostels in Singapore Under S$30
Hotels — From S$90/night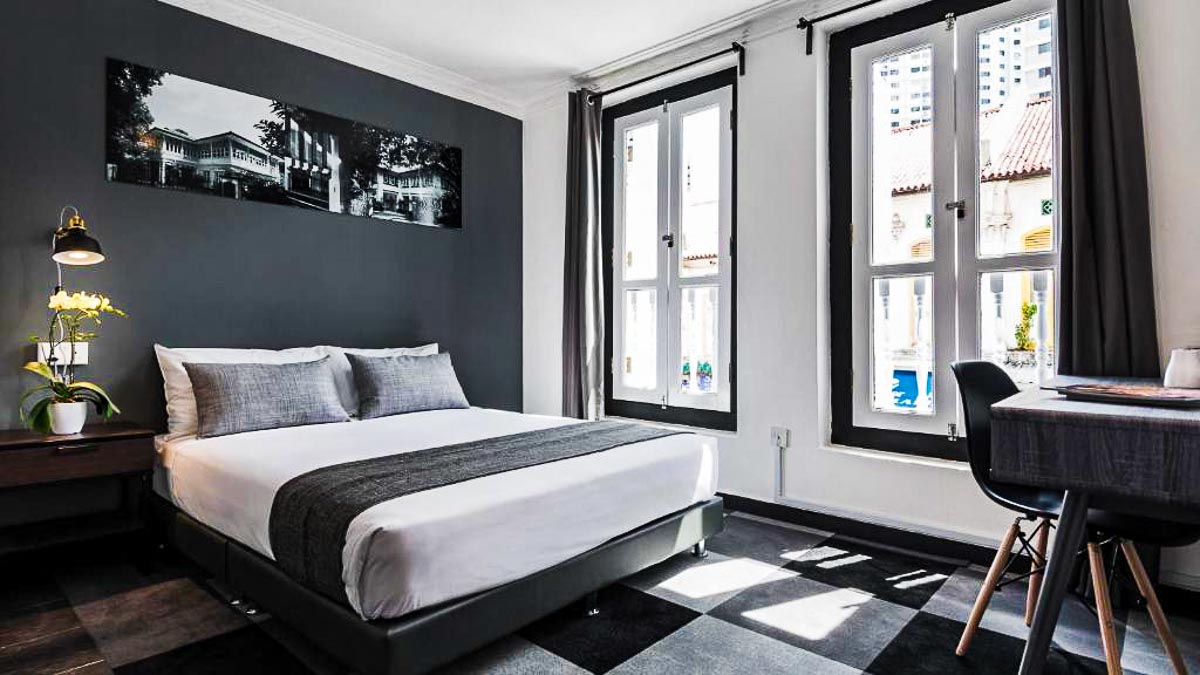 Photo credit: Park 22 Hotel
For those who prefer the privacy of your own room and toilet, book a hotel! Luckily, there are plenty of budget-friendly hotels in Singapore — with great facilities like swimming pools and gyms.
Read more: Singapore Staycation Ideas — 13 Hotels Under S$99/Pax That Are Trendy Yet Affordable
Luxury Hotels — From S$268/night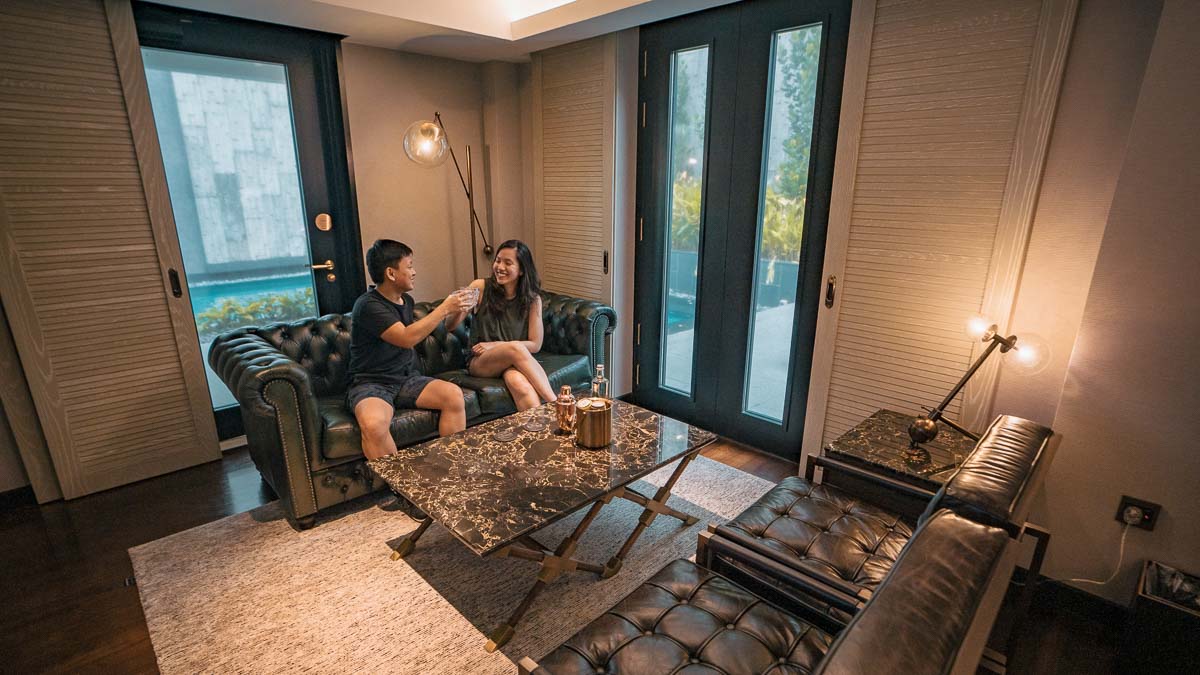 If you've come to Singapore to live the Crazy Rich Asian lifestyle, splurge on a fancier hotel! These hotels offer a more premium experience with amenities like private plunge pools, large terraces and high-end bathroom products.
Read more: 2021 Long Weekend Staycation Ideas — 7 Newly Opened Luxury Hotels in Singapore
Bookmark our Singapore itinerary for a post-pandemic vacation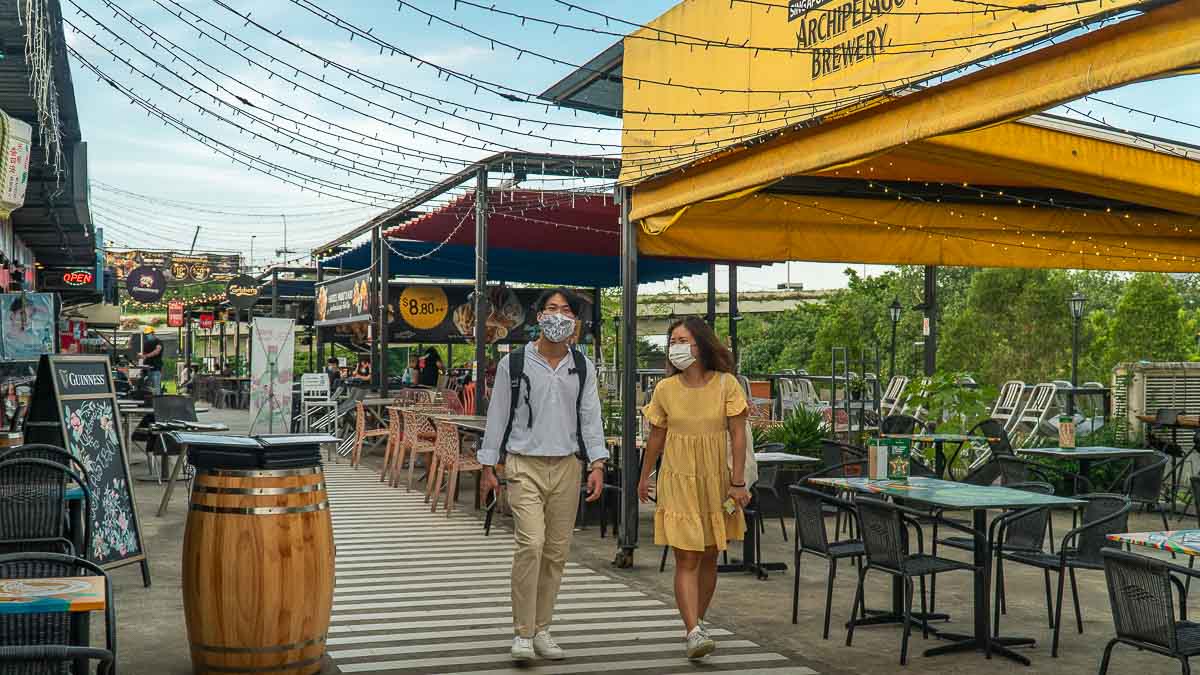 Now when someone asks "What should I include in my Singapore itinerary?", my answer would be pretty different. Yes, you should definitely see "the big fake trees" if it's your first time here, but take the time to enjoy the rest of the city.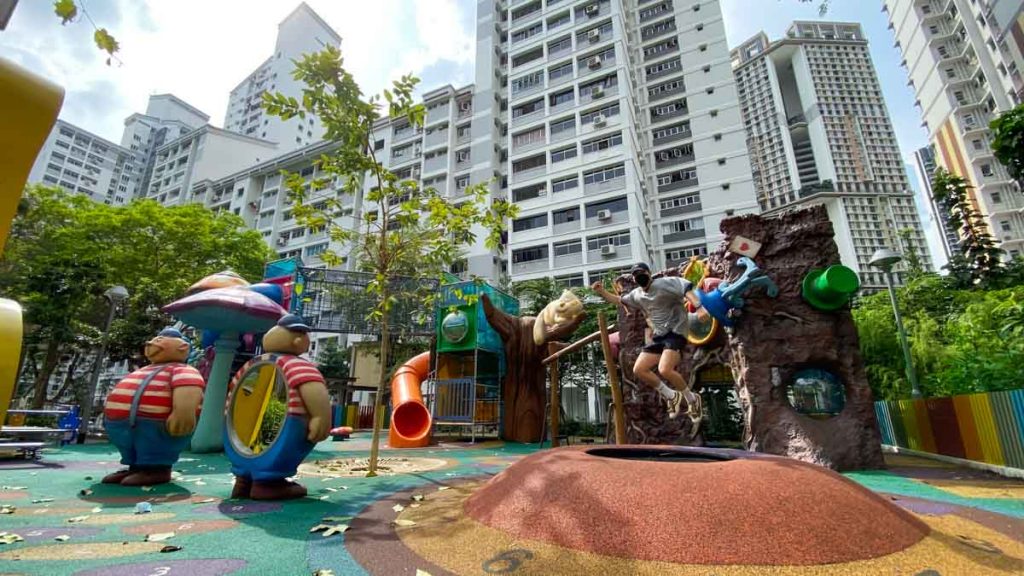 Our quirky neighbourhoods, scenic nature spots, and offshore islands are worth getting to know as well. I swear you'll be pleasantly surprised.
Need help navigating the city? Here's a map with all the attractions pinned:
If you're planning to stick around longer, here are more awesome things to add to your Singapore itinerary:
– The Ultimate List of 23 Hiking Trails in Singapore — Ranked from chill to adventurous
– 50 Exciting Things to Do in Singapore — The Ultimate Singapore Bucket List For Locals in 2021
– Sembawang Heritage Trail Guide — Remnants of a Forgotten Naval Base
– 9 Scenic Spots to Picnic in Singapore and Pro-tips For the Perfect Alfresco Meal
What else would you add to this Singapore itinerary if you were bringing your foreign friends around? Share with us in the comments!
---