These hostels and hotels let you do the time without doing the crime.
With holiday experiences being all the rage as of late, nothing certainly sounds as thrilling as getting "locked up" in prison in another country. Who says your accommodation can't be an attraction in itself, right?
Mountain views are too passé.
With gloomy, aged brick walls, rusty metal grills, prison-style uniforms/pyjamas and even, um, prison-style "hospitality", these hostels and hotels around the world sure go out of their way to immerse visitors in an experience behind bars.
Don't worry — they all still have WiFi.
1) HI Ottawa Jail Hostel (Canada)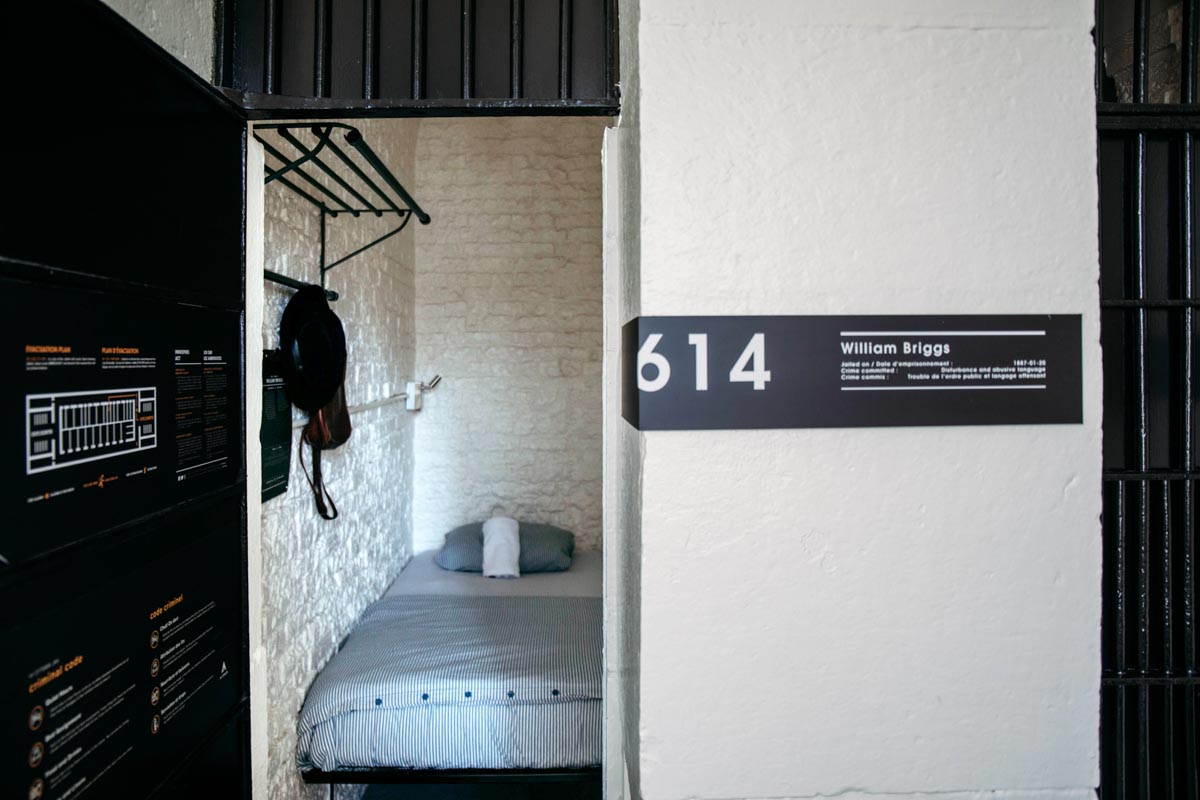 Photo credit: Hihostels.com
How's this for a stay in the capital of Canada? HI Ottawa takes the place of a former jailhouse, and while everything is refurbished, it still retains much of its original "charms" with stone and brick walls and ominous metal grills for doors.
Guests can even explore the premises as some "facilities" remain the same. And by "facilities", we mean, um, the gallows. 😬
We have to admit the black-and-white aesthetic looks pretty chic, though. Photo credit: Hihostels.com
Shared dorm beds start from CA$40 (~S$40), though you can opt for the authentic experience of having a private jail cell of your own. Thankfully, this jail comes with free WiFi, breakfast and shared facilities like a kitchen, common lounge and library.
Cost: From ~S$40
Address: 75 Nicholas Street, K1N 7B9 Ottawa, Canada
Read also: 9 Epic Ice Palaces, Snow Hotels and Igloos For Your Winter Bucket List
2) Alcatraz Hotel (Germany)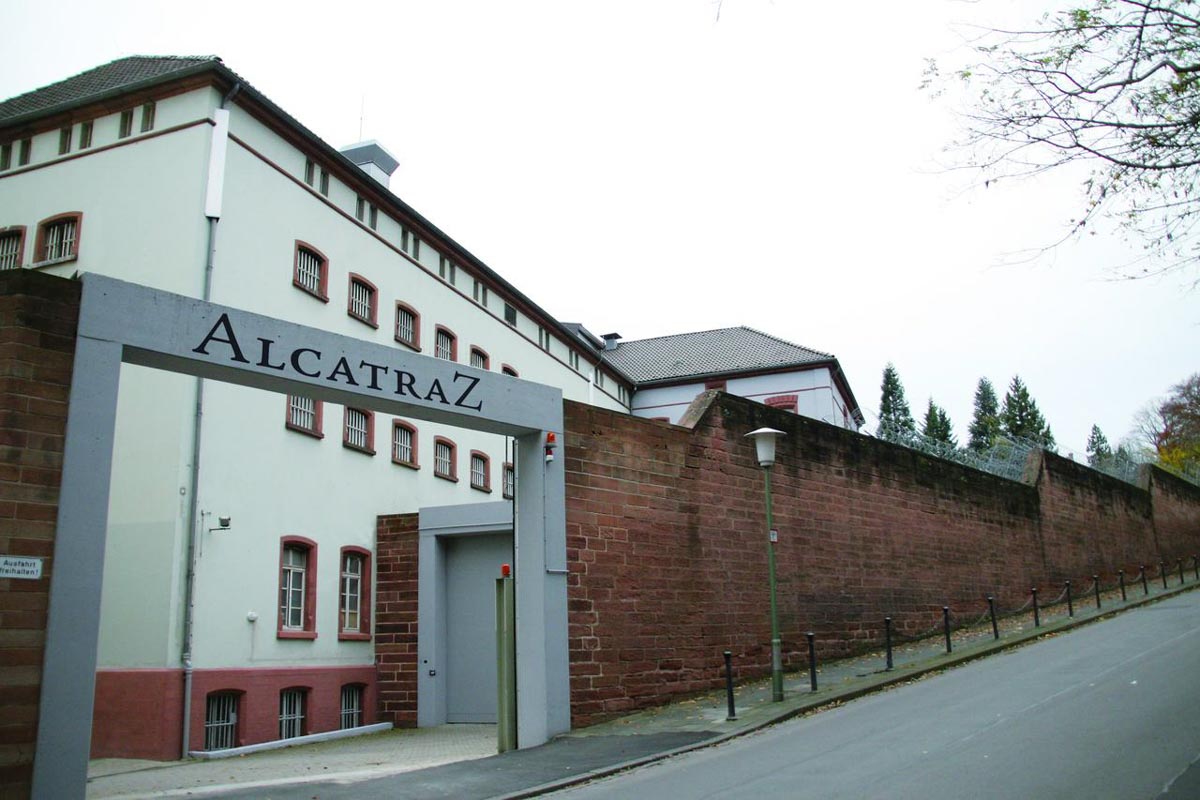 Photo credit: Booking.com
While this isn't by any means the real Alcatraz Island prison of San Francisco Bay, you're still getting some sort of a "real deal" — the Alcatraz Hotel in Kaiserslauten, Germany was converted from an actual prison dating back over a century ago!
Don't be fooled by its decrepit exterior though — its private rooms are actually pretty luxe with en-suite bathrooms and double beds, although we'd say the real stars of the show are the prison cell-themed rooms that retain the original prison beds and doors.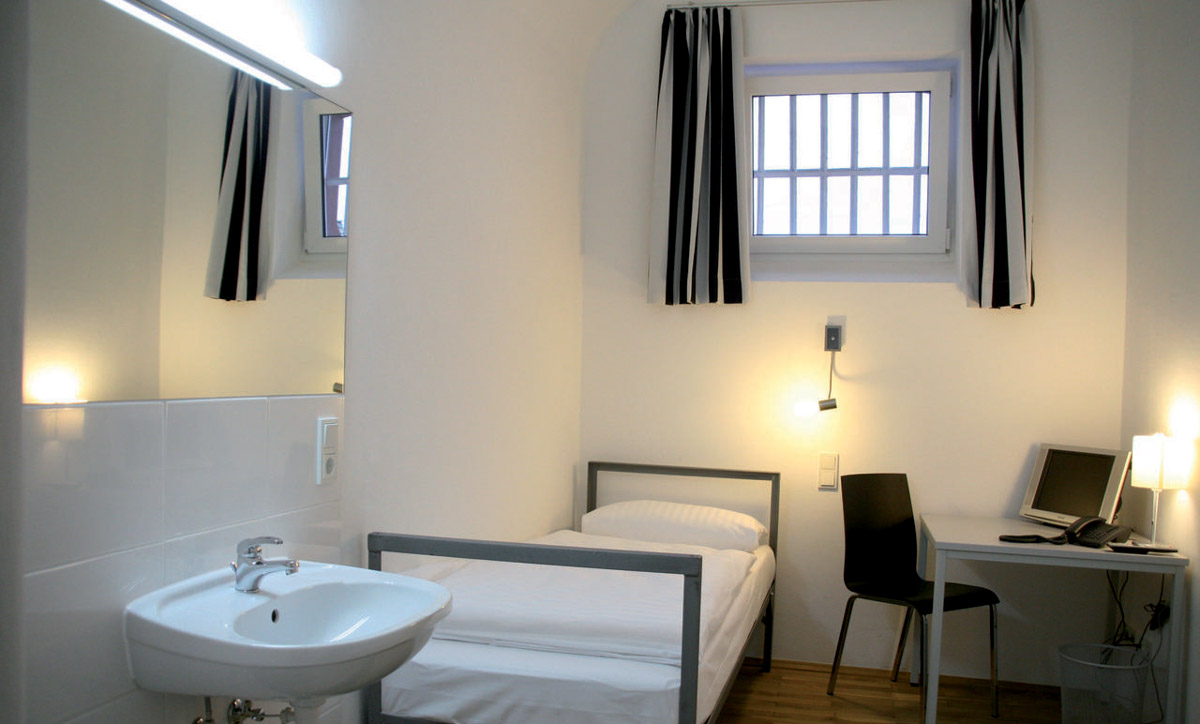 Photo credit: Booking.com
Complete with barred windows and even your toilet bowl and sink in an "open concept" without partitions, you can also opt to have your breakfast served through a hatch! What can we say? We stan a truly immersive experience.
Cost: From ~S$82
Address: Morlauterer Straße 1, 67657 Kaiserslautern, Germany
Read also: 10D Germany Itinerary under S$1.1k
3) Karosta Prison (Latvia)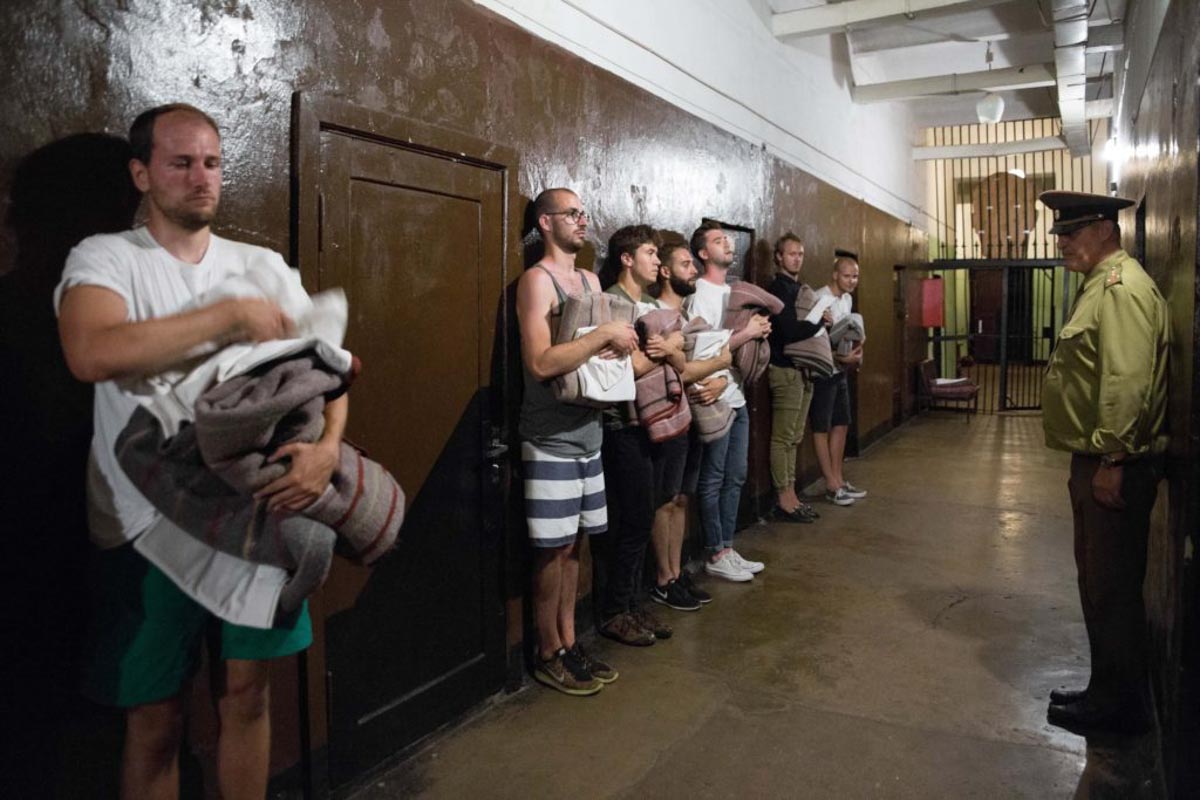 Photo credit: Karostascietums.lv
If you're sucker for torture just like me, there's no better way to derive pleasure from pain than from voluntarily paying to be locked up, and agreeing to be subject to prisoner treatment (in communist-era style, no less)!
Karosta Prison used to be a Nazi and Soviet military prison in the 20th century, but occupants these days tend to be of the more cosmopolitan, civilian sort in this "boutique" hotel.
What makes Karosta Prison truly an experience, however, is more than just booking for a stay in a cell. The full experience comprises your own prison wear, interrogations and unwarranted tekan sessions — no holds barred! This has ironically been so raved about that it's now one of the top things to do in Latvia. 😂
Note: Overnight stays are from 1 May to 30 Nov only.
Cost: From ~S$35
Address: 4 Invalīdu iela, Liepāja, LV-3414, Latvia
Read also: 14-Day Europe Itinerary: 6 Countries under S$1.8k with the Eurail Pass
4) Sook Station (Thailand)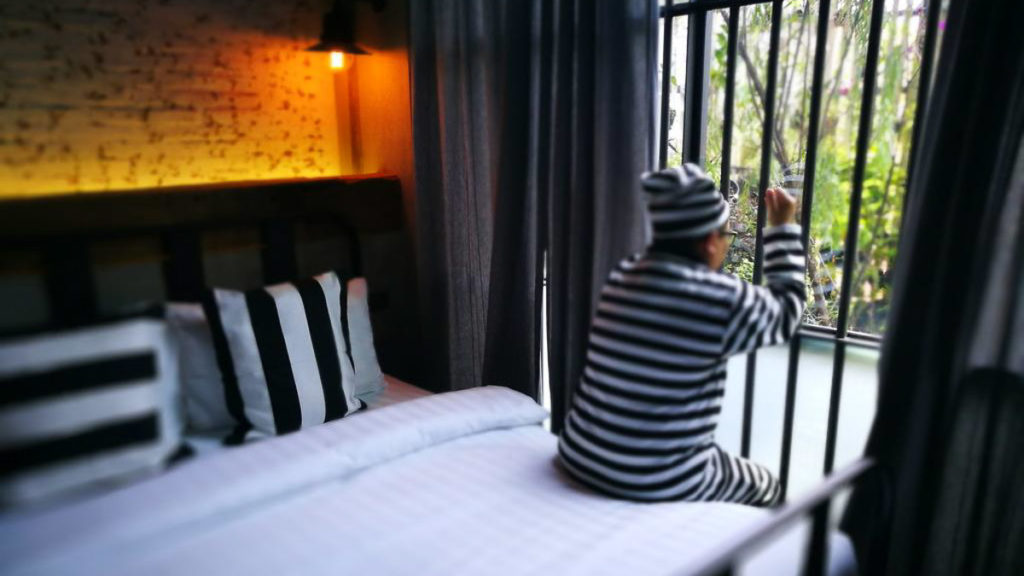 Photo credit: Booking.com
Category is… prison chic extravaganza! Put on your black-and-white prison garb, get your convict serial number and take a mugshot (for Instagram) before heading up to your cell.
Not all is as dreary as it seems — every room in this Bangkok hostel comes with a personal patio, complimentary toiletries and private rooms if you so wish. And if you need to do a prison break, the Udom Suk BTS train station is right around the corner with access to malls, restaurants and cafes in Bang Na.
Cost: From ~S$48
Address: 45-49 Soi Sukhumvit 101/2, Sukhumvit Road, Bangna, Bangkok 10260
Read also: Where to Stay in Bangkok — 15 of the Fanciest Hostels with Great Vibes, Facilities, and Location
5) Jailhouse Accommodation (New Zealand)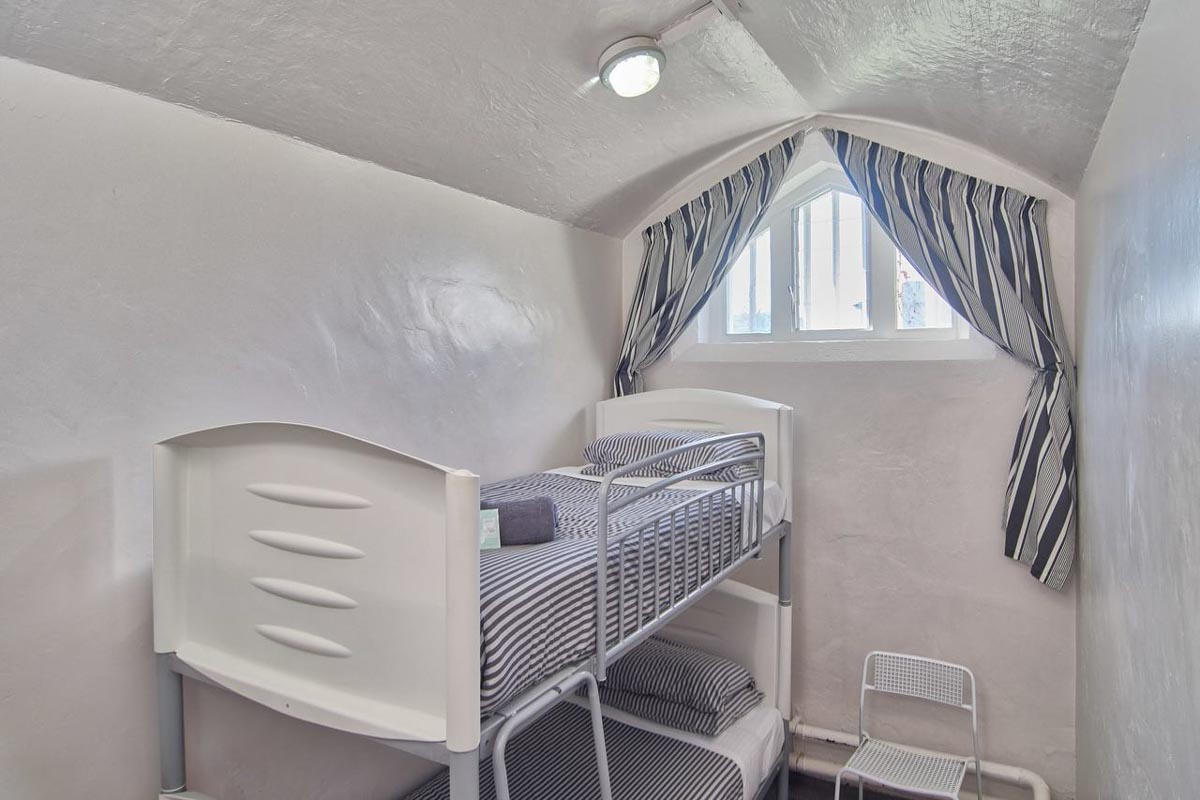 Photo credit: Booking.com
Just like prison, this backpackers' hostel in Christchurch doesn't skirt around what it is — a jailhouse accommodation. No lies detected here: Jailhouse Accommodation was indeed a prison from 1874 to 1999! It has since been refurbished, and looks pretty cool.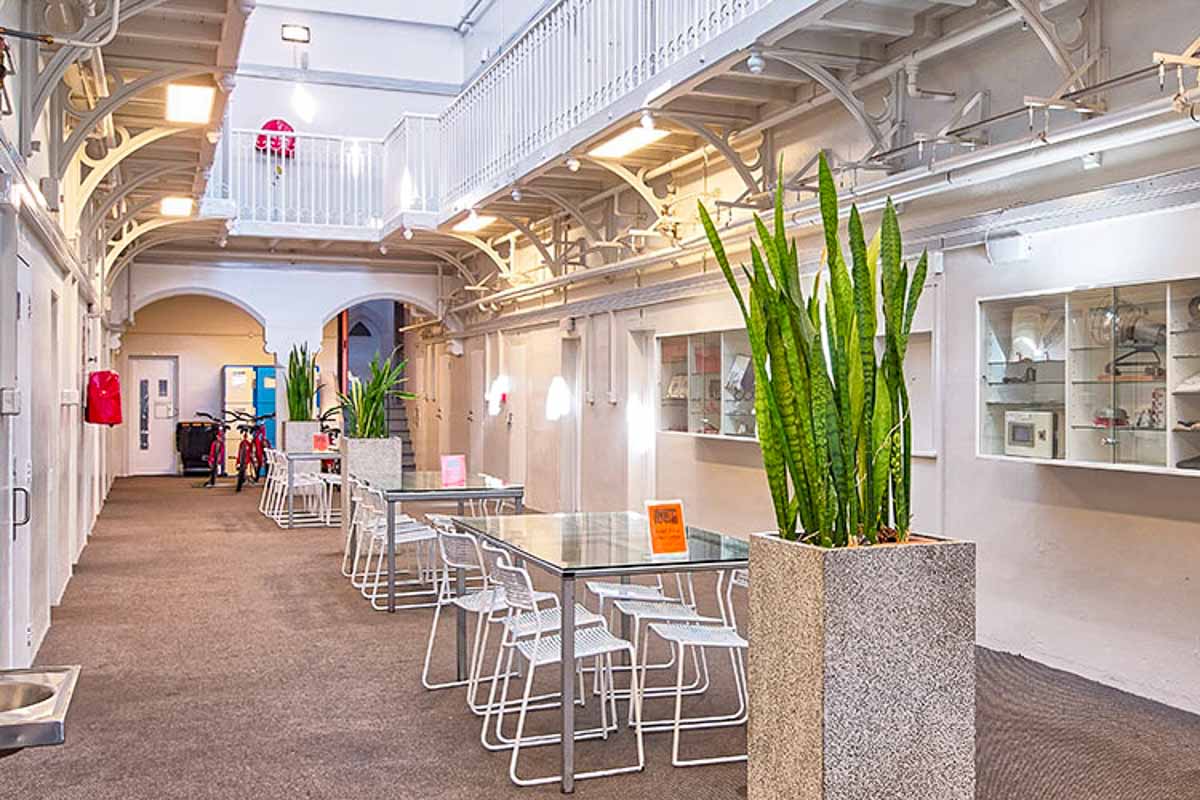 Photo credit: Jail.co.nz
Its history isn't the only reason why it's one of New Zealand's most popular hostels today. Besides being just 10 minutes to Christchurch Railway Station on foot, guests also get to enjoy a shared lounge with cinema projector, billiards tables and a huge communal kitchen!
Cost: From ~S$21
Address: 338 Lincoln Rd, Addington, 8024 Christchurch, New Zealand
Read also: New Zealand Budget Guide — 2 Weeks Under S$2,500 in North And South Island
6) Hotel Katajanokka (Finland)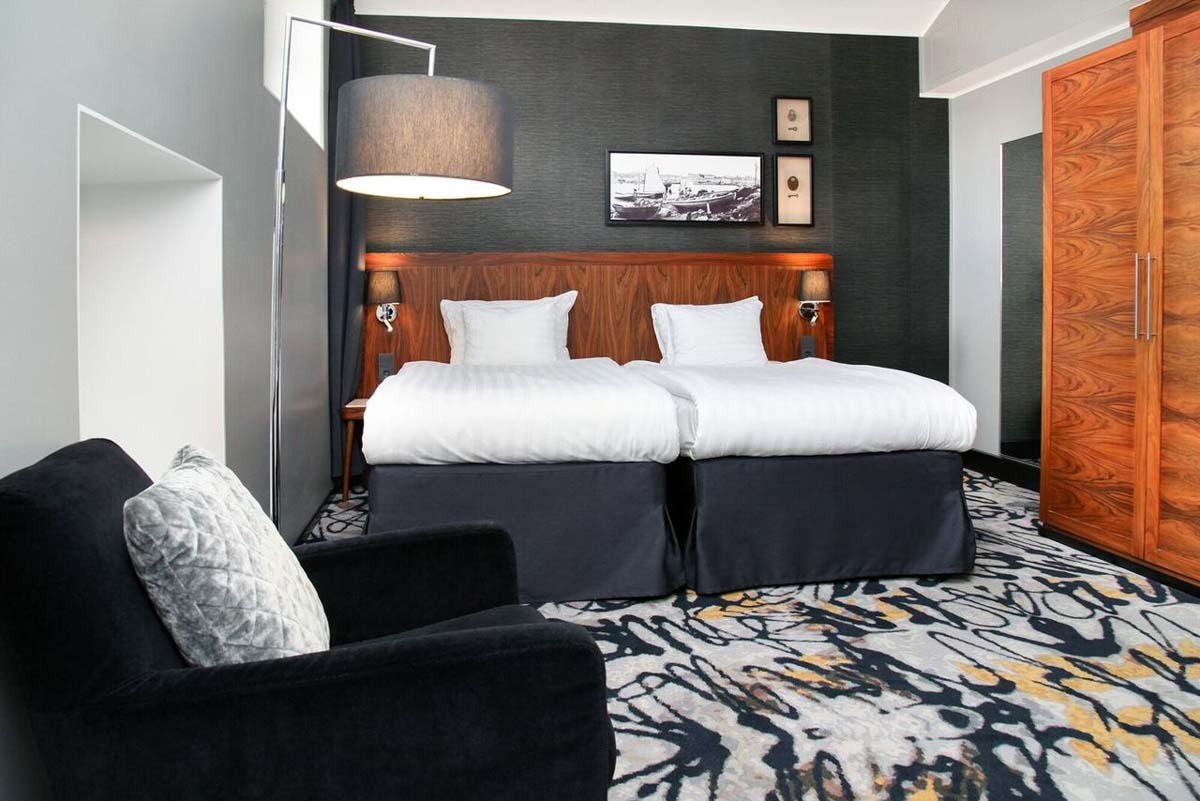 Photo credit: Booking.com
You're not necessarily going to get prison vibes here, but Hotel Katajanokka was also converted from one. The only remaining feature that'll remind you of that is with the main corridors!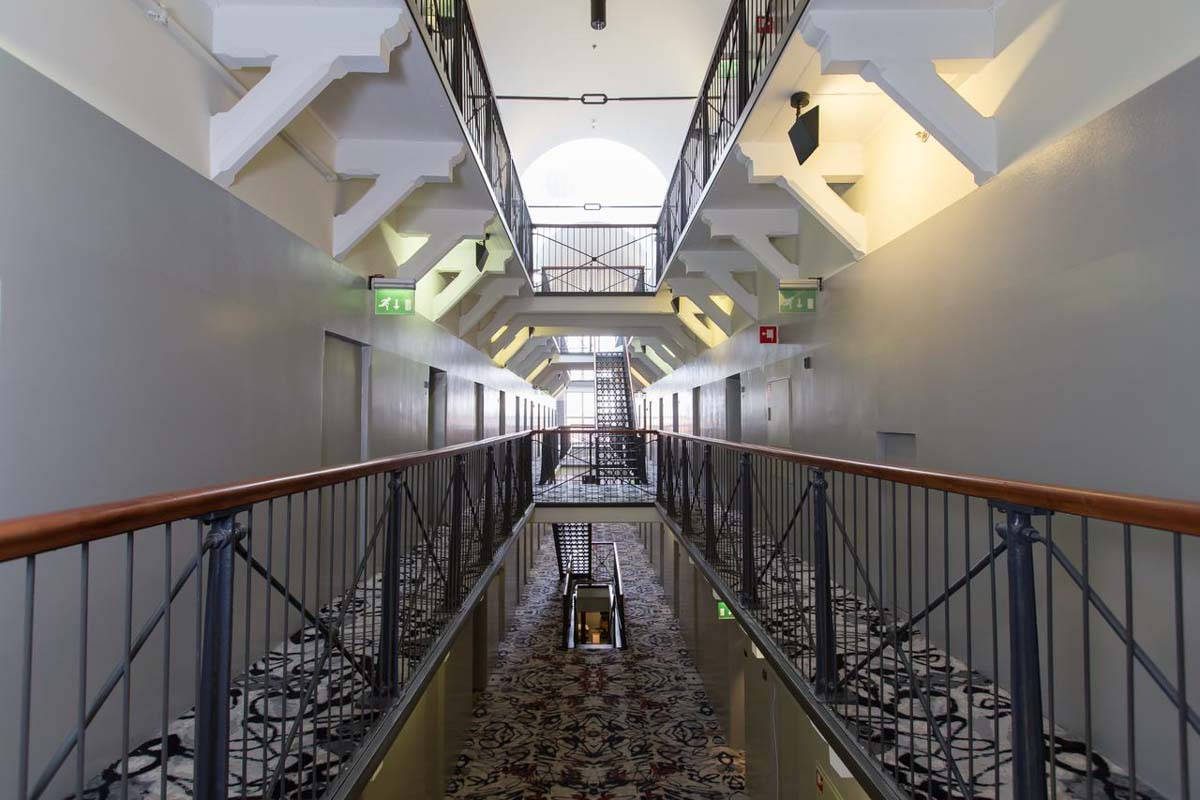 Photo credit: Booking.com
Everything else is pretty much luxe with flatscreen TVs in every room, a restaurant in the basement serving local Finno-Scandinavian cuisine, a 24/7 gym and free sauna access during the weekends. Nothing prison-like, basically. 😂
Cost: From ~S$274
Address: Merikasarminkatu 1 A, Katajanokka, 00160 Helsinki, Finland
7) Caro Short Stay Main Bridewell (UK)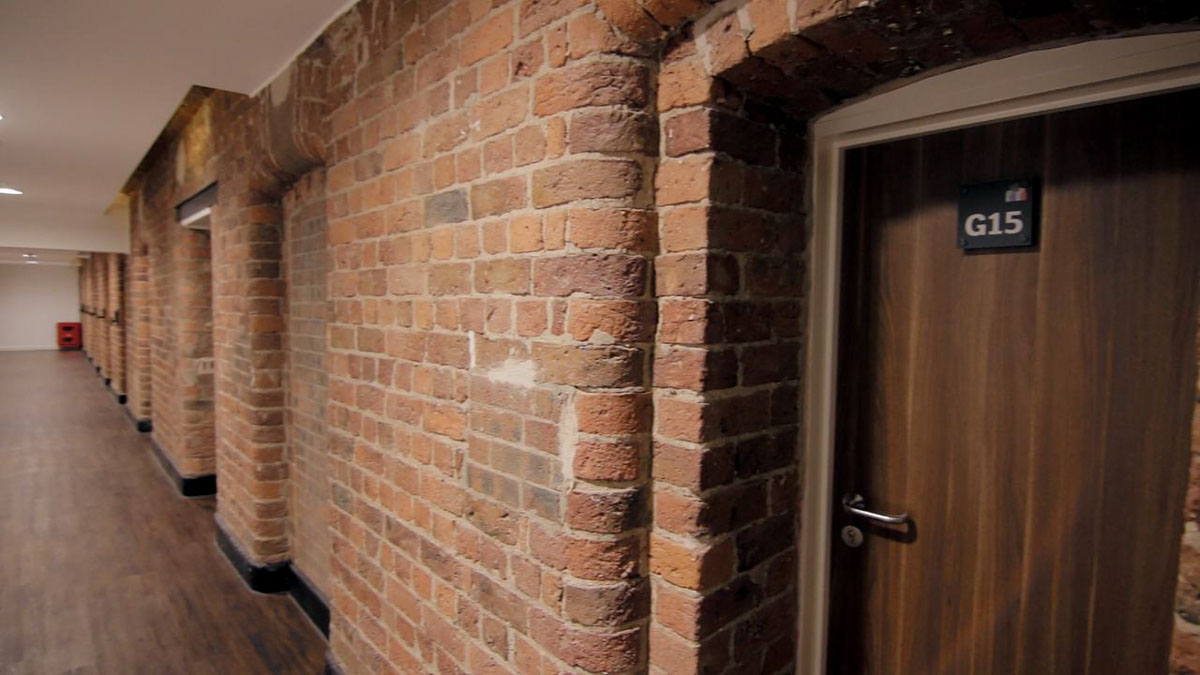 Photo credit: Booking.com
Does this not look like a dingy dungeon hall? That's because Caro Short Stay Main Bridewell is actually a Grade II listed building in the UK, which means it's been sanctioned to be fully preserved in its original state. It was a Victorian prison, after all! 😱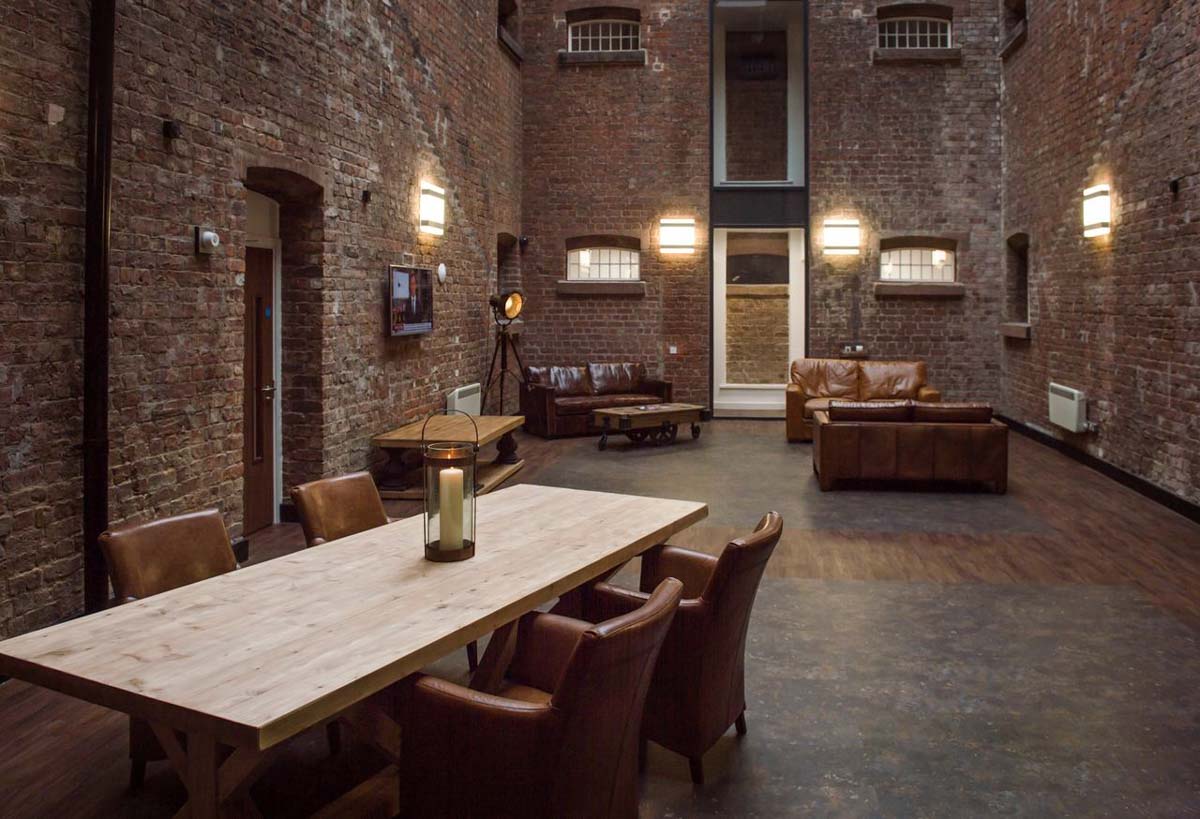 Photo credit: Booking.com
The former prison cells have been converted into rooms in this budget hotel after being restored in the 2010s, and the hotel also houses a fitness centre and shared lounge.
Note: This hotel is currently not accepting reservations for the year due to the COVID-19 pandemic.
Address: The Main Bridewell, Cheapside, Liverpool, Liverpool, L2 2dy, United Kingdom
Read also: UK By Rail: 10D Scotland, Wales And London Itinerary Under S$1,400
8) Fremantle Prison YHA (Australia)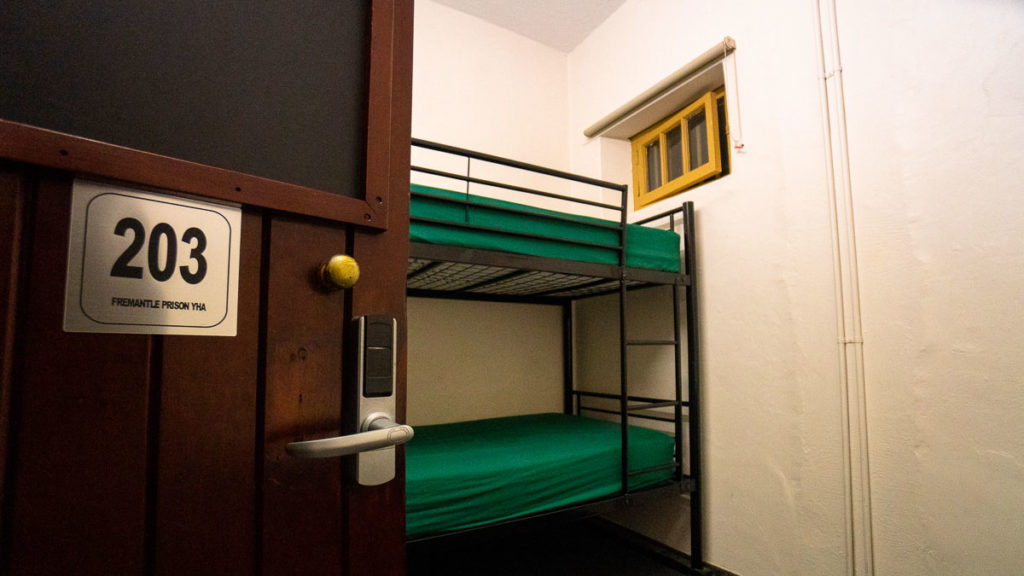 Fremantle Prison in Australia was active till 1991, and was said to be one of the most notorious prisons for both prisoners and guards! Fortunately, your stay at the Fremantle Prison Hostel won't be one with only buckets for toilets. Instead, you'll get to experience sleeping in refurbished cells (that still look pretty drab, but for the aesthetic) secured by heavy-lock doors.
The rest of the hostel ain't too shabby, either — the compound also houses a spacious kitchen, games room and BBQ pit.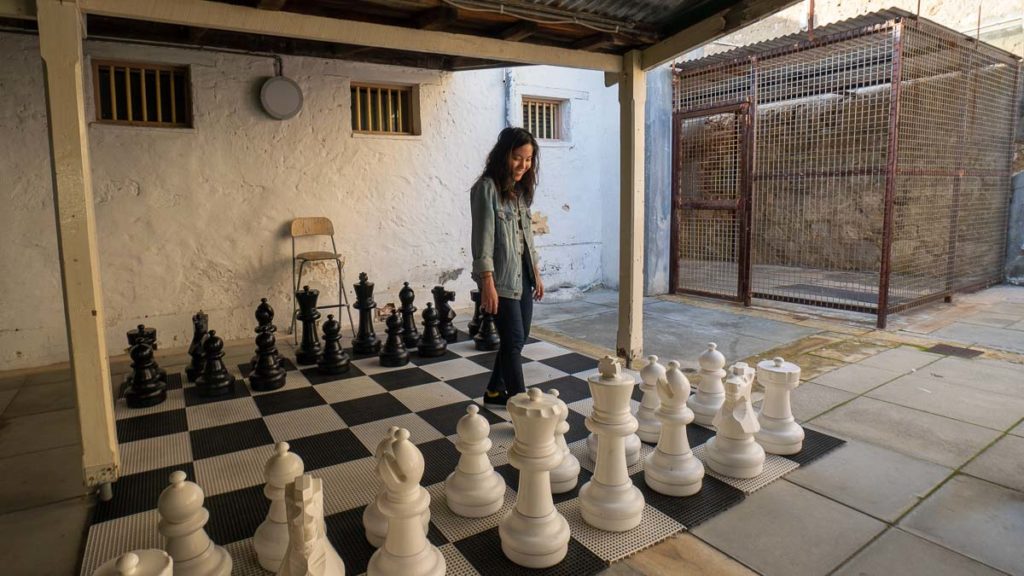 Cost: From S$67
Address: 6A The Terrace, 6160 Fremantle, Australia
Read also: 13 Unbelievable Accommodation In Western Australia — Perth, Margaret River, Broome And Surrounds
9) Långholmen Hostel (Sweden)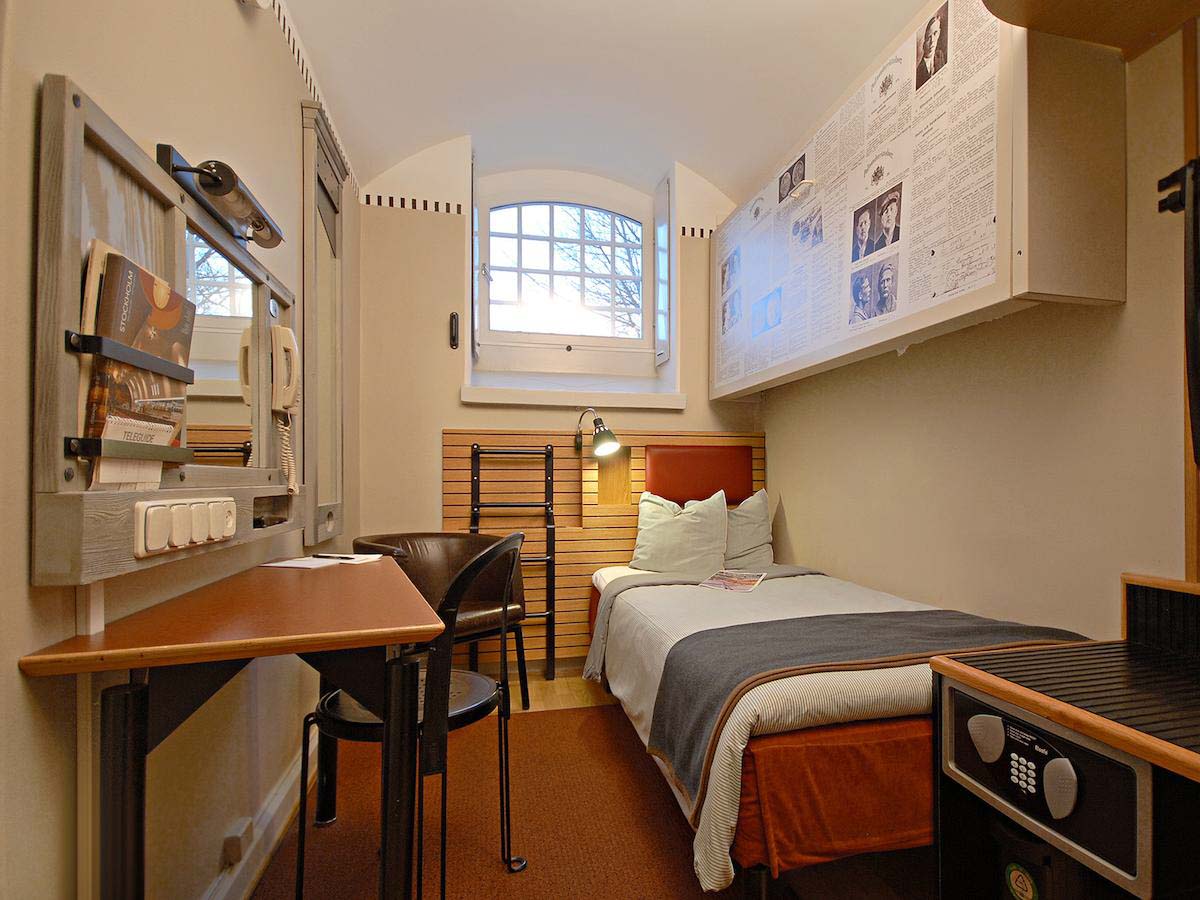 Photo credit: Booking.com
This vibrant youth hostel in Stockholm probably has the most Instagrammable cell rooms in this article. Formerly a prison in the 19th century, Långholmen Hostel offers shared dorms and private cells with en-suite showers, as well as a breakfast buffet!
To top things off, this "prison stay" is also located steps away from a beach. I think I won't be needing a Get Out of Jail Free card for this one.
Cost: From S$120
Address: Långholmsmuren 20, Södermalm, 11733 Stockholm, Sweden
Who knew converting abandoned prisons into hotels would actually produce cool results? Maybe one day we'll see something similar pop up here in Singapore with an Old Changi Hospital/Hostel. 👻
Featured image credit: Hihostels.com
Which of these prison-themed hostels or hotels would you pay to be locked up in? Let us know in the comments!
---