Make your first solo travel trip in Bangkok even more memorable by staying at these unique hostels!
First published: 15 November 2019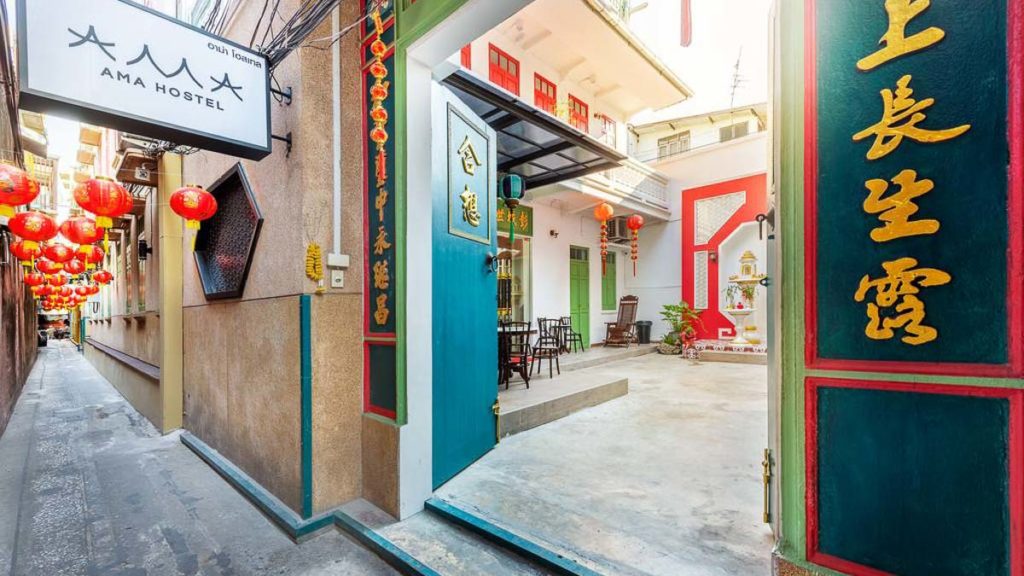 The colourful, Peranakan-themed Yim Bangkok. Photo credit: Booking.com
With a vibrant culture, friendly locals, and lively nightlife, Bangkok is a great destination for solo travelling! And if it's your first time travelling alone, you might want to skip the traditional hotel and stay at a budget-friendly hostel instead 😉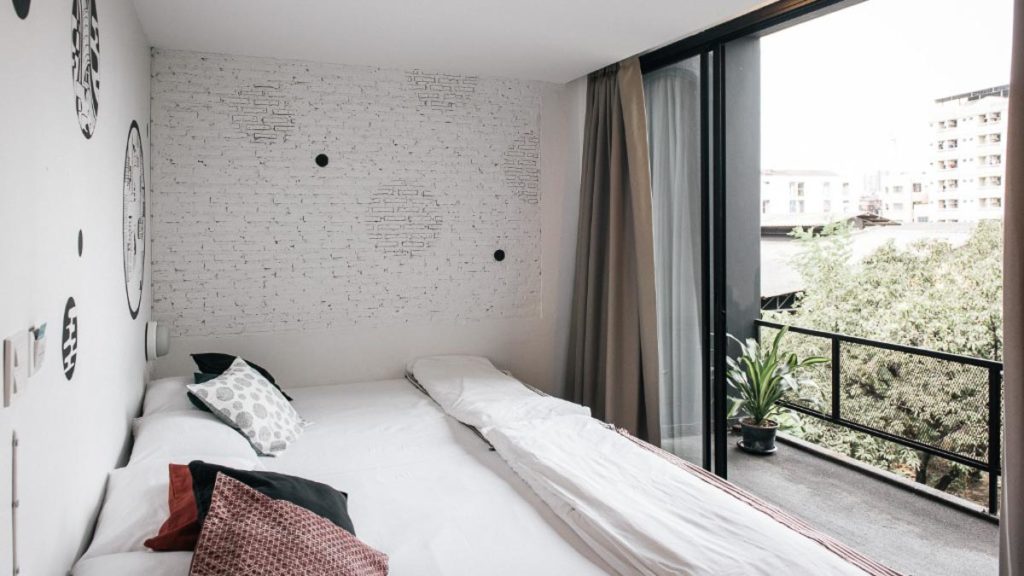 Not a hotel! Photo credit: Yim Bangkok
Contrary to popular belief, hostels are more than just a cheap place to rest! They've got cute aesthetics, excellent locations (near BTS train stations), luxe facilities comparable to hotels, and options for both introverts (i.e. private rooms) and extroverts who want to make friends (common social spaces).
So read on for the 15 best Bangkok hostels — where the extra 's' stands for sabai sabai 😂.
Read also: 4D3N Bangkok Itinerary — Finding Hidden Gems in the City All Singaporeans Know
Check Flights to Bangkok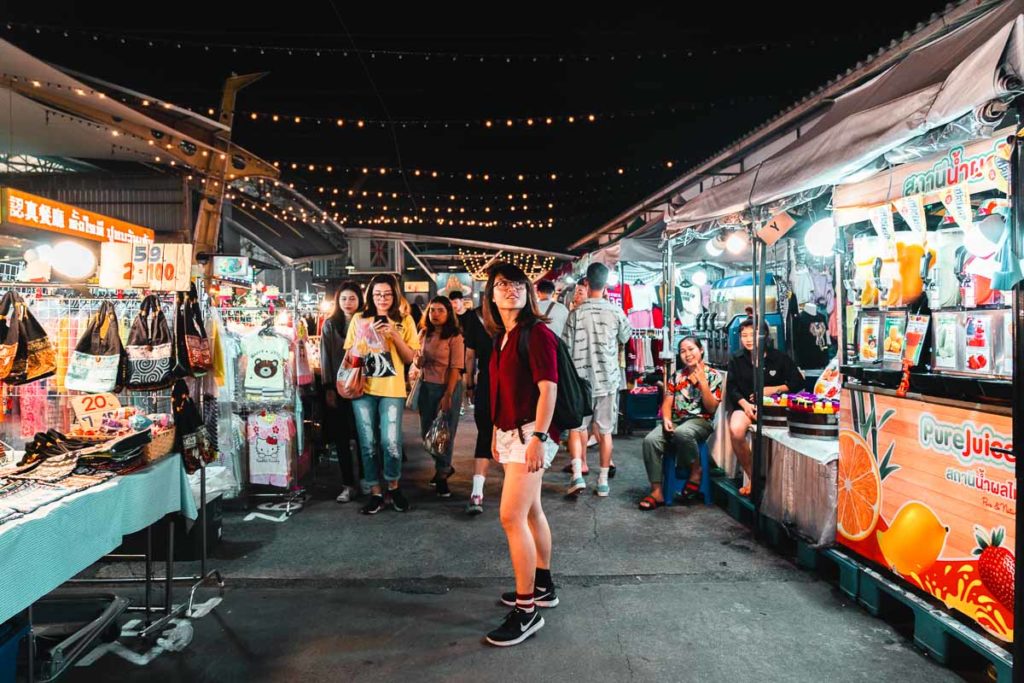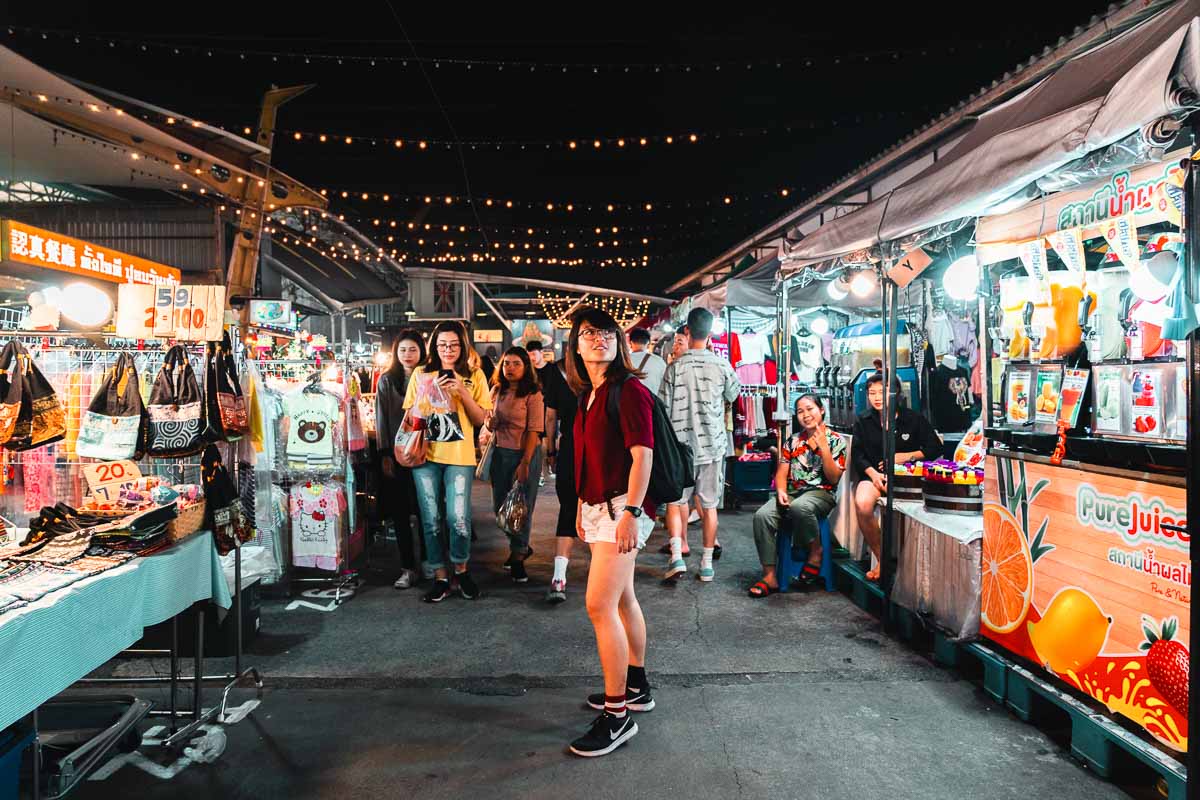 Fly directly to Bangkok's Don Mueang Airport (DMK) or Suvarnabhumi Airport (BKK). Both airports are a ~20-minute taxi ride to the city, with frequent flights by major international airlines.
*Pro-tip: Set a price alert three to six months in advance for the cheapest flight fares!
1) Lub d Bangkok Siam — For Hostel Newbies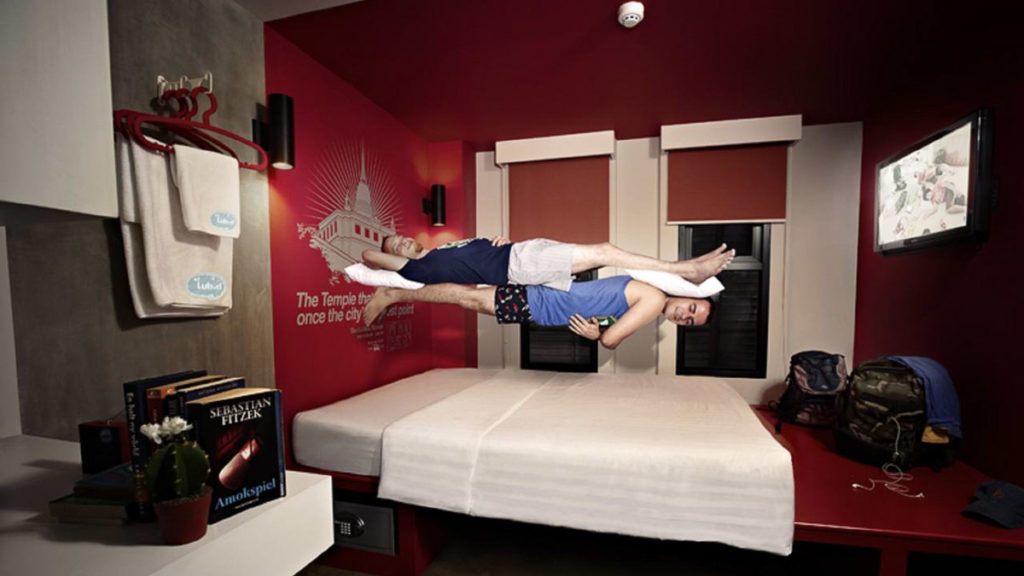 Photo credit: Klook
Hostels can be daunting for the newbie, but Lub d Bangkok Siam offers affordable bougie accommodation with great social culture — featuring a common area where parties are held at night, and other facilities like a doughnut bar and a cosy home cinema!
Apart from comfy dorm beds, Lub d is also famous for spacious, squeaky-clean bathrooms, which come decked with toiletries and hair dryers. If you prefer more privacy, book a deluxe double room (~S$86 for two) which comes equipped with an en-suite bathroom and other luxuries like a flat-screen TV.
Cost: From ~S$19/night
Address: 925, 9 Rama I Rd, Wang Mai, Pathum Wan, Bangkok 10330
2) The Spades Hostel — For Aspiring Tai-tais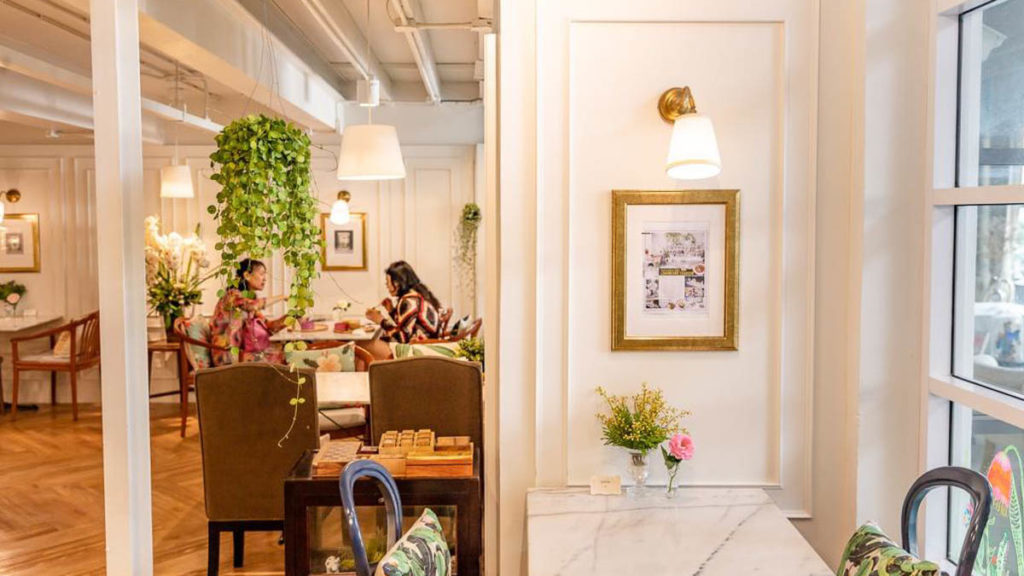 Photo credit: Klook
Want the high life but don't have the wallet for it? Those with a taste for luxury will love The Spades Hostel, with sophisticated dorms and a common room that oozes elegance. Have high tea at their Lemoncurd Tearoom restaurant, or shop for the latest off-designer threads at Platinum and MBK, a 20-minute walk away.
Cost: From ~S$21/night
Address: 58/2-4 Banthat Thong Road, Ratchathewi, Bangkok 10400
3) AMA Hostel — For Colourful Personalities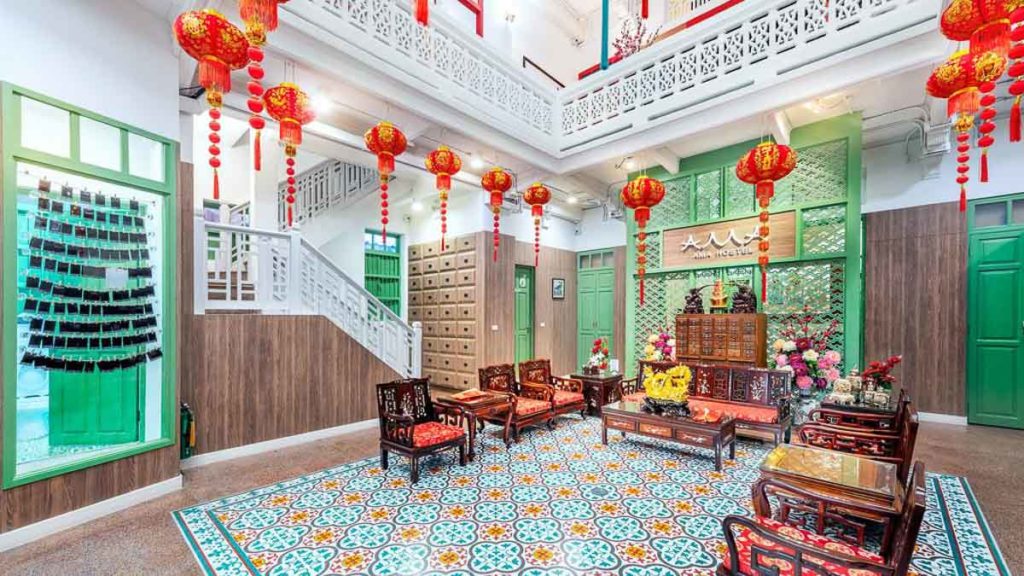 Photo credit: Booking.com
Located in the bustling Chinatown and decorated with Peranakan motifs in vibrant colours, AMA Hostel will delight those with personalities that are larger than life. Shared facilities include a bar, lounge and terrace, as well as a breakfast buffet daily.
Cost: From ~S$17/night
Address: 191 Soi Sapanhan Chakkrawat, Samphanthawong, Bangkok 10100
4) The Yard Hostel — For Nature Lovers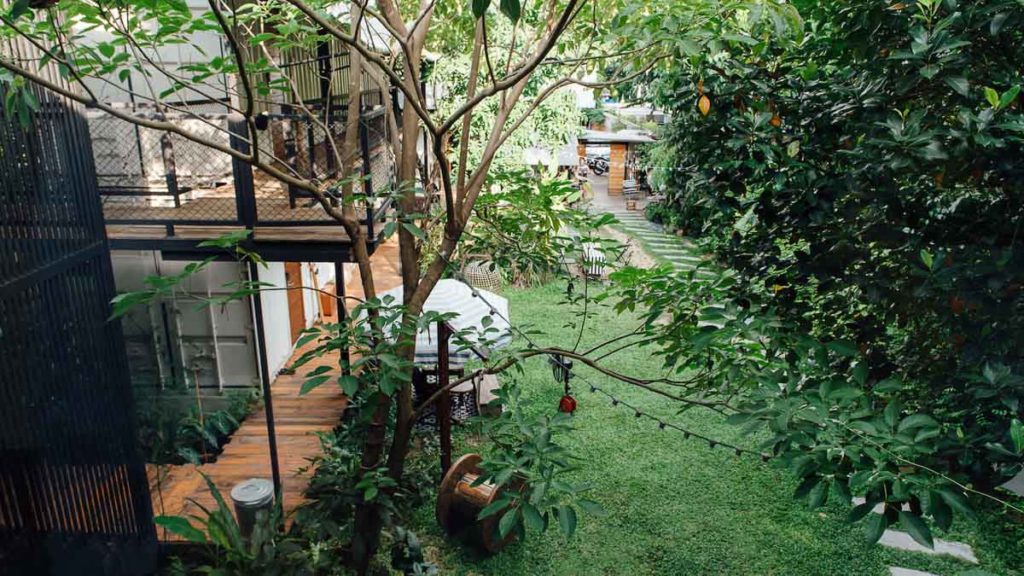 Photo credit: Klook
Amidst the overwhelming Bangkok bustle, The Yard Hostel's charming, fairy-lit gardens are a breath of fresh air. The greenery isn't pure aesthetics either — the ecological hostel uses recycled shipping containers as its rooms, and reduces air-con use by insulating walls with recycled paper, amongst other nature-loving practices.

First-timers can rent their bicycle (for free!) to explore the much-loved hipster cafes and boutiques in Ari Neighbourhood.

Cost: From ~S$20/night
Address: 51 Phahon Yothin 5, Samsen Nai, Phaya Thai, Bangkok 10400
5) Bed Station Hostel — For Grunge Lovers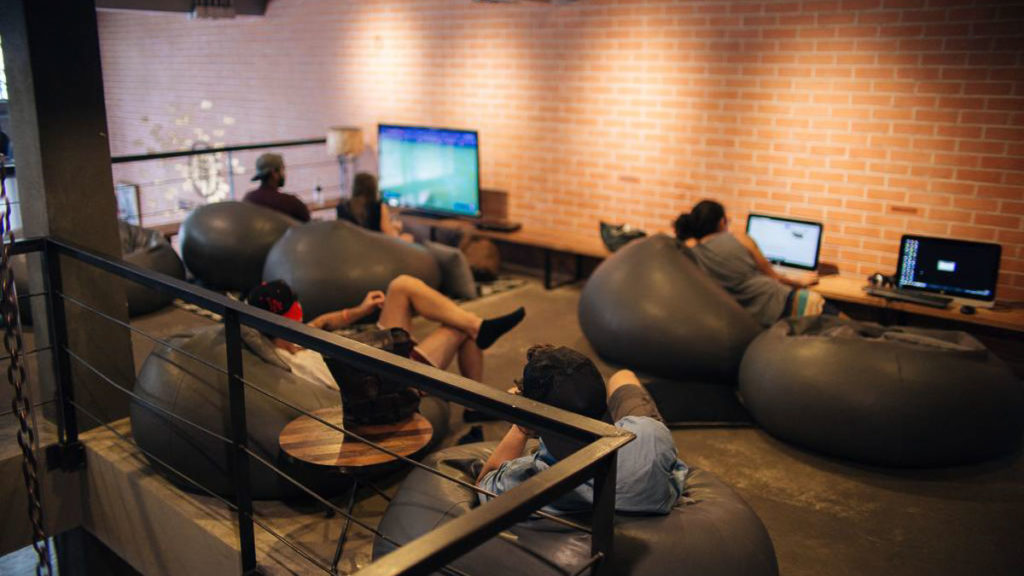 Photo credit: Booking.com
If you're into Doc Marts and electric guitar, you'll love the grungy, industrial style of Bed Station Hostel. While mostly grey, the hostel is far from drab — they have a modern bar and pod beds. It also has a fantastic location, as it is situated right next to the BTS Skytrain station.

Cost: From ~S$20/night
Address: 486/149-150 Soi Phetchaburi 16, Bangkok 10400
6) Here Hostel — For Avid Instagrammers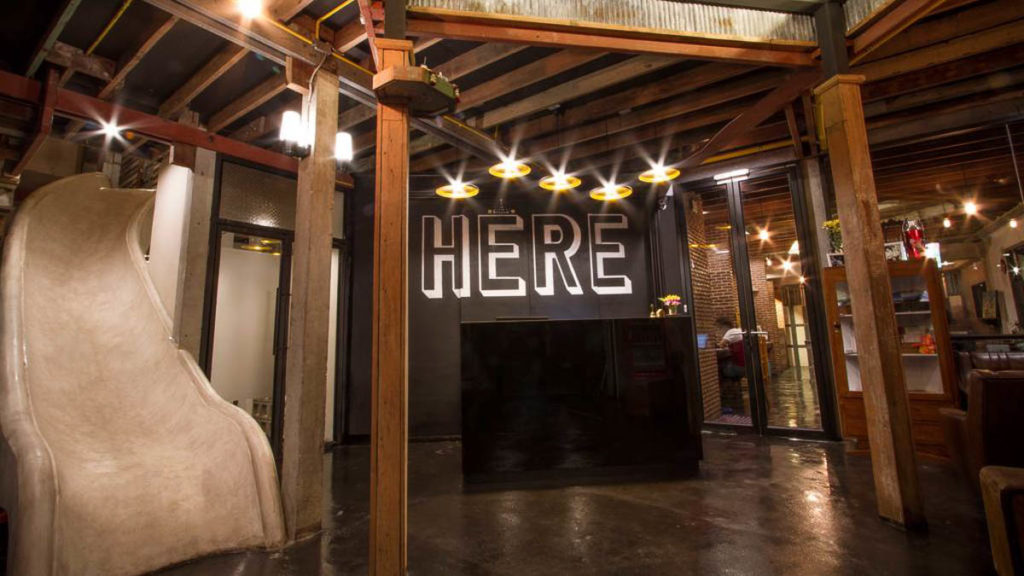 Photo credit: Klook
While all the hostels on this list are extremely photogenic, Here Hostel gets special mention for having an actual slide. Start your morning by whizzing down to the first floor for free brekkie — talk about #holidaygoals!
Housed in a restored 100-year-old building, Here Hostel exudes a chic, modern style, with an exposed brick interior alongside other quirky touches. The dorms are also well-designed with privacy curtains, a personal reading light, and charging points.
Its location is perfect for first-time solo travellers as it's only a 5-minute walk to Khao San Road's amazing nightlife, as well as historic attractions like Wat Pho and the Grand Palace.

Cost: From ~S$22/night
Address: 196/3-8 Ratchadamnoen Klang Road, Bowonniwet Phranakorn Bangkok 10200
Read also: Alternative Things to Do in Bangkok: 15 Hidden Gems Most Tourists Don't Know Of
7) Niras Bankoc Cultural Hostel — For Foodies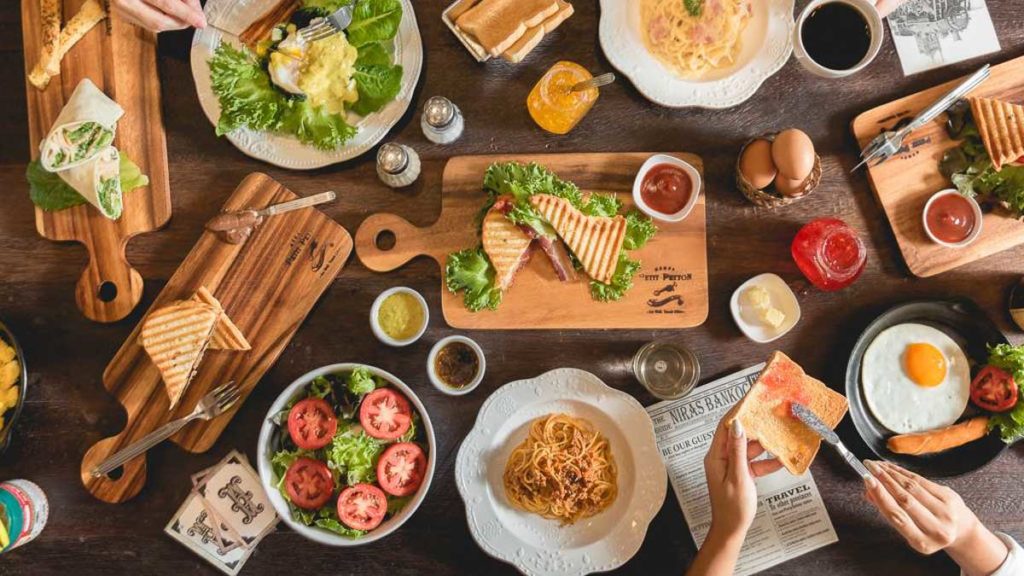 Photo credit: Booking.com
Niras Bankoc Cultural Hostel is a gastronomical heaven, featuring an old-school cafe known for delicious brunches and gourmet coffee. For seconds, visit the street food market right outside (a must-do if it's your first time in Bangkok), or take a 10-minute walk to the hipster eateries along Khao San Road.

Cost: From ~S$28/night
Address: 204-206 Maha Chai Road, Samran Rat, Khet Phra Nakhon, Bangkok 10200
8) NapPark Hostel — For Social Butterflies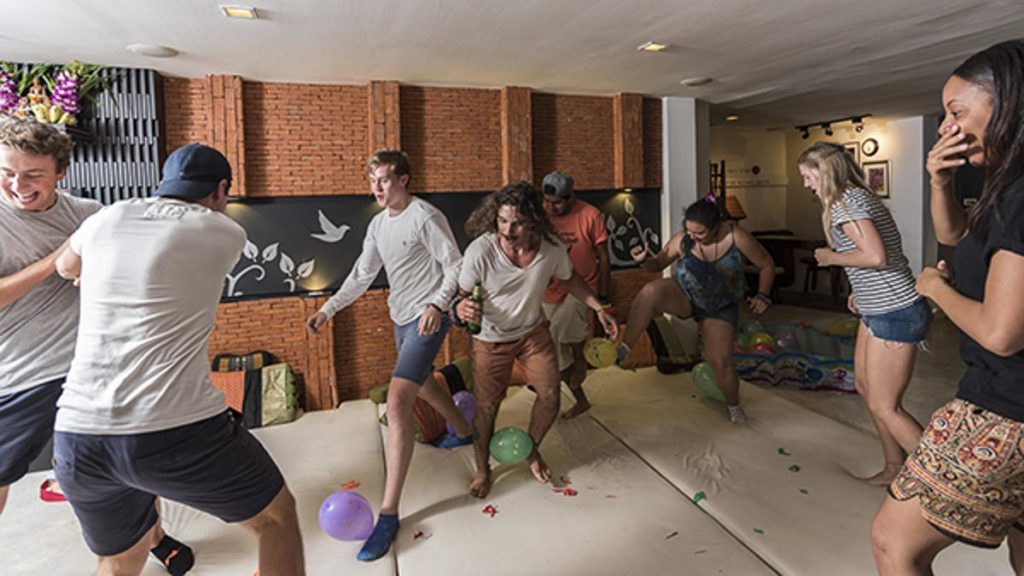 Photo credit: NapPark Hostel
Making new friends is one of the best things about solo travelling/backpacking, and few places do it better than NapPark Hostel. The chic accommodation is packed with opportunities to mix and mingle, with a chill rooftop balcony and a lively communal lobby.
If you're feeling especially sociable, book a 22-person dorm — you'll definitely make some new friends there! The staff are also super friendly and regularly plan fun activities like BBQs and bike tours.
Cost: From ~S$15/night
Address: 5 Tani Road, Taladyod Phranakorn, Bangkok 10200
9) TALES Khao San — For Nightlife Enthusiasts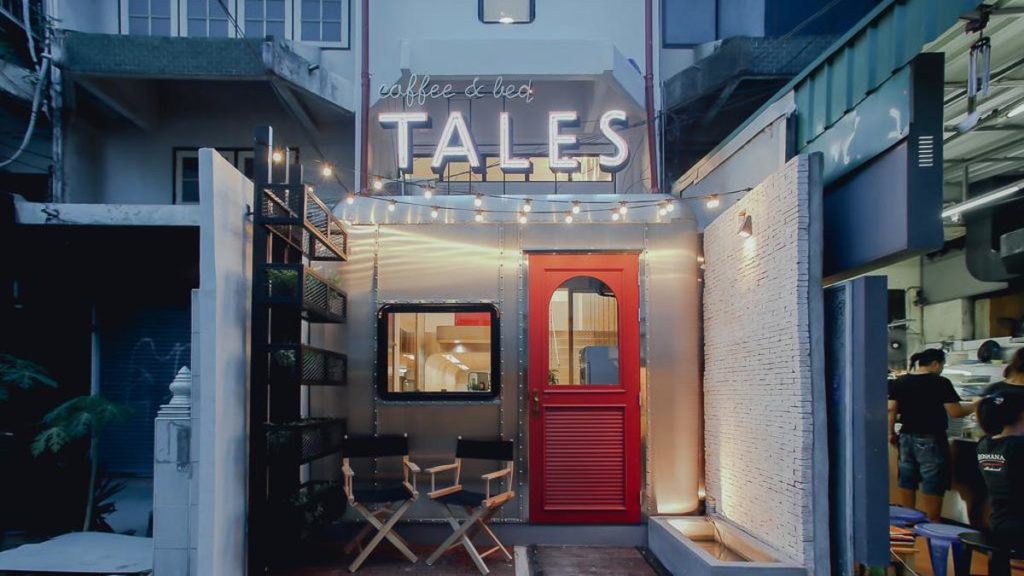 Photo credit: Booking.com
If you're into partying, Khao San Road is known for its lively nightlife with plenty of bars, clubs, and live music bars! And a unique place to stay in the area is the trendy railroad-themed TALES Hostel.
Housed in a refurbished shophouse, every corner of TALES is eye-catching and on-theme, from its chic steel entrance to dorms resembling train cabins. Make some new friends here and explore the area together by bar-hopping 😉

Cost: From ~S$17/night
Address: 88 Chakrabongse Road, Taladyod, Phranakorn, Bangkok 10200
10) Once Again Hostel — For Digital Nomads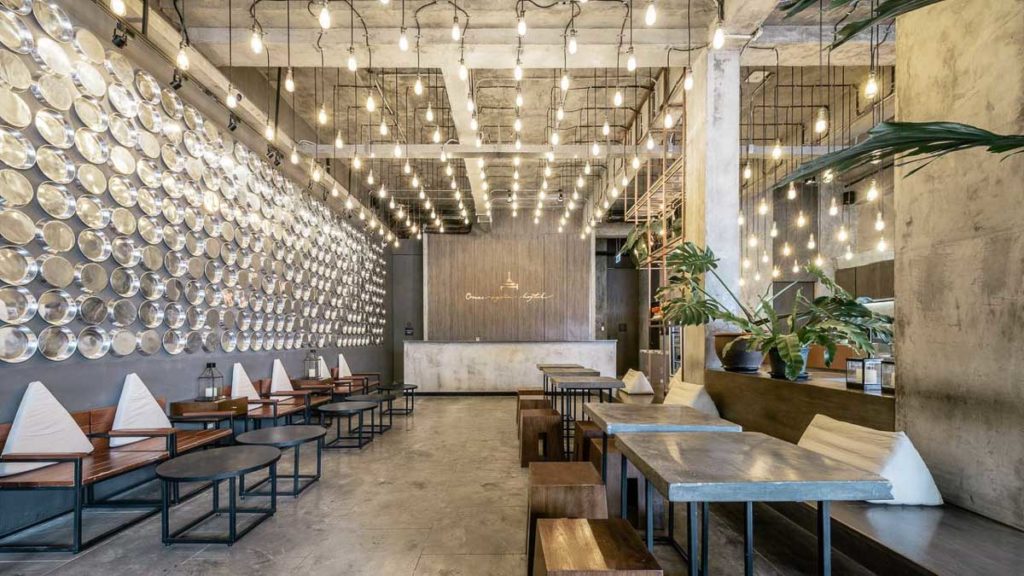 Photo credit: Booking.com
Remote workers will love Once Again Hostel! They boast WiFi access in all areas so you can work comfortably on your bunk bed, in their lobby, or even on their rooftop terrace. There are also lots of perks like free breakfasts, clean aesthetics, and a shared TV/movie room.

The staff offer free tailored tours around the city, so you can be as efficient with your R&R as you are at work!

Cost: From ~S$22/night
Address: 22 Soi Samran Rat, Samran Rat, Phra Nakhon, Bangkok 10200
11) Sook Station — For Smooth Criminals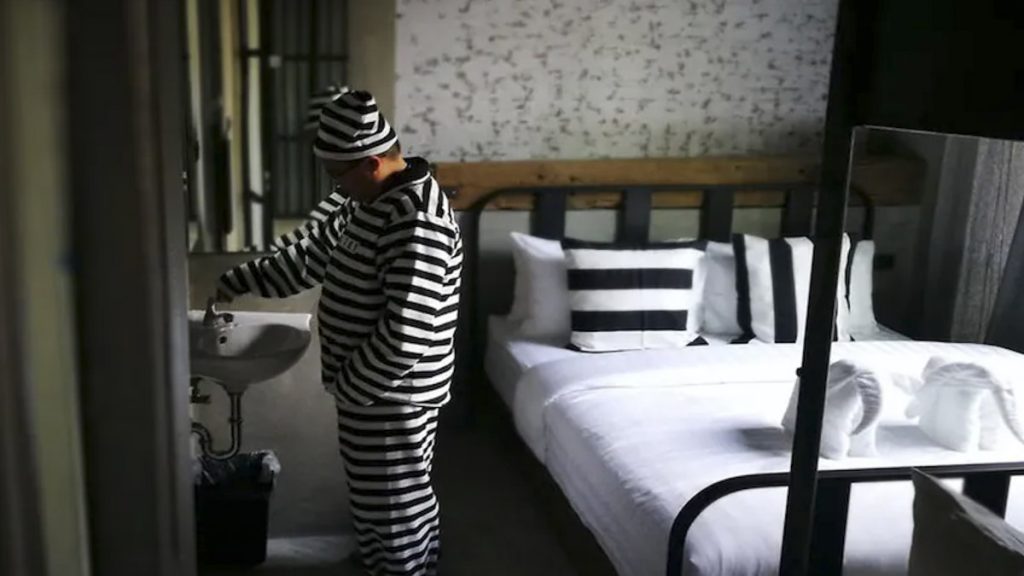 Photo credit: Klook
If you're looking for a unique experience for your first time solo travelling, try a "stint" at the prison-themed Sook Station. You'll be issued your own black-and-white prison jammies, convict serial number, and a tiny, minimalist jail cell.

As dreary as the surroundings may seem (dull walls, blocky benches, and "rusty" bathroom doors), Sook Station is actually pretty luxurious, with complimentary toiletries and cosy, private dorms.
Cost: From ~S$37/night
Address: 45-49 Sukhumvit 101/2 Alley, Bang Na Nuea, Khet Bang Na, Krung Thep Maha Nakhon 10260, Thailand
12) Hostel URBY — For Quiet Introverts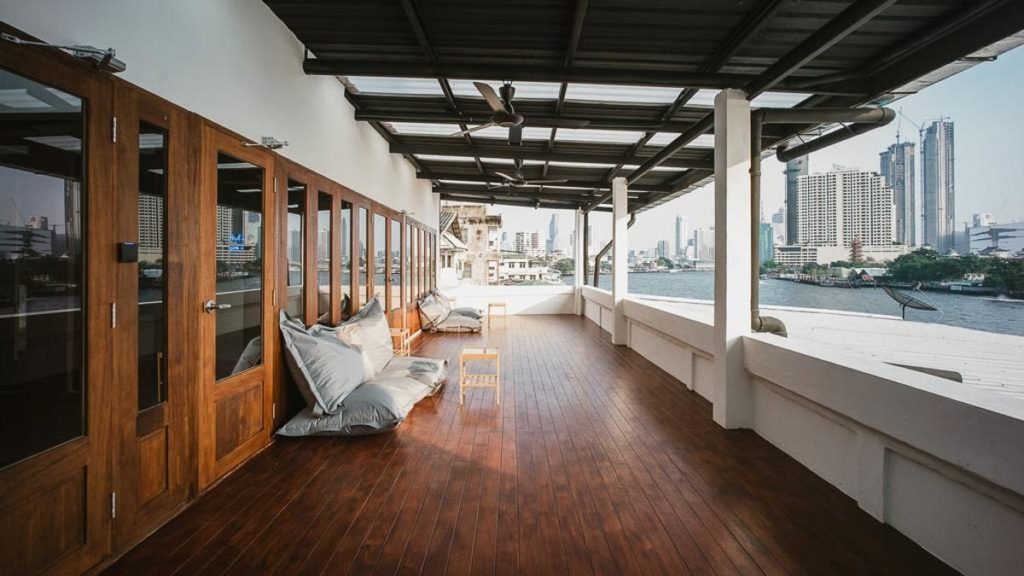 Photo credit: Booking.com
Hostel URBY features a modern teak-and-concrete design, with a wooden balcony where you can admire the view of the gorgeous Chao Phraya River in peace and tranquillity, away from the city. While the hostel does offer shared dormitory rooms where you can meet new friends, you can also opt for a private double room if you wish!
Cost: From ~S$20/night
Address: 1222, 1 Song Wat Rd, Chakkrawat, Samphanthawong, Bangkok 10100
13) Glur Hostel — For Insomniacs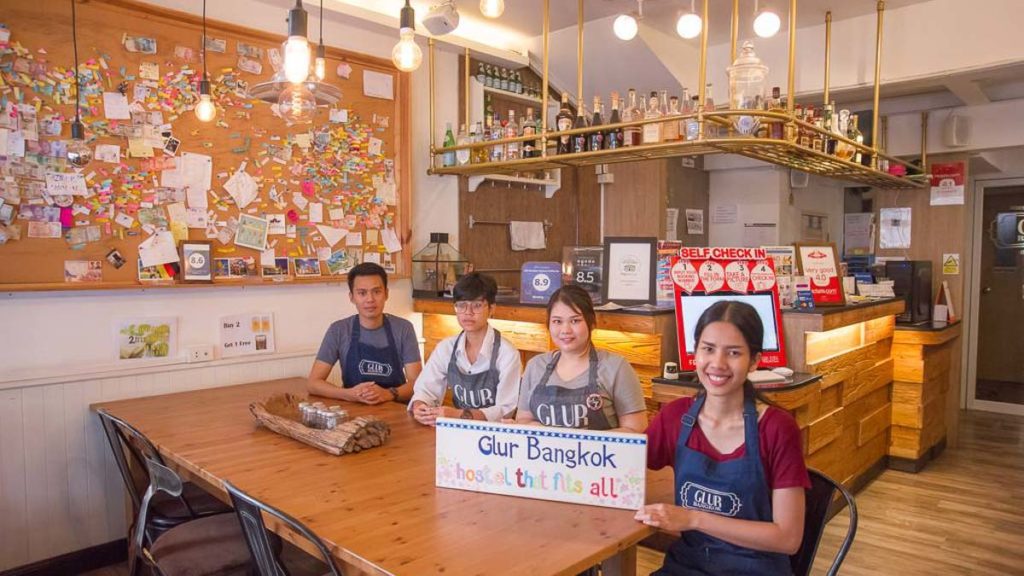 Photo credit: Booking.com
Glur Hostel has its own 24/7 coffee shop and bar, beautifully decorated in a vintage style. It's perfect for mingling around with fellow travellers who can't sleep at night 😉 But then again, their beds are also known for being extremely comfy, so even the most stubborn insomniacs will be able to sleep well.
Cost: From ~S$14/night
Address: 45 Charoen Krung 50 Alley, Khwaeng Bang Rak, Khet Bang Rak Krung Thep Maha Nakhon, 10500
Where to Stay in Bangkok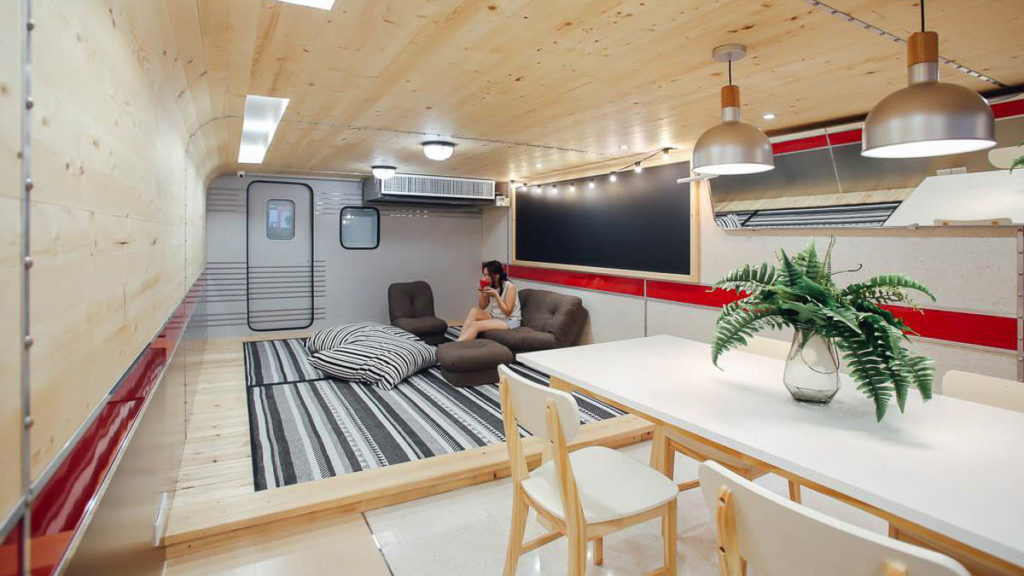 The railway-themed interior of TALES Khao San. Photo credit: Booking.com
There really is no better place to stay in Bangkok than a hostel, especially if you're travelling solo for the first time! The Land of Smiles is filled with game-changing hostels that have full-service facilities, great locations, and chic modern designs. Not to mention, you'll get to save money and potentially meet new friends along the way 😁
Read also: Bangkok City Guide — Things to do other than shopping
Any other recommendations on where to stay in Bangkok? Let us know in the comments!
---