Planning a holiday shouldn't feel like work.
I'm a huge fan of excel sheets when it comes to trip planning. Call me old school but the finished product of a well organised itinerary always gives me an odd sense of satisfaction. You research, you gather information from all kinds of sources, and end up with an itinerary you can call your own — am I alone on this?
But this is also part of my job 😛
When it comes to my own travels (i.e. not writing for this site), a loose list of interesting activities scribbled on paper torn out a notebook works just as well. Planning a holiday shouldn't feel like work right?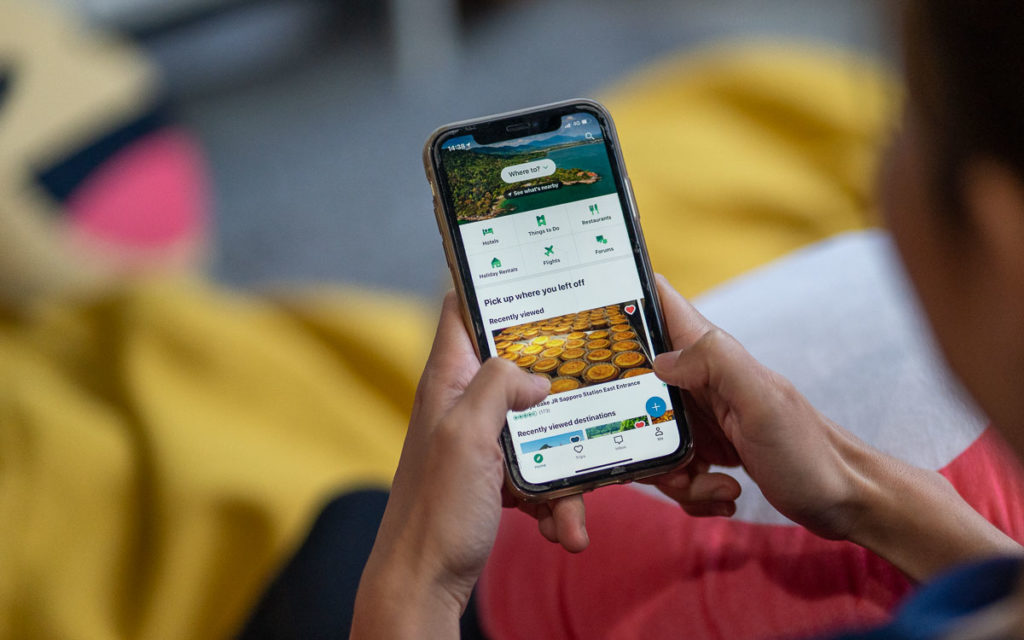 When I had a personal snowboarding trip to Hokkaido in 2020, instead of diving into the familiar confines of my trusty excel sheet, I decided to try TripAdvisor's new Trips function to plan my entire trip.
While there are many trip planning apps out there, I find that it does just enough to keep plans simple and organised. Here's how the app fared in every stage of my trip planning.
1) Gathering Inspiration for the trip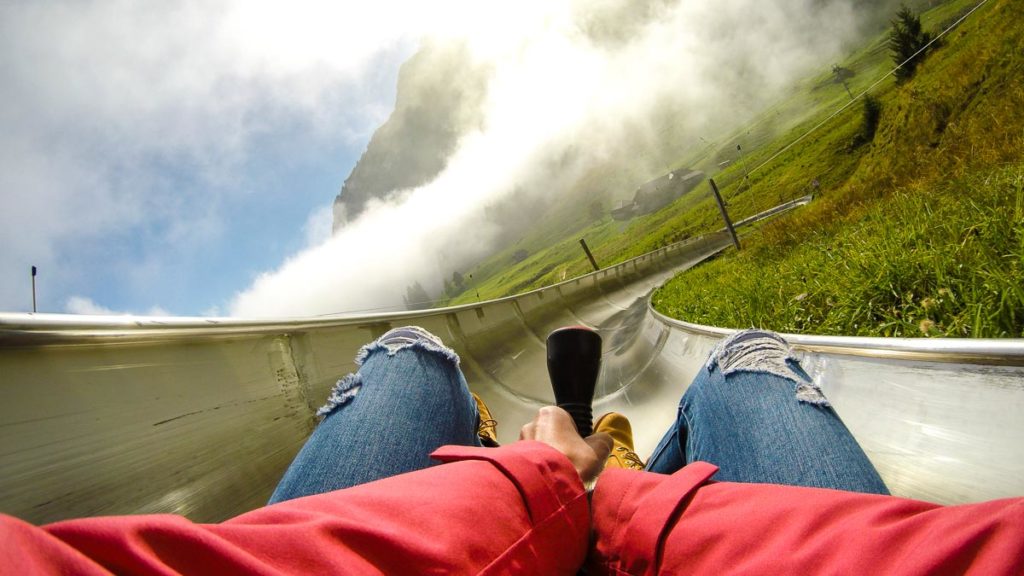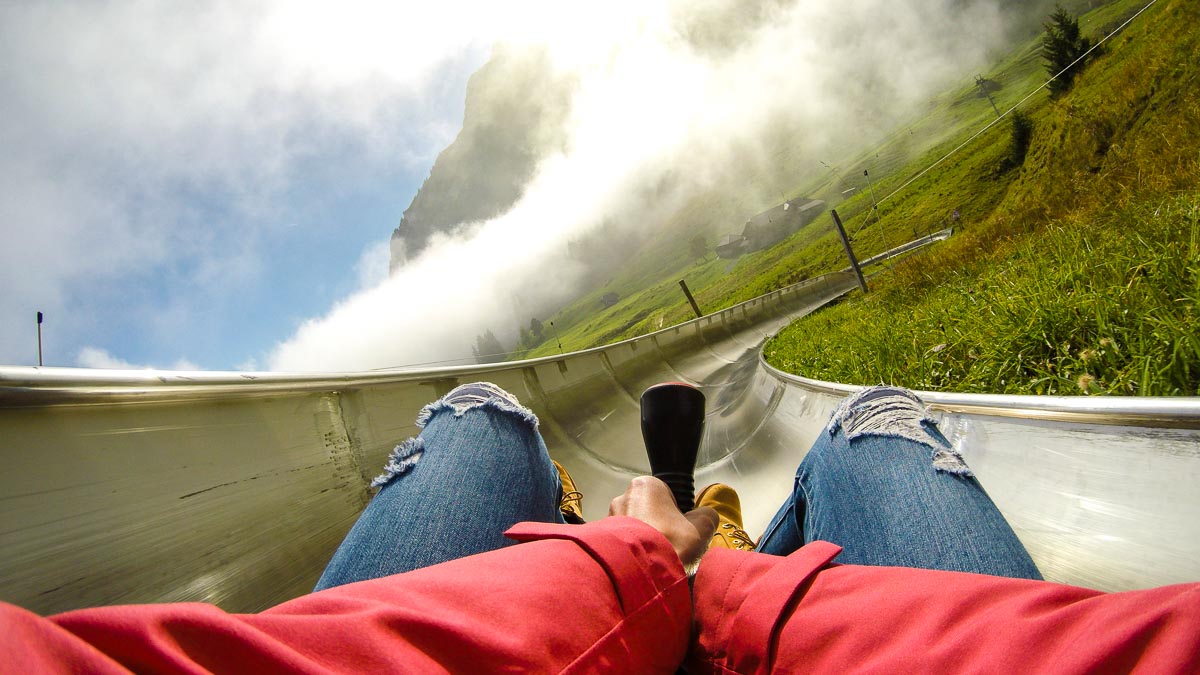 Gathering inspiration is the most exciting part about planning a trip! Sledding with huskies in Norway, bungy jumping off the highest platform in New Zealand or sliding down a mountain in Switzerland — my wish list piles up pretty quickly once I set my mind on a destination.
But putting it together and figuring the logistics is another thing. After consulting friends, scrolling endlessly on social media and sweeping through blogs, you can imagine the mass (mess) after only a few days of browsing.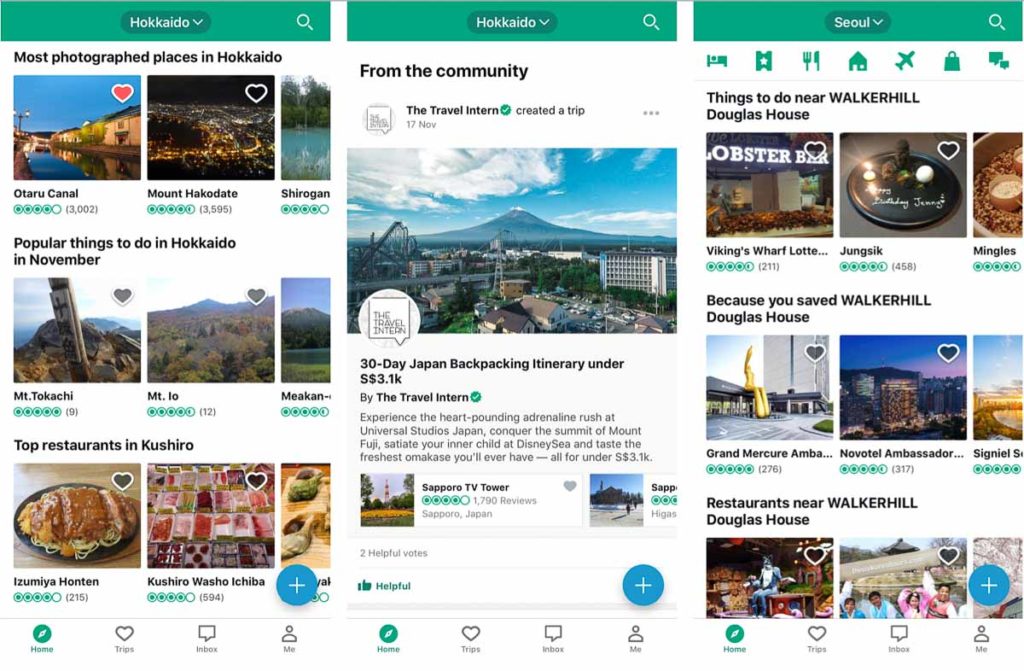 On TripAdvisor's new Trips function, you can scroll through the app for a list of top attractions and experiences and save them to your Trips' wish list. At this stage, it's a bit like online shopping where you "add to cart" anything that sounds remotely interesting.
Apart from the usual 'Most Photographed Places' or 'Top Popular Things To Do', what I found interesting was finding relevant Trips contributed by other Travel Curators (like us heh, more on that later)!
*Pro-tip: After you "Heart" an accommodation and add it to your Trips, you will see recommendations on things to do as well as restaurants that are near the chosen accommodation! (right most image above)
2) Getting intel if a place is worth visiting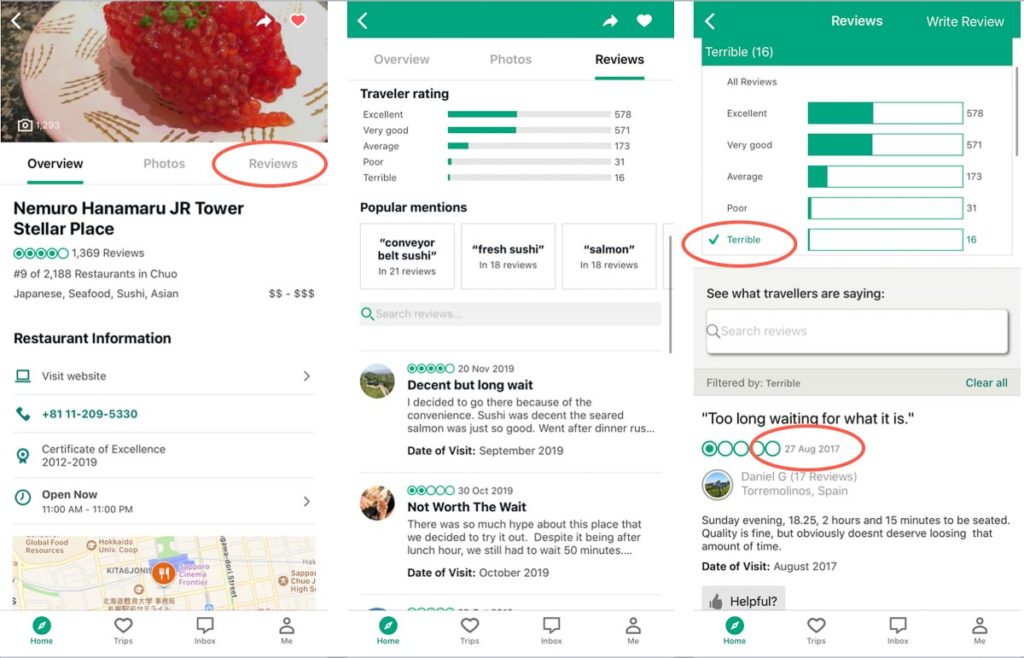 Time is limited and you can't possibly fit every experience into a typical one to two-week itinerary right? That's where reviews come in handy.
The Reviews function is one of TripAdvisor's strongest traits since it started back in the 2000s. Instead of googling for individual reviews, the app shows the reviews as you shortlist experiences for your Trip. TripAdvisor has over 830 million reviews so that gives a somewhat good gauge. This is especially useful for accommodations, restaurants and tour operators.
*Pro-tip: After scanning through the first three (most recent) reviews, look out for the worst rated review too. Unless you see the same issue from different reviewers over the last 3 months, it's usually a one-off issue and safe to try — otherwise, I'd probably steer away.
3) Plotting attractions on a map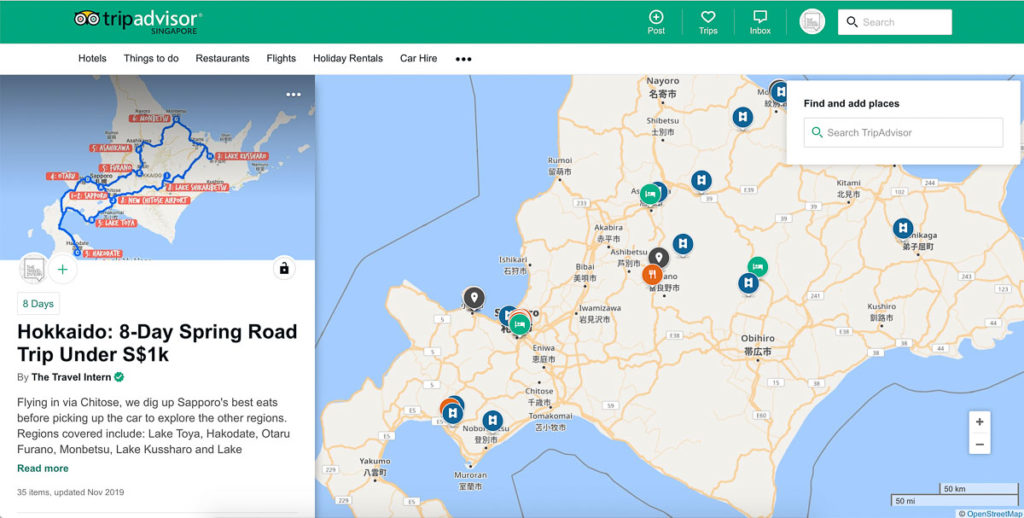 This function saves us the hassle of plotting attractions separately into Google Maps! Once you've added all the accommodations, restaurants and experiences, head to your Trips and voila, there're automatically plotted on a map.
I find this especially useful for multi-city itineraries like New Zealand, Norway and Switzerland. The attractions can be so far away it's just logistically impossible to cover all of them within a limited time frame.
If there are activities that are out of range, just select 'remove from Trip' to keep the list trimmed down to only the things you want to do.
4) Organising the day-to-day itinerary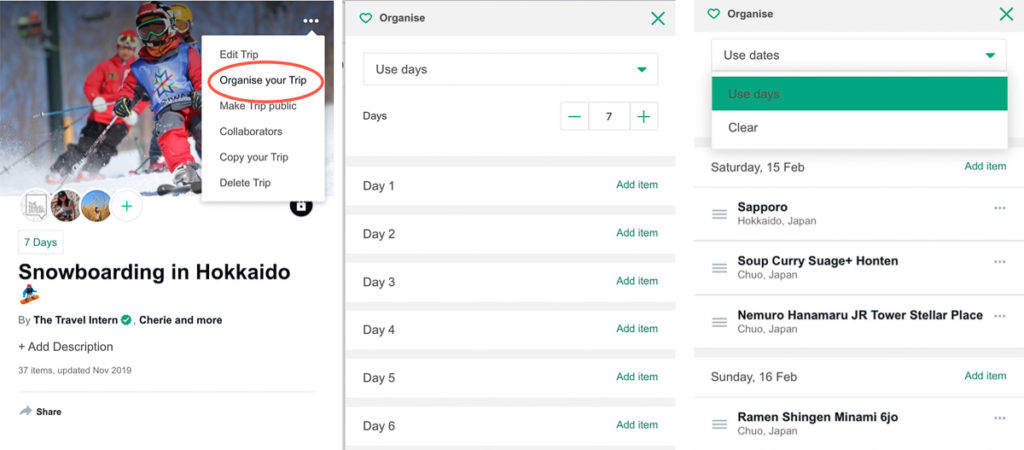 After studying the map, you'll be able to sort your activities by day or date. If your flights are already confirmed, select the exact dates of departure and arrival. The itinerary will be segmented into a list where you can drag and drop the activities accordingly. Each 'activity' comes with an image which is pretty nifty at a stage where attractions like Eyjafjallajökull still sound foreign to you.
*Pro-tip: Personally, I prefer having options so I might add on more activities than I plan to do. If you're unsure where these fit, you can leave them below under 'unscheduled'. When there's pockets of free time, scroll down to the bottom and you have a list of backup plans waiting, no sweat!
5) Roping travel mates in on the planning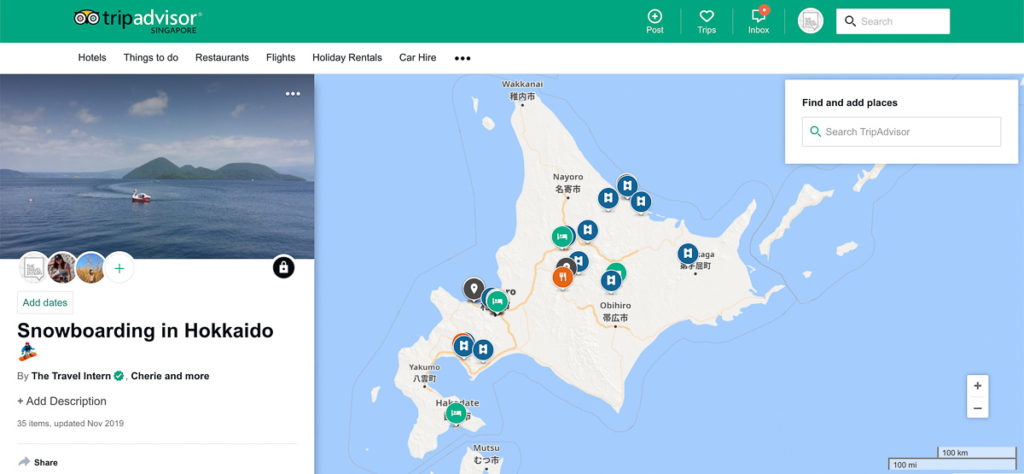 On most trips with friends, the planning usually falls on one person. And usually, that person will have a huge headache trying to satisfy everyone's preferences. With the Trips app, I find it a lot easier to get travel partners involved. Even the most disorganised person (a.k.a me) is able to view the itinerary in a simple and easily digestable format.
When you add friends to Trips, they're also able to add experiences, shuffle the itinerary and remove experiences! During the trip, the app also makes it a lot easier to refer to than an excel sheet. No more "what are we doing today"?
Bonus: Pass the itinerary on to another friend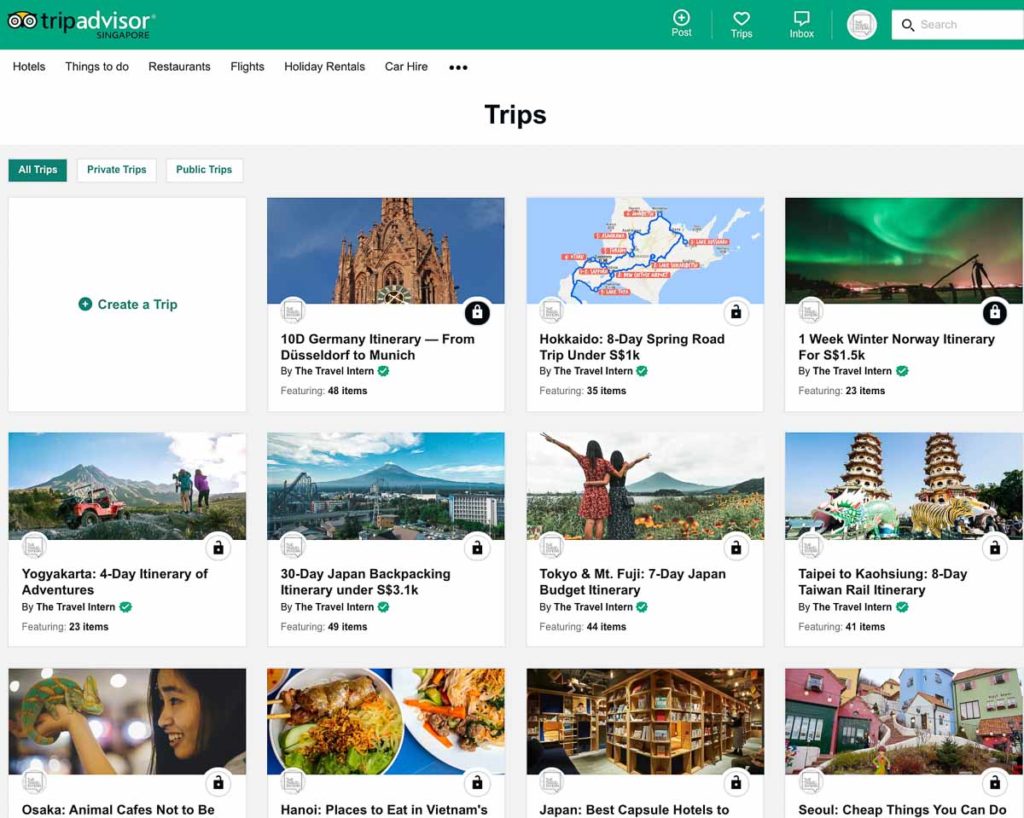 This might be my favourite part of the app. My motivation for writing all these 3,500 worded itineraries is so that when friends ask, "you know that trip you did last last year", it's actually possible to offer useful information — sans the "it was great but I can't remember how we got there".
But the Trips created on TripAdvisor are also a really convenient way to share this info with friends. It might not be as detailed as our articles 😉, but I'd say it's just enough to help them plan their own trips too. To share your itinerary with friends, you can either select 'Make Trip Public' and share the link or 'Invite to view' which means they can view it but will not have editing rights. This brings me to my next point!
No need to start planning from scratch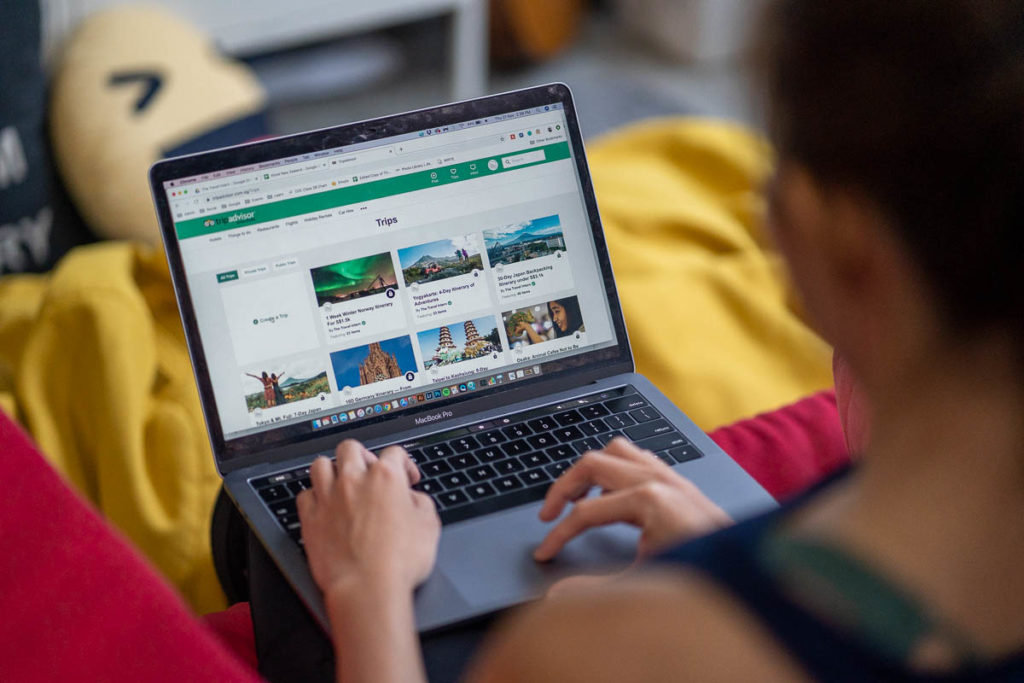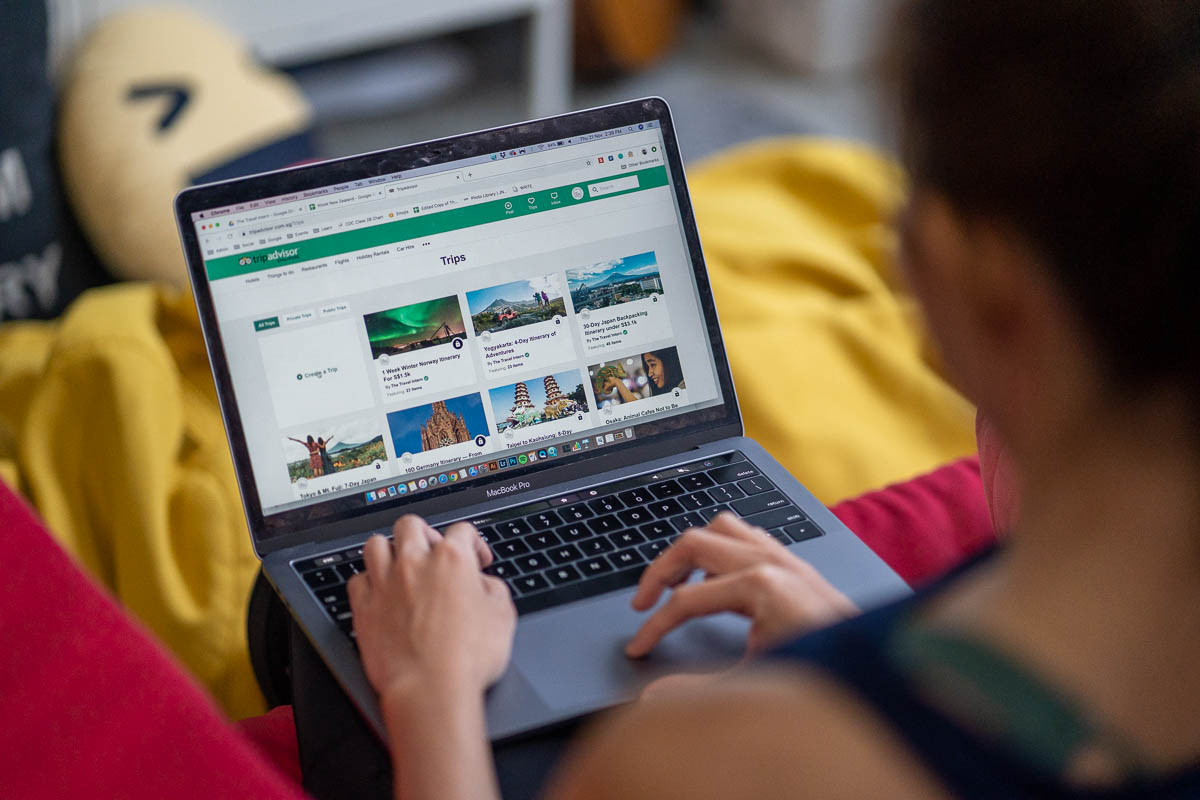 The Trips function is pretty new and it's only just started populating. But I can imagine when more people & travel curators hop on board, how efficient planning and sharing travel itineraries can be.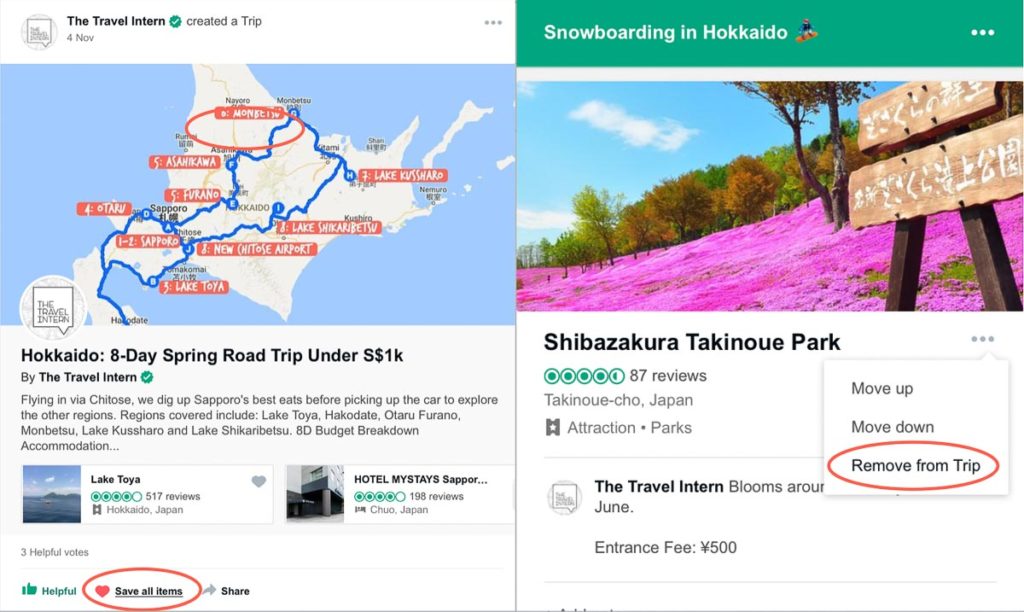 If you find an itinerary with more than 50% of experiences you'd include in your own, save time by selecting "save all items"* on any Trips created by friends or Travel curators (we have a few Trips too), and add them to your own Trip. From there, just eliminate the ones that don't fit and add your own experiences!
*This function is currently only available on the web version but coming soon to the app as well.
Once you have everything compiled, you can view it on the go via the TripAdvisor App (available on both iOS and Android).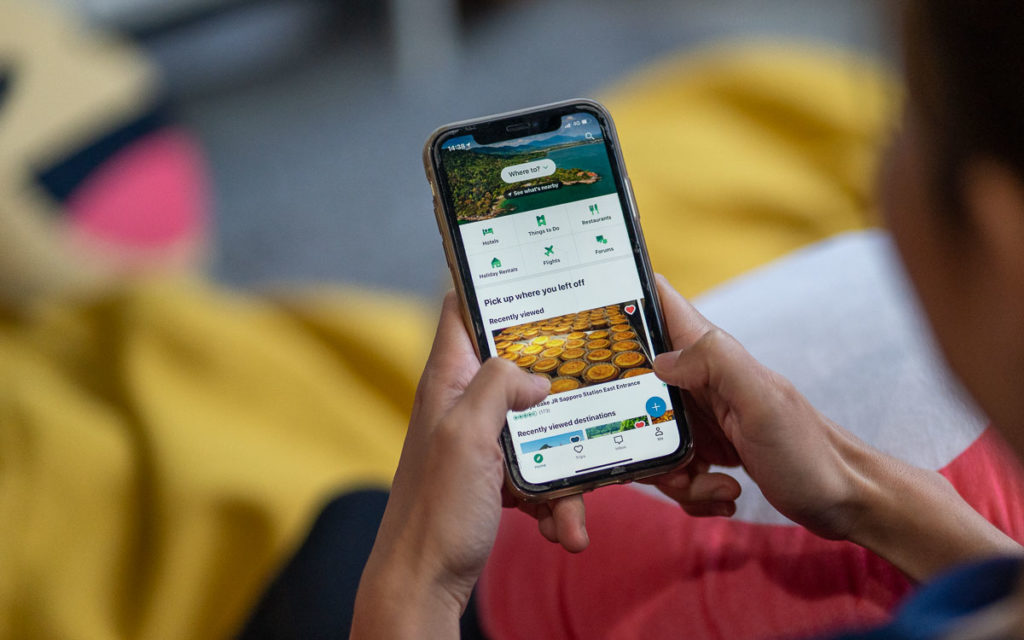 The app runs pretty smoothly and the simple and intuitive format allows just about anyone to jump on board. Since most of the listings already exist on the site, it's easy to just add on "things to do" while on the go.
It's still really new and I see lots of potential for it to grow. For example, it would have been useful if the map was a little more integrated so you could get directions from one attraction to another within the app. Or if you could upload all your entrance tickets and travel documents to access them offline in one place.
But for now, the TripAdvisor app is doing the basics right so I'll be sticking around to see what's in store.
Have you tried the new TripAdvisor app? I'd love to hear what you guys think of it in the comments below! (Find out more about the TripAdvisor's Trips Function here)
---
This post was brought to you by TripAdvisor.
For more travel inspiration, follow us on Instagram, YouTube, and Facebook!