This is your sign to grab life by the wheel and book your dream road trip 🚗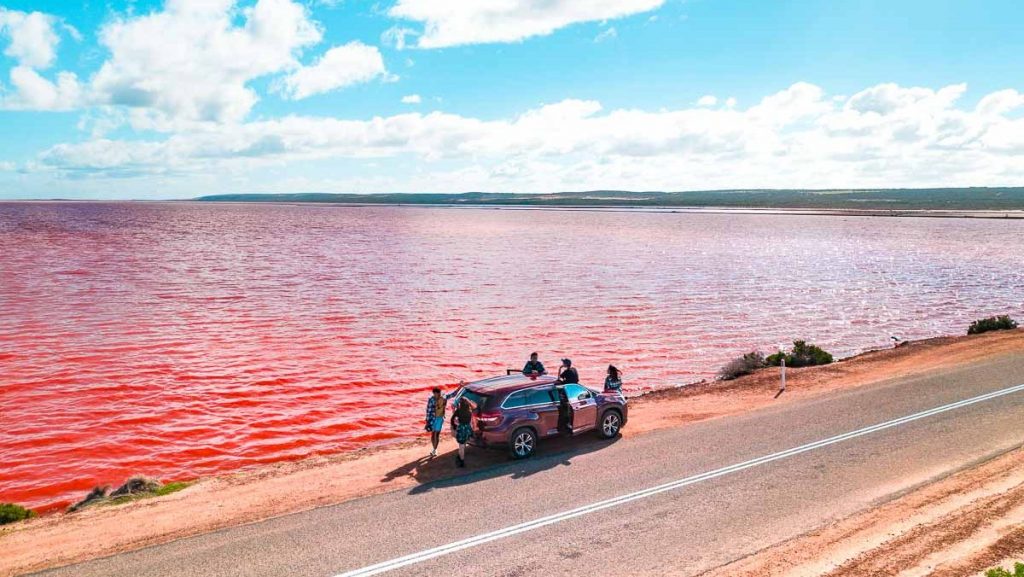 At The Travel Intern, we've been lucky enough to experience some fantastic road trips. We've completed top bucket list road trips like Iceland and New Zealand, and even driven across less-typical road trip destinations like Thailand and Spain.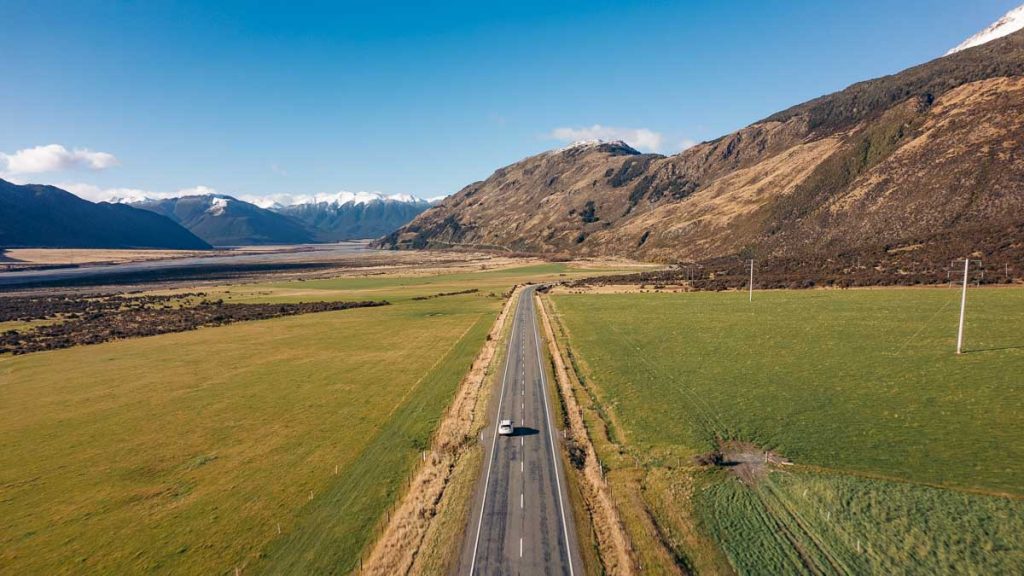 Each road trip is filled with both fond memories and the occasional mishap — like almost running out of petrol — but it wouldn't be an adventure if it went too smoothly! Overall, we've thoroughly enjoyed our road trip experiences and we'd love to relive them again.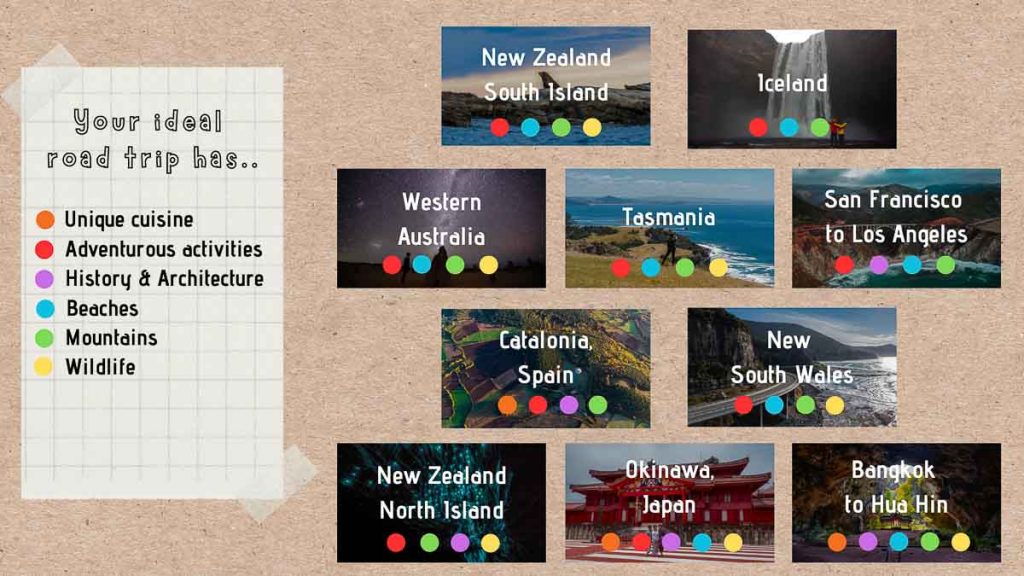 If you're dreaming of a once-in-a-lifetime adventure with your best mates, here are some of our favourite road trips that we've been on — saved my ultimate favourite for the last!
10) 8D Bangkok to Hua Hin Thailand Road Trip
Route: Bangkok – Kanchanaburi – Mae Klong Railway Market and Damnoen Saduak Floating Market – Hua Hin and Kui Buri National Park – Khao Sam Roi Yot National Park – Hua Hin – Bangkok
Highlights: Bangkok night markets, Khao Sam Roi Yot National Park
Best time to visit: Nov – Feb
Starting off with an unexpected road trip destination, this Thailand road trip showed us that a road trip doesn't have to be expensive!
Venturing beyond the usual Bangkok itinerary, we explored elephant safaris, tried kiteboarding, and ticked off some postcard-worthy hikes, all for under S$900/pax over 8 days!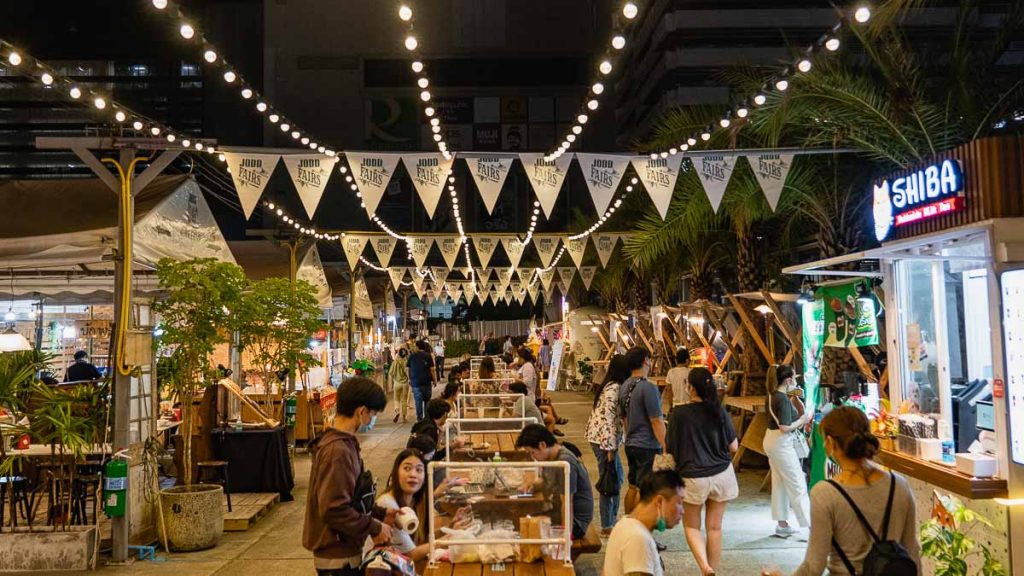 Our Thailand road trip kicks off in Bangkok! We couldn't resist revisiting familiar favourites — shopping at Chatuchak and Pratunam, and exploring Bangkok's night markets like Jodd Fairs and Srinagarindra Train Night Market.
Of course, we had to try authentic local experiences like learning Muay Thai and how to whip up tasty dishes like pad thai.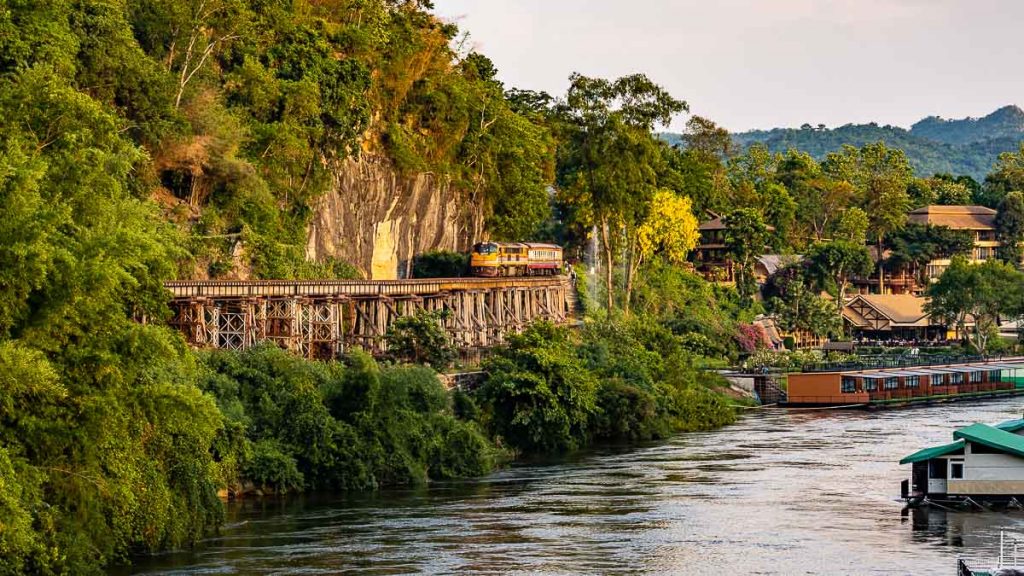 I've been to Bangkok many times, but renting a car there was a first for me. We picked up our car and set out for a day trip to Kanchanaburi — an idyllic town with a harrowing past.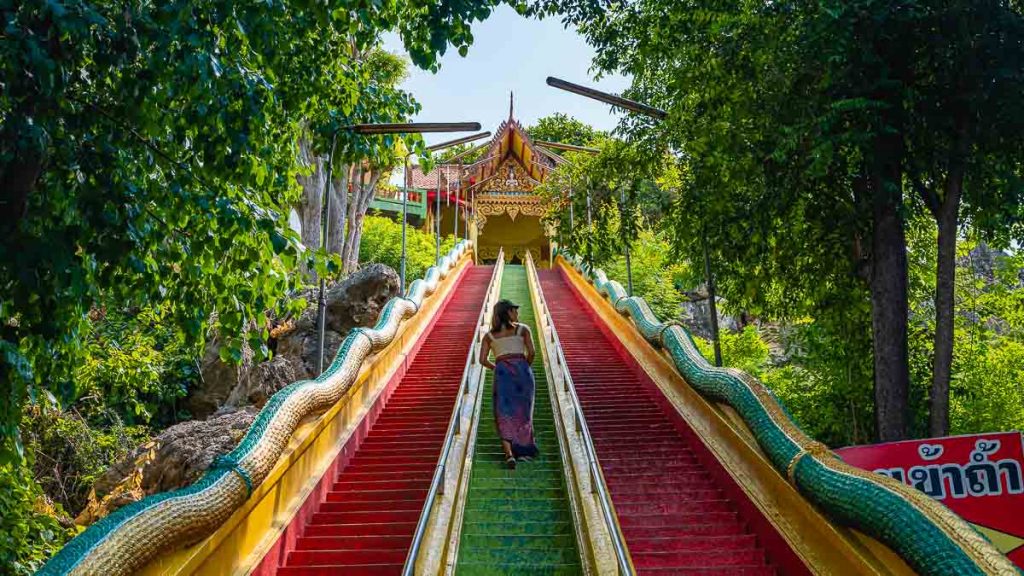 Learn about Kanchanaburi's dark history at the Death Railway Museum before visiting River Kwai Death Railway Bridge. We also visited the highly Instagrammable Wat Tham Suea Temple!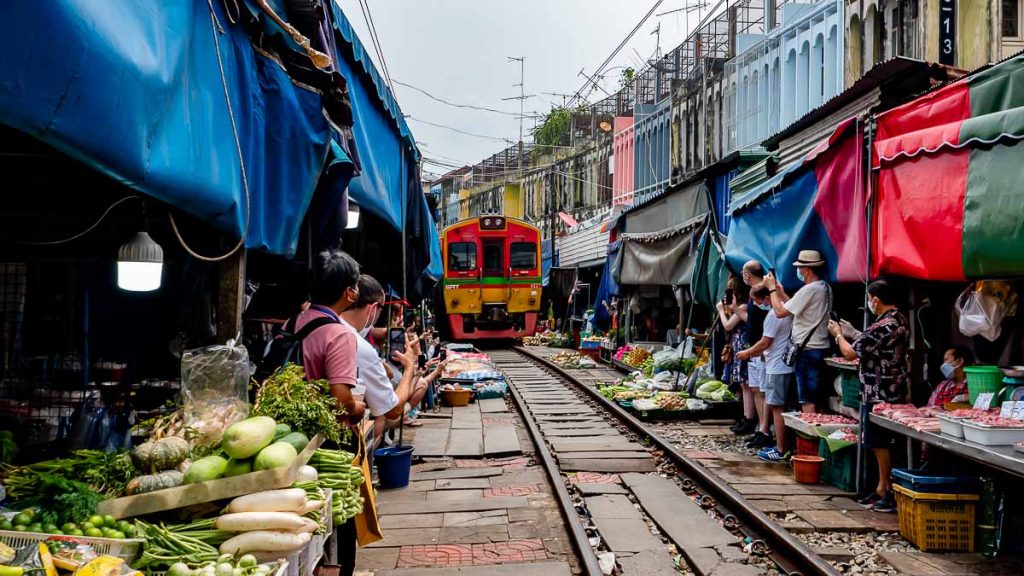 We spent a day visiting famous markets near Bangkok, namely Mae Klong Railway Market and Damnoen Saduak Floating Market.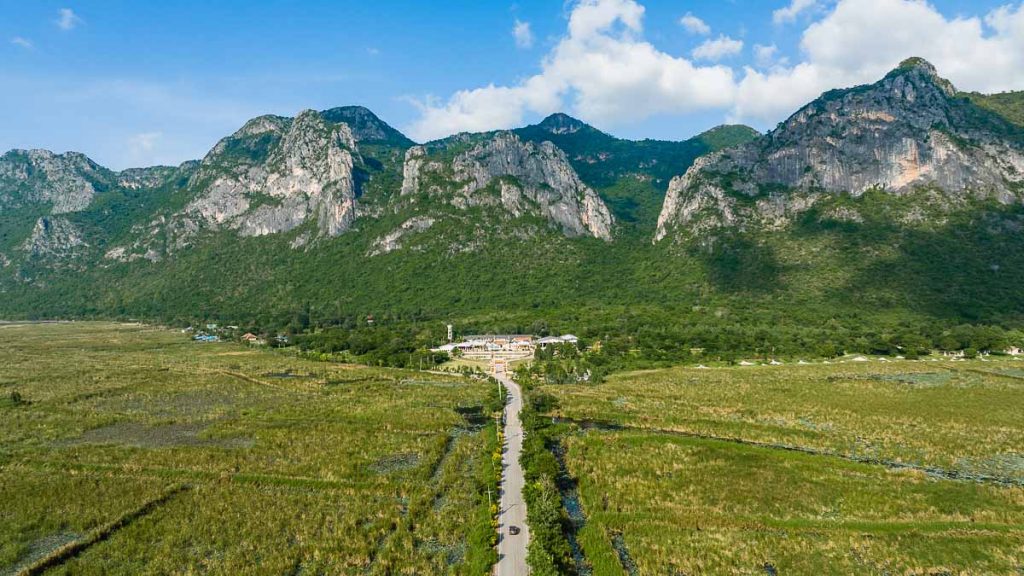 Next, head to Hua Hin for some nature and adventure! Navigate obstacles in Tree Top Adventure Park, go on an elephant safari at Kui Buri National Park and my favourite bit — explore Khao Sam Roi Yot National Park.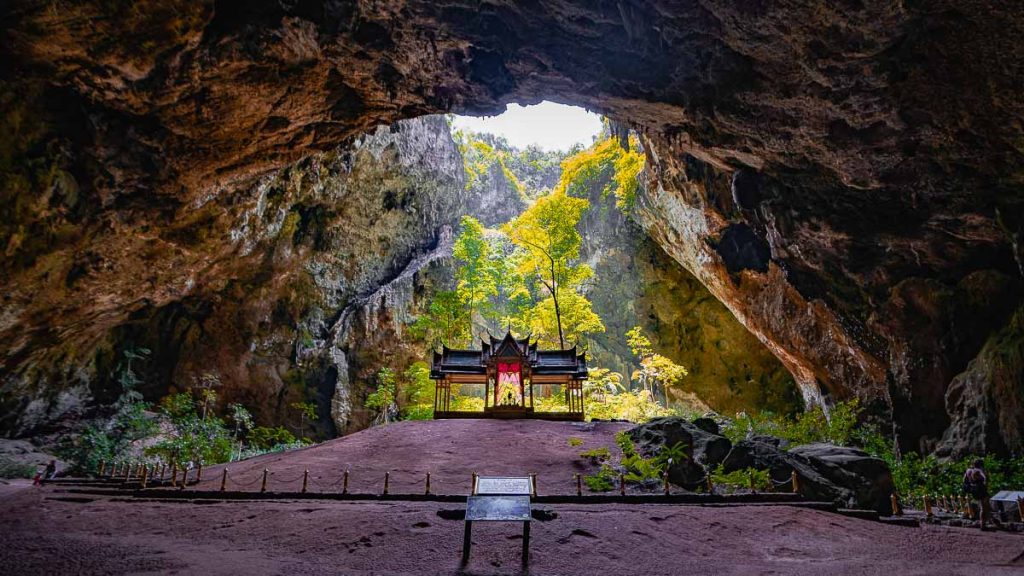 You'll need at least a full day for Khao Sam Roi Yot National Park, as there are a lot of short hiking trails and nice viewpoints. Hike to Khao Daeng Viewpoint and Phraya Nakhon Cave, then end the day with a boat ride at Thung Sam Roi Yot Freshwater Marsh.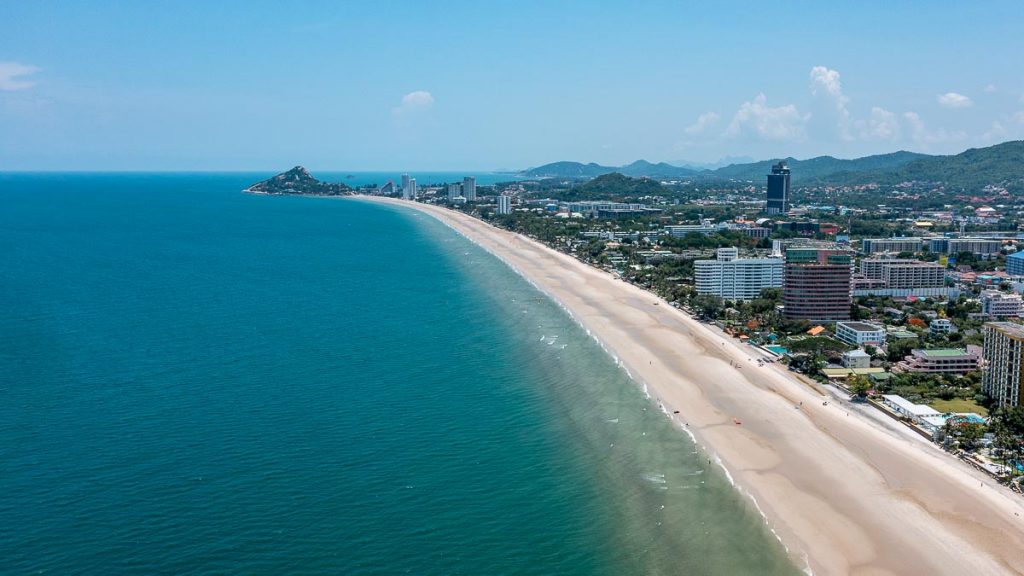 On the last day of our Hua Hin road trip, we visited the lesser-known Khao Kalok Beach and went kiteboarding at Hua Hin Beach, before cooling off at Vana Nava Waterpark.
Check out the full itinerary: 8D Thailand Itinerary — Road Trip from Bangkok to Hua Hin Under S$900
9) 11D Western Australia Road Trip
Route: Perth – Cervantes – Geraldton – Kalbarri – Carnarvon – Exmouth – Ningaloo – Monkey Mia – Kalbarri – Monkey Mia – Jurien Bay – Perth
Highlights: Pink Lake, Whale sharks,
Best time to visit: Nov – Mar (best weather)
Swimming with whale sharks and sea lions, visiting pink lakes and limestone formations are just some of the stunning sights you can expect on this coastal road trip in Western Australia.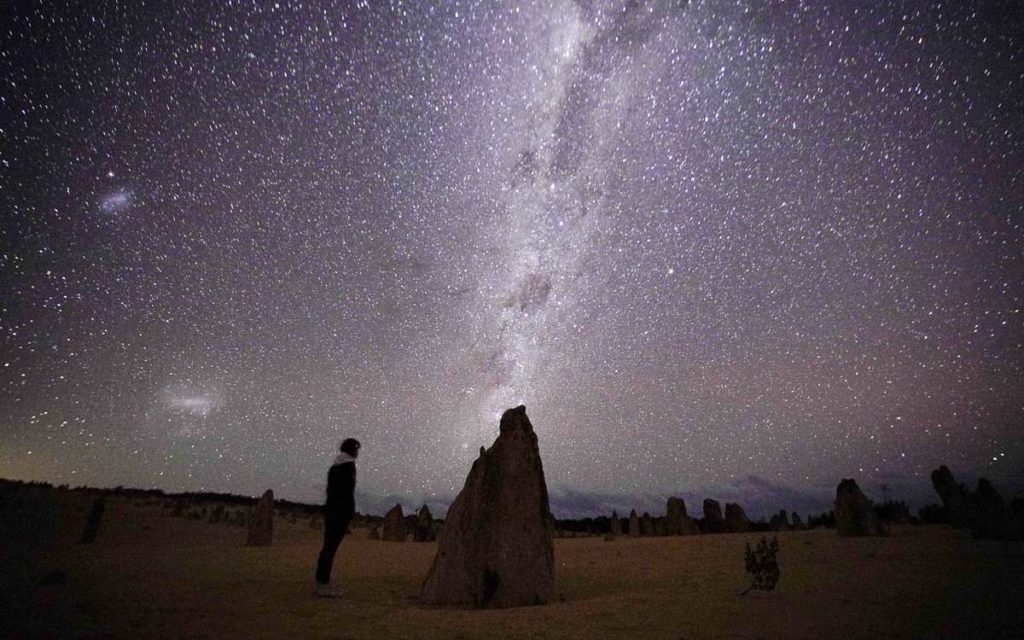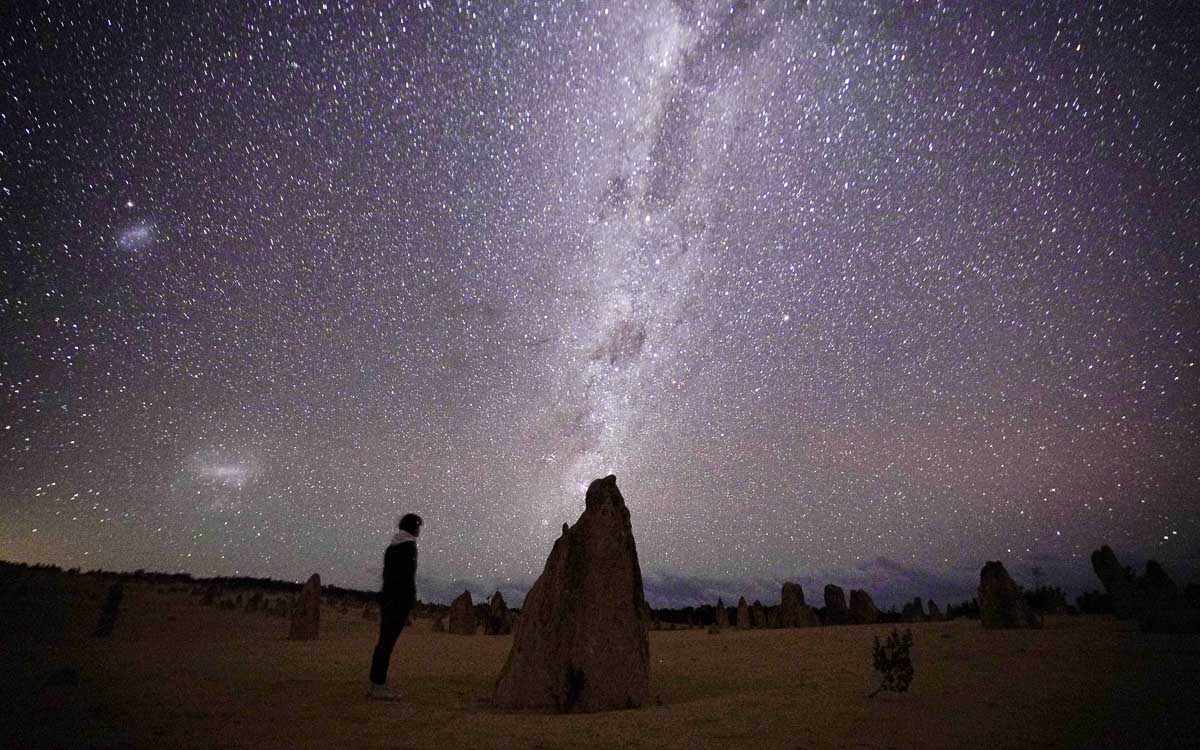 Starting the trip at Lancelin Sand Dunes — have a go at sandboarding, feast on Western Rock Lobsters at the Lobster Shack and stargaze among limestone Pinnacles at Nambung National Park.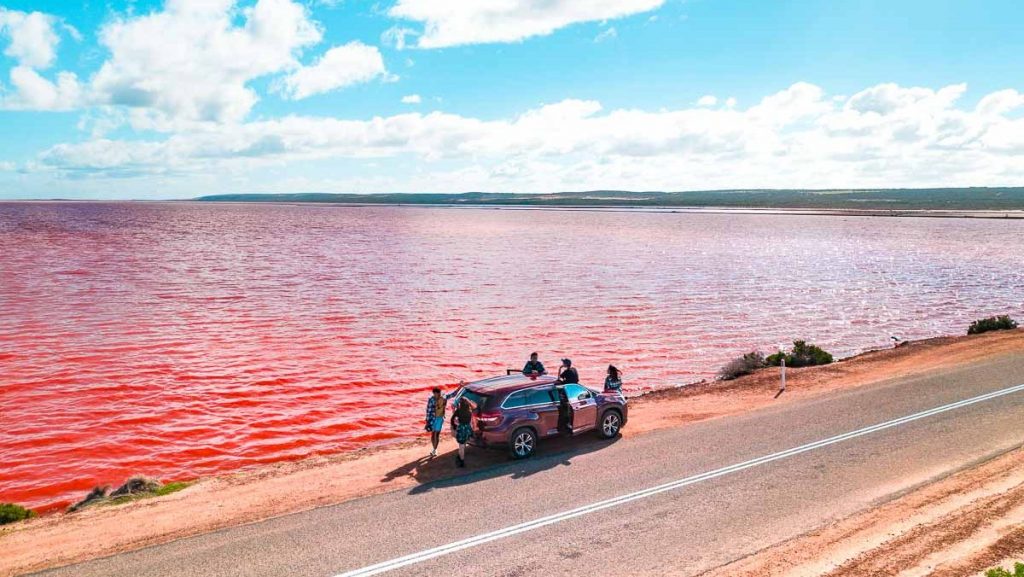 A highlight of this road trip is a visit to Hutt Lagoon — easily one of the most gorgeous sights we've ever seen. The unique shade of pink is due to the high water salinity!
We then drove to Island Rock, where we were lucky enough to spot a migrating humpback whale breach the surface.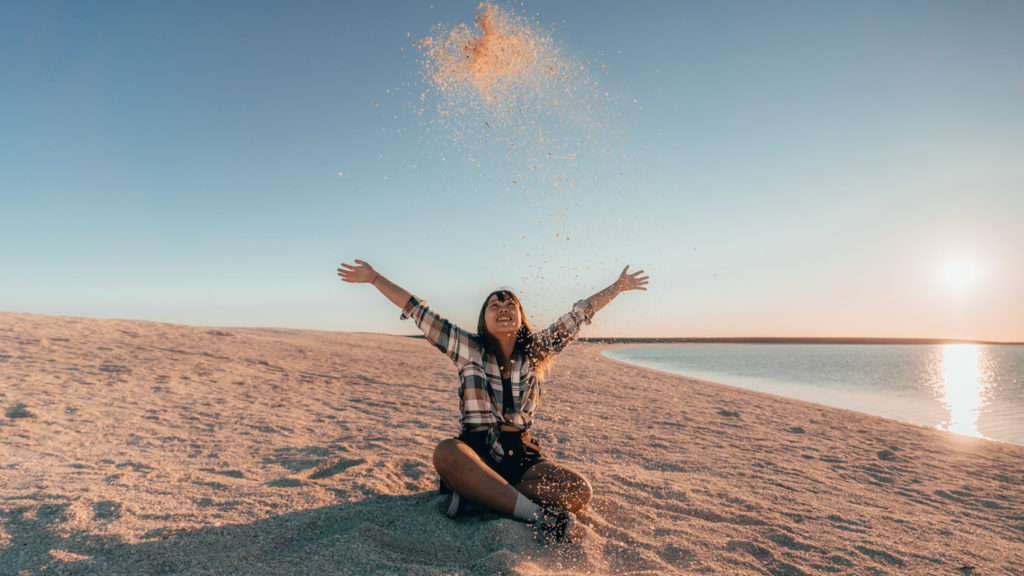 Next, we took Western Australia road trip up a notch (literally) and experienced a scenic flight over the Albrohos Islands on a private plane. We also caught a beautiful sunset at Shell Beach — it was a lot of fun scooping and throwing the tiny white shells in an attempt to form shapes!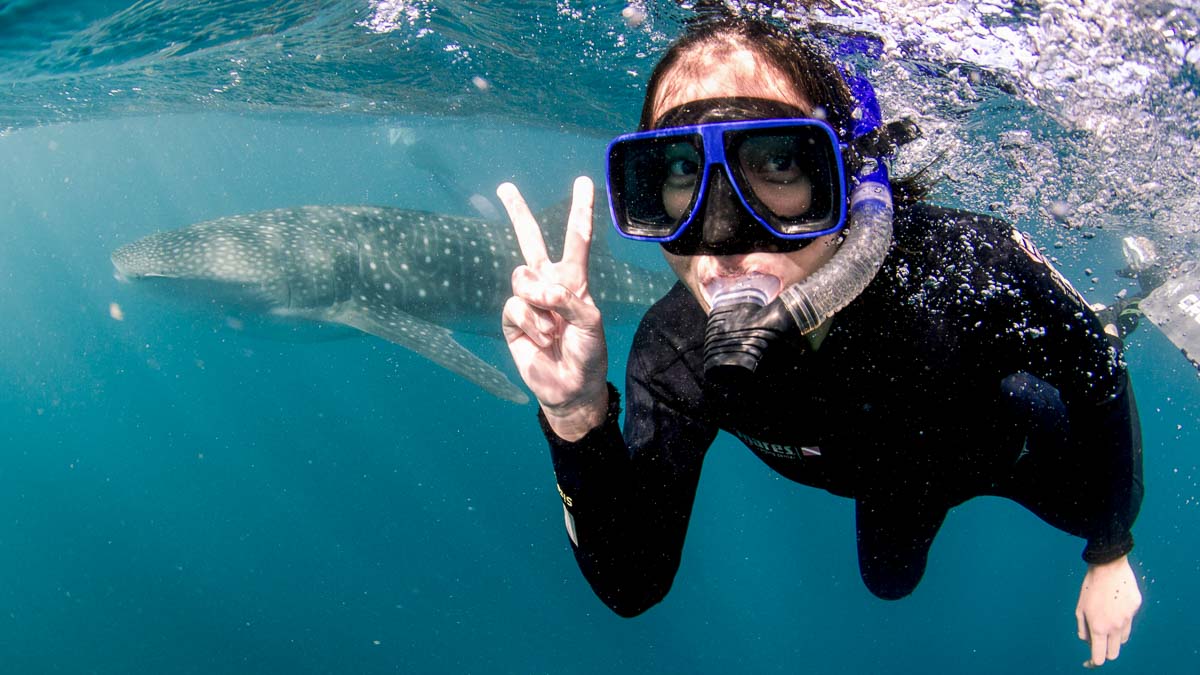 Arguably the highlight of our Western Australia road trip was swimming alongside Exmouth's magnificent whale sharks! We enjoyed a total of seven dives — plenty of time to admire and appreciate these giant giants.
Moving on to Ningaloo, where we went on a glass bottom boat tour to see the stunning reefs of Coral Bay.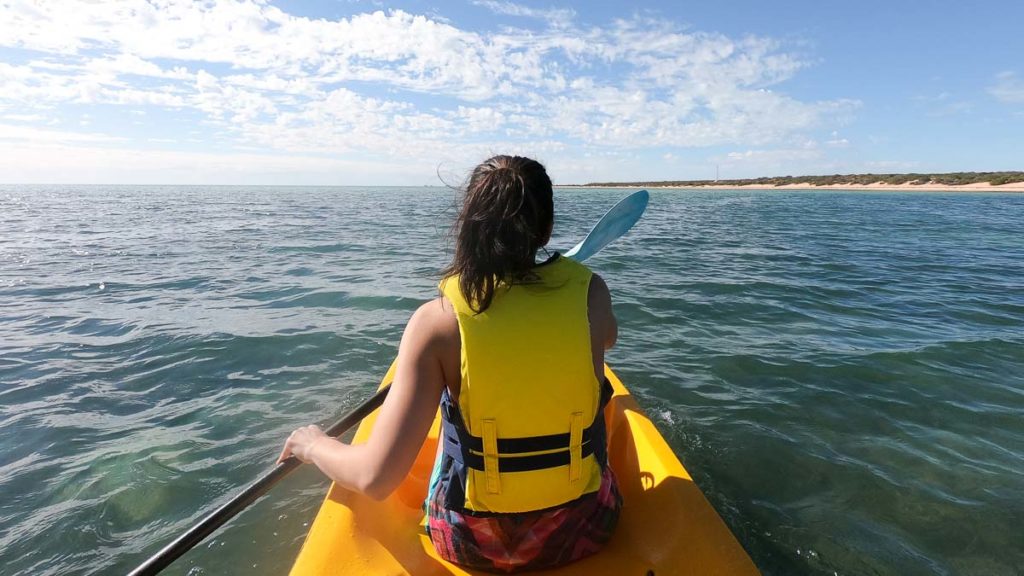 For more ocean experiences, head to Monkey Mia — frequented by wild bottlenose dolphins. Go kayaking at Shark Bay, home to manta rays, turtles and reef sharks!
Drive through Francois Peron National Park to see the turquoise Big Lagoon, before making your way to Jurien Bay.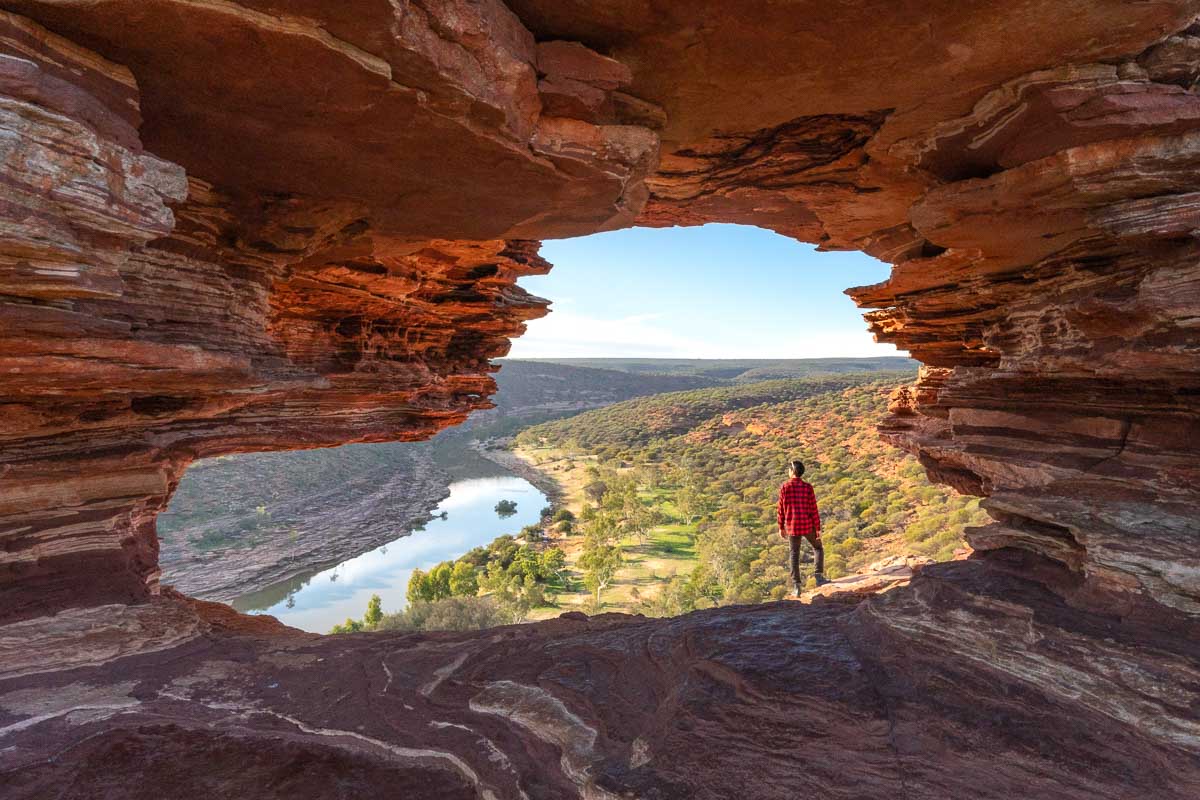 Visit the iconic Nature's Window, which perfectly frames Kalbarri National Park's vast canyons. Over at Hawks Head Lookout, there are breathtaking views of the Kalbarri Gorges and Murchison River.
Spend the day swimming alongside adorable Australian Sea Lions, known as puppies of the sea! For more Aussie wildlife, visit Yanchep National Park to see kangaroos, koalas and more.
Check out the full itinerary: 11D Western Australia Itinerary — Coastal Road Trip From Perth To Ningaloo
8) 7D Okinawa Japan Road Trip
Route: Naha – Southern Okinawa – Nago – North Central Okinawa – Naha
Highlights: Snorkelling, unique cuisine, beautiful coastlines
Best time to visit: Jun – Jul and Sep – Oct (best for water activities), Feb – Mar (to catch the earliest blooming cherry blossoms in Japan!)
Uncovering a different side of Japan, this Okinawa road trip takes place in Japan's southernmost prefecture. In fact, geographically it's closer to Taiwan than it is to Honshu — Japan's main island.
Read also: Cultures Explained: Okinawa — Why is it so Different from the Rest of Japan
Also known as the Hawaii of Japan, you can find pristine beaches, rich marine life and strange (but tasty) delicacies not found anywhere else in Japan.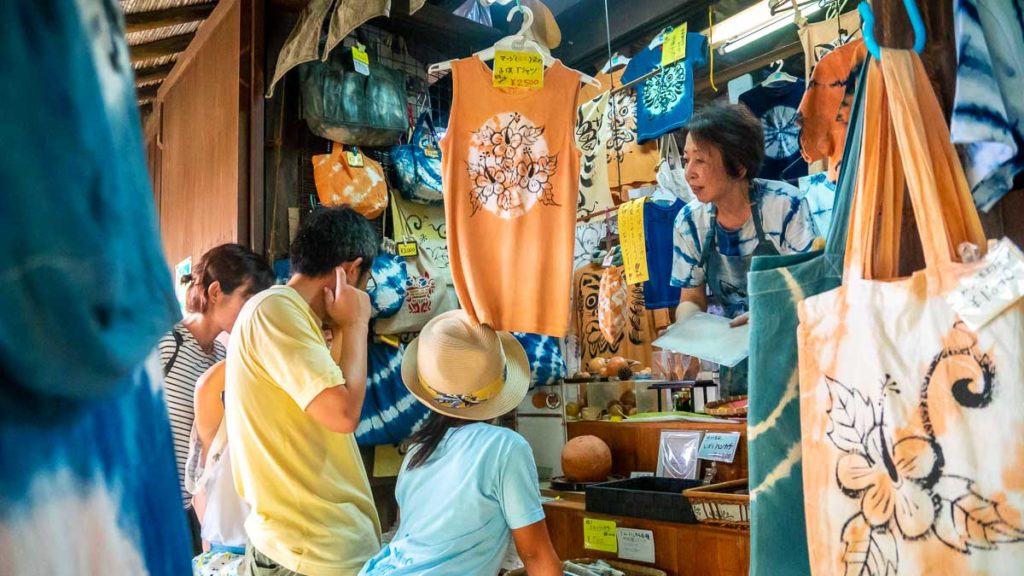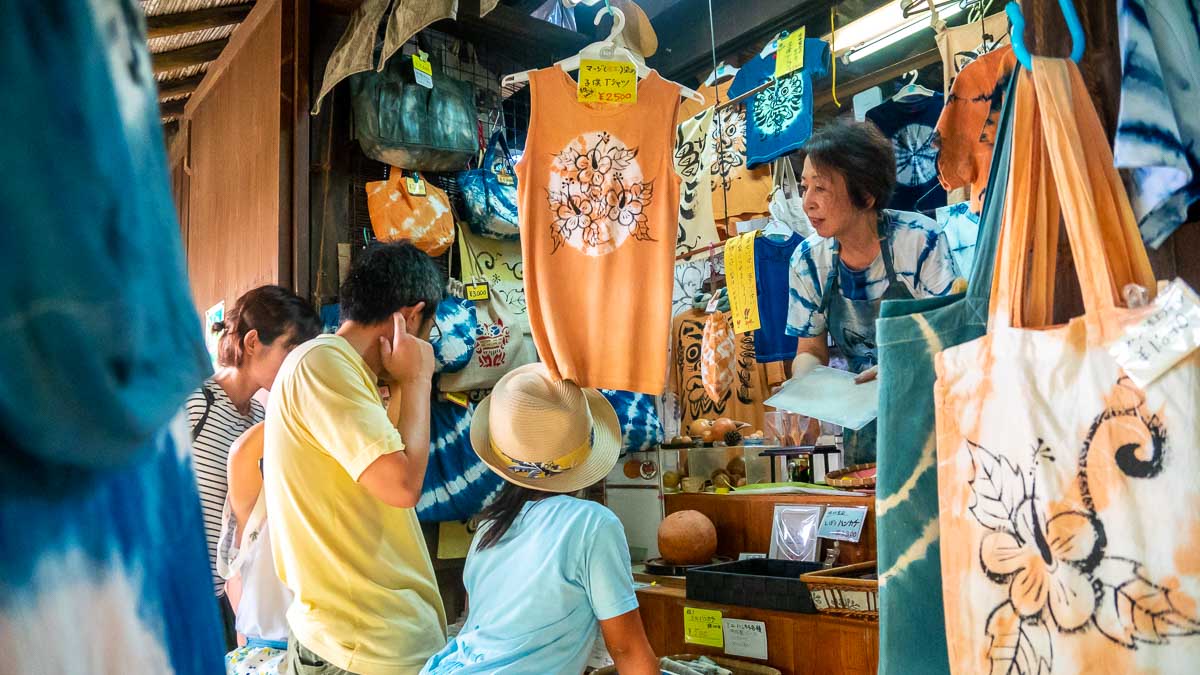 Dive straight into local culture with a trip to Okinawa World! Catch a traditional Eisa dance performance and learn about Okinawan crafts like Ryukyuan glass-making and indigo dyeing. After that, check out the stalagmite and stalactite-filled Gyokusendo Cave.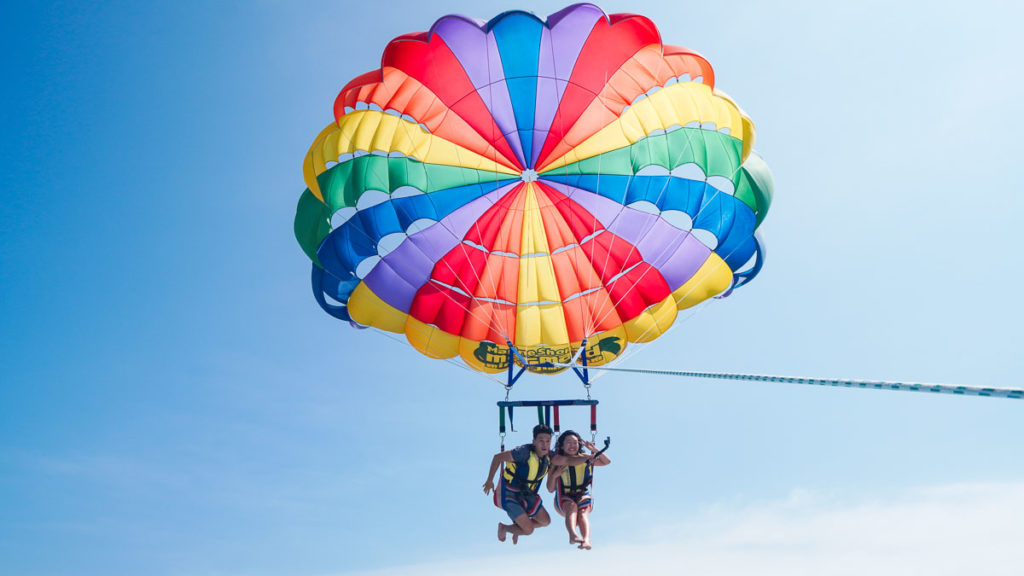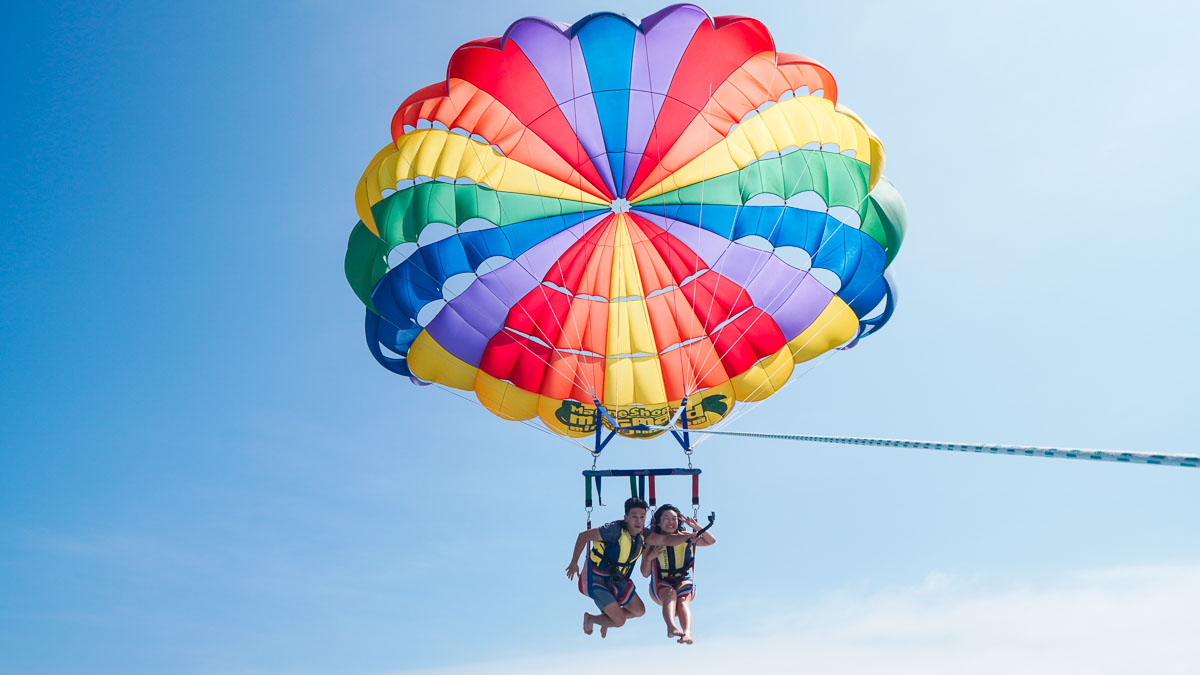 For a taste of Okinawa's beautiful coastline, visit Nago! Get a bird's eye view with a parasailing experience, before visiting Churaumi Aquarium — considered Japan's best.
Free beer? That's what awaits at the end of the free tours at Orion Happy Park. For everyone except the designated driver, that is.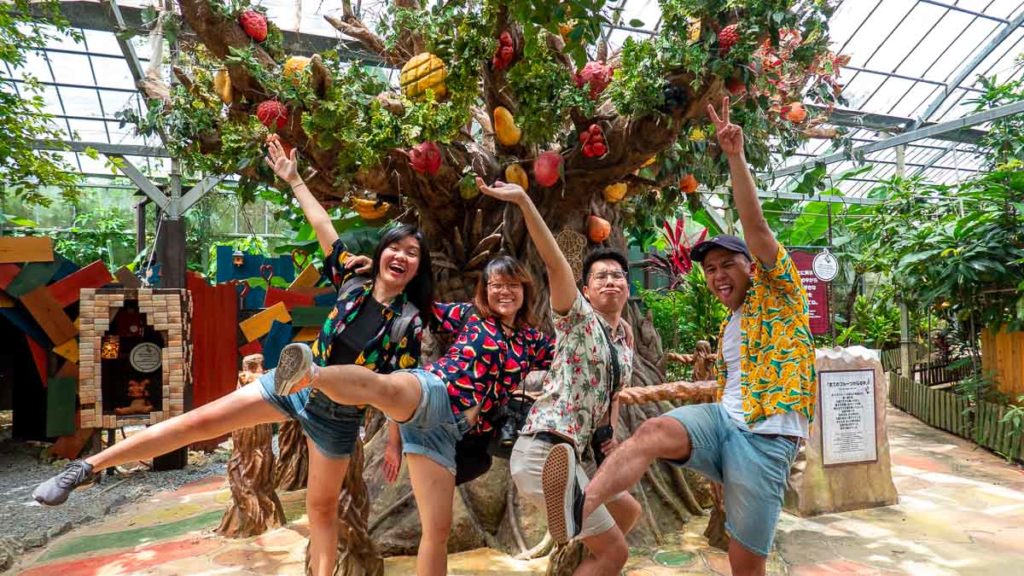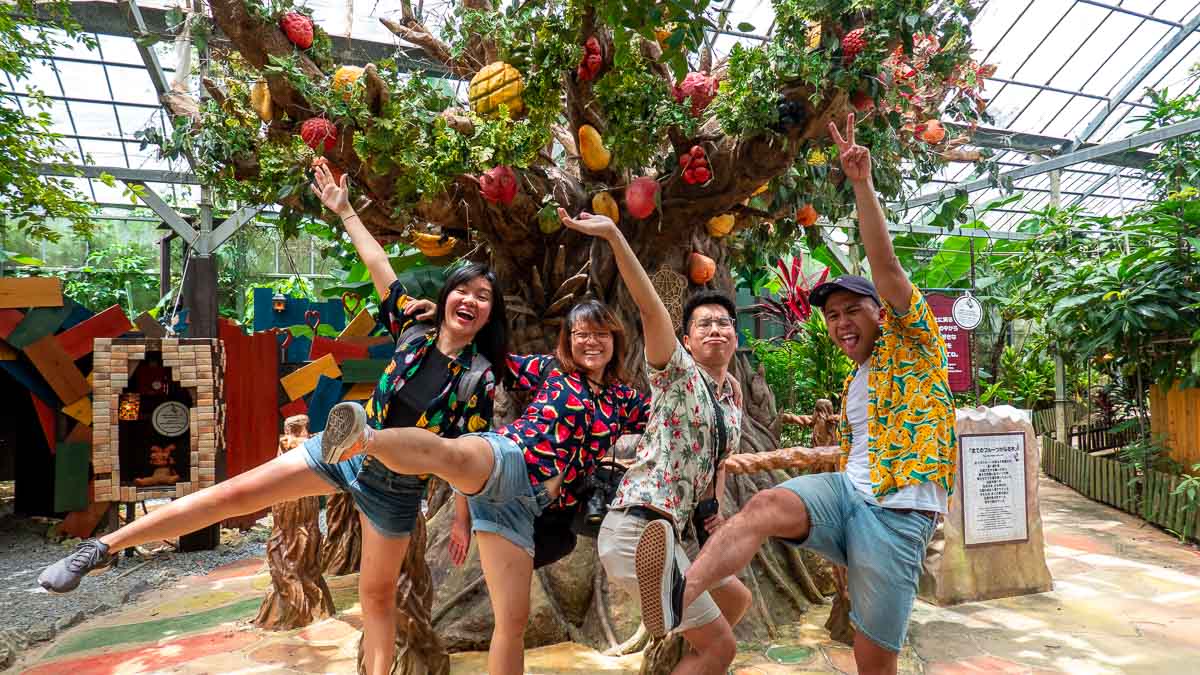 Head over to Okinawa Fruits Land for a refreshing time — they've got tropical fruits all over the park, plus a mini-zoo!
Read also: Ultimate Okinawa Guide: 33 Exciting Things to Do in Okinawa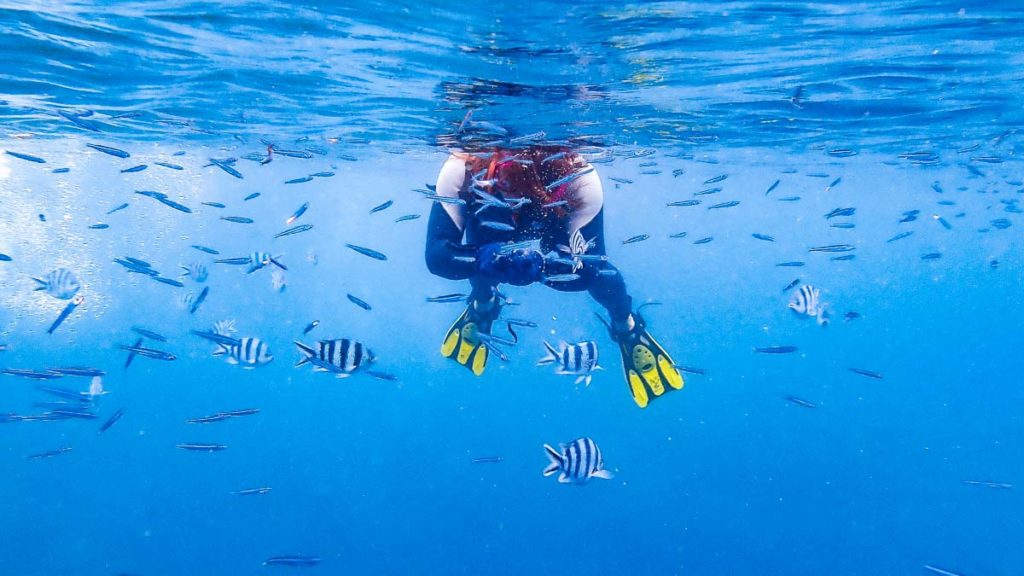 We snorkelled in Okinawa's famous Blue Cave, which gets its colours from sunlight refraction. The water had good visibility which made it easy to spot several schools of fish swimming around!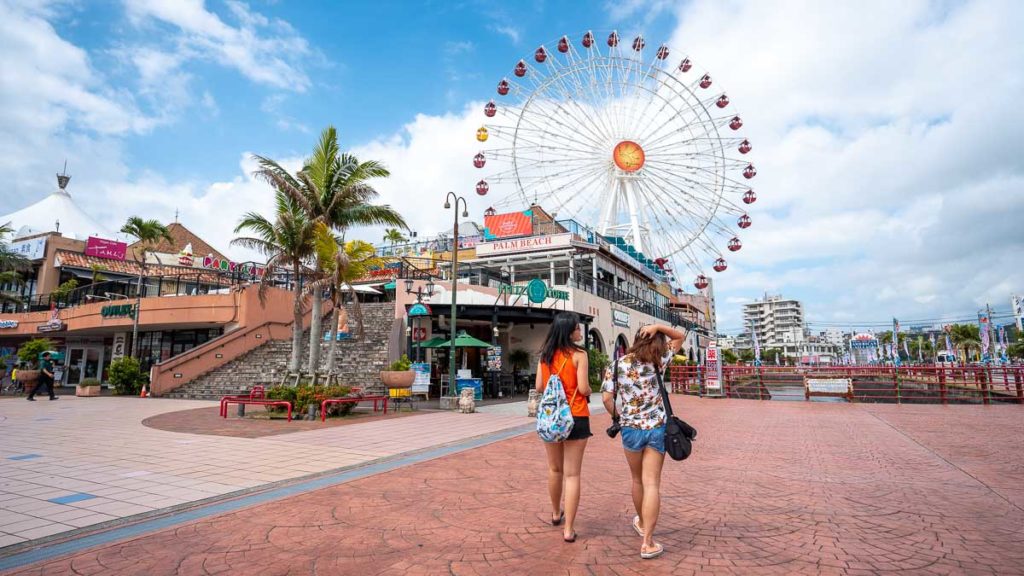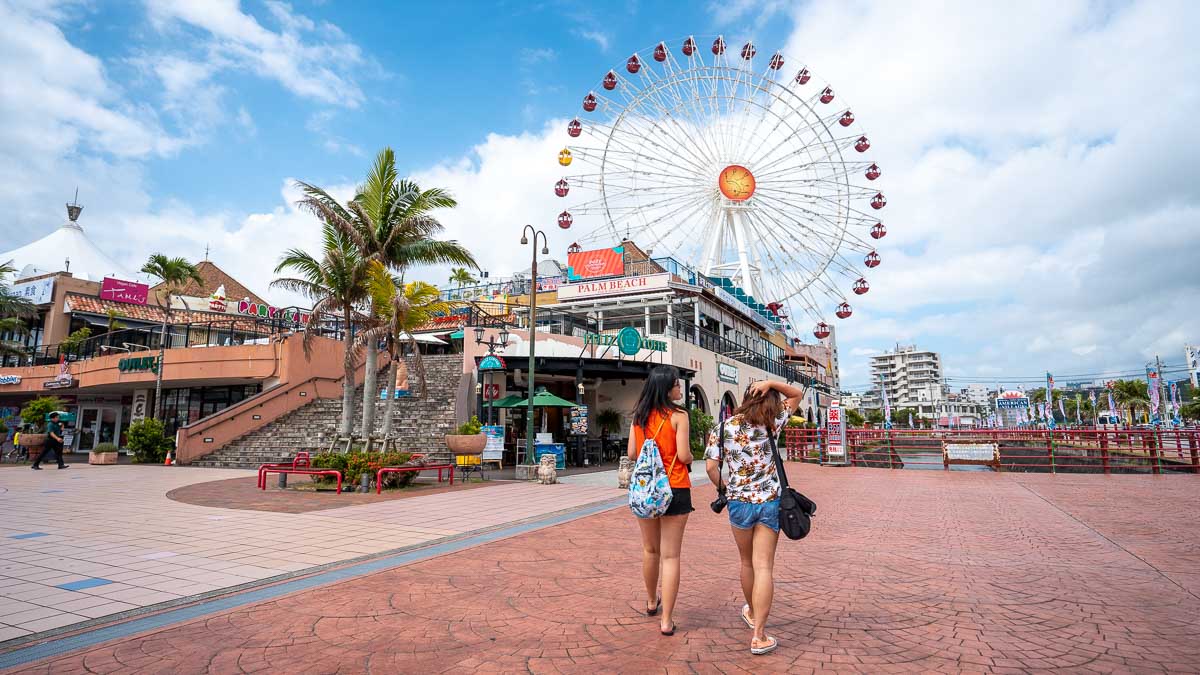 Discover a hybrid of Japanese and American cultures at American Village. Then, try sea snake soup at Kana Restaurant — believed to improve stamina and health.
Is it truly a Japan road trip if we didn't visit local markets? Back at the capital city Naha, head to Makishi Public Market which sells fresh sashimi, seafood and more! We also tried unusual Okinawan dishes like pig face and goat sashimi.
Read also: Okinawa Food Guide — From the Unusual to the Unapologetically Delicious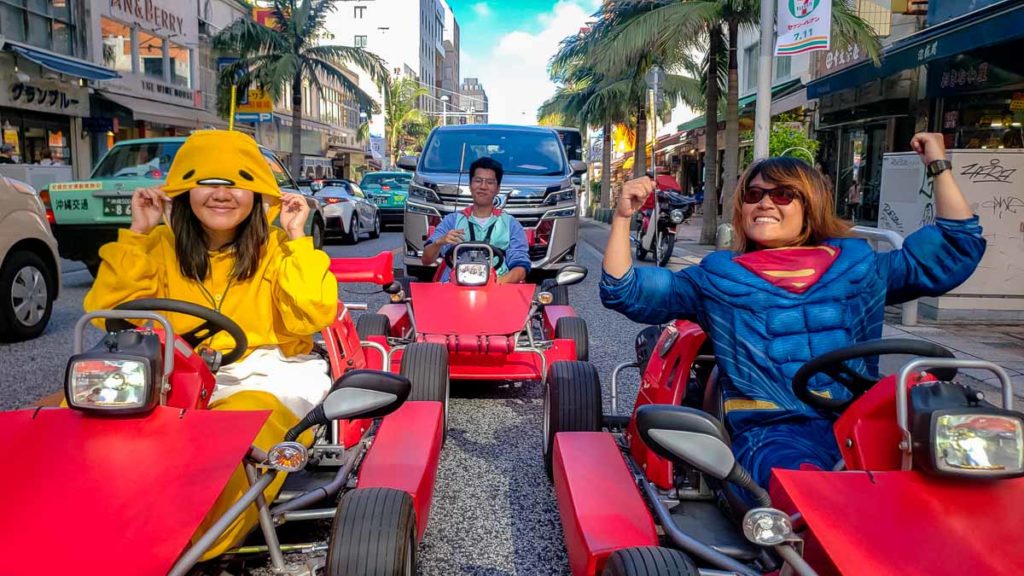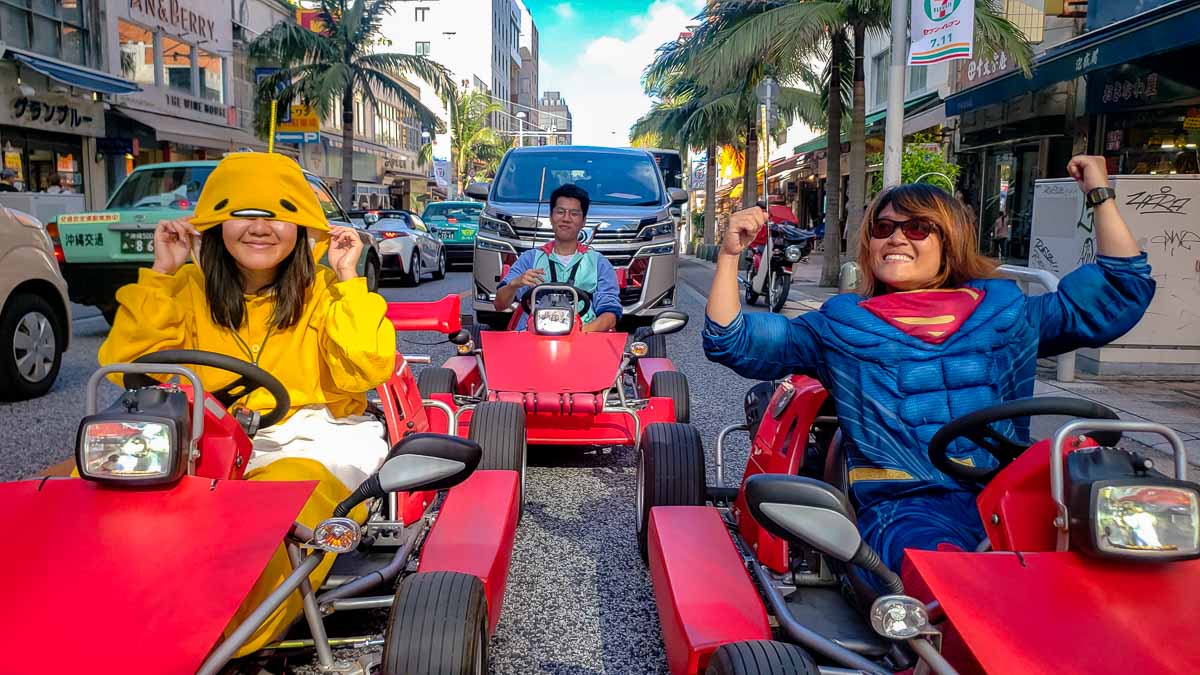 After filling your tummy, take to the streets via a go-kart experience! Yes, cute costumes are included. 😊 We also went for a karate class at Okinawa Karate Kaikan; Japan is where the sport was founded after all!
Check out the full itinerary: 7-Day Okinawa Itinerary — Road Trip in Japan's Underrated Island Utopia
7) 5D New Zealand North Island Campervan Road Trip
Route: Auckland – Waitomo – Taupo – Rotorua – Matamata – Auckland
Highlights: Hobbiton, Maori Village
Best time to visit: Dec – Feb (summer, best weather), Apr – May (autumn, less busy)
Although smaller than South island, New Zealand's North island shouldn't be overlooked. It offers a rich Maori culture, geothermal landscapes and of course, a unique glimpse into Middle Earth!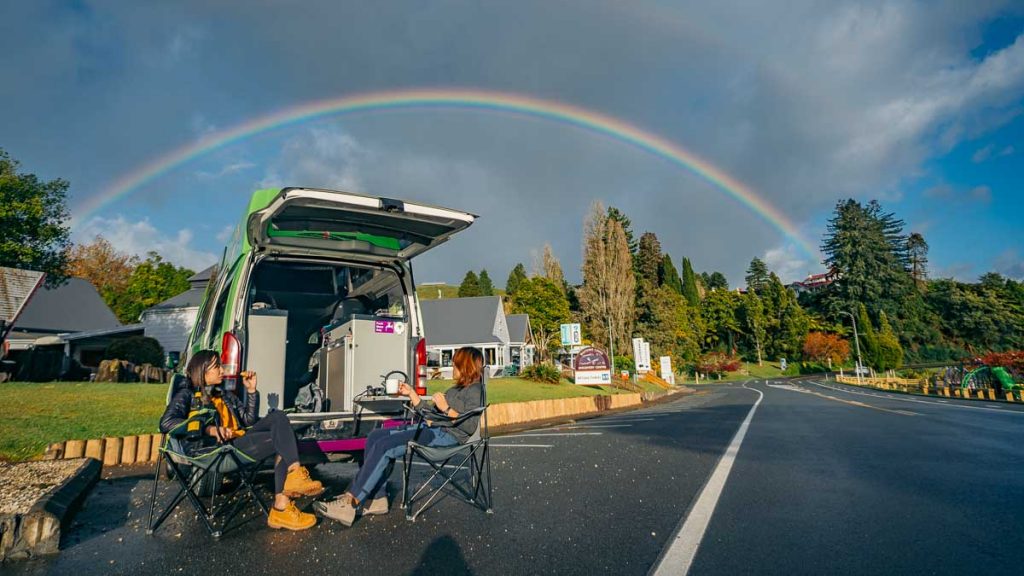 For our five-day north island road trip, we rented a campervan to try freedom camping! It was a first for us, and the experience was definitely memorable — check out our tips on travelling New Zealand via campervan.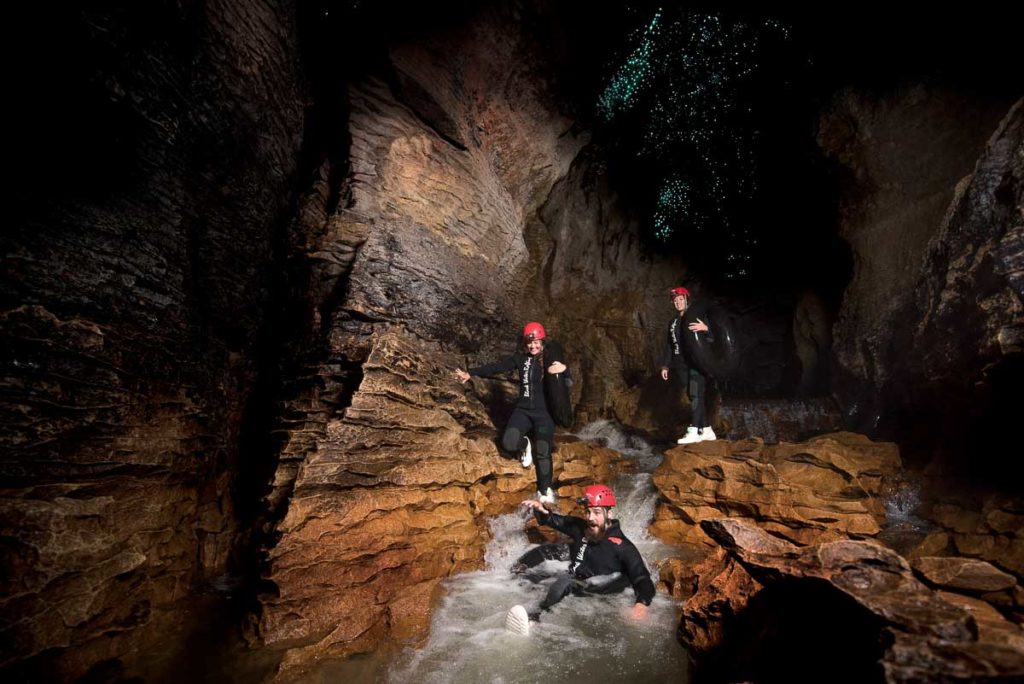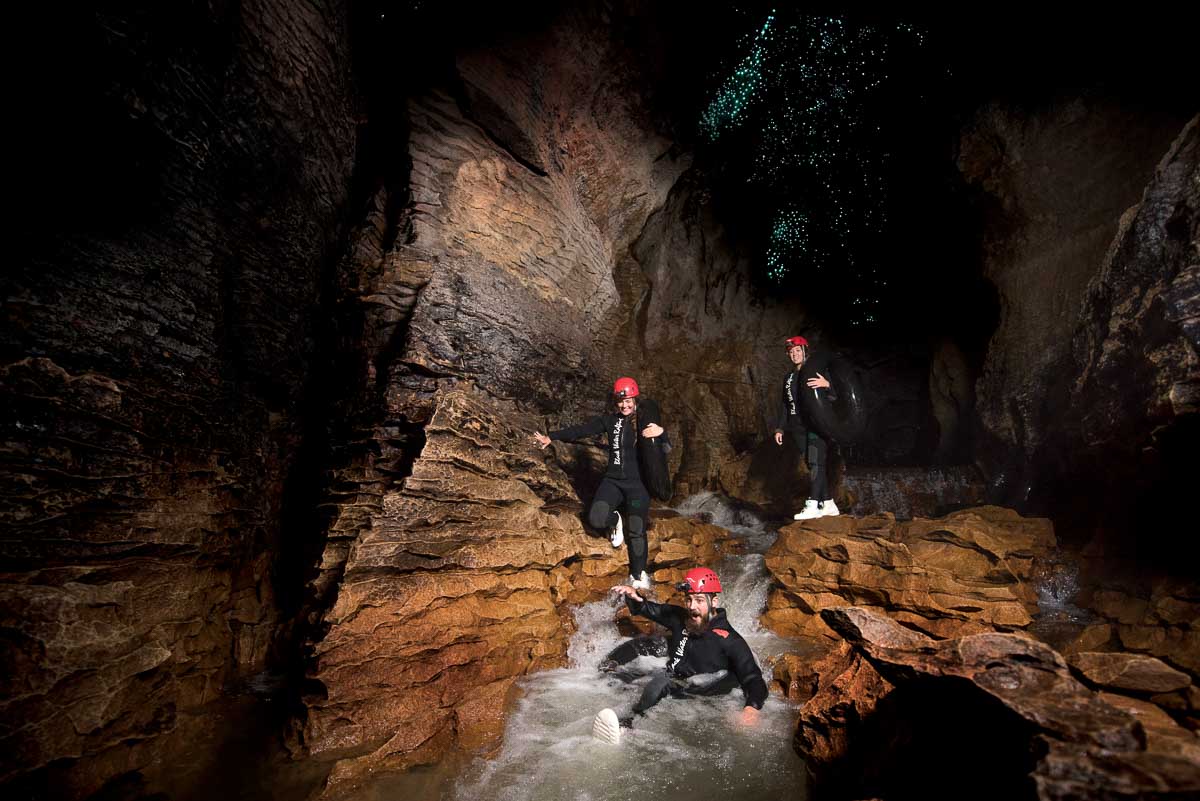 Head to Waitomo, famous for glowworms found only in New Zealand. We went on a black water rafting tour inside Ruakuri Cave, navigating rocky spaces and tubing through a glowworm canal.
Next, Taupo — the largest town in the Lake Taupo district. Enjoy a dip at the hot springs at Spa Thermal Park (for free!), visit the powerful Huka Falls and marvel at neon-coloured pools at Wai-O-Tapu Thermal Wonderland.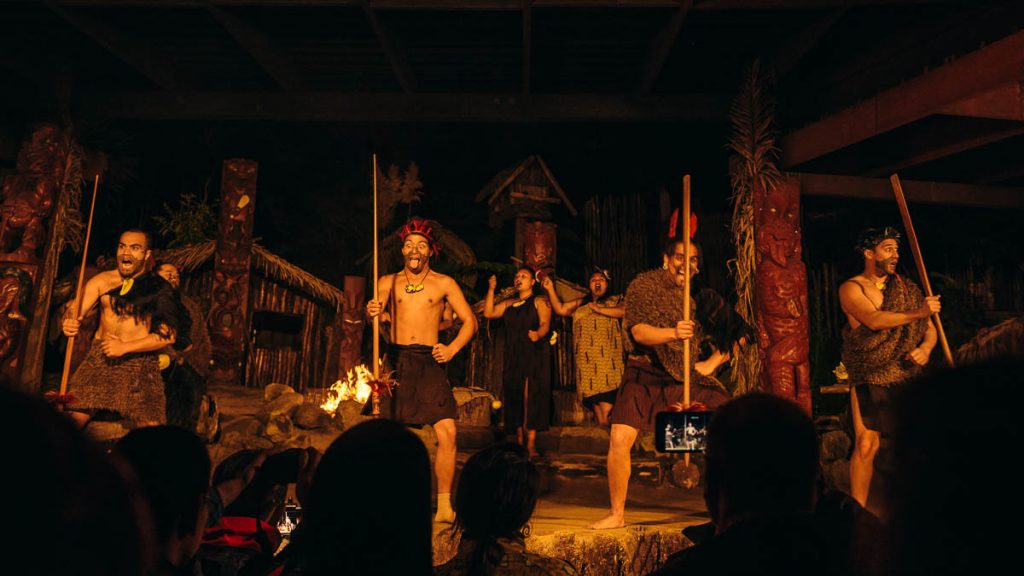 After that, we headed to Rotorua for the famous Rotorua Redwoods Forest and Mitai Maori Village. The Maori village was a highlight of our north island road trip — we got to immerse ourselves in the incredible culture and watch a haka performance!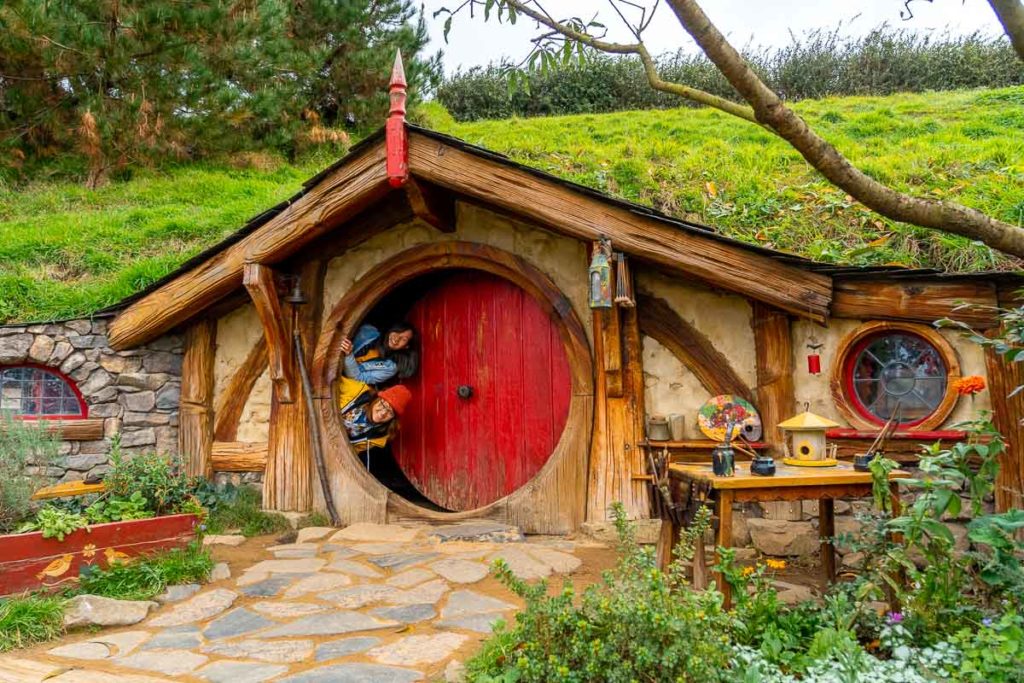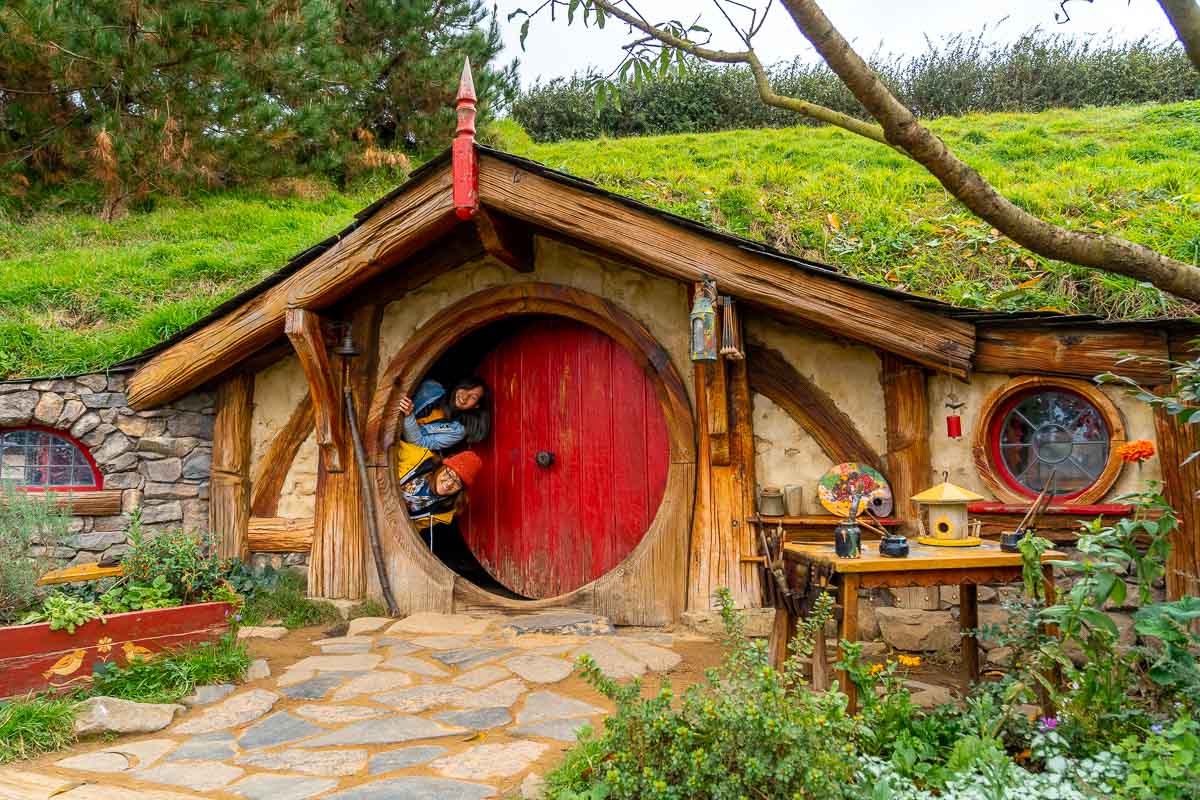 But of course, you can't have a north island road trip without including Hobbiton. We absolutely loved stepping straight into the fantasy world of Middle-earth — and visiting the 44 unique Hobbit Holes!
Check out the full itinerary: 5-Day New Zealand North Island Road Trip in a Campervan Under S$600
6) 13D New South Wales Road Trip
Route: Sydney – Cockatoo Island – Ku-ring-gai Chase National Park – Central Coast – Port Stephens – Blue Mountains – South Coast and Southern Highlands – Sydney
Highlights: Bondi Beach, Blue Mountains, Grand Pacific Drive
Best time to visit: Sep – Mar (best weather), Jun – Aug (for Vivid Sydney and winter activities)
Stunning beaches, incredible national parks, a colourful culinary scene — New South Wales has it all. We were there in June (early winter), and the weather was really pleasant!
Read also: NSW Autumn and Winter Guide — 19 Fun Things to Do in Sydney and Surrounds During Cooler Months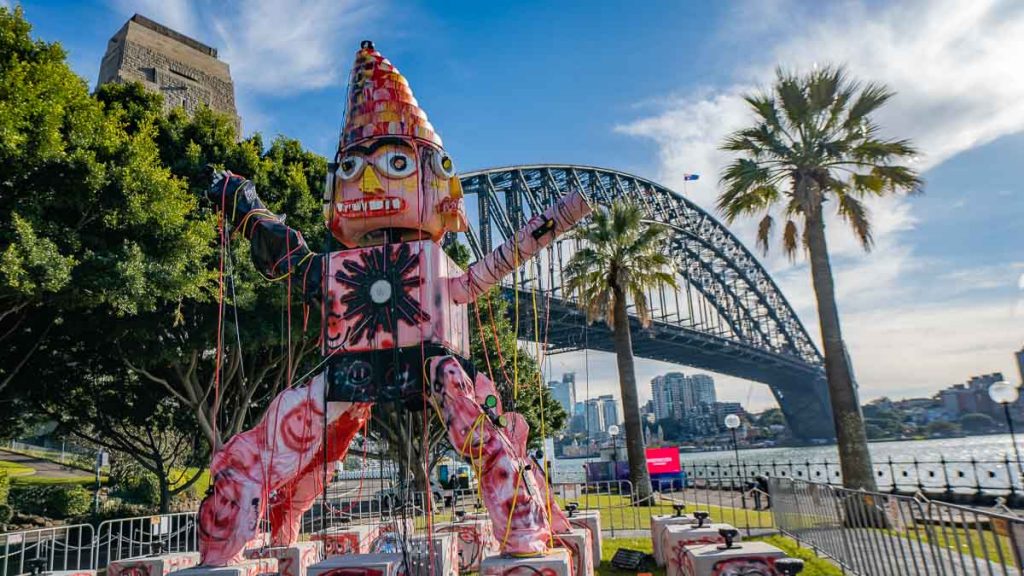 Our New South Wales adventure kicks off in Sydney, where we recommend staying five days before starting the road trip portion.
Visit Sydney's iconic attractions (Sydney Opera House, Sydney Fish Market, Circular Quay) and charming neighbourhoods of Newtown and Surry Hills — where there are tons of great cafes and thrift shops!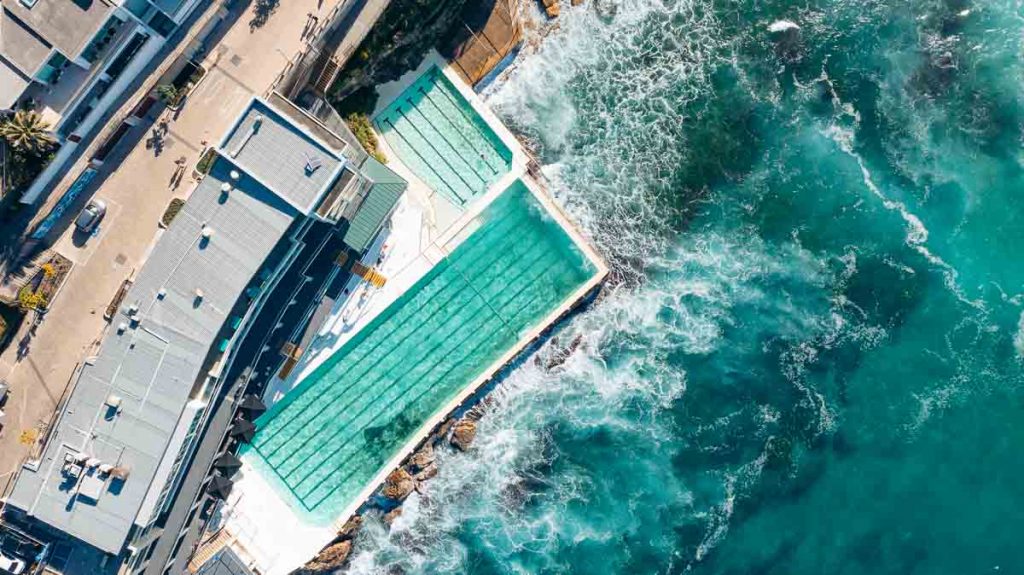 After that, explore Bondi and Watsons Bay! Take a surf lesson at the famous Bondi Beach, swim in the Bondi Icebergs swimming pool and hike along the coast to Hornby Lighthouse. I loved exploring the Bondi area; it was always so sunny and busy.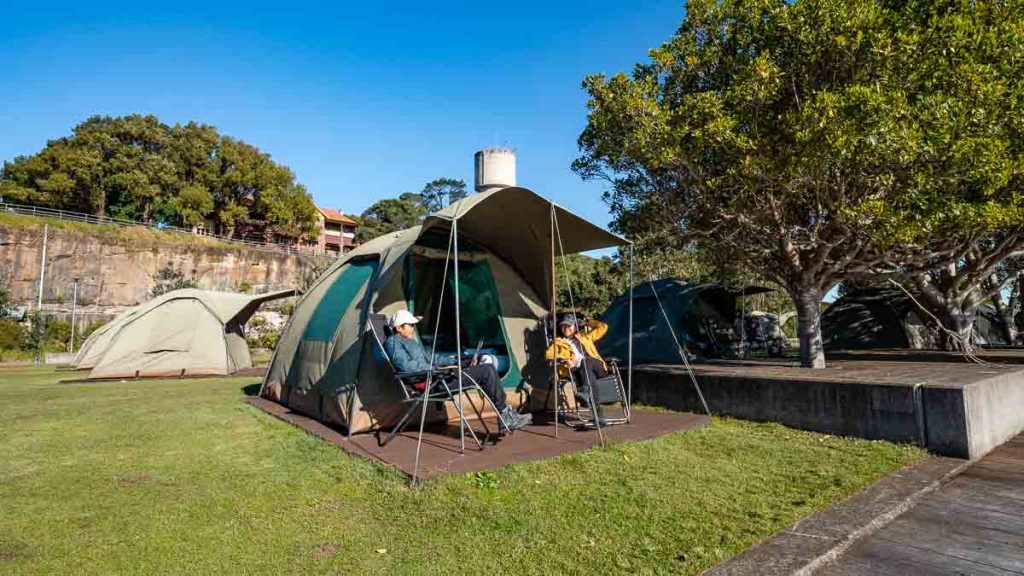 Take a break from city life by going glamping at Cockatoo Island — located right in Sydney Harbour! This UNESCO World Heritage island was first established as a prison in 1839. Today, the island is an arts and cultural centre.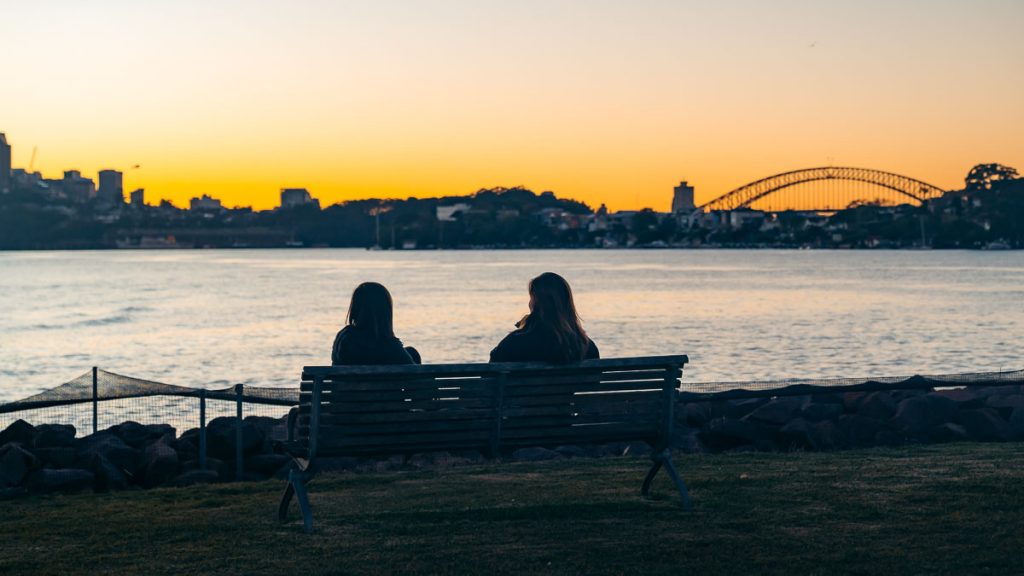 It was really fun exploring the island — visiting the old prison yards, playing old-school lawn games and catching a movie at the Campground Cinema. My personal highlight was the gorgeous sunrise and sunset set against the Sydney skyline!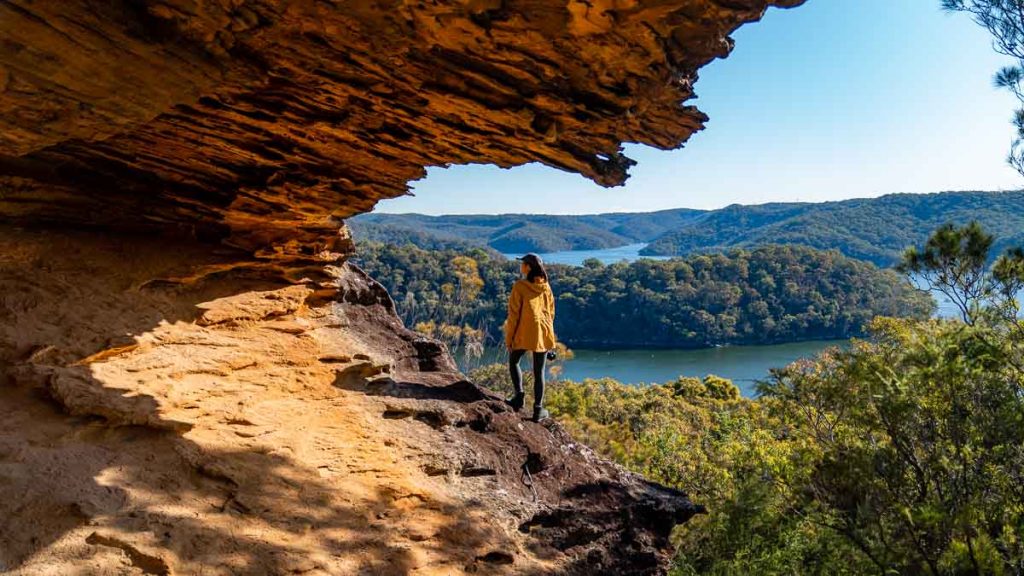 Time for a day trip out of the city! Drive to Ku-Ring-Gai Chase National Park, Australia's second oldest national park. There are several hiking trails, and we experienced the Topham Walking Track (3.7km return, 2hrs) and America Bay Walking Track (1.8km return, 1hr).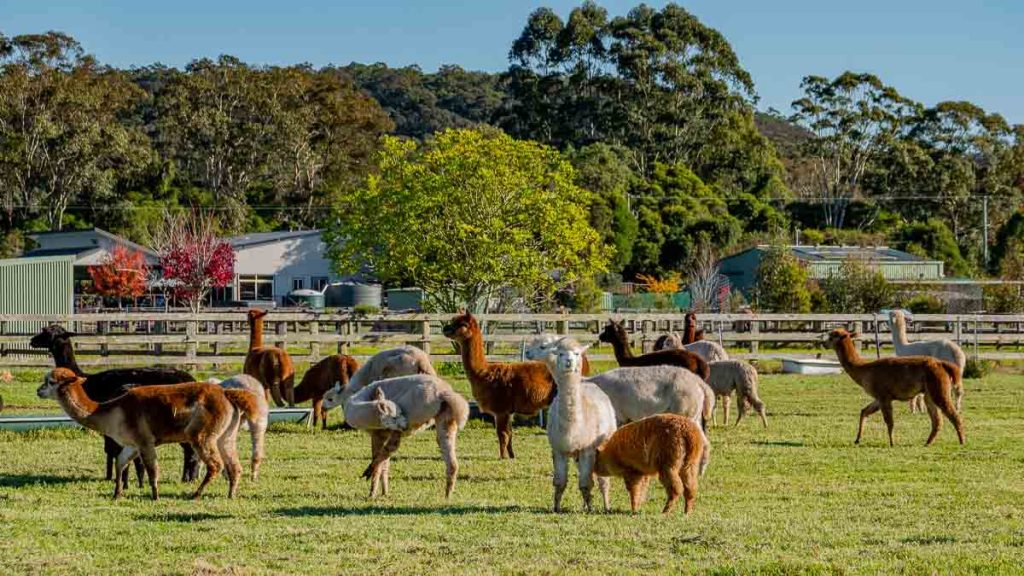 Over at the Central Coast, there's a wide range of activities. We had breakfast with fluffy alpacas, made our own cocktails in a foraging and mixology workshop, and caught a gorgeous sunset at Long Jetty.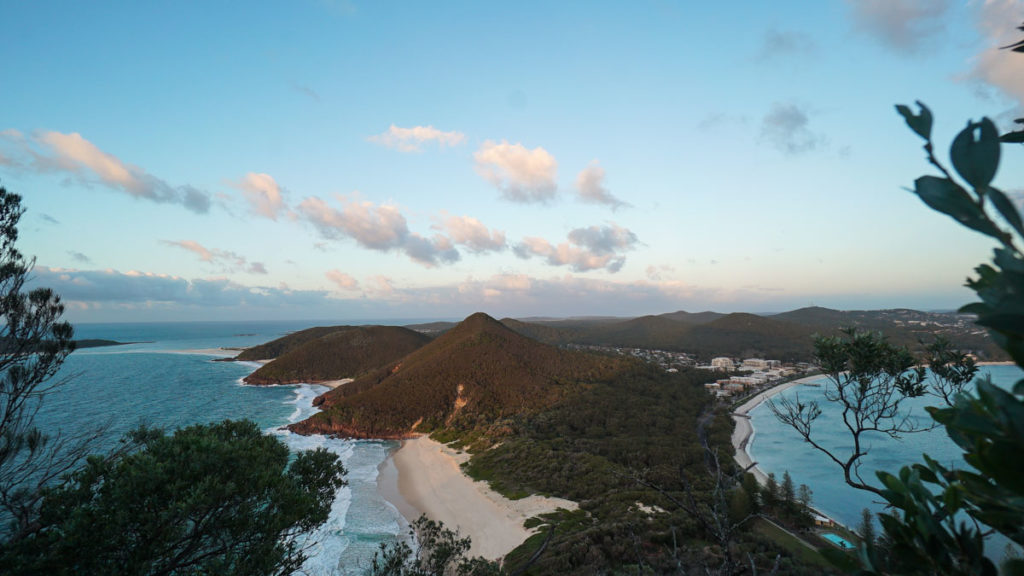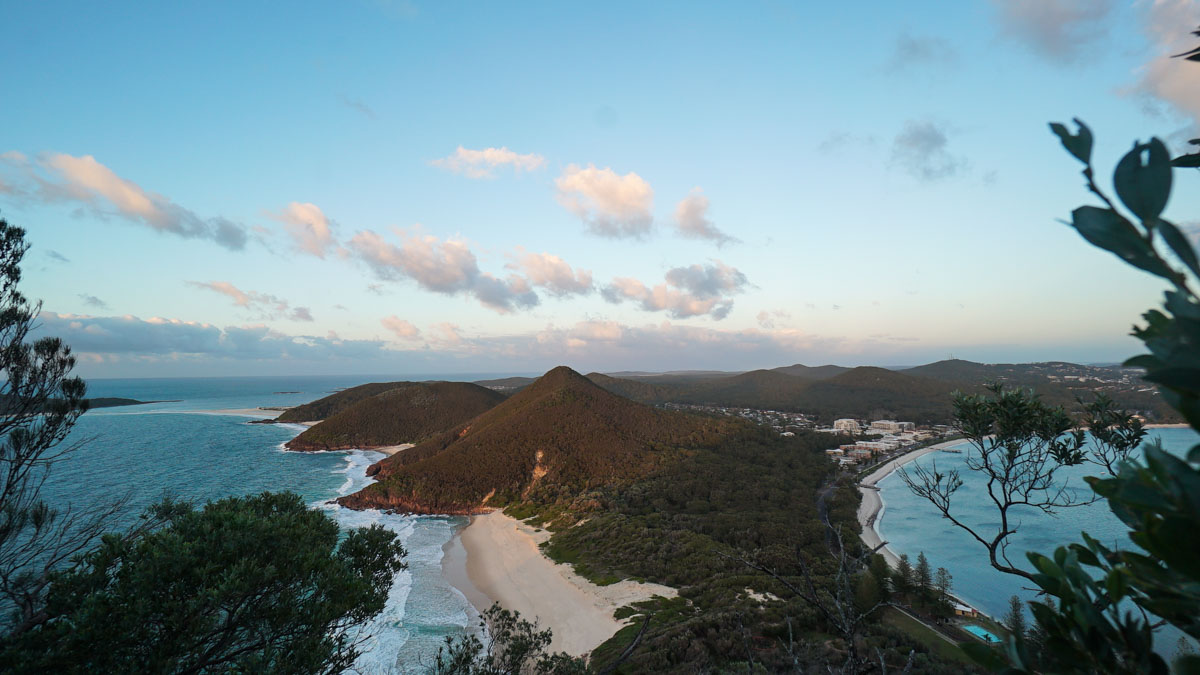 For more adventure, drive further north to Port Stephens. Hike the Tomaree Head Summit Walk (2.2km return, 1.5hrs), go quad biking along the Stockton Sand Dunes and experience a dolphin and whale watching tour. The area is home to around 100 bottlenose dolphins!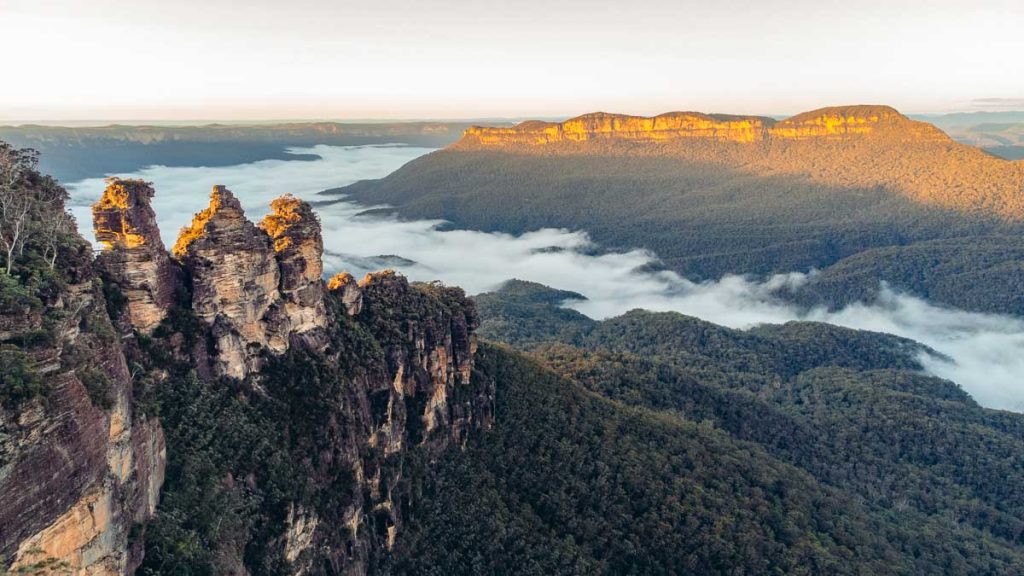 It's not really a New South Wales road trip without including the Blue Mountains. There are dozens of bushwalking trails here, and we opted for the Prince Henry Cliff Walk (7km one-way, 3.5hrs) which passes by landmarks like the Three Sisters.
Besides hiking, the Blue Mountains is a haven for outdoor activities — canyoneering, rock climbing, abseiling and stargazing!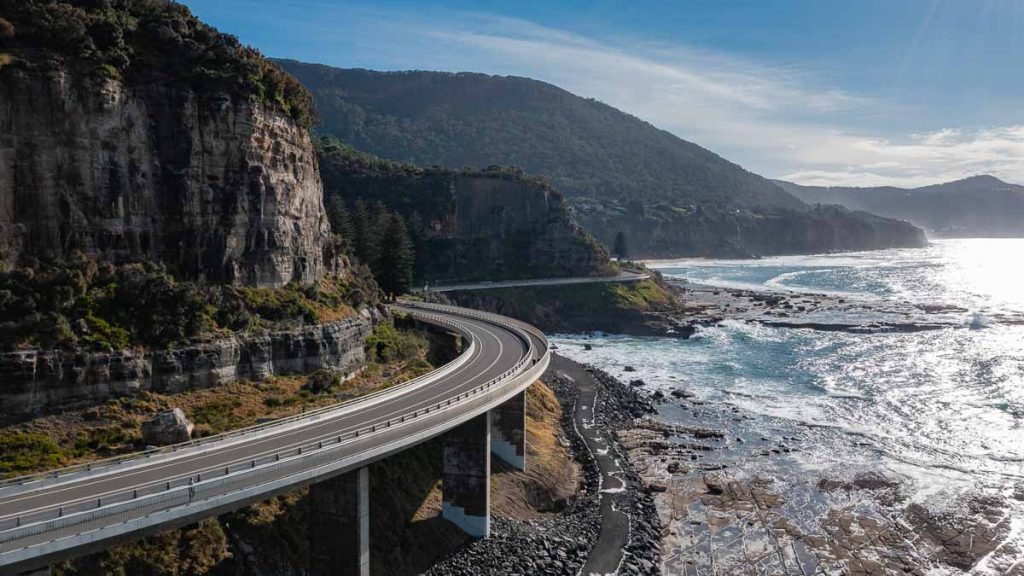 The last stop on our New South Wales road trip is the stunning South Coast and Southern Highlands — home to gorgeous Grand Pacific Drive, Jervis Bay and more!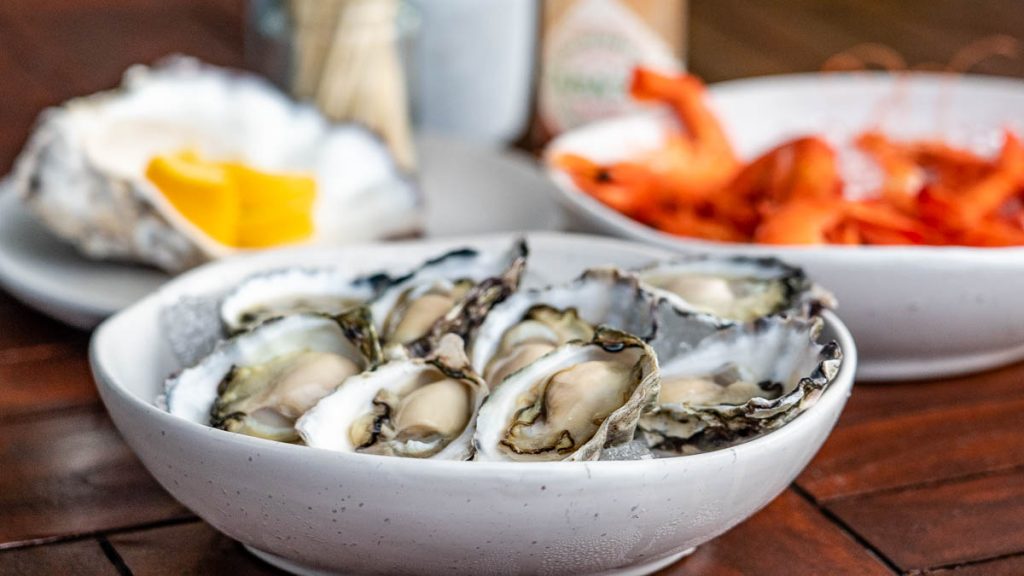 Enjoy a BOOM trike tour across the Sea Cliff Bridge, spot Aussie natives at Symbio Wildlife Park, take on Australia's highest zipline, feast on fresh oysters (these were incredible) and skydive at Wollongong!
Check out the full itinerary: 13D Best of New South Wales Itinerary — Hidden Gems and Epic Getaways From Sydney Under S$2.3k
5) 11D San Francisco to Los Angeles Road Trip
Route: San Francisco – Yosemite – Monterey – Carmel – Big Sur – Cambria – Morro Bay – Los Angeles
Highlights: Golden Gate Bridge, Yosemite National Park, Universal Studios Hollywood
Best time to visit: Sep – Nov
The Golden Gate Bridge, Yosemite National Park, and the gorgeous sunshine of Los Angeles are iconic sights you can expect on this San Francisco to Los Angeles road trip.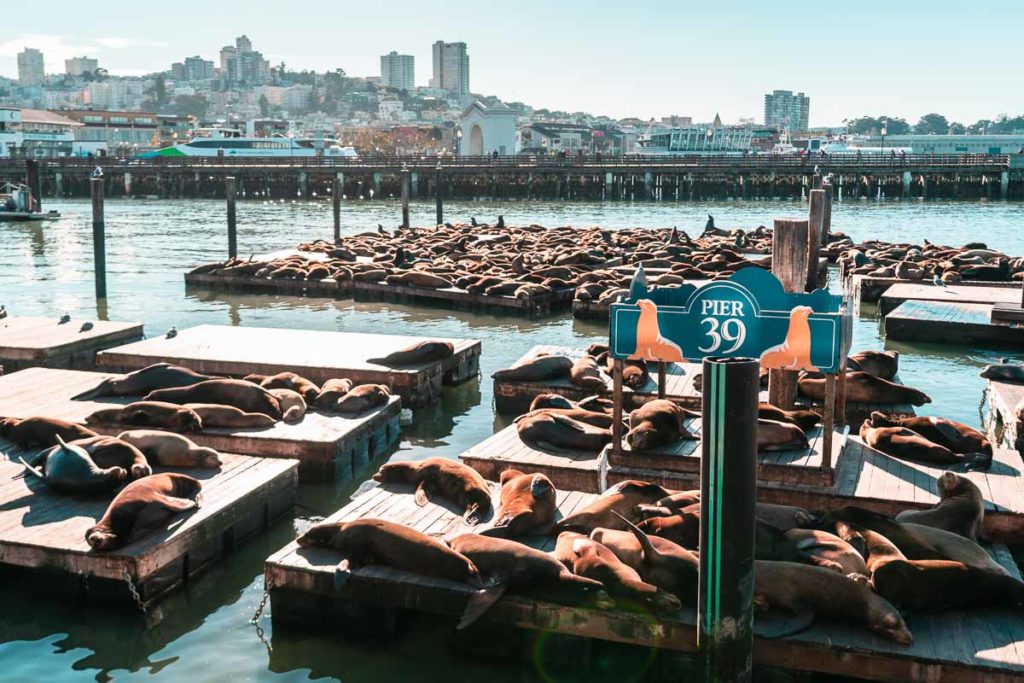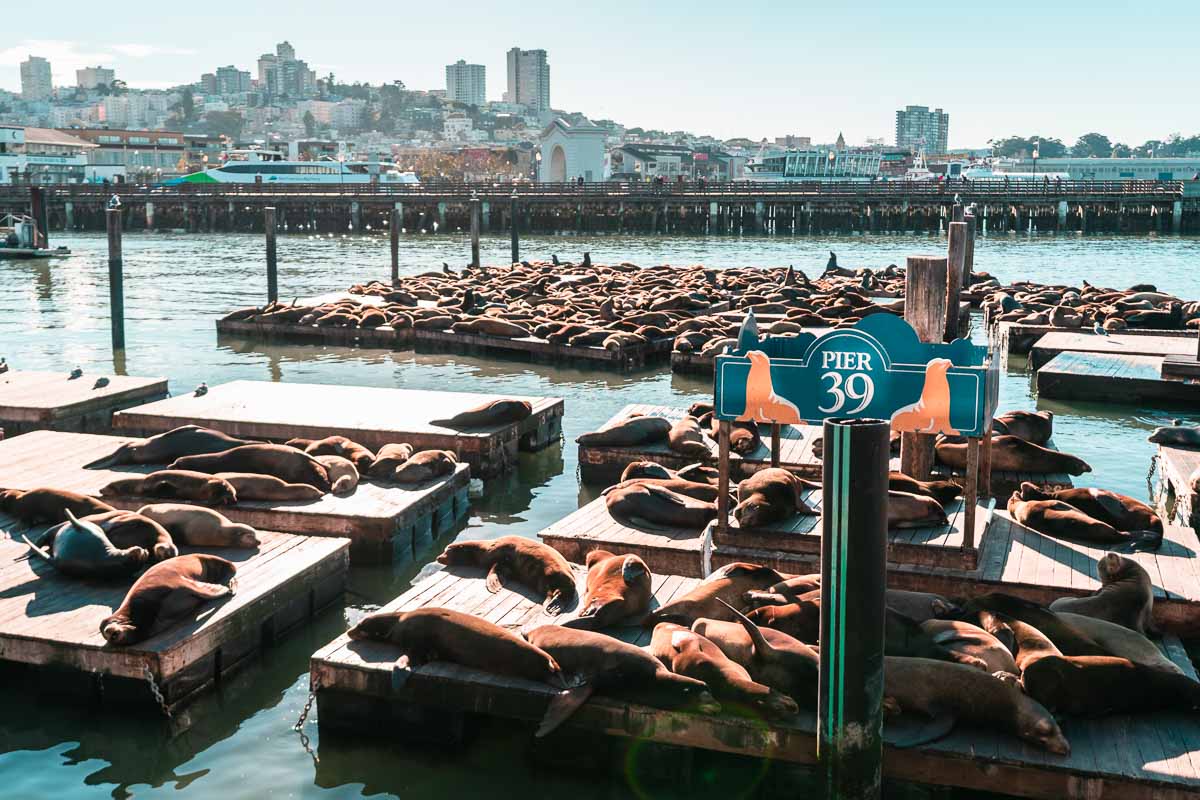 Start in San Francisco — navigate the city in a GoCar, visit the Bay Area for Alcatraz Island and Pier 39 and check out local spots like the Ferry Building Marketplace.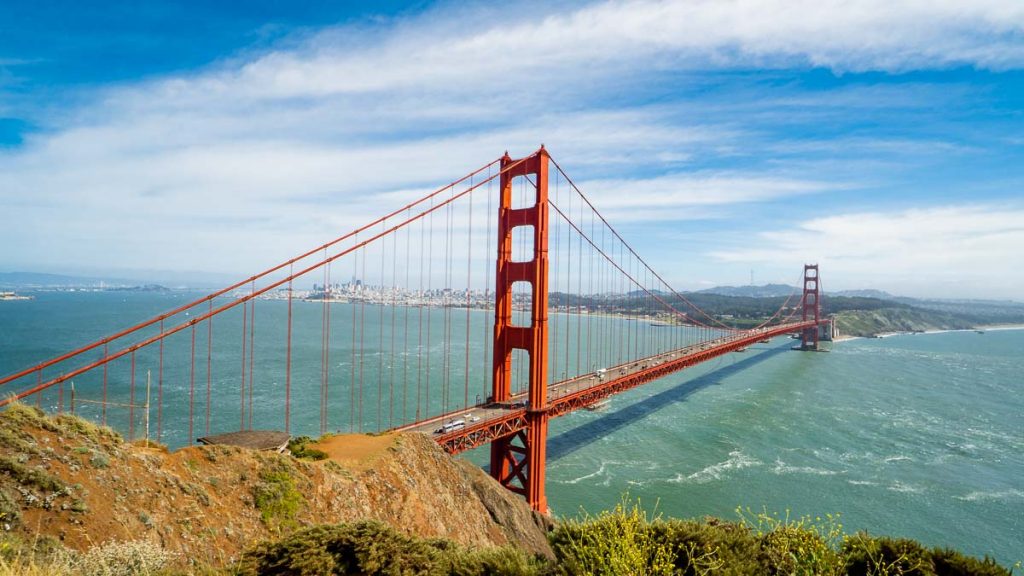 We then rented a car to explore attractions that are further away. Like the Walt Disney Family Museum, California Academy of Sciences and Castro District (one of the oldest gay neighbourhoods in the US).
Before leaving San Francisco, drive up to the lookout at Battery Spencer for a panoramic view of the Golden Gate Bridge!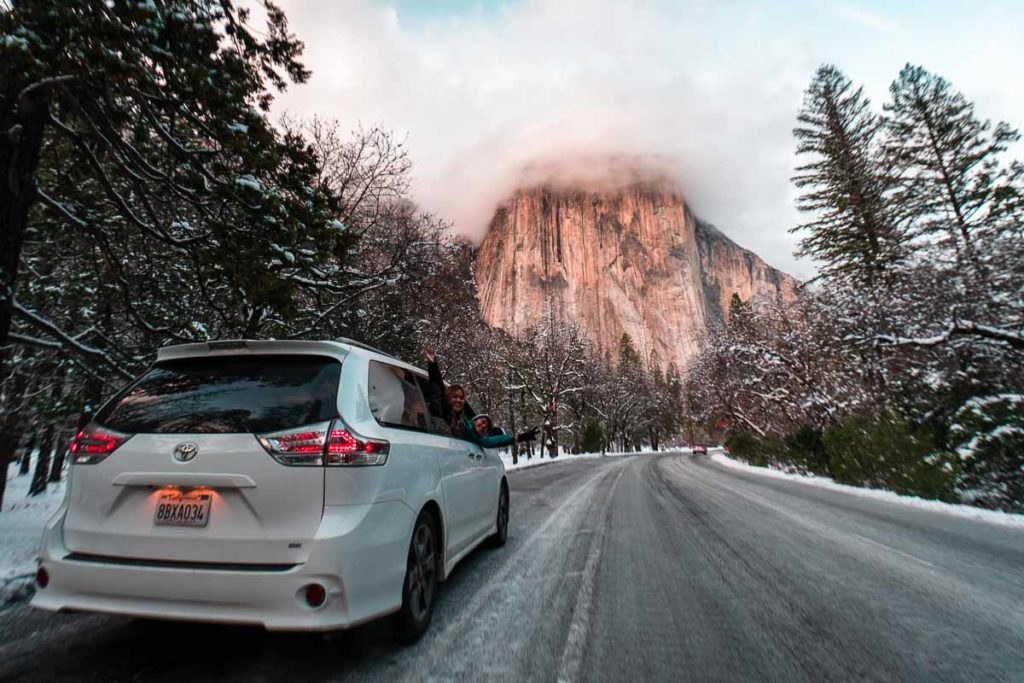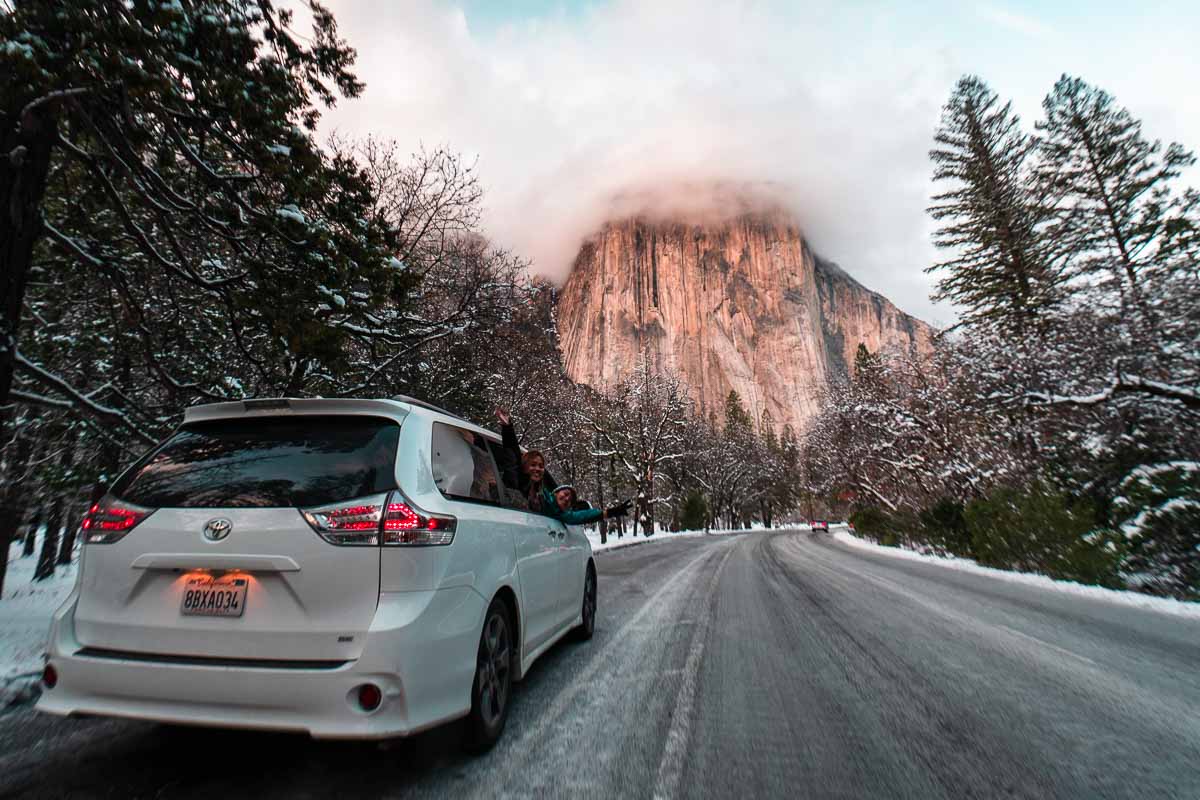 Driving out to Yosemite National Park is no doubt a bucket list-worthy road trip. It's over four times the size of Singapore, so having a car is definitely useful.
There's so much to do in Yosemite, like seeing the world's largest trees or hiking to the base of the thundering Yosemite Falls. We also snapped photos of El Capitan — you might recognise it as the desktop wallpaper for OS X El Capitan!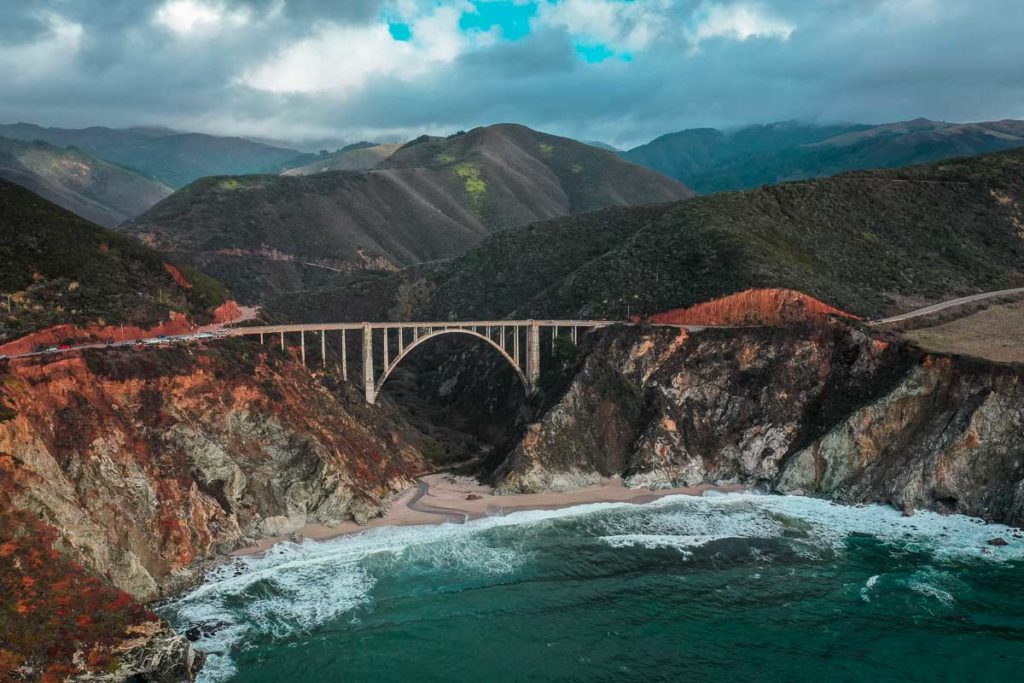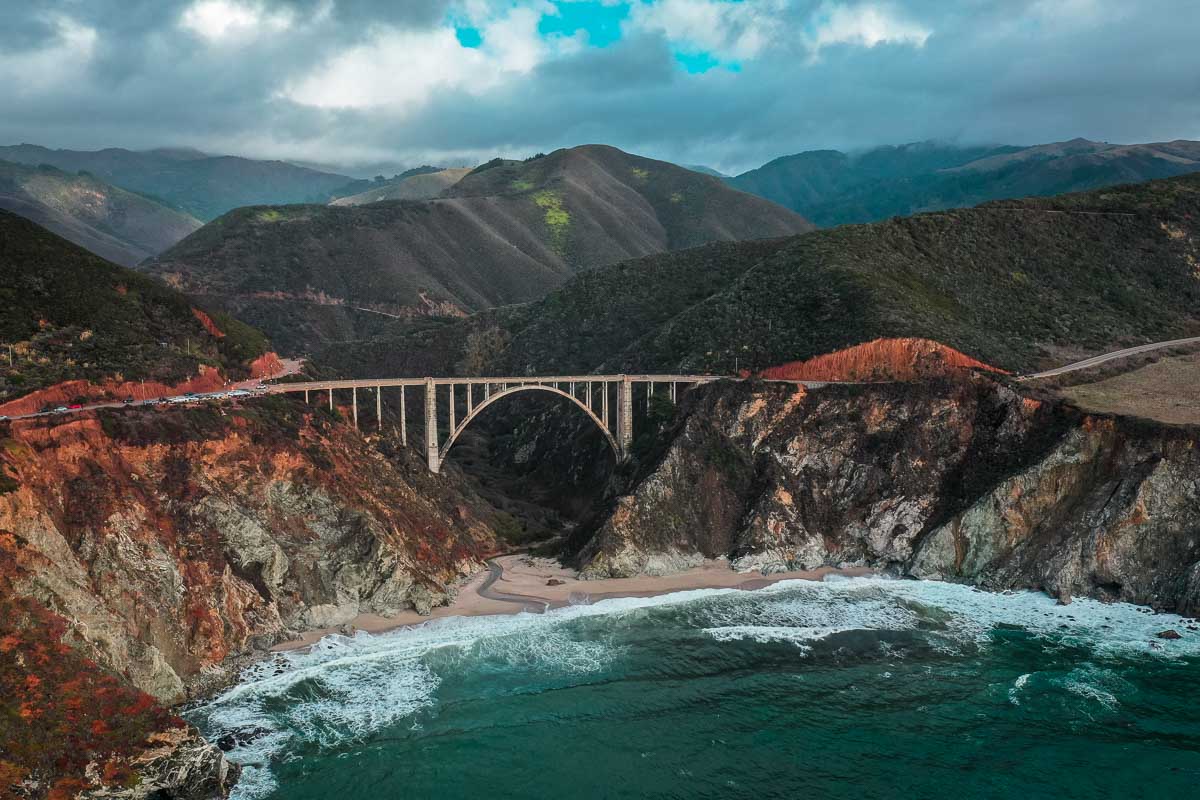 Next, Big Sur — a gorgeous stretch of rugged coastline! Stop by Bixby Creek Bridge (above), one of the most photographed spots in Big Sur. Another highlight of our USA road trip is spotting elephant seals gathered on the beach in San Simeon!
On the way to Los Angeles, check out Moonstone Beach Boardwalk, Morro Rock and Black Hill in Morro Bay State Park.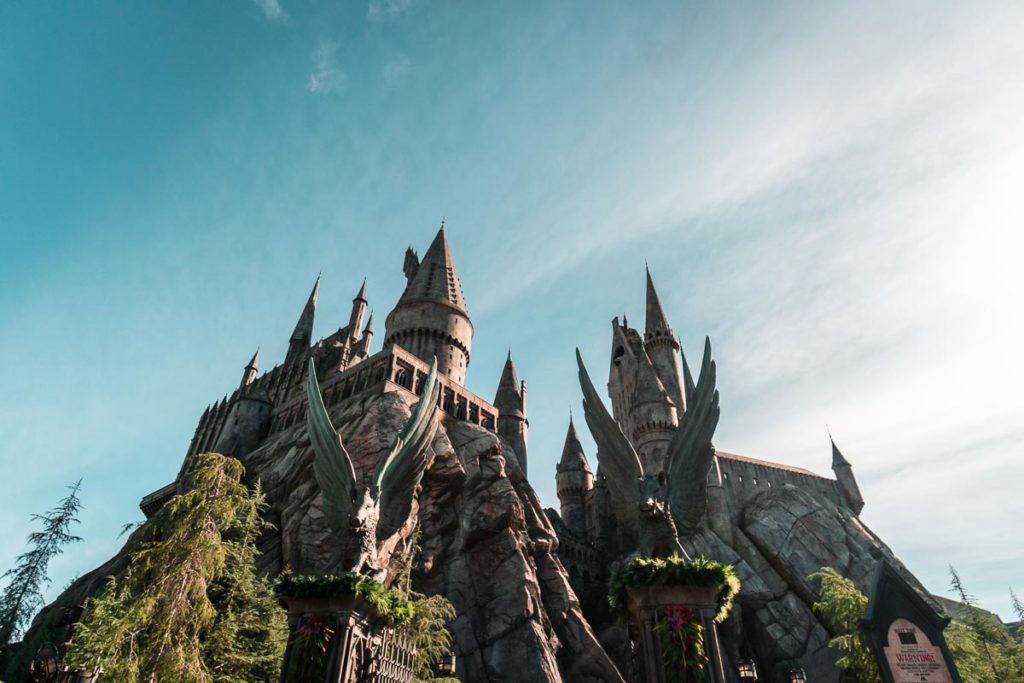 Spend the last three days enjoying everything Los Angeles has to offer! Experience the Warner Bros. Studio Tour and get your fill of adrenaline at Universal Studios Hollywood.
Check out the full itinerary: 11-Day San Francisco to Los Angeles Road Trip Itinerary
4) 10D Tasmania Road Trip
Route: Hobart – Tasman National Park – Maria Island – Freycinet National Park – Bay of Fires – Derby – Launceston – Cradle Mountain-Lake St Clair National Park – Launceston
Highlights: Unique wildlife, Southern lights
Best time to visit: Dec – Feb (summer, best for outdoor activities)
If you love untouched landscapes and rich wildlife, a Tasmania road trip should be next on your list.
There are 18 incredible national parks in Tasmania and over 40% of the country is marked as a world heritage area! These protected areas are also home to several endemic species like the Tasmanian devil and Eastern quoll.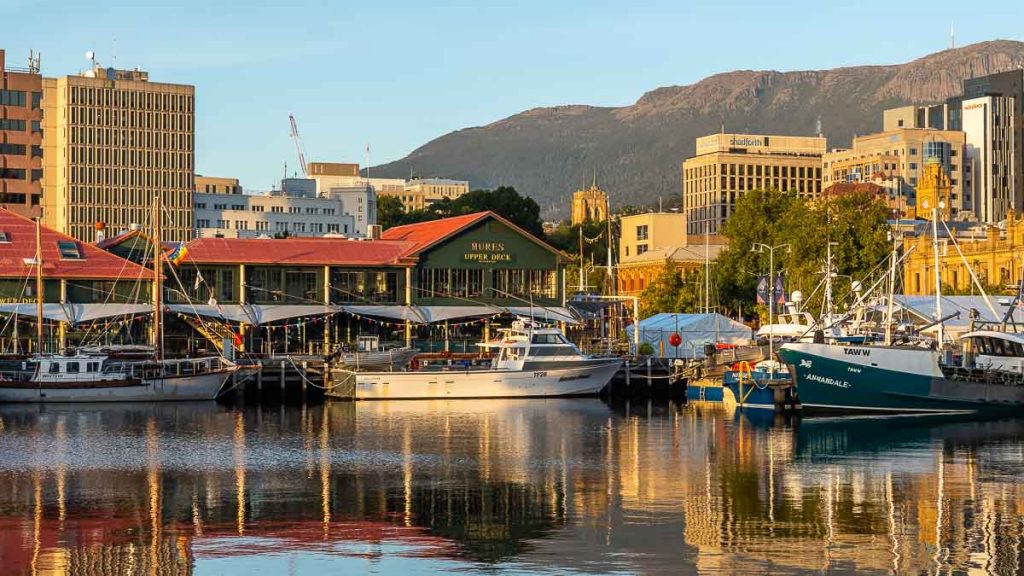 Our first stop was Hobart, Tasmania's seaside capital. We visited Bonorong Wildlife Sanctuary (Tasmania's largest 24/7 rescue service), where we learnt about Tasmanian devils, wombats and sugar gliders!
Fun fact that I didn't know prior to visiting — wombats can run up to 40km/hr. That's almost as fast as Usain Bolt!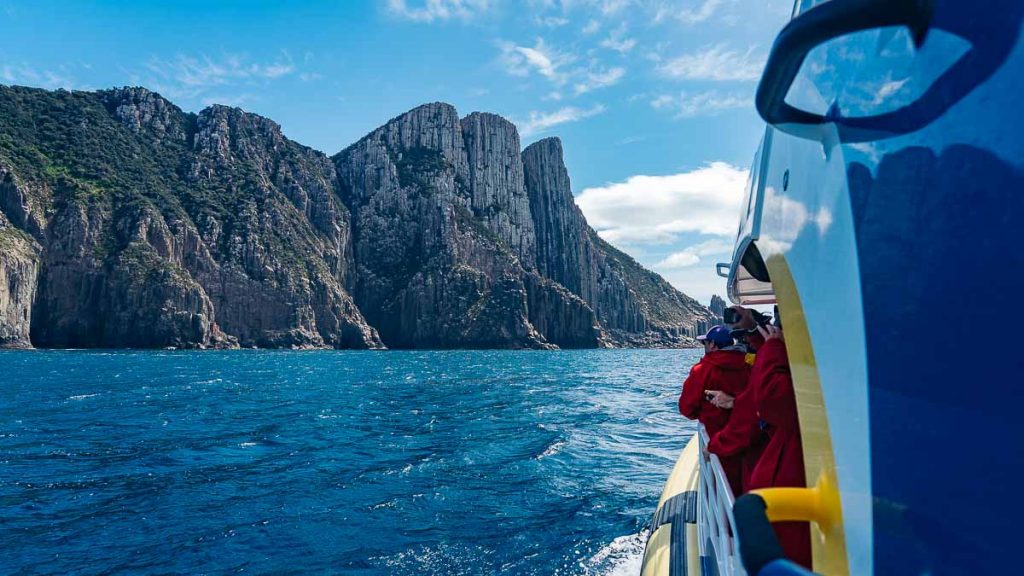 We took a wilderness cruise around Tasman National Park, which covers the southeastern Tasmania coastline. The whole park felt very much alive — seals diving from rocks, sea birds circling for fish, and dolphins playfully leaping out of the ocean.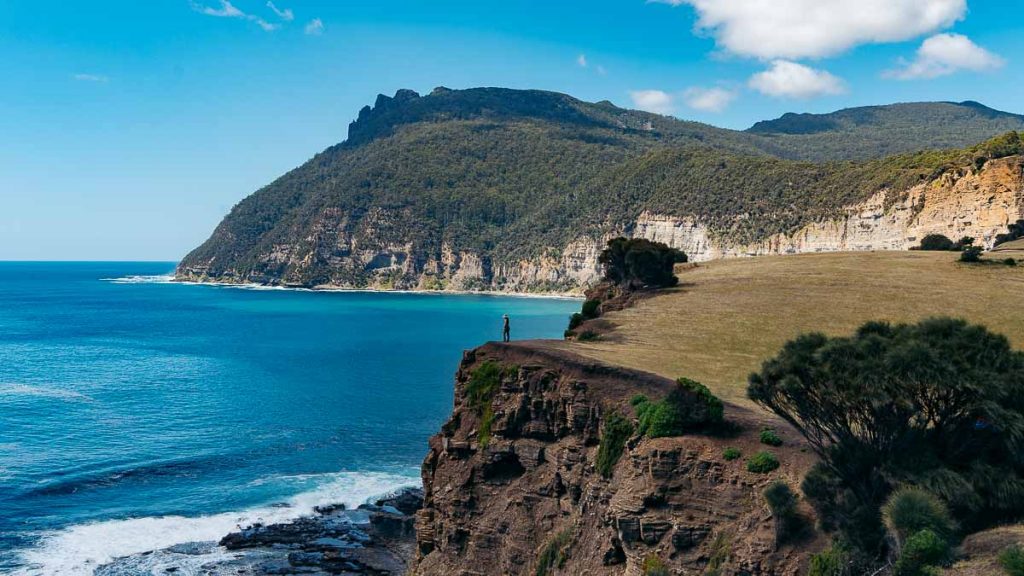 My favourite memory of our Tasmania road trip was our day trip to Maria Island. It's a beautiful national park that's home to kangaroos, wallabies, Tasmanian devils and over 2,000 wombats!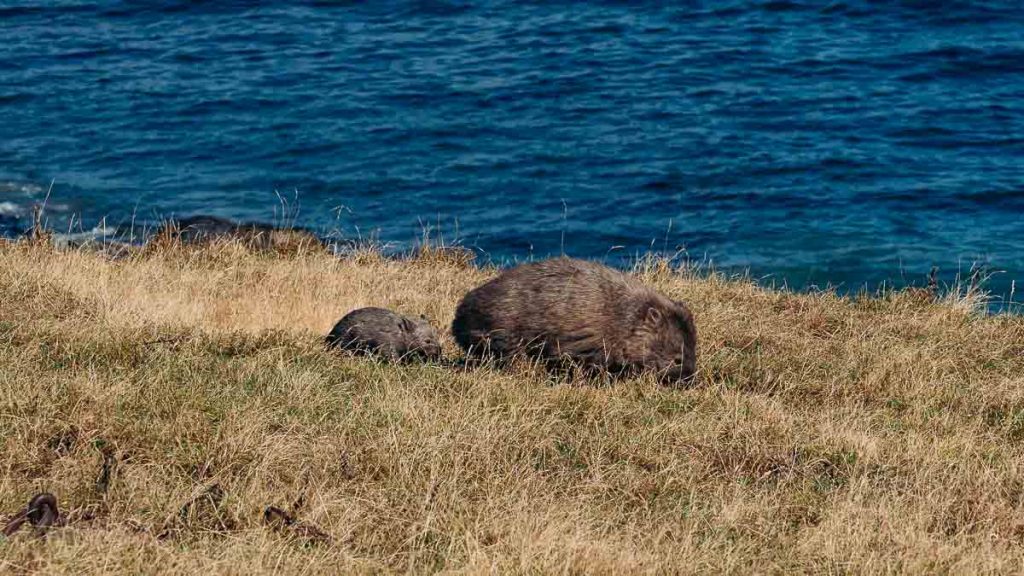 To see the island, there are several short walks like the Painted Cliffs (2hrs, 4.3km) and Bishop and Clerk (5hrs, 11km). Just 10 minutes into our walk, we saw a mother and baby wombat — few things are more adorable than this.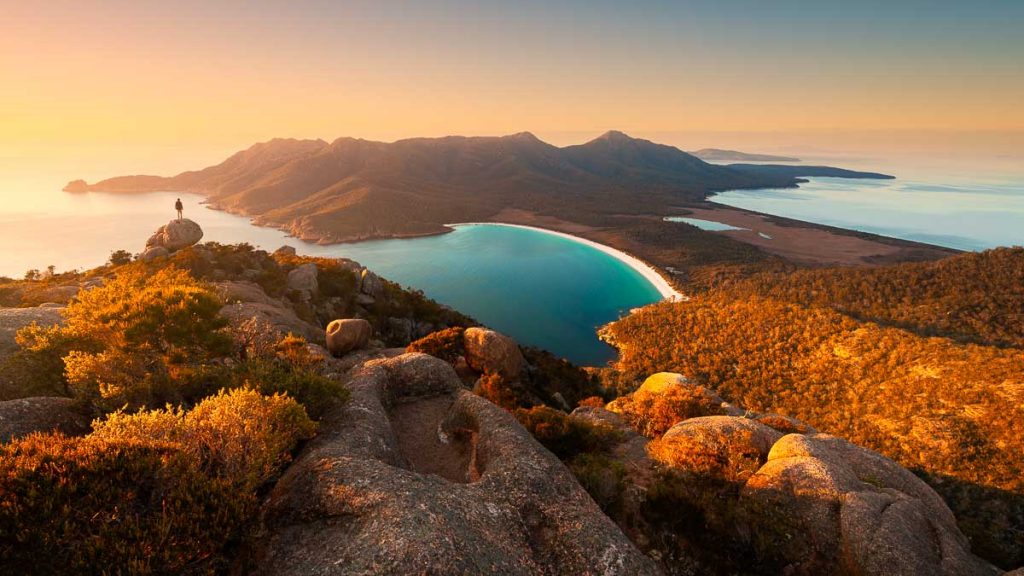 Photo credit: Matthew Donovan
Another must-see is Freycinet National Park, where you'll find Wineglass Bay — a stunning curved beach framed by granite peaks. If you've got time to spare, take on the Wineglass Bay and Hazards Beach Circuit (11km, 5hrs) or Mount Amos Trek (3.6km, 3hrs).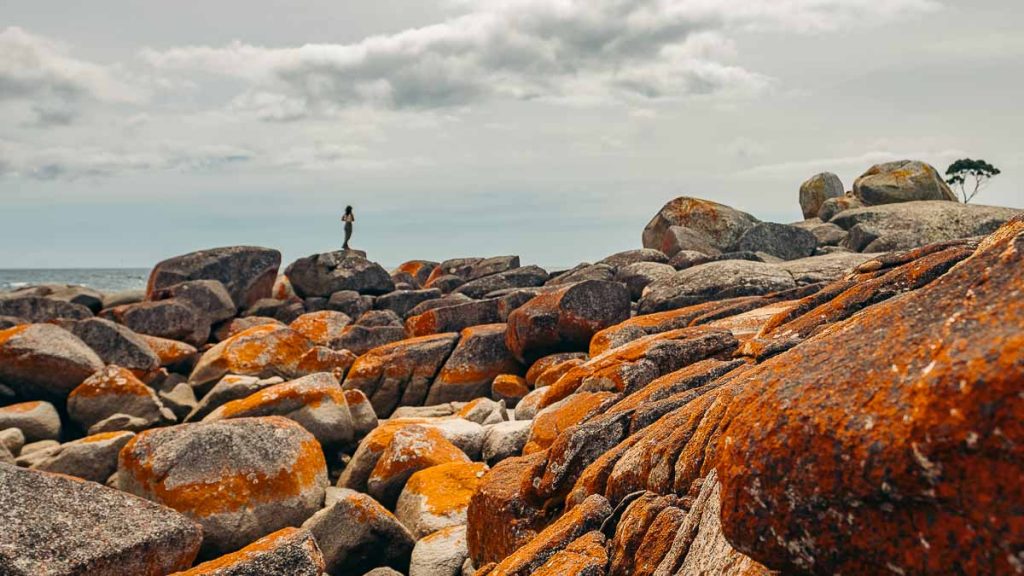 Drive further south to Binalong Bay, the main beach along the Bay of Fires. The boulders along this coastline have a unique orange shade, caused by lichen (a type of algae)!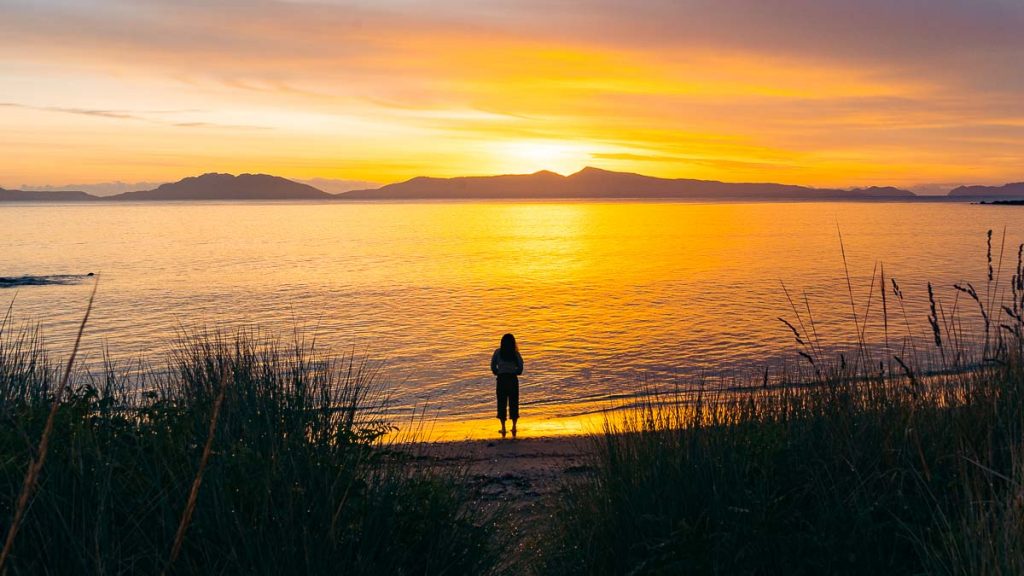 Catching incredible sunrises almost daily was another highlight of this road trip — this photo was taken along the private beach at Piermont Retreat!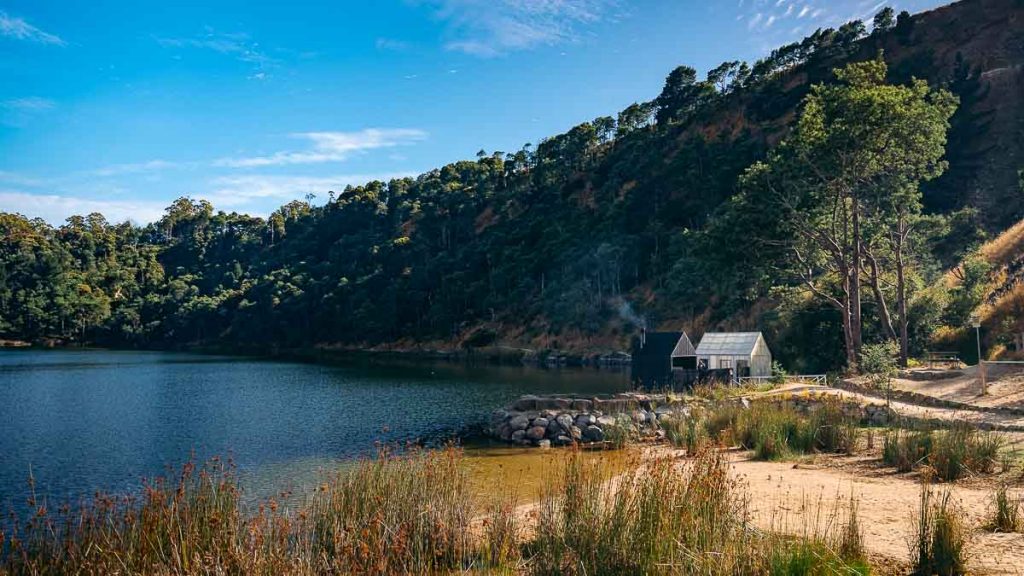 Derby is a former tin-mining hub turned world-class biking destination! Go mountain biking on Derby's 125km-long network of biking trails, visit lesser-known hiking spots, then wind down at Australia's only floating wood-fired sauna.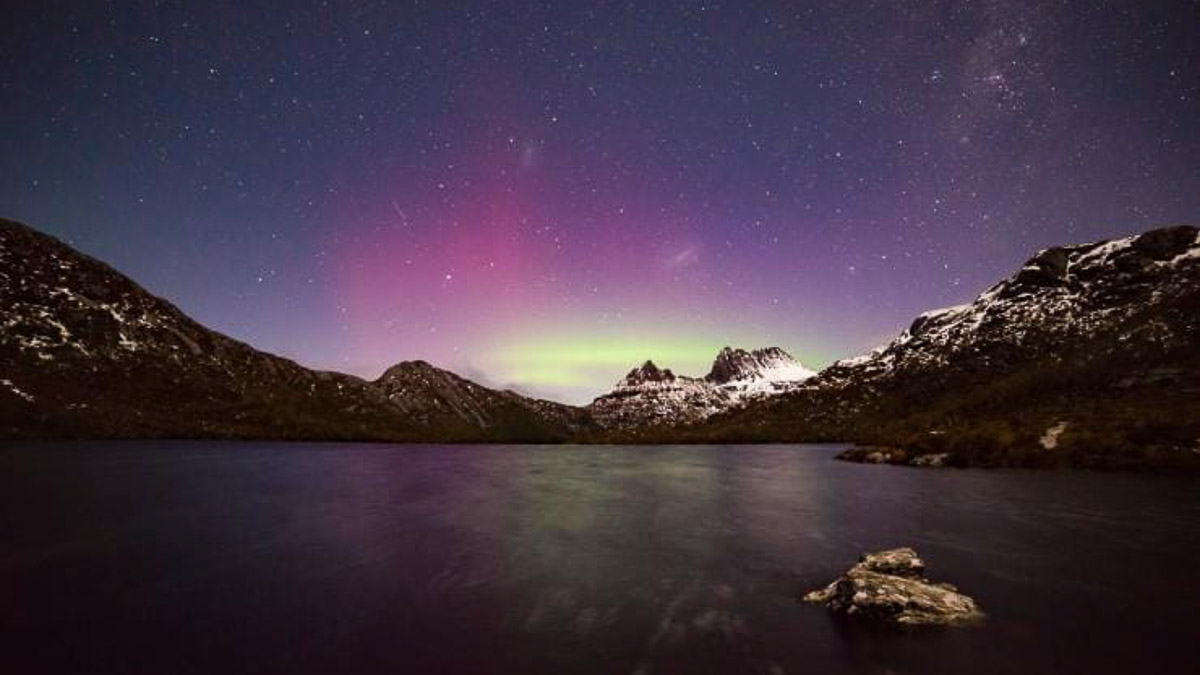 Photo credit: Tourism Australia
Cradle Mountain-Lake St Clair National Park is one of Tasmania's most gorgeous national parks — take on the Dove Lake Circuit (6km, 3hrs) or Crater Lake Circuit (5.7km, 2hrs) to see it!
This Tasmania road trip ends at Launceston, one of Australia's two UNESCO Cities of Gastronomy.
Check out the full itinerary: 10D Tasmania Itinerary — A Road Trip for Adventure Seekers
3) 10D Catalonia Spain Road Trip
Route: Barcelona – Tarragona – Montserrat – Girona – Figueres – Barcelona
Highlights: La Sagrada Familia, Skydiving, Ferrari Land, Montserrat
Best time to visit: Mar – Apr and Sep – Oct (shoulder seasons, less crowded)
Thrill-seekers, outdoor lovers, history buffs and those who live to eat — this epic Catalonia road trip will tick all your boxes.
Like most first-timers to Spain, my knowledge of Catalonia was limited to its capital Barcelona. But 10 days exploring Barcelona, Girona, Tarragona and Lleida showed me there's so much the region has to offer.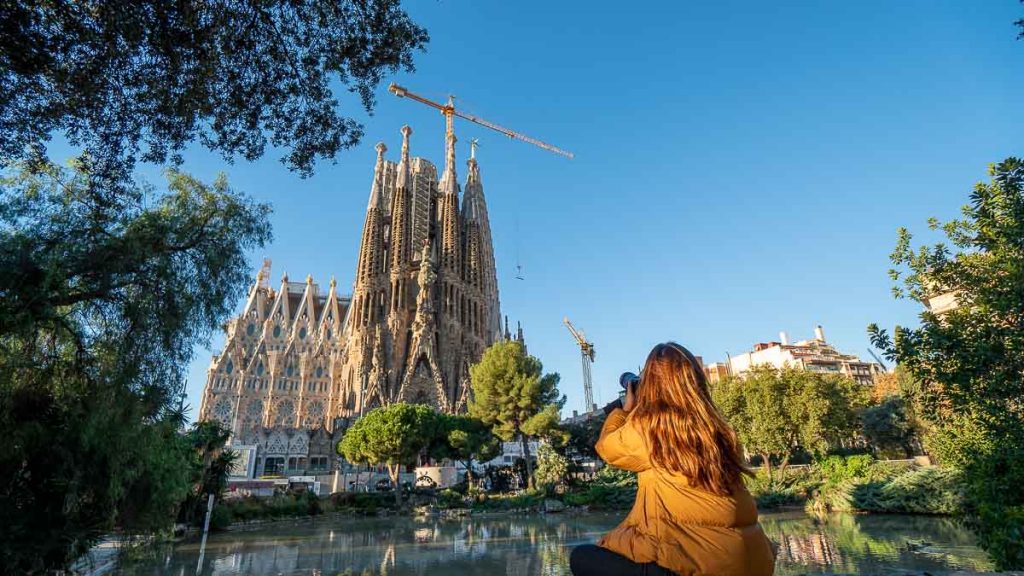 Barcelona was one of the most vibrant and cultural cities we've been to so we've recommend spending at least three days here.
Marvel at Gaudí's incredible works (La Sagrada Familia, Park Güell, Casa Batlló and more!), feast on Catalan tapas and visit Tibidabo Amusement Park — a 120-year old theme park with the best views of the city.
Read also: 16 Best Things to Do in Barcelona Besides the La Sagrada Familia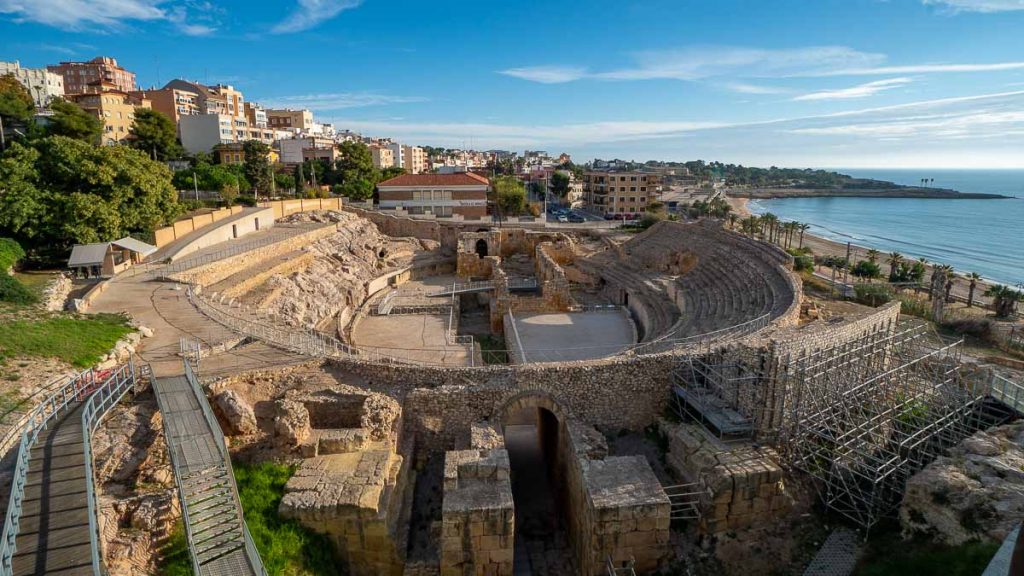 Embark on the road trip portion of this Catalonia itinerary and drive south to Tarragona. It was the first Roman stronghold in Spain, dating back to 218 BC!
Visit restored ruins like the Tarragona Amphitheatre (the scene of bloody gladiator fights) and the Les Ferreres Aqueduct (which used to supply Tarragona with water).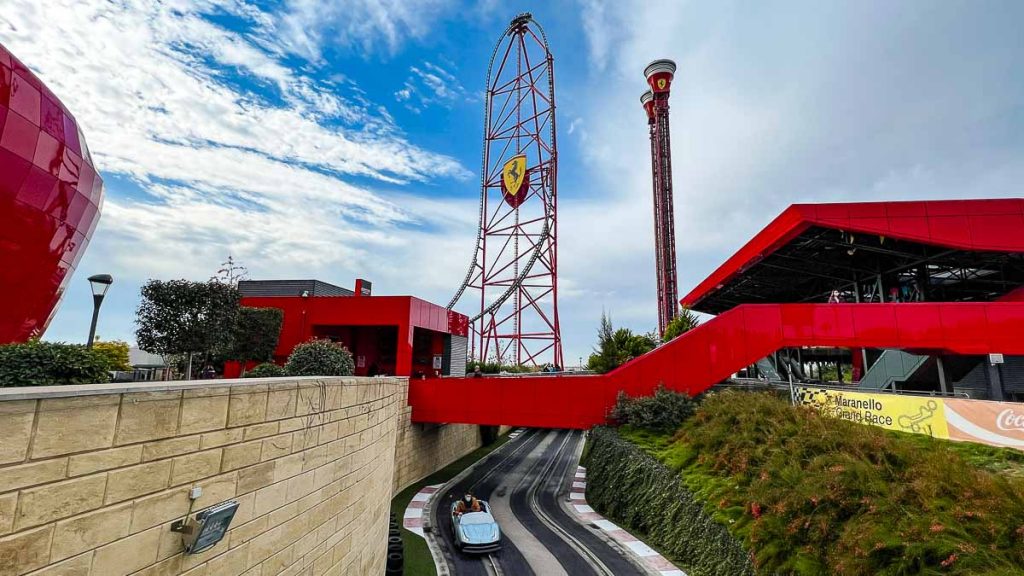 After a taste of history, zip into the future on thrilling rides at PortAventura Park and Ferrari Land! 🏎️ The main attraction is Red Force, which stands at an intimidating 112m and goes from 0 – 180km/hr in just five seconds.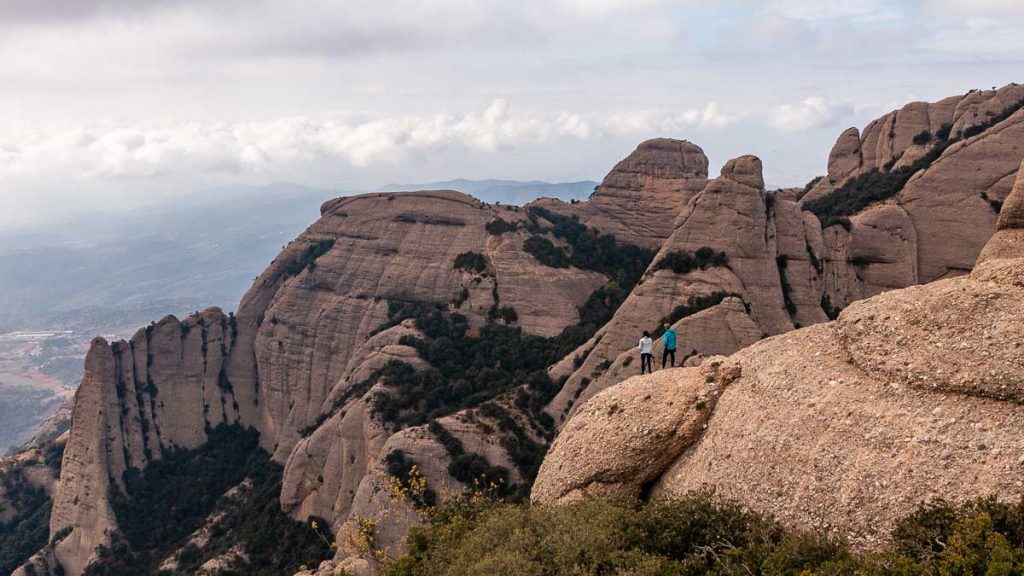 The next stop on our Catalonia road trip is Montserrat! It translates to "serrated mountain" in Catalan and is Catalonia's most recognised landscape. There are two main things to do in Montserrat — visit Montserrat Monastery and hike up Montserrat's Peak, Sant Jeroni.
It was foggy during our hike, but I'm glad we persisted because it cleared up when we reached the top!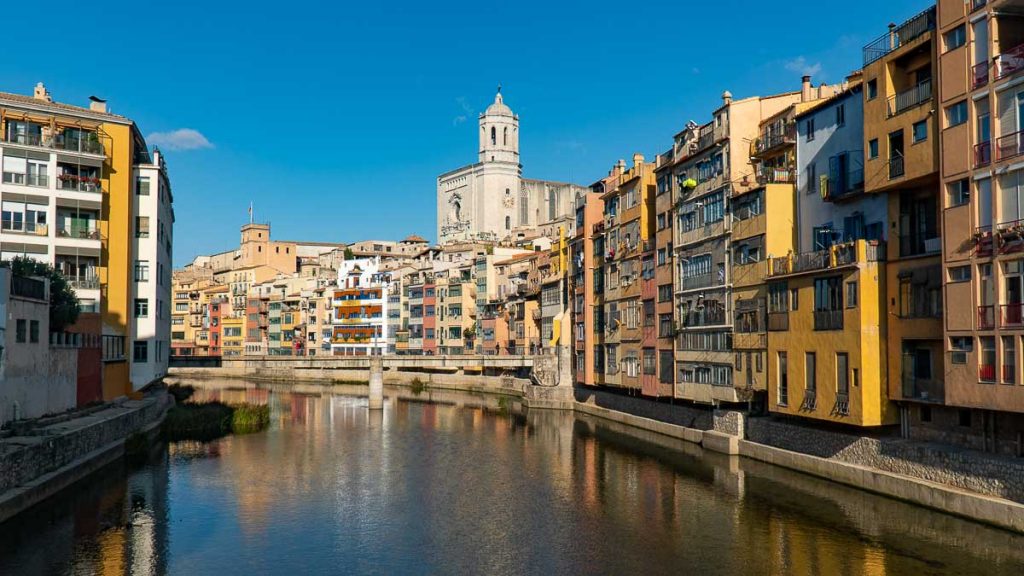 We then drove to Girona, where we began our tour of the province at Girona Old Town. Admire colourful houses along the River Onyar, then visit iconic Game of Thrones filming spots like Girona Cathedral and Sant Marti Sacosta church.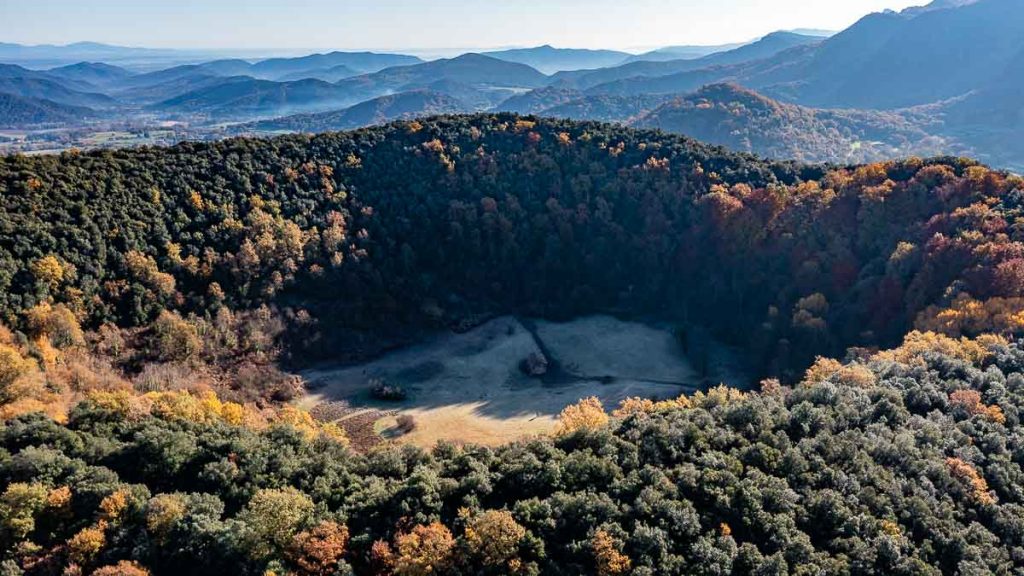 Venture out of the city to the stunning volcanic region of Garrotxa! There are a few ways to explore the area — like a hot air balloon ride or hiking through the dormant Santa Margarida Volcano.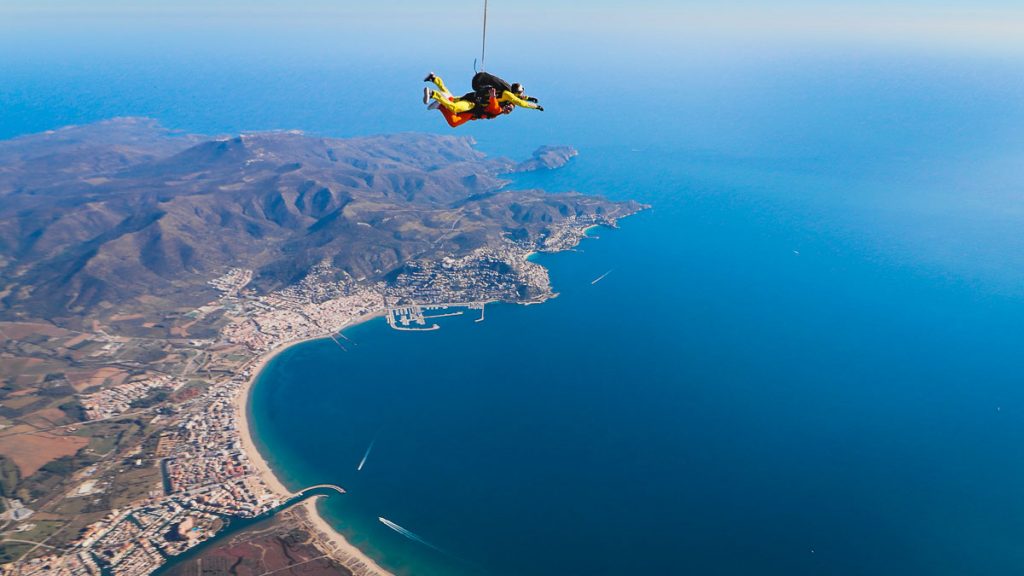 Drive on to Empuriabrava, where the curved coastline and blue waters make it a fantastic place to go skydiving. As someone who's afraid of heights, the views were a great distraction — I couldn't think of a better place to tick skydiving off my bucket list!
The last stop on our Catalonia road trip (before heading back to Barcelona) is Figueres. We went there specially for the eccentric Dali Theatre-Museum. For those who don't know, the masks in Money Heist were inspired by Dali!
Check out the full itinerary: 10D Road Trip Around the Best of Catalonia
2) 10D Iceland Camper Van Road Trip
Route: Reykjavík – Golden Circle and Secret Lagoon – South Coast and Glacier Hike – Vík – Hof – Stokksnes – Reykjahlíd – Akureyri – Snaefellsness Peninsula – Keflavik
Highlights: Northern lights, Secret Lagoon, Vatnajökull Ice Caves
Best time to visit: Jun – Aug (more daylight hours), Sep – Oct (fewer tourists, shorter days thus higher chance of seeing northern lights)
Blessed with otherworldly landscapes and sights, Iceland is the bucket list road trip. Catch the elusive northern lights, visit ethereal ice caves and black sand beaches — all in our Iceland camper van road trip!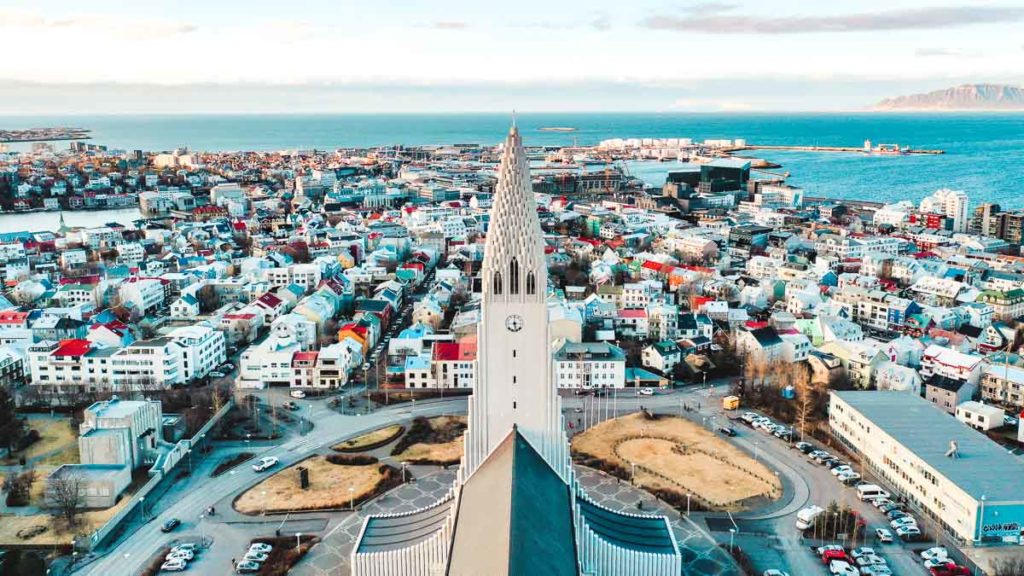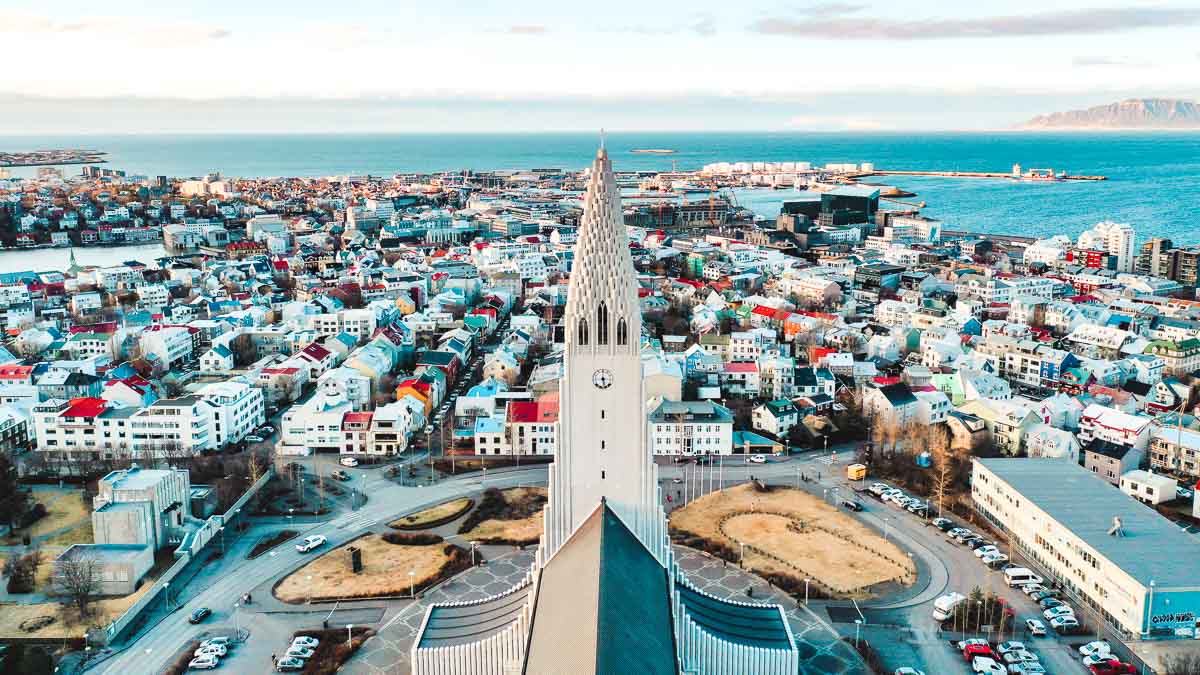 Fly into Reykjavík — the capital of Iceland and home to two-thirds of its population. Check off the city's landmarks like Hallgrímskirkja church and Harpa concert hall!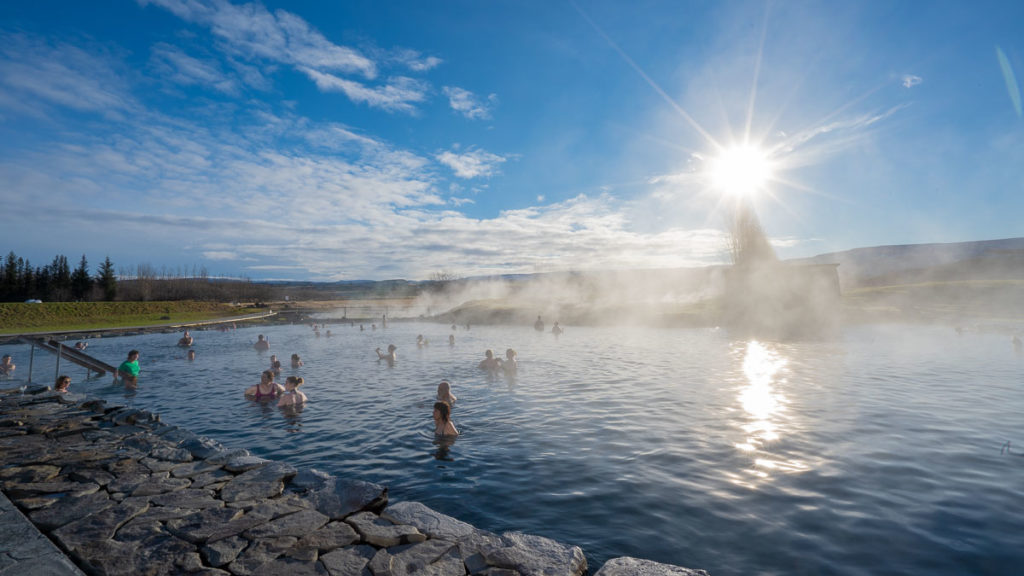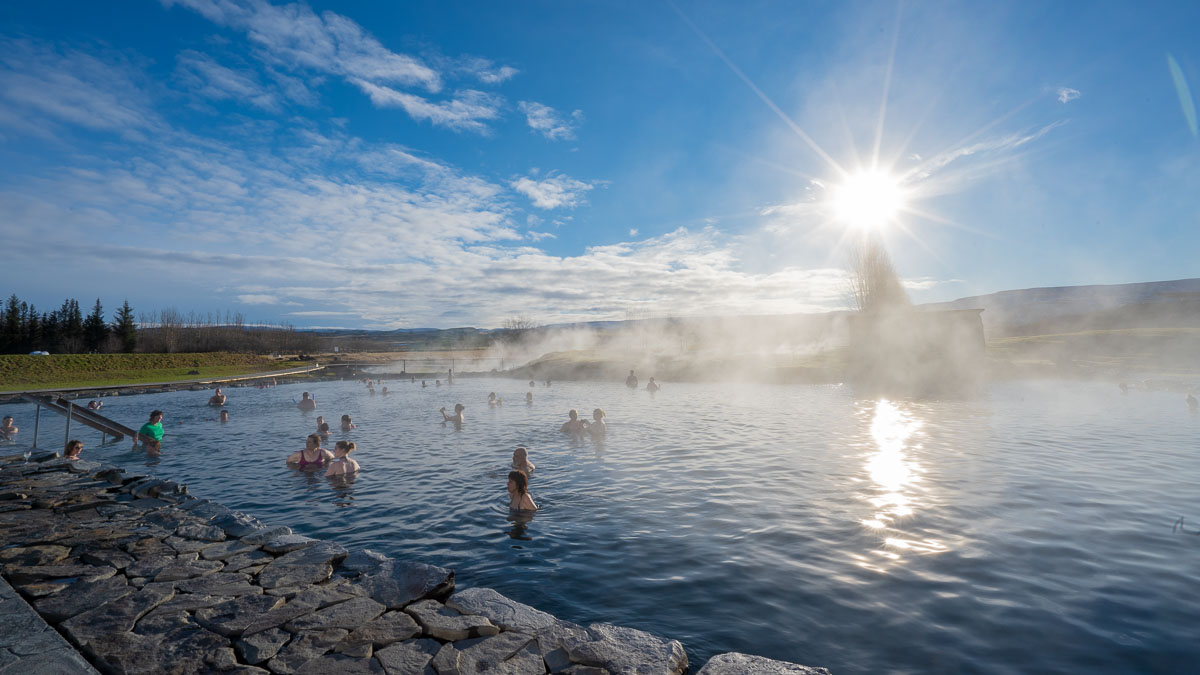 Take a day tour of Iceland's Golden Circle — a short drive from Reykjavík. See a 3000-year-old volcanic crater, soak in the Secret Lagoon and admire the mighty Gullfoss waterfall!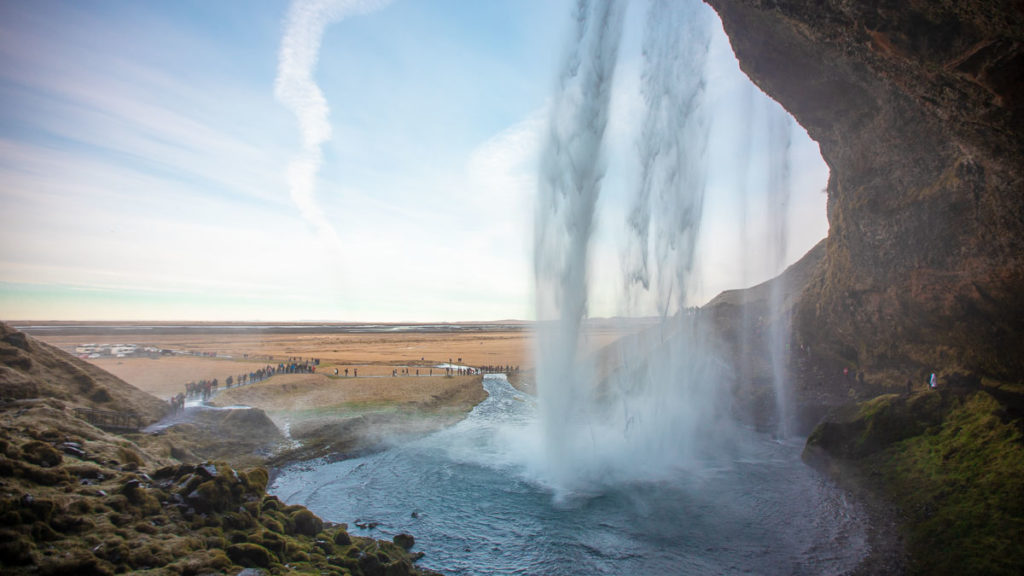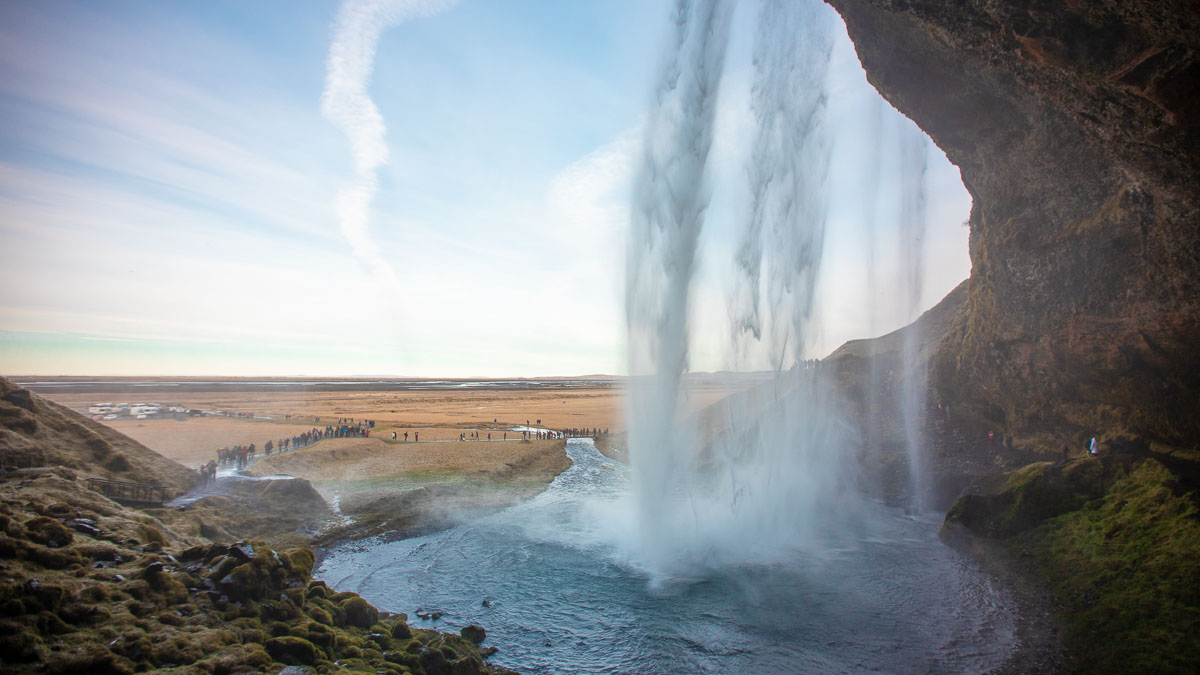 Next, head to Iceland's South Coast — we went on an epic glacier hike, visited the gorgeous Seljalandsfoss (above) and Skógafoss Waterfall and walked along Reynisfjara Black Sand Beach.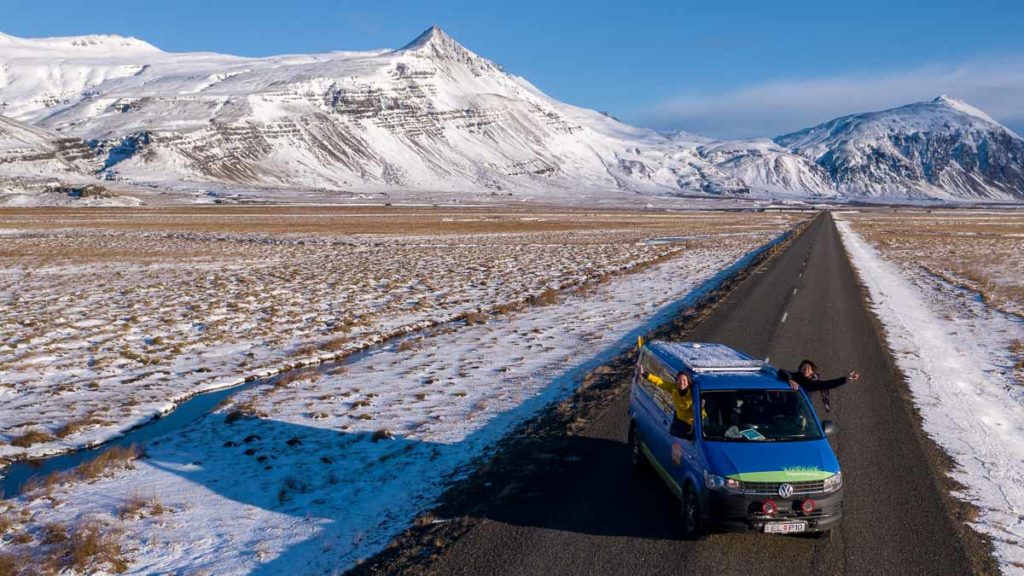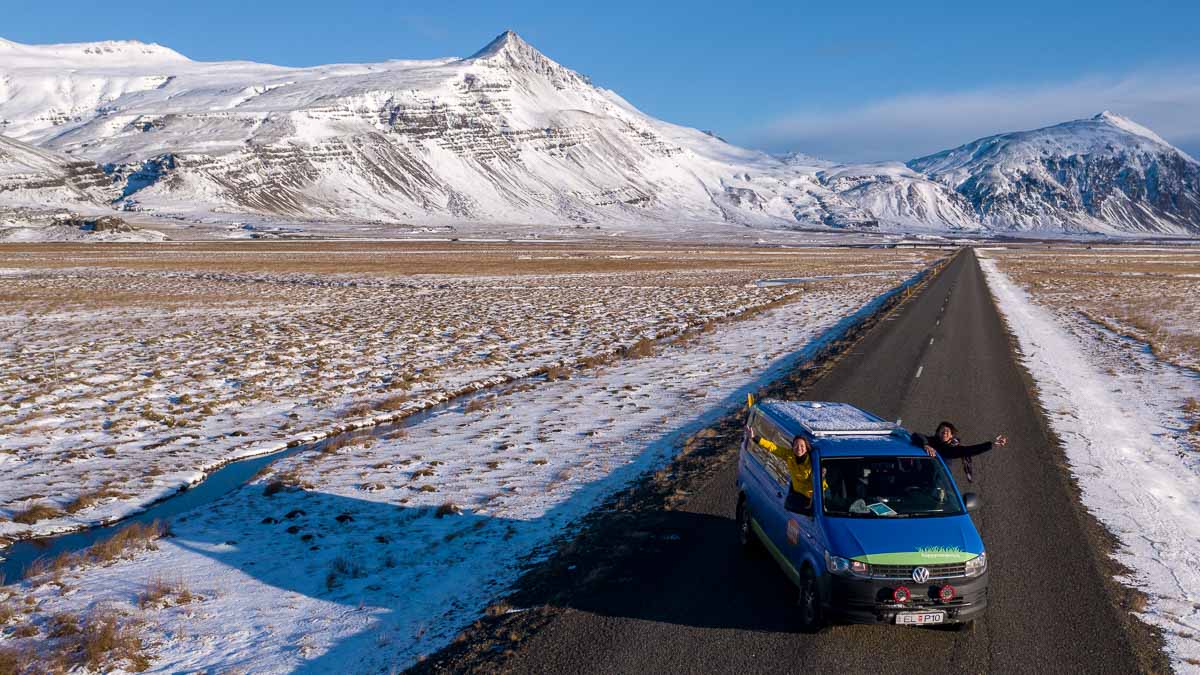 Time to hit Iceland's famous Ring Road in your trusty camper van! Stand between two tectonic plates at the Bridge Between Continents, then ride a majestic pure-bred Icelandic horse.
Drive on to Vík (best known for a US Navy plane wreck which crashed in 1973) and Fjaðrárgljúfur Canyon — over 10,000 years old and 100m deep!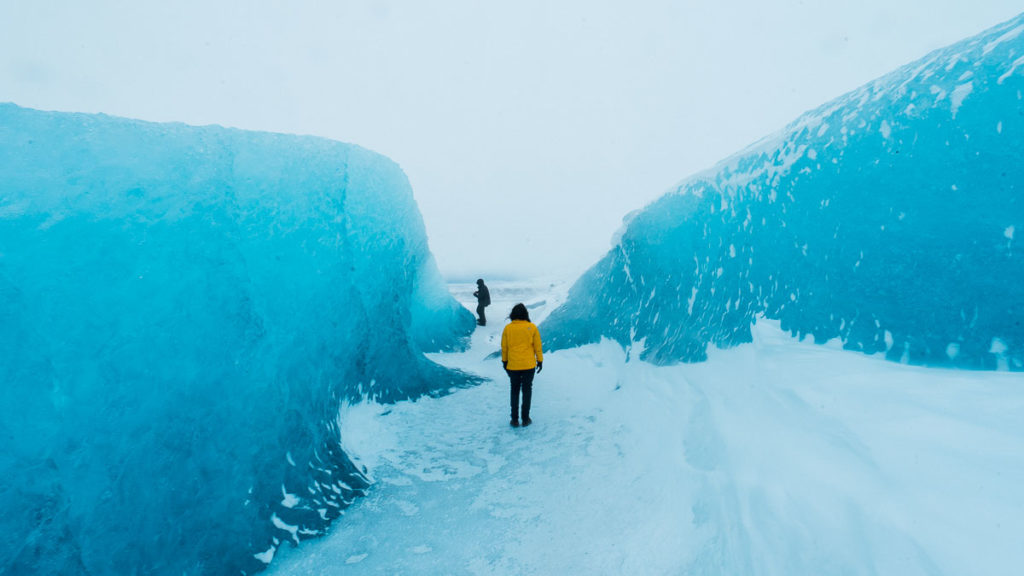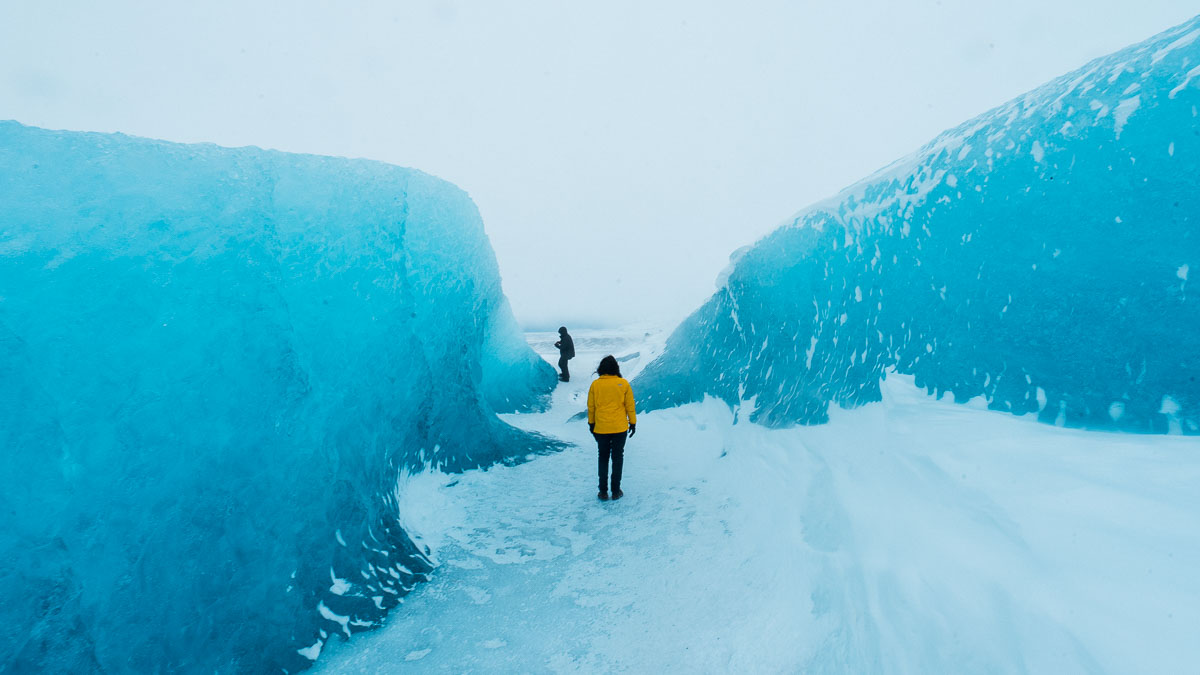 Marvel at more incredible landscapes on the drive from Hof to Stokksnes. Like the black sand Diamond Beach and Vatnajökull Ice Caves (the setting of epic scenes from Game Of Thrones and Interstellar)!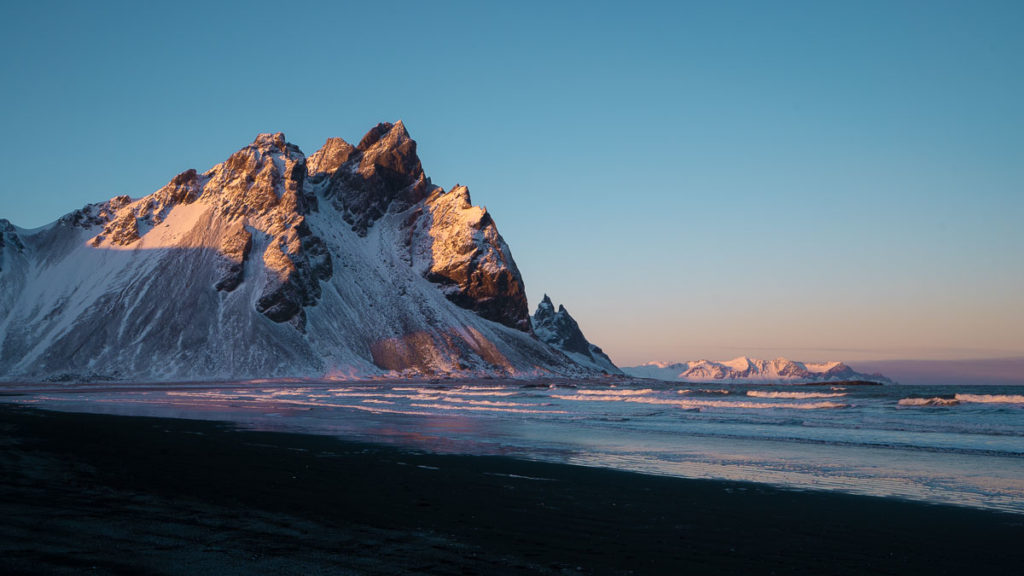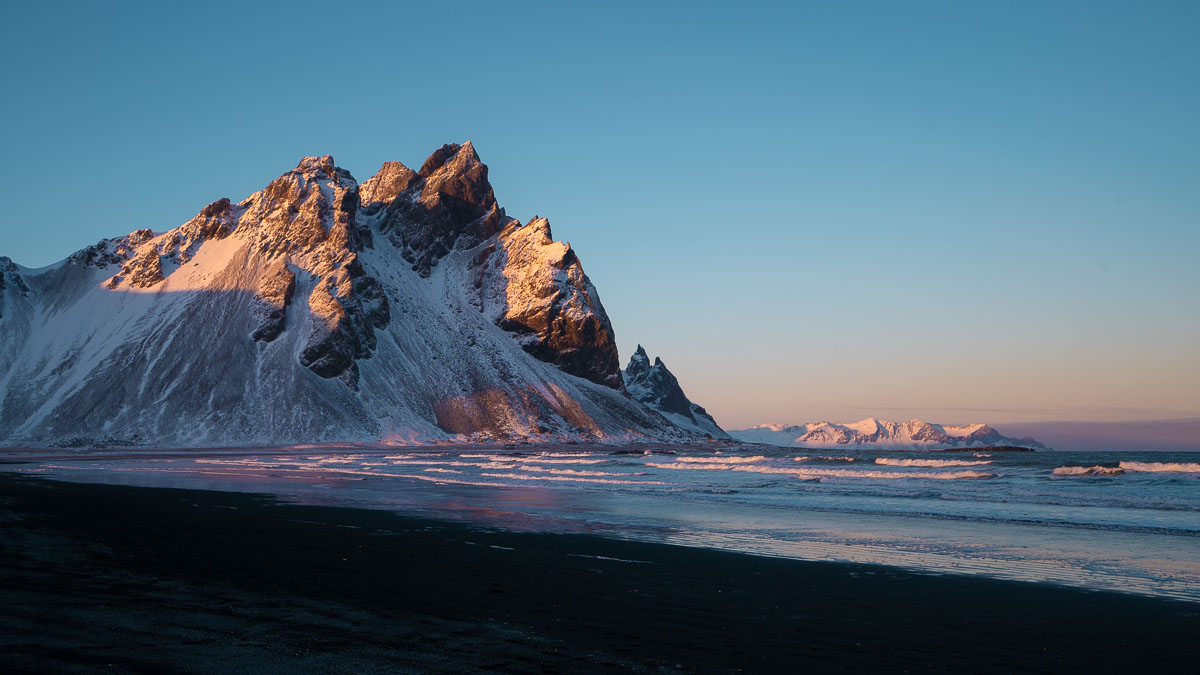 Stop by Stokksnes during sunset, before heading to Reykjahlíd the next day. Step into the shoes of vikings at the Abandoned Viking Village, feel the spray of the mighty Dettifoss waterfall and visit a geothermal field!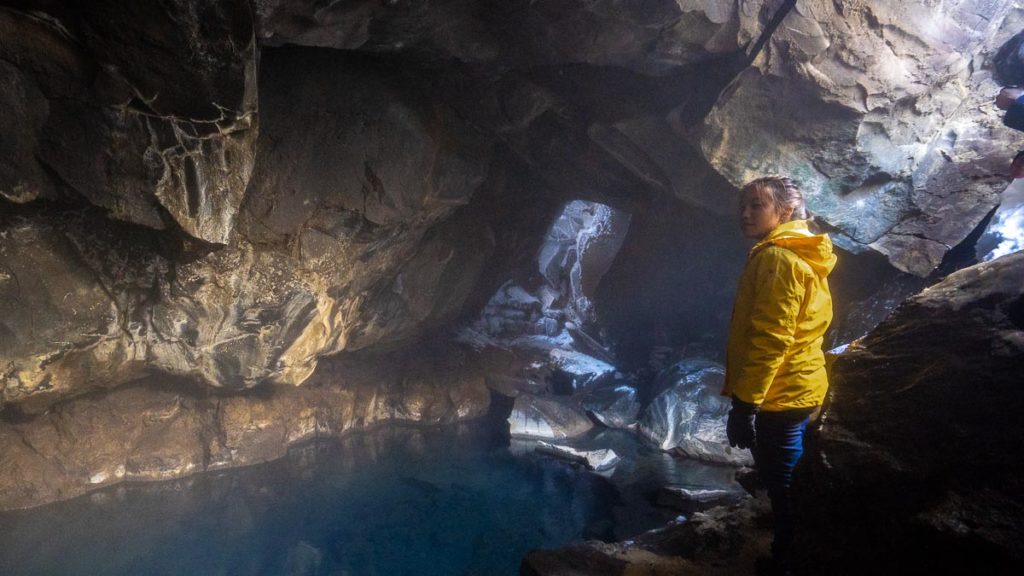 Journey on to Akureyri to see Grjótagjá Cave (where the King of the North had a steamy Game of Thrones scene) and Godafoss Waterfall. At Snaefellsness Peninsula, take a dip in Hofsós Swimming Pool and watch wild seals at Illugastadir.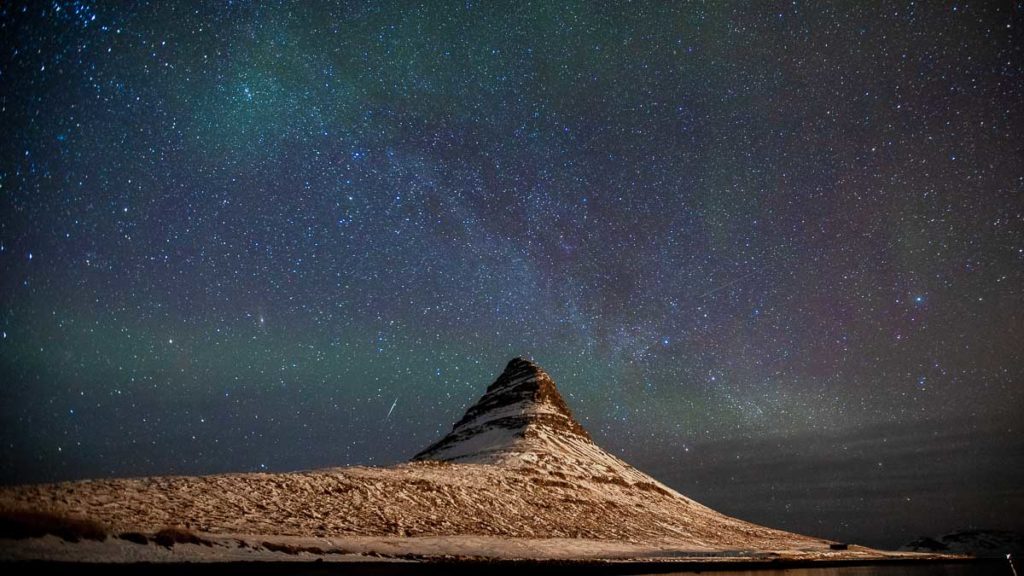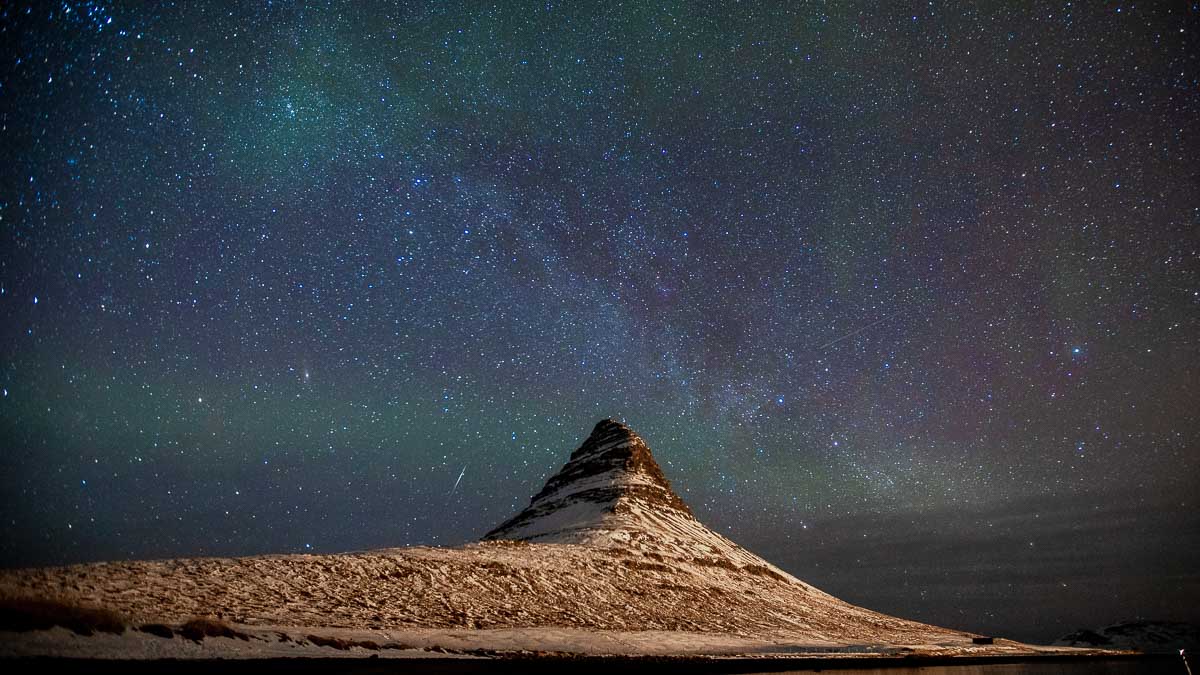 Our Iceland road trip ended with a bang — admiring spectacular views of Kirkjufell, the mountain that inspired Jules Vernes' Journey to the Centre of the Earth.
Check out the full itinerary: 10-Day Budget Iceland Itinerary for S$2.8k — The Epic Camper Van Road Trip
1) 12D New Zealand South Island Road Trip
Route: Christchurch – Akaroa – Kaikoura – Arthur's Pass – Tekapo – Wanaka – Te Anau – Milford Sound – Queenstown
Highlights: Roy's Peak, Milford Sound, Swimming with wild dolphins
Best time to visit: Dec – Feb (summer, best weather), Apr – May (less busy)
In the running for top bucket list road trips, New Zealand gets a podium finish.
A New Zealand road trip is the ultimate adventure — packed with thrilling activities and jaw-dropping landscapes at every corner.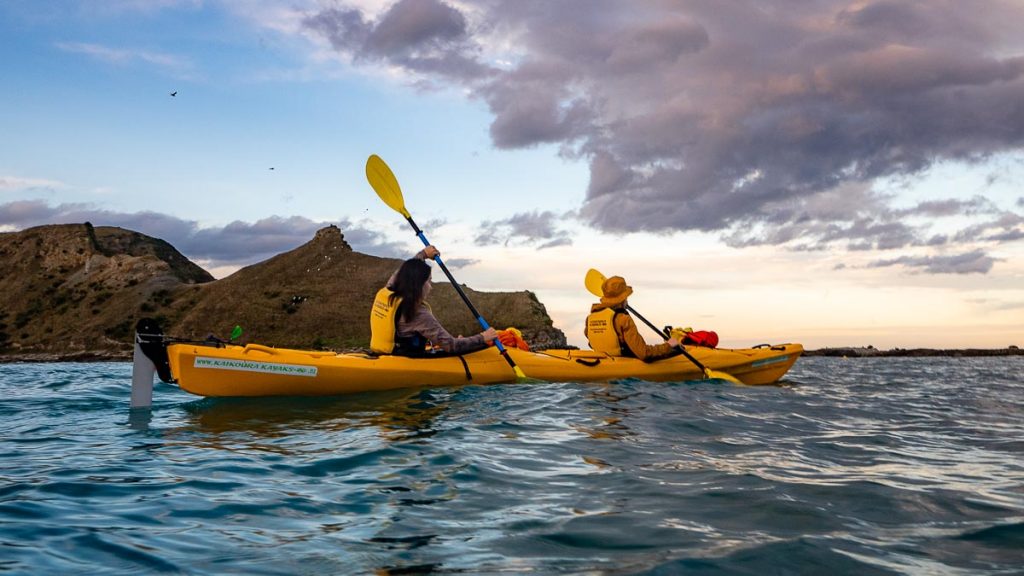 Our south island road trip started in Christchurch, before we drove up north to Kaikoura. Kaikoura is definitely worth the detour — it's a hotspot for marine wildlife including whales, seals, and dolphins.
We went on two wildlife tours where we got to swim with wild dusky dolphins and kayak with seals during sunset. During the dolphin tour, there were hundreds of dolphins surrounding our boat. I'd never seen anything like it — it's one of my favourite experiences ever, for sure!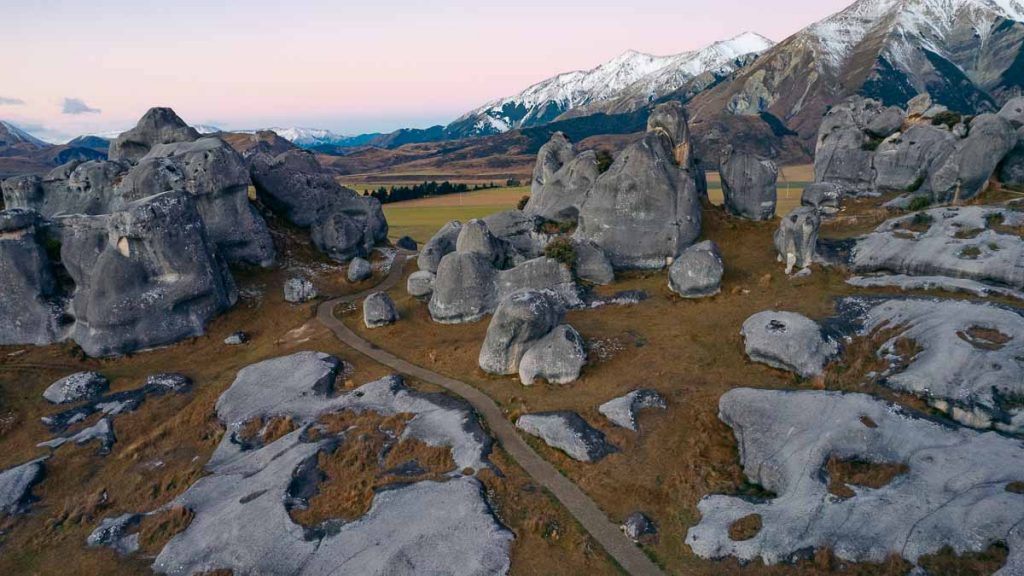 Next, Arthur's Pass! It's the highest mountain pass over the Southern Alps at an elevation of 920m. There are scenic hiking trails like the Devil's Punchbowl Waterfall and Kura Tawhiti (or Castle Hill).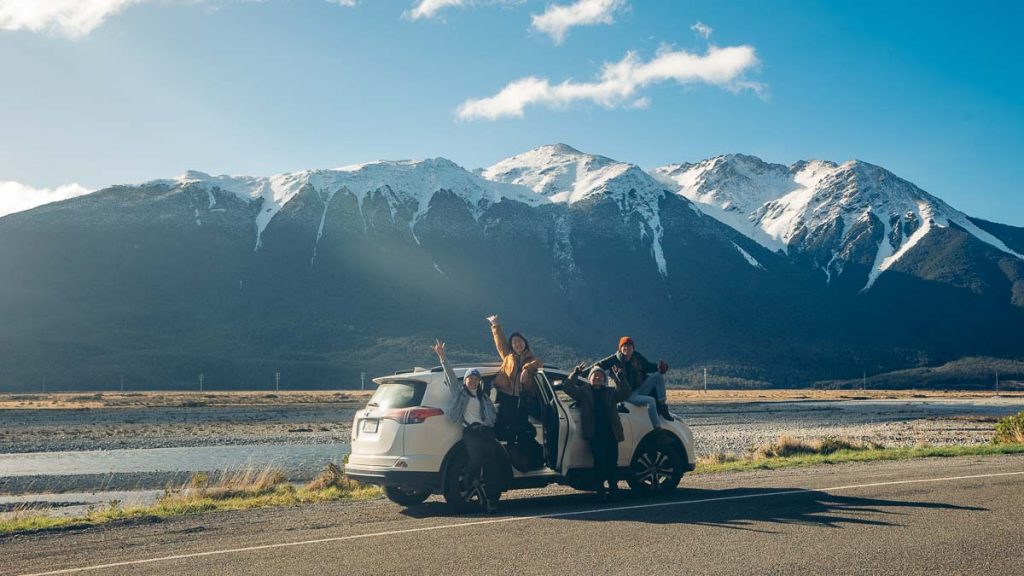 The hikes don't take long to complete, but we absolutely loved taking our time to explore the area — stopping at scenic photo spots, scrambling up massive boulders and even lying on the carpark ground to stare at the milky way.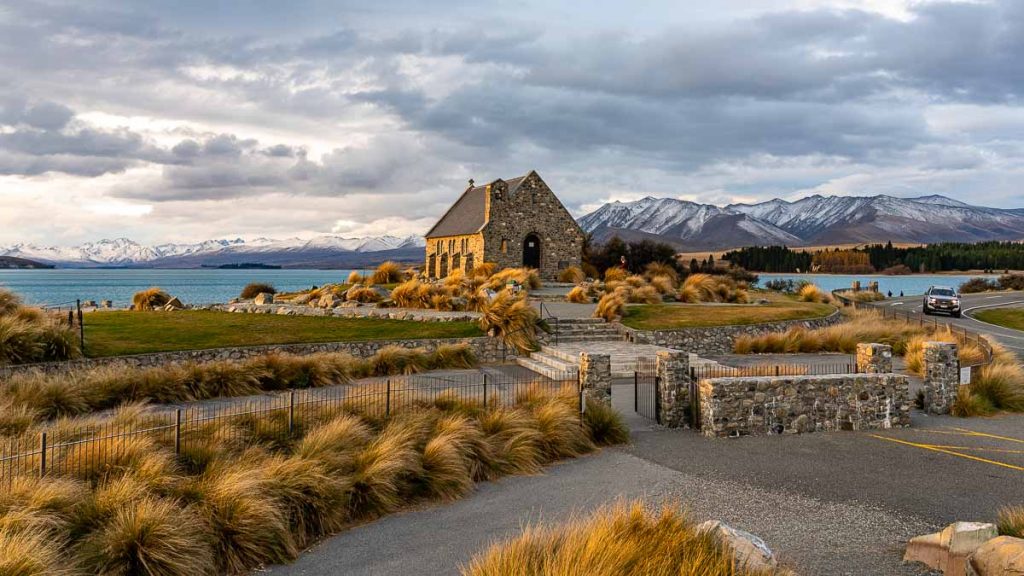 Tekapo is another must-visit, home to the famous Church of the Good Shepherd and Mount John which sits beside Lake Tekapo. Our accommodation was less than a 10-minute walk away, so we managed to catch both sunset and sunrise here!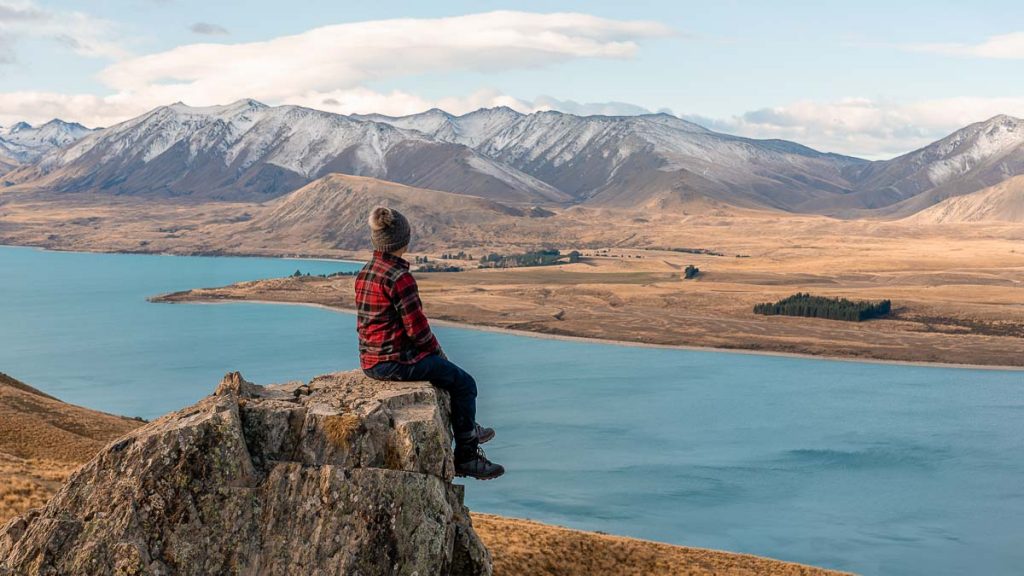 Lake Tekapo is located in the heart of the Aoraki Mackenzie International Dark Sky Reserve — meaning there's very little light pollution. It's one of the best places in New Zealand for stargazing and catching the southern lights.
Read also: New Zealand South Island Guide — 25 Best Things to Do in Queenstown, Kaikoura, Milford Sound and More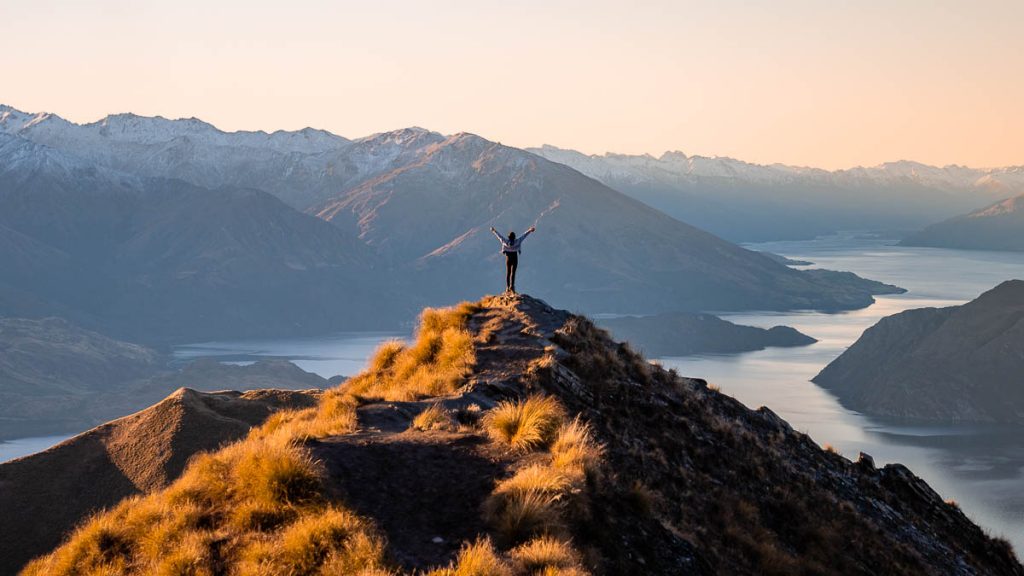 Head south to Wanaka to see the famous Wanaka Tree and hike Roy's Peak. It's a 16km round trip hike and takes around six hours. We aimed to reach the summit by sunset — which meant hiking down in the dark — and had the iconic Roy's Peak photo spot to ourselves.
Stop by Te Anau, the gateway to Milford Sound. Te Anau is known for the Waiau River where some Lord of the Rings scenes were filmed! As fellow LOTR fans, we had to see it for ourselves — on a jet boat adventure, no less.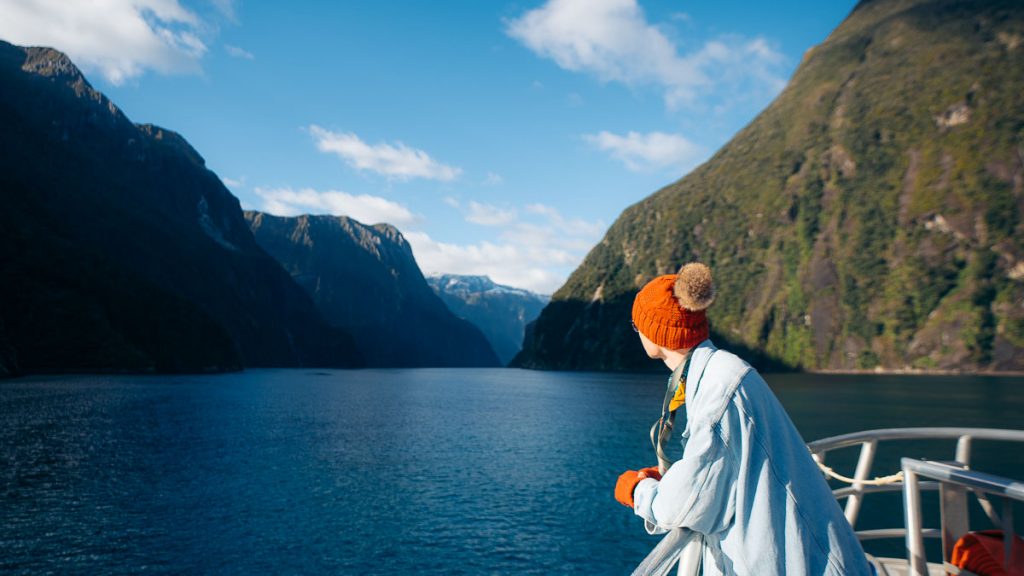 During our day trip to Milford Sound, it felt like we were on a collective high. We were blessed with perfect weather, which just made the whole Fiordland that much more majestic — we shot over 500 photos that day alone.
This was also where, err, we almost ran out of petrol on the way back to Tekapo. 😅 There are no petrol stations between Milford Sound and Tekapo — so make sure to check your tank beforehand.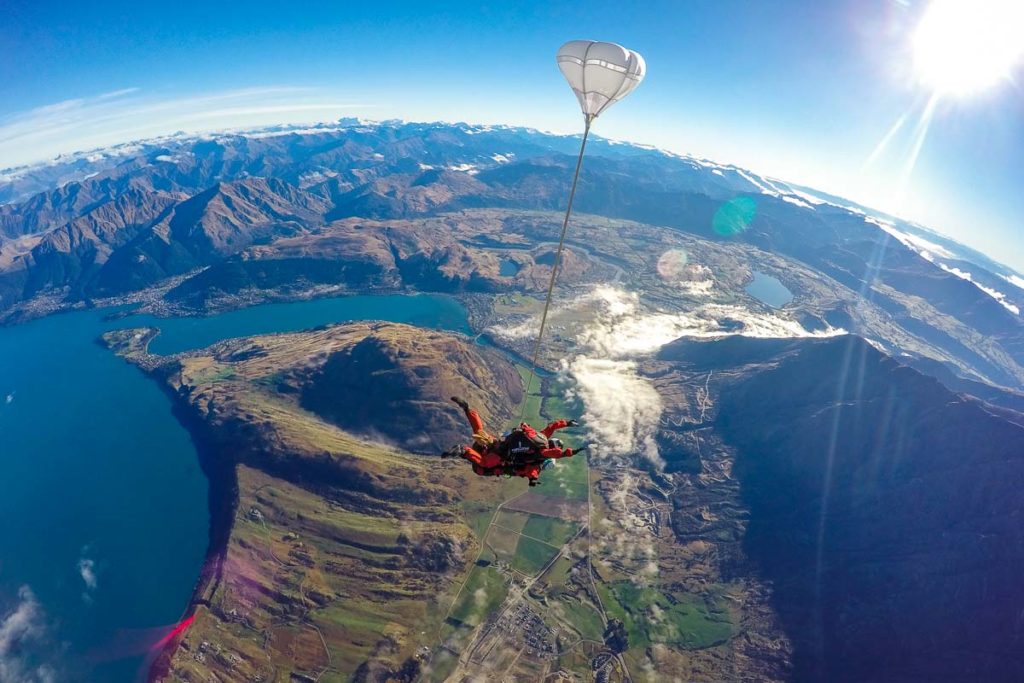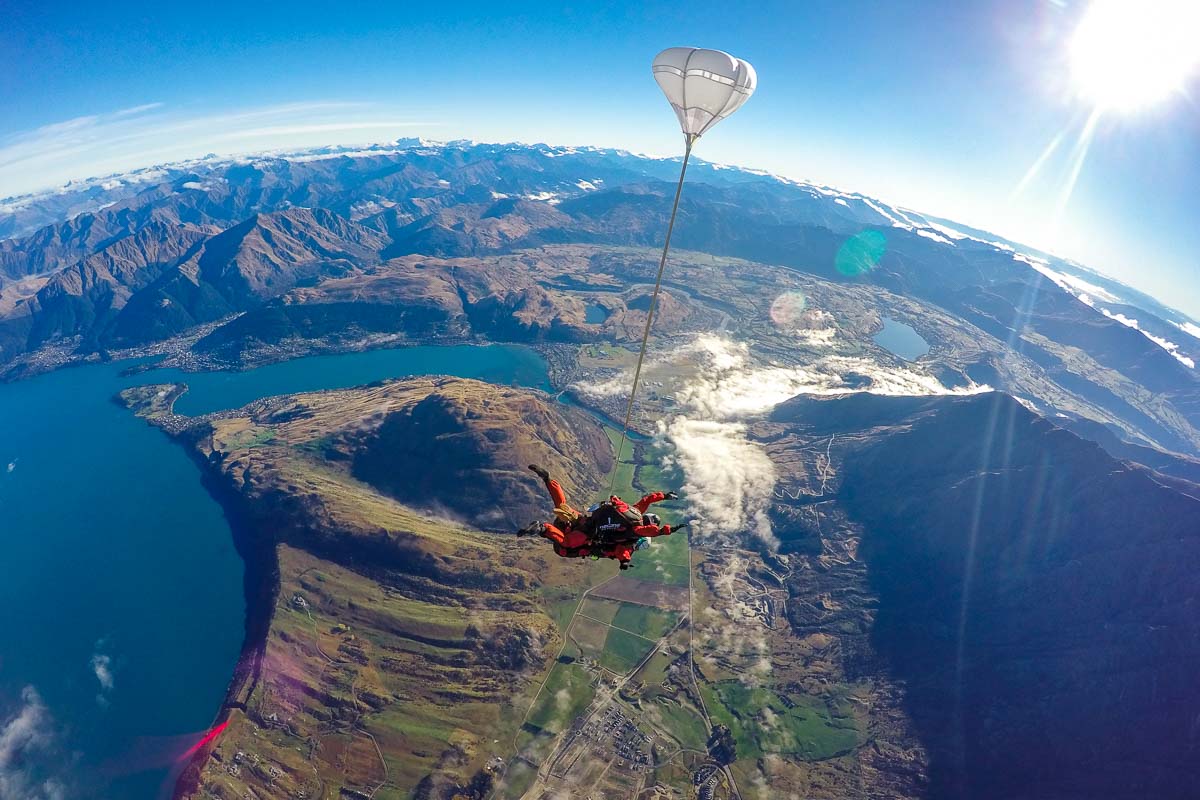 The last stop of our south island road trip is none other than Queenstown, the adventure capital of the world. This is the place to tick epic experiences off your bucket list — bungy jumping, skydiving, quad biking and more!
Check out the full itinerary: 12D New Zealand South Island Itinerary Under S$2.8k
Tips for Planning Your Dream Road Trip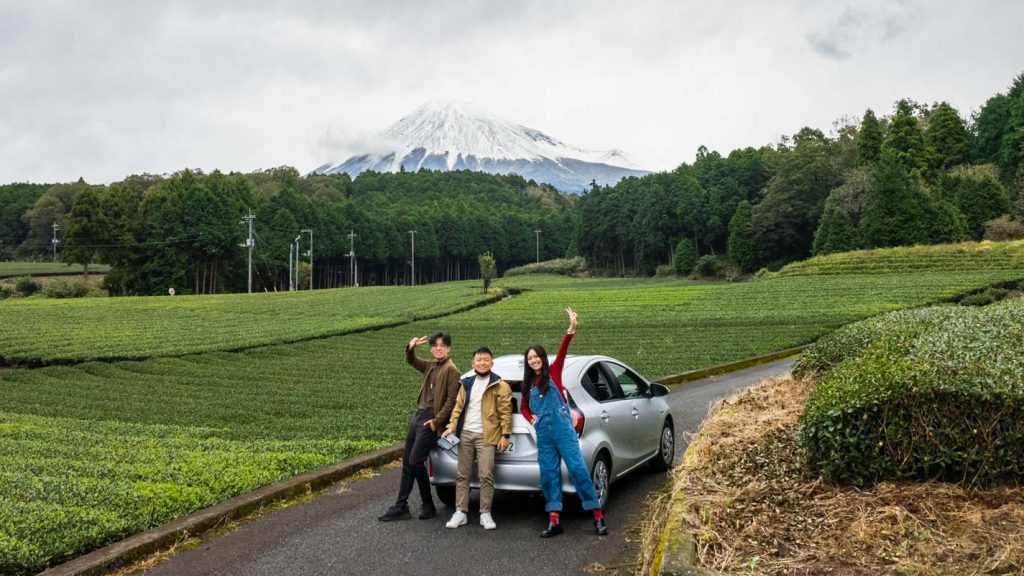 You've decided on your destination, now it's time to start planning for the road trip itself!
1) Check the driving requirements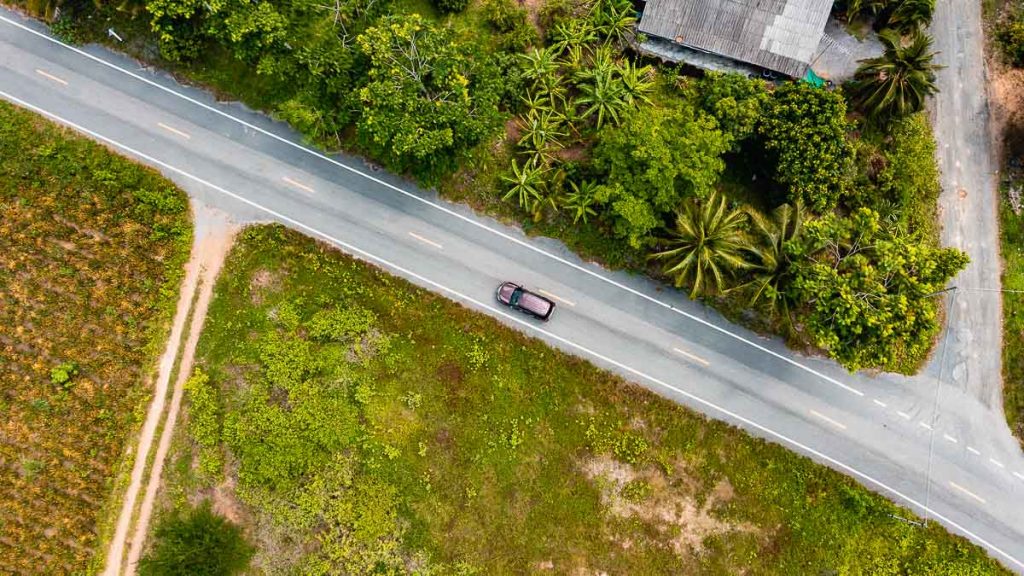 Each country has their own driving requirements. For example, Japan has varying minimum age requirements for drivers depending on the place you're renting from.
Most countries require an International Driving Permit (IDP), but some don't require one if your driving license is in English. An IDP costs S$20 and is valid for one year.
Check out our destination-specific road trip guides:
– 15 Things First Timers Should Know Before Planning that Japan Road Trip
– Planning a New Zealand Road Trip — 30 Most Frequently Asked Questions
2) Choose a suitable vehicle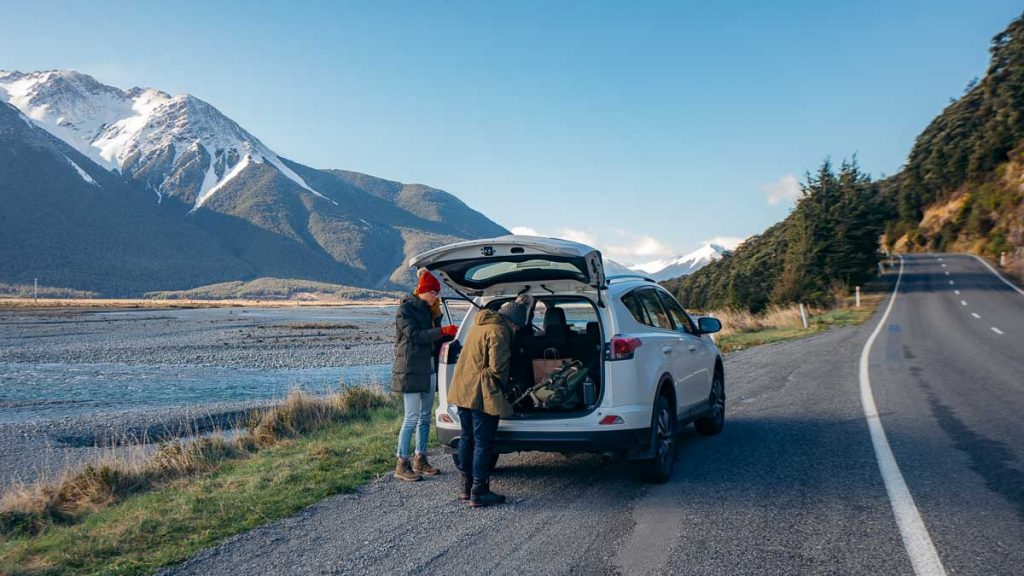 If you're travelling in a group of four, I'd recommend getting a five-seater — just so the long drives are more comfortable.
And you might not realise, but boot space is limited. Make sure to coordinate what you're bringing with your road trip buddies or you might end up with four oversized luggages that don't fit.
For our New Zealand road trip, we got a five-seater Nissan X-trail (from ~S$65.56/day). It was the perfect size for our group of four, with the boot large enough for four mid-size suitcases (around 68cm x 51cm x 30cm each) — I measured beforehand to be sure.
3) Get ready for long drives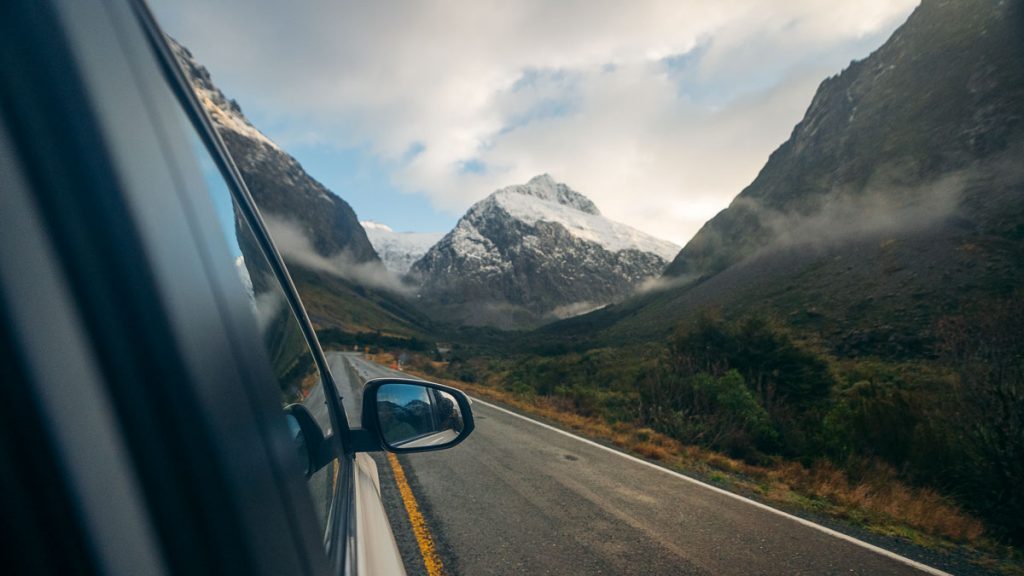 A few tips for a better road trip experience:
– Some remote areas in places like Iceland or New Zealand may have poor signal. Download your route from Google Maps beforehand to navigate offline!
– Check your petrol levels before leaving a city — you might have to drive three or four hours without seeing another gas station.
– If possible, have at least two drivers. During our New South Wales road trip, there was a long stretch of six hours. We're lucky we had three drivers to take turns!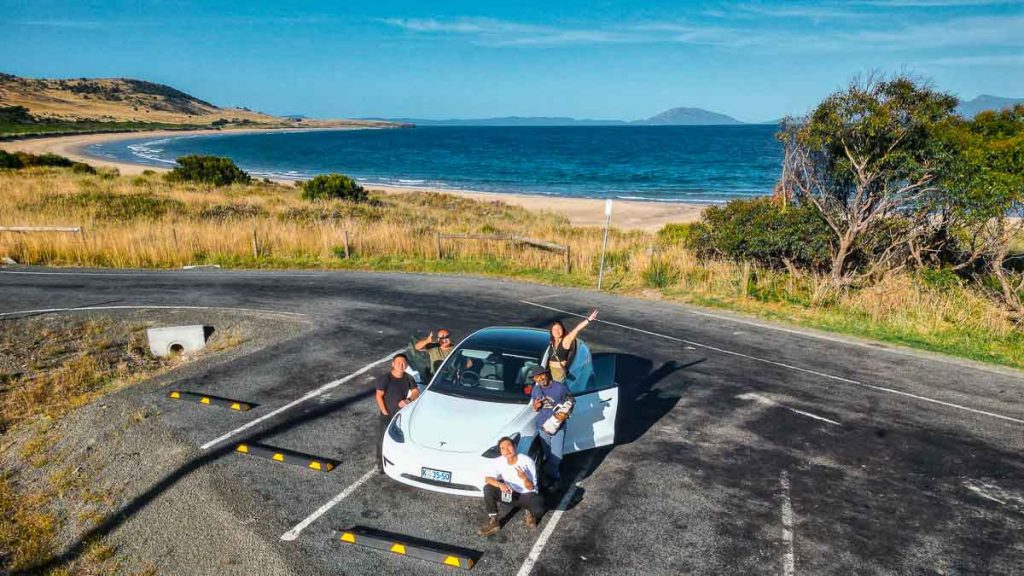 Looking for shorter road trips? Check out these fun road trips:
– 3D2N Mt Fuji Itinerary Under S$570 — Road Trip From Tokyo
– 4-Day Jeju Road Trip Around South Korea's Island Paradise
– 5D4N Taiwan Itinerary Under S$500 — A Lesser-known Scenic Road Trip From Taipei to Yilan
Which destinations are on your road trip bucket list? Are there any road trips you'll like to see us cover? Let us know in the comments!
---