Okinawa = Japan + beaches = paradise 🌴 But rest assured, beaches aren't the only heavenly thing in this Okinawa itinerary.
For someone who's not a beach person, I ended up enjoying myself in Okinawa a lot more than I expected. As Japan's southernmost prefecture, this sun-kissed island also runs by another name: the Hawaii of Japan. No prizes for guessing why.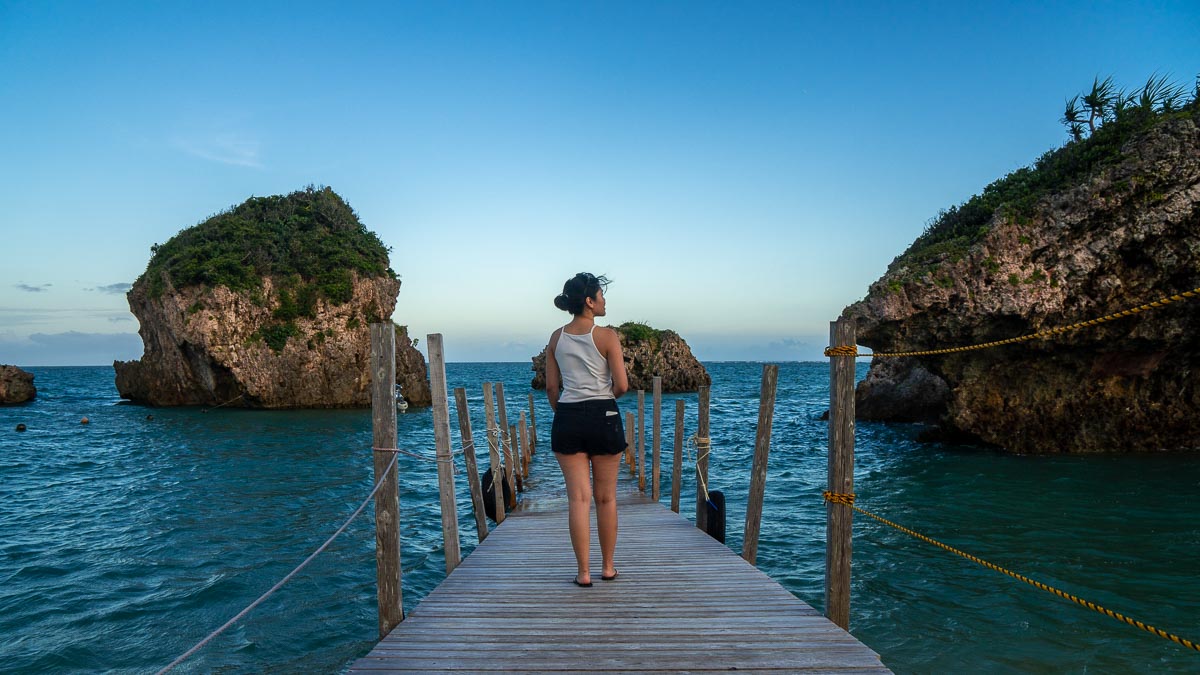 Yet, this paradisal island isn't just about its beaches. A little online digging reveals that Okinawa has centuries of intriguing culture and history — far different from the Japanese mainland — that makes it worth visiting.
For example, Okinawans have different dietary preferences (e.g. pork over beef). Okinawa also isn't as expensive (even for flights) or urbanised as Tokyo, and it's a lot more laidback. To experience Okinawa in its entirety from famous attractions to hidden gems, it's best to rent a car to explore the island.
No need to break out the road rage or rainy day savings though — here's our week-long Okinawa itinerary for less than S$1.2k! Road trip time!
Budget Breakdown for 7-Day Okinawa Itinerary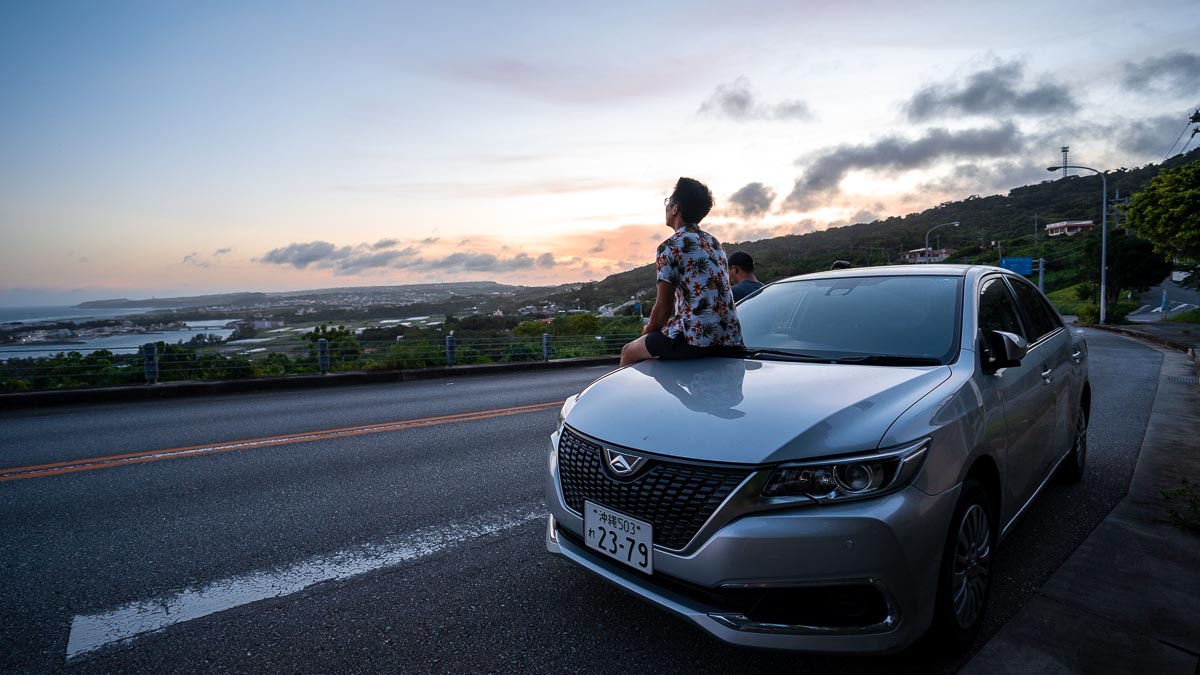 Accommodation: S$198.50
Transport: S$114.90
Activities: S$426.78
Food & Miscellaneous: S$355.25
Total: S$1,095.43/pax (Excl. flights)
Click here for detailed breakdown
Check Flights to Okinawa
Flights aren't included in the budget for this Okinawa itinerary, since prices vary all year round. But one of us managed to snag return flights to Okinawa at S$270 during a Jetstar Airways promo — seriously! Check current flight prices to Okinawa here:
If you can't see the widget above, click here to check flights from Singapore to Okinawa.
Pre-trip Essentials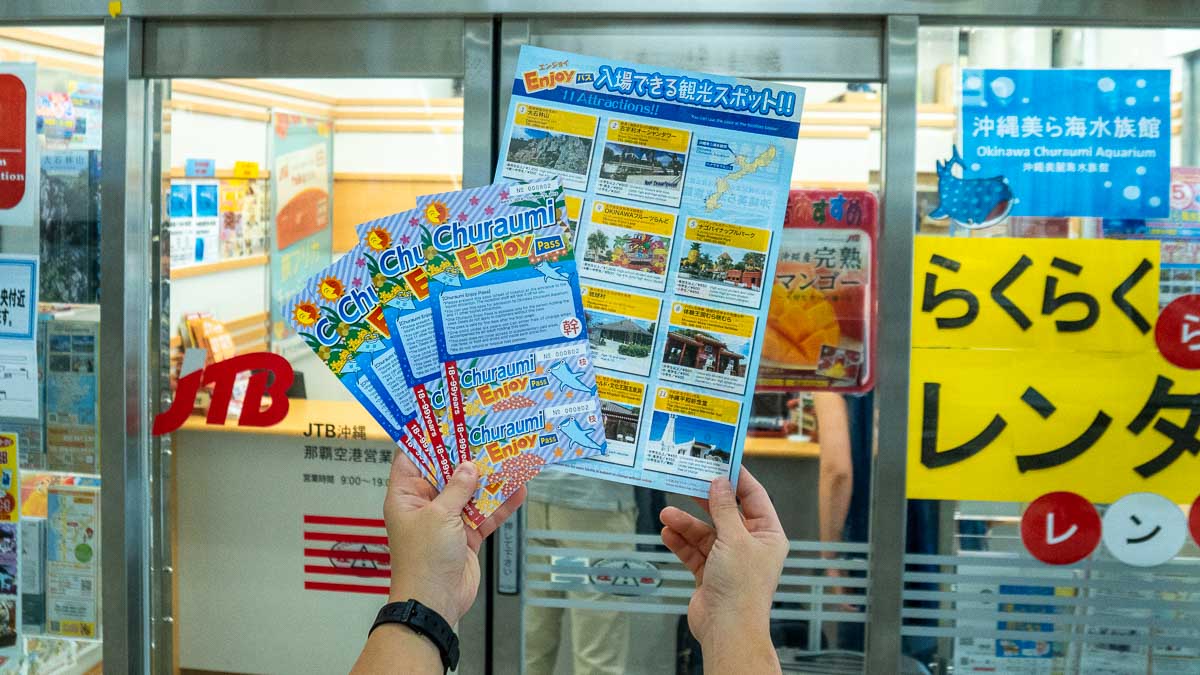 Okinawa Churaumi TokuToku 5 Pass/Enjoy Pass: Pre-book the Okinawa Churaumi TokuToku 5 Pass (also known as Enjoy Pass) for free entry into the Churaumi Aquarium, as well as four of Okinawa's best attractions of your choice. The pass is valid for five days from the redemption date.
Connectivity: We got a pocket 4G WiFi which provided unlimited data and strong connection during our road trip (except in the Northernmost area). The device also came in handy as offline Google Maps isn't available for the Okinawa prefecture.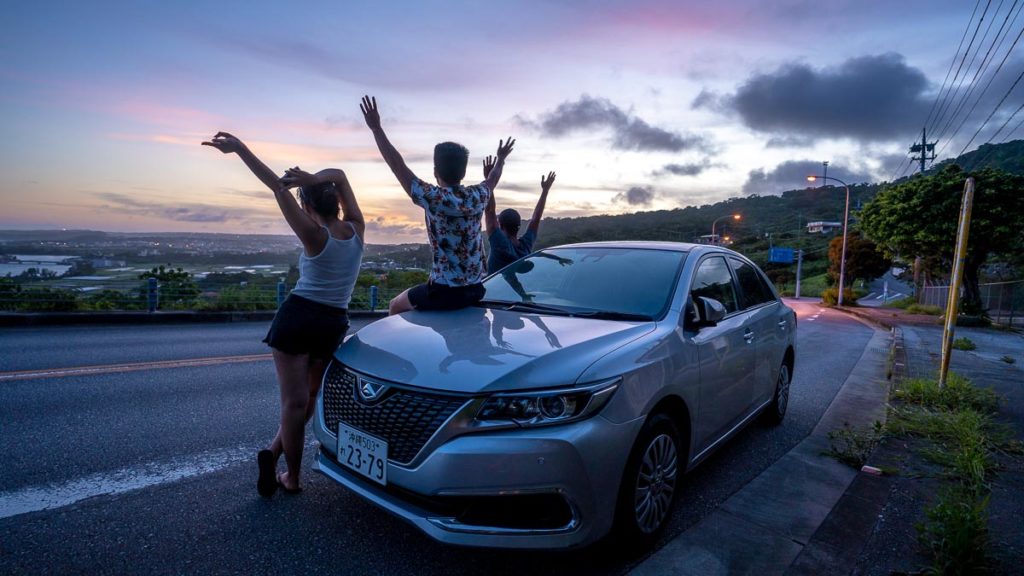 Car Rental: All around Okinawa are beautiful sights and attractions that are worth driving out the city for! For a smooth collection process, we rented our car through Klook for ~S$40/day.
To survive road tripping in Okinawa, check out our driving tips at the end of the article!
Getting from Naha Airport to the City: If you don't intend to pick up your rental car directly at Naha Airport, take the Yui Rail (Okinawa monorail) to the city centre. A 24-hour pass costs ¥800. Alternatively, opt for a comfortable private transfer.
Okinawa Itinerary Road Trip Route
Most itineraries begin in Naha, the capital city. However, this Okinawa itinerary saves it as the best for last! We drove around the island in an anti-clockwise direction to explore the island's rural areas first, before heading back to the city.
Read also: Ultimate Okinawa Guide — 33 Exciting Things to Do in Japan's Paradise Island
Day 1: Naha — Southern Okinawa — Nago (North Central Okinawa)
Lunch at Tonsen (とんせん) Okinawa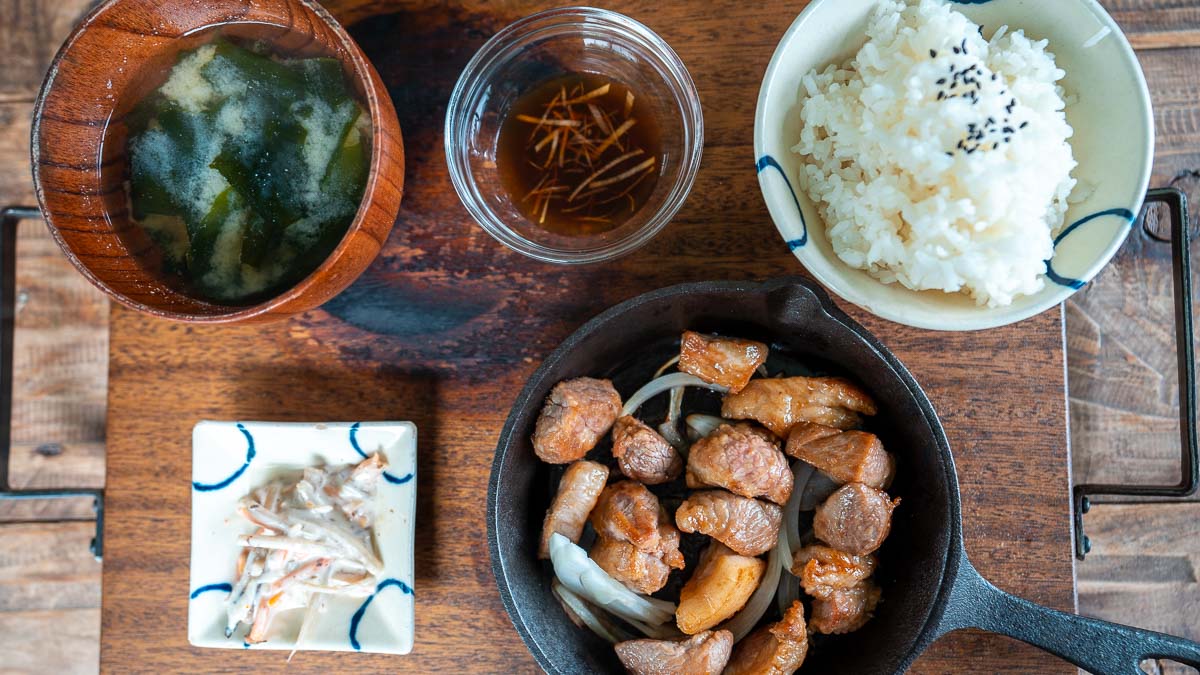 Tonsen Okinawa is a small and homely restaurant that's well-known for its pork steak sets. Served on sizzling hotplates, every piece of meat was delightfully juicy and delicious. Each set also comes with free-flow salad!
Cost: From ¥1,000
Opening hours: 11AM – 5PM, closed on Tue
Address: Maekawa-418-1 Tamagusuku, Nanjo, Okinawa 901-1400, Japan
Mapcode: 232 524 408*47
Parking: Free on premises
Get cultured at Okinawa World (おきなわワールド)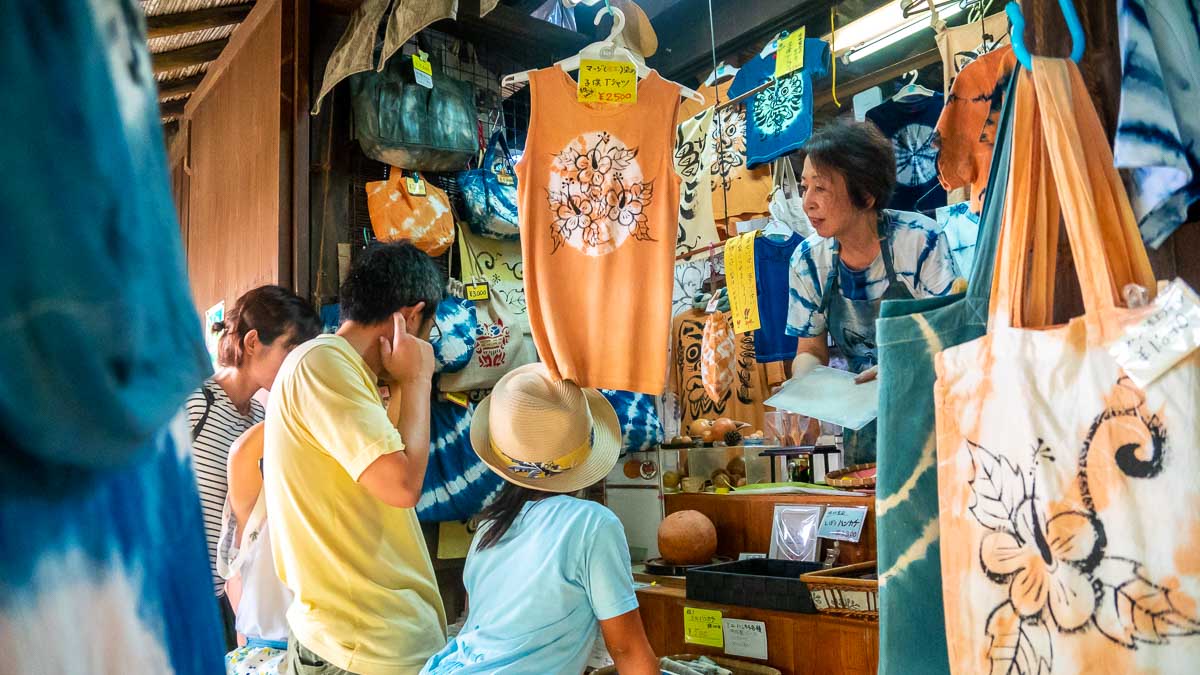 Step back in time to Okinawa World, a popular attraction showcasing the island's culture. Roam around the village to see how locals perform various crafts such as Ryukyuan glass-making, and indigo dyeing.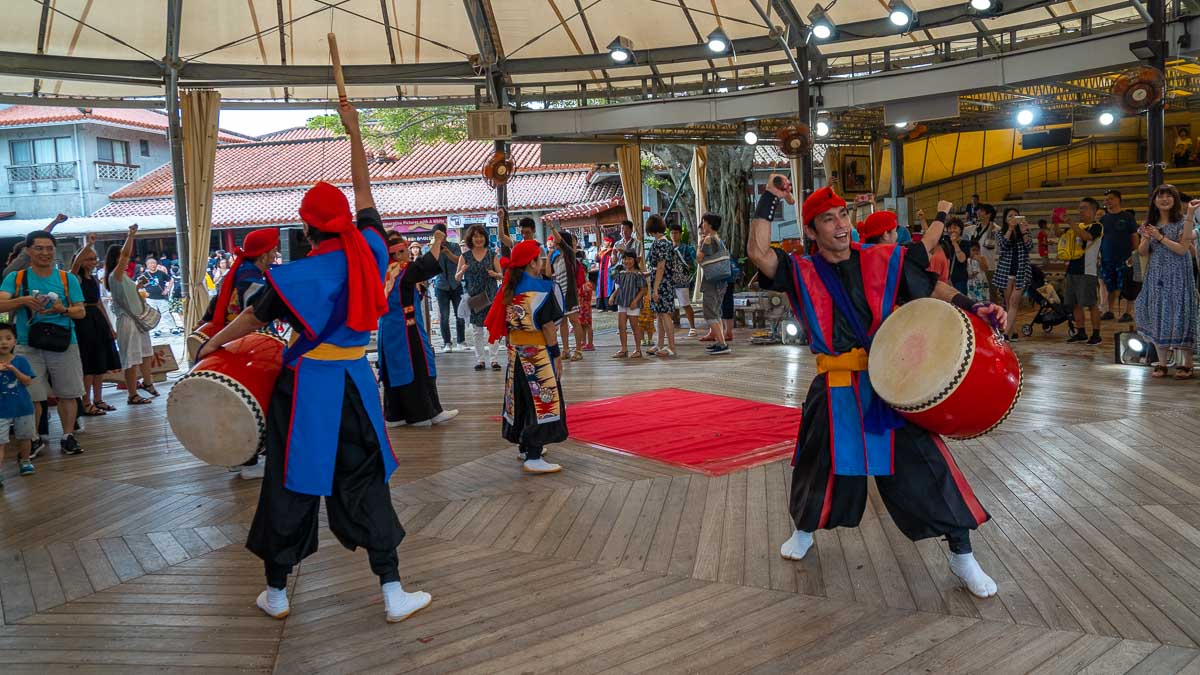 Do also catch the powerful Eisa dance! The traditional dance features performers singing an old folk song with lively movements and rhythmic drumming. The show is entirely in Japanese but is still thrilling to watch.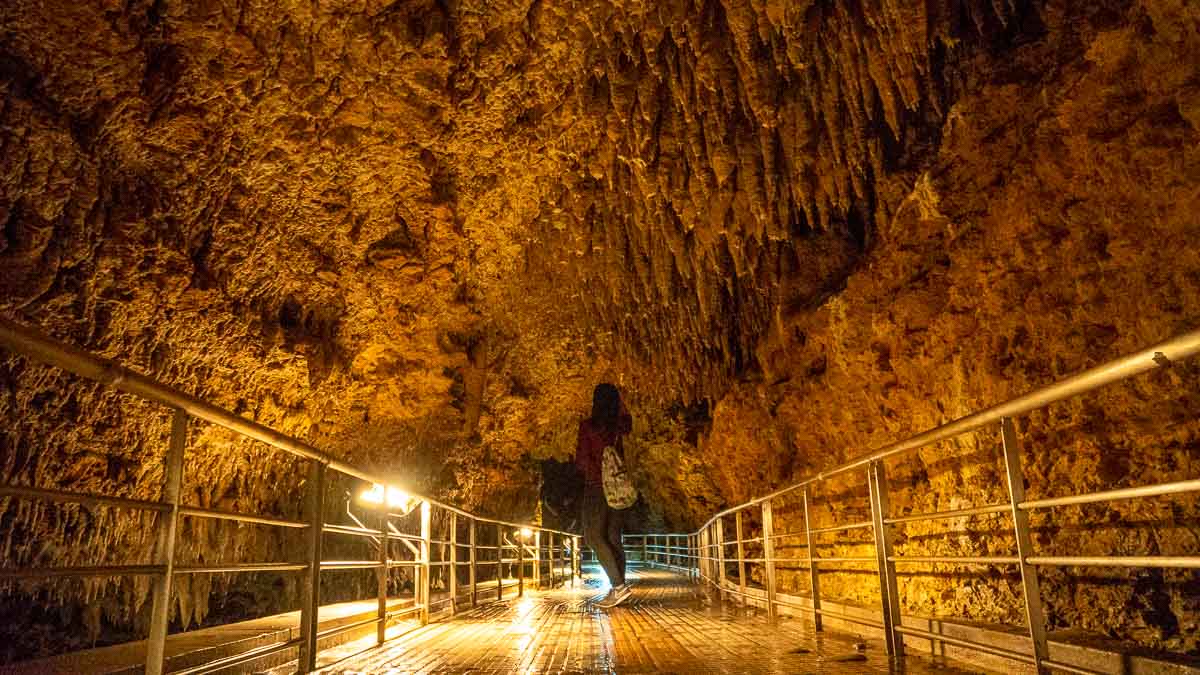 The Gyokusendo Cave is also a must-visit at Okinawa World. It holds millions of limestone stalagmites and stalactites that are over 300,000 years old. Dress accordingly as the cave's interior is dripping wet and slippery!
Entrance fee: From ~S$17/pax via Klook (Free with the Enjoy Pass)
Opening hours: 9AM – 5:30PM
Map code: 232 495 332*71
Parking: Free on premises
Explore Ou Island (奥武島)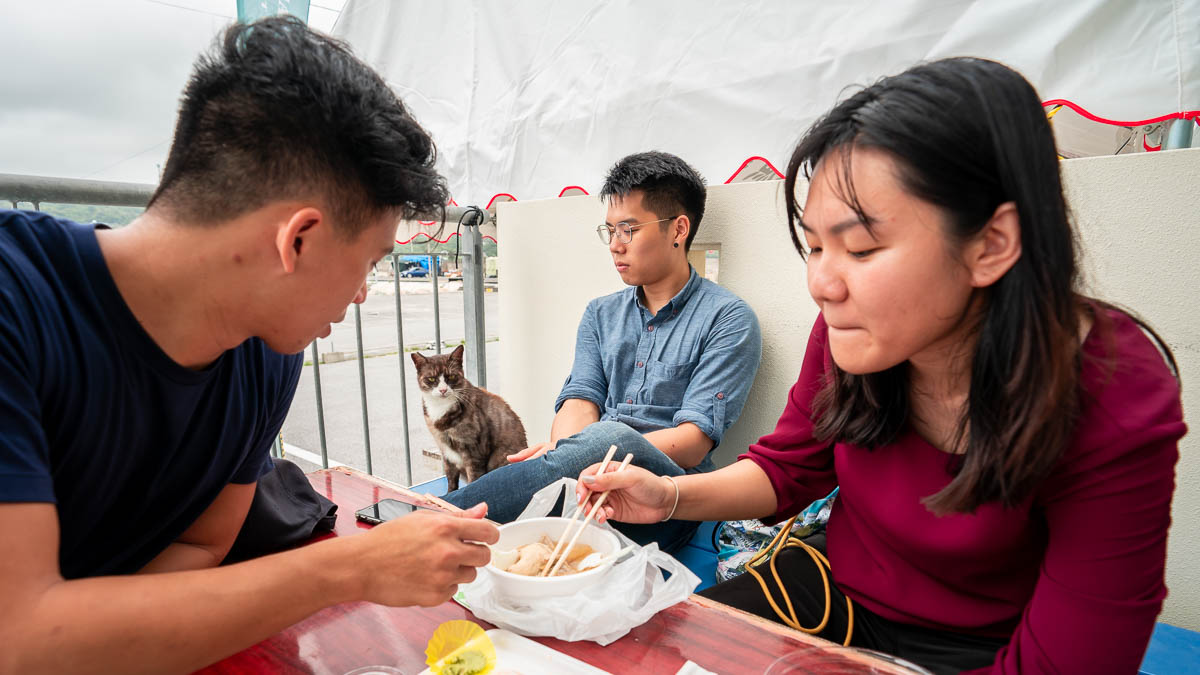 Purr-fect place to be?
Cat lovers shouldn't miss Ou Island, or Ojima in their Okinawa itinerary. The island contains a small fishing town, hence attracting its many friendly feline inhabitants.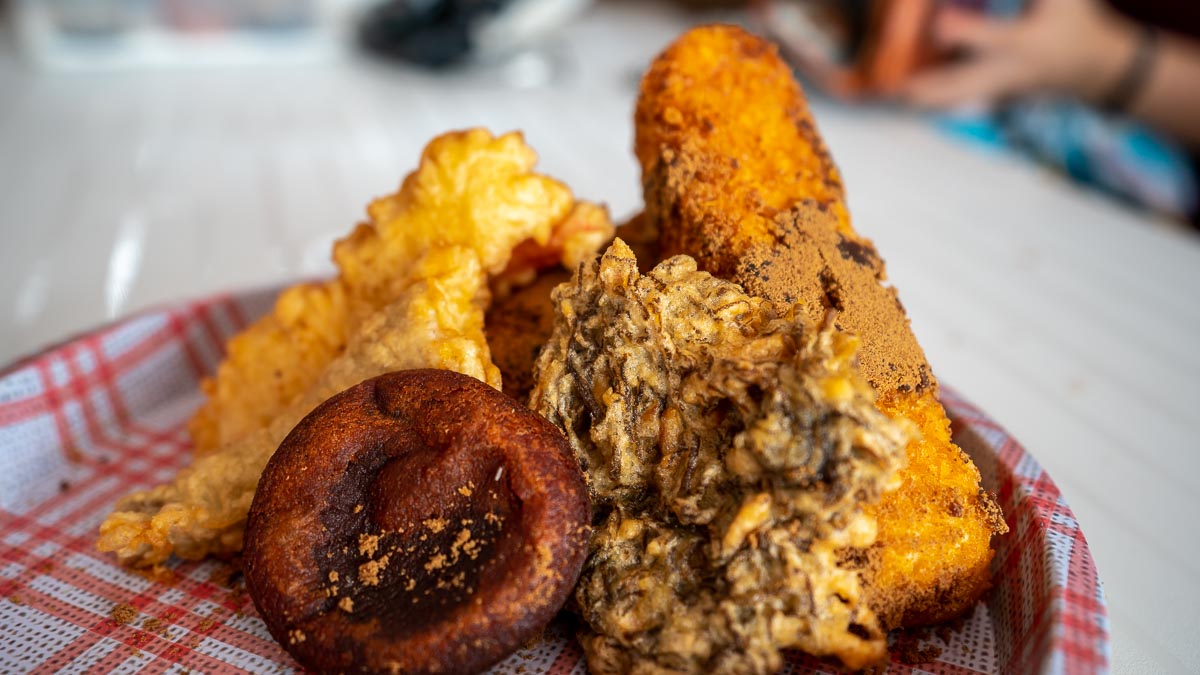 Drop by the island's famous tempura shop (中本鮮魚てんぷら店) located in front of the bridge. Frequented by both locals and travellers, tempura such as battered fish and sugared bread are served fresh and crispy.
Address: Ou Tamagusuku, Nanjo, Okinawa 901-0614, Japan
Map code: 232 467 057*06
Parking: Free parking opposite the tempura shop
Visit the Holy Sefa-Utaki (斎場御嶽)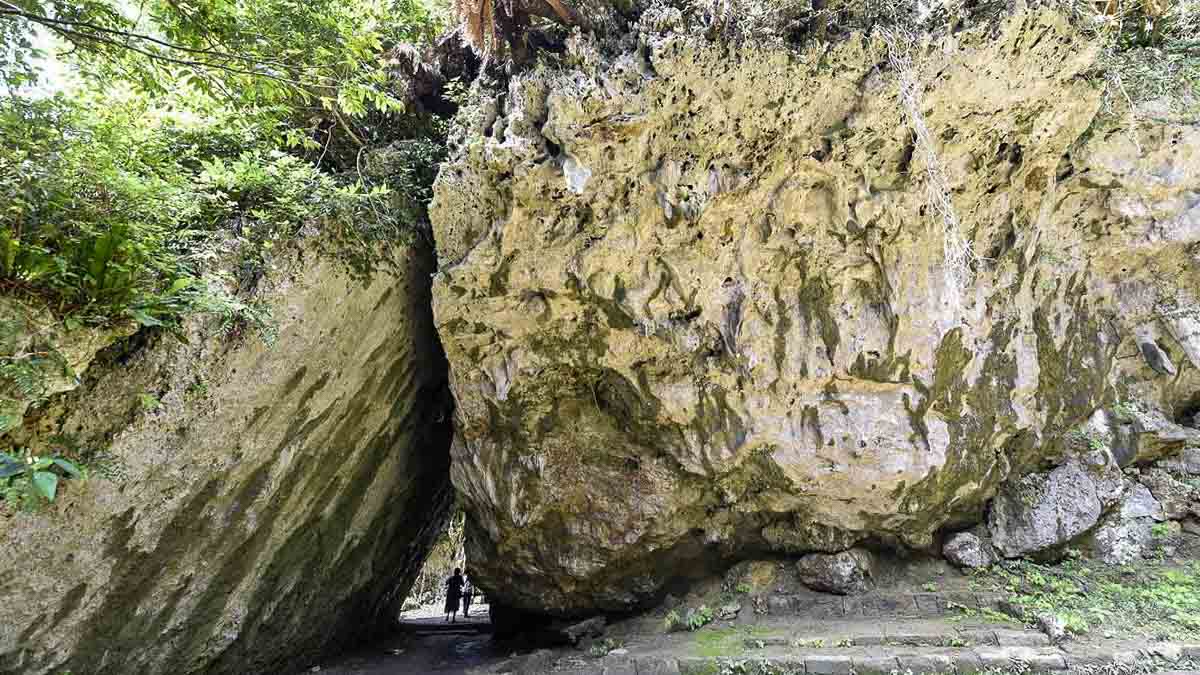 Photo credit: @mentai_ko via Instagram
A historically sacred place in the Ryukyu Kingdom, Sefa-Utaki is one of Okinawa's World Heritage sites. It's one of the best places to visit to gain a greater understanding of Okinawa's unique culture, as well as appreciate the area's natural beauty and spiritual aura.
Entrance fee: ¥300
Opening hours: 9AM – 6PM (closes 5:30PM from Nov to Feb, last entry 30mins before)
Address: Kudeken-455 Chinen, Nanjo, Okinawa 901-1511, Japan
Map code: 33 024 282*63
Parking: Free on premises
Day 2 – 3: Nago (North Central Okinawa)
Parasail over Onna Village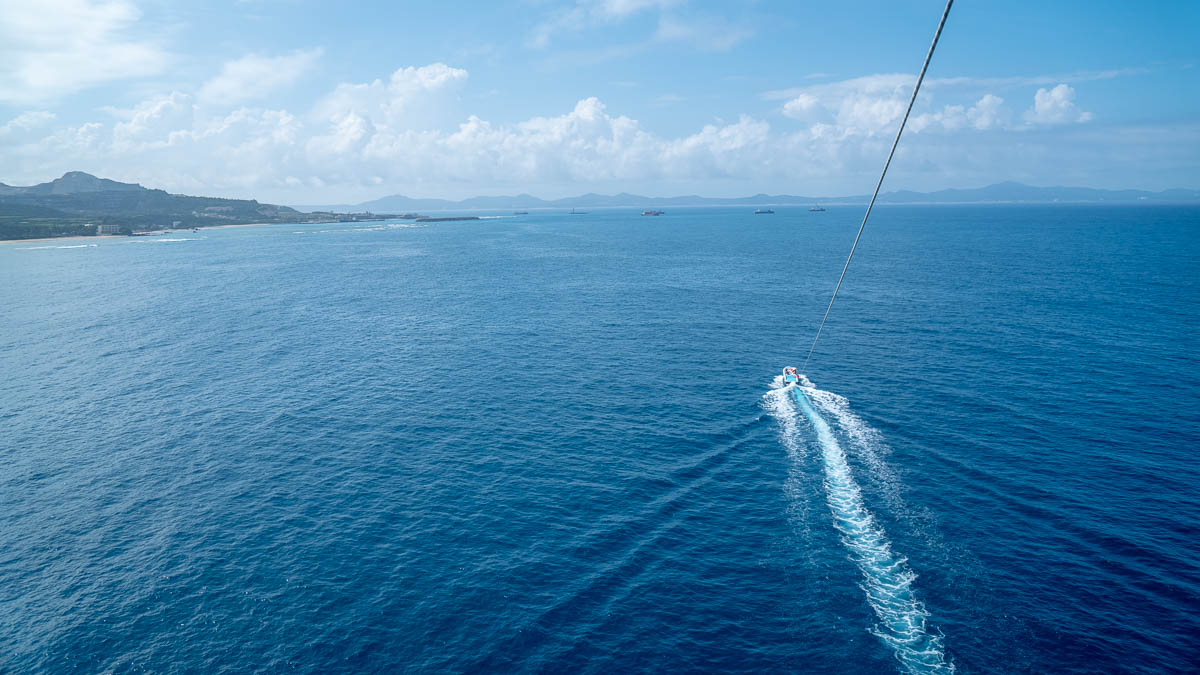 It ain't a wallpaper, it's the view!
Thrill-seekers, it's time to conquer the skies! Get high with a parasailing experience that'll fly you over Okinawa's surreal blue waters.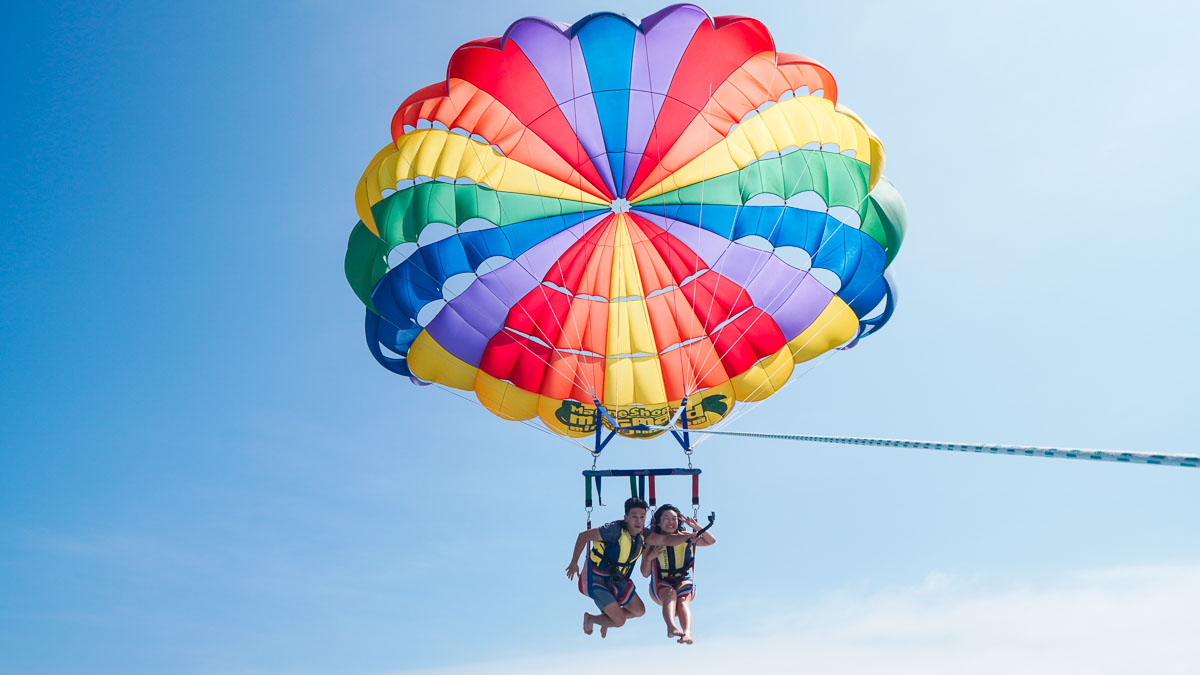 Surprisingly, the ride up in the air was smooth, similar to cruising in an airplane. Those with motion sickness (like me) can go a little easy on the pills. Just sit upright and enjoy the beautiful bird's-eye views!
Cost: ~S$64/pax via Klook
Meeting point: Motobu Port, 5232 Sakimotobu, Motobu-chō, Kunigami-gun, Okinawa-ken 905-0225 (Map code:
Parking: Free at the port
Okinawa Churaumi Aquarium (沖縄美ら海水族館)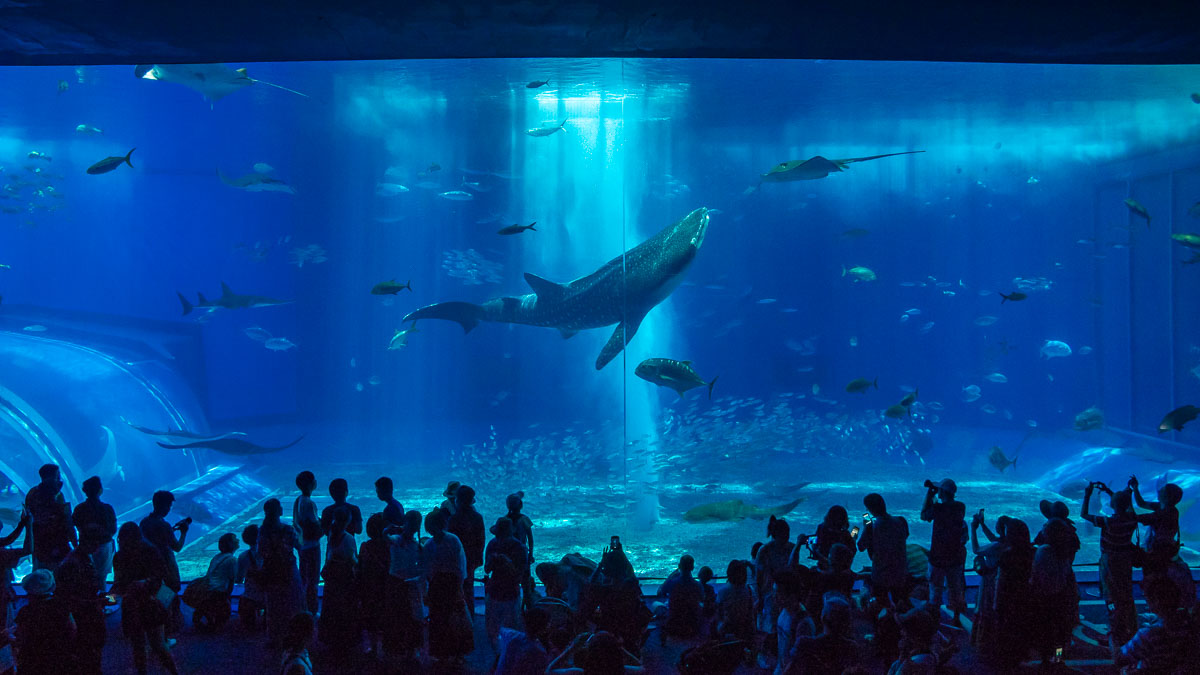 The Churaumi Aquarium is considered Japan's best, and there's really no reason why this shouldn't be in your Okinawa itinerary. The main highlight is the Kuroshio Sea, the world's second-largest tank that holds two huge whale sharks, dozens of rays, fish, and coral reefs. It's a lovely and peaceful sight to behold.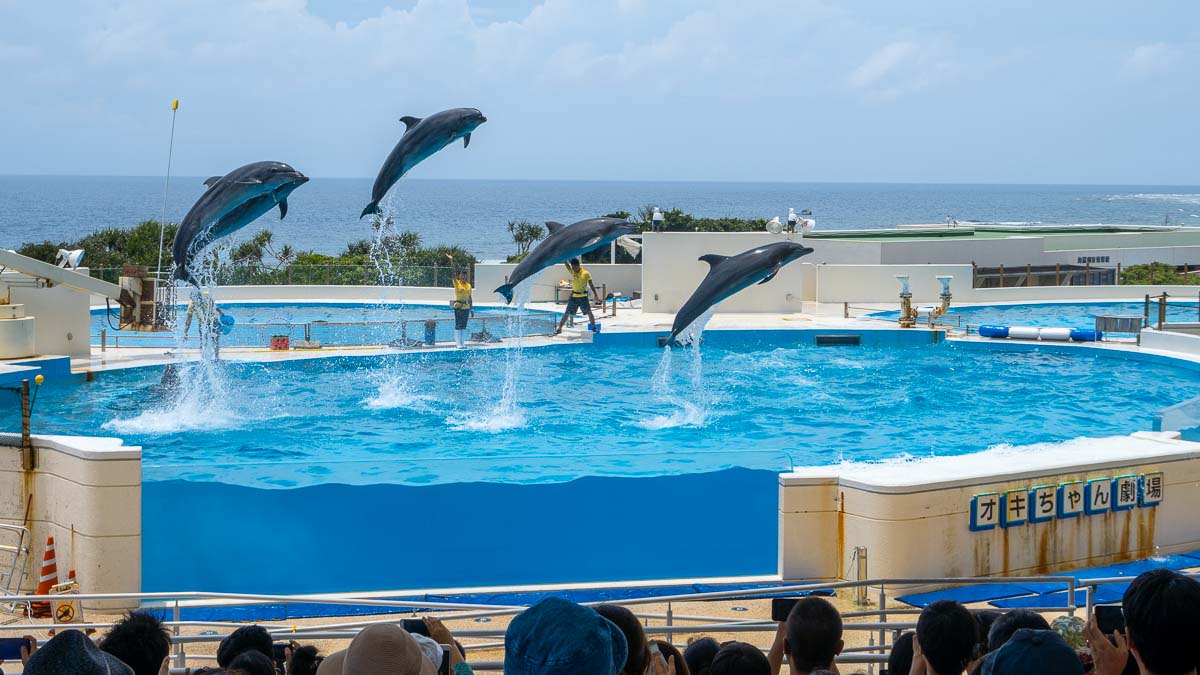 Don't miss out on the incredible dolphin show that happens throughout the day. There's an ending segment where adventurous volunteers can get splashed by them. Fair warning: Bring a change of clothes because you will be completely soaked!
*Pro-tip: Arrive before 10AM or after 2PM if you want to avoid seas of people.
Entrance fee: From ~S$20/pax via Klook (Free with the Enjoy Pass)
Opening hours: 8:30AM – 7PM
Map code: 553 075 797*77
Parking: Free on premises
Get the sickest sea views at Kouri Ocean Tower (古宇利オーシャンタワー)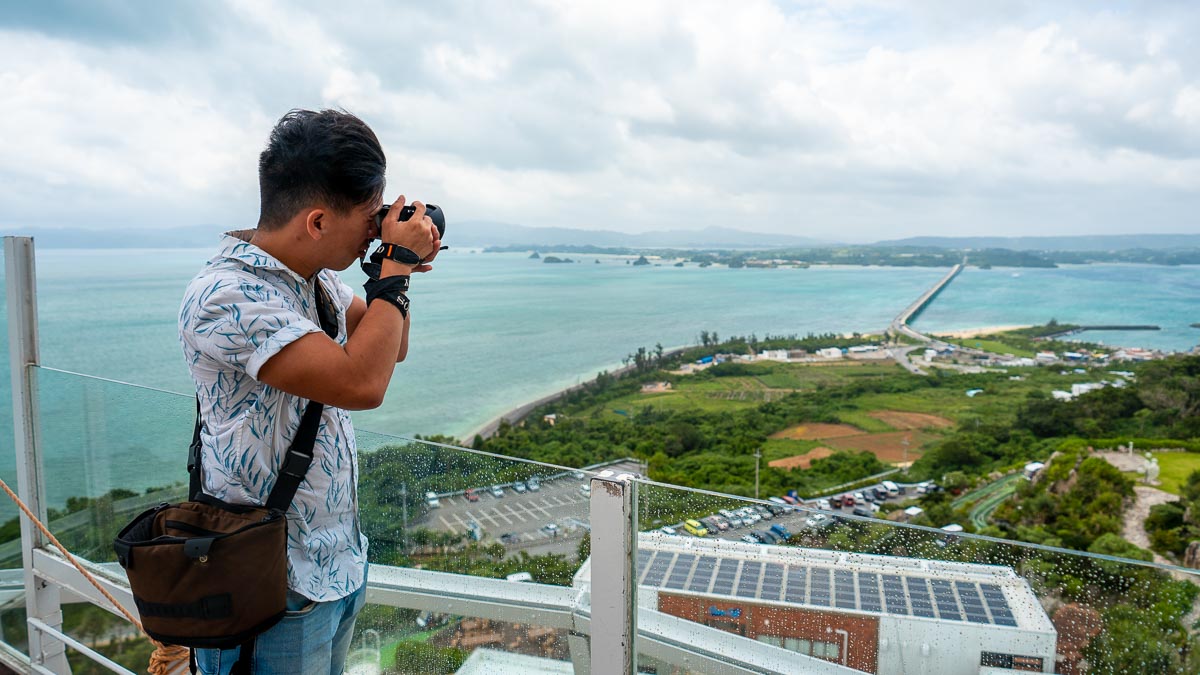 The Kouri Ocean Tower is admittedly touristy, but you can't deny that the vantage views offered here are stunning. At the top floor of the tower, you get clear views of the Kouri Island bridge, a 2km-long bridge cutting through turquoise and azure waters.
Entrance fee: From ~S$8/pax via Klook (Free with the Enjoy Pass)
Opening hours: 10AM – 6PM (Last entry 5:30PM)
Map code: 485 693 484*24
Parking: Free on premises
Chow down on heavenly Pizza in the Sky (ピザ喫茶 花人逢)
When you want a little break from Japanese food, indulge in some good ol' comfort food — pizza! Located atop a hill, Pizza in the Sky serves only two kinds of pizza: Plain (cheese), and Mix (pepperoni, peppers, bacon, and corn). We recommend getting both, simply because they're just so good!
Cost: From ¥1,100
Opening hours: 11:30AM – 7PM (Last order 6:30PM), closed on Tue and Wed
Mapcode: 206 888 669*33
Parking: Free parking opposite the hill
Read also: 14 Awesome Things To Do in Okinawa and How to Best Capture Them — Okinawa Photo Guide
Have a happy hour at Orion Happy Park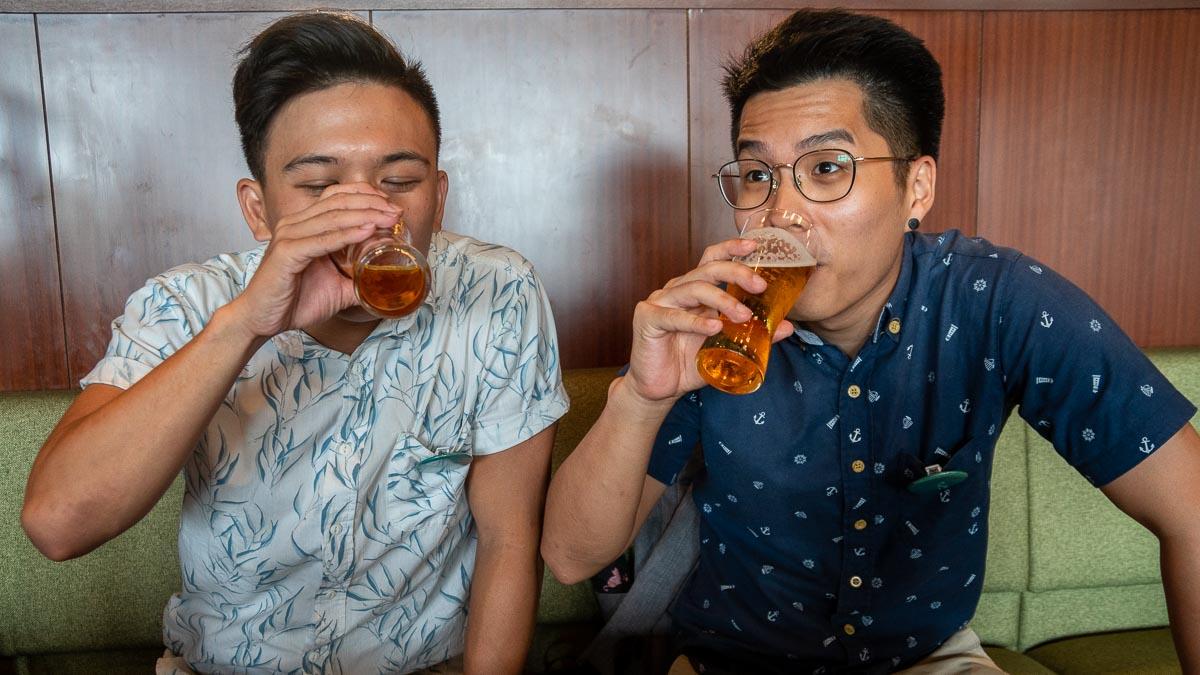 The best things in life are free, and that's what you'll get at the Orion Happy Park. The factory runs daily tours (only in Japanese) and finishes with a tasting session where each person receives a couple of Okinawa-made Orion beers. Except for the driver, who gets to enjoy a non-alcoholic drink instead. 🍻🥤
Prior booking is required. Make reservations here.
Cost: Free (¥500/pax for brewery tour)
Tour timings: Every 30mins from 10AM – 3:30PM
Map code: 206 598 867*44
Parking: Free on premises
Get fruity fresh at Okinawa Fruits Land (Okinawaフルーツらんど) and Nago Pineapple Park (ナゴパイナップルパーク)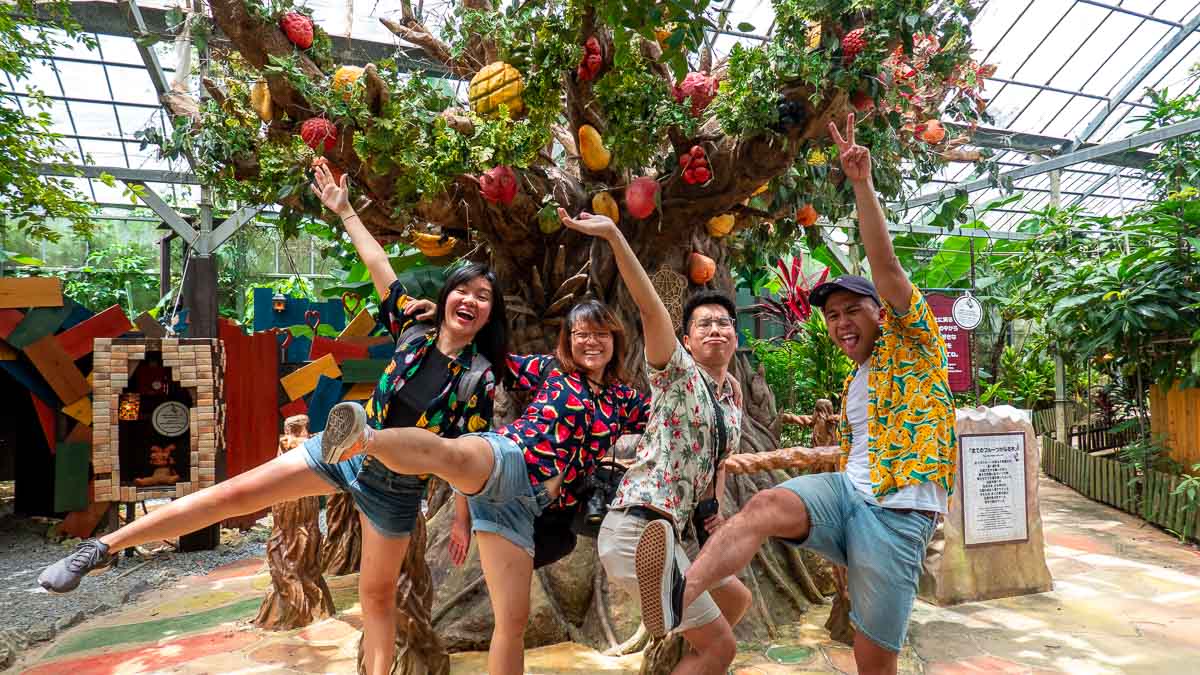 Just a bunch of fruit loops.
Aimed at children, Okinawa Fruits Land is a fruit-themed park that leads them on an adventurous quest to learn about tropical fruits planted around the park. It also has a mini-zoo, with birds and goats, to interact with.
Entrance fee: From ~S$16/pax via Klook (Free with the Enjoy Pass)
Opening hours: 10AM – 6PM
Map code: 206 716 584*13
Parking: Free on premises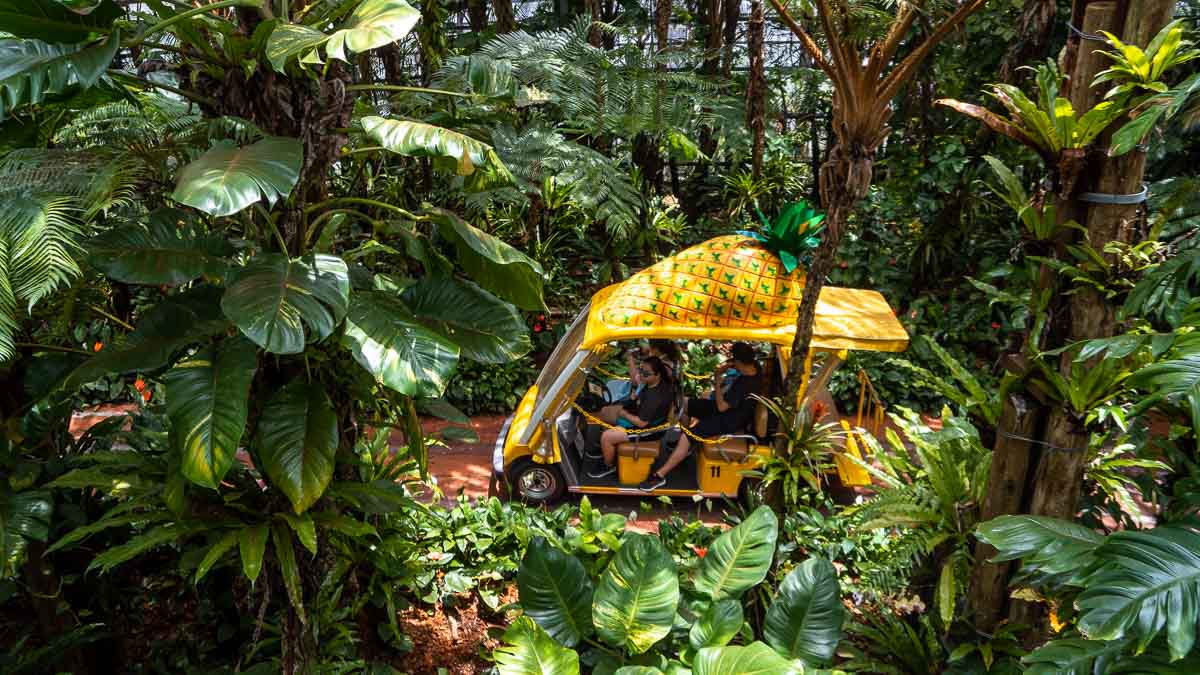 Just next door, the Nago Pineapple Park is a mini theme park dedicated to the yellow fruit. Visitors get to ride an automated pineapple cart around a pineapple plantation and a beautifully-sculpted garden. Remember to try samples of pineapple products before leaving!
Entrance fee: From ~S$10/pax via Klook (Free with the Enjoy Pass)
Opening hours: 10AM – 6PM
Map code: 206 716 438*88
Parking: Free on premises
Enjoy ice cream with a view at Ark Cafe (アイスクリンカフェ アーク)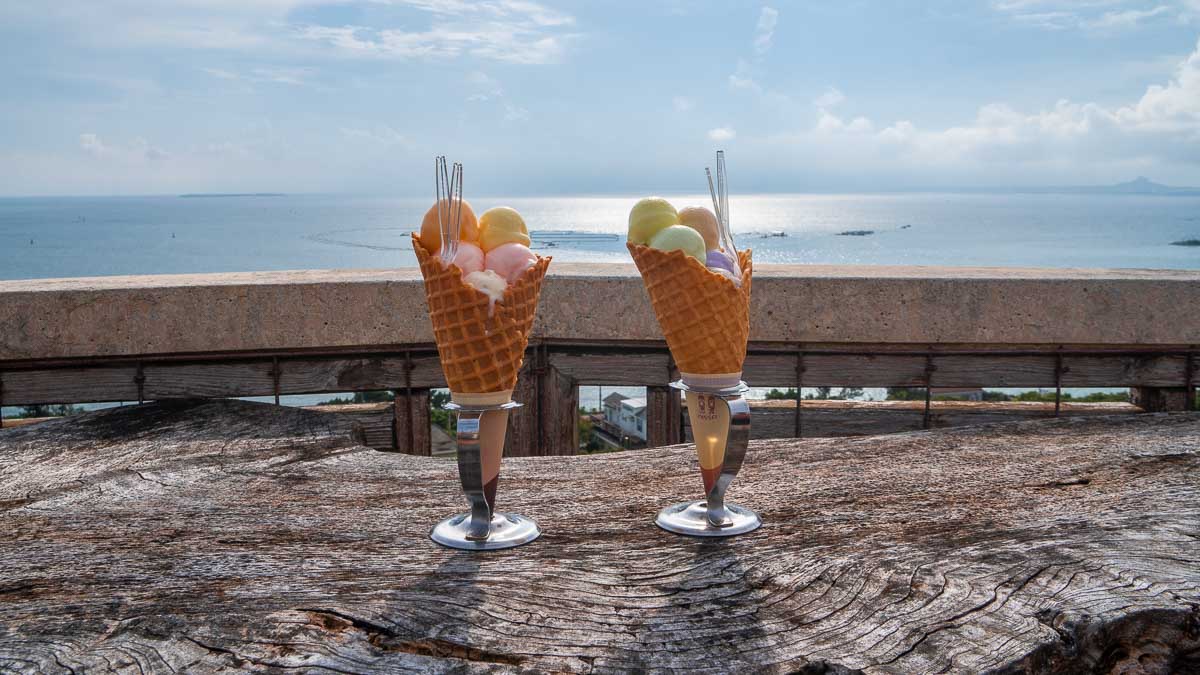 Ark Cafe is a rustic, fairytale-like mansion that serves food and desserts. We got a waffle cone with five scoops (¥550) of interesting flavours such as sugarcane and acelora. As we came slightly before closing time, we managed to snag amazing rooftop ocean views to ourselves.

Opening hours: 11AM – 6PM, closed on Wed and Thu
Mapcode: 206 887 607*17
Parking: Free on premises
Day 4: North Central Okinawa – Naha (Central Okinawa)
Go Snorkelling in the Famous Blue Cave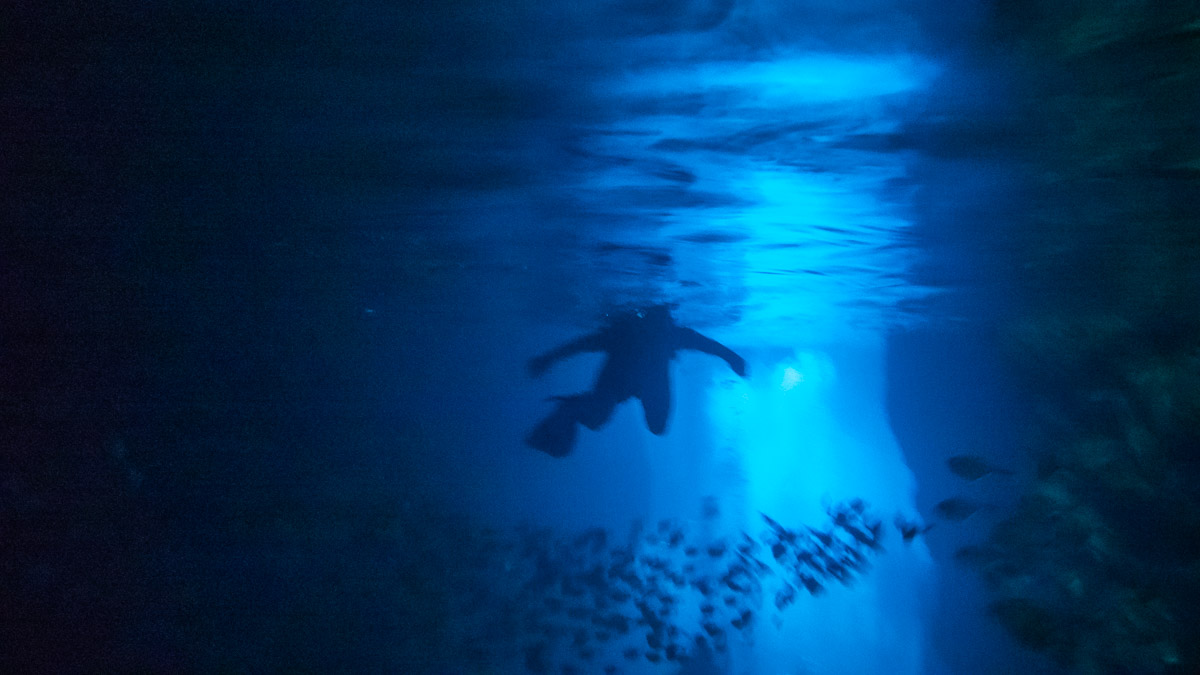 A popular spot for watersport lovers, Okinawa's Blue Cave is a semi-submerged cave that gets its startling blue colours from sunlight refraction. We went for a Blue Cave snorkelling tour and were amazed by its rich blueness and mysterious ambience.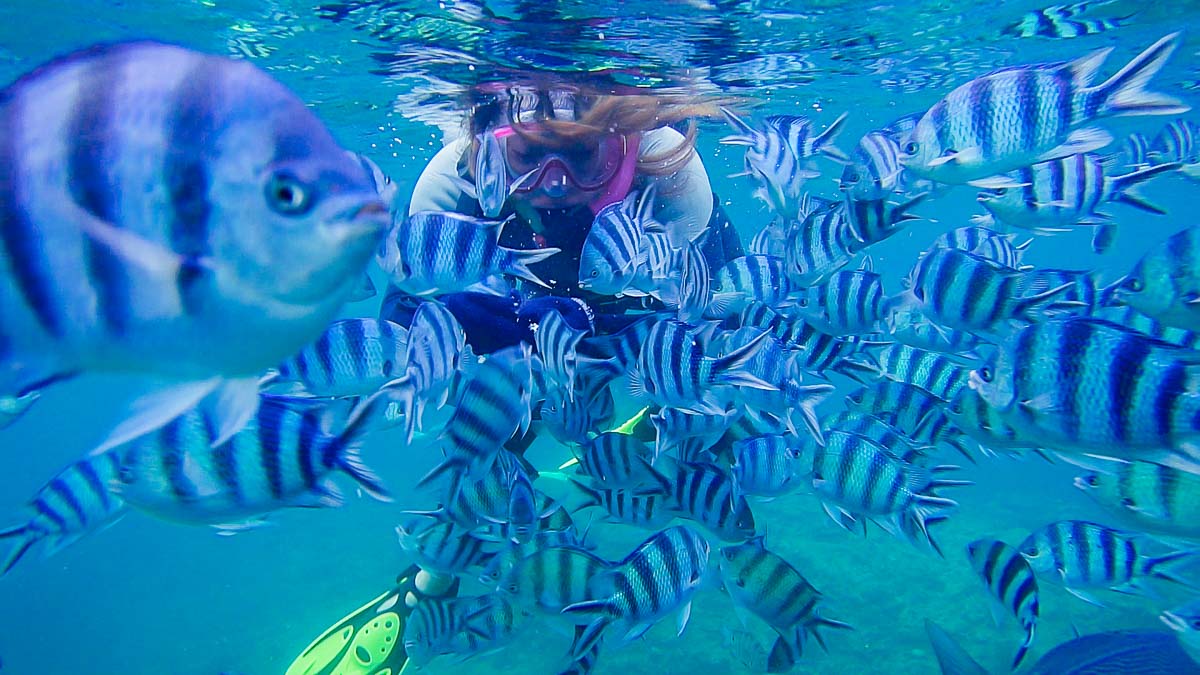 What makes the Blue Cave even more breathtaking is its crystal-clear waters, where you can watch multiple schools of fish swim by. After exploring the cave, you get to snorkel outside in open waters and feed surrounding fish.
Cost: From ~S$36/pax via Klook
Tour timings: Every 2 hours from 8AM – 4PM
Meeting Point: Marine Station Okinawa (マリンステーション沖縄), Maeganeku, Onna, Kunigami District, Okinawa 904-0414
Mapcode: 206 096 290*14
Parking: Free parking opposite Okinawa Dining Wankara Wankara
Looking for other watery delights? Here are 33 things to eat-see-do in Okinawa!
Strut down the American Village (アメリカンビレッジ)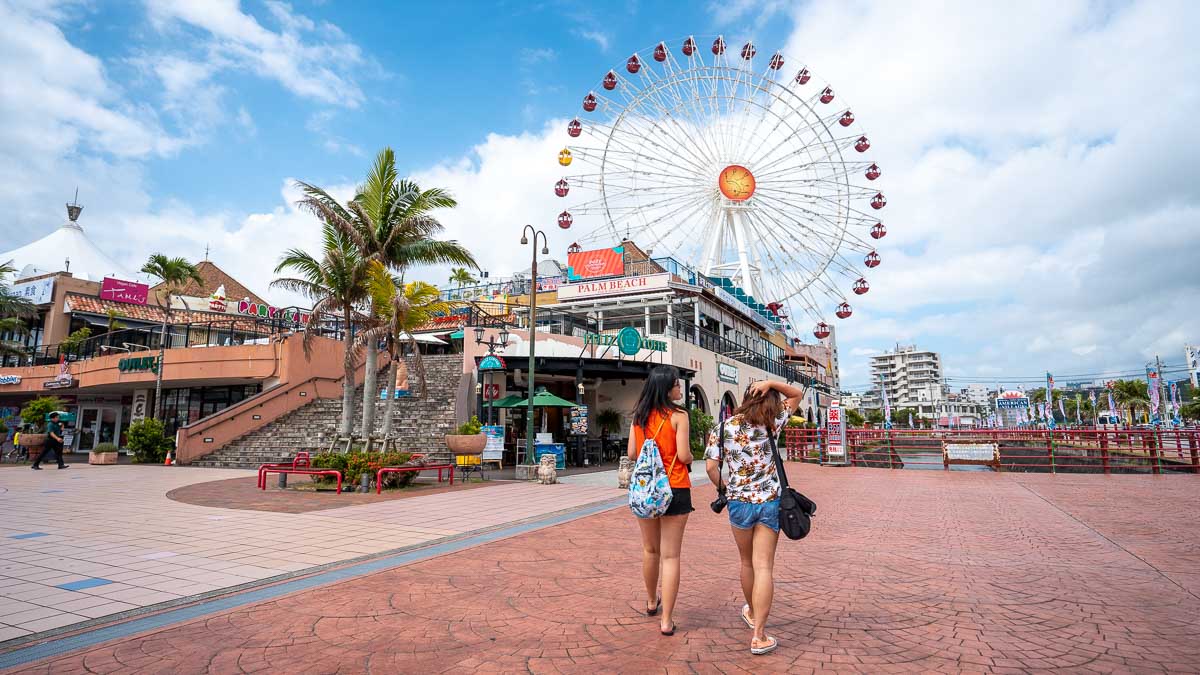 The American Village is a fascinating hybrid of Japanese and American cultures. It's a huge shopping complex with plenty of shops and eateries to check out. Thrift shoppers can raid the American Depot, a funky store that sells vintage and used clothing, including US army uniforms.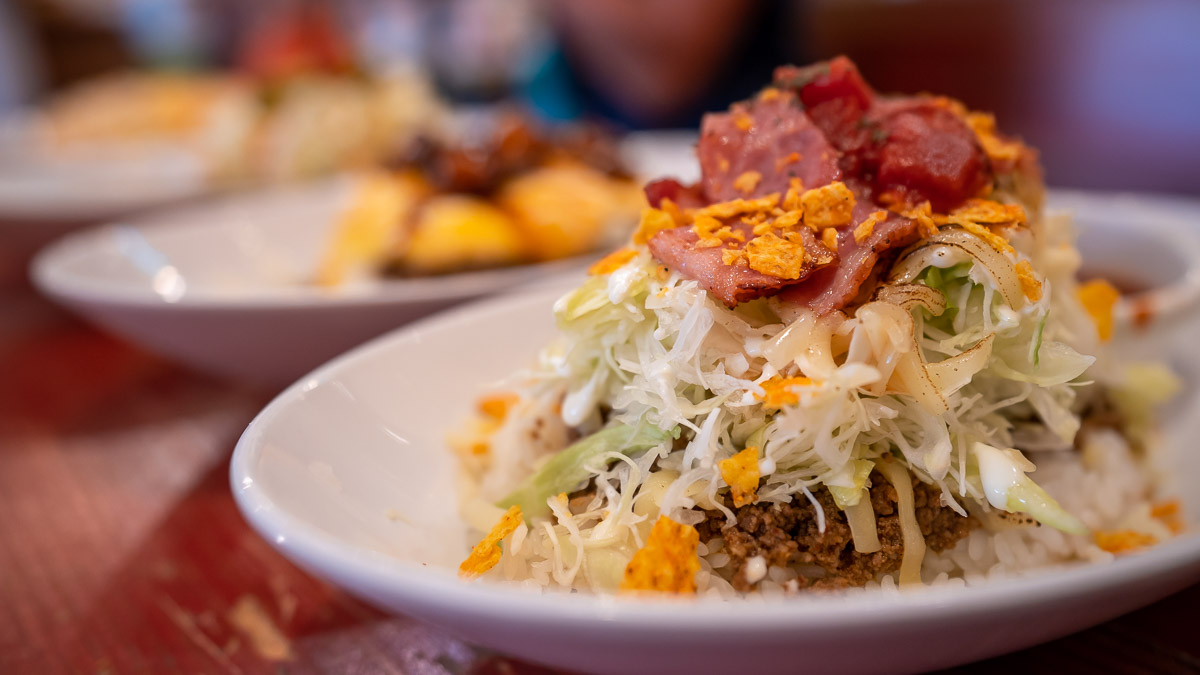 Food-wise, we highly recommend unique Okinawan specialties like Taco Rice — a tasty mishmash of Mexican taco fillings and Japanese omurice.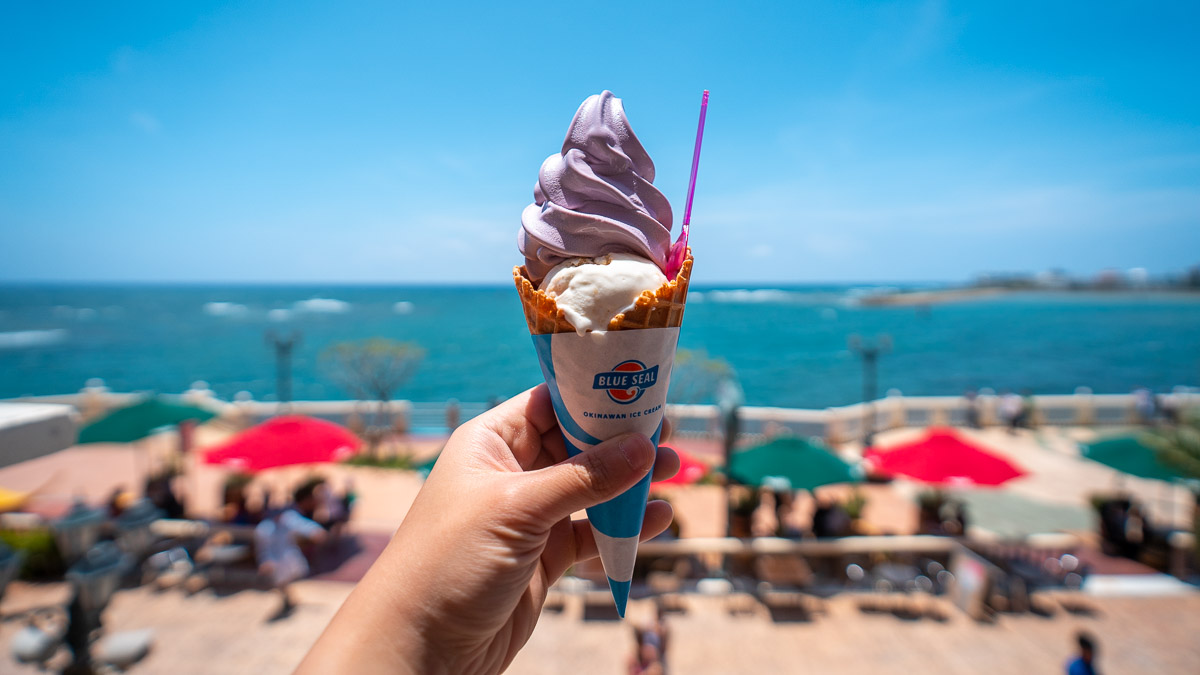 For dessert, wash it all down with Blue Seal ice cream (affectionately dubbed the "ice cream of Okinawa"). Every flavour tastes amazing, but the bestselling Okinawan salt cookie was my die-hard favourite.
Map code: 33 526 450*65
Parking: Free on premises
Defy death at Kana Restaurant (イラブー蛇料理 カナ)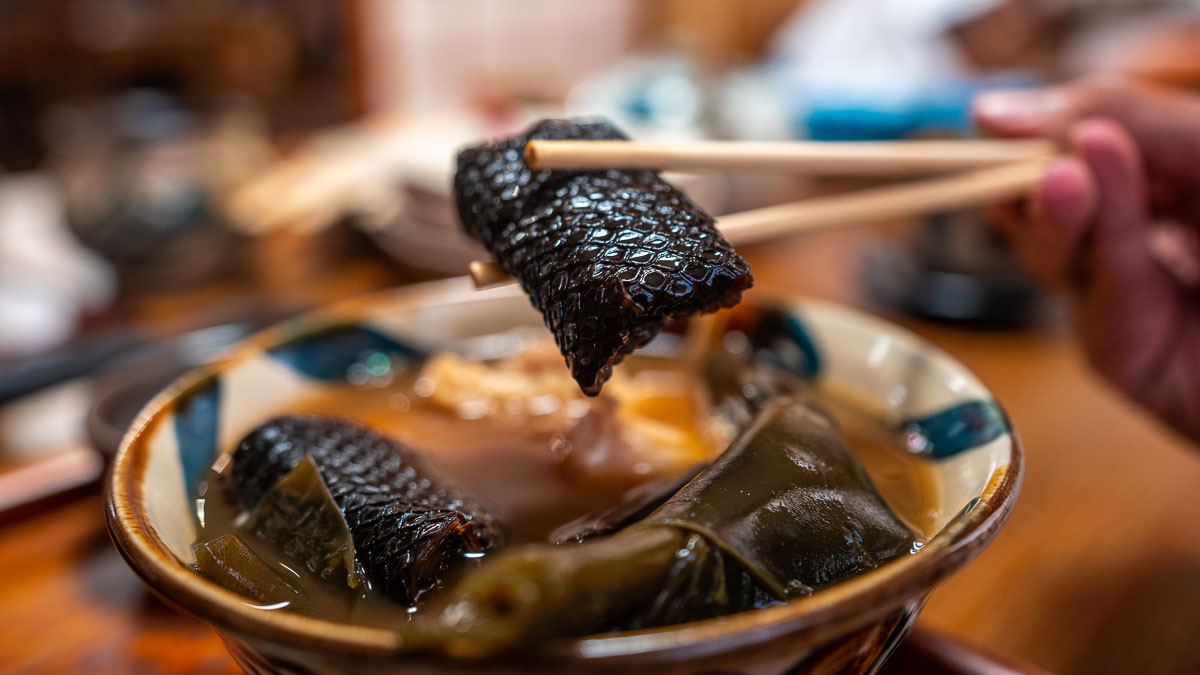 Irabu soup set, ¥4,000.
This was a dining experience truly like no other. Kana Restaurant serves sea snake soup, a traditional Ryukyuan dish that is believed to provide consumers with stamina and medicinal benefits.
The main ingredient is irabu, a sea snake that's 10 times more venomous than a cobra. We learnt that the snake takes a tedious 18–36 hours to prepare. As a result, only 30 dishes are made per week.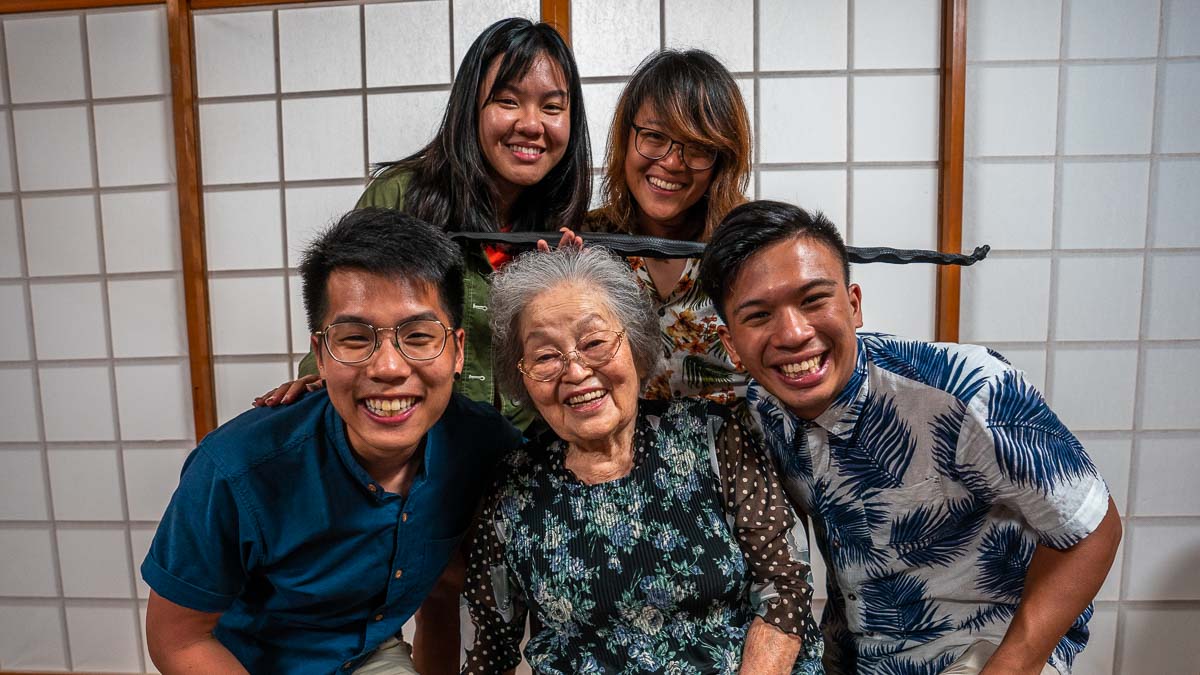 The irabu has an impressive depth of umami flavour that parallels tuna, kelp, and bacon. We were fortunate to meet the dear 86-year-old woman who makes the sea snake soup before we left. Although this meal is pricey, the experience is definitely worth every yen.
Call ahead to make reservations in advance.
Cost: From ¥4,000
Opening hours: Varies (check website for dates and time)
Mapcode: 33 499 592*22
Parking: Unavailable. We parked by the street side before walking up to the restaurant.
Day 5 – 7: Naha
Wander through Naha's famous markets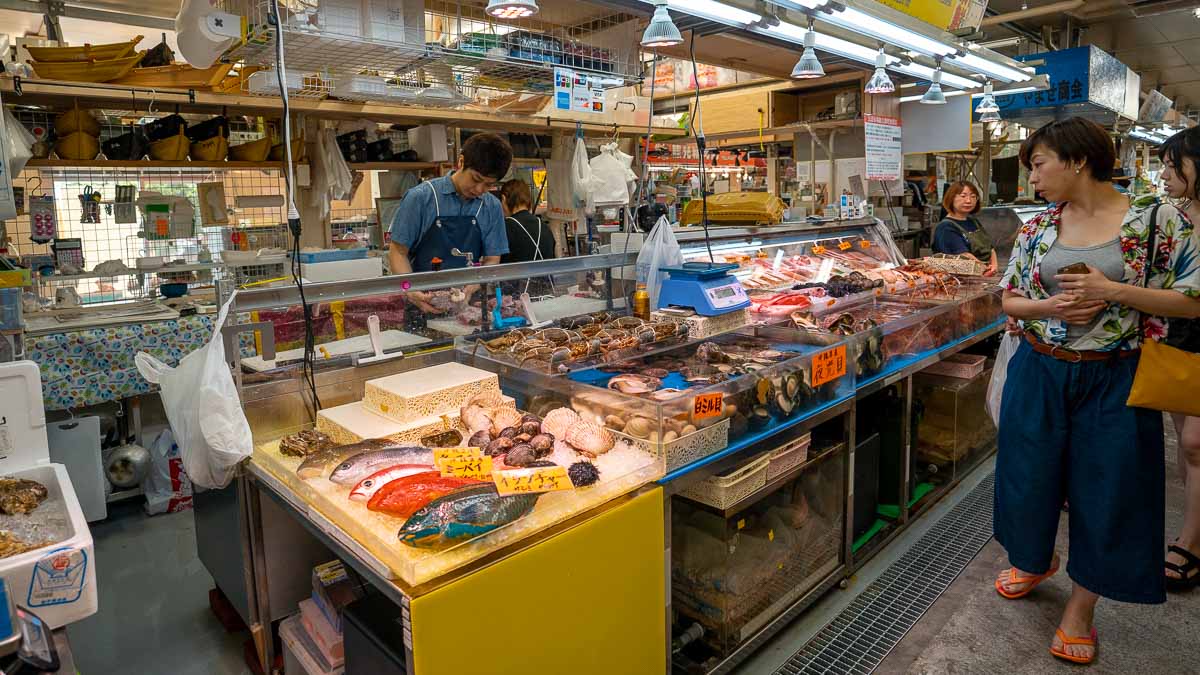 Back in the city, you'll find that Naha has many exciting marketplaces to explore. The most famous one is the Makishi Public Market (第一牧志公設市場), a two-storey market that sells fresh sashimi, seafood, meat, and dried products.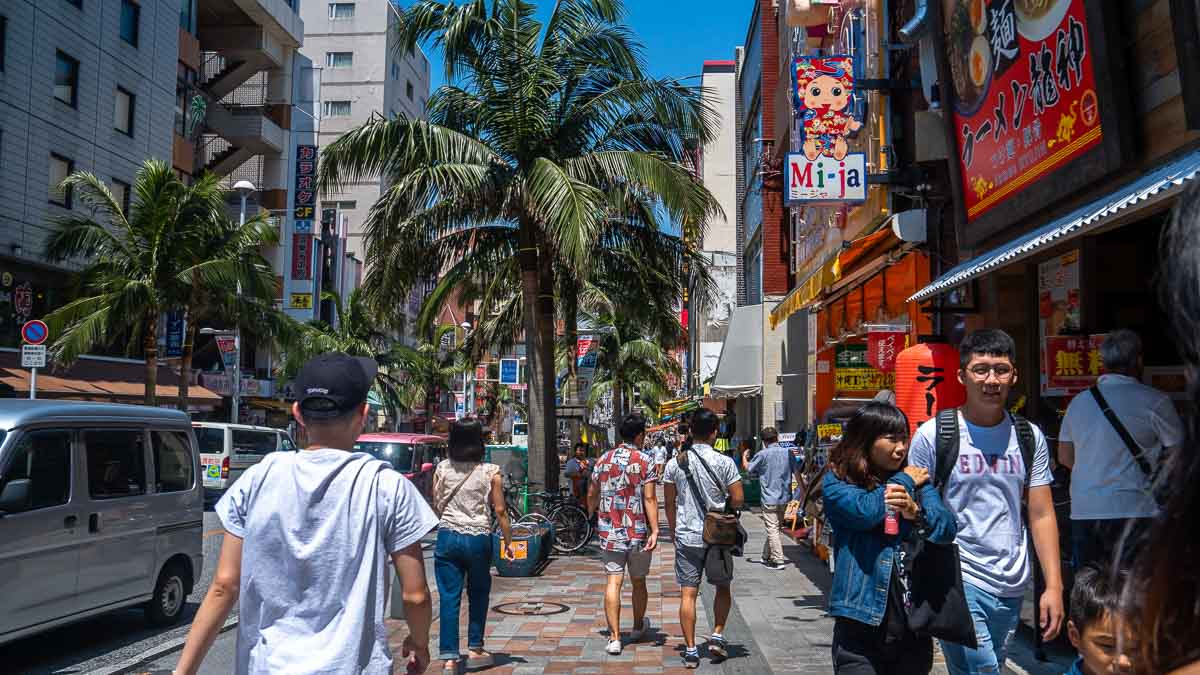 Nearby, travellers can also stroll down Kokusai-dori (那覇国際通り商店街, a.k.a. International Street), a long shopping street with Hollywood Boulevard vibes. There's also Heiwa-dori (平和通り), a sheltered marketplace similar to Bugis Street.
Map code: 33 157 312*03
Parking: Paid parking lots and multi-storey carparks are available around the area. Full-day parking usually costs ¥900.
Taste unusual foods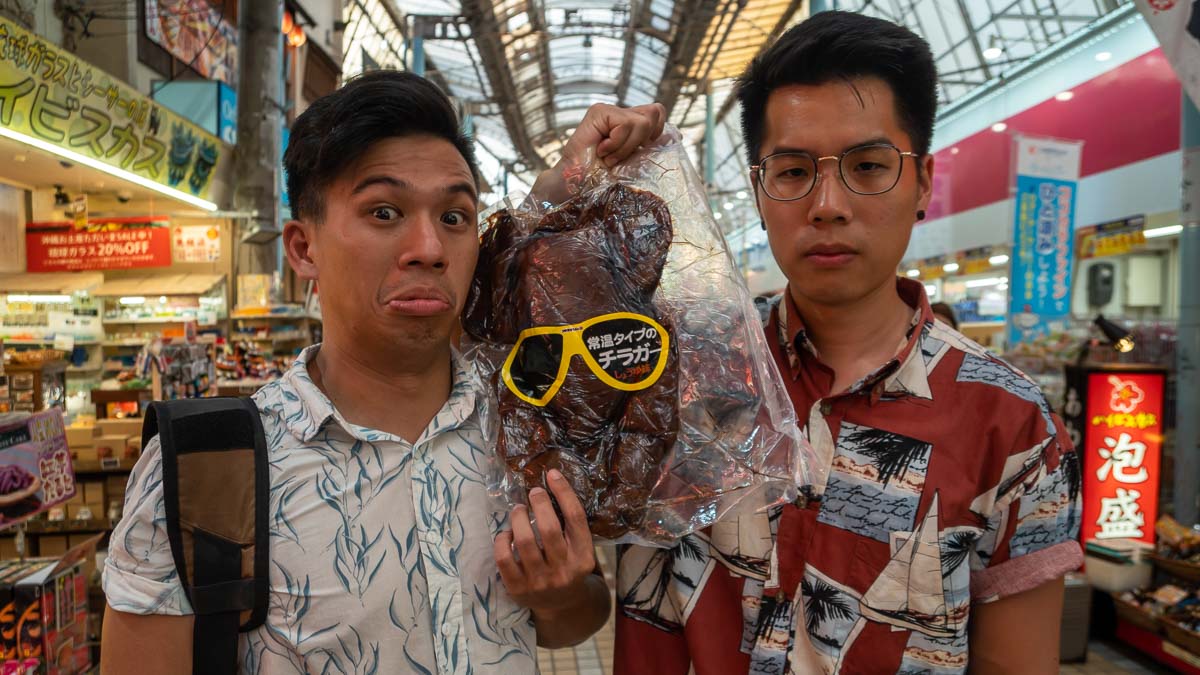 There's a saying that except for its squeal, Okinawans eat all parts of the pig. This also applies to the face, which is pre-packaged and sold in Naha's markets (~¥1,800). In case you're wondering, it's very gelatinous.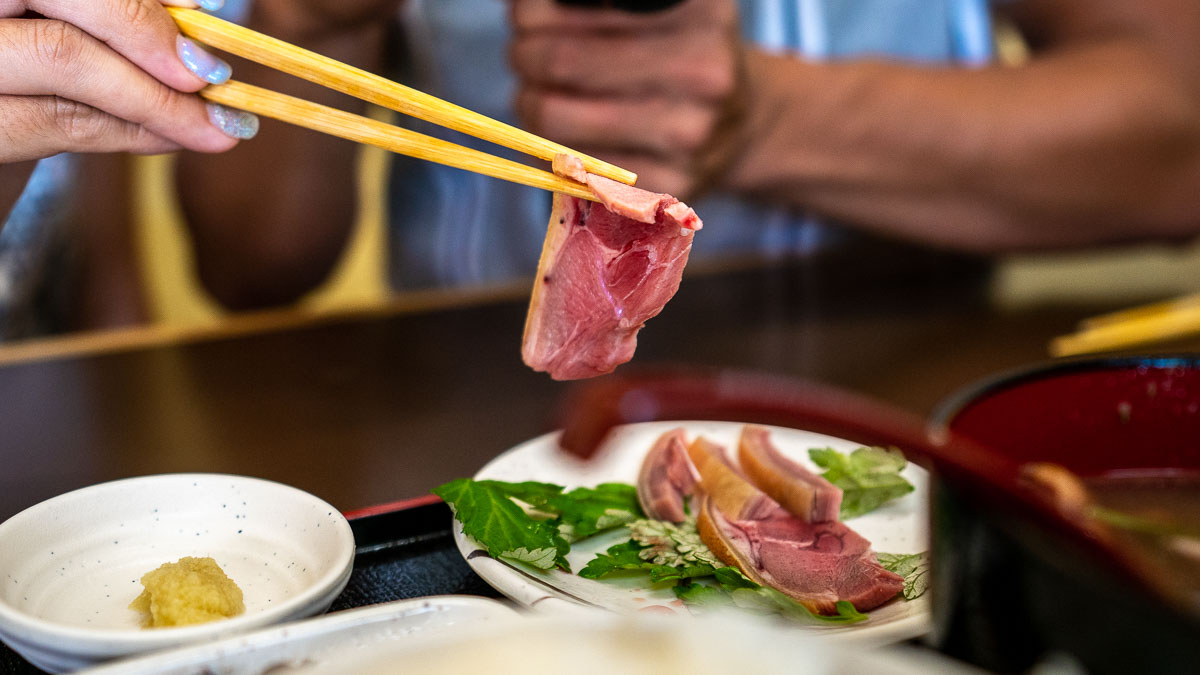 Other weird delicacies include goat meat sashimi. The meat has a very strong and pungent smell, with an equally gamey taste and texture. Give it a try — mehhh-be you might like it!
山羊料理 山原食いなぁ
Cost: ¥1,050
Map code: 33 155 612*13
Parking: Unavailable. We parked on a street near the eatery.
Get fast and furious on Okinawa's streets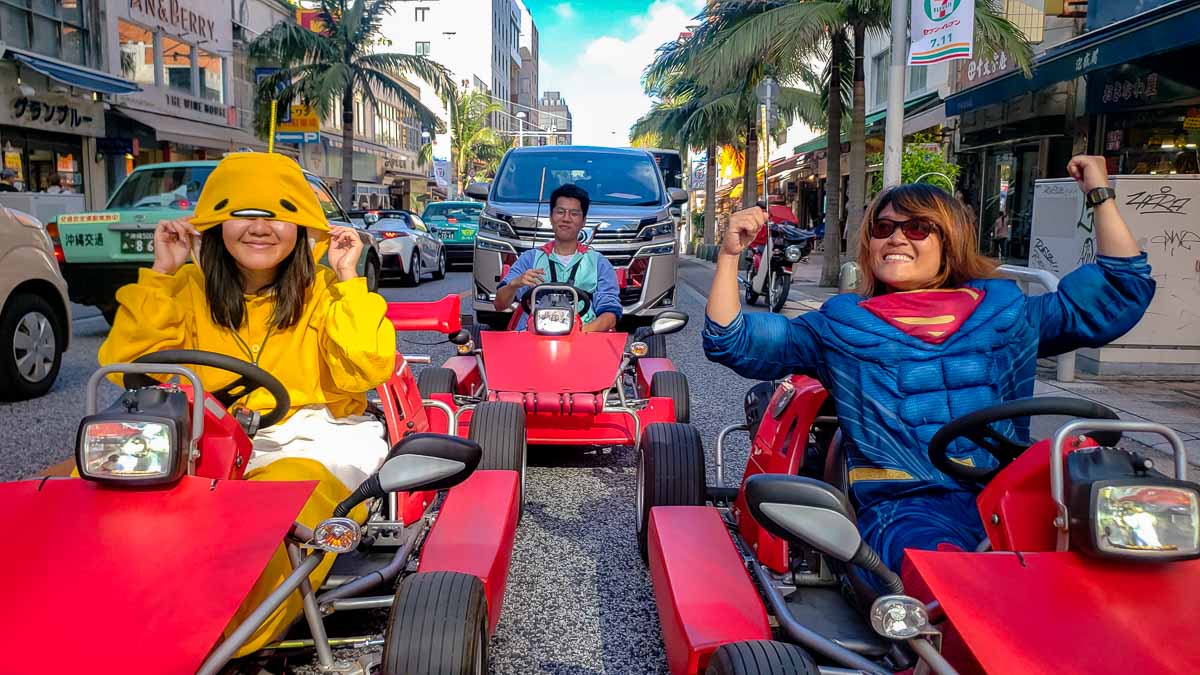 Unleash your inner kid and explore the city on a different (smaller) set of wheels! Hop on a go-kart experience, and cruise through empty roads and International Street. While go-karting, don't forget to smile and wave at people who'll happily snap photos of you!
Cost: From ~S$90/pax via Klook for 1hr
Meeting point: Street Kart Tour Okinawa, 7-1 Higashimachi, Naha-shi, Okinawa-ken 900-0034, Japan
Map code: 33 156 094*63
Parking: Paid parking available opposite and behind the shop. One hour costs ¥300.
Observe the past at Shuri Castle (首里城)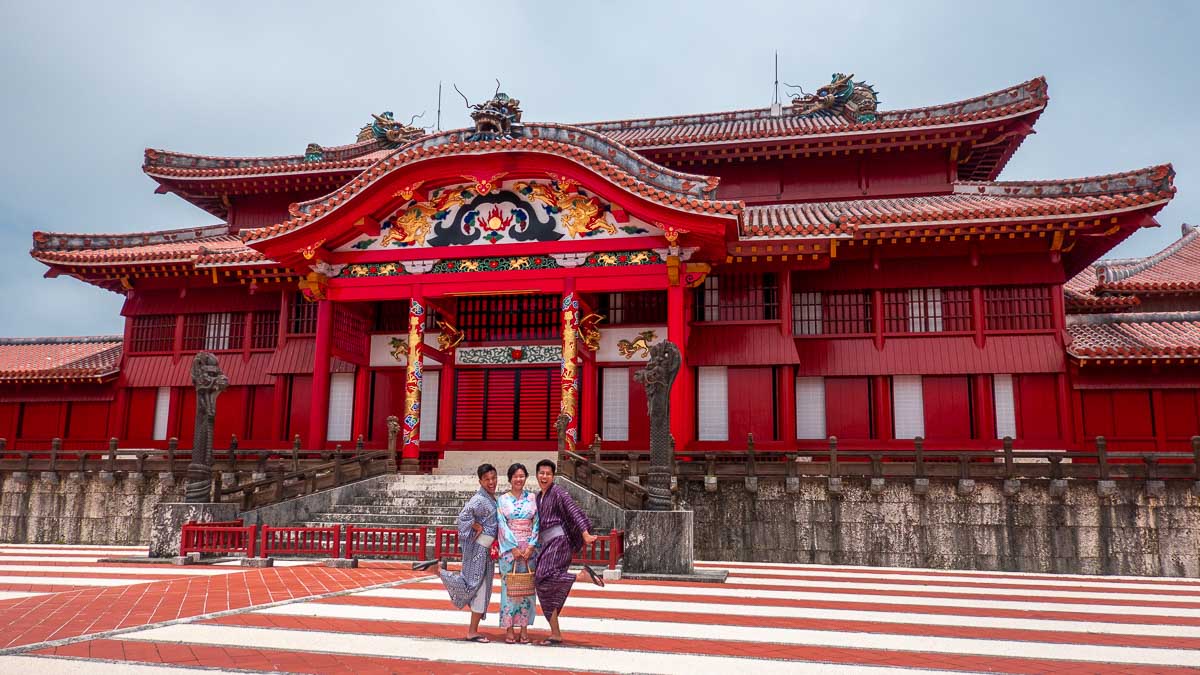 Another World Heritage site, Shuri Castle served as the political centre of the Ryukyu Kingdom as well as a residence for the royal family.
Unfortunately, the castle was destroyed by a huge fire on 31 October 2019. However, parts of the castle compound remain open to visitors at no charge and is currently being rebuilt.
Cost: Free
Opening hours: 8AM – 7:30PM
Mapcode: 33 161 526*71
Become a Karate Kid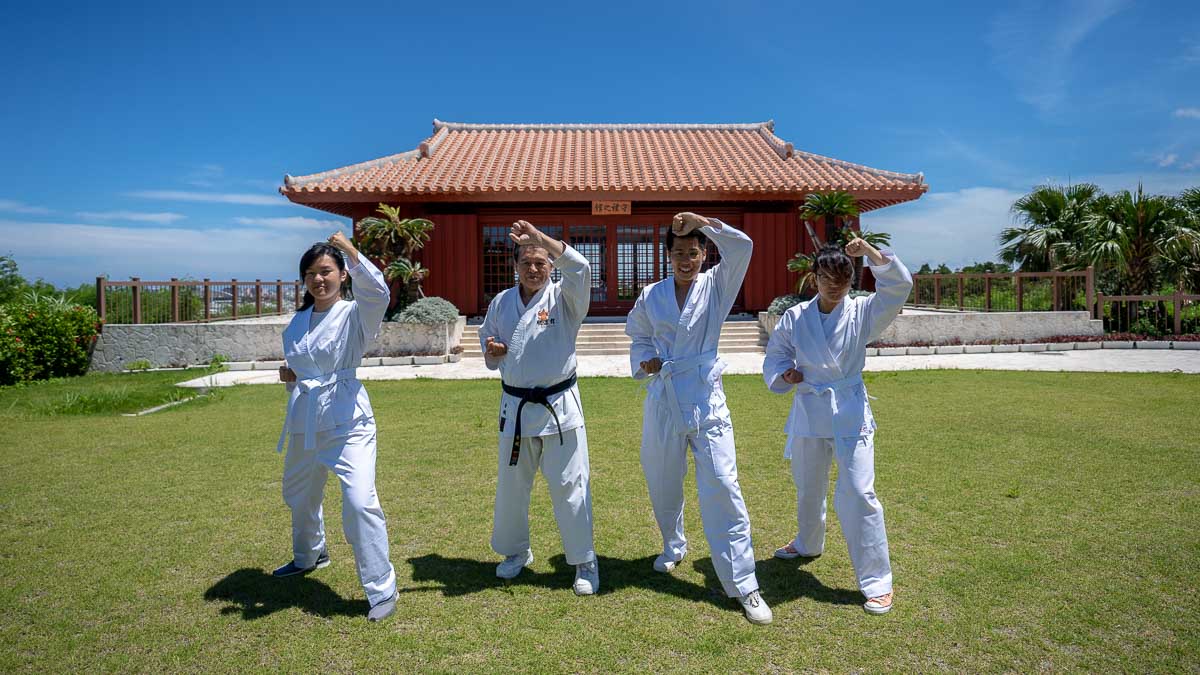 Osu!
With Karate making its first appearance in the Tokyo 2020 Olympics, why not learn the martial art in its origin country? At the Okinawa Karate Kaikan, try an enlightening Karate experience. You'll train under highly skilled senseis who will teach you basic attack and defence moves.
Us fighting hard to extend our leave 🙊
Cost: ¥200/pax
Opening hours: 9AM – 6PM (Last entry 5:30PM), closed on Wed
Mapcode: 33 037 845*33
Parking: Free on premises
Visit the Santorini of Okinawa (瀬長島 ウミカジテラス)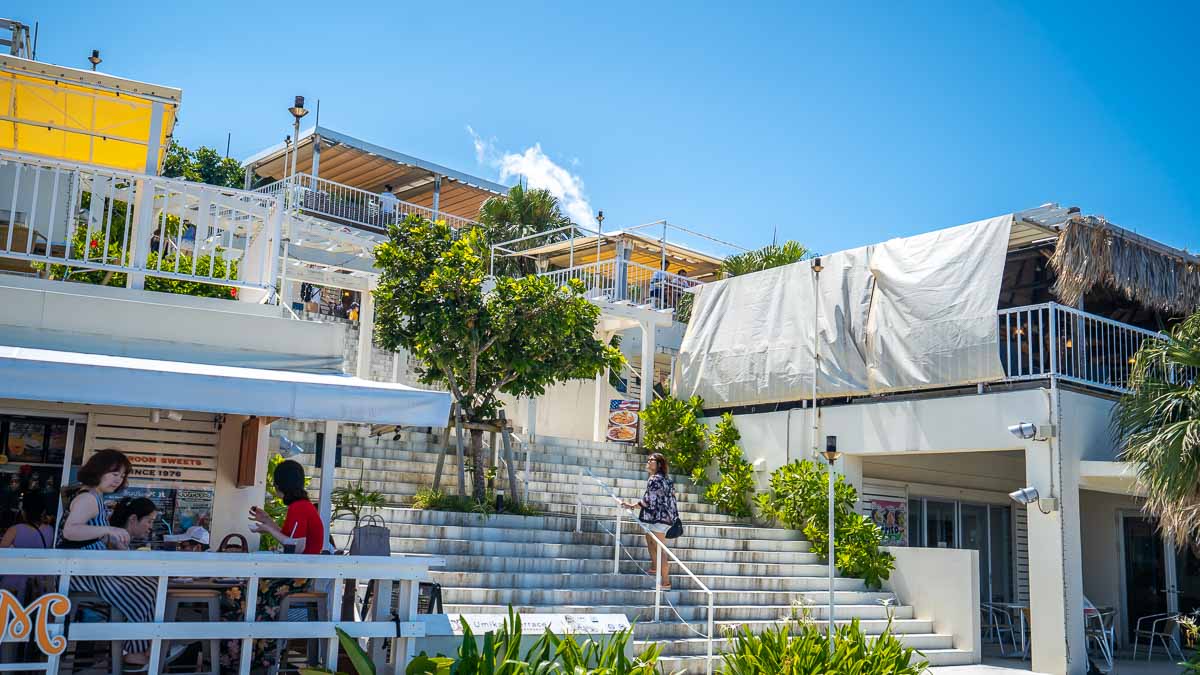 Who knew the Hawaii of Japan would have a little bit of Greece too? Umikaji Terrace is known as the Santorini of Okinawa, due to its pristine white-washed buildings. Inside, there's a wide range of artisan shops and Instagrammable cafes to explore.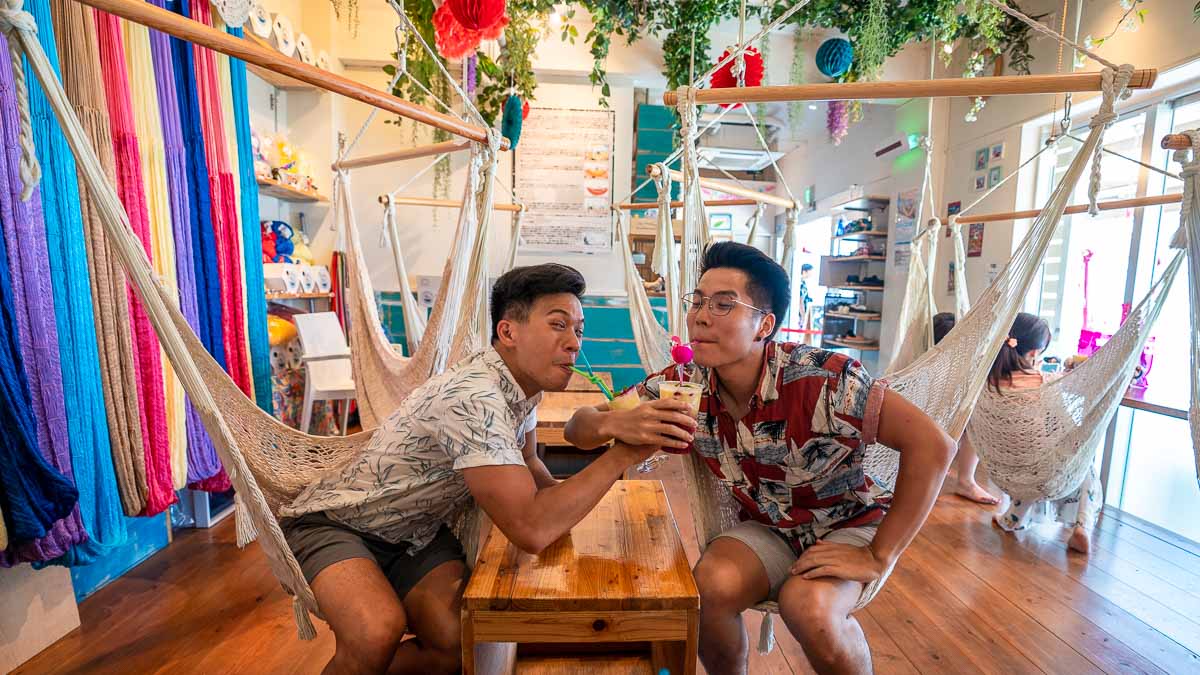 We kicked back and chilled hard at this quirky Hammock Cafe!
Opening hours: 10AM – 9PM
Map code: 33 002 662*77
Parking: Free on premises
Have a traditional Okinawan dining experience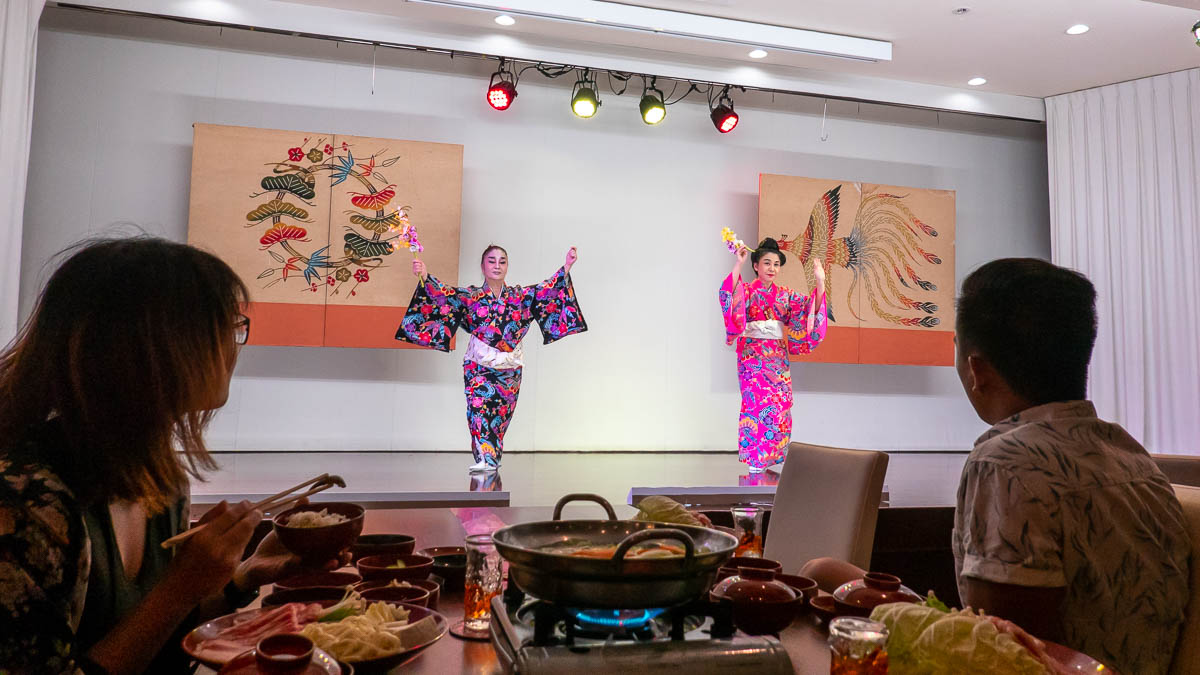 End your trip with a memorable dinner! At Yotsutake, you'll be treated to an interesting dining experience. Enjoy watching modern Ryukyuan performances while you savour a hearty hotpot of noodles, meat, veggies, and delicious dipping sauces.
Cost: From ¥4,000
Map code: 33 156 397*36
Getting around Okinawa
Okinawa is truly the Hawaii of Japan, with deep blue waters, fascinating culture, and exhilarating activities. It's unfortunate that many of the island's gems are more accessible by car, but I've always believed that road trips create the most spontaneous (and epic!) memories.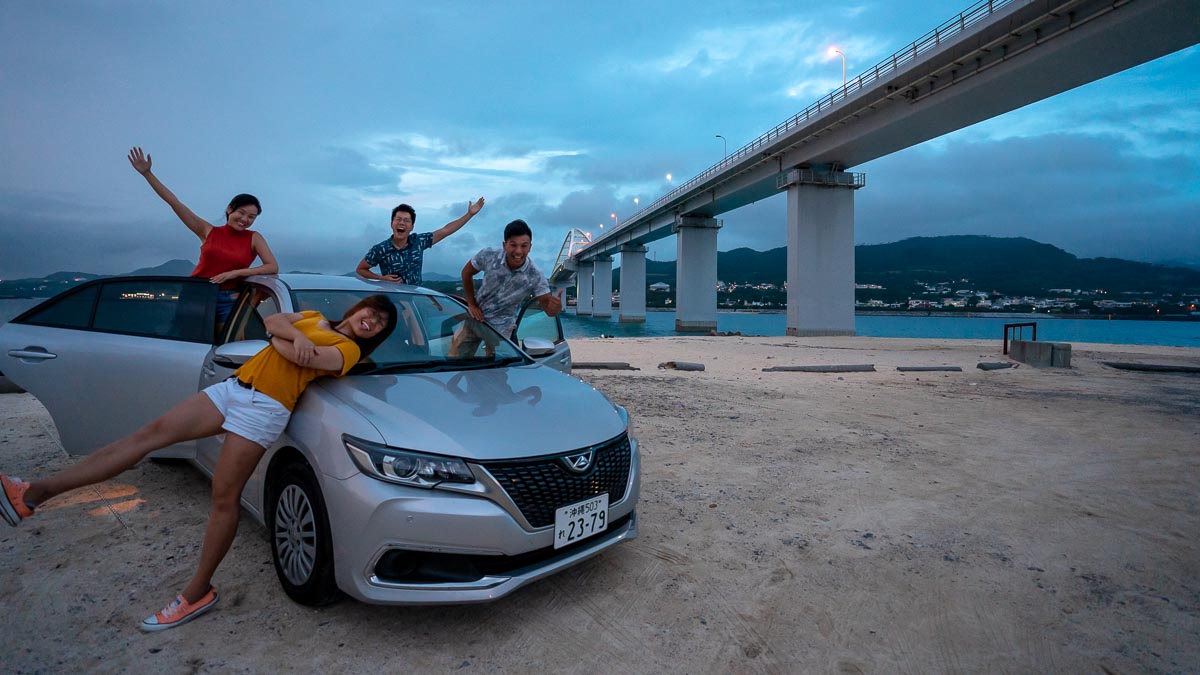 We booked all our activities, including our cosy car, through Klook. Compared to navigating Japanese sites on our own, booking through Klook was very fast and straightforward. This was a relief, as none of us were proficient in the language.
We also received most of our booking confirmations almost instantly. During our trip, the respective staff from different activities updated us about the meeting points in advance!
To help ease your Okinawa itinerary planning, here's a summary of what we booked for this trip:
– WiFi device (~S$5/day)
– 8D7N Car Rental (~S$340 for C1 5-seater)
– Okinawa Churaumi TokuToku 5 Pass/Enjoy Pass (~S$50)
– Parasailing Experience from North Okinawa (~S$64)
– Onna Village Blue Cave Snorkelling Tour (~S$36)
– Okinawa Street Go Karting (~S$90 for 1 hour)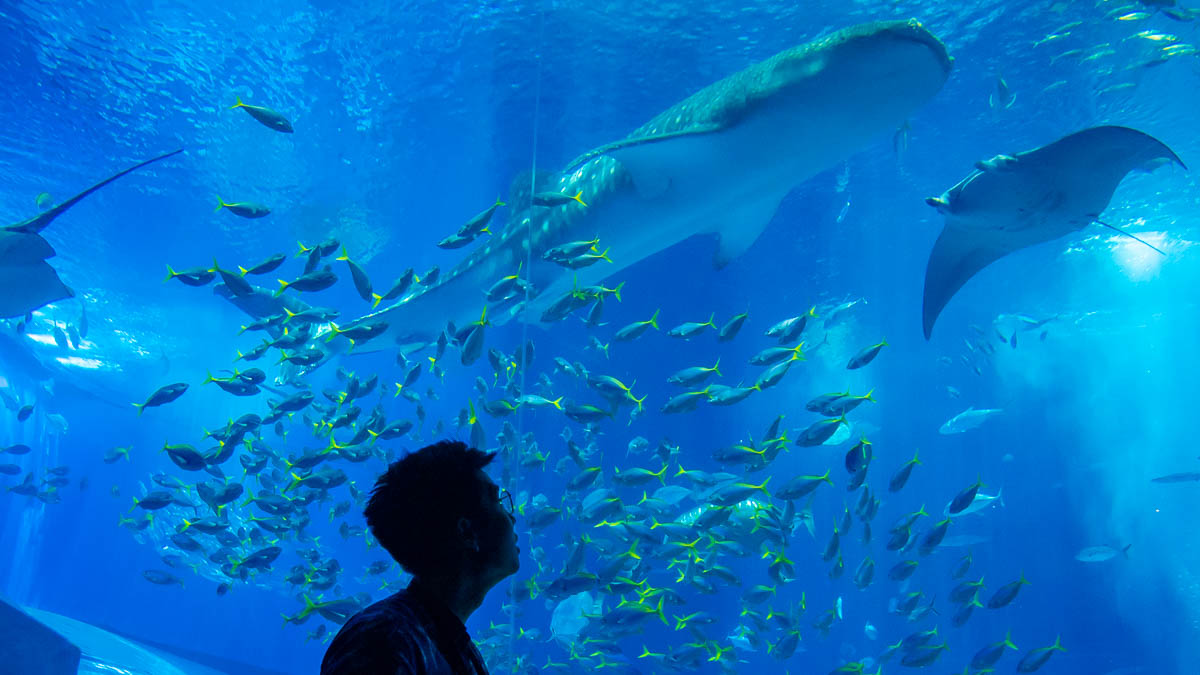 Overall, it was a smooth and fuss-free process, and we could enjoy ourselves without worrying about complicated instructions or language barriers.
We also got to enjoy savings when we booked the TokuToku 5/Mini Enjoy Pass. We visited five attractions in this Okinawa itinerary, including the Churaumi Aquarium, and saved over S$30 as compared to paying at the door. It's pretty good value-for-money, but requires some planning on which attractions to visit.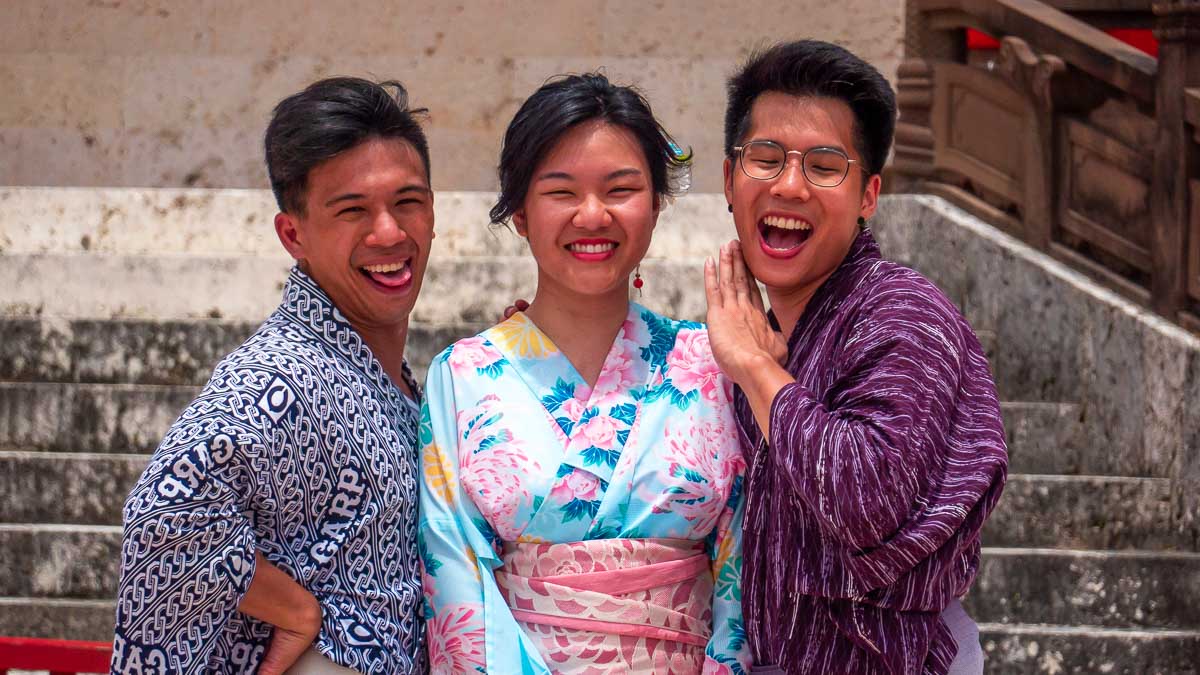 So go forth and explore Japan's Hawaii with this Okinawa itinerary! The island's affordability, relaxed vibes, as well as polite and courteous drivers, will really give you the break you've been looking for. Just don't forget the sunscreen, for real 💀
Tips for driving around Japan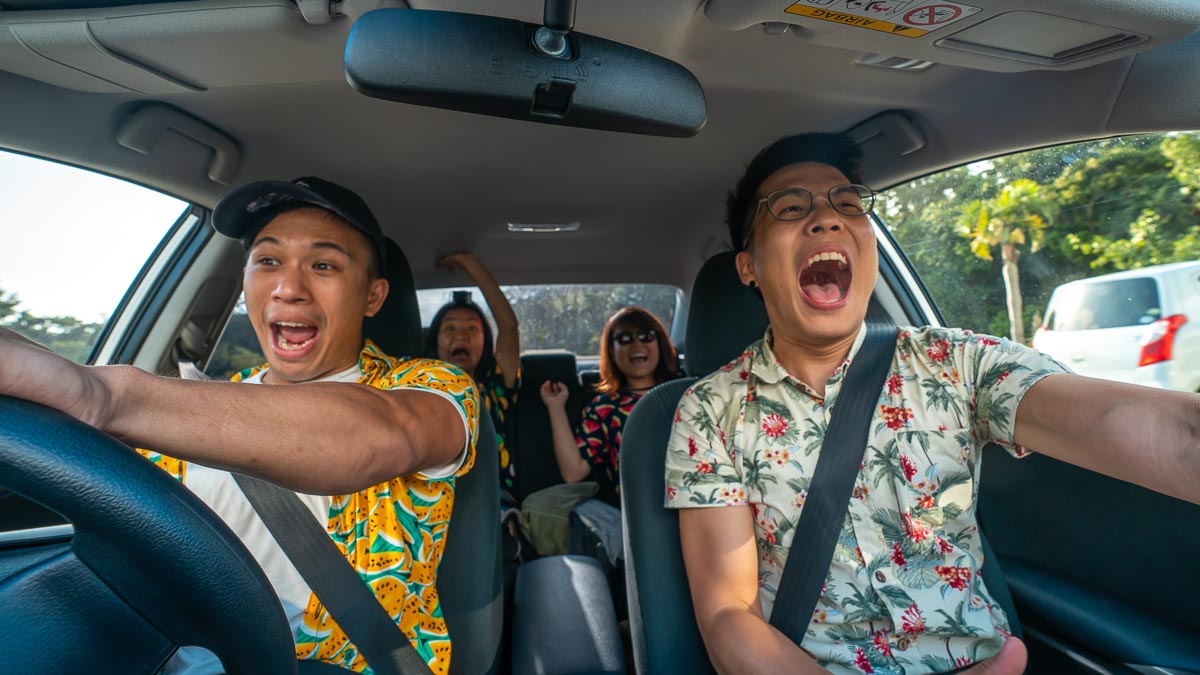 0) Wear your seatbelts.
1) Get an International Driving Licence. You'll need to show this document, along with your passport and local driving licence, for verification when collecting your car.
2) Follow the speed limit, especially in cities. Okinawa's roads and alleys are rather narrow. Road markings are faint, making it harder to see lanes. Vehicles will also park on road shoulders along the two-lane International Street. Drive slowly to prevent accidents.
3) Park at authorised parking areas. Illegal parking can result in hefty fines or policemen who will chase after you (true story).
4) Prepare the Map codes or telephone numbers of your destinations. Enter them into the car's GPS for quick and easy navigation. It's a great alternative to typing down long addresses. Use this website to find map codes of places not listed in this itinerary.
5) Skip the ETC Card. While we used it during our Hokkaido road trip, it's not necessary for Okinawa. You can drive on non-toll roads to get around the island (it'll just take longer). Tolls can be paid in cash.
Ever been to Okinawa, or planning to go? Share with us your thoughts (or your own Okinawa itinerary) in the comments below!
---
This post was brought to you by Klook.
Like what you see? Follow us on Facebook, Instagram, YouTube and Telegram for more travel updates!