Our first trip to NZ since its borders closed due to Covid. Here's an epic South Island itinerary covering everything we've missed about New Zealand!
Despite covering many epic sights on our last trip to New Zealand, there was still a long unfulfilled bucket list of experiences on the South Island.
So when New Zealand announced its borders would open from 1 May 2022, we got down to planning the South Island trip we'd been eagerly waiting for.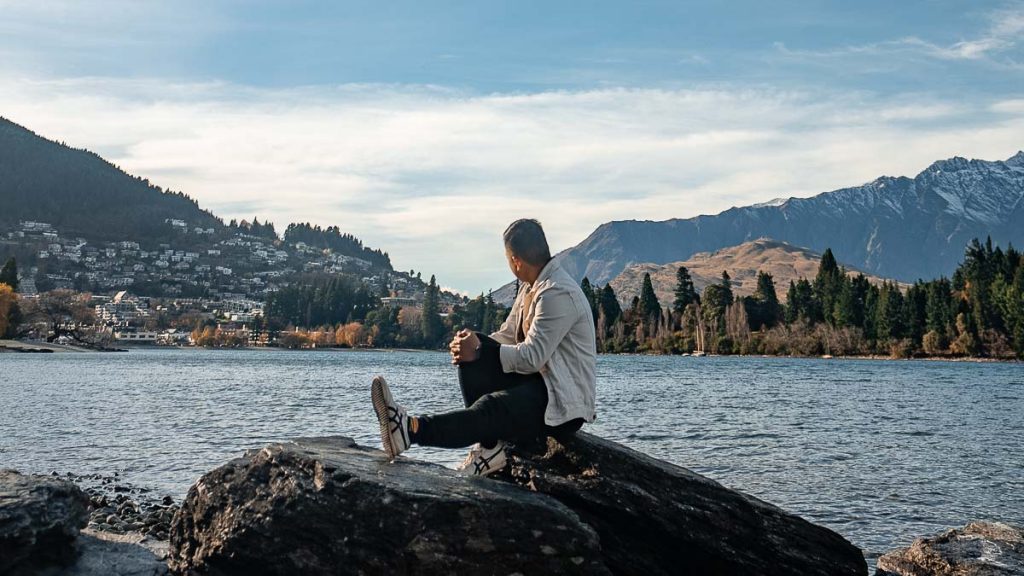 And whether you're a fan of the South Island or the North, you won't wanna miss out on these bucket-list-worthy experiences in New Zealand — from hiking at Roy's Peak and kayaking with seals in Kaikoura to canyon swinging at Queenstown!
Exclusive promo for TTI Readers: Get 10% off your New Zealand Travel Essentials with the promo code <KLKTTI10OFF> at checkout! Applies to all Klook activities incl. wildlife tours at Kaikoura! Limited to the first 100 check outs by 31 Dec 2022 so fastest fingers first! Just spend a min. of S$150 to unlock the code! Discount capped at S$30
Read more: New Zealand Itinerary Part 2 — 5-Day North Island Road Trip in a Campervan Under S$600
Pre-trip Essentials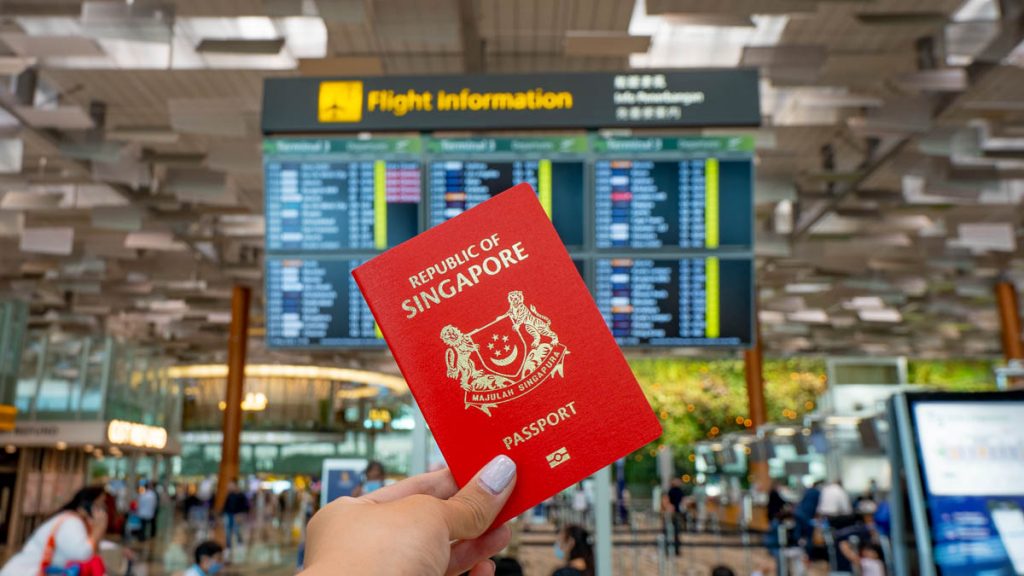 Pre-departure documents
– NZeTA: Apply at least 72hrs before departure — costs NZ$17 (~S$13.70) on the app, or NZ$23 (~S$18.50) via website
– International Visitor Conservation and Tourism Levy: Paid together with NZeTA at NZ$35 (~S$31)
– Vaccination Certification
– Travel Declaration
Trip essentials
– SIM card: 10GB for 60 days (~S$42) — collect at Christchurch International Airport upon arrival
– Travel Insurance (~S$6.30/day)
– Car Rental: we got a five-seater SUV Nissan Xtrail (S$75/day)
Everywhere in New Zealand accepts card payments so cash isn't necessary. We used multi-currency cards like Revolut for payments instead.
New Zealand South Island Itinerary Overview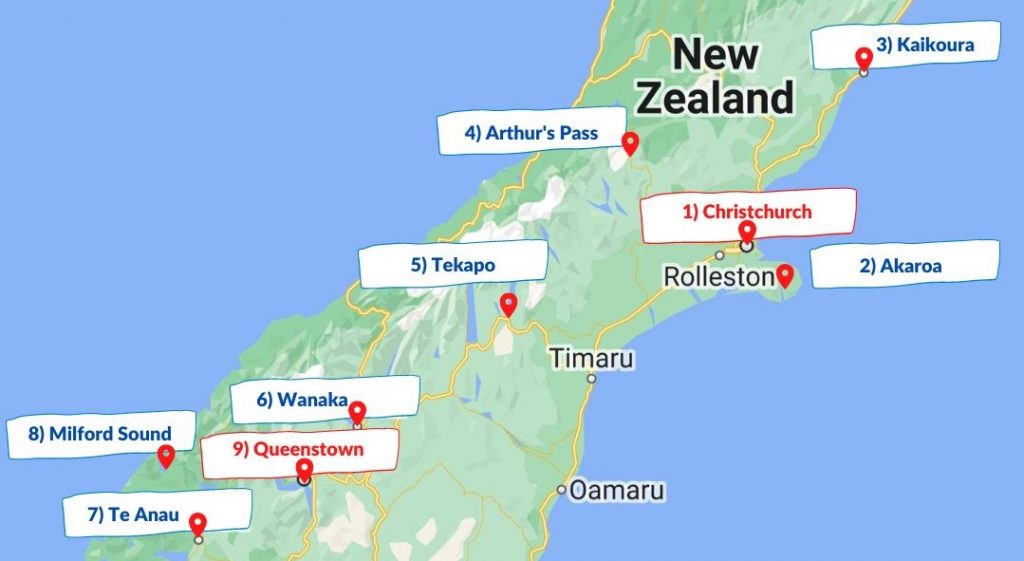 We flew direct from Singapore to Christchurch, picked up our rental car, and dropped it off in Queenstown before catching a flight out via Sydney.
*Pro-tip: Wildlife experiences are highly weather-dependent so it's recommended to plan them at the start of the trip so you can shift things around in case of bad weather.
Click to jump to each town: Christchurch | Akaroa | Kaikoura | Arthur's Pass | Tekapo | Wanaka | Te Anau | Milford Sound | Queenstown
Day 1 (Arrival): Christchurch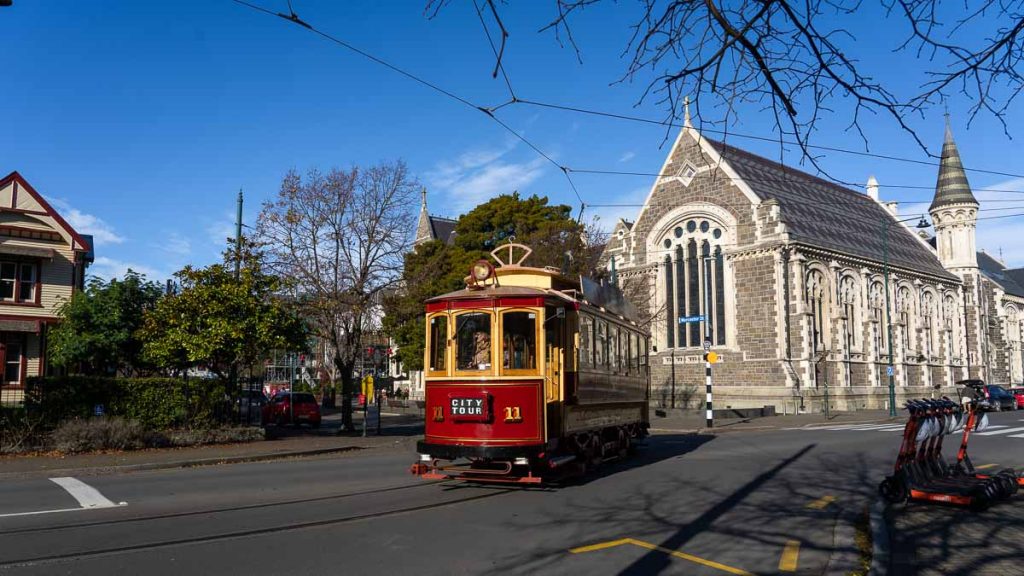 Arriving at Christchurch Airport, we headed to the city to check out some iconic activities like the Christchurch Gondola, Punting on the Avon, and the Christchurch Tram.
*Pro-tip: Purchase the Christchurch Pass (~S$76) which includes entry for all three! Plus, there's a ~S$24 discount on the activities.
Punt Ride on the Avon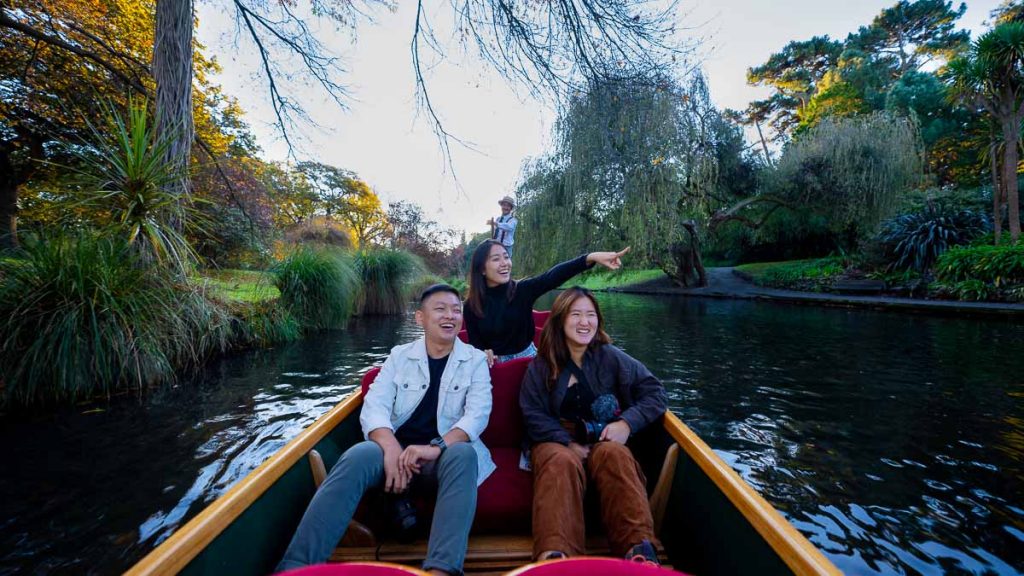 After a long flight, this relaxing 30-minute river tour is a lovely way to decompress from the tiring journey alongside scenic views of the Christchurch Botanic Gardens.
We got really close to the river's wildlife such as their resident swan, Natalie, and learned fun facts about the garden and its history. Not to mention, our punter's witty storytelling made the ride extra fun!
*Pro-tip: Call to book a timeslot before heading down for the tour
Opening hours: 10AM – 4PM (Apr – Oct), 9AM – 4:30PM (Nov – Mar)
Meeting point: Antigua Boat Sheds, 2 Cambridge Terrace, Christchurch Central City, Christchurch 8013, New Zealand
Christchurch Gondola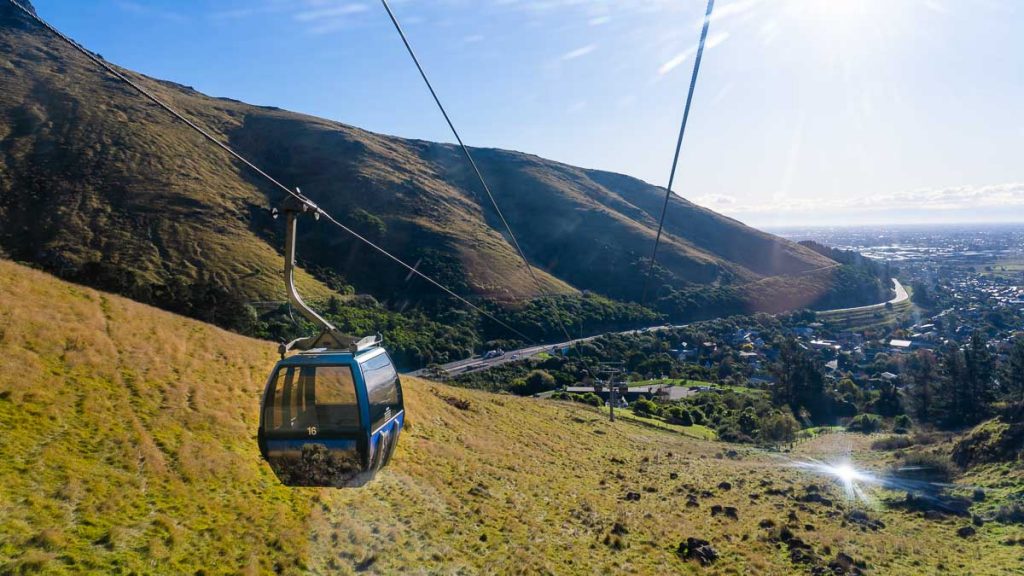 A short 17-minute drive from the city, the Christchurch Gondola brought us up 445m above sea level to the summit of Port Hill. From the top, we enjoyed stunning aerial views of Lyttleton Harbour and Christchurch city.
Opening hours: 10AM – 5PM
Address: 10 Bridle Path Road, Heathcote Valley, Christchurch 8022, New Zealand
Where to stay in Christchurch (2 nights): Aotea Motel (Christchurch) — two-bedroom apartment (S$166/night). It's located near many eateries and only an 8min drive to the punt ride.
Where to eat in Christchurch: The Little Fiddle offers great bar food with express lunch sets (NZ$16 mains with every beverage purchased, ~S$14).
Day 2: Akaroa
Christchurch to Akaroa: 81km (~1hr)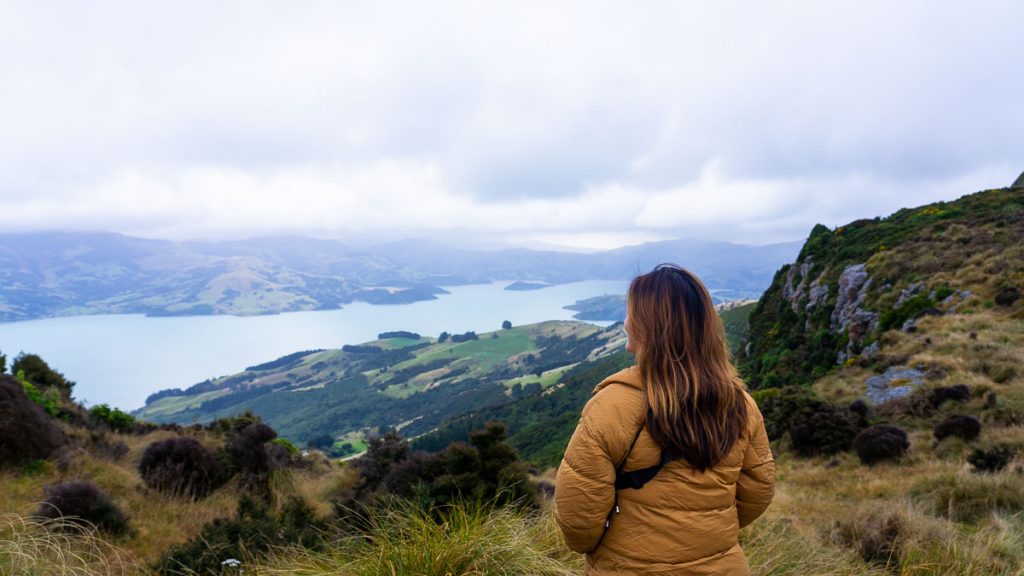 Akaroa is a homely town that sits on the Banks Peninsula — an extinct volcano complex area composed of the remains of two drowned volcanic craters on the South Island.
Pohatu Penguin Watching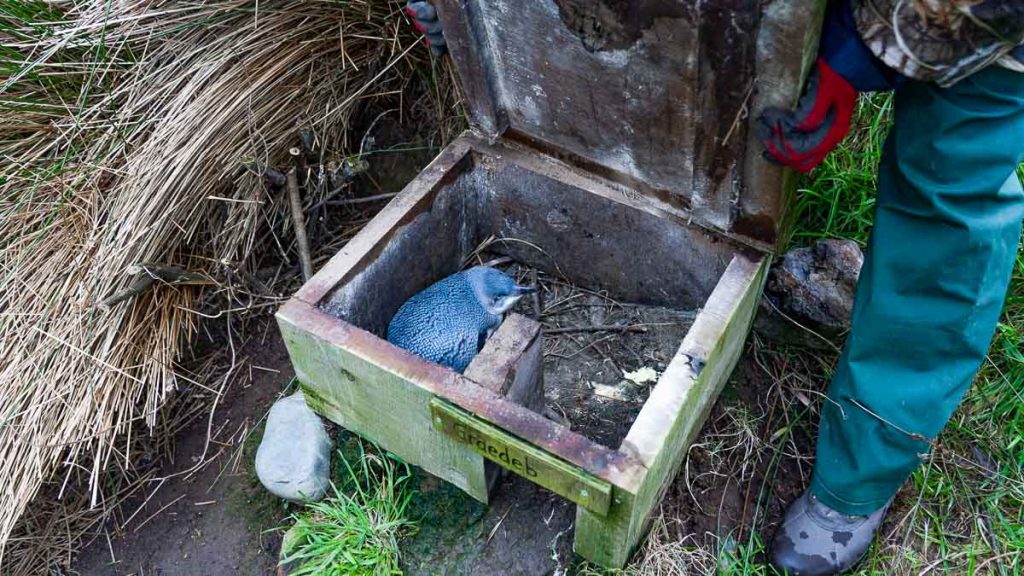 Down at Flea Bay, the Pohatu penguins are the biggest Australasian Little Penguin colony.
Each year, wild penguins hop on land in search of nesting areas for the breeding season. These tiny wooden boxes were thus built by staff members for that purpose.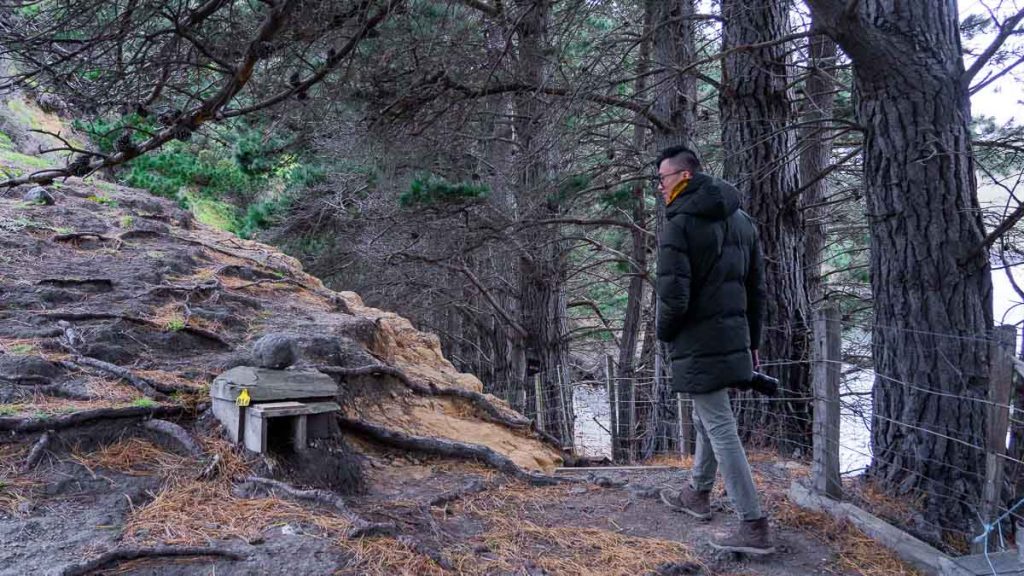 For the penguins, searching for nesting homes is much like looking for BTOs. Those who arrive early before the breeding season get to "reserve" their boxes, while late-comers have to fight for a spot or simply travel further inland.
Houses by the waters are high in demand, and occupied by the strongest — tough penguins who win fights! ⚔️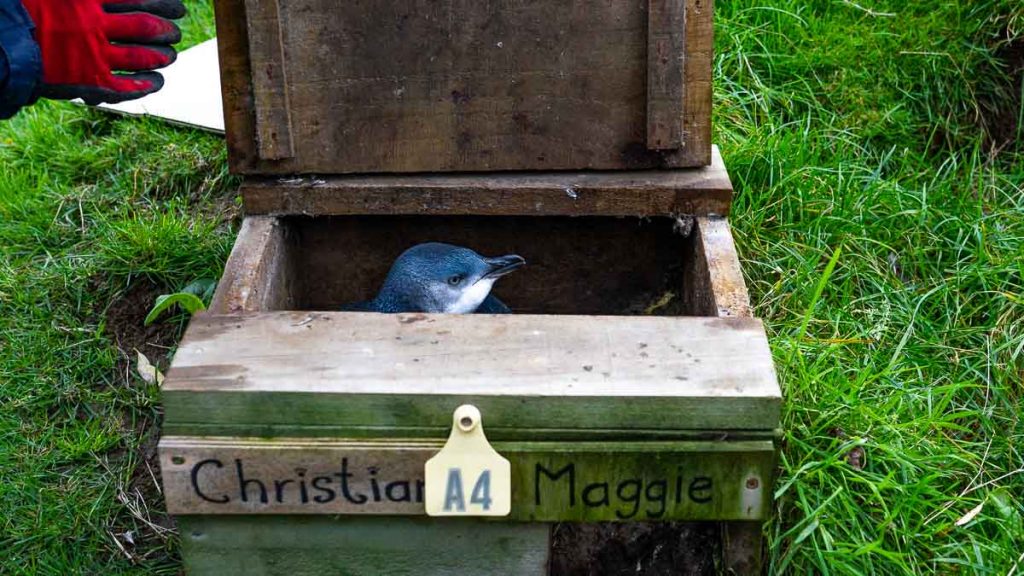 As Pohatu Penguins is a family-run business, the tours help fund conservation efforts including their research on penguin monitoring. So get up close to these penguins as you accompany staff members on their daily monitoring routine!
Wear proper hiking shoes as there is some off-road trekking involved.
*Pro-tip: The best time to catch the penguins is during the breeding season from September to mid-February. Check your chances of viewing the Pohatu penguins before booking as the likelihood varies depending on the season.
Cost: ~S$157 for a 2.5hr tour
Tour timings: Varies depending on season
Meeting point: Wildside Booking Office 2/8 Rue Balguerie, Akaroa 7520, New Zealand
Day 3 – 4: Kaikoura
Akaroa to Kaikoura: 264km (~3.5hr)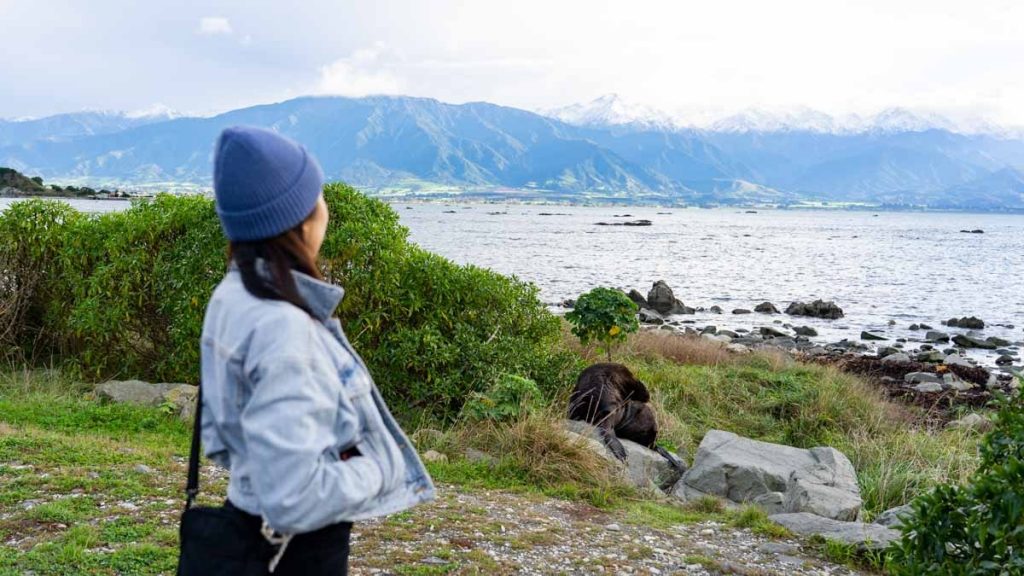 Located close to the Hikurangi Trench (a deep-water canyon system), Kaikoura is a hotspot for marine wildlife including whales, seals, and dolphins all year-round.
It's a slight detour up north, but worth the trip as it offers the highest chance of catching New Zealand's wildlife in their natural habitat.
Swimming with Dolphins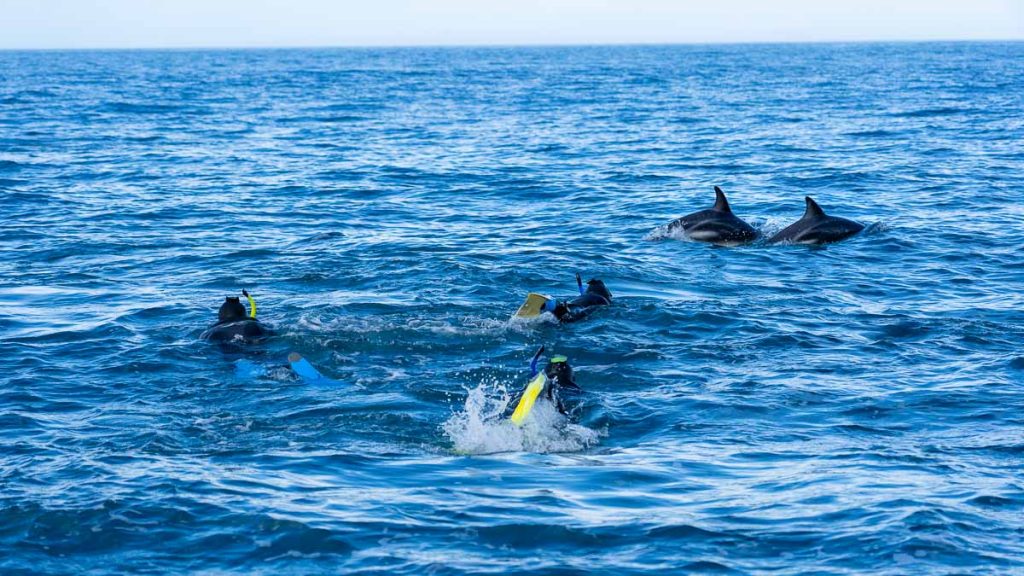 Throw on your wetsuit and go for a swim with wild dusky dolphins. Playful and friendly, these gentle creatures come up real close to you in groups of four or five at a time.
We were taught a few unique techniques to hold their attention — with one involving inexplicable screeching underwater. It felt really silly, but having wild dolphins circle curiously around us made it completely worth it 💯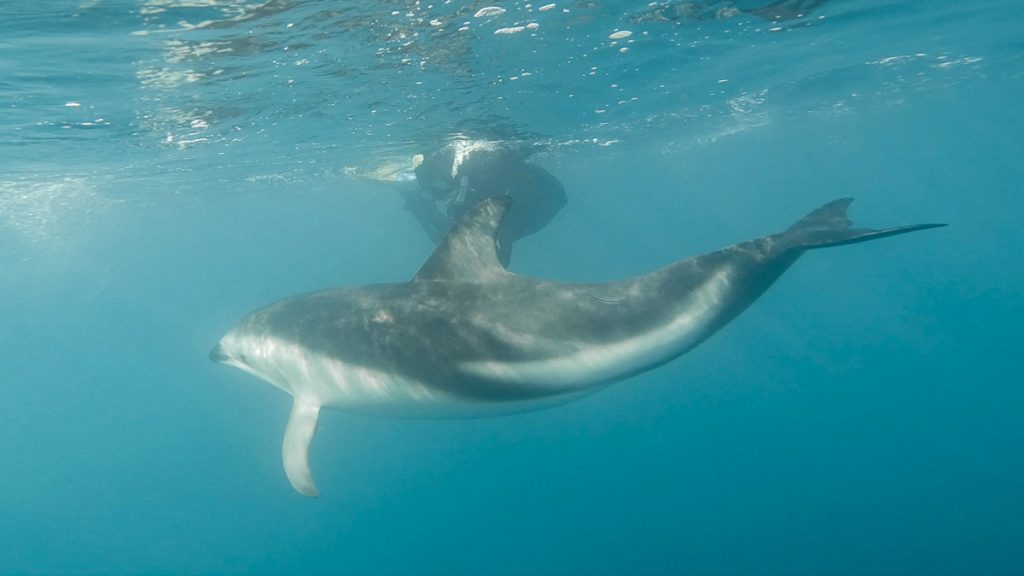 The total swimming time is limited to 30 minutes per tour group to minimise our impact on the natural environment. It may not sound long, but we were thoroughly drained by the end of our session.
For non-swimmers, the dolphin-watching tour also offers a good view from the boat as the dolphins playfully perform tricks and spins out of the water — all of their own will!
*Note: Floats are available for less experienced swimmers.
Cost: ~S$94 for watching, ~S$183 for swimming
Tour timings: 10AM (May – Sep), 8:30AM and 12:30PM (Oct – Apr)
Meeting point: 96 Esplanade, Kaikōura 7300, New Zealand
Kayaking with Seals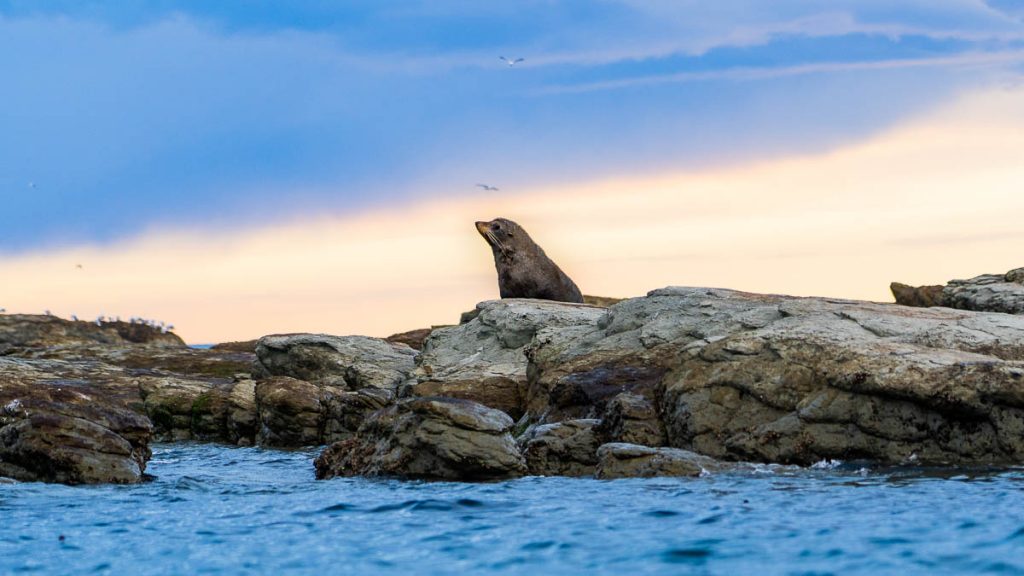 Catch seals basking under the sun in this relaxing two-and-a-half-hour kayak tour. Kayakers may catch some swimming right by their kayaks or even get slapped on the face with an octopus! Who knows, you may be the next lucky one 😉
The tour is suitable for beginners as basics are taught before heading out. While evening tours are great to catch the sunset, morning tours are better for new kayakers with calmer waters.
Cost: ~S$104/adult for a 2.5hr tour
Tour timings: 8:30AM, 12:30PM, 3:30PM
Meeting point: 18 Beach Road, Kaikoura 7300, New Zealand
Kaikoura Peninsula Walkway
Kaikoura Peninsula Walkway is a popular clifftop walk that takes around three hours to complete, though you can choose to cover short sections of it.
Views of snowcapped alpines and the ocean left us starstruck, but what really shocked us was this wild seal that hobbled up really close to us. Seal sightings are apparently really common in the area, but do try to stay out of their path!
Where to stay in Kaikoura (2 nights): Kaikoura Waterfront Apartments — two-bedroom apartment with a kitchen and living room (~S$152/night). The apartment was clean and cosy, and located just a short five-minute walk from Dolphin Encounter Kaikoura.
Where to eat in Kaikoura: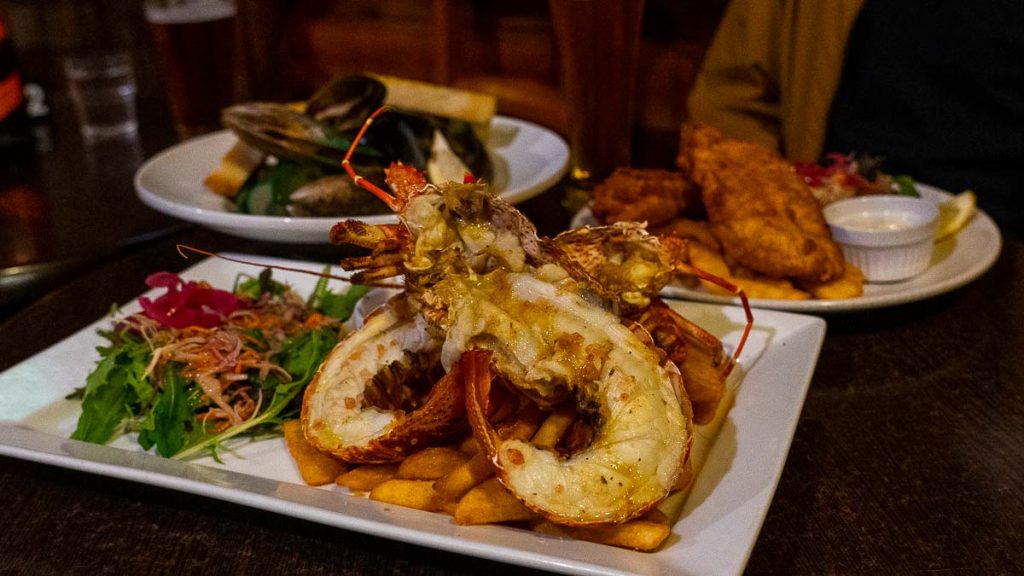 Strawberry Tree Restaurant serves fresh seafood — we especially enjoyed the Crayfish and Green Lipped Mussels (NZ$22, ~S$19). Meanwhile, Beach House Cafe had the best creamy Seafood Chowder (NZ$19, ~S$17) I've ever had, stuffed with scallops, mussels, shrimp, and more!
Fun fact: Kaikoura stands for "Eat Crayfish" in Maori, so you know what to order 🙂
Day 5: Arthur's Pass and Castle Hill
Kaikoura to Arthur's Pass: 213km (~3hrs)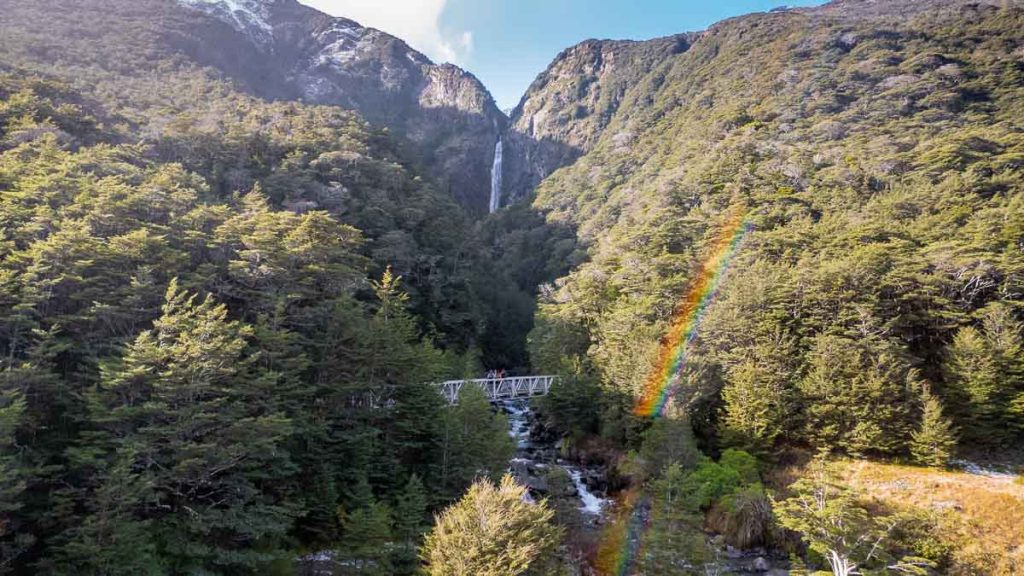 Arthur's Pass is the highest mountain pass over the Southern Alps at an elevation of 920m. The drive around Arthur's Pass promises amazing alpine scenery and makes for one of the most beautiful road trips around New Zealand's South Island!
Devil's Punchbowl Waterfall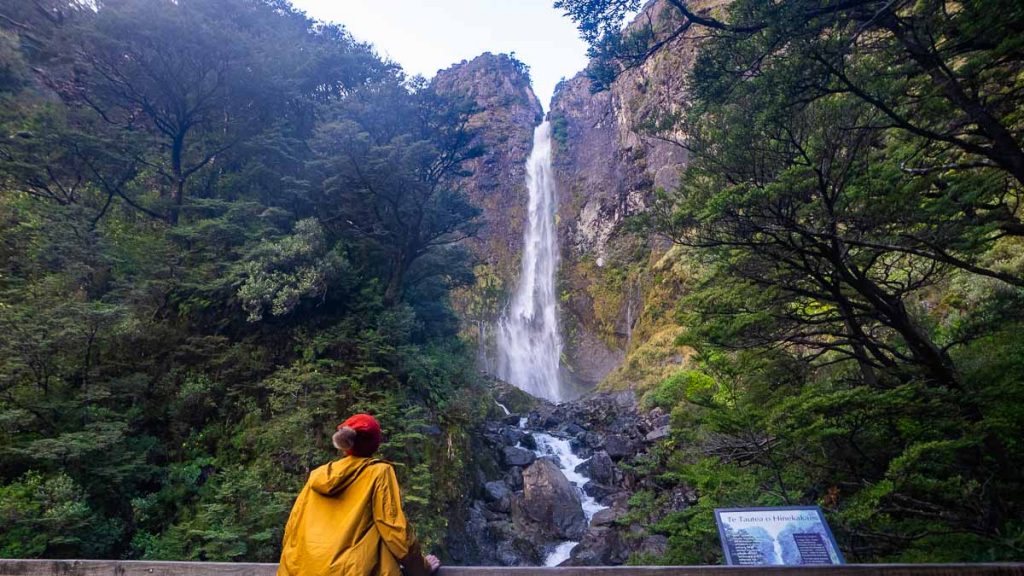 Standing at 131m tall, the Devil's Punchbowl Waterfall plunges dramatically into surrounding rock shelves forming a "punchbowl", giving it its name.
The trail is a relatively manageable one, albeit a significant number of steps. But if you're like us, the mini stops we took gawking at stunning mountain views will give you sufficient breaks along the way.
Entrance fee: Free
Distance: 2km (~45mins)
Difficulty rating: 1.5/5
Starting point: Devil's Punchbowl Carpark, Arthur's Pass Village 7875, New Zealand
Kura Tawhiti Castle Hill Conservation Area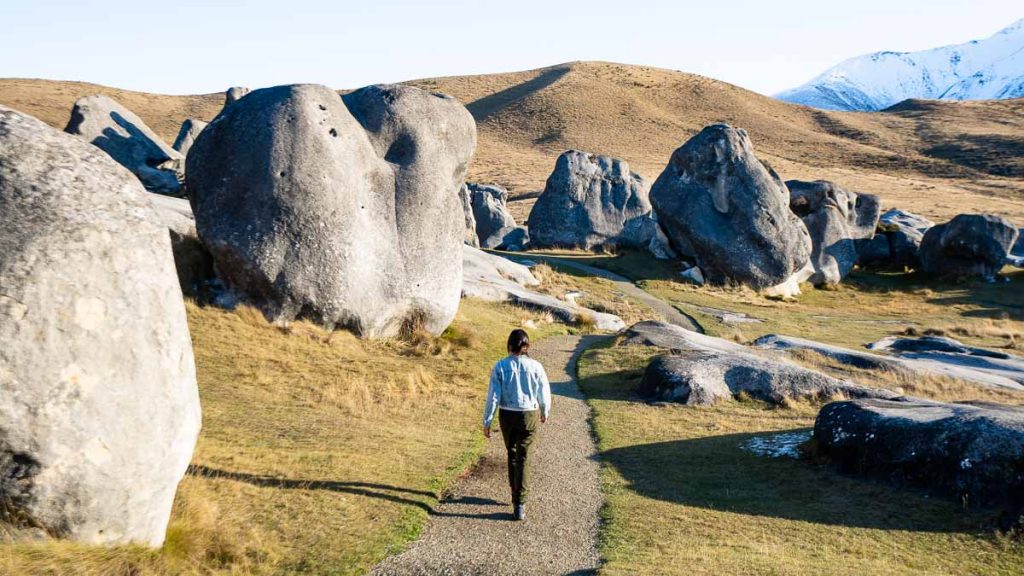 Even though we visited Kura Tawhiti on our previous trip, we decided to head down once again during sunset this time, to catch these massive limestone boulders in a new light.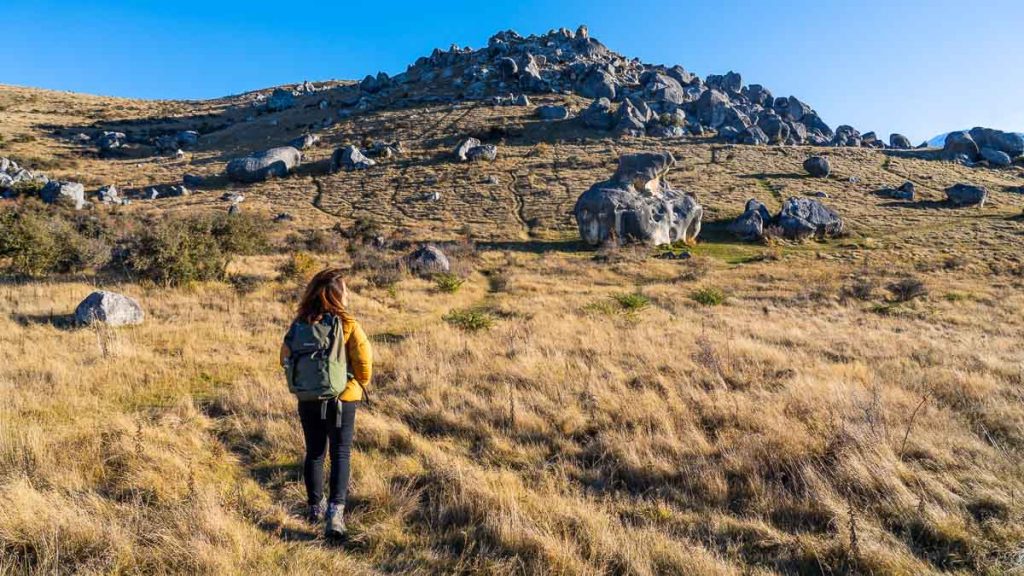 The boulders used to be hidden under an inland sea that subsequently retracted. As such, water erosion gave rise to their unique shapes!
Today, the 1.4km track is great for a casual scenic stroll and is popular among climbers.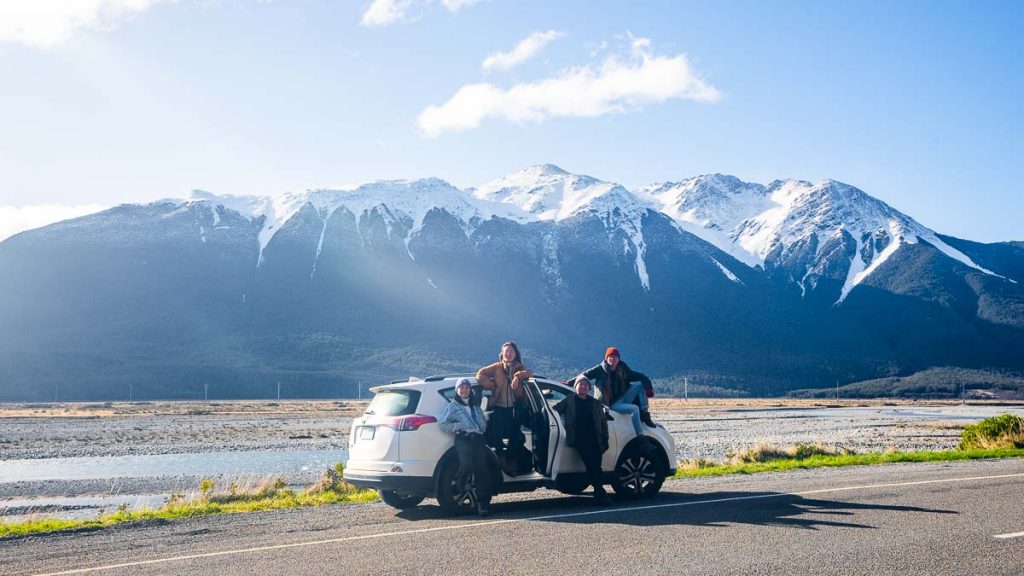 It's a 40-minute drive down to Kura Tawhiti from Devil's Punchbowl but the views along the way are phenomenal ✨
Entrance fee: Free
Distance: 1.4km (~20mins)
Difficulty rating: 1/5
Starting point: Kura Tawhiti Carpark, Castle Hill 7580, New Zealand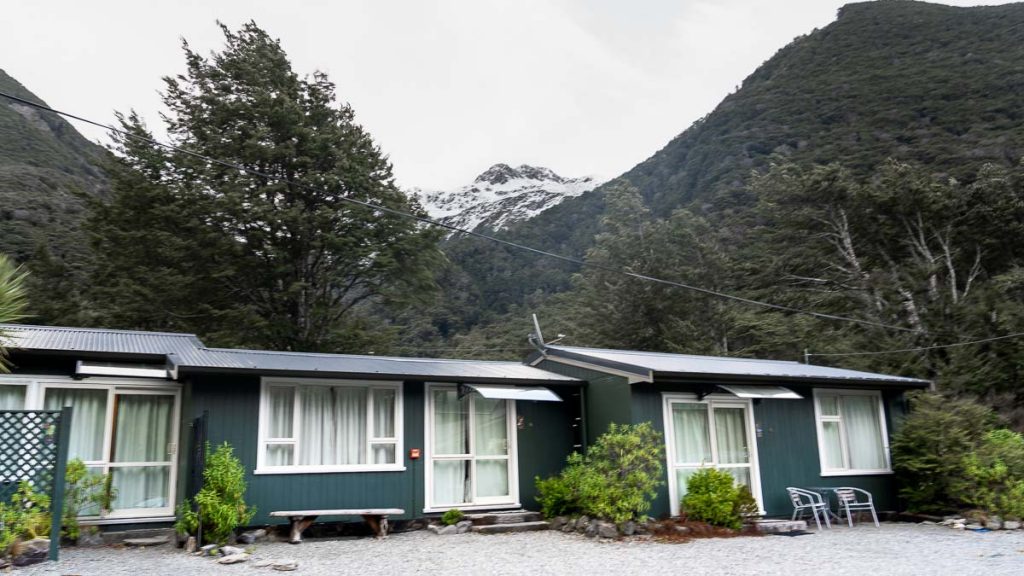 Where to stay in Arthur's Pass: Arthur's Pass Alpine Motel — Comfort Family Chalet (~S$161/night). A short drive from most hiking trails such as Devil's Punchbowl track or Avalanche Peak.
Where to eat in Arthur's Pass: Arthur's Pass only has two cafes — Wobbly Kea and Challenge Arthur's Pass Cafe — which close early, so it's best to stock up on groceries in Christchurch!
Day 6: Tekapo
Arthur's Pass to Tekapo: 311km (~4hrs)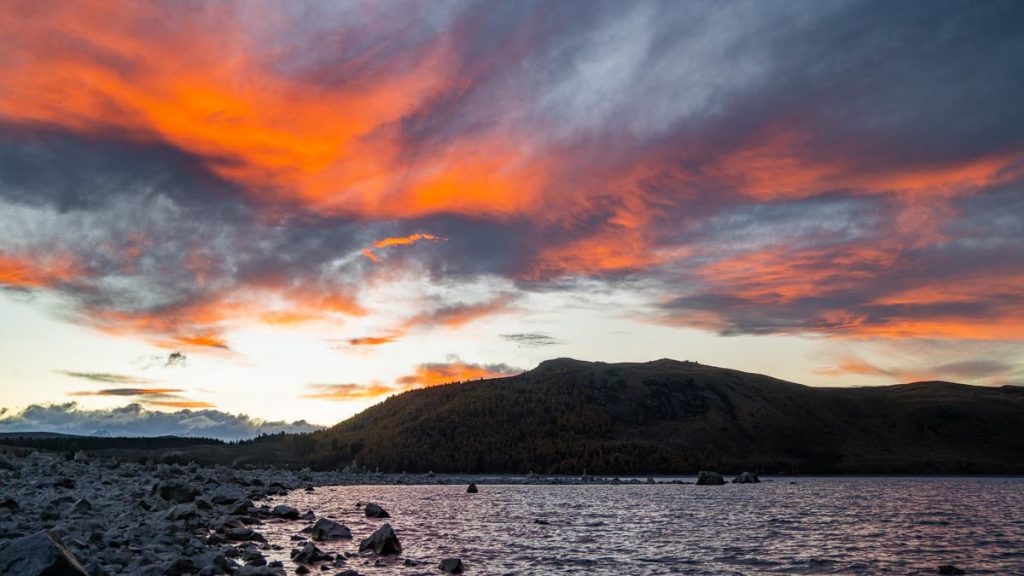 Tekapo is a sparsely-populated town home to Lake Tekapo. Famous for its dark night skies, Tekapo attracts tourists looking to catch a glimpse of the elusive Southern Lights.
Mount John Summit Circuit Track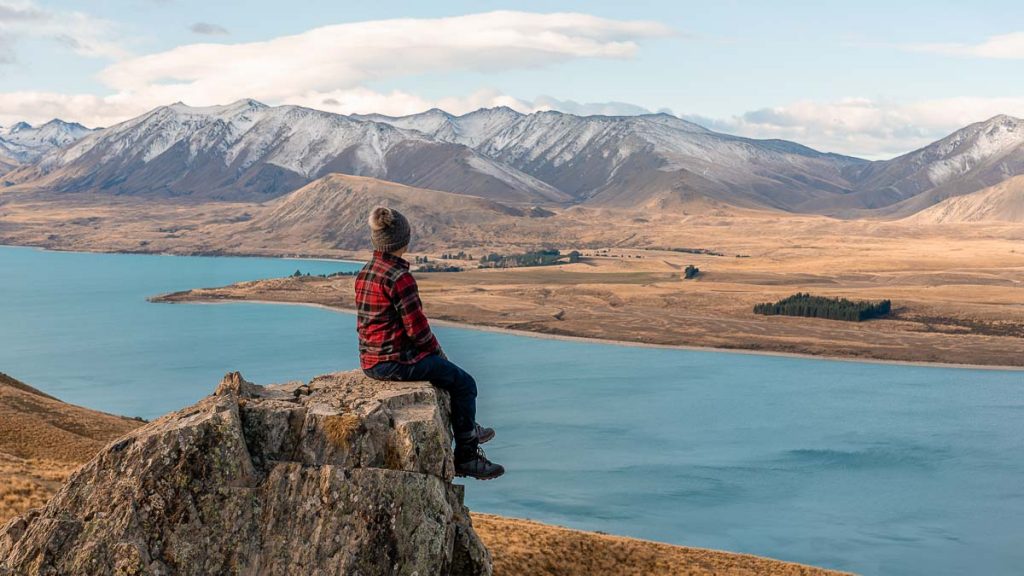 At the top of this 3km round-trip track is a panoramic overview of the Mackenzie Basin, Lake Tekapo, and surrounding mountains. Starting off from Tekapo Hot Springs, it's a steady ascent through a forest before continuing along an open grassland to the summit.
*Note: If you're short on time, you can skip the hike and drive up to the summit for an NZ$8 entrance fee (~S$7) per car.
Entrance fee: Free
Distance: 3km
Recommended time: 1.5hrs
Starting point: Tekapo Hot Springs, 6 Lakeside Drive, Lake Tekapo 7999, New Zealand
Church of the Good Shepherd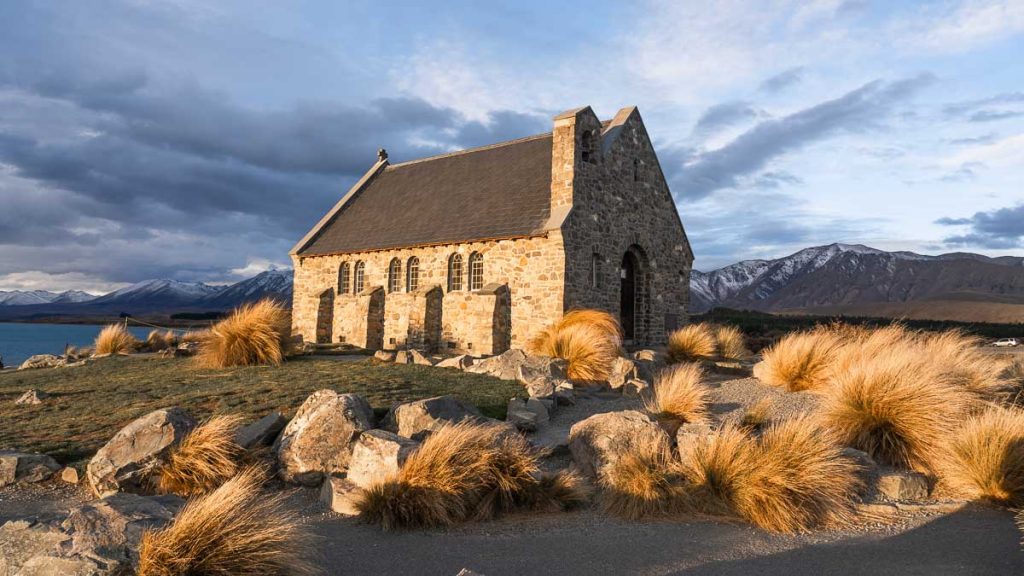 Built as a memorial to early settlers of the Mackenzie region, the Church of the Good Shepherd is Tekapo's most famous landmark.
This charming centrepiece is framed beautifully by the lake's blue waters and distant Southern Alps, making it a popular spot for wedding shoots.
Stargaze at Lake Tekapo
Lake Tekapo is an internationally-recognised "Dark Sky Reserve". These are places with less light pollution, making their darker skies exceptional for stargazing with high chances of catching the Southern Lights.
While we weren't lucky enough for the Southern Lights, the massive blanket of stars at night was definitely a sight to behold. Let us know in the comments if you're one of the few to catch it!
*Pro-tip: Prepare warm jackets to remain toasty given the chilly winds at night 💨.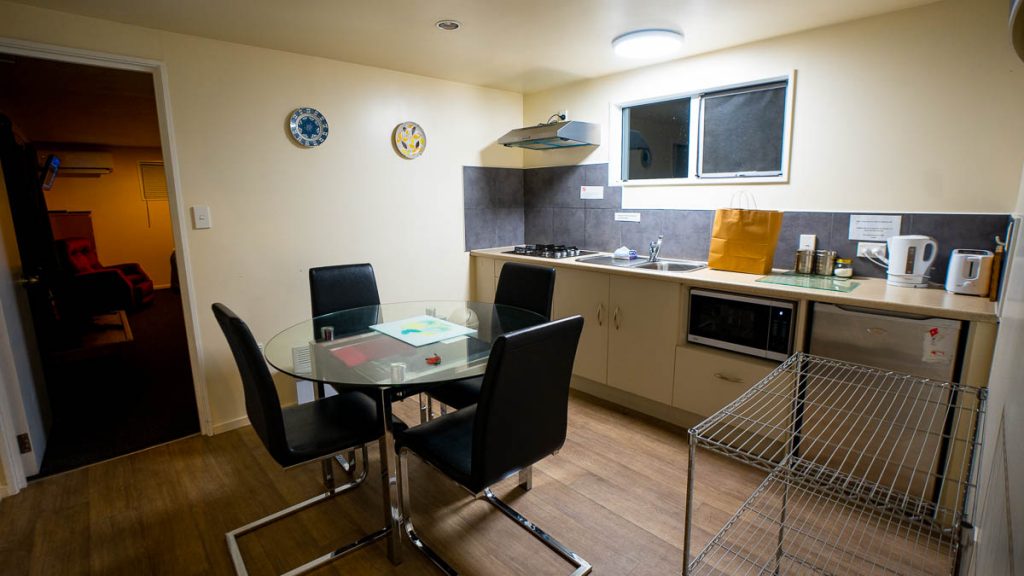 Where to stay in Tekapo: Lake Tekapo Cottages — Three-Bedroom Holiday Home, 1 King Bed & 1 Queen Bed (~S$228/night), with a separate kitchen and dining area. It's spacious and conveniently located just a four-minute walk from the Church of the Good Shepherd.
Day 7: Wanaka
Tekapo to Wanaka: 194km (~2hrs)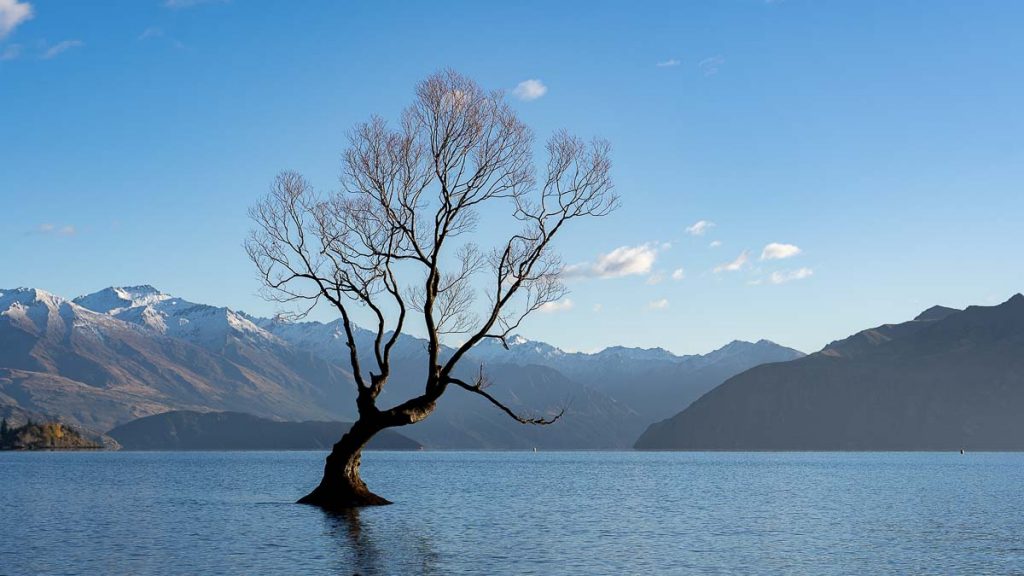 A shot of this celebrity tree will definitely earn you bragging rights 😎
Wanaka has many famous sights, including #thatwanakatree (yes, the tree has its own hashtag) and popular hikes like Roy's Peak and the Isthmus Peak. Apart from incredible scenery, Wanaka is also home to the largest ski area on the South Island.
Mount Cook Alpine Salmon at Lake Pukaki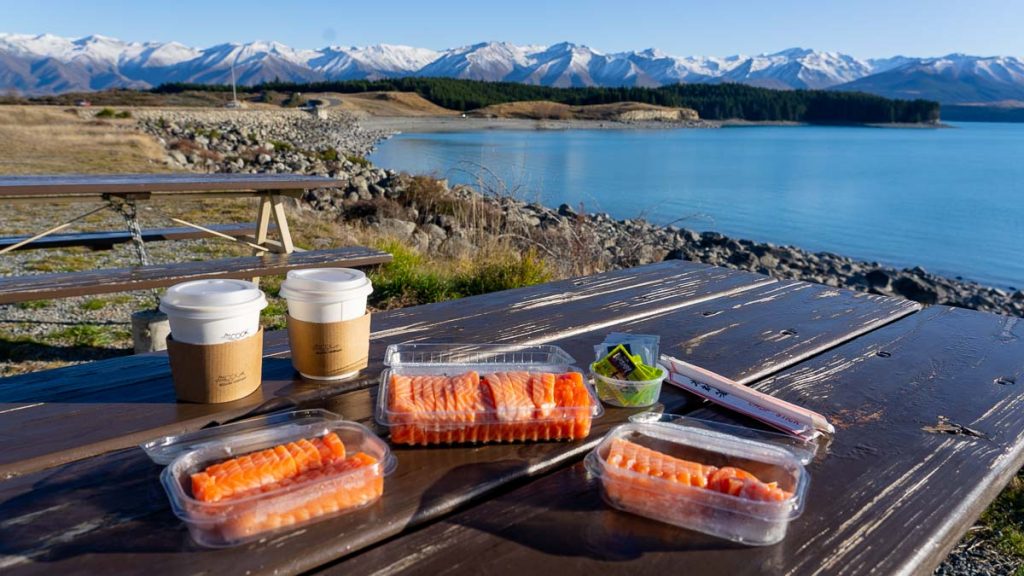 Before reaching Wanaka, we stopped by Lake Pukaki with one goal in mind: Mount Cook Alpine Salmon!
The salmon here was incredibly plump and fresh — we went straight for the last big pack of salmon (NZ$40/500g, ~S$35) and some smaller ones (NZ$12/100g, ~S$11).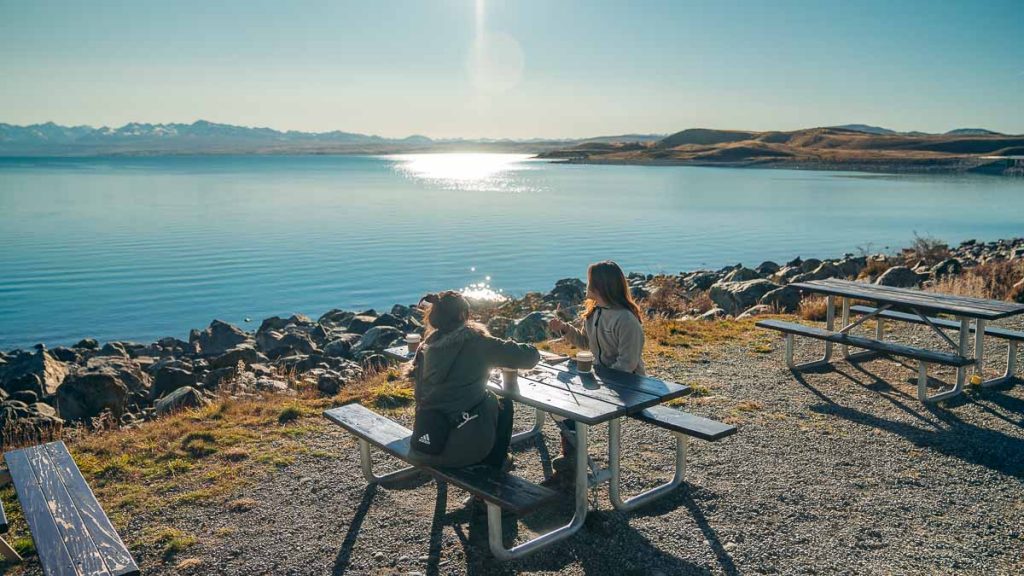 Salmon aside, we were accompanied by a gorgeous view of Lake Pukaki and Mount Cook by the lakefront, topping off our luxurious yet affordable "breakfast with a view" 😋
Opening hours: 9AM – 5PM (depending on weather)
Address: Lake Pukaki Information Centre, Pukaki 7999, New Zealand
Roy's Peak Track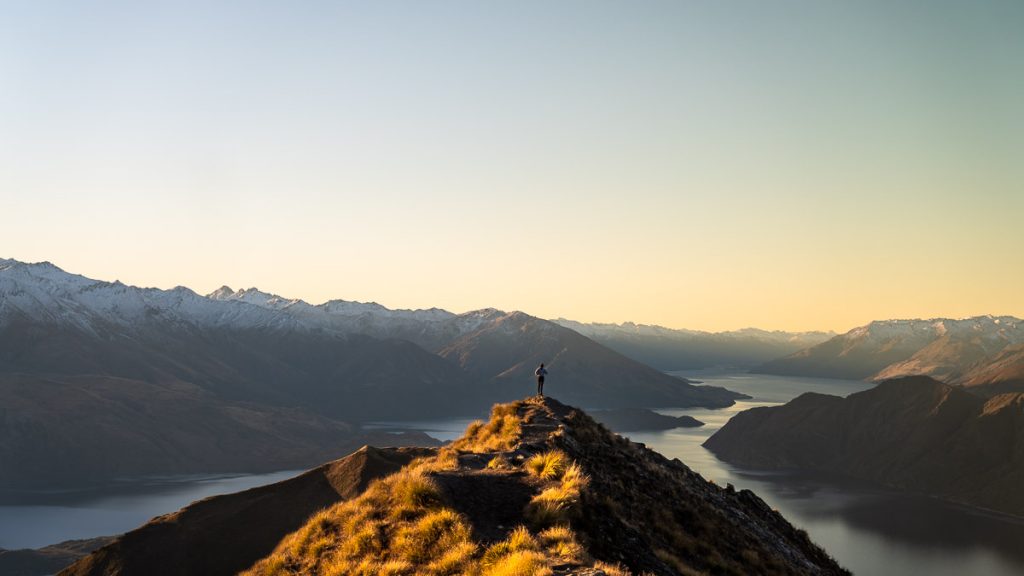 If you've been on a decent number of hikes and think "I'm fit and Roy's Peak seems manageable", here's a disclaimer: It's really not.
Compared to all the hikes we've been on in Singapore, Roy's Peak is a whole new ball game. The six-hour round-trip hike is a steep uphill climb to the viewpoint, with slopes inclined at nearly 45° angles.
The viewpoint (pictured above) is where you'd wanna hit for the famous shot of Roy's Peak instead of the actual summit, and that'll save you 3km or one hour of hiking.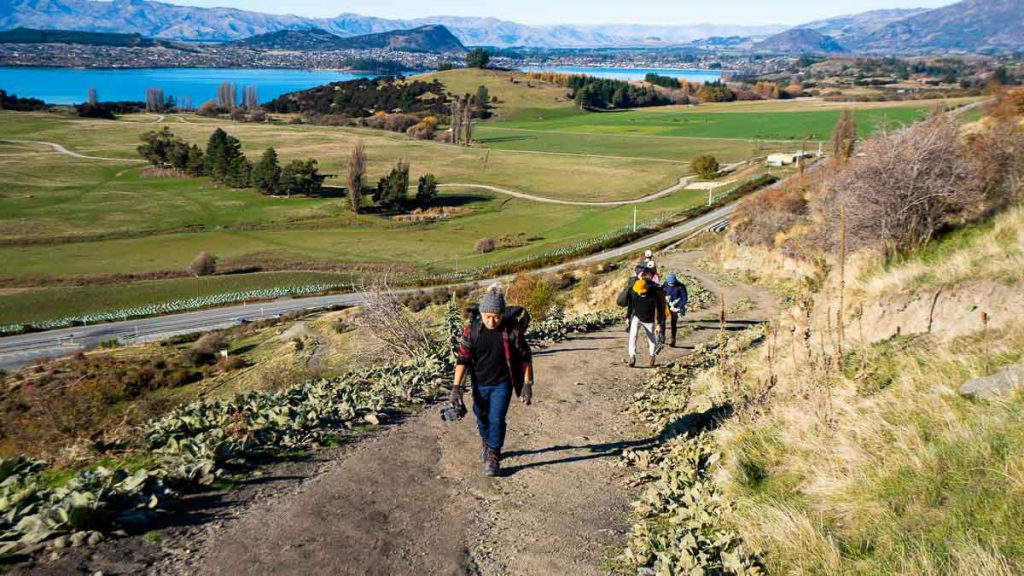 You might go through an existential crisis on the way up like us, but thankfully, the views at the top were worth it. In fact, the gruelling journey made the views of alpines and Lake Wanaka at sunset extra rewarding and bittersweet :')
*Pro-tip: Pack lunch and bring headlamps (for those intending to hike down after sunset) as there are no trail lights along the way!
Entrance fee: NZ$2 (~S$1.70)
Distance: 16km
Recommended time: 6hrs
Difficulty rating: 4/5
Starting point: Roy's Peak Track Parking, Glendhu Bay 9382, New Zealand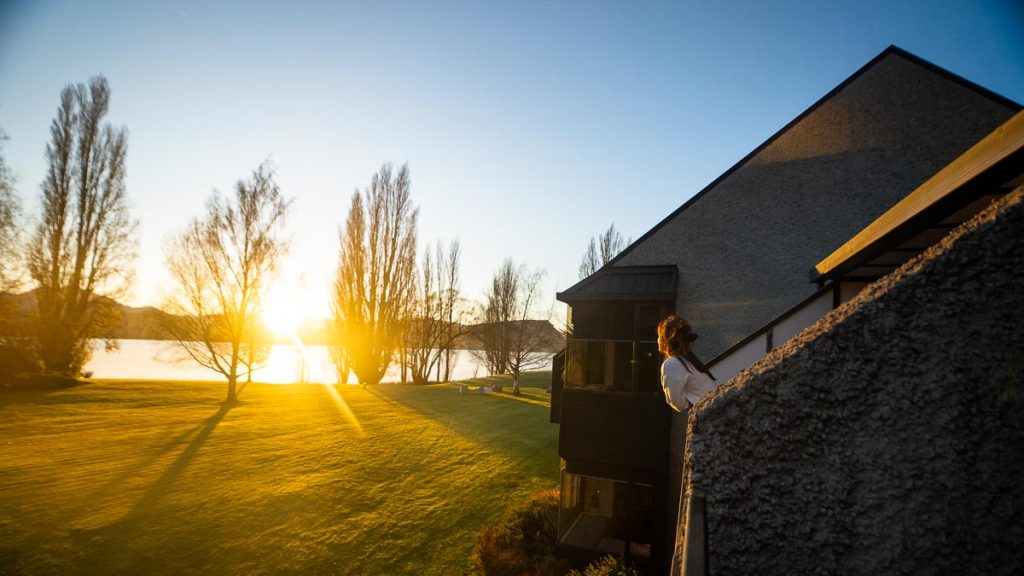 Where to stay in Wanaka: Edgewater Hotel (Wanaka) — Lakeview Hotel Room (~S$145/ night for 2pax). It's a short walk from the lake itself and includes common facilities like a spa and tennis court.
Where to eat in Wanaka: Amigos' deliciously stuffed Burritos (~NZ$19, S$17) and tacos (~NZ$8/ taco, ~S$7) were all we needed after our intense hike.
Day 8: Te Anau
Wanaka to Te Anau: 227km (~3hrs)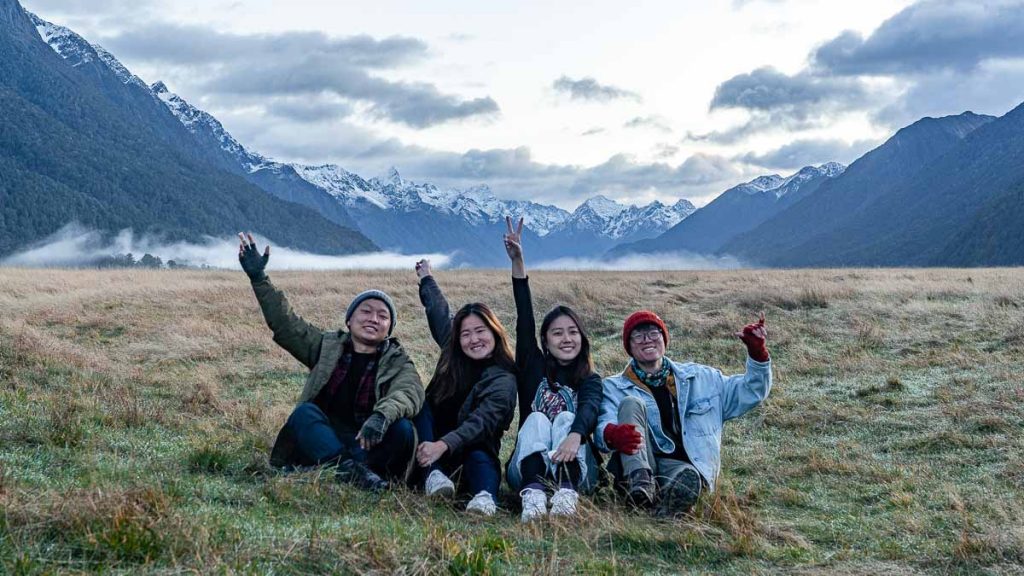 Te Anau is the gateway to the popular Milford Sound, which is known for its stunning Fiordland. However, this small town also has much to offer including its enchanting glowworm caves and the famous Kepler Track.
Te Anau Glowworm Cave Tour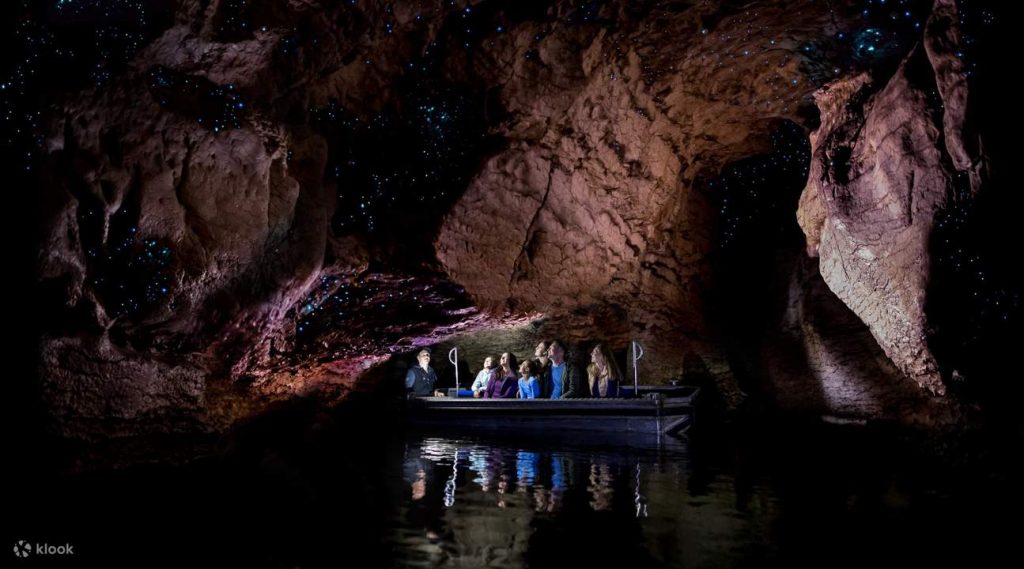 Photo credit: Klook
Glowworms are native to New Zealand and thrive in dark caves, creating a magical underworld lit by their bioluminescence. The Te Anau Glowworm Caves tour is great to spot them up close as guides share their knowledge about the glowworms and caves.
Surprisingly, glowworms aren't actually worms — we'll leave you to find out more 😉
Cost: ~S$88/adult for a 2hr 15min tour
Tour timings: 10:15AM, 2PM
Meeting point: 85 Lakefront Drive, Te Anau 9640, New Zealand
Fiordland Jet Pure Wilderness Adventure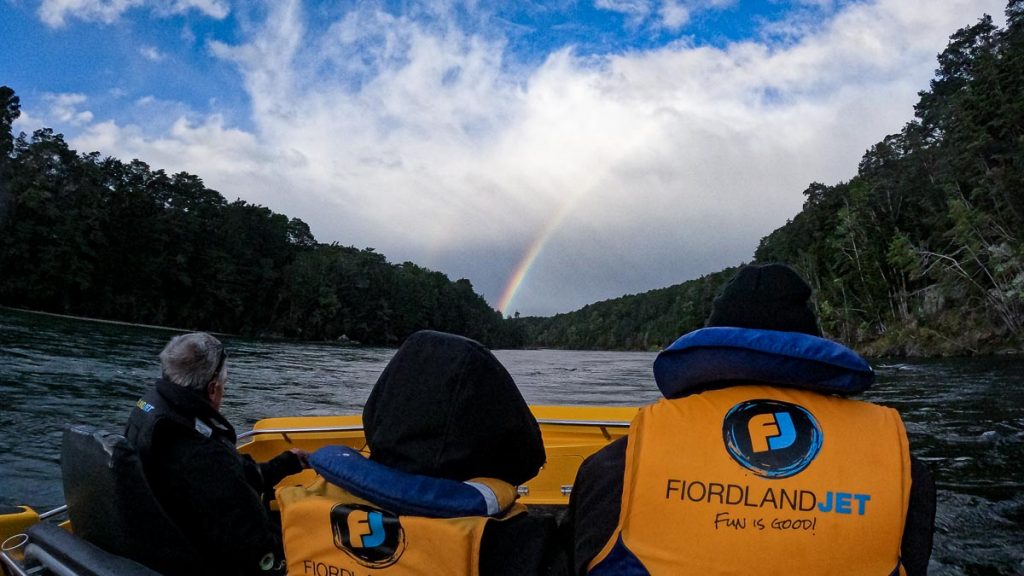 Speed down the Waiau River on a jet boat adventure before reaching the stunning Lake Manapouri. This lake is supposedly 99.98% fresh and we got to verify this fact by taking a sip of water straight out of it.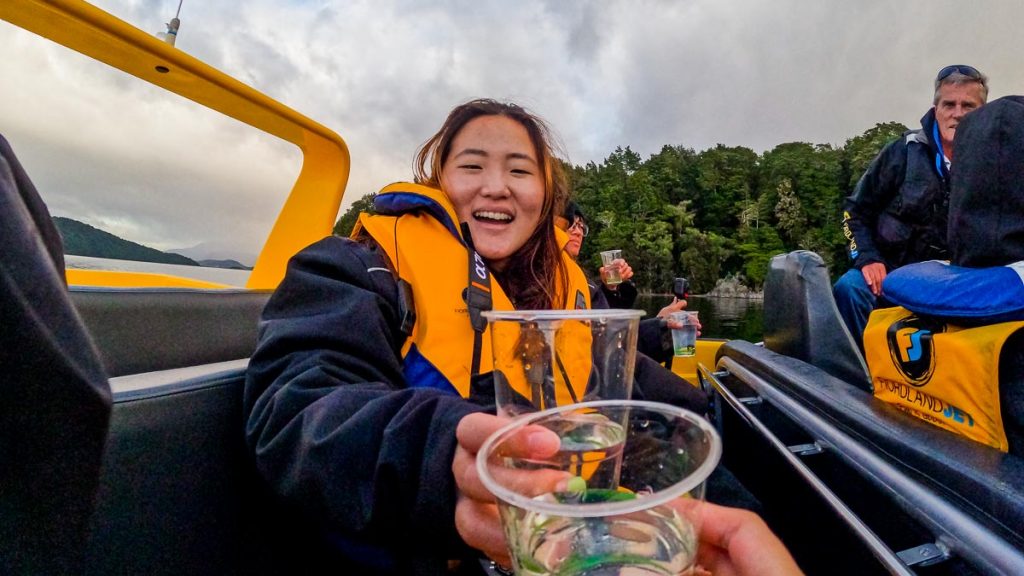 As expected, the water tasted really great and as kiasu Singaporeans, we regretted not bringing our bottles along for a refill :')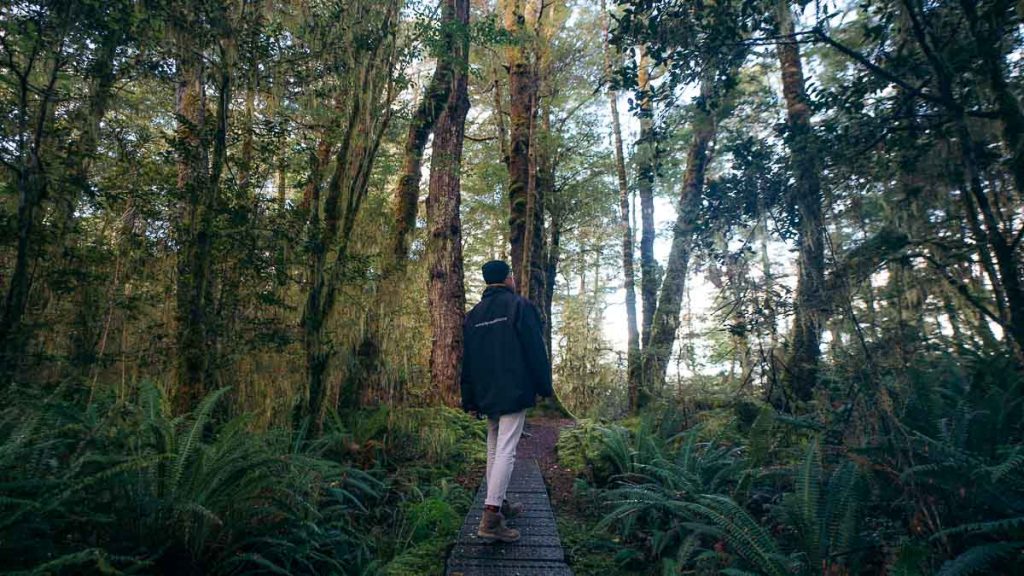 We also got to walk along a short section of the famous Kepler Track. For all the LOTR fans, you'll get to geek out on familiar scenes from the movie as you jet boat through the movie's Anduin River (AKA the Great River)!
Cost: ~S$151/adult for a 2hr tour
Tour timings: 10AM, 2PM, 4PM, 5PM, 6PM
Meeting point: 84 Lakefront Drive, Lakefront, Te Anau 9600, New Zealand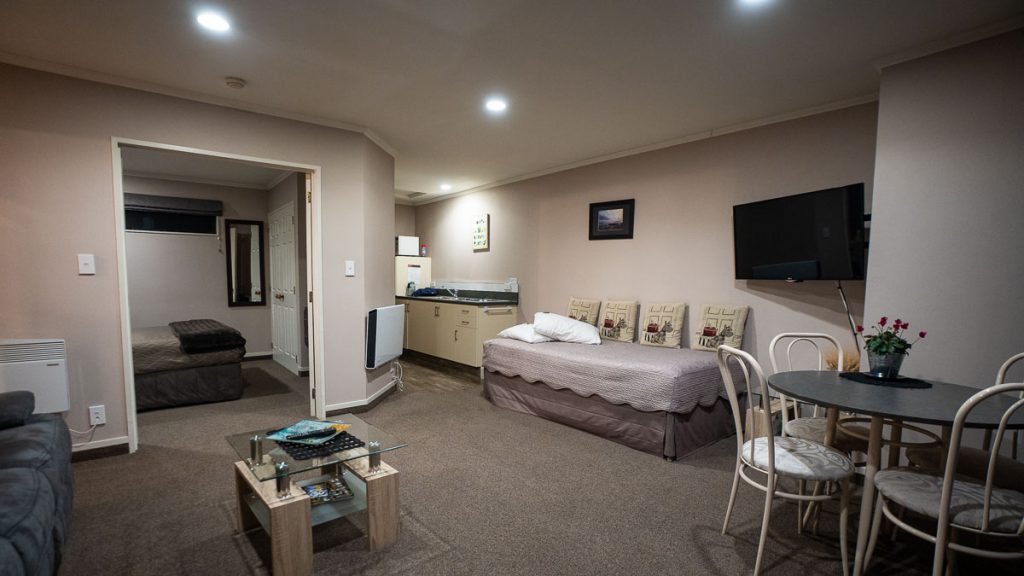 Where to stay in Te Anau: Lakefront Lodge — Apartment, 1 Bedroom, Jetted Tub (~S$223/night). A five-minute walk from attractions such as the Fiordland Jetboat and Lake Te Anau
Where to eat in Te Anau: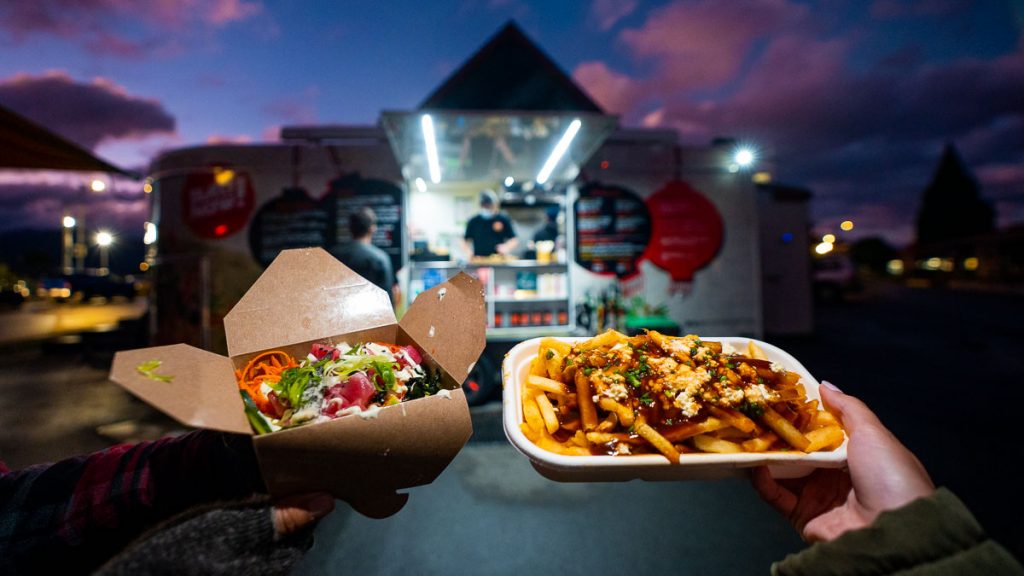 Miles Better Pies had amazing stuffed pies while Bao Now is a food truck that sells delicious and affordable fusion dishes. The unique creations of baos and sushi bowls (~NZ$13, ~S$11.50) were overflowing with stuffings, and the loaded fries (NZ$9.50, ~S$8) were crisp yet generously sauced!
Day 9: Milford Sound
Te Anau to Milford Sound: 118km (~1.5hrs)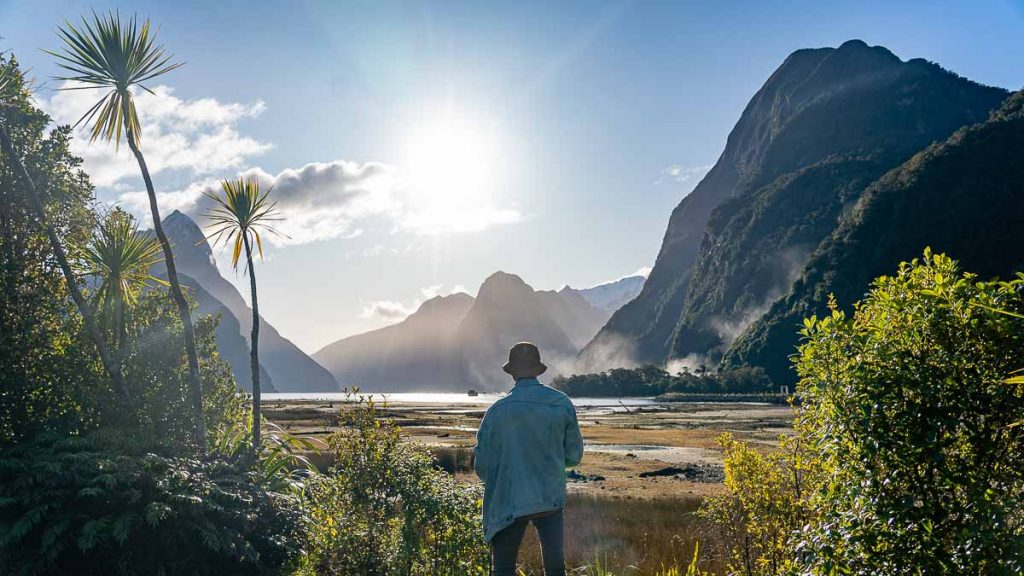 The drive down to Milford Sound is unbelievably beautiful, and scenic spots such as the Tutoko Bridge or Eglinton Valley forced us out of the car multiple times.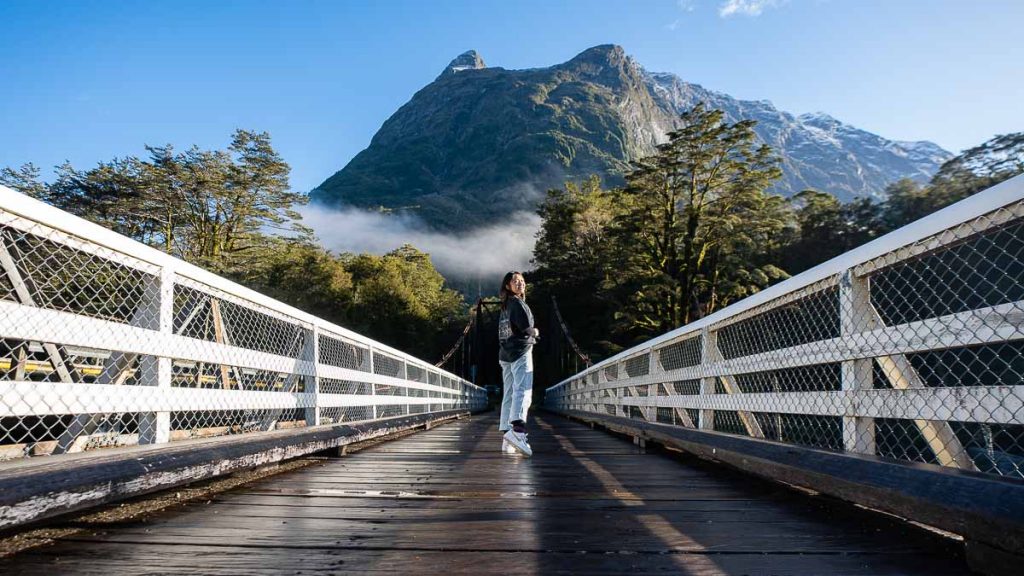 As such, we recommend adding an hour or more of drive time than suggested on Google Maps as you'd probably wanna stop for photo breaks like these!
If you're in luck, you may even catch sight of some cheeky locals in the area — the Kea!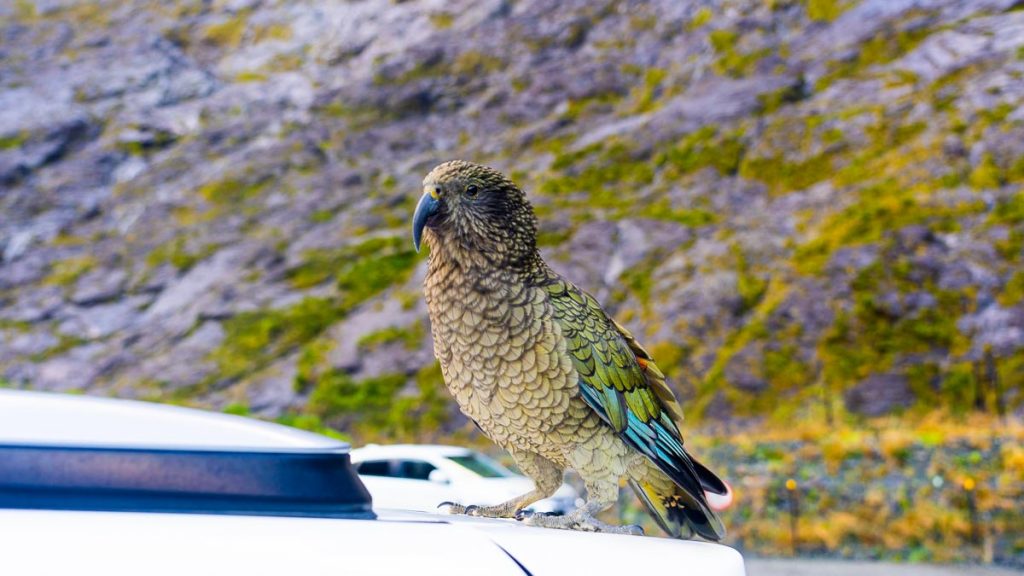 We were cautioned by locals about these mischievous (yet extremely adorable) birds and their antics. They've got a reputation for nipping rubber seals off cars, so you'd probably want to keep away all loose items.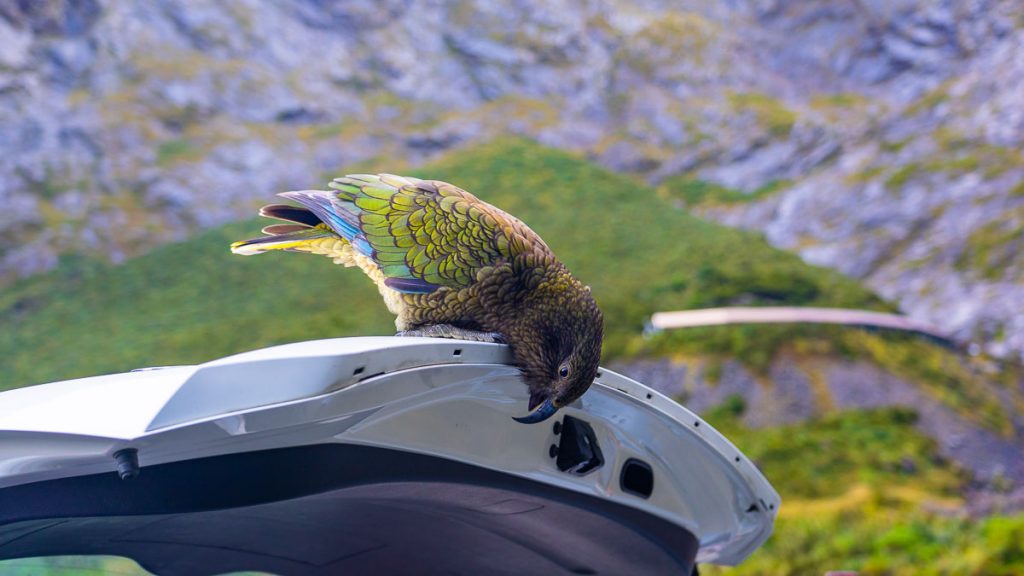 Shouting and stamping of feet to chase them away definitely does NOT work — trust us, we've tried 😐
Fun fact: The Kea is an endangered species of large parrot native to the forested and alpine range in South Island New Zealand — known affectionately as the 'Clown of the Alps' to locals.
Milford Sound Cruise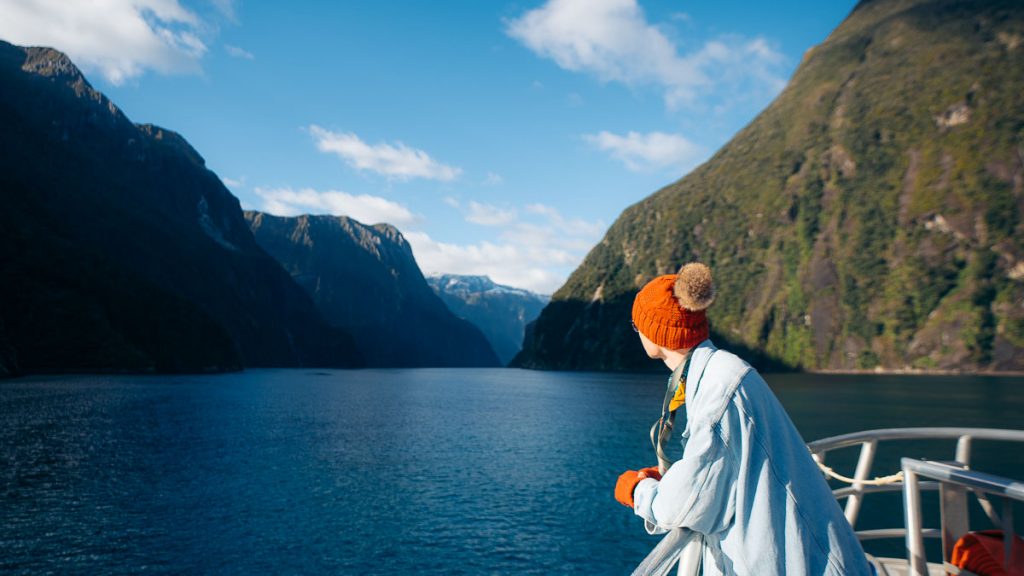 The Fiordland in Milford Sound is gorgeous, and the best way to appreciate its beauty is with this relaxing two-hour cruise ride.
On sunny days, sun rays peek through the mountains and mist to create a dreamy setting. Meanwhile, on rainy days, you'll spot lots of mini waterfalls cascading down the sides of these grand mountains.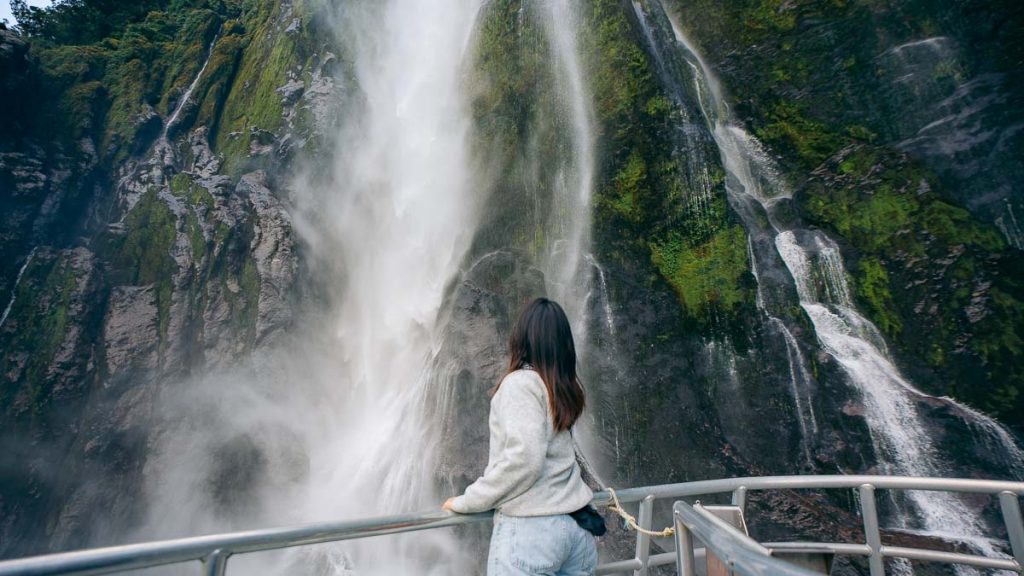 The cruise also inches close to larger waterfalls, so step out onto the deck if you're up for a splash!
We recommend going for an early cruise so you'd have time to explore the rest of Milford Sound (including the famous Milford Sound Swing).
*Pro-tip: Park at the Milford Sound Public Carpark (NZ$10/hr, ~S$9) as there is no parking at Milford Sound Visitor Terminal. The carpark is a 10min walk to the terminal and a 5min walk to the swing.
Cost: ~S$77/adult for a 2hr cruise (Note: Drinks and snacks are sold on board but payment is by cash only)
Tour timings: 11AM, 1:15PM
Meeting point: Milford Sound Visitor Terminal, Milford 9679, New Zealand
Where to eat in Milford Sound: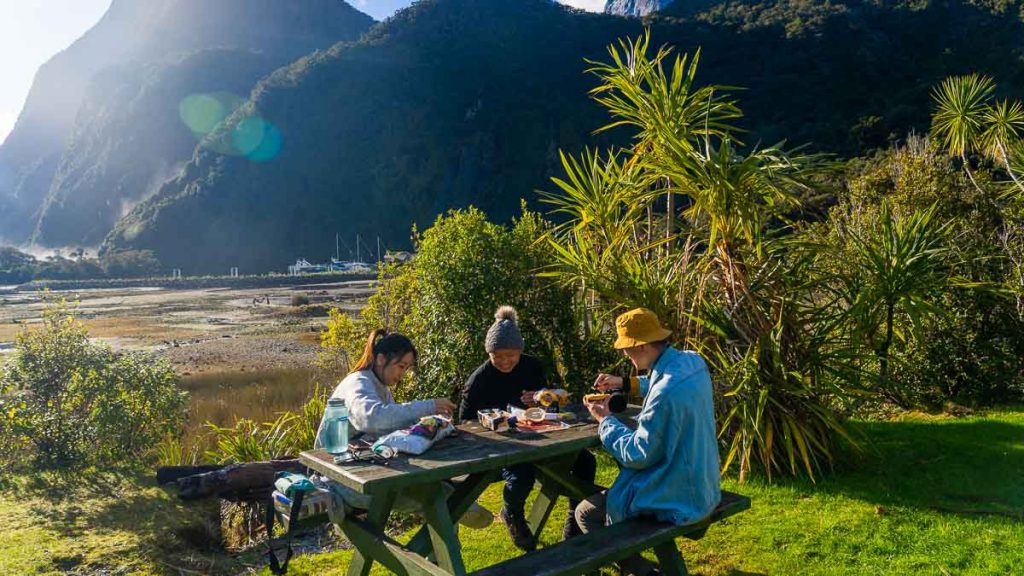 There are three options — Milford Sound Information Centre Cafe, Pio Pio or to pack a picnic lunch! We chose the third option at an outdoor seating area for the views (though be warned, there were several sandflies around 😩).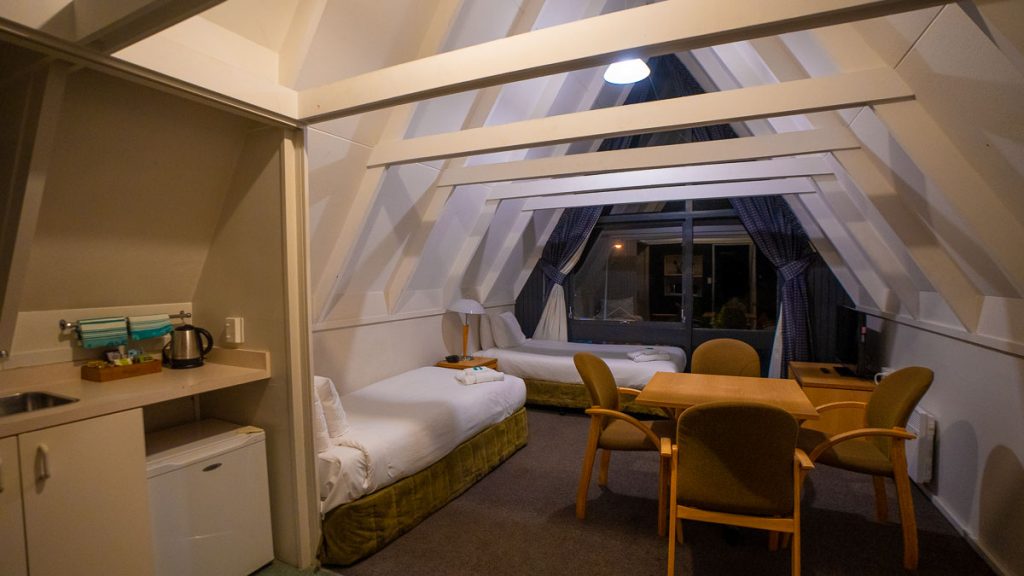 Where to stay in Queenstown: Heartland Hotel Queenstown — Family Room (~S$222/night). A three-minute drive to town, our spacious two-floored apartment had unique A-frame windows, allowing us to catch the morning sunrise from our beds.
Day 10 – 12: Queenstown
Milford Sound to Queenstown: 288km (~3.5hrs)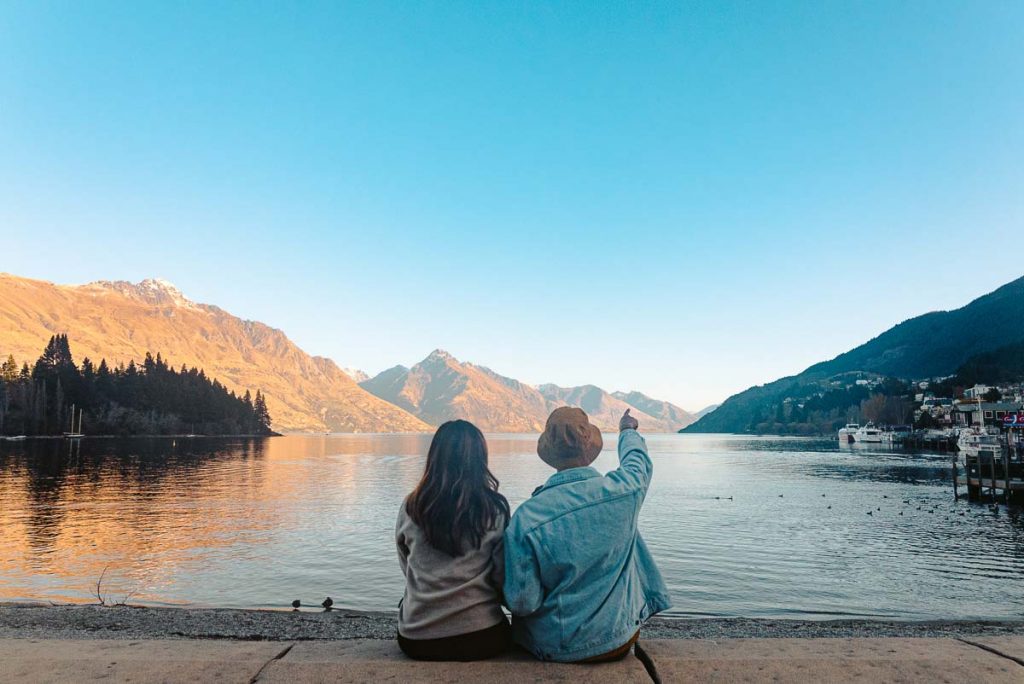 Queenstown is a must-visit while road tripping around New Zealand. Known as the "Adventure Capital of the World", the infinite list of activities here caters to people of all thrill appetites. Not to mention, the food and shopping options are endless!
Queenstown Quad Bike Adventure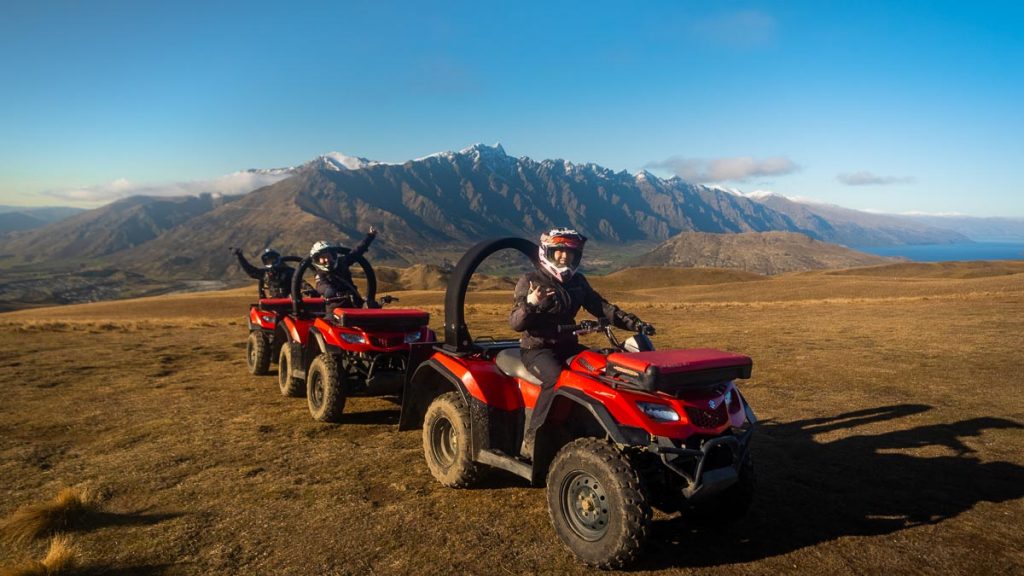 Quad bike adventures have always been a fan favourite and for good reason.
Nomad Safaris takes the thrilling experience up a notch as you enjoy 360° views of Queenstown and the Remarkables mountain range while biking up Queenstown Hill on a private sheep farm!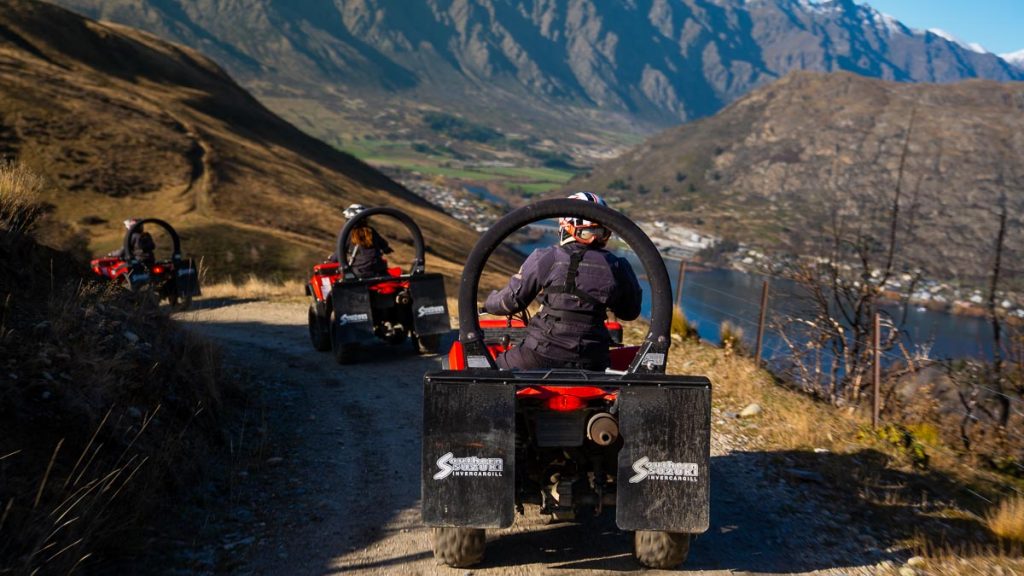 The bikes here are massive ones used by local farmers. The challenge comes in controlling these big boys along uneven trails as you try not to flip over or run yourself off the hill edge — you can do that later in the canyon swing 😉
But don't worry, a compulsory training session will help prepare you for the ride up!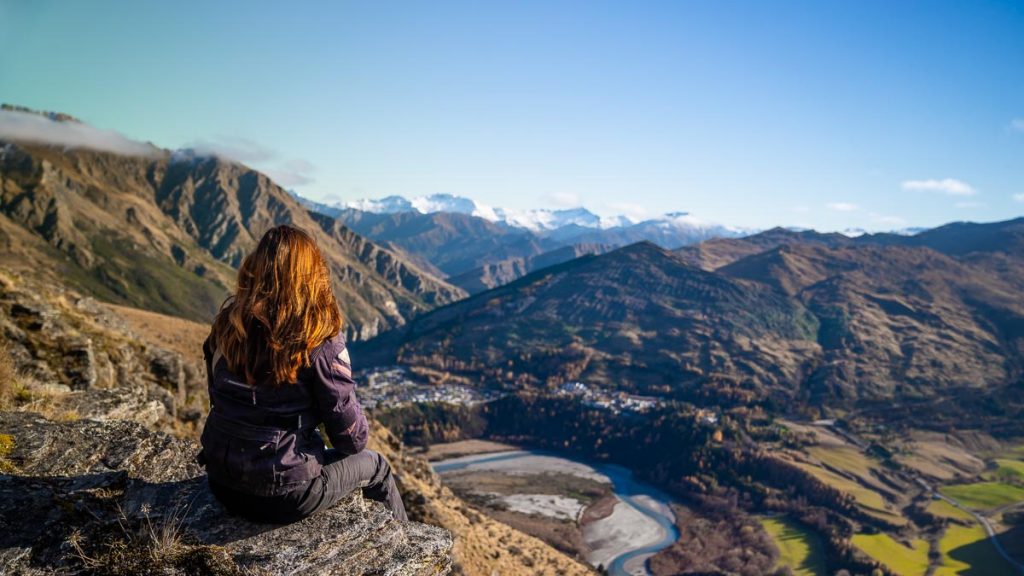 At the top, we enjoyed a splendid overview of the Shotover Canyon with a lovely breakfast spread of banana cakes and cookies prepared by our friendly guides.
Cost: ~S$263/pax for a 3.5hr tour (Participants must be 16 years old and above)
Tour timings: 8:30AM
Meeting point: Hotel pick-up is available
Shotover Canyon Swing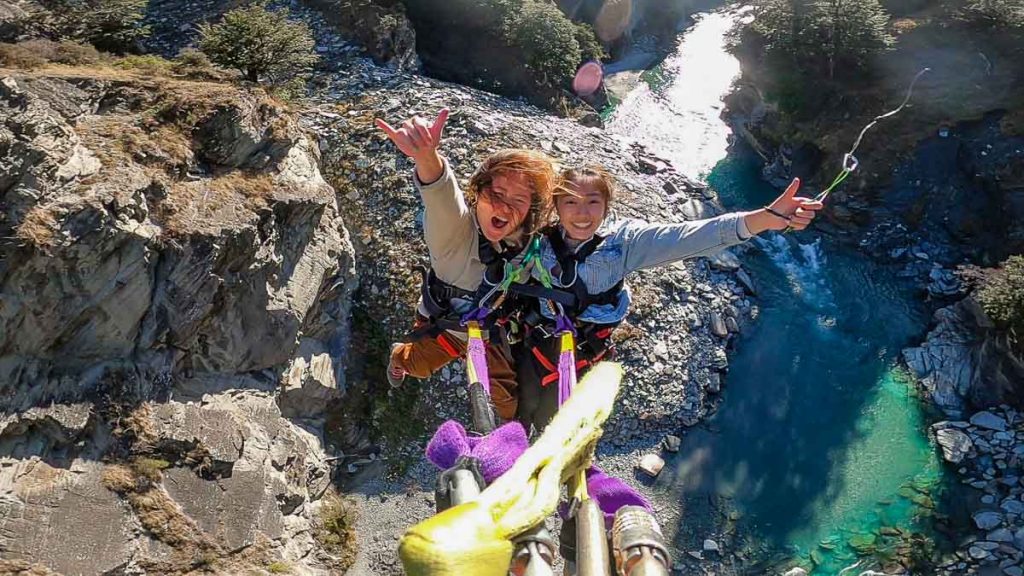 Embrace your fears as you swing across the Queenstown Shotover Canyon from a whopping height of 109m with 60m of freefall!
With over 30 jump styles, everyone from self-proclaimed chickens to ultra thrill-seekers can get their fill of adventure. Here's our fear factor ranking for the various jump styles:
Level 1: The Brave Chickens — Tandem swing, Cutaway, Forward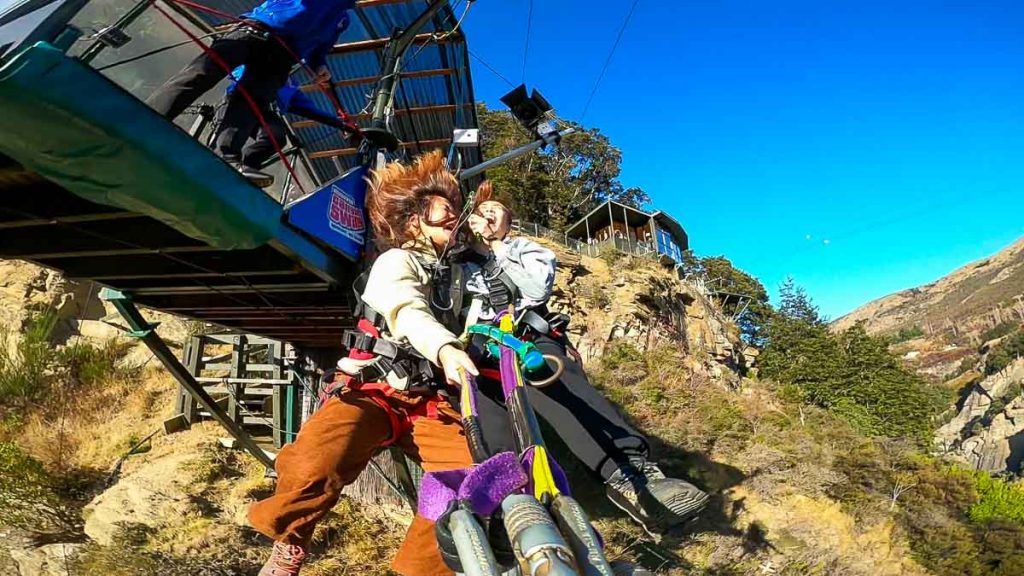 Chickens can fly together with the tandem swing… bok bok!
Level 2: The Adventurous — Trike, Chair, Indian Rope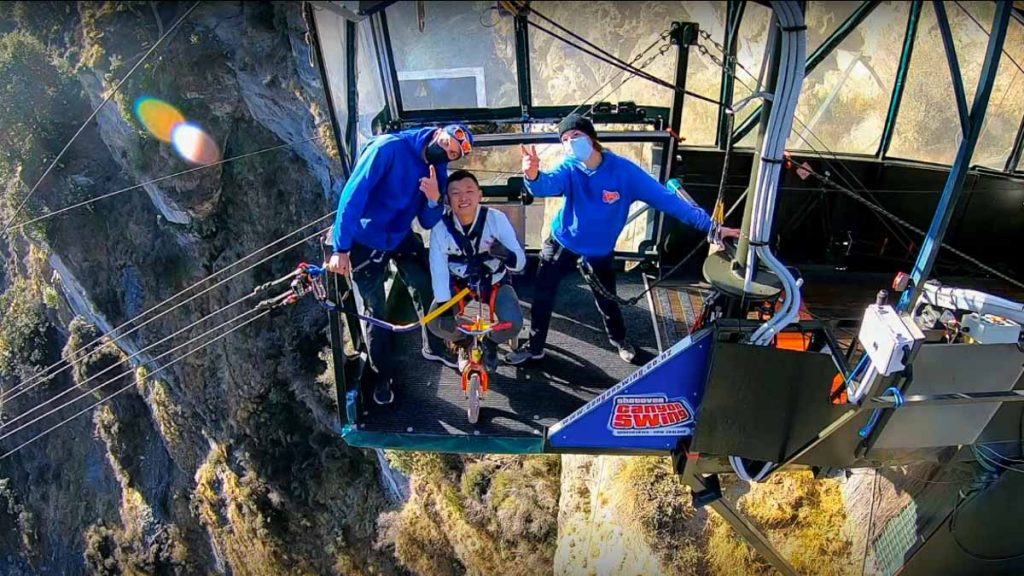 I'm not too sure why anyone would think about riding a tricycle off a cliff…
Level 3: The Not-in-the-right-minds — Sparta, Pin Drop, Gimp Boy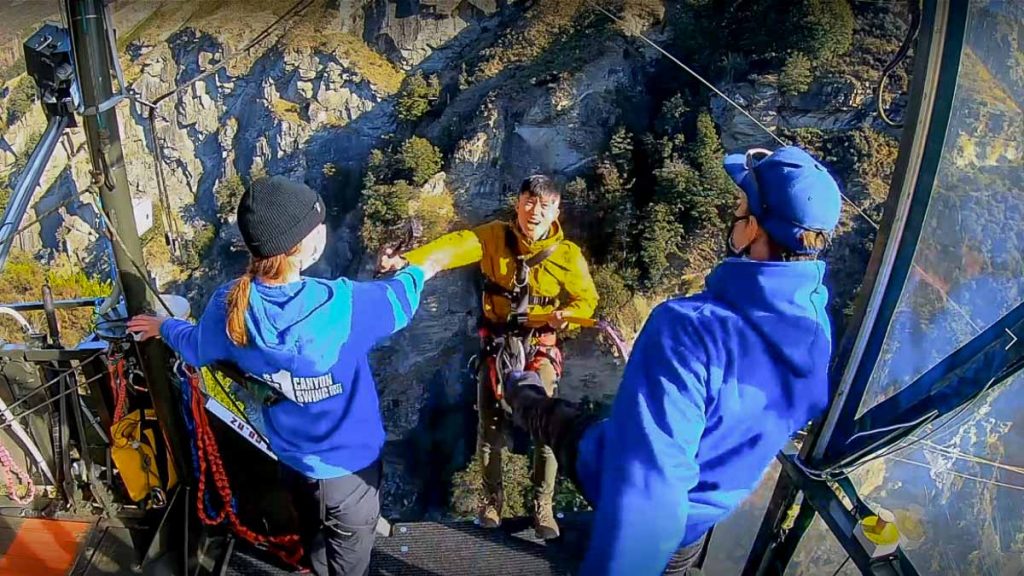 The jump master's kick really sent Chao flying out into the open :O
Cost: ~S$177/pax, NZ$30 (~S$27) for a second jump — pay on-site
Tour timings: 9:30AM, 10:30AM, 12PM, 1PM, 2:30PM, 3:30PM
Meeting point: 34 Shotover Street, Queenstown 9300, New Zealand
Zipline Experience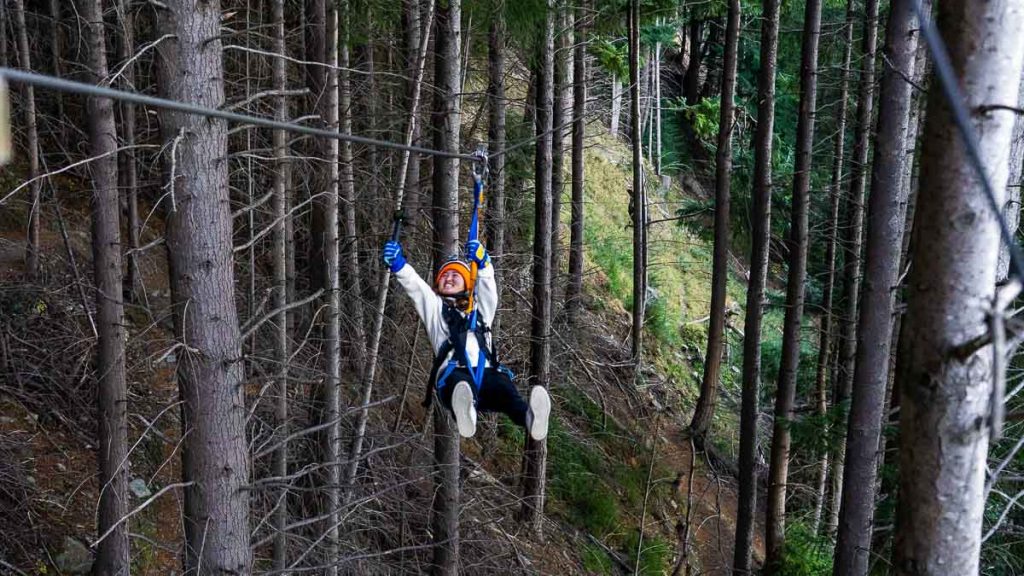 From the top of Bob's Peak, take in Queenstown's scenic views by zipping through the forest with Ziptrek Ecotours.
We booked the Moa 4-line Zipline, but a six-zipline option is also available with the sixth zipline being a 30-storey descent to the bottom of Bob's Peak mountain at a speed of 112km/hr!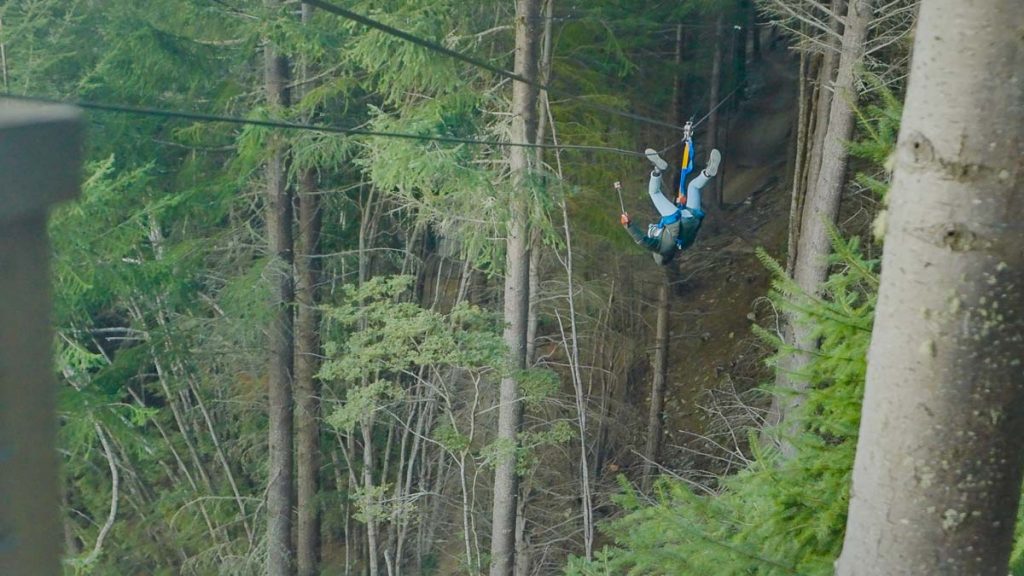 If that isn't enough excitement for you, thrill-seekers can also try out different styles of ziplining — going upside down or doing a trust fall.
*Note: The Gondola ride required to get to the meeting point is not included and has to be purchased separately.
Cost: ~S$133/adult for the Moa 4-Zipline tour, ~S$173/adult for the Kea 6-Zipline tour
Tour timings: 4PM
Meeting point: Ziptrek Treehouse, 45 Camp Street, Queenstown 9300, New Zealand (located at the top of the Skyline Gondola)
Onsen Hot Pools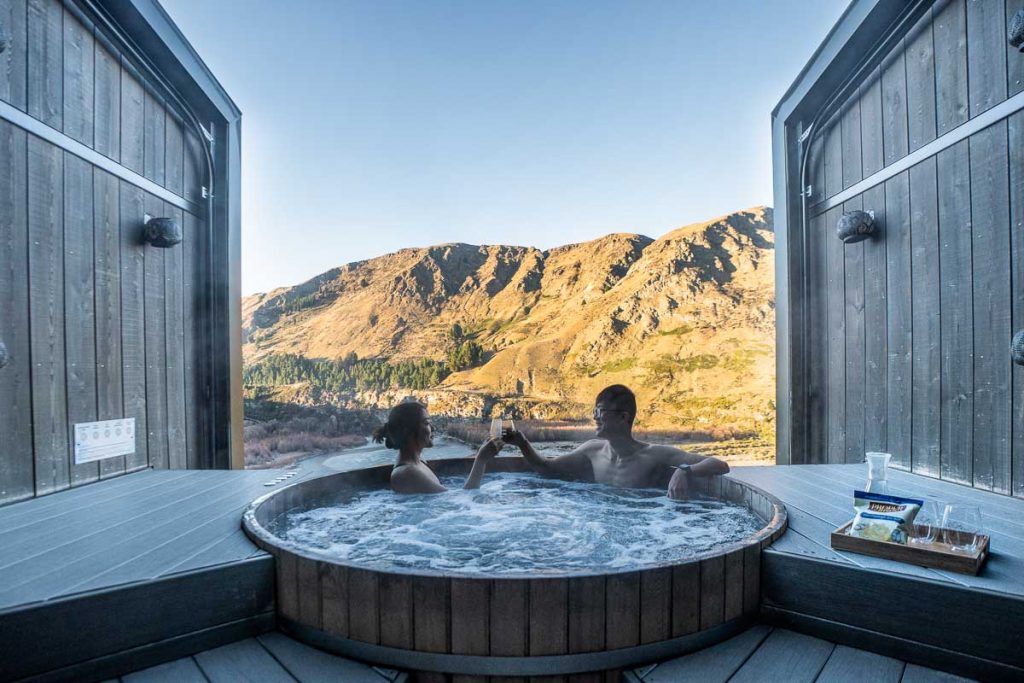 Located down South, Queenstown is chilly ❄️ — even in the summer! And that's what makes a warm soak down at the Onsen Hot Pools so much more rejuvenating.
Each pool is heated to ~38.5°C and changed twice daily with pure water from the surrounding mountains.
What's more, you're accompanied by an amazing view of the Remarkables and the Shotover River, with complimentary snacks and drinks provided. This is truly the best way to warm up for an exciting day of activities ahead.
Our only complaint — one hour is way too short! :<
Cost: From ~S$47/adult for 1hr
Opening hours: 9AM – 10PM
Address: 162 Arthurs Point Road, Arthurs Point, Queenstown 9371, New Zealand
Saturday Queenstown Arts & Crafts Market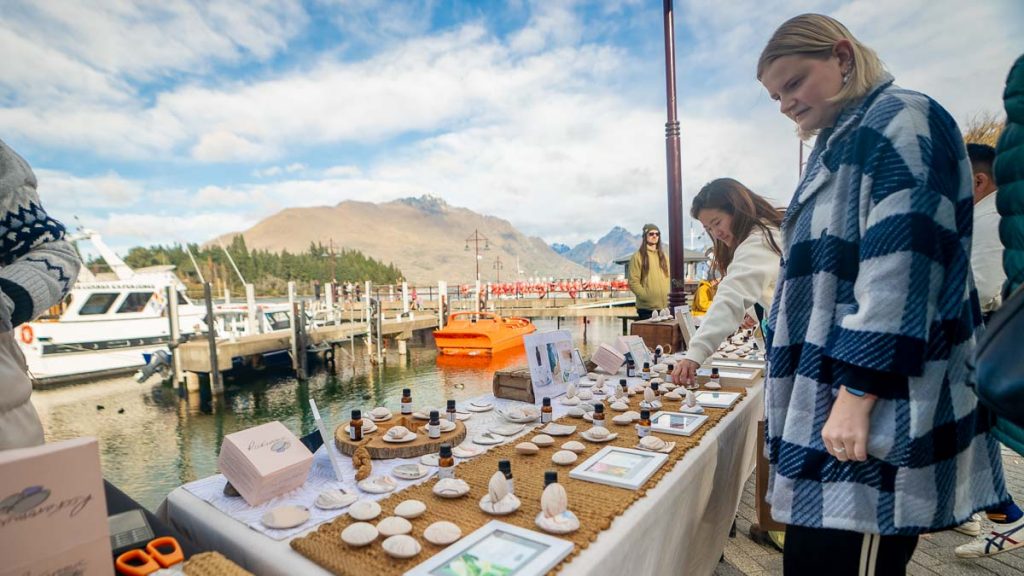 If you're in Queenstown on a Saturday, stop by the Arts & Crafts Market for a vibrant display of artworks from local creators.
It's conveniently located by the lakefront, and items sold include pottery, jewellery, earrings, scented aroma stones, and much more! Each artwork carried the sincerity and hard work of its artist, who passionately shared their creative journey with us.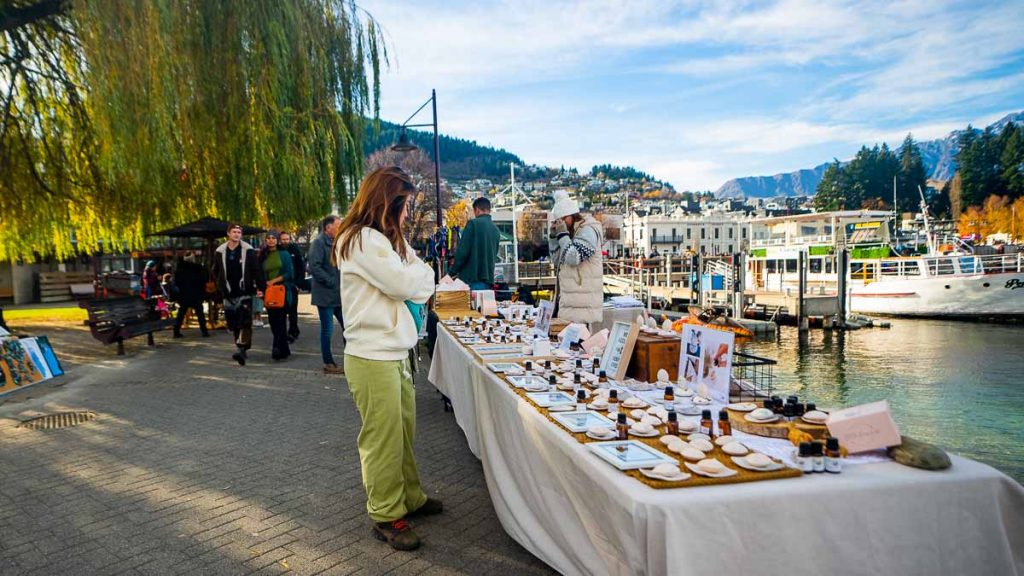 This is a great place to pick up souvenirs, although we sure had a hard time choosing!
Cost: Free
Opening hours: 9AM – 4:30PM (Sat, Summer), 9:30AM – 3:30PM (Sat, Winter)
Address: Marine Parade, Queenstown 9300, New Zealand
Lake Wakatipu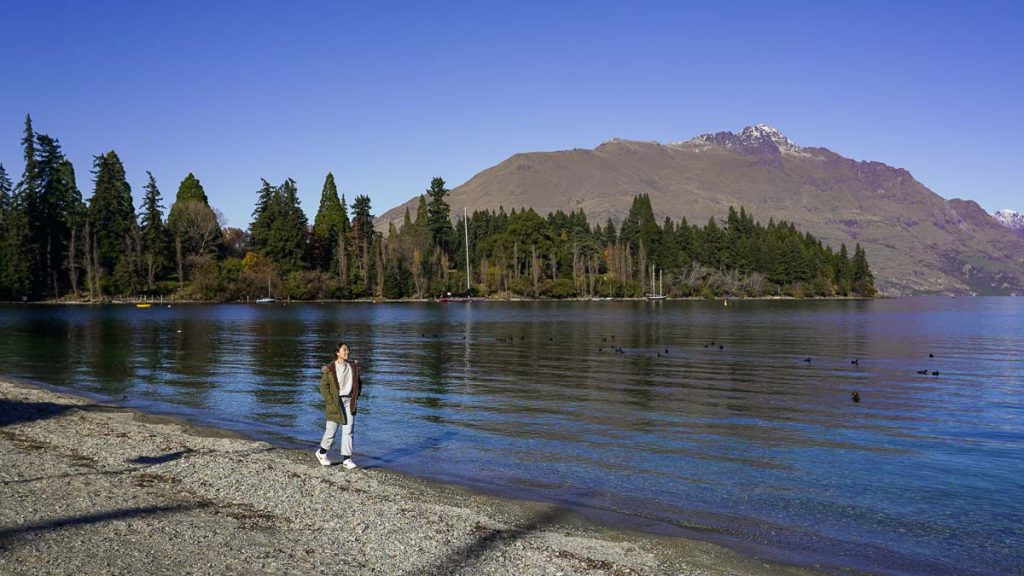 A stroll along the lakefront easily reveals how beautiful Lake Wakatipu is. Due to its unusual lightning bolt shape, the waters move up and down forming gentle "tides" (or a standing wave).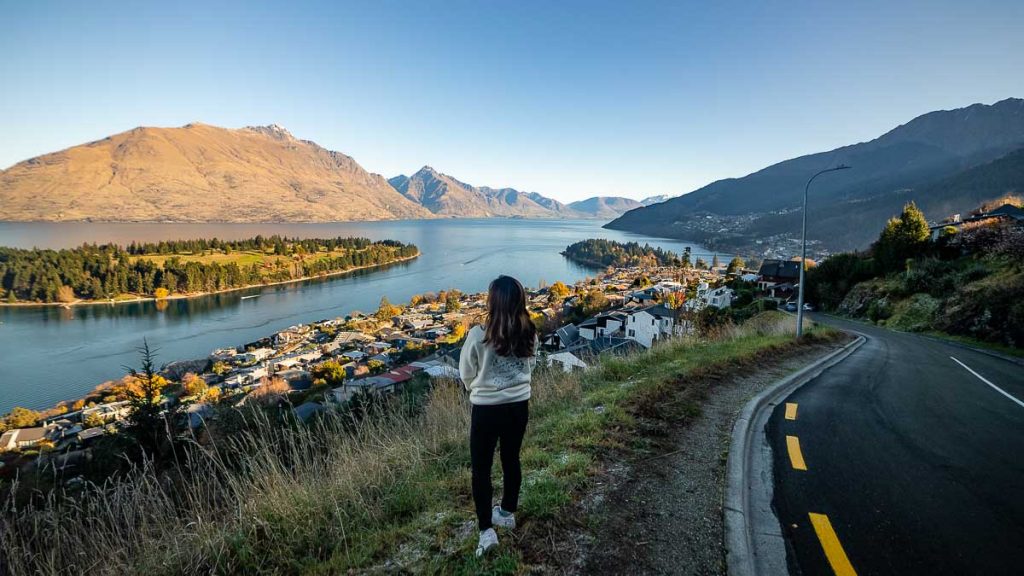 To catch the lake in all of its magnificence, head to a higher vantage point at Lake Wakatipu Viewpoint (76/92 Hensman Road). It was recommended by our quad bike guide for having the best views of Lake Wakatipu!
Local Delicacies in Queenstown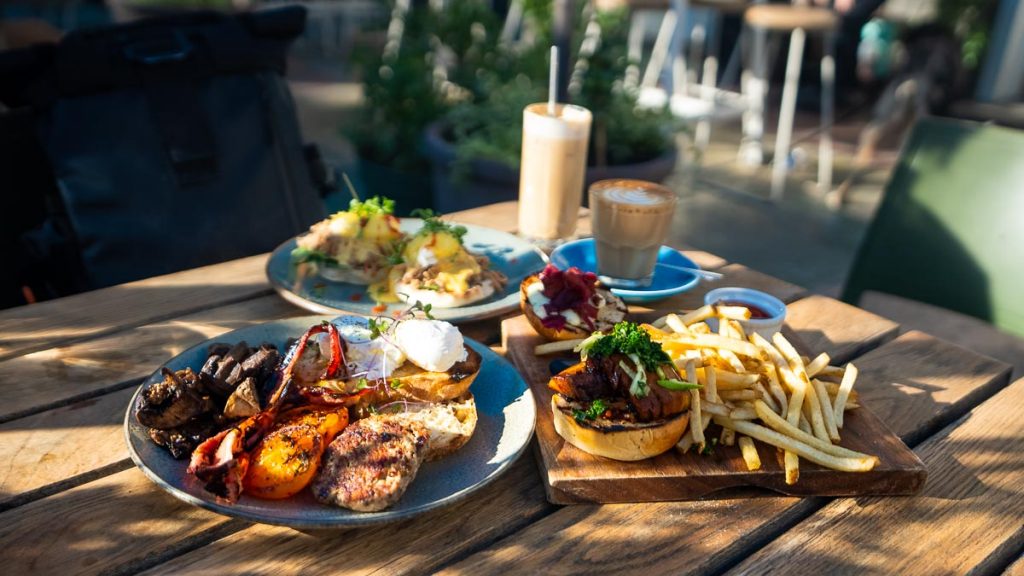 Of course, we can't miss out on the most important thing on every Singaporean's mind: Food! Queenstown offers simply too much good food that I had to squeeze into this New Zealand South Island itinerary.
Fergburger, Fergbaker, Mrs Ferg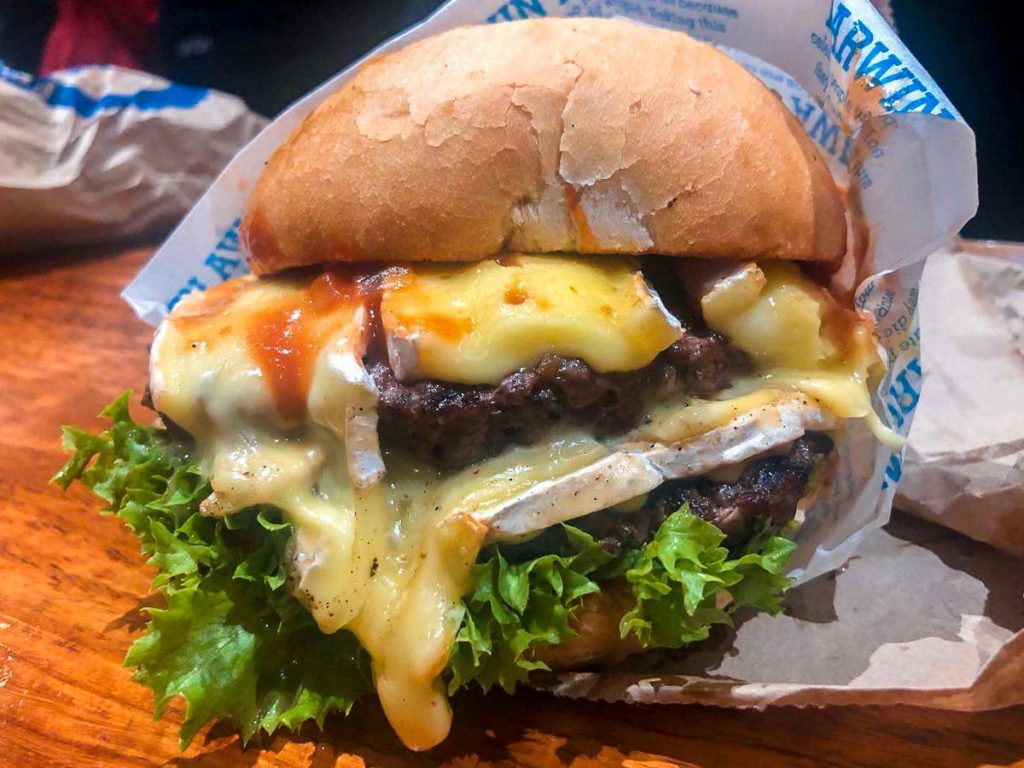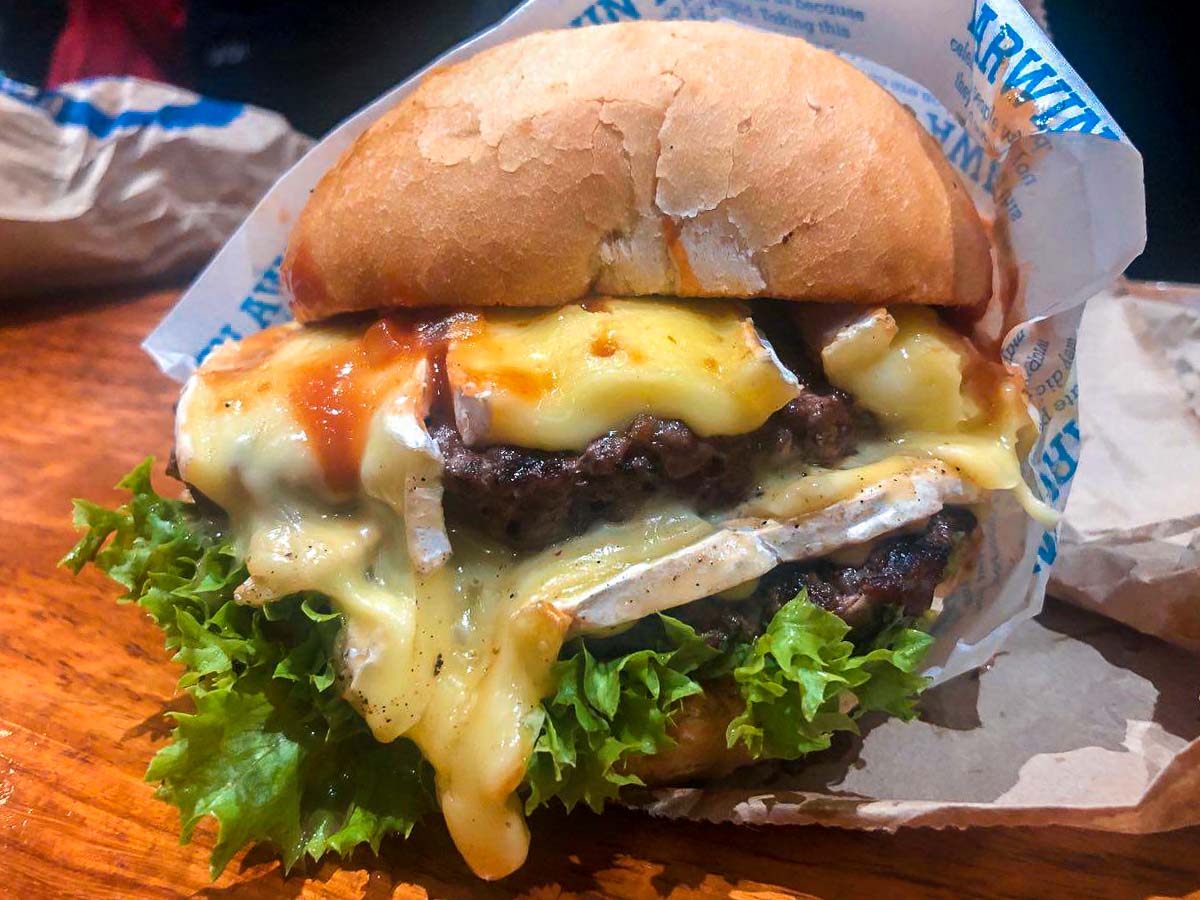 Nicknamed the "best burger joint on the planet", Fergburger is a must-try in Queenstown. You can't go wrong with the classic Fergburger (NZ$13.40, ~S$11.70), although exotic creations like Sweet Bambi (NZ$15.40, ~S$13.50) with deer meat are also worth a try.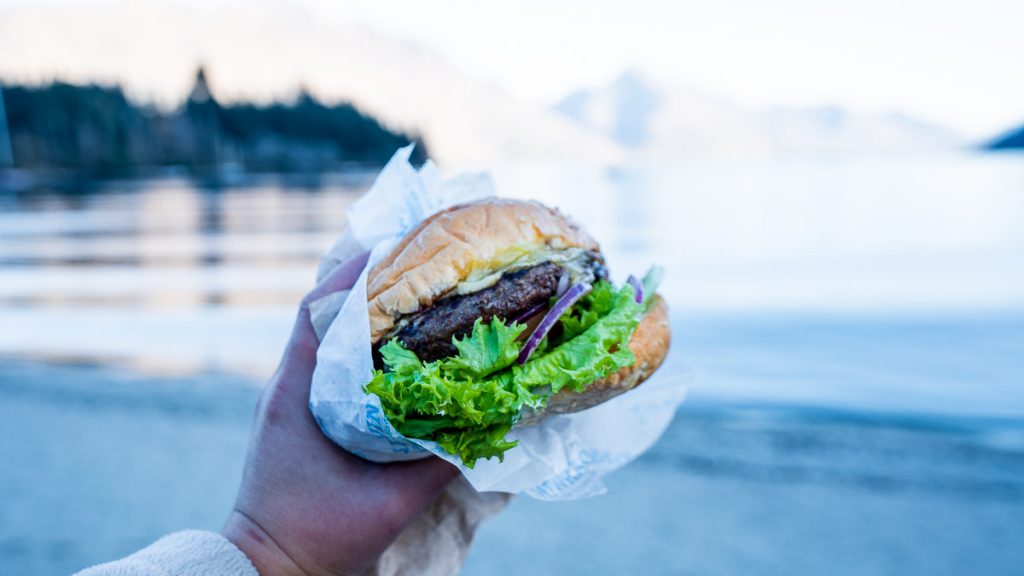 Given its popularity, Fergburger is almost always crowded with limited seats for dining. We opted for takeaway and walked to the Lake Wakatipu lakefront two minutes away to enjoy our burger with a view!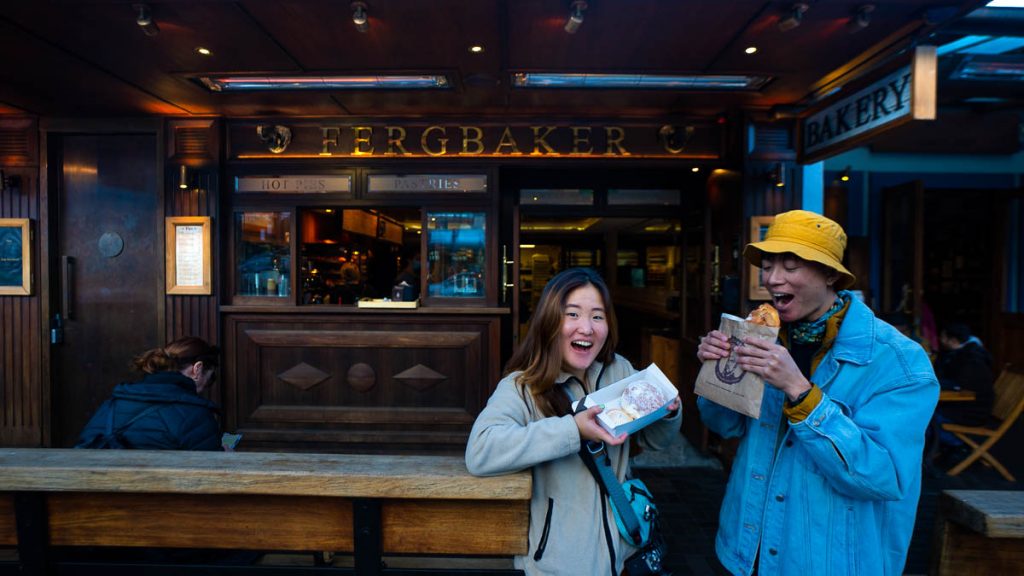 Right beside Fergburger, you'll find Fergbaker and Mrs Ferg — a bakery shop and a gelato shop from the same franchise. We were too full for ice cream, but the fresh bakes and stuffed pies from Fergbaker were simply delightful ✨
Fergburger
Opening hours: 8AM – 2AM (Mon – Fri), 8AM – 4:30AM (Sat – Sun)
Address: 42 Shotover Street, Queenstown 9300, New Zealand
Fergbaker
Opening hours: 6AM – 10PM (Mon – Fri), 6AM – 12AM (Sat – Sun)
Address: 40 Shotover Street, Queenstown 9300, New Zealand
Mrs Ferg Gelateria
Opening hours: 6AM – 9PM
Address: 40 Shotover Street, Queenstown 9300, New Zealand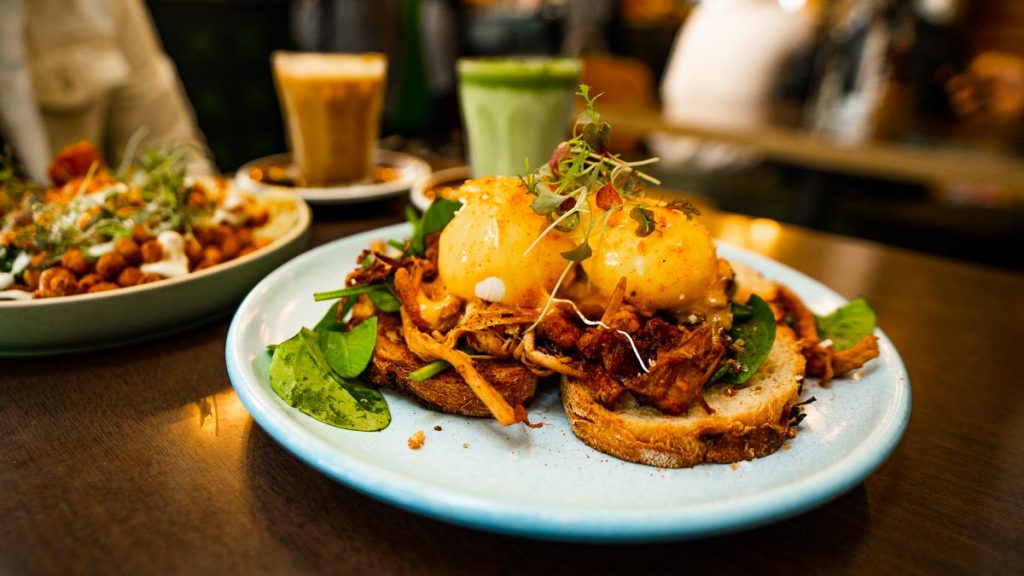 For lunch, Yonder and Vudu Cafe offers delicious cafe food at affordable prices.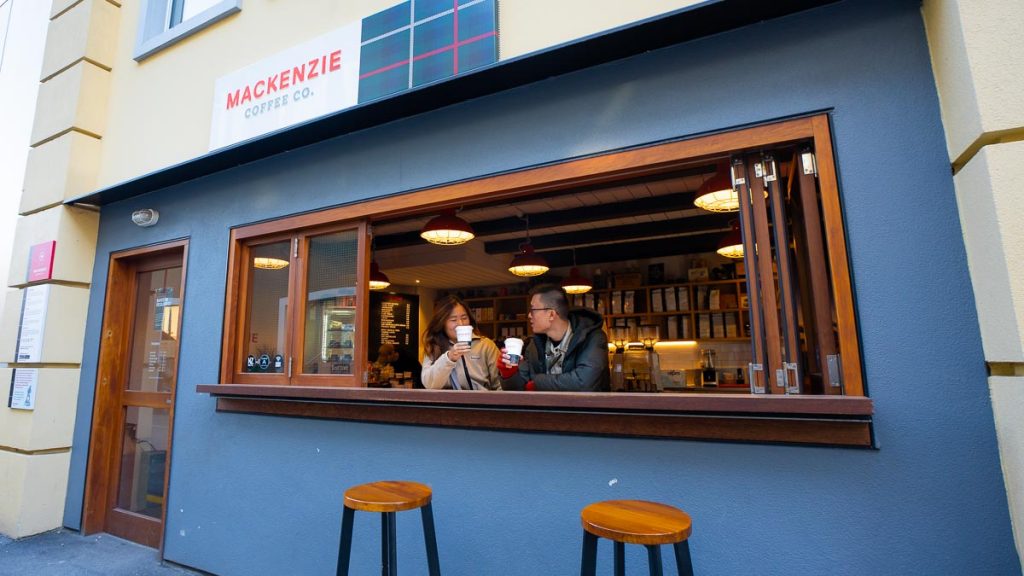 Snack breaks are also plenty. We had great coffee at Mackenzie Coffee Co. and teatime desserts at Patagonia Chocolates.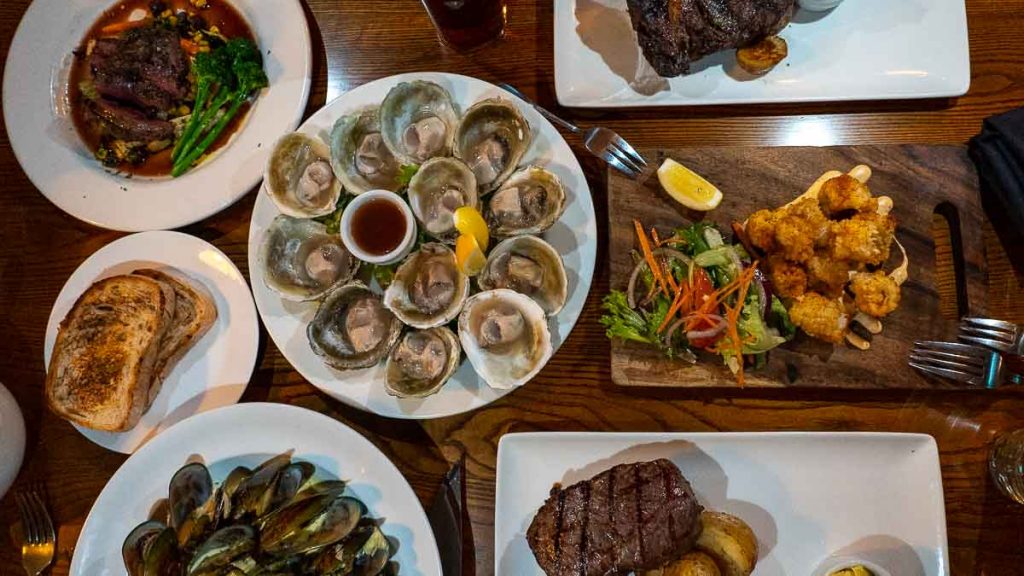 Lastly, Captains offers great fine dining seafood if you're looking to splurge.
Budget Breakdown of New Zealand South Island Itinerary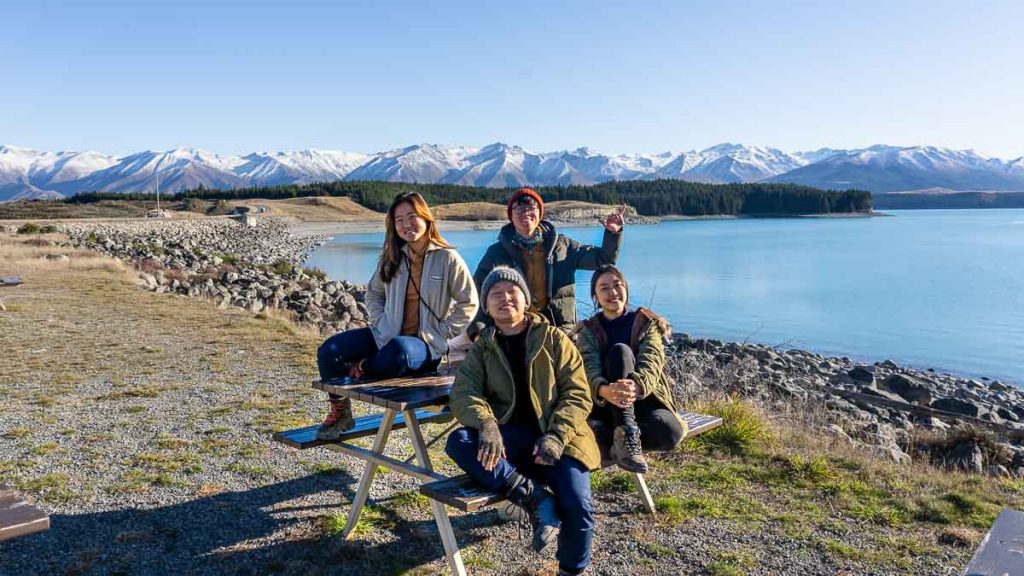 Accommodation: S$551.55
Transport: S$335.67
Activities: S$1,457.50
Miscellaneous: S$418.60 (incl. food and Covid-related expenses)
Total: S$2,763.33 (Excl. Flights)
(detailed breakdown for one pax here)
Flights aren't included in the budget for this New Zealand South Island itinerary, since prices vary all year round.
New Zealand may not be the cheapest country to travel to, but we managed to get the most bang for our buck by booking our activities via Klook. The process was smooth and some activities even had instant confirmation — we just had to mention our name to redeem our booking. Plus, the variety of activities offered made itinerary planning really convenient.
Here are the tours and activities we booked:
– The Christchurch Pass (~S$76)
– Kaikoura Dolphin Encounter: Swimming with Dolphins (~S$183)
– Seal Kayaking Adventure in Kaikoura (~S$104)
– Pohatu Bay Penguin Watching Tour (~S$157)
– Te Anau Glowworm Cave Tour (~S$89)
– Fiordland Jet Pure Wilderness Adventure (~S$151)
– Milford Sound Cruise by Real Journeys (~S$77)
– Queenstown Quad Bike Adventure (~S$263)
– Shotover Canyon Swing (~S$177)
– Moa 4-Zipline Experience in Queenstown (~S$133)
– Onsen Hot Pools Queenstown (~S$47)
Paid activities aside, we also kept a good balance of free hikes to make the most out of the scenic natural landscapes here.
Additionally, dining out in New Zealand's South Island is expensive so we opted to grocery shop and cook on most nights to save on food expenses.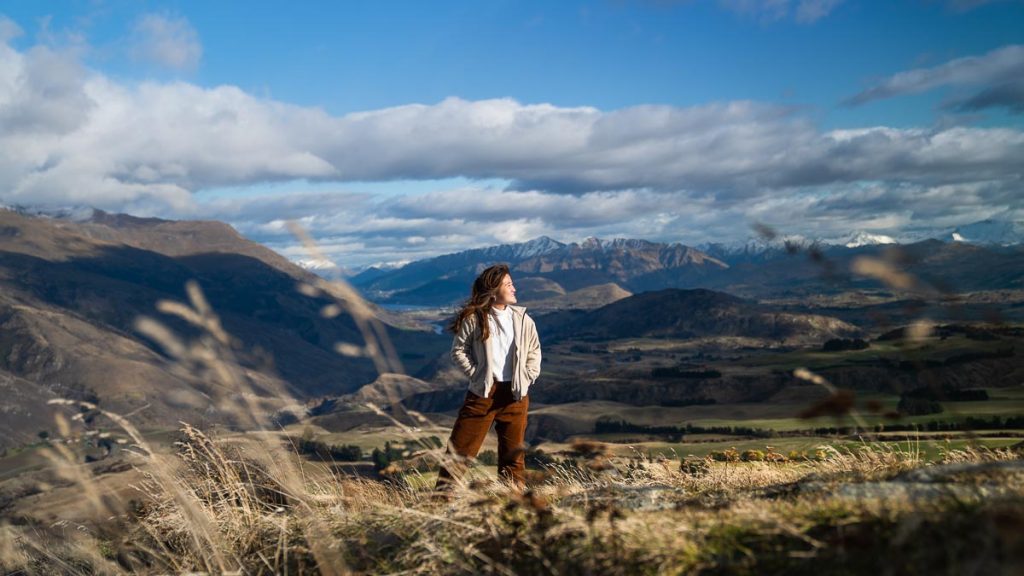 It's easy to see why New Zealand is a dream destination for many — with breathtaking alpines, pristine mountain lakes, and an extensive diversity of wildlife creating an almost ethereal fairytale scenery 🏔
And despite this being our second trip to the South Island, we were equally dazzled by the scenic nature landscapes, even along random roadside stops on our drive — there's just so much of New Zealand left to explore!
As travel recovers and we head overseas to fulfil our wanderlust, we shouldn't forget to practise responsible and sustainable tourism — respecting the local culture and natural landscapes as we visit!
Read also: Planning a New Zealand Road Trip — 30 Most Frequently Asked Questions
Which experiences from this New Zealand South Island Itinerary are you most excited to try? Let us know in the comments below!
---
This article was brought to you by Klook.
Like what you see? Follow us on Facebook, Instagram, YouTube, and Telegram for more travel updates!