This Gold Coast road trip itinerary is the ideal guide to living your best camper van life for first timers. Don't worry, we're koalified.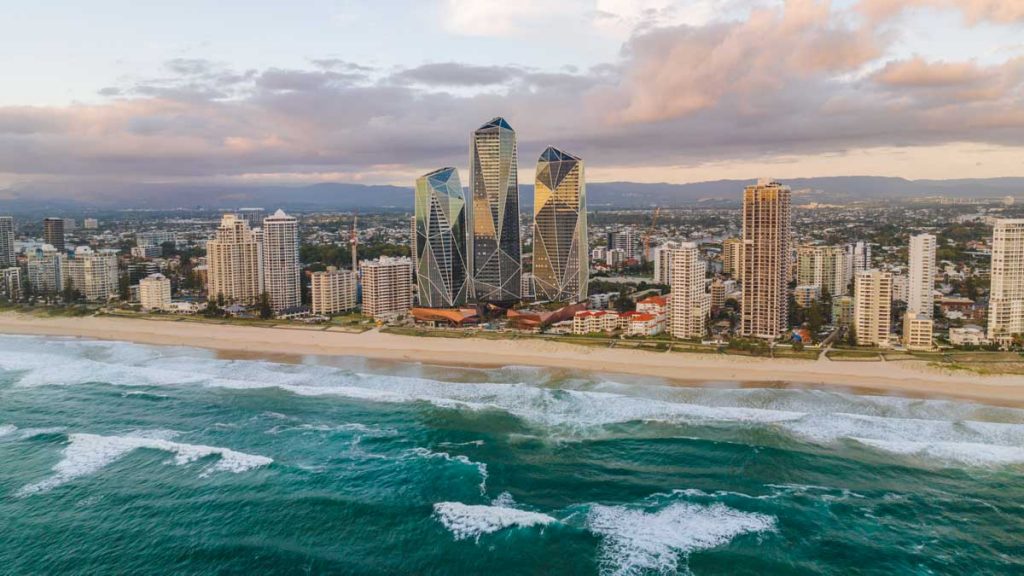 Photo credit: Tourism & Events Queensland
Get your playlist ready because we're going on a road trip. From iconic beaches in Surfers Paradise to intimate animal encounters, the Gold Coast is the perfect place to start.

I've always dreamed of going on a camper van road trip. The joy of waking up to sun rays peeking through the window, with front-row seats to the best that nature has to offer. It's more than just a means of transportation — it's your mobile home, your window to the world, and your passport to the unmatched beauty of Queensland.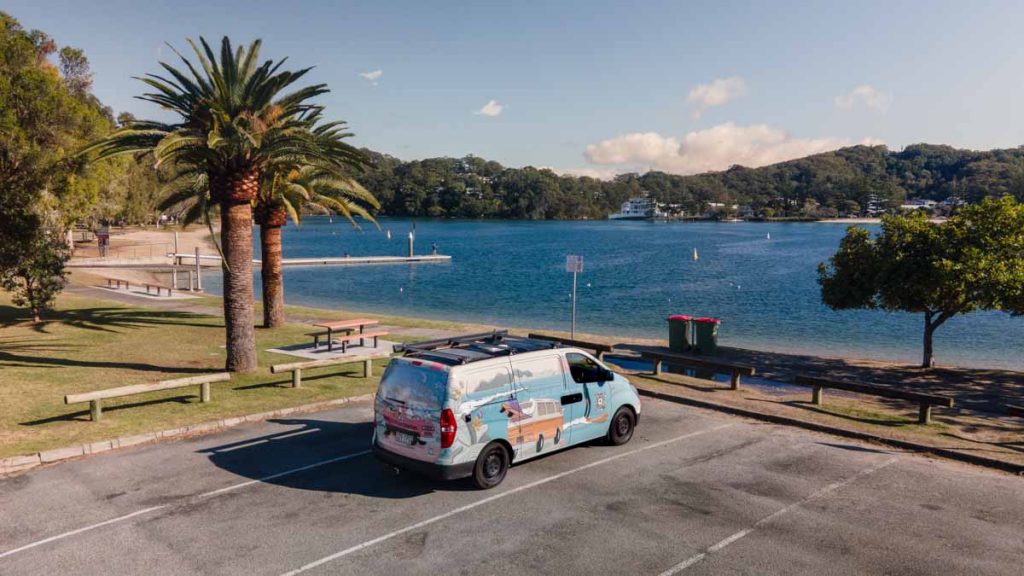 We spent eight days driving across the city and rolling hills of the Gold Coast and hinterland, exploring and living out our dream. While I'm a seasoned road tripper, camper vanning felt a little scary at first. After all, there's a lot more to consider, from finding campsites to ensuring you have enough power and water supply, to the different add-ons for your camper van.
So here's our Gold Coast road trip itinerary, with a summary of costs (at the end), tips, and FAQ on how you can do it too. We hope that you'll get to experience the adventure of camper vanning yourself!
Gold Coast Road Trip Itinerary Overview
This first-timers' camper van itinerary focuses on shorter drives not longer than an hour and showcases a taste of everything the Gold Coast has to offer — think adorable wildlife, long sandy beaches, natural landscapes, and theme parks.
Click to jump to each section
Day 1: Coolangatta and Whale Watching
Day 2: Currumbin Wildlife and Adventure
Day 3: Alpacas and Tamborine National Park
Day 4-5: Theme Parks
Day 6: Surfers Paradise
Day 7: Burleigh and Tallebudgera Creek
Day 8: Flight Home
Gold Coast Road Trip Itinerary Budget Breakdown
Camper Van Road Trip FAQ & Tips
Gold Coast Travel Essentials
Day 1: Coolangatta and Whale Watching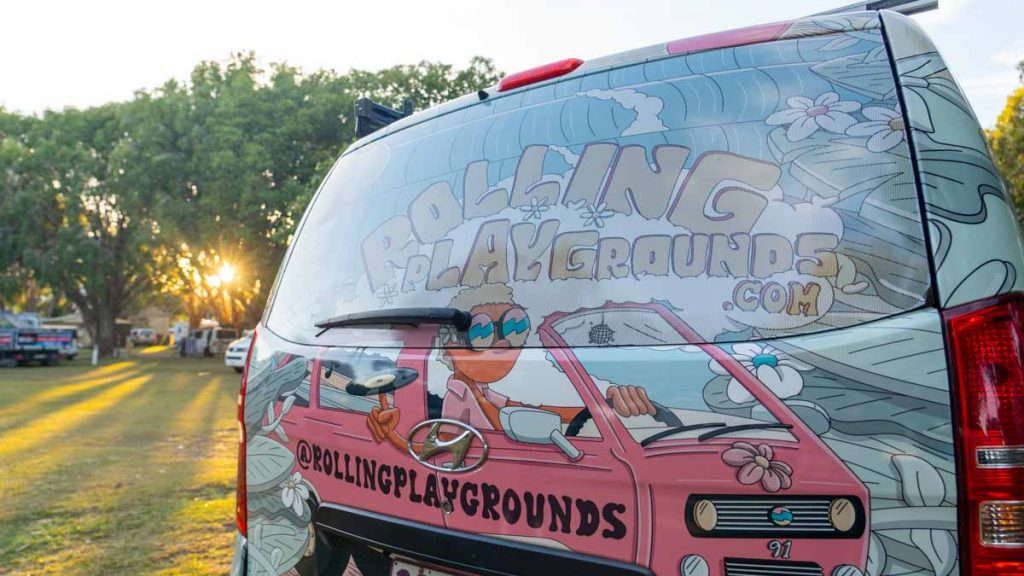 First up, collecting our camper van at Elanora. We booked our gorgeous CUB camper van with Rolling Playgrounds. The artwork was a consistent conversation starter with others and was such a vibe.
The owner Dan was friendly and always available to answer any questions we had. Despite the compact size, it had everything we needed — a stove, fridge, sink (that doubles as an outdoor shower in a pinch), solar panels for charging, outdoor table and chairs, comfortable bed for two adults and a child, and plenty of storage space.

*Pro-tip: Check out our road trip FAQ and tips on getting your first camper van!
Set aside at least 1 hour for collection though, because an in-depth orientation is required to familiarise yourself with the ins-and-outs of the camper van.
Before heading off, we also swung by Woolworths Coolangatta to stock up on some groceries and snacks.
Whale Watching Safari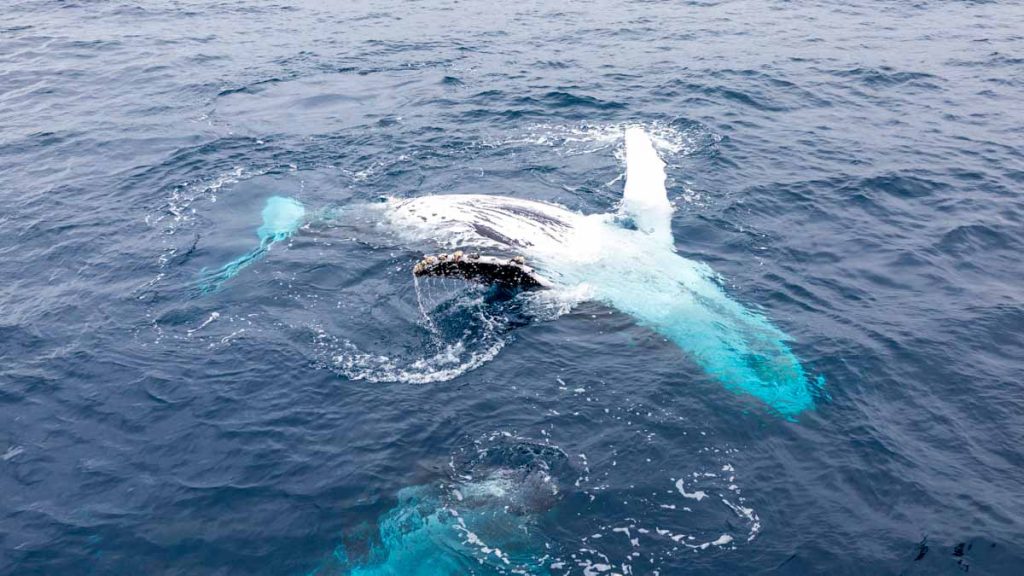 Photo credit: Cooly Eco Adventures
Whale watching in the Gold Coast is nature's theatre at its best. Between May and November, 30,000 humpback whales migrate from Antarctica — breaching in glittering waters, with playful dolphins occasionally surfing in their wake.
We joined a safari tour with Cooly Eco Adventures, which used an awesome open vessel that felt like a roller coaster as we zipped across the ocean. A fellow passenger beside us was screaming with joy every time the boat sped up. It's pretty fun but be prepared as you will get a little wet!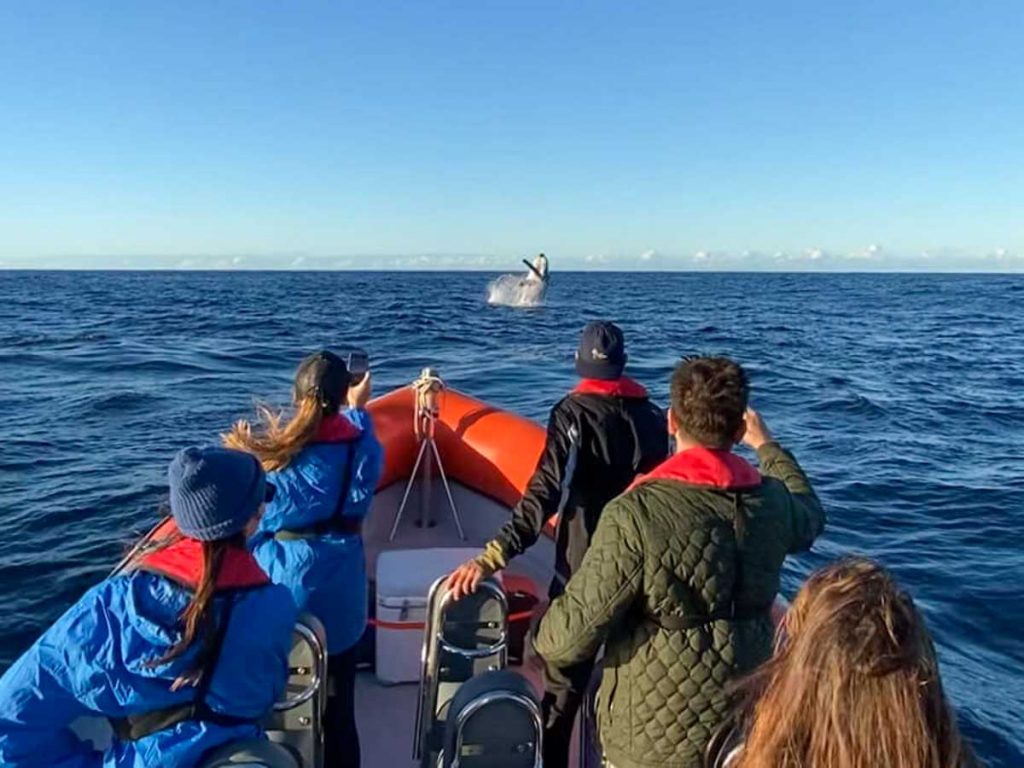 Photo credit: Cooly Eco Adventures
The team provided waterproof spray jackets, but we recommend bringing your own layers as it can get colder out on the water.
*Pro-tip: Pack some light snacks if you'd like to munch on something onboard as tea/coffee are only served before the tour.
If you're after something more intimate, they also offer opportunities to swim with the humpback whales on a separate tour.
Cost: AU$119 (~S$107) for a 2.5hr whale watching safari
Tour timings: 7AM, 10:30AM, 2PM (arrive 30mins prior to departure)
Meeting point: 12min drive from Coolangatta Beach. Look out for a white trailer at the side of the road (Google Maps)
Coolangatta Beach and Point Danger Sunset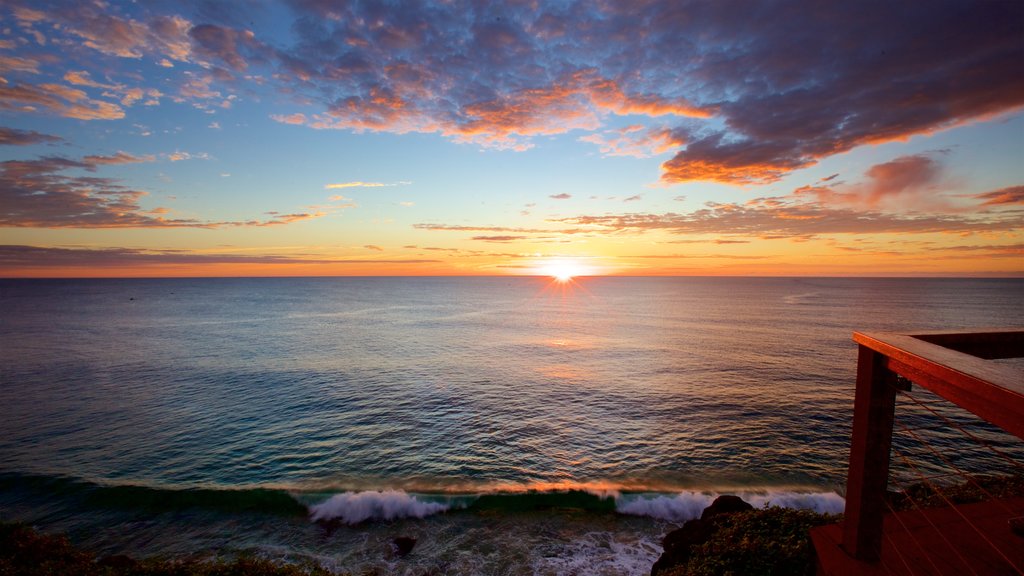 Photo credit: Expedia
After the tour, head to Coolangatta Beach to wind down and chill. It's known for its silky white sand and blue waters so you can even take a dip too! Swing over to the nearby headland at Point Danger to catch the sunset for the perfect end to the first day.
Campsite – Kirra Beach Tourist Park (Day 1-2)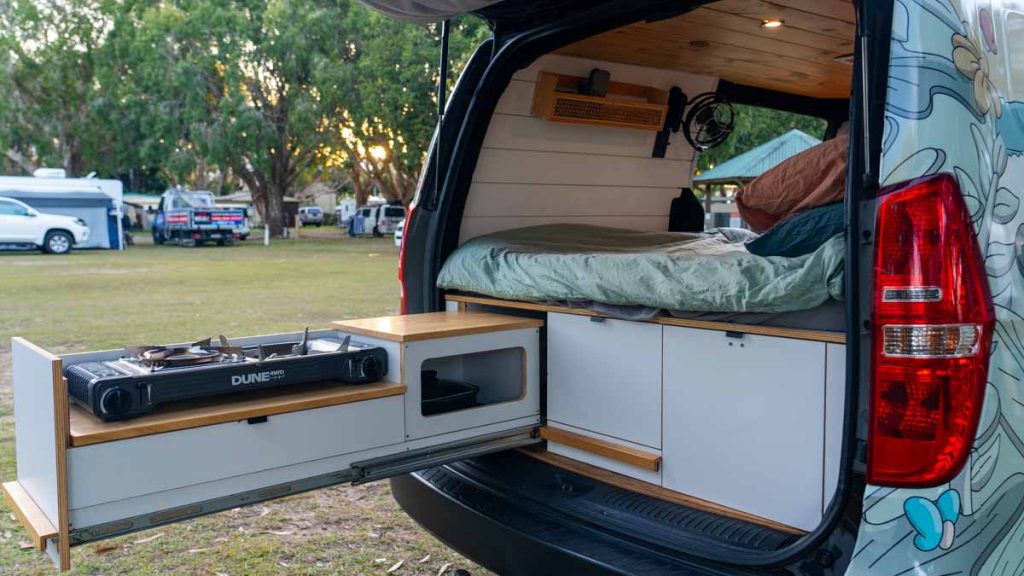 As our camper van doesn't have its own toilet, we generally parked at tourist parks that have access to common bathrooms with warm showers every night. Kirra Beach Tourist Park was a no-frills campsite. Their powered van sites (including a powerpoint to charge your battery) are very spacious so we could easily set up our van and do our own cooking.
Cost: From AU$100/2 nights (~S$90) for a powered van site. Minimum two nights stay.
How to get there: 3min drive from Coolangatta Beach (Google Maps)
Day 2: Currumbin Wildlife and Adventure
Currumbin Lorikeet Feeding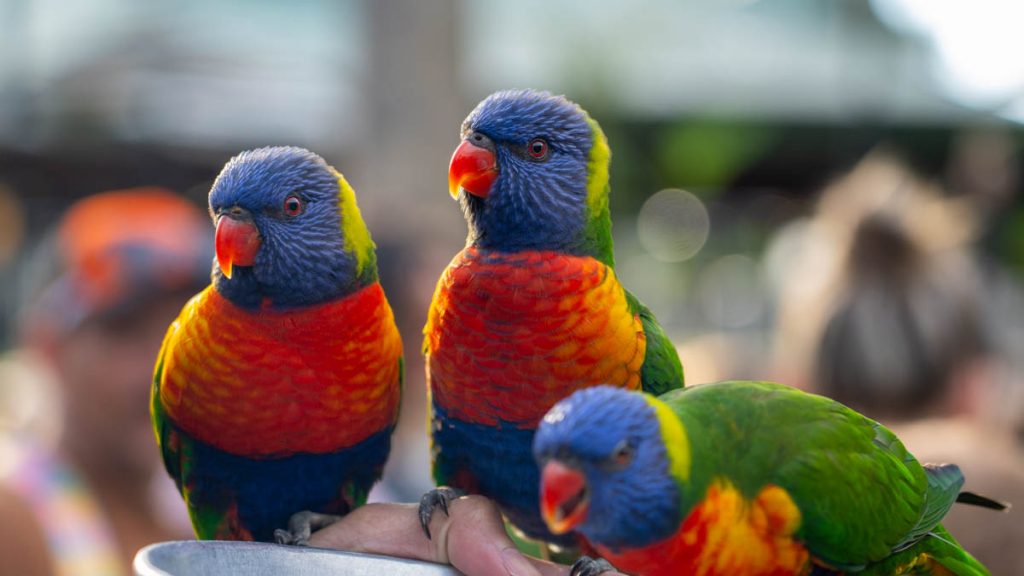 We started the day meeting Australia's most colourful (and adorable) bird species outside Currumbin Wildlife Sanctuary. The native wild lorikeets displayed their loving disregard for personal space by chilling on our heads and arms during feeding, which happens twice a day!
The best part is that the entire lorikeet feeding experience is free! You won't need an entry ticket if you don't have time to explore the sanctuary.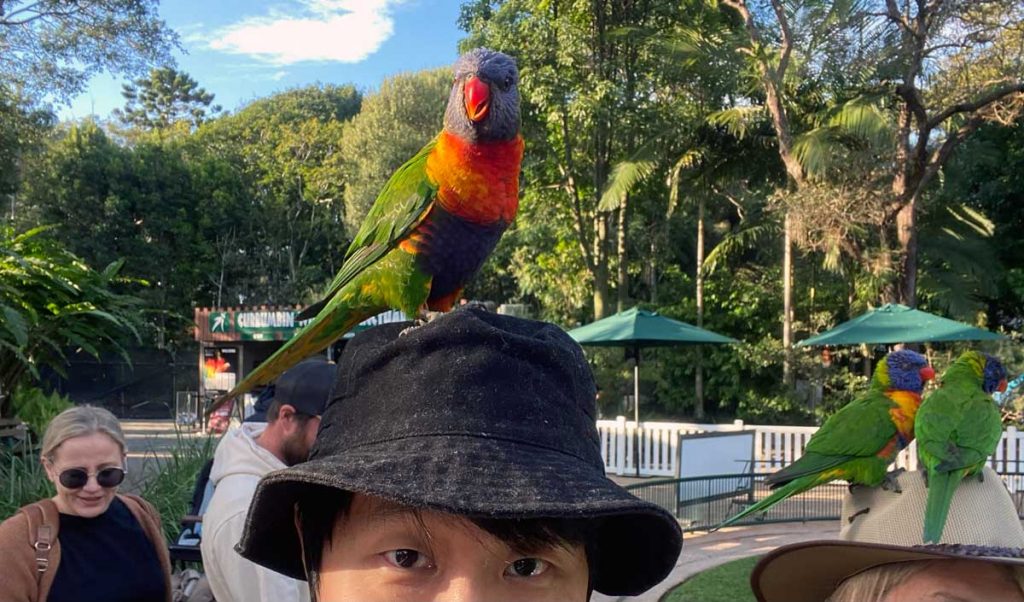 As the lorikeets are wild, they can get spooked and fly off if there are predators nearby. So we suggest catching the morning feeding session as it's less crowded, plus you have a second chance of seeing the cute birds again if you missed them in the earlier session.
*Pro-tip: Wear a hat or long sleeves to avoid being scratched by the birds!
Cost: Free, with a voluntary donation for a plate of lorikeet feed
Tour timings: 8AM, 4PM
Meeting point: Outside the ticketing booth of Currumbin Wildlife Sanctuary. 7min drive from Kirra Beach Tourist Park (Google Maps)
Currumbin Wildlife Sanctuary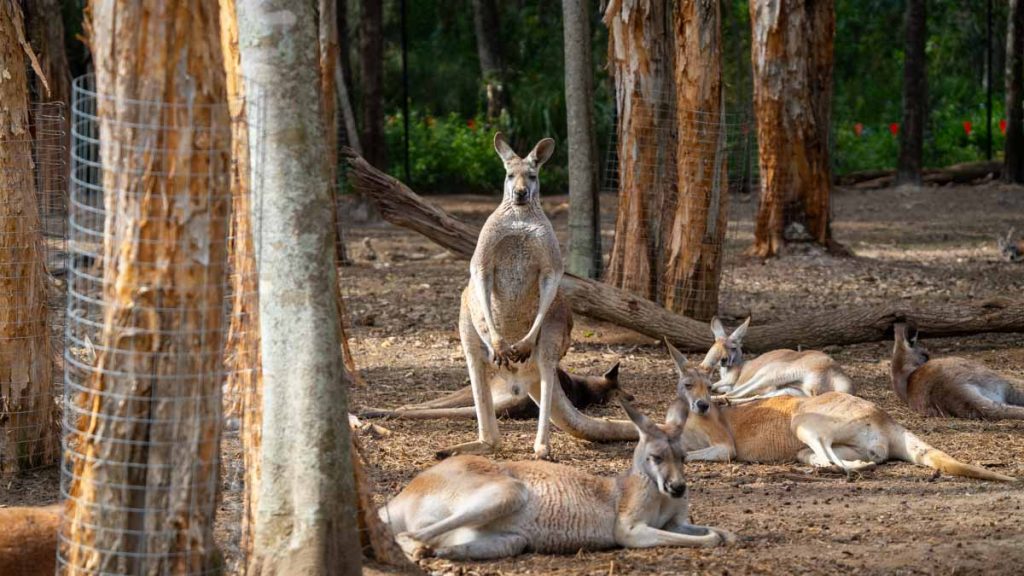 Now on to the main event, exploring Australia's unique biodiversity at Currumbin Wildlife Sanctuary! Home to rescued native mammals, reptiles, birds, and amphibians, each visit contributes towards some vital breeding and conservation programmes in the region.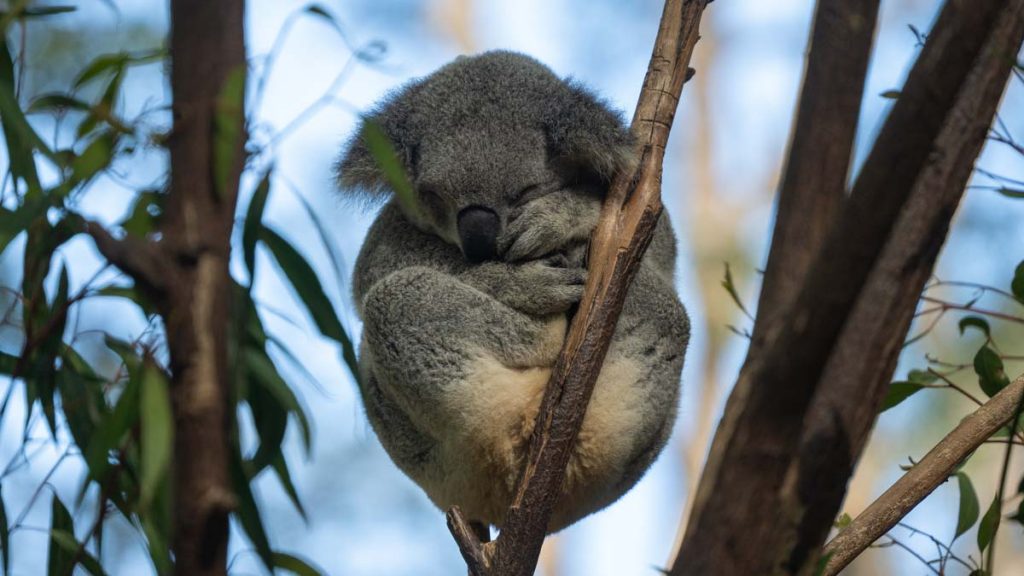 The koalas were a highlight for us — I love how adorable and peaceful they look when asleep! The sanctuary treats over 500 sick or injured koalas every year, so any additional contribution helps to support their efforts. You can cuddle and take a photo with one for AU$39 or feed the red kangaroos by grabbing some feed from the kiosk.
Entrance fee: ~AU$60 (~S$54)
Opening hours: 9AM – 4PM
Lunch at Tommy's Italian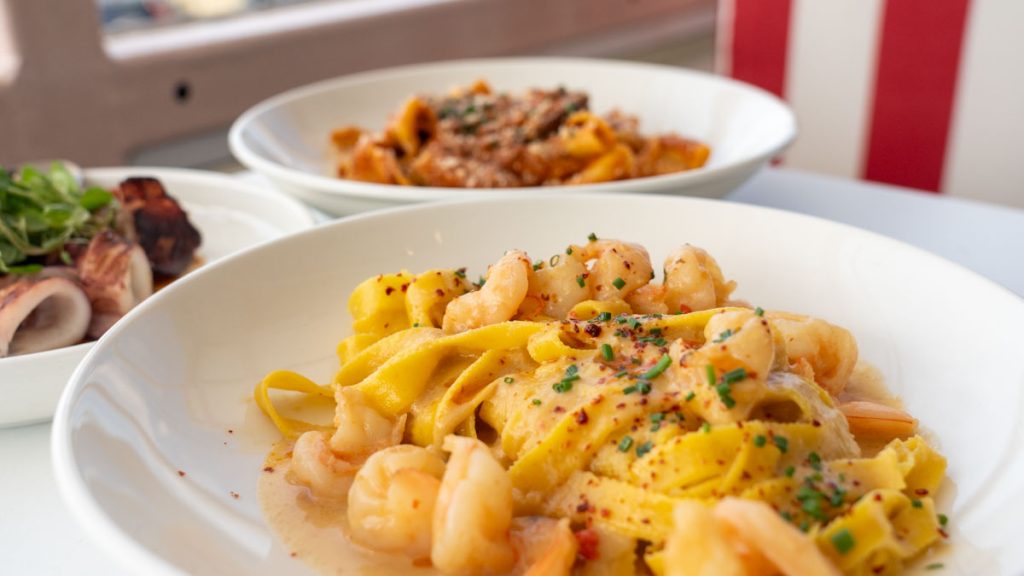 For lunch, we drove to the highly-rated Tommy's Italian, which is set against the beautiful backdrop of Currumbin Beach!
The restaurant serves classic Italian cuisine combined with Australia's freshest ingredients. The prawn fettuccine, pappardelle lamb ragu, and grilled calamari had complex flavours that blended well while still bringing out the freshness of every single ingredient.
*Note: Make reservations in advance as the place can get pretty packed.
Cost: From AU$28 for mains (~S$25.20)
Opening hours: 11:30AM – 9PM, closed on Mon and Tue
How to get there: 3min drive from Currumbin Wildlife Sanctuary (Google Maps)
TreeTop Challenge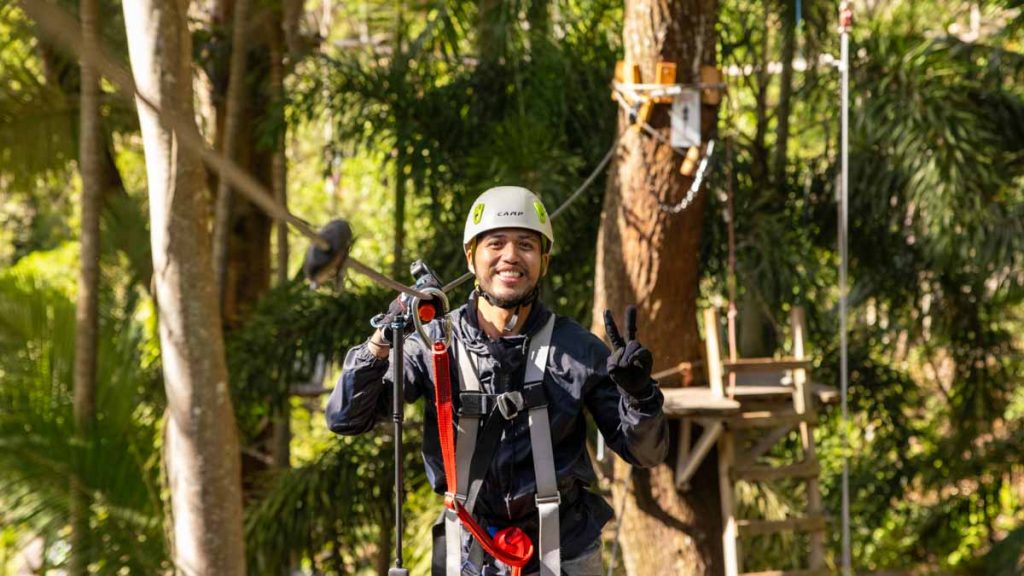 After filling our tummies, we headed back inside Currumbin Wildlife Sanctuary to try the TreeTop Challenge, which is a nice change of pace from the rest of the park!
I felt like a ninja warrior as we ziplined over crocodiles and kangaroos across the seven high rope courses. The courses range from family-friendly easy to physically demanding black diamond ones so there's definitely something for everyone.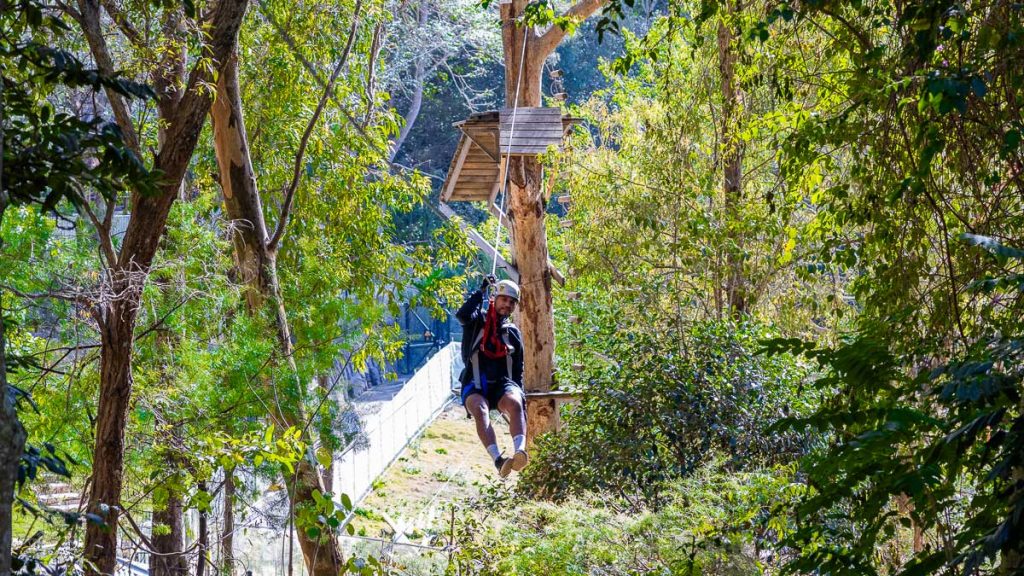 The entire park took us approximately 2.5 hours to complete and is a nice warm-up before moving on to more adventurous activities like Gold Coast's renowned theme parks!
*Pro-tip: If you plan to do both the TreeTop Challenge and visit Currumbin Wildlife Sanctuary, opt for the TreeTop Challenge Experience Pass (AU$90, ~S$81) for an AU$30 discount.
Cost: AU$60 (~S$54)
Opening hours: 9AM – 4PM
Camper Van BBQ for Dinner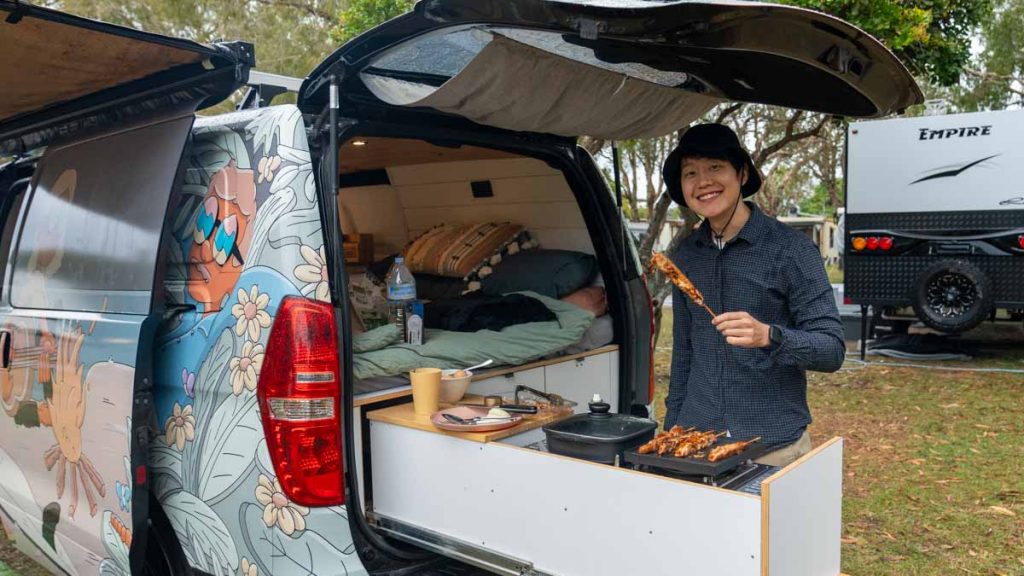 Nothing screams "camper van life" more than an evening barbeque with some beer.
We gorged on some steak and kebabs for our final night at this campsite before chilling the night away under the stars. We chatted with neighbours, exchanged stories, and basically lived our best life.
If you have a little more budget, it's always a good idea to buy a bit more food to share!
Day 3: Alpacas and Tamborine National Park
Mountview Alpaca Farm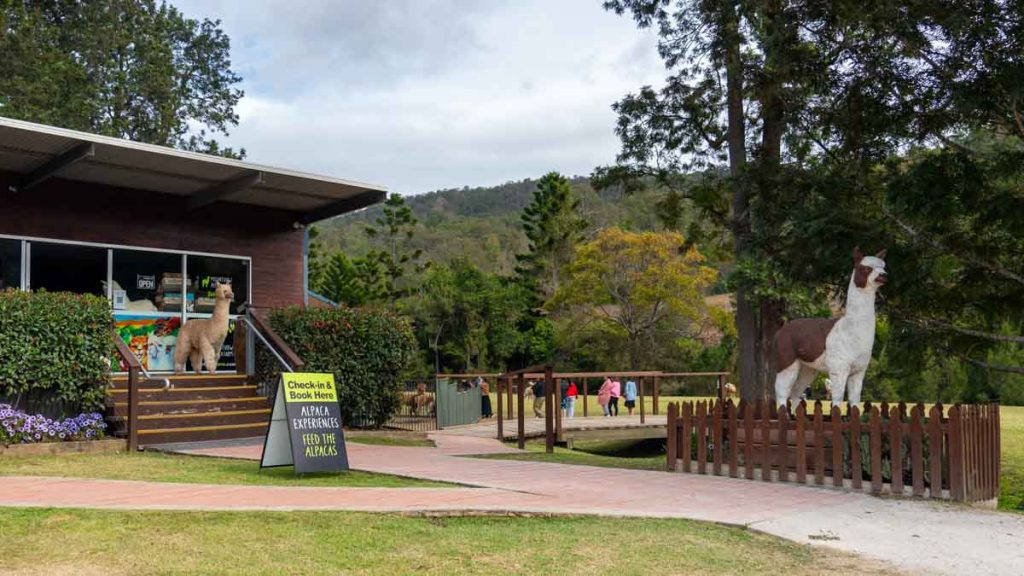 After an hour's drive through the breathtaking hinterland of Gold Coast, we ended up at Mountview Alpaca Farm. With over 80 alpacas (yes 80) on the farm, it's easy to lose track of time staring at their silly faces and antics!
We booked a 30-Minute Alpaca Experience, which allowed us to roam the farm with our own alpaca for some one-on-one time. Pat them, feed them, take photos, it's all up to you.
Pick your alpaca carefully though. Our alpaca 'Loki' fooled us with his looks and was such a handful to guide around compared to the rest. Well, at least we didn't get spat on!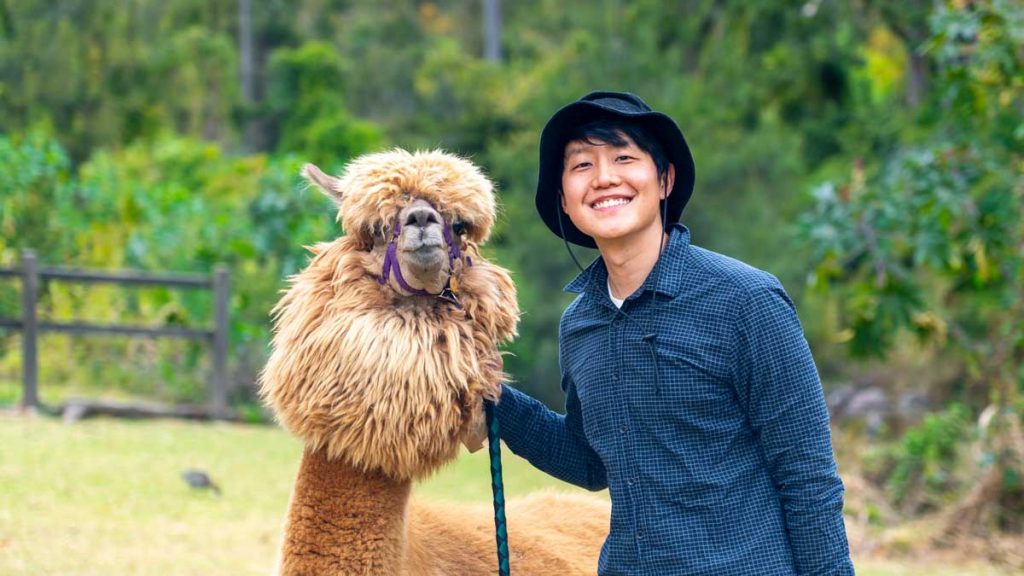 This is 'Loki', our goofy alpaca.
There's also a restaurant on the premises where you can order everything from pizza to wine and cheese.
*Pro-tip: Save some alpaca feed in order to lead your alpaca back to the pen!
Entrance fee: Free
Cost for Alpaca Experience: AU$24.50 (~S$22), min 2 pax
Opening hours: 9:30AM – 3:30PM (Mon – Fri), 9AM – 4PM (Sat – Sun)
How to get there: 1hr drive from Kirra Beach Tourist Park (Google Maps)
Lunch at Hang Glider Launch and Lookout Point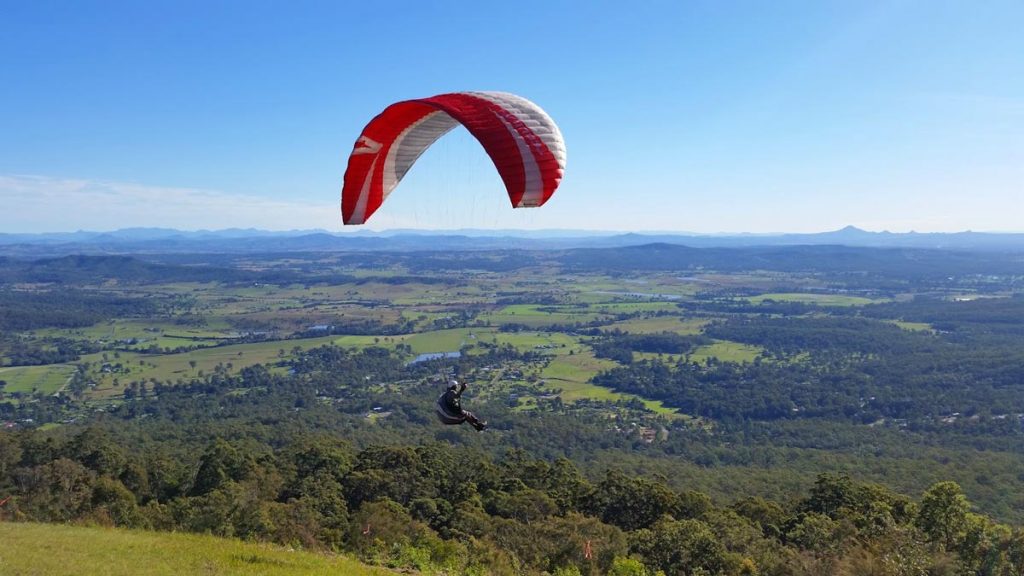 Photo credit: Dave MC via Google Photos
As recommended by a friend, we dropped by this lookout point to have a picnic before heading for our hikes.
I loved how windy it was and the view of the valley below — no wonder it's used by hang gliders as a launch site! It's also really relaxing to people-watch and see the gliders take off one after the other.

Bonus points for having proper parking and toilets too!
Entrance fee: Free
Opening hours: 6AM – 9PM
How to get there: 23min drive from Mountview Alpaca Farm (Google Maps)
Hiking at Tamborine National Park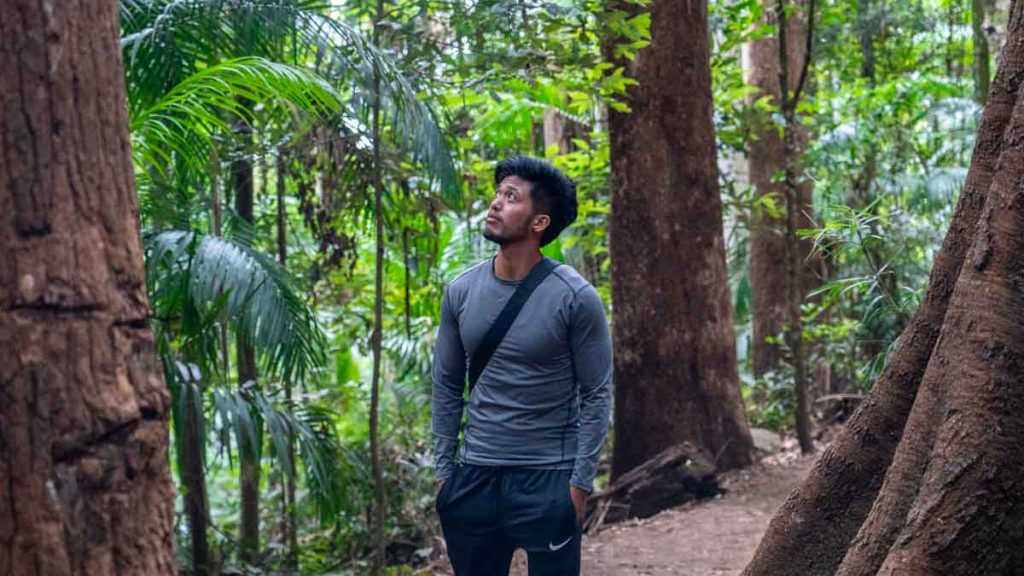 Home to ancient trees and sparkling waterfalls, we couldn't miss out on exploring this natural beauty. Tamborine National Park has a collection of scenic treks, but if you're short on time, here are three easy walks that we recommend. If you're fast, you can easily do all three!
Curtis Falls & Lower Creek Circuit (2.7km, 45mins)
This popular short trek through enchanting ancient trees leads you to the beautiful Curtis Falls. Great way to explore the area briefly.
Entrance fee: Free
Opening hours: 24hrs
Starting point: Public Carpark just off Dapsang Drive (Google Maps)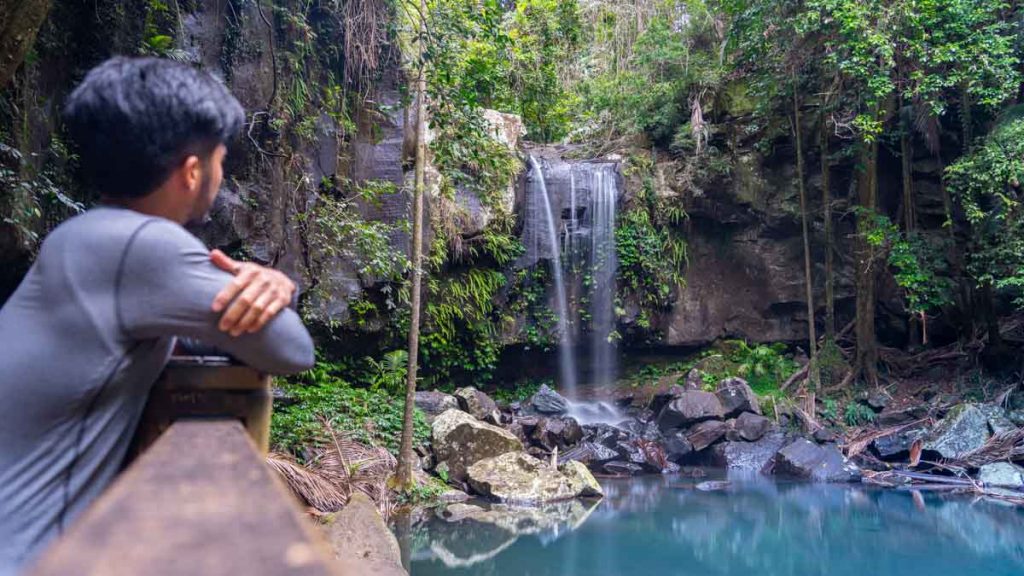 Witches Chase Trek to Witches Falls Circuit (6km, 1hr 43 mins)
A combination of two treks that takes you through one of the best bush walks in the national park. Traverse lush rainforests to scenic lookout points over Witches Falls.
Entrance fee: Free
Opening hours: 24hrs
Starting point: Public Carpark along Main Western Road (Google Maps)
Tamborine Rainforest Skywalk (1.5km, 45mins)
Go on an eco-adventure from forest floor trails to bridges 30m above the rainforest canopy and creek.
Entrance fee: AU$19.50 (~S$17.50)
Opening hours: 9:30AM – 5PM
How to get there: 11min drive from Hang Glider Lookout Point (Google Maps)
Witches Falls Winery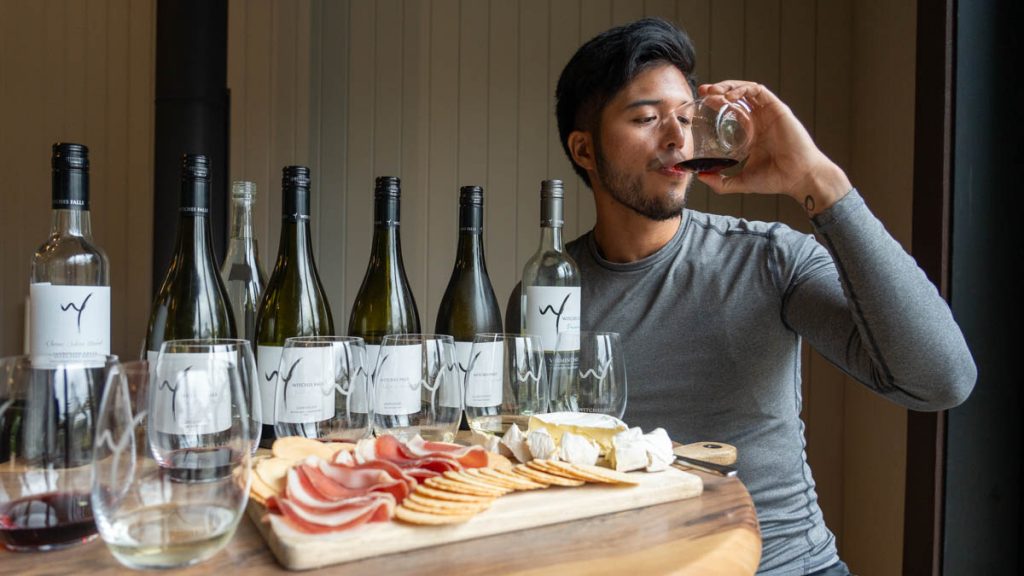 After hiking, we sat back and relaxed at the nearby Witches Falls Winery. What's cool is that they use wild yeasts (instead of standardised commercial ones) for the fermentation process in many of their wines, resulting in 'wines with character'!
We tried the wine-tasting menu, which included six different wines over 60 minutes. Of course we loved the wild ferment series, in particular the distinctive flavours of the Wild Ferment Nero d'Avola (red wine).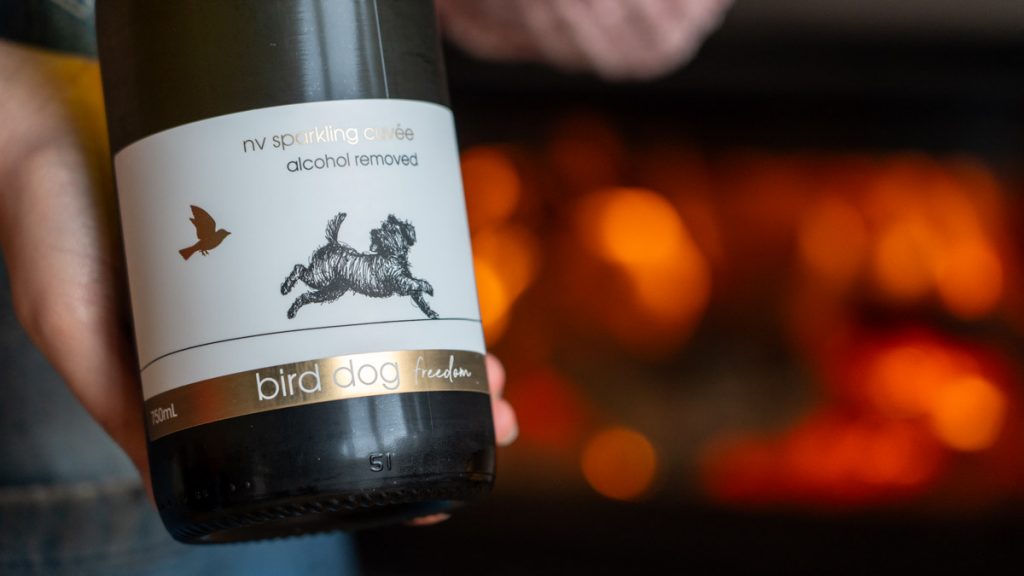 For the drivers, don't worry as there is a non-alcoholic wine tasting menu too. Buy some wine back for the evening instead 😛
Cost: Tasting set at AU$15 (~S$13.50)
Opening hours: 9:30AM – 3:30PM (Mon – Fri), 9AM – 4PM (Sat – Sun)
How to get there: 10min drive from Tamborine National Park area (Google Maps)
Campsite – Big4 Gold Coast Holiday Park (Day 3-4)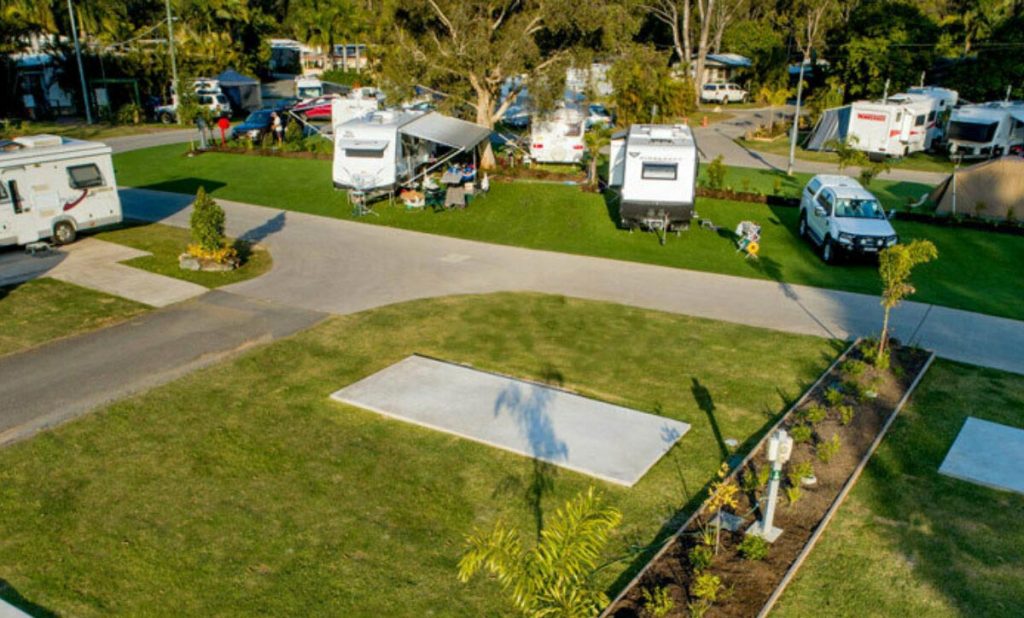 Photo credit: Big4 Gold Coast Holiday Park
Since the iconic theme parks were up next on our Gold Coast road trip itinerary, we based ourselves at the nearby Big4 Gold Coast Holiday Park for two days. The place is affordable, with plenty of facilities like a pool, water park, basketball court, and a well-equipped amenities block (we greatly appreciated the spacious shower areas)!
Cost: From AU$71/night (~S$64) for a powered site
How to get there: 30min drive from Witches Falls Winery (Google Maps)
Day 4-5: Dreamworld and Warner Bros. Movie World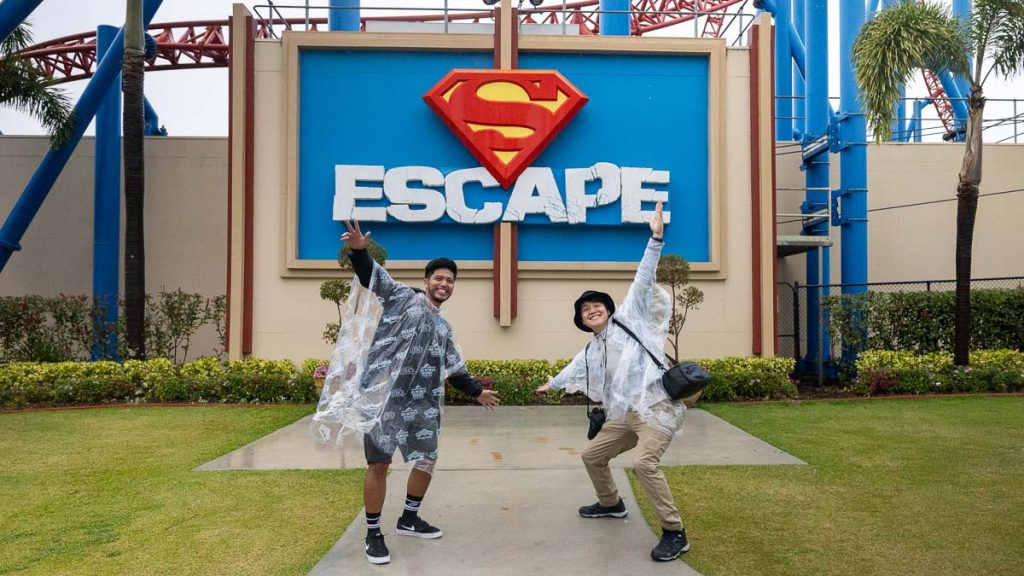 For adrenaline junkies, no visit to the Gold Coast will be complete without visiting the theme parks.
Dreamworld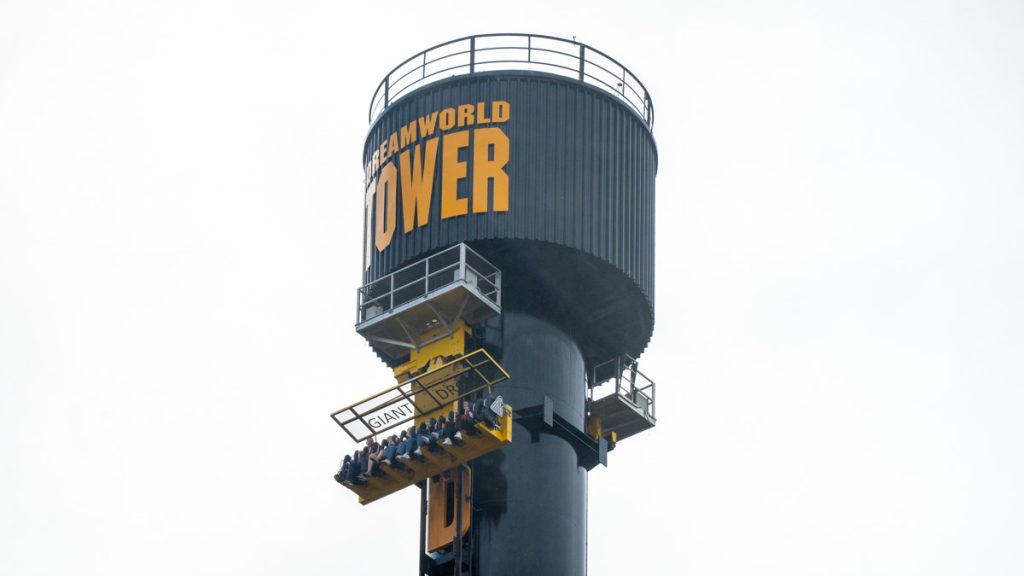 They say that the Gold Coast's largest theme park is an exhilarating mix of adrenaline-pumping thrill rides, captivating live shows, and interactive wildlife encounters. But to us, it was all about the rides.
From the 39-storeys-high Giant Drop to the latest 1.2km-long Steel Taipan with a G-force of 3.8, there were plenty of rides that kept our adrenaline pumping for the entire day. I loved the Giant Drop so much that I actually took it three times! Please don't do it back-to-back like me though 🤢
*Pro-tip: Visit during the weekdays to avoid large crowds.
Entrance fee: ~S$90
Opening hours: 10:30AM – 4PM (Mon – Fri), 10AM – 5PM (Sat – Sun)
How to get there: 7min drive from Big4 Gold Coast Holiday Park (Google Maps)
Warner Bros. Movie World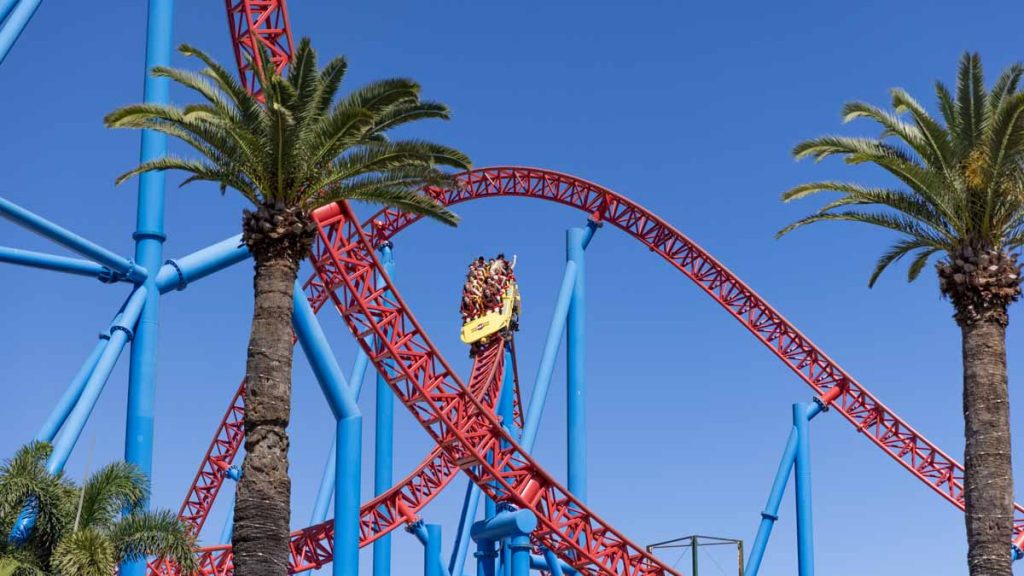 But if you only have time for one theme park, Warner Bros. Movie World is the one. Other than sporting themed rides, film characters, and stunt shows from the DC and Warner Brothers universe, the park is constantly evolving with new events and rides. The Flash: Speed Force roller coaster is opening in 2024!
As a DC fan, I felt like a kid again seeing my favourite comic book characters come to life. For the rides, Superman Escape and DC Rivals HyperCoaster literally blew our minds with speeds of over 100km/h.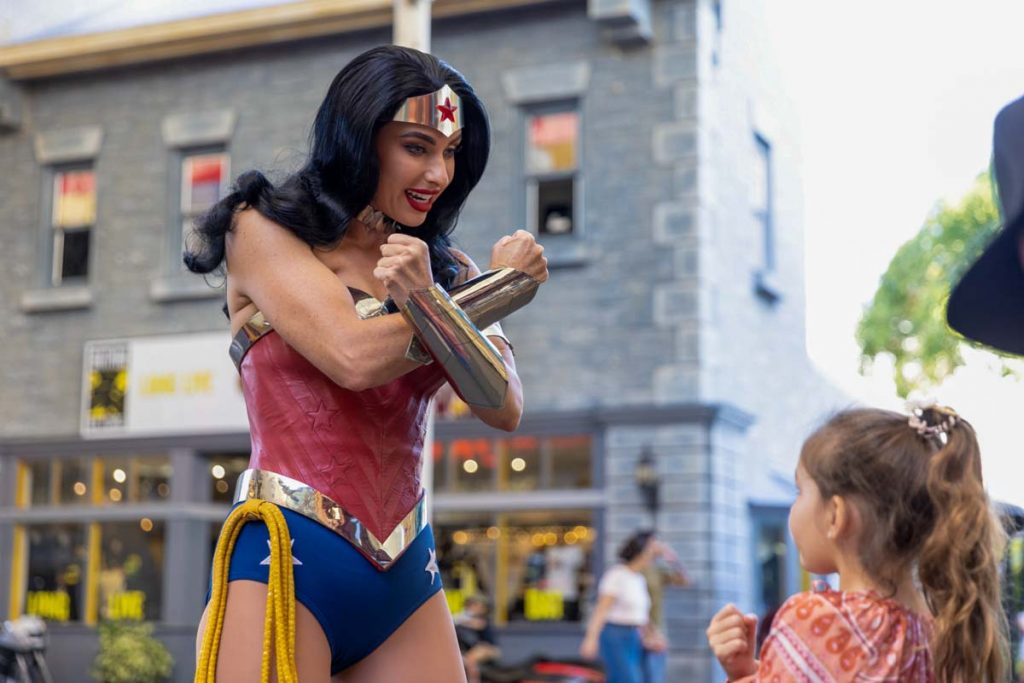 Photo credit: Tourism & Events Queensland
You don't have to worry about bad weather too! Even though it was raining when we went, there were still plenty of rides open — with indoor shows, merchandise shops, and Superhero/Villain interactions in the sheltered areas.
*Pro-tip: Download the New Village Roadshow app to queue virtually and check ride timings.
Entrance fee: AU$95 (~S$85.50) or free with the Paradise Country Farmstay and Theme Park package
Opening hours: 9:30AM – 5PM
How to get there: 7min drive from Big4 Gold Coast Holiday Park (Google Maps)
Campsite – Paradise Country Farmstay (Day 5)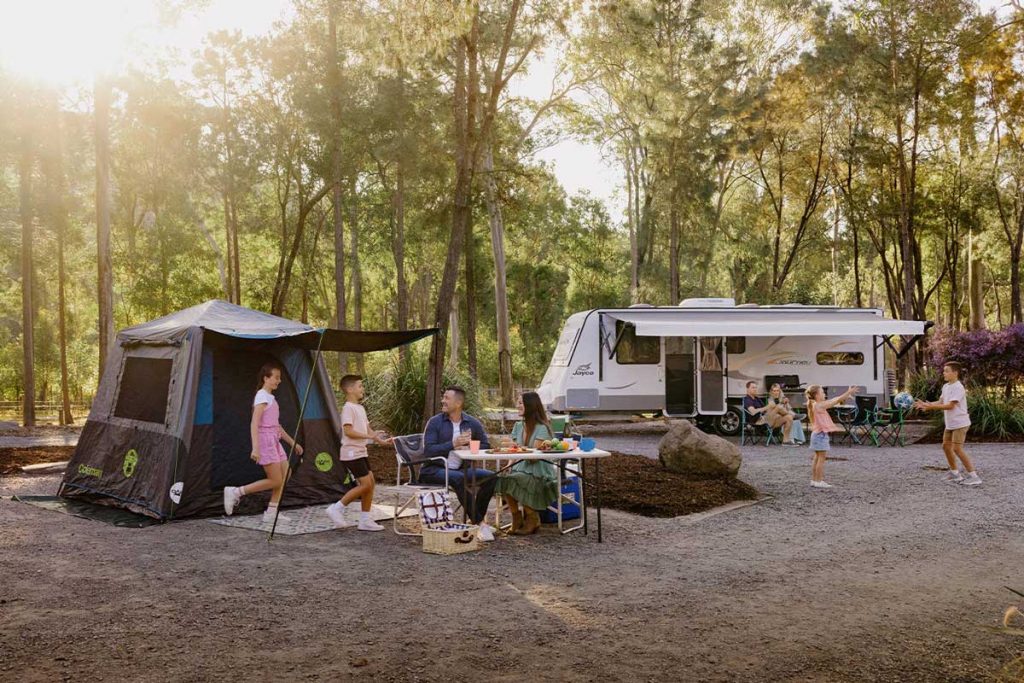 Photo credit: Paradise Country
As shared above, there's a hack to get free tickets to Warner Bros. Movie World! For day five, book a Farmstay and Theme Park package at Paradise Country. The package allows you unlimited access for two adults and two children to Warner Bros. Movie World, Sea World, Wet'n'Wild and Paradise Country during your stay.
The van sites have the usual amenities and also let you take part in simple sunrise farm stay activities (cow milking, cow feeding, collecting fresh eggs and more) at Paradise Country the next morning.
Cost: From AU$135/night (~S$121.50) for a Farmstay and Theme Park package
How to get there: 9min drive from Warner Bros. Movie World (Google Maps)
Day 6: Surfers Paradise
Surfing at Surfers Paradise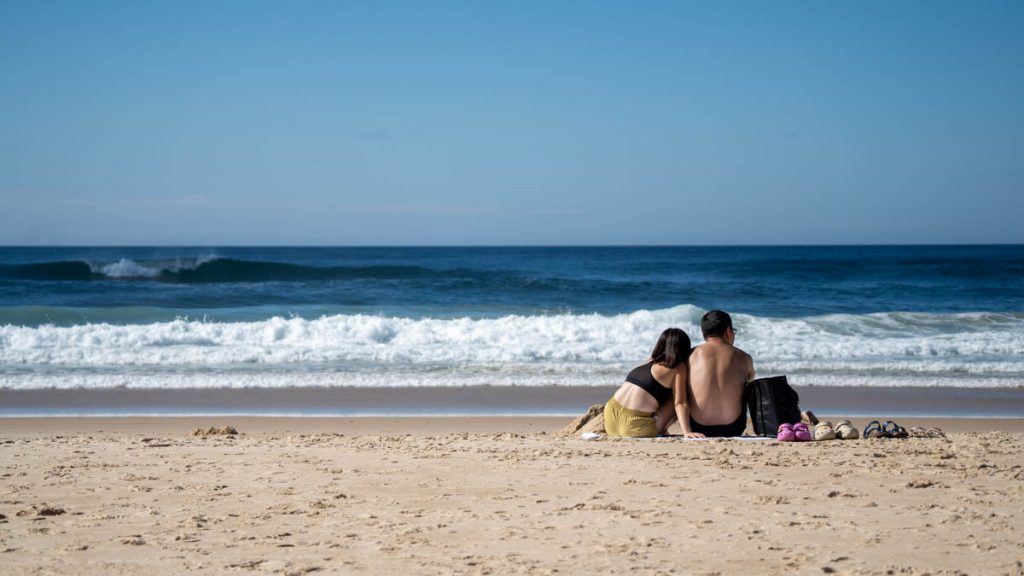 With skyscrapers fringing the long golden beaches, Surfers Paradise is the iconic landmark of the Gold Coast. And the best way to take it all in is to catch some waves at one of the most famous beaches in the world.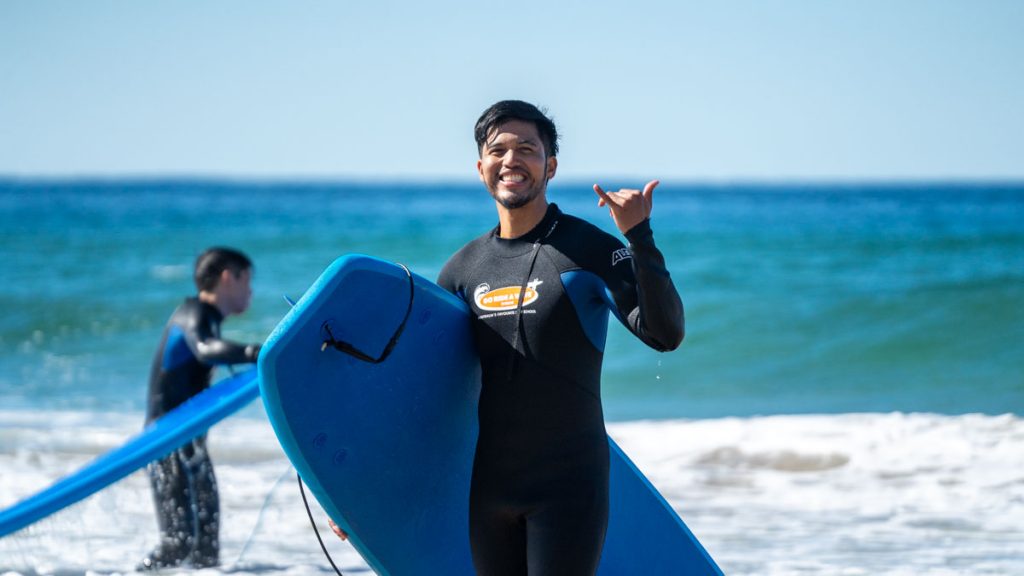 We took a 2-hour long beginner class with the super professional team at Go Ride A Wave. As you can see in the picture, RJ looked like he was rocking it. If you're an experienced surfer, you can also rent surfboards and wet suits from them.
Go Ride A Wave
Cost: AU$79 (~S$71)
Time slots: 10AM, 1PM
How to get there: 28min drive from Paradise Country (Google Maps)
Lunch at Betty's Burgers & Gelato Messina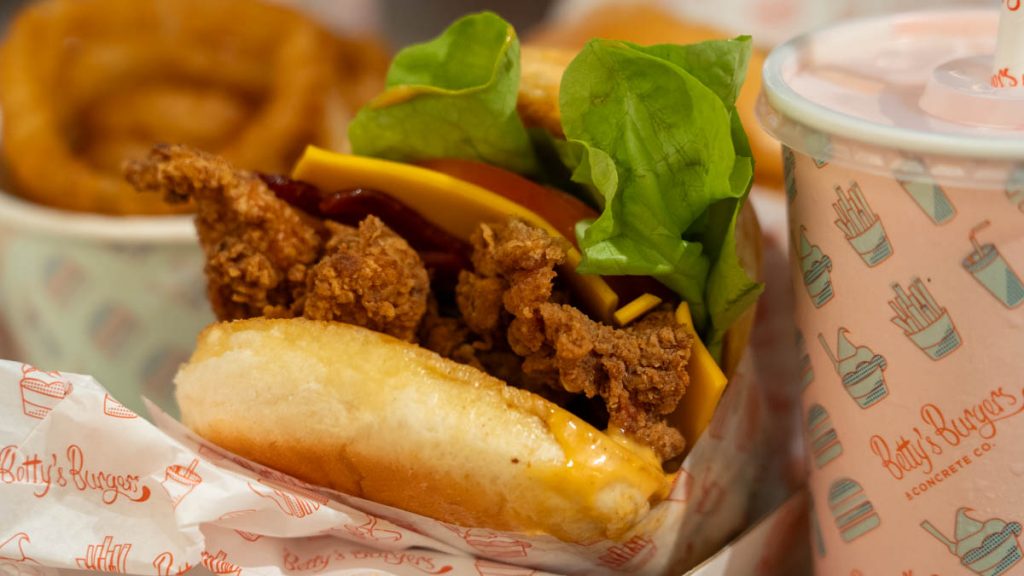 Swing by Betty's Burgers for some classic American grub like beef burgers and milkshakes before topping it off with the best gelato in the region.
Gelato Messina has 40 unique flavours prepared from scratch, and they even own a farm that produces the milk required for their gelatos! Be sure to try the rotating weekly specials — some of their hall of fame flavours include "You Cannoli Live Once" which is made from creme patissiere gelato with pistachio fudge, pistachio praline and cannoli shells.
HOTA, Home of the Arts
Gold Coast's vibrant cultural heartbeat. HOTA is the hub for all things creative and artistic. It's a really fun place to spend the afternoon, with plenty of free (or paid) exhibitions and events that showcase a diverse blend of visual and performing arts.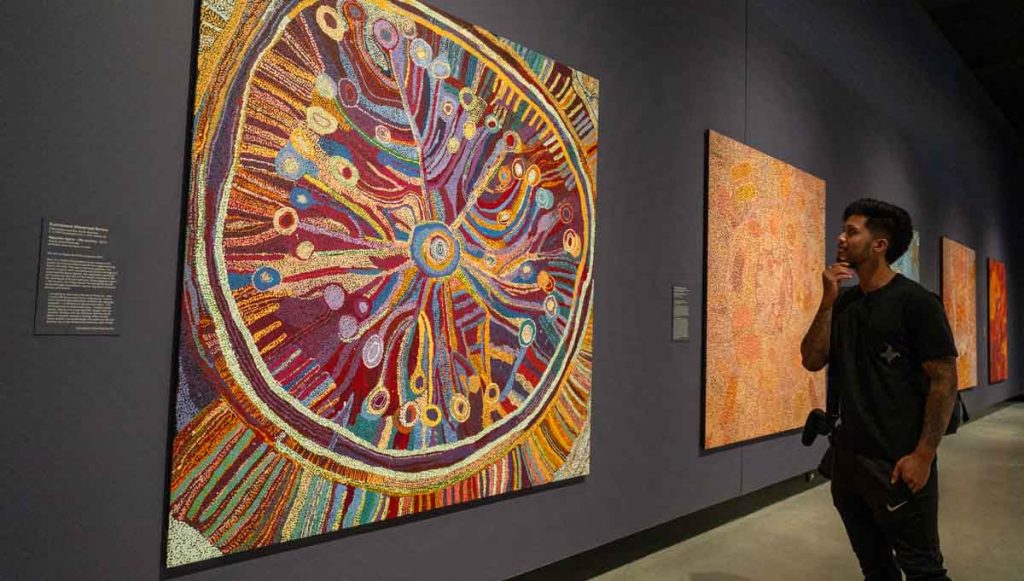 Entrance fee: Free
Opening hours: 7:30AM – 9PM
How to get there: 9min drive from Surfers Paradise (Google Maps)
Sunset at SkyPoint Observation Deck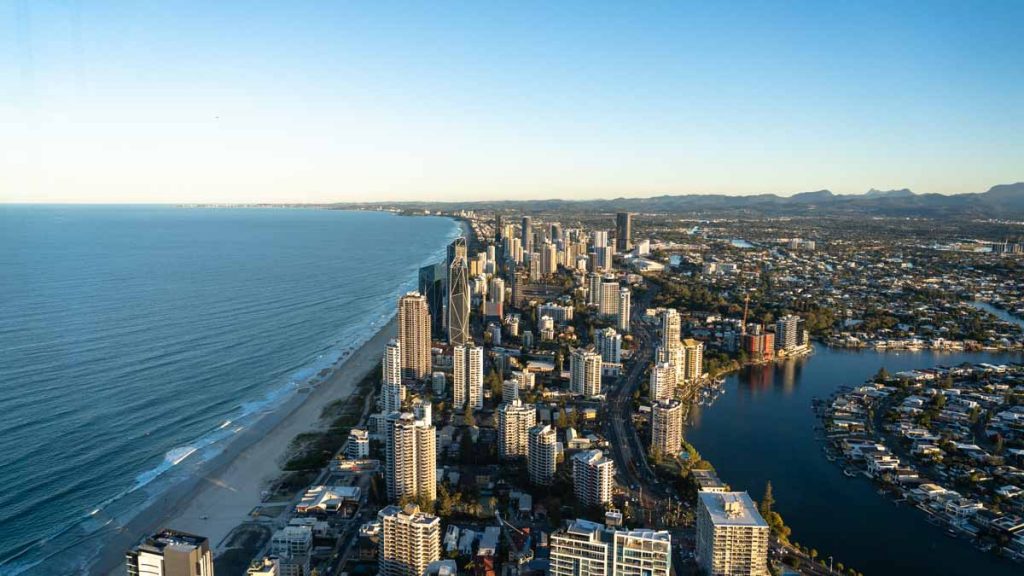 We ended the day by catching the sunset from the tallest building on the Gold Coast. Perched atop the Q1 Building, SkyPoint Observation Deck offers a 360° panoramic view 230m above sea level.

*Pro-tip: Pick your spot early because it gets really crowded once the sun sets!
For the adventurous, there's also a SkyPoint climb for an even better view.
Cost: ~S$28
Opening hours: 10AM – 4PM
How to get there: 8min drive from HOTA (Google Maps)
Dinner at Miami Marketta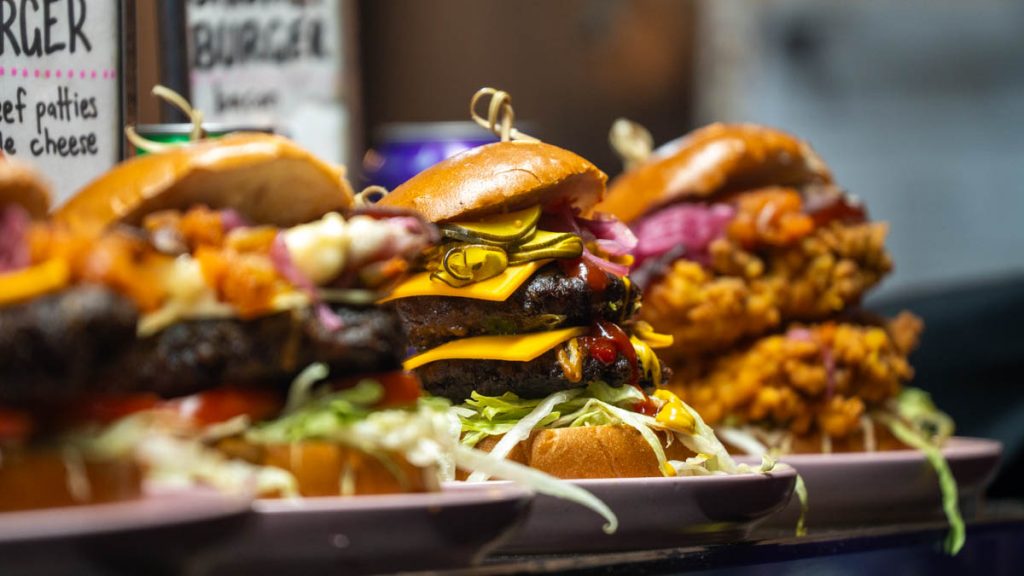 Housed at a refurbished mechanics warehouse, Miami Marketta was a nice change of environment from restaurants, cafes, and cooking out of our own camper van!
Open three times a week, this vibrant night market is an eclectic mix of global street food, live bands, and good vibes. I recommend trying cuisines from all over the world — we had Korean fried chicken, Spanish paella, and sinfully rich burgers.
Cost: From AU$14 for mains (~S$12.60)
Opening hours: 5PM – 10PM
How to get there: 17min drive from Surfers Paradise (Google Maps)
Campsite – Tallebudgera Creek Tourist Park (Day 6-7)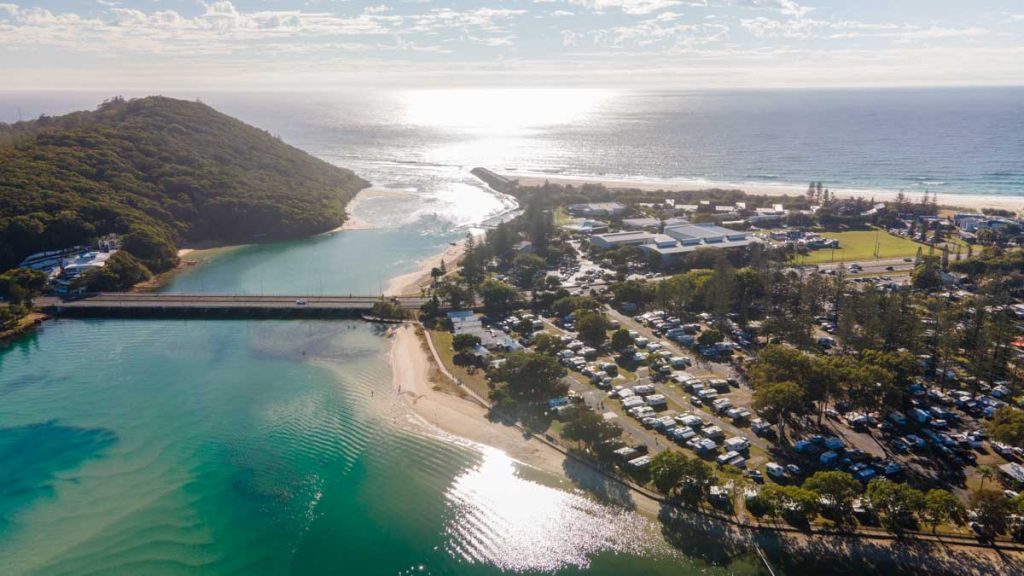 For our final two nights, we based ourselves at a tourist park just off the serene Tallebudgera Creek — our next destination!
Cost: From AU$120/2 nights (~S$108) for a grass-powered van site. Minimum two nights stay.
How to get there: 27min drive from Surfers Paradise (Google Maps)
Day 7: Burleigh and Tallebudgera Creek
Tallebudgera Creek and Burleigh Heads Walk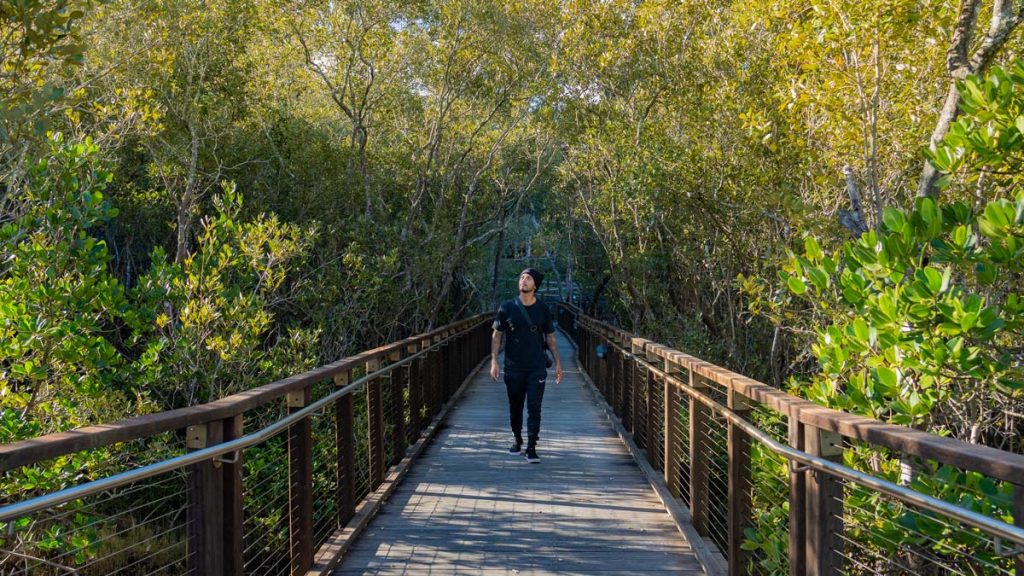 After a couple of action-packed days, we decided to slow down with an easy nature walk from David Fleay Wildlife Park to Burleigh Heads National Park. We took a short Uber ride instead of driving from our campsite so we didn't have to backtrack to collect our vehicle.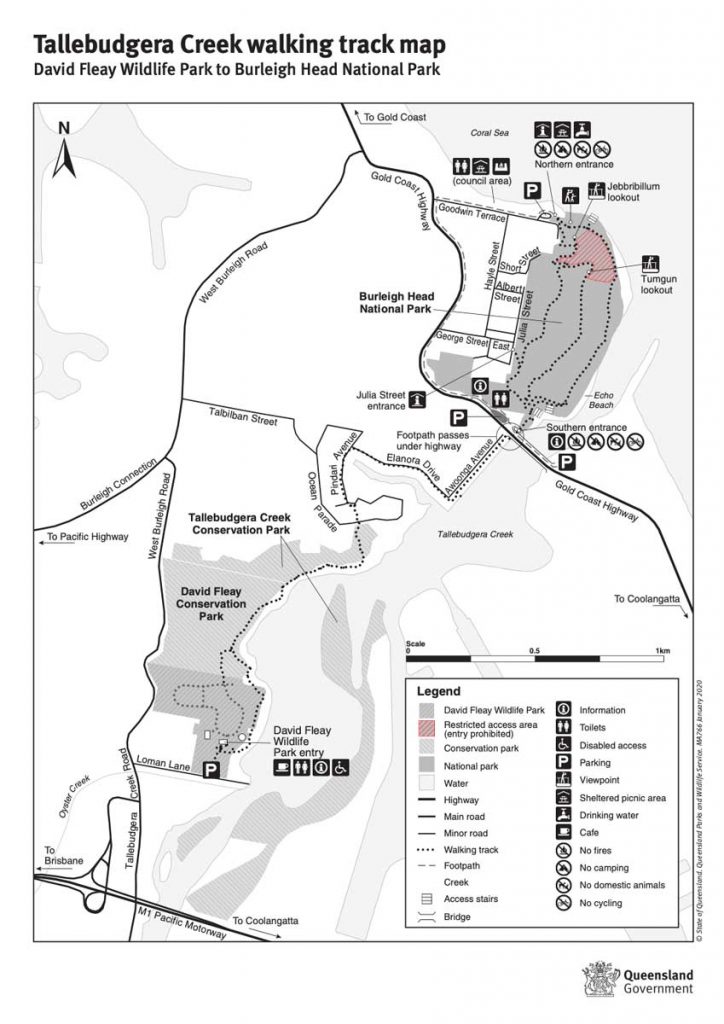 Photo credit: Queensland Government
Start at David Fleay Wildlife Park and walk along Tallebudgera Creek. There is plenty of wildlife like birds, and if you're patient like us, you can even spot hundreds of crabs walking past you during low tide.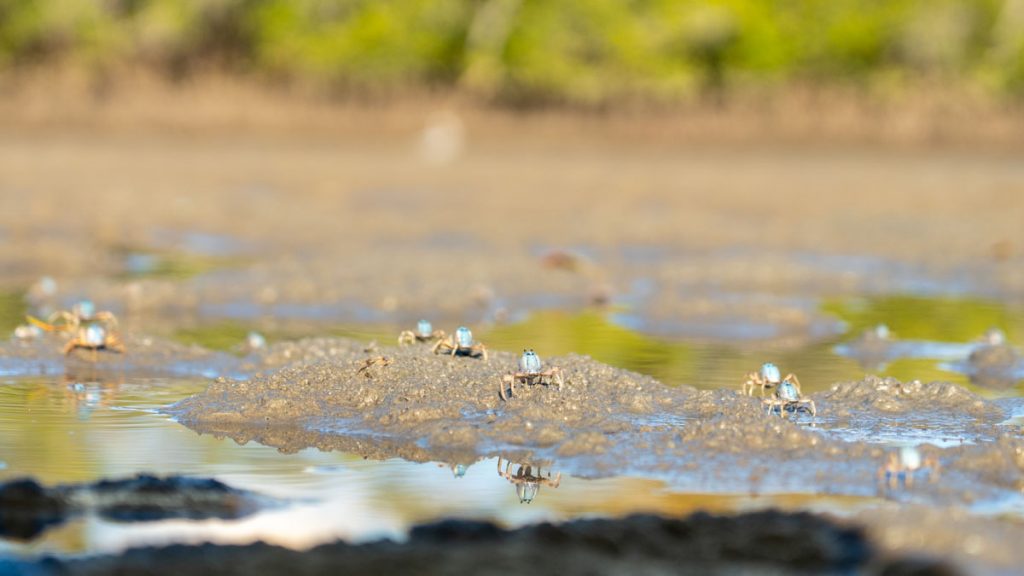 After the hike, we stopped by Burleigh Beach Kiosk for some basic fish and chips while watching surfers catch waves at Burleigh Hill.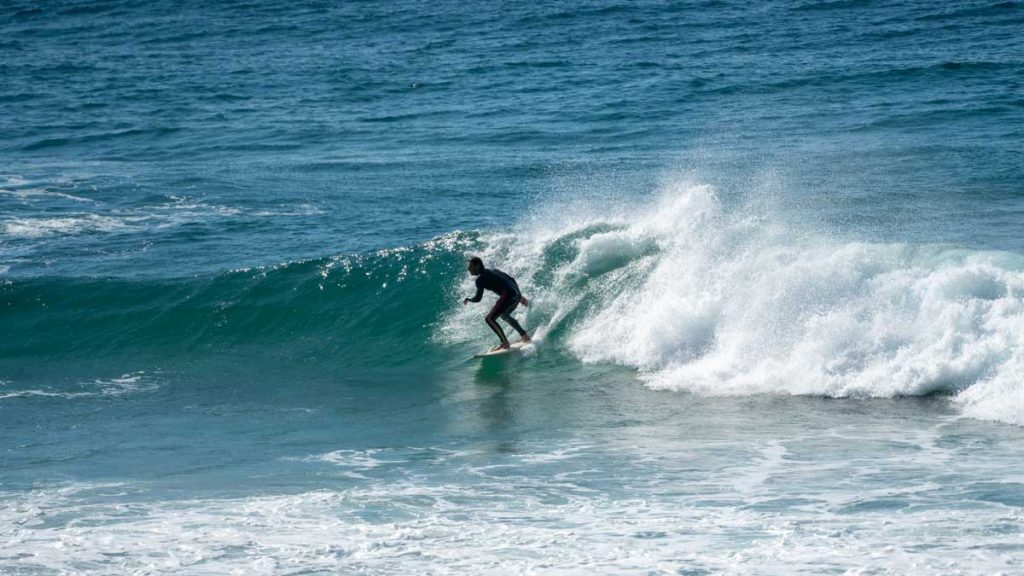 There's also a yummy gelato place nearby at Burleigh Gelato Co (you won't regret trying the biscoff flavour), with plenty of international restaurants in the same area.
Day 8: Flight Home
Pasture & Co.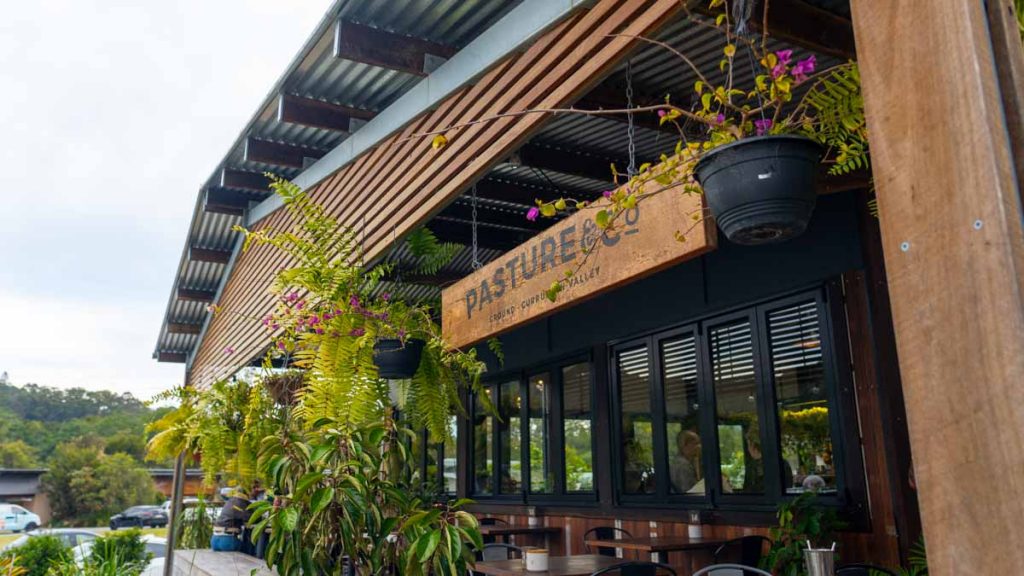 Before returning the camper van, we made a final stop at Pasture & Co. for breakfast. The organic Leaf & Berry Coffee has a unique flavour profile, and I absolutely loved the Tempura Cauliflower with aioli that had the perfect amount of spice.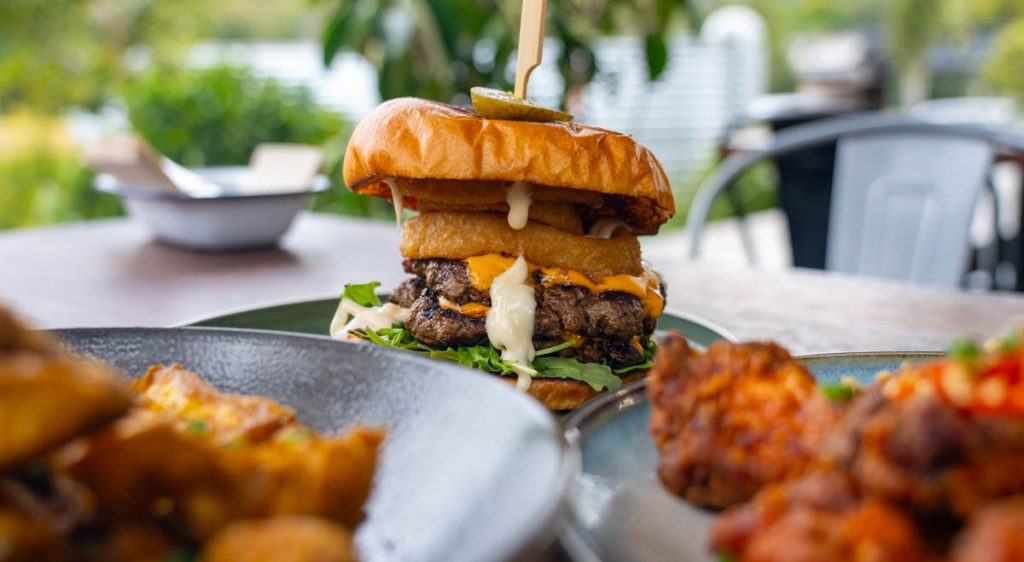 Pasture & Co. is located inside Ground at Currumbin, which is an Eco Village with an organic grocer and a bathhouse where you can relax in mineral-enriched pools, saunas and spa baths.
Cost: From AU$14 for mains (~S$12.60)
Opening hours: 7AM – 3PM
How to get there: 17min drive from Tallebudgera Creek Tourist Park (Google Maps)
Gold Coast Road Trip Itinerary Budget Breakdown
Transport (excl. flights): S$654.88
Accommodation (campsites): S$223.65
Activities: S$424
Misc (incl. food & SIM cards): S$358.31
Total: ~S$1,660.83 for 1 pax
Click here for the detailed breakdown. Flights are excluded as prices fluctuate depending on the season.
Camper Van Road Trip FAQ & Tips
1) What camper van should I get?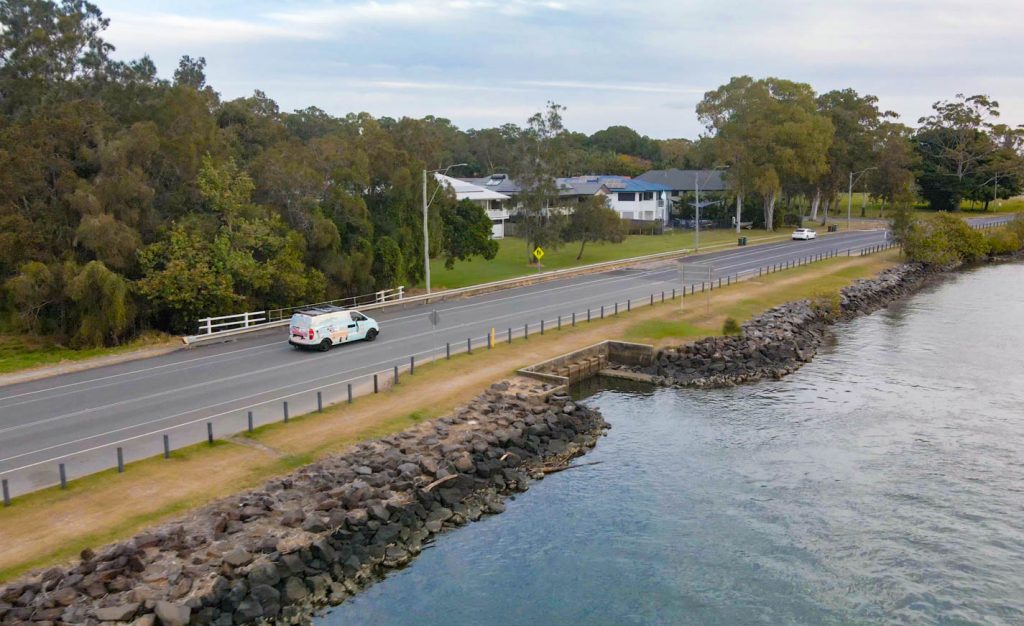 For first-timers, I recommend a compact camper van that fits two adults comfortably. It's about the size of a big SUV, and more or less allows you to drive anywhere. That way you can reach remote or less-accessible places compared to a bigger camper van.
If you are taller or bigger built, Rolling Playgrounds has a larger camper van that is taller and includes a standing shower. The height limit prevents you from getting into some car parks, but the overall size is still manageable.
For larger groups, you can consider a Caravan or Motorhome that can typically sleep up to six people. However, if you're new to this, I still recommend renting separate smaller vehicles for safety.
2) Can I camp anywhere? And where can I park my camper van?
The official answer is no, you cannot camp anywhere. But there are many easily accessible places to camp at!

Rest Areas:
There are over 450 rest areas throughout Queensland — these are free places where you can park and rest for up to 20 hours. While you can sleep overnight inside your camper van, you cannot set up furniture or tents outside.

Campsites:
There are both free and paid options. Paid options typically come with power supply, water, and access to shared bathing facilities and kitchens. More premium campsites can have ensuite bathrooms for a little more privacy.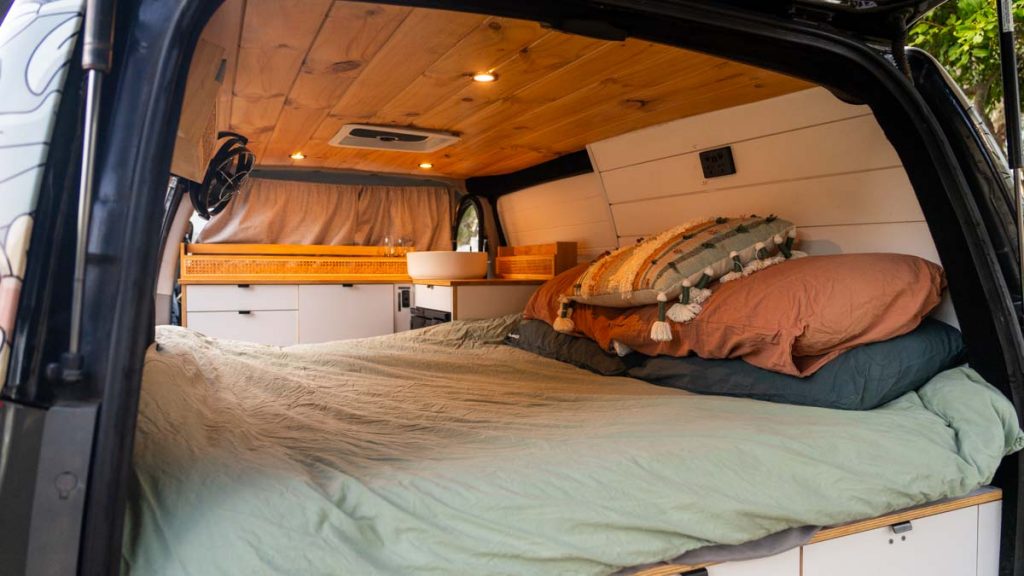 With regard to parking, our compact camper van allowed us to park anywhere. If you opted for a bigger vehicle, just make sure it fits within the parking lot.
3) Is it easy to cook?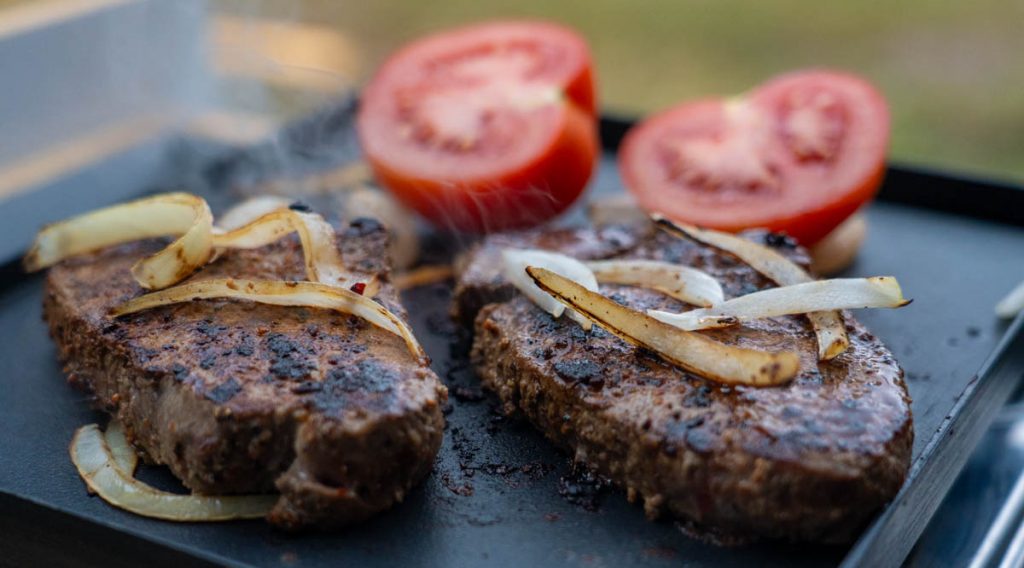 Yes and it was really fun! Our CUB camper van had all the essentials (basic condiments, cutlery, cooking utensils), so the only thing to think about was what to cook.
There are plenty of affordable supermarkets around (thank you Woolworths) and honestly, Australia's fresh produce is the best. Plus, kicking back after a day of exploring with BBQ and a beer in hand gave us a big sense of fulfilment compared to just eating out!
4) Is driving a camper van safe?
The Gold Coast is generally really safe, but please don't leave your valuables within sight if you leave the vehicle. We made sure to always draw the curtains and triple-checked that doors were locked even though the camper van had an auto-lock function.
When going on a camper van road trip, be realistic with your own driving abilities. While there are more options for manual transmission vehicles, please opt for automatic transmission if you're not comfortable driving overseas as it can get stressful driving a bigger vehicle. And please stay below the recommended speed limits. Go slower if you have to because safety is sexy 😉
5) Do you need any special licences or permits?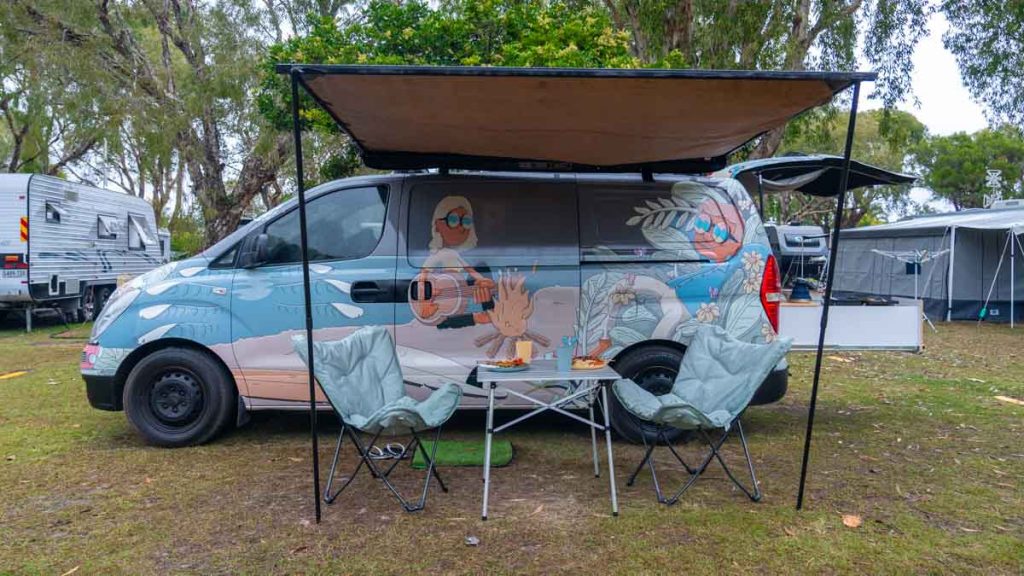 Not at all. A Singapore Class 3 driving licence (or equivalent) is sufficient. Singapore Driving License holders also do not need an International Driving Permit. This is mainly required for driving licences that are not in English.
Travel Essentials for Your Gold Coast Trip
Travel documents: Visitors to Australia must apply for an Electronic Travel Authority visa (subclass 601)* via the Australia ETA app for AU$20. The approval took a couple of hours for us, but it's probably best to do this upon confirming your flight details.
*Note: This applies to ETA-eligible passport holders, including Singapore.
Connectivity: We bought a 40GB SIM card from Optus (~S$28) with delivery to Singapore. If you didn't plan ahead, there are kiosks at Gold Coast Airport selling Telsim SIM cards for 28 days at AU$40 for 10GB.
Insurance: TravelCare from ~S$40.8/pax for eight days
Transport: If you plan to spend more time on the Gold Coast without a car, the GoExplore card is a great way to get around. For AU$10 a day, you get unlimited rides on buses and trams. This can be bought at most kiosks around the city and the airport.
Camper Van Gold Coast Road Trip Itinerary for First-Timers
Photo credit: Tourism & Events Queensland
So there you have it, the ultimate Gold Coast road trip itinerary from the comfort of your camper van. Australia may seem expensive, but it's possible to still manage your budget while experiencing the key highlights. After all, we managed to go surfing, see the koalas, and experience the van life for just under S$1.7k!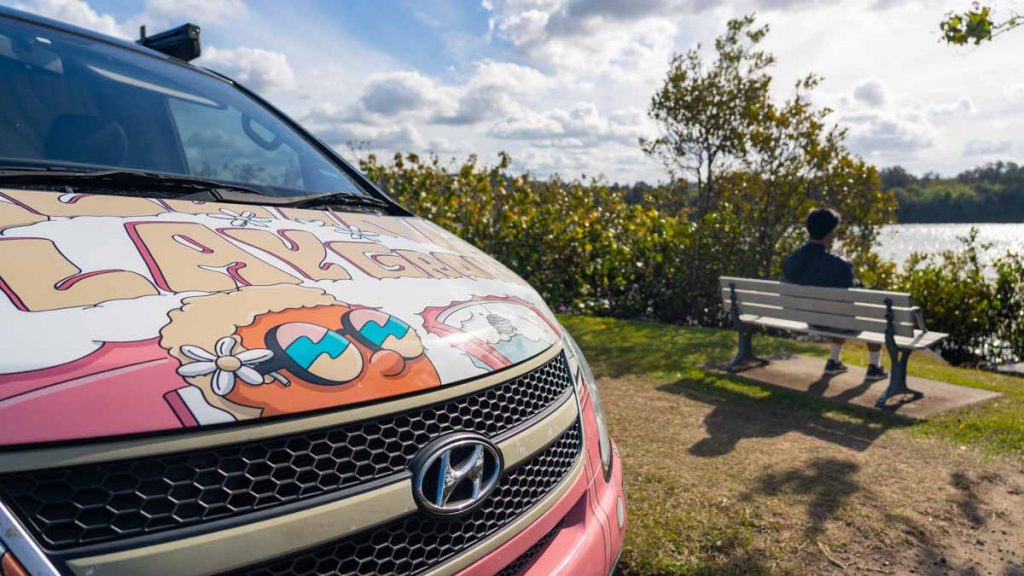 If you've ever dreamed of going on a camper van road trip, give this first-timers" Gold Coast road trip itinerary a go. After this experience, I'm hooked and will now be searching for the next longer, bigger, and more rugged camper van adventure.
Did we miss out on any things to do in our Gold Coast Road Trip itinerary? Share with us your camper van road trip tips in the comments below!
---