Heading to Disneyland Resort and Disneyland California Adventure Park? This is the only guide you will EVER need. Get tips to buying discounted tickets, insider hacks to get the most out of your experience, and tricks to maximise your time and cover both Disneyland and Disneyland California Adventure Park in one day!

No visit to California is complete without visiting the "The Happiest Place on Earth". Having conquered both Disneyland Tokyo and Disneyland Hong Kong, I was really excited to visit the first Disneyland ever built.
Disneyland California is split into two parks that are literally opposite each other — Disneyland Resort and Disneyland California Adventure Park. Basically, Disneyland Resort is the classic Disneyland theme park with more family-friendly rides, while Disneyland California Adventure Park has more thrilling rides suited for an older audience.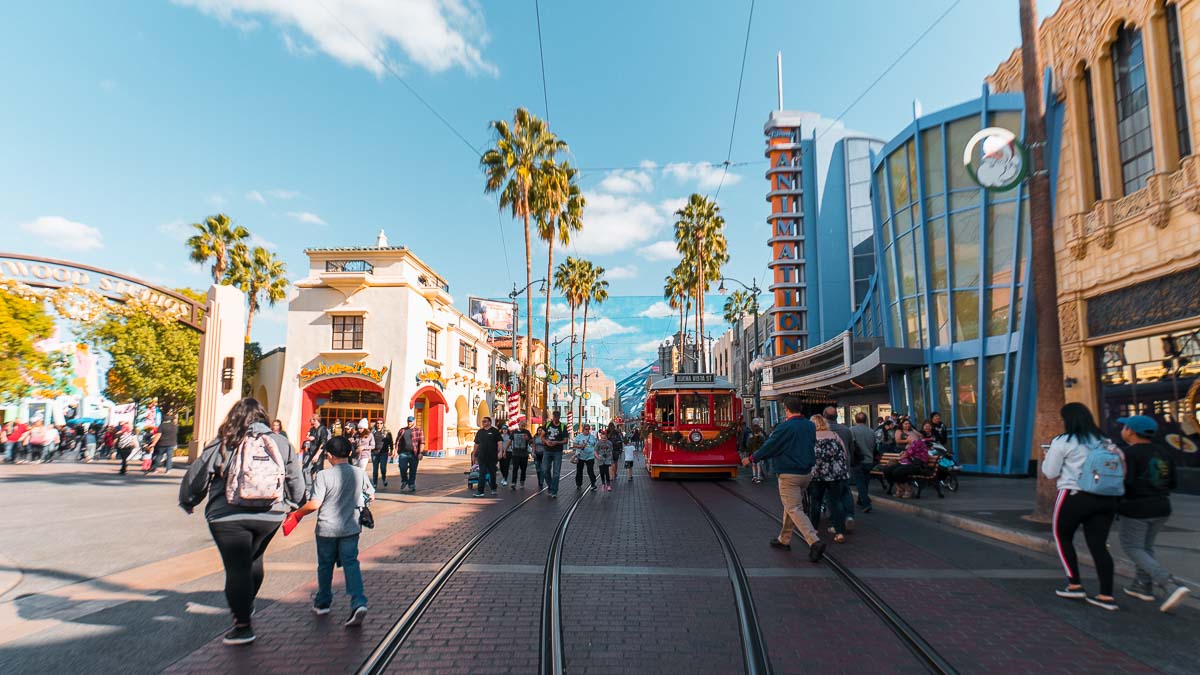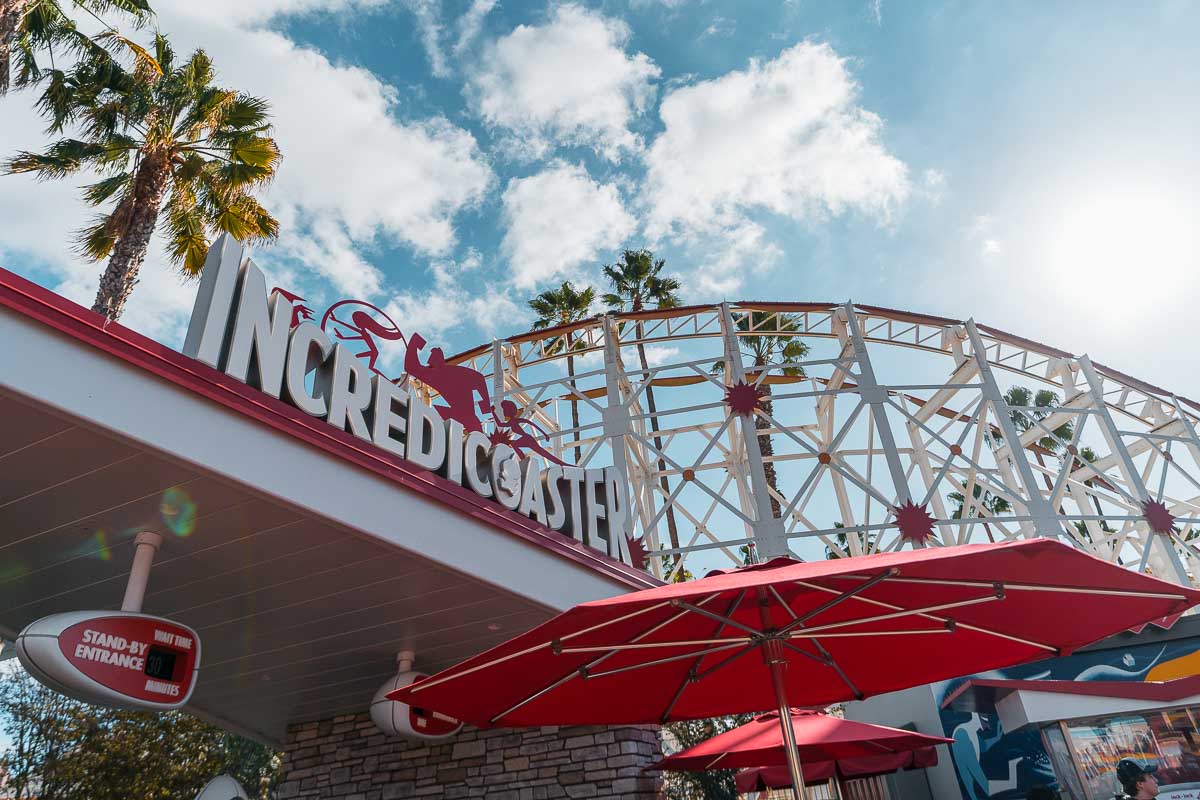 As a mega theme park enthusiast, I wanted to visit both theme parks and was initially overwhelmed by all the information online. It didn't help that Disneyland is also insanely popular with both tourists and local residents, which made me more anxious that I would end up queueing for hours and not get to experience everything. As a tourist, I didn't have the luxury of coming back for multiple days and therefore had to make my time count.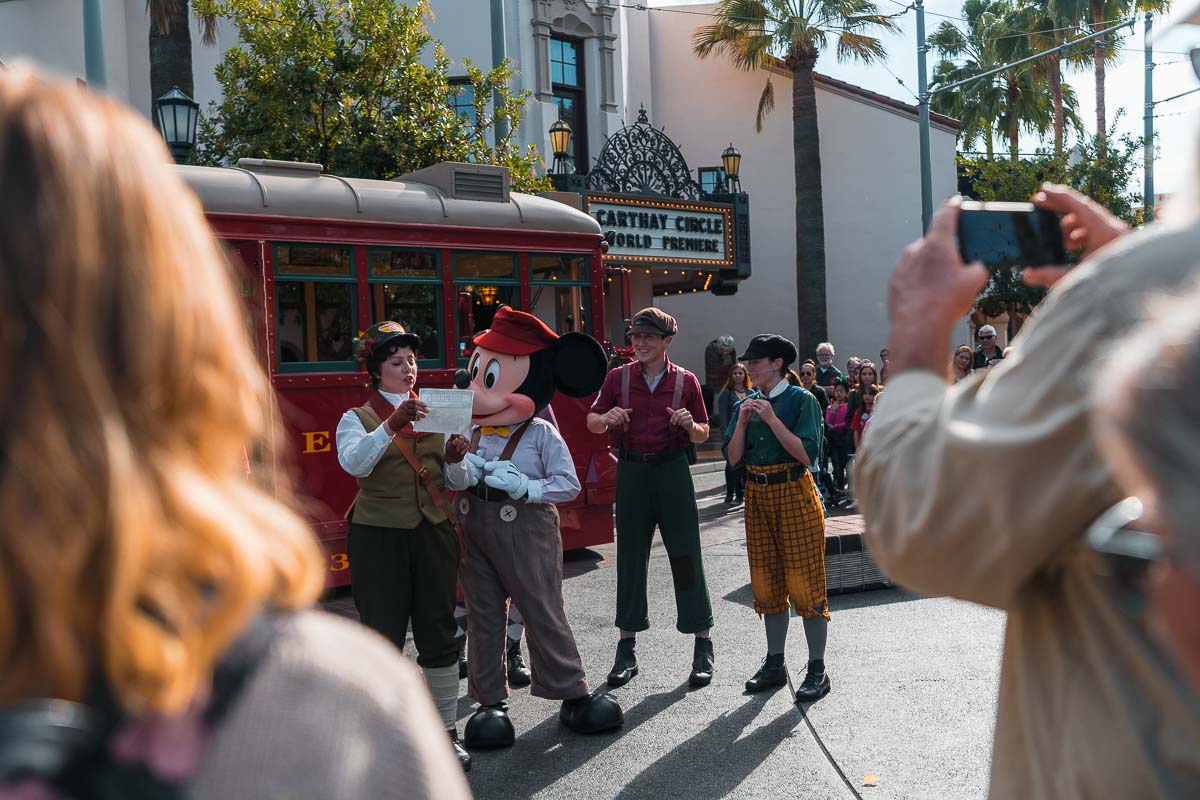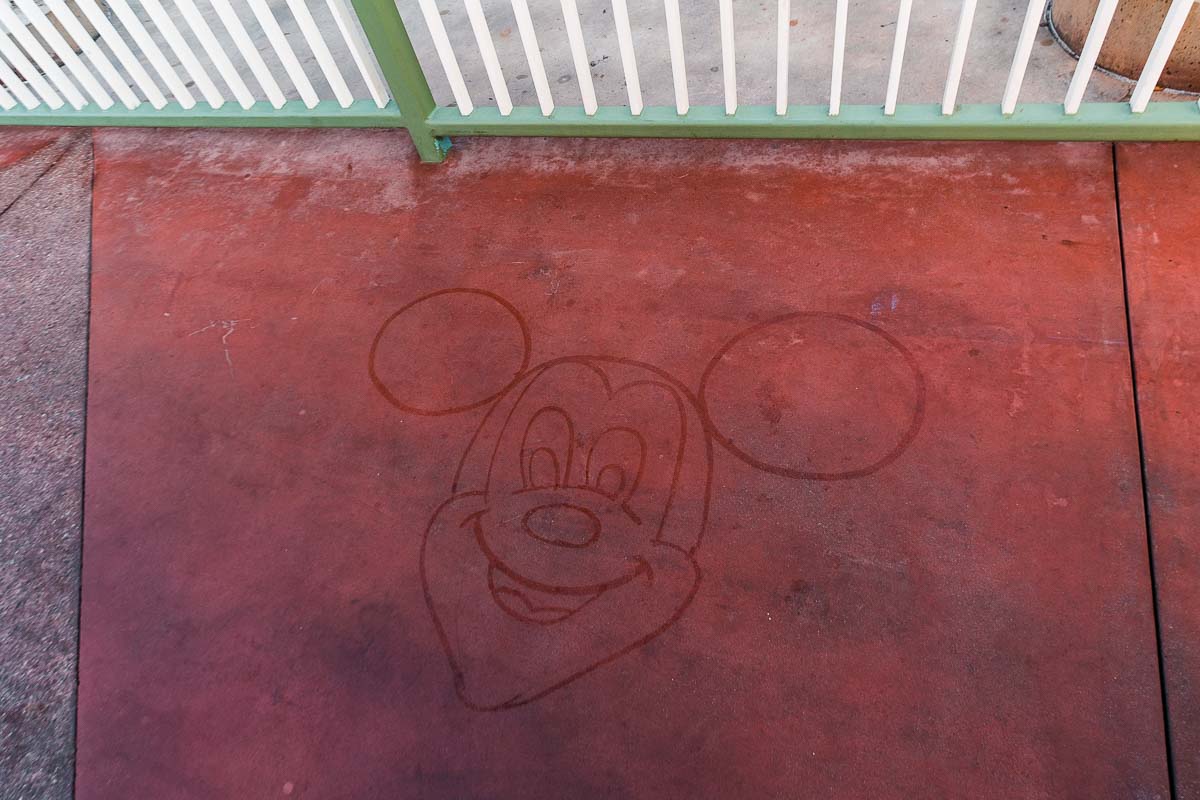 This comprehensive Disneyland California guide is a cumulation of hours of research, advice from local friends, and firsthand experience exploring the park. To put things in perspective, we managed to cover both Disneyland and Disneyland California Adventure in ONE day by simply following the tips in this guide!
To make things clear and simple, I've split this Disneyland California Guide into Pre-Disneyland Planning and Disneyland Day Guide.
If you have limited time and want to maximise your Disneyland experience, this is the guide for you.
Pre-Disneyland Planning
1) Buy your Disneyland California Tickets online in advance – save time and money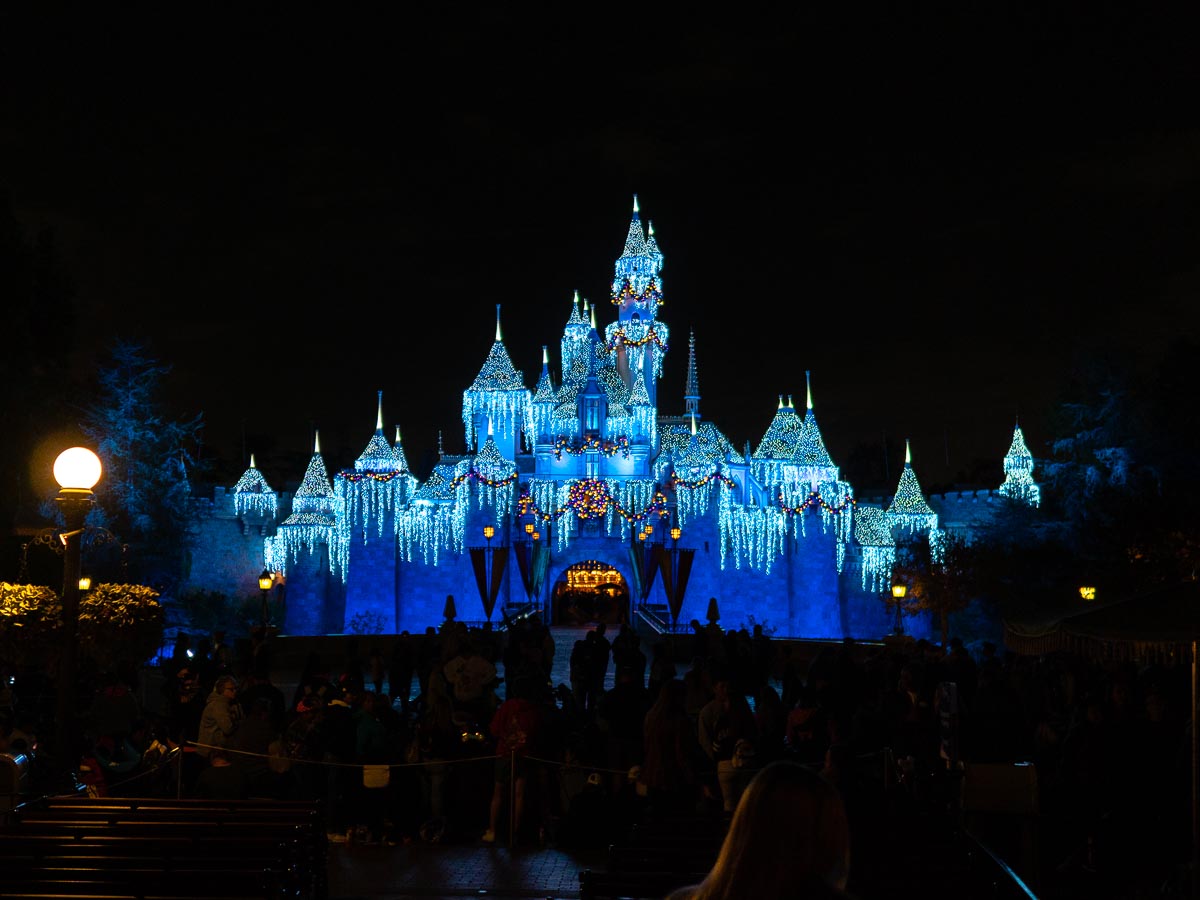 Save yourself time and don't be one of those tourists stuck at the counter after the park has opened. Even if you are unsure of the exact day you're visiting, you can still purchase your Disneyland California Tickets beforehand.
We bought our Disneyland 1 Day Park Hopper Tickets via Klook, an authorised reseller of Disneyland. The tickets are open dated, which means they're valid for a period of time instead of a specific date. Just make sure you get a ticket with the correct season — check the Disney Ticket Calendar to see if the period you're visiting falls under Value, Regular, or Peak Season.
Getting tickets online was fuss-free, and the e-ticket was issued instantly. We simply had to scan our e-tickets at the park entrance, skipping the queues at the ticket counters.
The best part though, is that buying tickets ahead of time is cheaper!
– Disneyland 1 Day Park Hopper Value Season Admission Ticket via Klook: ~S$183.35
– Disneyland 1 Day Park Hopper Value Season Admission Ticket via Disney's Official Website: US$154 or ~S$209.39

That's almost S$26 of savings (~12%) that can go into your Disneyland snack fund!
There's really no reason for you to buy your tickets on the spot or via Disney's official website when there are better alternative outlets.
If you have the luxury of time or will be travelling with family (and hence move slower), consider this:
– Disneyland Park and Disney California Adventure Park Multi Day Admission Ticket: ~S$282.79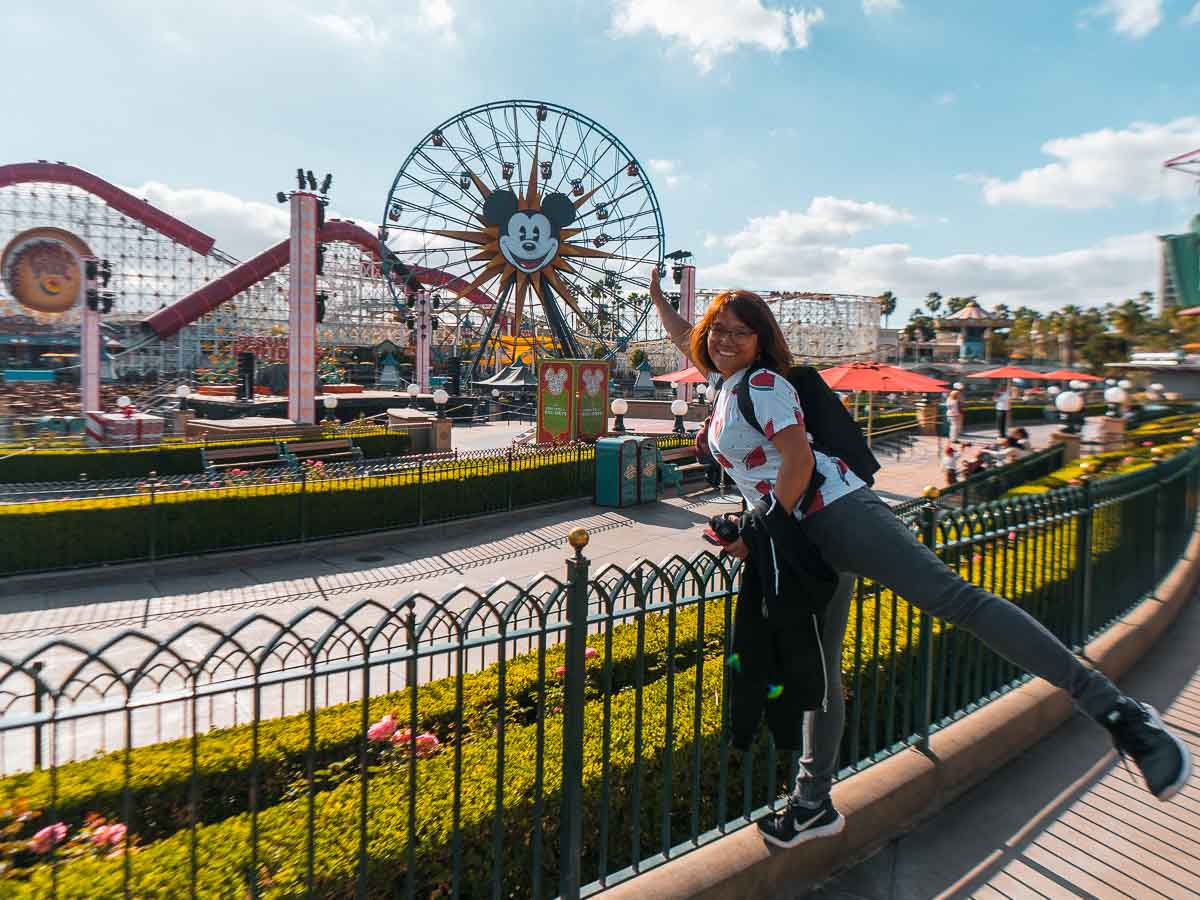 Park Hopper or Single Park Tickets?
Unless you are very sure that you only want to visit one park, get the Park Hopper Admission Tickets. There is enough time if you follow the tips and tricks in the guide! 🙂
What happens when it rains?
While it's sunny in Los Angeles all year round (~330 days a year), there's a tiny chance there'll be rain on your parade. If your plans are flexible enough, shuffle them around and make use of the open dated Disneyland tickets via Klook to visit another day.
If you can't change your plans, the good news is that the park will be a lot emptier! Rains seldom last the whole day and there are still plenty of indoor experiences for a magical time. Some outdoor rides may close periodically, but gear up, embrace the rain and extra magic that will be showered on you in the park. 🙂
2) Best time to visit Disneyland — when to go and when to avoid
TL;DR: Go between Tuesday and Thursday, on non-public/school holidays, or event days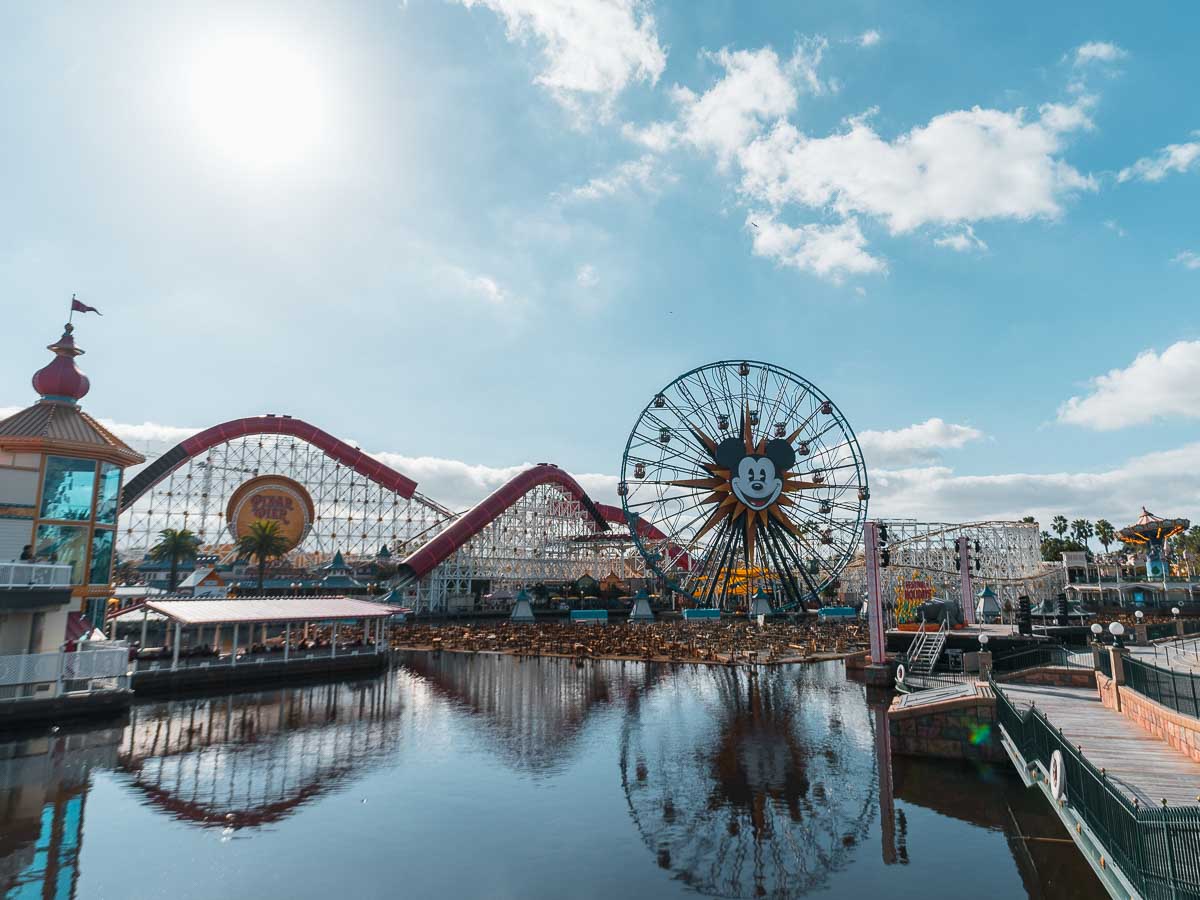 While there are no official crowd calendars from Disneyland, there are a couple of guidelines to picking the best time to visit.
Avoid:
– Weekends, Mondays and Fridays — people might be on a long weekend break
– California School Holidays or Public Holidays
– Week before Christmas
– 4th of July
– Days with large conferences at Anaheim Convention Center website. Check the event dates as attendees might drop by Disneyland in the afternoon after their conferences.
With Star Wars: Galaxy's Edge opening in Summer 2019, the weeks after its opening would probably be packed as well.
3) Stay in Disneyland if you can afford it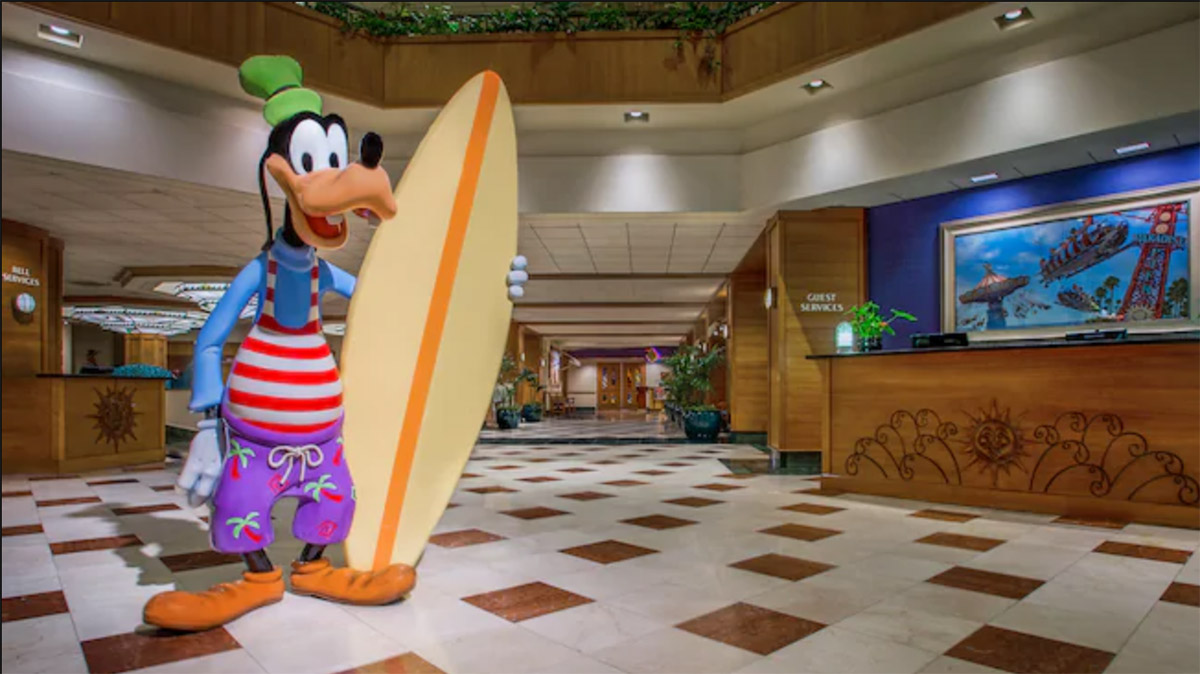 For the most complete Disney experience, nothing beats staying in one of Disneyland's three onsite hotels — Disneyland Hotel, Disney's Grand Californian Hotel and Disney's Paradise Pier Hotel. Designed with a touch of magic, the thematic rooms are sure to excite any Disney Fan.
The best hack though, is that registered Disneyland Resort guests get to enjoy Extra Magic Hour. This basically allows you to enter the theme park one hour earlier than public admission for every day of your stay. Experience the most popular attractions like Radiator Spring Racers in Disney California Adventure Park or Space Mountain in Disneyland Resort before the queues start forming!
Normal Extra Magic Hours Schedule:
– Disneyland Park: Tuesdays, Thursdays and Saturdays;
– Disney California Adventure Park (including access to Cars Land): Mondays, Wednesdays, Fridays and Sundays.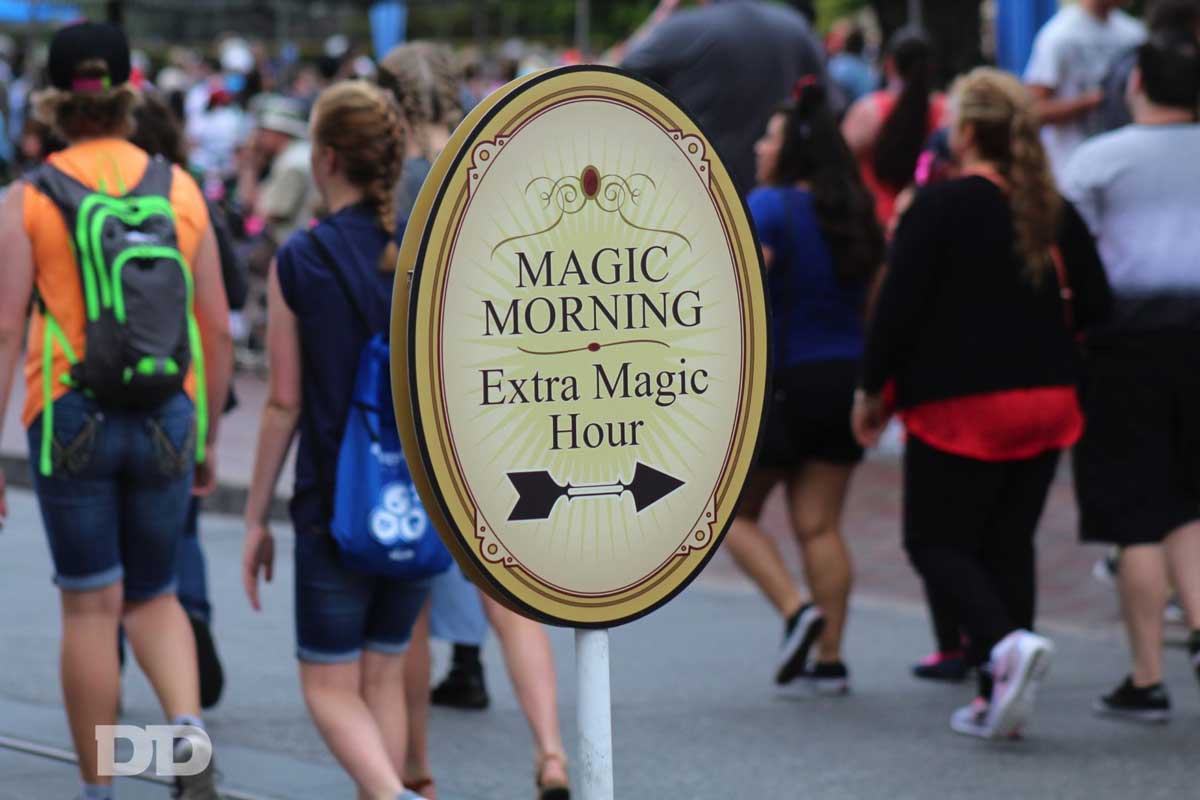 For those who purchase a 3+day ticket to Disneyland California (you don't need this unless you want to explore every nook and cranny), you also get access to Magic Mornings, which also grants you early entry to Disneyland Resort. The main difference with Extra Magic Hour is that members of the public can also get access to magic Mornings if they purchase a 3+day Admission ticket.
Do note that Extra Magic Hour and Magic Mornings are only applicable with a valid Park Admission Ticket!
4) If you can't stay on property, consider staying close by.
Located in Anaheim, Disneyland is actually pretty far from central Los Angeles. If the onsite Disney hotels are too expensive, consider offsite hotels near Disneyland to save on travelling time.
If you're driving, you get to save on parking fees and time waiting for shuttles as some of the offsite hotels are actually just five minutes away by foot.
We stayed near Hollywood and had to leave the house more than three hours before public opening hours to be there early. We left home at 5:40 AM. 😭
5) Download the Disneyland Mobile App – information at your fingertips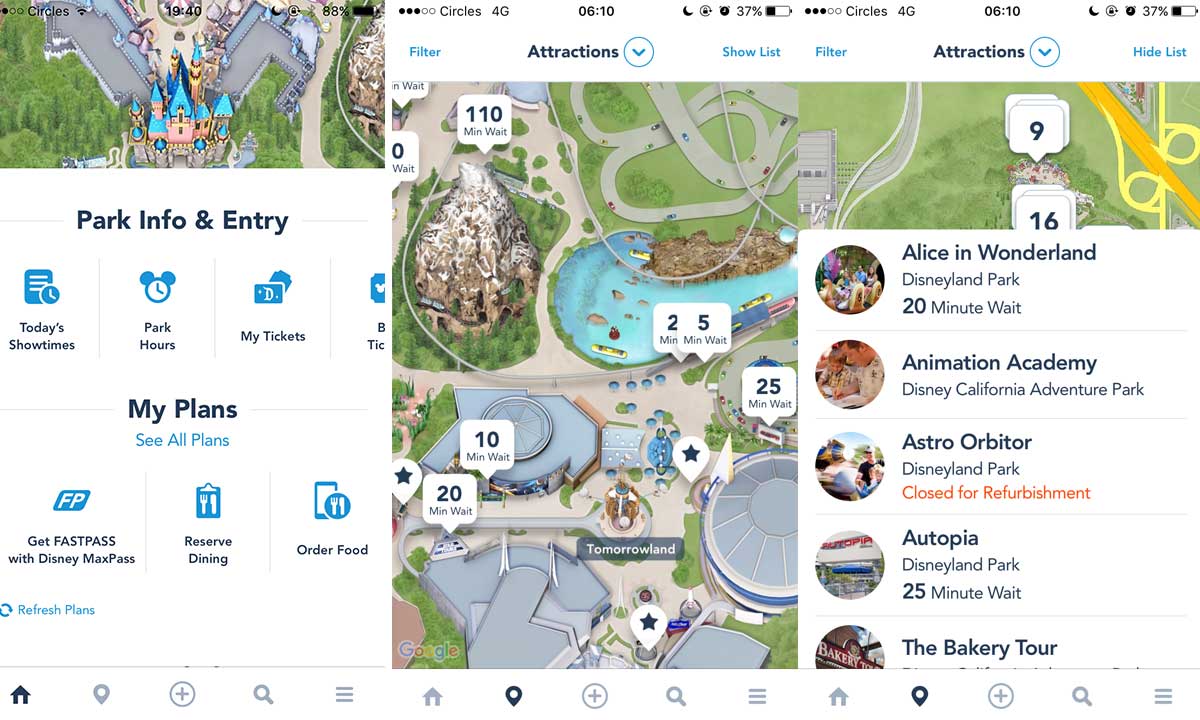 If there is only one tip you follow, this is it. From showtimes and park hours to dining reservations and ordering food, the Disneyland Mobile App has every feature you need to plan your trip. The most useful feature is the map view that shows up-to-date waiting times at every single ride. We were constantly using this as we made tweaks to our plans on the spot.
You can even purchase the Disney MaxPass for US$15, which allows you to make Disney FASTPASS selections from your phone without physically showing up at the FASTPASS booths.
Download the Disneyland Mobile App — iOS | Android
While there are select spots in Disneyland with free WiFi, it's better to get your own WiFi device to stay connected and maximise app usage.
6) Decide on Disneyland Park or Disneyland California Park first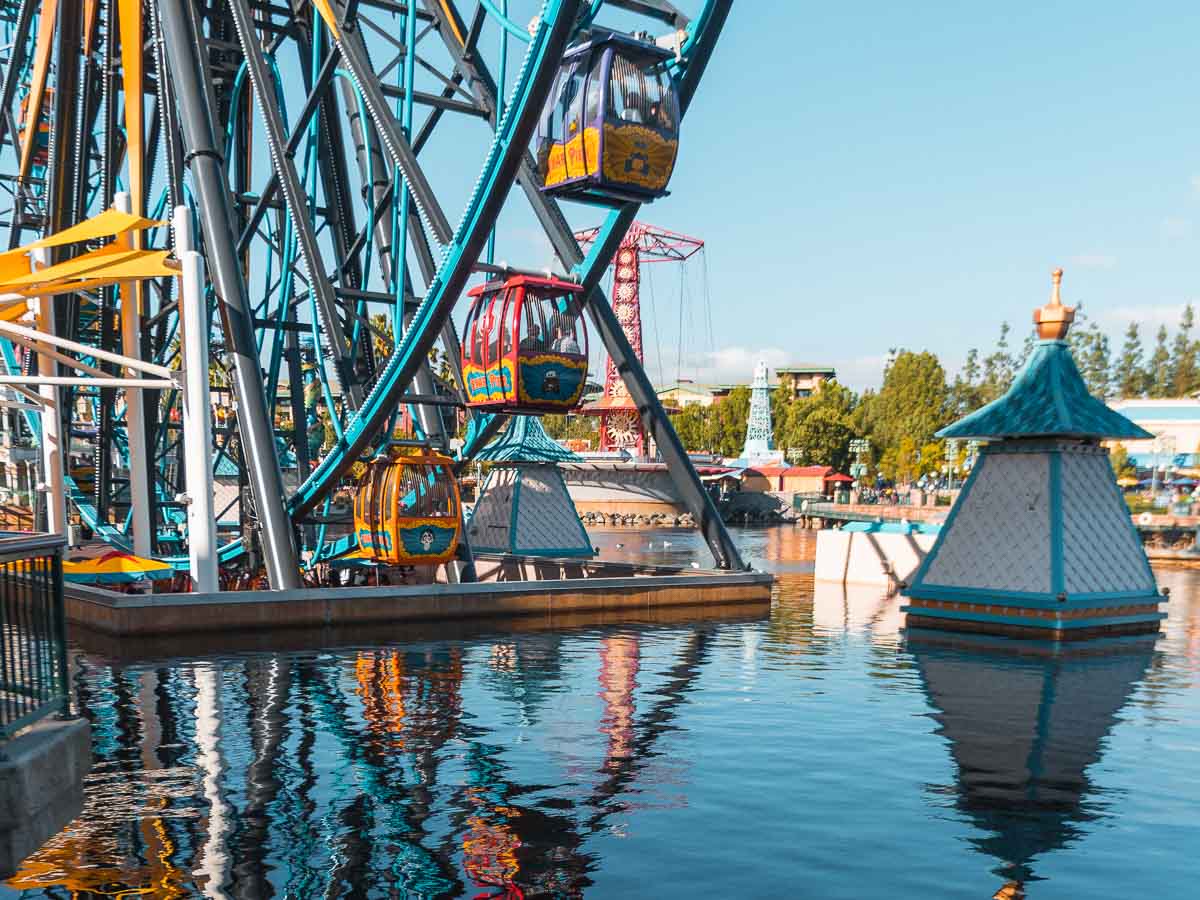 Attention to those not staying at any of Disneyland's onsite hotels: If you don't have access to Extra Magic Hours or Magic Morning, start at the park that doesn't have it for your day of visit. You don't want to enter the park only to realise that there are already hundreds of people ahead of you for the past hour. Double check the Disney calendar but usually AVOID starting at:
– Disneyland Park on Tuesdays, Thursdays and Saturdays;
– Disney California Adventure Park on Mondays, Wednesdays, Fridays and Sundays.
7) Follow this key Disney FASTPASS strategy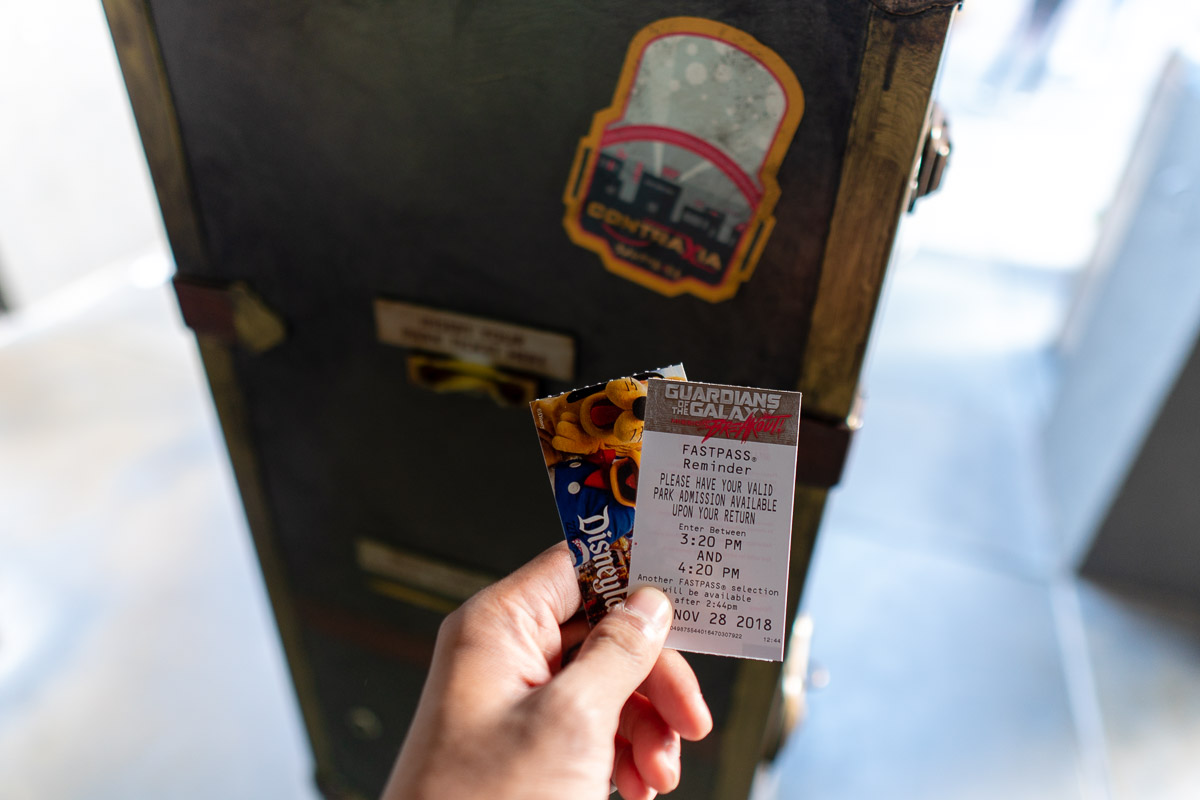 Before even preparing your game plan, you need to understand how the FASTPASS system works. Instead of a paid Express Pass system like in Universal Studios Theme Parks, Disneyland attractions work on a first-come-first-serve system. Popular rides have a FASTPASS distribution kiosk (usually found near the entrance of the attraction,) where you can use your ticket to get a timed return entry for the ride. This allows you FASTPASS entry anytime during your designated return period, allowing you to spend less time queueing and more time exploring the park.
There are three things you need to know about FASTPASSES:
(1) There are limited quantities for every attraction. Popular rides like Radiator Springs Racers and Guardians of the Galaxy — Mission: BREAKOUT! at Disney California Adventure often run out by lunch.
(2) The FASTPASS return timings run in continuous 1 hour blocks. Which means you can't select your ideal timing.
(3) You can only hold on to 1 FASTPASS at any time. You can only select your next FASTPASS after you have used your existing FASTPASS.
The key strategy is to always have a FASTPASS reservation at all times. Resist the temptation to queue for a nearby ride and grab the next FASTPASS immediately after using one.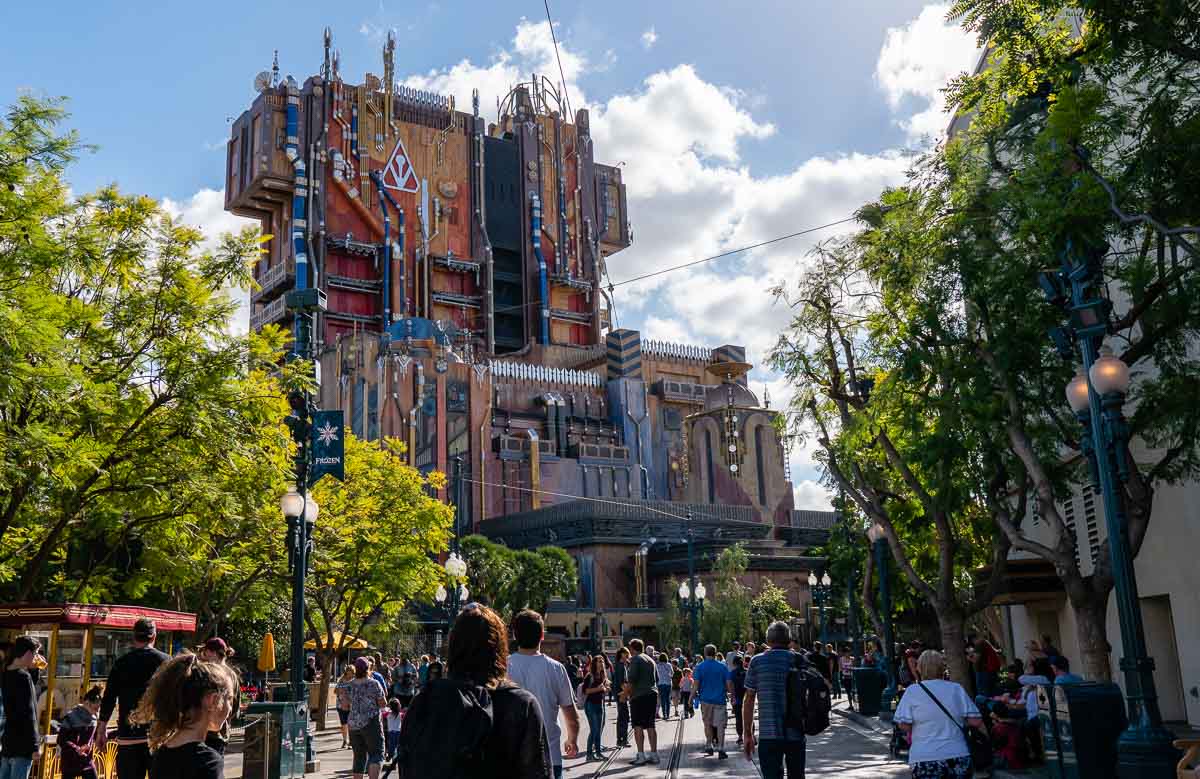 Disneyland Park FASTPASS Attractions
– Big Thunder Mountain Railroad
– Buzz Lightyear's Astro Blasters
– Fantasmic!
– Haunted Mansion
– "It's a small world"
– Indiana Jones Adventure
– Matterhorn Bobsleds
– Roger Rabbit's Car Toon Spin
– Space Mountain
– Splash Mountain
– Star Tours – The Adventures Continue
Disneyland California Adventure Park FASTPASS Attractions
– Goofy's Sky School
– Grizzly River Run
– Guardians of the Galaxy — Mission: BREAKOUT!
– IncrediCoaster
– Radiator Springs Racers
– Soarin' Around the World
– Toy Story Midway Mania
– World of Colour
8) Plan your route and game plan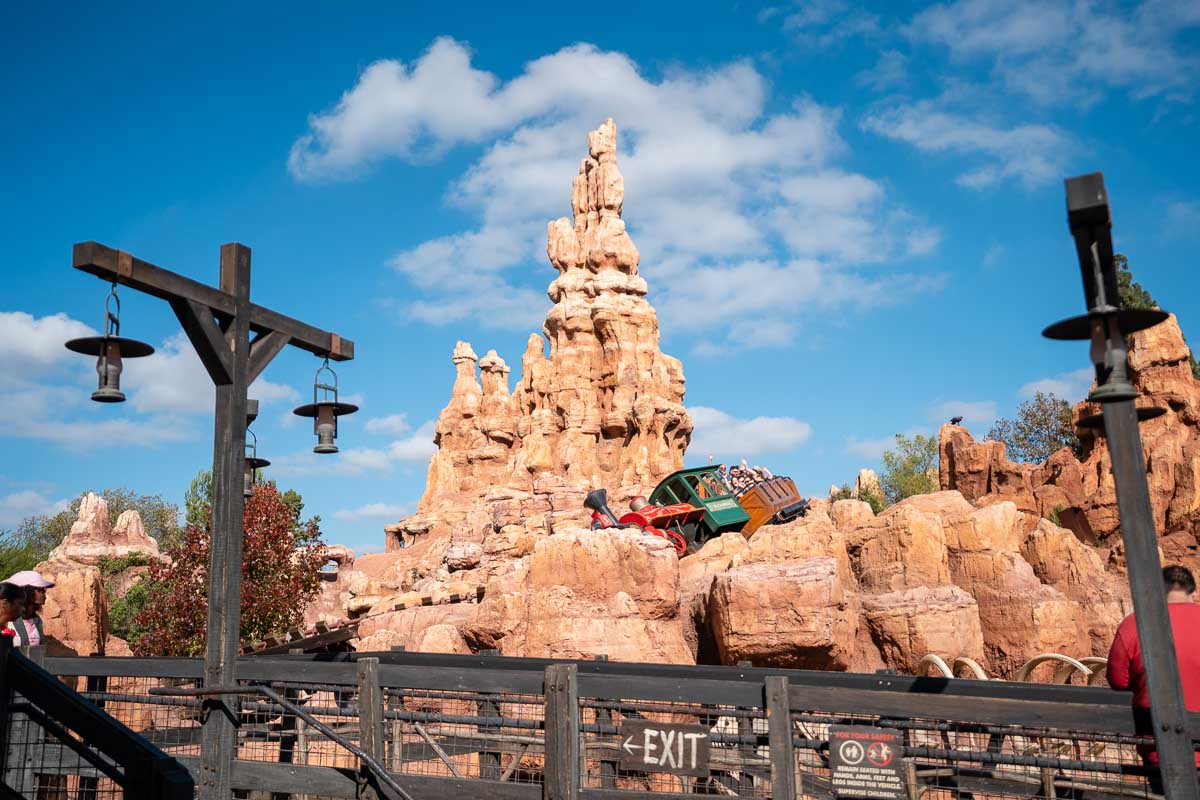 While it's not possible to ride every attraction, it's possible to maximise your time and do all the major ones in both parks within a day.
Step 1: List all the attractions and things you'd like to experience in each park.
Step 2: Check Disneyland's Calendar and exclude attractions that are scheduled for refurbishment.
Step 3: Rank your list in order of preference.
Step 4: Study these maps by the Undercover Tourist and start planning your route with consideration of the showtimes!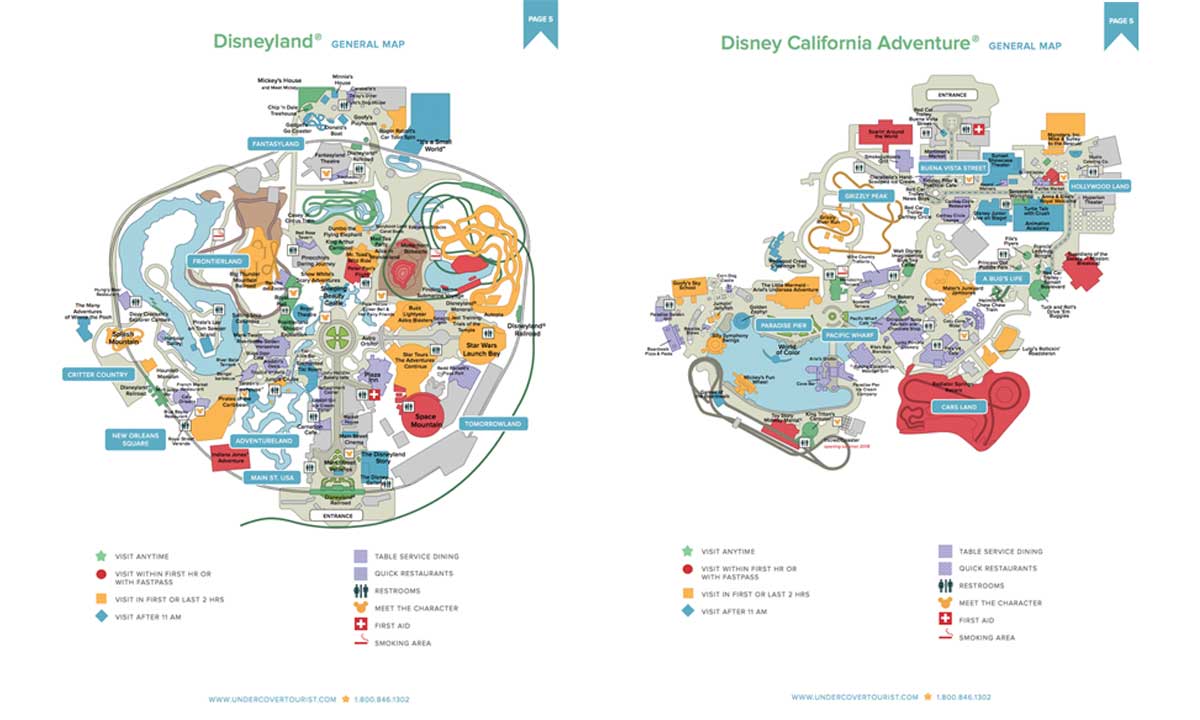 Download: Disneyland Park Planning Map (left)
Download: Disneyland California Adventure Park Planning Map (right)
Disneyland California Day Guide
9) Pack snacks for breakfast and lunch
Can I bring outside food or drink into Disneyland? The short answer is yes!
A great way to save money, I love how Disneyland allows their guests to pack their own food into the park. There are plenty of picnic and dining areas, and I like the idea of snacking while queuing for rides or waiting for parades to save time.
Do note that no alcoholic beverages, or glass containers (excluding small baby food jars), are allowed. While we didn't face problems bringing noodles and eggs into the park (maybe we were lucky), we read of people being turned away for food in large quantity (pasta in a Tupperware), or food that needs to be prepared. Deconstructed food items are frowned upon, so if you want to have a sandwich, try to prepare them beforehand instead of assembling it on the spot.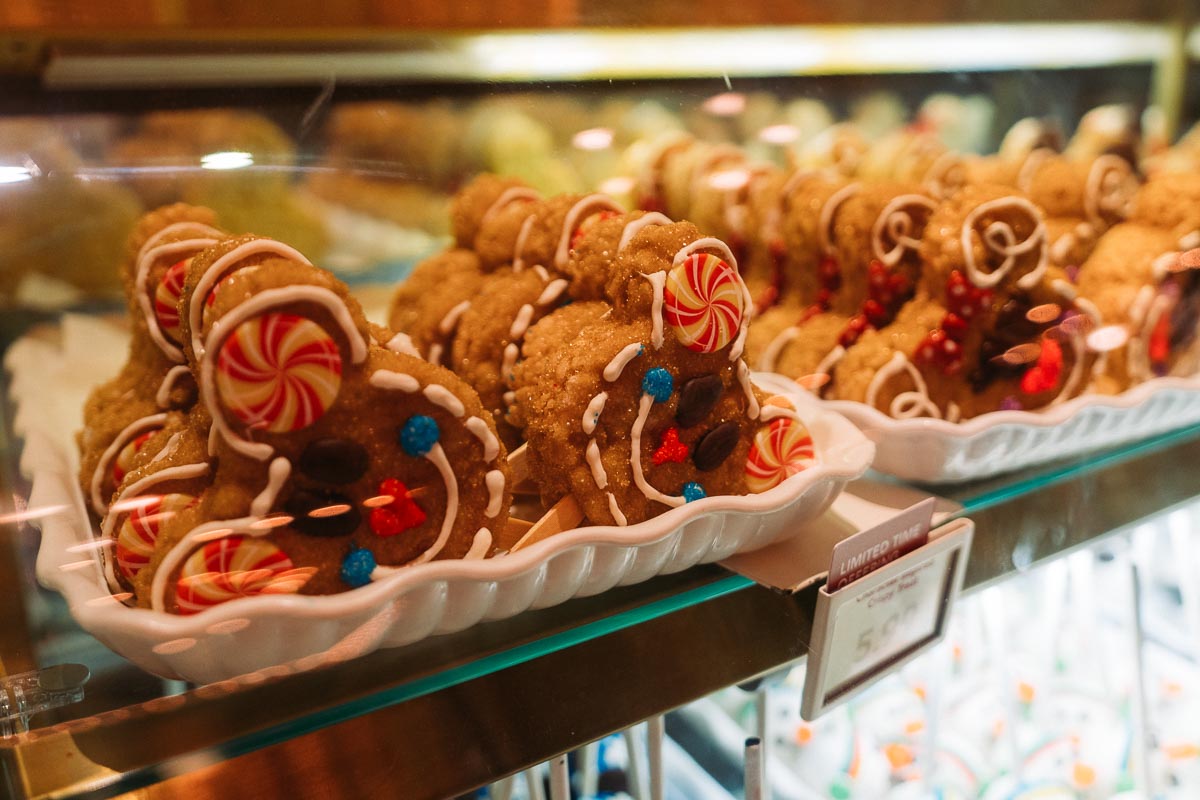 As there are a number of great dining options and snacks in Disneyland, we decided to treat ourselves to dinner and not overpack.
10) Bring all your essentials
Remember to pack your umbrellas, ponchos, sunblock and other essentials. These things are generally overpriced in the parks so it's better to bring your own. Don't forget your water bottles as there are water coolers throughout the park too! Hydration is key to an enjoyable day.
11) Arrive at Disneyland California early – at least 1 hour ahead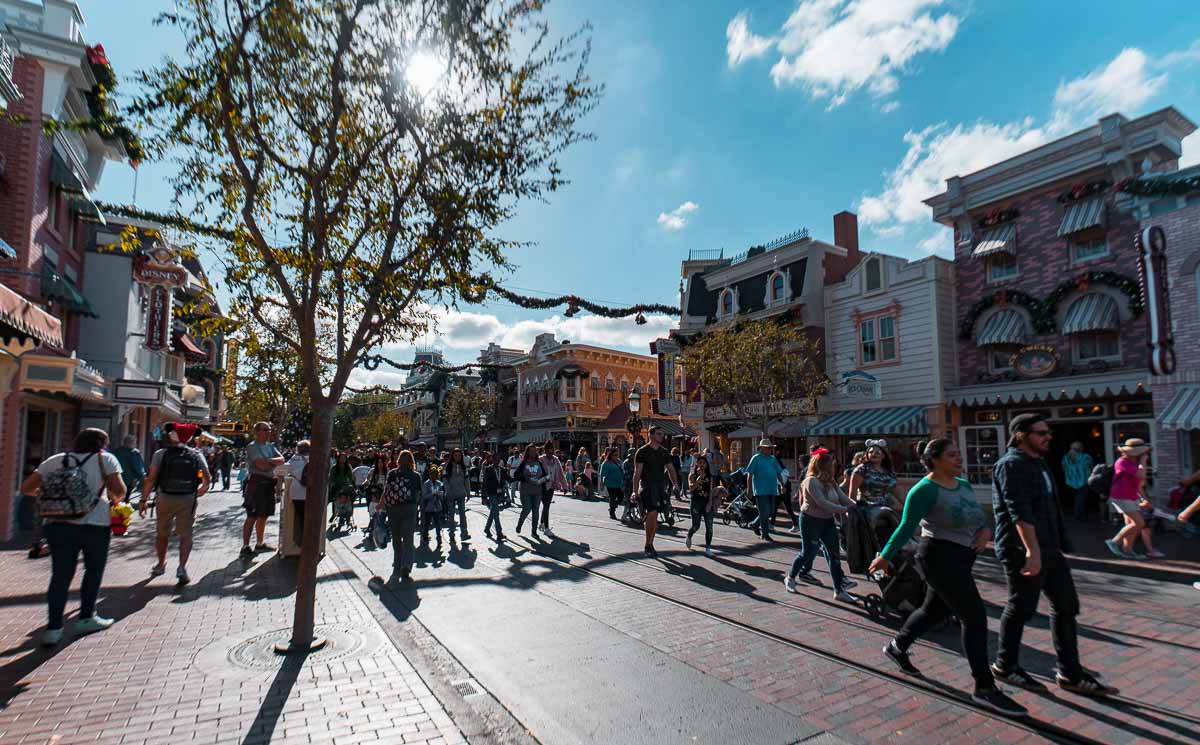 Don't sleep in! If you want to experience all the key highlights of Disneyland Park and Disneyland California Adventure Park in one day, it's crucial that you plan ahead and arrive at least one hour before the first park admission.
What is Disneyland's rope drop?
There is usually a soft opening about 15–30 minutes before official opening hours called the "rope drop". What happens is that visitors are allowed into the park up to a certain point demarcated by a rope. This means you can standby closer to your favourite attraction, ready to be the first few in line when… the rope drops at opening hour.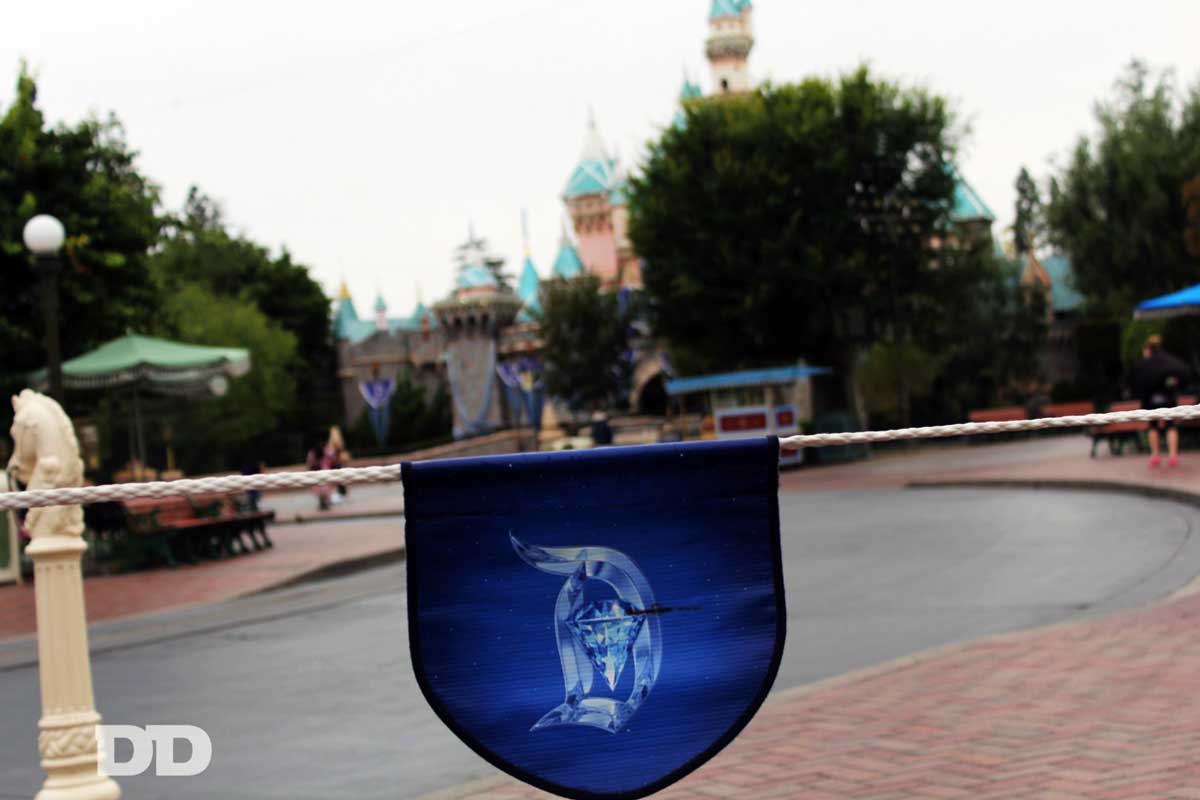 *Pro-tip: Don't do the rope drop at the park when there is Extra Morning Magic or Magic Mornings. There's no point competing to call dibs when hundreds of people already entered the park an hour before you. Double check Disneyland's opening hours as they vary daily.
Address: 1313 Disneyland Dr, Anaheim, CA 92802, USA
Directions to Disneyland California by car, train, bus, or from the airport.

Heading there by bus is the cheapest, while driving is the fastest and most convenient.
12) Prepare for the security line
Don't get refused entry or held up in line for bringing things you're not supposed to. Do not bring drones, large tripods, foldable chairs, large bags/suitcases and selfie sticks. Check the full list of prohibited items here!
13) Check with the security personnel on how crowded the park is
Never judge a book by its cover. A long security check line doesn't mean the park is crowded, and a short security check line doesn't mean the park isn't crowded. During the bag check, ask the security officer about the crowds to determine whether you want to purchase the Disney MaxPass for US$15. We were there on an off-peak day and managed to cover all the main attractions without the Disney MaxPass.
14) Get the Disney MaxPass if it's crowded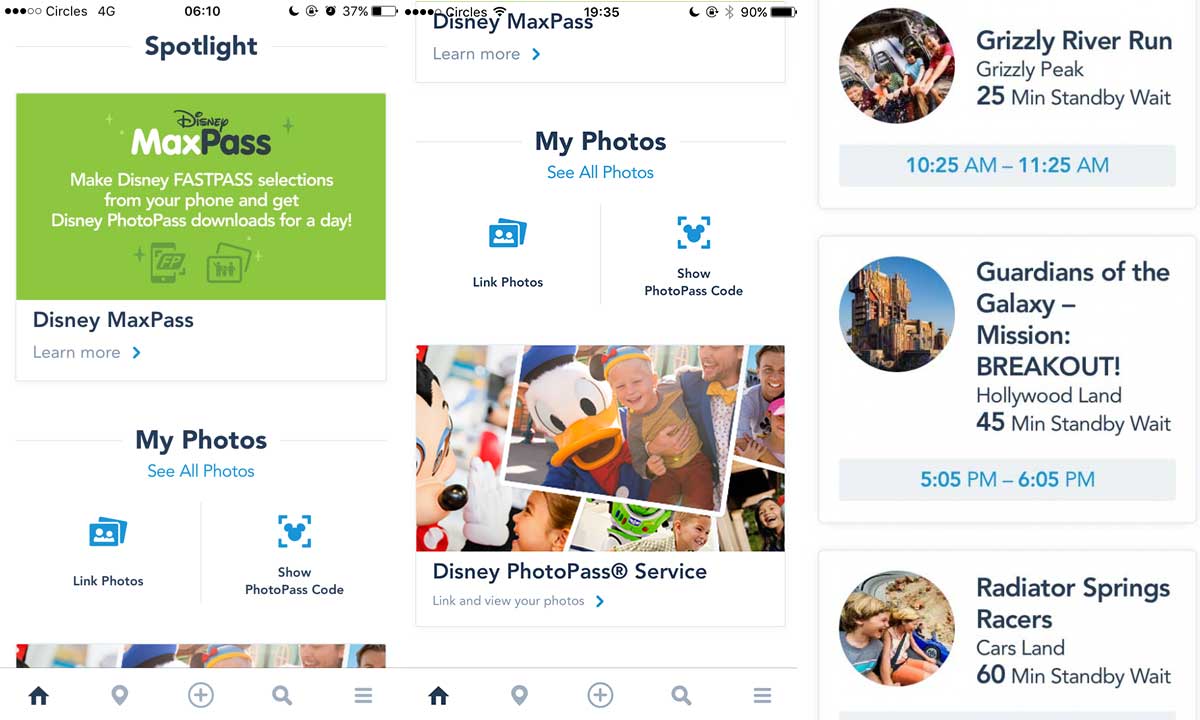 To make things hassle-free, Disney introduced the Disney MaxPass on their mobile app. Instead of physically showing up at an attraction's FASTPASS booth, you can now select your Disney FASTPASS conveniently from your phone. This saves everyone a lot of time from making detours to the physical FASTPASS booth.
If you know that it's a busy day, I highly suggest purchasing the Disney MaxPass for an additional US$15 per person per day. This is the best way to operate at maximum efficiency without rushing around like a headless chicken. The app also shows the current time slots for the FASTPASS, allowing you to make adjustments to your plan quickly.
The FASTPASS Party feature on the mobile app also allows you to appoint someone in your group to make mass FASTPASS reservations.
The Disney MaxPass also comes with the Disney PhotoPass, which allows you to download unlimited digital copies of photos taken during the attractions and from the PhotoPass Photographers. Hooray to priceless memories!
Do note that World of Colour or Fantasmic! FASTPASS cannot be reserved via Disney MaxPass. You have to physically show up at the station for these two.
15) Always go for Single Rider when available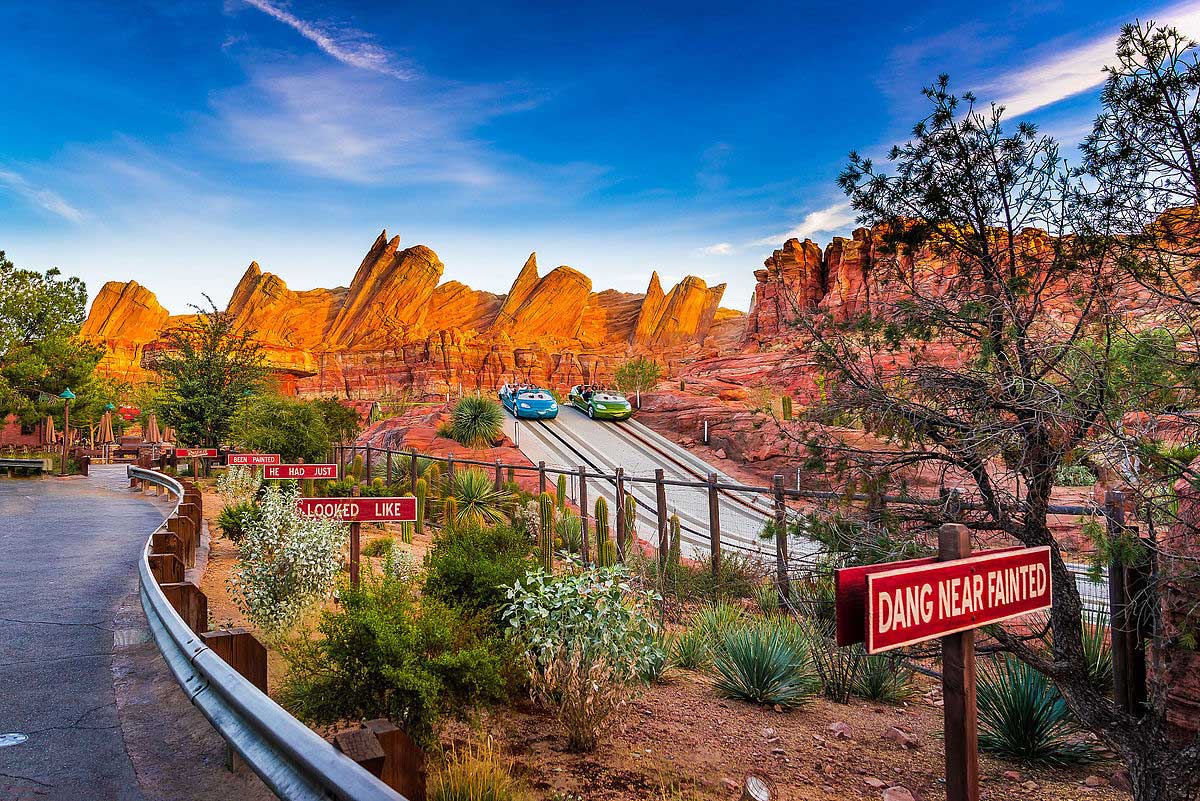 Unless you are travelling with children, I can never understand why people need to sit beside their friends when taking a ride. For most rides, it's not as if you can hold hands or see the faces of your friends. It's much much faster to queue for Single Rider if you don't have separation anxiety. You still queue together, so you won't have to stand in line alone.
Our wait at Radiator Springs Racers (the most popular ride on the day we were there) was cut 3x from 135 minutes to just 40 minutes.
Disneyland Park Single Rider Attractions
– Indiana Jones Adventure
– Matterhorn Bobsleds
– Space Mountain
– Splash Mountain
Disneyland California Adventure Park Single Rider Attractions
– Goofy's Sky School
– Grizzly River Run
– IncrediCoaster
– Radiator Springs Racers
16) Be flexible with plans and park hop when necessary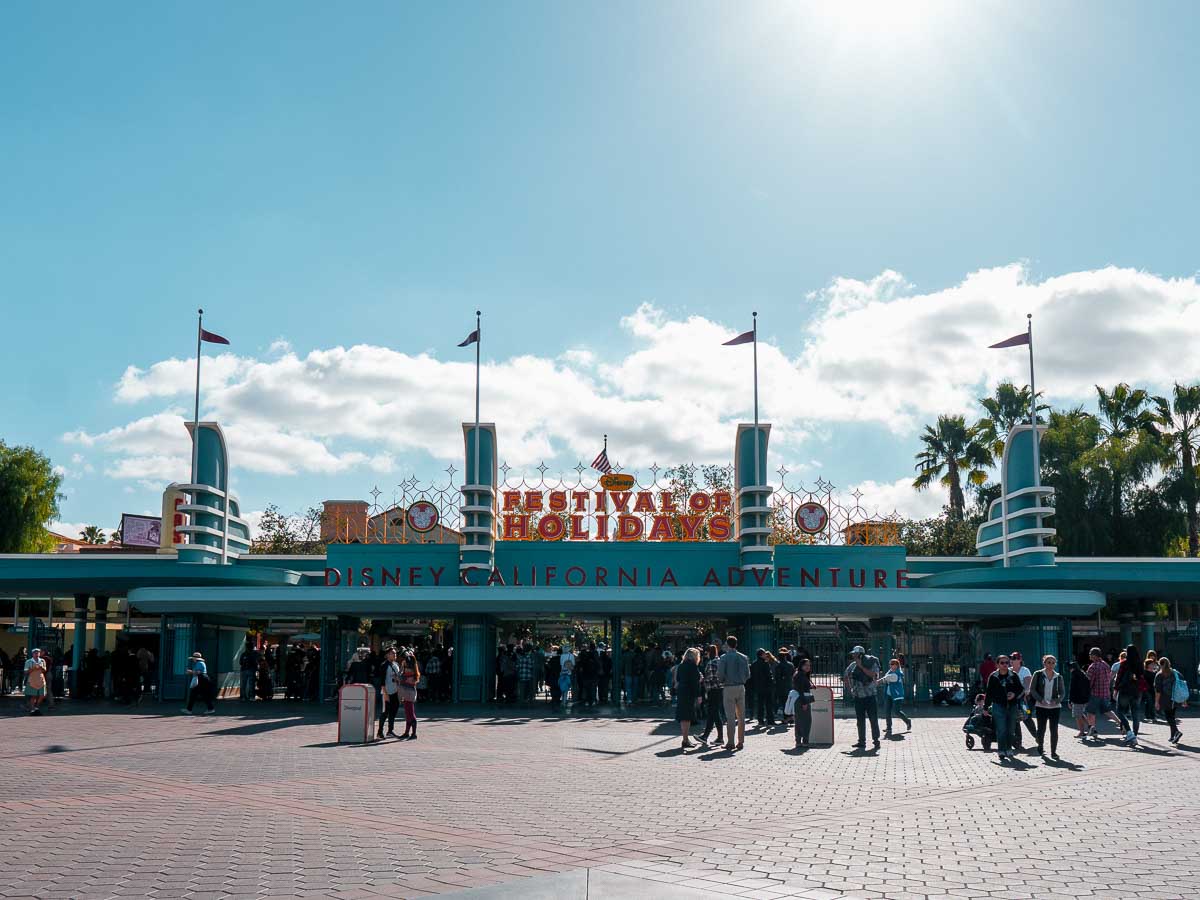 Regardless of how well you prepared, crowd movements may change your game plan. If there's a popular ride that's fairly empty, don't hesitate to go for that first! Disneyland Park is located directly opposite Disneyland California Adventure Park, so don't be afraid to change parks several times if you don't mind the walk.
Spending 15 minutes to move between the parks is definitely better than waiting two hours in line!
17) Don't be shy — ask for badges/buttons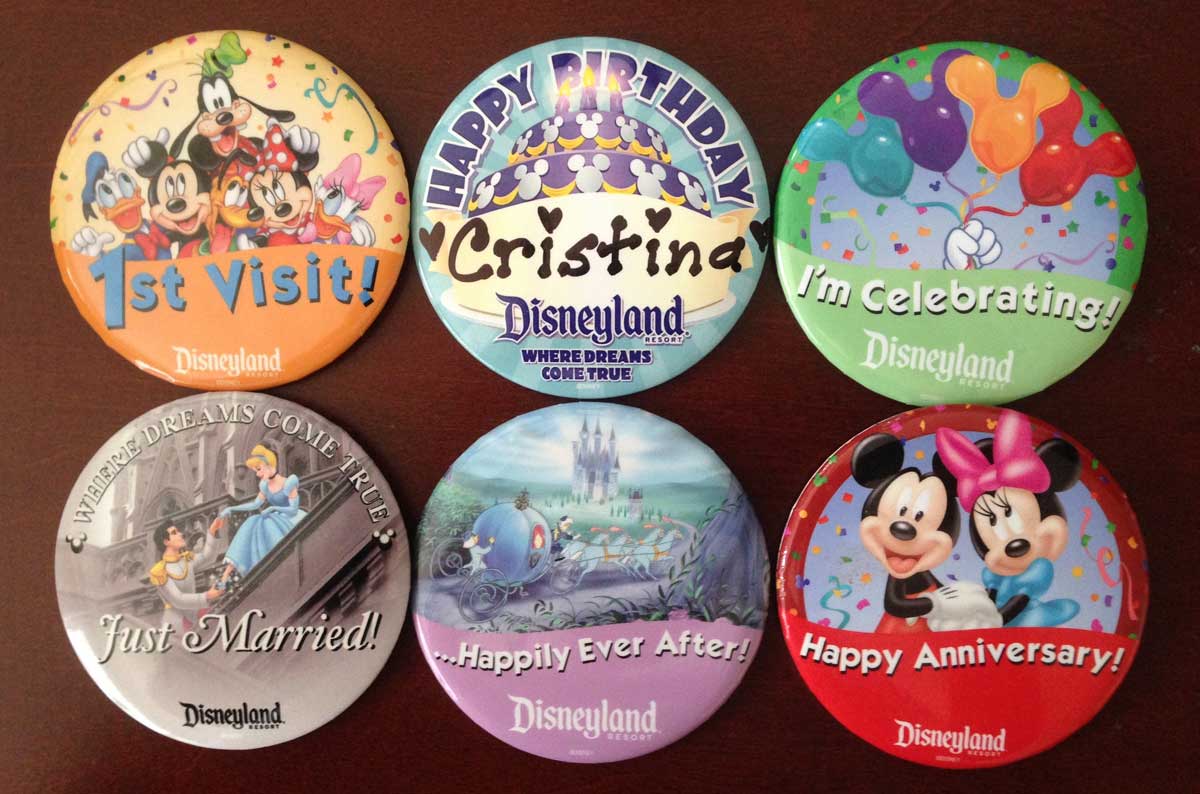 While there are many things that are not free in Disneyland, happiness and badges/buttons are in abundance. Simply visit City Hall in Disneyland or the Chamber of Commerce in Disneyland California Adventure and ask for one! From First Time Visitor and Birthday buttons to Honeymoon and Engagement buttons, there's probably something that fits you.
With the buttons, Disneyland's crew generally pay a little more attention to you, like greeting you with more enthusiasm and maybe even offering secret perks!
*Pro-tip: They don't really ask for proof of anything so go crazy!
18) Plan for meal/snack times during Parades/Shows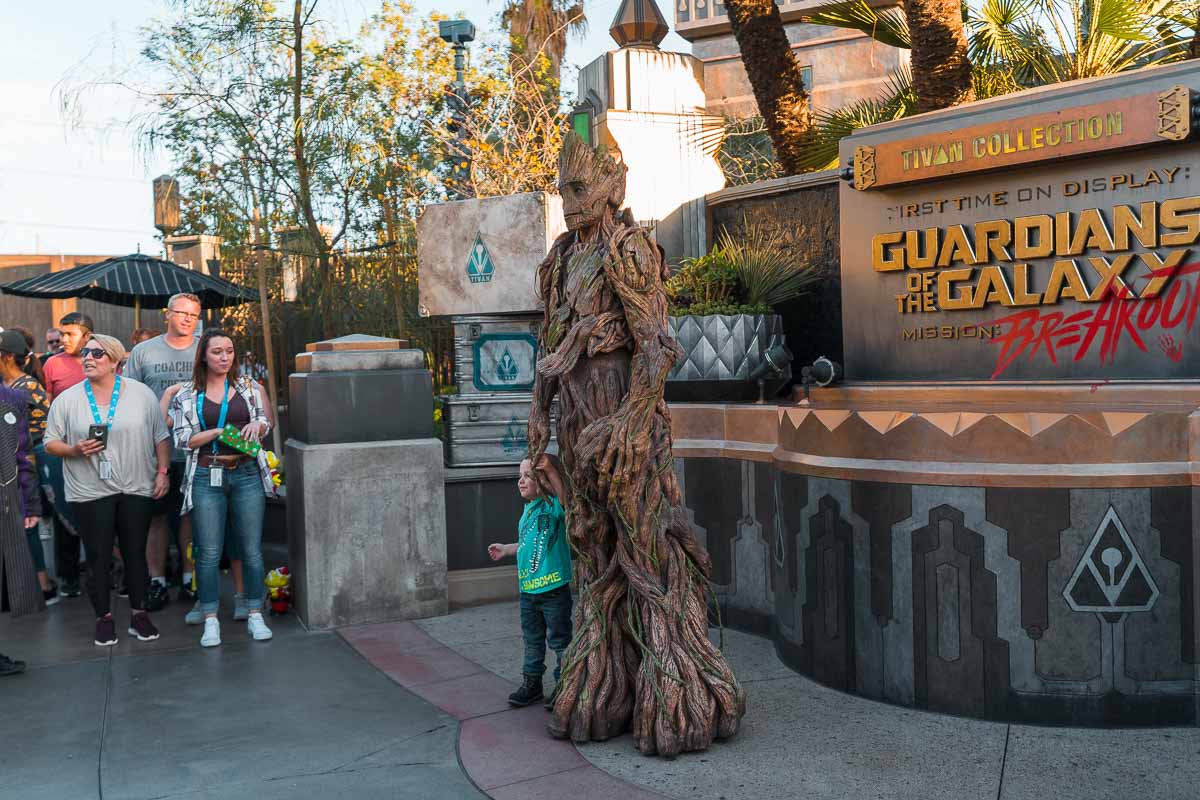 Since you already need to arrive early to reserve a good spot, might as well combine it with a picnic. Plan your break times around the parades and chill while waiting or watching the parade. Bring a small picnic mat for maximum feels!
19) Avoid the first parade when possible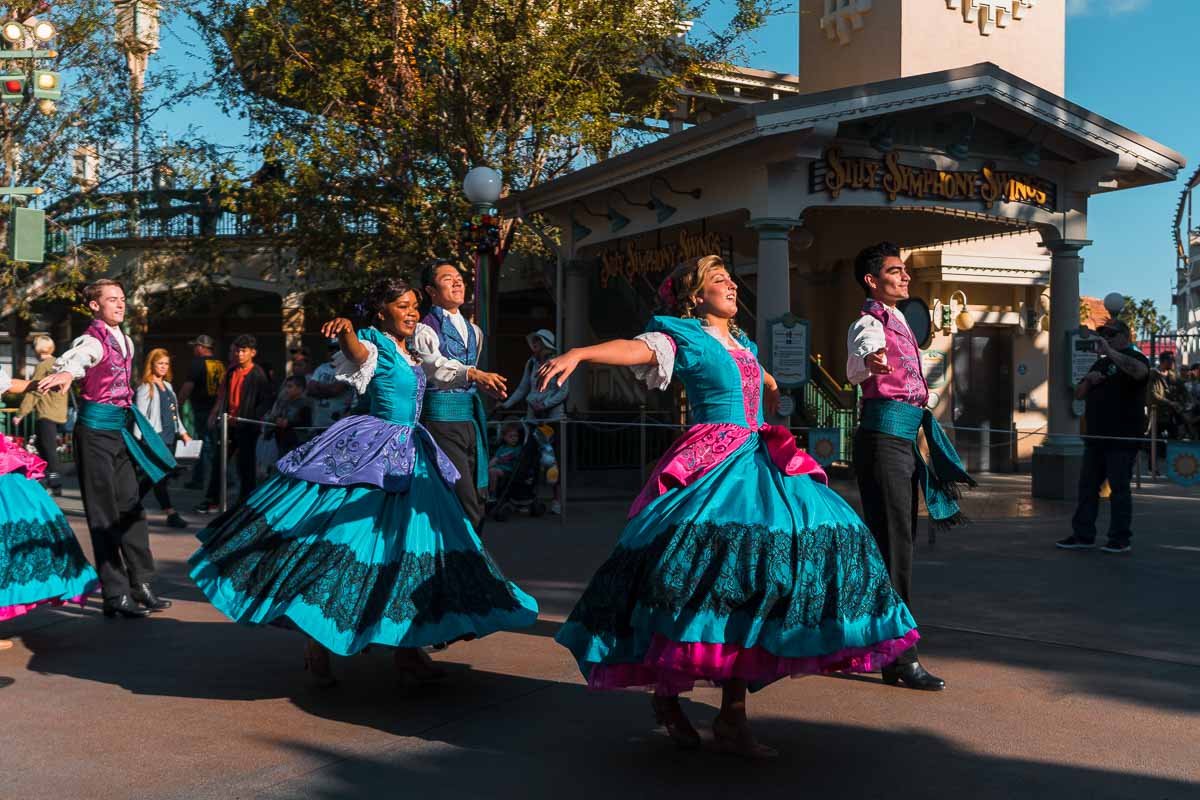 The rule of thumb is that the later the parade, the less time you need to find a good spot for it. During peak season, there are usually multiple showings for parades, Fantasmic!, and World of Colour. If you have no choice and can only visit Disneyland during this period, aim for the second parade and above.
Remember to check the showtimes to see if there are multiple showings!
20) Visit restaurants during off-peak or make reservations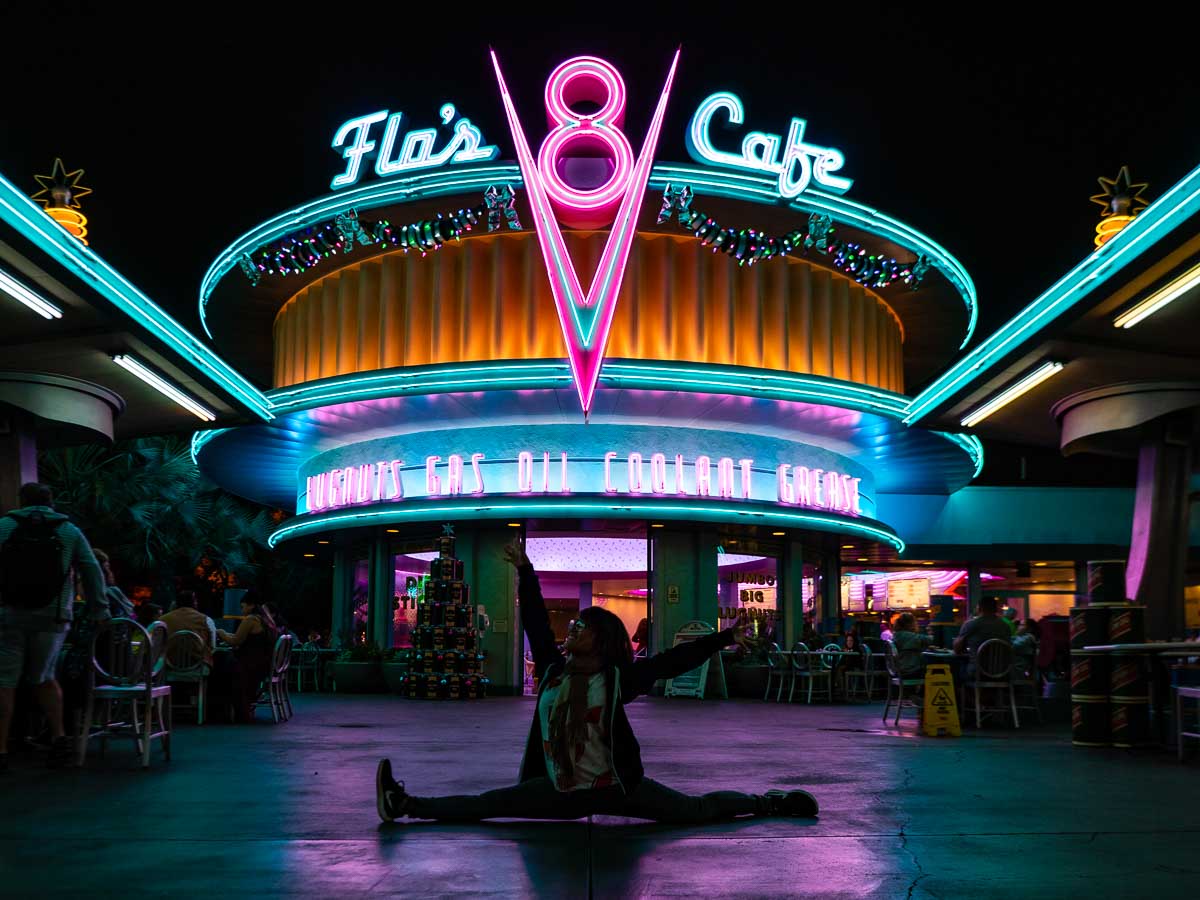 With so many unique dining options in Disneyland, you will usually have at least a meal in one of the themed restaurants. If you can help it, avoid mealtimes and head towards the rides instead. The waiting times are usually shorter during lunch and dinner.
If your meal times aren't so flexible, use the Disney Mobile App to make reservations ahead of time!
21) Know when and where to find your favourite characters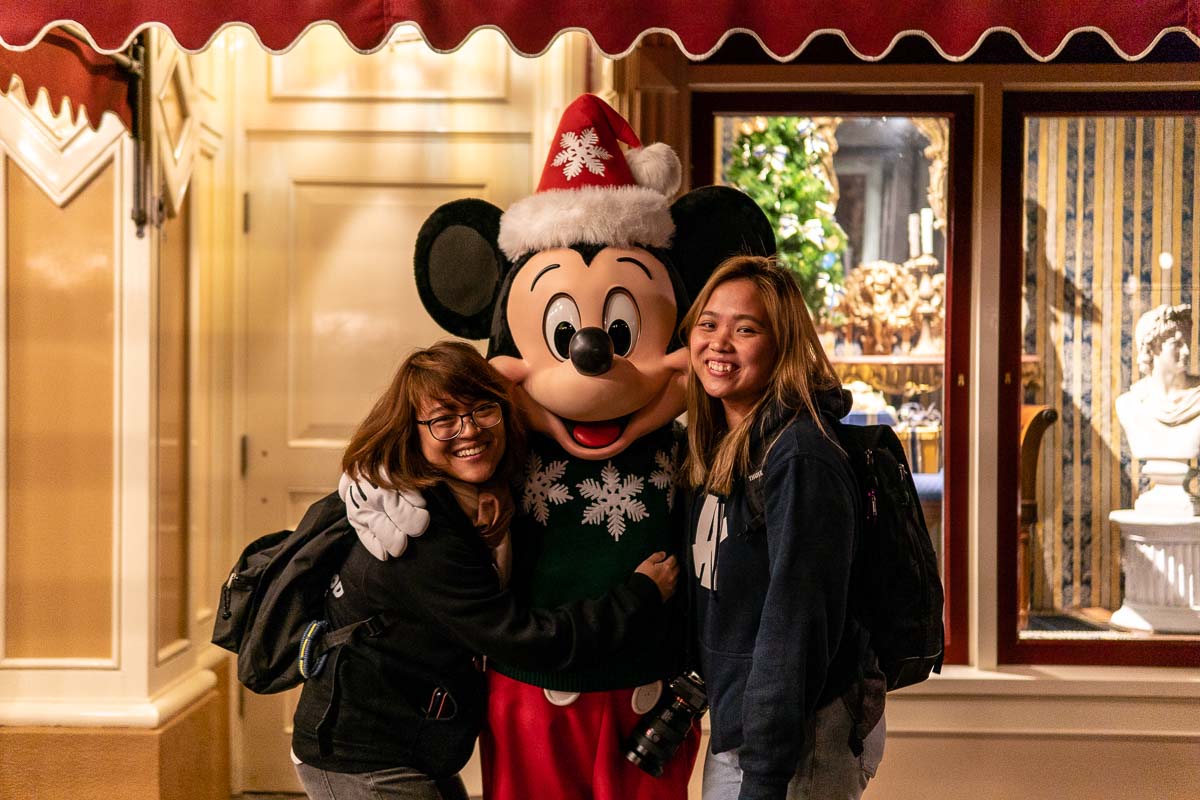 Other than the few Disney Characters that have their own dedicated meet-and-greet stations, the majority of characters are free roaming and have their own schedules. Use the map view and filters on the Disney Mobile App, or find park attendants with the "ask me about characters" badge to find out more. For us, we only tried finding the characters between rides whenever convenient. We caught the hyperactive Peter Pan for a chat and even Mickey Mouse at the end!
For those who prioritise the meeting of characters, I suggest checking this character guide by DisneylandDaily!
22) Arrive 1.5hrs before the Disney Fireworks begin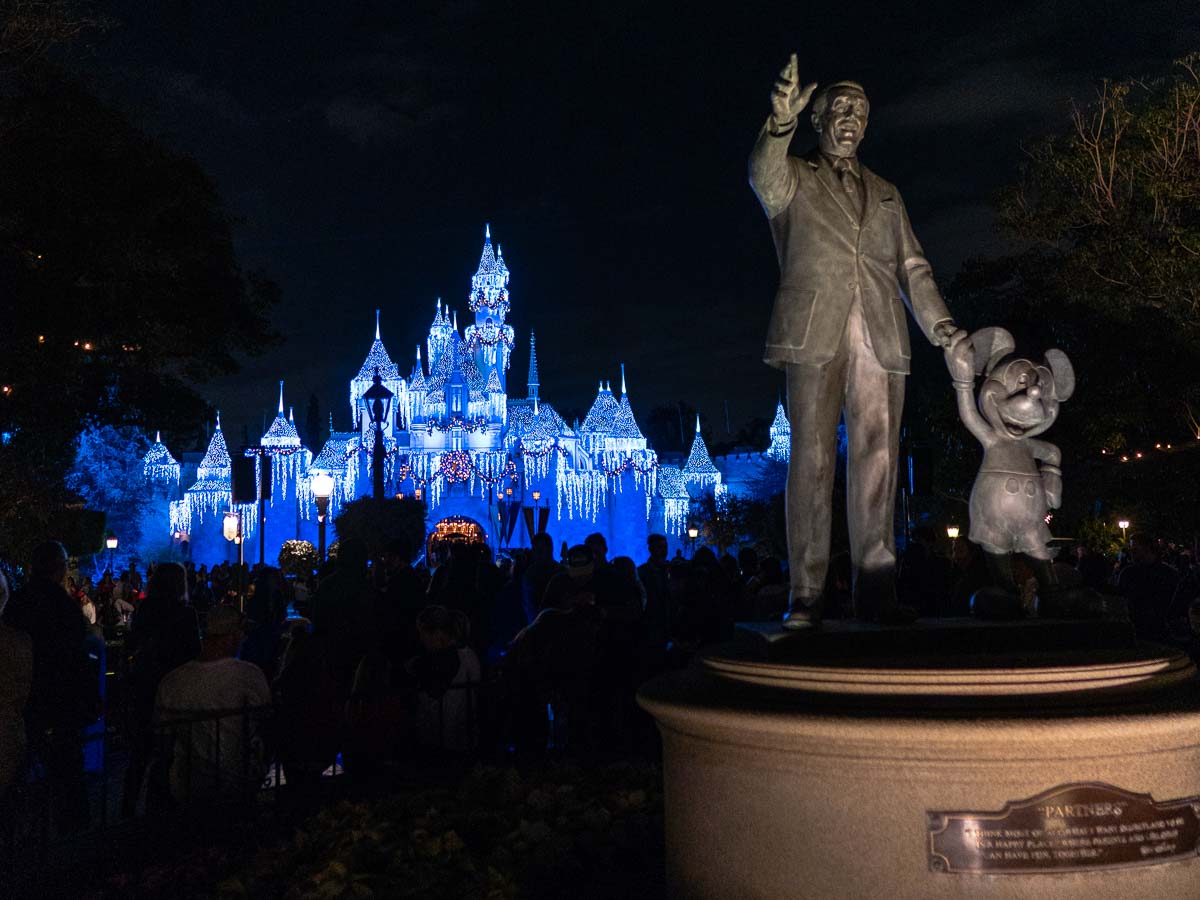 I'm not exaggerating when I say arrive 1.5 hours earlier if you want front row spots. We arrived 50 minutes before the Disney Fireworks and the entire front section was already taken up. If you're not picky, 45 minutes before should get you decent standing spots.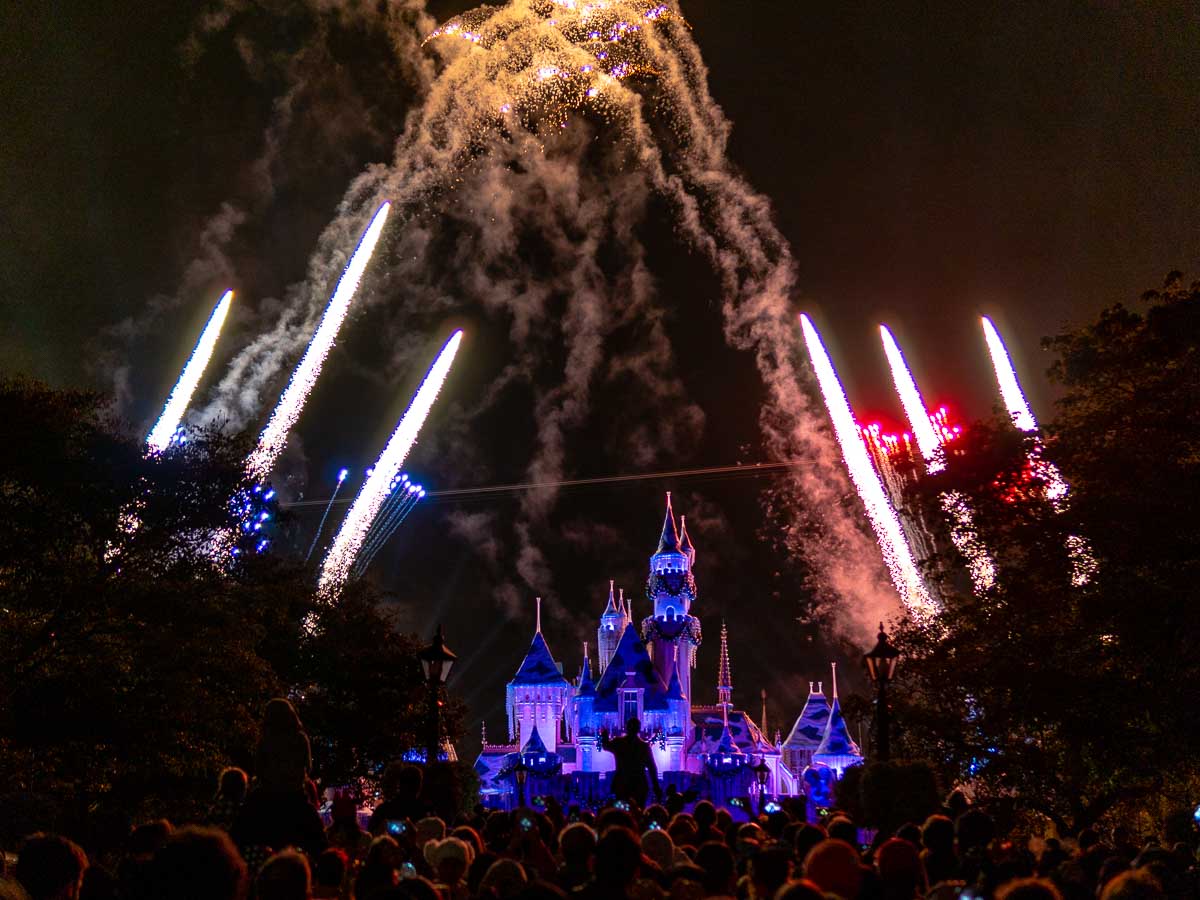 Do note that the circular park with a statue of Walt Disney in front of Sleeping Beauty's Castle will be closed before the fireworks. We wasted 10 minutes thinking it was a good spot only to get chased away.
23) Exit via the shops after the Disney Fireworks
Imagine leaving Disneyland with thousands of people from both parks after the iconic Disney Fireworks. Rather than squeeze with everyone along the main street, it's faster to leave the park through the shops. Even though they look like separate units, the shops are actually all linked!
24) Be in line just before the park closes
Time to squeeze in one last ride! To maximise your day, get in line before the stated closing hours of the park. The staff will not chase you out once you are in the queue. Certain attractions might end early, so do check the schedule.
25) Shop only as you are leaving the park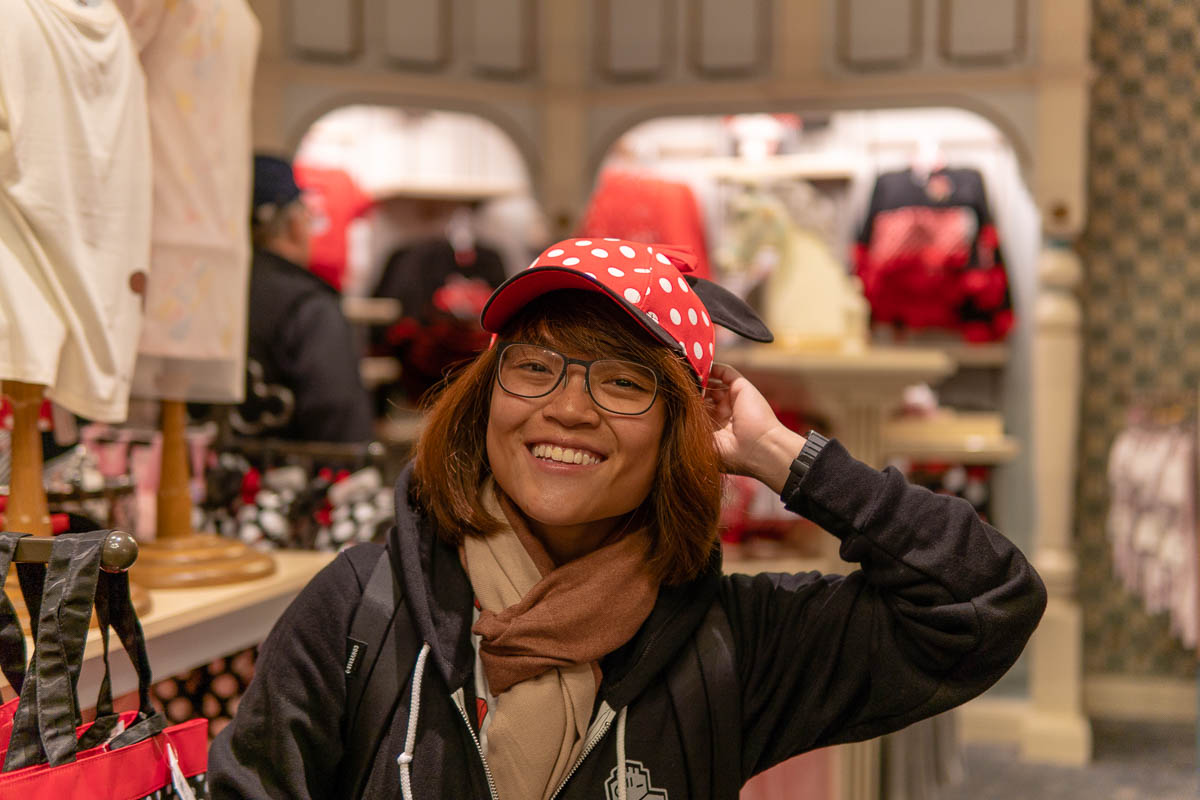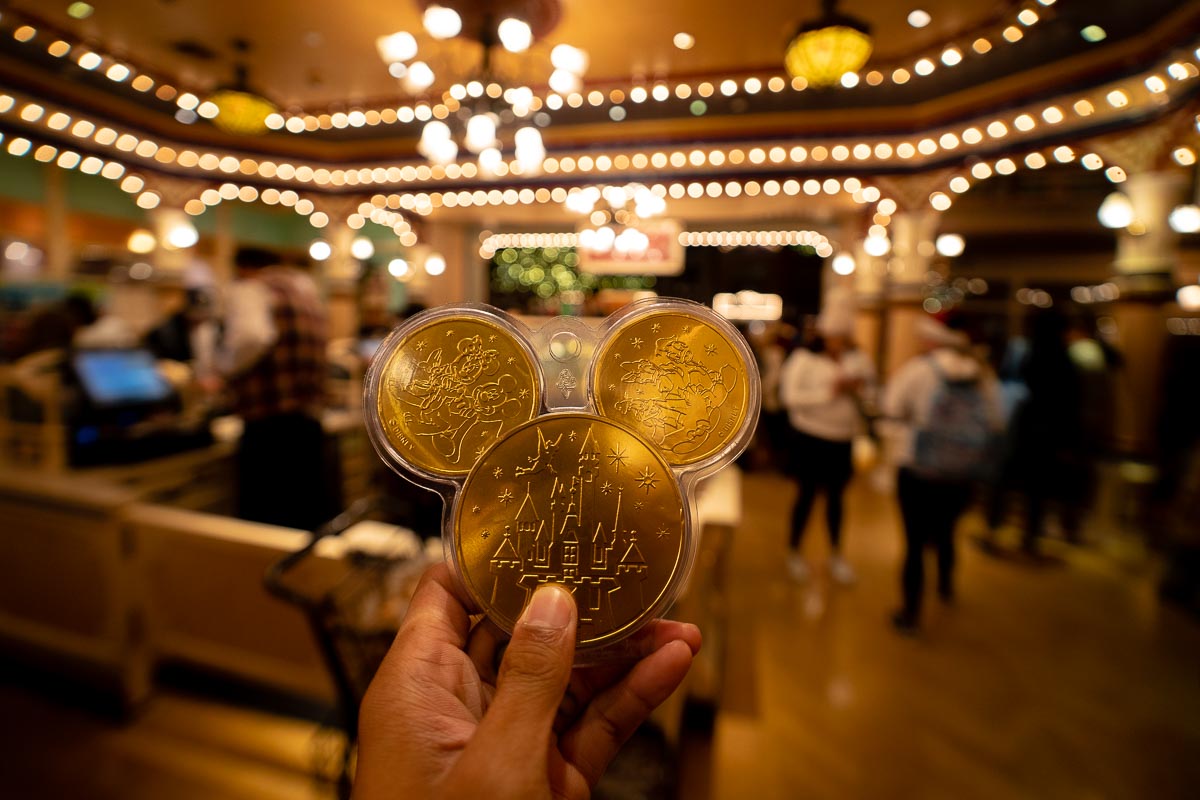 Resist the temptation to try on merchandise or window shop for snacks until it's time to leave. The shops on Main Street U.S.A. and Buena Vista Street only close an hour after the parks closes. So you should still have time to do last-minute shopping.
*Pro-tip: If you need to buy souvenirs for your kids or yourself to use during the day, try getting them online or at discount shops ahead of time. This way you save time and potentially money!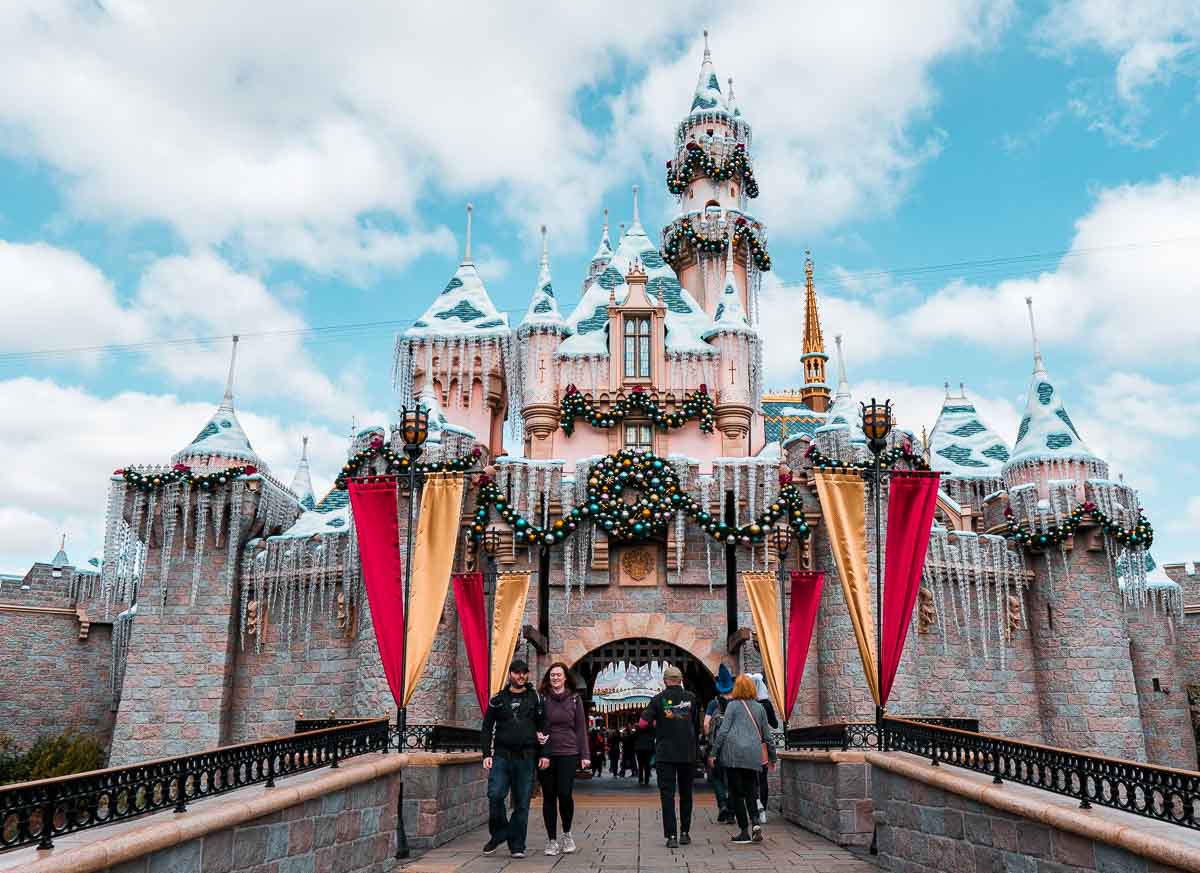 Hope you found our Ultimate Disneyland California Guide for Tourists useful. If you haven't gotten your online admission tickets, get them at a discount here!
Do share with us any other tips and experience or questions in the comments section below!
---
This post was brought to you by Klook.
For more travel inspiration, follow us on Facebook, Instagram, and YouTube.
View this post on Instagram