That iconic glass bridge barely scratches the surface. Scoot now flies to Wuhan five times a week (7 times from 1 Sep!) and four times a week to Changsha — more details below!
First published: 21 Jun 2019
China is a country full of immense culture, history and natural beauty. It's also hella massive. The Middle Kingdom is home to 662 cities, and a whopping 160 of them have a population of more than a million people. So some parts, understandably, are undeservedly unexplored.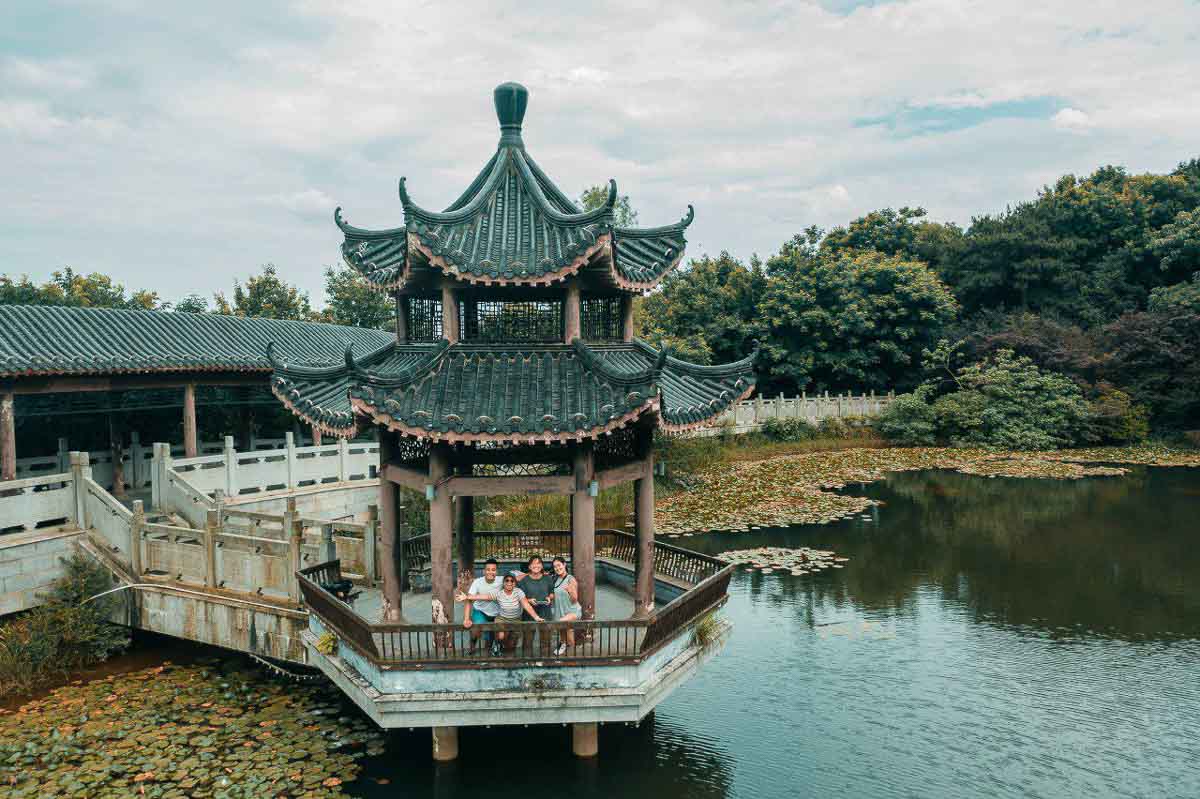 If you're thinking of visiting China, but prefer to step aside from the 21st-century skylines of Shanghai and Beijing, look no further.
Wuhan's exotic food culture, Changsha's architectural razzmatazz, and Zhangjiajie's picturesque UNESCO heritage sites are seriously glorious — and they absolutely deserve to be on your travel bucket list.
Here are 19 reasons why you should hop on the next plane to these underrated Chinese cities:
Zhangjiajie
1) The sublime Avatar Hallelujah Mountains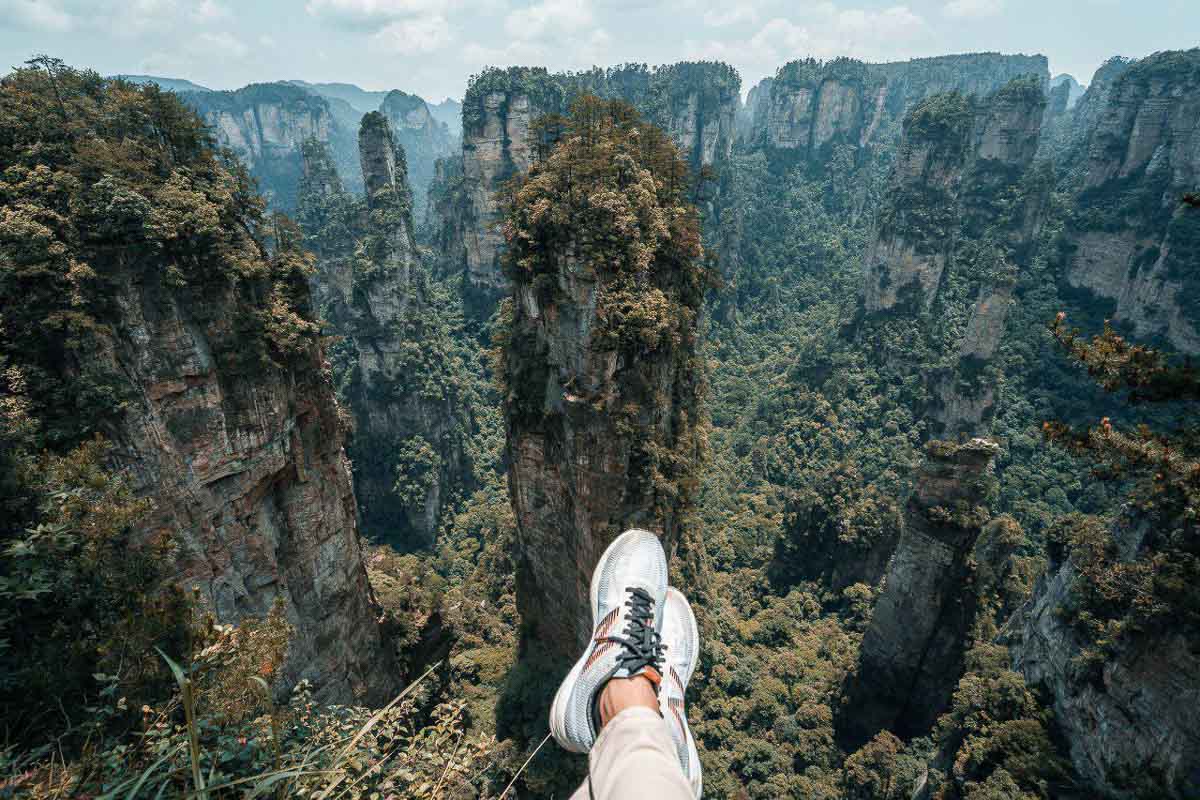 This place is the stuff of movies. Quite literally. The story goes that the creators of Avatar decided to animate the entire movie set based on these mountain ranges, after visiting the Zhangjiajie National Park — that's how blown away they were.
The problem is that this has never been properly verified. Nevertheless, the national tourism board decided to pounce on the hype of the movie that swept away multiple accolades at the 82nd Academy Awards, by renaming their pride and joy the "Avatar Hallelujah Mountains".
Whether it did serve as inspiration or not, we don't blame their opportunistic endeavour. Just look at the scene above and you'll realise the resemblance is uncanny.
2) It's home to the highest glass bridge in the world…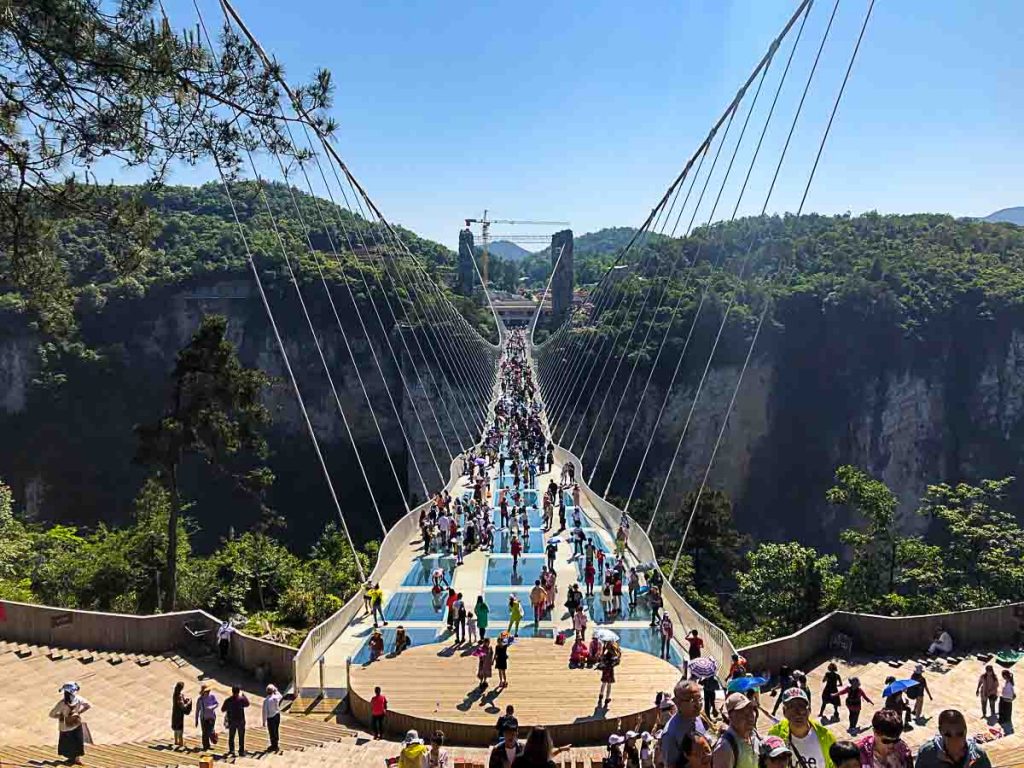 Since it opened in 2016, the Zhangjiajie Grand Canyon Glass Bridge has made many a heart pound and numerous balls quiver. Don't take our word for it, watch these hysterical Chinese tourists lose their sh*t yourself.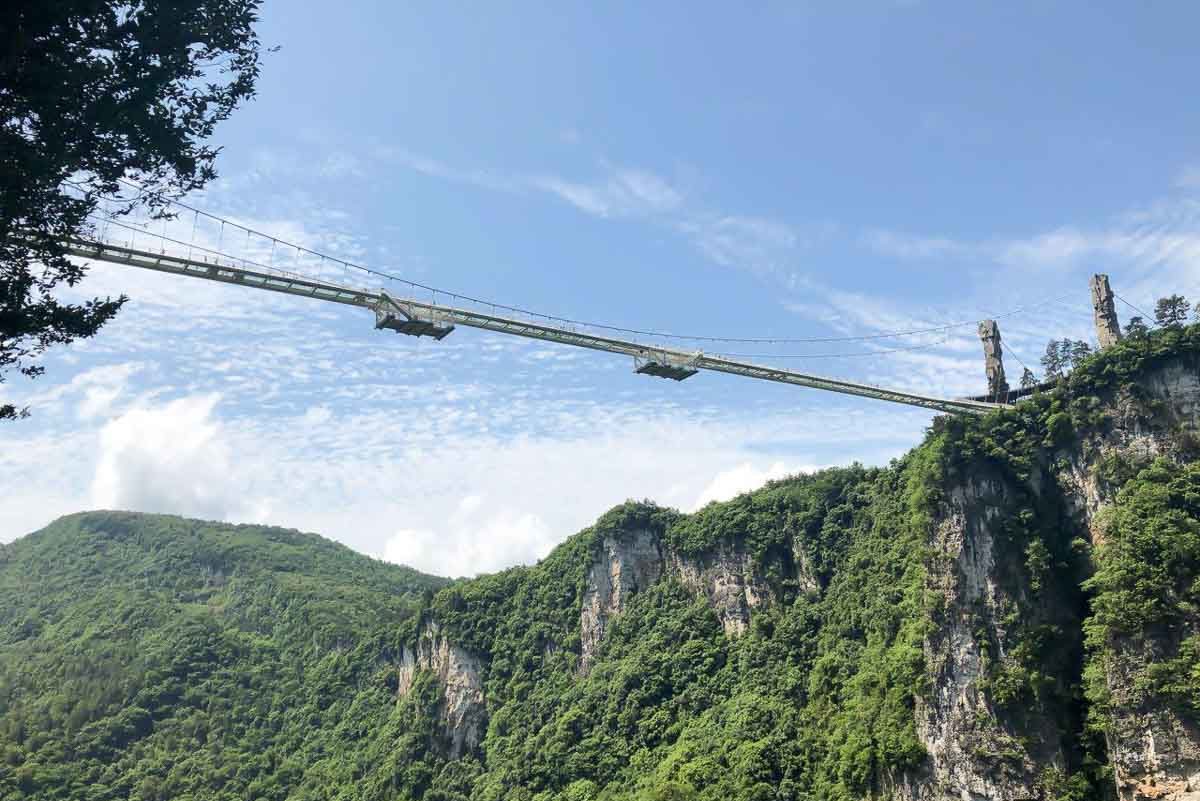 You'll also be able to take countless shameless photos lying down on the semi-transparent ground. Don't worry about saving face here — everyone else is doing exactly the same thing.
3) …and another one that hangs off the side of a cliff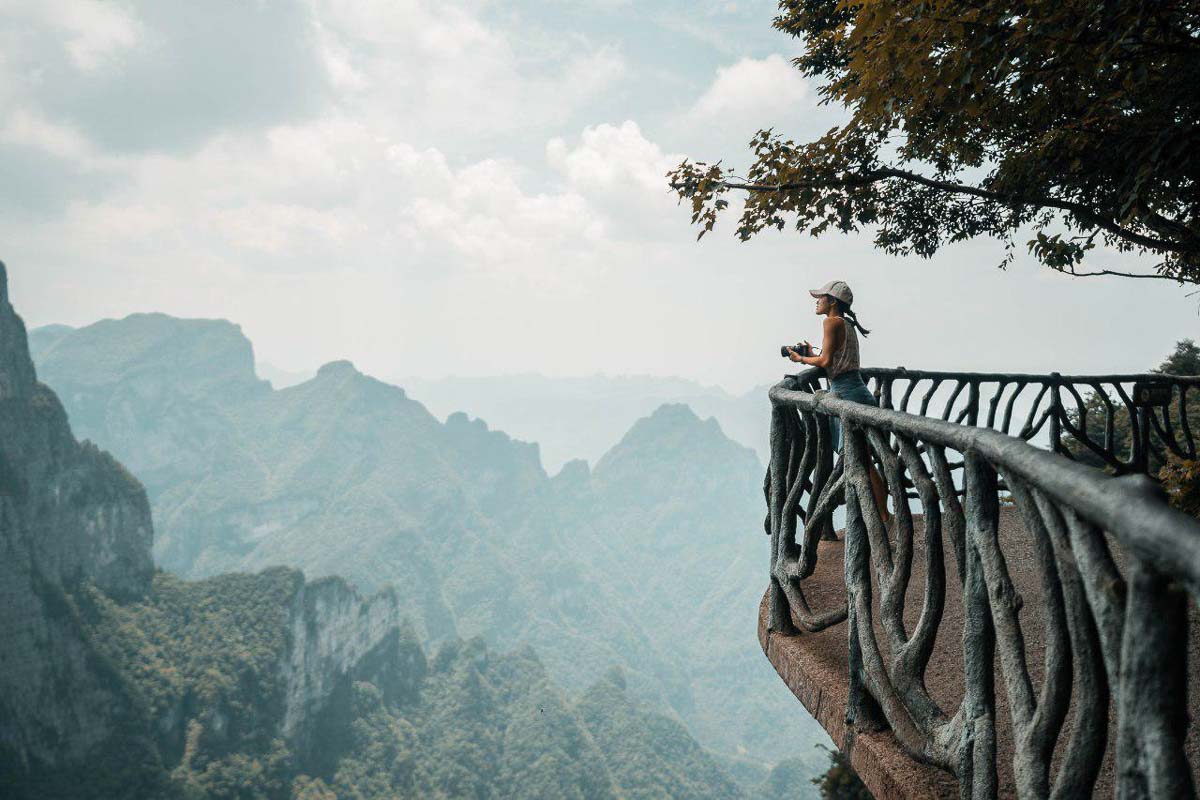 The Coiling Dragon Cliff is another example of China's obsession with constructing glass platforms at unnecessarily high altitudes. This particular one on the Tianmen Mountains is, in my humble, macho courageous opinion, way scarier.
At the very least, the Grand Canyon's silver beam structures and steel cables served as visual proof that it was, indeed, stable enough to handle the weight of a small village.
This one, on the other hand, offered us no such reassurance. It hangs precariously over the edge, initiating concerns about the sanity of the people who approved its construction and safety of those who built it in the first place (but don't worry, it's safe lah).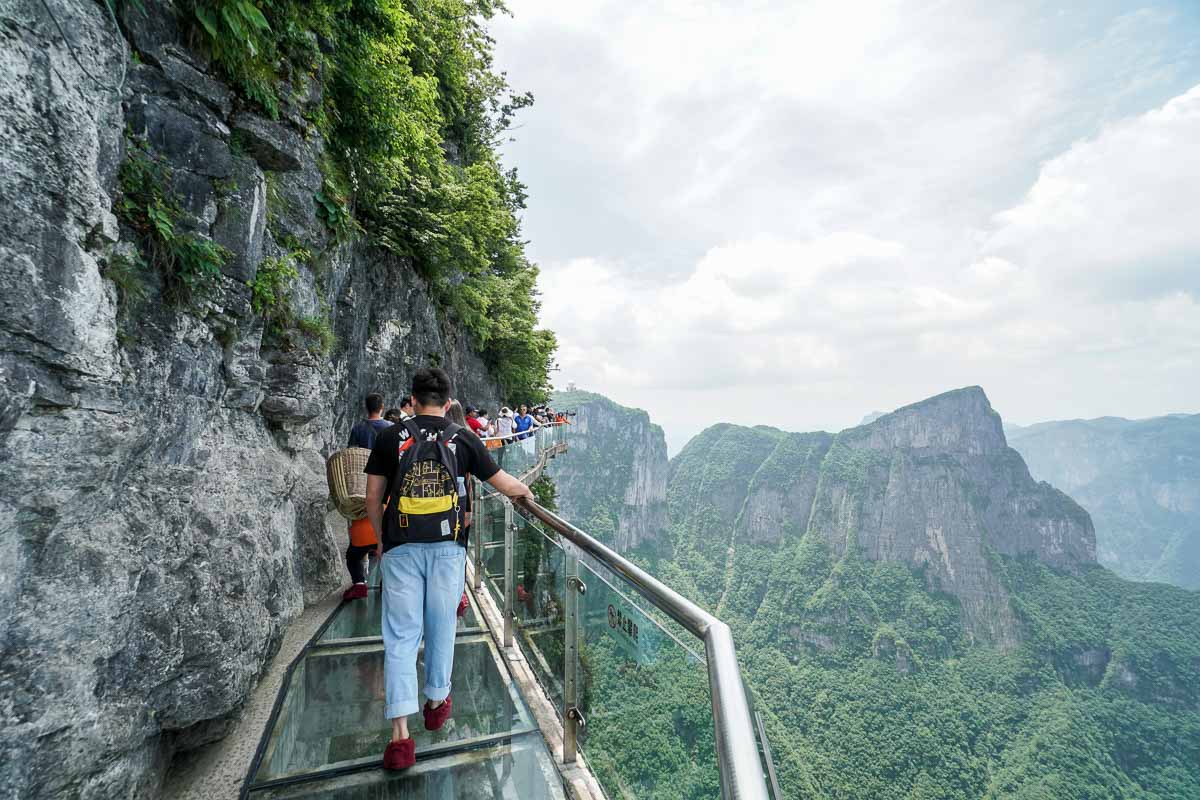 When you're done freaking out, you'll realise what it does offer is a spectacular view of the mountain ranges down below. Plus, watching your friends come close to a full acrophobia-induced meltdown is also a magnificent sight to behold. Just kidding — please offer the necessary physical (hand-holding) and moral ("we're almost at the end!") support to avoid a damp jeans situation.
4) You can take the '999-step' stairway to heaven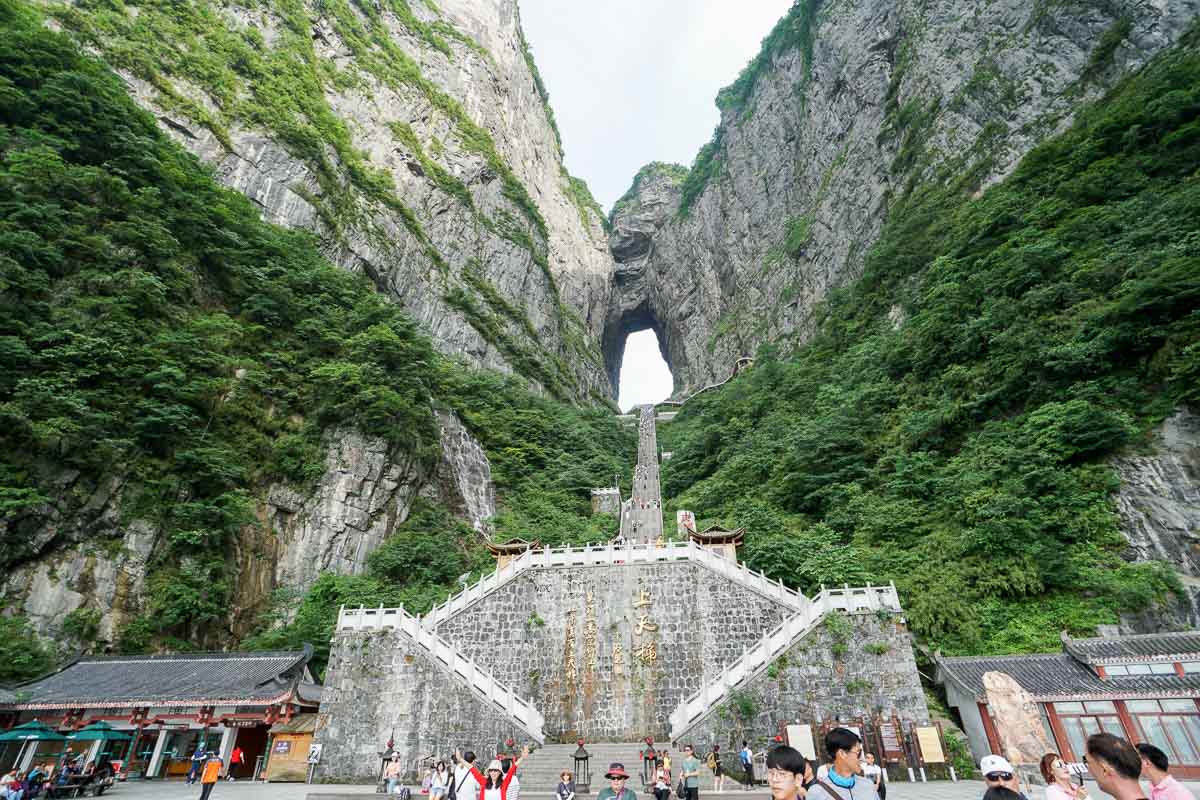 If heaven was a majestic hole in the sky in between two mountains in Hunan, we're happy to report that there is indeed a stairway you can climb towards it. This topographical phenomenon affectionately named Heaven's Gate is the point of religious pilgrimage for those who believe the mystical stories of how it came to be.
The stairs leading up to the highest point supposedly have 999 steps — a highly auspicious number in Chinese culture. Although in our unrelenting pursuit for the truth in travel, we made the steep climb down from heaven and discovered that there were only 800+ steps that brought us back down to Earth. Disappointing for fact-checkers, but nonetheless brilliant for hikers and geography enthusiasts.
5) Ride the elevator of a hundred dragons — The world's tallest outdoor lift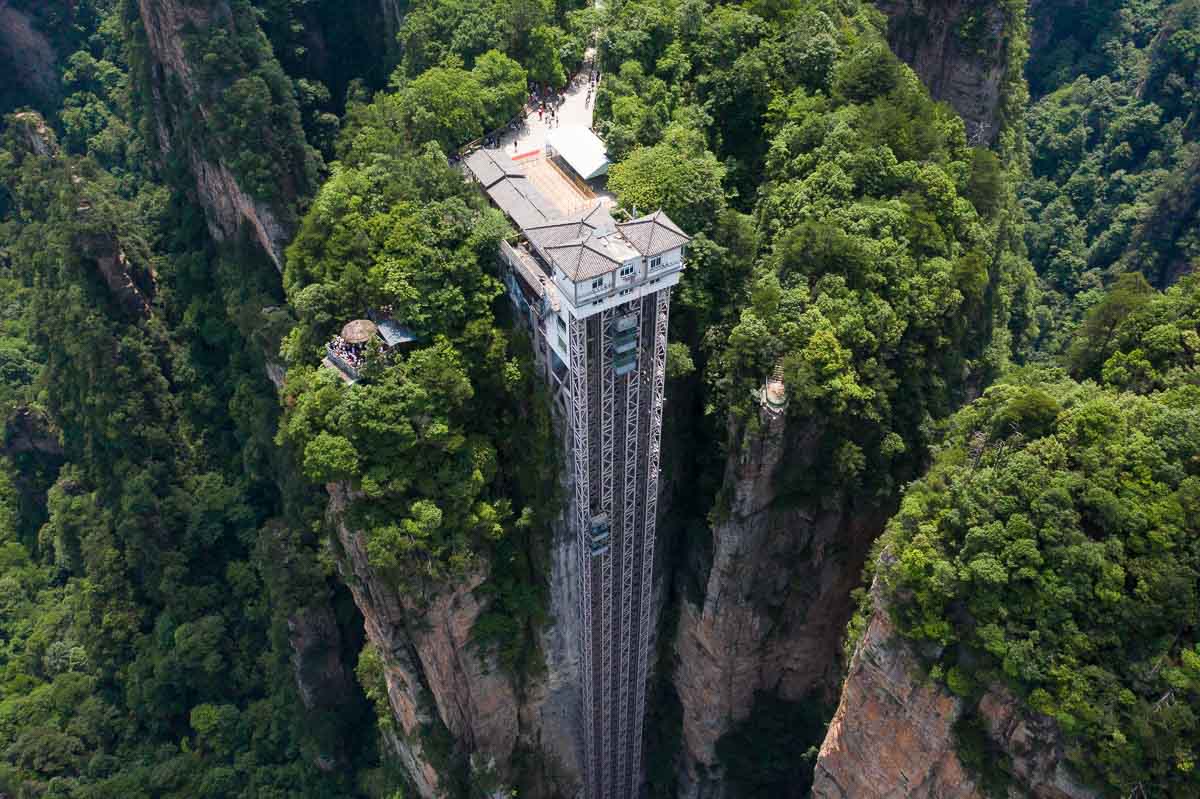 As you would've probably realised by now, the Chinese are also obsessed with breaking world records. The Bailong Elevator can transport visitors from top to bottom in less than two minutes, spanning a height of a spine-tingling, fire-breathing 326 metres.
6) Fenghuang — The 1,300-year-old Phoenix Ancient Town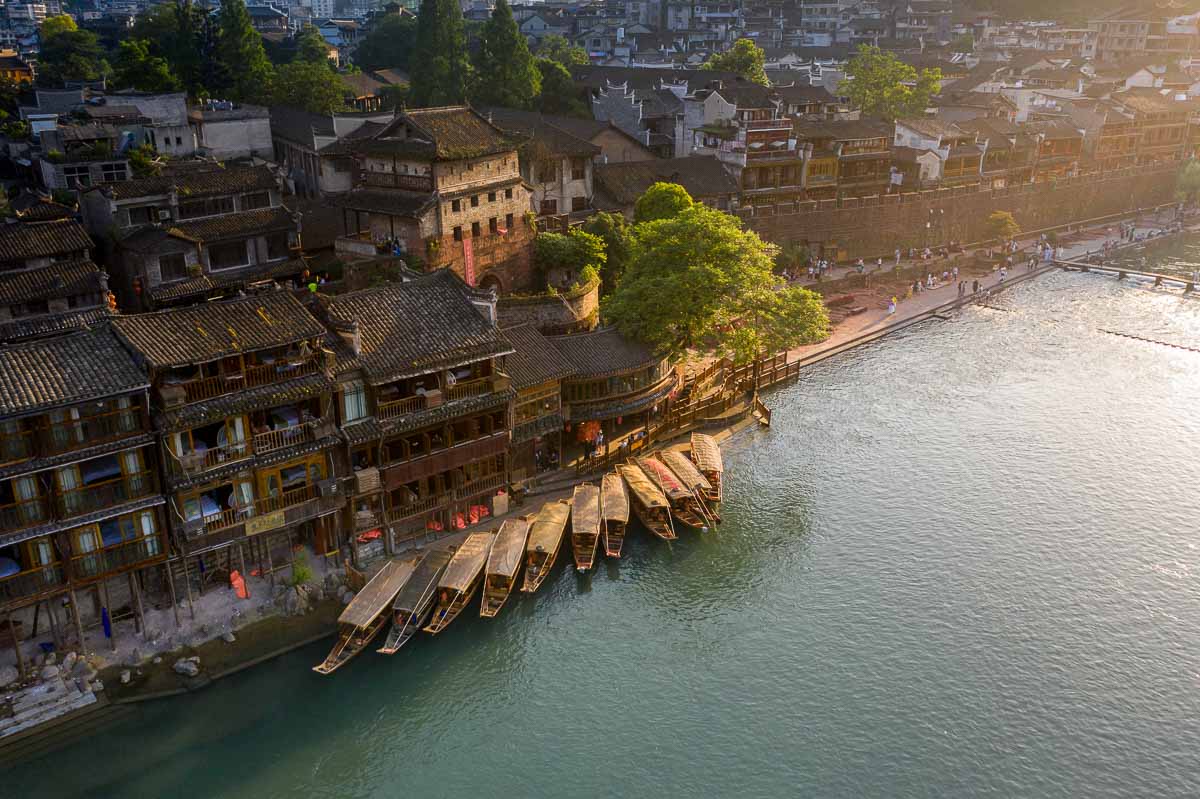 Fenghuang (Phoenix Ancient Town) is widely regarded as one of the most beautiful towns in the whole of China — and it's just four hours from Zhangjiajie by bus. Much of the town's architecture traces back over 400 years to the Ming and Qing dynasties, the vintage facade overlooking the Tuojiang River providing the perfect scene for a nostalgic sunset.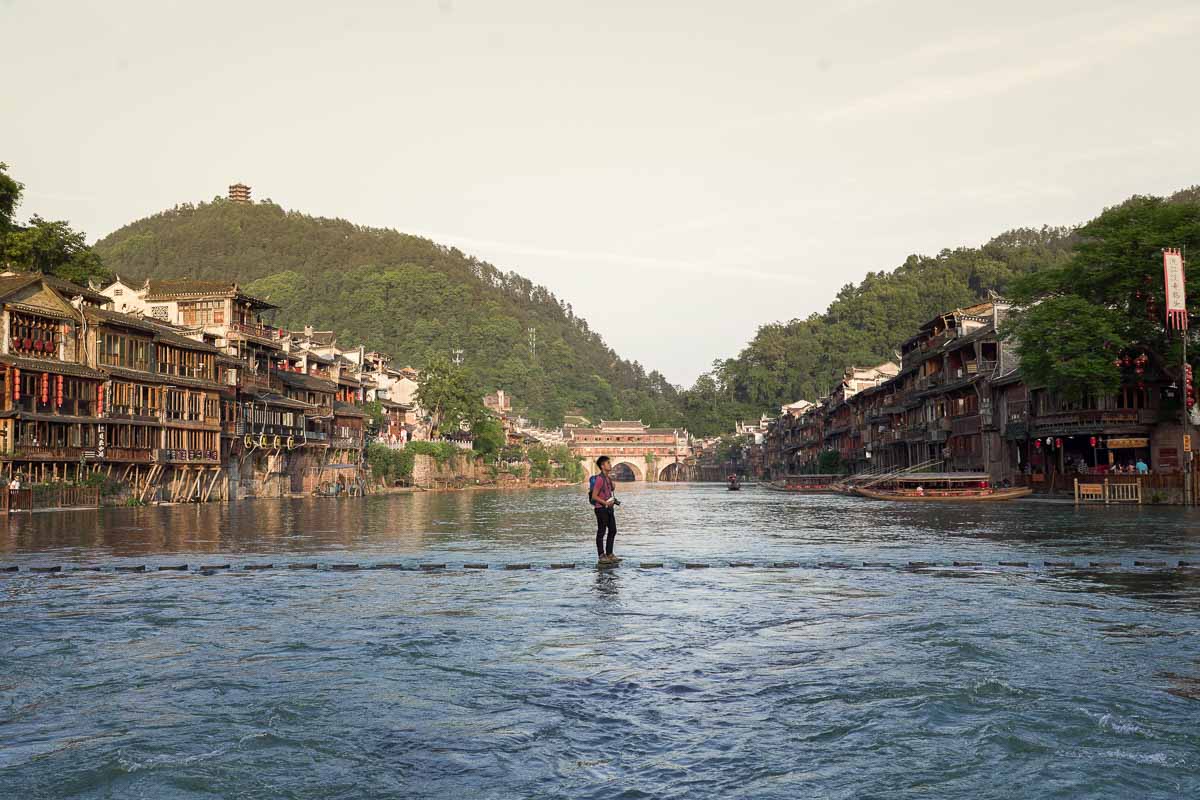 One of the town's main attractions is the stepping stones bridge. It allows you to admire the glorious, charming postcard frames all around you, with a simultaneous reminder that life is incredibly fleeting and a mere slip, slight push, or tiny overstep would cause you to forever be one with the ancient current. Just be safe when taking one for the gram.
Wuhan
7) One street, 100+ traditional breakfast choices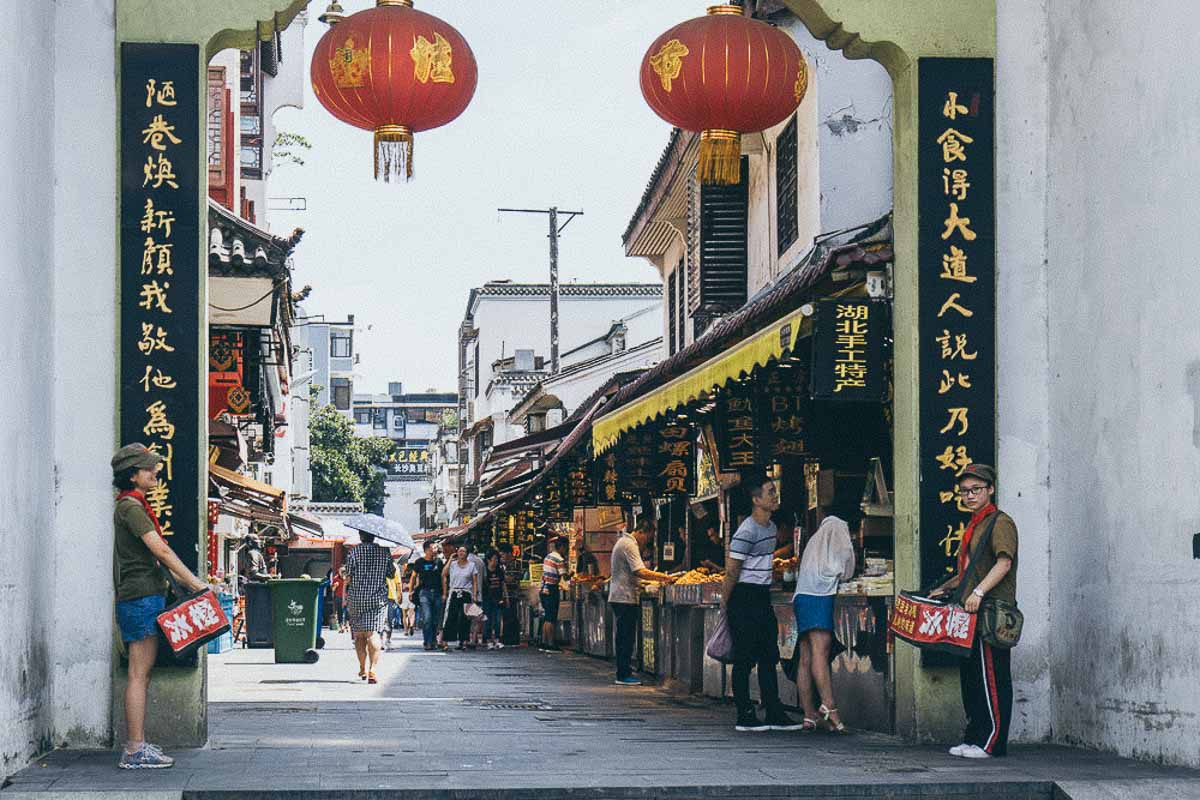 Hubu Alley is Wuhan's golden food child. According to some locals, this popular tourist destination isn't necessarily home to the cheapest/greatest food, but the sheer variety of dishes and snacks on offer here means it's a fantastic introduction to the exotic local food culture of Wuhan.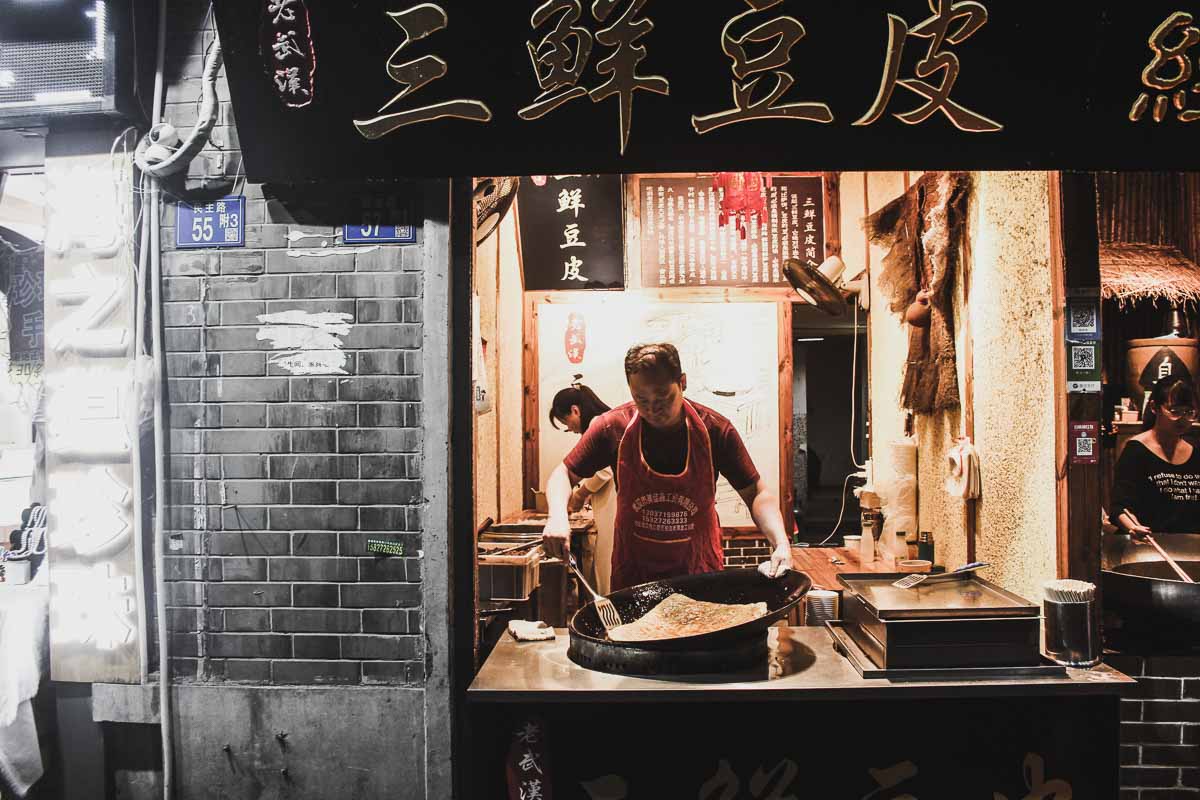 Where do we begin? Their version of the Hot Dry Noodles (热干面) is delightful. The Beancurd Skin Rice (豆皮饭) is mouthwatering. Duck Necks (鸭脖子) are mala goodness and Pig's Blood (猪血) melts exquisitely in the mouth. Chinese food is the gift that keeps on giving and there's a lot of that to receive in one location.
Read also: Taste of China: 25 Exotic Dishes to Try in Wuhan's Hubu Alley
8) The Yellow Crane Tower is a cultural icon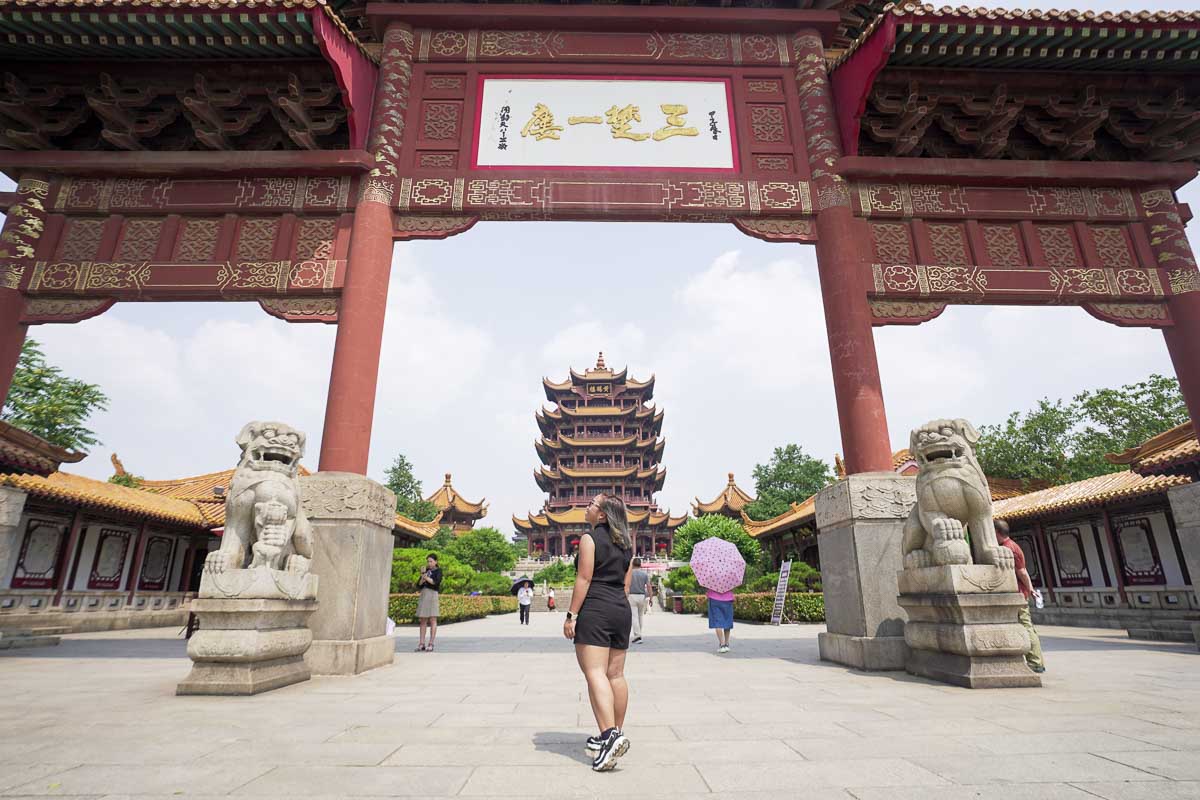 Identical on all four sides, this ancient marvel is considered one of the "Four Great Towers of China", first built during the Three Nations Period in AD233.
But the one you see isn't the original building. Due to a history of ancient political warfare and mishaps with fire, the iconic Yellow Crane Tower (黄鹤楼) has been destroyed and rebuilt a total of seven times.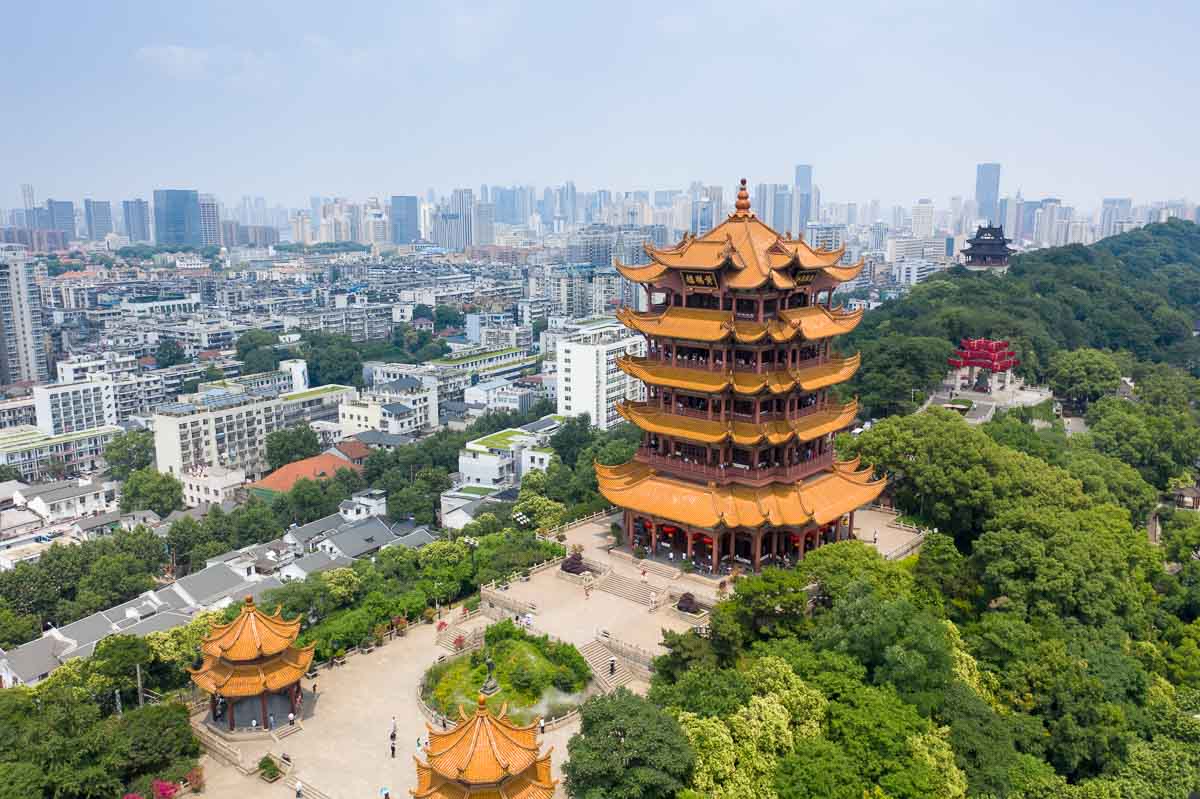 It is, without doubt, the centrepiece of Wuhan. Visitors from all across the country come here to marvel at its historical significance, hoping to be enthralled by the very sights that have inspired no less than 800 poems written about this historical structure.
9) You can catch beautiful cherry blossoms in March – April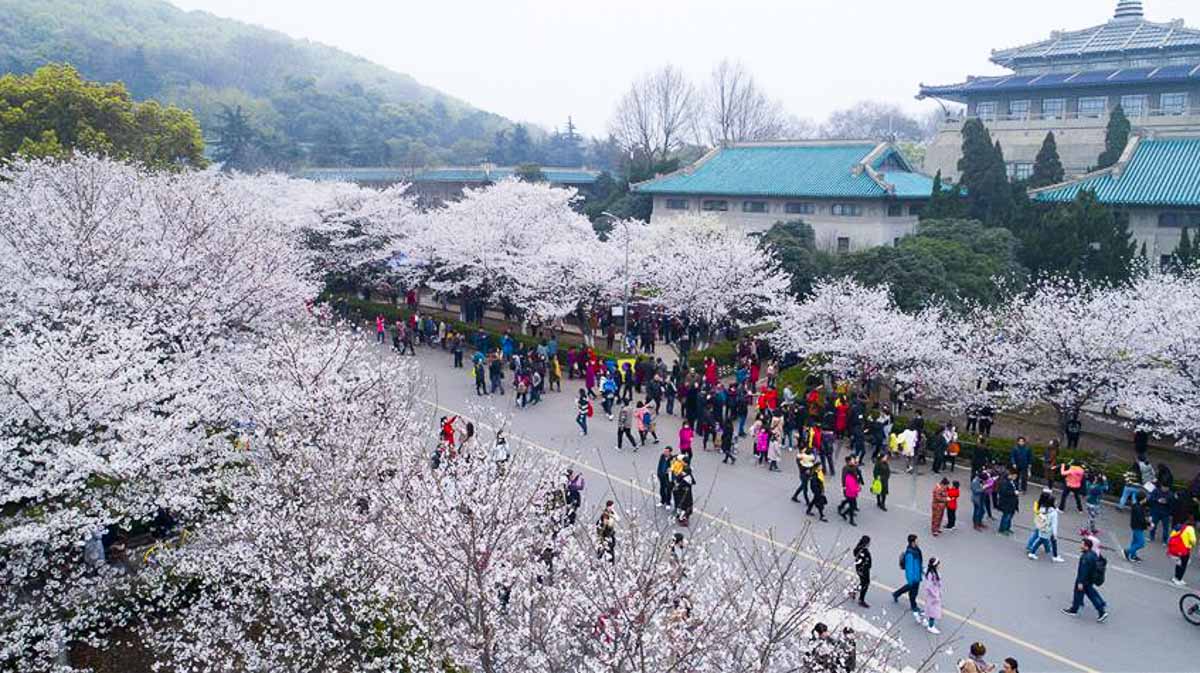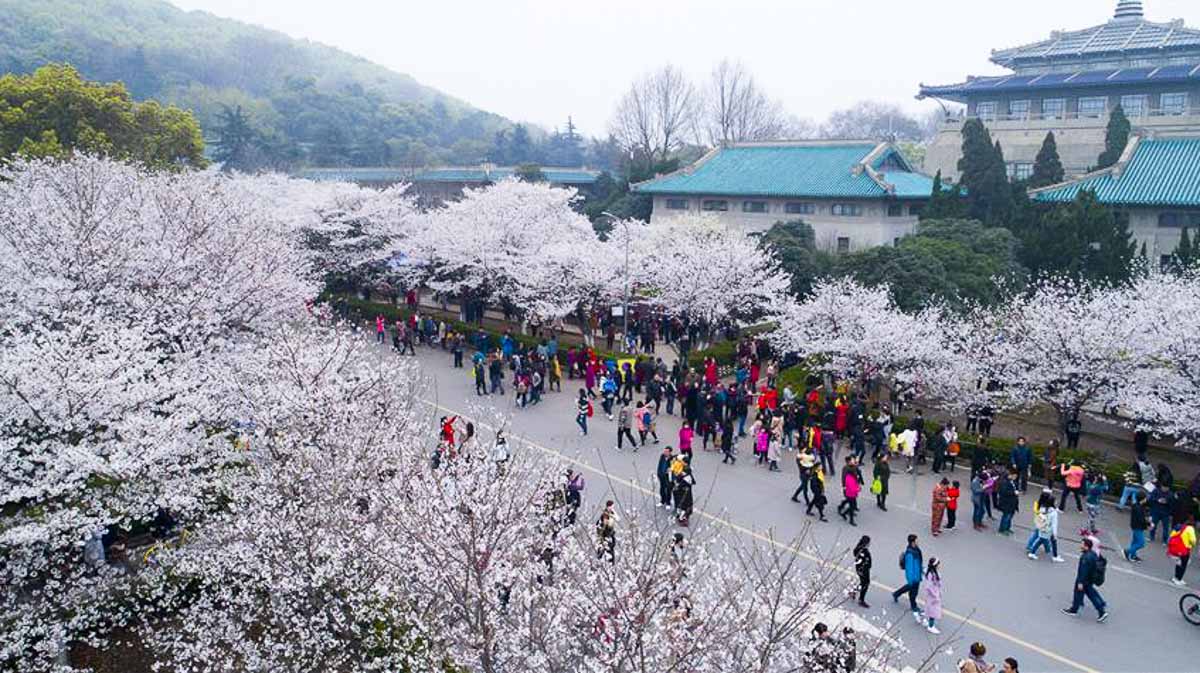 The Donghu (East Lake) Cherry Blossom Festival takes place in the spring, where the area transforms into heaven-made pseudo movie sets for couples to romantically stroll hand-in-hand, and ponder about the possibility of BTO-ing back home.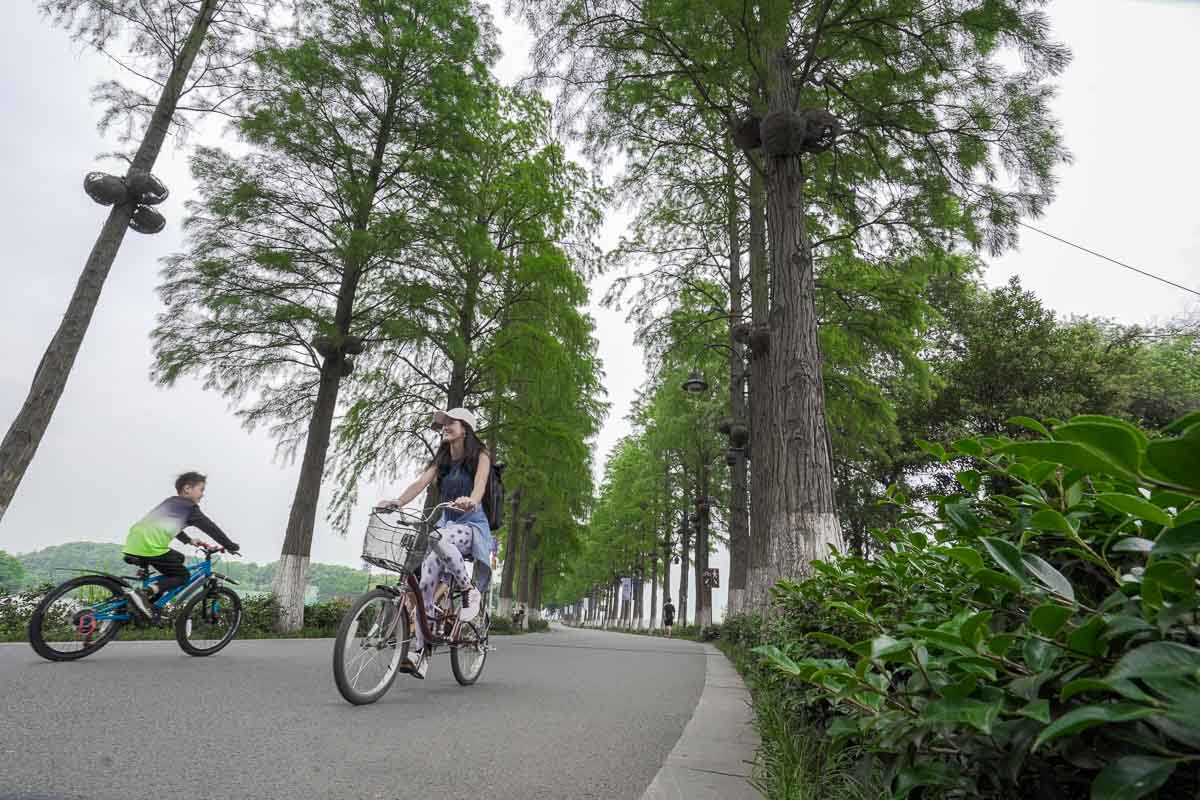 Even if you aren't there during the blooming season, the Moshan Scenic Area in East Lake provides a stunning view of evergreen trees and colourful flowers. Rent a bike or a dual-cycle contraption (that looks like a mini ice-cream cart) to explore the area at your own pace.
10) Wuhan's "night market" is comparable to Hong Kong's / Taiwan's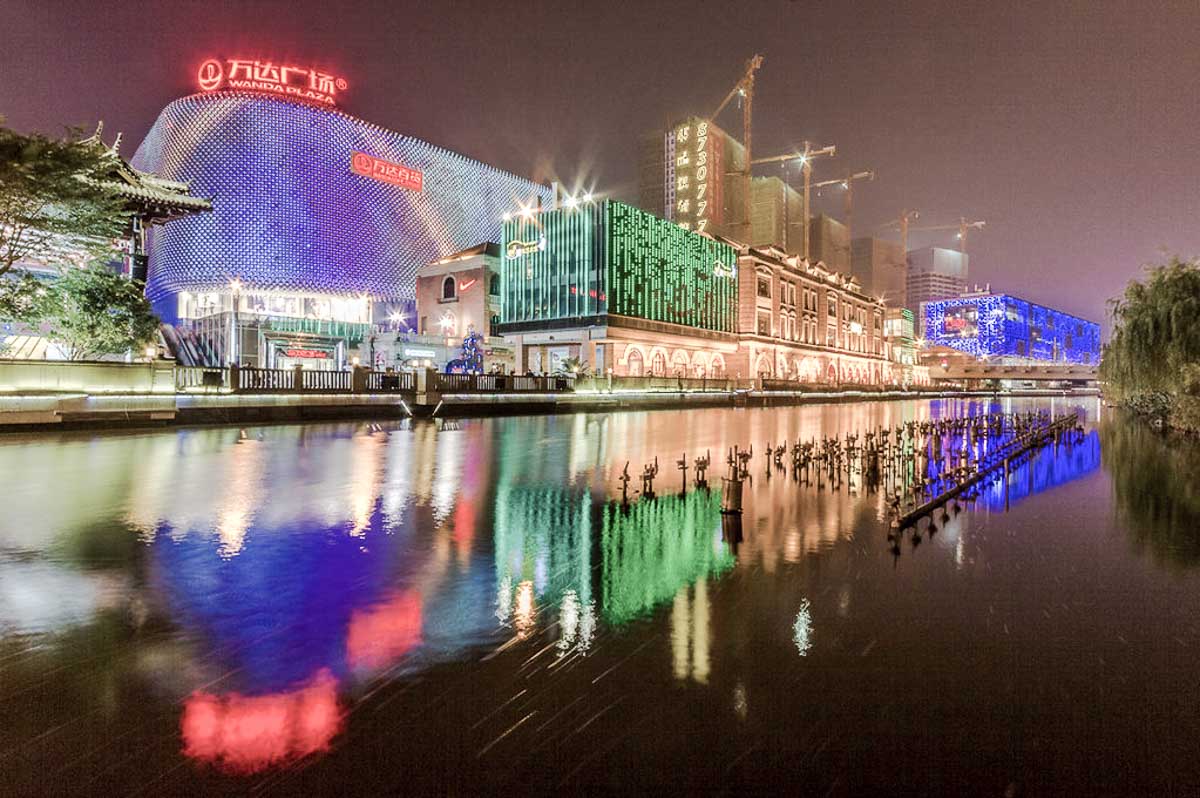 Han Street (汉街) has the look and feel of a night market/shopping district, but three times the pizzazz. We arrived at around 9PM and there was still a tangible, vibrant energy surrounding the area, despite the waves of young people walking past us with bellies full from dinner at the restaurants lining the street.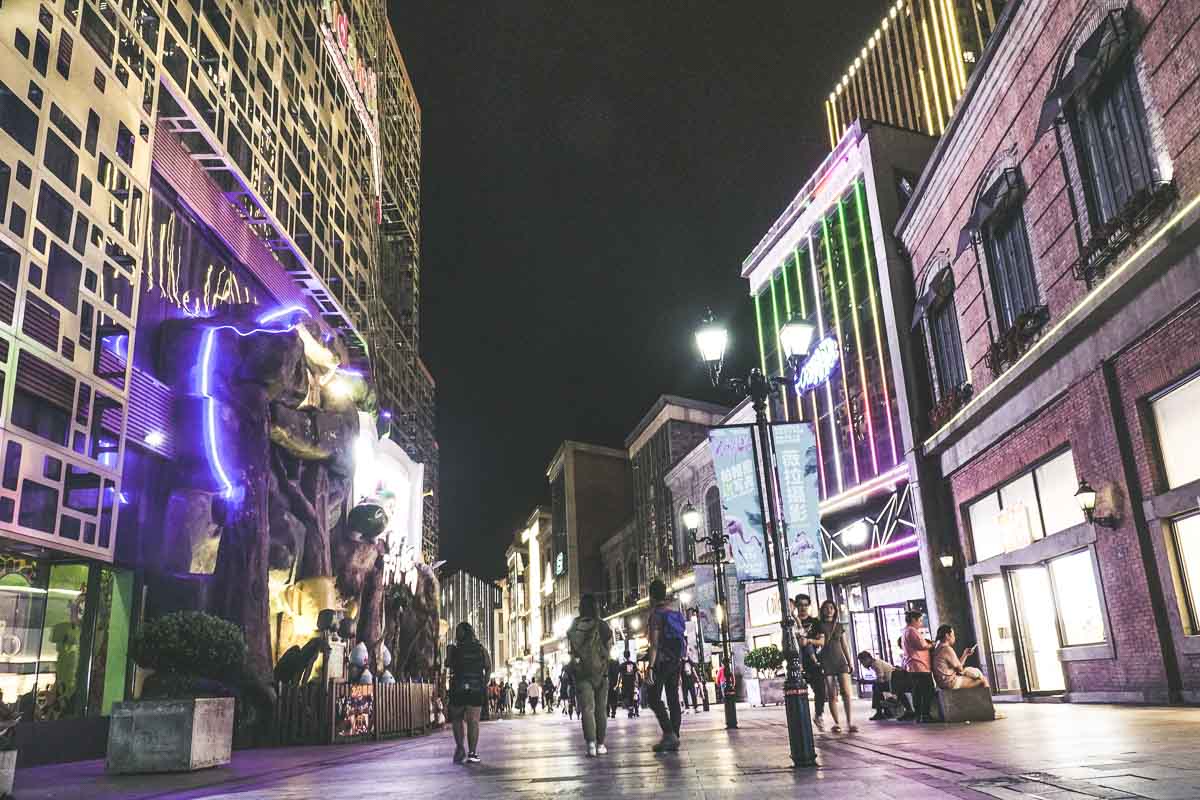 Brightly lit shops selling everything from trendy clothes to wedding gowns to (cough) e-cigarettes compete for your attention. Troves of talented buskers that would possibly rival JJ Lin in another life fill the streets too.
China's rapidly ageing population means it's hard to find two groups of young people in quick succession, but apparently, this is where they all come to congregate. If Singapore wants to "bring back the Orchard", perhaps they should look to Wuhan for some guidance.
Read also: Things to Do in Wuhan, Changsha & Zhangjiajie: 12-Day China Itinerary to Ancient Gems & Undiscovered Sights
11) The first city in the world to battle COVID-19
The first thing most think of when they hear "Wuhan" is almost definitely "COVID-19". Back in December 2019, when the first cases of the virus were reported in Wuhan, the city's name very quickly became synonymous with the virus.
Fast forward to the present, China has reopened its international borders and is ready to welcome tourists again. Post-covid Wuhan is largely the same as before, definitely cleaner than before as COVID-19 taught locals the importance of hygiene. People are definitely still friendly and welcoming, and the city's rich history and culture are still intact.
Changsha
12) Cross the spectacular Lucky Knot Bridge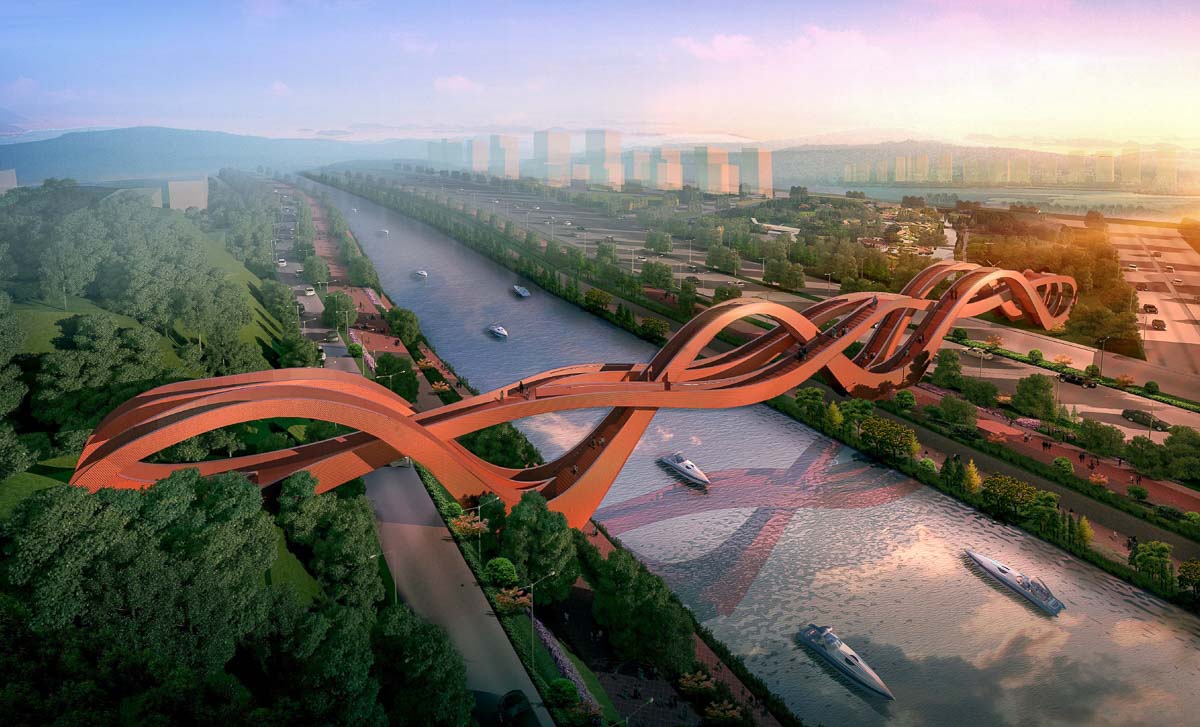 The Lucky Knot Bridge (梅溪湖中国结步行桥) is three bridges woven into one and was listed by CNN as one of the most spectacular bridges in the world.
I've always felt that the most intriguing forms of architecture are the ones that take into account the context of where it was built, and pay homage to the abundant culture that surrounds it. The Lucky Knot is a terrific example of this. It's modelled after a traditional Chinese knot and symbolises luck and prosperity, its striking red colour signifying good fortune.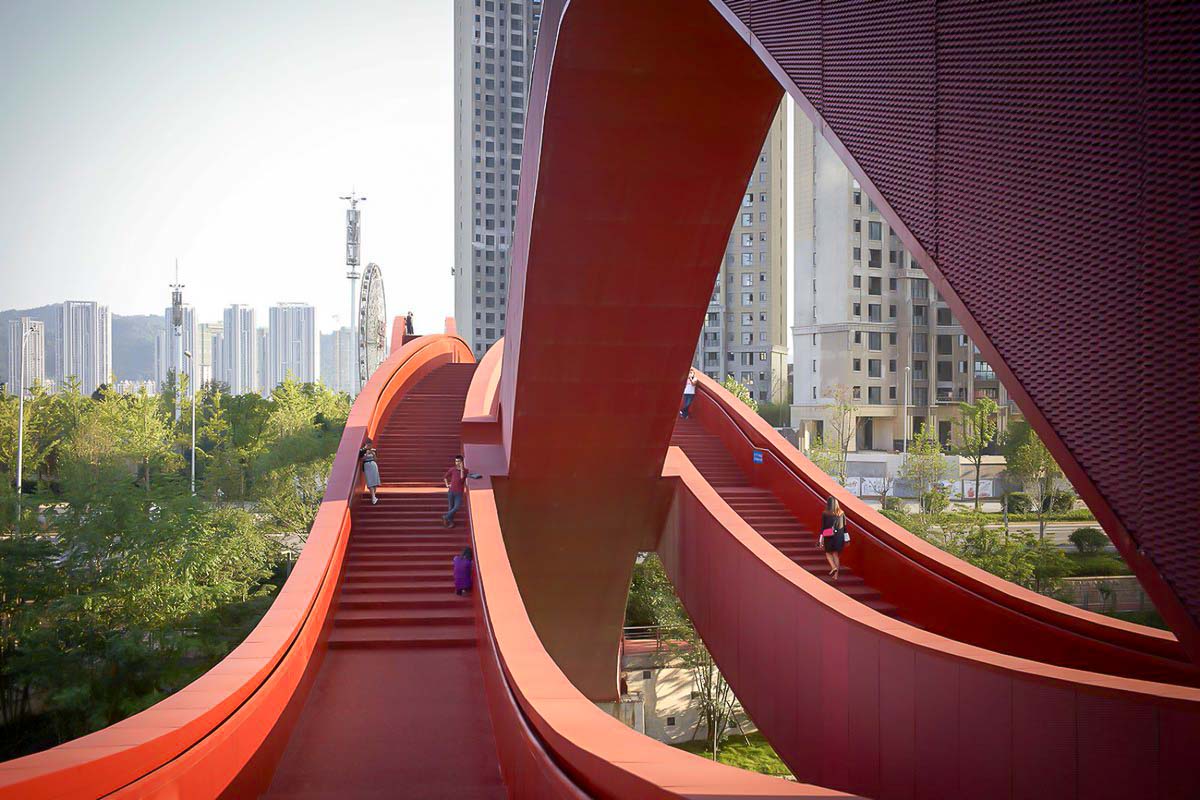 It was unfortunate for us that rainy weather forbade us from witnessing it with our own eyes. We're hoping you can take a look at it and step foot onto it for us instead.
13) Witness China's new global hub for performance art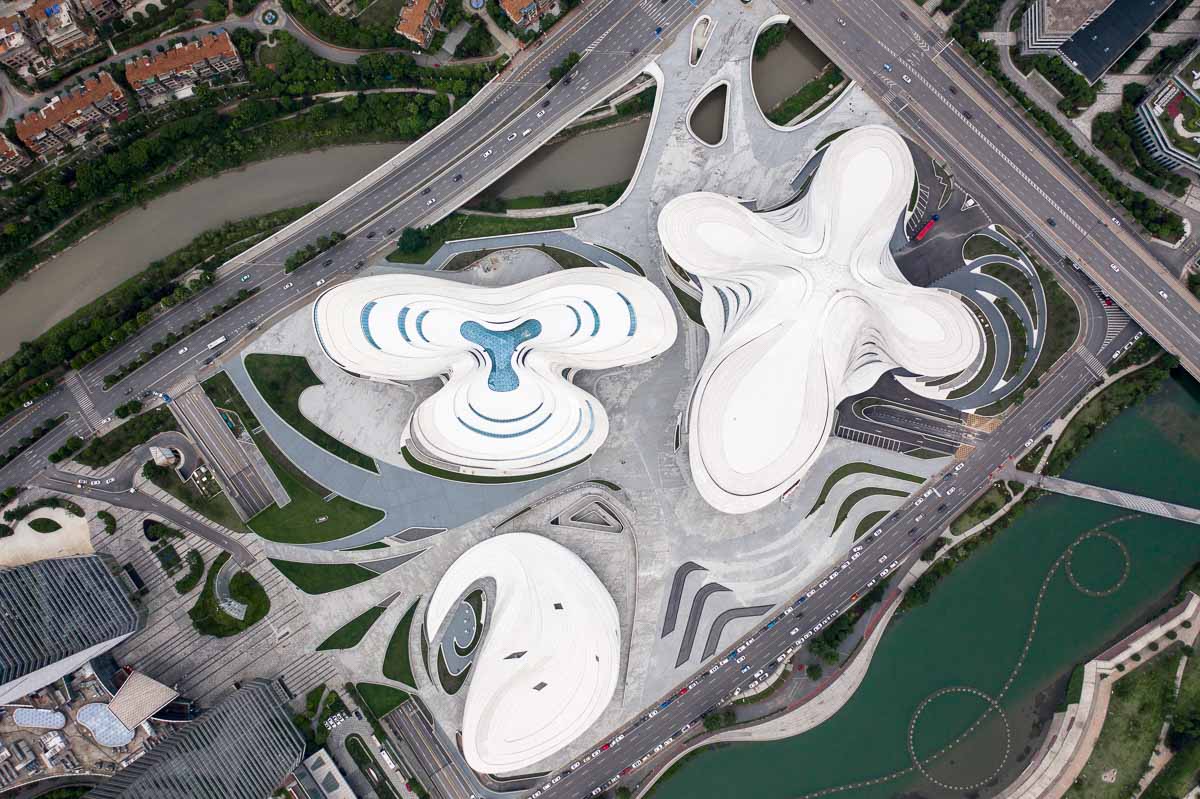 Designed by one of the world's most revered architects, the late Zaha Hadid, this ultra-modern world-class centre will soon be a global home for performance art. The Changsha Meixihu Cultural and Arts Centre consists of three separate structures — each looking like parts of a spaceship that descended from the galaxies beyond — with each serving a different function.
The largest of the trio, The Grand Theatre, is already open — an indoor theatre showcasing renditions of classics like Roald Dahl's Matilda, the show whose tickets were being sold while we were there. The other two are intended to be a contemporary art museum and multi-purpose facility.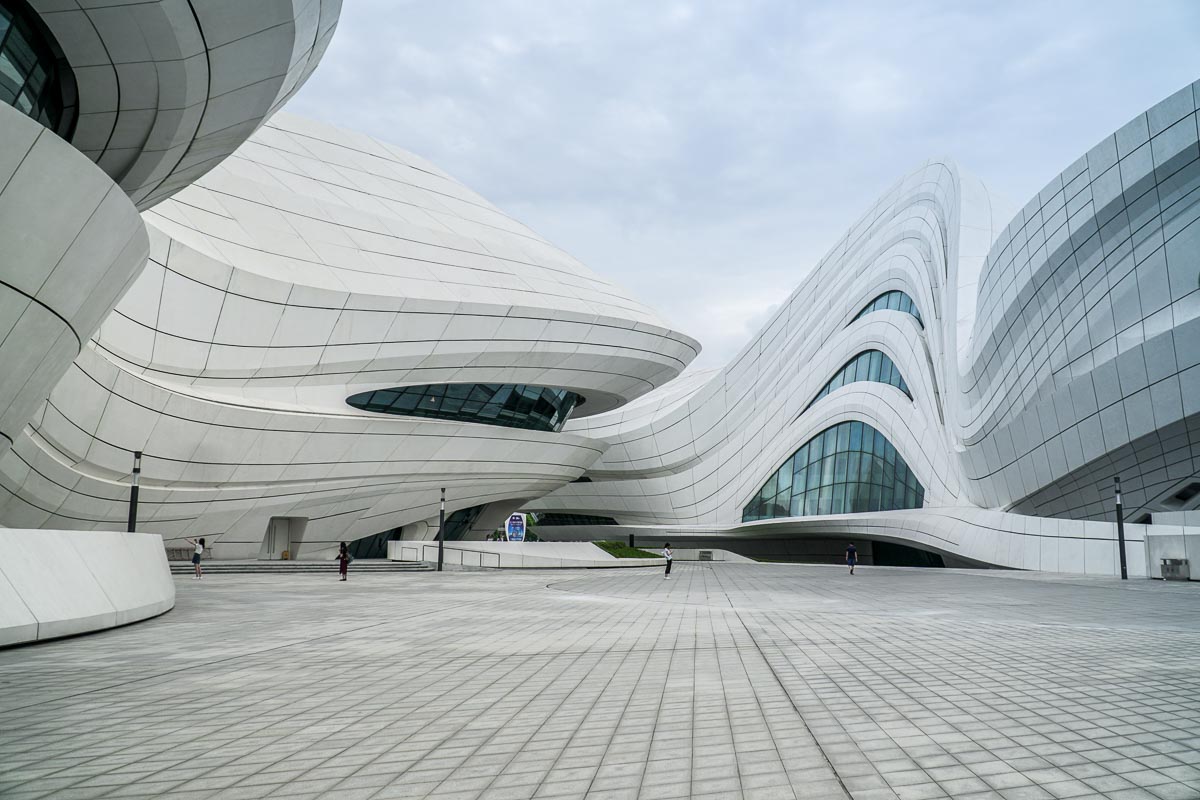 Whether you choose to splash the cash on the performances is up to you, although that shouldn't stop you from taking a stroll around the captivating compound. It's an indisputable indication of Changsha's plans to grow into a first-world city that rivals its neighbours in the capital up north.
14) Hunan's largest museum is also the most intoxicating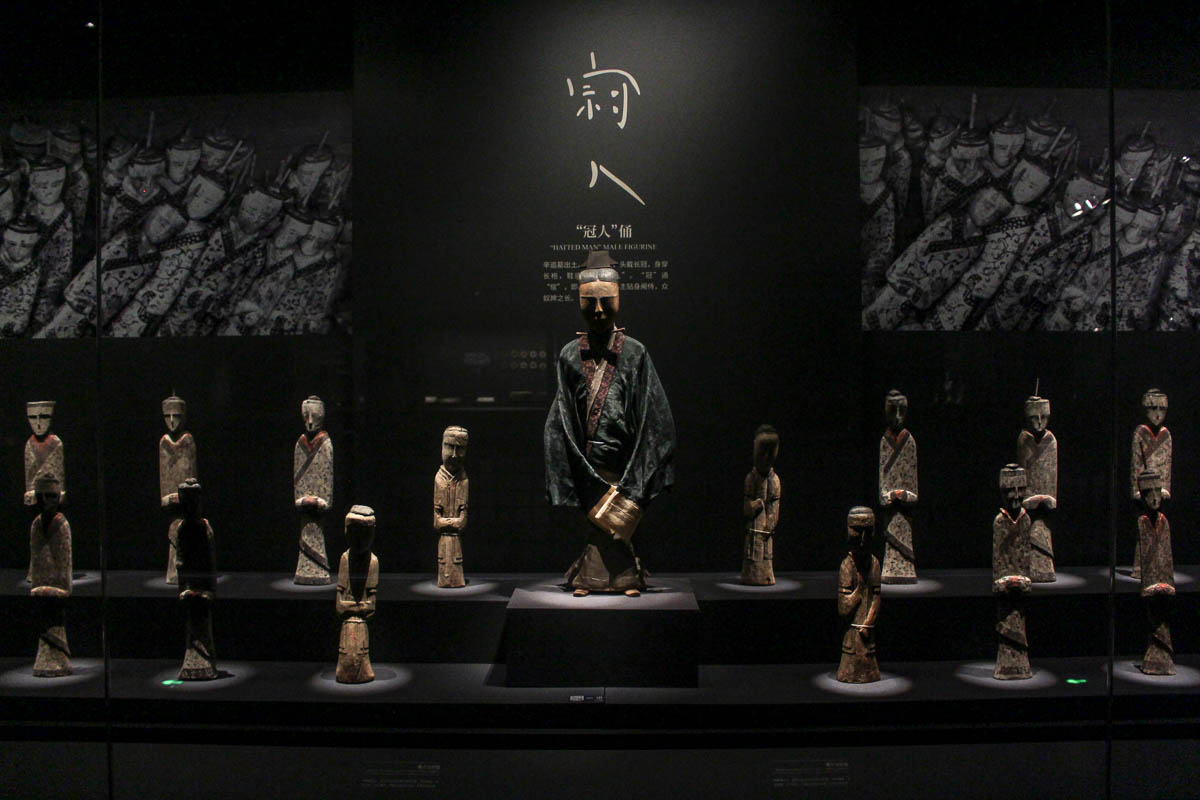 The Hunan Museum is a state-of-the-art museum in every sense of the term. The stirring exhibitions are immaculately displayed, accompanied with elaborate explanations of the artefact's significance and part in the bigger picture. Interactive technological elements like games and timed spotlights make the experience gratifying even for the younger crowds. It's no wonder that everyone we spoke to held this place in such high regard.
The world-famous Mawangdui Han Tombs can also be found here. But why is this particular showcase so revered? It's been described that this family graveyard, excavated in 1972, is essentially an open book to the West Han Dynasty's way of life 2,000 years ago.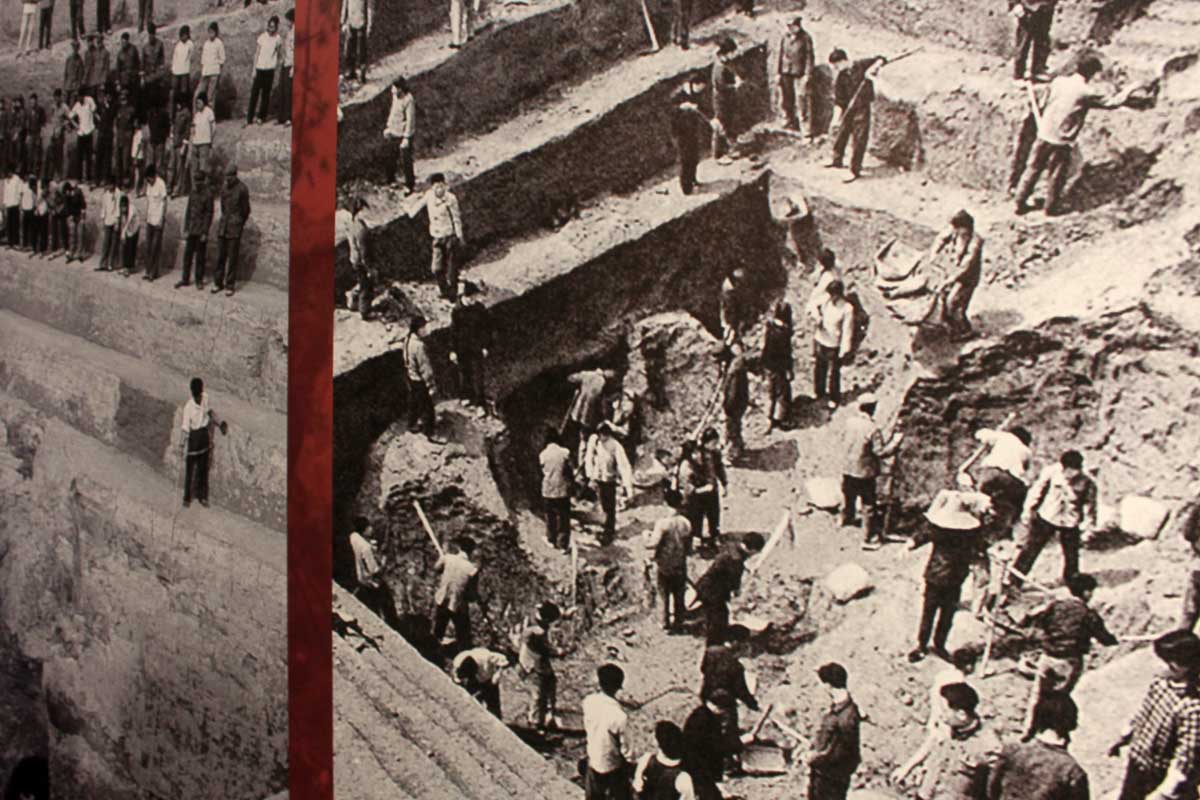 But the main kicker is this — at the end of the exhibition, you'll be able to observe with your very own eyes, the most well-preserved mummy in the world. It's two millennia old, but at the time of discovery, several of her joints were still movable, organs intact, and skin relatively flexible. You're not allowed to take pictures, but the sight of it alone will make your spine tingle and etch a permanent memory in your head.
Okay, final point — the Hunan Museum also has multiple virtual tours on their website, an intuitive, interactive and incredibly comprehensive experience. And did we mention everything is free?
15) The largest Chinese restaurant in the world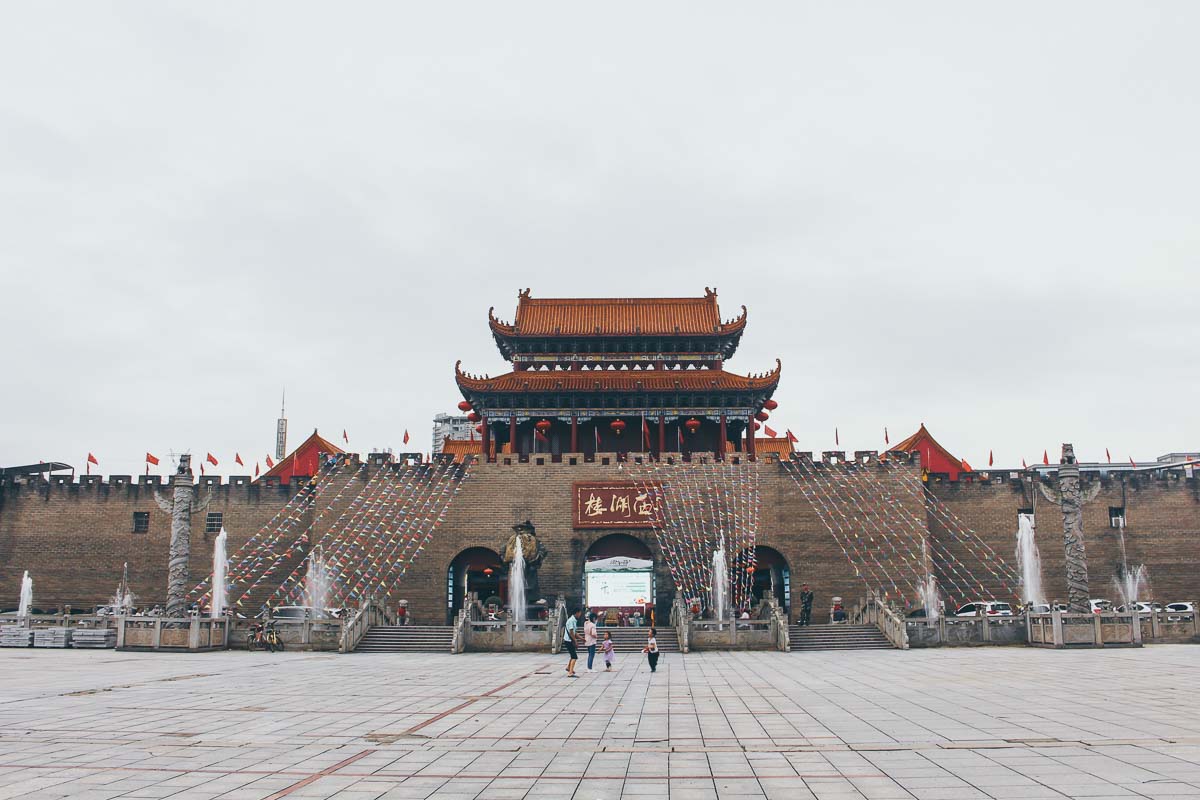 Yes, this entire Forbidden City-looking compound is a restaurant. The West Lake Restaurant in Changsha is in fact the largest Chinese restaurant in the world — occupying a massive 88,000 square metre space, with the capacity to serve 5,000 hungry people at once.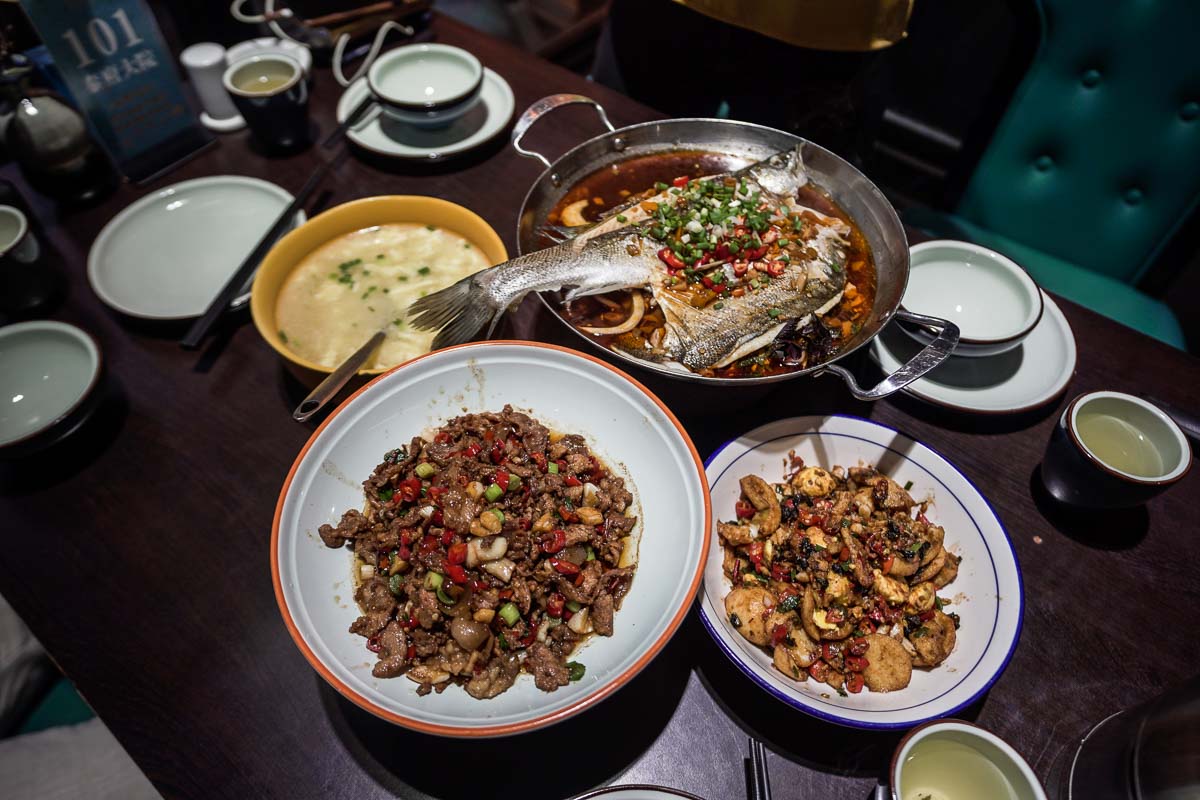 The moment you step through its walls, you'll be greeted by a waiter that'll ask: private room or common canteen. Turns out, different buildings in the compound cater to different types of events, and are hence designed differently. But they all serve the same delicious, freshly cooked food, with a level of service worthy of the largest restaurant accolade.
16) The mesmerising island known for oranges and a young Mao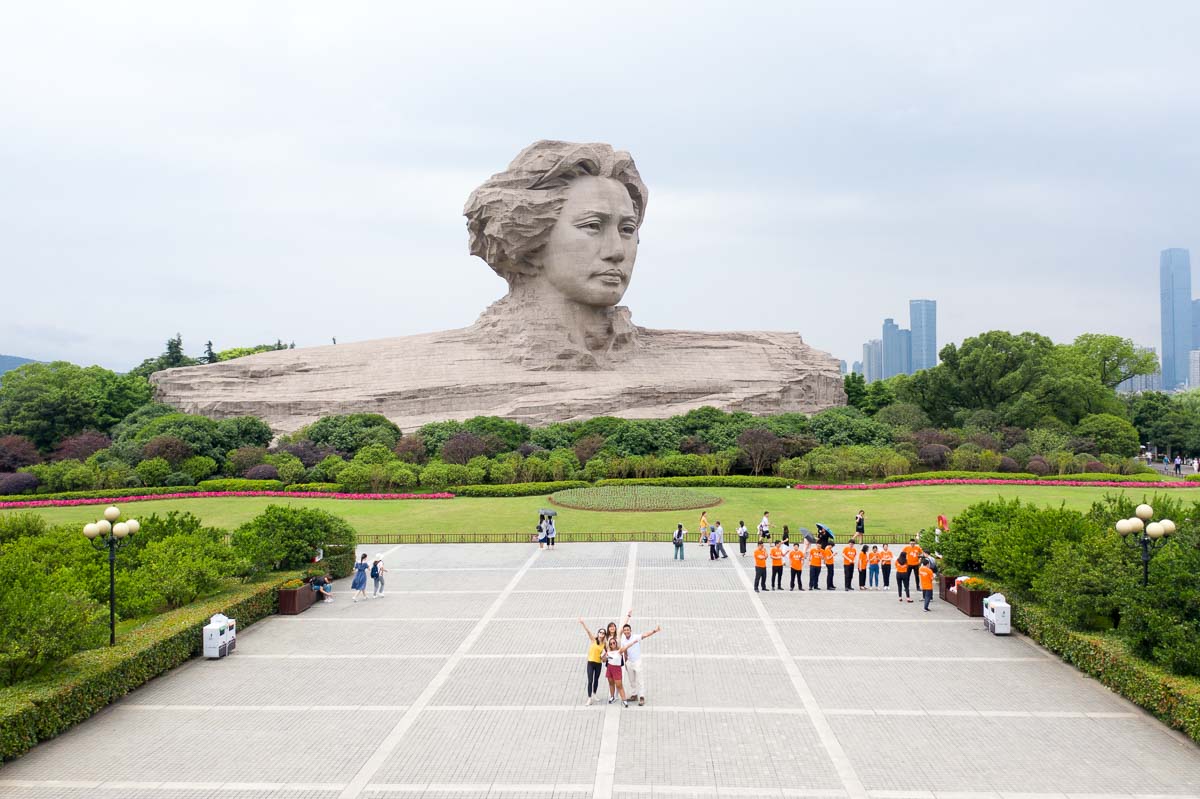 For centuries, the Orange Isle (Chinese: Juzizhou) floated on Xiangjiang River on its own, in between the mainland and Yuelu Mountain. Its beautiful natural landscape and delicious oranges drew in crowds of locals, before a Mao Zedong poem in 1925 paying tribute to the island drew in visitors from all over the globe.
"Alone I stand in the autumn cold
On the tip of Orange Island,
The Hsiang flowing northward;
I see a thousand hills crimsoned through
By their serried woods deep-dyed,
And a hundred barges vying
Over crystal blue waters."

– Mao Zedong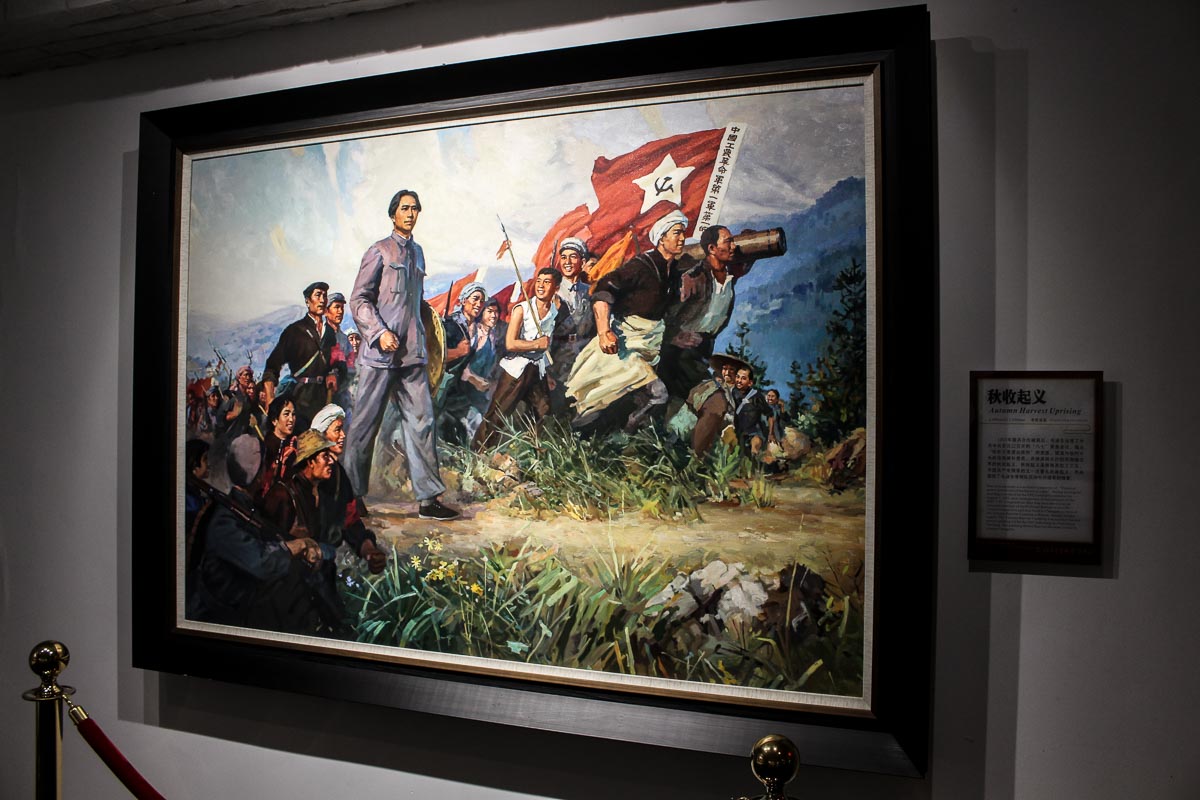 Today, the impeccable portrait statue of a young Mao looks over the edge of the isle, an intense gaze fixed firmly on the flourishing city he once called home. Sculptures are always impressive when taken from the right angle, although it doesn't really matter which angle you look at this from. He's gallant, suave, and undeniably charismatic — traits they portrayed immensely well in this artificial rendition.
That's not all the island has to offer too. There's a museum directly underneath the statue detailing his life story, several tropical gardens and even a running track for those looking to get fit on their travels.
Read also: Travel Deeper: Changsha Guide — The Burgeoning City That Shaped Mao Zedong
Travelling in China
17) The people are incredibly friendly and hospitable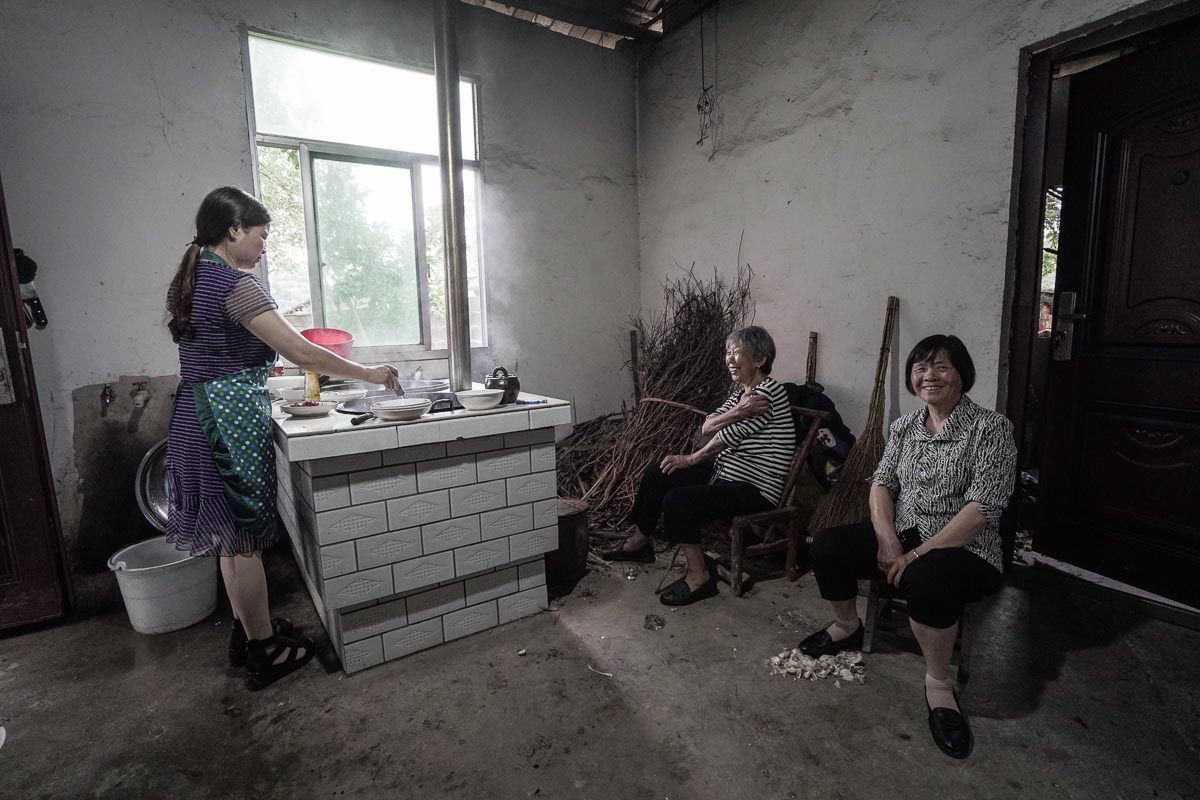 Admittedly, we had several reservations when it came to visiting China, and preconceived notions about its people. We were afraid that the people would be rude, unaccommodating, and unwilling to help tourists from a different country. But these thoughts would prove to be unfounded, unjustified, and outright inaccurate.
The people of China are one of the friendliest and most hospitable people I have ever encountered. Sure, they come across as brash and overly direct at first (especially when they try to sell you something). But start a conversation with these very people or ask for help with directions, and you'll realise they are willing to go to great lengths to help you out.
From cabbies to cashiers, shop owners to flyer-givers — they are a chirpy and caring bunch.
18) A large Couchsurfing community awaits you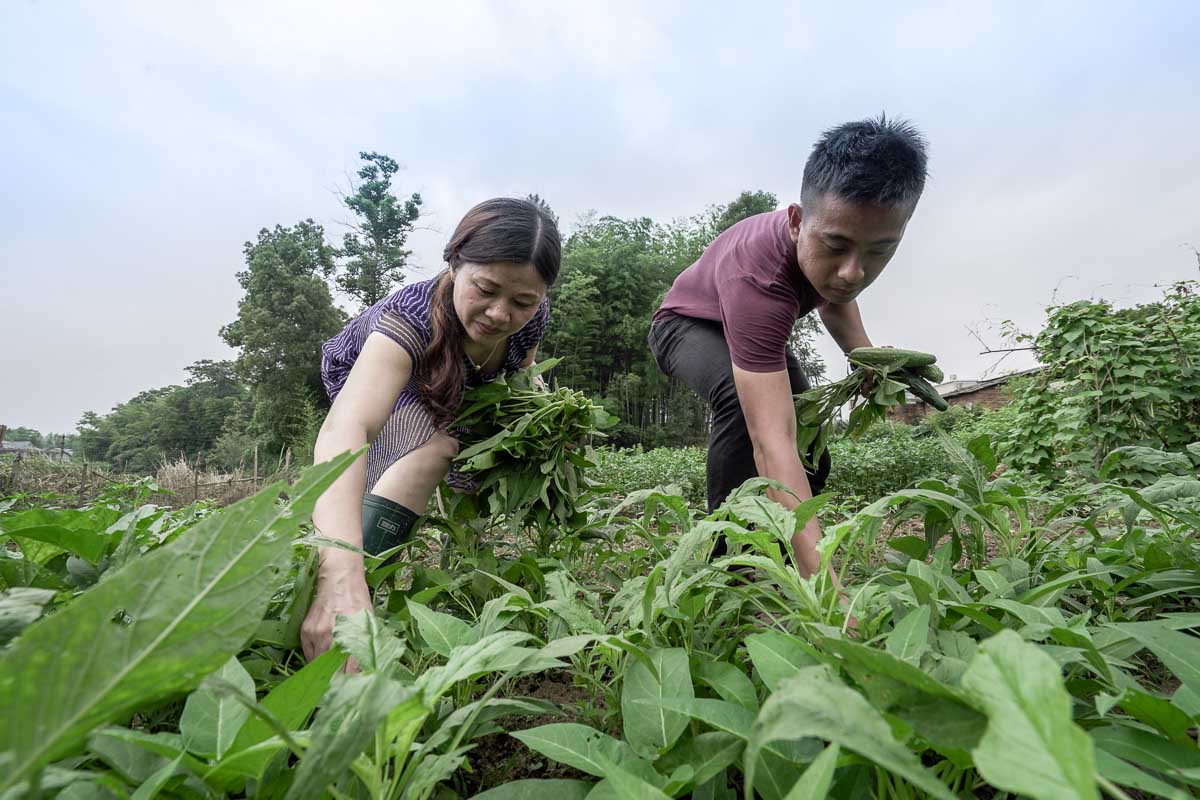 On our last couple of days in China, we stayed in a village in Xiangxiang, on the outskirts of Xiangtan City. A friend I had met on a Couchsurfing website invited us over to celebrate the Dragon Boat Festival (端午节), one of China's biggest holidays, together with his extended family. It was an eye-opening experience.
We witnessed first-hand how they prepared their meals (plucking chickens and shelling lobsters), listened to personal coming-of-age stories, and conversed on the cultural differences between our countries through barely passable translations.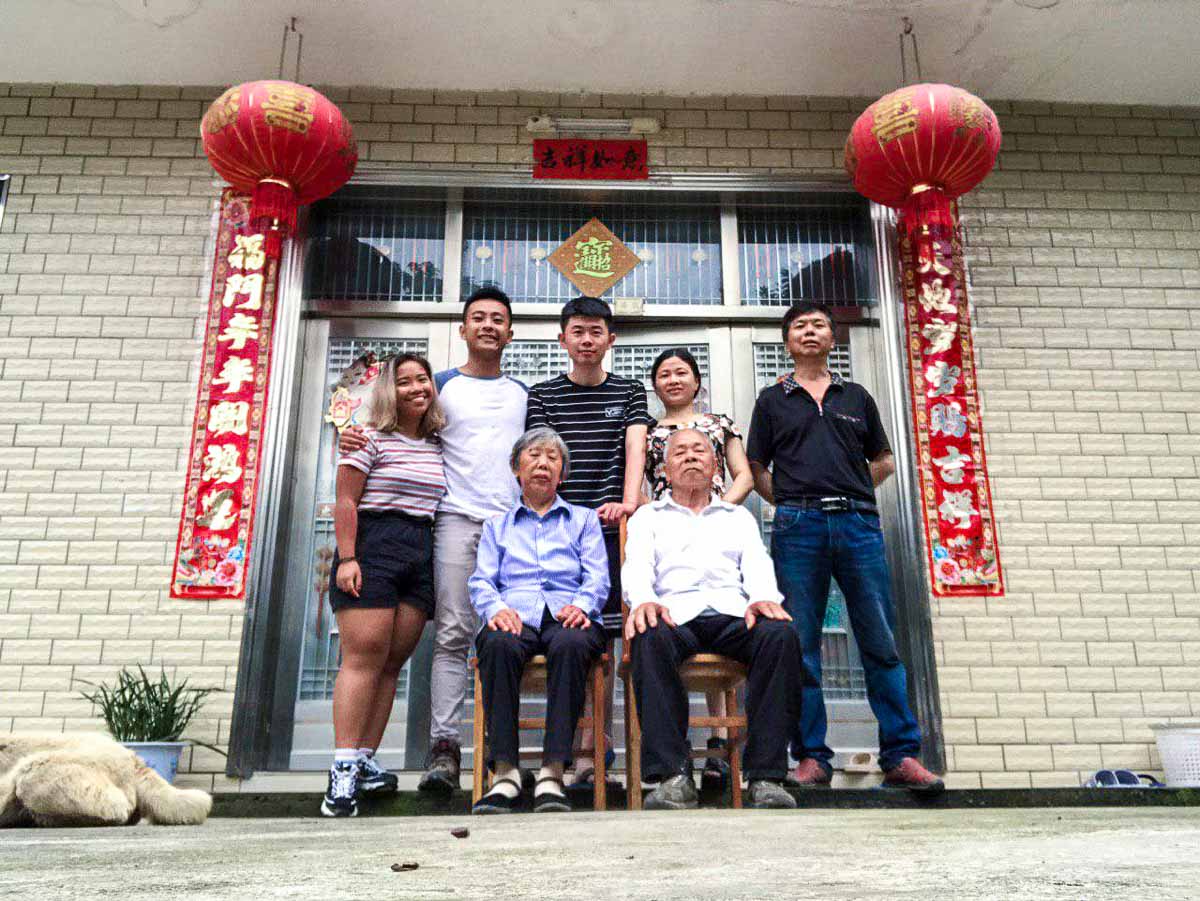 It's difficult to gain such distinctive experiences simply by visiting the well-trodden paths. Couchsurfers aren't merely Airbnb hosts — they serve as expert guides because they take you around the places they spent their whole lives living in. They know the best food spots, actual hidden gems, and at the end of it all, you've made a new friend you never would have had if you simply checked places off your bucket list.
Read also: Epic Stories and Life Lessons from 3 Singaporean Couchsurfers
The couchsurfing communities in these cities are large, and often, they don't host overseas visitors because these are cities that aren't used to a large influx of outbound travellers. Ask away and most are more than happy to welcome you and show you around, and as we can testify, give you an experience you won't forget.
19) Affordable flights to Wuhan & Changsha — the gateways to Zhangjiajie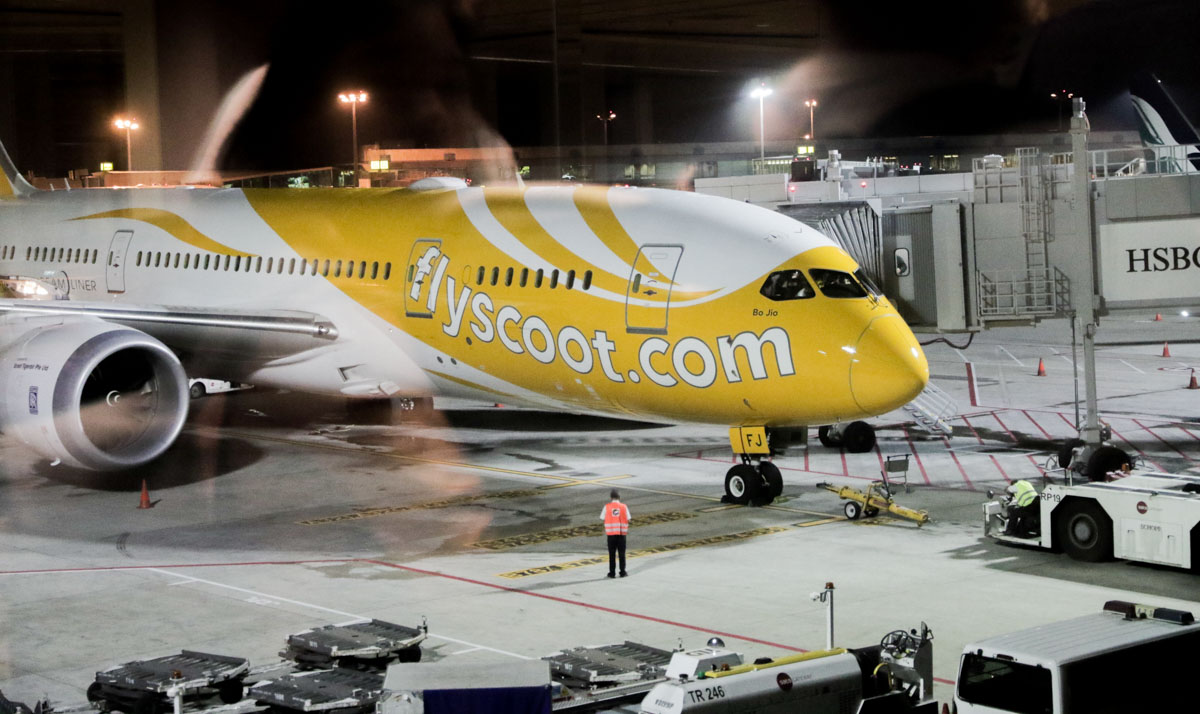 If you hope to get to the mouthwatering mountainous regions of Zhangjiajie, the best and cheapest option is to take a flight over to the equally riveting Wuhan or Changsha, and then take a bus to the city. Read more in our 12-day Central China itinerary!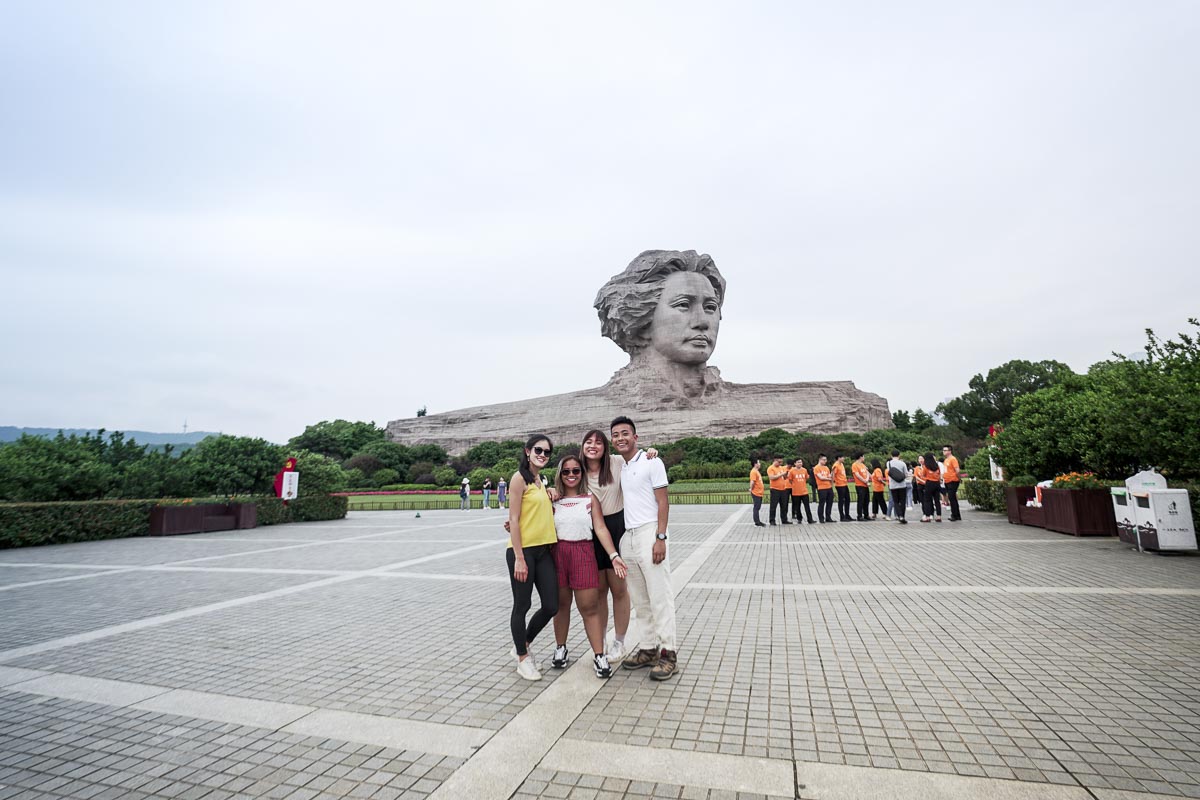 Scoot offers direct flights between Singapore and Wuhan / Changsha. One-way tickets now start from a very affordable S$189 to Changsha and S$193 to Wuhan, but you might be able to score flight tickets at a much lower price with Gotta Scoot Tuesdays. Check out this page on alternate Tuesdays for the latest deals and offers.
Another way to get more perks for your flight is to sign up for the KrisFlyer frequent flyer programme. You'll earn 1 mile for every S$1 spent on Scoot flights, woot Scoot!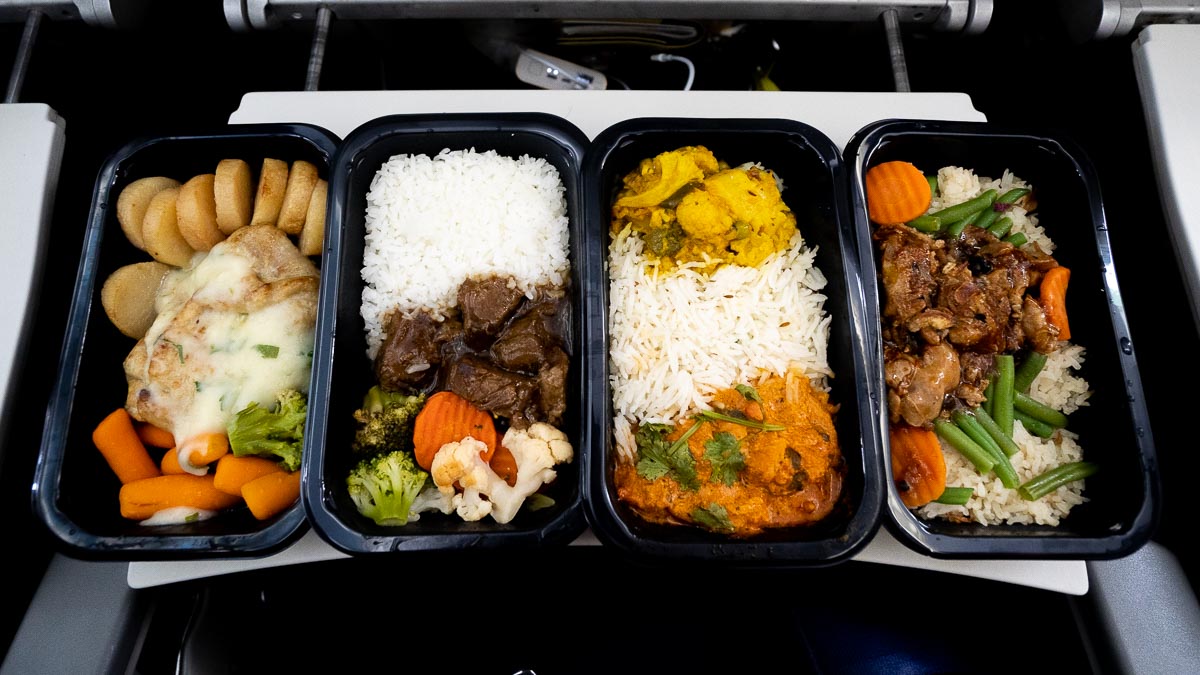 We also appreciate that Scoot offers yummy meals for us to tide over the five-hour flight to Wuhan, whether you like it Western or Asian (we loved the chicken tikka).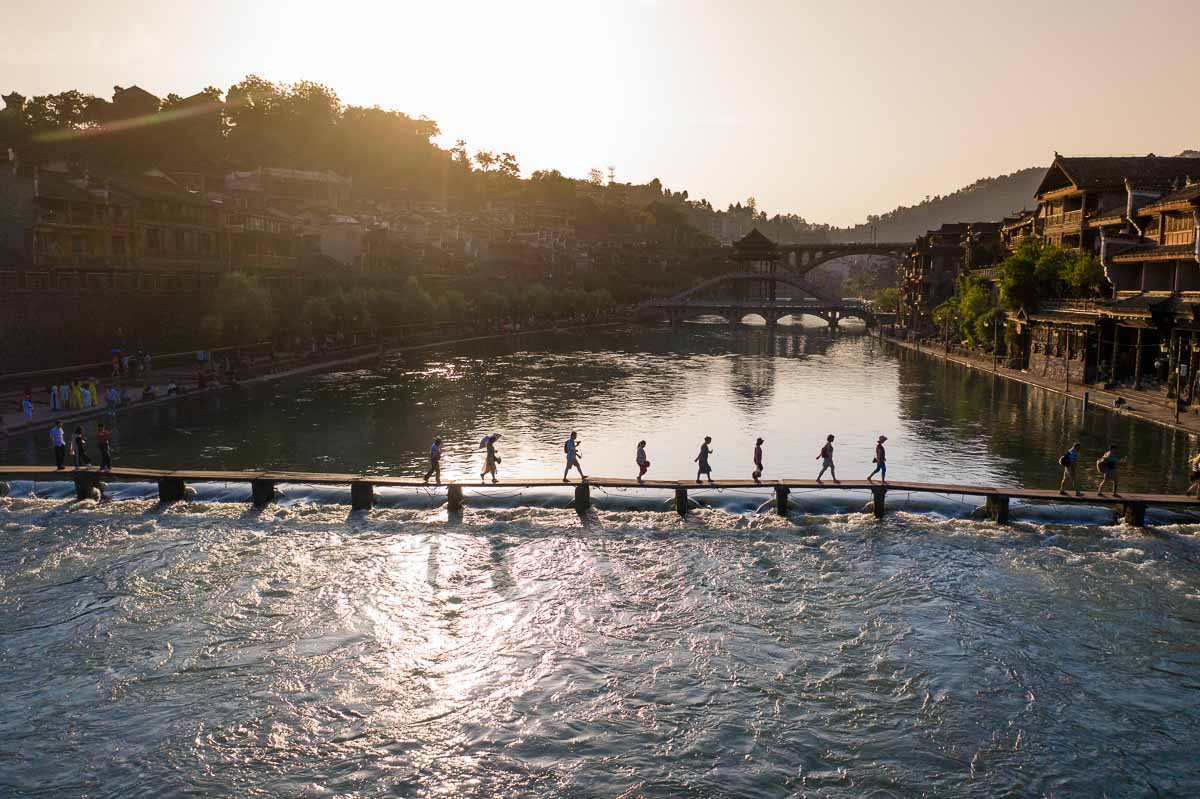 I always knew that there were a lot of things to see and do in China. I just never knew where to start, nor that I'd be so captivated by it. Two weeks spent in these underrated cities have left me fishing for scraps on the proverbial Chinese dinner plate — and all I'm craving for now is a second serving.
---
This post was brought to you by Scoot.