A short getaway from Singapore that isn't Batam, Bali or Malaysia? — yes.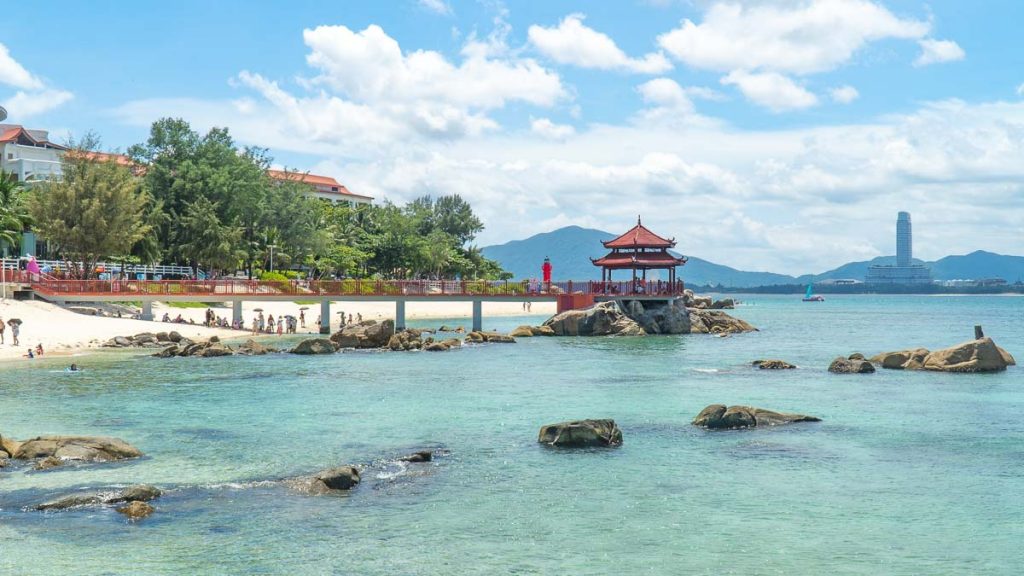 Just a 3.5-hour direct flight from Singapore lies Hainan Island.
Fun fact: It's the only destination in China that allows up to 30 days of visa-free entry instead of 15 days.
Dubbed the "Hawaii of China", Hainan is famed for its tropical climate, beach resorts, and mountainous landscapes. And if that sounds like the perfect getaway for you, check out our four-day itinerary covering things to do, see and eat in Hainan!
Hainan Itinerary Budget Breakdown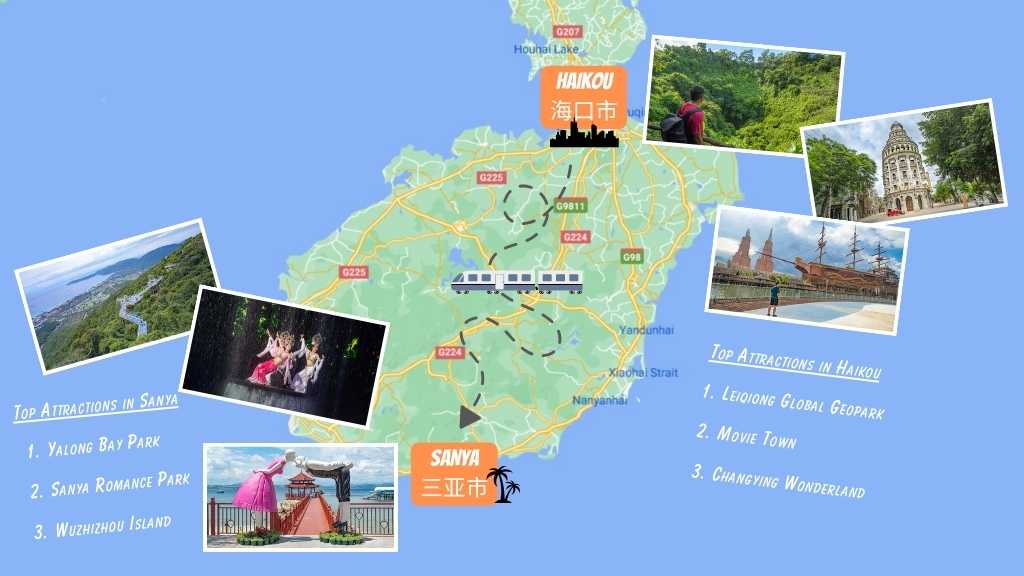 Since we only had a short time in Hainan, we spent two days exploring Haikou, before taking the high-speed rail (1.5 hours) to Sanya and spending another two days there.
3N Accommodation: S$75
Transport: S$164 (excl. flights)
Activities: S$231
Food & Misc: S$161.40

TOTAL: S$631.40
(detailed breakdown for one pax here)*
*Flights are excluded as prices fluctuate.
Day 1: Haikou's Iconic Attractions | Day 2: Unique Instagrammable Spots | Day 3: Sanya's Interesting Parks | Day 4: Day Trip to Wuzhizhou Island | Where to Stay in Hainan | Travel Essentials and Tips
Day 1: Haikou's Iconic Attractions
Leiqiong Global Geopark (雷琼海口火山群世界地质公园)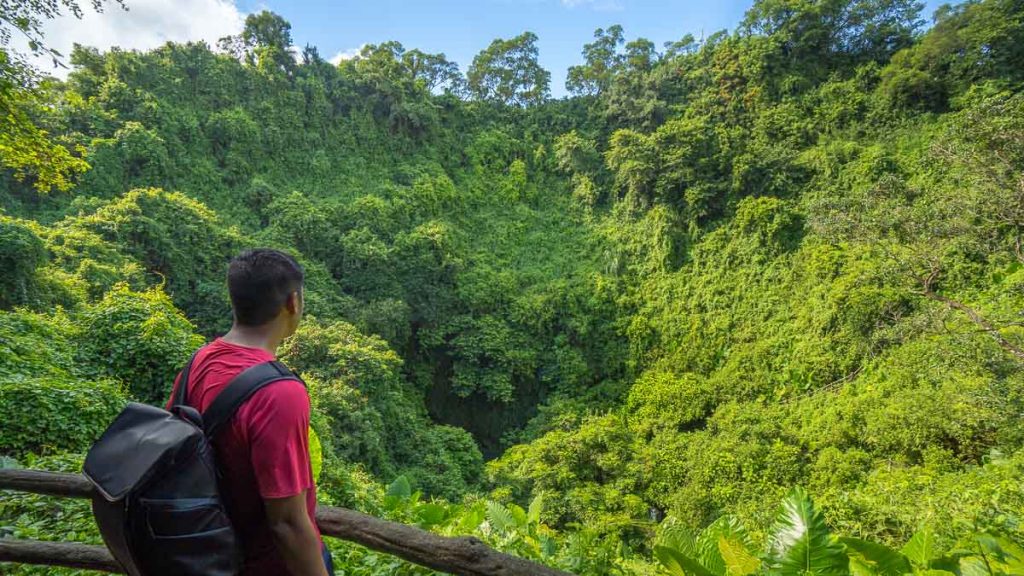 For a place known for its beaches, I never thought I'd be climbing a volcano in Hainan's capital city Haikou 🌋 But Leiqiong Global Geopark is China's first volcano-themed national geo-park, with more than 40 volcanoes! So of course we had to take a look.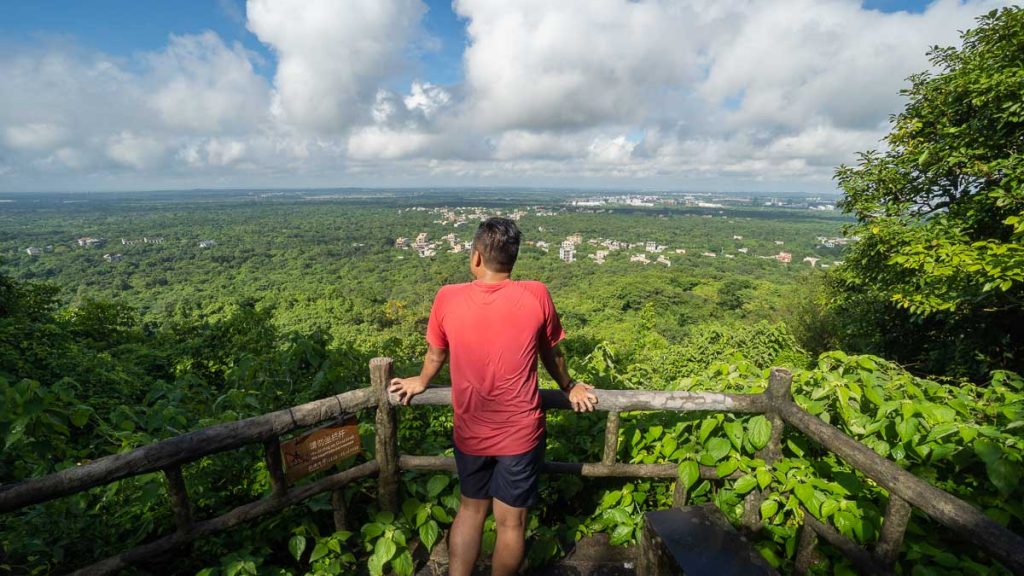 We took around an hour roundtrip covering three different viewpoints. At the top, we circled around the peak and soaked in the panoramic views of the surrounding greenery. Then, we explored the middle layer where we had a bird's eye view of the crater and from there, it was a 5-minute walk down to the pit where we found a small cave.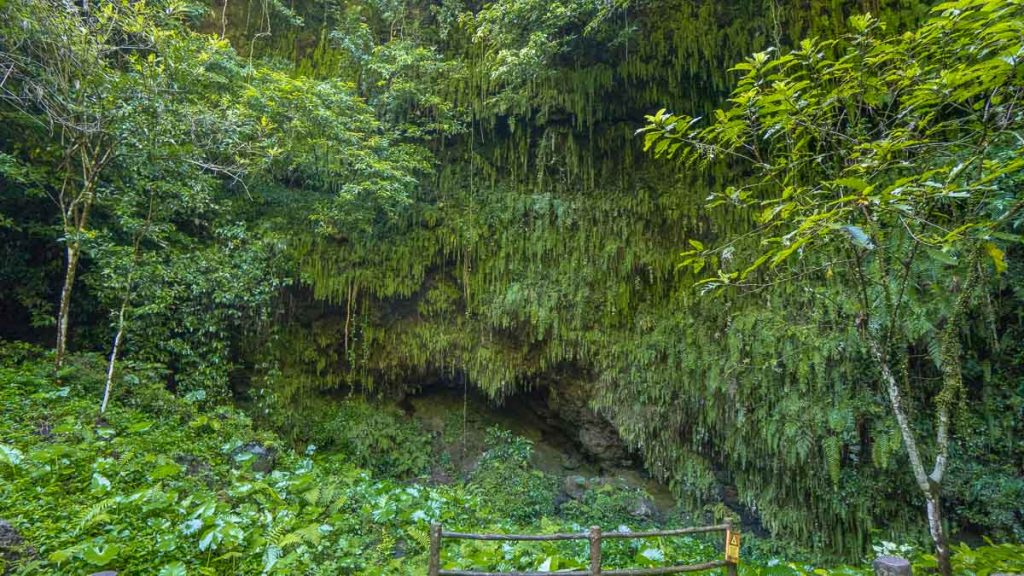 The views were great, but what I loved most about the hike was that there were many rest areas with benches along the way 😅 So even for a non-hiker like me, it was still pretty manageable!
*Pro-tip: Start the hike early when the park opens at 8AM to avoid the crowds.
Entrance fee: 45RMB/adult (~S$8, non-peak season from May to Sep), 54RMB/adult (~S$10, peak season from Oct to Apr)
Opening hours: 8AM – 6PM
How to get there: 23min taxi ride from Mishu Hotel (Haikou East Railway Station) (Baidu Maps)
Movie Town (观澜湖华谊冯小刚电影公社)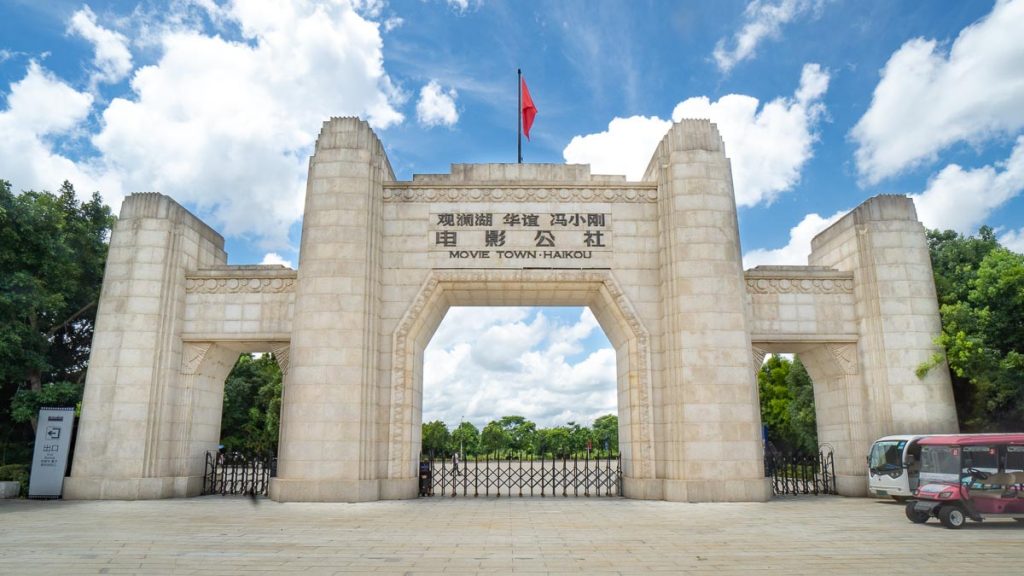 Next on our Hainan itinerary is the famous Movie Town! Stepping into the area felt as if I'd been transported to the Republic of China (1912–1949) era with historical buildings and cobblestone streets.
So it was really hard to believe that the entire place is a recreated movie set inspired by the films of Chinese director Feng Xiaogang, such as Back To 1942 and Youth.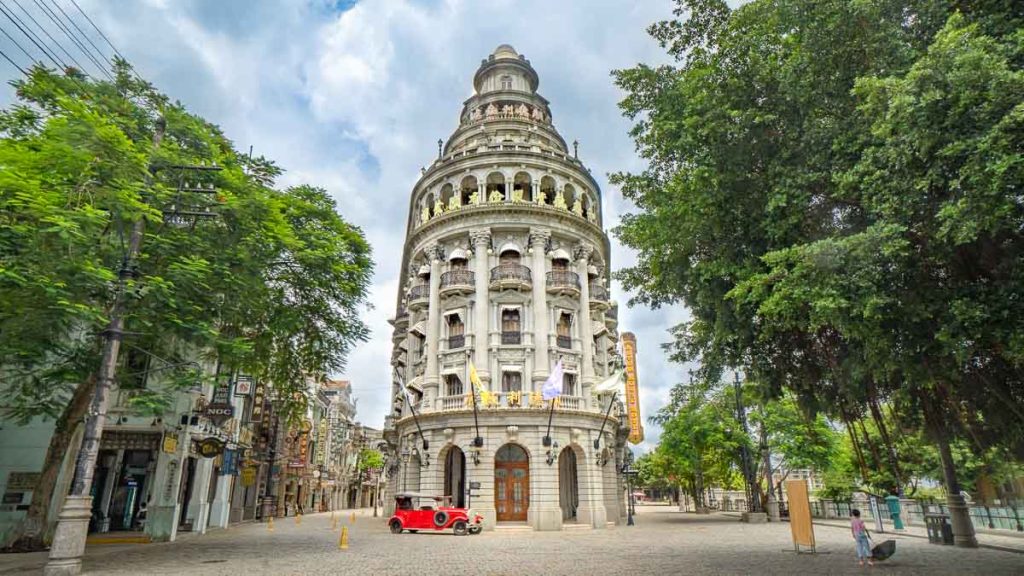 There are various zones featuring different cities and time periods in China within Movie Town, but our favourite was Nanyang Street (南洋风情街) because of the many photo-ops here. Like this iconic white building at the entrance which, fun fact, is also featured in episode one of K-drama Devilish Joy!
Featuring a mix of traditional Chinese and European buildings, you can even dress the part — I rented a costume for only 50RMB (up till 6PM) and had fun taking photos with the unique landscape as a backdrop.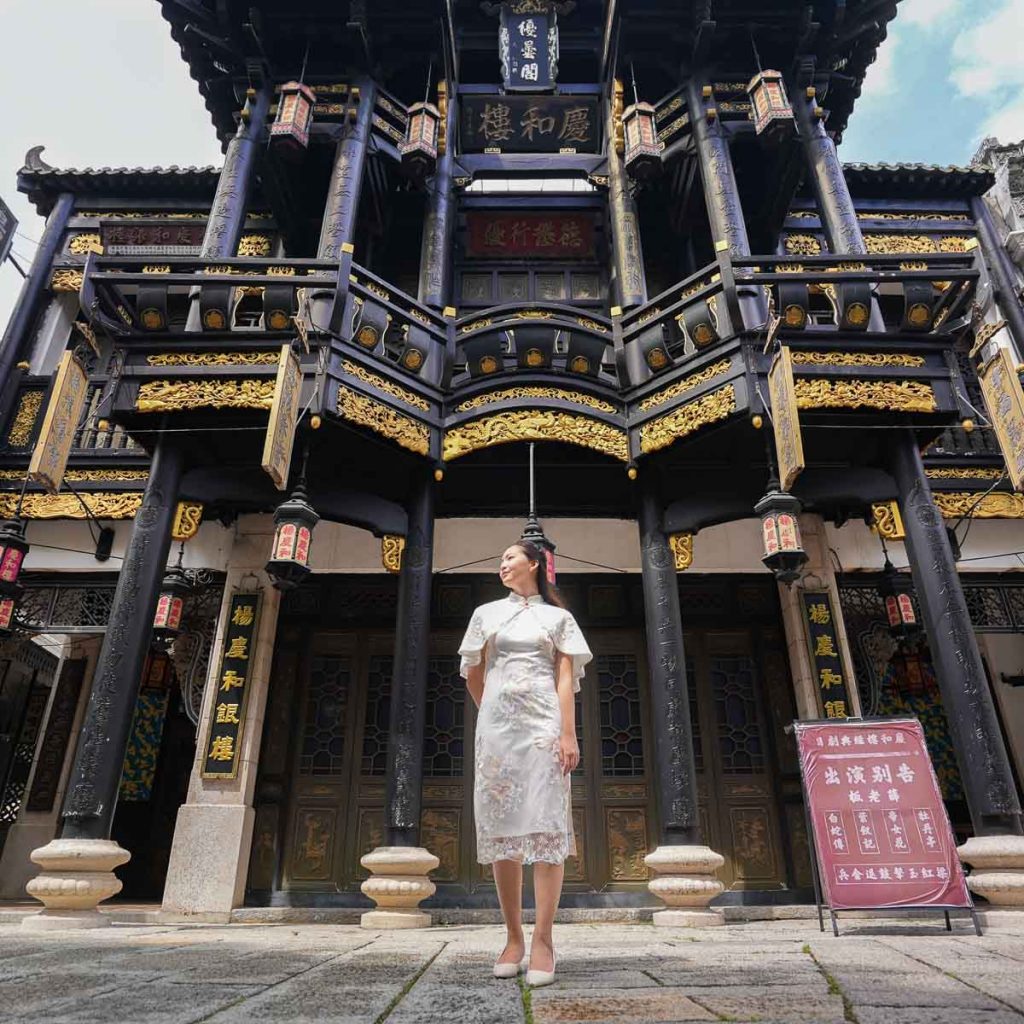 One of the main highlights at Nanyang Street is a live performance called Tales of Nanyang: The Prelude. Unfortunately, it wasn't showing when we went on a Monday :') So do check the schedule before going!
Entrance fee: 218RMB/adult (~S$41, incl. entry to all zones), 188RMB/adult (~S$35, after 6PM)
Opening hours: 10AM – 10PM
Show times: 4PM – 5:20PM, 7:30PM – 8:50PM (2 shows per day, Tue – Sun)
How to get there: 16min taxi ride from Leiqiong Global Geopark (Baidu Maps)
*Pro-tip: Come on weekdays to avoid the crowds, except for Mondays when there will be no live performances.
Haida South Gate Night Market (海大南门夜市)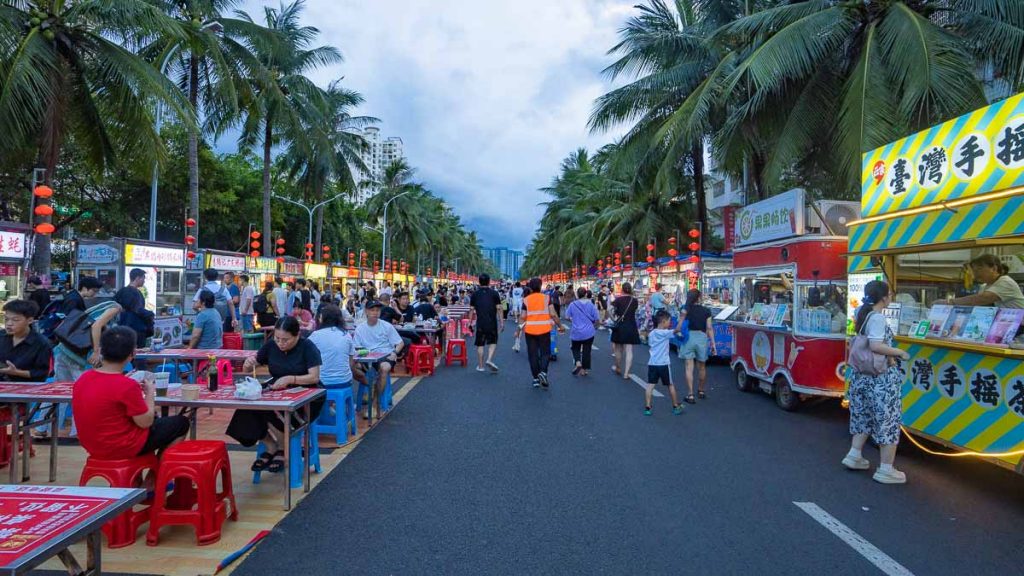 Haida South Gate Night Market stretches along two streets and has shops selling everything from food to fashion, and even mobile accessories!
Unlike the usual night markets where you'd have to squeeze between the crowds and stalls, there was plenty of space to roam about here! Plus, the shops are even segregated into food stalls on the left and non-food (clothes/bags/mobile accessories) stalls on the right — making it easier to navigate, BLESS ✨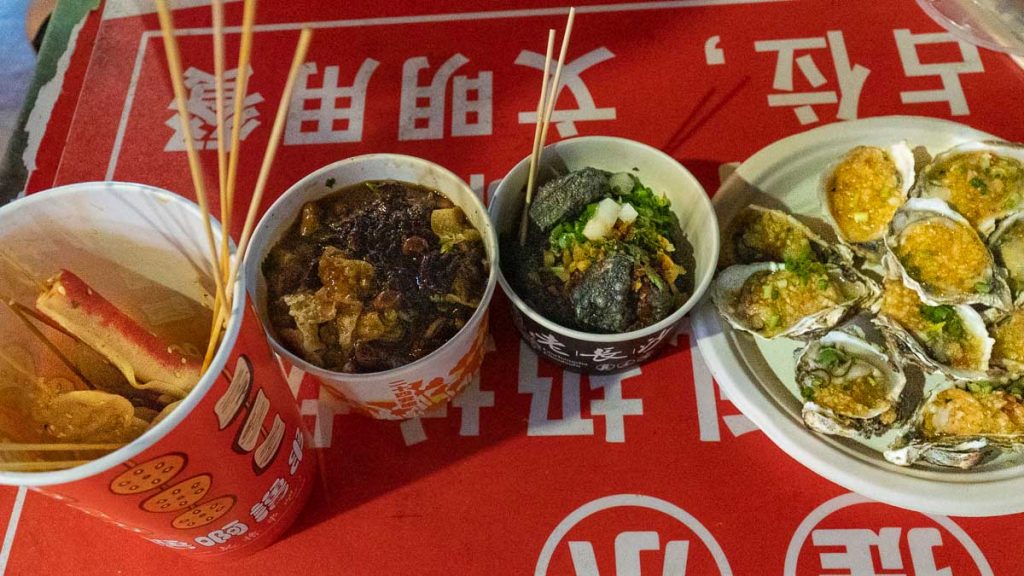 For dinner, we had assorted skewers (19RMB), Hainan noodles (13RMB), Changsha stinky tofu (10RMB for 5pcs) and grilled oysters (20RMB for 10pcs). Most of the food was flavourful, except for the noodles which didn't really have a distinct taste. But the broth was thick and gooey, and it reminded me of the gravy in Lor Mee (braised pork noodles).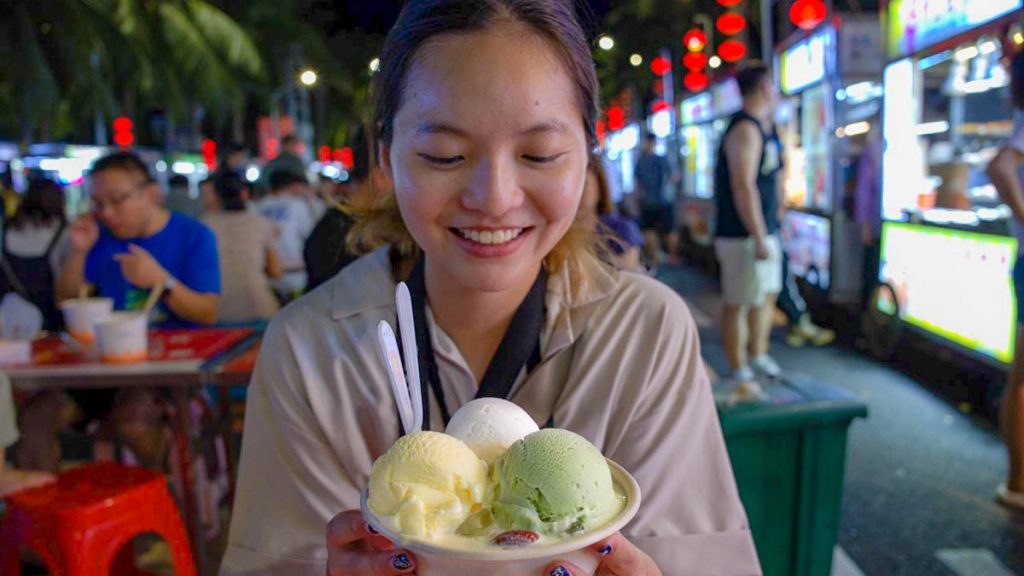 Find someone who looks at you the same way I look at food 😂
Our top pick though, was the local Qingbuliang dessert. For 15RMB, we got a bowl filled with coconut milk and all sorts of ingredients like watermelon, mochi ball, peanuts, pudding, quail egg — topped with three large scoops of ice cream (Coconut, Matcha and Mango). We finished it in less than 5 minutes, enough said.
Opening hours: 6PM – 12:30AM
How to get there: 36min taxi ride from Movie Town (Baidu Maps)
Day 2: Unique Instagrammable Spots
Changying Universal 100 Wonderland (长影环球100奇幻乐园)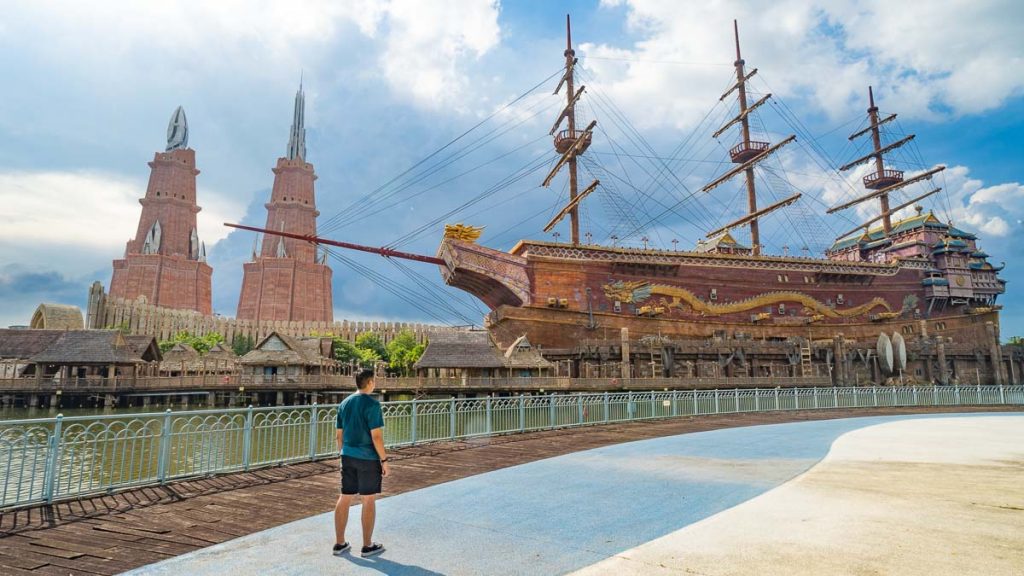 Changying Universal 100 Wonderland isn't like the usual theme parks — for one, it's practically empty, and around half of the rides were closed when we went on the weekend 😂
There isn't an official reason why it's so deserted, but we guessed since it opened in 2019 right before the pandemic hit, it still hasn't recovered. Plus, we spotted areas that were undergoing maintenance too.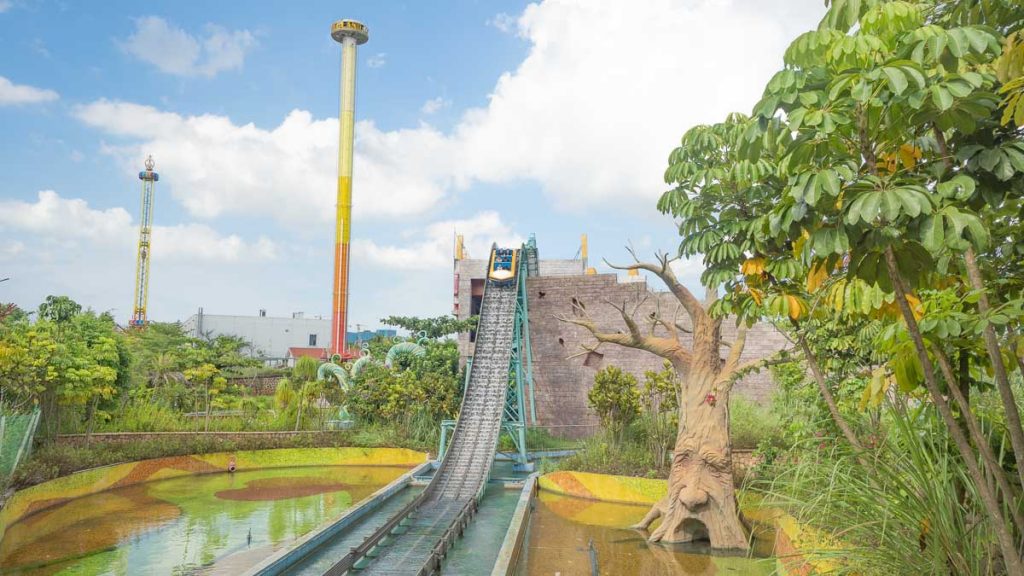 Getting past our initial shock, I actually loved the idea of having the park all to ourselves. Instead of spending hours queuing for rides, we could slowly stroll around the park taking photos of attractions like European-style towers and a giant treasure ship.
That said, we still managed to have some fun on rides that were operating, like the water flume ride and a 4D theatre simulating a journey on the high seas!
Entrance fee: 58RMB/adult (~S$11, entry) or 99RMB/adult (~S$19, incl. 6 rides)
Opening hours: 11AM – 6PM (Wed – Sun), closed on Mon and Tue
How to get there: 31min taxi ride from Mishu Hotel (Haikou East Railway Station) (Baidu Maps)
Wormhole Library (云洞图书馆) and Mountain in the Sky (天空之山)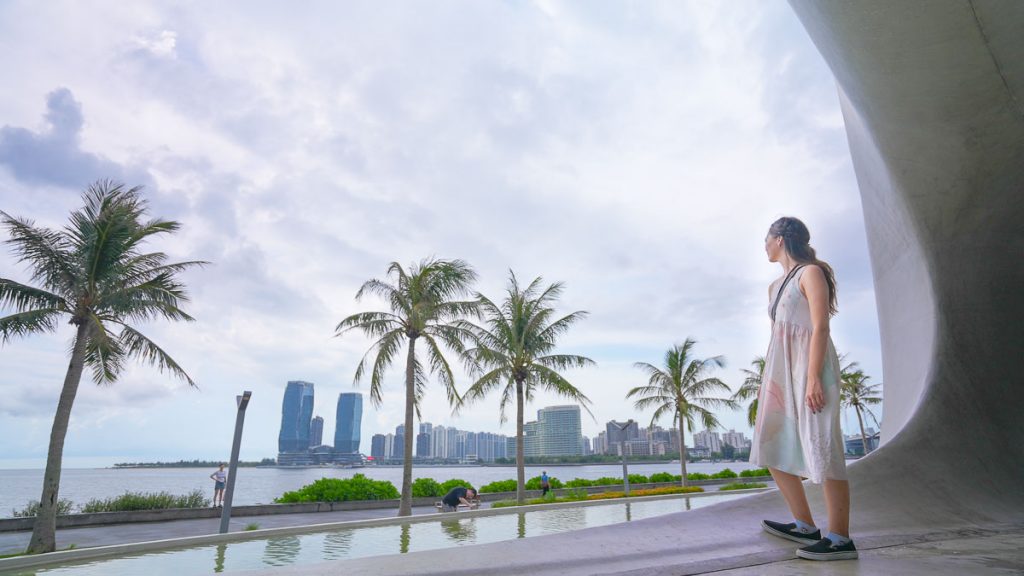 No, we didn't travel all the way to Hainan to read books. Located along the Haikou Bay coastline, the Wormhole Library is actually popular for its curved walls and cave-like holes that make for great IG-worthy photos!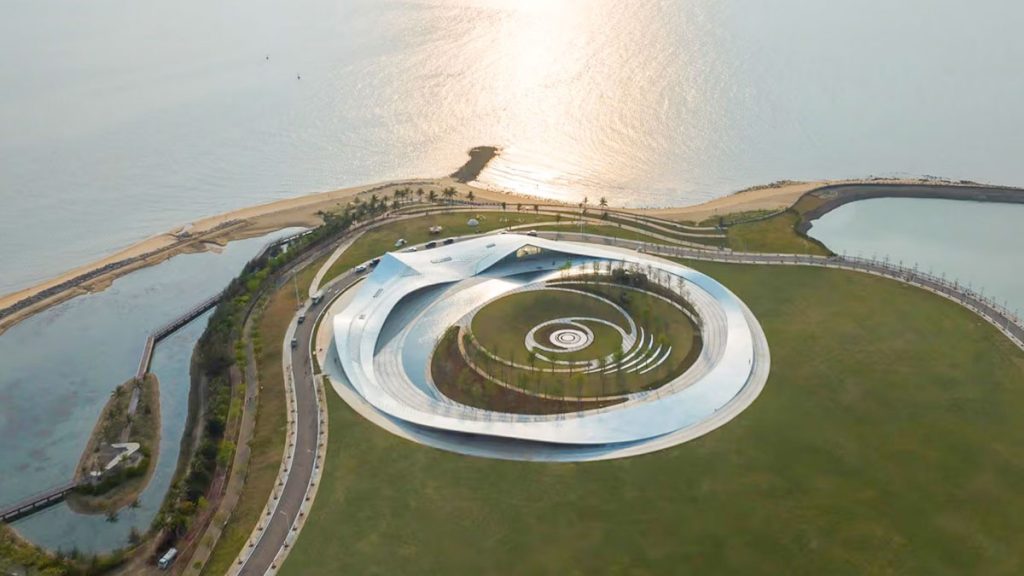 What it should've looked like. Photo credit: Sou Fujimoto Architects
Next, we headed to the nearby Mountain in the Sky to catch the sunset (as recommended by social media). Like the library, it has its own unique architecture too, with a circular shape consisting of silver slopes that people can climb onto.
But when we got there, the sudden rain ruined our plans. Forget sunset, we couldn't even climb the attraction as it was closed to prevent people from slipping and falling 😭
*Pro-tip: Check the weather forecast before going.
Wormhole Library
Entrance fee: Free
Opening hours: 10AM – 11PM (Tue – Sun), closed on Mon
How to get there: 33min taxi ride from Changying Universal 100 Wonderland (Baidu Maps)
Mountain in the Sky
Entrance fee: Free
Opening hours: 24hrs
How to get there: 15min taxi ride from Wormhole Library (Baidu Maps)
Qilou Old Street (骑楼老街)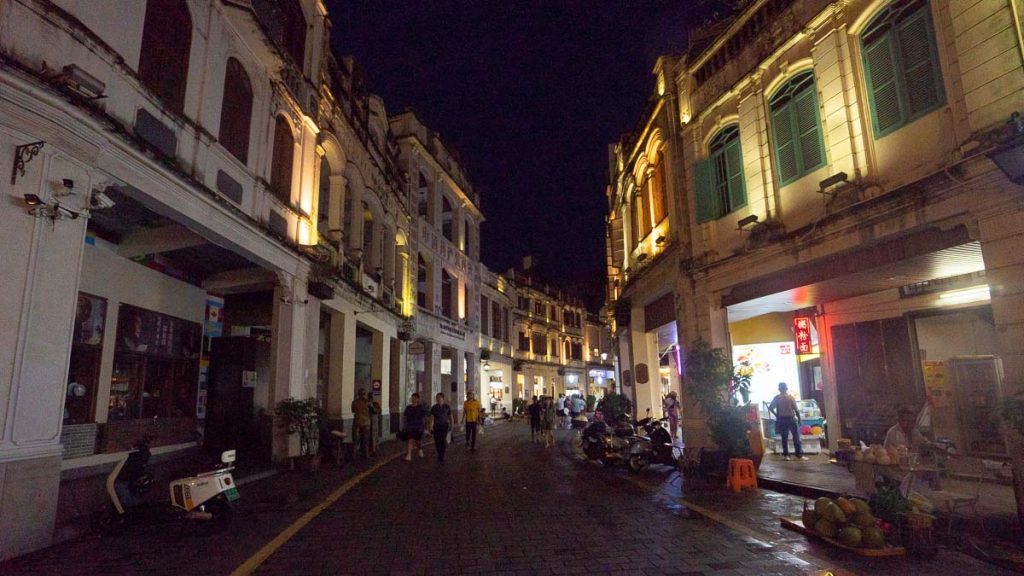 As its name suggests, Qilou Old Street is lined with Qilou buildings or arcade houses — which are two or three-storey buildings with a protruding structure. With a blend of traditional and modern European designs, it reminded us of the buildings we saw in Movie Town (but a little more run-down) 😅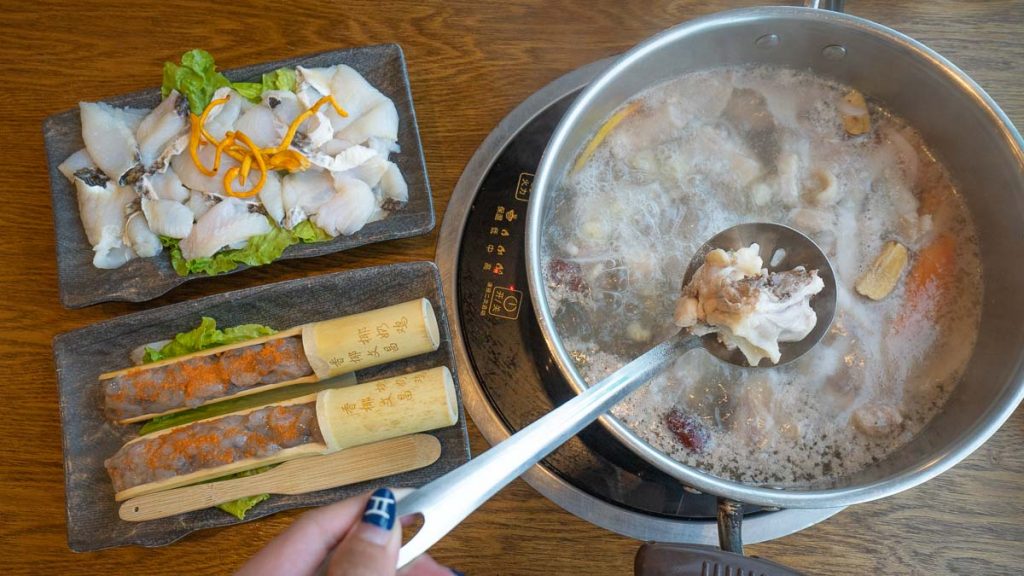 There are over 200 Qilou buildings along the street, housing souvenir shops and restaurants so we had plenty of dinner options. We eventually settled on Xiangye Wenchang Coconut Chicken Restaurant (香椰文昌椰子鸡水巷口店) to try the local signature Coconut Water hotpot (118RMB for half chicken).
I've never had hotpot with coconut water as a soup base before but after cooking the chicken in it, it had a sweet and refreshing taste!
Opening hours: 24hrs
How to get there: 13min taxi ride from Mountain in the Sky (Baidu Maps)
Day 3: Sanya's Interesting Parks
Yalong Bay Tropical Paradise Forest Park (亚龙湾热带天堂森林公园)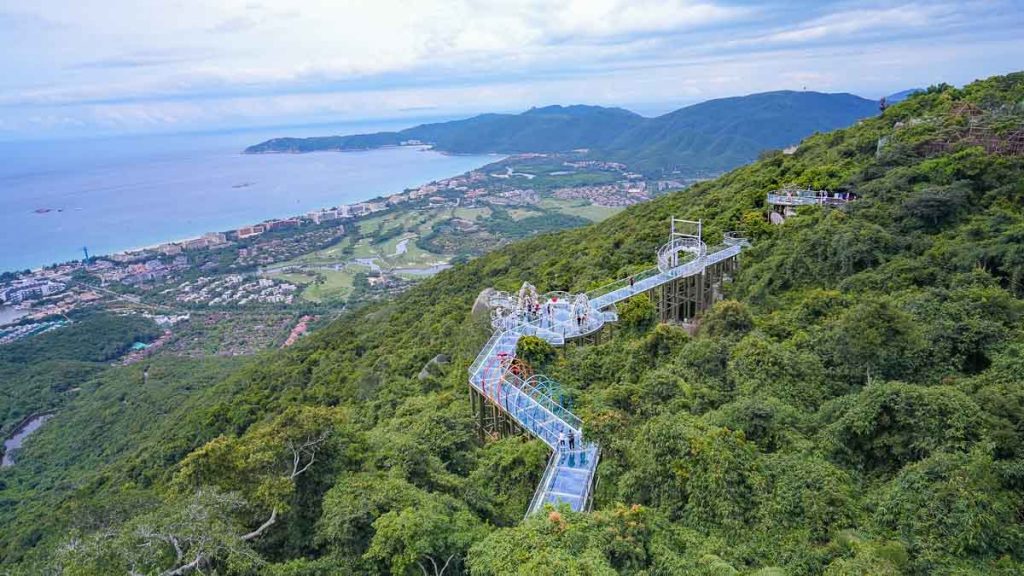 Honestly, I felt like I clocked in more steps here than Leiqiong Global Geopark. No kidding.
Yalong Bay Tropical Paradise Forest Park is huge — it covers an area of 1,506 hectares and can take around 2 hours just to hike to the top. As someone who dislikes any form of physical activity, I opted for the sightseeing bus instead. But even then, I still had to climb a couple of stairs to reach the attractions :')
*Pro-tip: Get the package pass at 268RMB/adult (~S$50) which includes the park entry ticket, bus ride and attractions like Dragon Rope Bridge, Glass-bottomed Platform and more.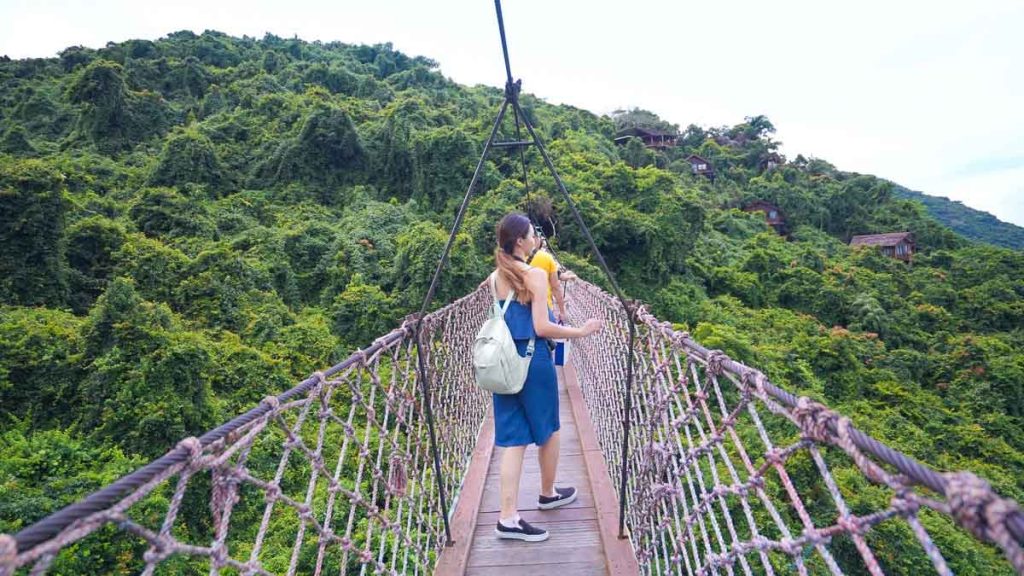 Fun fact: While visiting the Dragon Rope Bridge, I learnt that one of my favourite Chinese dramas, Go Go Squid!, was filmed here! It was where Han Shangyan (Li Xian) and Tong Nian (Yang Zi) went on one of their dates 🥰
The bridge is 168m-long and connects two mountains, giving us a panoramic view of the lush rainforest. Even though I'm afraid of heights, I was surprisingly comfortable walking along the bridge. It can get a little shaky at times but luckily there are ropes and handrails to hold on to.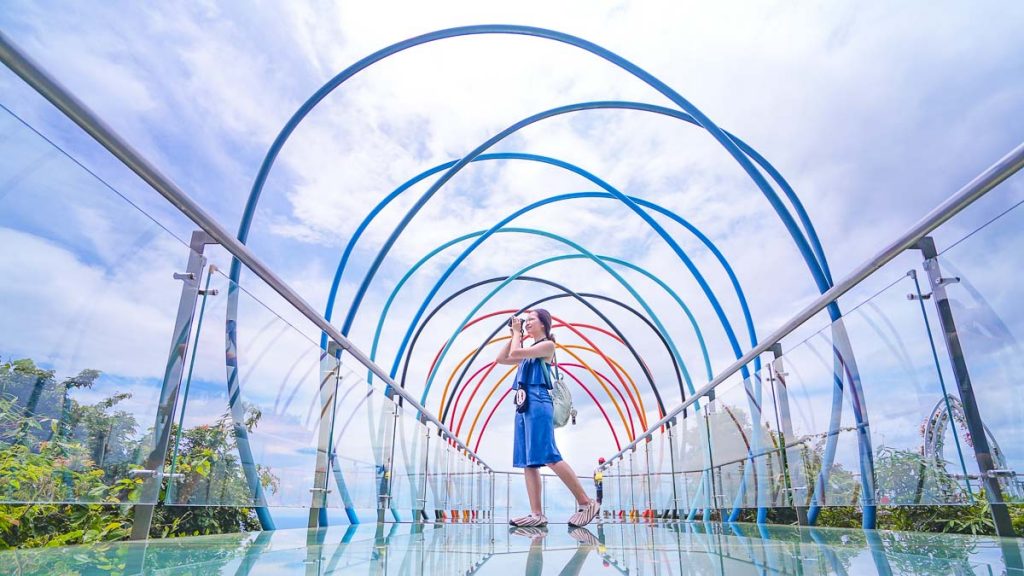 Another iconic attraction at the park is the Glass-bottomed Platform, which spans 400m long. It was a pretty cool way to see the world beneath our feet, literally! Plus, there were loads of IG spots here too, like this 👆
Entrance fee: 90RMB/adult (~S$17, non-peak season from May to Sep), 108RMB/adult (~S$20, peak season from Oct to Apr)
Cost of bus ride: 50RMB/adult (~S$9)
Opening hours: 7:30AM – 5:30PM
How to get there: 15min taxi ride from Sanya Houyunhai Hotel (Yalong Bay Branch) (Baidu Maps)
Dragon Rope Bridge
Cost: 20RMB/adult (~S$4)
Opening hours: 8:30AM – 5:30PM
Glass-bottomed Platform
Cost: 98RMB/adult (~S$18)
Opening hours: 9AM – 5:30PM
Chunyuan Seafood Square (春园海鲜广场)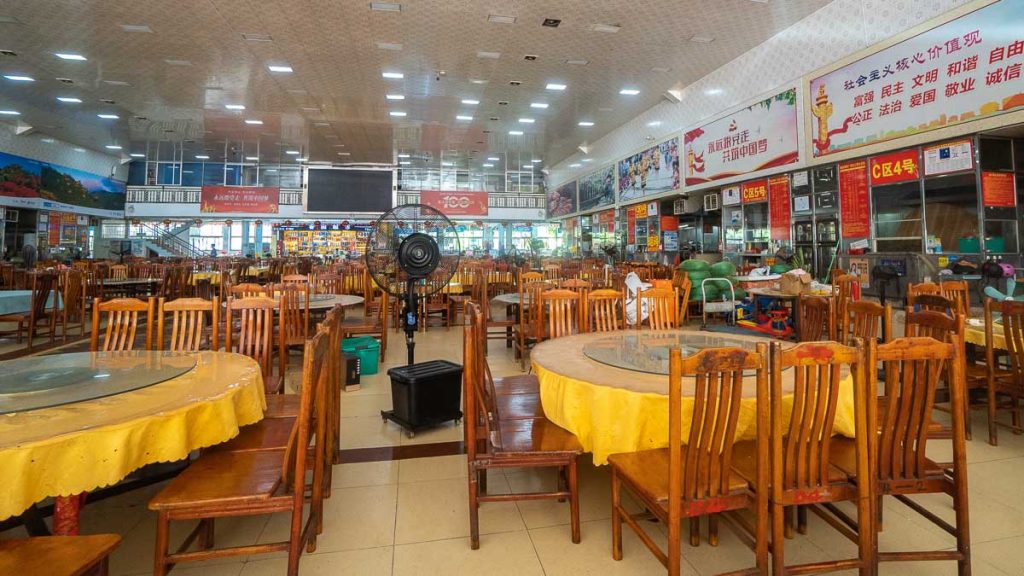 According to Google, Chunyuan Seafood Square is another must-visit landmark in Sanya. But after arriving there for lunch, I had my doubts 👀 It looked deserted and more than half of the stalls were closed.
Later, we found out that it wasn't like your usual marketplace — we had to choose our seafood (fresh from the tank) and then pick a stall or chef to cook it. We could even request how we'd like it cooked!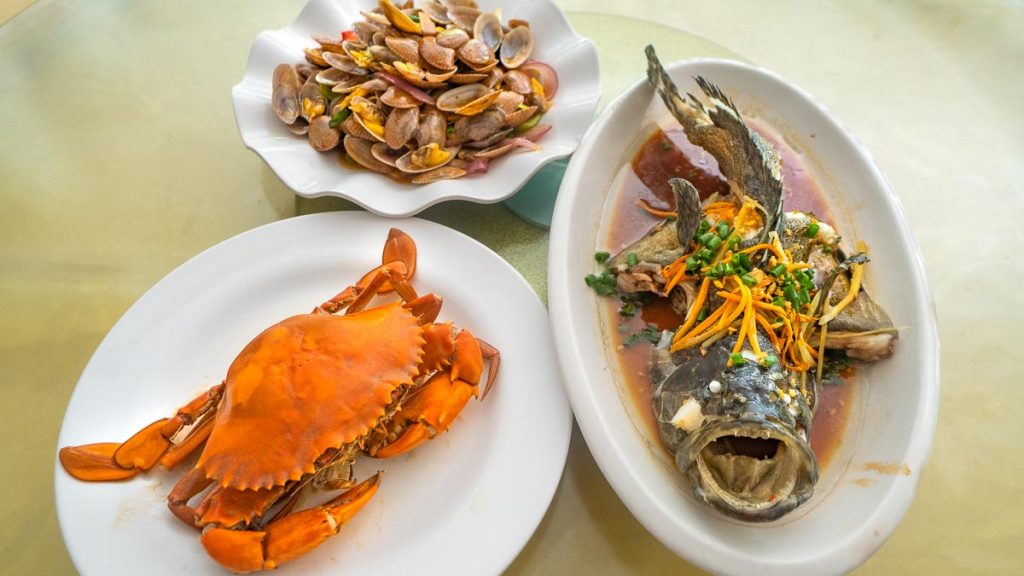 There were only two of us so we grabbed some clams, a grouper fish and Hele crab (a speciality of Hainan). Our "personal chef" steamed the crab and we found it really sweet and juicy. In total, it cost us 213RMB for the ingredients and 80RMB for the cooking fee (~S$55 for two pax), which is quite affordable compared to Singapore!
*Pro-tip: Arrive after 6PM when more stalls are open and you can choose your own chef. Some of them specialise in different types of cooking and cuisines too so you can ask around.
Opening hours: 10AM – 12AM (Varies for individual stalls)
How to get there: 31min taxi ride from Yalong Bay Tropical Paradise Forest Park (Baidu Maps)
Sanya Romance Park (三亚千古情景区)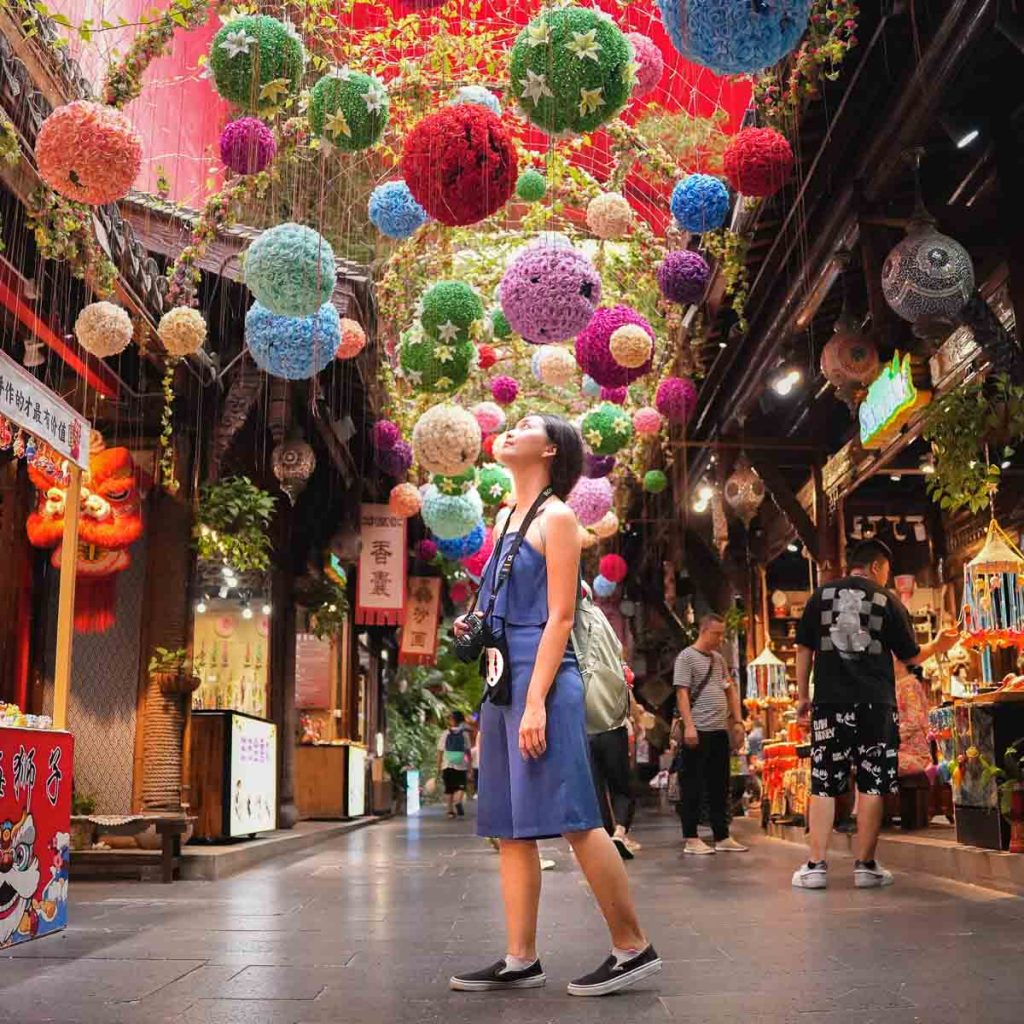 Sanya Romance Park is the epitome of expectations vs reality. From the name, we assumed it was a park with attractions related to romance but what we found was a mish-mash of things — floating flower decor, hobbit houses, and a street performance which escalated into a disco party??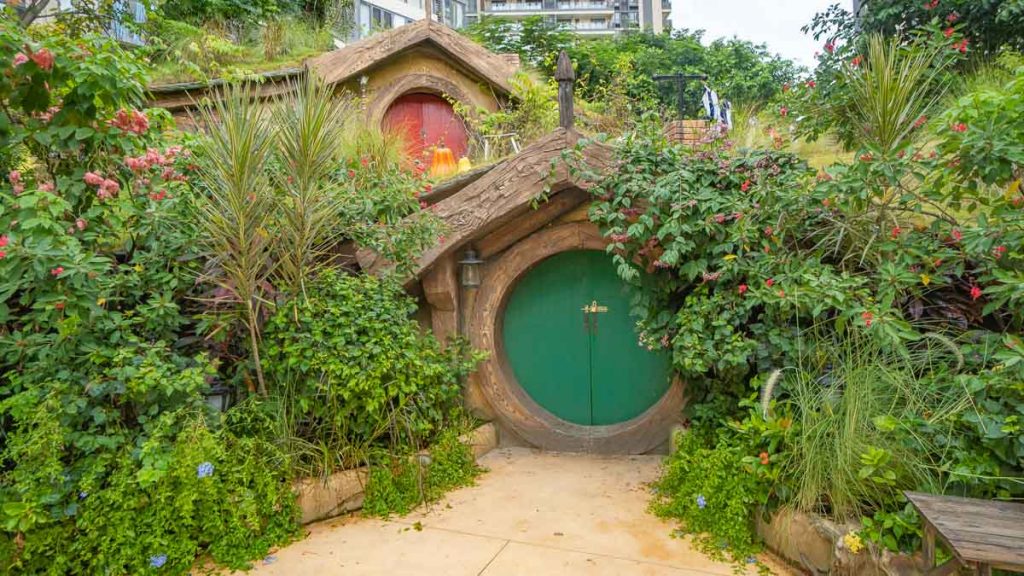 Weird, I know but that's not all. The main highlight here is the Sanya Romance Show which (a recurring theme here) wasn't all about romance, but it did take our hearts.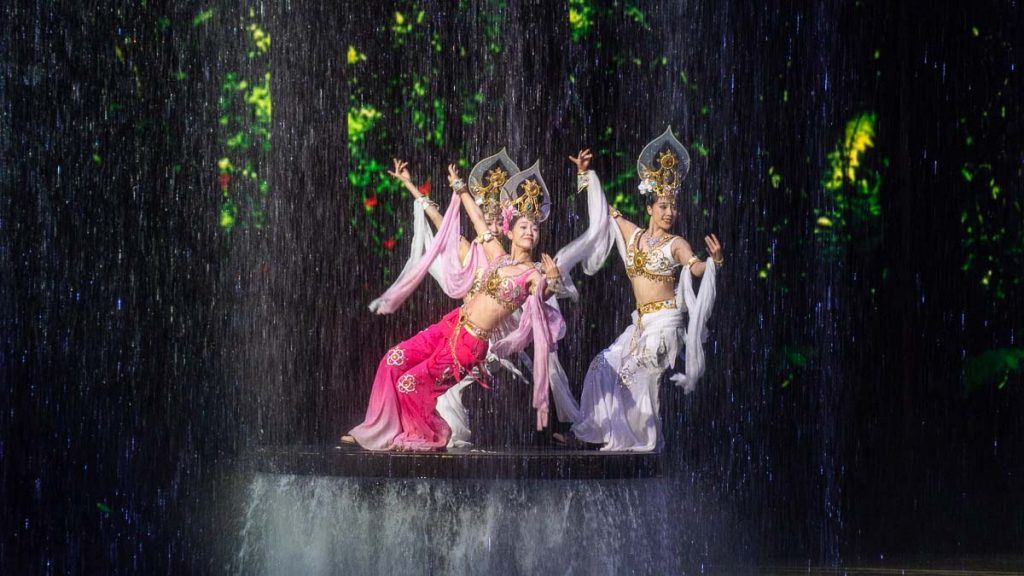 There was dancing, acrobatics, fighting, floating mermaids and even a jet ski on stage 😮 And while the whole experience was shocking (in a really good way), it was worth it. I won't say more because you'd have to experience it for yourself 😉
Entrance fee: From 300RMB/adult (~S$56, depending on seat sections)
Show timings: 2PM, 5PM, and 8PM
How to get there: 13min taxi ride from Chunyuan Seafood Square (Baidu Maps)
Day 4: Day Trip to Wuzhizhou Island
Surfing at Houhai Village (后海村)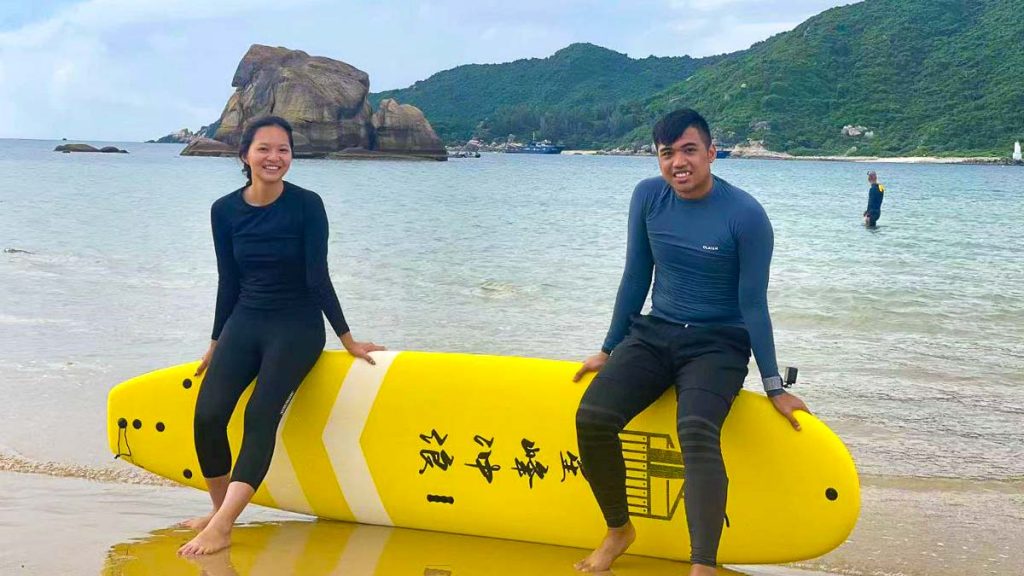 Before hopping on a ferry from Houhai Village to Wuzhizhou Island, we decided to explore the village first.
So we started our day off riding the waves — after all, Sanya is known as a beach destination with white sandy beaches and blue waters 🏄‍♀️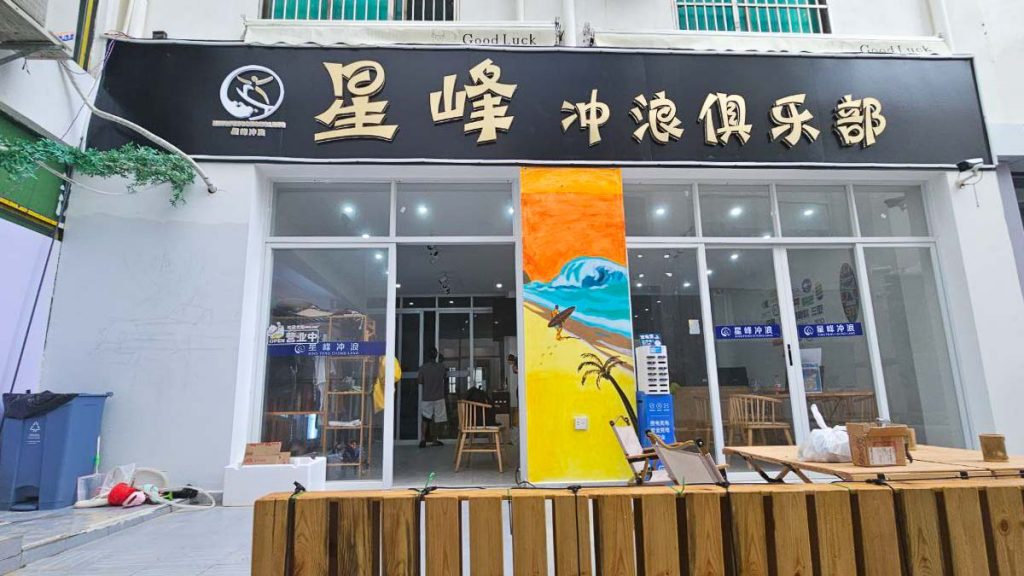 There are many surfing shops scattered across the village but we chose Xing Feng Surfing Shop (星峰冲浪俱乐部) cause it's near the beach. It was only my second time surfing and I wasn't too confident but our coach was really patient and guided me along the way. After a few attempts, I could stand up perfectly on the board!
Even after our time was up, he still let us play on our own and we stayed in the water with our boards for an extra hour (at no cost) 😎
Cost: 229RMB/adult (~S$43) for 2hrs (incl. Gopro footage)
Opening hours: 8AM – 8PM
How to get there: 41min taxi ride from Sanya Houyunhai (Hotel Yalong Bay Branch) to SevenNineClub (Baidu Maps). From there, walk straight down the small alley to the beach and you'll see Xing Feng Surfing Shop on the right.
Lunch at Hainanese Wenchang Chicken Drunken Goose Restaurant (海南文昌鸡醉鹅)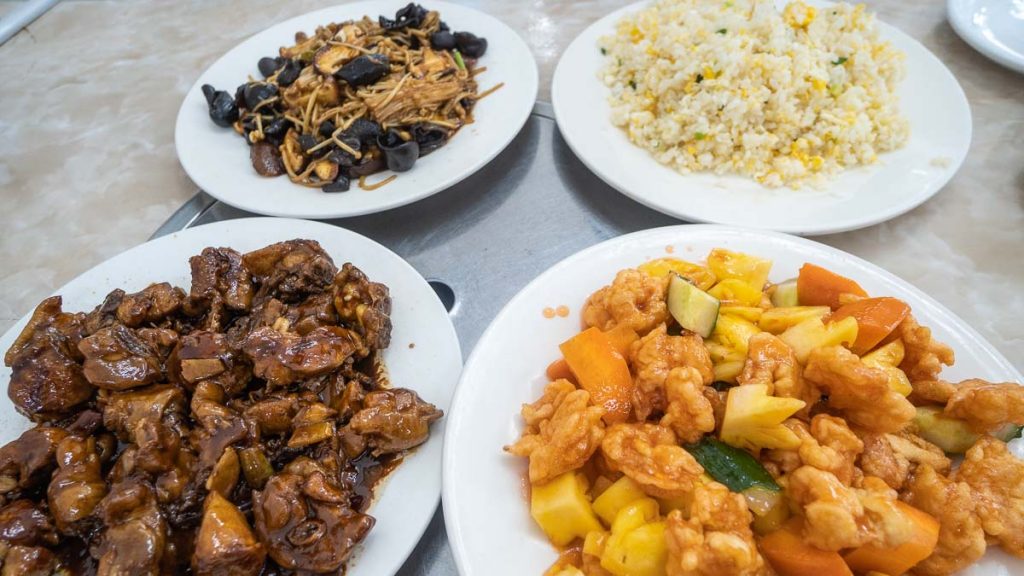 We found this gem while walking along the streets after our surf lesson. Our order: Wenchang Chicken (88RMB), Assorted Mushrooms (48RMB), Sweet and Sour Prawn (98RMB) and Butter Chicken Rice (28RMB)
Compared to the Wenchang Chicken boiled in a coconut hot pot, this dish was fried, glazed in black sauce and tasted saltier (which I preferred). Our meal in total cost ~S$49 for two pax, which wasn't really cheap but the portions were quite generous! So it'll be more worth it if you're sharing with a large group of friends.
Opening hours: 8AM – 8PM
How to get there: 2min walk from SevenNineClub (Baidu Maps)
Wuzhizhou Island (蜈支洲岛)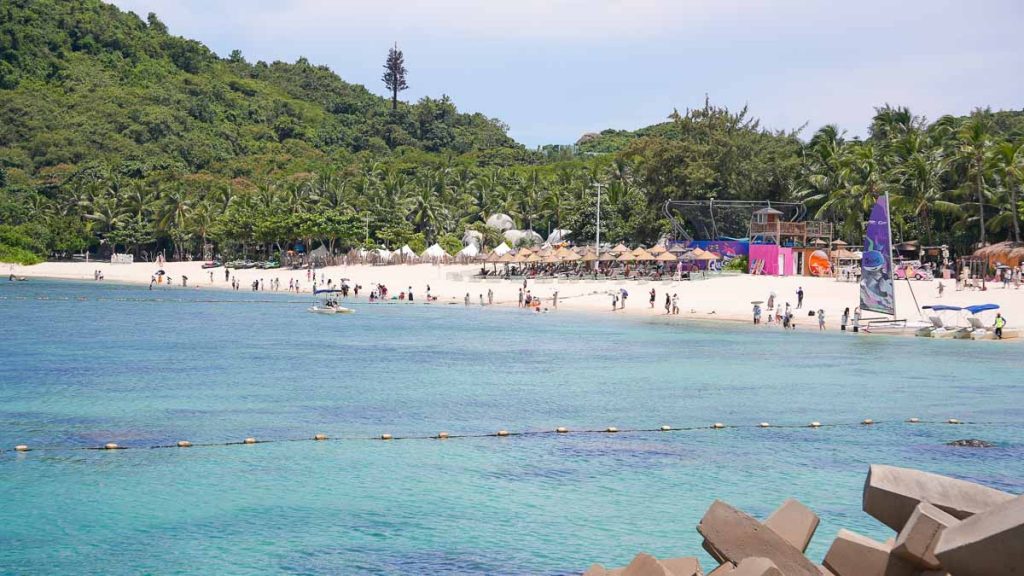 After filling our tummies and a 20-minute ferry ride, we arrived at Wuzhizhou Island, where I finally realised why Hainan is called the Hawaii of China. The water was crystal clear and you could see long stretches of sandy beaches!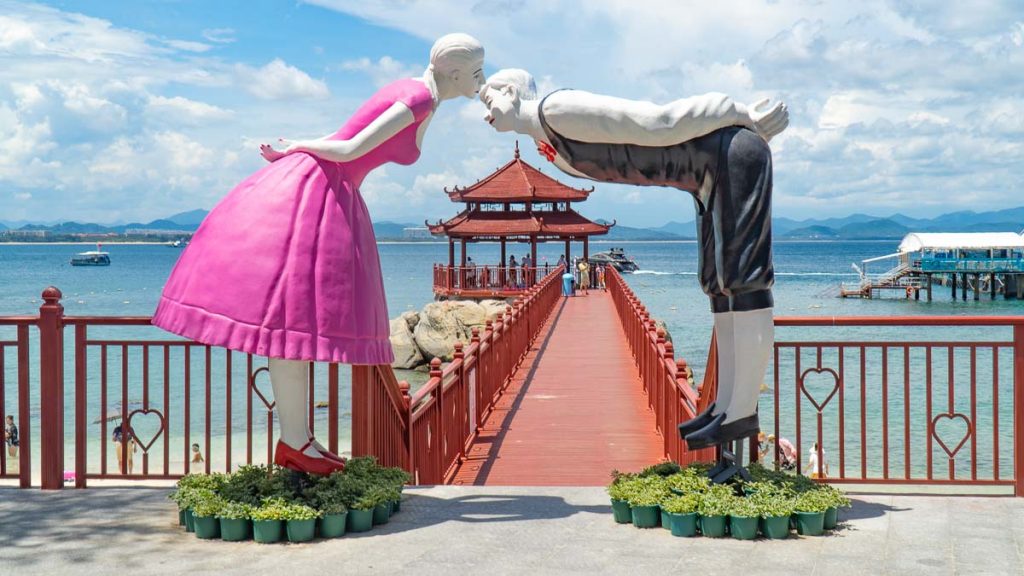 Lover Bridge at Wuzhizhou Island!
Some attractions here include Lover Bridge, Heart of the Sea, Sunrise Peak, and Lover Valley. We suggest hopping on the sightseeing tour bus to explore the island cause the attractions are pretty far from each other.
*Note: A Chinese ID and phone number are required to purchase the bus tickets online. So we asked the staff stationed there, who kindly helped us to fill in the info and buy it online.
Other than sightseeing, there are water activities too like parasailing, jetskiing and even strapping on a water jet suit. That is if you're willing to splurge 😅
Cost of sightseeing bus: 138RMB/adult (~S$26)
Cost of ferry ride: 136RMB/adult roundtrip (~S$25)
Ferry schedule (to island): Every 20mins from 8:30AM – 4PM
Last ferry (from island): 6:30PM in Summer (May – Sep), 5:30PM in Winter (Oct – Apr)
How to get there: 4min walk from Hainanese Wenchang Chicken Drunken Goose Restaurant to Wuzhizhou Island Harbour (Baidu Maps)
Sunset at Luhuitou Park (鹿回头风景区)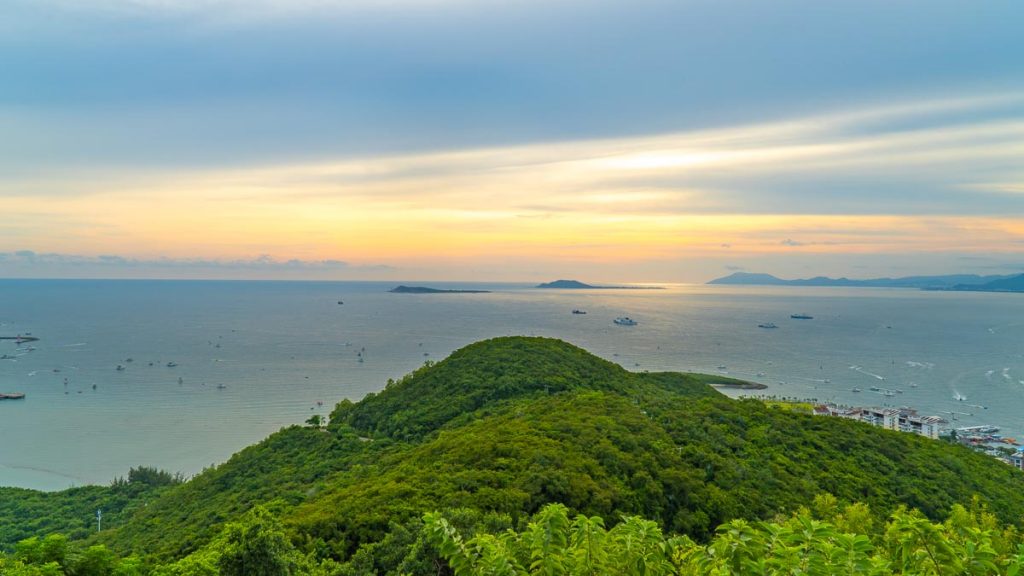 Our last day in Hainan ended with a beautiful sunset at Luhuitou Park, amidst the view of Sanya City and the South Sea.
Luhuitou directly translates to "Deer Looking Back" and there's actually an old folktale behind it. A hunter was on a hill chasing after a deer, which then looked back at him before turning into a woman.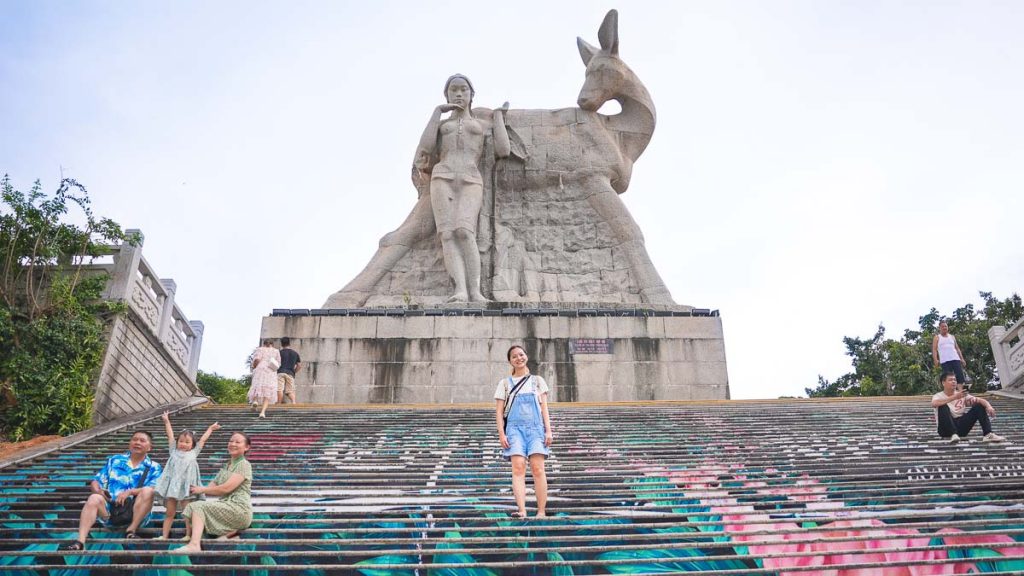 They fell in love and the hill was named Luhuitou in memory of their love. There's even a stone statue of the deer at the park!
*Pro-tip: Take the sightseeing tour bus instead of hiking up the hill to save time (and potential leg pain).
Entrance fee: 28RMB/adult (~S$5, incl. entry and bus ride)
Opening hours: 8AM – 10:30PM
How to get there: 48min taxi ride from Wuzhizhou Island Harbour (Baidu Maps)
Where to Stay in Hainan
Day 1-2: Mishu Hotel Haikou East Railway Station (秘墅酒店海口高铁东站店)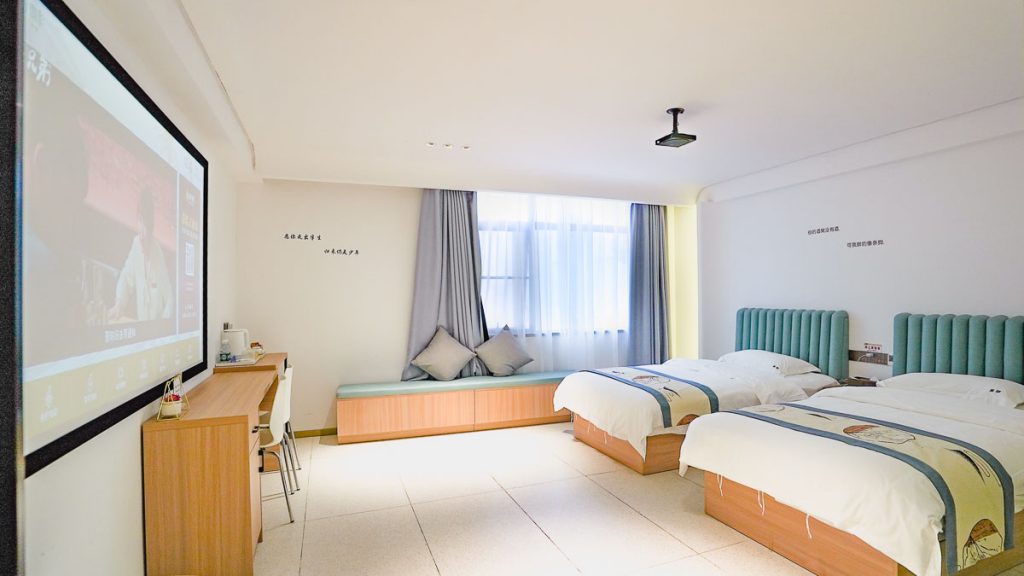 In Haikou, we stayed at Mishu Hotel because it was only a 3-minute walk to the Haikou East Railway Station. Making it convenient for us to travel to Sanya via train for the latter half of our Hainan itinerary! Our room was quite spacious and the minimalistic design gave it a sleek look 💯 Not to mention, we had a big screen projector instead of the usual TV.
Cost: From ~S$40/night for 2 pax
How to get there: 3min walk from Haikou East Railway Station (Baidu Maps)
Day 3-4: Sanya Houyunhai Hotel Yalong Bay Branch (三亚博后云海酒店亚龙湾店)
Our Sanya accommodation was Sanya Houyunhai Hotel, a 20-minute taxi ride from Yalong Bay Railway Station. It wasn't as spacious as our room in Haikou but it did have a public pool we could slide in 😉 The reception was also 24/7 so we could ask the desk for help whenever we needed it.
Cost: From ~S$35/night for 2 pax
How to get there: 20min taxi ride from Yalong Bay Railway Station (Baidu Maps)
Tips for Travelling to Hainan Island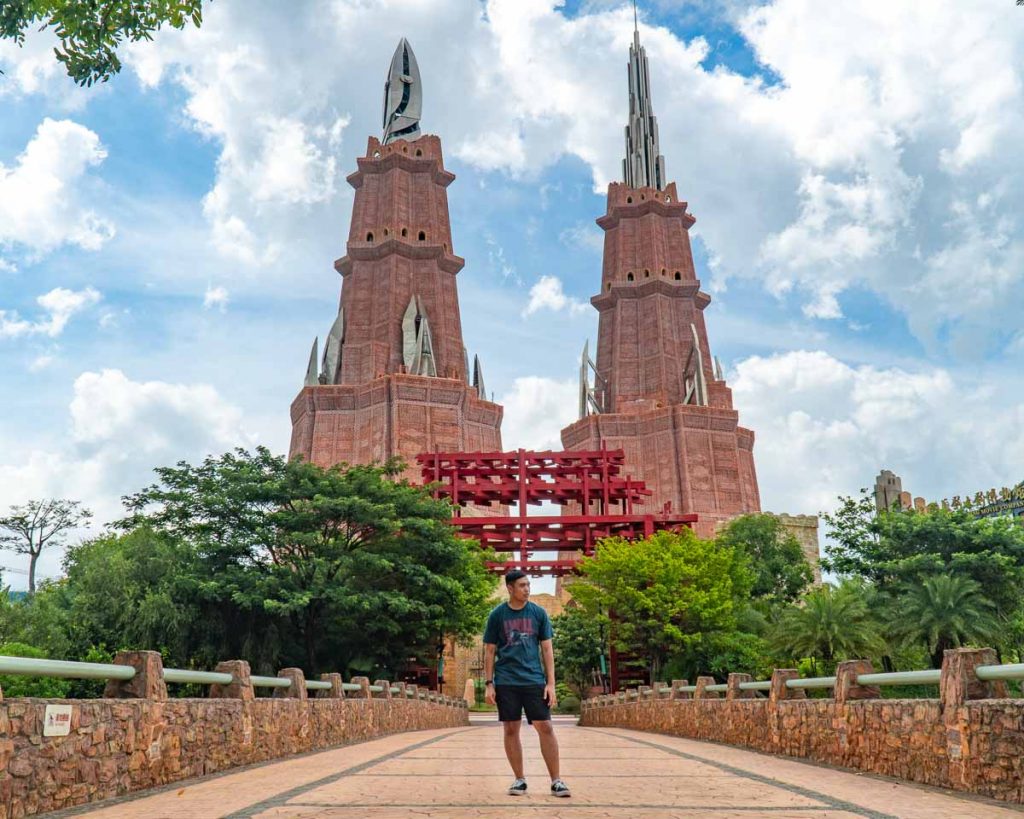 After having been to Hainan Island, we can definitely say it's more than just beautiful beaches! There are other interesting attractions here from scenic hikes to "abandoned" theme parks and even epic performances. I mean you don't see floating mermaids every day 😂
But before you hop on a plane to Hainan, check out our travel essentials and tips for your itinerary planning!
Trip Essentials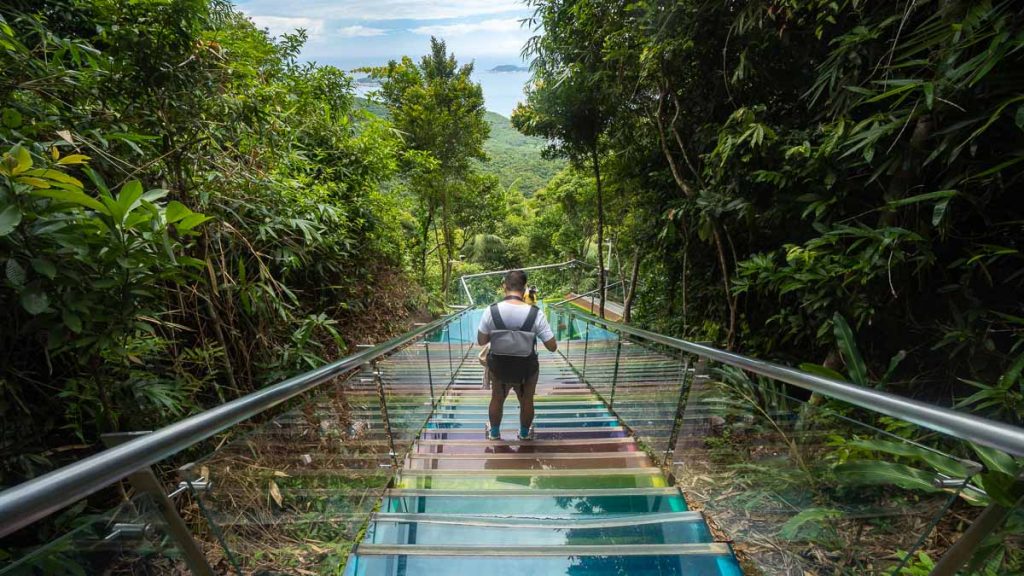 Insurance: Essential plan via Klook — covers Covid-19 medical expenses, incl. overseas hospitalisation.
Connectivity: e-SIM online incl. VPN, to access apps like Facebook and Instagram (currently unavailable in China)! Meilan International Airport doesn't sell SIM cards so do purchase one before you go.
*Note: Double-check that your e-SIM comes with a call option, as you'll need a local phone number to receive a verification code via SMS during payment on some apps.
Health Declaration Form: Fill up this form before departure to receive a QR code to scan during immigration upon arrival.
Transport: There are public buses and trains but we used DiDi (China's version of Grab) to save time! Rides are pretty affordable too — it costs around S$2-3 for a 15-20 minute ride.
*Pro-tip: Enter the destination's name in Chinese as it's more accurate! You can just copy and paste the text from our article 😉
Travel Tips
1) Compare prices online for cheaper rates: Use platforms like Skyscanner for flights and Trip.com for accommodation.
2) Download important apps: Wechat/Alipay (Payment), DiDi (Transport), Baidu Maps (Directions), Xiaohongshu (China's version of Instagram; for finding hidden gems like Wormhole Library).
3) Use multi-currency cards for online transactions: Link your multi-currency cards beforehand on Wechat Pay or Alipay for better exchange rates during payment.
4) Google Translate is your best friend: Use it to communicate with locals as most of them don't understand English.
5) Cash is NOT king but good to have: China is pretty advanced so most shops usually accept card payment via Wechat Pay or Alipay! However, it's still good to have some cash just in case your online transactions don't go through.
Read also: Mobile Payment in China: Step-by-step Guide to Using Alipay and WeChat Pay without a Chinese Bank Account
What else should we add to our Hainan itinerary? Let us know in the comments below!
---
Like what you see? Follow us on Facebook, Instagram, YouTube and Telegram for more travel updates!