Been to Seoul, Jeju Island, Demilitarised Zone DMZ and feeling like you have visited all the popular tourist spots in South Korea? There are actually so many other places in South Korea that you can venture out into!
Travelling doesn't always mean that you have to tick off popular attractions from the list — sometimes, visiting local attractions less known to foreign tourists can allow you to see and experience a country more authentically. You can appreciate the sights in peace and solitude, away from the flag-toting tour guides, their tour groups and persistent merchandise sellers.
Here are 7 of such charming places in Korea that only locals know of — picturesque places uninterrupted by foreign tourists and crowds.
1) Windy Hill In Geoje Island (바람의 언덕)
If you are wondering where to go to in Korea for Instagram-worthy shots and beautiful landscapes, Windy Hill in Geoje island should make the top few on your list. This attraction is a visual feast for photography enthusiasts, and is a serene spot away from the city.
Located in a tranquil little port village of Dojangpo, Windy Hill is surrounded by quaint colourful shophouses by the sea. Indie and folk music would have fitted the scene perfectly; I was in love with the calmness this village offered!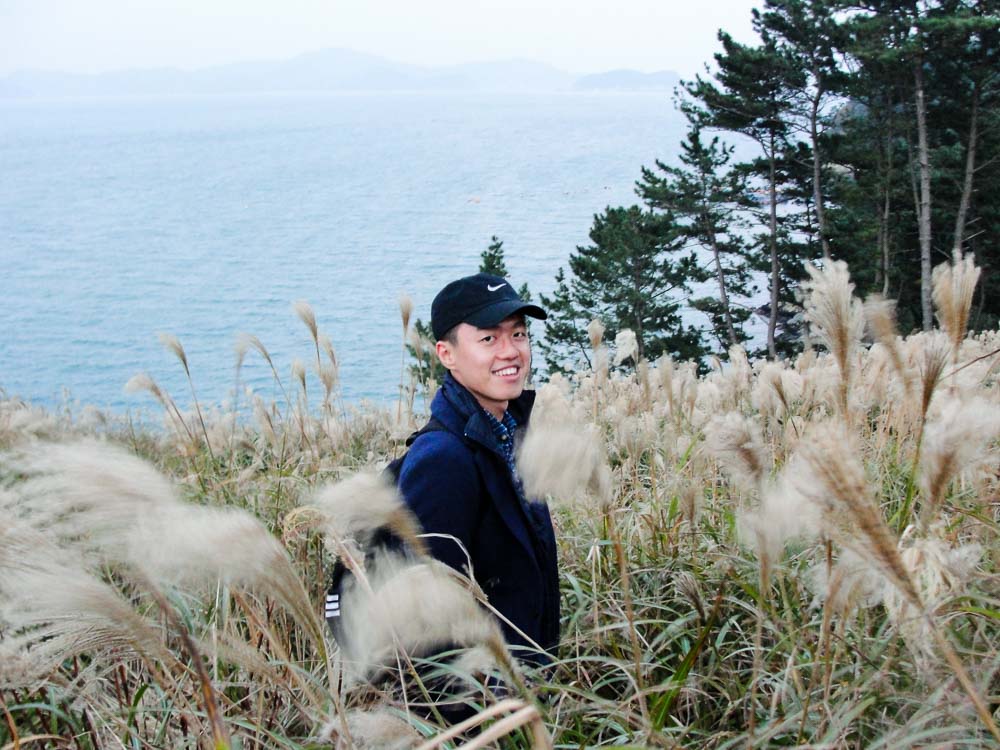 Climbing to the top, there were endless fields of Lallang, and the windmill set nicely against the sunset. The features of the windmill, coupled with pastures of green and yellow lying underneath its feet, made the scene look like it was from an animation movie. I was captivated by this scenery, and a part of me wished that a special someone was here with me. The deep blue hues of the ocean and the golden rays from the sun blend together to form the quintessential romantic setting.
Address: San 14-47, Galgot-ri, Nambu-myeon, Geoje-si, Gyeongsangnam-do
Directions: From Gohyeon Bus Terminal, take Bus No. 55 and get off at Dojangpo Bus Stop. Walk for about 400m to get to Windy Hill.
2) Jangsado Sea Park in Tongyeong (장사도 해상공원)
An island reachable by ferry from Tongyeong, Jangsado Sea Park will be a charming treat especially for nature-lovers. Famous for the camellia flowers that bloom in winter and the hydrangea flowers that bloom in summer, be sure to visit during these two seasons if you want to catch the flowers!
There are numerous attraction spots waiting for you at the top. Being a popular location where Korean dramas are filmed, fanatics come to Jangsado Sea Park to view the places where their favourite characters had their big moments on screen. The iconic rainbow bridge where 'One Warm Word' (따뜻한 말 한마디) was filmed is one that lovers should cross and take pictures with.
If you have watched '별에서 온 그대' (You Who Came From The Stars), the popular Korean Drama about an alien who landed on Earth and fell in love with a female human being, the camellia tunnel where Do Min Joon (Kim Soo Hyun (김수현/金秀賢)) teleported to with Chun Song Yi (Jun Ji Hyun (전지현/全智賢)) can be found here too! It is an iconic scene in the drama, and the tunnel is beautiful when the red flowers are in full bloom.
Address: 55, Jangsado-gil, Hansan-myeon, Tongyeong-si, Gyeongsangnam-do
Directions to Jeogu Dock: From Gohyeon Bus Terminal, take Bus No. 53 and get off at Jeogu Village Bus Stop. Walk for about 300m to Jangsado Island Ferry Terminal. Purchase your ferry ticket and admission ticket for Jangsado Island. Board the ferry and get off at Jangsado Sea Park.
(The ferry ride takes about 40 minutes one way, and you'll get to enjoy the picturesque view of the ocean and the mountains!)
Cost: ₩10000 won for adult entrance fees (₩8000 for students/military men and ₩5000 for children), ₩22,000 for ferry ride.
3) Dongpirang Mural Village in Tongyeong (동피랑마을)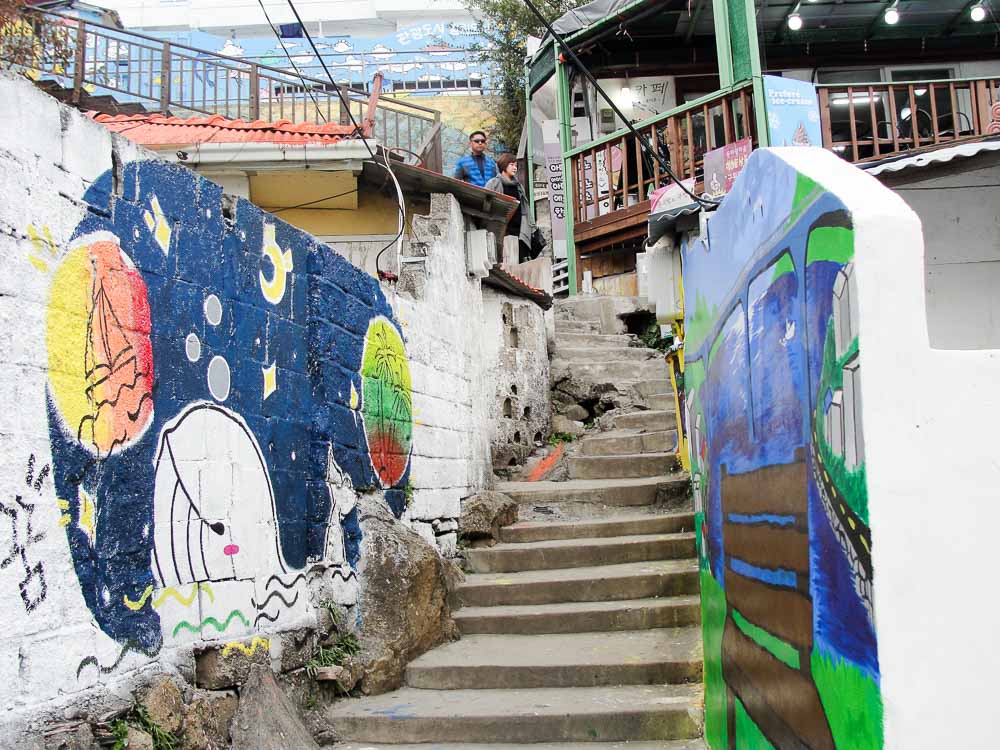 Dongpirang Mural Village presents an extensive mix of murals — some professional and detailed, others whacky and comical. A rustic village enlivened by hard, bright palettes, it is really a testament of how art can beautify and enrich our world. Locals visit to have a good time with their loved ones, posing with each mural that passes by.
This was one of my favourite stops during the trip, because there were so many vibrant and fascinating paintings that got me to stop in my tracks and appreciate them. It was clearly a photo-paradise, with us pausing at almost every corner to take photos with trick art illusions, quirky cartoons, and whacky designs. One of my highlights is posing with the Disney princesses.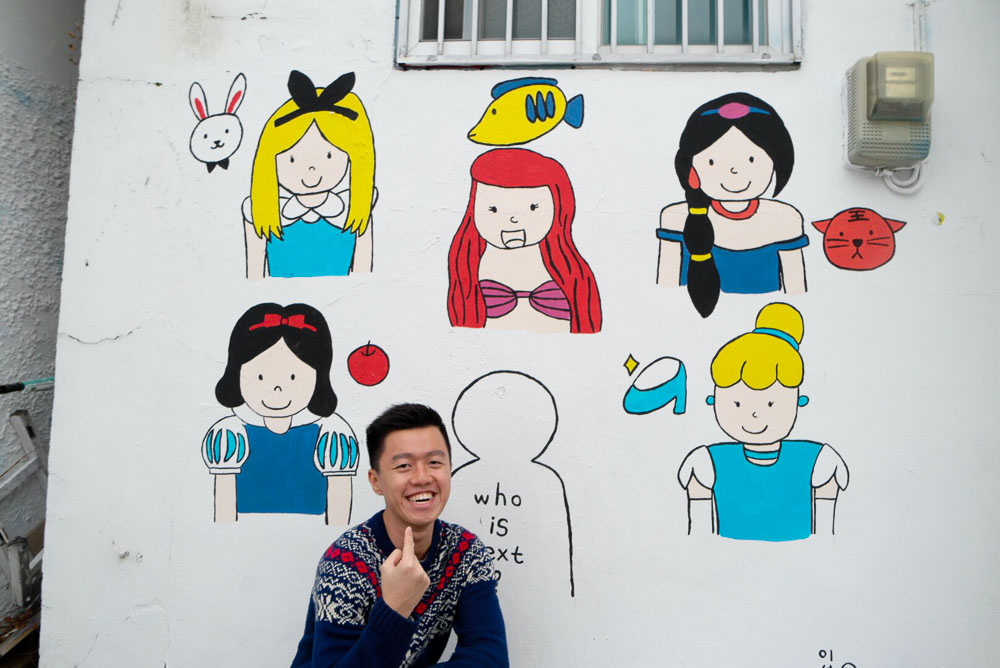 Clearly, I wanted to be one of them and live the dream, but I shall settle to be a Disney Prince.
A cheerful atmosphere rings in the village, buzzing with many students, families with young kids, and happy couples. Locals stand in line waiting patiently to take turns being the star of their photos.
*Pro-tip: Grab an ice-cream or refreshing cup of iced coffee from one of the quirky dessert stalls lined up along the path.
Address: Dongho-dong, Tongyeong-si, Gyeongsangnam-do
Directions: From Tongyeong Bus Terminal, take Bus No. 101 and get off at Jungang Market Bus Stop. Walk for about 400m to Dongpirang Village.
4) Naganeupseong Folk Village In Suncheon (낙안읍성민속마을)
A charming folk village where traditional life still exists and people still reside in rustic, mushroom-like huts, Naganeupseong Folk village is one of the best-preserved town fortresses in South Korea. It is said to have been inhabited since the beginning of first millennia, and witnessed life back in the Goryo and Joseon Dynasty.
As we went during Fall, the yellow, orange and red trees complemented the brown cemented walls beautifully.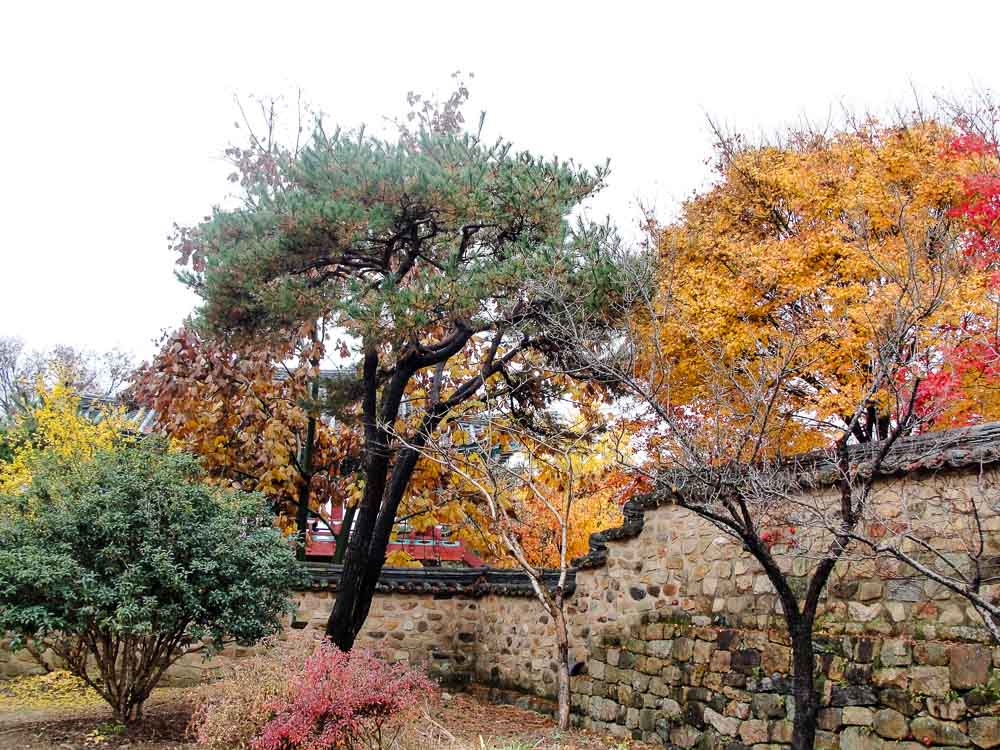 There are about 288 people in 90 households living in the village today. Like a living museum, one could observe the traditional life of Korea centuries ago.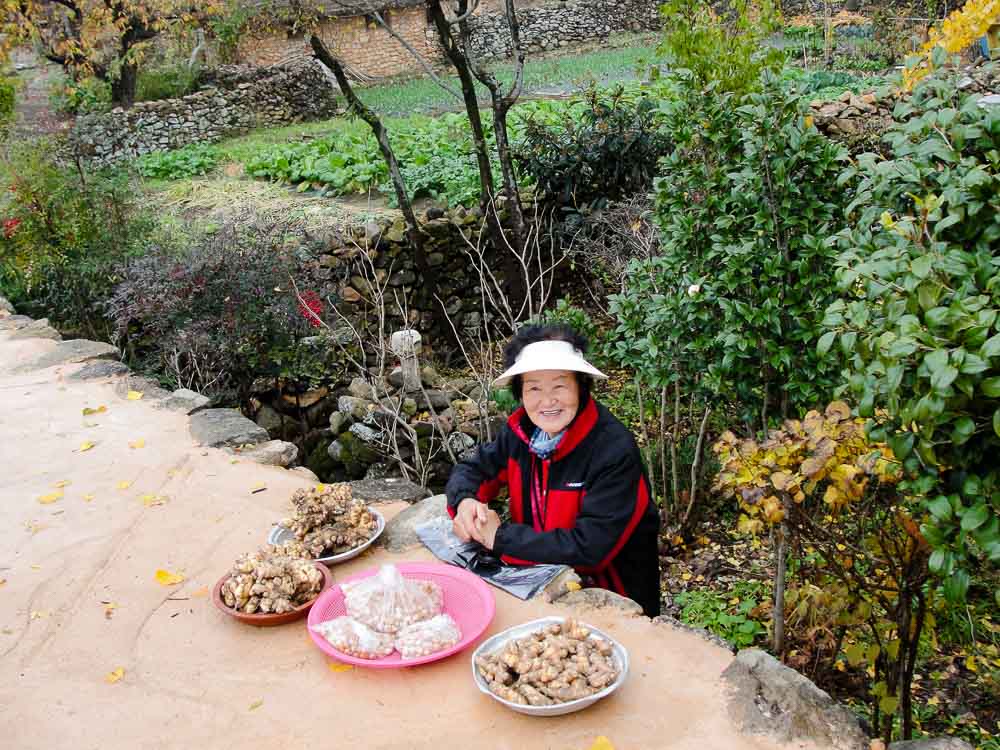 One of my highlights was learning about the traditional punishment practices during the dynasty periods. Being beaten with a stick made of an ash tree was a penalty meted out for certain crimes, as well as having the convict's legs split apart by two wooden rods.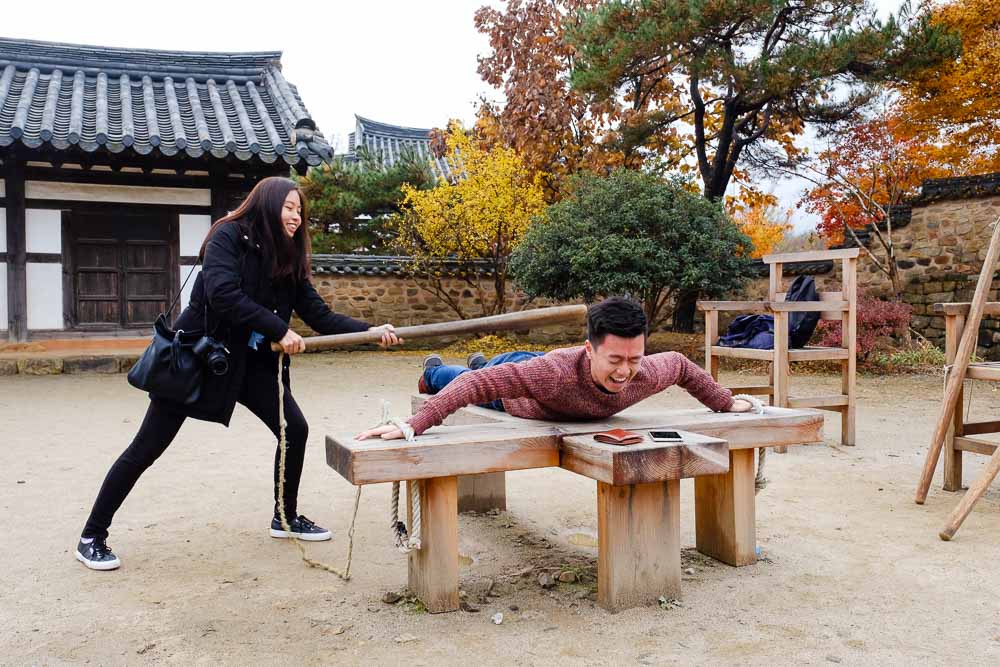 For those of you fascinated with history and culture, the Naganeupseong Folk Village is certainly a delight to visit with its traditional charm and allure!
Address: 30 Chungmin-gil, Nagan-myeon, Suncheon, Jeollanam-do
Cost: ₩2000 for adults, ₩1500 for youth, ₩1000 for children
Directions:
1. Take KTX/ Mugunghwa from Seoul to Suncheon Station. That will cost you for about ₩43,000 for KTX, approx. 3 hours journey.
2. Walk out from Suncheon Train Station 순천역, and proceed to the bus stop just right in front of the main gate of Suncheon Train Station. The Bus stop is called 순천역 정류장 (suncheon yok jong lieu jang) in Korean.
3. Take bus no. 68 and alight 40 stops later at the Naganeupseong Station. (Approx. 43 minutes ride).
Credit: Directions from Pheurontay
5) Odongdo Island in Yeosu (오동도)
Odongdo Island in Yeosu is another natural gem hidden away from foreign tourists. One can find beautiful scenery with cliffs and the vast blue sea, a musical fountain and colourful Camellia trees forest. Perfect for nature lovers, photography enthusiasts, and family getaways, Odongdo island offers several scenic viewpoints and tourist highlights.
*Pro-tip: Best times to go are from February to March when the Camellia flowers are in full bloom!
My personal favourite from this place is the beautiful creeks and cliffs, with the ocean in the background. It makes for perfect photo-taking, and you can just sit on the rocks and watch the waves come crashing. Mostly visited only by local tourists, these spots are pretty quiet and you can enjoy the peaceful afternoon by yourself appreciating the view. There are also popular tourist attractions like the Dragon Cave, Penis Tree and the lighthouse where you can enjoy the panoramic view of Odongdo island.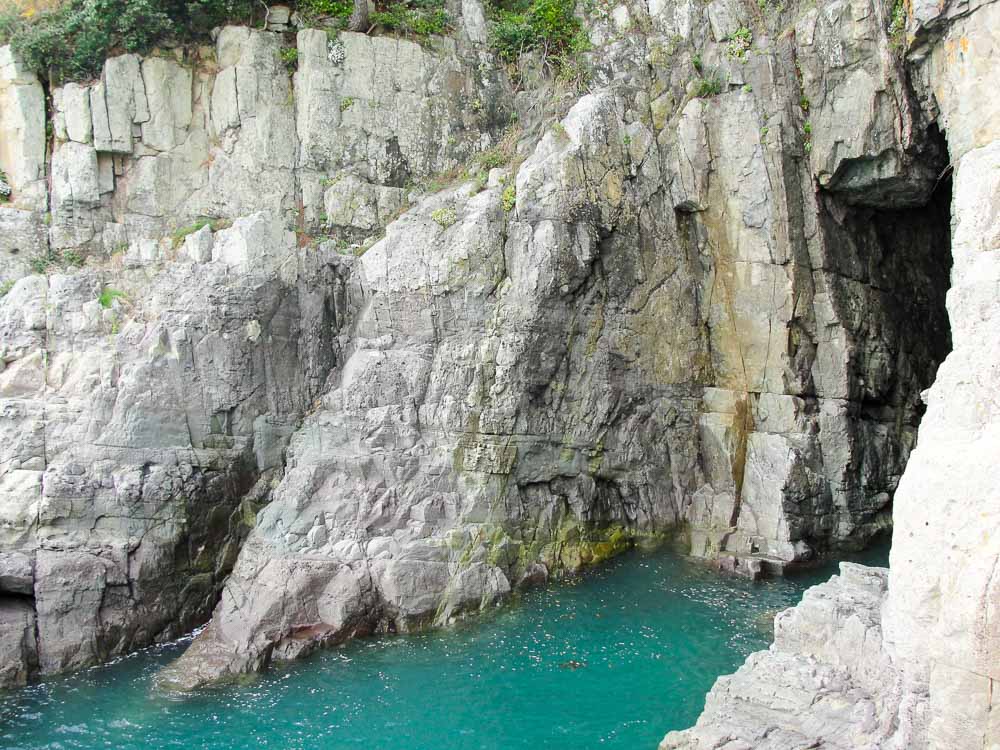 A huge attraction is the "penis tree" named for pretty obvious reasons. Locals joke that touching it can transform one into a playboy 😉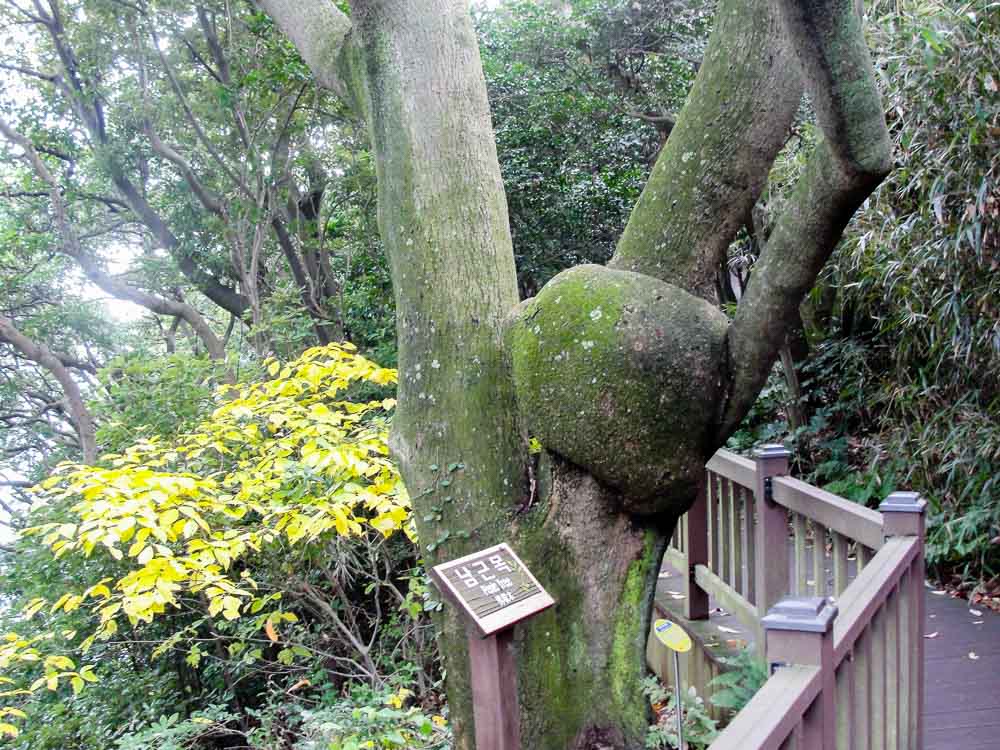 Address: 242, Odongdo-ro, Yeosu-si, Jeollanam-do
Directions: Across from Yeosu Intercity Bus Terminal, take Bus 333 to Odongdo Island (오동도). Or, from Yeosu Expo Station, take Bus 2 or 333 to Odongdo Island (오동도).
6) Gwanghalluwon Garden (광한루원)
One must visit a traditional palace garden to complete his or her itinerary in South Korea, and Gwanghalluwon Garden encapsulates what a Korean palace garden should be like. Coined as the "palace on the moon" because of its surreal beauty, Gwanghalluwon Garden is famous as the location where Lee Mong-ryong and Chuhyang (two lovers from a well known Korean folk story) first met. On May 5th of every year, a festival celebrating the deep and lasting conjugal love of the couple will be held at the garden.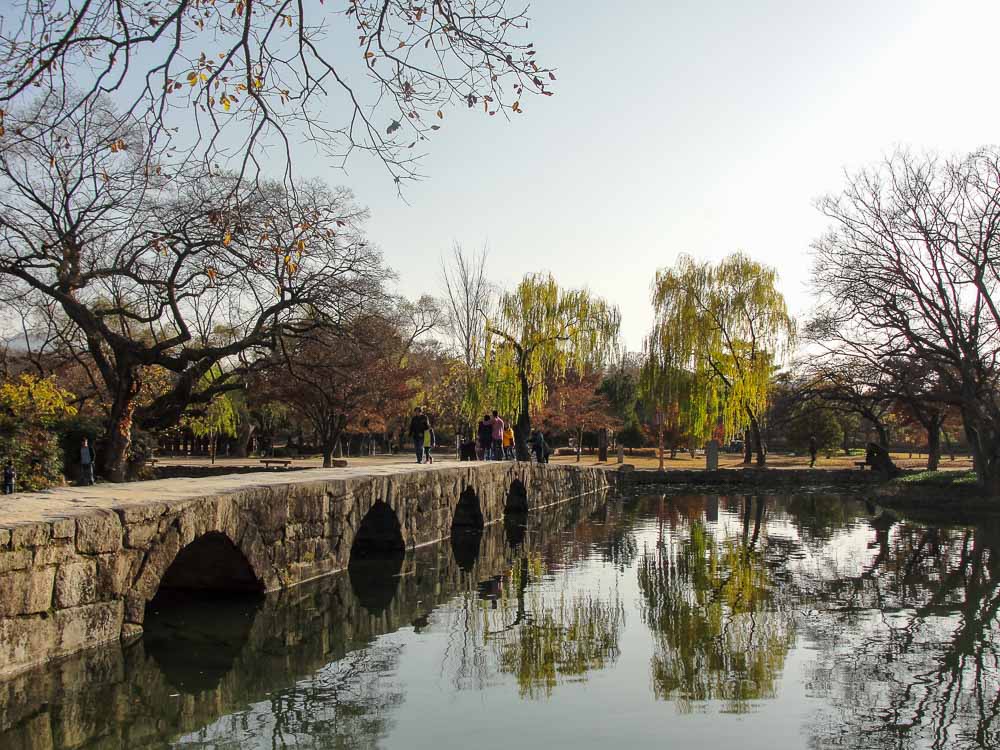 This palace garden is indeed mesmerising, especially when you visit it when the sun is setting. The clear, cobalt pond reflects the images of the palace and surrounding trees, and any photos with it will turn out beautifully.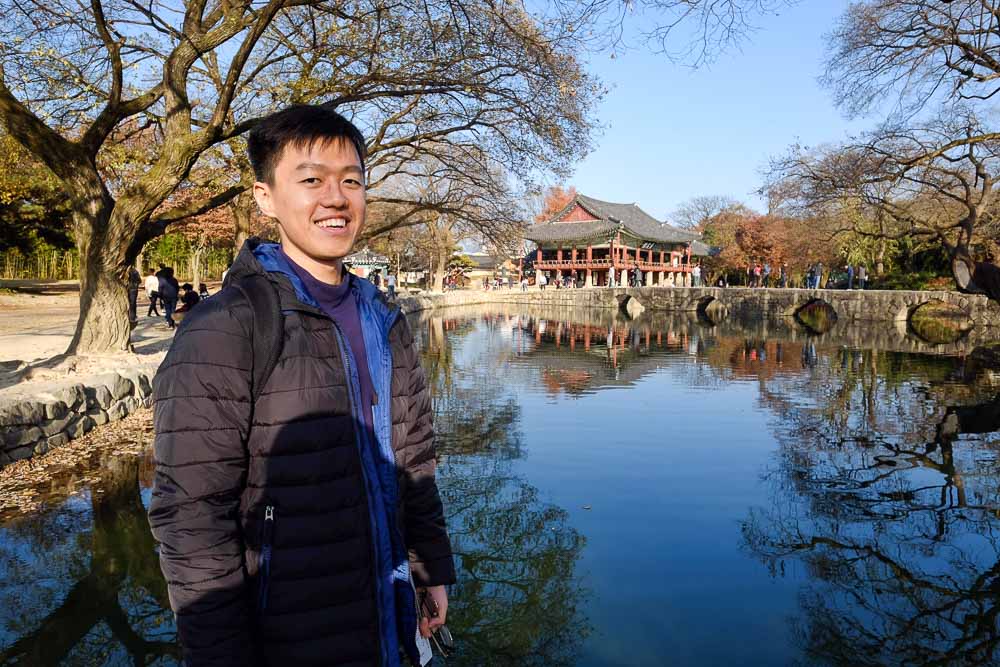 Besides basking in the picturesque scene, explore the interiors of the palace to find out about the story of Mong-ryong and Chuhyang. There are waxed statues that depict the traditional folk story, and also a museum at the end of the visit that explains in greater detail the significance of the folk story on Korean culture. Not only was the palace beautiful, it was so rich in history and culture.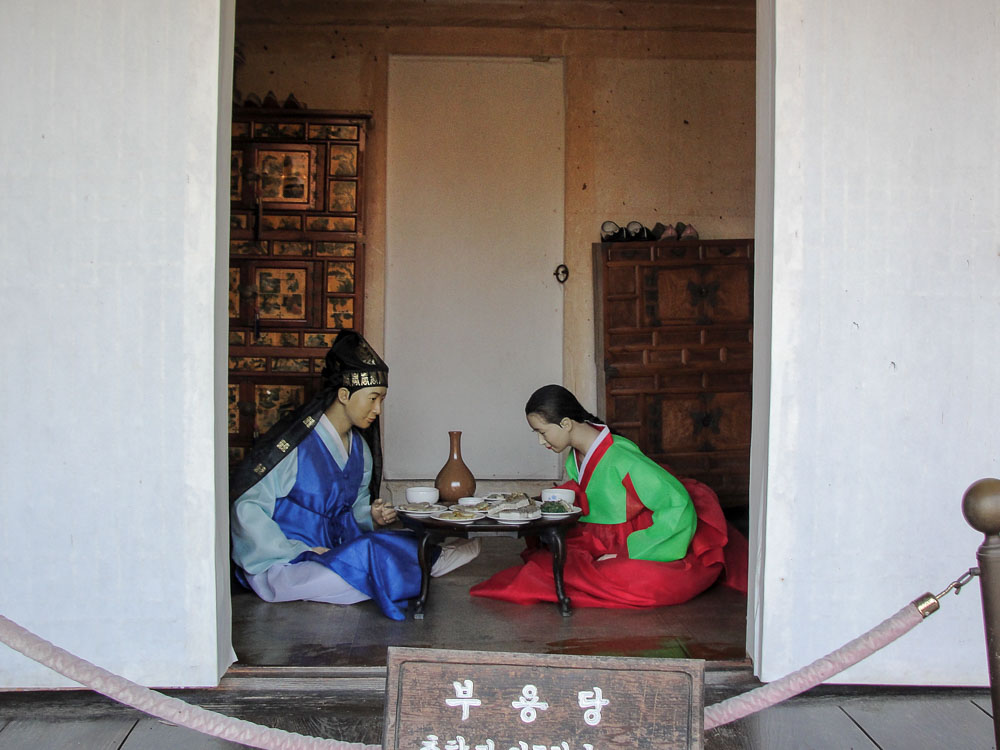 Address: 1447, Yocheon-ro, Namwon-si, Jeollabuk-do, South Korea
Cost: ₩2500 for adults, ₩1500 for youth, ₩1000 for children
Directions:
1) Take an express bus from Dong Seoul Bus Terminal to Namwon Express Bus Termina. From the terminal, turn left and walk around 300 meters towards Namwon Yongseong Middle School.
2) Turn right at the Dongdi 4(sa)-geori intersection and walk 300 meters to the bus stop located in front of Dong Namwon Saemaeul Geumgo. Take Bus No. 220 or 281 and get off at "Gongseoul Market". Keep walking straight, turn right at the intersection and walk around 100 meters to arrive at the garden.
Credit: Directions from Trazy
7) JeonJu Hanok Village (전주한옥마을)
Jeonju Hanok Village is a charming traditional spot right smacked in Jeonju, juxtaposed against the modernising rest of the city. There are over 800 traditional Korean Hanok houses, and the Hanok village is especially alluring for its unique roof edges that are slightly raised to the sky.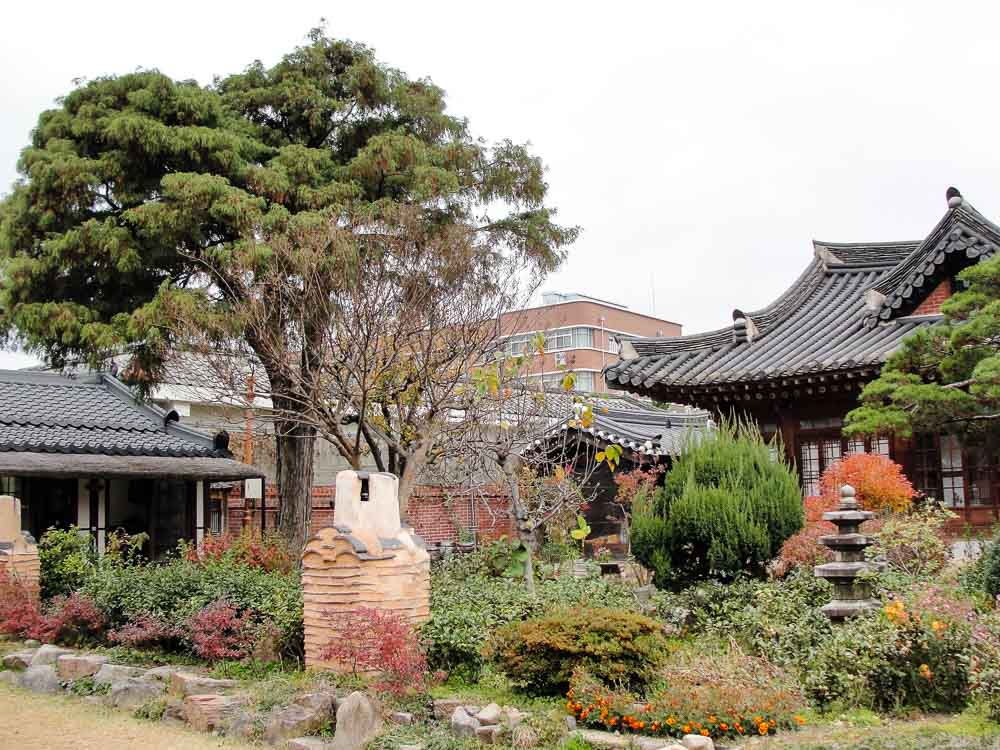 One difference the village has compared to the Naganeupseong folk village is that it feels like a place from a traditional Korean drama. You will also see people dressed in traditional hanboks, which makes the scene all the more fitting.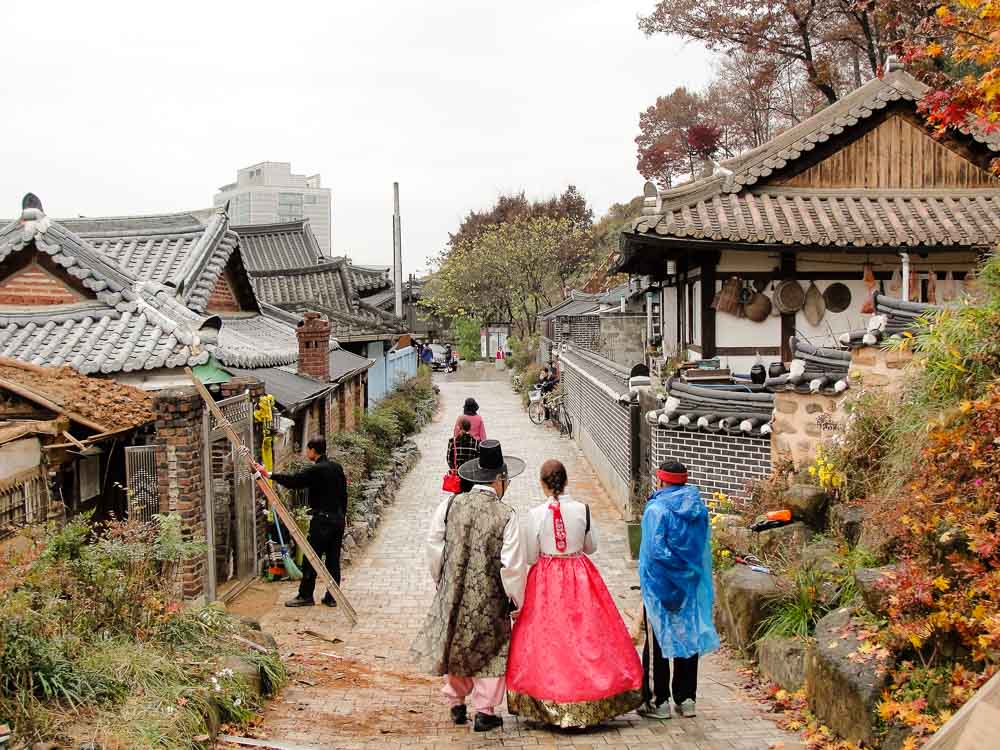 The quiet, traditional village with lovely cafes and restaurants makes for a perfect day trip location for those who love the Korean history, culture, and delicious traditional Korean food. I especially liked my stay here, because the pace of life is so slow and peaceful.
The best way to take pictures in the village is to get yourself dressed in a Hanbok. Shops that rent out Hanbok costumes can easily be found, and the cost is about ₩30,000 for a full costume.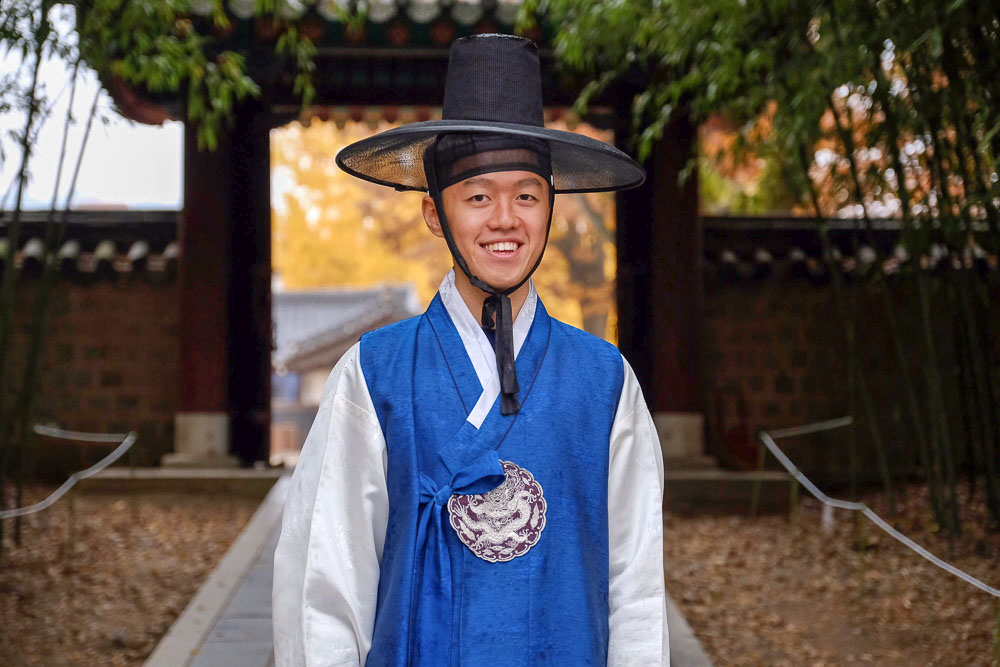 You can also experience the Korean tradition of sleeping on the floor via a Hanok stay. It is fascinating how the floor is heated and kept warm by a unique sub-floor heating system called the Ondol. You don't have to put on another layer of clothing or huddle under thick blankets – you can literally feel warmth emanating from the floor!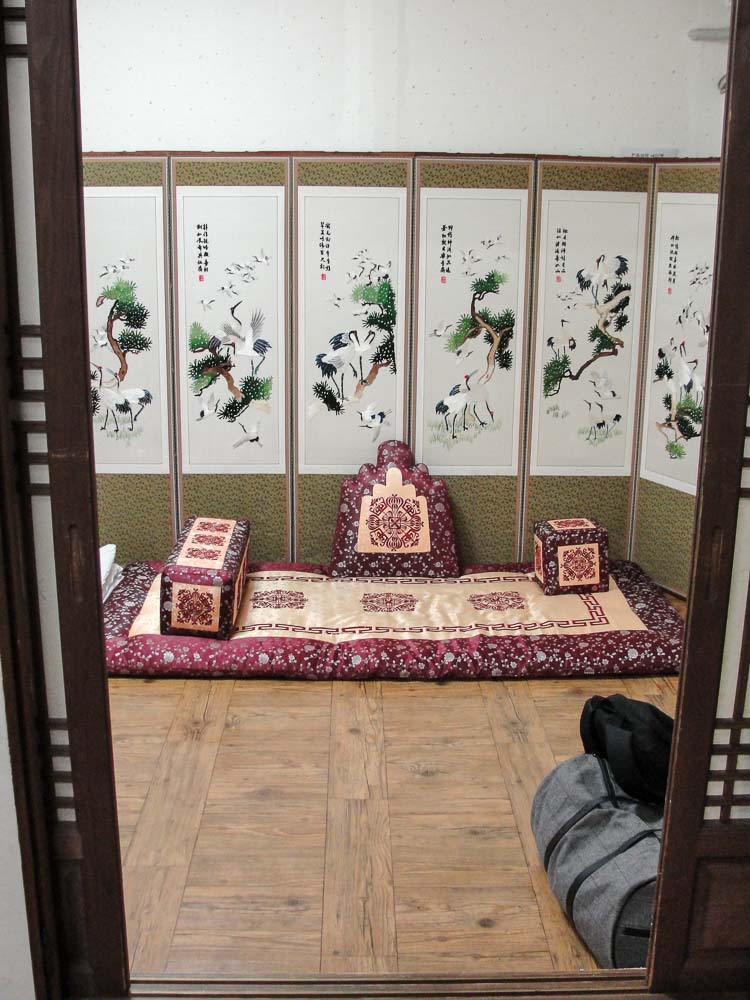 Address: 29, Eojin-gil, Wansan-gu, Jeonju-si, Jeollabuk-do
Directions: From Seoul Nambu Bus Terminal, take the intercity bus bound for Jeonju (₩11,600). The journey takes about 3 hours.
From the Jeonju bus terminal, take a cab to the Hanok Village (about 10 mins, ₩5,000). Alternatively, you can take public buses.
Credit: Directions from travellerelf
I hope you have enjoyed my selection of charming places in Korea that only locals know of. Special thanks to Korea Tourism Organization for exposing us to these hidden gems in South Korea!
Heading to South Korea? Save all these cool places on TripAdvisor for easy access to reviews, addresses and opening hours while on the go!
Don't miss these too:
– 7D Seoul, Nami Island, Busan Itinerary
– Themepark: Ultimate Everland Guide
– Nanta Show & other must-watch non-verbal shows under S$35
– 15 Cheap Things to do in Seoul for under S$12