No need to break the bank to fulfil your Nat Geo safari dreams.
From unforgettable animal safaris and National Parks, to beautiful beaches and friendly people, Kenya is one of the most accessible and attractive countries in Africa.
As a kid that grew up watching and reading National Geographic, visiting Kenya and going on a safari has been on my bucket list for the longest time. I've always dreamt of observing animals in their natural habitat and seeing the circle of life in action.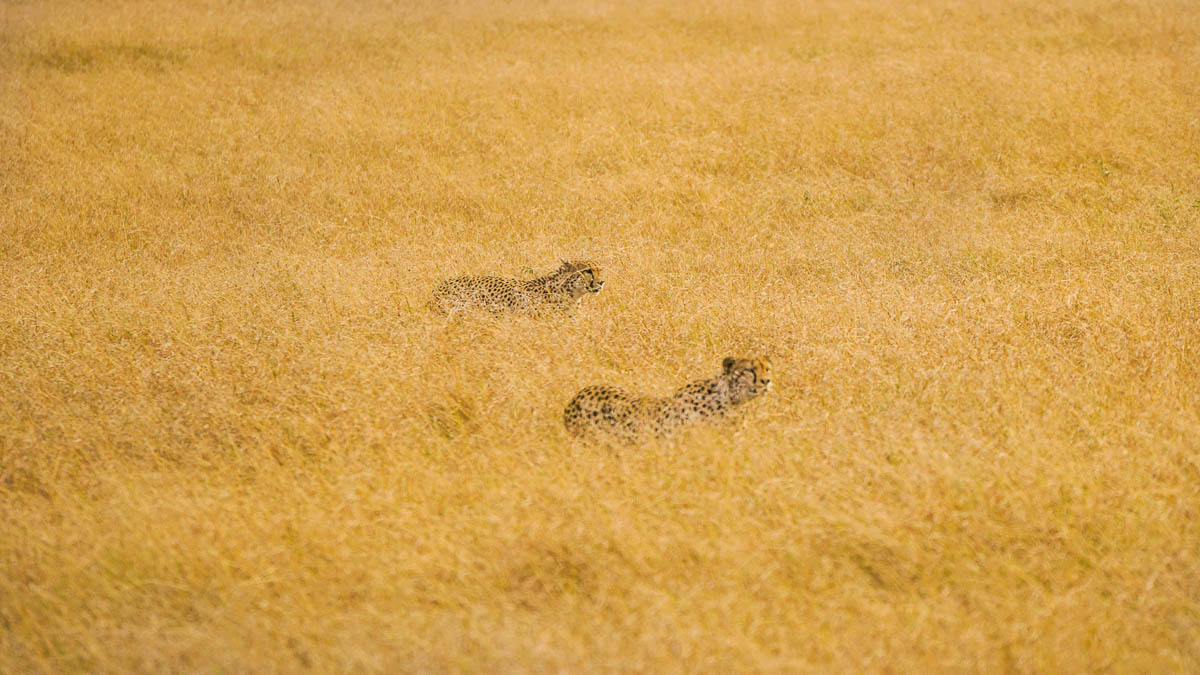 Unfortunately, visits to National Parks and safaris can also be notoriously expensive for tourists. Tours charge a premium, and information on how to travel around budget isn't readily available. But it's possible.
During my 12 days solo backpacking adventure around Kenya, I spent a total of only US$1,099! There were plenty of conscious decisions, but I never had to compromise safety or miss out key experiences. In fact, it gave me the opportunity to mix around with the locals and learn more about their daily life!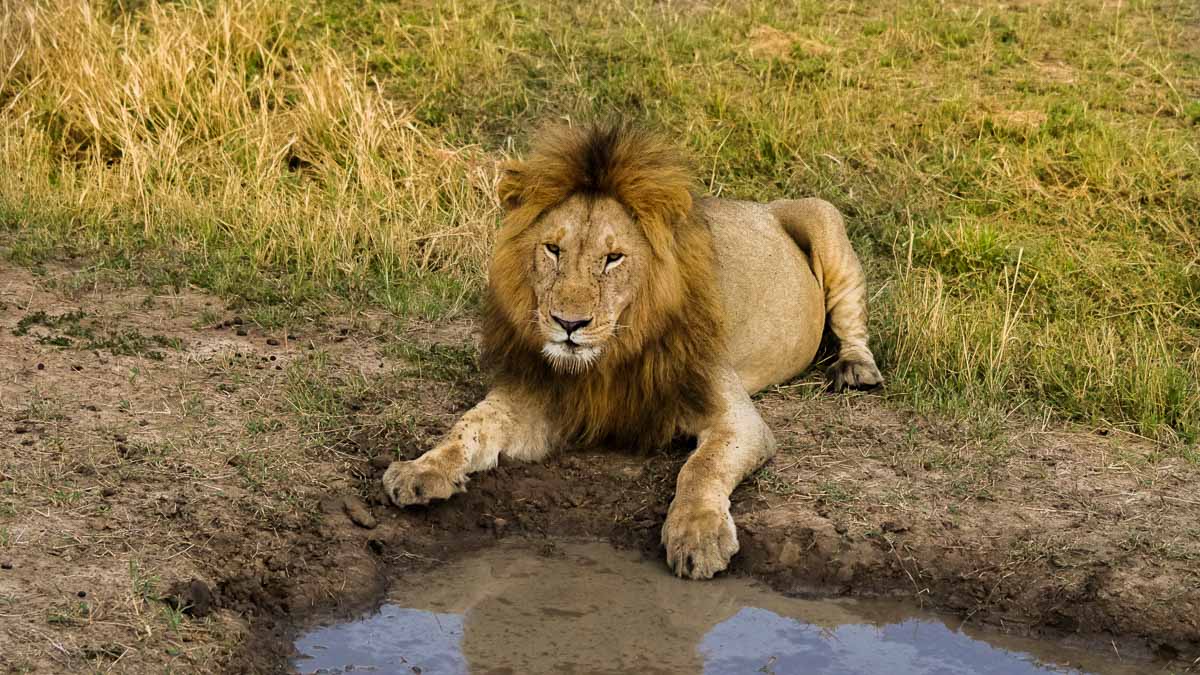 That said, you do have to be comfortable squeezing on public transport, getting hustled, and staying in basic but comfortable accommodation. It can still go a lot cheaper, but this to me has the right amount of comfort and experiences to make a memorable, once-in-a-lifetime trip to Kenya.
Here's my budget Kenya safari itinerary, with a summary of costs (at the end), tips, and FAQ on how you can do it too.
P.S. If you love travelling off-the-beaten-track, join TTI Experiences as we explore exotic destinations like Mongolia!
Pre-trip Essentials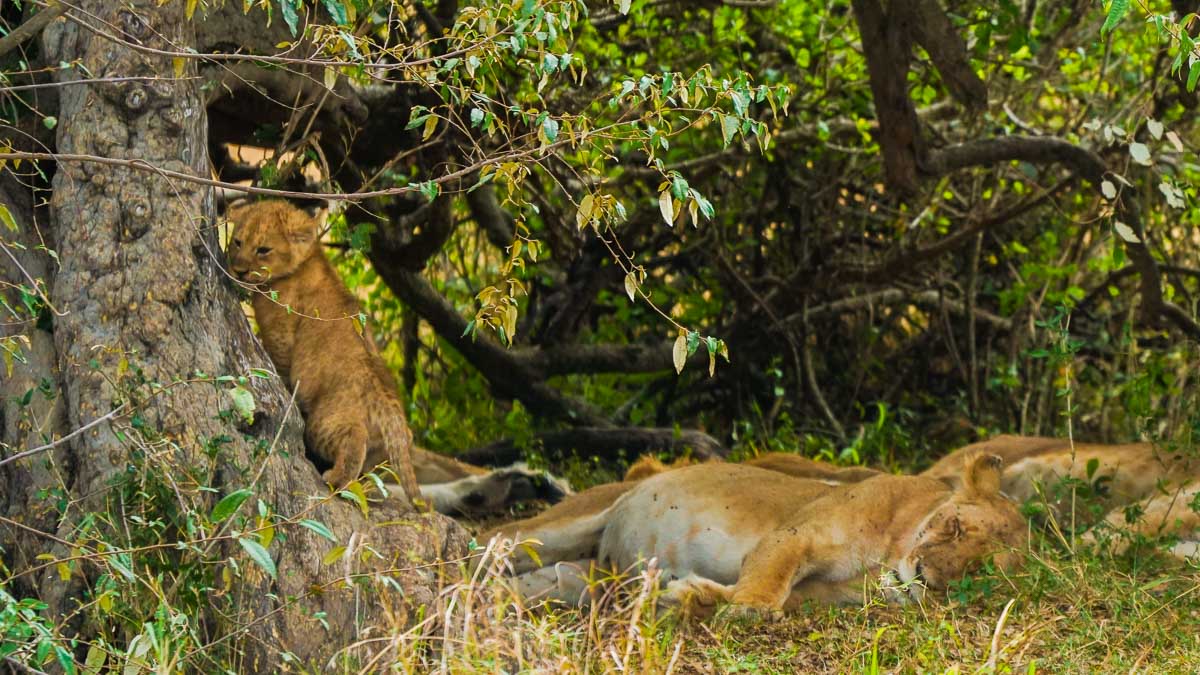 Currency Exchange: The Kenyan Shilling (KES) is the Kenya's currency. Major tourist attractions accept USD and EUR, but it's always best to carry KES around for normal purchases. As it's almost impossible to exchange KES in Singapore, I brought USD to exchange at the airport money changer, which had reasonable rates.
If you're from Singapore, I suggest using the pre-paid YouTrip Mastercard to save on currency exchange fees. Credit card payment is readily available in Kenya.
At the point of writing, SGD1 = KES73.71 & USD1 = KES99.66
Connectivity: The most affordable and reliable option is to purchase a SIM Card at the airport. I got a Safaricom SIM Card with 5GB Data and 30 minutes of call time for KES1,400 (US$14). I'd recommend getting call time to help with making travel arrangements on the go.
Kenya Itinerary Overview
I took an open jaw flight to Kenya, landing in Mombasa and flying out from Nairobi. Most people will do the reverse journey from Nairobi to Mombasa as it's easier to make travel arrangements from Nairobi. However, I planned it this way as I wanted to build the trip up towards a climactic safari experience at Maasai Mara. Flights were also cheaper!
Check Flight Prices to Mombasa
Day 1: Mombasa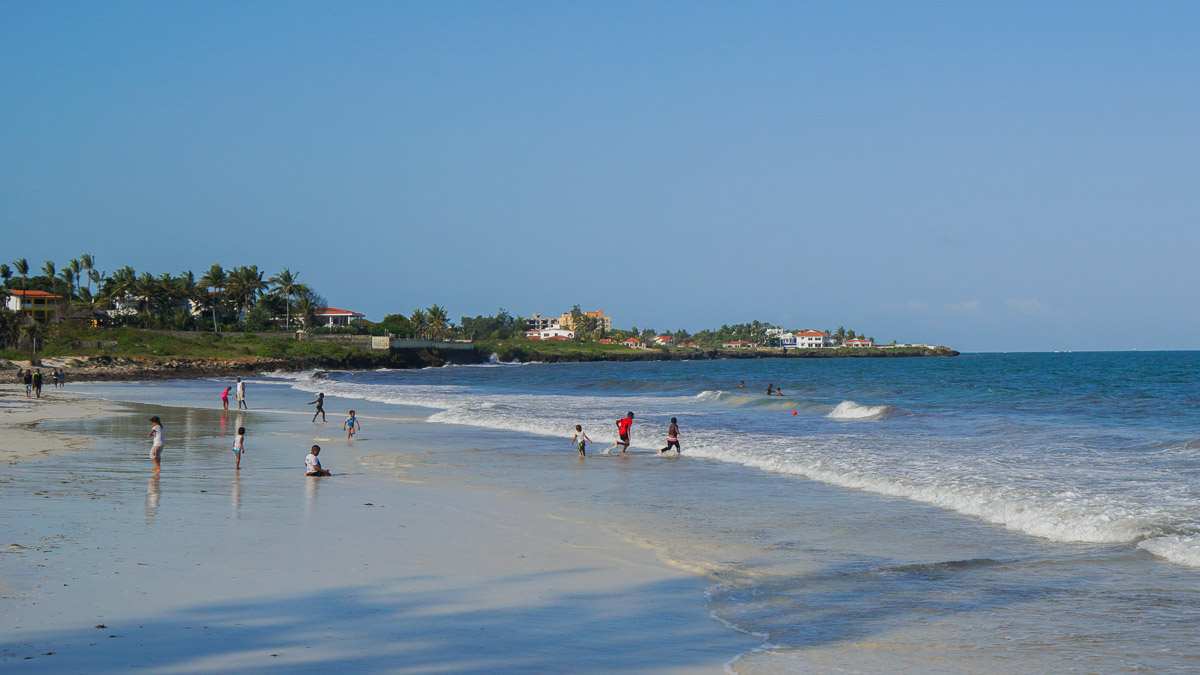 Settle into Kenya in the less chaotic Mombasa, explore a little, and make arrangements for your safari tours. It's a great base and much more manageable than Nairobi, which can be overwhelming for first-time visitors.
There are limited touristic things to see, but do take a walk around the historic Old Town and UNESCO Fort Jesus.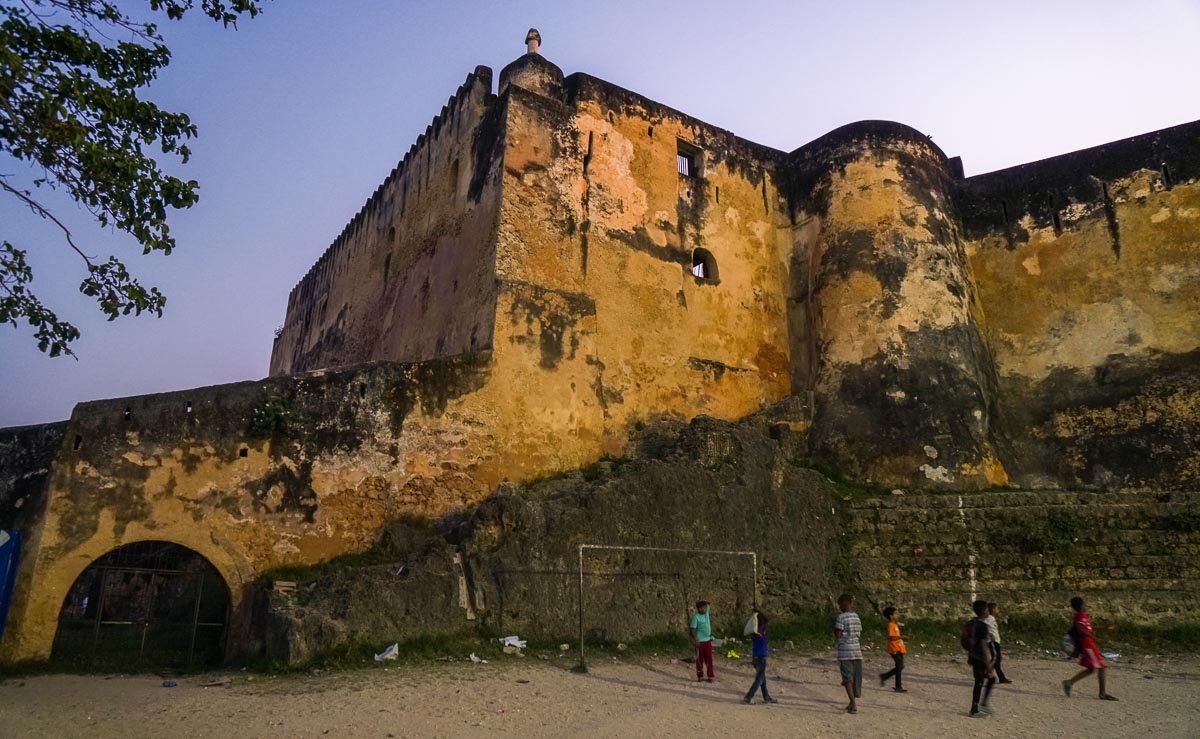 I organised my first custom Safari Tour with Alex from Alexander Africa Safaris upon recommendation from my hostel owner, and was impressed by the service. Alex was super professional, and even travelled down to the hostel to finalise plans with me. As I wanted to visit Amboseli National Park (more on that later) with a drop off at Nairobi, the custom tour was a little more expensive than their standard return tours to Mombasa. That said, it was still competitively priced compared to other local operators (I enquired with three other agencies).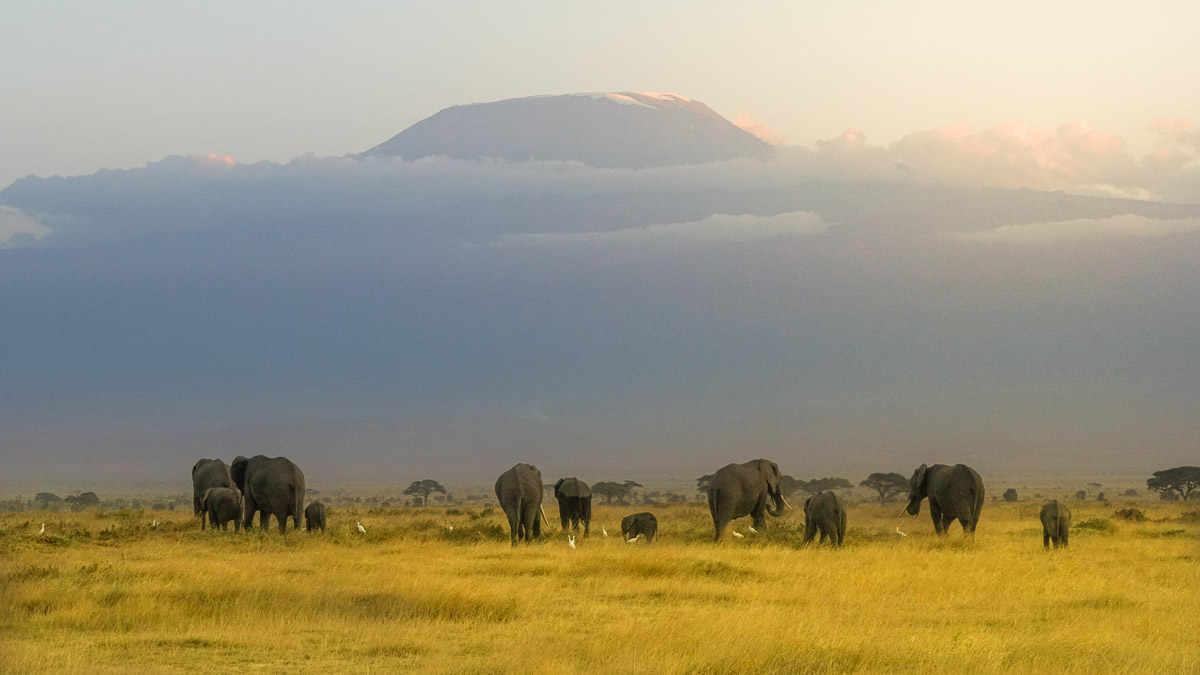 *Pro-tip: If you're staying in a hostel, make friends and convince other travellers to join you for a better rate!
With four people, you pay €300 (~US$340) each for an all-inclusive 2D1N tour that included:
– Transport from Mombasa to Amboseli National Park to Nairoibi
– 2 x Game Drives in Amboseli National Park + Guide
– Amboseli National Park Entrance fees (US$60)
– All meals during the tour
– 1N Resort Accommodation
More about this part of the trip in Day 4–5.
Accordingly to Alex, he also has the network to plan trips from Nairobi if you're starting from there instead.
Where to stay in Mombasa
Stay in a hostel. You get to make friends, trade information, share costs, and learn more about foreign cultures. Interestingly, there were plenty of visiting Kenyans staying there too.
Tulia Backpackers is probably the most value-for-money hostel when I was there. There's a beautiful poolside bar, loads of space for games, three dogs, and an adorable cat. Dorms start from KES1,300, and hammocks for KES900 if you're really on a budget.
There's a Naivas Supermarket nearby where you can get affordable cooked food.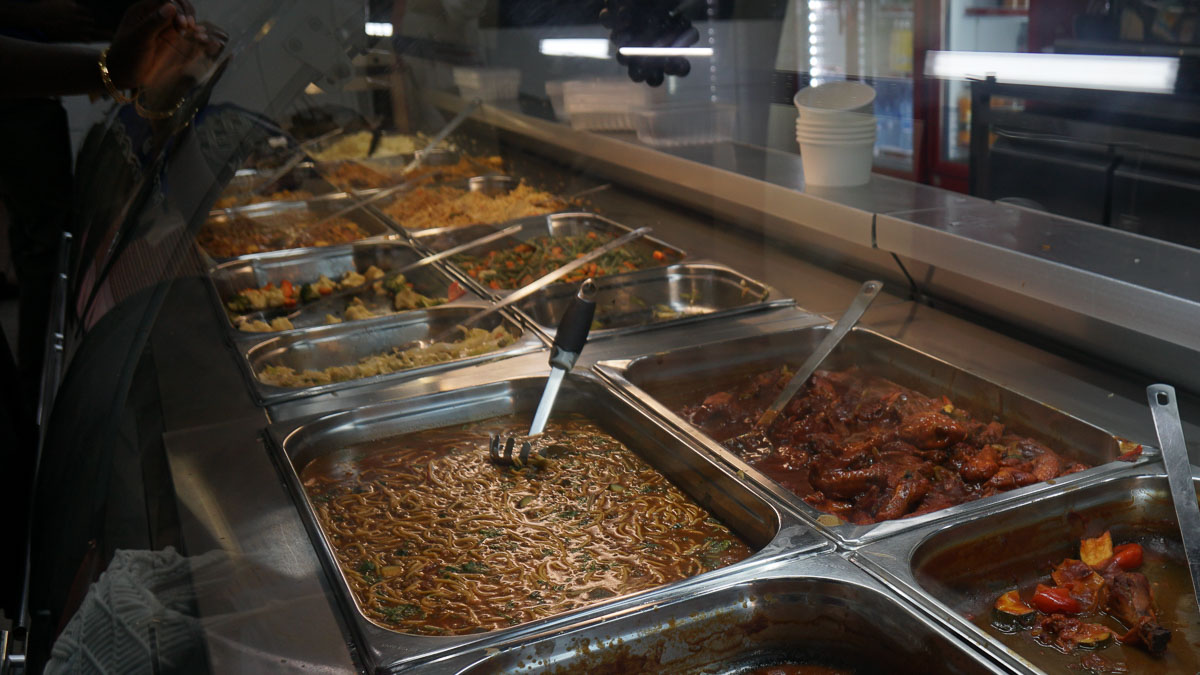 Getting Around: Either on foot or by local matatu (shared minivan) for ~KES50 to the Old Town Area
Day 2–3: Diani Beach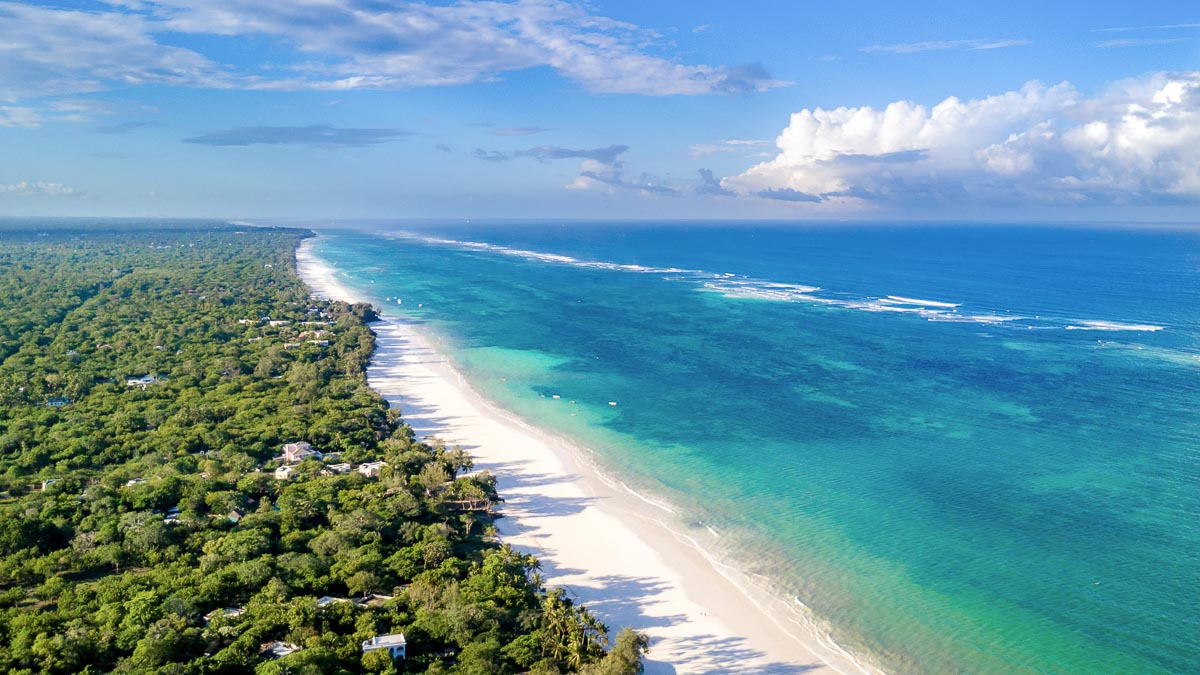 The long stretches of white sand beaches in Diani makes it one of the most popular resort towns in Kenya. It's a great place to relax, party, and take in the atmosphere before venturing into the heart of Kenya. There are also loads of water sports and nature walks to keep you entertained. There's a vibrant backpacking crowd here, making it perfect for meeting travel companions as well. If you have more time, consider taking a dhow (boat) trip down the south coast to snorkel or dive in some of the most beautiful waters in Kenya.
Beyond relaxing, Colobus Conservation Centre organises one-hour Primate Eco Tours for KES750 to highlight the conservation efforts of the nationally threatened Angolan Colobus monkey.
After a day of chilling at Diani Beach, I headed back to Mombasa, ready to fulfill my National Geographic dreams.
Where to stay in Diani Beach
The sister hostel of Tulia Backpackers in Mombasa, Diani Backpackers is a party hostel with dorms starting from KES1,150. There are plenty of lounging areas, a pool, and people to meet.
Getting to Diani Beach from Mombasa
You can either take a taxi for ~KES3,500, or a couple of local transport to Diani Beach:
– Matatu from Mombasa Town to Likoni Ferry — KES40
– Take the ferry across the river — Free
– Matatu from other side of Likoni Ferry to Ukunda (30km) — KES70
– Matatu from Ukunda to Diana Beach (5km) — KES40
Day 4–5: Amboseli National Park Safari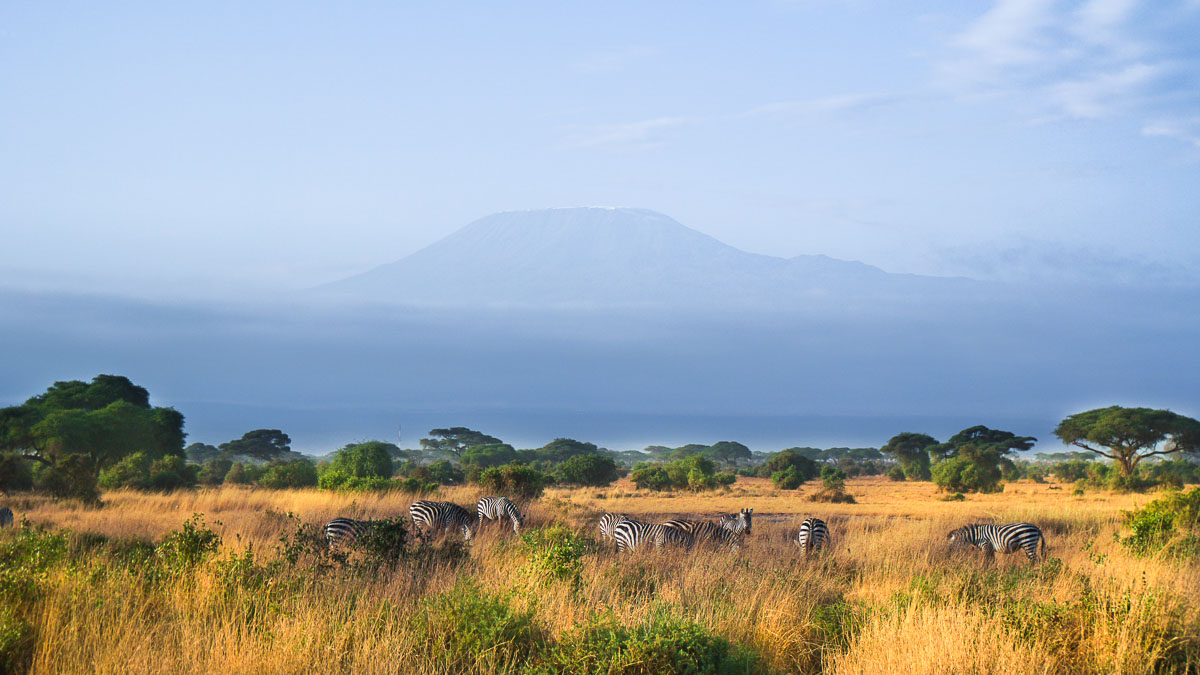 Known as one of the best places in Africa to spot large herds of elephants, Amboseli National Park is also one of the most scenic National Parks in Kenya with Africa's highest peak, Mount Kilimanjaro, towering across the border from Tanzania.
Amboseli is also unique as you get to see animals from different habitats in a relatively small area. There are lakes, wetlands, woodlands and of course the savannah.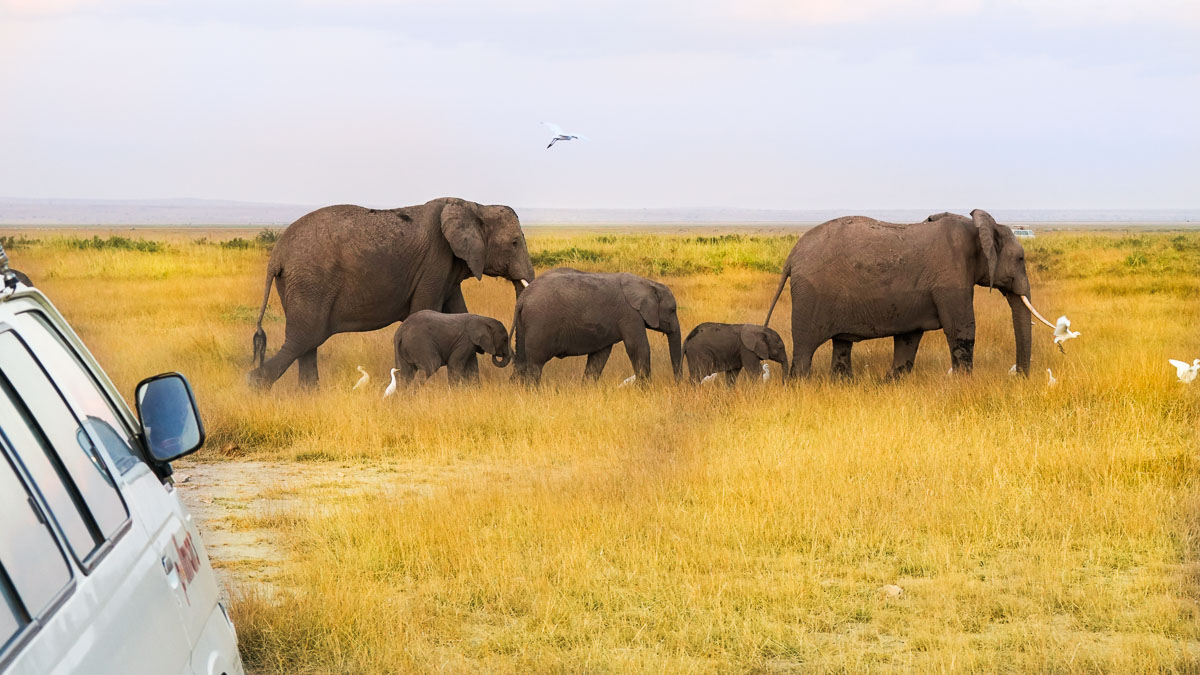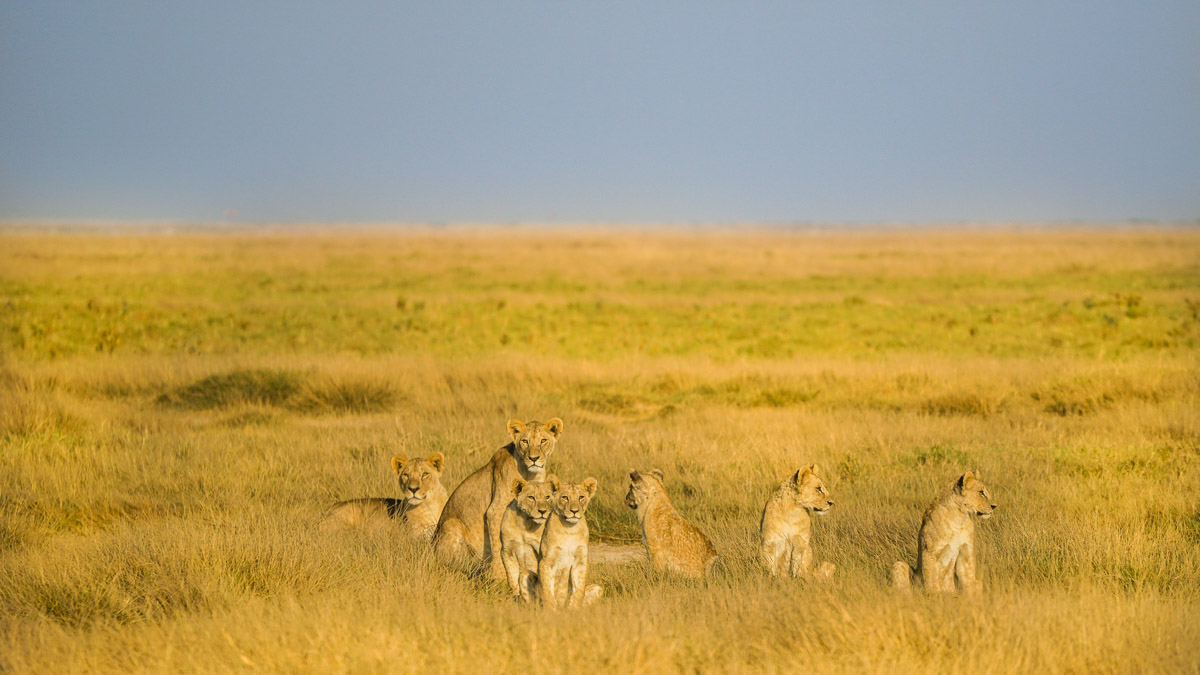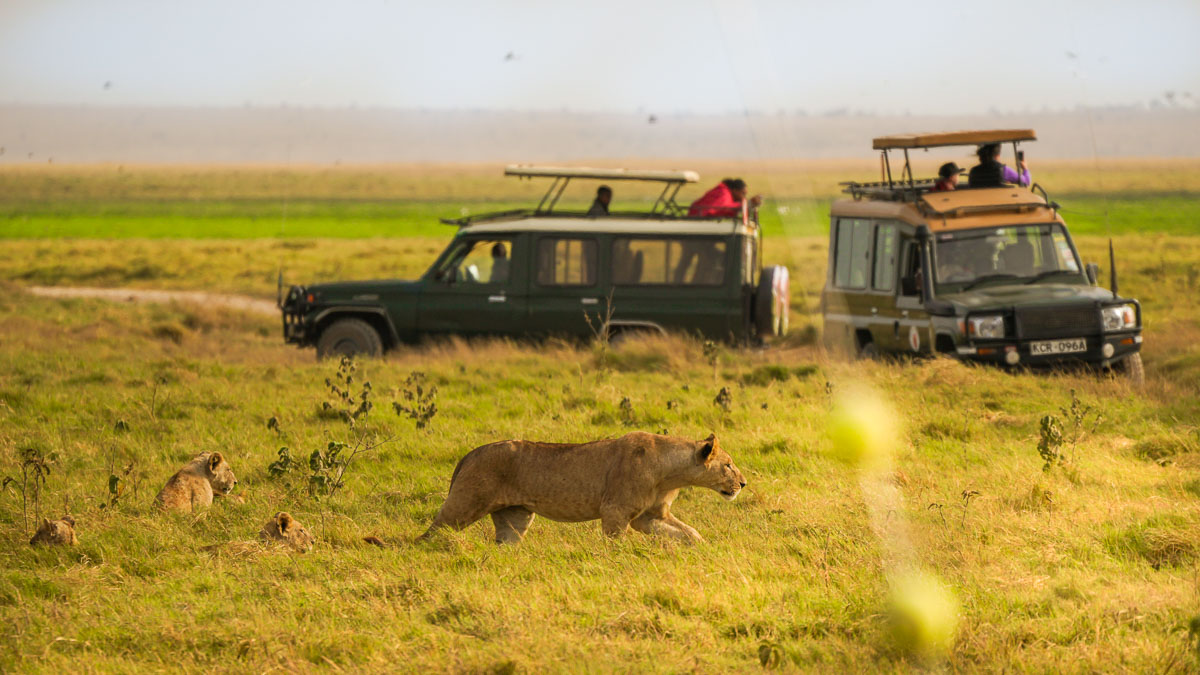 We started the tour with an early morning hostel pick-up from Mombasa, before arriving at our accommodation AA Lodge Amboseli for lunch. For a budget-ish place, the lodge was amazing with a swimming pool, buffet meals, and a large room with warm showers. The more expensive resorts are located inside the National Park, but honestly I can't justify paying twice the price when I'm spending only an extra 15 minutes to get inside the park. The chances of a wild elephant hanging outside your room is definitely shorter than its trunk.
The animals are most active in the mornings and evenings, so our safari game drives naturally happened around that time.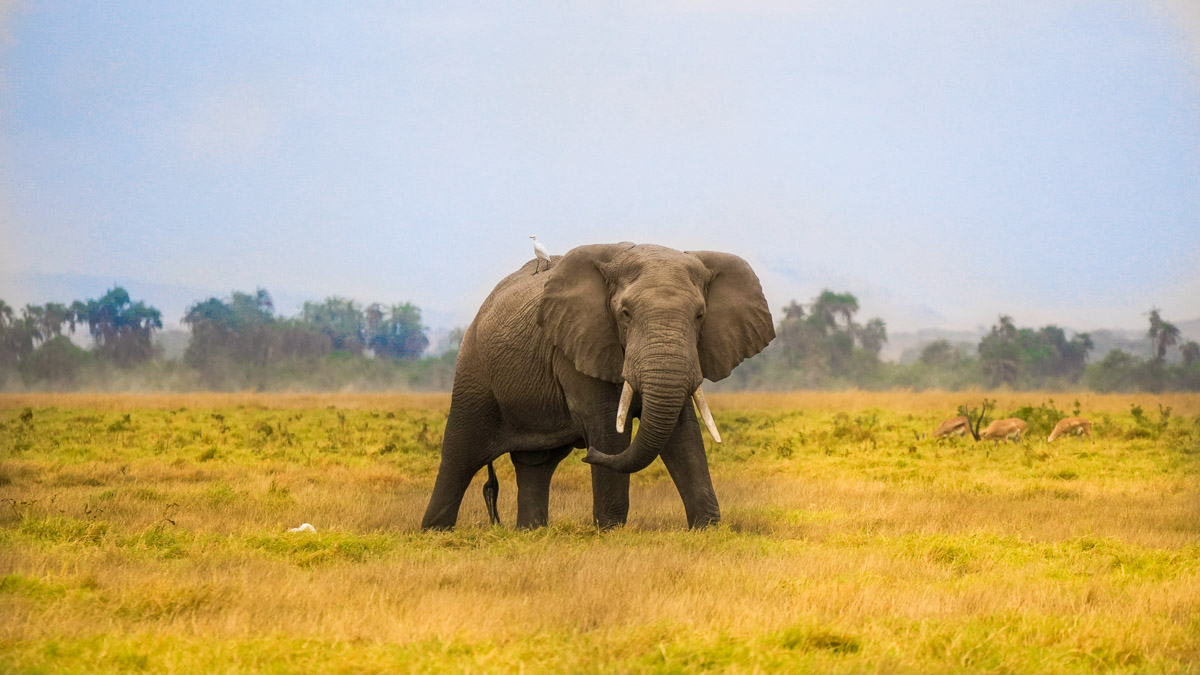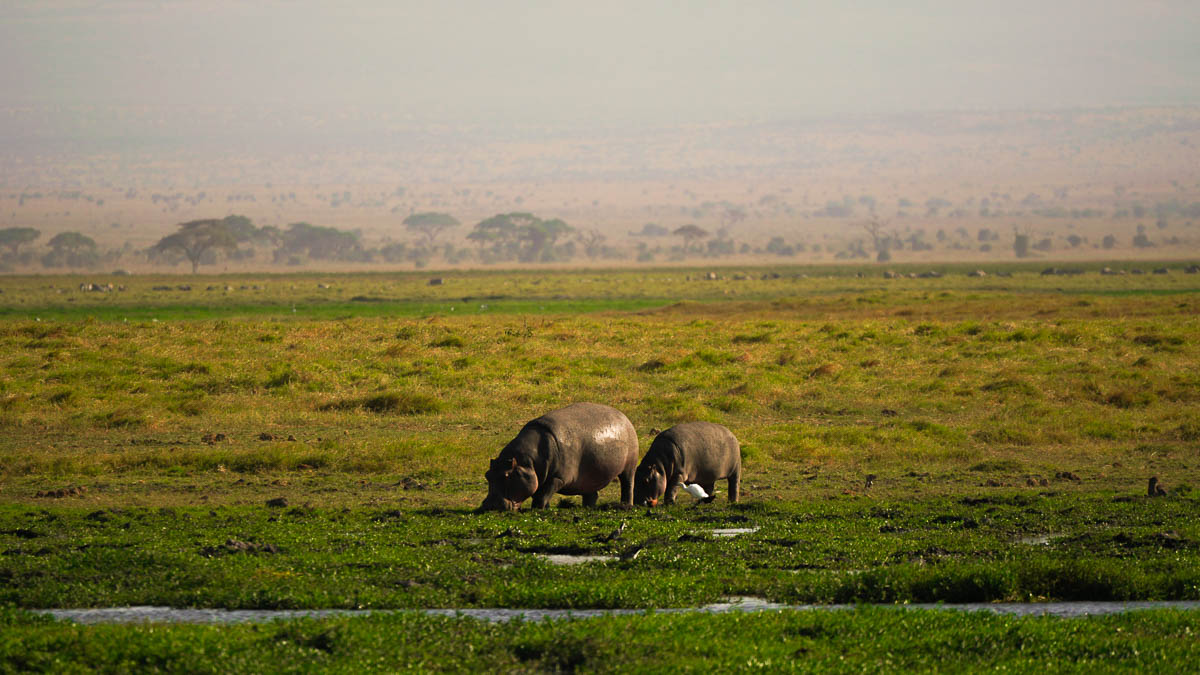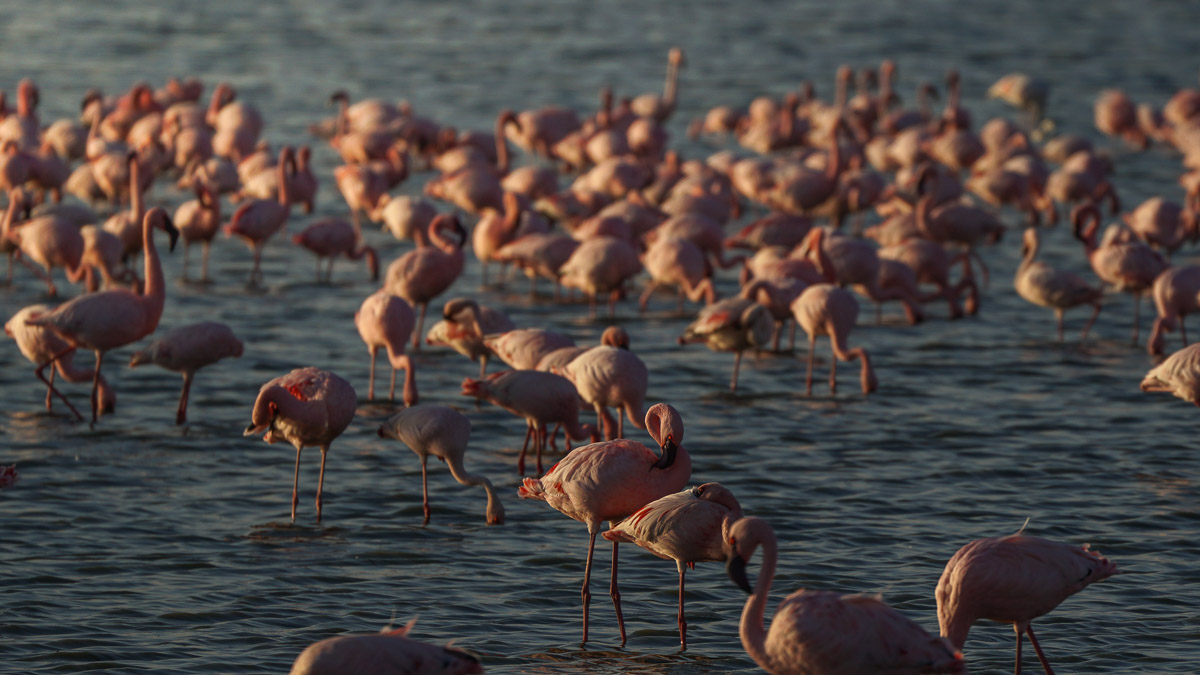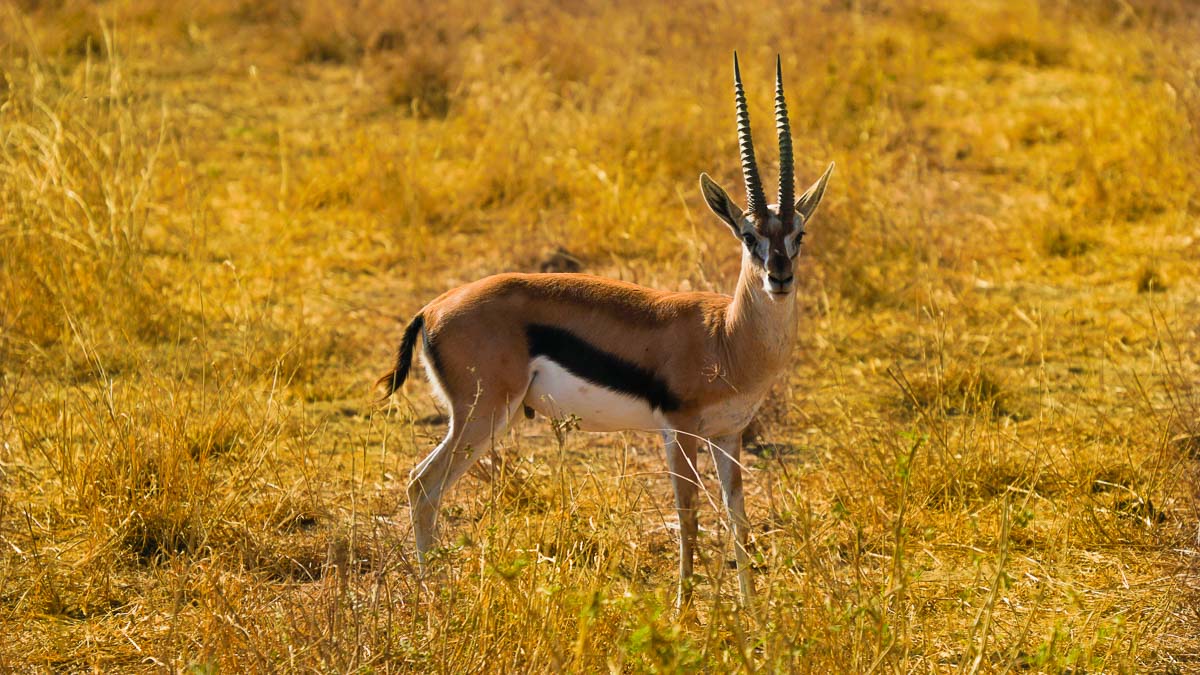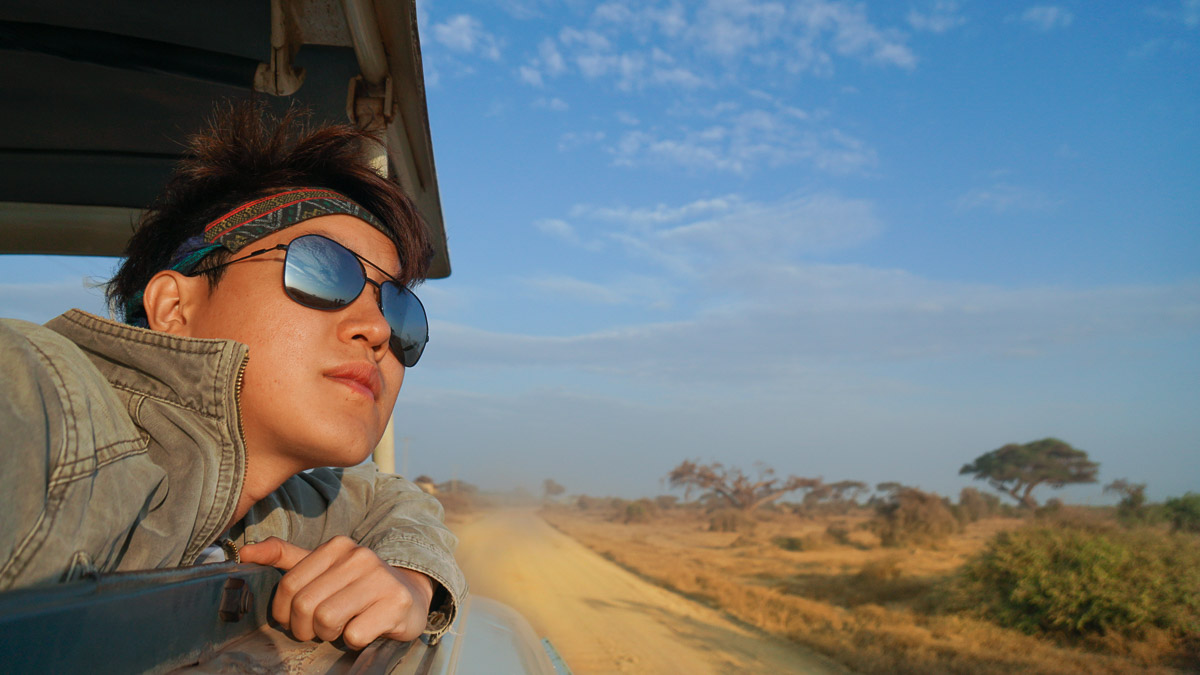 By 10AM the next day, we left Amboseli National Park for Nairoibi. What made things better was that my street smart guide managed to hook me up with another vehicle heading to Lake Naivasha when he learnt that I was going there next. While I did have to tip the new driver KES1,000, this was a lot faster and more convenient!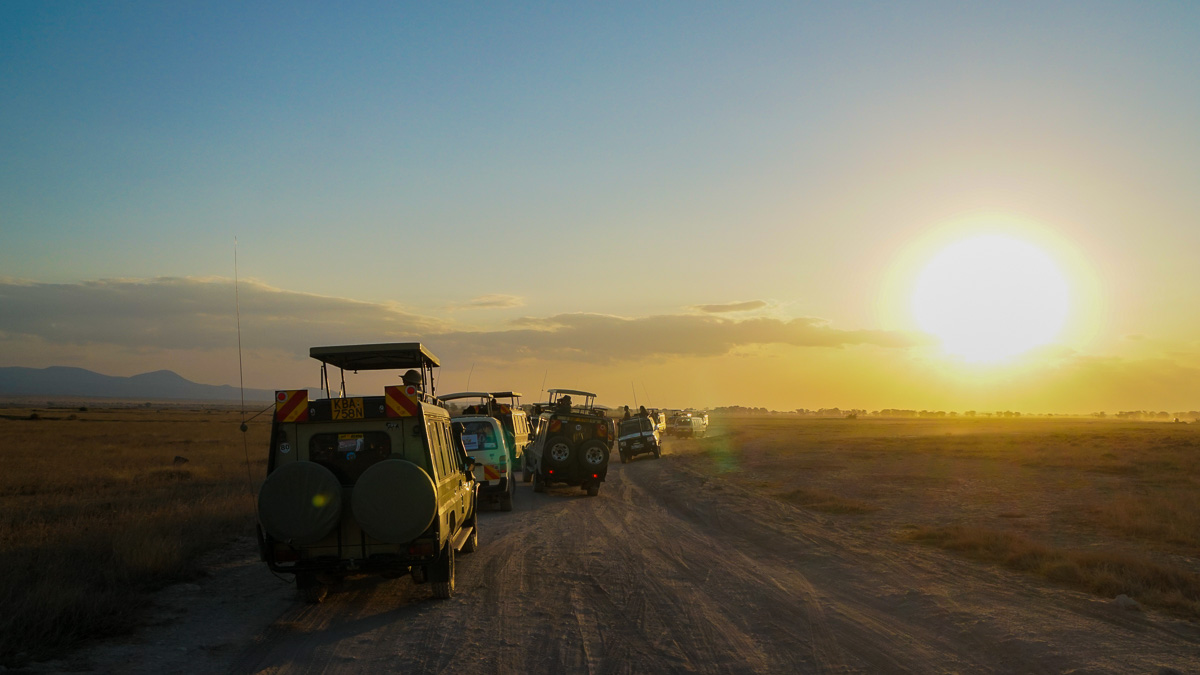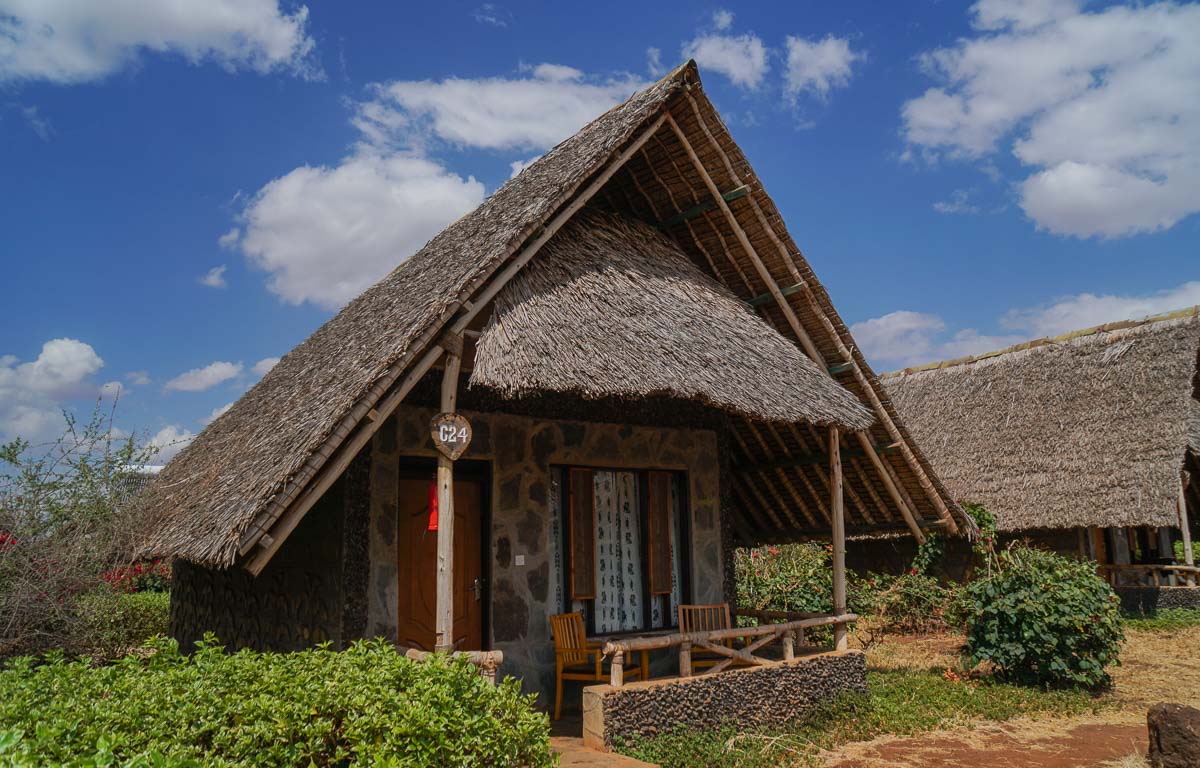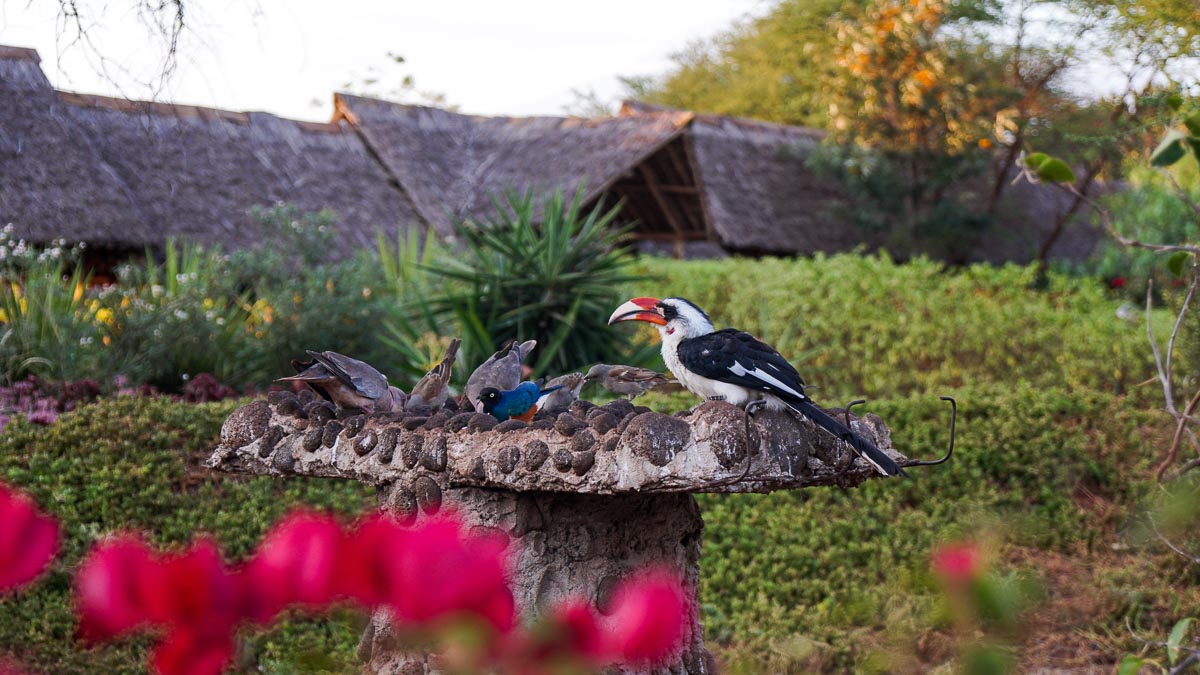 If you're planning a safari in Kenya, do check out Alexander Africa Safaris.
Day 6: Exploring Naivasha — Mount Longonot & Crescent Island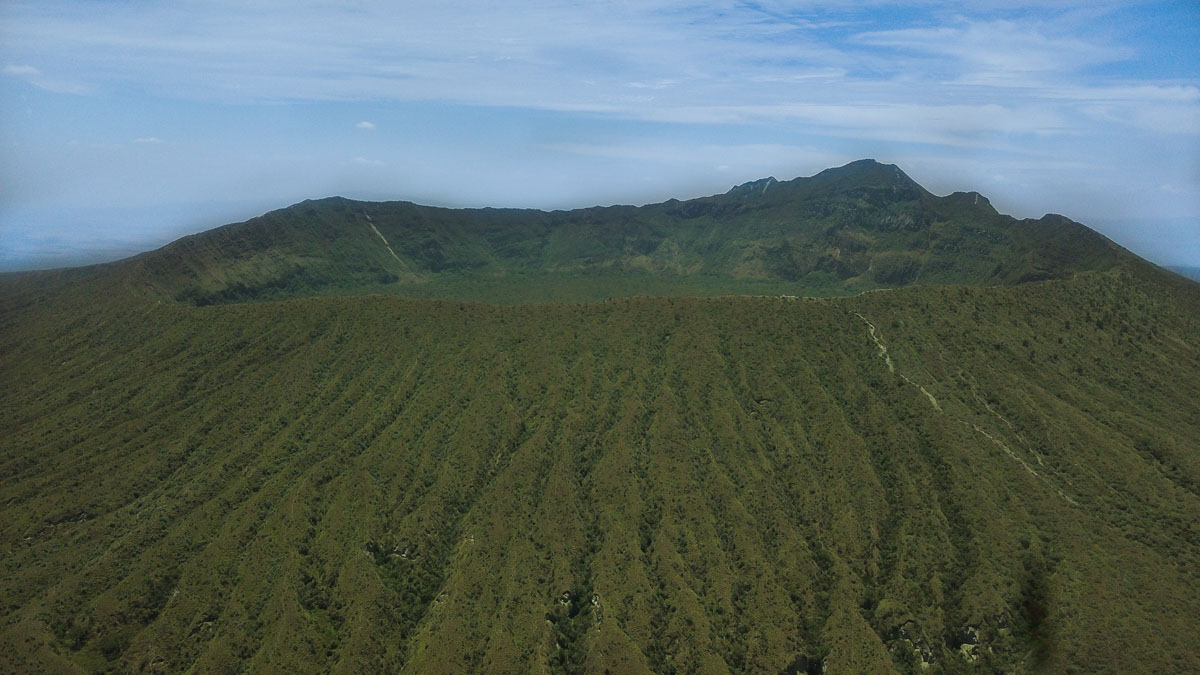 Northwest of Nairobi is Lake Naivasha, a freshwater lake with plenty of hippos in the Great Rift Valley of Kenya. The surrounding landscape is quite out of this world, and the funny thing is that you don't even realise you're 1,884m above sea level at the lake.
The area around Naivasha is a DIY National Park haven, and you don't need to go on any tours to enjoy the sights around here.
Mount Longonot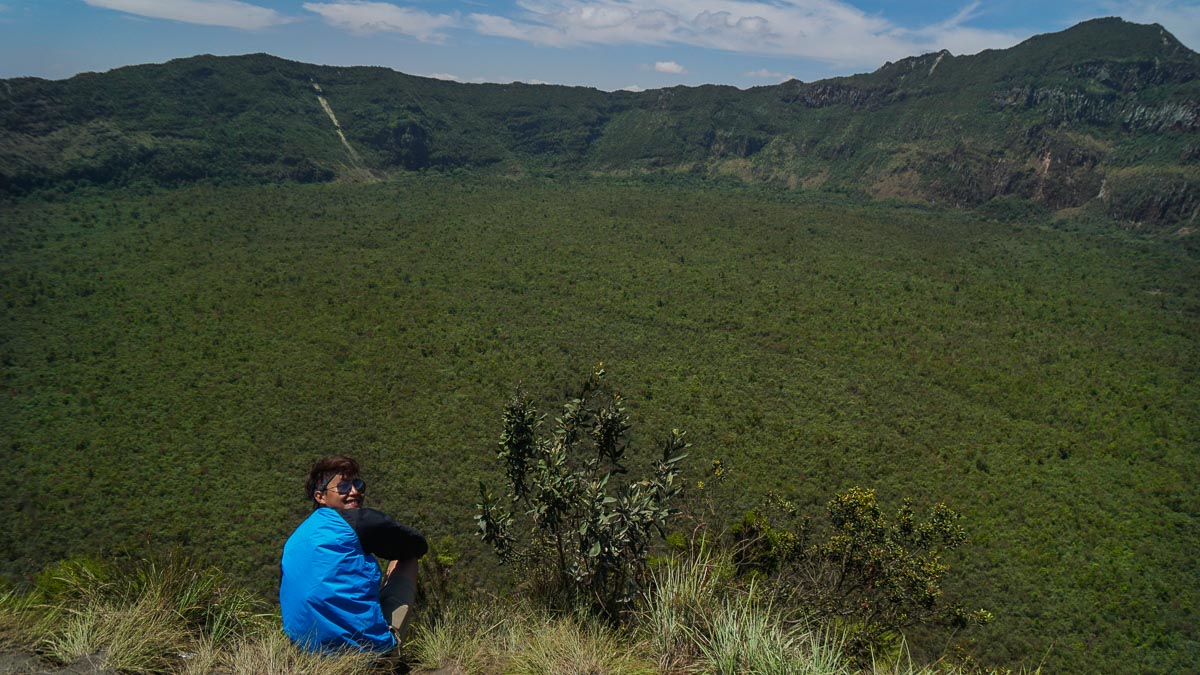 Start the day with a morning hike up Mount Longonot, a dormant volcano with a thick forest within the crater. The two-hour hike from the park entrance to the top of the crater rim was like walking into Jurassic Park. I was half expecting some Pterodactyls to fly out from the crater every time I look up. Did I mention the crater was MASSIVE?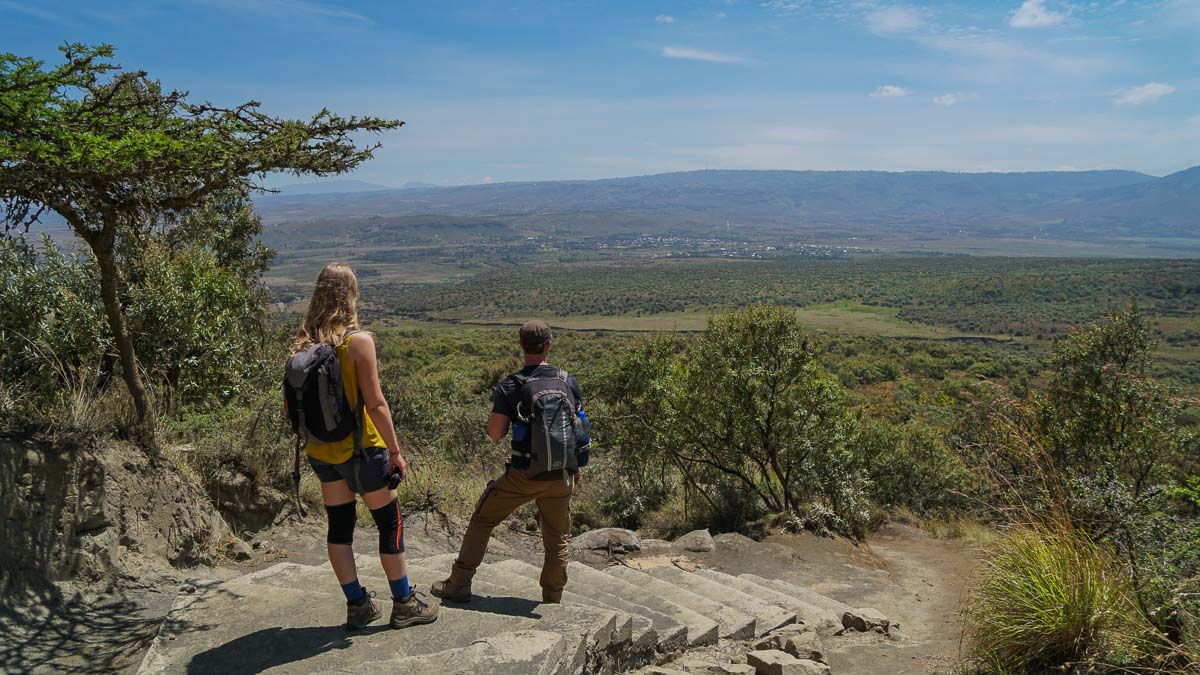 The hike is pretty simple for a moderately fit person, and you don't need a guide. Factor in another two hours if you want to walk around the crater.
National Park Fees: US$26
Getting to Mount Longonot from Lake Naivasha: For the budget traveller, transportation is a series of local matatus and motorcycle taxis. Buffer one to two hours each way including waiting time. Matatus usually only leave the station when they are full, so it's best to travel in the morning and during lunch when there are more people.
– Matatu from Lake Naivasha to Naivasha Town — KES100
– Matatu from Naivasha Town to Longonot Town — KES100
– Motorcycle Taxi from Longonot Town to entrance Longognot National Park — KES100
I got the vibe that I was overcharged a little more, but honestly paying a few extra cents is alright compared to hiring an expensive taxi for the day.
*Pro-tip: Take your time to look around and don't get pressured by the matatu drivers. They will often say they are leaving now when the vehicle is only half full. Go for the matatu with the most people.
Crescent Island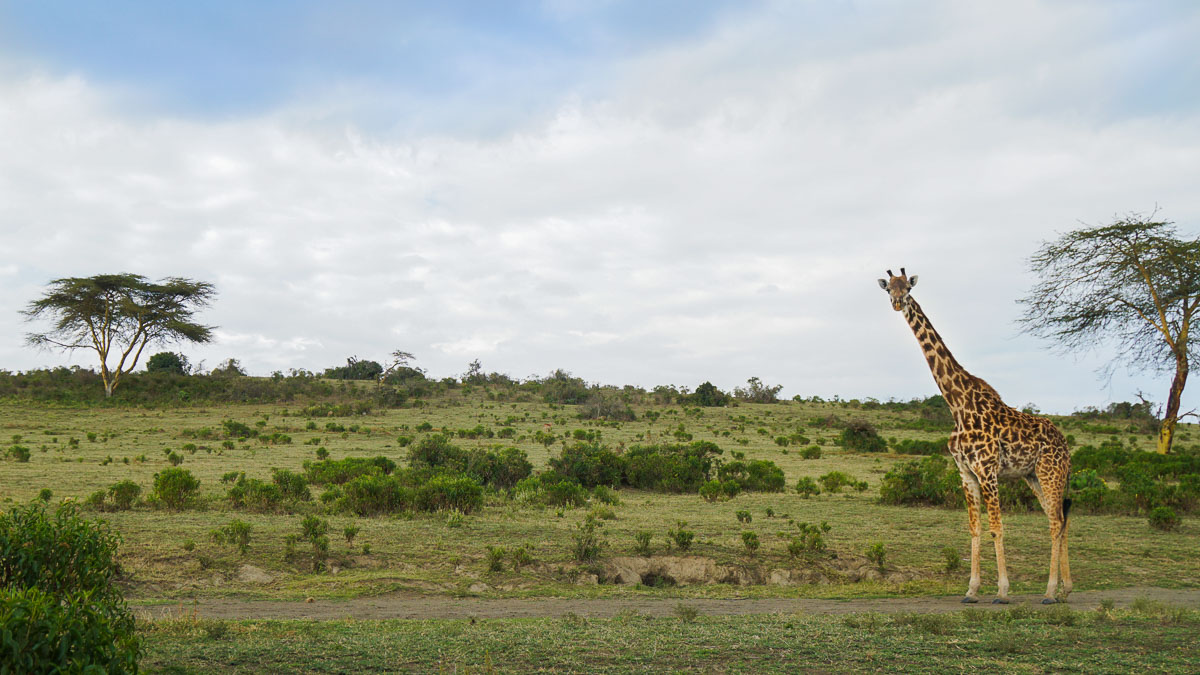 Mid afternoon, I headed to Crescent Island Game Sanctuary, a private island owned by one the families from Kenya's colonial past. It's a very magical place with no fences and plenty of wildlife making it their home. I found it extremely serene roaming the island, walking on the same grounds as the wild animals nearby.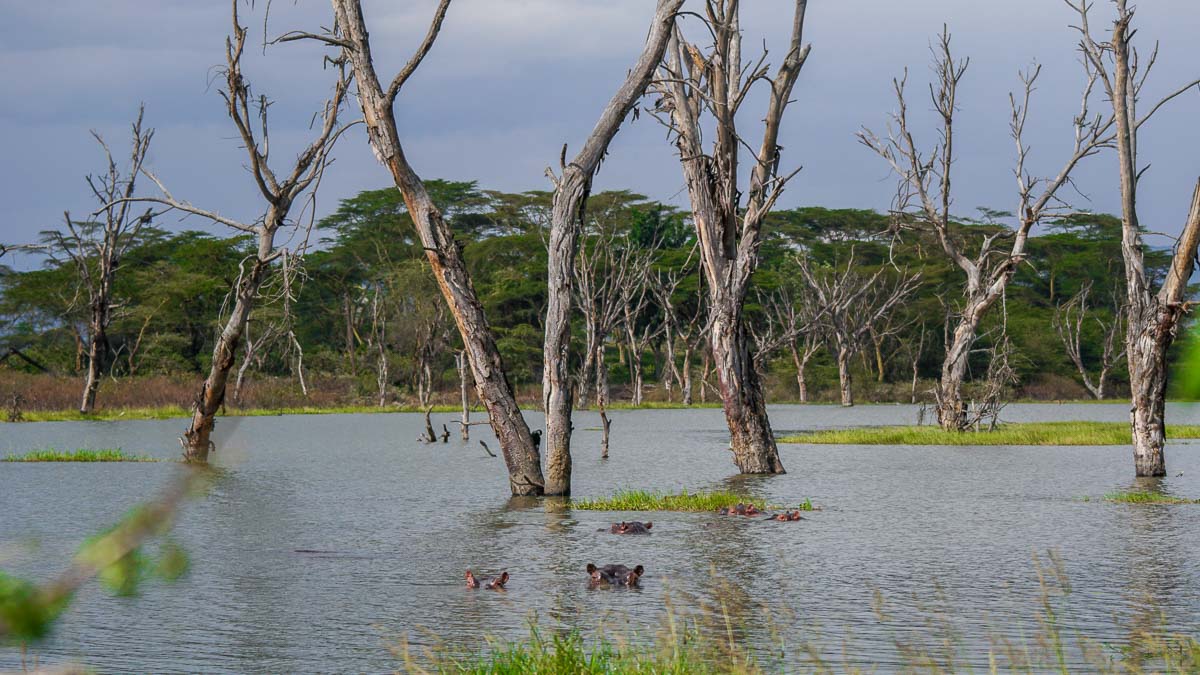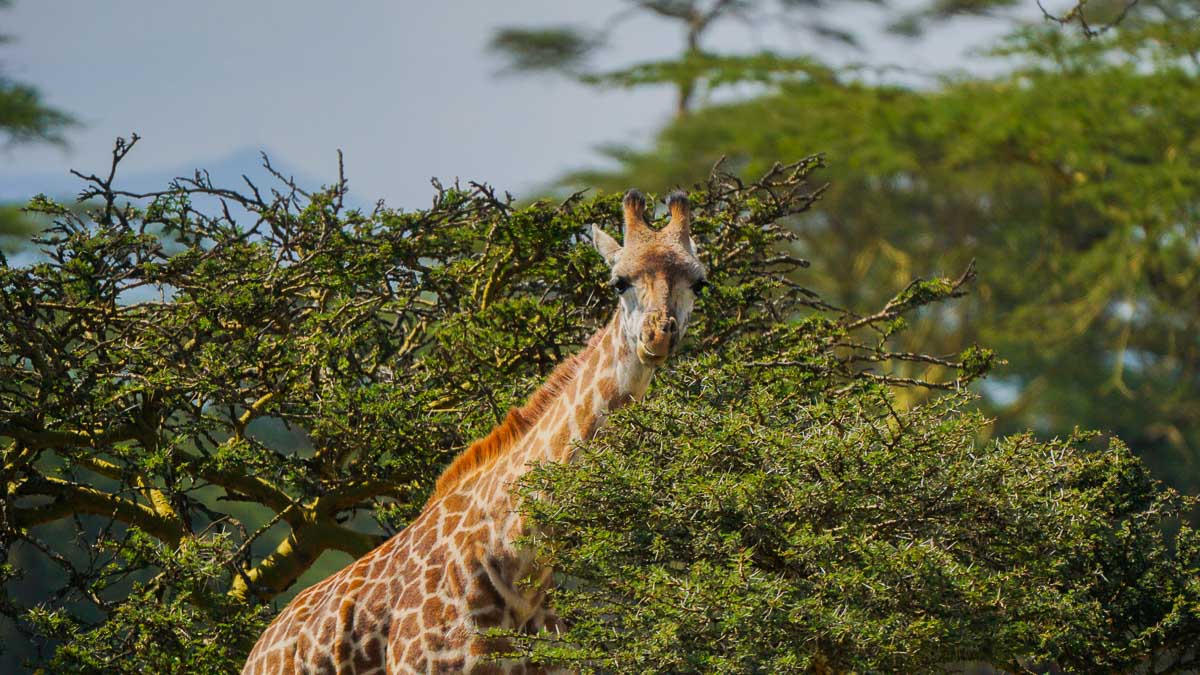 Crescent Island Entrance Fees: KES3,000 (payable at the house), KES100 if you're walking (payable at the gate).
Getting to Crescent Island: Most people arrive on a boat tour, but the budget way is to walk, cycle, or take a motorcycle taxi. I took a matatu to the outside gate, and stupidly decided to walk for 20 minutes. Not only was it a pretty long walk (before more walking on the island), I had to look out for hippos that stared at me threateningly. Hippos may look cute, but they account for the largest number of deaths by wild animals in Africa. I took a motorcycle taxi out for KES100 after some negotiation with one of the staff. Bicycles can be rented from most accommodations.
Where to stay in Lake Naivasha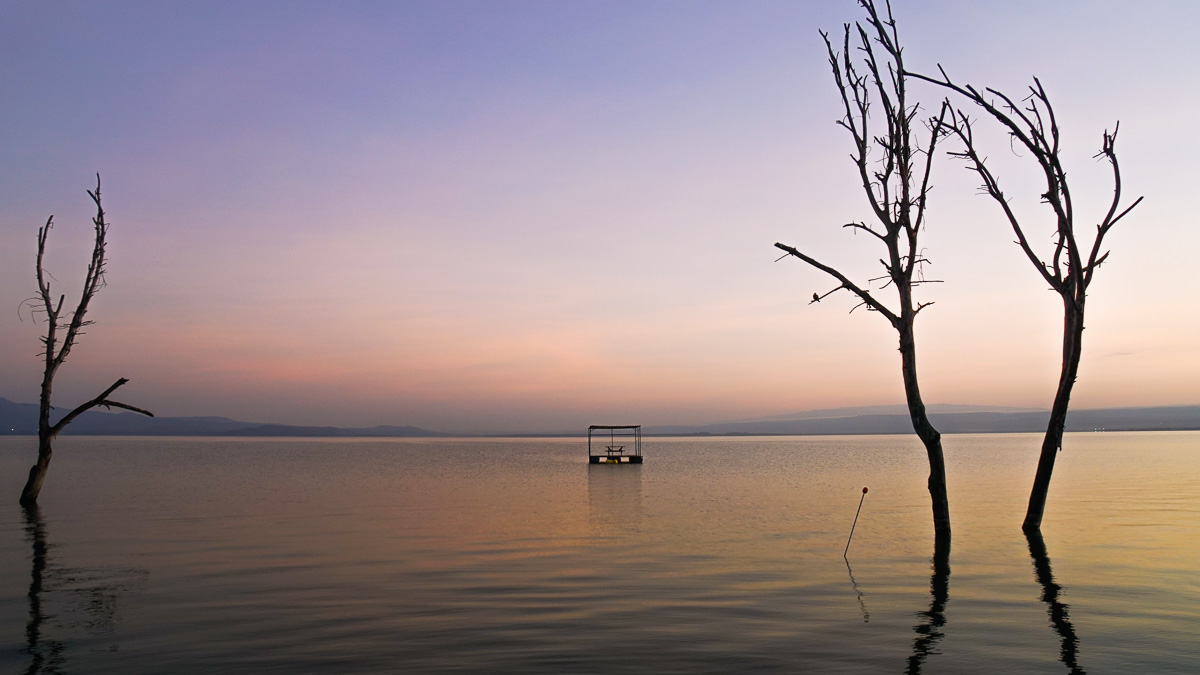 Dorms at Camp Carenelley's start from KES1,000. There are also campsites and cabins to suit any budget. I particularly liked the restaurant, which is frequented by many people staying elsewhere. It's a little pricey, but the portions are huge and the food is pretty good.
What to eat in Lake Naivasha
There are a couple of local restaurants that offer really cheap food for KES100–300 along the main road. The better ones can be found at the campsites and resorts. I particularly enjoyed going back to this Chinese restaurant called Hubei beside Camp Carnelley's (see map above) as the food is much cheaper. There are plenty of local provision shops and a supermarket to buy supplies too. As I was out the whole day, I generally prepared sandwiches and snacks to eat while I was hiking.
Day 7: DIY Hell's Gate National Park on a bike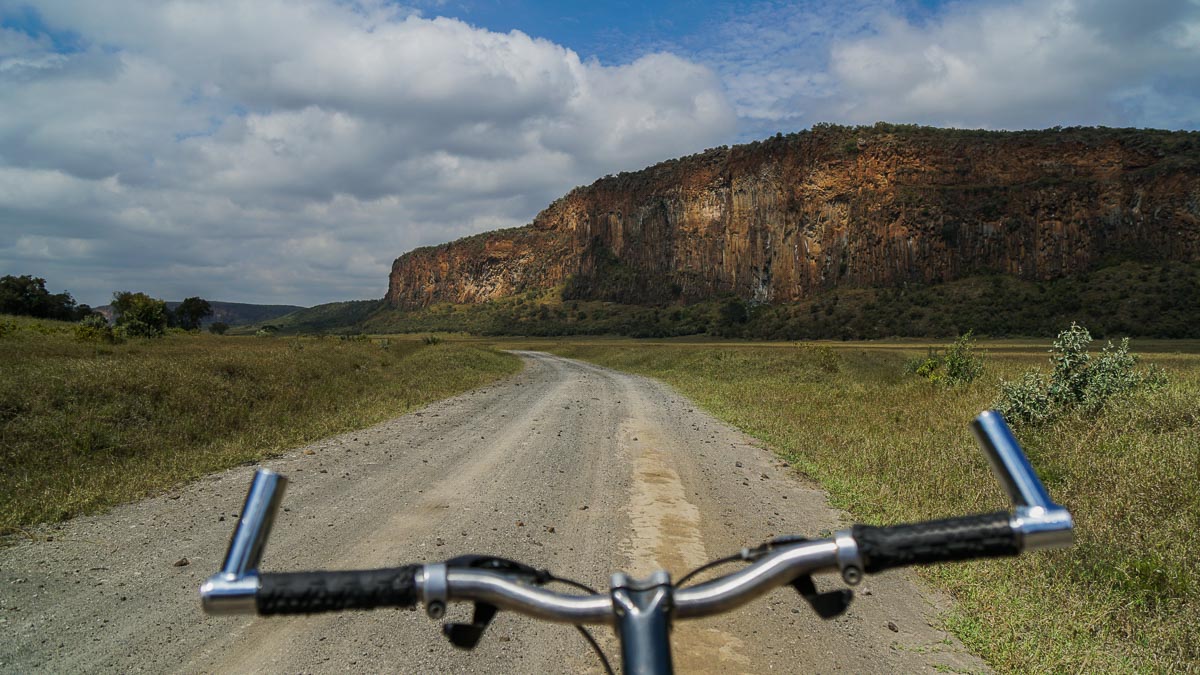 Going on a safari tour isn't the only way to see animals. Enter Hell's Gate National Park, where you can literally walk and cycle with wild animals. It's one of two national parks in Kenya that doesn't have large carnivores, so it's perfectly safe as long as you don't aggravate any animals.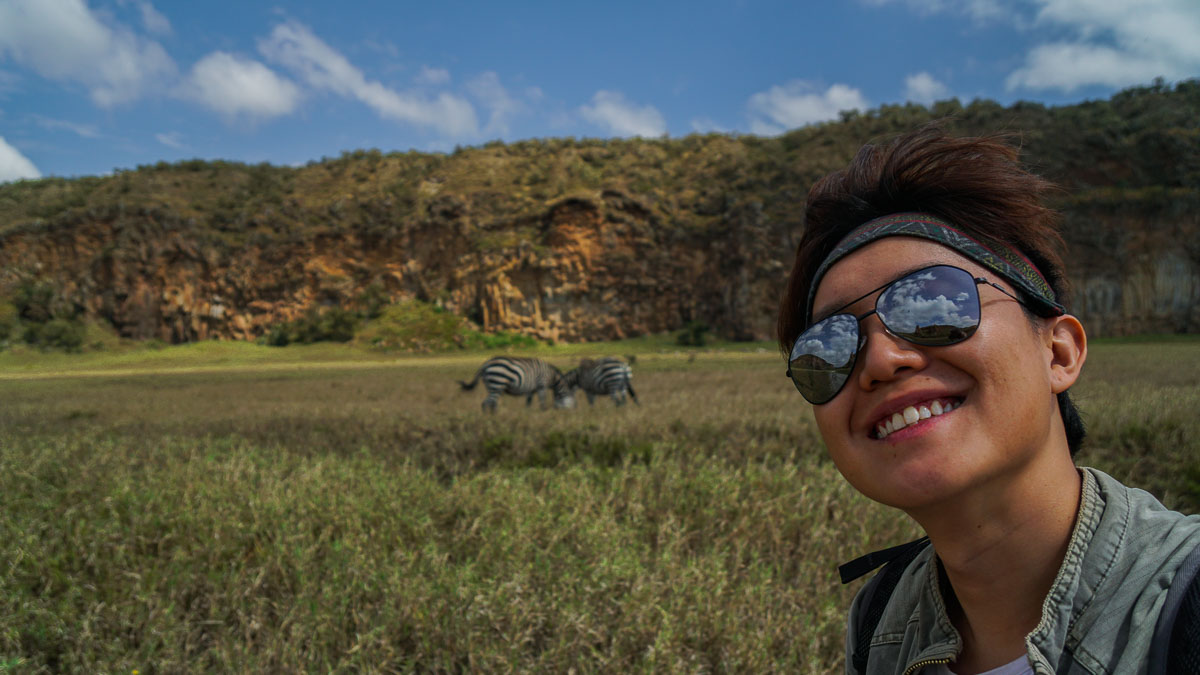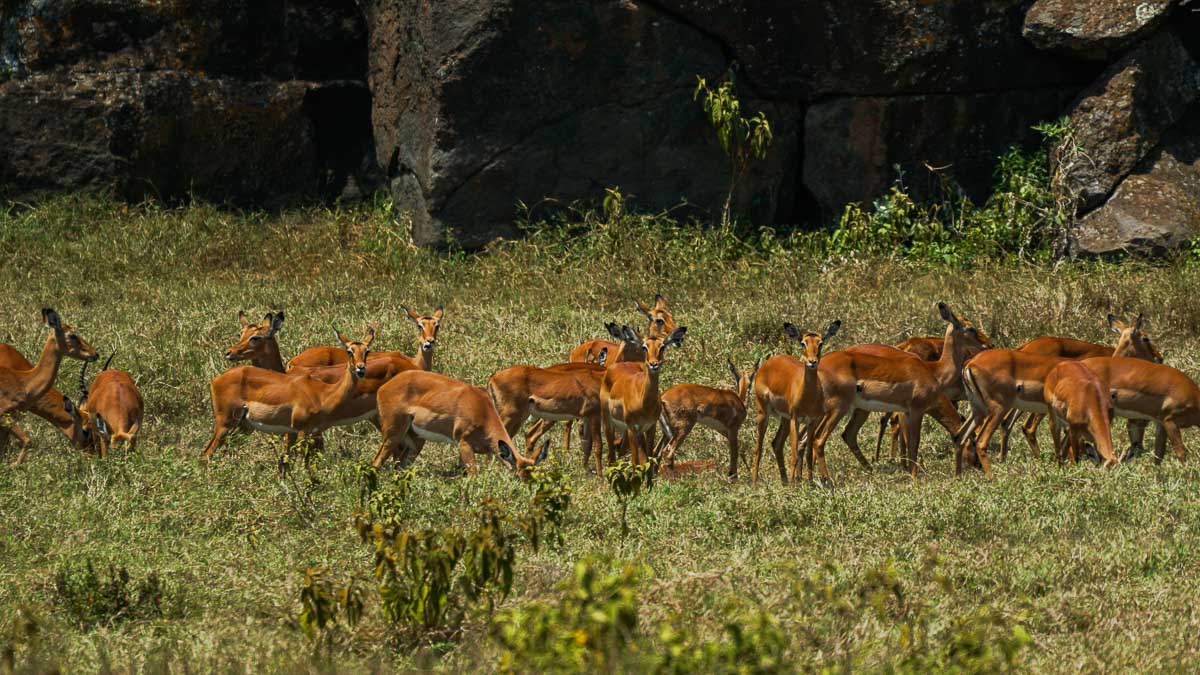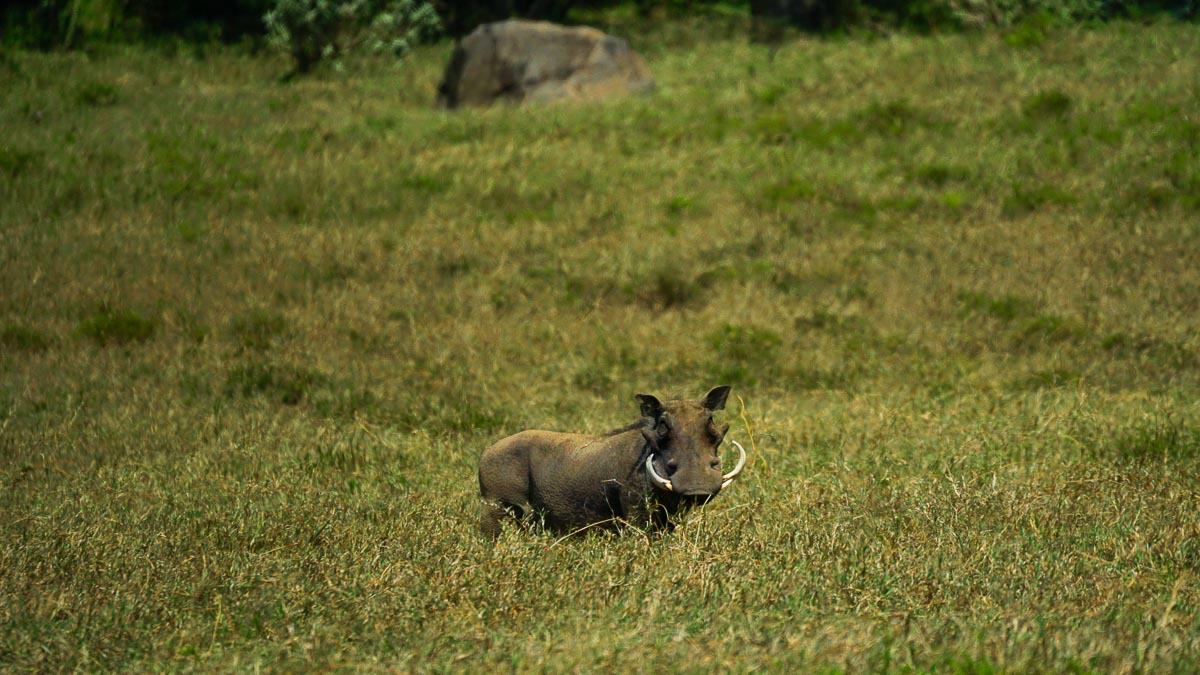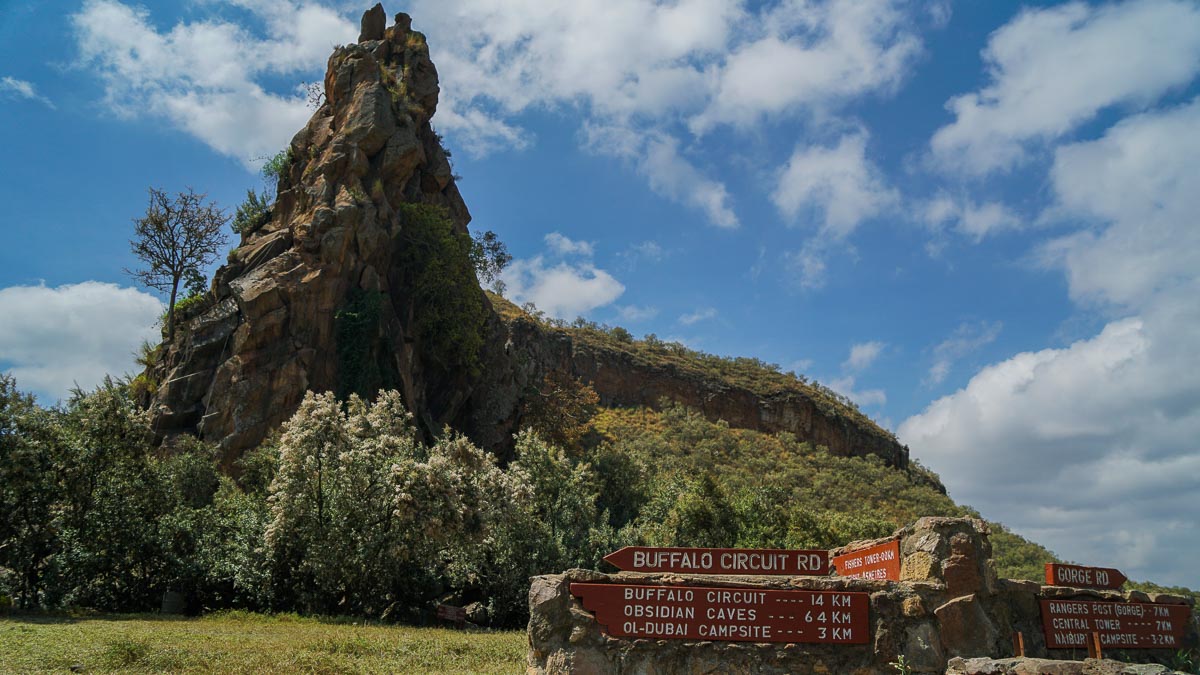 The rock formations are pretty epic, and you can easily spend a day exploring the ancient Hell's Gate Gorge and other Geothermal sites.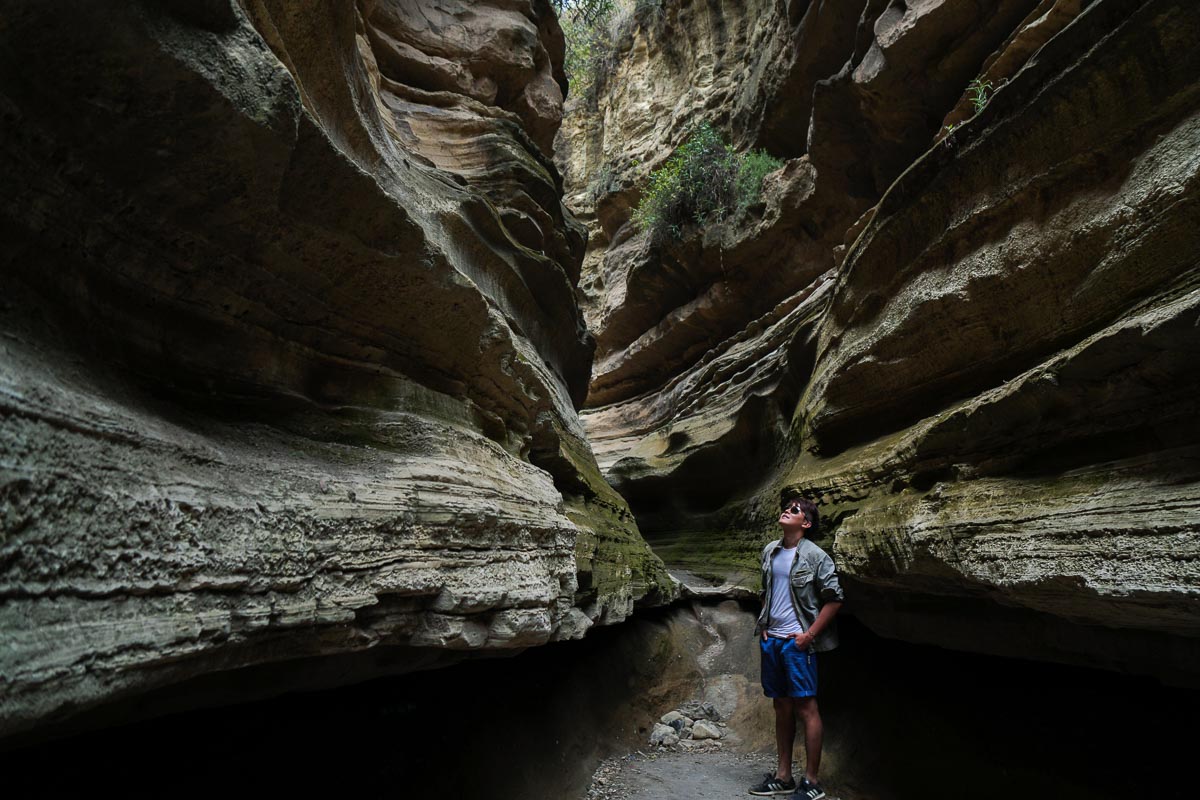 I rented a bicycle for KES800 from my hostel at Camp Carnelley's, and cycled to the entrance of the National Park 30 minutes away. For food, I mainly packed food to eat on the go, but do look out for the monkeys near Hell's Gate Gorge.
Hell's Gate National Park Entrance Fees: US$26 + KES215 (bicycle fees)
Day 8: Travelling to Mara Explorers Camp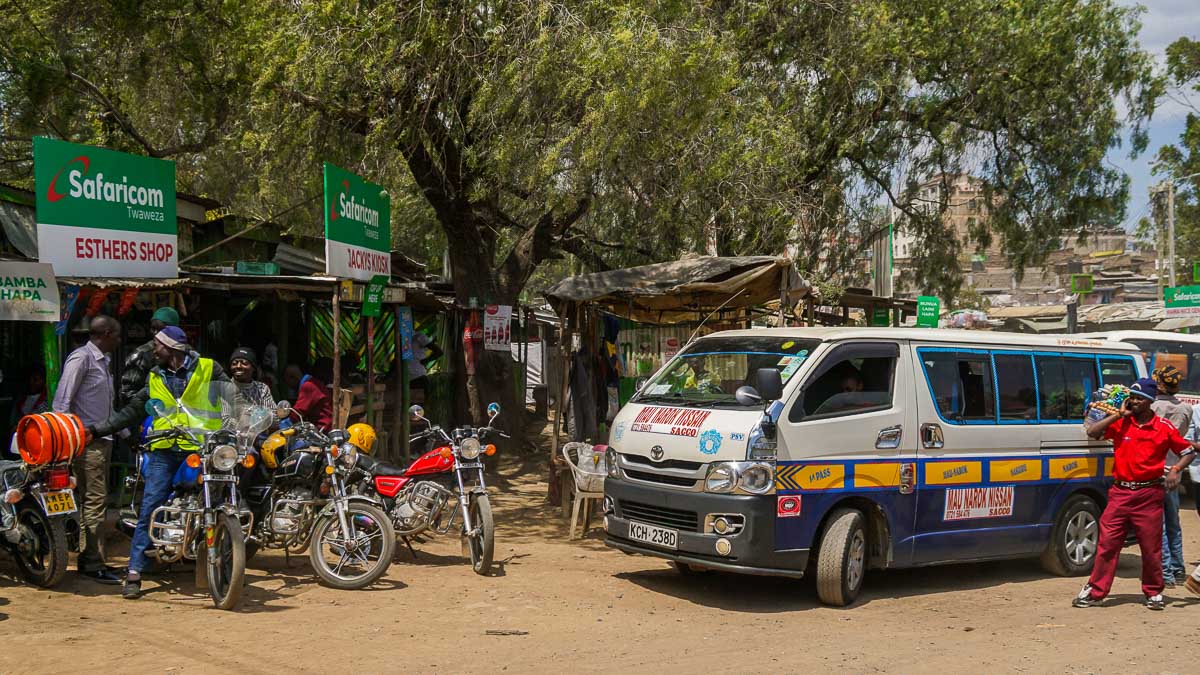 After two active days of hiking and cycling, it was time to make my way towards Maasai Mara for the ultimate safari experience. Most people take expensive tours from Nairobi, but if you're on a budget, I suggest staying at Mara Explorers Camp. It's 3.8km from Sekenani Gate of Maasai Mara National Park, and you can easily hop on a full-day safari game drive for a fraction of the cost.
Here's the cheapest way to get to Mara Explorers Camp:
– Matatu from Lake Naivasha to Naivasha Town — KES100
– Matatu from Naivasha Town to Narok (2 hrs) — KES300
– Shared Taxi from Narok towards Sekenani (2.5 hrs). Tell them to drop you at Mara Explorers — KES500
I've met other travellers who got charged KES100–200 more for each leg and they may also charge for big bags. Try to reach Narok around lunchtime as there may not be any transport heading to Sekenani after that.
Be prepared for a good squeeze though. There were about seven of us in the shared taxi with bags and all! The drivers try to maximise their trip so they may pick up and drop passengers along the way.
Where to stay in Maasai Mara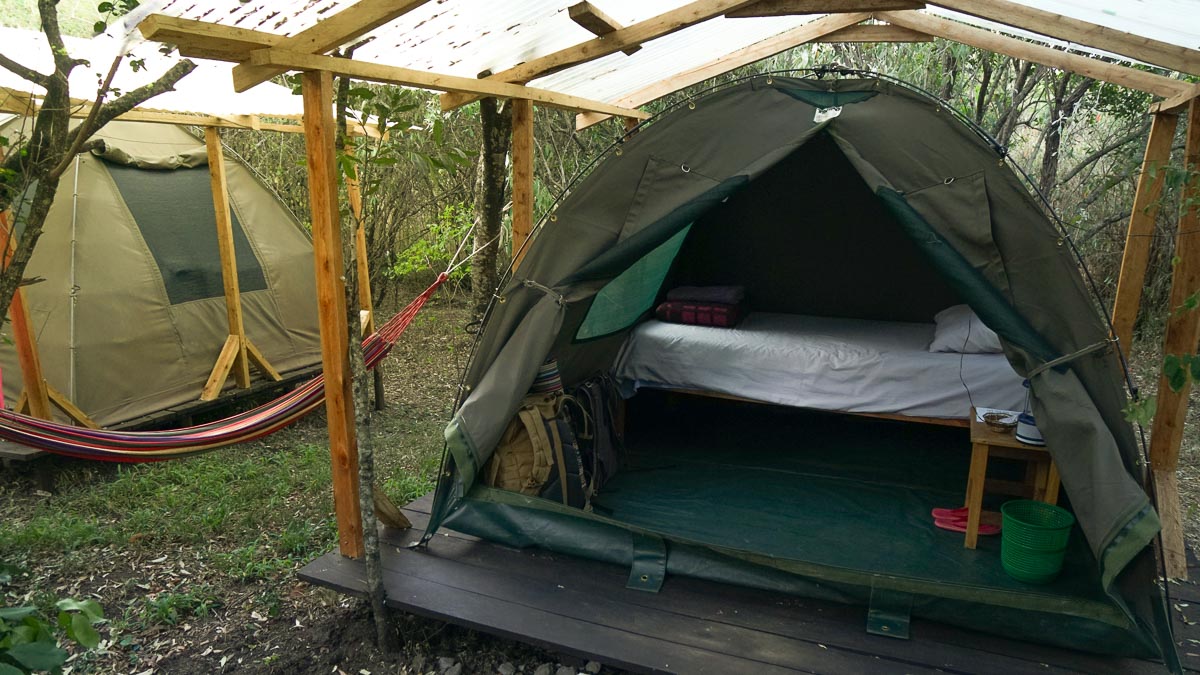 Mara Explorers Camp is the best budget option, really. They have comfortable dome tents with proper beds, beautiful common areas, and a couple of really lovely dogs. Mara Explorers also organises guided nature walks, tours to a local school and Maasai Village, on top of full day safari game drives into Maasai Mara National Park.
A Budget Dome Tent with Full board (three meals) costs KES5,000 per person a night, and the food is pretty good. Accommodation is only ~KES2,000 with hostelworld. There are kitchen facilities, so you can buy your supplies from the Naivas Supermarket in Narok and prepare your own meals to save more money. Camping is from KES1,000.
There are shared toilet facilities, with warm water that worked pretty well. Generally, the reviews are pretty good and worth what you are paying for. Power supply is only available in the common room though!
Day 9: Maasai Mara National Park Safari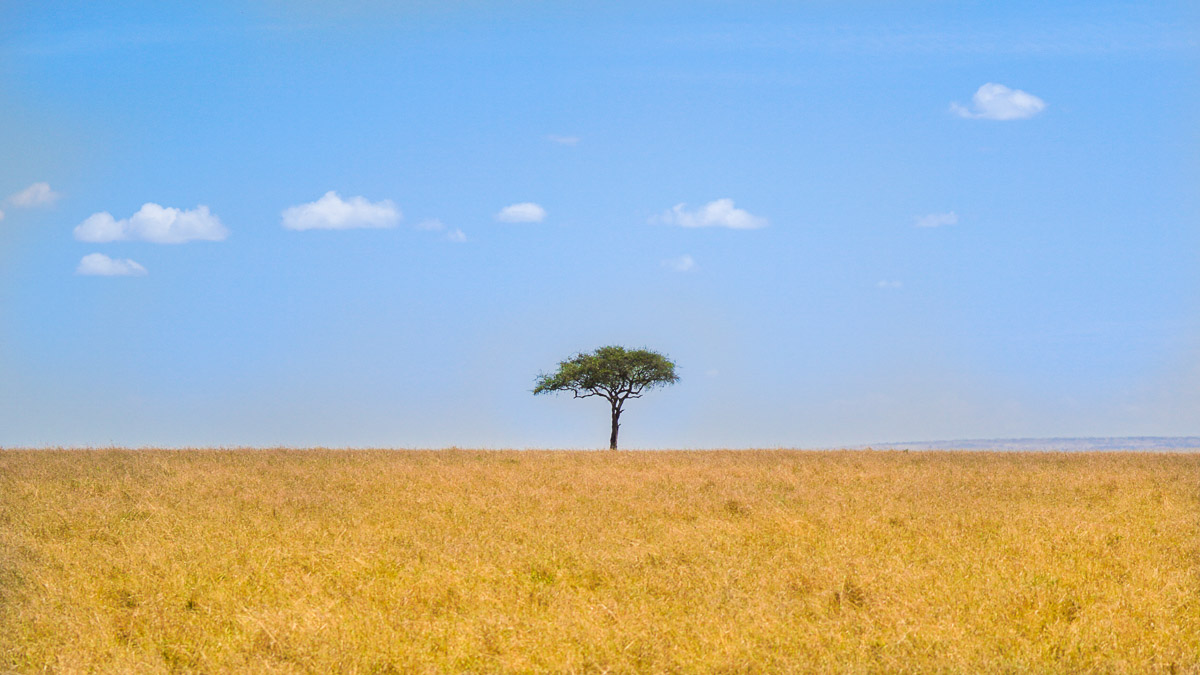 Known as the greatest wildlife show on Earth, Maasai Mara (Kenya) and Serengeti National Park (Tanzania) are the grounds for Africa's Great Migration — where hundreds of thousands of wildebeest cross the Mara River from July to October every year looking for fresh grazing grounds.
The wildebeest attracts a lot of carnivores, making it easy to spot wild animals. While the actual migration is hard to predict, Maasai Mara remains one of best safaris in Africa as there is simply so much to see.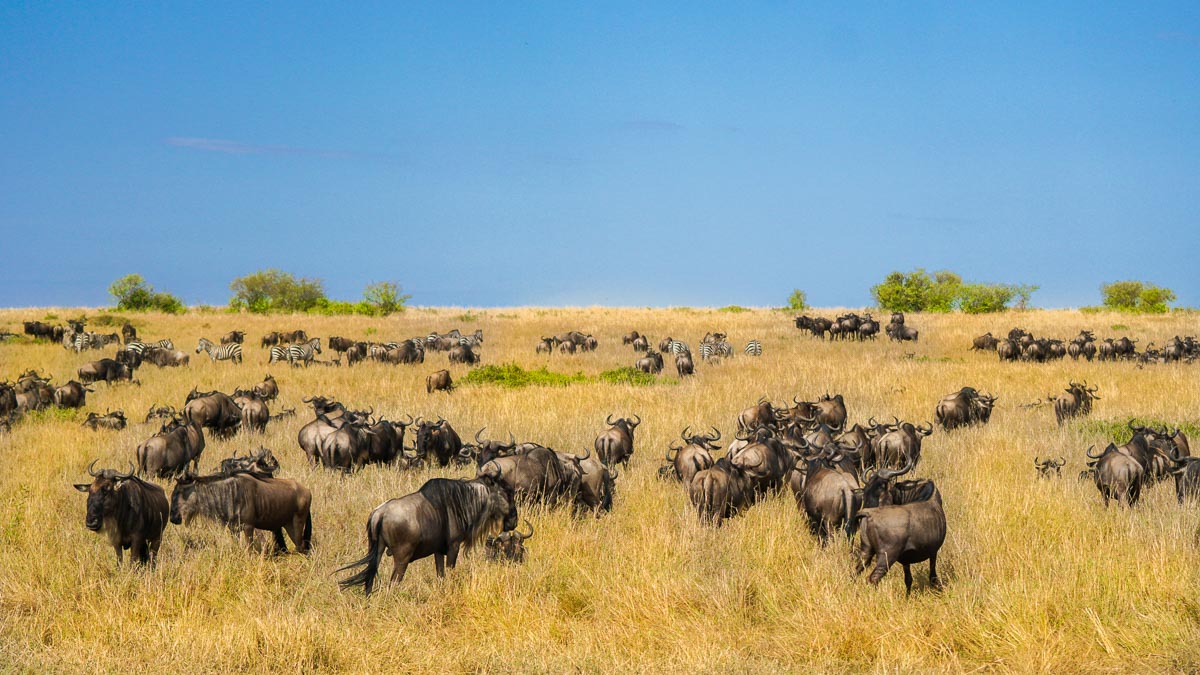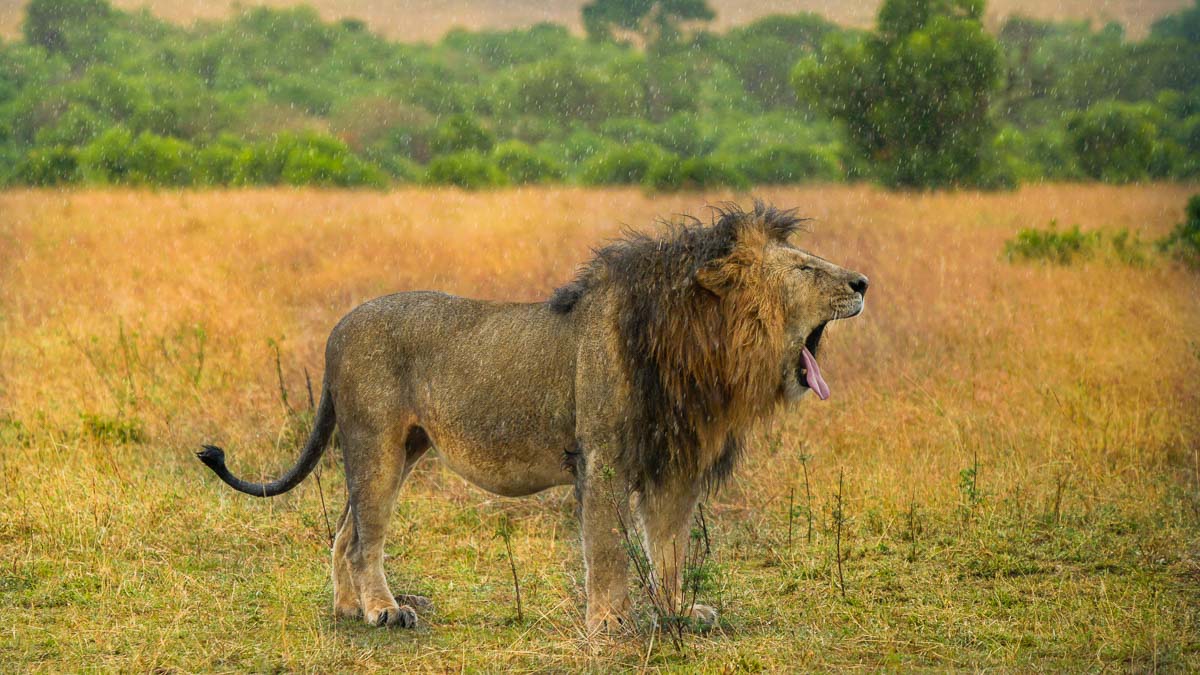 I took a full day game tour from Mara Explorers for US$60 (excluding National Park Fee of US$80), and was really impressed at how skilled the guides were at spotting wildlife. It was like watching National Geographic in real life. I still get the chills thinking back to the moment when I saw four cheetahs successfully hunt a wildebeest.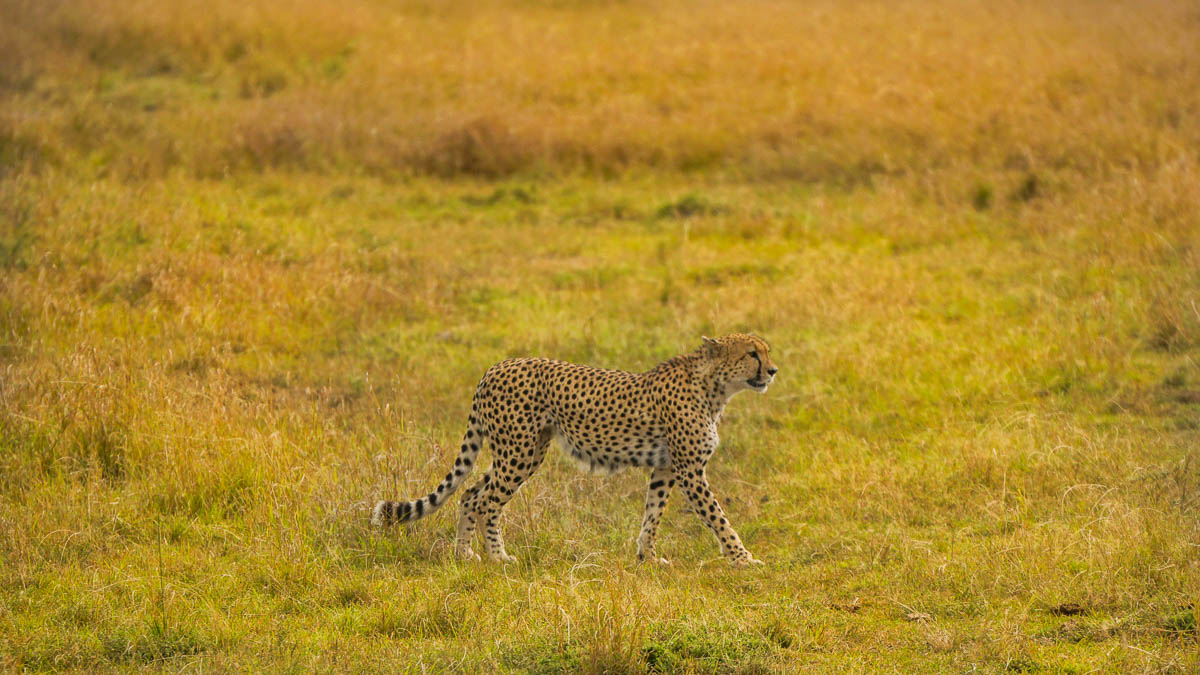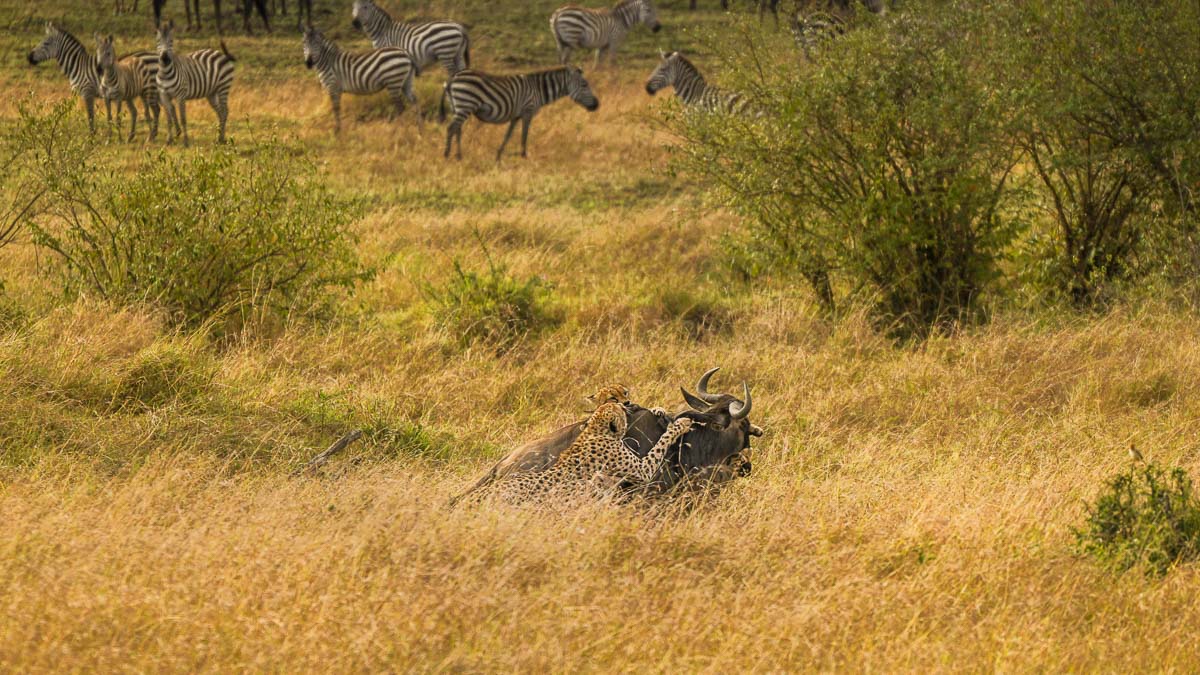 In one full day, we spotted:
– Four of the Big 5 African Game
– Four cheetahs successfully hunting a wildebeest
– A leopard dragging her kill up a tree
– An antelope giving birth
– Lions feasting on their kill
– Wildebeest, gazelles, giraffes, elephants, hippos, vultures, hyenas, wild boars, foxes…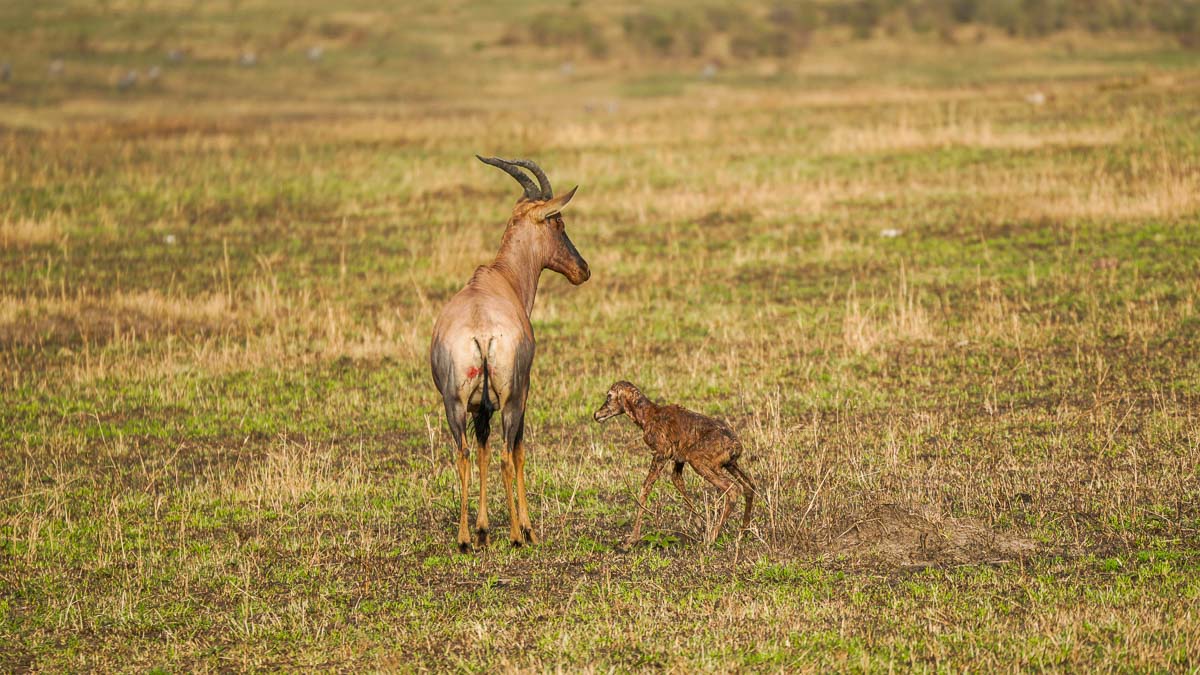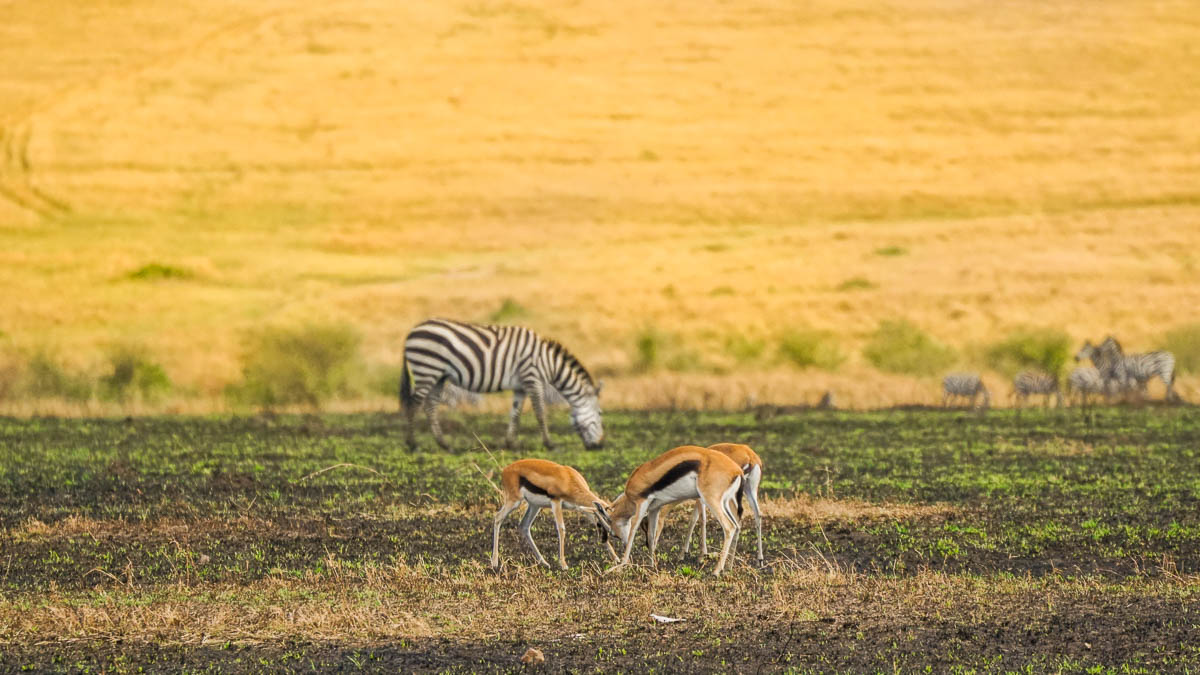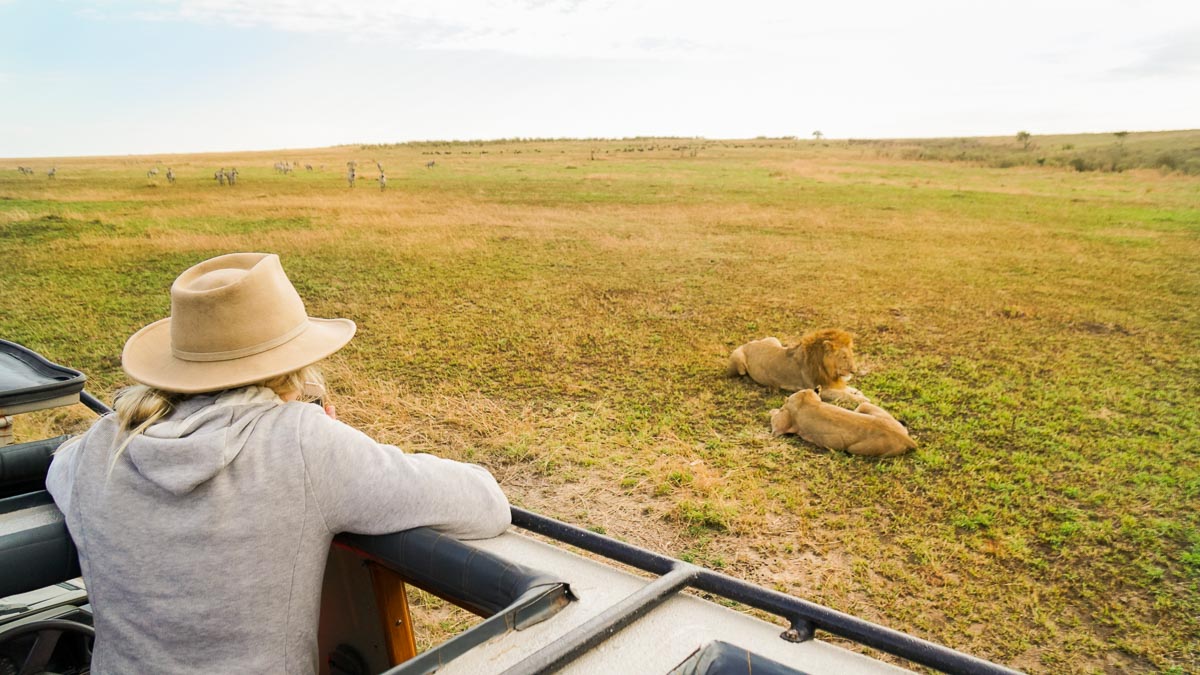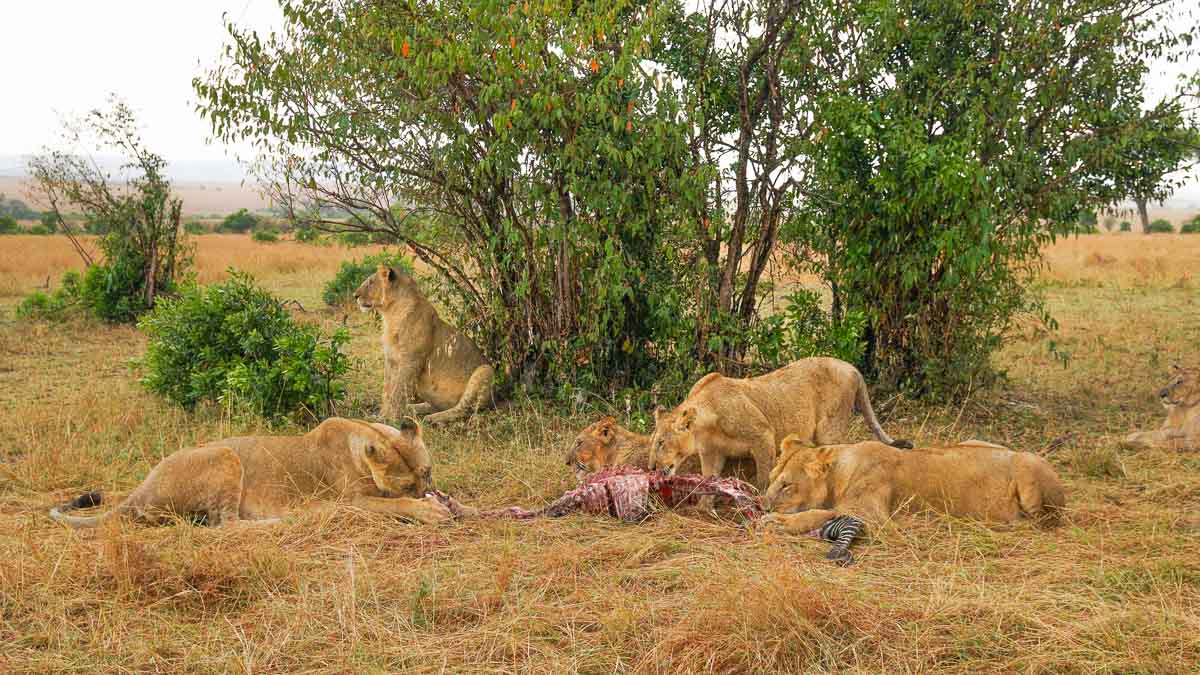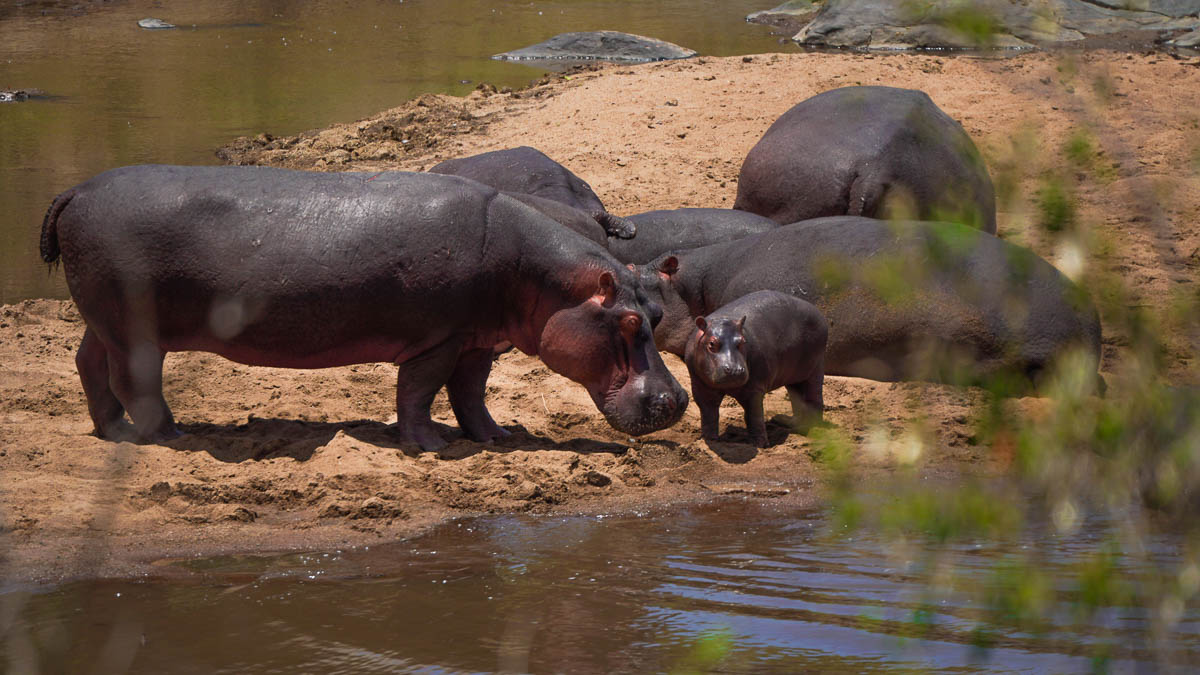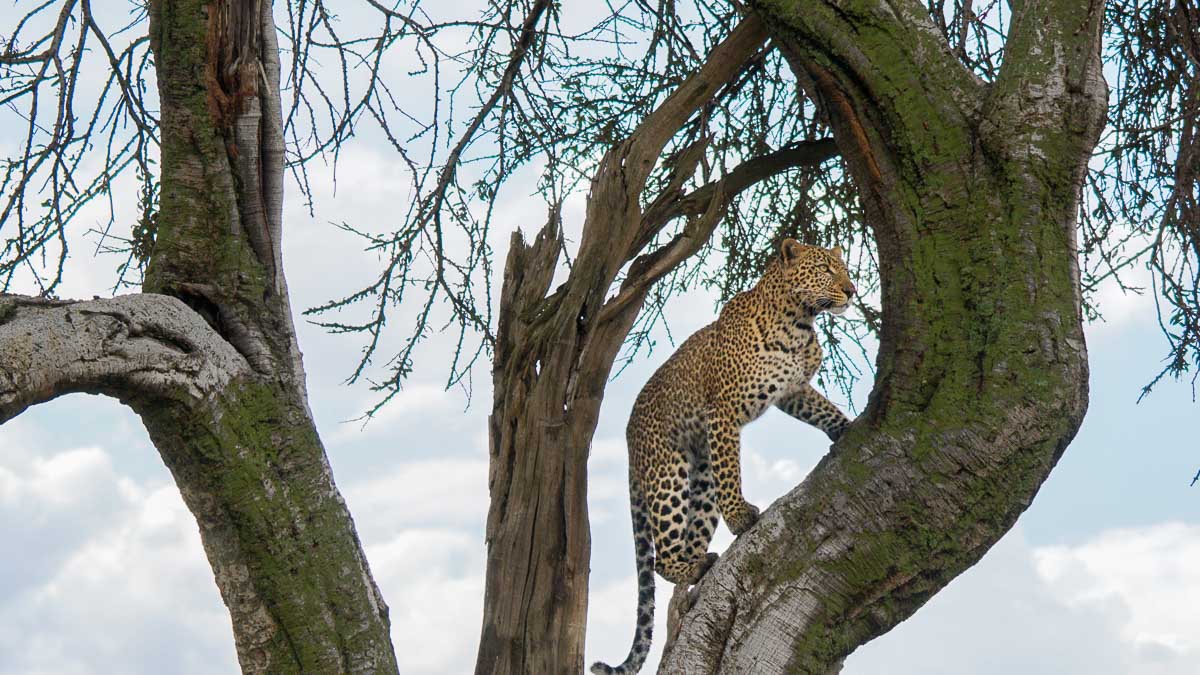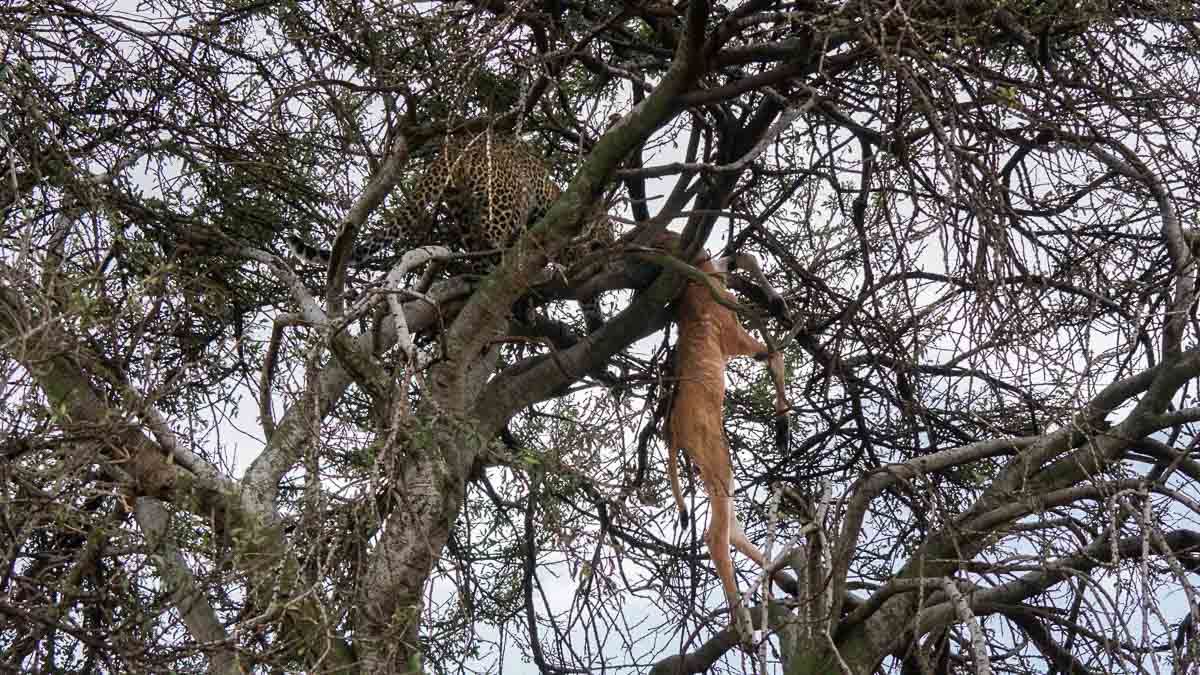 Most people would do at least two days in Maasai Mara National Park, but having had a really lucky first day, I decided to skip the second to visit a local Maasai Village (KES1,000 donation) before leaving for Nairobi. It was an interesting glimpse into the past, seeing how tourism has affected their traditional way of life, though that's a story for another time.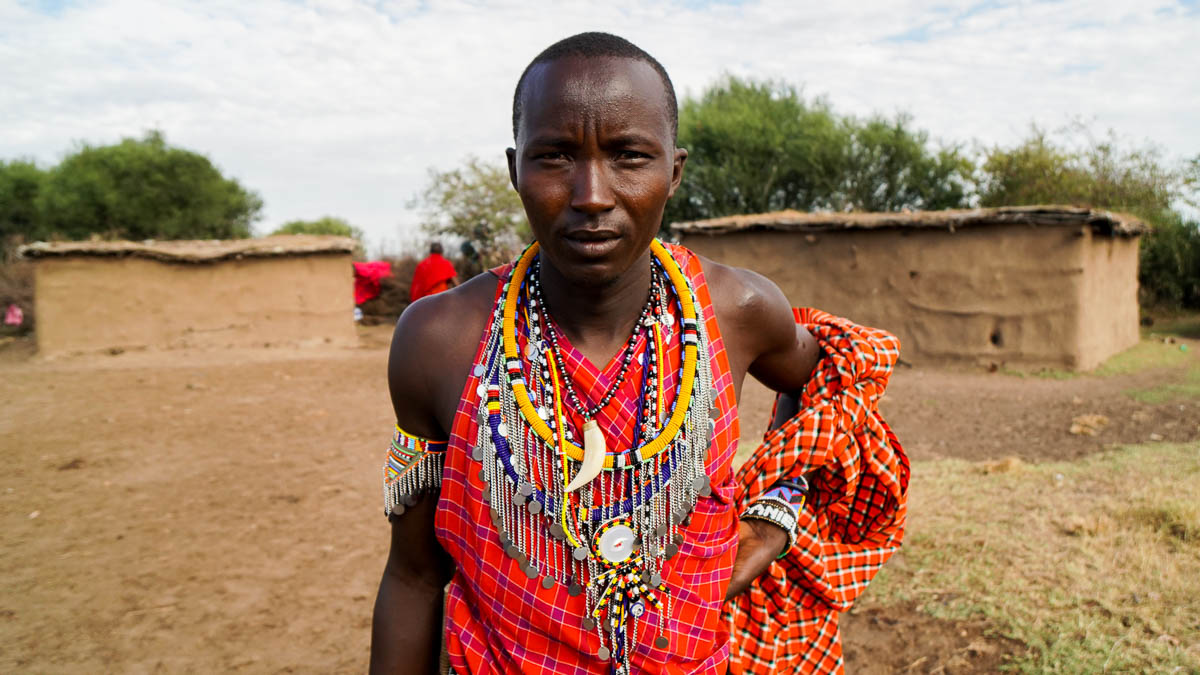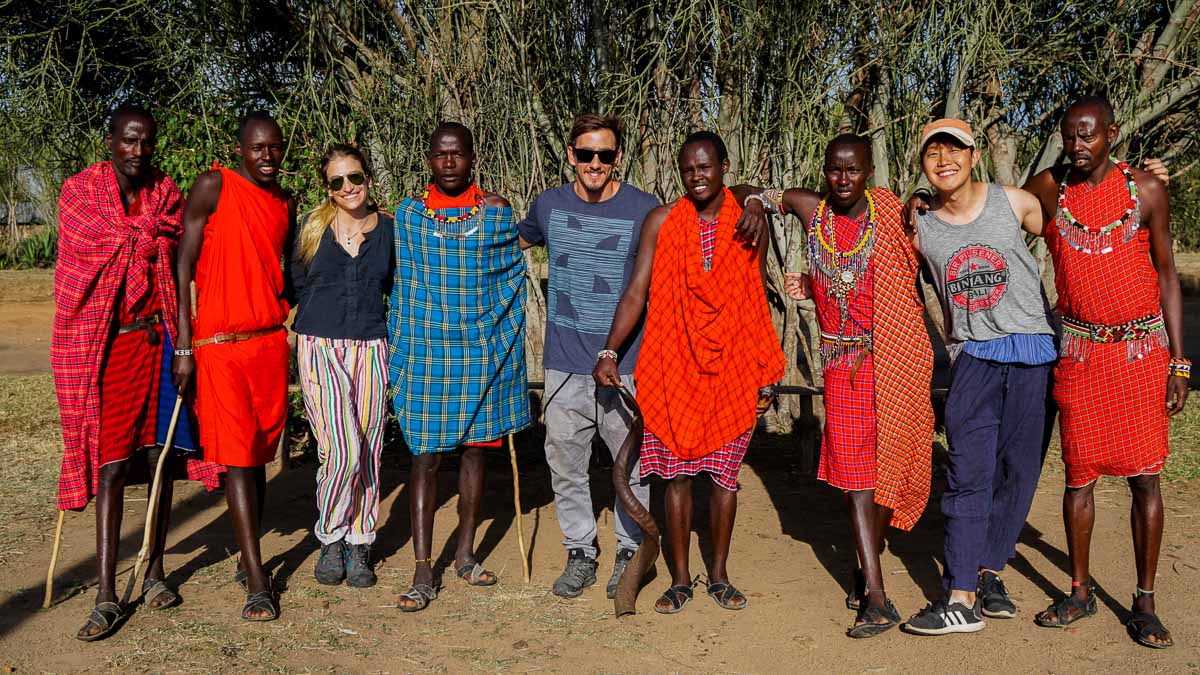 Getting to Nairobi from Maasai Mara
Mara Explorers arranged a shared taxi for KES600 to Narok (2.5 hrs), where I took a local Matatu to Nairobi for KES350 (3 hrs).
Day 11–12: Nairobi
David Sheldrick Elephant & Rhino Orphanage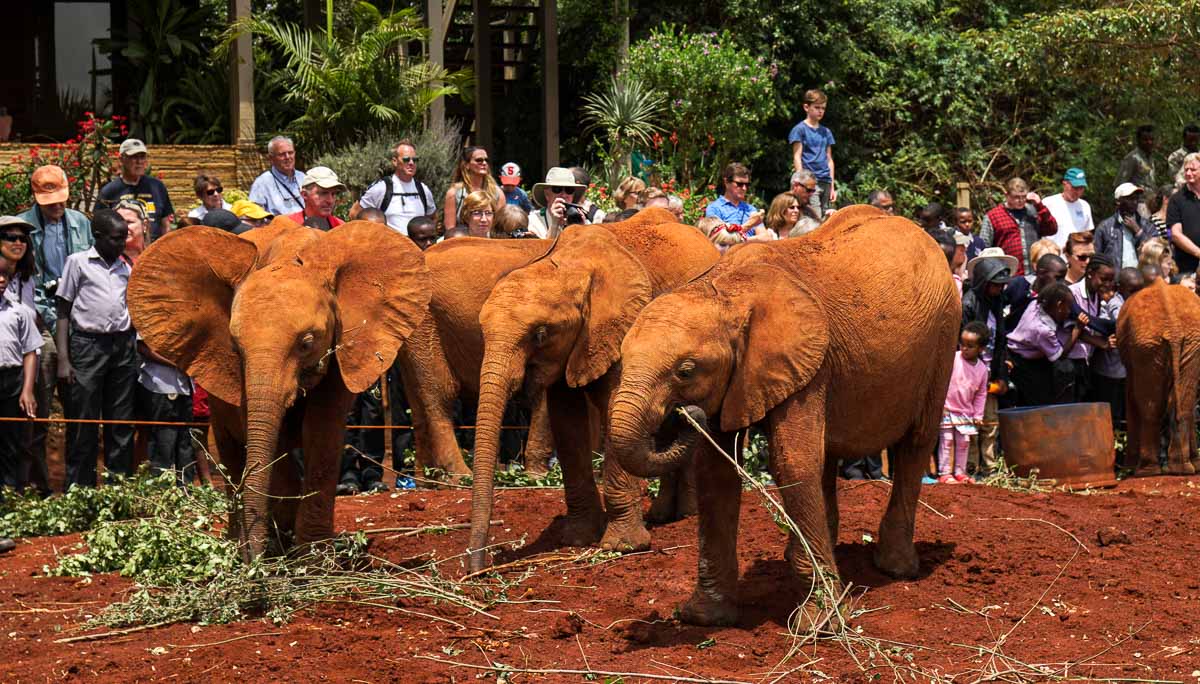 Having visited many self-proclaimed animal orphanages, I was initially a little doubtful about the real impact at the David Sheldrick Elephant & Rhino Orphanage. But after visiting the place, I'm happy to say that this isn't a tourist trap. For an hour every day, the keepers bring the adorable baby elephants out for an open feeding session, sharing individual stories of how they were rescued and their plan for rehabilitation.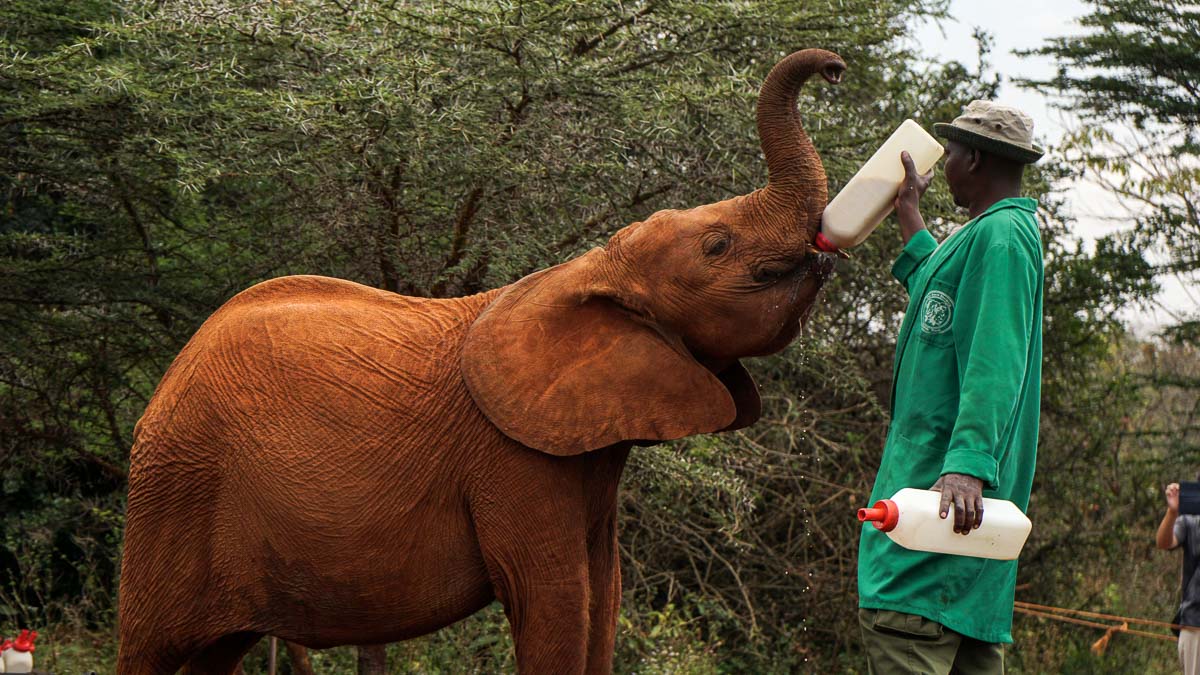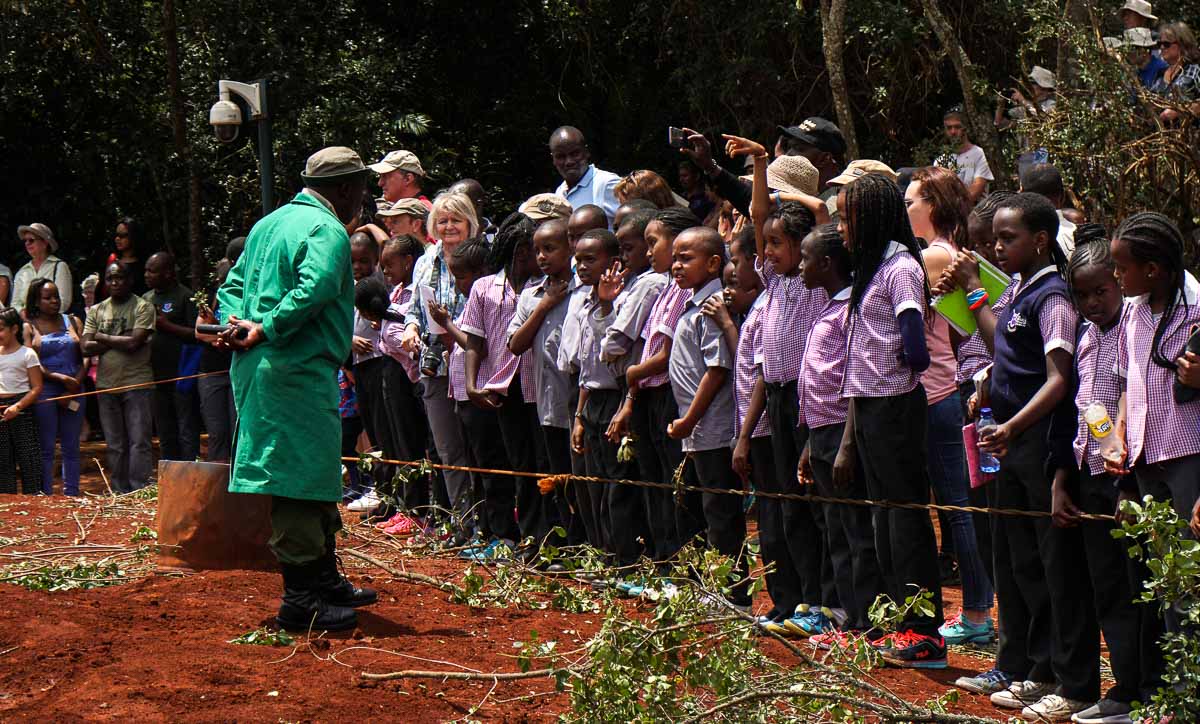 The orphanage hopes that through these interactions, they can educate both tourists and Kenyans (there were many school children on excursion) the importance of conversation and fight the war against poaching.
You can also support a baby elephant/rhino from US$50/year, receiving updates on the progress of your newly adopted kid.
*Pro-tip: Arrive at least an hour before opening hours if you don't want to stand behind.
Entrance Fee: KES500
Opening Hours: 11AM – 12PM
Address: KWS Central Workshop Gate, off, Magadi Rd, Nairobi, Kenya
Giraffe Centre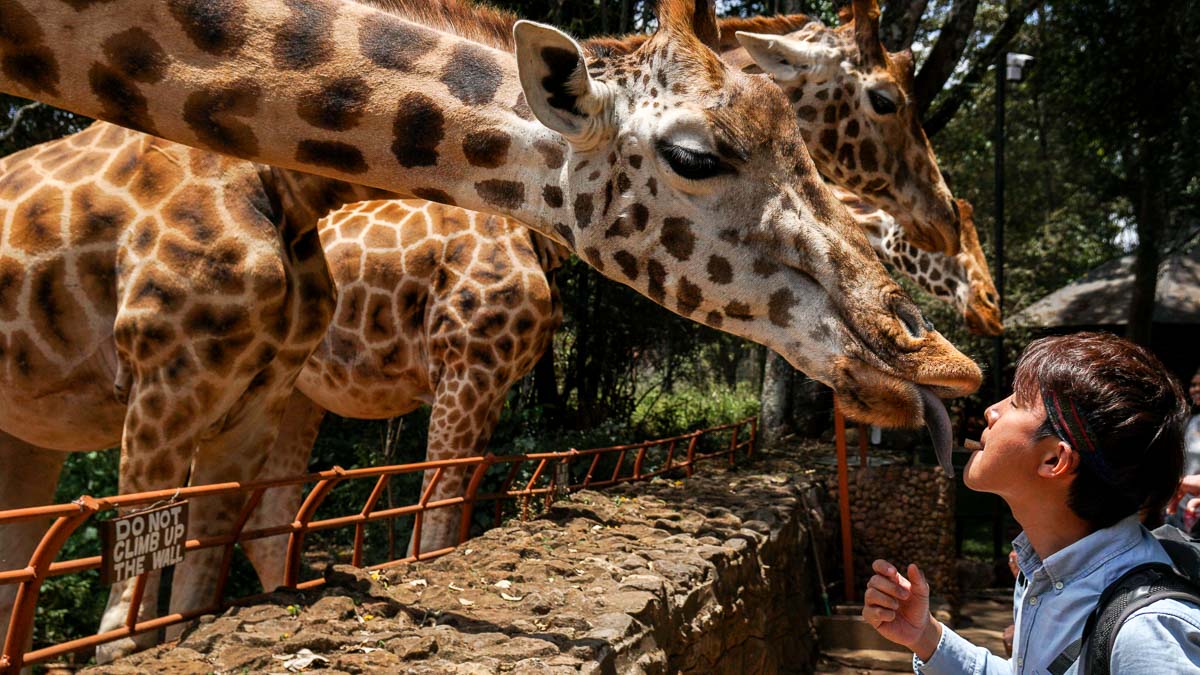 Made popular by social media influencers, Giraffe Centre shares the same grounds as the always booked Giraffe Manor. I loved how they managed to successfully leverage tourism for the conservation of the highly endangered Rothschild Giraffe.
Here you can feed and get up really close with the Rothschild Giraffe while learning more about their rehabilitation programme.
Entrance Fee: KES1,000
Opening Hours: 9AM – 5PM
Address: Duma Rd, Nairobi, Kenya
Kibera Tour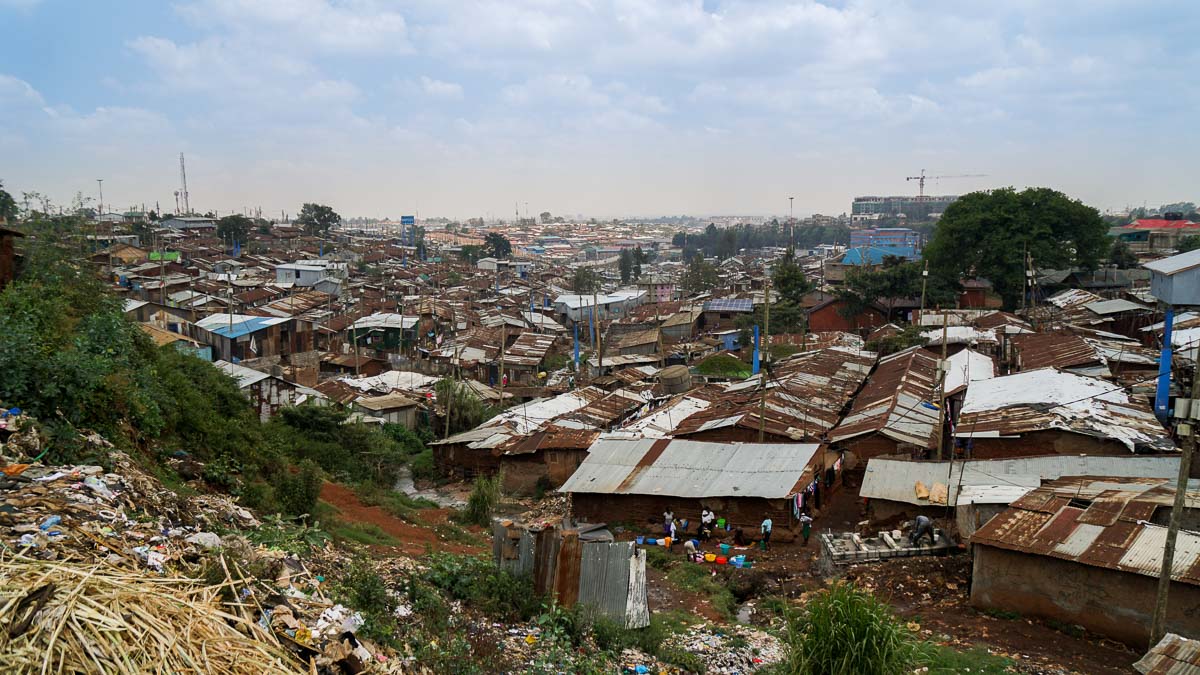 Despite high tourism prices, Kenya has a per capita GDP of only US$1,594 in 2017. Kiberia is Nairobi's largest slum, and you can take a tour to get a glimpse into the lives of some of the poorest in Kenya's capital. There are certainly moral dilemmas to slum tourism, but there is no doubt that it has benefitted some people from the local communities by creating additional jobs.
Depending on your comfort level, tours can be arranged for KES2,500 with Kiberia Tours, where a portion of the proceeds go back to local community projects.
Where to stay in Nairobi
Wanting to wind down before heading home, I opted to stay at Wildebeest Eco Camp. Located far from the hustle and bustle of Nairobi's city centre, it felt like another world. The grounds were beautiful and there were glamping tents for all budgets. Dorm tents start from US$22. You can also use the camping grounds for US$16.
Tours and food are pretty expensive though, so I suggest eating out and doing your own day trips. The camp was also pretty far from the main road.
Getting around Nairobi
Local Matatus for anywhere with a direct route, Uber for everywhere else. Uber is affordable and convenient in Nairobi, and there is no real need to get your own private driver.
12D Budget Kenya Safari Itinerary Breakdown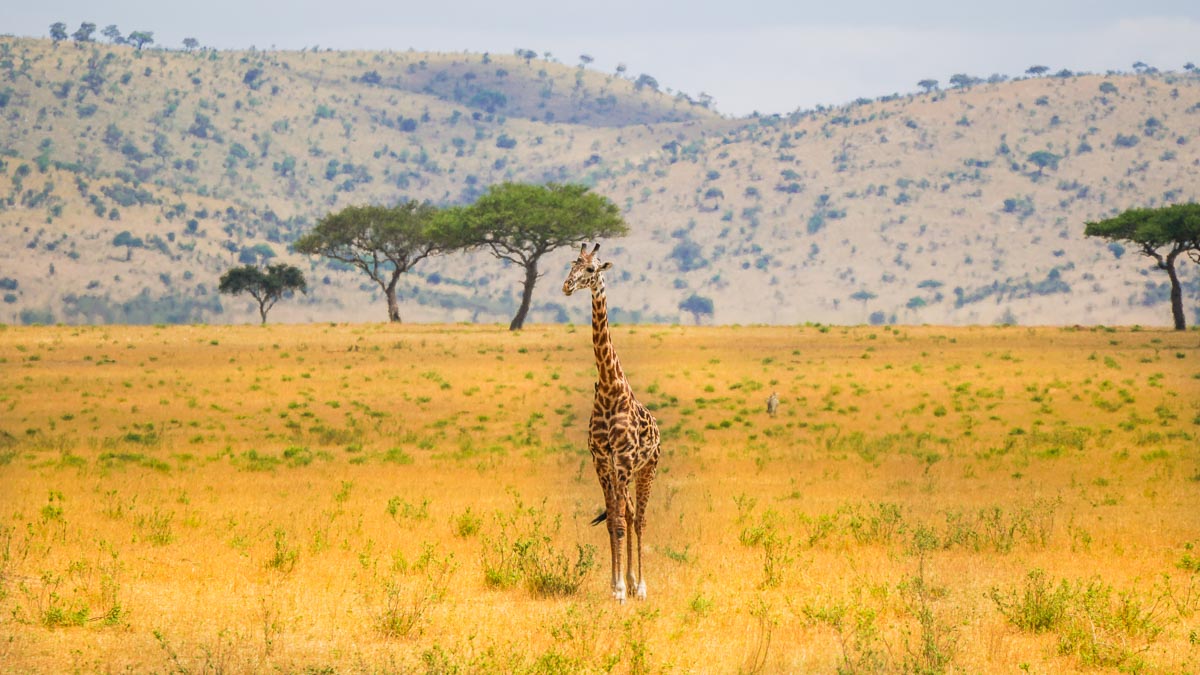 Accommodation: $183.47
Food: $182.71
Activities: $657.08
Transport: $76.46

TOTAL: US$1,099.72 (~S$1,484.62)
Click here for the detailed breakdown.
Note: I've excluded flights as it varies depending on where you're flying in from. You can check flight prices here:
Frequently Asked Questions for Kenya
1) How many safaris should I visit?
Safari fatigue is real. While all the safaris are unique in their own ways, they can still be pretty similar and it's advisable to spread the safari tours out. The ones in this itinerary were specifically picked for variety so it's a pretty decent.
– Maasai Mara National Park — Best National Park in Kenya. If you only have time for one, this is it.
– Amboseli National Park — The backdrop of Mount Kilimanjaro sealed the deal for me. The terrain is also different from Maasai Mara so you get to see different things. The focus here are the elephants.
– Hell's Gate National Park — You get to cycle or walk in a National Park surrounded by wild animals. That's pretty surreal to me.
2) Is it really safe in Kenya?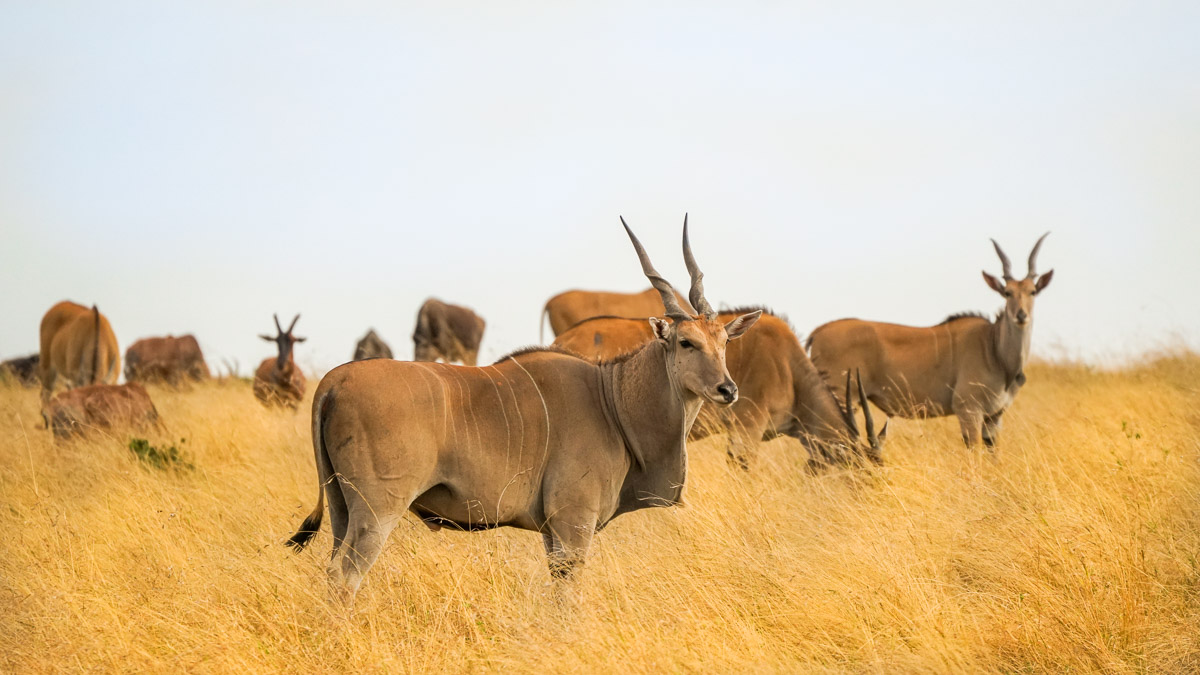 The short answer is yes! There's plenty of hustling around tourist areas, but most mean no harm. Look after your belongings as you normally would, don't flaunt wealth, and travel in groups at night.
Try not to give your number away though. A common scam is that someone will claim to have accidentally sent you money via M-Pesa (a mobile payment service) and ask for it back. Just ignore and they'll stop after awhile.
3) When is the best time to visit Kenya?
The Great Migration of the wildebeest between July to October is the best. Hundreds of thousands of wildebeest crossing the river between Kenya and Tanzania is pretty darn amazing. Prices are highest during this period, so my suggestion is to visit at the tail end of the season to save money.
Budget travel in poorer countries like Kenya
While budget travelling is great, it's also important to remember that travel is a privilege. I'm guilty of this too sometimes, but do be respectful while negotiating prices. An extra dollar to us may mean a full meal for others. We are often victims of circumstances, so don't get too caught up with getting the "local" price for everything. Whenever I feel overcharged, I'll simply say no thank you and go to someone else for a price that is acceptable to them.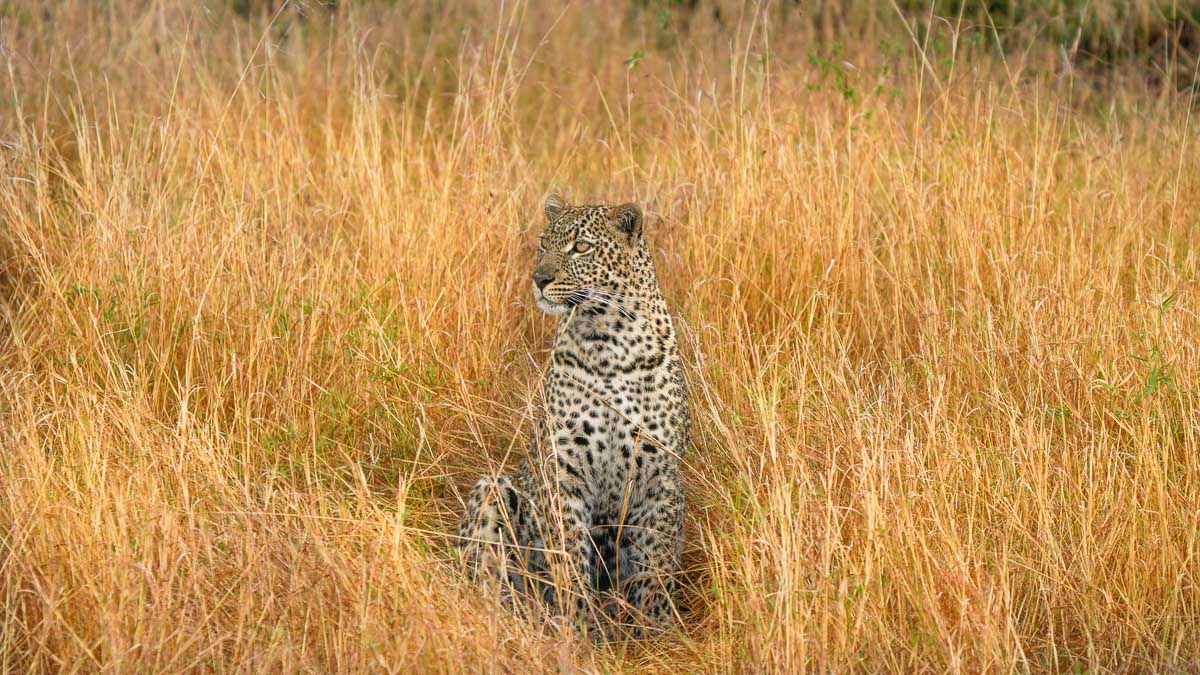 Hope you found this budget Kenya Itinerary useful. Let us know if you have any other tips or questions in the comments below! 🙂
---
Like what you see? Follow us on Facebook, Instagram, and YouTube for more travel updates!