Get $5 with the promo code <TRAVELINTERN5> when you sign-up and activate your YouTrip account!
As someone who travels a lot for work and leisure, currency exchange-related fees are a huge pain in the ass. Even though we try to travel budget most of the time, the costs still add up. In fact, we've been on over 22 trips this year from Asia to America!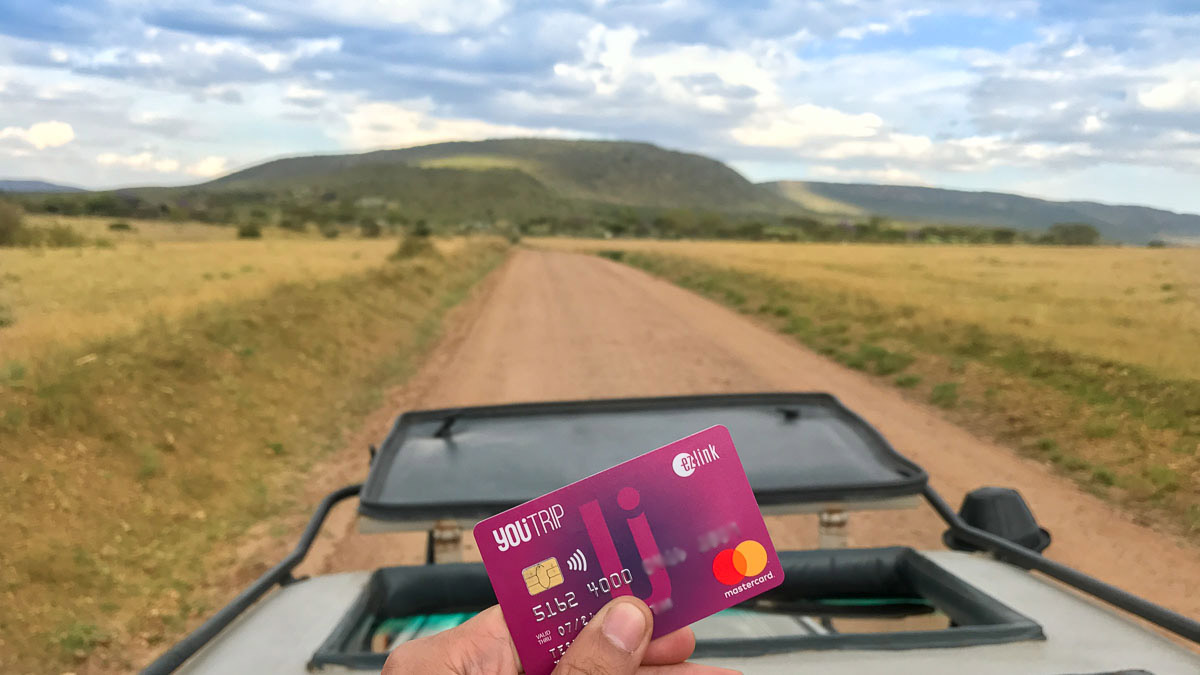 While physically exchanging cash at the money changer is the most cost effective, it isn't always practical to carry wads of cash overseas. It's inevitable that you sometimes have to pay using credit cards at a crappy exchange rate with additional transaction fees.
When I first heard of YouTrip, a multi-currency pre-paid travel wallet that has no transaction fees for over 150 currencies, it sounded too good to be true. Launched in August 2018, YouTrip was built by techie travel enthusiasts who partnered with Mastercard® to provide a smarter and cheaper way for overseas transactions. I mean, if it really works as promised, it has the potential to shape and change the way we spend overseas.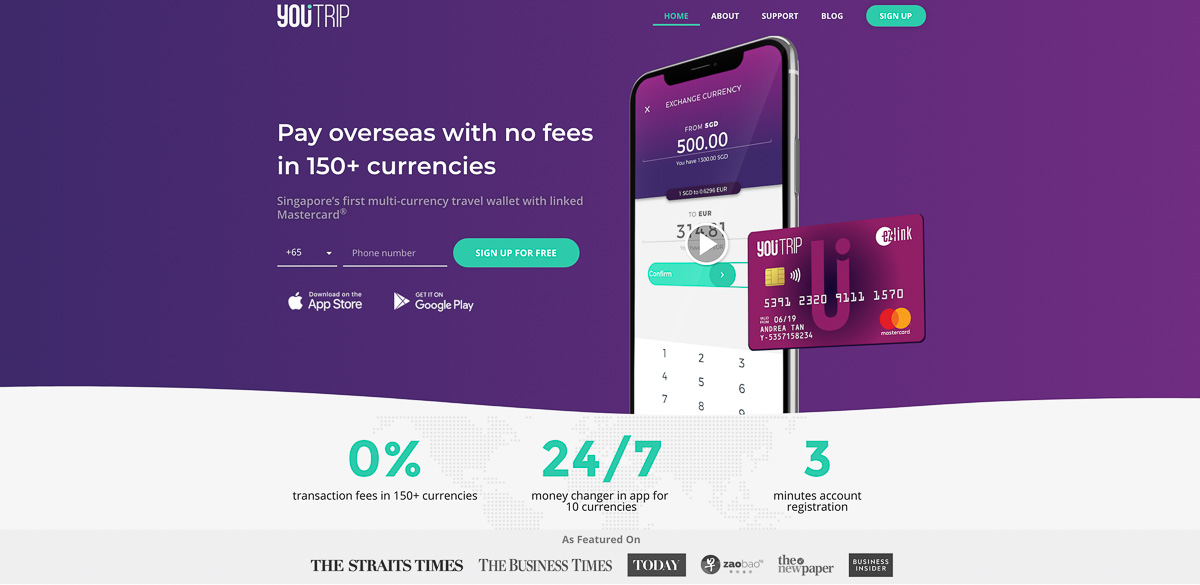 So when we got the chance to try it out for ourselves, I was really excited (to save money and) to put it to the test. I was heading to Kenya in Africa, and figured it'll be the perfect place to push it to the limits.
What YouTrip Promises
1) 0% transaction fees in 150+ currencies
When paying with your normal credit card, you'll often incur up to 3 different types of fees:
– Cross-Border Transaction Fees
– Foreign Exchange Fees
– Card Company Fees
There's basically none of these here which sounds amazing and bewildering.
2) In-app 24/7 money exchanger for 10 major currencies (SGD, USD, EUR, GBP, JPY, CHF, HKD, NZD, SEK, AUD)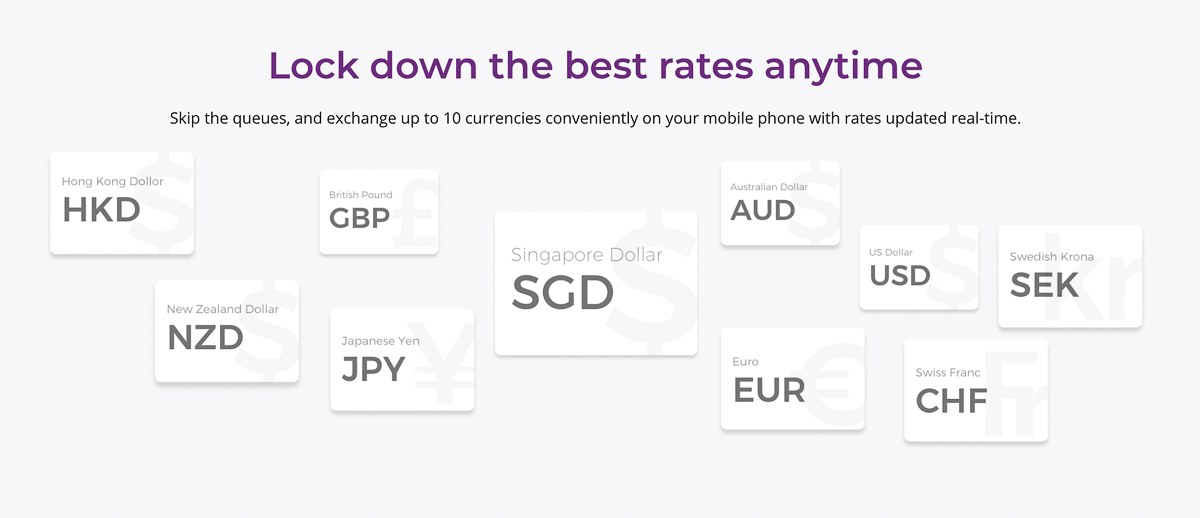 You can lock down competitive rates before your trip, which saves the hassle from going to the money changer when rates are good. For example, if you know that you're heading to Japan in a couple of months from now, you can start looking out for good rates and perform your currency exchange early. The 10 in-app exchange wallets are reflected in real time, so you can be confident that what you see is what you get.
3) Mastercard wholesale exchange rates for 140+ currencies
Outside the 10 major in-app currencies, YouTrip uses Mastercard wholesale exchange rates for the rest, which is why they are often very close to the physical money changer or google interbank rates. The 140+ currencies rely on YouTrip's SmartExchange™ to make no-fee payments.
You can get Mastercard rates here by indicating 0% bank fees.
4) Cashless payments in-store and online worldwide with Mastercard®
Works anywhere that accepts Mastercard. According to Mastercard they have more than 30 million merchants worldwide so no worries here.
5) No minimum balance required
Compared to some multi-currency wallets in the market, you don't have to maintain any minimum balance amount. Which is great for liquidity so you just use it as and when you need it.
However they do have a $5/month dormancy fee if your account is left inactive for 12 consecutive months. To be honest this isn't a concern because even if you do not travel for a year, you can still make a simple online transaction from, say, Amazon US.
YouTrip Review — Putting it to the Test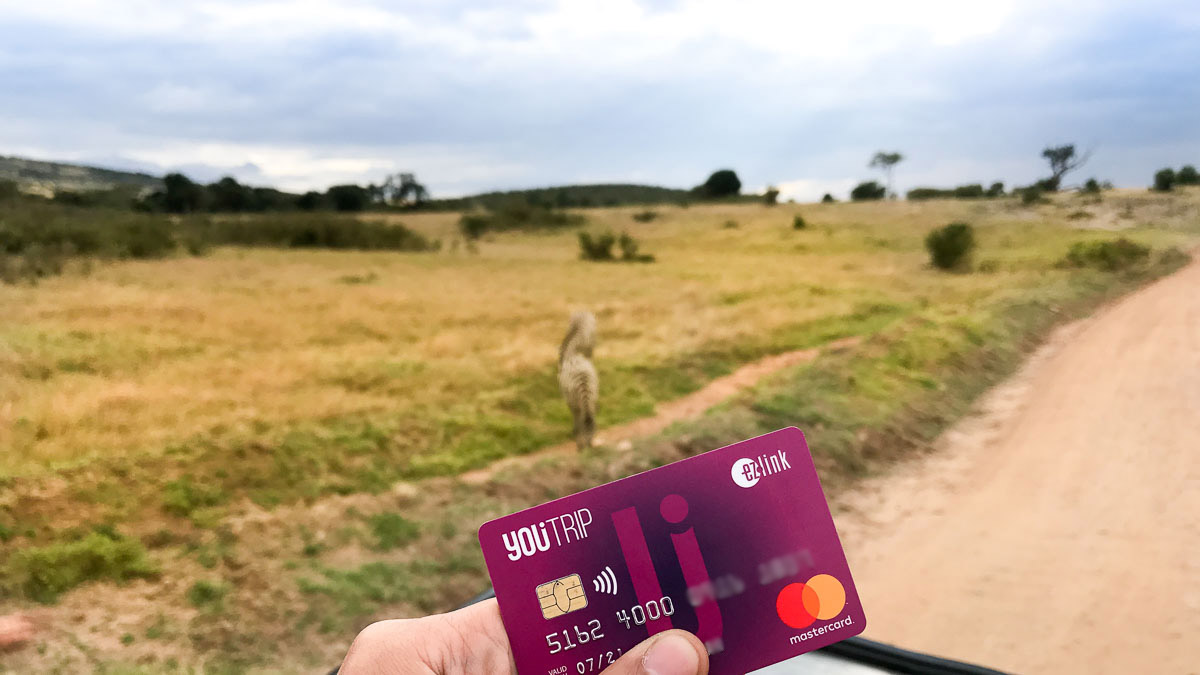 I'm no scientist, but I have a simple process to test if it works as promised. There's no point testing (5) as it is what it is, so I'll be focusing on (1) – (4).
I've come up with five common travel scenarios to see:
– If it really works everywhere, and
– The difference in final amount paid compared to the internet exchange rate at xe.com. While they claim to have no transaction fees, it doesn't mean there is no difference in price.
Scenario 1: Mastercard Transactions at Singapore's Changi Airport
Scenario 2: Mastercard Transactions using Foreign Currency
Scenario 3: Online Payment in Foreign Currency
Scenario 4: Overseas ATM withdrawal (S$5 ATM network fee + foreign bank fee)
Scenario 5: Currency Exchange in app
I would have preferred to use the rates of physical money changers as that is the most practical. But as Kenyan Shillings (KES) is pretty hard to find in Singapore, the mark-ups from the money changers are a little ridiculous for this to make sense.
To give an idea of the discrepancy, here were the rates I got on the 1st of October 2018:
Internet Exchange Rate (xe.com)
SGD1 : KES73.7377
Raffles City Money Changer Rate
SGD1 : KES56.38
So I opted to compare with market rates at xe.com. As physical exchange rates are always a little worse than market rates, this puts YouTrip's rates to the test against the same benchmark.
The Test
Scenario 1: Mastercard Transactions at Singapore's Changi Airport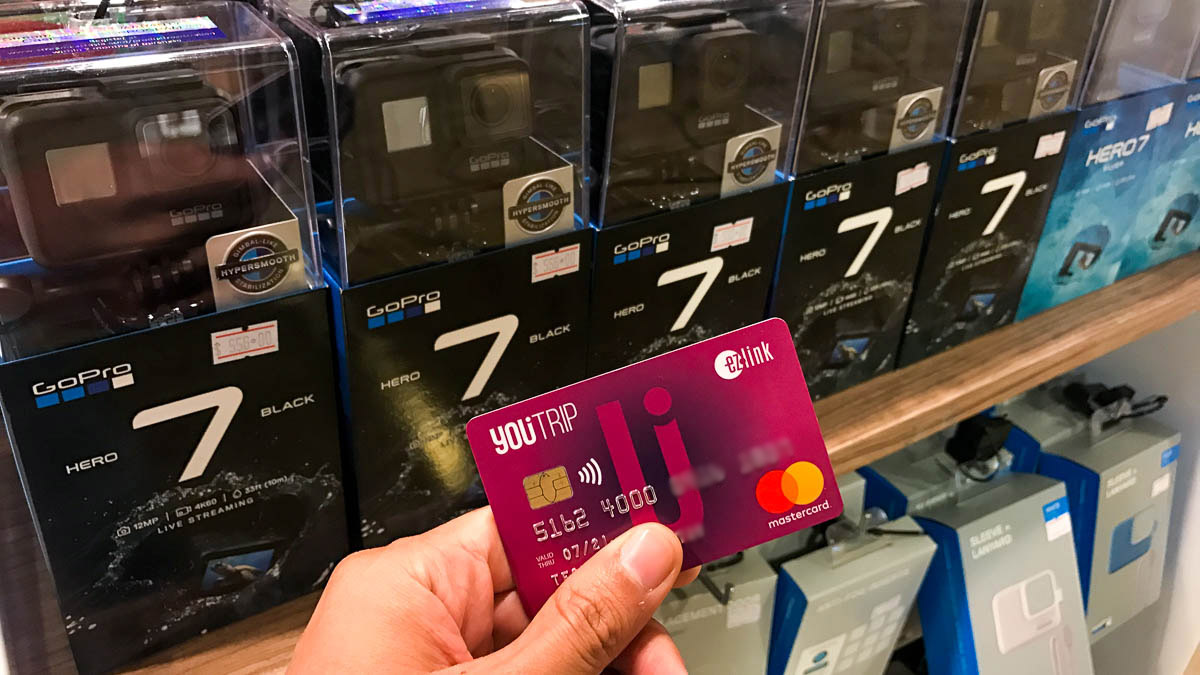 No better place to kick the tests off than at home. Got a GoPro 7 and some memory cards at Changi Airport. Everything was paid in SGD already in my YouTrip card so no surprises that no additional fees were involved. It might be wiser to actually use your credit card here to earn points, but hey, this is a test.
Scenario 2: Mastercard Transactions using Foreign Currency
While not as widespread, you can use your credit card at most malls and tourist attractions in Kenya. During my visits to the National Parks of Kenya, I frequently used the YouTrip Card to pay National Park Entrance Fees and meals at restaurants whenever it was available.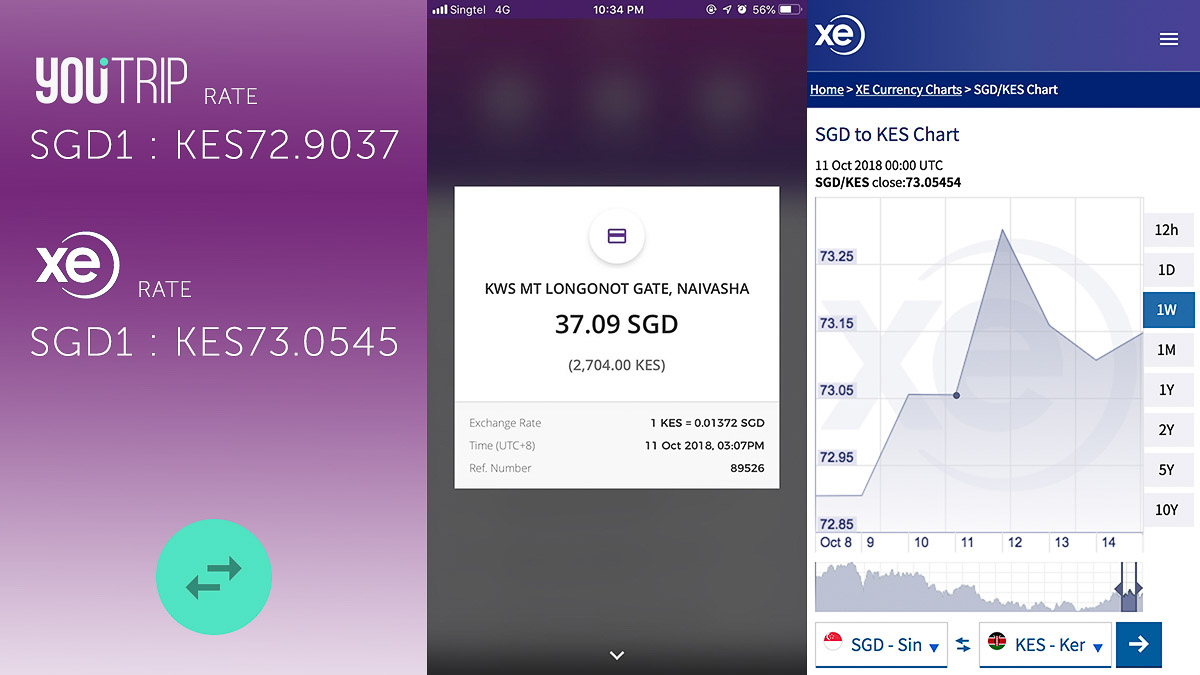 Longonot National Park (11 Oct 2018)
YouTrip Exchange Rate
SGD1 : KES72.9037
Internet Exchange Rate (xe.com)
SGD1 : KES73.0545
Difference = – KES0.1508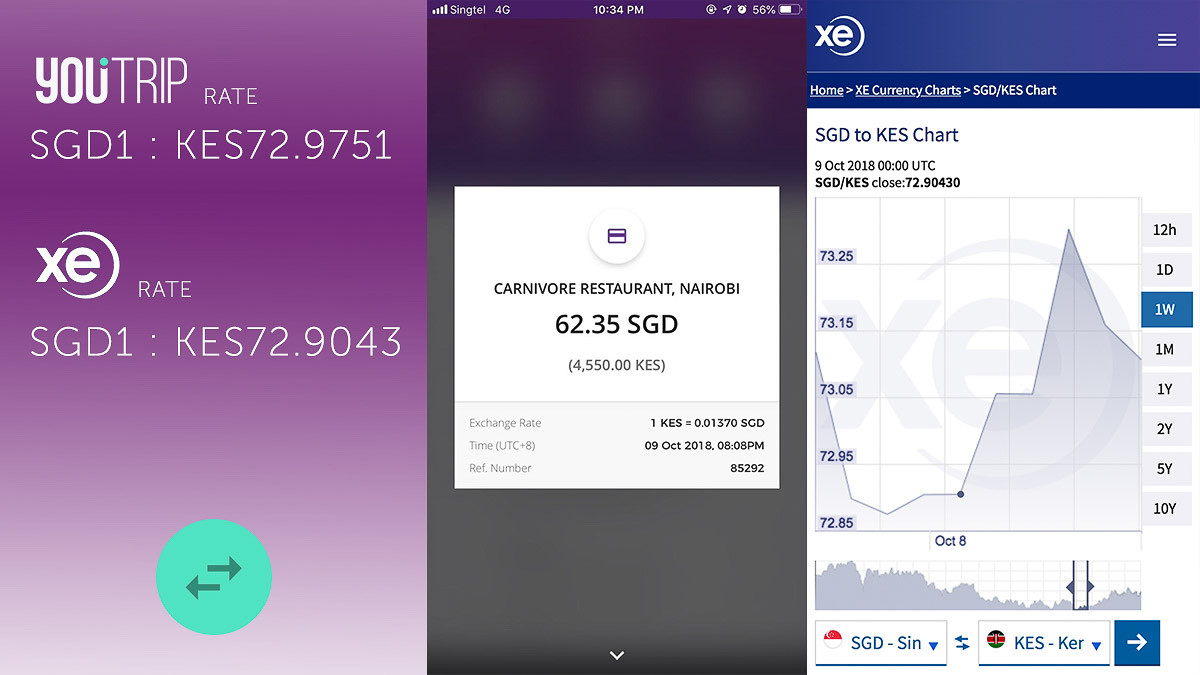 Carnivore Restaurant (9 Oct 2018)
YouTrip Exchange Rate
SGD1 : KES72.9751
Internet Exchange Rate (xe.com)
SGD1 : KES72.9043
Difference = + KES0.0708
In both cases, the difference between internet rate and the actual rate charged on YouTrip is actually more or less the same!
Scenario 3: Online Payment in Foreign Currency
To save my energy on haggling, I often turned to Uber for transport within the capital. It's cheap and works the same as what we're used to.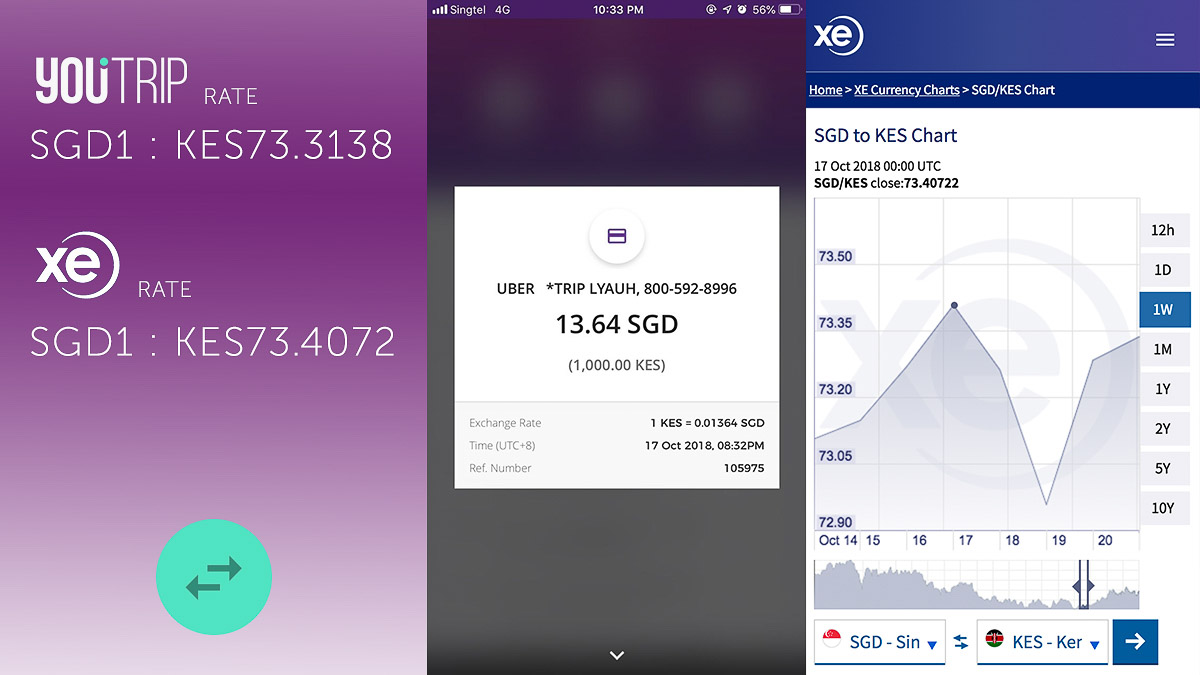 Uber to the Airport (17 Oct 2018)
YouTrip Exchange Rate
SGD1 : KES73.3138
Internet Exchange Rate (xe.com)
SGD1 : KES73.4072
Difference = – KES0.0934
Again, the difference is negligible at a volume a normal tourist would make.
Scenario 4: Overseas ATM withdrawal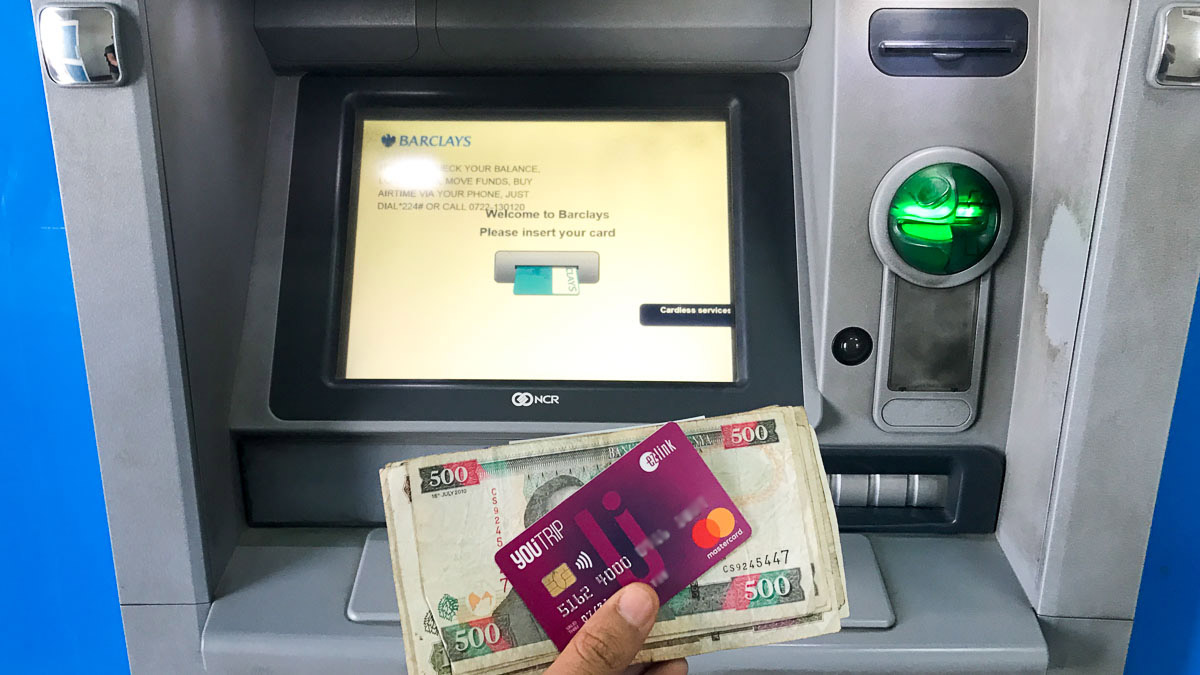 Having previously faced difficulties withdrawing money overseas with my debit and credit cards, I thought this might be a major stumbling block. Surprisingly, things worked without a hitch and I managed to withdraw KES30,000.
The local bank charged an additional KES434 and YouTrip charged an additional S$5 (similar to many Singaporean banks) for the transaction.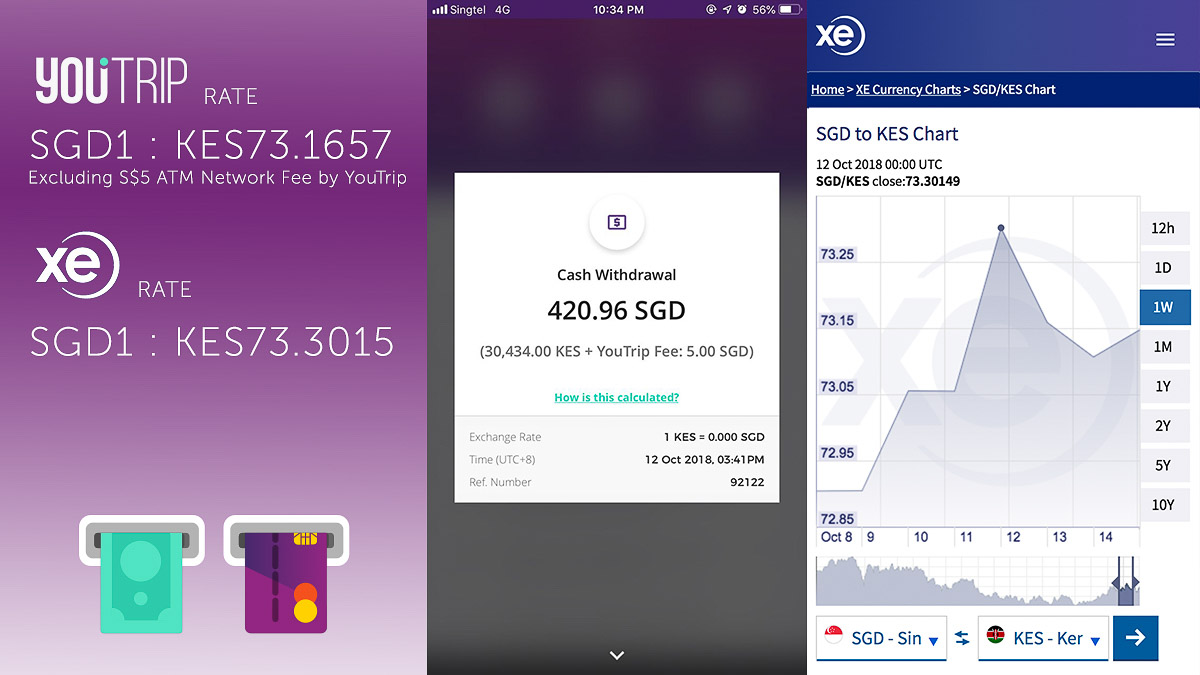 Overseas ATM Withdrawal (12 Oct 2018)
YouTrip Exchange Rate
SGD1 : KES73.1657 (excluded the $5 charged by YouTrip)
Internet Exchange Rate (xe.com)
SGD1 : KES73.3015
Difference = – KES0.1358
If you need to make an overseas ATM withdrawal, it seems much better to use the YouTrip card than your normal debit/credit card. It's also safer as the YouTrip card isn't linked to your bank account.
Scenario 5: Currency Exchange in App
Probably the most convenient feature, how does the app's currency exchange feature fare against physically changing money at the money changer?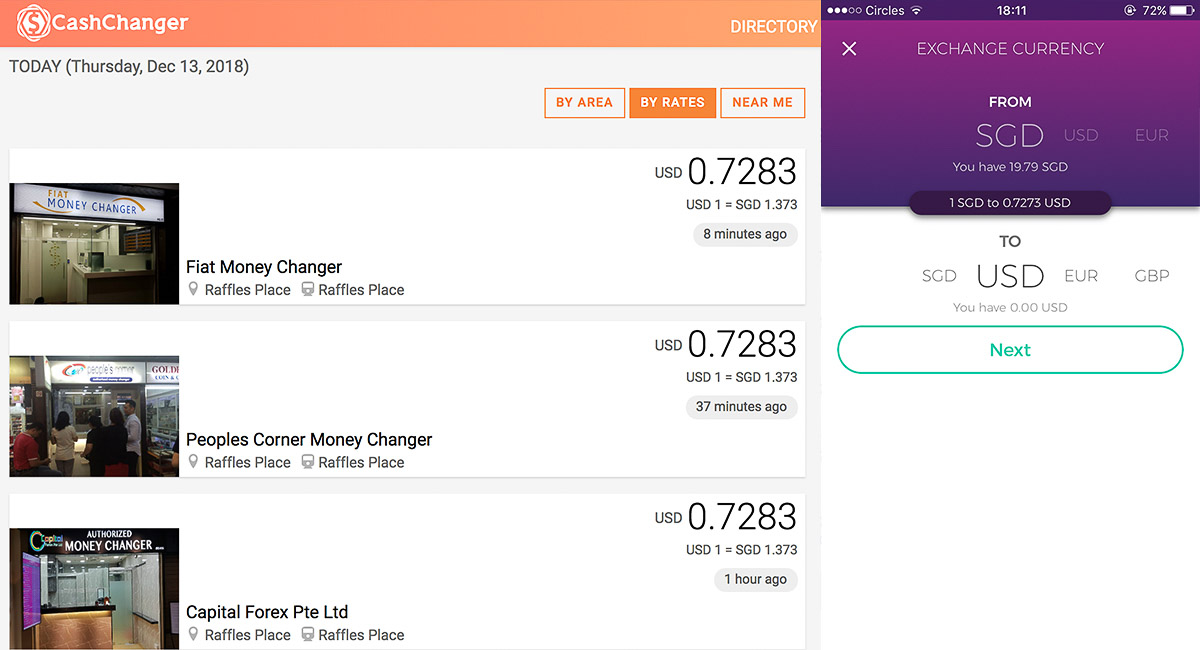 On the 13 December 2018 at 6:11PM, the best exchange rate in Singapore according to Cashchanger.co for SGD to USD is 0.7283 at Raffles Place.
Compared to 0.7273 on YouTrip, there is a difference of 0.001. If you're changing SGD1,000, you'd basically be getting US$1 less on YouTrip.
This of course varies due to the strength of the currency and day-to-day fluctuations, but we can safely conclude that the price is very close to the best rate available at the money changers.
Conclusion
The YouTrip Card actually performed beyond my expectations. I don't know if I was just lucky, but it worked in every situation as it should. The best part is that I saved a lot of currency conversion fees compared to using my credit card.
YouTrip Pros & Cons
Pros
1) Can be used by anyone. No minimum balance, spend, or annual fees.
Compared to credit cards or multi-currency accounts that require a basic income or minimum balance/spend, YouTrip Mastercard is a pre-paid card so anyone can use it, from students to those with no fixed income!
Just remember to use it at least once every 12 months to avoid the $5/month dormancy fee.
2) Very competitive exchange rates
With the simple comparison above, YouTrip's exchange rate was only just off the best available exchange rate at the money changer. In fact, the rates were better than many other physical money changers in the market at the same time.
3) Conveniently change money when the currency rates are good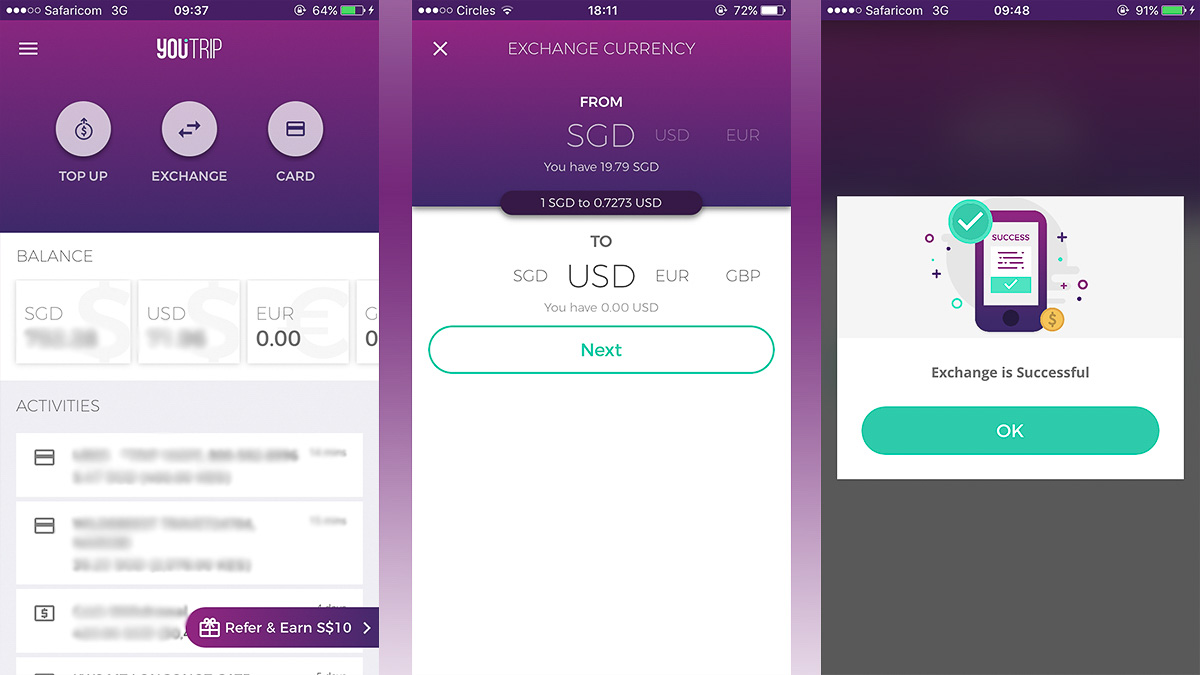 It works as described and this is a feature that should be used if you are travelling to any of the locations using the 10 selected currencies (SGD, USD, EUR, GBP, JPY, CHF, HKD, NZD, SEK, AUD).
I like how you can immediately lock in a good rate without spending extra time to visit a physical money changer. No more lunch time visits to the Arcade in Raffles Place.
4) You are forced to plan and not overspend
Being a pre-paid card, it indirectly forces you to plan your expenditure. Compared to a credit card where you might be spending money you don't have, this is a pretty good way to stay within your trip budget. Put a fixed amount inside, and try not to top-up.
5) Easy to use
It works like any credit or debit card as the tests showed. The app design is simple and intuitive, so there's no learning curve involved. Fuss-free indeed!
6) Security
If you have ever lost your card overseas, this is something you'll really appreciate. Instead of having to make an overseas call to the bank, you can simply deactivate the card with a single switch on the app. When the card is found, you can reactivate it the same way from the app too. In the event that you lose your card and phone, the old school way of calling is still available.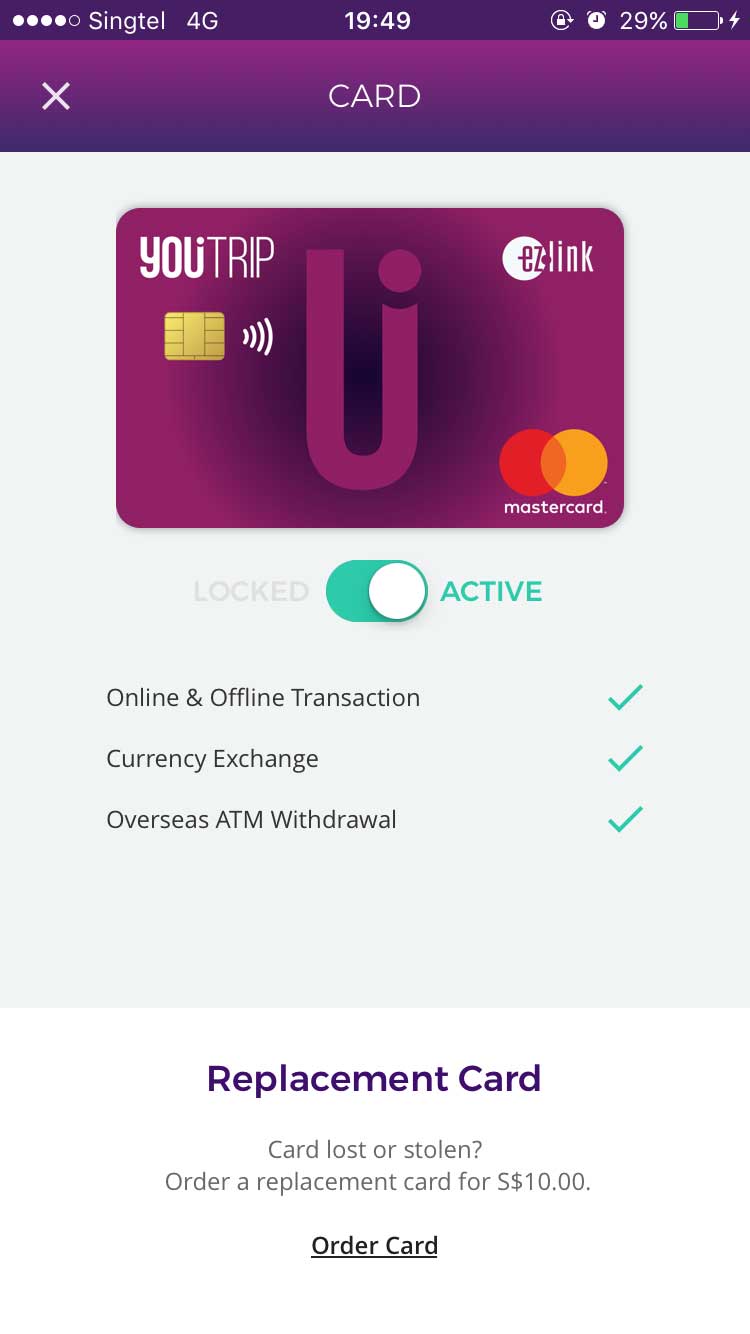 It's also great that it's not linked to your bank or savings account, which means the maximum amount you can lose from theft is only the amount that you top-up into your YouTrip card.
Cons
1) No credit card points or benefits
No earning of miles or rebates here. While you can use the card for local Mastercard purchases, it makes more sense to use your credit card instead. For example, I would use a local credit card to book my return flights from Singapore, but use the YouTrip Mastercard to book an overseas internal flight for my trips.
2) No interest
Compared to a multi-currency bank account, you'll definitely not be earning any interest. However if you only top up what you need, this shouldn't be an issue as it's spending money anyway.
3) Cashing to the exact cents
For a pre-paid travel wallet, it's going to be quite tough cashing out or using exactly what you have topped up.
4) Card payment limitations
As large as Mastercard's network is, there are still many places around the world where cash is king. Don't expect to use your card in rural places, and always do your homework to see the coverage of Mastercard in the country you are visiting.
According to YouTrip, there are also some transaction limits although they shouldn't be relevant to a normal person travelling:
"You are able to top-up to a limit of SGD$3,000 in your account, with no limit on the number of top-ups you may perform during the day. The total daily spending limit you can spend is SGD$6,000 with a monthly transaction limit of SGD $30,000 and SGD $100,000 yearly limit."
5) You can't top up your account if you have no internet
Which means you have to always make sure you have enough in your pre-paid card as top up currently operates via Mastercard or Visa through the app only. Otherwise you will end up in an awkward situation at the cashier.
6) Currency exchange rates outside the 10 main currencies are not locked in immediately
According to YouTrip, "for the 10 selected currencies available for in-app exchange, your exchange rate is immediately locked in and will not change after you have exchanged or made a purchase."
However, the remaining 140+ currencies is dependent on the date when the merchant completes the transaction (usually 1-2 days). So what you see on the app is only indicative and not exact. This is similar to how the normal credit cards work. That said, unless there are major fluctuations in currency, it should be more or less the same.
Quick tips for maximising your YouTrip Mastercard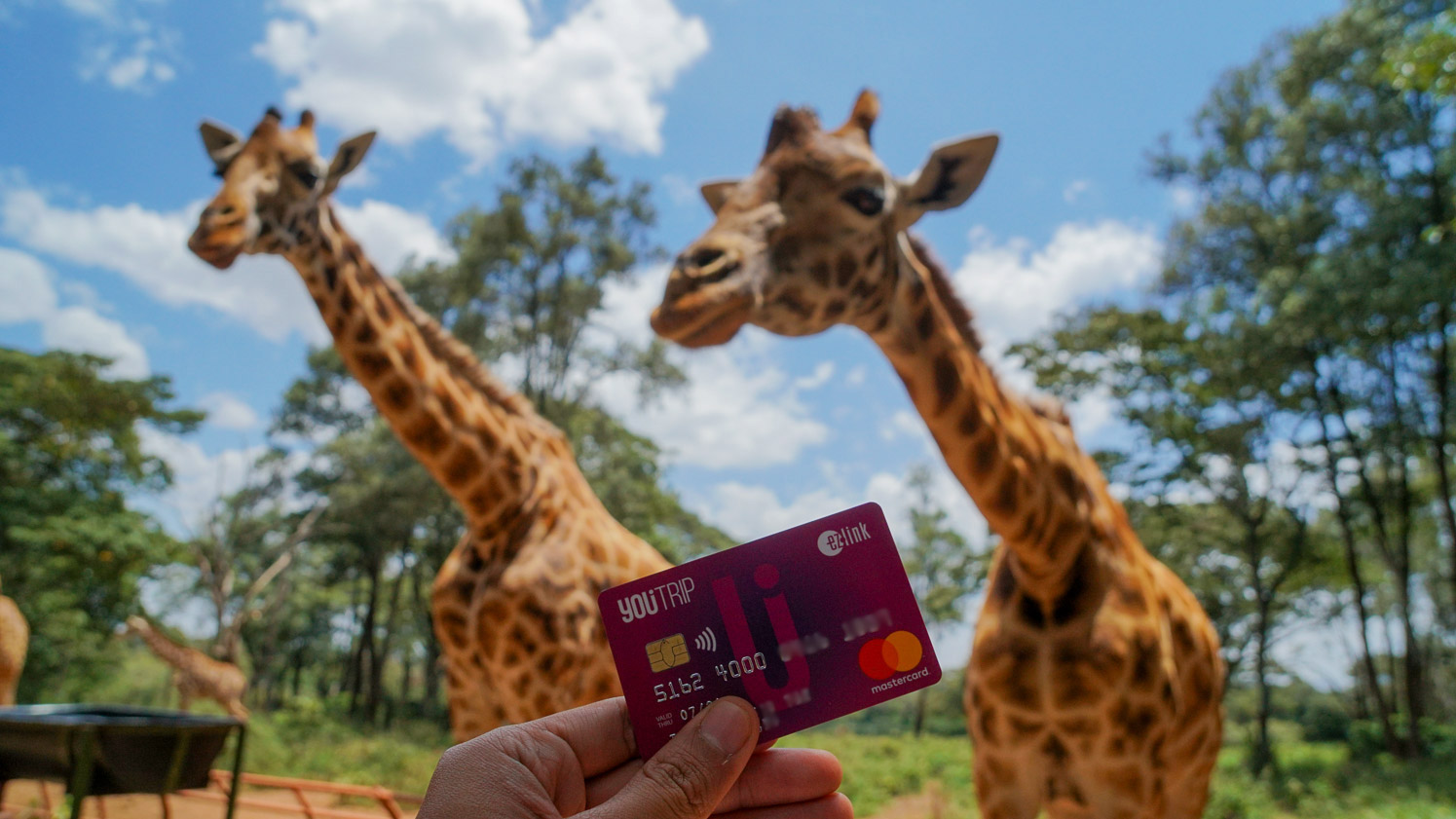 Get $5 with the promo code <TRAVELINTERN5> when you sign-up and activate your YouTrip account!
– Only use it for overseas transactions unless you are clearing credits with a small local purchase.
– Only top up what you need and plan ahead.
– Monitor currency rates and utilise the app's 24/7 currency exchange feature when the rates are good. Applicable only if you are travelling to countries using the 10 selected currencies.
Hope you found the review useful. We tried to be as meticulous as possible, but we're not financial experts so do let us know if we made a mistake somewhere!
Disclosure: While the writer was provided with spending allowance to test the card, it's in The Travel Intern's interest to protect the editorial integrity of our website. We have taken every reasonable effort to ensure a realistic and honest review for our readers.
---
This post was brought to you by YouTrip.
If you like what you're seeing, follow our adventures on Facebook, Instagram and more behind-the-scenes stuff on YouTube!
View this post on Instagram