Singapore is indeed a comparatively expensive stopover for your Southeast Asian adventure. But that doesn't mean you can't experience the best of the sunny city on the cheap.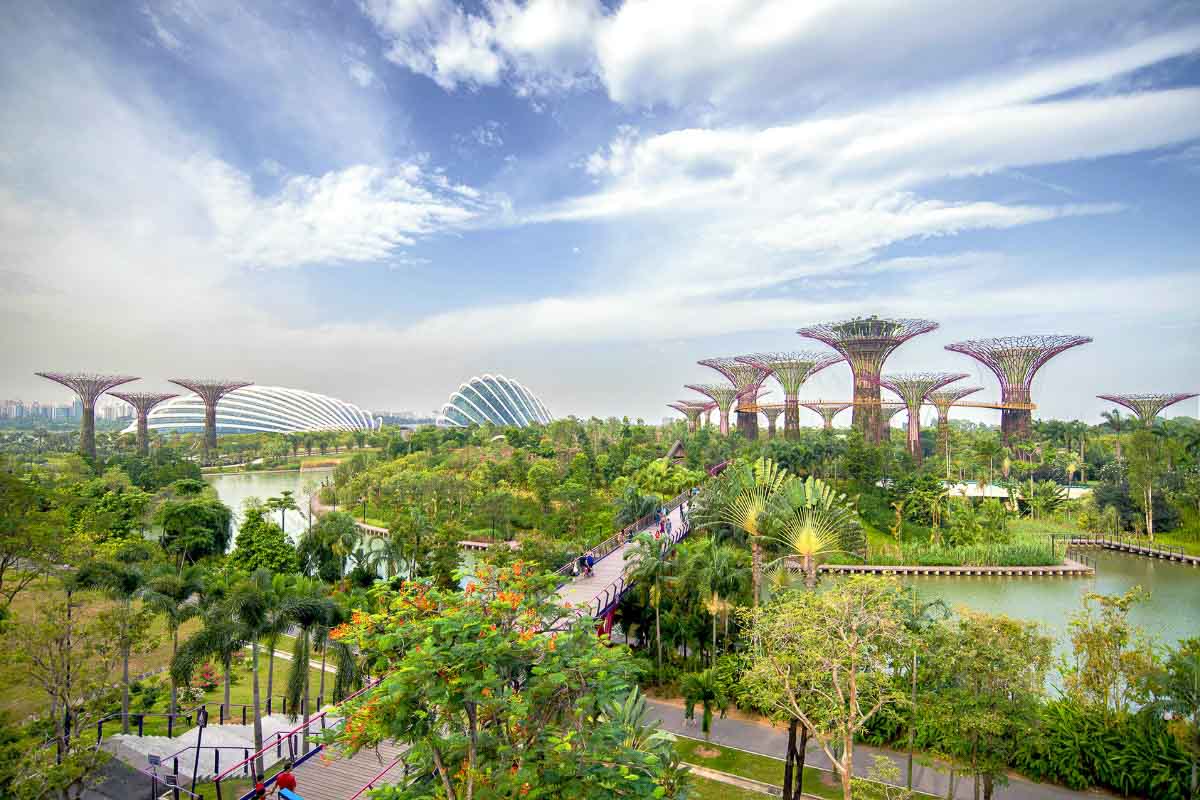 There are three truths to travelling in Singapore: it's clean, it's green, and you can spend less than S$20 a day and still have a good time. Despite being the most expensive city in the world, if you're only visiting for a week or less, you'll barely feel the pinch. Food is definitely cheap (you can get a meal under S$5), public transport is fairly reasonable (and distance-based), and you won't have any trouble finding affordable accommodation. 
Even for activities, you'll be glad to know many of them are even free! Categorised into sights and sounds, arts and culture and nature activities, this article is all you need for an affordable stay in the Lion City.
At the end of the article, we've put together a suggested five-day itinerary that you can get by with just S$150.
Are you game for a frugally intoxicating travel experience in the most expensive city in the world? 
Best Sights and Sounds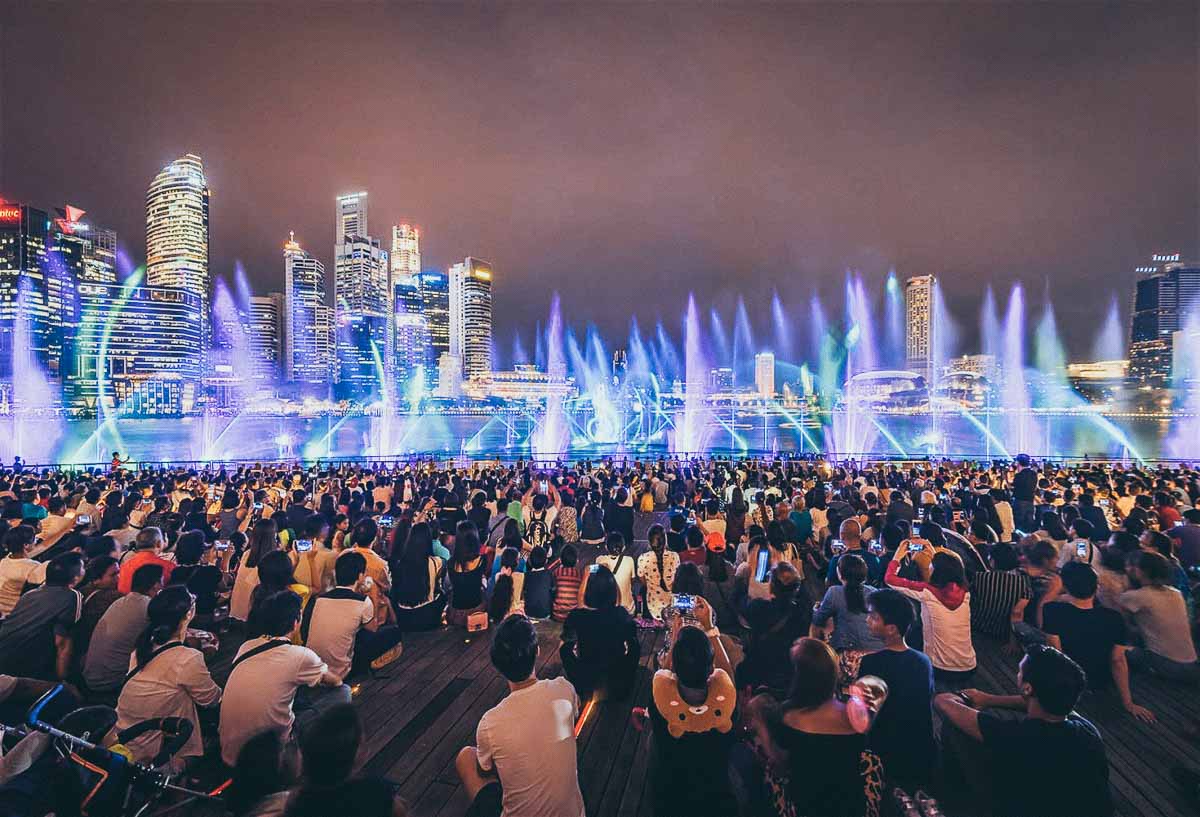 Free
Spectra Light & Water Show at Marina Bay — This is a visual spectacle of insane proportions. Fountain jets spray colours of the rainbow in tandem with impressive symphonies, telling the tale of Singapore's short but impressive rise to cosmopolitan city.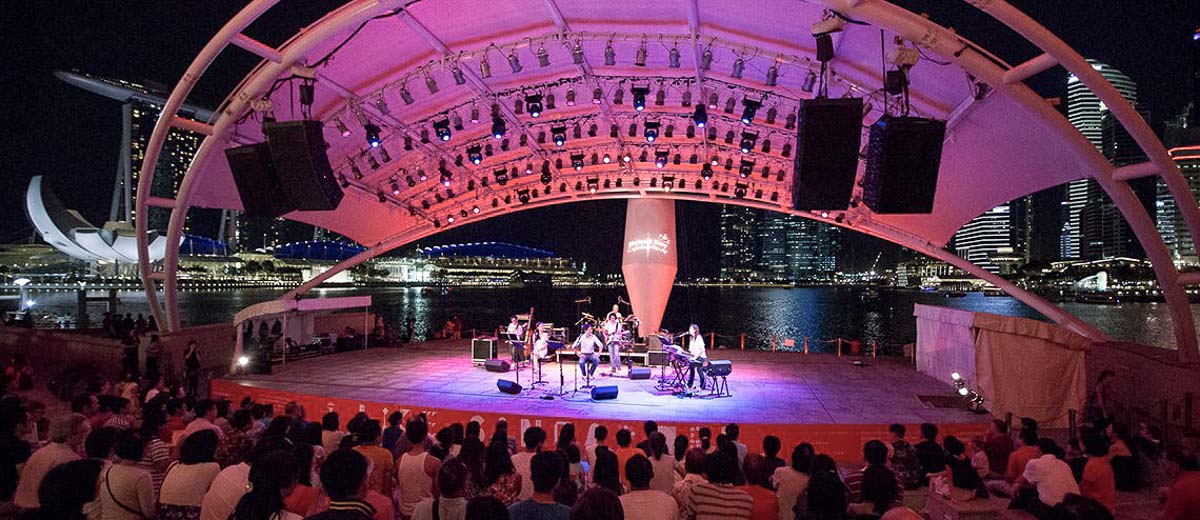 Music, Theatre Performances at The Esplanade — The iconic durian-shaped establishment is the home to Singapore's arts scene. Live performances take place daily inside the Esplanade Concourse, and shows are organised every weekend at the outdoor theatre, with the spectacular Singapore skyline competing for your attention in the background.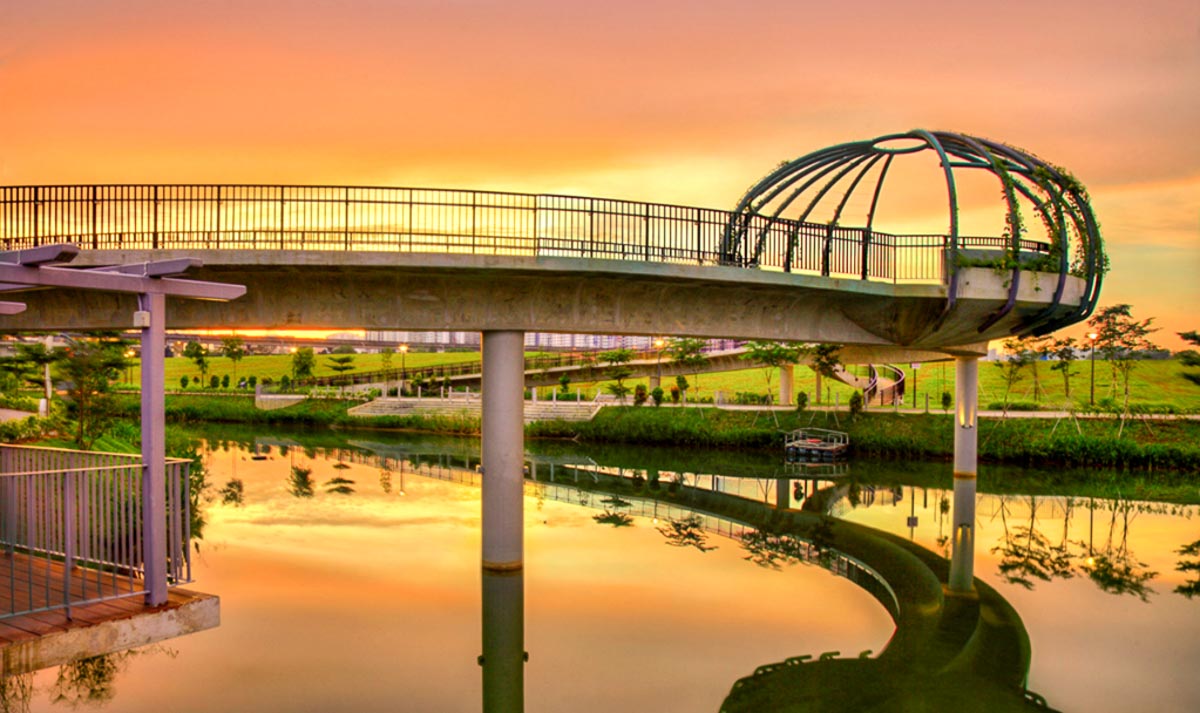 Sunrise/Sunset at Punggol Waterway Park — During my fitter days, I spent many delightful mornings here running along acres of lush greenery and sleepy apartment blocks. There are few spots in the country that provide such a charming setting to bask in the sun's inevitable warm orange glow.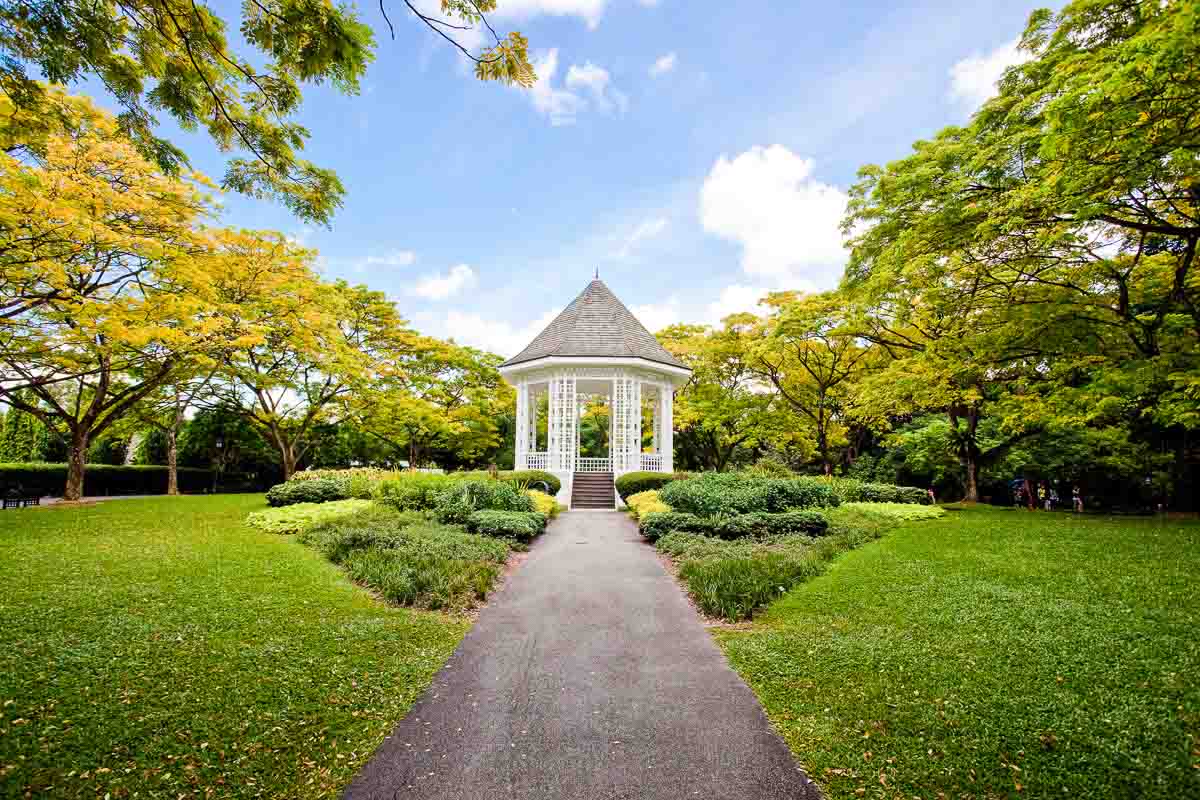 Singapore Botanic Gardens — The Singapore Botanic Gardens is the country's first and only UNESCO World Heritage site. No matter which time of day you find yourself there, there's a palpable sense of serenity in the air amidst calming trees and resting animals. There are also musical performances held on the Shaw Foundation Symphony Stage every weekend, the perfect setting for a romantic evening picnic.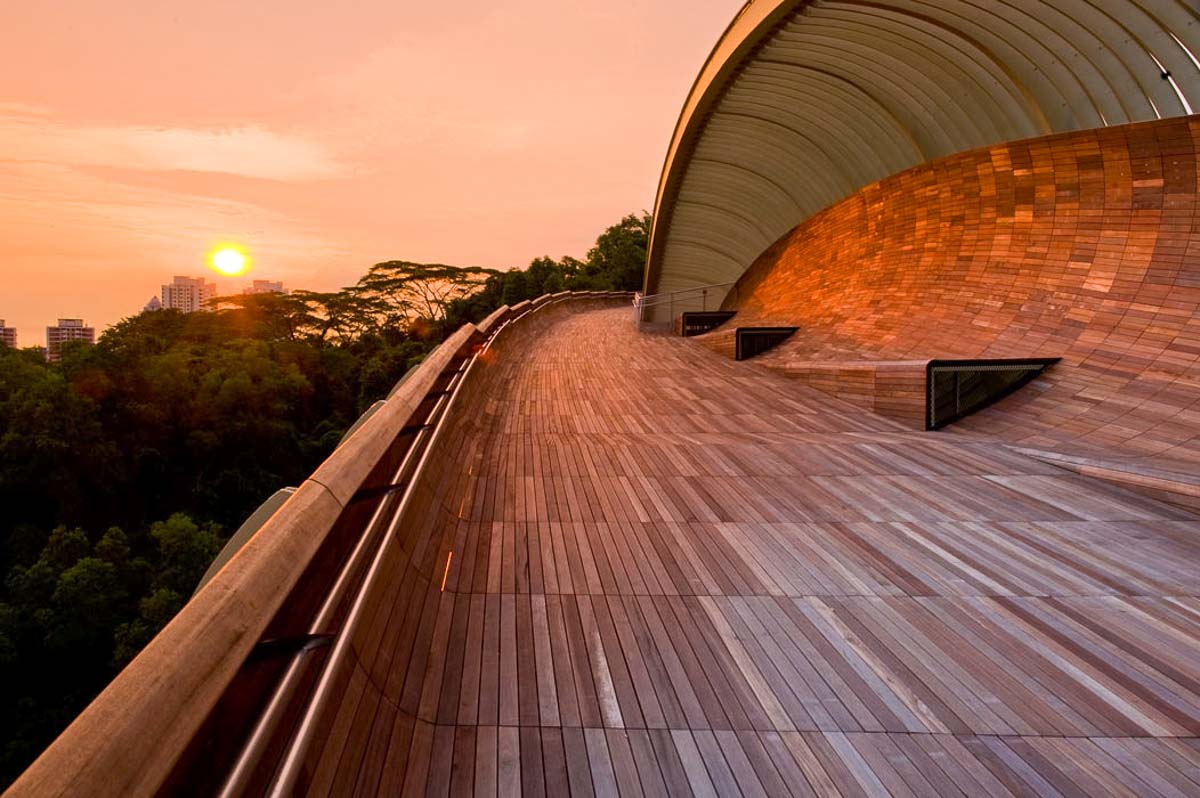 Southern Ridges — This 10km-long connector links together four tranquil parks and one nature reserve. Somewhere in between Mount Faber Park and Telok Blangah Hill Park, people are falling in love with (and on) the aesthetic Henderson Waves. A panoramic view of the city awaits you here.
Other noteworthy mentions: ION Sky, Marina Barrage, Coney Island, Beaches of Sentosa, Singapore Symphony Orchestra, Light Show @ Gardens by the Bay, Singapore Flyer, Merlion Park.
S$20 and Under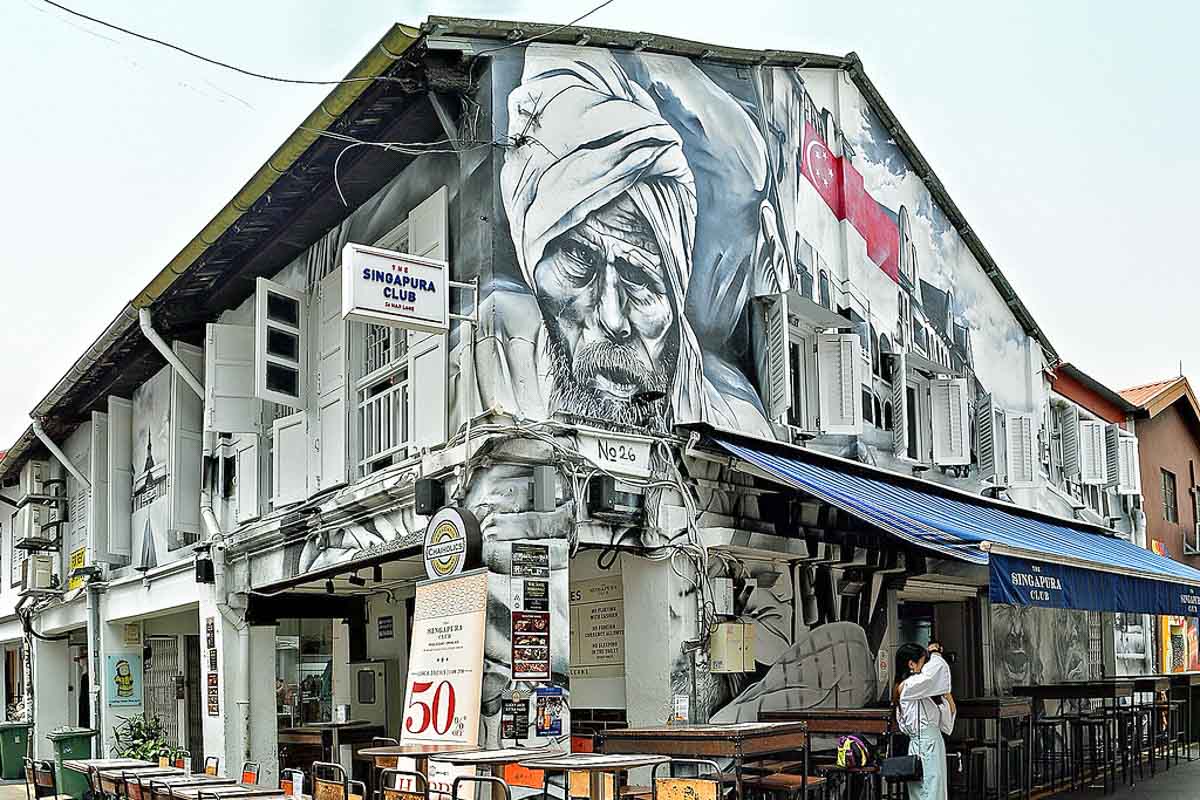 Haji Lane and Arab Street — If Haji Lane were human, it'd be the cool, tatted-up distant uncle who went abroad to study liberal arts in the 70s. Together with Arab Street, the walls are covered in colourful murals that are hard to find elsewhere in the city. Patronise the countless chic cafes in the day, then grab a beer and belt out Wonderwall in the cosy alleys with wasted locals at night.
Wings of Time at Sentosa — It's hard to go wrong with a show that has an epic combination of lasers, fire and water (wait no, actually, it can). But from the stellar reviews of this spectacle, it blows conventional light show standards right out of the park.
Cost: S$14
Arts and Culture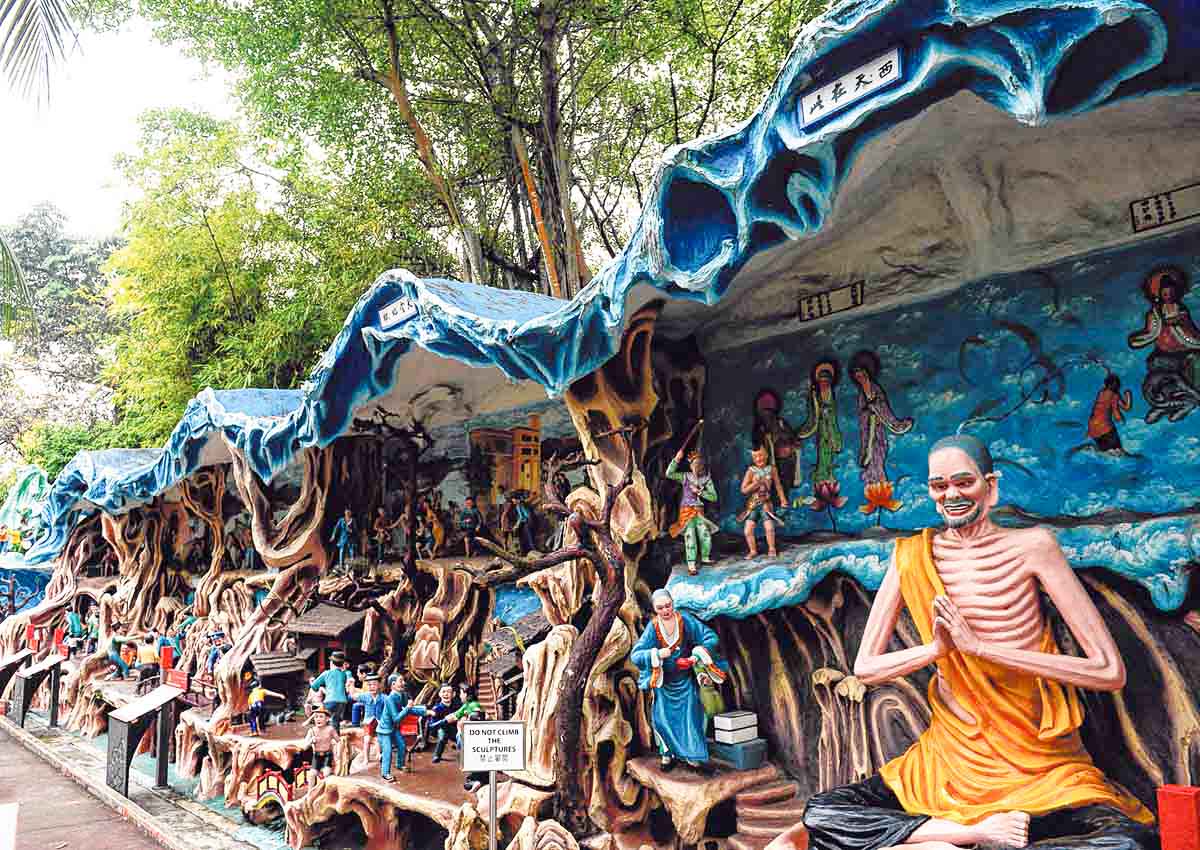 Free
Haw Par Villa — Always thought you'd go to hell but don't know what that entails? Welcome to the club! Haw Par Villa depicts exactly what you'd go through in nine levels of the scorching Taoist underworld in a graphic, acerbic manner.
The Arts House — The Arts House hosts fantastic events every month, from writing masterclasses to performance sketches by esteemed local artists.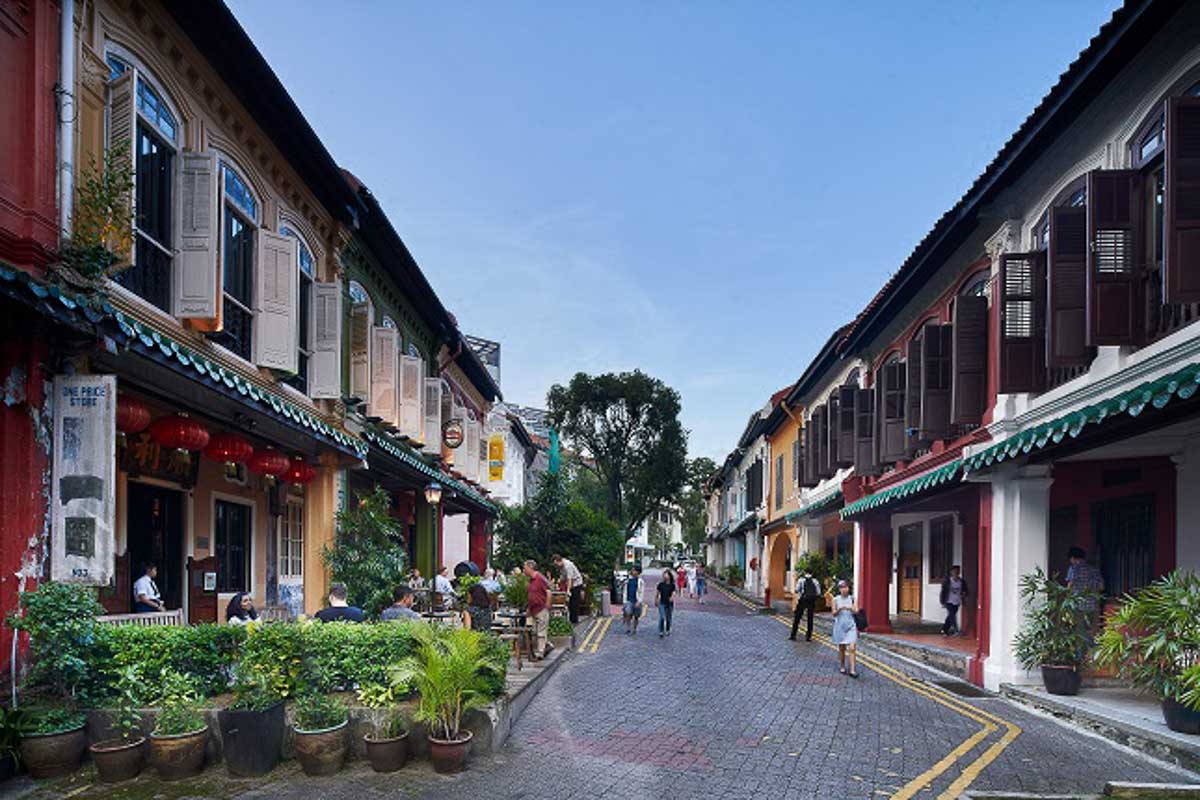 Neighbourhood Heritage Trails — It's a fascinating experience when you step away from tourist attractions and into the history of places where the locals dwell. Roots.sg organises trails that give you insight into how these neighbourhoods came to be, and what they're known for. It's an eye-opening experience for both Singaporeans and tourists, and it's free.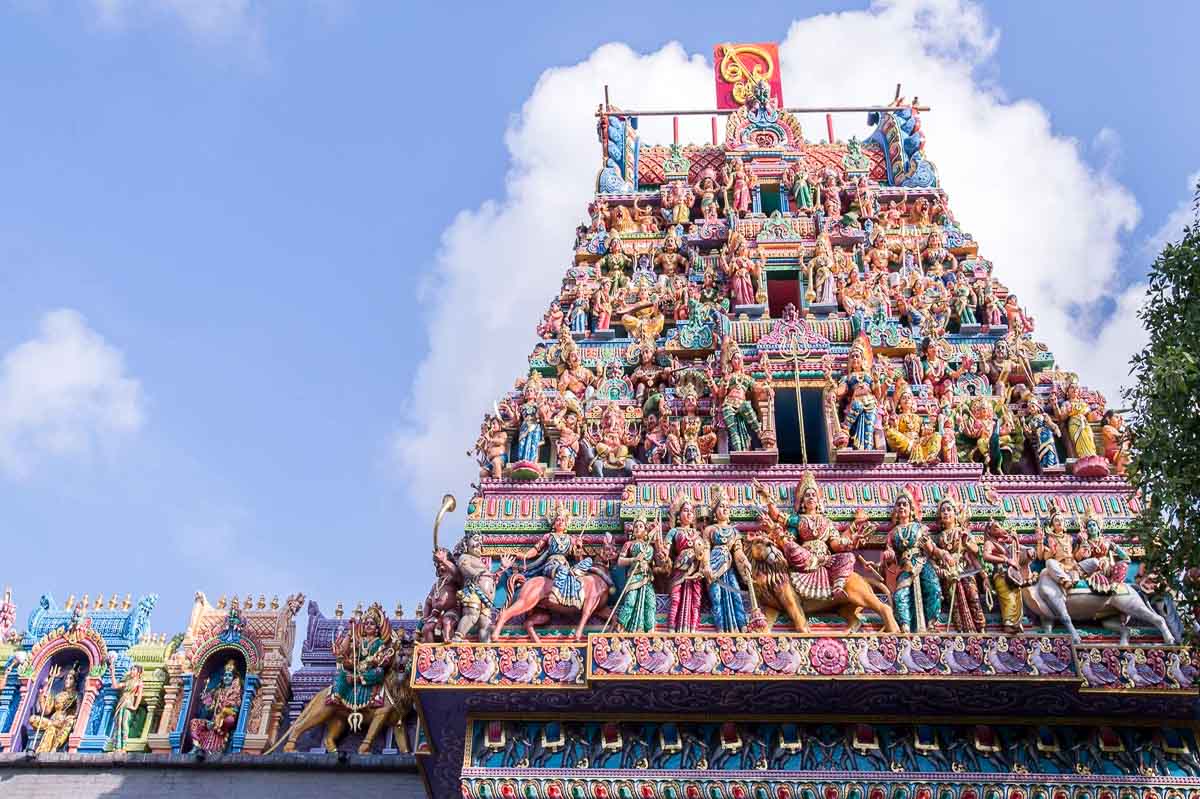 Chinatown and Little India — Full of life, culture and good food, Chinatown and Little India leave you percipient to the respective communities residing in Singapore. Visit the Sri Veeramakaliamman Temple and the Buddha Tooth Relic Temple.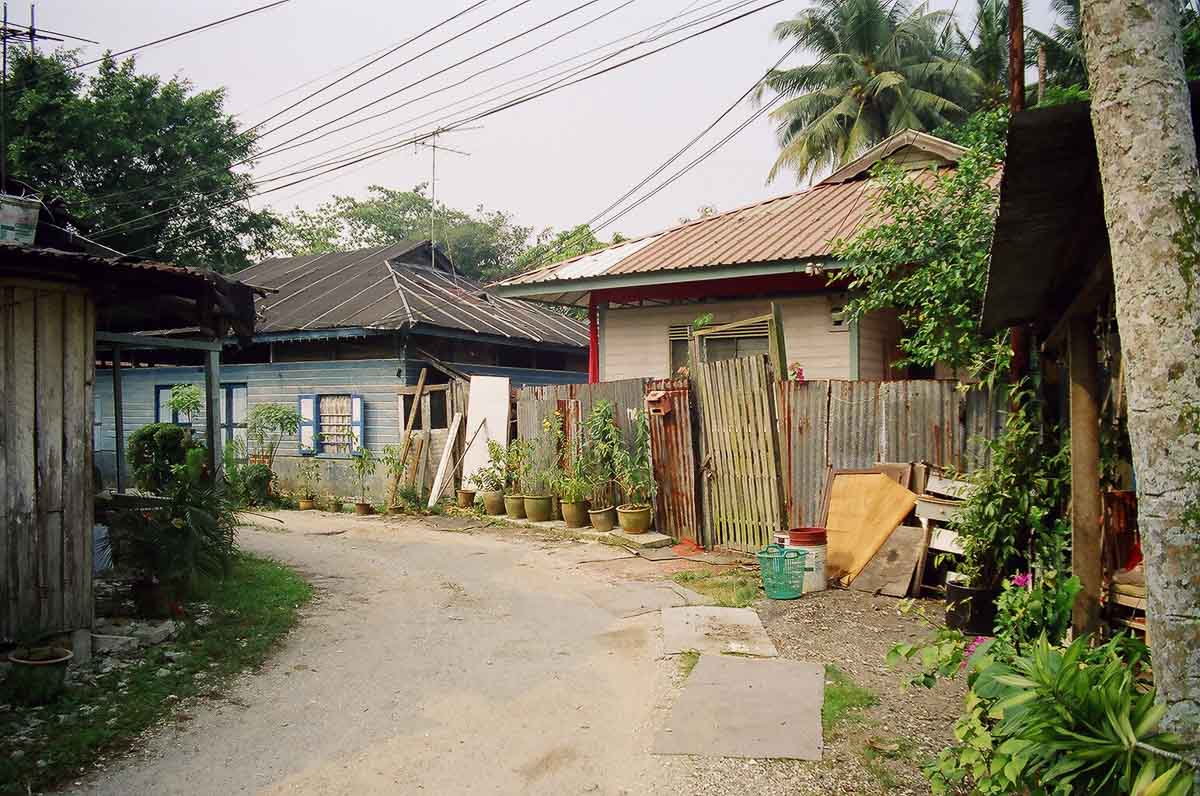 Kampong Lorong Buangkok — Before high-rise buildings and elaborate skyscrapers occupied every inch of modern Singapore, our grandparents stayed in traditional villages called kampongs. Buangkok is home to the only remaining kampong in Singapore, where less than 30 families still reside.
Other noteworthy mentions: Free outdoor movies with MovieMob
S$20 and Under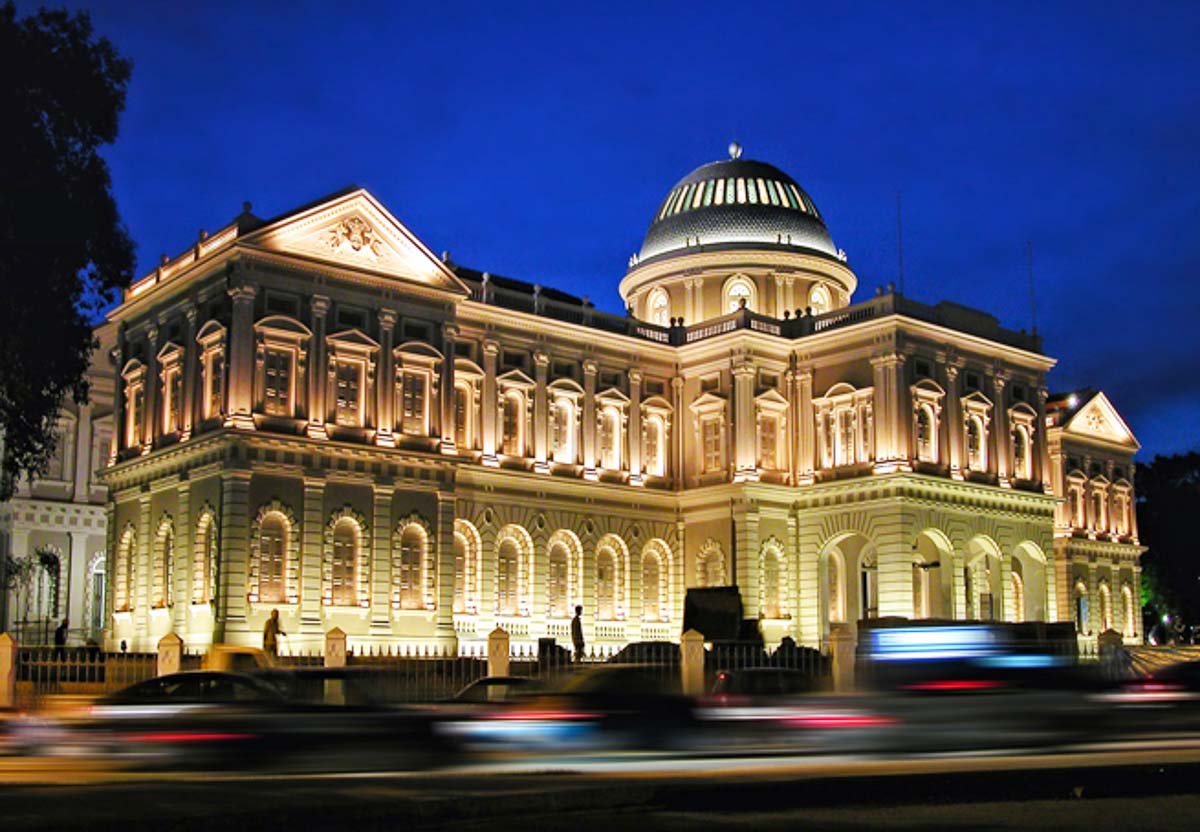 National Museum of Singapore — This grand establishment has several stunning permanent exhibitions throughout its historical premises. They bring you on an immersive journey through the young country's rise from fishing village to 21st century in a matter of a few decades.
Entrance Fee: Free (locals), S$15 (foreigners)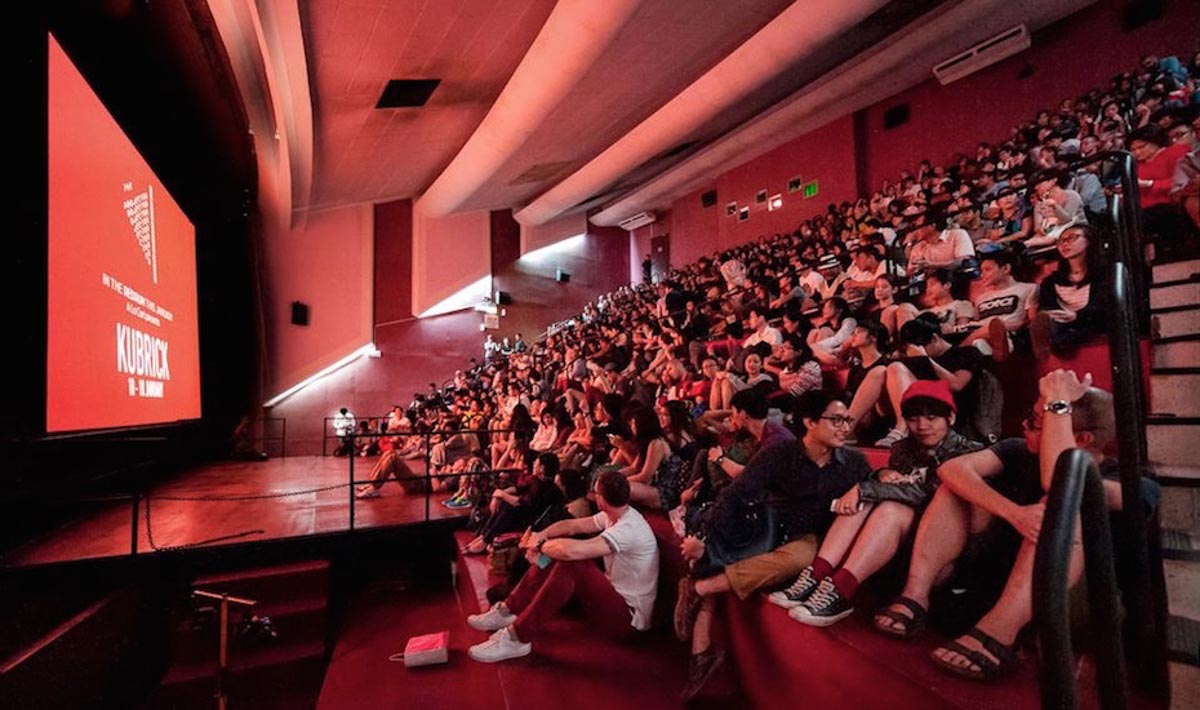 The Projector — Are you a film buff and sick of expensive, soulless blockbuster movies? The Projector regularly screens alternative indie films from Asia to the Americas, and you can chill out with a beer or two afterwards. Check out the schedule here.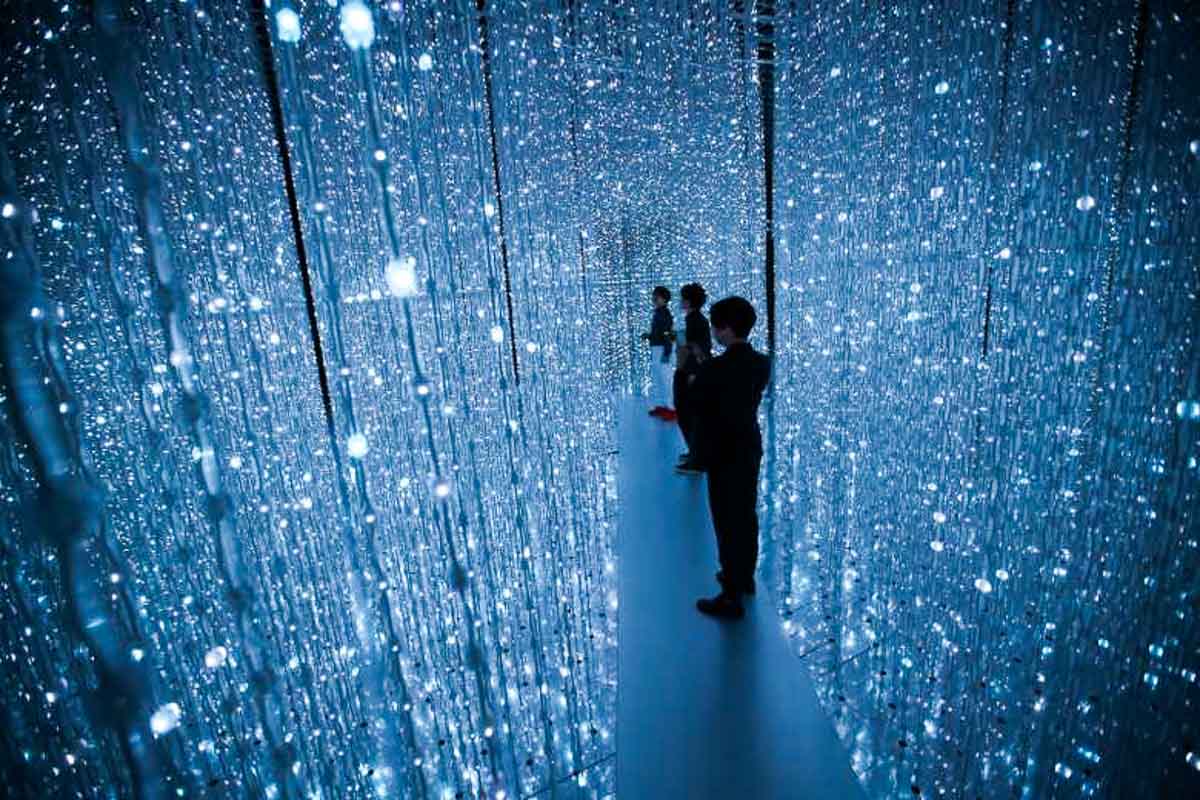 ArtScience Museum — It's easily one of the most recognisable places in the Marina Bay area, modelled after the shape of a lotus flower. Their exhibitions are known for their interactivity, and it's an intoxicating one-stop destination blending the best of both art and science together from around the world.
Entrance Fee: S$15
Other noteworthy mentions: TrickEye Museum, Stargazing at the Science Centre, National Gallery
Thrill-Seeking / Nature Activities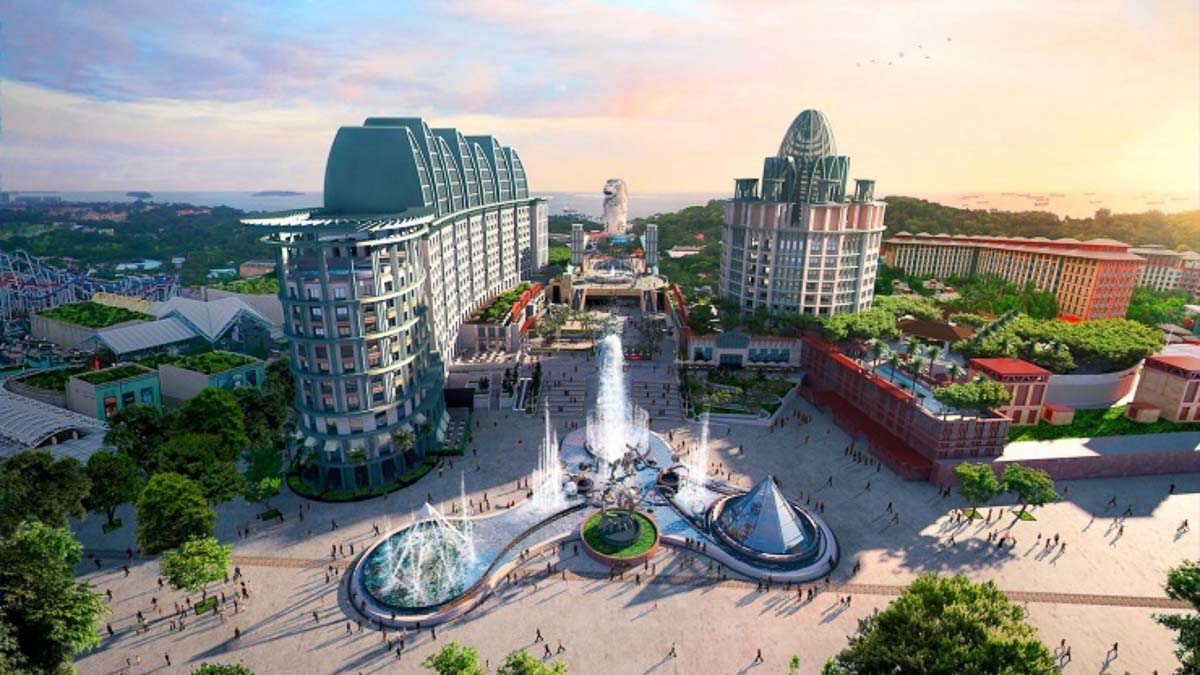 Free
Explore Sentosa Island — Sentosa is the country's self-proclaimed "State of Fun", and we're not gonna deny them that title. While entry to the famous Universal Studios Singapore might be slightly out of budget for the budget traveller, entrance to the island itself is free (if you walk in).
There are still plenty of things to see around this fascinating piece of reclaimed land. Spend a day swimming in our pretty beaches or join in a game of beach volleyball with locals, if you're up for it.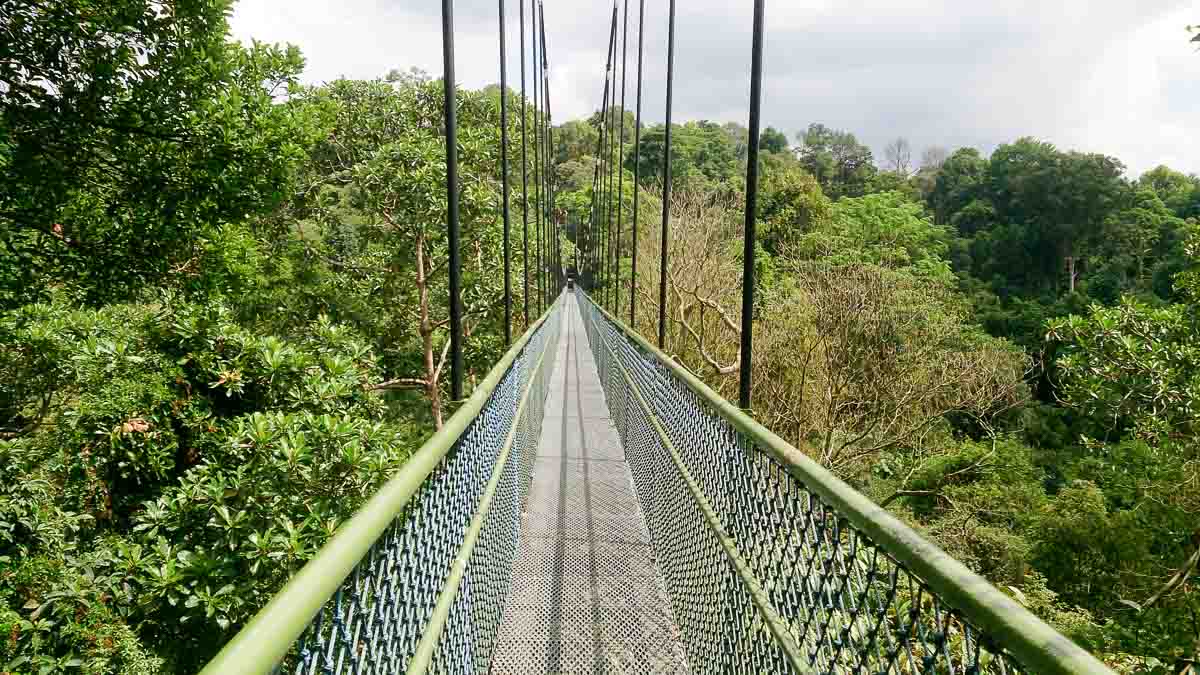 MacRitchie Treetop Walk — One of the most Instagrammable spots amongst local 20-somethings looking to fitspo their feed up, it doesn't come without an intense 10km (yeah…) hike in nature — perfect for those who enjoy the outdoors and a good sweat.
FIGHT DO at Tampines Hub — Every Thursday night from 7–8PM, the mall hosts a fitness programme free of charge for anyone looking to learn the basics of boxing and martial arts.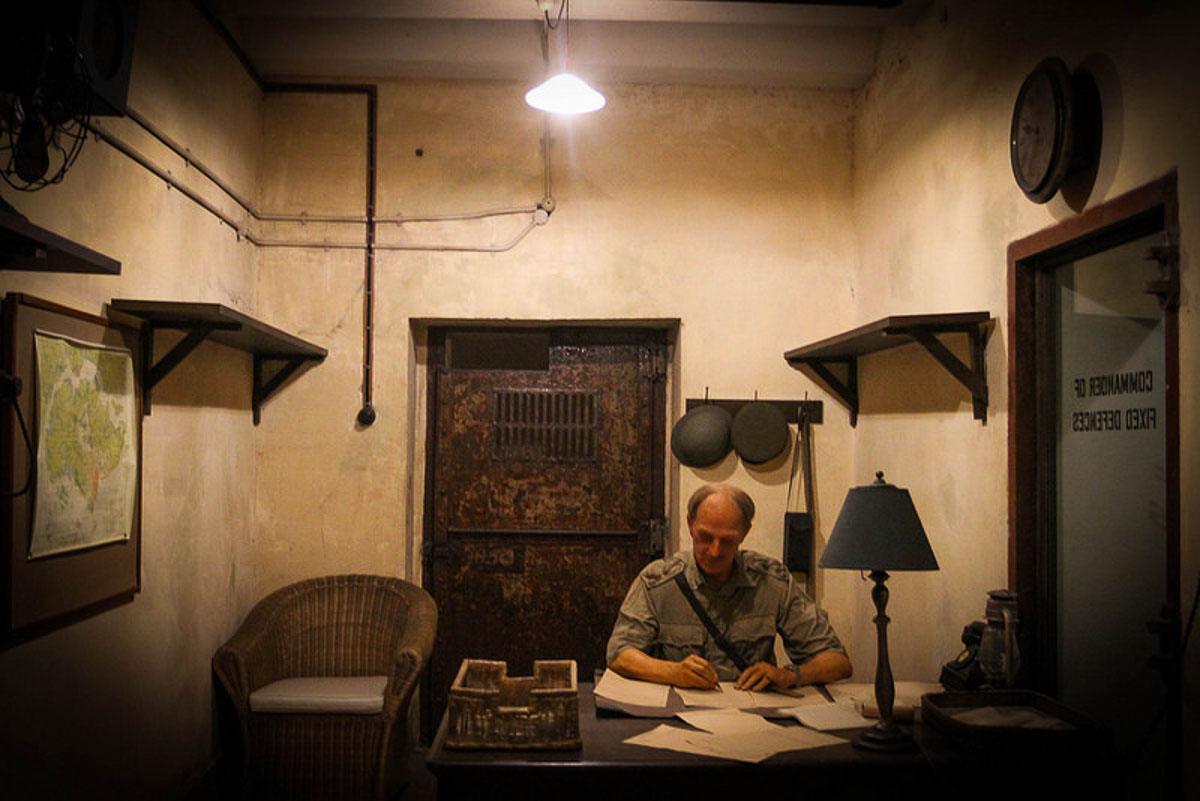 Fort Canning Park — This iconic park is home to a multitude of gardens and historical sites that played a huge role in shaping the country. For instance, the intriguing Battle Box was where the British decided to surrender to the Japanese in World War 2. Using an intuitive AR phone app BALIKSG, visitors can go back in time and see what Fort Canning was like centuries ago.
Other noteworthy mentions: Fort Siloso Skywalk
$20 and Under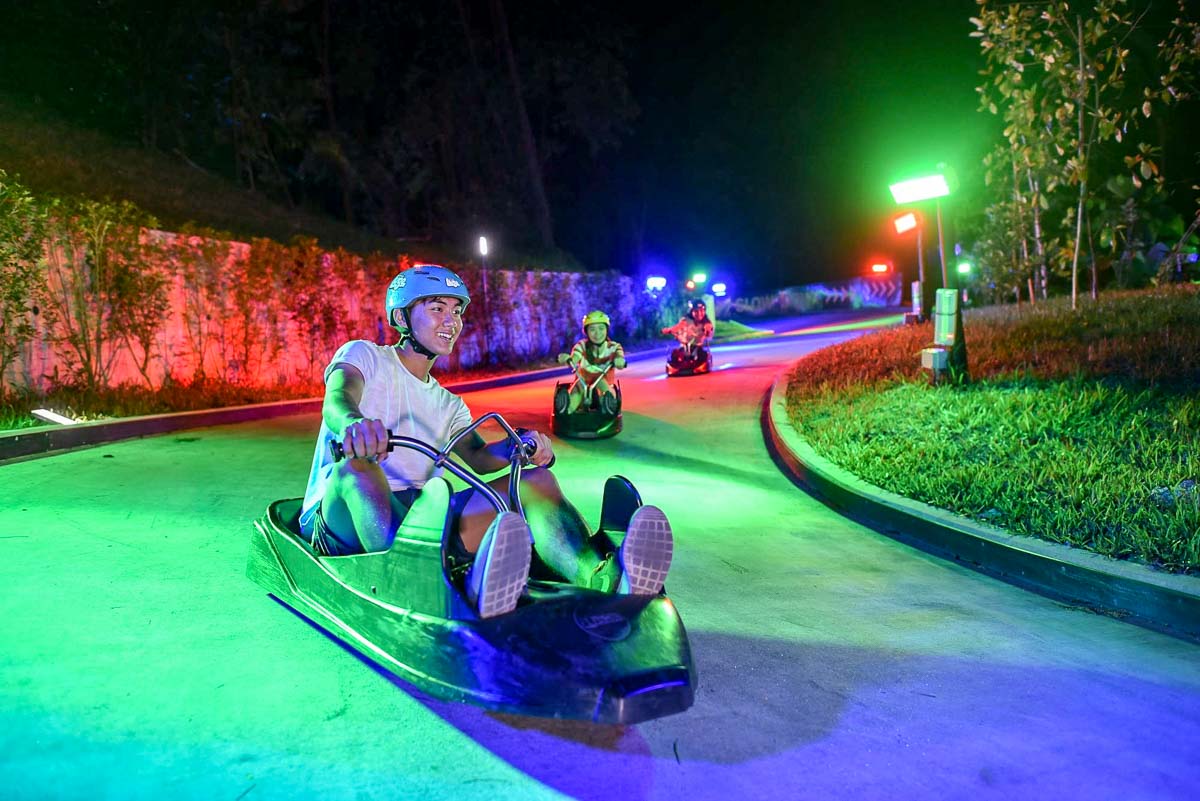 Skyline Luge @ Sentosa — Sentosa is the only place in Asia to experience this unique part-sled and part-go kart ride. Control the handlebars to accelerate and break on your descent, and go full ride-or-die mode if you'd like to. Go in the day for incredible scenic views, and nighttime for a fluorescent experience.
(Cost: S$16.50 with Klook)
Flying Trapeze @ Sentosa — Ever looked at Zendaya in The Greatest Showman and wondered what it's like to do stunts on a trapeze? I haven't. But if that's your thing, the Flying Trapeze in Sentosa will give you an opportunity to try your hand at second class air gymnastics. (Cost: $10)
Wild Wild Wet (WWW) — In recent times, the newer and more popular Adventure Cove has taken over WWW as the go-to water theme park in Singapore, although its appeal isn't completely diminished. It's cheaper, less crowded, more kid-friendly and still serves up a whole host of thrilling water slides. (Cost: S$18 with Klook)
Parajump @ Mega Adventure Park — At a fraction of the price for a bungee jump, the Parajump is essentially AJ Hackett's newborn baby cousin. Your entire torso is safely strapped up and the entire 15-metre high jump lasts a heart-pumping 3 seconds. (Cost: $12)
Other noteworthy mentions: Classpass, TrickEye Museum, Bouldering & Rock Climbing
Socialising / Meeting New People
Free
Exchange Travel Stories with a Travel Community (TTIF) — On the last Friday of every month, The Travel Intern hosts an event at our office for the local travel-passionate community to share their stories from around the world. So far, we've held three events with various themes: Work & Travel, Exotic Destinations & Female Solo Travel. Check out upcoming events here.
Visit a Local Toastmasters Club — No, they've nothing to do with bread. Toastmasters is an international organisation that helps people from all walks of life improve their public speaking skills. More than that, it's home to a warm and friendly community who share personal stories through speeches every week, and it's a great place to mingle and get to know Singaporeans.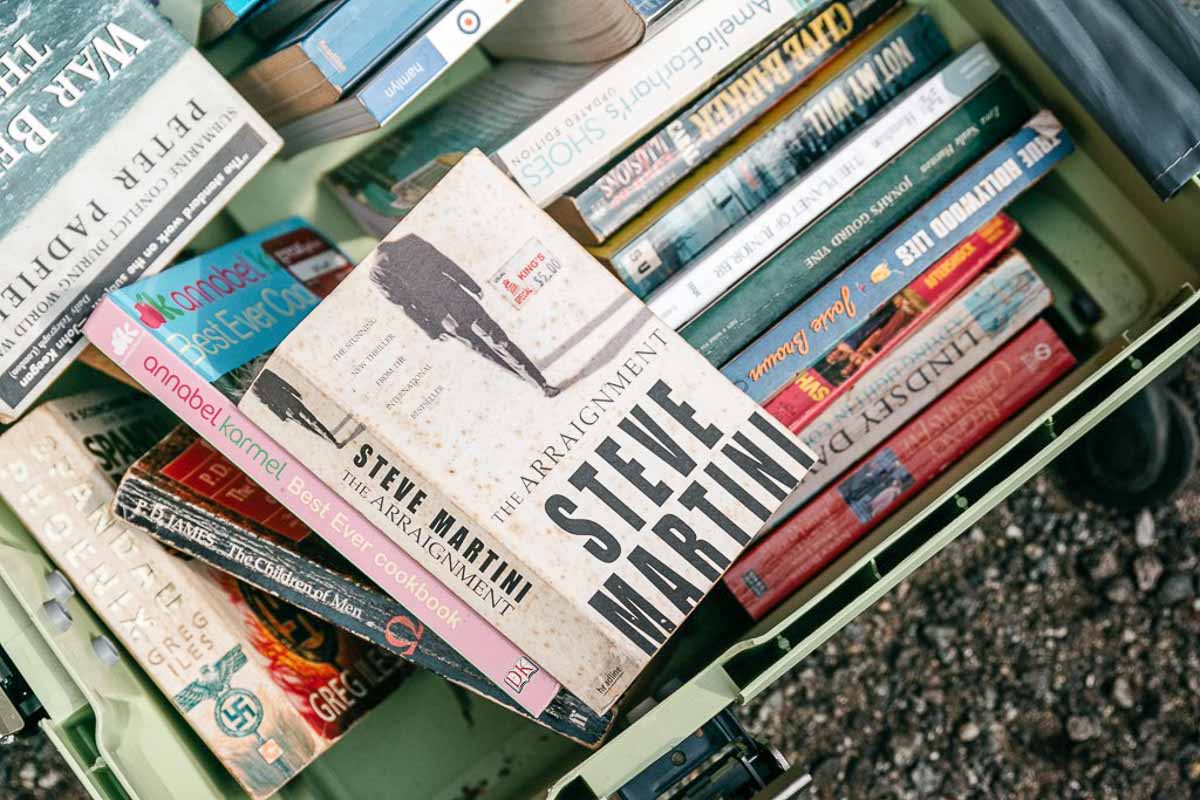 The Really Really Free Market (RRFM) — When an organisation or event emphasises a penny-free experience in their name, it means they're either really shady or they're hella legit. Fortunately it's the latter in their case. The Singapore RRFM invites all vendors who have anything at all to offer (goods & services) to set up shop at a cosy corner with a strict non-sale policy.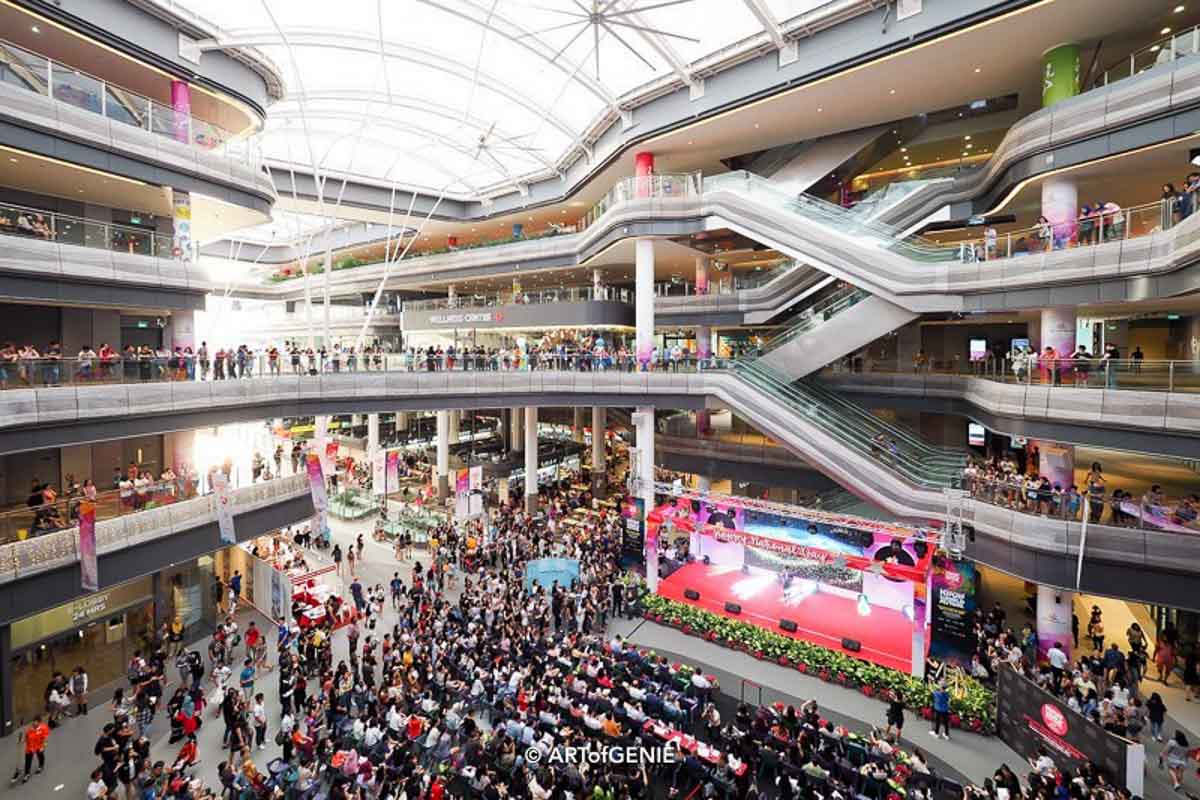 Live Sports Screenings at Tampines Hub — Tampines Hub is hands-down my favourite mall in Singapore because it takes on a life of its own. Not only do they have an artificial football pitch within its premises, they have an actual running track circling around shops on its upper floors. A popular gathering space for residents nearby, the hub's large central space also screens movies and live sports, the atmosphere during the latter rivalling that of sports bars.
Volunteering Opportunities — When you come to the sunny island, another way to see a different side of the country is to find an organisation to volunteer for a day. For instance, the Singapore Association of the Visually Handicapped (SAVH) organises fun weekly activities such as dragon boating and bowling for the visually impaired. You can also walk cuddly canines with the Action for Singapore Dogs. Write in to these places and enquire about whether you can make a difference.
Other noteworthy mentions: Sports Pubs, Meetup App, B-boy (Sessions): Esplanade Underpass & SCAPE & SMU.
S$20 and Under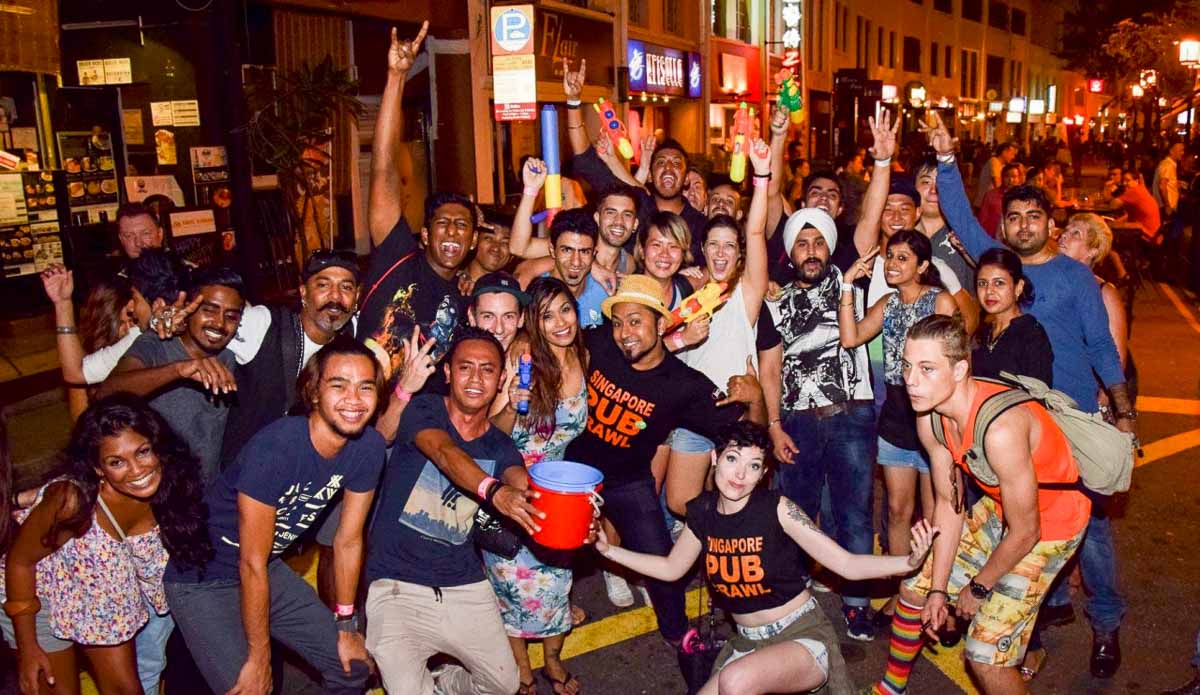 Singapore Pub Crawl — On the most popular pub crawl in town, you'll get to meet fellow alcohol-junkies like-minded people who love to have a good time who love to have a good time, whilst crashing numerous bars and clubs throughout the night. Plus, you're entitled to a free drink at every location. A night on the SG Pub Crawl costs S$25-30, but an alternative is to get the Singapore Nightlife Pass (S$19.90), which allows you to redeem one drink at up to 40-50 nightlife venues for one whole week.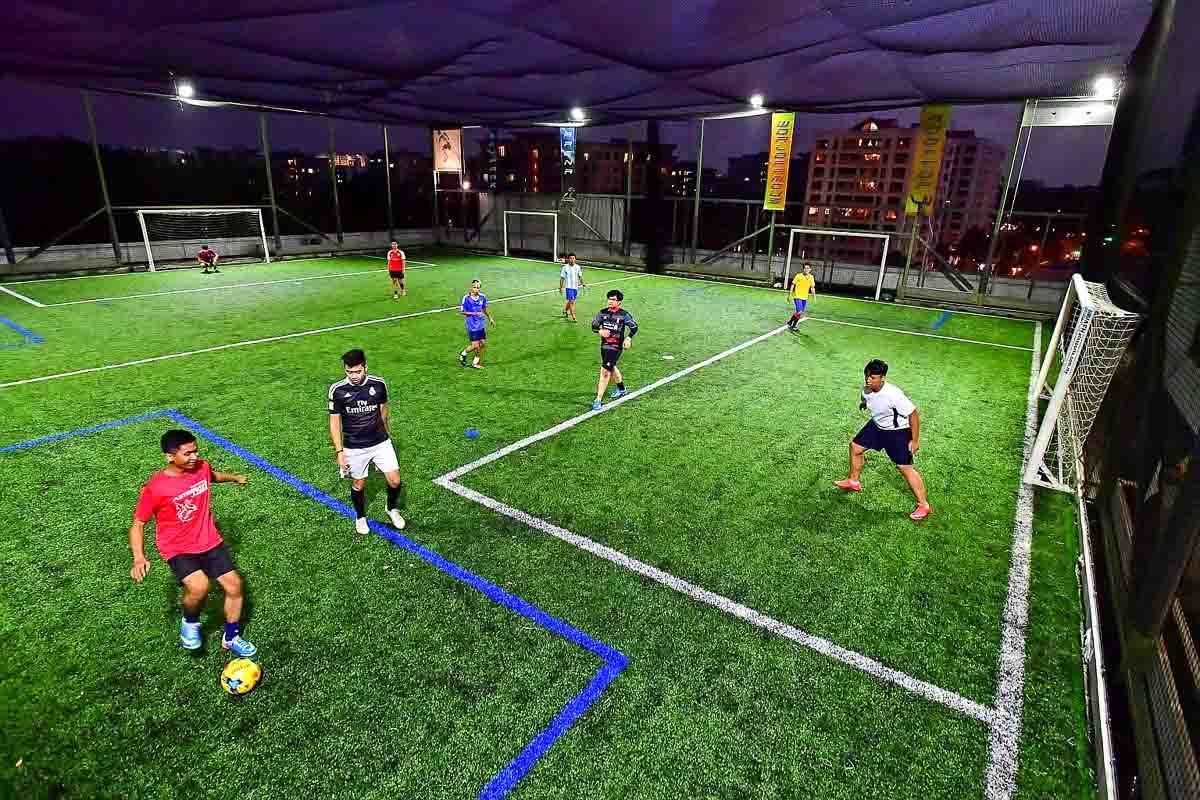 Stranger Soccer — An app based in Singapore that allows you to meet up with fellow football enthusiasts itching for a game of kick ball. Stranger Soccer is free to download on the App Store, and you'll only have to pay a small fee that is agreed upon between you and game's host (for booking of pitches).
Unique Singaporean Food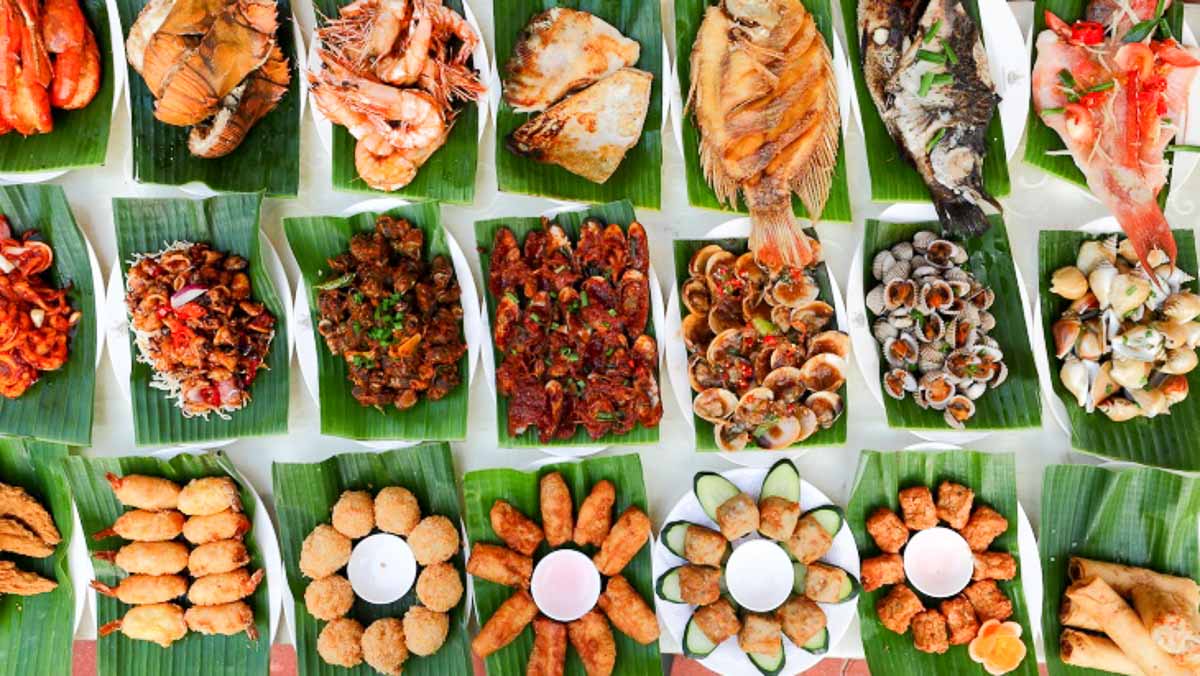 Ever since I was sucked out of my mother's vajayjay with a mini vacuum, not a single day went by where I didn't think of Singaporean food. Unfortunately, unless you go dumpster diving, there is no free lunch here. The following list contains several dishes that deem my life utterly meaningless should they somehow cease to exist:
S$2 and Under (Snacks / Desserts)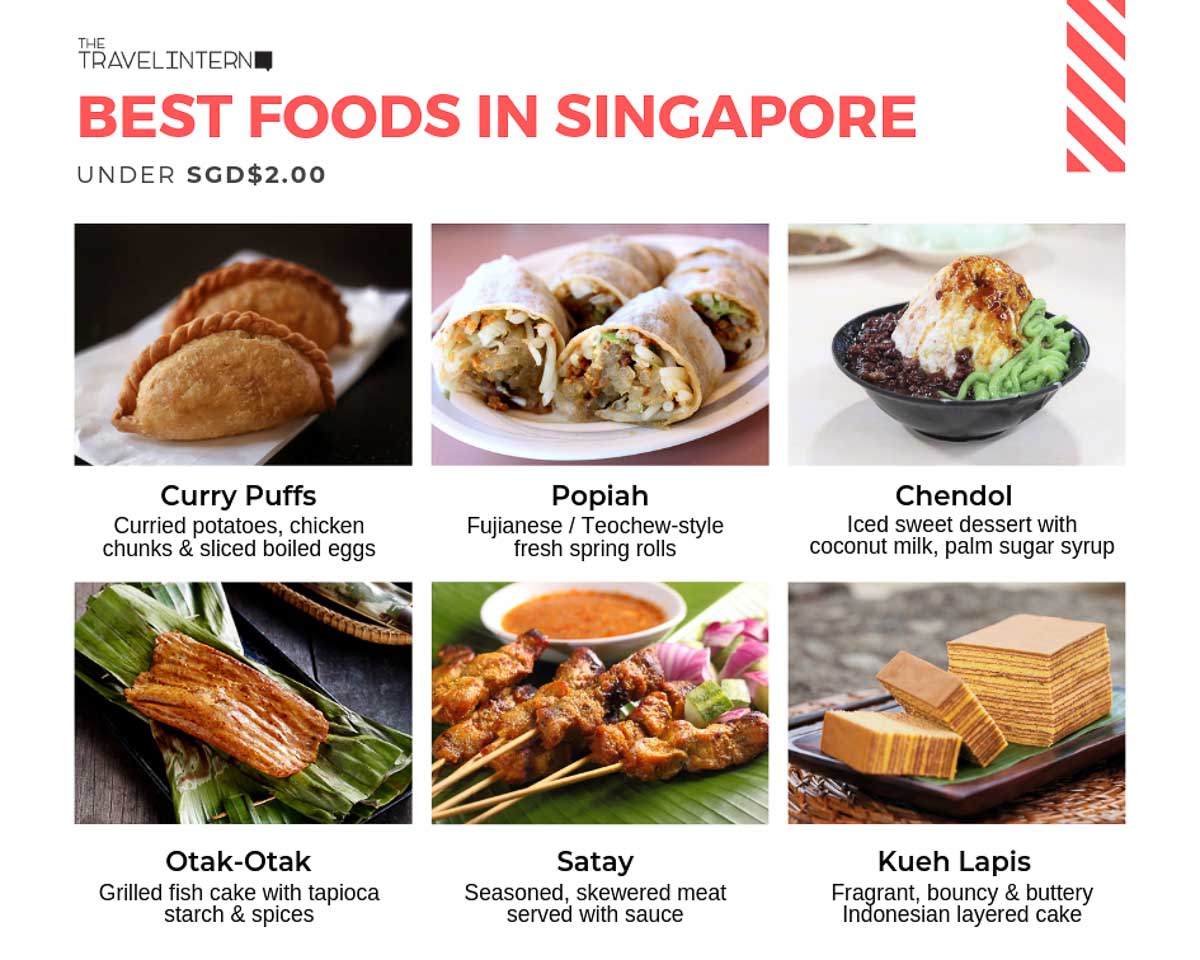 Prices may vary across different stalls around the country (depending on store reputation and how close you are to a tourist spot), but you'll probably be able to get a serving of each of these foods under S$2.
S$5 and Under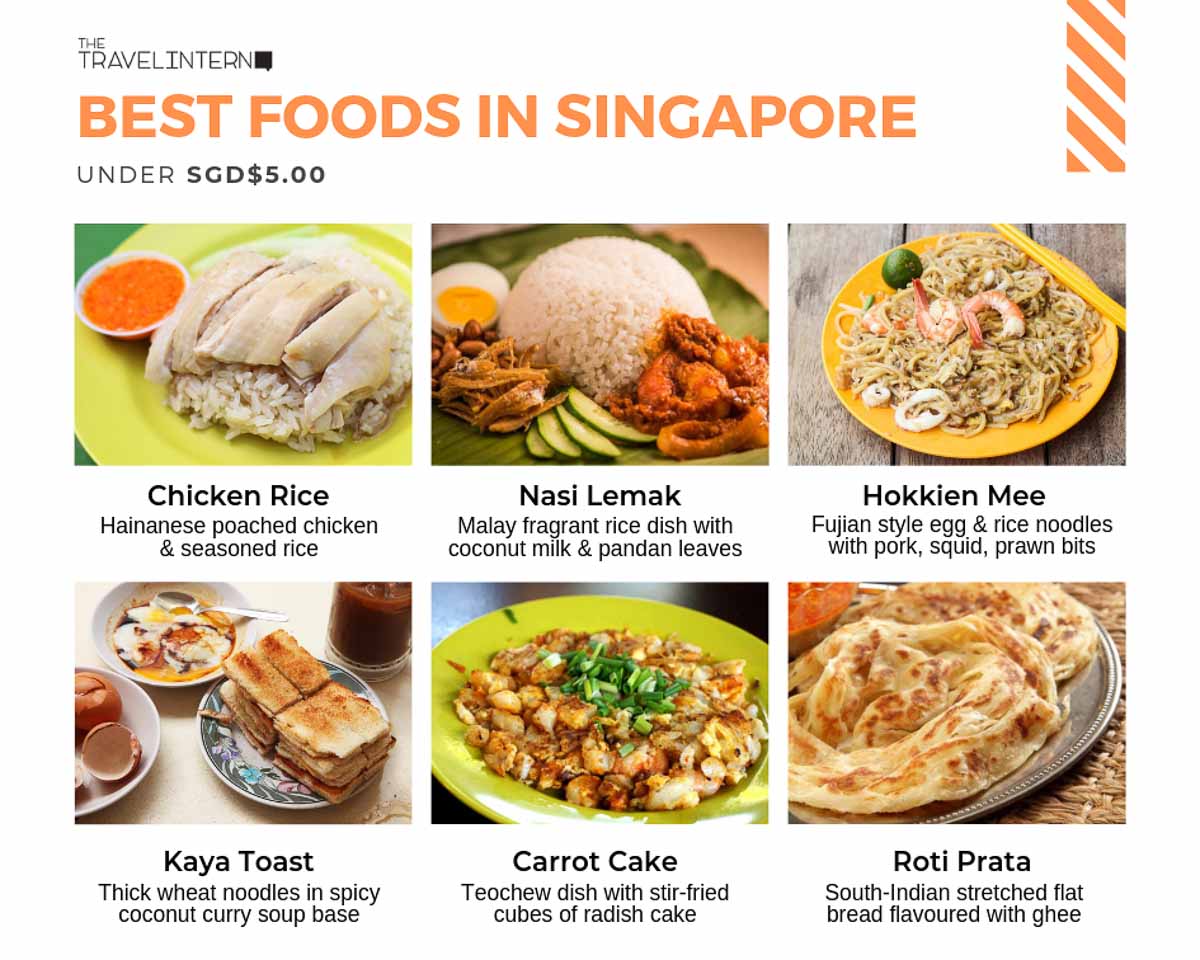 I'm confident that at least 90% of everything that has ever entered and left my digestive system can be found in the graphic above. That also means I'm confident of a short life — but as they say: you're here for a good time, not a long time (not the official company stance on life).
S$10 and Under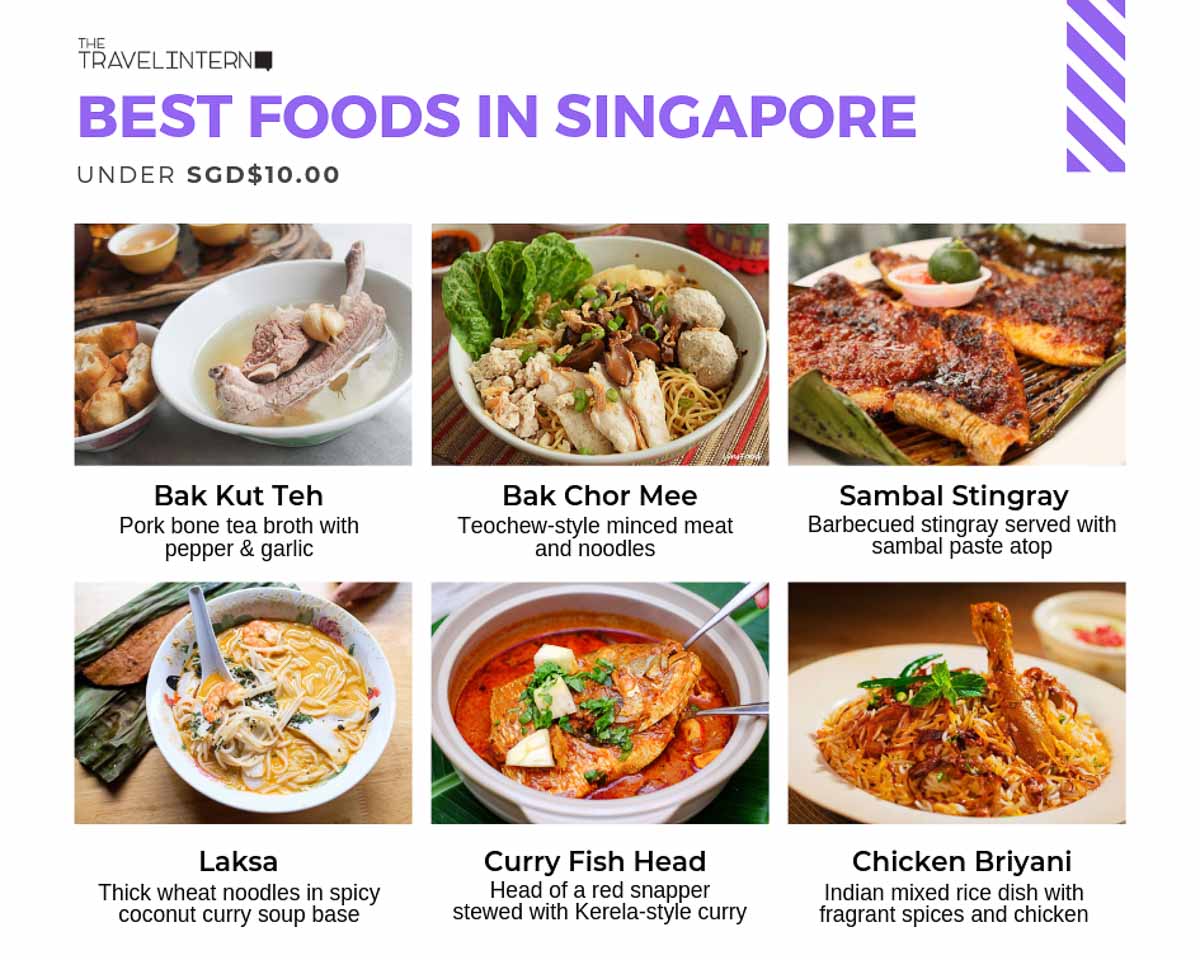 The dishes above can be a little pricier, but you will be able to find more affordable Laksa and Bak Chor Mee under S$5 at neighbourhood coffee shops. The food in this list in particular will leave you with beads of perspiration on your already perspiring body, so take consume them in accordance with your ability to handle spice.
Read also: Ultimate Singapore Food Guide — 54 Local-Approved Things To Eat in Singapore
*Pro-tip: For the ultimate lowdown on Singaporean food, Klook's Singapore Foodie Adventure Starter Packoffers a great guide to navigating the local food scene, and it costs only S$1.
Pro Budget Tips for Your Visit
The following tips are for people who are either (1) incredibly broke or (2) in a Eugene Harold Krabs type relationship with money.
1) Drink Tap Water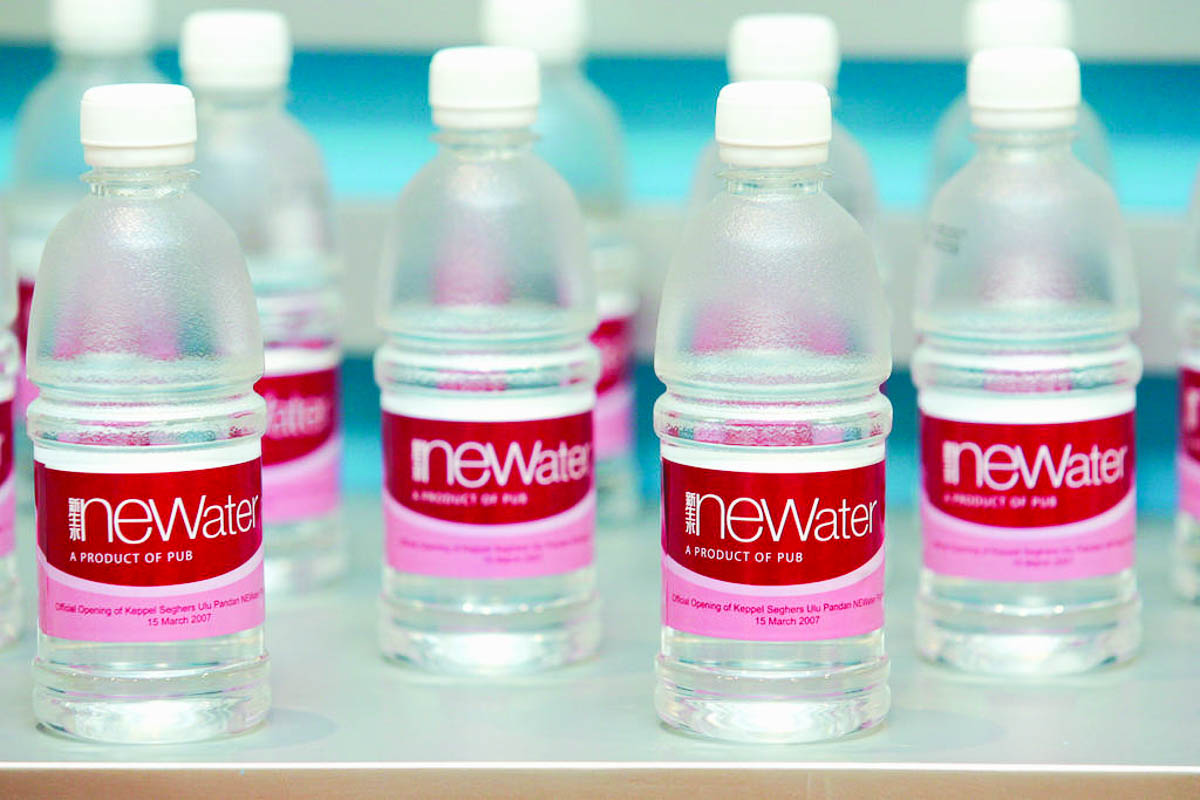 Singapore has an elaborate system of treating, filtering and disinfecting water, which means that you can drink straight from the tap. Fill up your water bottles at home and you won't have to spend money on overpriced beverages when you visit popular attractions. (Fun fact: 40% of the country's water needs today come from NEWater plants that clean up the water that you flush down your toilet bowl. Yes.)
2) Walk From Place to Place / Take Only Free Shuttle Buses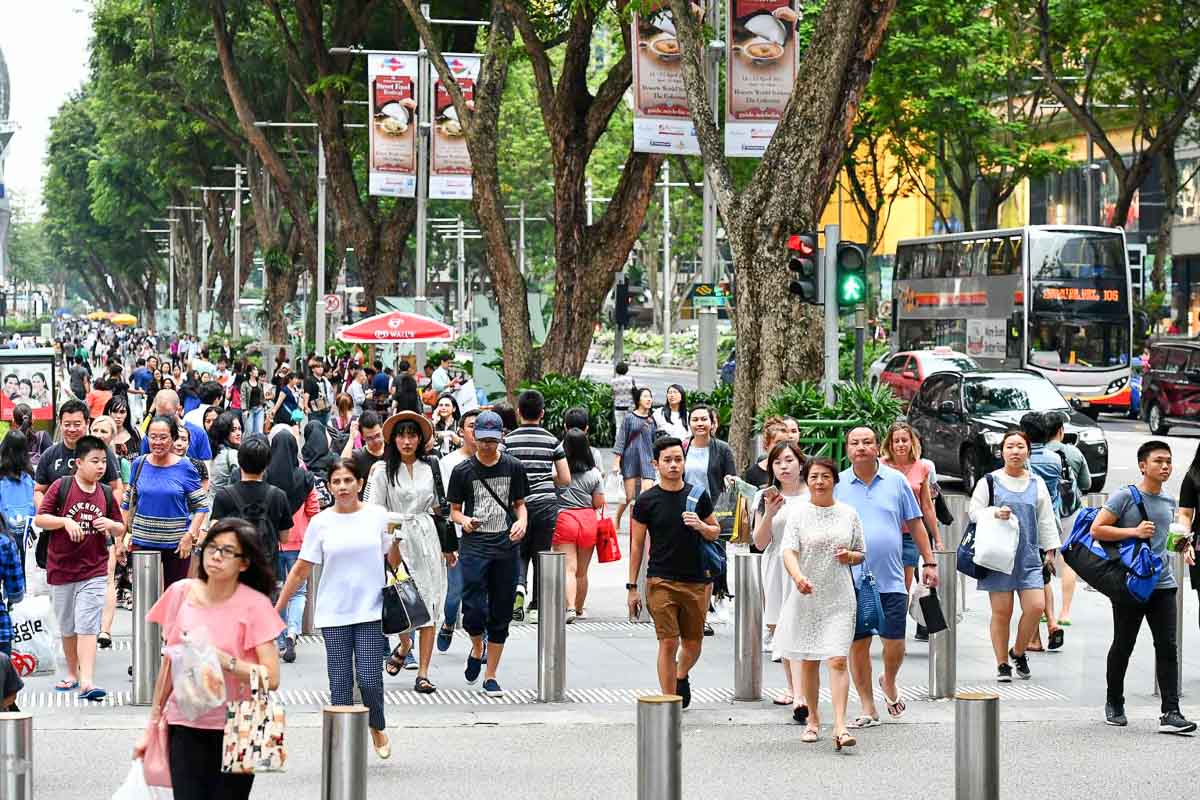 If you plan your itinerary a certain way, the only time you require paid public transport each day is getting to and fro your accommodation. You can do this by utilising free shuttle buses provided by Land Transport Authority, getting from place to place, and walking a (longer-than-usual) distance to your next destination.
Now, with the blistering heat, this is really not recommended lest you get a heat stroke. But like I said, if you're scrimping on the cents, it is possible. The itinerary below will provide a brief idea on how to do this.
3) Look Out for Free Events with Free Food
This website, run by a financial consultant who moved to Singapore from the US in 2011, provides a weekly rundown of all the interesting going-ons that cost you little to no money to attend. Deals and promo codes can also be found on the website. Although this resource is primarily targeted at Singaporeans, backpackers and travellers may find several tips interesting here as well.
Suggested 5-Day Budget Itinerary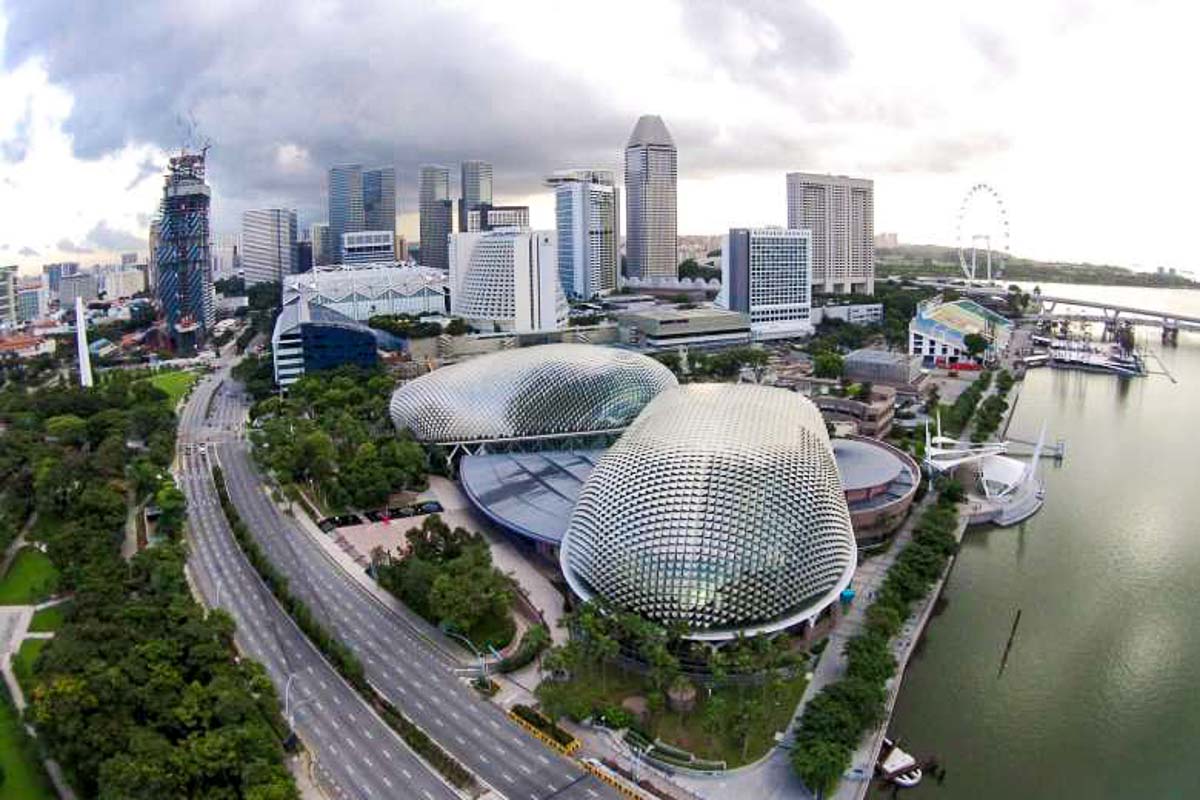 Now, should you only want the best of the best of Singapore that $150 can get you, here is an all-encompassing itinerary that you can follow.
Read also: The Ultimate Singapore Travel Guide — Insider Tips & Everything You Need To Know
Budget Breakdown
Accommodation: S$0
Food: S$75
Transport: S$25
Activities: S$50
Total: S$150
Accommodation in Singapore (S$0)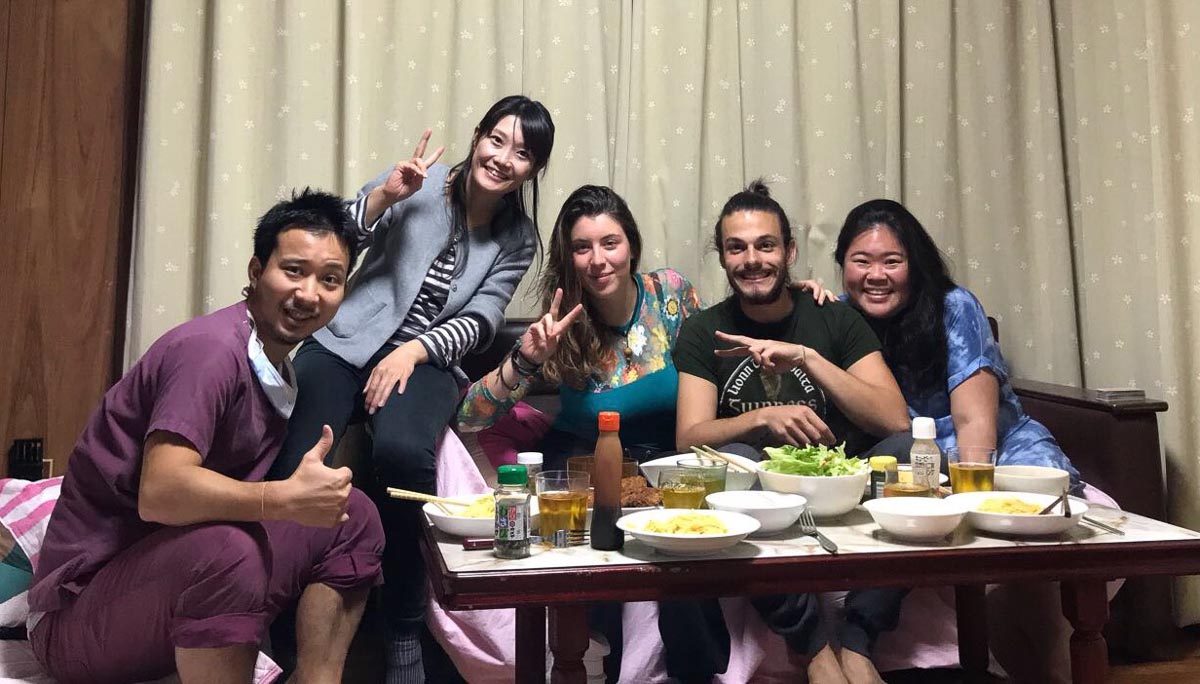 There is a burgeoning couchsurfing community here in Singapore — hundreds of locals that are willing to open up their homes for you, in exchange for nothing but friendship and shared experiences. Save cost by opening yourself up to a whole new world of travelling!
Read also: "Couchsurfing Changed My Life" — Epic Stories and Life Lessons from 3 Singaporean Couchsurfers
Food (S$75)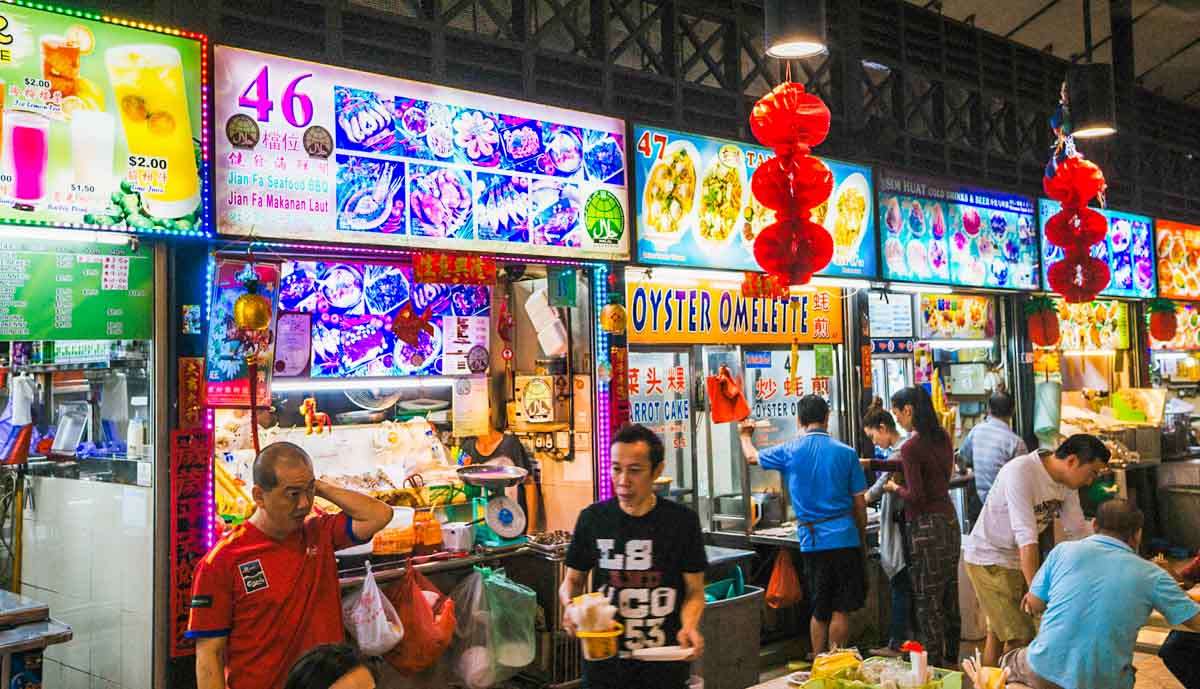 We've set aside a food budget of S$75 capped at S$15/day. We've recommended a few places in the itinerary below, but it's not an extensive list (if you're looking for that head here). However, in any part of Singapore, you shouldn't be too far away from a stall / coffee shop selling any of the dishes in the food section above.
Transport (S$25)
Head to the nearest MRT station or 7-Eleven from your accommodation and get yourself an EZ-Link Card for S$25. Your card should then have S$20 value in them, and it's just about sufficient to get around if you follow the itinerary plan below. Cards can always be topped up at any station/7-Eleven in case you need to.
For getting from place to place using Singapore's public transport, head on to www.gothere.sg on your phone, and simply key in where you want to go. The website will immediately show you the fastest routes to get there and how much it'd cost your EZ-link balance.
Activities / Itinerary (S$50)
This is what you've been waiting for! If you have five days in Singapore (which by the way is an awfully short time), we've compiled an itinerary that you can save onto your phone to see the best of what Singapore has to offer. Bear in mind that this particular itinerary involves a lot of walking. It's structured in such a way that most places are close to each other. By strolling from one location to the next, you'll also get to freely explore the places that catch your eye. Itineraries are just guides, after all.
For a less sweaty experience, consider topping up an extra S$10 to your EZ-link card to take public transport from place to place.
Day 1: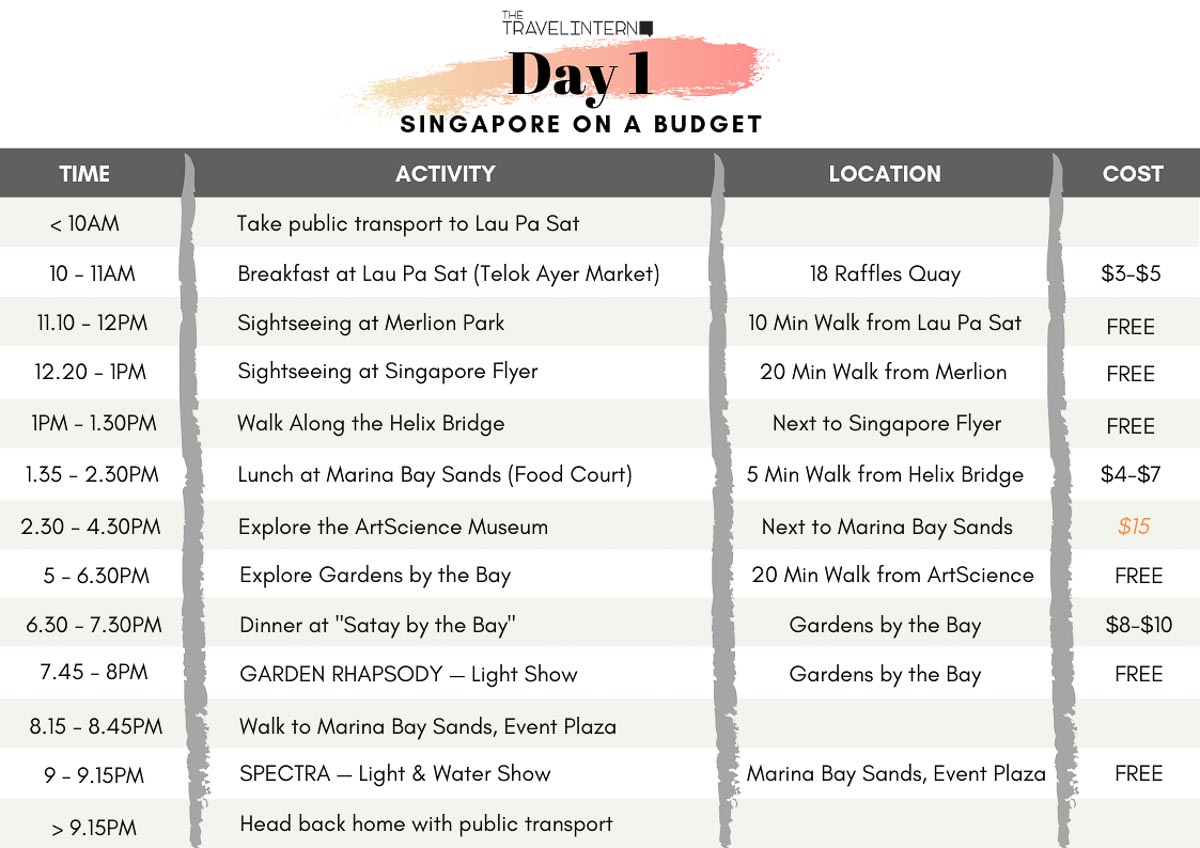 The first day consists mostly of the city's well-known icons. From the marvellous Marina Bay Sands to the gorgeous Gardens by the Bay, this is the textbook introduction to 21st Century Singapore. Be prepared spend slightly more on food today.
Day 2: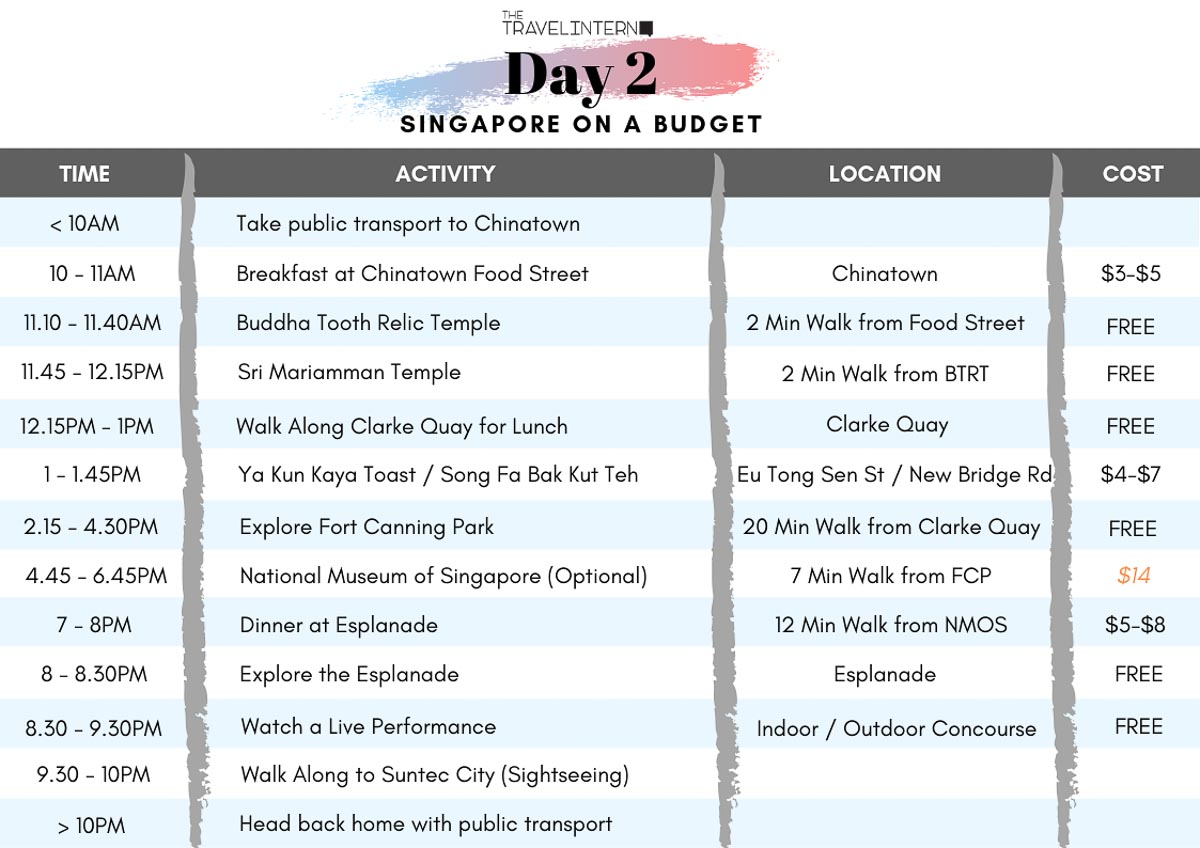 Day two involves a little bit more culture. Chinatown and Little India provides a brief look at how multiple diverse cultures are able to coexist on one tiny island. Fort Canning Park and the National Museum will help you uncover bits of our history, while the Esplanade showcases magnificently the multitude of talent we have in the creative arts scene.
Day 3: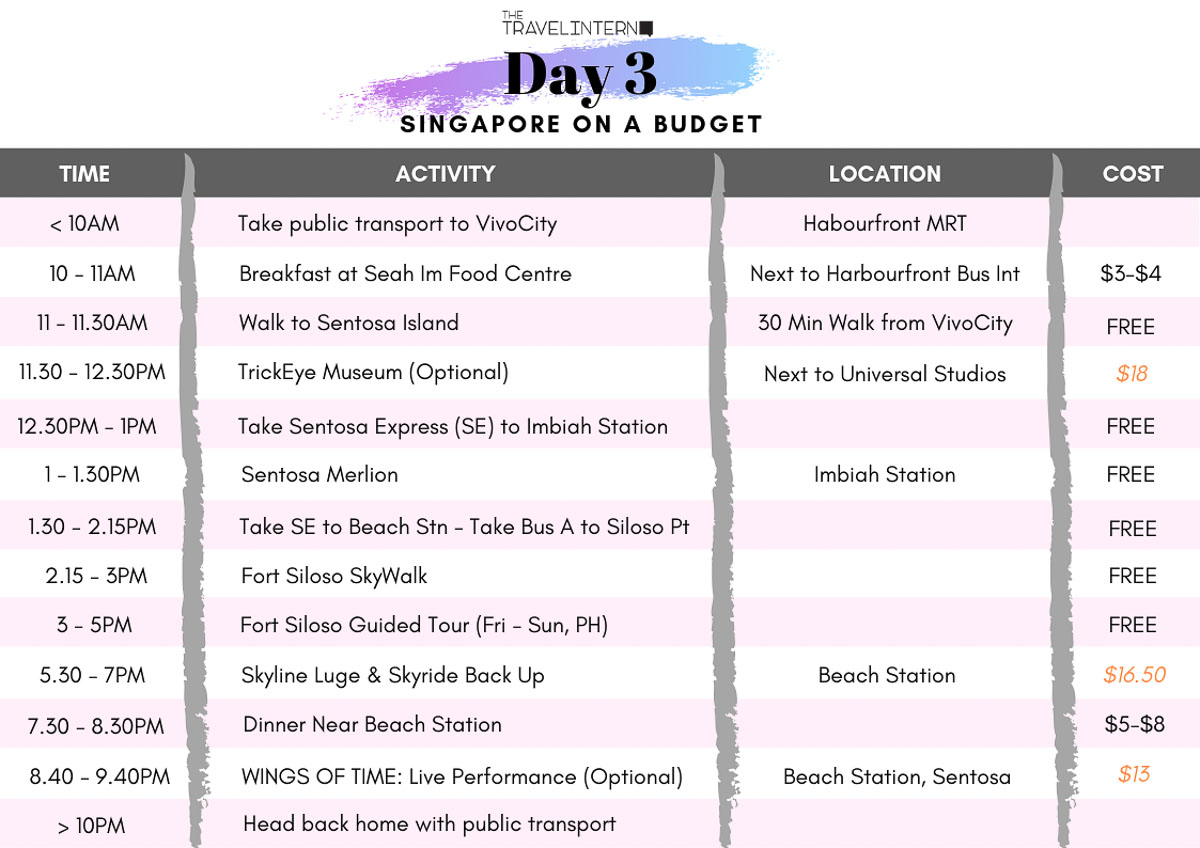 You'll spend Day three on the popular island of Sentosa. There's lots of fun to have here, and it isn't just limited to the rollercoasters and tasty churros of Universal Studios.
Day 4: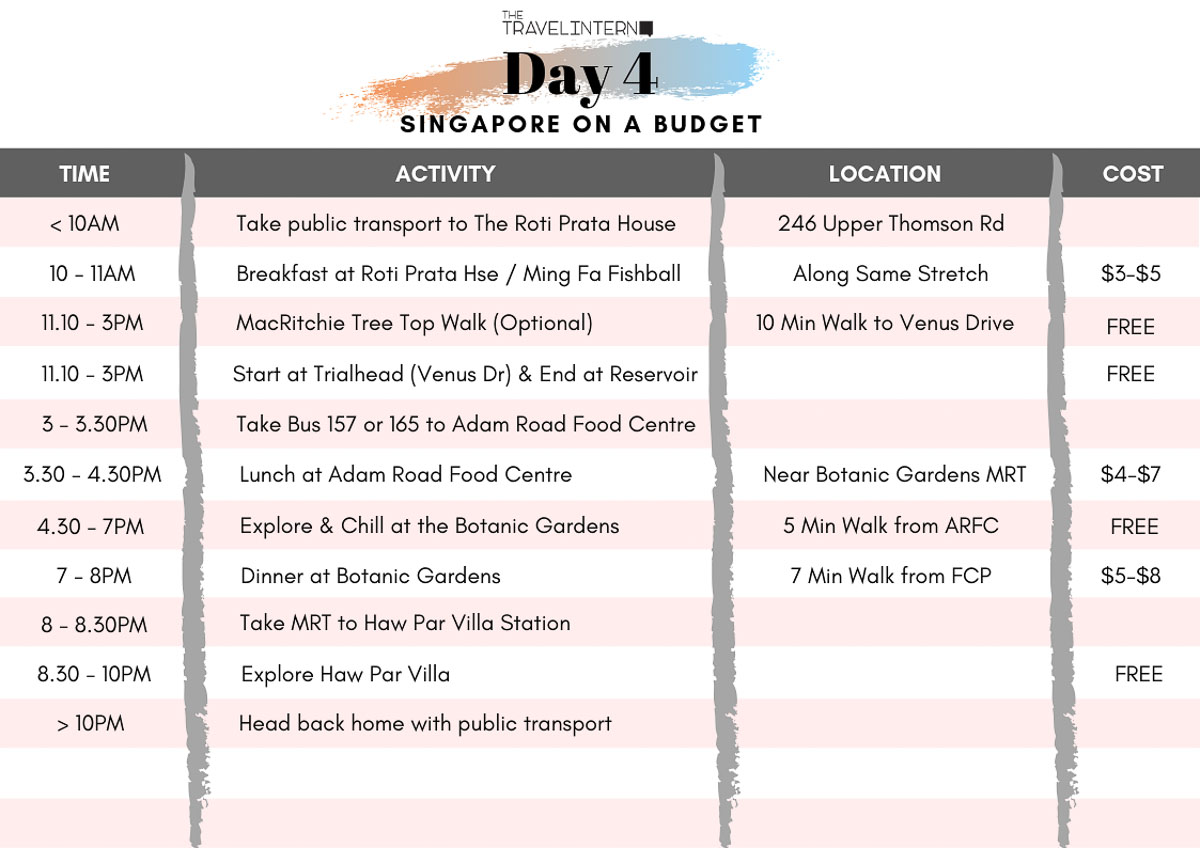 Day four — oof. This one's for the hardcore trekkers. The MacRitchie Treetop Walk is a fantastic break from the hustle and bustle of the city, but it does involve a lot of walking. Feel free to skip this one and head straight to the Botanical Gardens for a breezier morning/afternoon. Haw Par Villa is still one of Singapore's most underrated points of interests, and exploring the place at night adds a little supernatural spice.
Day 5: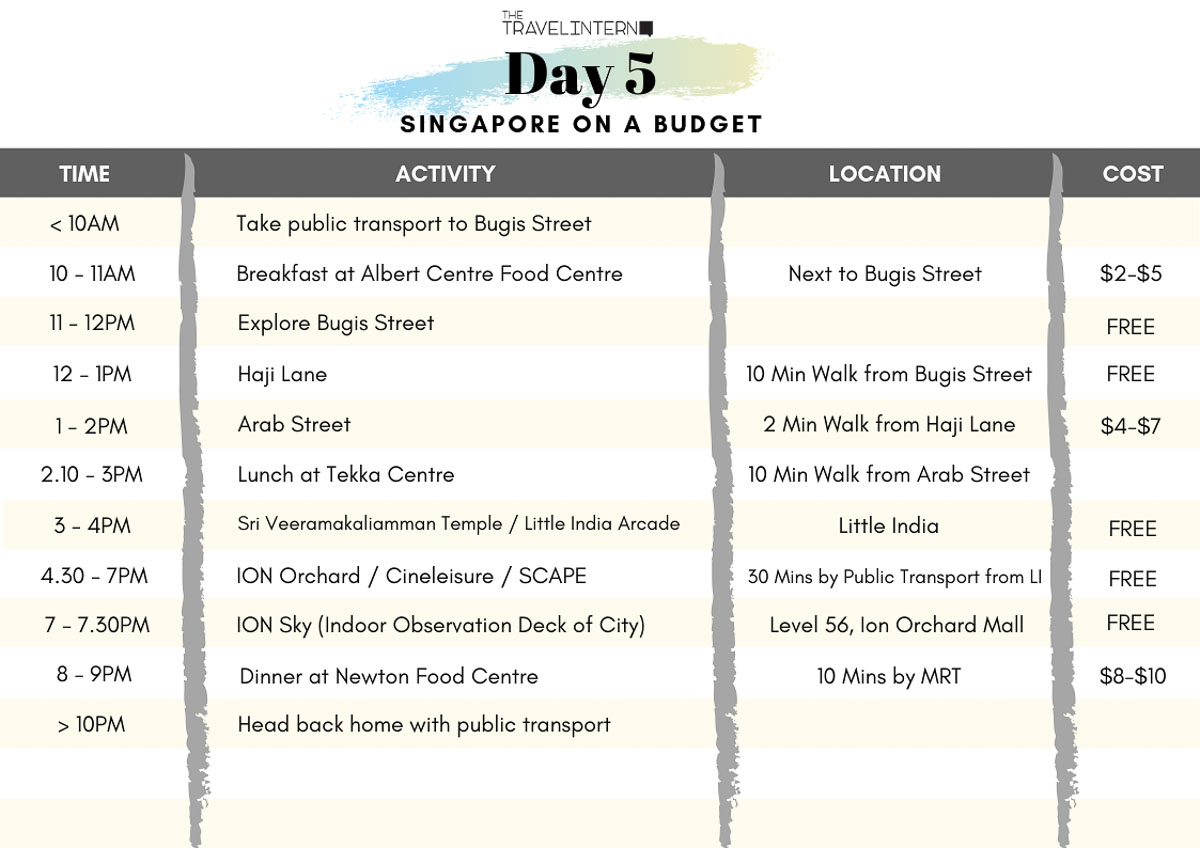 Due to the expansive nature of Singapore's main shopping district, we considered taking this off the budget list entirely. However, the streets of Orchard Road are quite the sight to behold, especially towards the end of the year (Nov/Dec) Lovely Christmas decorations light up the busy streets at night and there's a charm to the place that I haven't seen been replicated elsewhere in Asia.
That said, there's a certain je ne sais quoi that still exists all year round, and you can't quite say you've been to the sunny island without having roamed around here for a bit.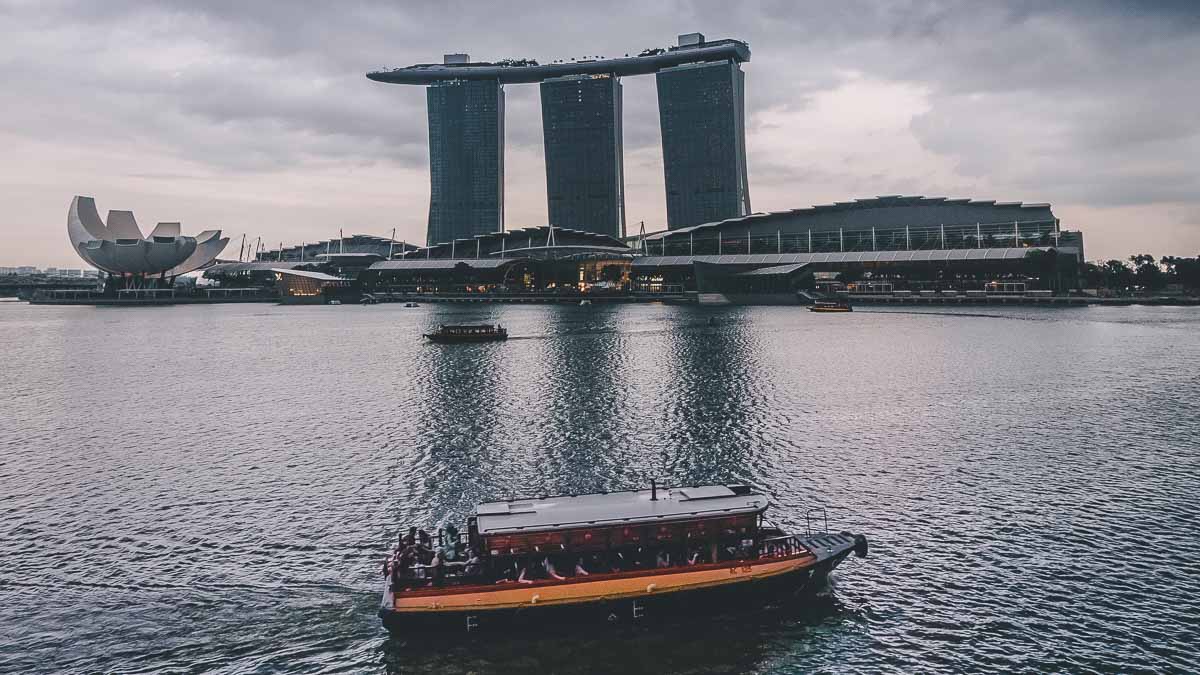 For all its flaws and imperfections lying underneath its carefully curated glamorous surface, Singapore is still a wonderful place to stay. For underpaid interns such as myself (not complaining, I love my job), we only know too well what it's like to live day to day in one of the world's most expensive countries. But we hope this budget guide allows you to see that there are still many affordable things you can do to wholly experience this endearing humid little city.
I love my country, and I'm confident you will too.
---
For more travel inspiration, follow us on Instagram, YouTube, and Facebook!
View this post on Instagram