Address: 486/125 Soi Phetchaburi 16, Thanon Phetchaburi, Bangkok
Cost: 10 Bed Mixed Dormitory ฿450/night
Check in/Check out: 2.00p.m./12.00p.m
Website: Bed One Block Hostel
TL;DR:
– Dorms are clean with large, comfortable beds and blackout curtains.
– Perks of hanging out at the sister hostel, Bed Station Hostel, a 2 minute walk away.
– Great location, walking distance to Siam and Platinum mall.
Click to jump to relevant section:
Facilities offered
Other room types
Directions
What to find around
Bed One Block Hostel Review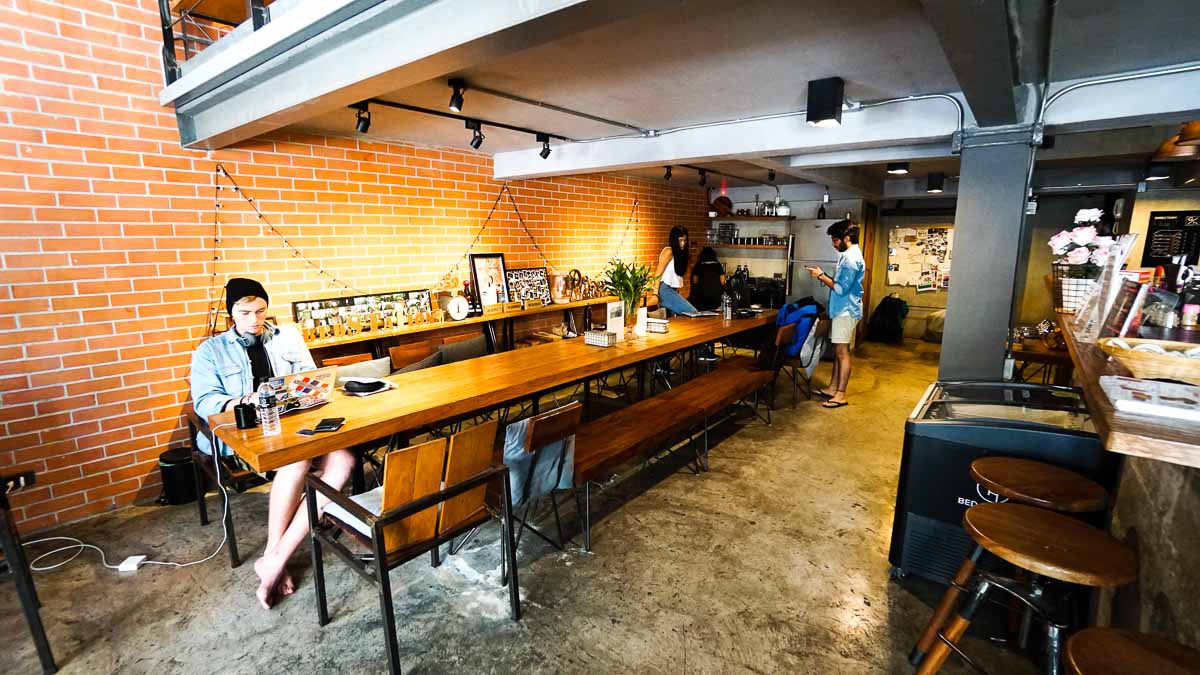 Tucked in a convenient but hidden corner in Petchaburi is a pretty well known hostel in Bangkok — the Bed Station Hostel. Popular with travellers for it's beautiful common area stocked with lots of corners to chill, mingle and get a little rowdy with the rest of the guests.
For those who prefer a quieter (yet just as trendy) hostel to return to, it's newly opened sister hostel Bed One Block is just a quick 2-minute walk around the corner.
Here's our accommodation experience in Bangkok on the last leg of our Travel Intern Life trip.
Checking in
We arrived at midnight, and made our way to Bed Station Hostel (next door) for check-in; which seems to be the usual if you're checking in at odd hours of the day for this hostel.
We were quickly escorted to our dormitories by one of the friendliest people I've met at 1:30am and we crashed as soon as we hit the sack. Both of these hostels pride themselves on being the best places to get some rest, and to allow stories and adventures of mystical legend to come to life (seriously, their WiFi passwords are THEBESTPLACE and Storiesbegin for a reason).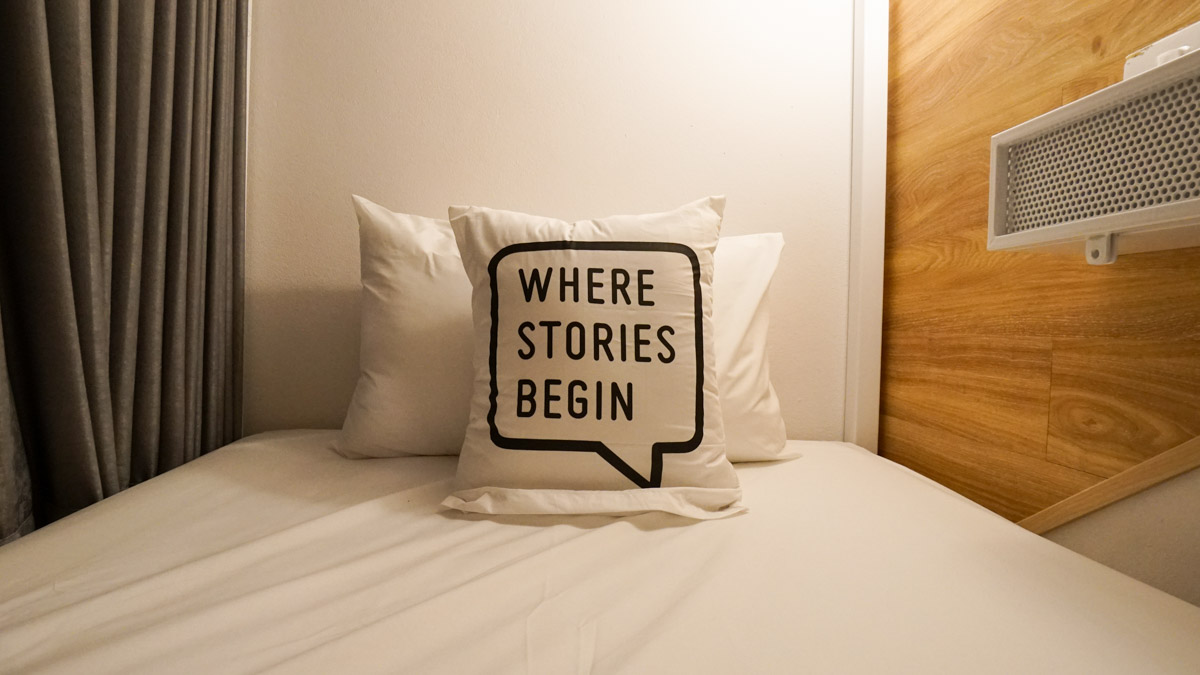 Excited to see what the best place to begin stories had in store for us, we set out to spend a few nights between both hostels to get a gauge of this place. As soon as you check in, you'll be given a key card, which is your access through the front door, up to the dormitory, as well as providing you the universe of possibilities that lies in your dormitory — since it's also the key to electricity in your bunk.
Rooms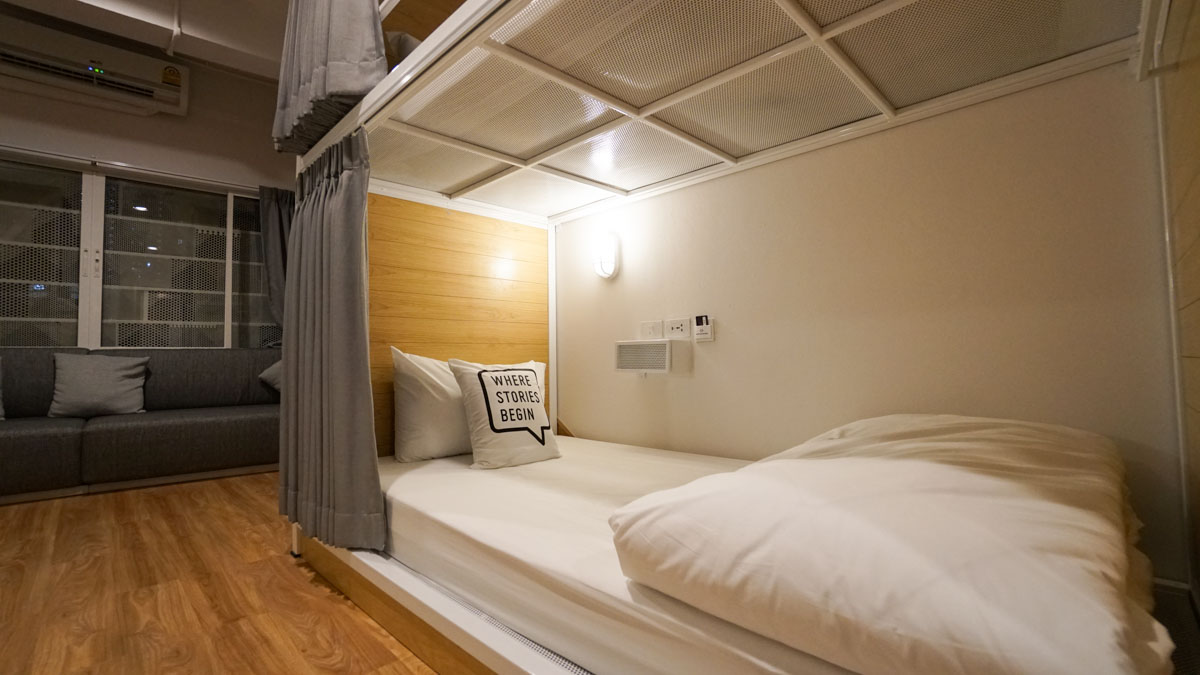 Beds: The beds are generally pretty hard (which is great for your back, after a long day of backpacking) so they may or may not be your cup of cha. I found them rather beautiful, because my productivity levels reduced to nothing as soon as I was on the bed. Each bunk bed comes with curtains and a little bedside locker for you to keep your valuables.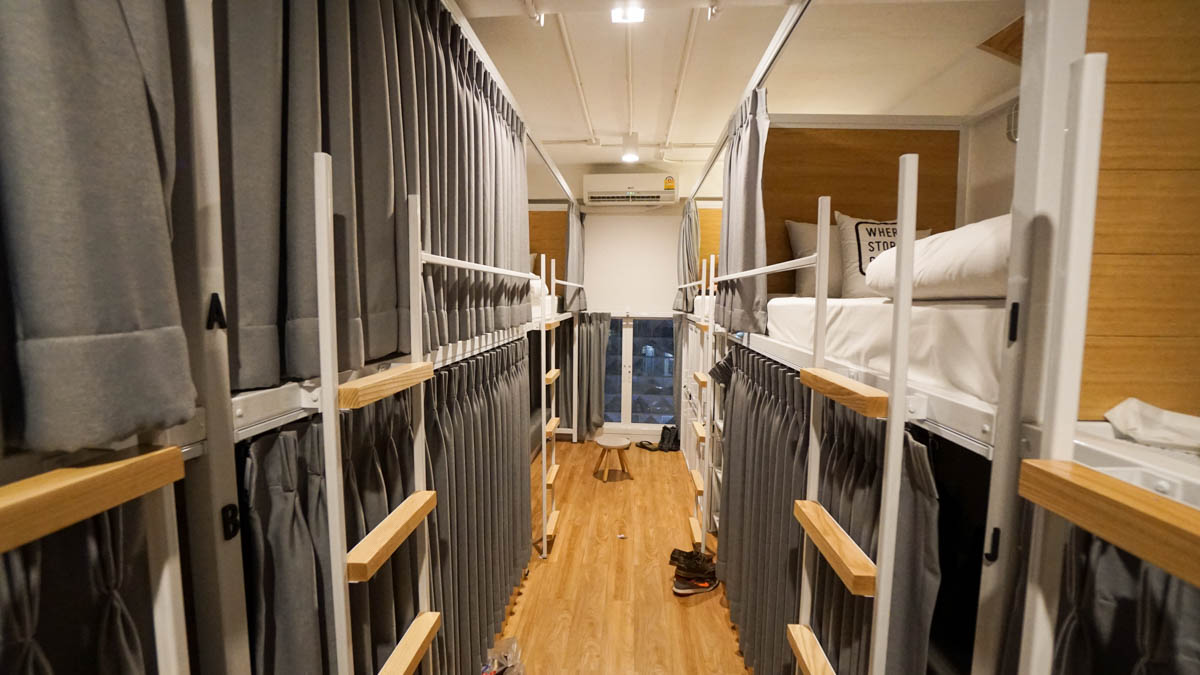 The bunk beds are generally large enough for you to keep your backpacks with you when you sleep (if you're paranoid like me), but you'll also be provided with lockers in the dormitory for the larger luggage.
*Pro-tip: Bring your own padlocks.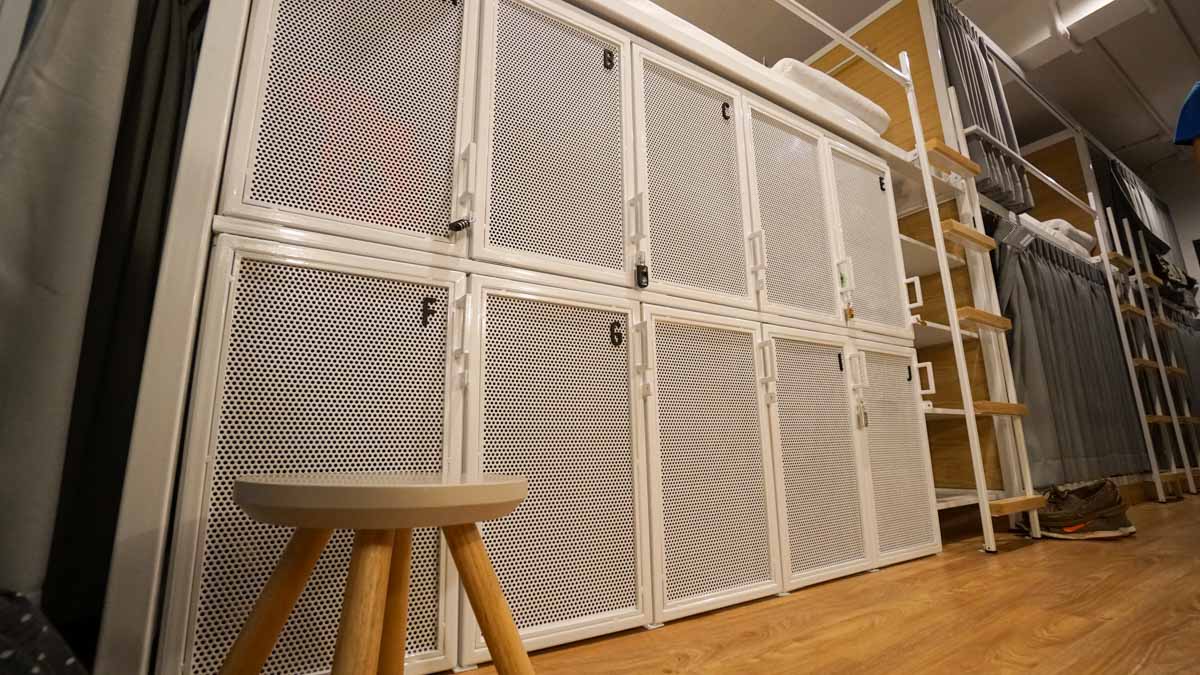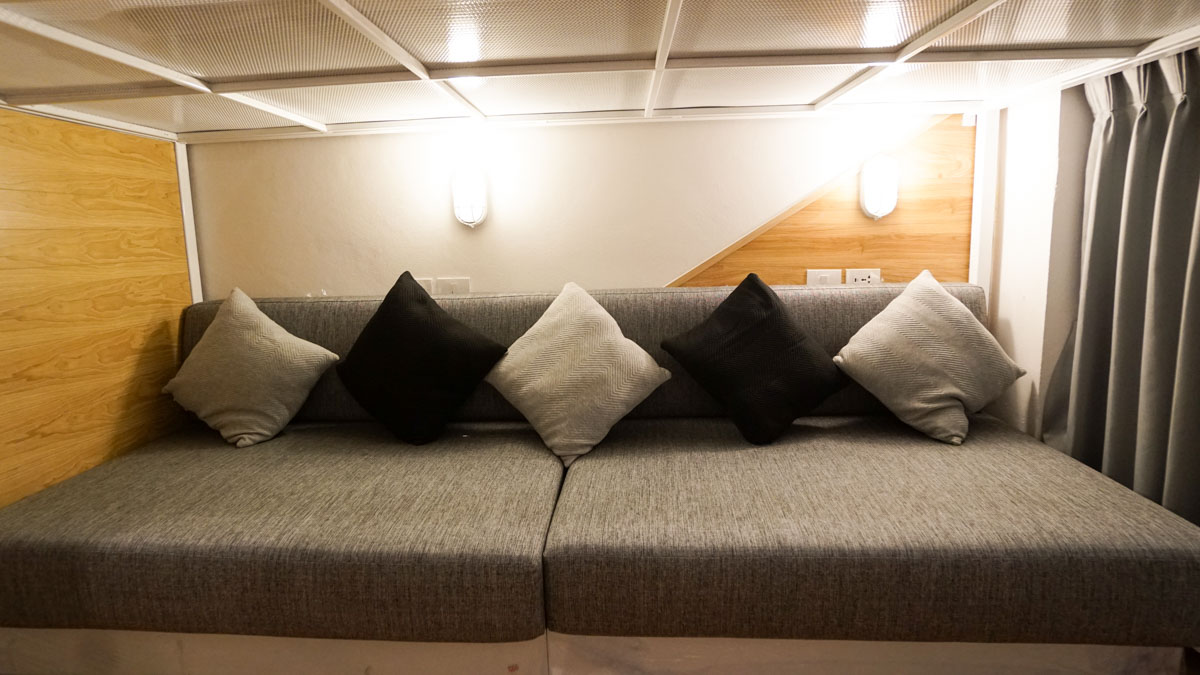 Toilets and Bathrooms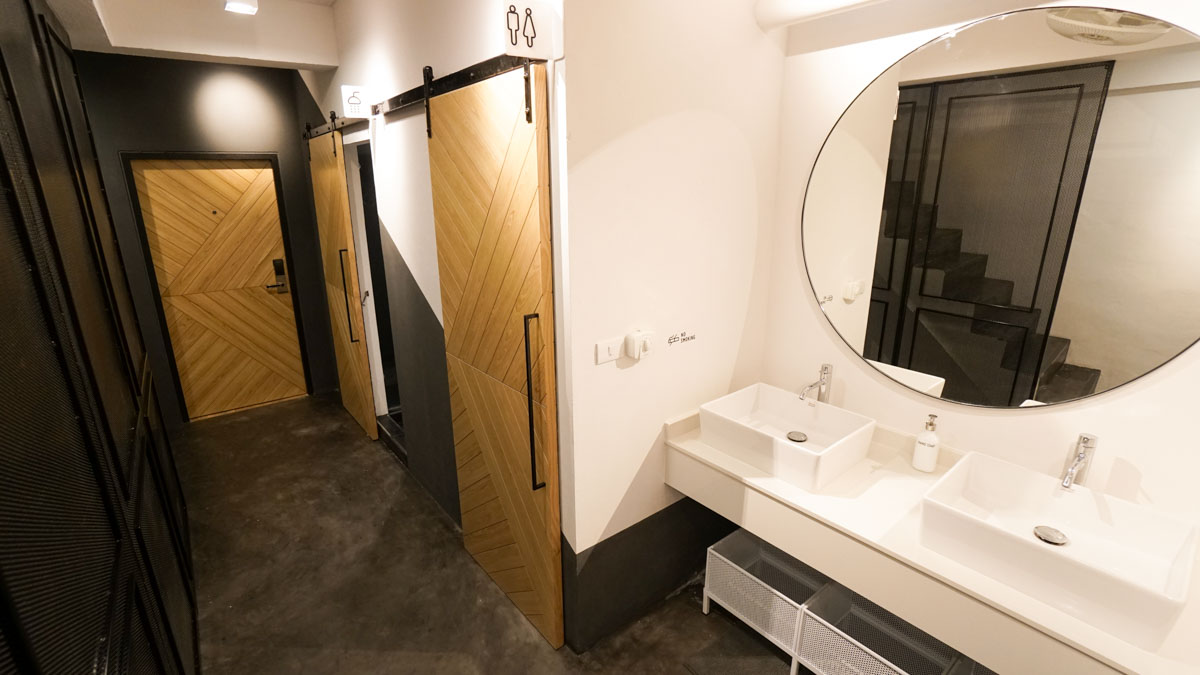 Each floor in Bed One Block Hostel hosts a toilet and a bathroom, that are shared by the tenants on the floor. You'll be provided with body soap, shampoo, hand soap, and a hairdryer. The hostel is generally clean as you'll see staff making sure that its spic and span all through the day. The amenities are pretty basic (you're not gonna find high-end face wash or anything) but it gets the job done. However, I must admit that I'm a big fan of their body soap, I can't pin-point what is the exact scent, but it smells divine.
Common area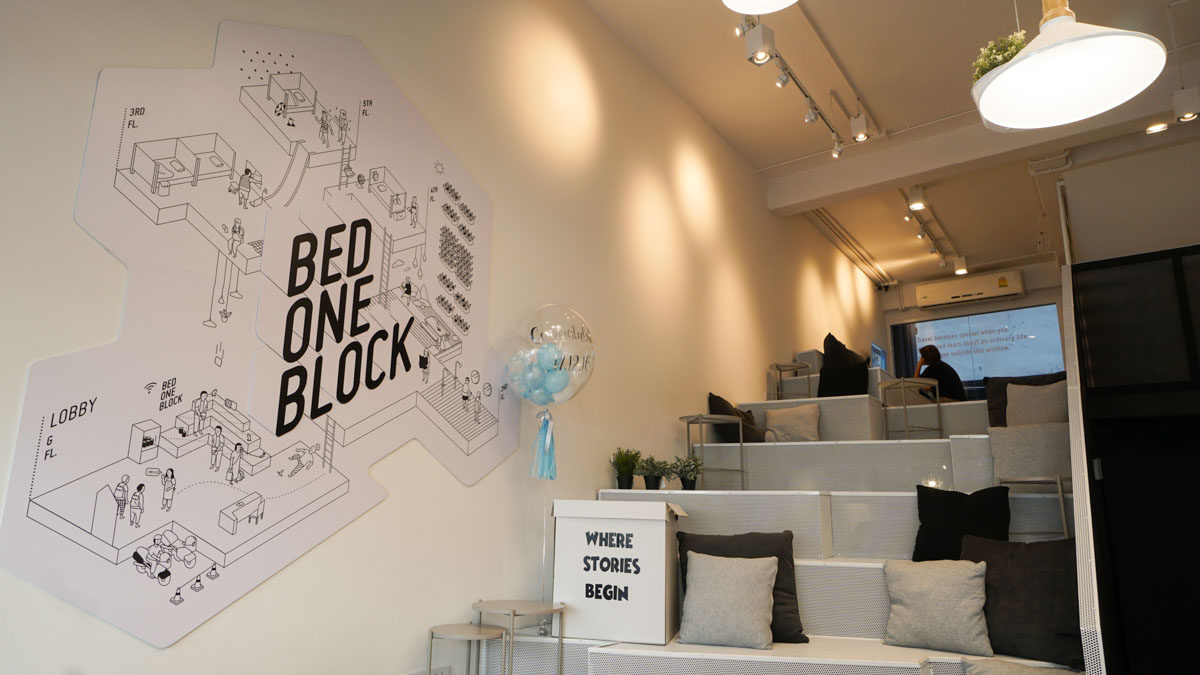 The common area in Bed One Block Hostel hosts a kitchenette (where free breakfast is served daily, 6.30a.m. – 10.30a.m.) which includes a refrigerator, cutlery, an electric pot, and snacks/coffee for your consumption 24/7. There are also 2 computers which can be used for no charge whatsoever. There's also a working space ala the Spanish Steps as soon as you step into the hostel. Not to mention, they also have a great playlist playing at all times, so I'd suggest you keep your Shazam on at all times.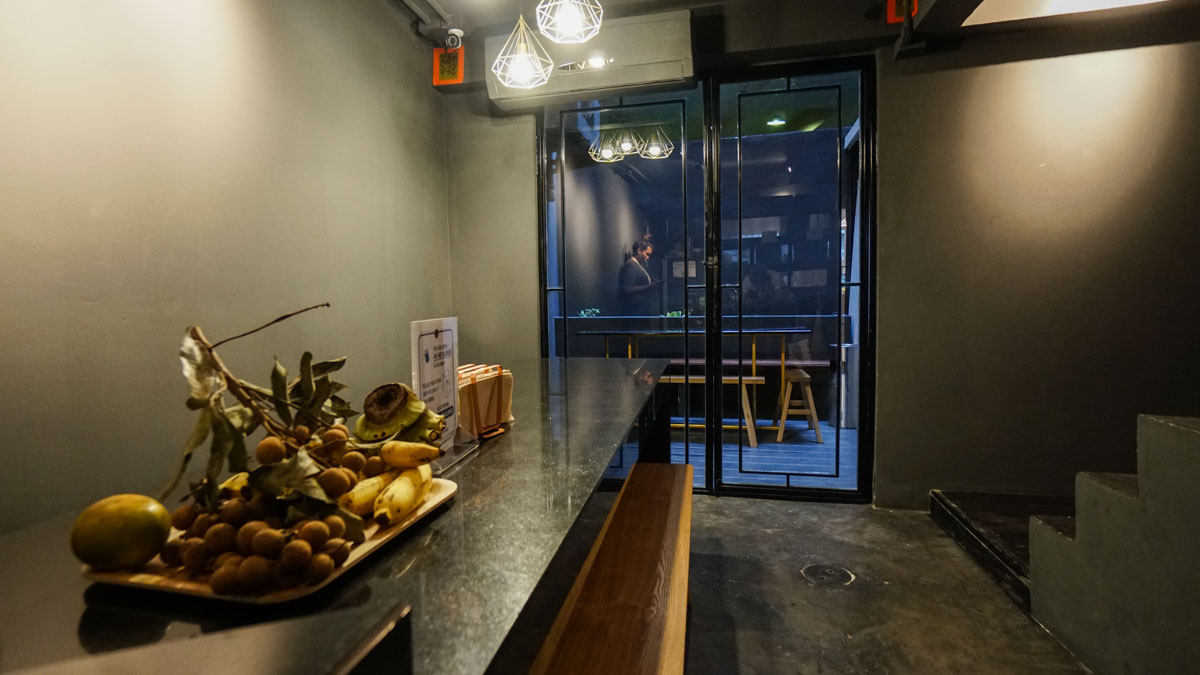 Having an older sibling also has its perks, in this case, residents at Bed One Block Hostel, are allowed to enjoy the facilities at Bed Station Hostel, and this is where the fun begins. In addition to the amenities you'll find at Bed One Block Hostel, you'll find a bar, tonnes of books and magazines, a PlayStation 4 with a great selection of titles, a Blu-Ray player along with some great movies, and a huge television for you to catch Manchester United being crushed by its opponents.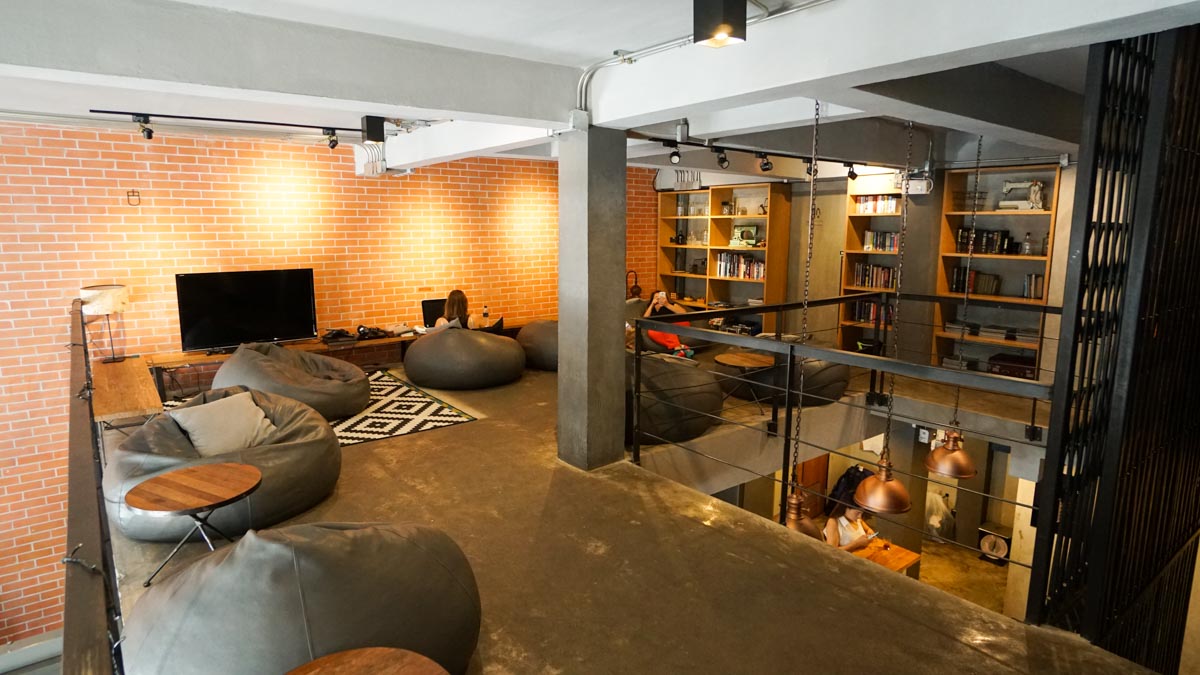 To add on, there are also coin-operated washers and dryers for when the sweltering tropical heat gets to you and your clothes (฿40/washing machine & ฿10/10 minutes dryer).
There's also a bar (doubles as your Breakfast Bar in the morning) which promises you a free beer for an honest TripAdvisor review of their hostel. The staff here are an amazing bunch and treat you more like friends, as opposed to guests (seriously, they're really cool). They're relatively fluent in the English language and are forever ready to help you out with any sort of itinerary issues you may face.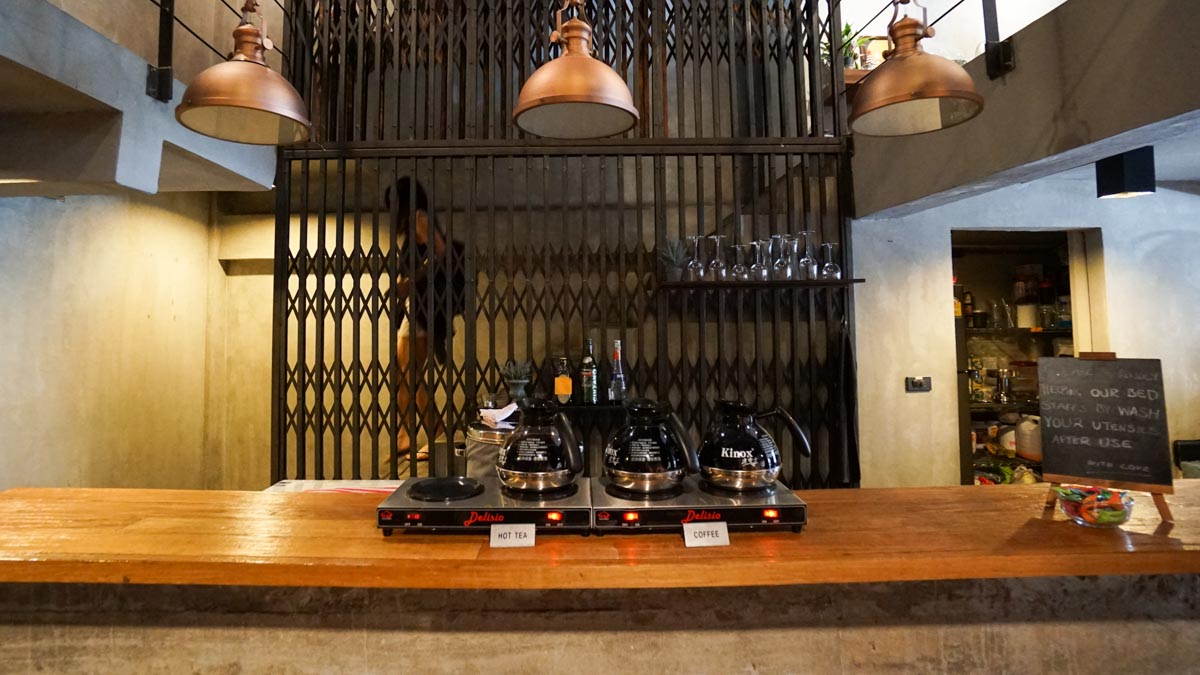 Facilities
Bed: Free Wifi, 1 X USB Jack, 1 X Power Socket, Locker (bring your own padlock), Bath Towels (can be changed on a daily basis, for free),
Common Toilet: Hairdryer, Shampoo, Body Soap.
Other room types at Bed One Block Hostel
Bed One Block Hostel plays host to two types of dormitories; one being an 8 Bed Mixed Dorm (฿500/night) and the other, being a 10 Bed Mixed Dorm (฿450/night). However, if you're looking for a little more privacy, Bed Station Hostel has 2 private rooms, one with an attached bathroom (฿1,550/night) and the other without(฿1,350/night). They also have dormitories in different configurations such as:
– 4 Bed Mixed Dorm (฿600/night).
– 6 Bed Female/Mixed Dorm (฿550/night).
– 8 Bed Mixed Dorm (฿450/night).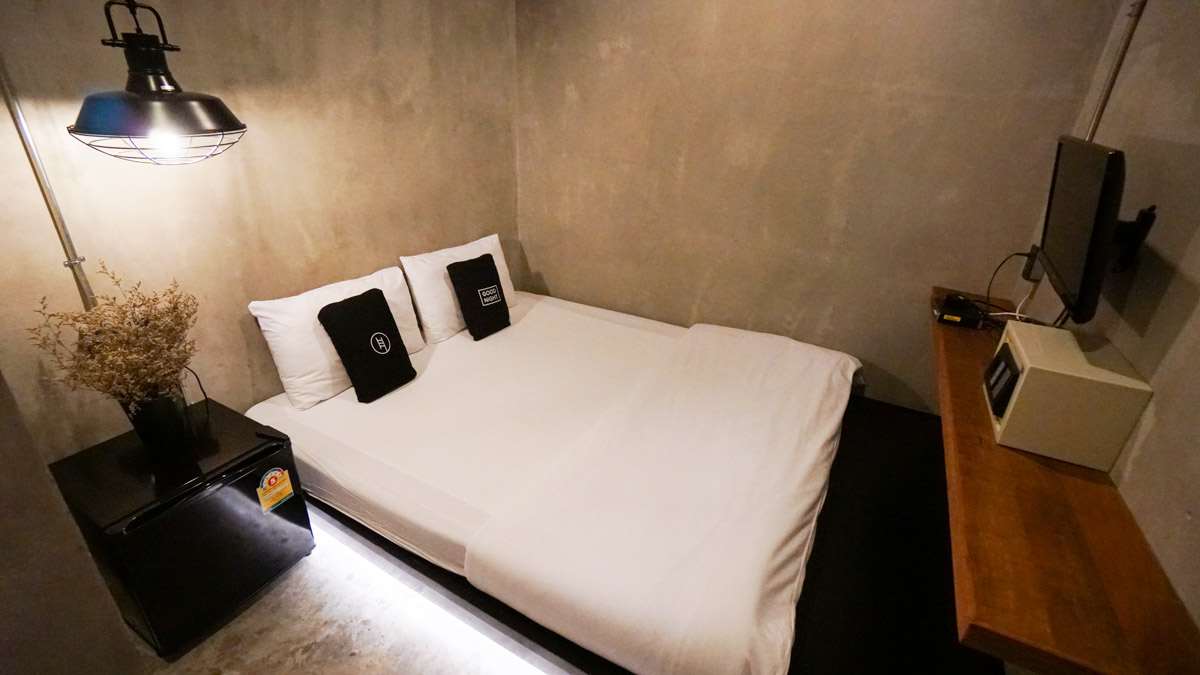 Directions to Bed One Block Hostel
Take the Sukhumvit Line on the BTS and get off at the Ratchathewi Station, and you're a minutes walk away from the hostel.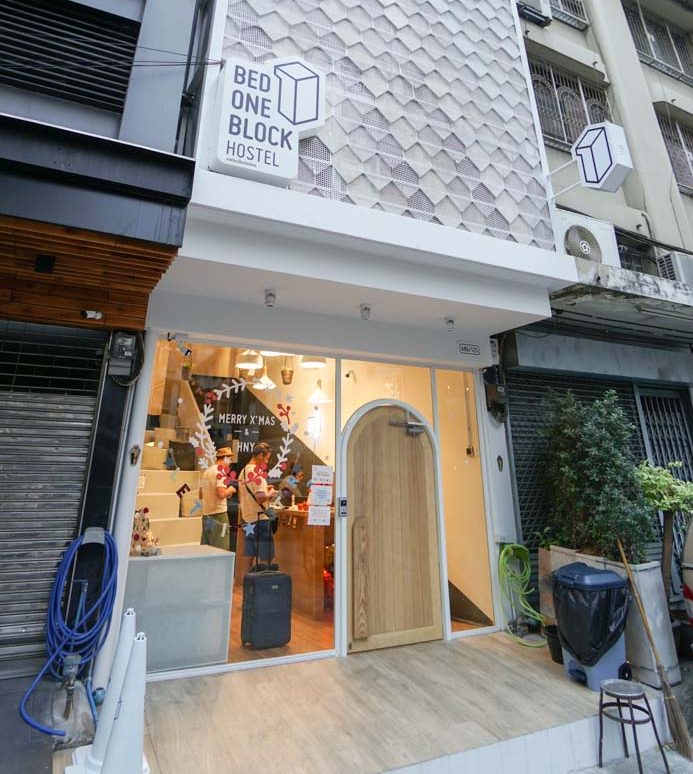 ---
Guide: What's around Bed One Block Hostel
1) Convenience Stores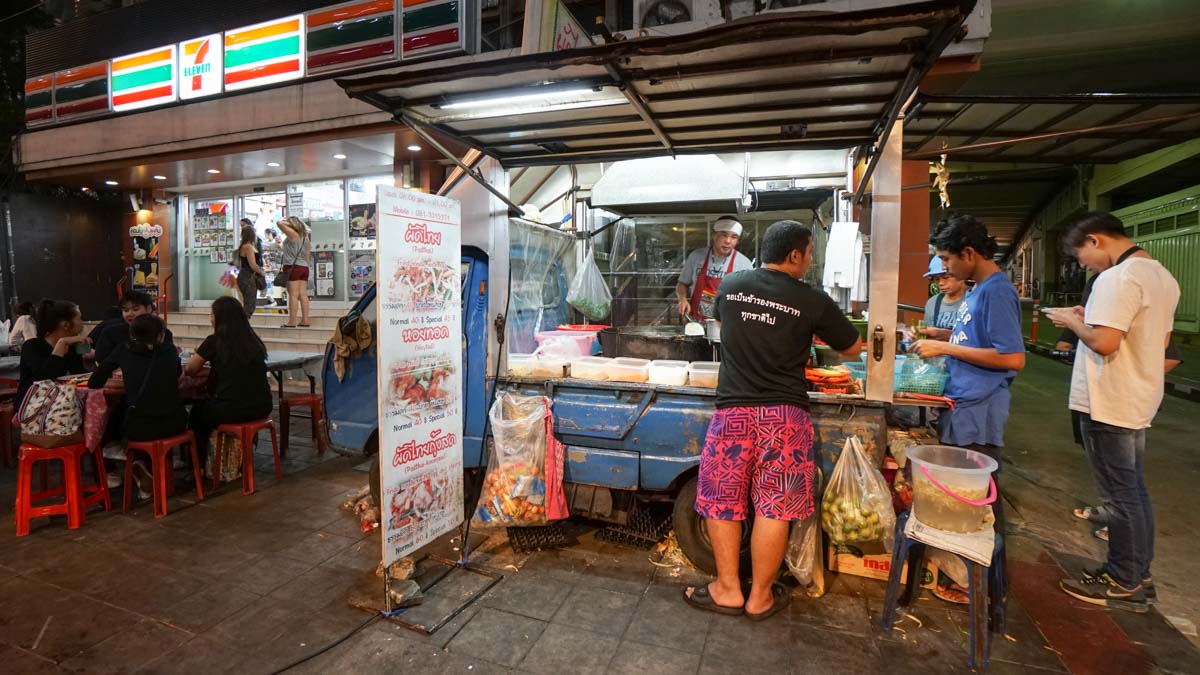 You've got a 7 Eleven store about a minutes walk from the hostel, which should be able to sort you out with your necessities during your stay at Bed One Block Hostel. The bonus here is that there are multiple push cart stalls that serve up a quick meal on your walk there.
2) The Canton House (Phyathai Krua Krungthep)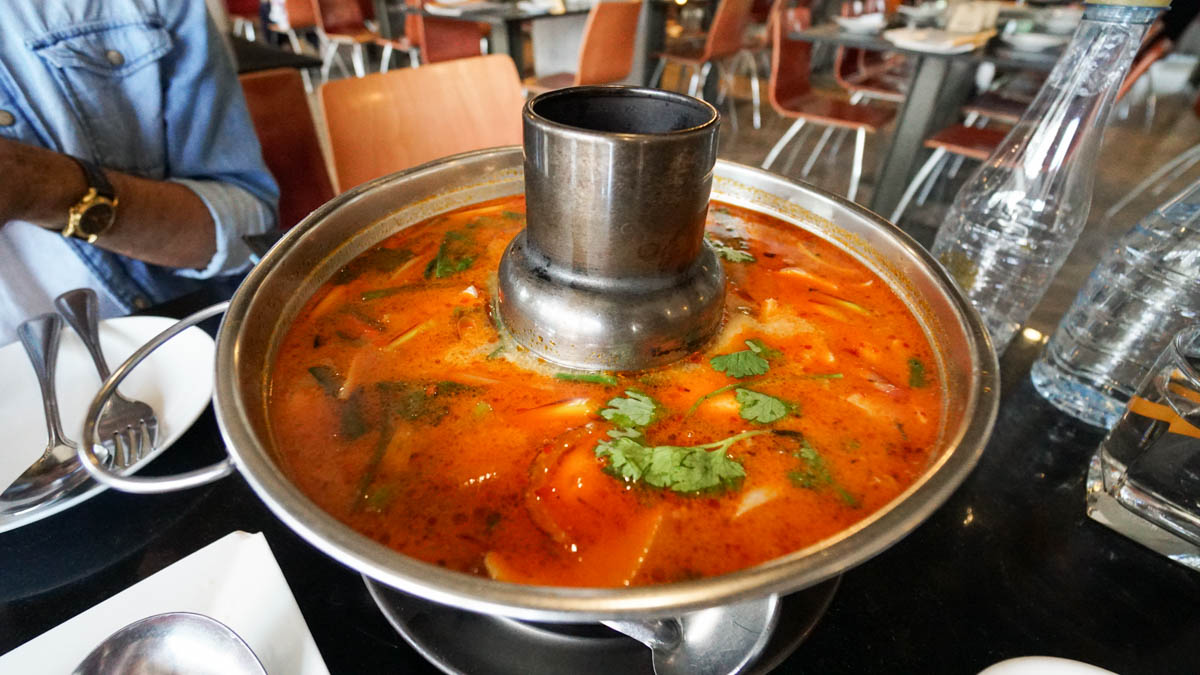 A 15 minute walk down Phaya Thai road brings you to a nice open-spaced food joint which serves up amazing Thai food.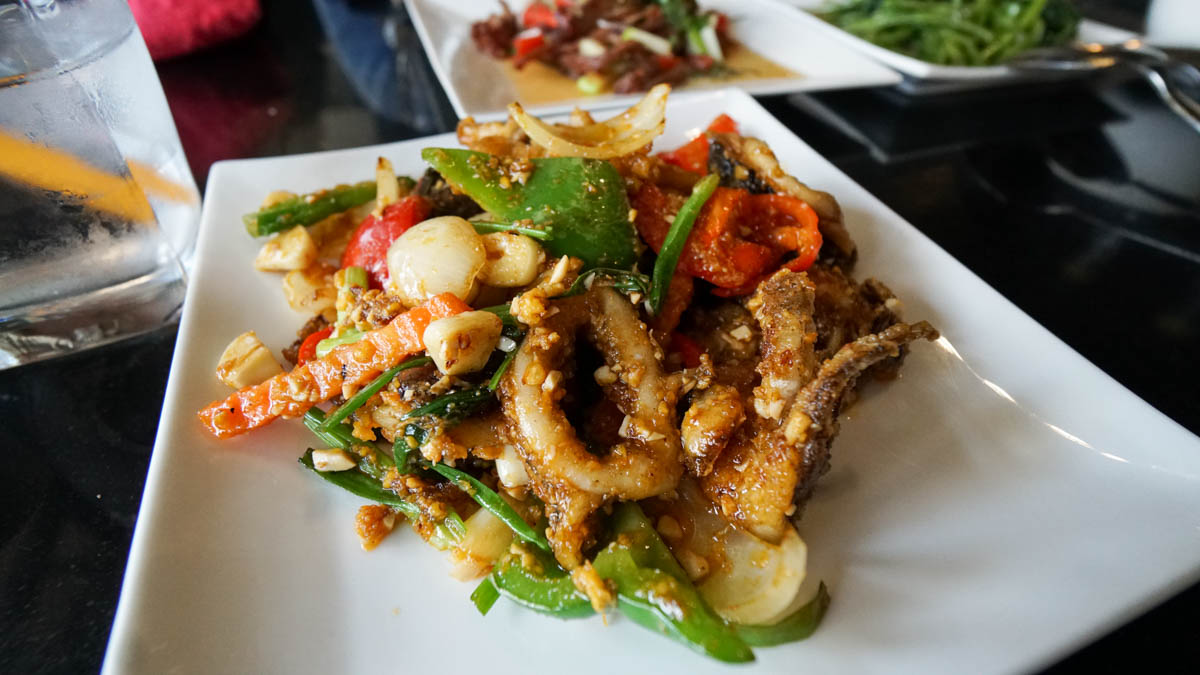 We had the Crispy Duck Salad (฿130), Stir Fried Squid with Egg Yolk (฿120), Stir Fried Morning Glory (฿60), and Tom Yam Soup (฿250).
Address: Phayathai Rd, Khwaeng Thung Phaya Thai, Khet Ratchathewi, Krung Thep Maha Nakhon 10400, Bangkok
Opening Hours: 11:00am–10:00pm
3) Pe-Aor Tom Yum Goong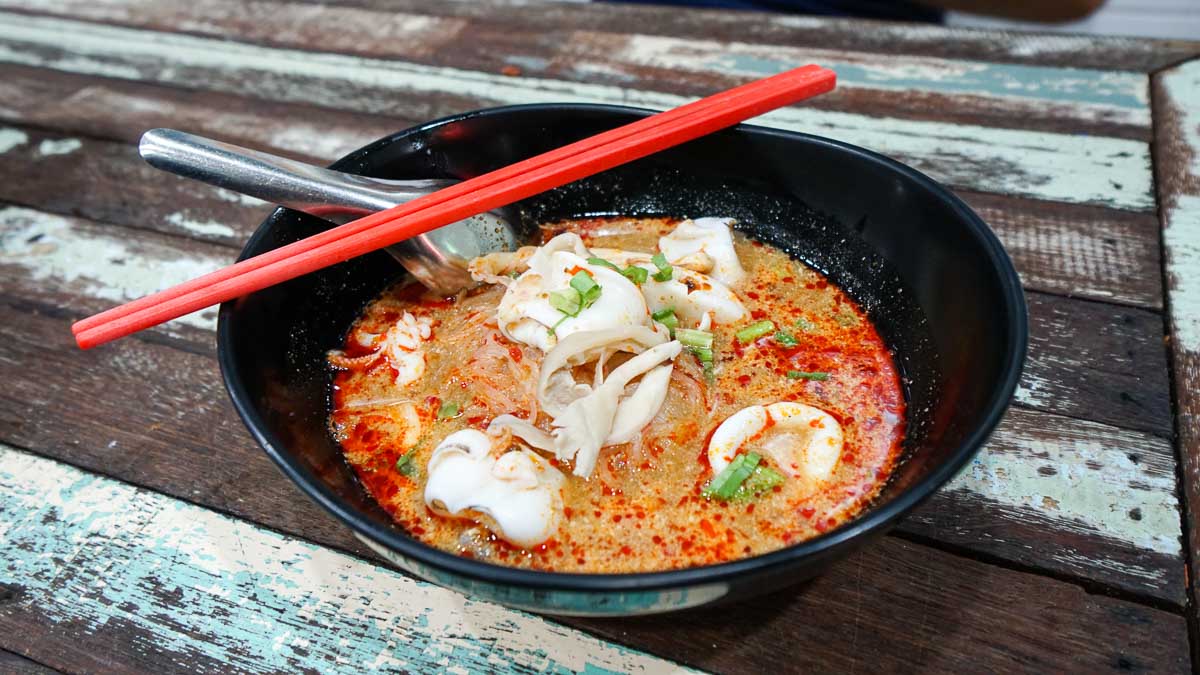 Highly recommended place for a no frills bowl of Tom Yum Goong famous amongst the locals.
Cost: ฿50 for a bowl of Tom Yum Noodles
Opening Hours: 10am–9pm (Closed on Mondays)
Address: Soi Phetchaburi 5, Khwaeng Thung Phaya Thai, Khet Ratchathewi, Krung Thep Maha Nakhon 10400

Conclusion
In a nutshell, staying at Bed One Block Hostel has been one of the best bits of my entire Bangkok journey. Knowing that I'll come back to a comfortable bed and meet like minded people (and a gorgeous hostel manager) made my stay in Bangkok that little bit better. The ability to share facilities between both hostels and the ease of accessibility to and from the hostel made getting around a breeze. I'm still not sure who's the winner when it comes to this battle between the siblings, but I think its me (and possibly you).
BOOK A NIGHT AT BED ONE BLOCK HOSTEL

Like what you're seeing? Do share and follow us on our adventures around the world on Facebook and Instagram.