Let's be real — Bangkok's street food is the main reason why everyone loves this city.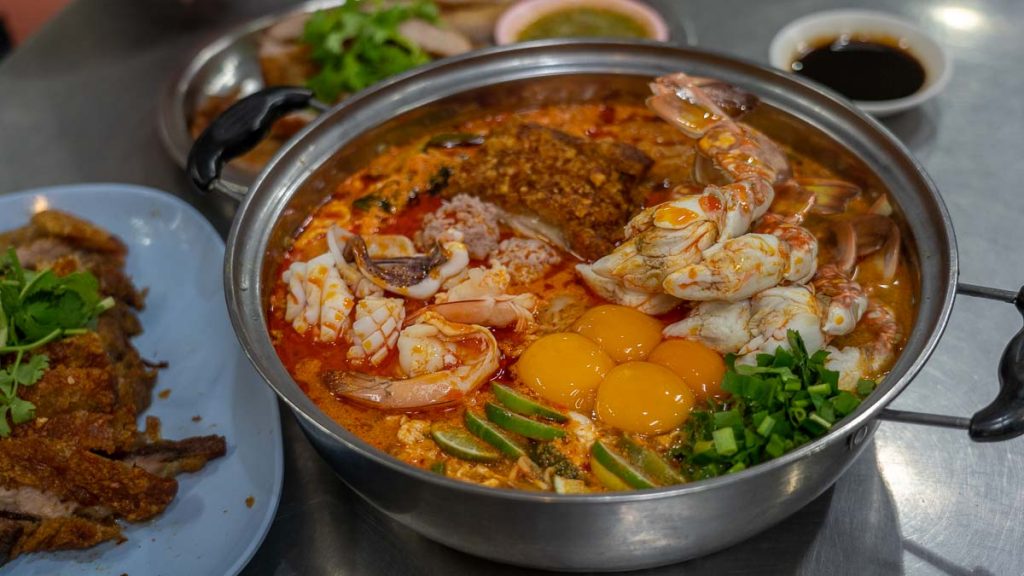 Ask anyone to name their top three cuisines and chances are, Thai food will be included in the list. The Thais understand flavours really well — you can always expect a good combination of sweet, spicy and sour hints!
It's flavourful and comforting, a cuisine I'd gladly eat over and over again.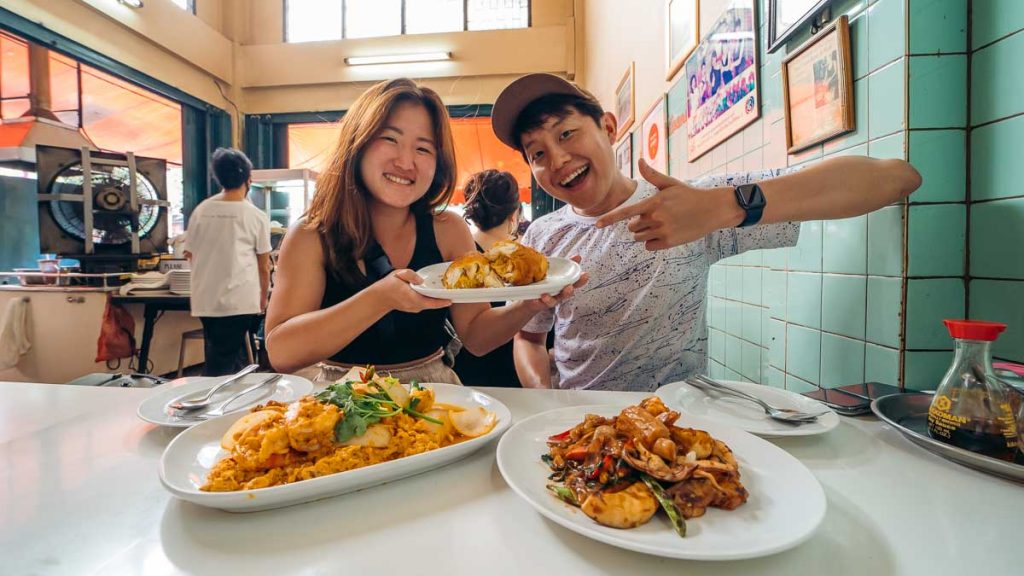 We had the chance to stay in Bangkok for a month (where we even visited Hua Hin on a road trip!) and got to try several famous street food stalls. To my fellow foodies, here are nine street foods worth making a trip to Thailand for!
1) Jeh O Chula — Thai dishes with a twist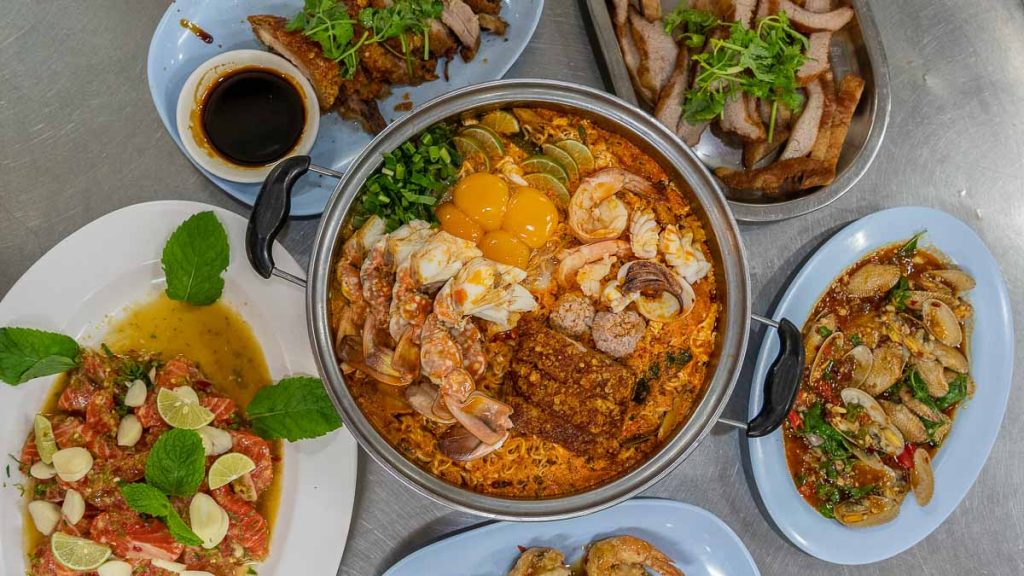 Jeh O Chula serves up hearty Thai dishes with a twist. It's popular amongst students, as it's located near Chulalongkorn University and the queues can go up to a few hours.
Here are the signature dishes you have to try!
The first is Tom Yum Mama Noodles, Thailand's version of Korea's army stew. It's filled with instant noodles, eggs, crispy pork, and tons of seafood — the perfect comfort food. 🤤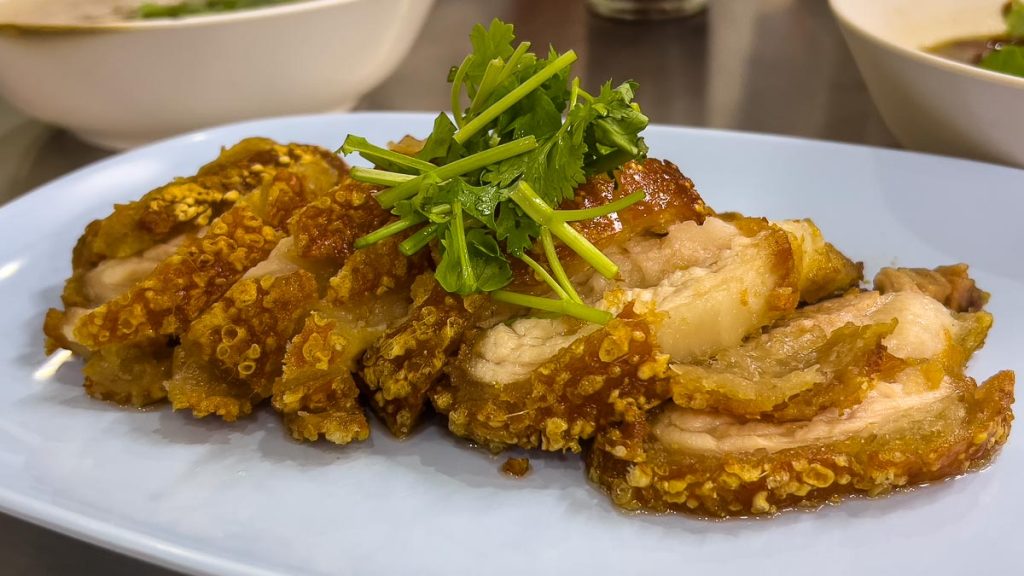 Next is the Crispy Pork Belly. I'm not the biggest fan of fatty meat, but I'd readily devour this bad boy on my own.
Lastly, the Yum salmon — glorious salmon sashimi doused in Thai chilli and salad.
*Pro-tip: Book a set meal on Klook to reserve a time slot and get priority access. There is no other way to make reservations and waiting times can be up to an hour!
Cost: From ~S$25.90 for a set meal
Opening hours: 5:30PM – 11:30PM
How to get there: 14min walk from W1 National Stadium BTS station (Silom Line)
2) Lhong Tou Cafe — Tiktok famous dim sum cafe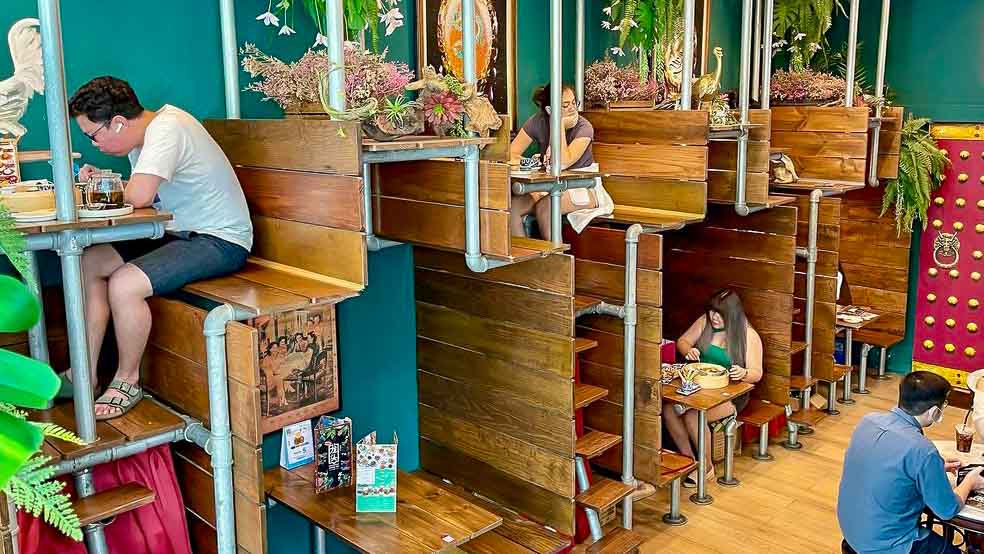 Photo credit: @nikui via Instagram
We first came across Lhong Tou Cafe on social media. What caught our attention first wasn't the food, but the restaurant's unique layout!
I was kinda sad there weren't any top-floor seats available while we were there, but my disappointment was short-lived after seeing the menu.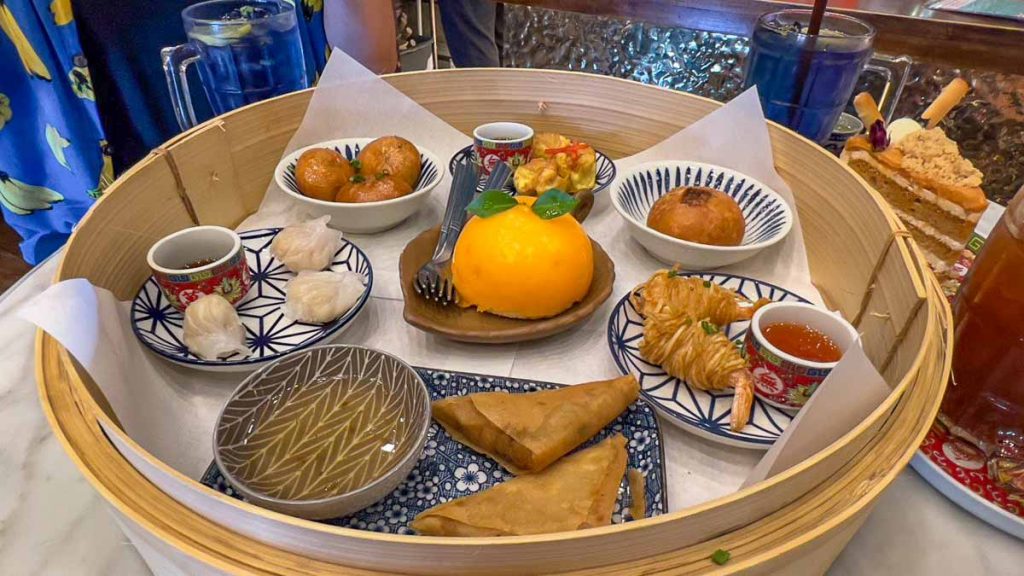 They sell these cute dim sum sets (฿299, ~S$11.30) for sharing, plus loads of fun desserts like Thai milk tea cake (฿80, ~S$3) and durian lava buns (฿59, ~S$2.20).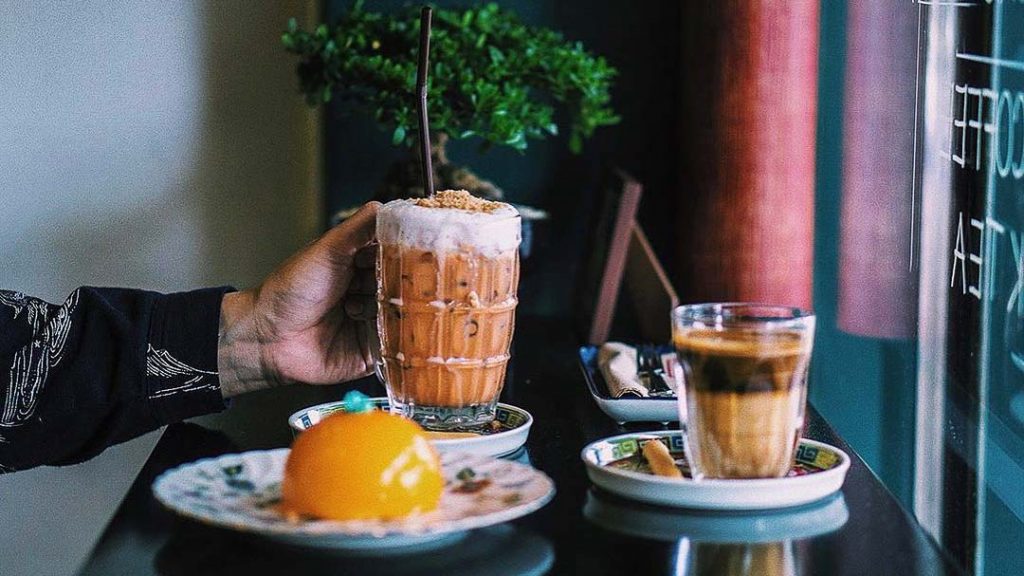 Photo credit: @lhongtoucafe_official via Instagram
The drinks were really Instagram-worthy too! I had a buttery pea lemonade (฿70, ~S$2.60) — a little sweet, but perfect for cooling down in Bangkok's heat.
Cost: ฿299 (~S$11.30) for a dim sum set
Opening hours: 9AM – 8PM
How to get there: 3min walk from BL29 Wat Mangkon MRT Station (Blue Line).
3) Jay Fai — Michelin star roadside hawker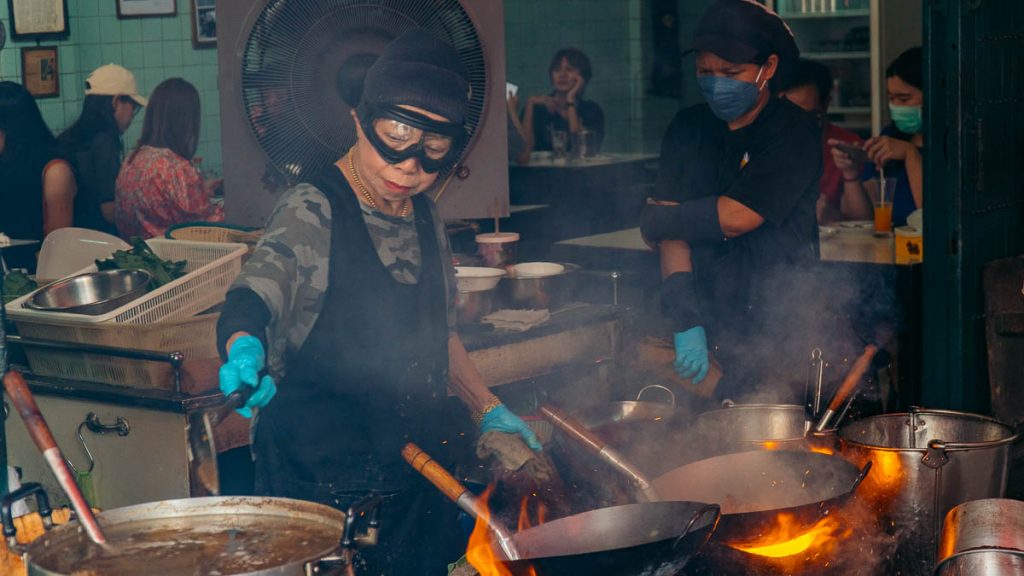 Jay Fai is a Bangkok street food legend. The owner Supinya "Jay Fai" Junsuta is a feisty 73-year-old, decked in iconic ski goggles and a beanie.
She's gathered numerous accolades over the years, from achieving a Michelin star four years in a row to getting featured in Netflix's Street Food series. Jay Fai cooks each dish on her own, so expect a long wait.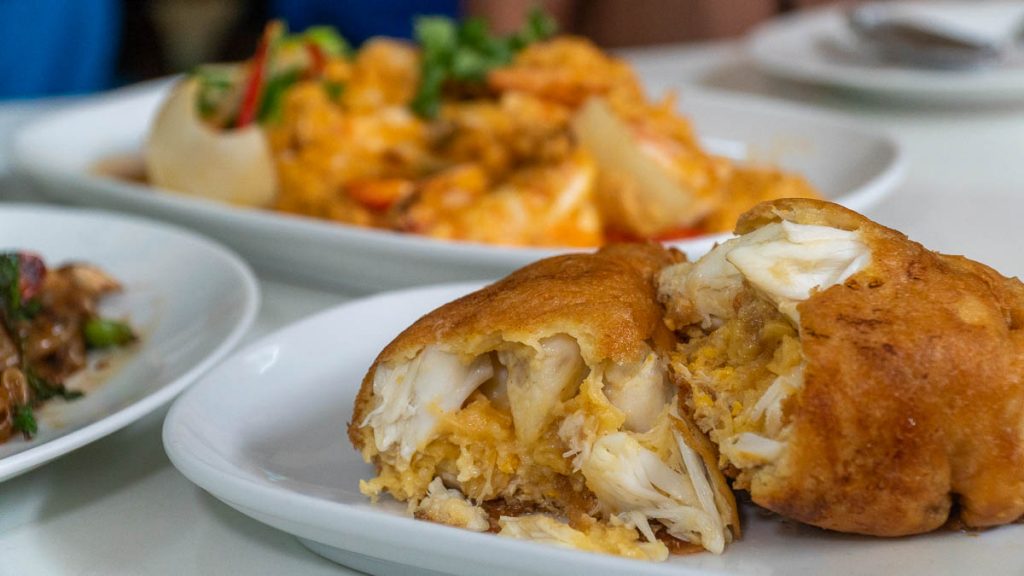 The main attraction here is the crab omelette (฿1000, ~S$37.80). At almost S$40, it's not the cheapest street food around. But this thicc dish is stuffed to the brim with crab meat — kinda resembles a burrito more than an omelette!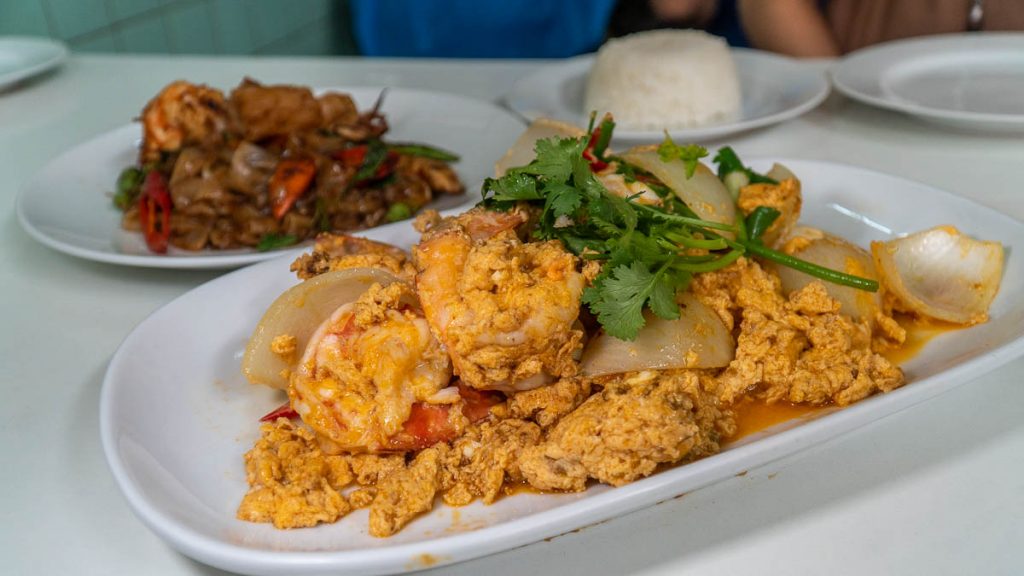 We couldn't just order one dish, so we had the goong phad yellow curry (฿1500, ~S$56.80) and phad-kee-mao talay (drunken noodles) for ฿500 (~S$18.90).
We'd recommend booking a table way, way in advance via Instagram. I tried booking in April and found out they were fully booked till July — though walk-ins were accepted.
We made the mistake of arriving 1.5hrs after opening time and had to wait for 3hrs (from arrival to getting our food).
Cost: ~฿800/pax (~S$30/pax)
Opening hours: 9AM – 8PM (Wed – Sun), closed Mon – Tue
How to get there: 8min walk from BL30 Sam Yot MRT station (Blue Line)
4) Mae Klong Noodles — Spicy pork spine soup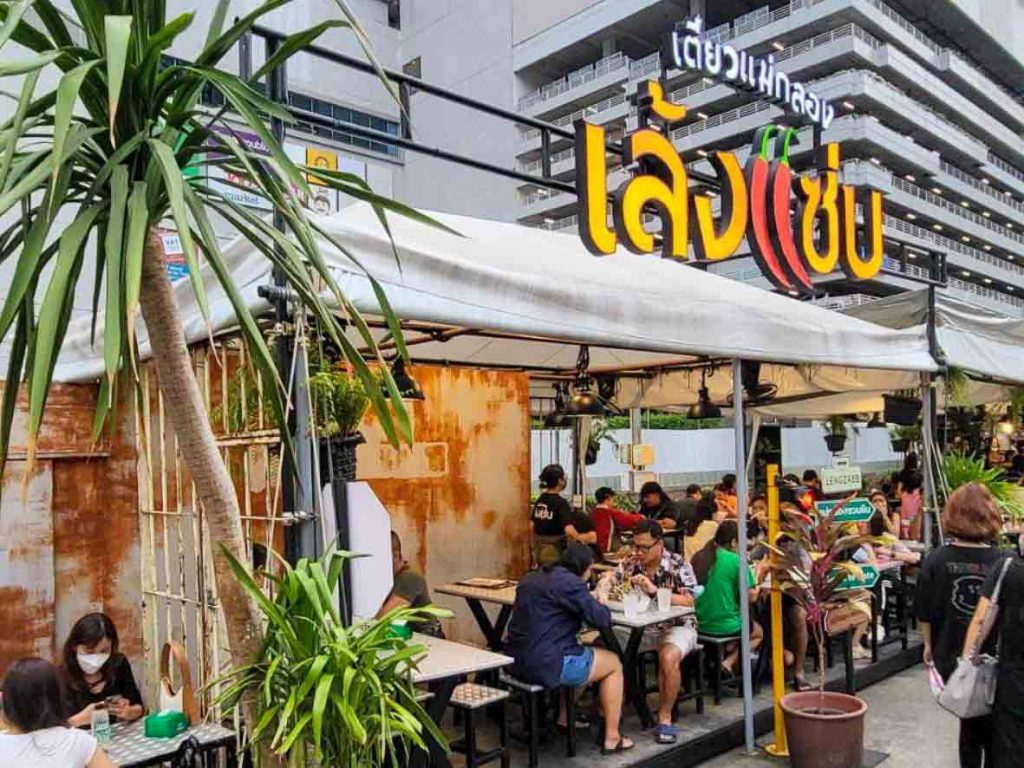 Photo credit: Mae Klong Noodles
Leng Saap is a spicy pork spine soup — with pork spines stacked to form a tower of mouth-numbing goodness. At Jodd Fair's Mae Klong Noodles, it comes in four sizes, ranging from ฿150 (~S$6) to ฿599 (~S$24.10)!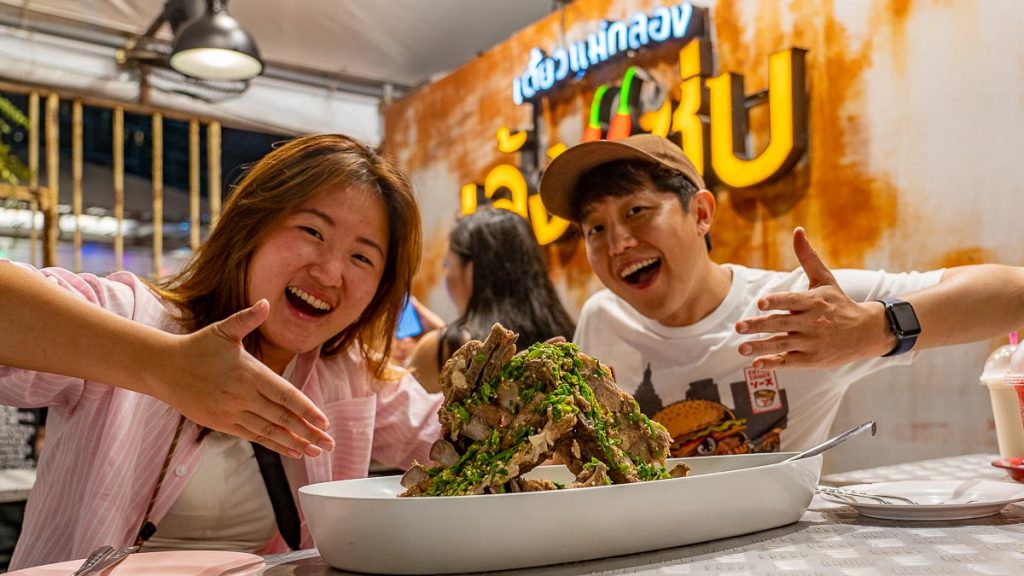 We ordered a medium portion which came flooded in chilli and lime. The meat was really tender and not unbearably spicy — my spice tolerance is pretty low so you can trust me on this one.
Cost: From ฿150 (~S$6)
Opening hours: 12PM – 12AM
How to get there: The nearest BTS station (Asok) is 2.6km away, so we recommend taking a Grab to Jodd Fairs
5) Wattana Panich — 45-year-old beef broth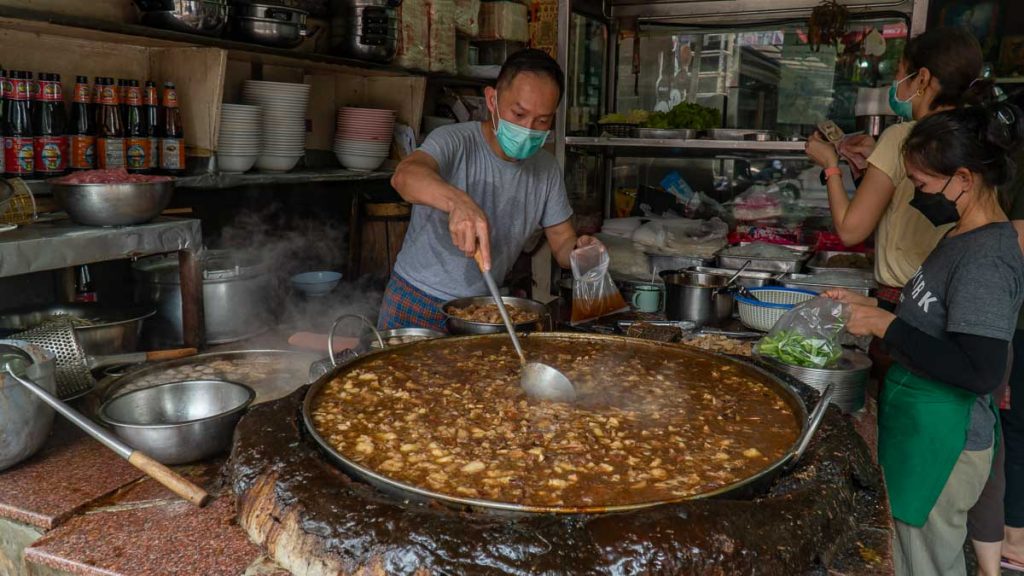 You've probably heard of Wattana Panich — Bangkok's famous beef broth that's been simmering for over 45 years. This street-side restaurant has been run by three generations.
At the end of each day, the soup is reduced and allowed to simmer in a pot. The stock is used as a base for the soup the following day — and they've been doing this since the day they opened. That's years and years of flavour in a single bowl of soup!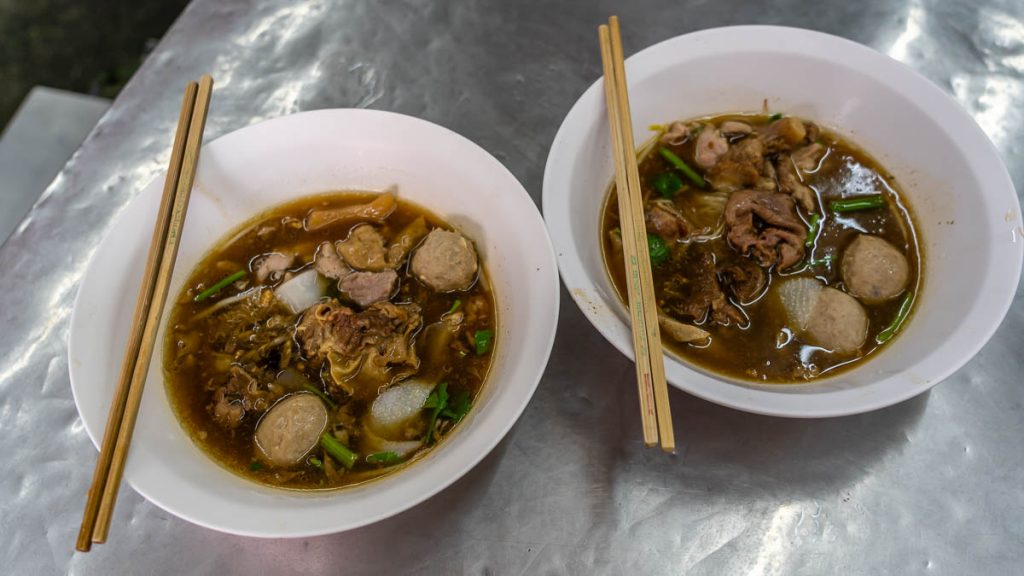 The famous Thai beef noodles come with tender braised beef and beef balls. It's available in two sizes — small (฿100, ~S$3.80) and large (฿150, ~S$5.70) — we ordered small ones.
Besides beef noodles, Wattana Panich also serves braised goat noodles and pad see ew (Thai stir-fried noodles).
Cost: From ฿100 (~S$3.80)
Opening hours: 9:30AM – 7:30PM
How to get there: 25min walk from E6 Thong Lor BTS station (Sukhumvit Line). Alternatively, take a Grab
6) Jek Pui — Authentic streetside curry rice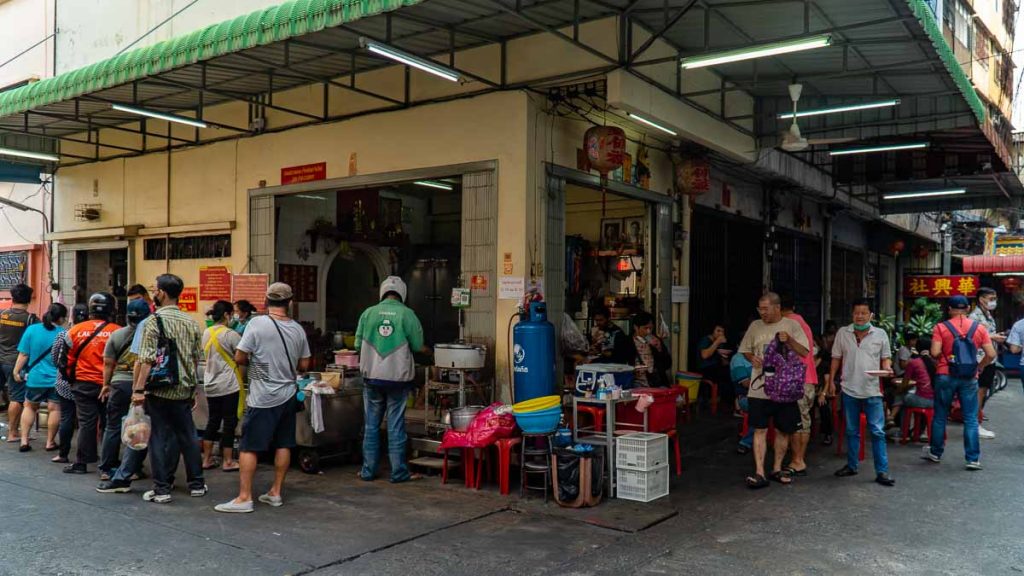 Jek Pui is another eatery featured on Netflix's Street Food series. This streetside curry stall is popular among locals; we arrived 20 minutes after opening time and there were already long queues!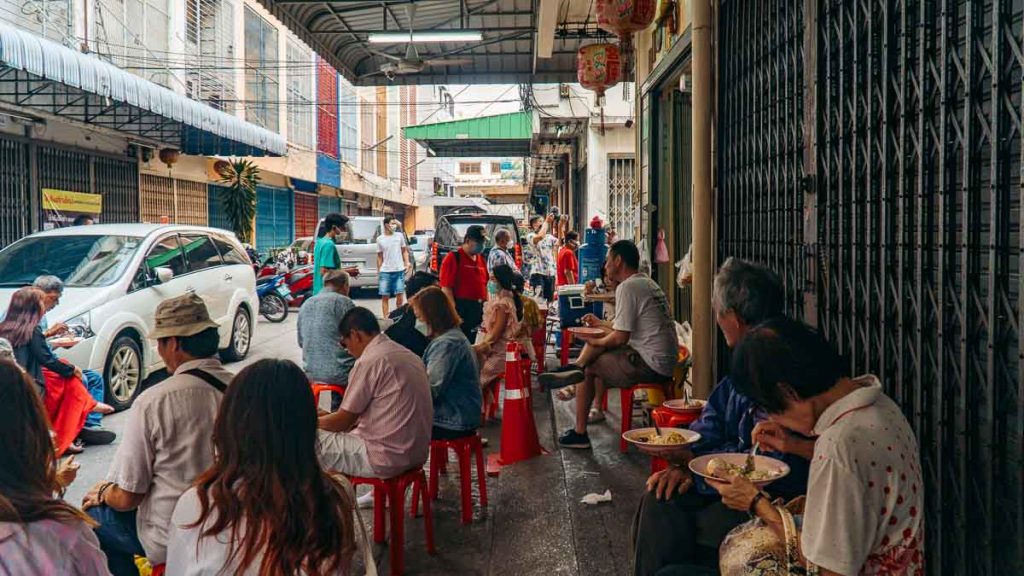 There are no tables here — diners sit on red stools along the red street, curry in hand. You just have to pull out a chair, and raise your hand to order!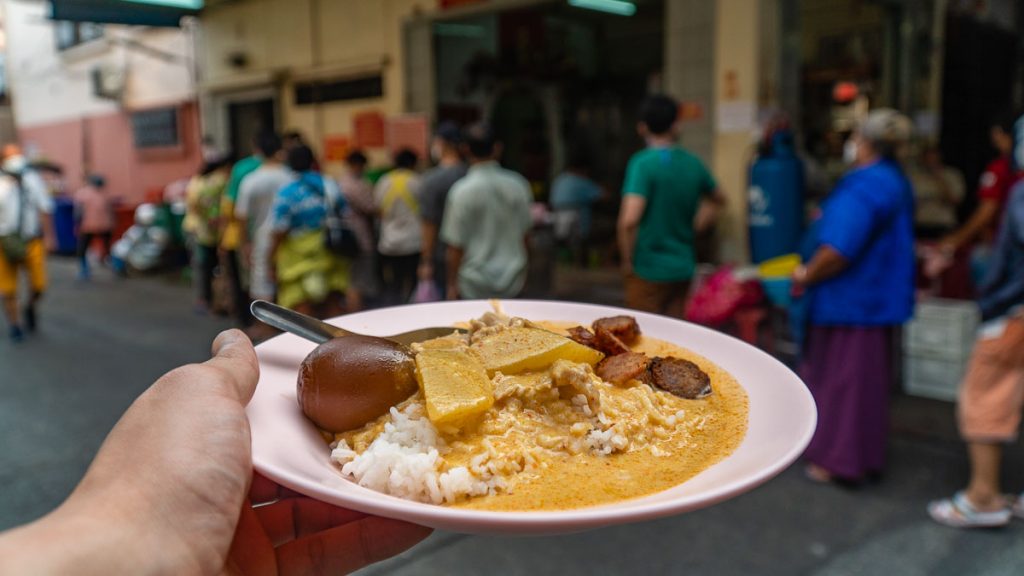 We got their best-selling yellow curry rice with pork sausage. Affordable and hearty, it's easy to see why locals love this.
Cost: ฿60 (~S$2.30)
Opening hours: 3PM – 8PM
How to get there: 4min walk from Wat Mangkon MRT station (Blue Line)
7) Ung Jia Huad — Hearty basil pork rice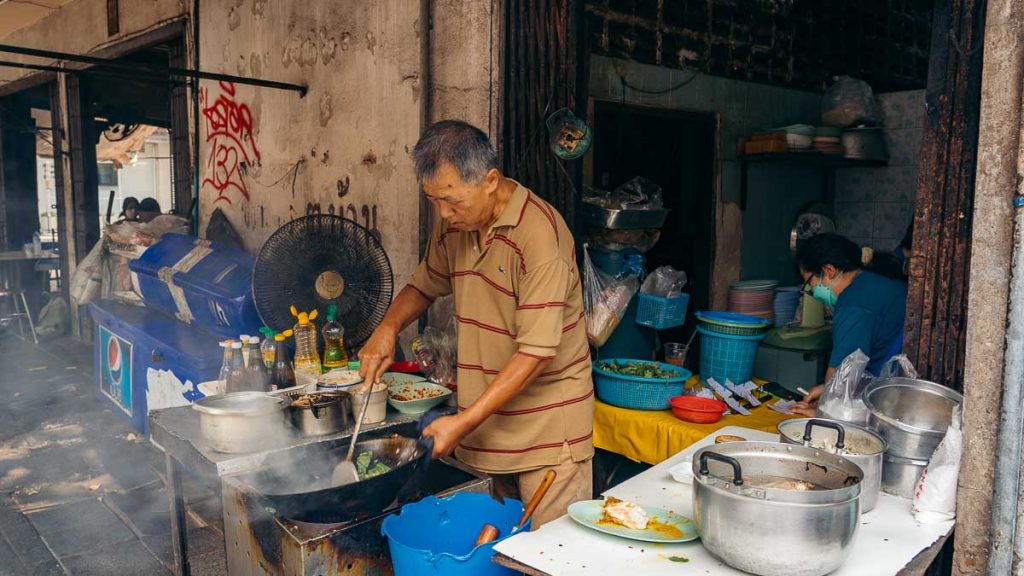 Ung Jia Huad is an unassuming street food hawker in the Sukhumvit neighbourhood. We came here searching for one of my favourite Thai dishes — pad kra pao (basil stir fry).
Fun fact: The owner has been making this dish for around 50 years!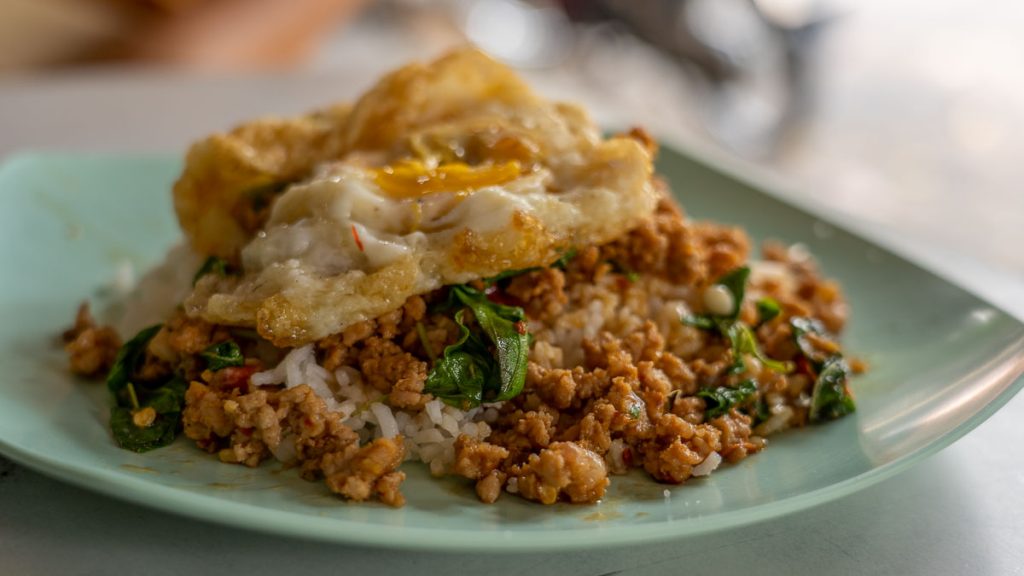 Pad kra pao is a simple dish, yet it's always a crowd pleaser. I ordered the stir-fried pork with rice, which came with a yummy, greasy fried egg. Chicken is available as well!
Cost: From ฿75 (~S$2.80)
Opening hours: 10AM – 4PM, closed on Sun
How to get there: 7min walk from E4 Asok BTS station (Sukhumvit Line)
8) Nai Ek Roll Noodle — Kway Chap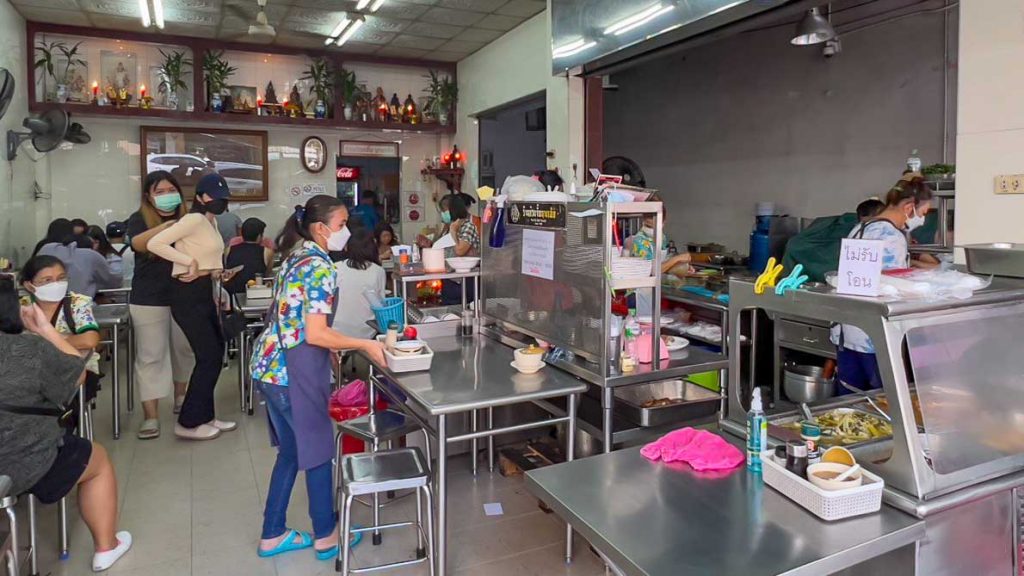 Situated along Chinatown's Yaowarat Road is Nai Ek Roll Noodle, a Bangkok street food stall that's been around since 1989. It's known for kway chap and even earned a spot in the Michelin Guide.
We ordered the popular roll noodles soup (฿70, ~S$2.70) which came with all sorts of pork cuts — crispy pork, sliced pork, stomach, liver, kidney and tongue.
They're also known for their rice dishes, so we tried the braised pork rump with rice (฿60, ~S$2.30). The meat was tender and paired well with salted vegetables.
The deep-fried crispy pork is highly raved about too — do let us know in the comments below if you tried it!
Cost: From ฿70 (~S$2.70)
Opening hours: 8AM – 12AM
How to get there: 3min walk from BL29 Wat Mangkon MRT Station (Blue Line)
Bonus: 9) Learn to Cook Your Favourite Thai Dishes at Sompong Thai Cooking School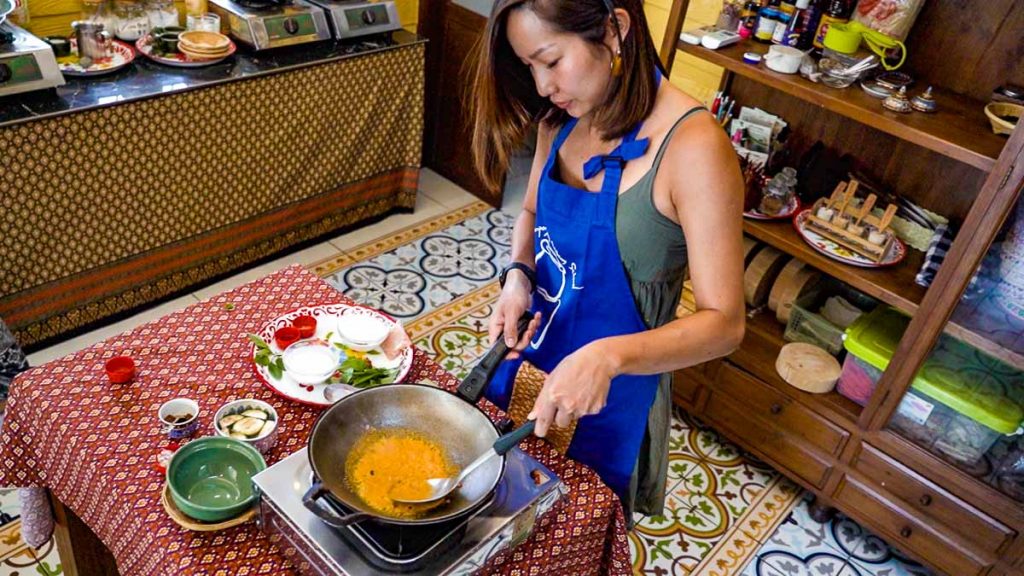 You can't dabao Bangkok's street food back to Singapore, but you can take home Thai recipes and some cooking skills! Thai food is one of our favourite cuisines, so we couldn't resist experiencing a cooking class to fully immerse ourselves in the local food scene.
The class at Sompong Thai Cooking School starts with a tour of Wat Khaek Fresh Market, where the instructor shares tips on sourcing ingredients.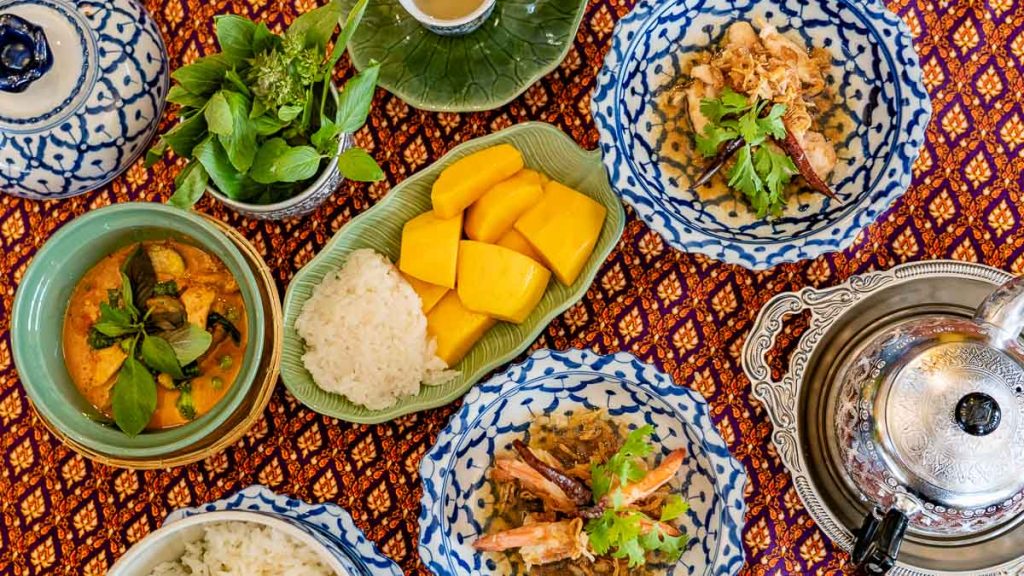 The four-course menu is different each day — we went on a Sunday and made chicken red curry, stir-fried tamarind prawns, spicy chicken salad, and mango sticky rice. You also get tot bring home a recipe book with extensive instructions to make your own dishes back home!
Cost: ~S$52.70 via Klook
Class timings: 9.15AM – 2PM, 2:45PM – 7PM
How to get there: 10min walk from S4 Saint Louis BTS station (Silom Line)
Tips for Planning Your Bangkok Food Trip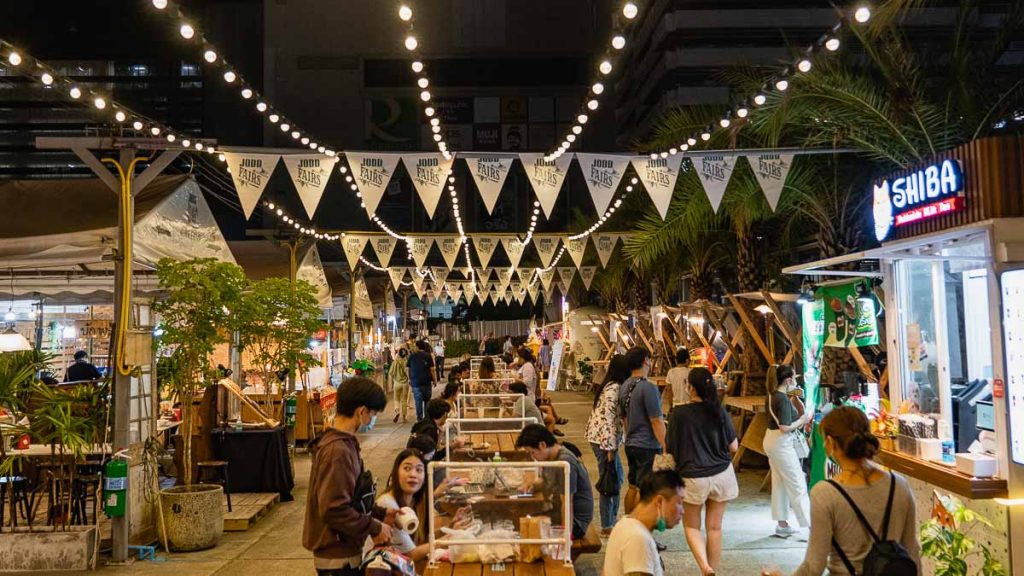 I love Thai food. Just looking at photos of our Bangkok street food adventures induces hunger and has me dreaming about my next trip to Thailand. Before you go forth and embark on your own Bangkok food adventure, here are some tips:
1) Check whether you can book in advance
If you're visiting Bangkok for a few days, you wouldn't want to spend three hours queueing for one meal. Popular places like Jay Fai offer reservations, while Jeh O Chula has a "fast track access" option on Klook!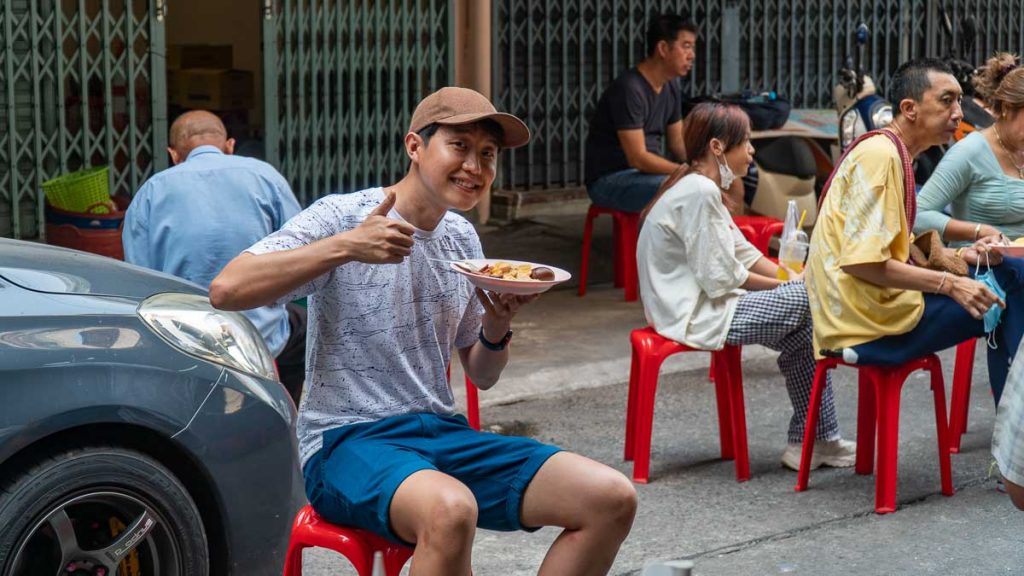 2) Go during off-peak hours
Arrive at opening time if you can, or avoid peak lunch and dinner crowds at 12PM – 2PM and 6PM – 8PM.
3) Check out our Bangkok itineraries
Plan your meals and activities by location to save time! Here are some of our Bangkok itineraries to help you get started.
– Epic 8D Bangkok Road Trip Itinerary Under S$900
– Thailand Road Trip Guide: 5 Epic Ideas Under 3hrs from Bangkok
– 3D2N Pattaya Itinerary — An Unexpected Adventure 2hrs from Bangkok
What's your favourite Thai dish in this Bangkok food guide? Share with us in the comments below!
---
Like what you see? Follow us on Facebook, Instagram, Tiktok and YouTube for more travel updates!