We'll be updating this list regularly, so bookmark this article for more Singapore attractions and staycation deals!
May is an exciting month — there are two long weekends and plenty of fun new events happening in Singapore! We're seeing LIVE music performances, new exhibitions and activities sprouting up around town. All ready to head out and explore? Read on to find out more!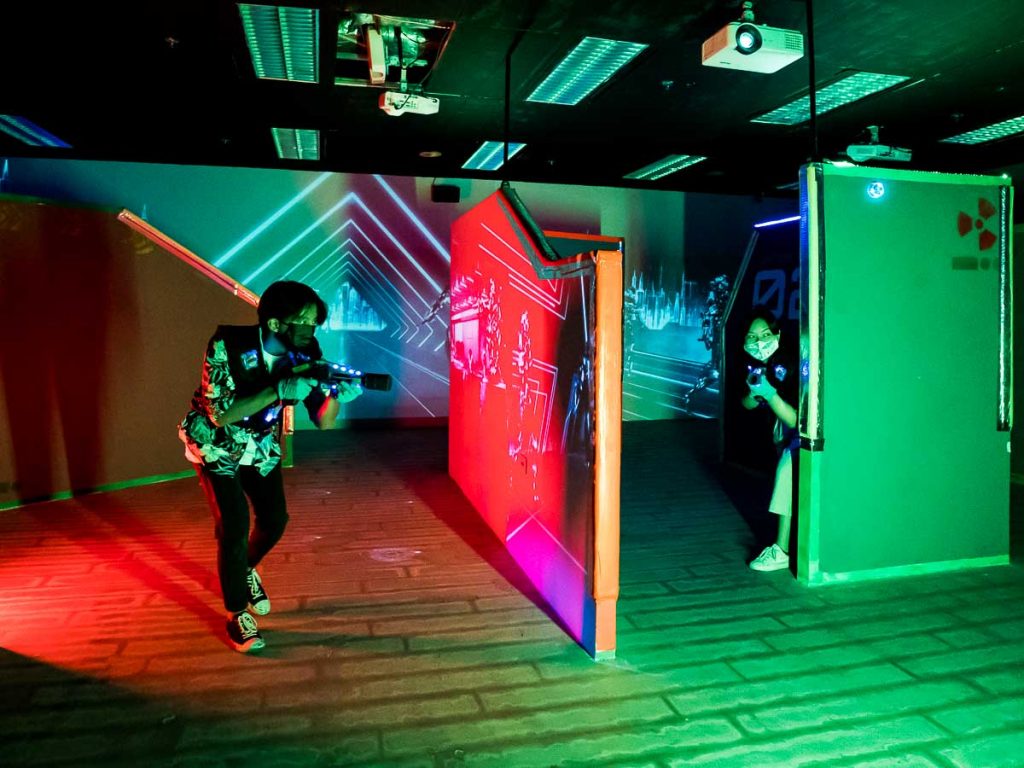 Here's what you can look forward to this May 2022.
What's New in Singapore
1) NFT MetaJam Asia Festival in Singapore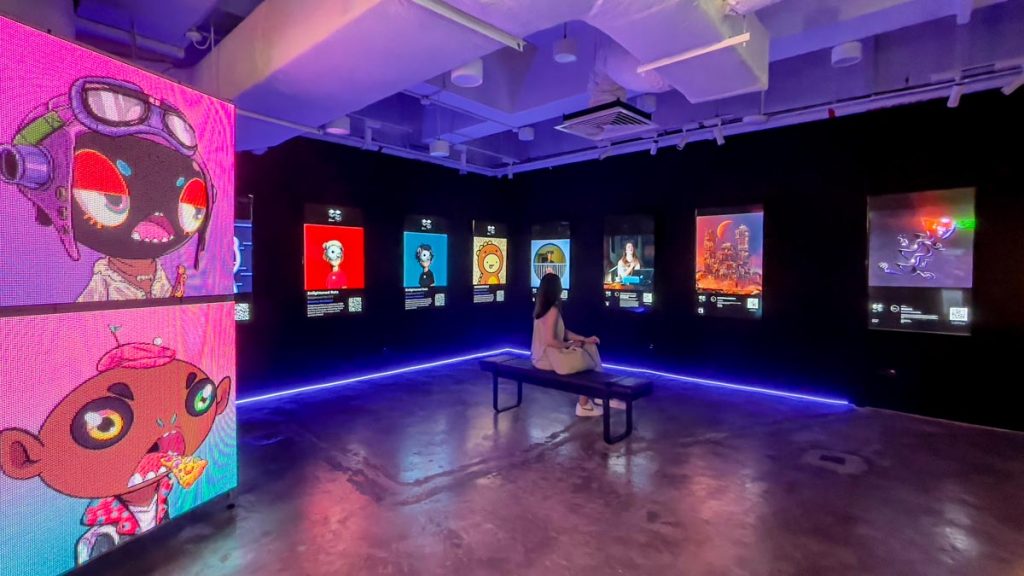 You would have heard of NFTs (non-fungible tokens) by now even if you still have absolutely no idea what it is. For interested individuals who want to find out more about this new intangible fad that's taking over the world—and metaverse—by storm, there's a new NFT festival that you can actually visit IRL.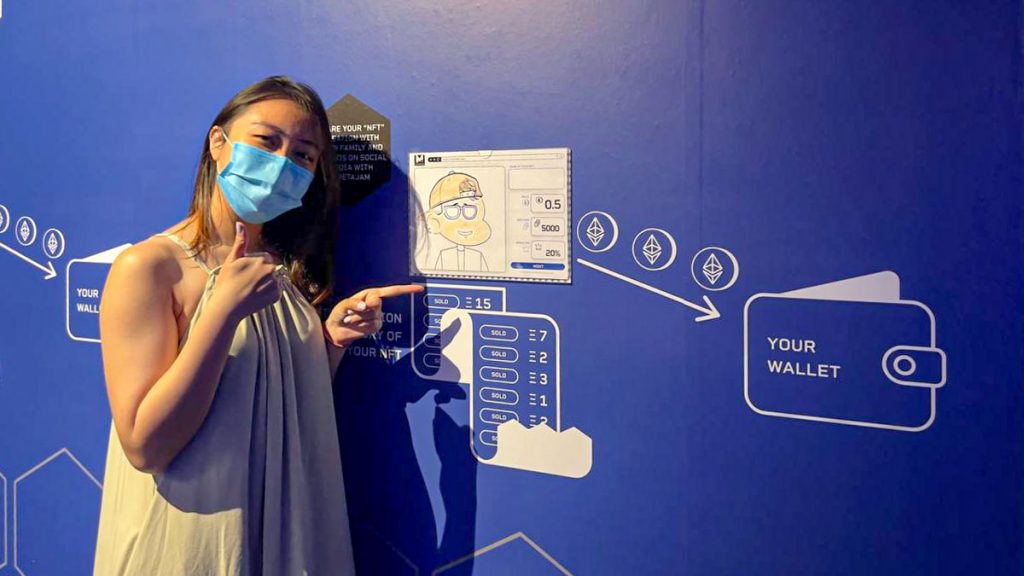 Located at Tekka Place, the MetaJam Asia festival is an NFT exhibition designed to let visitors learn about the concept of NFTs, view existing NFTs of creators, and even create their own NFTs.
Admission: S$18/Day Pass, S$45/Season Pass
Event period: Until 31 Jul 2022
Opening hours: 12PM – 10PM (Fri – Sun), closed from Mon – Thu
Address: Tekka Place, Annex Building, 2 Serangoon Rd, #01-51 – 54, Singapore 218227
2) Free Travelling Exhibition about Founders' Memorial at Gardens by the Bay
Photo credit: National Heritage Board
The next time you're at Gardens by the Bay, keep a lookout for the travelling exhibition — Share Your Story, Shape Our Memorial. The exhibition is part of the Founders' Memorial that's slated to open in 2027.
Photo credit: National Heritage Board
There are two parts to the exhibition — the first introduces the Founders' Memorial, and shares design and architectural plans within the Bay East Garden. The second part includes the ongoing call for members of the public to contribute objects and/or stories that can tell the story of Singapore's history from the 1950s to '70s.
There will also be some examples of objects and stories can you may contribute to the Founders' Memorial.
Address: The Canopy, Gardens by the Bay
Exhibition period: 28 Apr – 12 Jun 2022 (view full travelling schedule)
3) Time Heist: Civic District — Outdoor Treasure Hunt with MBS Staycation Prizes
Photo credit: Sight Lines
The next time you're exploring the Civic District of Singapore, why not combine it with a unique treasure hunt experience? Time Heist: Civic District is an immersive outdoor treasure hunt game where players are "recruited" to stop time-bandits from stealing Singapore's national monuments.
Best played in groups of fours, uncover virtual clues accessed from your mobile phone and solves challenges within the game. Gameplayers have 24 hours to complete the game before the ticket expires.
Players who successfully complete the treasure hunt will stand a chance to win a 2D1N stay in a Suite at Marina Bay Sands on top of tickets to both the ArtScience Museum and SkyPark Observation Deck.
Cost: S$40/pax, S$100/pax for VIP package (min. 4 pax) that includes a specially curated set dinner at Violet Oon
Game period: Until 3 Jul 2022
Starting location: Secret Location
4) Splashtastic Student Special at Wild Wild Wet — Weekday Pass & Set Meal at S$20
Photo credit: Wild Wild Wet
The Songkran Festival may have ended but Wild Wild Wet isn't letting the high die down so soon.
For the month of May, Wild Wild Wet is having a discounted day pass + set meal at a discounted rate of S$20 (worth S$53).
This deal is only valid for Weekday Off-Peak Day Passes and excludes school holidays and public holidays. Bring along your student card for verification at entry.
Cost: S$20/pax
Event period: 4 – 27 May 2022 (valid for weekday off-peak, excl. sch hols and PH)
Address: 1 Pasir Ris Close, Singapore 519599
5) New Singapore HeritageFest's travel and nature themes at National Museum  
Photo credit: Singapore HeritageFest
As part of Singapore HeritageFest, a life-sized Keratapi Tanah Melayu (KTM) train will be on display at the Singapore National Museum's Stamford Gallery from now till 5 June 2022.
Photo credit: Singapore HeritageFest
Titled Homeground, the train installation explores the intersections of the festival's two themes of travel/tourism and natural heritage. The exhibition also features a video of how the former railway line has now been transformed into a Railway Corridor for communities to appreciate our nation's rich and diverse natural heritage.
Apart from the life-sized KTM, the Singapore HeritageFest 2022 sees more than 120 on-site and online heritage experiences for Singaporeans to explore lesser-known stories of our local heritage and culture.
This year's programme line-up includes heritage and cultural trails, workshops, tours, exhibitions and also digital programmes on exploring the joy of travel and nature of Singapore.
Cost: Free
Event period: 2 – 29 May 2022
Address: Various (refer to website for all SHF programmes)
6) Tiger Crystal Fire Stages — LIVE shows at timbre+
Photo credit: Timbre Group Pte Ltd
Fans of live music rejoice! Tiger Crystal Fire Stages will be bringing 20 live music acts to Timbre+ One North and Timbre+ Eastside @ Expo.
Some of the acts include Johnny Come Lately's tribute to the best of The Eagles, Terrestrea and Cactus Cactus, The Day Trippers; tribute to The Beatles, Benjamin Kheng, RENE, M1LDL!FE, and more.
Cost: Admission is Free
Event period: Until 26 June 2022
Locations: Timbre+ One North, Timbre+ Eastside @ EXPO (check schedule here)
7) Sentosa's #1 Night Show Wings of Time Back on 18 May — Meal package at S$18 only
Photo credit: Mount Faber Leisure Group
After two years of closure, Sentosa's greatest night show Wings of Time is back on 18 May 2022. The new multi-sensory night show is enhanced with upgraded pyrotechnics effects and is more immersive with even closer seats to the main stage.
Wings of Time is a 20-minute long outdoor night show at Siloso Beach, and shows the story of a magical adventure between a prehistoric bird and his friends.
Tickets go for S$16.20 online, or S$18 for a value package that includes a set meal (u.p. S$29.90). The meal comes with a main (either Asian delight or Burger combo), a dessert and a beverage.
Cost: from S$16.20
Showtimes: 7:30PM (weekdays), 7:30PM and 8:30PM (weekends, eve of PH and PH)
Address: Wings of Time Theatre, Siloso Beach, Sentosa
8) Singapore International Festival of Arts 2022 — The Anatomy of Performance
The Once and Future. Photo credit: Arts House Limited
The Singapore International Festival of Arts (SIFA) will commence on 20 May 2022 this year for two weeks. This year's SIFA will be part of a three-year recurring theme — The Anatomy of Performance, and you can look forward to multi-disciplinary performances through both physical and virtual spaces.
SIFA 2022's programmes include orchestral performances, films, photo exhibits, and even immersive walking tours. The opening performance, MEPAAN, is a collaboration between the Singapore Chinese Orchestra and Tuyang Initiative, a Borneo-based cultural agency. There's also The Once and Future, a cinematic experience that explores humanity in a not-so-distant future, by local filmmaker Yeo Siew Hua featuring members of the Berliner Philharmoniker of Germany.
Emptiness. Photo credit: Arts House Limited
Other programmes include EMPTINESS — an exhibition by local photographer Sean Lee, a kaleidoscopic universe of flora and fauna, and Ubin — an immersive walking tour uncovering the stories and sites of Pulau Ubin.
Head to SIFA's website for more programme details.
Event period: 20 May – 5 June 2022
Address: Various locations
9) 'A Night at the Airport' Family Camp returns this June Holidays
Photo credit: Changi Airport Group
Looking for fun and affordable activities for the kiddos this upcoming June holidays? Changi Airport Group is bringing its 'A Night at the Airport' family camp back. This overnight camp itinerary is packed with fun and educational activities suitable for parents and children who are looking for a unique parent-child bonding experience.
Photo credit: Changi Airport Group
The 2D1N family camp's itinerary includes an Amazing Race-style 'Amazing Airport Family Quest', specially curated airport-themed crafts, and a magical sleepover within the cosy Changi Experience Studio. Participants who complete the Amazing Airport Family Quest can also receive tickets to River Wonders.
Cost: S$78/adult, S$88/child
Event period: 28 May – 25 Jun 2022
10) New Line-ups at Sun Yat Sen Nanyang Memorial Hall
Photo credit: Sun Yat Sen Nanyang Memorial Hall
The Sun Yat Sen Nanyang Memorial Hall (SYSNMH) is hosting several exciting activities to celebrate the Dragon Boat Festival this month.
Discover the story and traditions behind Dragon Boat Festival, one of the oldest festivals in the world, through a line-up of live performances, cultural workshops, heritage wakling tours and more at SYSNMH. Tickets to the activities can be purchased online.
Besides the upcoming Dragon Boat Festival, SYSNMH is also hosting an ongoing exhibition titled Nian Hua: Of Deities, Guardians and Auspicious Art that showcases the centuries-old Chinese tradition of the 年画 (níanhùa), or New Year Pictures, and its importance to the Chinese culture.
Photo credit: National Heritage Board
The colourful woodblock-printed images were adorned in Chinese homes during the New Year as a form of protection and blessing for the year ahead.
Photo credit: National Heritage Board
The exhibition is presented in collaboration with the Chongqing Three Gorges Museum, and features nearly 70 artifacts from different provinces of China.
Event periods
Wan Qing Dragon Boat Festival: 21 May – 3 June 2022
Nian Hua: Now until 25 Sep 2022
Opening hours: 10AM – 5PM, closed on Mon
11) Singapore Discovery Centre's Camp-cation during the June Holidays
Photo credit: Singapore Discovery Centre
Parents looking for fun things to do with your kids, check out this 2D1N camp experience at the Singapore Discovery Centre (SDC). The camp is suitable for young families with children above 5 years old and includes an eco-sustainability tour as well as an "Army Days" experience where campers get to try on camo face painting, field cooking and pitching a basha tent.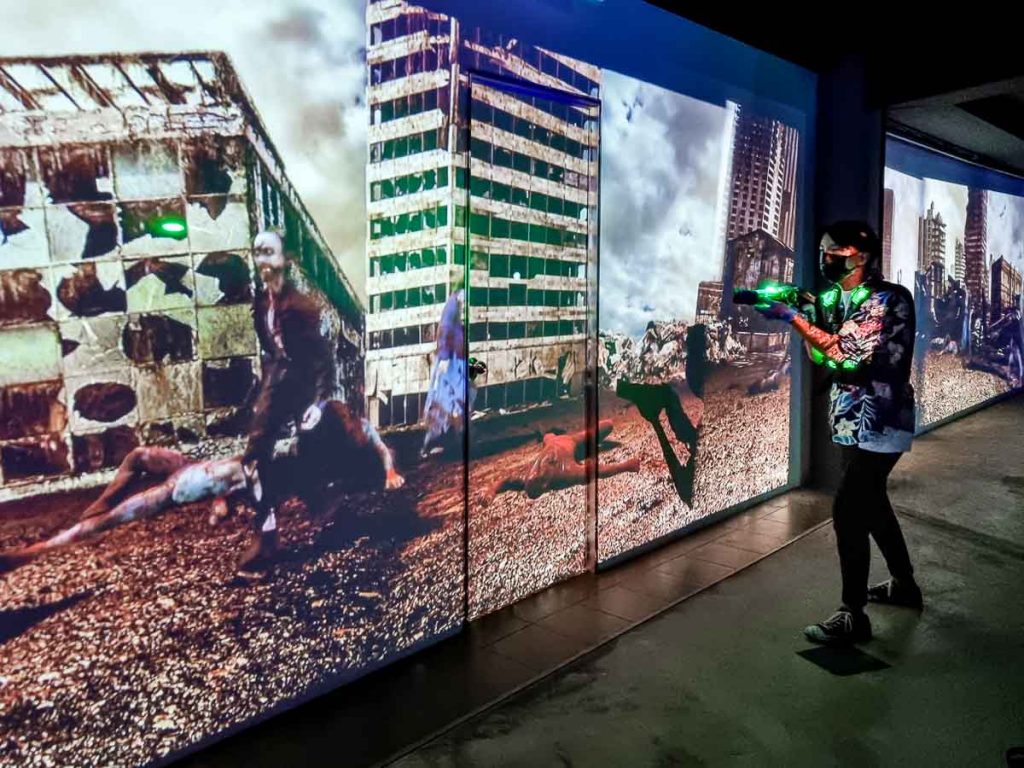 Campers will also have access to SDC's attractions such as their laser tag, pedal boat, escape rooms, and other Permanent Exhibits Gallery! End the night with a mini bbq by the Discovery Lake, a perfect time for families to bond.
Photo credit: Singapore Discovery Centre
There will be two types of tents available — "Shiok" camping experience, which is an indoor adventure-style tent, and "Chio" Outdoor Glamping experience, an outdoor glamping tent by the Discovery Lake, inclusive of a foam bed and fan.
Cost: From S$599/tent (sleeps up to 2 adults and 3 children comfortably)
Event period: 30 May – 24 June 2022
Address: Singapore Discovery Centre, 510 Upper Jurong Road, Singapore 638365
Ongoing Deals in Singapore
12) 20% off ferry tickets to the Southern Islands for the TTI community
If you've not given the Southern Islands a visit, here's your chance to do so with 20% OFF your ferry tickets, valid until 31st December 2022. The promotion is exclusive to readers and subscribers of The Travel Intern with the code <TTI>.
Check out the ferry schedule here.
Cost: From $15/ pax (bef discount)
Promotion period: Till 31 Dec 2022

Read more: Singapore Southern Islands Guide — Island Hopping Around Lazarus, St John's, Kusu and Sisters' Island
13) Explore the abandoned Fort Serapong at Sentosa on an immersive tour
Photo credit: Beyond Expeditions SG
Before Sentosa became the island of fun it is today, it was a heavily fortified military base with three artillery forts built in the 1880s — Forts Siloso, Connaught, and Serapong.
Fort Siloso is the most famous and well-preserved of the three. But if you're up for an adventure, there's a privately organised tour to explore Fort Serapong with an expert guide.
Travel back in time with Beyond Expeditions as you enter Serapong Hill, and visit heritage sites such as Fort Serapong Spur Battery and Command Post, British Kitchen Complex, and Serapong Ruins. These hidden locations are strictly out-of-bounds to the public and only accessible on a guided tour.
Cost: S$150/pax
Duration: 2.5hrs
14) Scentopia at Sentosa – Singapore's First AR Perfume-making Experience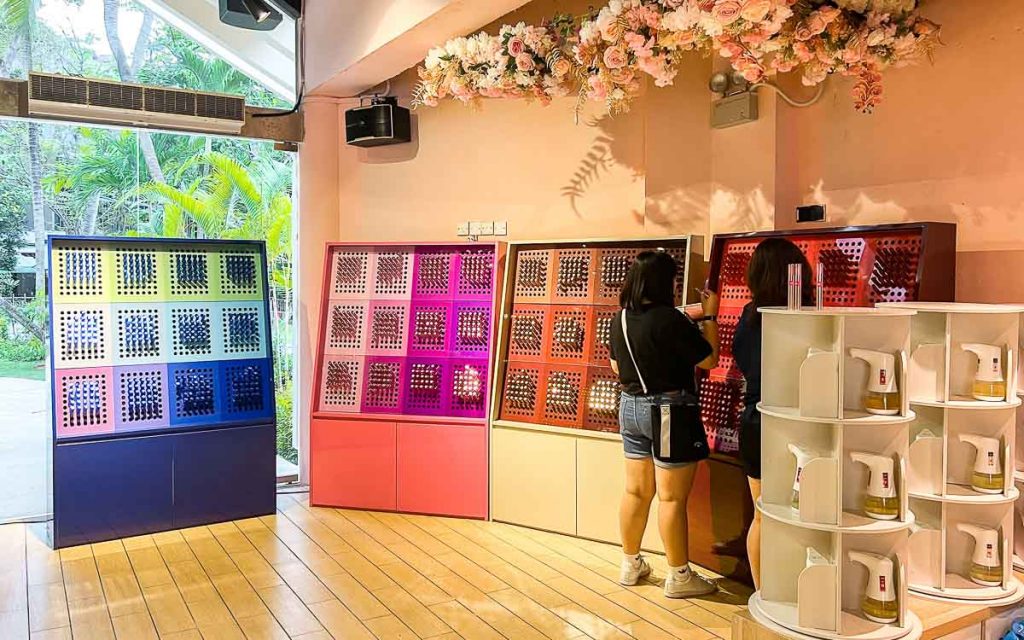 Photo credit: Scentopia Singapore
A new attraction at Sentosa combining Augmented Reality (AR) has arrived in Sentosa, showcasing the island's history as an important point along the spice route to the garden city it is today.
Visitors can learn more through the Augmented & Scented Exhibits at Scentopia with the use of their smartphones, and take part in free guided tours happening at hourly intervals.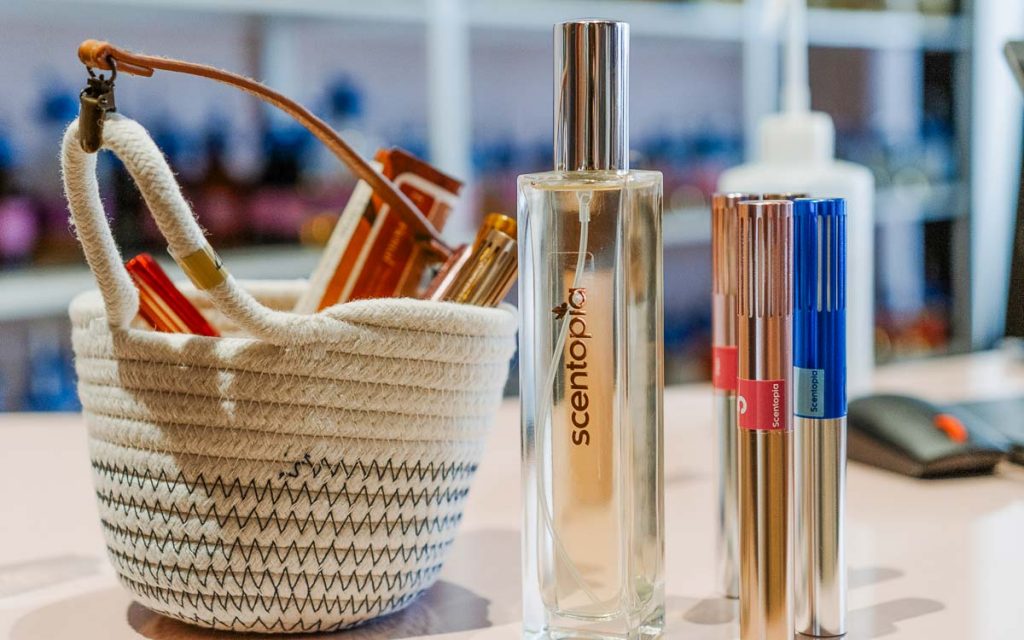 Photo credit: Scentopia Singapore
You can even design and create your own personalised fragrance at the perfume-making workshop with over 6000 scent wands available at Scentopia.
Scentopia is currently running a student and teachers promotion from April to May. Visitors can use codes <STUDENT> and <TEACHER> to get 50% off for 100ml perfume-making experience at only S$65.60 (U.P. S$125).
Costs: From S$95/pax
Opening hours: 11AM – 7PM
Address: 36 Siloso Beach Walk, Sentosa, Singapore
15) Dislocations: Memory & Meaning of the Fall of Singapore, 1942
Photo credit: National Museum of Singapore
To mark the 80th anniversary of the British Surrender in Singapore, the National Museum of Singapore has put up a commemorative exhibition titled, Dislocations: Memory and Meaning of the Fall of Singapore, 1942 — running till 31 July 2022.
The exhibition features physical objects, documents and even oral histories from the past, evoking reflections and conversations among museum-goers.
There's also a historic SAF tank on display on the museum lawn, which you can get up close to take pictures with.
Cost: Free (for Singapore Citizens and PR)
Opening hours: 10AM – 7PM
Event period: Until 31 Jul 2022
16) Bikecation at Mandarin Oriental
Photo credit: @chloetwl via Instagram
Mandarin Oriental is offering a different staycation experience — a bikecation with two specially-curated cycling routes for guests. Explore the hotel's vicinity on two-wheels and bond over adventurous journeys, creating unforgettable moments along the way!
The bikecation also includes daily breakfast for two, complimentary bicycles for four hours each day, free healthy snacks to go, and more!
Cost: From S$399/night
Promo period: Until 31 Aug 2022
17) New Extension at Gardens by the Bay —  Recreational Spaces and a Pet-friendly Cafe 
Photo credit: Gardens by the Bay
Despite her size, Singapore has a good number of green spaces for people to spend some leisure time or to catch a quick breather within nature. And good news, Gardens by the Bay has a newly opened extension called the Active Garden that's designed to bring people of all ages and walks of life together.
Some features of the Active Garden include an outdoor fitness gym, a musical playground, communal gardening space, the Waterfront Plaza al fresco event venue, two new garden lawns, a sensory trail, and a pet-friendly cafe.
18) Climb the Clock Tower of Victoria Concert Hall and Victoria Theatre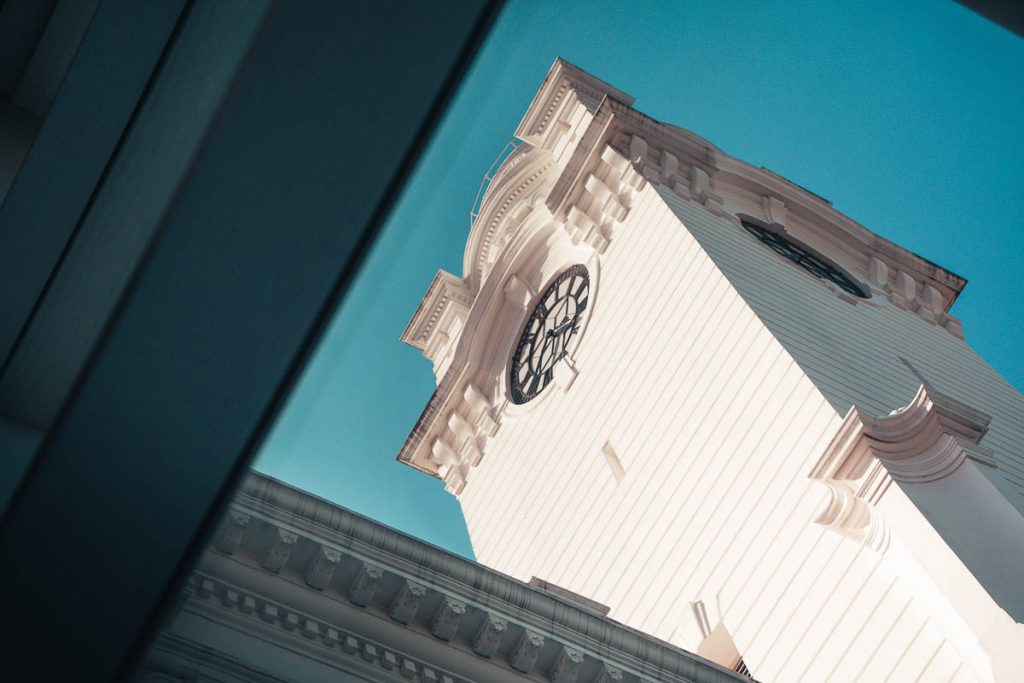 Photo credit: Art House Limited
There are several places in Singapore you can climb for that panoramic view of the city skyline, but this is one you've likely not tried before.
First opened exclusively to hotel guests who bought a S$528 staycation package in 2020, Victoria Theatre and Victoria Concert Hall's 54-metre-tall Clock Tower now has public guided tours!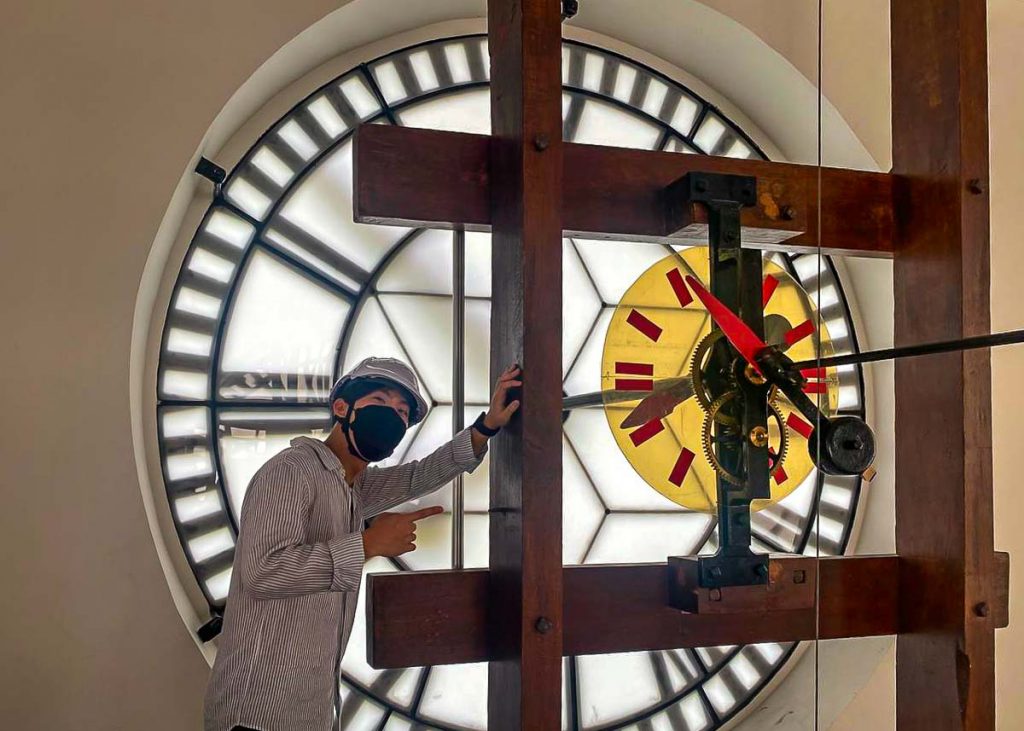 The 60-minute tour includes access to the Clock Tower, Victoria Theatre and Victoria Concert Hall, plus the Heritage Gallery.
Cost: S$30/pax
Venue: Victoria Theatre and Victoria Concert Hall, 9 Empress Place, Singapore 179556
19) Brickman Wonders Of The World: Lego Exhibition at the Science Centre Singapore
Photo credit: The Brickman
Relive your childhood memories with more than 50 stunning Lego Brick masterpieces at Brickman Wonders Of The World held at Science Centre Singapore.
The interactive exhibition showcases iconic landmarks from around the world — from the Merlion and the Statue of Liberty to the Taj Mahal. And after admiring the inspirational Lego works, unleash your Lego fantasies with their interactive Master Builder Zone to build your own Lego masterpiece!
*Note: Visitors must make an advance purchase of tickets online.
Cost: S$23/pax
Event period: 12 Mar – 3 Jul 2022
Venue: Science Centre Singapore
20) Hilton Singapore Orchard — Opening Offer: 25% off dining, 1,000 bonus points, breakfast & late check-out 
Photo credit: Hilton Singapore Orchard
Earn more on your staycation at Hilton Singapore Orchard this month. With their opening promotion, guests earn a bonus of 1,000 Hilton Honors Points per night when they book and stay by 30 June 2022.
On top of that, there's also a daily breakfast for two, late check-out or early check-in, and 25% off food and beverages at Estate and Ginger.Lily.
If you're an existing Hilton Honors member, earn double Hilton Honors Points every night of your stay when you book the 2X Points Package!
Cost: From S$456/night
Promotion period: Until 30 June 2022
21) Free Art Experiences at the Newly Revamped Basement Concourse of National Gallery Singapore
Photo credit: National Gallery Singapore
The National Gallery's Basement Concourse level has been transformed into an exhibition area showcasing world-class artworks and multi-disciplinary, multigenerational programmes.
While the main exhibition is ticketed, several works can be explored at the Basement Concourse for free. The nine on-site art installations include captivating storytelling sessions, interactive movement exercises, parent-child sound exploration workshops and more.
Here are the ongoing exhibitions available for viewing:
Nam June Park: The Future is Now
Photo credit: National Gallery Singapore
Gallery Children's Biennale
Photo credit: National Gallery Singapore
Art and Tech at Y-Lab Showcase
Photo credit: National Gallery Singapore
The artworks feature a rotation of art and tech innovation prototypes designed by entrepreneurs and start-ups the Gallery has recently partnered with. Visitors can interact with these in the exhibit called "Common Landscape".
Cost: Free
Venue: Basement Concourse, National Gallery Singapore
22) 50% off Mandai Wildlife Reserve parks — Take this chance to see baby Panda Le Le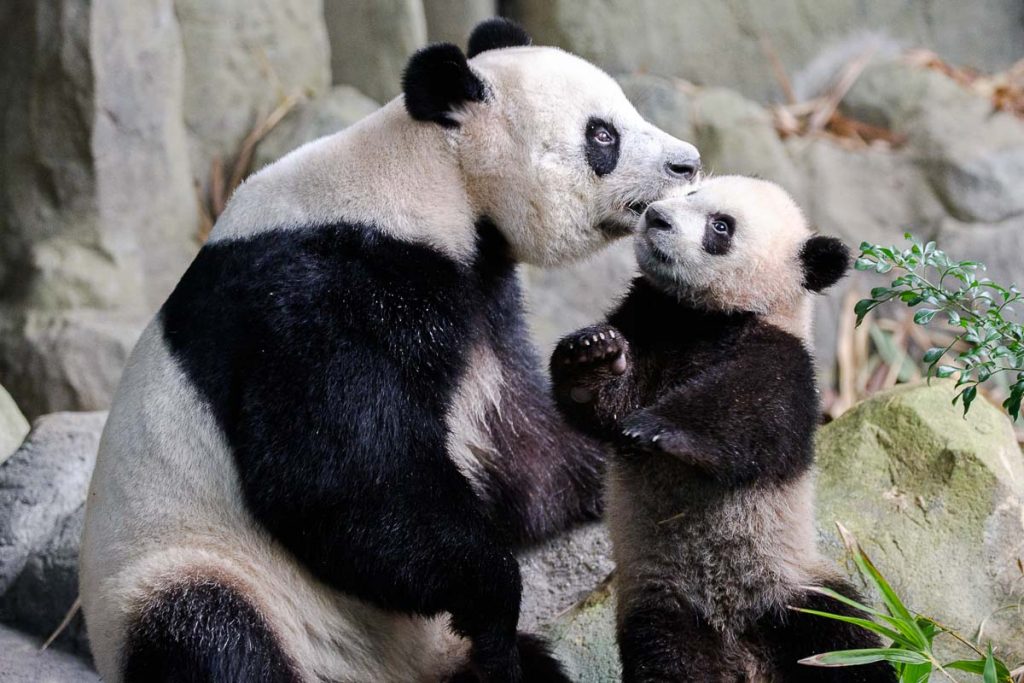 Photo credit: Mandai Wildlife Group
If you haven't already visited the baby panda Le Le, here's your chance to do so with 50% off admission tickets to any Mandai Wildlife Reserve park till June 2022! This promotion is exclusive to POSB Everyday Cardholders with the promo code <POSB50>.
The promo is limited to the first 100 adult and 50 child admission ticket purchases per park, each month, while stocks last.
The Night Safari's latest attraction also invites visitors to feed the lovely Indian Rhinoceros at a small fee of $10, so don't miss this special occasion with our heavy horned friends! Feeding sessions must be pre-booked online.
Promotion period: Till 30 June 2022
Venues: Jurong Bird Park, Night Safari, Singapore Zoo, River Wonders
23) New Night at the Museum Experience at MOIC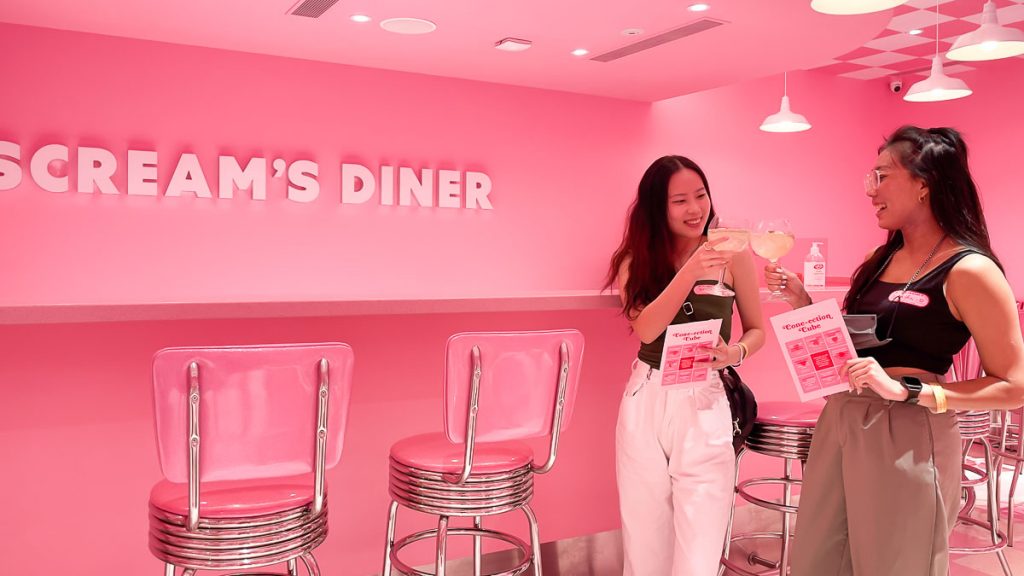 Starting 1 February 2022, Singapore's pinkest museum is introducing an adult-centric intimate evening experience for you to reconnect with your loved ones.
While the Museum of Ice Cream is still operating as usual in the day, it transforms into Night at the Museum after sundown. Besides free-flow ice cream, there will also be alcoholic drinks served — only for those 18 years old and above.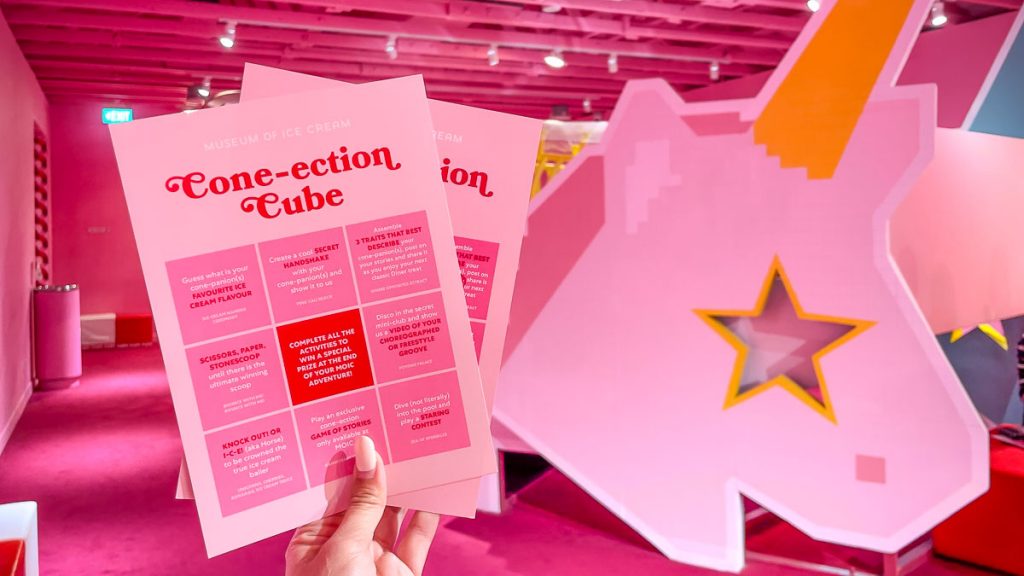 In addition, friends and lovers are given a bingo challenge called Cone-nection Cube, featuring a set of activities to do in the 14 different exhibition rooms. Upon completion, look forward to celebratory sprinkle shots at the outdoor bar!
Cost: From S$48/pax
Opening hours: 10AM – 10PM (Thu – Sun)
Experience hours: 6PM – Late (Thu – Sun), last admission at 8PM
24) New Trickeye @ South Side Opens on Sentosa + Free Cable Car Ride
Photo credit: Sentosa
Trickeye Museum at Resorts World Sentosa has relocated to Southside Interim Market in Sentosa, bringing you new and familiar optical illusion exhibits that are loved by people of all ages. At Trickeye @ Southside, visitors can also experience even more fun with the Augmented Reality App at the AR Trickeye Zones.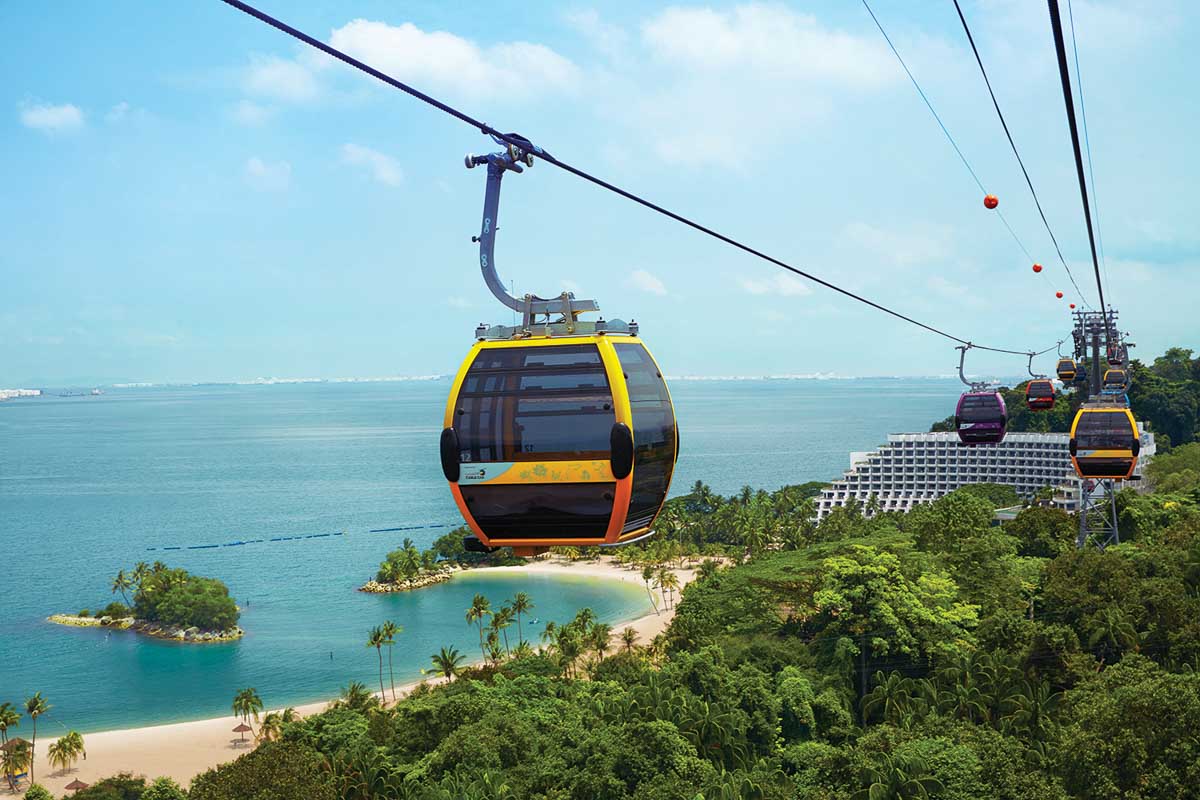 Photo credit: Klook
That's not all, visitors can also enjoy a free cable car ride on the Sentosa Line with the purchase of admission tickets to Trickeye @ Southside.
The free cable car ride is also available with tickets to HeadRock VR, Sentosa 4D AdventureLand and Madame Tussauds Singapore (coming soon).
Cost: From $32/pax
Opening hours: 10AM – 6PM (Thu – Mon)
Address: Southside Interim Market, 80 Siloso Road, #01-04 Block B, Singapore 098969
25) New Escape Game: Escape from St. John's Island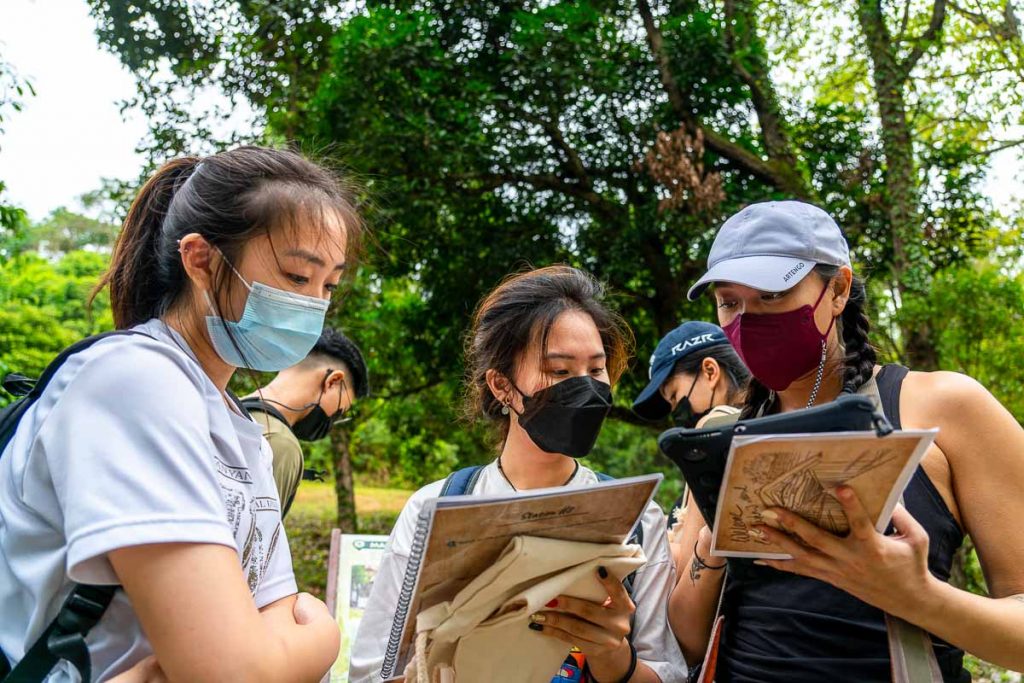 Explore one of Singapore's Southern islands in an all-new thrilling escape game by award-winning tour operator Tribe.
In Escape from St. John's Island, players race against time to find a cure in a world struggling during a new pandemic. Only Sentosa and St John's Island remain unaffected and you are tasked to obtain missing journal pages to solve this mystery.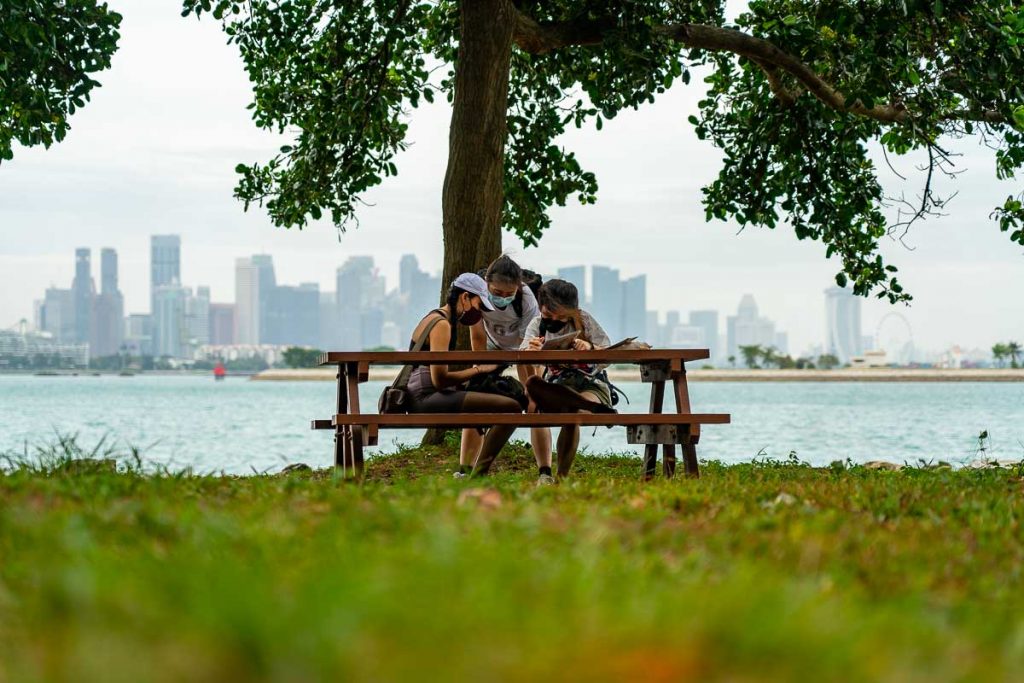 With a time limit of four hours and a team of up to five members, it'll be an exhilarating experience to share with your friends and family while you wreck your brains at this large-scale escape room. The tour includes a two-way ferry ride and a guide so you don't have to worry about getting lost!
*Pro-tip: Bring along food and water as there are no resources on the island
Cost: S$480/group
Tour timing: 9AM – 2:30PM (every Sat)
Meeting place: Marina South Pier, 31 Marina Coastal Dr, S018988 (Tour ends at either Marina South Pier or Sentosa Cove)
26) Beachcation at Shangri-La Rasa Sentosa from S$340/night with access to a private beach
Photo credit: Shangri-La
Take your staycation up a notch with a beachcation at Shangri-La Rasa Sentosa — complete with a two-hour access to a private beach each day! On top of that, you can enjoy various sea sports activities such as kayaking and stand-up paddleboarding.
From S$340 per night, daily breakfast is also included for up to two adults and one child below six years old at Silver Shell Cafe.
Cost: From S$340/night
27) First ATV Adventure Park in Singapore for ages 4 and above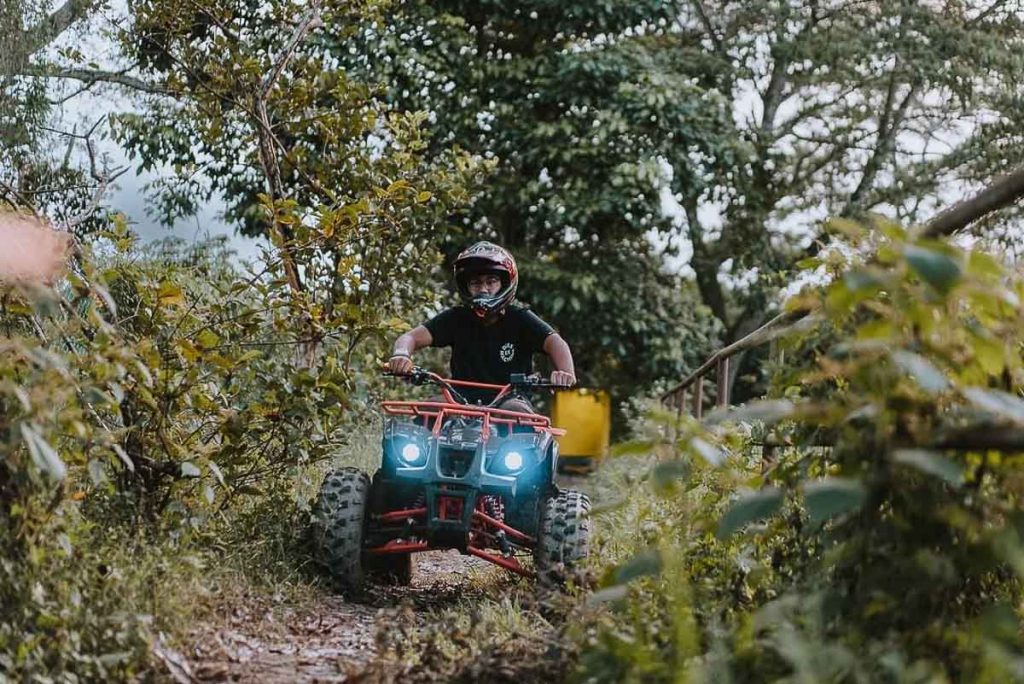 Photo credit: Mud Krank via Instagram
If you're an adrenaline junkie craving an off-roading outdoor adventure, Kranji has just what you're wanting. Mud Krank is an all-new ATV (all-terrain vehicle) trail riding facility that's available for anyone above the age of four.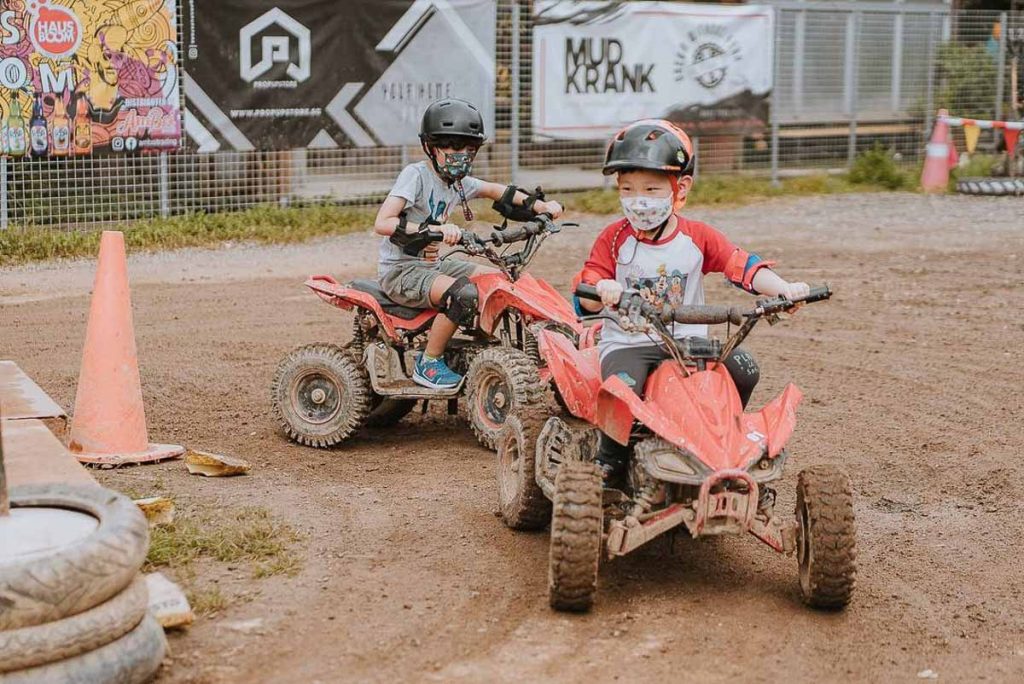 Photo credit: Mud Krank via Instagram
Perfect for families or a group of friends (up to five), Mud Krank allows participants to race through sand and mud on four wheels in an open yet safe environment. Each session lasts from 15 to 20 minutes and is an all-weather event.
Cost: From S$20/child and S$35/adult
Operating hours: 2PM – 6:45PM (Child); 8PM – 10PM (Adult), closed on Mon
Address: 10 Neo Tiew Lane 2 Gallop Kranji Farm Resort, Farm H, Singapore 718813
28) Attack On Titan: The Exhibition at ArtScience Museum
Photo credit: ArtScience Museum, Marina Bay Sands
Fans of the manga and anime, Attack On Titan, here's something you won't want to miss — come Feb 19, ArtScience Museum will be bringing Attack On Titan: The Exhibition to Singapore. This would be the first of its kind in Southeast Asia, and features over 180 artworks for Hajime Isayama, from the manga's earliest days to the present. The exhibit will also showcase never-before-seen pieces, drafts and sketches from his archives.
New: Visit the exhibition from now until 3 July and redeem a complimentary 14-day iQiyi VIP subscription to watch unlimited shows ad-free such as Attack on Titan: Final Season!
Cost: From S$14/pax
Opening hours: 10AM – 7PM (last entry 6PM)
Exhibition period: 19 Feb – 3 Jul 2022
29) Apa Khabair? Learn about key milestones the Peranakan Museum at Asian Civilisation Museum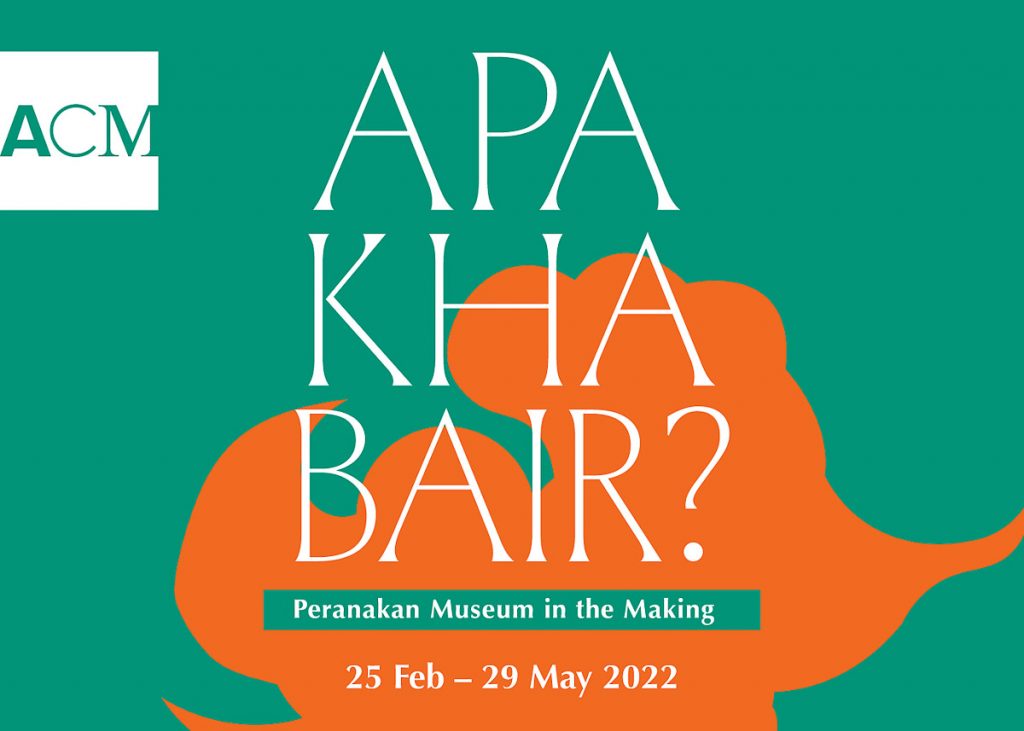 Photo credit: Asian Civilisation Museum
The Asian Civilisation Museum (ACM) celebrates the vibrant and diverse Perakanan culture with Apa Khabair? – Peranakan Museum in the Making, a pop-up showcase of Peranakan objects and ways of life, past and present.
Photo credit: Asian Civilisation Museum
This showcase is a special throwback to the Peranakan Museum's commitment to broadening the public's understanding of the culture, and also a teaser of what to expect when the Peranakan Museum reopens in 2023. There will be several Peranakan treasures on display, including delicate porcelain vessels and finely crafted heirlooms.
Entrance fee: Free for SC and PR
Event period: 25 Feb – 29 May 2022
30) Spend a Night in a Container Hotel at Haw Par Villa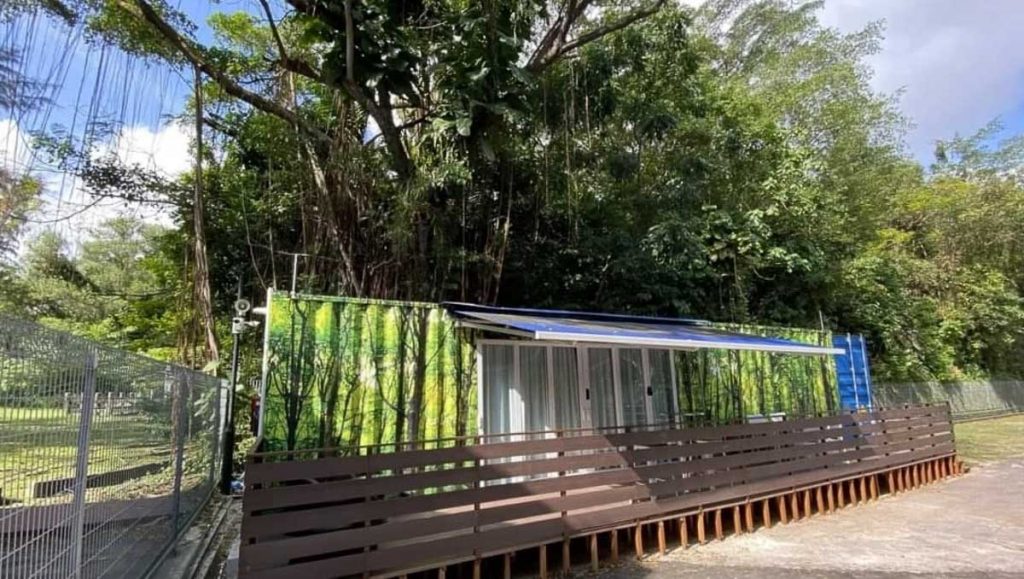 Photo credit: Shipping Container Hotel
The Container Hub (previously known as Shipping Container Hotel) has moved its pop-up hotel to Haw Par Villa, providing one more option to folks looking for an extraordinary staycation experience in Singapore.
Far from a hellish experience, the rooms come fully equipped with a functioning kitchen complete with a built-in induction hood and hob, fridge, microwave oven, washing machine, TV, dining table, sofa, and two Queen size beds.
Hotel guests can also request an electric BBQ table grill with a S$20 top-up.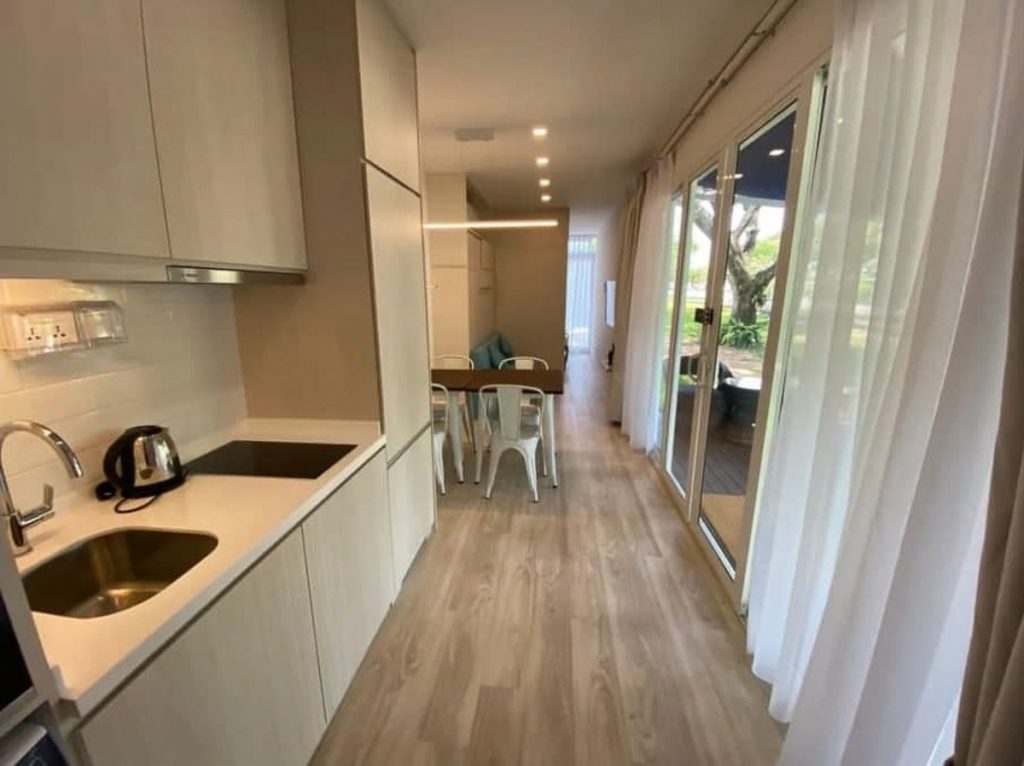 Photo credit: Shipping Container Hotel
A stay at The Container Hub at Haw Par Villa would definitely check off multiple entries on the bucket list — having a one-of-a-kind staycation, staying over at a haunted theme park, and living out of a recycled shipping container.
Hotel guests are also entitled to a 50% discount off ticket prices to Haw Par Villa's newest attraction, Hell's Museum (U.P. S$18).
Cost: From S$250/night (up to five guests per room)
31) New themed boutique hotel Villa Umbrella at Turf Club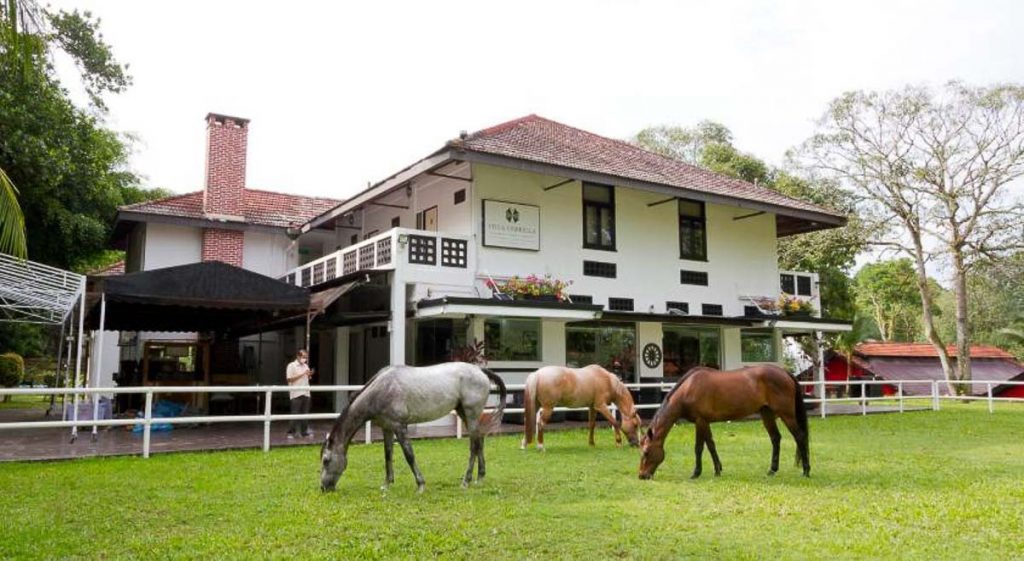 Photo credit: Villa Umbrella Singapore
Ever wanted to experience waking up to horses grazing in the field? Treat yourself to a farm stay retreat at Villa Umbrella located near Singapore Turf Club. Villa guests can interact with the horses on weekend evenings, as well as try out pony and bunny feeding in the compound.
The unique staycation does not set you back much too, with room rates starting from S$148 per night.
Another fun and photo-worthy experience is having a relaxing afternoon tea session next to friendly horses at Society Payung — with either an Italian or Indian afternoon tea set.
Cost: From S$148/night
32) Revolving Gondola SkyHelix Sentosa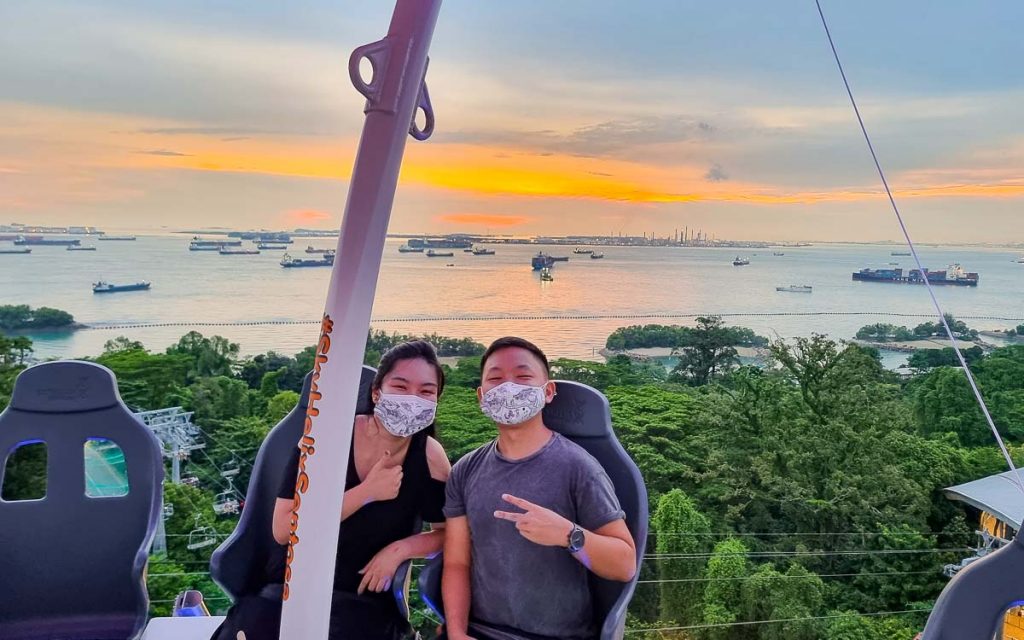 Singapore's highest open-air panoramic ride, the SkyHelix Sentosa, slowly spirals upwards to a height of 35 metres, bringing riders spectacular and unobstructed views of Sentosa and the Southern Islands.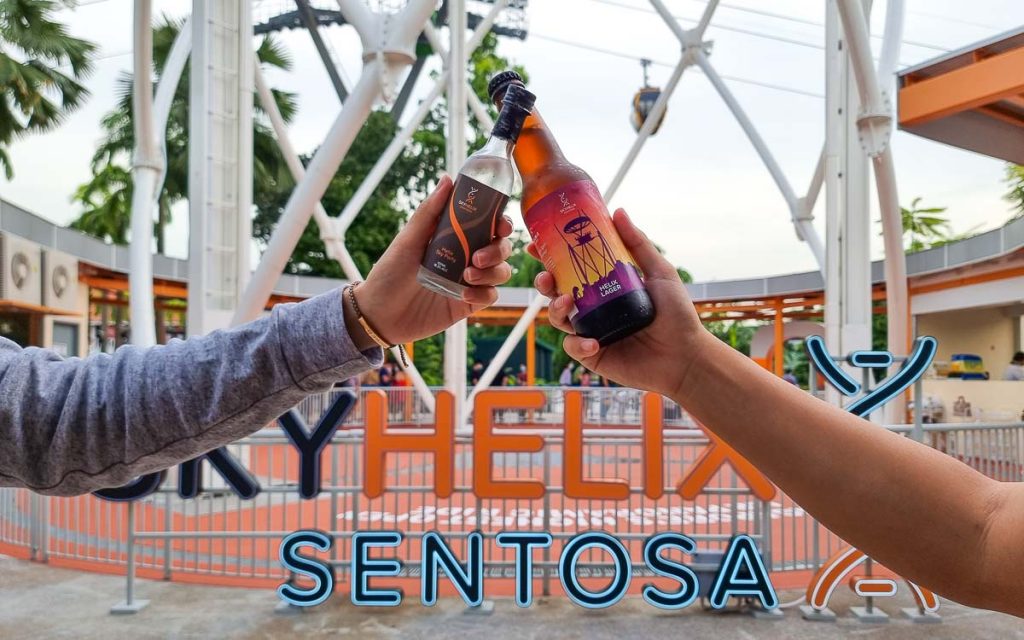 Don't miss the specially concocted cocktails at the snacks bars, available with other light refreshments that you can purchase and bring up while enjoying your 12-minute long ride.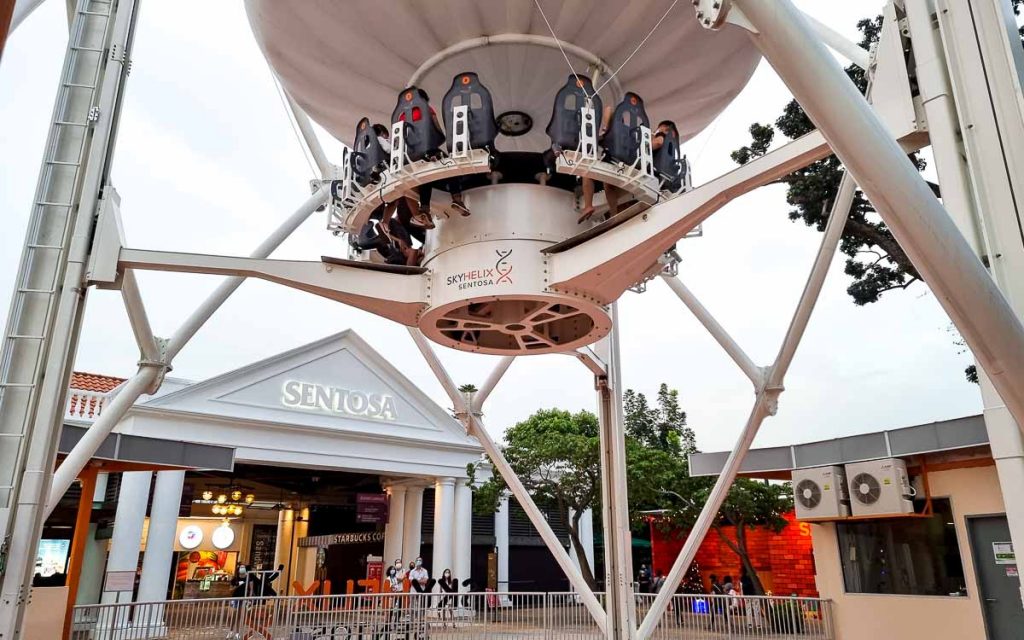 Cost: S$18/pax
Location: Imbiah Lookout Station, Sentosa
33) Lee Kong Chian Museum — New Parasite Exhibit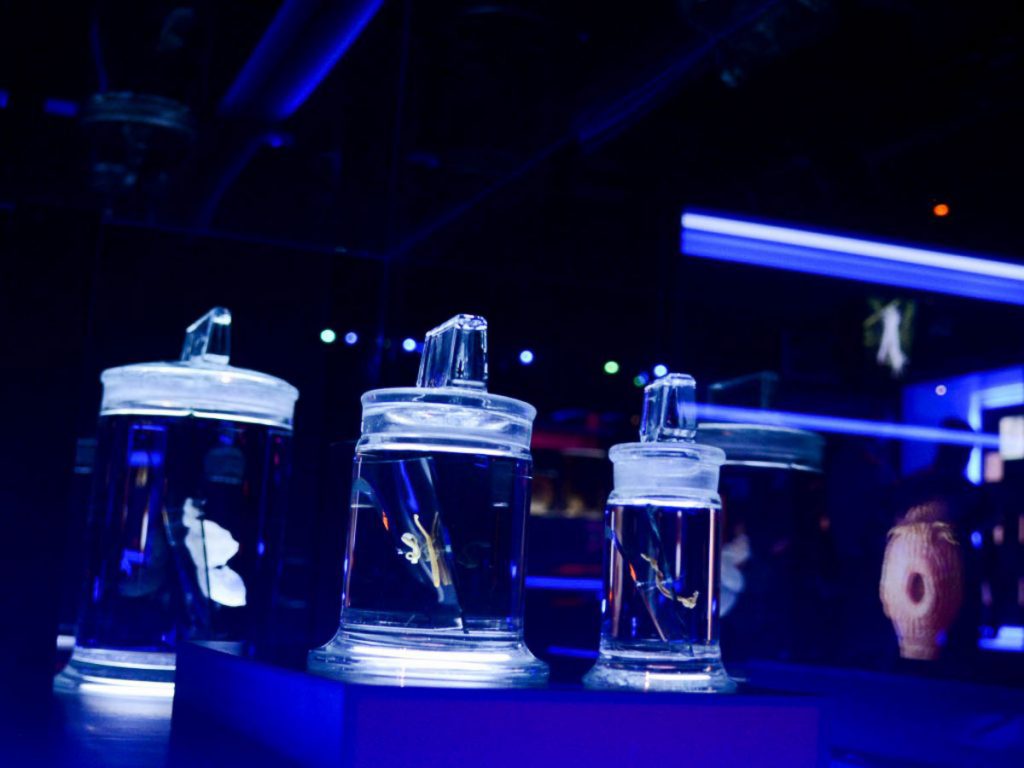 Photo Credit: Lee Kong Chian Natural History Museum
One of the most underrated museums in Singapore, Lee Kong Chian Natural History Museum has launched a new temporary exhibition — Body Snatchers: Nature's Zombies and Vampires.
The exhibition explores the terrifying world of parasites while educating museum-goers about parasites and how they play a part in the ecosystem.
Some of the parasites on display include tapeworms and cymothoid crustaceans, the latter is a parasite found in fishes that fully replaces its host's tongue 😱
The Body Snatchers exhibition is expected to run until the end of October 2022.
Cost: S$16/adult
Opening hours: 10AM – 6PM (Tue–Sun)
Location: National University of Singapore, 2 Conservatory Drive, Singapore 117377
Looking for new things to do in Singapore?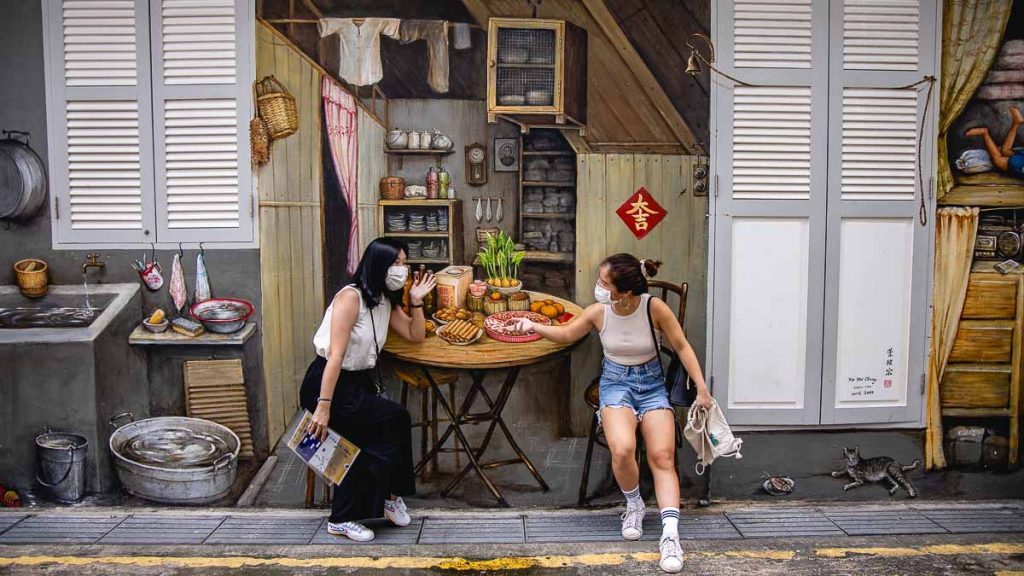 Rediscovering Singapore never ends, especially when there're always new things popping up at every corner of the island. Whether it's sailing to offshore islands like Pulau Ubin or stepping out of your comfort zone for epic experiences, there'll always be parts of our little island to (re)discover!
In the meantime, stay inspired by bingeing on travel books and shows, enjoying awesome virtual tours, and picking up Lightroom skills to give your travel photos new life!
Still bored? Here are more cool stuff to check out in Singapore:
– Places to eat in Singapore: 12 Unique Restaurants in Singapore Even Non-Foodies Will Find Impressive
– Unique staycations to book: 16 Underrated Hotels to Spend Your S$100 SingapoRediscovers Vouchers
– New things to do: 15 Things to Do in Singapore for Outdoor-Loving Singaporeans
Facebook image credit: nparksbuzz, Shangri-La

What are your favourite things to do in Singapore? Share with us in the comments!
---