Located in an ulu part of Singapore — it took us a while to decide if Sungei Buloh Wetland Reserve was worth travelling (across Singapore) for.
It's 6:40AM and I've just arrived in Kranji. There's not a soul in sight and it's still dark — the only light source being a welcome sign which reads "Sungei Buloh Wetland Reserve". I'm seriously questioning my decision to be up before dawn.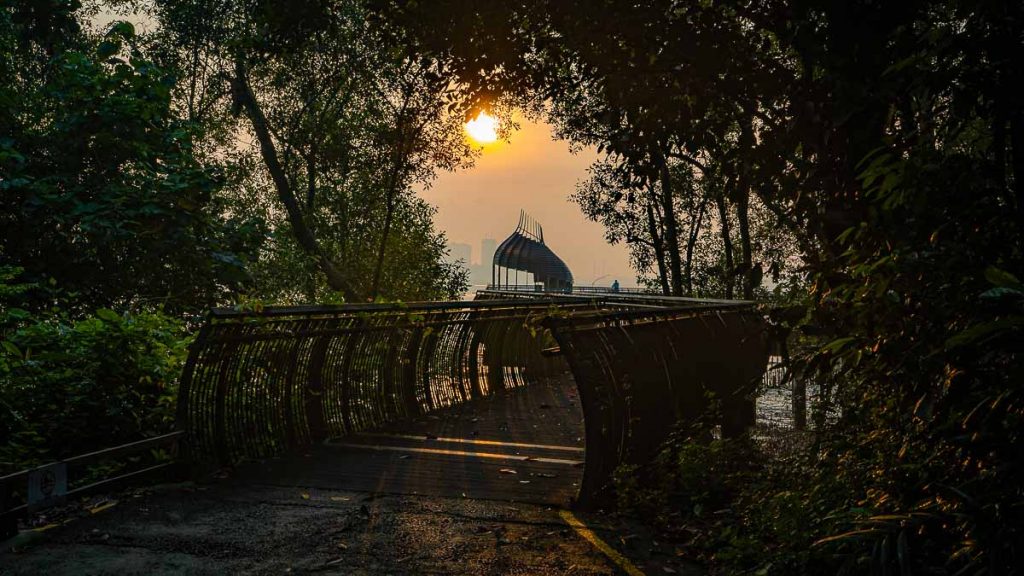 A security guard unlocks the gate — shocked to find me waiting alone in the dark. My hiking companion arrives soon after, and we hurry deep into the park, in hopes of catching the sunrise along the coast.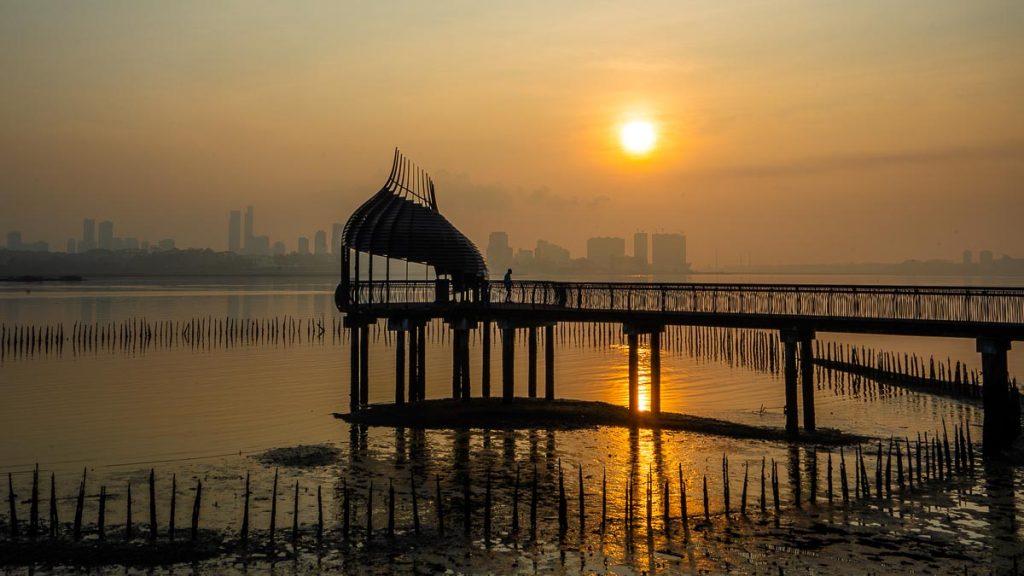 Then we see it: deep orange hues colouring a blank canvas. At this point, my day was already made. And it only got better.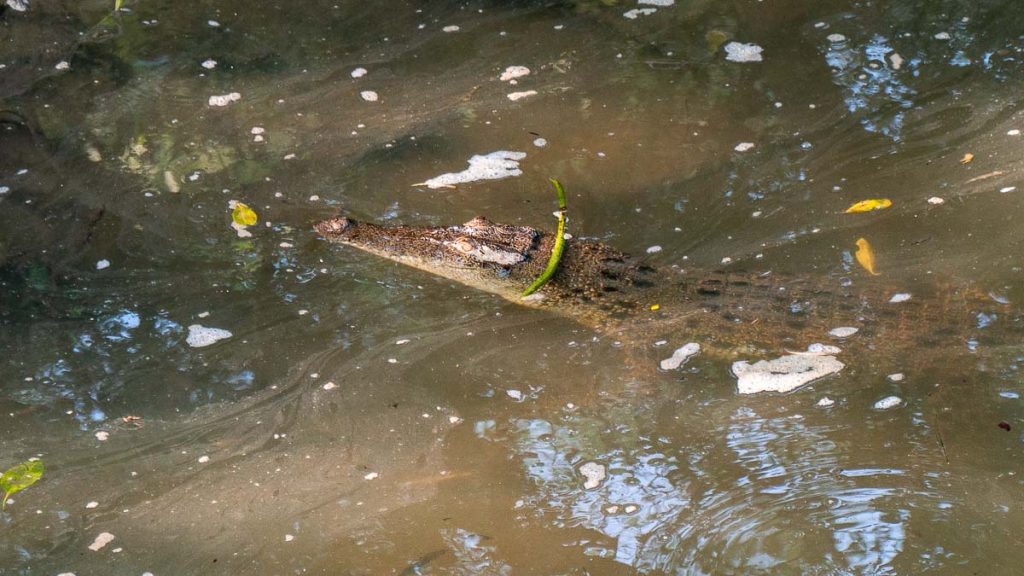 We saw crocodiles basking in shallow waters; a pair of white-bellied sea eagles guarding their nest. Mudskippers are sliding across mudflats; a silly stork attempts (and fails) to catch breakfast.
Now I'm convinced — this might just be my favourite place to hike in Singapore. And that's coming from someone who's tried a lot of local hikes, like Clementi Forest and Dairy Farm Nature Park.
Sungei Buloh isn't the most accessible park, but I guarantee it's worth the journey.
Read also: 23 Hikes in Singapore to Check out
How to get to Sungei Buloh Wetland Reserve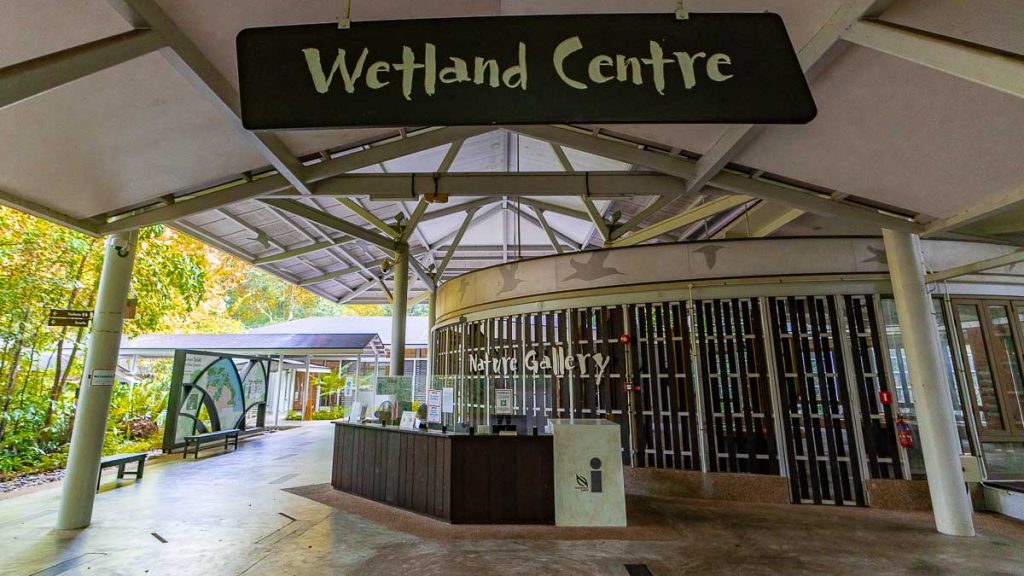 Drivers: There are two carparks — Wetland Centre (Neo Tiew Carpark) and Visitor Centre (Kranji Carpark B and C). Parking is free but the carparks are gated and only open between 7AM – 7PM.
Public transport: If you're going on a weekend or public holiday, take the free shuttle bus from Kranji MRT (NSL) station. Alternatively, from Kranji MRT station, take bus 925 for 11 stops (~15min) and drop off at the Visitor Centre or Wetland Centre.
Suggested Route for Sungei Buloh Wetland Reserve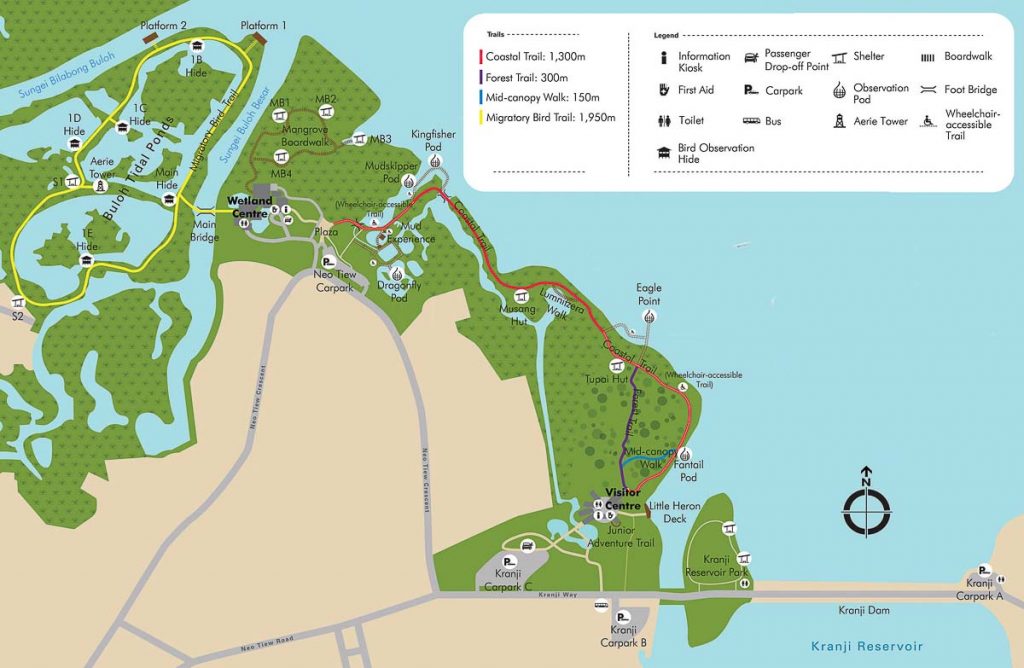 Photo credit: NParks
Total distance: ~4.3km
Recommended time: 3hrs
For those planning to catch the sunrise at Eagle Point, we recommend starting at the Visitor Centre as it's a shorter walk from there. If you're not visiting during sunrise, it doesn't matter where you start from.
The Coastal Trail and Migratory Bird Trail are the main highlights of the reserve, so they shouldn't be missed. Explore the rest of the trails too if you've got time to spare.
Recommended route for drivers: Visitor Centre > Coastal Trail > Wetland Centre > Migratory Bird Trail > Mangrove Boardwalk > Coastal Trail > Forest Trail > Mid-canopy Walk > Visitor Centre.
Coastal Trail — Sunrise views and Instagrammable pods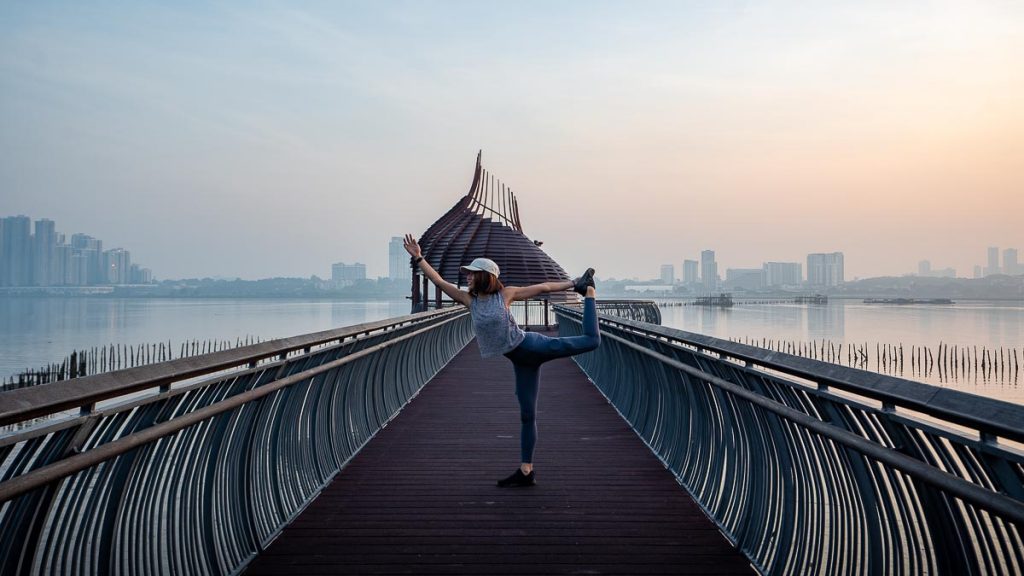 Distance: 1.3km
The Coastal Trail is what Sungei Buloh Wetland Reserve is most known for. Just do a quick location search on Instagram and you'll see these photogenic wooden pods flooding your screen. There are five pods total, scattered along this 1.3km long trail.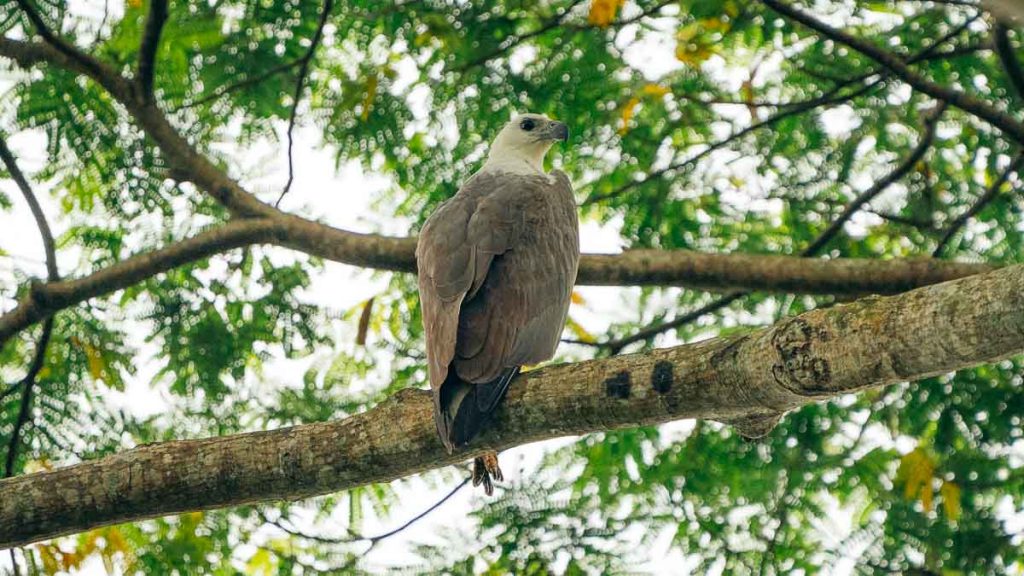 Look up at the trees at the entrance of the Visitor Centre and you might spot a black mass perched on the branches. It's actually the nest of a White-bellied sea eagle!
Eagle Point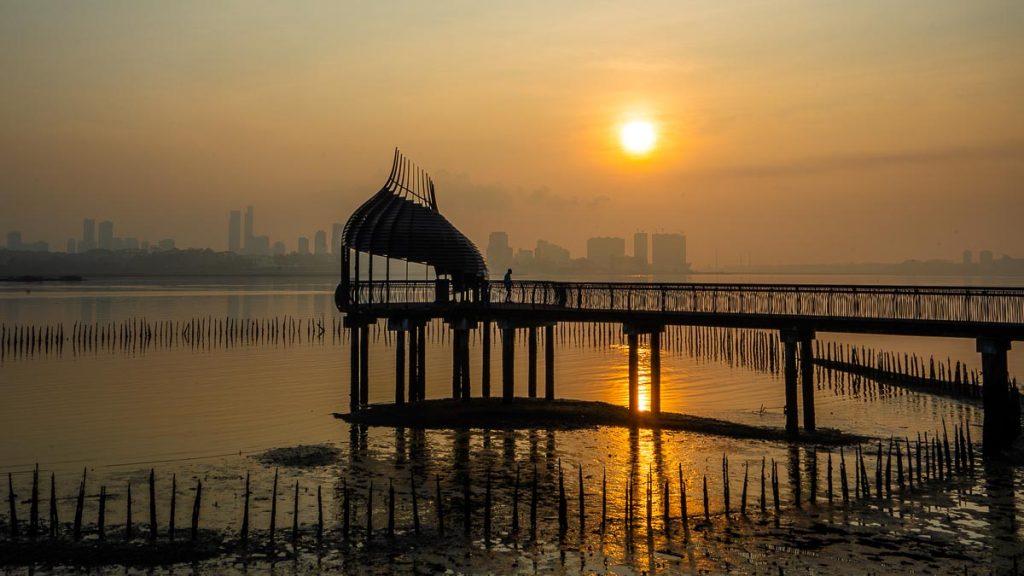 This was taken around 7:15AM.
Eagle Point is the best place to catch the sunrise. You get stunning views of Eagle Point pod, set against the skyline of Johor.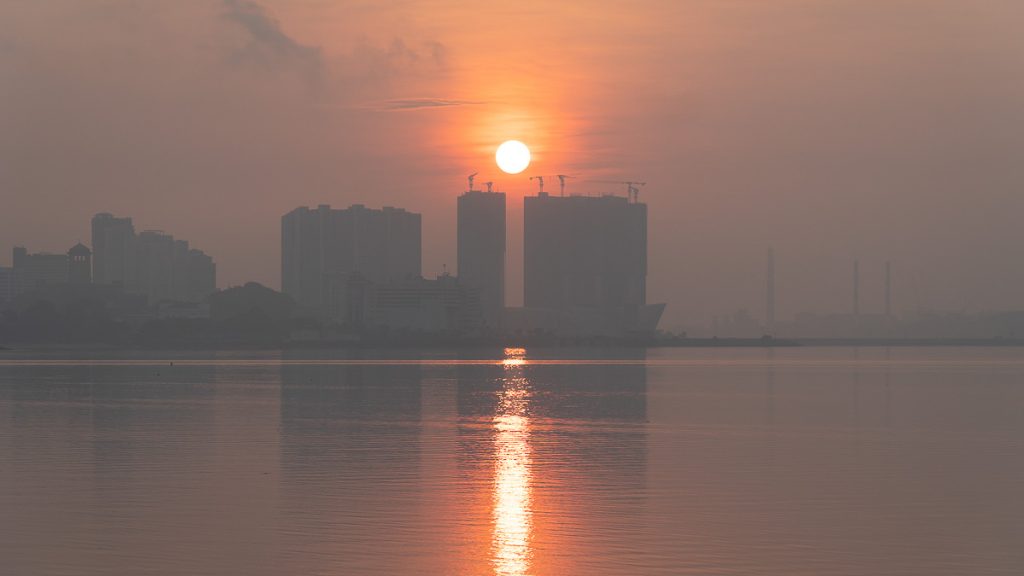 Few people are crazy enough to wake up before 6AM to catch the sunrise here, so we had the place to ourselves — apart from three others. Pay attention to the water and you'll notice fishes leaping about!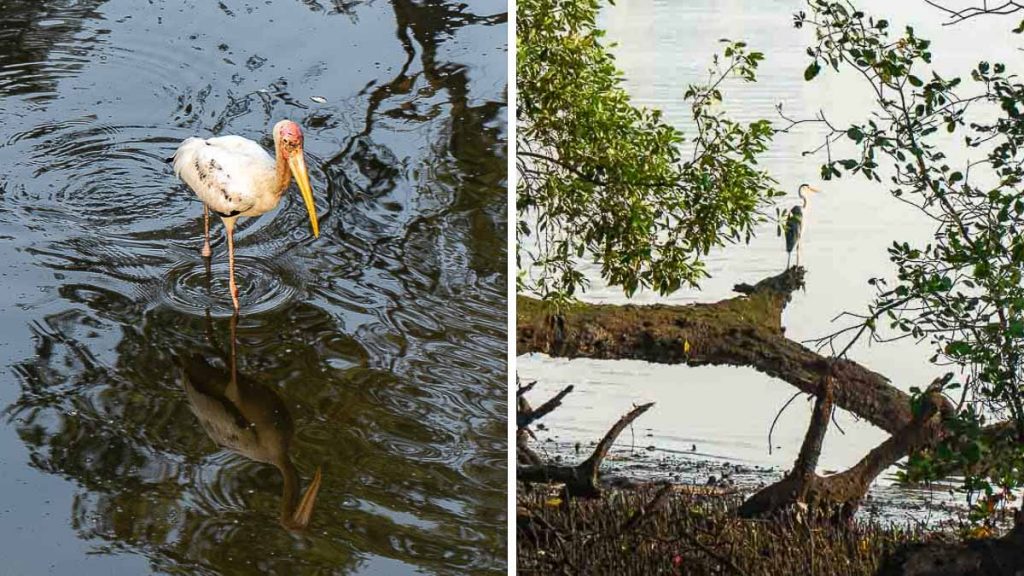 There were also several storks and herons fishing for breakfast along the Coastal Trail.
Kingfisher Pod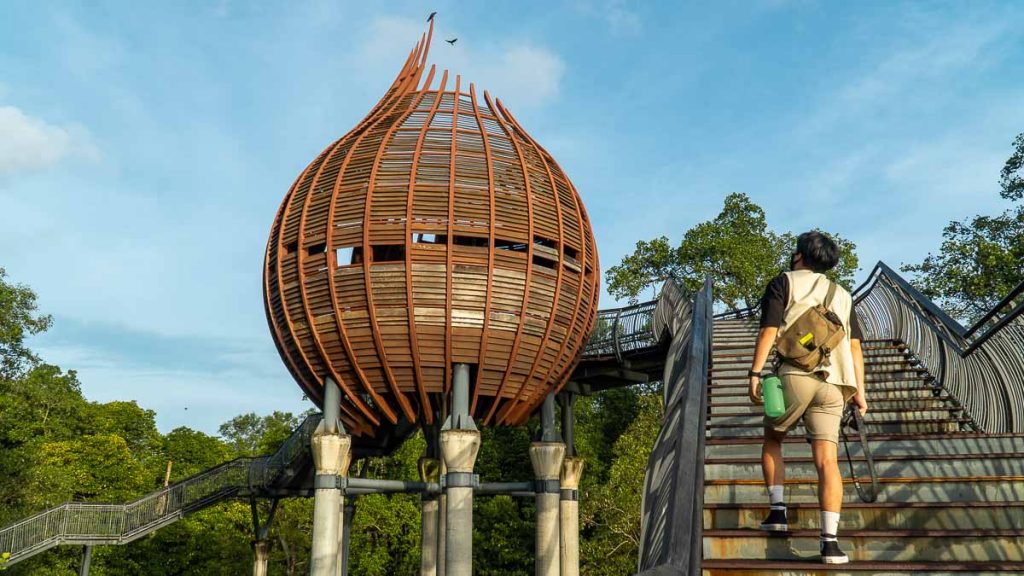 The Kingfisher Pod is another highly-photographed pod — pose along the steps for the best angle.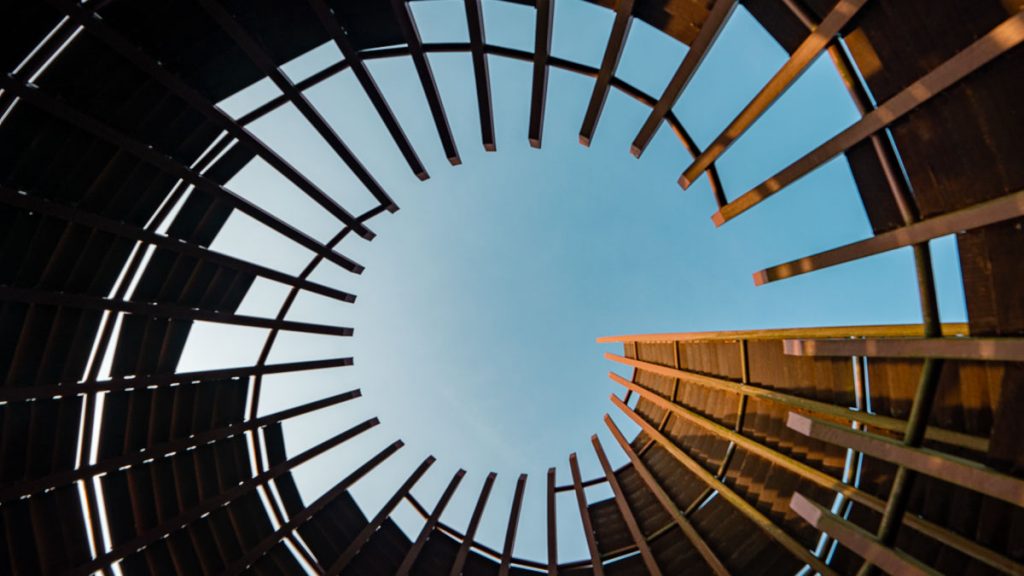 *Pro-tip: Look up from the inside of the pod for a unique view!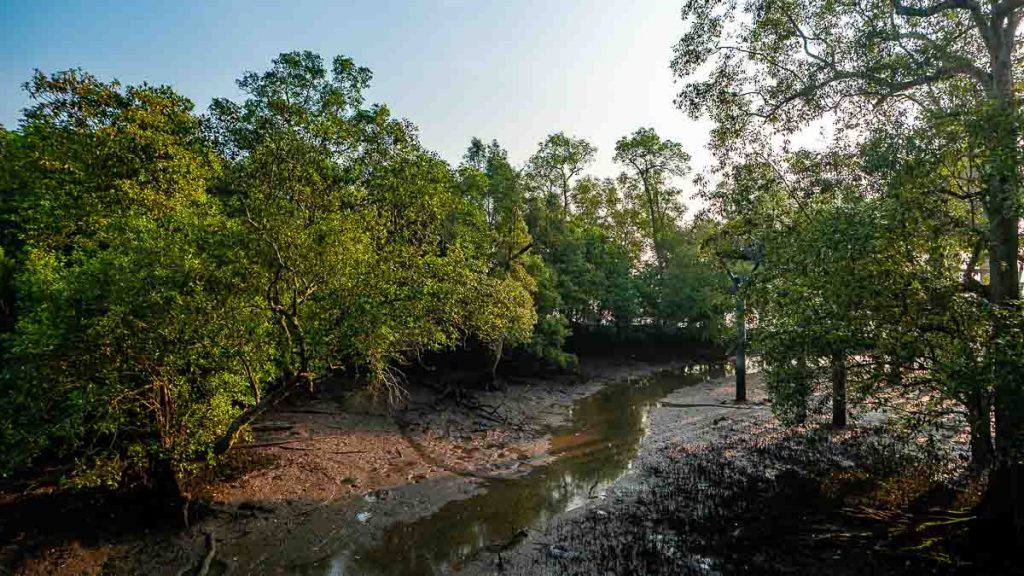 Fun fact: 'Sungei Buloh' means Bamboo River in Malay! The reserve got its name from the bamboos that once thrived here.
The boardwalks along the Coastal Trail provide an unobstructed view of the mudflats. It was low tide when we visited, meaning the mangrove roots were exposed — allowing us to spot more wildlife. Read till the end for more pro-tips like learning to read the tides.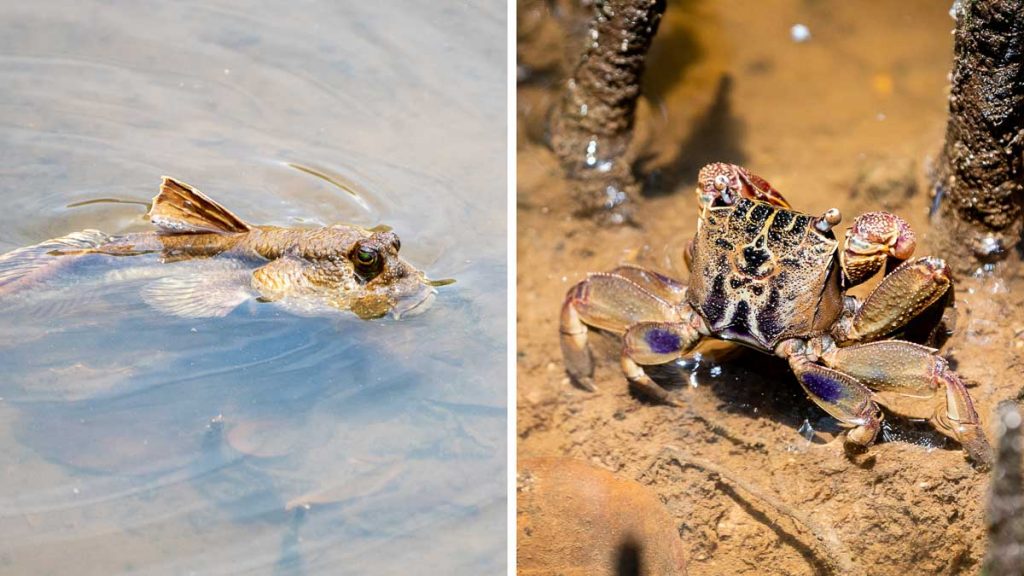 We spotted several crabs and mudskippers near the Kingfisher Pod. They blend in easily with the mud, so you might not see them immediately.
Mud Experience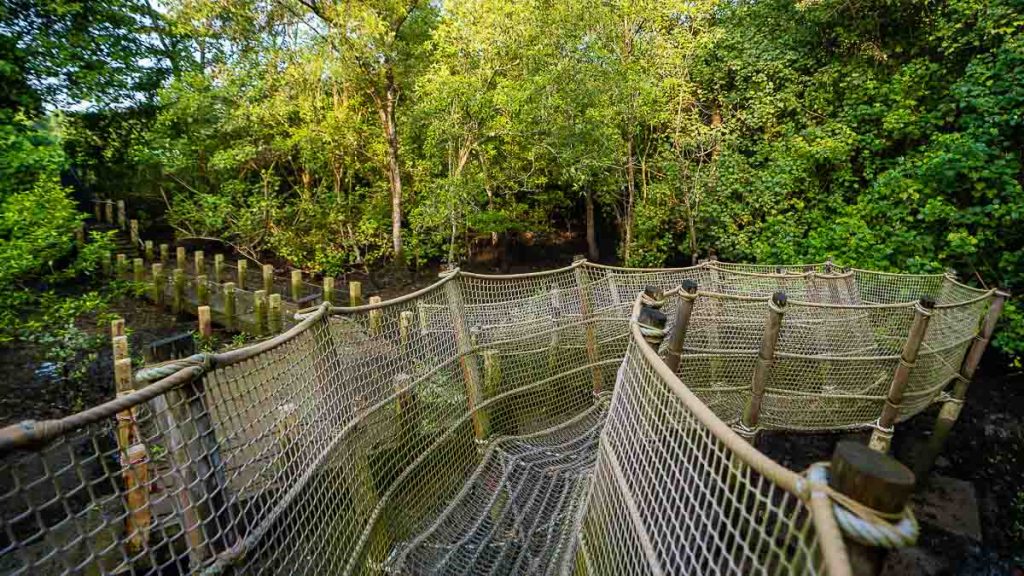 Just off the Kingfisher Pod lies the Mud Experience — a short netted bridge suspended above the mud. It's another great photo spot, and visitors can get closer to crabs and mudskippers. The path connects to the Dragonfly Pond and Pod, just off Neo Tiew Carpark.
This area is currently closed for renovation, with no dates yet on its expected completion.
Migratory Bird Trail — Wildlife sightings beyond just birds
Distance: 1.9km
The Migratory Bird Trail isn't as Instagram-famous as the Coastal Trail, but this route offers an abundance of wildlife. The trail is the longest in the reserve, circling the Buloh Tidal Ponds.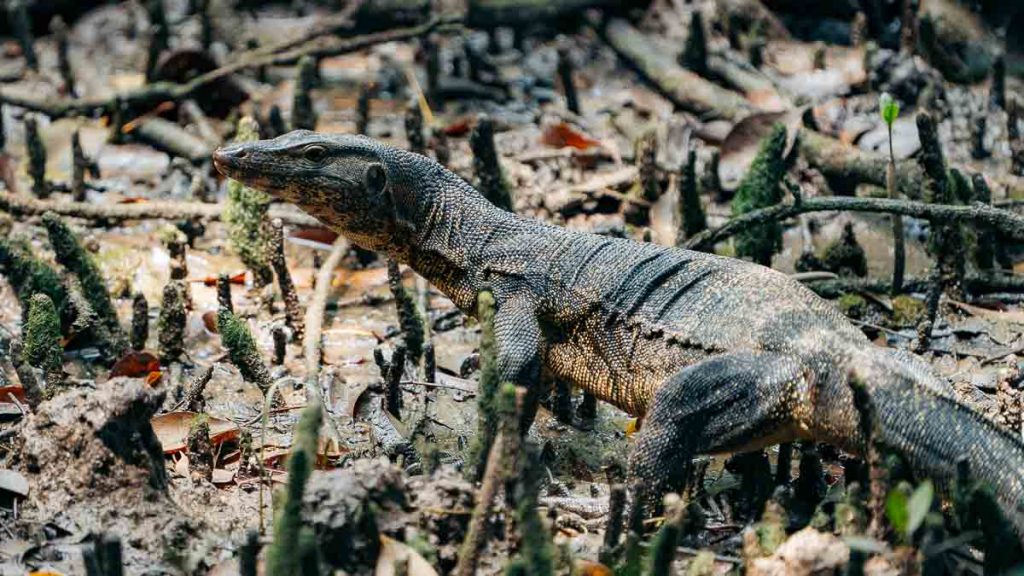 Contrary to its name, there's more than just birds here — we spotted crocodiles and monitor lizards during our visit!
New Bridge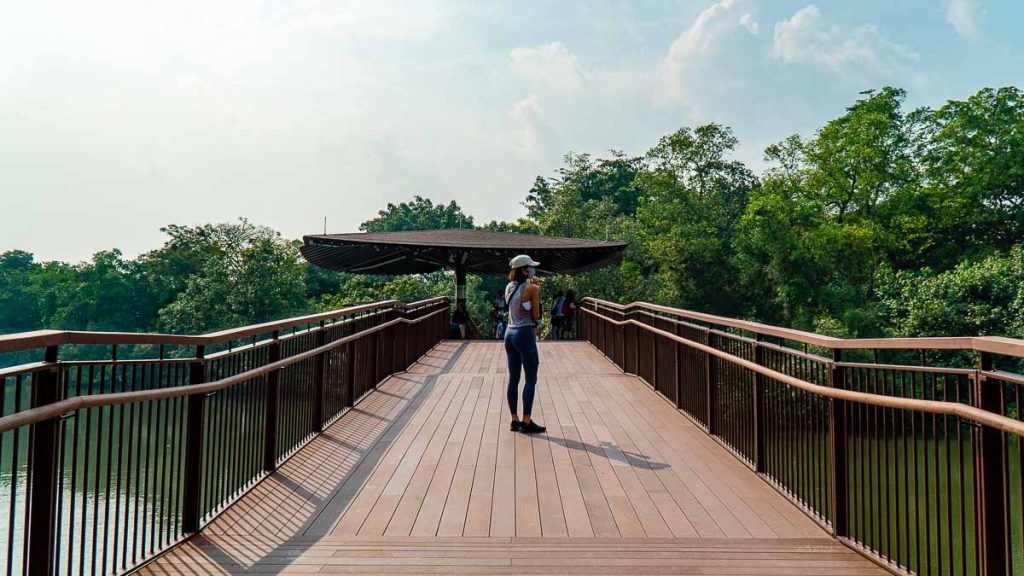 You'll have to cross a bridge from the Wetland Centre to get to the Migratory Bird Trail. Don't just skim past this bridge though — it's one of the best places to spot Estuarine crocodiles!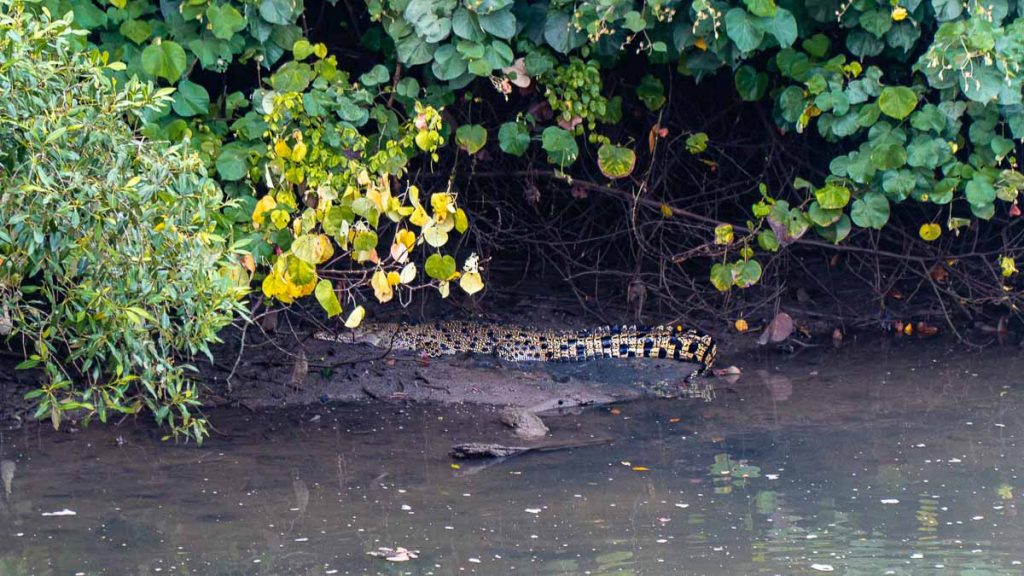 There's a higher chance of finding crocodiles resting along the riverbank during low tide on sunny days. We were lucky enough to spot two while we were there! Besides crocs, the river is home to many species of fish — like the Archerfish, Spotted Needlefish and even Pufferfish.
Main Hide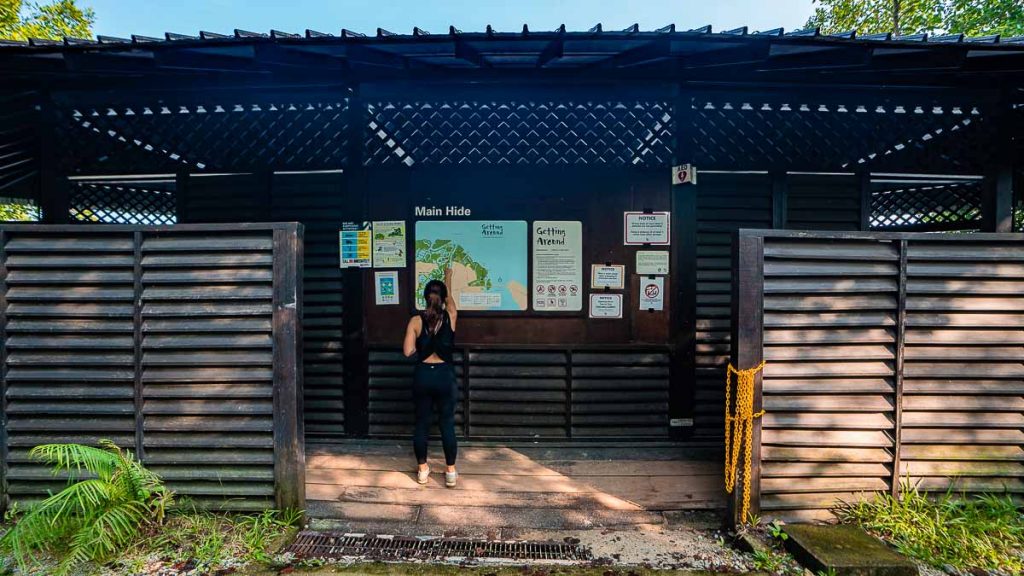 Bird hides are shelters used to observe birds from close proximity. These shelters are hidden; blending in with the environment to avoid alarming the surrounding wildlife.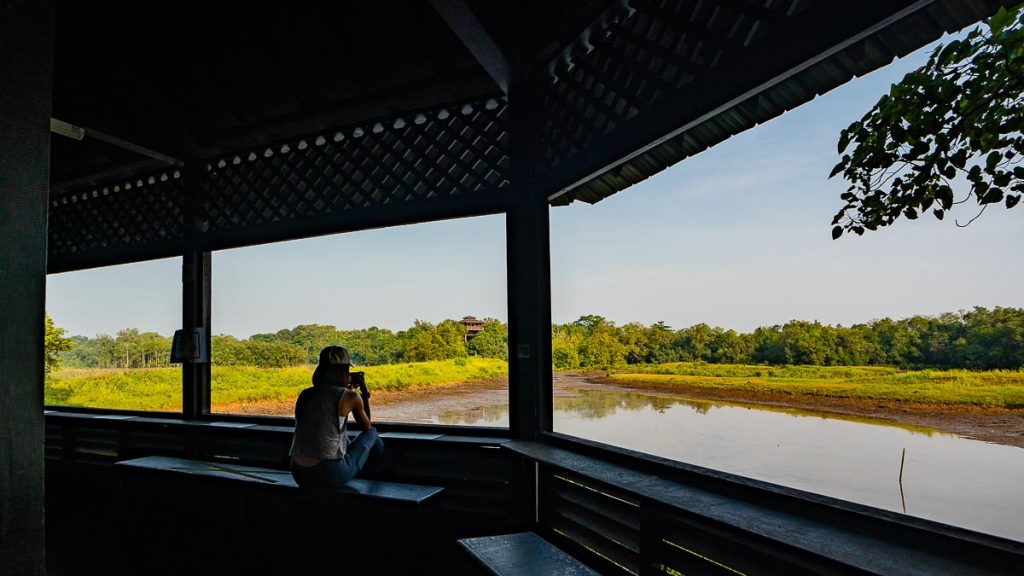 Spot the Aerie Tower from the Main Hide!
There are five hides along the Migratory Bird Trail, and the Main Hide is the largest — with the best views by far. Park yourself on a bench and spot some of the 200 bird species recorded at Sungei Buloh Wetland Reserve.
Herons, kingfishers and egrets are some of Sungei Buloh's common residents. Don't worry if you're not familiar with these featured friends — there are infographics all over the park to help you identify them.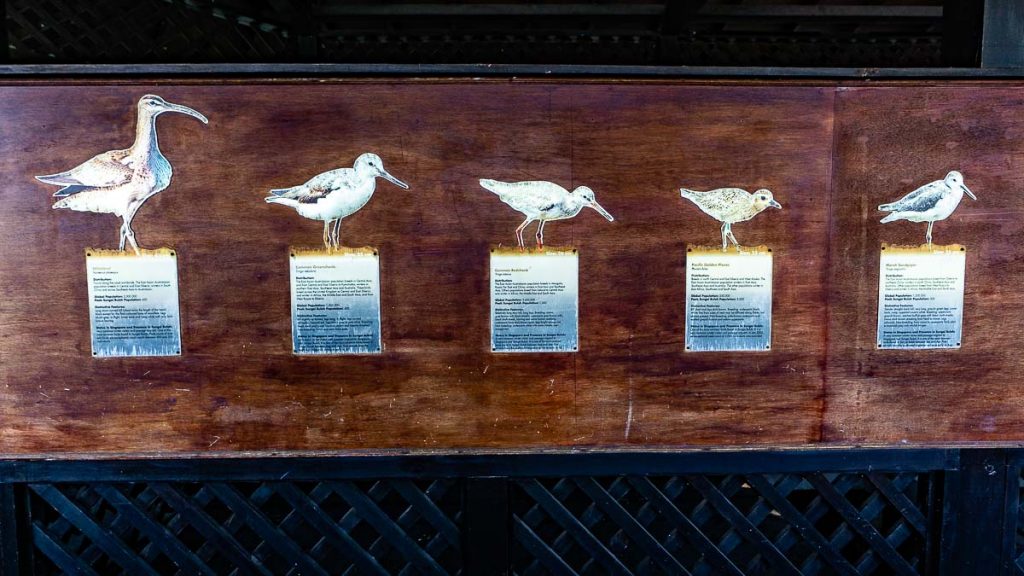 An information board in the Main Hide.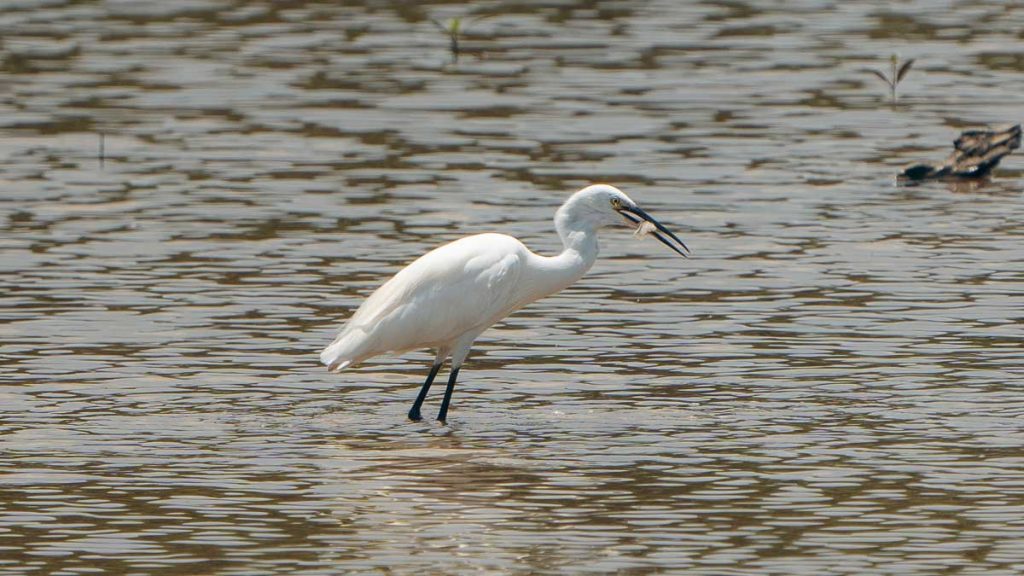 A Little Egret catching lunch!
Aerie Tower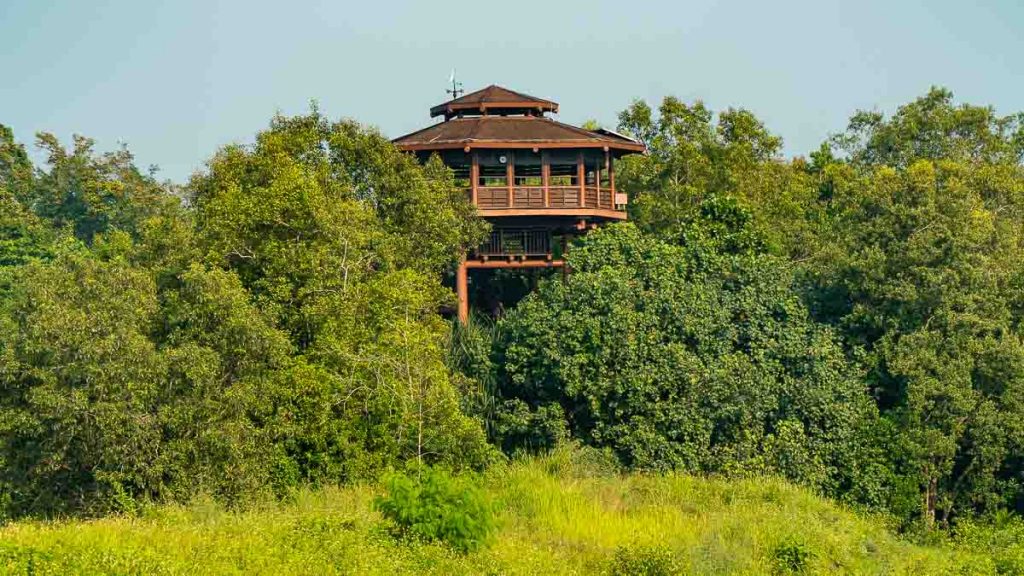 The 18-metre Aerie Tower is the highest point in Sungei Buloh Wetland Reserve, with 360-degree views of the Buloh Tidal Ponds. Just climb a few flights of stairs to get to the top!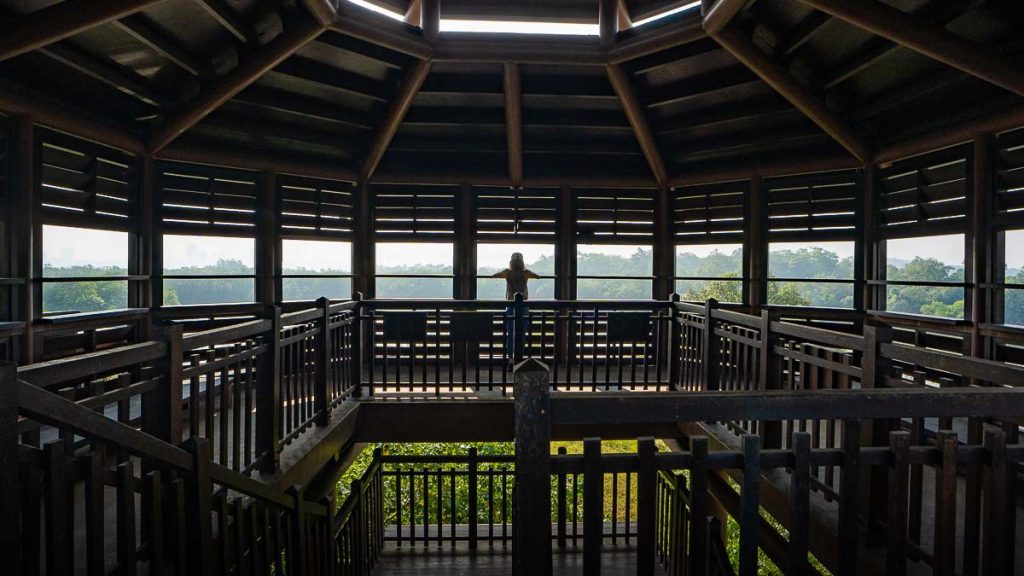 The inside is a lot more spacious than it appears from the outside — it's a good rest stop with panoramic views of Sungei Buloh Wetland Reserve.
1C Hide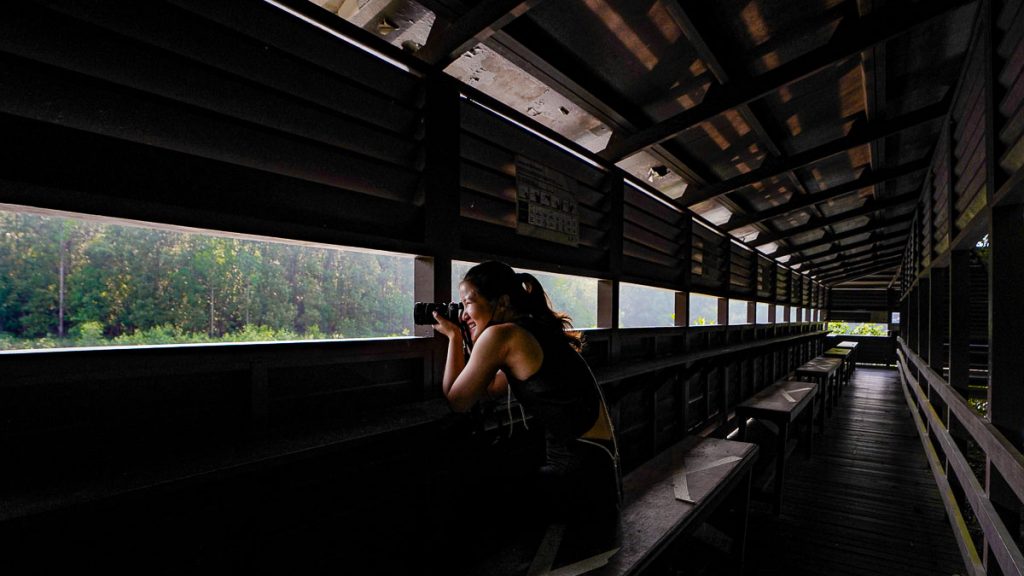 1C Hide is an L-shaped shelter. It's the second-largest hide along the Migratory Bird Trail, though we didn't spot many birds from here.
Mangrove Boardwalk — Spot smaller species of birds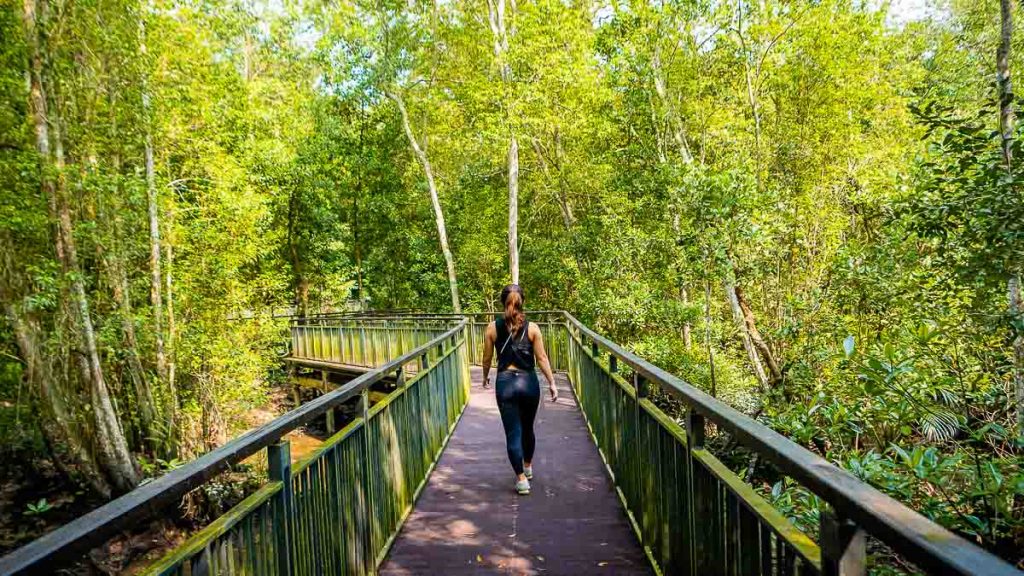 Distance: ~600m
Just beside the entrance to the Migratory Bird Trail lies the Mangrove Boardwalk. This path is mostly inland, so the views here weren't particularly outstanding compared to the rest of the reserve. But it's here we found the most bird photographers parked with their cameras!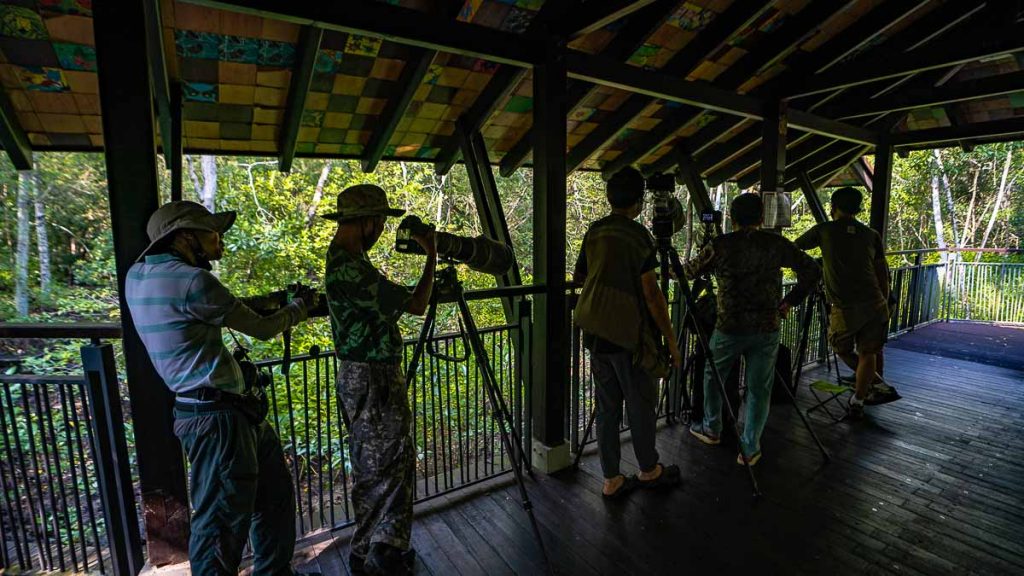 Birding requires patience, as it's hard to guess when a bird might show up. We stuck around for a while and were lucky enough to see these photographers capture a mother bird feeding three hatchlings.
They focused their cameras on the nest, waiting for the mother to return. Without their cameras, we'd have no chance of spotting the nest.
Forest Trail — Short wheelchair-friendly path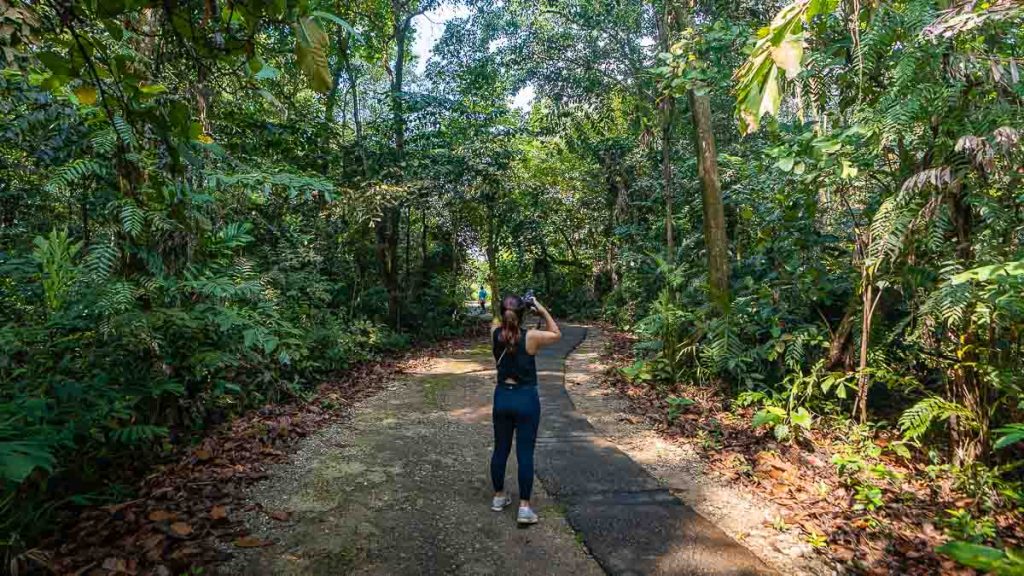 Distance: 300m
The Forest Trail is a short 300-metre stroll. It's a nice trail, but you won't miss much by skipping it.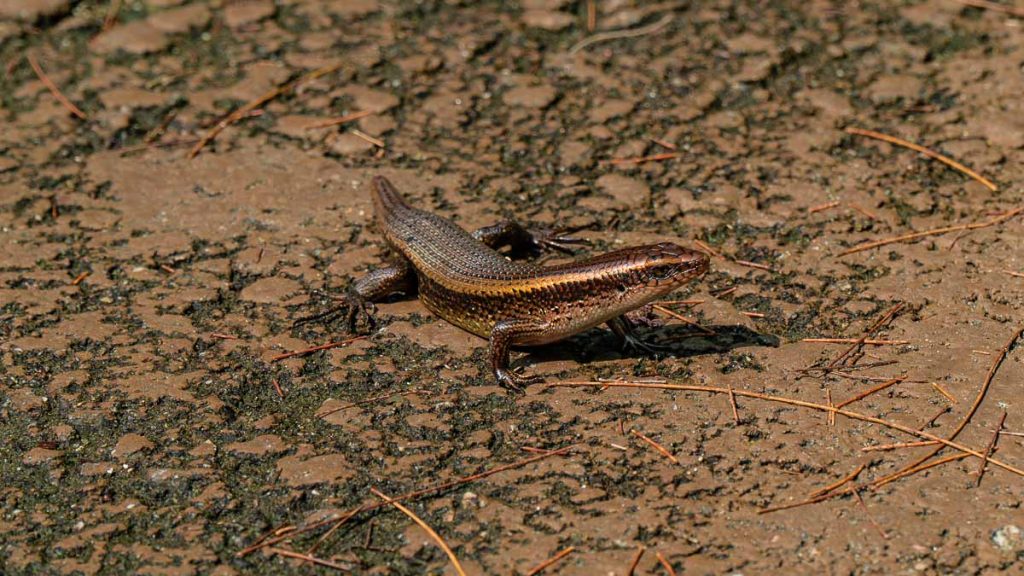 We did, however, spot a Common Sun Skink and a brown snake which slithered away before I could snap a picture.
Mid-canopy Walk — Swaying bridge through the forest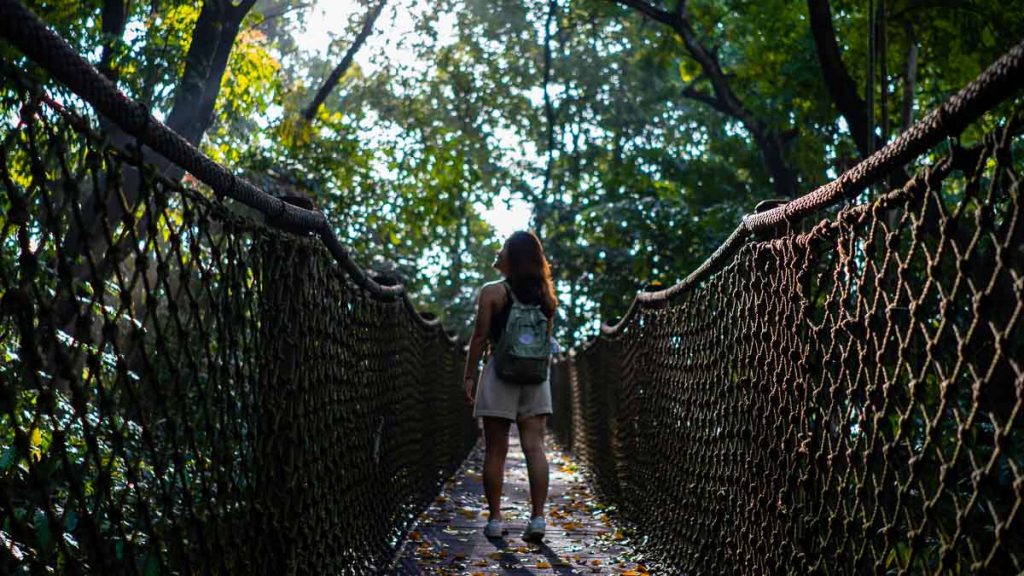 Distance: 150m
The Mid-canopy Walk isn't some regular boardwalk — this bridge sways up and down! Explore the understory of the forest and try to spot wildlife among the trees. The sound of cicadas chirping is incessant here, but you should be worried when it stops. It's an indication that it's going to rain!
Junior Adventure Trail — Forest-themed playground for the little ones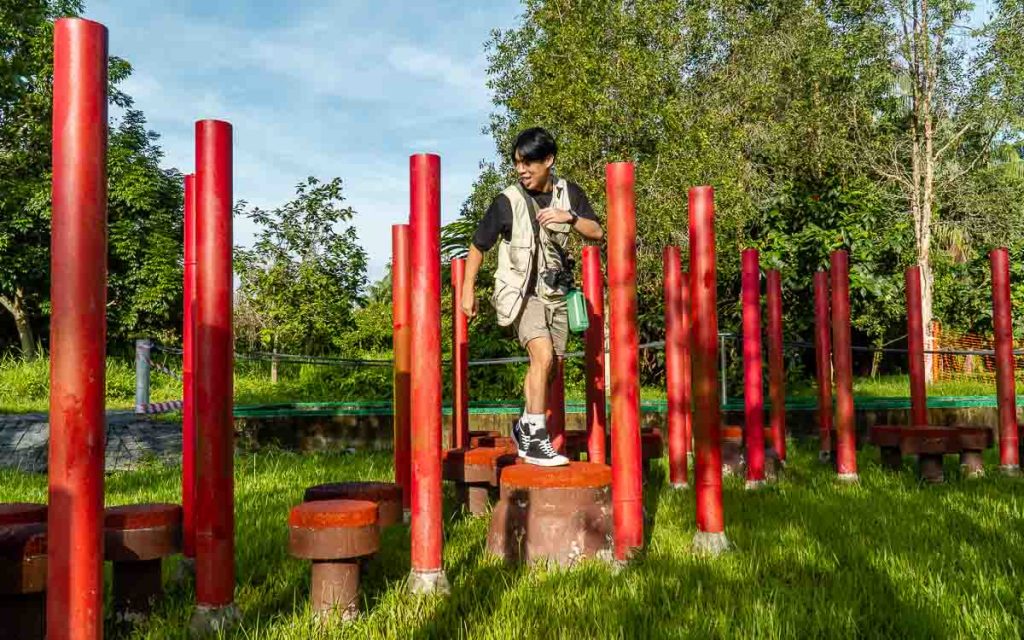 Right beside the Visitor Centre is the Junior Adventure Trail. It's not so much a hiking trail but a cool playground for kids (and the young at heart).
Pro-tips for Hiking at Sungei Buloh Wetland Reserve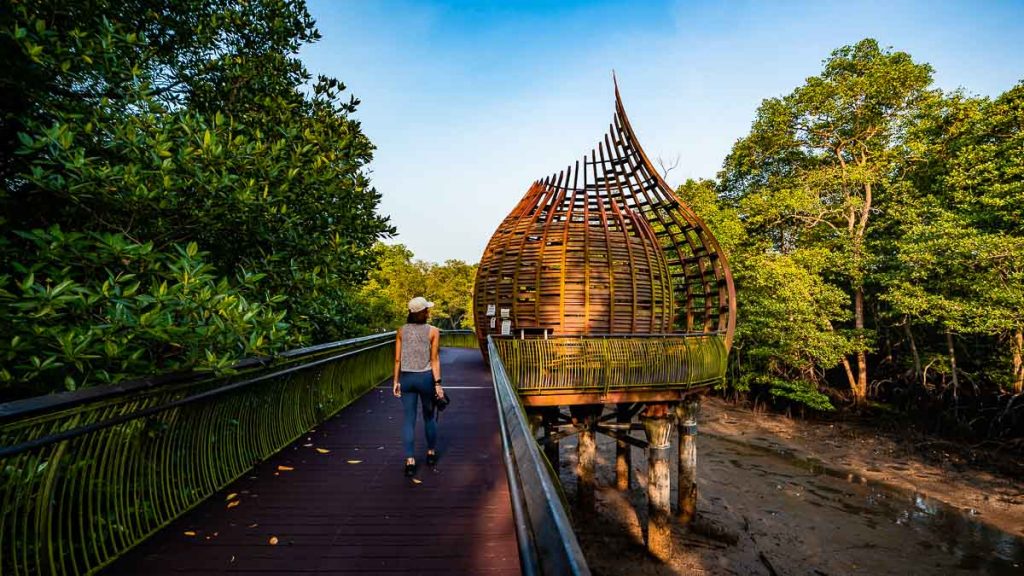 It's 11:20AM and we're finally back at the Visitor Centre. We'd spent almost five hours at Sungei Buloh Wetland Reserve, and my only regret was that I wish I brought a better camera to capture faraway birds.
I'd never seen so much wildlife in a nature park in Singapore. Waking up early and making the long trip to Kranji was definitely worth it — I'd gladly do it again. If you're hoping to visit Sungei Buloh Wetland Reserve, here are some useful tips:
If you want to catch the sunrise:
The Wetland Centre is the closest drop-off area to Eagle Point, where we caught the sunrise. While the park's official opening time is 7AM, the security guard sometimes opens the gate earlier (we got in at 6:45AM).
I'd recommend arriving earlier if you can — every minute counts when you're chasing the sun!
Photo credit: David Li
If you want to capture migratory birds:
Sungei Buloh is like the Changi Airport for birds — thousands of migratory birds flock here from the northern hemisphere to escape the cold. There were several resident birds during our visit in June. But if you want to see migratory birds like Mongolian Plovers, time your visit between September to March.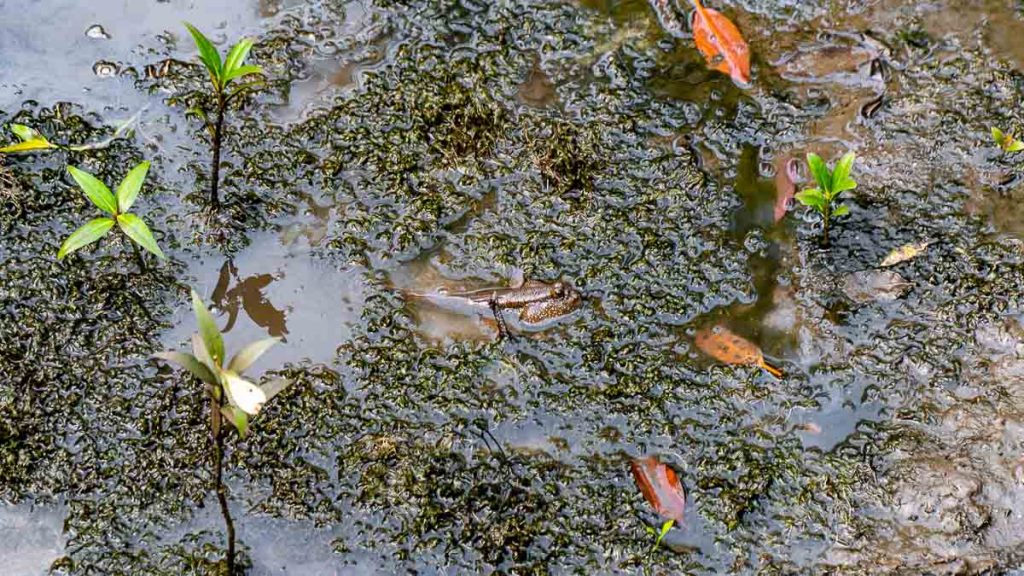 If you're hoping to spot more wildlife:
Low tide and high temperatures are the ideal conditions. It's when the mudflats are exposed, making it easier to spot wildlife like mudskippers and crocodiles. Check the tide table before visiting; the tide was around 0.3m when we visited.
Fair warning, crocodiles are occasionally spotted basking on walking trails. Don't approach them if they're in the way — getting attacked by these big guys ain't a joke.
Keen to go on more hikes in Singapore? Check out our Ultimate List of 23 Hiking Trails in Singapore or Pulau Ubin Camping Guide!
Have you been to Sungei Buloh Wetland Reserve? Let us know if you spotted any cool animals there!
---
Like what you see? Follow us on Facebook, Instagram, YouTube, and Telegram for more travel inspiration!