To solve our nationwide "what to do in Singapore" headache, I ventured into an inconspicuous red-line station to bring you this Ang Mo Kio neighbourhood guide.
Sentosa, the ArtScience museum, and the Marina Barrage are stunning, but they're tired cliches and really not for those of us who haven't won the lottery.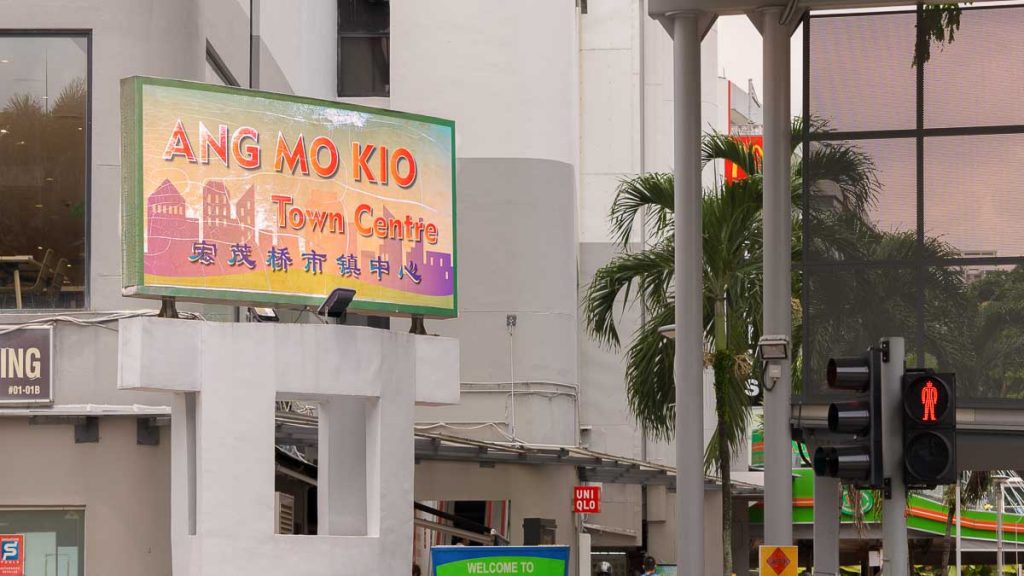 If you've seen this TikTok, you'd know that while I'm a happy intern at The Travel Intern, I haven't done much travelling.
My coping mechanism is this train of thought: It could do us a lot of good to practise finding the charm in mundanity by venturing into seemingly everyday places, with fresh eyes. Maybe it matters less where we are, but how we choose to perceive our surroundings. Someone could live by the literal Grand Canyon, but if they don't make the heart to stop and notice its grandeur, they'd simply miss its magnificence all their life. So… somewhere as NPC as Ang Mo Kio might as well be our next hang-out destination.
After some scouring, I've collected 12 hours worth of hidden gems here so you can be the cool mysterious character who tells their friends: "I know a place." Before you go, pack a picnic mat and a takeaway bag.
Things to do at Ang Mo Kio
Here's a list of shortcuts if you're looking for something specific to do. Otherwise, you can follow through the 9AM – 10PM itinerary below.
Food: Cafe With Quirky Flavours | Dining-in at Fairprice | Best Viet Food in SG | 24 hours S$1 Dim Sum | Ice Cream and Mochi Waffles | Traditional Snacks
Nature: Bishan-AMK Park | Birdsinging Club | Scenic Sightseeing
Culture: Old-school Biscuit Shop | Culture and History Trails | Iconic Dragon Playground
Niche activities: Cheap Craft Materials | Mahjong-themed Ice Cream | Birdsinging Competition
10AM – Late Breakfast at Brew & Co.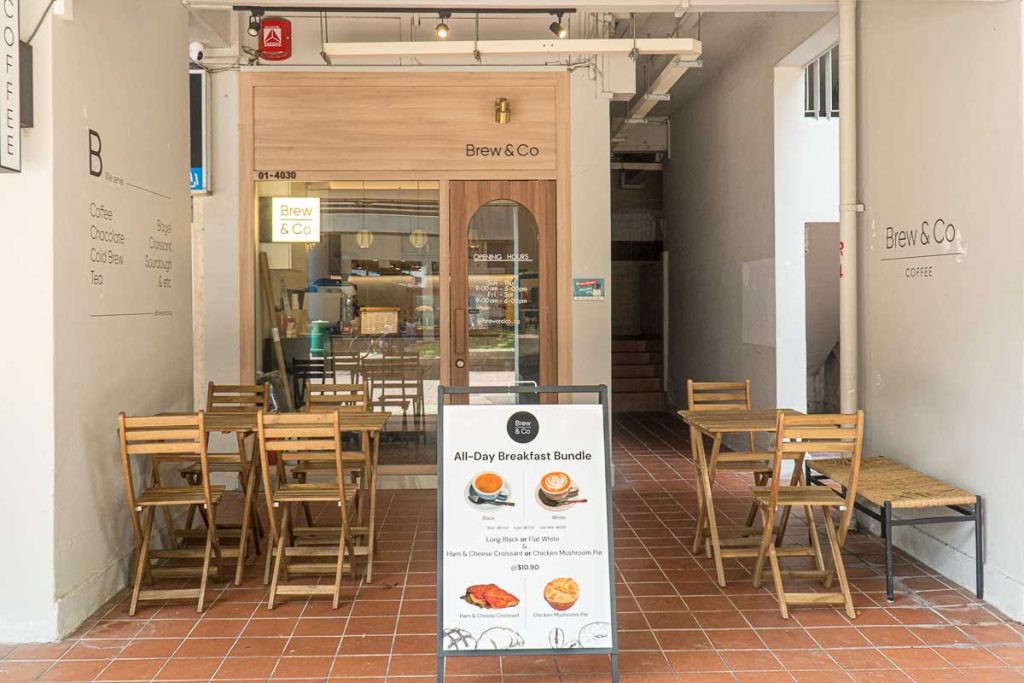 We'll start the day late, but still tell your chronically late friends an earlier time — just to be safe. Brew & Co. is a small and peaceful coffee bar, parked charmingly under a block of flats.
The minimalist space is gently set up for a slow and simple morning 🍂 It roughly sits a dozen, along a humble corridor.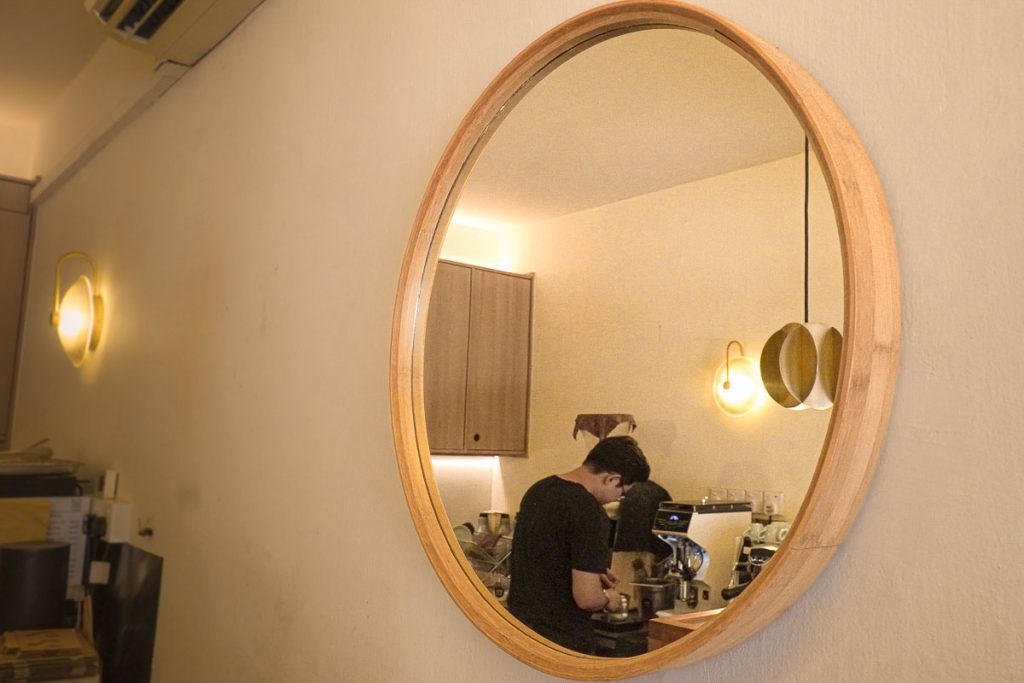 Nothing gets between me and my emotional support treat-of-the-day. All your beverage classics are on the menu — coffee (in all its forms, from espresso to macchiato) tea, chocolate, matcha, and even OJ. For the more adventurous, the Orange Espresso and Milky Peach have a fun fruity twist.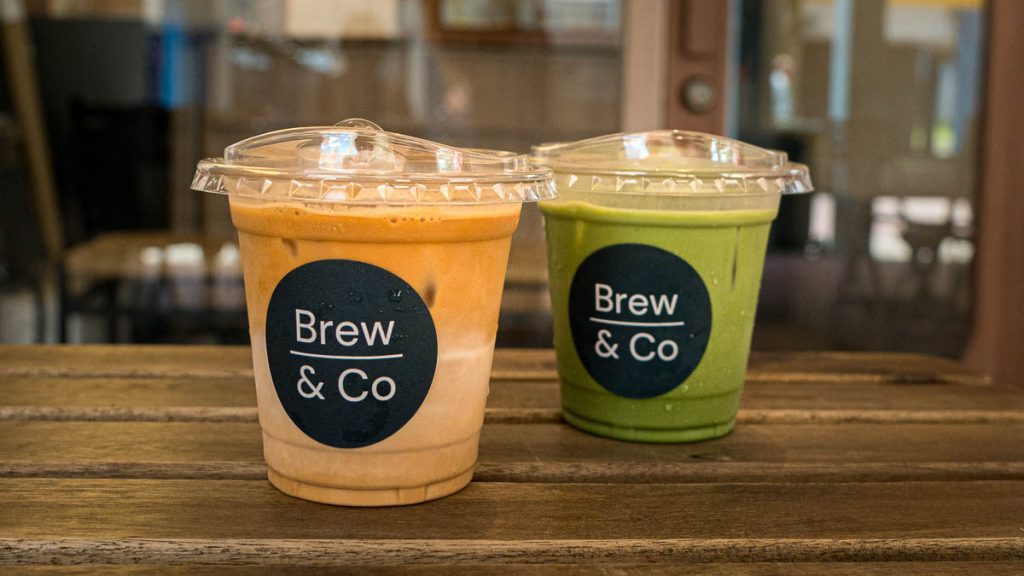 We tried an iced flat white and iced matcha latte. The coffee was good in that classic cuppa way. As for the matcha, it landed more on the sweet, nutty end rather than the rich, earthy side.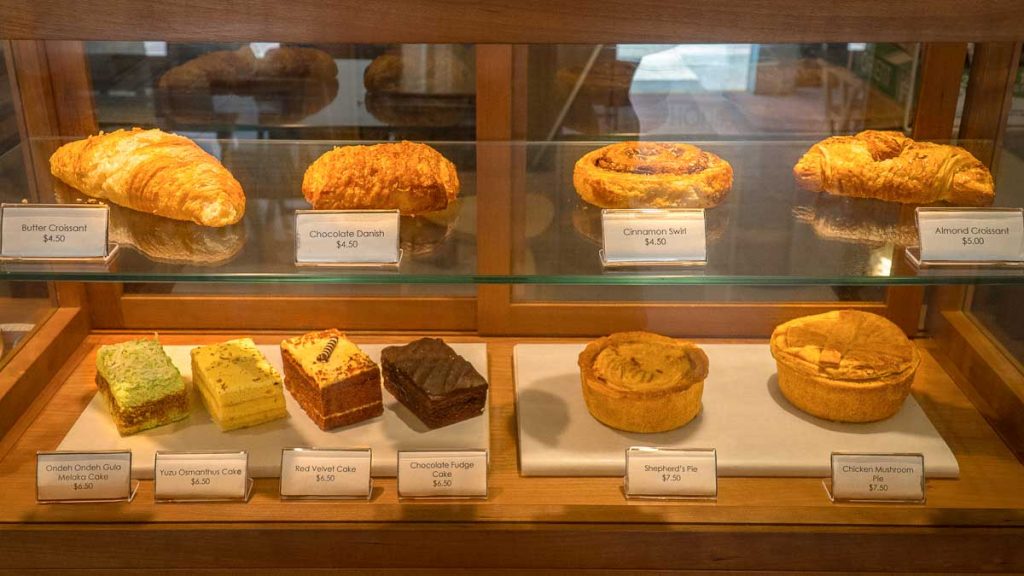 They also serve an assortment of pastries, ranging from savoury (such as Shepherd's Pie) to sweet (like Cinnamon Swirl).
Opening hours: 9AM – 5PM, closes at 6PM on Fri and Sat
How to get here: 11min walk from Ang Mo Kio MRT Station (Google Maps)
11AM – Kebun Baru Birdsinging Club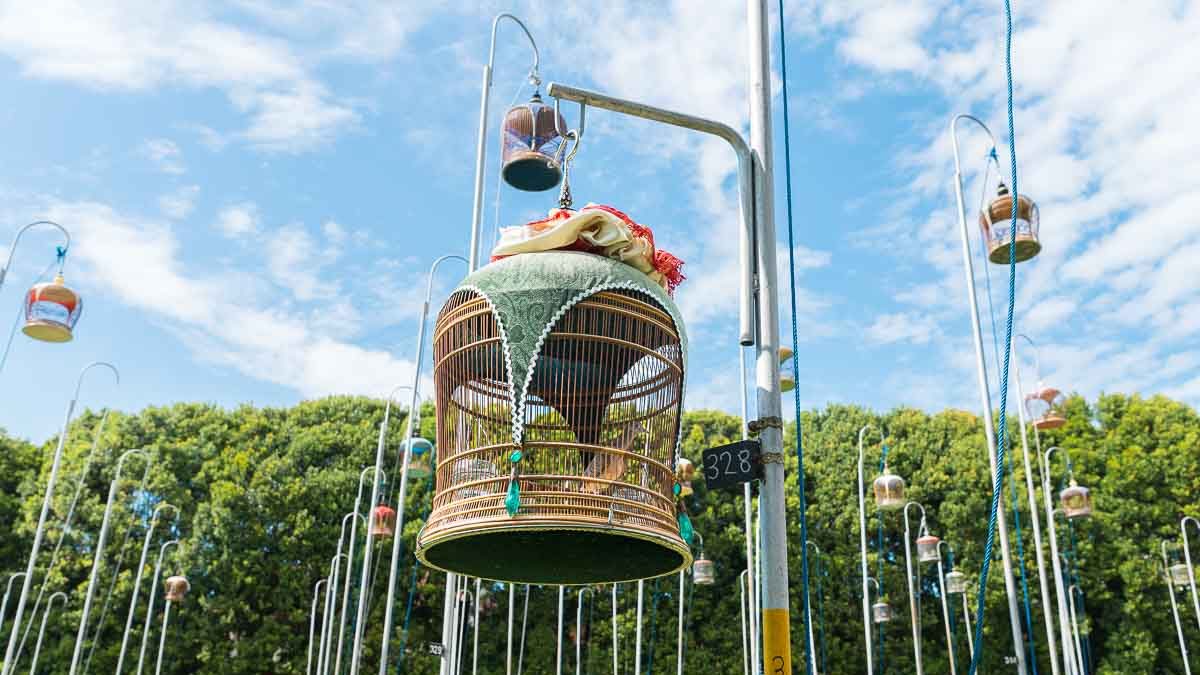 Since your soul has been awakened with your caffeine of choice, you may now properly appreciate this theatrical bird choir. 🎶 🦜 (Forget Bird Paradise, this is free.)
Located at the foot of Ang Mo Kio Garden West, Kebun Baru Birdsinging Club is where bird hobbyists around the country gather.
If you're curious, here's the back story: Three zebra dove owners first met here to share their enthusiasm for birds. To reel others in, they hung their caged birds high up on trees. They then took it a step further by installing a few poles in 1987. Soon, this led other interested people over, and a bird-loving community was formed.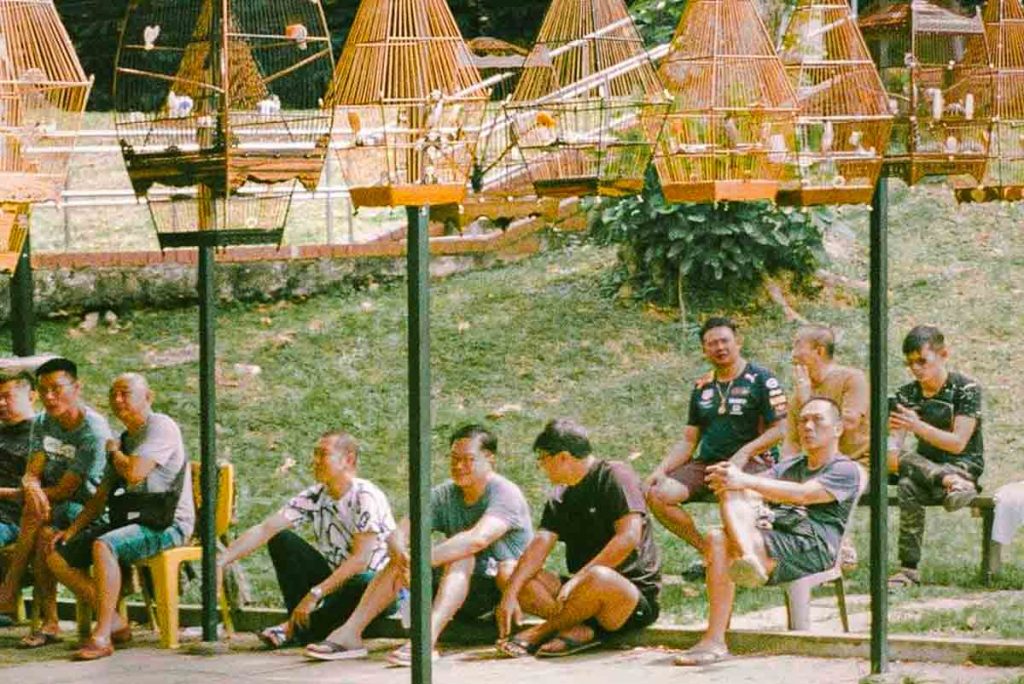 Photo credit: @rsvr.jpg via Instagram
Today, there are over a thousand poles planted, which is pretty cool to see. What's more, these bird keepers often host bird-singing competitions in the wee hours of the morning.
*Pro-tip: Come early (at around 6AM) on the weekends to catch a bird-singing competition.
To be real, I have an irrational fear of birds, so this was a funky experience for me. It made for a silly situation — I highly recommend dragging over your friend with a mild bird phobia for your personal entertainment. Another fun suggestion is to identify birds that capture your friends' vibe and discuss why (I compared Kim to a bird myself in this TikTok).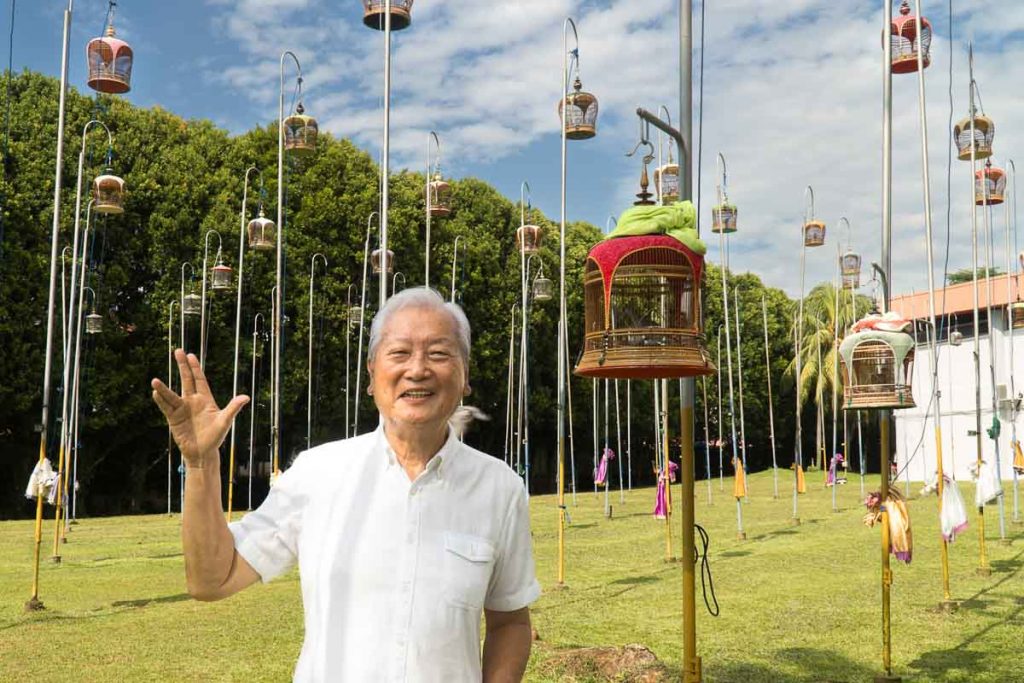 Uncle Rob says this gesture means "Live long and prosper," which is frankly much cooler than any pose I've struck for a picture.
The origin story of this place intrigued me, so I stuck around to see if I was lucky enough to come across any of the founders! Mr Teng Leng Foo, who works a traditional cage-making business at the nearby Block 159, is one of them.
One of his co-founders, Uncle Robin (his nieces call him Uncle Rob, and he told us you can too) also visits regularly. Otherwise, the club members are generally there to socialise, so there's quite a crowd that are open to chat.
Entrance fee: Free
Opening hours: 6AM – 5PM
How to get here: 14min walk from Brew & Co. (Google Maps)
12:30PM – Cheap Craft-shopping at Elsie Departmental Store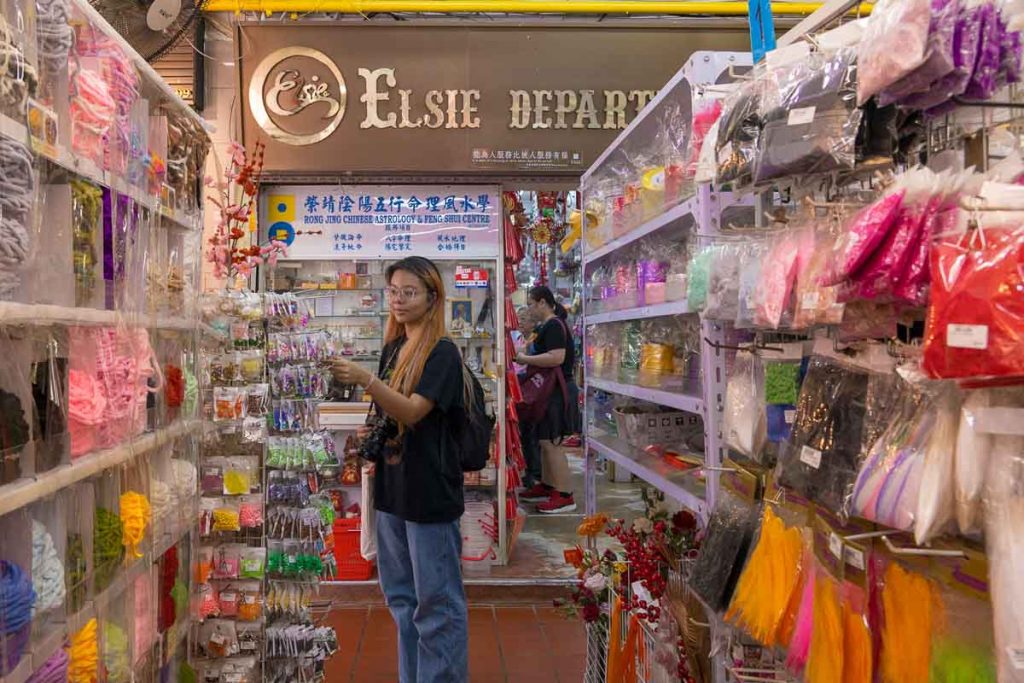 Nowadays, we're seeing a reprise of handmade jewellery. If you (also) adore this aspect of the Y2K comeback wave (but have no money), Elsie Departmental Store will have your heart.
As much as I found this trend cute, the prices of these small-business jewellery were never adorable enough for me to bite. But I walked out of this door fully prepared to only wear precious little beaded accessories forever.
*Don't be fooled by its online inventory, they have so much more in-store.
This was a treasure trove of everything to do with craft. Ribbons, buttons, yarn, faux flowers… it was a cramped labyrinth of materials, and everything was beyond friendly to my poor, shy wallet. For reference, the typical candy-looking alphabet beads are mostly about S$2, costing up to S$6.60 for bigger packs of different designs.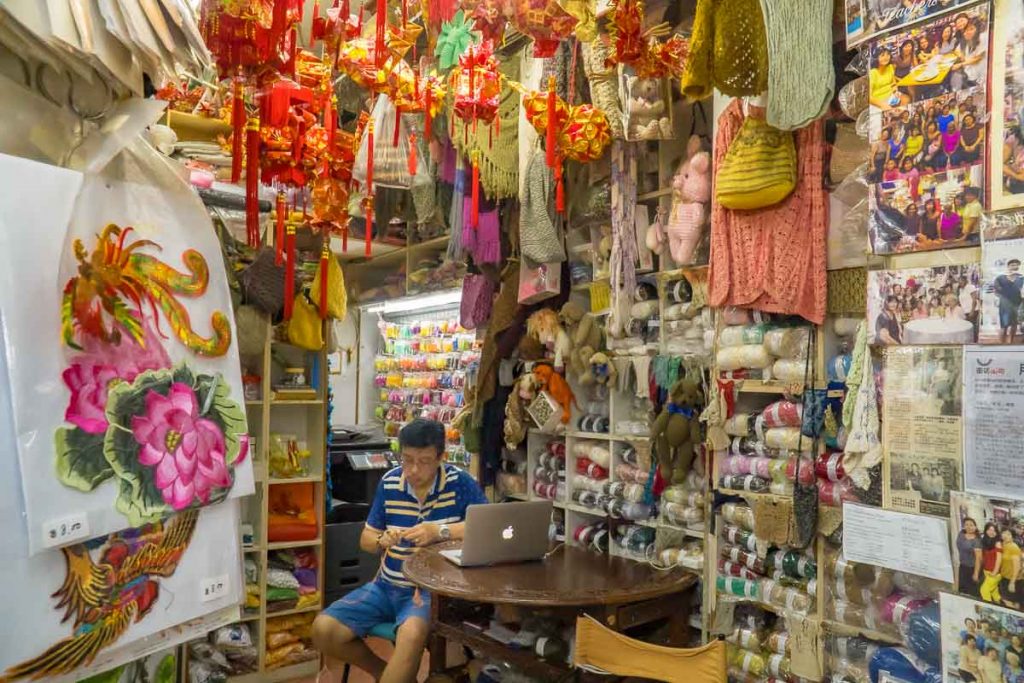 Elsie Departmental Store also hosts craft workshops.
There's probably nowhere better to start (or snowball) your collection than here. Not to be an enabler, but I'd encourage stocking up 🥰
Opening hours: 10:30AM – 7:15PM
How to get here: 17min from Kebun Baru Birdsinging Club (Google Maps)
Take a 9min walk to Opp Ang Mo Kio Pr Sch bus stop. From there, board Bus 76/165/265 to Blk 700b bus stop (2 stops). Elsie Departmental Store is a 5min walk away.
1PM – Taste of Vietnam at Banh Mi Saigon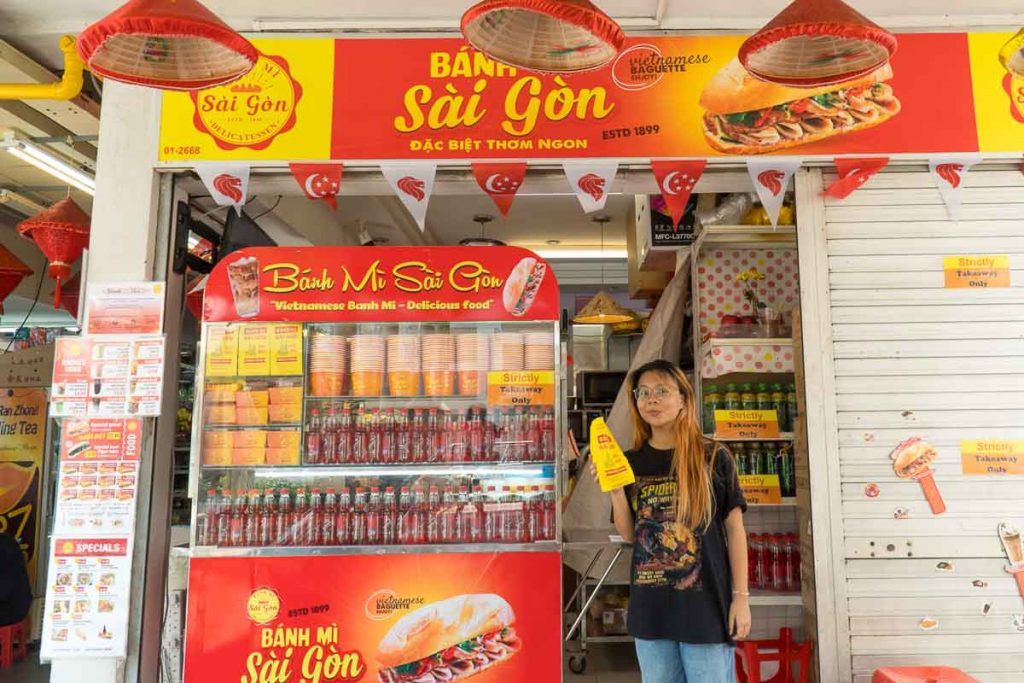 Seeing that it was claimed by online food reviews to be the "best Vietnamese food in Singapore," we had to check out Banh Mi Saigon. (FYI, Banh Mis are a kind of savoury baguette sandwich.)
The shopfront's decorated as if its intention is to send you straight to Vietnam — traditional Vietnamese conical hats repurposed as festive lanterns that hung from the ceiling, some with tassels dangling, while small plastic tables and stools were set up for dining convenience. The whole place stuck devotedly to its radiant red, yellow, orange and white colour scheme.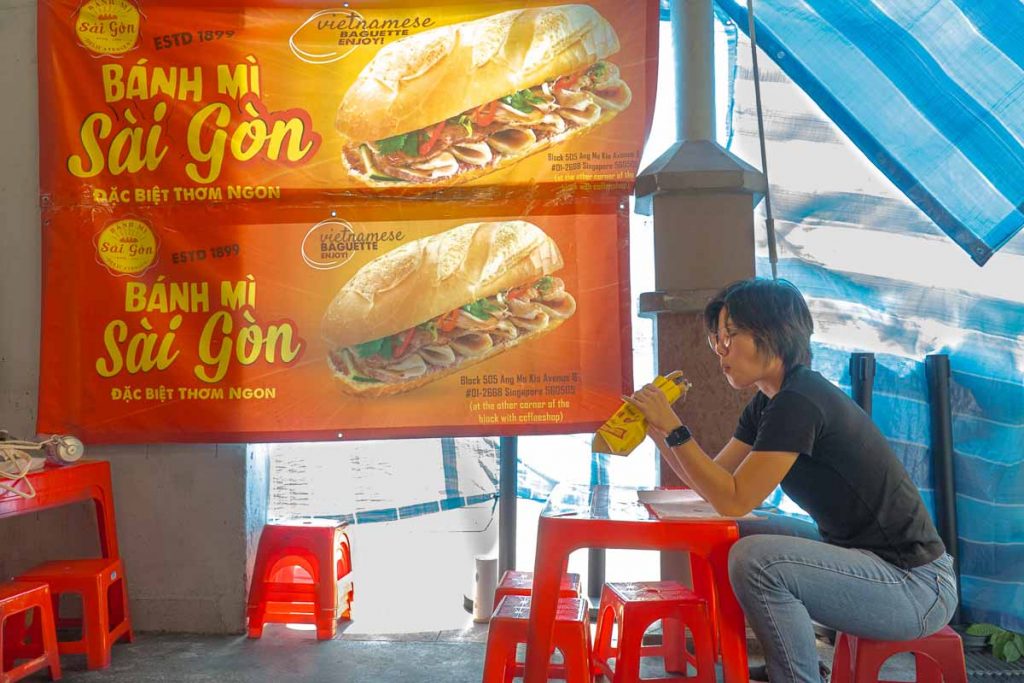 I was also fascinated by how the stall's walls, counter and even pillars were entirely plastered with menu pages. Every surface was exploited, and spoiled for choice was an understatement.
This small under-the-block stall offered endless menu items besides Banh Mi, including noodles, sandwiches, drinks and even dessert.
Photo credit: @banhmisaigon505 via Instagram
After scrutinising the descriptions of 10 (!) Banh Mi flavours, we eventually asked the cashier for recommendations. He shared his favourite items (No. 1, 2, 5 and 7), namely the Banh Mi Bo La Lop (S$8.90), Banh Mi Pha Lau Heo (S$7.90), Banh Mi Thit Nuong (S$7.90), as well as the Banh Mi Thit (S$6.90), which we picked.
I'm usually picky, but my tastebuds fully embraced this burst of flavours: spice, sauce, chives among other garnishes, and meat. I couldn't get enough of the pulled pork filling — it's nothing like I've ever tried.
Opening hours: 9AM – 9PM
How to get here: 19mins from Elsie Departmental Store (Google Maps)
Take a 6min walk to Blk 700b bus stop. From there, board Bus 265 to Opp Blk 507 station (4 stops). Banh Mi Saigon is a 3min walk away.
2PM – Exchange Friendship Bracelets at Dragon Playground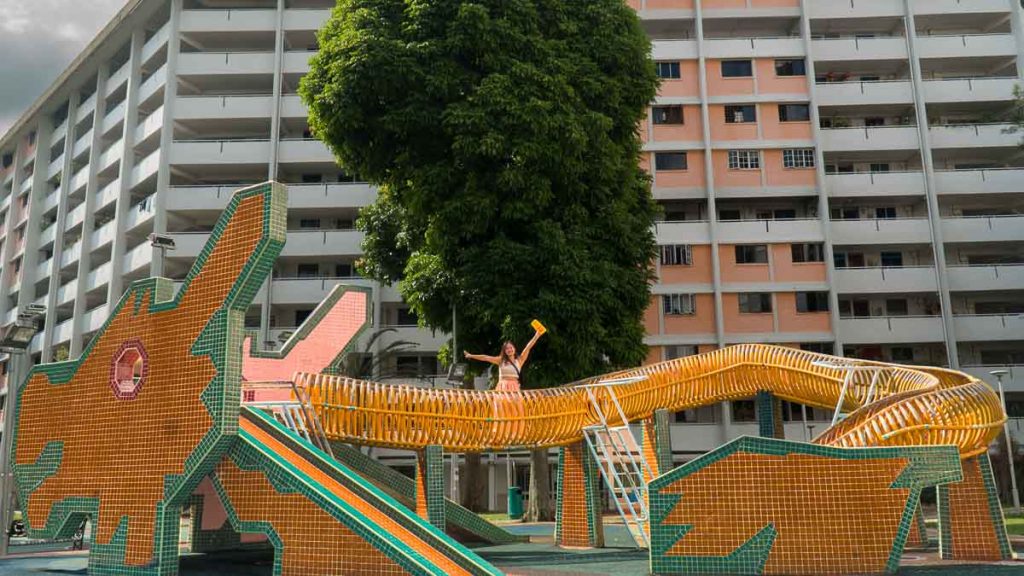 The glory of every Ang Mo Kio guide — the retro Dragon Playground. I won't deny this icon its attention; here's what makes it special: It's one of the last-standing vintage playgrounds, originally built to realise a 1970s vision of assigning neighbourhoods their own distinctive "Adventureland."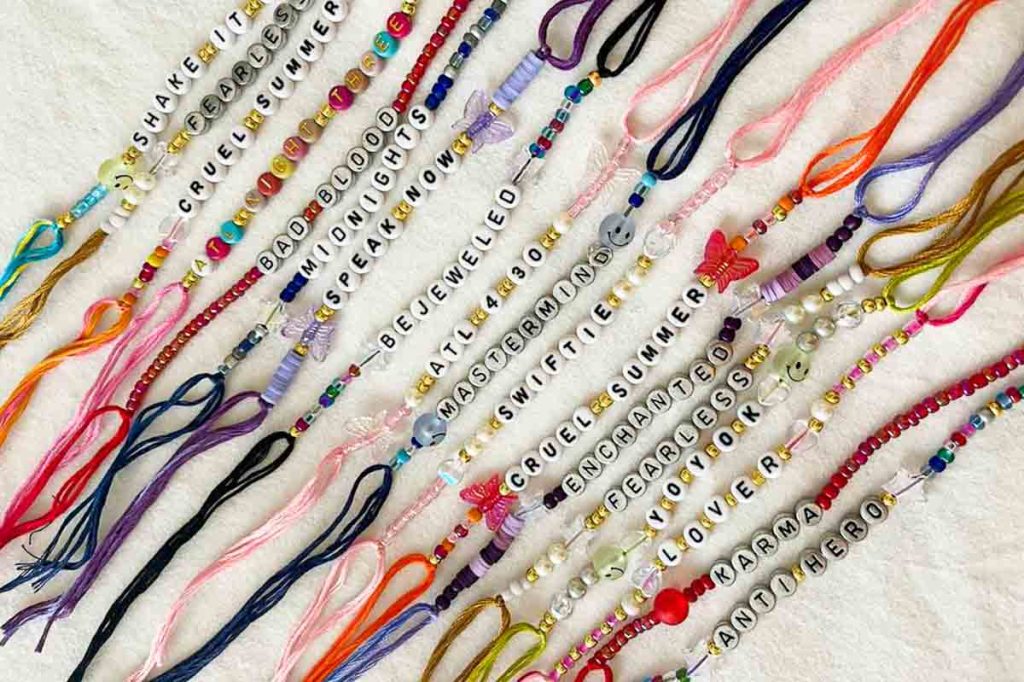 So, make the friendship bracelets, take the moment and taste it, you've got no reason to be afraid… Photo credit: @jackie_cabrera98 via Pinterest
And this is where you can string together some jewellery, with the stash from your earlier visit to Elsie Departmental Store — a chance to work on your friendship bracelets for the Taylor Swift Eras Tour concert.
If you're one of the Chosen Few blessed with a ticket, or have plans to at least breathe that Stadium air (even if it's on the wrong side of the gate), you should know about the friendship bracelet-exchange culture. Attendees typically make enough to cover their whole forearm, so it'd be wise to start early.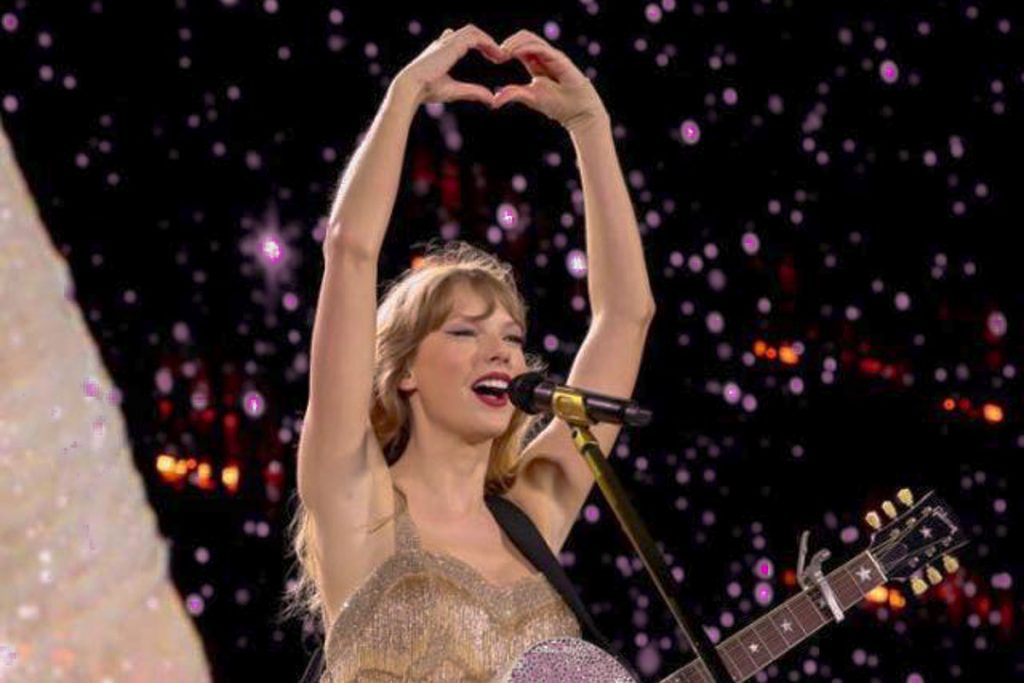 Even if you're not seeing Blondie, it's still fun to put together some accessories as gifts, or of course, for yourself. And you can do so under the dragon-head-shelter, hanging from somewhere, or going down a slide, which is far more exciting than doing so hunched over alone in your room. I'd also play some music. (Taylor's Version. Or whatever else is your groove.)
While it's no longer as popular as a playground, this Dragon Playground still serves as a heritage monument and is a place for reminiscence to 70's kids. This activity would be especially nostalgic for those who played here and made friendship bracelets as children!
Opening hours: 24hrs
How to get here: 13mins from Banh Mi Saigon (Google Maps)
Take a 2min walk to Opp Blk 507 bus stop. From there, board Bus 265 to Blk 555 bus stop (3 stops). The Dragon Playground is a 6min walk away.
3PM – Mahjong-themed Ice cream at Wonders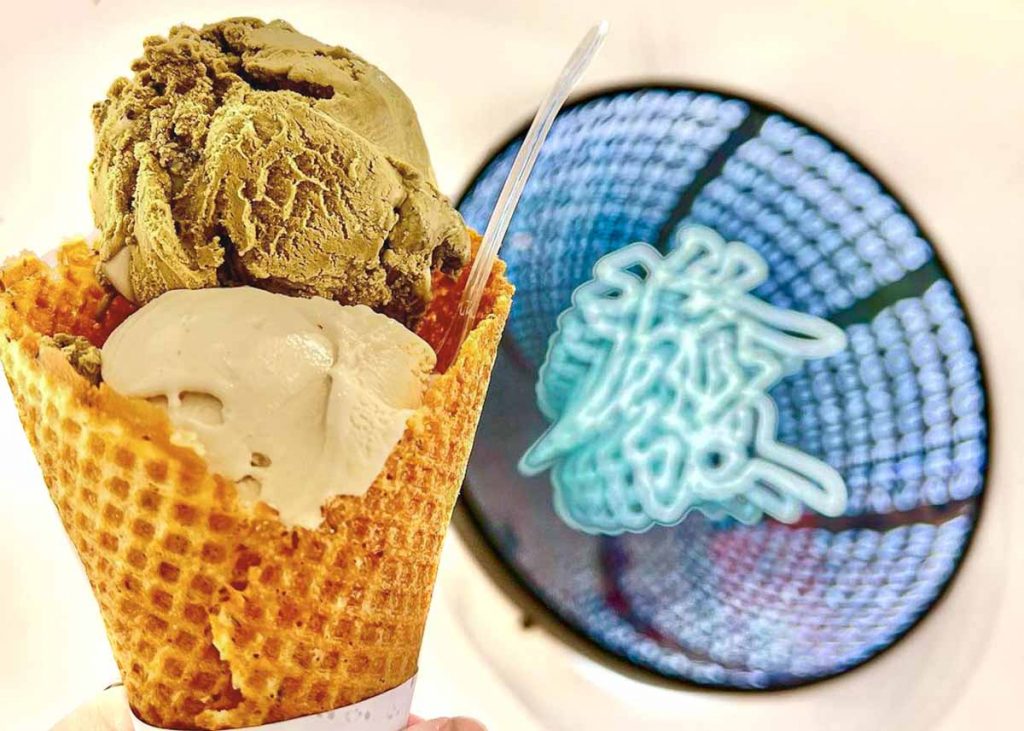 Photo credit: @jasminechoo27 via Instagram
There's nothing as delightful as ice cream in this Singapore weather — and these tubs were auspicious 😛 (Presenting another treat-of-the-day. The first one didn't count, that was breakfast. Girl Math prevails.)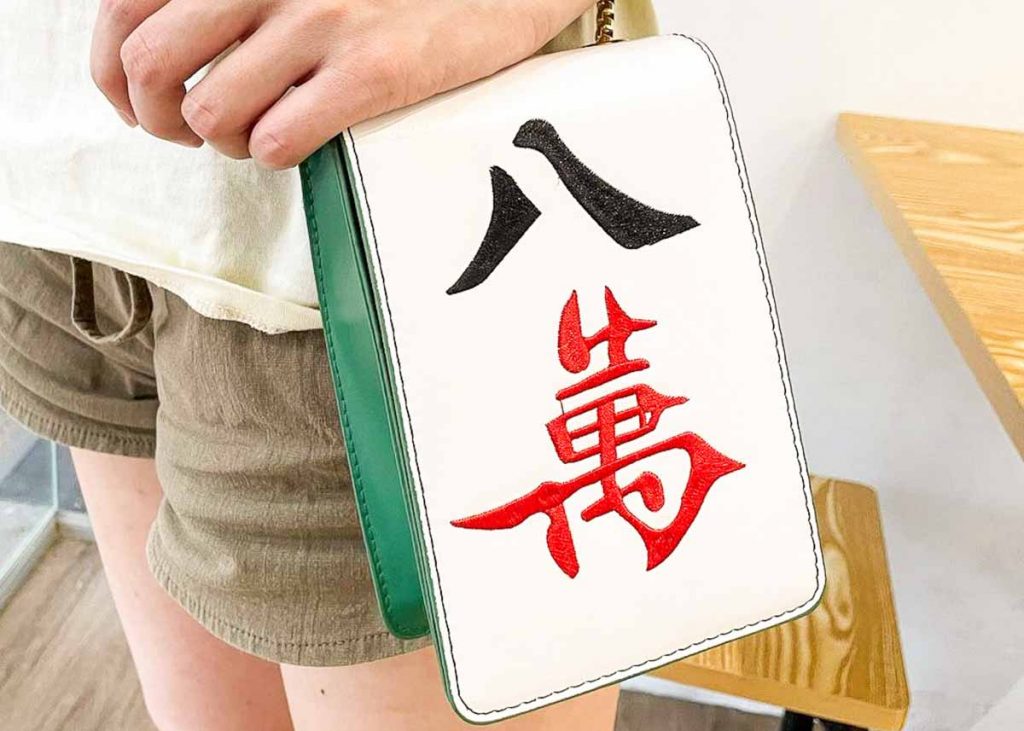 A mahjong tile purse, an item in Wonders' merchandise collection. Photo credit: @wonders.sg via Instagram
This is Wonders, where you'll find mahjong motifs everywhere you turn — from mahjong jargon in flavour names, a trippy Huat sign, to mahjong merchandise (think socks, tote bags, rubik's cubes, and Kim almost got a mahjong pillow for her badass mahjong-loving grandma).
We shared a scoop of Malt, Cookie Dough, and Chocolate (饼一色) handsomely laid on a Pandan Mochi Waffle, and a White coffee to go with it.
My eyes light up at anything mochi, and for just S$6, this lived up to expectations. It was pleasantly chewy and complemented the waffle's spongey texture especially well. I also enjoyed its satisfying crisp. Flavour-wise, the pandan added a noticeable fragrance to the otherwise typical waffle taste!
The ice cream was enjoyable too. The flavour was light, so it was never too sweet or jelak. The spotlight was evenly shared with our coffee's gorgeous latte art (S$4).
*Pro-tip: If you'd prefer a denser, richer taste, ask the counter for other recommendations!
Opening hours: 12PM – 11PM, closes at 12AM on Fri and Sat
How to get here: 13mins from Banh Mi Saigon (Google Maps)
Take a 2min walk to Blk 452 bus stop. From there, board Bus 76/132/165/268 to Blk 209 bus stop (4 stops). Wonders is a 6min walk away.
4PM – Enjoy a Heart-to-Heart down an Ang Mo Kio Heritage Trail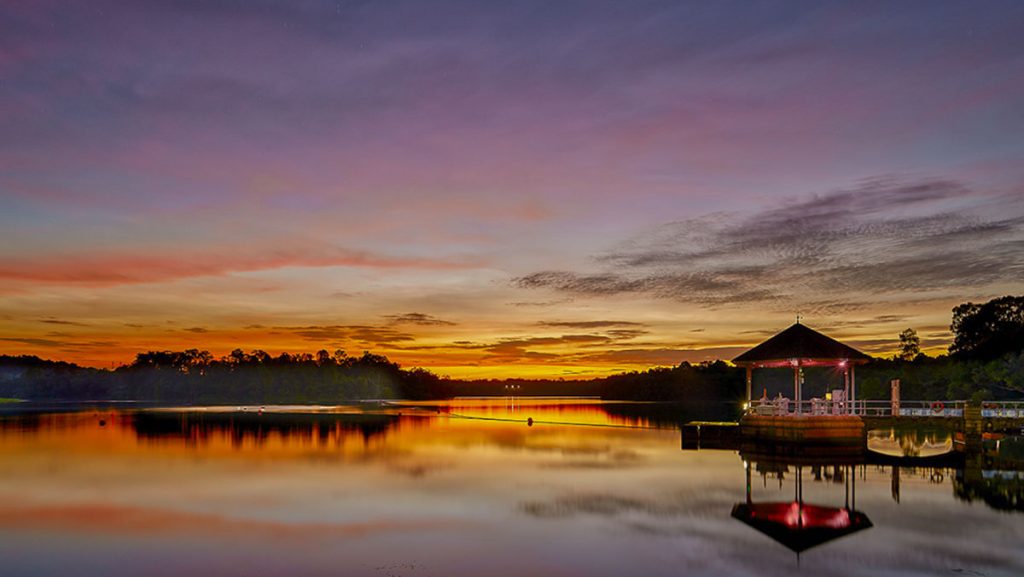 Photo credit: National Heritage Board
In case you still haven't had enough opportunities to catch up with your friends at this point (how?), this will give you plenty of time to talk while discovering something new. National Heritage Board has a series of Heritage Trails plotted all over Singapore, and Ang Mo Kio's was only recently refreshed.
Heritage Trails are summarily routes planned out for people to make meaningful pit-stops whilst exploring Singapore. Instead of aimless wandering, these trails give you direction and motivation to appreciate what you see.
*Pro-tip: Another way to gameify your exploration is with geocaching!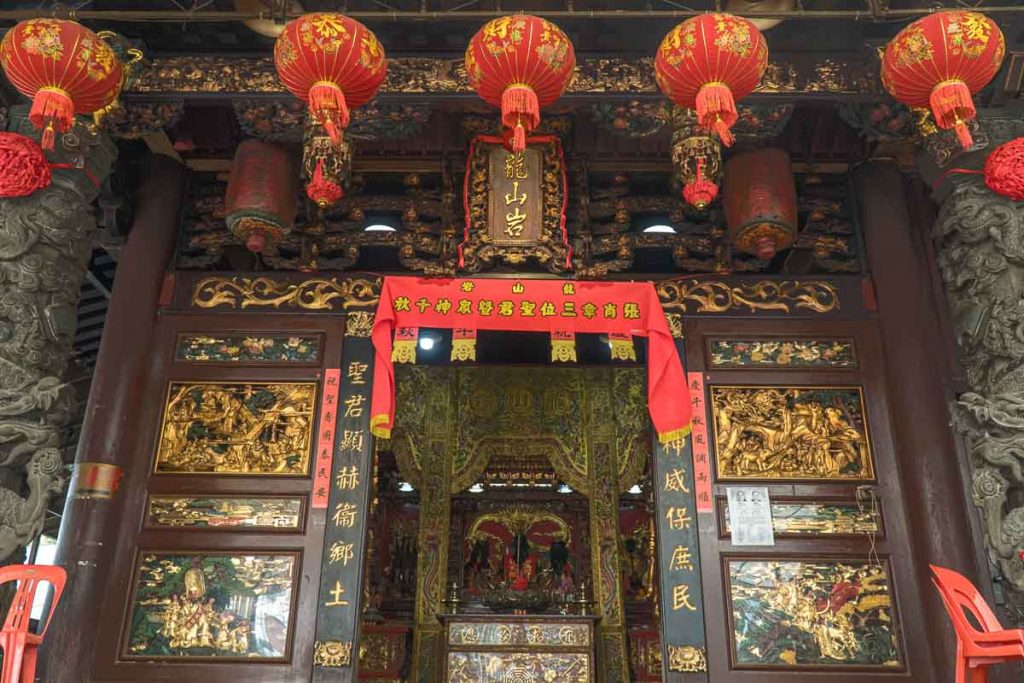 There are three route choices, to suit different crowds.
1) Iconic Landmarks – For those curious about Singapore's development story, here you'll visit distinctive buildings and sites
2) Hidden Heartland Gems – If you're intrigued by religion and culture, this reveals lesser-known stories among AMK's community
3) Scenic Fringes – A romantic path for admiring the serene greenery along AMK's outskirts (my personal favourite)
Whichever you and your friends pick, there are markers accompanying each destination to read up. NHB has curated information about memorable anecdotes from the place and/or its preserved history.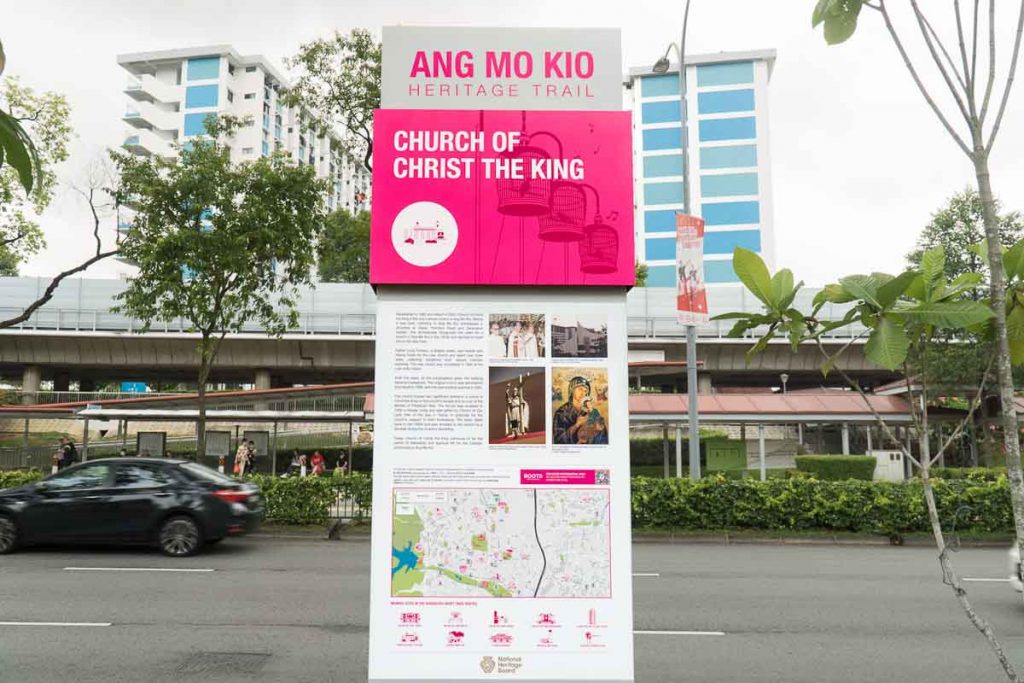 The NHB site also carries digital maps and video trailers for the heritage trails.
*Pro-tip: Mark out places you'd like to drop by and adapt the trail to your preference before heading out 🗺 ⭐️
Cost: Free
Opening hours: 24hrs
How to get here: Depends on what route you're headed

6PM – Dinner at Fairprice Finest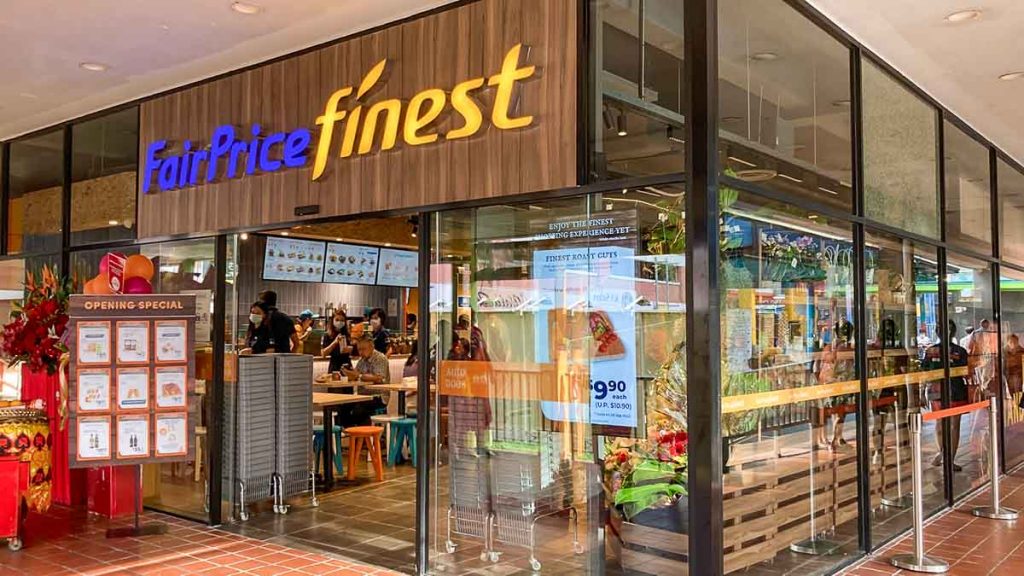 Photo credit: NTUC Fairprice via Facebook
For those dedicated to the itinerary, this stop is here for you to pick up your picnic goods, so choose from the many takeaway meals (including Japanese bentos). Seeing as that this is a Fairprice Finest, there's also a generous spread of snacks to pick from if you'd only like small bites 🧺
But that's not the only reason to come. This particular NTUC Finest (opened in September 2023) is easily the coolest one I've seen in all my life's NTUC-visiting — the Boujee Overachiever of NTUCs.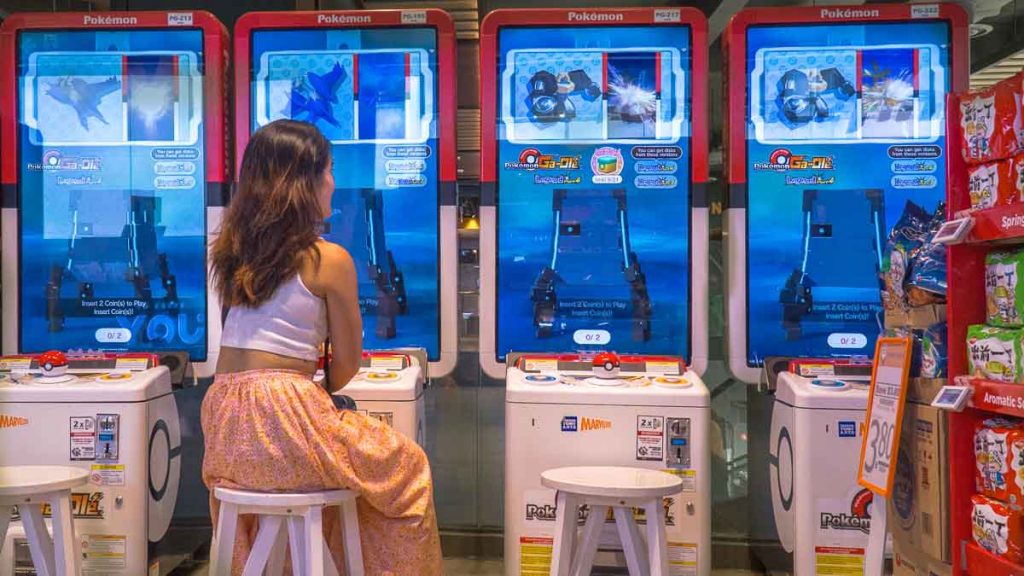 Behold: this Pokémon arcade row. See what I mean? This NTUC is so bizarrely extra for no reason. Enjoy the air-con and try to beat your friends' scores. (I have faith in you. You will emerge victorious.)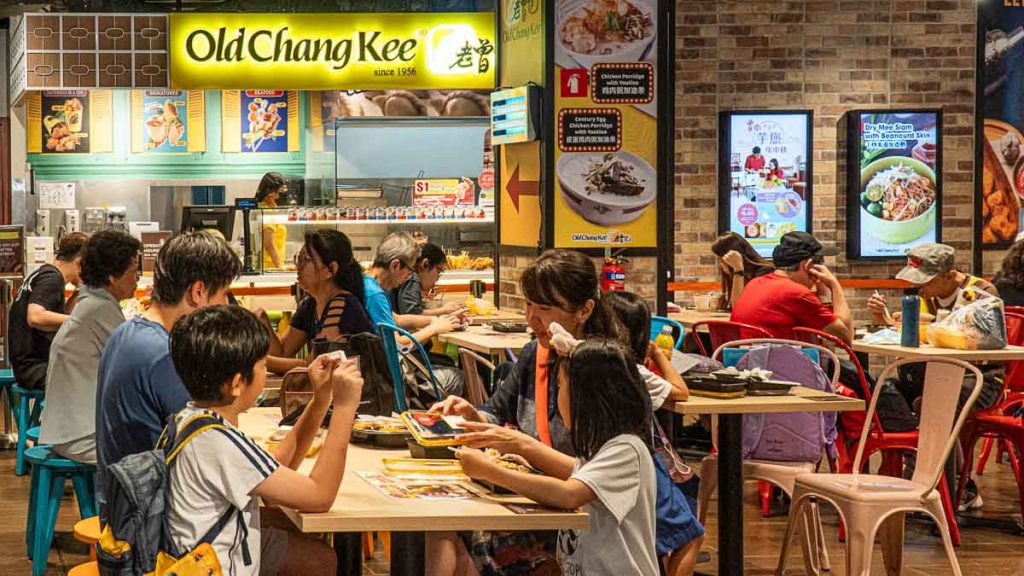 Otherwise, you may also dine in here! On the first level, you'll find a seating area for Old Chang Kee. Aside from the usual selection, they have bee hoon, mee siam and porridge dishes on the menu. Close by, there's a fruit juice shop and other dinner options.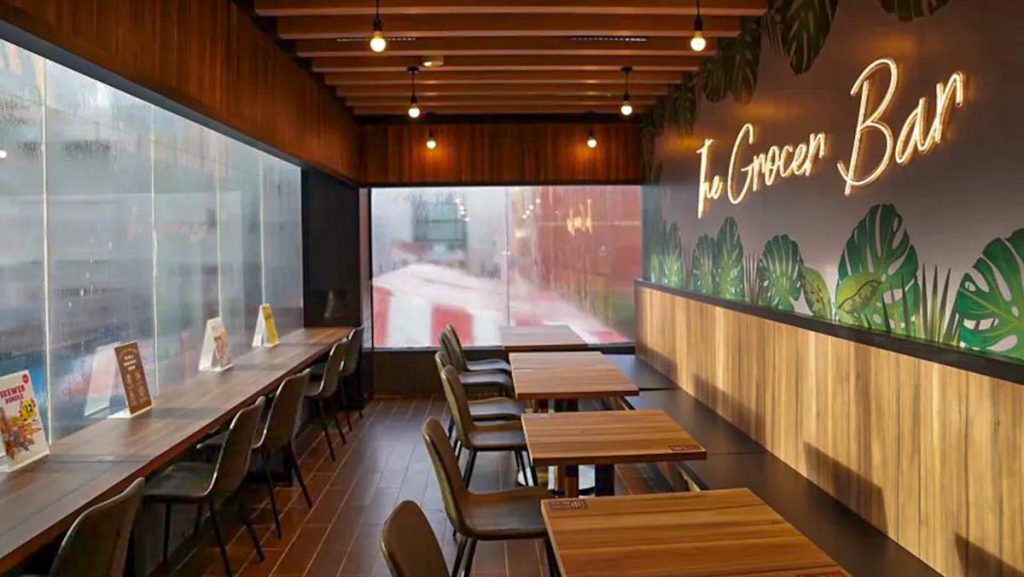 Photo credit: NTUC Fairprice via Facebook
Or head up the escalator to The Grocer Bar (the arcade machines are also on Level Two). It's a quiet and affordable place for craft beers and pasta. There are also freshly cooked light bites, like truffle fries for just S$4, as well as chicken karaage and tofu nuggets at S$5.
It's hot food with a view – the bar overlooks a bird's-eye-view of Ang Mo Kio.
Opening hours: 8AM – 11PM
How to get here: 2min walk from Masjid Al-Muttaqin (nearest NHB Heritage Trail landmark) (Google Maps)
6:15PM – Old-school Snacks in Tin Boxes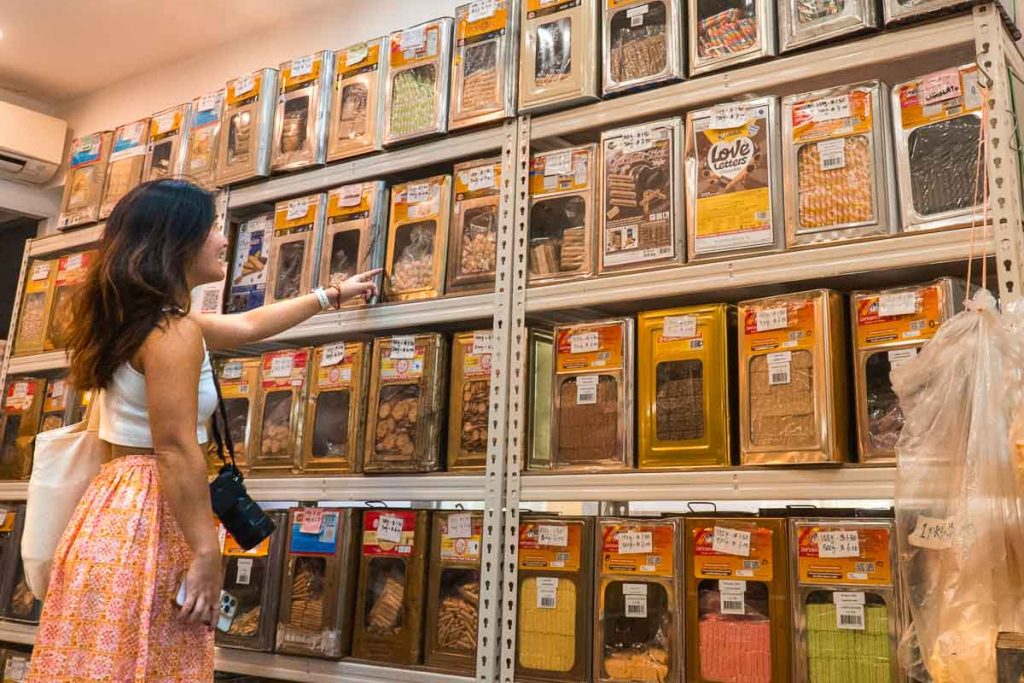 Right across NTUC is this hidden gem of old-world charm. Seah's Biscuit Shop contains a generous stockpile of traditional biscuits, pretty much a mini-museum of nostalgic biscuit tin boxes.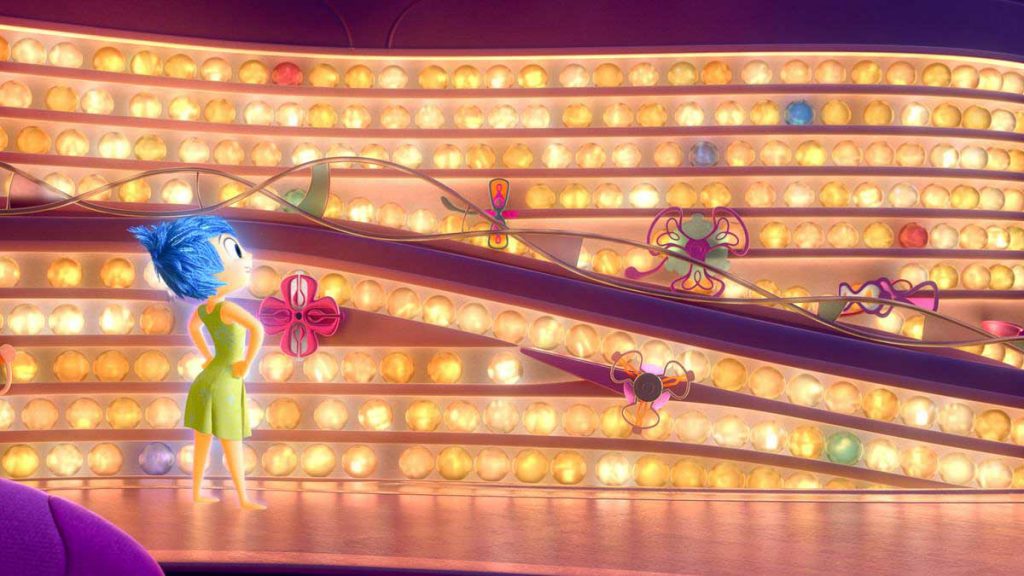 Inside Out. Photo credit: Disney
Coming here was like being enveloped in a hug by my younger self. Snacks that I'd long forgotten were arranged in tight rows, stacked up on shelves from floor to ceiling. It reminded me of the neat, wondrous library of glowing orbs in Inside Out — both hoard a multitude of memories.
Conversation starter idea for your friends: Which was your favourite childhood snack here and what stories does it remind you of?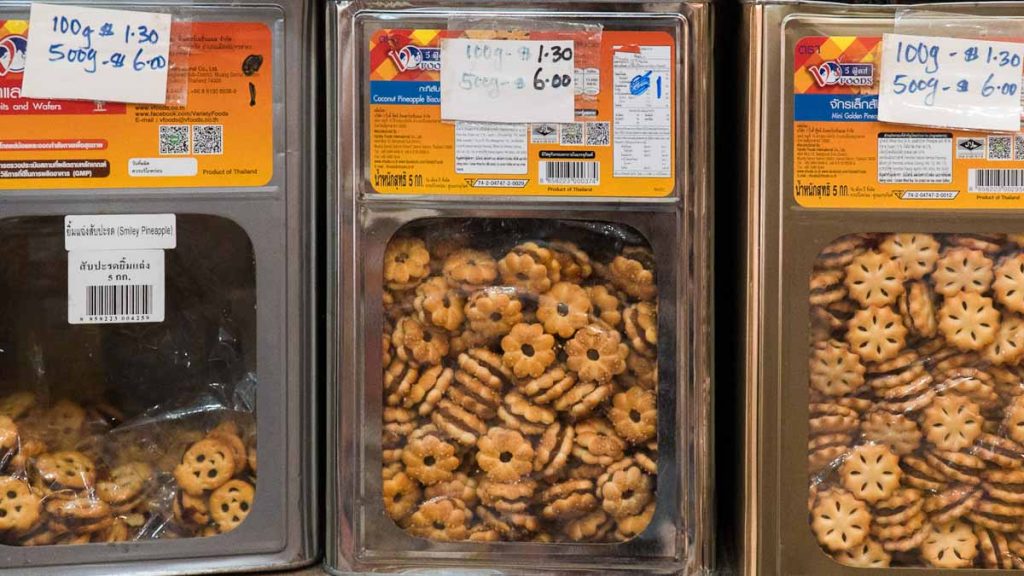 The price tags (or pen-scribbled-Post-Its) were from the past too, in that these biscuits were a downright steal. A bag of 100g averages out to be just over a dollar, while S$6 buys you 500g. (Picking out a variety would make for such an Instagrammable picnic spread… just saying 😸)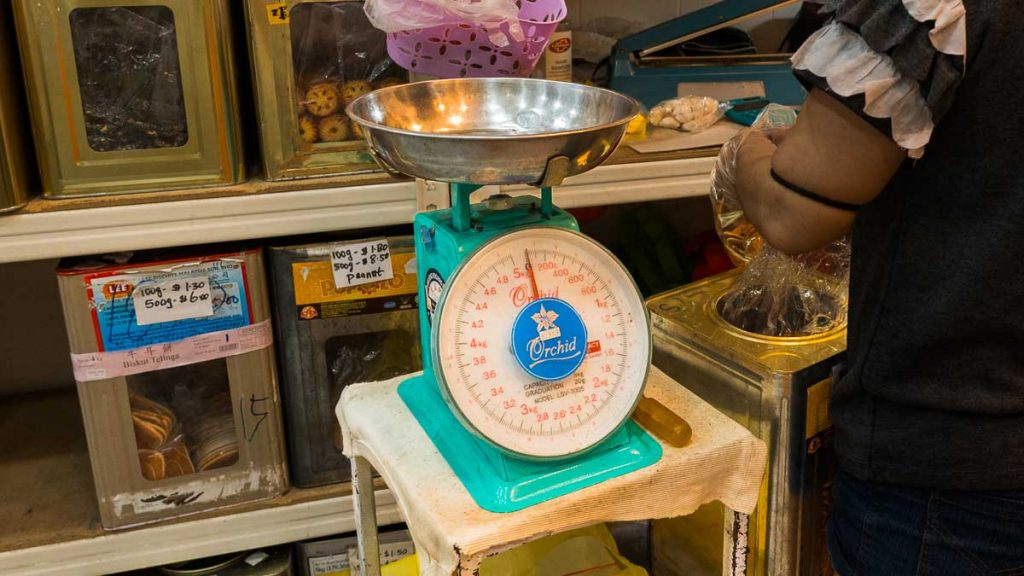 Even the weighing scale and the way it was packed kept up with the shop's early 2000's facade.
Opening hours: 9AM – 8PM, closes 3PM on Mon
How to get here: 3min walk from Fairprice Finest (Google Maps)
6:30PM – Sunset at Bishan–Ang Mo Kio Park
Photo credit: PUB, Singapore's National Water Agency via Facebook
If you've collected food from the past two locations like a hamster stuffing food in its cheeks, here's where you can finally settle down and tuck in. By this time, the sun would've begun to set — the sweetest time to take an evening walk or savour the last daylight with a picnic.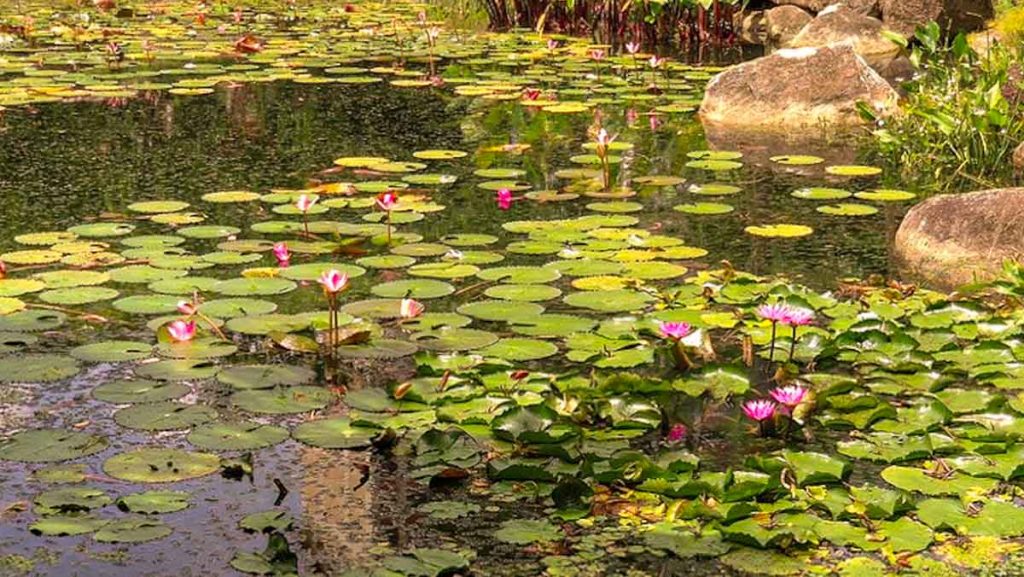 Photo credit: Jnzl's Photos via Flickr
Bishan-Ang Mo Kio Park is graced with a river that weaves through the location, from Lower Pierce Reservoir all the way down to Marina Barrage — making a nice home for biodiversity.
Accompanying the sound of the waterway's trickling, you may even hear the melody of animal chatter, such as the White-breasted Waterhen's (Amaurornis phoenicurus) call. It also features lush banks of wildflowers. Altogether, the park is a stage to a delicate riverine ballet for those who choose to slow down and observe 🌼 🐝 🩰 🎶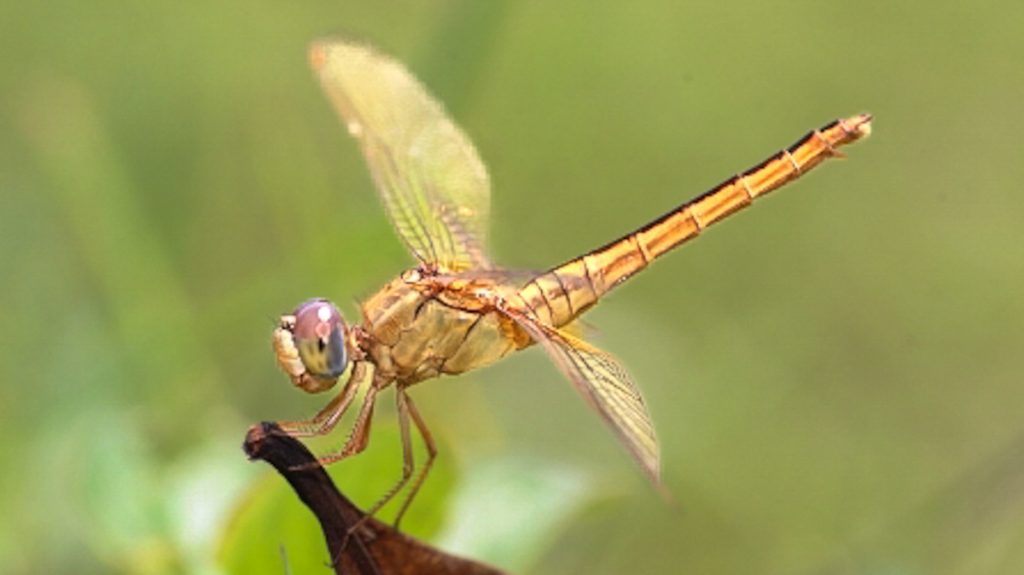 Photo credit: National Parks Board
Out of its 15 in-park attractions, I'd spend most time at the Lotus Garden. Lily pads float upon a serene pond, which is sighted to be home to dragonflies. Imagine catching sunlight filter through their iridescent wings, for a moment colouring the air around like a mosaic. Witnessing beauty like that, I'd suddenly understand Monet's entire career 🎨
It's been a long day of walking (and eating), so mellow out and let night fall.
*Pro-tip: Check Sidewalk Astronomy Singapore's FB Page to see if they're holding any stargazing events.
Entrance fee: Free
Opening hours: 24hrs
How to get here: 7mins from Seah's Biscuit Shop (Google Maps)
Take a 3min walk to Bef Al-Muttaqin Mque bus stop. From there, board 13/851/852 to Blk 254 bus stop (2 stops). Bishan-Ang Mo Kio Park is a 1min walk away.
9PM – 24-hour S$1 Dim Sum for Supper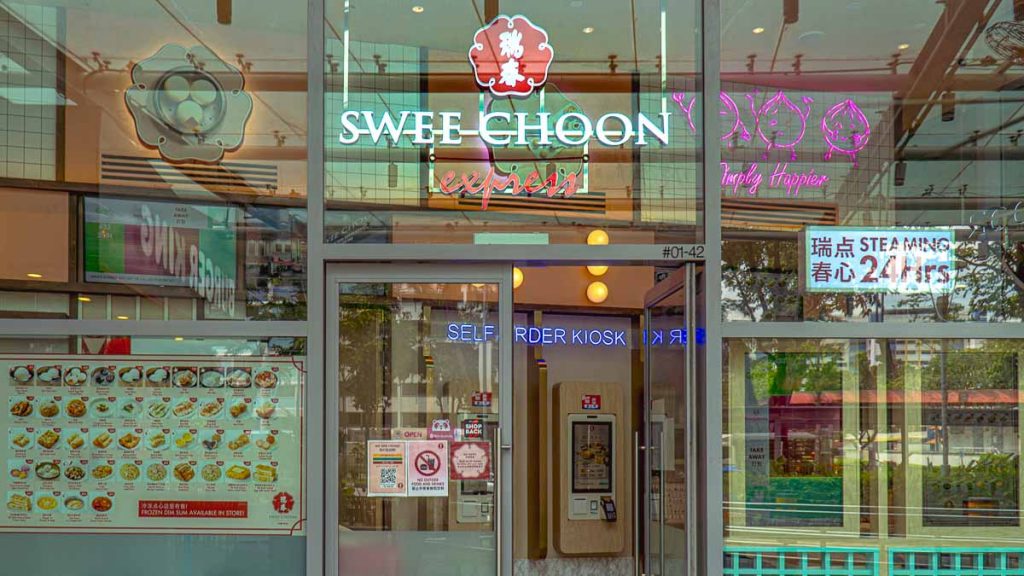 For those who're feeling snacky again, I got you 🕺🏻 At Swee Choon Express, you can have dim sum while the stars are out.
Supper fiends are no stranger to some post-midnight dim sum. I'm drooling just thinking about Swee Choon's Steamed Salted Egg Custard Bun and Sichuan Chilli Oil Wanton…
The star of the show is definitely how friendly your receipt will look — especially since you're likely not too hungry after entertaining your appetite all day.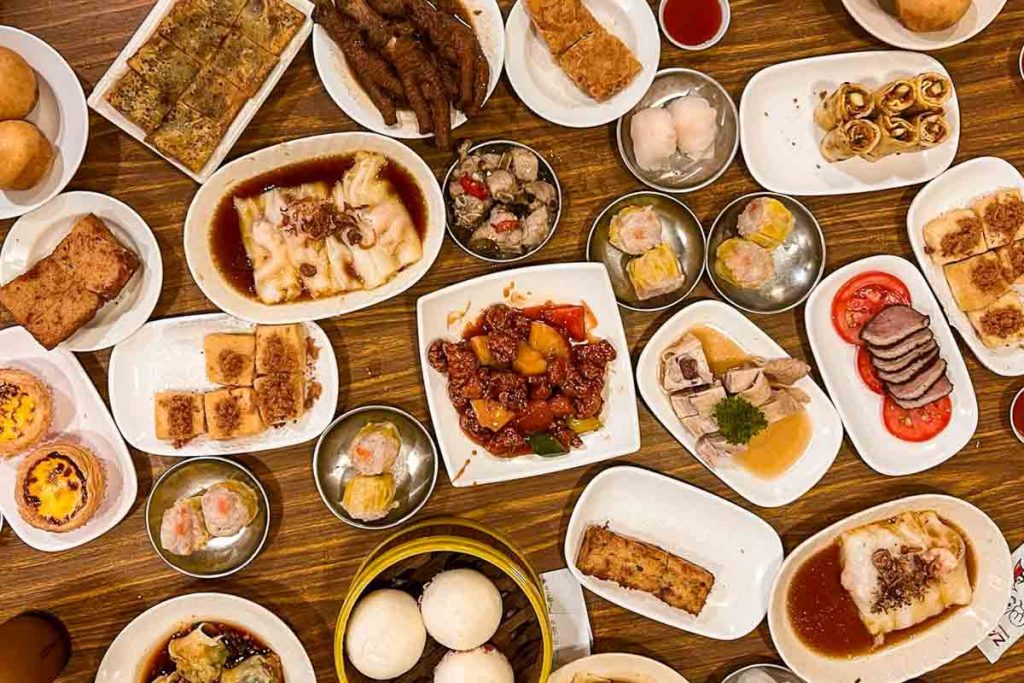 Photo credit: @nigelma16 via Instagram
Opening hours: 24hrs
How to get here: 9mins from Bishan-Ang Mo Kio Park (Google Maps)
Take a 1min walk to Opp Blk 315 bus stop. From there, board Bus 133/136 to Blk 700b bus stop (2 stops). Swee Choon Express is a 3min walk away, located in AMK Hub.
WARNING to the backyard explorers of Singapore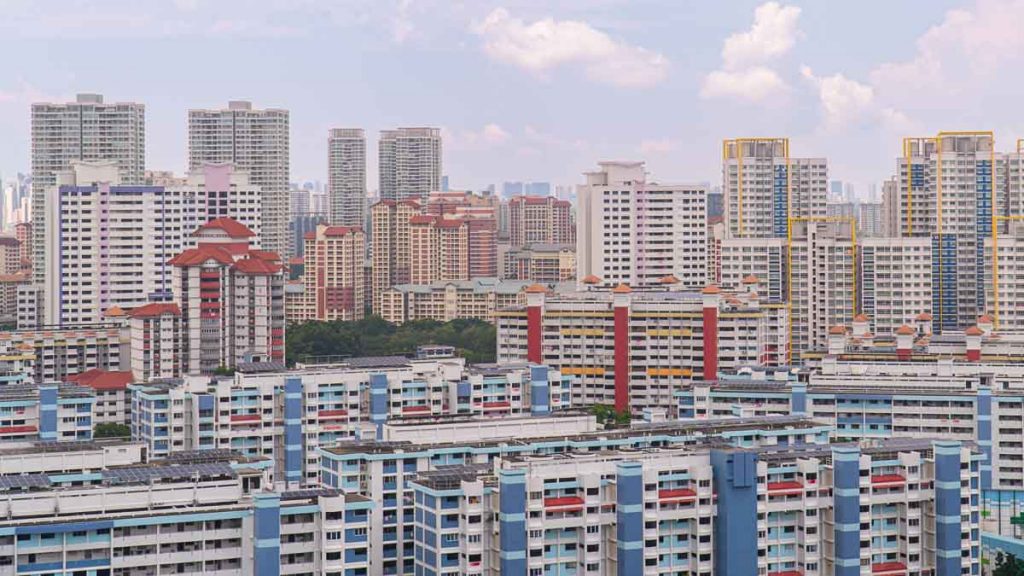 Here's a checklist for your own neighbourhood expedition:
1) Bring a big bottle of water to stay hydrated. Singapore is hot.
2) Invest in a portable fan. Singapore is hot.
3) Get a travel-sized spray bottle for insect repellent. We live in a place where bugs' breeding grounds thrive 🪲 Because Singapore is hot.
4) Pack a lightweight umbrella to shield from the sun. Singapore is hot. (Also, the possibility of rain. Either way, I can assure you that it will be hot.)
All in all, try to beat the heat (and pack light — think of all the walking) for an overall better experience 🌞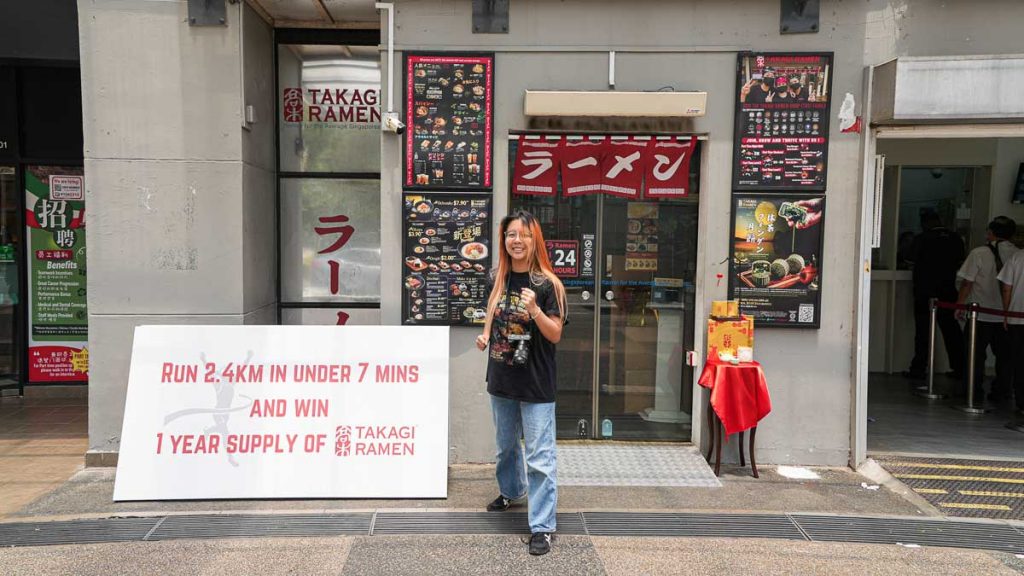 Another gem we came across. Do not be fooled by this clearly convincing photo – I cannot run 2.4KM under 7 minutes.
Y'know, you don't have to squeeze into a snug seat on an aeroplane to experience the amazement of travelling. All it takes is some adventurous spirit and revived childlike wonder to feel that joy in Singapore, or wherever you are 🌏 (and for cheap!)
If there's this much to do in the ulu Ang Mo Kio, just imagine how much more there is out there! After wandering around here, I'm now excited to make the most out of more overlooked areas in Singapore 🦔
Here are a few other neighbourhood guides to get you started:
– Yishun-Sembawang Neighbourhood Guide — 9 Lesser Known things to do in the North of Singapore
– Katong Neighbourhood Guide — Hidden Gems only True Easties Know About
– 9 Cool Places I Discovered Along the New Thomson-East Coast Line in Singapore
What are some underrated treasures in your own neighbourhood that you have the privilege of rediscovering? 🏠 Let us know in the comments!
---
Like what you see? Follow us on Facebook, Instagram, YouTube, and Telegram for more travel inspiration!