Yes, the rumours are true: Singapore is really clean.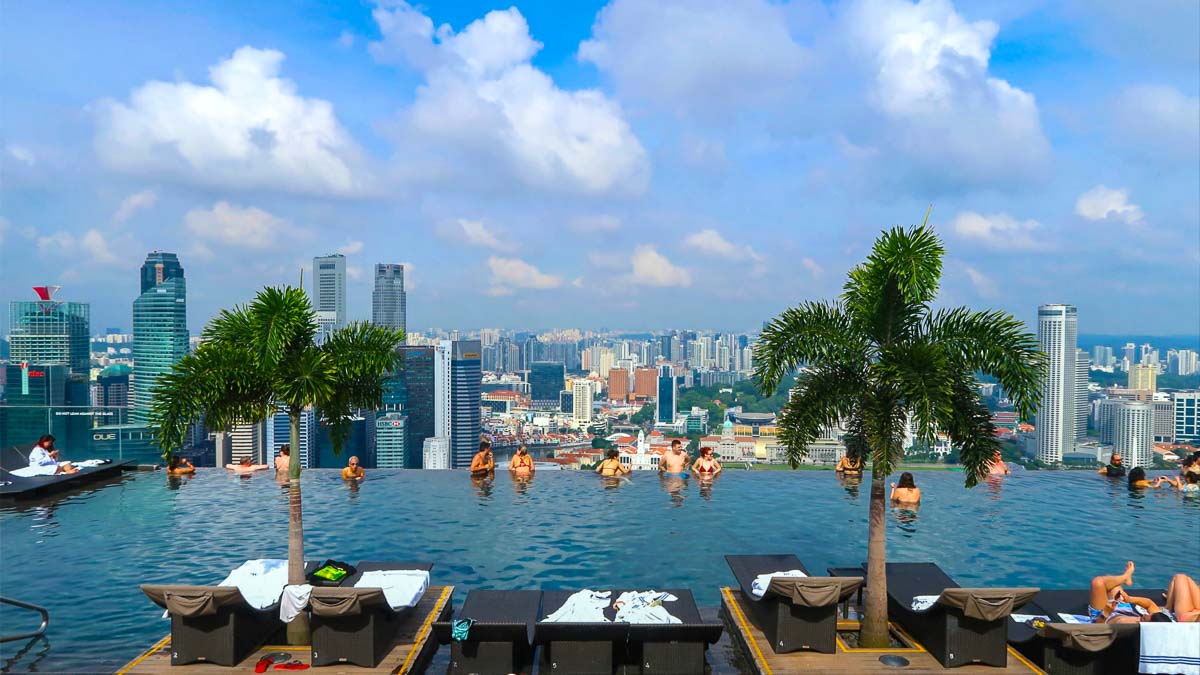 Travelling out of Singapore so often, we regularly meet many foreigners during our journeys. Two things usually happen when we tell them we're from Singapore: they either share how they loved our country, or how they'd really like to visit.
The praises are stacked high for the majority of them: Singapore is clean, everything is efficient, and the food is amazing. But the lukewarm attitude and criticisms are real too. Some people felt that Singapore was too rigid, too expensive, and boring with nothing to do (Really? Because we can think of 54 things!).
That said, you can't deny Singapore has a lot going on. Nature, culture, nightlife, food — whatever you're interested in, you'll probably find it. But for first-time visitors, here's a sample three-day itinerary of Singapore's best to check out. We've added some handy travel tips at the end too.
For now, our Singapore travel guide tells you everything you need for a sibei shiok (Singlish for 'extremely good') time in sunny Singapore!
Pre-trip Essentials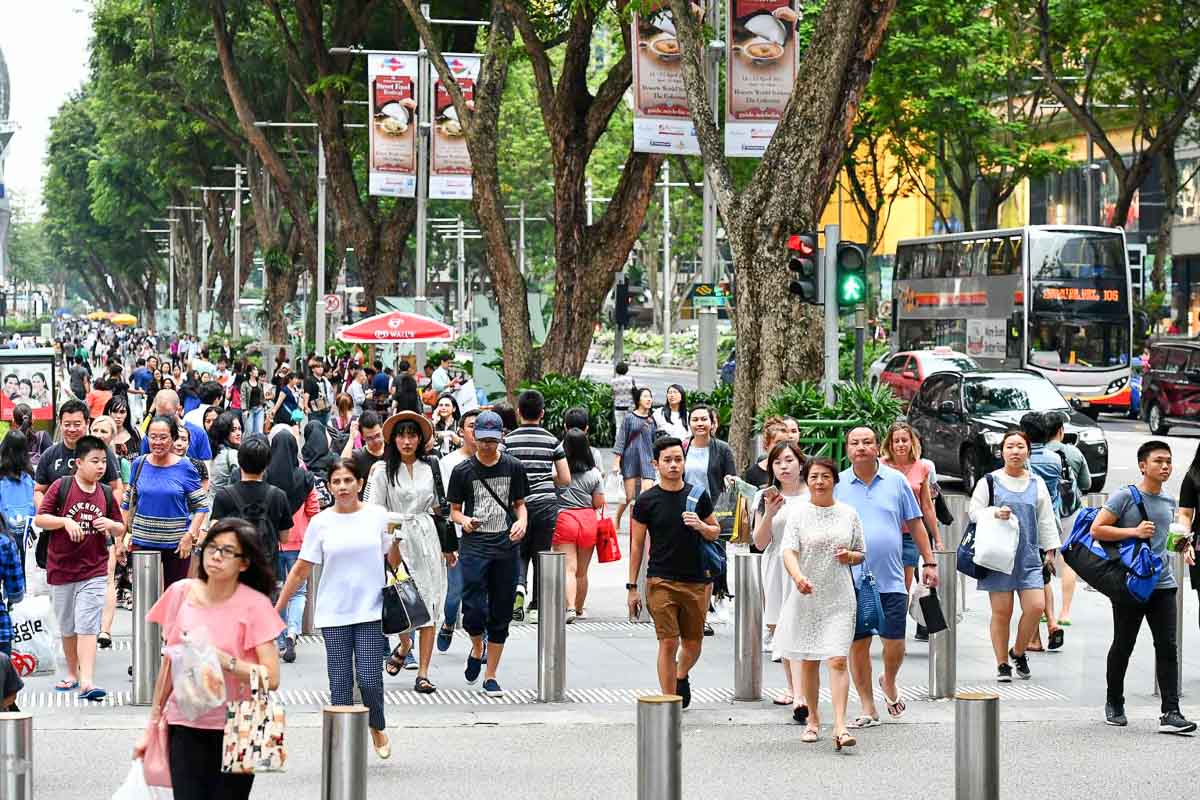 Best time to visit: All year-round! Singapore is located near the equator, so it's perpetually hot and humid with an average temperature of 27-30°C. (It sometimes gets a lot hotter, though!)
The monsoon season runs from November to January, so have wet weather plans ready if you're visiting then. Other times of the year may see overcast days or unexpected showers. Bring along an umbrella, or wait it out under our many sheltered areas… and air-conditioned malls.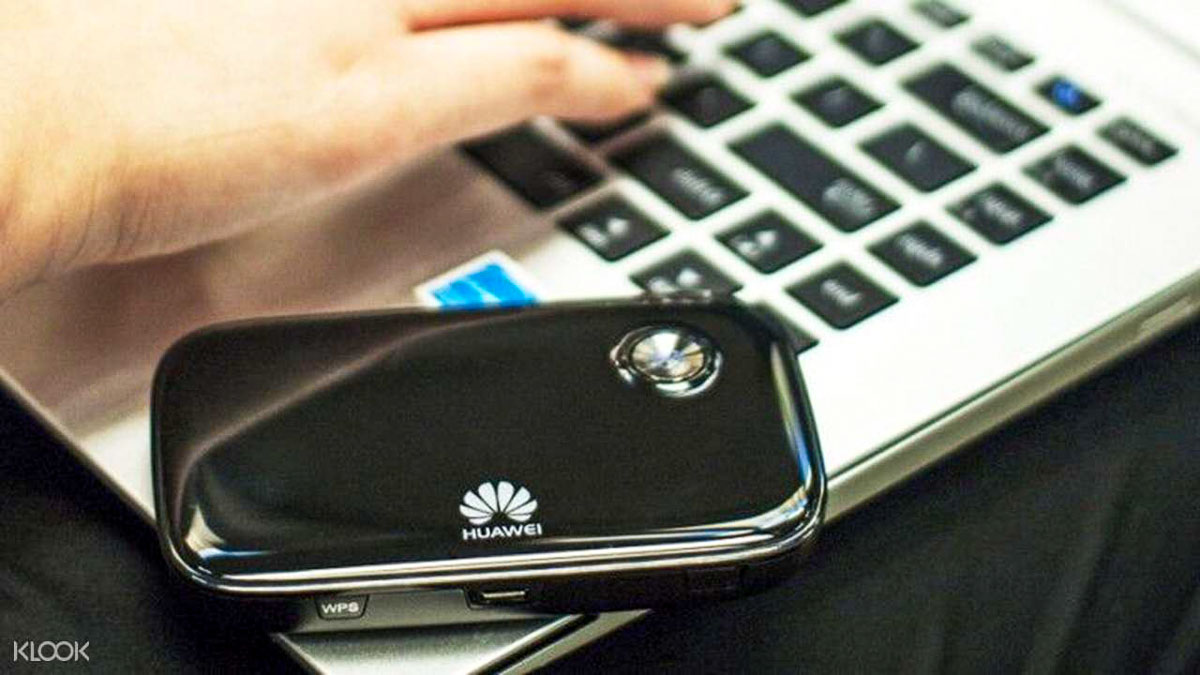 Connectivity: Pre-book a nifty WiFi device, which you can collect upon arrival at Changi Airport. It connects up to eight devices, and provides good coverage islandwide. Alternatively, a SIM card lets you make calls and texts too.
In Singapore, most shopping malls and public spaces provide free WiFi, such as [email protected]. However, to activate it, you'll need international roaming to receive a verification code via SMS.
For other essential information like types of power outlets, and whether the tap water is safe to drink, check out this page.
Check Flights to Singapore
Getting Around Singapore
MRT (Mass Rapid Transit)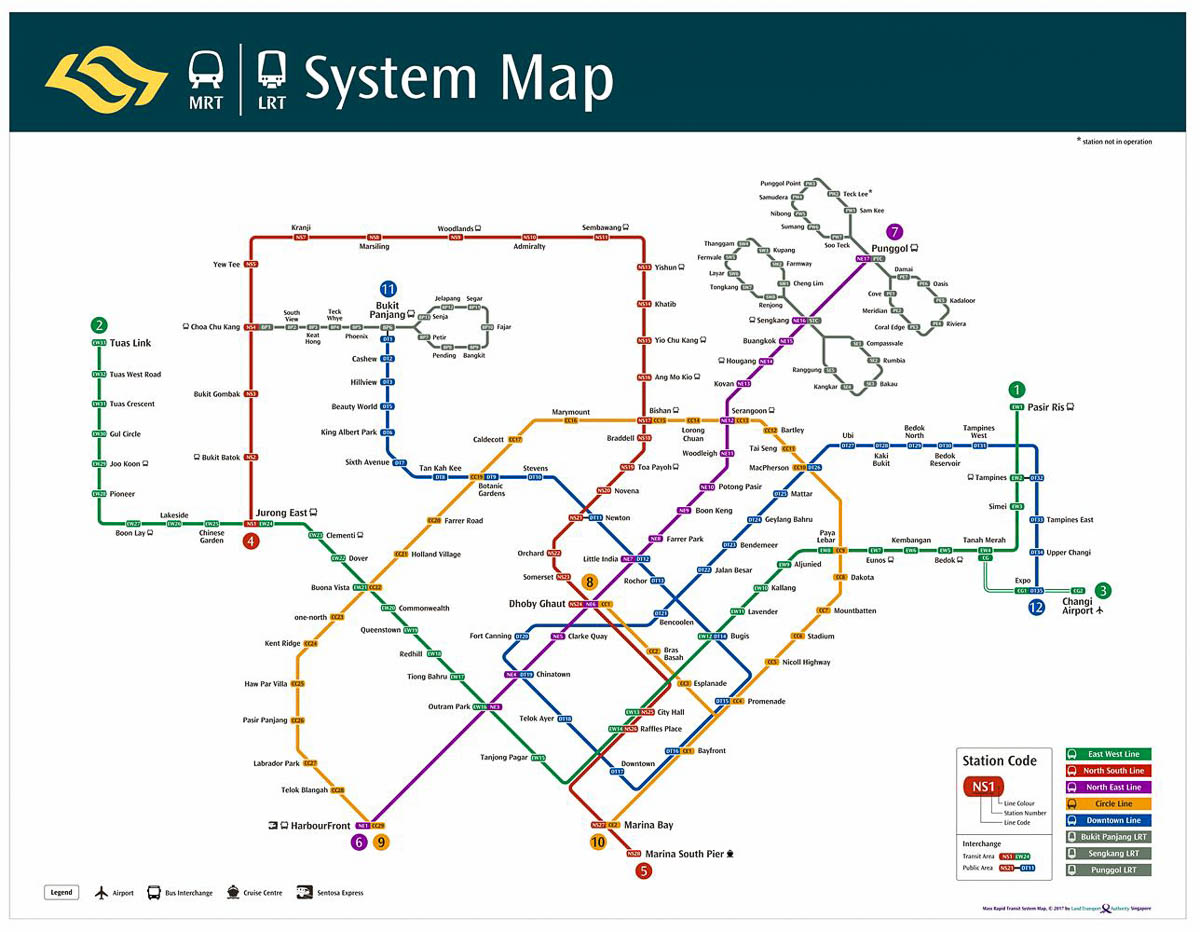 The easiest way to travel around is by the MRT, Singapore's version of the metro/subway. To use the trains, purchase an EZ-Link card from any MRT station or 7-Eleven store. The card costs S$12, which includes a stored value of S$7.
Alternatively, register your contactless card with SimplyGo to get around with just your credit card or Apple Pay.
Occasionally, some railway lines experience early closures and late openings for maintenance. Before arriving, check official transport sites like SMRT and SBS for updates. Shuttle services between affected stations are available during this period.
Public Bus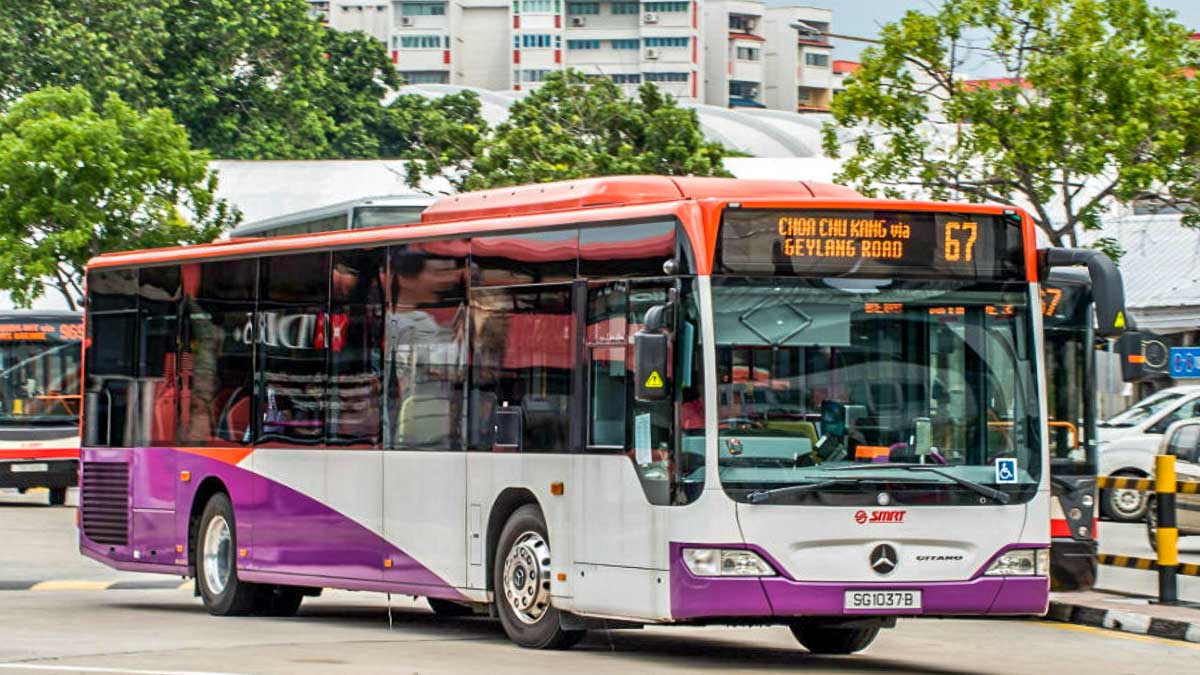 Buses in Singapore are fairly frequent, making them another easy and convenient way to get around. You can either use your EZ-Link card or pay a single fare on buses. The cost ranges from ~S$1.50 – ~S$2.60. Do have some coins on hand as no change will be given.
We recommend using Google Maps to find buses that head to your destination, as well as apps like SG Buses or SingBUS to check timings.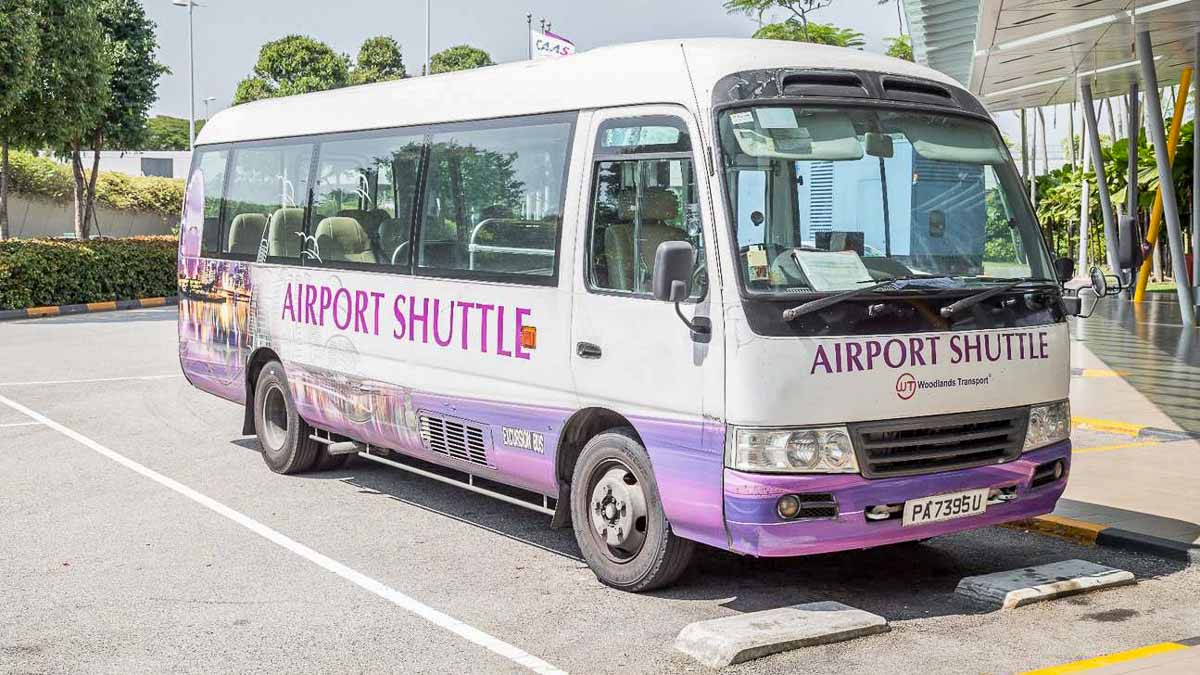 From Changi Airport, you can opt for a speedy and comfortable transfer service straight to your accommodation in town. It's especially helpful if you're travelling in a big group, or arriving late when the MRT and buses have ended service for the day.
Taxis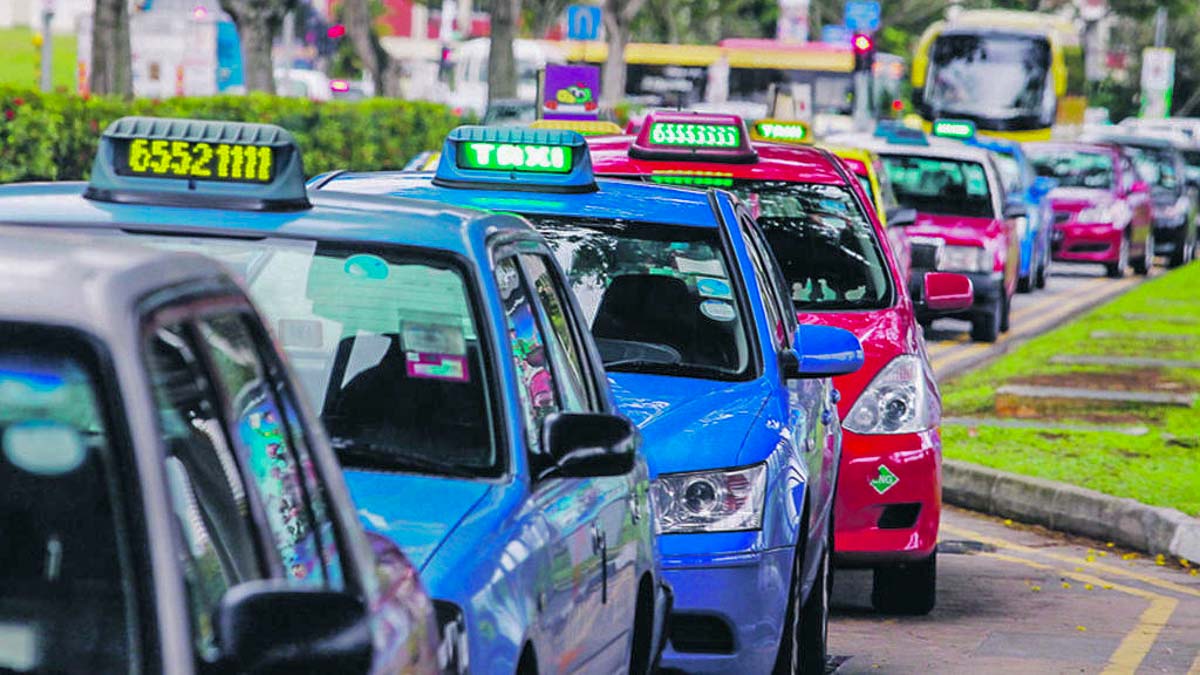 All taxis in Singapore are metered, so no haggling is required. Fares are dependent on the distance, taxi type, and surcharges based on timings and your pick-up location. A 19km ride from Changi airport to town costs S$20 – S$40 (incl. surcharge).
Taxis are usually widespread around the city area. However, they may be difficult to flag down when it's raining, or during shift changes between 4PM – 5PM. Alternatives like Grab and GoJek (which work exactly like Uber) are also available in Singapore, and typically provide cheaper fares.
On Foot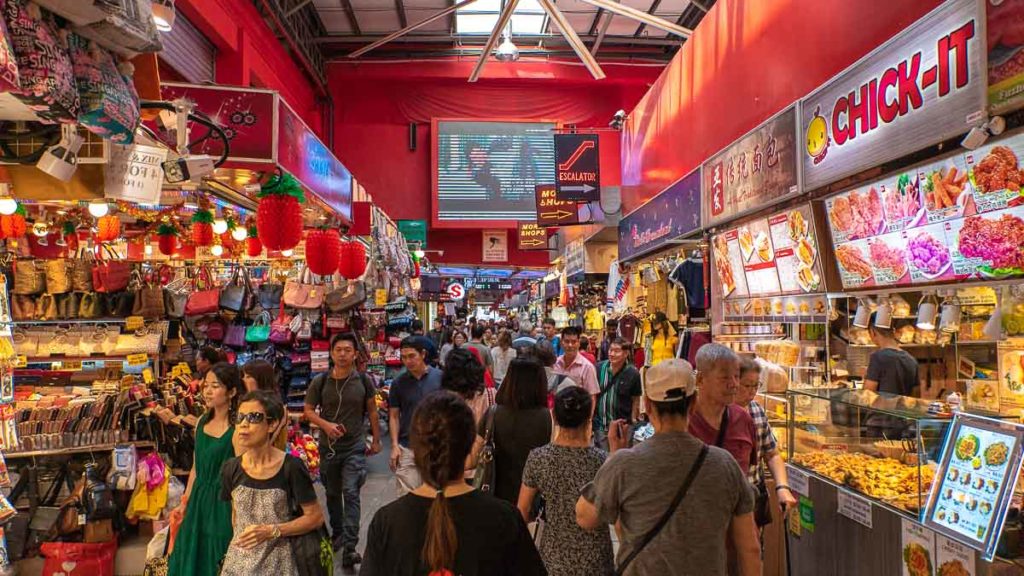 Walking is one of the best ways to explore Singapore if you have the time. Within the city area, most attractions are within walking distance of each other.
The unfortunate downside is that the heat and humidity will make you perspire (a lot). Thankfully, you can always duck into one of our many air-conditioned malls to cool off!
Where to Stay in Singapore
It's easy to find accommodation in Singapore. Be it swanky/budget hotels or affordable hostels, you'll find most of them within the central city area, where it's convenient to get around.
High-end hotels tend to be located in the Marina Bay area or on Sentosa Island, while budget-friendlier accommodation can be found in Little India and Chinatown. For more on where to stay, check out these 10 affordable hostels!
High-range: Fullerton Hotel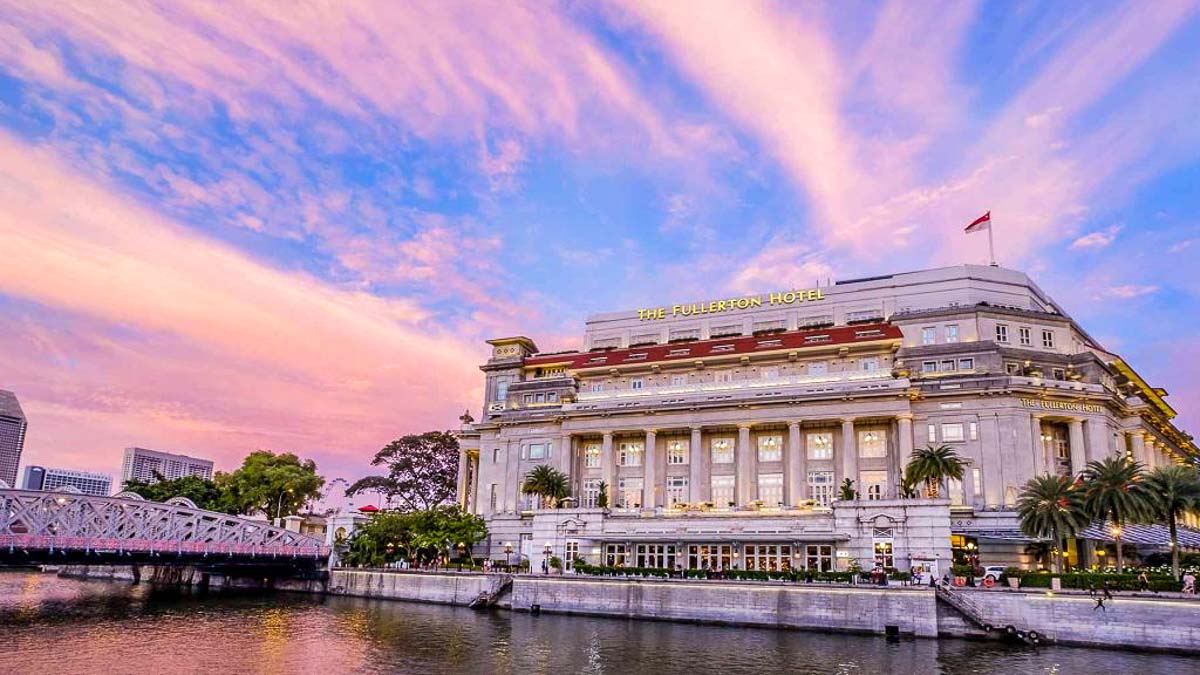 Up until the 90s, this lavish monument used to house the country's post office. Since then, the Fullerton Hotel has become a symbol of luxury, and is one of Singapore's few remaining colonial buildings.
Located in the Central Business District, it provides breathtaking views of the iconic city skyline, elegant rooms, impeccable dining options, and a classy ambience — everything that will make you feel like royalty. A night in a premier courtyard room costs ~S$374.
Mid-range: Fragrance Hotel (Riverside)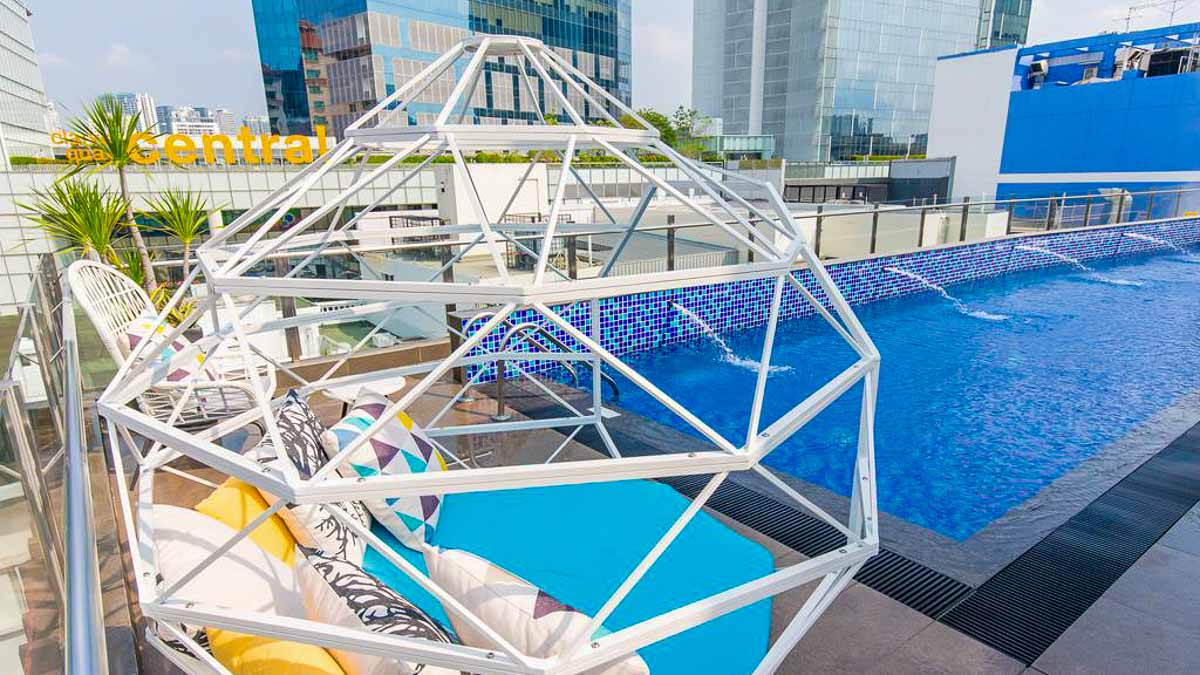 Fragrance Hotel is a well-known hotel chain for budget-conscious travellers. The Riverside branch is located just under a 10-minute walk from Clarke Quay — an ideal place to crash after a long night out.
The hotel also has a pool that will cool you off in the Singapore heat. However, the rooms here are on the smaller side. A night in a standard double room costs ~S$240.
Budget: InnCrowd Backpackers Hostel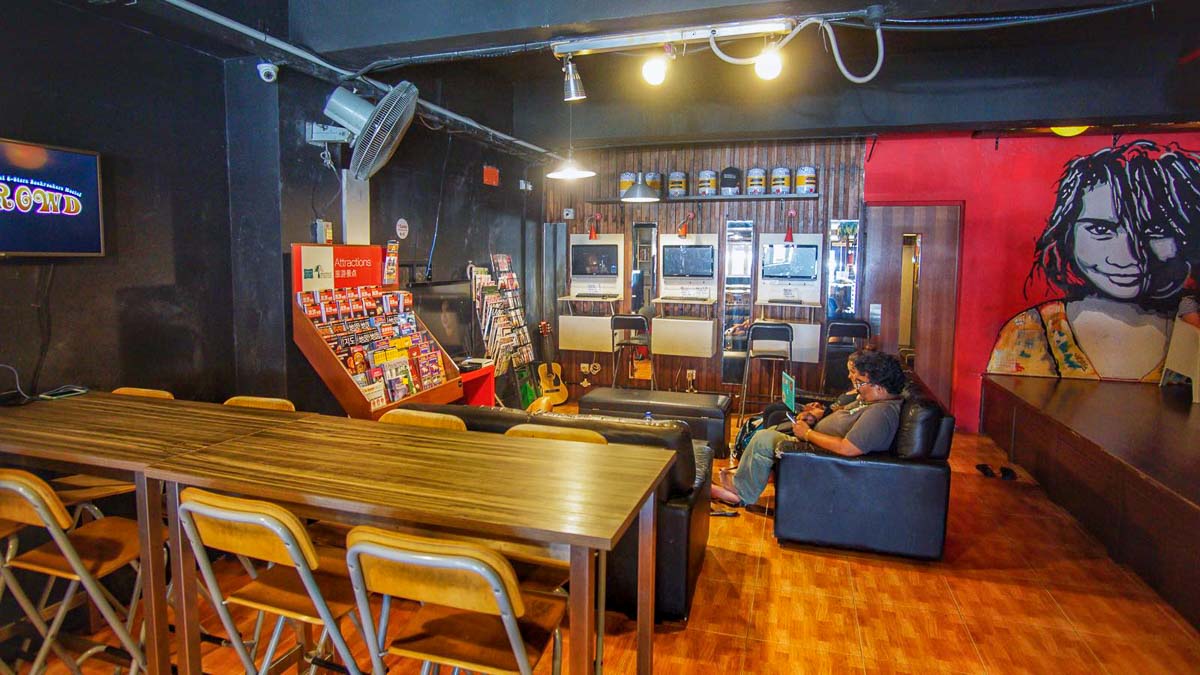 An award-winning hostel, InnCrowd Backpackers Hostel offers budget travellers a convenient location in Little India, along with free breakfast and kick-scooter tours of the city. The hostel also serves one of the cheapest cold beers in Singapore at ~S$5 (Alcohol is, unfortunately, expensive).
They go to great lengths to preserve the backpacker atmosphere, so you'll be in good hands here! A night in a 12-bed mixed dorm room costs ~S$17.50.
Others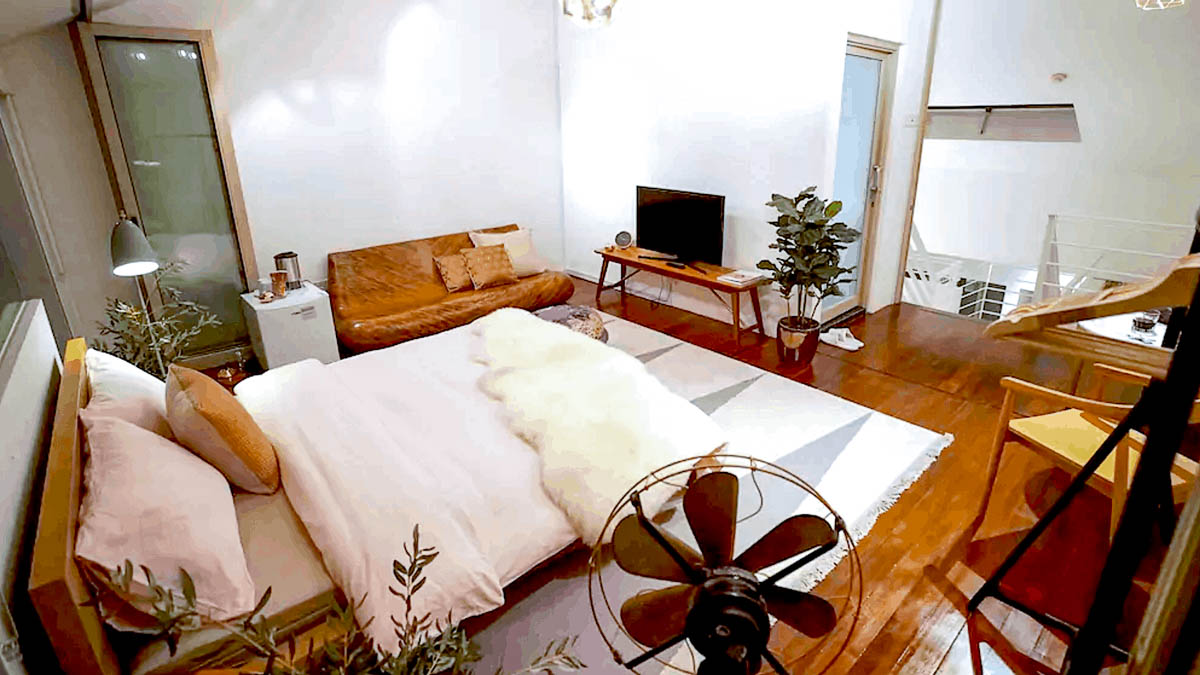 Besides hotels and hostels, you can try Airbnb. They're found all over the island, but it's worthwhile to note there are some present risks. There have been previous instances where Airbnb guests were turned away by building security, because running an Airbnb is technically illegal in Singapore. Staying in one is not, though.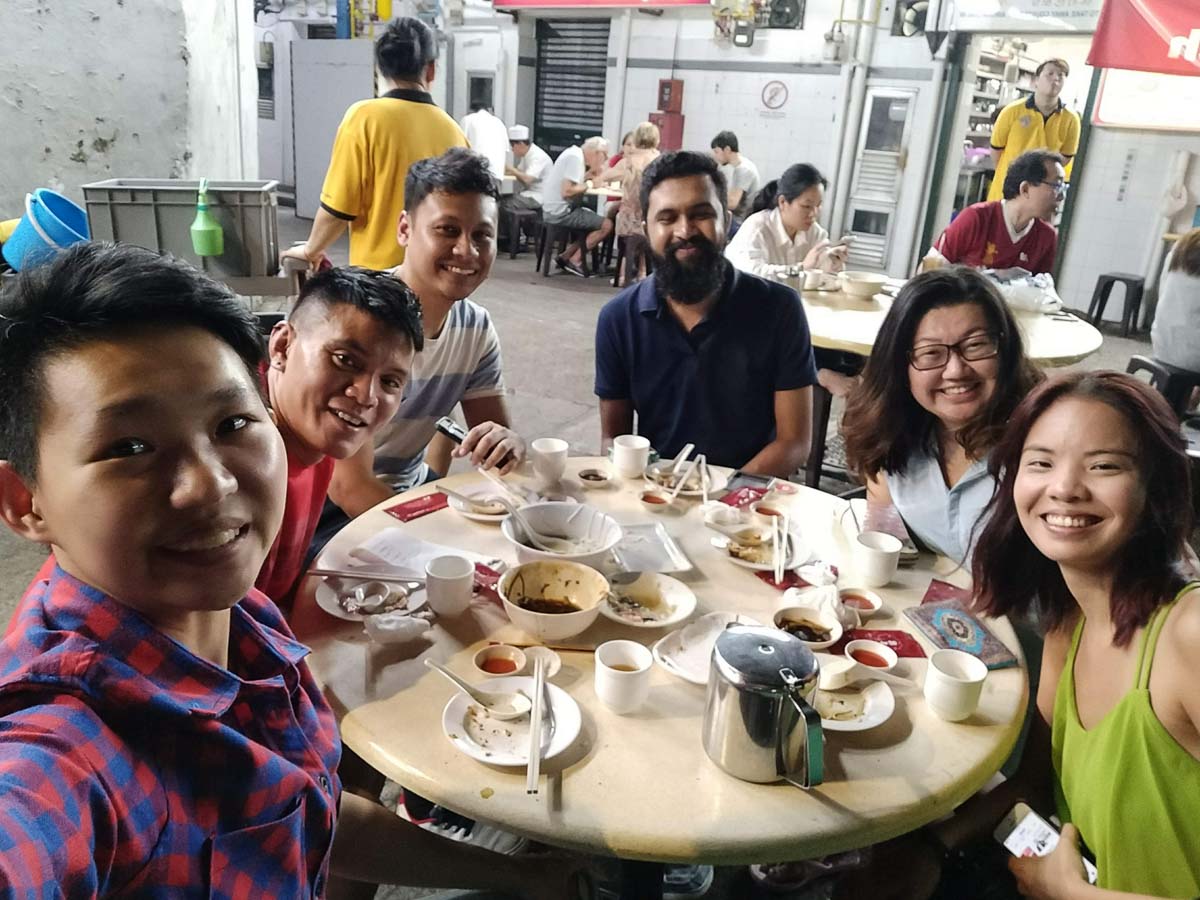 Couchsurfing is another popular alternative. However, don't feel disheartened if you can't find a host. Most locals still live with their parents, who may not be comfortable hosting surfers. You can always meet the community though!
Places to Visit in Singapore
1) Marina Bay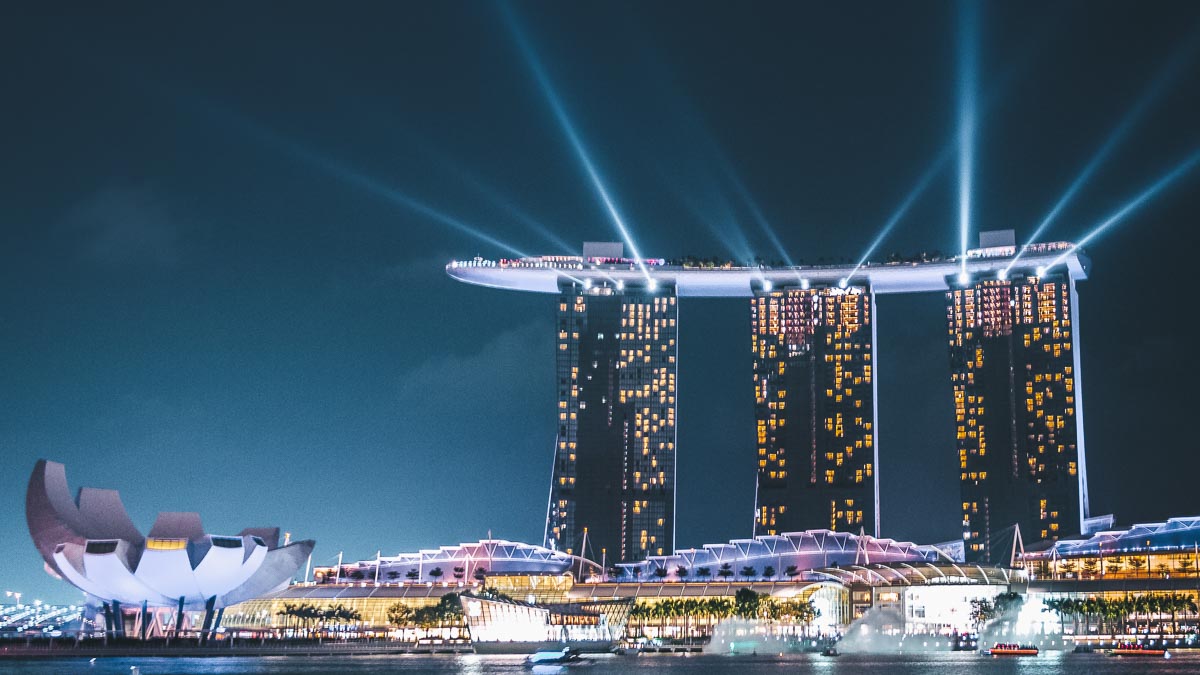 Marina Bay is the hallmark of Singapore. Standing in a scenic row, it's where you'll find many of the island's architectural feats such as the Singapore Flyer, Helix Bridge, ArtScience Museum, and the majestic Marina Bay Sands.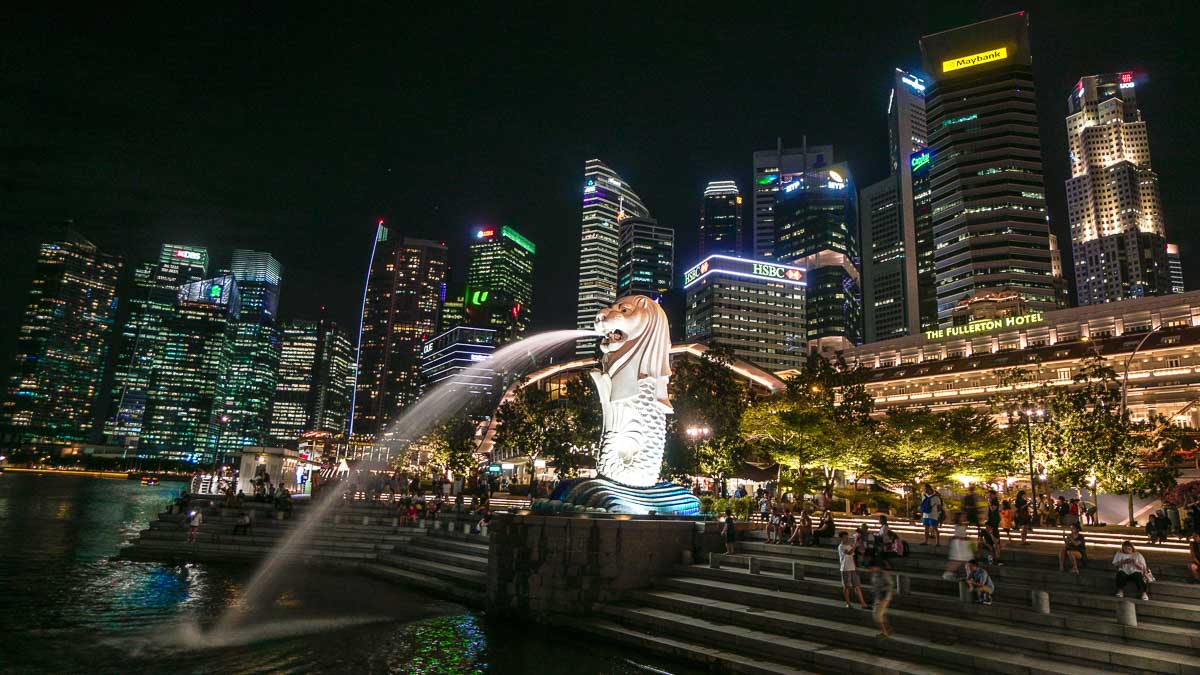 Across the bay is a statue of the Merlion, Singapore's official mascot. Nearby is the Esplanade, a performing arts centre that resembles two durians (the country's favourite fruit, as you'll soon discover). At the venue, there are regular free performances and programmes you can catch during your visit.
2) Gardens by the Bay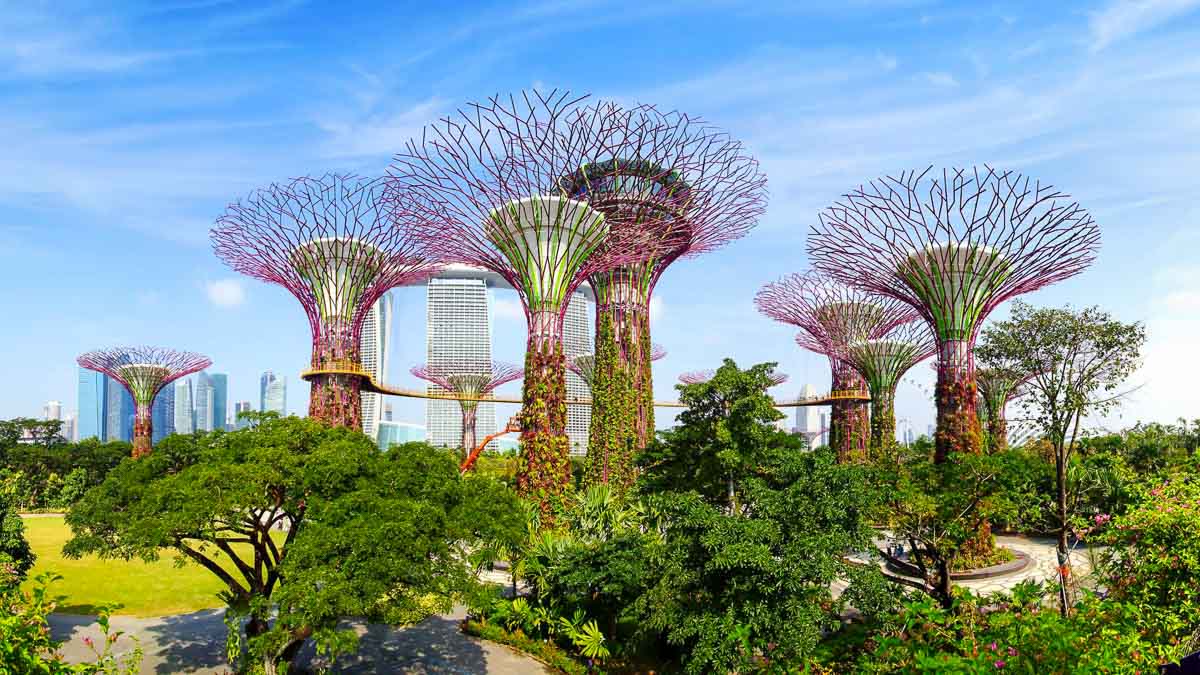 Self-dubbed a "Garden City", Singapore sure lives up to its reputation with Gardens by the Bay. Located behind Marina Bay Sands, it's a huge, wondrous maze of local and exotic greenery, coupled with towering supertrees and record-breaking conservatories. Occasionally, you might even spot wild otters scuttering across the park!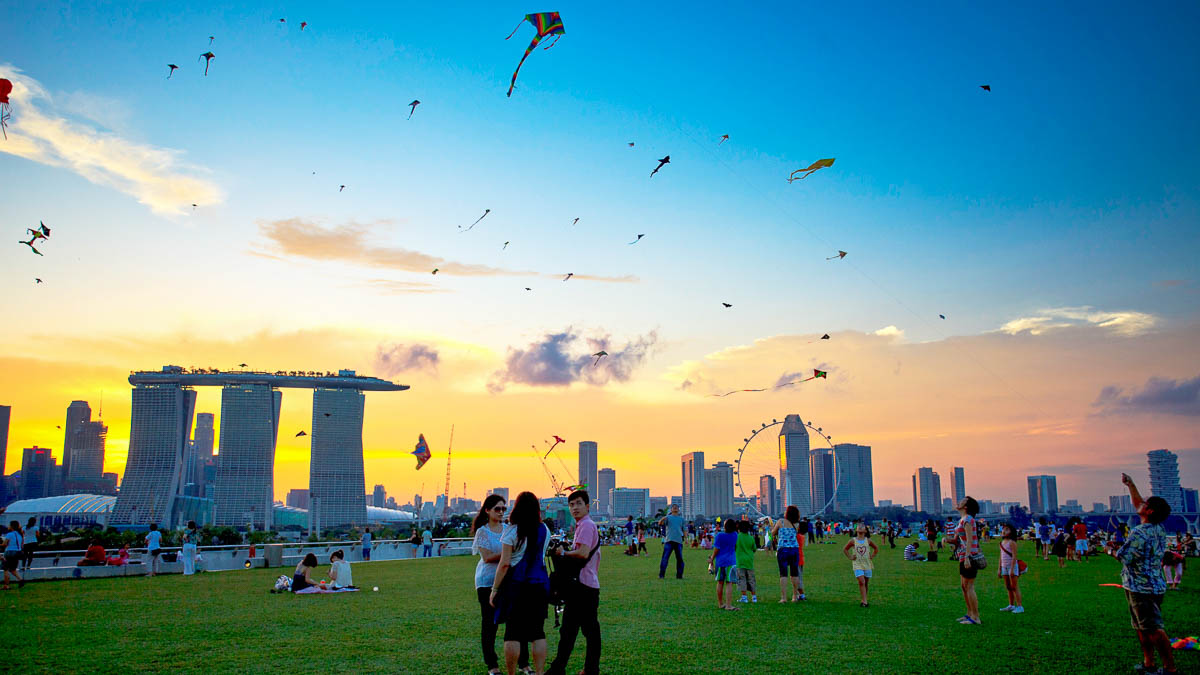 For the best panoramic views of the city skyline, head to the Marina Barrage. The dam is located behind the Gardens, and has a sprawling grass patch on the rooftop that's perfect for picnic gatherings and activities like kite flying.
3) Chinatown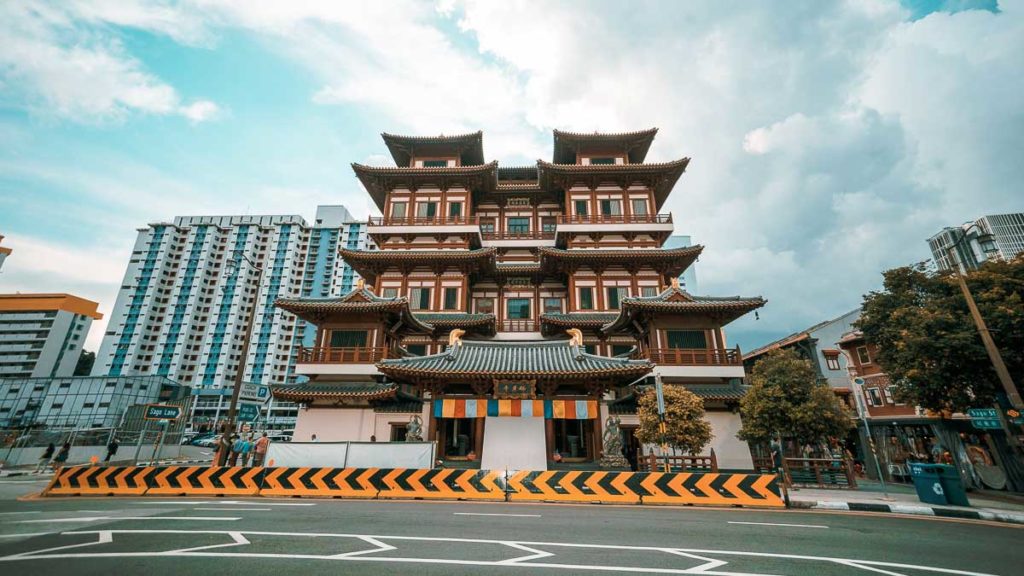 One of Singapore's most popular attractions, Chinatown thrives with an olden charm. There are lots to enjoy for culture buffs — historical buildings like the Buddha Tooth Relic Museum, Teng San Tian Temple, traditional medicine halls, and colonial shophouses which will make you feel like you've stepped into the past.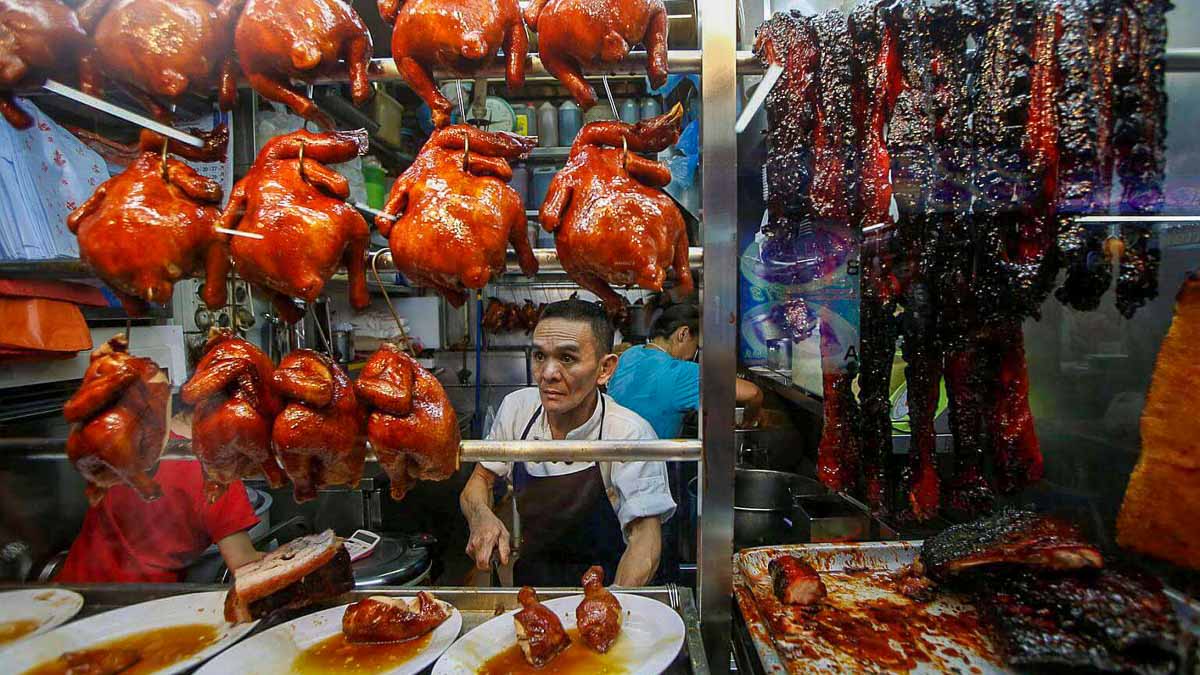 Chinatown is also for those who love to bargain and/or eat. The Chinatown Street Market is great for souvenir shopping, while Food Street sells a range of mainland Chinese specialties.
To taste local dishes, head to nearby hawker centres like People's Park and Chinatown Complex. The latter is also where you can have the cheapest Michelin-star meal ever: soya sauce chicken rice for just S$2!
4) Kampong Glam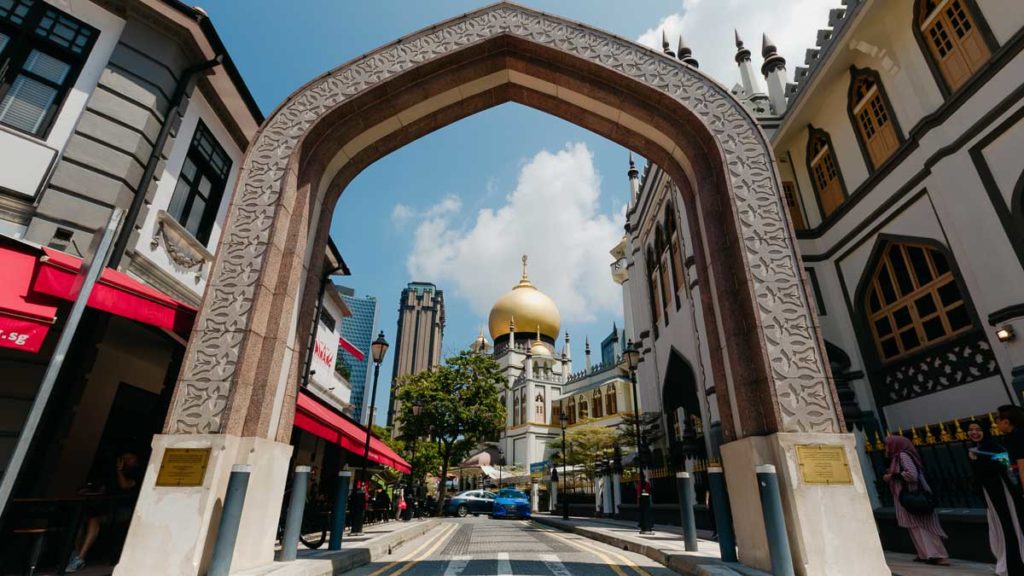 Kampong Glam was originally an ethnic enclave for the Muslim, Arab and Bugis communities. Today, it's a popular culture spot with a unique blend of the old and new. At the heart of it all is the Sultan Mosque, the country's biggest. Wandering around, you'll find many Mediterranean restaurants amidst shops selling carpets, fabrics, and souvenirs.
From the mosque, take a short walk down to Haji Lane. Arguably Singapore's OG hipster neighbourhood, it's a fun place to explore day or night with plenty of murals to feast your eyes on, and Instagrammable cafes to literally feast at.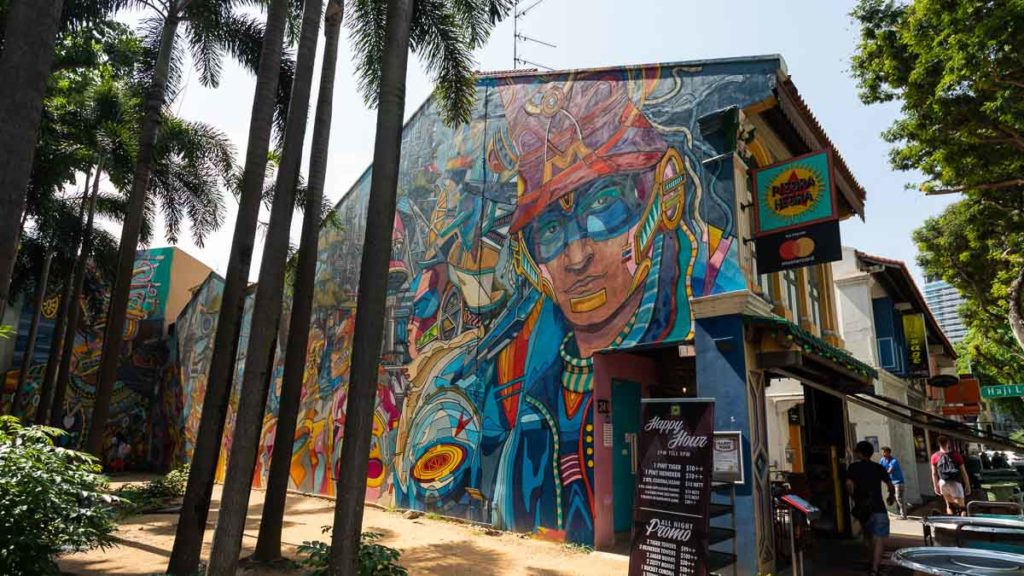 The streets are also lined with fashion boutiques and trendy bars which add a modern touch to Kampong Glam's rich history.
5) Sentosa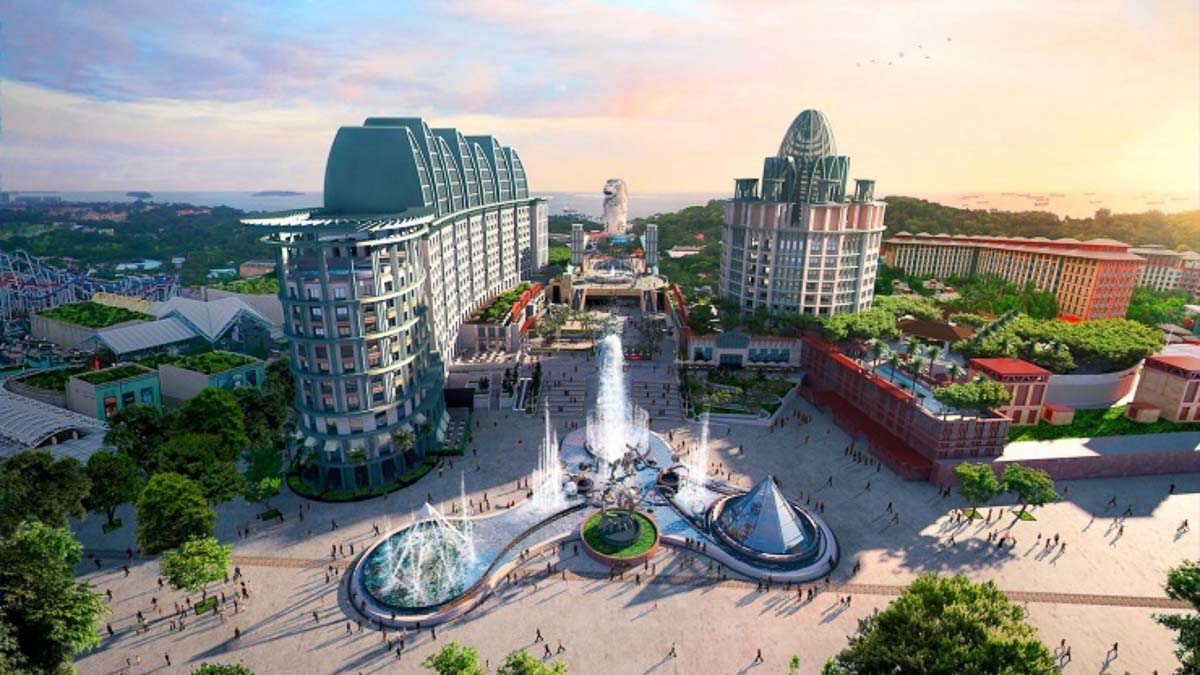 Sentosa is a crowd favourite for locals and travellers alike. The resort island is one of the most "happening" places in Singapore, chock-full of activities and thrilling attractions. Most notably is Universal Studios Singapore and the S.E.A. Aquarium, the world's largest!
Most weekends, the resort island sees many people flocking to its beaches and bars to chill out for the day. Music festivals like ZoukOut and Countdown parties are also hosted there at the end of the year — events that hardcore ravers shouldn't miss!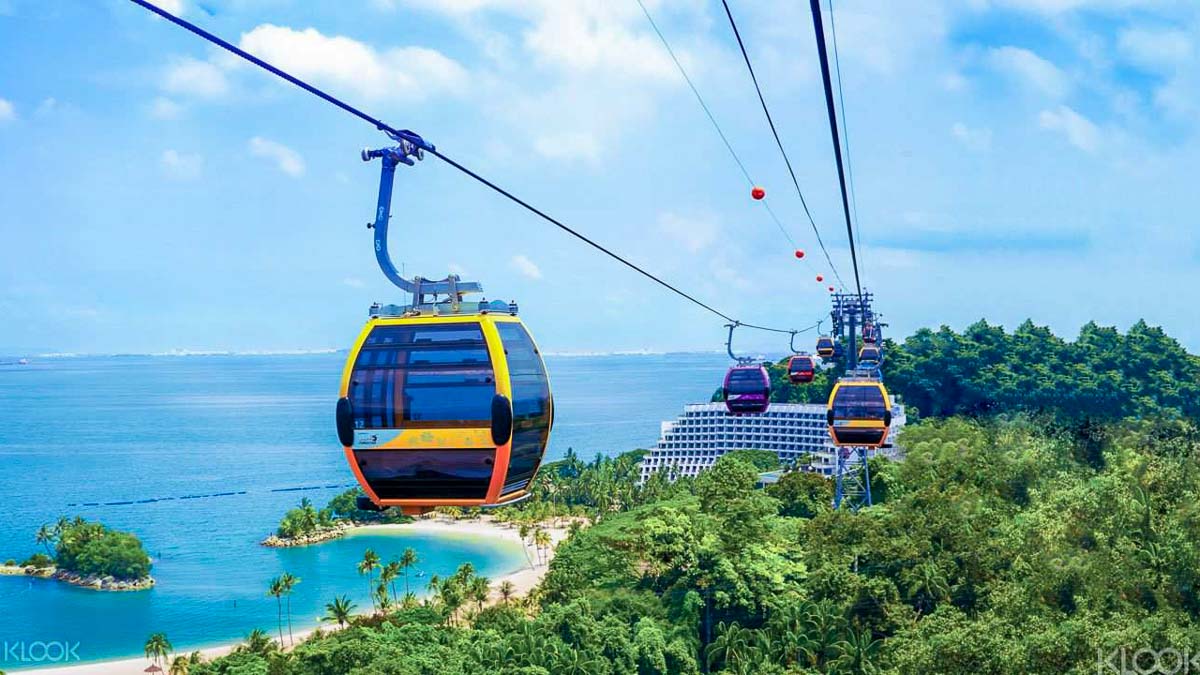 There are three ways to get to the island: (1) on foot via the Sentosa Boardwalk, (2) the Sentosa Express Monorail from VivoCity, or (3) by cable car. The cable car provides beautiful aerial views of the city, the harbourfront area, and Sentosa island — and lets you arrive in style!
Read also: 54 Things To Do In Singapore — Local's Guide To Indie and Iconically Singaporean Experiences
What to Do in Singapore
1) Be Dazzled by Jewel Changi Airport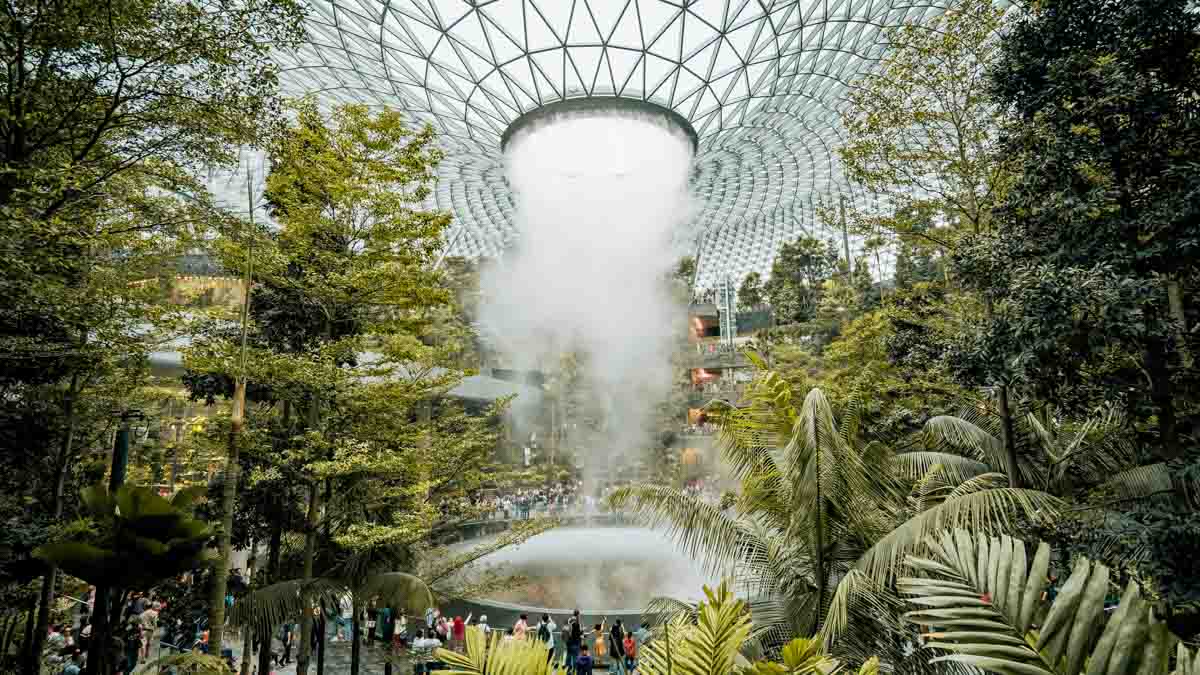 Jewel Changi Airport is an attraction on its own right at the airport, offering many things to see and do the second you touch down. Besides a 40m-tall Rain Vortex, there's also a Canopy Park to stroll around and enjoy the blooming gardens and sculpted topiaries.
Ticketed attractions like the Mirror Maze and Bouncing Nets also provide entertaining adventures and fun photo opportunities for both kids and kids-at-heart!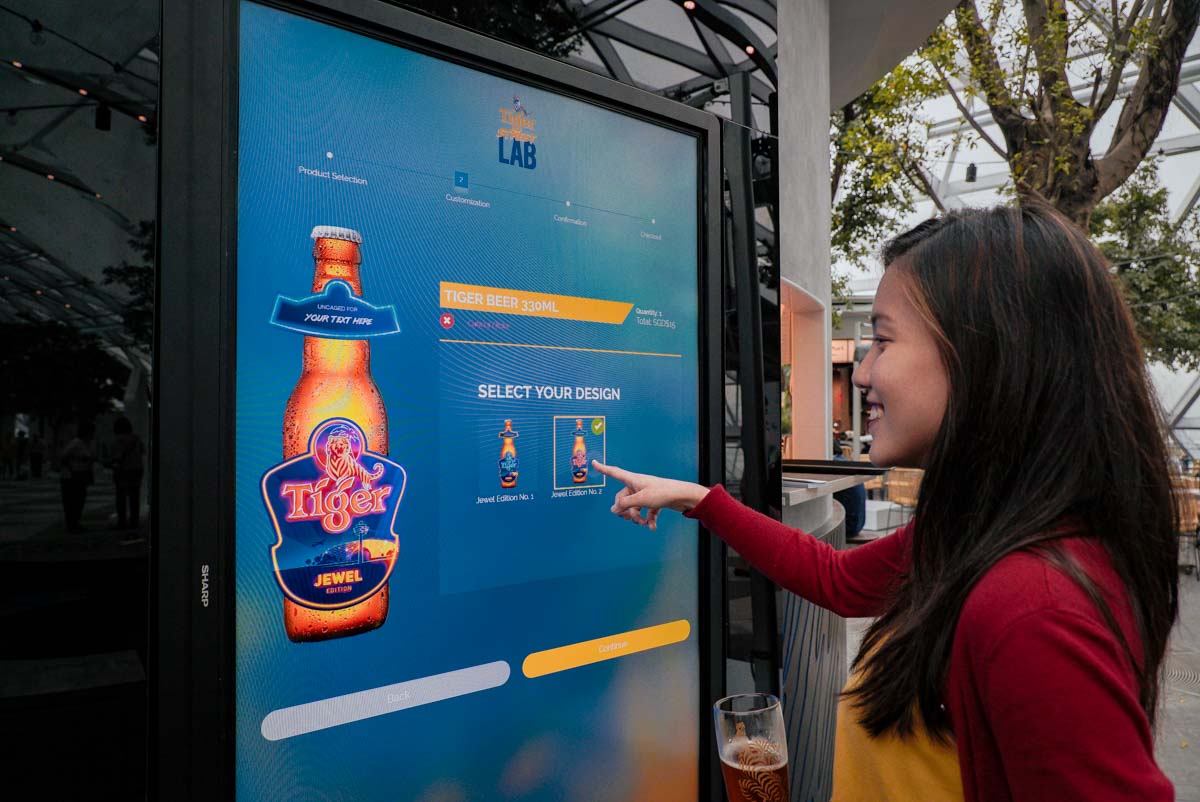 Get acquainted with Singapore's local brew at Tiger Street Lab. There, you can taste the ever-famous Tiger Beer, or opt for special seasonal brews. You can also have your drink in a Jewel-exclusive beer bottle — a neat Singaporean souvenir!
To find out what else Jewel offers, check out these 25 stores and attractions.
2) Go Museum-Hopping around the City
Get a dose of Singapore's cultural landscape by exploring its many museums! The most renowned one is the ArtScience Museum, which characteristically hosts futuristic exhibitions. Occasionally there are film exhibits, like Harry Potter and Marvel Studios.
Art enthusiasts would enjoy the National Gallery, Peranakan Museum, and the Asian Civilisations Museum for their wide display of Southeast Asian artwork and artifacts.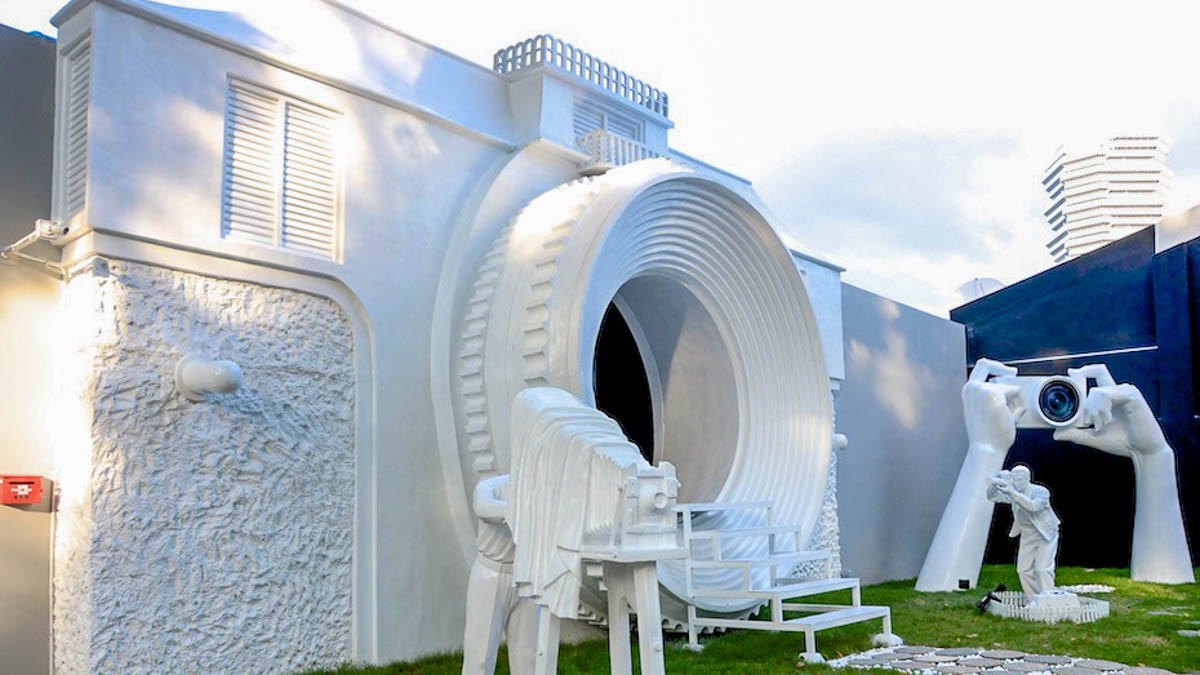 Those who prefer a more offbeat experience should check out the Singapore Sports Museum, Vintage Camera Museum, and MINT Museum of Toys. You might discover a different historical and cultural side of Singapore that most locals might not even know of!
3) Explore Singapore's Natural Outdoors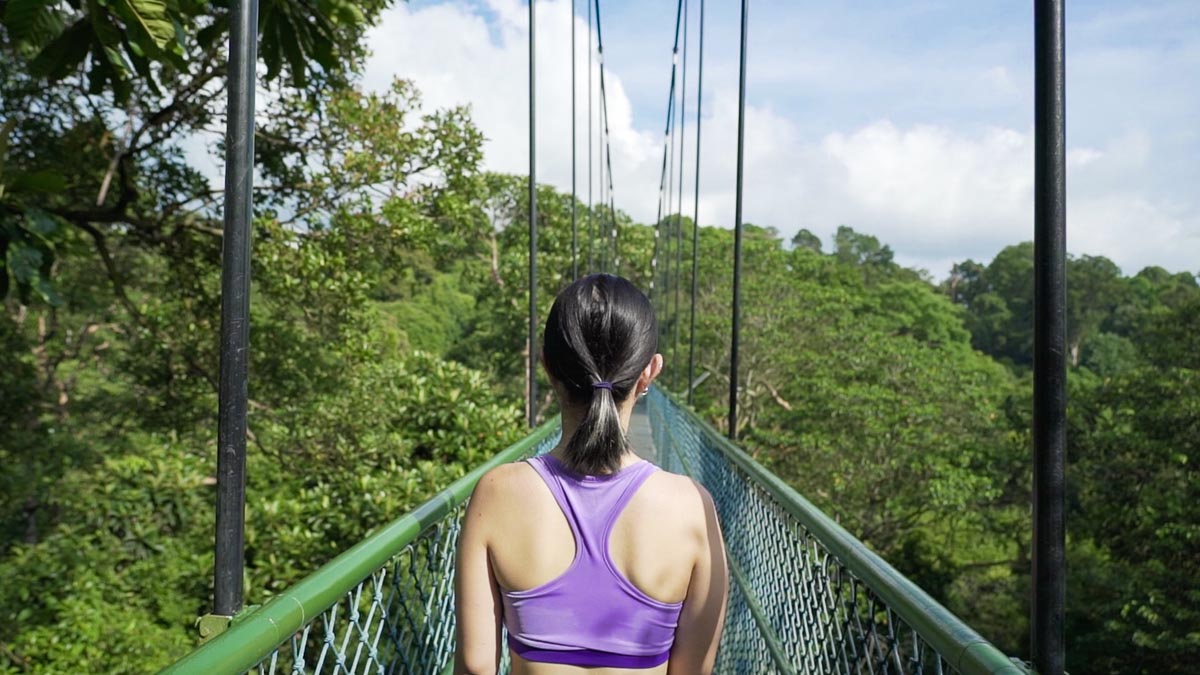 There's no denying that Singapore is a concrete jungle, but that's not all there is to it. Spend the day outdoors hiking the numerous green spaces and nature trails around the island. The most popular trek is the MacRitchie Nature Trail, which passes through a rainforest and leads to a beautiful treewalk.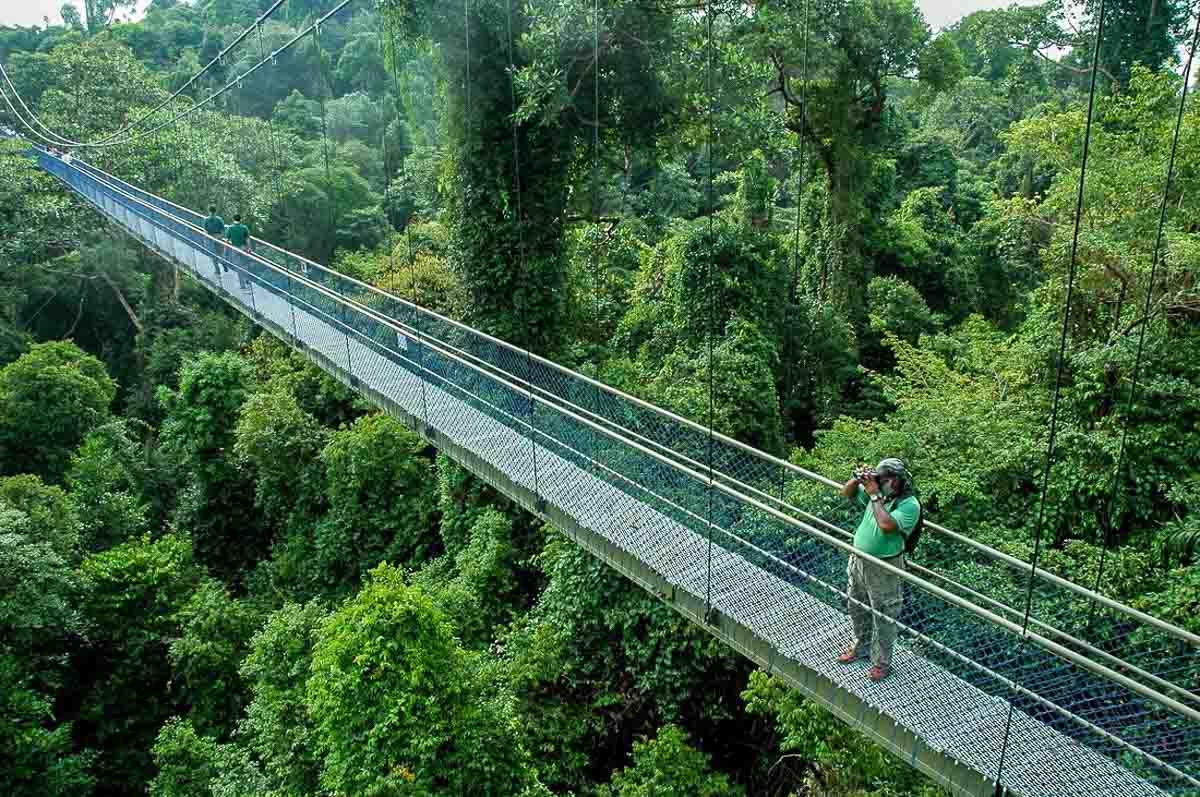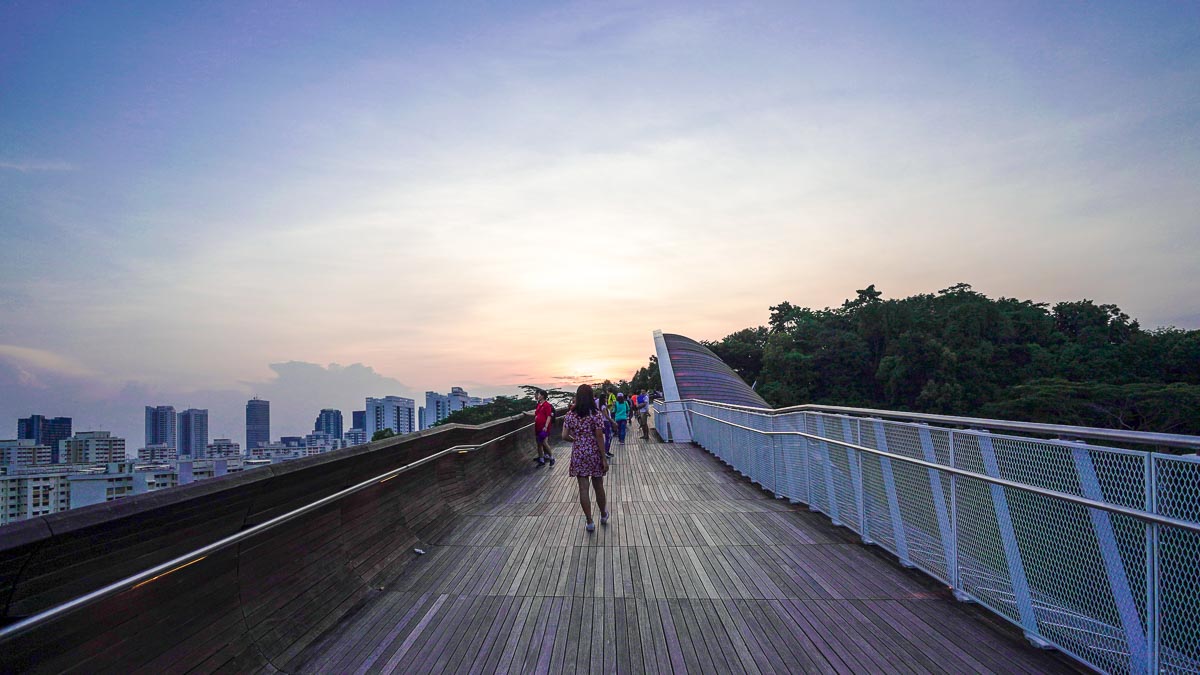 #Fitspo travellers can challenge themselves to longer hikes like the Southern Ridges Walk. The trail crosses three parks, and has spectacular views of the city and nearby Sentosa along the way. There's also a 36km-long coast-to-coast trail that's guaranteed to give you a workout you won't soon forget!
4) Soak up Singapore's Nightlife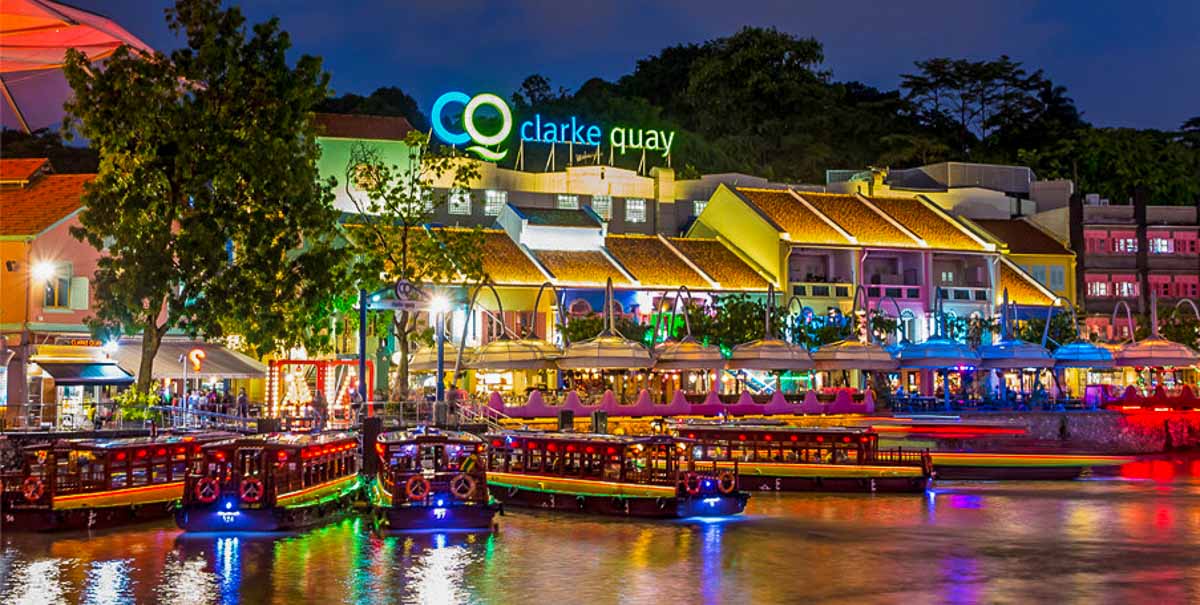 Singapore isn't exactly the city that never sleeps, but there's still lots to keep you entertained after the sun goes down. The country's burgeoning nightlife scene is centrally located in Clarke Quay, where most bars and clubs are located. On weekends, the place is bustling with people jostling to get into hot favourites like Zouk and Privé.
If you're unsure which joint to hit up, visit 'em all in one night with a pub crawl. The fun tour takes you on a boozy night of making new friends and partying!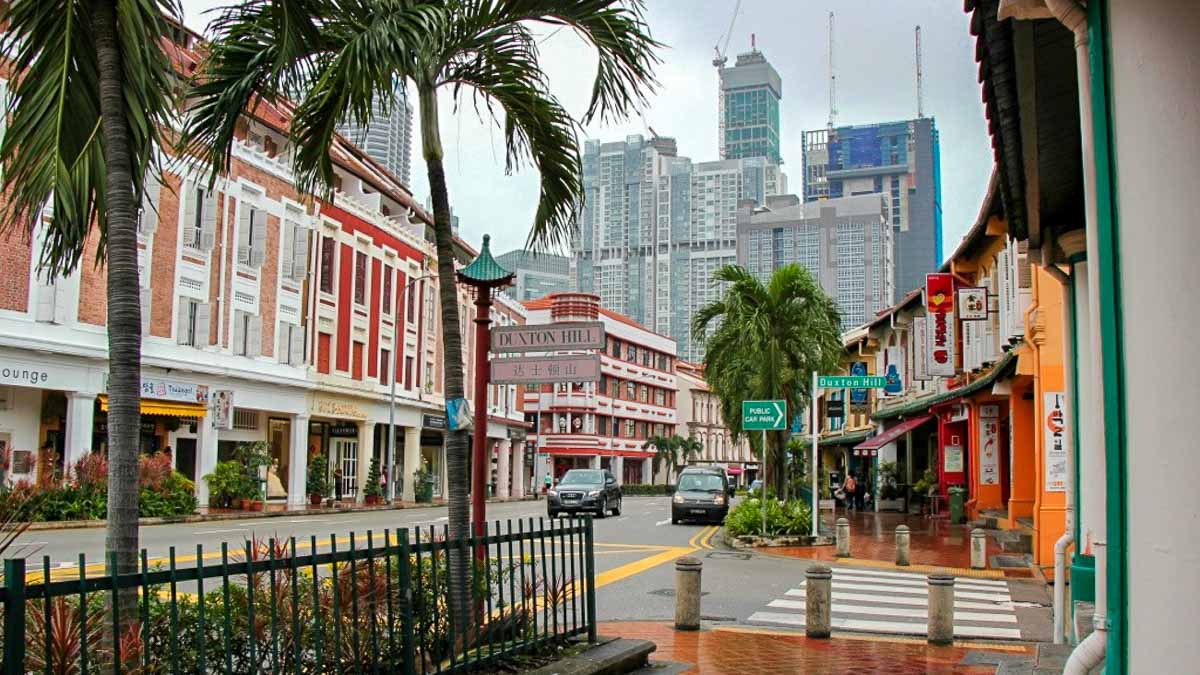 For a night that's a little less rabak (loosely translated from Malay as a 'wild situation'), swing by Tanjong Pagar or Robertson Quay. These two areas have a wide variety of upscale bars and restaurants that are great for chilling out with the squad.
5) Shop for Your Favourite Products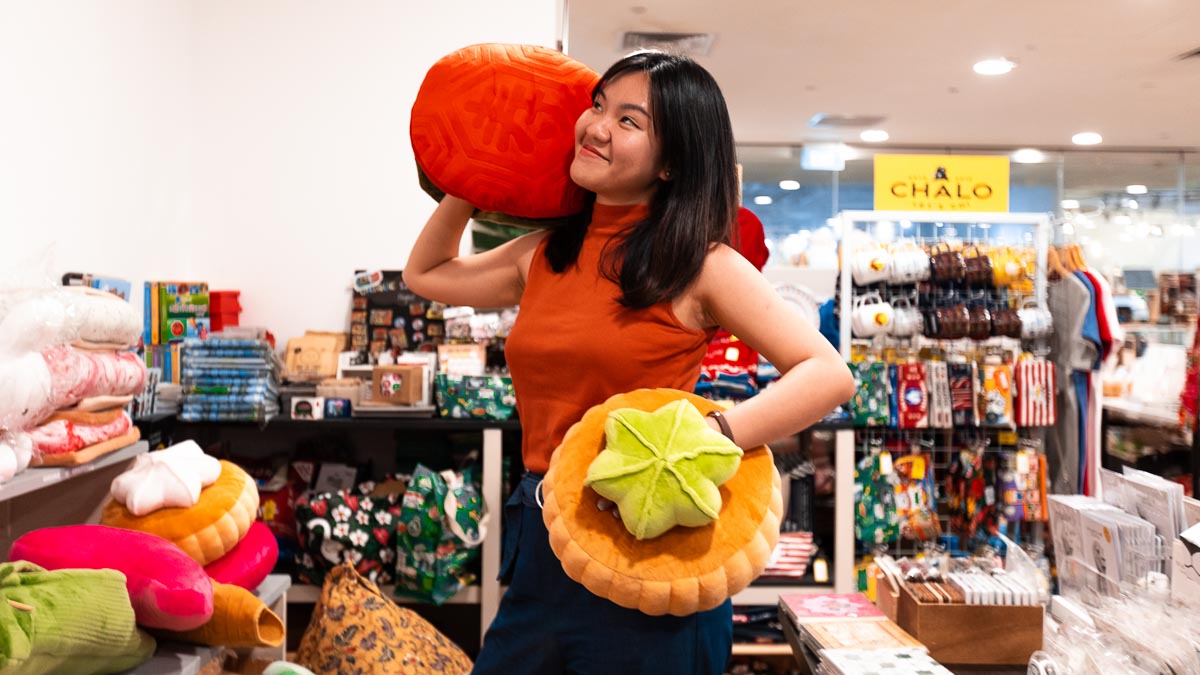 Singapore is well-known for being a shopping paradise. All along Orchard Road and Bugis Street, countless malls and shops sell a vast range of products like books, casual streetwear, and branded accessories. Travellers can also dive into malls like Sim Lim Square and Funan Mall to snag cheap electronics.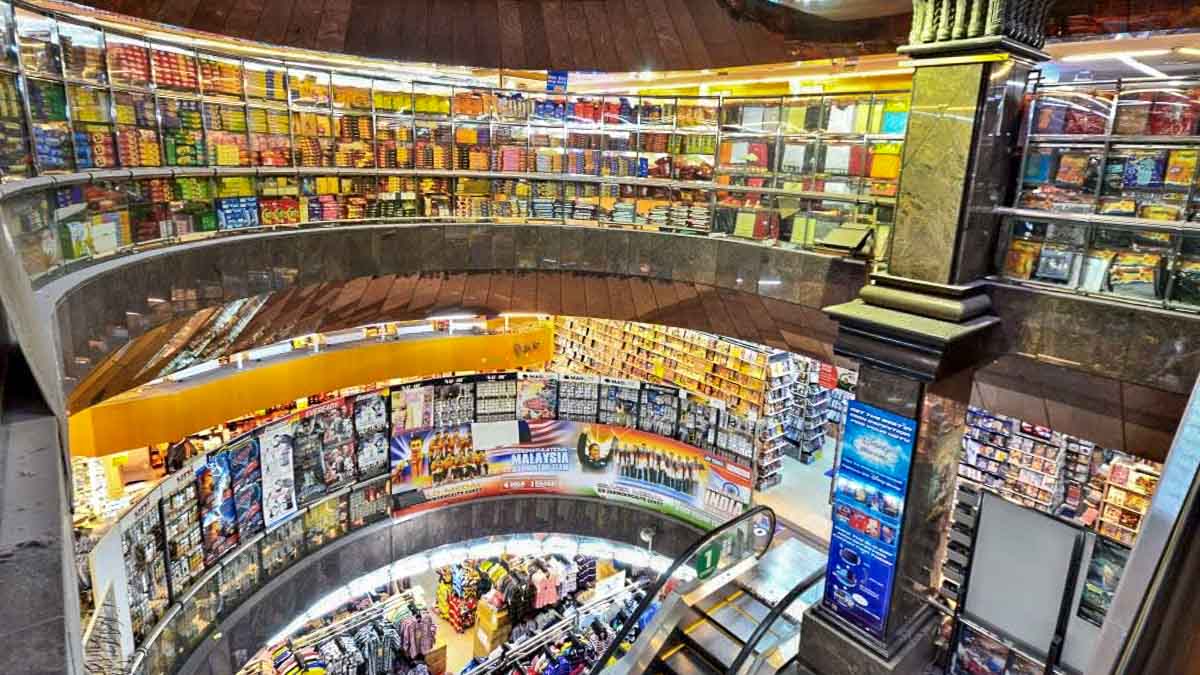 Similar to our food scene, shopping in Singapore isn't limited to the usual working hours. Head to 24-hour shopping places like Decathlon or Mustafa to stock up on sporting goods, groceries, or anything you fancy.
Need more ideas on things to do around Singapore? Read our 54 recommendations here!
What to Eat in Singapore
It's true when they say eating is the national past-time of Singapore! There are restaurants and cafes at every corner (some open 24/7), but eating at hawker centres are the way to go to experience the local food scene. There are tons of food to try, but here are five classics you have to savour.
1) Chicken Rice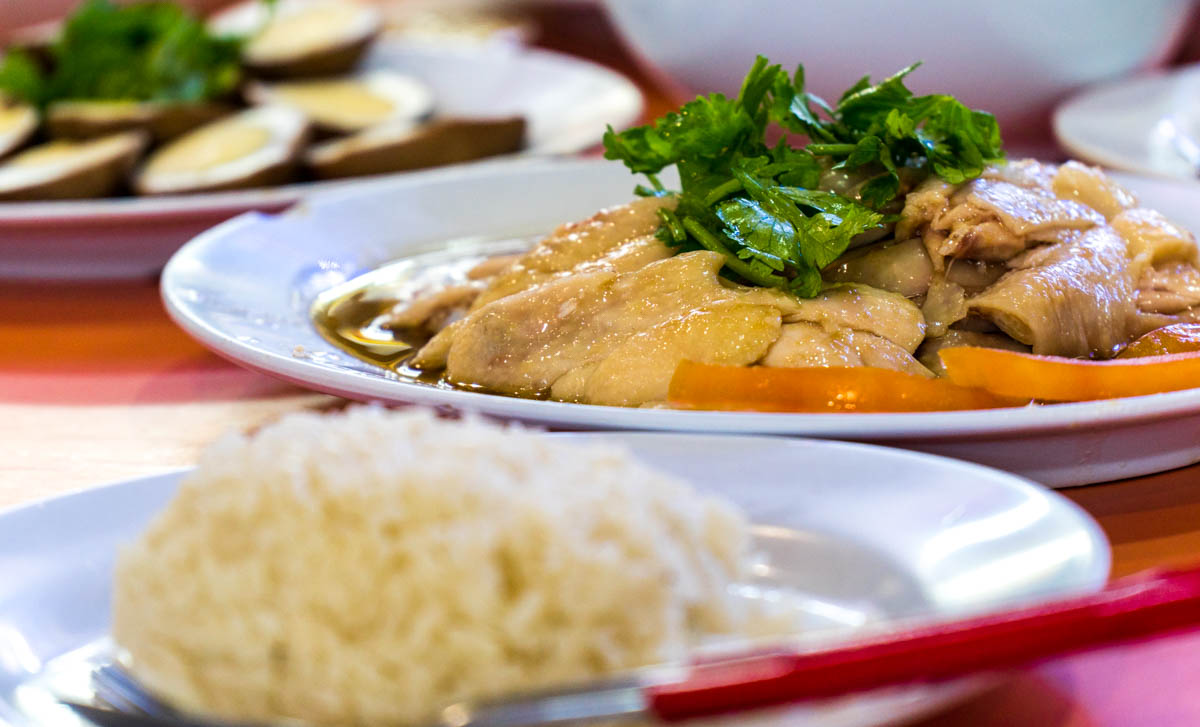 Simply put, Hainanese chicken rice is Singapore's national dish. Tender chicken, poached or roasted, is served alongside fragrant and soft white rice.
It's a delicious favourite amongst locals, who each have their own preferred way of eating it. Our advice: don't be afraid to mix condiments like chili, ginger, or black sauce into your chicken rice! It's the little things that elevate the flavour even more.
2) Roti Prata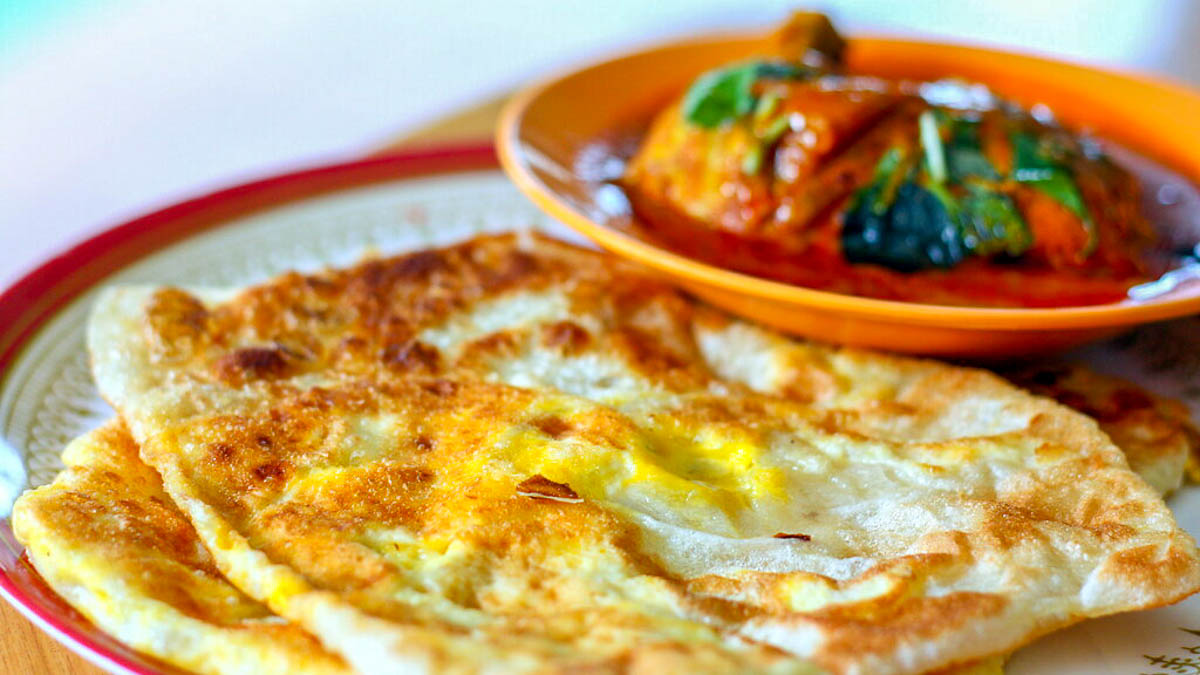 The humble roti prata is a delicious, crispy South-Indian flatbread that's usually paired with chicken or fish curry. While prata is available in neighbouring countries too, Singaporeans enjoy their kosong (plain) prata with curry and/or sugar — a distinctly local norm.
You can easily find prata in Indian-Muslim eateries like Zam Zam, or at hawker centres where there's an Indian store. There are many toppings available to try, such as egg, onion, and cheese.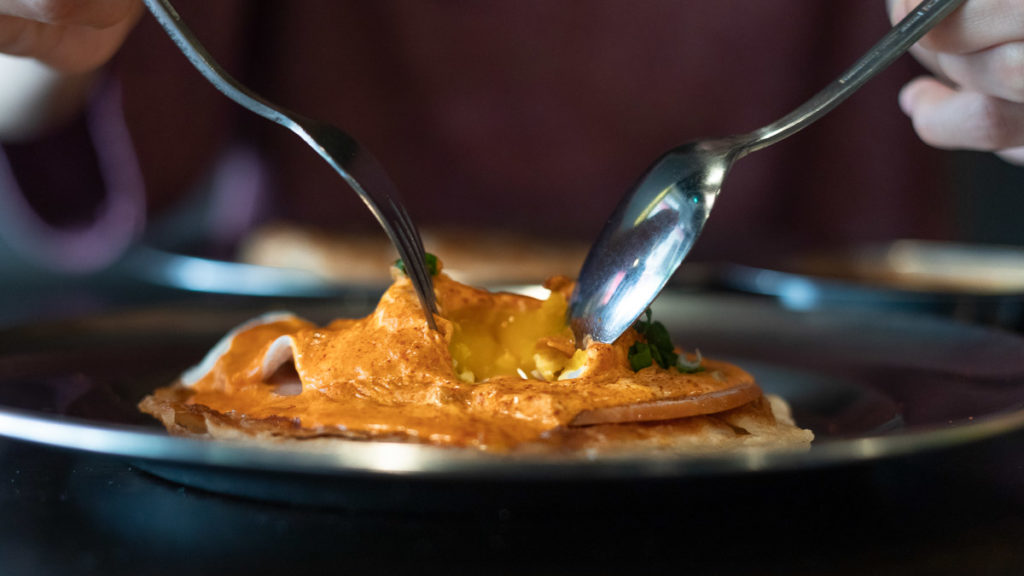 That said, we recommend trying special pratas like the "Plaster Blaster" from Springleaf Prata. It's basically an Eggs Benedict, except served atop a buttery, crispy prata!
3) Satay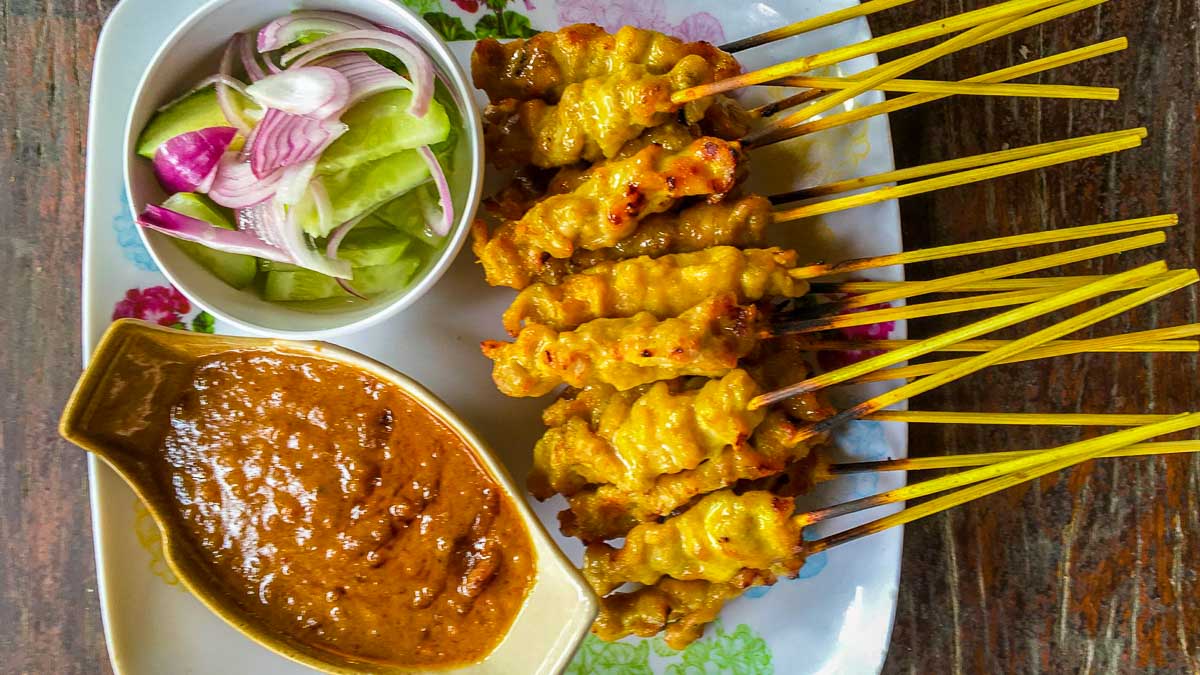 Originating from Indonesia, satay is bite-sized skewered meat that's been grilled over an open fire. The satay in Singapore usually comes with a sweet and spicy peanut sauce, red onions, and ketupat (rice dumplings). It's a popular dish that's best shared in a group.
Satay can be found in the hawker centres and food courts closer to the city, such as Satay by the Bay and Old Airport Road.
4) Ice Cream Bread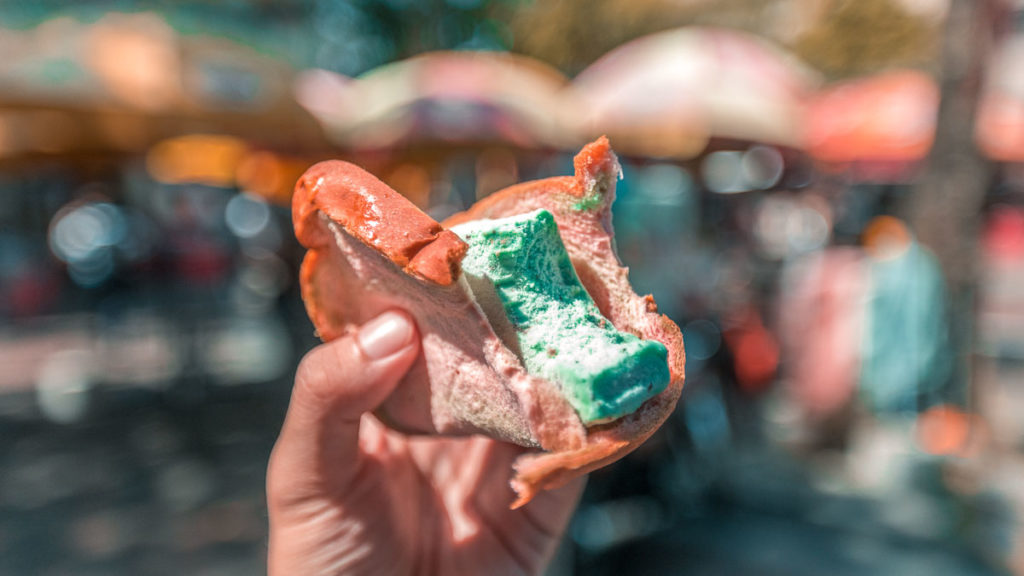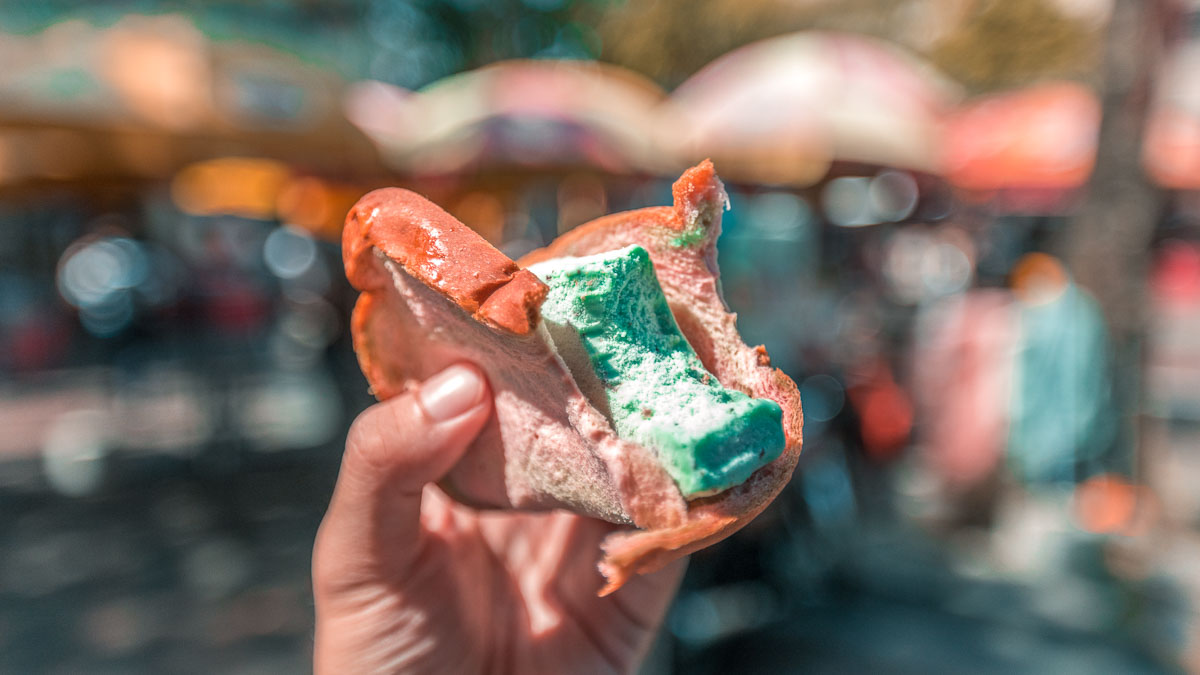 For many locals, ice cream bread is an endearing childhood treat. It's a simple, no-frills dessert that provides relief on a warm day. All you have to do is pick a flavour with soft and fluffy rainbow bread, or crunchy wafers!
The iconic dessert can be found at ice cream trucks lined up along Orchard Road and Bugis, serviced by elderly folks. On weekends, some trucks will occasionally drive around heartland neighbourhoods to sell these treats.
Fun fact: a 2016 Buzzfeed UK listicle criticised Singapore's ice cream bread, along with other "absolute worst sandwiches". It was swiftly met with local backlash, just proving how much we Singaporeans adore our food.
5) Tau Huay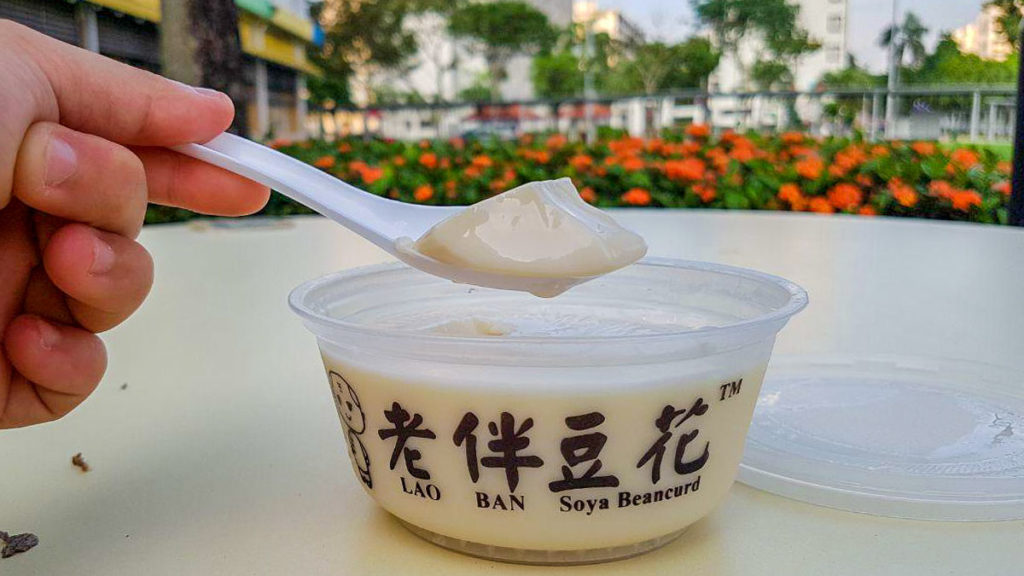 Hokkien for soy beancurd pudding, tau huay has a silky smooth, melt-in-your-mouth texture. Hot or cold, the lightness and sweetness of the dessert make it an excellent after-meal or supper option.
We recommend Lao Ban Beancurd or Rochor Original Beancurd for some of Singapore's best tau huay. Have it with an oily and crispy you tiao (dough fritter) to make your dessert even more shiok!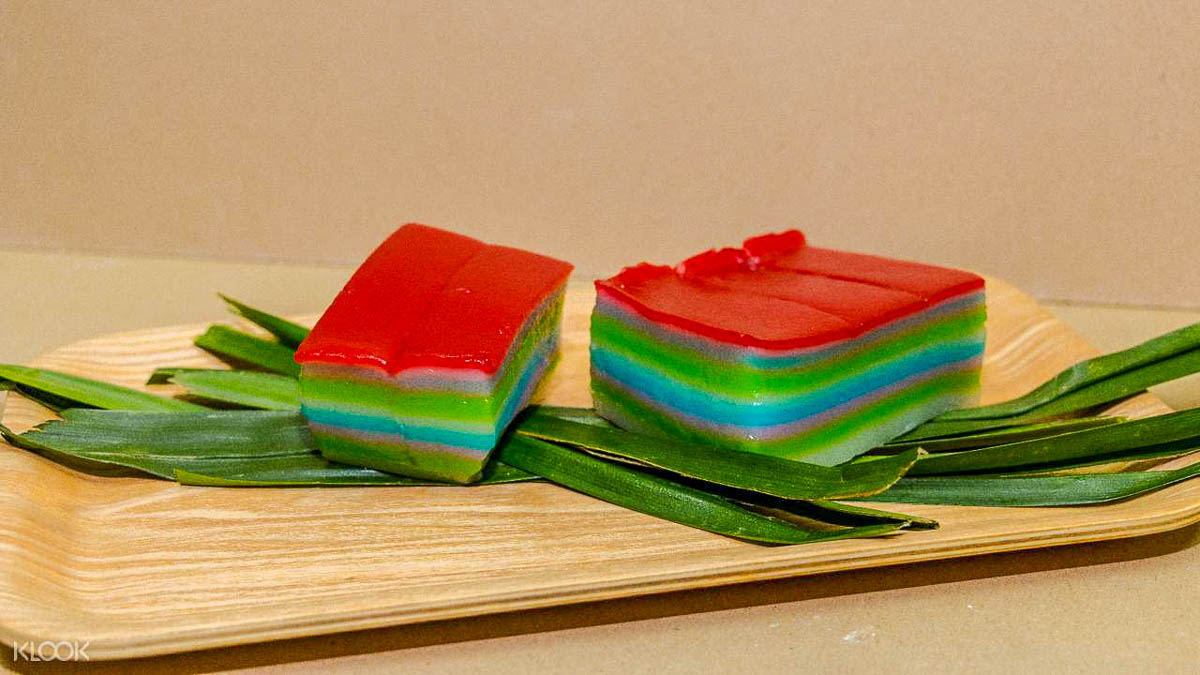 For a more interesting experience, hop off the 'eaten' path and try your hand at making your own traditional snacks! You'll walk away with homemade local delicacies, and a greater understanding of Singaporean culture.
Read also: Ultimate Singapore Food Guide for Tourists — Local-Approved Things To Eat in Singapore
Sample 3-Day Singapore Itinerary for First-Timers
Highlights: Chinatown — Marina Bay — Gardens by the Bay — Sentosa Island — Orchard Road — Little India — Haji Lane — Clarke Quay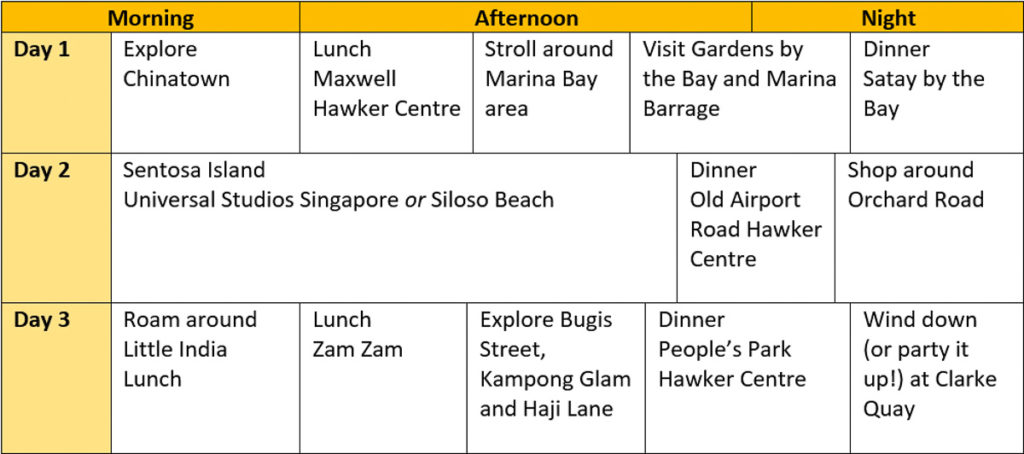 Exploring Singapore Like A Local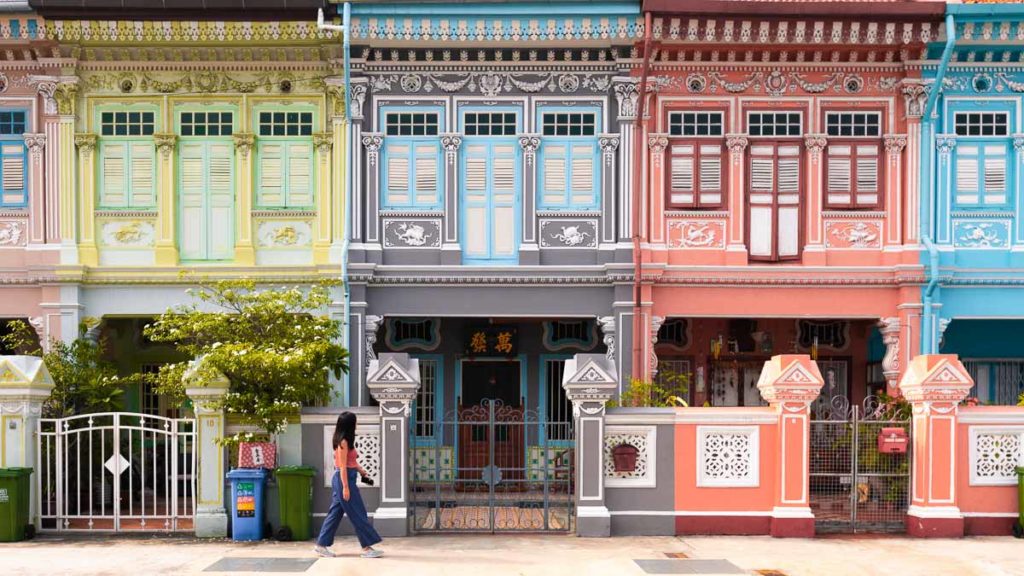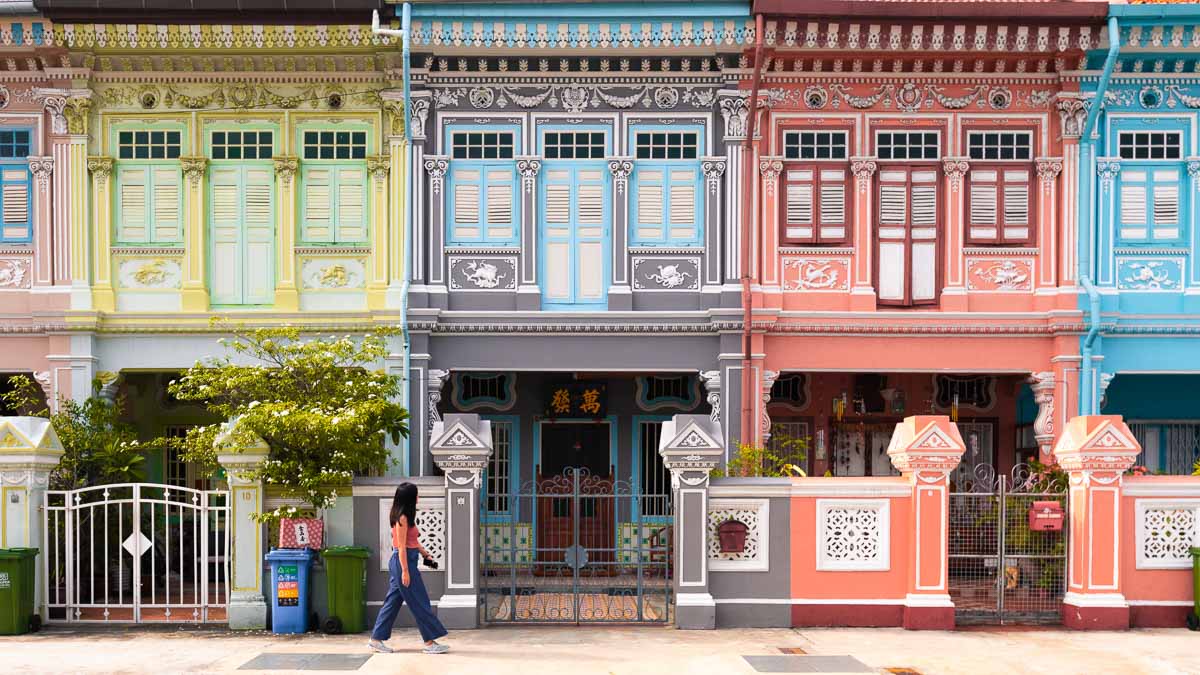 Like a lot of Singaporeans, I unwittingly complain about this country a lot — the weather, the rising cost of living, not knowing what to eat because there are too many choices (#firstworldproblems). Despite it all, I get very excited when I meet travellers who haven't been to Singapore.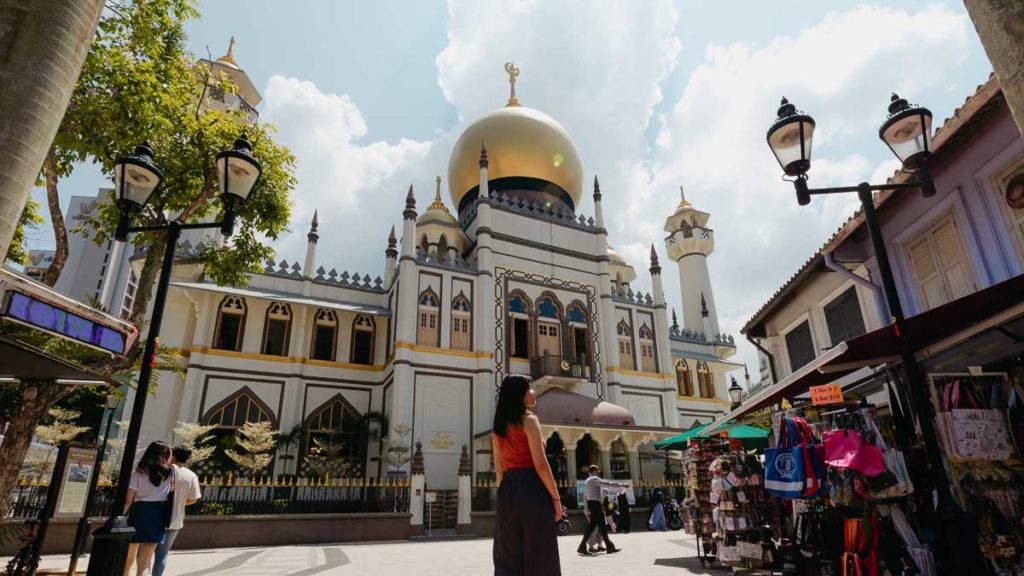 I dish out as many recommendations as I can remember, like must-eat foods, budget things to do, what to prepare, etc. Perhaps a large part of me really wants them to like Singapore. It is my home, after all, and I love it (despite the whines). It's a small island packed with world-class attractions, amazing foods, intriguing culture and history, as well as hard work and a lot of heart.
The truth is Singapore is not perfect, but it is good enough. And if you don't believe me, well, you'll just have to come here to see for yourself. 😉
Travel Tips for Singapore
1) Pack light, wear light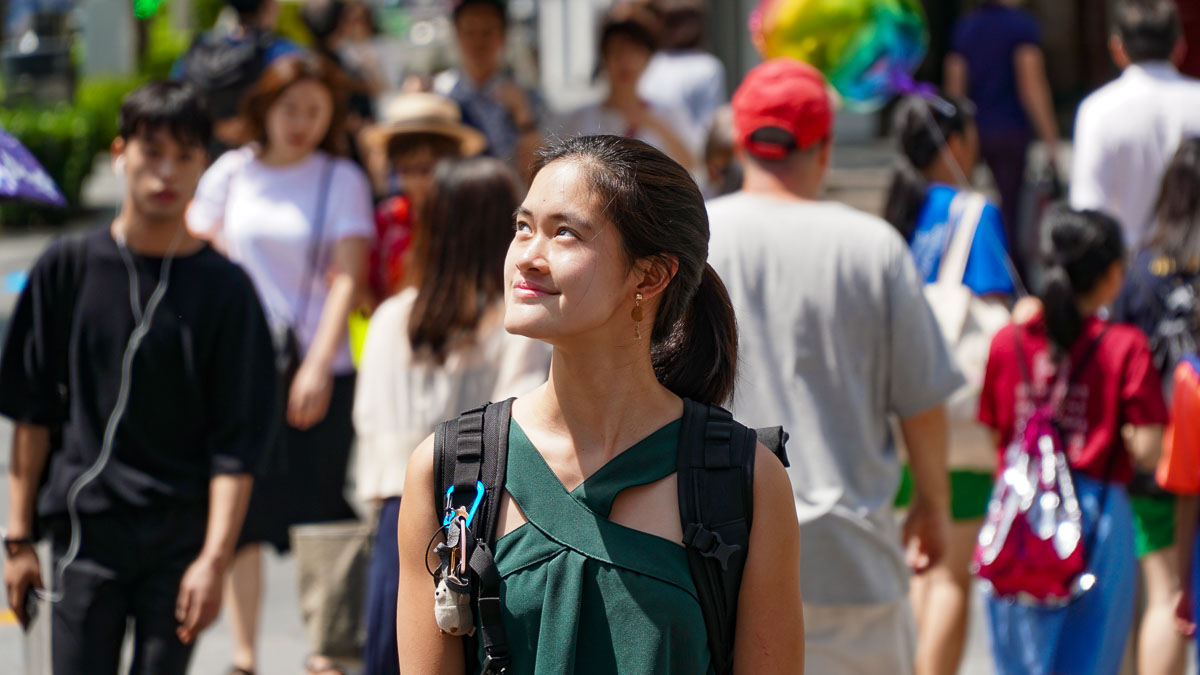 We recommend wearing comfortable, lightweight clothes made of cotton or linen, especially if you're going to be outdoors a lot! The UV rays and glare in Singapore can also be pretty harsh, so sunblock and sunglasses would help too.
Some religious sites (e.g. temples) require visitors to be modestly dressed, so you can bring along a shawl or sarong to cover up when touring these places.
2) Be aware of our laws
It's oft said that Singapore is a "Fine City" because of our many fines imposed on things you shouldn't be doing (like vandalism and murder, duh). The truth is Singapore isn't all that strict, but it's best to have these prominent laws in mind when visiting.
(1) Smoking is prohibited within all of Orchard Road. Look for designated smoking areas outside of malls and hotels to get your nicotine fix.
(2) Littering is a big no-no. If you get caught, it's an instant S$300 fine (true story).
(3) Being a public nuisance. Self-explanatory — making a lot of unruly noise, starting fights in public, or leaving your bags unattended in the MRT all count.
(4) From 10:30PM – 7AM, public consumption of alcohol is banned. Shops are also not allowed to sell takeaway alcohol during this time. You can, however, continue to drink at licensed premises (e.g. bars, hawker centres). For more info, check out this Q&A about Singapore's drinking law.
3) Speak Singlish!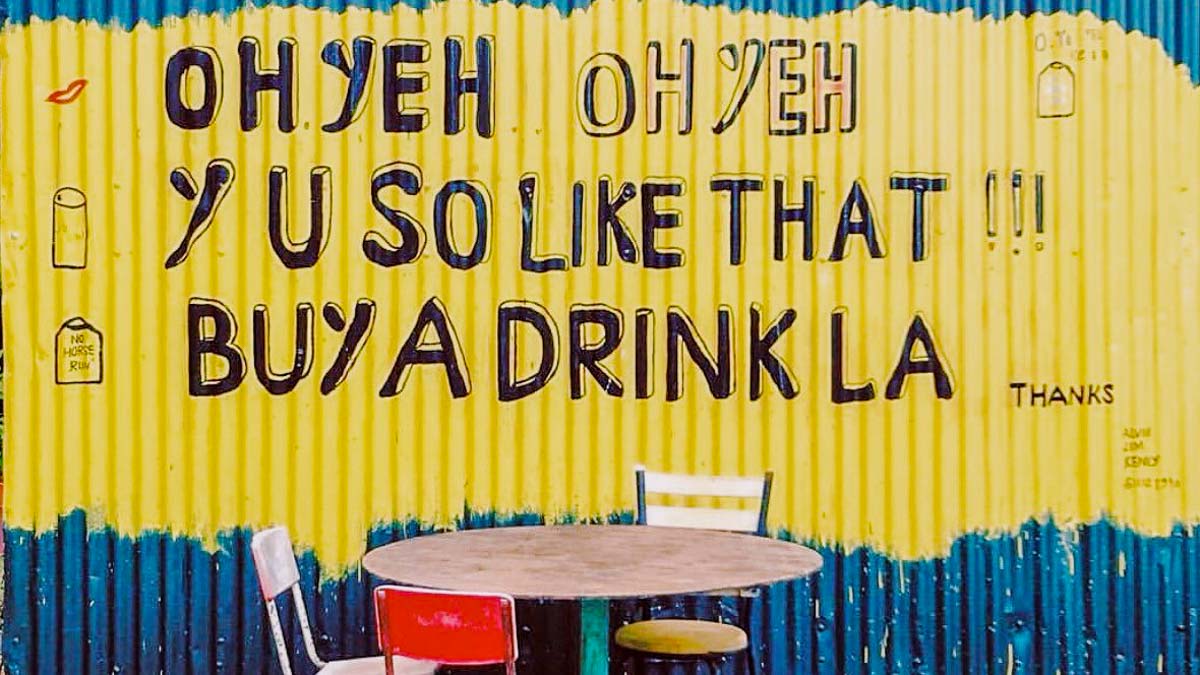 Like you, we too have our own language: Singlish (a.k.a. colloquial Singapore English). It's an interesting blend of English, Malay, Tamil, and Mandarin dialects like Hokkien. To any non-Singaporean, it may sound coarse and confusing. But to us, it sounds like home.
So we encourage you to learn Singlish and use it when conversing with locals! You'll gain a deeper understanding of Singapore culture, as well as discover how easily impressed we can get when non-Singaporeans speak Singlish.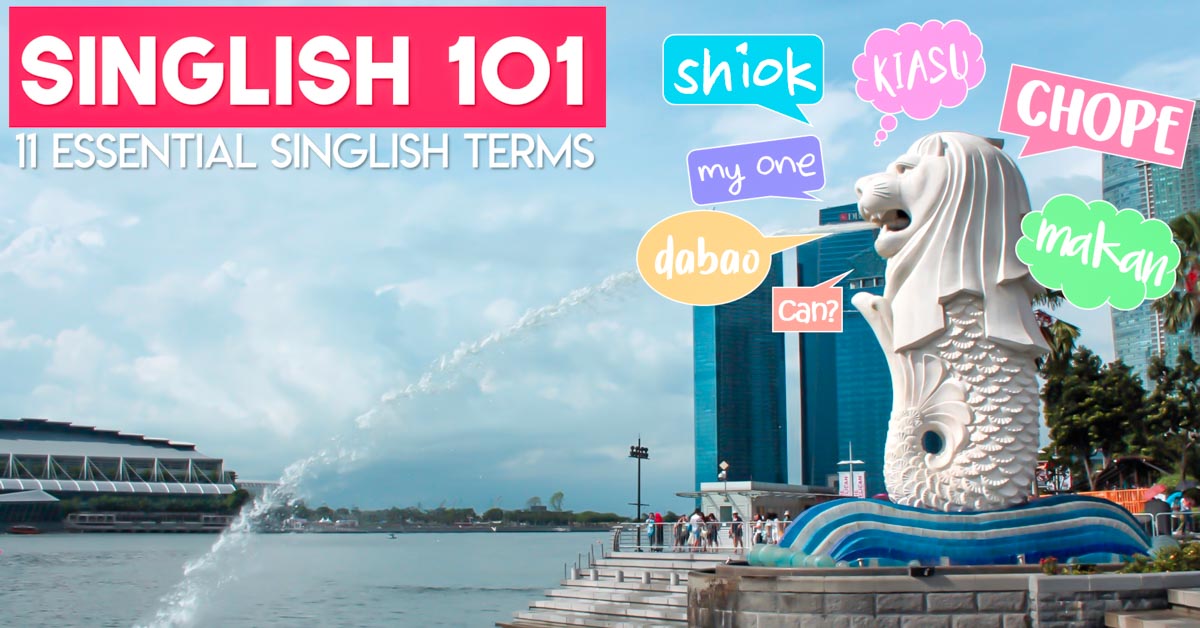 A couple of tips: first off, do not add "lah" at the end of every sentence. That will only annoy people. Second, brush up your vocabulary with our 101 Guide to Singlish!
Check Flights to Singapore
First time to Singapore? Or been here before? Tell us what you think of the little red dot in the comments below!
---
Like what you see? Follow us on Facebook, Instagram, and YouTube for more travel updates!