Singapore-Korea VTL is still on — here's all you need to know if you plan to visit!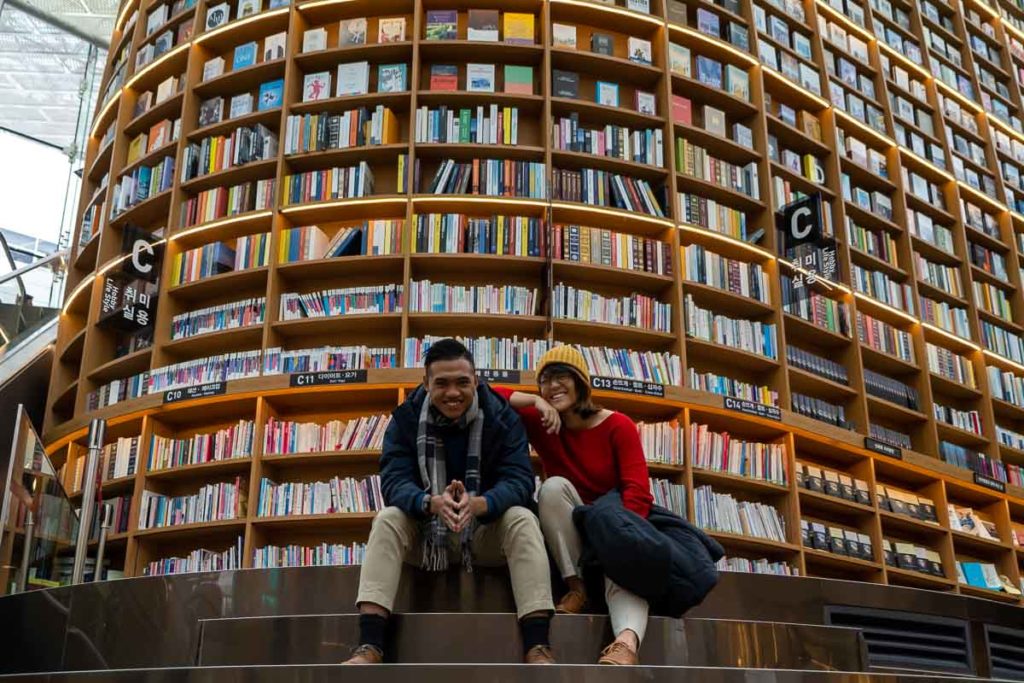 Many Singaporeans (including us) got really excited when we heard South Korea and Singapore were opening a Vaccinated Travel Lane (VTL)!
There's a lot of information you'll need to know, so we've collated all the important info to help make your planning process a lot smoother 👍🏻
1) There are 4 airlines offering VTL flights between Singapore and South Korea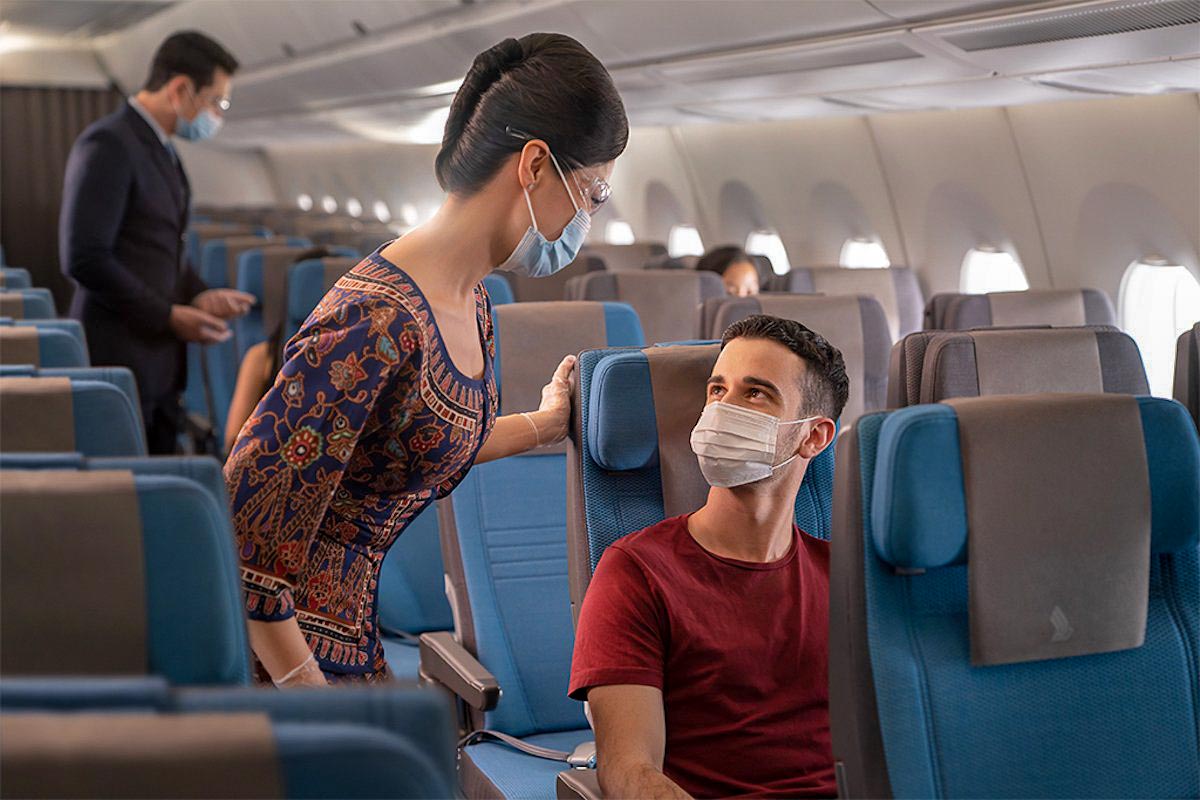 Photo credit: Skift
Only designated VTL flights back to Singapore are mandatory. However, quarantine-free travel to Korea will begin 15 November 2021, so you can take any non-stop flight there.
The four airlines currently providing VTL flights are Singapore Airlines, Korean Air, Asiana Airlines and Scoot.
Here's a list of non-stop flights to Korea and VTL flights to Singapore:
AIRLINES
SIN → ICN
ICN → SIN
FREQUENCY

Singapore Airlines

Any flight*
SQ607
SQ601
Tue – Sun (for returning flights)
Korean Air
KE646
01:30
KE644 (only Sun)
22:30
KE645
18:35
KE643
14:35
SIN → ICN: Tue, Fri, Sun
ICN → SIN: Mon, Thu, Sat

Asiana Airlines

OZ752
23:00
OZ751
16:20
Every Tue, Wed, Fri
Sun incl. from 1 Dec 2021

Scoot

TR840
TR841
10:30
Every Mon
*All flights to South Korea with Singapore Airlines are non-stop flights.
2) You'll be taking up to 4 PCR tests in total
Just so we're aware of the incoming brain tickles that come with this Singapore-Korea VTL 🤪
Photo credit: Mufid Majnun
PCR Test #1: Pre-departure — taken within 48 hours before your flight
There are a lot of clinics in Singapore that administer the Polymerase Chain Reaction (PCR) test. It's best to schedule your test at least two days before your flight as the results will take some time.
If you're overwhelmed by the number of clinics, a more straightforward option is booking via Klook. They have three listings of PCR tests with three different medical groups — Healthway Medical Group, Doctor Anywhere and AcuMed Medical Group. All the clinics in each listing are MOH-approved and found island-wide, so you'll easily find one close to you.
You need to present your negative results when you arrive in Seoul.
PCR Test #2: On-arrival test in South Korea
Book your PCR test: Before departing Singapore, book your on-arrival PCR test at Incheon International Airport's Testing Centre via Safe2GoPass. If you're travelling with others, you can also book slots on their behalf.
There are testing centres at both Terminal 1 and Terminal 2. Those flying with Asiana Airlines, Singapore Airlines or Scoot should select testing centres in Terminal 1. While Korea Air passengers should select Terminal 2.

Self-isolate: After your test, head straight to your accommodation to self-isolate until your results are out. Be sure to check with your accommodation whether they require a negative test result before you check-in!
You're allowed to take public transport from the airport to your accommodation, but a taxi or private hire is recommended. Domestic flights aren't allowed until you receive your (negative) PCR results. A safe and fuss-free way is to book an airport transfer service in advance👌🏼
Getting your result: Your PCR test results will be sent to you via email. If you take your test between 7AM to 3PM, you can expect to receive your results within three to five hours. Tests done 3PM onwards will receive results by 8AM the following day.
You'll also need to update your health status daily via the quarantine self-check mobile app for the duration of your trip.
PCR Test #3: Day 6/7 PCR test if you're in South Korea for more than a week
This mid-trip PCR test is mandatory for those staying more than eight days. Thankfully, you don't need to self-isolate after your test!
Go to any MOH-approved clinic in South Korea on your 6th/7th day (day 0 is the day you arrive). Prices can vary from ₩110,000 to ₩180,000.
We went to National Medical Centre in Dongdaemun (Dongdaemun History and Culture Park Station, exit 13). Their PCR test centre is located to the left of the hospital and is completely outdoors — make sure to layer up as it gets pretty cold this time of the year!
They take walk-ins only so we recommend going early to avoid long queues. The entire process took about an hour and a half for us.
Results have to be physically collected the next day from the main building (before 5PM) so don't be too quick to leave the city. The certificate is printed in English and you'll receive a text on when to pick it up. Bring your passport when you go for your test and when collecting the results!
National Medical Centre
Cost: ₩141,930 (~S$163)
Testing hours: 8:30AM to 3PM (closed on Sundays). Avoid going between 12PM to 1PM as they'll be on lunch break
How to get there: Take Line 4 to Dongdaemun History and Culture Park Station, exit 13
Other options:
– Seegene Medical Foundation (~₩110,000): Results will be emailed to you, but you'll need to call to book a test with them.
– Kangbuk Samsung Hospital (~₩110,000): Results will be sent via SMS.
PCR/ART Test #4: Pre-departure test within 48 hours before your flight from South Korea
If you're sick of the brain tickles, you're allowed to take a professionally administered antigen rapid test (ART) this time around! Similar to the Day 6/7 test, head to any MOH-approved clinic within South Korea to take your test and get a copy of your results in English.
From what we know, only H Plus Yangji Hospital professionally administer ART tests (~₩50,000) and issues your results in English. You'll need to book a slot with them for the test.
Similar to National Medical Centre, you need to head down to pick up the results once they contact you via SMS. And don't forget to bring your passport with you on both days!
Another option is booking via Safe2GoPass again. However, that means you'll need to head back to Incheon International Airport's Testing Centre two days before your flight.
ART Test #5: Post-arrival test within 24 hours
From 21 Feb 2022, travellers entering Singapore via the VTL can take a supervised self-swab ART test instead of a PCR test. This can be done at any Quick Test Centre (QTC) or Combined Test Centre (CTC) within 24 hours after arrival.
Thankfully, the maximum number of mandatory PCR tests is four. For those staying in Korea for more than two weeks, you'll just need to update your health status daily for 14 days via the quarantine self-check mobile app.
3) Travel insurance is a must!
Short-term visitors must purchase travel insurance for the entire duration of their stay. Most importantly, you'll need a minimum coverage of 30 million won (~S$34,000) for COVID-related medical treatment and hospitalisation costs.
Basic travel insurance with COVID cover are listed below:
If you're planning to cover more adventurous activities like us, here are two policies that cover both COVID and high-risk activities!
Once you've bought travel insurance, print it out — you need to present a physical copy of it when you arrive in Seoul.
4) Download your digital vaccination certificate before going to the airport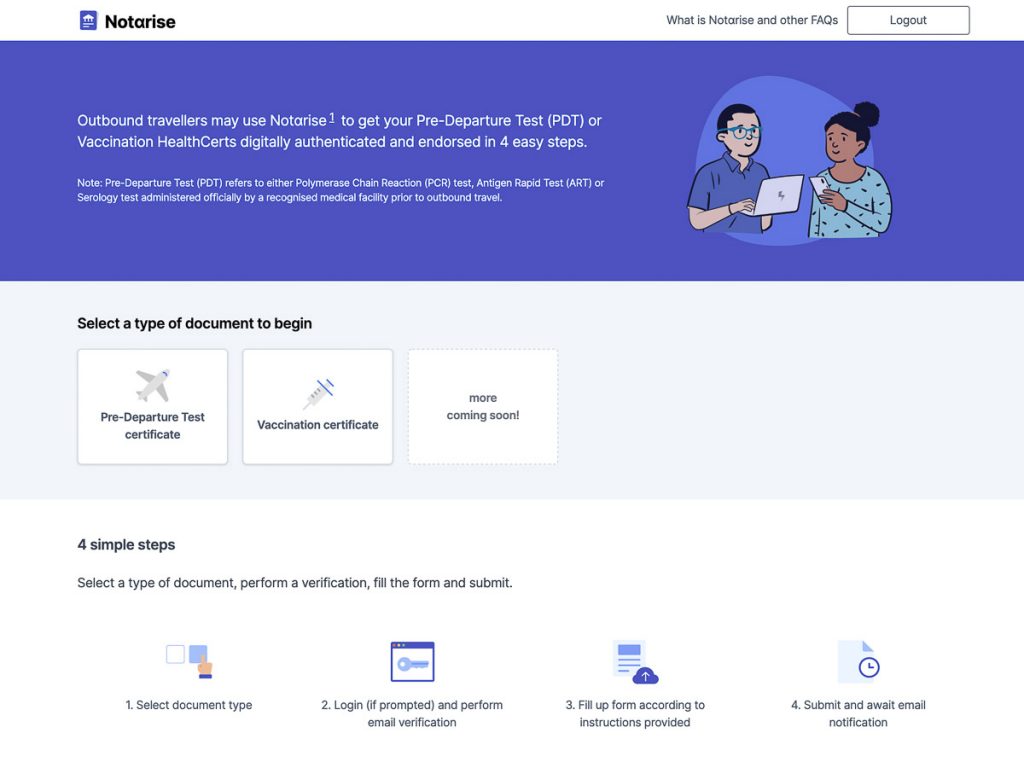 Photo credit: Notarise
When you arrive in Seoul, you'll need to present your vaccination cert. Not only does this prove your vaccination but also shows that your second dose happened at least 14 days before your arrival. You can request for a digital copy from Notarise and get it straight to your email!
For iPhone users, it's better to download the certificate on your desktop first as the link in the email isn't optimised for mobile. However, Android users can download the digital cert from the email straight into their Google Pay app for easy access.
5) You need a K-ETA
All Singapore residents have to apply for the South Korean Electronic Travel Authorization (K-ETA) before entering the country.
The K-ETA allows you to stay in South Korea for up to three months and is valid for two years. The good news is, with the K-ETA, you no longer have to fill up arrival cards.
Application results will be sent to your email but takes up to 24 hours for approval so do apply at least a day or two before your flight to allow for more buffer time. You can apply for up to 30 people.
Cost: ₩10,000/pax
Application: Via the K-ETA website or the K-ETA app
6) You need a Korean number
On our previous trips to South Korea, getting a Data-only SIM card was more than enough. However, now with contact tracing and PCR testings, we're required to have a Korean number for easier contact.
Depending on the establishment, you'll be required to call a number provided at the entrance for contact tracing or write down your particulars on a sheet. And during the PCR test registration process, you might need to produce a Korean number in order to proceed.
We managed to get a SIM card with unlimited data and 100 minutes of call time from Self-made. This is the only store we found that sells temporary SIM cards with a Korean number — prices from ₩30,000 (~S$34.42).
It's located in Myeongdong on the third floor of Hanyang Building (right opposite Myeongdong Tourist Information Centre).
*Important note: All Korean numbers begin with 010.
*Update: According to travellers currently in Korea, restaurants no longer allow you to write down your name and contact number for contact tracing. However, you can still call in to the number provided. Since tourists are not able to access the local app for check-in, you can also convert your Singaporean vaccination certificate to a Korean vaccination certificate at Public Health Centres in Korea.
7) Masks are mandatory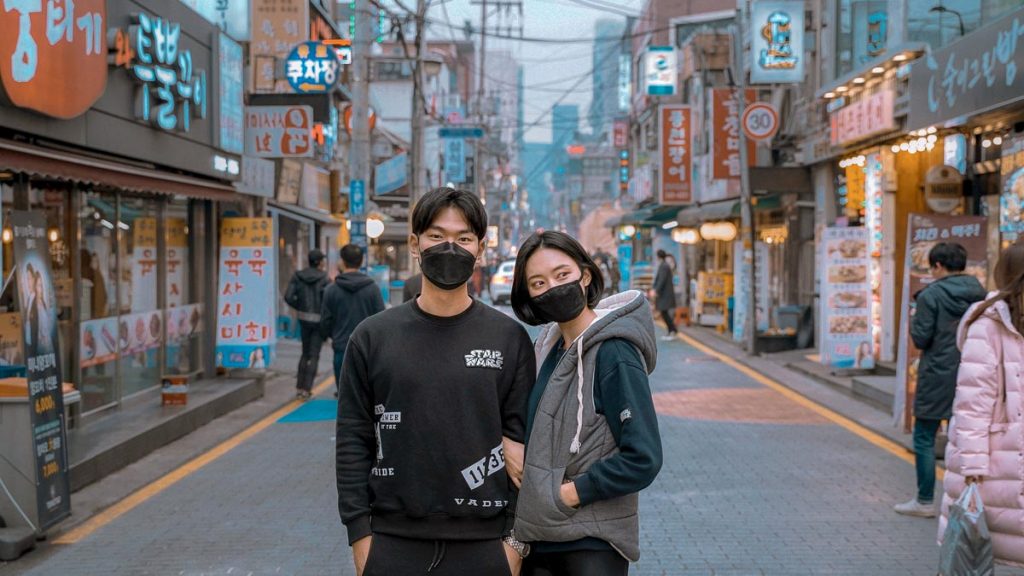 Photo credit: @ori_foto via Unsplash
Just like Singapore, you've got to wear a mask everywhere, except when eating or drinking. We're not complaining though — the masks kept our faces warm in the cold!
8) You can dine in groups of up to 12 people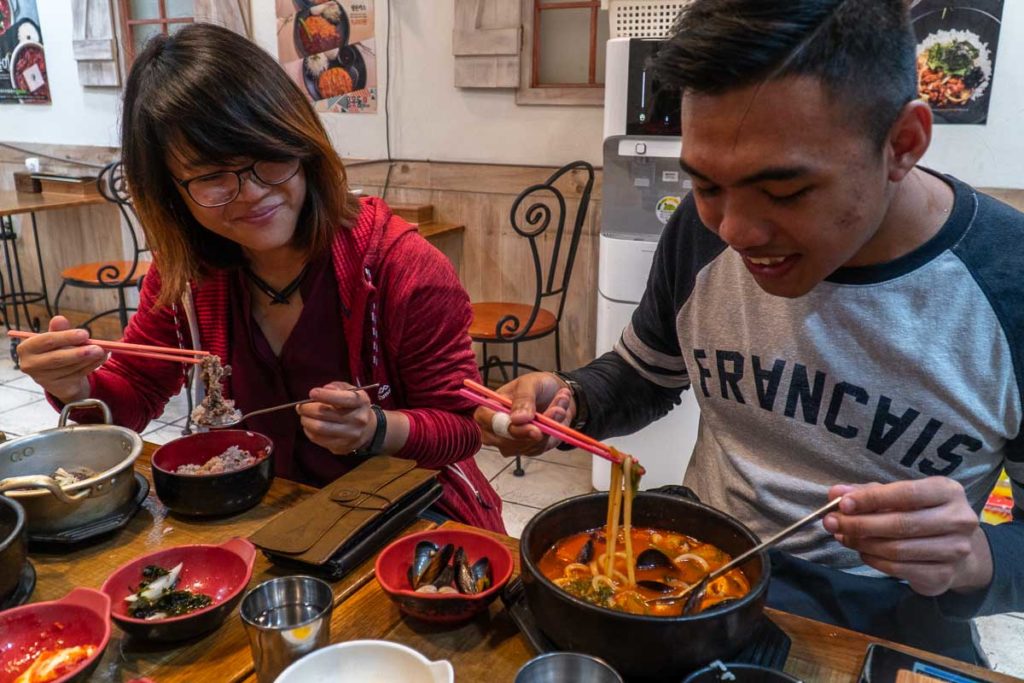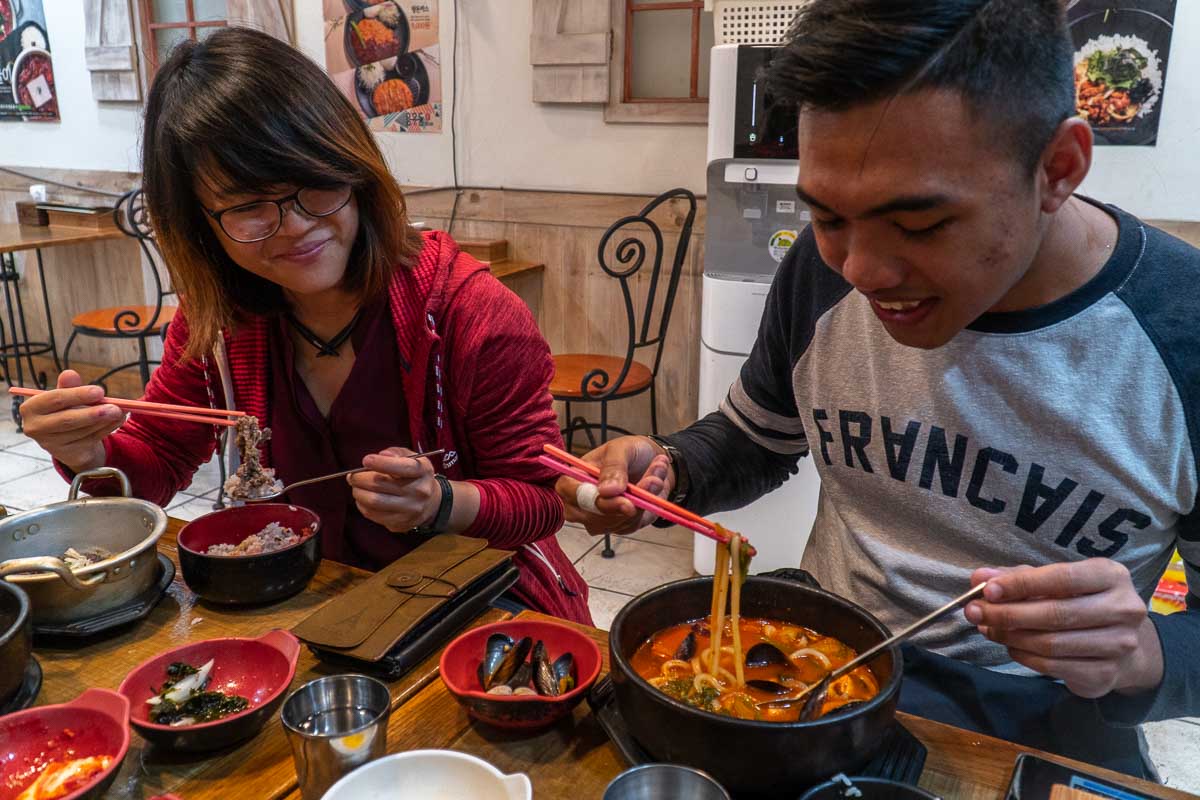 For folks travelling in groups, great news — there's no need to split tables 😂 Groups can dine-in at up to 10 per table in the Seoul metropolitan areas and up to 12 in non-metropolitan areas!
9) There are some curfews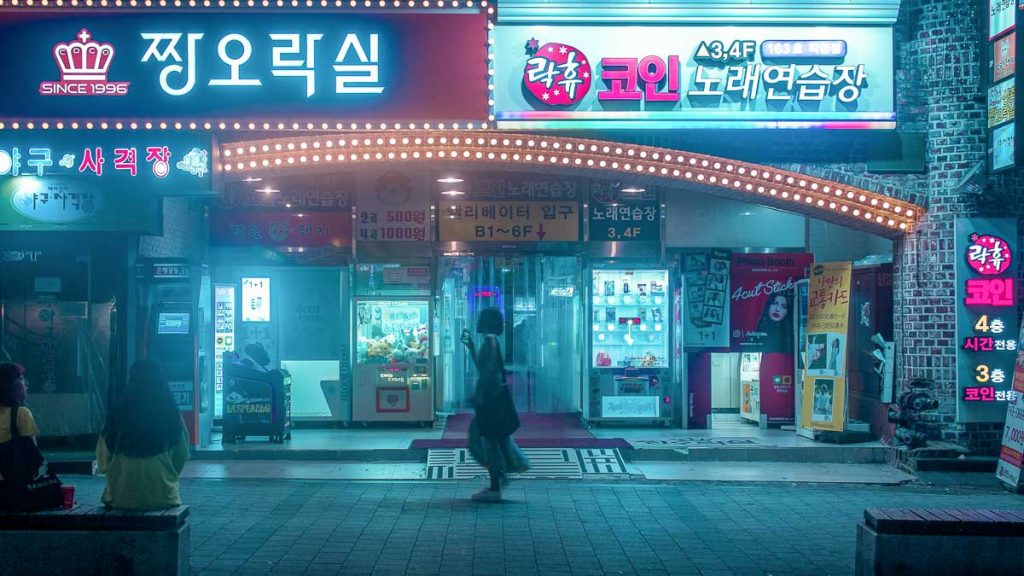 Photo credit: @icidius via Unsplash
Operation hour curfews for restaurants, cafes and movie theatres are fully lifted now. However, night entertainment facilities like bars and nightclubs that involve dancing have to close by midnight. And when you visit, you'll need to show your vaccination cert or negative test result before entering.
10) There will still be places open 24 hours
Even though nightlife facilities are only allowed to operate until midnight, there are other fun things for the night owls. If you're up for singing the night away, karaoke rooms are open 24 hours!
A more relaxing option is Jimjilbangs (bathhouses), which will also operate round the clock. All you need to do is show your vaccination cert.
For now, eating in the Jimjilbang is not allowed. Thankfully, there are cafes and restaurants that will open past 10PM — some even 24 hours ☺️
11) There is no restriction of capacity at theme parks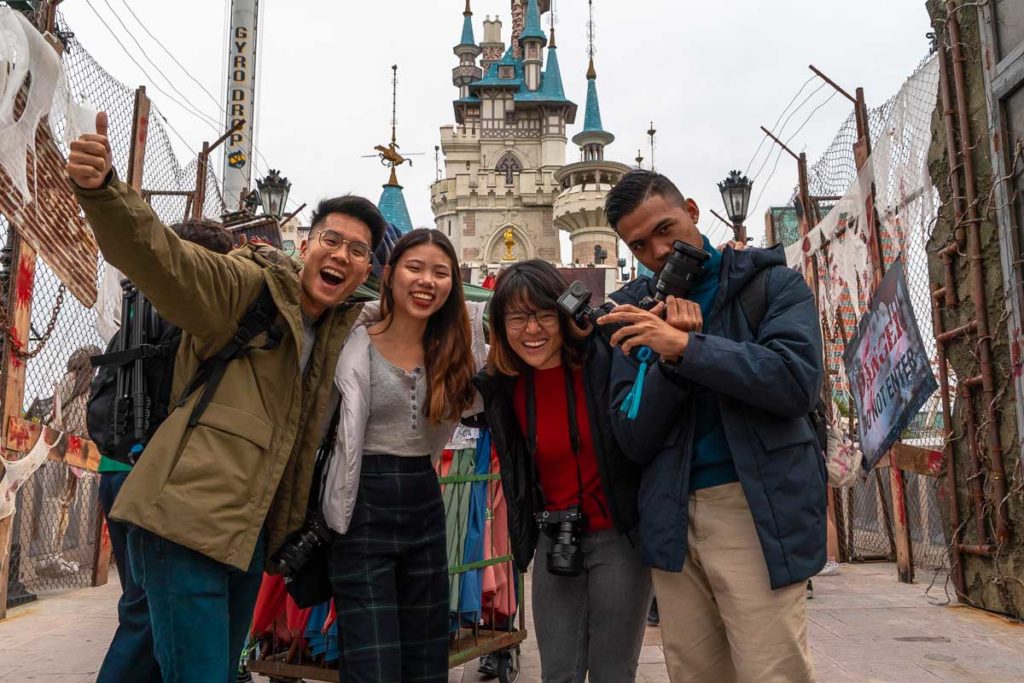 Lotte World and Everland are definitely a must-visit, especially if it's your first time in Seoul!
Those who joined our IG LIVE (@thetravelintern) from Lotte World will remember how crowded the park was in the background. That's because theme parks here operate at full capacity.
So unless you're lucky enough to find an empty park on a weekday, be prepared to queue at least half an hour for your rides! Alternatively, get Lotte World's Magic Pass and skip the queue of up to five rides. It costs a bit more but it'll give you more time to explore more of the park 🙌🏼
For COVID regulations in the park, you'll need to call to check-in before entering, wear your mask and keep a two-metre distance from others at all times.
12) Your favourite shopping streets don't look quite the same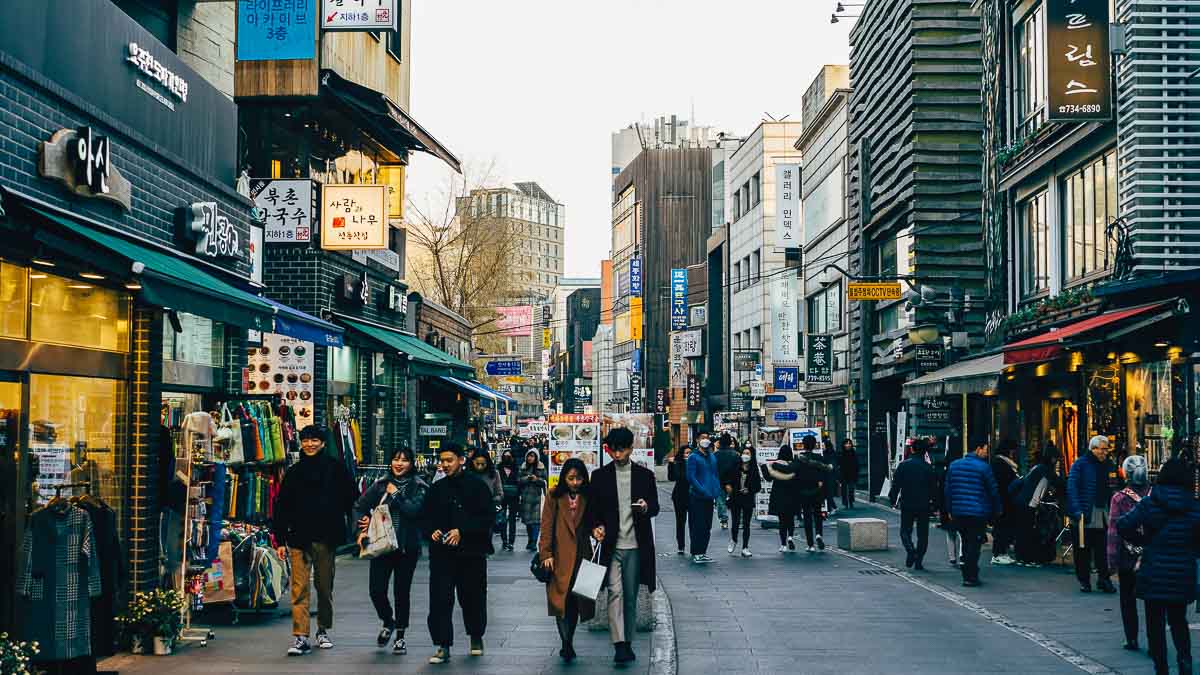 Photo credit: @markuswinkler via Unsplash
Now for the question that's been on everyone's mind: Is Meyongdong still alive?
To our surprise, there are still quite a number of retail and beauty shops, although one-third of this shopping district is empty.
It definitely isn't as bustling as it used to be, but the underground shopping area is still going strong!
Hongdae, however, is still as vibrant as it used to be ✨
13) Travelling out of Seoul is 100% possible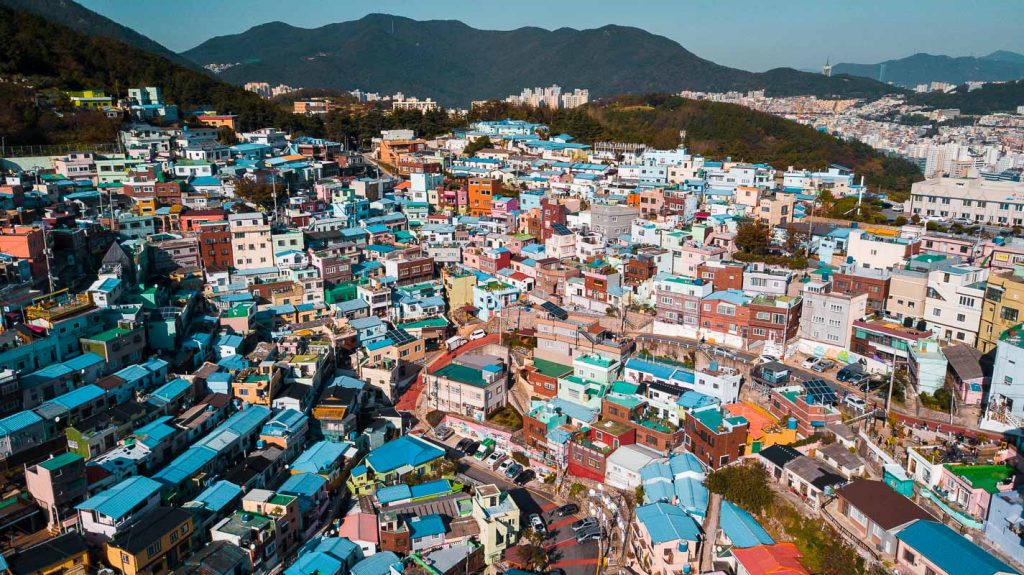 Once you've got your on-arrival PCR test results, you're free to go about your plans! This means you could head to Busan, or escape the city entirely and take the next flight out to Jeju.
Just be sure to take your mid-trip PCR test (day 6/7) at approved clinics in your area!
Travelling via the Singapore-Korea VTL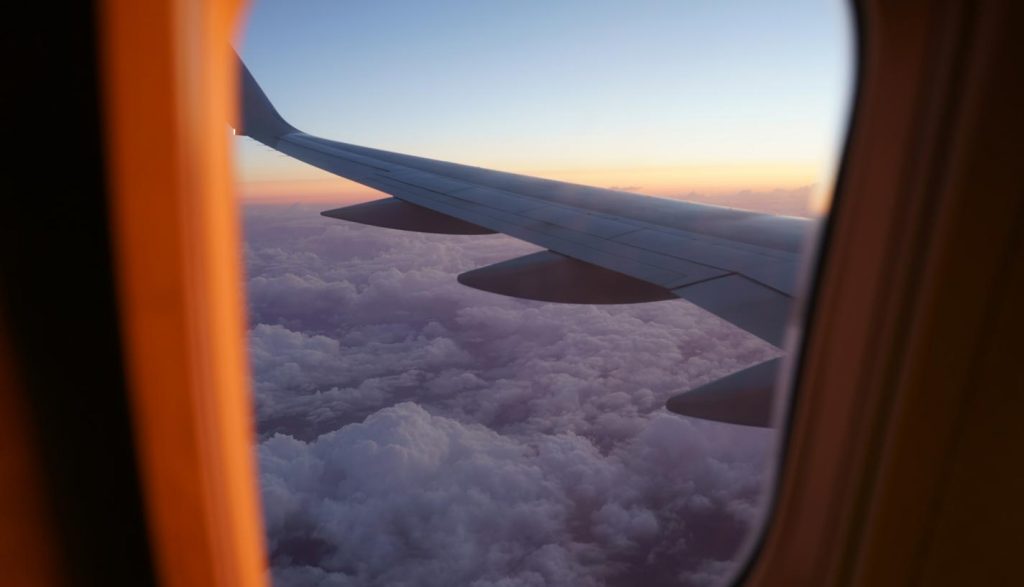 As the world slowly moves into an endemic-COVID life and travel becomes part of the norm again, it's important to stay vigilant and exercise some caution.
Don't be afraid of what others might think or what is the social norm in a country. If you feel unsafe, stay away from the crowded areas and events, and wear a mask as you please. You can still have a good time while being safe!
If you need some ideas on your upcoming Singapore-Korea VTL trip, check out these 13 Iconic K-drama filming locations or keep a lookout for our seven-day itinerary that's on the way✨
Watch this space for day to day updates of the local situation!
Any questions about the Singapore-Korea VTL? Let us know in the comments below!
---