A rookie's first attempt at night cycling around Singapore from sunset to sunrise (almost).
I've had my fair share of spin classes, but cycling 40km across Singapore — at night? That's a whole different ball game.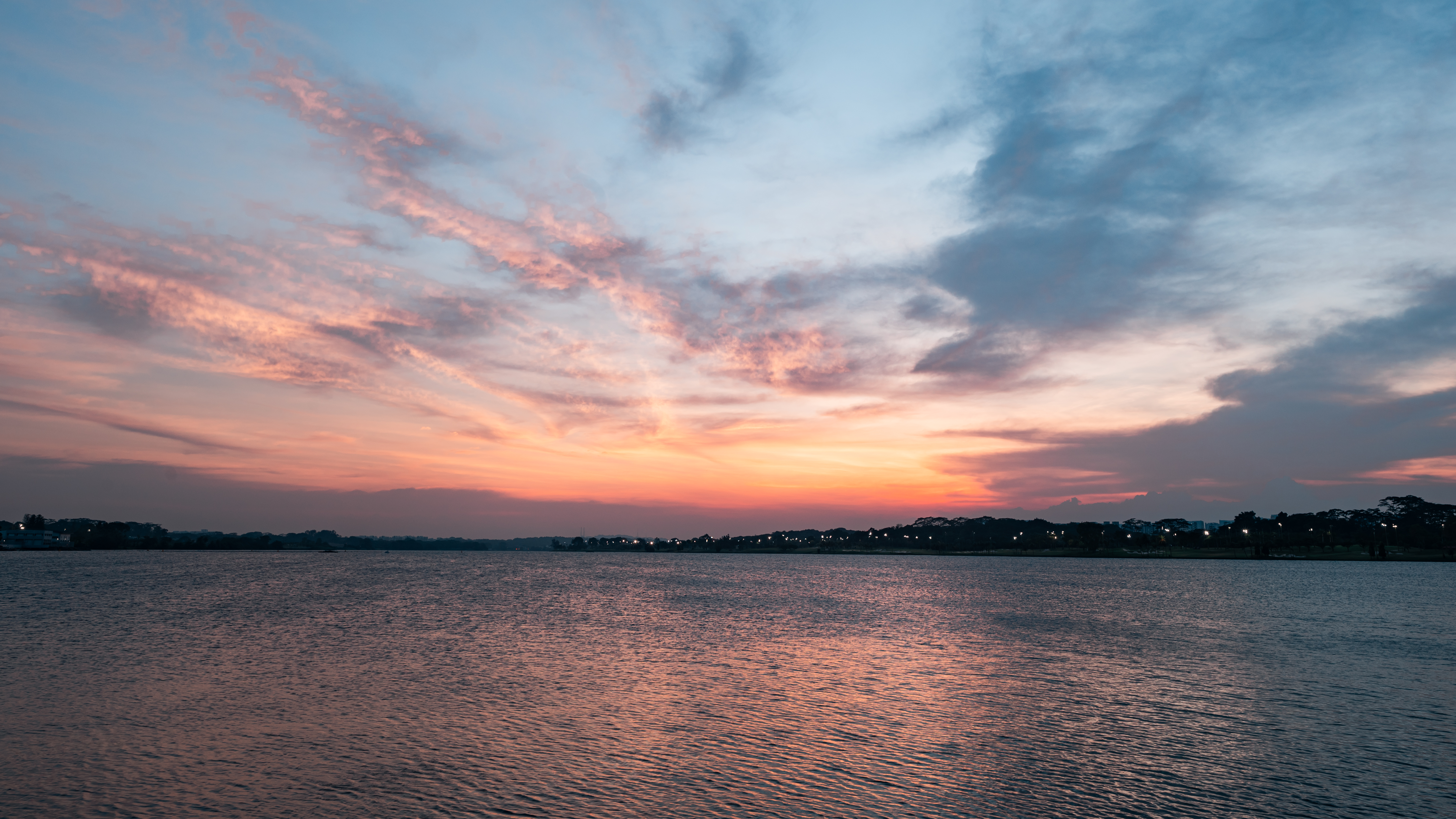 Being rookies to cross-island cycling, we decided that the best way to cycle around Singapore is at night. After all, night-time adventures meant cooler weather with fewer vehicles to look out for.
Planning The Night Cycling Route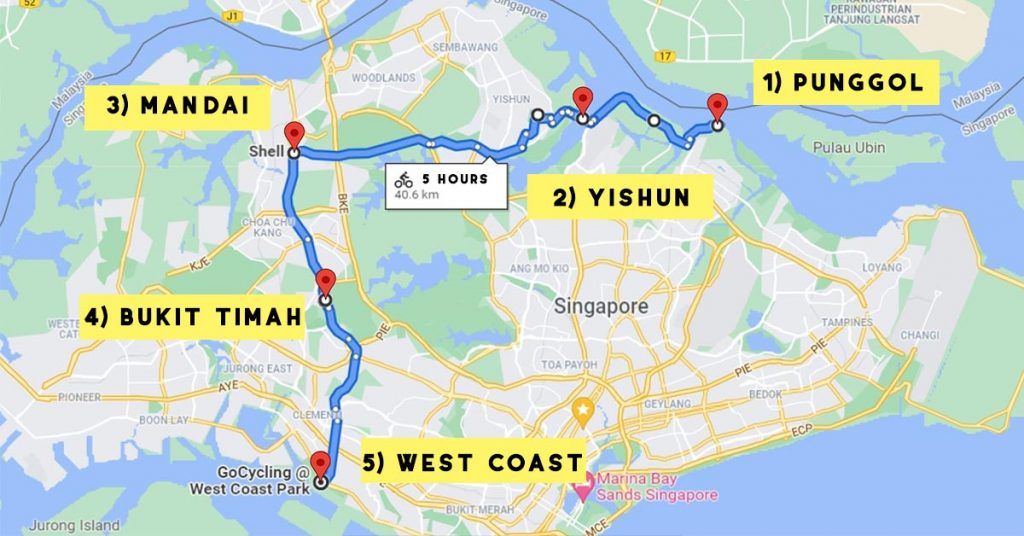 Since most of us didn't own bikes, we looked for rental options that allowed returns at different locations around Singapore.
GoCycling SG has 12 rental kiosks located all around Singapore and offers one-way returns which are perfect for non-round trip routes.
Wanting to explore the lesser-cycled North and West regions of Singapore, we decided to start at the GoCycling kiosk at Punggol Jetty and end at the outlet at West Coast. This gave us time to catch the sunset in the North and hit scenic spots during the golden hour, while cruising through sufficient supper stops (most importantly!) that were open along the way.
Here's our route pinned out on Google Maps!
1800: Starting Point — GoCycling @ Punggol Jetty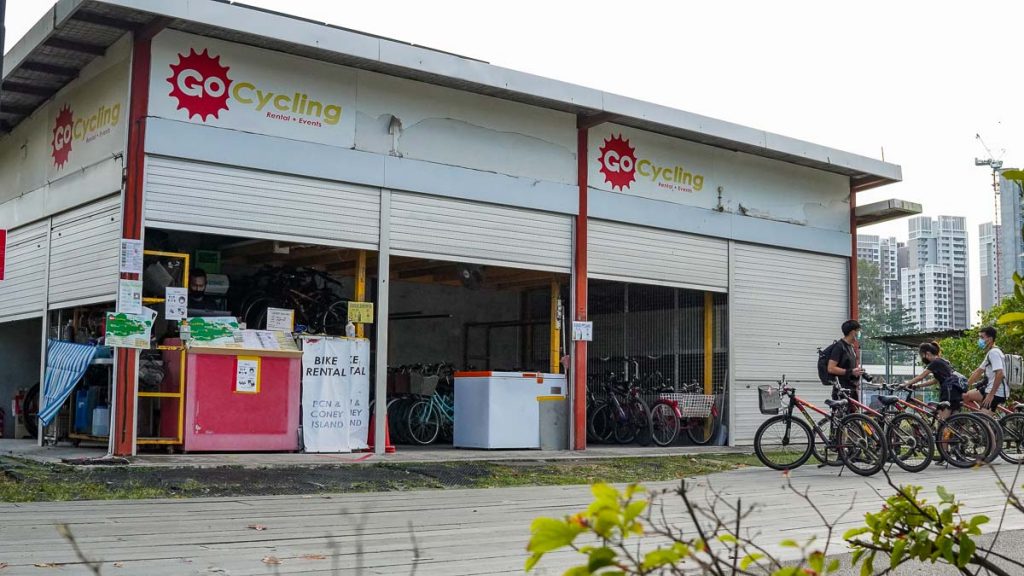 First up, choosing our bikes.
We were recommended mountain bikes for comfort, and told to check that both the brakes and blinker lights were working. Also learnt that saddles can really hurt — at you know where.
Here's a tip for adjusting your saddle to the right height: As a gauge, when the pedal is rotated to six 'o'clock, your leg should be straightened and in line with the crank arm.
Bike locks were also compulsory for locking up when returning the bikes and came in handy when we hopped off at supper stops along the way.
Note: One bike lock can account for up to three bicycles.
Cost: S$20/bike (overnight rental), S$2/bike lock
Opening hours: 10AM – 7PM (Mon – Fri), 9AM – 8PM (Sat – Sun), 6PM – 6:30PM (rental for overnight cycling)
How to get there: From Punggol MRT, take LRT to Punggol Point and walk 10mins
1820: Checkpoint 1 — Punggol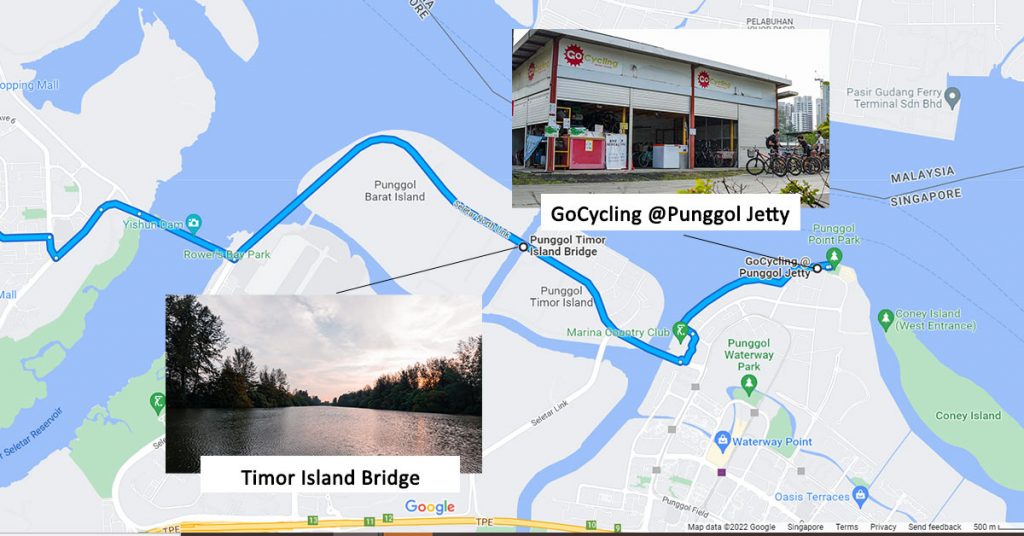 Distance to next checkpoint: 8.9km
Time: ~40mins
Difficulty: 1/5
The plan here was to reach Yishun Dam in time for sunset but not without being distracted by the views on Timor Island Bridge.
Spoiler: we didn't make it in time for sunset but cycling by the sea along the Punggol park connector during golden hour was a great start to the journey.
*Pro-tip: Check the sunset timing for the day and buffer in more time for distractions.
Timor Island Bridge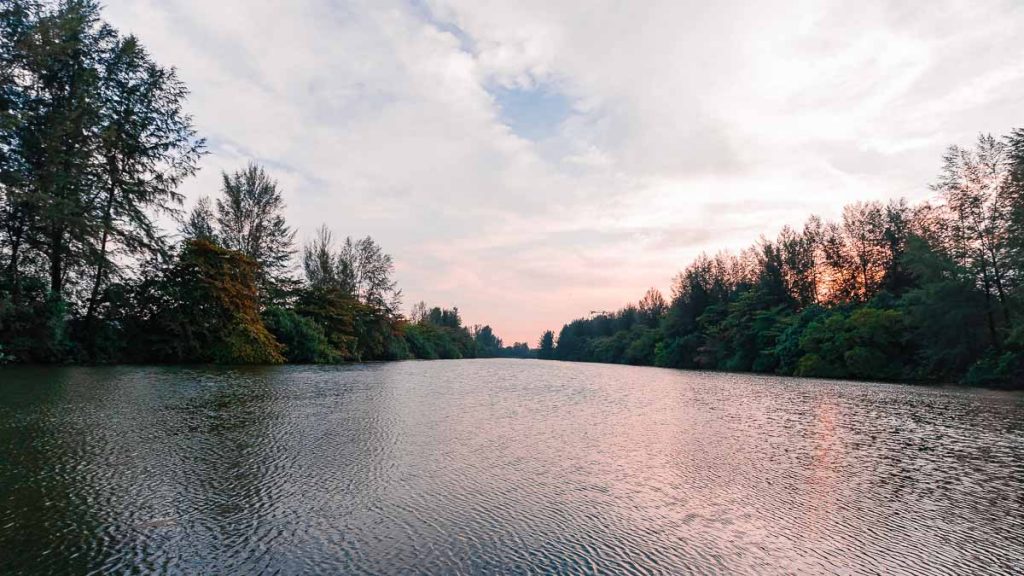 From the bridge, there's a panoramic view of the lake. Foresty banks frame the calm waters, bearing a slight resemblance to nature spots overseas.
1945: Checkpoint 2 — Yishun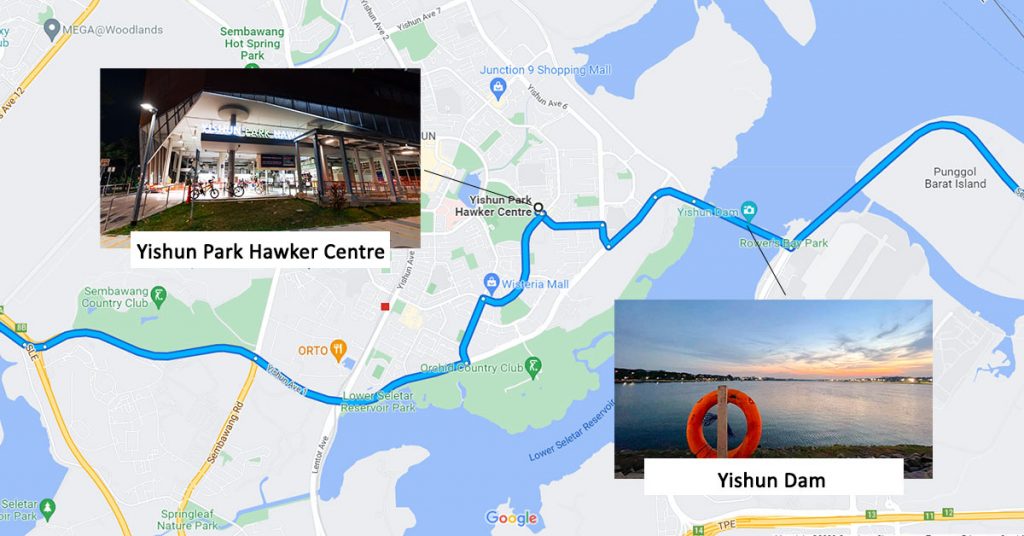 Distance to next checkpoint: 8.4km
Duration: ~30mins
Difficulty: 2/5
The night breeze set in as we entered Yishun, and we headed straight for dinner. Park connectors and bicycle lanes made it rather easy to get around the neighbourhood but turns at various traffic lights called for a fair bit of navigation.
Yishun Dam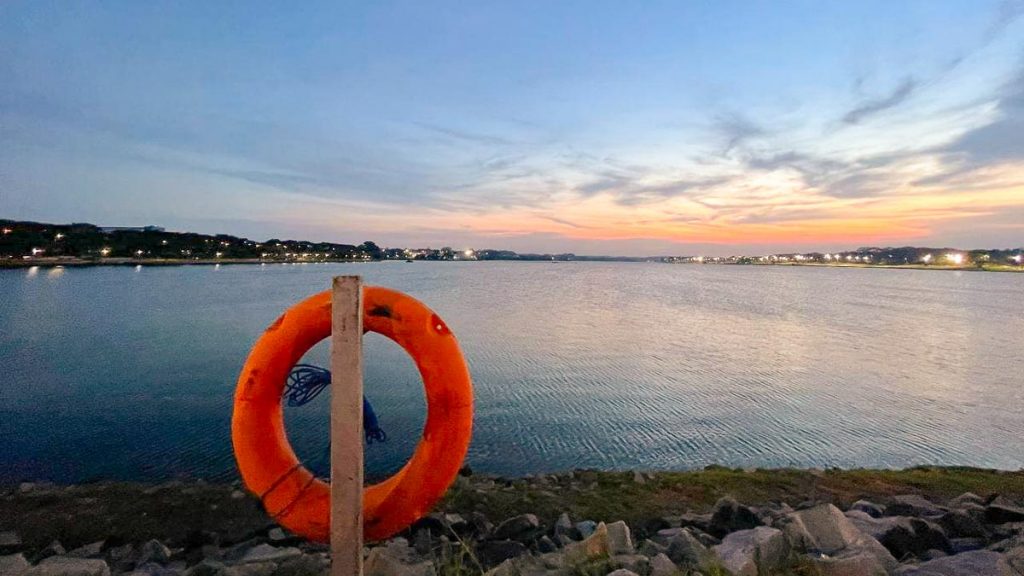 Yishun Dam is known to be the spot to catch the sunset in Singapore. Despite being a tad too late for the sunset, it's still a great sight during blue hour.
Our planned route called for us to keep on the left side of Yishun Dam (west direction), but because the path was so narrow and uneven, we decided the best way (to get through this night in one piece) was to dismount and push our bikes.
While we were there, we noticed that the opposite side of Yishun Dam was a lot more spacious, a spot we would consider picnicking at next time!
Yishun Park Hawker Centre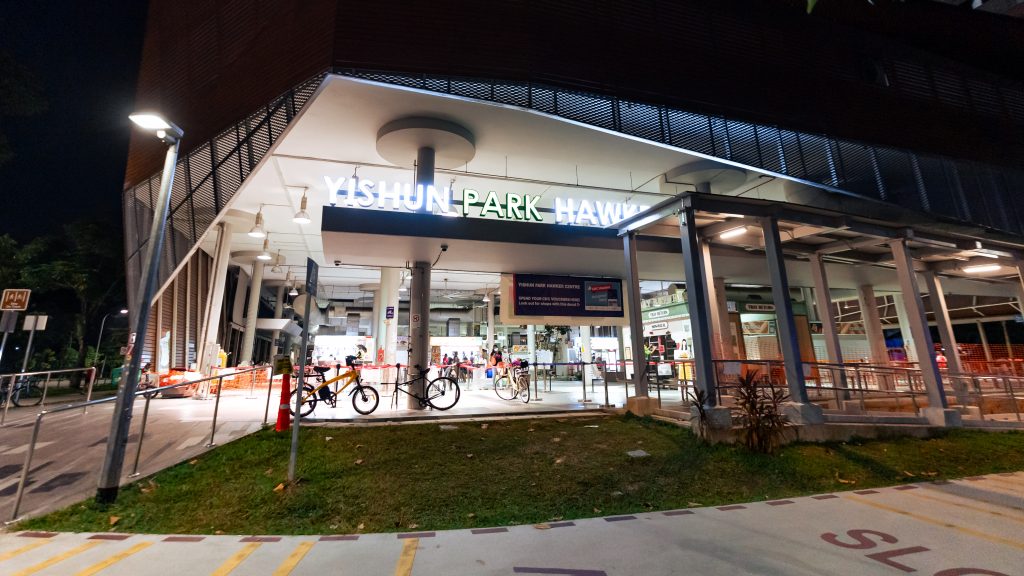 The North's foodie paradise 😋
To fuel up for the rest of our journey, we stopped by Yishun Park Hawker Centre which provides many great options. Here's our menu for the night!
1) Smokin' Joe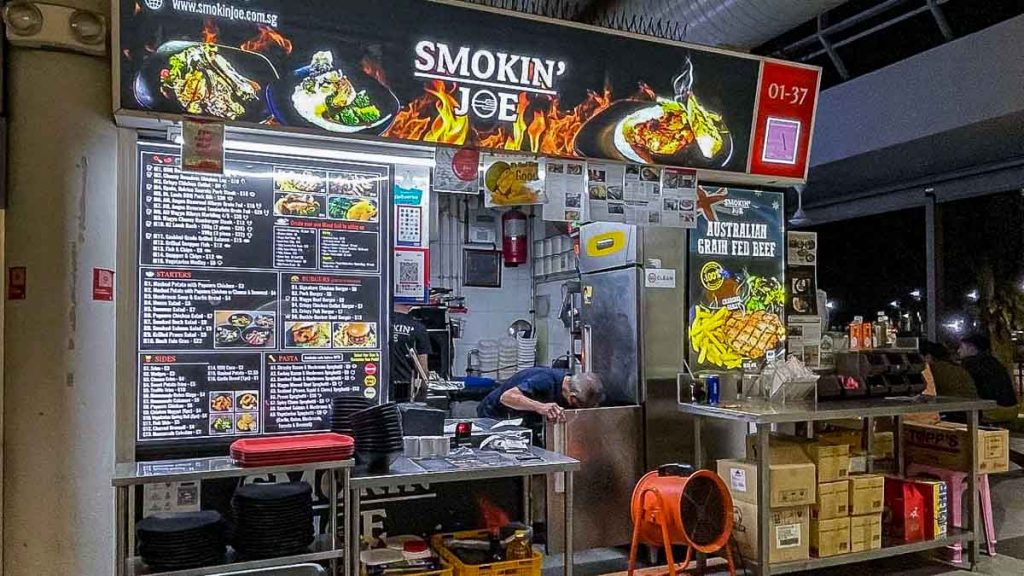 Smokin' Joe offered a generous portion with their Chicken Chop (S$8). The chicken was juicy, and paired well with crunchy french fries and garlic bread.
Opening hours: 12PM – 8:45PM
2) 51 面屋 Noodle House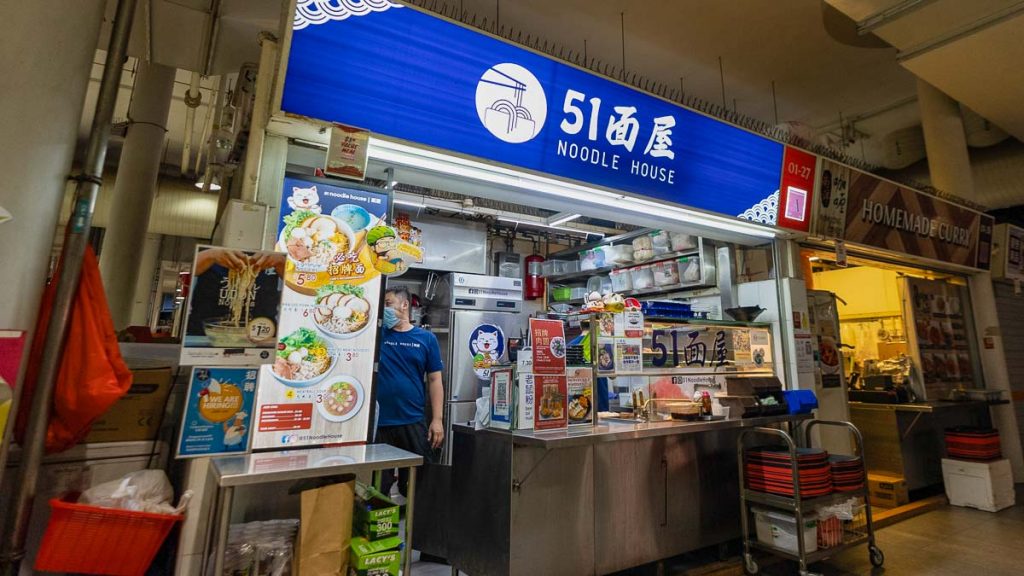 The Signature Noodles (S$5.80) at the 51 面屋 Noodle House comes with thick, tender slices of cha shu, plus an onsen egg oozing with runny golden yolk.
Opening hours: 7:30AM – 9:30PM
3) Munchi Delights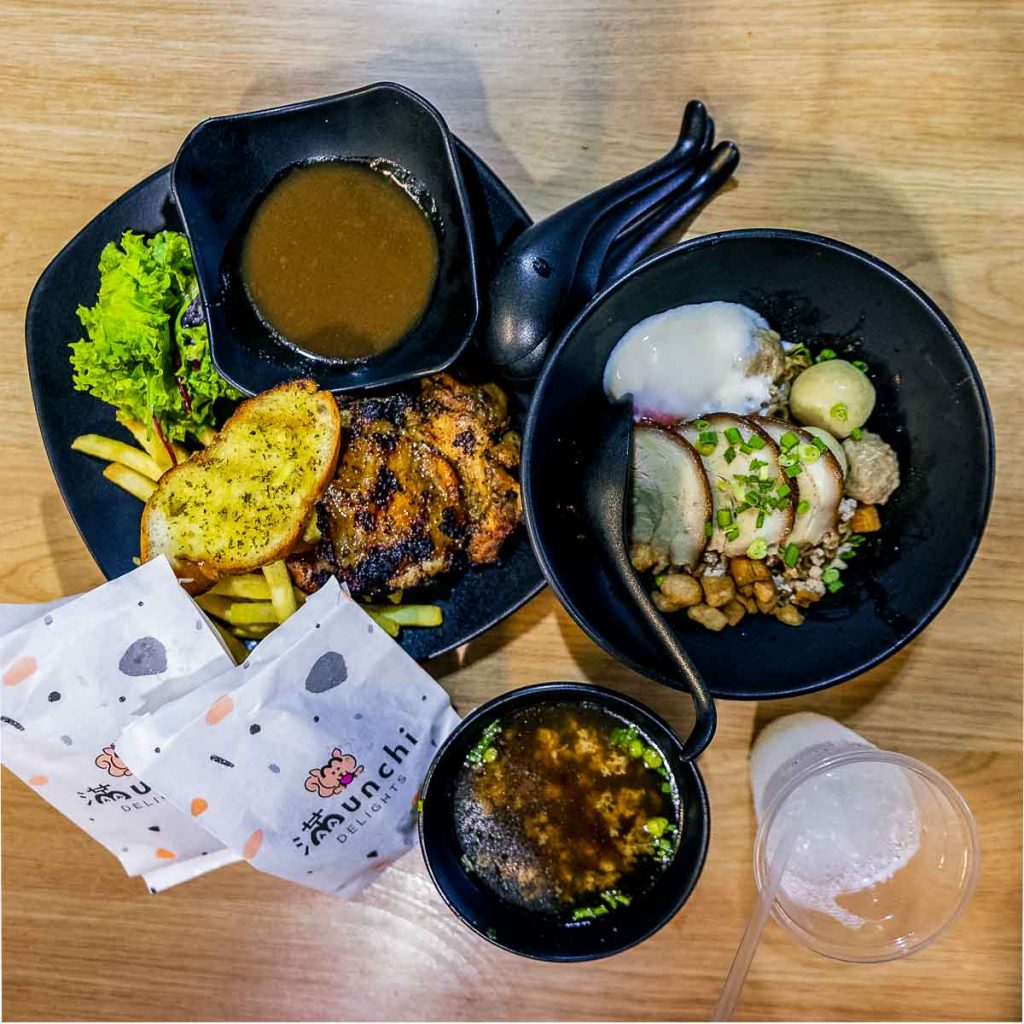 For dessert, the yummy Min Jiang Kueh (traditional pancakes) from Munchi Delights are worth a try. Unique flavours including the Lotus Biscoff Min Jiang Kueh (S$1.80) stood out, and the kueh was soft and chewy, matching well with the not-too-sweet filling.
Opening hours: 8:30AM – 8:30PM
2130: Checkpoint 3 — Mandai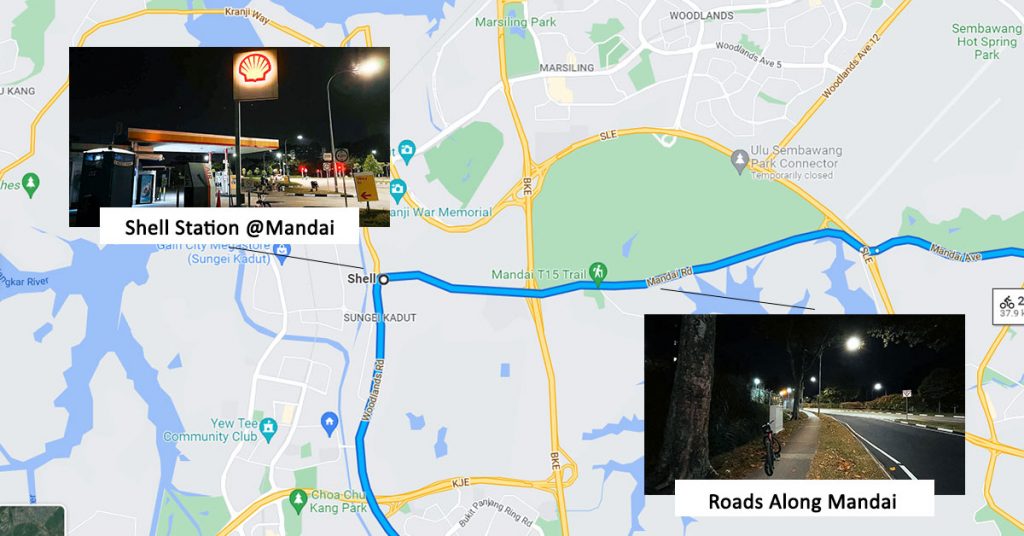 Distance to next checkpoint: 7.8km
Duration: ~90 – 120mins
Difficulty: 4.5/5
A steep uphill climb awaits as we enter Mandai — with a few more to come as we cycled on 😰 It was a struggle, but the straight road through Mandai is the quickest way to travel from the North to the West.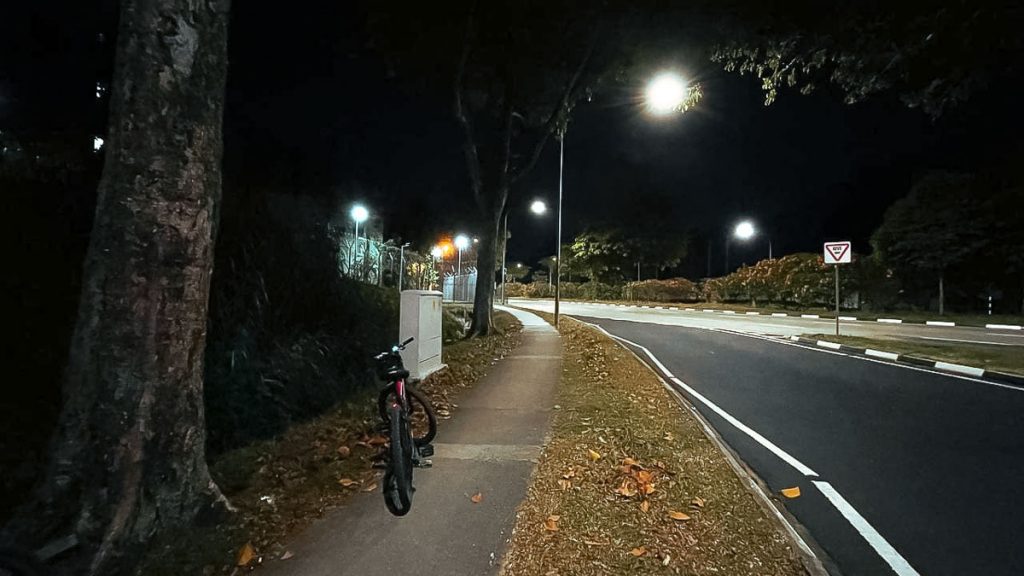 There was some ongoing construction which led to some sharp turns. And while there isn't much to see in this part of Singapore, we took the chance to enjoy the longer cycle without having to stop much along the way.
The team camaraderie with upbeat music and shouts of encouragement definitely made some of the key highlights of our night!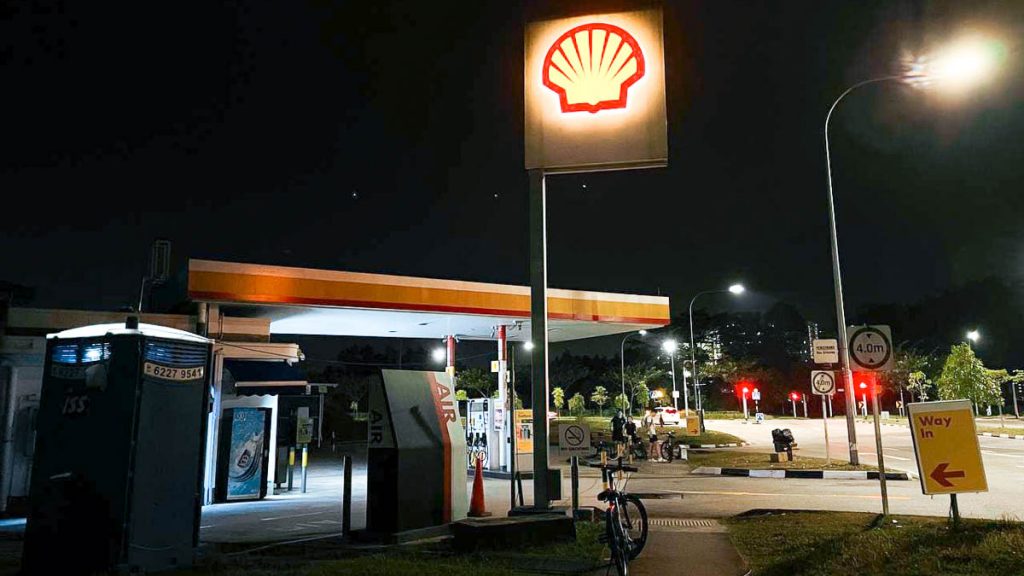 A prominent Shell station marks the end of Mandai, and we turned left to continue towards Bukit Timah.
2330: Checkpoint 4 — Bukit Timah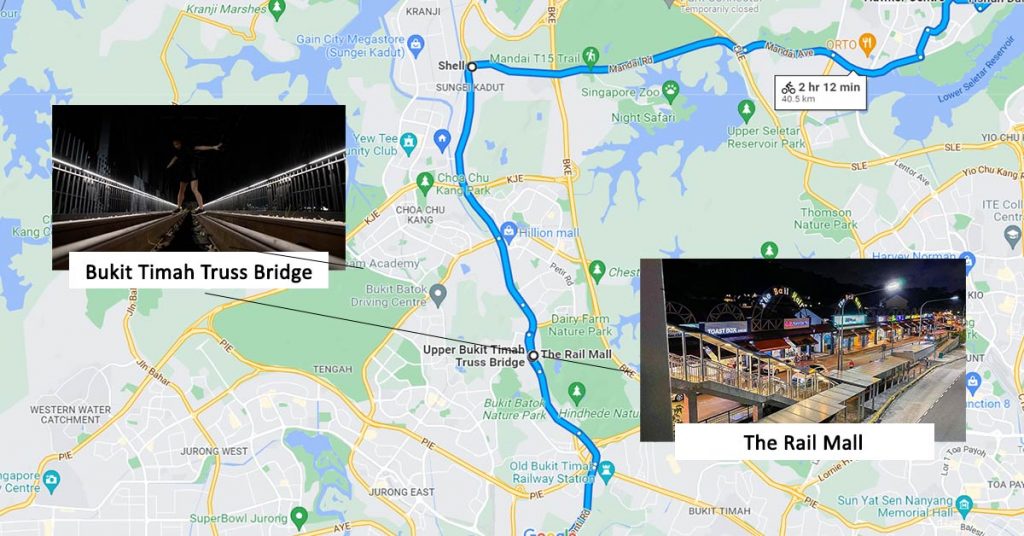 Distance to next checkpoint: 9.3km
Duration: ~60mins
Difficulty: 2/5
Thanks to the nearby Dairy Farm Nature Park and Bukit Timah Nature Reserve, the neighbourhood was generally quiet with cooler temperatures. The roads at this hour were rather empty, so we pretty much had the place to ourselves.
The Rail Mall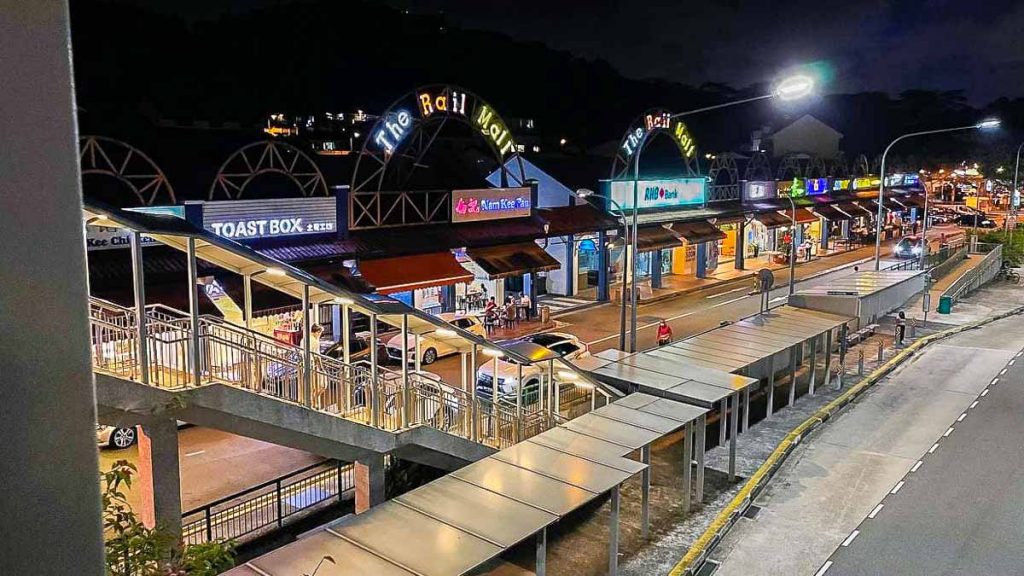 From afar, the iconic structure of the Rail Mall stood out — a welcoming sight as we hit the 30km mark. A single-story strip mall, it boasts a homely, outdoor-style charm, and offers a variety of supper spots for night owls like us!
King Indian Banana Leaf Restaurant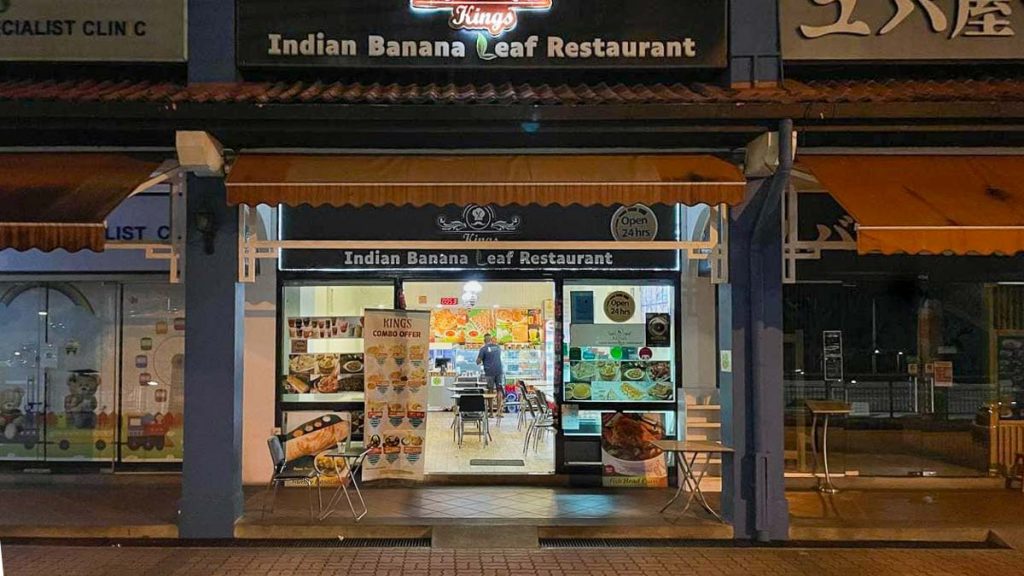 Don't be fooled by its unassuming exterior — the Kings Indian Banana Leaf Restaurant serves a killer plate of prata with a side of an equally great curry.
*Pro-tip: Head to the nearby 24-hour Cold Storage to stock up on water and snacks for the remaining journey.
Opening hours: 24 hours
Upper Bukit Timah Truss Bridge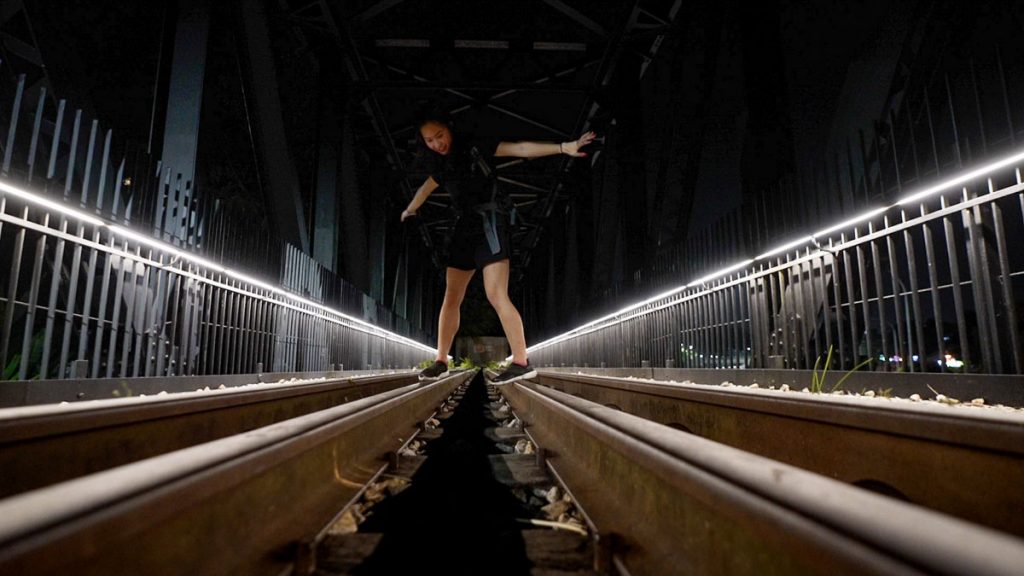 Since we were in the area, we took a small detour to the Upper Bukit Timah Truss Bridge — the night view from this spot is well worth it!
Having undergone refurbishment in 2019, ballast stones were replaced and protective railings were added so we knew we were in safe hands. Remaining as an important nature passageway, its triangular structures formed the ultimate IG-worthy backdrop.
How to get there: Take the entrance beside Rail Mall — the last block of shops nearest to the bridge.
Read also: The Ultimate 5-Day Singapore Itinerary Curated by Locals — from Iconic Attractions to Hidden Gems
0030: Checkpoint 5 — Clementi/ West Coast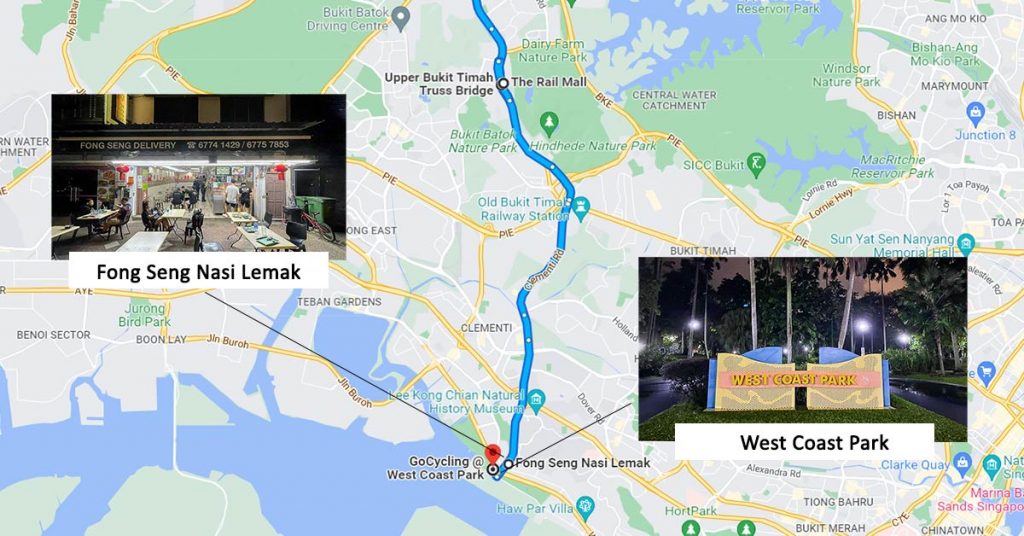 Distance to next checkpoint: 6.7km
Duration: ~60 – 90mins
Difficulty: 4/5
Alas, reaching the last leg of the night cycling route, there was one final challenge — more uphill battles 😰 This series of uphills were a big toughie, given that the long cycle so far had already given us sore thighs and burning buttocks.
Dismounting on upslopes and celebrating downslopes, we cycled past landmarks like Singapore Polytechnic and National University of Singapore before reaching the famous "NUS supper stretch".
Fong Seng Nasi Lemak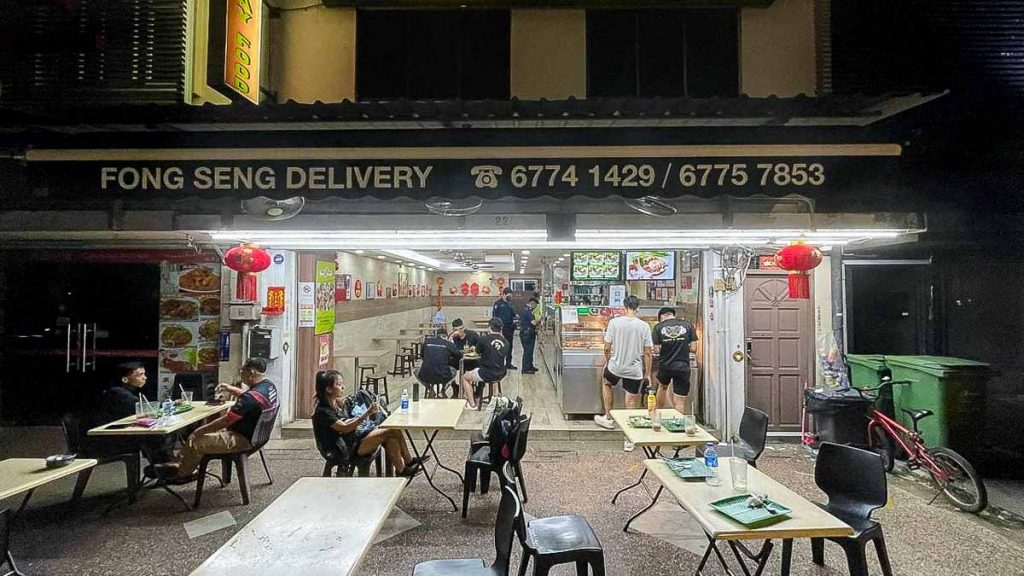 Unlike most of sleepy Singapore, the supper stretch was bustling with life even at this hour. It was a refreshing change from the relatively tranquil night, and some nasi lemak with iced milo made the struggle down worthwhile 💯
While the Chicken Wing set (S$3.70) was sufficient, those with bigger appetites can consider the Variety set (S$5.70) or the Royal Teriyaki set (S$7.70).
Opening hours: 6AM – 4AM
West Coast Park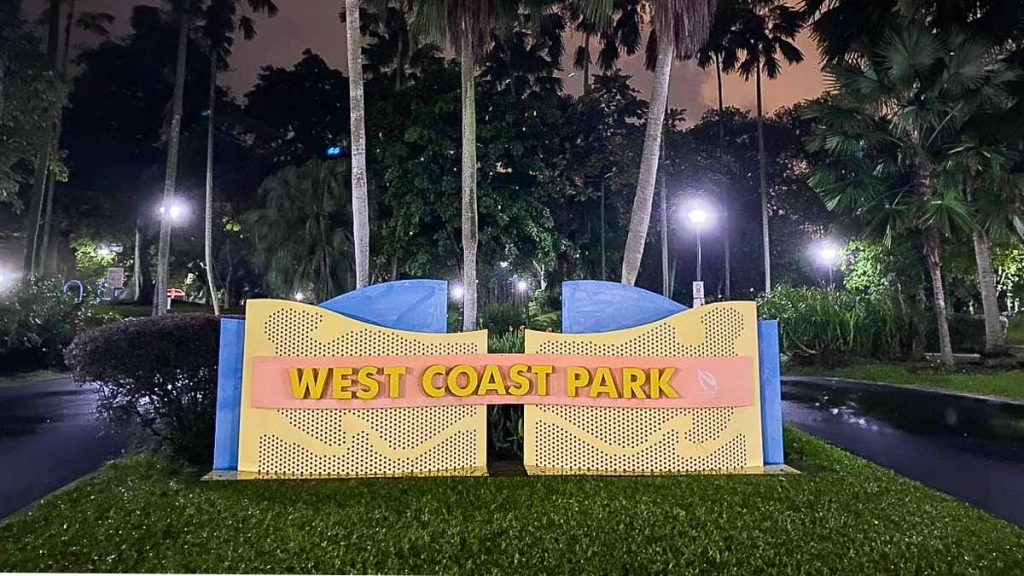 Seven hours later and 40km later, West Coast Park marks the end of our long journey. No doubt, the ride was exhausting but this made it a much more fulfilling challenge.
End Point — GoCycling@West Coast Park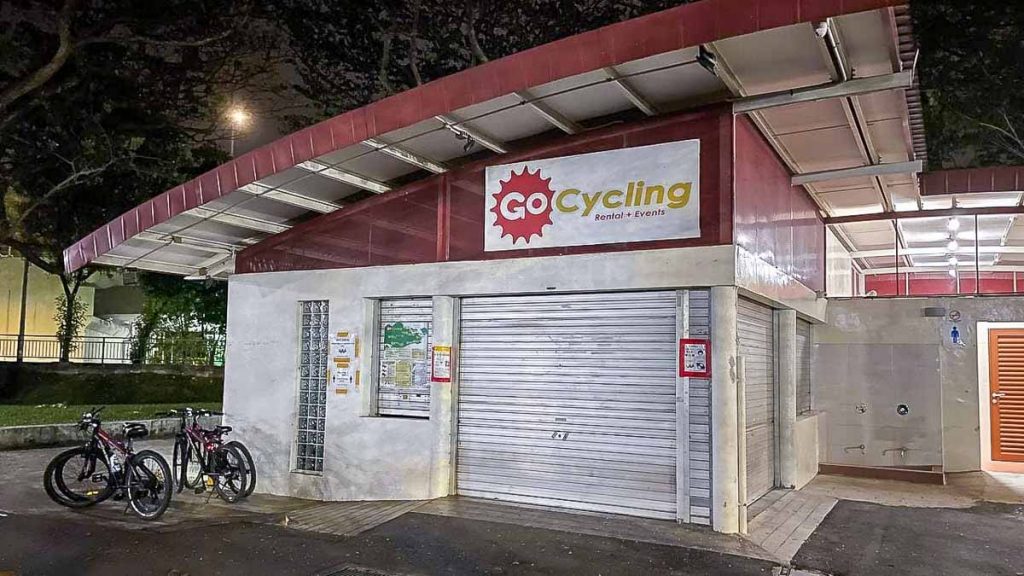 We locked up our bikes using the rented locks at the front of the GoCycling@West Coast Park kiosk. And finally, we were free to head home! 🥳
*Note: For advanced cyclists looking for a longer route, carry on along West Coast Park and cycle along Alexandra and Clarke Quay to the Singapore Flyer (GoCycling @ Marina Bay). This will extend your route from 40km to 60km!
Night Cycling Tips
1) Weather check — Before night cycling, check the weather forecast across Singapore to avoid wet and sticky situations!
2) Dismounting — There are some sharp turns and narrow paths along the way. Dismount to push your bicycle whenever necessary
3) Brakes — As a general guide, use the right brakes when going downhills to avoid crash-braking and falling. Use left brakes to come to a complete stop. The right brakes control the rear wheel, while the left brakes control the front.
4) Attire — Bright, reflective activewear and sports shoes are your best option for better nighttime visibility. Also, pack a light jacket as it can get chilly at night
What to Pack
(*Items 1-4 are highly recommended!)
1) Water
2) Portable charger
3) Smartphone bike mount — for easy reference to the GPS while cycling
4) Bike lights — stronger than the bicycle's blinker lights
5) Saddle covers — for maximum comfort
6) Bicycle helmet — take note that GoCycling doesn't offer helmet rental
7) Speaker
8) Light snacks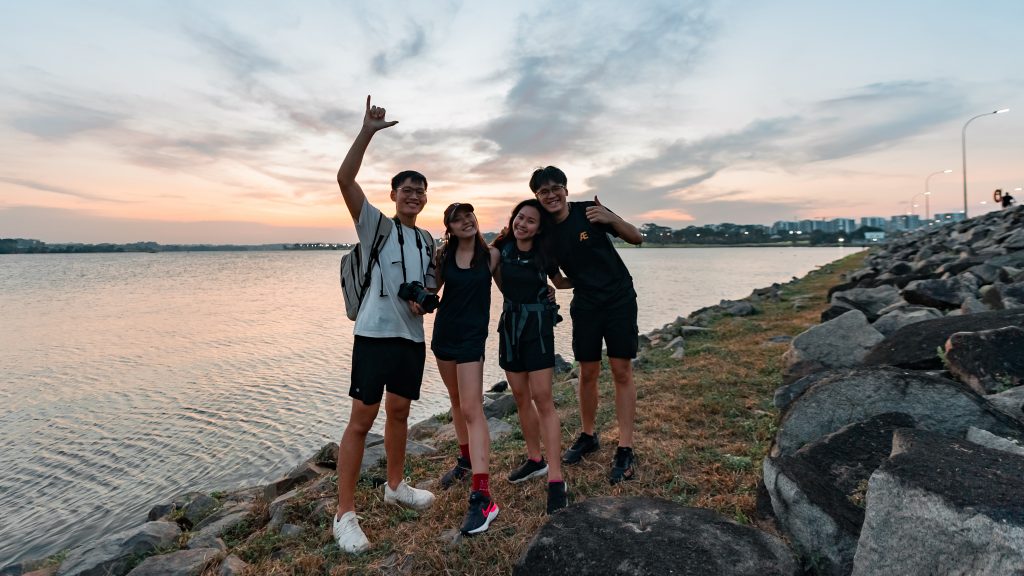 Cycling 40km at night seemed daunting at first, but I was surprised at how quickly time flew by.
We witnessed Singapore slow down at night, and jammed along to top hits while chit-chatting at pit-stops. Not to mention that the long cycling route made pit-stops at local supper spots a lot less sinful!
If you're thinking of trying night cycling in Singapore, remember that safety comes first. It's definitely okay to tap out whenever you feel exhausted — after all, it's all about the fun memories along the way 😛
What's your favourite night cycling route in Singapore? Share them with us in the comments!
---