Scaling at a height of 4,096 metres above sea level, Mount Kinabalu is the highest mountain in the Malay Archipelago. It is one of the hardest mountains to climb in Southeast Asia and typically requires a two-day climb to reach the summit.
#Fact: I have never climbed a mountain before.
Climbing Mount Kinabalu was one of the items on my bucket list — but I was not prepared to strike it off at the feebly age of 20. I envisioned myself climbing it in my mid-twenties, having trained and hiked lower mountains in preparation for this iconic climb.
With zero mountain climbing experience and only average fitness, I honestly thought I was going to fall out half way. However, having a passionate friend who was edging me to complete this goal we both had, it was difficult to say no and my "just do it" mentality paid off.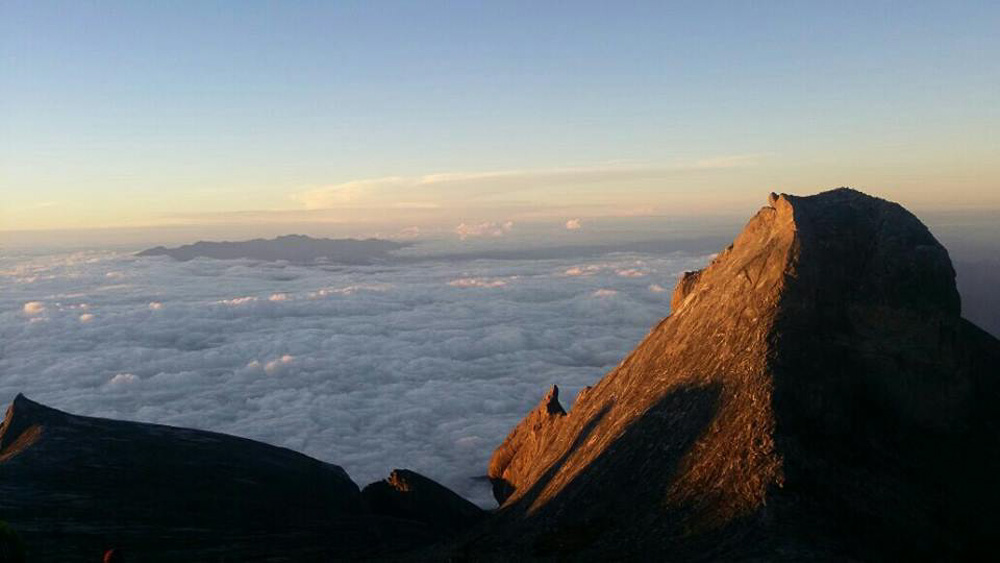 Preparing For Mount Kinabalu
With a backpack filled with a two litre water bag, mountain shoes, hiking gloves, a parka, and many energy bars, we set off to Kota Kinabalu. We hopped on a bus to a guest house near the Kinabalu National Park's headquarter and stayed at the Kinabalu Mountain Lodge which was cheap and offered a scenic view of the mountain and fauna.
Upon reaching the guesthouse, we went straight to the headquarters to confirm our booking. Instead of booking from a tour agency, my friend and I managed to save a substantial sum by booking straight from the headquarter through Sutera Sanctuary Lodges.
Day One: Climbing The Mesilau Trail     
We took a taxi down to the headquarters before we were shuttled off to the entrance for the Mesilau Trail. The Mesilau Trail is the more challenging trail; with an extra 1.5km and muddier terrain, it offers a more scenic view compared to the alternative Timpohon trail. There are more fauna for the nature lovers to view, more streams for the adventurous to cross, and rocks and boulders jumbled among tangled tree roots.
Update: Due to the earthquake in 2015, the Mesilau trail is now closed. Climbers can only pick the Timpohan trail to climb Mount Kinabalu.
We were very excited initially, racing each other to see who would reach the stop point first. However, the outburst of energy proved unsustainable when we realised we were sweating and panting after hiking only 1km. Our guide noticed our tiredness and told us to pace ourselves to last longer. The guide had the impression that we were pretty fast climbers, but after seeing our exhausted faces at the first check point, he knew that we were merely putting on an athletic front.
So we proceeded at our own steady pace; my friend and I separated at times. I got a walking stick from the headquarter which was really helpful for stability. As climbing Mount Kinabalu was really an individual effort which requires one to pace oneself, I was pretty much on my own with my friend occasionally catching up with me. We would sometimes meet at the shelters to eat our bananas and energy bars and push each other on. Be careful though, there are many squirrels at the shelters waiting to get fed; keep your food and belongings close to you if you don't want them to rummage your items.
I was overcome with a desire to be one of the faster climbers to reach the resting point.
After we finished the arduous 5.5km Mesilau Trail, we joined the rest of the climbers who took on the Timpohan Trail. Now, everyone would go onto the same route to reach the guest house. By then, I was exhausted; but surprisingly, the will to go on was burning strong knowing that I was near the guest house and I had completed a more difficult trail. I felt a sense of pride knowing I had put in more effort, and I was overcome with a desire to be one of the faster climbers to reach the resting point.
The trail up is dreary; one only sees boulders after boulders, ascending steps without any scenic view to spur one on. The rocky steps were also distant and not advantageous for the legs.
Finally, we reached the guest house at around 4pm. By then, our legs were so sore and tired we had no idea how we were going to continue climbing the next day. We heaved a huge sigh of relief, and all we could think about was the savoury buffet and lying on the hostel beds.
We were thankful that we both made it to the guesthouse after a 7.5km climb. One thing that really helped us a lot was reminding ourselves to hydrate and eat. This really kept our exhaustion away and our energy level high. I drank about 6 litres of water on the way up — the hydration is worth the extra weight on your backpack.
Sutera Sanctuary Lodges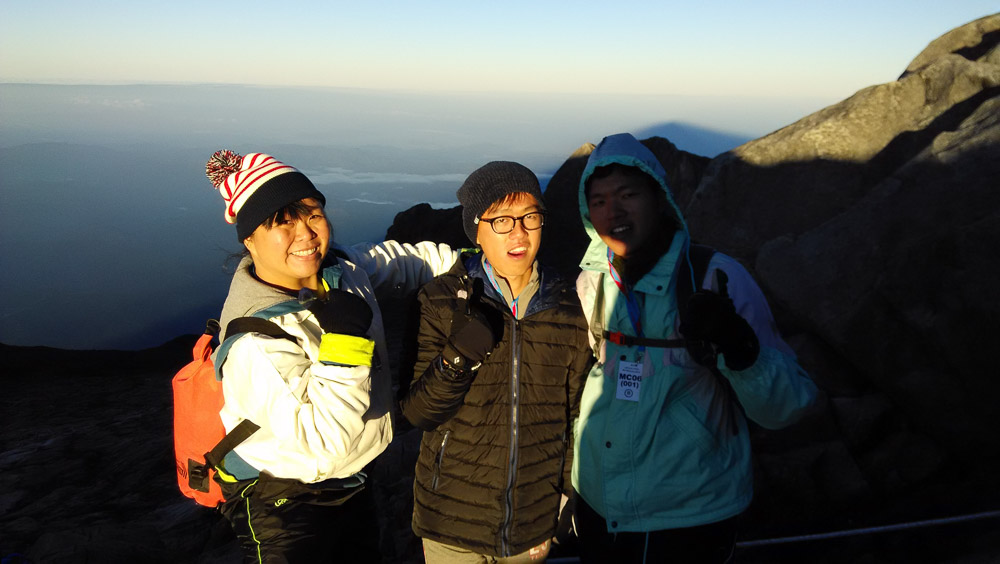 We had a simple buffet; enough to satisfy our hunger. The beds were decent, and toilets were what you expect of a standard hostel. At the guest house, you will meet professional hikers, travellers and beginners like myself. It was heartening to know we were all in this together; the atmosphere comforting yet tense at the same time. We were all told to sleep at 9pm so that we could wake up for the last part of the hike at 2am, where we had to use our torchlights to navigate and put on jackets to brave the cold.
Day Two: Catching the sunrise at the summit
When the alarm rang and we walked out to the common lounge, our bodies shivered and the cold got to all of us. I wore a t-shirt, sweater and parka to keep warm. The early morning was misty and the steps were slippery. It got more difficult to climb and there were people stopping halfway, which was really disheartening. Many a times fellow hikers tried to encourage one another to continue, but not everyone was able to.
The most reassuring moment was seeing a Japanese elderly couple climbing Mount Kinabalu together. It was hard to fathom why they were doing this, and how they had the energy to keep up. I was not able to talk to them due to language barriers, but seeing their positive faces and their will to go on, I was moved and inspired to finish the climb. If they could go on at that age, then I had no excuse to give up.
After countless slippery steps up a rainforest, we were near the summit of Mount Kinabalu. We have to now ascend huge boulders and climb with ropes or with our hands – almost ascending vertically sometimes. Often we would reach out our hands to support the person behind us, check on fellow hikers, and utter encouragements to one another along the way.
Although the climb got more challenging, it was still very safe. There were demarcations to mark zones that were off-limits and the path was clear. At this point, all of us got more exhausted easily and we would take more breaks. We laid on the mountain and looked at the starry night, which was a huge motivation to keep pushing on.
To The Summit

Upon reaching the summit, we were thrilled. There were a lot of rocks and stones to manoeuvre across, but that did not stop us from speeding up to make it in time for the sunrise. The mood now was one of exhilaration and eagerness; the goal of completing Mount Kinabalu was so close that we were not ready to stop then.
At The Summit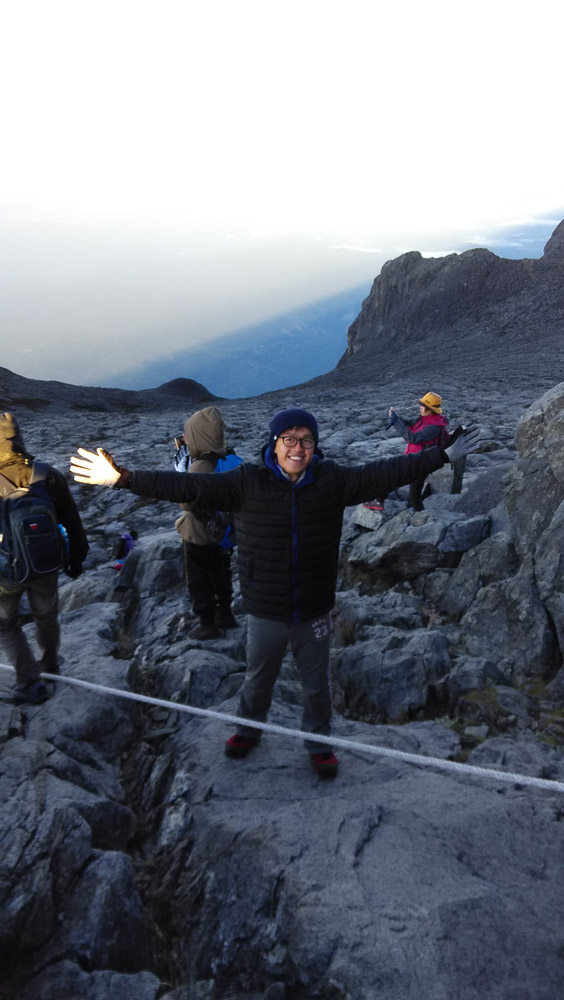 And… we managed to reach the summit about an hour before the sunrise!
We sat on top and marvelled at the magnificent view – clouds laid at the bottom of our feet; our heads high up in the sun. We caught the silhouette of Mount Kinabalu against the break of day and felt infinite to be standing at 4,096m above ground. Fellow hikers were all celebrating, taking pictures, and some even skyping their family back home to show them the sunrise. There was even a group of hikers playing music and singing heartily; we were all jubilant and not ready to leave. I was sure everyone at the summit etched this moment in their hearts – taking it all in and remembering this for all of eternity.
Personal Thoughts on Mount Kinabalu
Climbing Mount Kinabalu was a daunting thought initially, because it seemed difficult for beginners and many considered it a tough and serious hike. In my opinion, it is actually very do-able for young adults — so long as you are healthy and exercise somewhat regularly, it is achievable. You need to have a lot of willpower and if you are not fit, be willing to do some cardiology exercises a few weeks before the climb!
Some of you may have safety concerns after hearing about the accident that happened in 2015. Judging from the path and steps, it is a safe hike. I have hiked another mountain after Mount Kinabalu and the trail was messier and more complicated. However, because it is a real mountain after all, one cannot expect it to be accident-proof. From history of the expeditions taken at Mount Kinabalu, the 2015 accident was the only major one. Other incidents were the result of hikers straying off from the trail and wandering on their own, or were generally unfit or unwell even before the climb.
Take the usual precautions — listen to your guide, go in groups, and do not try to do anything silly. There are 130 daily climbers (now limited to 120 due to the accident) so safety is a priority and guides have been trained to ensure each and every climber's safety on the mountain.
Lastly, take heart and just do it! This spontaneous trip is something I will look back fondly on for a long time.
See also: 10 Things To Do In Kota Kinabalu Other Than Climbing Mount Kinabalu