Eat your way around Kuching with return flight tickets from $69! 
Many Singaporeans love crossing the border to eat and shop, but more often than not, Kuala Lumpur is the furthest we would travel to. If distance is what's stopping you, there's really no reason not to explore Kuching of East Malaysia. At just 1 hour 25 minutes away by flight, that's about equivalent to travelling across Singapore from Pasir Ris to Jurong on public transport. #truestory
Touted as the food capital of East Malaysia, Kuching is the one place you should visit if you consider yourself a foodie. Being a big melting pot of many different cultures and communities, Kuching has a wide variety of great food, and also food items that can only be found exclusively in Sarawak.
The perfect destination for a short gastronomic getaway, here's our top 13 best food finds in Kuching that's not to be missed.
Read also: 3D3N Kuching Itinerary for the adventurous soul
1) Ta Wan Kung Kolo Mee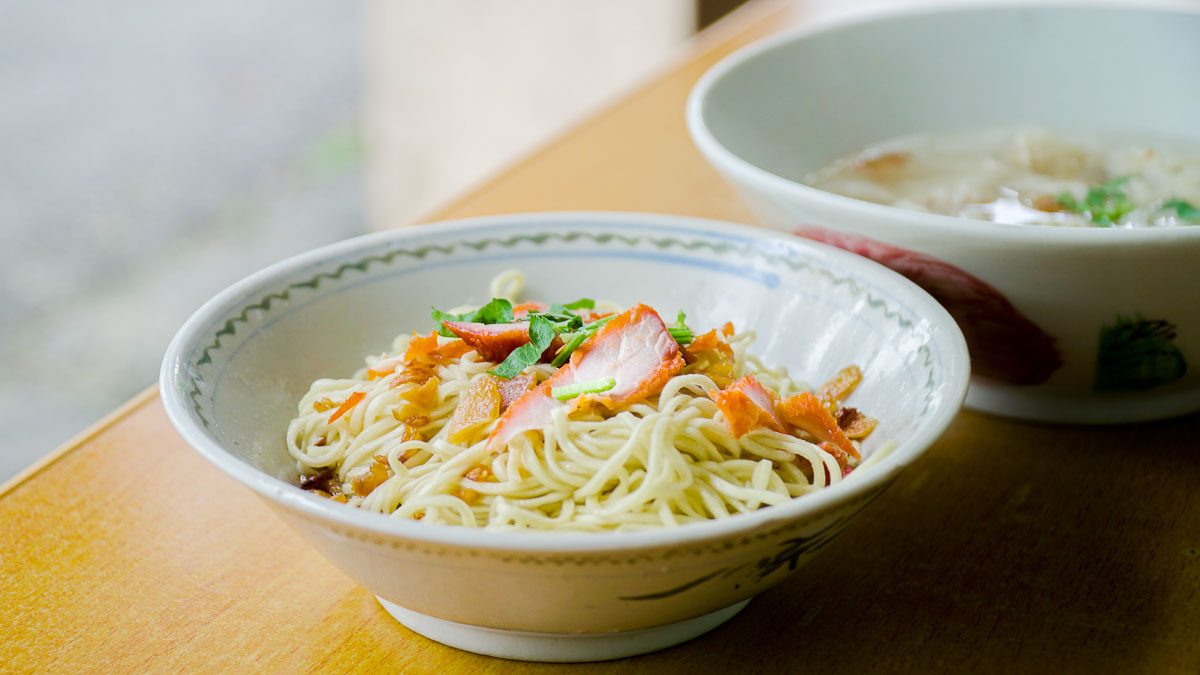 Kuching is perhaps most famous for her ubiquitous dish — kolo mee. Like how many Singaporeans see Hainanese chicken rice as a cheap and satisfying comfort food, Kuchingnites see kolo mee as an indispensable part of life.
Predominantly Chinese, most of Kuching's kolo mee stalls are run by Chinese hawkers, although you can also find Malay stalls selling the Halal "mee kolok".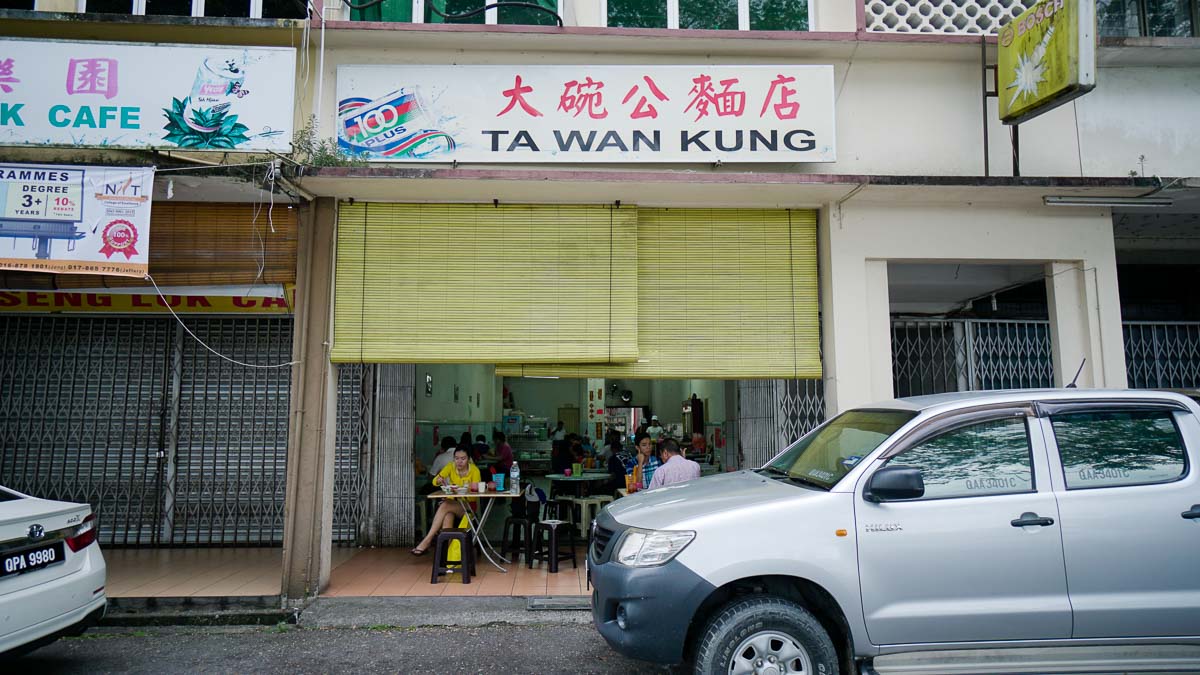 Despite the strong competition, Ta Wan Kung was recommended as a favourite when we asked various locals.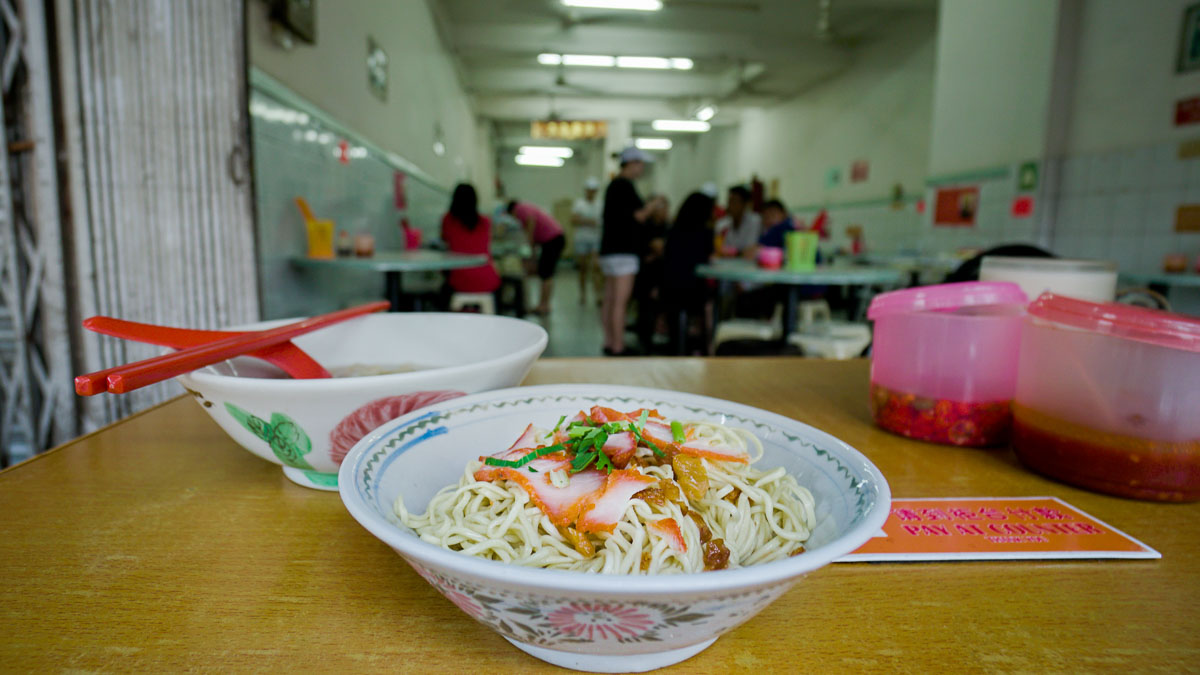 The noodles were chewy and topped with generous slices of moist, flavourful char siew.
Unlike regular kolo mee, there's no minced meat in Ta Wan Kung's but the solid yet tender pieces of char siew add just the right flavours to the kolo mee.
Cost: Kolo mee: RM4/bowl
Address: Lot 285, Jalan Datuk Wee Kheng Chiang, 93450 Kuching, Sarawak, Malaysia
Opening Hours: 7am to 1pm (Closed on Mondays)
2) Bukit Mata Seafood (From Top Spot Food Court)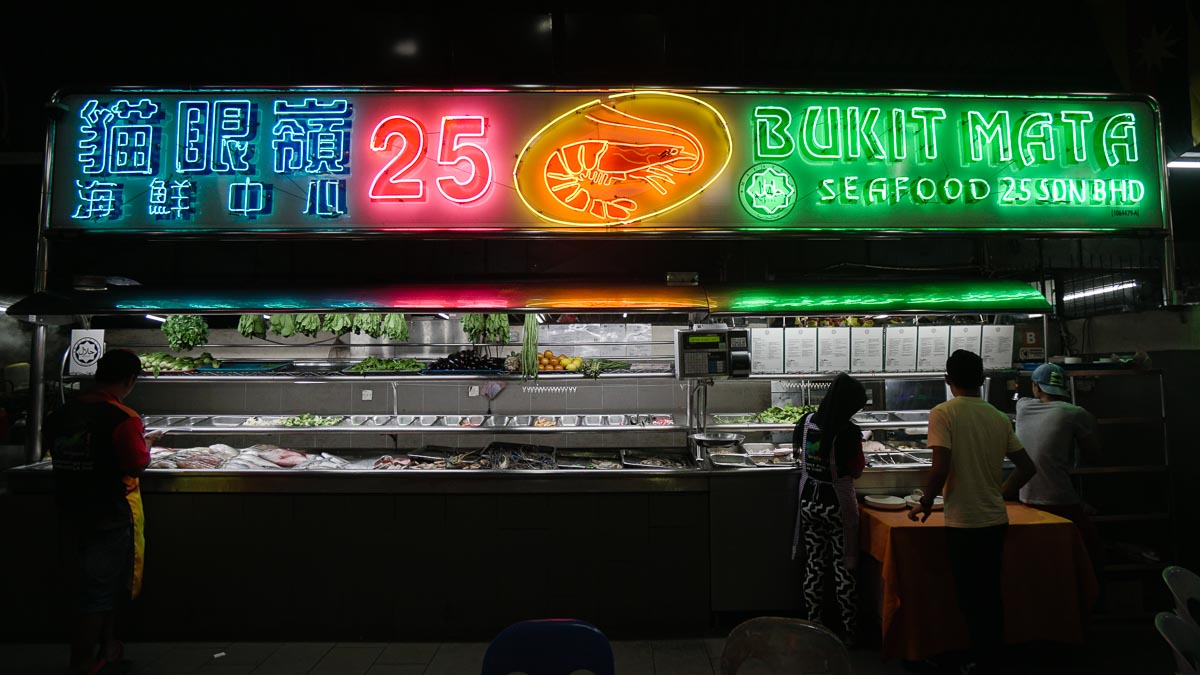 Top Spot Food Court is located on the roof of a multi-storey carpark with dozens of seafood stalls. We actually returned to this food court three nights in a row to try out dishes we missed the previous nights.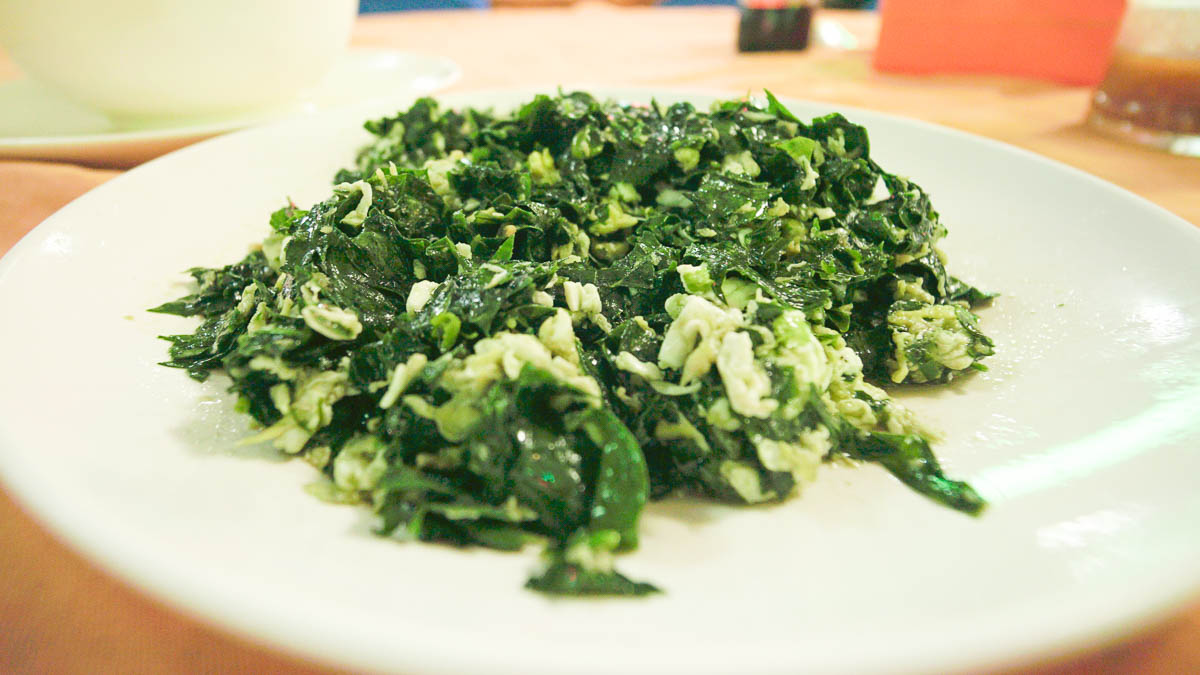 Although all stores here sell halal food, you will be wrong if you think only Muslims patronise this food court. We noticed that the tables were filled with people of all races, Chinese, Malays, Indians, and tourists from everywhere!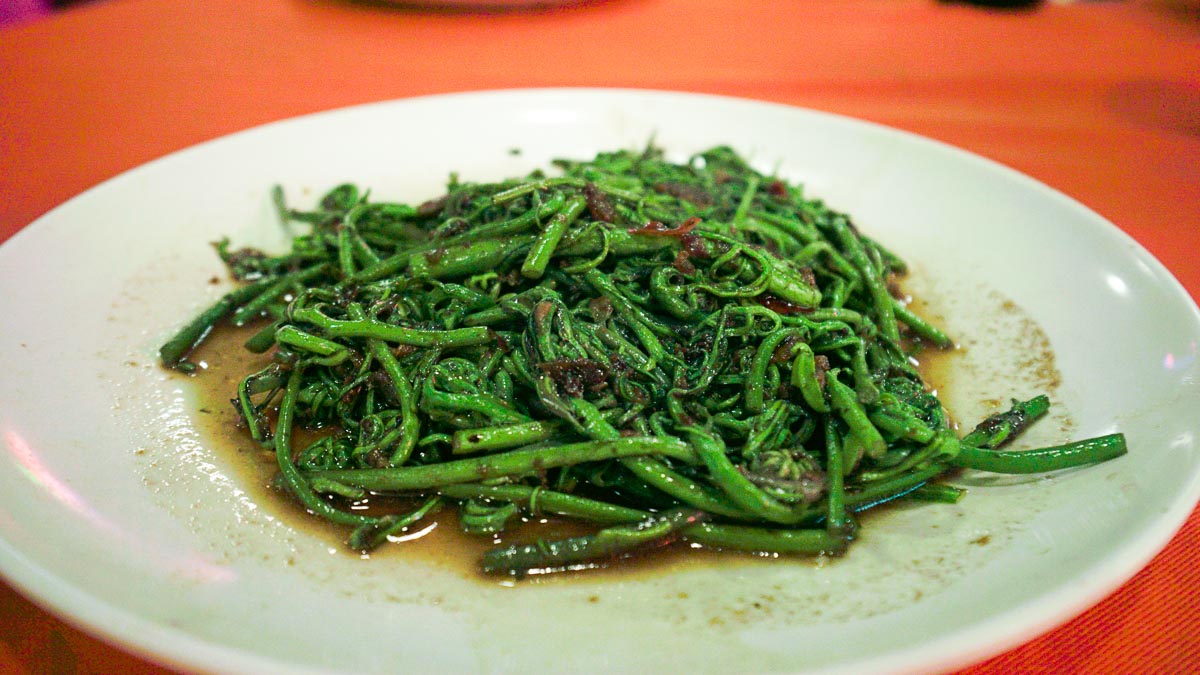 One particular stall that stands out is the No. 25 Bukit Mata Seafood stall, which is famous for the Midin fern (also called Bilin) and fried oyster pancake.
The Midin fern is a variety of the Fiddlehead fern and is only found in Sarawak. When cooked, it has a slippery texture similar to that of kangkong but chewier. If you love sambal kangkong, you will definitely enjoy the balacan Midin too. Sedap!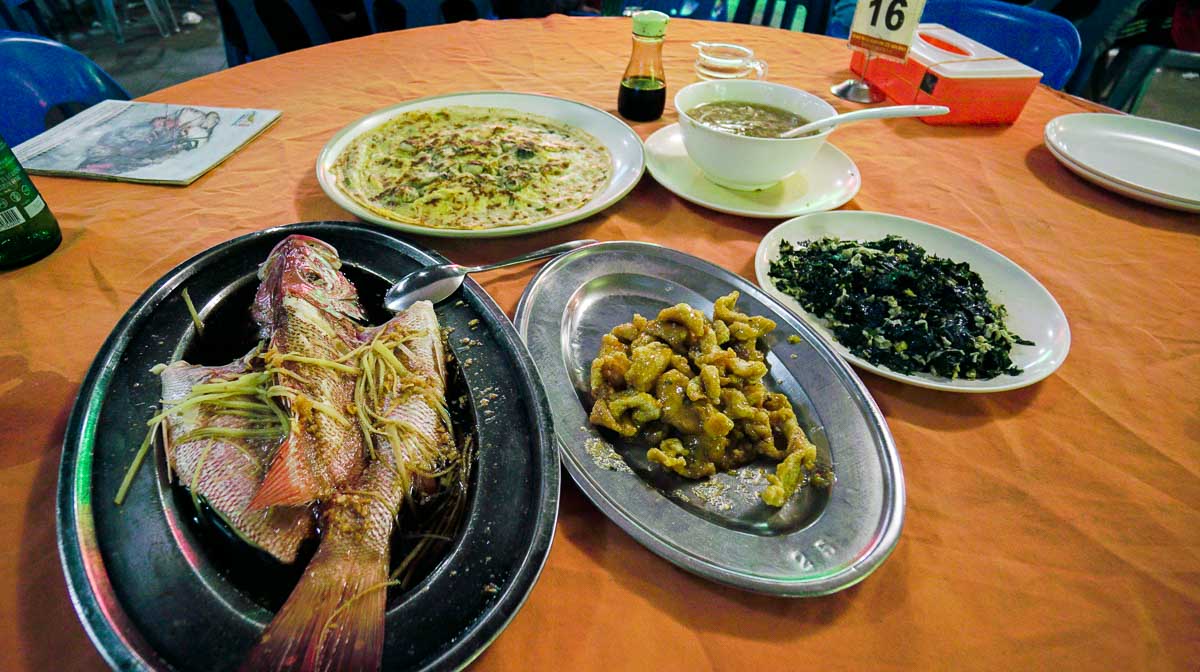 Other awesome dishes we tried were the Cangkuk manis, Cantonese style steamed fish and Butter chicken. Cangkuk manis is a leafy vegetable, which has a slightly bitter taste to it (We requested our dish to be stir-fried with egg).
The steamed fish and butter chicken also lived up to their hype, being very flavourful yet not overbearing on the taste buds. For the price, I would say it's really worth it.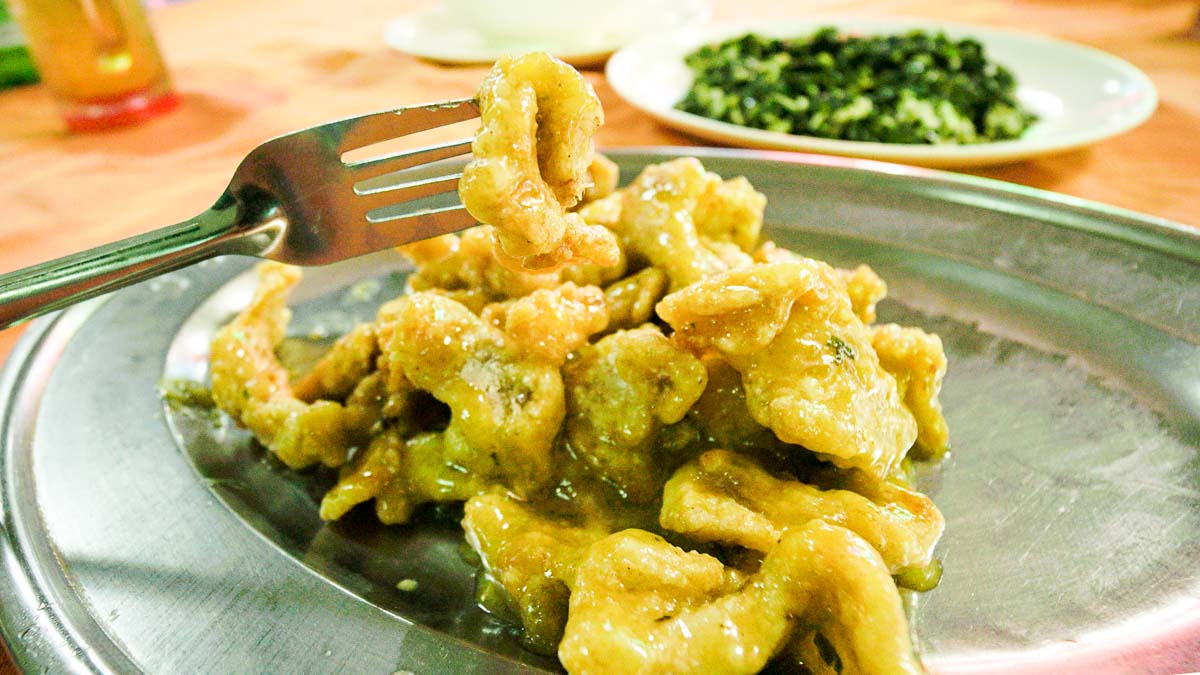 Cost:
– Midin fern: RM8 (Small), RM16 (Medium), RM24 (Large)/plate
– Cangkuk manis: RM8 (Small), RM16 (Medium), RM24 (Large)/plate
– Steamed fish: RM2.60-RM9.80/100gm
– Butter chicken: RM4/100gm
Address: off, Jalan Padungan, 93100 Kuching, Sarawak, Malaysia
Opening Hours: 5pm to 1030pm daily
Another dish you have to try when in Kuching is the Sarawak Umai, a traditional local salad dish made up of sliced raw fish with a mixture of onions, chili, and lime juice. Look out for the Makanan Tradisional Sarawak stall at the open-air area of the food court which only sells Umai.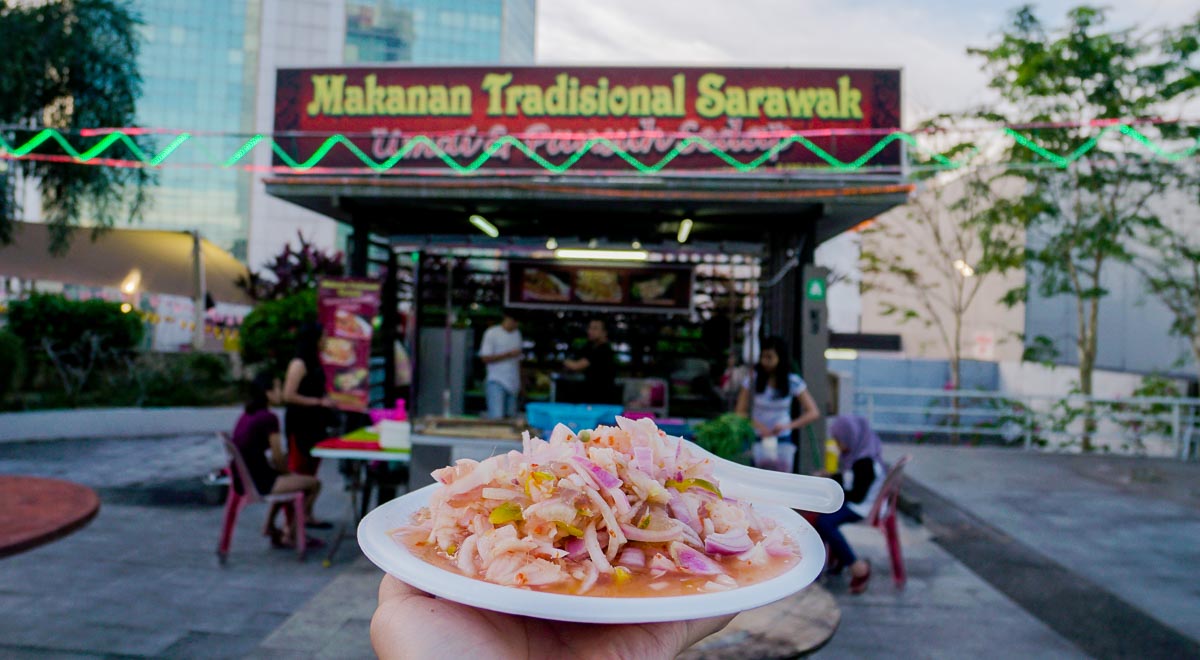 This refreshingly tangy and spicy dish is a great appetizer to start your dining fiesta at Top Spot Food Court.
Cost: RM18/plate
Address: off, Jalan Padungan, 93100 Kuching, Sarawak, Malaysia
Opening Hours: 5pm to 1030pm daily
3) Chong Choon Poh Lam Laksa
Besides kolo mee, another iconic dish of Kuching is the Sarawak Laksa, and we know just where to go for the best. At Chong Choon Cafe coffee shop, there's a simple and unassuming stall tucked in a corner, blink and you'll miss it.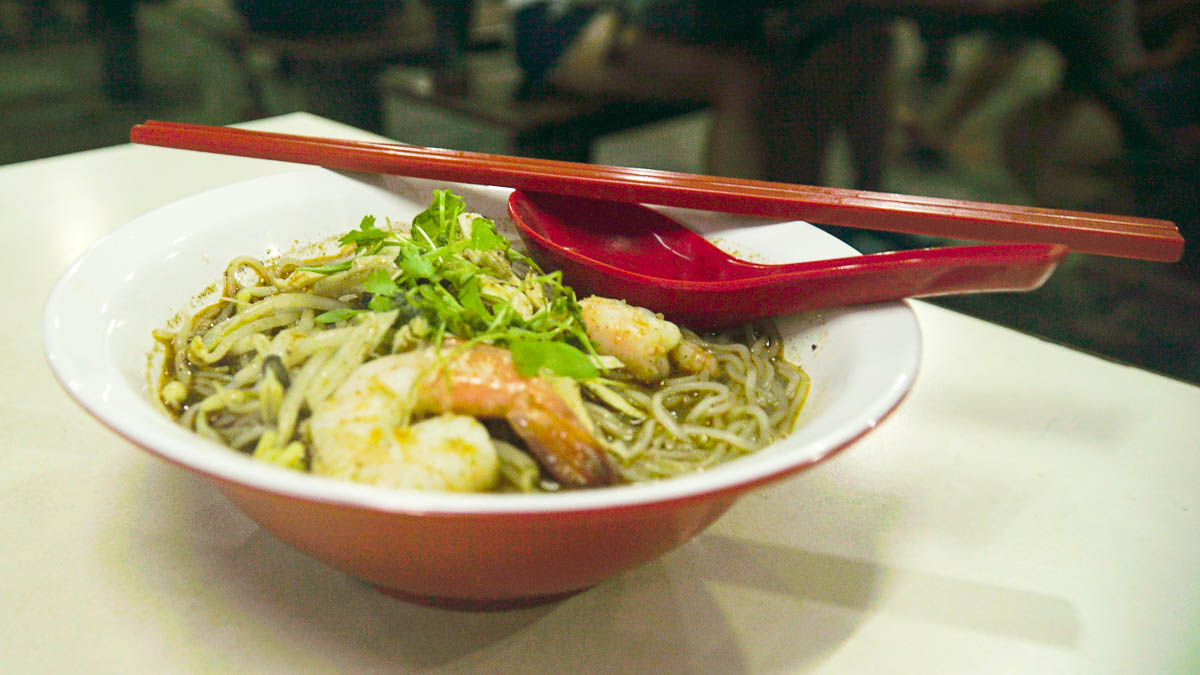 Sarawak laksa is very different from its Singaporean and Penang namesake, and bears a stronger resemblance to prawn mee soup of Singapore.
Unlike Singapore Laksa, which is coconut milk-based, Sarawak Laksa's broth is prawn-based; thick and very flavourful. A handful of prawns and bean sprouts add crunch to the fragrant noodles and soup base.
Cost: RM6 (Small), RM7 (Large)/bowl
Address: 275, Jalan Chan Chin Ann, 93100 Kuching, Sarawak
Opening Hours: 630am to 12pm (Closed on TUE)
4) Feast & Furious Cafe Food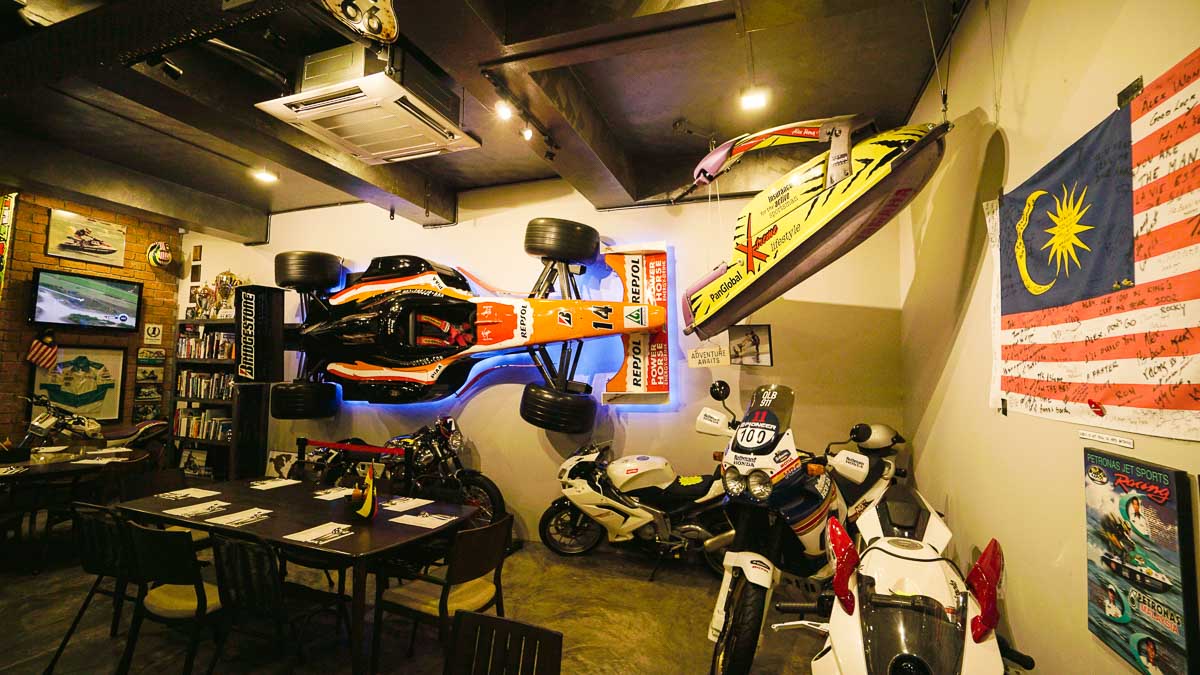 The unique interior decoration of Feast & Furious cafe captivated me immediately as we entered, and as much as I was hungry, I was more interested in the decor.
Not only was there a Ferrari inside the cafe, there was an actual Formula1 race car mounted on the wall as well.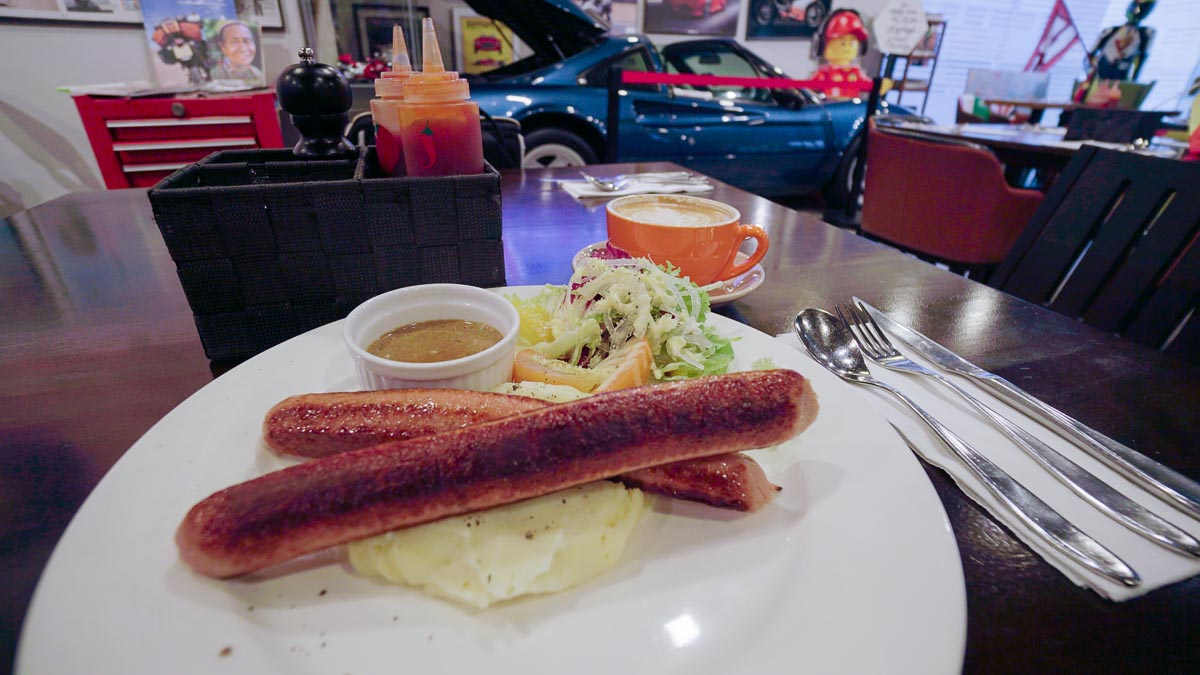 The food was surprisingly good too, so do not let the decorations steal all of the limelight. Serving Western-fusion food, this cafe is not your typical nostalgic Kuching street food, but one that's up and coming. The Bangers & Mash was on point, and we read that their Grilled Lamp Chop is great too!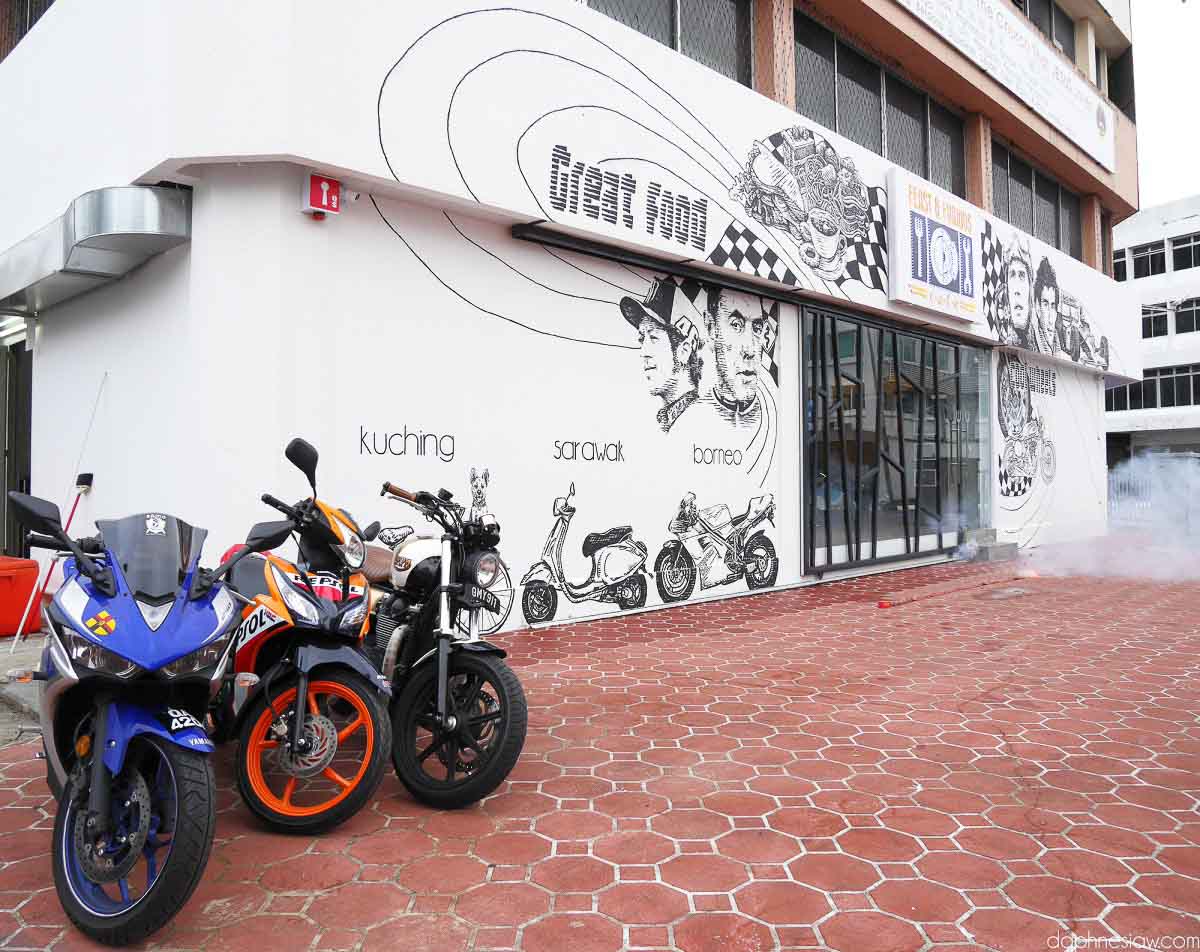 Among the saturated cafes in Kuching, the Feast & Furious stands out, as the entire piece of wall is decorated with monochromatic art murals.
Cost:
– Bangers & Mash: RM11/plate
– Grilled Lamp Chop: RM28/plate
Address: 244 Jalan Tunku Abdul Rahman, 93100 Kuching, Sarawak
Opening Hours: 7:30am to 11:30pm daily
5) RJ Ayam Bakar Chicken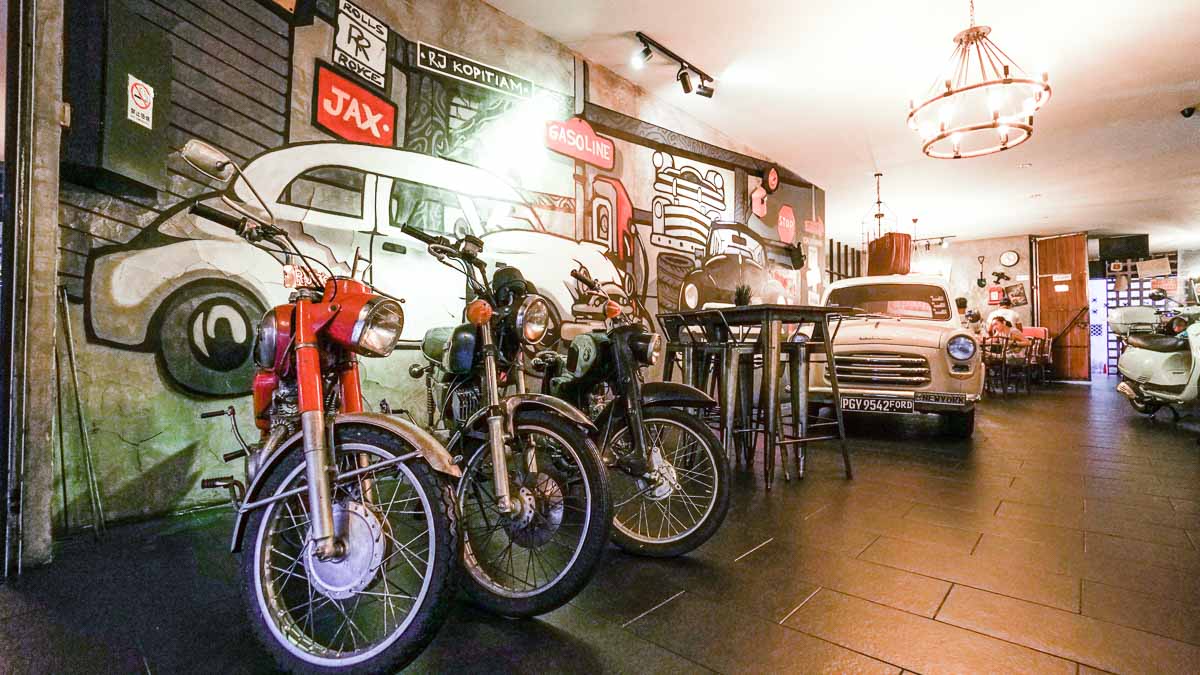 RJ Ayam Bakar is another popular cafe that uses motorcars as part of their interior decorations.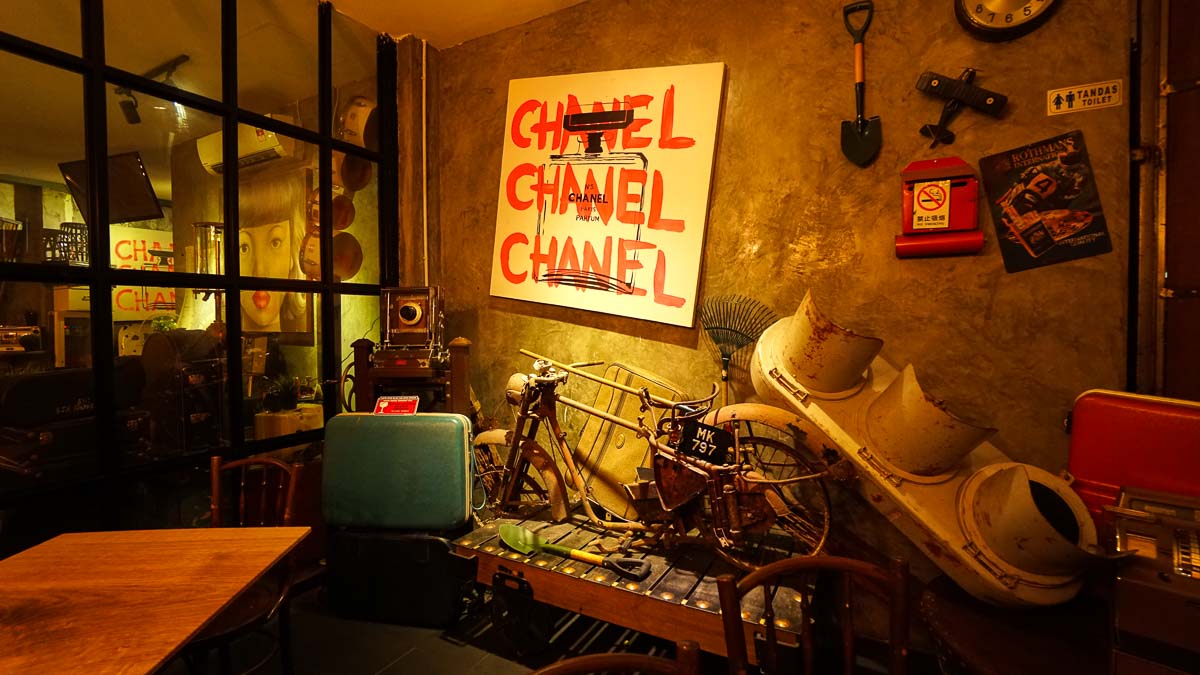 The dimly-lit cafe evokes all your nostalgic senses with old cash register machines, old televisions and radio sets at each and every corner of the cafe, while spotting repurposed bathtubs as their chairs.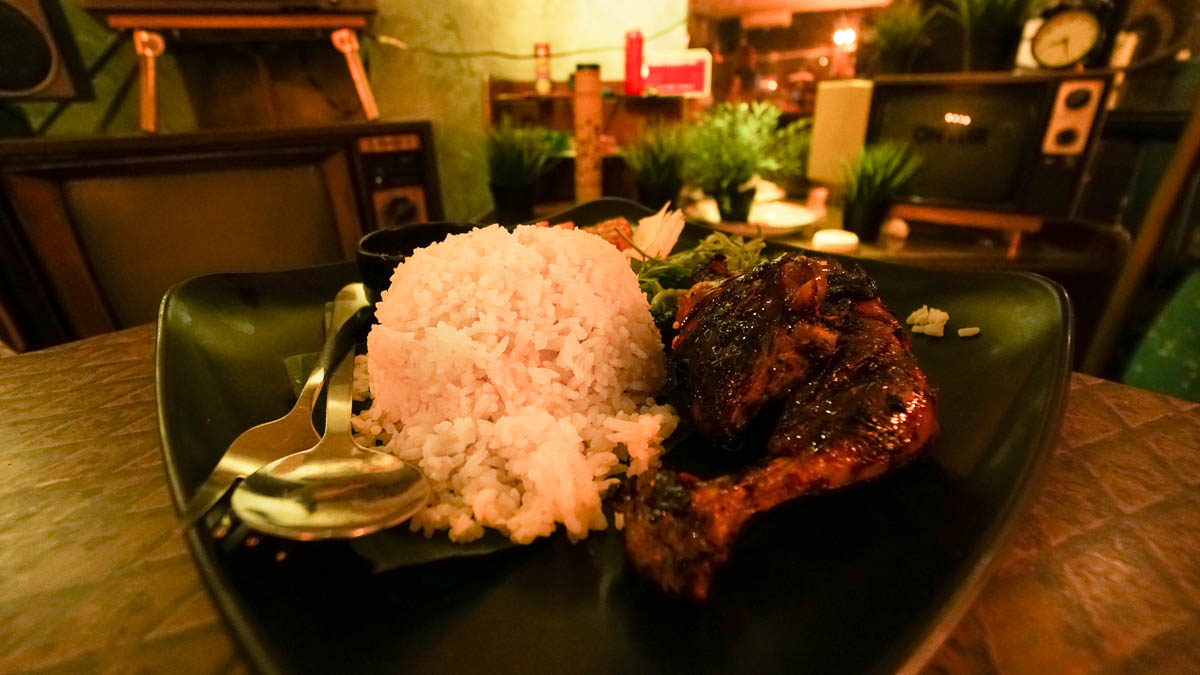 We ordered the Chicken Thigh Ayam Bakar, which despite being grilled, remained tender and juicy.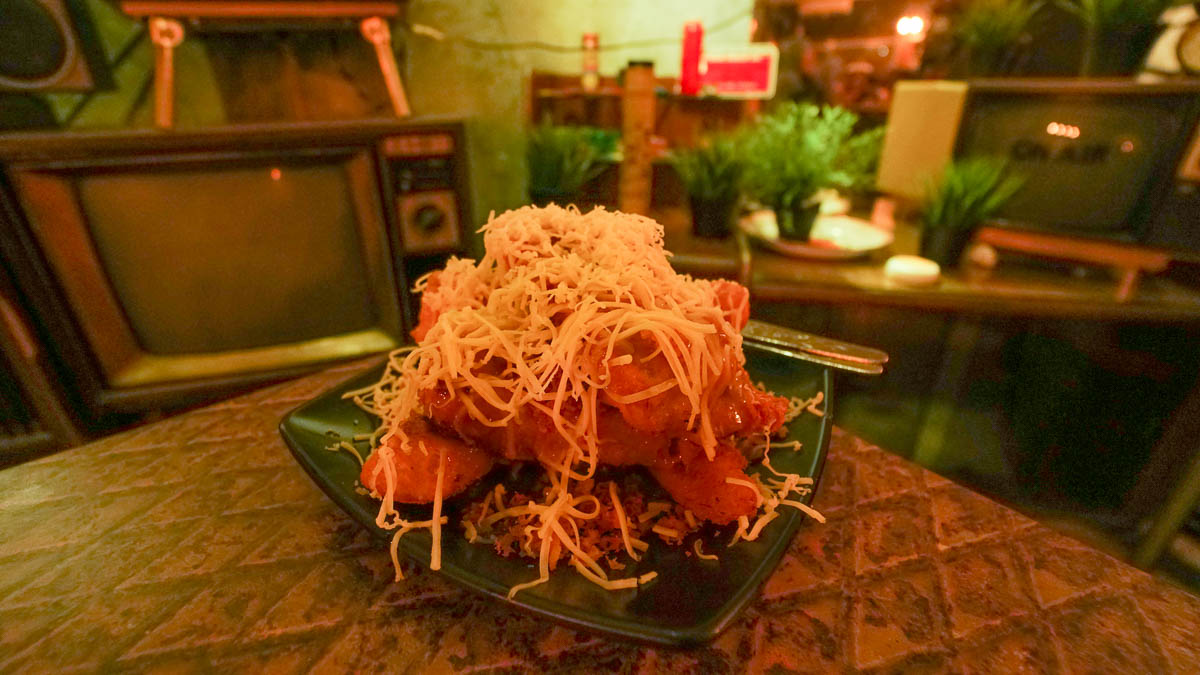 There's also a special small-bite on the menu that you have to try: Banana Cheese. Deep fried pieces of banana like goreng pisang, but topped with grated cheese. The sweet notes of banana coupled with savoury cheese was a great match.
Cost:
– Chicken Thigh Ayam Bakar: RM9/plate
– Banana Cheese: RM6/plate
Address: 291 Jalan Abell, 93100 Kuching, Sarawak
Opening Hours: 10am to 2am daily
6) Noodle Descendants Organ Soup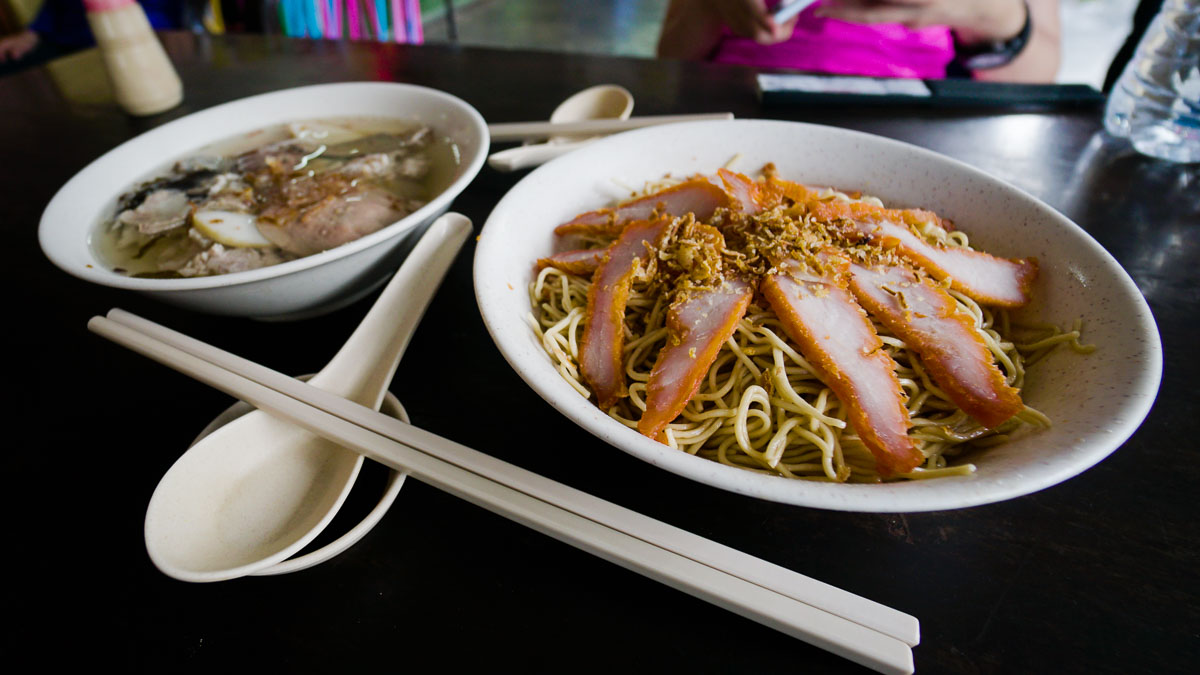 This was an accidental find when we chanced upon the snaking queue creeping up to Noodle Descendants. The Singaporean in us couldn't help but joined the hour-long queue.
No joke, we literally waited one whole hour for a bowl of kolo mee. For me, I never believed in waiting for food. When I'm hungry, I ain't got no time to wait for my food, not one hour.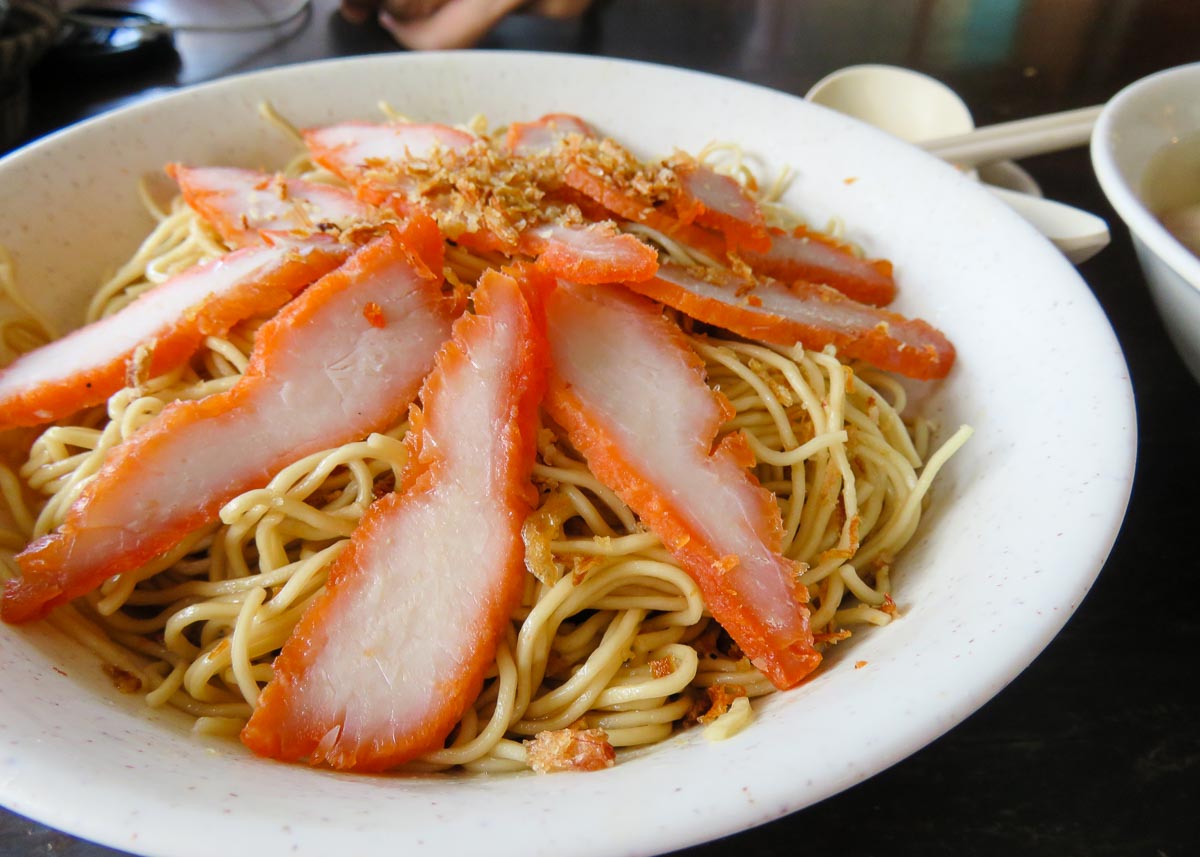 The noodles were springy and chewy, and the char siew pieces were generously cut. The specialty here is the pig's organ soup, which isn't very common in Kuching. The soup paired well with the noodles, and we could see why locals were willing to queue so long for it.
In all honesty, I thought the food here was great but not enough for the 1-hour wait, not especially when kolo mee is a dish that can be found at practically every food court and coffee shops in Kuching.
Cost: RM13/set of noodles + soup
Address: Lot 18, Jalan Padungan, 93100 Kuching, Sarawak
Opening Hours: 730am to 330pm daily
7) 333 Charcoal Fried Kway Teow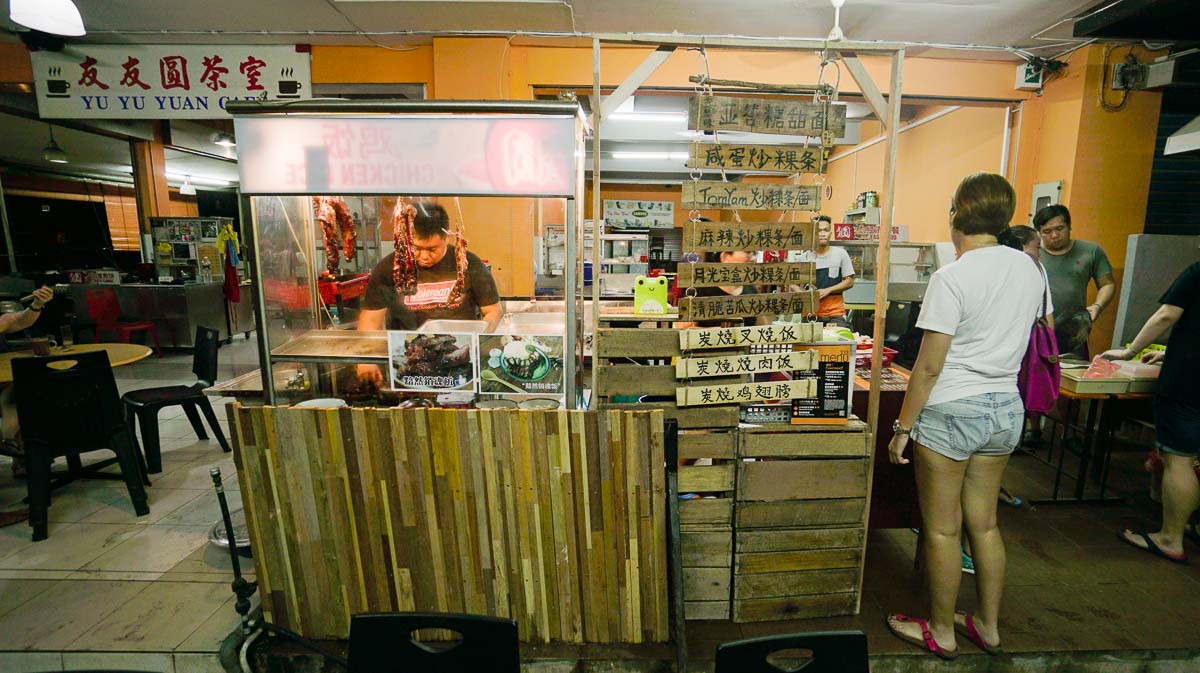 The 333 Charcoal Fried Kway Teow stall has eight varieties of fried kway teow. From salted egg to gula apong (attap chee syrup), there's an interesting twist to how you can enjoy fried kway teow. We had the salted egg fried kway teow and were pleasantly surprised at how tasty it was.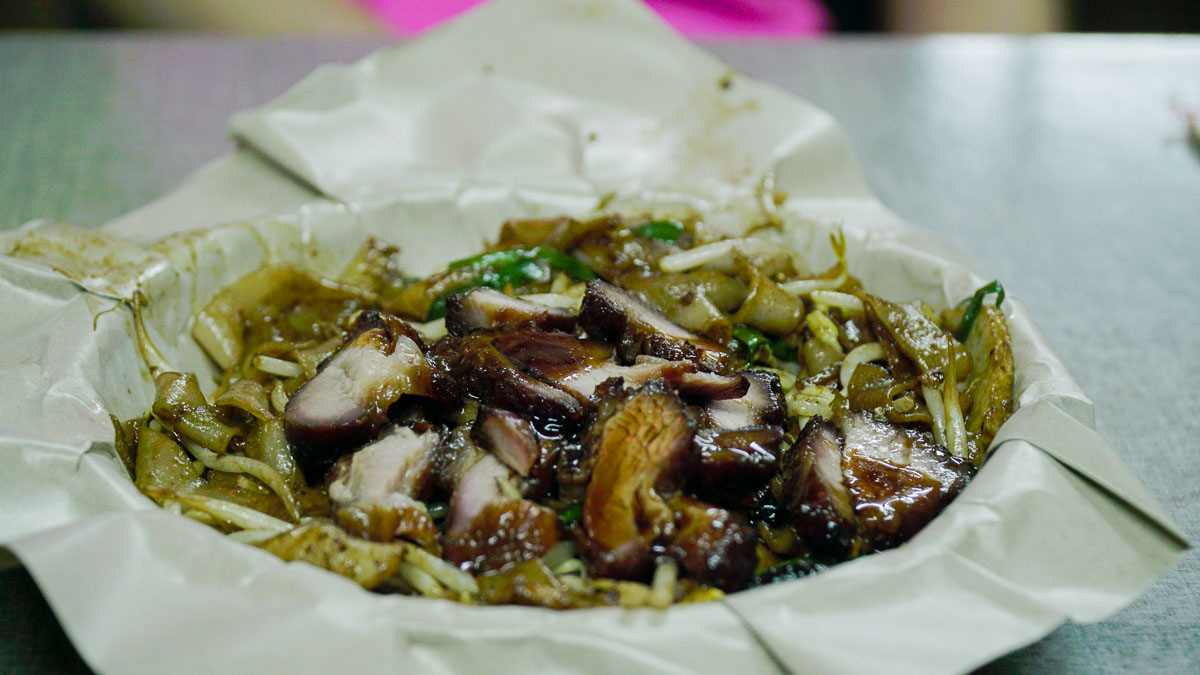 The salted egg added a grainy texture and brought out the smokiness of the charcoal-fried kway teow.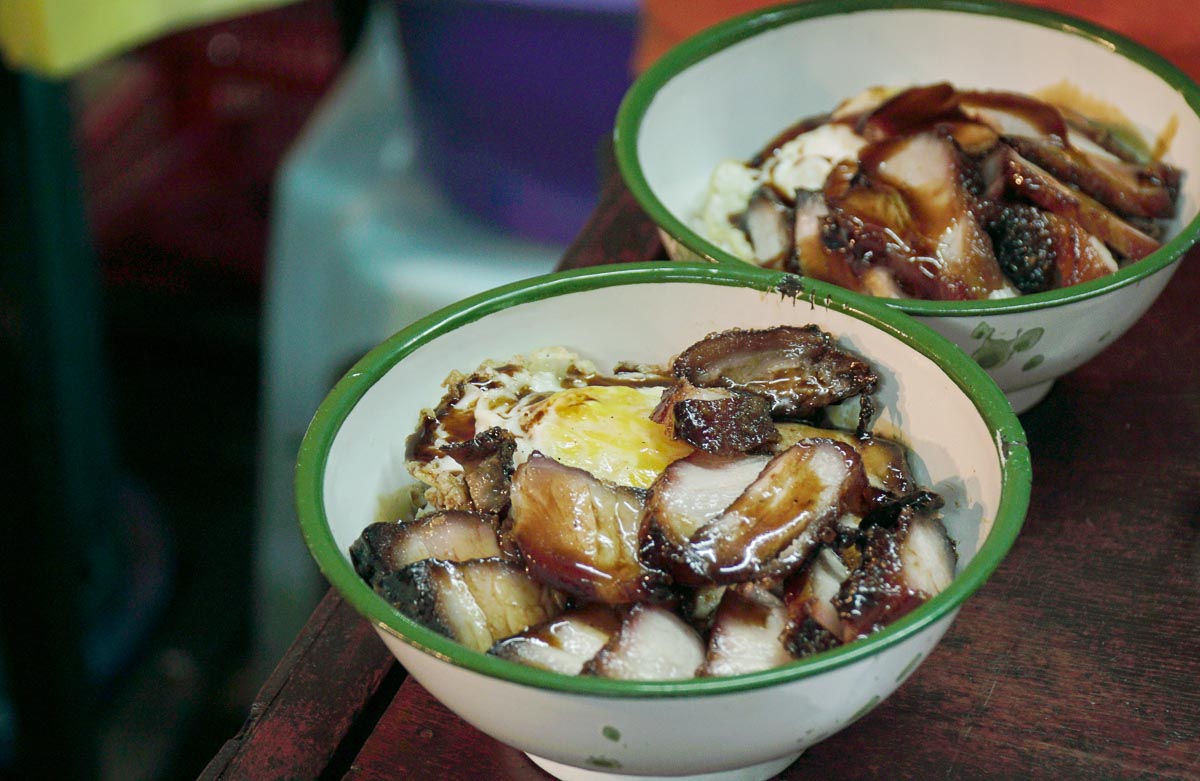 Also, do try the Charcoal Char Siew (BBQ Pork) Rice. Thick juicy slices of BBQ pork and a sunny side up blanket the entire bowl of rice. The BBQ Pork skin is satisfyingly crispy yet packs very juicy meat underneath. It was like a gastronomic explosion in the mouth tasting both the fried kway teow and the BBQ Pork Rice at the same time.
Cost:
– Salted Egg Fried Kway Teow: RM6/plate
– Charcoal Char Siew Rice: RM9/bowl
Address: Jalan Chawan, Taman Supreme, 93300 Kuching, Sarawak.
Opening Hours: 6pm to 10pm (Closed on Sundays) But be there early, as food sells out early!
8) Hakka Lui Cha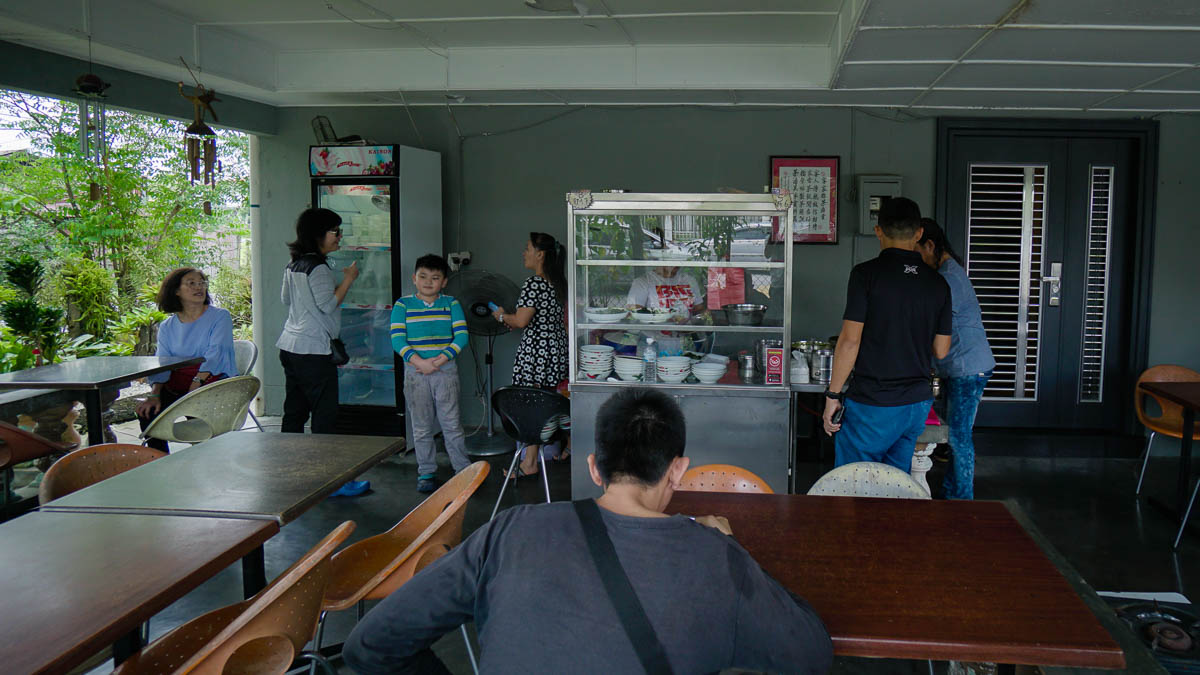 This family-run Hakka Lui Cha business is very popular among the local Chinese in Kuching. Located within a residential area, this modest restaurant with no obvious signboard is not the easiest place to find.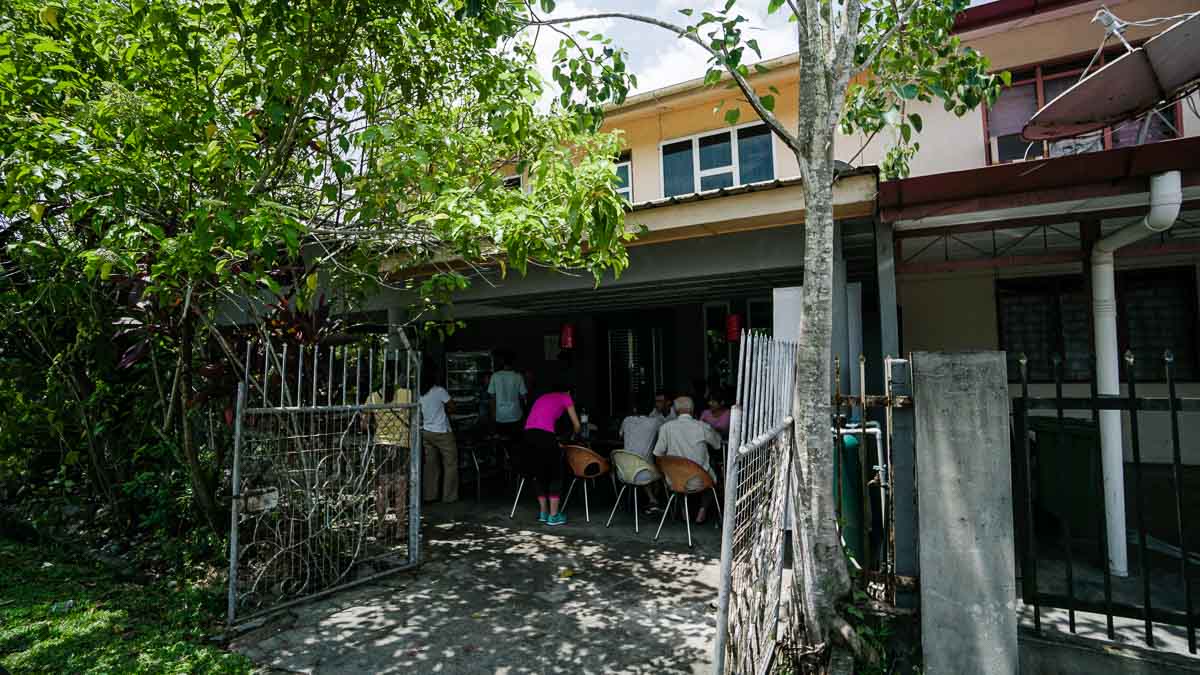 I have always found Lui Cha (Thunder Tea) to be of an acquired taste, either you love it or hate it. For me, I never enjoyed eating it in Singapore but after having friends who enthusiastically claimed this was the "Best Lui Cha in the whole of Malaysia", we had to try it.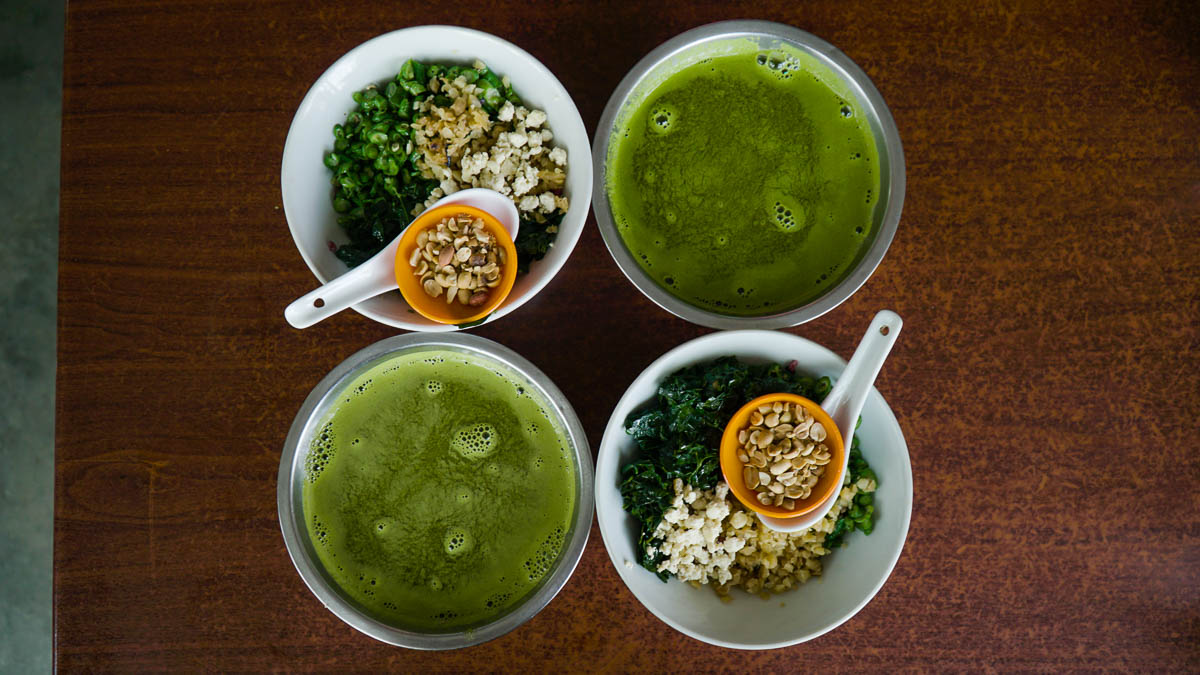 And true enough, despite never being a fan of the chalky green bitter soup I've tasted in Singapore, I was surprised how tasty a bowl of vegetables could be. There are 2 variations you can choose from — bitter or less-bitter. I personally loved the dry and raw kick from the bitter version.
Cost: RM7/bowl
Address: 149 Jalan Pisang Barat, 93400 Kuching, Sarawak
Opening Hours: 10am to 130pm (Closed on Sundays)
9) Lau Ya Keng Foodcourt Kway Chap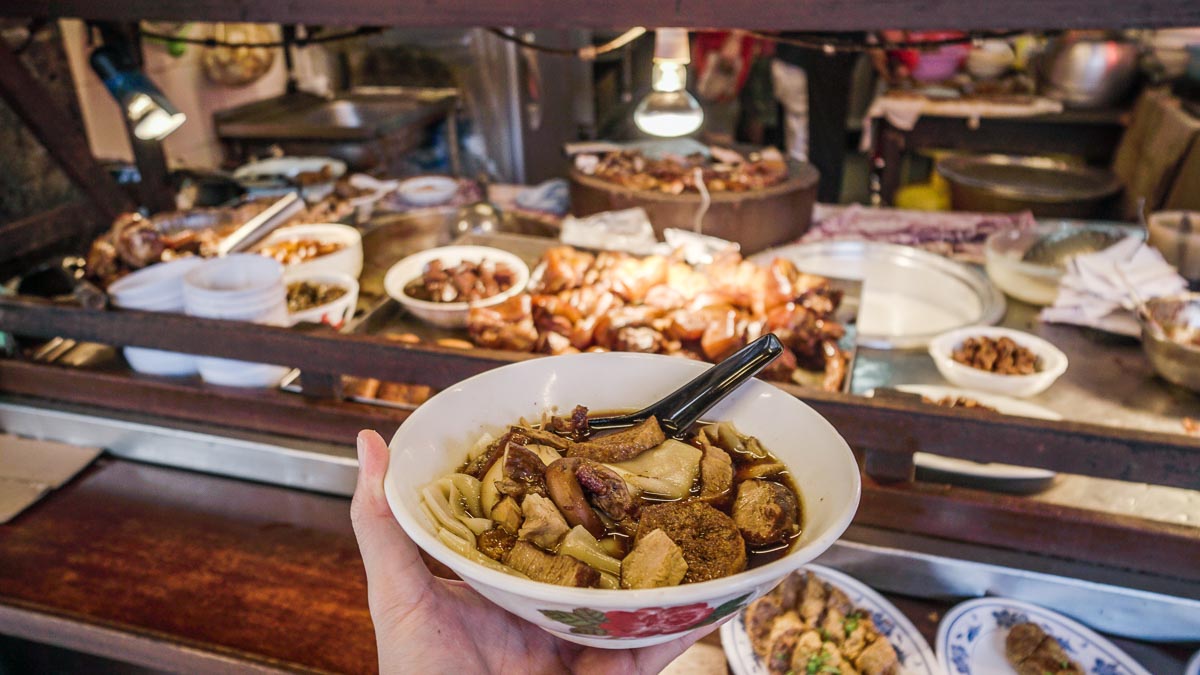 Located in the small Attap Street opposite a Chinese temple, Lau Ya Keng Foodcourt sees a crowd that it can barely contain. At the corner stall, you'll see several kitchen staff chopping meat fervently, while others hurriedly bring out bowls and bowls of kway chap to serve. Just by the look of popularity, we felt pretty assured this Kway Chap would be good, and indeed it was.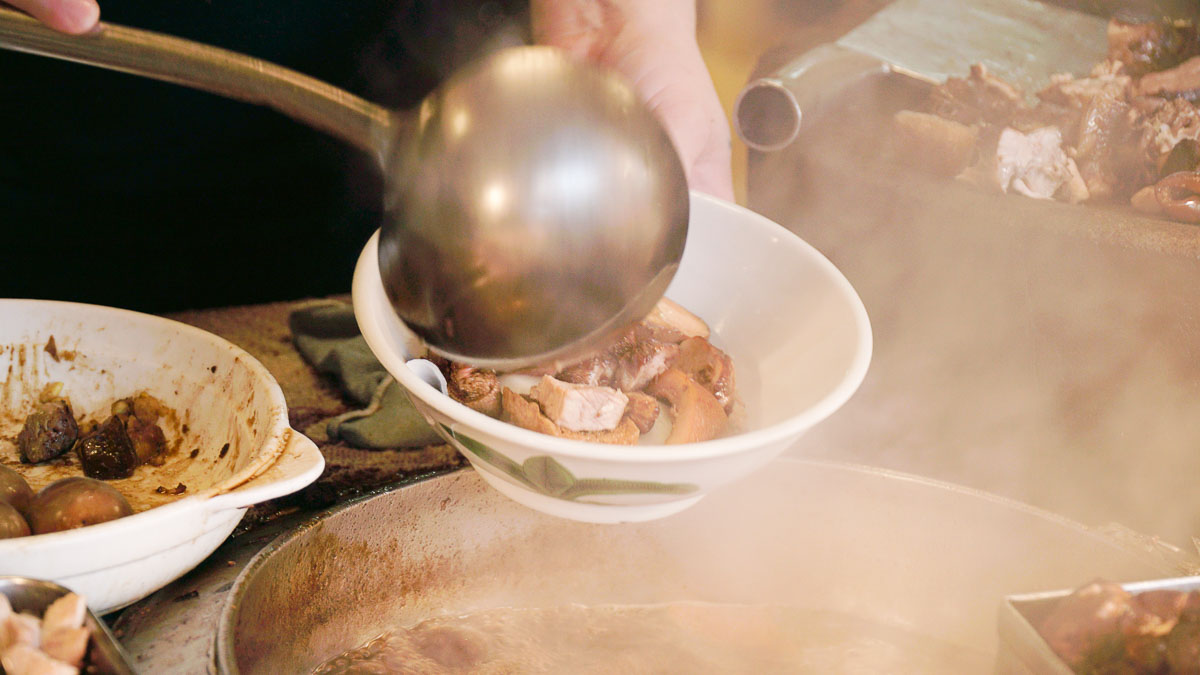 If you're early (and lucky), be sure to try the Pork Satay from the one and only Satay stall. Rumours have it that they serve the best satay in Kuching! Unfortunately, the stall was already closed after having sold out their satays for the day by the time we reached.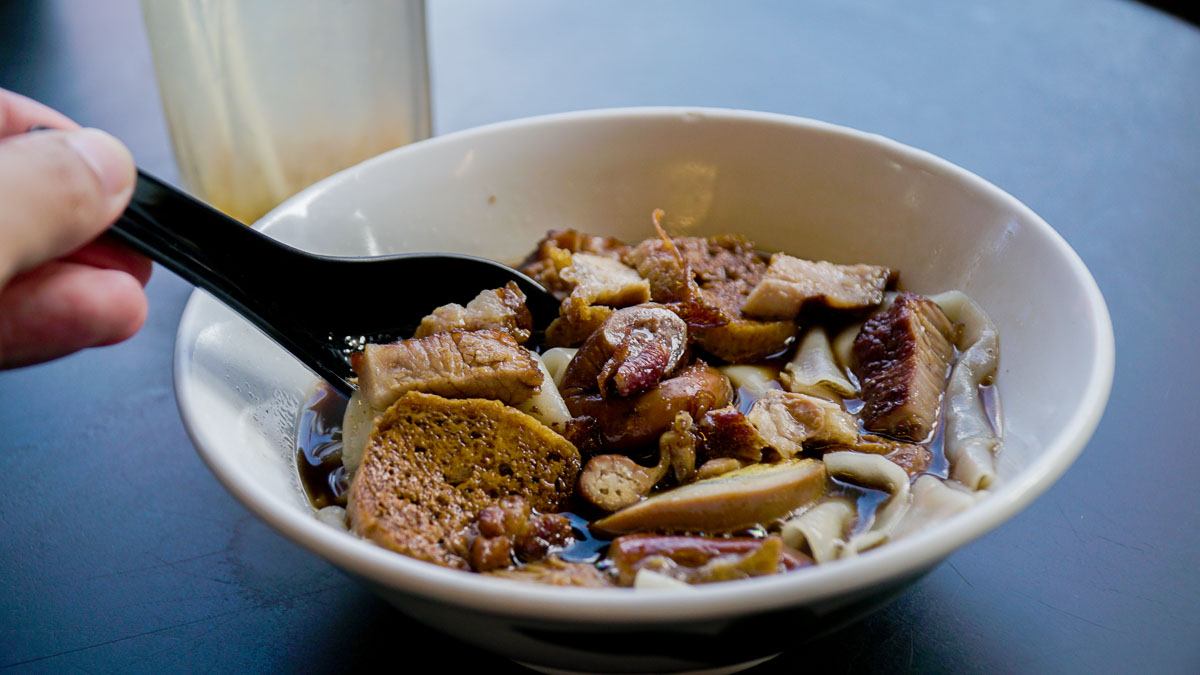 Cost: RM5 (Small), RM (Medium), RM7 (Large)/bowl
Address: 19 Lebuh Carpenter, 93000 Kuching, Sarawak
Opening Hours: 10am to 11pm (Closed on SUN)
10) DP Ice Cream Gula Apong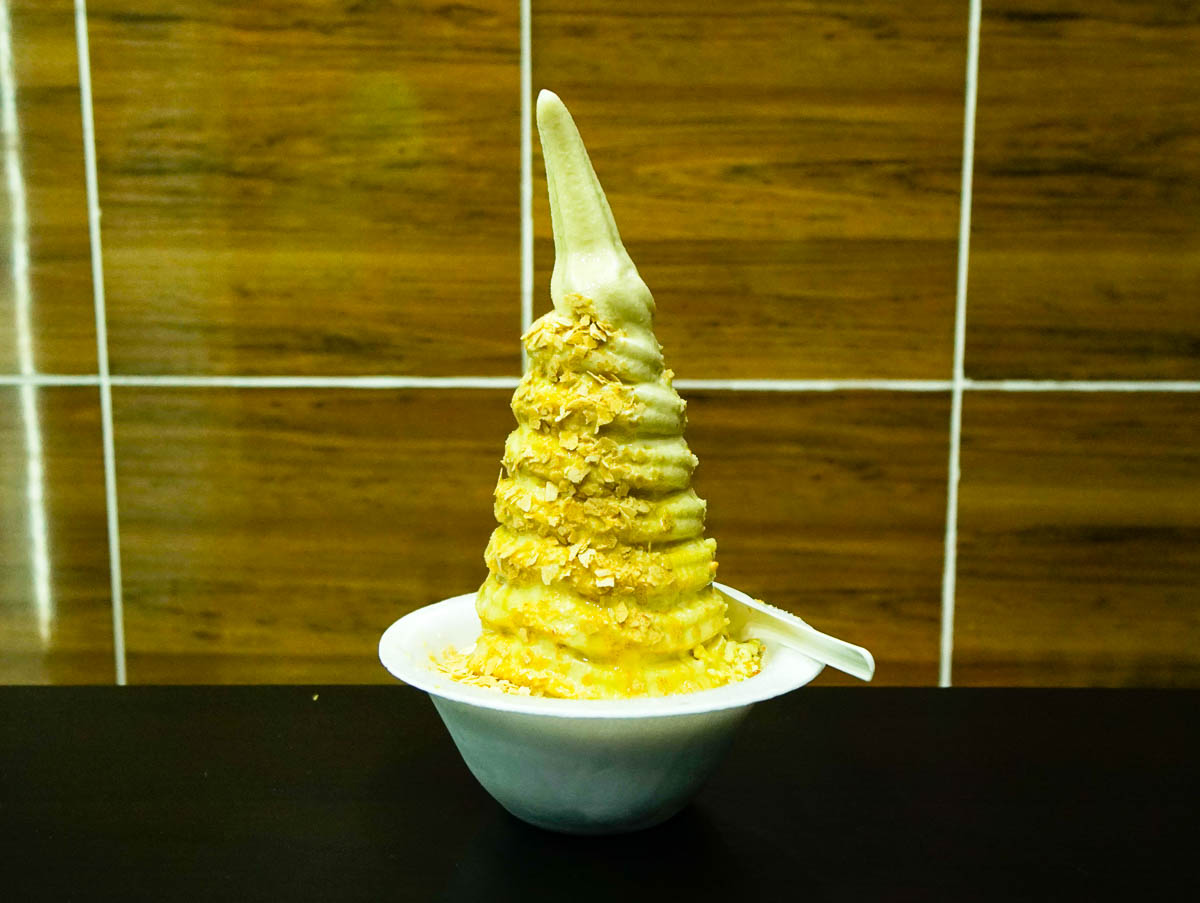 Anytime is a good time for ice cream, especially in Kuching when the scorching sun shows no mercy. A friendly Grab driver told us we have to try the soft-serve ice cream from DP Ice Cream Gula Apong, and I'm glad we did.
The refreshing yet not overly sweet ice cream is made from a type of palm sugar known as Gula Apong, or "attap chee" as we Singaporeans know. One may find the tastes of Gula Apong similar to that of Gula Melaka, but I personally prefer Gula Apong as it is not overbearingly sweet.
Cost: RM2 (small), RM5 (Large)/cup
Address: Jalan Chan Chin Ann, Kuching 93100
Opening Hours: 4pm to 9pm daily

11) Abee Traditional Buns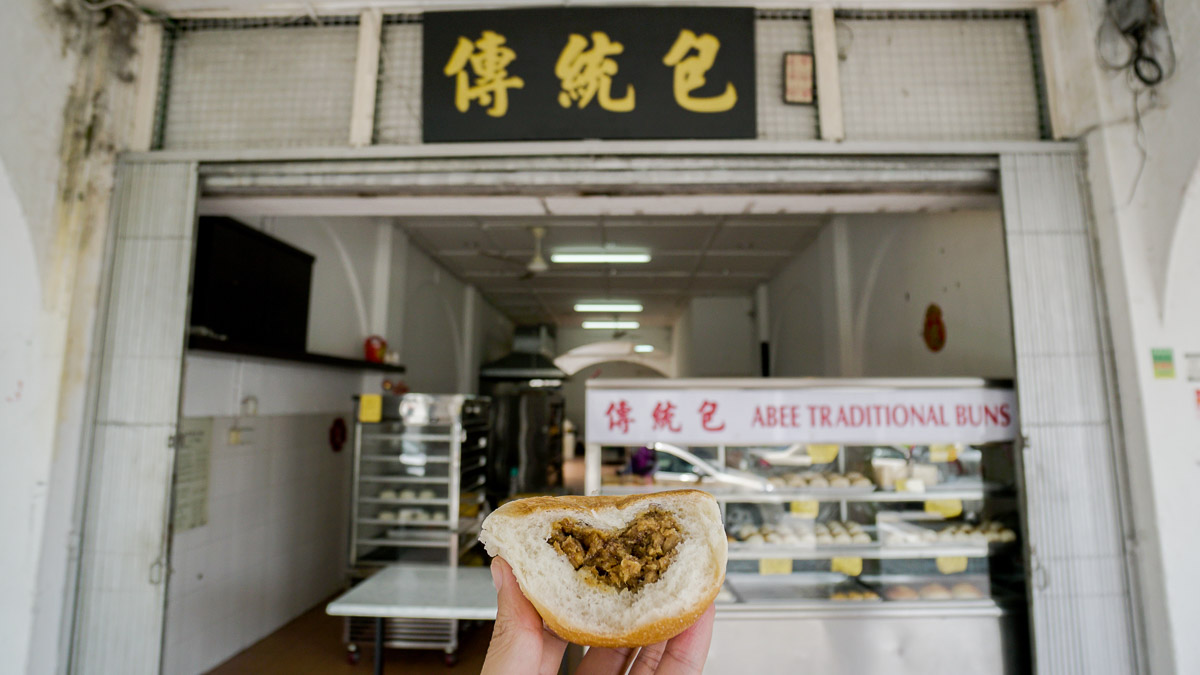 If you are a bread and buns lover, you will love the traditional tastes of the confectionery sold at Abee Traditional Bun. The neat shopfront hides a busy kitchen at the back, churning out different varieties of buns every morning. Locals would queue up patiently to get their hands on the freshly baked buns for breakfast. We tried the coconut bun, butter bun, and char siew bun.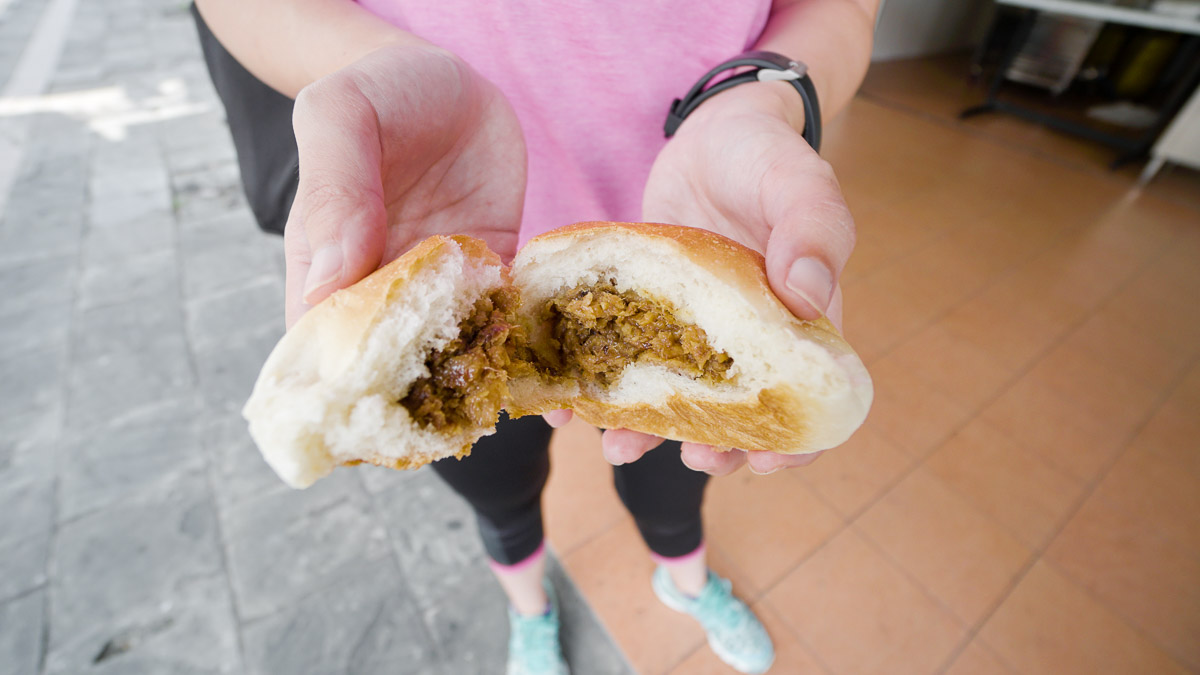 To be fair, we went there in the afternoon and the buns were not exactly freshly out of the oven. Despite that, the buns were still fluffy and soft. The buttery fragrance lingers without being too oily, while the generously stuffed coconut bun is just nice on the sweetness. If you prefer savoury buns, try the char siew bun, which has chunky pieces of char siew.
Cost: Range between RM1.50 – RM2.30/piece
Address:180, Jalan Padungan, 93100 Kuching, Sarawak
Opening Hours: 7:30am to 6pm (Monday – Saturday), 7:30am to 1pm (Sundays)

12) The Barber Cafe & Bar 
If you love vintage-hipster vibes, you need to dine in at The Barber Cafe & Bar for obvious reasons. Set in a refurbished barbershop, one is immediately brought back in time upon entering the cafe.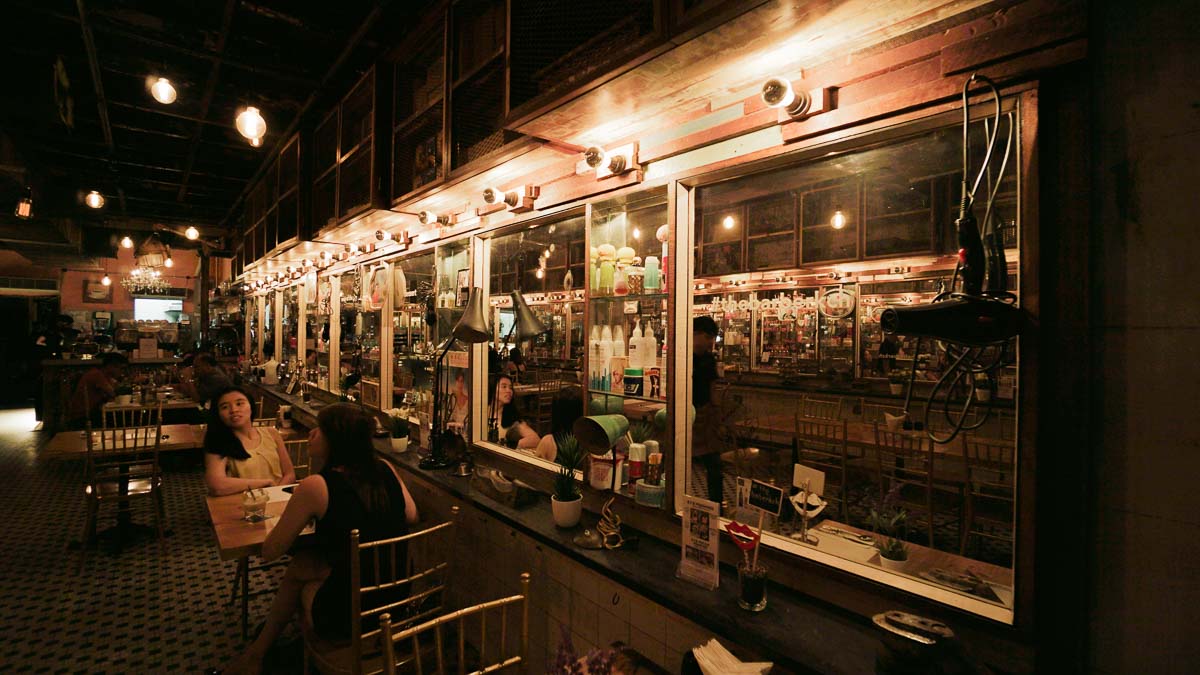 Not only are the doors of the old barbershop retained, the mirrors and other old items such as hair curlers and razor blades are used as interior decorations.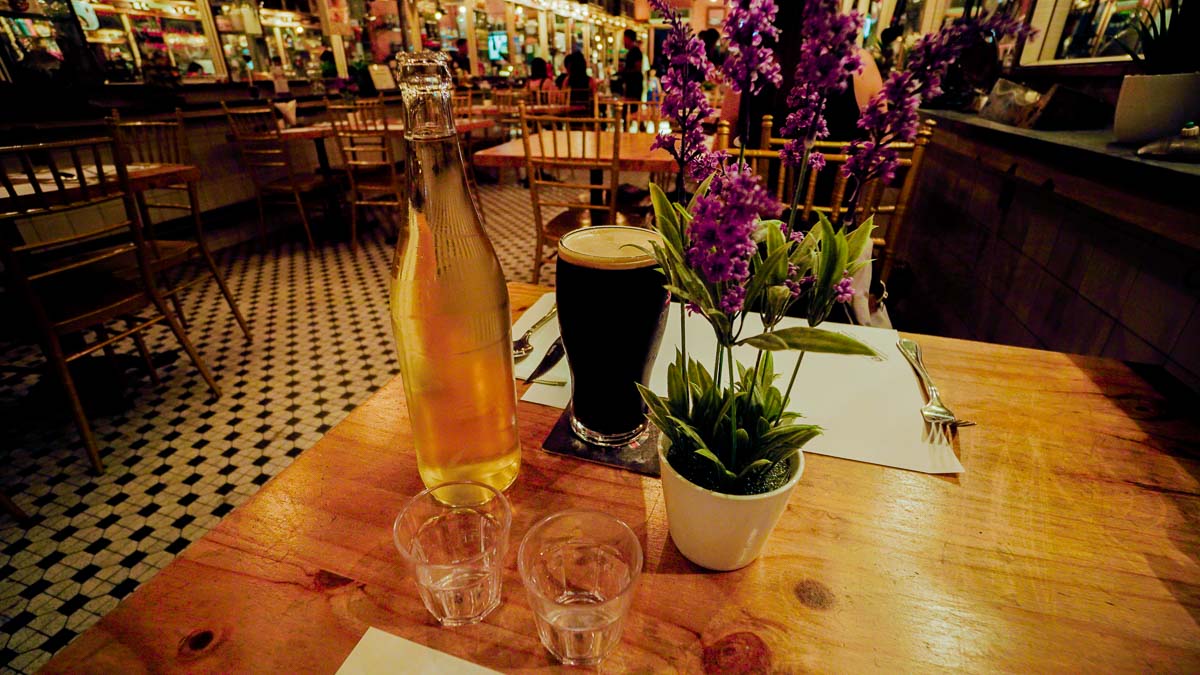 The great nostalgic atmosphere is coupled with great food and drinks, making the whole dining experience an extraordinary one.
Cost: RM18-RM23/pint, RM108-RM138/tower (During Happy Hour 4-8pm daily)
Address: 74, Wayang St, Kuching, 93100 Kuching, Sarawak
Opening Hours: 4pm to 130am (TUE – FRI), 5pm to 130am (FRI – SUN), Closed on MON

Constantly on the hunt for new food adventures? Kuching should really be the next on your list. Not only are the food choices wide and great, prices in Ringgit means you get to feast like a king. Best, Kuching is only a 1.5 hour's flight away!
BONUS (for the coffee lovers): Black Bean Coffee & Tea Co.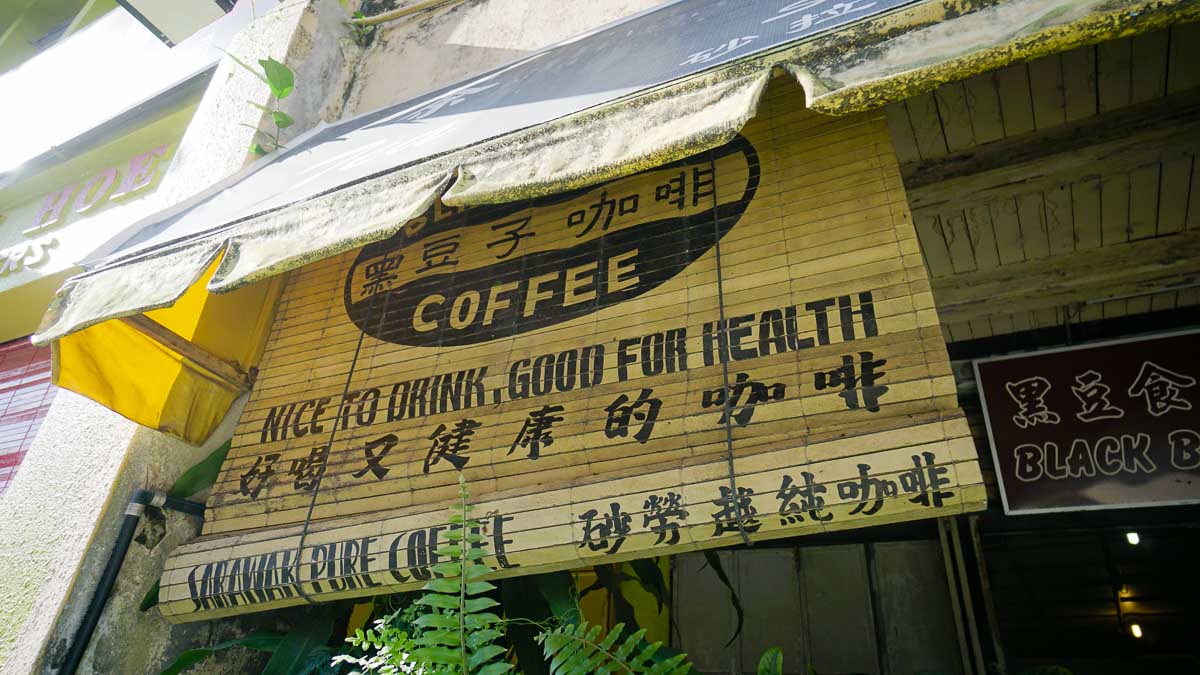 For those looking for a good cup of coffee, look no further than Black Bean Coffee & Tea Co. Before you even see the cafe, you would have already smelled the aromatic coffee from a distance, awakening your senses.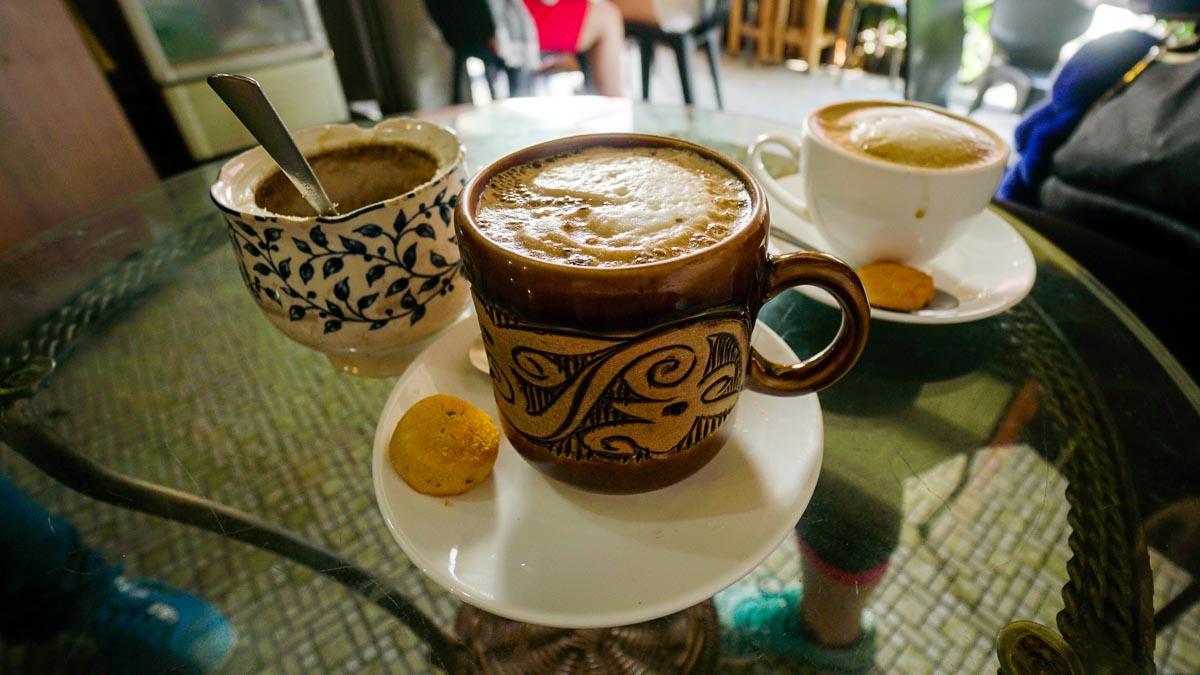 The coffee at Black Bean Coffee doesn't taste like your regular Kopitiam Robusta beans, nor the Arabica beans used in cafes, because the coffee beans are exclusively found in Sarawak — the Sawarak Liberica. The Sarawak Liberica is a full-bodied coffee with aromatic earthy notes. If you are a coffee-lover like me, there's no way you should miss this!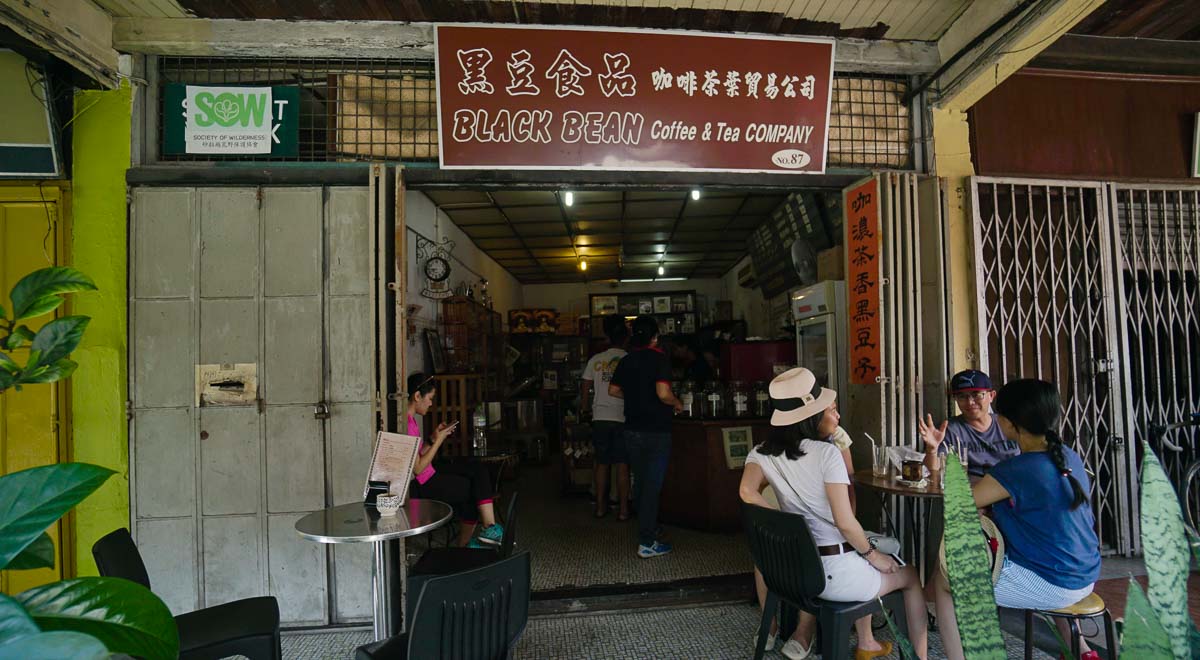 Cost: Range from RM5-RM6/cup
Address: No.87, Ewe Hai Street, 93000, Kuching, Sarawak, 93000 Kuching, Sarawak
Opening Hours: 9am to 6pm (Closed on Sundays)
Read also: 3D3N Kuching Itinerary for the adventurous soul
Direct Flights from Singapore to Kuching
With a flight-time below 1.5 hours via Scoot, Kuching is the perfect destination for a quick food adventure.
In fact, you can start your food-venture the moment you board the plane!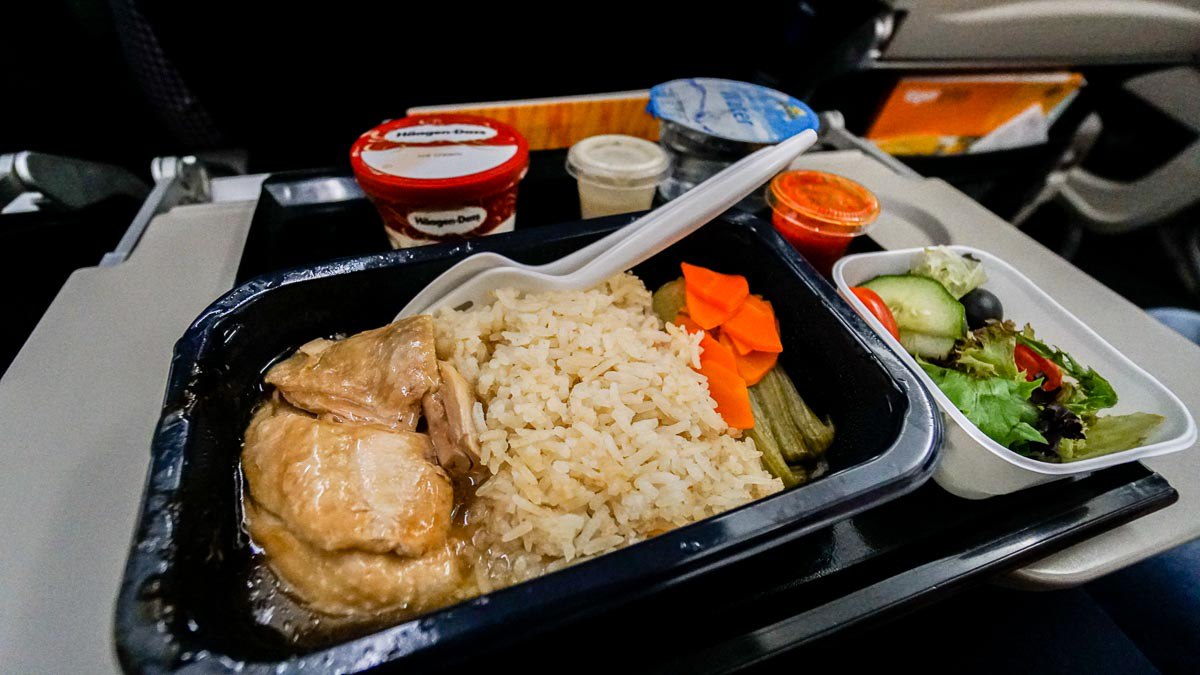 Pre-order a Premium Meal that consists of a deluxe hot meal, salad, drink, and Häagen-Dazs ice cream! We tried the premium Singapore Signature Chicken Rice, and it was pretty legit! Never imagined it was possible to taste our favourite comfort food in the skies. Check out the Scoot Cafe Menu for the full selection of Premium Meals.
We also like how Scoot's economy seats are wider than most budget airlines. Making the journey much more comfortable.
Scoot is rolling out daily direct flights from Singapore to Kuching from the 29th October 2017.
Hungry to check out this food paradise for yourself? Look out for all-in flights from just S$69!
This post was brought to you by Scoot.