Surrounded by a concrete jungle day in and out, I often yearn for the outdoors and nature. With only 3 days to spare for a short getaway, I found just the perfect place to stretch out my limbs and get the adrenaline pumping.
In East Malaysia, there lies a lesser-known outdoor adventure playground disguised as a food paradise waiting for people to explore. Malay for "cat", the city of Kuching has more than its cats that captivates.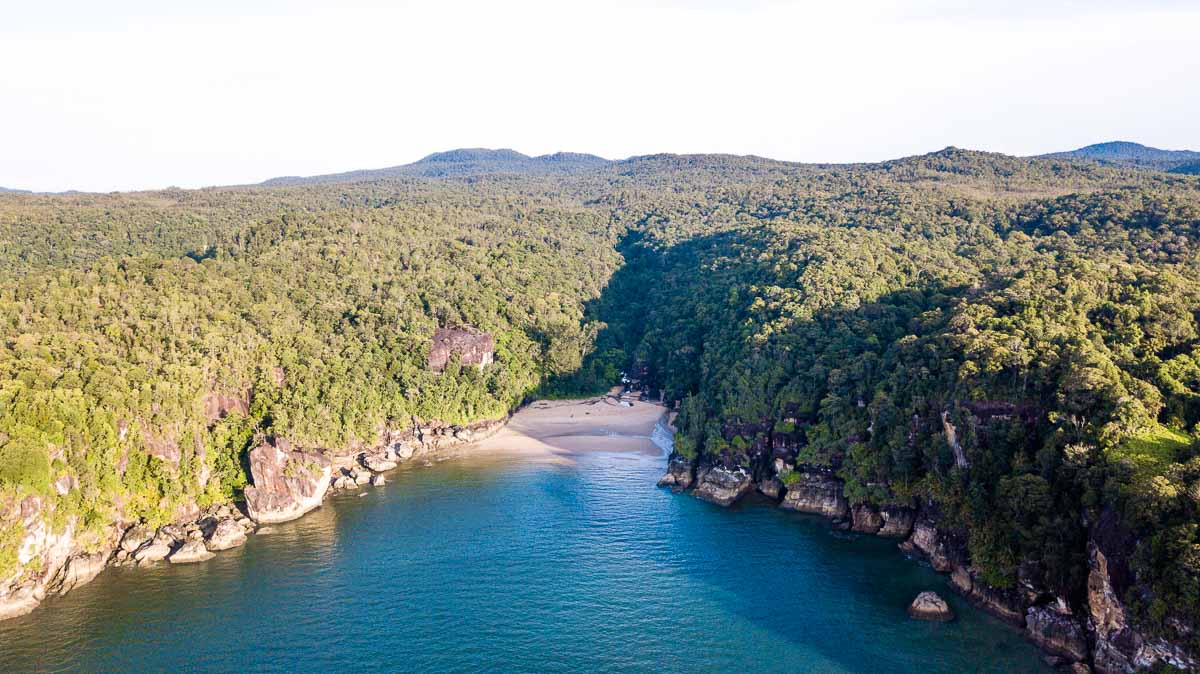 Cradled by the dense rainforests of Borneo, Kuching flaunts her ecologically-rich flora and fauna, with a myriad of mini adventures for outdoor lovers. The best part is that it's only a 90-minute flight away! A perfect quick getaway to get active and reconnect with nature.
Here's our 3 days itinerary packed with outdoor and nature activities for the adventurous traveller.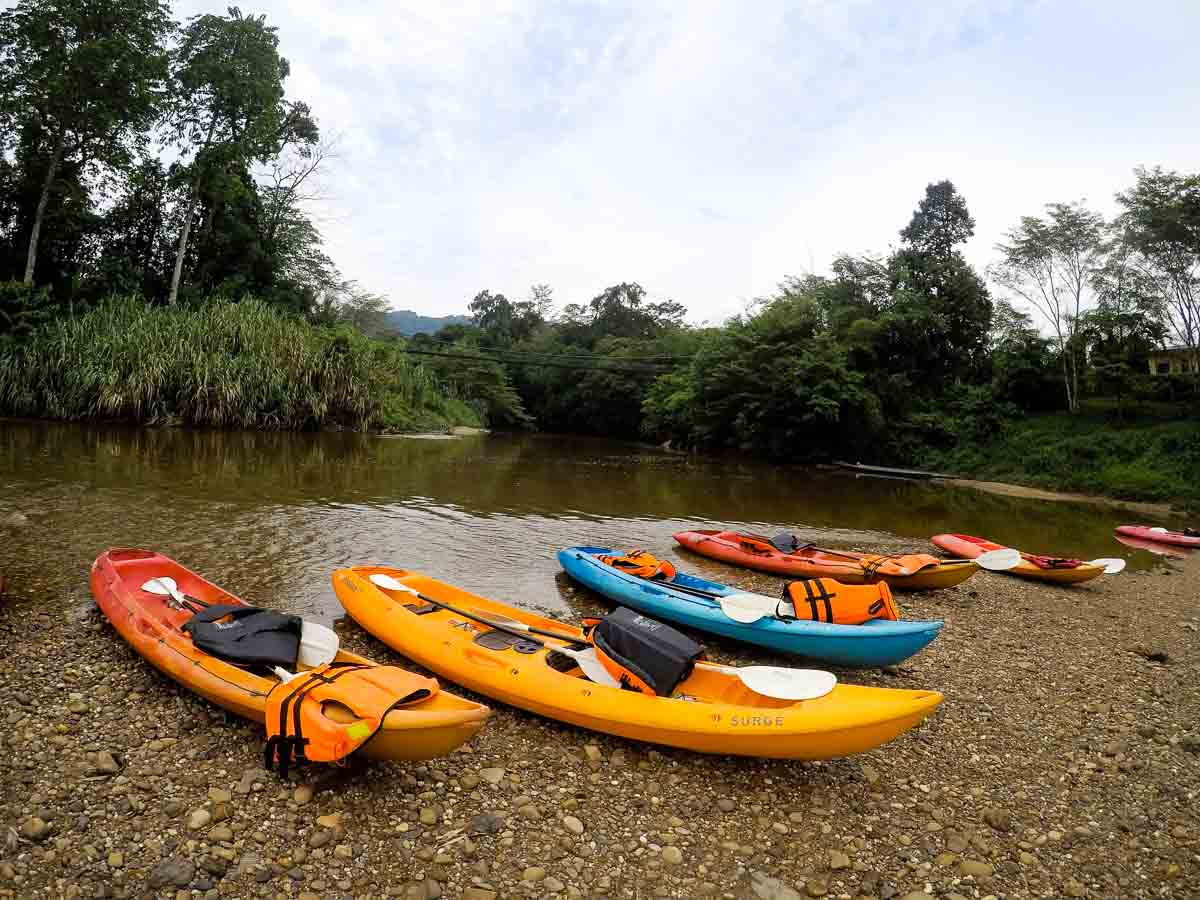 Travel Essentials
Currency: Ringgit.
SIM Card: 3/4G SIM Cards are easily available at the Kuching International Airport. If you have an existing (and unexpired) Malaysian SIM Card Western Malaysia, those will work in Kuching too.
Getting Around: Grab and Uber are aplenty in Kuching. Rates are cheaper than regular taxis.
*Pro-tip: Ask your local Grab drivers for recommendations. They often have loads of suggestions, from things to do to their favourite food haunts.
Arrive in Kuching at night
Upon arrival in Kuching at 9:55pm, we checked into our cosy accommodation, the Kuching Waterfront Lodge — a refurbished Chinese shophouse that looks almost like a museum with retained vintage furniture.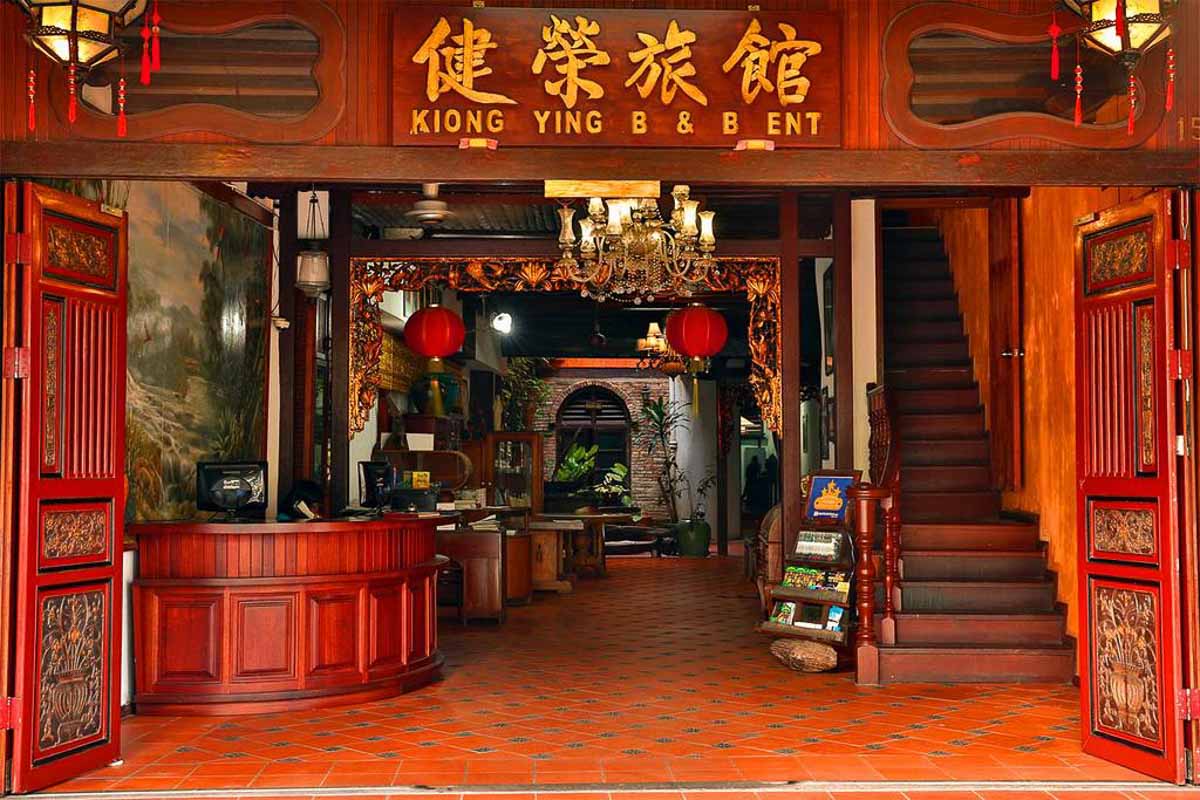 Kuching Waterfront Lodge
Cost: Double room – RM90
Address: 15, Bishopsgate Street, Main Bazaar, 93000 Kuching, Sarawak, Malaysia
As the night was still young, we headed to the retro-inspired The Barber Café & Bar for some food and drinks to fuel up for our adventures the next morning.
Drinks at The Barber Café & Bar
Address: 74 Wayang Street, 93100 Kuching
Opening Hours: 4pm – 1:30am (Tue–Fri), 5pm – 1:30am (Sat & Sun), Closed on Mon.
If you prefer local delicacies such as kolo mee or sarawak laksa, there's the 24-hour Open Air Market food centre that's known for its good food that's available round-the-clock, just the perfect spot for late-night supper!
24-hour food at Open Air Market
Address: Open Air Market, Jalan Power, 93000 Kuching, Sarawak, Malaysia
Day 1
Spot orangutans at Semenggoh Wildlife Centre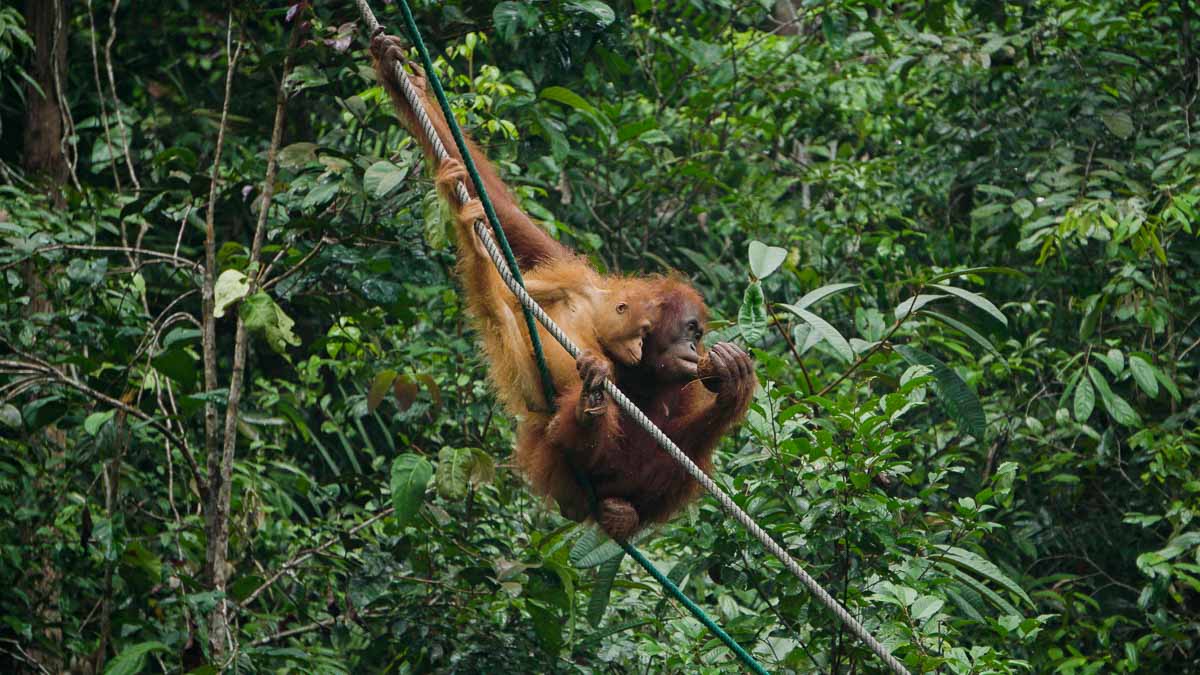 First up, is a visit to Semenggoh Wildlife Rehabilitation Centre.
Native to Borneo, the Bornean Orangutan is an endangered species of apes that have their habitat threatened by rapid urbanisation. Here you can find semi-wild orangutans that visit for extra food during the dry season.
We booked a tour package (Package C) with The Rucksack Rainforest Kayaking, which included a 2-way pickup from our accommodation to Semenggoh Wildlife Centre. The package also includes kayaking down Sungai Sarawak Kiri, a Longhouse tour, and lunch.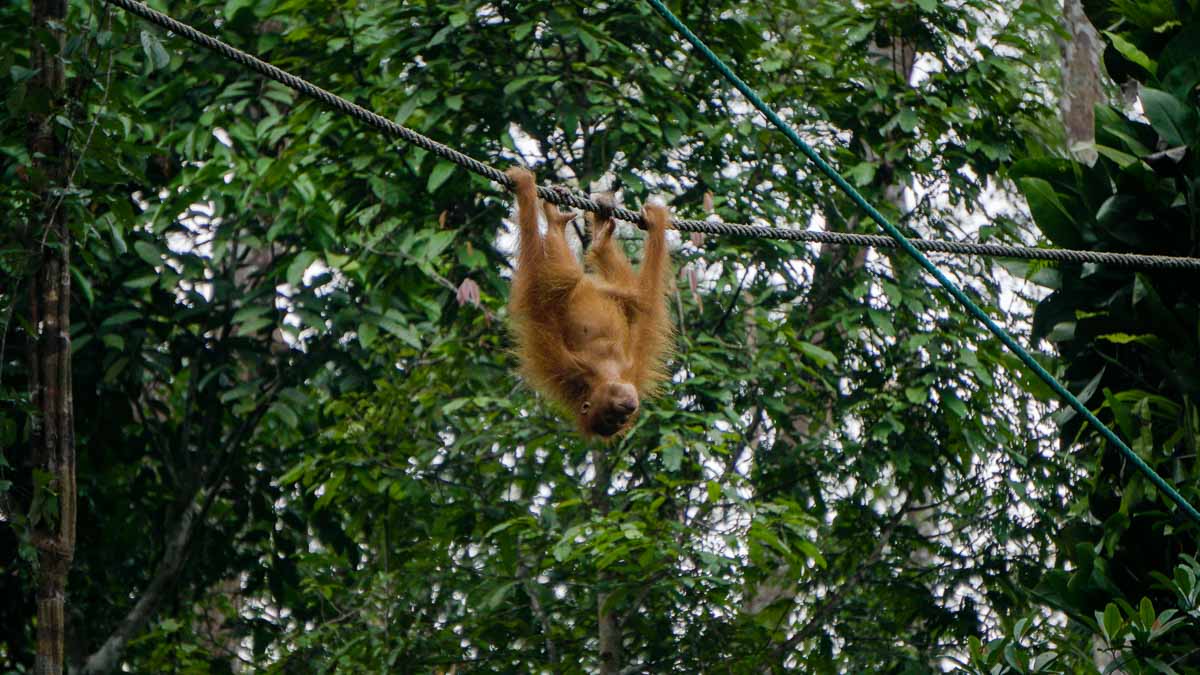 The best times to spot orangutans is between the feeding hours of 9–10am and 3-4pm. We saw the mummy, Saddamiah, and her baby, Ruby, feeding on bananas and coconuts, while hanging playfully on ropes and tree branches.
Do note that orangutan sightings are lower during the following months – between November to February when it's the Monsoon seasons, and also during the fruiting months of March to June.
*Pro-tip: Bring along a pair of binoculars or cameras with good zoom lens, as the viewing platform is a distance away from where the orangutans hang.
Address: Jalan Tun Abang Haji Openg, Kuching 93000, Malaysia
Opening Hours: 8:30 am to 5 pm (visitors must leave by 4:45 pm)
Kayak down the Sungai Sarawak Stream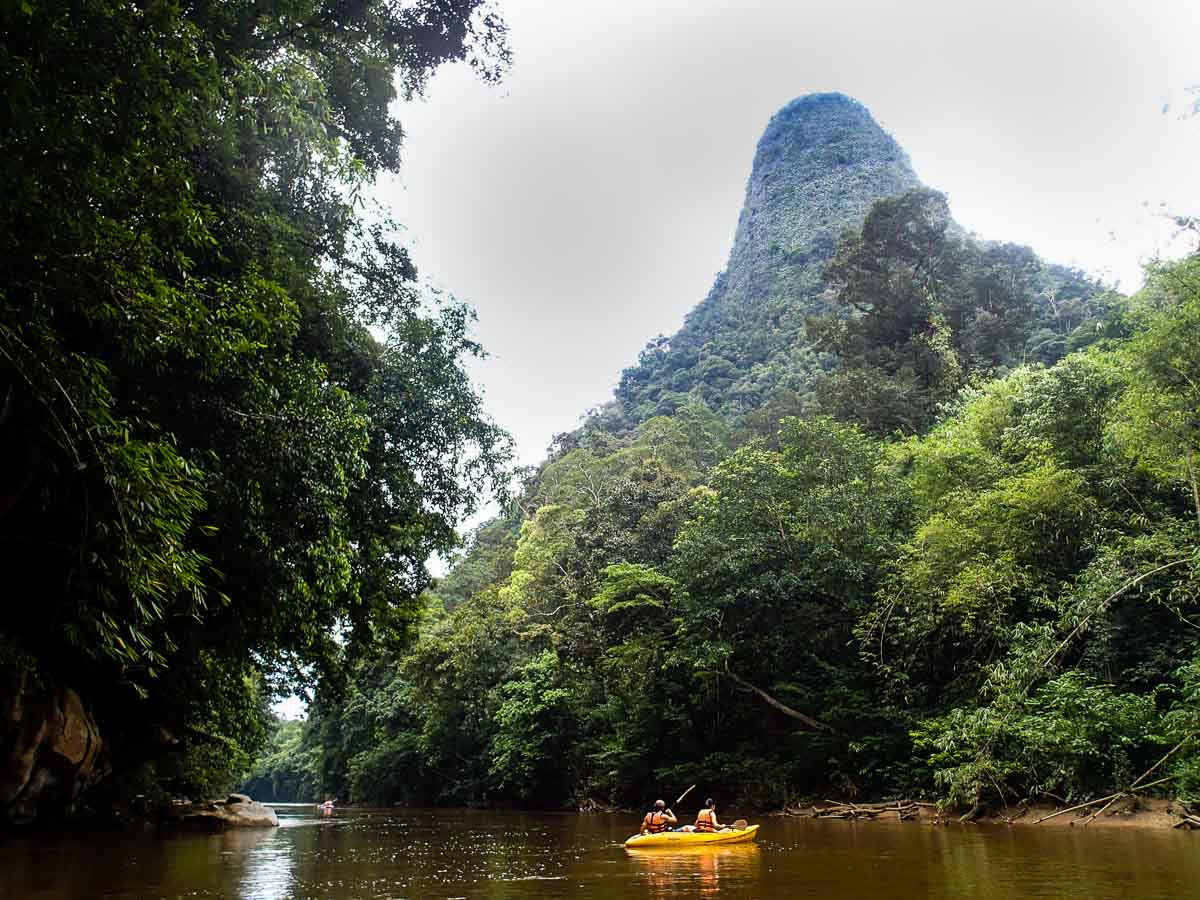 After watching our tree-dwelling cousins work their arm muscles swinging from tree to tree, it's time to put our upper limbs to use. Next up, an 11km kayak adventure down the stream of Sungai Sarawak Kiri, where lush green mangroves and beautifully formed limestones line the riverbank.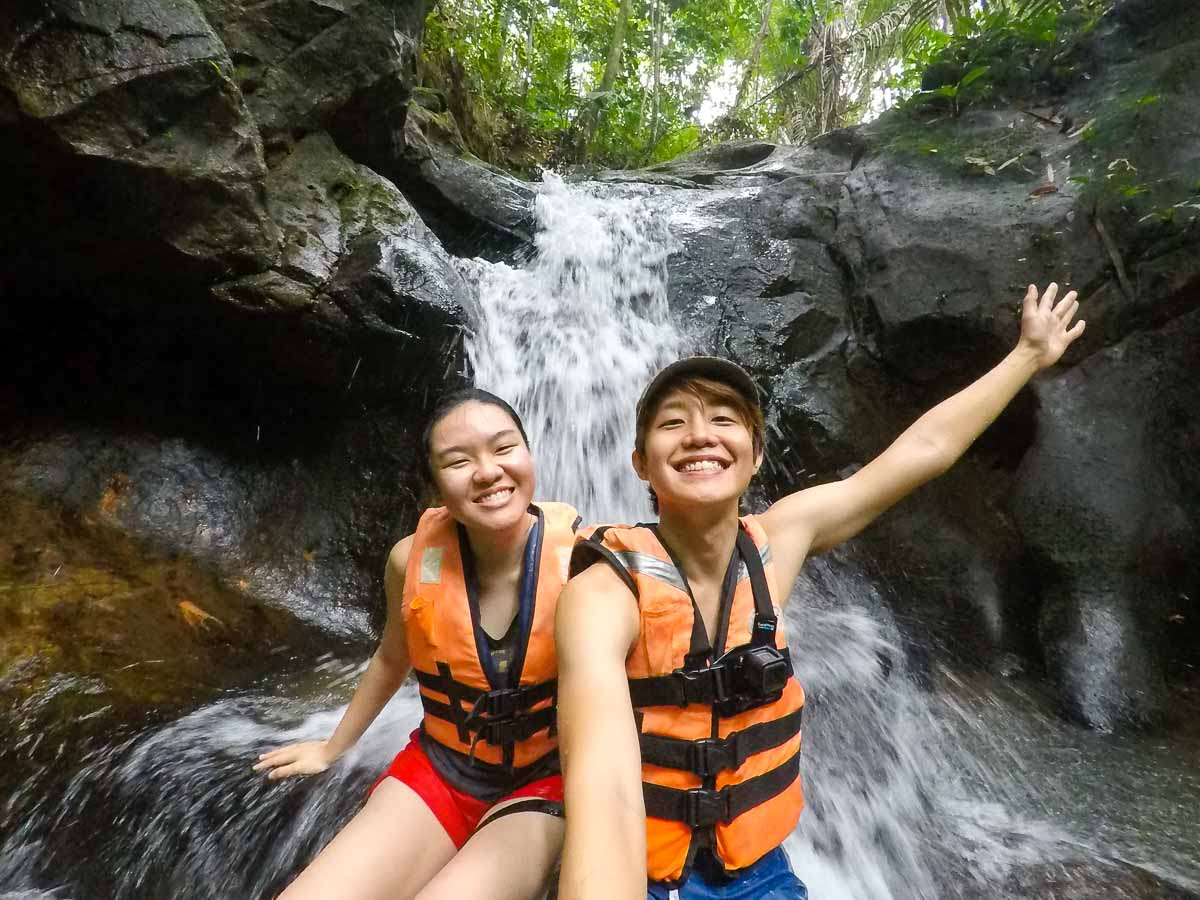 The guided kayaking experience lasts for about 2 hours, including a detour to a mini waterfall. Bottled water and life-vests are provided, while dry bags can be loaned on request to keep your valuables dry. I've never kayaked before but still found it manageable in the calm waters.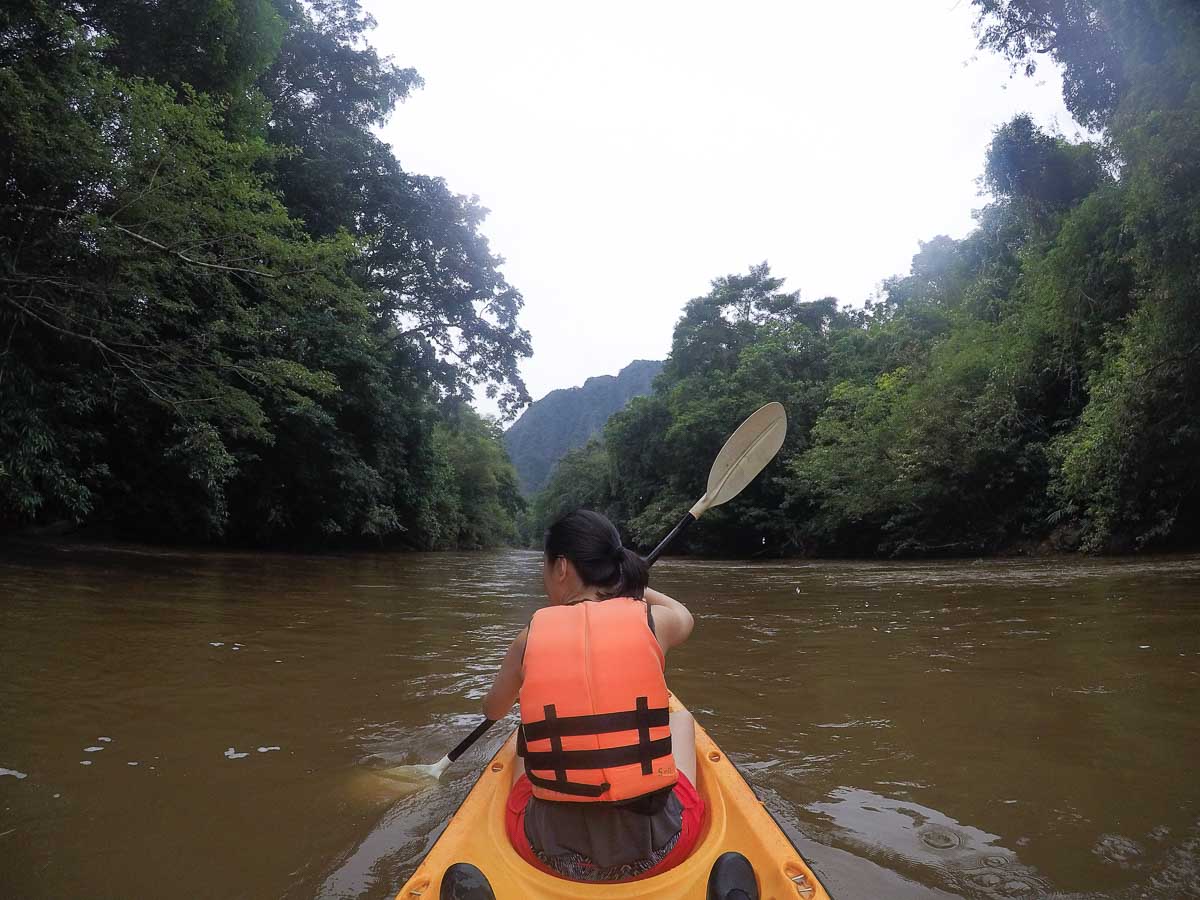 It wasn't long before I felt my oblique muscles burn (yeah girl, workin' those muscles). If only gyms back at home had as nice a scenery as Sungai Sarawak Kiri, I'll promise to exercise regularly. If only.
A few wades later, we stopped by the small village of the Bidayuh tribe for lunch. Nothing fancy, just simple homey dishes that tasted good and reminded me of momma's cooking.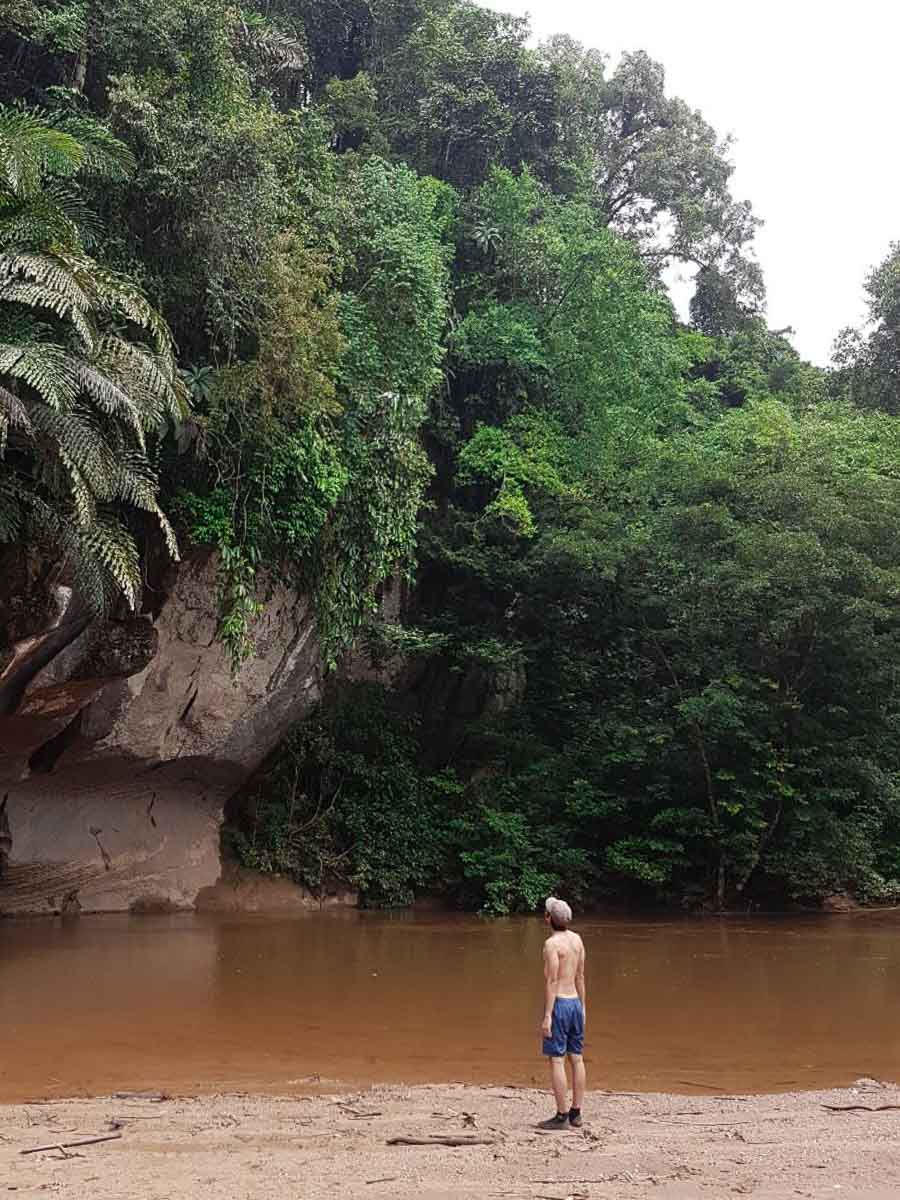 Nearing the end of our mini kayaking expedition, our guides brought us to shallower water for a swim. Talk about immersing (submerging) yourself in nature! 😛
*Pro-tip (or note to future self): Booties will be the best footwear for a kayaking trip, not flip-flops.
Annah Rais Longhouse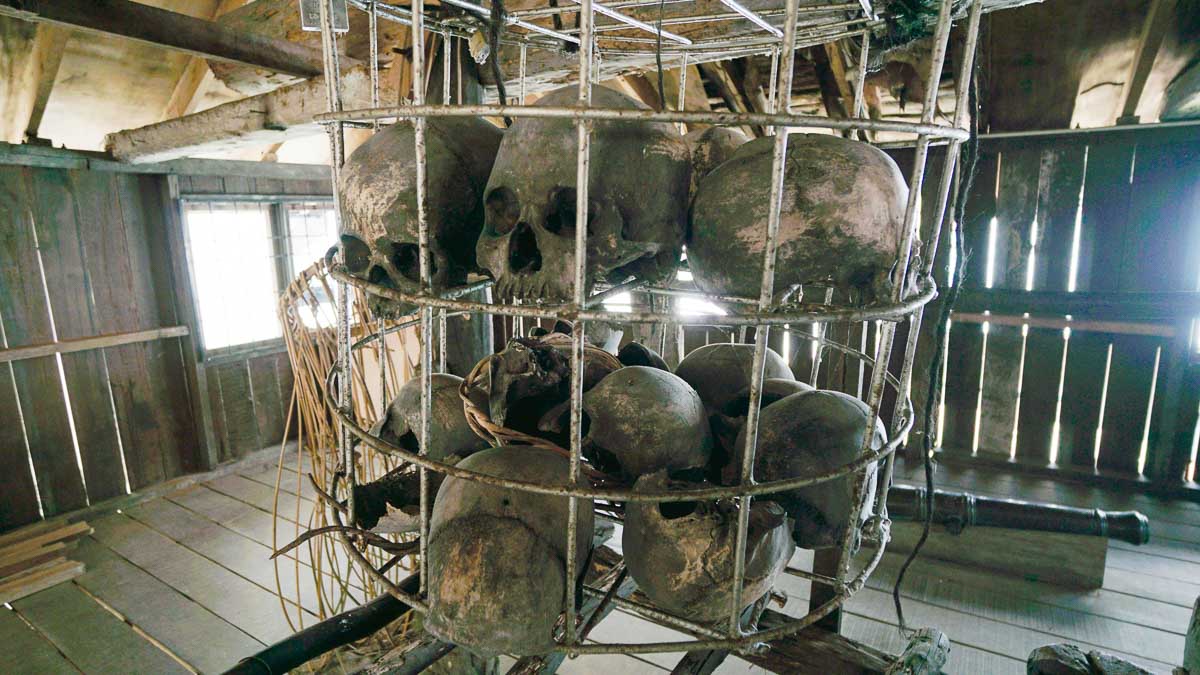 The Annah Rais Longhouse is home to the indigenous head-hunting tribal community of Sarawak. In case you're wondering about the legitimacy of head-hunters in Sabah and Sarawak, yes, head-hunters are real, but head-hunting is no longer practised today.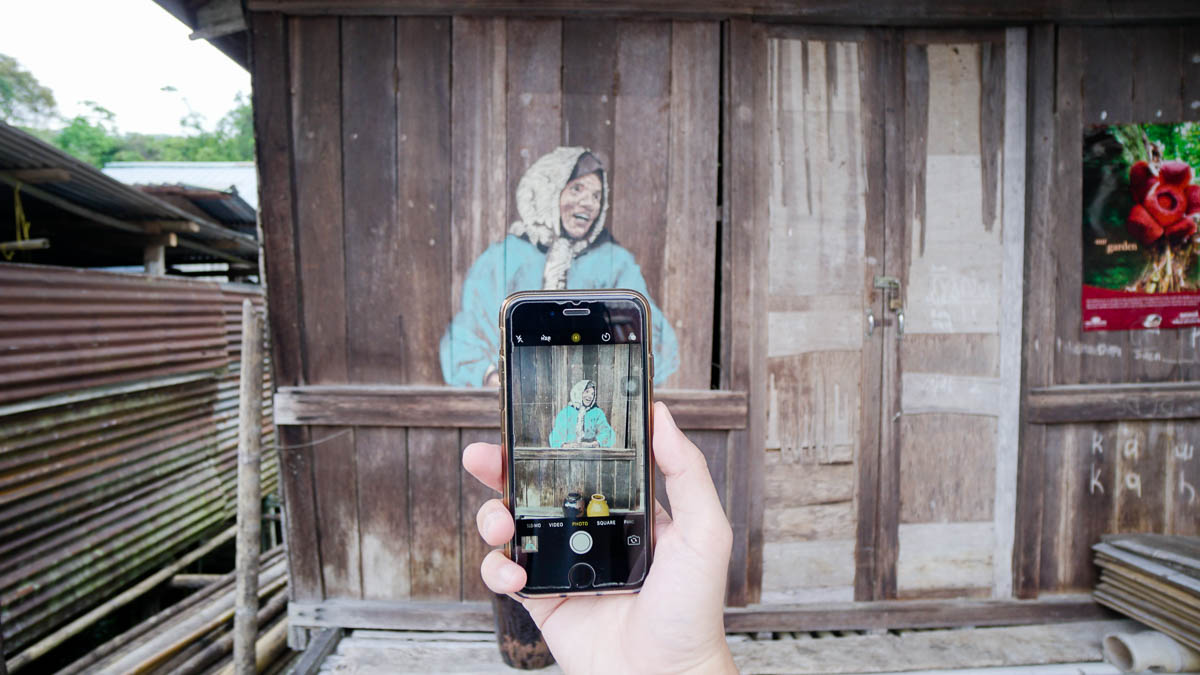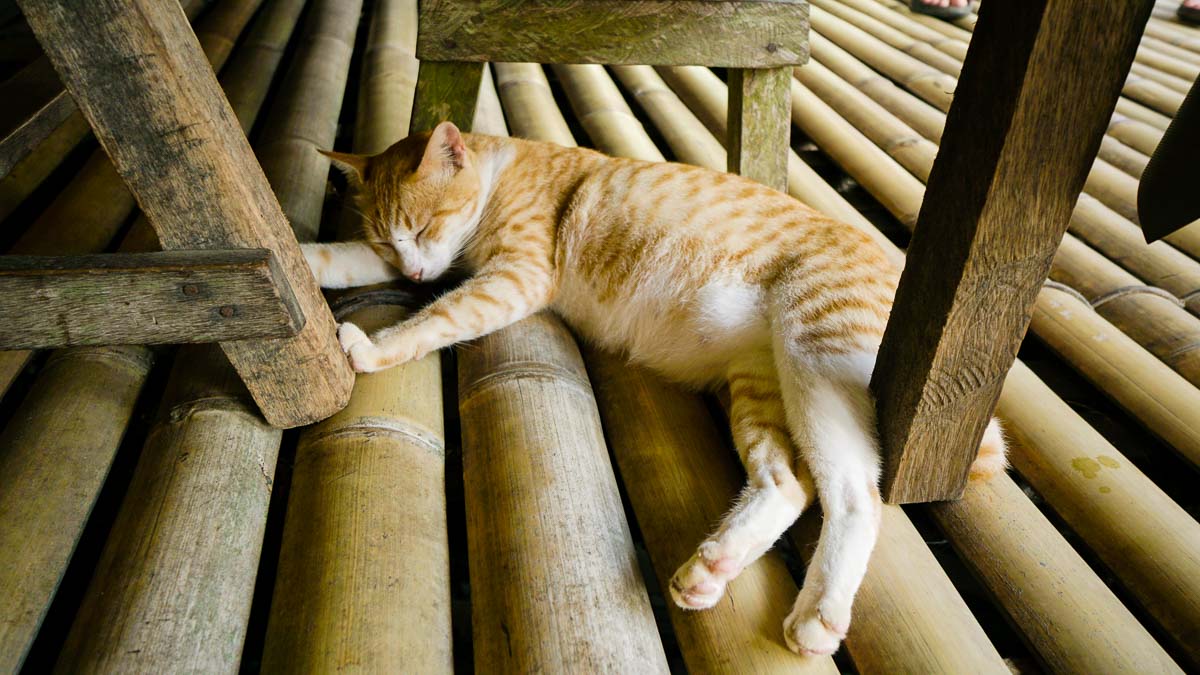 It's hard to imagine that this lazy village was once home to people of such colourful albeit gruesome traditions and practices in the past. While the village still houses the community, parts of it have been commercialised as a tourist attraction. There's not much to do here, so if you're rushing for time, we recommend getting the other packages.
Cost: RM288 per pax for our Kayak and Tour Package C
Meals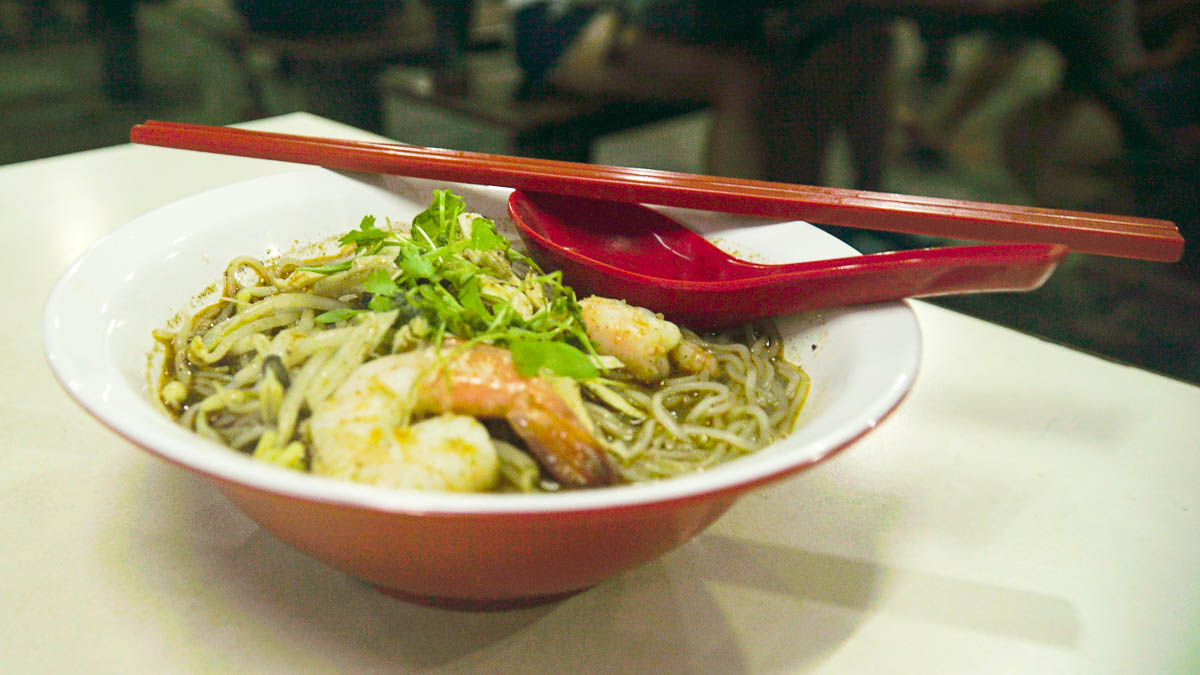 Breakfast at Chong Choon Cafe
Address: 275 Jalan Chan Chin Ann, 93100 Kuching
Opening Hours: 630am to 12pm (Closed on Tue)
Lunch at Bidayuh Village
Dinner at RJ Ayam Bakar
Address: 291 Jalan Abell, 93100 Kuching
Opening Hours: 10am – 2am daily
Day 2
Explore the Fairy Cave

While it's not difficult to get Grab or Uber in Kuching, you may need to find a private driver to drive you to Bau — a region one-hour away from Kuching city centre. We left the contact details of our friendly private driver below, so help us say hi (Edelyn and Hendric) if you find him. 😀
Bau is famous for the Fairy Cave (Gua Kapor/Gua Pari), a limestone cave with an interesting stalagmite structure at the entrance that resembles a Chinese deity, hence the name "Fairy Caves".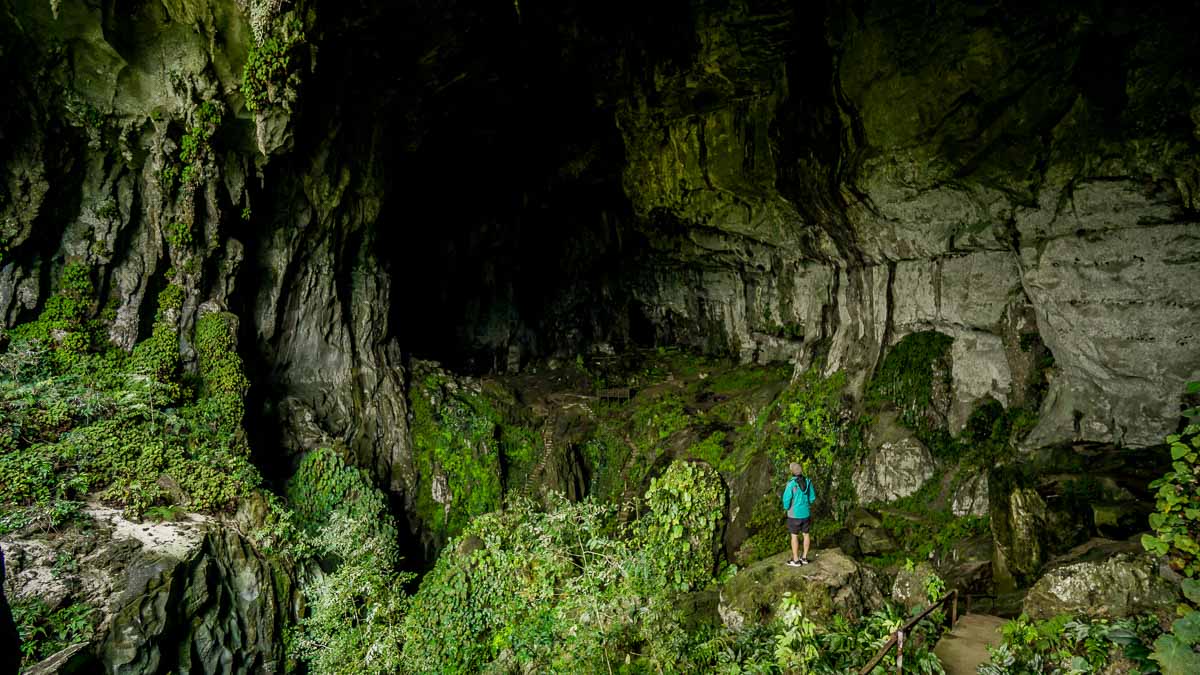 There are many stalagmites and limestone formations so majestic, it's almost like being on another planet. The Fairy Cave is relatively easy to get to, without tedious or treacherous ascends and descends, unlike many other caves.
In this enclosed and tranquil space, you hear occasional flutters of bats and water dripping from the cave's ceiling. A truly calming and photogenic place to visit in the morning.
*Pro-tip: Bring along insect repellent, you can thank us later.
Driver contact: Mr. Cyril Bero (WhatsApp +60109403050)
Address:94000 Bau, Sarawak, Malaysia
Opening Hours: 8:30 am – 4 pm
Prices: Entrance fee of RM5 per pax
Hike in Bako National Park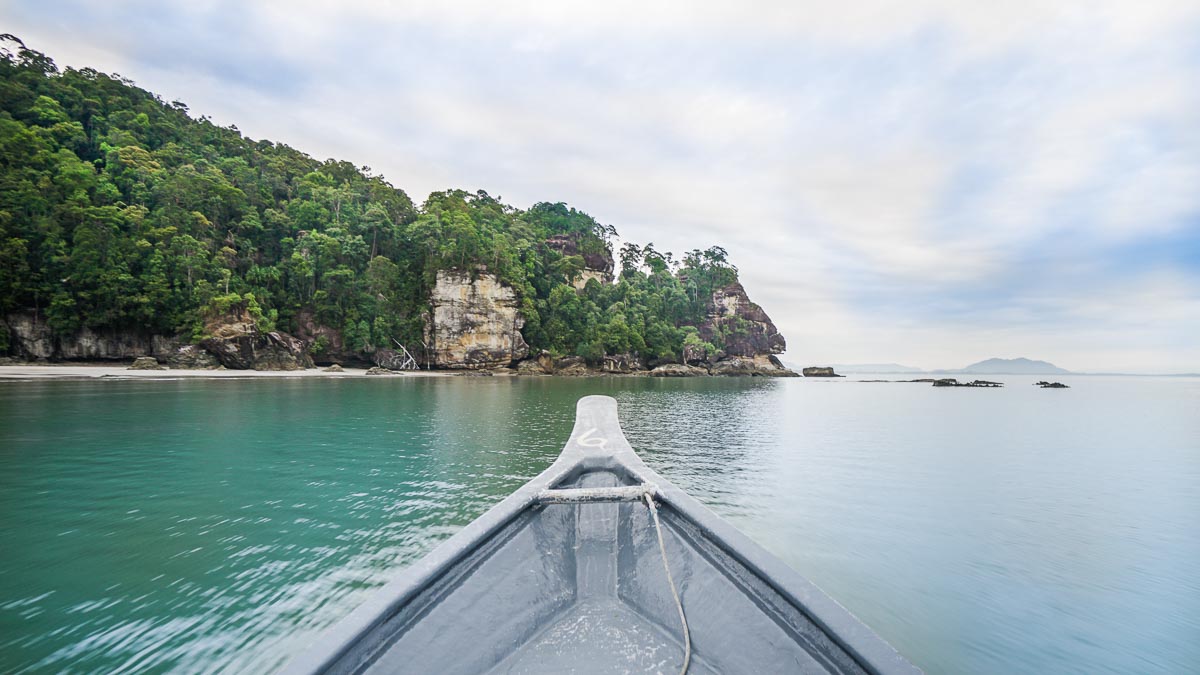 After a quick lunch to silent the stomach monster, we head on to the next leg of our adventures. After a one-hour public bus ride and another 20 minutes on a ferry, we reached Bako National Park.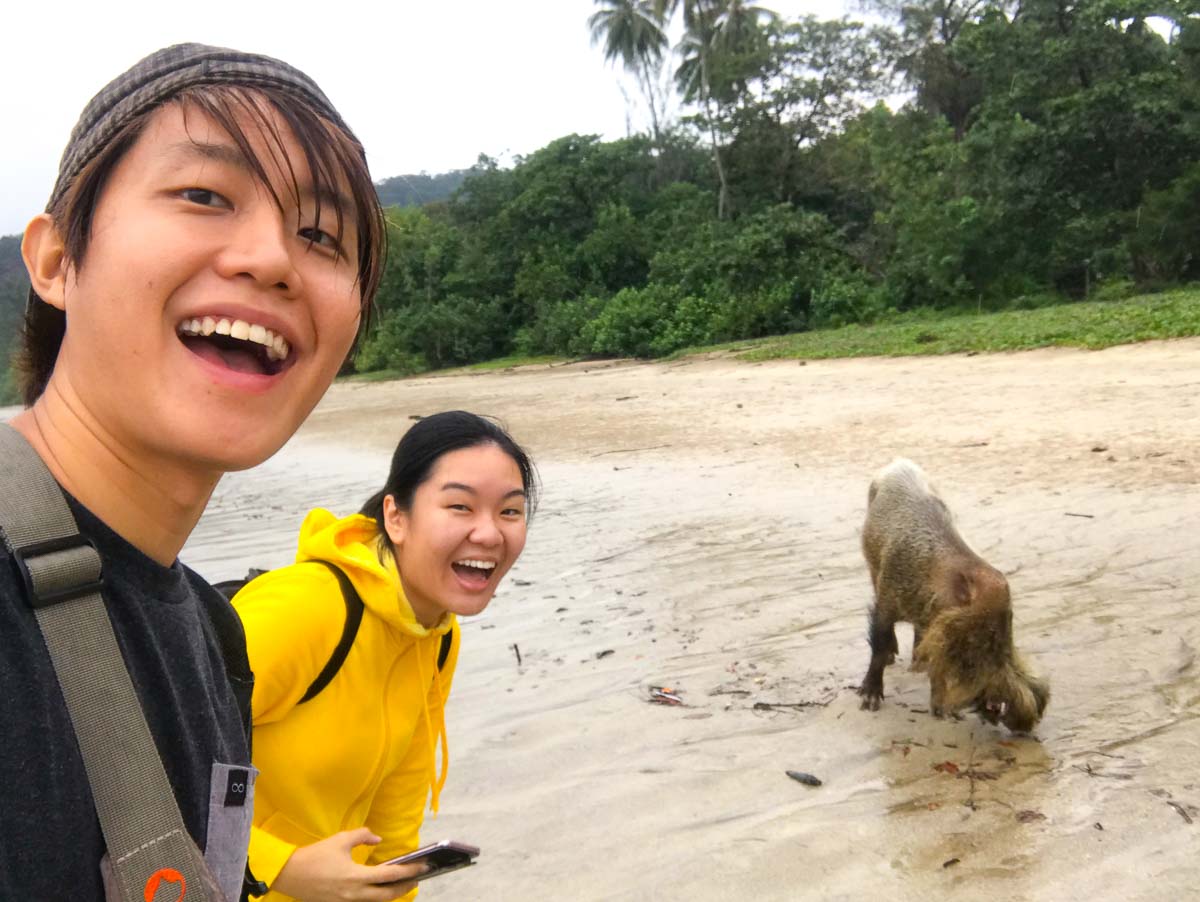 The adventure started immediately as we were greeted by a Bornean bearded pig upon disembarking. They look oddly cute, and I couldn't help but sing Hakuna Matata to Bako's Pumba.
Do be careful if you are taking selfies with them though. While they are generally calm, these are still wild animals and may be aggressive when provoked.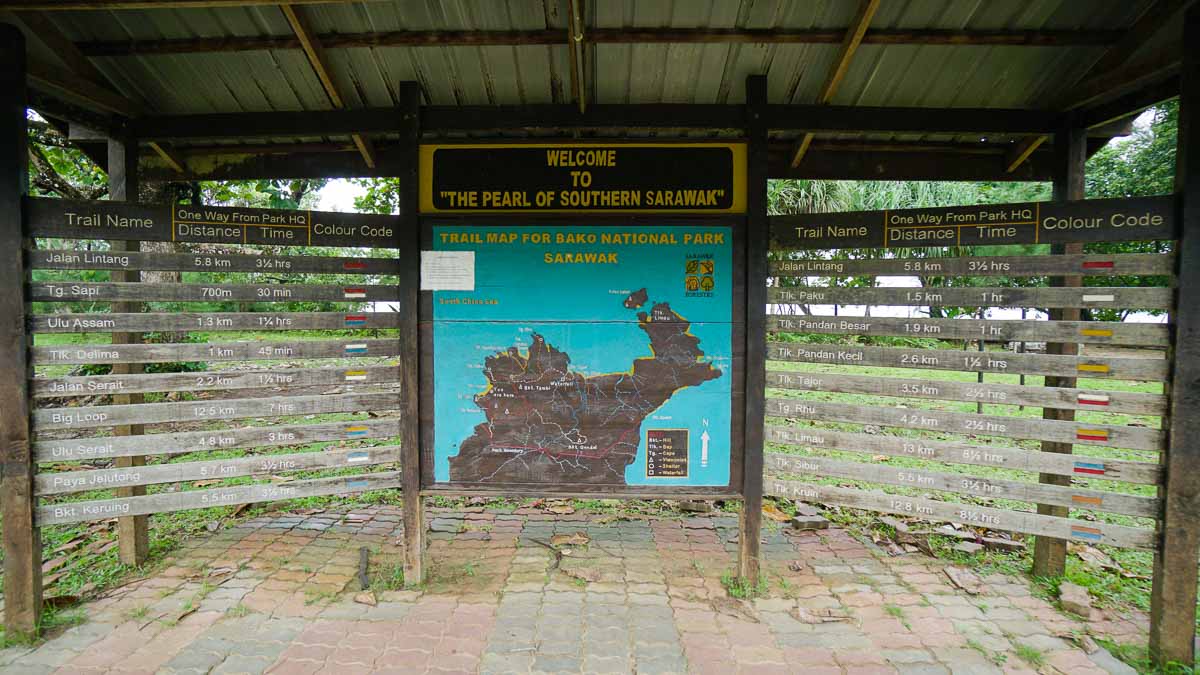 All visitors, day-trippers or overnight-stayers, will need to register at the headquarters of Bako National Park for safety and tracking purposes. After that, you're free to roam around the ten hiking trails within the park. The park actually has sixteen trails in total, though six are closed indefinitely for renovation.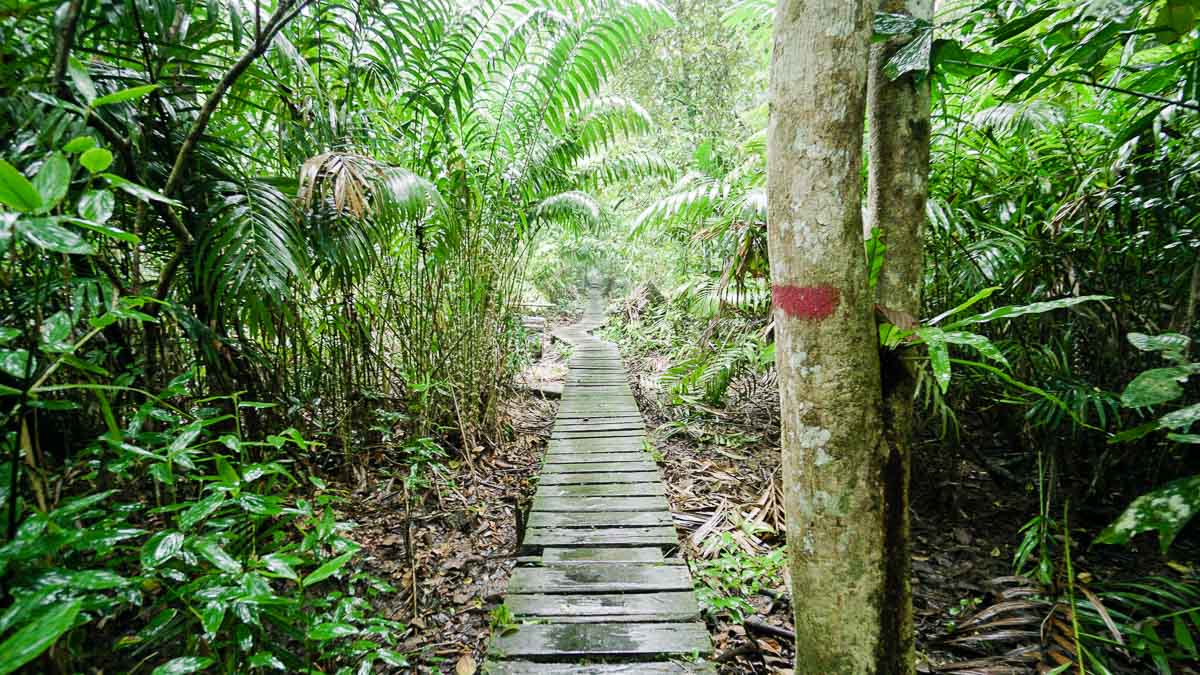 We did two different trails in a day and felt really good being in nature, away from technology and other first-world disturbances. Mobile network is limited, so stay alert and be aware of your surroundings. The trails are properly marked, and the paths are obvious, so there shouldn't be any problems during the hikes.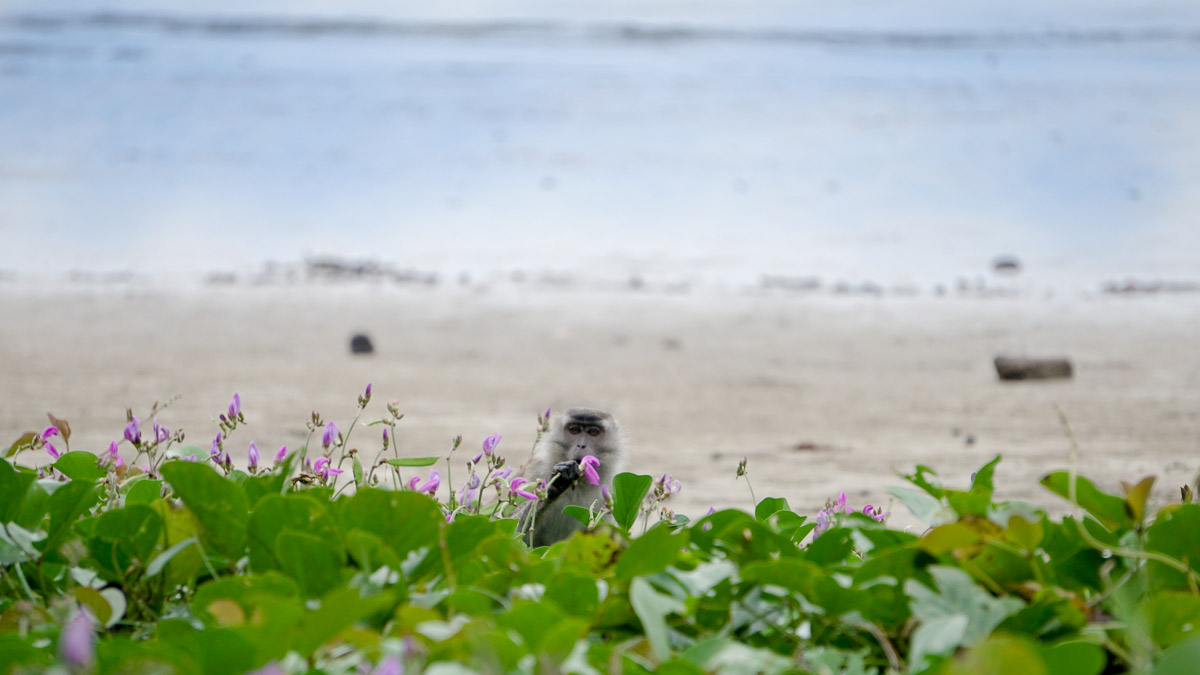 Seeing some macaques and proboscis monkeys along during the hikes were definitely a bonus to the already interesting flora along the trails.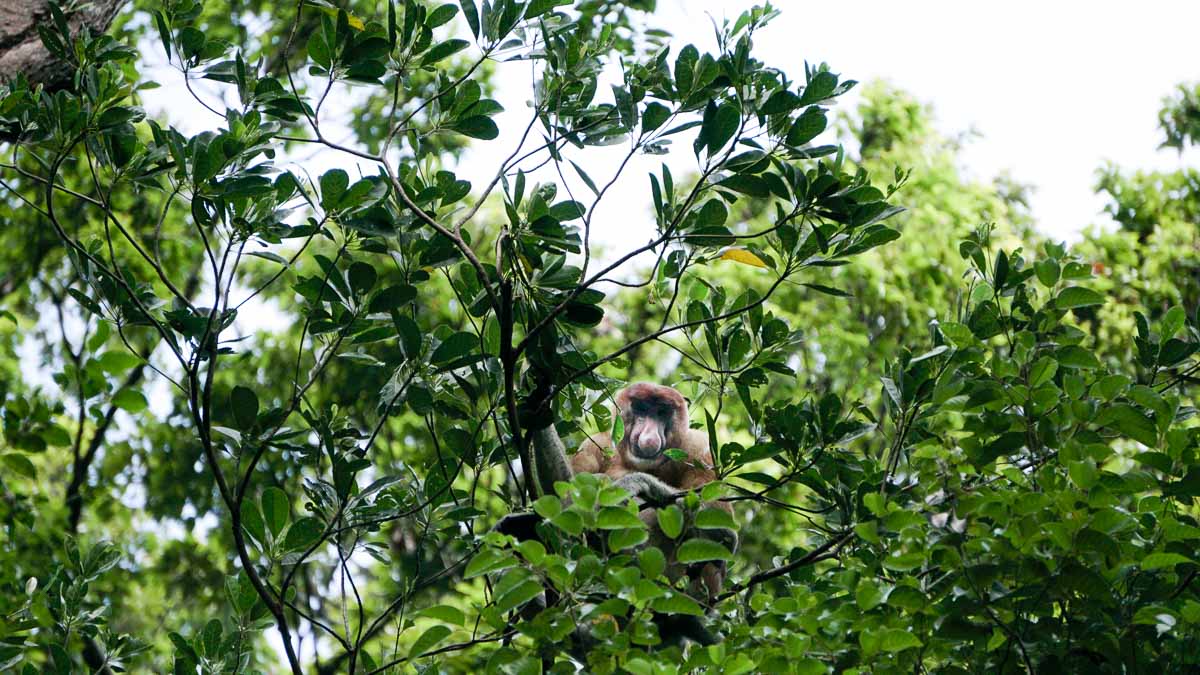 Telok Paku is a moderate trail with high chances of Proboscis monkeys' sightings. Do look out for them on treetops! As the monkeys hardly make any noise at all, they are not easy to spot. So if you do spot any of the elusive unusual-looking monkeys, be sure to spread the love and let other hikers know! At the end of this trail is a small, serene and undisturbed beach. The bright skies and blue waters are sure a great contrast to the densely packed green forest trail.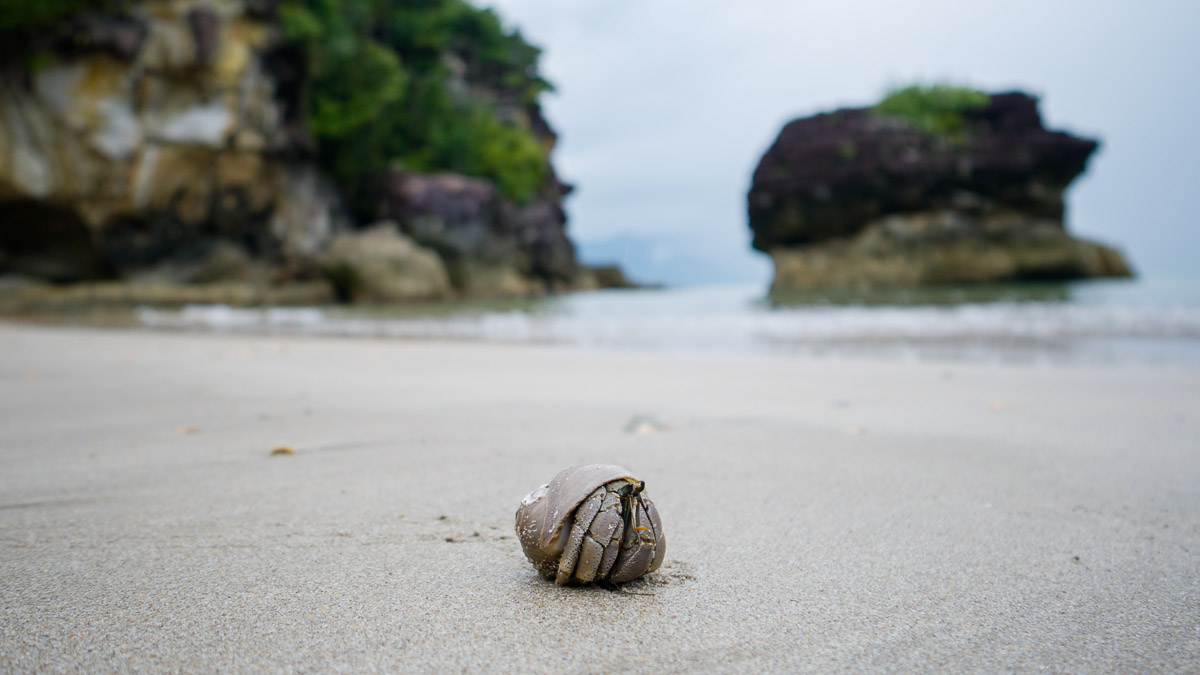 Telok Pandan Kecil trail is slightly longer and will take up to 3 hours' both ways. There are resting huts and lookout points throughout the trail, some with stunning views of the beaches and seas.
Check out Telok Pandan Besar if you are fast and have time too!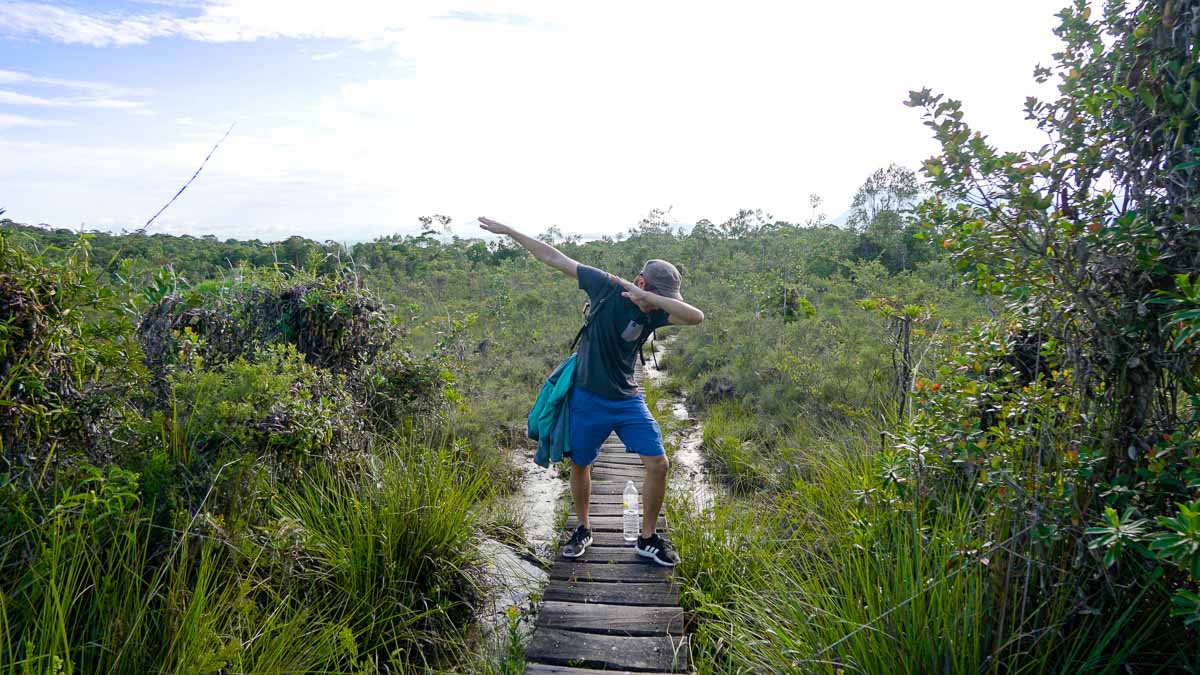 One interesting aspect of the hiking trails in Bako National Park is the varied terrain. One trail starts deep within thick rainforests before leading to a secluded mangrove beach. Another trail crosses open grass plains to pitted rocky plateaus before coming to an abrupt stop by a steep, sandy cliff.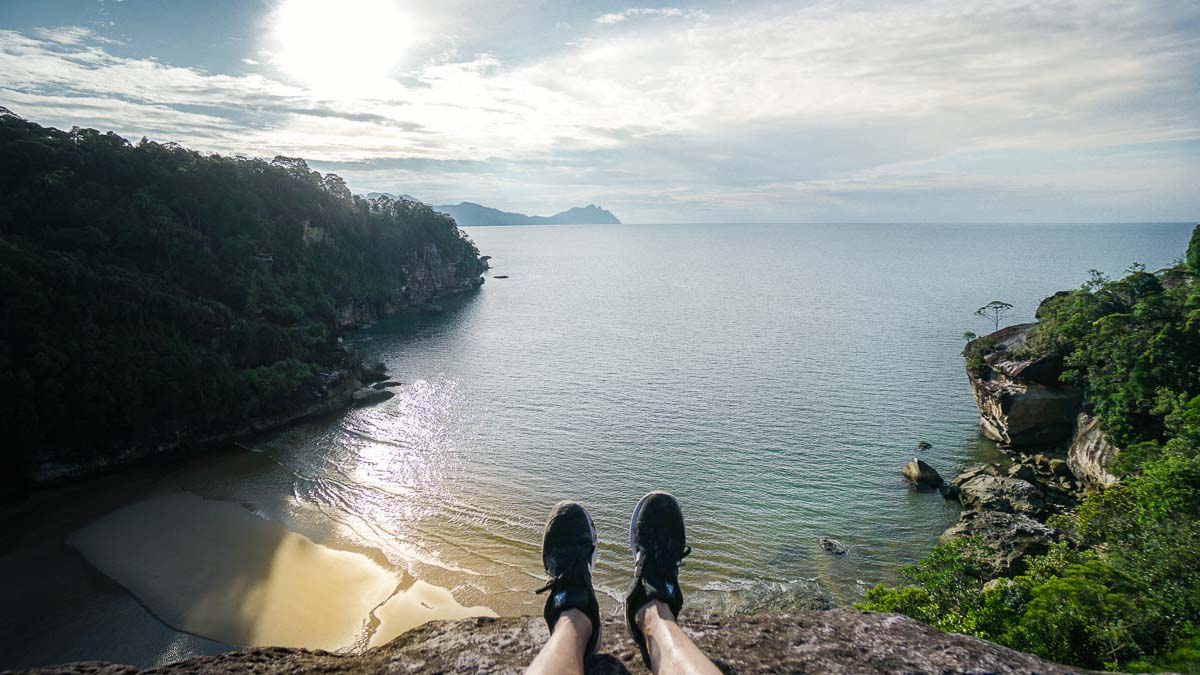 We finished both trails just before the sunset and were able to catch a glimpse of twilight just before the sky turns dark. It felt fantastic, letting your legs bring you to greater heights and feasting your eyes on lush vegetation.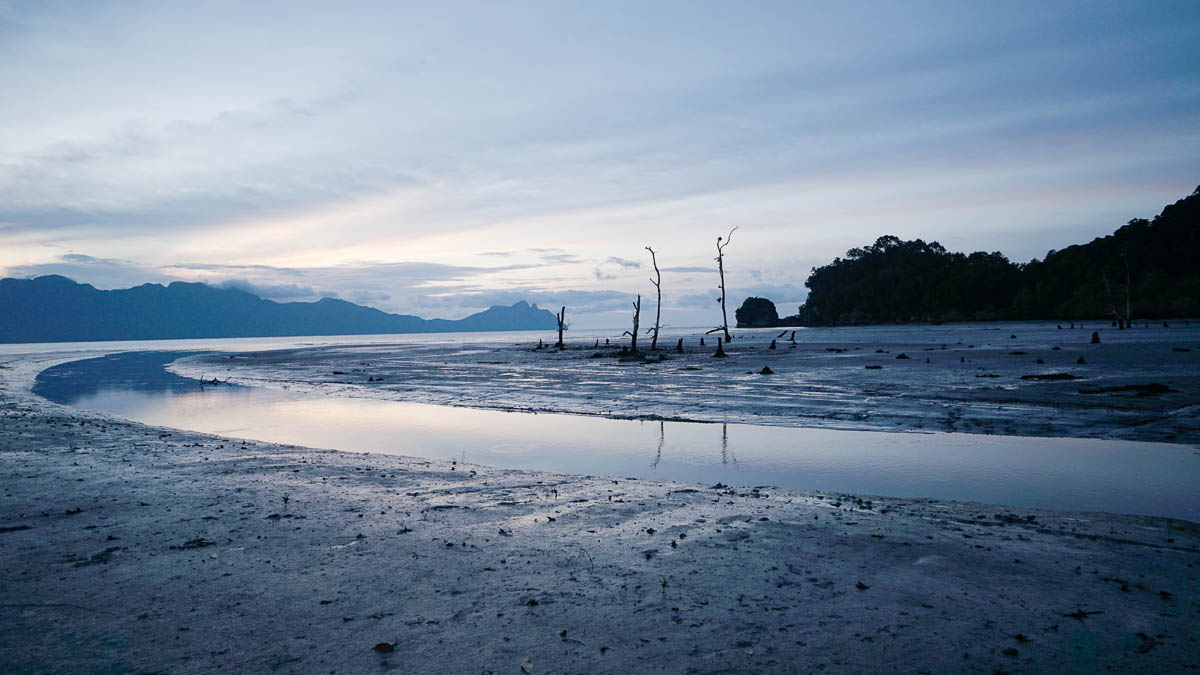 Plan your trip to Bako carefully though. If you start late (like us) and aim to complete more than 2 trails, you will need to stay overnight as the last ferry departs at 4 pm.
We opted for an overnight stay in Bako National Park since we wanted to take part in the guided night trail, which starts around 8 pm every night.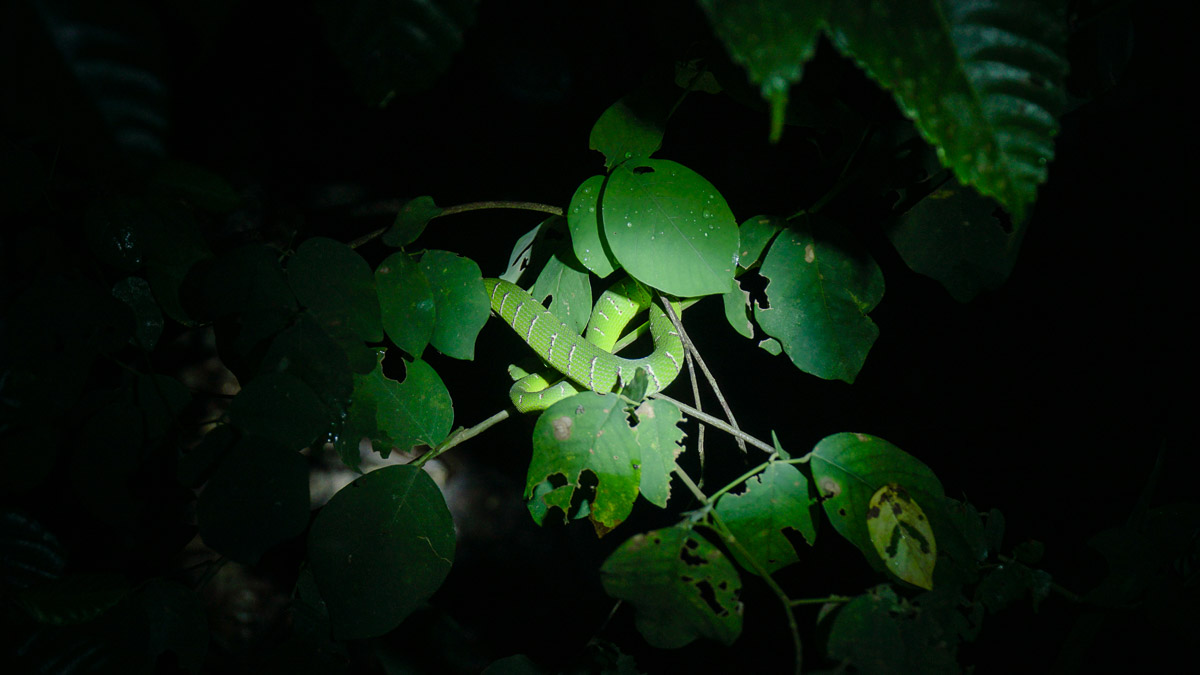 The 1.5 hour guided trail will show you some of the wild animals that reside at the national park. Besides the Proboscis monkeys, macaques and bearded boar, you can also spot flying lemurs, arachnids and snakes.
*Pro-tip: Bring headlamps along to light up the otherwise pitch-black path.
After a fantastic yet exhausting day spent ogling at nature, we headed back to our lodge and crashed for the next eight hours. There's limited wifi at the headquarters if you need to get connected for whatever reason.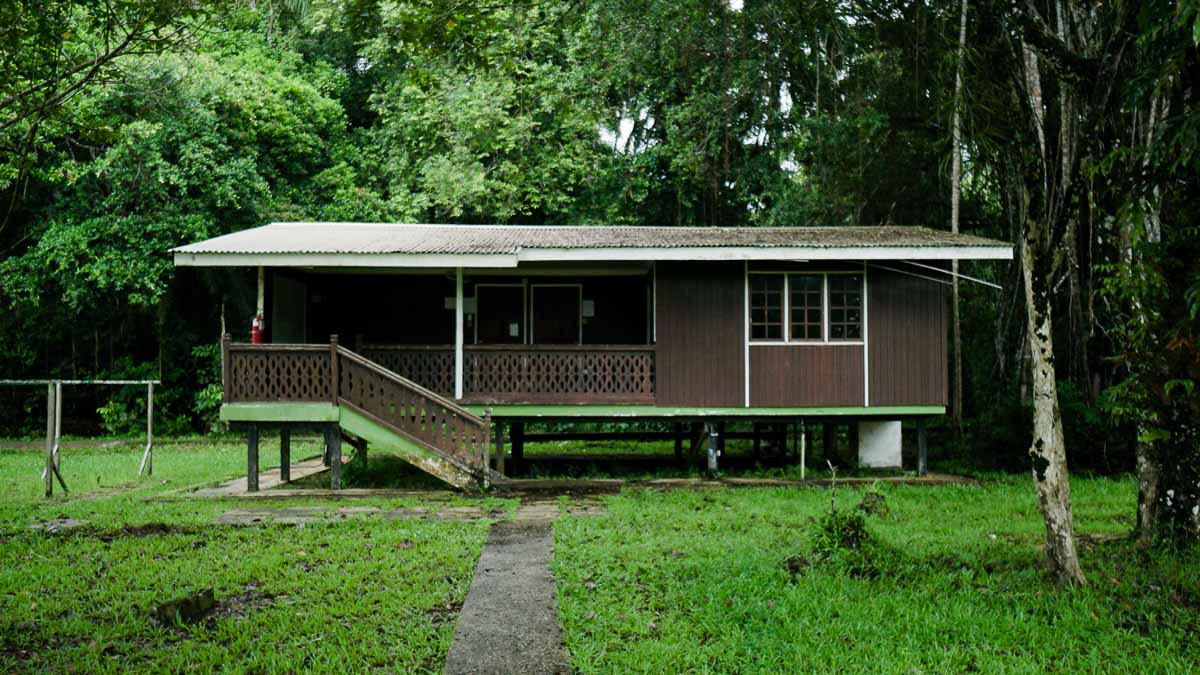 There are a few different types of lodging, with both air-conditioned and non-air-conditioned options. We stayed in a 3-bedded room, which was basic but clean and comfortable. They even provided fresh towels. Pretty good considering we were in the middle of nowhere. No hot water in our shared bathroom though!
Transportation:
Public Bus from city centre to Bako Ferry Terminal — RM3.50 per pax
Boat to Bako National Island from Bako Ferry Terminal on Mainland — RM20 per pax (single way)
Private boat from Bako National Park back to Ferry Terminal — RM120 per boat.
Accommodation:
3-bed/4-bed room — RM100 per night
Whole lodge with two 3-bedded rooms: RM150 per night
Check out more rooming and bedding options at the official site.
Meals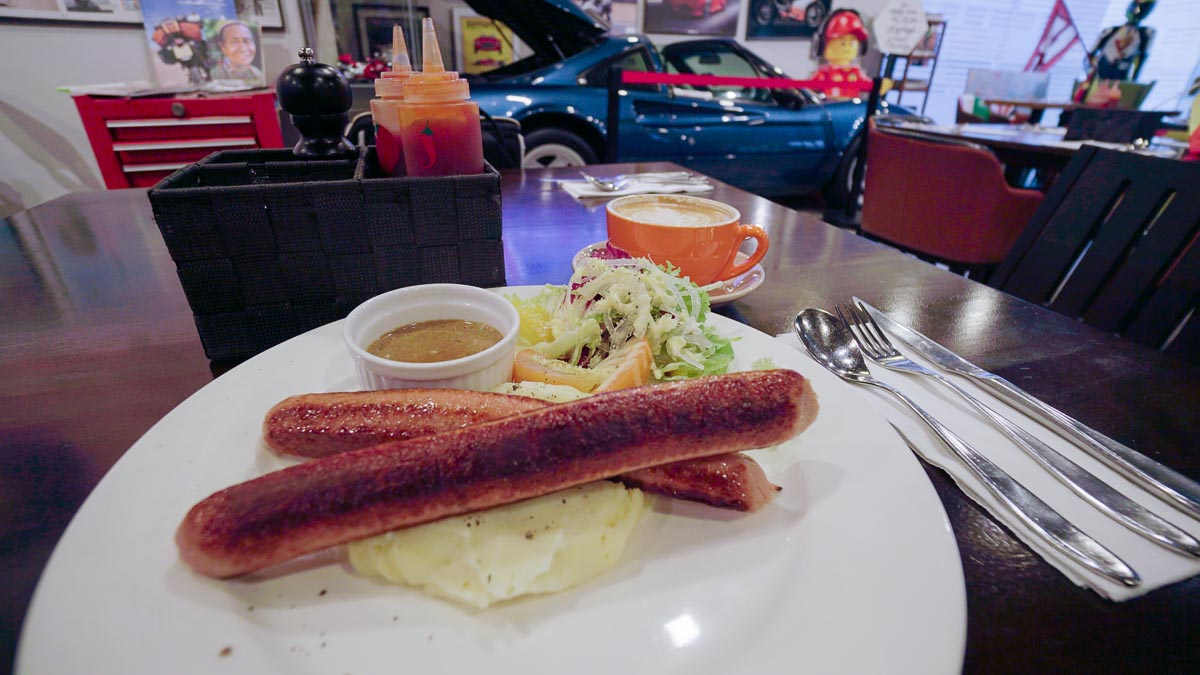 Breakfast at Feast & Furious Cafe
Address: 244 Jalan Tunku Abdul Rahman, 93100 Kuching
Opening Hours: 7:30am – 11:30pm daily
Lunch at Hakka Lui Cha
Cost: RM6 for the regular bowl; RM7 for the Large
Address:149 Jalan Pisang Barat, 93400 Kuching
Opening hours: 10am to 2pm (Closed on SUN)
Dinner at Bako National Park's Canteen
Day 3
More of Bako National Park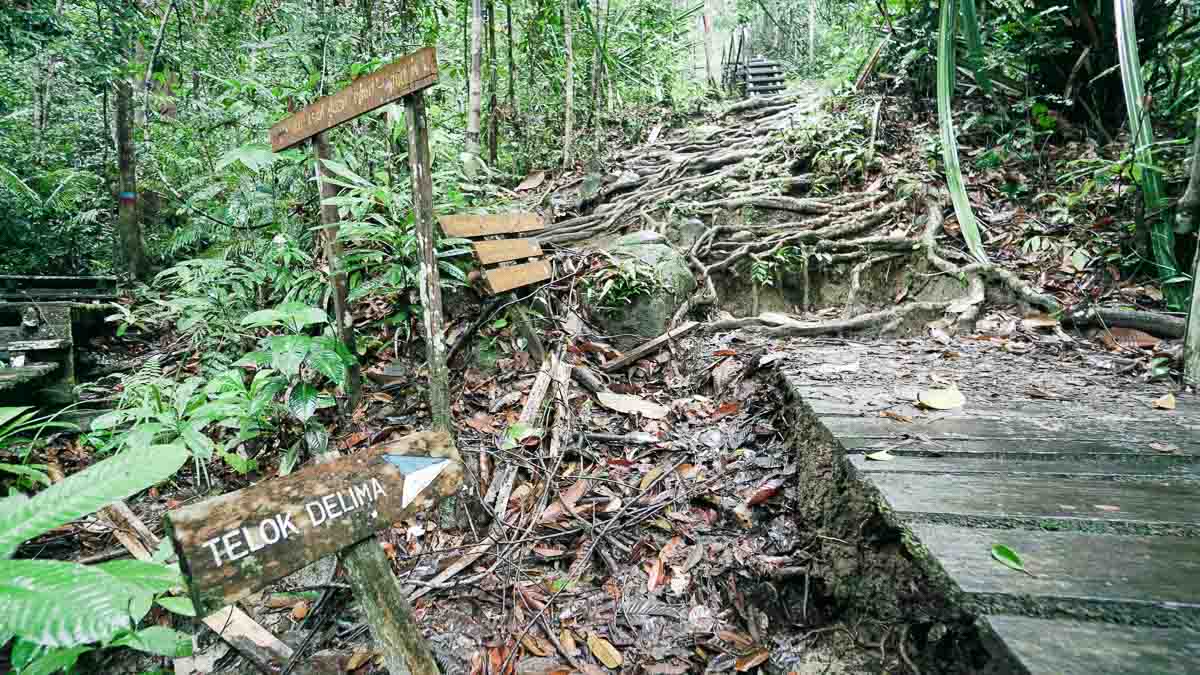 As we had a little more time to spare before heading back to mainland Kuching, we decided to head out for another hike. This time, we tried out one of the shorter trails – Telok Delima. This 30 – 45min trail starts from the park's headquarters, and is a great introduction for beginner hikers. This easy trail is mostly on flat ground, and also has high chances of spotting Proboscis monkeys.
Thereafter, we hopped onto the next boat out of Bako National Park and made our way back to the city. After a whole day of hiking, we took things slow and sashayed around the city.
Meals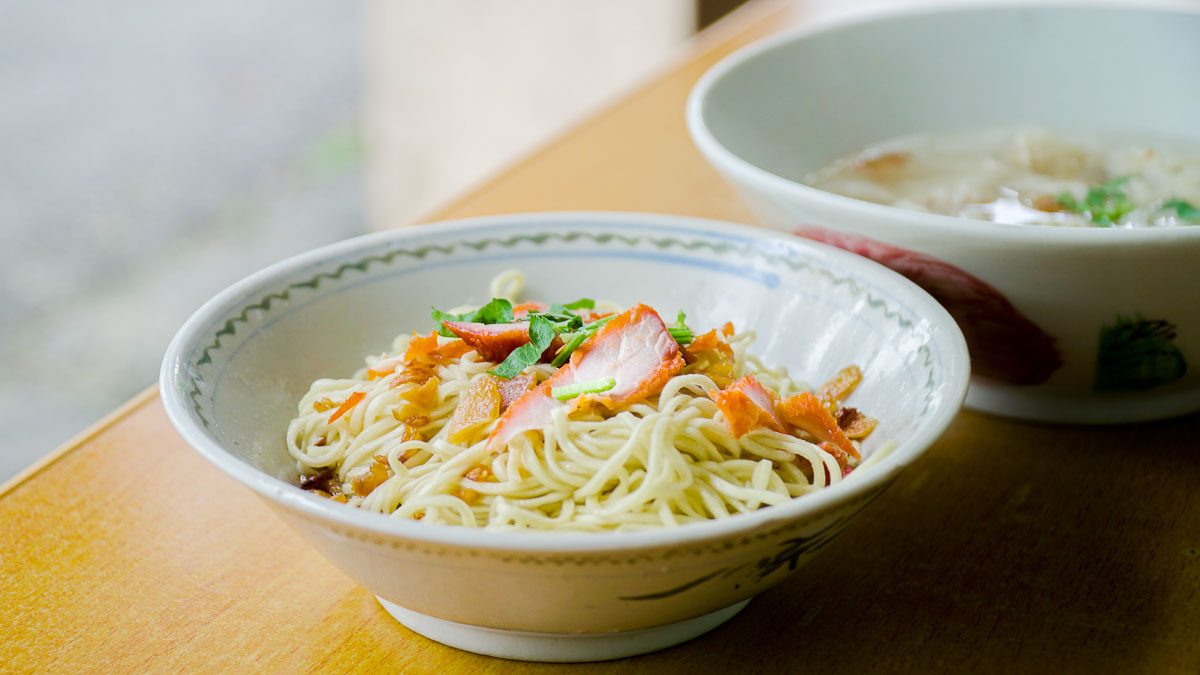 Lunch at Ta Wan Kung
Address: Lot285, Jalan Datuk Wee Kheng Chiang, 93450 Kuching
Opening Hours: 7am to 1pm daily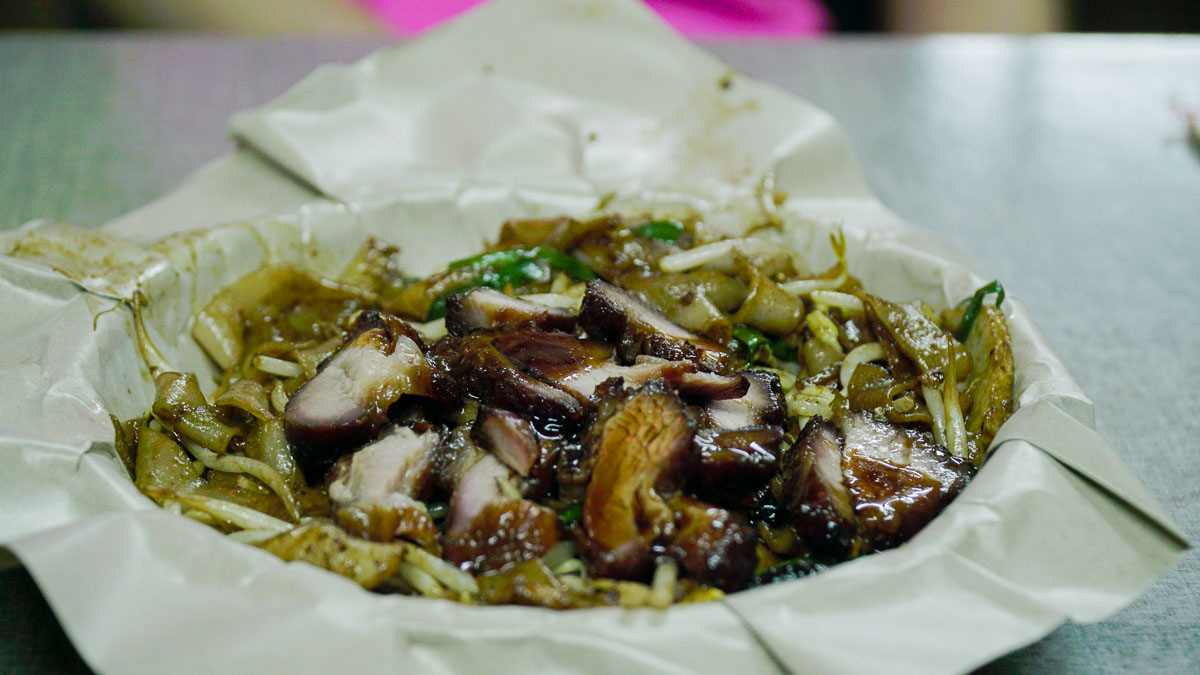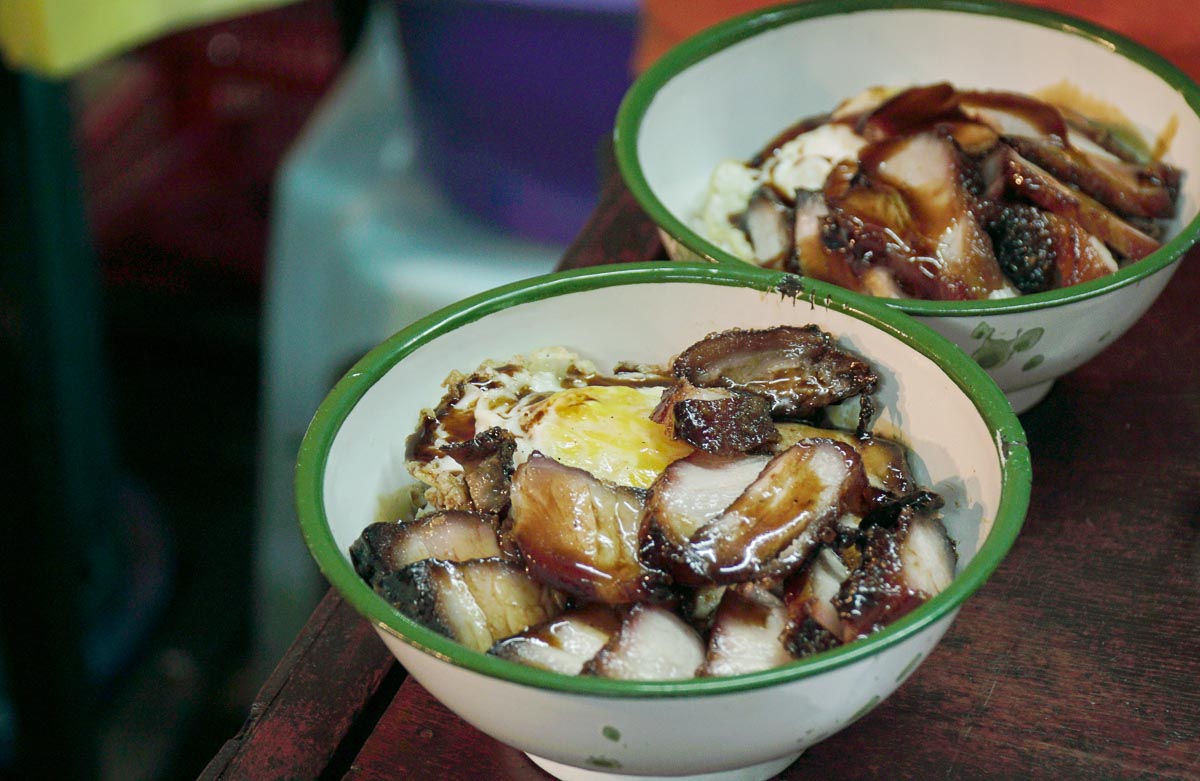 Dinner at 333 Charcoal Fried Kway Teow
Address: 333 Jalan Chawan 13, Taman Supreme, 93300 Kuching.
Opening Hours: 6pm to 10pm (Closed on SUN)
Check out our food adventure on 13 things to eat in Kuching!
Street Art Murals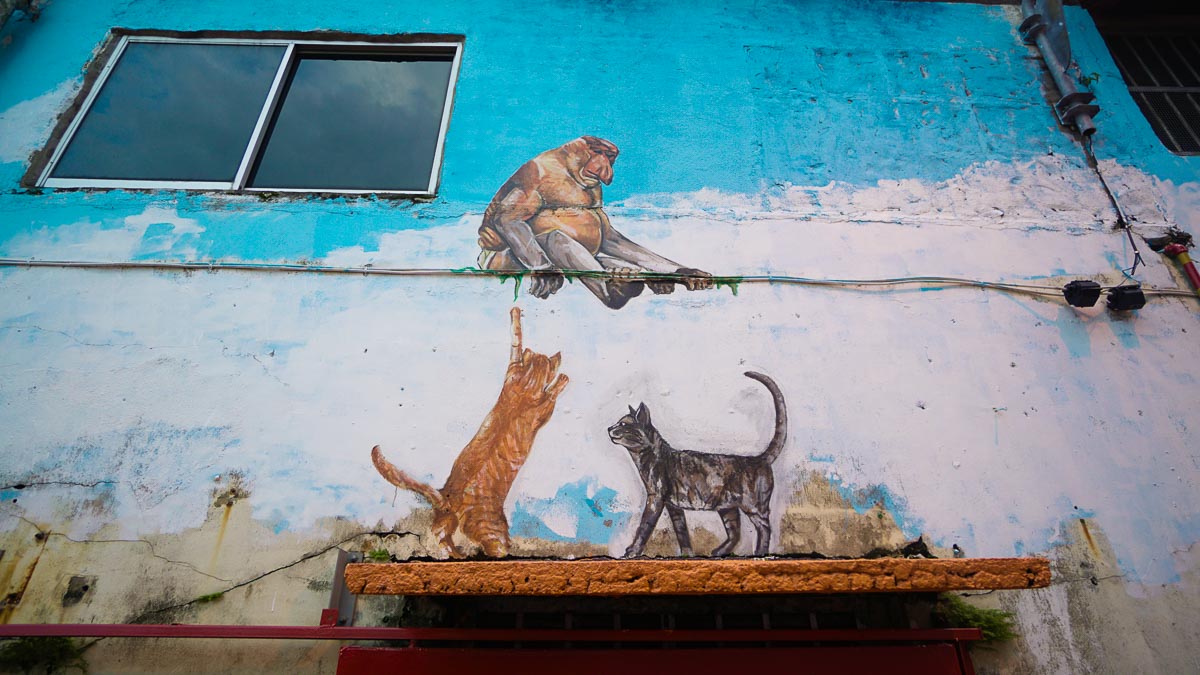 I'm sure by now you'll know that Malaysia's Penang has some very famous street art murals, but did you know that the Lithuanian street artist behind the famed "Little Children on a Bicycle" mural has also left his marks on Kuching's walls?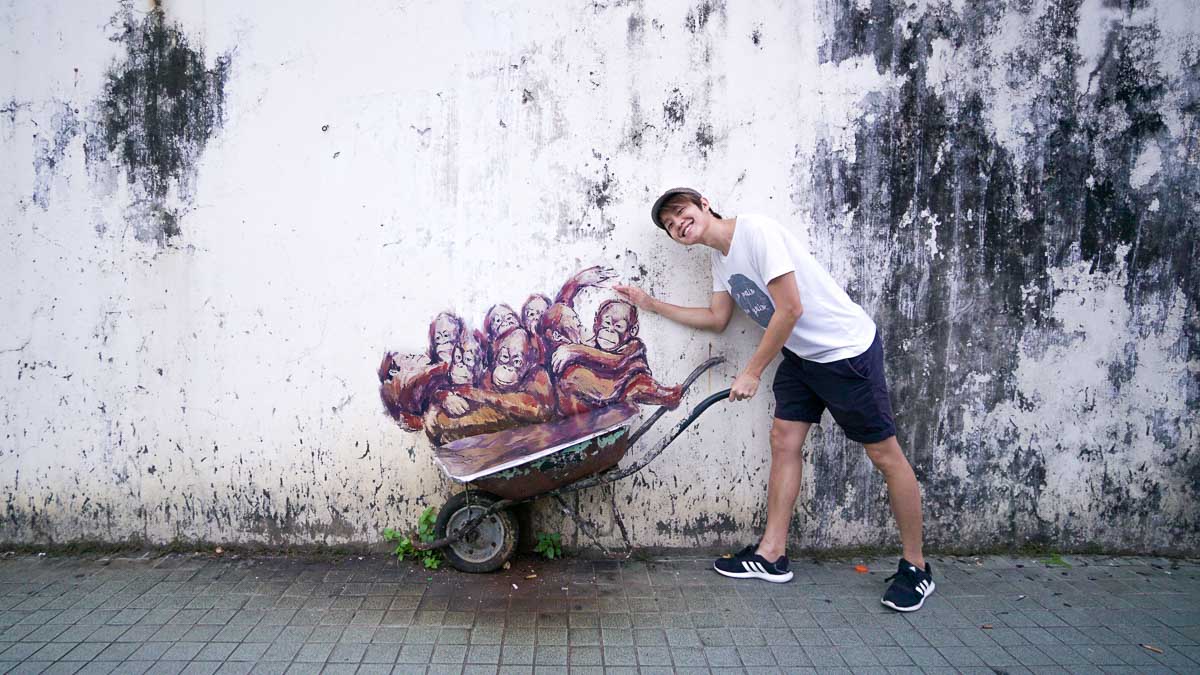 Zacharevic's interactive mural depicting baby orangutans on a wheelbarrow has added a tinge of playful youthfulness in along the old streets Kuching.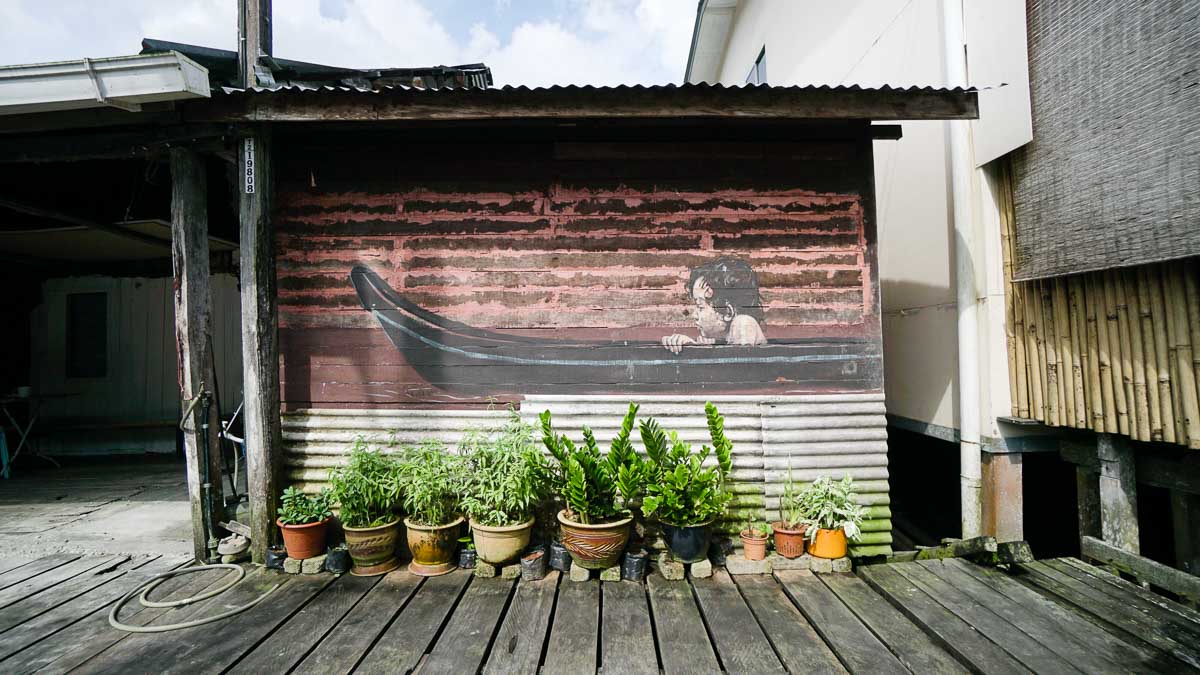 Besides Zacharevic's works, there are other colourful murals that are iconic to Kuching now. Follow our map below to find the murals.
Waterfront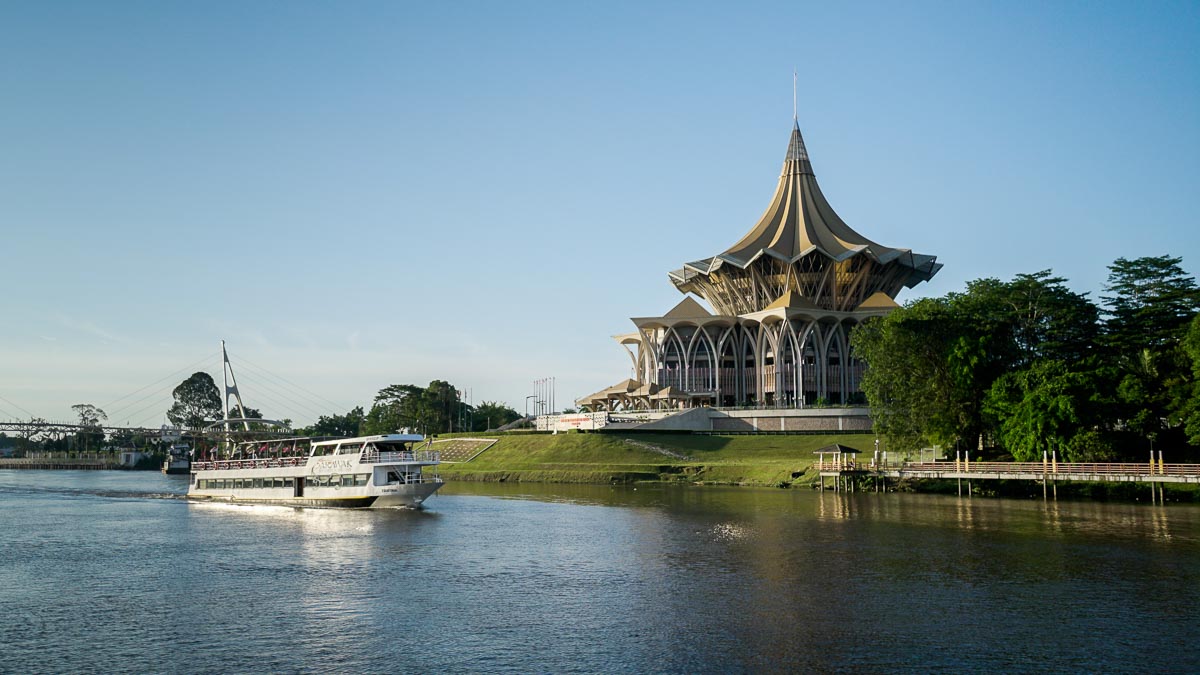 Kuching Waterfront, or the south bank of Sarawak River, is a great place to catch the sunset. Looking across from the south bank, you get the great views of the Dewan Negeri Sarawak (The New Sarawak State Legislative Assembly Building), The Astana, and the Fort Margherita.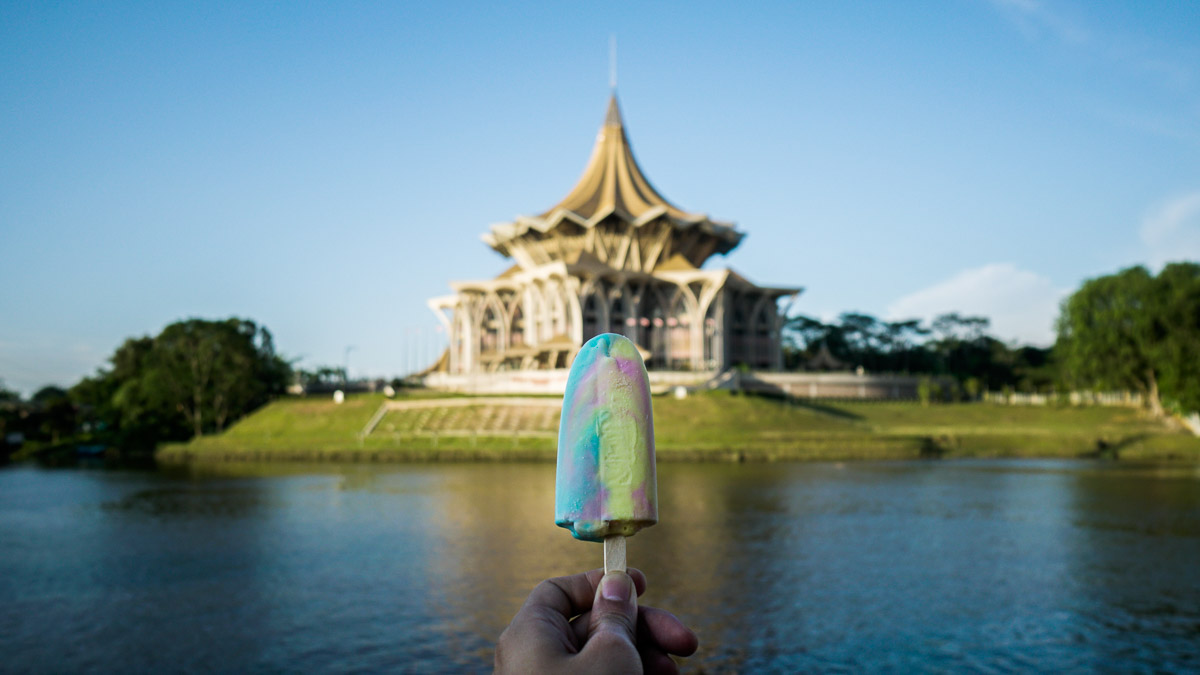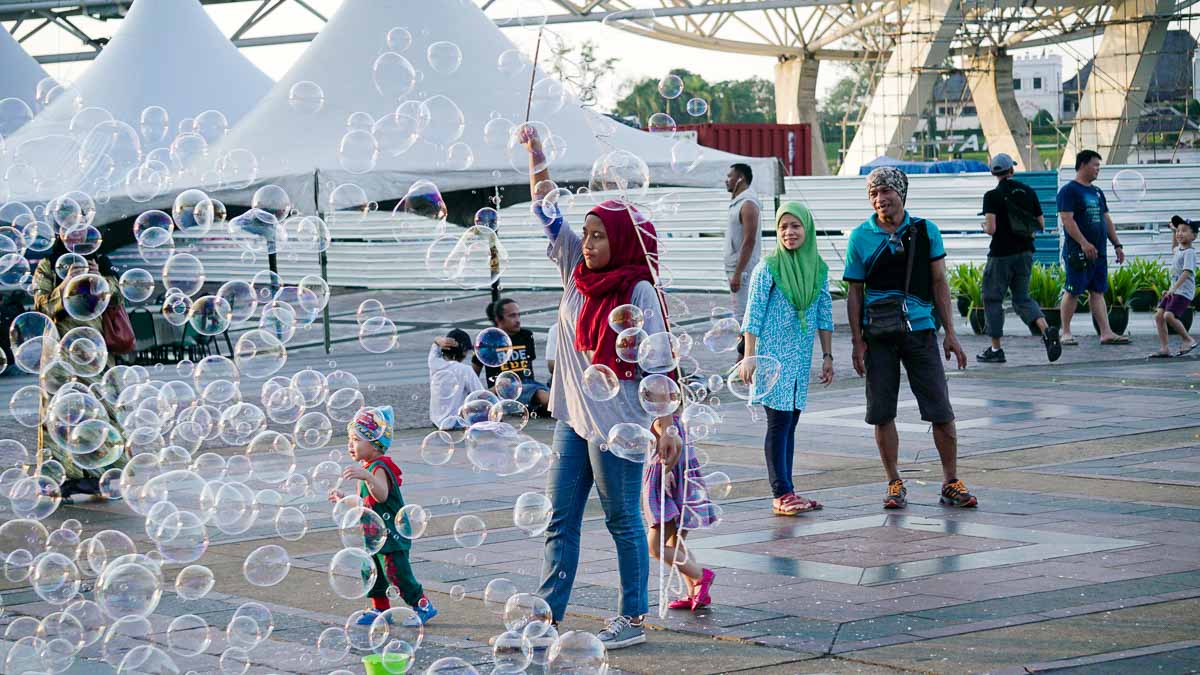 At around 5-6pm, bazaars get set up, and kids play with bubbles in front of the setting sun.
Foot Massage at Mirage
A holiday in South East Asia just isn't complete without a massage. After all the walking, our sore calf muscles sure deserved one. We went to Mirage Spa for an hour of rejuvenating foot & shoulder massage to soothe those aching muscles!
Price: RM58 for 60mins
Address: Lot 151 Sect 48 KTLD, Jalan Padungan Lama, 93100 Kuching
Opening Hours: 10 am – 10 pm (daily)
As the orange yolk sets and fades slowly into the horizon, we made our way to the airport, bidding Kuching goodbye for 3 days of non-stop fun.
Direct flights From Singapore to Kuching
Scoot now flies direct from Singapore to Kuching daily (starting 29 October 2017)! With departure and return arrival timings scheduled in the evening, we found that they are the perfect flights to maximise a quick getaway. Hop on a plane after work, play for 3 full days, return at night, and be ready to get back to work the next day. No need to take additional days of annual leaves just because of awkward flight timings.
Also, with roomy seats comparable to full-service airlines, a flight on Scoot is sure to be a comfortable one!
---
Malaysia
Similarly to Singapore, Malaysia is a country known for her diverse cultures, languages, and gastronomic experiences. Malaysia also provides endless vacation options no matter if you are looking for a luxury holiday getaway or an immersion in nature.
Useful Phrases in Bahasa Malayu
| | |
| --- | --- |
| Hello/Greetings | Apa kabar? |
| Thank you | Terima kasih |
| Please | Tolong |
| Sorry | Ma'af |
| Do you speak English? | Boleh anda cakap bahasa Inggeris? |
| Good | Bagus |
Other Useful Info
| | |
| --- | --- |
| Time zone of Kuching, Sarawak | +8 hours (Same as Singapore) |
| Telephone code | +60 |
| Currency | RM – Malaysia Ringgit (MYR) |
| Power plug | Type G – 240V 50Hz (Same as Singapore) |
For more travel visuals, follow us on IG @TheTravelIntern
This post was brought to you by Scoot.