This Busan itinerary shows you why this charming coastal city deserves more than just a day trip from Seoul!
Seoul and Jeju are popular holiday destinations in Korea, but few visit Busan beyond a day trip. I personally think this is a waste because there's actually so much more to do in Busan with its spectacular coastal sights, rich local culture, and buzzing urban districts.
Think of Busan as a unique blend of Seoul-meets-Jeju — definitely not as boring as I'd expected!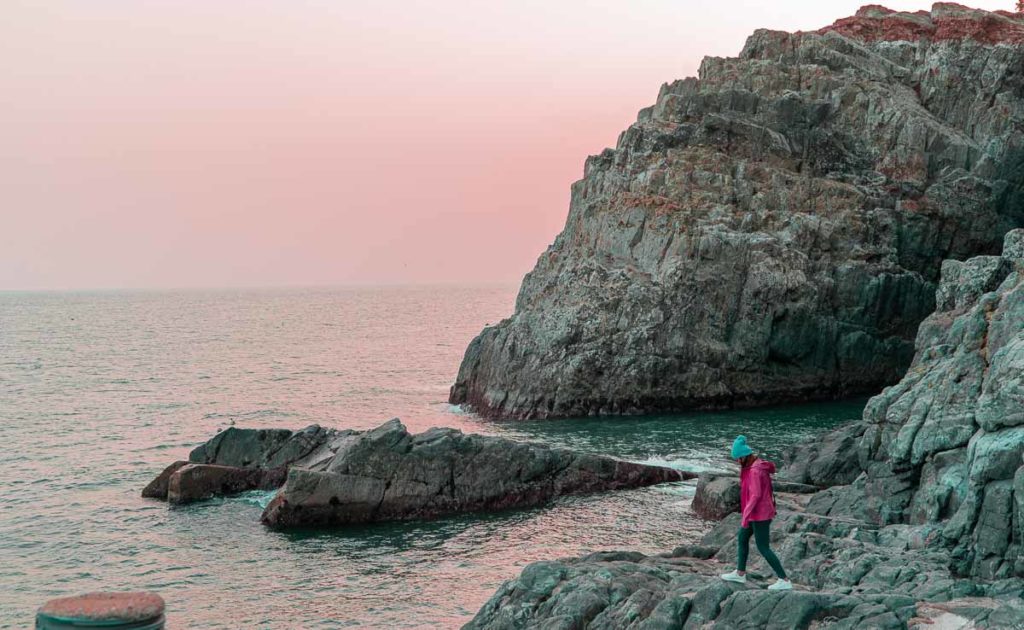 The best part? Busan is only two hours away from Seoul by train, so it's easy to add it to your Korea itinerary. Fun fact: Busan was also the film site of Marvel's Black Panther!
Read also: 7D Korea Itinerary for Under S$800 — Seoul, Nami, Jeonju, Busan with the Korail Pass
Pre-trip Essentials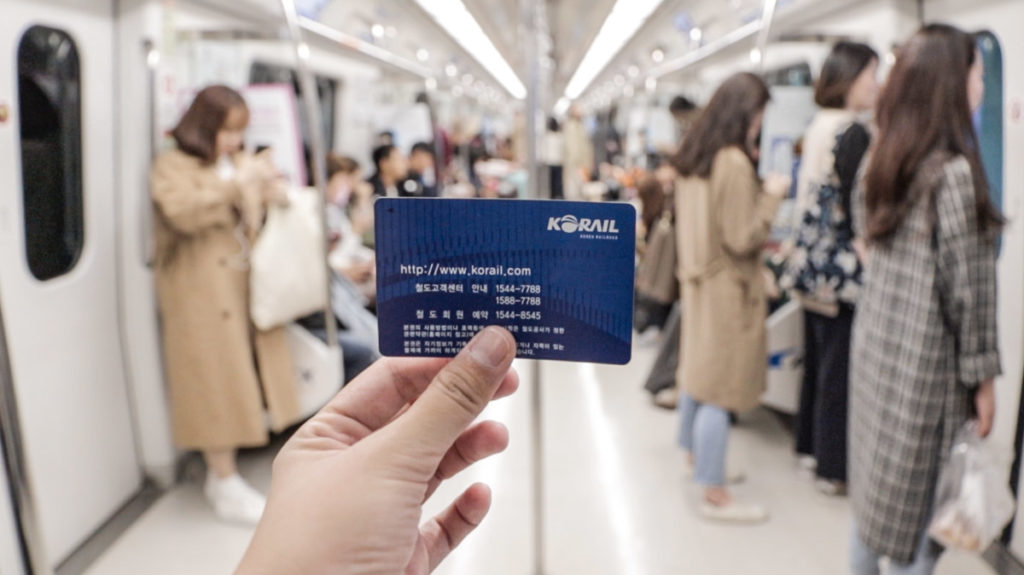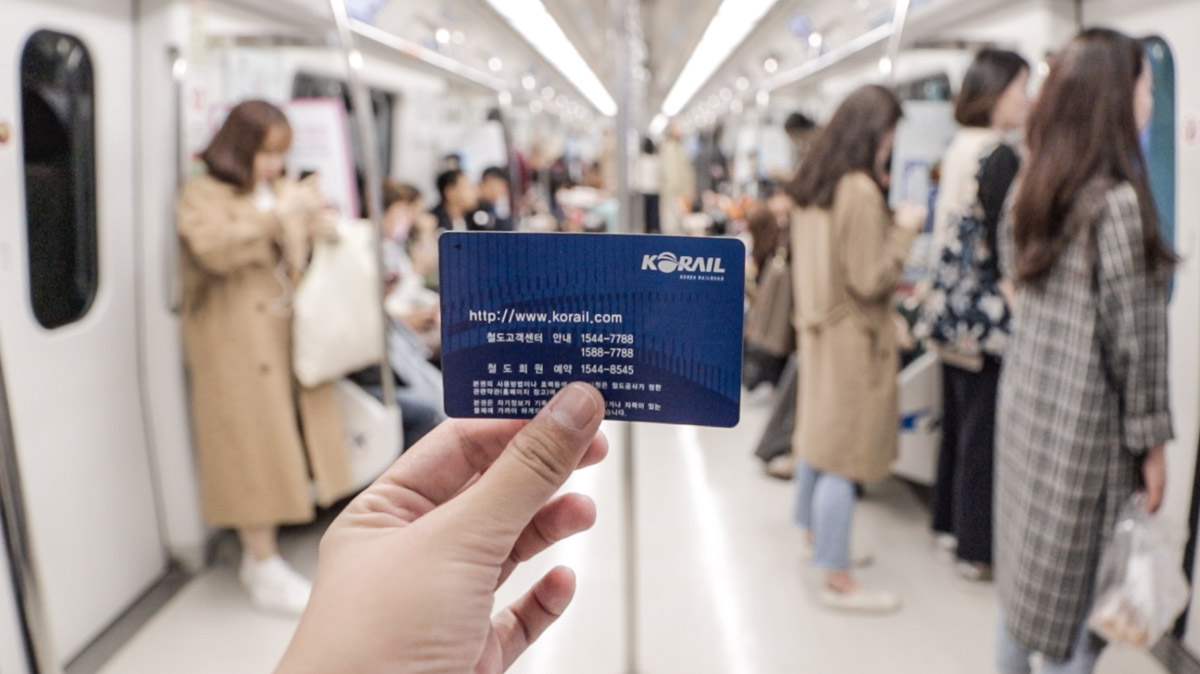 Train to Busan: From Seoul, the most convenient way is to take the KTX train (₩59,800, ~S$66). If you're planning to take a round trip train from Seoul, get the Korail pass instead.
Connectivity: South Korea has free public WiFi in certain zones, but we also had 5GB 4G SIM cards (~S$25) delivered to our doorstep before the trip.
Local Transport: It's easy to navigate Seoul and Busan's subways as long as you have the local transport card, T-money (you can use it to pay for taxis and goods too!). You can purchase it from any convenience store in Korea at ₩5,000 (~$5).
Apps: Naver Map is Korea's version of Google Maps — but better. It plans the most effective route to your destinations for you, making it seriously easy to get around! (iOS / Android).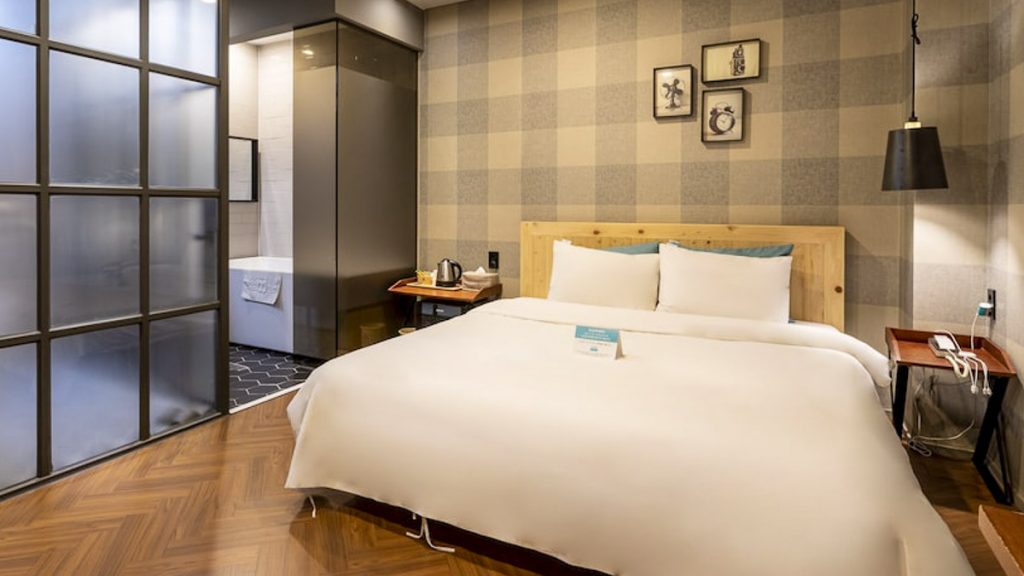 Photo credit: Hotel Ssorgente
Accommodation in Busan: In this itinerary, we booked a hotel near Sasang metro station in the Gwaebeop-dong area. Booking online via Klook was convenient and gave us peace of mind knowing that our accommodation was settled before we flew to Korea. Not to mention, it even included free breakfast meals!
Day 1: Experience Local Culture
Jagalchi Market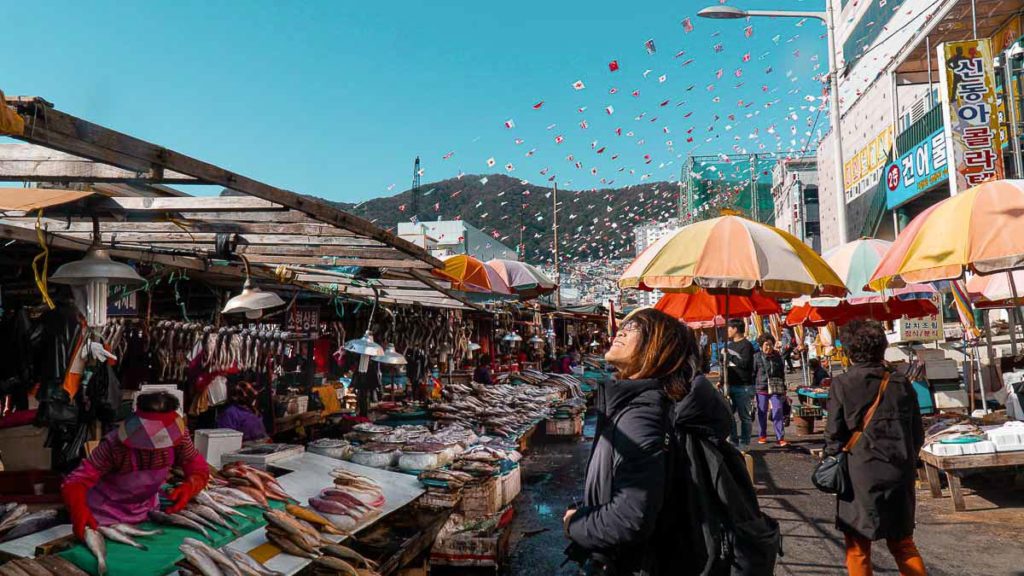 Busan is probably most famous for its fresh seafood, and every Busan itinerary would point you to Jagalchi Market, one of the top few places to visit. The real allure? Being able to buy live seafood and have it cooked at nearby restaurants. Be prepared to spend anywhere between ₩20,000 (~S$22) and ₩40,000 (~S$44) though!
If that's out of your budget, just explore the market. You'll get a charming and authentic insight into local life as you wander through the indoor and outdoor markets. The ajummas are really friendly and will even offer you free samples!
Opening hours: 5AM – 10PM (Restaurants open from 9AM)
Address: 52, Jagalchihaean-ro, Jung-gu, Busan
Whip Up Authentic Busan Korean Cuisine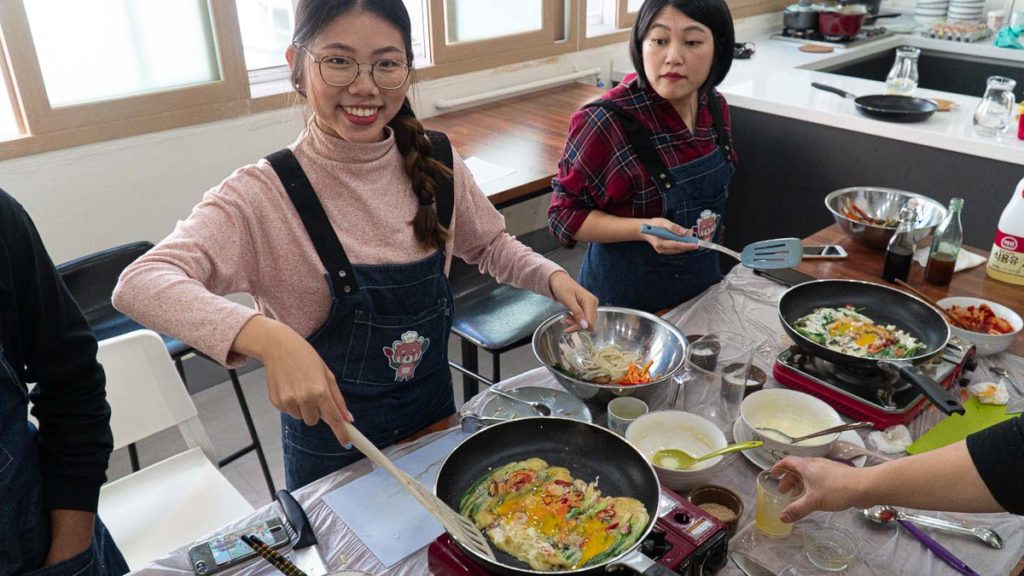 For those who prefer a more hands-on experience, what better way to learn about Busan's food culture than to cook it yourself?
At Busan Cooking Class, you'll be guided by an experienced local chef who'll teach you how to make various dishes such as dongnae pajeon (seafood and green onion pancake), miyeokguk (seaweed soup with clam), and beoseot japchae (stir-fried glass noodles).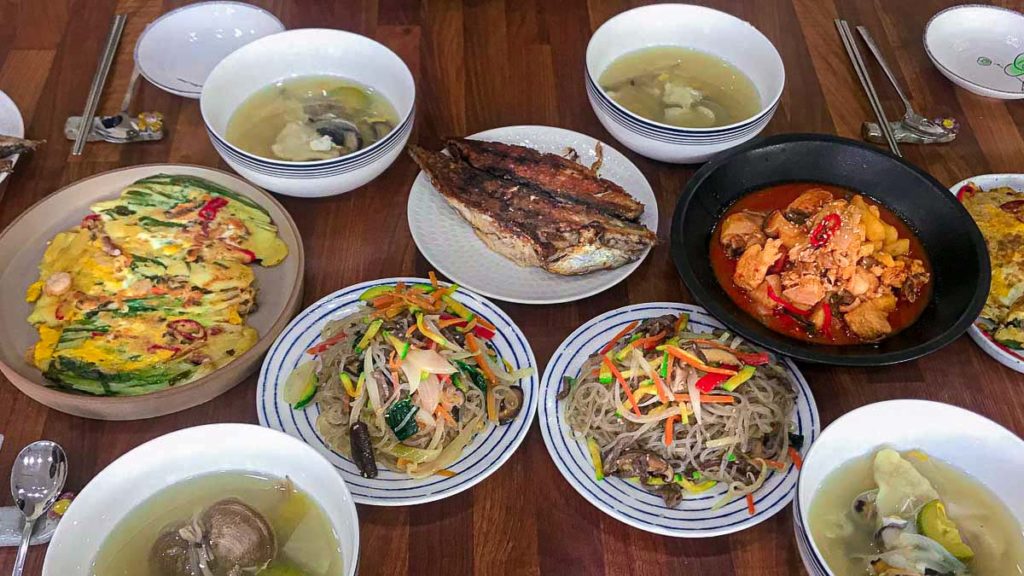 Each class takes about three and a half hours and at the end of it, you'll be serving up four different dishes made with local ingredients, accompanied by local rice wine.
As a special souvenir, you'll also get to bring back the food recipes to recreate these Korean dishes for your family and friends back home!
Cost: ₩85,000/adult (~S$93)
Class timing: 10AM – 1:30PM
Address: 2F, 15, Gudeok-ro 186beon-gil, Seo-gu, Busan
Gukje Market & Gwangbokro Fashion Street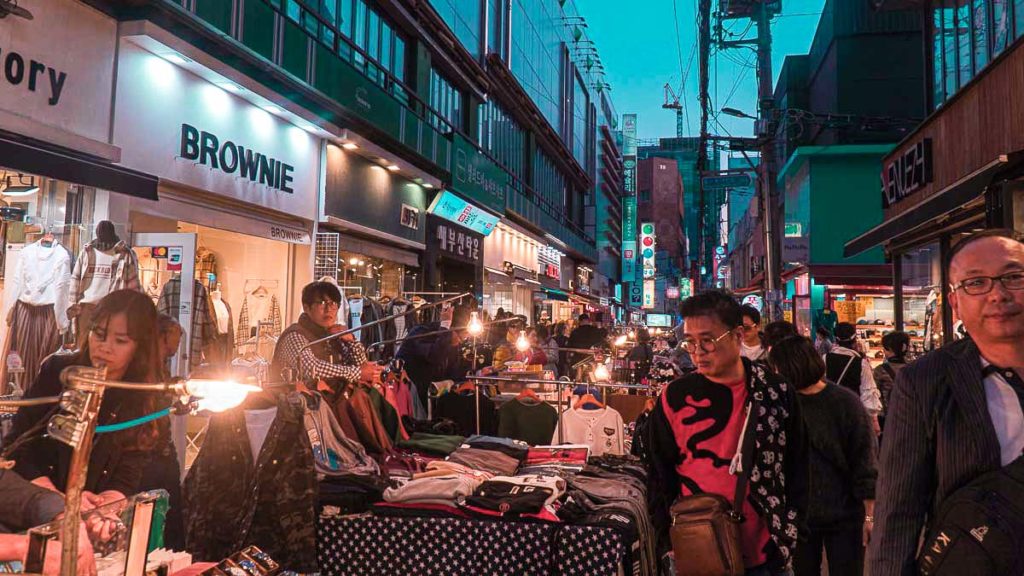 Don't be deceived by the mention of yet another "market"! This one's a little different with a smorgasbord of street food, household items, snack shops, and more. The Gukje Market is connected to Gwangbokro Fashion Street — my personal shopping heaven of vintage shops, indie brands, and cheap basics (hello to my new S$9 "Stussy" sweatpants 😍).
Opening hours: 9AM – 8PM (Closed every 1st and 3rd Sun of each month)
Address: 25, Gukjesijang 2-gil, Gwangbok-dong, Jung-gu, Busan
*Pro-tip: Come in the afternoon when it's not as crowded, and you can try bargaining for cheaper prices!
BIFF Square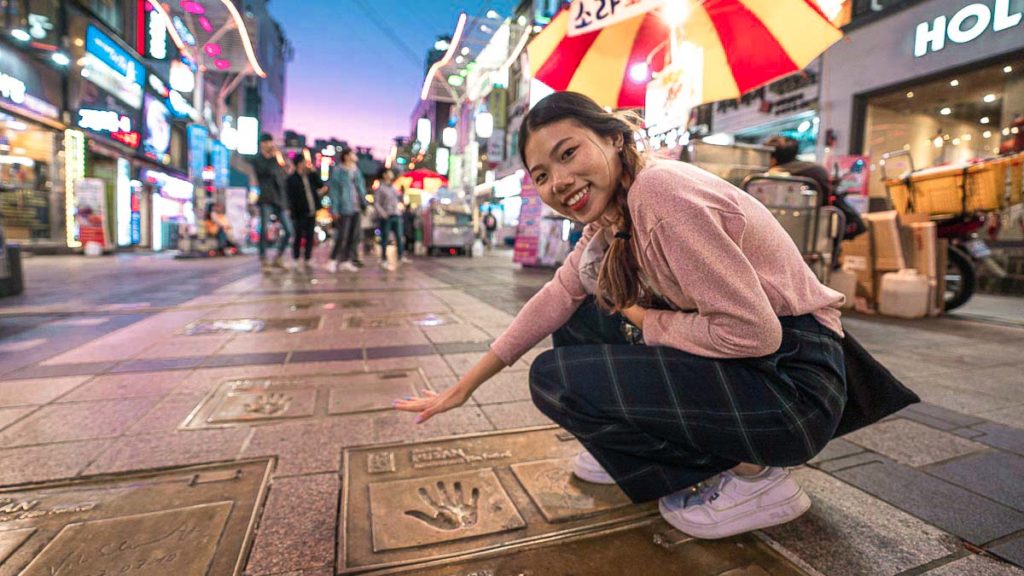 BIFF Square is located in the same area as Gwangbokro Fashion Street. It's appropriately dubbed the Hollywood Boulevard of Busan with its equivalent of the Hollywood Walk of Fame! I was quite happy to spot the iconic Zhang Yimou's handprints 🤩.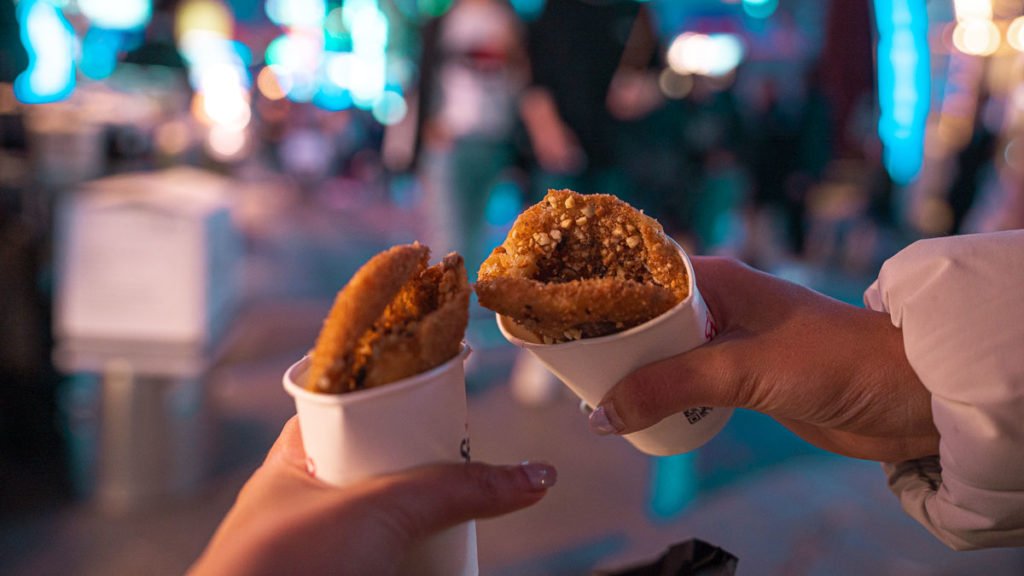 One thing you absolutely cannot miss out on at BIFF Square is the ssiat hotteok (Korean pancake) stall near the entrance. It's insanely famous and garners long queues daily. Think hot, crispy bread rolled in brown sugar and stuffed with a mix of sunflower seeds and nuts. It tastes as good as it sounds, and costs only ₩2,000 (~S$2)!
Opening hours: 9AM – 10PM
Address: 58-1, Gudeok-ro, Nampo-dong, Jung-gu, Busan
Galmegi Brewery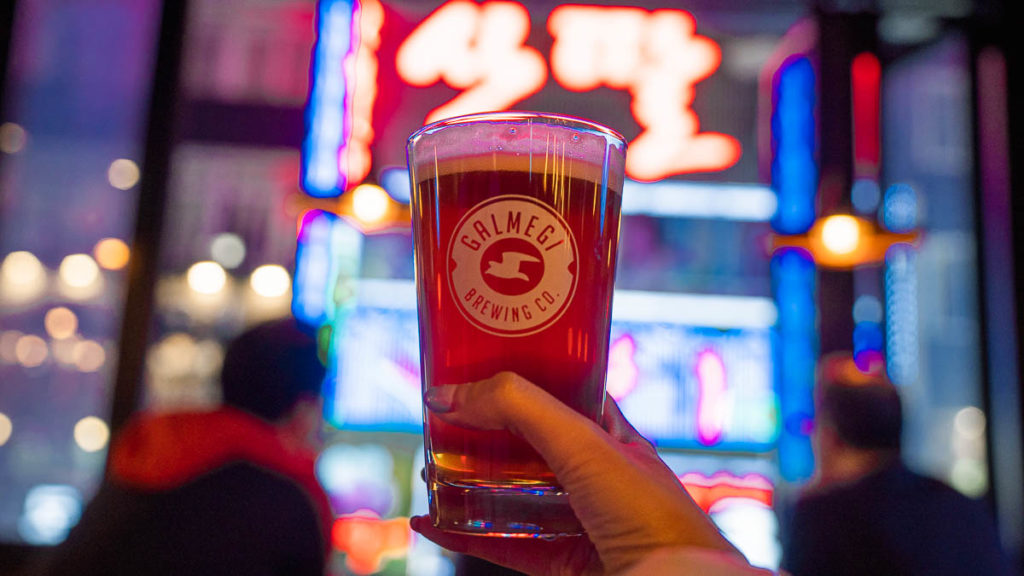 Galmegi Brewery Co. revolutionised Busan's craft beer scene as the first American-style microbrewery and pub in the city. It even sells award-winning brews like the Espresso Vanilla Stout (₩7,500, ~S$7.50) and Yuja Gose (₩7,000, ~S$7)!
There are many branches around Busan's many hotspots (like Nampo and Haeundae), but the Gwangan Branch is the original with floor-to-ceiling windows that are perfect for people-watching.
Opening hours: 5PM – 1AM (Mon – Thu, Sun), 4PM – 2AM (Fri – Sat)
Address: 58, Gwangnam-ro, Namcheon-dong, Suyeong-gu, Busan (Gwangan Branch)
Day 2: Explore Busan's Coasts
Oryukdo Skywalk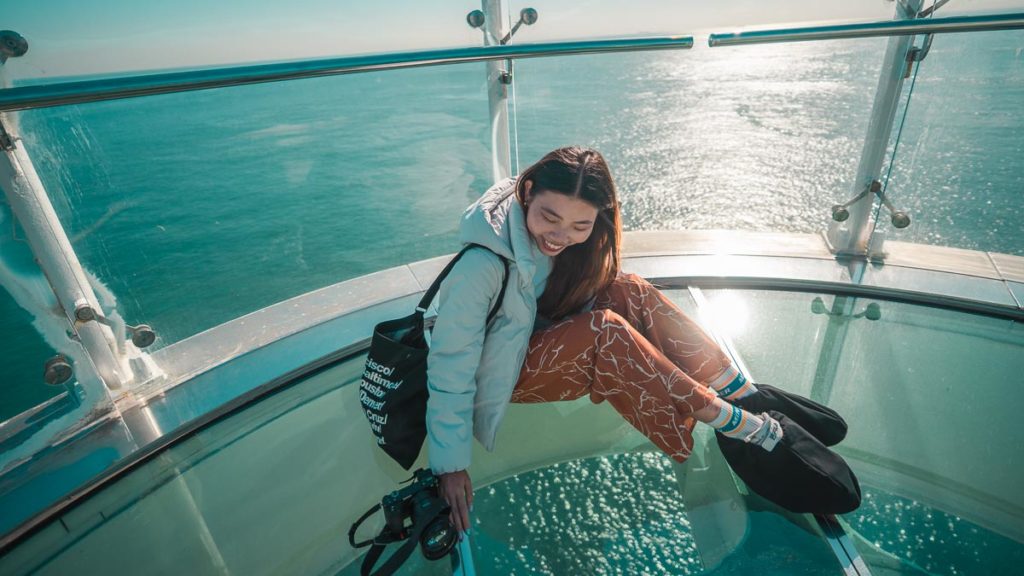 Oryukdo Skywalk is a popular glass bridge set up against a coastal cliff overlooking Oryukdo Island. It was pretty cool watching the waves crash against the cliff from above. The bridge also makes a great stopover for photos if you're on the way to your next destination!
Entrance fee: Free
Opening hours: 9AM – 6PM (Last admission at 5:50PM)
Address: 137, Oryuk-doro, Yongho-dong, Nam-gu, Busan
Haedong Yonggungsa Temple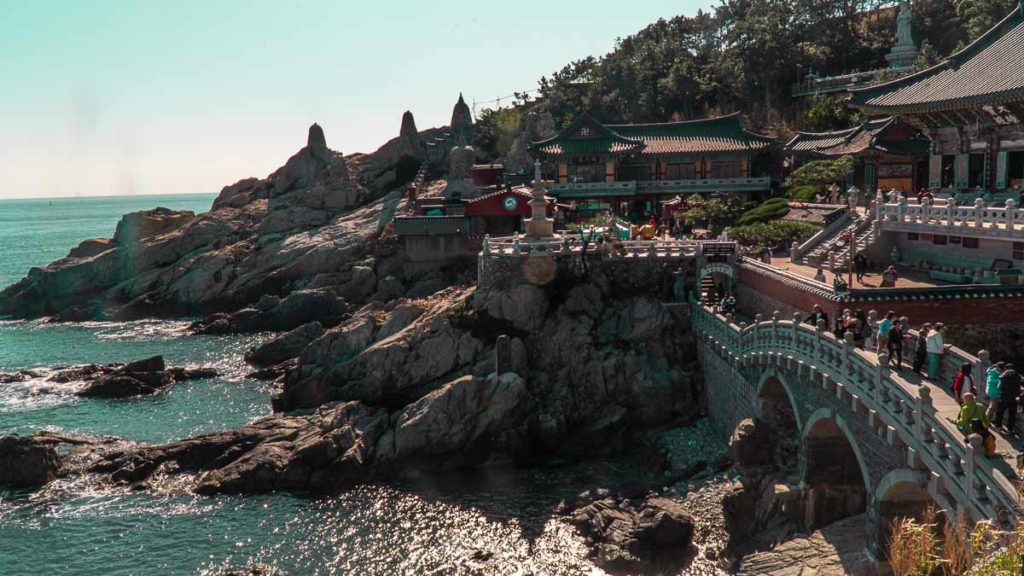 The Haedong Yonggungsa Temple is widely known as the most beautiful temple in Korea. It's not surprising, given that it's literally on a cliff by the blue Busan ocean. Here, you can pray for various blessings like academic achievements (sign me up!), or visit the Jijang Bosal (The Bodhisattva of the Afterlife) statue at the sunrise platform.
Entrance fee: Free
Opening hours: 5AM – Sunset
Address: 86, Yonggung-gil, Gijang-eup, Gijang-gun, Busan
Jukseong Dream Church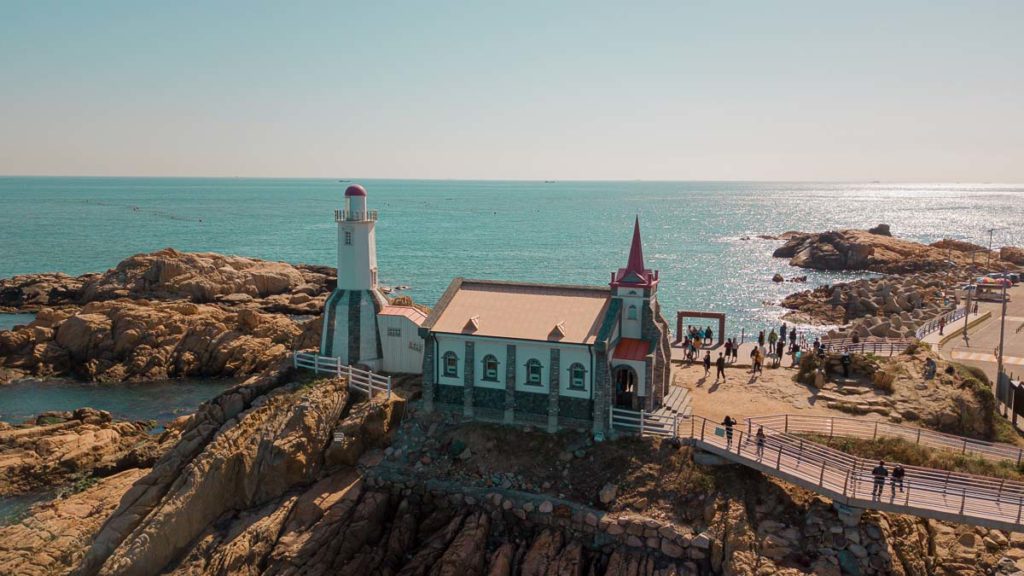 This place isn't really a church, but a set built for a 2009 drama called Dream! You can't really do much here besides admire the architecture and surrounding scenery. That said, it's so popular and beautiful that many come here for their wedding shoots (or Instagram feed).
Entrance fee: Free
Opening hours: 24 hours
Address: 134-7, Jukseong-ri, Gijang-eup, Gijang-gun, Busan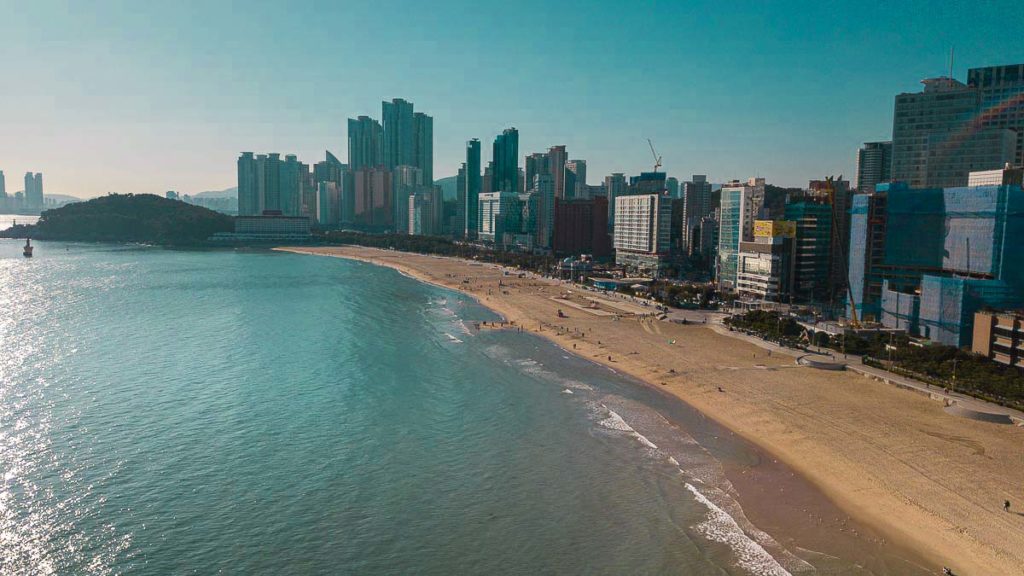 We actually took a half-day tour to bring us to the four attractions above. This was convenient as it came with a pick-up bus service and English-speaking tour guides! The tour ends with a free hotteok (Korean pancake) at the end.
If you have the time, you can do a full-day tour where you'll hit attractions like the Gijang Traditional Market, Cheongsapo Skywalk and Lighthouse, and more.
East Busan Exploration Tour (half-day tour)
Cost: ~S$30/adult
Tour timing: 8:30AM – 1PM
Note: The East Busan Exploration half-day tour allows the option to end at Haeundae Beach, Gijang Traditional Market, or Lotte Premium Outlets.
Alternatively, you can also go on this full-day tour (~S$46) where you'll get to visit must-see attractions like the Songdo Skywalk and Gamcheon Culture Village, plus enjoy a Busan specialty lunch mid-way!
Busan SEA Life Aquarium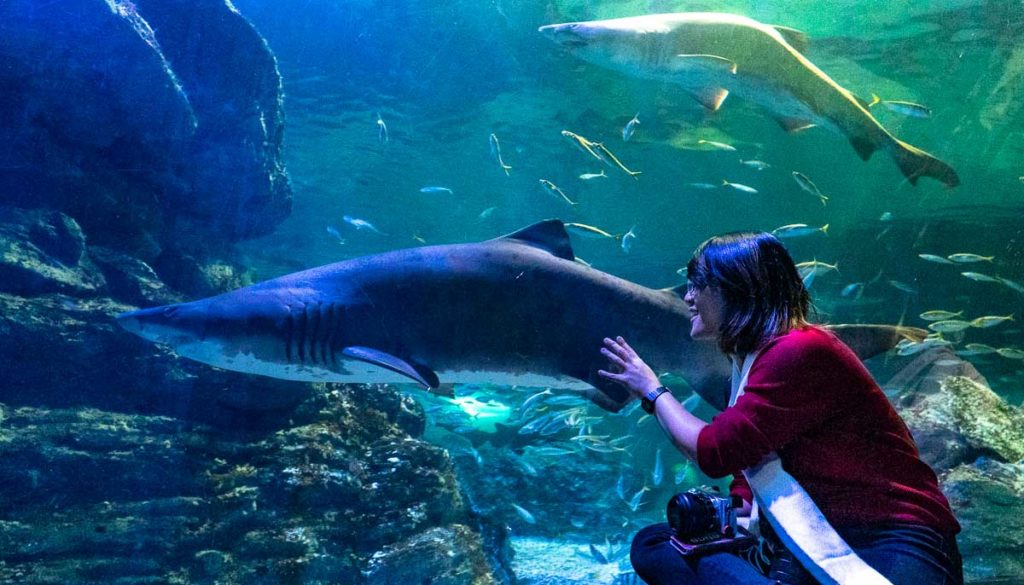 The Busan SEA Life Aquarium is right beside Haeundae beach. It's a great place to admire and observe the marine life this coastal city has to offer — especially during the colder months when you can't really enjoy the beach.
Keep your eyes peeled for exciting shows like shark and stingray feeding sessions or even a glass-bottom boat ride! I liked how there were also interactive games throughout the aquarium. How do you feel about testing your reaction time against a shark's?
For the IG-obsessed, you'll be happy to know there are tons of photo opportunities here as well!
Entrance fee: ₩29,000/adult (~S$32)
Opening hours: 10AM – 7PM (Weekdays), 10AM – 8PM (Weekends)
Address: 266, Haeundaehaebyeon-ro, Haeundae-gu, Busan
Haeundae Beach and Goraesa Fishcake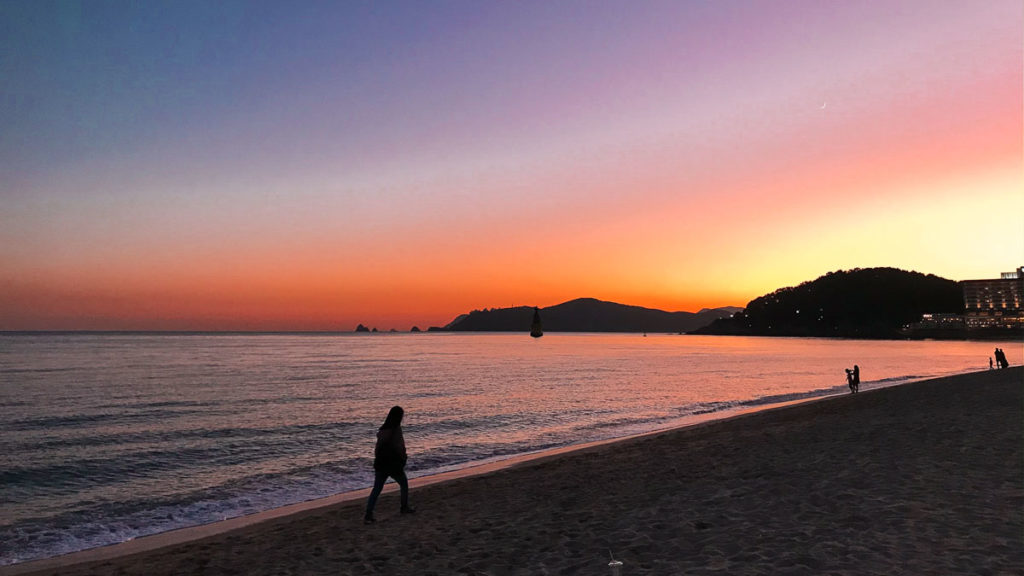 Haeundae Beach is arguably Busan's most famous beach, and this was where I probably witnessed the most beautiful sunset during my time with The Travel Intern. It looked like something straight out of the movies! Even if you're outside the summer beach season, dropping by to catch the sunset is a must-do on your Busan itinerary.
Entrance fee: Free
Address: 264, Haeundaehaebyeon-ro, Haeundae-gu, Busan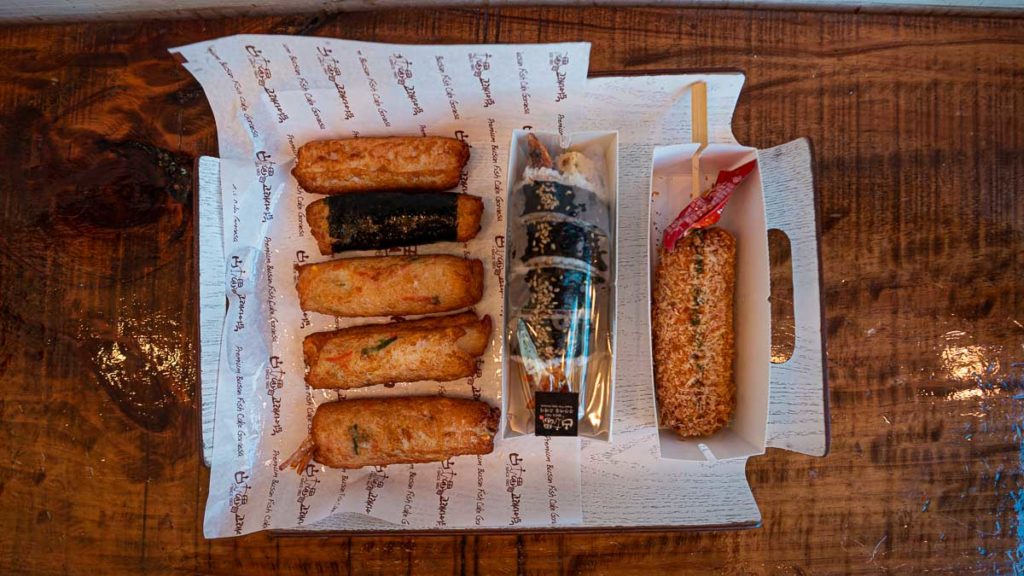 At Haeundae, don't forget to drop by Goraesa Fish Cake and sample from over 30 different types of fishcakes. Our favourites were the gooey cheese-filled and fried shrimp ones! There's also the choice of pairing skewers with sides like soba or udon noodles.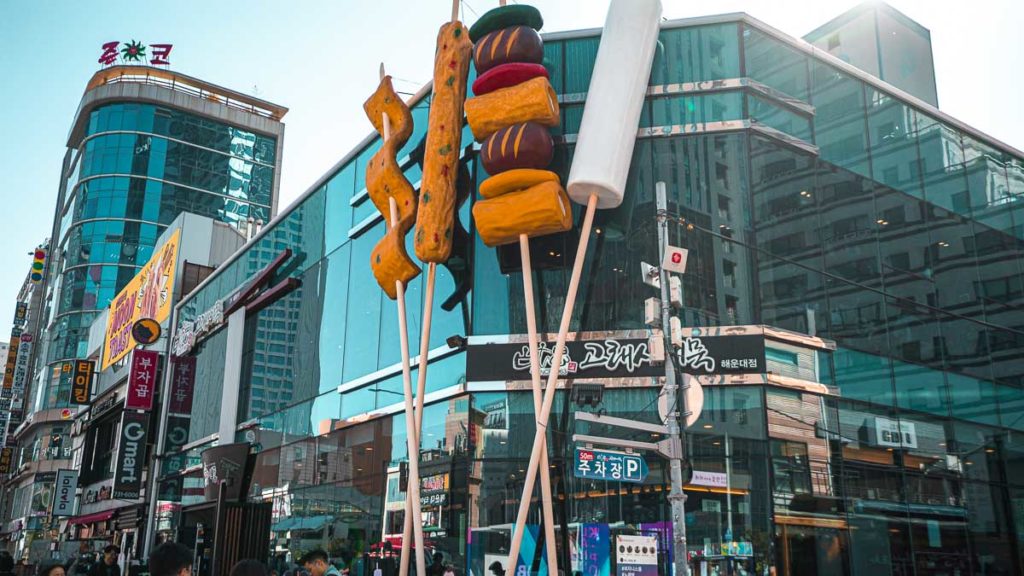 You definitely won't miss the building.
Cost: ₩2,000 – ₩6,000 (~S$2 – S$6)
Opening hours: 10AM – 10PM
Address: 14, Gunam-ro, Haeundae-gu, Busan (Haeundae Branch)
Day 3: More Culture and Shopping
Taejongdae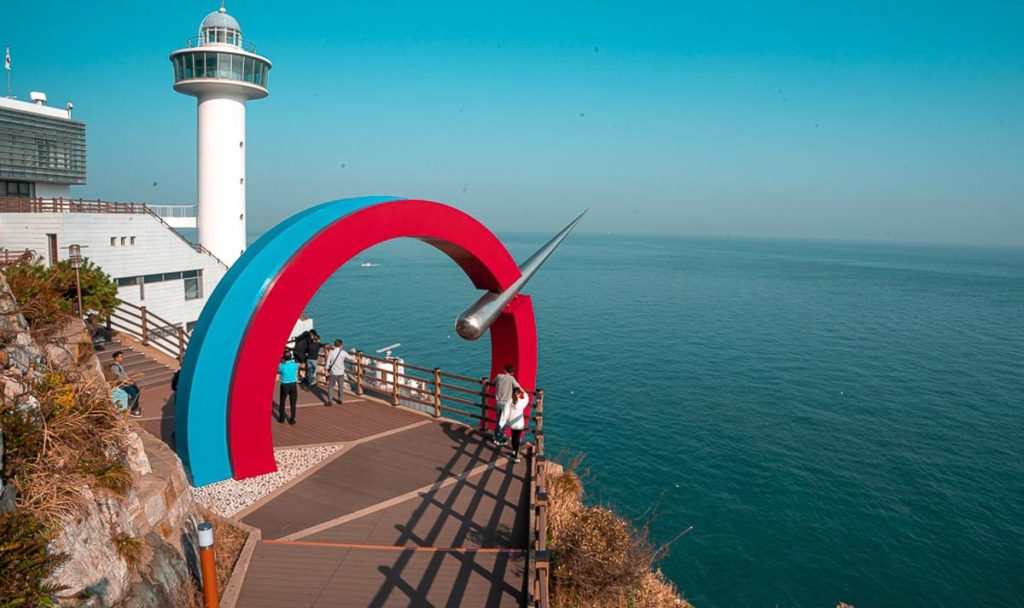 This is probably my favourite place in this entire Busan itinerary. I've seen plenty of scenic landscapes on Jeju island — but somehow the never-ending blue ocean set against pebble beaches, cliffs, and white lighthouse at Taejongdae really blew my mind.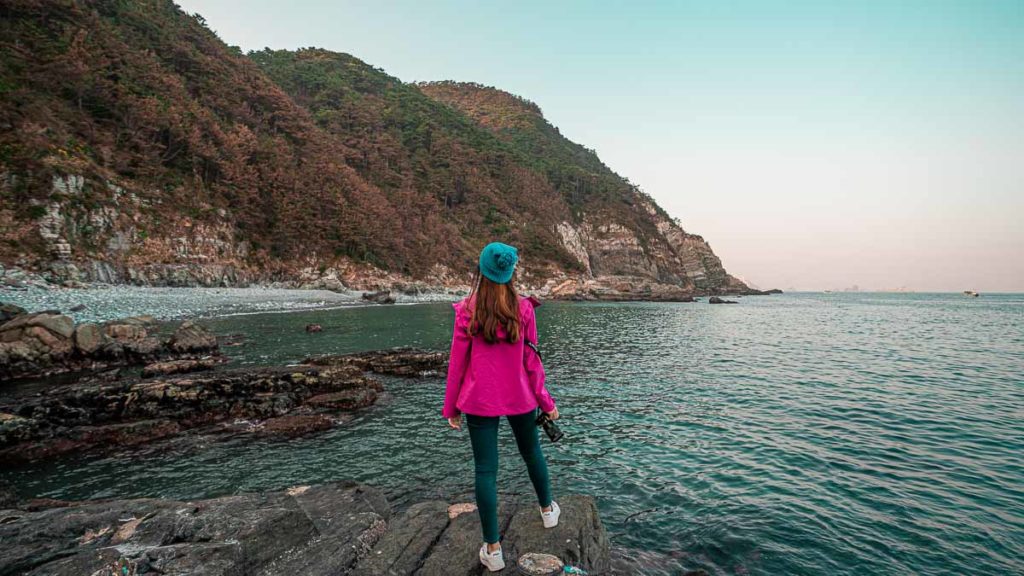 My favourite part was climbing down onto the jutting rocks right next to the ocean for cool photos (it's safe!). If you walk further down, there's even an untouched pebble beach with zero tourists that makes the whole place look pretty magical.
Entrance fee: Free
Opening hours: 4AM – 12AM (Summer), 5AM – 12AM (Winter)
Address: 24, Jeonmang-ro, Yeongdo-gu, Busan
*Pro-tip: Get a Danubi train ticket (₩3000, ~S$3) at the entrance! The train operates from 9:20AM – 5:30PM around the park and takes visitors to each scenic attraction easily.
Gamcheon Culture Village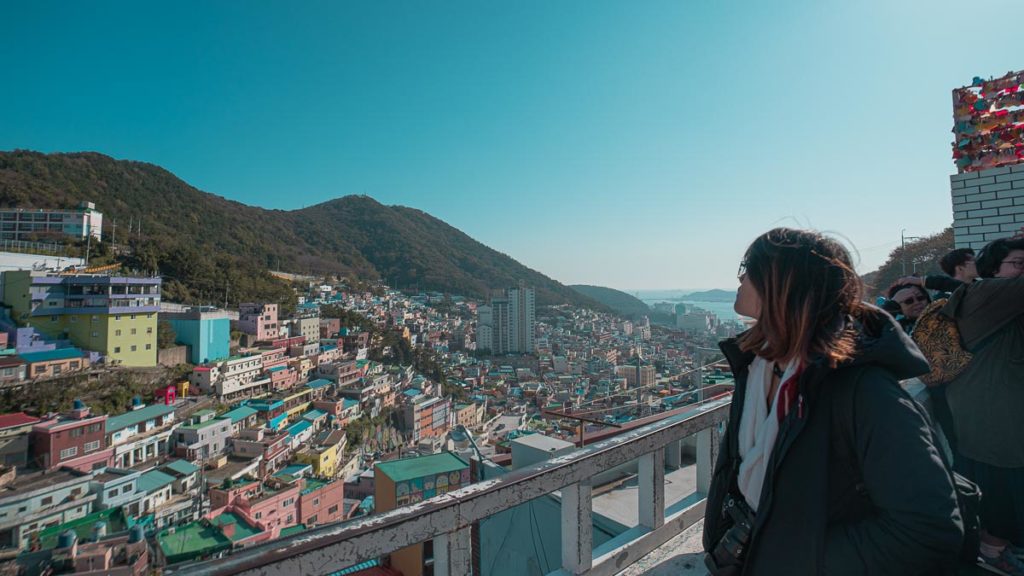 Ah yes, we can't forget the iconic pastel houses at Gamcheon Culture Village. The Santorini/Amalfi Coast/San Francisco/Machu Picchu of Busan holds many names, but none of these claims are unfounded.
At the topmost viewing deck, you'll get an impressive view of stacks of colourful houses against an ocean backdrop.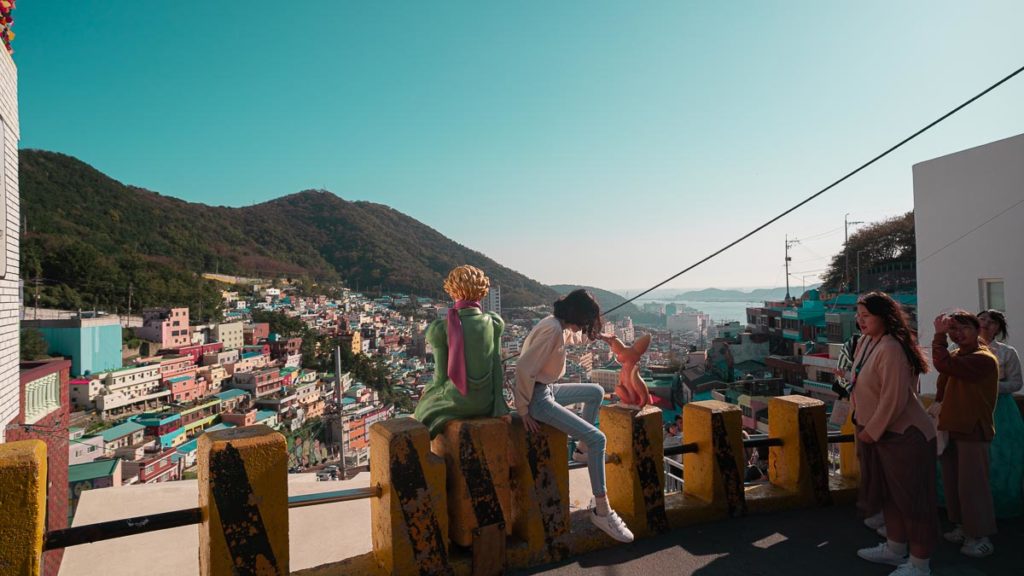 This Little Prince statue overlooking the village is one of the most popular photo spots.
There are plenty of Instagrammable and quirky spots to explore, from the Little Prince photo spot to steps that look like books, among many others.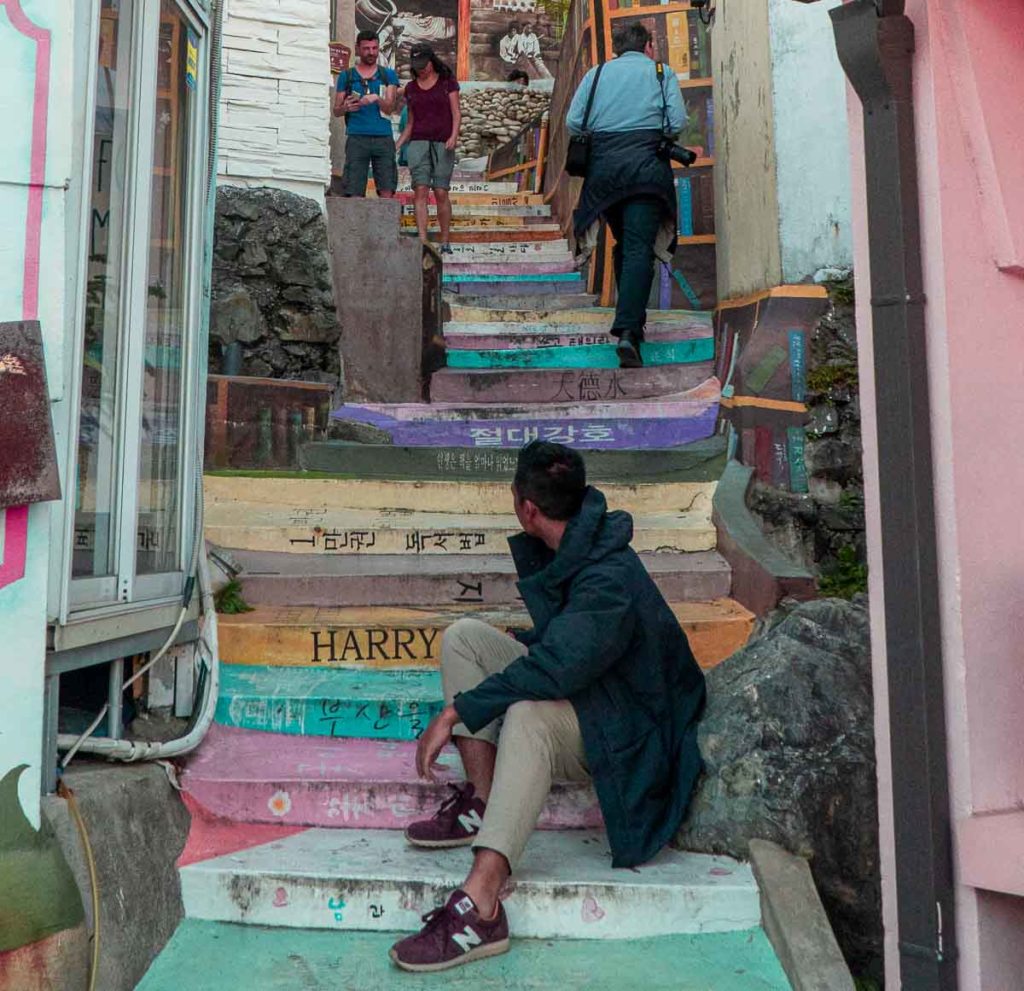 It's definitely an exciting place to wander around and just have fun with your camera!
Entrance fee: Free
Opening hours: 24 hours
Address: 203, Gamnae 2-ro, Saha-gu, Busan
Enjoy Delicious Dwaeji Gukbap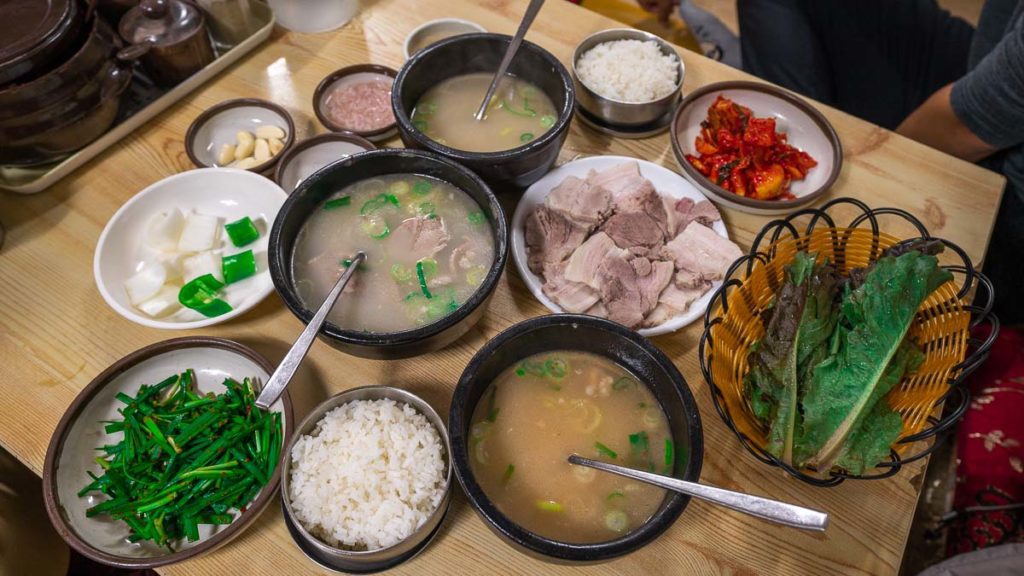 Dwaeji gukbap (pork rice soup) is a Busan specialty originating from the Korean War. It consists of a hearty pork broth, tender pork slices, rice, and banchan (Korean side dishes). Think of it as simple, homey soul food — and for less than S$10!
There's a whole alley of restaurants that serve this dish in Seomyeon. However, we say go for Songjeong Three Generation Gukbap, which serves this delicacy on top of quality service.
Cost: ₩6,500 (~S$6.50)
Opening hours: 24 hours
Address: 29, Seomyeon-ro 68beon-gil, Busanjin-gu, Busan
Soak in Nightlife at Seomyeon Shopping District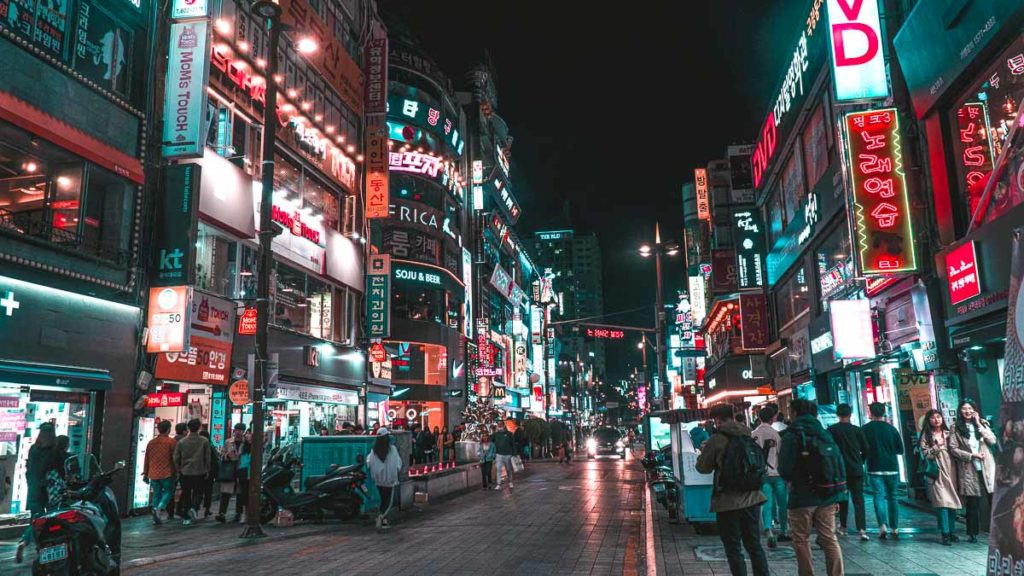 After witnessing the local life and stunning coasts, I didn't think Busan had any more to offer. However, the Seomyeon Shopping District really surprised me with its vibrant energy at night.
Stepping onto the streets of Seomyeon felt just like Seoul's Hongdae. It was alive with youths exploring shopping lanes, food streets, and bass-thumping clubs and bars. This is where you can really let loose and spend the night indulging in anything!
Opening hours: 10AM – 10PM (Varies depending on individual shops)
Address: 737, Jungang-daero, Busanjin-gu, Busan
Day 4: Be Korean for a Day
Yongdusan Park and Hanbok Experience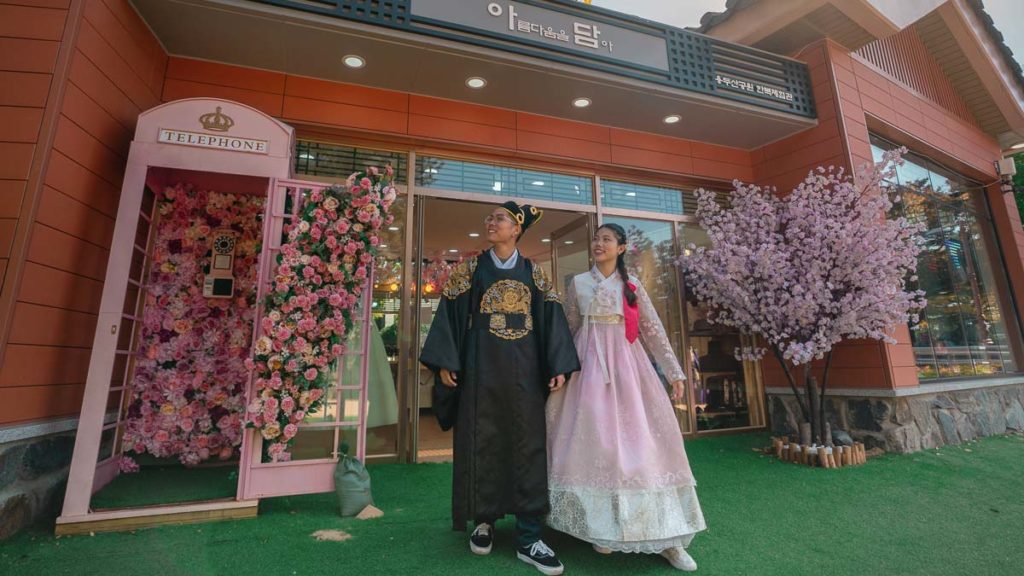 Donning a traditional Korean hanbok is an affirmation that you actually went to Korea.
I'm not gonna lie though — wearing layers of petticoat and embroidered skirts on top of having your hair styled with fancy accessories is a grand experience. Take your dolled-up self to Yongdusan Park (entrance is free), where the seasonal foliage and ancient structures make for great photos!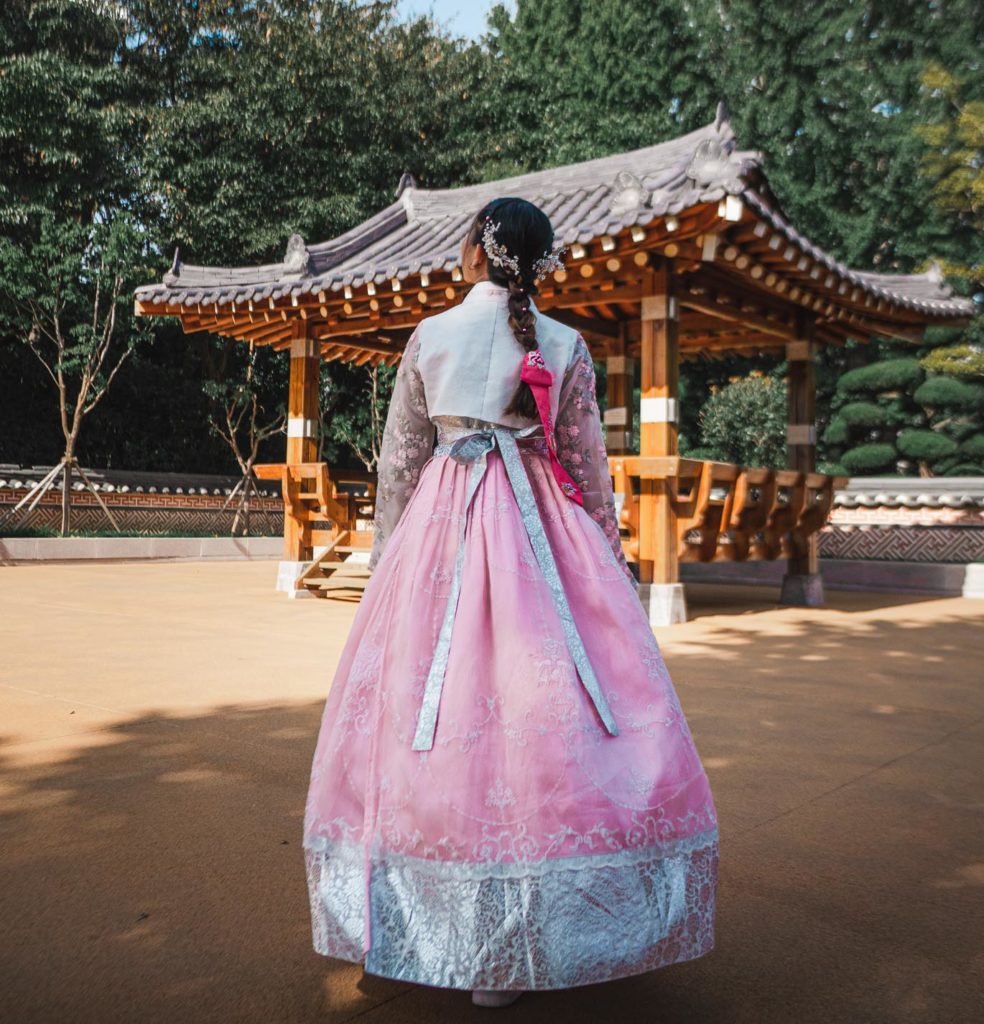 Cost: From ₩10,000 (~S$11), Rates vary depending on rental duration
Opening hours: 10AM – 7PM (Closed on Mondays)
Address: 37-55, Yongdusan-gil, Gwangbokdong 2(i)-ga, Jung-gu, Busan
Diamond Tower (former Busan Tower)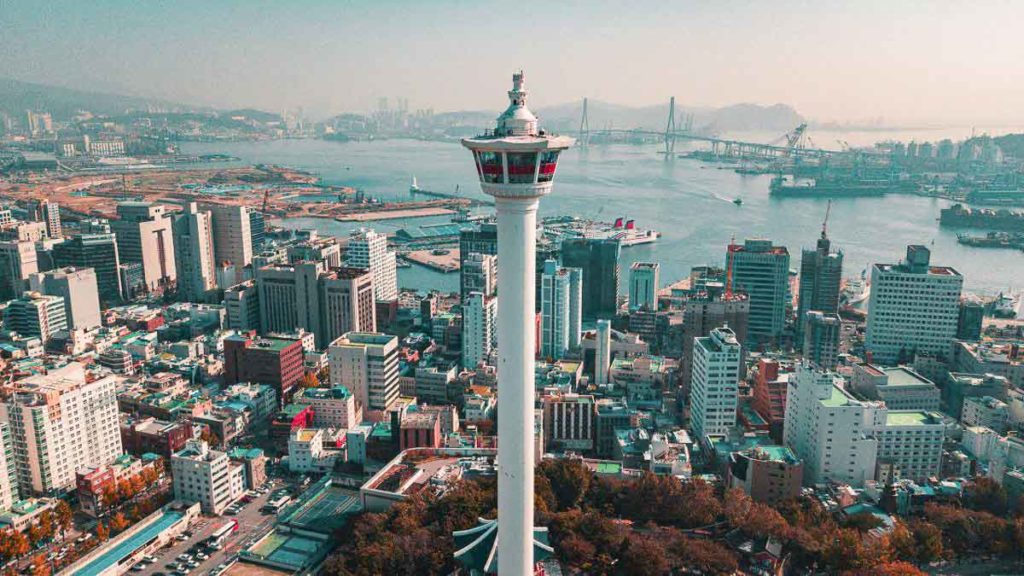 At 120m tall, the Diamond Tower stands high above the city. At the top, you get a 360° panoramic view of Busan's landscapes. After loading up on the sights, drop by the cafe to fill your bellies with light bites and seasonal desserts like bingsu (Korean shaved ice).
Entrance fee: ₩12,000/adult (~S$13)
Opening hours: 11AM – 9PM (Weekdays); 10AM – 10PM (Sat); 10AM – 9PM (Sun). Last admission 30min before closing
Address: 37-55, Yongdusan-gil, Jung-gu, Busan
Try Milmyeon — Busan's Version of Naengmyeon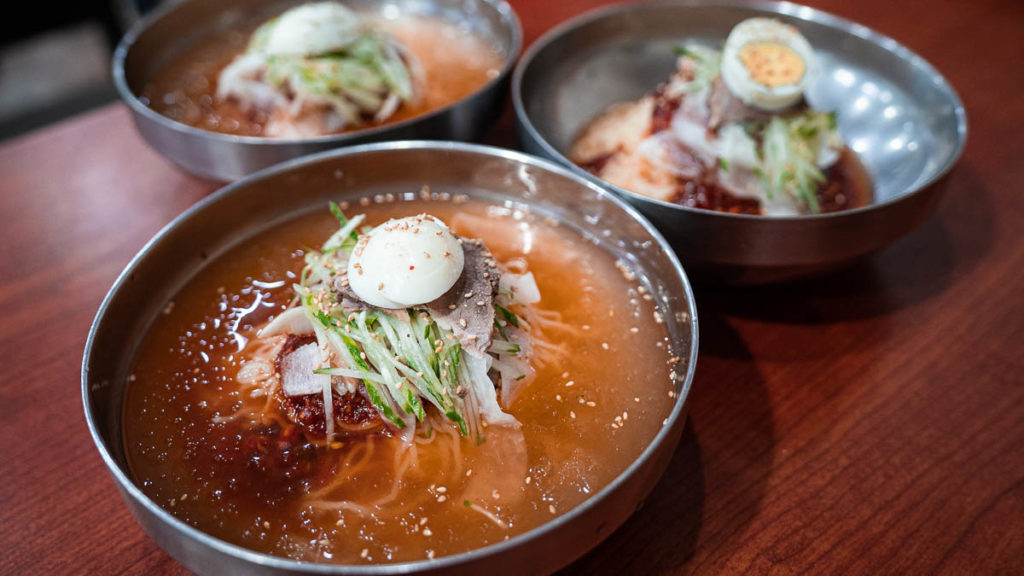 Naengmyeon is a Korean cold noodle dish, and Busan's version uses noodles made from flour instead of buckwheat. As someone who's a skeptic of cold dishes, it was good! The noodles are chewier and go well with the pork slices and spicy sauce.
We recommend trying Jaeseong Milmyeon restaurant (재성밀면), which is just a few minutes from Yongdusan Park.
Cost: From ₩4,000
Opening hours: 9:30AM – 9PM
Address: 14-1, Jungang-daero 41beon-gil, Donggwang-dong, Jung-gu, Busan
Spa Land Centum City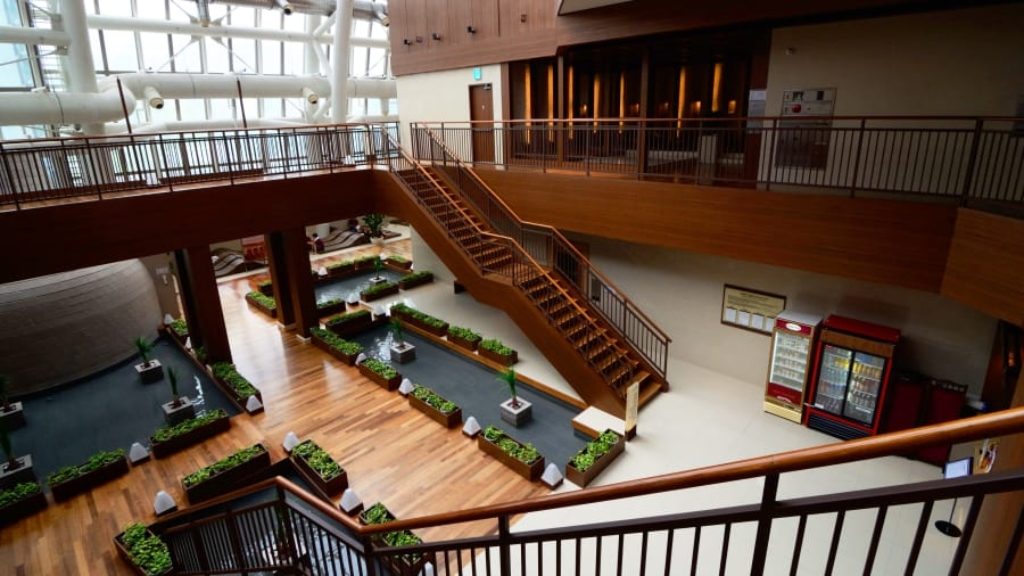 Photo credit: CNN Travel
What's a Busan itinerary — or a Korea one for that matter — without spending a few hours relaxing at a jjimjilbang (bathhouse)?
Busan happens to have one of the most luxurious and highly rated ones: Spa Land Centum City! I've been to the average jjimjilbang in Seoul, but this was an entirely elevated experience.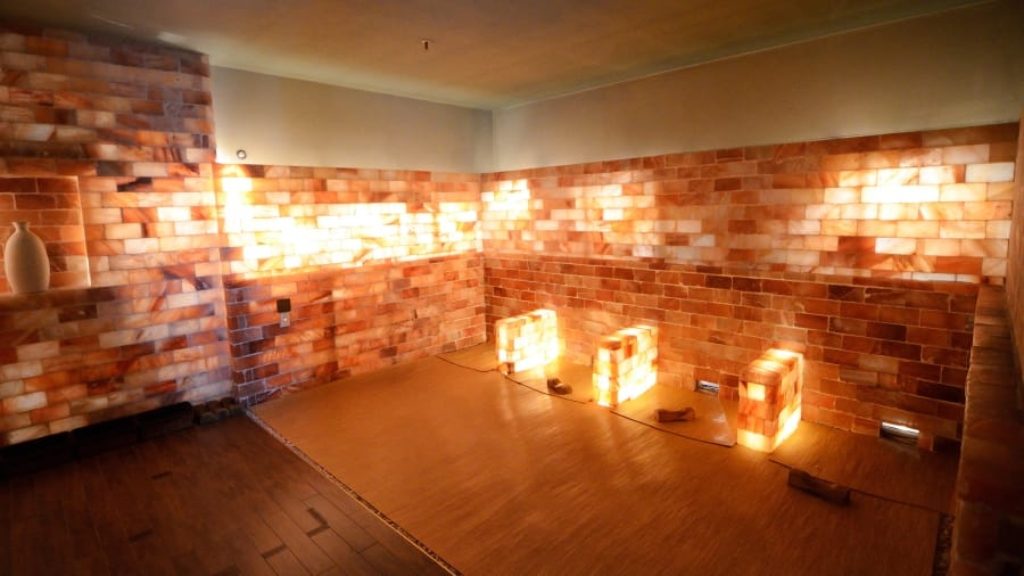 Photo credit: CNN Travel
With 13 different themed saunas and 22 spas pumped with natural hot spring waters (and a special sodium bicarbonate outdoor "beauty bathtub"), Spa Land will cure any trip fatigue!
The entrance fee grants you up to four hours here, along with rows of high-end skincare and haircare when you're done.
Entrance fee: ₩20,000/adult (~S$22)
Opening hours: 9AM – 8PM
Address: 35, Centumnam-daero, Haeundae-gu, Busan
Tips to Getting the Full Busan Experience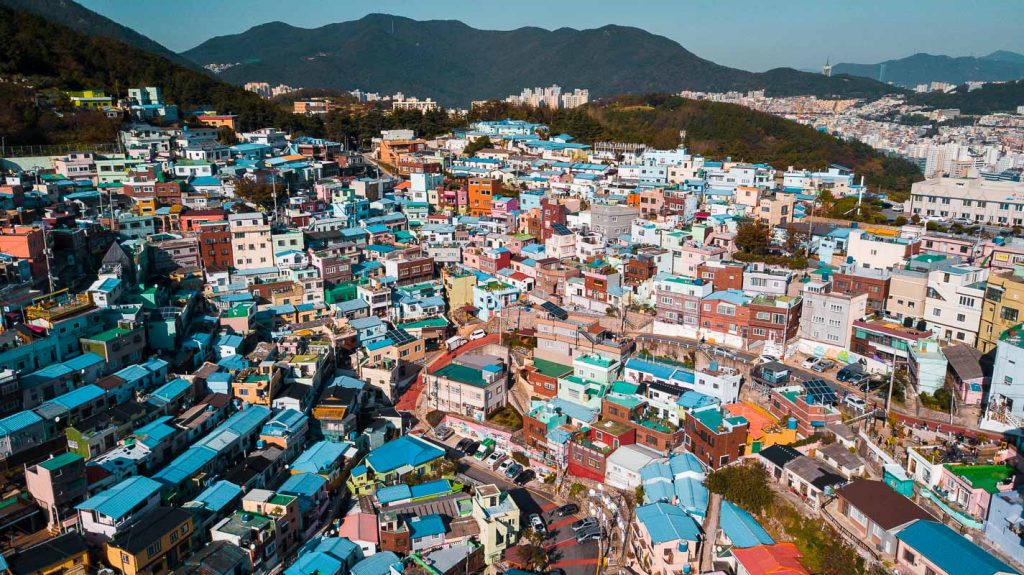 Here are some itinerary tips to make the most of your stay in Busan:
1) Join tours to see the popular attractions
As the second-largest city in South Korea, Busan has its fair share of popular tourist attractions. If you can't decide whether to check them out or explore lesser-known areas, you might want to consider a full-day tour to assuage the FOMO!

We were able to hit many attractions in a day and still have plenty of time to explore other places on our own. Here are a couple of tours we signed up for:
– East Busan Exploration Tour (~S$30)
– Busan Skywalk, Gamcheon Culture Village, and Haedong Yonggungsa Temple Day Tour (~S$46)
2) Look out for unique experiences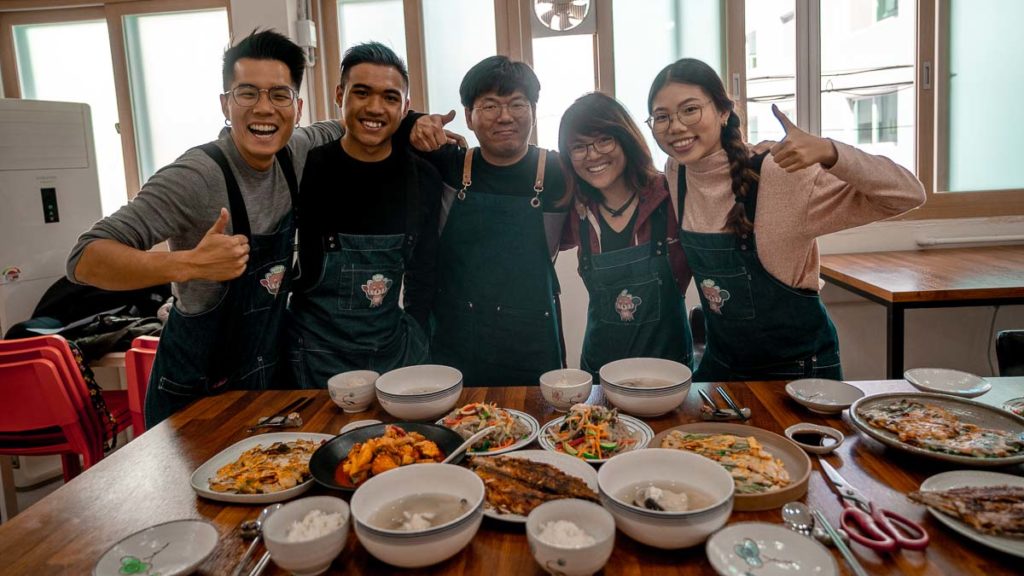 Some experiences are worth the extra effort — whether it's cooking your own authentic local food or figuring out how to wear a traditional Korean hanbok! Either way, I was wowed by how fun and memorable these experiences were and would 10/10 do it again 🥰.
3) Leave your assumptions behind
Coming into Busan, I expected it to be a sleepy coastal city with nothing other than the overrated beaches and "Santorini" houses. But I was surprised by hidden gems like Taejongdae's quiet pebble beaches and Seomyeon's buzzing energy! So don't judge a place without opening your mind to it.
4) Consider private charters or rent a car for ease of travel and planning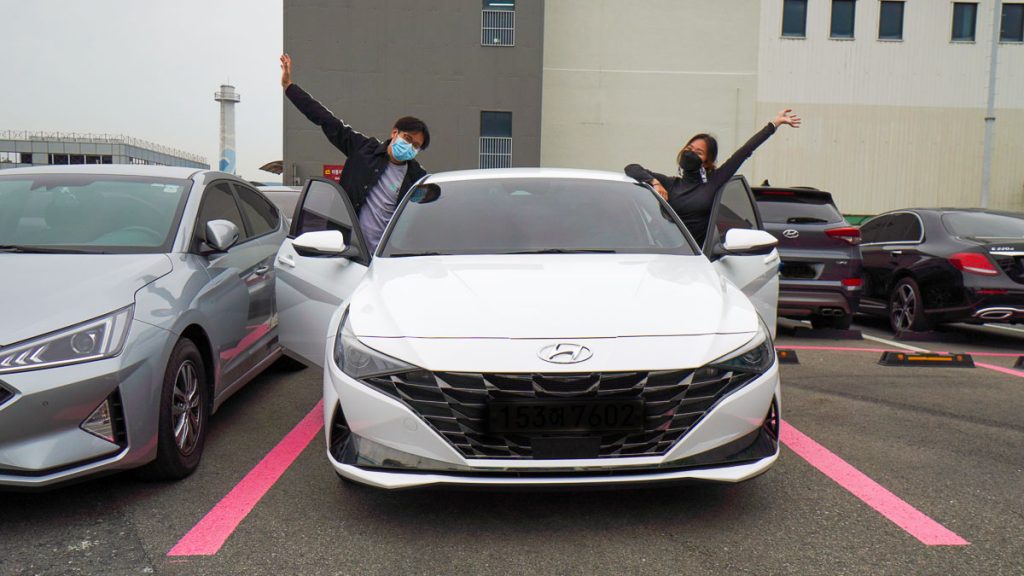 On days when we had to head to/from the airport, we had to carry a lot of equipment and baggage. Having an airport transfer really helped to alleviate any inconvenience!
Alternatively, rent a car so you can afford a more flexible schedule and even include a few day trips out of Busan to nearby areas like Gyeongju or Ulsan!
Is Busan worth more than a day trip from Seoul?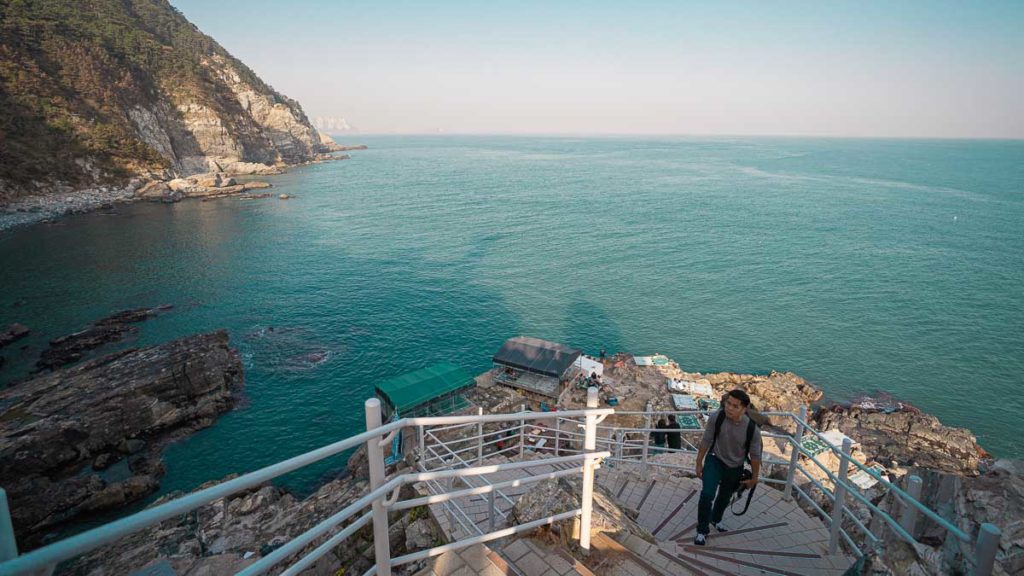 Busan is like the ice cream flavour you always knew existed but didn't know you loved till you tasted it. Many people come for a day trip (granted, there's nothing wrong with that) but if you have the time, I'd seriously recommend a longer stay here to be truly mesmerised by it! If you're unsure what to do, feel free to steal this Busan itinerary. 😉
Busan's a charming fusion of quaint beachside gems, urban districts, and friendly locals, and it only takes a few days more to experience it fully. So the next time you're planning a trip to South Korea, give Busan a go!
Anything we missed out in our Busan itinerary? Let us know in the comments!
---
This post was brought to you by Klook.
Like what you see? Follow us on Facebook, Instagram, YouTube, and Telegram for more travel updates!