Travelling to Europe doesn't have to be expensive!
As cheesy as it sounds, I always thought I'd visit Santorini years down the road; maybe on a honeymoon. What could be more romantic than watching the sunset over Santorini's famous caldera view?
The thing is, budget travelling isn't about scrimping on experiences. It's really about prioritising what experiences you're after.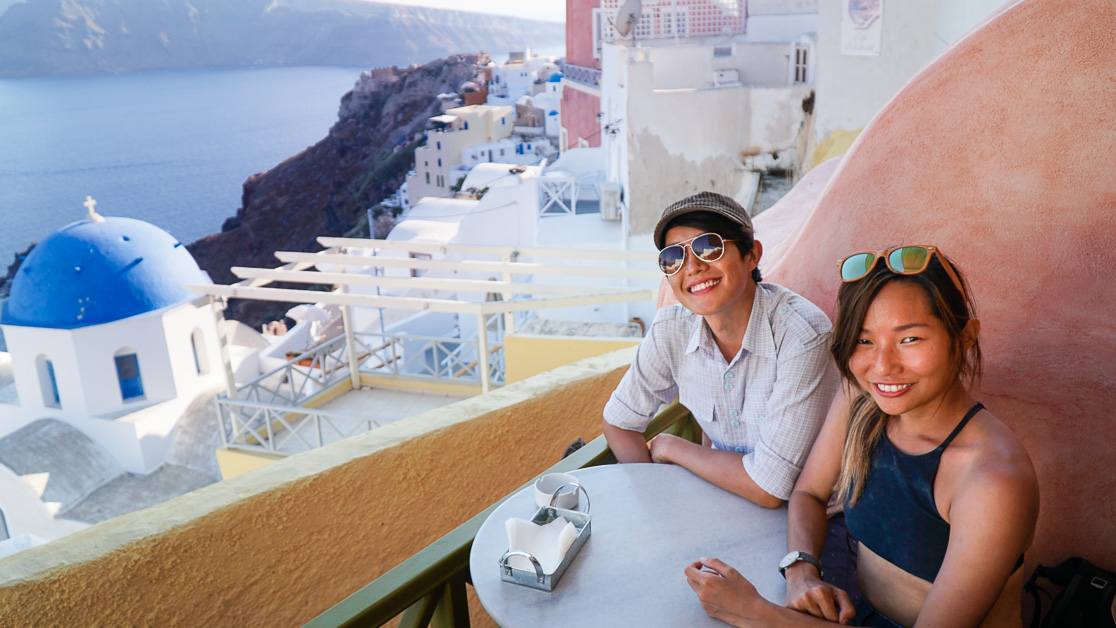 Saving on the five-star accommodation but signing up for a rock climbing or kayaking expedition. Skipping on that expensive meal in the restaurant with a view of the caldera and instead, watching the sunset from the top of a hill with our own beers and gyros wraps…
For less than S$1.5k/pax, here how we spent nine days in Greece — including flights of course!
*Look out for the suggested route at the top of each day for the highlights!
Budget Breakdown for 2
Flights: S$553.59 x 2 (via Scoot)
7 Nights Accommodation: S$443.83 (excludes 1 night on the Ferry)
Transport: S$472.09 (trains, ferries, vehicle rental and local transport)
Activities: S$376.31
Food: S$451.77 (includes alcohol and gelato :P)
Miscellaneous: S$40
TOTAL: S$2,891.20 (S$1,446/pax)
Day 1: Athens
Data SIM Card: Pre-order your SIM card (~S$18 for 15 days) so it arrives at your doorstep before you leave for the airport.
Getting around in Athens: The metro system is pretty convenient although if you're staying in the Acropolis or Syntagma area, all the main attractions are within walking distance. Metro tickets cost €1.40 for 90 minutes (regardless of transfers). Remember to validate them at the machines near the gantry or risk a hefty fine!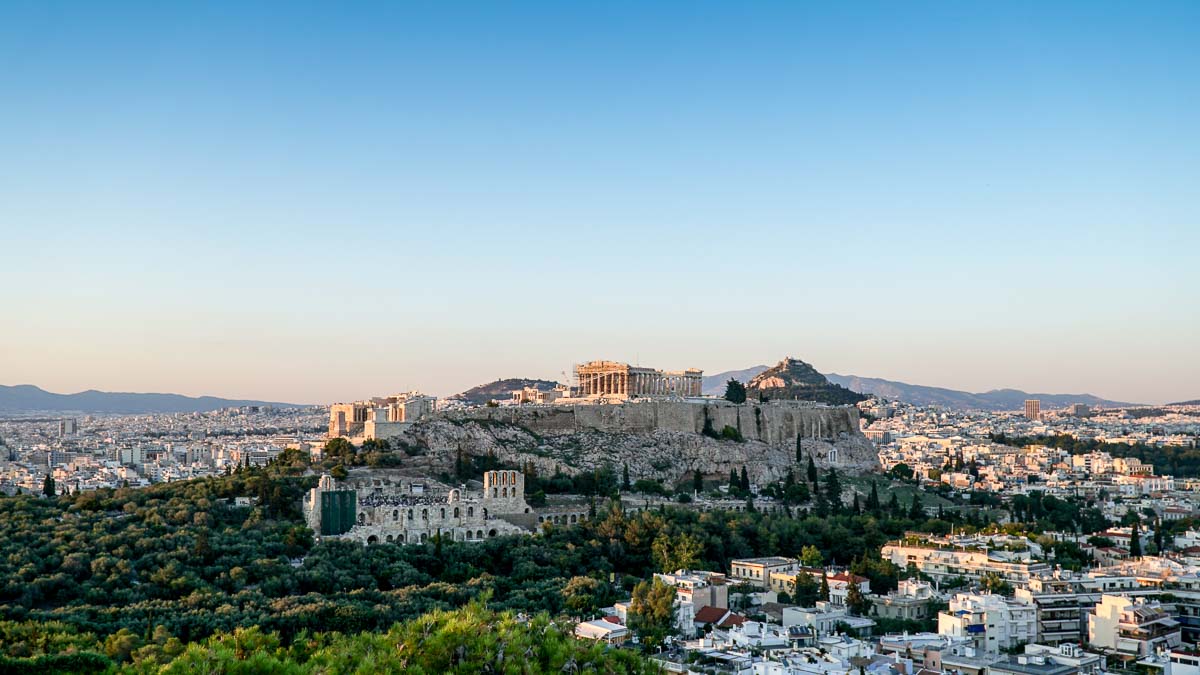 Suggested route: Catch the guard changing at Syntagma Square, sign up for a local walking tour, check out the Acropolis Museum, hike up Filopappou Hill before the sun sets.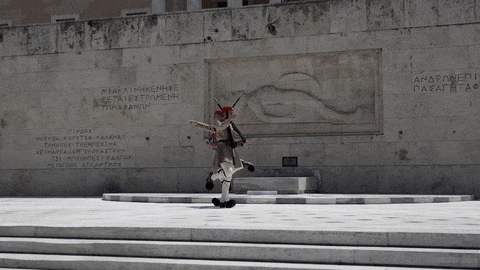 There's a guard changing ceremony that happens every hour at Syntagma Square that's quite amusing to watch. Between them and Wagah Border Guards in Amritsar, I wonder who's got better leg power. 😛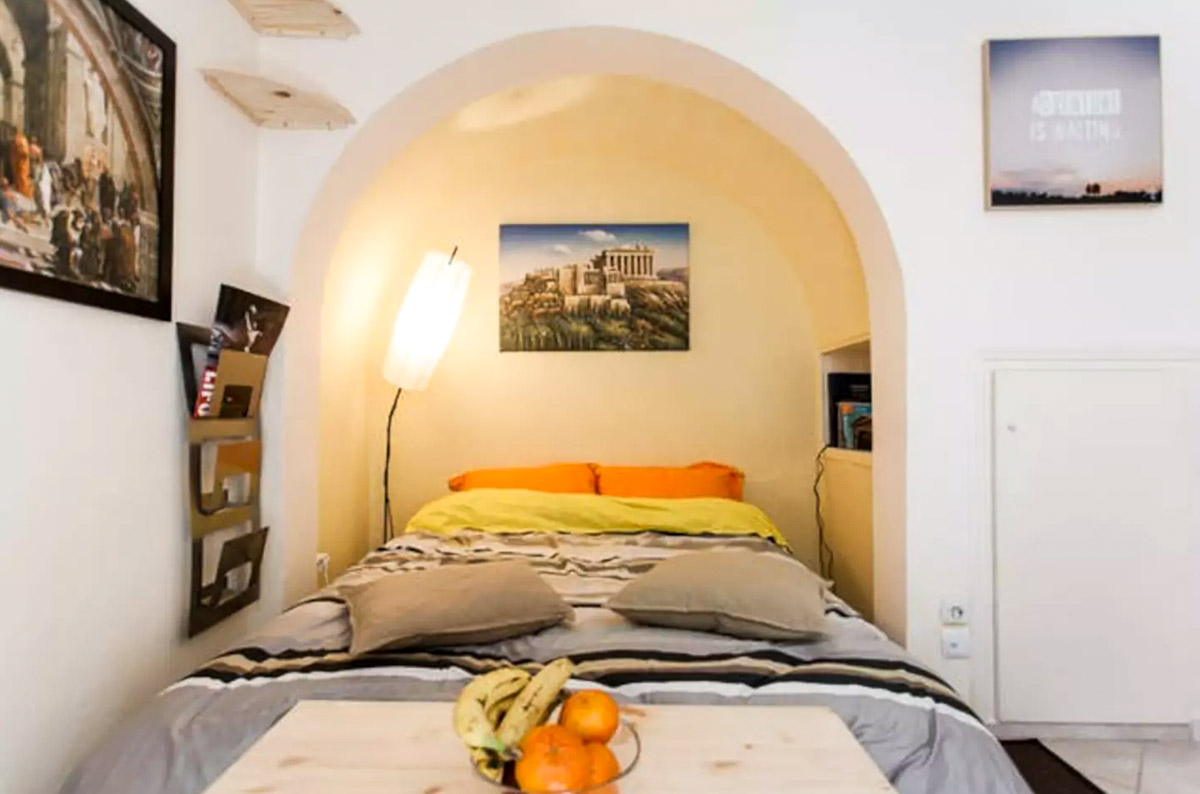 Accommodation: Our cosy airbnb in Plaka — located in the heart of all the ruins and attractions. All the main sights were just a 15-minute walk away.
Our host Sean was one of the nicest Airbnb hosts we've met. Spent quite a bit of time describing the area around the apartment with maps and gave lots of personal recommendations around the area.
Prior to the trip, we signed up for a free local tour by a really neat initiative called "This is my Athens". Unlike some of the free walking tours found in Europe —where the guides end up nudging you for a tip at the end — these guides really pride themselves on building friendships, not tips and are they're genuinely proud of their city.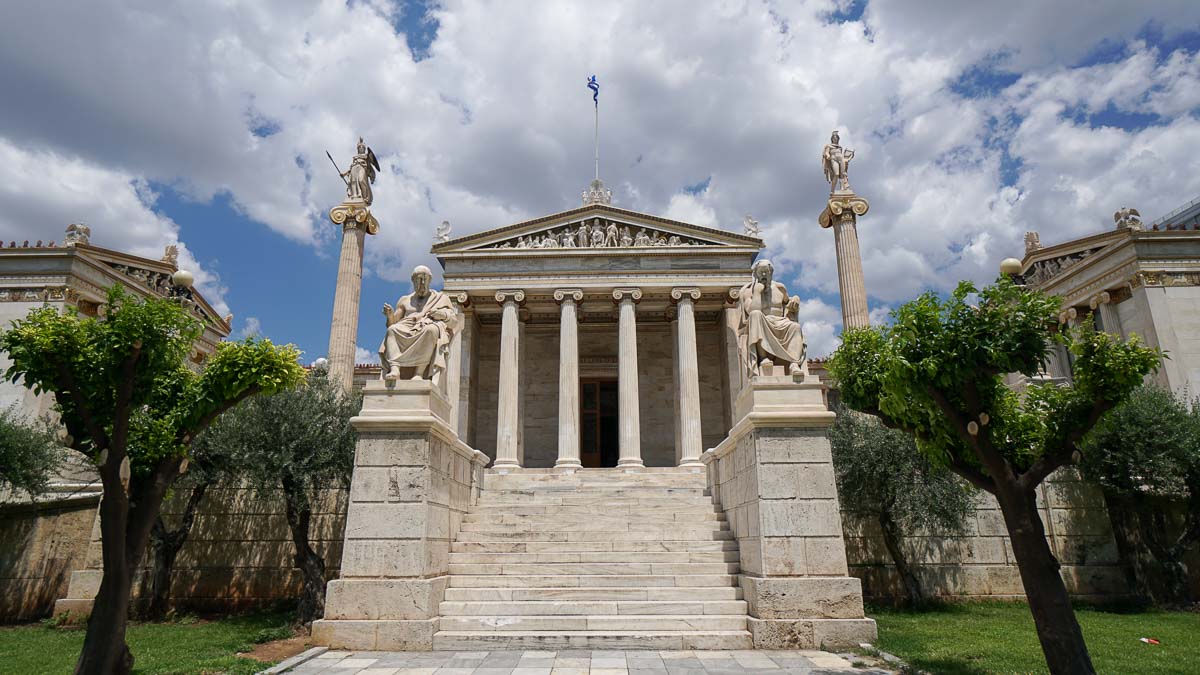 We walked past gorgeous buildings like the Academy.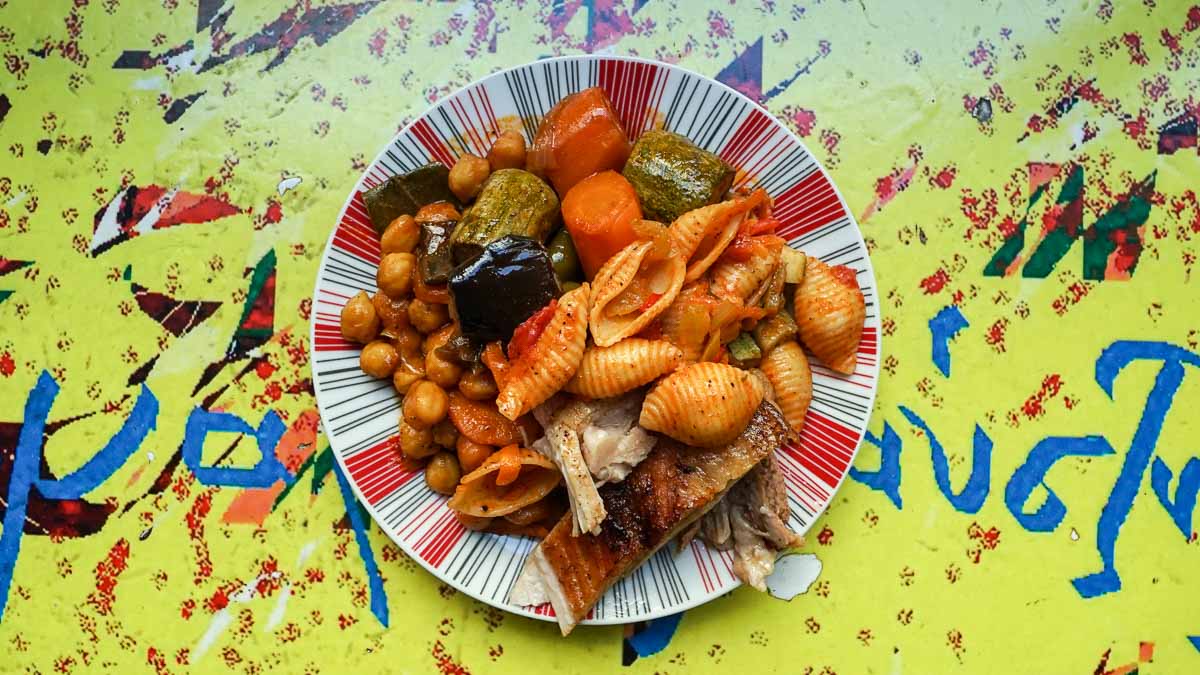 Stopped by in Omonia for a quick meal at a Magirion — it's like economic rice in Singapore but you get to fill up a plate of whatever you like for a flat price. Small plate (like the one above, fits 1 meat, 1 carb, 2 veg) for €4 and a bigger one for €7. Super value for money.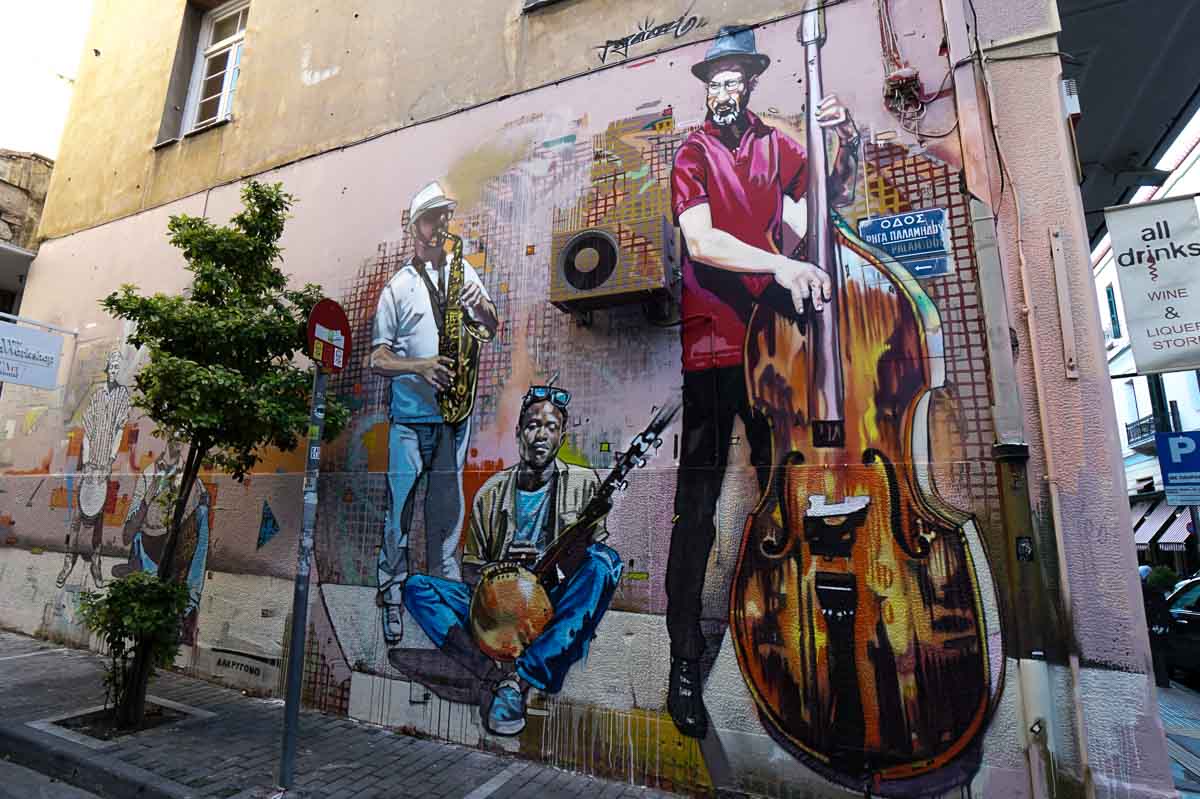 Saw some amazing street art in Psyri.
This dog was famous for always being on the front lines of riots against the Greek police.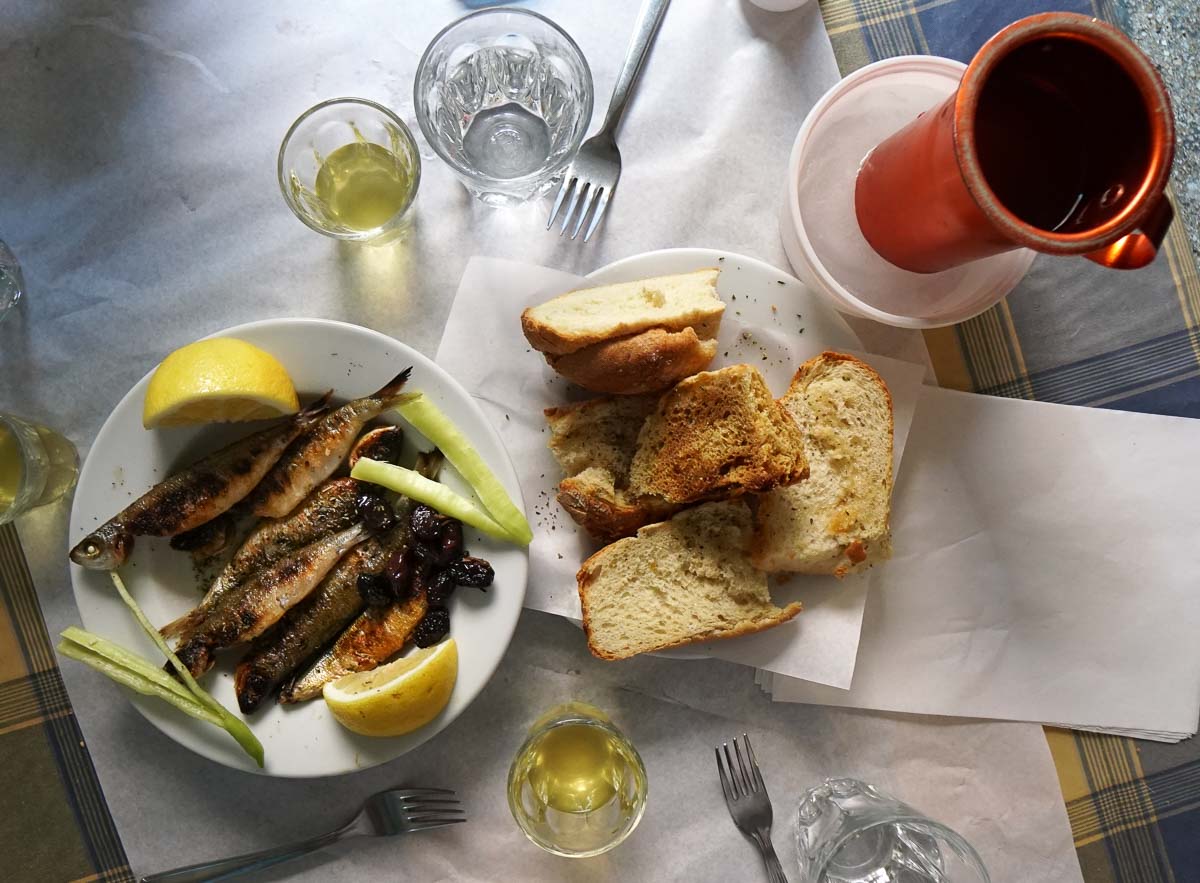 I think our favourite part really, was exchanging insights on life in an underground tavern (named "Secret Underground Restaurant" on google maps I kid you not). After having 1.5L of wine straight out of barrels, a side of grilled fish, and a basket of bread, our bill came up to only €20!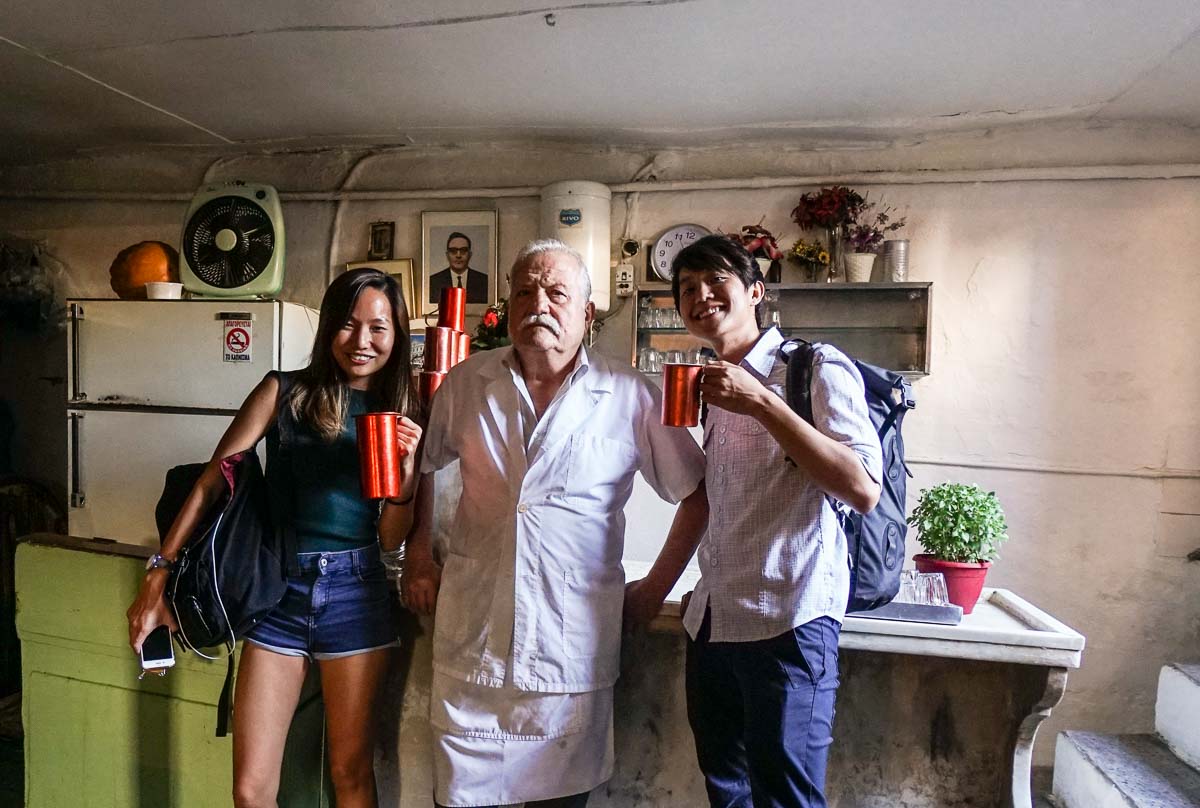 The chef might look a little stern and doesn't speak much English but is really one of the friendliest around. Then again, I don't think we've met any unfriendly Greeks.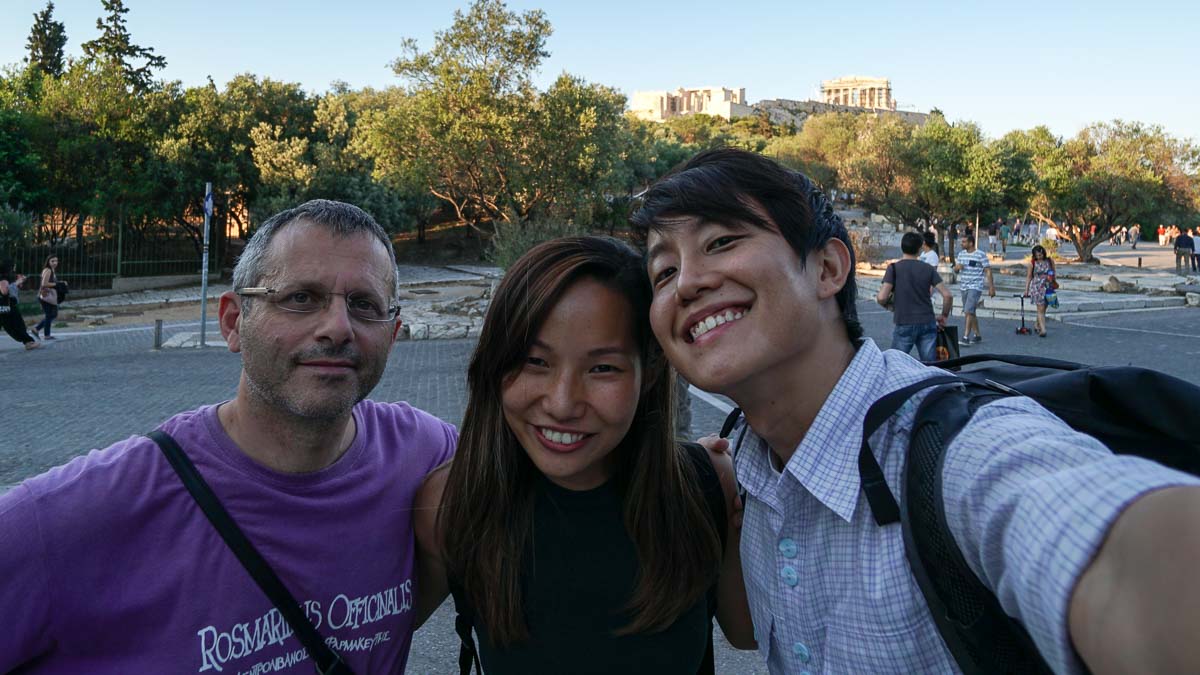 The tours are officially 2-3hours but we spent close to 5 hours and when it was time to finally split ways, we felt like we were leaving an old friend.
Each tour is a little different so let your guide know what interests you; something a little more local or more iconic. Do sign up early and put a little effort into sharing about yourself. The community truly sees it as building a relationship with the local guide.
If there's time before the sun sets, check out the Acropolis Museum. A great way to start is by watching the video on the top floor — provides some context of the Greek ruins you'll soon be exploring.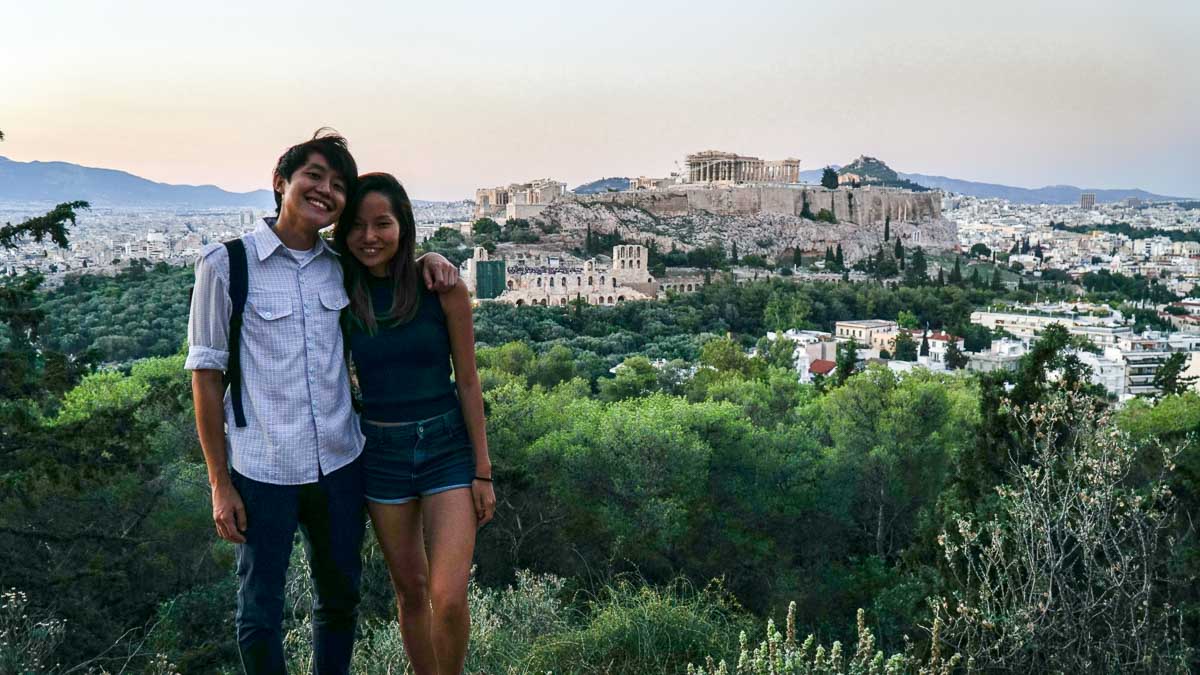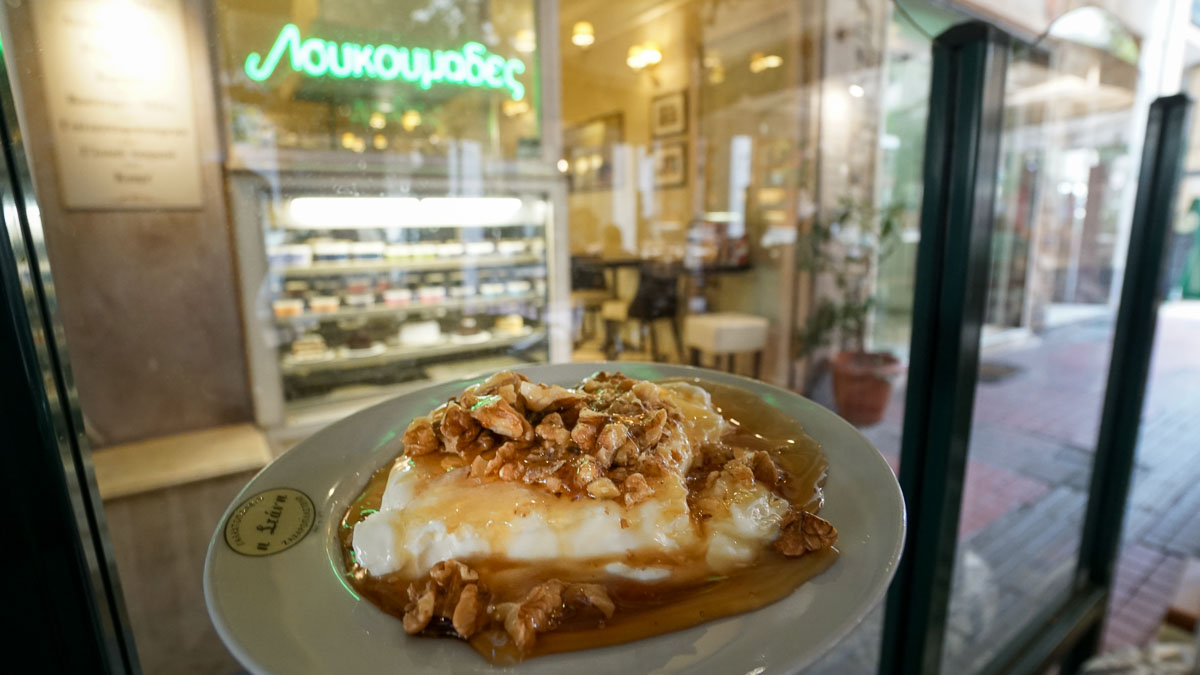 Stani, located in Omonia — one of the few remaining places that serve traditional Greek yogurt. Choose between sheep, cow or goat's yogurt but sheep's is a local favourite for its rich texture.
We also bought packaged yogurts from the mini mart for breakfast almost everyday. Our favourite was from a brand called Total.
Day 2: Athens
Suggested route: Start from the Acropolis, walk over to the Ancient Agora, check out the Monastiraki Flea Market, grab lunch along Ermou street, a quick stop at Roman Agora and Hadrian's library (this site closes earlier than the rest), end with the Temple of Zeus. After which, check out the Panathenaic stadium before exploring and settling for dinner around Plaka.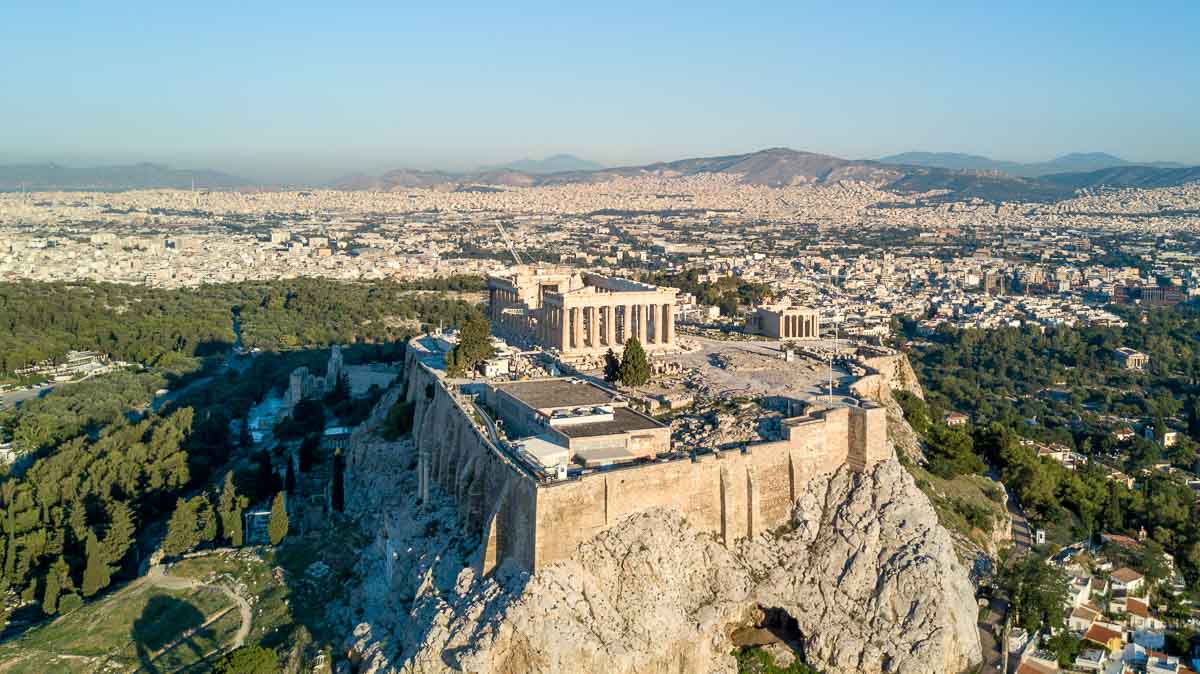 Start day 2 as early as you can and make your first stop at the Acropolis! The crowd piles up early and you'll have little hope in taking photos without a hundred other photo bombers. The other time slot would probably be in the later afternoon.
*Pro-tip: Buy the combo tickets at any of the other 6 sites which will probably not have a queue at all. They last for 5 days so buy your tickets a day before! Students get 50% off so bring your student cards along!
The Acropolis combo ticket gives you access to 7 different sites:
1) Acropolis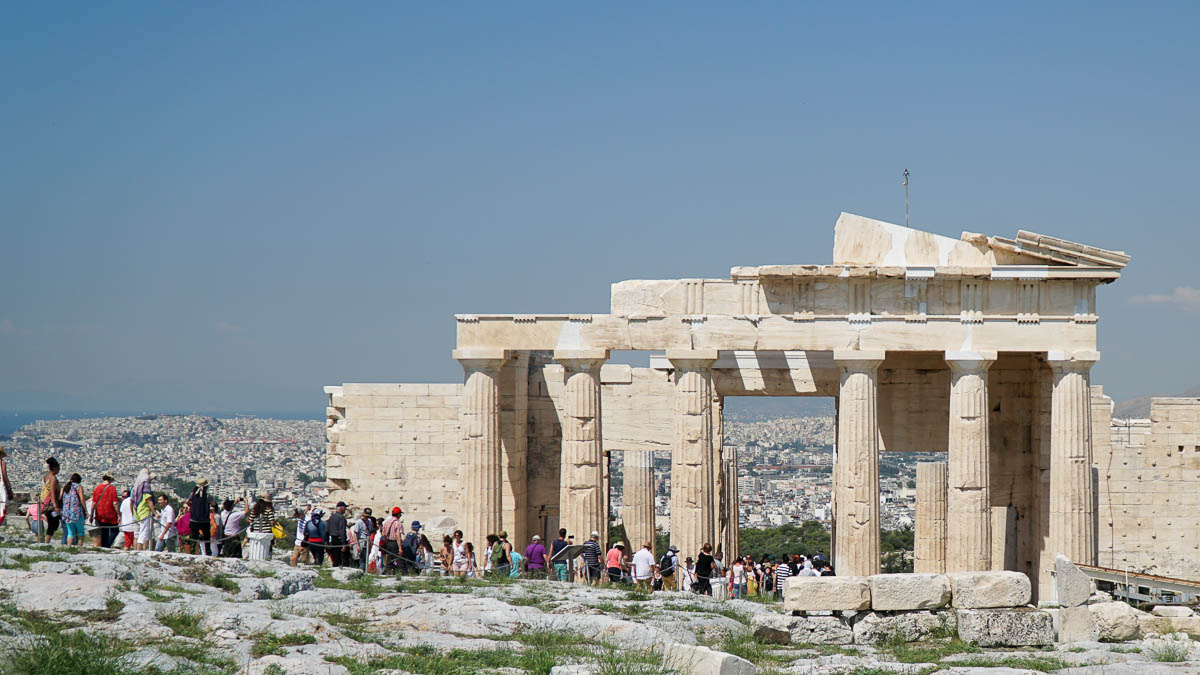 Probably the most famous icon of Athens, you can spot the famous Parthenon columns on top of a large flat rock from almost anywhere in the city.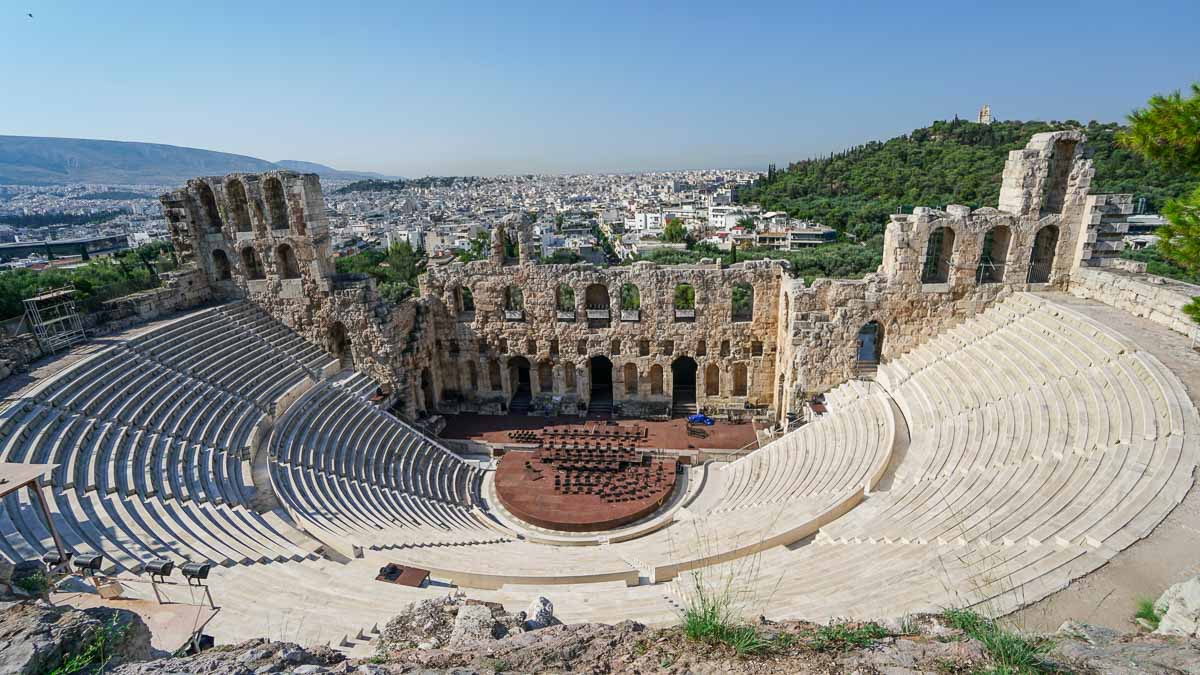 Apart from the Parthenon, look out for the Athena temple, remains of the Theatre of Dionysus and a fully reconstructed Odeon of Herodes Atticus — a functioning stone theatre that hosts Greek as well as international performances between May – October.
2) Ancient Agora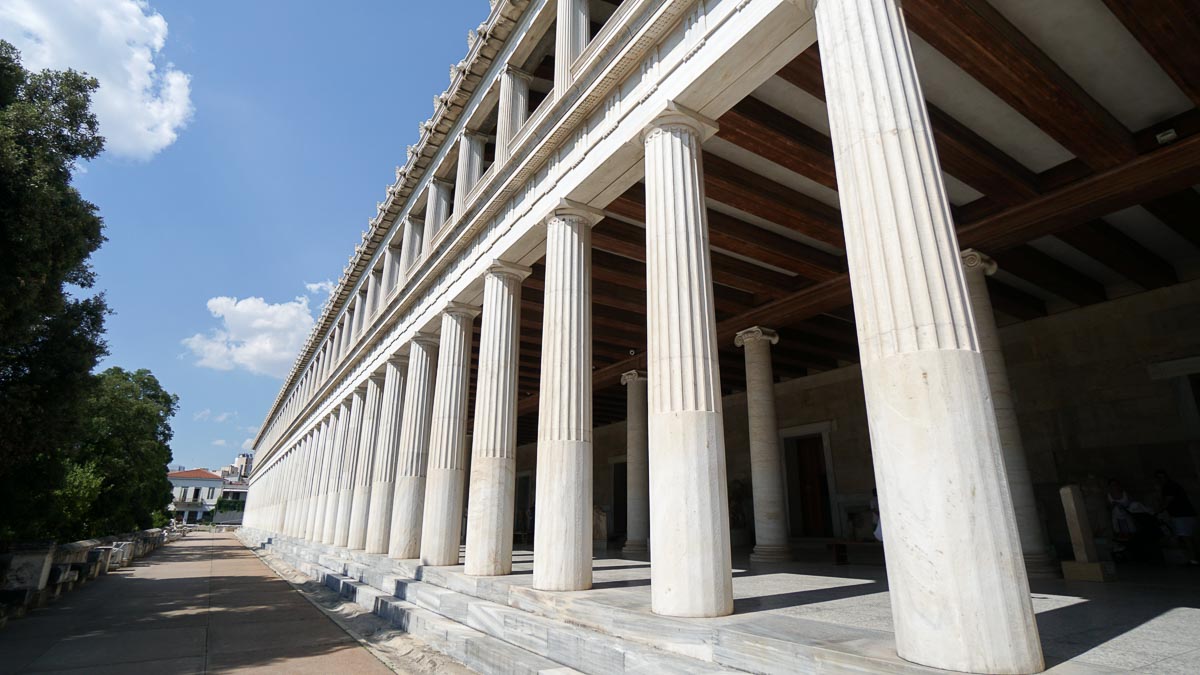 Northwest of the Acropolis, you can find a couple of fully reconstructed ancient buildings. The first one you'll probably see is the Stoa of Attalos — now houses the museum of Ancient Agora with clay, bronze and glass objects, sculptures, coins and inscriptions from the 7th to the 5th century BC.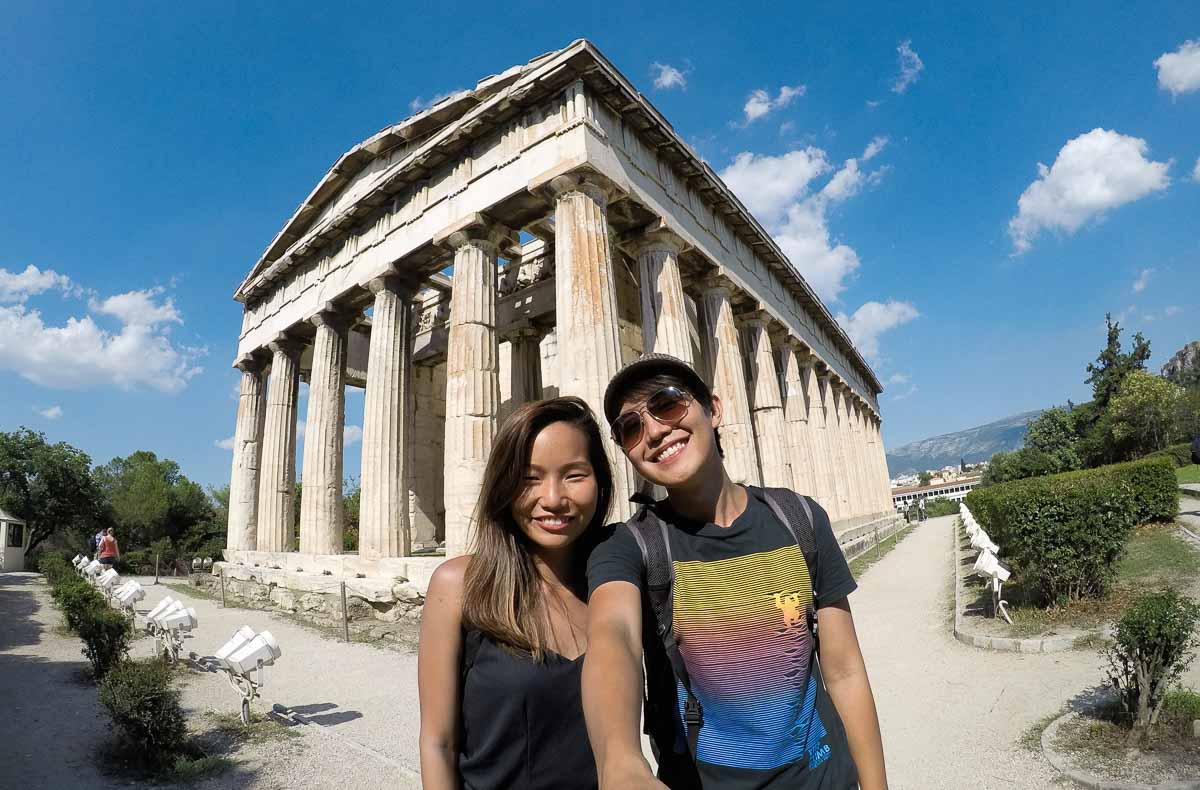 The other building within the Ancient Agora is the Temple of Hephaestus which was rebuilt from the ground up.
3) Temple of Zeus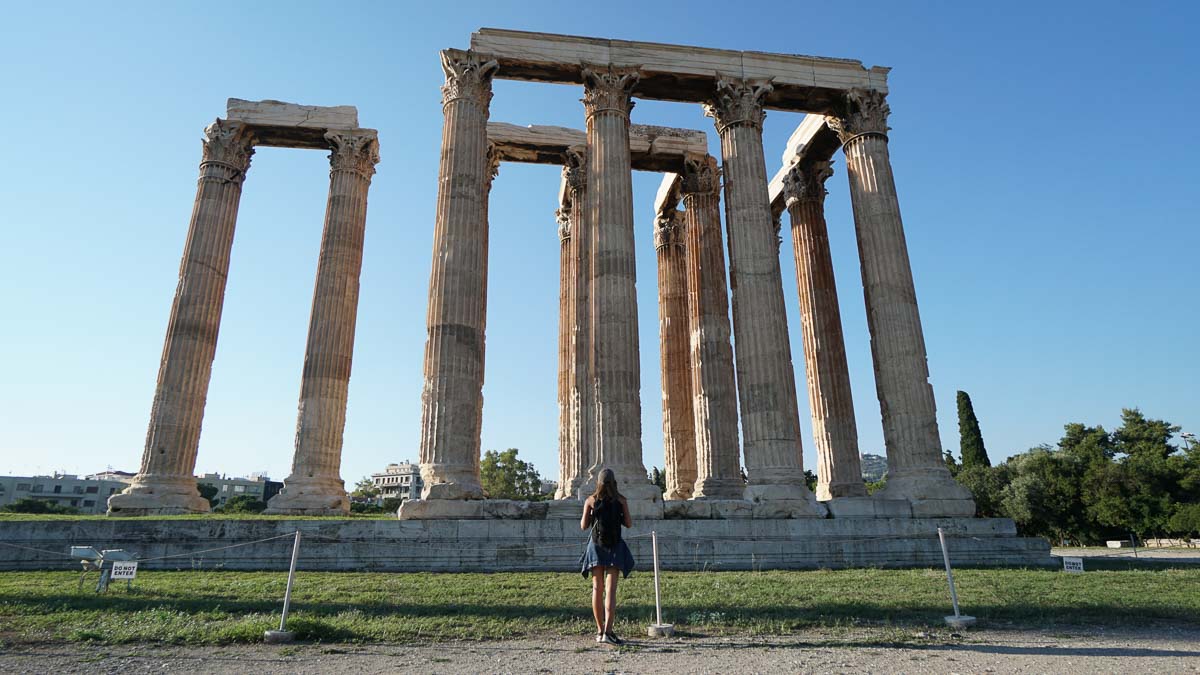 Even though less than 15 columns stay standing, it's believed that there used to be 104 and one can probably imagine how grand this temple was in its full glory.
4) Keramikos
The site dates back to 3000BC but was later converted into a cemetery ground back until 6th century A.D.
5) Hadrian's library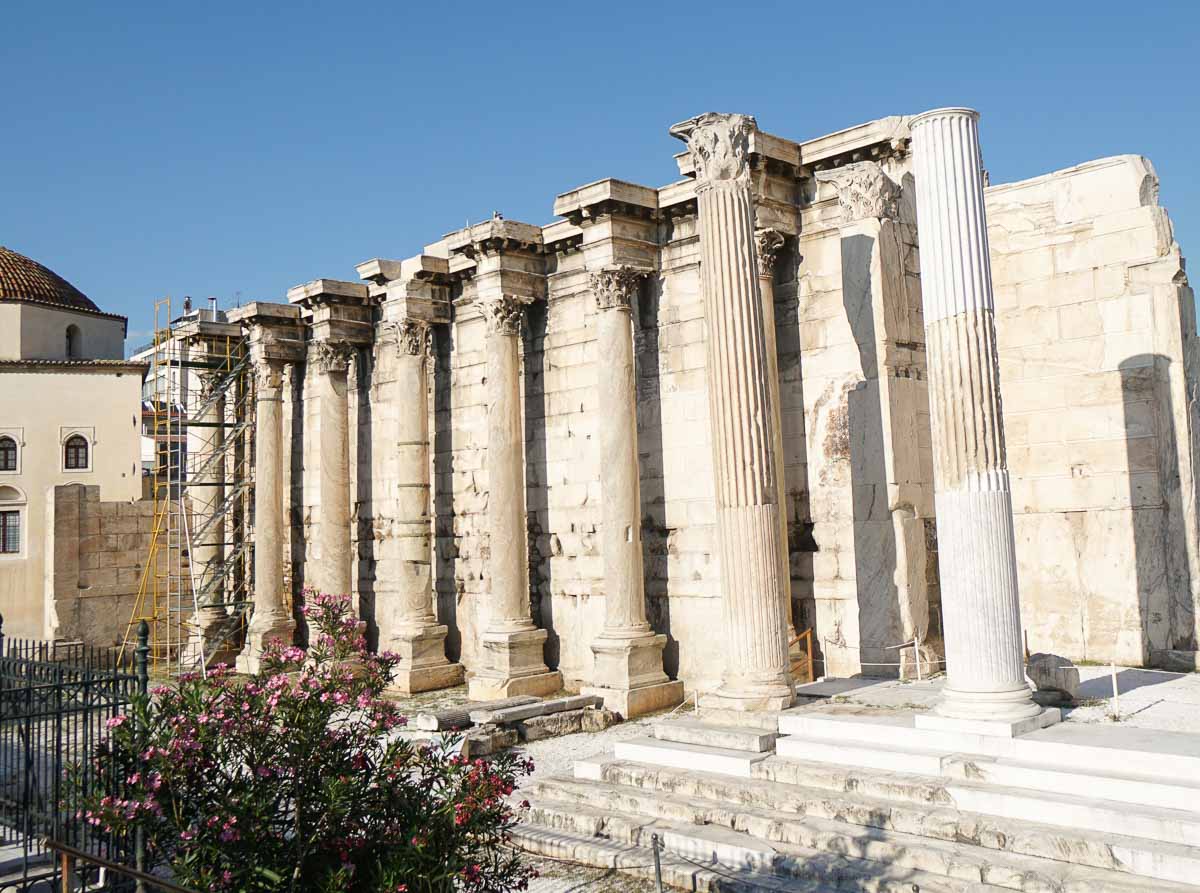 6) Roman Agora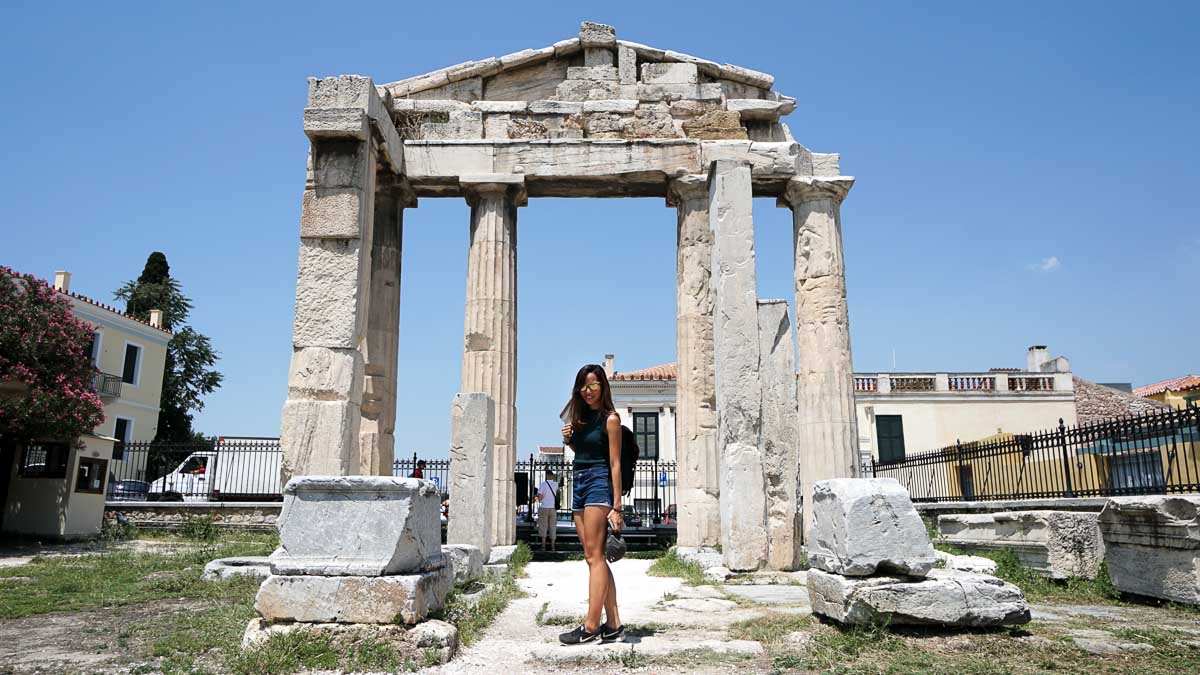 7) Aristotle's Lyceum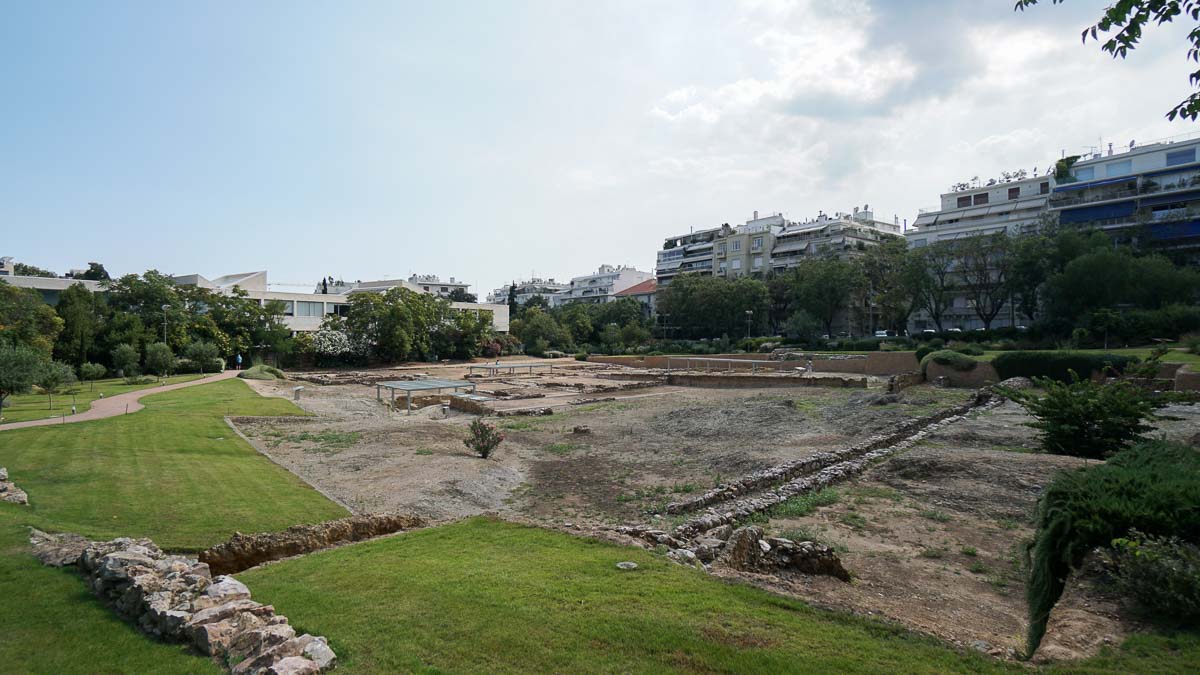 If you're short on time, just visiting the first 3 is already making a bang for your buck as the last 3 sights are pretty worn down ruins, leaving most of it up to your imagination.
The Keramikos did have a really nice museum that we personally enjoyed more than the Acropolis museum. The Lyceum, while there's not much left, was one of the most important sites in Greek history where the greatest philosophers (Socrates, Plata and Aristotle) once taught at.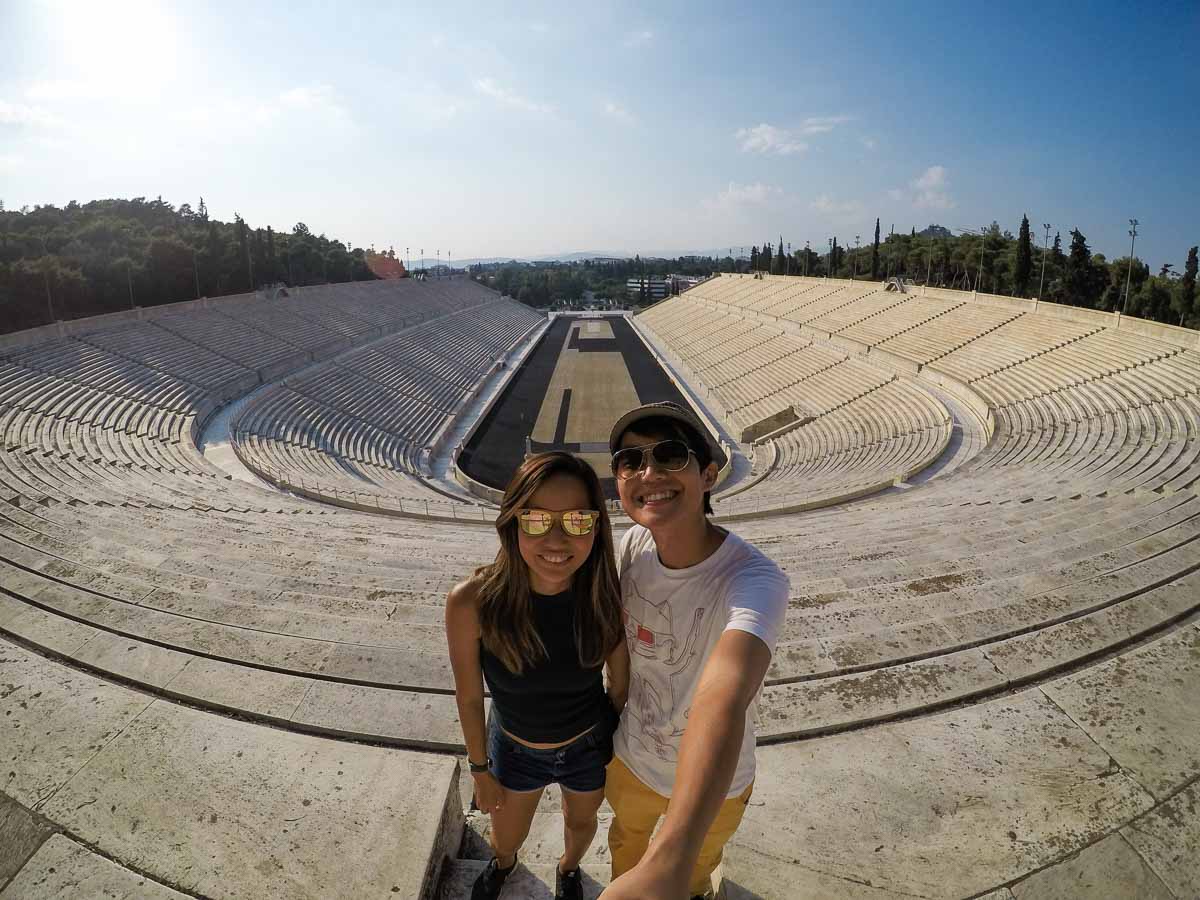 A short walk from the Temple of Zeus is the Panathenaic Stadium where the 2004 Athens Olympics was held.
Tickets cost €5/2.5 (reduced) and comes with an audio guide that brings you through 12 different points around the stadium.
Day 3: Meteora
Suggested route: Take the train to Kalambaka (Meteora), rent a scooter or e-bike, ride through the village of Kastraki and grab some lunch, explore the monasteries, catch the sunset, ride back to Kalambaka for dinner.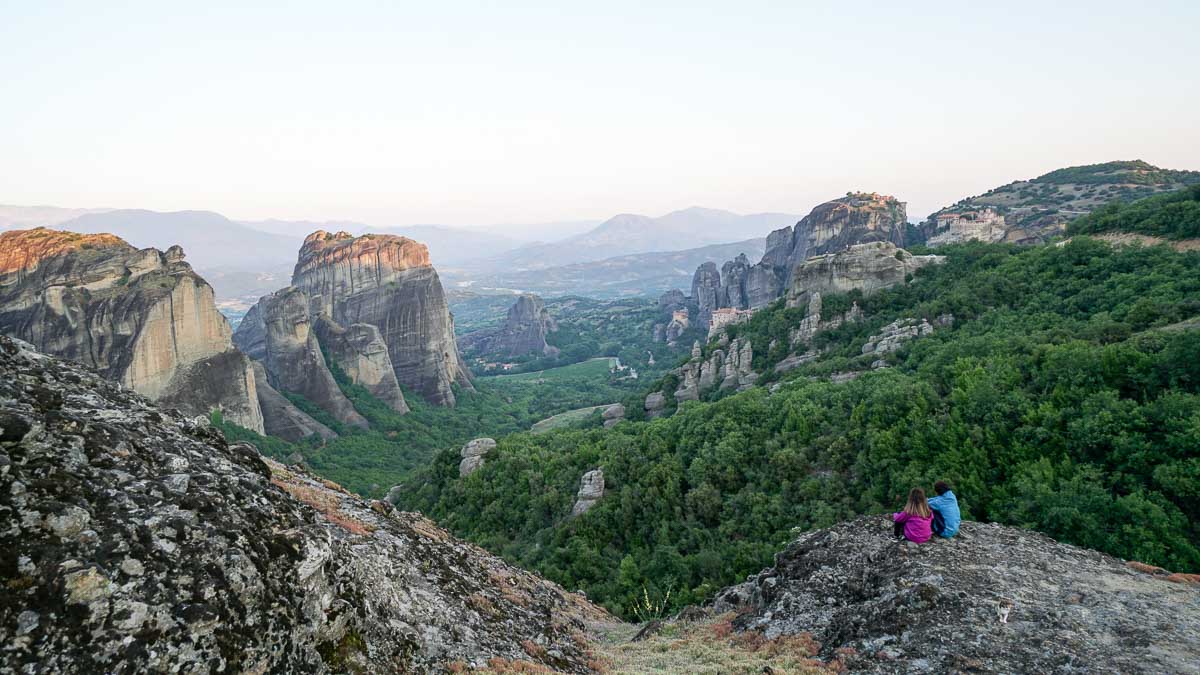 Meteora is famous for it's floating monasteries built on top of rocks by monks in the 3rd – 6th century. On cloudy days, you'll see the monasteries sticking out of the clouds — thus nicknamed "floating monasteries". One of James Bond's movies was filmed here too. The boulders are also famous for rock climbing and hikes with amazing views from the top. We knew we had to make a trip up to see for ourselves.
Athens – Kalambaka (Meteora): Checked out of the Airbnb early to catch the 8:30am train to Meteora from the Larissa OSE station. We recommend booking your tickets online in advance to avoid commissions from tour agents.
It's a 5 hour train ride so we arrived around 1pm at Kalambaka Station. Day trips from Athens are quite popular and most people have day drivers waiting for them right outside the station. We personally prefer to explore on our own so we decided to at least stay a night.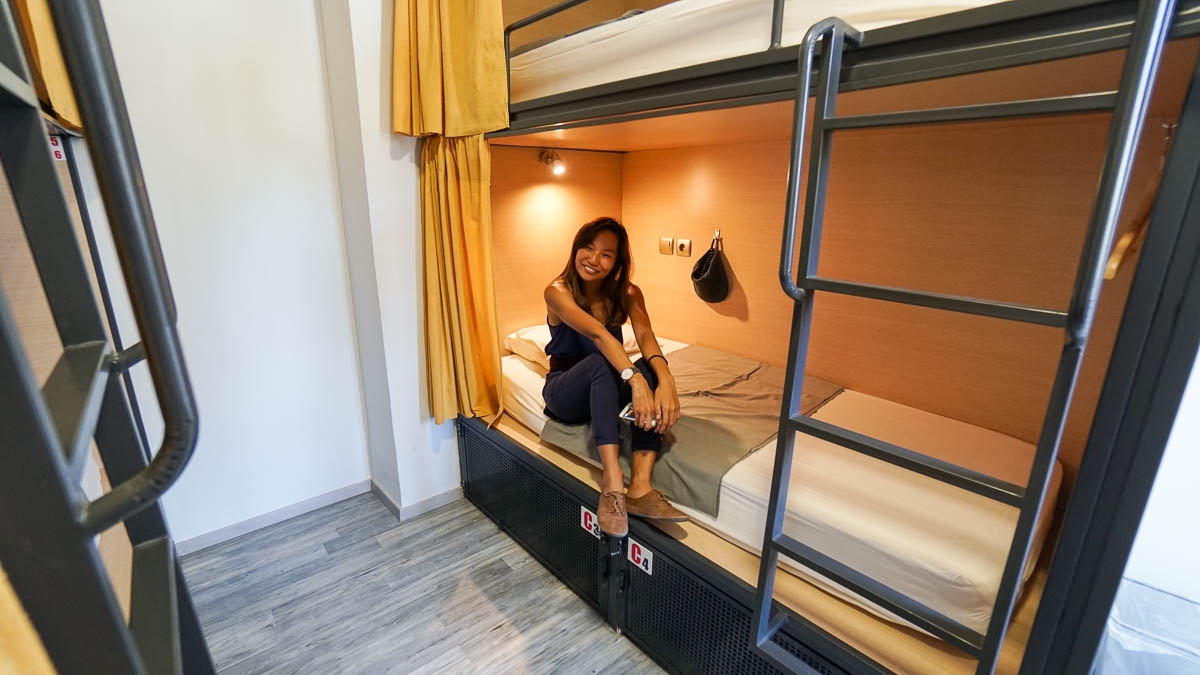 Accommodation: Meteora Central Hostel — super spacious dorm beds that come with privacy curtains resembling Japanese styled hostel beds. Loved it!
*Pro-tip: Drop them an email to make a booking or give them a call if you're already in town to get the lowest rates.
We rented a 125cc scooter for €20 to explore on our own; e-bikes are also available for those without a bike license.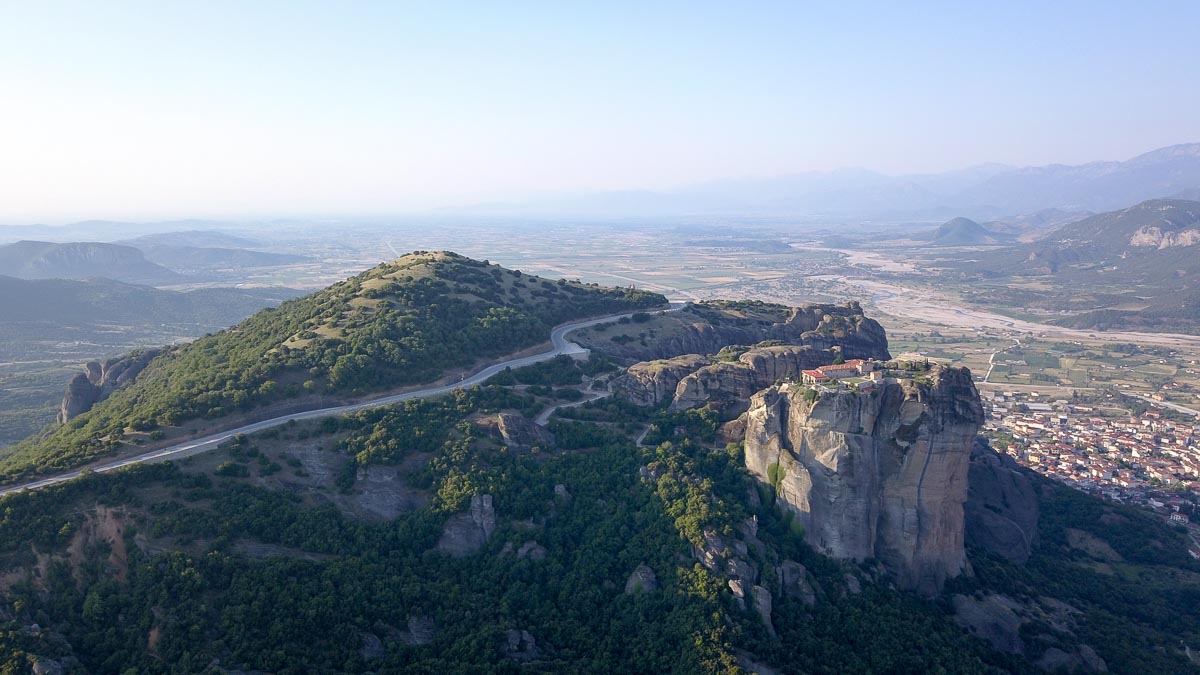 We don't normally go for tours but we found the Sunset tour run by Visit Meteora great for giving us lots of historical context of the place — stories of how the monasteries started and the lives that grew around it.
It starts from 4:30pm and ends around 9:30pm depending on when the sun sets.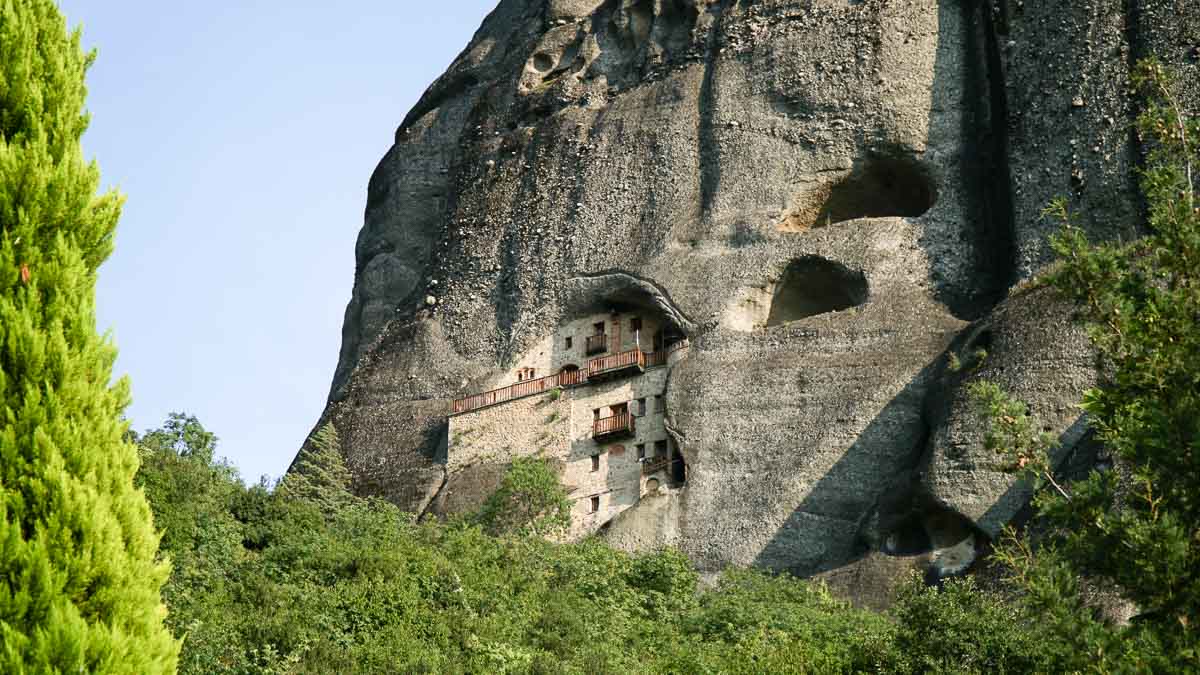 For €25/pax, you travel around in a luxury mini bus covering some of the key sights including: the village of Kastriki, a 3rd century Byzantine church, caves previously inhabited by hermit monks, a walk into 2 monasteries and ending the day at a famous sunset point where you can spot all 6 of the last standing monasteries.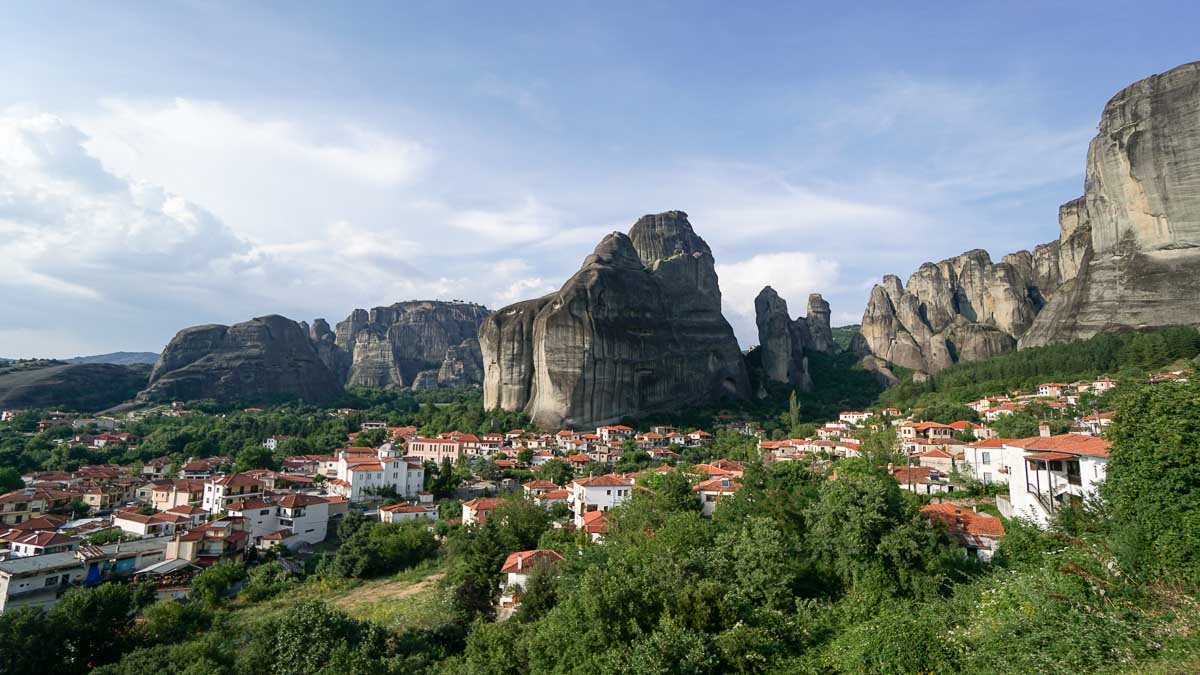 Check out the opening hours beforehand as each monastery takes turn to close one day of the week. At one point in time, there were about 24 monasteries, each built on its individual boulders. Today, only 6 remain (2 of which are taken over by nuns).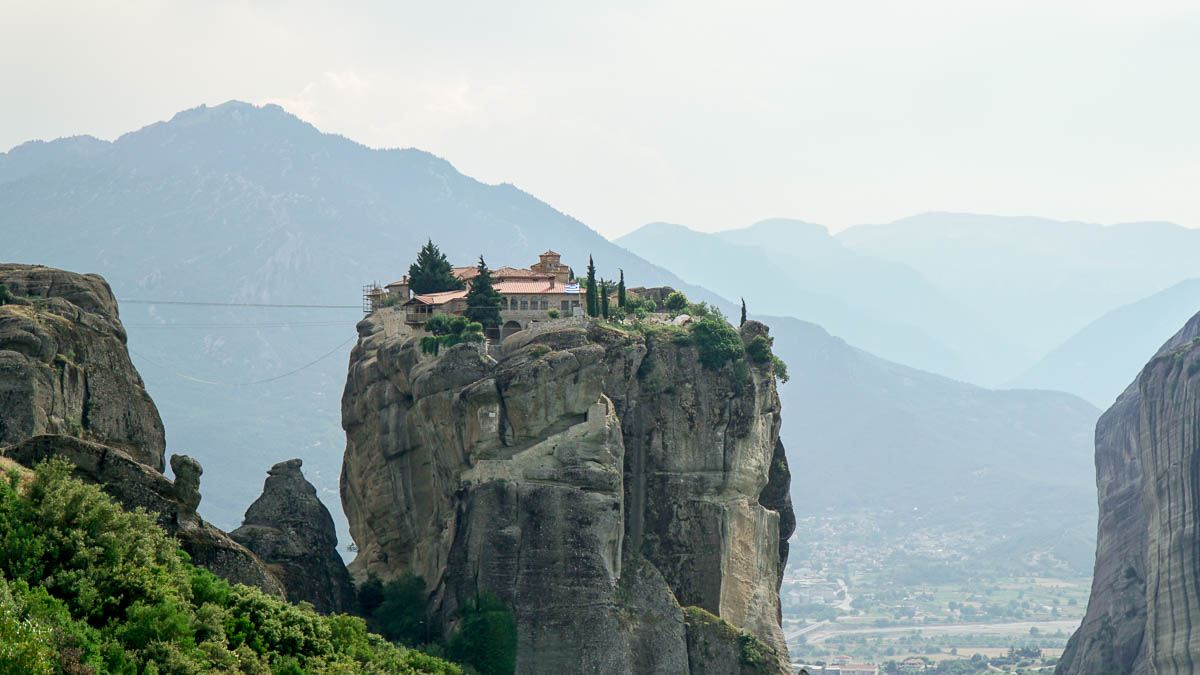 The famous monasteries are the Holy Trinity (where one of the James Bond movies was filmed), the Grand Meteora and Varrlam.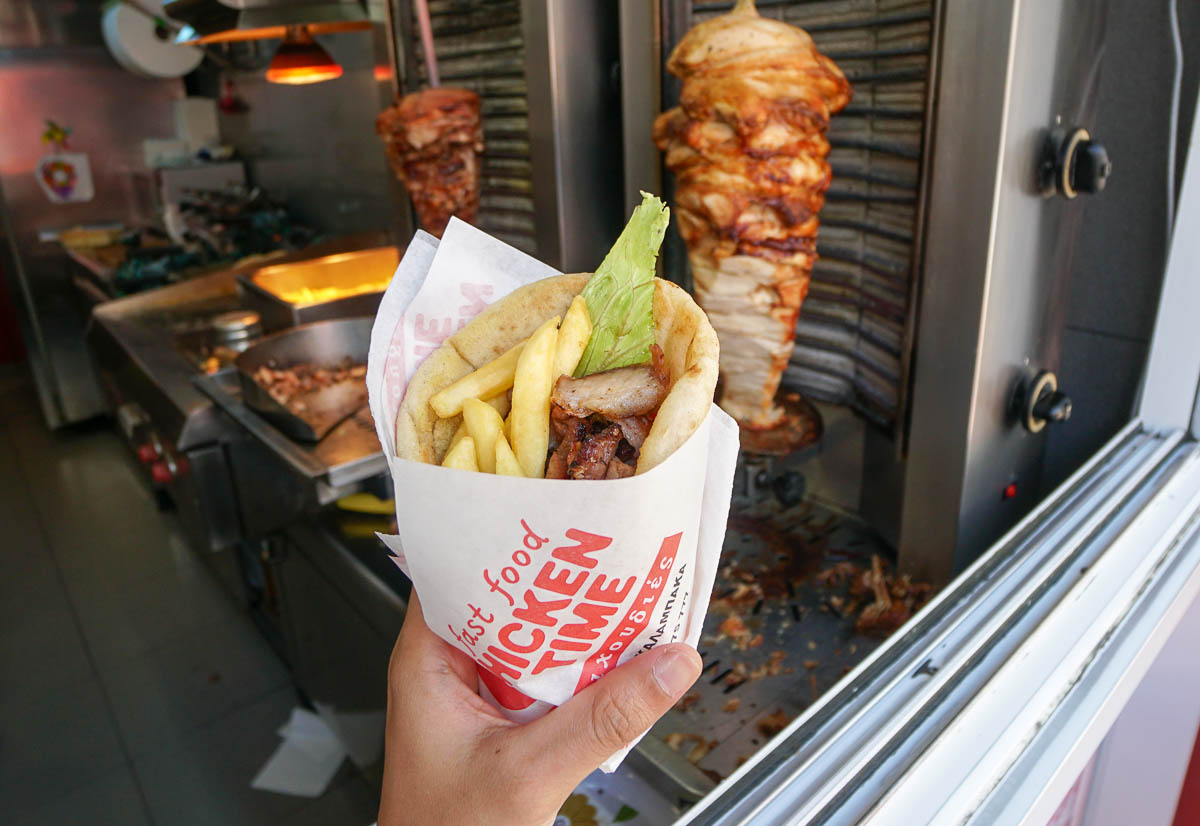 For cheap eats in the city of Kalambaka, Chicken Time seemed like the most popular place for Gyros — usually the only one filled up during lunch.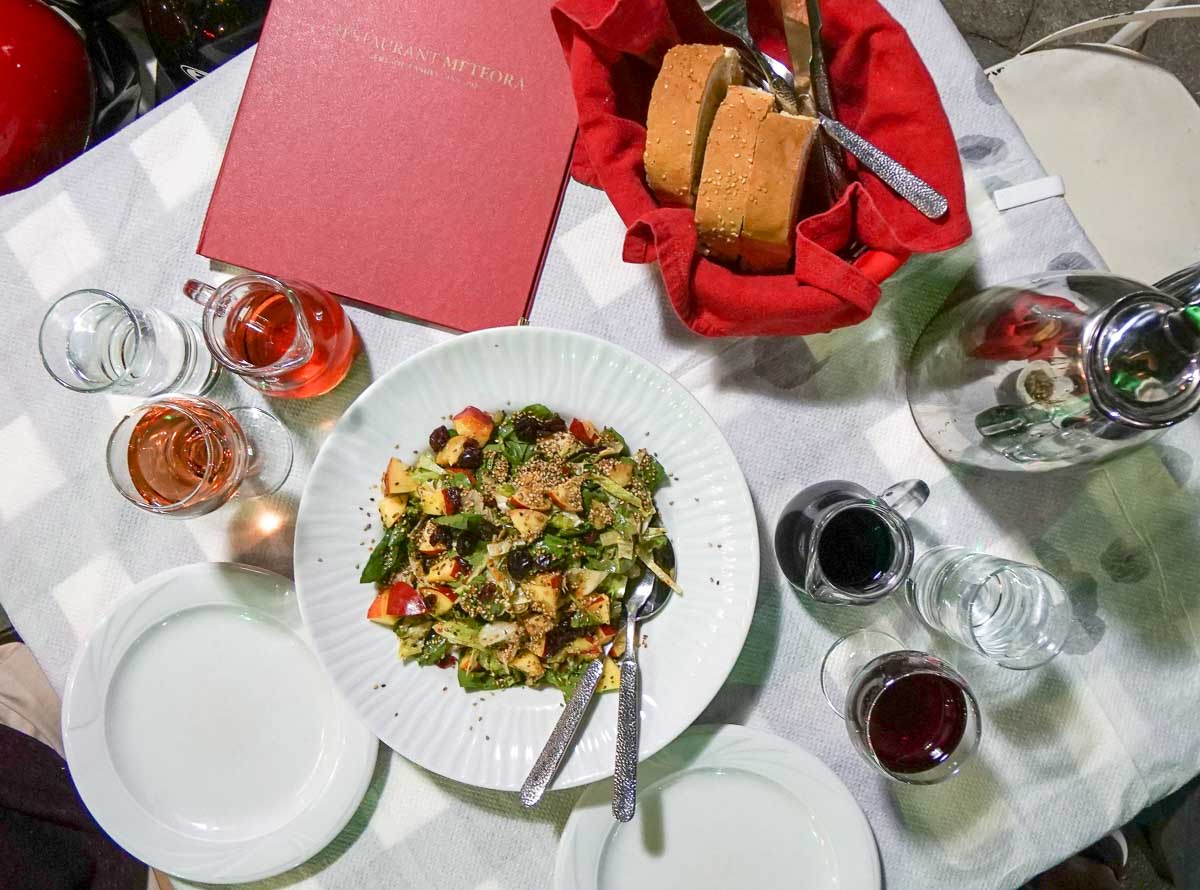 For something a little fancier, check out Restaurant Meteora which serves good food and house wines all at decent prices — we ended up here for lunch the next day too.
Day 4: Meteora
Suggested route: Ride up during sunrise, ride back to the hostel and get picked up for the Scrambling tour, have lunch at Restaurant Meteora, wash up and get ready to catch the train back to Athens. Take the metro to Pireaus to catch the ferry to Thira (Santorini).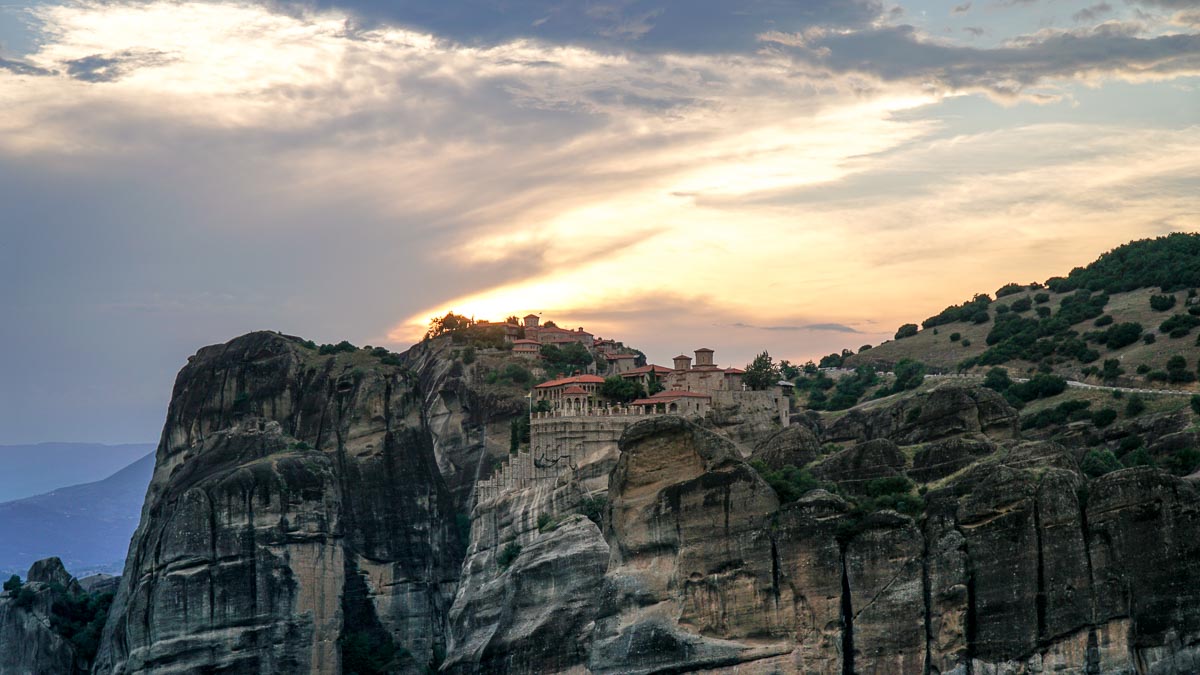 Since sunset points are usually super crowded, we have this habit of visiting a second time during sunrise and boy did we not regret.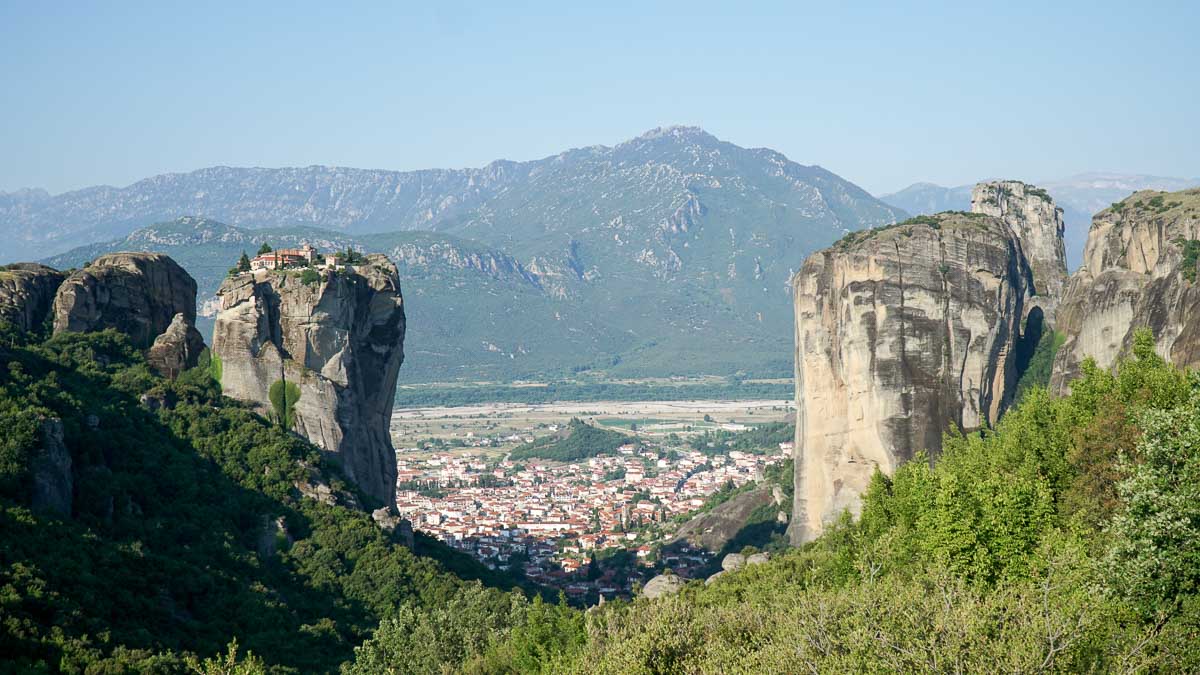 Being at the same spot during sunrise was a whole other experience. The only other living thing there was a little kitten who kept us company through the cold morning breeze. Instead of watching the sun, this time we'd watch light slowly flooding the boulders, creeping its way toward the monasteries.
p.s. You might want to bring some cat-friendly treats up!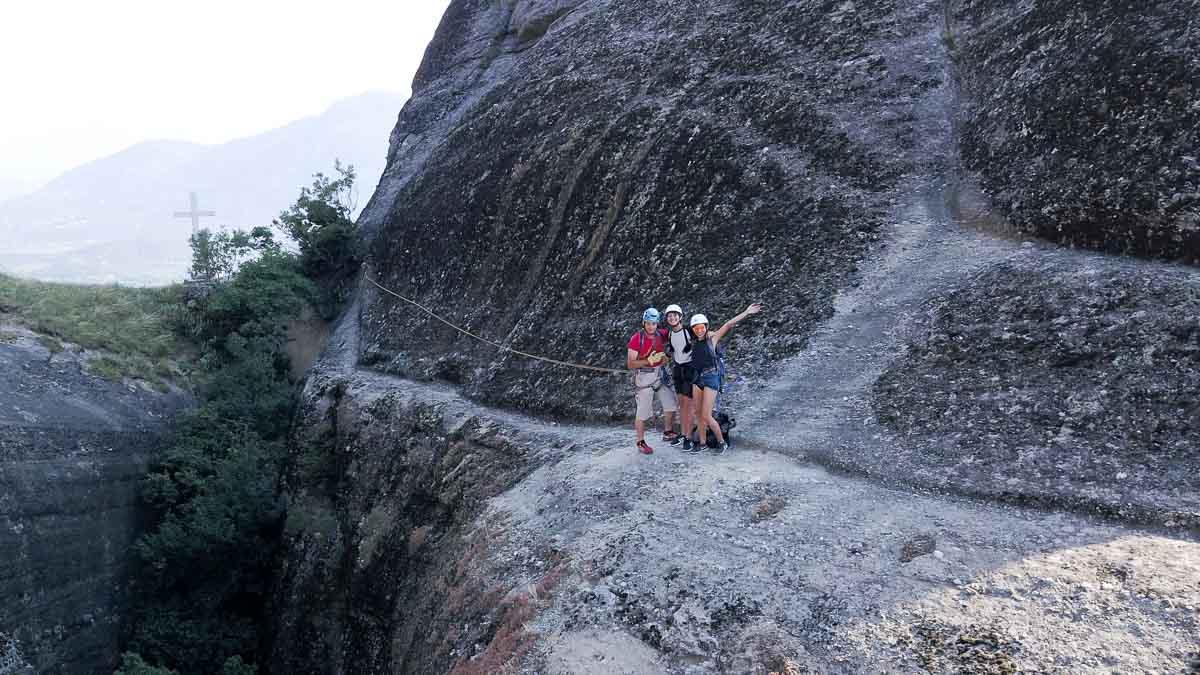 Scrambling tour with Visit Meteora: Rock climbing and hiking are popular activities in Meteora. Being short on time, we signed up for a Scrambling tour which was a little of both and I think it was easily our favourite experience in Meteora.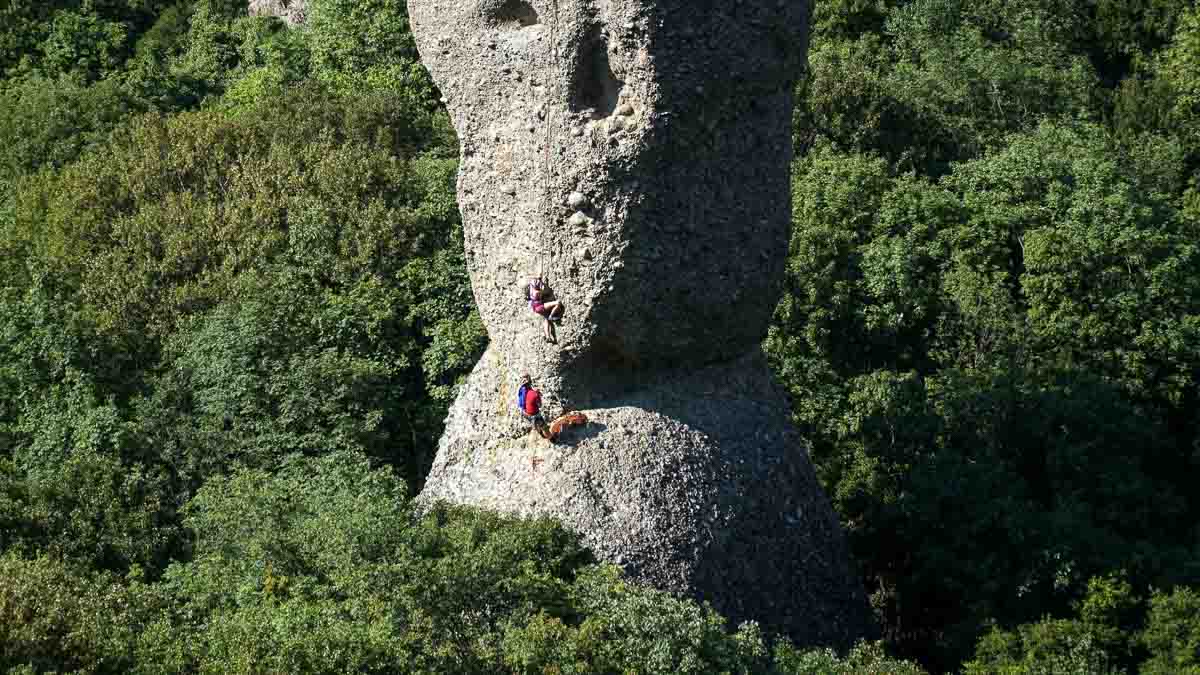 The tour starts with an easy 15-minute hike where you'll pass by the Spindle — a famous rock climbing spot for the pros. The next part is where you'll realise why your guide had prepared ropes, helmets and harnesses prepared.
Despite the steep face, there were lots of nice ridges you could stick your foot in or use to grip your way up. Our guide was also very reassuring and safe.
The end point was the top of the tallest rock in Meteora — the Great Saint —where you could overlook the entire town of Kalambaka. A sight definitely worth scrambling for.
The tour can take between 2-4 hours depending on the group size and overall group fitness but the guide claims even 8-year-olds have done the route.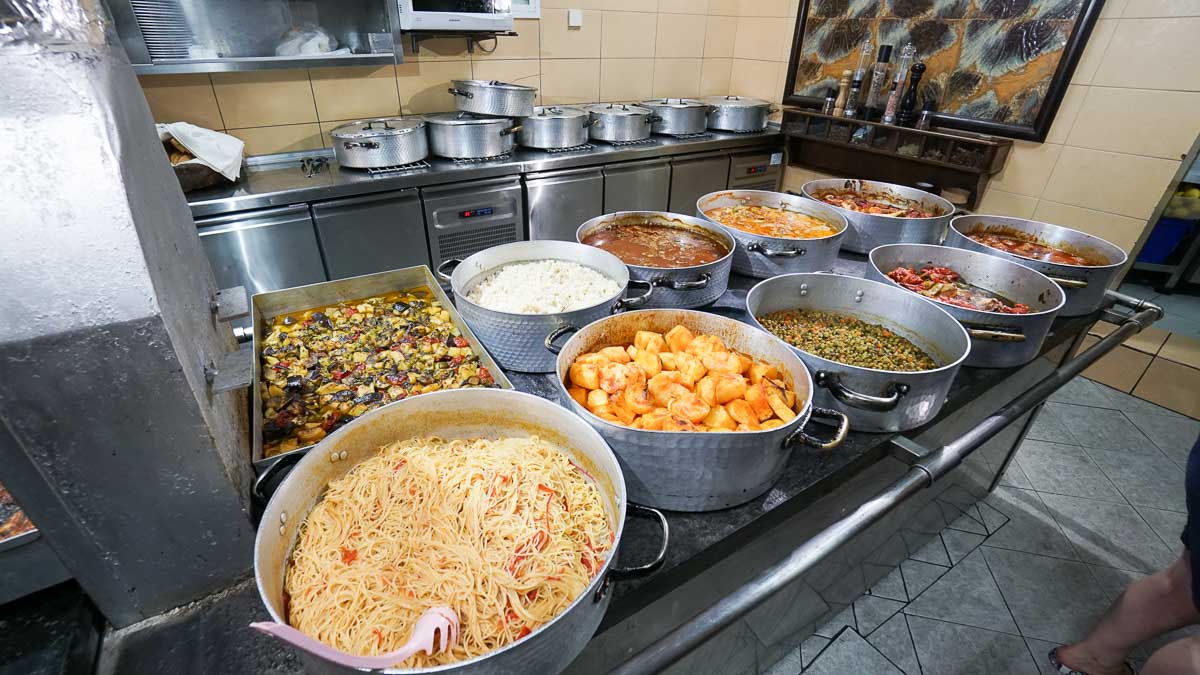 We got back just in time for lunch at the Meteora Restaurant. It gets quite crowded during dinner but the specialty at lunch is, you'll be invited into the kitchen to choose from an array of Greek dishes from €8-12 all cooked by the mama of the restaurant. The portions were generous and food was delicious!
Train back to Athens: We caught the 5pm train back to Athens, arrived at 11, just in time to catch the 11:55pm ferry to Santorini at Pireaus.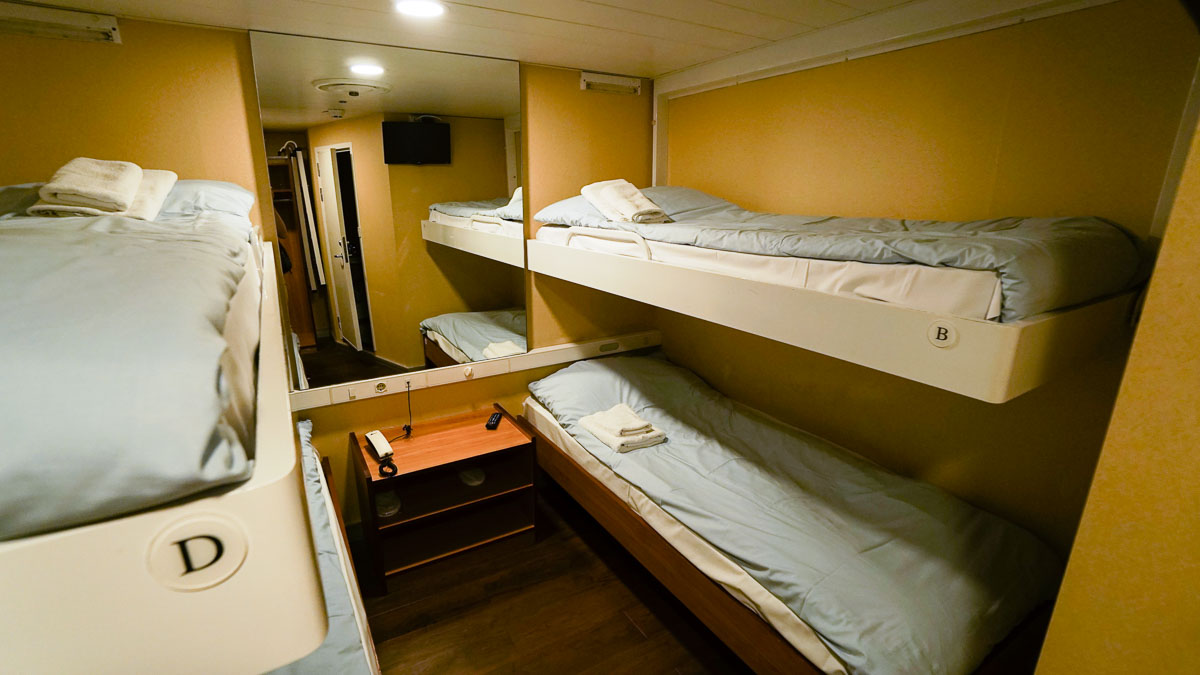 Blue Star Ferry: The cheapest seats on the ferry were air seats which cost €40 but don't recline that much. Since it was a 9 hour ride, we opted for the 4 bed cabin at €60 (split by gender). A good night's sleep is definitely worth an extra €20. You can also get private cabins at €80/pax for a double room.
Apr 2018 UPDATE: Blue Star Ferry no longer has overnight ferries but a reader found alternatives on Anek Lines. Their ferry operates about twice a week:
Athens (Piraeus) to Santorini
Tuesdays: depart 20:30, arrive 05:20 (8h50min)
Fridays: depart 18:00, arrive at 02:50 (8h50min)
Santorini to Athens (Piraeus)
Thursdays: depart 22:30, arrive 07:20 (8h50min)
Mondays: depart 00:40, arrive at 09:45 (9h5min)
Day 5: Santorini
Suggested route: Check-in at the Airbnb, grab a meal in Fira, rent an ATV or Scooter, check out the Three bells of Fira, order a wine tasting set at Santos Winery, explore the castle ruins at Skaros Rock and enjoy the sunset from the top, have dinner in Fira.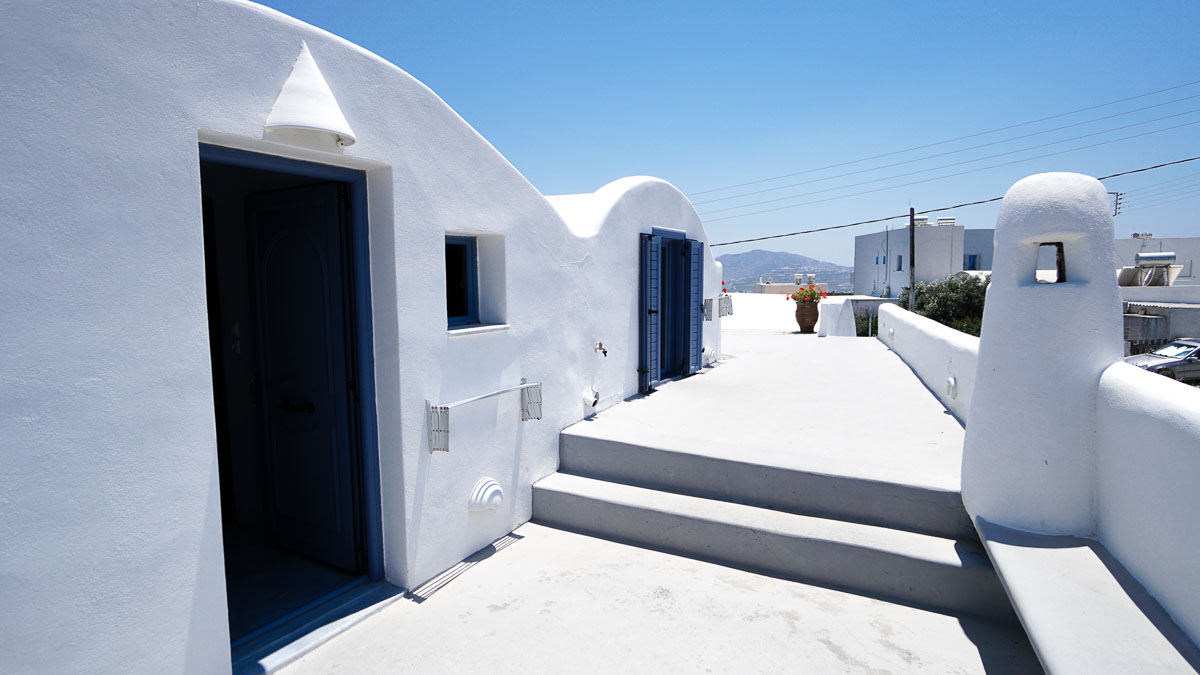 In Santorini, we picked an Airbnb located in Firostefanie which was a 10 minute walk to the main town of Fira. It was near enough to the main square yet far enough to have our own privacy on the rooftop. The room was really clean and cosy, definitely value for money!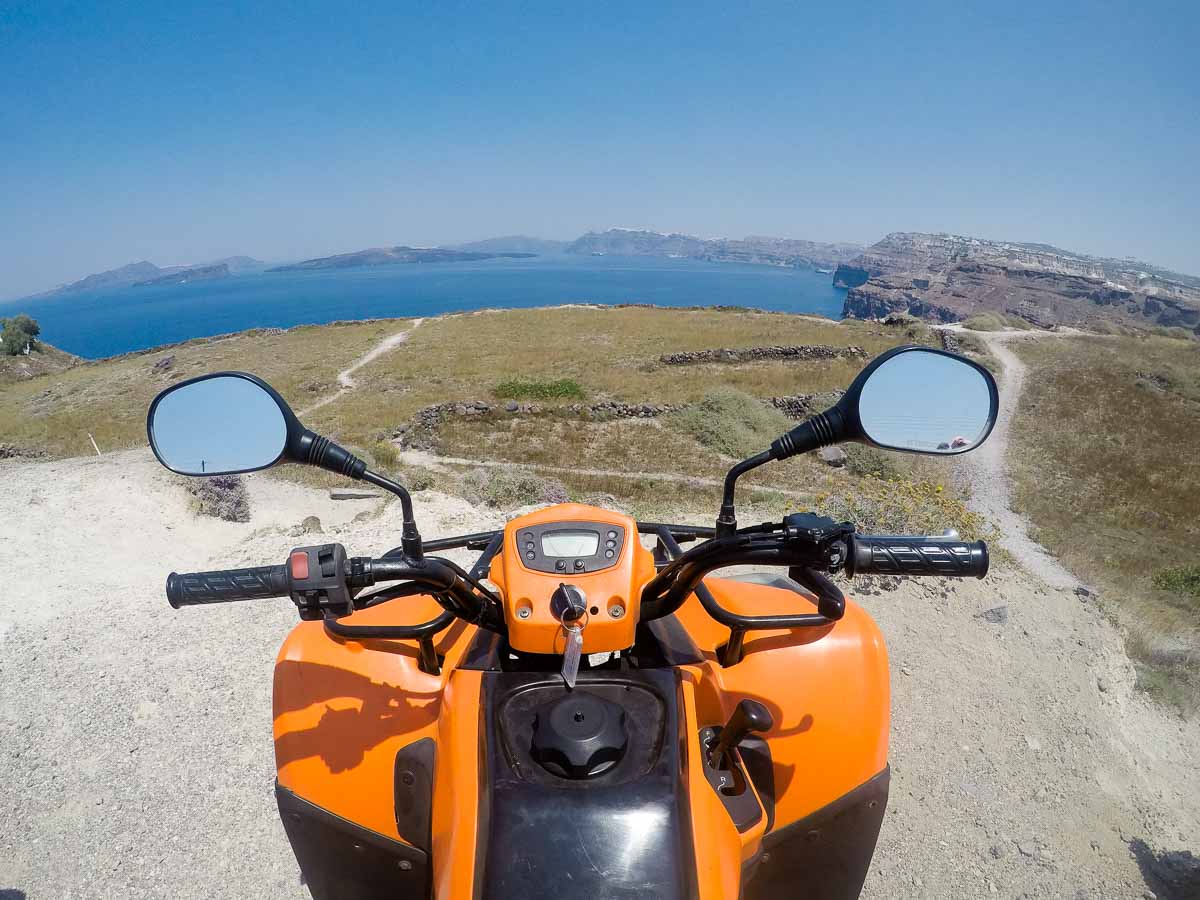 The host Odesseys also rents out ATVs for a good price; we researched quite a bit to be sure.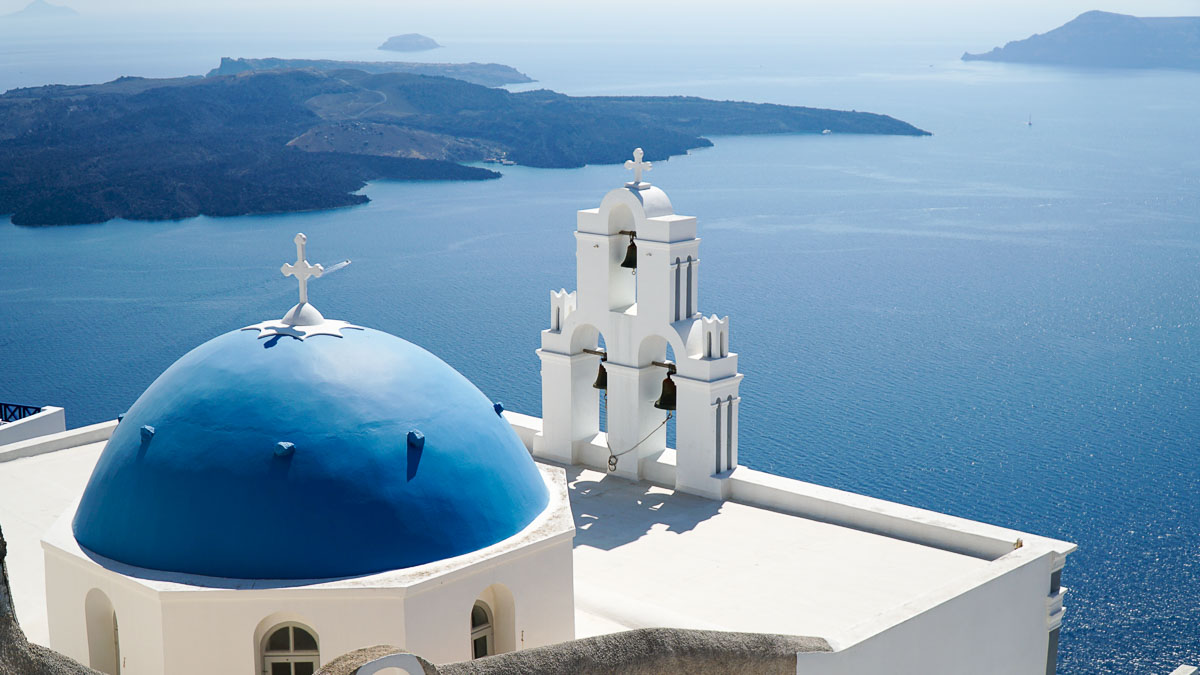 Three bells of Fira: A popular spot for wedding photography.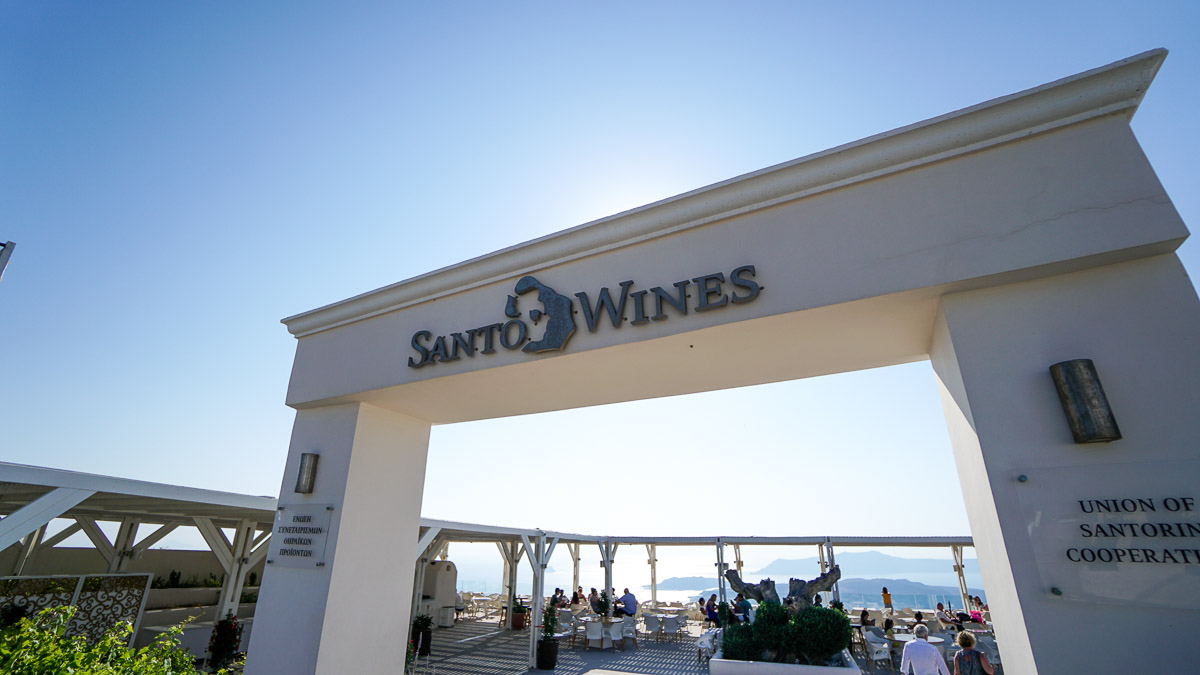 You can find a wide range of fairly inexpensive meals in the square of Fira but we decided to skip that and head for some wine tasting. The most established one in the area is Santos Winery.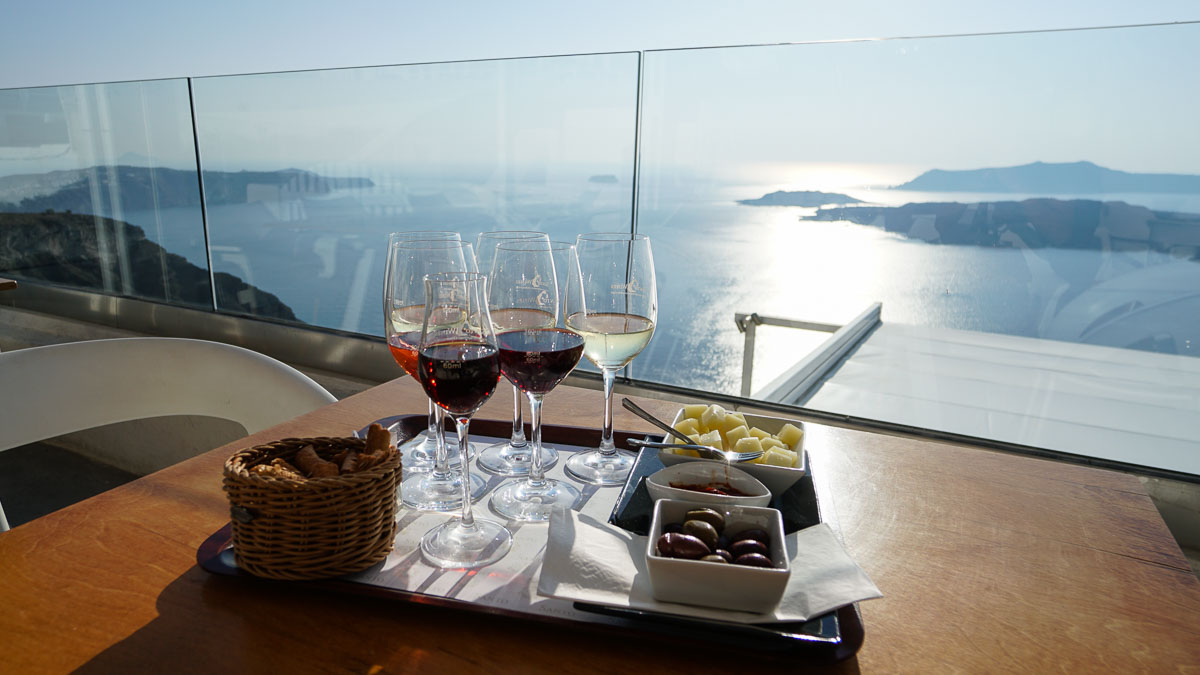 You can book winery tours with them (online only), but if you're just looking to try out the wines, you can order a set of 6, 12, or 18 tasters along with the "Santorini" platter of Greek cheese, olives and breadsticks.
*Pro-tip: A curated set of 6 costs €14.50 but if you know what you want, you can pick your own 6 like us and save €2-3.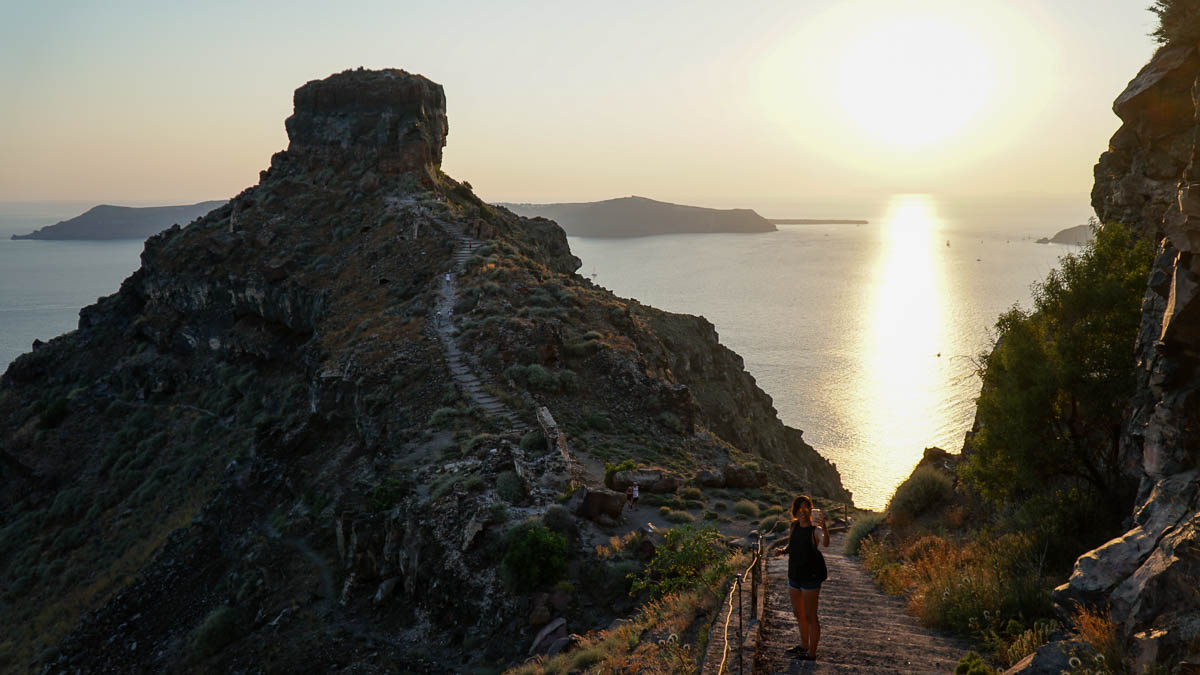 Skaros Rock: While everyone fights for a spot during sunset in Oia, this was our favourite sunset spot.
It's a 20-minute scramble to the top, but the privacy and views are worth it.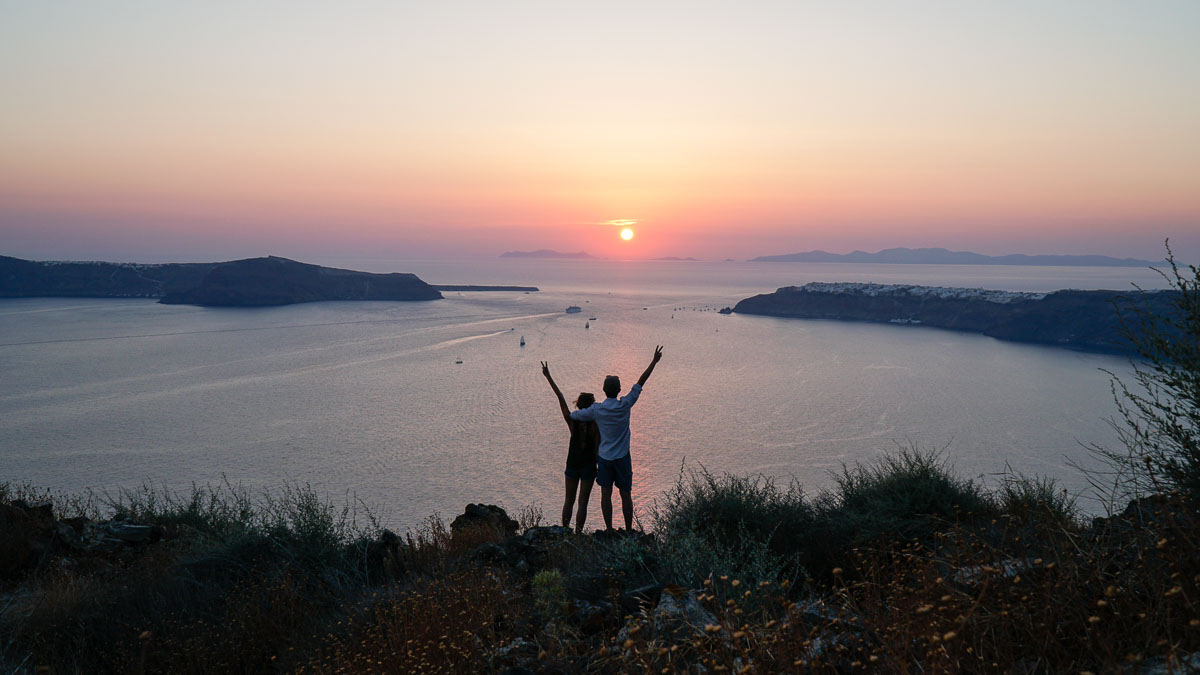 Day 6: Santorini
Suggested route: Sign up for a day cruise, return to Ammoudi bay for cliff jumping, explore Oia and settle in at the old Byzantine castle for sunset, have dinner back at Fira.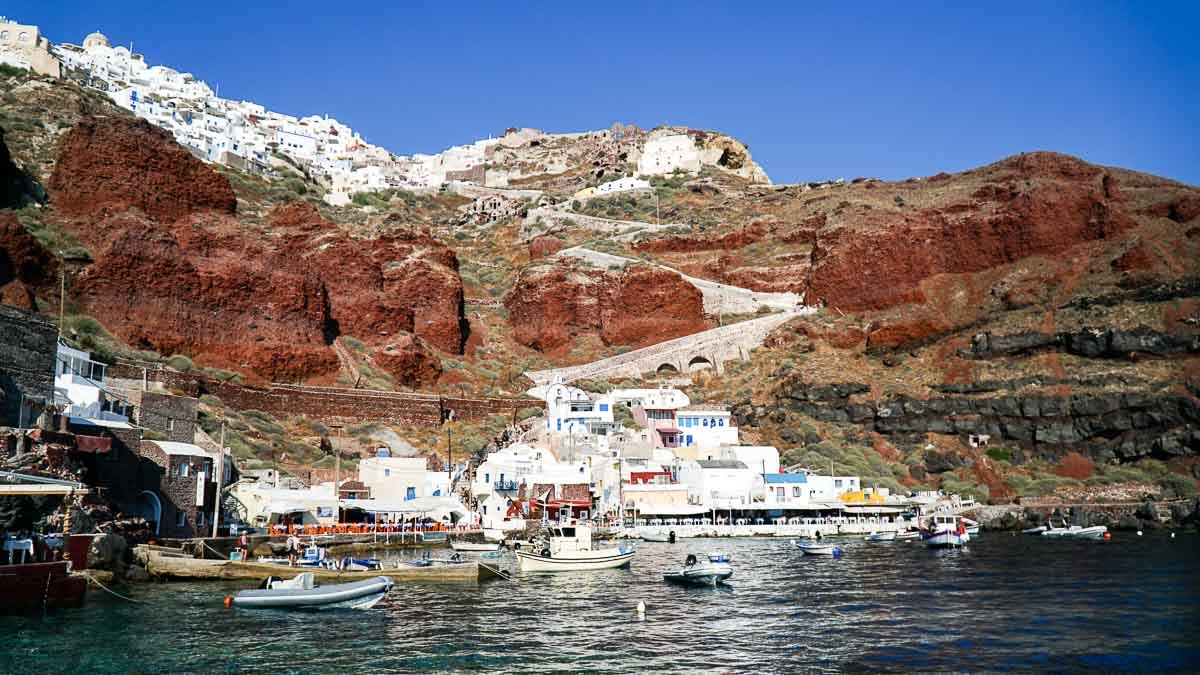 We didn't get to sign up for a cruise in the end as we only considered it on our last day and it was fully booked out.
If you're up for it though, the Santorini Yatching Club has a 5-hour day tour that sails you through the caldera to the hot springs, a Venetian lighthouse and a white sand beach where you'll have BBQ for lunch with FREE FLOW local wines and beers.
The most value for money option is the party boat that caters for 55 people. It leaves at 10am and returns to Ammoudi bay by 3pm for €85 — you can get a €5-10 discount if you sign up at the physical store. There are outlets along Ammoudi Bay, Fira, Firostefanie and Imerovigli.
There's also a sunset cruise which takes the exact same route but starts at 3pm and returns after sunset for €10 more.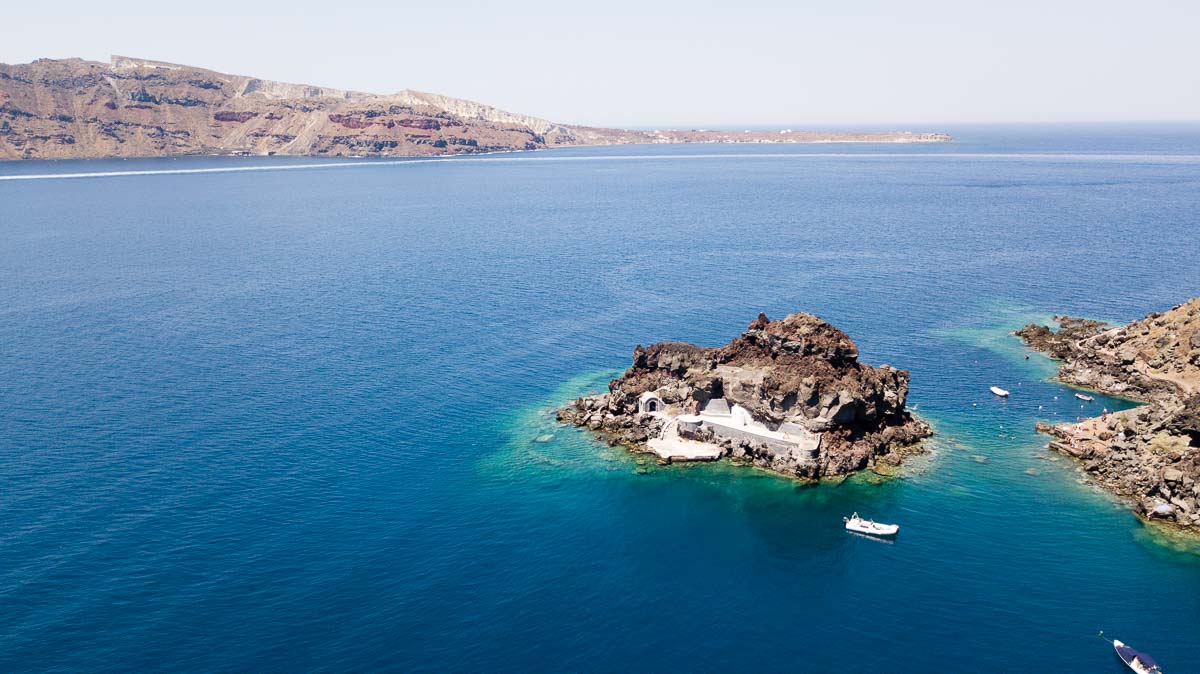 When you're back from the cruise, instead of getting a ride back to your accommodation, check out this rock for some cliff jumping. At the port, facing the sea, walk towards the left — past the restaurants up on the rocks and you'll see the cliff pictured above.
*Pro-tip: Follow those in beach attire; they're likely to be headed there too.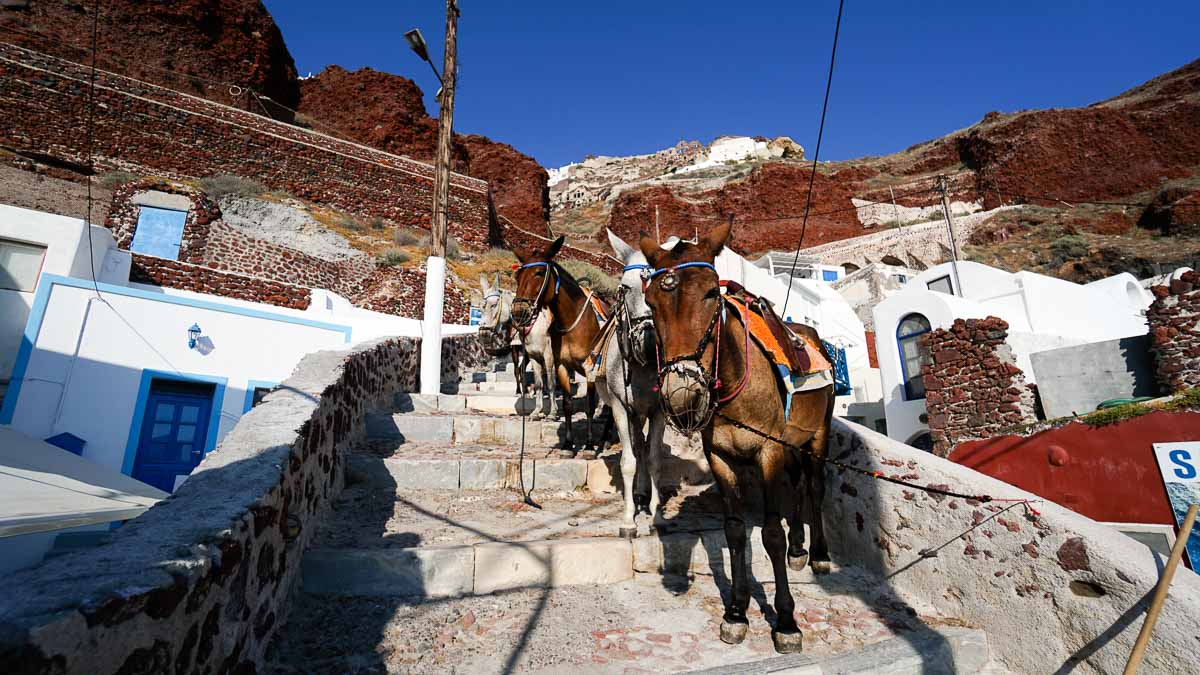 You'll likely walk past these donkeys too.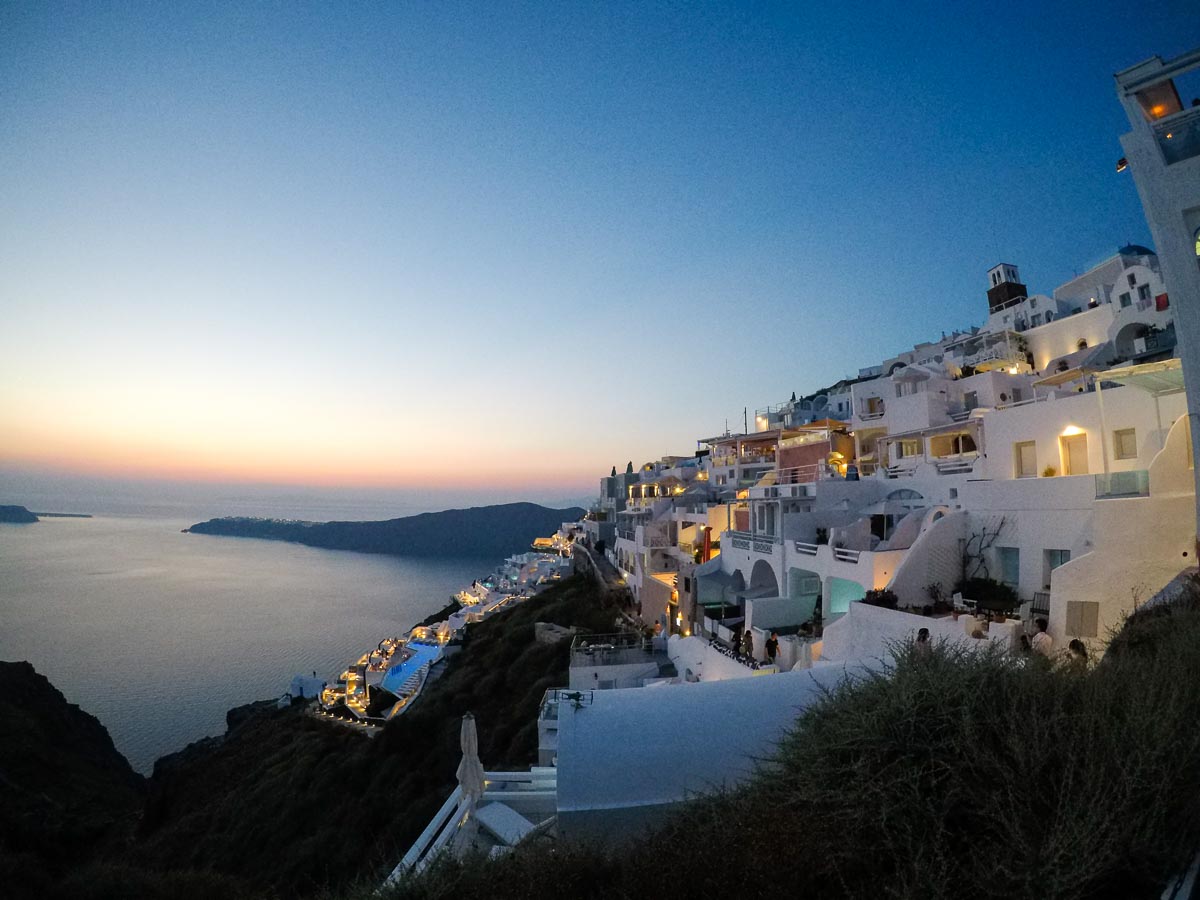 And since you're in Oia, take some time to explore the charming streets before locating the ruins of an old Byzantine Castle in Oia.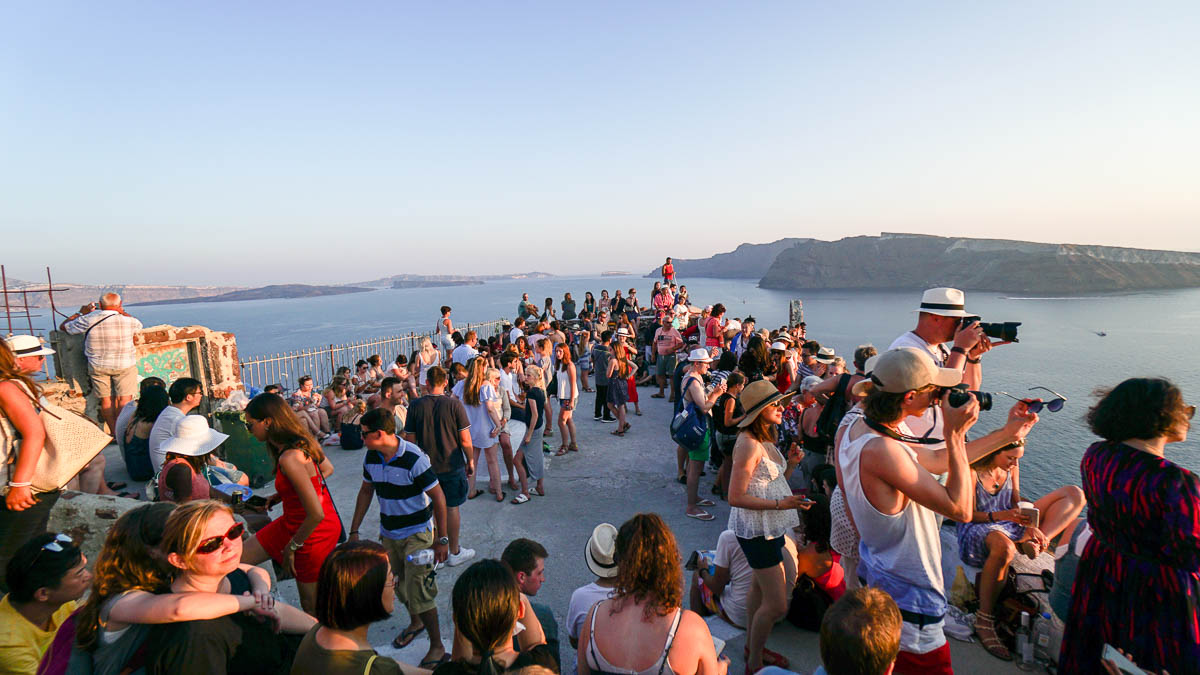 Everyone comes here for at least 1 sunset so be prepared to squeeze with the crowds or come earlier to save a good spot — especially if you're planning to film a time-lapse.
Day 7: Santorini
Suggested route: Explore the Ancient Akrotiri ruins, take a dip at the red beach, check put Ancient Thera, and chill at Kamari Beach.
There's a combo pass you can purchase for €14 (half for students) which gives you admission to 5 different museums and archaeological sites like Akrotiri and Thera.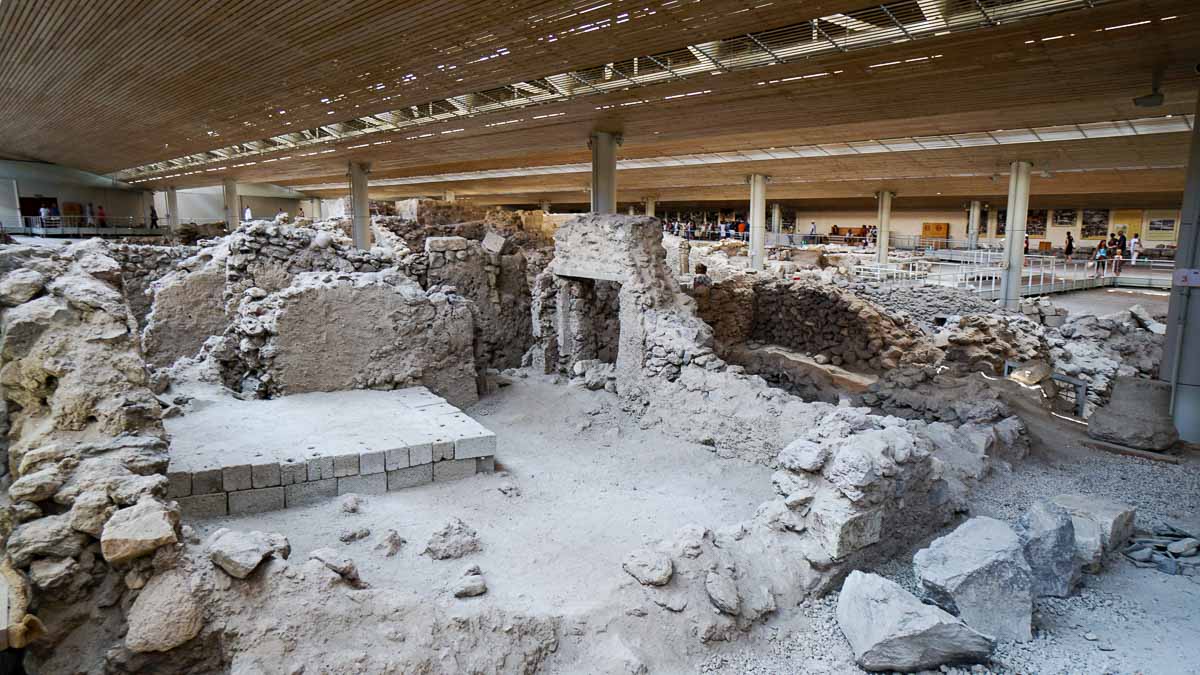 Akrotiri: Ancient site that was destroyed a volcanic eruption in the 1627 BC. Many objects and artworks were preserved by the volcanic ash.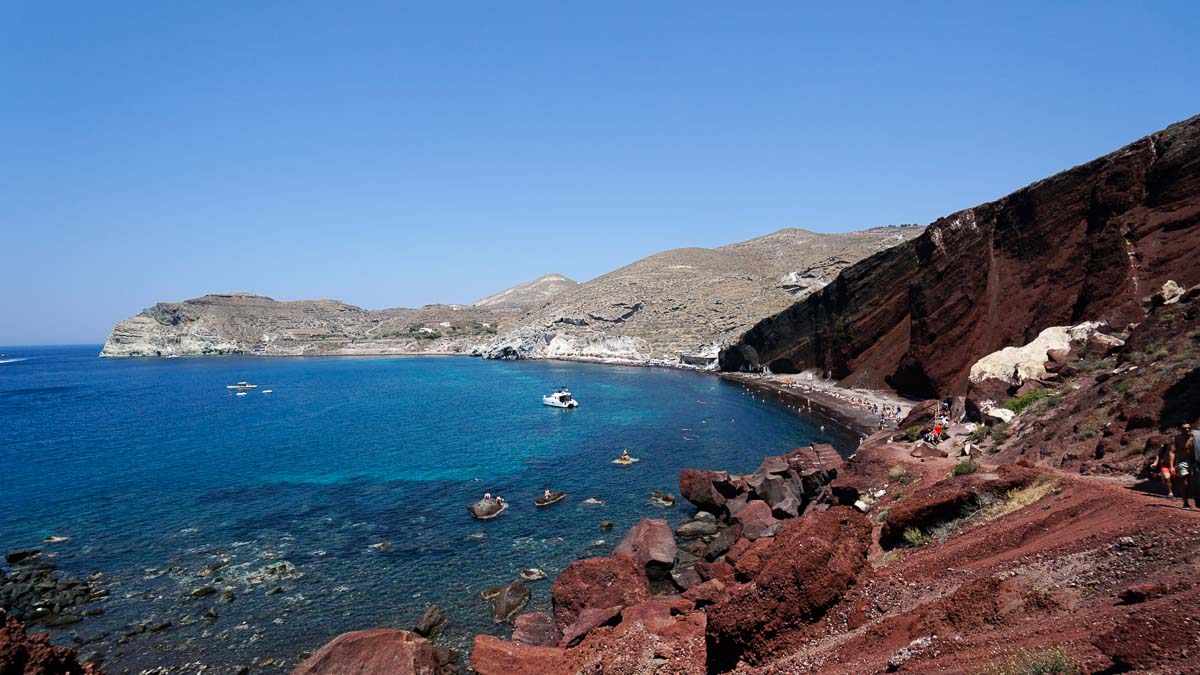 About 5 minutes from the ancient site of Akrotiri is the famous Red beach. You'll have to swim out quite a bit to reach clearer waters and is crowded at all times of the day.
On the other side of the island, head to Kamari for the Archaeological site of Thera.
Kamari also has a bunch of resorts and a beach to chill and unwind at.
Day 8: Back to Athens
Suggested route: Take the ferry back to Athens, shop for souvenirs at the Monastiraki flea market, check out the Archaeological Museum or climb Lykavittos Hill for a final sunset, end the day with dinner along Valtetsiou street.
We took the 6:45am ferry by Blue Star Ferries and arrived around 3pm but if you'd like to sleep in on your last day in Santorini, there's another ferry around the same price by Hellenic Seaways leaving at 12:30pm and arrives at 9:30pm.
This time we picked an Airbnb next to the National Archaeological Museum (near Viktoria Metro station) with two adorable cats!
Monastiraki's flea market: Lovely street lined with just about any tourist gift you can think of. Nice street to walk through with lots of Gelato stores along the way.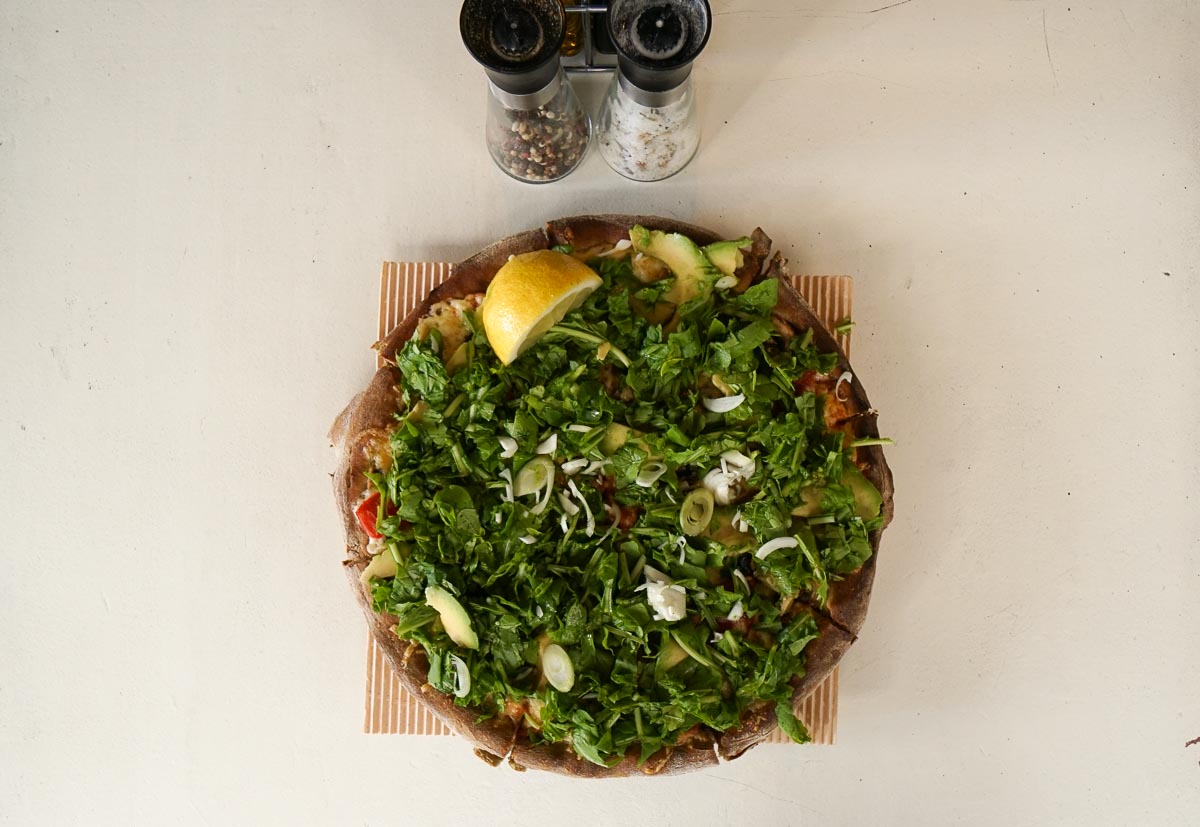 Find lunch at Mystic Pizza known for pizzas made out of cannabis flour.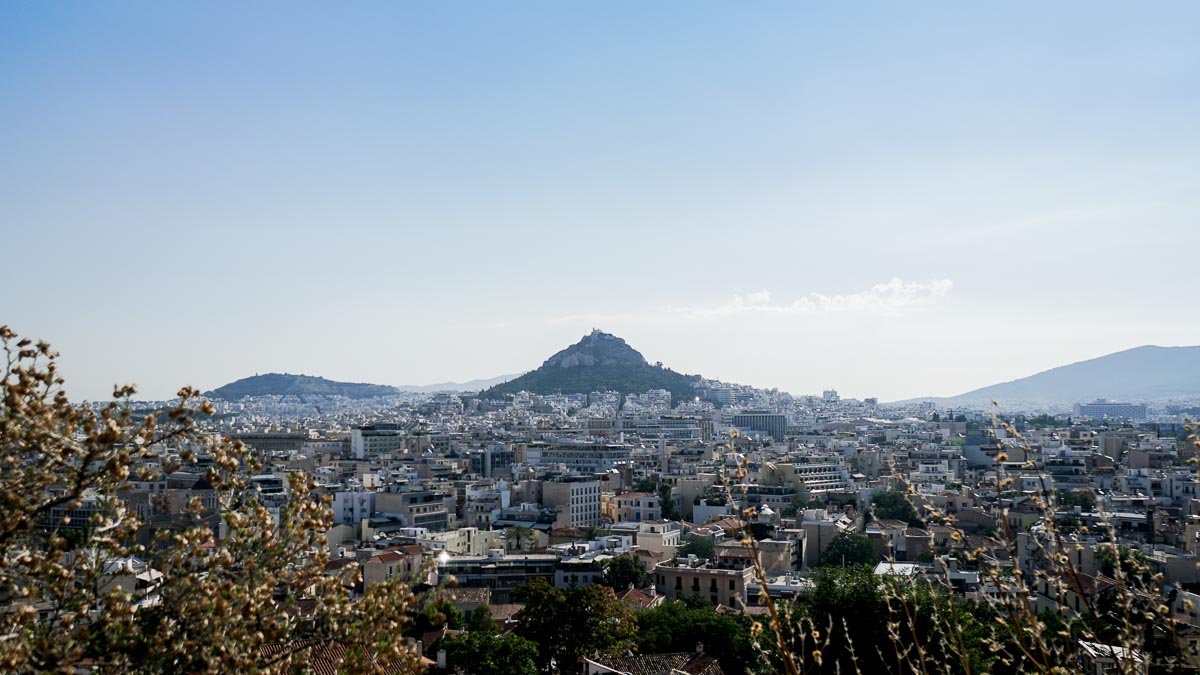 Lykavittos Hill: Athen's tallest hill. The view of the Acropolis is a little far but it offers a nice panoramic view of the city.
We settled for dinner at a place called Pozania located along Valtetsiou street which had very affordable mains and house wines.
Day 9: Back to Singapore!
Took the metro (€18 for 2) along the green line straight to the airport for our flight from Athens to Singapore at 11:30am.
Note that not all trains on the airport platform go all the way to the airport. Check the electronic signboard!
---
Budget Saving Tips in Greece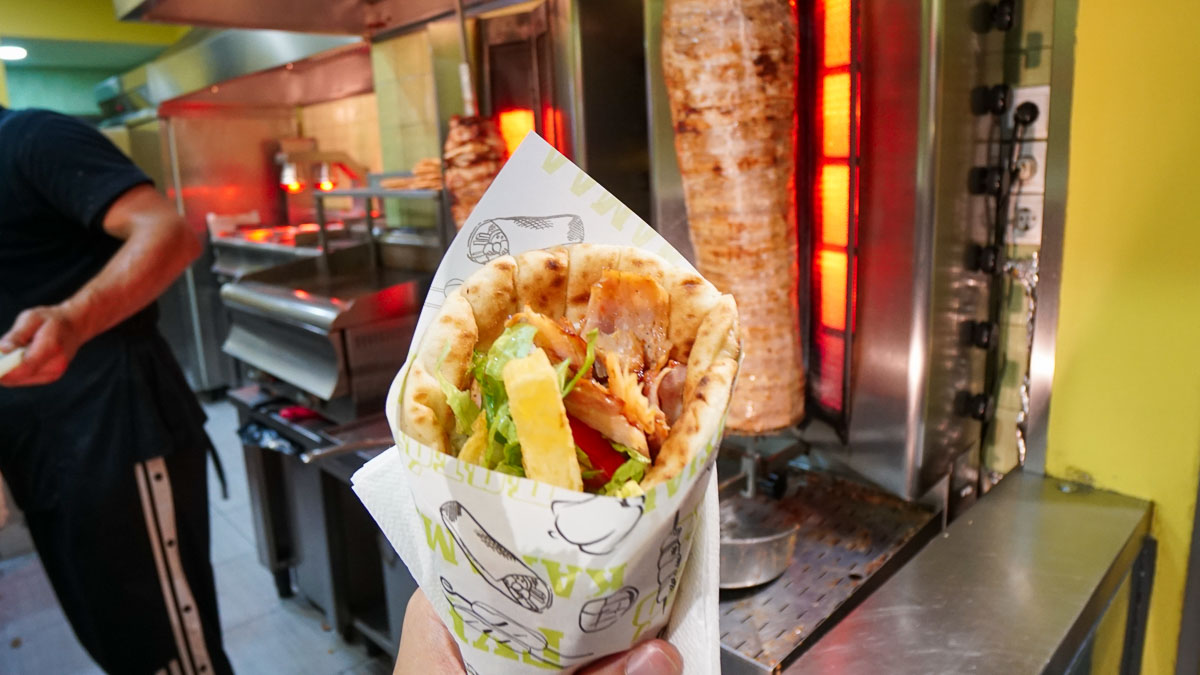 1) Food: On most days, we'd have a quick bite for lunch, and settle in a local taverna for dinner. Gyros and Souvlakis are some of the cheapest fast foods you can find. They cost around €3 (we've had them for €1.30 too) and can fill you up. For restaurants, walk a little further from the tourist streets like Plaka and you can find nice tavernas that sell mains for €5-10.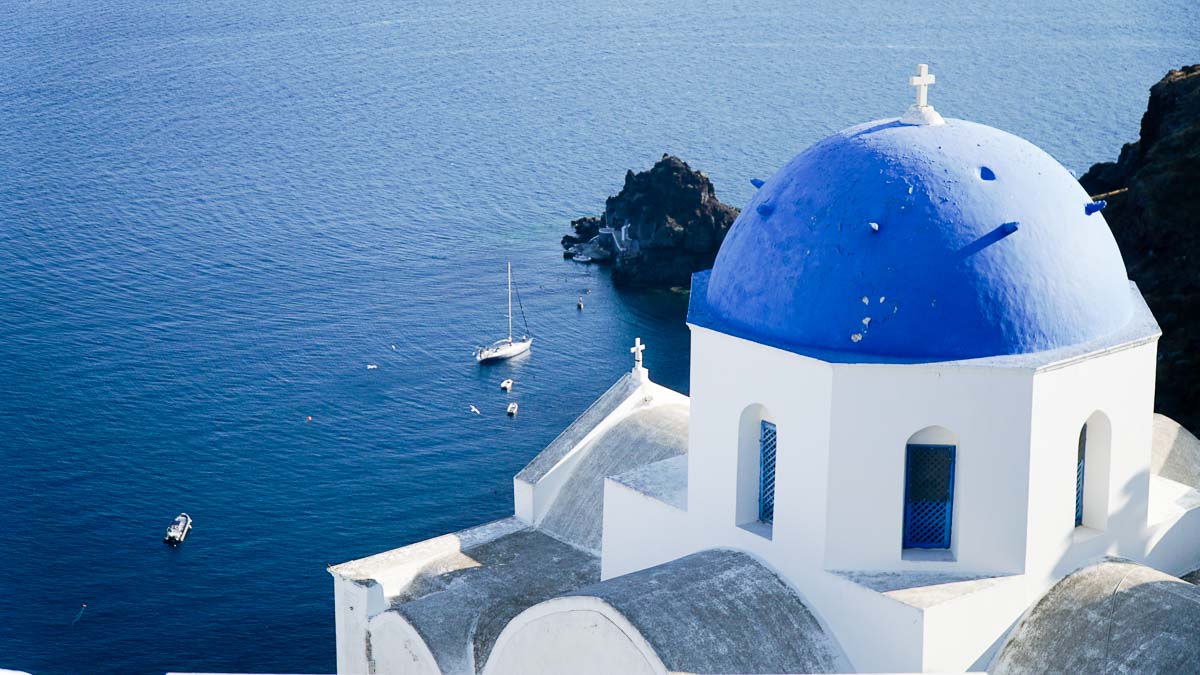 2) Accommodation: A dorm bed in a hostel costs between €10-40 in Athens and €20-50 in Santorini. We paid €20-30/pax for private rooms on Airbnb, all of which were clean, cosy and in fairly good locations. In Santorini, we didn't get a place with a caldera view right outside our door but to be honest, I thought the privacy we got in our little roof-top room was a good trade off — no hoards of crowds walking past everyday peering into the rooms. What's more, views of the caldera were easily accessible within a 5 minute walk.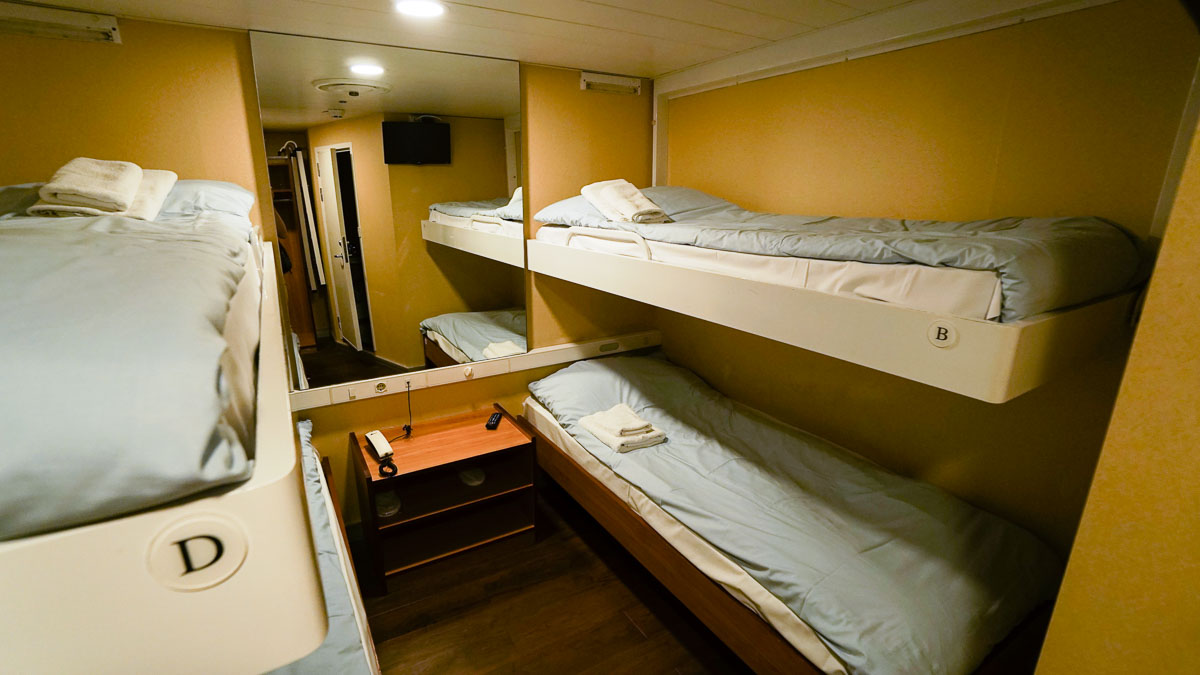 3) Take overnight ferries to the Greek Islands: While they are slower, they are much cheaper and you get to save a night's accommodation. Win-win.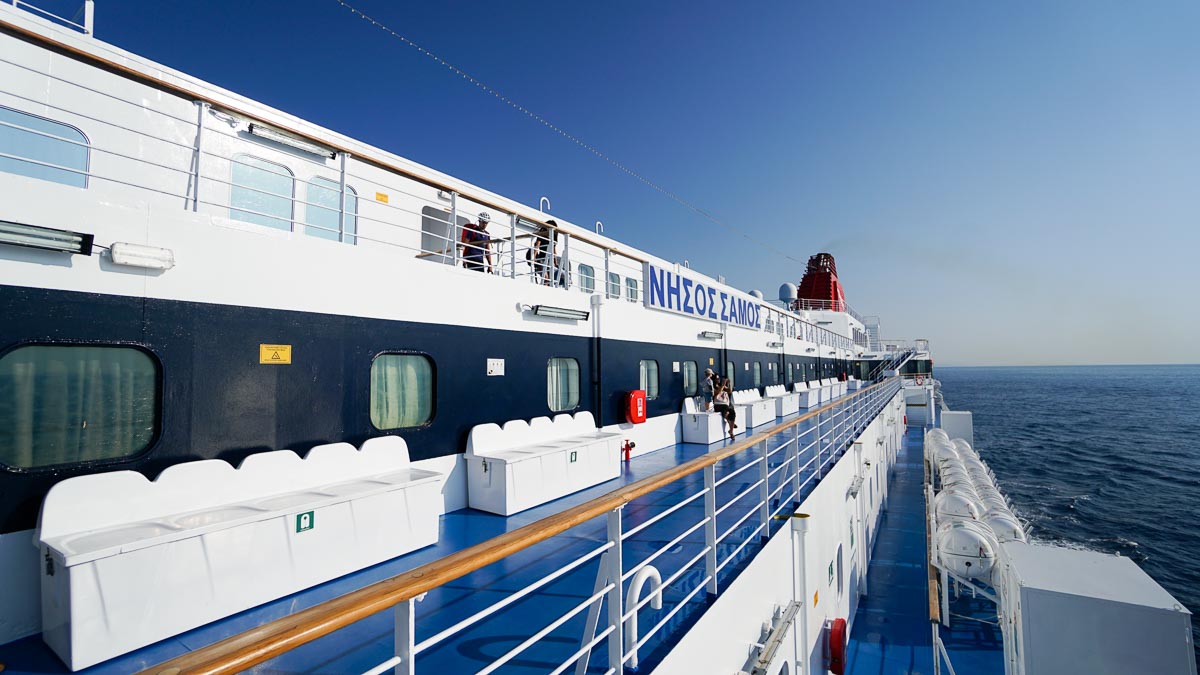 4) Buy your train or ferry tickets online: Unless you have trouble accessing the internet, save up on commission paid to travel agents and get your tickets online. Train schedules can be found on TrainOSE. Ferry schedules can be found on FantasticGreece but once you confirm the ferry company, it'll be cheaper to book directly from the ferry company's website.
*Remember to get your e-ticket exchanged for a physical ticket at the company's booth near the port. In Santorini there was a €0.50 service fee charged.
5) Visit off season: May – Aug is peak season so the prices we paid in June were generally hiked up by 20-50%. If you visit outside these months, not only do you save on accommodation and vehicle rental costs, you'll also get to experience less crowds!
Do note that in the low season (Nov-Mar), some shops close early and ferry schedules don't run as frequently. If you have the luxury to take it slow, this period would be ideal. Or perhaps, visit during the shoulder period in late September and October!
Non-Stop Direct Flight From Singapore To Athens
Fly non-stop to Athens from Singapore via Scoot!
Thanks to Scoot, not only do we get to arrive in Europe in under 12 hours on a direct flight from Singapore to Athens, we got to do it in comfort at an affordable price! Their new Boeing 787 Dreamliner was really spacious, and we easily slept through the ride.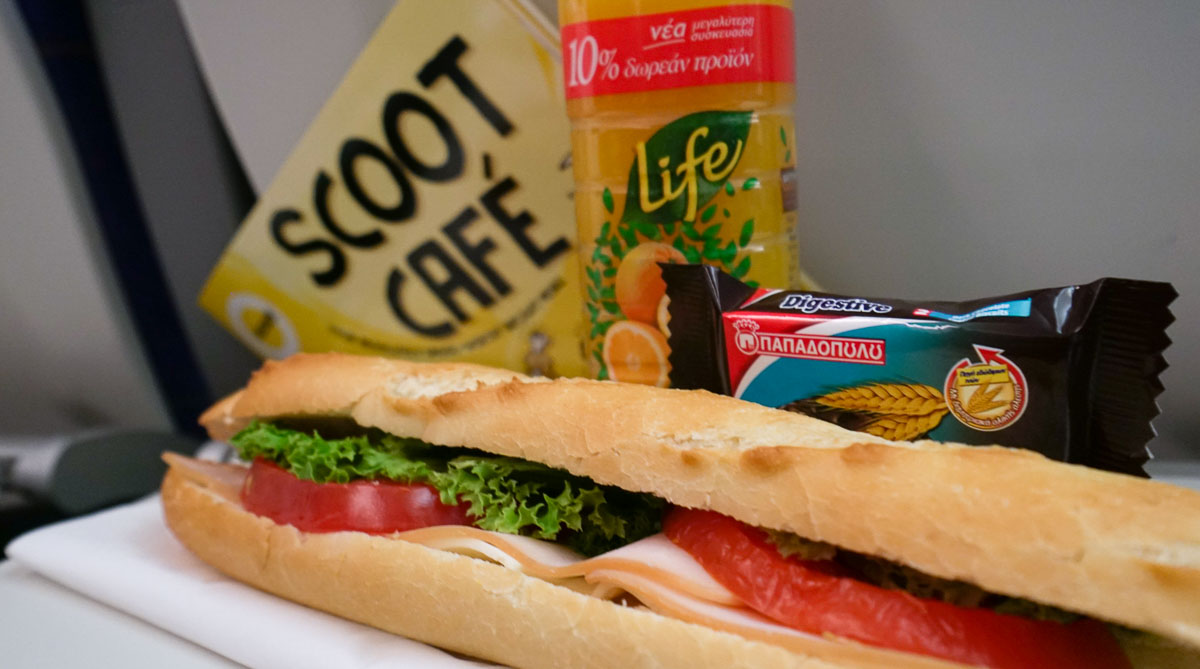 While we usually scrimp on meals during short haul flights, we were more than pleased to have the special long haul meal bundle (only available for pre-order) which came with a premium hot meal combo and a light meal combo (at S$50) during our 11-hour flight.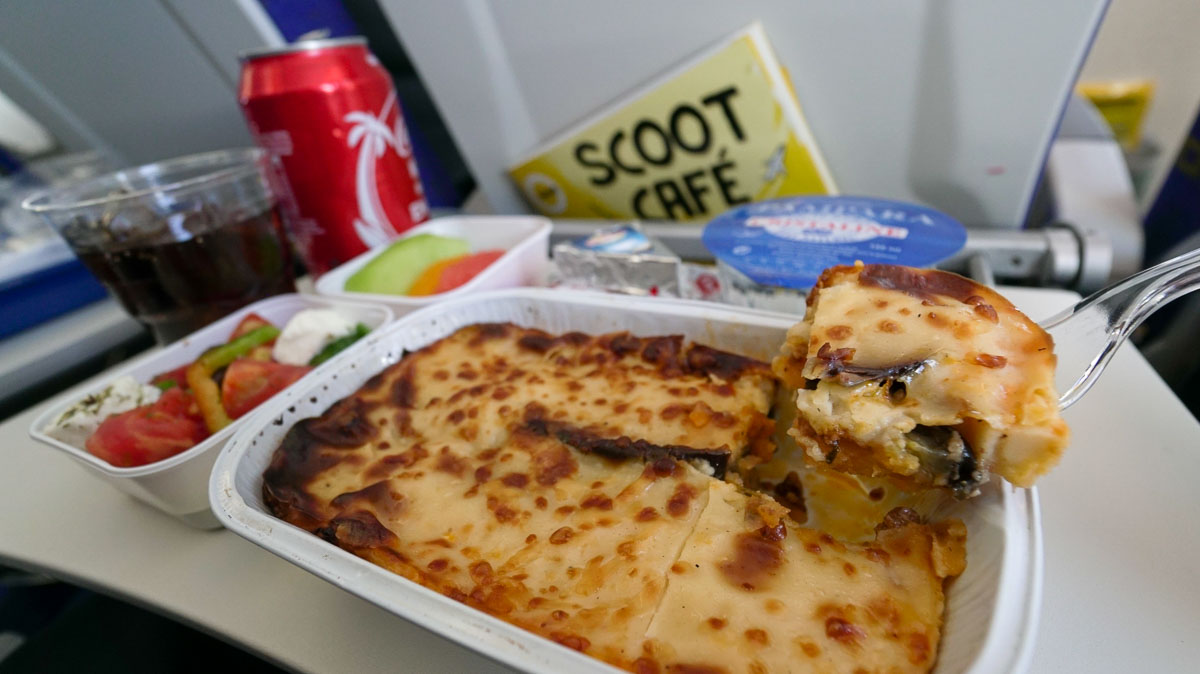 The moussaka (served during the Athens to Singapore flight) to our surprise tasted better than some of the ones we had in the restaurants. Not kidding, loved how this was not gelat at all.
Fun fact: Each Scoot plane has a nickname and the one that flew to Athens is named Mous-Scoot-ka. Cute.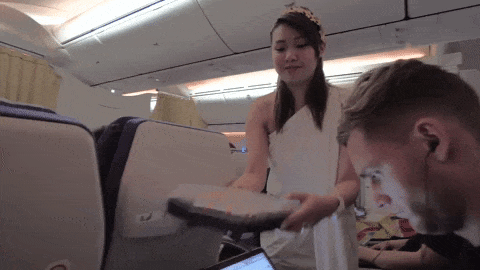 Really loved how all the whole crew dressed up in the morning of the inaugural flight to serve the passengers breakfast — All in Scootitude fashion.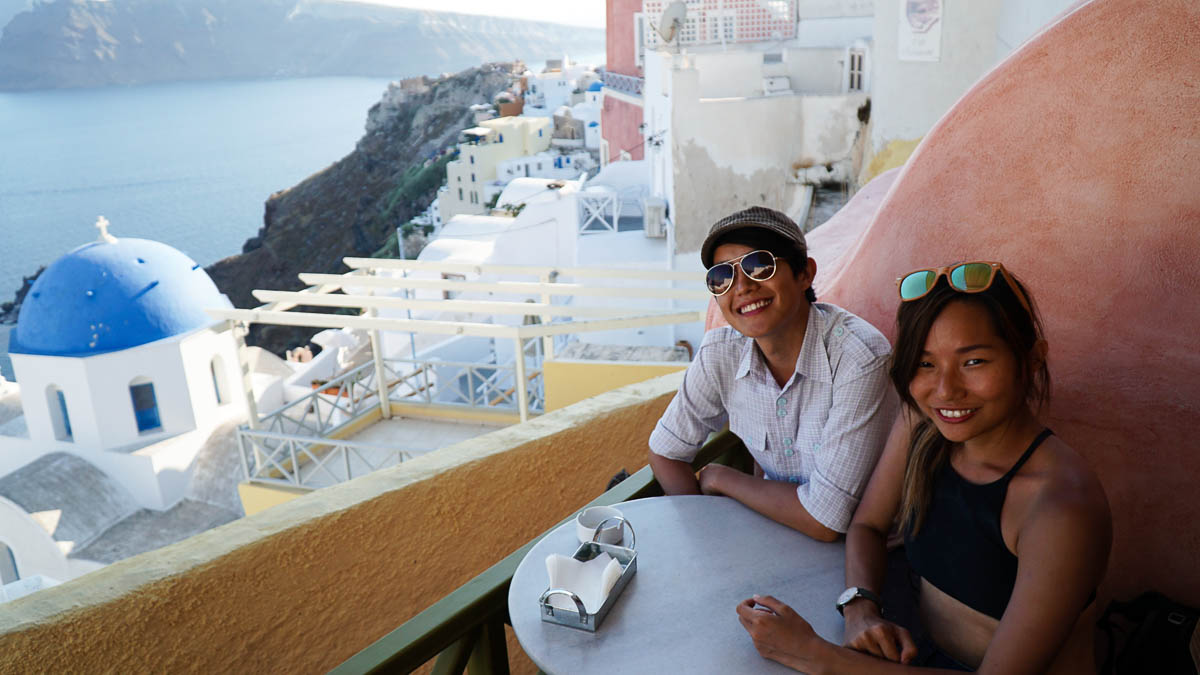 These 9 days in Greece has been a whirlwind of adventures for us — experiencing Greek hospitality, indulging in cheap wine, gelato and some of the most epic sunsets we've come across. There was so much more we wanted to uncover on the trip like ancient Delphi, Ios and Crete. I guess we'll just have to return once again!
---
This post was brought to you by Scoot.
For more travel inspiration, follow us on Facebook, Instagram, and YouTube!