You don't need to break the bank to stay near this ancient Greek monument 😎
First published: 16 April 2020
Greece is one of those holiday destinations that seems to have it all: extraordinary attractions, delicious food, romantic vibes, and the friendliest locals. You're probably thinking, yeah, that's great, but I'm guessing all that doesn't come cheap.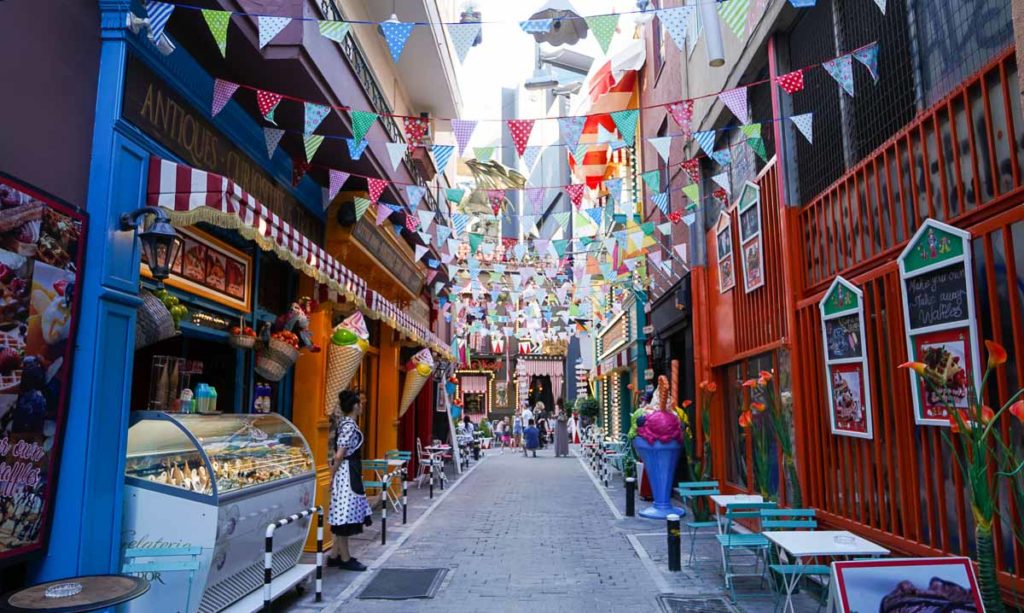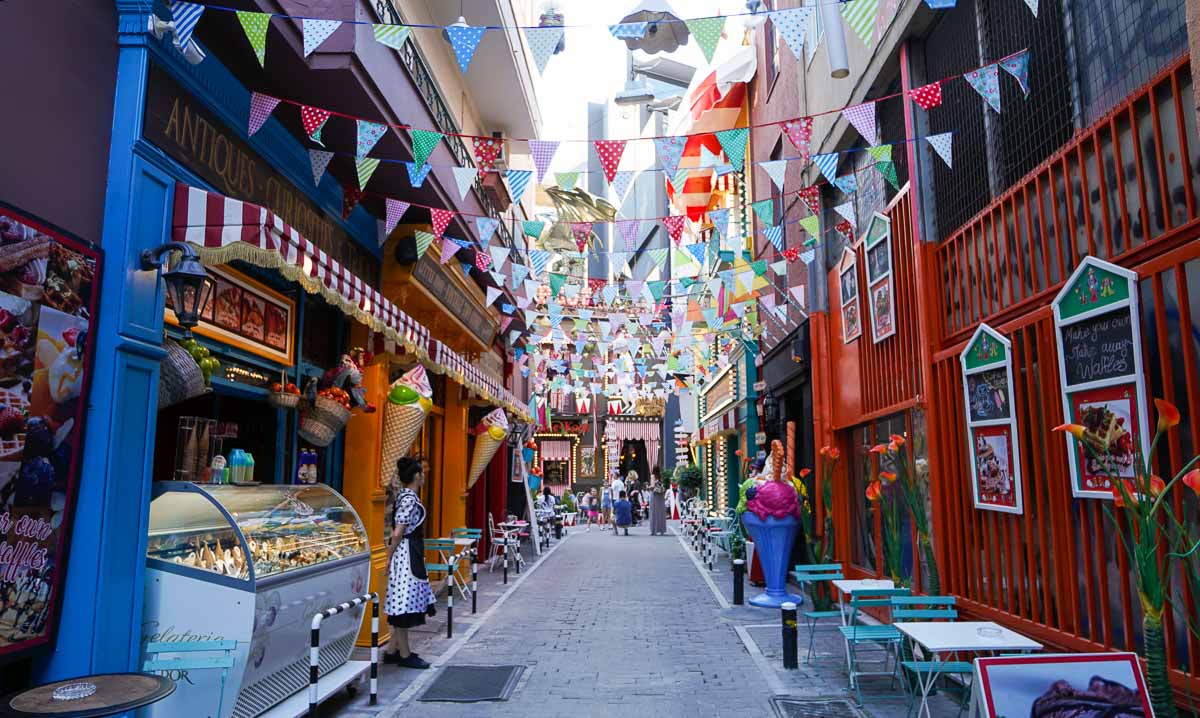 Actually, Greece is one of the more affordable destinations in Europe, even if it's the land of the gods! You can find direct flights below S$1k from Singapore to Athens during certain months, try beautiful yet budget experiences, and stay at accommodations near iconic attractions at decent prices 🤩.
With that said, visiting the Acropolis is probably on everyone's to-do list when in town. So we've rounded up 11 cosy accommodations near this Greek monument from just ~S$19/night — some even come with gorgeous views of the Parthenon!
Read also: 9 Reasons Why You'll Want To Fly To Greece For Your Next Vacation
1) Acropolis View Hotel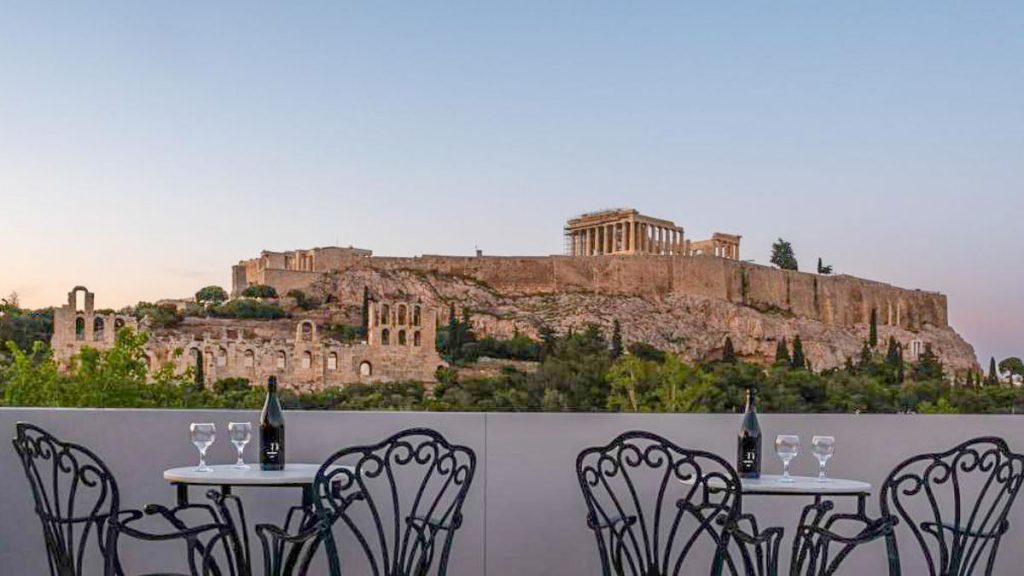 Photo credit: Booking.com
As its name suggests, Acropolis View Hotel is famous for having great views of well… the Acropolis! On top of that, the metro station and major archaeological sites like the Acropolis Museum are just minutes away.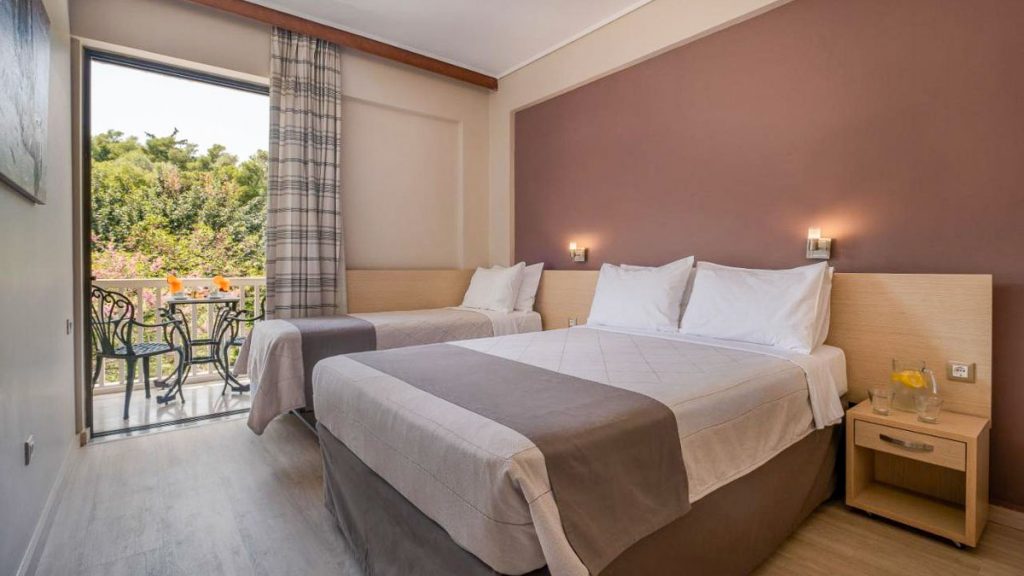 Photo credit: Booking.com
Rooms are decorated in warm tones so it feels really cosy and it's also equipped with free WiFi, a satellite TV and a minibar. Service-wise, the reception staff are super helpful — always offering information about where to visit, where to eat, and what to do. You can also book tours at the counter (with hop-on-hop-off buses just along the street), and the best part, it's open 24 hours!
Cost: From ~S$77.50/night (for 1 pax)
Address: Webster 10 & Robertou Galli, Athens, 11742, Greece
2) Comfort Stay Lofts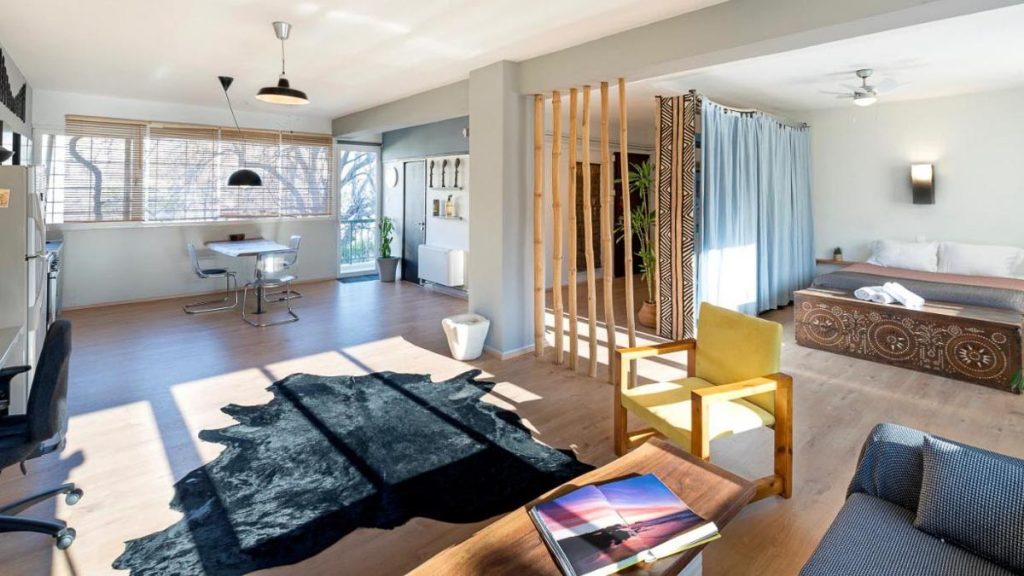 Photo credit: Klook
At Comfort Stay Lofts, you are guaranteed maximum comfort, convenience, and satisfaction. The apartment has a spacious open-plan living area fitted with a large bed, couch, kitchen, and dining table!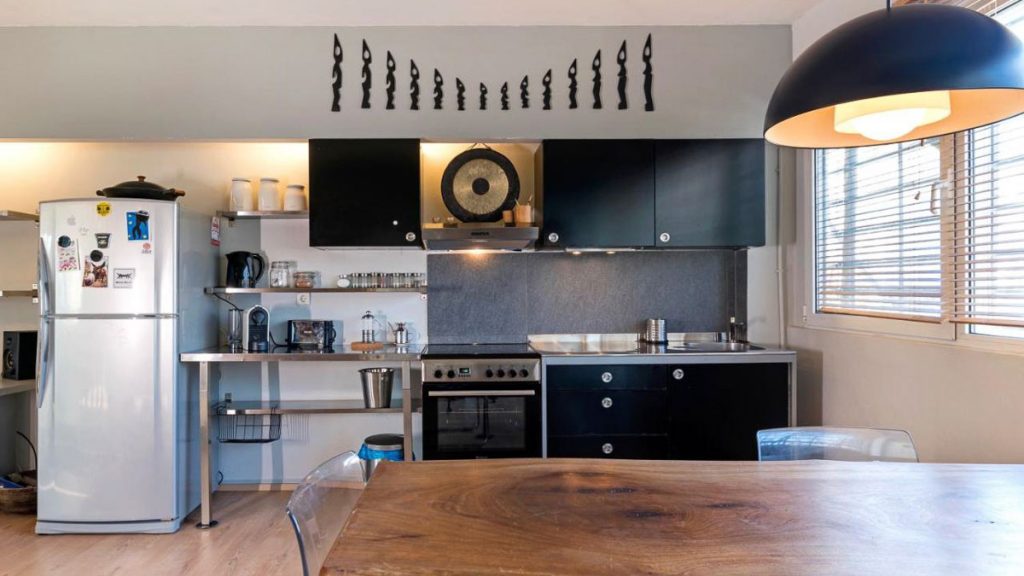 Photo credit: Klook
You can visit nearby attractions like the Ancient Agora of Athens and Acropolis or get some shopping done at Ermous Street Shopping Area and Monastiraki Flea Market in the area 😉
Cost: From ~S$82/night (for 1 pax)
Address: Mikalis 26, 2nd floor, Athens, 10435, Greece
3) V1935 Luxurious Apartments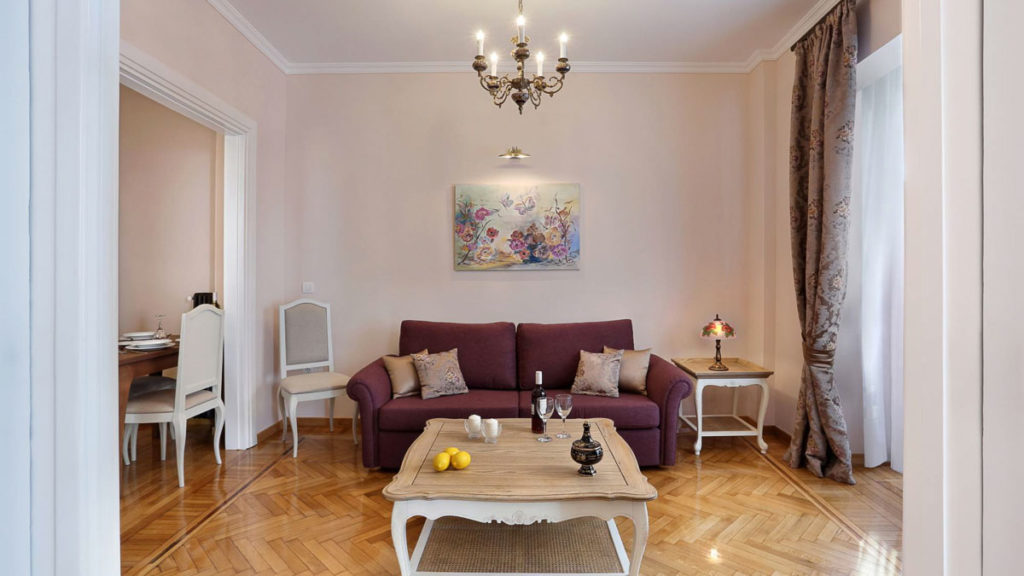 Photo credit: Klook
Live out your Grecian Great Gatsy dreams in this refurbished 1930s aparthotel.
V1935 Luxurious Apartments features elegant decor with antique furnishings, classic marble floors, and dramatic high ceilings. Don't worry though, you still get modern perks like WiFi, air conditioning, and even a portable smartphone with unlimited calls and mobile data.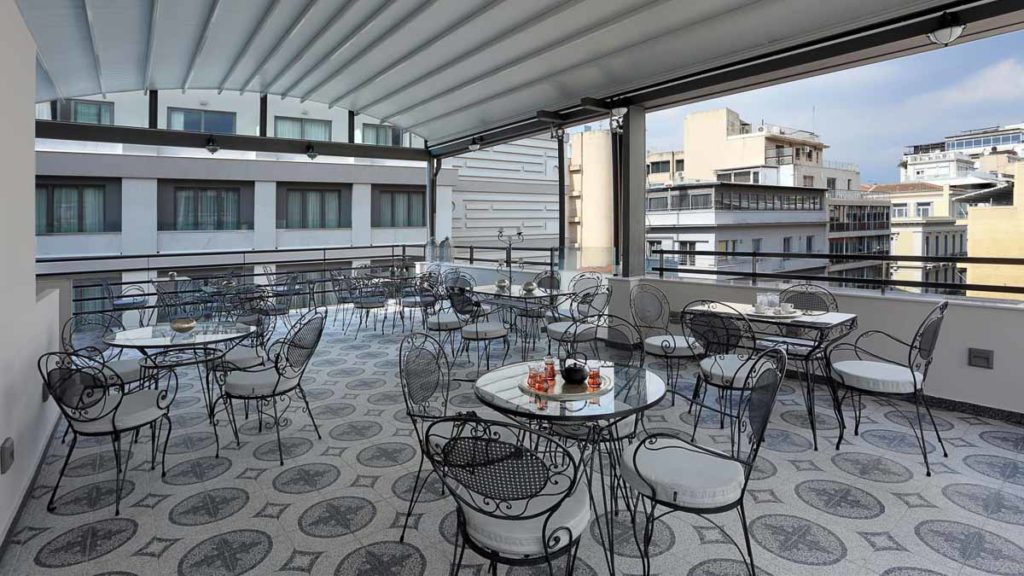 Photo credit: Klook
And don't forget to check out their stylish snack bar on the rooftop terrace! As for nearby attractions, Syntagma Square and Acropolis are also within walking distance.
Cost: From ~S$70/night (for 1 pax)
Address: Neofytou Metaxa 27-29, Athens, 10439, Greece
4) Bedbox Hostel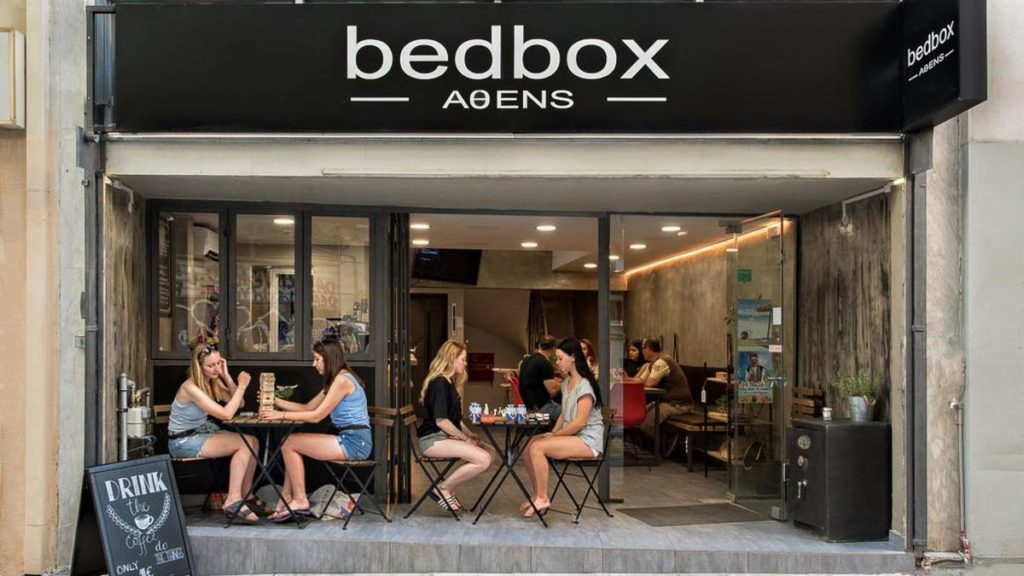 Photo credit: Booking.com
Though hostels help you save big, the experience can be hit or miss. But most travellers agree that Bedbox Hostel is a game-changer, with an ambience comparable to a boutique hotel.
Photo credit: Booking.com
There's little more to ask for — with elegant aesthetics, excellent staff, and a fantastic location in a trendy neighbourhood, just walking distance from the Acropolis. In true hostel style, there are also ample opportunities to socialise, from a hip industrial-style lounge and fun events like karaoke nights and costume parties.
If you need your privacy, Bedbox Hostel also has private rooms with ensuite bathrooms and viewing terraces.
Cost: From ~S$26/night (for 1 pax)
Address: 11 Poliklitou, Athens, 10551, Greece
5) President Hotel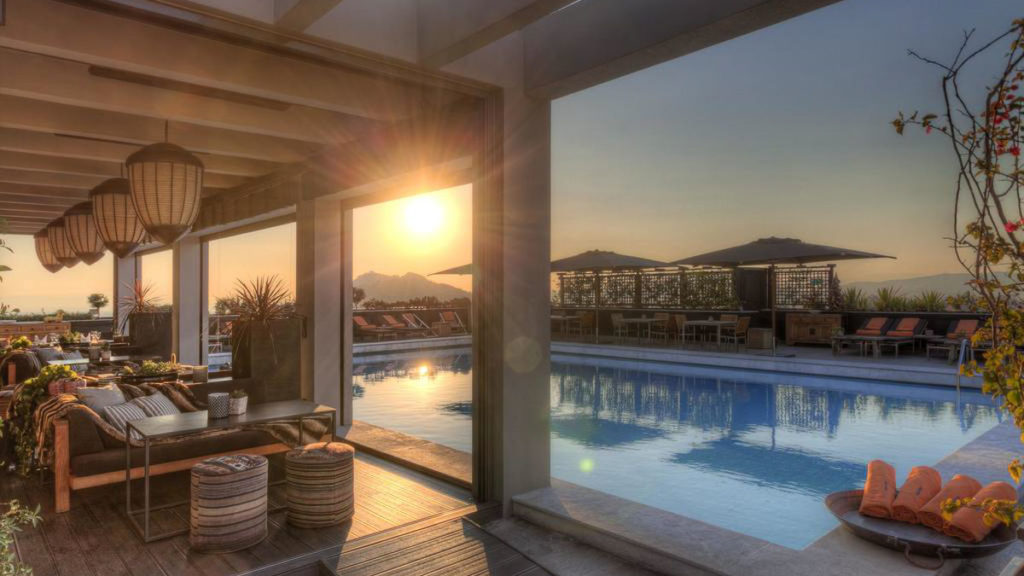 Photo credit: Booking.com
If you love the luxe life but can't afford the Hilton, try President Hotel, which offers all the frills of a hotel at a steal.

Take a dip in the rooftop swimming pool, or relax in the luxurious, oriental-styled lobby. The hotel also provides comfortable, spacious rooms with gorgeous city views, high-end toiletries, and professional staff who go the extra mile.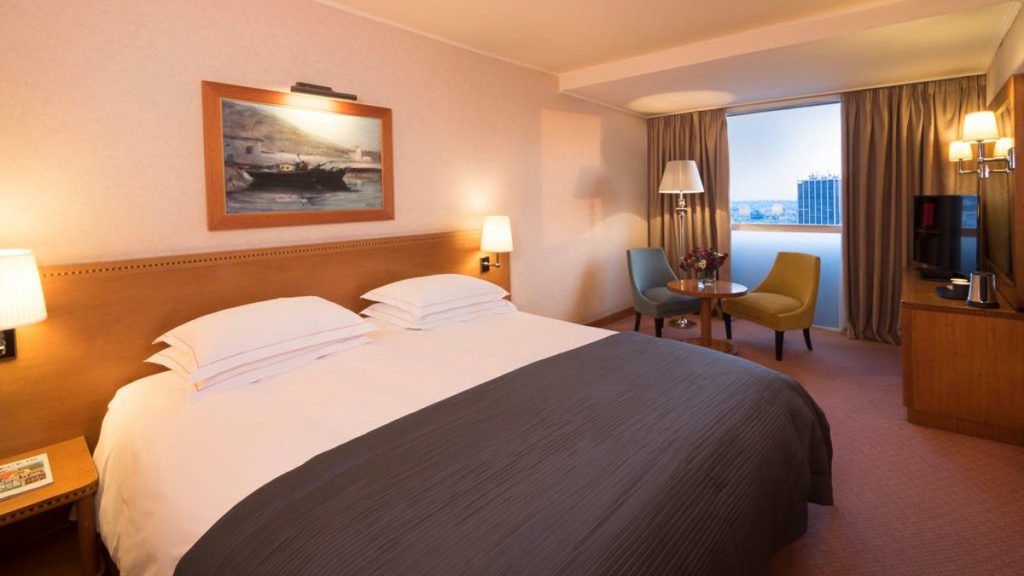 Photo credit: Booking.com
It's truly a steal for its prime location in the heart of Athens, situated next to Panormou station and a few stops away from attractions like the Monastiraki Square, Acropolis, and National Archaeological Museum of Athens!
Cost: From ~S$74.50/night (for 1 pax)
Address: 43, Kifissias Avenue, Athens, 11523, Greece
6) Attalos Hotel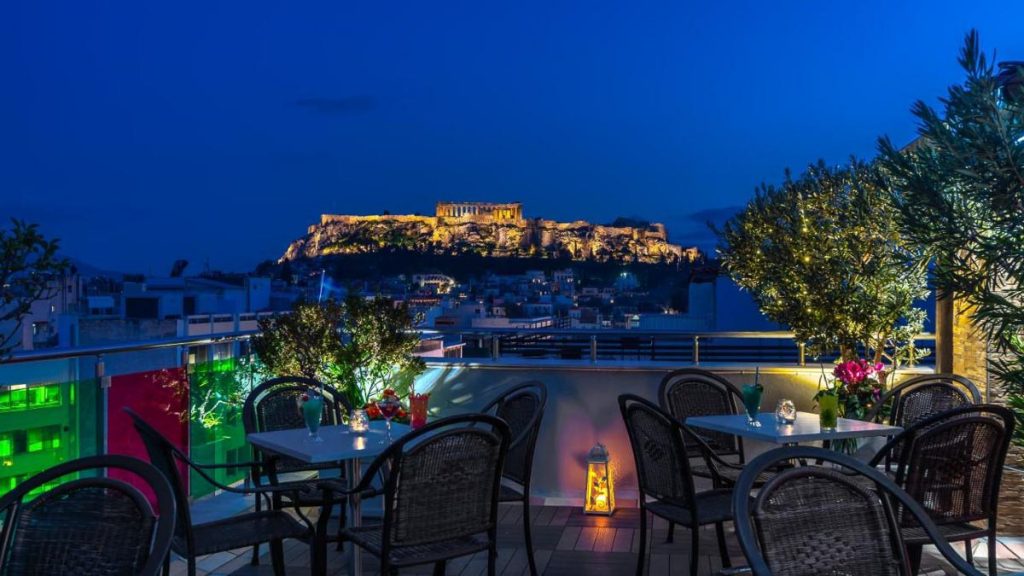 Photo credit: Booking.com
Attalos Hotel earns rave reviews for its amazing views of the iconic Acropolis. While you can request a room with a view, there's also the option of hanging out at the hotel's rooftop bar, famous for its delicious yet affordably-priced cocktails, and one of Athen's best sunset views.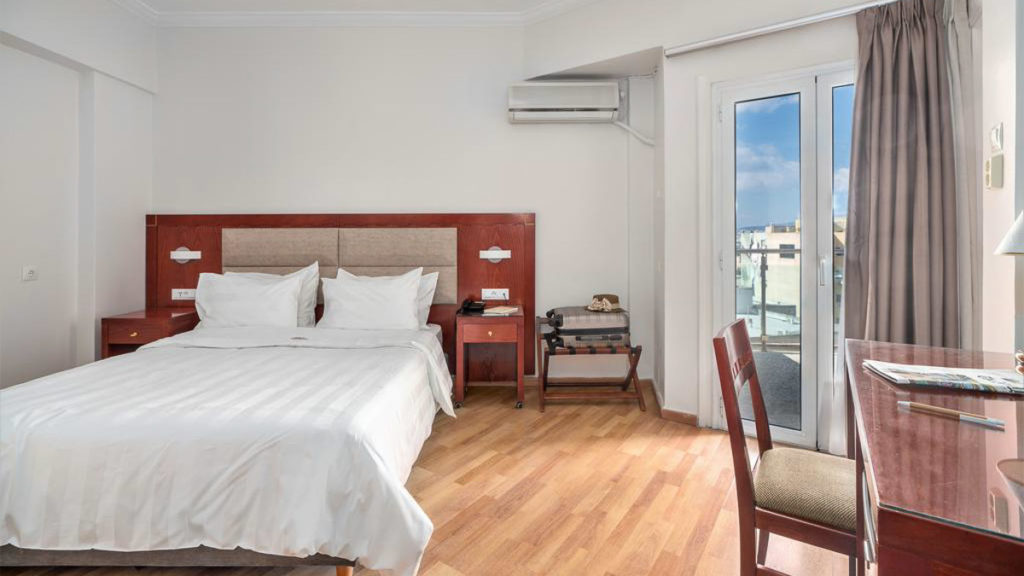 Photo credit: Booking.com
The location is also ideal, being near the metro station and a short walk to Athen's top sights and a local flea market. Just outside the hotel, explore the Psiri neighbourhood, packed with stylish eateries and nightlife.
Cost: From ~S$62/night (for 1 pax)
Address: 29 Athinas Street, Athens, 10554, Greece
7) Aris Athens Suites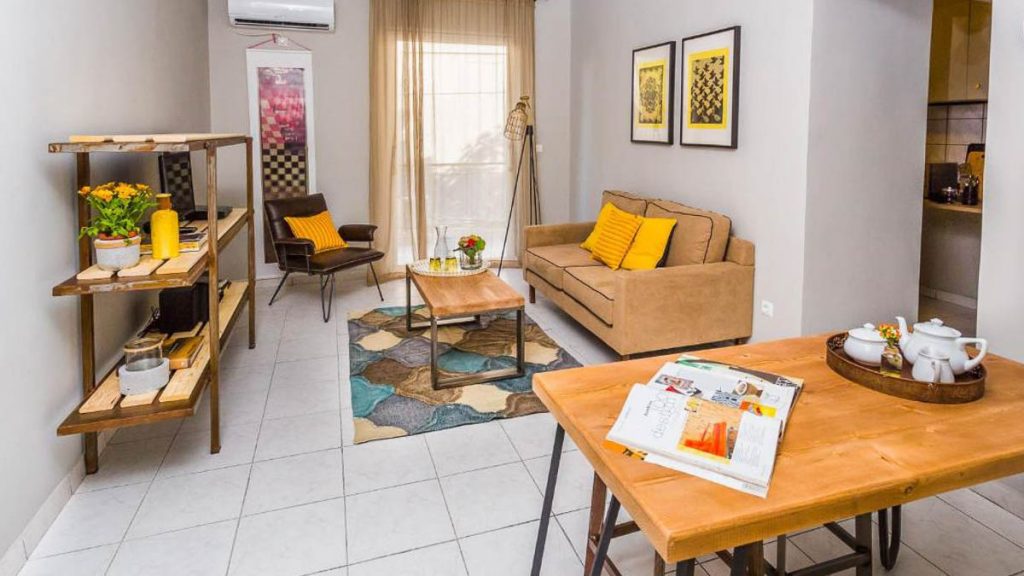 Photo credit: Booking.com
Aris Athens Suites is located in the heart of the city, within 1km of the Acropolis. Depending on your preference, there are various rooms to choose from such as a studio, deluxe or even a penthouse apartment.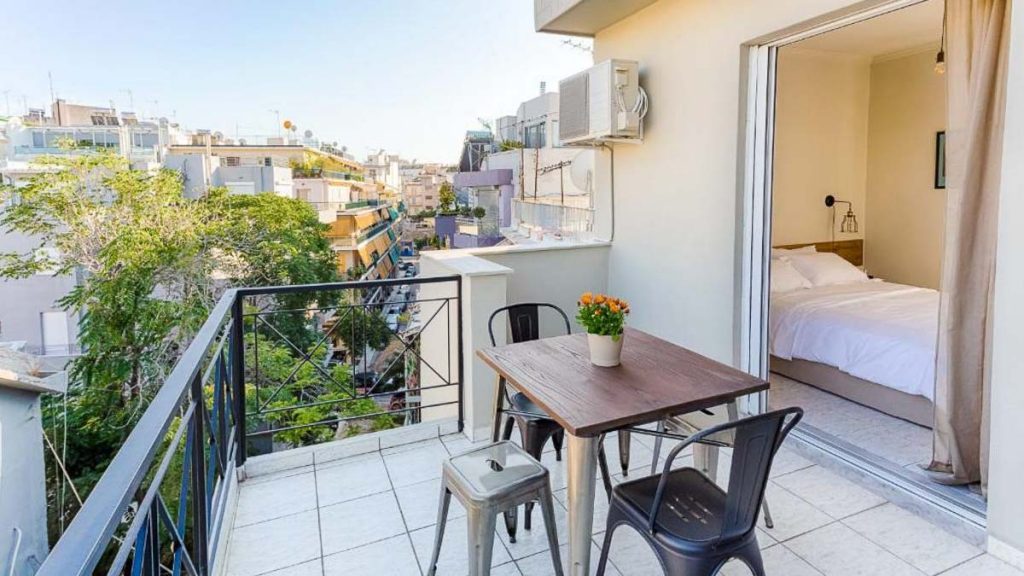 Photo credit: Booking.com
Rooms are really value-for-money — for example, the penthouse apartment features a kitchenette, a private bathroom, and a balcony overlooking the city, from as low as ~S$33.50/night per pax. There's also free private parking so you can go ahead and rent a car to explore around town!
Cost: From ~S$33.50/night (for 1 pax)
Address: Diamantopoulou 8, Athens, 11743, Greece
8) Kimon Hotel Athens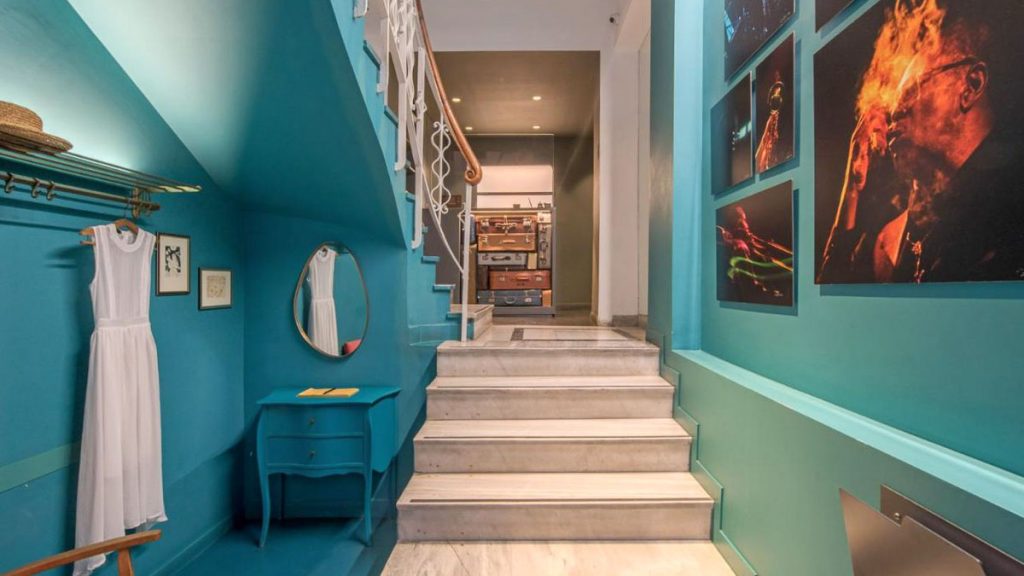 Photo credit: Booking.com
Step into Kimon Hotel Athens and you'll be transported to a stylish reception area decorated with artistic paintings on vibrant blue walls! Rooms here are fitted with cosy beds, your personal dresser, and private bathrooms.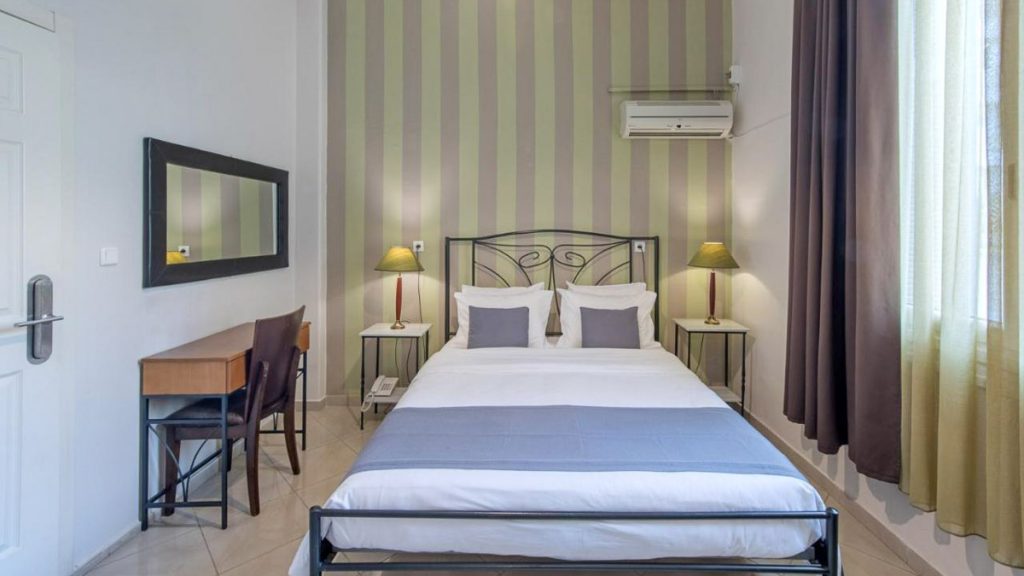 Photo credit: Booking.com
There's also a rooftop garden adorned with fresh flowers, where you can soak in the view of the Acropolis from afar!
Cost: From ~S$36.50/night (for 1 pax)
Address: Apollonos 27, Athens, 10556, Greece
9) Arion Athens Hotel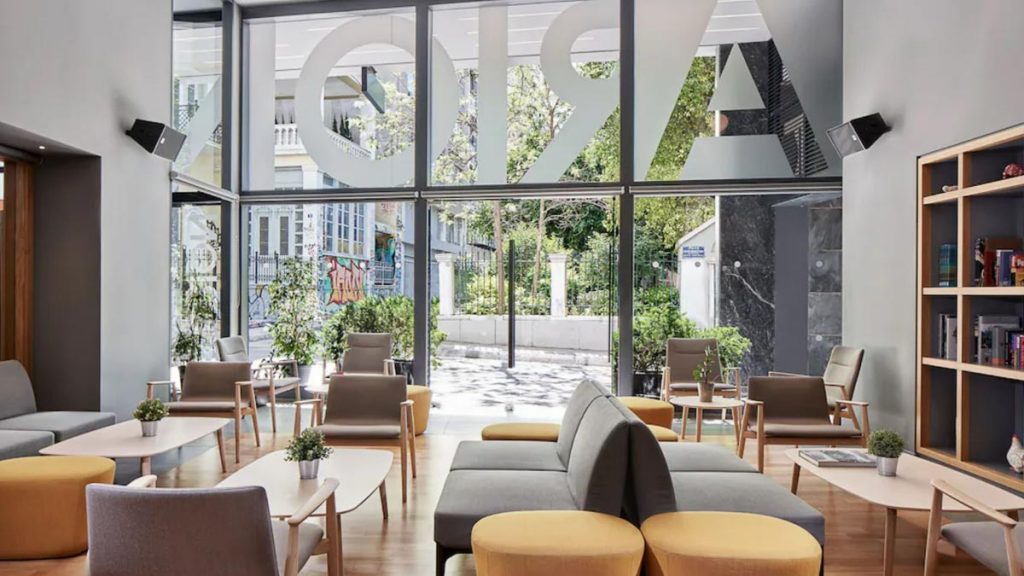 Photo credit: Klook
Arion Athens Hotel is perfect for those with an adventurous soul, and are up for exploring around the area. It's located two streets away from Monastiraki Square and of course within walking distance from points of interest like the Acropolis, the Herodes Atticus Theatre, the Parliament building, and the Temple of the Olympic Zeus!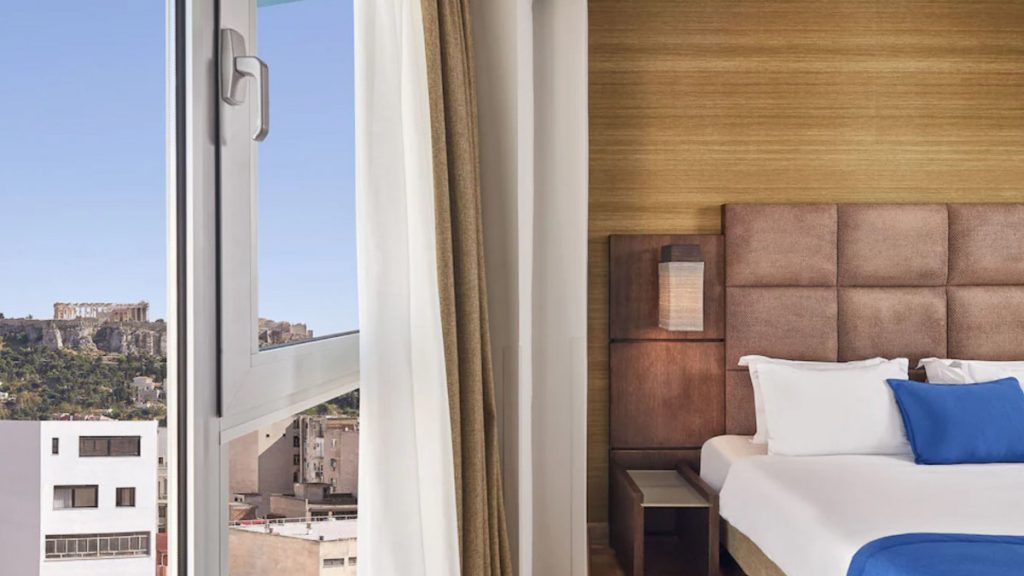 Photo credit: Klook
If you don't mind splurging a little more, you can even opt for a room with the Acropolis view so it'll be the first thing you see in the morning 😉
Cost: From ~S$47/night (for 1 pax)
Address: 18 Agiou Dimitriou, Athens, 10554, Greece
10) Elegant Koukaki Studio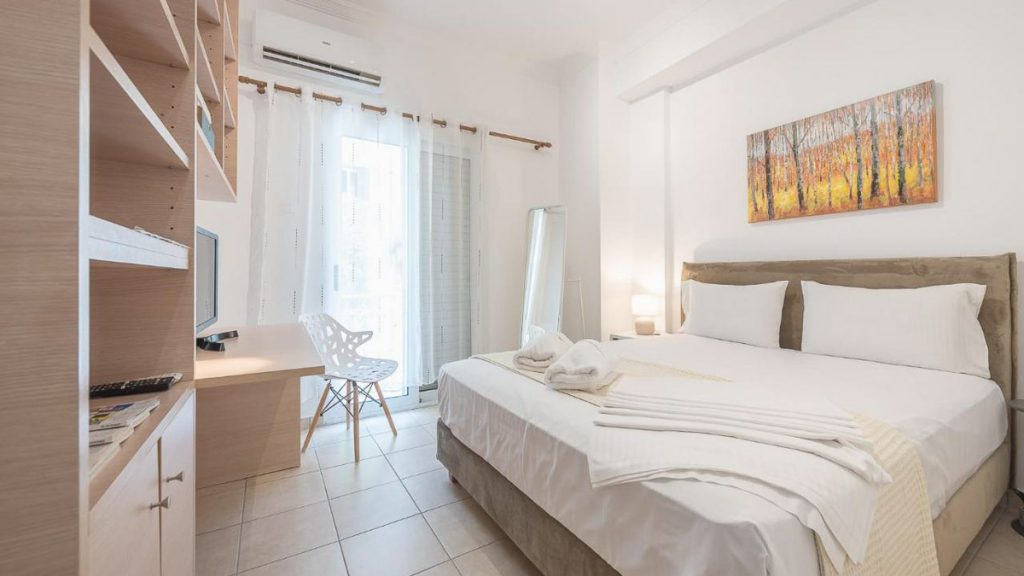 Photo credit: Booking.com
For those looking for a minimalistic look, try Elegant Koukaki Studio. The walls are decked in white and the apartment is fitted with wooden furniture. There's even a fully equipped kitchen with an oven and a microwave so you can cook your own meals!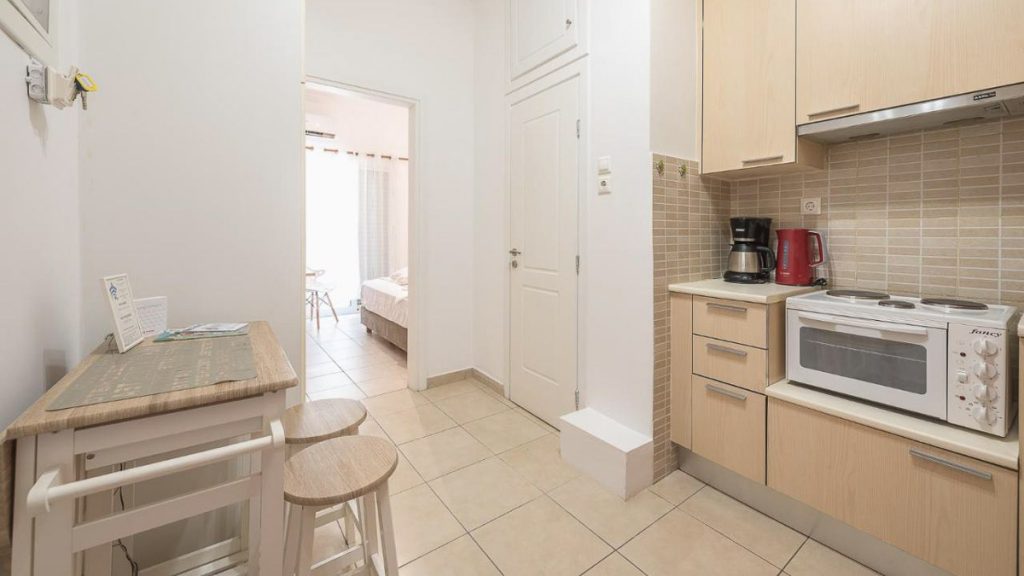 Photo credit: Booking.com
Plus, the apartment offers car rental services too, so you can explore archaeological sites like the Acropolis just a 6-minute drive away.
Cost: From S$79/night (for 1 pax)
Address: 16 Meintani, Athens, 11741, Greece
11) Zeus Hostel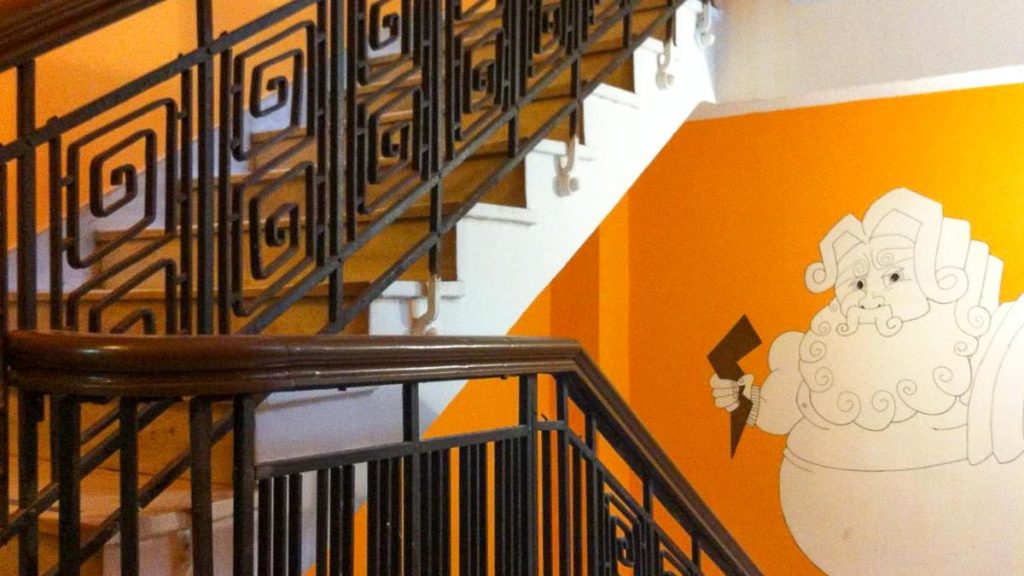 Photo credit: Klook
This is where we'll say don't judge a book by its cover. While Zeus Hostel looks like any other apartment building on the outside, the inside is full of personality — the walls are painted in vibrant colours of orange and green, with murals of Greek gods like Zeus and Poseidon!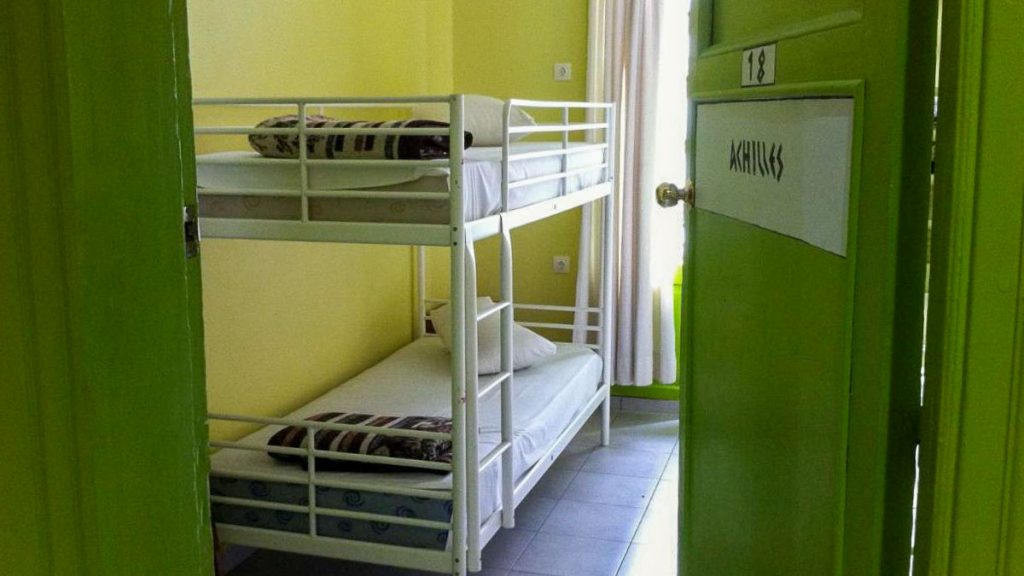 Photo credit: Klook
The hostel also provides private rooms or dormitories to suit both introverts and extroverts. Plus, did we mention there's an onsite bar and free WiFi in communal spaces too?
The hostel is near Omonia Station, where you can easily reach the Acropolis by train in under 5 minutes.
Cost: From ~S$19/night (for 1 pax)
Address: Sofokleous 27, Athens, 10552, Greece
Planning where to stay in Athens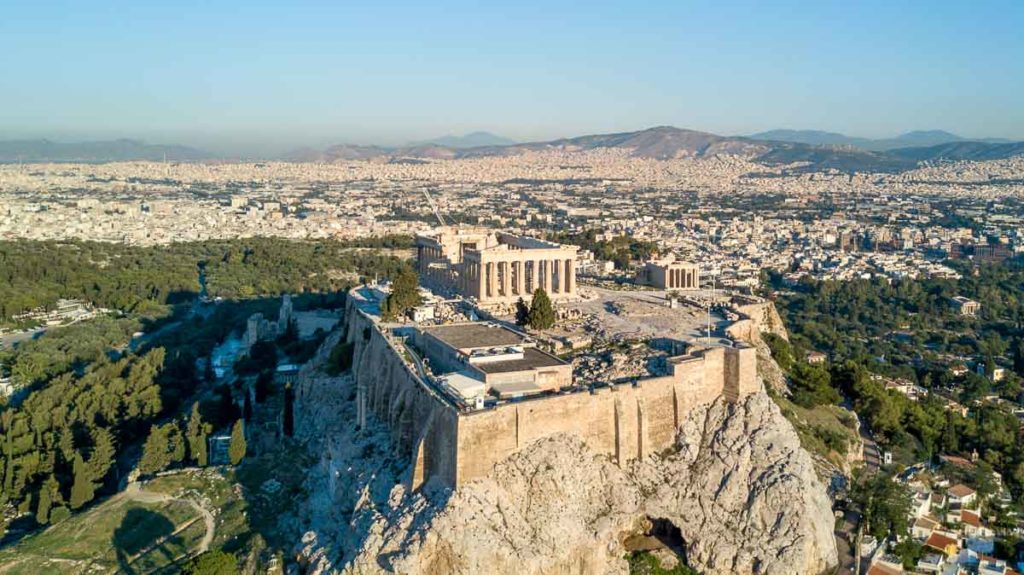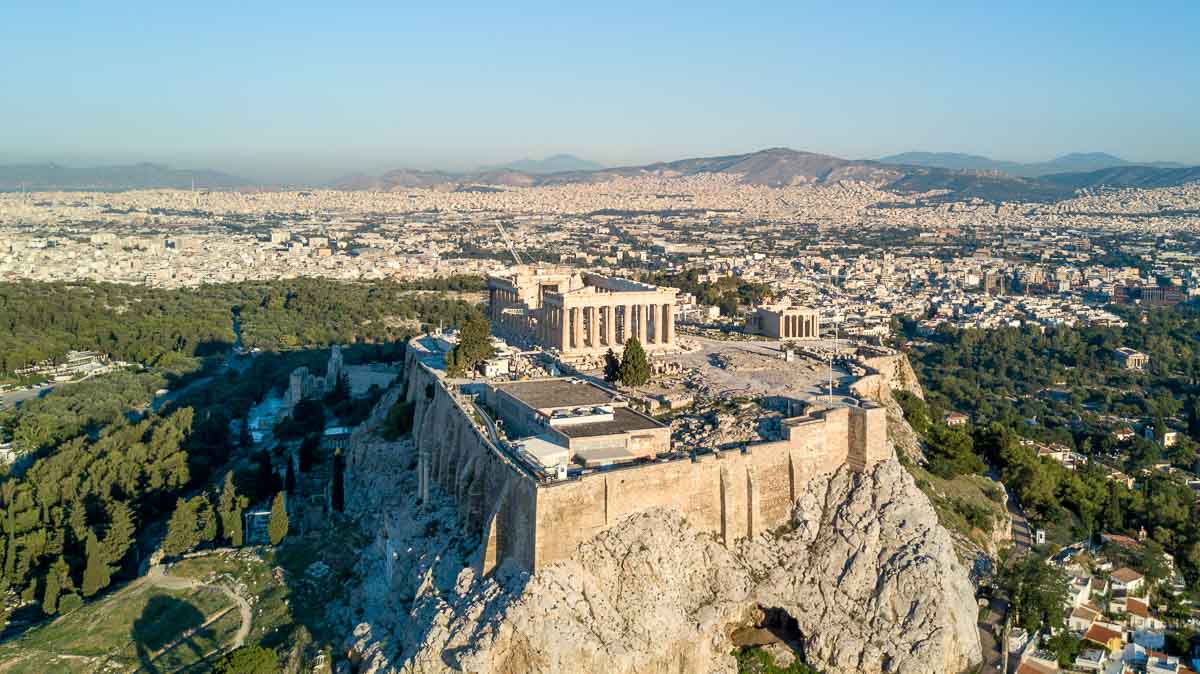 As you can see, it's definitely possible to stay in a comfortable and cosy accommodation in Athens without the high price tag! Of course, do factor in your priorities when choosing where to stay — whether it's nearby certain attractions, has a kitchen, rooftop views, private parking, or within a budget etc. Sometimes you just need to dig a little deeper to find that perfect accommodation to suit your needs!
Any other recommendations on where to stay in Athens? Let us know in the comments!
---